Though the name of the flat top haircut may seem to be its direct definition, when it comes to this kind of classics, things aren't so simple. In general, it's a cut that involves flat silhouette that goes across the whole top.
As for its variety, this is where its complexness begins: men's flat top haircut is all about jumping from one extreme to the other. You may come across one of its variations on military officers from the 50's or suddenly see it on the cover of your favorite hip-hop CD. In other words, to say that it's versatile would be an understatement.
To give you this style, a skilled barber with steady hands will work on your hair on the sides and back, keeping them short. Want to see how the work looks? We've got plenty of ideas to show you the diversity and awesomeness of the cut. There are approaches for all hair types and textures. Check them out!
Classic High Top Fade
This flat top fade has simply nailed the style precision. As a stylish version from the MTV era, the high top haircut features an accentuating outline that creates a sophisticated graduation from the faded sides to the perfectly flat, thick top.
Curly Flat Top
Source: mattyconrad via Instagram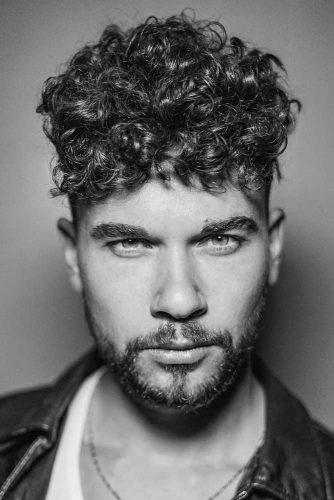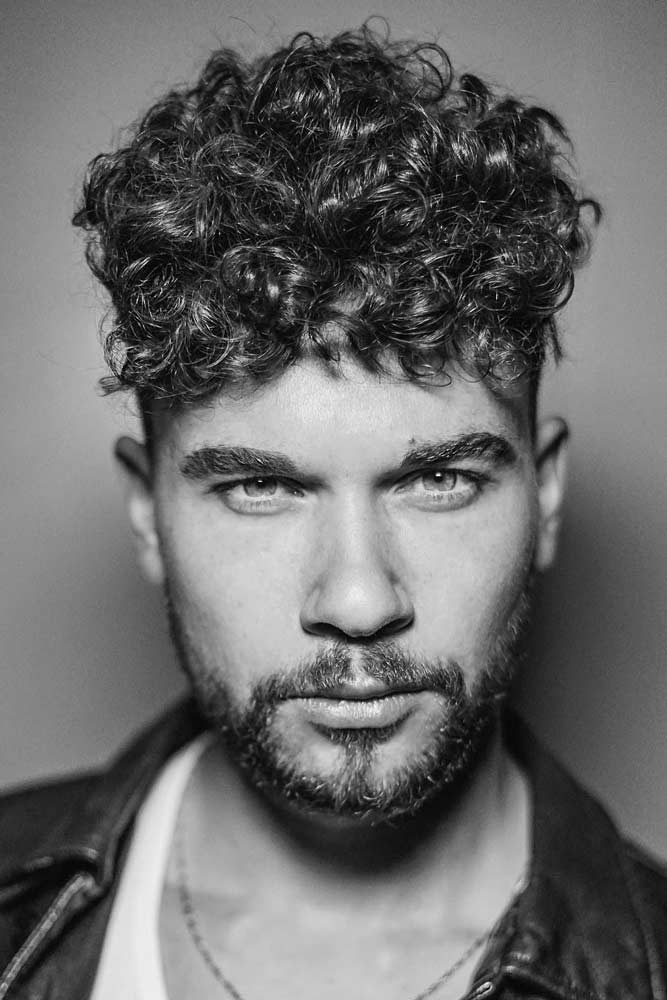 Of course, on curly hair, the classic structure of flat top won't be that noticeable. But let's don't forget that modern men's haircuts are designed to satisfy all men's needs, so you can embrace the cut while having a great sense of individuality and strong visual impact.
Short Flat Top
Source: londonschoolofbarbering via Instagram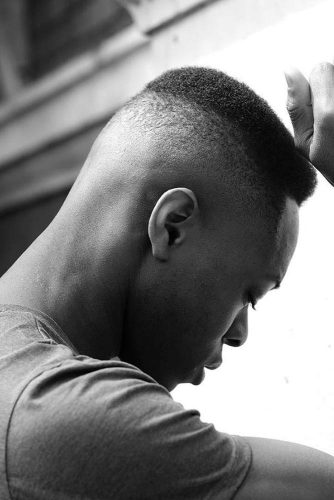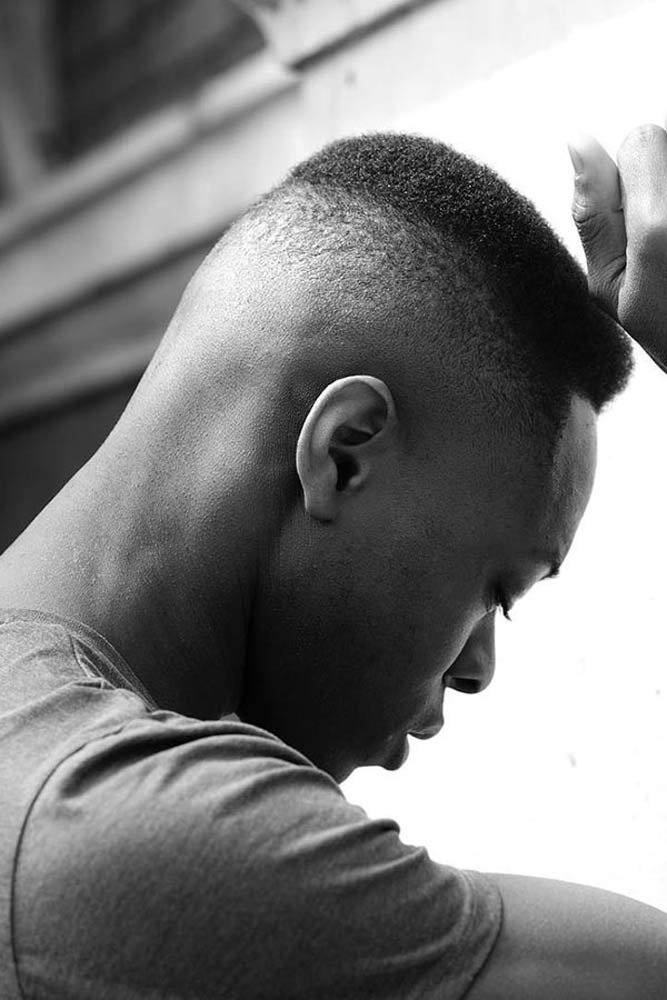 There are many American haircuts created for soldiers that are considered timeless for these days. And the strict version of the flat top cut, which is also known as a marine haircut, isn't an exception. It stands among the most comfortable and low-maintenance black haircuts: it keeps the sides and back super neat and outlined, taming the curly top into a decent shape.
The Angular Flat Top
Source: kevinluchmun via Instagram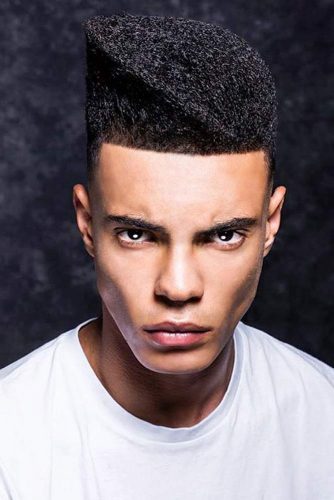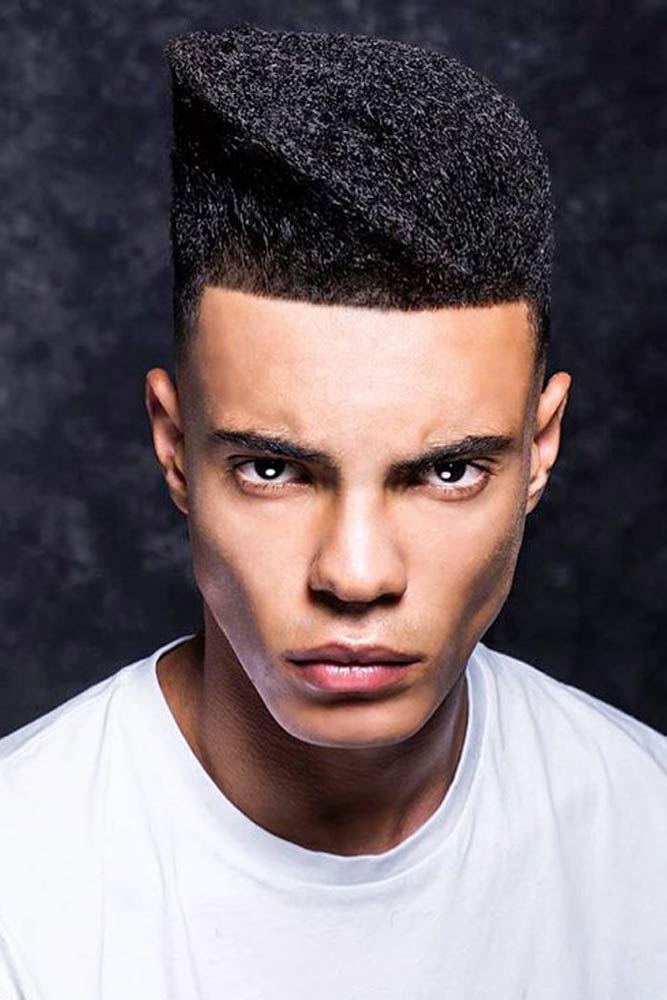 The contemporary men's cuts aim to express creativity and individuality of a wearer. That means you can customize your flat top haircut in any way you please, breaking the rules of its initial structure. Want to see the cut from a new perspective? This angular top is a nice fresh take.
Creative Flat Top With Dreadlocks
Source: smashthalegend via Instagram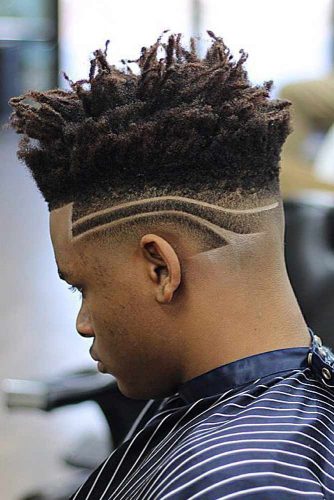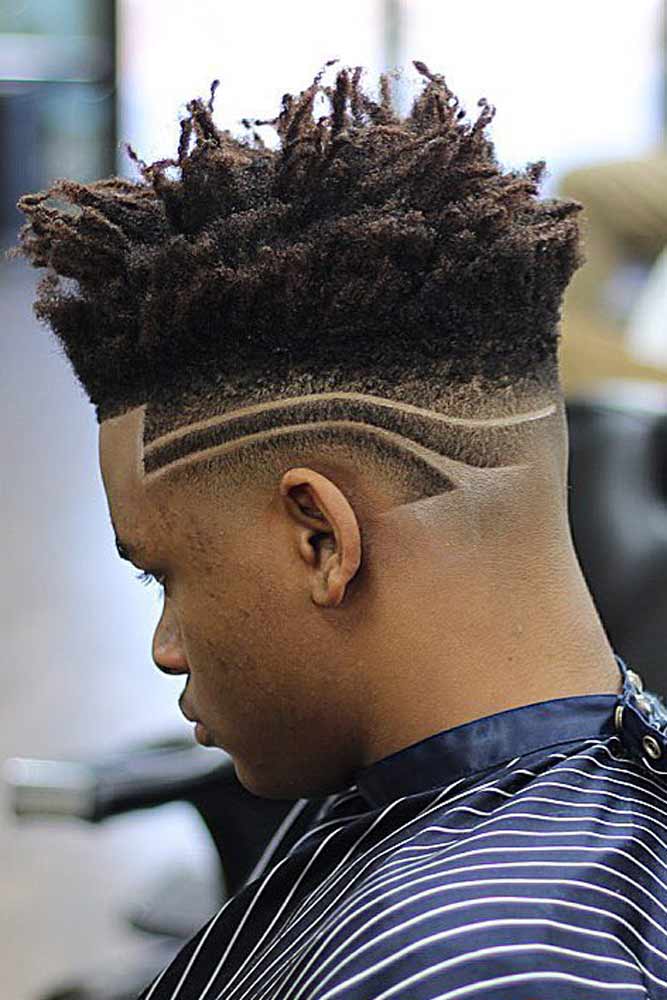 Following up on the creative potential of the hi-top haircut, we want to show you how to make pop with a modern undercut design. Many barbers say that most men's modern hairstyles can't do without a highlight, and an individual nape design is a nice way to add it. If you're a guy with kinky hair who has turned it into a bunch of short dreadlocks, don't forget to spice it up.
Flat Top With High Fade
Any type of taper fade black male like to sport can nicely finish the high-top haircut. For example, a high fade haircut that features dramatic length and texture graduation is a nice way to accentuate the flat top.
Flat Top Haircut With Steps
Source: iliketocuthair via Instagram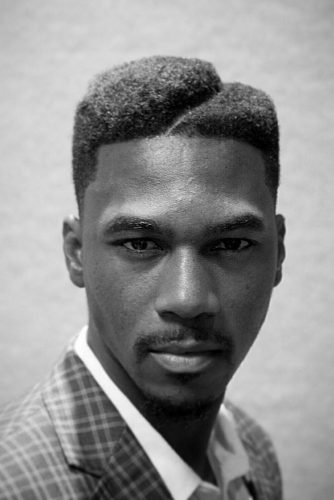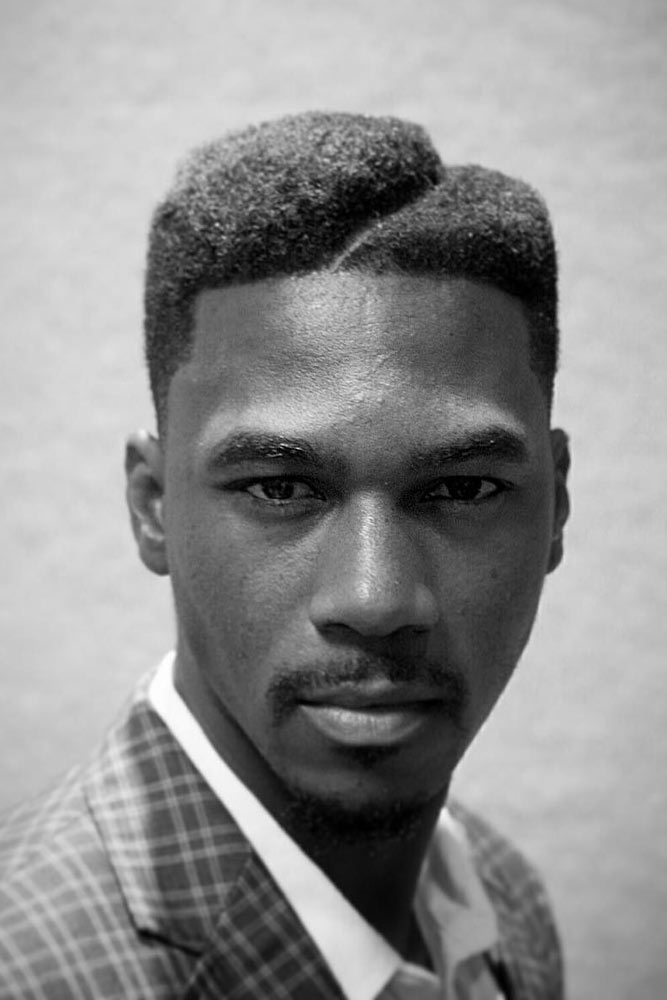 Since the high top haircut can't feature parting, you can shave it up. This idea will work perfectly for black men hairstyles as only the texture of natural mane can hold the step silhouette. Yes, with a bit of creativity, men's haircuts can become a sculptural artwork.
Flat Top Buzz Cut
With the right approach, the good-old buzz cut can ravishingly melt with the flattop haircut. Together, they can produce a simple, yet very presentable high top hairstyle that keeps the wearer's image tight and balanced.
The Arabic Style
Source: barbersinctv via Instagram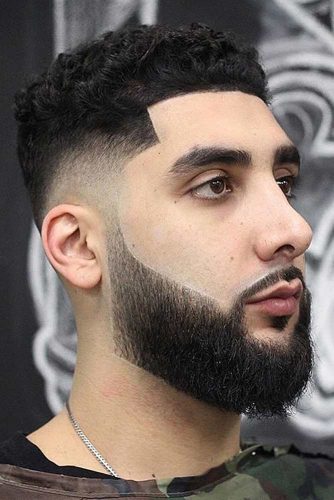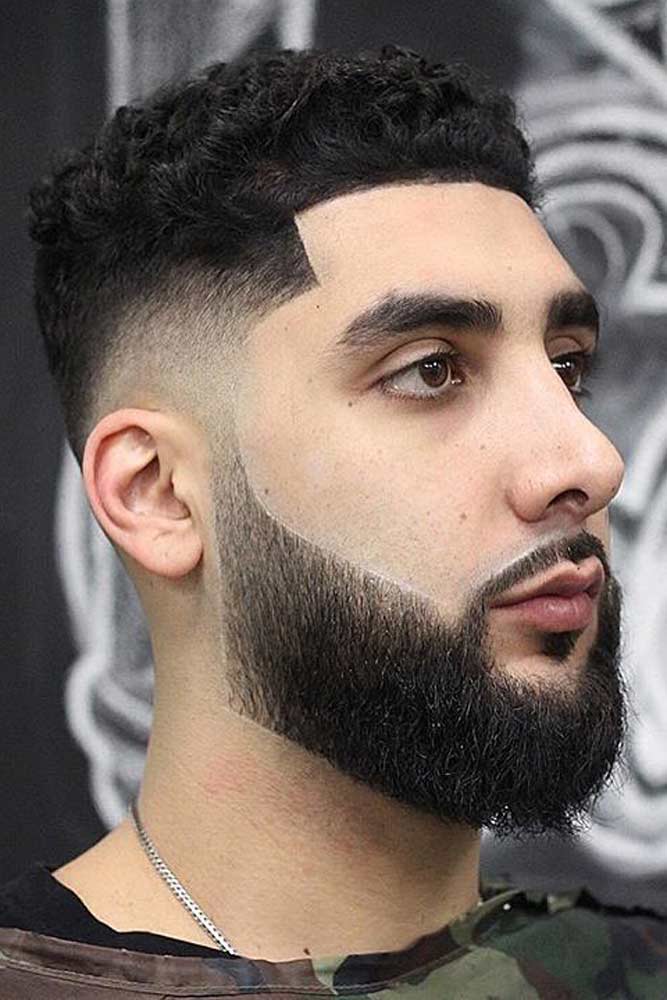 Let's don't forget that thick and curly hair isn't the feature of African American gents only. Arabic guys also need some salvation to tame their extra unruly hair. So here comes a well-groomed, chic variation of the flat top hairstyle. The flat top men wear to stand out can be enhanced by a mid fade that involves a smooth transition from facial hair to the sides.
Two Toned Flat Top
Source: smashthalegend via Instagram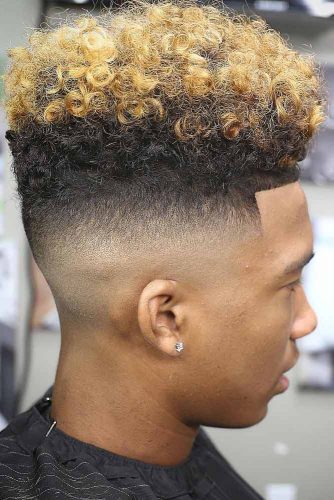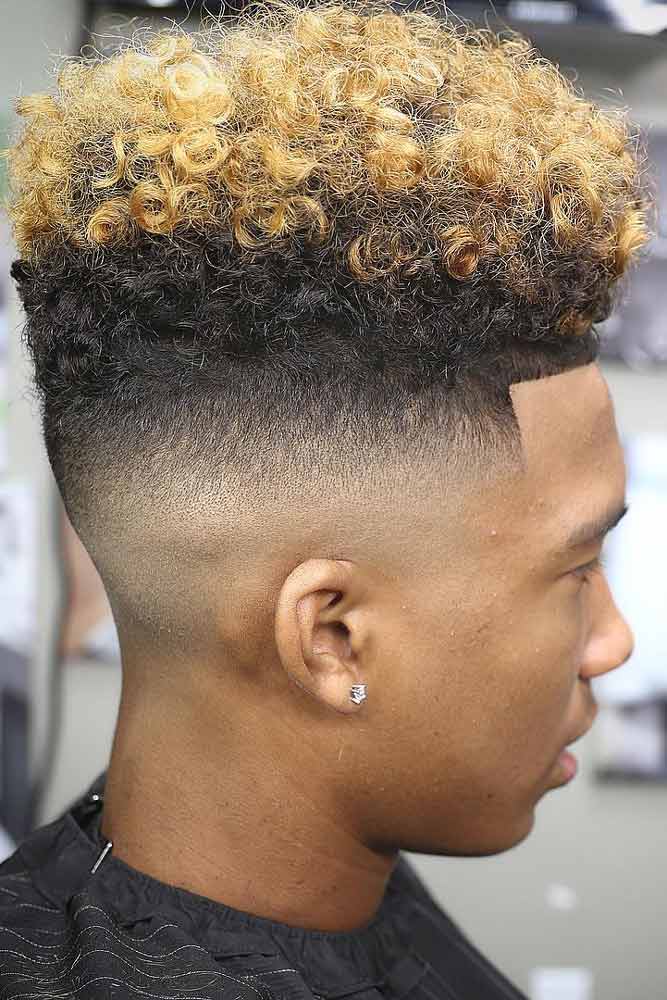 One of the best ways to diversify African American hairstyles is to add some eye-catching detail. The texture of curly hair men find to be extremely hard to style can be easily taken to the new level; just color the top! Black men's haircuts have always been exceptional, and this flat top cut proves it.
Crew Cut + Flat Top
Source: ig_embed via Instagram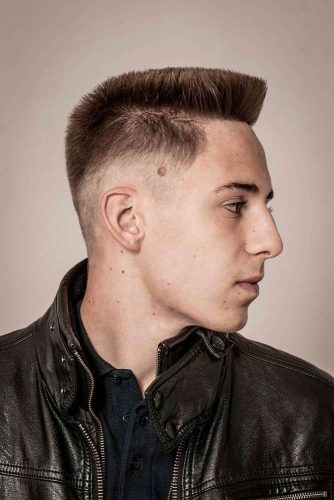 Here comes the classic version of military haircut styles. If you have a closer look at it, you will notice the features of the familiar crewcut, finished with a dramatic edge on the top. Men who like to look simple but significant won't pass by this idea.
Rockabilly-Inspired Flat Top
Source: the_bloody_butcher via Instagram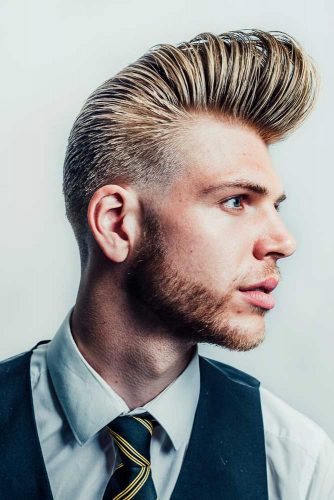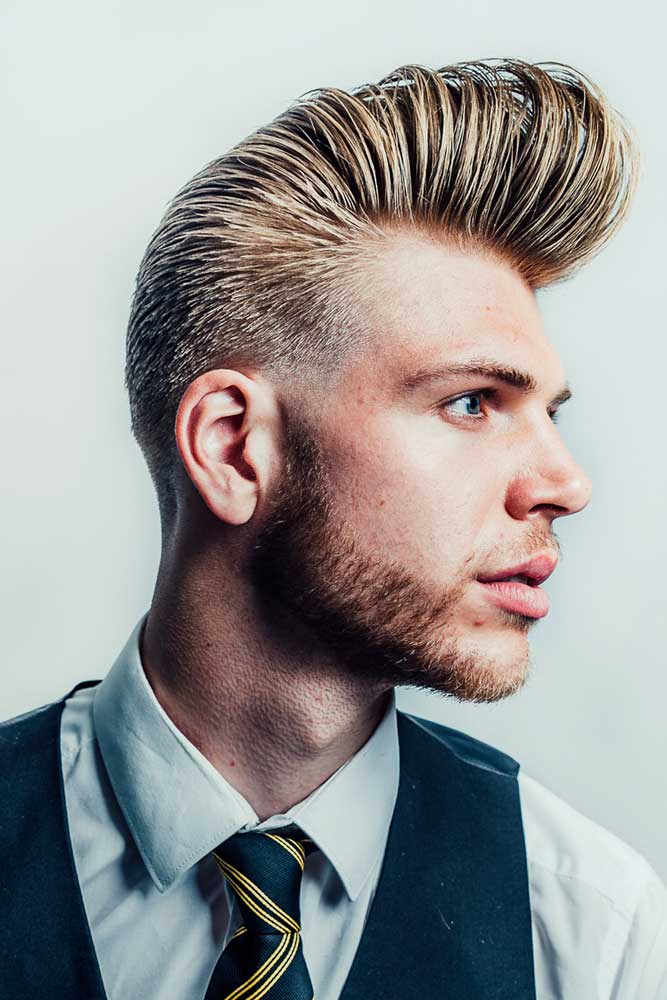 How about you to yield to the nostalgia and go for the idea of rockabilly hair men with medium length hair show up with? The top hair is styled like the fashionable pompadour, and the sides are cut clean. And even though it curves up, the retro-inspired style is still flat on the top.
Flat Top With Fenders
Source: the_bloody_butcher via Instagram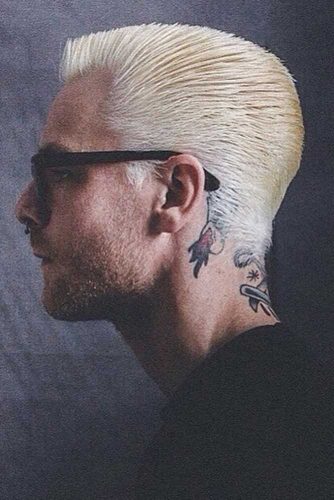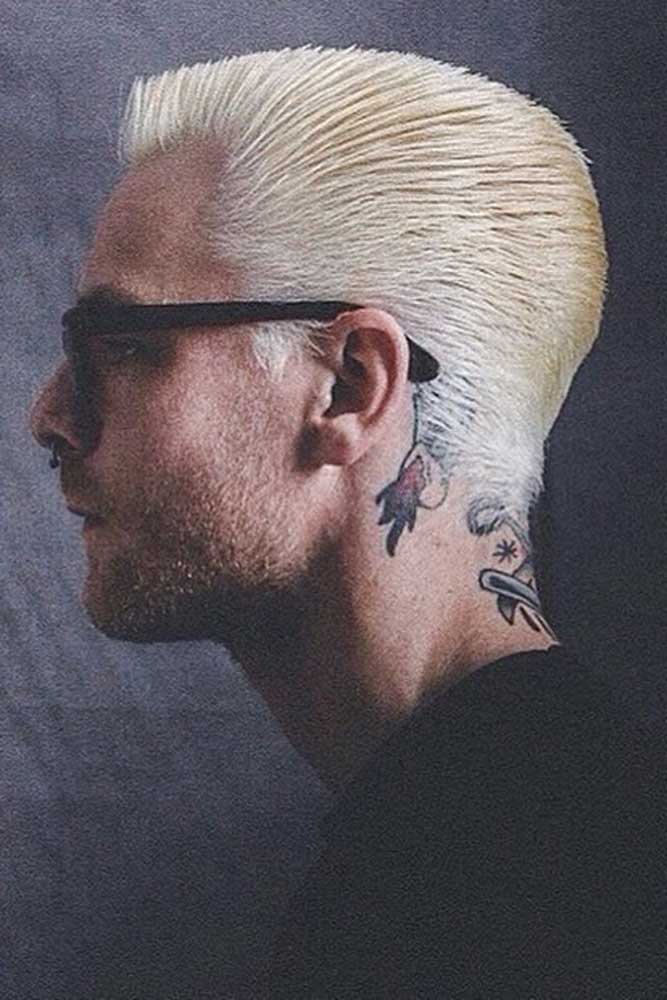 Men who are looking for something really extraordinary, statement-making and even a bit outrageous will love this teen-like flat top for blonde men. Blonde hair men of now like to wear is the highlight of the whole look: the cut is kept classic,while the color adds a modern touch to it.
Blue Flat Top
Source: proudblackroots via Instagram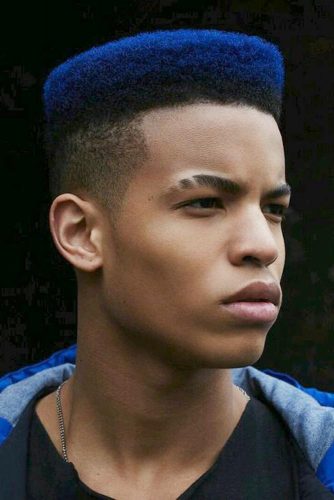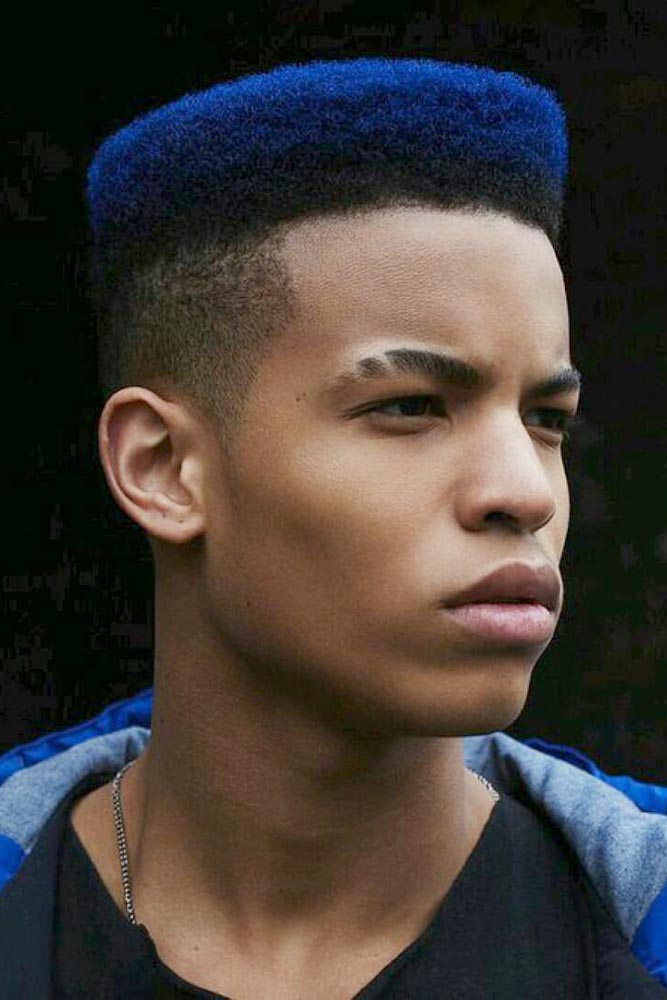 Believe it or not, blue hair men from the past century couldn't even think of has become a new trend of today. If you think that the flat top fade with a soft thickness graduation is not enough for your bright personality, consider going for a bold afro fade like this.
High Flat Top Pomp
Source: kevinluchmun via Instagram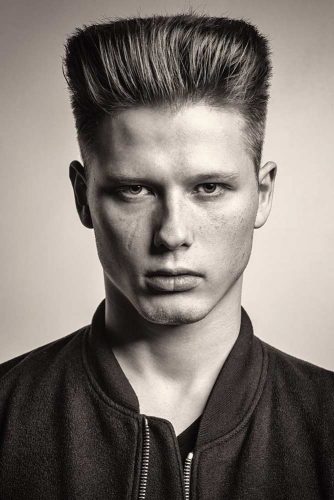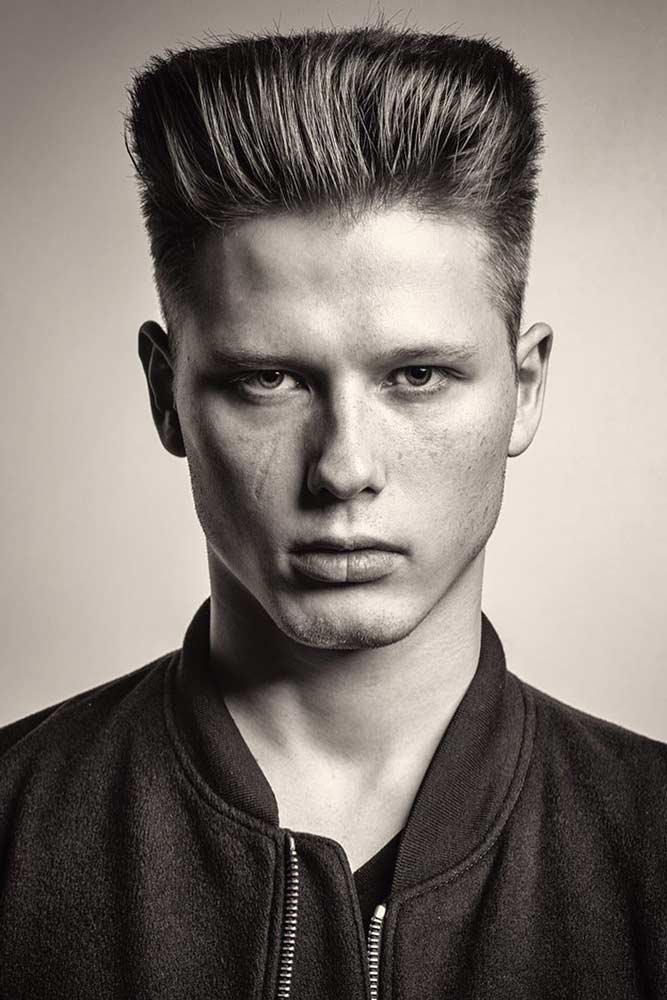 Some guys think that there's no high top fade white guy can pull off. Yet, there are no restrictions about fades: men with any texture can go for it. As for the flat top, this time it's achieved through the styling. If you have fine, manageable hair, you don't need to commit yourself to a flat top cut; you can just create the high top with a gel or pomade.
Voluminous Flat Top Haircut
Source: f4fade via Instagram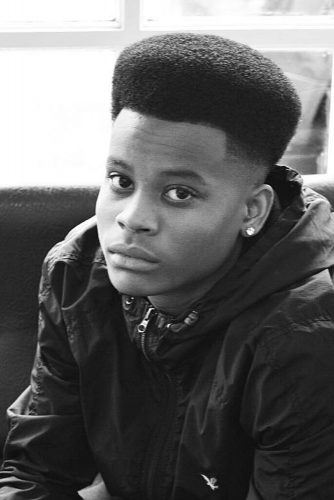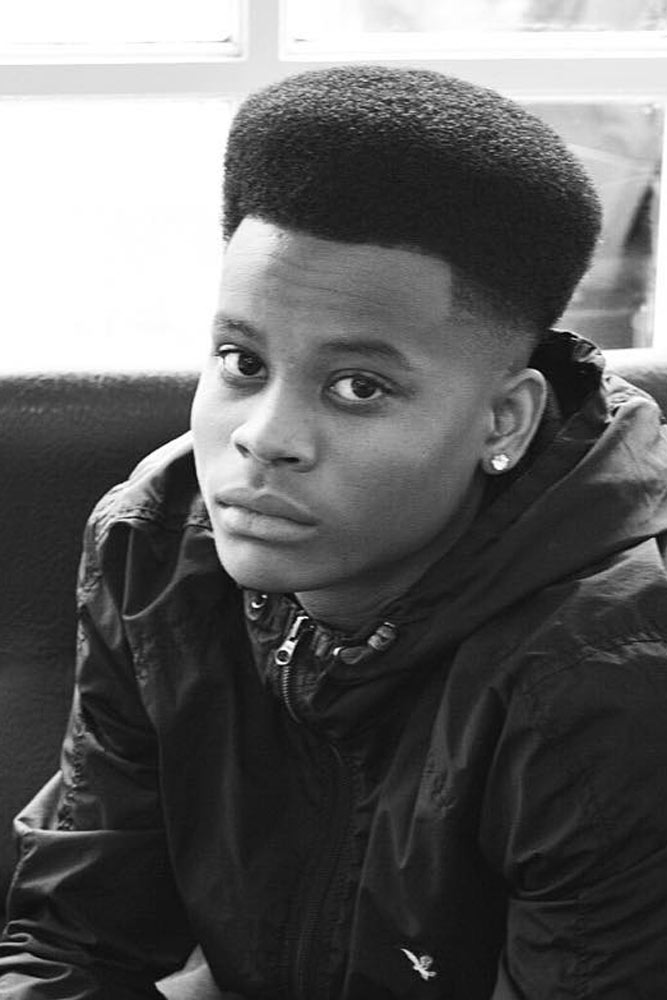 Truly good haircuts for men are the cuts that can emphasize the best features of a wearer and hide up his flaws. This voluminous cut is different from the classic flat tops, yet it's difference builds the needed balance to the man's look. You can change the thickness of your cut based on your face shape: the point is to make it fit your appearance.
Flat Top Haircut With Shaved Design
Source: mattjbarbers via Instagram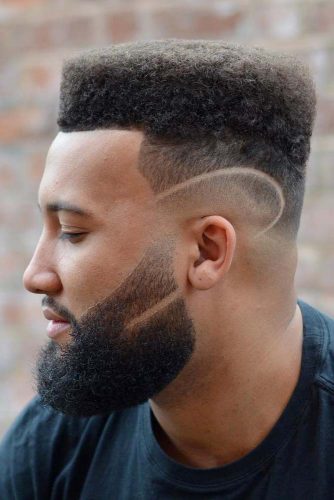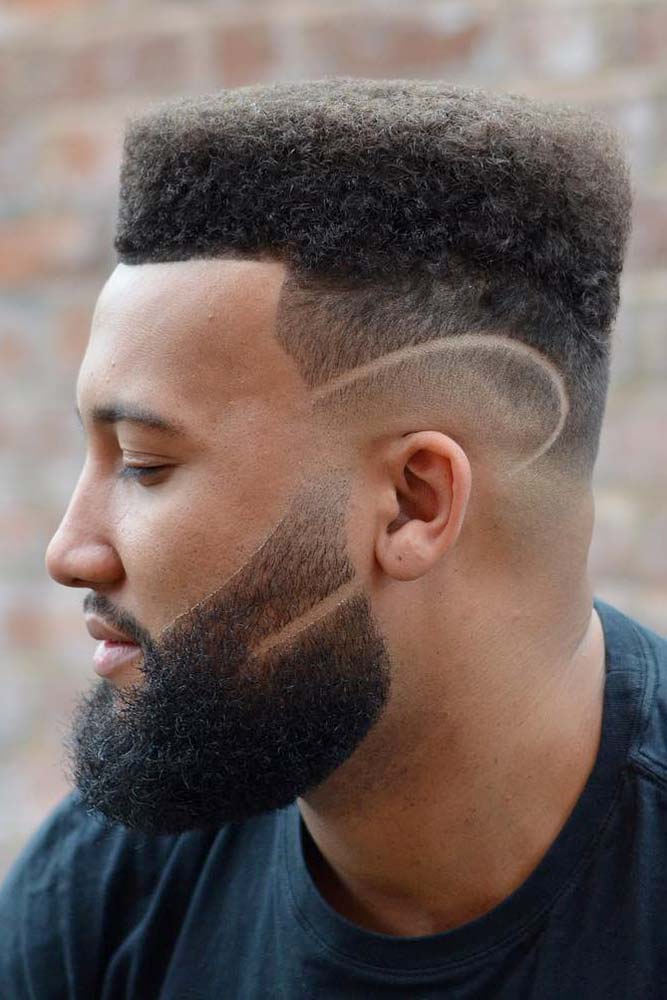 Even the simplest haircut designs can make your haircut show up in a new light. Here's a secret recipe of perfect men's haircut styles: combine simple approaches with minimalist designs.
Flat Top Line Up
Source: anthonythebarber916 via Instagram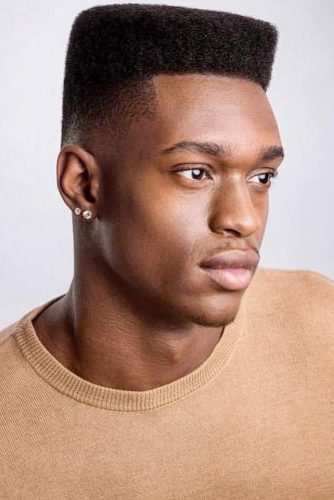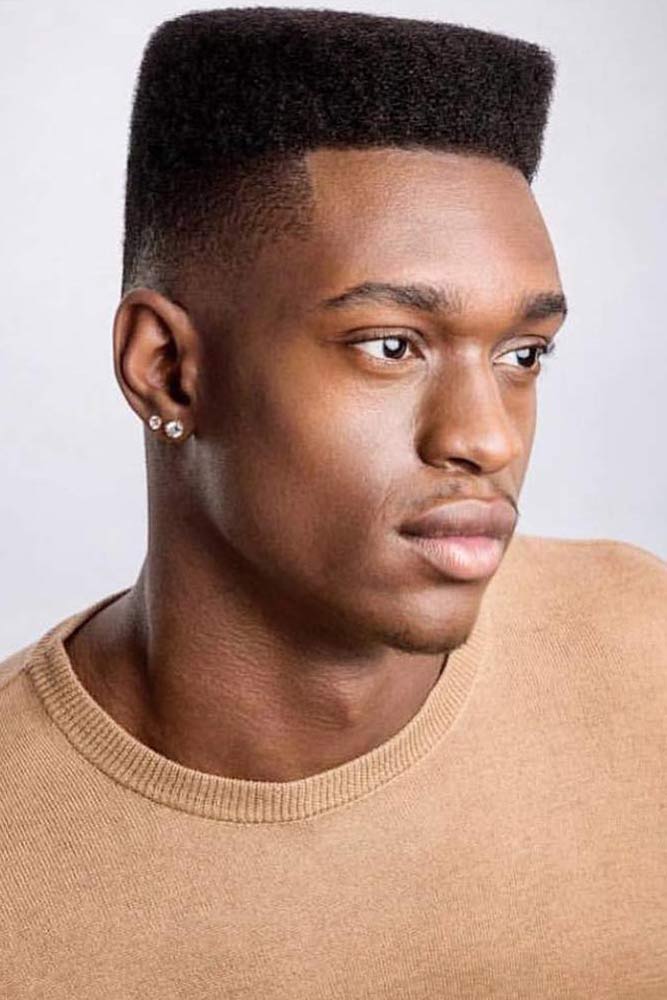 This is the flat top haircut Instagram may show you if you follow the tag of the same name. It just so happens that people admire simplicity in its purest, and this flattop haircut with is as restrained as it should be. If you're looking for a voluminous line up haircut, look no further.
Now you know how different the flat top haircut can be: the versatility of its approaches is simply infinite. And since there's a variation for all men, it's time to find yours: our gallery is your source of inspiration.
FAQ: Flat Top
Can anyone get a flat top haircut?
Military, police enforcement, sportsmen and anyone who wants a low-maintenance, short haircut should consider this style. Choose the bold one, not just a one-length buzzcut. A steady hand and a keen eye are required for cutting a flattop, though it's a relatively simple haircut to learn.
How long does hair have to be for a flat top?
Your hairdresser will need to put all of your hair up, about 1-3 inches of hair is ok in this case. He will create flat and smooth hair with the help of the clipper over comb technique, and, as you move backwards toward the head, your hair should become shorter.
Why is my hair flat?
When it comes to flat hair, grease is frequently at blame. Humidity, dirt combined with natural oils produced by your hair throughout the day will begin to weigh down your hair. Using dry shampoo which absorbs excess oil quickly will help you out.
Was this article helpful?