A military haircut is always short, low-maintenance, and strict. Originally, the main purpose of such cuts was to keep soldiers' hair tight and neat so that it wouldn't bother them when performing the duty. But now, things have changed; now, a military men's cut is not about army. Unless it's the army of modern mods!
In today's world, there are lots of military cuts, and each of them brings a great visual impact to the wearer. If you're a man who appreciates comfort, simplicity, and stylishness, these ideas will turn your image of military style inside out.
The Burr Cut
Переглянути цей допис в Instagram
Let's start with an unpretentious yet bold military style haircut. Nowadays, the burr cut is pretty popular among businessmen and gents who prefer to keep up with simplicity.
And the best thing is, it's not that simple: the almost-bald look puts the masculinity in the spotlight, going well with facial hair. That means, even the simple one-length cut is enough to show you're a man.
The Flat Top
Some may remember the flat top as a military officer haircut, and some may associate it with their favorite hip-hop band. Yes, this cut is probably one of the most versatile military ideas as it has been adapting to many different images, despite its strict structure.
The military flat top haircut works perfectly for men with small heads, adding more length and volume to their silhouettes. Needless to say, the looks are always eye-catching.
Source: jerrys_oldtyme_barbershop via Instagram
The Regulation Cut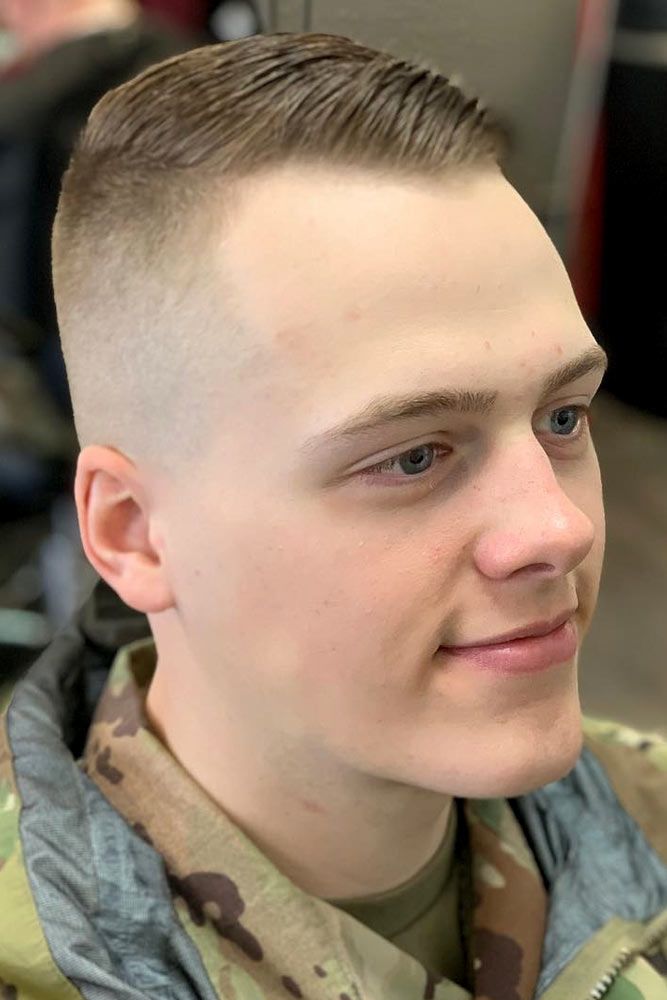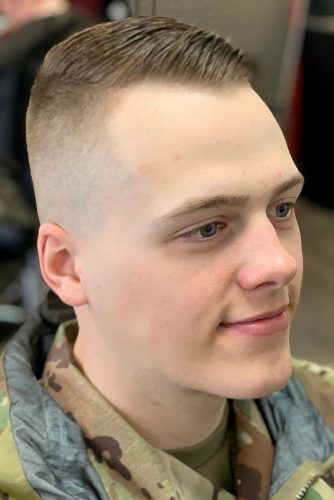 Despite being the oldest mens military haircut, the regulation cut is still considered pretty universal. Today, stylish lads can diversify the cut with different types of fade and tapes, giving it a unique touch.
The classic idea features relatively side-swept top finished with a hard part, but you can play around with these details.
Source: brihanna_jayde via Instagram
The Crew Cut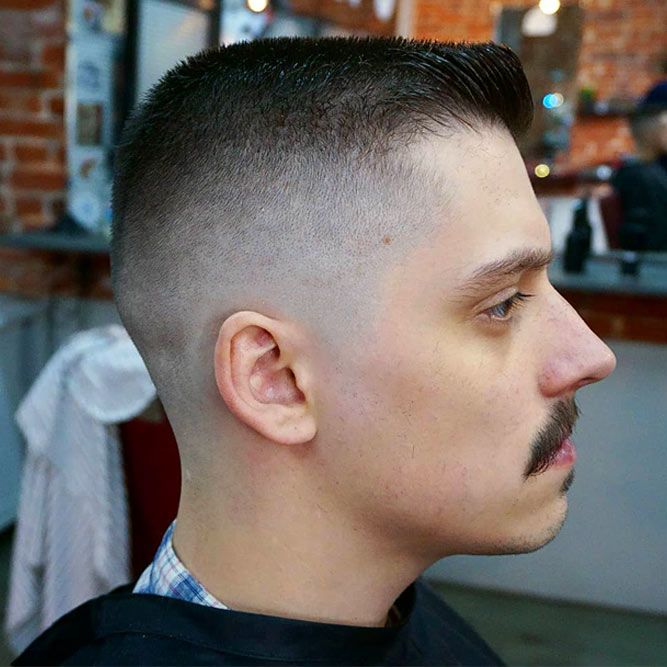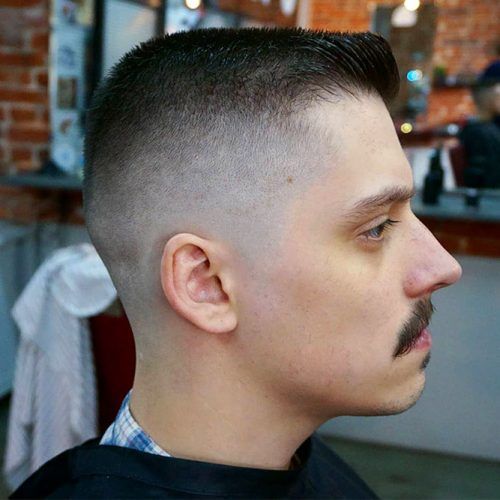 The crew cut is one of the most conservative military cuts of all time. Still, it's an ageless idea that men will never stop sporting.
Though the cut is something about two inches on the sides and back, the top is left without a taper. That is meant to allow wearers to style the top portion by parting or brushing it.
Source: andrew_shefer via Instagram
The Butch Cut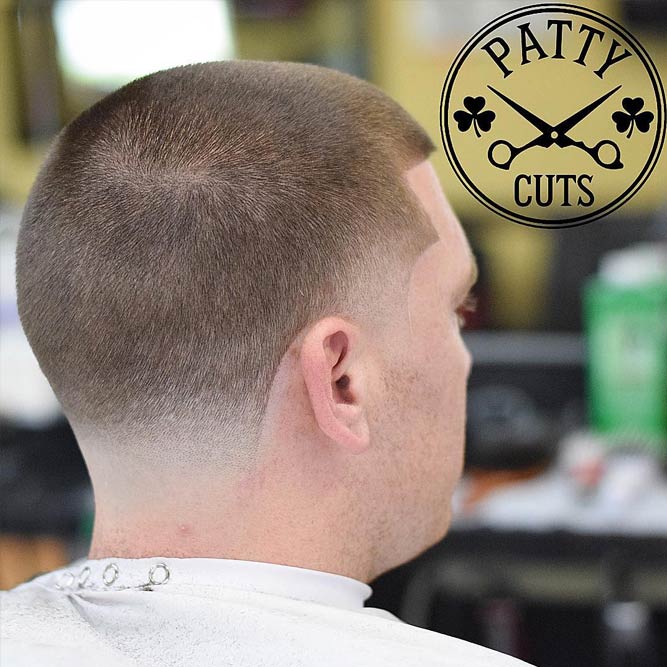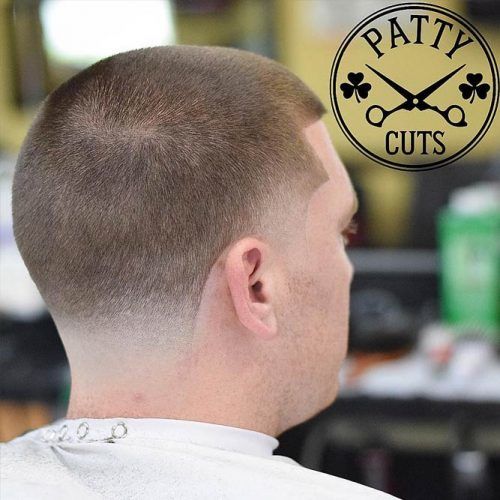 Those looking for a short military haircut that brings a tough character to the image should look no further than the butch.
As you can see, there are no gradual lines or contrasts. But the point is to keep it simple but big, adding precision with slightly tapered and shaved edges.
P.S. It's the golden ratio between the crew and the buzz. To keep up with the short silhouette, visit your barber twice a month.
Source: patty_cuts via Instagram
The Induction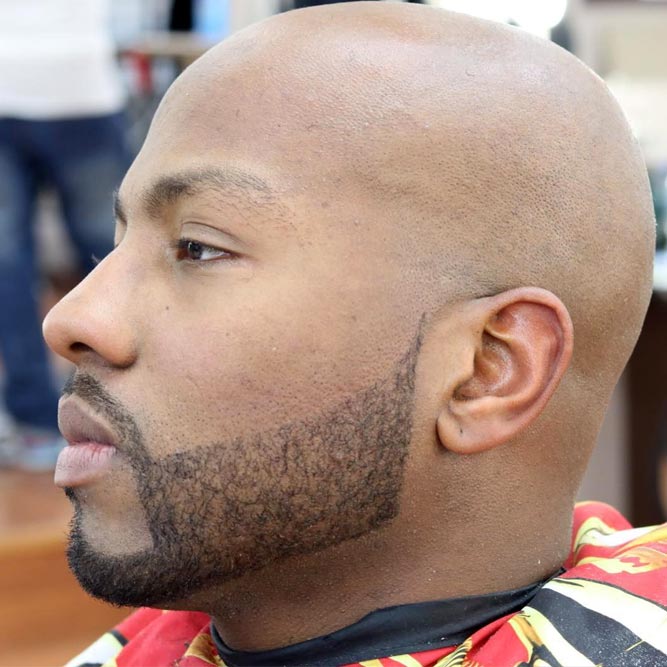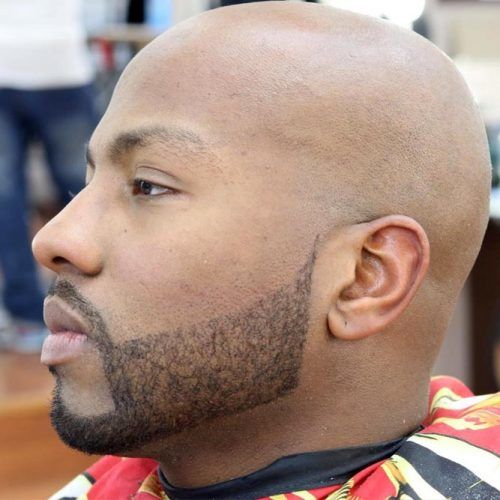 When a soldier gets inducted into his first day of the boot camp, he turns his chevelure into the induction cut. Well, there's no need to describe what it is, as you can see it with your own eyes. And you know what?
There's no better way to enhance your best facial features than to keep them that open. Make sure to pair the minimalist look with a beard to make the masculine look complete.
Source: 610legends via Instagram
The Buzz Cut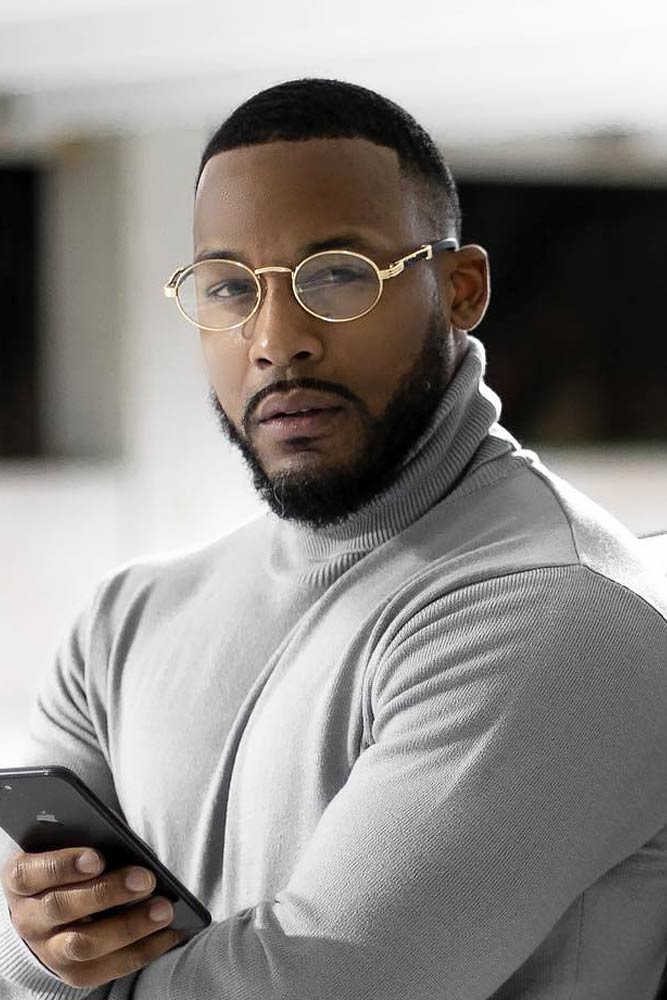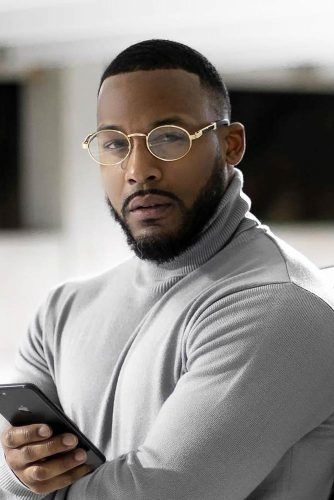 When military barbers stamped the good old buzz haircut, they probably had no idea that it would become a stylish military haircut of 2019.
Yes, it's nothing but a super short haircut. Yet, it has so many advantages!
First, it can give a light feel to all textures. Second, it looks awesome with facial hair. Third, you can always accentuate the cut with a fade. And you can see the result above: simplicity does not fail.
Source: FashionNovaMEN via Instagram
The Ivy League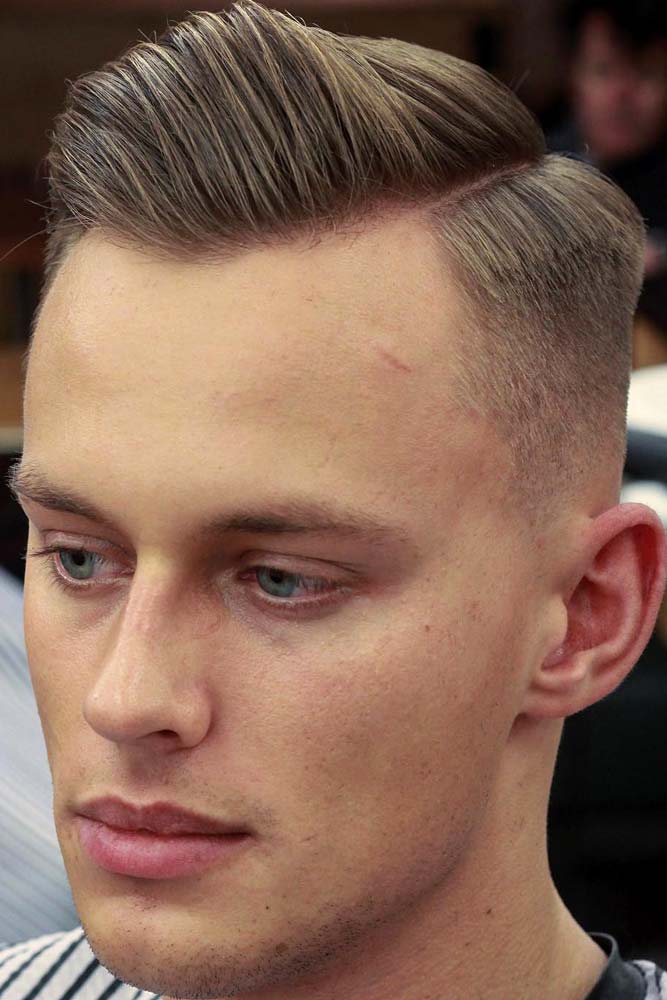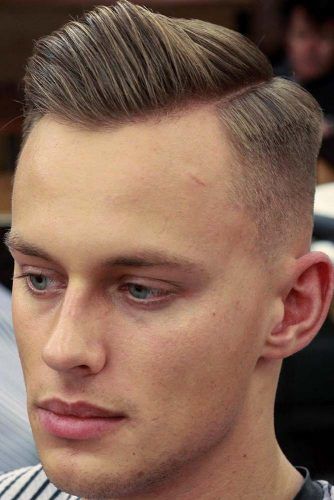 Also known as a Princeton cut, the Ivy League haircut is designed to give a lot of styling freedom to modern men.
It's pretty short and neat at the sides, but the top is left longer so that you can experiment with partings.
This particular idea features a distinctive side part that defines the whole cut and a gradual fade that neats things out.
Source: hayden_cassidy via Instagram
The High And Tight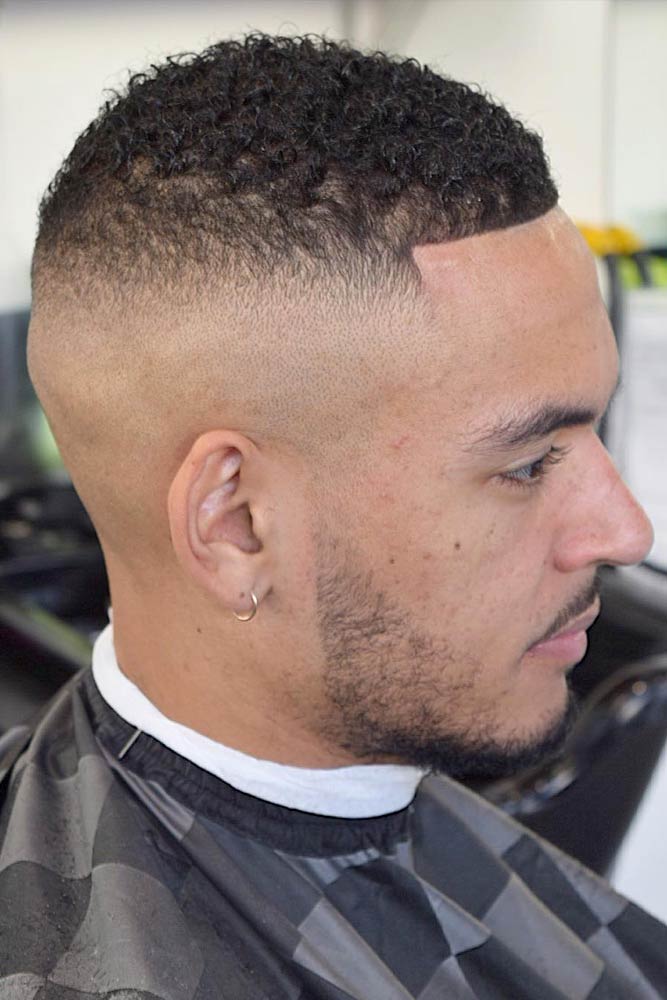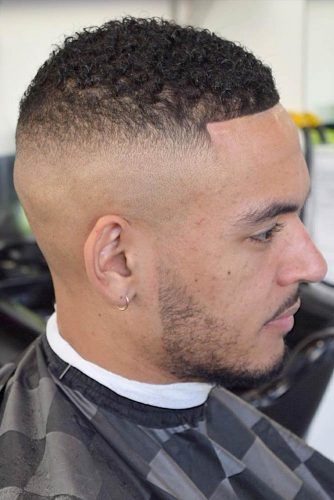 High and tight military haircut speaks for itself. Obviously, it's called so to represent the main requirements for soldiers' hair.
As for its modern variations, its name has one more meaning, which is "extremely fresh and fly".
To give you the look, your barber will closely taper your sides and back, leaving a slightly longer patch on top. The best thing is fuss-free styling and the versatility: anyone from mariners to businessmen can pull it off.
Source: f4fade via Instagram
The Fade Haircut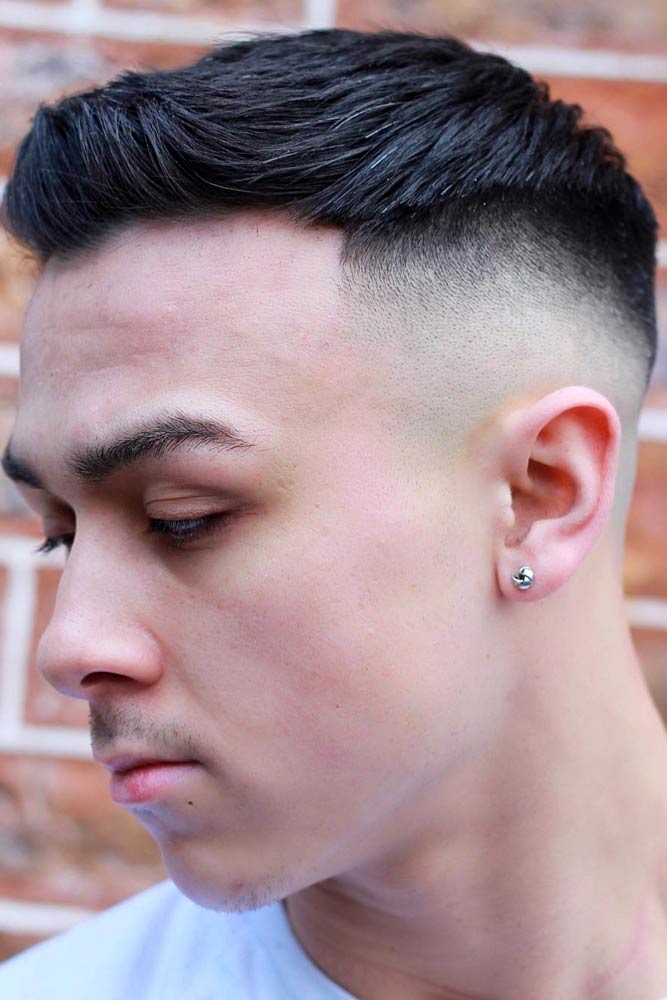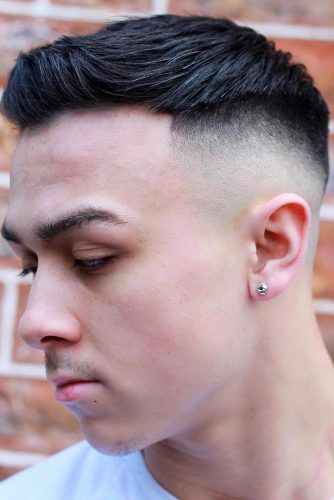 Here's a truth you should know: there's no military haircut fade can't complement. Moreover, a fade for your hair is like a tattoo for your skin.
Whether you want to add some individuality to your look or to simply balance it out, just leave it up to the fade. Here, it accompanies a grown-out crew cut, giving it a spectacular contrast.
Source: hayden_cassidy via Instagram
The Swept Back Cut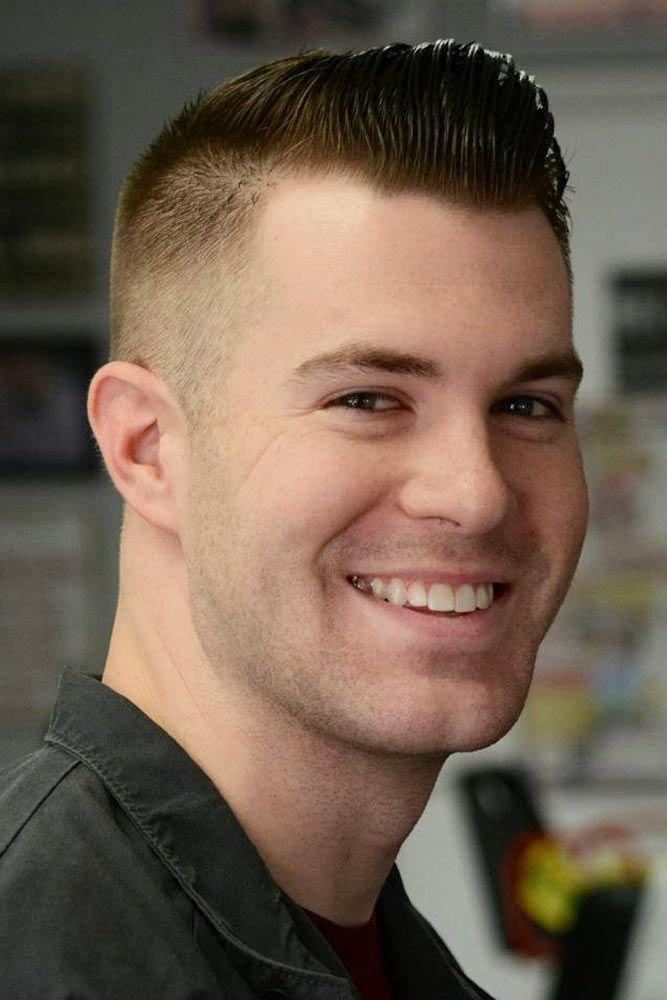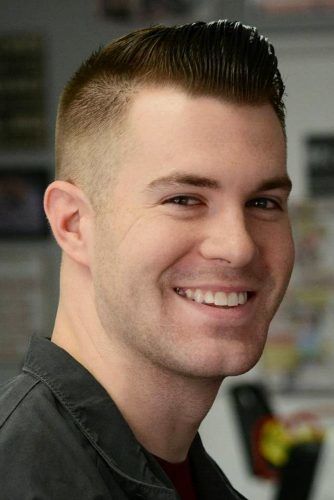 Swept-back military haircut styles are the best things you can do with a longer version of the crew cut.
When you see that the top is long enough to brush it to the back, congratulations! Your cut is ready to serve you at any time, be it a casual walk, business meeting or official party.
To make the look stay longer, don't forget to get yourself good styling wax or gel. Of course, you can make it neater with any military fade haircut as a finish.
Source: kens_family_barbershop via Instagram
Military Undercut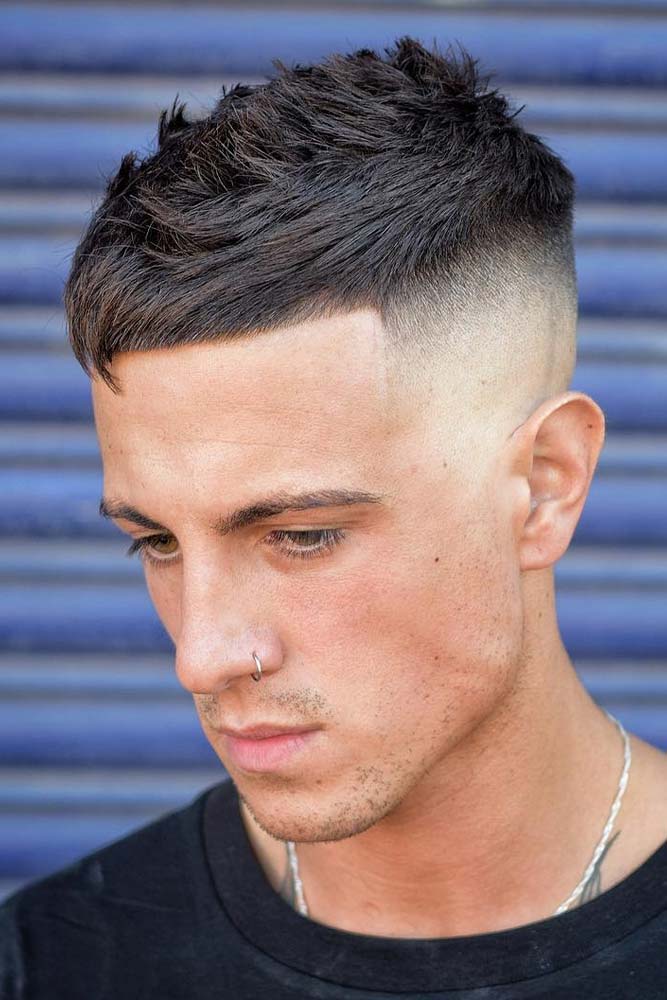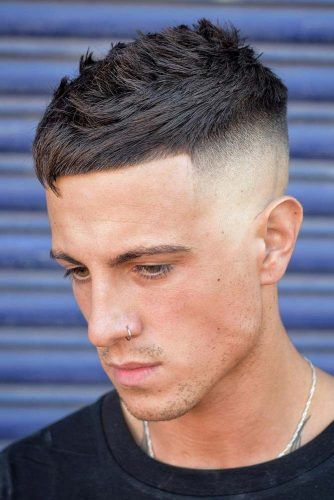 Just like the military high and tight haircut, the undercut is another most-requested cut of now and then. The sides are short and the top is long: everything is easy.
But the way these two look together explains why it's become a trend. But pay attention to the top: it's outlined and not drastic, thus gives a fresh, restrained take to the popular cut.
Source: hayden_cassidy via Instagram
The variety of military cuts, despite their strictness, is pretty vast. With the help of such details as fades and tapers, there's no way you won't find the best military haircut for you. And the reason for their popularity is pretty simple: the cuts make you feel not only comfortable but also stylish and presentable.
FAQ: Military Haircut
What haircuts are allowed in the military?
For most soldiers in the Army, a standard taper or Ivy League haircut is the preferred style. Wigs and hairpieces are not permitted for men unless they are used to hide hair loss or natural baldness caused by accidents or military procedures. The usual haircut requirements must be followed when wearing a wig or hairpiece.
How do military keep their hair long?
Under the new norm, women with long hair are able to wear ponytails with an Army Combat Uniform during physical exercises or while wearing tactical headgear during military trainings or combat operations. Long hair is defined by the Army as the hair that goes beyond the collar.
Are Mohawks allowed in the military?
Various hairstyles are now permitted as long as they retain a tidy, professional look and do not obstruct the use of headgear. "Landing Strips", Mohawks and Horseshoes are examples of forbidden hairstyles under the new classification.