Mohawk fade haircuts are not just a mixture of the popular rebellious haircut and a fade. It's a whole new type of Mohawk that allows modern guys to combine daring edginess with a sense of elegance. In other words, it's the most gentle and masculine Mohawk option of all time. And today you are going to learn how to make it a part of your style!
Alongside lots of inspiring pics, you will see some styling tips that will show you how to make the well-known punky style less dramatic and make it suitable for casual wear.
The Mohawk Fade: What Is It?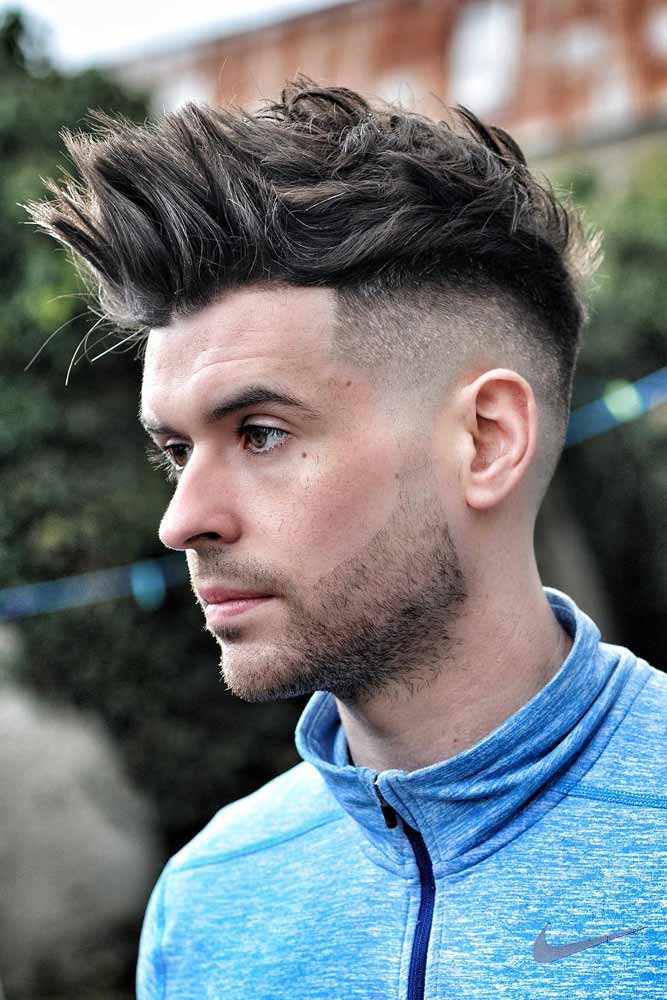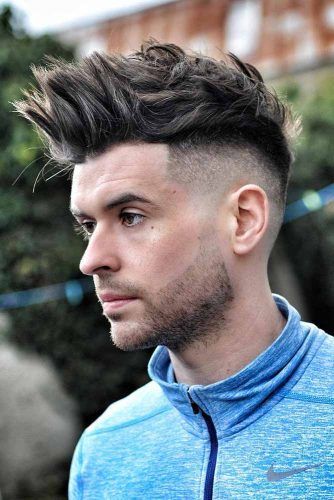 Credit photo: instagram.com/ryancullenhair
Unlike the classic version of Mohawk that features cleanly-shaved or buzzed sides and a high top that stretches along the back, Mohawk Fade haircut is less contrastive. It usually comes with a high fade that gives a smoother blend on the top portion.
One of the best things about such cuts is that a wearer can experiment with different types of fade, regulating the blend of the whole haircut. In this way, you can easily make one of the most outrageous men's hairstyles adapt to your image. As for the top, faded Mohawk haircuts offer a lot of room for styling creativity, too! You can turn the top into anything from sleek and textured to messy and tousled.
How To Get Faded Mohawk: Basic Recommendations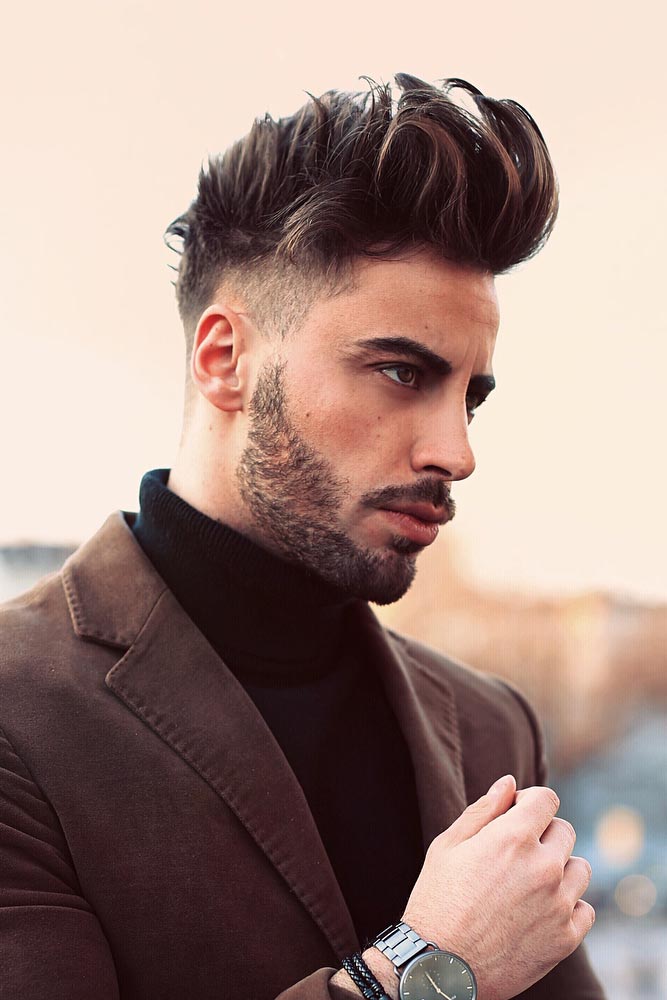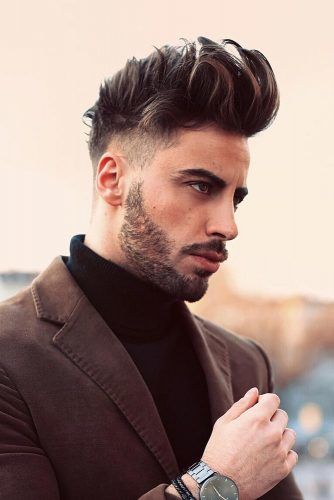 Credit photo: instagram.com/giuse_laguardia
First of all, you need to find a skilled barber who knows how to cut a mohawk fade. But that's not enough, because, if you're going to pull it off, you'll need to consider some basics to achieve a style that perfectly suits you. Here are the things that you should keep in mind.
For a short version of the cut, you need to have at least 2 inches of hair on top. And if you want to rock a more flexible top, make sure to have at least 3 to 5 inches.
Before asking your barber for a high fade on the sides, decide how wide and long you want the cut to be and tell him.
For businessmen with thick hair, we recommend going for a more comfortable, short faded Mohawk as it can offer a restrained, stylish, and low-maintenance look.
If you are not sure what your cut should be, consult with your barber or bring a pic of the cut you like.
Specify what kind of fade you want to get. It can be a close skin fade that creates high contrast with the top; a high fade that keeps the sides very neat yet not clean; a mid or low fade that leaves more length for smooth transition. It's all up to you!
When your cut is ready, ask your barber to tailor the top in the way it matches your image.
Tips For Styling A Mohawk Fade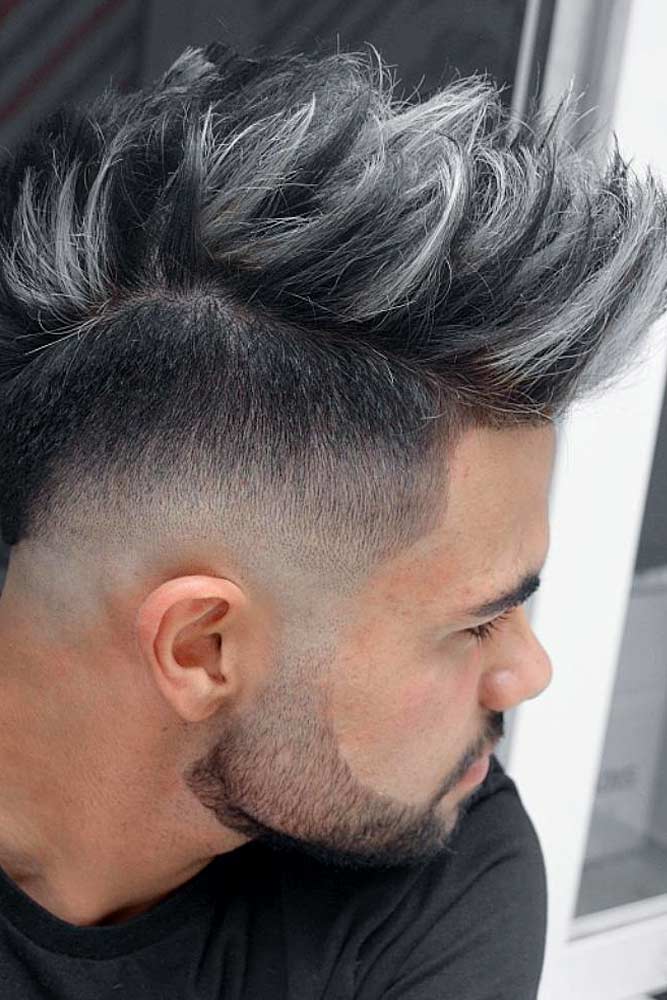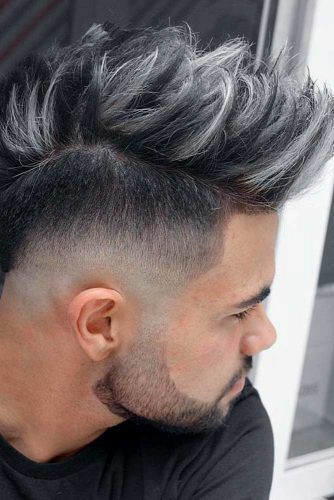 Credit photo: instagram.com/tote_barber
Since the haircut is very versatile, there are countless ways on how to style a Mohawk fade. But there still are some universal tips that every man should take into account to master the style he's about to recreate. Here they are!
You should be fully equipped with styling tools and products. A styling gel, wax or pomade is a must, just like a good comb. Based on the look you want to achieve, choose a strong or light hold hair product.
Before applying a product, make sure you start with damp hair.
Work the product through your hair thoroughly so that the top doesn't fall.
With the help of a comb, push your hair to the center of the head, keeping on brushing to create a voluminous body.
If you want to get a super steady, voluminous hawk, use a blow dryer, directing hair to the center.
For textured looks, run your fingers through your well-gelled or waxed hair and tousle it up.
The Hottest Faded Mohawk Styles To Try Today
With the eternal variety of cool Mohawks with fade, there's no way you won't find the perfect idea for you: you can experiment to your heart's content. The hairstyles you are going to discover will not only allow you to individualize them by playing with fades and tapers but also will nicely complement your facial hair. Check out the latest ideas: they are designed to inspire you for your next barbershop appointment.
Mid Length Curly Mohawk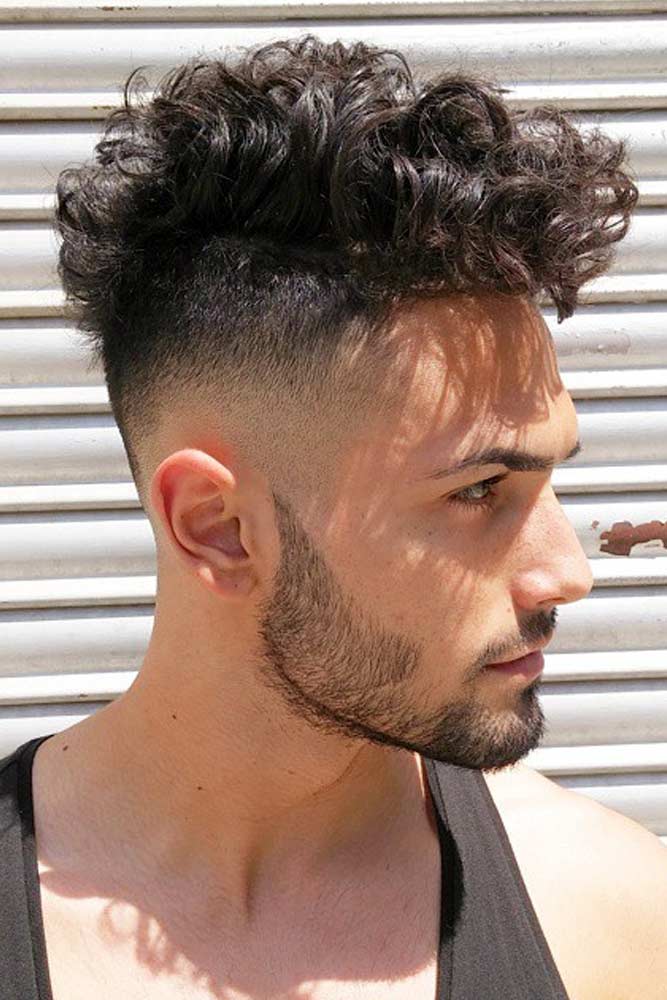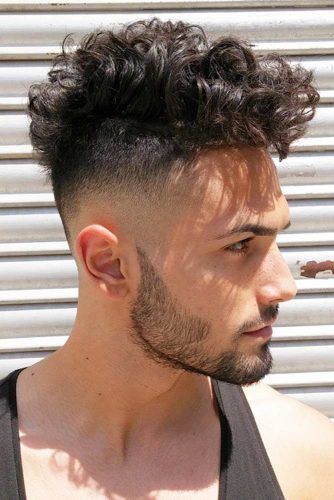 ]
Credit photo: instagram.com/ggsoaress
Mohawk fade has no texture restrictions. On the contrary, it can always adapt to your hair type. This undercut Mohawk features closely shaved sides that accentuate the top, showing off the awesomeness of curly texture.
Pompadour Mohawk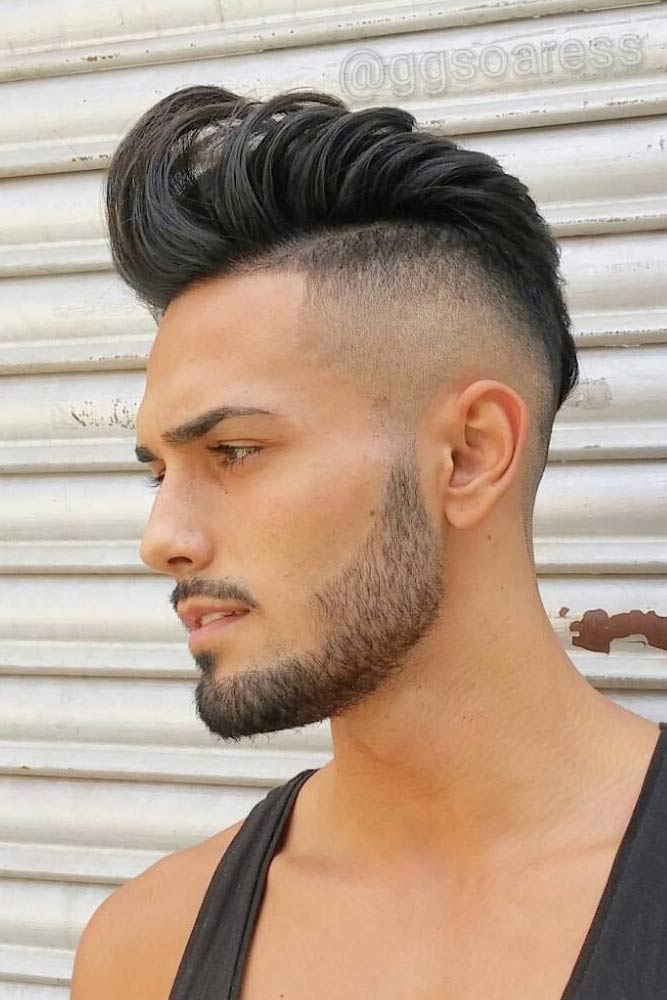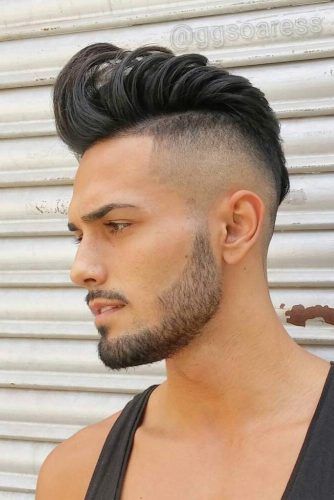 Credit photo: instagram.com/ggsoaress
And here's the promised elegant version of Mohawk fade. Here you can see a rough combination of a zero fade and Mohawk top. To achieve such a classy look, apply a strong-hold gel to the top and brush it to the side, holding a blow dryer in the other hand.
Razor Line Mohawk Haircut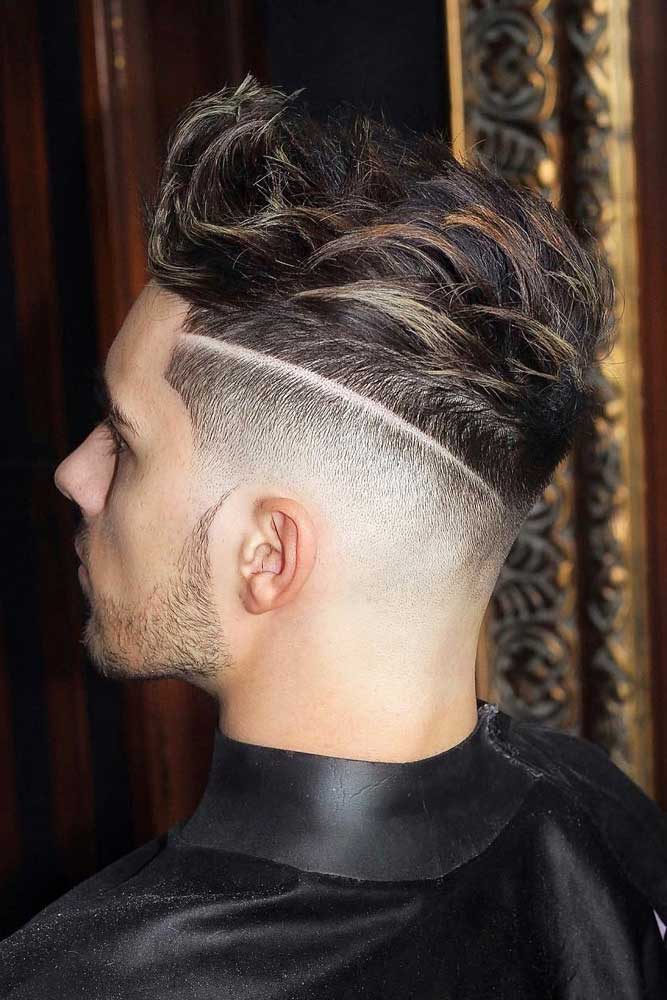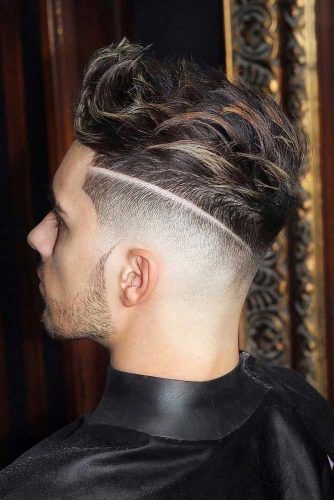 Credit photo: instagram.com/ryancullenhair
Don't forget that you can customize your Mohawk haircut fade with some shaved designs. This high fade looks extremely sophisticated due to the shaved stripe while the messy top gives a harmonic finish.
High Mohawk Pomp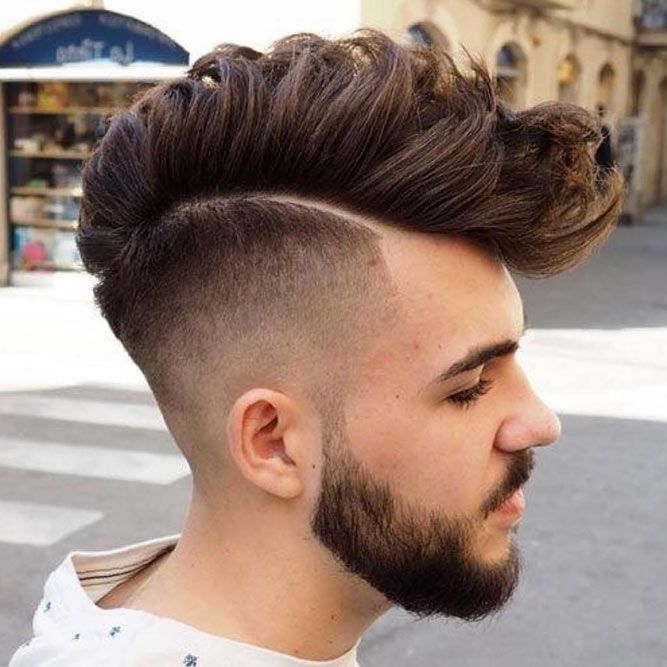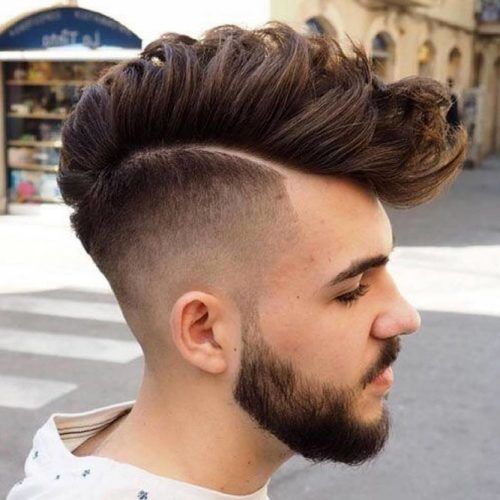 Credit photo: instagram.com/menshairstylehub
If you love to wear super voluminous and immaculate hairstyles, this idea is a must. The top is full and well-structured and the fade is clean and smooth, which goes well with the beard.
Modern Mohawk With a Beard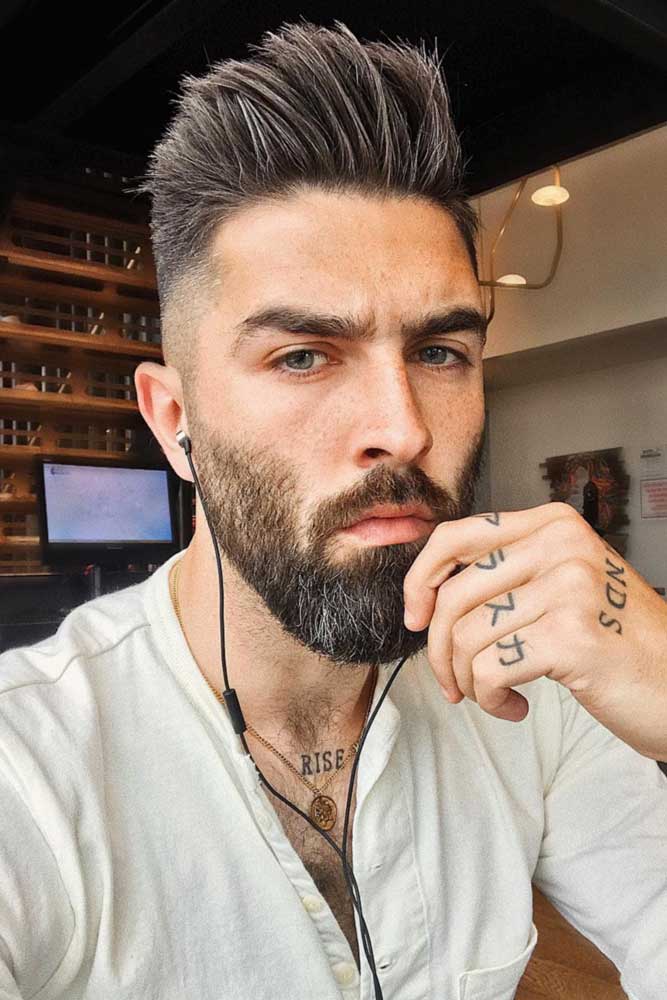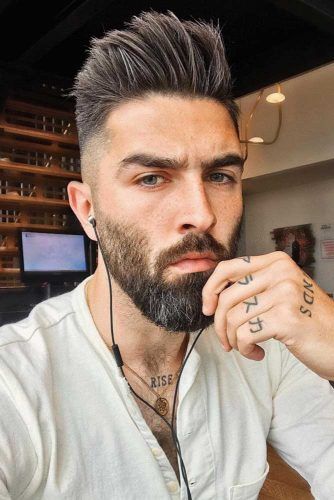 Credit photo: instagram.com/chrisjohnmillington
Simple, masculine, and stylish: this is how a modern casual faded Mohawk looks like. Such a haircut will work splendidly for any hair type, making it appear pretty voluminous. But since it's very high, it's better to pair it with a beard to balance out the look.
Spiky Mohawk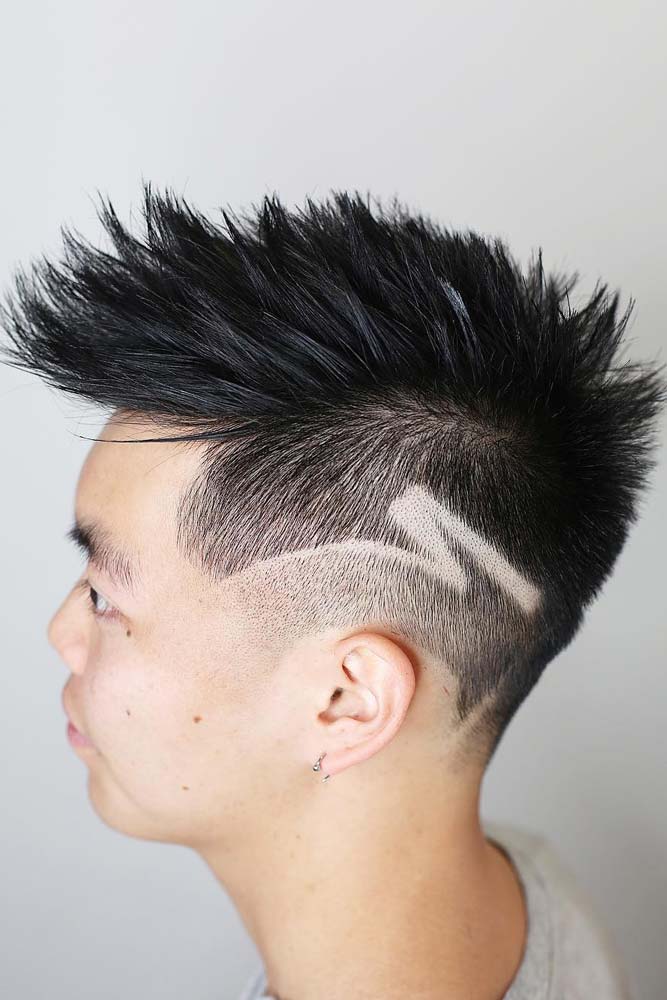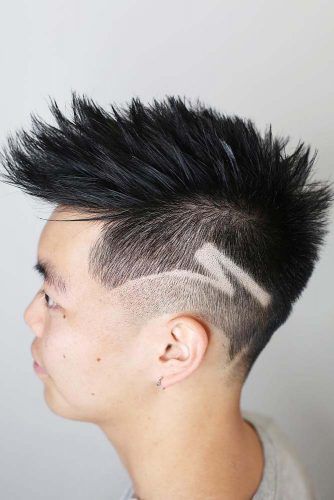 Credit photo: instagram.com/shawnscheepers
A spiky Mohawk is a perfect option for men with thin hair and a punky soul! Edgy spikes can bring a ton of volume to weak hair, creating a very full and youthful silhouette. Of course, you can finish it with some hair design, if you please.
Mohawk With Bald Fade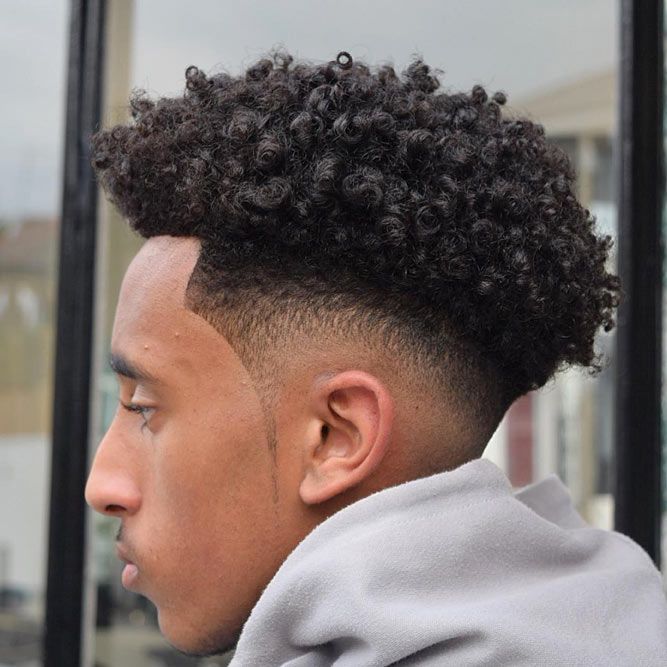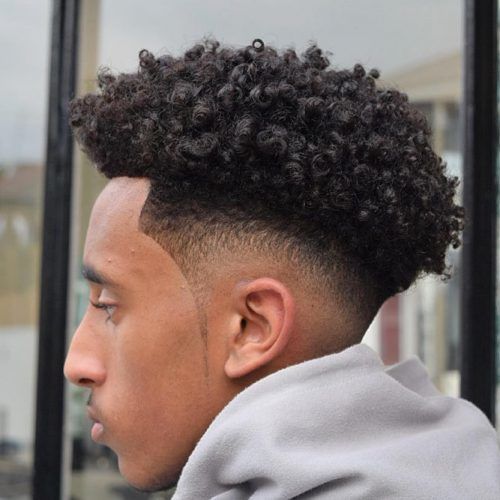 Credit photo: instagram.com/f4fade
Men who are into contrastive looks can pair their Mohawks with bald fade. This haircut gives a clean, disconnected transition, focusing on the top. If you'd like to make your curls stand out, this idea is for you.
Burst Fade Mohawk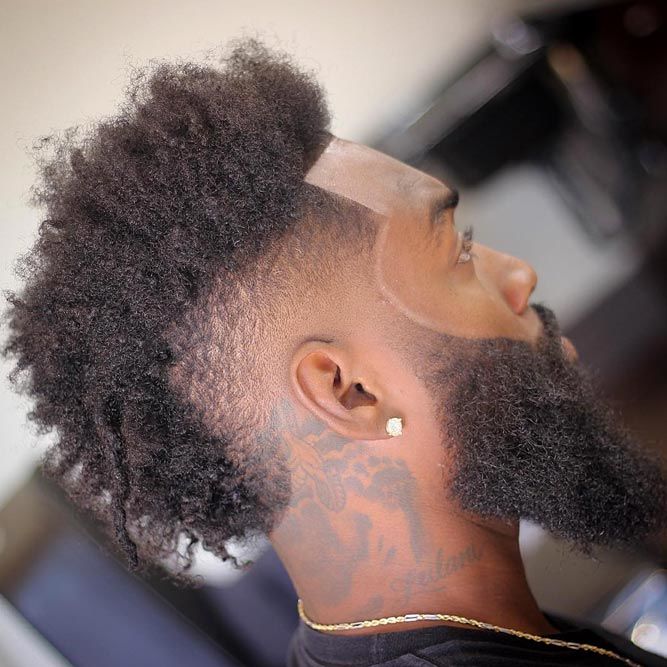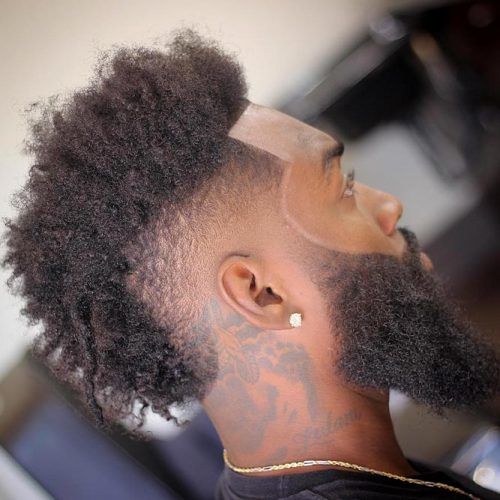 Credit photo: instagram.com/itsclipperovercomb
Similar to a high top fade haircut, the burst fade Mohawk is a popular idea among men with kinky hair. Not only does the style give a neat, precise finish to unruly hair but also whip it into an awesome punky shape.
Two-Toned Mohawk With A Side Design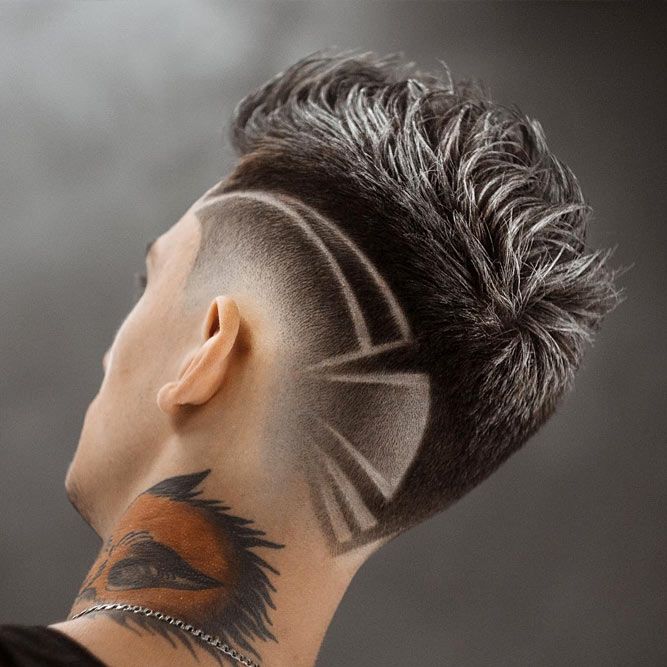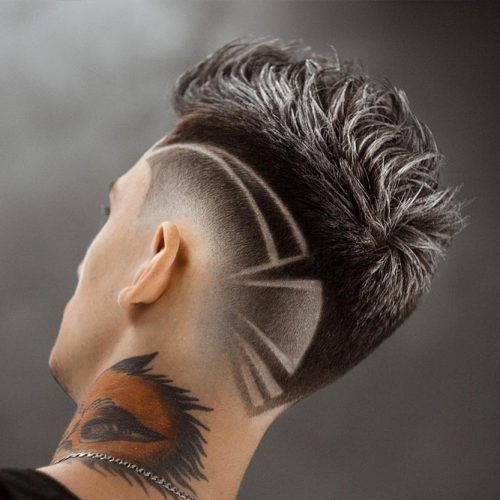 Credit photo: instagram.com/kvenzo.barber.cuts
There's no better way to create a one-of-a-kind haircut than to get a unique hair tattoo. Minimalist patterns go well with graduated haircuts, especially those finished with smooth fades.
Skin Fade And Mohawk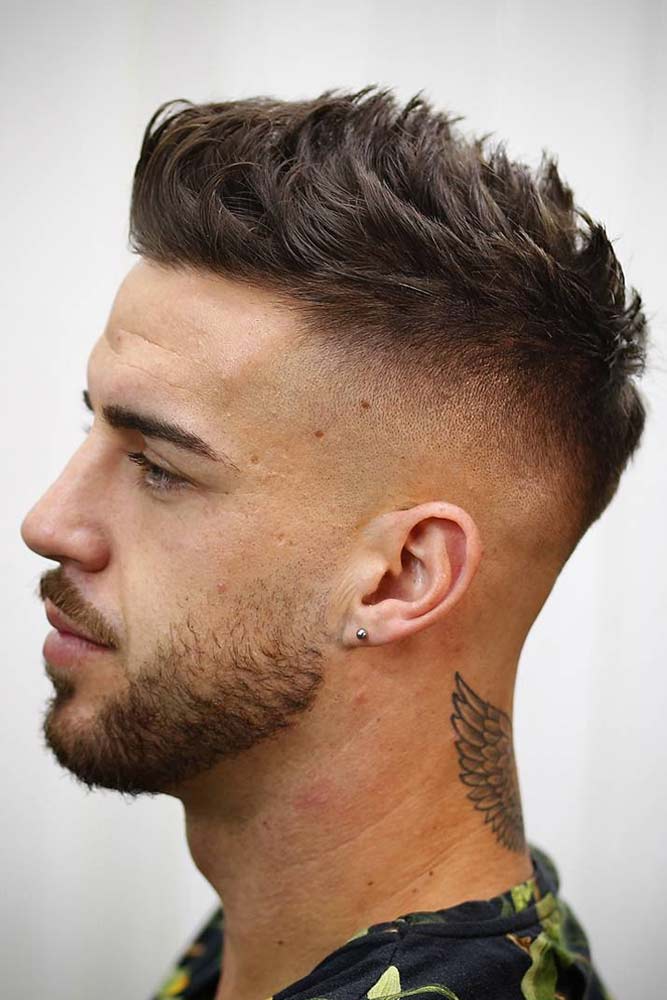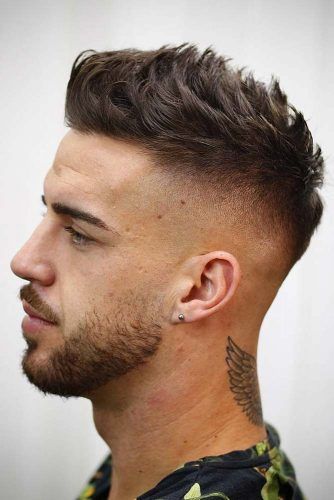 Credit photo: instagram.com/napolesbarbershop
Short faded Mohawks can be nicely enhanced with a high skin fade. This particular look is kept well-balanced and neat because of the perfect silhouette created by facial hair.
Sponge Curls Mohawk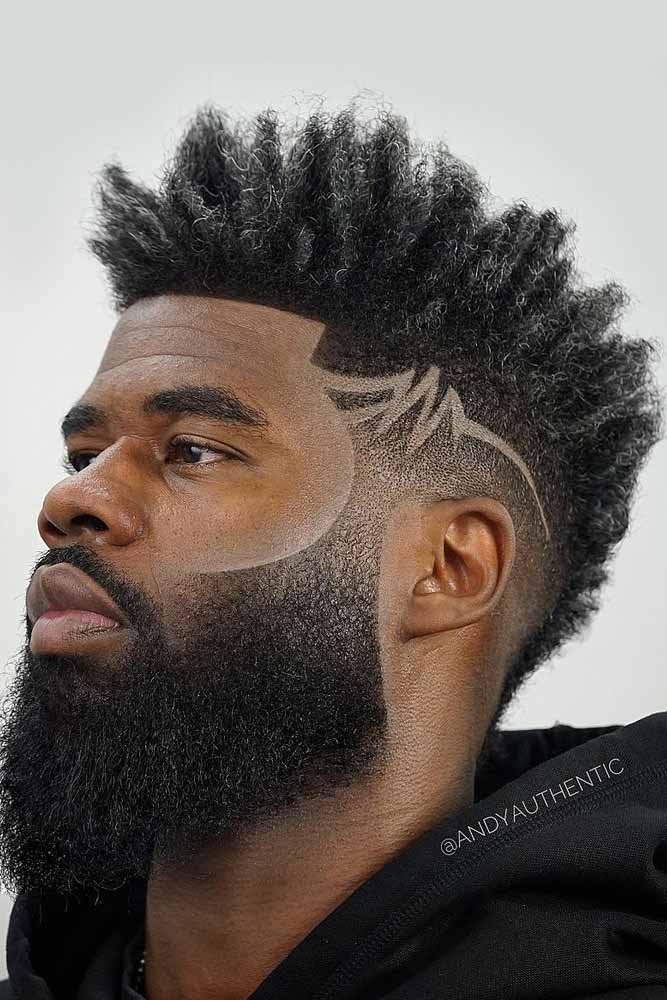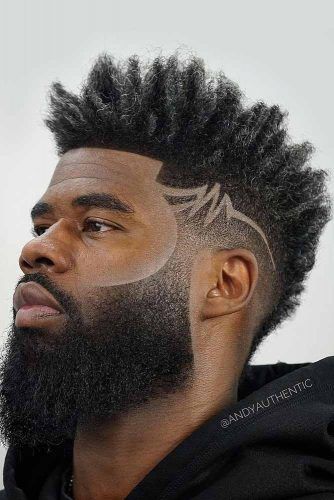 Credit photo: instagram.com/andyauthentic
Besides outstanding sponge curls and a mighty beard, there's one more detail that makes this faded Mohawk special. A temple fade that slowly turns into a fascinating design serves as an exceptional finish.
Line Up Faded Mohawk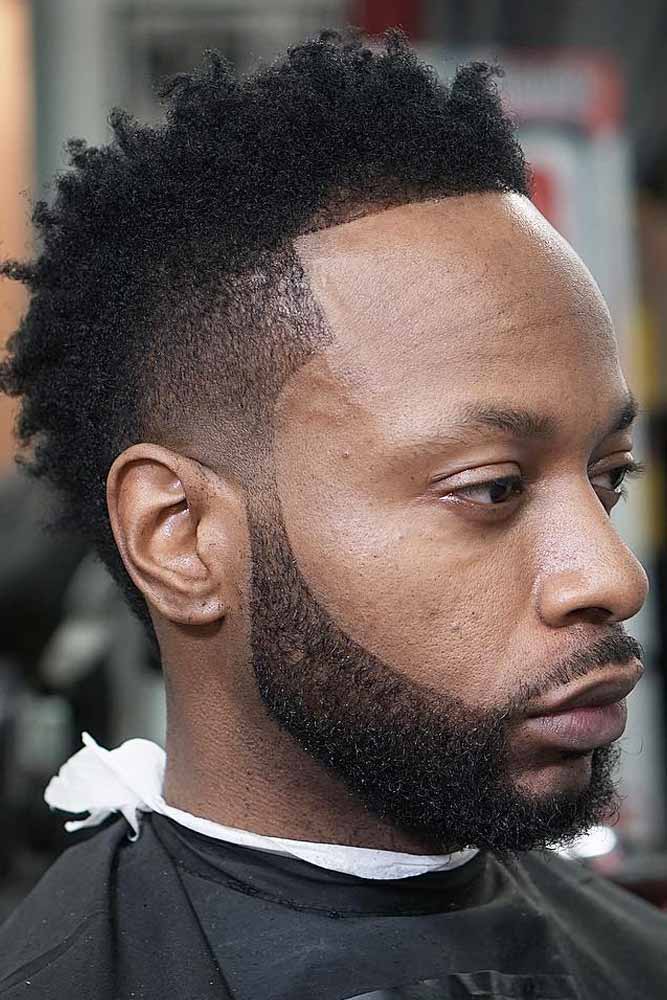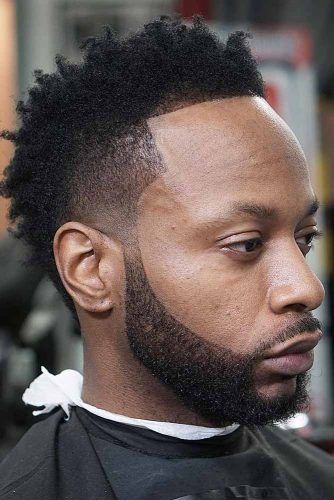 Credit photo: instagram.com/iamtyrikjackson
Here's another cool feature of black Mohawk fade haircuts: you can ask your barber for a low temp fade that seamlessly blends with your facial hair. Everything in this style is so precise and accurate that it's hard to recognize a punky cut!
Mohawk Fade With Hard Part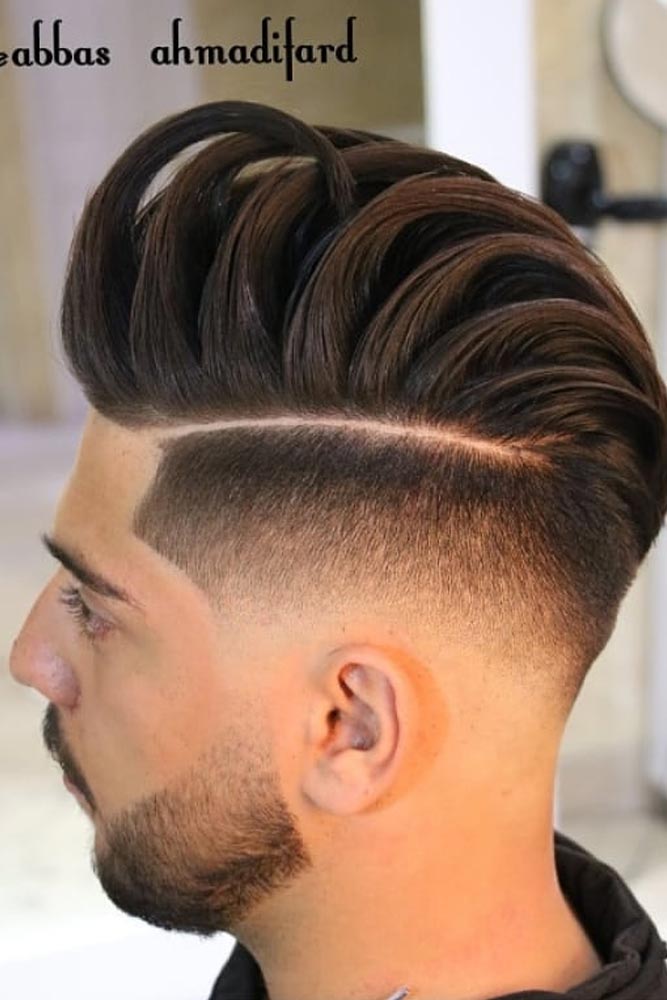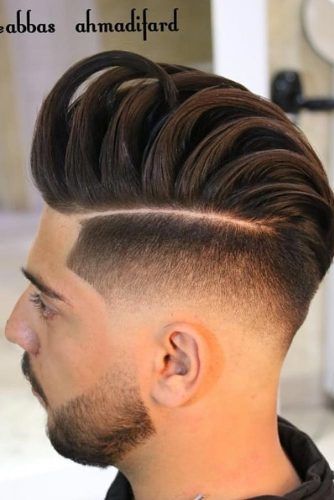 Credit photo: instagram.com/abbas_ahmadifard
Gone are those days when Mohawk was all about rebellious punks and messy looks! Today, this daring hairstyle is no stranger to neatness and precision, so you can make the restless vibe work for your dapper look. Ask your barber for a hard part to always have an outlined finish, style your hawk with a firm pomade, and make your look complete by running your fingers through the top. Of course, a nice fade will be the icing on the cake.
Blonde Mohawk Fade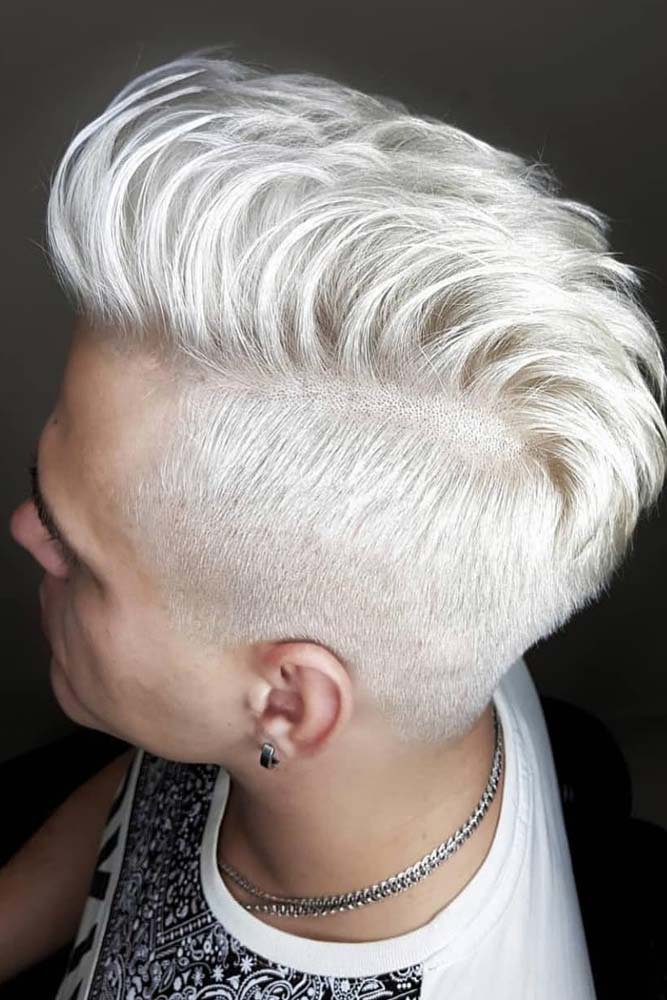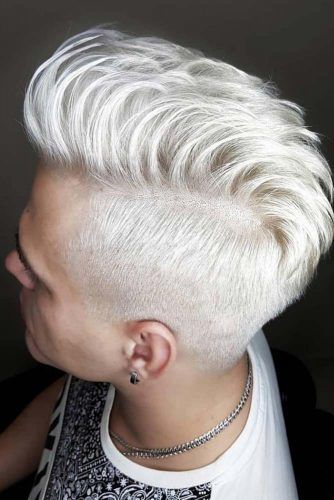 Credit photo: instagram.com/milashkina_elena
If not a Mohawk, what can show off your color update at its best? On lighter hair colors, sharp length graduations aren't that visible, so we recommend you going for softly graduated tapers and focus your styling on the texture of the top. A bit of upward movement will do just great to make the top stand out. To style it this way, just work some lightweight gel into your hair.
Burgundy Mohawk Fade With Hair Design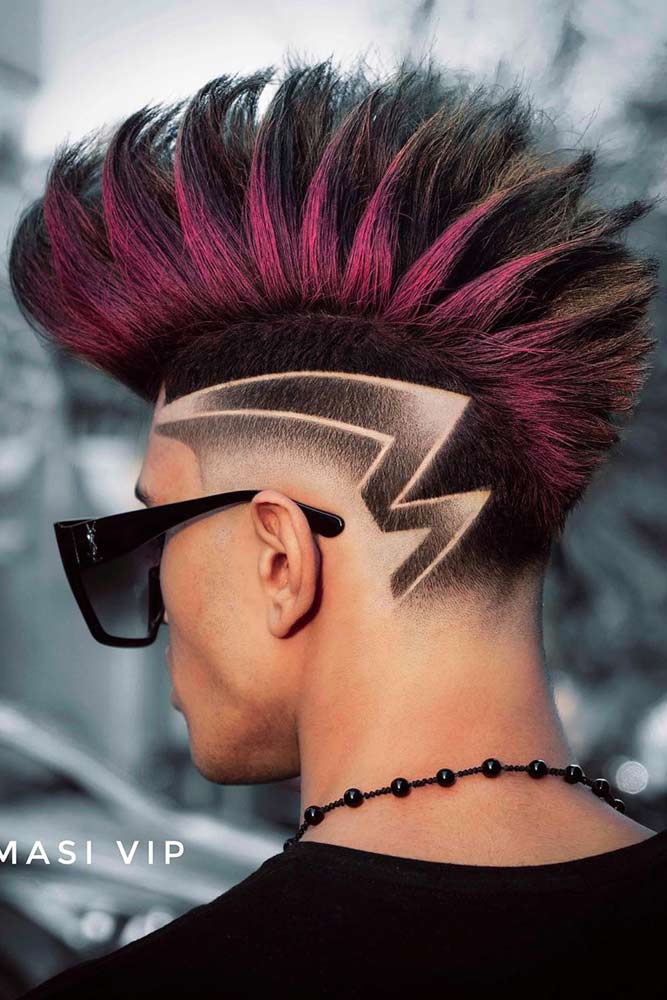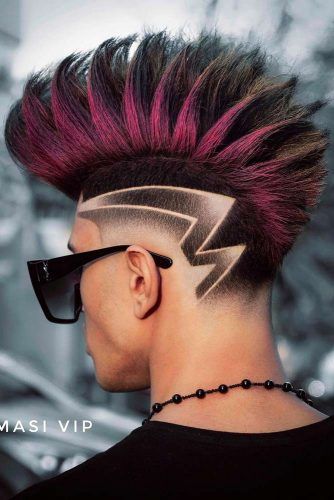 Credit photo: instagram.com/masivip.hairclub
As it turns out, a Mohawk is your best weapon for making your creative hair ideas come true. Want to add more character to your punky look? Bless the top with a drastic shade of red. Feel like your look needs an exclamation point? Nothing will do better than a dimensional hair design over your fade. The options are endless, and your imagination is the only limit to them.
All these Mohawk fade designs and ideas are here to prove one thing: this haircut can be anything you want it to be. Whether you want a simple casual look with a rebellious vibe or you are willing to rock chic and dramatic looks, a faded Mohawk will be there for you!
FAQ: Mohawk Fade
Why is a mohawk called a mohawk?
The term Mohawk stems from a nickname the Mohawk people were given by their adversaries, which meant man-eaters. The word man-eaters does not necessarily imply that they consumed human flesh. It simply means that these people were ferocious fighters. The Mohawks' name translates to people of the flint.
What are the different types of mohawks?
Messy Mohawk.
Mohawk Fade.
Short Mohawk.
Long Mohawk.
Curly Hair Mohawk.
Pompadour Mohawk.
Tapered Mohawk.
Mullet Mohawk.
Punk Mohawk.
Undercut Mohawk.
Can a mohawk look professional?
If you are a young professional who wishes to maintain a trendy look? Choose a short mohawk hairstyle. It will look great in both your business and casual settings.
Are mohawks high maintenance?
A mohawk is an edgy, entertaining hairstyle that can help you stand out from the crowd. Because you have to trim the sides so often, this haircut a bit high-maintenance. You will have a genuinely amazing mohawk with the appropriate care and styling.