Truth be told the world of men's' haircuts is not less versatile than the one of women's. The only issue is that not all the guys are aware that they have lots of options to experiment with and that makes them opt for the same old cut over and over again. That has to stop right now! The thing is that once you learn about something called bald fade – your life will change for the better. So, bald fade – what is it?
The fact is that bald and skin fade are the same things, they mean that instead of being cut at same length the length of your hair is decreasing as the stylist moves down. Even though it may seem pretty simple and boring in reality, it truly isn't. Fade haircut grants you a vast field of options to experiment, and we will have a closer look at them a little bit later.
How To Style A Skin Fade
Of course, things are never that simple that you just get a cut and that is it, there is always a need to style it, right? To tell you the truth you can't literary style the fade itself since it has already been styled, so to speak, by the hairdresser, but there will be something left for you too.
It happens so that there is still some hair left to play around with on the top of your head that is when the styling options indeed never seize to exist, and we will show you all possible looks that you can easily replicate on your own!
Low Fade With Styled Back Top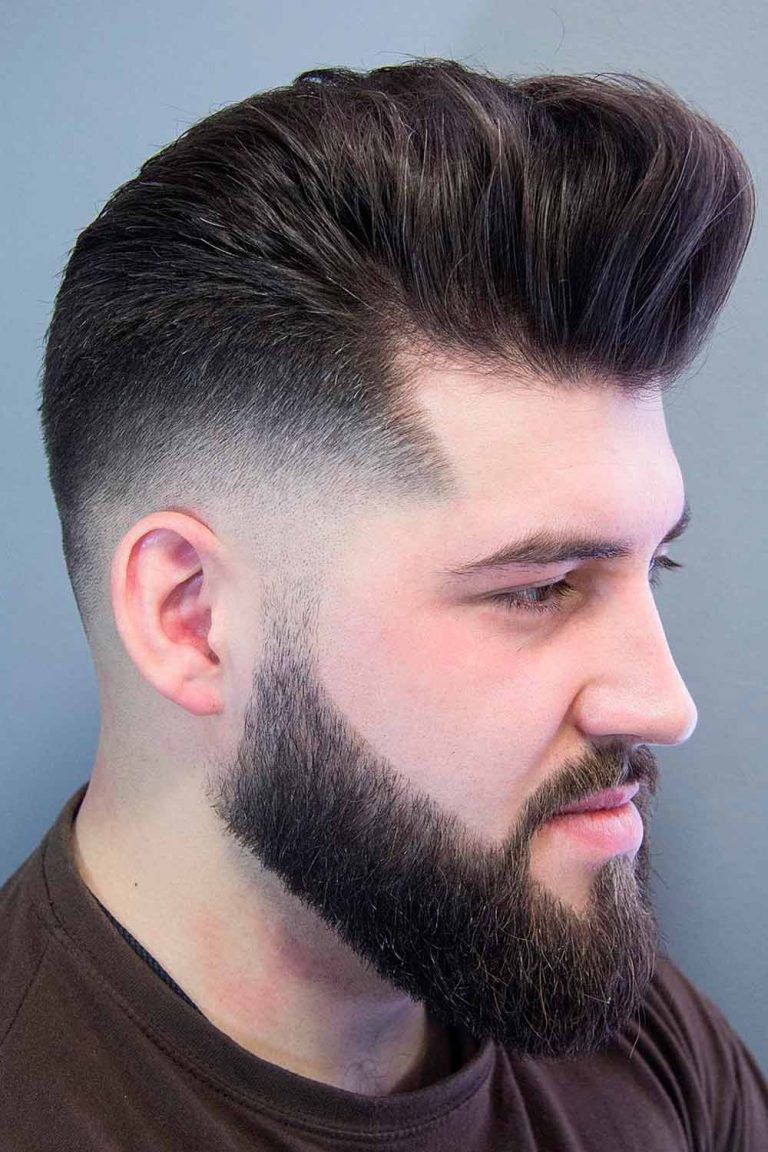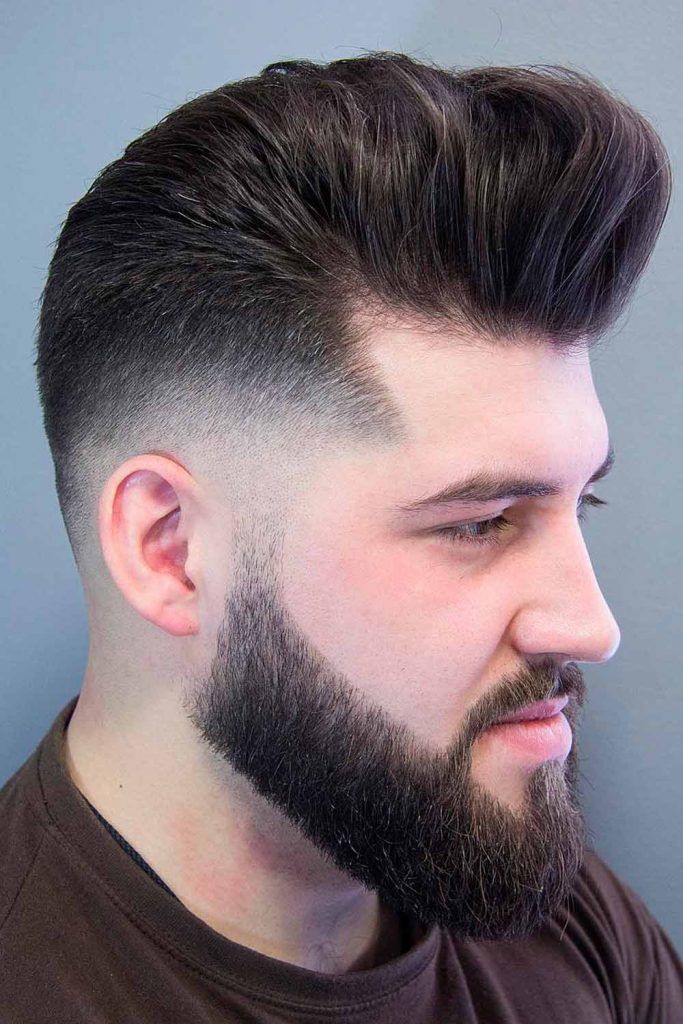 Credit photo: instagram.com/meha_barber
The classiest of men s hairstyles when it comes to a fade cut would be the one with a styled back top. As you can see the fade itself is pretty low, and that will suit those of you who would like to keep as much hair as possible instead of buzzing it all off.
Skin Fade Haircut With Dreadlocks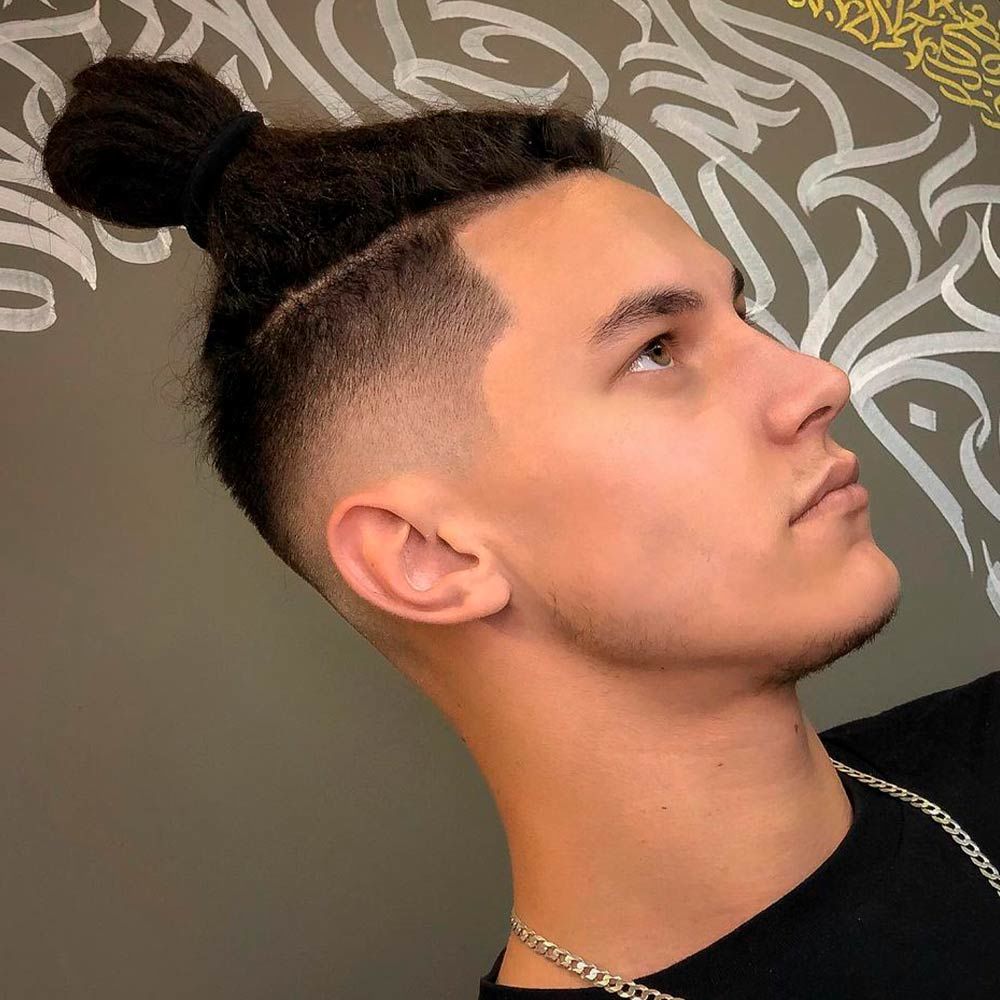 Credit photo: instagram.com/artyomtugaev
In case you are the lucky owner of afro hairstyle, and you do not want to say goodbye to your long hair but still would like to give a fade a try, there is an option for you too. All you need to do is to keep the party on the top!
Bald Fade With Side Parted Hairstyle
Переглянути цей допис в Instagram
Many men are just all about the side part, and when it comes to fade cuts, they are afraid that they are going to lose it. Nonsense! A lovely mid fade looks marvelous with a part as long as one side is a little shorter than the other.
Short Wavy Top With High Fade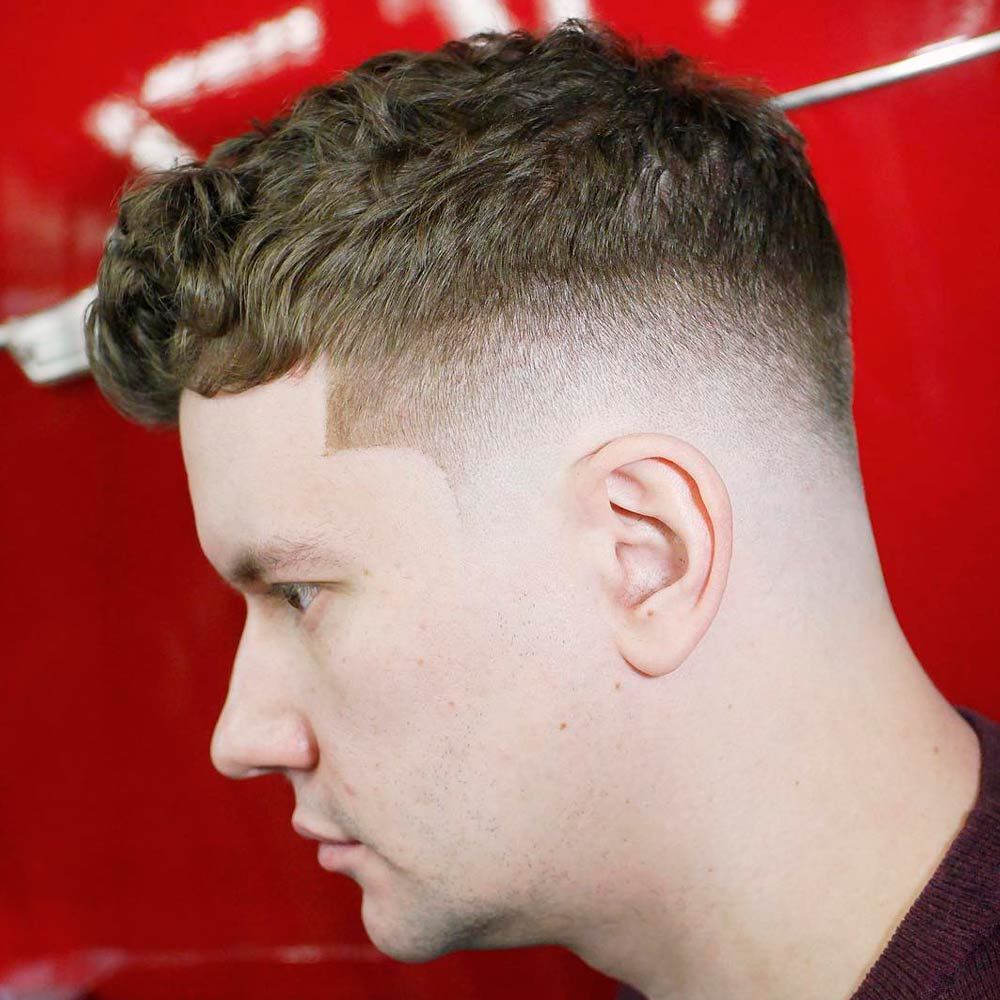 Credit photo: instagram.com/meha_barber
Many guys may falsely come to the conclusion that a fade cut is not for curly hair. We are here to prove you otherwise. A cute high fade with a wavy top looks stylish and saves up all the masculinity – so no worries there.
Fade Haircut With Slicked Back Blonde Top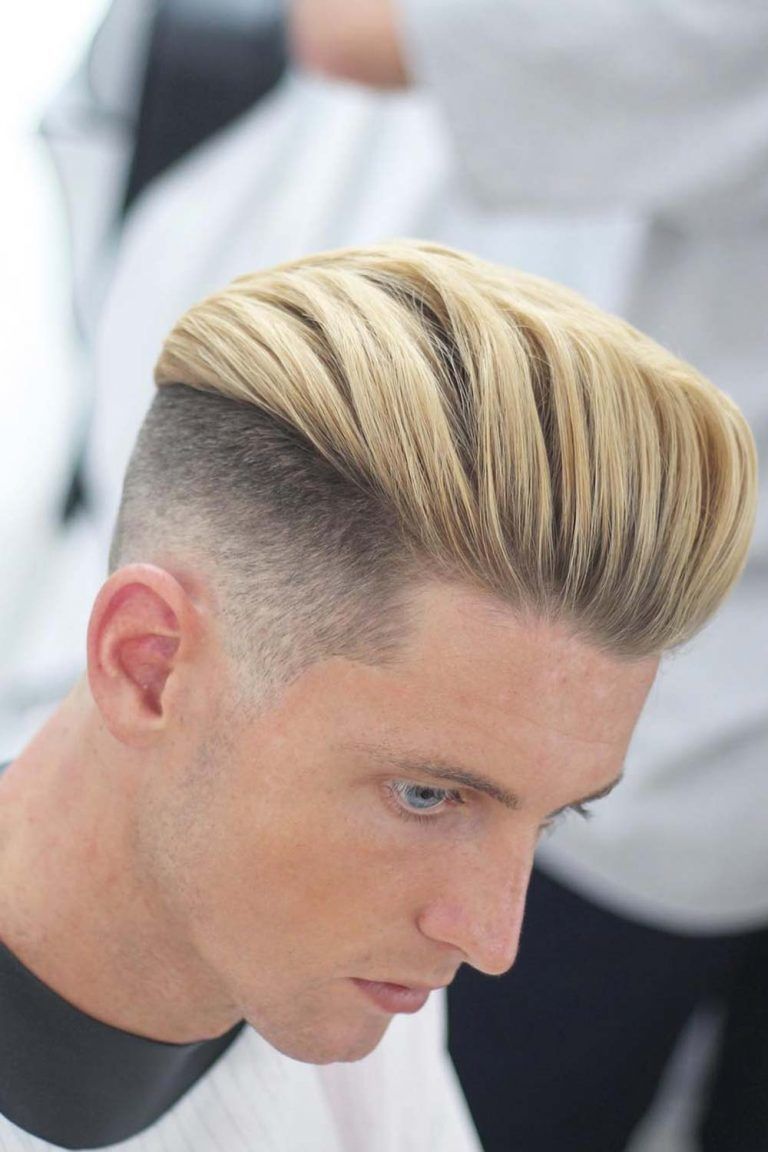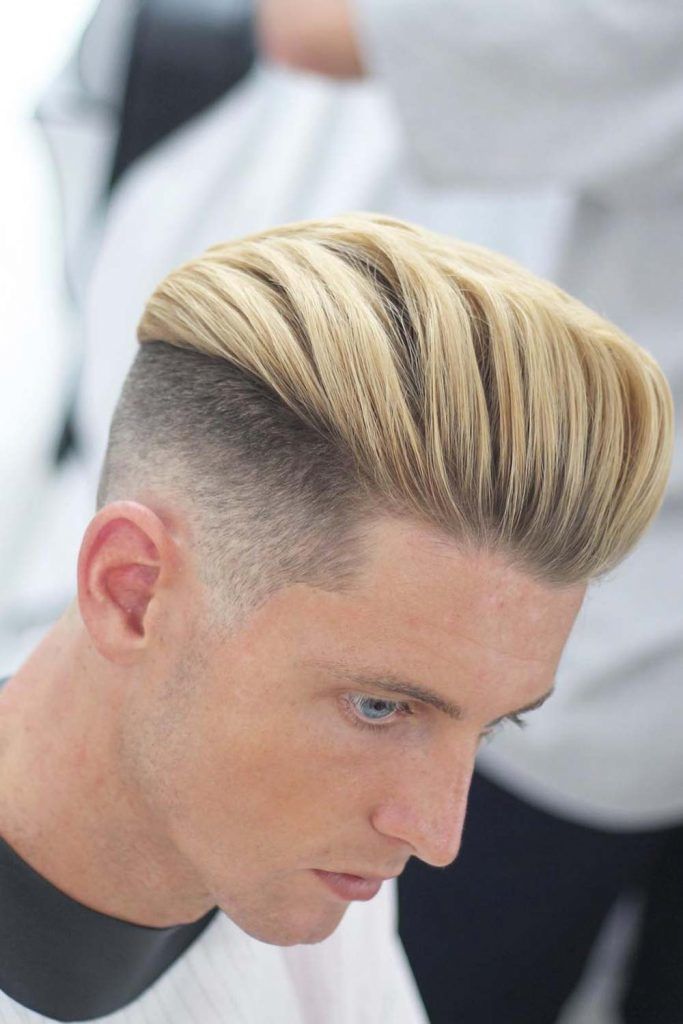 Credit photo: instagram.com/alan_beak
Growing out a full beard is on the edge of popularity these days. That is why the best way to look irresistible is to combine the two trends. Blonde slicked back top and mid fade look gorgeous together with a long manly beard.
Buzz Cut With Fade And Hair Tattoo
Переглянути цей допис в Instagram
In case you are looking for a cool style, this one may definitely come to your taste. The thing is that apart from the trendy high fade there is an additional detail added – a hair tattoo. Add buzz cut to the picture, and the terrific outcome is ready!
Undercut With Pompadour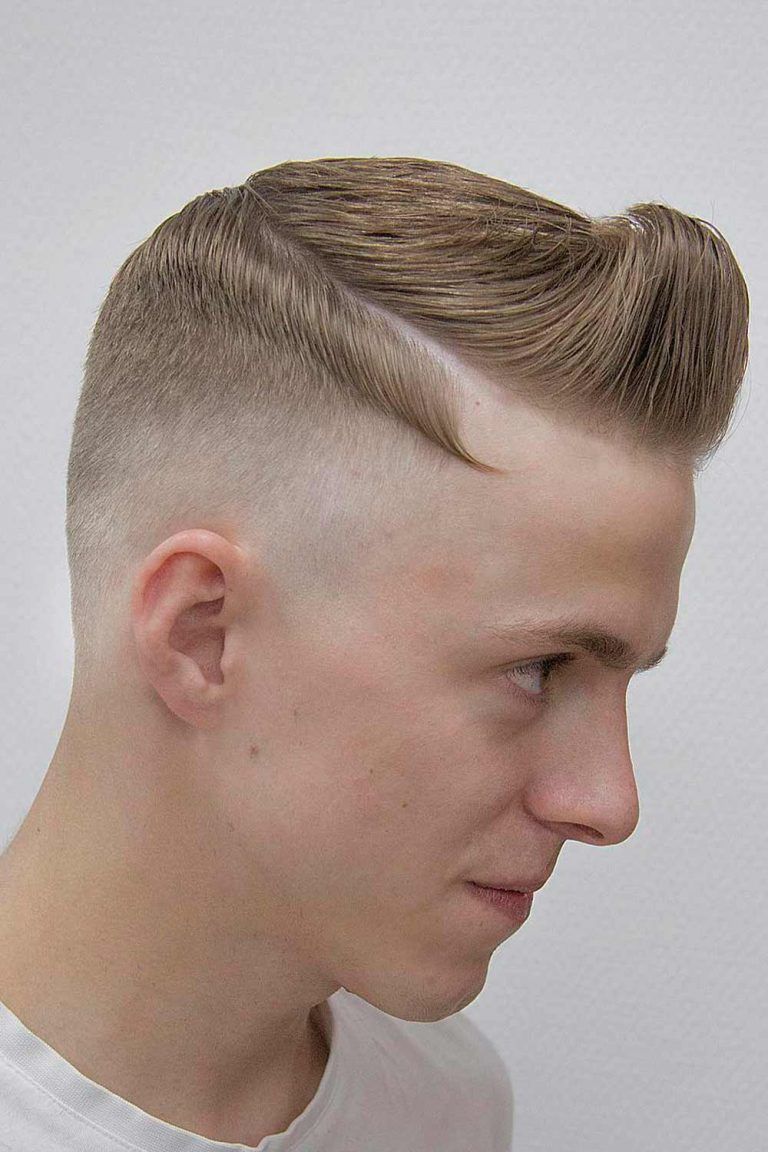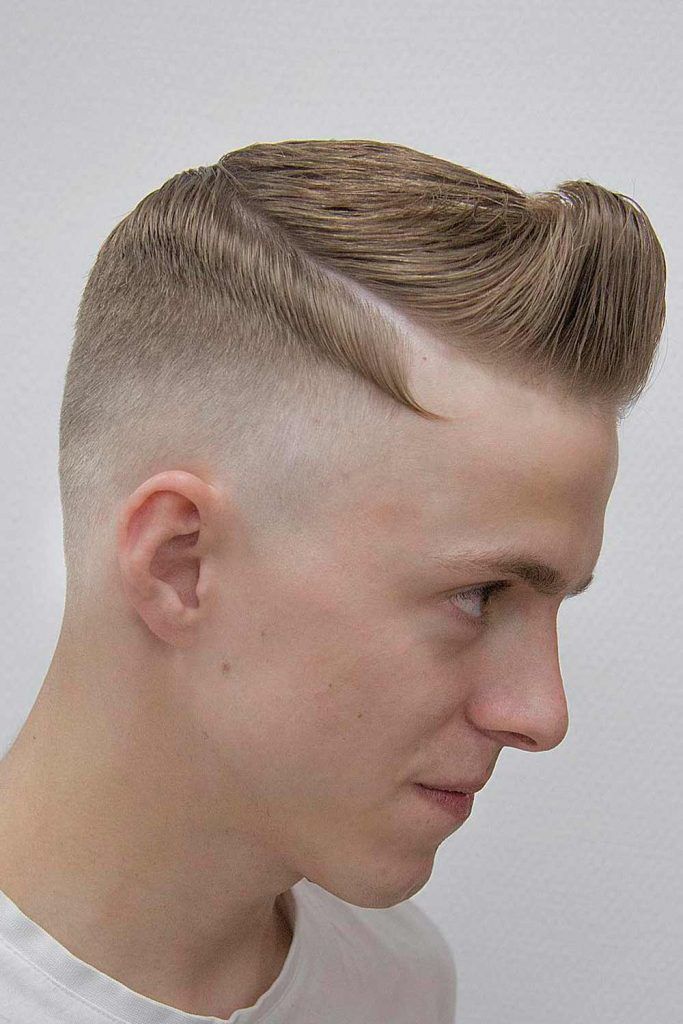 Credit photo: instagram.com/meha_barber
It is true that pompadour hair looks fabulous. However, there are certain skills required to keep it looking great. Once you opt for a bald fade with a pompadour, keep it in mind that hair gel is your best friend here!
Skin Fade With Messy Hair On Top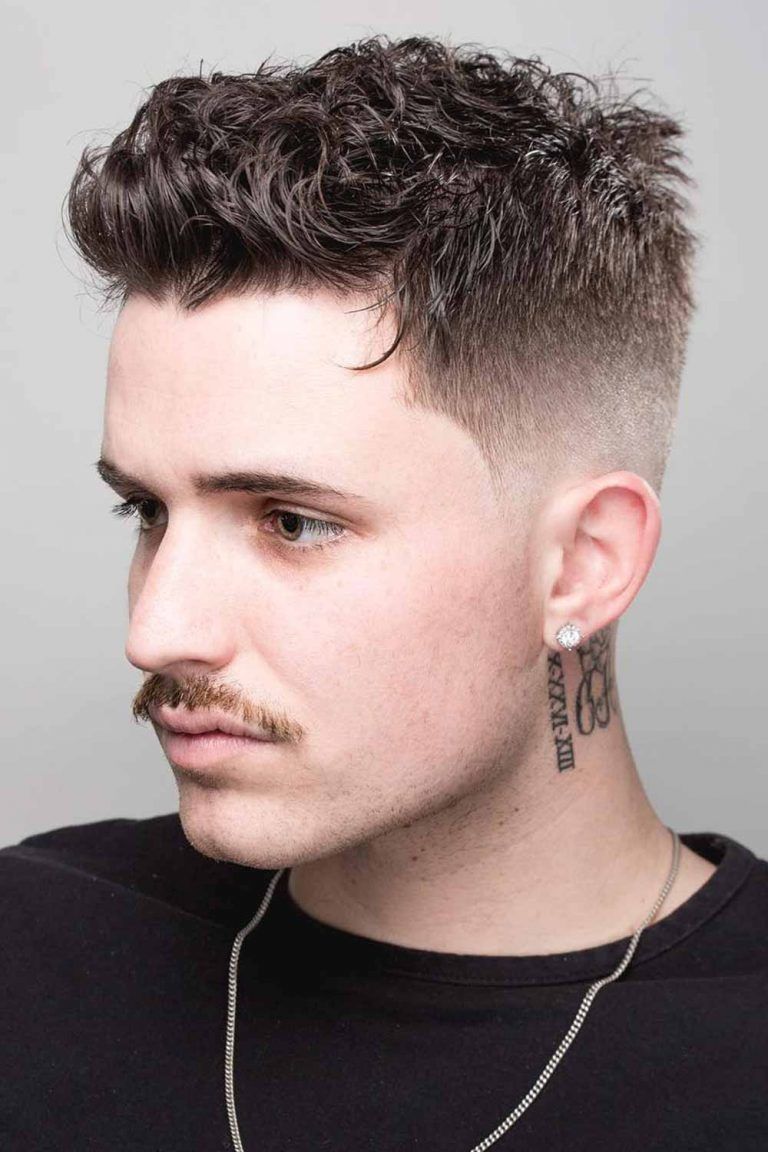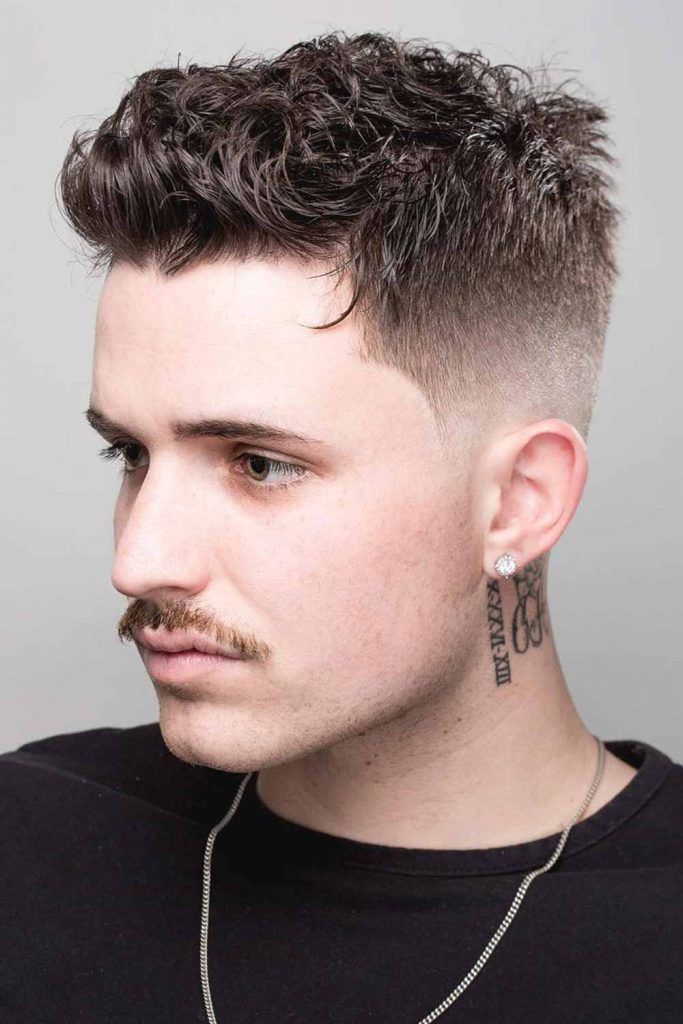 Credit photo: instagram.com/andrewdoeshair
Not all men are equally fond of sleek hairstyles and if you are one of them, you will certainly like this example. The thing is that the high fade is as smooth as possible and there is nothing you can do about it, however, the hair on top – there is where you can start the experimentation!
Bald Fade With Textured Choppy Top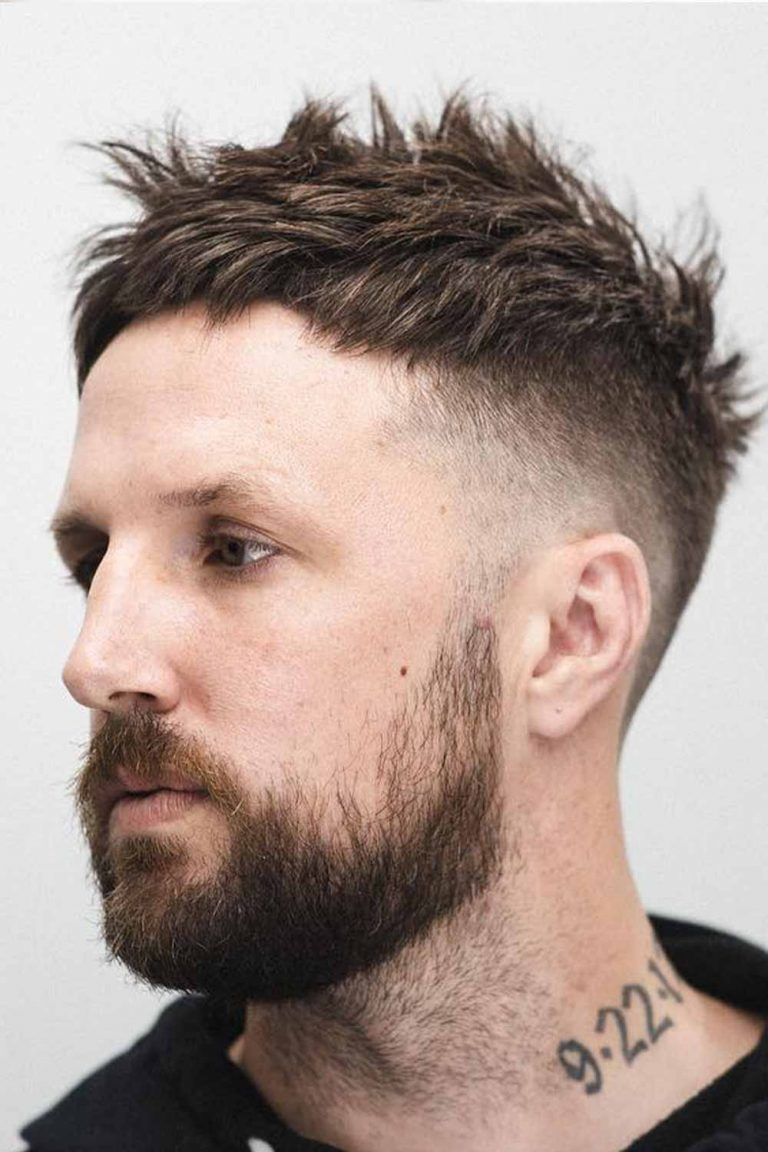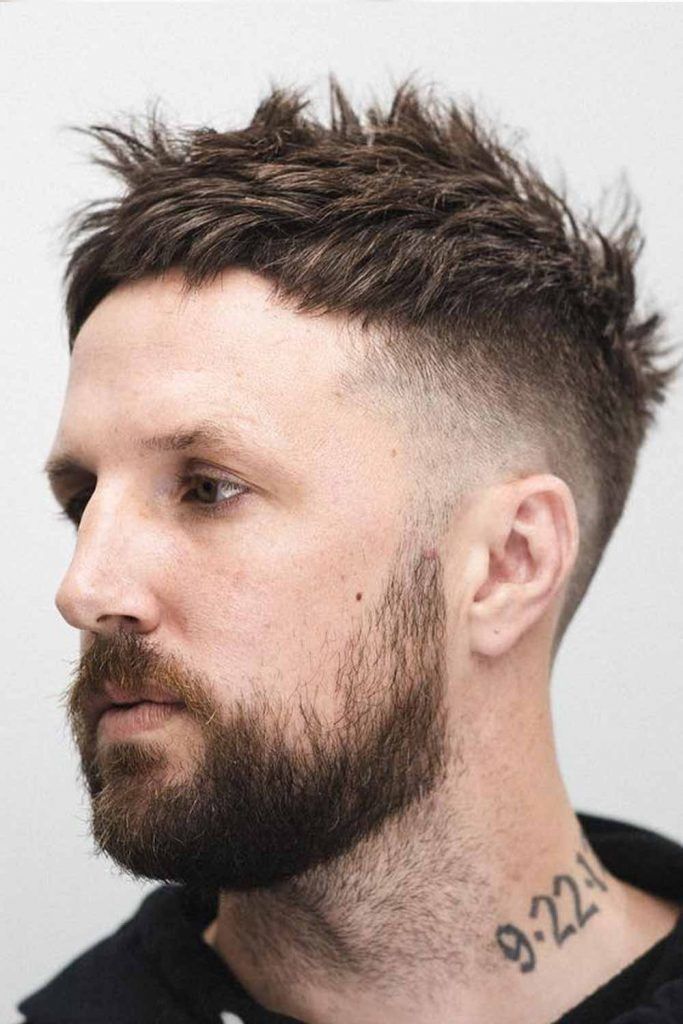 Credit photo: instagram.com/andrewdoeshair
A bald fade haircut can sometimes require all the mastery that the hair professional has, but the outcome will surely outdo itself. This textured choppy top cut is the perfect example to support the idea. Besides, some facial hair may help you take your image to the whole new level.
Buzz Cut Fade Combo
Переглянути цей допис в Instagram
Buzz cut already signifies going extremely short. Yet, there is still some room for the experimentation, and bald fade is precisely what you should play around with. As you can see the outcome will be surely worth it!
Mid Bold Fade With Long Curly Top
Переглянути цей допис в Instagram
In case you are fond of your curly hair and do not want to chop it off at no cost, but you want to keep up with the trend there is a possible way out. All you need to do is to introduce some mid fade cut and leave the curly top untouched.
Skin Fade With Messy Textured Top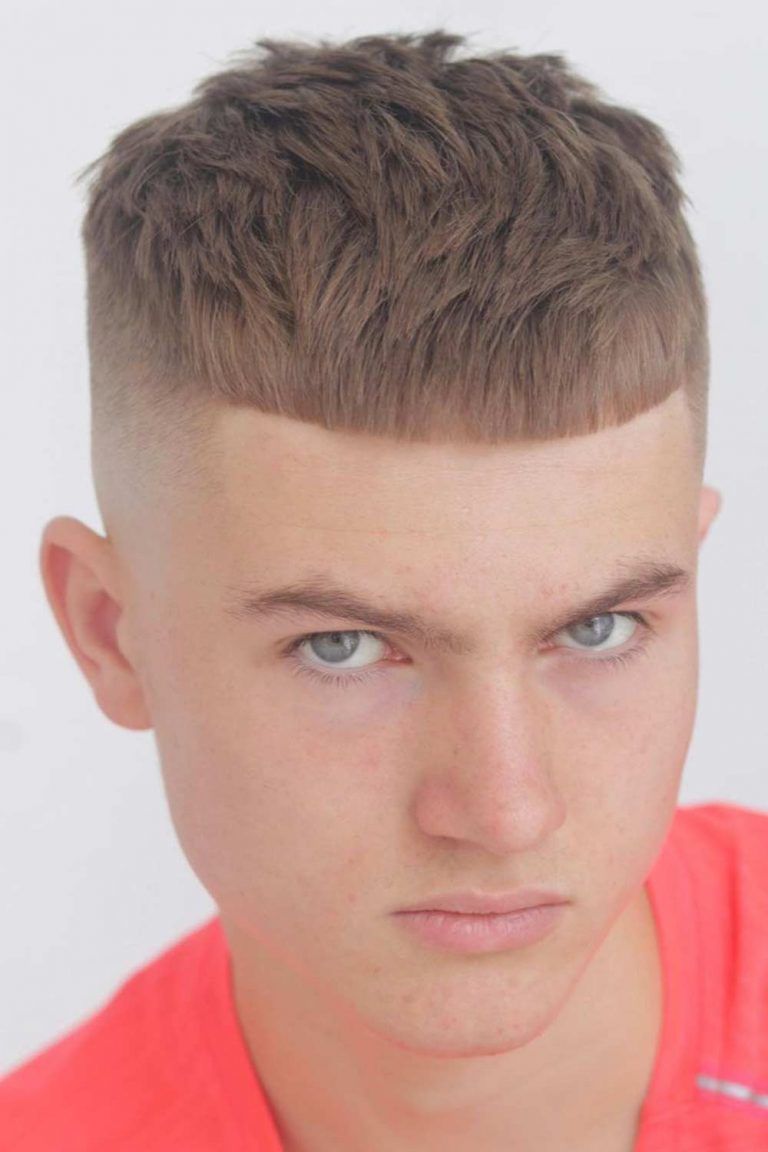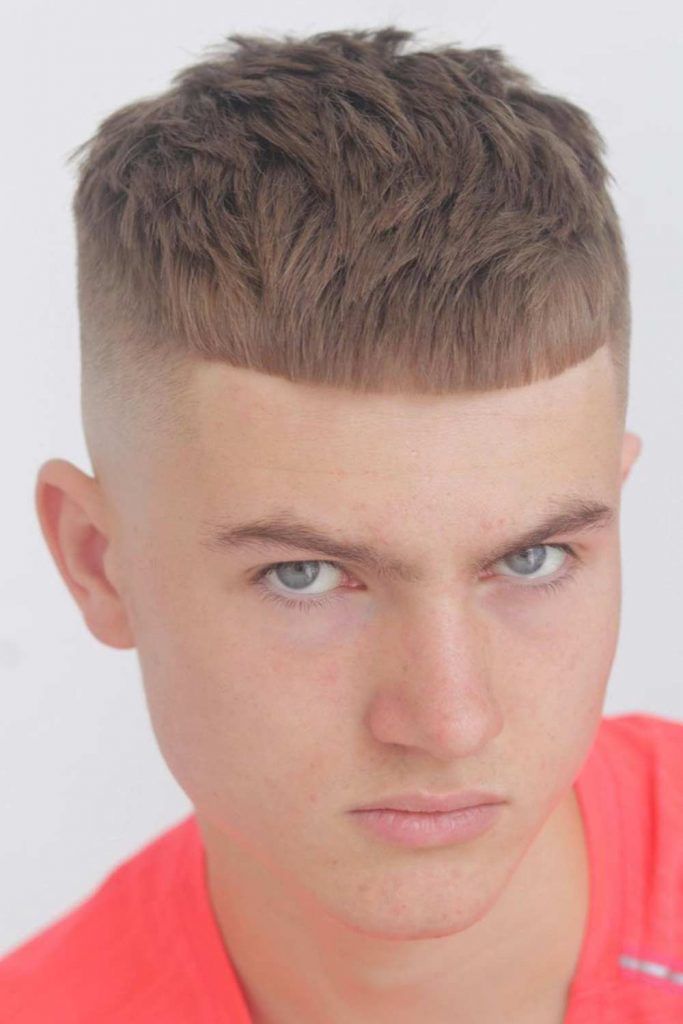 Credit photo: instagram.com/alan_beak
With the high skin fade, you can keep things simple at the bottom and let the party get started on the top. Admittedly, it looks great, but you have to be really skillful to achieve the effect, bear it in mind.
Skin Fade Undercut With Straight Long Bang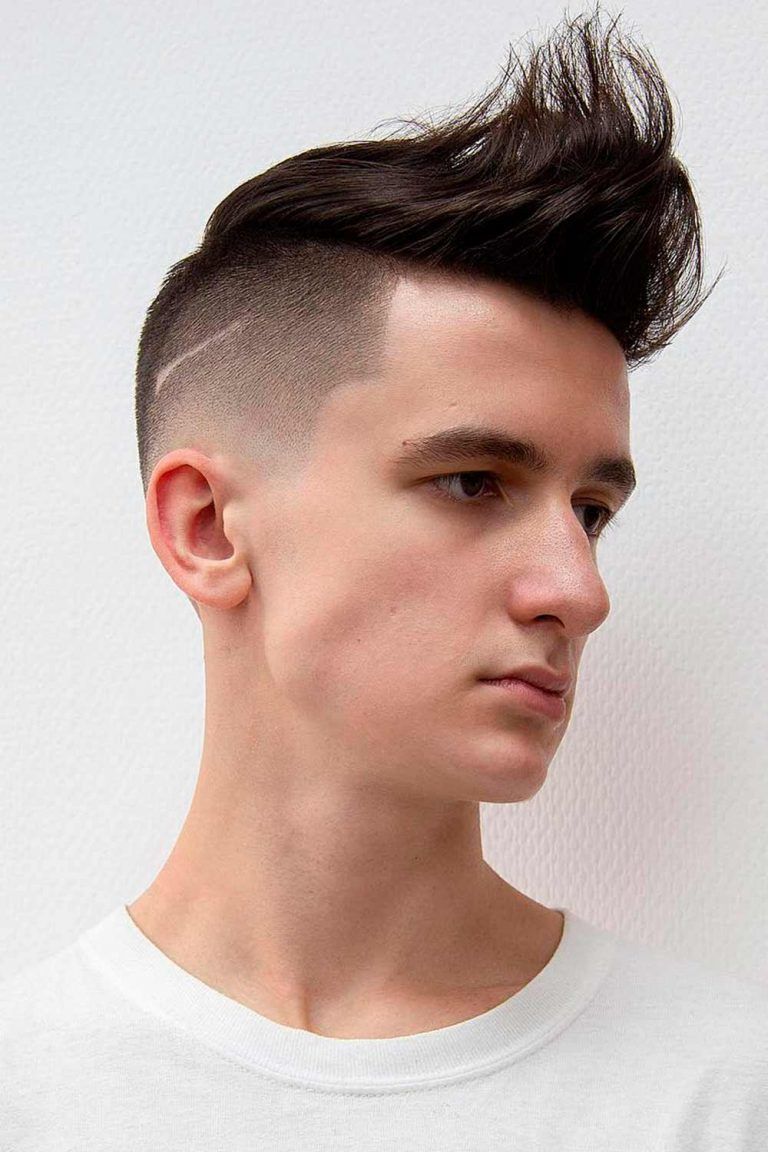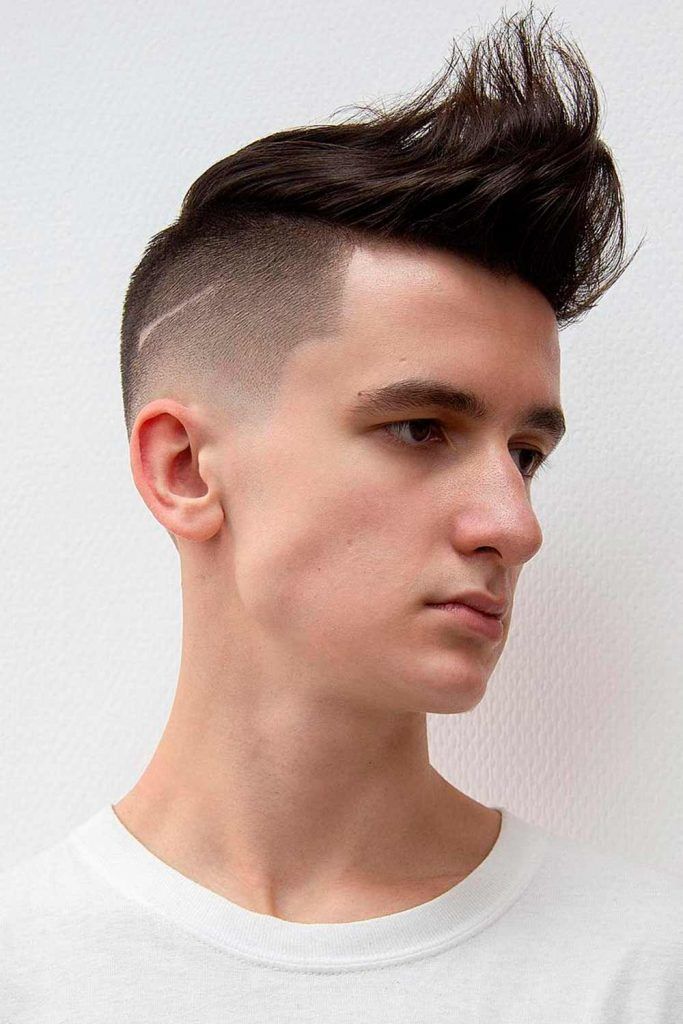 Credit photo: instagram.com/meha_barber
Dealing with longer hair may be tricky for some men. In case you like to keep it longer but still looking for an upgrade we suggest you opt for a bald fade undercut. No matter how you comb your hair it will always look awesome.
Taper Fade Cut With Quiff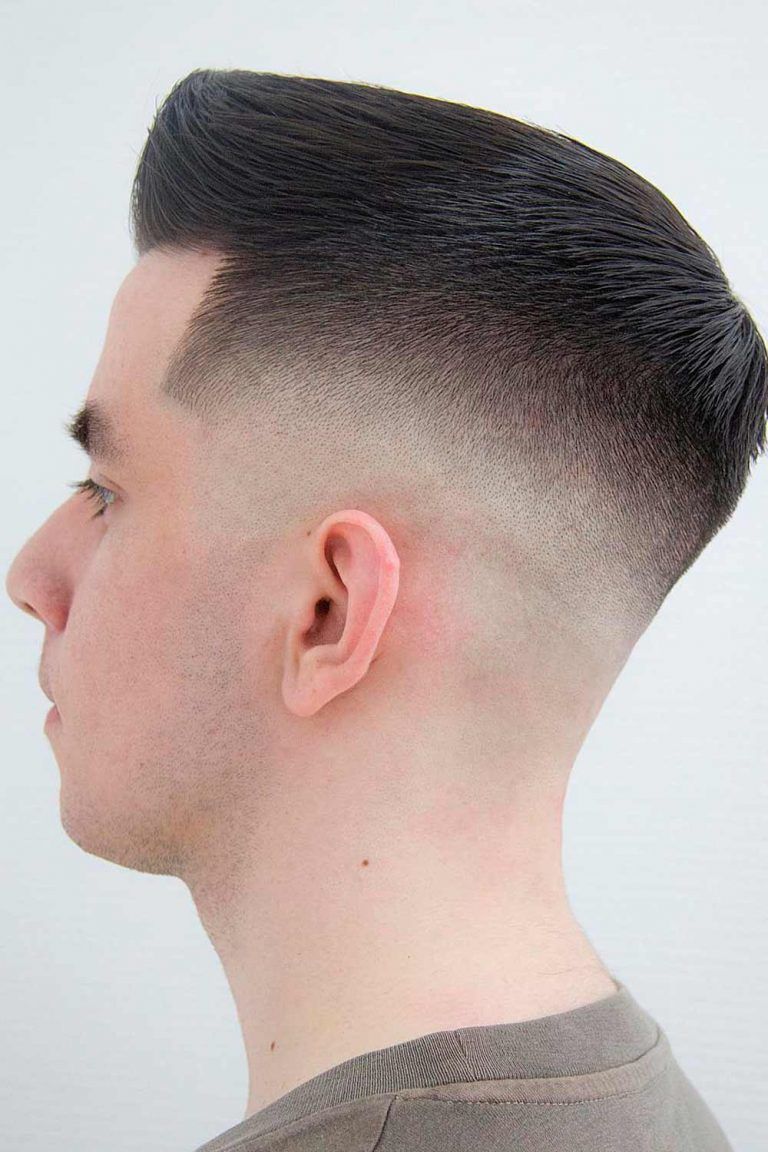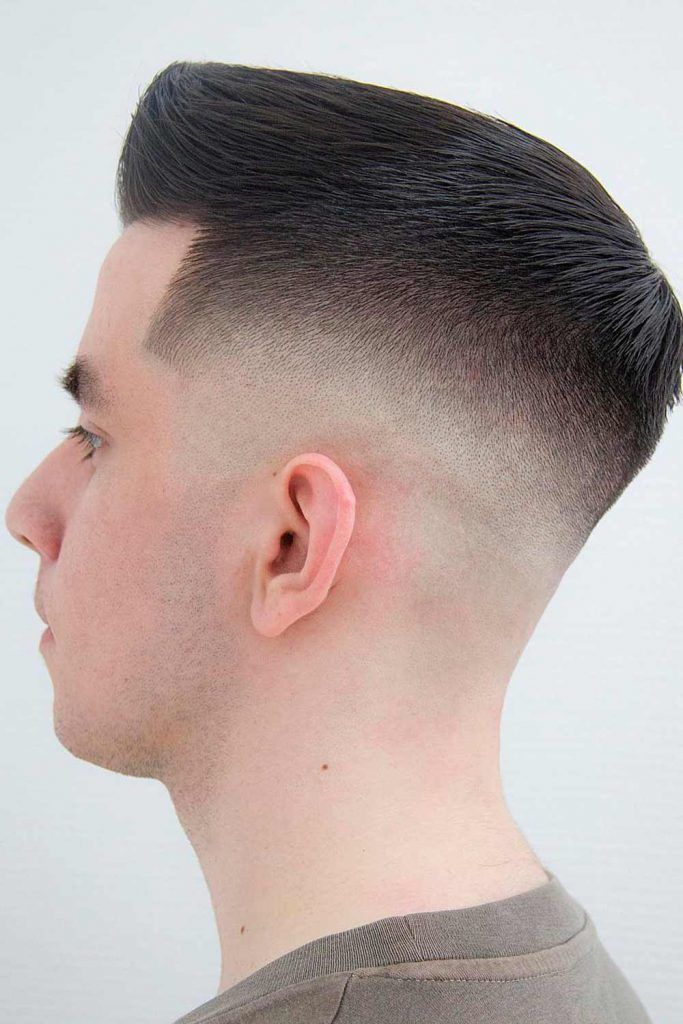 Credit photo: instagram.com/meha_barber
Low fade on the sides looks great with a cute styled quiff. If you are looking for some serious and trendy vibe added to your look, there would be nothing better than this cute cut.
High Bald Fade With Fro Curls
Переглянути цей допис в Instagram
Curly hair is not that easy to manage especially when we are talking afro curls. However, there is nothing a properly chosen high bald fade wouldn't fix!
Skin Fade + Hair Tattoo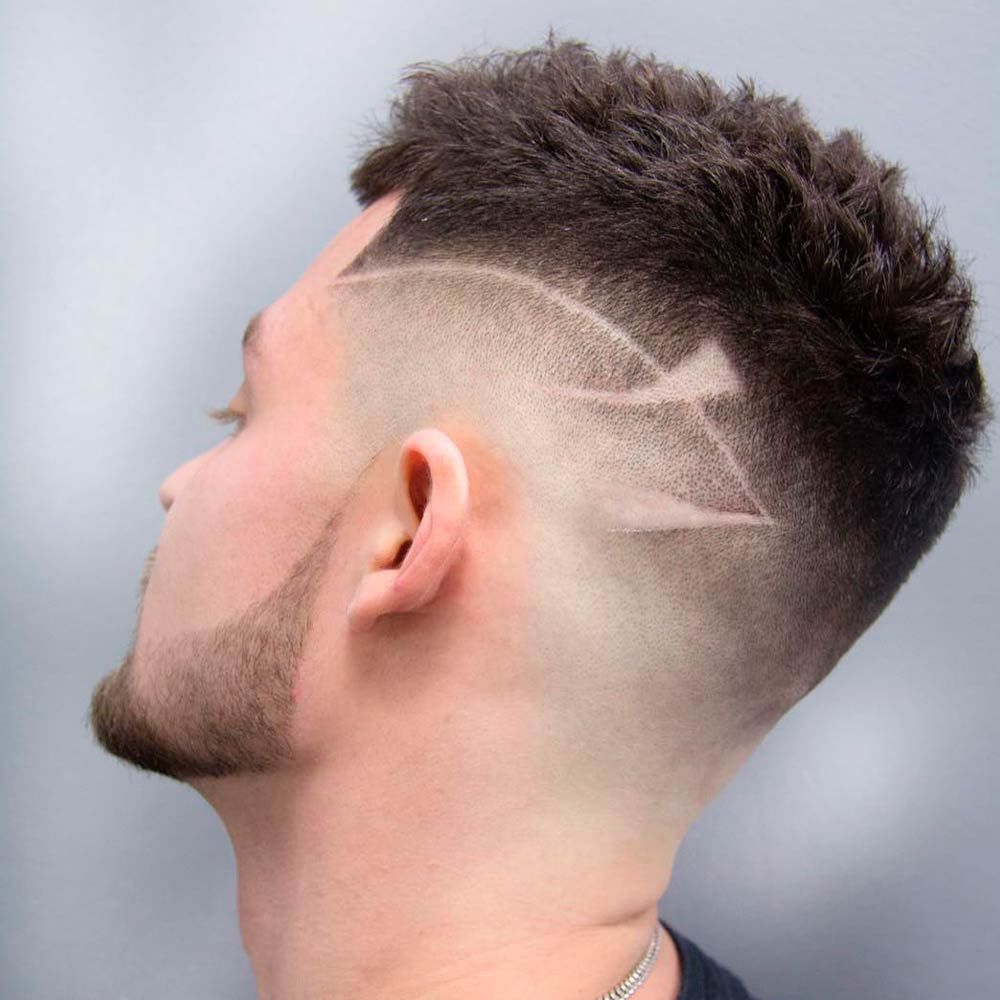 Credit photo: instagram.com/meha_barber
Your skin fade can come in any way you want it to come. In general, this haircut is meant to add some neatness and precision to a man's look. But, if you seek something more fascinating, something that can individualize your daily image, you can turn your fade into a tattoo. Luckily, you don't need to go for that painful commitment, as your barber's razor will do just fine.
Skin Fade And Head Tattoo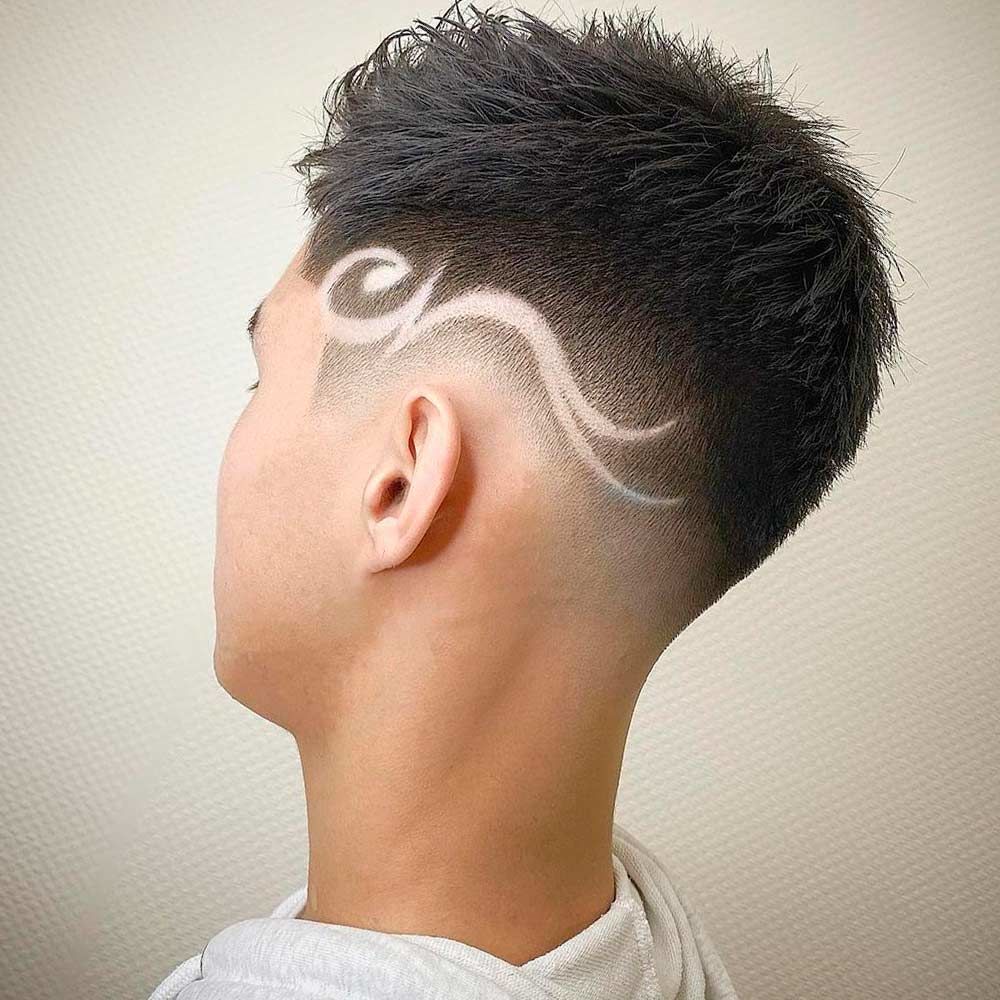 Credit photo: instagram.com/andrey_zhivaev___
People say that tattoos are like drugs: it's hard to stop once you've tried one. Still, some guys stay away from the idea of head tattoos because they don't want to shave their hair. And what if we tell you that you don't need to shave it? A smooth transition of clean and sharp bald fade will sort things out, allowing you to wear a nice cut while rocking your awesome head tattoo.
Mohawk With Bald Fade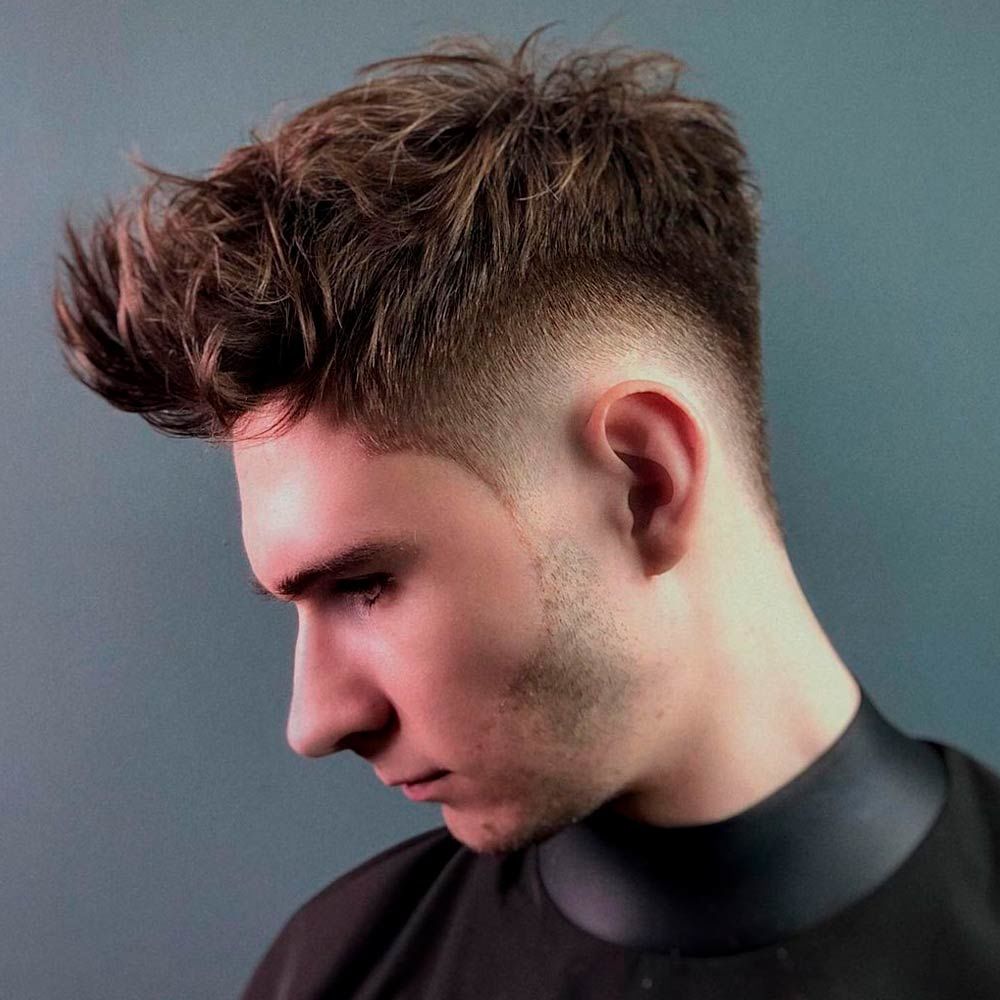 Credit photo: instagram.com/jamik_sup
Even though Mohawks are distinctive and attention-grabbing by default, there's no limit to perfection. That means you can enhance the head-turning effect, making the hairstyle even more daring. Moreover, such a bald twist will spice up your cut with a sense of modernity.
Spiky Top And Razor Line
Переглянути цей допис в Instagram
Can you imagine a haircut that nails contrasts? No matter what your answer is, this picture is the epitome of the perfect contrast. The sharp razor line disconnects the sassy spiky top from the fade, thus bringing a lot of character to the whole look.
Slicked Back Hairstyle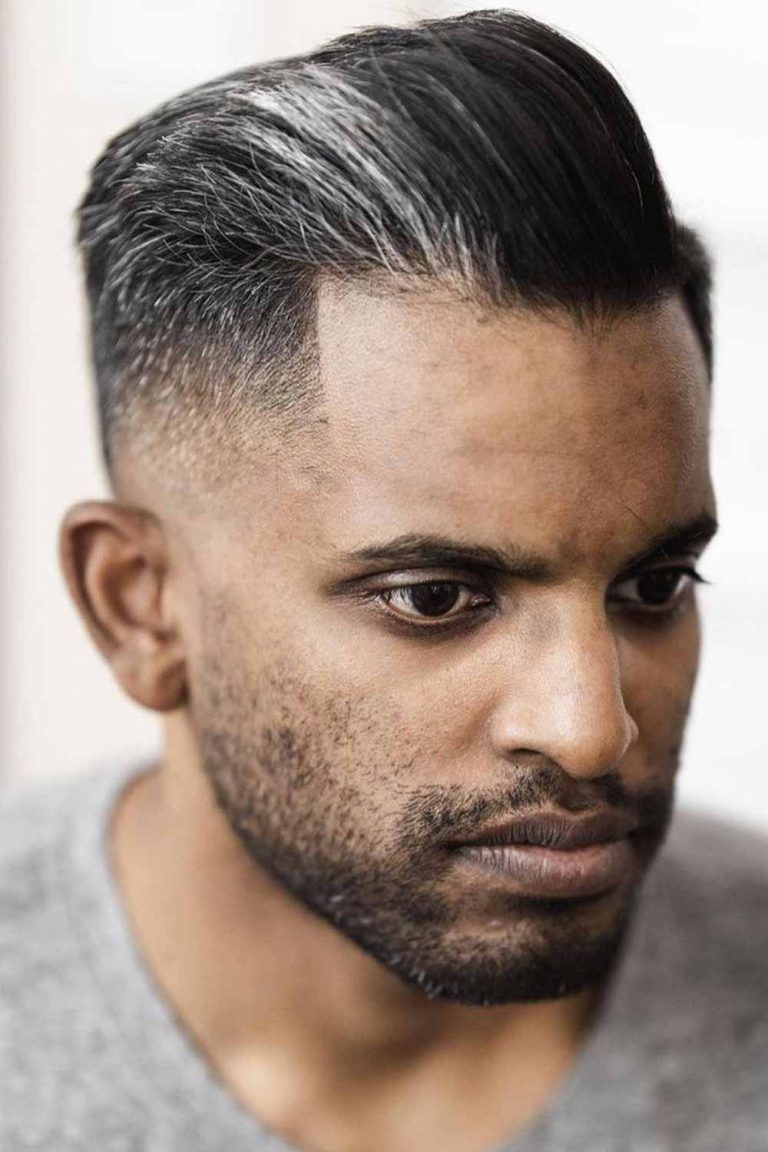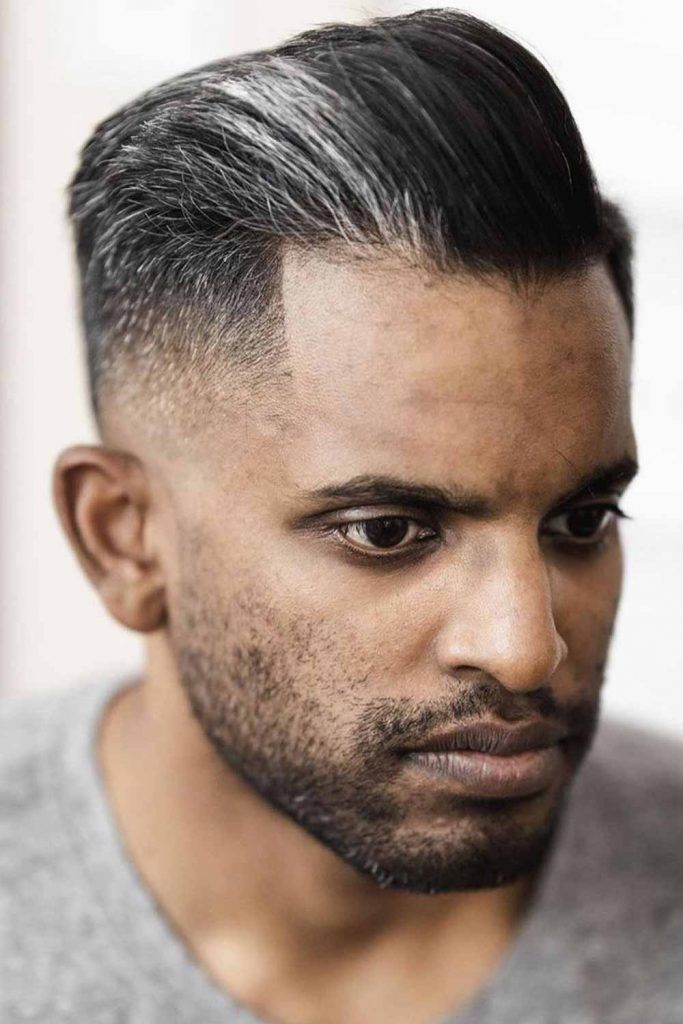 Credit photo: instagram.com/andrewdoeshair
Here comes a slicked-back hairstyle that you can wear at any time, regardless of what occasion is knocking at the door. Though this hairstyle requires a decent amount of shiny styling gel, which is associated with big-day looks, it still goes well with a casual outfit. Needless to say, the bald fade is the key that makes this hairstyle so versatile.
Caesar Haircut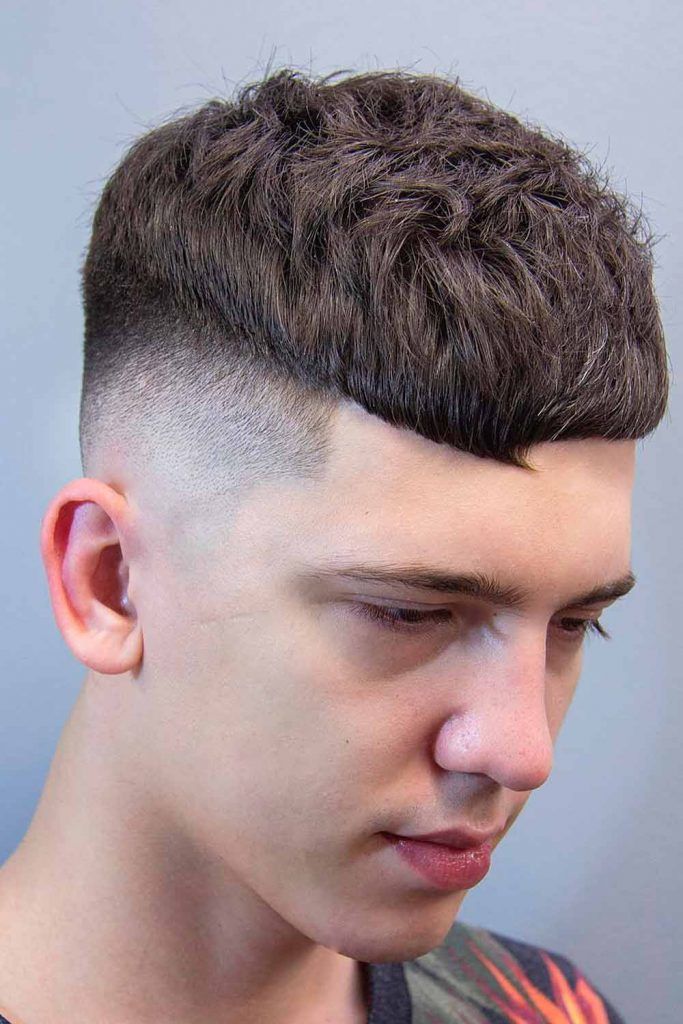 Credit photo: instagram.com/meha_barber
Men who are in search of short, low-maintenance, and striking hairstyles at the same time should look no further than the Caesar cut. Alongside with the good old undercut, this hair trend has gained huge popularity among men who appreciate stylish comfort. In fact, it's a simple fringe cut. But the way the fade outlines and defines the look is to die for.
Side-Parted Long Hair
Переглянути цей допис в Instagram
Side parted hairstyles seem to never go out of fashion. Men have been parting their hair to the side at least for three decades. And the reason for that is pretty simple: it gives a refined look. As for this idea, it's here to change the common image of the side-parted looks. It's long, absolutely clean, and therefore unbelievably contemporary.
Braided Bun And Bald Fade
Переглянути цей допис в Instagram
Some hairstyles are destined to be in the spotlight 24/7. And it goes without saying that this braided bun, surrounded with the classiness of a bald fade, is an excellent example. Gone are those days when braids and buns were women's privileges! Nowadays, men can show off their masculinity with those two as well.
Ponytail And Skin Fade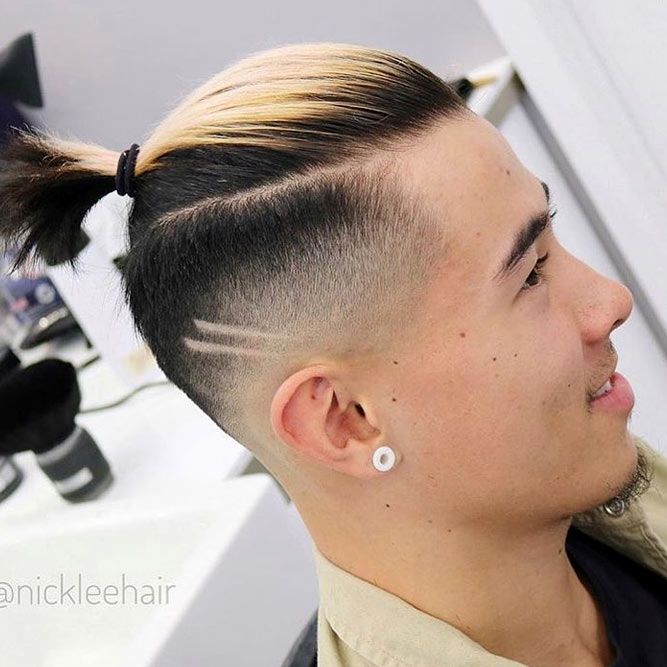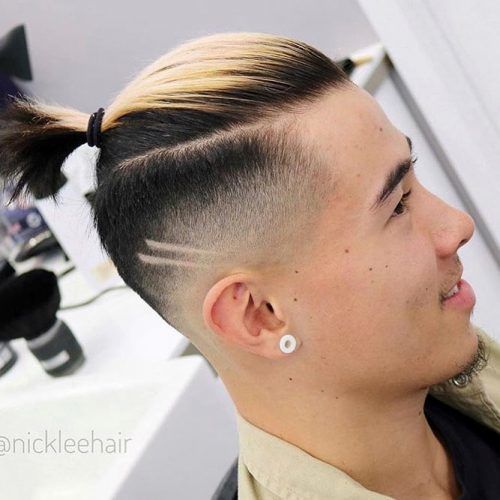 Credit photo: instagram.com/nickleehair
Another awesome style that you can turn your undercut to is a ponytail. Even if your hair is relatively short or medium, there's an edgy version of the classic hairstyle for you, too. Now, let us point out how ravishing this simple hairdo looks when paired with the restless fade! A hint of a hair tattoo only makes it more unique.
Hard Part With Skin Fade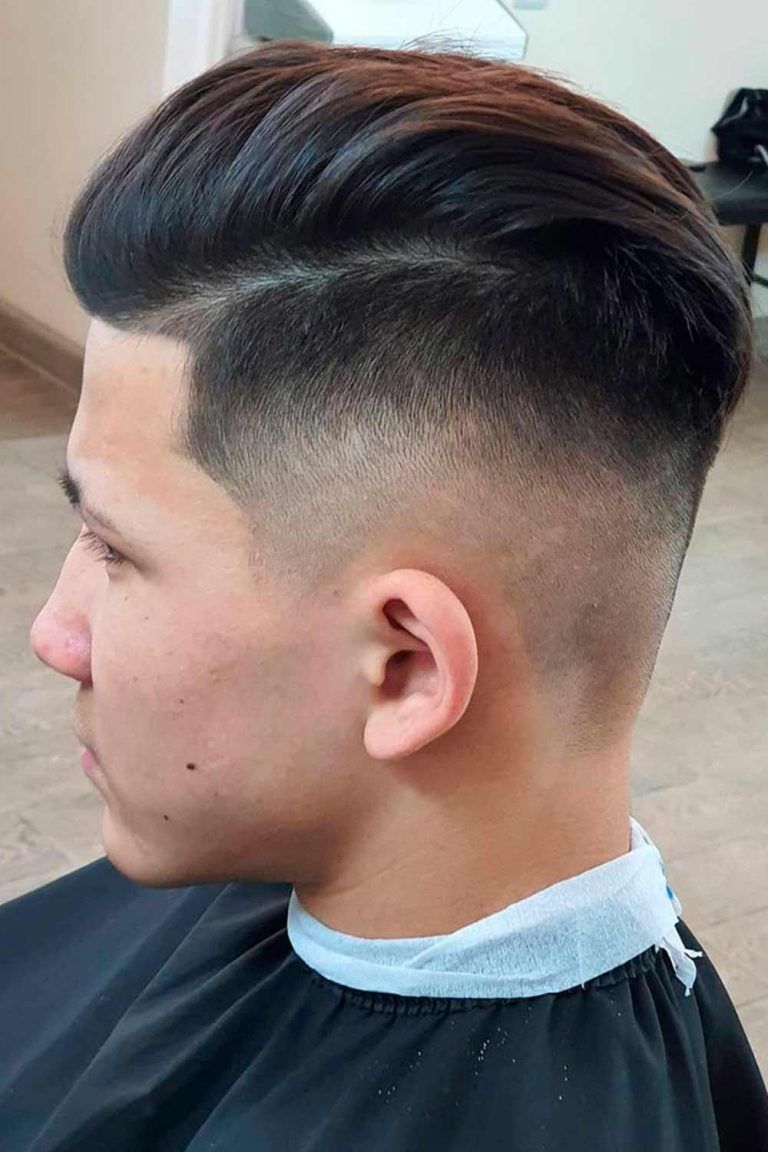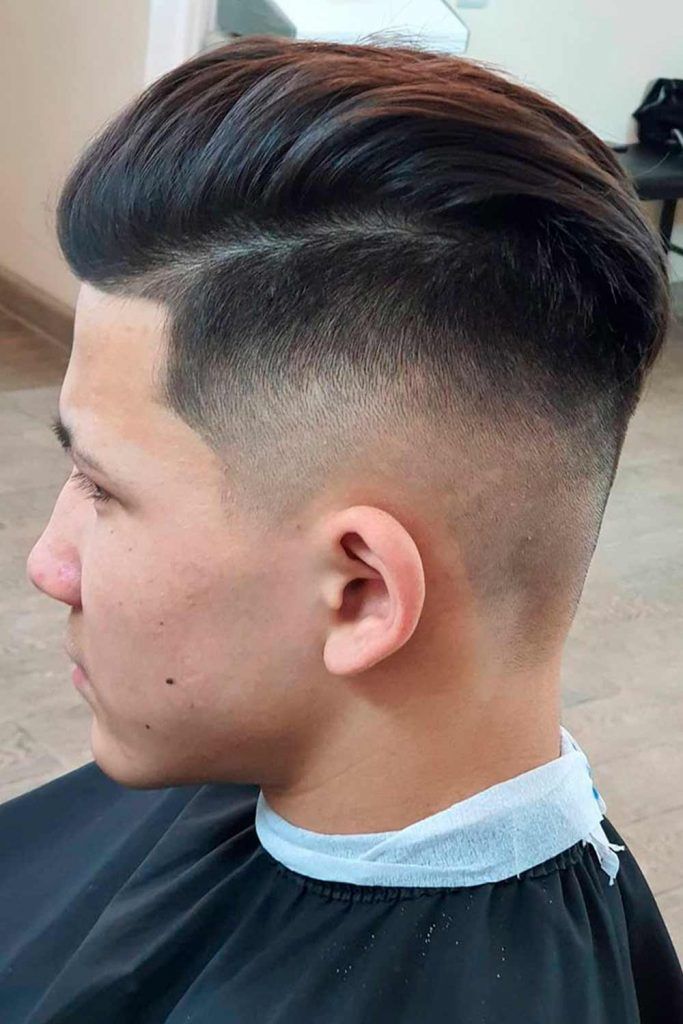 Credit photo: instagram.com/explore/tags/мужскиестрижки
While some men can spend hours and tons of products to part their hair evenly, we recommend you going a wise way. A hard part, which is a shaved part, is a fantastic way to achieve the popular look yet without losing the whole day dealing with it. By the way, a skin fade seems to be the perfect finish.
Comb Over Skin Fade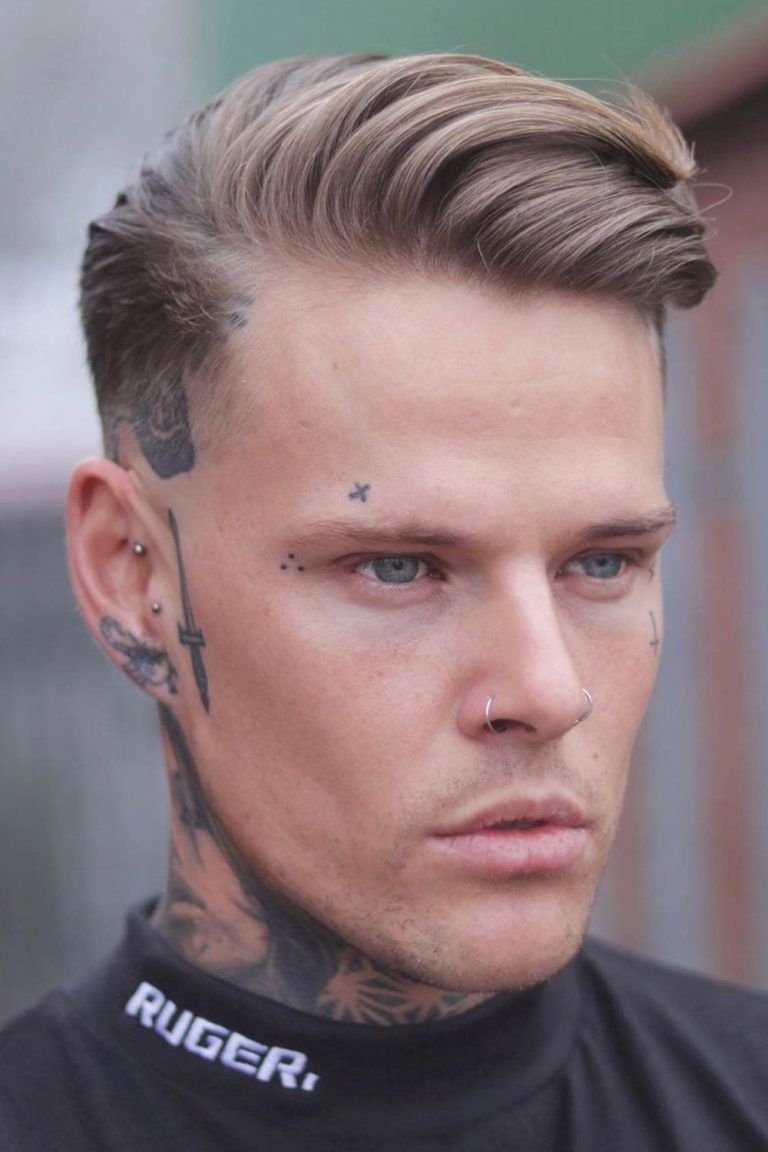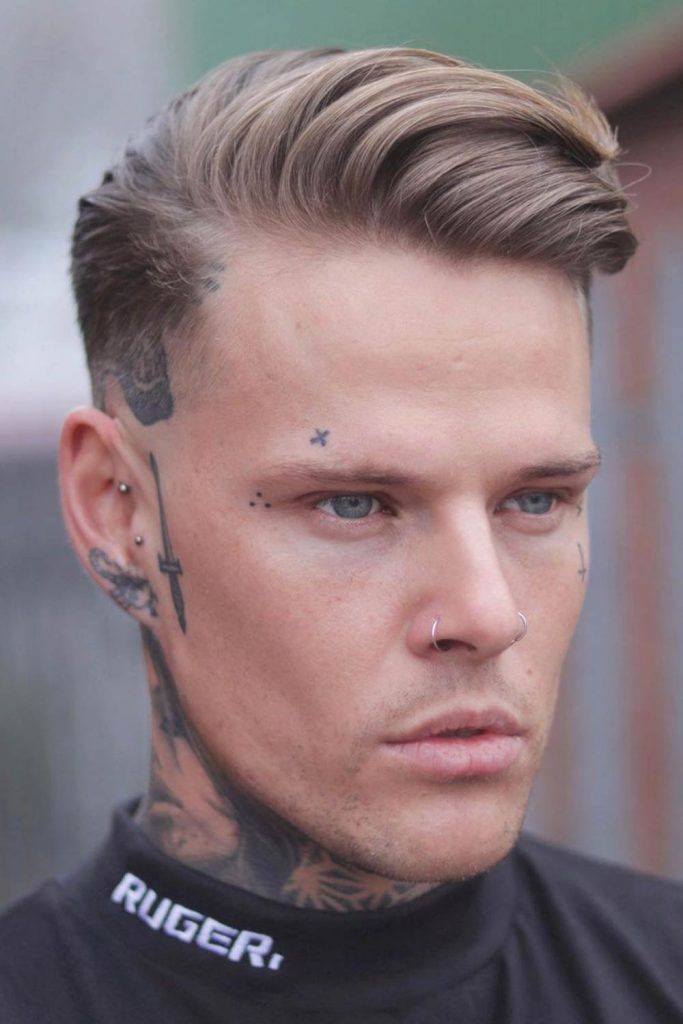 Credit photo: instagram.com/alan_beak
In general, barbers suggest their clients to pair a comb over with a mid fade in order to keep the ideal balance. And if you're one of those men who love being different, you can complement the classic cut with a skin fade. As a result, the top will be the highlight.
Faux Hawk With Bald Fade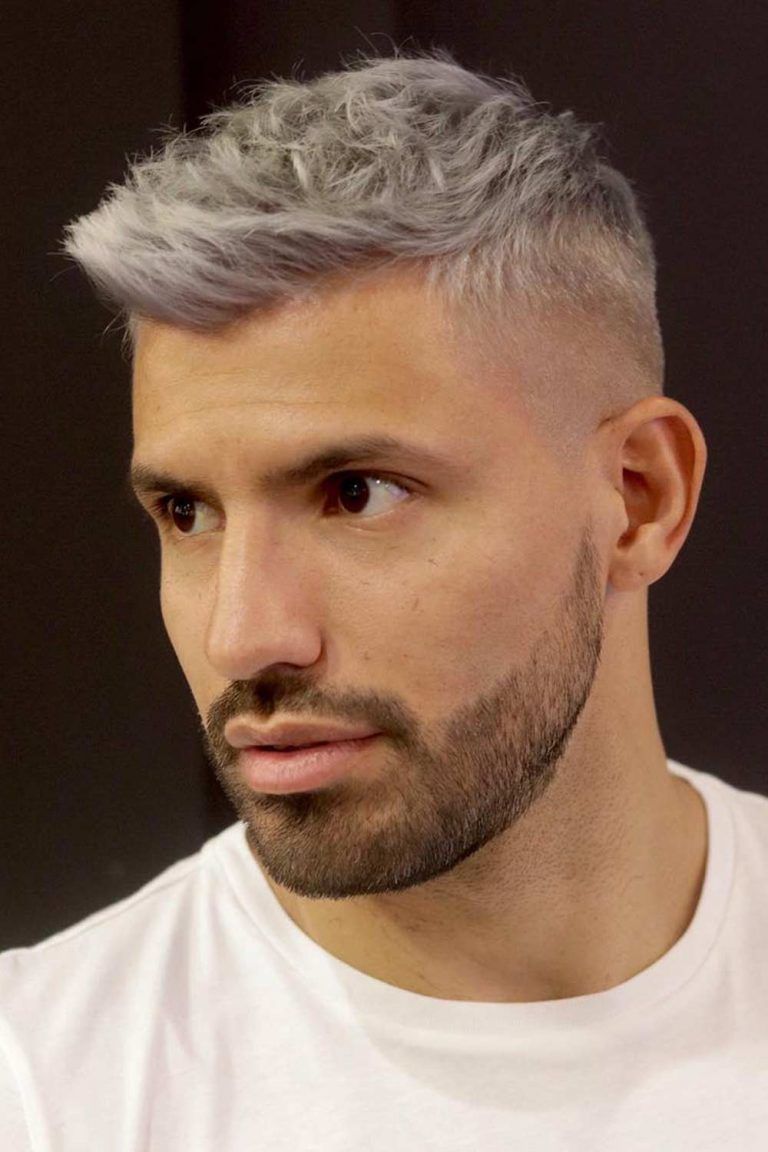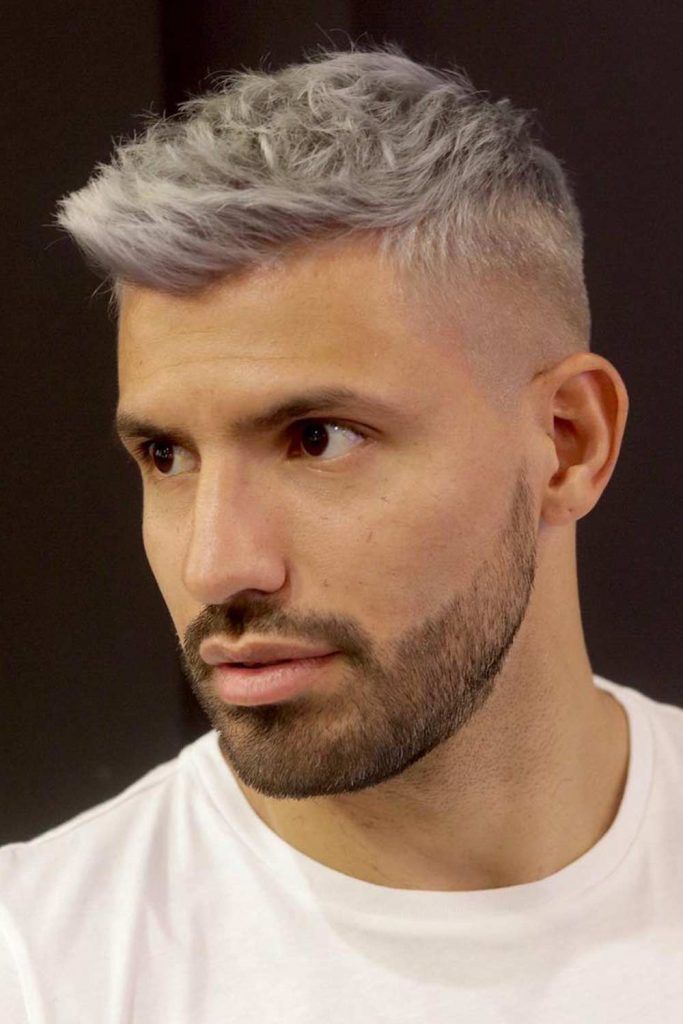 Credit photo: instagram.com/alan_beak
Not every man can let himself go wild wearing a Mohawk. However, there's no a man who can't rock a faux hawk - the muted version of the daring haircut. It really doesn't matter what kind of job you have as this idea can adapt to any image and lifestyle as it's not too drastic. On top of that, if you let a bald fade accompany it, it will become neater, and hence more versatile.
How To Get A Skin Fade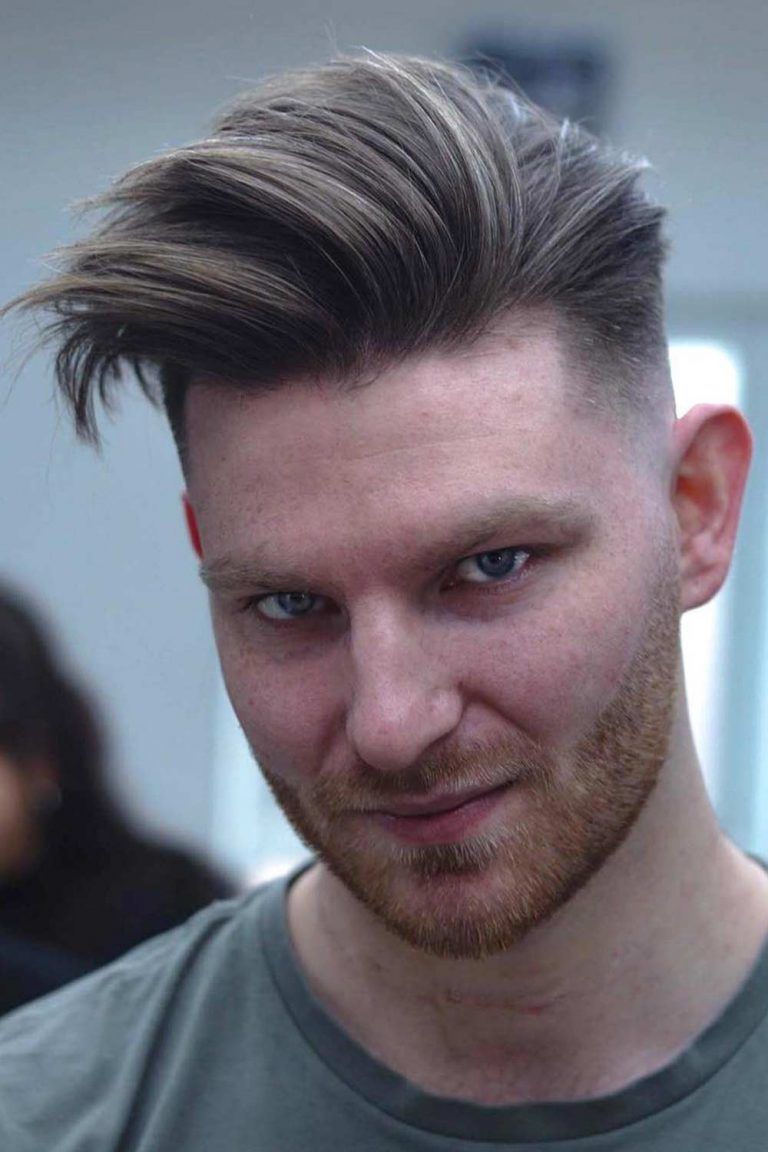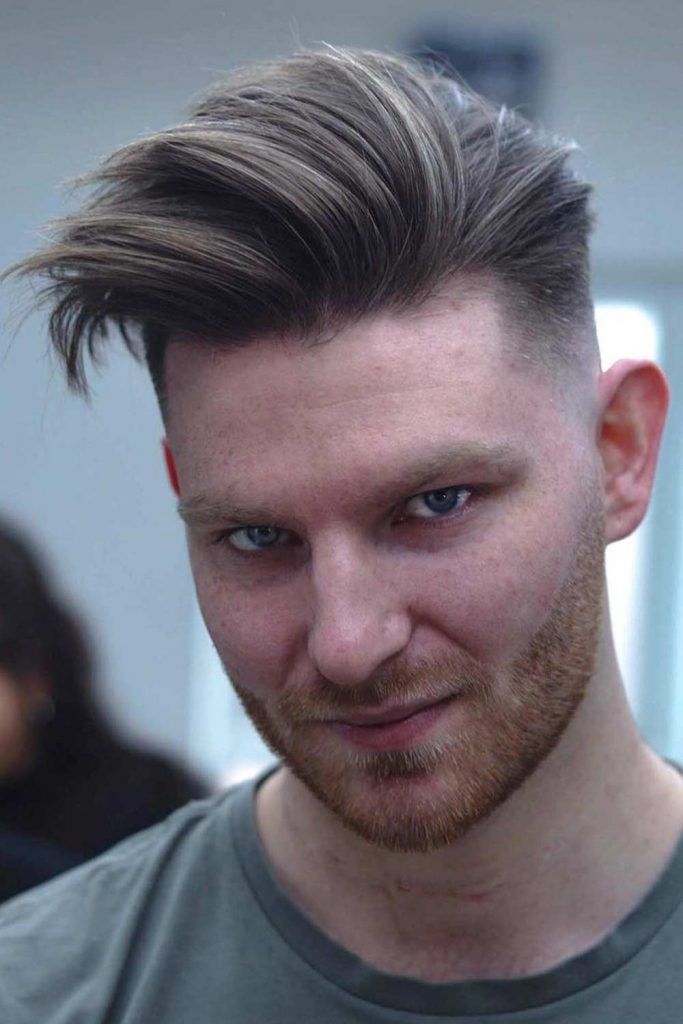 Credit photo: instagram.com/alan_beak
Just before you head to your hair stylist's office because the bald fade cuts are so inspiring and cool, there are a few things to emphasize. The thing is that there are three types of fade: low, mid and high. Depending on how far you would like to take things to, you need to pick one of those.
In case you want the fade to cover the area near the neck only then low it is if you want to take it up to your ears – that would be mid fade, and if you're going to take it all way up – that is a high fade option. Now, when you know the difference, it should be a lot easier to choose the best suitable option. However, we advise that you still discuss the matter with your stylist first.
FAQ: Bald Fade
Is a skin fade a bald fade?
The terms bald fade and skin fade are sometimes used interchangeably, which can be bewildering. However, because they both mean the same thing, they are frequently substituted for one another. It's just a simple case of you say tomato, I say tomato.
How long does a bald fade last?
Before requiring a touch-up, a bald fade will last 2,5 – 4 weeks. The main feature of this style is extremely short hair which must be maintained with regular barbershop visits.
How often should you get a bald fade?
As it has been said, haircuts with a tight fade should be maintained every 2,5 – 4 weeks. We recommend getting a haircut every 5 – 6 weeks if you want a more classic look. People, on the other hand, often want to keep it tight simply because it disappears. It all starts to mix in, and the differences in hair lengths are no longer visible.