High top fade haircuts have been around since the rise the of golden age of hip hop culture. Also known as a hi-top, the haircut was a calling card of contemporary black teenagers of the funky 80s and 90s. Well, some things have changed since then. (1)
Nowadays, the contrastive haircut with neatly faded sides and a voluminous high tops can be seen on any men that rocks a thick texture. Besides the versatility, this haircut has lots of different styling and cutting options which allow a wearer to customize his own unique cut: from high dreads with skin fade to temp fade with a nappy afro. Get to know the eternal variety of the modern cut: check out the latest, creative ideas we've prepared for you!
What Is The High Top Fade Haircut?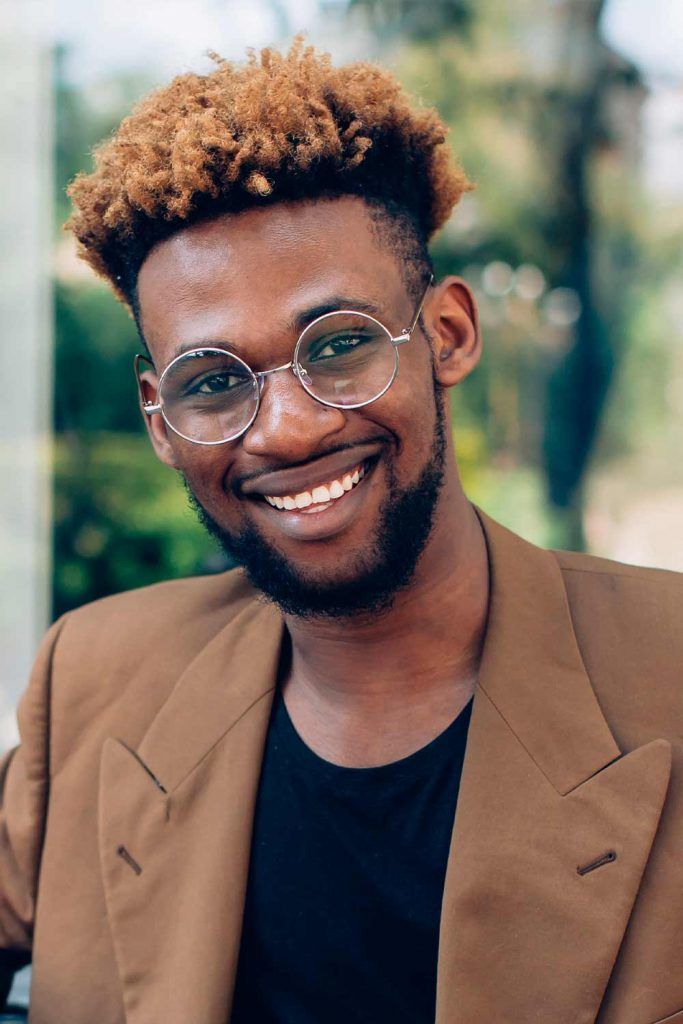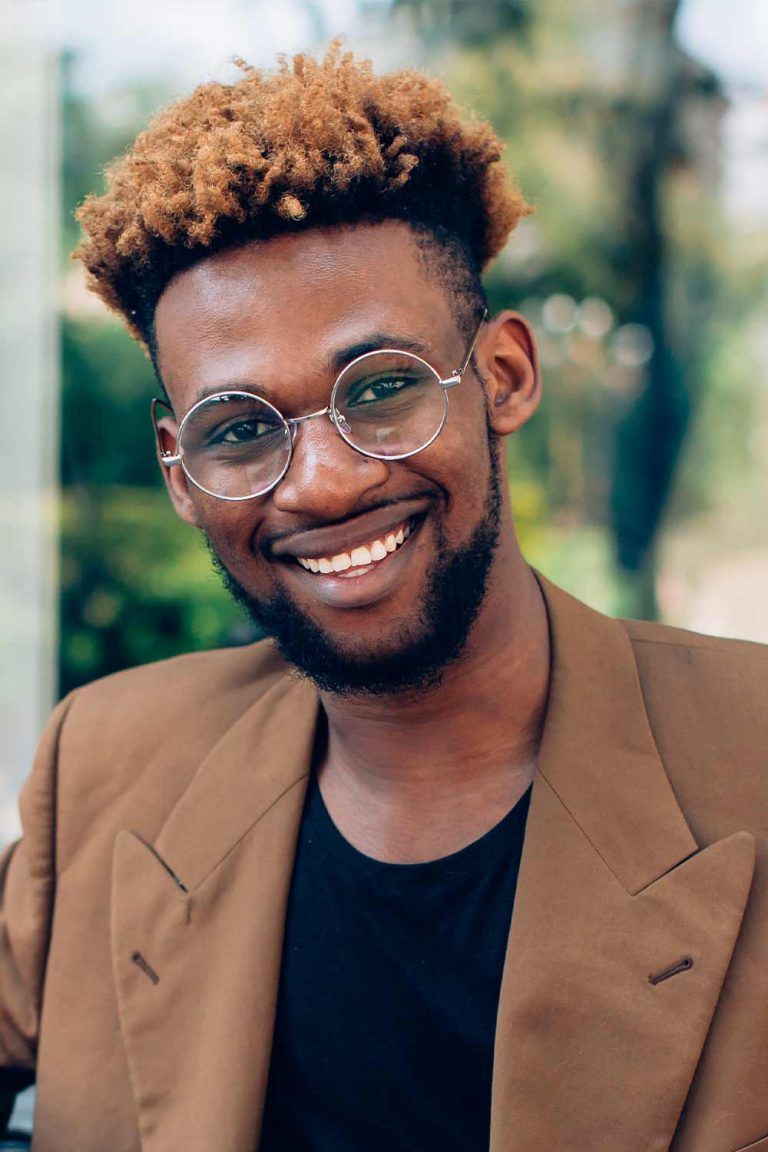 First off, let's get things straight about the popular haircut that brought us here today. Everything is pretty simple, though. When giving you a high top fade haircut, your barber either fades or shaves the sides super closely. (2) As for the top, it's usually left long to allow men to customize it with anything from sponge curls to dreads. What makes this haircut so desirable is the freedom of choice: you can tailor a high top with any fade that suits you best.
How To Get A High Top Haircut?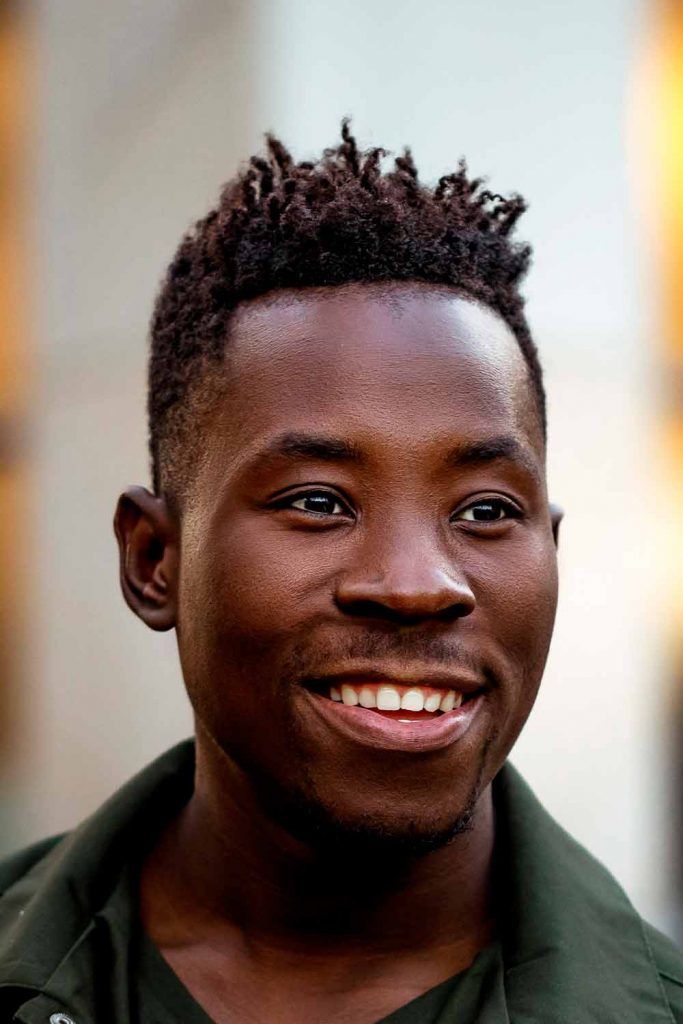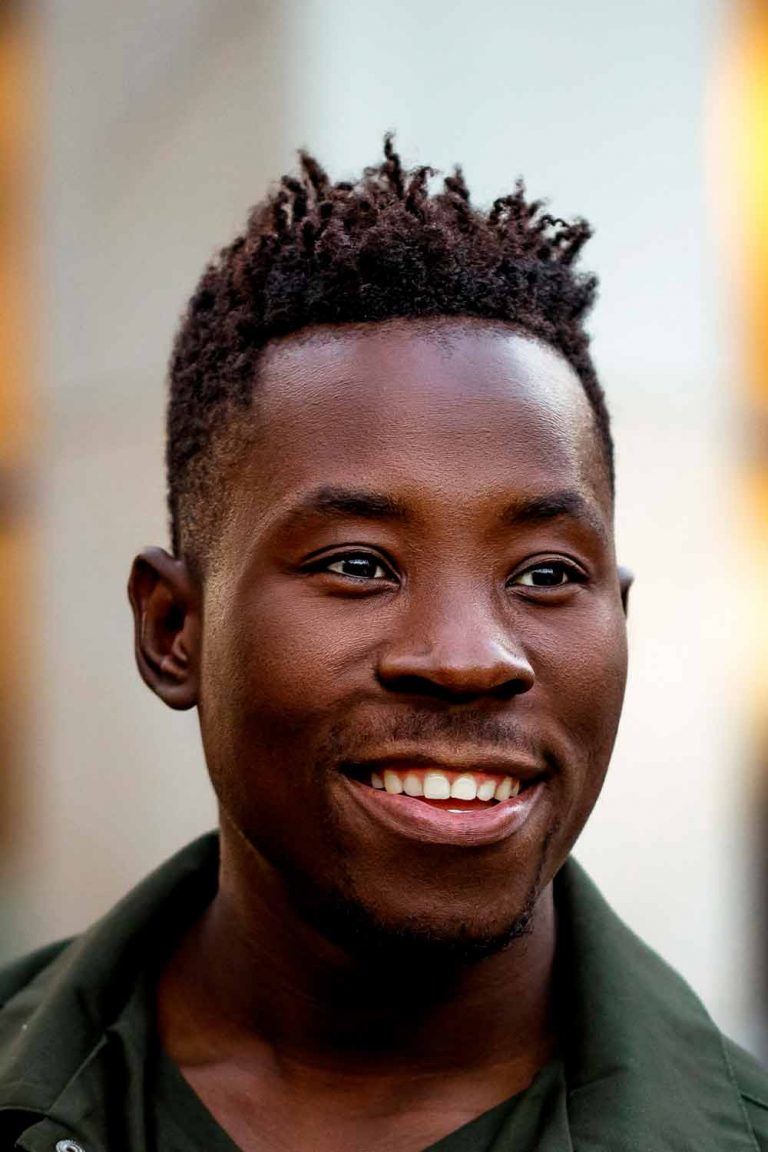 The process of creating a high top fade is not complicated as well. However, there are still some things to keep in mind before entering a barbershop. More on that later!
For the sides, barbers use clippers with a smaller size guard, changing them to a bigger size when reaching the top.
Now, let's talk about some pitfalls to keep in mind. You see, afro hair is hard to tame not only for its wearers but also for those who cut it. For that reason, you should find a professional who knows how to deal with your texture, and who's also experienced in hi-tops.
Who Invented The High Top Fade?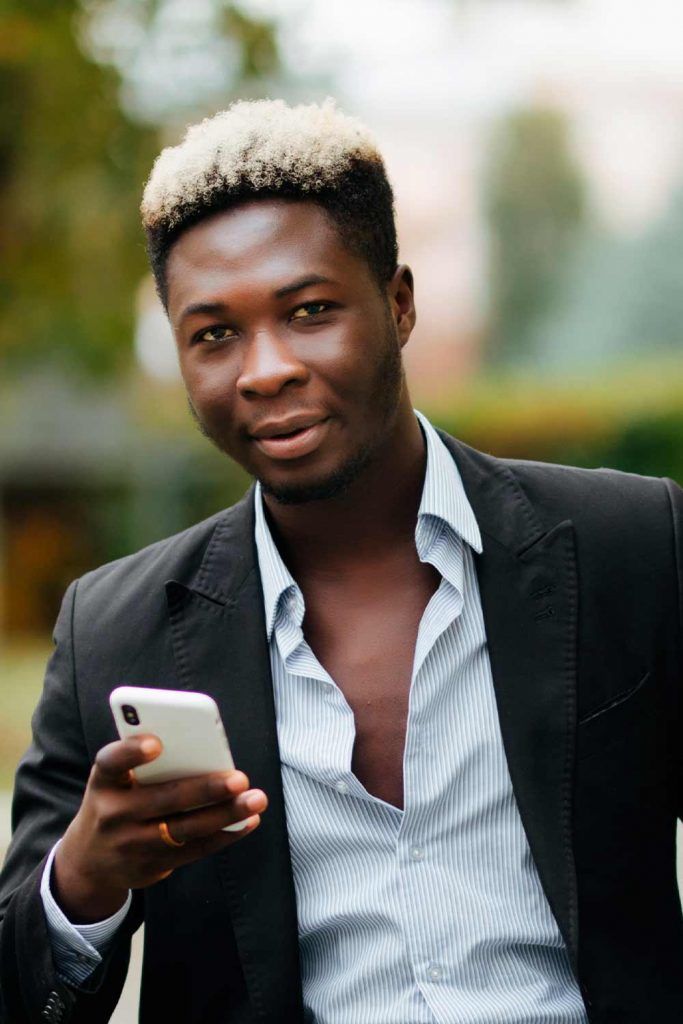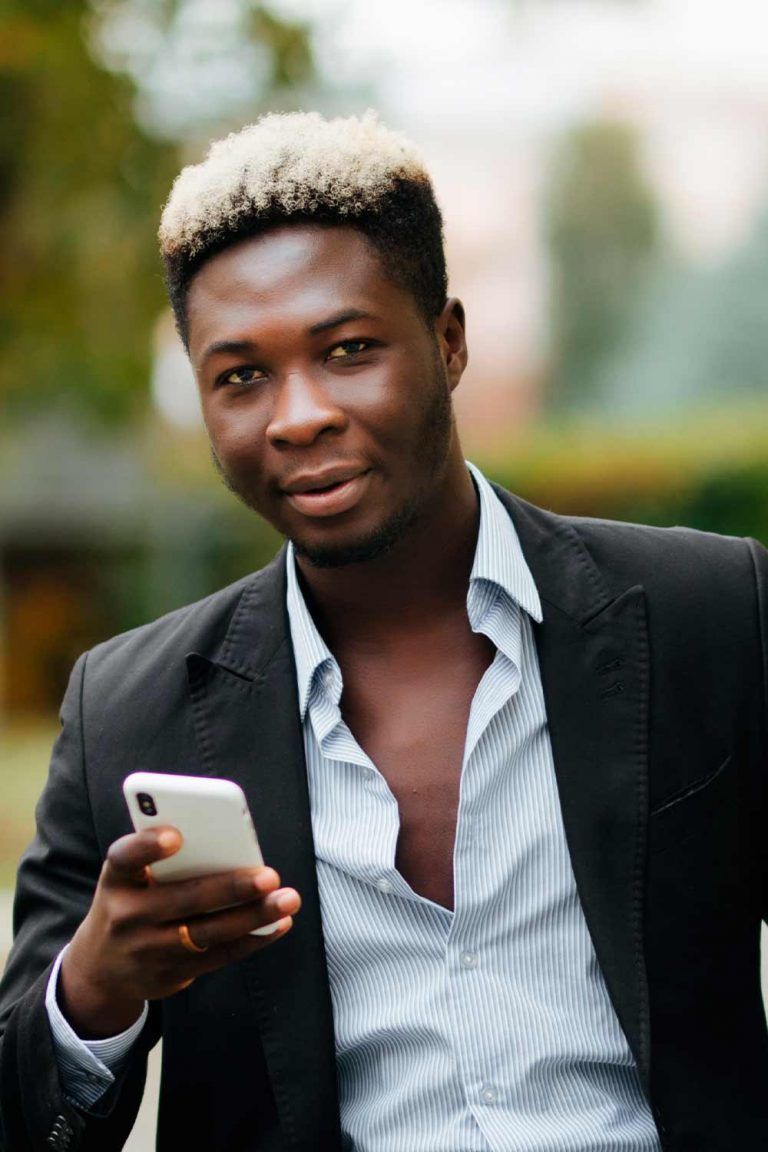 If it wasn't for Grace Jones, we would probably never discover such an amazing haircut. In the late '80s, the singer launched an album with an impressively high haircut on the cover. After a couple of years, famous Americal rappers Doug E. Fresh and Schoolly D showed up with the same haircut, introducing it as a hi-top. Soon, the world of hip hop brought the new version of the cut to the whole world; it was the high top fade haircut we know today.
Is A High Top Fade Professional?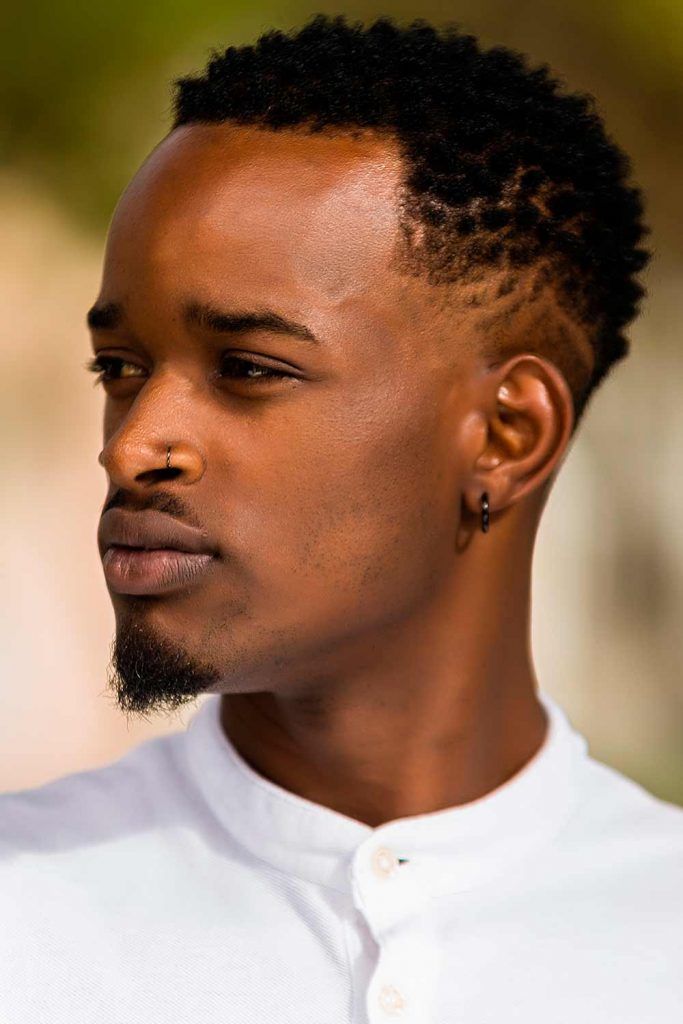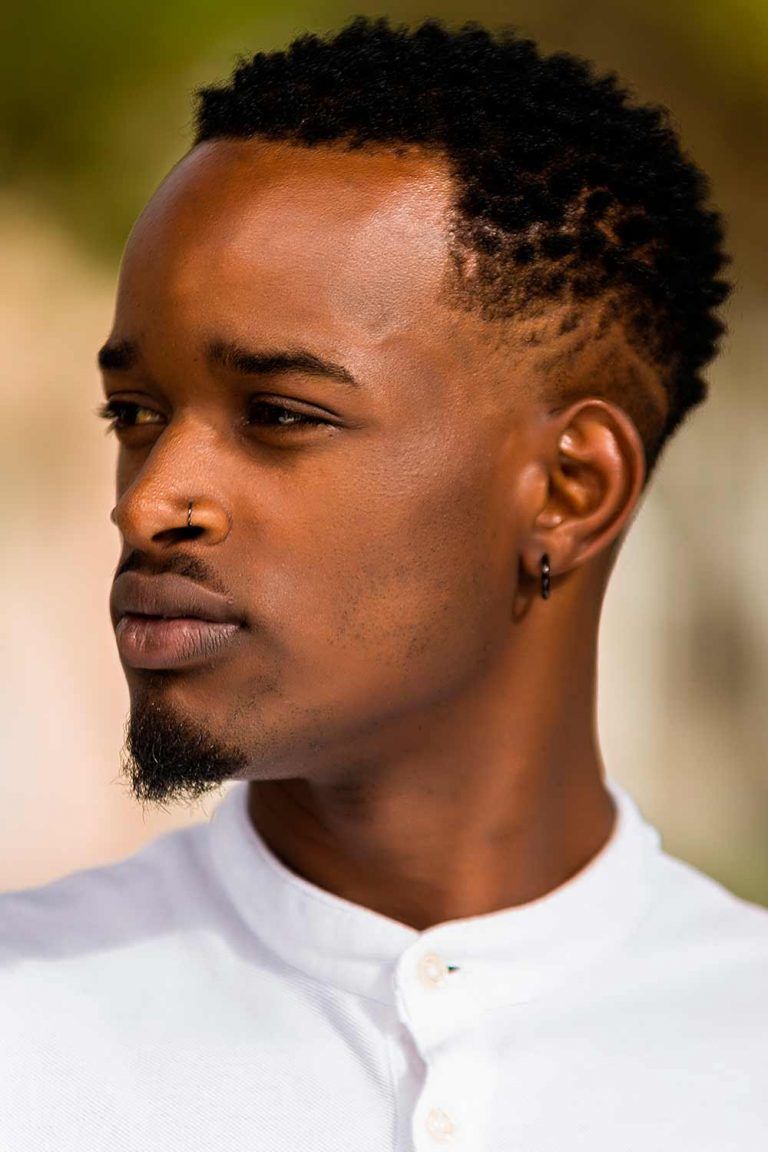 The origin of the haircut may raise many questions in men who want to look appropriate for work. The good news is, you can wear the haircut that came to use from the scene to work, as it's usually neat and clean. Apart from giving a neat look, this haircut will show your unruly texture who's boss, taming it into a decent shape. Besides, you can always make this cut adapt to your unique image, whether you're a businessman or sportsman.
Voluminous High Top Fade Haircut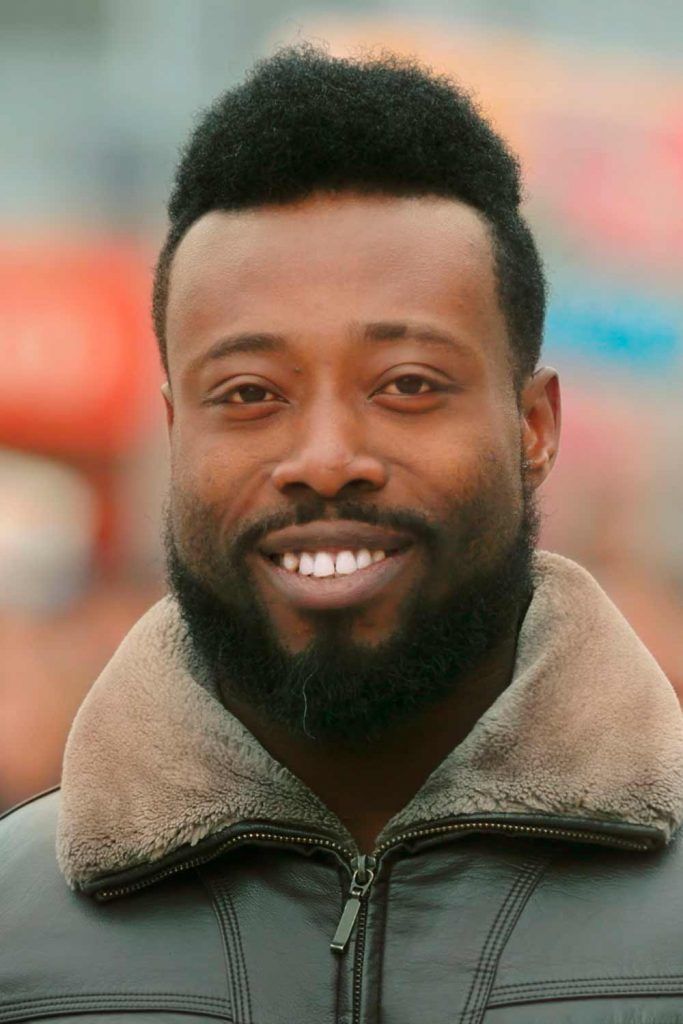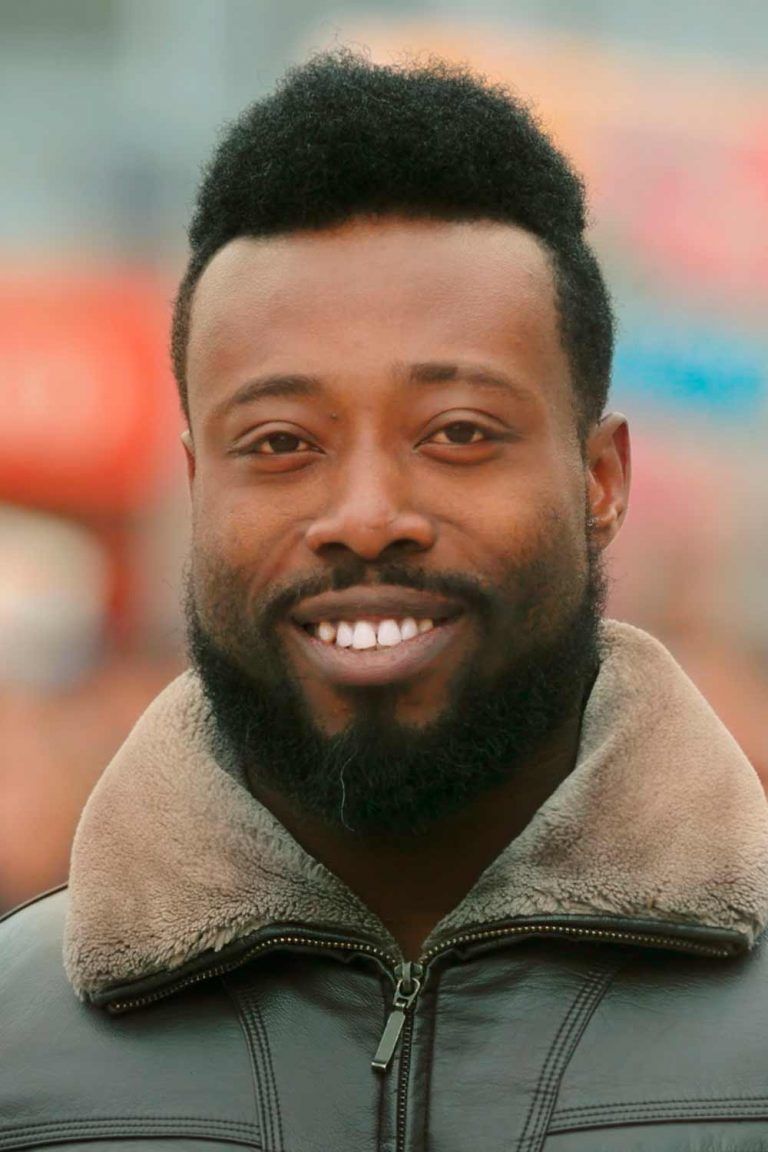 Whatever type of black men fades you choose will go awesome with a high top cut. This guy chose to go pretty high to make the neat sides gradually transit to the thicker top. To recreate this idea, you will need to find a skilled barber who not only knows how to fade hair but also can build a perfectly even hi-top silhouette.
Curl Sponge Look
These funky, sponge curls look extremely authentic with the outlined finish of a black fade haircut. This time, it's a soft taper with a precise temple fade that keeps the natural texture visible, yet pretty well-groomed and edgy.
Curly Top And Mid Fade
Men who are into a sense of balance of their looks will love this curly hair fade. The smoothly balanced medium fade that seamlessly connects two thicknesses is nothing but a perfect complement to the distinctive curly mane. Of course, this style wouldn't look that sharp without a temp fade.
Line Up High Top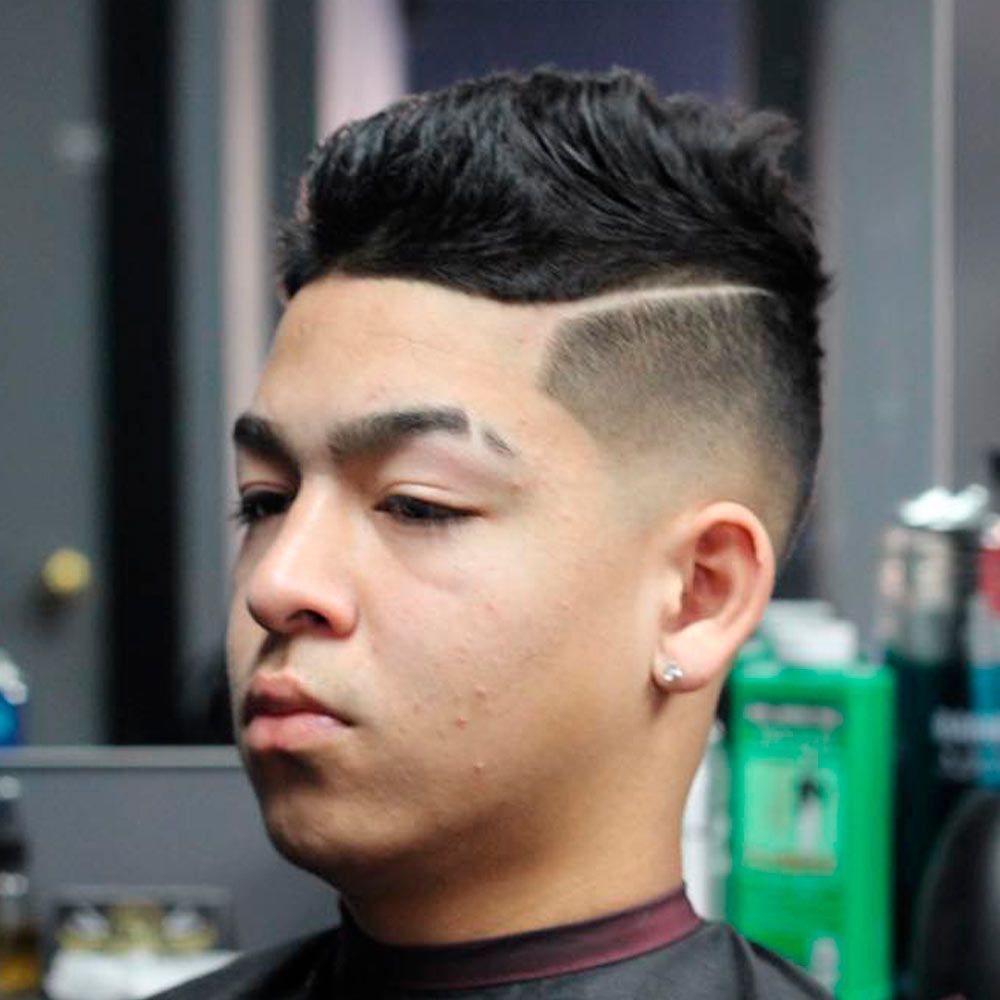 Credit photo: instagram.com/royalblendz
There are no better hairstyles for black men than those featuring edgy details that enhance the appearance of afro fade. Here, facial hair follows the same pattern as the faded portion, but with a smooth disconnecting line. And the full, textured top serves as a balance-building touch.
Medium Textured Hair
Here comes something that is not short like black short haircuts and not long like a classic afro mane. It's a medium length version of the hi-top cut that focuses on the top texture, involving the cleanest mens fade - skin fade.
The Arabic Style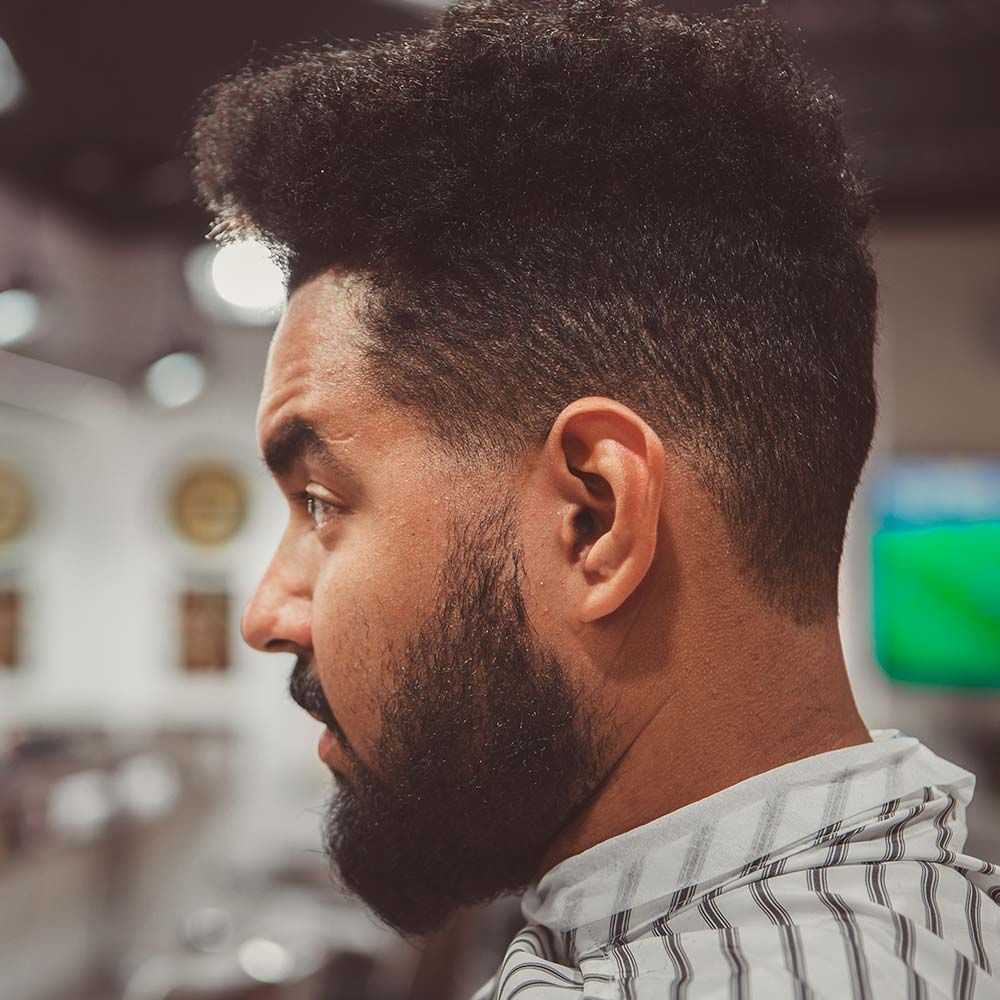 As we've mentioned before, curly top fade haircuts are no longer black men's privilege. Dark and unruly Arabian locks can also find their best shape with the help of hi-top cut, getting a sophisticated and immaculate look.
Curly High Top + Mid Fade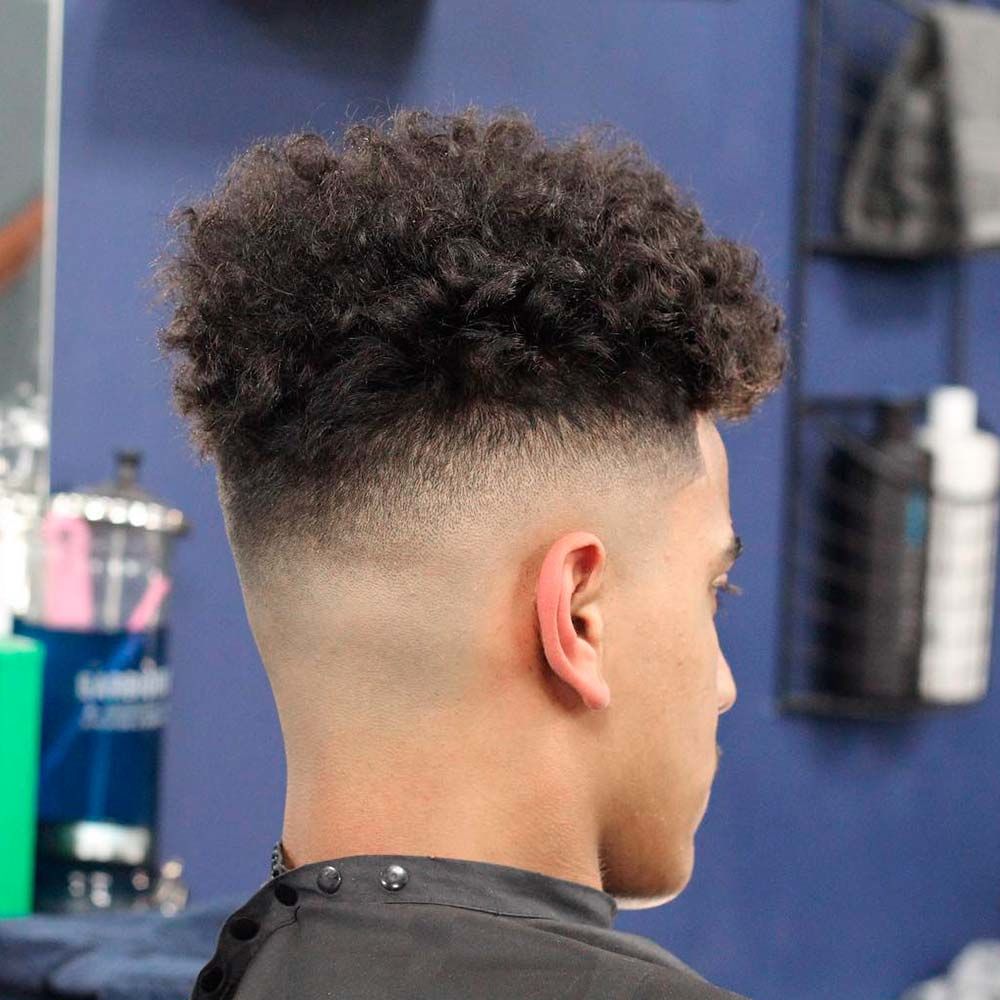 Credit photo: instagram.com/royalblendz
When you're not sure how to fade hair, choose a mid fade: you just can't go wrong with that. As for the high top, if you sport very curly hair and would like to loosen some tension, try out this idea; it features a texturized top that gives the needed sense of lightness.
Textured Hi-Top With Long Curls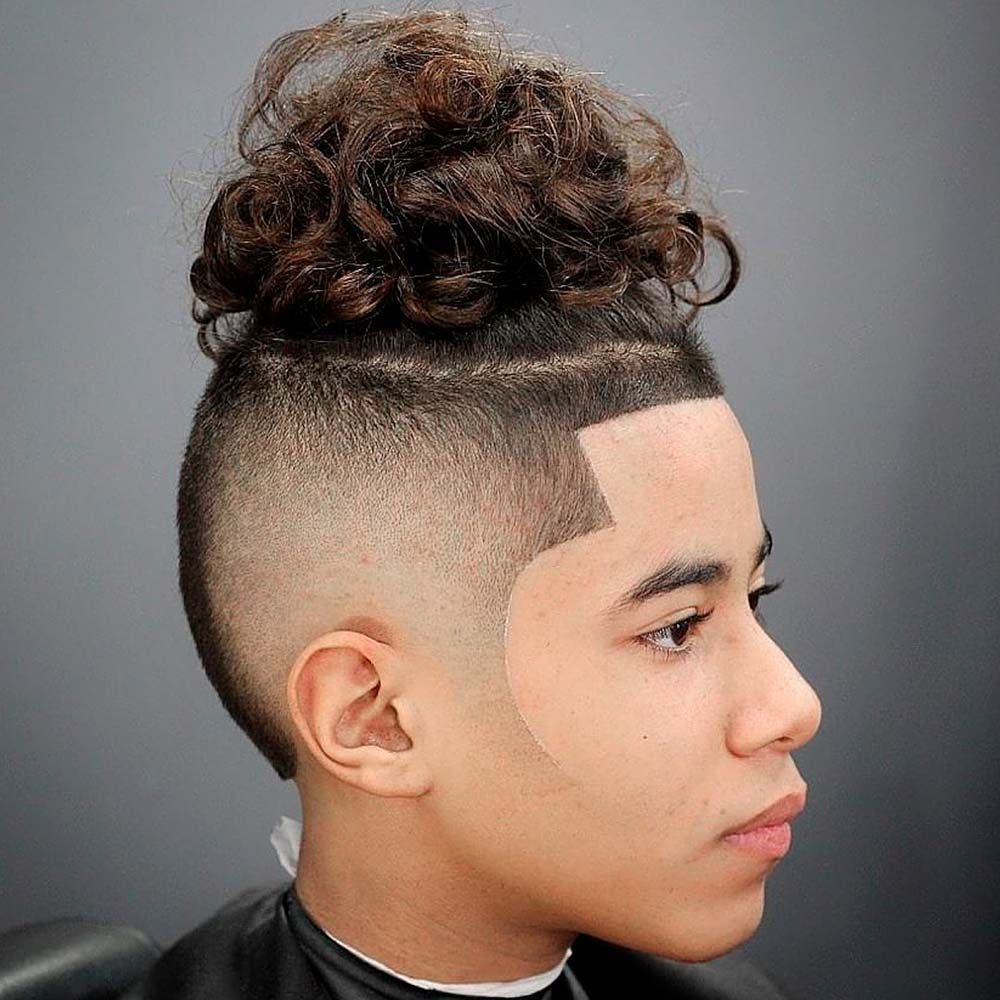 Credit photo: instagram.com/royalblendz
Everything in this idea starts with a high fade haircut black men can't do without. First off, the neater the sides, the more attention is brought to the top. And when you are about to rock such head-turning, long curls, you do need to make the contrast big.
Mohawk Style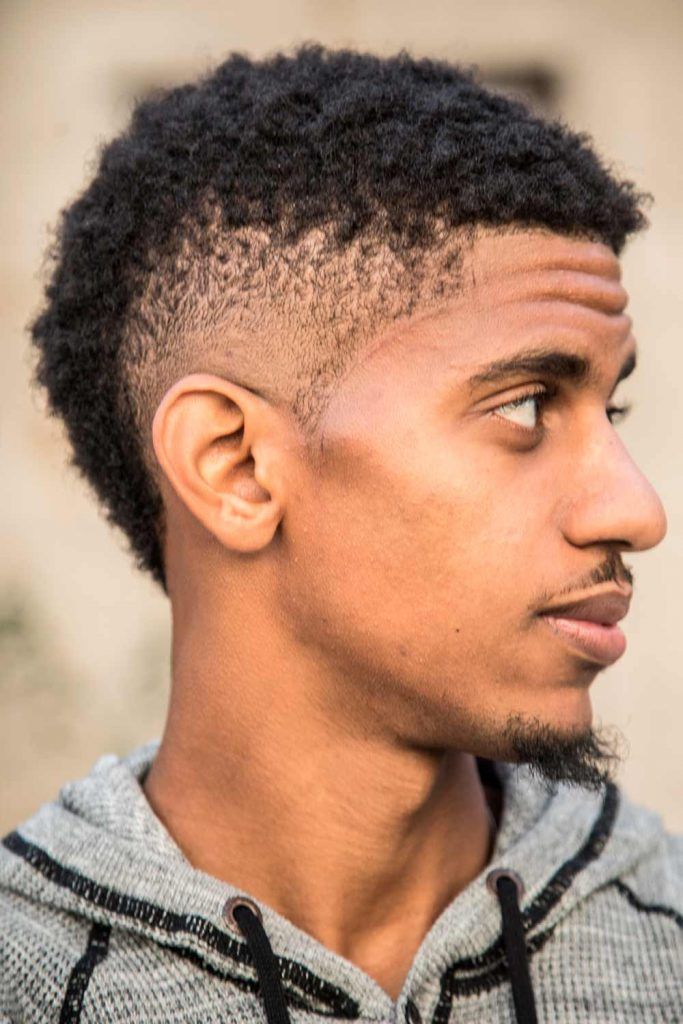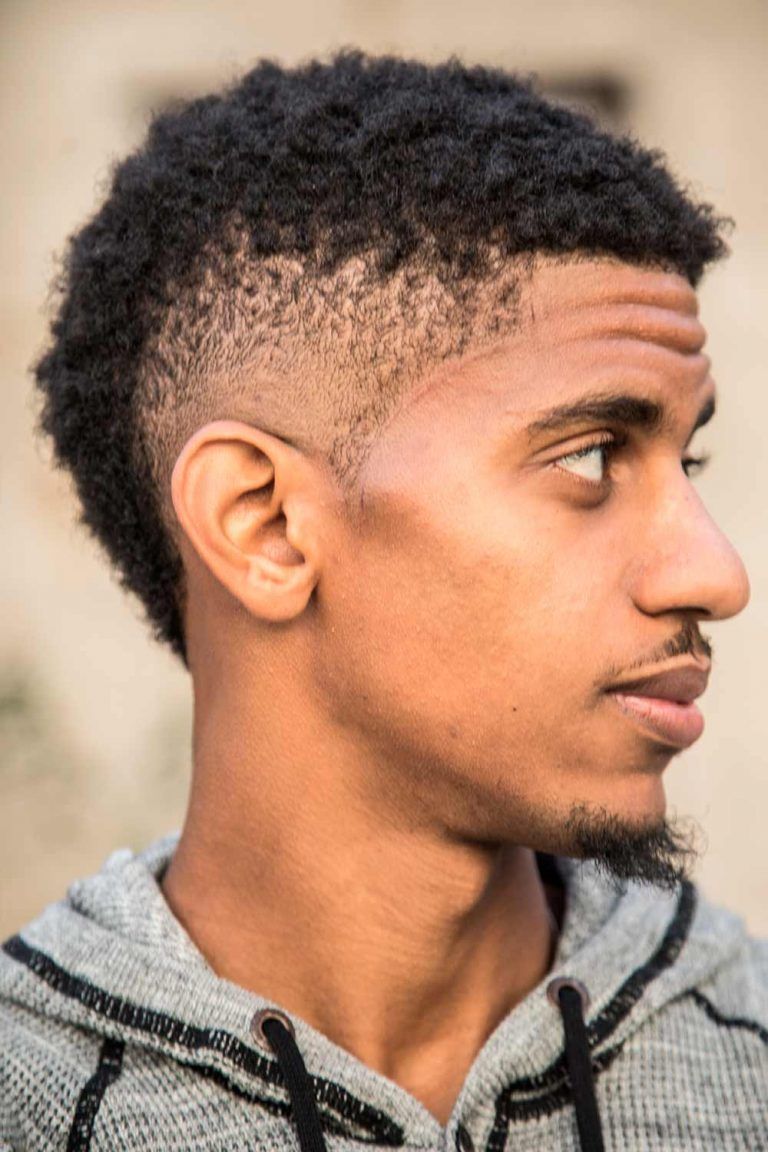 While most guys need to apply loads of styling products to achieve a Mohawk, haircuts for black men have other approaches. This Mohawk fade is created with clippers and trimmer that keep the sides shaved and help the top stretch along the back of the head.
Dreads & Shaved Design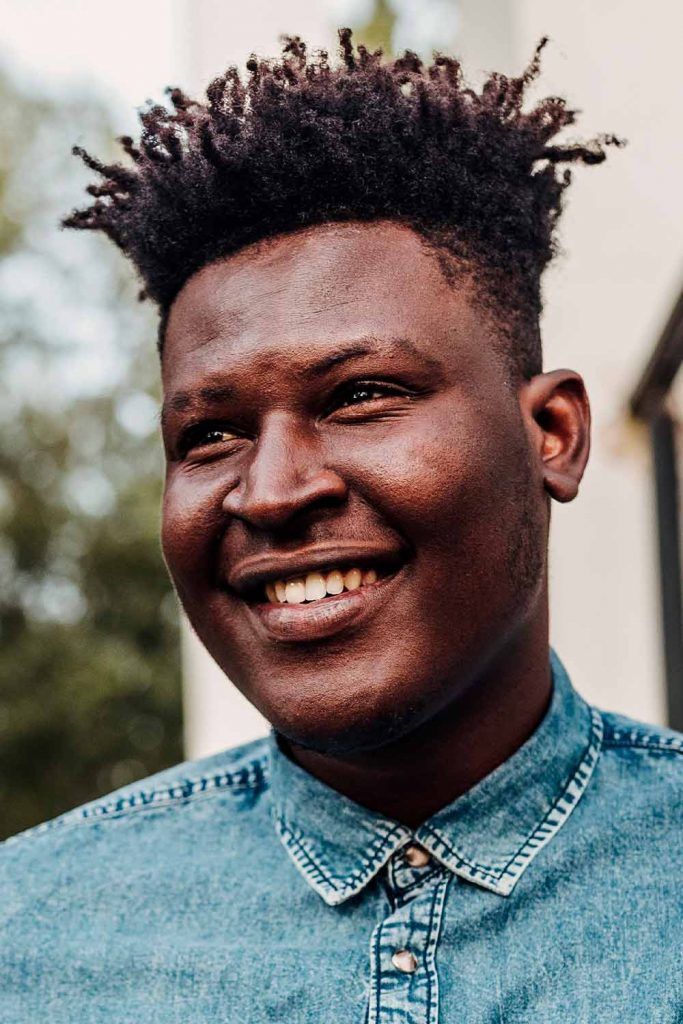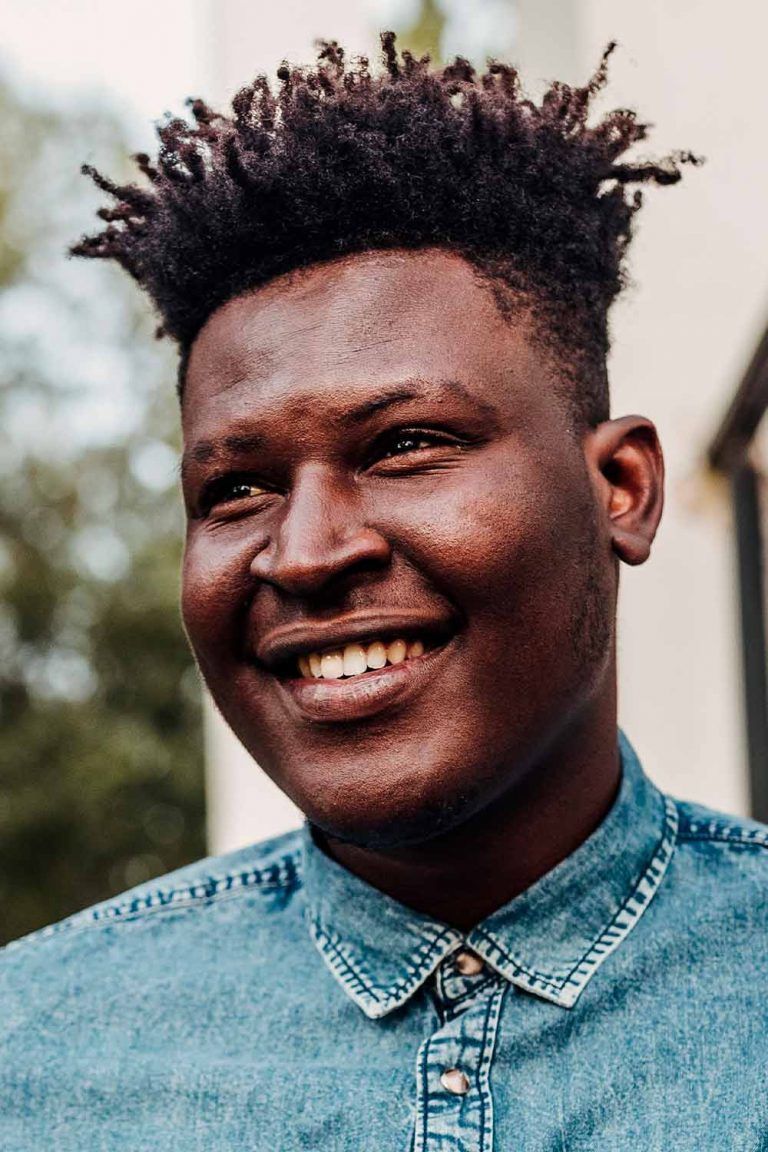 Don't forget that you can turn your top into any style you want and highlight it with shaved haircut designs. These top with dreads are a perfect example of customized fade haircuts. The temp fade nicely accentuates the dreaded top while two shaved stripes give the look a lot of individuality.
Sleek Top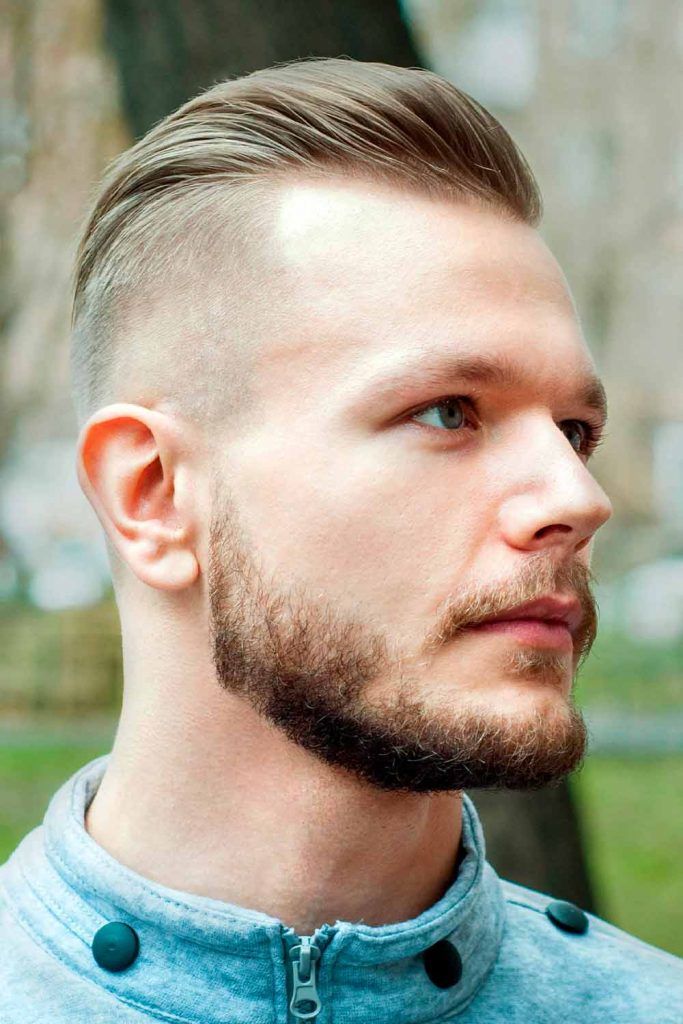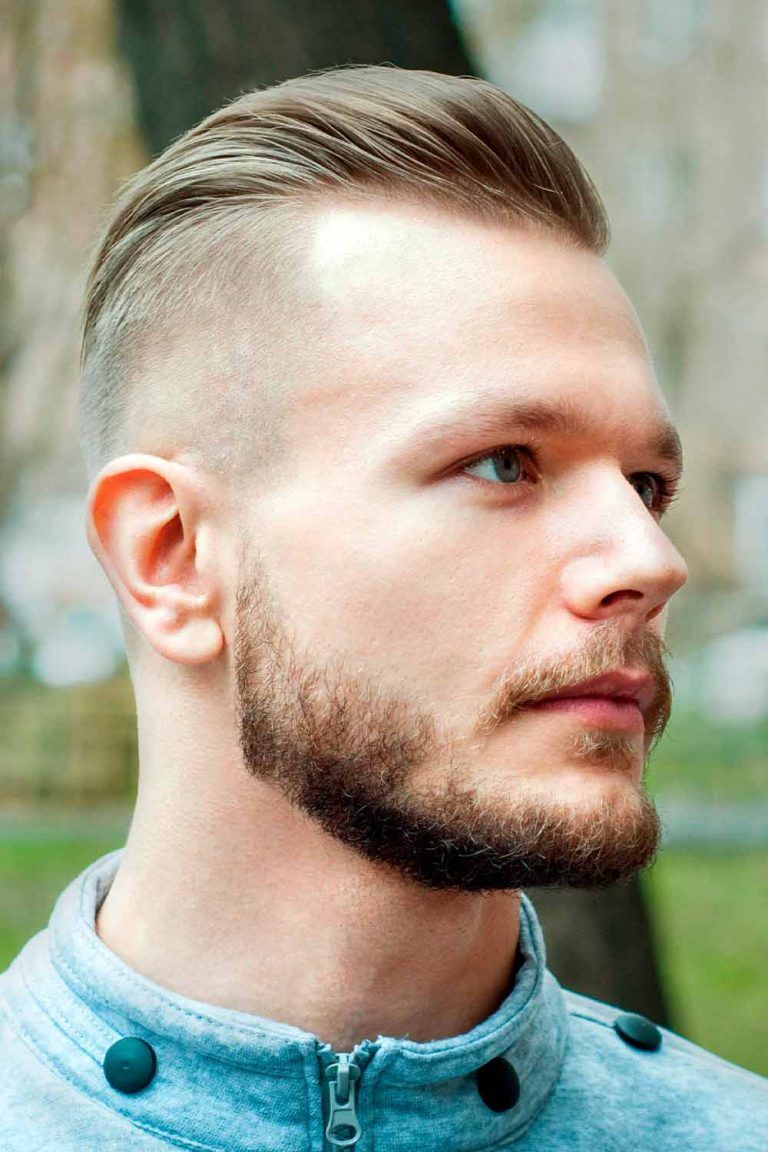 How about you to diversify the classic high tops with fade haircut men love to pull off today? With the right approach to the top, you can make it fit your image. For example, this sleek top and even fade give a new definition to the hi-top while following the classic pattern.
Neat Short Flat Top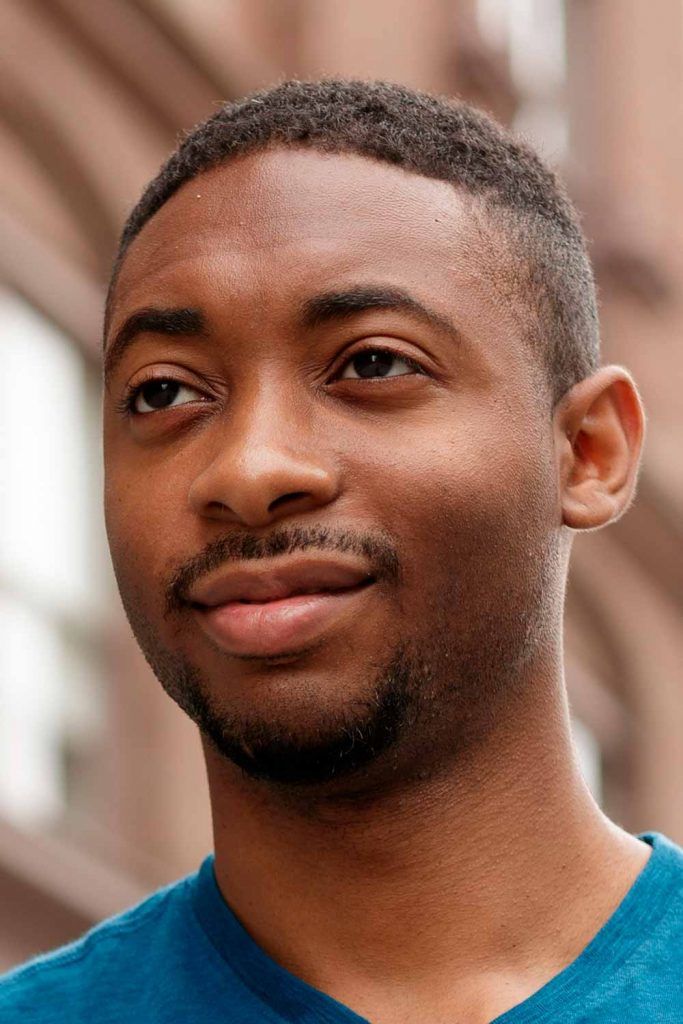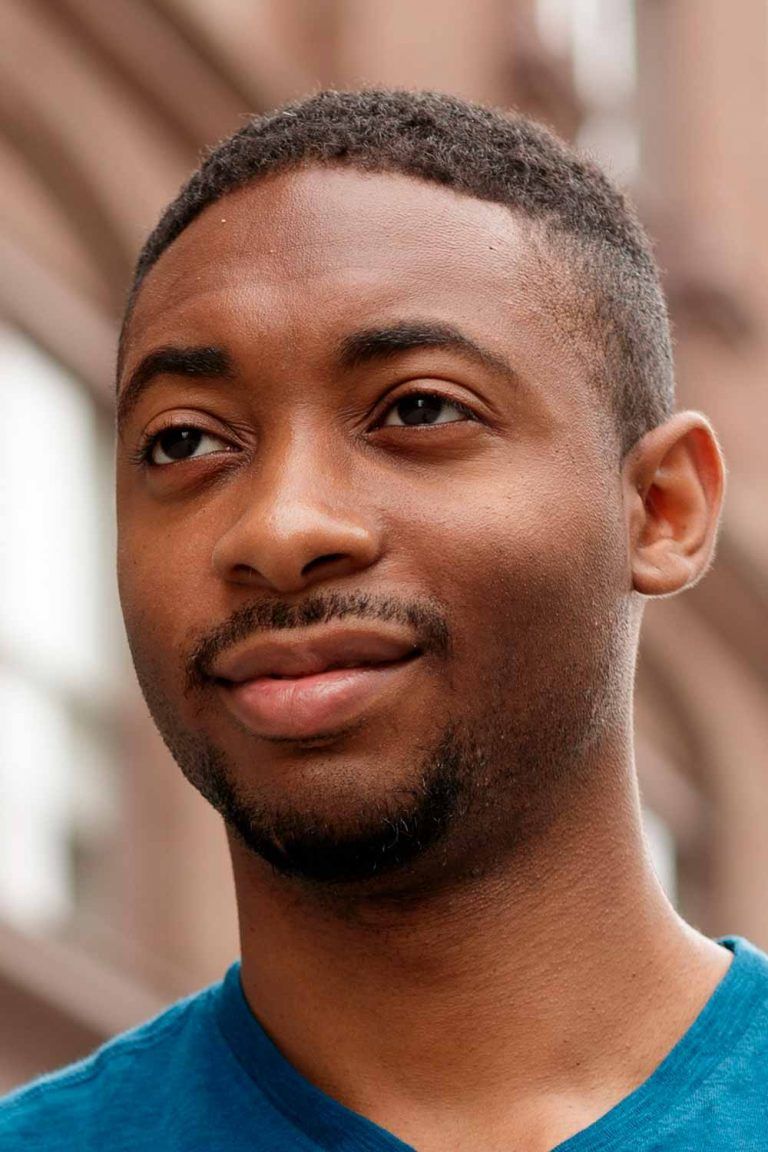 Though most hi-tops have a common structure, nothing can stop you from playing around. If you prefer a smooth and neat finish to a dramatic and edgy look, a flat top fade is a good idea. A shadow fade that connects the sides and a slightly longer top is the needed harmonic finish.
Kinky Top With Surgical Line
Truly best hairstyles for men with natural hair always go with a haircut fade that saves the scalp from thick and heavy tension. This outstanding, even fade with softly tapered graduation keeps the unruly top well-groomed, giving it an awesome, steady shape. Needless to say, two shaved lines serve as a cool individual detail!
Zero Fade With Frizzy Top
When the shortest cuts ever meet the funkiest Afro hairstyles, they give birth to looks to remember. Here you can see how a zero fade roughly turns to a breathtaking, messy, and kinky top. And to stay away from frizz, this style was spritzed with moisturizing oil.
Blow Out Straight Pomp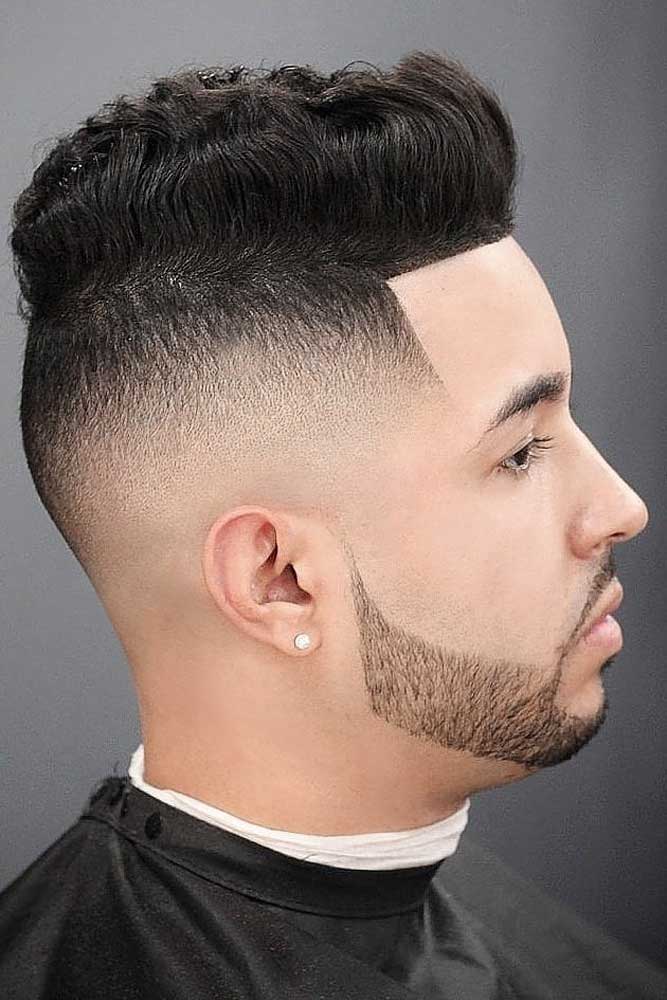 Credit photo: instagram.com/royalblendz
The blowout fade or temple fade is probably one of the most popular mens fade haircuts. It can come in many variations, but they all have a common feature - a tapered contour line that accentuates temples. And you know what? It will go awesomely with an upswept, pomp-like hi-top.
High Top With Fade Design
Another good thing about men's fade haircuts is that they give a lot of room for creativity. To spice up your fade with a unique design, make sure to bring a pic of the pattern you like to a steady-handed barber.
Quiff Pomp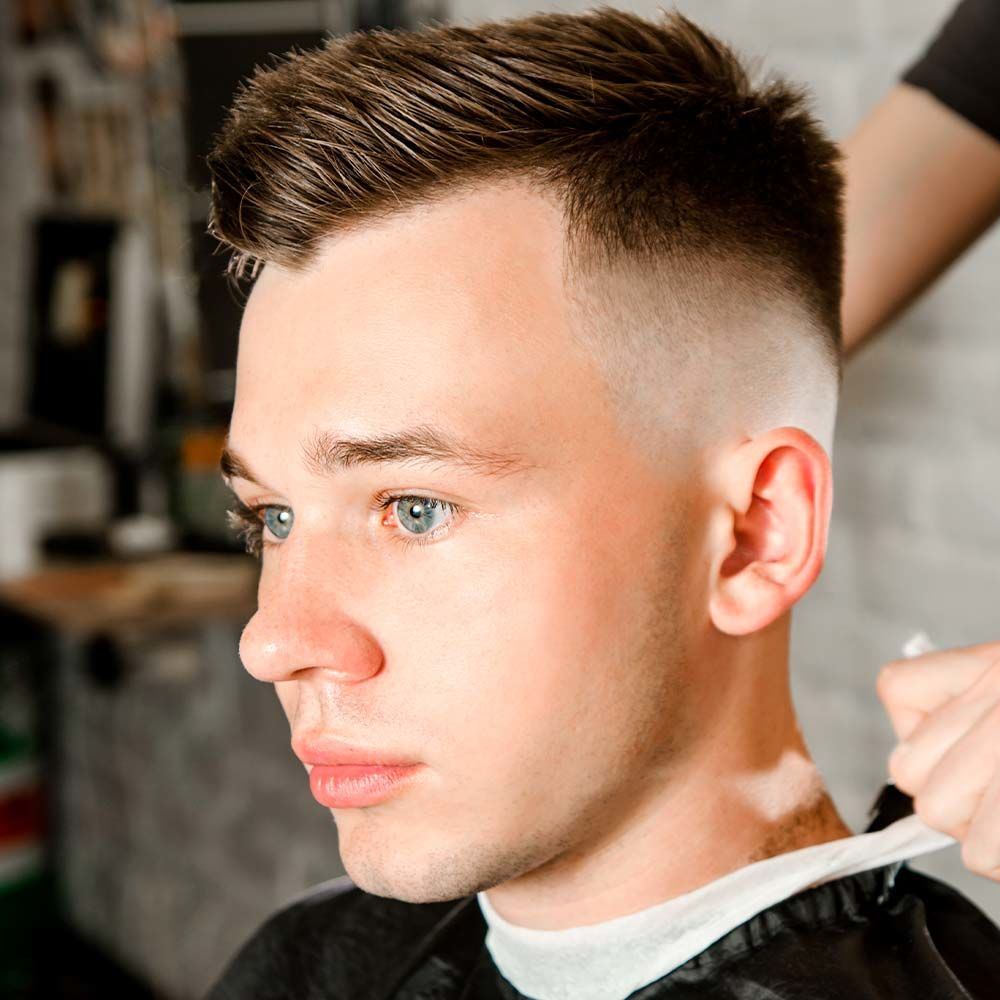 There's a hi-top option that embraces the main characteristics of a quiff haircut. Super clean and high fade hair with a slight temple shave and a chic, blow-dried top are a staggering idea for modern gentlemen.
Fresh Classic Afro Cut
A drop fade haircut features a drastic gradient and a noticeably tapered hairline. It's meant to enhance the texture of Afro American haircuts and make them look more graduated. But this immaculate afro haie stands out not only because of the fade: the pop color also takes part!
Blonde Sponge Curls
Besides all the various types of fade haircut, there are some more ways to create exciting contrasts! Some light color to your natural locks won't hurt, especially if you want your style to be seen from a mile away. A high skin fade gives this style an exceptional length contrast, and highlighted curls create a fresh play of colors.
Nappy High Top
There's nothing like a cleanly outlined fade that softly graduates into a full yet balanced top. We know what we're talking about, as we know how tough and cruel natural curls may be. As you might have noticed, the top here is pretty high compared to the previous ideas. Well, there are two reasons why you should try it. Firstly, it's a nice way to balance out a small head. Secondly, it gives a lot of character!
Short High Top + Bald Fade
There are different ways to keep up with the balance between your fade and top. And even though we swore not to play favorites, we can't help but say that this idea is the most refined way. The high fade that used to be dramatic looks soft and smooth due to the fantastic blend in the middle. The way the top is shaped leaves up speechless, so let's just stare at this pic together!
Flat Top With Drop Fade
Men who appreciate classic, traditional looks should give this flat top a try. Or, we would even say make it a part of their looks forever. As told by loyal fans of flat tops, it's hard to try something new once you try the purest version of the hi-top. Everything from a drop fade to a clean temple outline and the perfectly leveled top is absolutely worth your attention.
High Top Mohawk For Thick Hair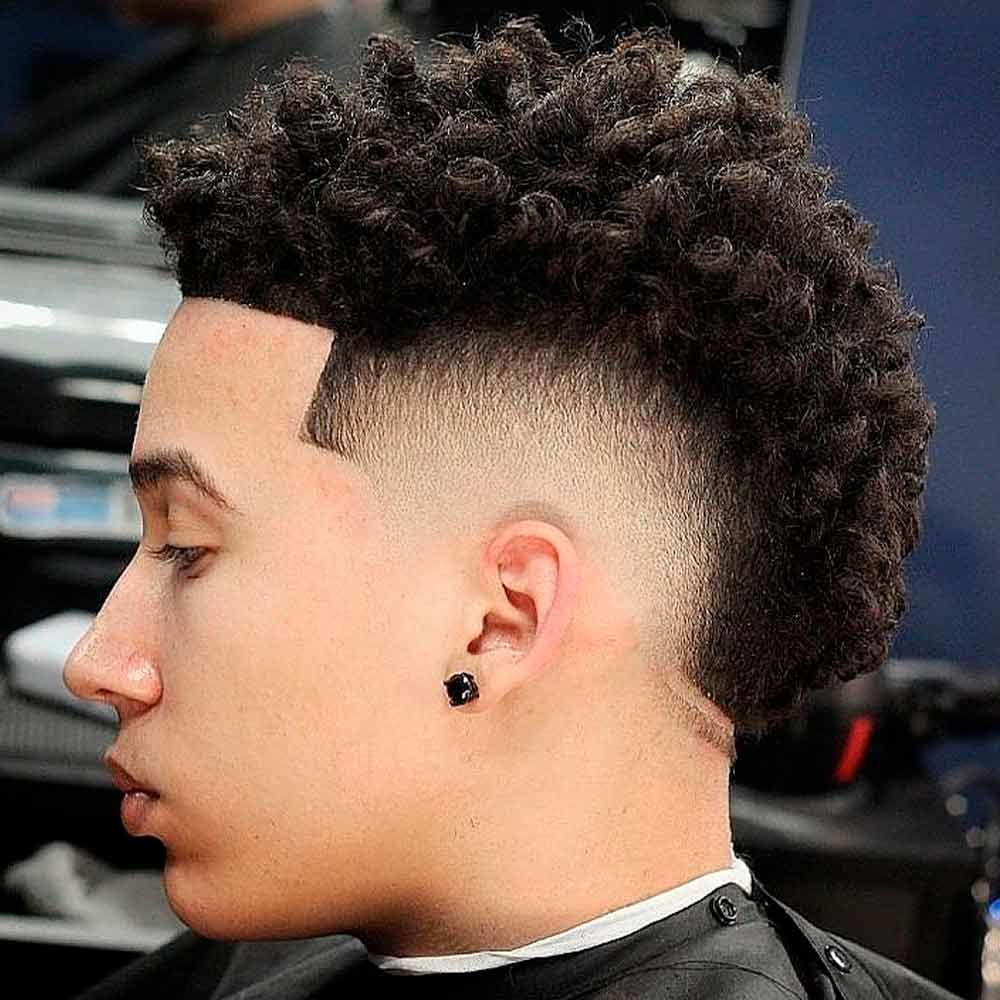 Credit photo: instagram.com/royalblendz
As it turns out, there's something even better than regular mohawks. Just think about it: there's no need to grow out a long mane to create those sharp hawks. Instead, you should just give your afro texture some time and visit your barber regularly so that he shapes you a high top mohawk. Keeping the sides trimmed regularly, as well as updating your temp fade, are keys to getting this cut in the shortest terms.
Rounded High Top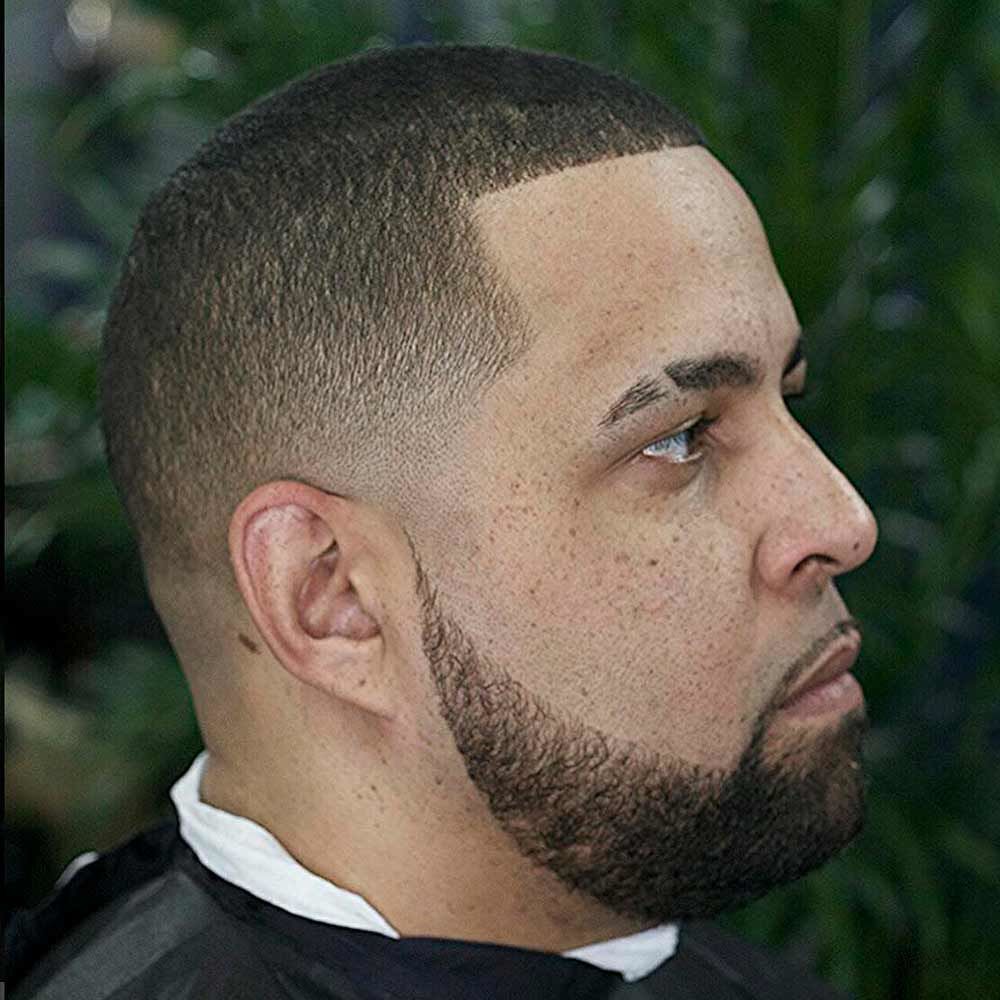 Credit photo: instagram.com/royalblendz
By the way, wearing a super high long top and short sides is not the only way to balance out your facial features. Men who'd like to work on small heads can go for a rounded version of a high top fade. Basically, this haircut features more length at some point at the top, which then gets shorter at the back.
High Top + Taper Fade
Taper has always been the shortest way to neatness in a man's look. In contrast to fades, tapers have a more textured appearance. In other words, you can see the movement on sheers in the hair. That, indeed, looks great on natural hair, especially when it comes to a high top. All in all, this cut shows kinks and curls at their best.
Slanted High Top Haircut
No, we weren't joking when we told you that a high top was a work-appropriate haircut. We also mentioned that it could be variously customized, remember? In fact, you can modernize and customize this haircut in any way you please. Eager to try shaved designs? You're welcome, man. Seeking imbalance to stand out in the crowd? You are free to experiment.
Twisted Long High Top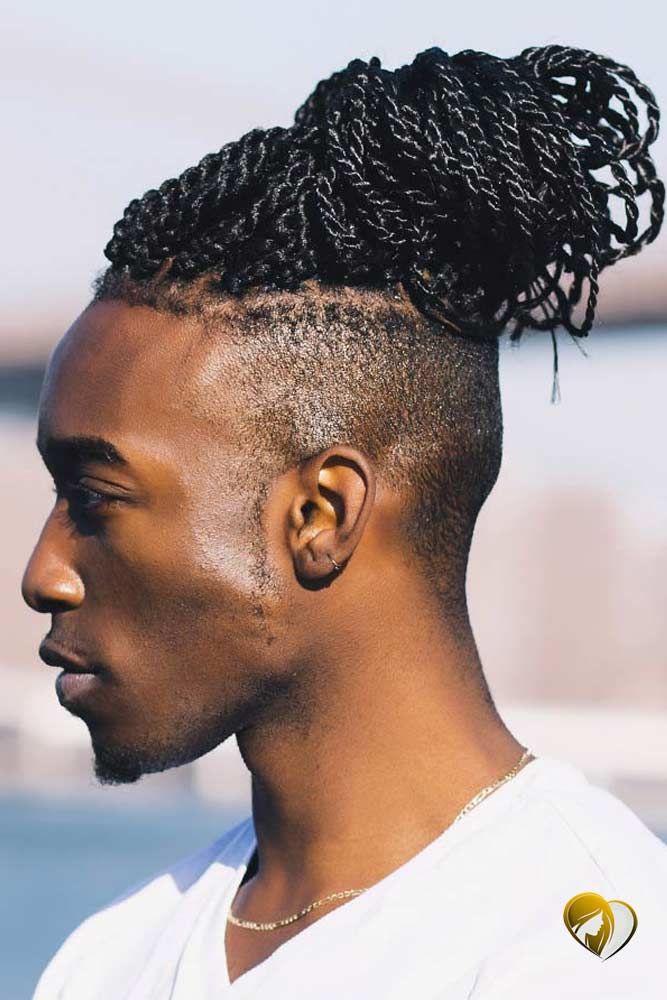 Since this post is fully devoted to the science of natural hair, we can't skip cornrows. Oh yes, they're twists there. Let's make it clear: this guy surely didn't let his hair grow this long; he asked the good old cornrows for help. If you're really into longer styles, we recommend you growing out your top to a couple of inches long. Then, go to a braider and ask him or her for cornrows. After that, you can attach various extensions: anything from twists to dreads is at your disposal.
Braided High Top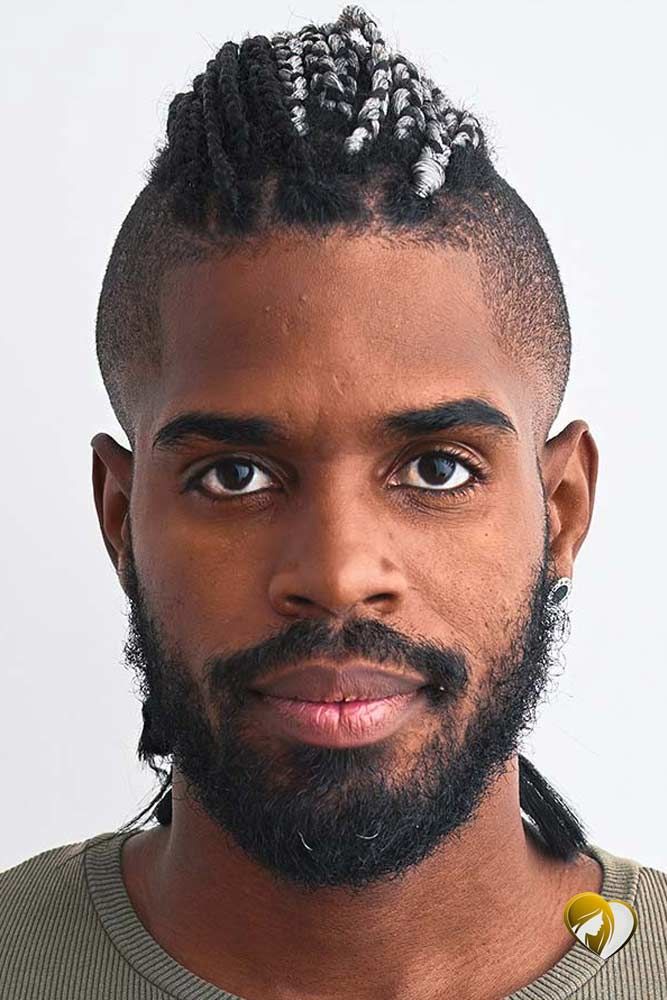 And here's another hairstyle you can rock with cornrows! Whether you want to grow your hair this long naturally or you're OK with extensions, such an idea can't do without cornrows and a hip clean fade accompanying them. Men who'd like to add some ethnic character to their braids can also add some bright or contrasting synthetic elements to the hair.
High Top + Stripes
Adding some shaved design is one of the easiest and most impressive ways to show off your individuality. While most high top fade haircuts look pretty much similar, you can put your signature with the help of your barber's clippers. In order to make everything nice and clean, make sure to ask your hairdresser to connect the design with your fade seamlessly.
Blonde Top + Hard Part
Though curls and kinks are super prone to damage, you still can add a touch of color to them. For example, why not spice things up with another shade just where it's most safe? All in all, you will cut off the top in a couple of weeks anyway, right? This idea is the embodiment of the latest trends in natural haircuts. The color, dramatic fade with a hard part, and high defined top are all the rage these days.
Military High Top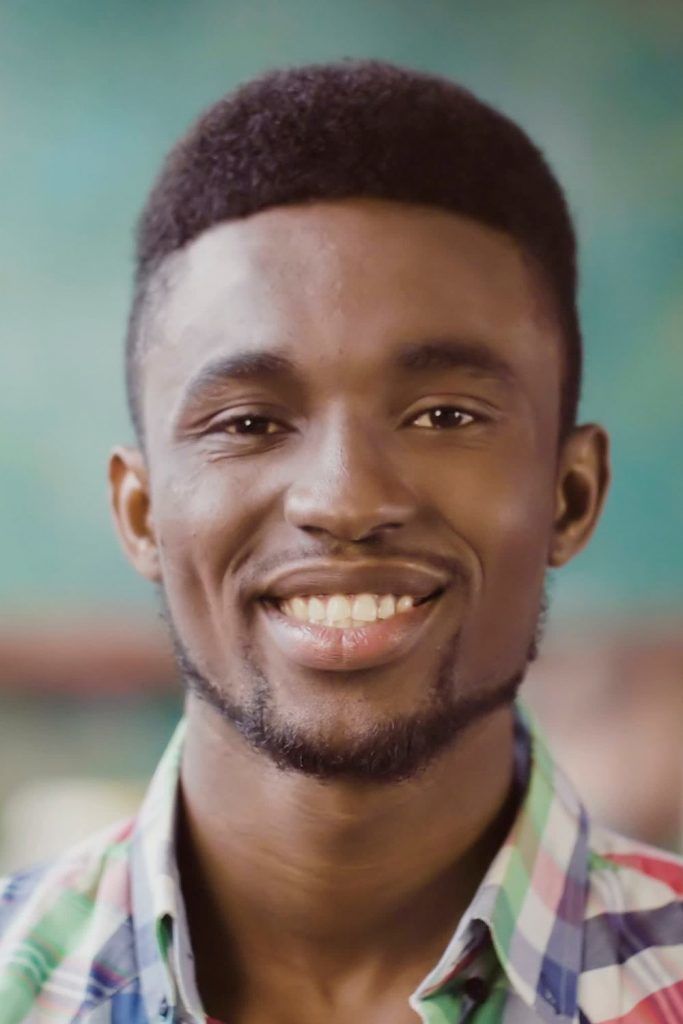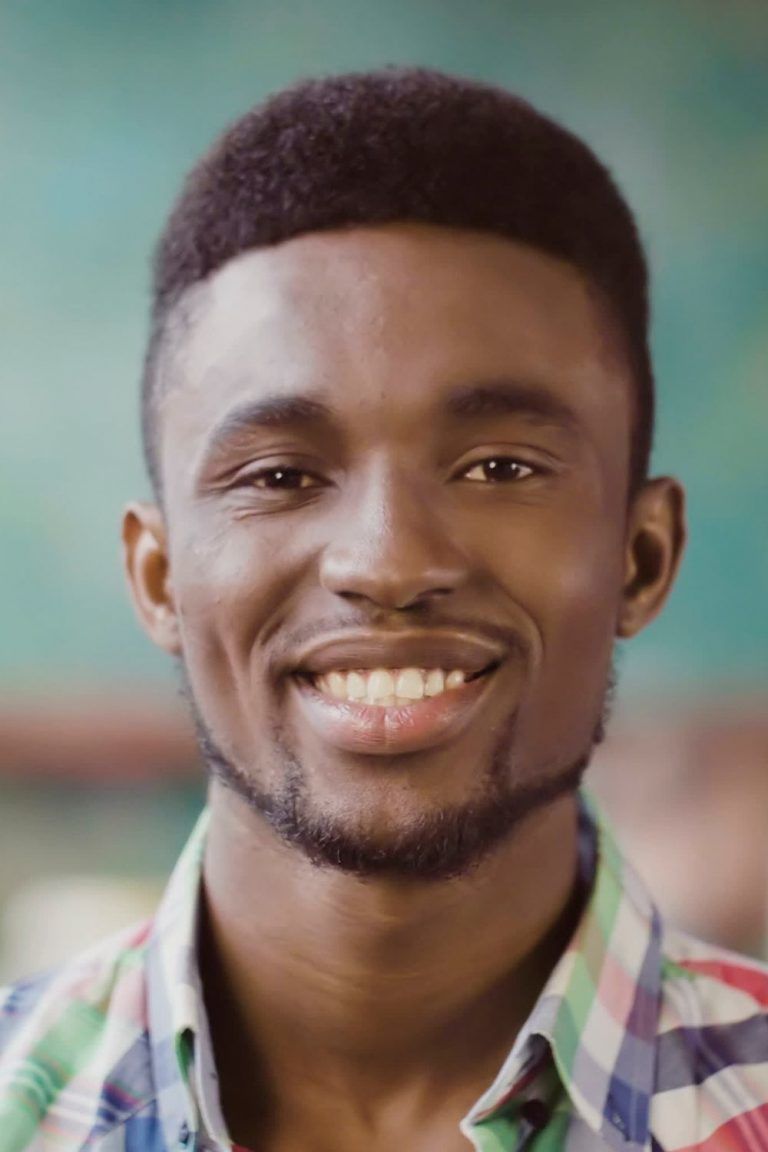 Getting back to basics, huh? As a matter of fact, that's the most ingenious high top fade haircut we've ever seen. Why? Well, the guy who cut this knew exactly how to make the high top haircut fit restrictive dress codes without altering its main features. As a result, the haircut is refined, sophisticated, and masculine. It seems like we've just found a buzz cut killer!
Now that you know how different a high top fade haircut can be, it's time for you to show the world its another unique variation! Don't be shy to bring your favorite designs to life, cut and style the top in any way you want, and find a barber who knows how to make a style show off your personality!
SOURCES
(1)
Hi-top fade is a style of male haircut where hair on the sides is cut off or kept very short while hair on the top of the head is very long.
(2)
A hi-top fade is a style of haircut where hair on the sides is cut off or kept very low and hair on the top of the head is very long
FAQ: High Top Fade
Are high top fades back in style?
Although the high top fade hairstyle was popular in the late 1980s and early 1990s, it has now made a comeback. The style has progressed significantly since Kid of Kid 'n Play's iconic look. This is an extremely nice fade haircut for men in any style.
Why is the fade so popular?
The hair on the head is cut to the same length in the tapered Caesar, and the back edges and hairs right above where the sideburns begin are merged into the rest of the hair. The fade haircut benefits are well-known due to its adaptability.
Why do men get fades?
Fade haircuts suit all hair types, from fine to coarse, curly to straight. Fade haircuts lighten hair making it easier to style for men with thick hair. How do fade haircuts function for thinning hair? In contrast to the super-short hair on the sides, the hair on top appears thicker and fuller in this case.
Was this article helpful?