"Short sides long top, please" — this is what barbers from all around the globe have been hearing for years from men of all ages. There's no wonder why such haircuts have become ageless classics: they help men embrace practicality and stylishness, working equally well for casual and business environments.
The number of hairstyles and haircuts that fall under this category simply has no limits. Take, for instance, Bryce Harper's hair evolution, which vividly illustrates the versatility of the style. Now, men can start with an undercut or fade at the sides while styling the longer top into pompadours, quiffs, side-parts, slick-backs, and lots of textured ideas. On top of that, a man can always tailor his cut to his lifestyle and unique image.
We'd like to share the 2020's edition of the ever-popular men's hair trend for those looking for versatile styling choices.
What Haircut Is Short On The Sides Long On The Top?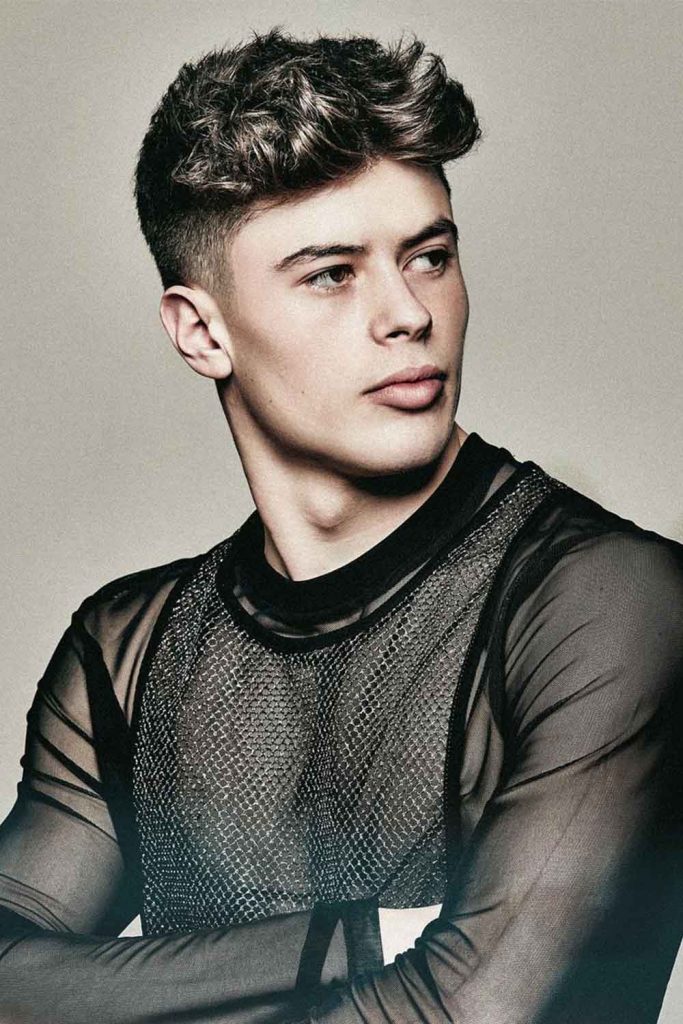 by @liamoakesphoto
Many people wonder if the popular men's haircut short sides long top has another, more specific name. In fact, it can be any haircut featuring a visible length contrast, where the sides are buzzed, shaved, faded or tapered. From a hipster haircut and Mohawks with undercuts to Ceasar cuts with fades, this is a rather category that embraces different haircuts offering versatility and styling flexibility.
How Do You Style Long On Top Short On Sides?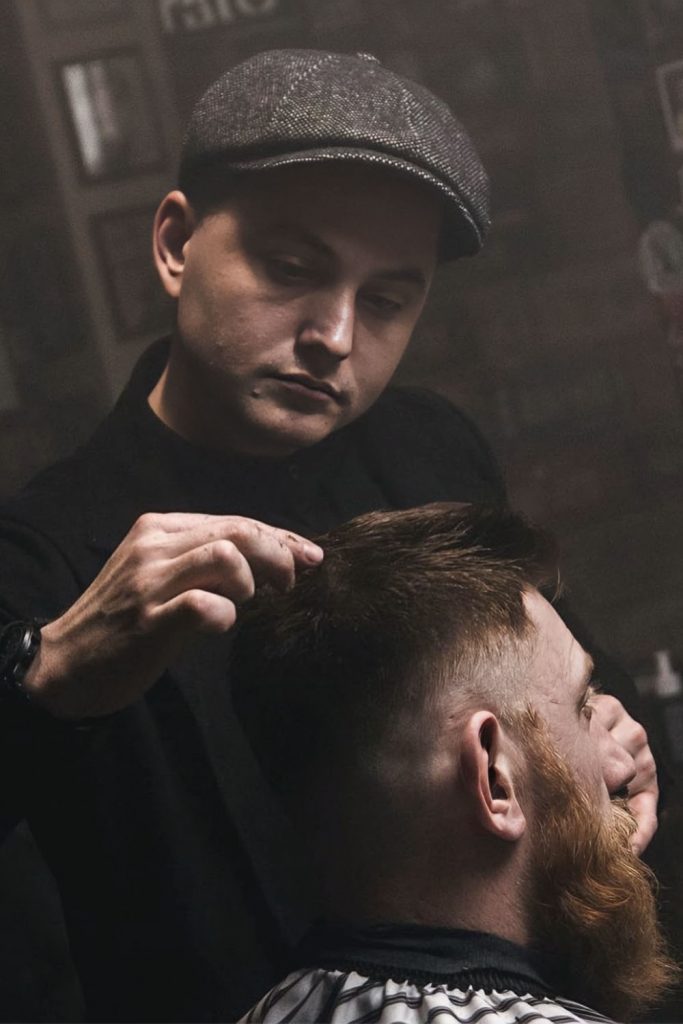 by @barberking_kh
Since there are tons of different haircuts that are long on top short on sides, take a look at crew cut - the ways to style your hair are infinite. However, there are some basics and products to start with. Soon, you will create your own styling routine.
Products to use:
Gels are best picks when it comes to polished and neat looks with a shiny finish.
Waxes work well for all hair types, allowing for everyday styling and messy styling with flexible hold and lightweight texture.
Pomades are great when you want to create voluminous and textured hairstyles with a matte finish.
Styling basics:
Start blow-drying your hair with the top, working with a round brush.
When drying the sides, set them into shape by running your fingers through them.
Before applying the product, rub it in the palms and apply it backward for a smooth look or throughout the length for a messy look.
To add texture to our hairstyle, comb it with your fingers.
Short Sides Long Top Haircuts Ideas
Now, let's have a look at the most impressive ways to wear, style, and experiment with your long top short sides haircut.
Neat Drop Fade With Sharp Line Up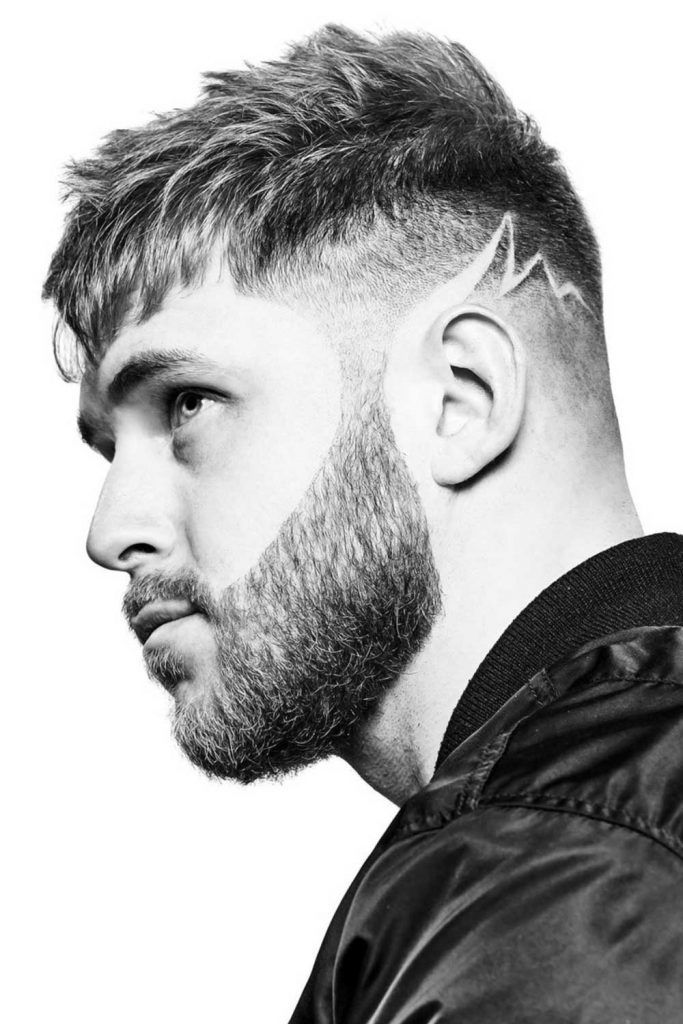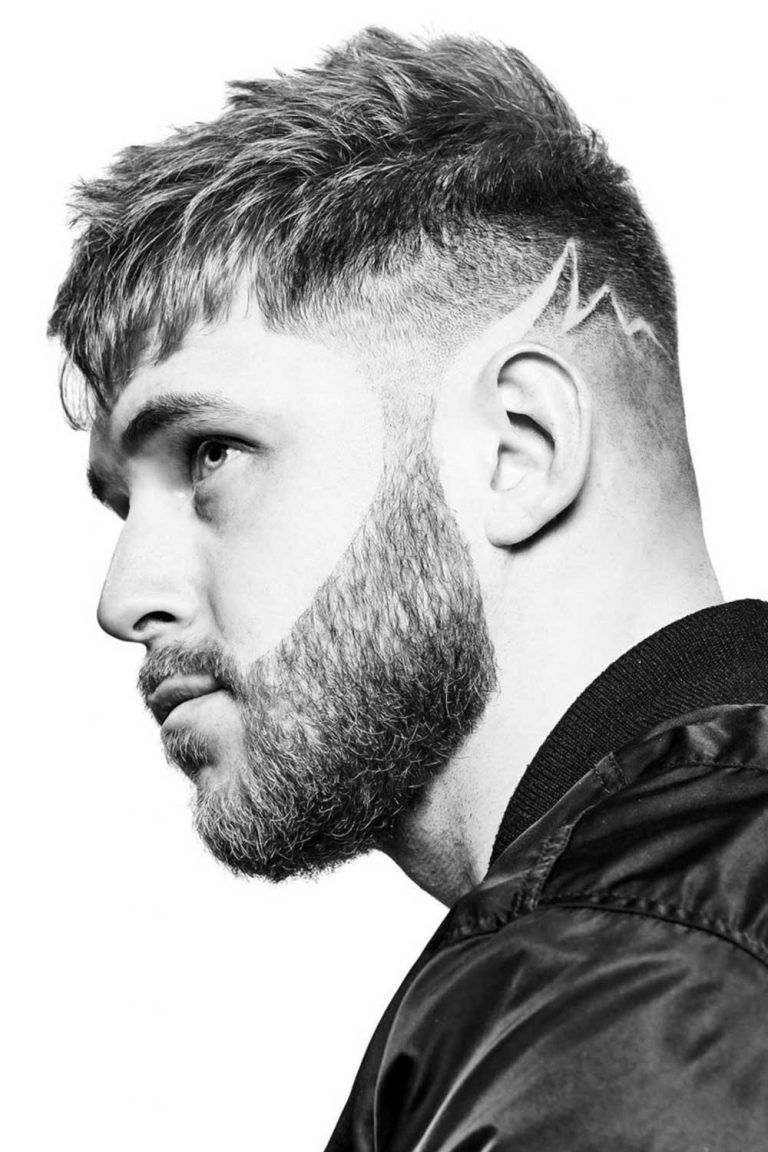 by @liamoakesphoto
A drop fade is what can give a dramatic twist to short spiky tops. For a neat finish, ask your barber for a line up that outlines the sideburns and temples.
Matte Spikes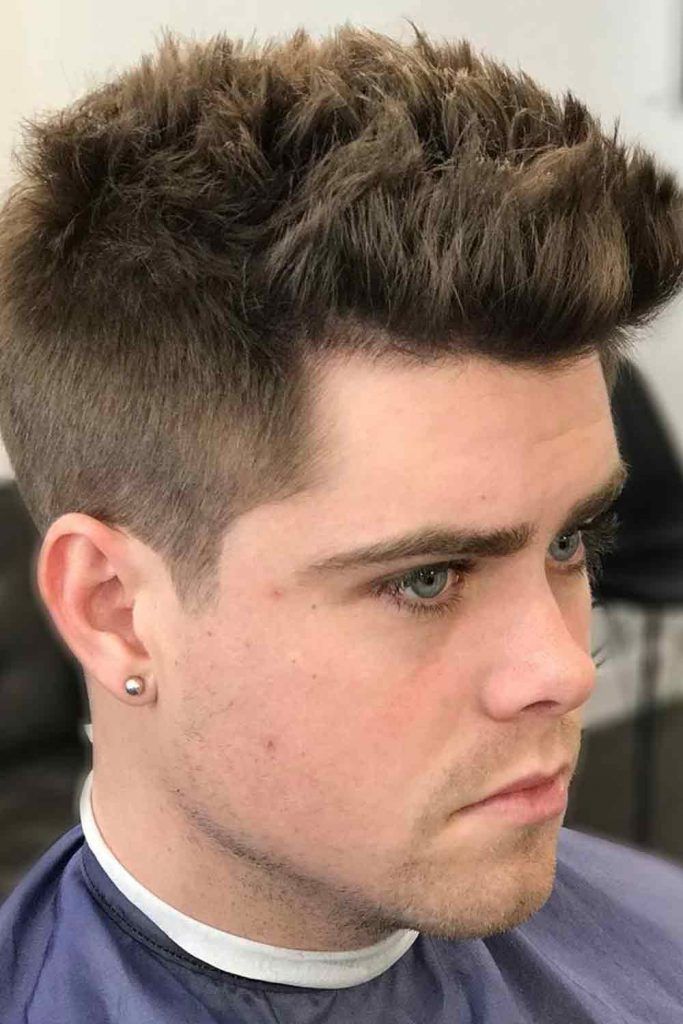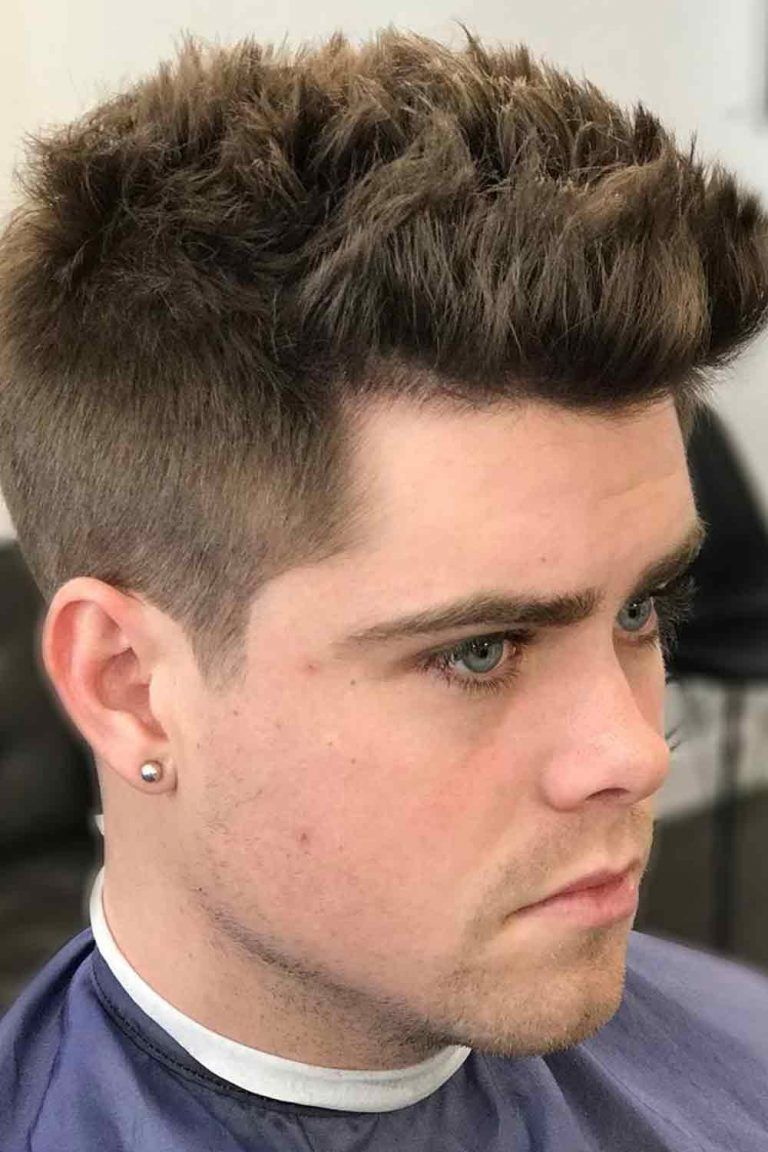 by @alexthegreatvivar
Short on sides long on top haircuts make a great team with nicely graduated fades, especially if you create a spiky matte finish with a lightweight pomade.
Curly Messy Top With Tapered Sides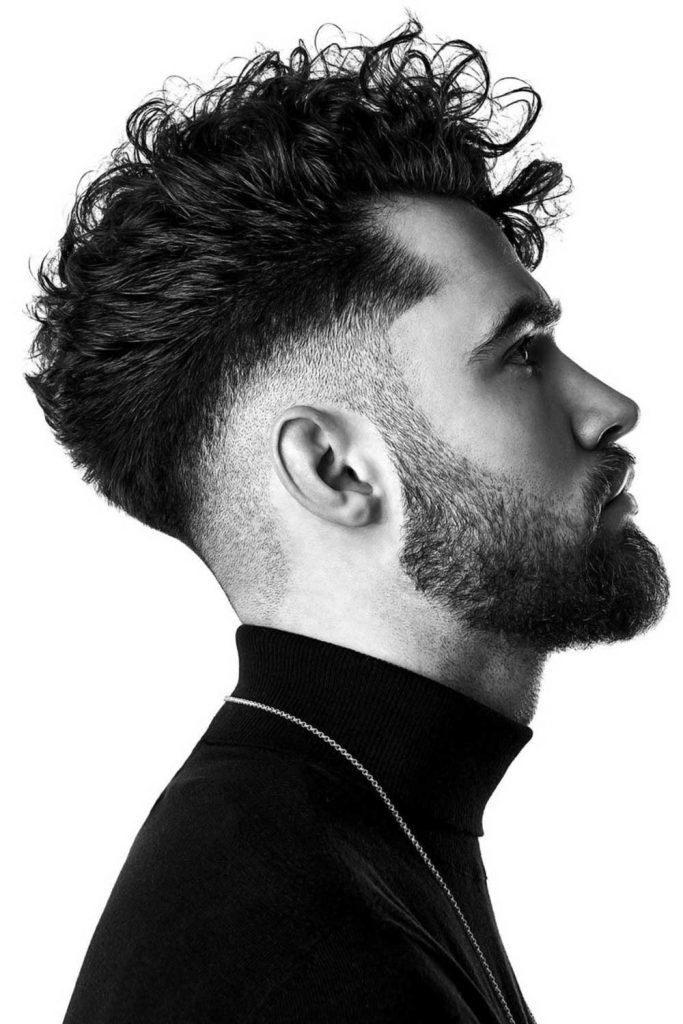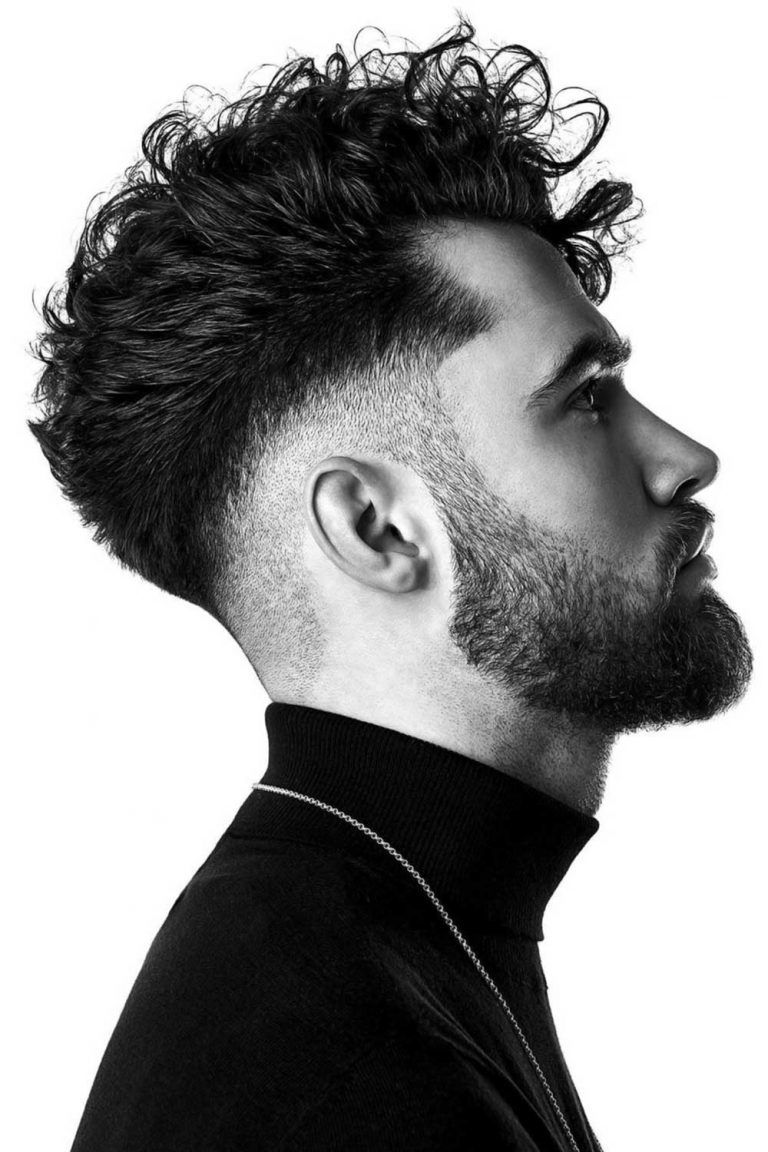 by @liamoakesphoto
For curly hair, you can style your short sides long top haircut with a messy touch, amping up your curls with movement and texture of some light-hold gel. Also, don't forget to keep your curls under control with tapered sides and back.
Trendy Quiff With Dry Texture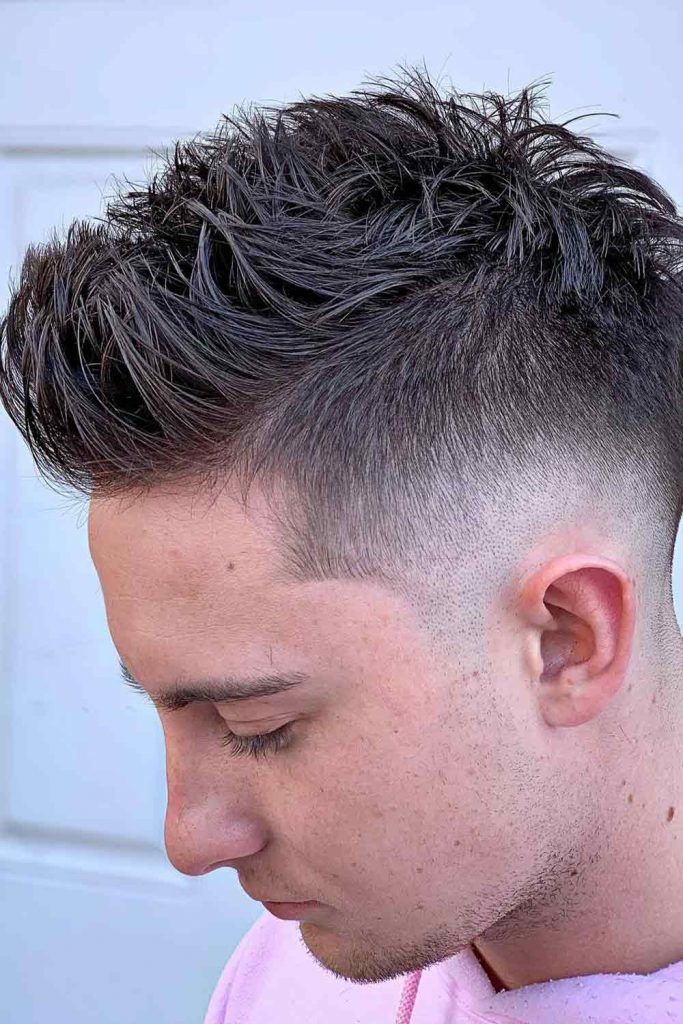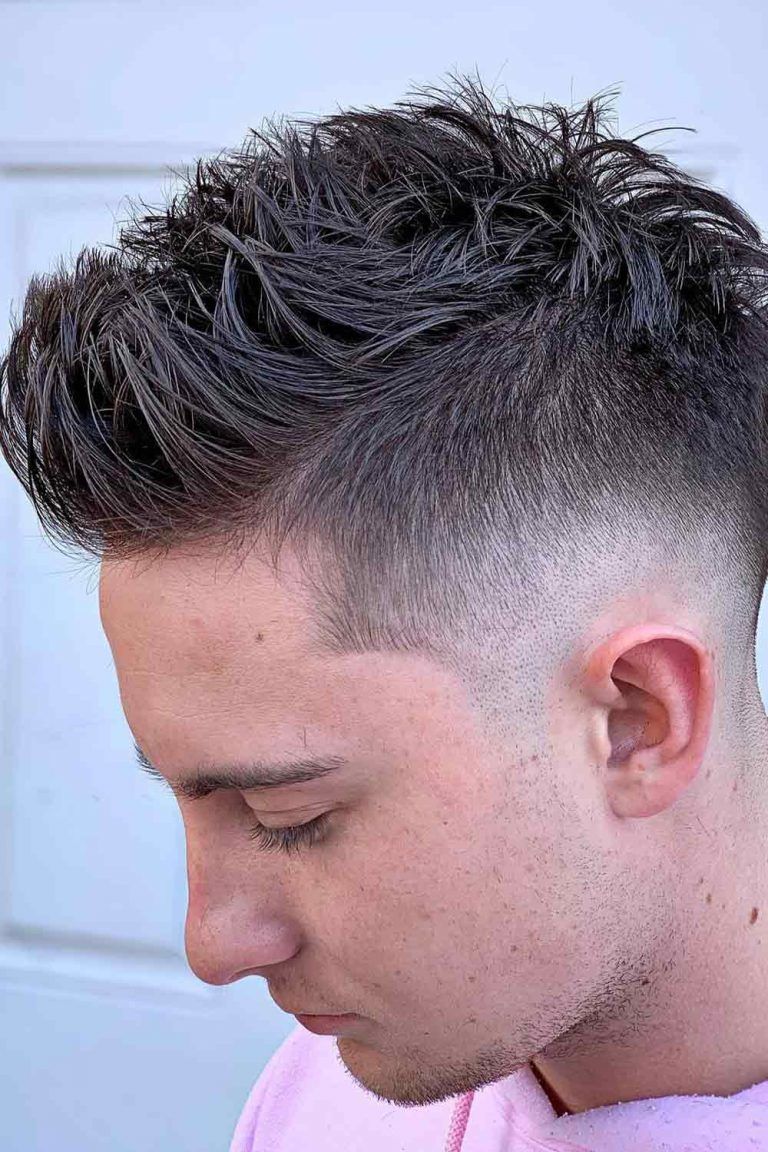 by @alexthegreatvivar
Although quiffs look fantastic when wet, the dry and textured version of this style seems to be the perfect option for a distinctive casual hairstyle.
Wavy Side-Swept Top With Tapered Sides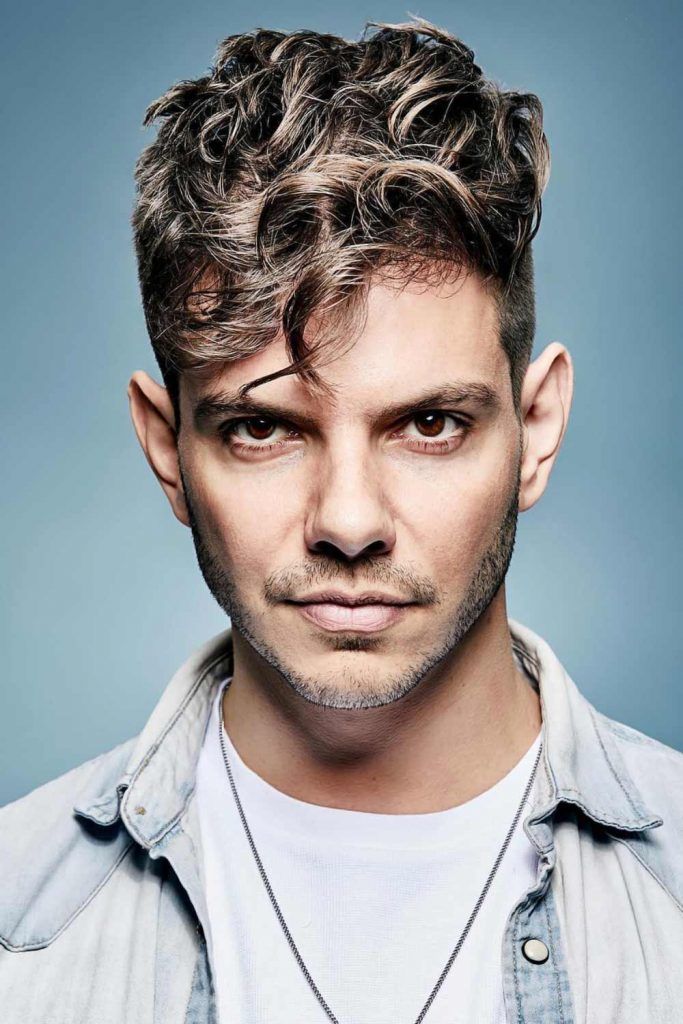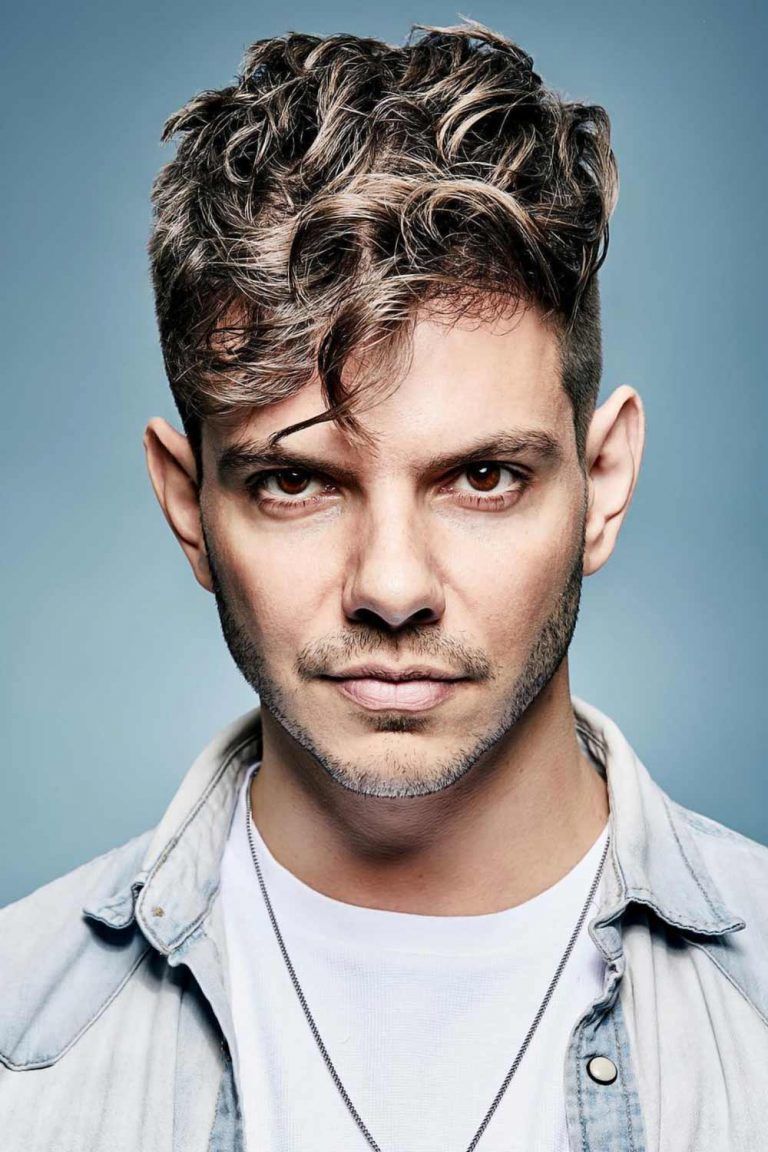 by @liamoakesphoto
Don't forget that your long top short sides can also be wavy, and if you pair this texture with a soft taper, you will put your wavy top in the spotlight.
Spiked Up Short Sides Long Top Hairstyles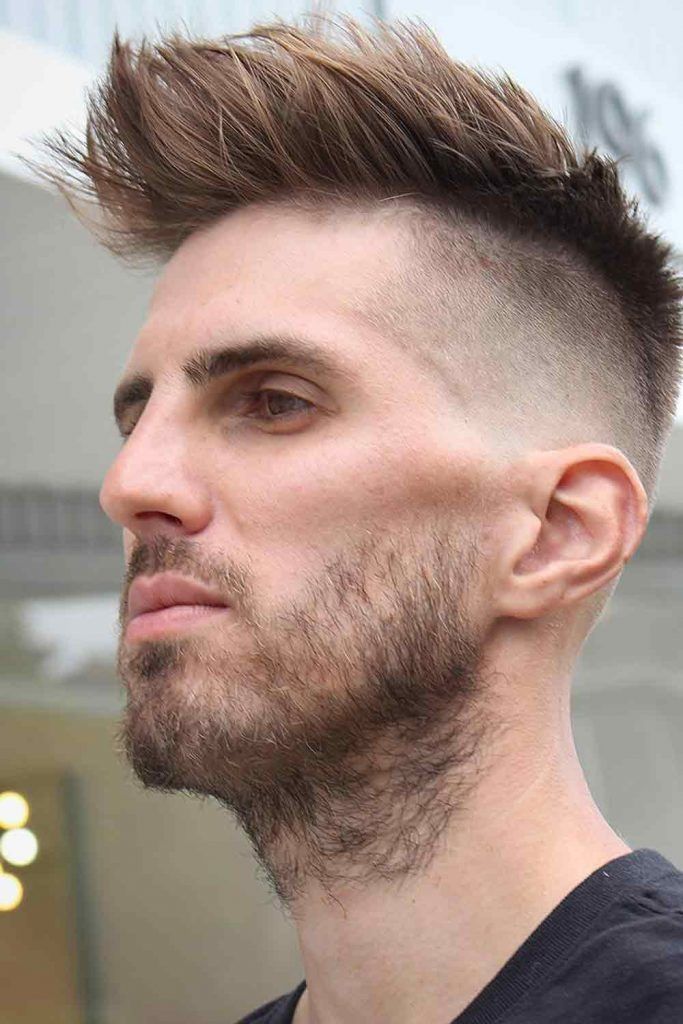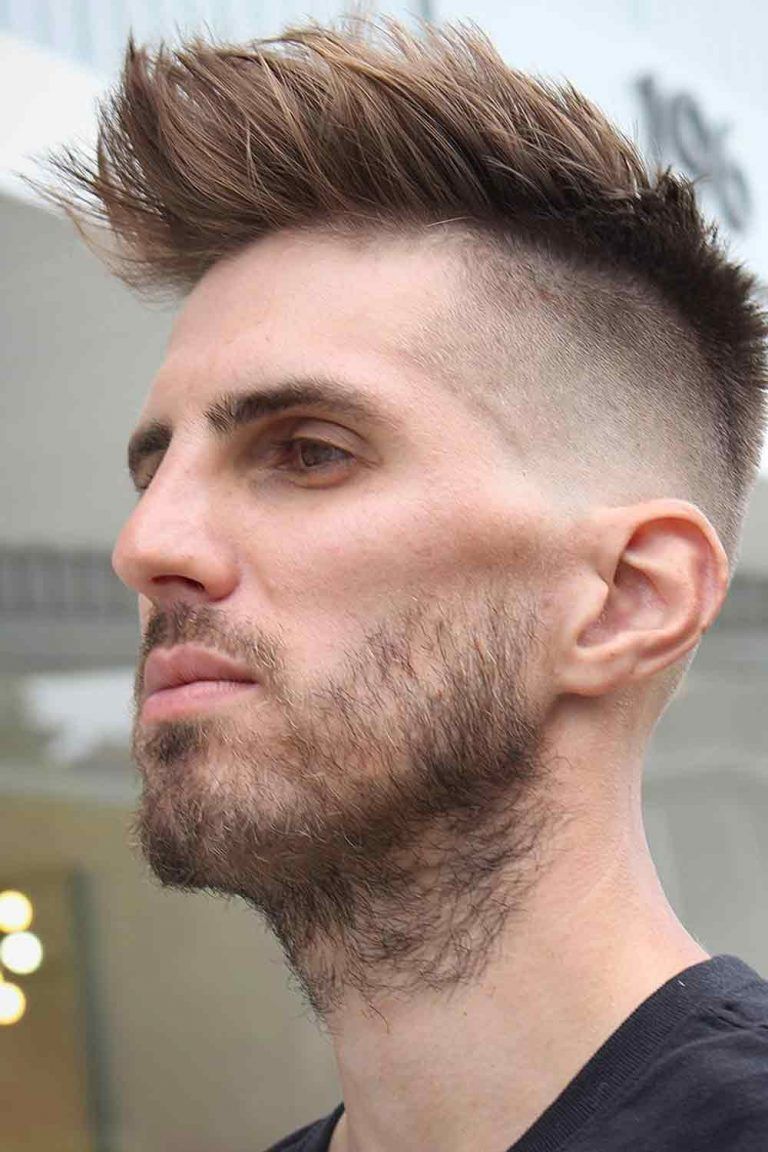 by @alexthegreatvivar
You can always give a bright take at spikes by accentuating your short sides long top with a hint of a vivid hue and a shaved finish as a cherry on top.
Neat Drop Fade With Line Up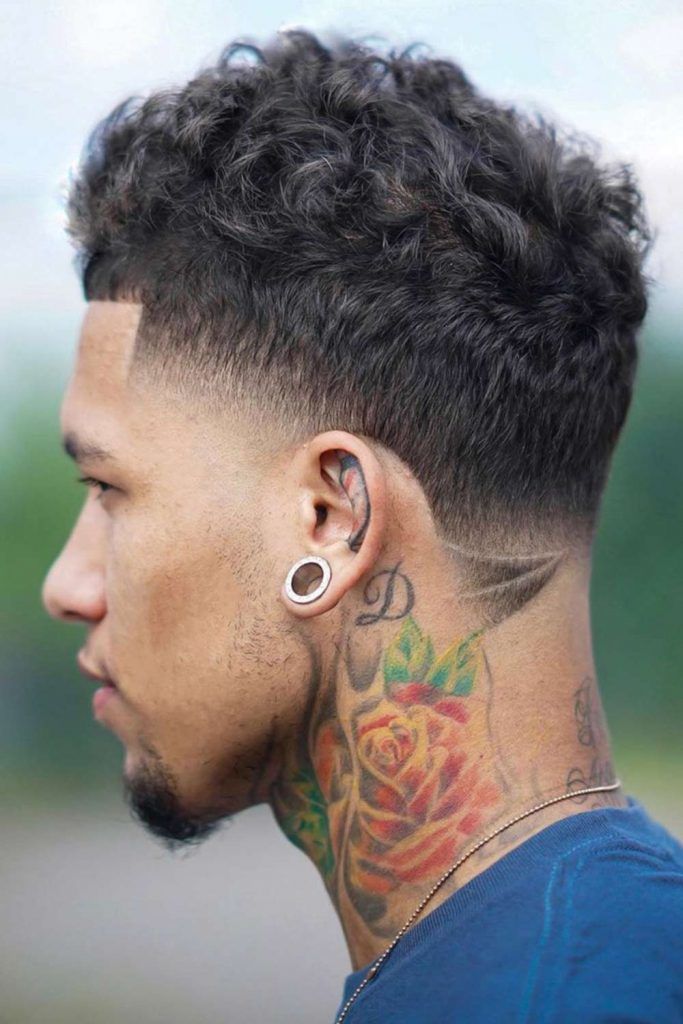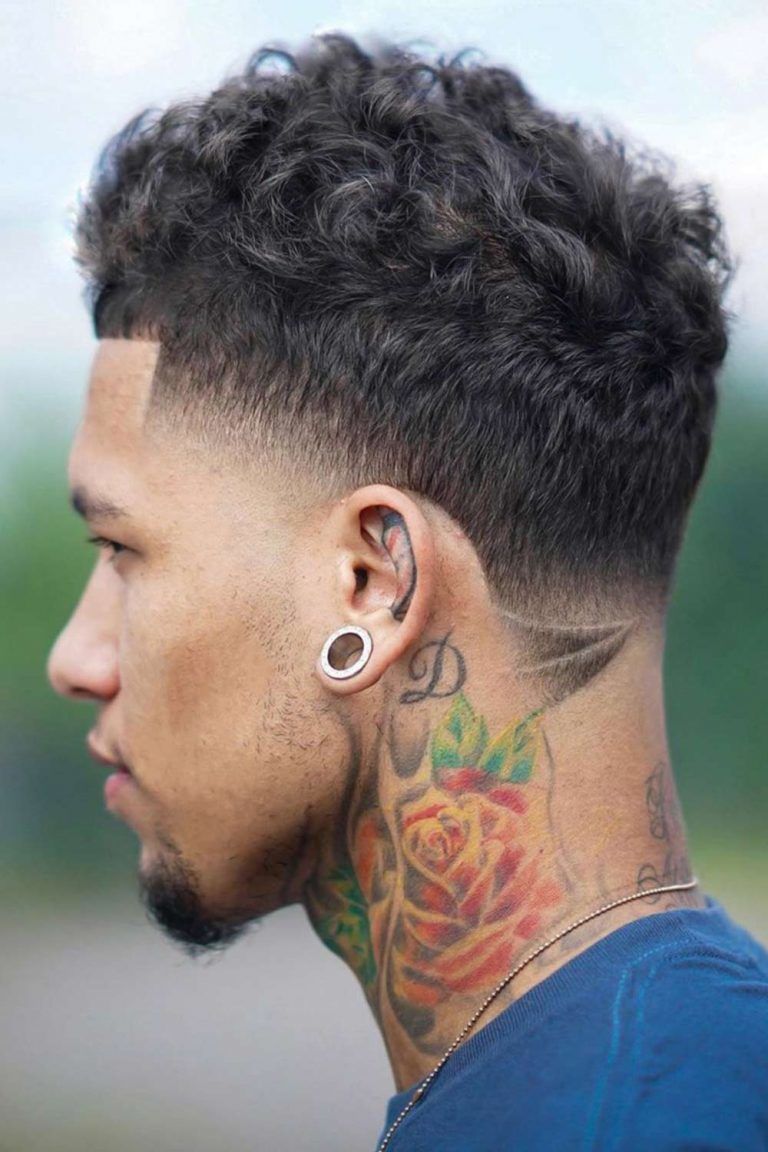 by @patty_cuts
Men with thick and coily textures don't want to go too long with the top, so they opt for short sides medium top haircuts, pairing them with neat and sharp fades for a balanced look.
Disconnected Undercut And Brush-Up Curls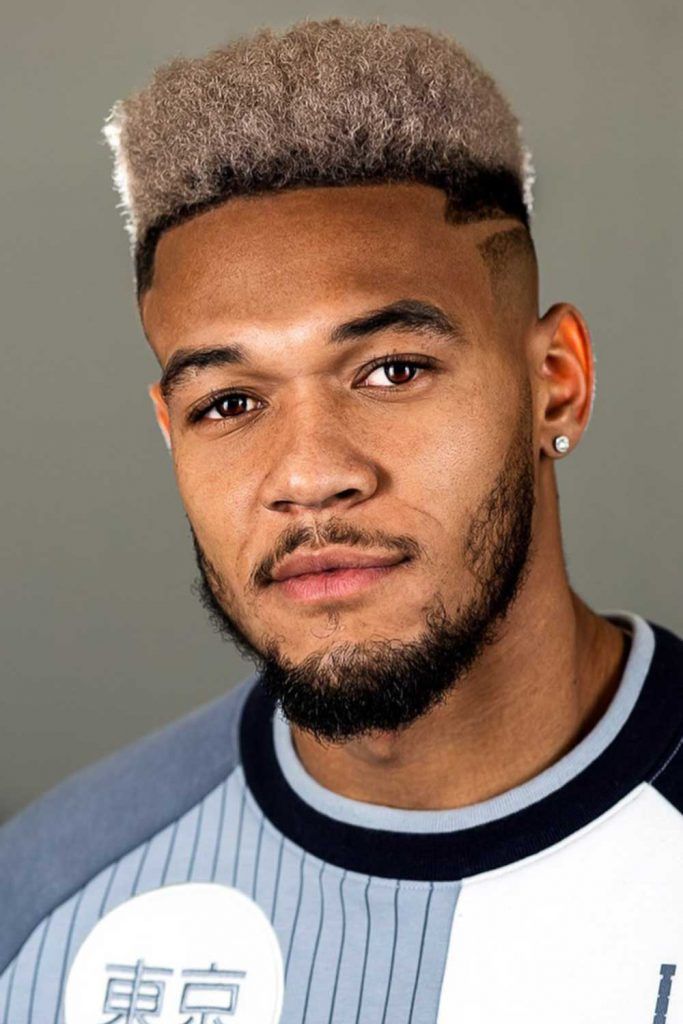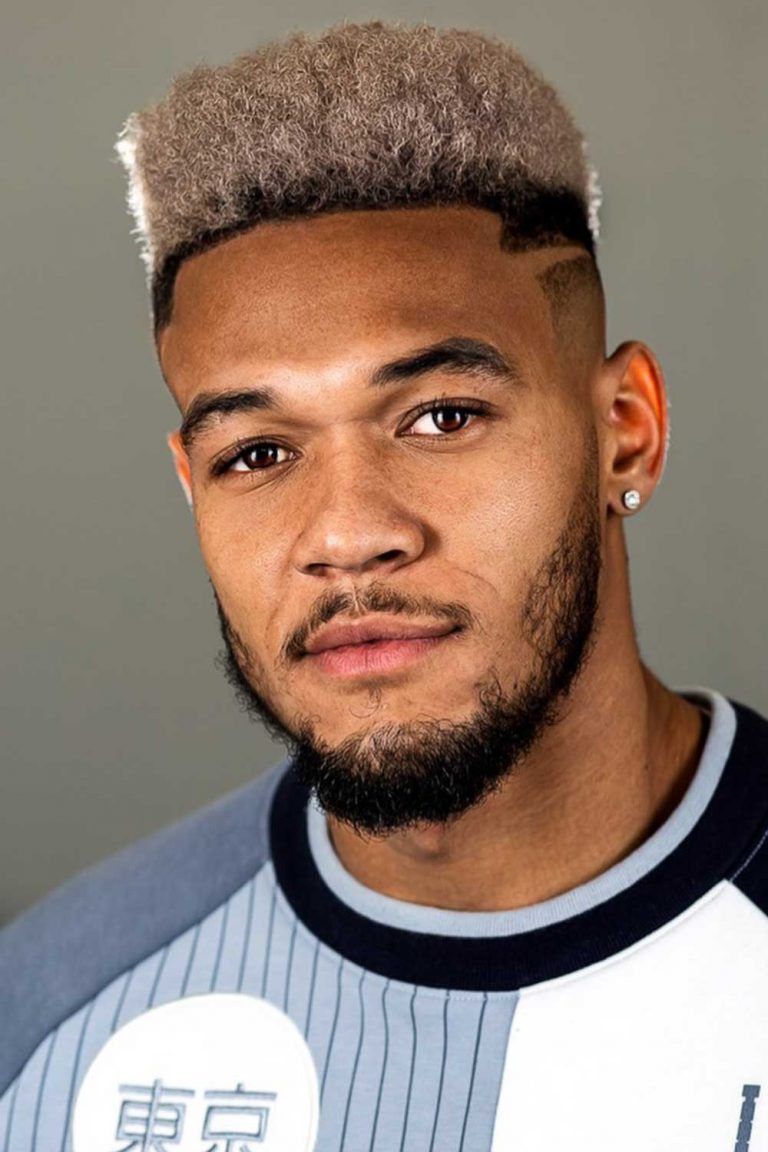 by @tombaxter_hair
When it comes to natural hairstyles, guys love to showcase their texture while keeping it neat and tight with a disconnected faded undercut and hi-top.
Textured Hairstyles With Bangs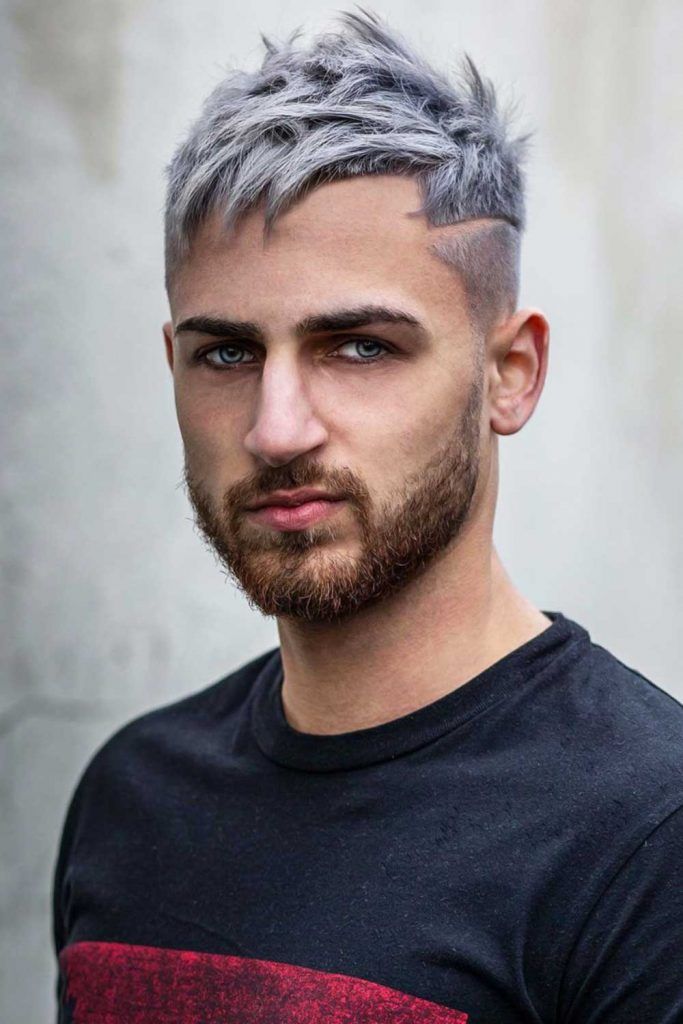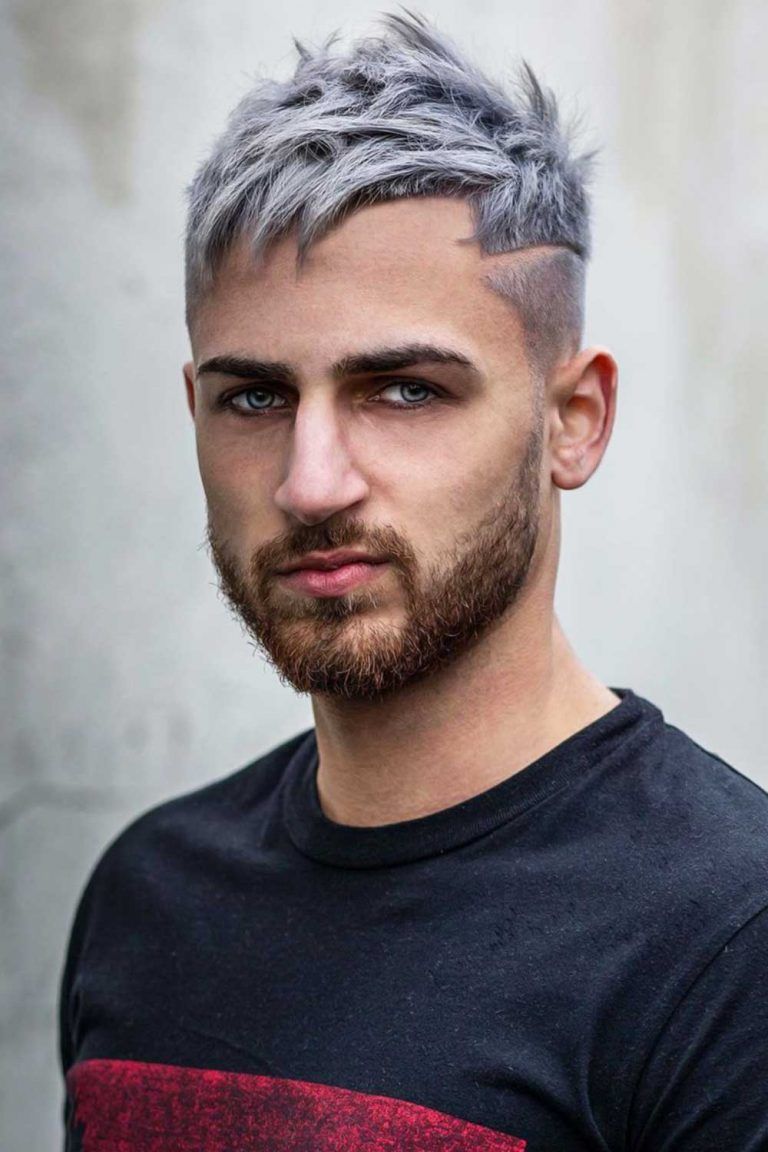 by @tombaxter_hair
You can endlessly play with your texture, as well as the structure and details in your haircut. Here, for example, you can see a customized masterpiece with hair styled like a fringe, which nicely balances out all facial features.
High Volume Loose Quiffed Top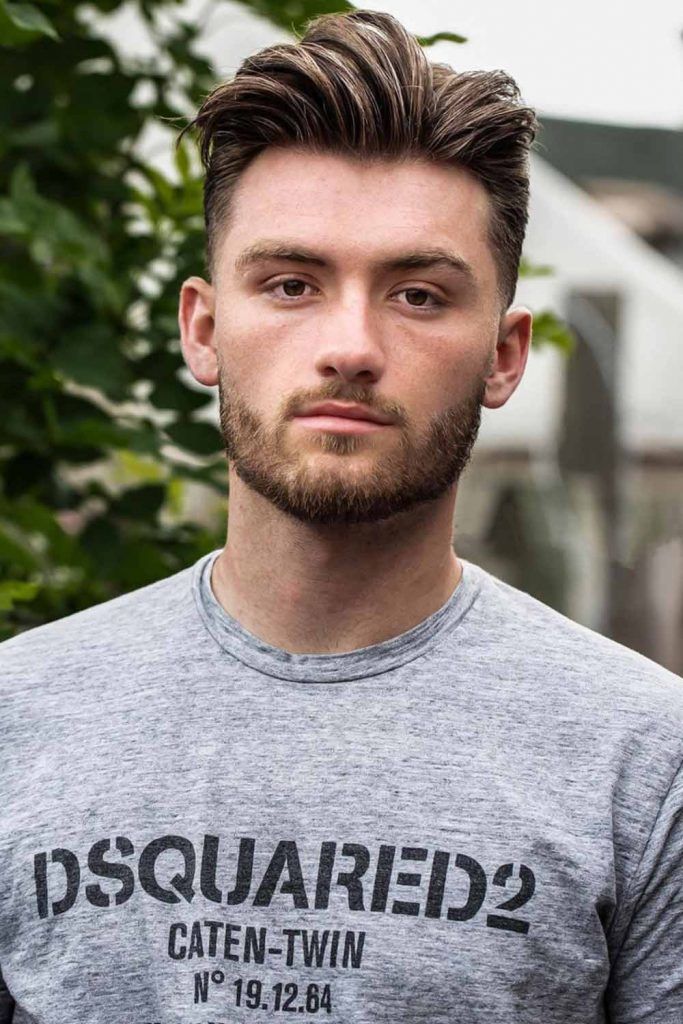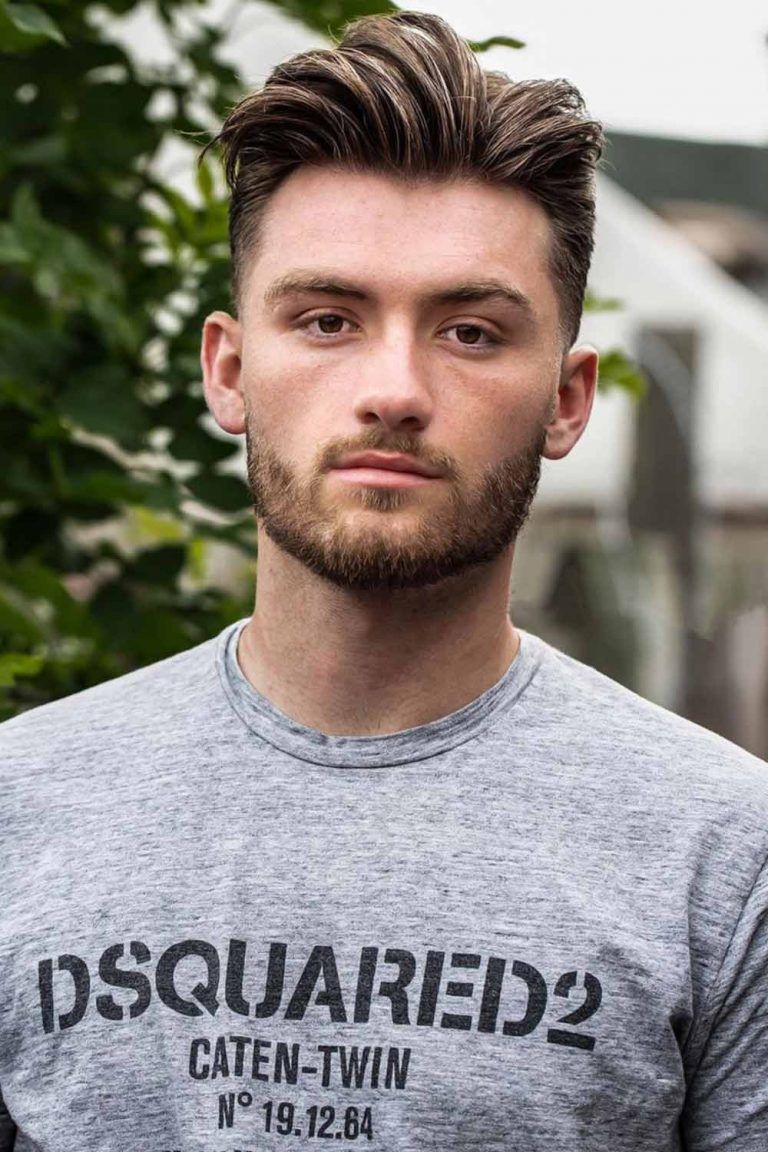 by @tombaxter_hair
When creating a quiff for your short sides haircut, you can express your carefree character by styling the top loosely. Just run the comb through your gelled locks, and then tousle it up.
Windblown Short Sides Long Top Hairstyles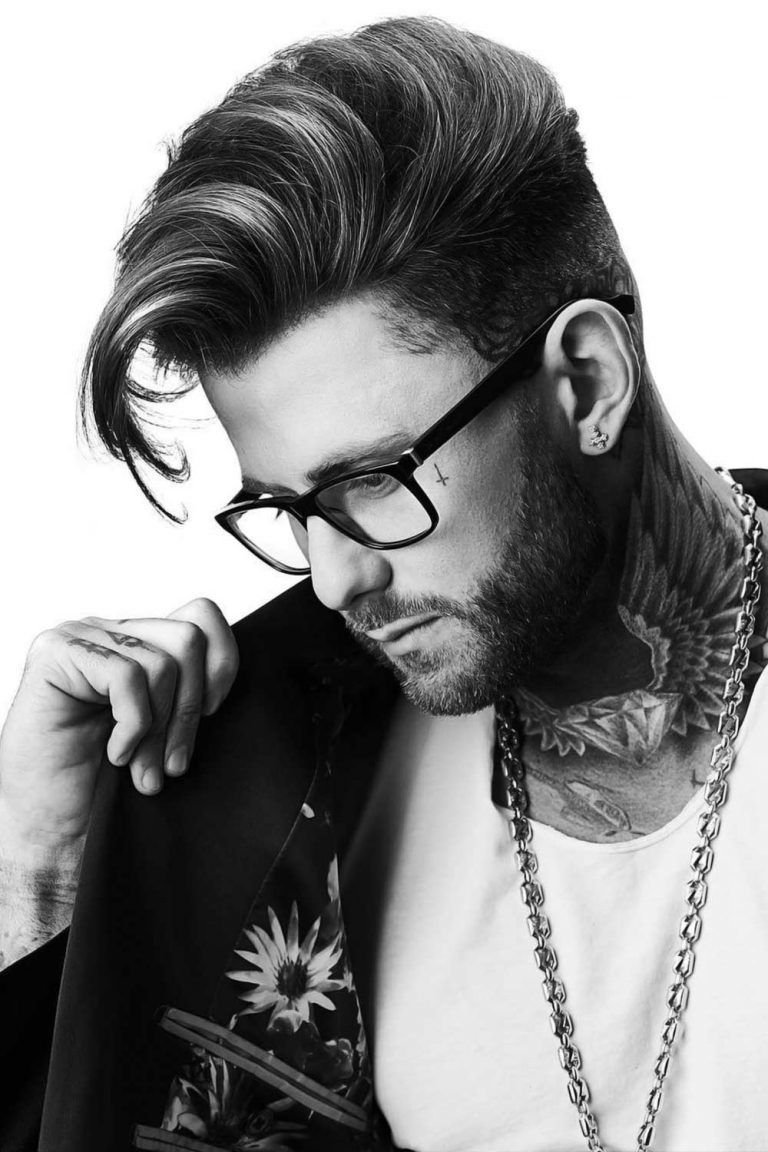 by @liamoakesphoto
Even when creating slicked back hair men love to wear neat and precise, make sure to add a touch of effortlessness. Apply less product to the top so that it falls freely, and your style will look more natural and hence balanced.
Thick Pompadour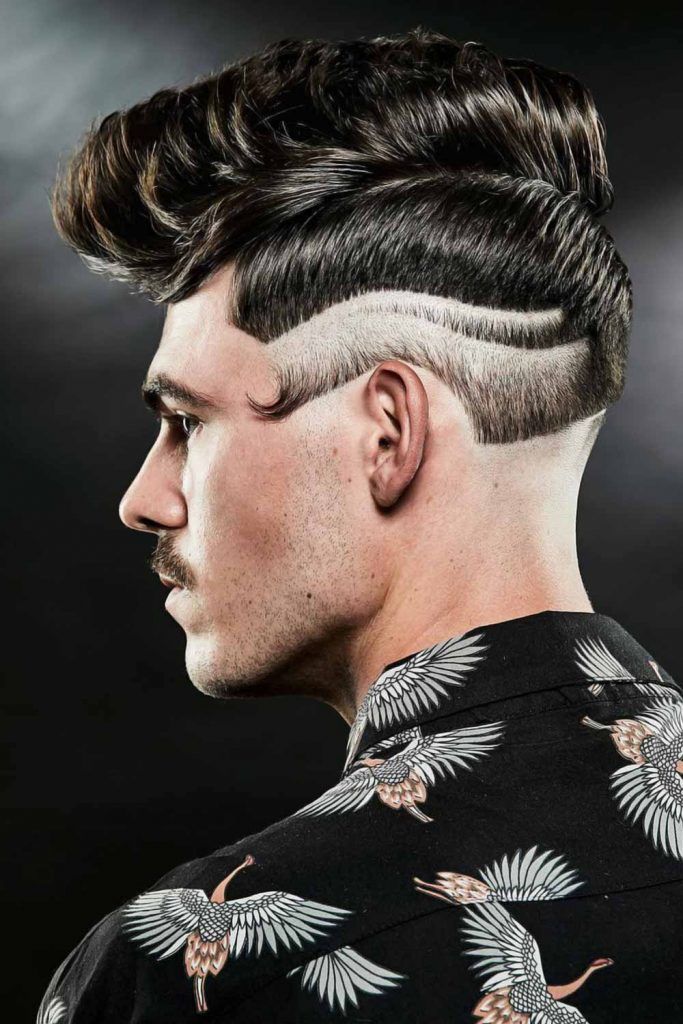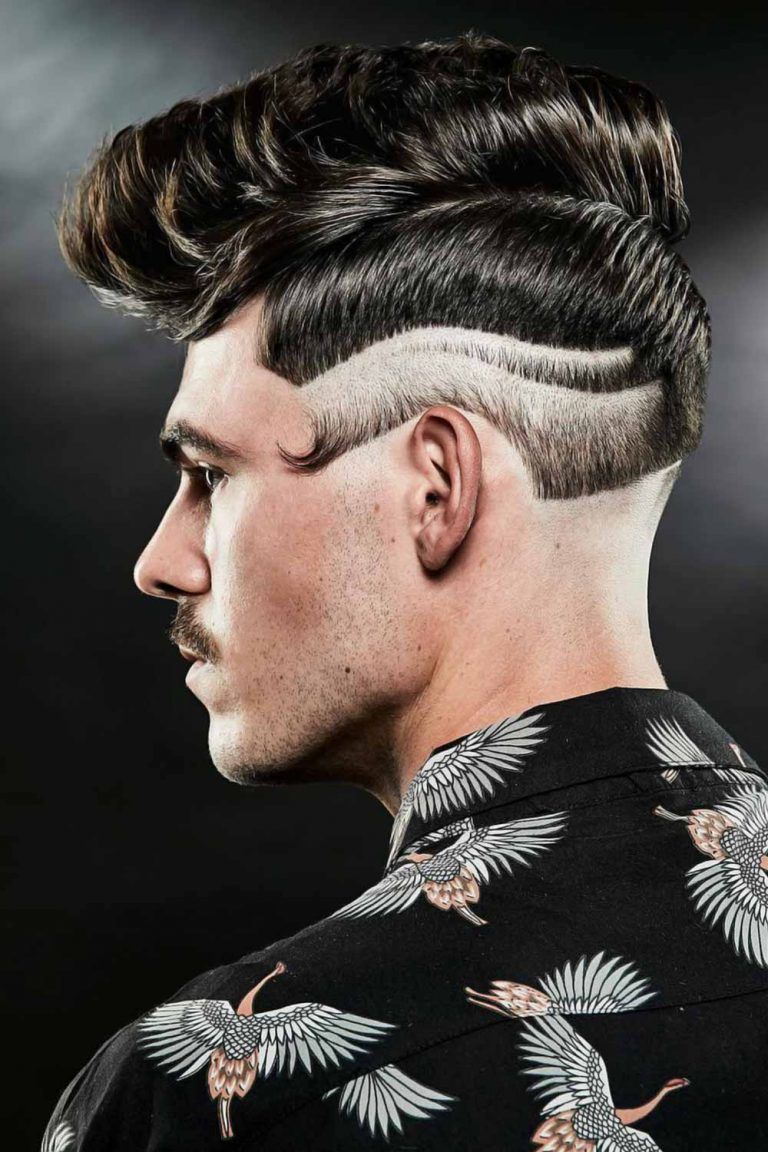 by @liamoakesphoto
Here's another proof for the endless versatility of long hair short sides haircuts. Besides taming thick hair, this idea has a lot of character with its customized dense mid fade and shaved design.
Side Part Short Sides Long Top Haircut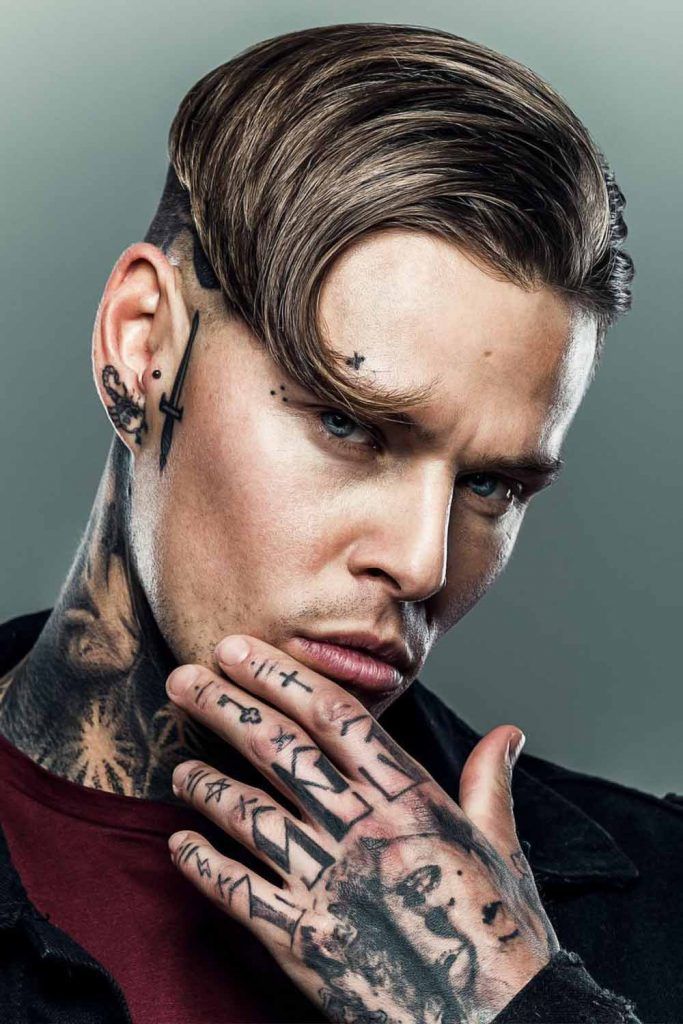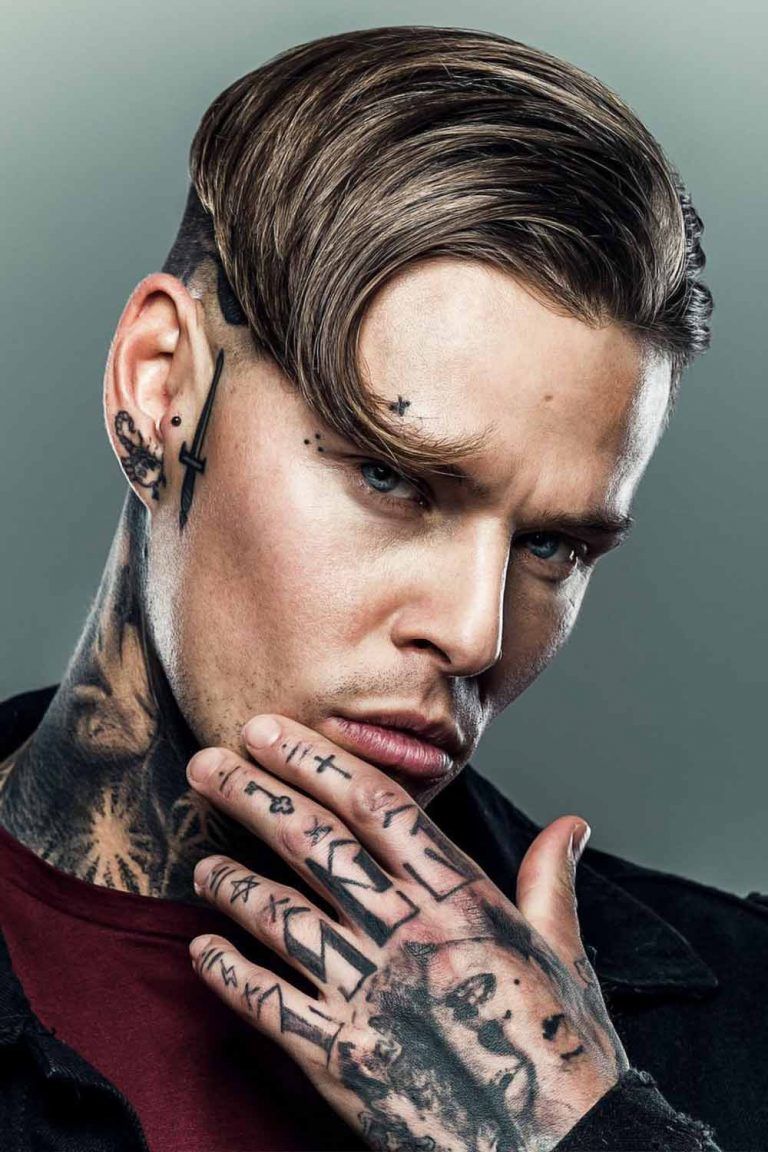 by @liamoakesphoto
One of the greatest things about side parts is that they can take place wherever you want. When business hours are over, you can make it more dynamic by adding some shine and twist to the heavy side.
Pushed Back Long Hairstyle With Short Sides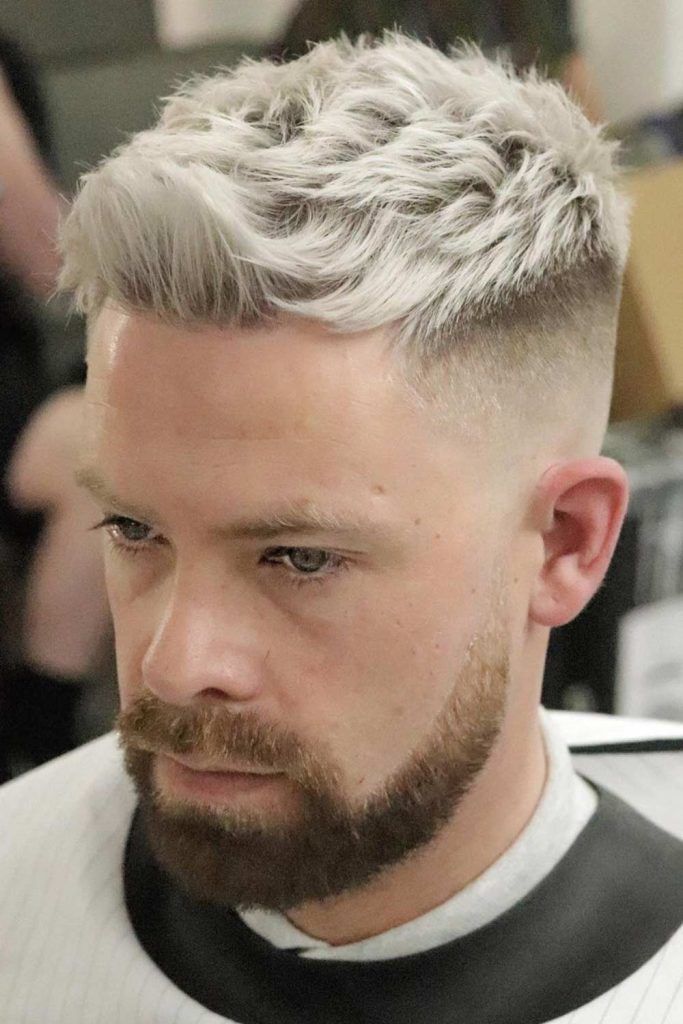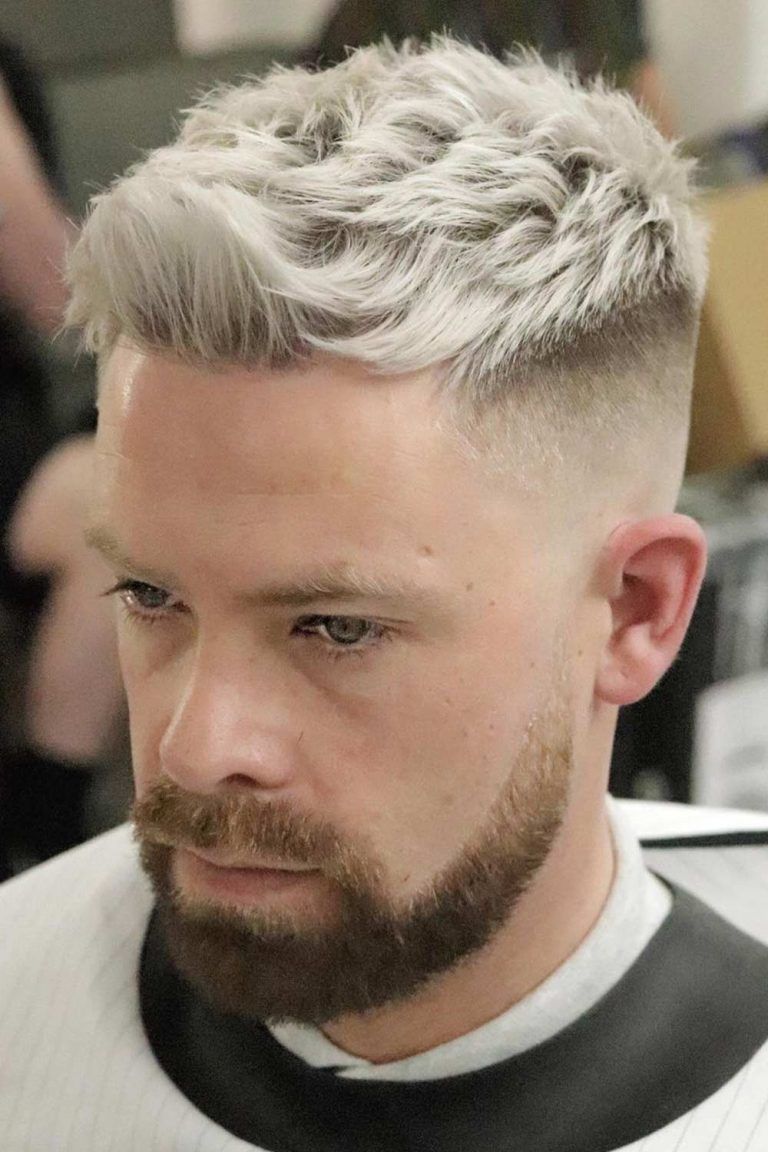 by @alan_beak
Mid-fades are perfect when you want consistent hair graduation with a smooth transition of lengths. As you can see, you can smooth out the contrast of sides and top while still rocking a sharp spiked look.
Wild Mohawk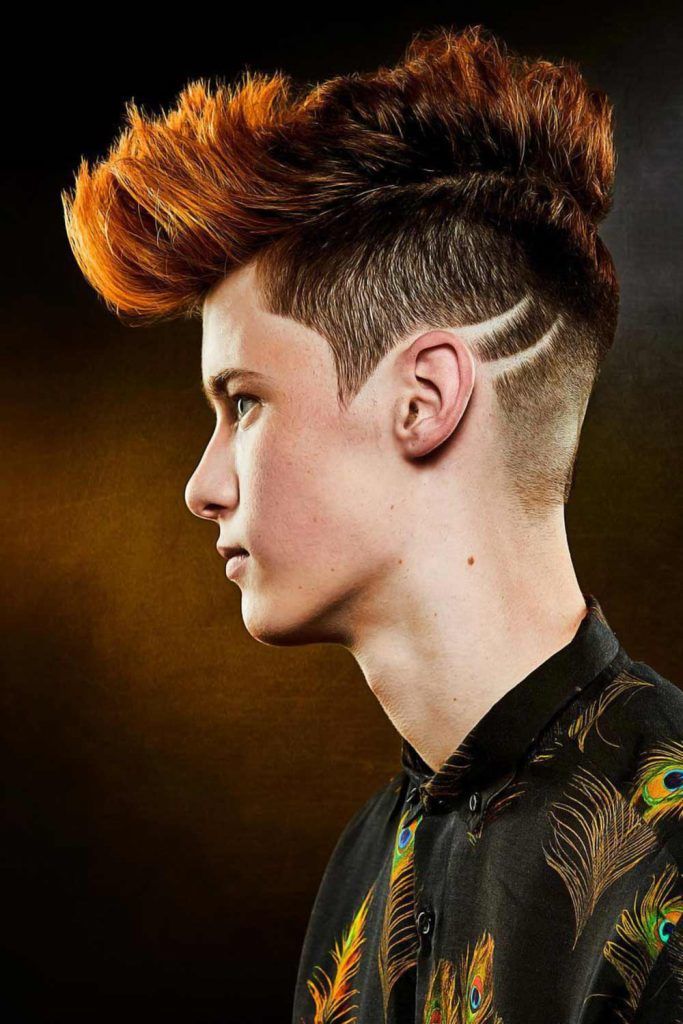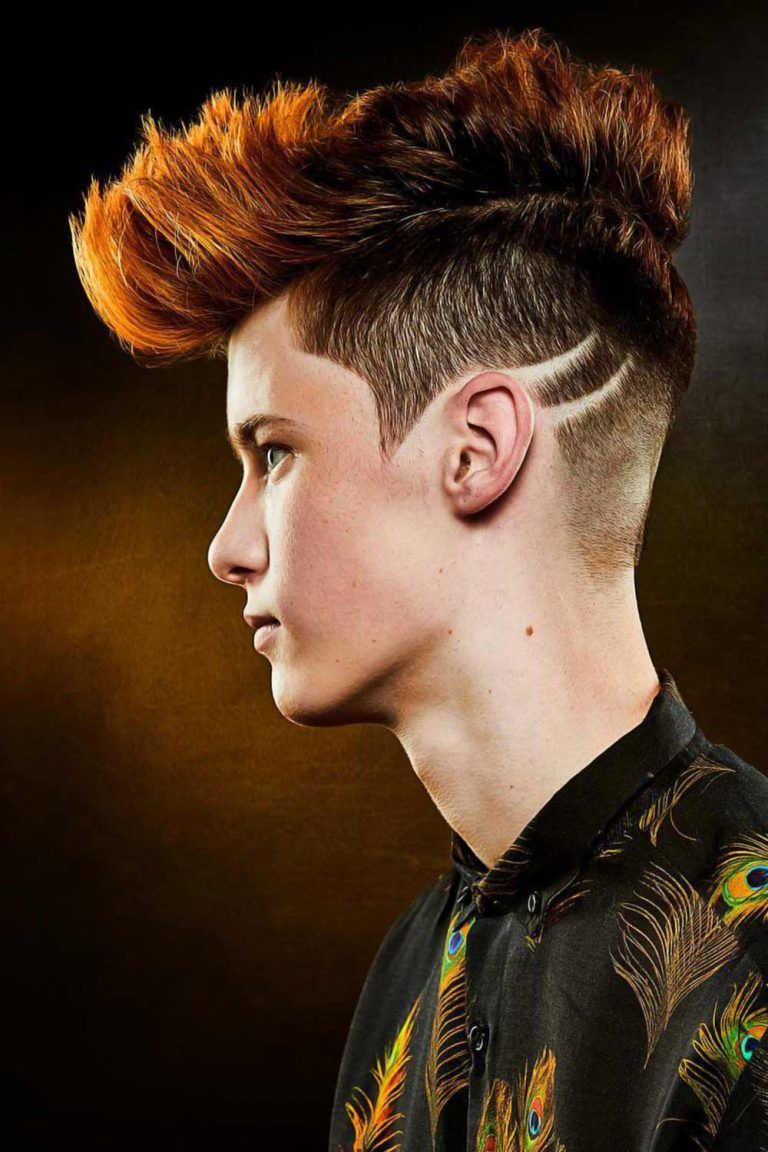 by @liamoakesphoto
Those growing out their manes for a Mohawk also can't do without everyone's favorite short sides long top. They get the sides shaved tight and then style the top up with the help of firm pomade.
Gelled Back Top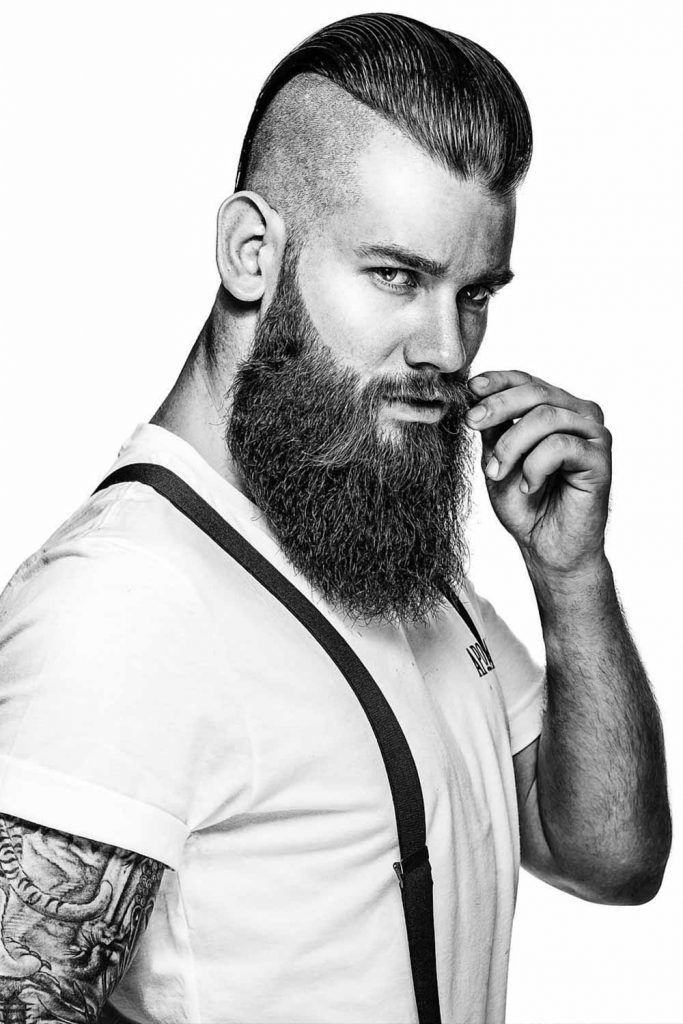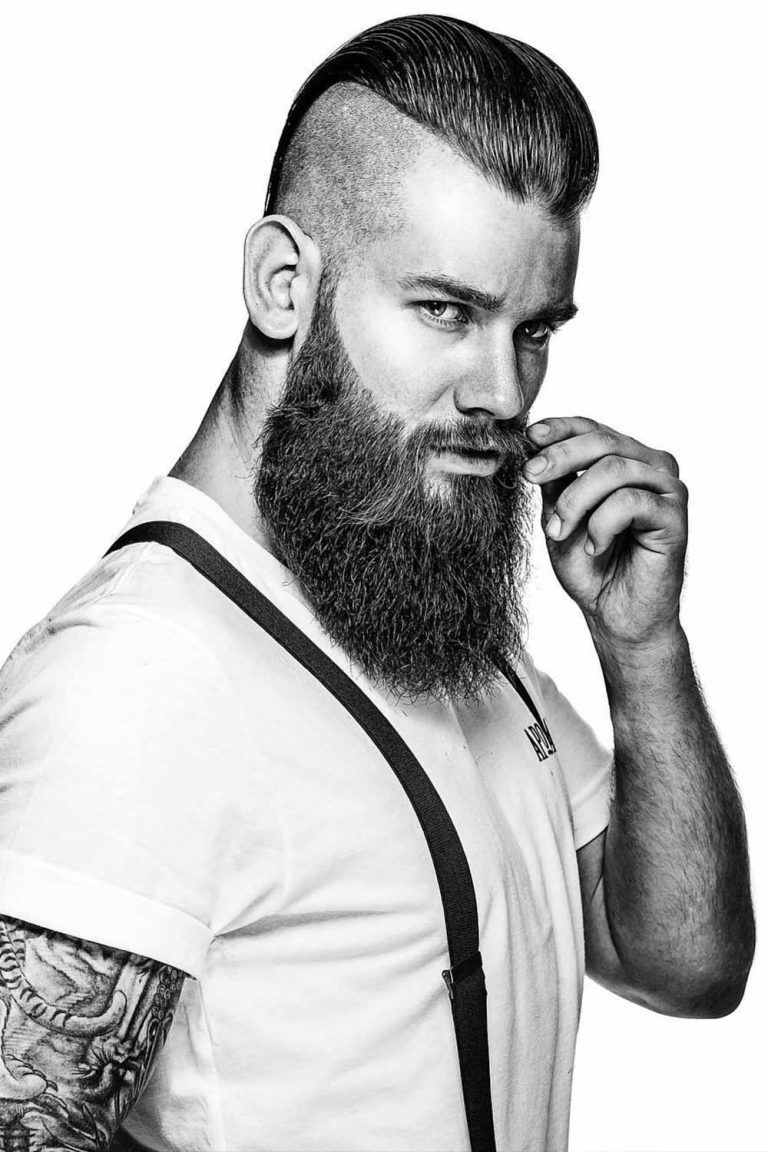 by @liamoakesphoto
Though cleanly shaved sides look pretty drastic with super shiny gelled top, beardos are the ones who can build the perfect balance for this duo. Besides, this cut is super easy to maintain at home.
The contrastive haircut has a lot to offer to men with different hair types and lifestyles. For that reason, we think it's essential for every guy to discover the variety of this cut. Today, you've seen the latest approaches to styling the iconic haircut, so if you're planning a barbershop appointment, you know how to make it truly successful.
FAQ: Short Sides Long Top
What is the name of the haircut with short sides and long top?
Over the last years, the quiff hairstyle has become one of the most widespread trends.To make the quiff, like the pompadour style, you need long hair on top and shorter hair on the sides. The modern quiff, however, can also have the messy textured look.
Is 5 inch hair long for men?
A medium-length hairstyle is the one that is between 2,5 and 5 inches (5 and 10 cm) in length. They did, however, frequently feature a combination of cuts that are rather short on the back and sides. Many men, for example, prefer Undercut or Fade hairstyle with some volume on top.
What should I tell my barber if I want short sides and back and long top?
Ask your stylist to use clippers instead of scissors to cut your hair on the sides and back of head. If you cut your hair correctly, your top knot will have the drama that it requires.
REFERENCES:
The definitive way to wear a short sides long top haircut. Source
This gallery contains several examples of haircuts which are long on top and have a short back and sides. Source
Was this article helpful?