Even with the great variety of modern men's hairstyles, stylists and barbers don't know a better way to add tons of precision and definition to a man's look than to get a hard part haircut. In fact, it's nothing but a shaved line in the scalp. Yet, this detail is enough to take one's hair to the next level, providing a sharp, edgy look.
As a timeless classic that has been evolving for years, the haircut can offer countless options to choose from. Anything from classy side-parted comb overs and pompadours to faded undercuts and quiffs can be finished with the touch of sophistication. For this reason, we'd like to share with you some must-know facts and must-see hard part men's hairstyles ideas.
What Is A Hard Part Haircut?
But, first of all, let's get rid of the confusion that many gents may come up with. "What is a hard part haircut and how does it differ from a side-parted hairstyle?" is the very first question to figure out. A hard part involves trimming the hair down to the scalp, whereas a side part is a way a man styles and combs his hair to one side.
As a matter of fact, the mens hard part haircut doesn't have a uniform appearance. It may come in many different variations that have one distinctive feature - a shaved hard part that accentuates the whole look. In general, the sides of such haircuts are left either relatively short or faded, while the top is kept at a mild length.
Source: ryancullenhair via Instagram
How To Get And Style The Hard Part
The truth is, the hard part requires sharp eyes, steady hands, and years of experience. In other words, you'd better not try to achieve the haircut yourself or with the help of someone outside the barbershop. Otherwise, you may end up with your head fully shaved as that's the only way to fix even one wrong move.
So the right way is to address to your barber, asking for a hard part. To prevent misunderstandings, bring a picture of the result you'd like to achieve. Also, don't forget to ask the professional how to maintain a hard part haircut so that you can get advice on the proper upkeep routine.
As for styling, it's all up to your imagination. You can play around with the top as well as experiment with the sides to your heart's content. To get to the point, check out the compilation of the latest hard part haircut styles that men have ever rocked.
Source: ryancullenhair via Instagram
Undercut Hard Part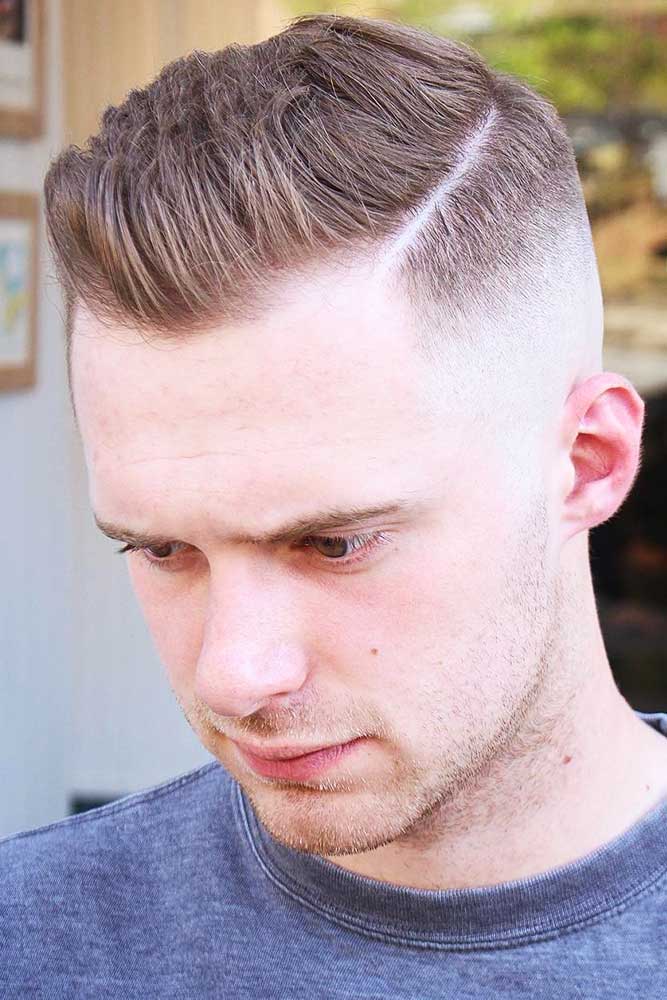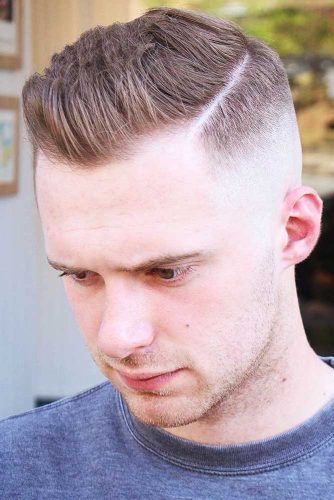 Also known as the endless trend, the undercut haircut can show up in a new, refined light once you finish it with a shaved part.
Source: alexthegreatvivar via Instagram
High Skin Fade + Hard Part Comb Over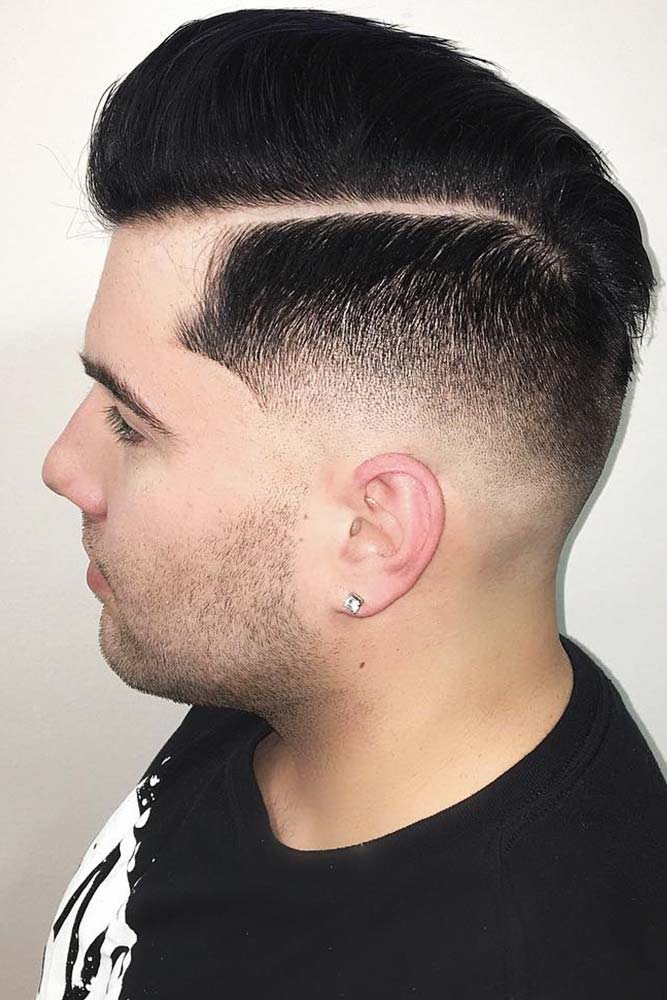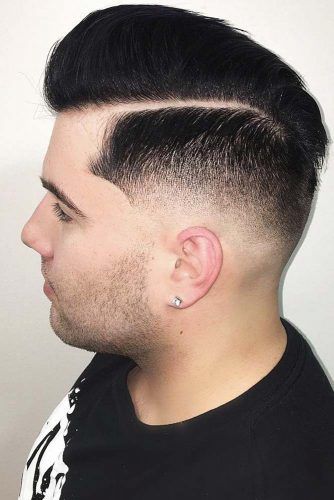 Although it's not the comb over cut you're used to seeing, it's definitely worth your attention. The hard part separates the top from the nicely faded sides, adding a lot of character to the look.
Source: lena_piccininni via Instagram
Crimped Hard Part Hairstyle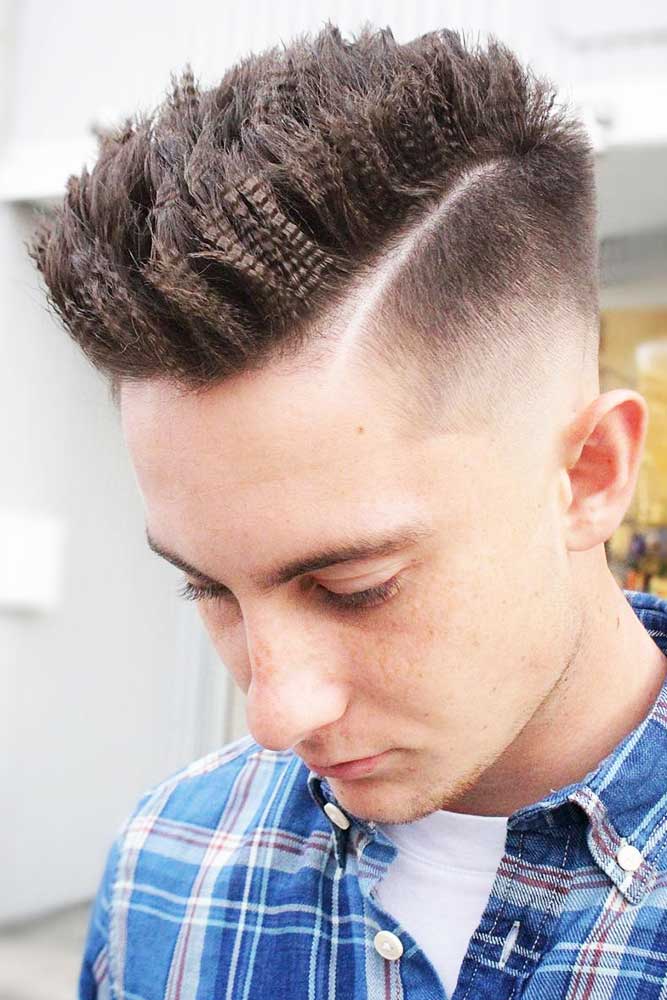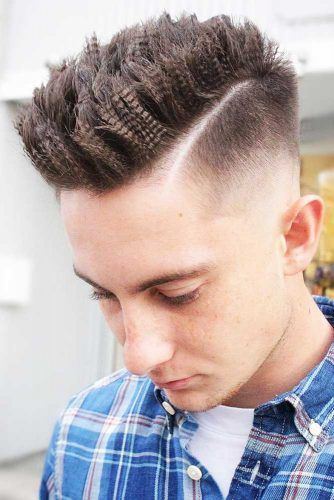 Your top is the canvas to your imagination! Want to add a modern twist with crimps? Feel free to do that, and don't forget about the hard-part definition: you can't have too much of it.
Source: alexthegreatvivar via Instagram
Sleek Hard Part + Skin Fade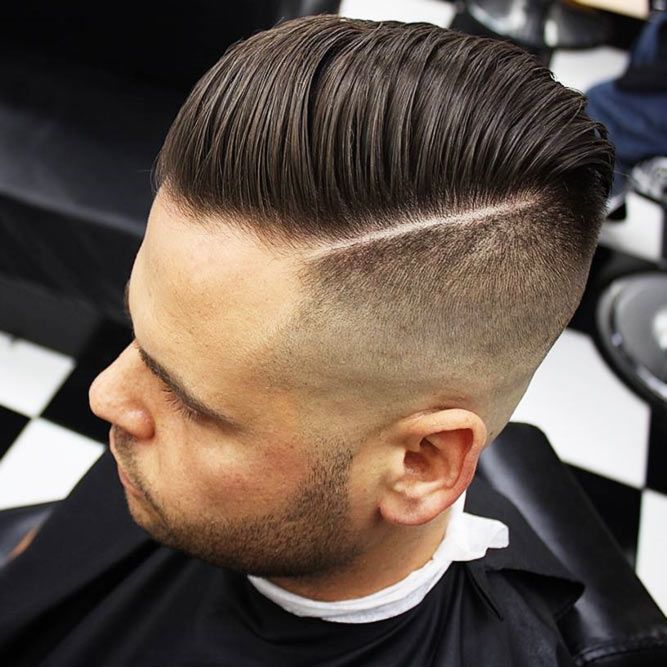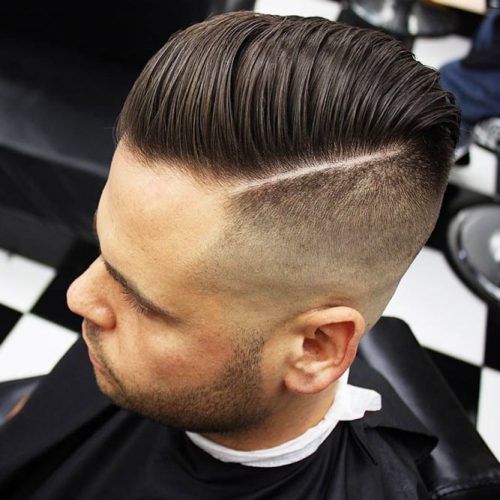 Significant events require significant looks. And your hair is no exception. With a hard part, you can make the sleek skin fade haircut more contrastive, thus bringing a great visual impact.
Source: notorious.edd via Instagram
Line On Sides + Fade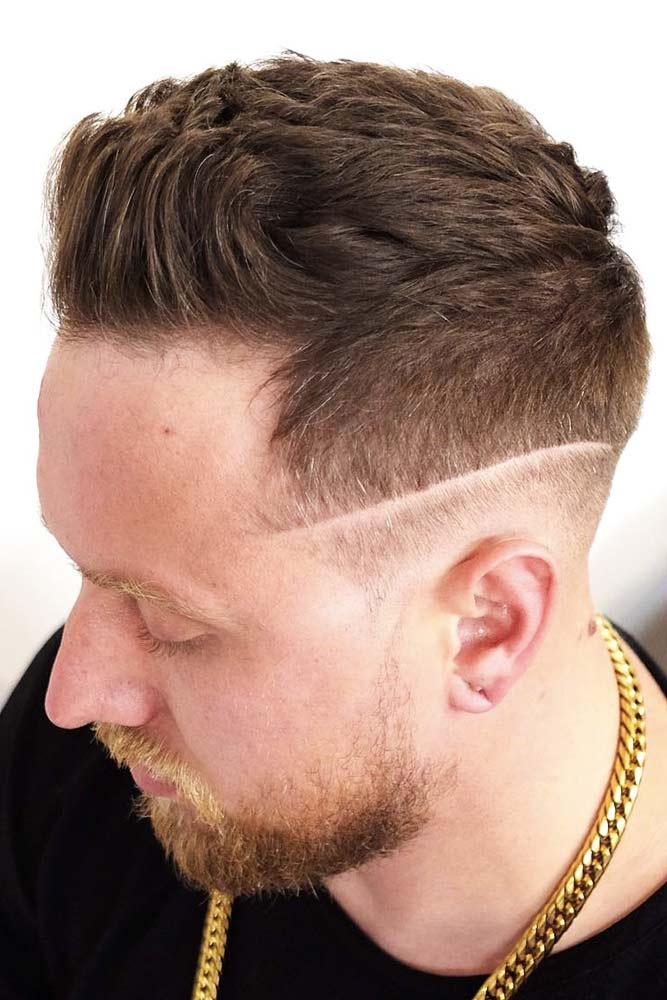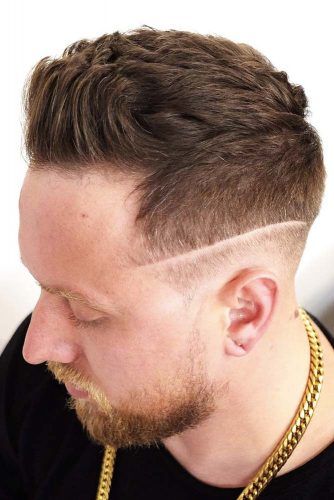 The hard part haircut can also be referred to as line-on haircut, but that's not the most fascinating fact about it. The best thing is, you can get the part not only along the hairline but also on the sides! P.S. To go creative, you can also get a double hard part haircut, where both the sides and top feature a parting line.
Source: fernthebarber via Instagram
Thick Shaved Line + Mid Razor Fade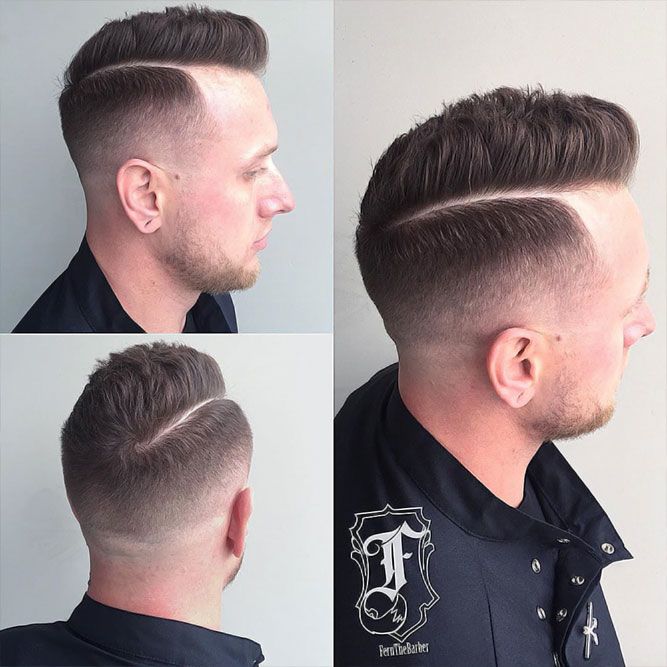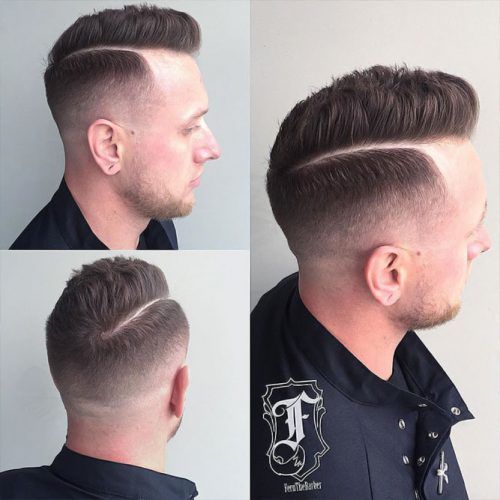 If you want to make your look more intense, you can go for a thicker hard part fade haircut. This clean and outlined fade cut shows how you can individualize your look by regulating the intensity of the part.
Source: fernthebarber via Instagram
Brushed Back Top + Razor Fade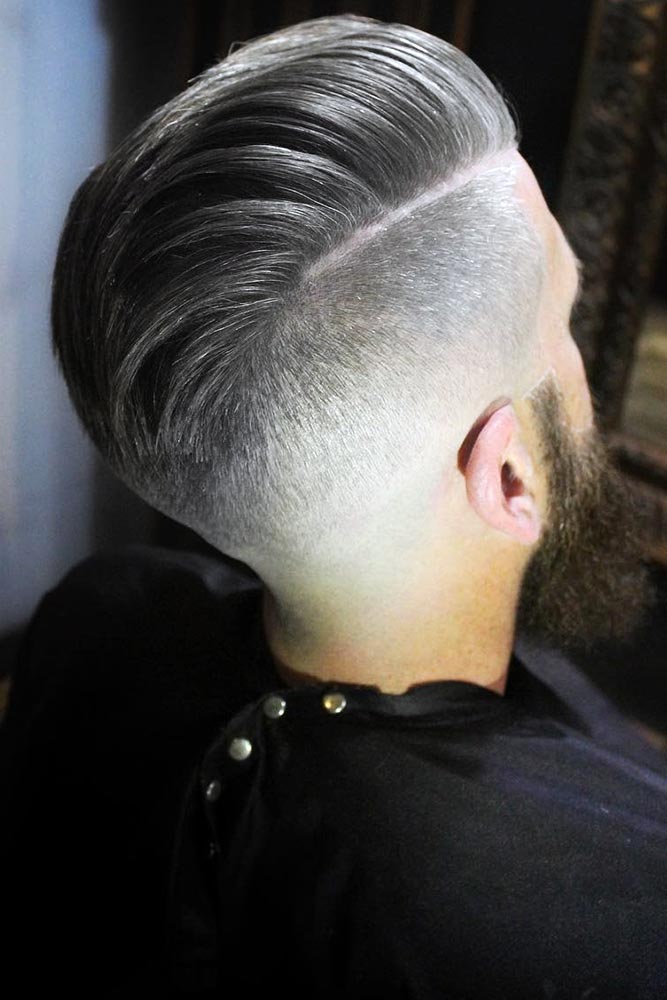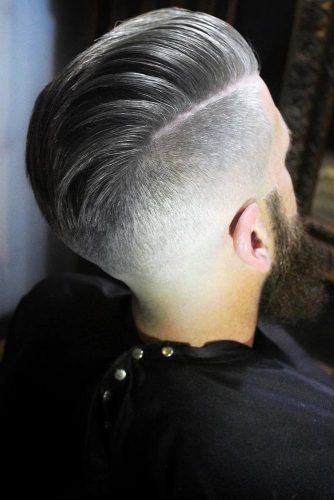 The everyone's favorite backswept idea can get even more comfortable and attention-grabbing with a hard part. First of all, you will have a starting point for the style. Second, it will make the look immaculate.
Source: ryancullenhair via Instagram
Hard Part + Quiff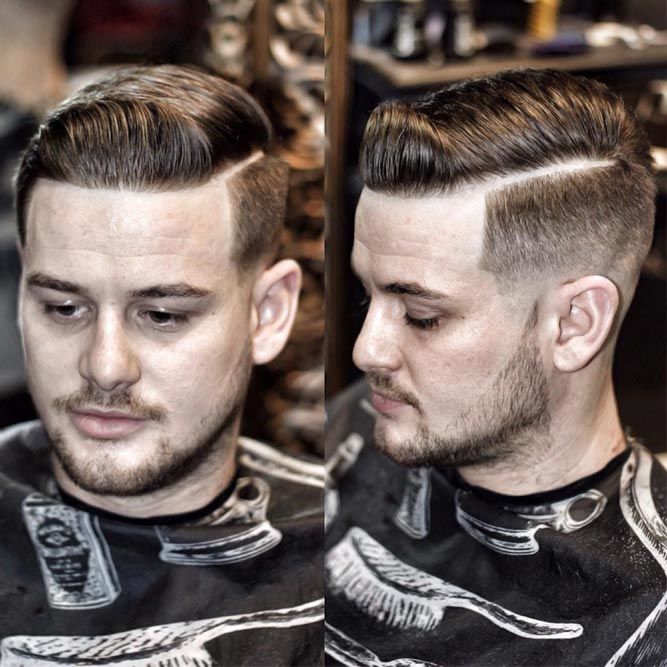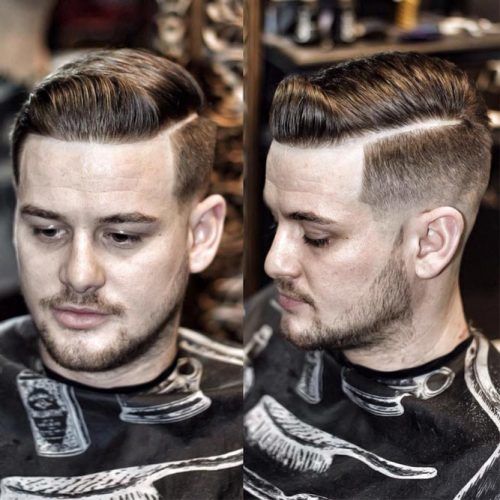 While the classic idea of quiff doesn't feature any distinctive elements, your haircut can go a different way. Not only does this idea preserve the main pattern but also give a unique modern touch to it.
Source: ryancullenhair via Instagram
Perfectly Twisted Top + Mild Hard Part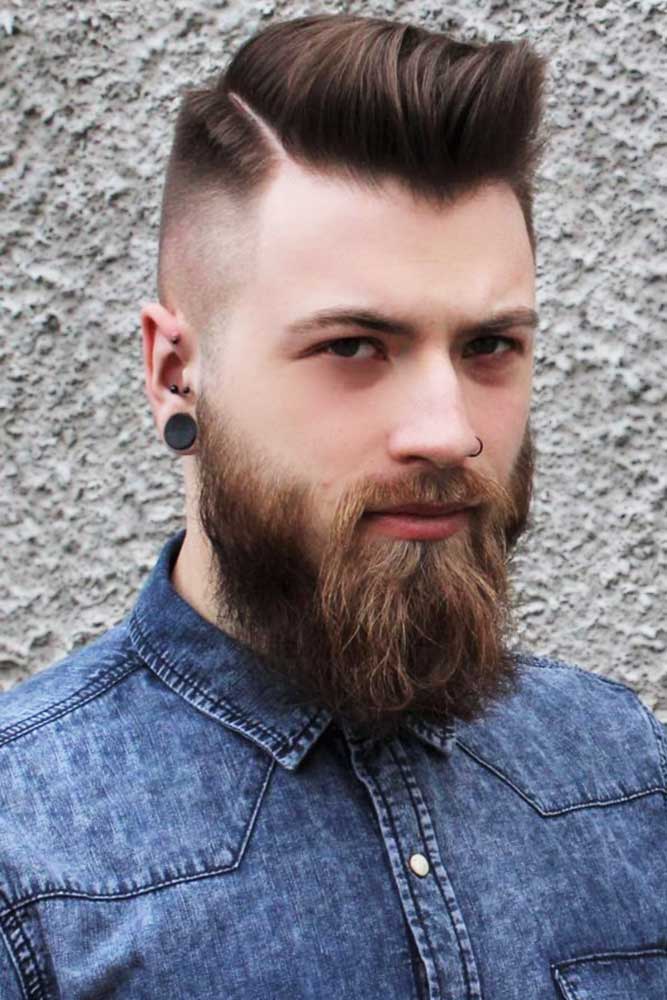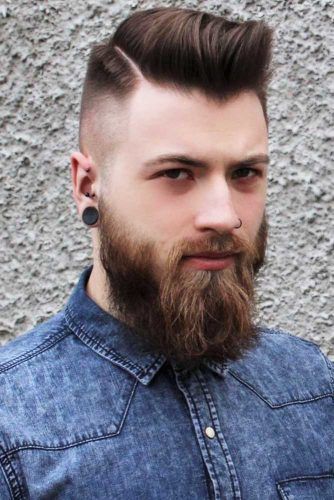 This is how real perfection looks like. Everything from the top to the beard is neat and well-balanced. Bottom line? A hard part and fade are the musts! Source: barbersofbt45 via Instagram
Curly Hairstyle with Fade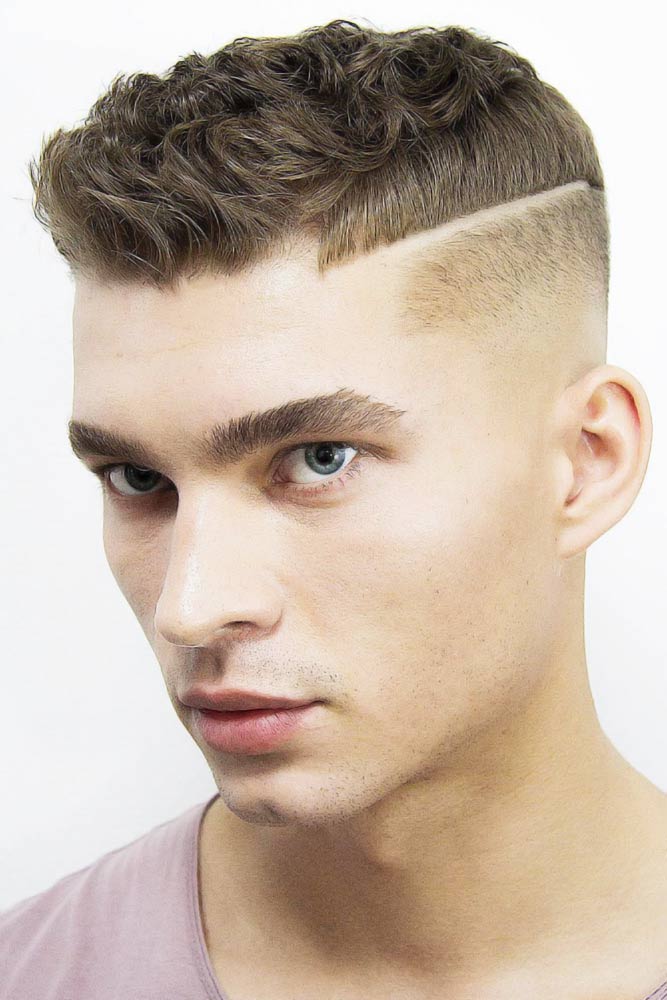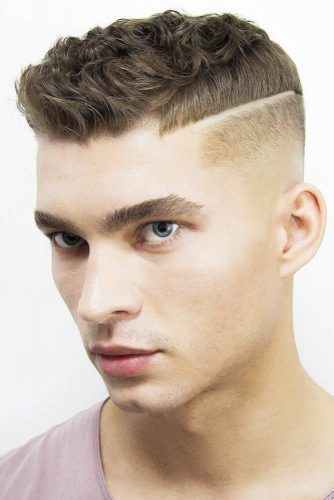 On curly hair, a hard part can create a nice contrast of textures. Even if you prefer short hairstyles for men, you will still be able to achieve a contrasty and bold look. Here, for example, the curly top is highlighted by the part, thus giving a drastic yet pleasant length graduation.
Source: meha_barber via Instagram
Taper Fade + Messy Side Swept Top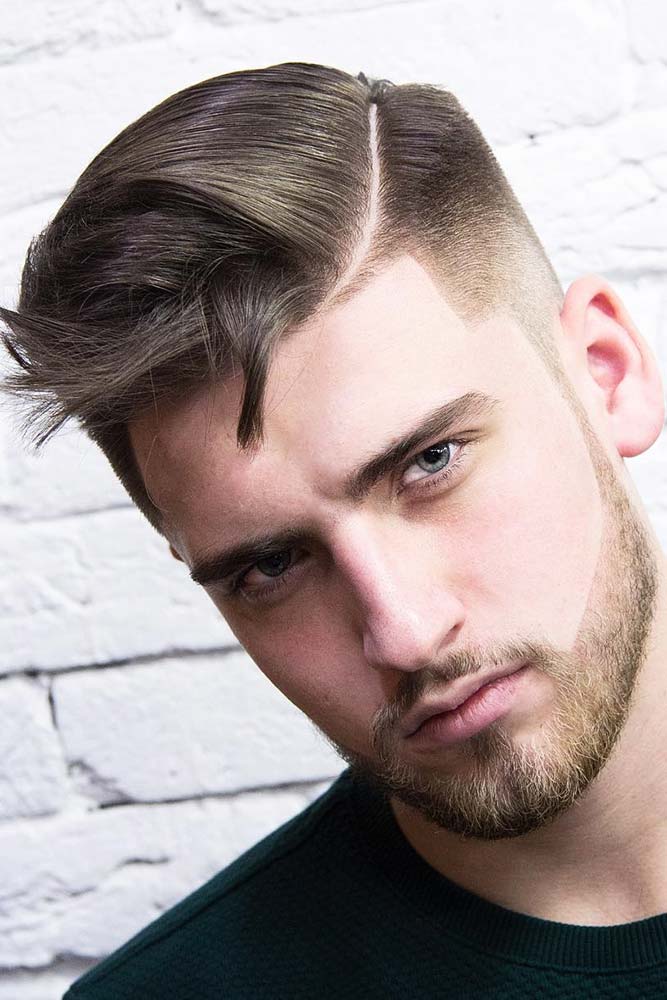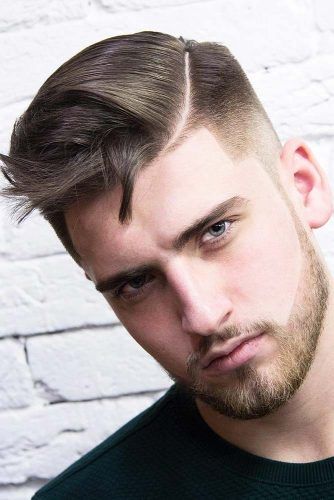 The popular messy styling ideas can be different. And while most of them are meant to bring a carefree mood, this parted and hence accentuated style creates a refined appearance.
Source: meha_barber via Instagram
Elephant Trunk + Faded Sides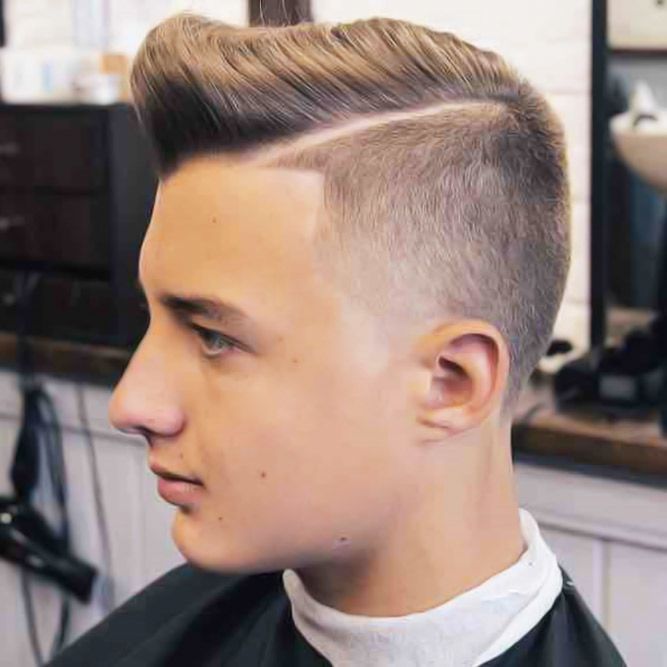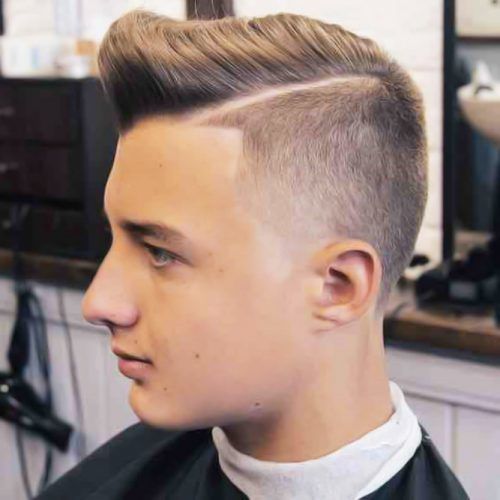 How about you to give a fresh take at the inspiring Cry-Baby hairstyle? Of course, all you need to do it are a hard part and fade on the sides.
Source: meha_barber via Instagram
Side-Swept Taper Fade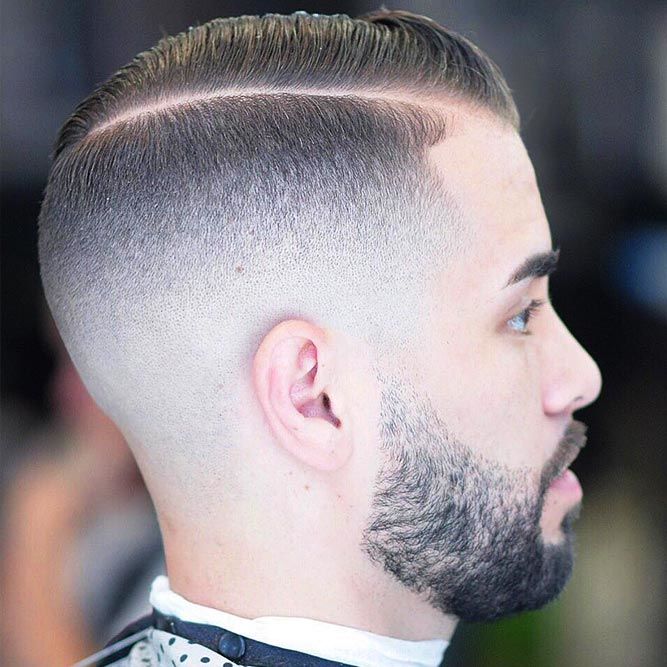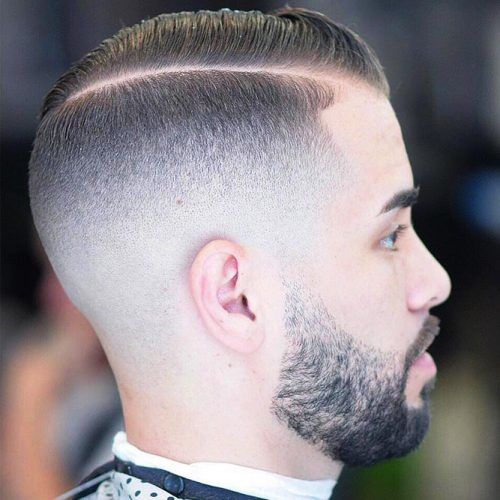 An incredibly smooth taper that gets thicker to the top and abruptly transits to a sleek, side-swept top. If it's not a definition for perfection, what is, then?
Source: sirpaulcharles via Instagram
Clean, Side Swept & Faded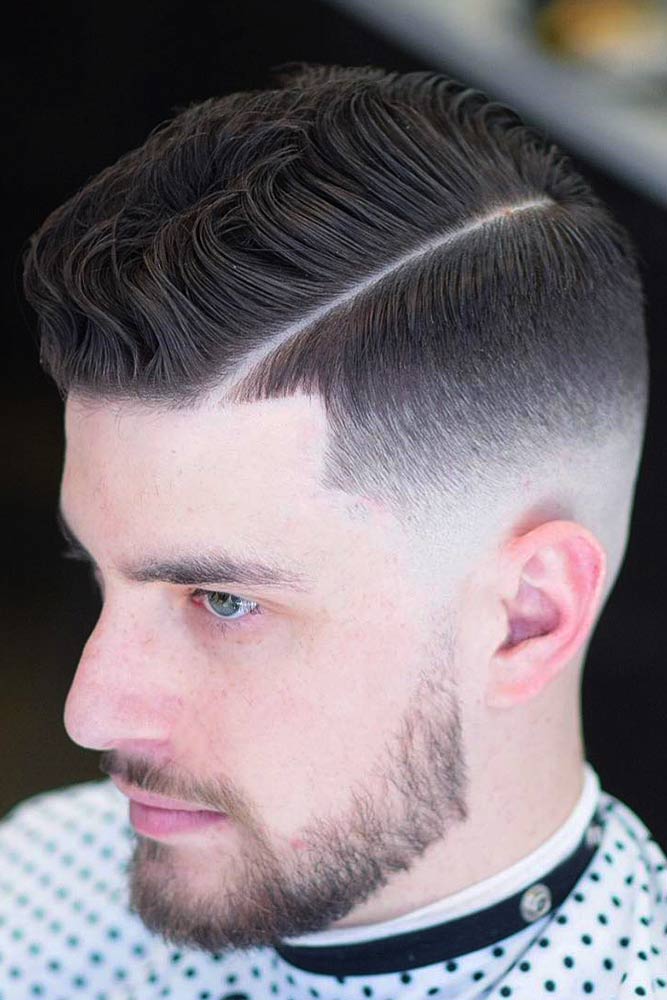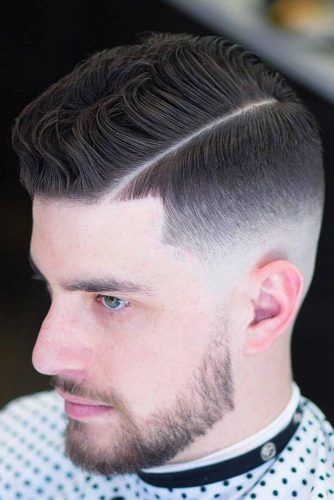 Spicing up a crew cut haircut with hard part is a good way to make a simple cut appear more unique and defined. And when it comes to medium length hair, it can also help to build the needed balance between the sides and top.
Source: sirpaulcharles via Instagram
Elongated Top + Hard Part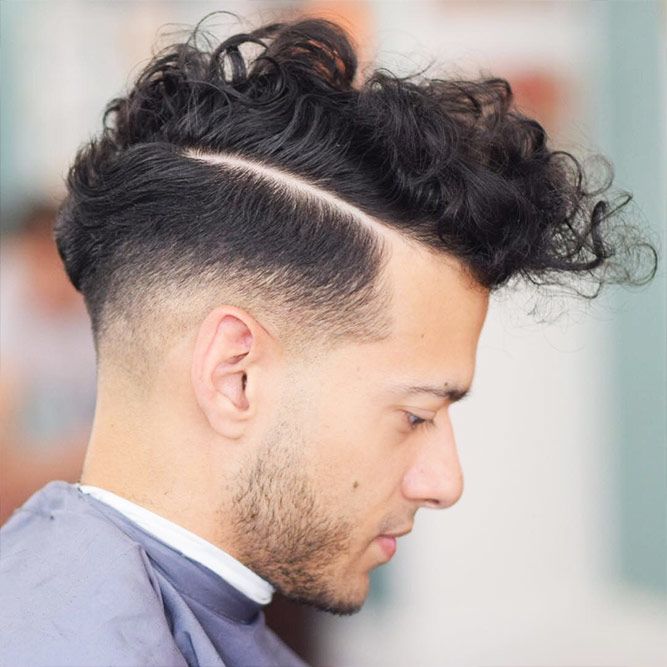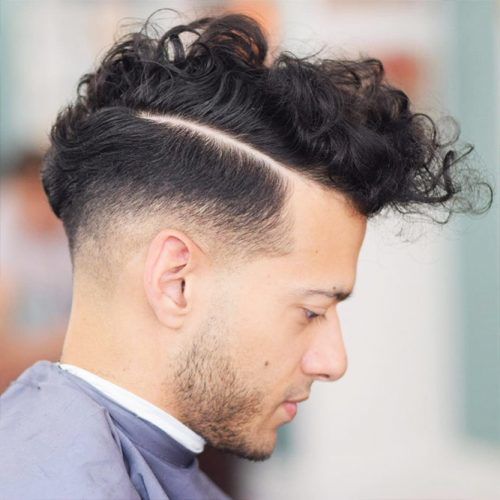 Men who want to focus on their long hair, whether it's straight or curly, will love the way the hard part puts the top in the spotlight.
Source: sirpaulcharles via Instagram
Razor Part Loosely Styled Pompadour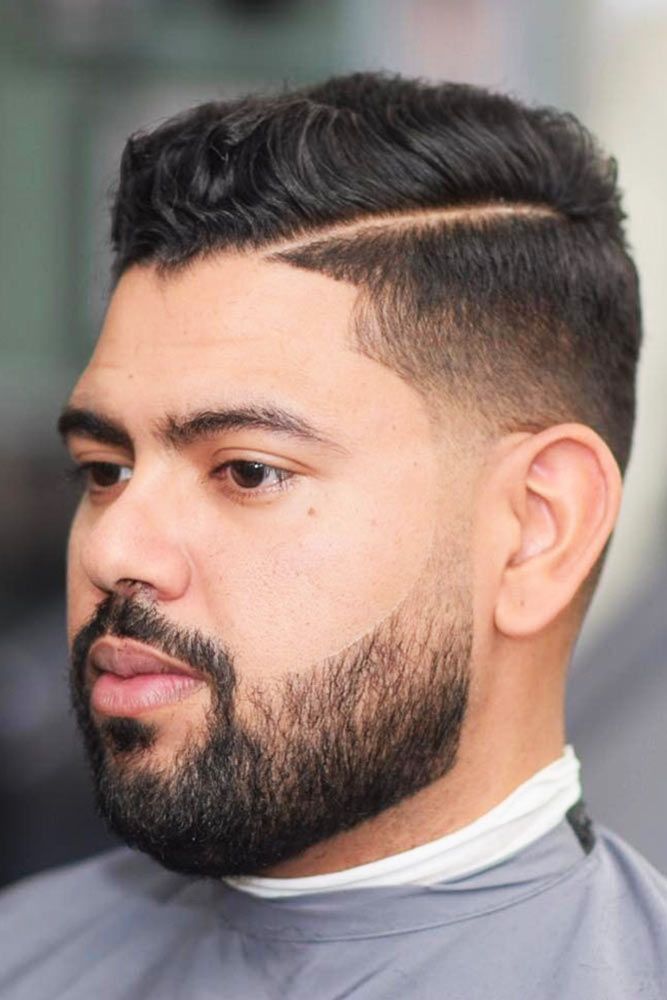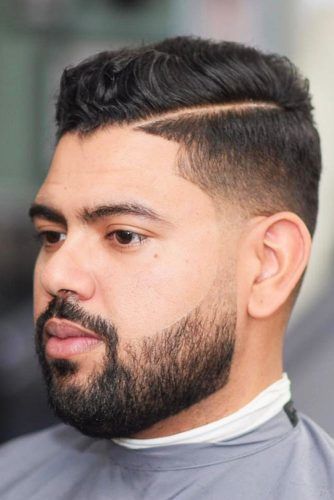 Believe it or not, this idea is a hard part haircut military officers love to wear today. It keeps the sides clean and the top outlined, which is a win for men who appreciate comfort.
Source: sirpaulcharles via Instagram
There's no a mens haircut hard part can spoil. On the contrary, this tiny detail can change a man's haircut for the better, providing the definition and thus giving a striking appearance. The ideas you've seen today are only the beginning, as every man can diversify the idea in any way he wants. So every time you feel the need for changes, adding a clean element to your hair will do just fine.
FAQ: Hard Part Haircut
Is hard part still in style?
Hard Part + Pompadour is a dramatic combination. Pompadours have dominated men's hairstyles of the last few years, and this trend appears to be destined to last. Try adding a hard part to this on-trend hairdo for a new trendy twist. The shaved line will draw even more attention to this full style.
Is a hard part professional?
The conventional hard part is one of the easiest and quickest professional men's hairstyles. It's a clean, distinct appearance that gives any haircut a little personality.
Can you get a hard part in the military?
The hairstyle is essentially a side parting with a fade on the sides and back, worn down to a low reg and skin fade or high fade in the military. You can also go for a military-style haircut with a firm part where the parting line is shaved.