Box Braids Are An Extremely Popular Trend That Never Goes Out of Style
They are an excellent way to extend your natural length and sport a variety of hairstyles that look complicated and sophisticated. However intricate they may appear, box braids are actually quite simple. The only downside of a box braid is that it does not work well with weak and brittle hair. If you do not have this issue, you can certainly pull off a variety of looks with boxed braids.
ADVERTISEMENT ‧ CONTINUE READING BELOW
You can either add extensions or use your natural hair to flaunt your stylish box braids. In this article, we will share our favorite stylish box braid styles that you can easily do yourself.
Fun Ways To Style Box Braids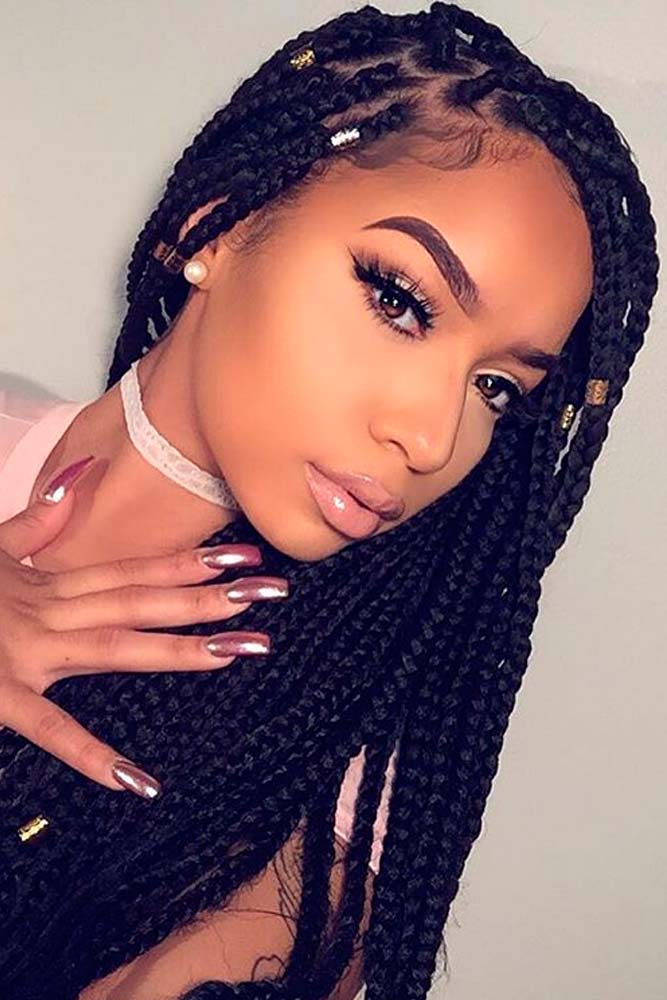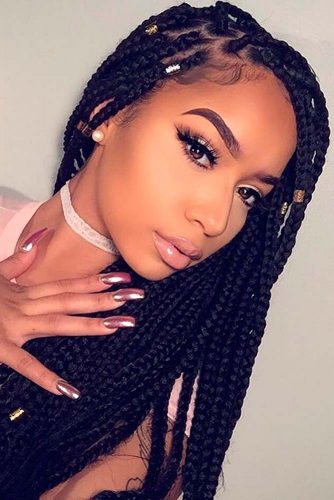 Source: Liamonet via Instagram
Braids: You can combine a mixture of boxed and systematic braids into a fun and unique hairstyle. Simply wrap them around either side of your head. Check out some of the styles below for inspiration.
Buns: This is the preferred way to style boxed braids. A chic updo will add style and class to any outing or event. High buns can be tight for an elegant look or loose for a carefree and fun look. You can add in different styles of braids for a unique style.
Twists: Twists are a great way to add some creative flair to your braids, boxed or otherwise. You can pull them back in a variety of twists and accentuate them with some cute clips or barrettes to secure them in place and add some style and personality.
Ponytails: If you prefer ponytail hairstyles, you can gather your braids into a high ponytail and wrap add a gorgeous silk scarf or flower. You can even do pigtails if you want a cute, sassy and playful look. Whether you opt for sleek or fun, ponytails are a timeless look.
ADVERTISEMENT ‧ CONTINUE READING BELOW
Short Box Braids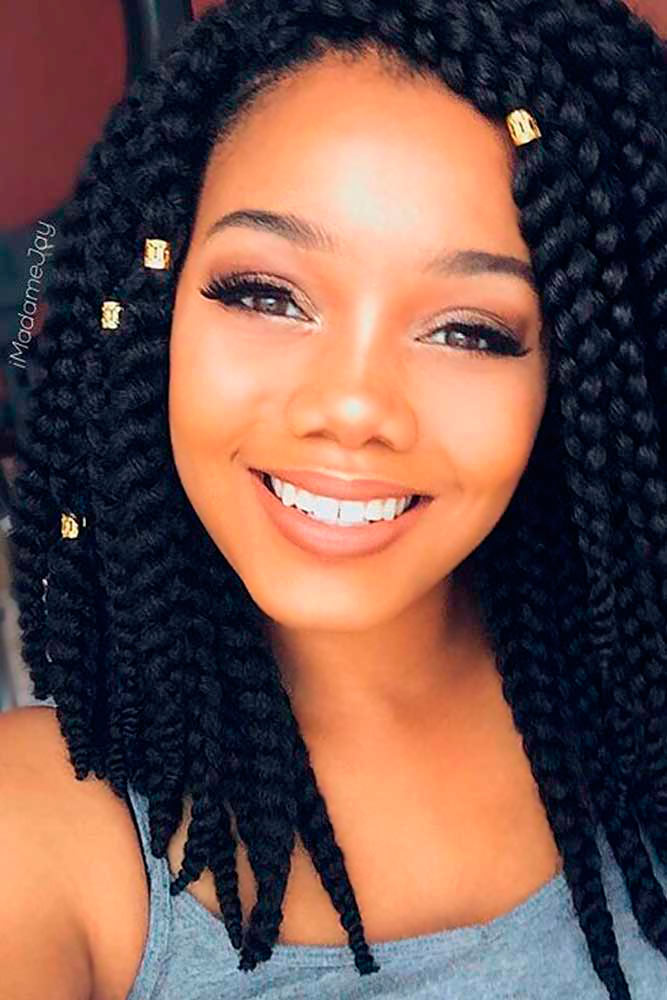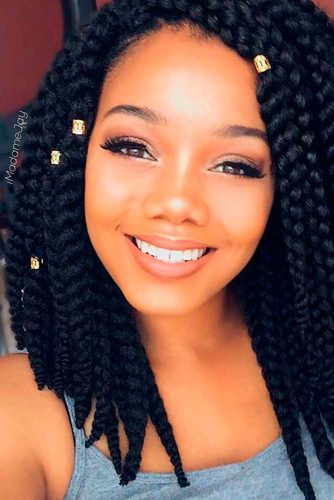 Source: Imadamejay via Instagram
Believe it or not, you can still rock boxed braids with short hair. If you want a look that's really hip, try jumbo braids in a straight cut all one length hair bob. This look is city chic and fabulous.
ADVERTISEMENT ‧ CONTINUE READING BELOW
Individual Braids For Any Age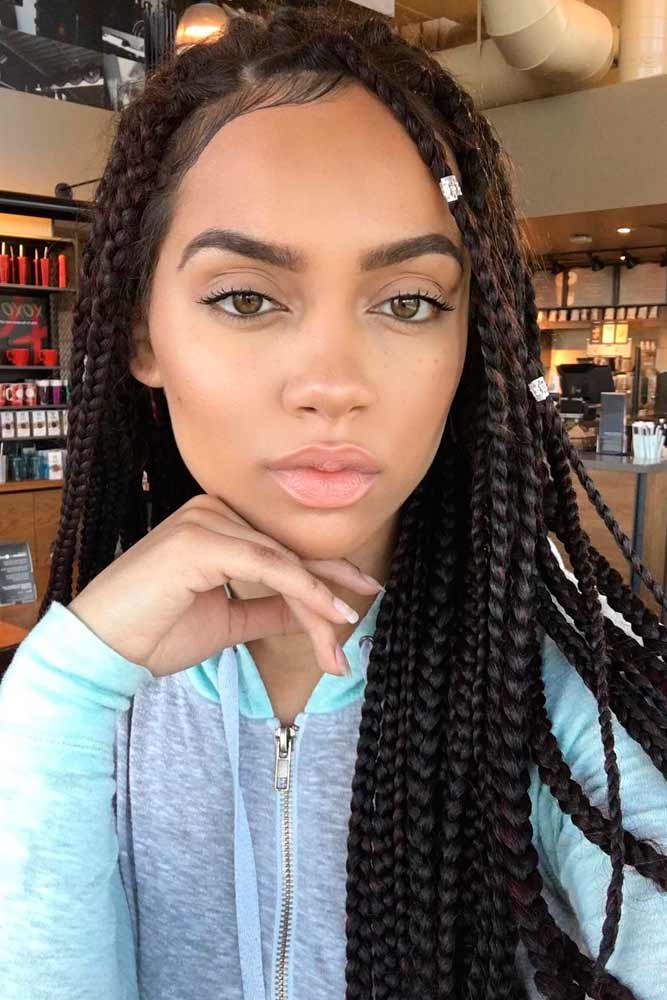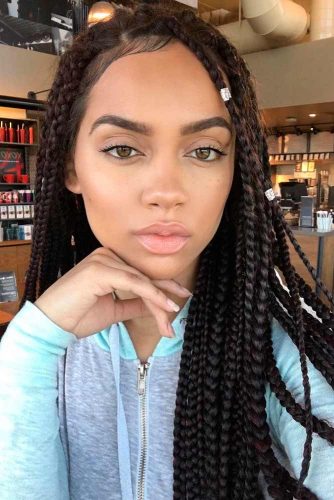 Source: Mua_myesha via Instagram
Individual braids work great for any woman regardless of her age. You can add your own personal touch and add a pop of color to make your braids stand out. This look is timeless and there are endless possibilities.
ADVERTISEMENT ‧ CONTINUE READING BELOW
Double Trouble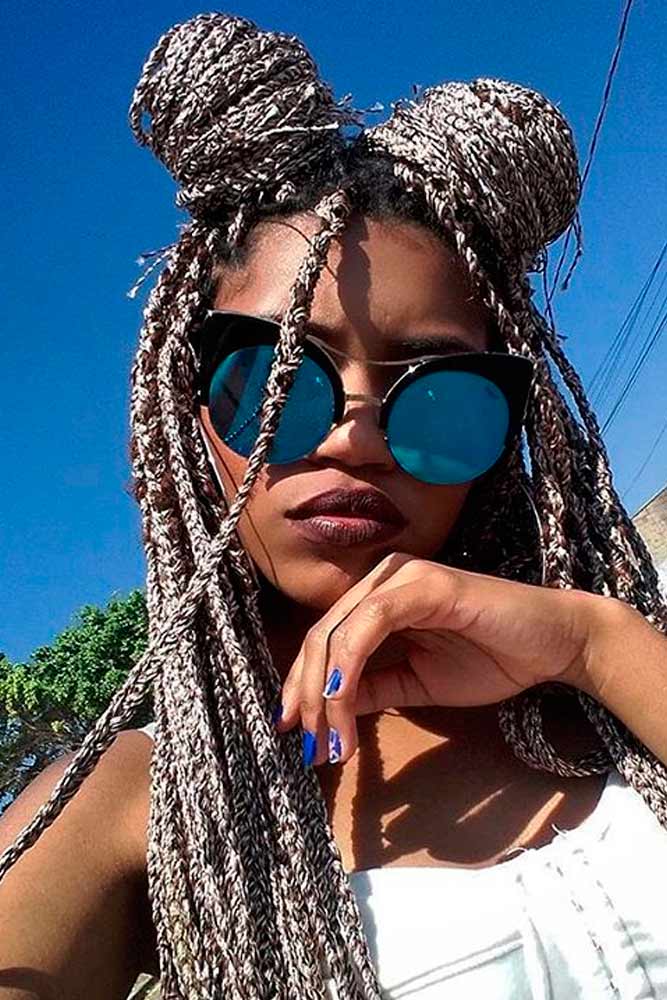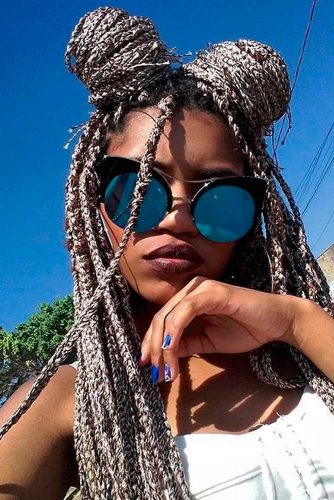 Source: Marihsantosss via Instagram
Looking for a fun look? How about these adorable, quirky buns. They are a bit like mouse ears so they are a playful look for a girl who wants to embrace her inner child and rock a unique and sassy style. Add some color to your various box braids to make this look pop!
ADVERTISEMENT ‧ CONTINUE READING BELOW
DownDo With Twisted Sides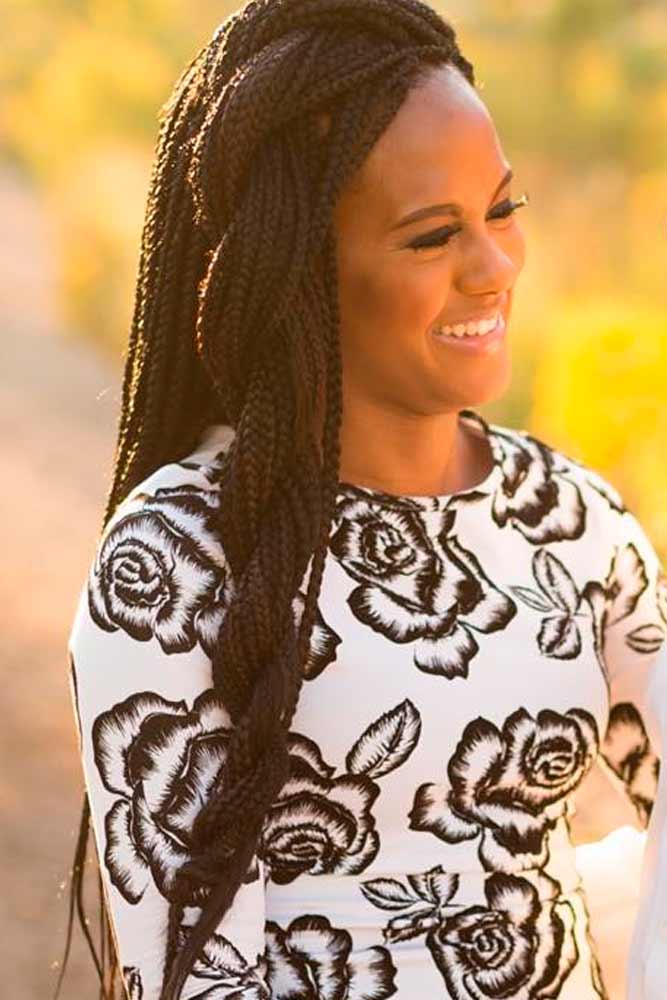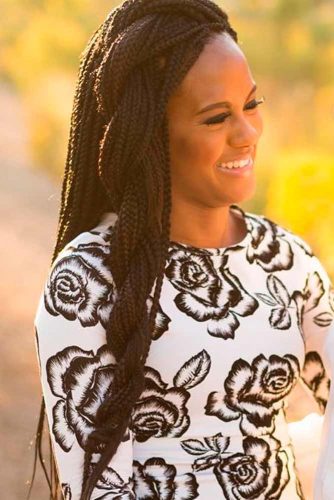 Source: Christian_byshe via Instagram
For an elegant sophisticated look, add some simple yet classy twists to your braids and you can have a gorgeous look for an evening out on the town. Not only does it look marvelous, it also adds texture.
Half Updo With Victory Rolls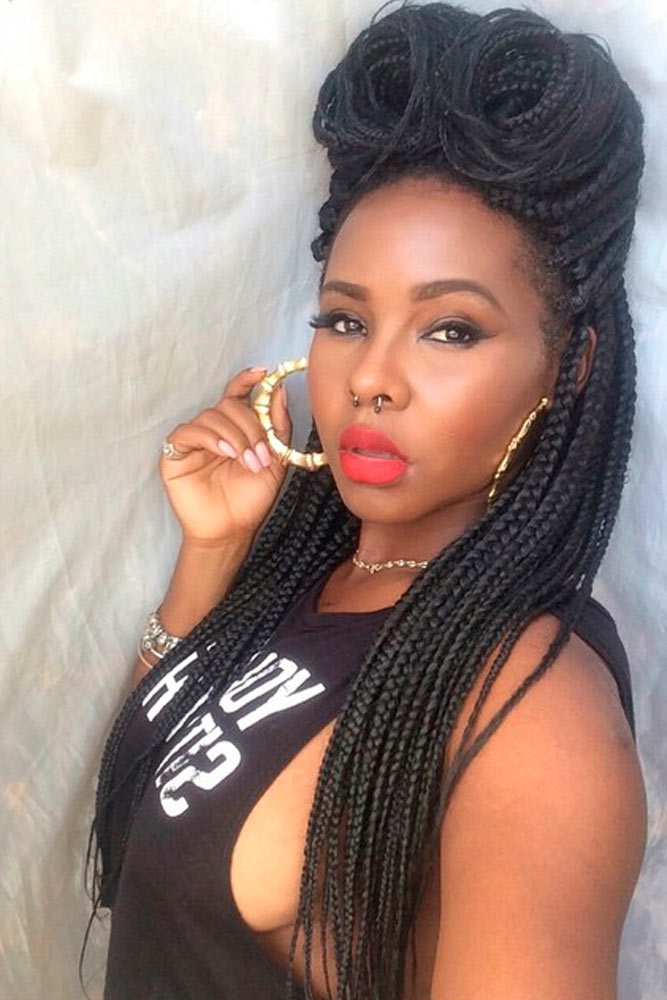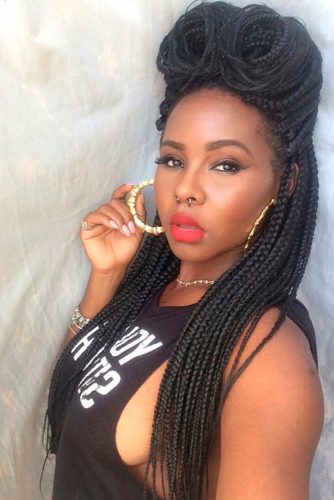 Source: Makeilaimstrong via Instagram
If you want a more daring look, try medium box braids for a funky hairdo. Start with a half up half down look and then split the top section into two equal sections and then create two spiraled rolls atop your forehead.
Updo Roll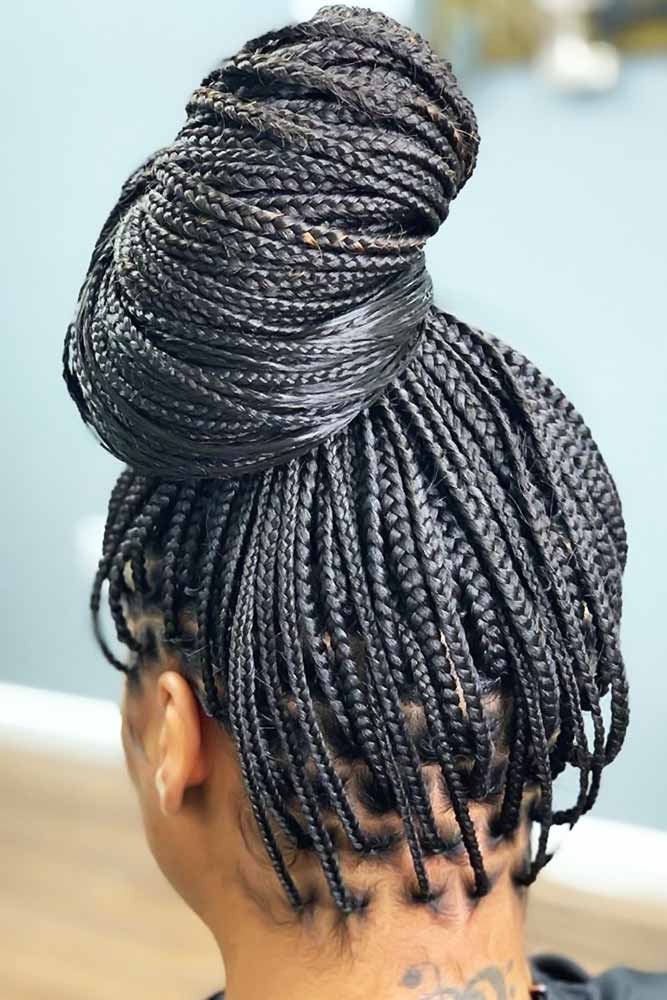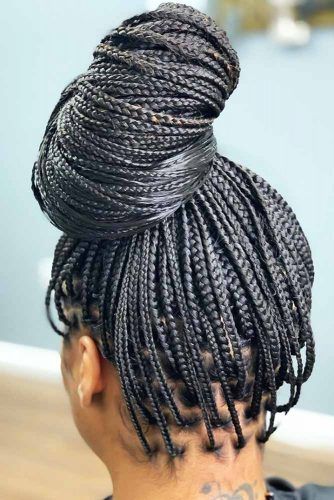 Source: kimreidstyles via Instagram
The French Roll is a timeless look. Add bulky French to a stylish updo starting at the nape of your neck for an elegant side view.
ADVERTISEMENT ‧ CONTINUE READING BELOW
Simple Box Braids with Beading For Embellishment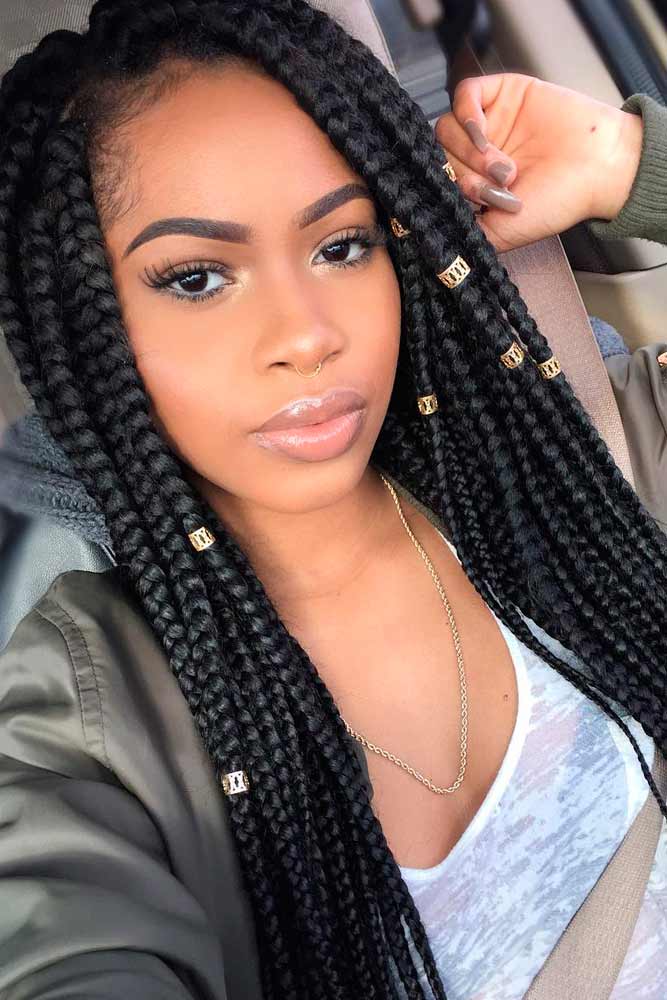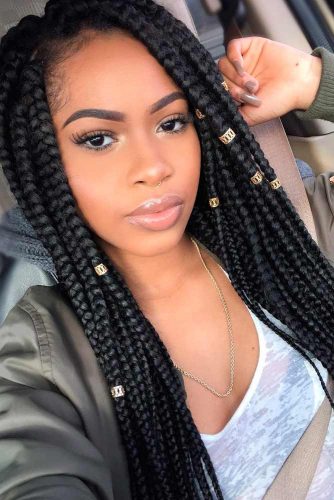 Source: Shortylex_ via Instagram
Hair beads are all the rage now. They add a personal and chic touch to your braids. You can pick colorful braids or opt for polished golden or silver beads for a special event.
Playful Ponytail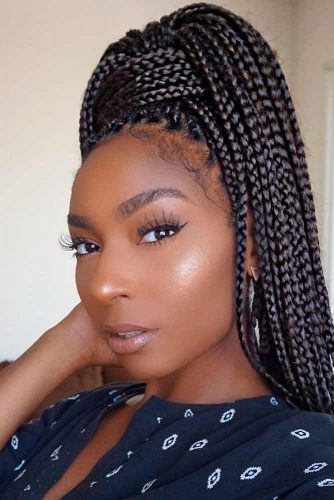 Source: Jamexicanbeauty via Instagram
The best thing about a simple, classic look such as a ponytail is that you can dress it up any way you choose. Whether you choose a partial, side or classic back ponytail, you can add fun and stylish accents like ribbons, bows, scarves or flowers to finish your look. You can also complete the look with flawless makeup such as vampy bold lipstick, long, flirty eyelashes, and funky eyeshadow. You can go achieve any look you want from sassy to classy. Ponytails are timeless and can be fun and funky or sleek and sophisticated. What a great way to flaunt your style!
Elegant Ballerina Bun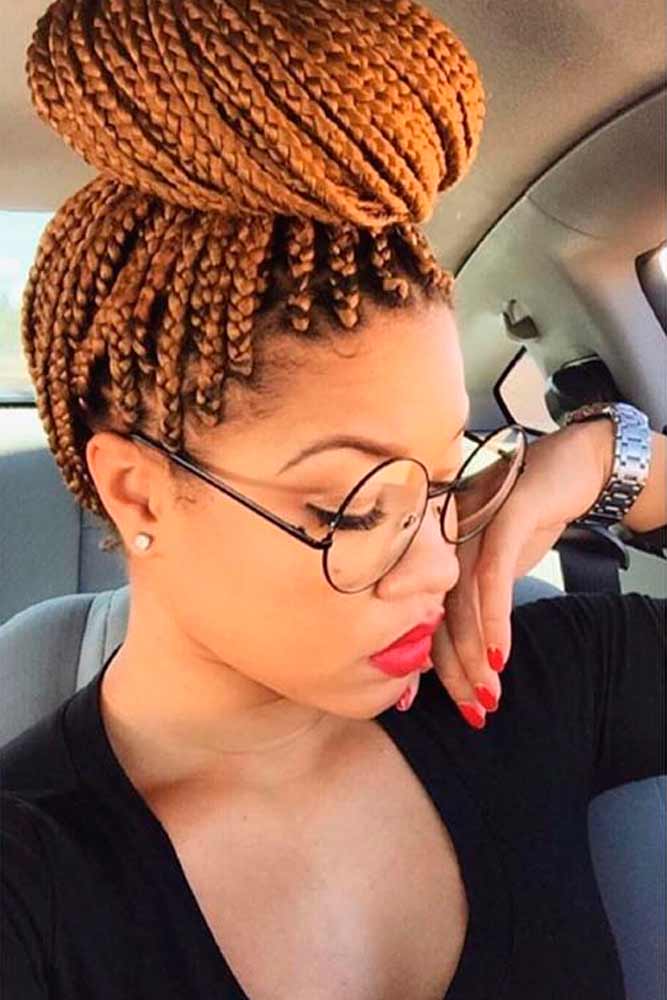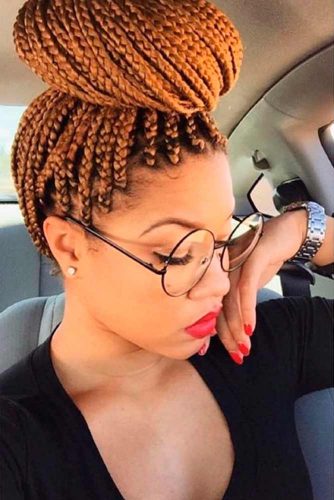 Source: Misscarradine via Instagram
Ready for a fun night on the town after a long day at work? A ballerina bun is sleek and stylish and you can pull it off in less than ten minutes. For a chic touch to your simple box braids, you can style your hair into a classic ballerina bun that will work from a night out with the girls to a romantic dinner date.
ADVERTISEMENT ‧ CONTINUE READING BELOW
Intricate Braid Crown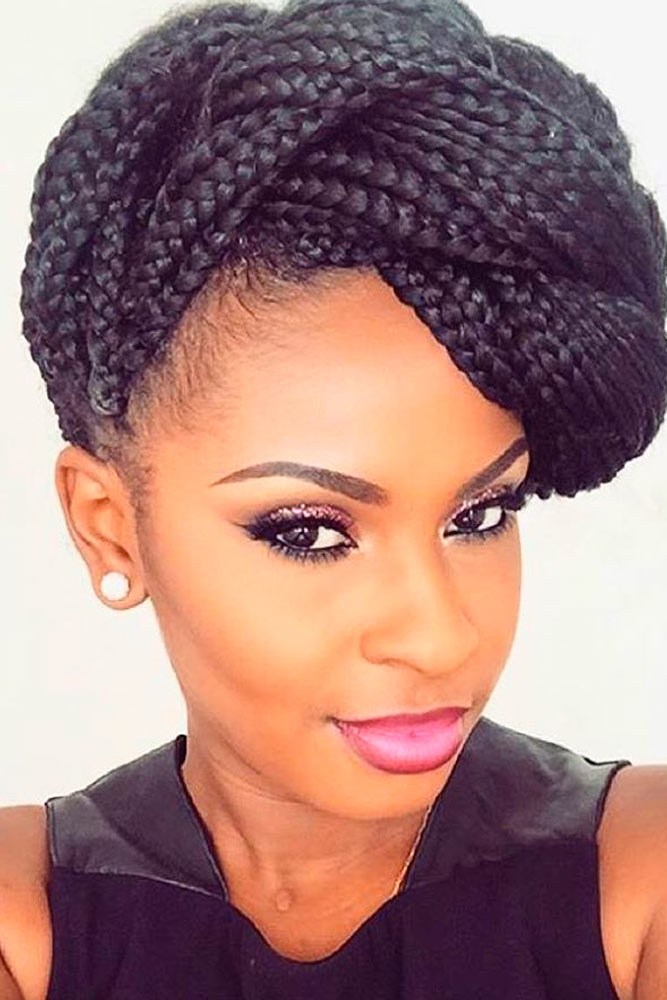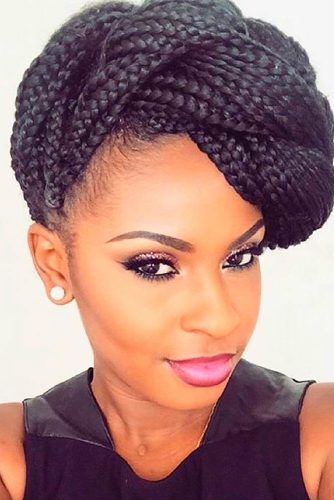 Source: Voiceofhair via Instagram
Medium to large box braids can be styled into a sophisticated crown if you want a glamorous look. Simply start at the left ear and bring the brain across the back of your head and then work along the hairline. People will think you spent hours at the salon!
Red Ombre Braids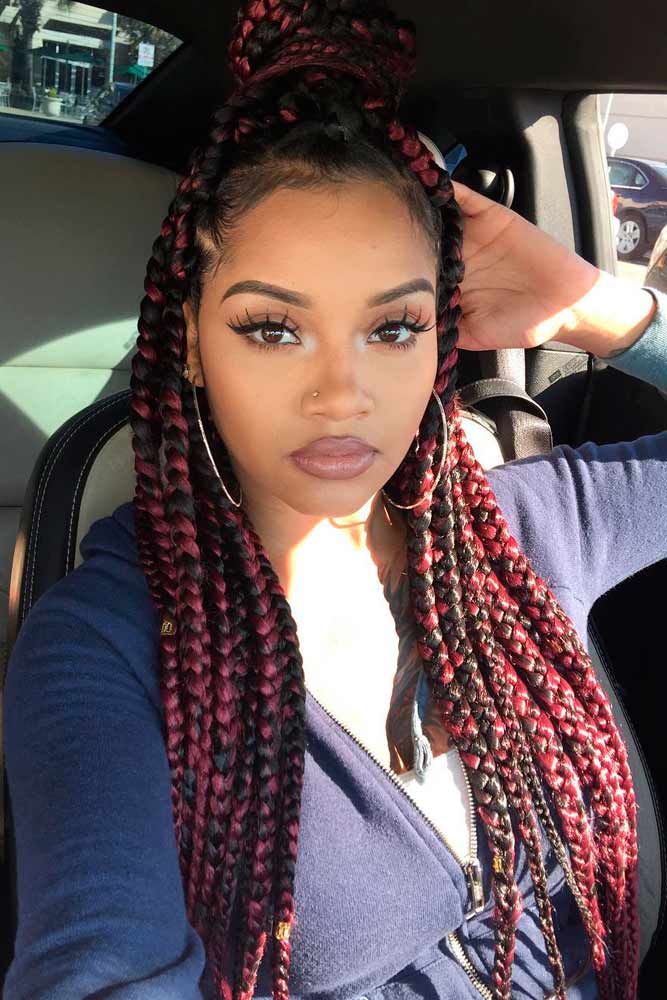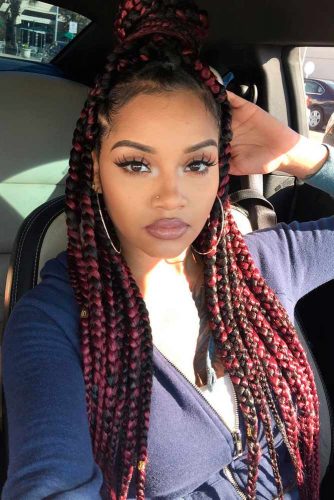 Source: Mac_bxtch via Instagram
Ombre hair isn't just for beach waves. Ombre color works great with any type of braid. Reds and pinks are the best options for braided styles. Simple braids can be woven into ombre strands for a style that will stand out from the crowd.
Colorful Bob Box Braids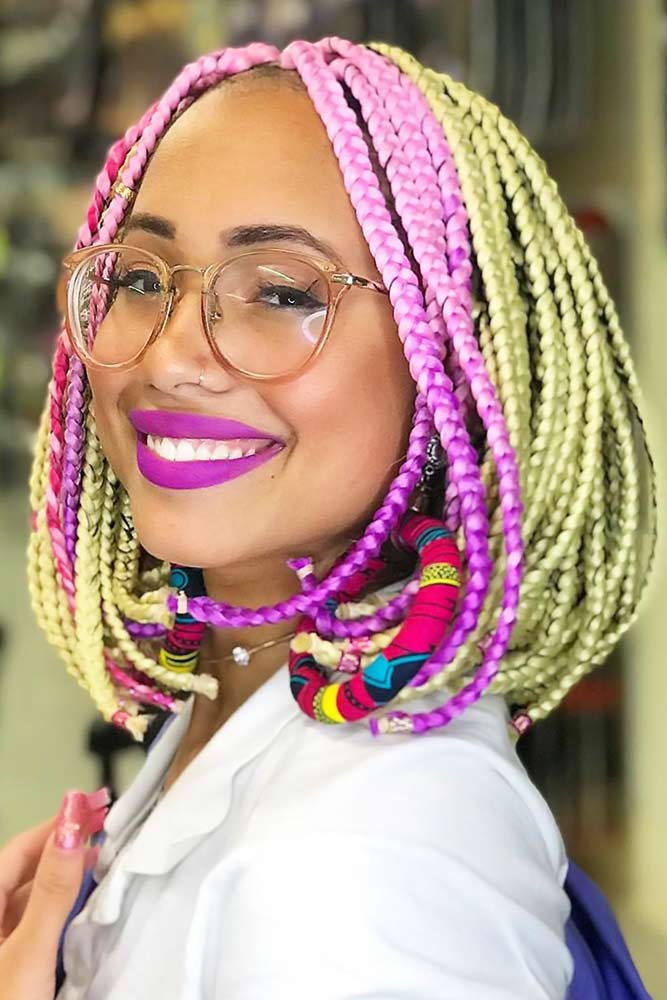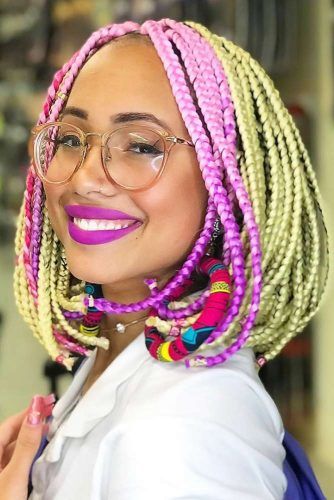 Source: thamy_braids via Instagram
It seems like box braids were created to help all natural-haired goddesses take everyone's favorite hairstyles to the next level. Obviously, there's no a girl who's not familiar with a bob - this cut is just on everyone's lips. And you know what? You can show up with your own variation of the modern classic once you take a creative approach to your braids. Get some colorful short extensions, give them a curvy shape so that they create a round silhouette, and get ready for enviable eyes looking at your own version of the bob.
ADVERTISEMENT ‧ CONTINUE READING BELOW
Half-Up Bun Style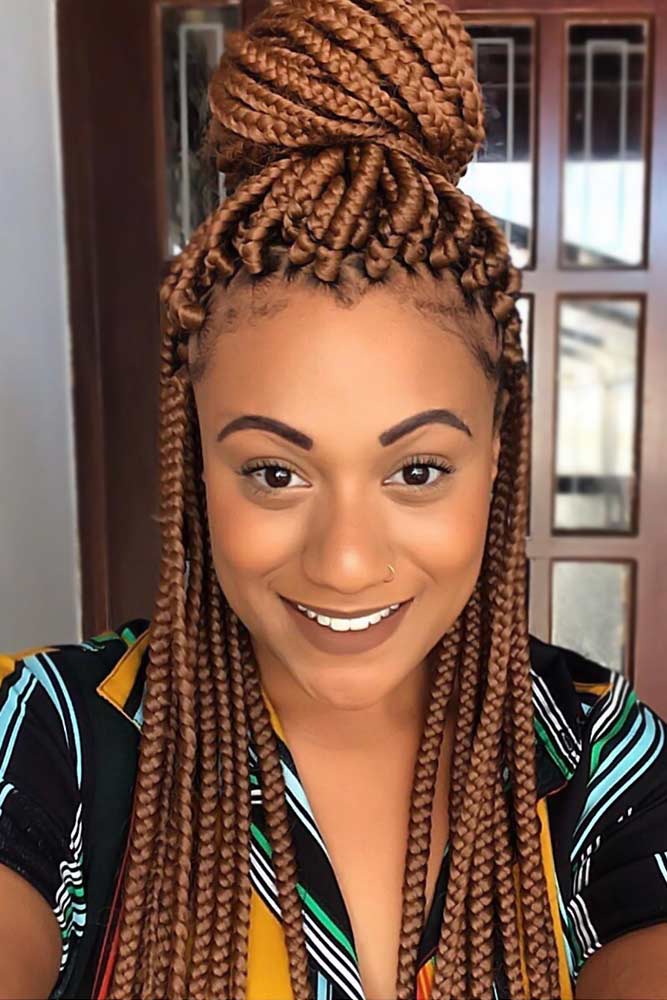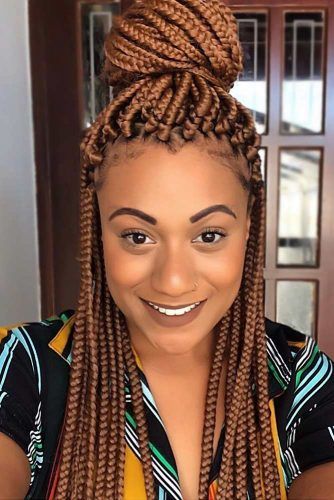 Source: thamy_braids via Instagram
While most women associate half-ups with something simple and plain, girls with natural hair show another side of the good-old hairstyle. Indeed, such hairstyles are easy to do no matter what hair type you have. However, on such a thick, textured, and defined mane, even the simplest styles ever are doomed to look sophisticated and have all eyes on them! Just look at this dramatic half-up: it's simple, yet so significant.
Kanekalon Box Braids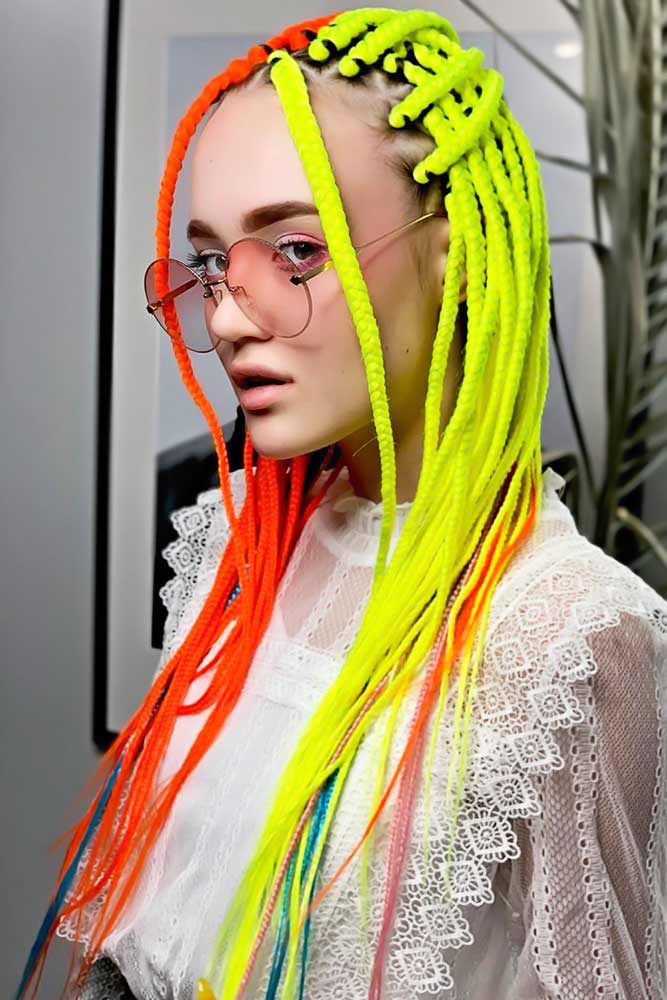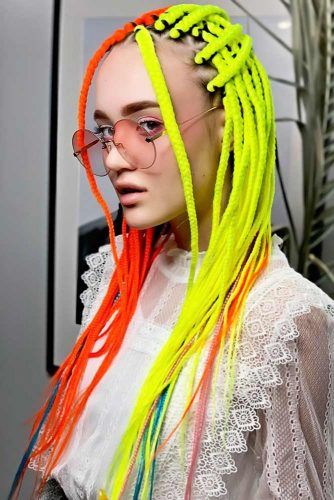 Source: braidsvolna via Instagram
Kanekalon braids are colorful synthetic extensions that know no limits in terms of hair types. In fact, every girl who wants to add some brightness to her styling routine can pull them off. First, you create box braids as the base for your vivid experiments. Then, you attach as many colors as you want. You can wrap the extensions around your braids to make your hair look thicker, mix them with your hair or braid them alone, hiding your hair under the beauty of neon lights.
Side Messy Bun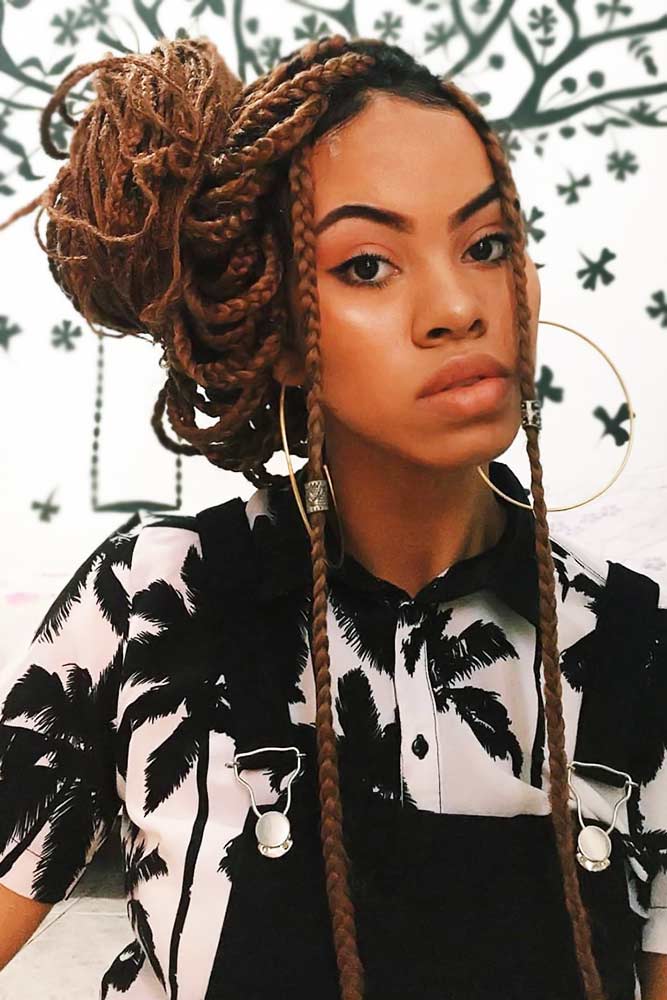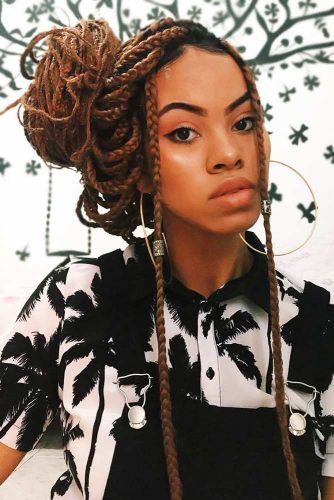 Source: cardoznat via Instagram
Messy hairstyles are an ageless trend that seems to never fade away: it gives our looks a sense of lightness and freedom which we can't have too much. But how to add the hint of messiness to a tightly styled hairdo? No worries; there are lots of ways to braid your hair. To create a messy finish for your box braids, make the braids thinner as you move to the ends. When you switch to a lighter density of your braids, natural hair will lift up, giving that effortless messy vibe. After that, you are free to style your hair in any way you want! A side bun, for example, will be a stunning start.
ADVERTISEMENT ‧ CONTINUE READING BELOW
Box Braids With Flowers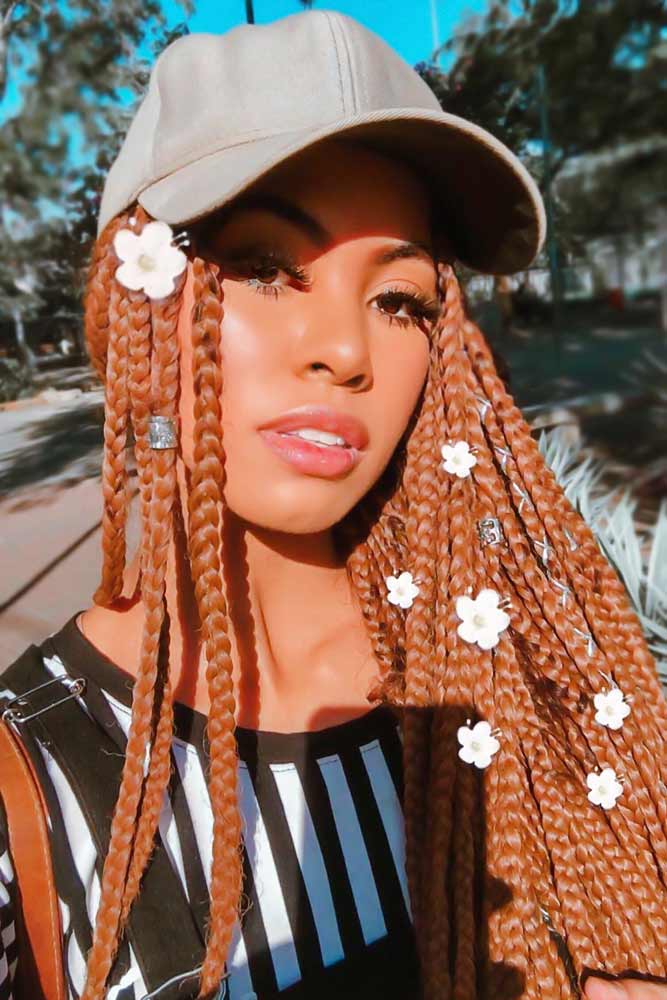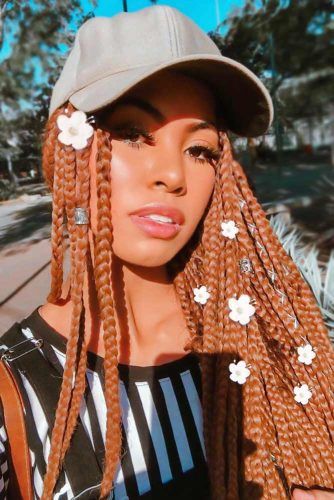 Source: cardoznat via Instagram
Don't forget about accessories for your box braids! Although your hair is your natural accessory, you can take it to the next level by complementing your looks with real embellishments. Feminine little flowers will nicely accentuate your lovely girly look with a touch of gentleness. Apart from floral accessories, you can beautify your textured locks with hair ties and ethnic beads, adding some more individuality to the look.
Box Braids With Curly Free Locks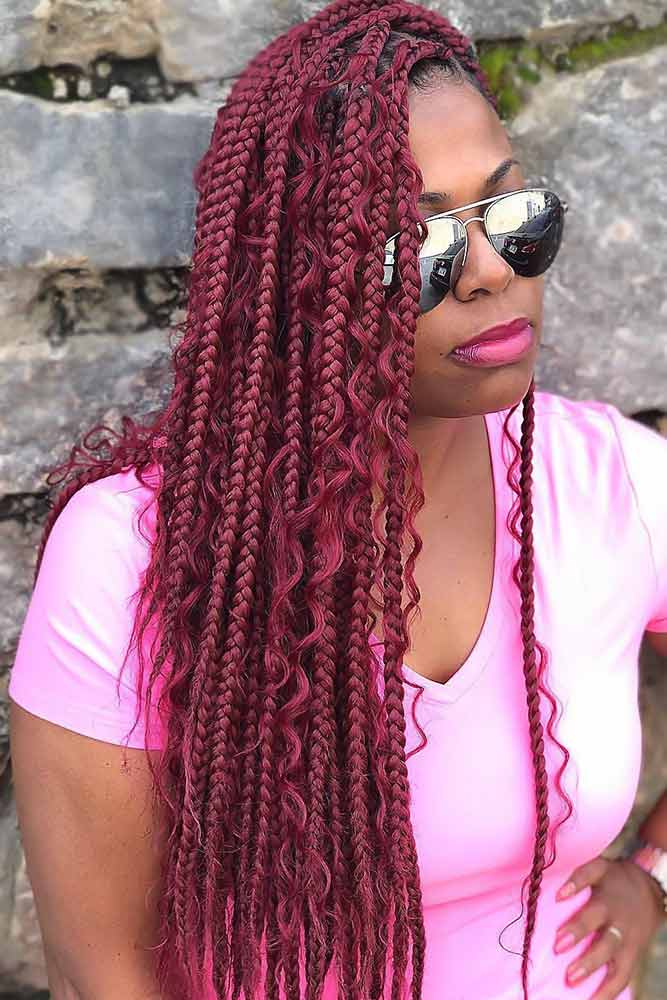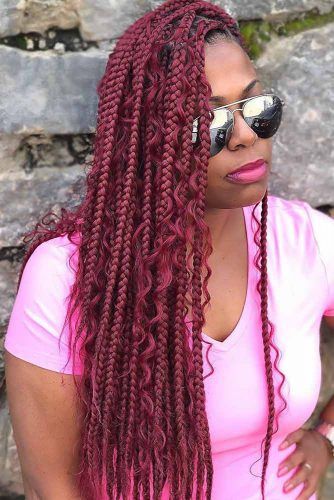 Source: slayedbyqueenbenz via Instagram
Though the pattern of box braids is usually the same, you can experiment with their texture as much as your creativity lets you. If you want to diversify the classic look, you can let some of your braids do their own thing, unraveling some of the strands. In this way, you will combine two contrastive textures - a tight braided and loose one, thus creating an unbelievably creative look and adding tons of dimension to it.
Box Braids With Beads & Ties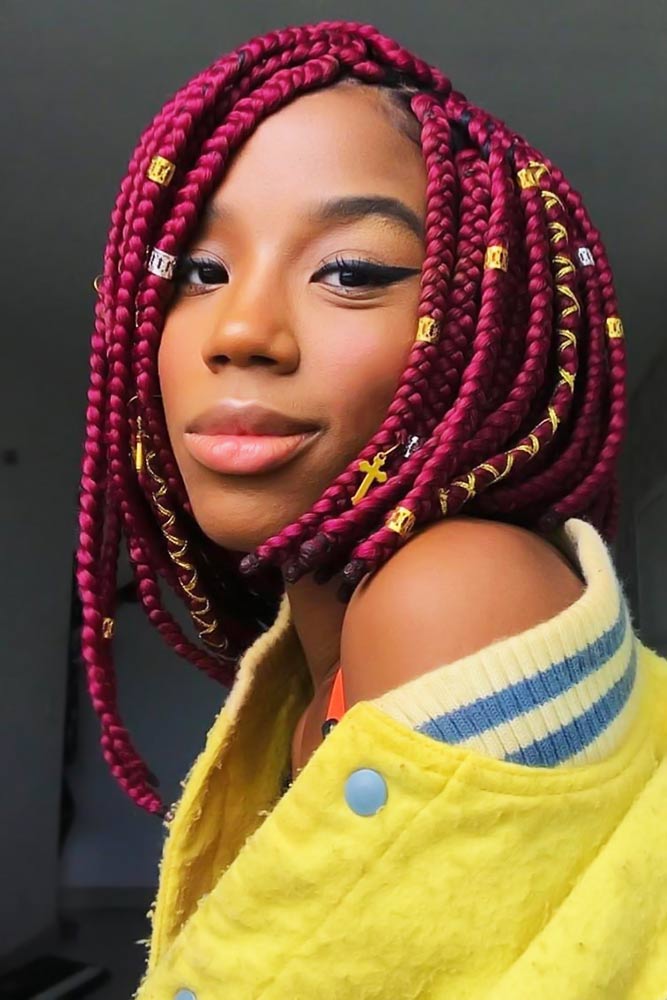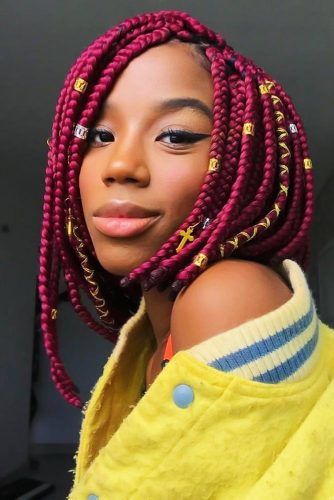 Source: ghanaianhairstyles via Instagram
How many ways to stand out with natural braids do you know? You can give a fresh take at some short haircut, showing up with a braided box bob. Also, you can incorporate some colorful extensions into your braids, putting your hairdo in the spotlight. On top of that, you can always finish your look with beads and ties. What else? The trendiest look you can get with your braids is to combine all these head-turning options!
ADVERTISEMENT ‧ CONTINUE READING BELOW
Half-Up Space Buns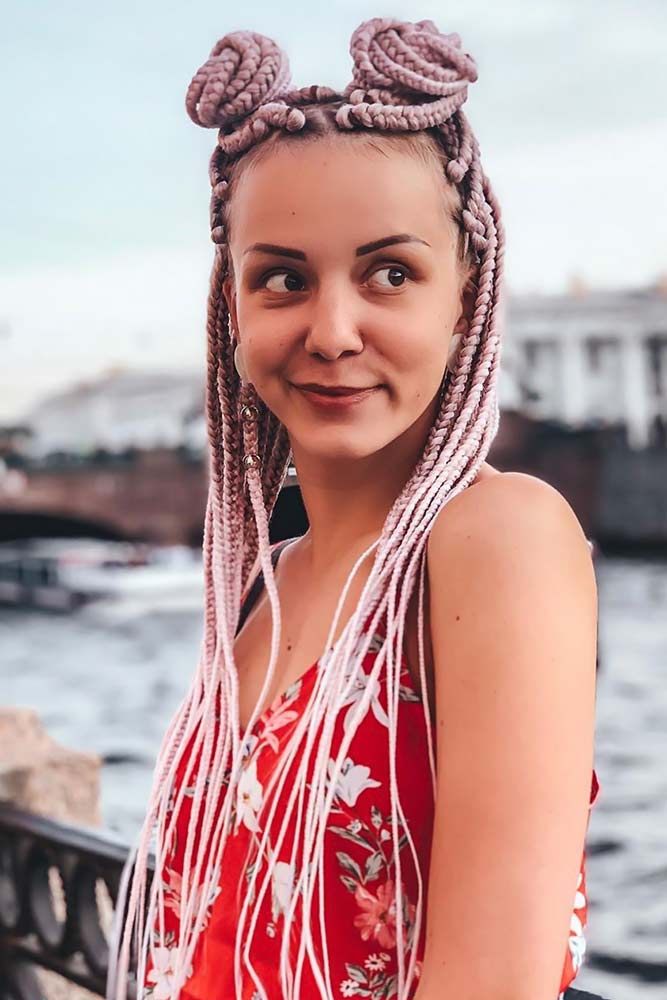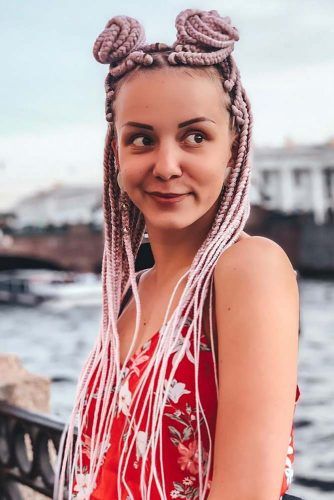 Source: braidsvolna via Instagram
First, space buns took over Tumblr. Then, the whole world was at their feet, making it another trend that will never die. Not only do they look unbearably cute but also serve as a stylish complement to any youthful outfits. Now, can you imagine how awesome they will look with your enviable braided texture? Whether you're blessed with natural hair and wear the braids as protective styles or you wear extensions on your regular hair, this style is a must for all ladies to try.
Messy Updo Style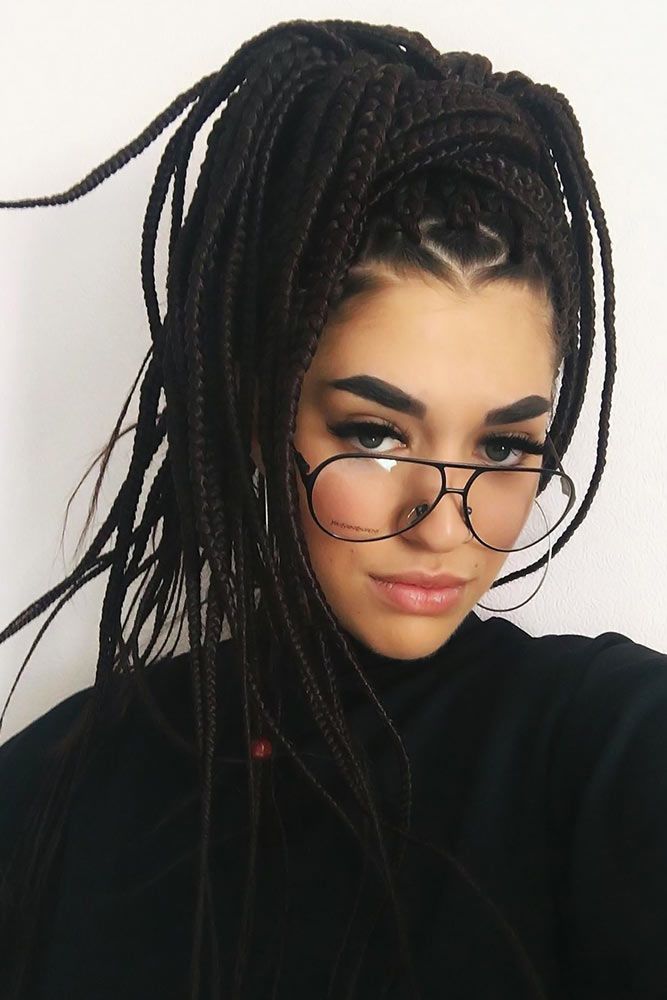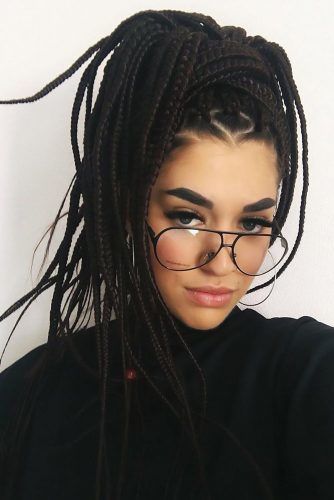 Source: braidsvolna via Instagram
Another way to let stylish messiness do the talking. In contrast to the previous idea, you don't need to loosen up your braids to achieve a carefree feel. Instead, you need to make the braids as thin and thick as possible so that they stick out firmly, pointing in different directions. As a result, you will get a contemporary look that outshines not only regular braided ideas; it will look even better than dreads! Be it an updo or a ponytail, you'll be on point with such thick braids.
Double Braids Style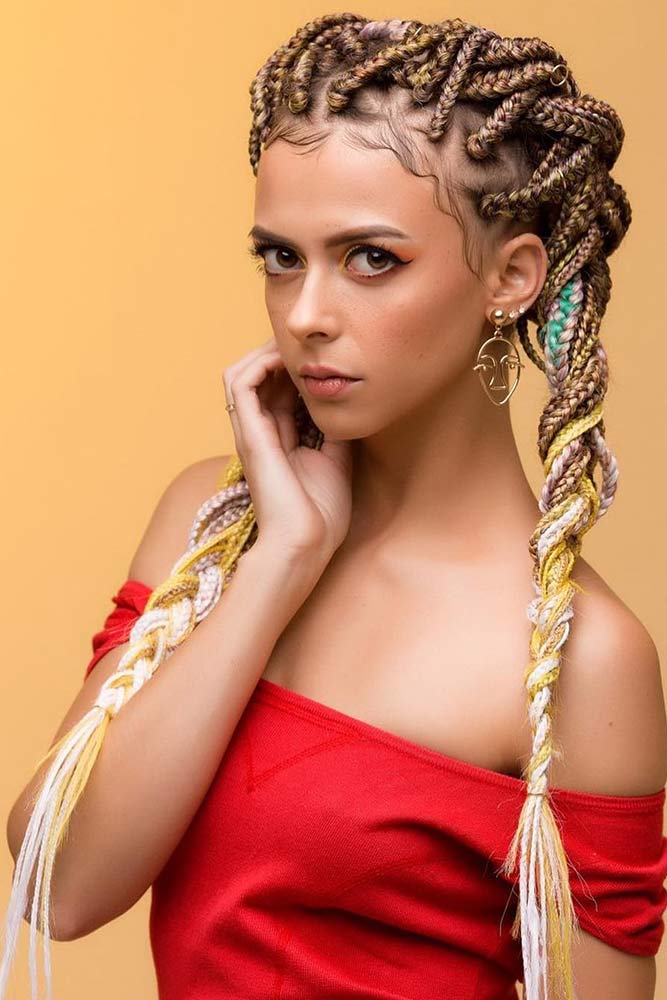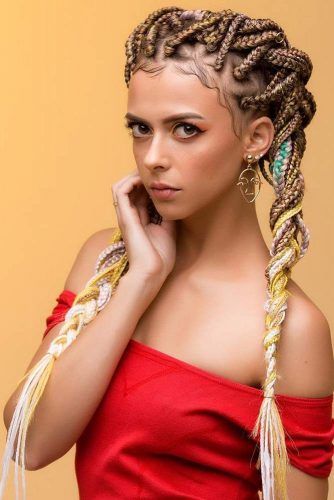 Source: braidsvolna via Instagram
When it comes to braided hairstyles, there's only one rule: your creativity. As a matter of fact, the ways of braiding your hair, as well as braiding patterns know no limits. And your creativity is the only thing that can help you go as far as you can. What comes to your mind when you think of double braids? This idea goes beyond our expectations. Voluminous braids with a unique pattern with colorful details, who could ask for more? Make sure to play around with braids!
ADVERTISEMENT ‧ CONTINUE READING BELOW
Box Braids With Undercut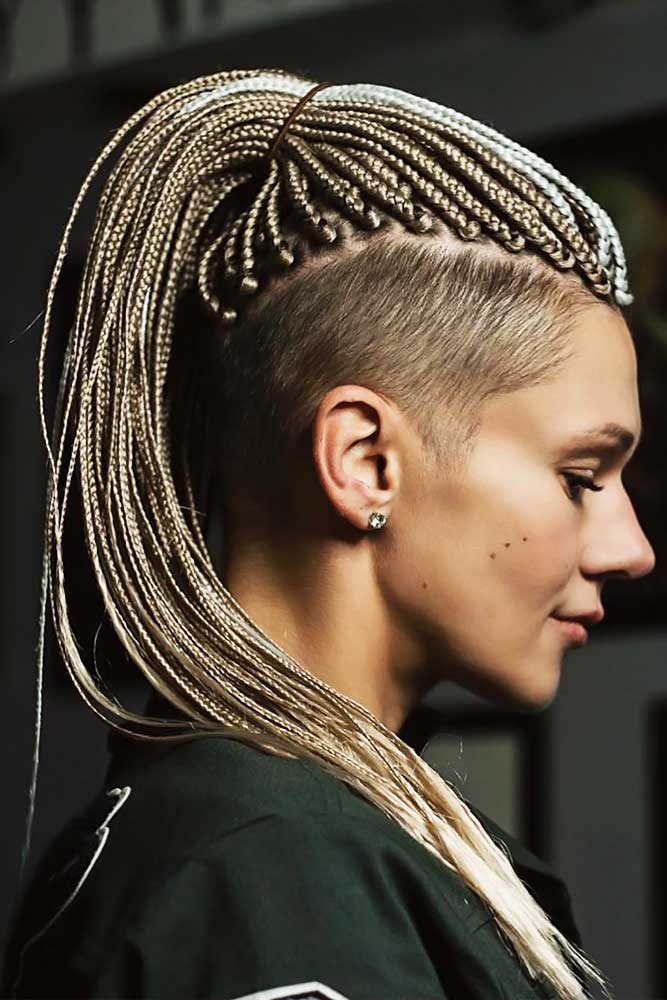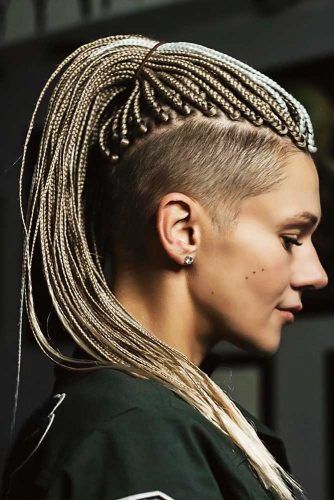 Source: braidsvolna via Instagram
Box braids have many faces: they're as feminine as they're daring. With the huge variety of braided options, there's no way you won't find an idea that will express your individuality. Those who rock bold and sassy hair looks will love the daring side of the braids. Of course, they can't do without an undercut - a crowd-pleaser that makes people speechless! Get the sides shaved and let the top show off its braided charm to get what we mean.
Box Braids Twisted Updo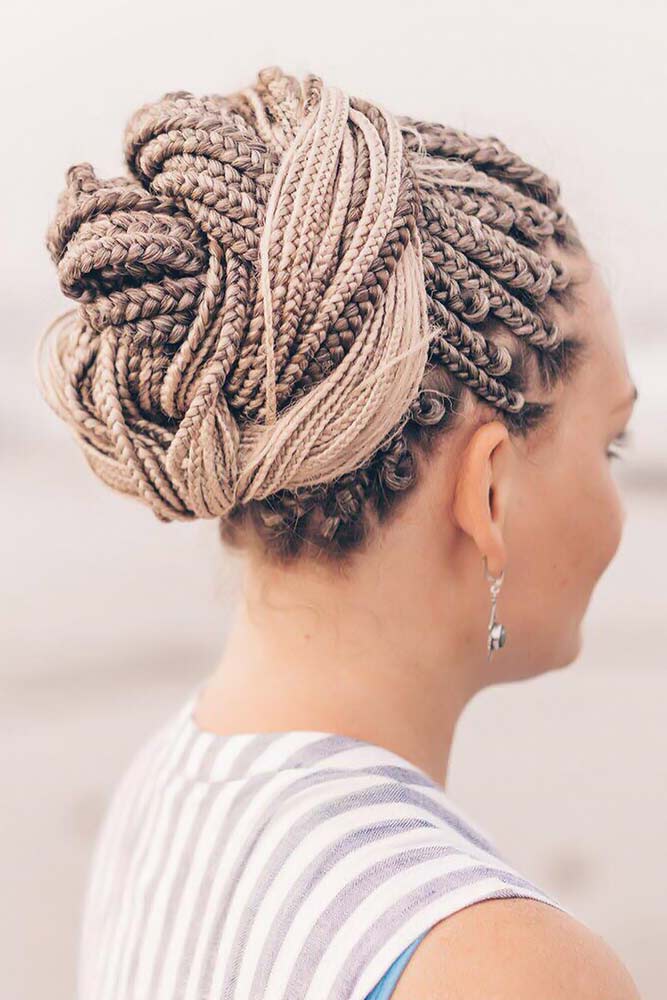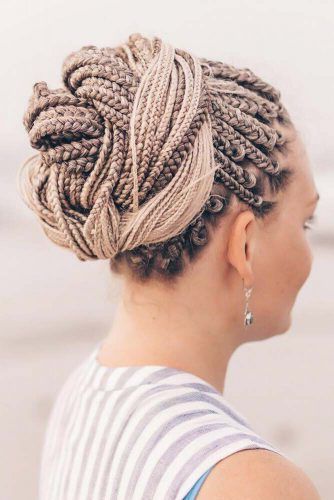 Source: braidsvolna via Instagram
Even the simplest updo will look like a masterpiece sent from above if you set your imagination into motion when braiding your hair. The key to achieving a unique look lies in switching from tight to loose braids throughout the whole braiding process. Make some braids thin and others thick, and every single updo you want to create will show up from a different perspective.
Half-Up Pony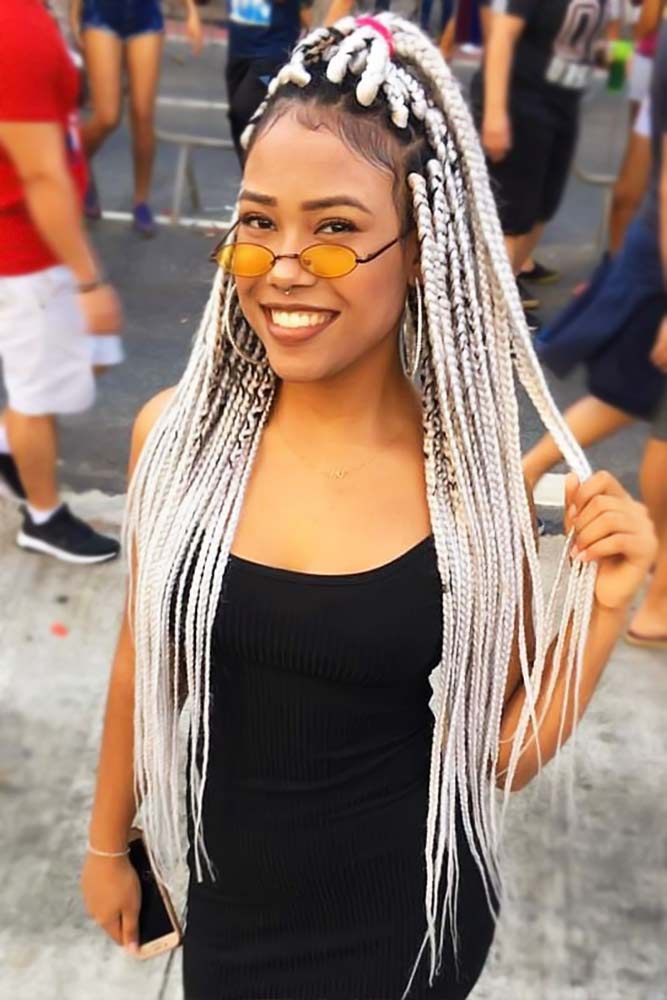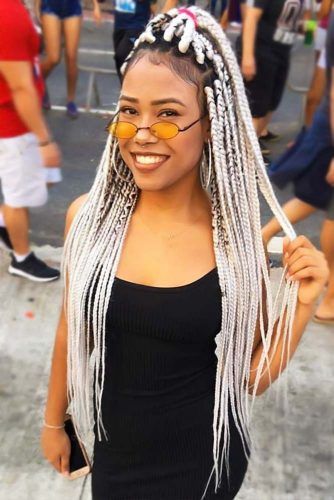 Source: its_biiah via Instagram
What can be easier than putting your hair into a ponytail? Moreover, with box twists or braids, the style is even more straightforward. At the same time, it looks so gorgeous and jaw-dropping that it's hard to take eyes off. For a bigger visual impact, you can always add more colors with the help of extensions. By the way, it's a perfect idea for festival and party looks.
ADVERTISEMENT ‧ CONTINUE READING BELOW
High Pony Box Braids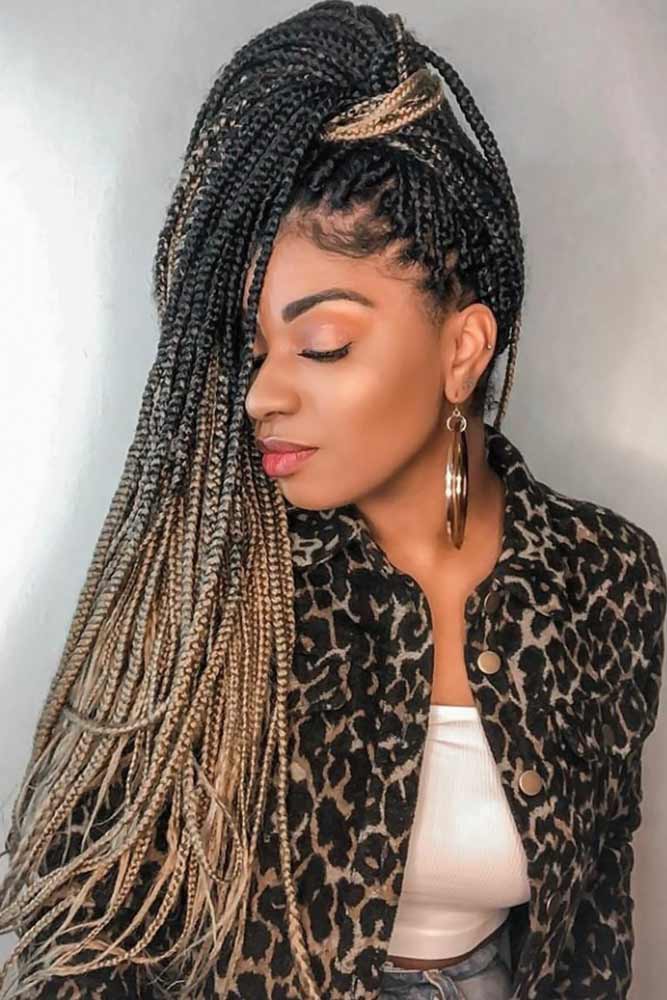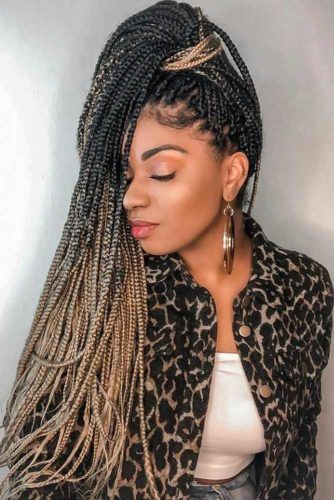 Source: boxbraidsdivulgacao via Instagram
A high ponytail that keeps all your textured, defined, and attention-grabbing braids in sight: too good to be true, huh? On straight hair, high ponytails require hours of brushing and tons of products to achieve a silky finish for the top and a chic look for the pony. All you need for your braided high pony is just to put all your hair up and tie it with a hairband. Voila! Some colors won't hurt as well!
These are just some of our favorite box braid styles, but why stop here... there are so many looks you can accomplish with braids. The best part about braids is that there really are no rules. You can get as creative as you want. Add accessories, color, highlights, twists, and turns... go wild! Embrace your inner goddess and rock those braids, girl!
ADVERTISEMENT ‧ CONTINUE READING BELOW