They are an excellent way to extend your natural length and sport a variety of hairstyles that look complicated and sophisticated. However intricate they may appear, box braids are actually quite simple. The only downside of a box braid is that it does not work well with weak and brittle hair. If you do not have this issue, you can certainly pull off a variety of looks with boxed braids.
You can either add extensions or use your natural hair to flaunt your stylish box braids. In this article, we will share our favorite stylish box braid styles that you can easily do yourself.
*We may earn money from affiliate links on this page. Please check out our disclosure policy for more details.
What Are Box Braids?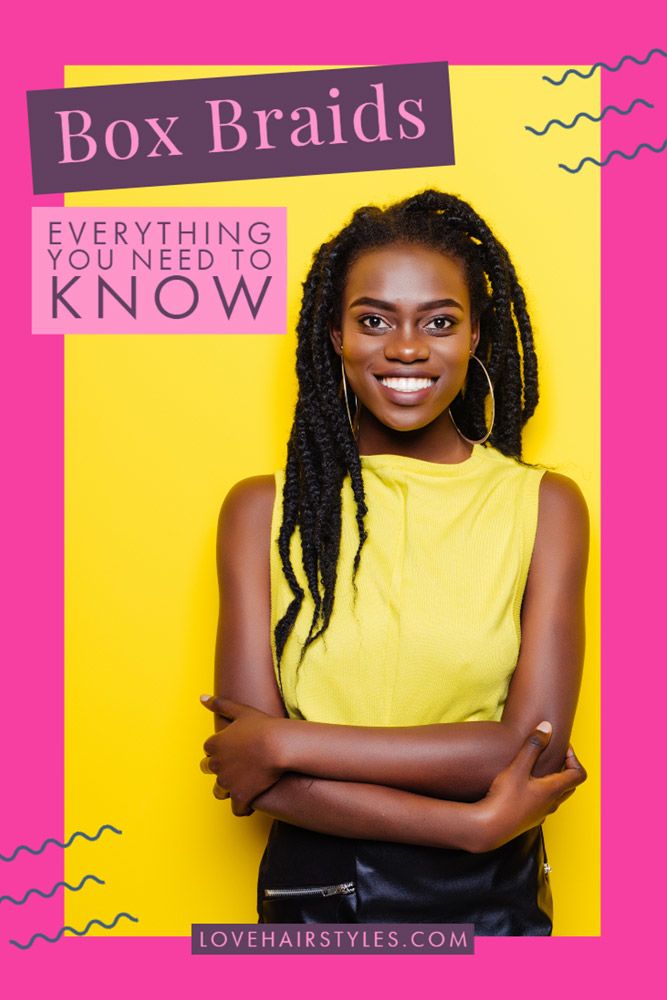 Some of you may be wondering, 'why are they called box braids,' in the first place? Box braids are an iconic hairstyle of African descent that is typically created using synthetic hair to add thickness, length, and protection to natural black hair. To create box braids, the plaits are divided into square-shaped sections that attach to existing hair to then be styled in many different ways. Box braid hairstyles last up to 8 weeks in the hair and are known for their easy maintenance and creative expression for the wearer. Box braids also promote the growth of natural hair.
What Are Knotless Box Braids?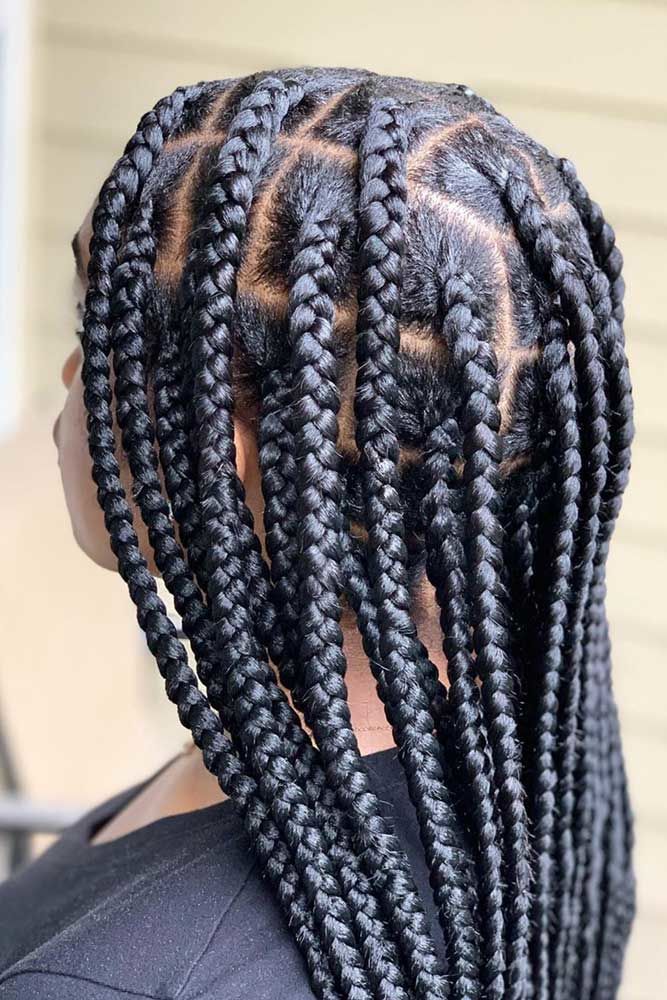 Credit photo: instagram.com/beautybyzi_
What is the difference between knotless box braids and the typically more common knotted variety? As more women are coming to embrace their natural hair, knotless box braids are growing in trend as a beautiful expression of style. Knotless braids lend a more natural finish to hair because they lay flat on the scalp and are typically done in smaller sections to keep the braid sturdy. While other types of braids can cause irritation, knotless box braids produce less oil and product build-up at the root- and are painless. Overall, knotless braids create a more seamless effect on the hair.
Do Box Braids Damage Your Hair?
Box braid styles are actually protective by nature. When installed correctly, the braids promote the growth of your natural hair and don't require any thermal heat for styling. That being said, you'll want to prime hair by washing, conditioning, and blow-drying hair before heading to the salon to ensure the healthiest, most beautiful application. Each box braid will require proper care and upkeep for the style to last. Small box braids and ultra-long braids typically require more maintenance because you will have more packs on your head.
How Do You Take Care Of Box Braids?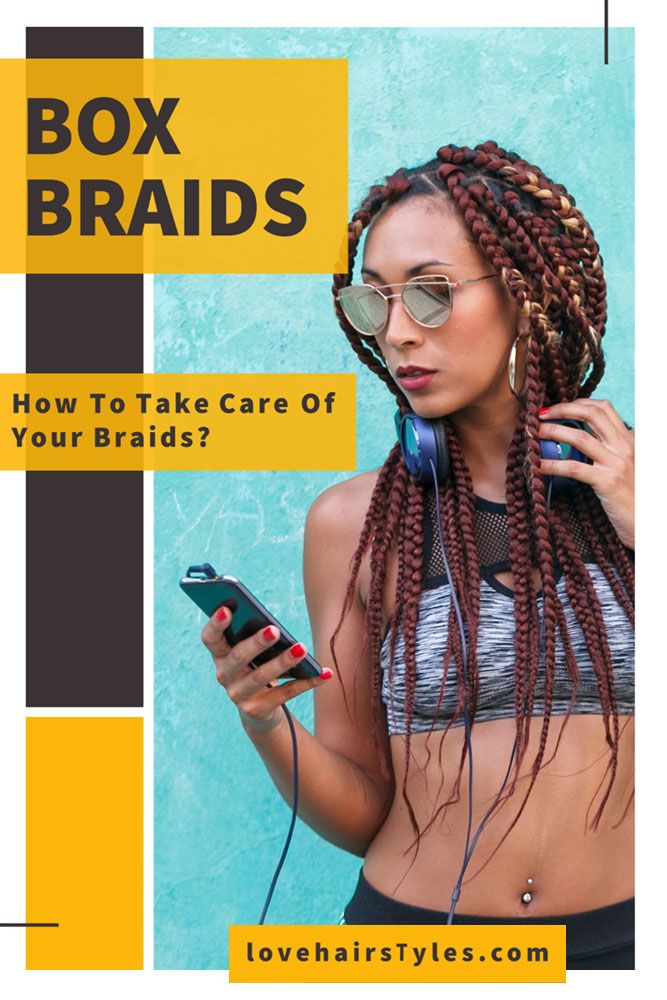 Caring for your box braids is just as important as creating them. Some expert opinions conflict, but many say shampooing during your 6-8 wearing period is only necessary when hair is exposed to salt or chlorine. If you're wondering how to wash box braids, it's wise to rinse your braids and let them dry every week, either with water or apple cider vinegar. A co-wash is great as a shampoo alternative because it's more hydrating than the typical variety. Quality oils can keep braids hydrated and beautiful.
What Else You Need To Know Before Getting Box Braids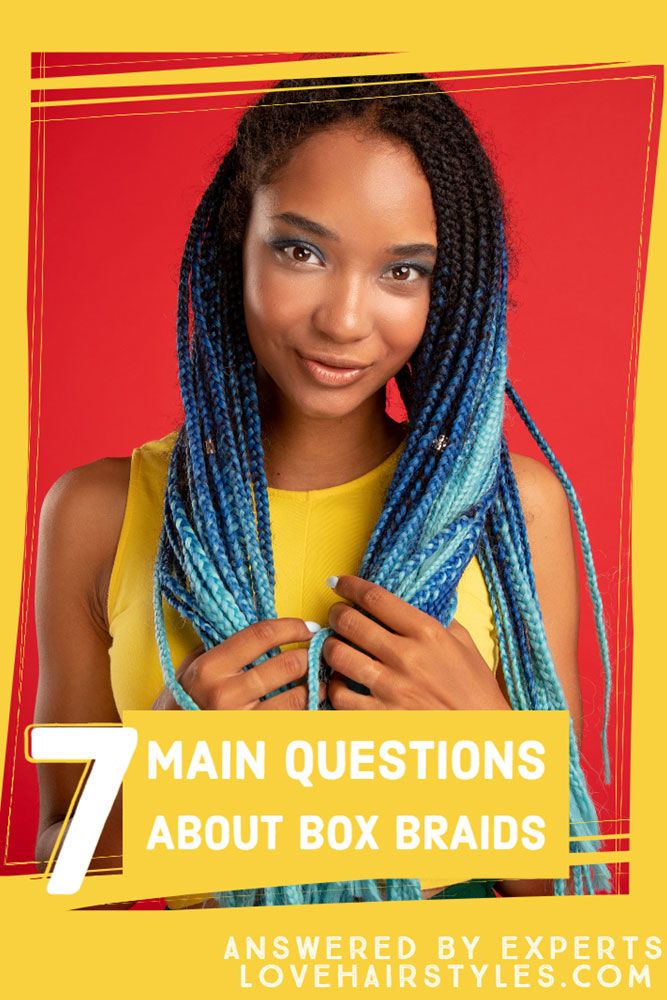 Box braids are some of the most creative and versatile hairstyles that exist today. The style is actually rooted in a beautiful history of community that serves to protect the hair and inspire creativity. Box braids are still as trendy as ever today. If you're looking to create your own version of this stunning, inventive style, then you've come to the right place! Let this be your go-to guide for all things box braids; where you can learn everything you need to know about care, styling, inspiration, and more.
How Long Do You Keep In Box Braids?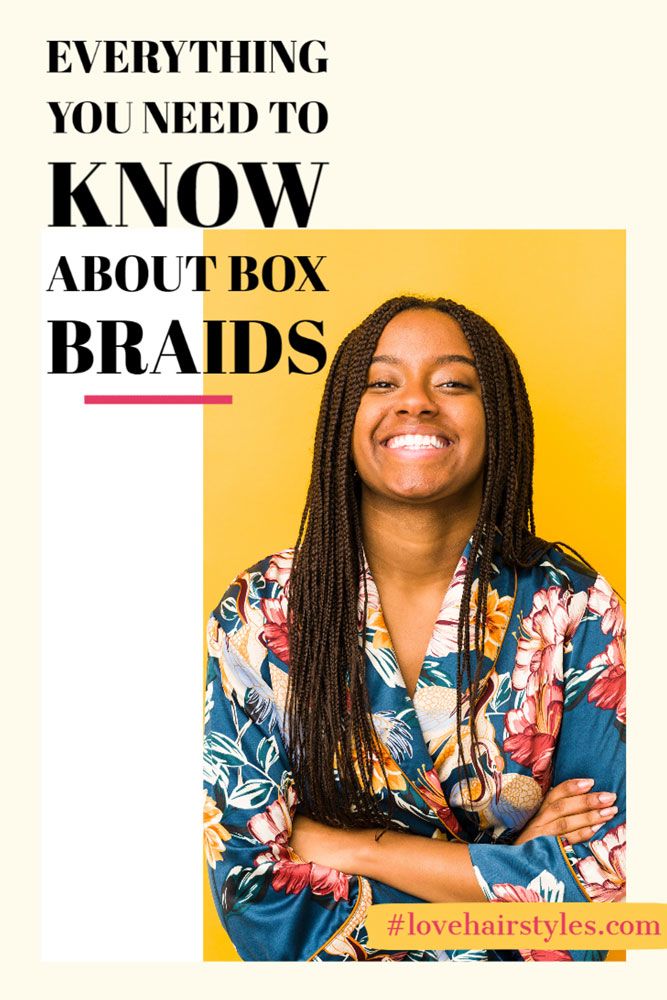 Because they take several hours to apply, it may be tempting to stretch the life of your box braids hairstyles. Keeping braids in for 4 months, however, is too long. Box braids will last anywhere from 4 to 6 weeks for maintaining the ultimate health and quality of your natural hair. 8 weeks should be the maximum amount of time for each style as hair. In box braids your natural hair will grow and without changing out the style matting and tangling can occur. This will cause damage to the existing hair. To keep things in tiptop shape, change out braids at most, every two months.
How Much Do Box Braids Cost?
A few different factors can determine the cost of your box braids. It's important to consider the size, style and length of the braids you desire. Typically, you can expect to spend anywhere form $100-$300 on your box braids styling session. However, premium salons typically come with a heftier price tag. Overall, considering how much effort goes into styling, this amount feels pretty fair.
What Hair Is Best For Box Braids?
When considering the best hair for braiding, don't stress. Experts agree that both human hair and synthetic varieties can do the trick. Kanekalon hair is an amazing synthetic option that is silky soft, easy to braid, and odor-free. Plus, this hair can be re-used, which helps cut down on braiding costs. You also may want to consider slightly looser braids if you're looking to create less tension on the scalp. At the end of the day, if you're in doubt, consult your stylist for the best option for you.
Box Braids Judged By Their Size
Just like all the other braids, box braids differ in size. The size of your box braids can tell a lot about your taste and personality. Moreover, various sizes of box braids come spiced with peculiar styling opportunities.
Micro Box Braids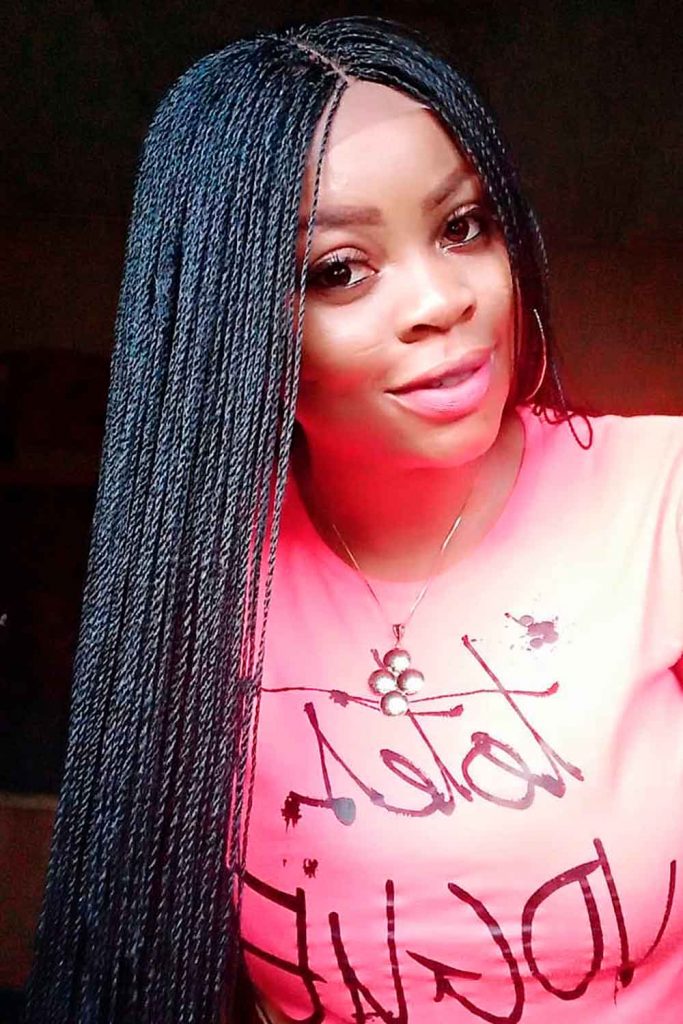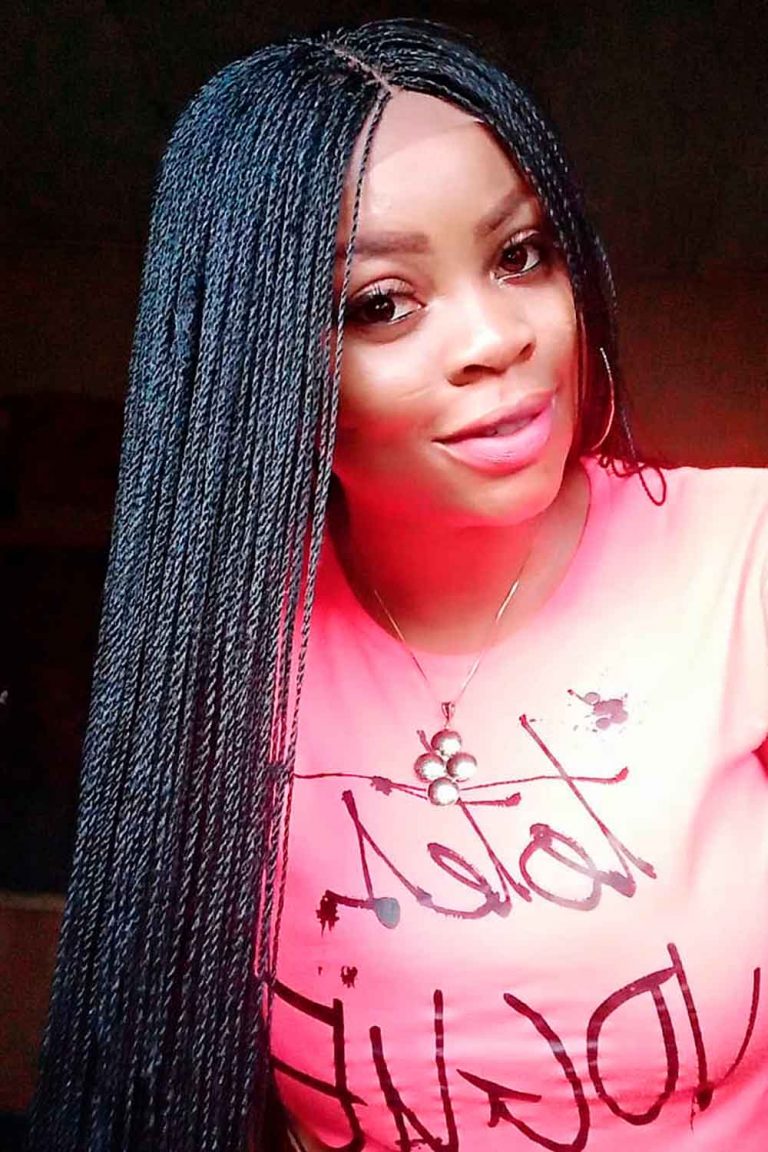 Credit photo: instagram.com/arbie_beaut
If you feel patient enough to spend hours in the hairdresser's chair, micro braids are on the table. One of the most distinctive features of the style is that those tiny braids resemble thick strands of hair. If you don't know that the hair is braided, you may not even notice it from afar. What is more, micro braids can be styled in the widest variety of styles ranging from elegant buns to fancy braided 'dos.
Small Box Braids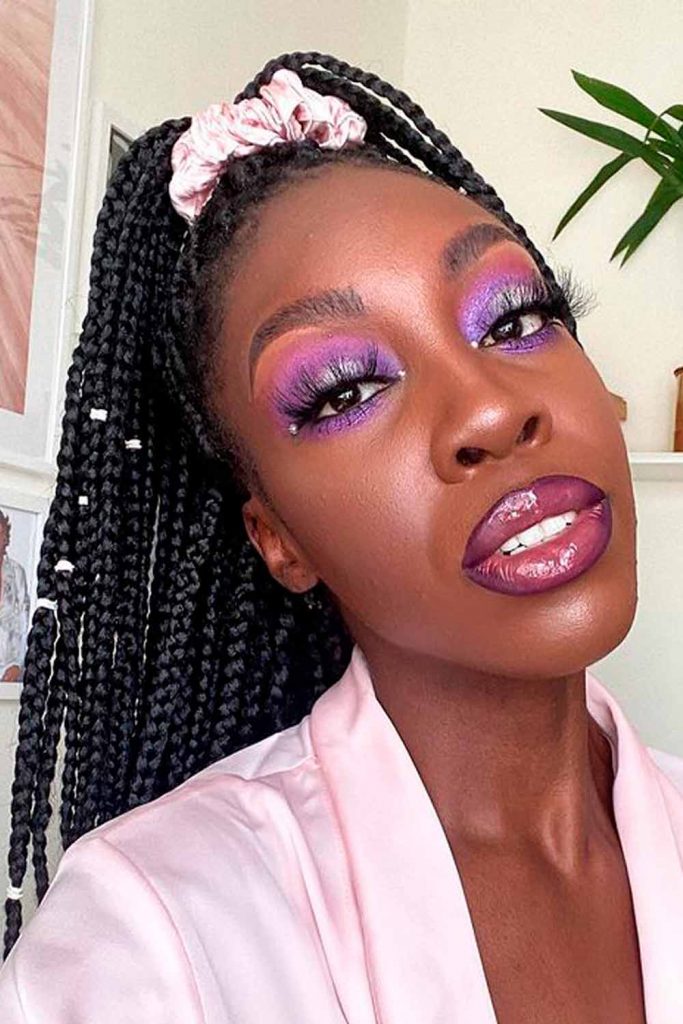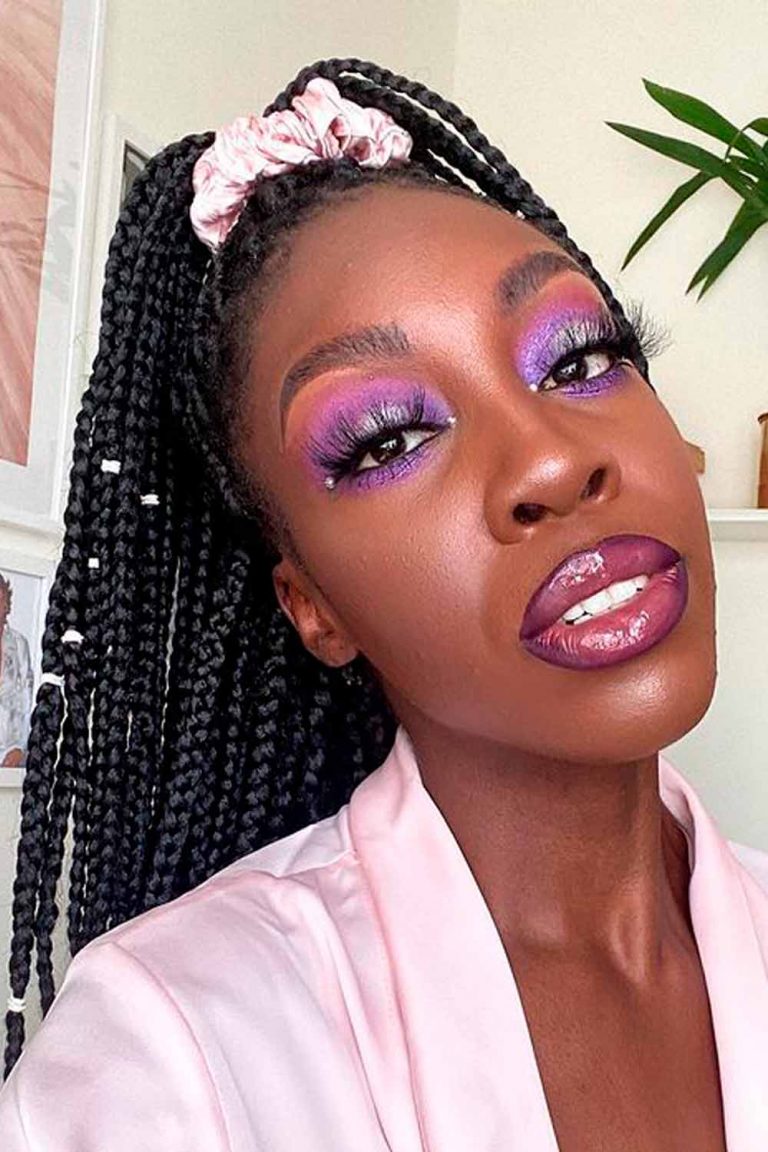 Credit photo: instagram.com/sincerelyoghosa
Small box braids are as protective and neat as micro braids, but they take less time to succeed with. The style is as elegant and neat looking. Besides, you can play around with different accessories to project your individuality through the hairdo.
Medium Box Braids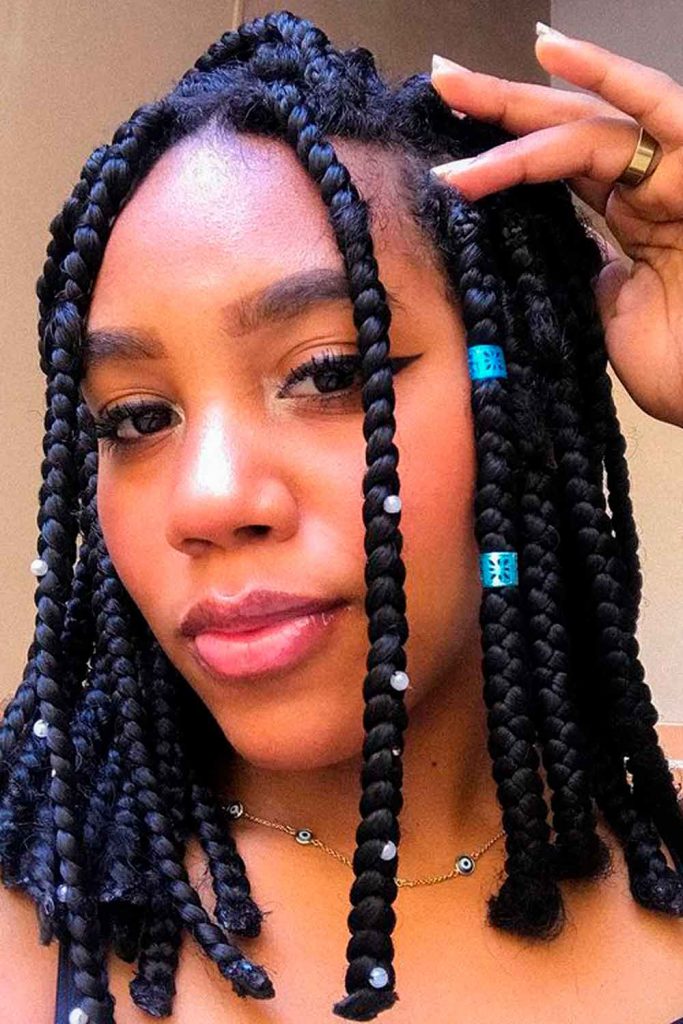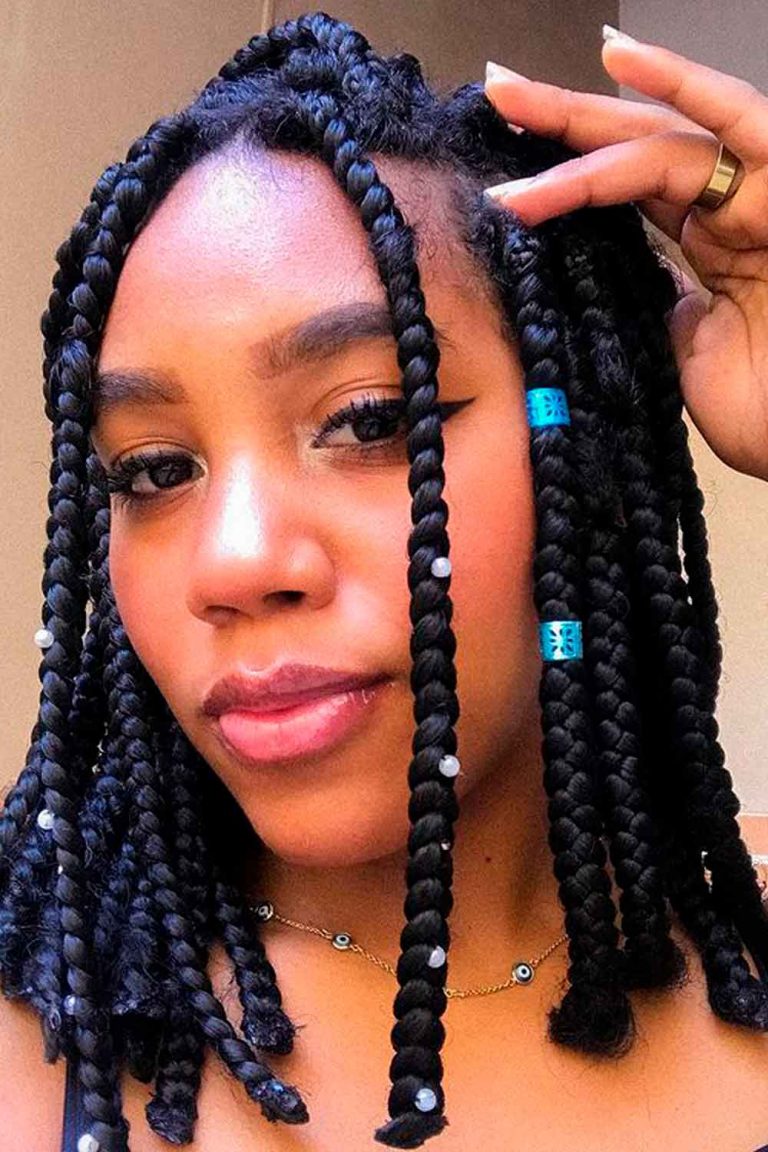 Credit photo: instagram.com/elainne_castro
Regarding the box braid popularity scale, medium braids are certainly at the top. Ask Zoe Kravitz or Lupita Nyong'o if you don't trust us. The mid-size braids carry practical advantages such as simplicity of maintenance and benefits such as protectiveness, ease of styling, and a plethora of variants to play around with.
Large Box Braids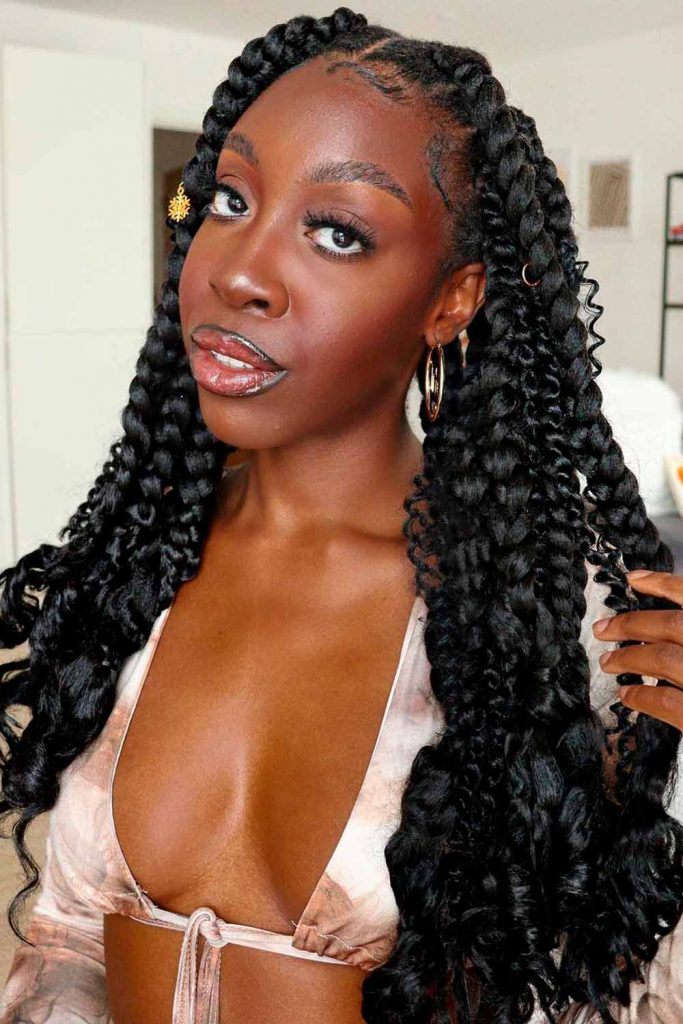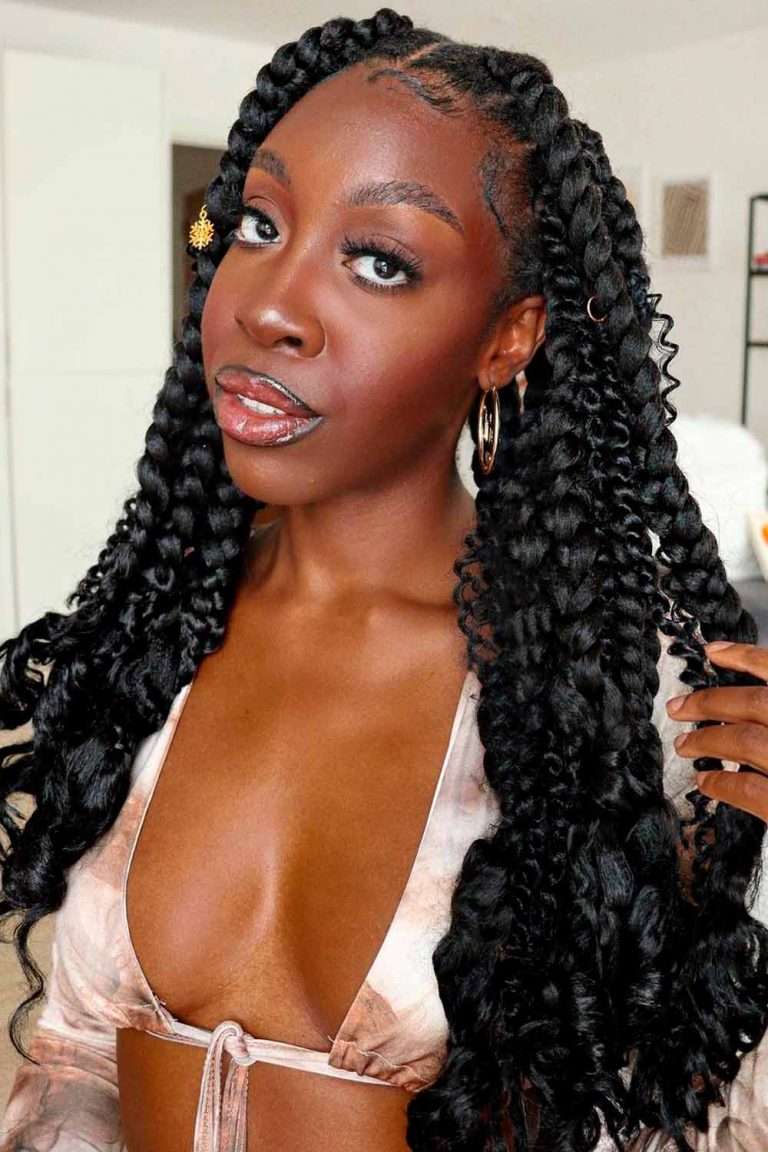 Credit photo: instagram.com/sincerelyoghosa
Larger box braids come with a set of unique characteristics as well. While they are easier to notice, the braids place less tension on your hairline, which is an excellent benefit if you have weak and brittle hair. It is true that larger box braids may be a little less versatile style-wise, but they look impressively stunning worn loose, so there is little you would lose following that scale.
Jumbo Box Braids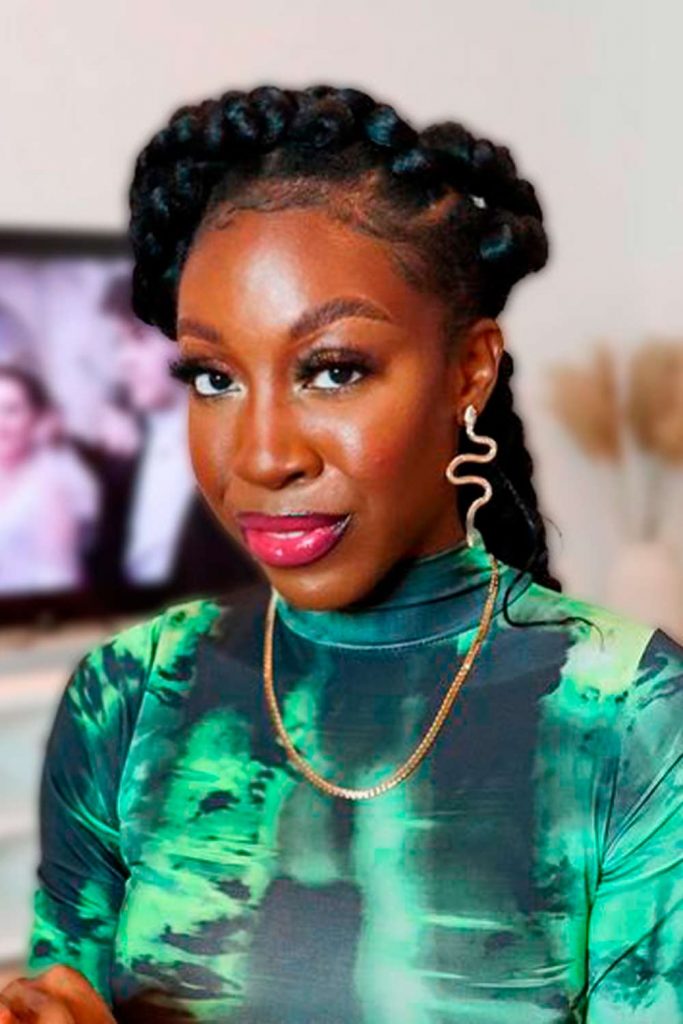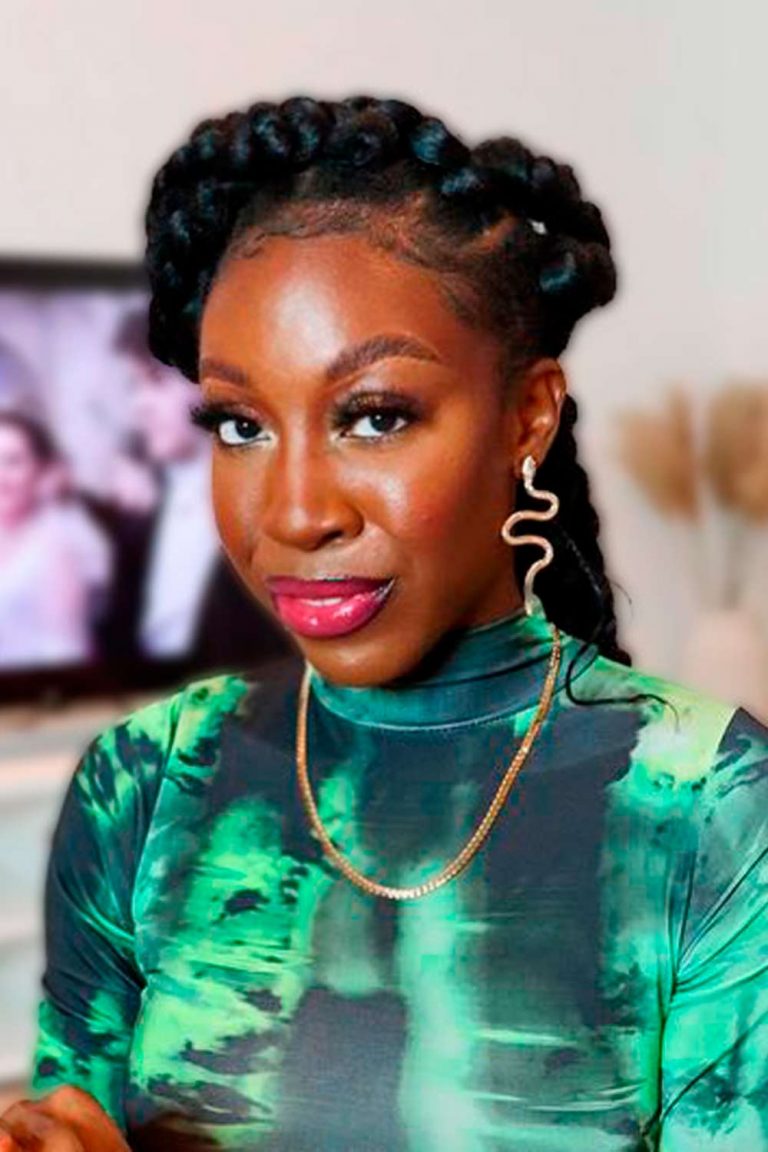 Credit photo: instagram.com/sincerelyoghosa
Jumbo box braids are known for their ease of maintenance since there are fewer braids to attend to. On top of that, the style is known to last as many as 3 months when looked after properly – remember proper hydration is the key. With jumbo box braids, you require a few additional accessories to adorn your hair since the style itself is purely attention-grabbing.
Ideas To Style Your Box Braids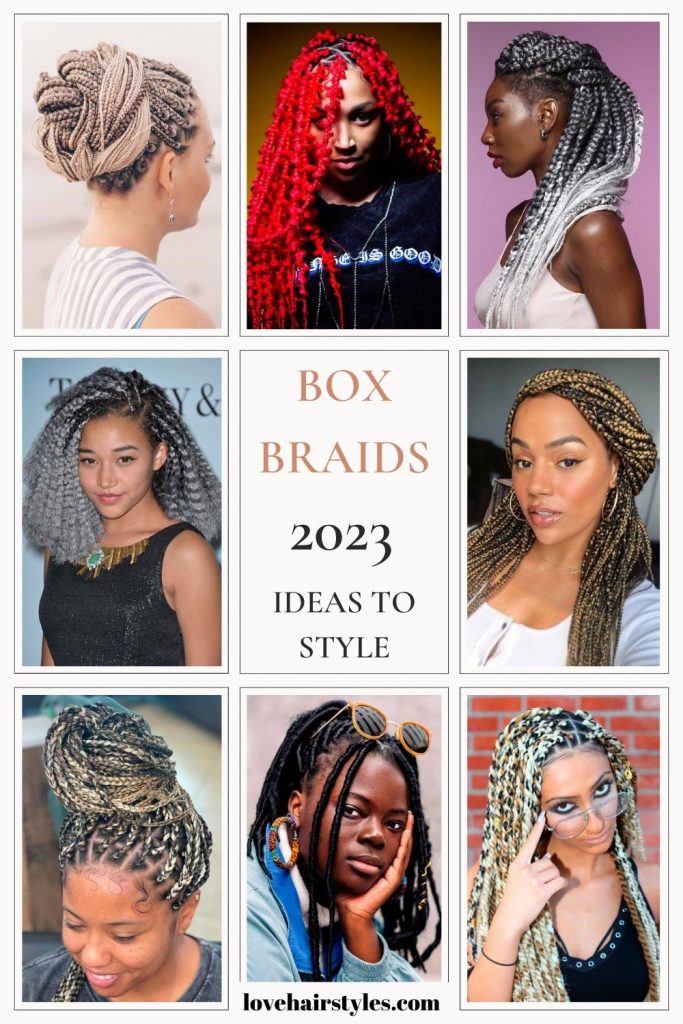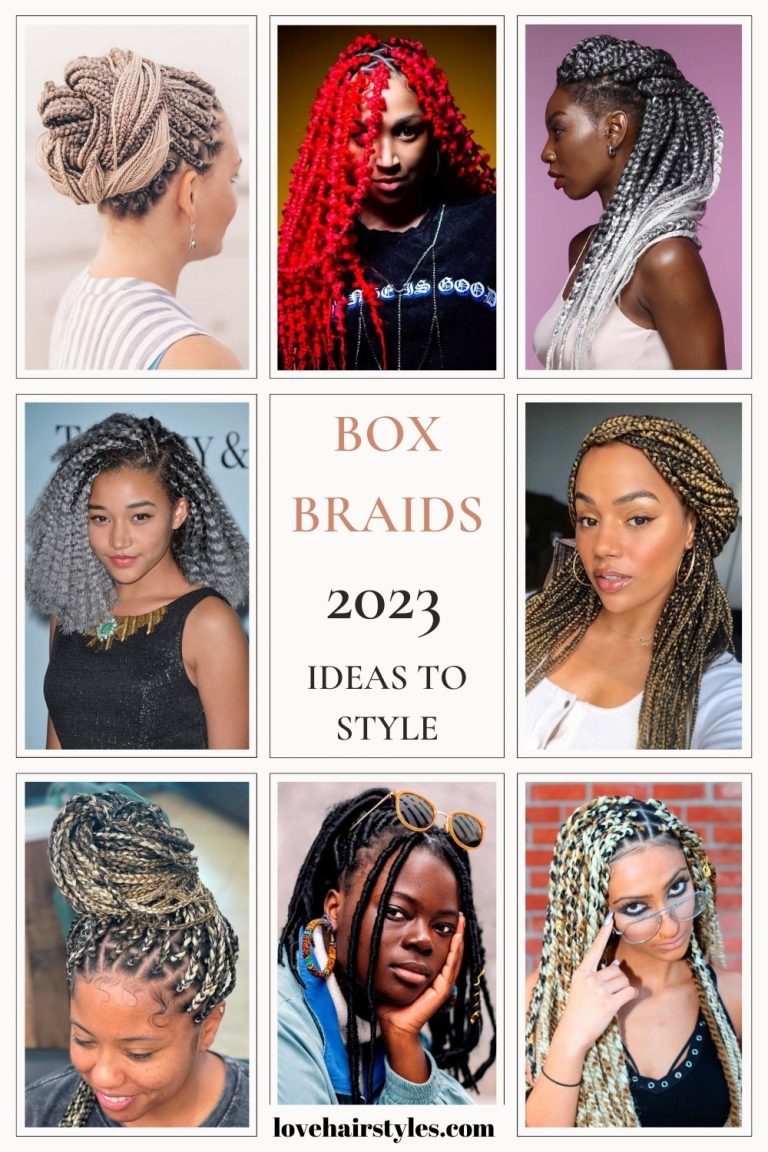 Now that we know about the cost, styling, and care surrounding box braids, it's time for some styling inspiration to help you find your ultimate box braids hairstyle. Let's take a look at this fantastic box braids gallery so you can be sure to look and feel great with the least amount of maintenance required.
Bohemian Box Style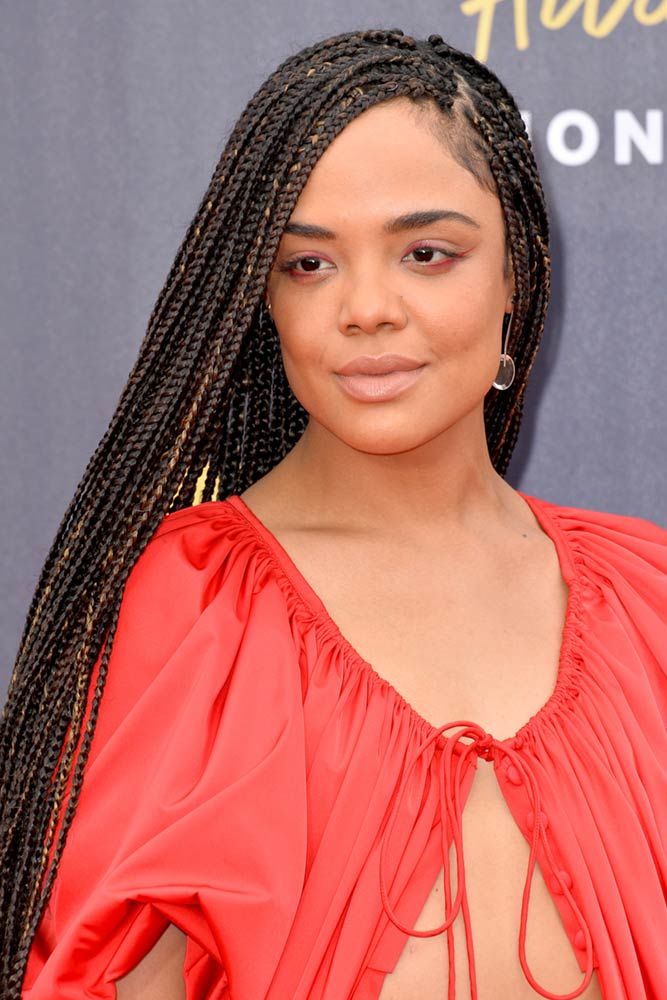 Credit photo: shutterstock.com/featureflash
Bohemian box braids give a romantic, natural feel to your hairstyle. These braids are long and worn straight down the back. The bohemian look is often achieved through small box braids. We love this style because you can build a multitude of updos from here.
Box Braids Into Faux Hawk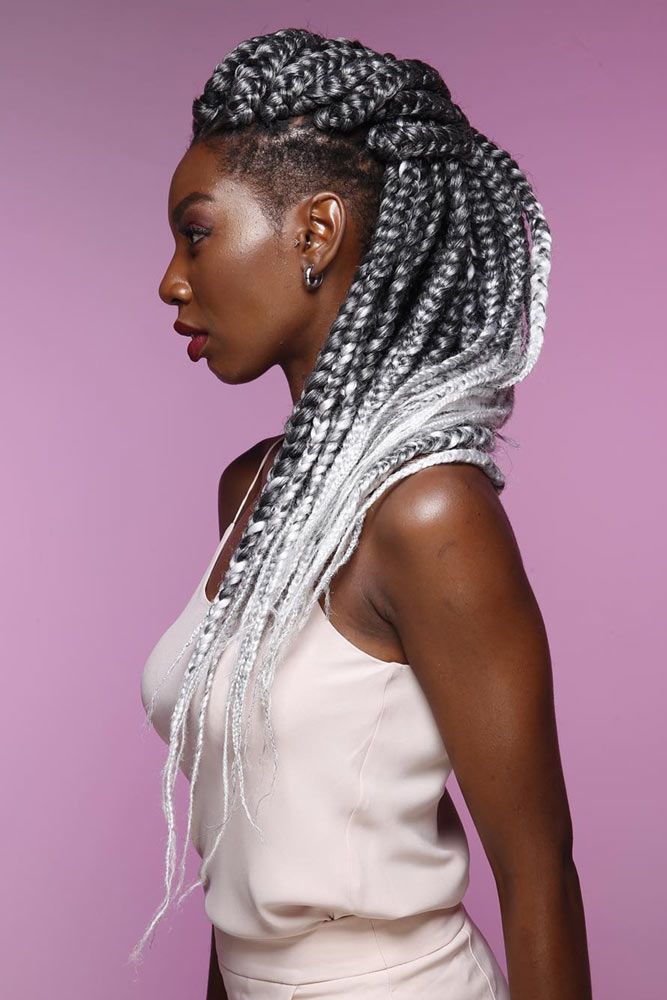 Credit photo: instagram.com/karinakarinazevedo
If you're seeking to amplify the boldness of box braid styles, then look no further than this gorgeous faux hawk. Twisting braids and securing at top and back of the head for a faux hawk vibe to achieve this look, or shave the sides of the head for a more permanent approach. It's easiest to create a faux hawk with large box braids, though smaller box braids will do.
Medium Box Braids With Crimped Ends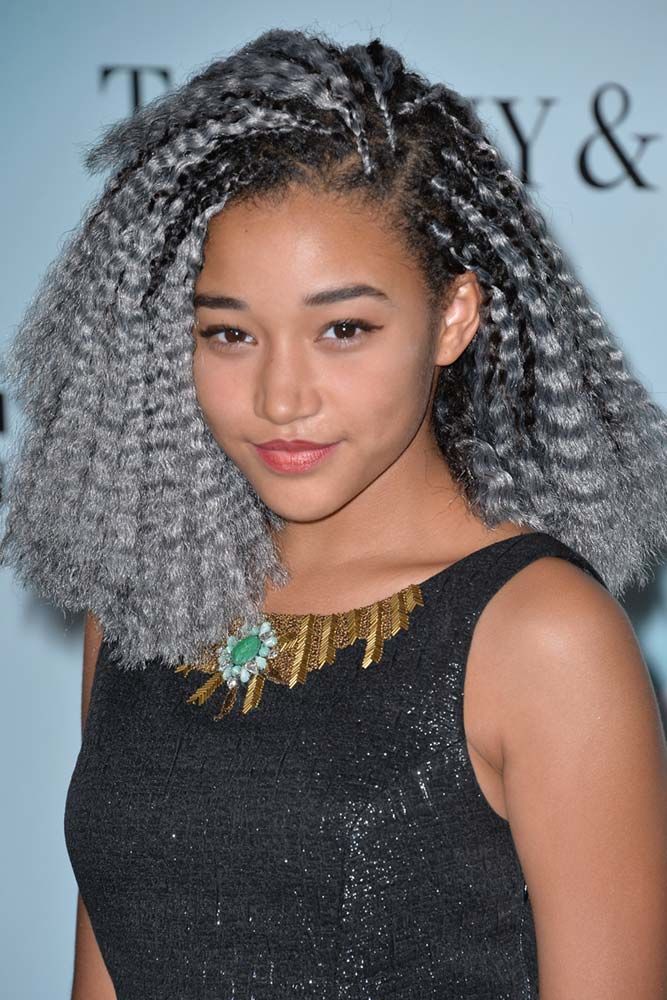 Credit photo: shutterstock.com/featureflash
These medium box braids with crimped ends give off a natural hair air. As you can see, braids look just as great tightly twisted as they do brush out and worn loose. This style is awesome for colorful braids in an ombre style, like this gray look. If you have longer hair you can wear crimped ends if you're feeling bold!
Half Updo With Gentle Twisted Part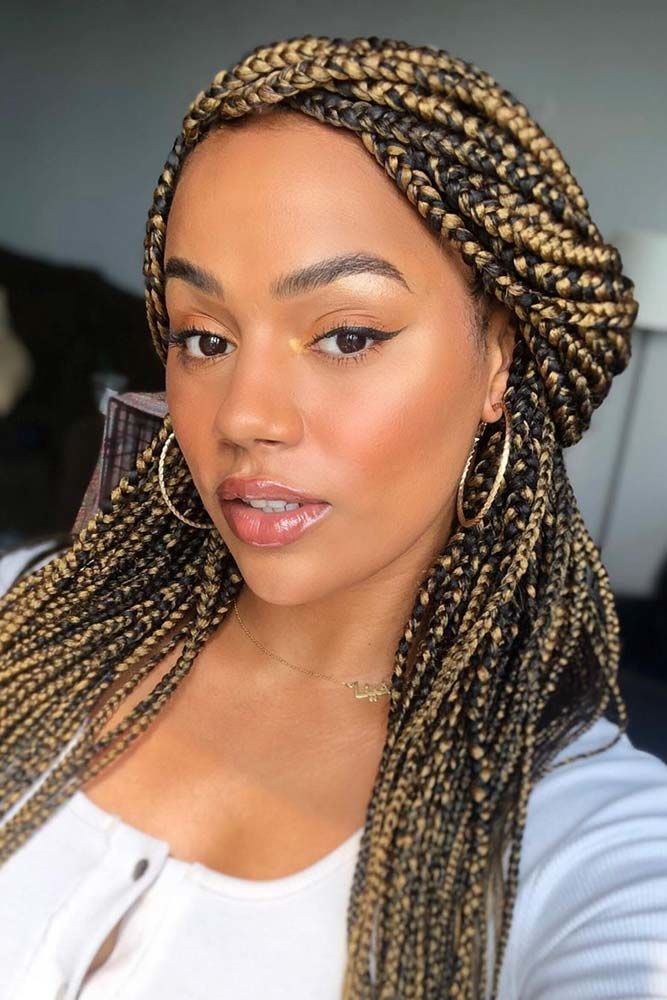 Credit photo: instagram.com/thelondoncurls
Incorporate two trends in one with ombre box braids that are swept into a feminine half updo. The twisted part lends the ethereal vibe to this look, but be careful that you're gentle when twisting each braid to avoid any tension on the scalp. Braids can be worn in any ombre or tonal color you desire.
Triangle Box Braids Look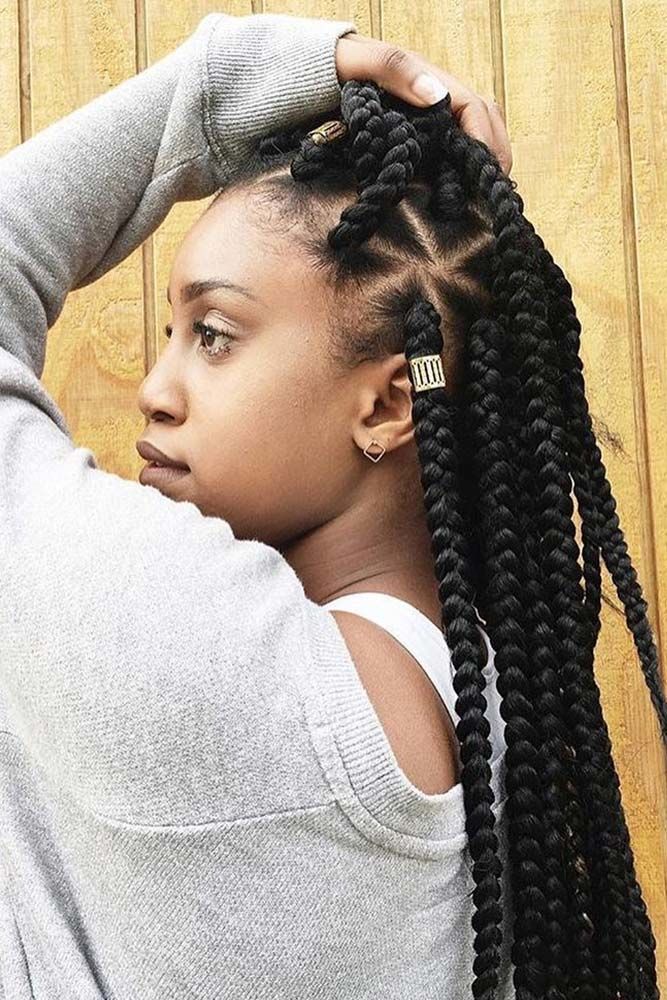 Credit photo: instagram.com/milankylahjo
If you're the babe who likes to do things a little differently than most, try this triangle box braids look the next time you head to the salon. Box braids are typically created with a square shape on the scalp, but who says you have to play by the rules? Because a star-shaped pattern emerges on the scalp, this look is more sophisticated with long box braids.
Sophisticated Blonde Box Braids Updo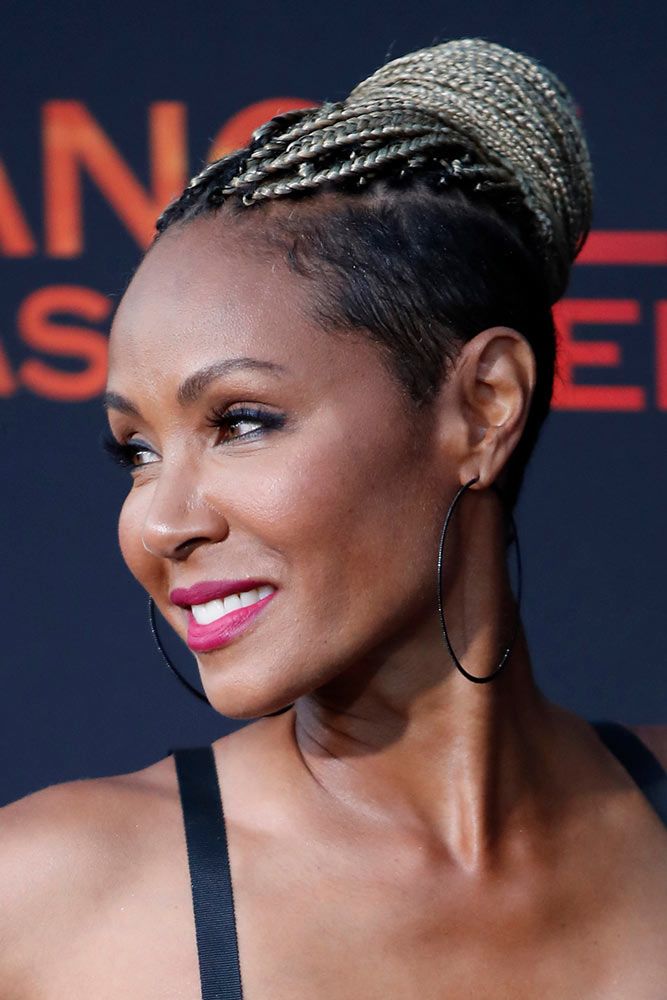 Credit photo: shutterstock.com/Kathy Hutchins
Updos are awesome at extending the life of your box braid hairstyle. These styles are perfect for playing with color as well. Blonde box braids are super contrasted against black hair, so it's worth going for this dynamic style for something different.
Styled Black Big Box Braided Look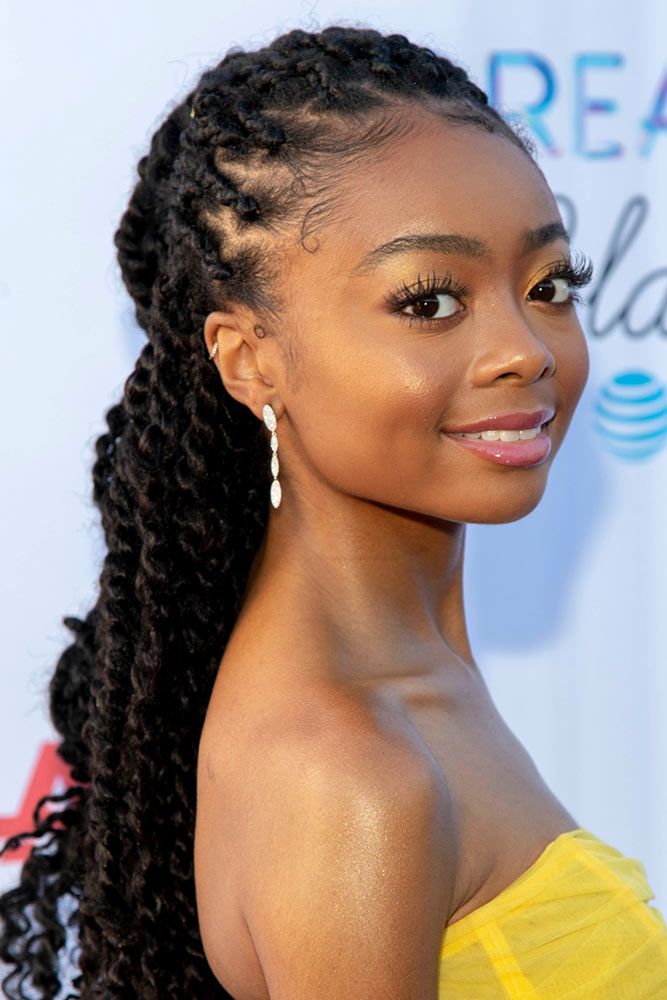 Credit photo: shutterstock.com/Eugene Powers
Just as smaller box braids are great for styling, so are big box braids. Looks like this one is bold, powerful, and beautiful! Big box braids are more cumbersome when it comes to styling, but they look incredible worn down or pulled into a half-up style like this one.
Extra Long Colorful Box Braids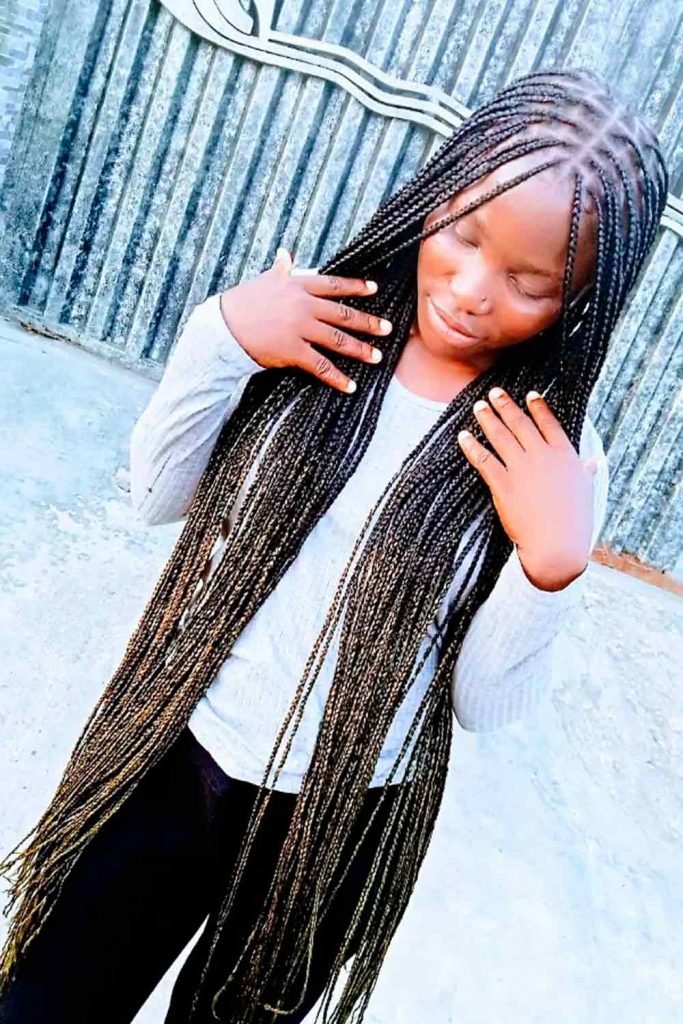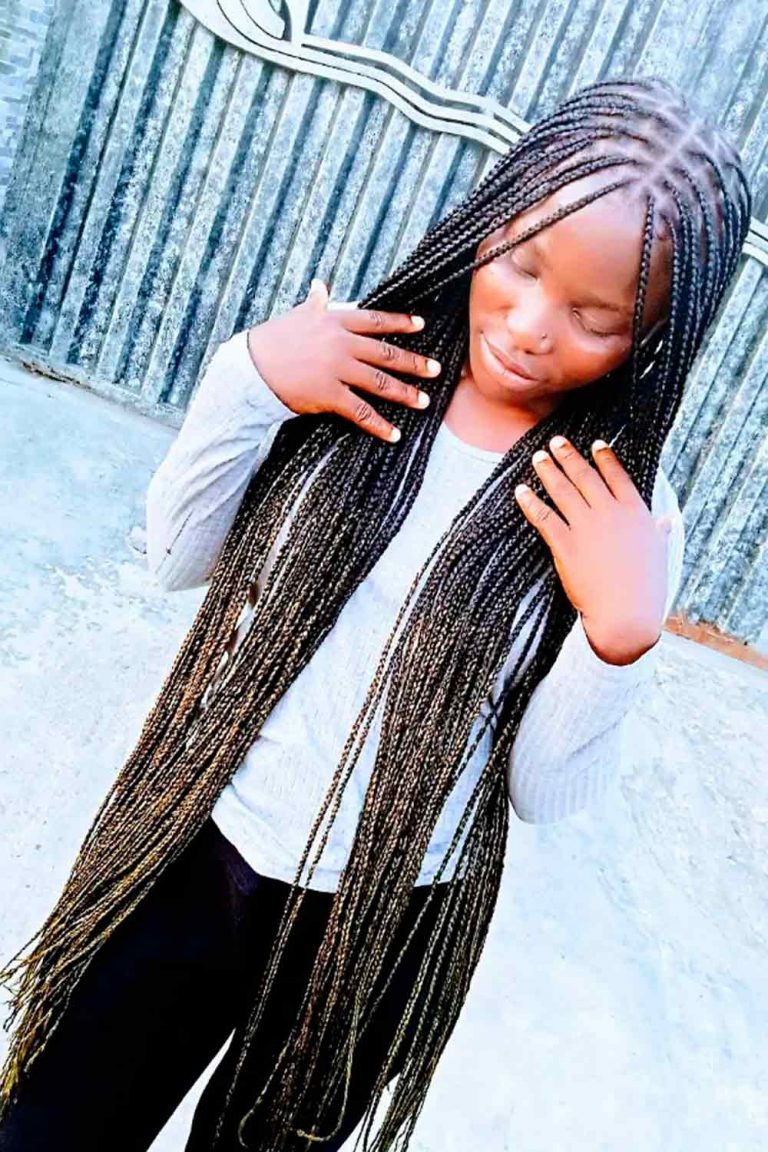 Credit photo: instagram.com/arbie_beaut
Do you want your box braids to embody the very latest trends? Jumbo box braids are awesome for styling and showing off a modern edge. These braids are ultra long, so consider plaiting them slightly looser to release any tension that might build on the scalp.
Short Box Braids Updo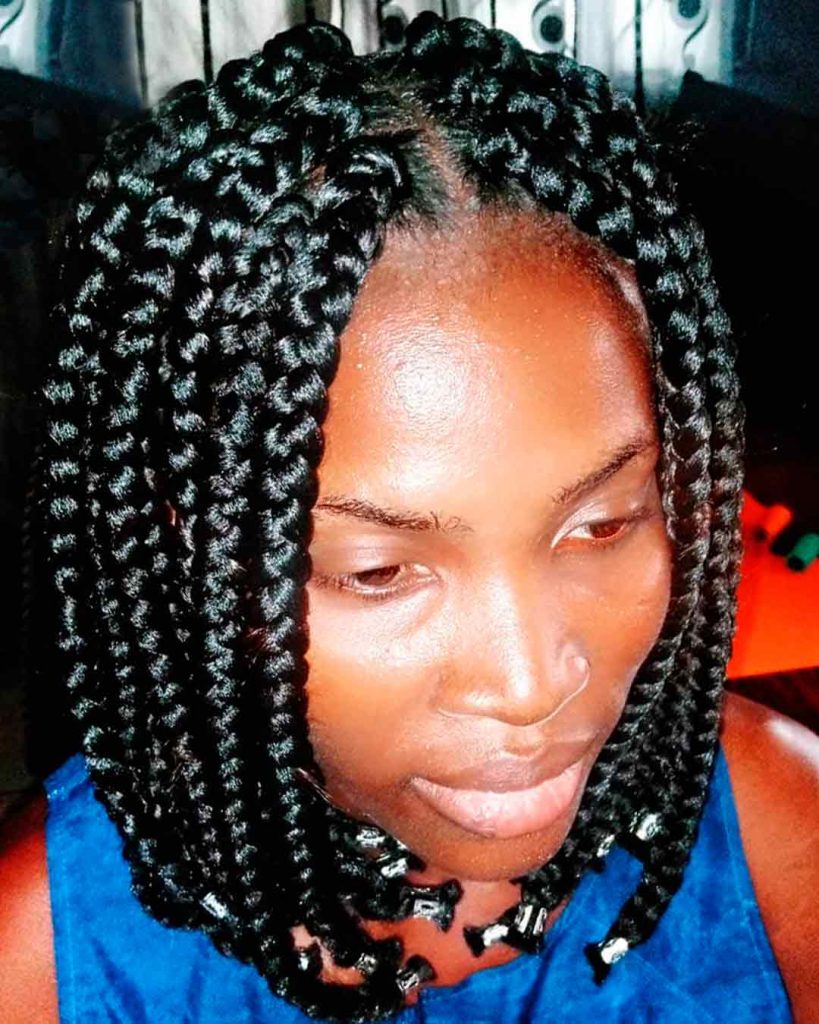 Credit photo: instagram.com/arbie_beaut
Short box braids are just as beautiful as long ones. In fact, they guarantee less stress on your scalp due to their shorter length – and lighter weight. Of course you can play with color, accessories, and style with longer hair, but on shorter hair, these details bring an effortless playfulness. Try a half-up hairstyle with a large topknot and beautiful colorful threads and hair jewels.
Medium Box Braids Hairdo With Accessories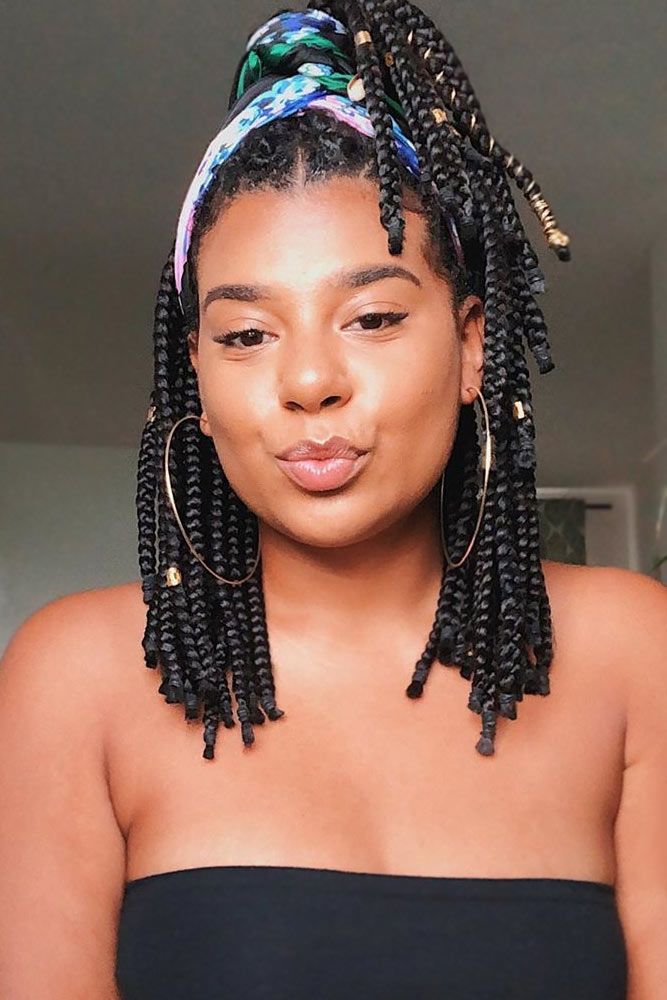 Credit photo: instagram.com/_saleemamaria
Medium length box braids are not only flirty and cute, but also easy to maintain. A shorter length like this one weighs less on the scalp and can be easier to style. These smaller box braids are so easy to throw up into half-up hairstyle. Accentuate the look with an adorable headscarf for work or play.
Short Box Braids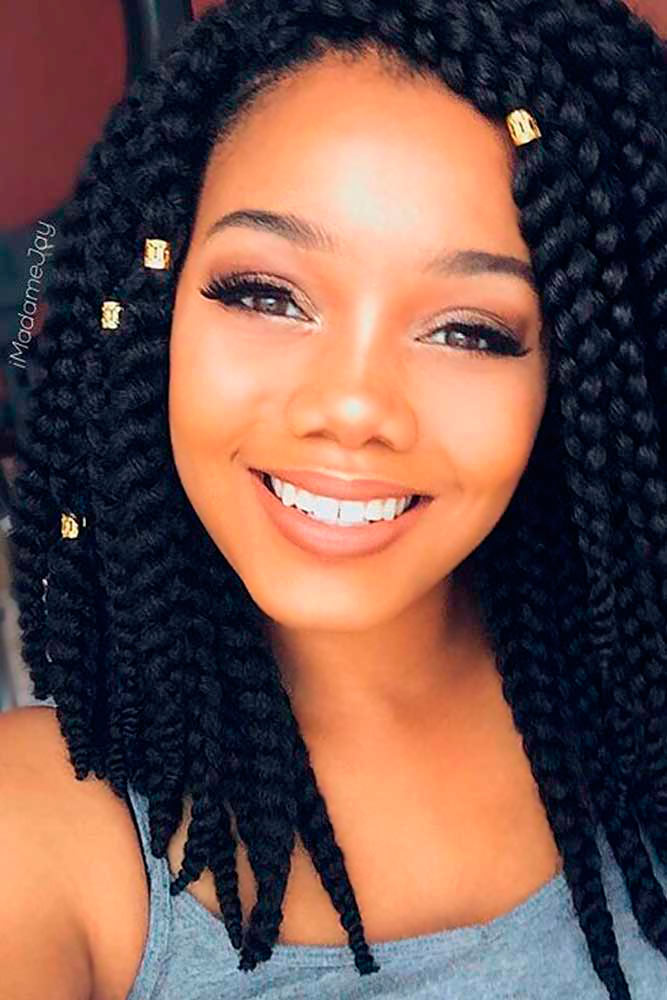 Credit photo: instagram.com/imadamejay
Believe it or not, you can still rock boxed braids with short hair. If you want a look that's really hip, try jumbo braids in a straight cut all one length hair bob. This look is city chic and fabulous.
Individual Braids For Any Age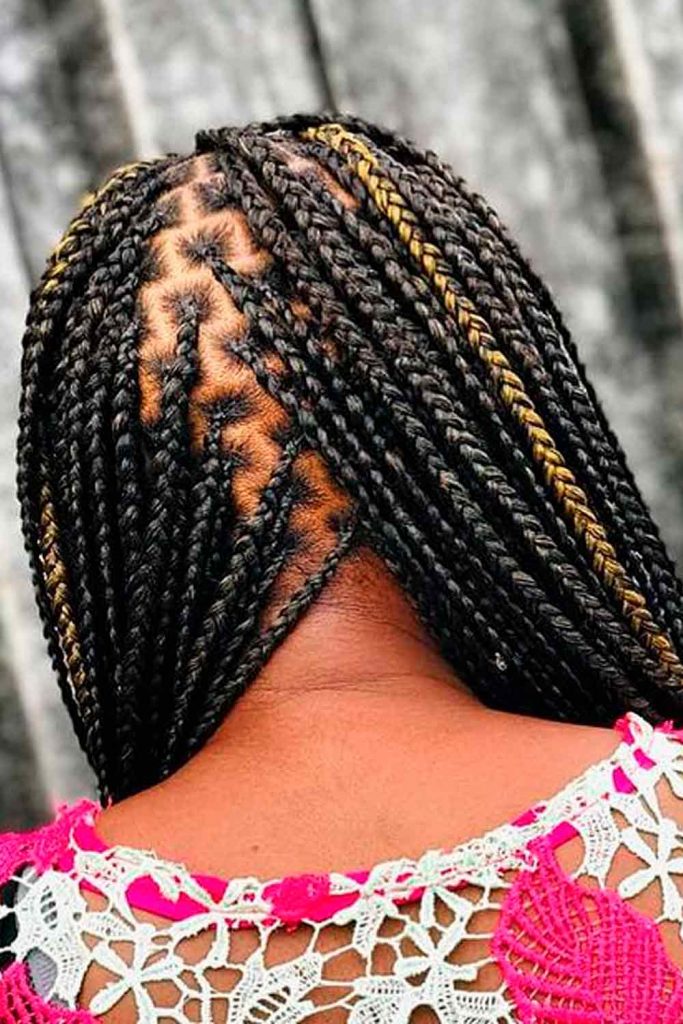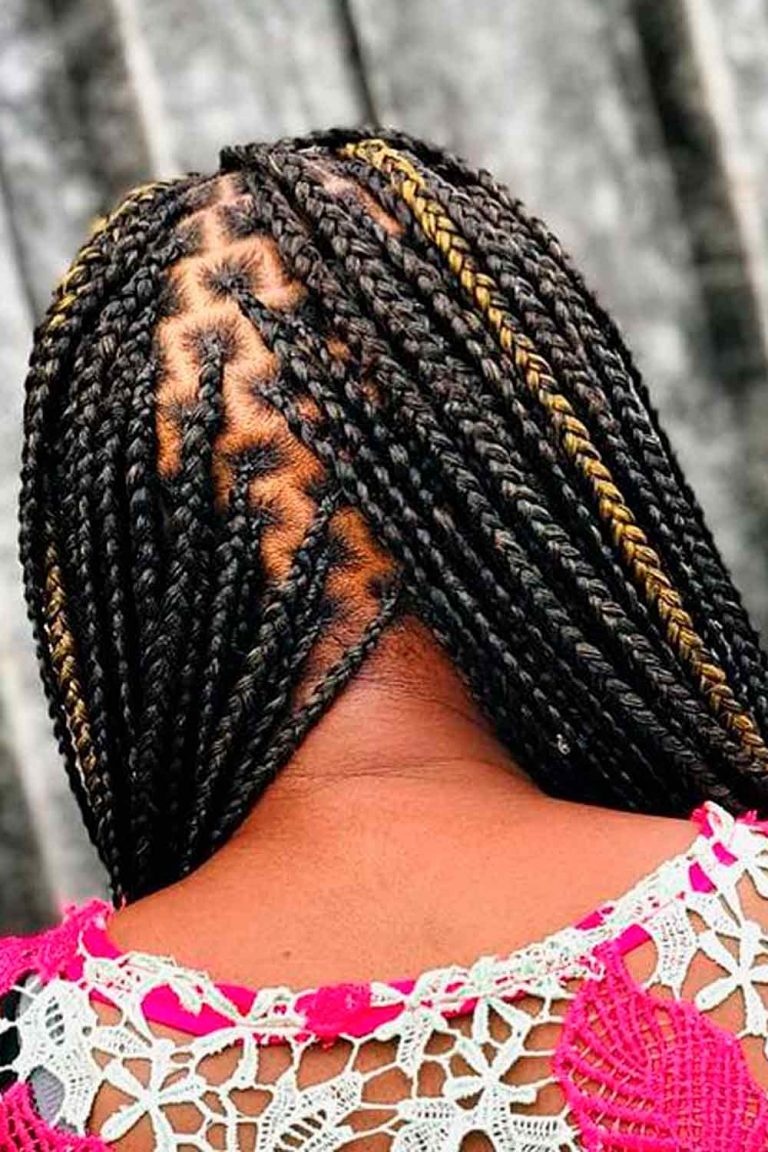 Credit photo: instagram.com/arbie_beaut
Individual braids work great for any woman regardless of her age. You can add your own personal touch and add a pop of color to make your braids stand out. This look is timeless and there are endless possibilities.
Double Trouble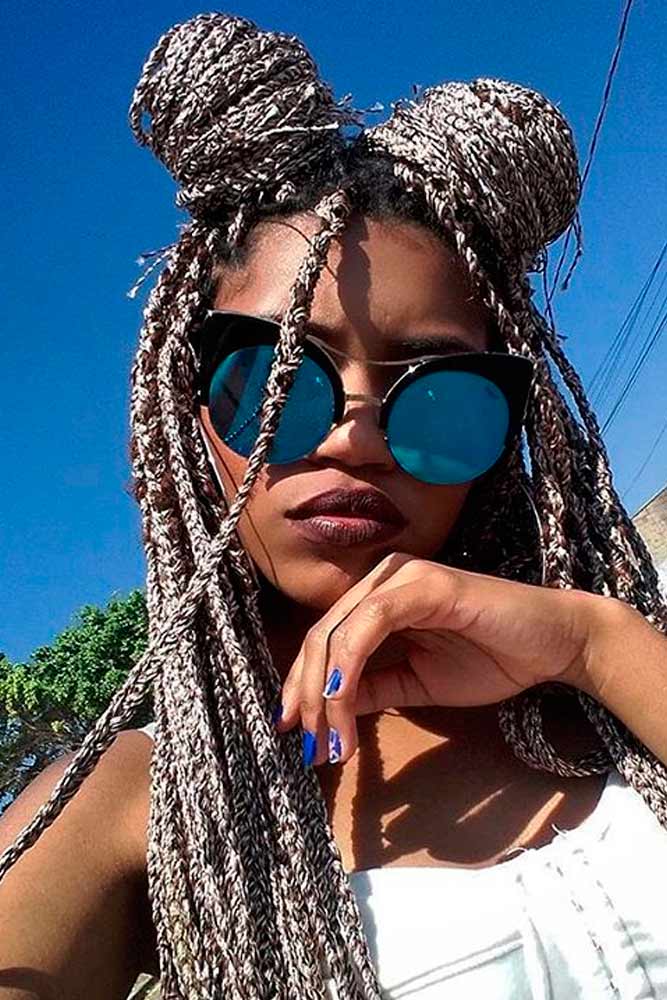 Credit photo: instagram.com/marihsantosss
Looking for a fun look? How about these adorable, quirky buns. They are a bit like mouse ears so they are a playful look for a girl who wants to embrace her inner child and rock a unique and sassy style. Add some color to your various box braids to make this look pop!
DownDo With Twisted Sides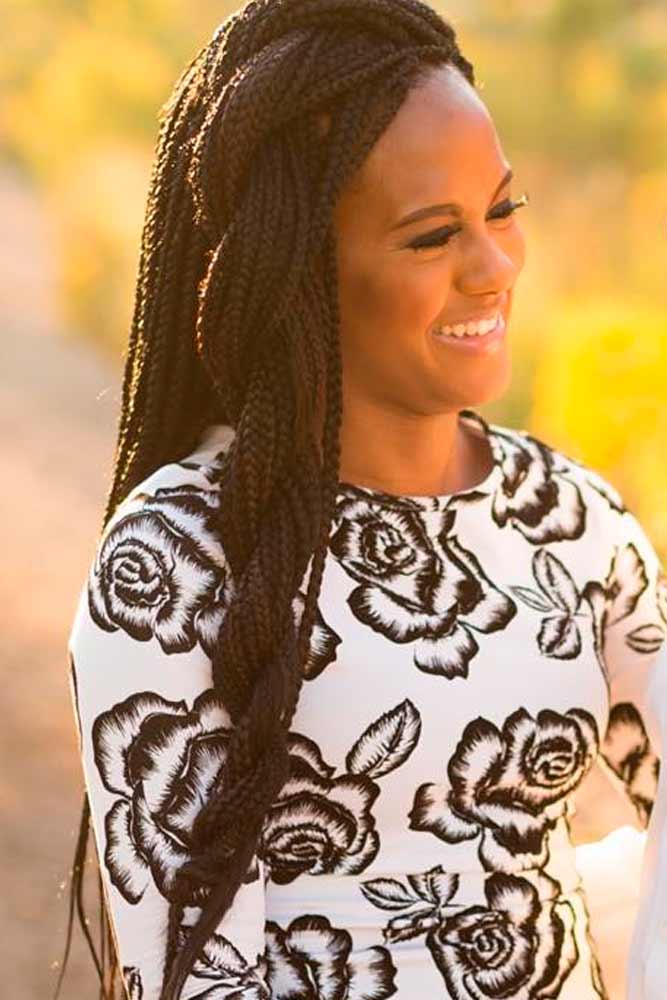 Credit photo: instagram.com/christian_byshe
For an elegant sophisticated look, add some simple yet classy twists to your braids and you can have a gorgeous look for an evening out on the town. Not only does it look marvelous, it also adds texture.
Half Updo With Victory Rolls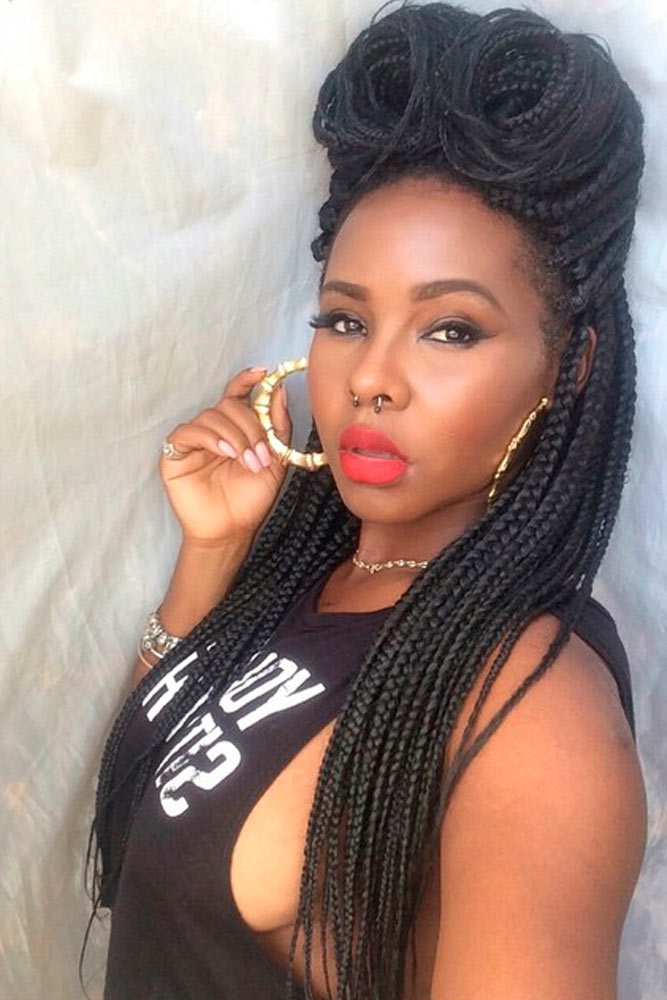 Credit photo: instagram.com/makeilaimstrong
If you want a more daring look, try medium box braids for a funky hairdo. Start with a half up half down look and then split the top section into two equal sections and then create two spiraled rolls atop your forehead.
Updo Roll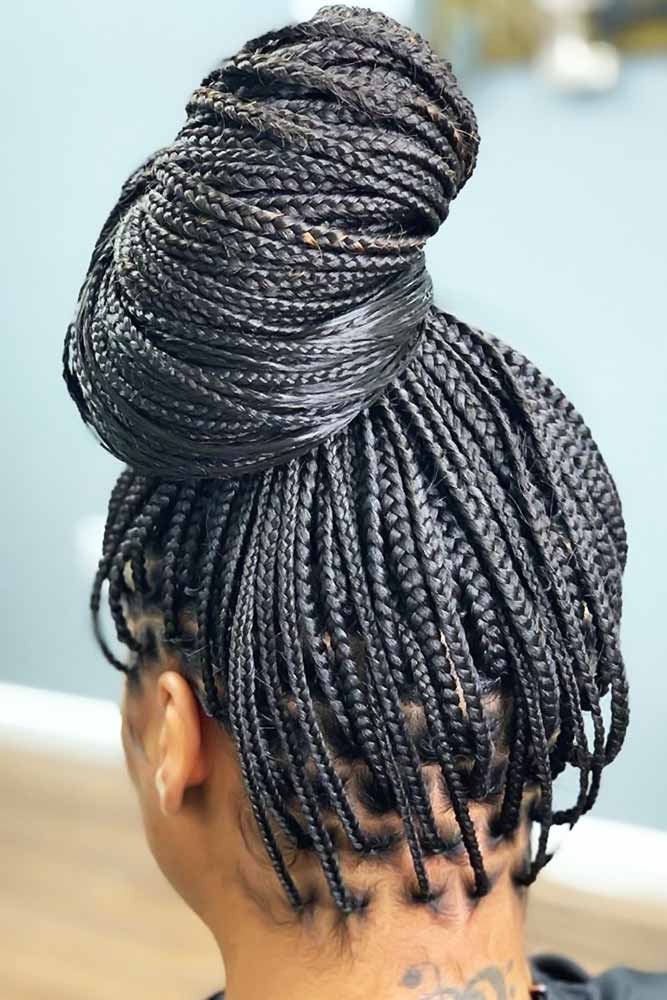 Credit photo: instagram.com/kimreidstyles
The French Roll is a timeless look. Add bulky French to a stylish updo starting at the nape of your neck for an elegant side view.
Simple Box Braids with Beading For Embellishment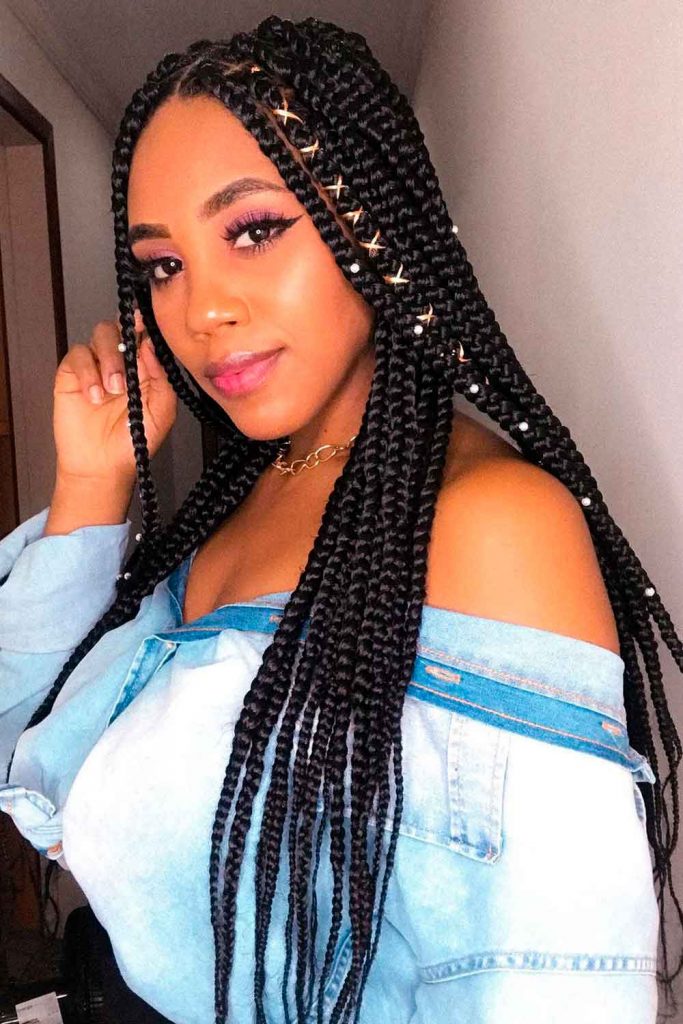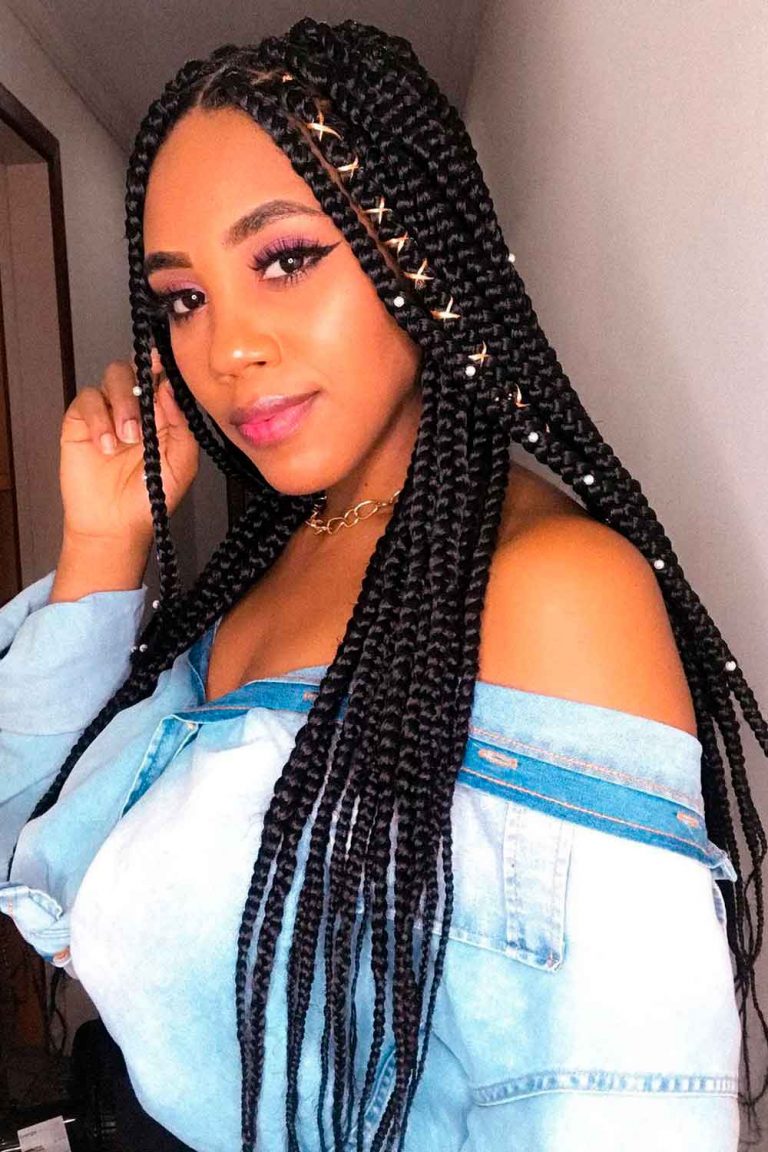 Credit photo: instagram.com/elainne_castro
Hair beads are all the rage now. They add a personal and chic touch to your braids. You can pick colorful braids or opt for polished golden or silver beads for a special event.
Playful Ponytail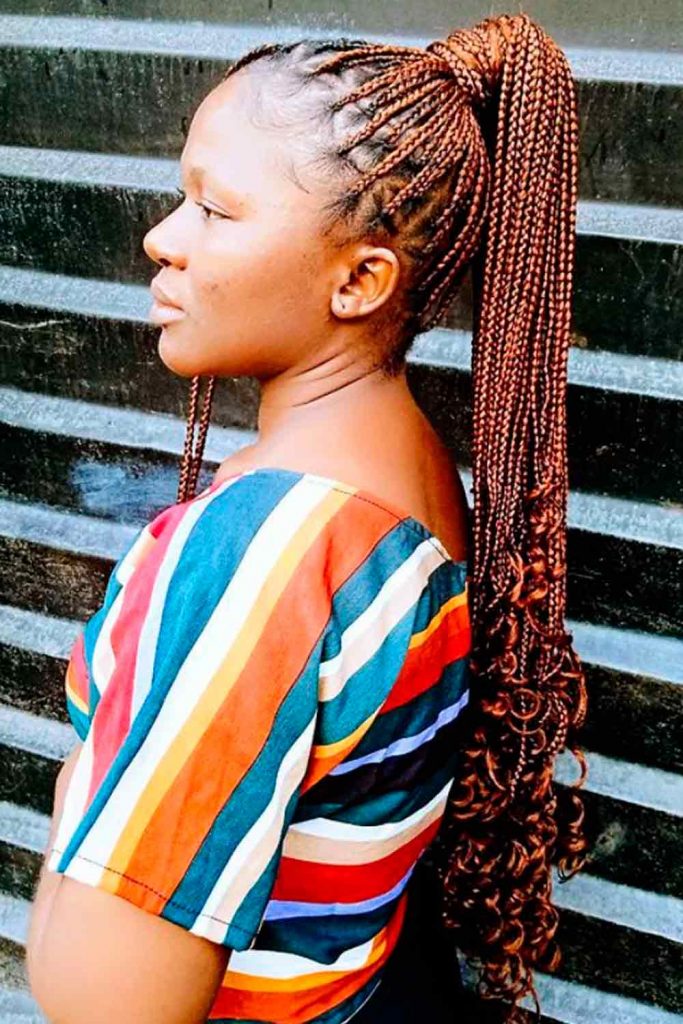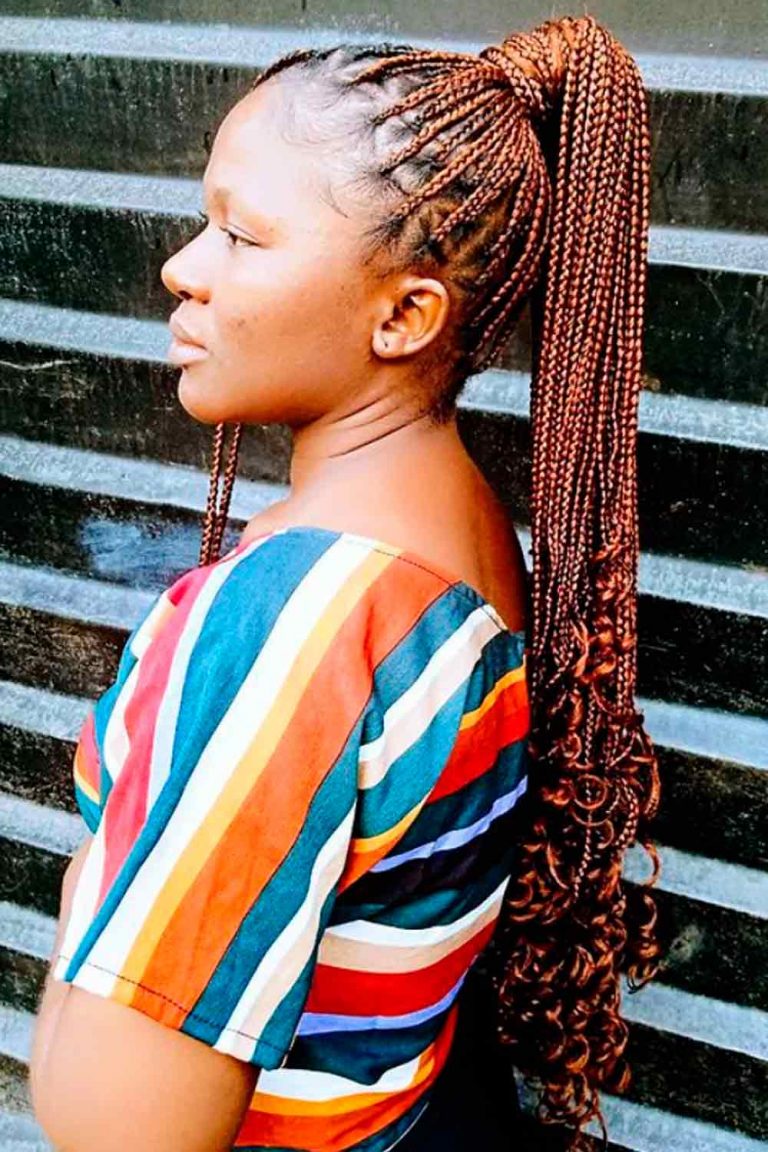 Credit photo: instagram.com/arbie_beaut
The best thing about a simple, classic look such as a ponytail is that you can dress it up any way you choose. Whether you choose a partial, side or classic back ponytail, you can add fun and stylish accents like ribbons, bows, scarves or flowers to finish your look. You can also complete the look with flawless makeup such as vampy bold lipstick, long, flirty eyelashes, and funky eyeshadow. You can go achieve any look you want from sassy to classy. Ponytails are timeless and can be fun and funky or sleek and sophisticated. What a great way to flaunt your style!
Elegant Ballerina Bun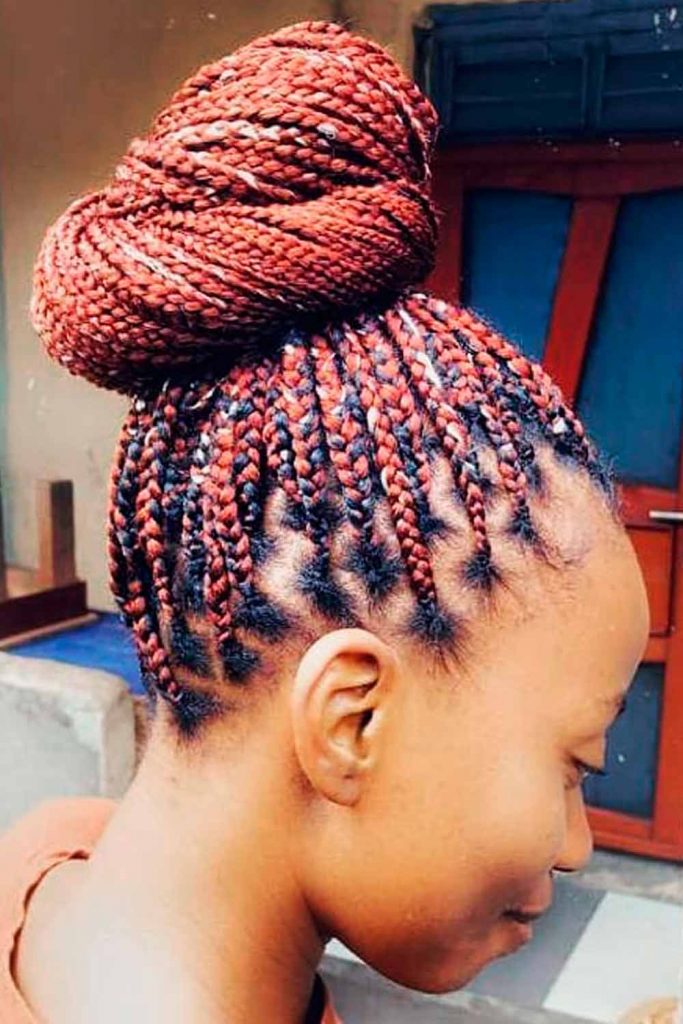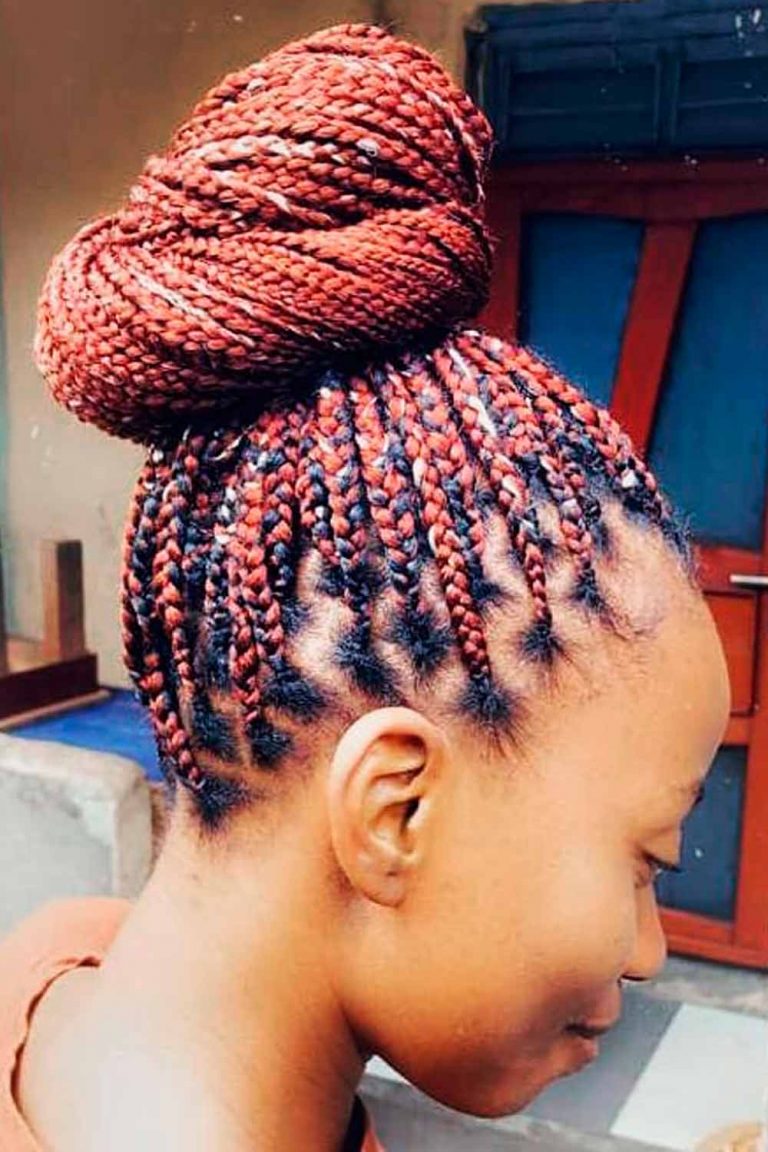 Credit photo: instagram.com/arbie_beaut
Ready for a fun night on the town after a long day at work? A ballerina bun is sleek and stylish and you can pull it off in less than ten minutes. For a chic touch to your simple box braids, you can style your hair into a classic ballerina bun that will work from a night out with the girls to a romantic dinner date.
Intricate Braid Crown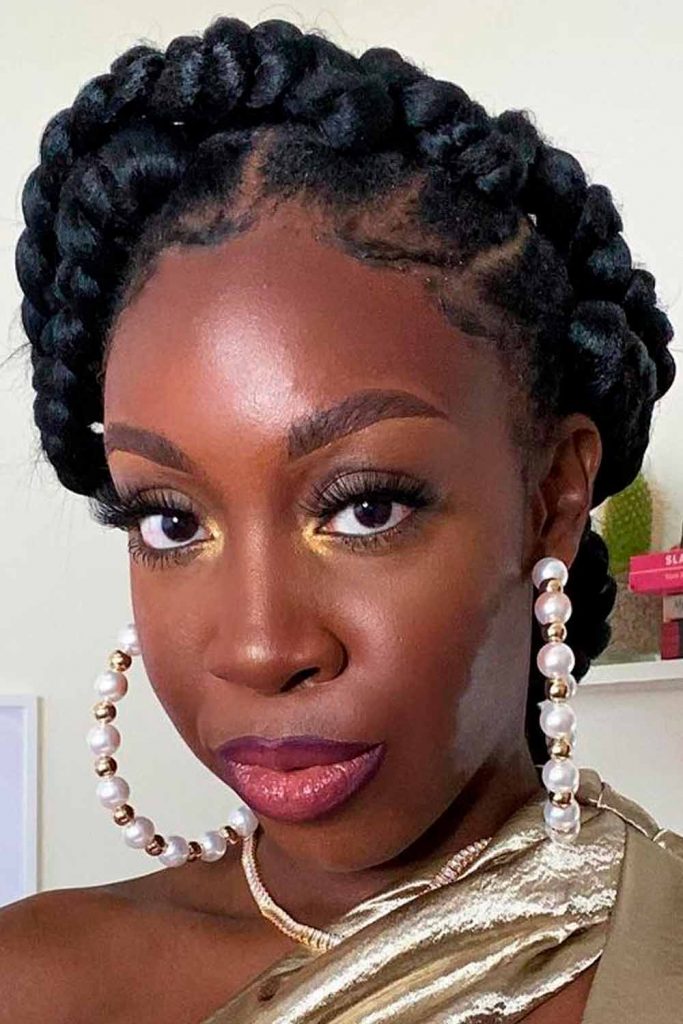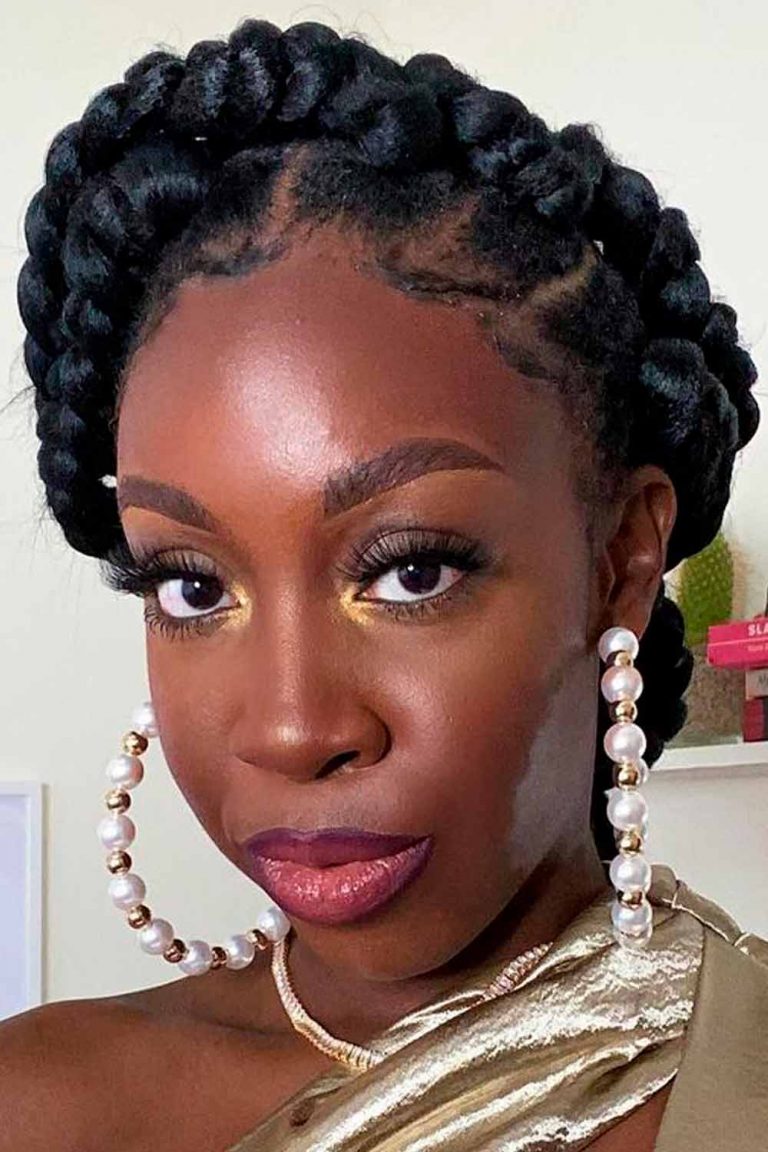 Credit photo: instagram.com/sincerelyoghosa
Medium box braids or dookie braids can be styled into a sophisticated crown if you want a glamorous look. Simply start at the left ear and bring the brain across the back of your head and then work along the hairline. People will think you spent hours at the salon!
Red Ombre Braids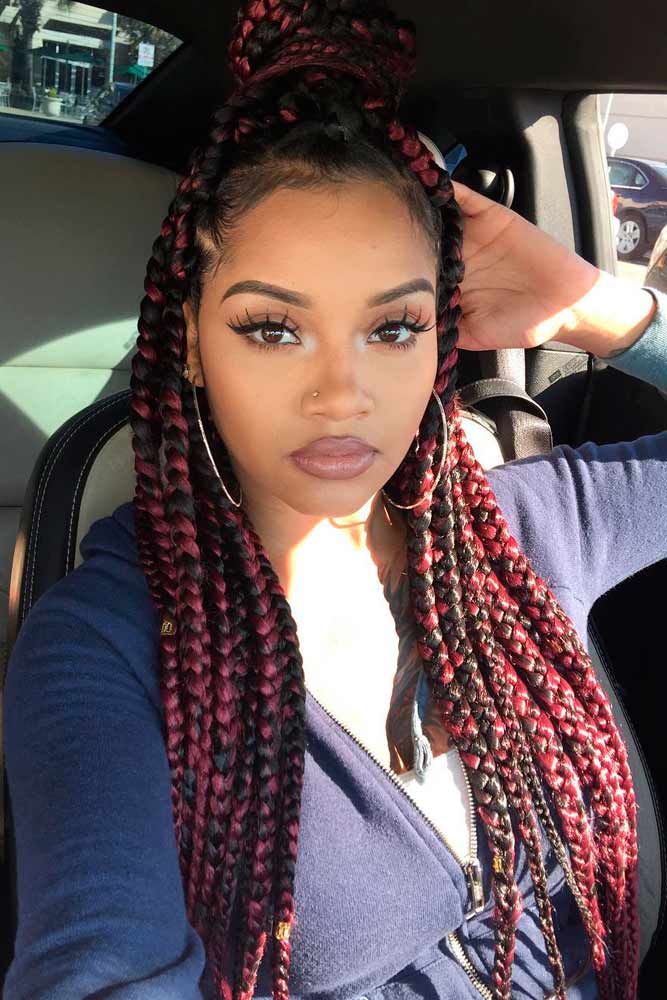 Credit photo: instagram.com/mac_bxtch
Ombre hair isn't just for beach waves. Ombre color works great with any type of braid. Reds and pinks are the best options for braided styles. Simple braids can be woven into ombre strands for a style that will stand out from the crowd.
Bob Styled Box Braids With Colorful Threads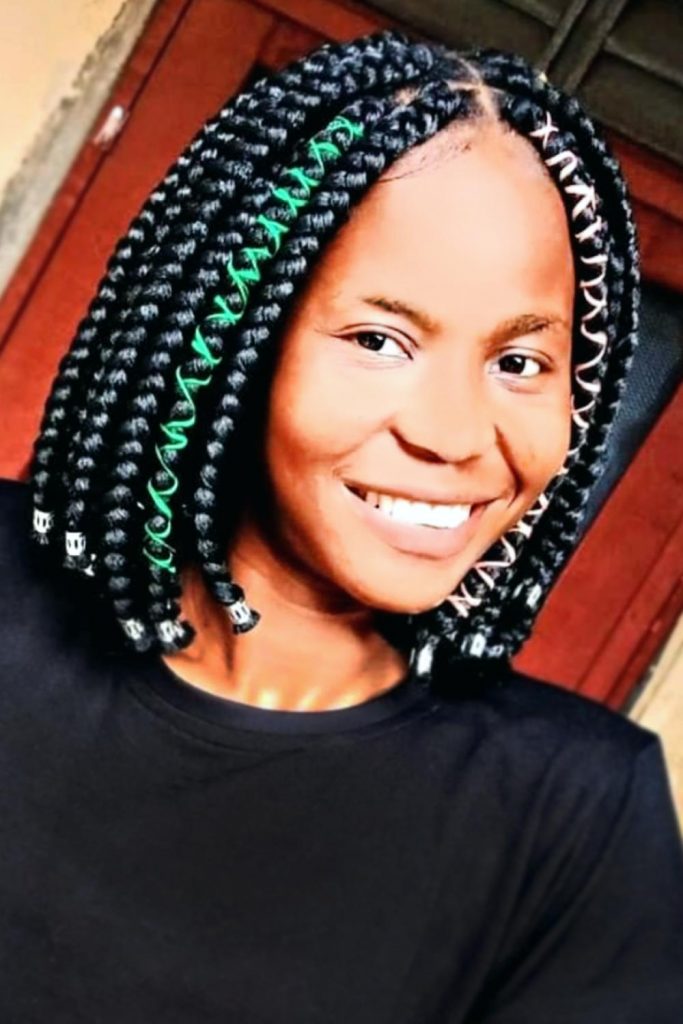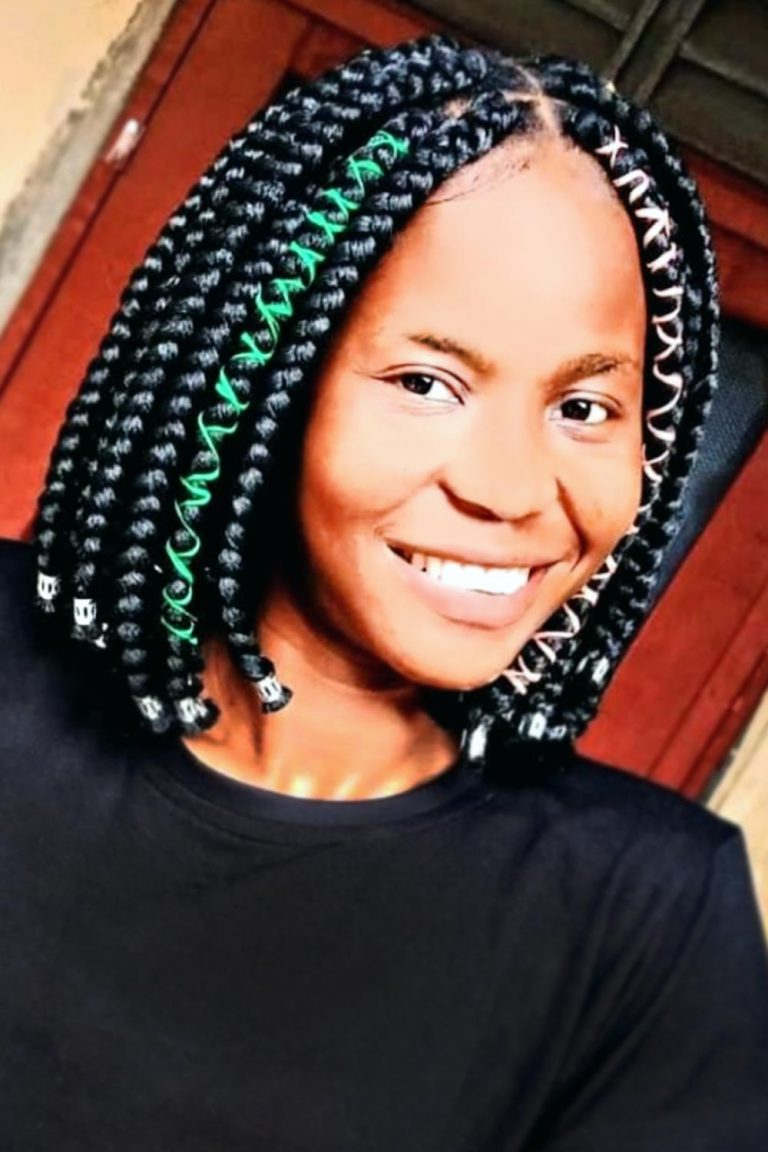 Credit photo: instagram.com/arbie_beaut
It seems like box braids were created to help all natural-haired goddesses take everyone's favorite hairstyles to the next level. Obviously, there's no a girl who's not familiar with a bob - this cut is just on everyone's lips. And you know what? You can show up with your own variation of the modern classic once you take a creative approach to your braids. Get some colorful short extensions, give them a curvy shape so that they create a round silhouette, and get ready for enviable eyes looking at your own version of the bob.
Half-Up Bun Style
While most women associate half-ups with something simple and plain, girls with natural hair show another side of the good-old hairstyle. Indeed, such hairstyles are easy to do no matter what hair type you have. However, on such a thick, textured, and defined mane, even the simplest styles ever are doomed to look sophisticated and have all eyes on them! Just look at this dramatic half-up: it's simple, yet so significant.
Kanekalon Box Braids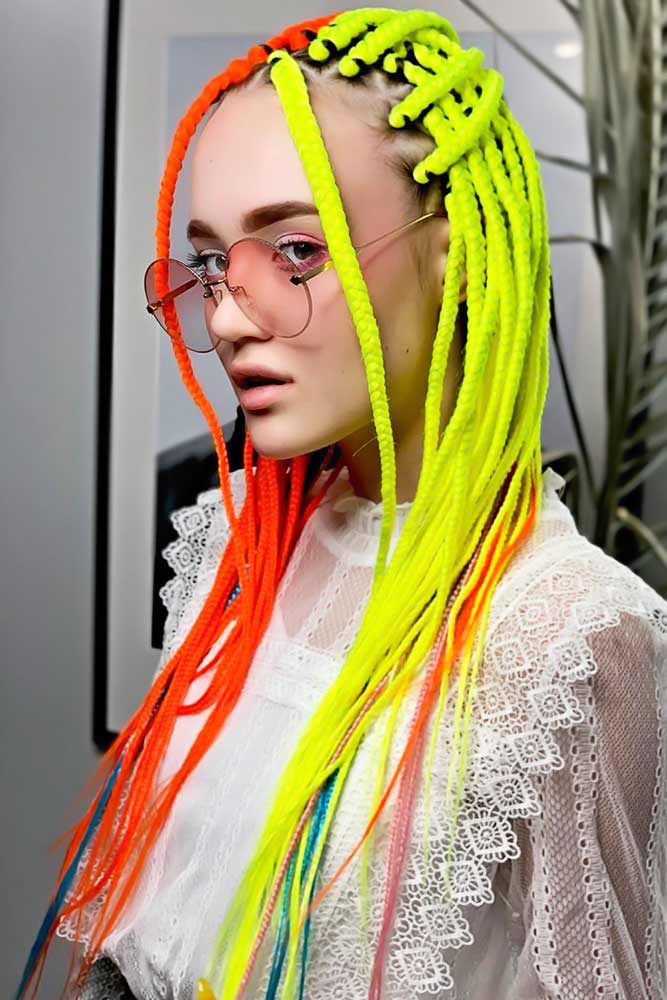 Credit photo: instagram.com/braidsvolna
Kanekalon braids are colorful synthetic extensions that know no limits in terms of hair types. In fact, every girl who wants to add some brightness to her styling routine can pull them off. First, you create box braids as the base for your vivid experiments. Then, you attach as many colors as you want. You can wrap the extensions around your braids to make your hair look thicker, mix them with your hair or braid them alone, hiding your hair under the beauty of neon lights.
Side Messy Bun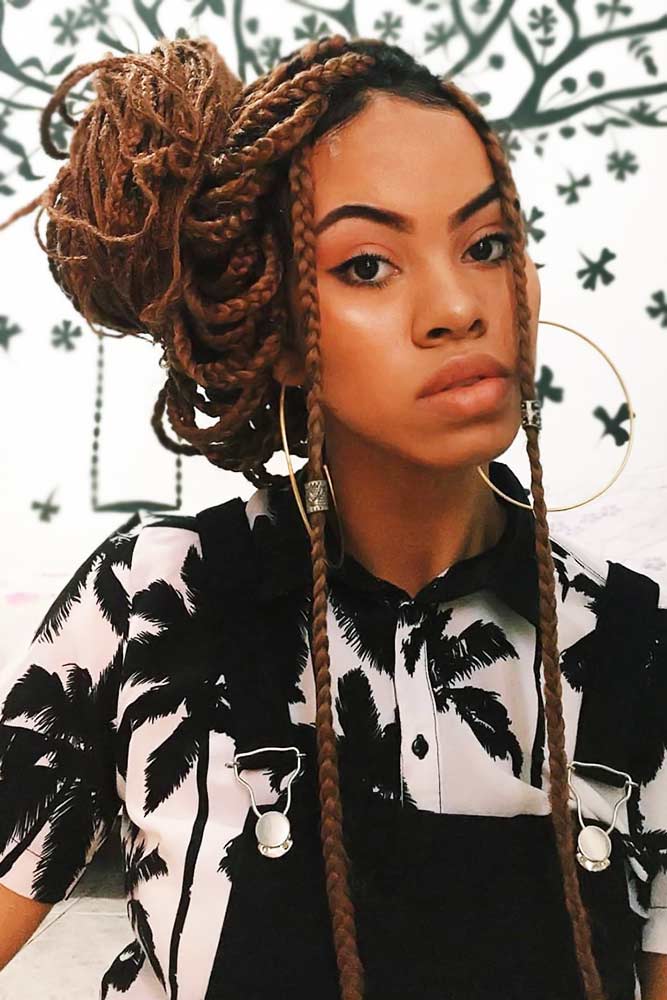 Credit photo: instagram.com/cardoznat
Messy hairstyles are an ageless trend that seems to never fade away: it gives our looks a sense of lightness and freedom which we can't have too much. But how to add the hint of messiness to a tightly styled hairdo? No worries; there are lots of ways to braid your hair. To create a messy finish for your box braids, make the braids thinner as you move to the ends. When you switch to a lighter density of your braids, natural hair will lift up, giving that effortless messy vibe. After that, you are free to style your hair in any way you want! A side bun, for example, will be a stunning start.
Box Braids With Flowers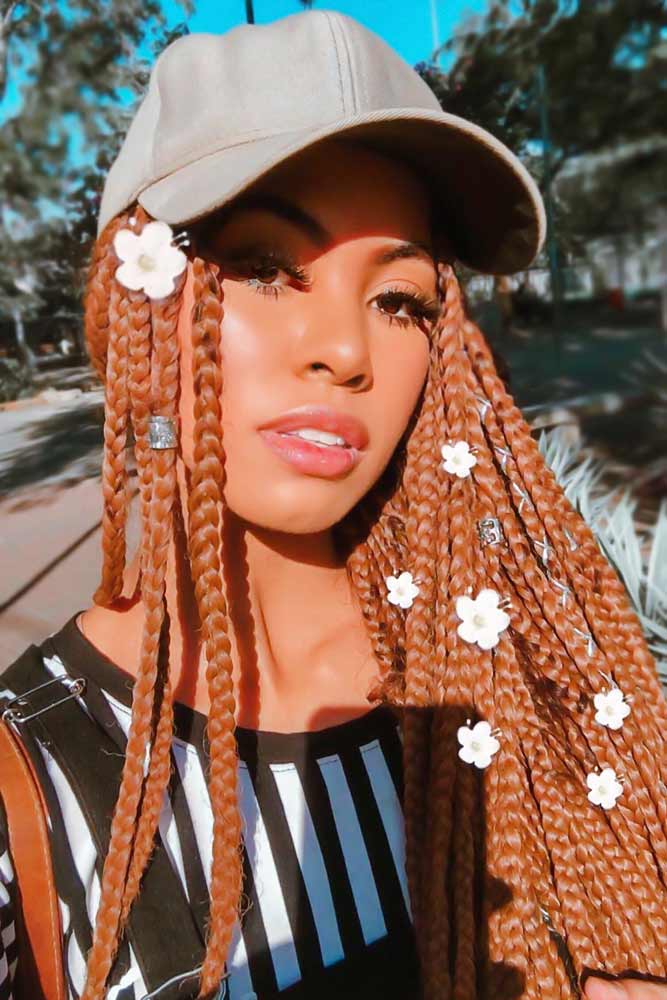 Credit photo: instagram.com/cardoznat
Don't forget about accessories for your box braids! Although your hair is your natural accessory, you can take it to the next level by complementing your looks with real embellishments. Feminine little flowers will nicely accentuate your lovely girly look with a touch of gentleness. Apart from floral accessories, you can beautify your textured locks with hair ties and ethnic beads, adding some more individuality to the look.
Box Braids With Free Curly Locks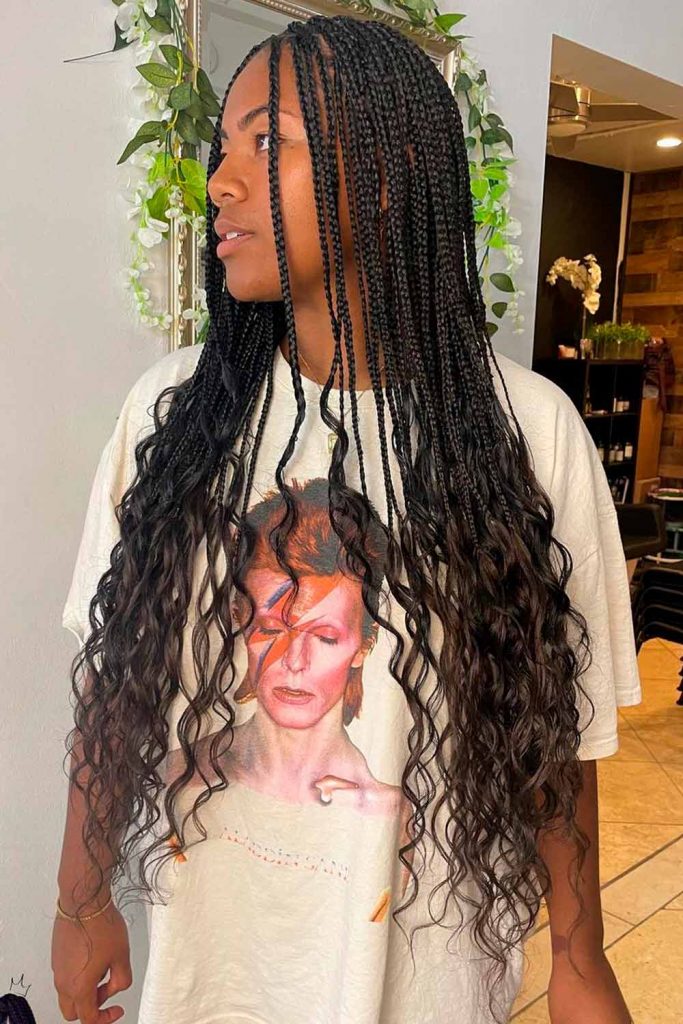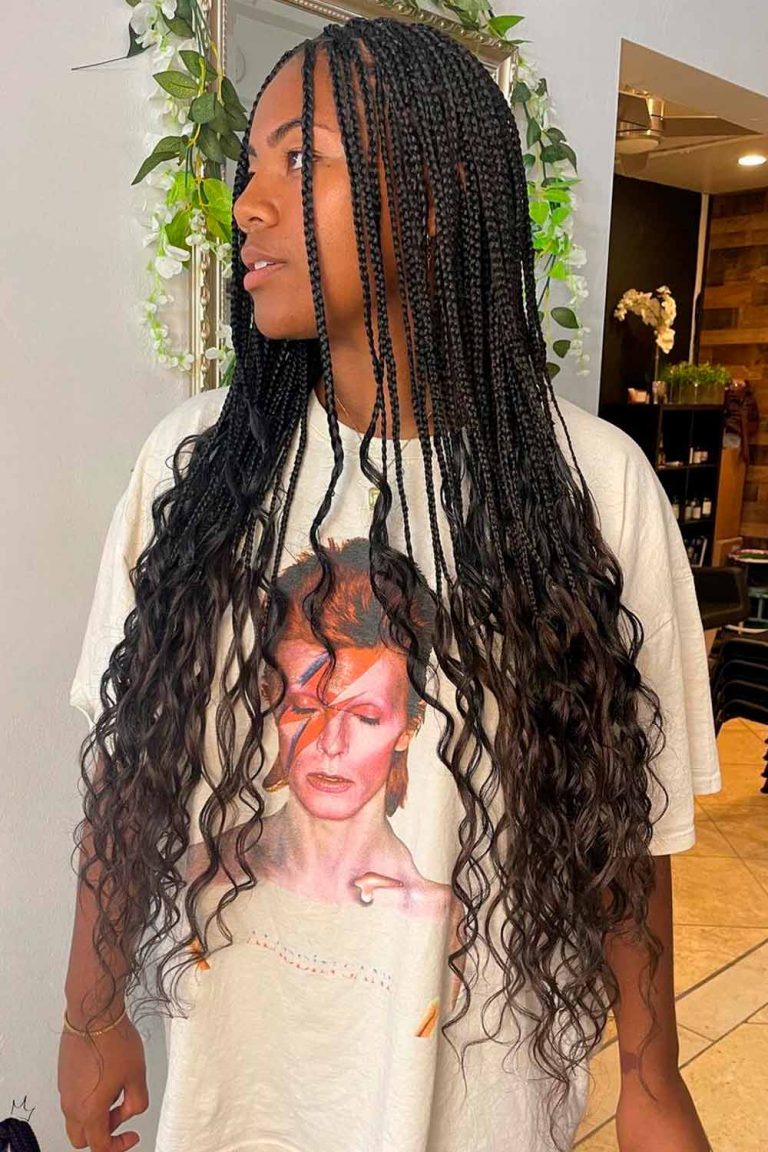 Credit photo: instagram.com/braidedroots
Though the pattern of box braids is usually the same, you can experiment with their texture as much as your creativity lets you. If you want to diversify the classic look, you can let some of your braids do their own thing, unraveling some of the strands. In this way, you will combine two contrastive textures - a tight braided and loose one, thus creating an unbelievably creative look and adding tons of dimension to it.
Box Braids With Beads & Ties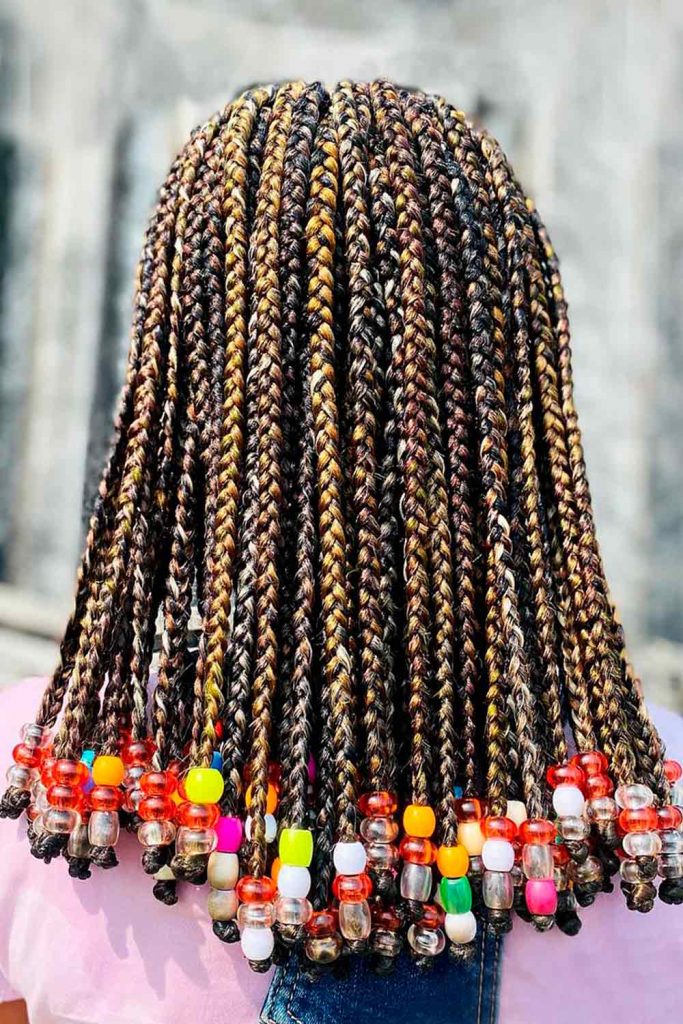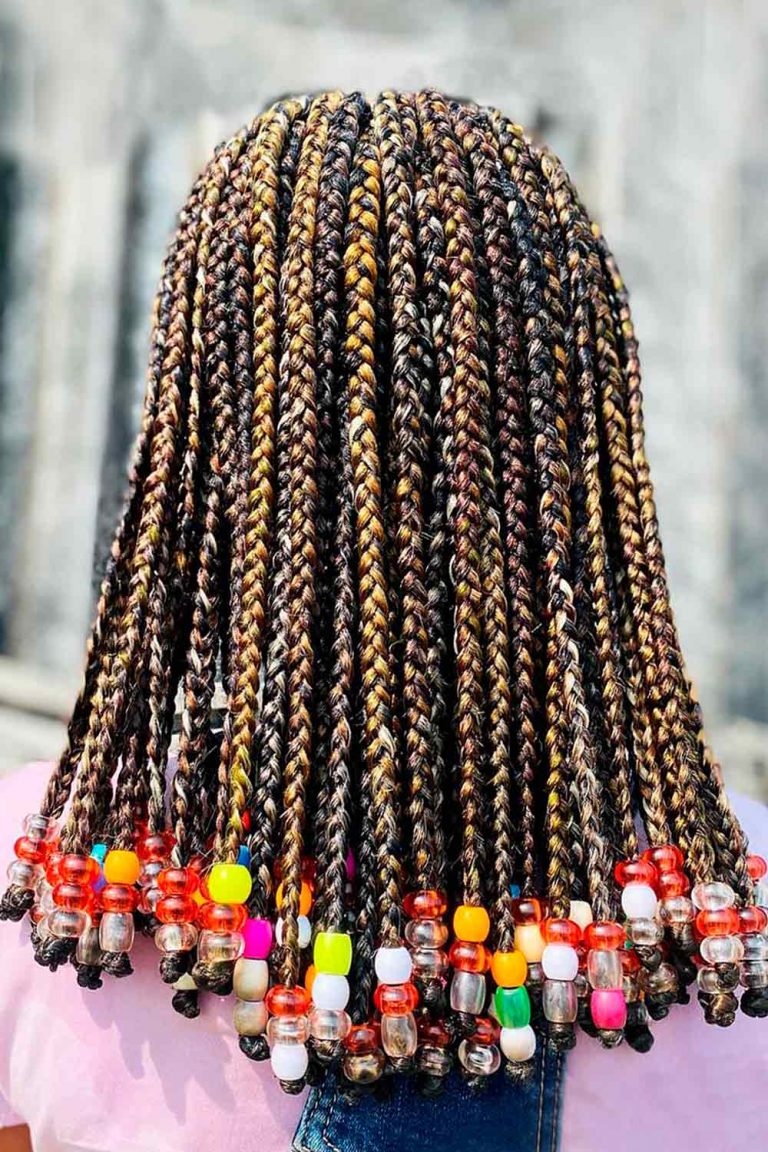 Credit photo: instagram.com/arbie_beaut
How many ways to stand out with natural braids do you know? You can give a fresh take at some short haircut, showing up with a braided box bob. Also, you can incorporate some colorful extensions into your braids, putting your hairdo in the spotlight. On top of that, you can always finish your look with beads and ties. What else? The trendiest look you can get with your braids is to combine all these head-turning options!
Half-Up Space Buns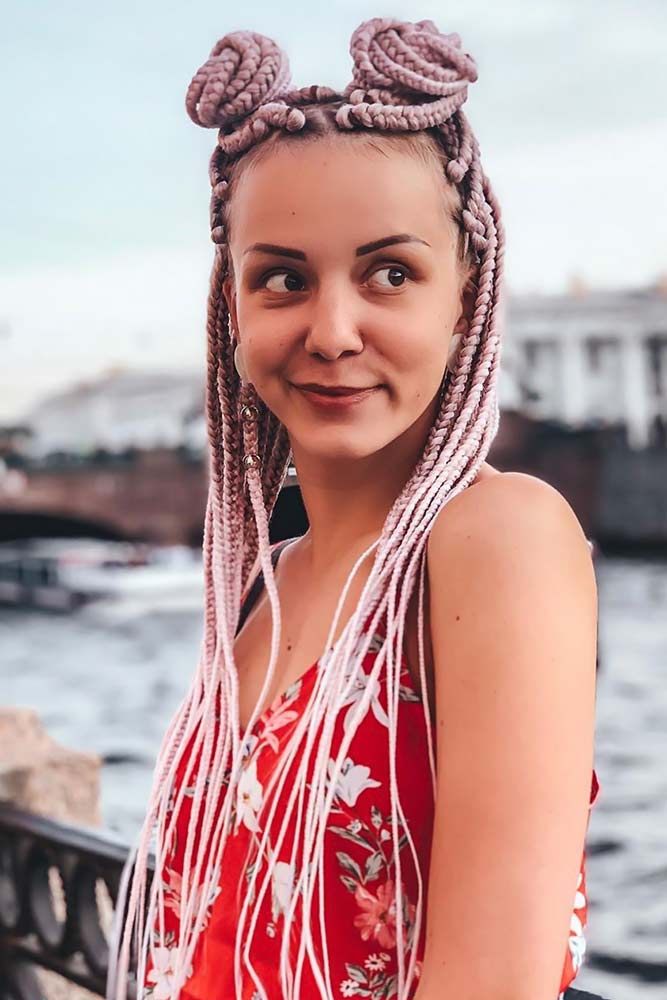 Credit photo: instagram.com/braidsvolna
First, space buns took over Tumblr. Then, the whole world was at their feet, making it another trend that will never die. Not only do they look unbearably cute but also serve as a stylish complement to any youthful outfits. Now, can you imagine how awesome they will look with your enviable braided texture? Whether you're blessed with natural hair and wear the braids as protective styles or you wear extensions on your regular hair, this style is a must for all ladies to try.
Messy Updo Style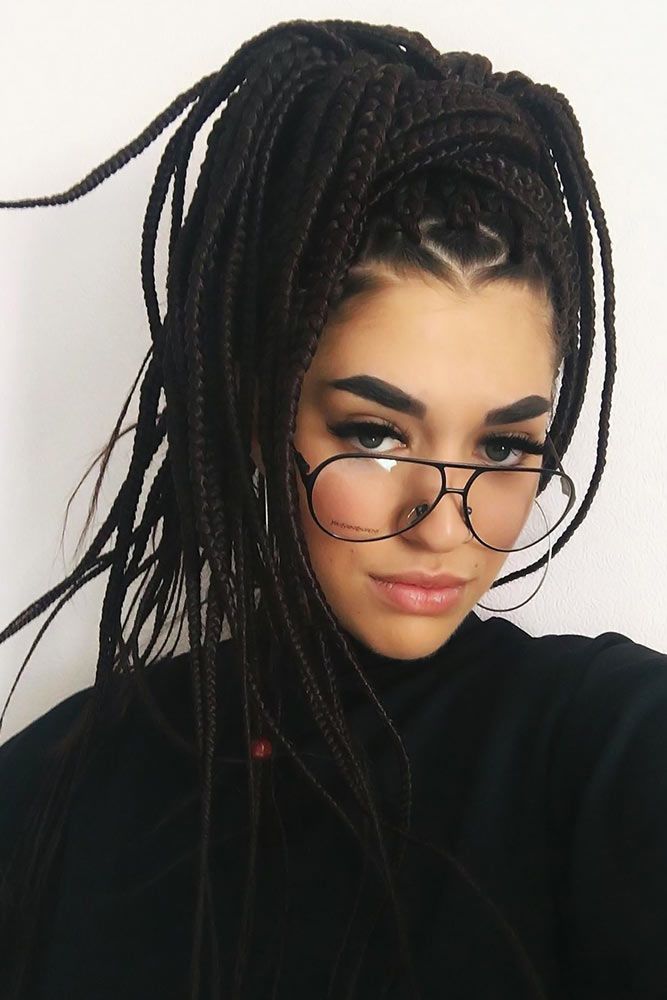 Credit photo: instagram.com/braidsvolna
Another way to let stylish messiness do the talking. In contrast to the previous idea, you don't need to loosen up your braids to achieve a carefree feel. Instead, you need to make the braids as thin and thick as possible so that they stick out firmly, pointing in different directions. As a result, you will get a contemporary look that outshines not only regular braided ideas; it will look even better than dreads! Be it an updo or a ponytail, you'll be on point with such thick braids.
Double Braids Style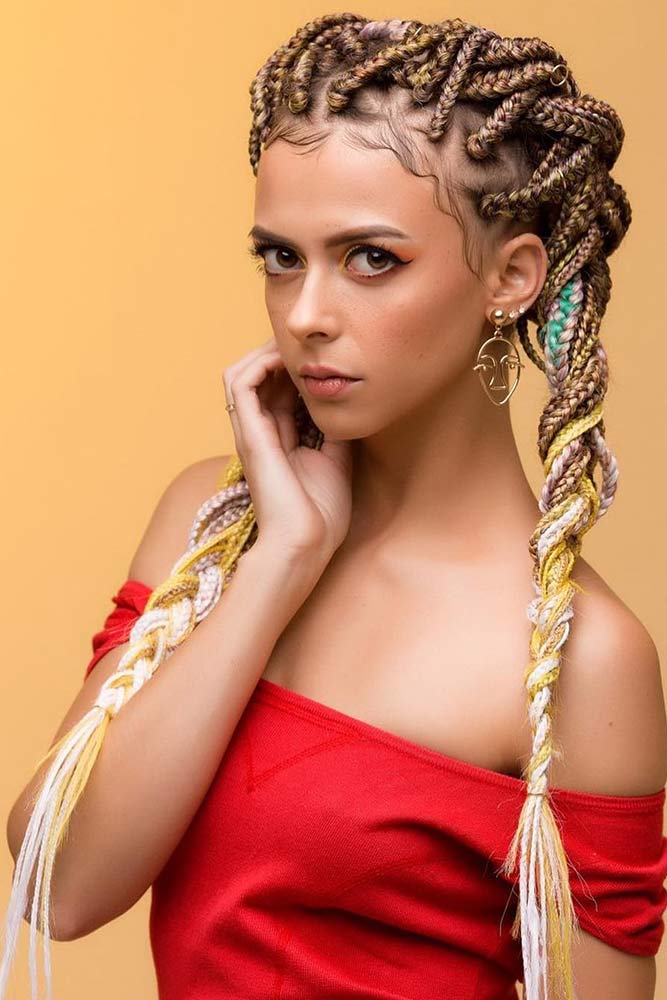 Credit photo: instagram.com/braidsvolna
When it comes to braided hairstyles, there's only one rule: your creativity. As a matter of fact, the ways of braiding your hair, as well as braiding patterns know no limits. And your creativity is the only thing that can help you go as far as you can. What comes to your mind when you think of double braids? This idea goes beyond our expectations. Voluminous braids with a unique pattern with colorful details, who could ask for more? Make sure to play around with braids!
Box Braids With Undercut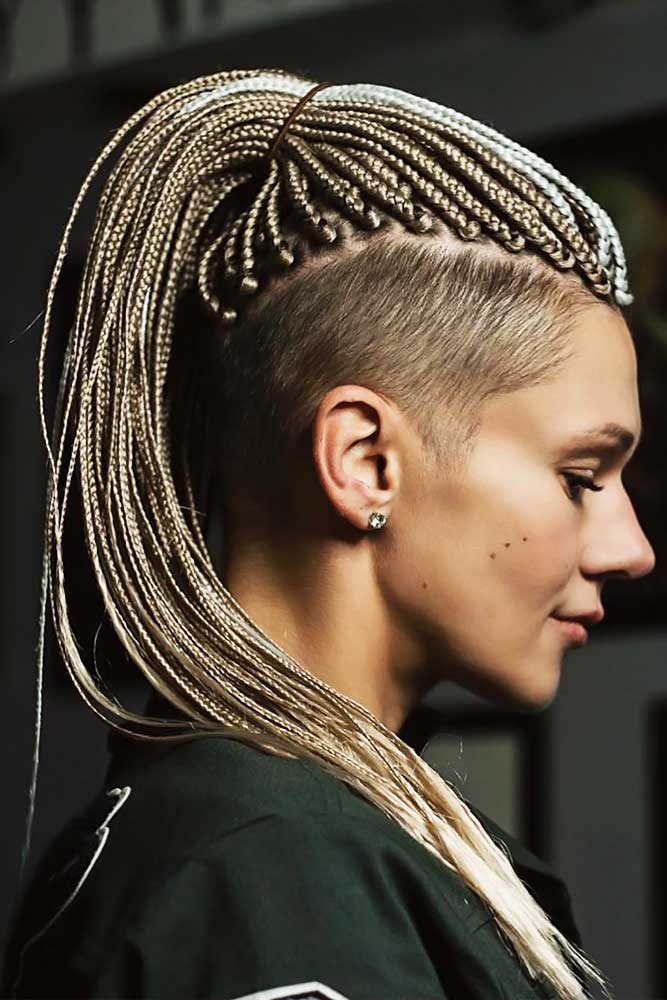 Credit photo: instagram.com/braidsvolna
Box braids have many faces: they're as feminine as they're daring. With the huge variety of braided options, there's no way you won't find an idea that will express your individuality. Those who rock bold and sassy hair looks will love the daring side of the braids. Of course, they can't do without an undercut - a crowd-pleaser that makes people speechless! Get the sides shaved and let the top show off its braided charm to get what we mean.
Box Braids Twisted Updo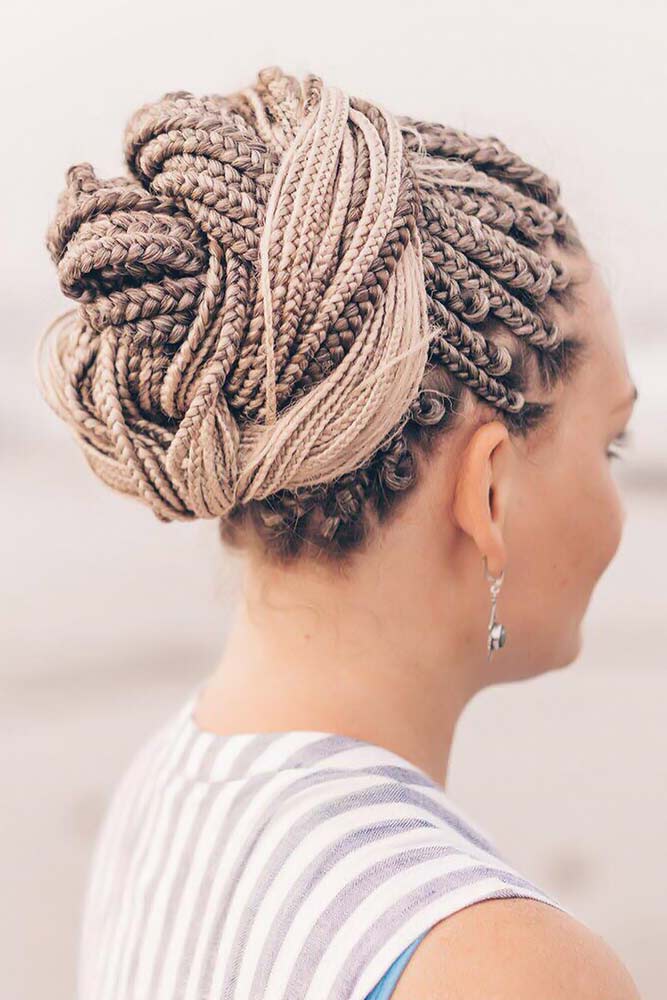 Credit photo: instagram.com/braidsvolna
Even the simplest updo will look like a masterpiece sent from above if you set your imagination into motion when braiding your hair. The key to achieving a unique look lies in switching from tight to loose braids throughout the whole braiding process. Make some braids thin and others thick, and every single updo you want to create will show up from a different perspective.
Box Braids In A High Ponytail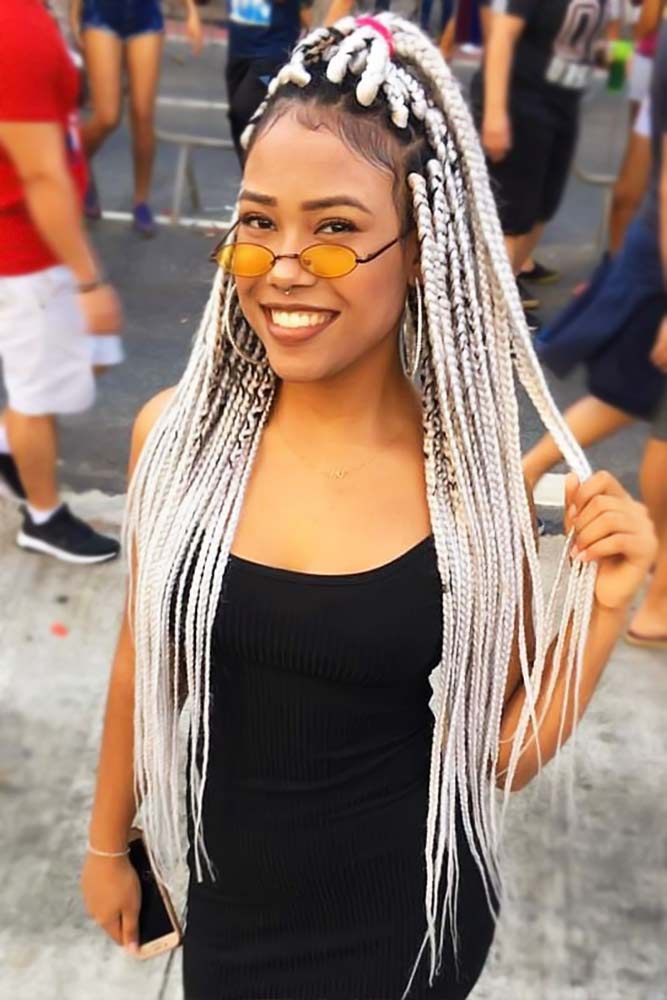 Credit photo: instagram.com/its_biiah
What can be easier than putting your hair into a ponytail? Moreover, with box twists or braids, the style is even more straightforward. At the same time, it looks so gorgeous and jaw-dropping that it's hard to take eyes off. For a bigger visual impact, you can always add more colors with the help of extensions. By the way, it's a perfect idea for festival and party looks.
High Pony Box Braids
A high ponytail that keeps all your textured, defined, and attention-grabbing braids in sight: too good to be true, huh? On straight hair, high ponytails require hours of brushing and tons of products to achieve a silky finish for the top and a chic look for the pony. All you need for your braided high pony is just to put all your hair up and tie it with a hairband. Voila! Some colors won't hurt as well!
Thick Twisted Box Braids To Tame Coarse Afro Hair
Credit photo: @braidedroots
i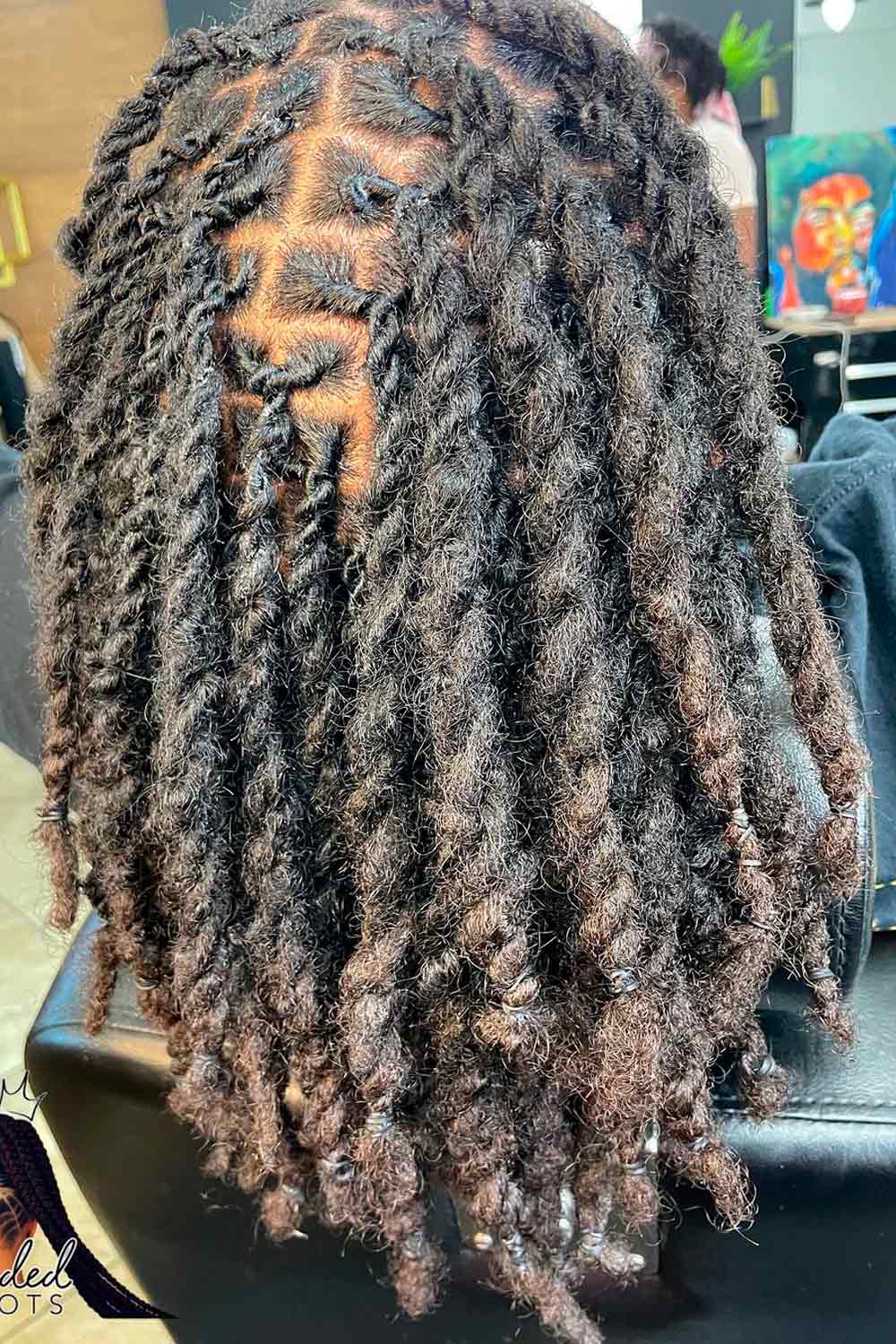 Credit photo: @braidedroots
i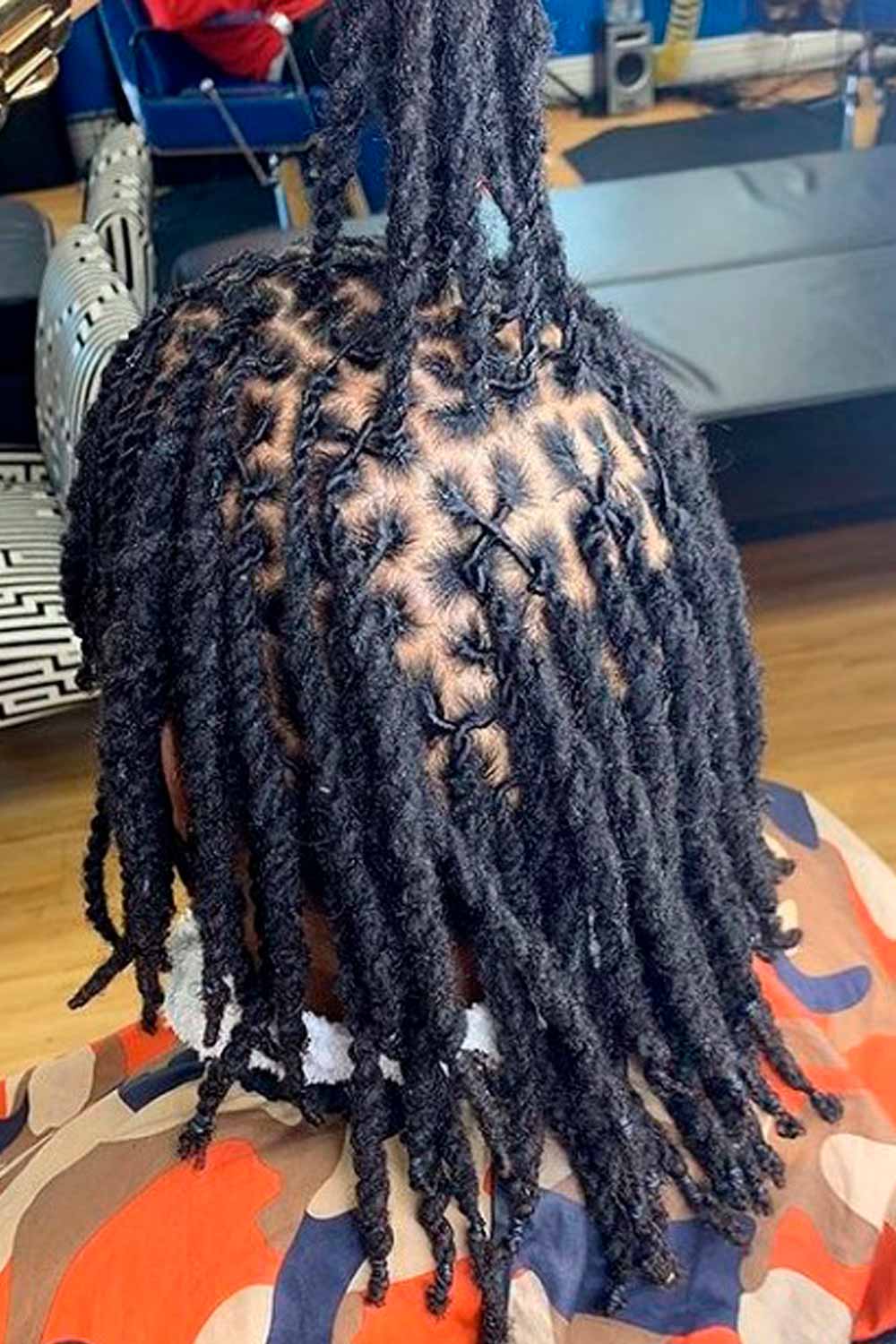 Credit photo: @braidedroots
i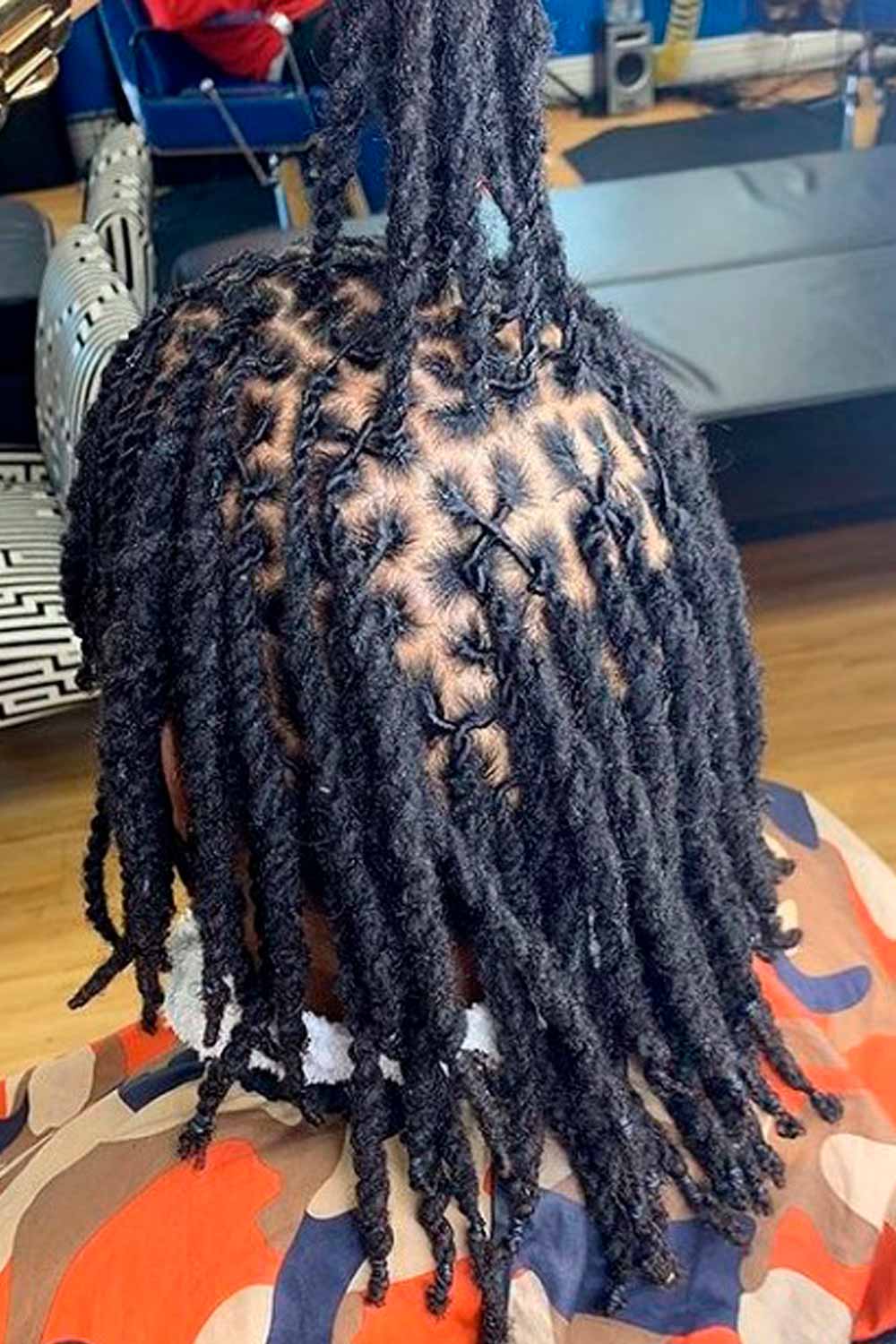 Credit photo: @braidedroots
i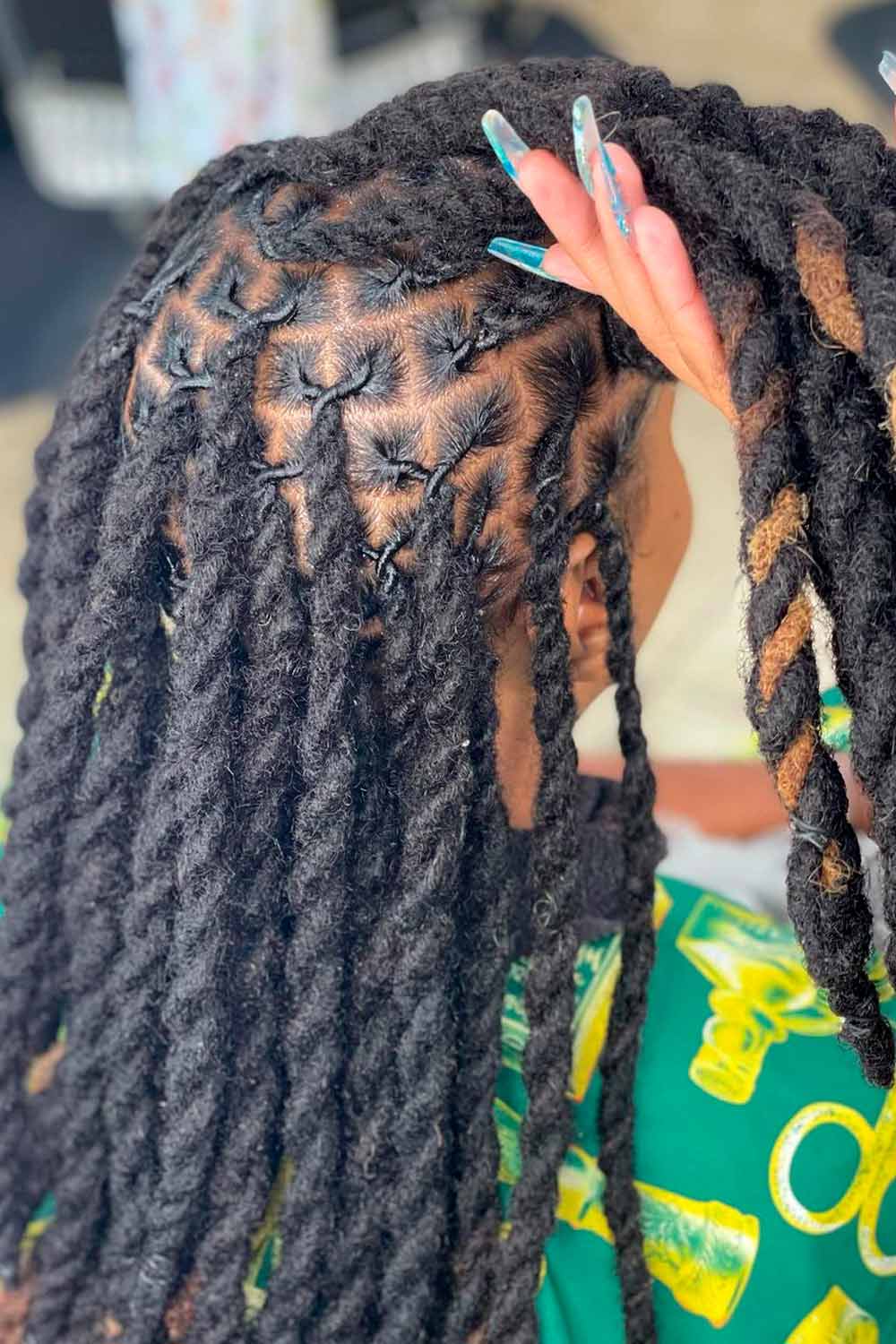 /
If you struggle to tame your kinky Afro locks, box braids are your way to go. They will not only keep your tresses looking neat and tidy but will also protect them from damage. And the best part? You do not have to spend the whole day in the barber's chair, as there are plenty of thick twisted box braid hairstyles that can be done in just several hours.
Long Box Braids For Summer Beach Walk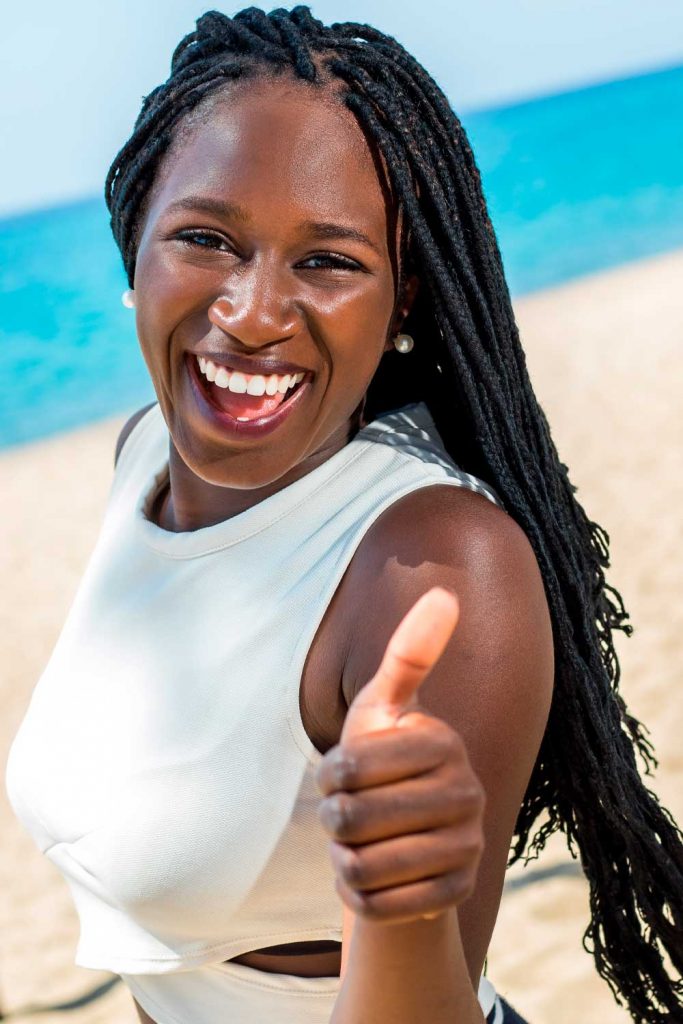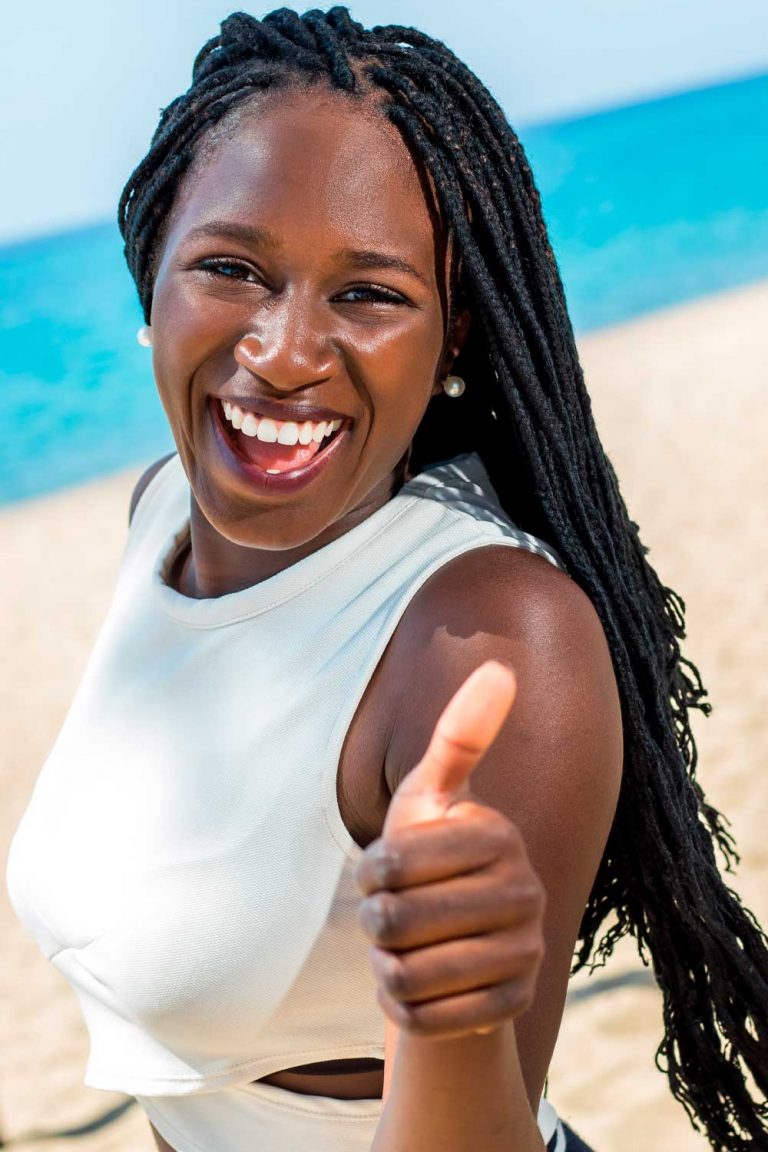 Credit photo: Shutterstock
Those who have long kinky hair know well that spending some time at the beach or near salty water can take its toll on their locks. But does that mean that you should deprive yourself of such an enjoyable pastime? Not at all. Simply put your strands into long box braids and you are good to go!
Jungle Box Braids With Extra Red Extensions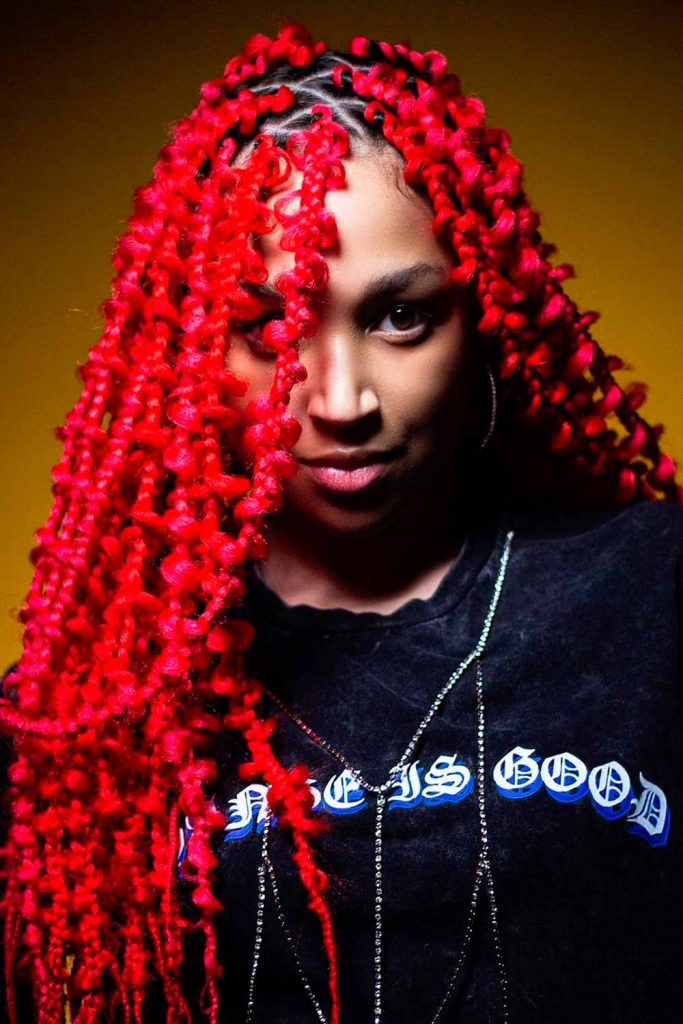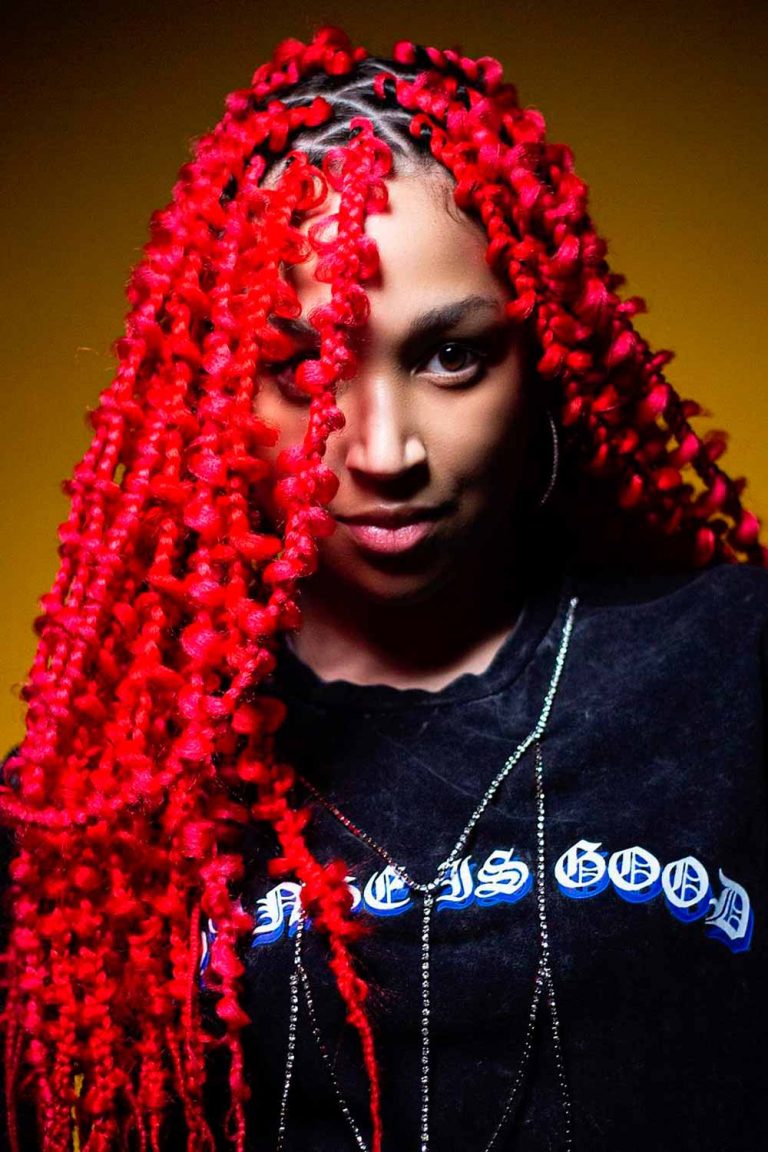 Credit photo: instagram.com/braidsvolna
Girls who love to stand out in the crowd should definitely try jungle box braids. While they are already quite eye catching and impactful, you can take them to another level by weaving in flamboyant red extensions. This is also a great option for those who have relatively short tresses and would like to elongate them without much effort.
Thin Box Braids With Sharp Tips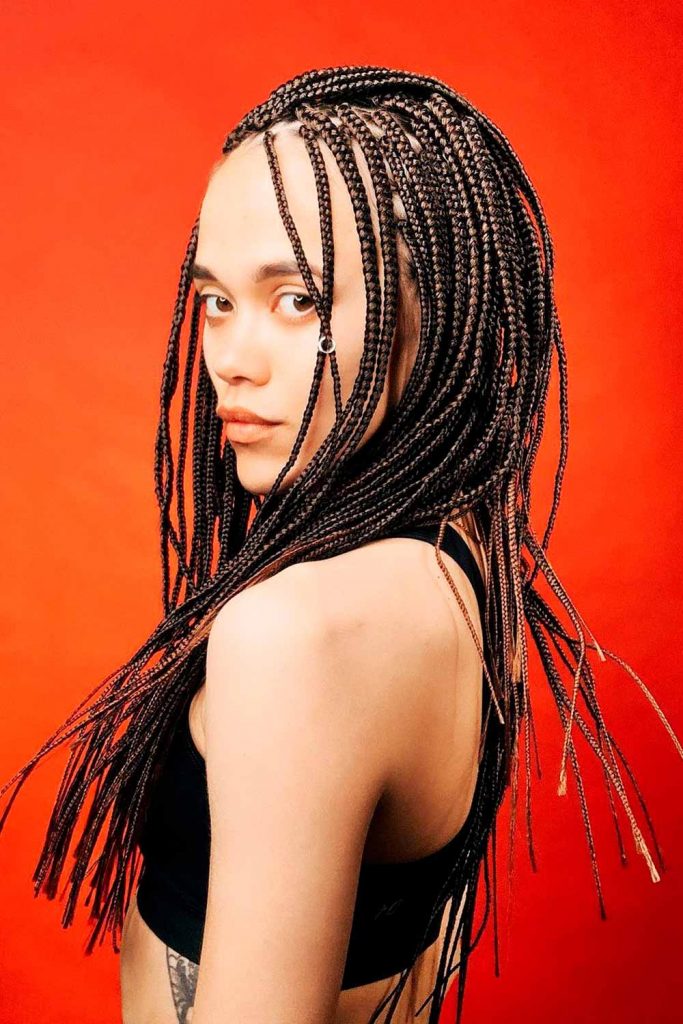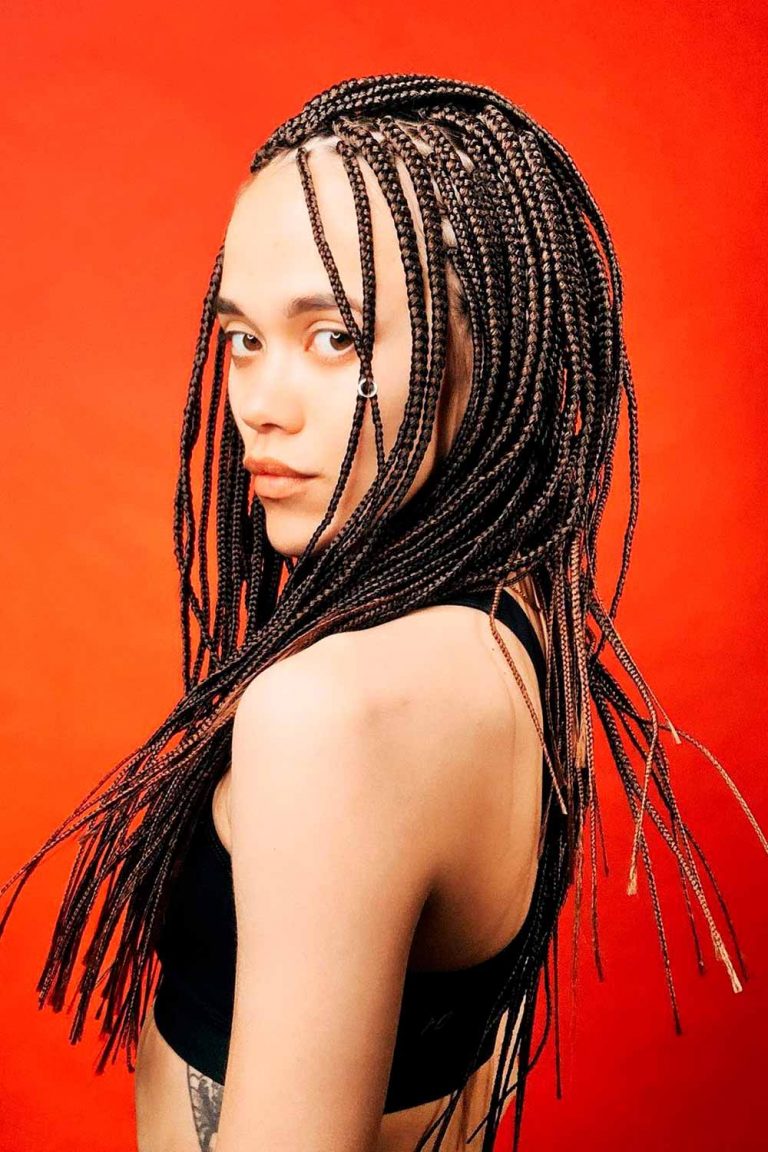 Credit photo: instagram.com/braidsvolna
Some box braid hairstyles require quite a lot of time and effort to create. Yet, they are totally worth it. By opting for thin box braids with sharp ends, you get an absolutely head turning hair look that will not leave anyone indifferent. As a nice bonus, you keep your tresses in order.
Sun-kissed Box Braids With Blond Extensions In a Bun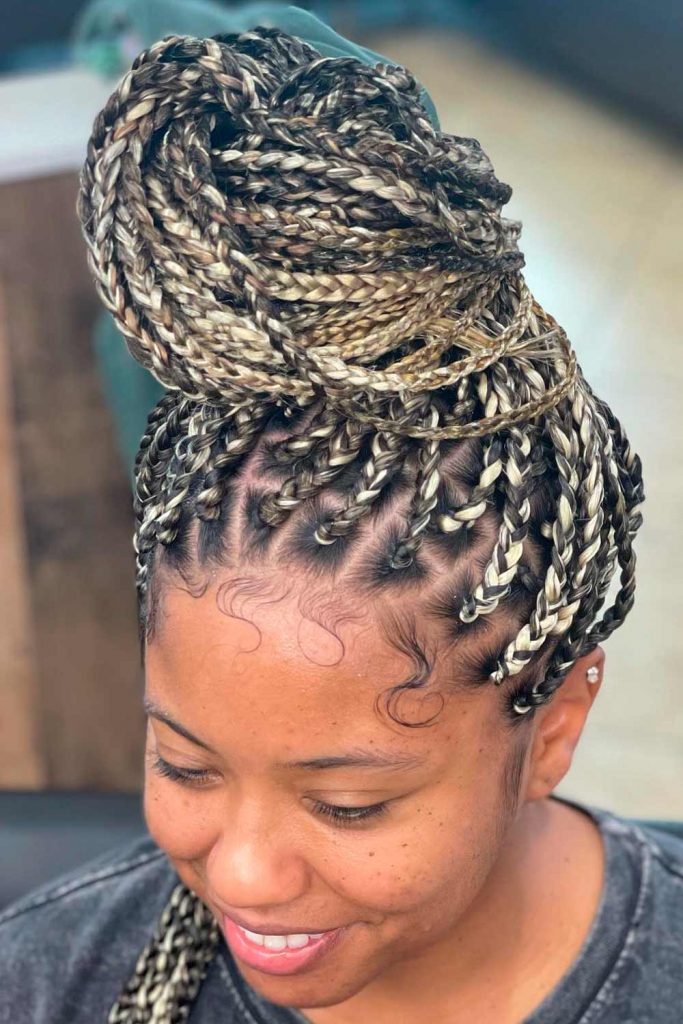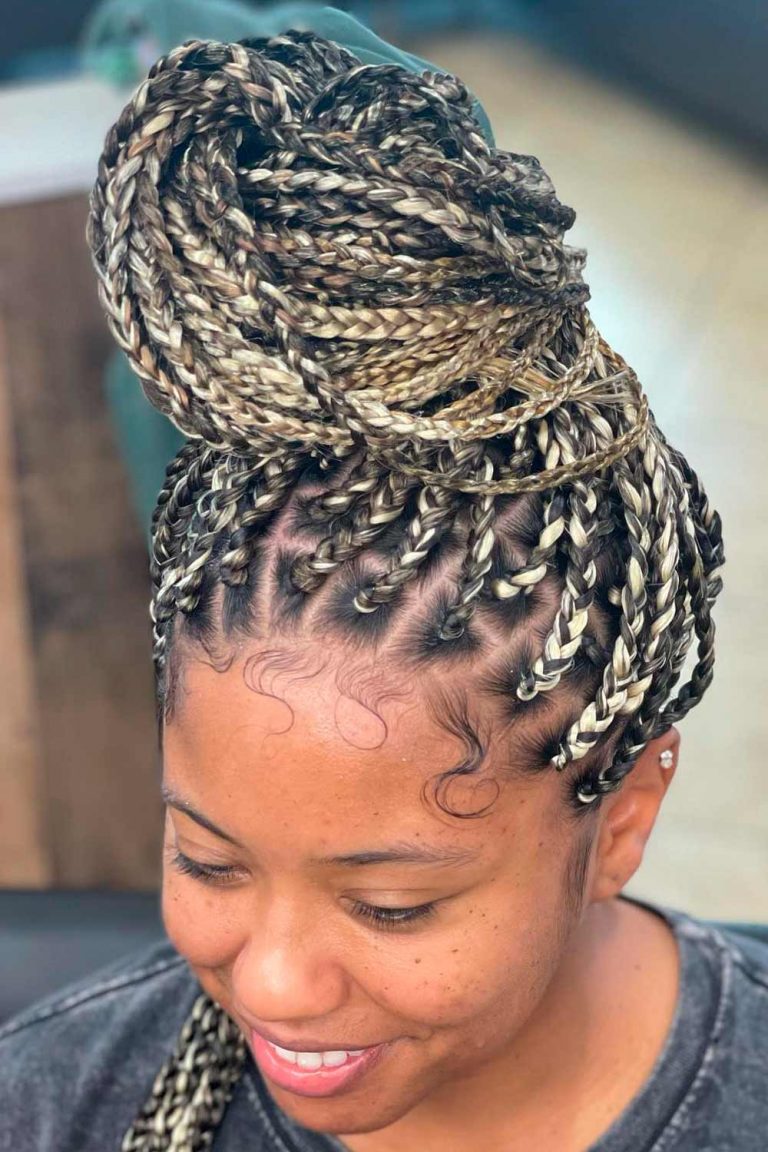 Credit photo: instagram.com/braidedroots
There are plenty of ways to enhance a box braided hairstyle. Highlights add definition and help you to emphasize the texture of the hairstyle. Though, not everyone may want to get their locks bleached or chemically treated. No worries. With blonde extensions, you will not have to expose your locks to chemicals. You can then wear your braids in whatever style you like with a high bun being among the most popular ones.
Long Box Braids With Ombre-Styled Blond Extensions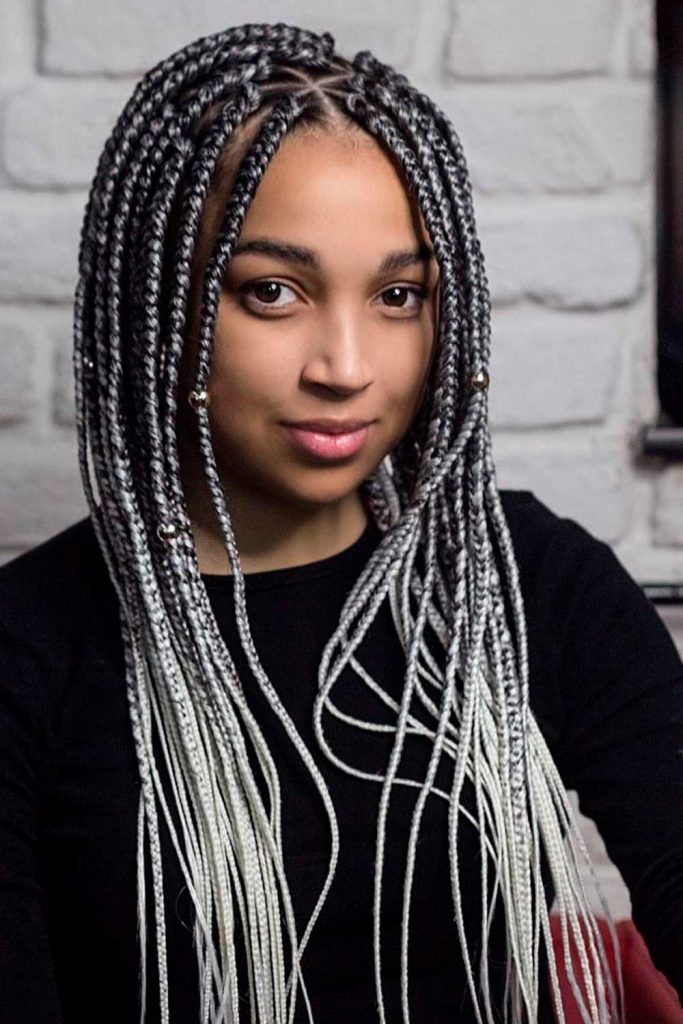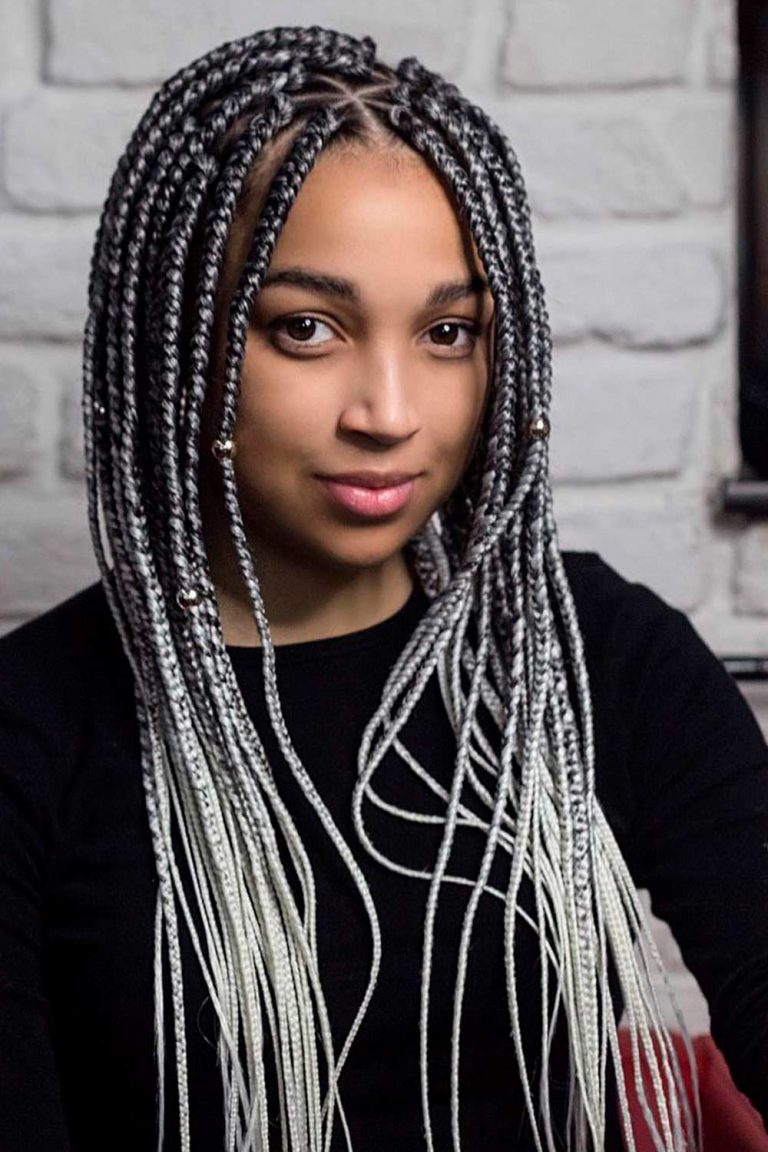 Credit photo: instagram.com/braidsvolna
Ombre box braids come out very unusual and attractive. However, in case you are not sure whether this style is going to work for you, it is always a good idea to use extensions. Ask your braider to incorporate blonde stennies into the look so that they blend into your strands seamlessly.
"Magic Sunset" Long Box Braids With Dark Red Extensions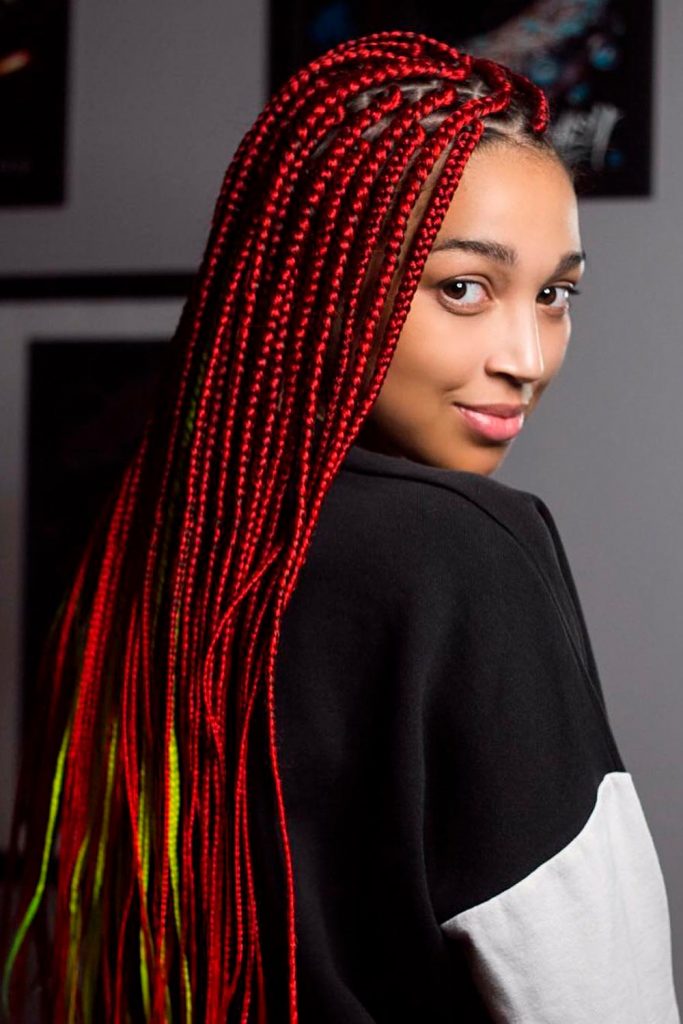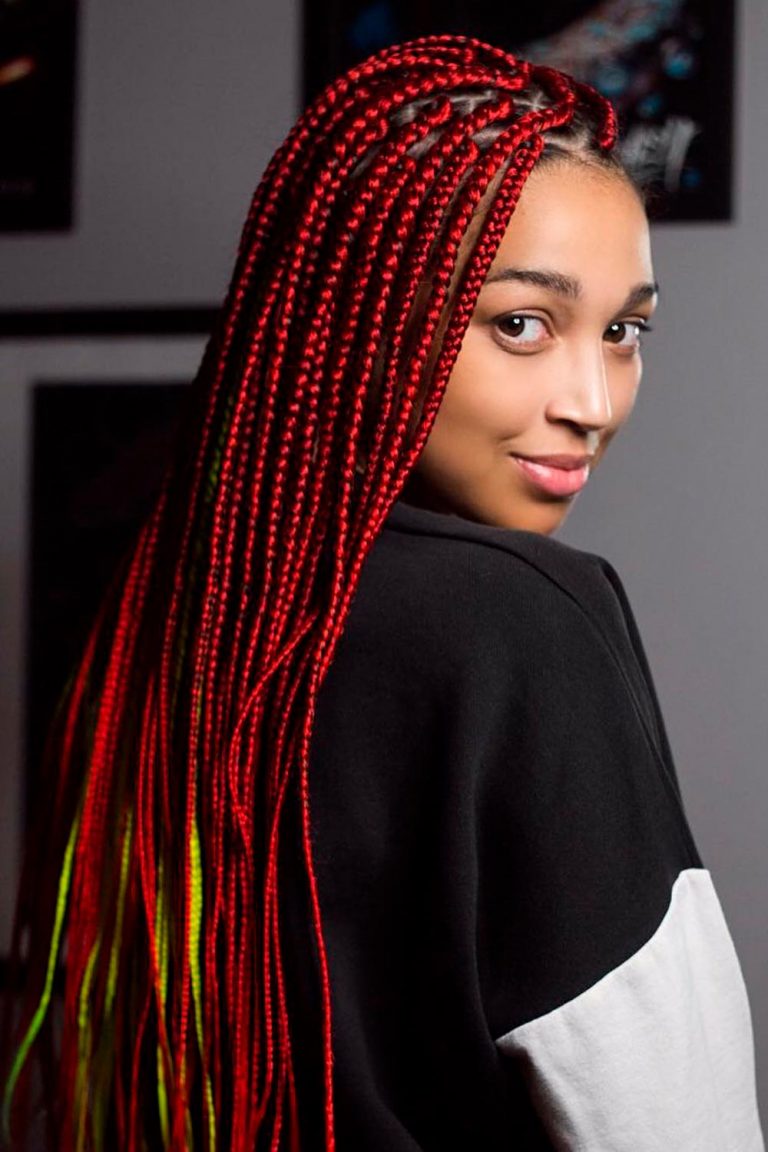 Credit photo: instagram.com/braidsvolna
Give your hairstyle a dreamy feel of the tropical sunset by going for fiery red extensions attached to box braids. This hairstyle, apart from creating a bold and striking look, is also a surefire option for those ladies who have always coveted long tresses but did not have enough patience to grow them out.
Box Braids With Cute Leopard-Styled Extensions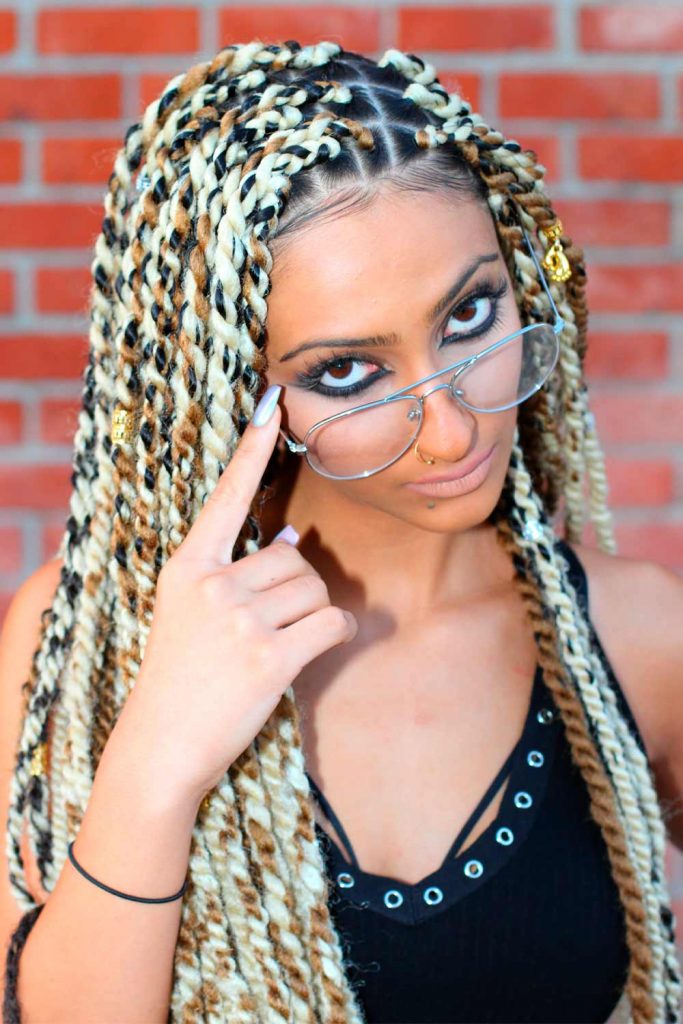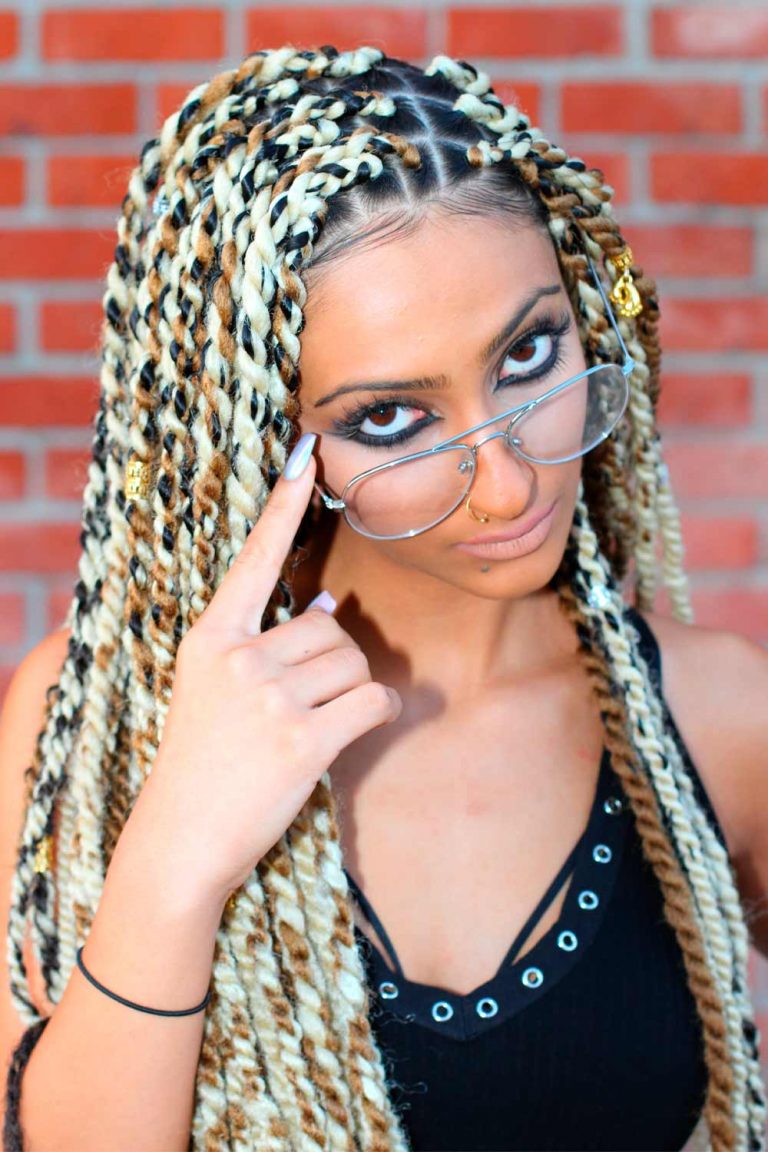 Credit photo: Shutterstock
The leopard pattern is back in fashion. So, if you have always been a fan of it, this is your golden hour. It is absolutely everywhere, from your clothes and accessories to your hairstyle. The latter can be achieved with the help of two colors of extensions – blonde and red – threaded into your dark box braids.
Thick Twisted Box Braids In A Ponytail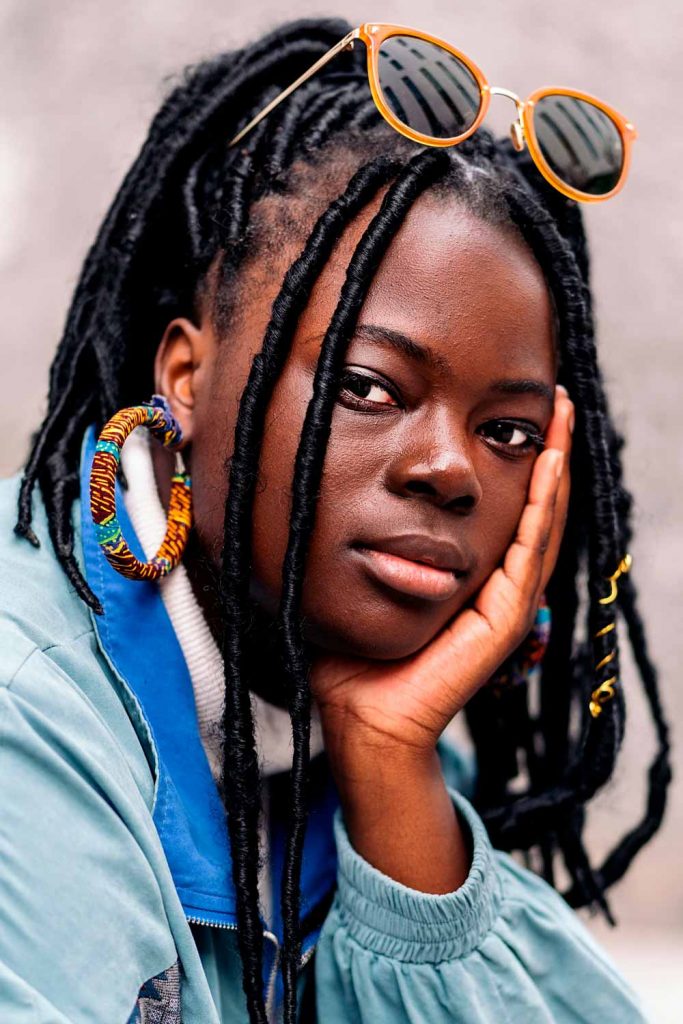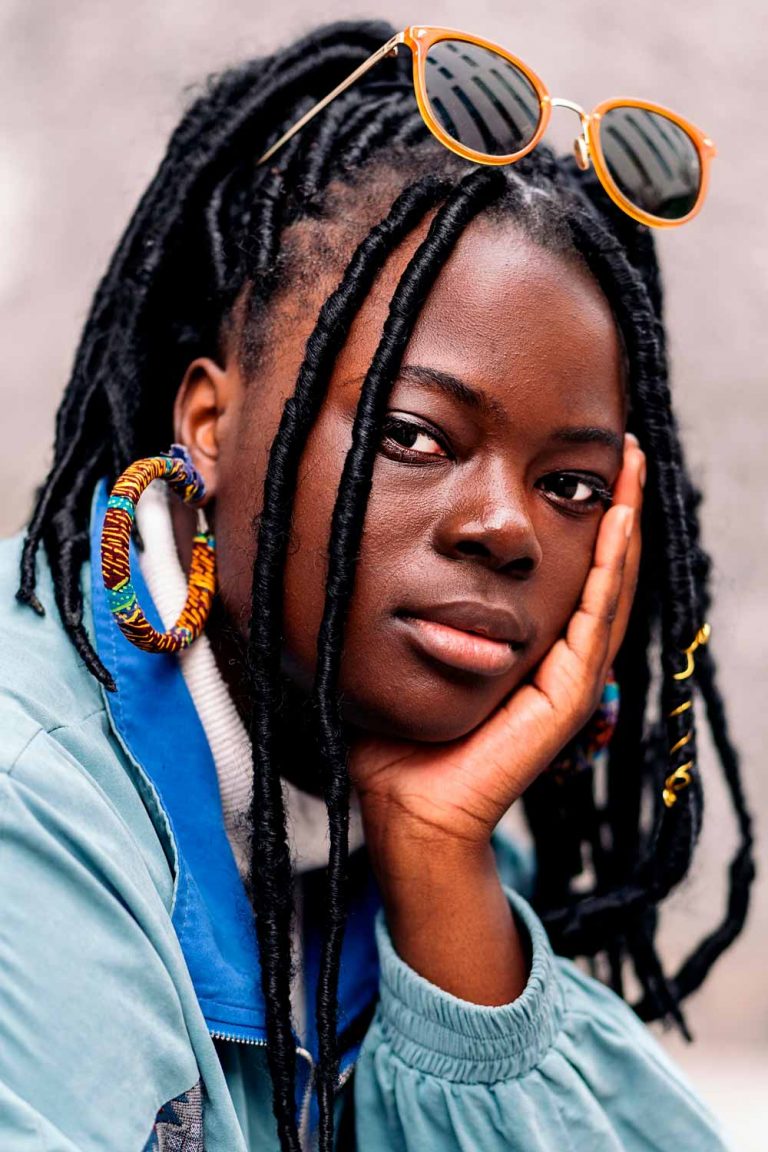 Credit photo: Shutterstock
In most cases, box braids can be transformed into almost any other hairstyle and a ponytail is no exception. Even if you have thick twists, they can still be tied in a high pony. The look turns out stylish and fashionable. Plus, it takes the braids away from your face, thus allowing you to show off your beautiful facial features.
Jumbo Updo Roll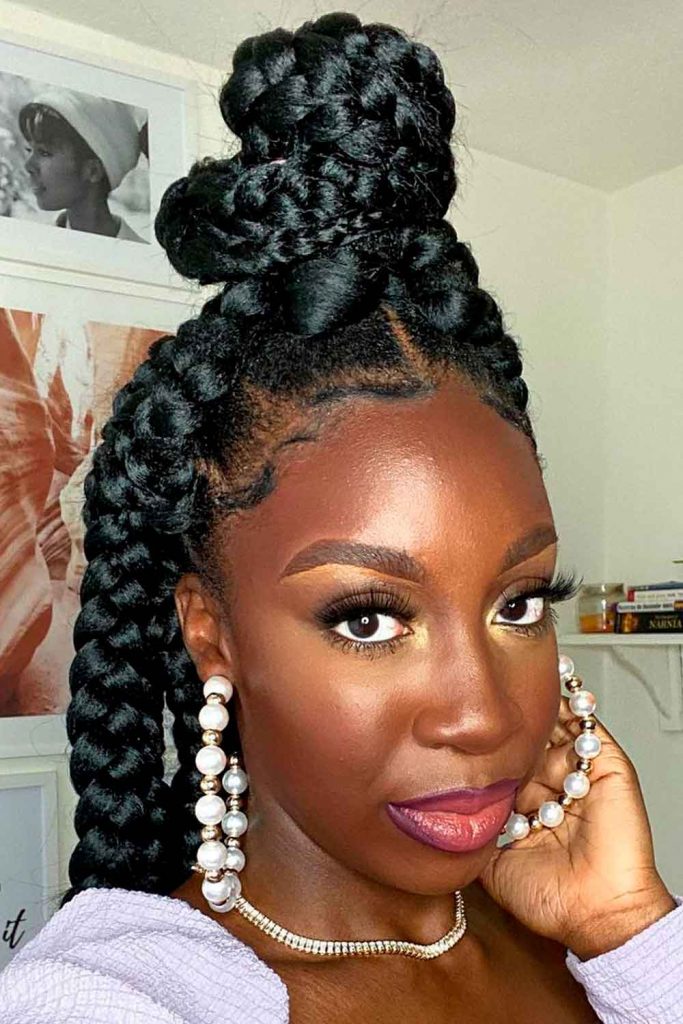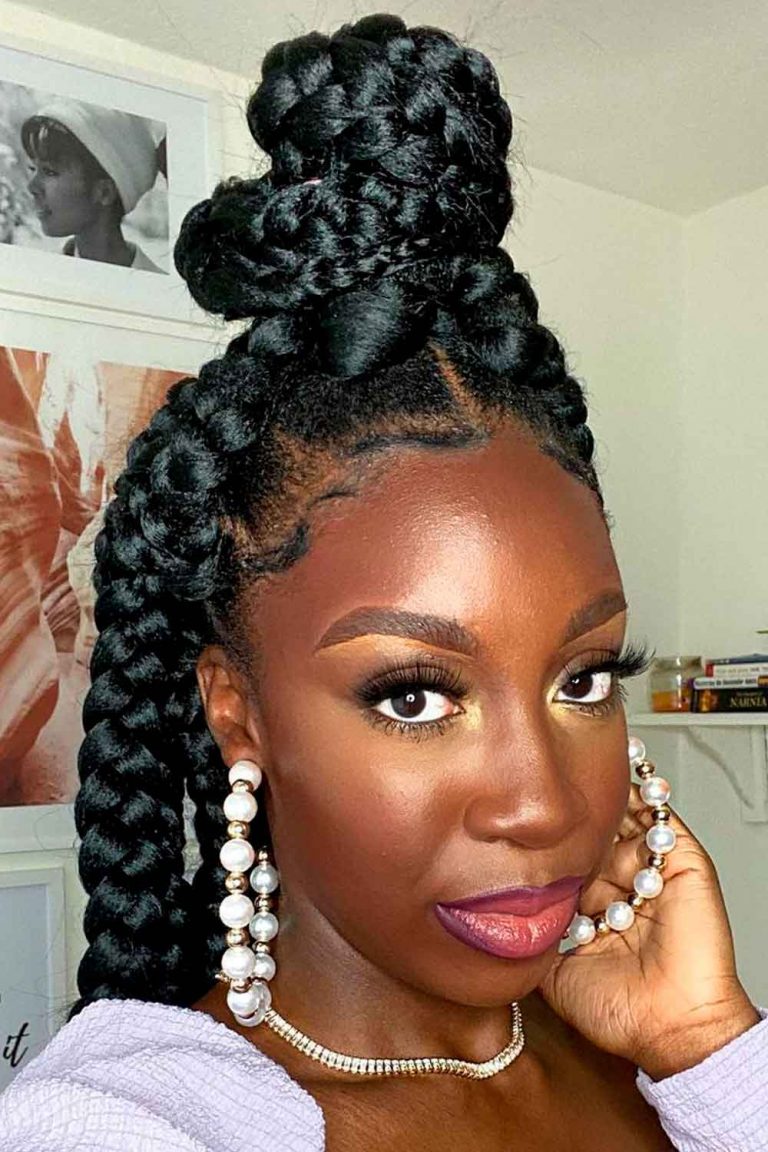 Credit photo: instagram.com/sincerelyoghosa
Some people falsely assume that jumbo braids can't be worked in another style. We are here to prove you wrong. The truth is that a jumbo updo roll looks impressively stylish and elegant, not to mention unique.
Crisscross Box Braids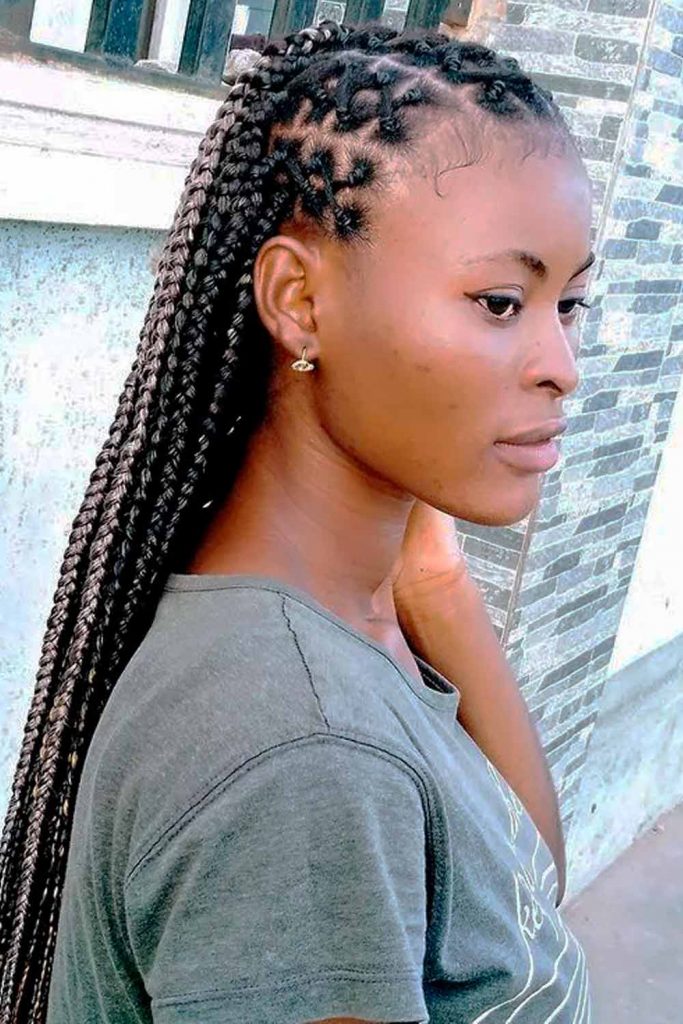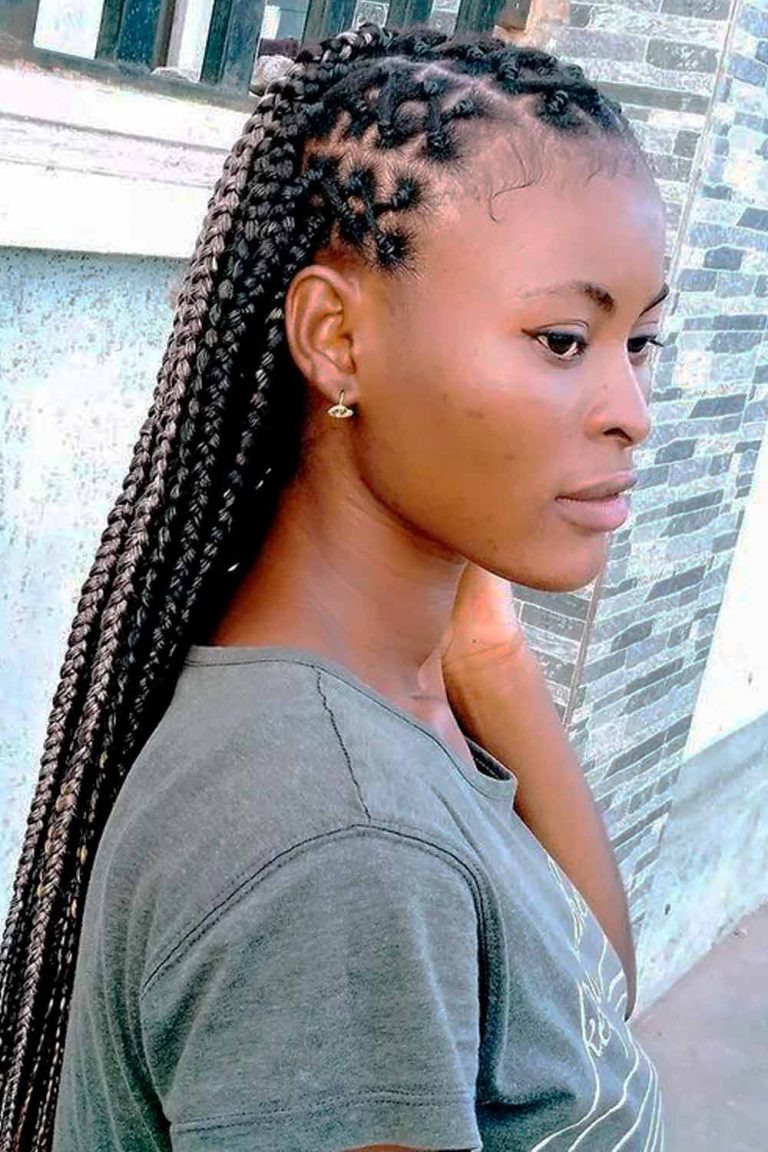 Credit photo: instagram.com/arbie_beaut
As you play around with the size of your braids, you can experiment with the braiding patterns themselves as well. This crisscross style requires a fair share of skill to succeed with, but the exceptionally stylish result is clearly worth the effort. Not to mention that the style will keep your locks out of your face without the need of gathering them into a restrictive 'do.
White Girl With Box Braids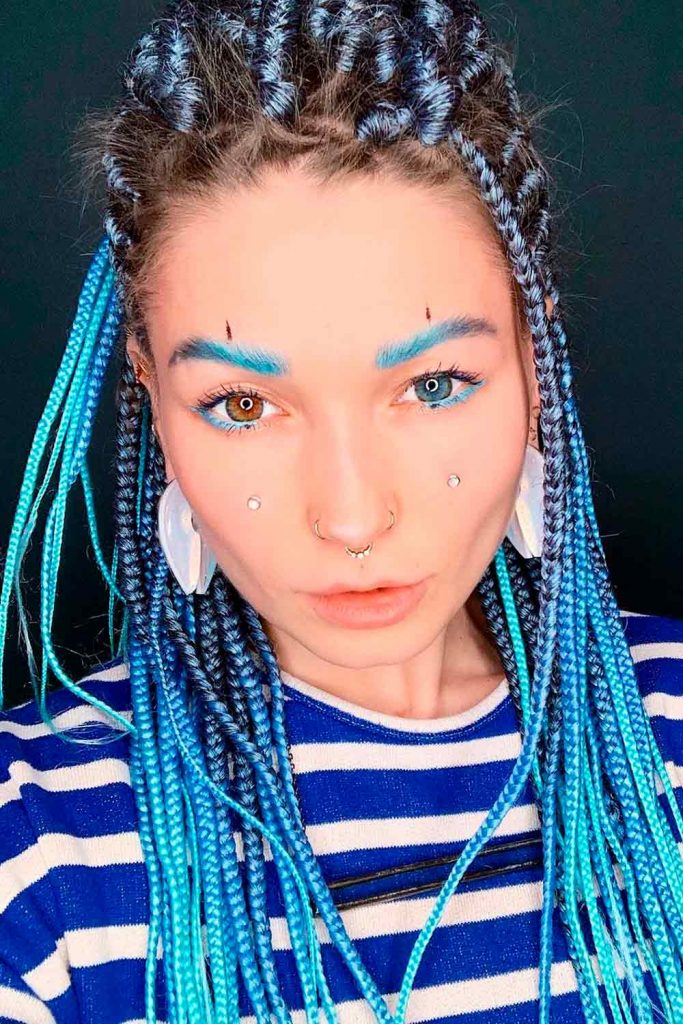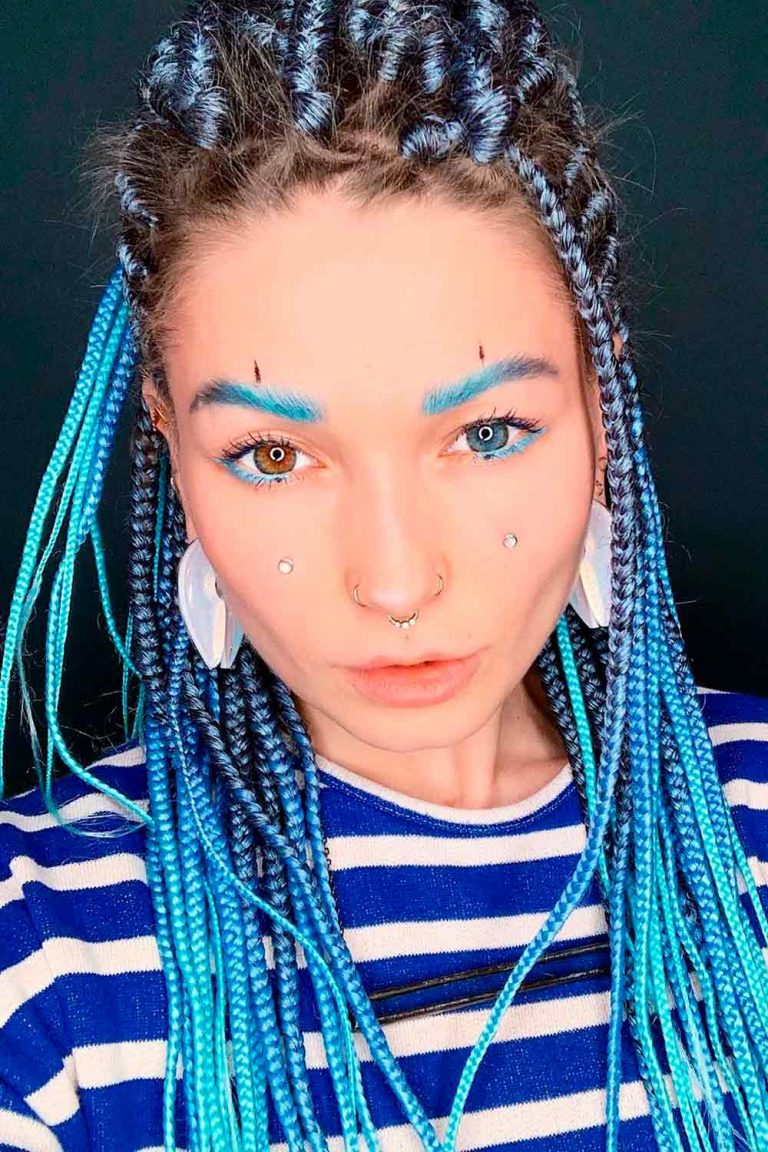 Credit photo: instagram.com/aliyousha
As a great protective style, box braids are sported by people of all nationalities and complexions. One of the most common looks that white girls seek with box braids would be a significant bright-colored combo.
Silver Box Braids with Cornrow Elements
Credit photo: @aliyousha
i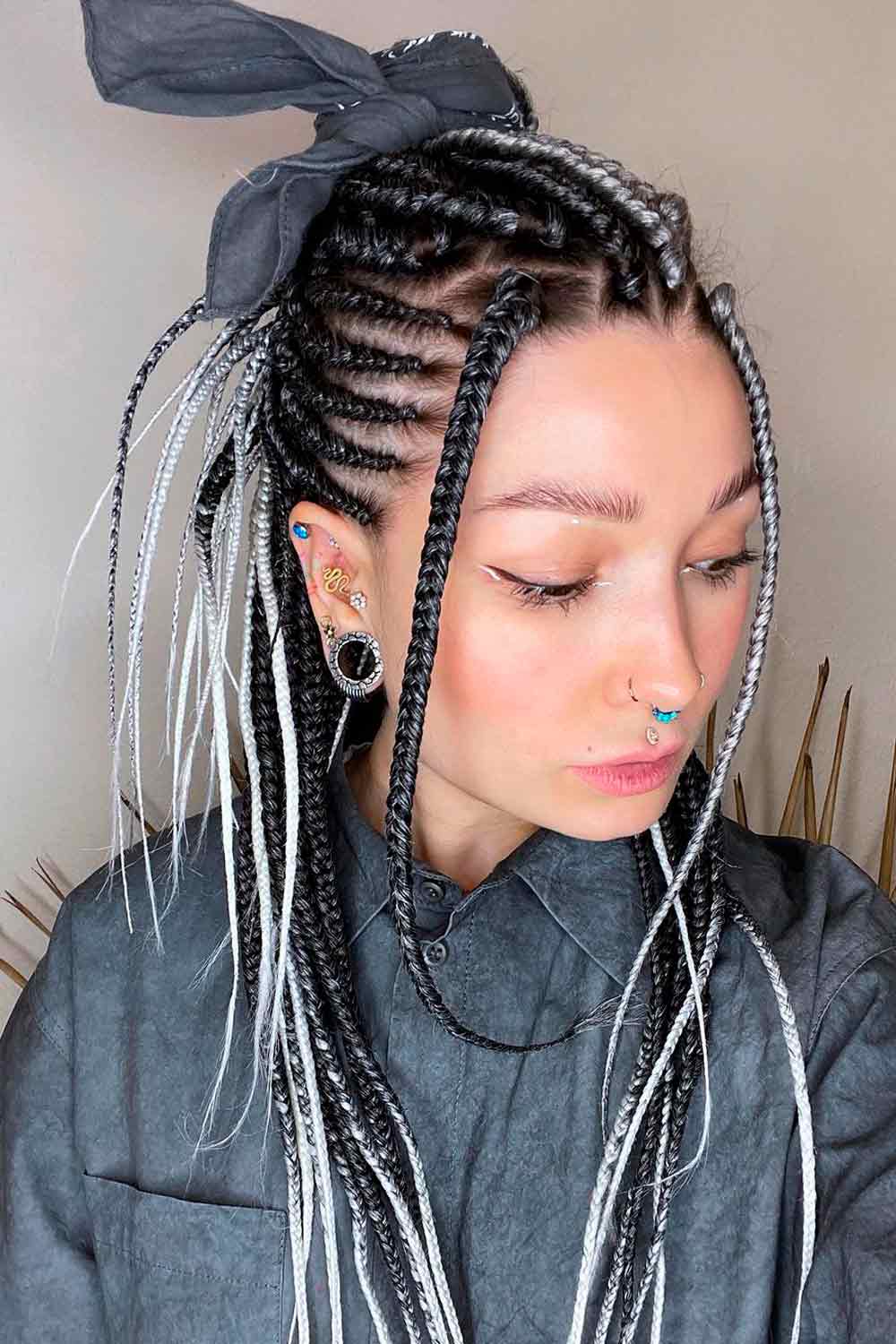 Credit photo: @aliyousha
i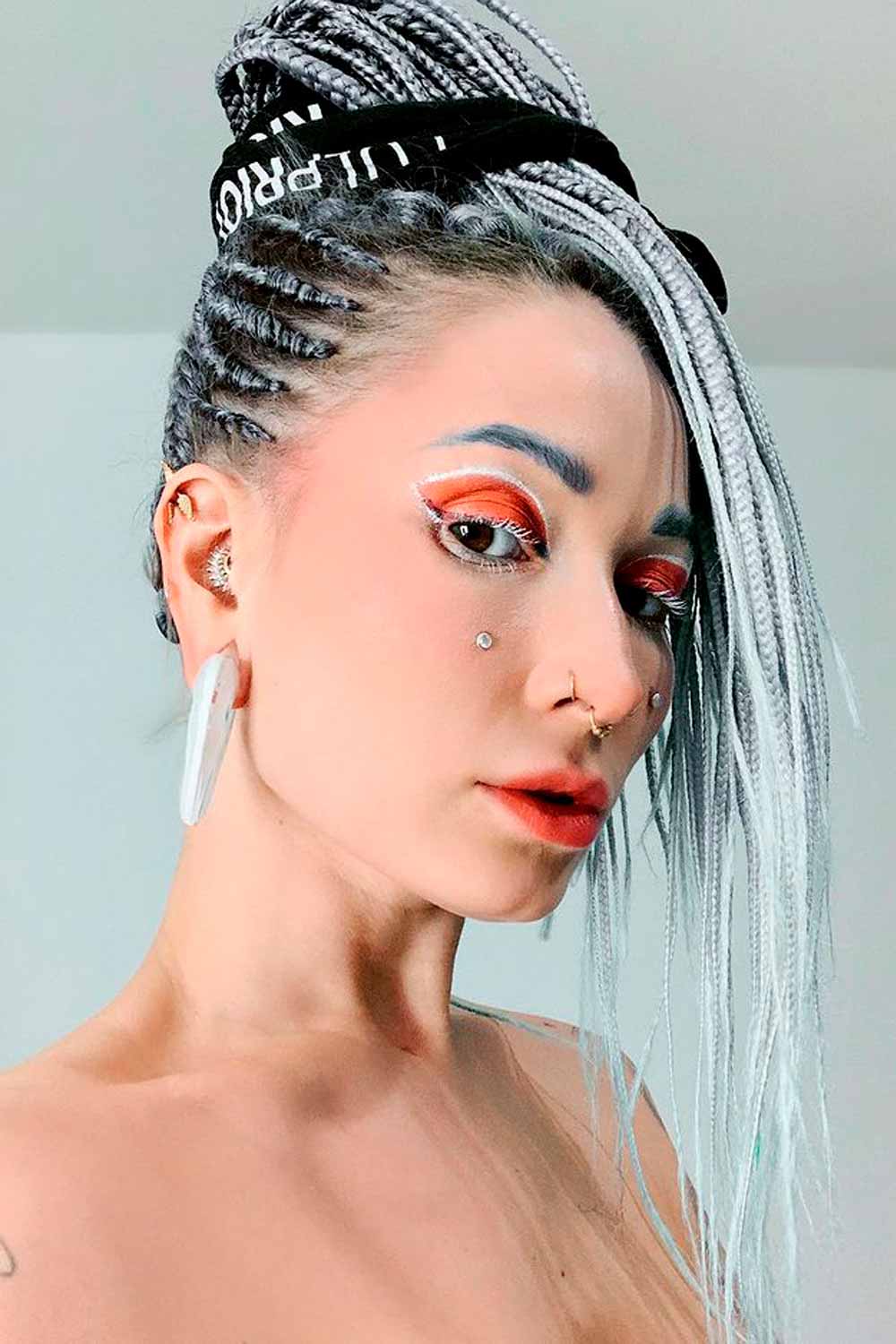 /
When committing to a modern dyeing technique such as silver ombre is out of the question at the moment, you can refer to box braids instead. As you introduce silver add-ins into the style, you can replica the ombre flair without bleaching your locks. The outcome is still amazing and borderline impressive.
Fun Ways To Style Box Braids in 2023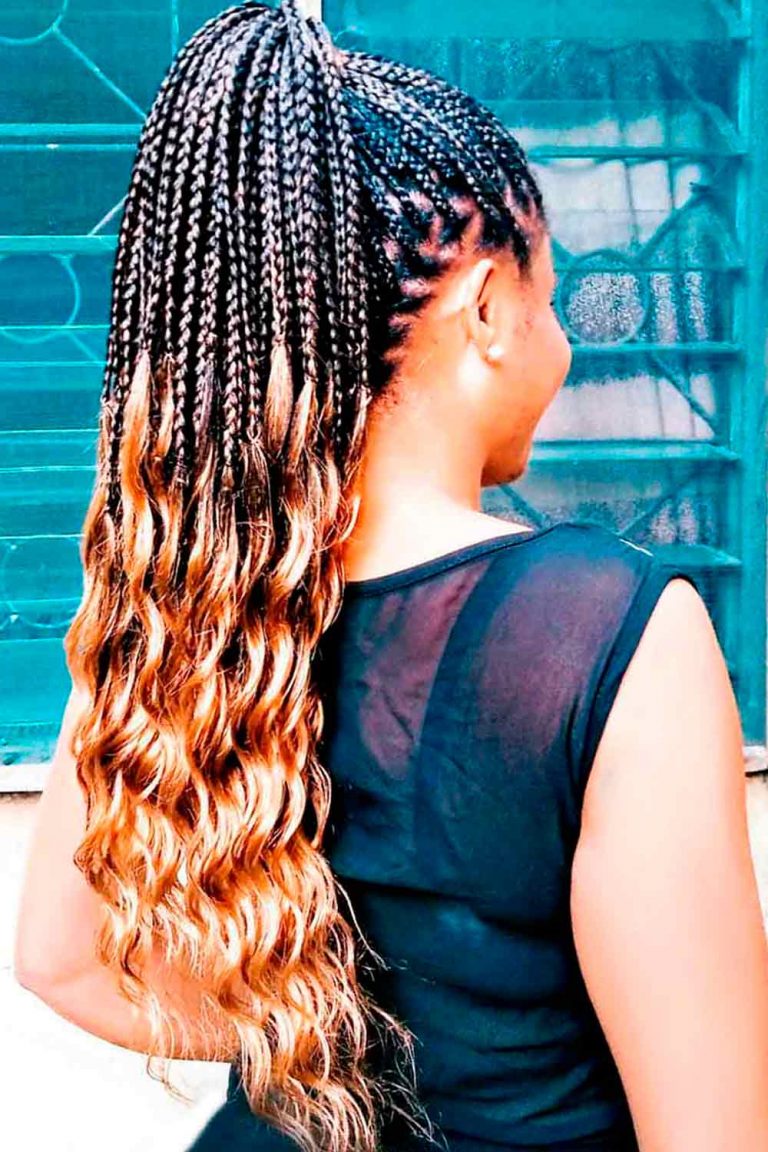 Credit photo: instagram.com/arbie_beaut
Braids: You can combine a mixture of boxed and systematic braids into a fun and unique hairstyle. Simply wrap them around either side of your head. Check out some of the styles below for inspiration.
Buns: This is the preferred way to style boxed braids. A chic updo will add style and class to any outing or event. High buns can be tight for an elegant look or loose for a carefree and fun look. You can add in different styles of braids for a unique style.
Twists: Twists are a great way to add some creative flair to your braids, boxed or otherwise. You can pull them back in a variety of twists and accentuate them with some cute clips or barrettes to secure them in place and add some style and personality.
Ponytails: If you prefer ponytail hairstyles, you can gather your braids into a high ponytail and wrap add a gorgeous silk scarf or flower. You can even do pigtails if you want a cute, sassy and playful look. Whether you opt for sleek or fun, ponytails are a timeless look.
These are just some of our favorite box braid styles, but why stop here... there are so many looks you can accomplish with braids. The best part about braids is that there really are no rules. You can get as creative as you want. Add accessories, color, highlights, twists, and turns... go wild! Embrace your inner goddess and rock those braids, girl!
FAQ: Box Braids
What is the difference between box braids and regular braids?
Although knotless braids and box braids can have the same sizes and lengths, the main difference is that knotless braids Knotless braids appear to grow from the scalp, whereas box braids have a visible knot where you've added the extension.
What are Goddess braids?
Goddess braids are basically a thicker version of cornrows. They start higher on your head and are braided near to your scalp. They can be dressed in a variety of ways for any event. For example, you may wear them to the gym, straight to work, then go out to drinks while still looking fantastic.
Can you get your box braids wet?
Before you pull your braids into a ponytail or other style, make sure they're completely dry. They won't be able to properly dry if you style them while they're still damp, and you don't want your braids to have a moldy odor.
REFERENCES:
Was this article helpful?