There are countless reasons why black braided hairstyles are considered to be the most enviable styles of now. First of all, their variety is something that has a beginning but has no end: crochet, Fulani, goddess, cornrow, micro braids. The endless number of options allows any women of color to pull off a unique style.
And besides the distinctive and eye-catching visual side, all these braided hairstyles are designed to protect coarse and kinky hair from daily routine damage, giving it a lot of room for styling and wearing creativity.
In this post, we've gathered all the braided trends for natural hair to show all women, whether they're natural-haired or not, why braids are so popular and how to pull them off today!
The Latest Trends In Black Braided Hairstyles
Source: lipstickncurls/Instagram
Women with natural hair once decided that they can't have too much of a good thing. First, they took African braids as a basis for their protective hairstyles. Then, they let their imagination run wild and went on taking the tribal-inspired idea to the next level. And now, every single girl with black hair that you come across will live long in your memory. Why? Because there are so many braided hairstyles for black women that can be customized and individualized that it's hard to take eyes off each.
While fashion trends that we see on the latest runway shows can come into our wardrobe after a couple of seasons, these hairstyles can be stolen right away! To help you stay up to date with the latest natural trends, here are the most popular braided styles:
Tight cornrow hairstyles that turn into textured updos and classy half-ups. Such hairstyles are known to appear in Couture collections while being awesome and comfy casual options.
Boho-inspired wrapped hairstyles with Senegalese twists for a rather feminine and sophisticated look to show up at a romantic date.
Chic feed-in braided styles that feature colorful extensions and beads. It's a nice way to loosen the tension to the scalp while rocking a fancy, bright hairdo.
Thin micro braided ponytails, braids, and casual hairstyles. With the help of tiny braids, the good-old, familiar 'dos show up in the new light.
Long, Sleek & Braided Pony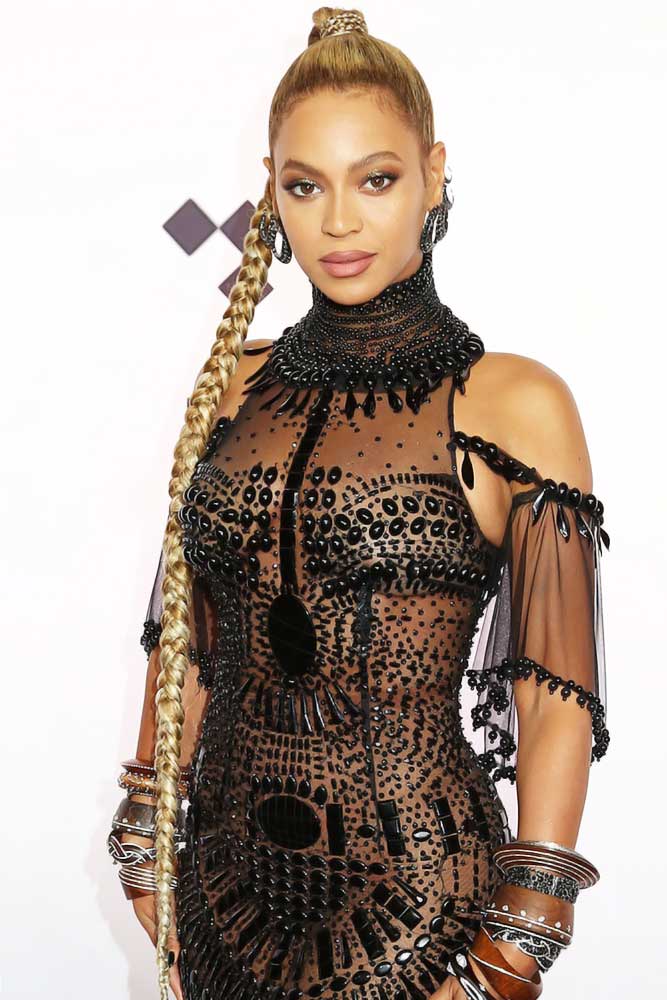 Source: JStone/Shutterstock
Remember how trends are born? Once something new gets worldwide recognition, it becomes what we call a trend today. Now, who runs the world? Beyonce, who's actually the top trendsetter of black braided hairstyles, makes it all clear in her famous song. And when she shows up with braids, everyone's heart skips a beat. No wonder! She's just nailed down the sleekness and even texture. Her long smooth braided pony is one of the best natural hairstyles for black locks.
Three-Strand Braid Updo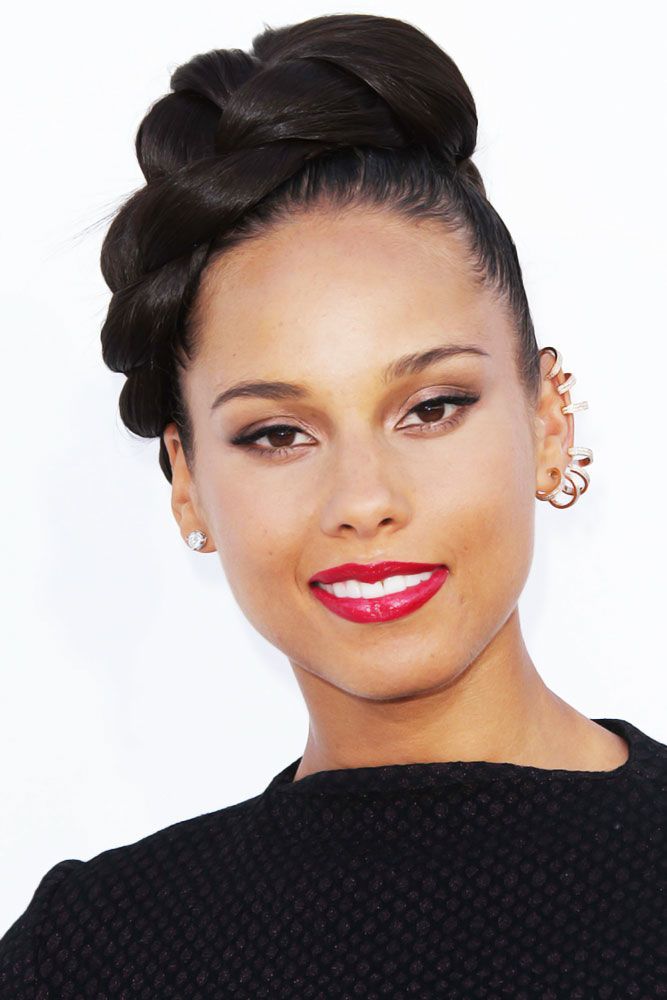 Source: s_bukley/Shutterstock
All self-respected rappers mention Alicia Keys in their songs for her amazing grace and beauty, while girls from all around the globe dream to steal at least one thing from her - the art of wearing braids. Here, she strikes cameras with a creative take at the three-strand braid updo. It looks extremely gorgeous and unique, as the braid is not only thick and super defined but it also has an extraordinary shape.
Tight Three-Strand Braid Pony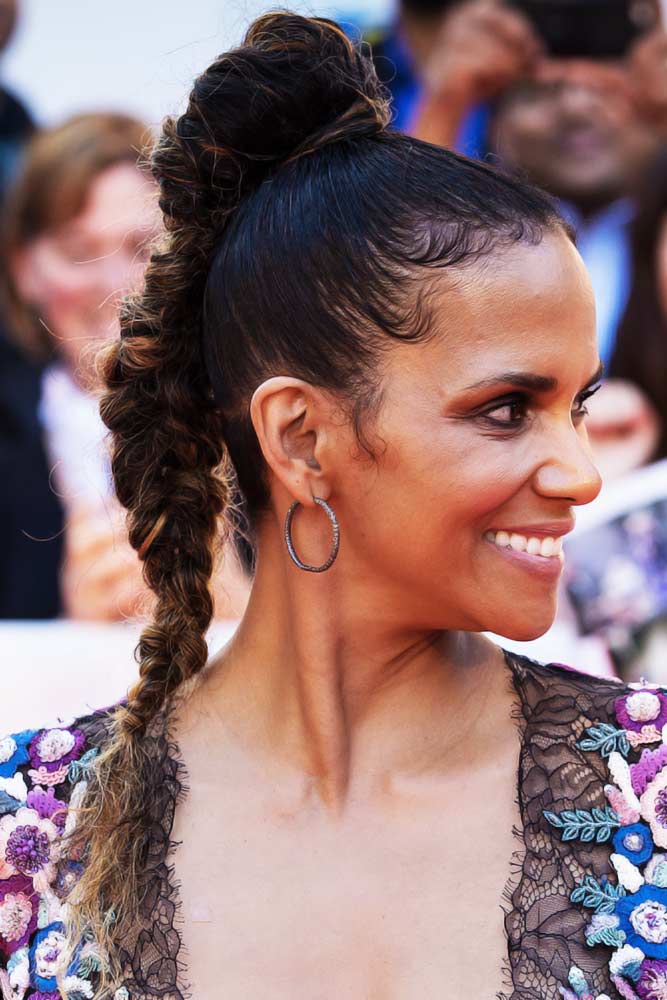 Source: Trina Stewart/Shutterstock
Halle Berry has tried out lots of hair experiments, but this one is something really notable. Her long and tight braided 'do that transforms into a ponytail makes the whole look even more accentuating, keeping her front open. See, three-strands braids are never boring!
Fishtail Braid High Bun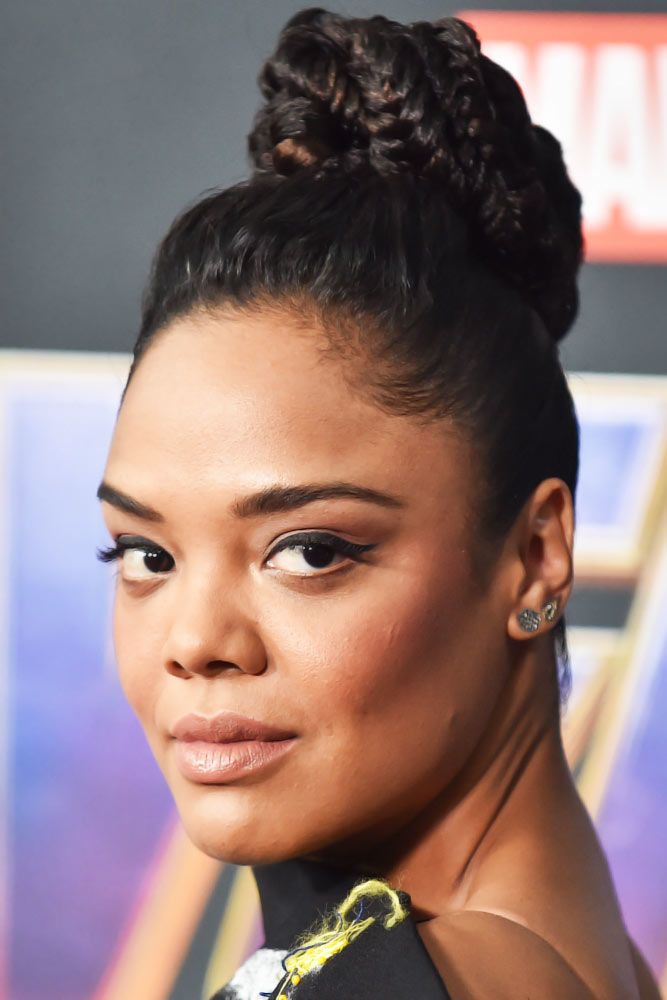 Source: DFree/Shutterstock
In contrast to all those girls who consider natural hair to be a real curse, Tessa Thompson is another wise lady who knows what a blessing she's got. She loves her texture for its versatility, that's why you may see anything from jumbo to crochet in her hair portfolio. This time, the actress decides to go feminine by putting a fishtail braid into a high bun. Well, that's how refined simplicity can be.
Micro Braids Into Pony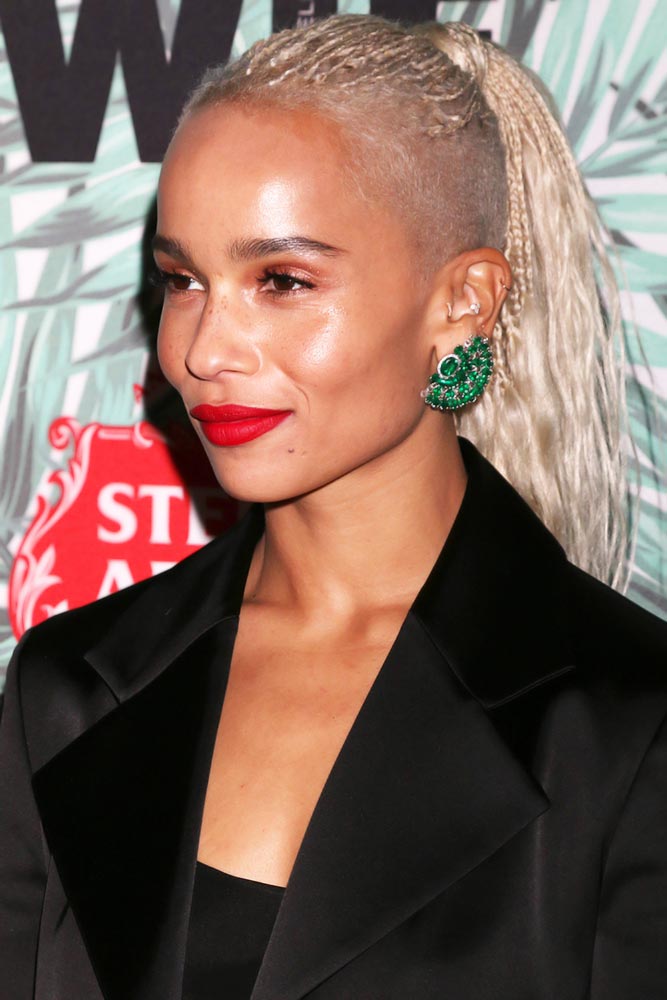 Source: Kathy Hutchins/Shutterstock
Every single time Zoe Kravitz walks down the red carpet or simply shows up in public is worth an Oscar. In fact, she is the living example of a woman who gets the most out of her texture, making it work for her perfectly. She was not afraid to cut her locks short as she knew how many options she had. And the same goes to her color plays! This look, for example, is nothing but blonde goddess braids attracted to a short haircut. If such versatility isn't a dream come true, what is, then?
Messy Side Fishtail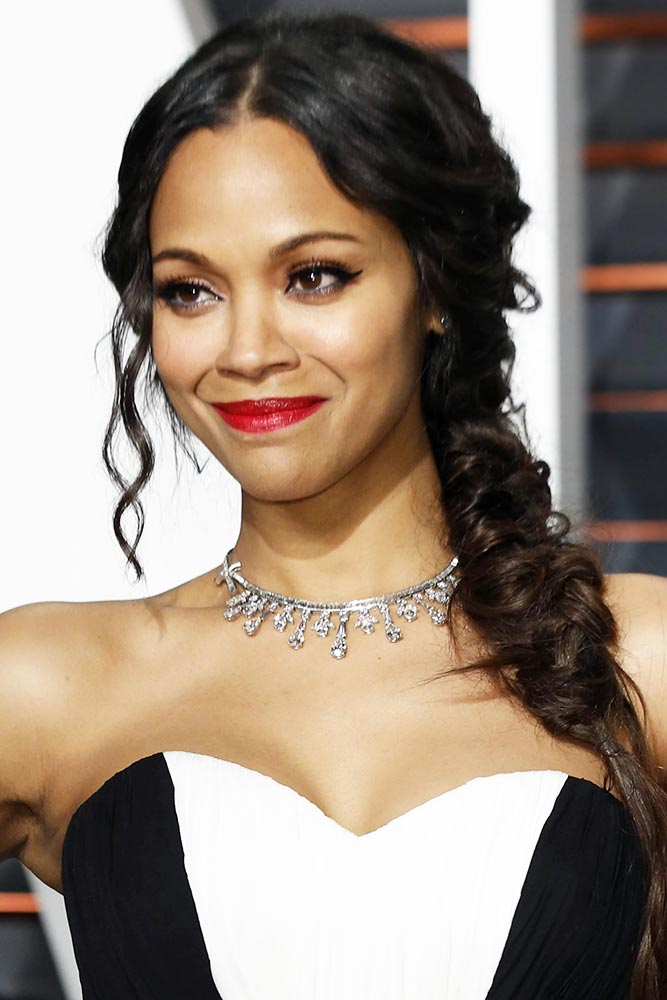 Source: Kathy Hutchins/Shutterstock
Zoe Saldana is a true minimalist lover when it comes to her hair. Her natural hair is pretty thick yet not unruly, so she often rocks sleek and straight hairstyles with a slightly wavy finish. As for braids, she wears them in her own, moderate way. Adding some messiness to the simple fishtail braid, she turned it into a totally sophisticated festive look. Needless to say, some front locks and side part nicely complement the balanced hairdo.
Braided High Bun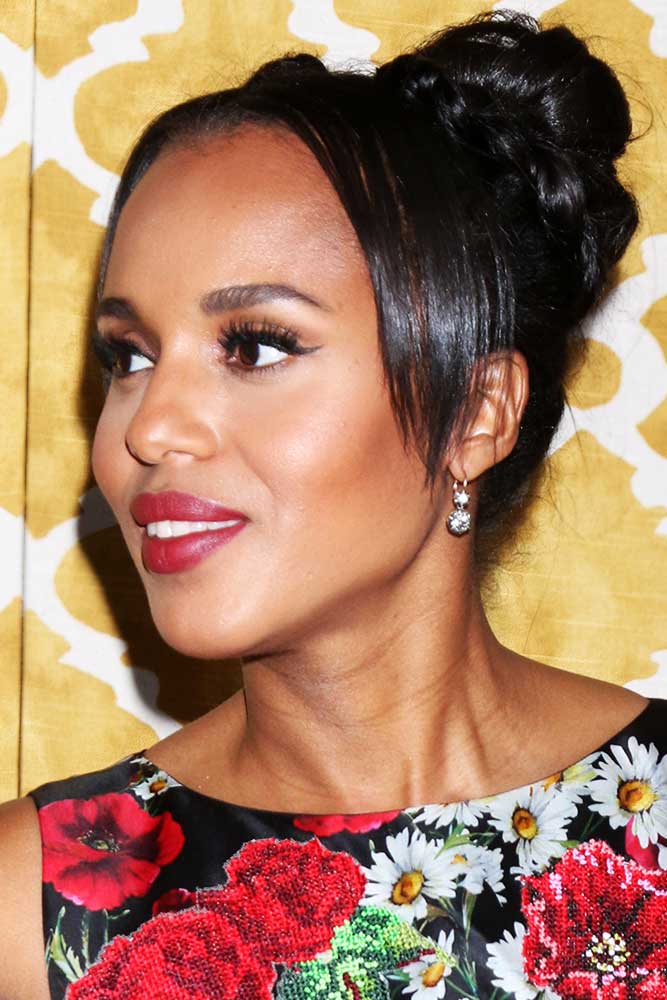 Source: Kathy Hutchins/Shutterstock
If you haven't recreated at least one hairstyle of Kerry Washington, you're missing out! This actress has pulled off countless hair roles and each one was a masterpiece, whether she's curly and puffy or sleek and straight. This look, for example, is different compared to most hairstyles spotted on the star. It's all about femininity and refinement. Well, who would've thought that a braided bun would be enough to create such a look? Of course, side bangs also took part in this amazing ensemble.
Faux Hawk Braids With Hair Rings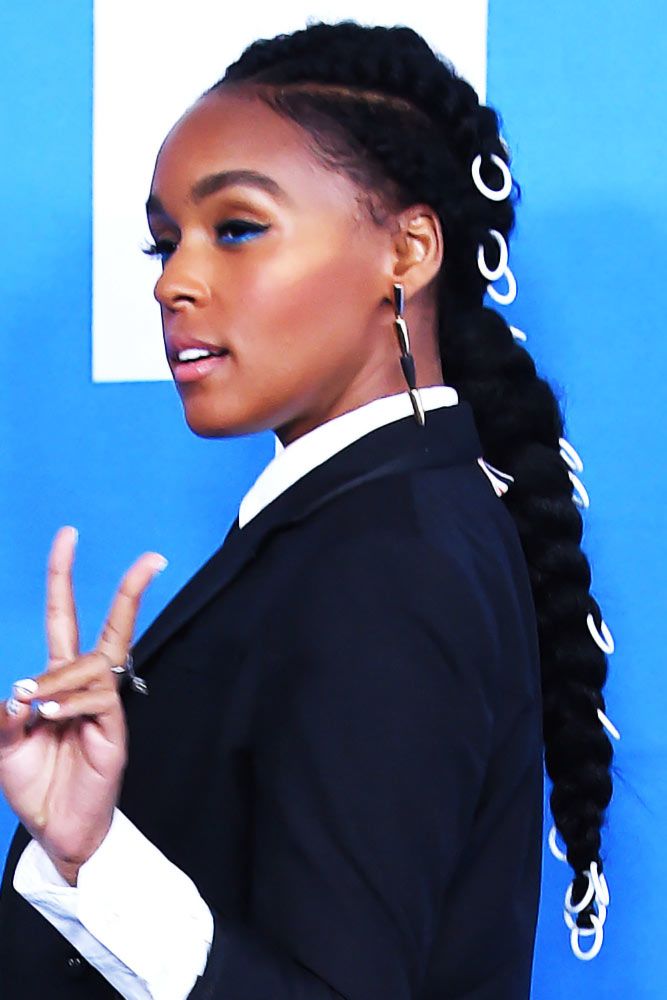 Source: DFree/Shutterstock
Although beads and cuffs are great complements to black braided hairstyles, if you want your hair to look modern, you should follow Janelle Monae. Hair rings have become enormously popular in recent times, mainly because they can instantly add a little hint of sassiness. Aren't they the perfect finish for faux hawk styles?
Jumbo Braids Style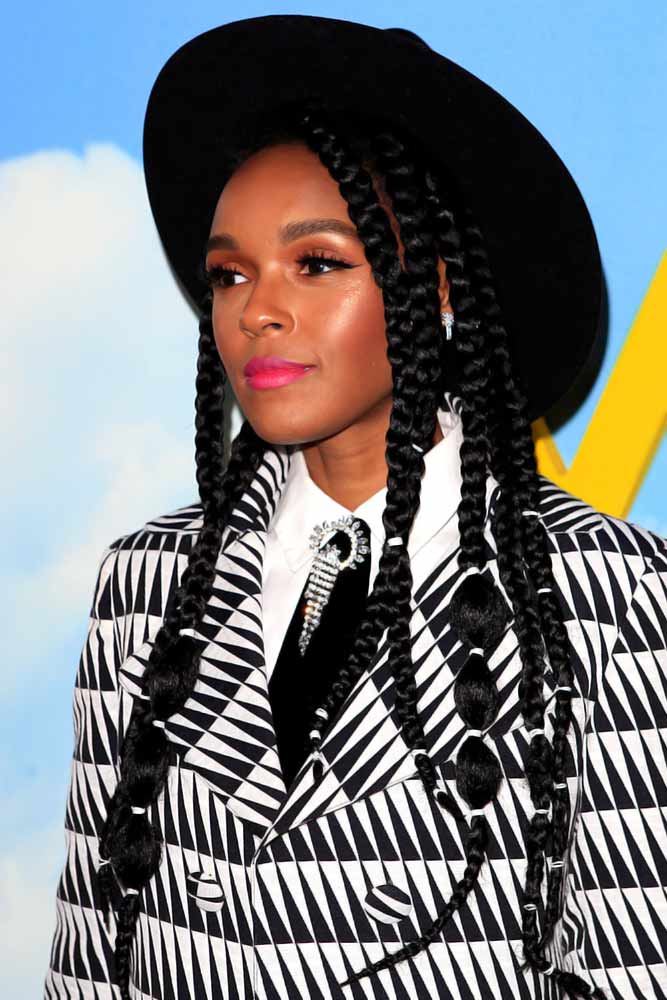 Source: Kathy Hutchins/Shutterstock
Rastafari-Mood Braids Another stunning braided look of Janelle Monae. As you might have noticed, this girl is really into attention-grabbing hairstyles as Jumbo braids are meant for distinctive looks. Even though they don't appear natural, they give a very fresh and glossy finish, which is a great way to stand out in the crowd.
Crown Braid Half-Up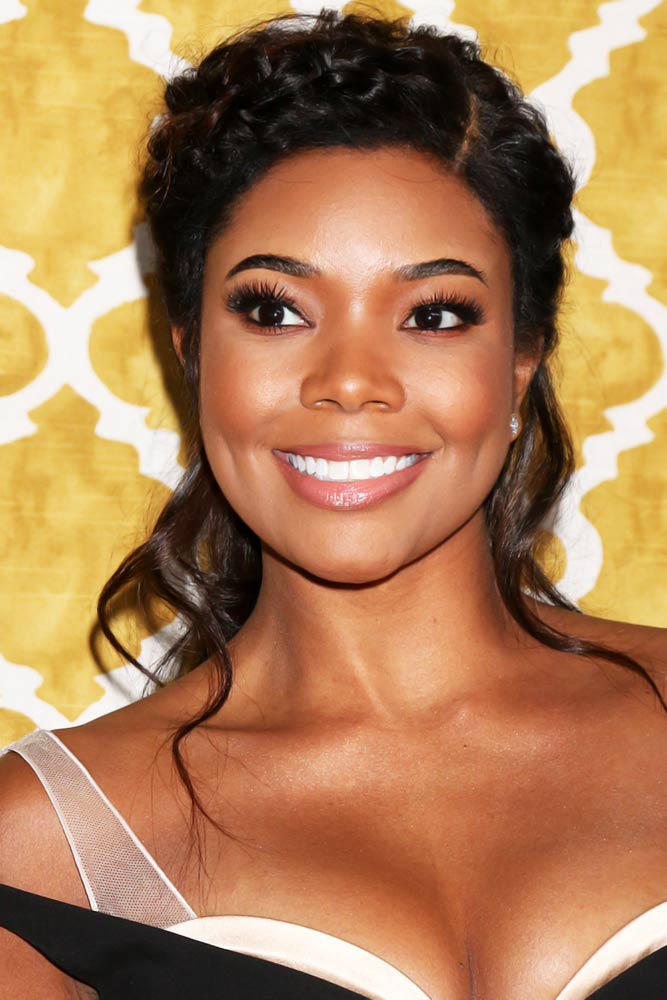 Source: Kathy Hutchins/Shutterstock
While being a judge of America's Got Talent, Gabrielle Union is full of talents herself. And it goes without saying that her hairstyling taste is one of them. In this pic, she pulls off a minimalist and delicate half-up with a crown braid. So as not to make the face appear bigger, she's left some locks to fall at the back, thus balancing out the whole silhouette.
High Twist Into Three Strand Braid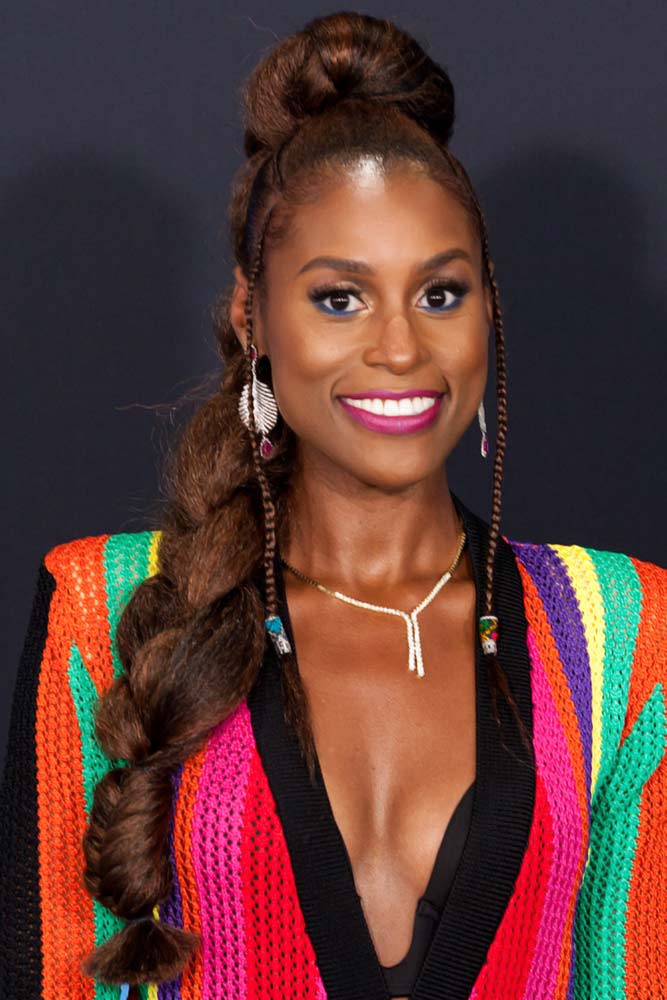 Source: Jamie Lamor Thompson/Shutterstock
Issa Rae is always in the mood for looking bright, and her natural hair is the first detail to consider. Following her love of dramatic but natural looks, she often shows up with puffy buns and crazy afro 'dos. Well, this high twist is no exception. Not only does it suits her exceptional image but also works on her sharp facial features, building the needed balance.
Center Parted Braided Low Pony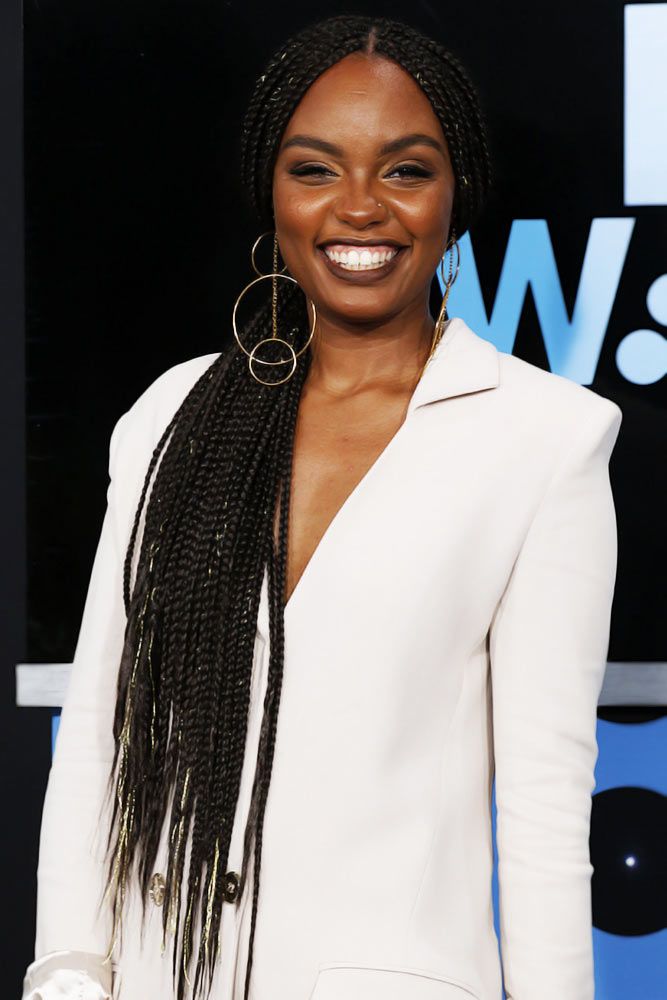 Source: Kathy Hutchins/Shutterstock
Do you recognize a simple ponytail in this braided piece of art? Sierra McClain is here to show that braided textures can drastically change the way familiar hairstyles look. In fact, the only things she did for the look is braiding to the center and tying a pony. Still, it gives so much of a visual impact!
Double Crown Braids Half-Up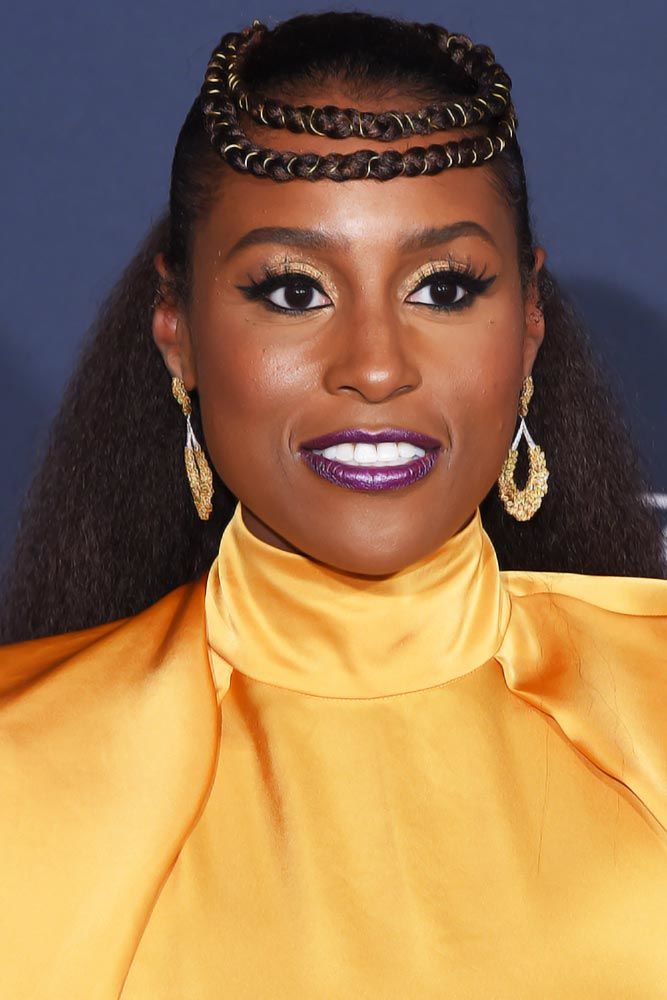 Source: DFree/Shutterstock
How about some more braided creativity from Issa Rae? Instead of spending money on hair accessories that you will probably wear just a couple of times, you can create embellishments out of your hair! Double braids that look like a crown and amazing long mane falling on the back are just another proof for the versatility of natural braids.
Side Micro Braids With Long Curly Hair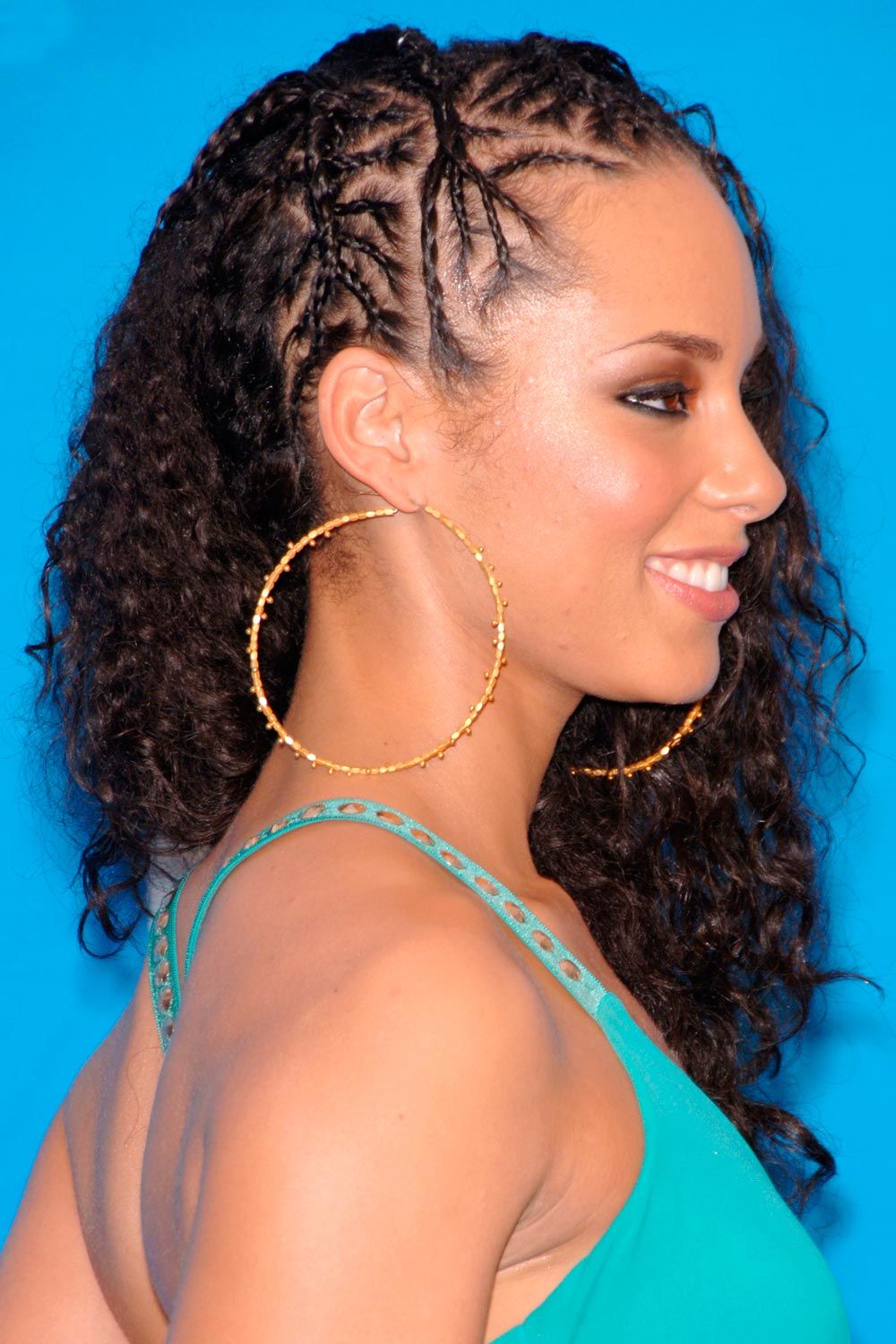 Source: Featureflash Photo Agency/Shutterstock
French Faux Hawk Braid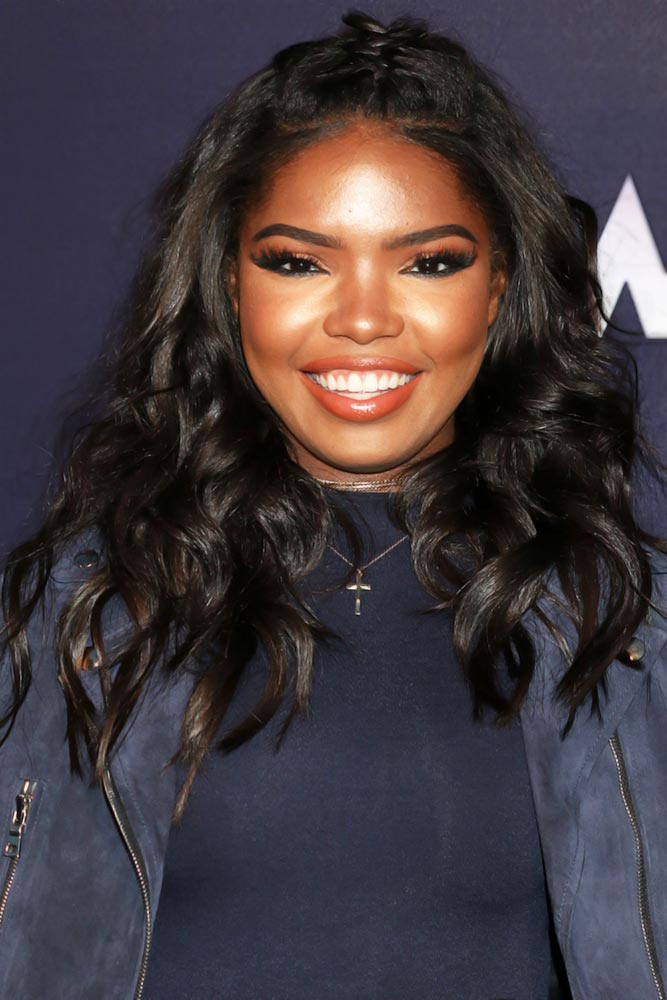 Source: Kathy Hutchins/Shutterstock
This Ryan Destiny's look was simply destined to have all eyes on it. At first sight, it may seem there's nothing complicated about the style. But, actually, to tame those natural locks is a great deal of efforts. As a result, the voluminous waves keep the hairstyle posh and attractive, while the little faux hawk braid on top gives it a lot of character.
Long & Sleek Dutch Braid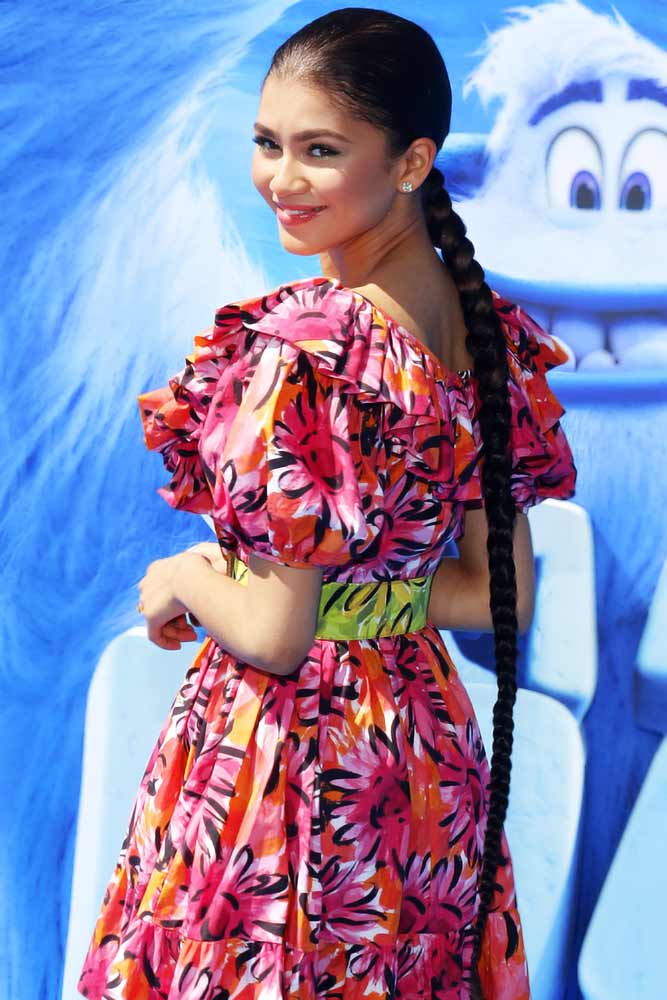 Source: Tinseltown/Shutterstock
Zendaya Coleman knows what it's like to catch enviable eyes 24/7. Let's be honest, her cute hairstyles, whatever they are, are just to die for. Seems like she's got a secret plan to leave us speechless with her 'long' take at the classic Dutch braid. The truth is, it turned out to be a success, as no one can resist this striking feminine long braid.
Refined Braids Into Pony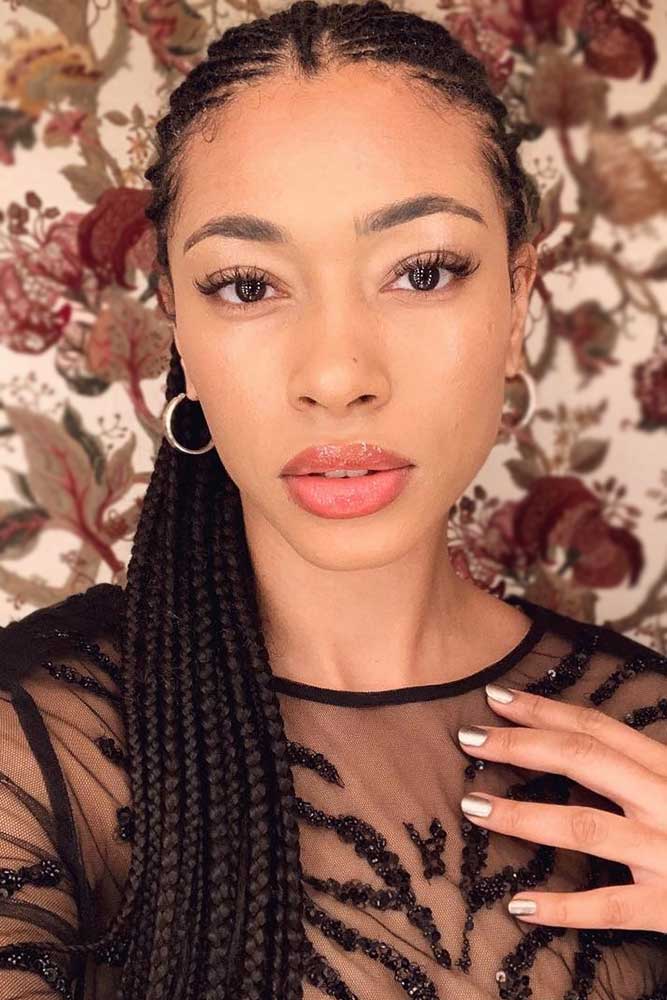 Source: freshlengths/Instagram
That's OK if you think that Fulani braids were first spotted on MTV stars. But a little bit of history won't hurt! This braided style is a part of the cultural heritage of Fulani people, Islamic group from West Africa. And that's why the style brings so many ethnic vibes. As you can see, its modernized ponytail version doesn't seem to take a backseat! On the contrary, it looks unbelievably fresh and elegant while following the classic pattern: one large cornrow that moves along to the back of the head.
Classic Box Braids With Ombre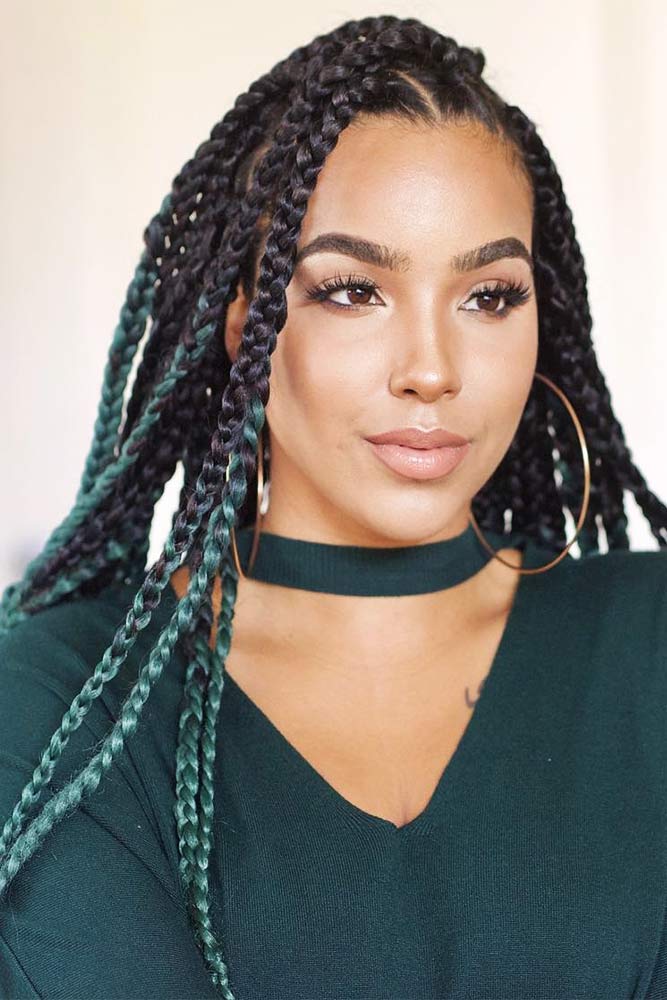 Source: lipstickncurls/Instagram
Many African American celebrities have popularized box braids, making it so famous that even non-natural haired girls love to pull them off. As the name suggests, these tight and pretty big braids have square-shaped hair divisions. This idea is nothing but a trendy combo: this girl has nicely accentuated her distinct braids with cool-toned ombre.
Chic Ponytail Into Dutch Braid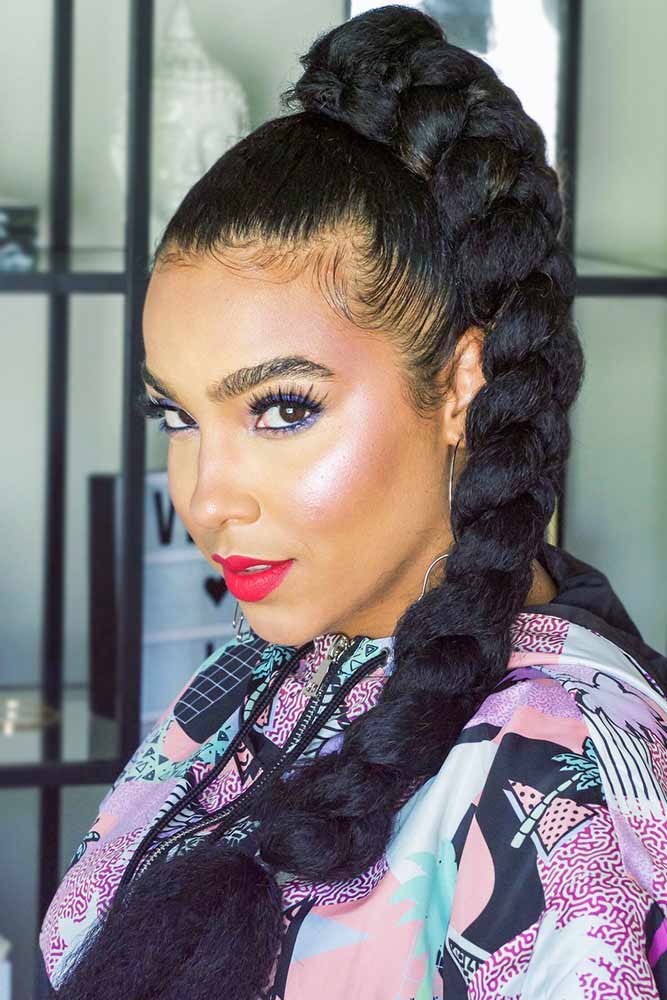 Source: lipstickncurls/Instagram
There are also many braided hairstyles for black girls that don't begin right at the roots. This braided pony is quite an easy and pretty quick protective style, as you won't need to unravel dozens of braids. Plus, it's a stunning option for ladies who love a sleek finish. Of course, it will require some styling products to tame your unruly hair, yet, the polished and textured look is worth it!
Swept Back Style With Faux Locs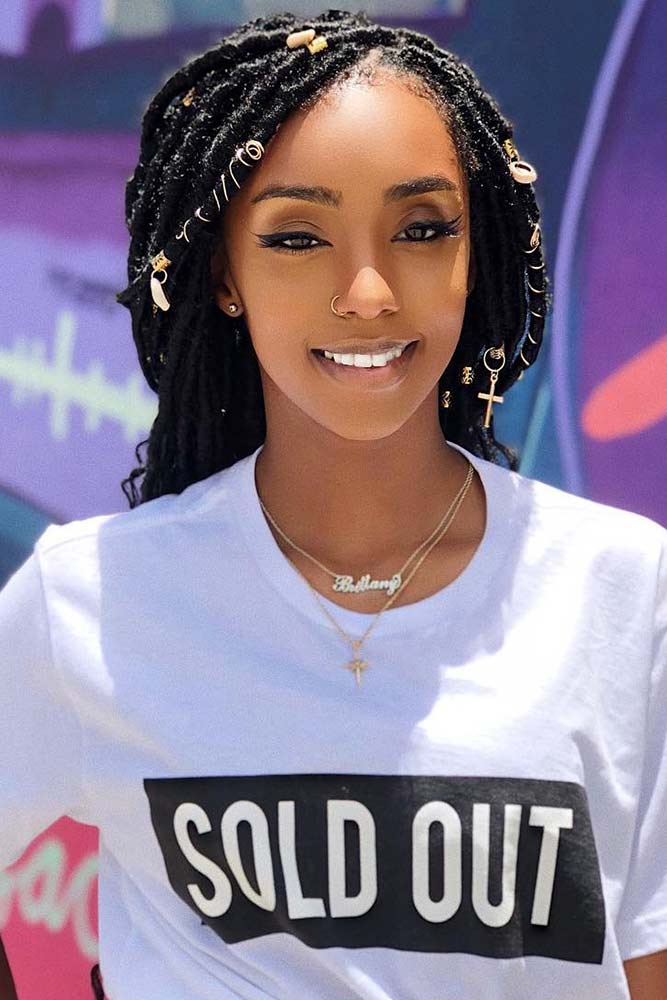 Source: lavishlybritt/Instagram
Faux locs are a general name for hair extensions, which, as you know, have many types. The main purpose of fake tresses is to save natural hair from harsh environmental conditions and tough styling routine. One of the best things about them is that they are a canvas to experiments: you can play with anything from thick and twisted to thin and braided.
This gorgeous swept-back style features twists attached to the previously loosely braided top. As a result, you can flaunt with a different, outstanding hairdo and keep your locks safe at the same time.
Rastafari-Mood Braids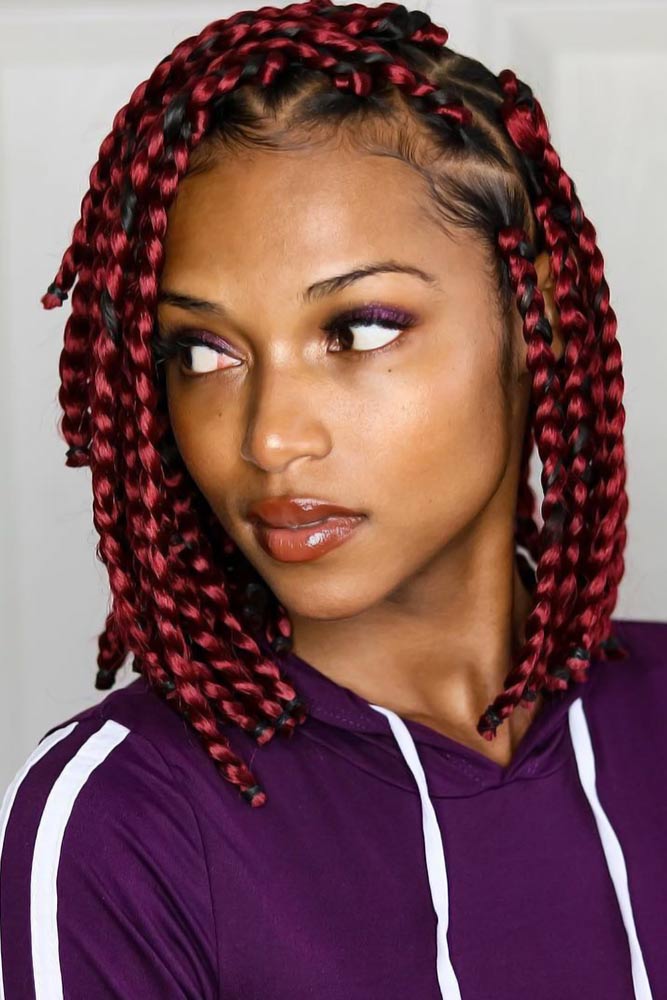 Source: kersti.pitre/Instagram
Goddess braids, which are a thicker version of cornrows, can be turned into any look your creative soul desires. Women with any hair length can opt for these African braids. So, meet the cool, Rastafari-inspired bob. A couple of colorful kanekalon extensions placed over short braids bring a lot of individuality, making the style a look to remember.
Hot & Long Cornrow Braids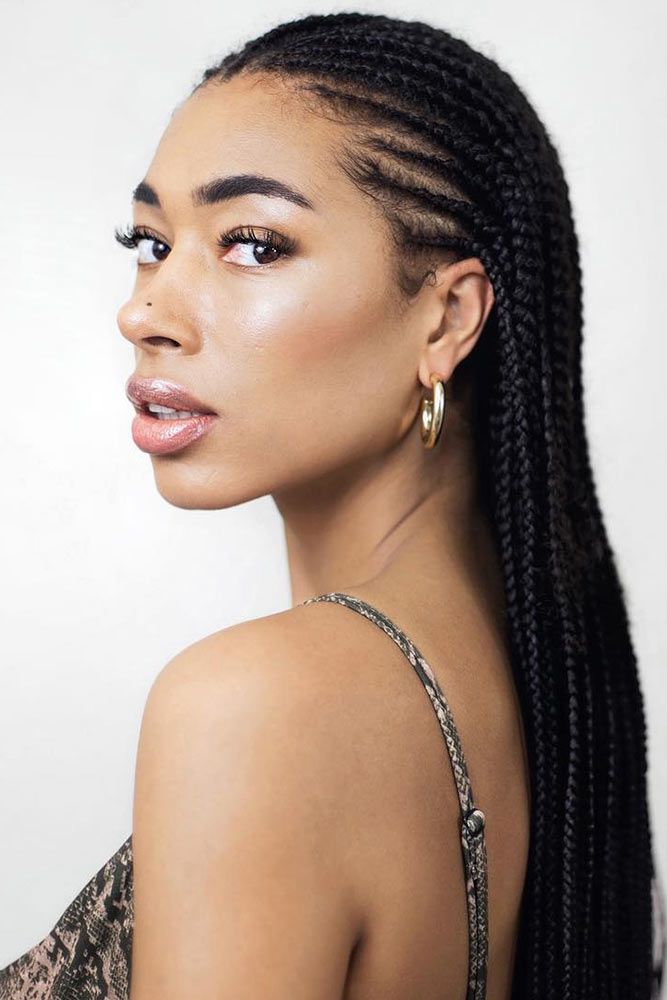 Source: freshlengths/Instagram
Cornrow braids also have a very rich history that dates back to ancient African times. The style has survived through many generations and has gained many styling variations. Yet, the classic pattern is left constant. To create the style, a professional braider will braid your hair very close to the scalp, giving your hairstyle a continuous, row-like shape. The idea above is a restrained classic, but cornrows can vary in length, size, and design.
Head-Turning Senegalese Twists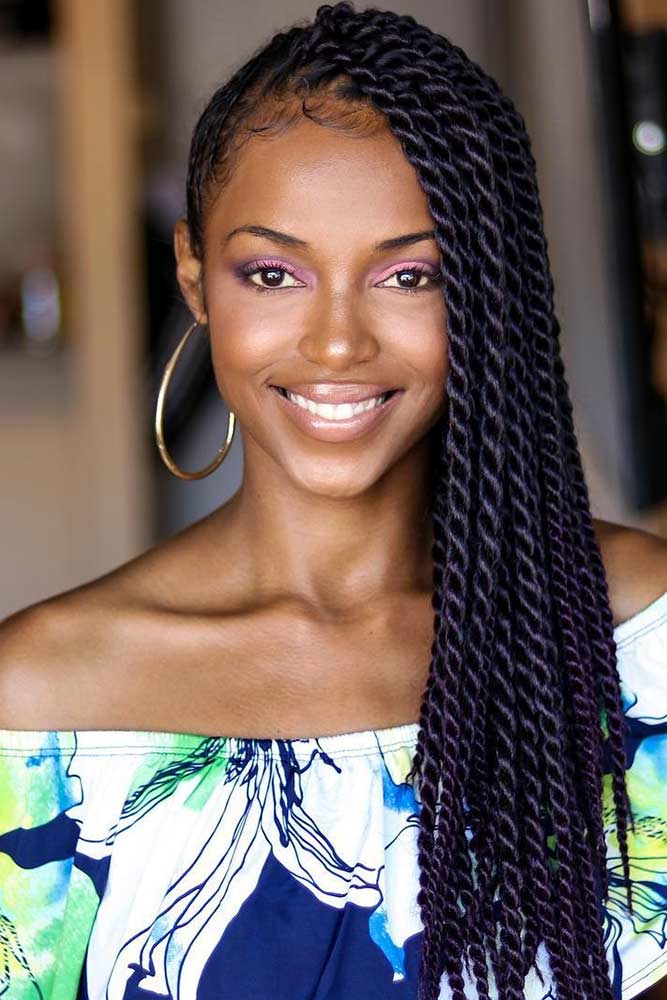 Source: kersti.pitre/Instagram
When a lady with natural hair is about to stand out in the crowd, she knows that Senegalese twist hairstyle is the key. It's another hairstyle that can give overstyled, tired hair the so much needed, low-maintenance break. Unlike many natural hair braids, this cutie features a twisted pattern, which is way easier to achieve. You can't go wrong with such a hairstyle because, apart from a head-turning appearance, it's pretty flexible in terms of thickness and length.
Iconic Lemonade Braids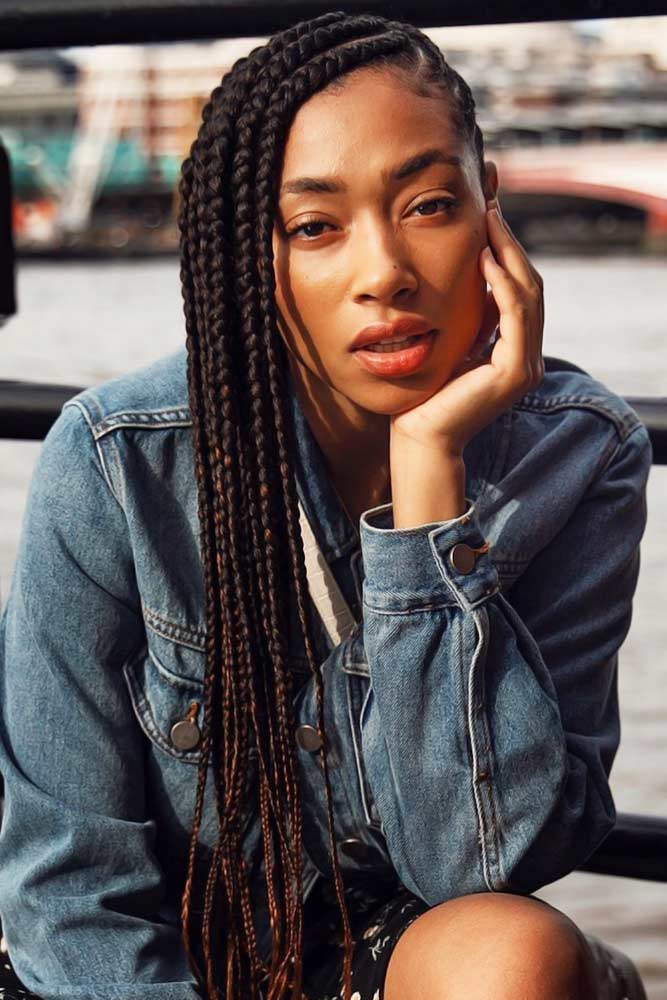 Source: freshlengths/Instagram
Even though side-braids existed long before the rise of Beyonce's popularity, she was the one who has breathed new life into African hair braiding. She gave it a new name - lemonade braids. Nowadays, this hairstyle is considered to be the most iconic braids in the natural hair community. It's characterized by two sections of cornrows, where one side is braided towards the back of the head, and top locks are swept to the side. When going for the style, you can also play with gaps between the rows and braids sizes.
Creative Feed In Braids
Source: _jazitup/Instagram
Feed in braids serve as a helping hand for women with natural hair. It's no secret that those kinky locks are prone to damage and the scalp tends to get dry all the time, especially when there's a lot of styling products. To save your hair from breakage, you can opt for synthetic tresses that will blend with your natural locks seamlessly and protect your edges. Set your creativity into motion, attach synthetic tresses, and be ready to sport a unique 'do!
Super Dense Marley Twists Half-Up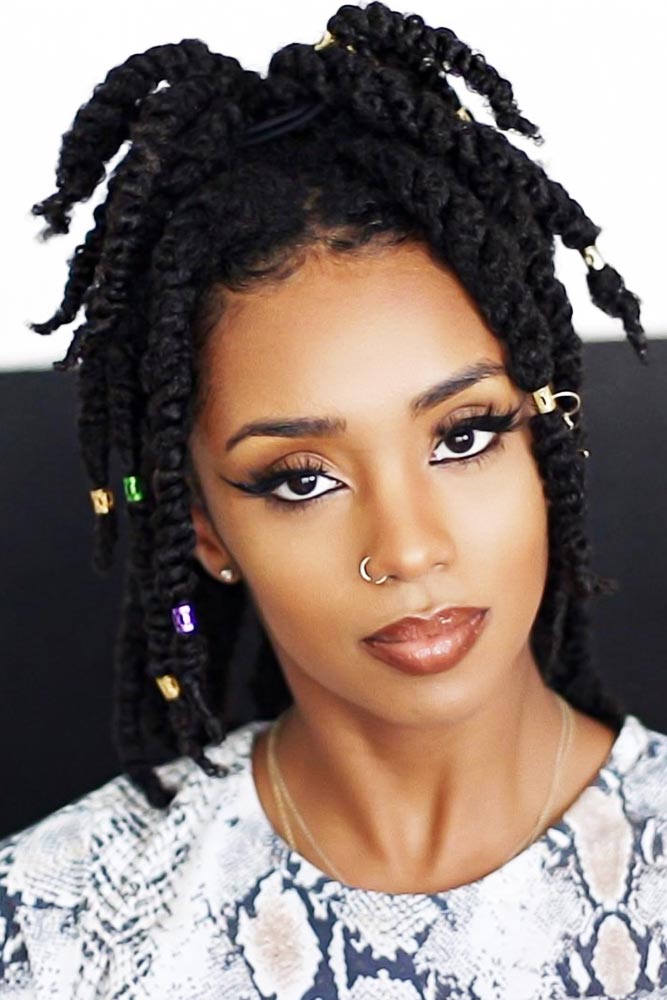 Source: lavishlybritt/Instagram
The main difference between Senegalese or rope twists and Marley twists is that the latter is created with Kanekalon tresses attached to the natural mane. These twists fascinate with their thick and sharp shape, giving a lot of additional volume and fullness. In this way, whatever half-up or updo you choose will look extremely striking.
Delicate Micro Braids Into High Bun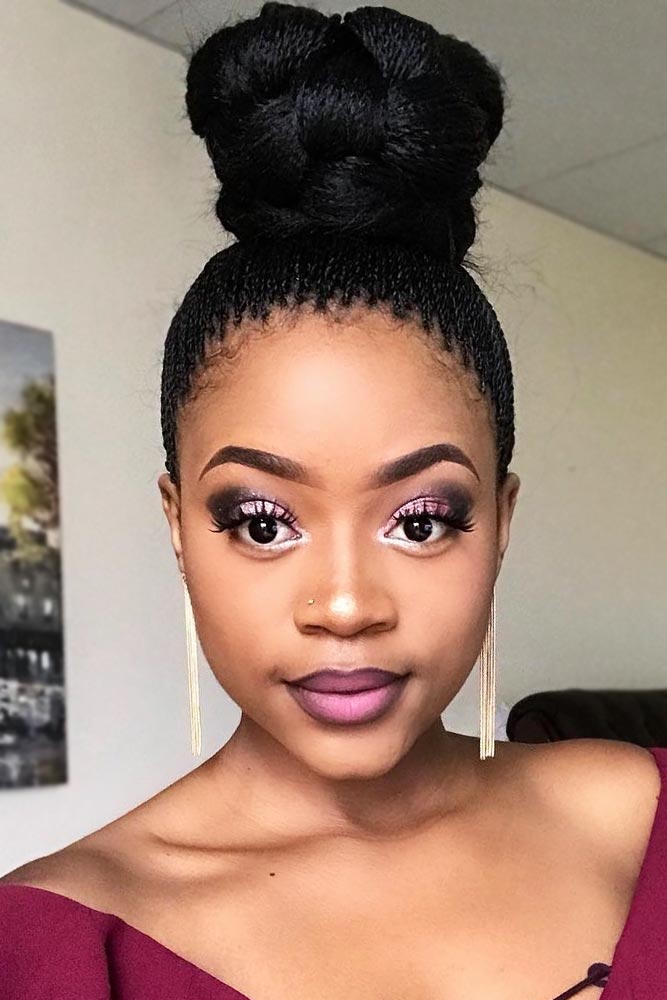 Source: tarnde/Instagram
If you're into more delicate and feminine black braided hairstyles, look no further than micro braids. The style is popular among women of color, but it can be pulled off by any girl with long hair. Just like all black braided hairstyles, these braids can last for months. And since they're thin enough, they are more manageable than other braided ideas, so you can easily turn them into any style you want.
Braided Side Pony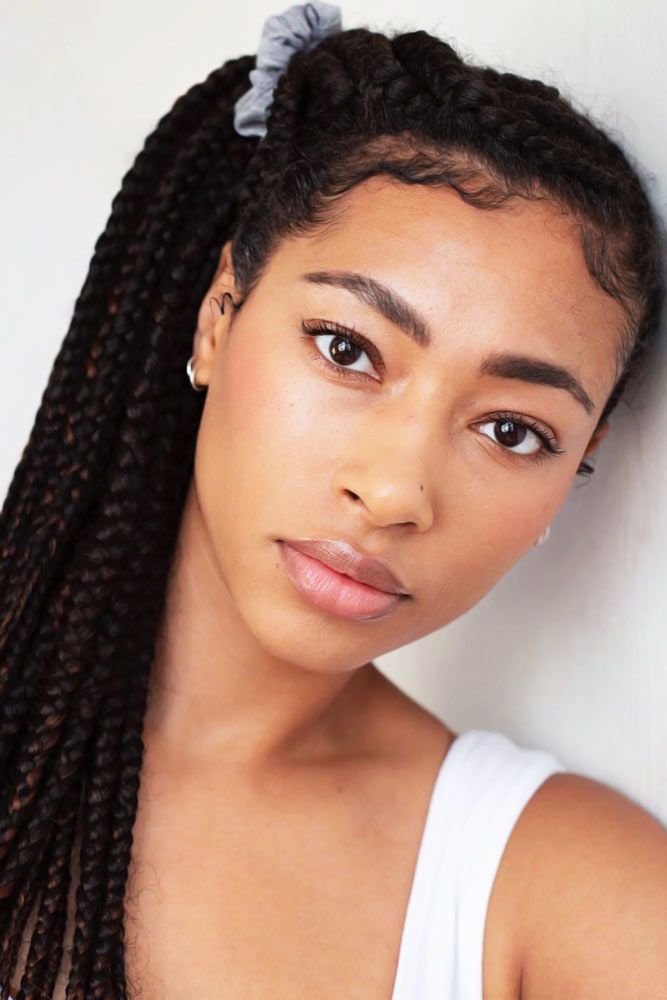 Source: freshlengths/Instagram
There are many African hair braiding styles pictures, but we present to your attention only the best ones. For a more effortless look, you can braid your extensions but not fully. Even though it's obvious that she wears faux locks, the way two textures blend with one another gives a very smooth and pleasant look. And remember: it can be any color you want!
Thick Braids Into Space Buns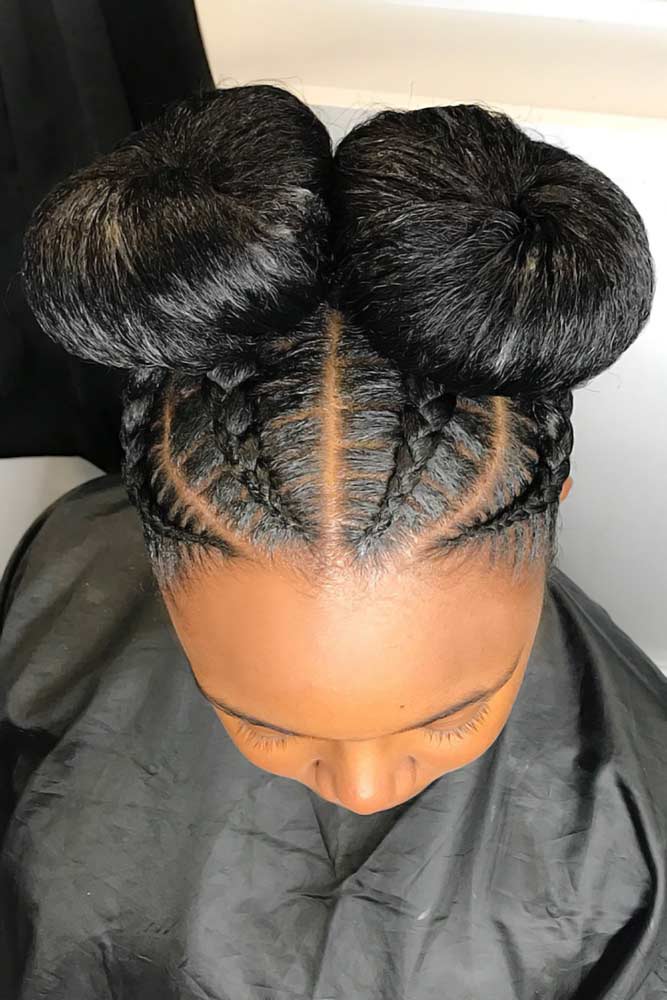 Source: _jazitup/Instagram
Here's another example of African braids hairstyles pictures that includes natural hairstyle. Such a hairstyle keeps the crown sleek and the top textured. This time, it's a braided version of the popular space buns that have blown out the whole Internet with their cute, girly appearance. To make it super authentic, you can accessorize your black braided hairstyle with ethnic beads. They will look awesome when you twist your locks.
Natural & Gentle Headband Braid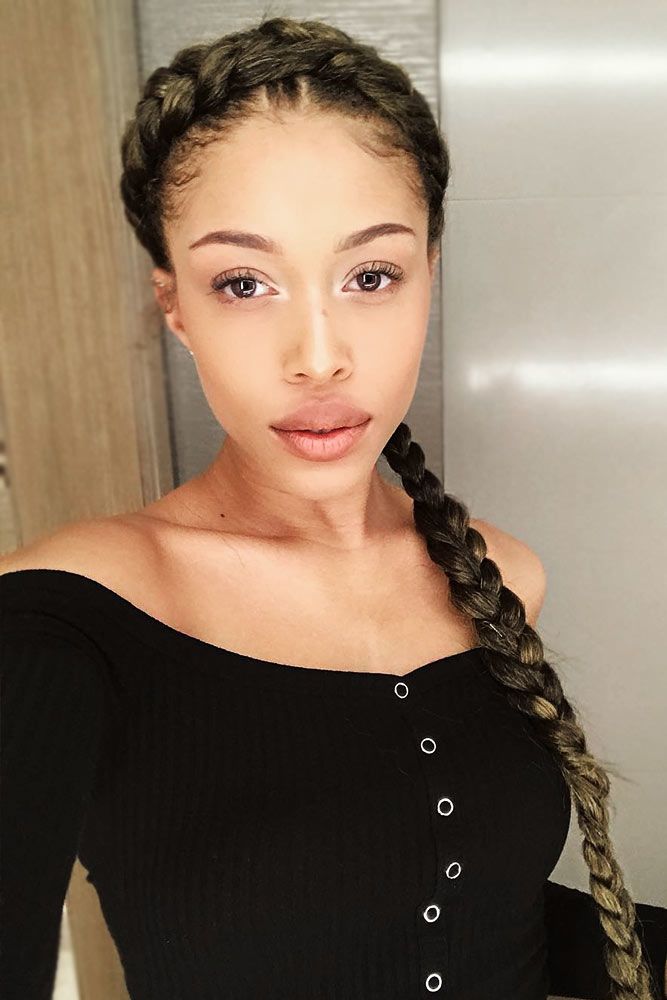 Source: saythelees/Instagram
A headband braid made with natural hair, isn't that the purest form of effeminacy? The style is well-groomed and thick. And if you have a closer look, you will see the majestic natural texture that adds a lot of ethnic vibes. Also, this style builds quite a volumetric silhouette with the halo that stretches all over the head.
Flamboyant Cornrow Updo Style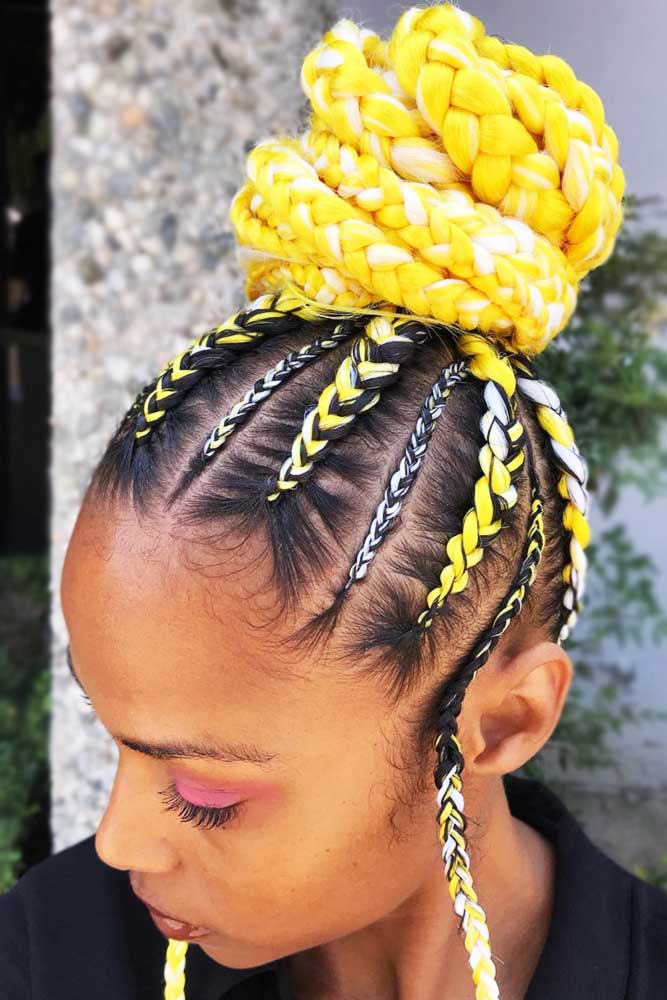 Source: kersti.pitre/Instagram
For some special occasions, you can make your cornrows special. Adding some vibrant color to your braids and twisting them into a creative updo is enough to turn a casual style into festive. You can also leave some braids out from the sides: it will make the look harmonic.
Cute Double Ghana Braids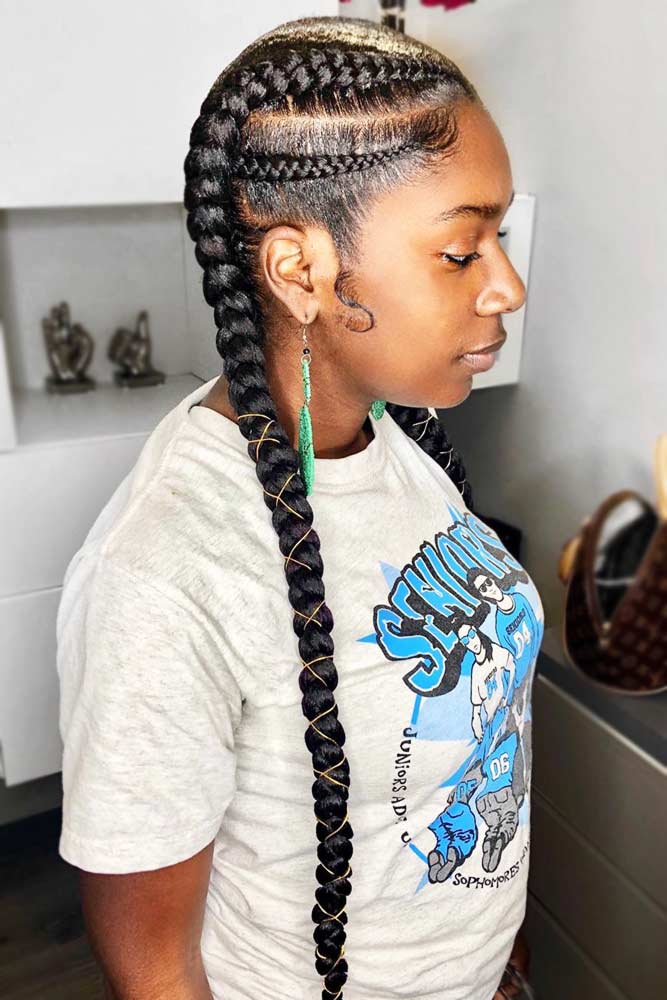 Source: erica_letstalkhair/Instagram
Ghana braids are the same cornrows that move straight from the front to the back of the head. This idea shows that natural hair knows no limits: the classic version of Ghana style is diversified with little side braids. Simple and chic, who could ask for more?
Dimensional Dutch Braid Half-Up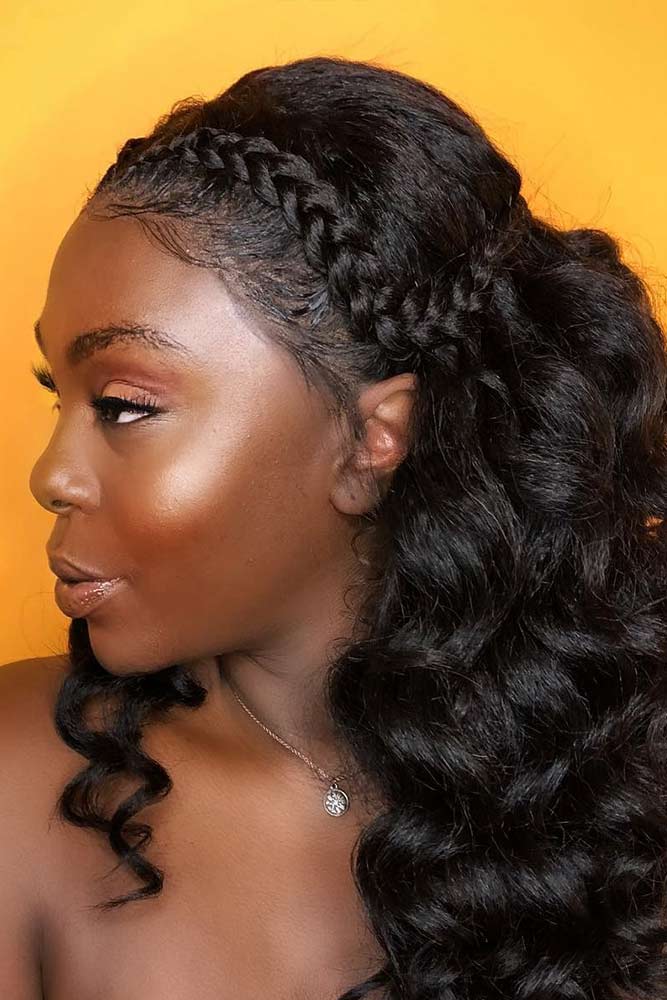 Source: typicalblaqueen/Instagram
Who says that all of your hair should be braided? Obviously, this dramatic hairstyle has nothing to do with protective styles. Its dimensional texture is meant not to protect you. It's meant to expose you for compliments about the play of Dutch-to-wavy-pattern.
Double Buns With Beads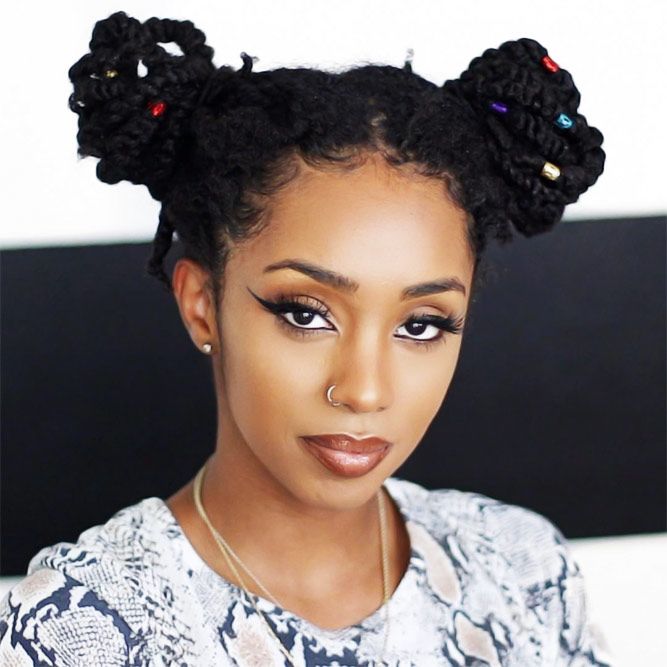 Source: lavishlybritt/Instagram
It seems like no one has as many styling options as natural-haired goddesses do. Even the latest trend, double space buns, allows them to diversify the idea and make up their own sexy hairdo. Who would've thought that thick natural braids would be enough to give a fresh take the popular look?
Knots, Braids & Pony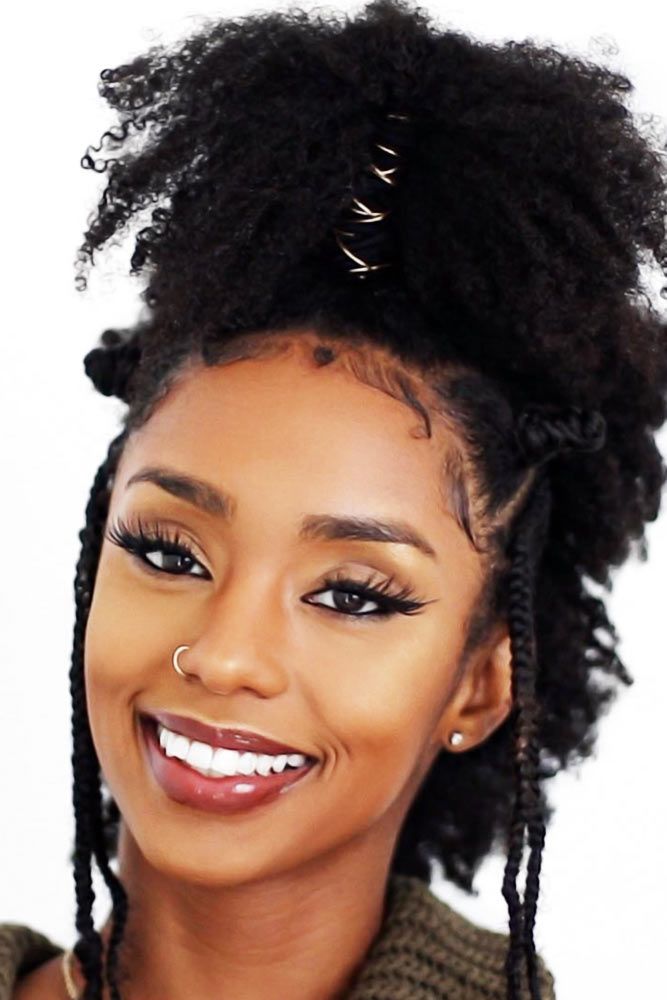 Source: lavishlybritt/Instagram
Your natural hair is not only hard to tame; it's also hard to resist, especially when it's that dramatic. Braids on the front, knots at the top, a curly fluffy pony: this idea seems to be a piece of braided art. Of course, such an idea takes plenty of time to get it done. Still, the visual impact is worth it!
Center Parted Cornrows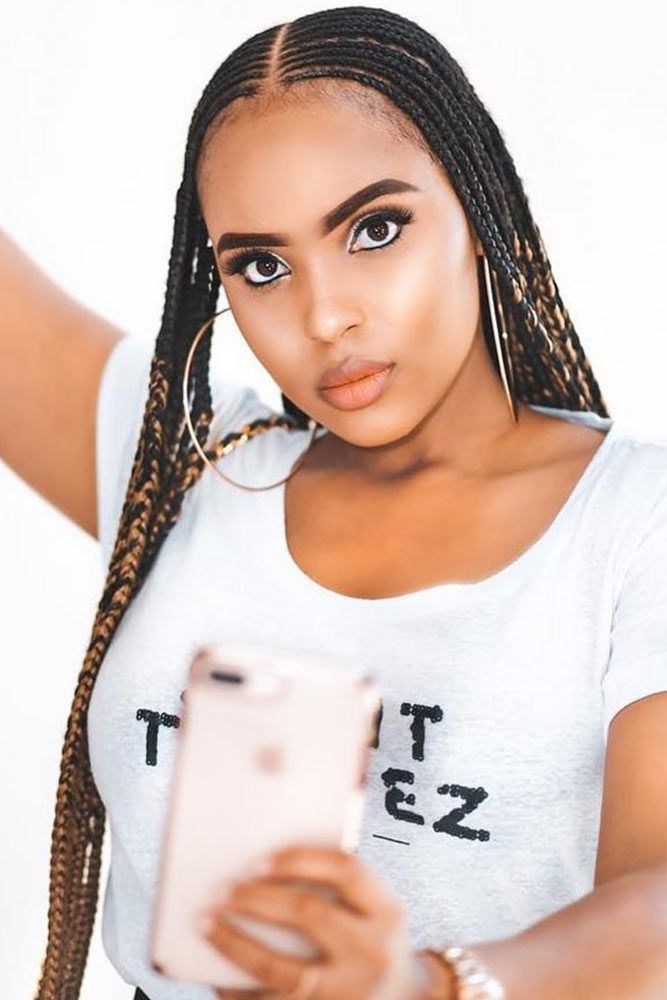 Source: fancy_claws/Instagram
Center-parted cornrows are a timeless classic in the natural hair world. As a braided version of everyone's favorite sleek, center-parted looks for straight hair, this idea features a tidy finish and evenly parted sections. Needless to say, the light sections make them look even hotter.
Cornrows Into High Pony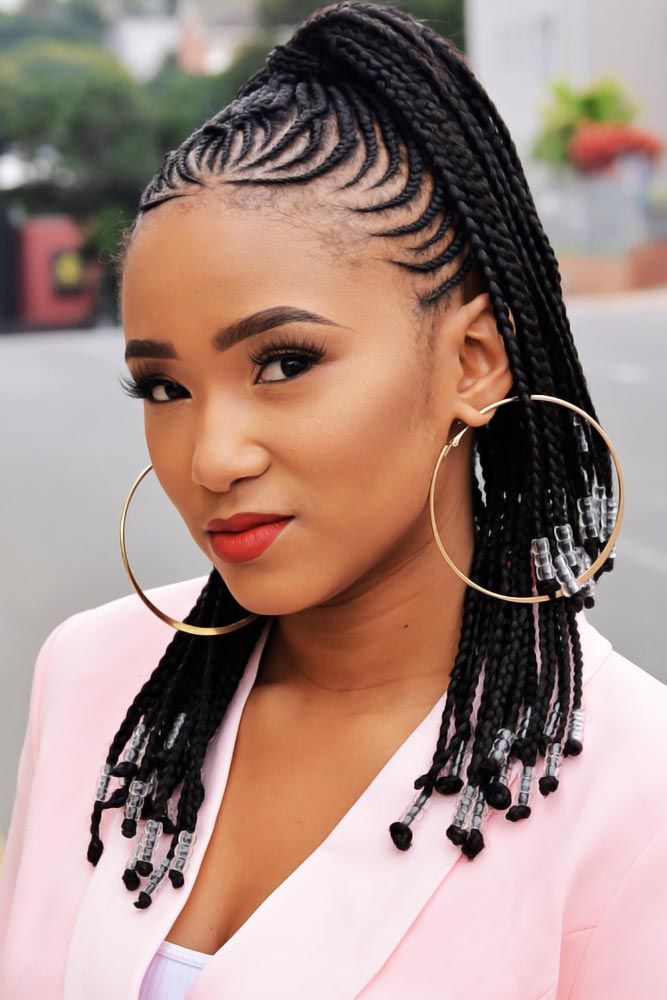 Source: fancy_claws/Instagram
Another cornrowed idea that represents the diversity of black braided hairstyles. As you might have noticed, cornrows can be different. Besides customizing the thickness of the braids, you can play with their placement and direction. Here, for example, cornrows are very dynamic; they get thicker as they move to the pony, while the gaps create a very distinctive finish.
Braided High Twisted Bun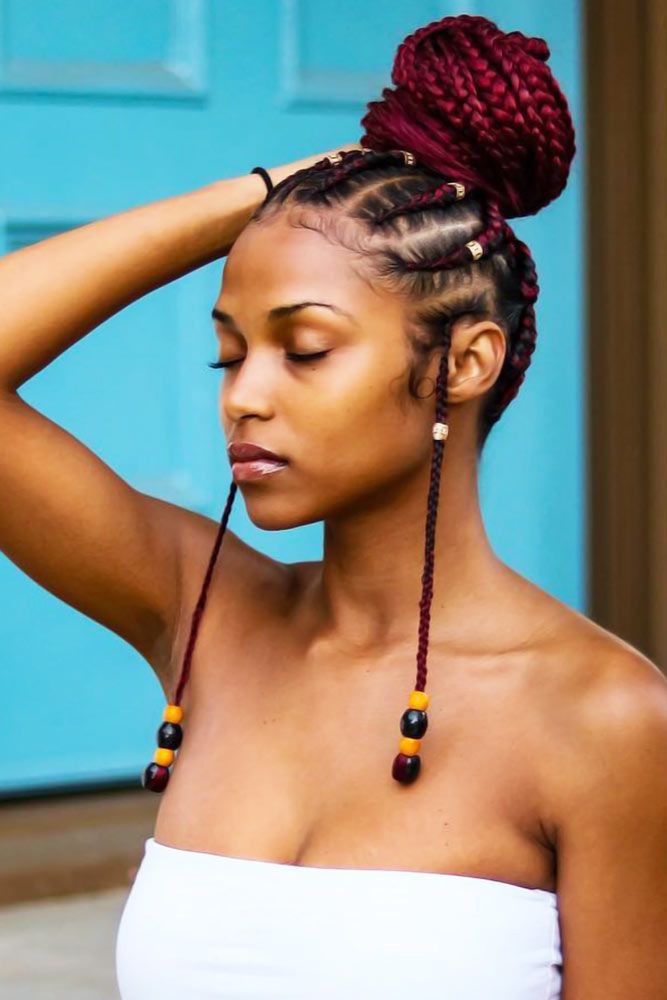 Source: kersti.pitre/Instagram
Do you know a girl who can create a voluminous evening hairstyle in less than a minute? Well, actually, you can become one if you braid your natural locks. You can easily get yourself some braided extensions too, of course. Just gather all your hair up and tie a simple twist. Voila! Braids are the best canvas to your imagination.
Neat Braids With Pearls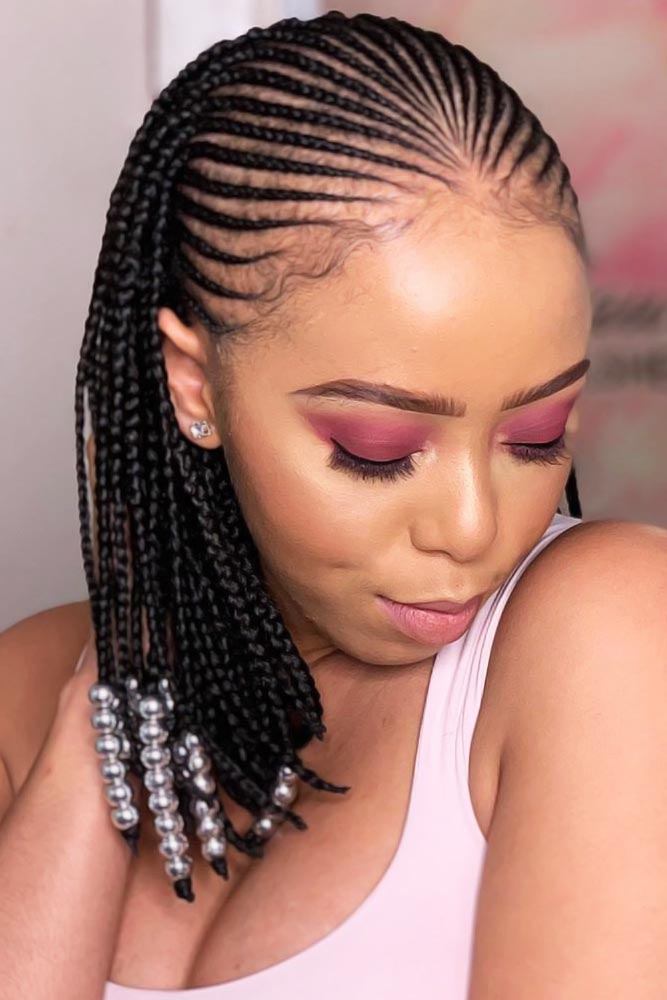 Source: fancy_claws/Instagram
If you have a creative soul, let your hair scream about it. There are a plethora of different patterns for black braided hairstyles so that you can make your look fit any mood or occasion. Not only does this heart-shaped pattern look fascinating and feminine but also helps to create a one of a kind looks.
Small Faux Hawk Braid Into Bun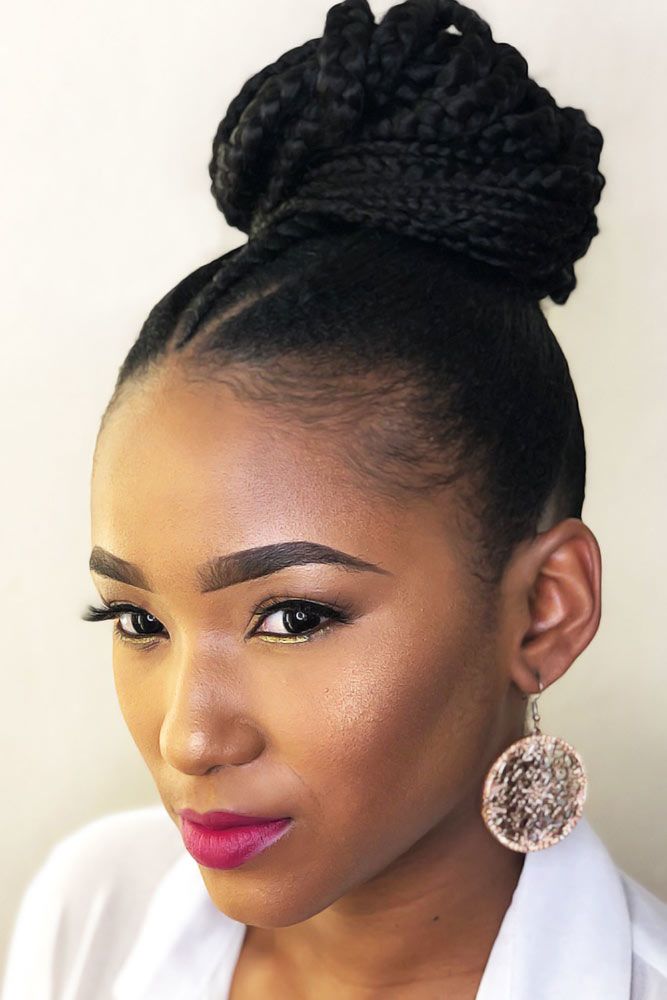 Source: fancy_claws/Instagram
While most faux hawk hairstyles come as a dramatic, outlined braid with sleek and tight sides, this idea proves that creativity knows no boundaries. You can take the idea of a faux hawk as a basis and make it work for your girly look by recreating this lovely idea. In fact, it's just a couple of cornrows highlighting the top. But, as a result, it forms a unique hairstyle.
Crochet Braids With Blonde Accent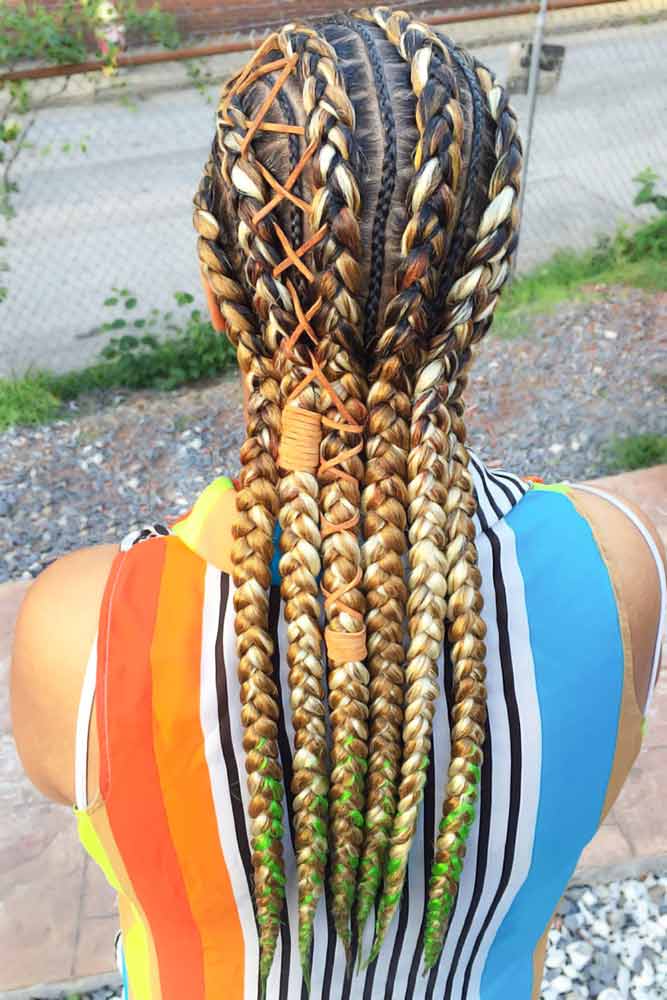 Source: _jazitup/Instagram
Want to add a bright feel to your thick crochets but can't decide what color to choose? Choose classics. Just look at how one hidden lock changes the mood of those black crochets! Besides, you can always add a bright touch to the ends.
Massive Braided Twist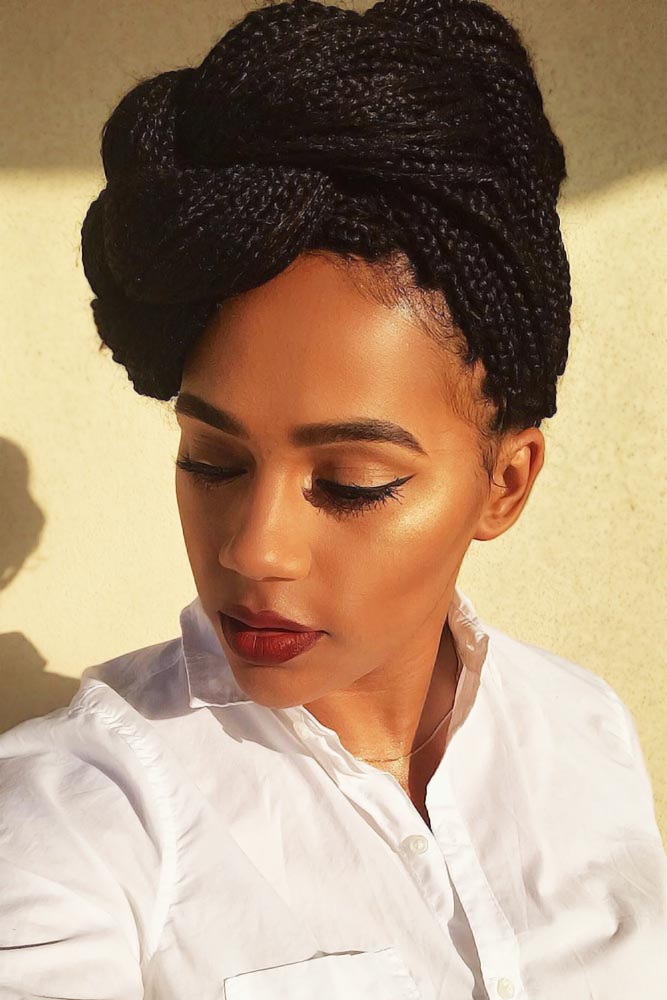 Source: thelondoncurls/Instagram
Braids never stop impressing. Even if you think you've tried all the styling ideas possible, there's always a hairdo that can change your mind. For us, this massive braided twist is the style. It was hard to believe that twisted braids can add so much of character to the look. Yet, having seen this pic, we've got rid of the doubts.
Pony With Headband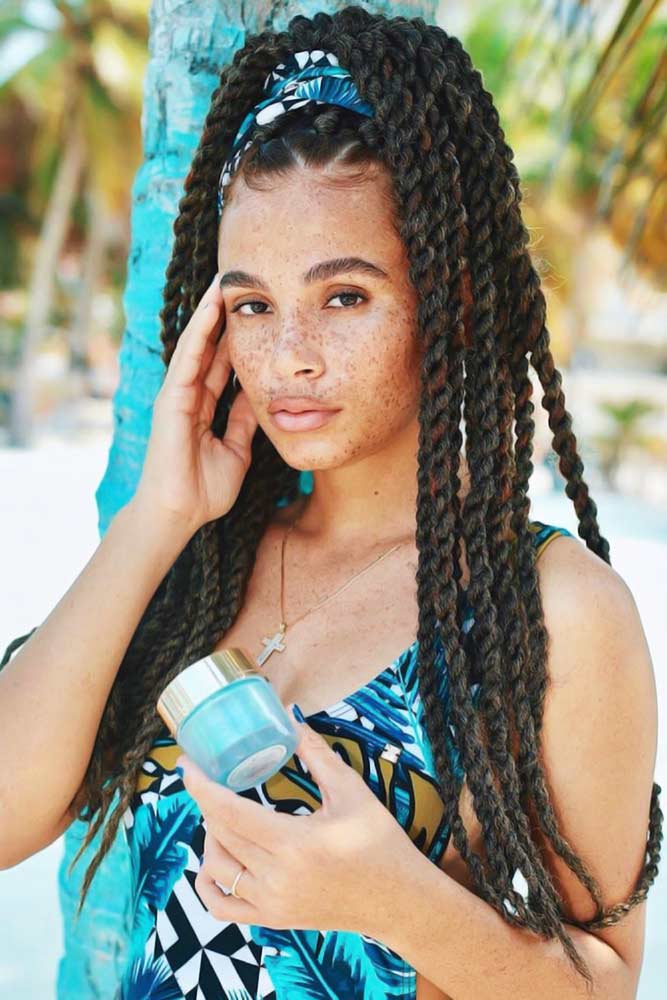 Source: joyjah/Instagram
Don't forget about head accessories! Since most black hairstyles are ethnic-inspired, they will only look better if you spice them up with matching headbands and similar embellishments.
Sleek Dutch Braids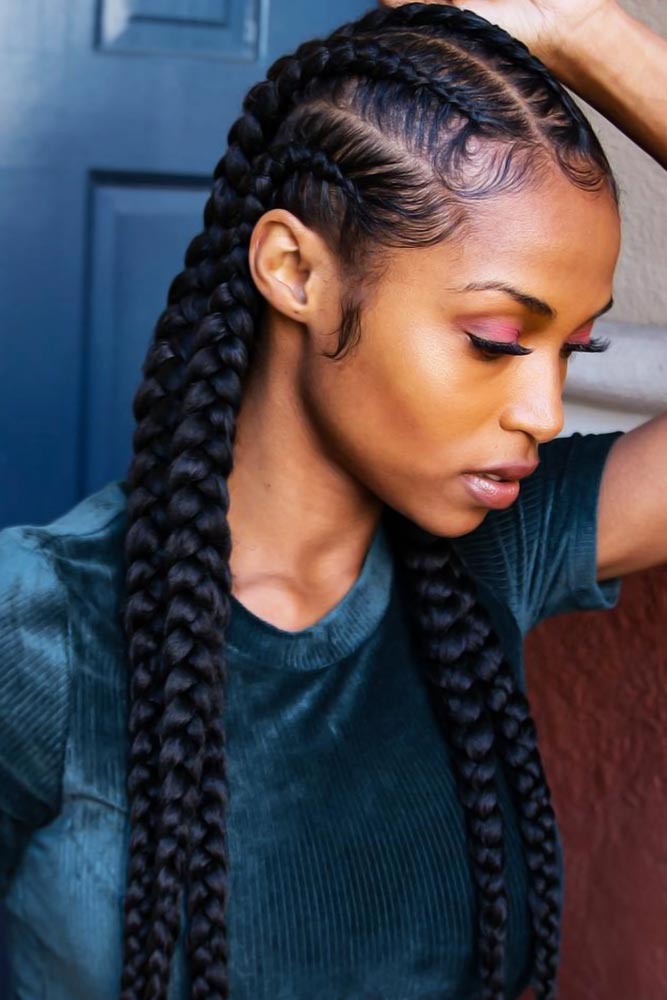 Source: kersti.pitre/Instagram
On natural hair, the Dutch braids you're used to are looking absolutely different. First of all, you need to tame the hair with smoothing gels so that it's manageable and sleek. Such products will make your hair look very shiny, thus putting the braid in the spotlight, which changes the common image of the Dutch braid. And the results you can see with your own eyes.
Delicate Micro Box Braids Into High Bun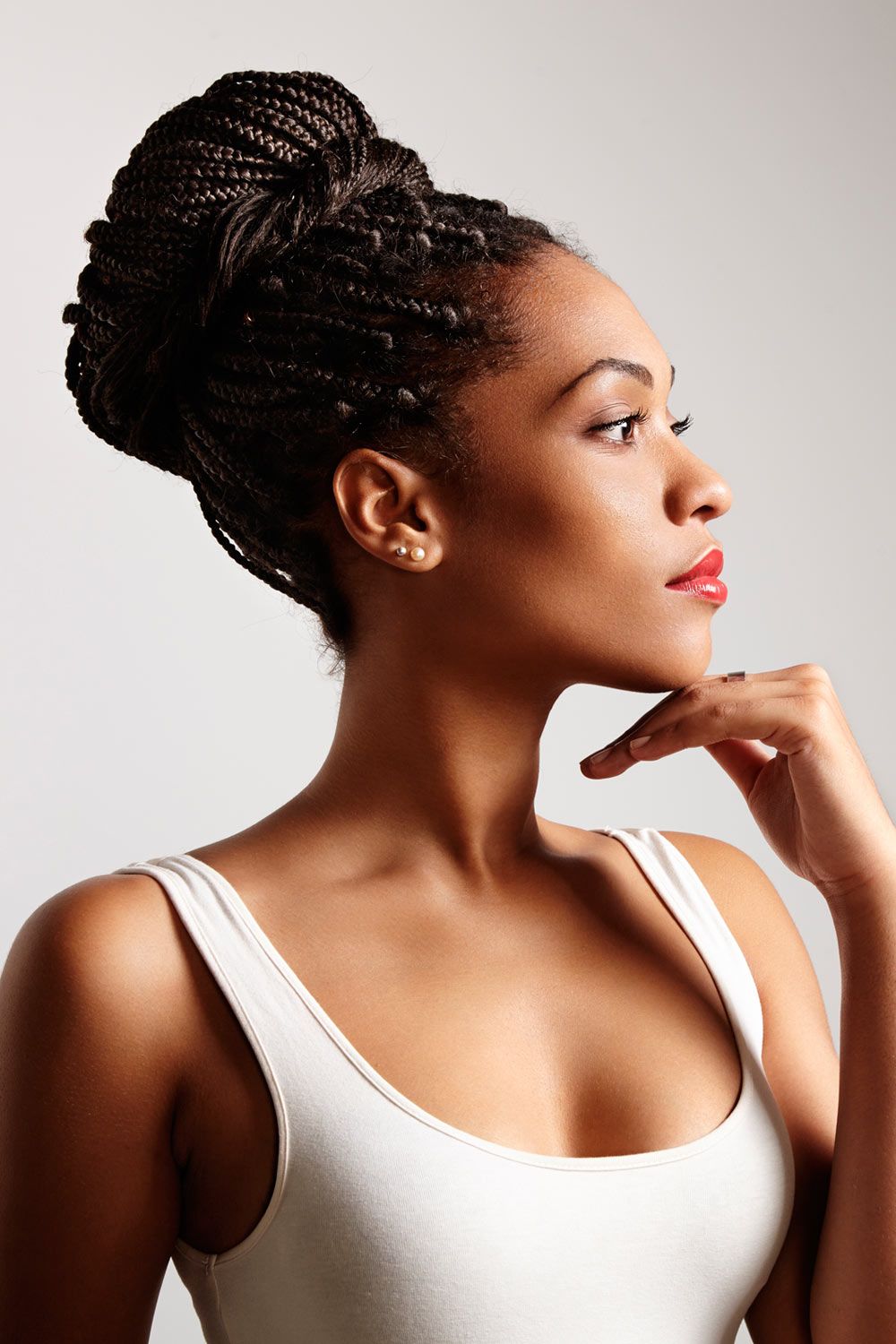 Long Tiny Braids With Curly Ends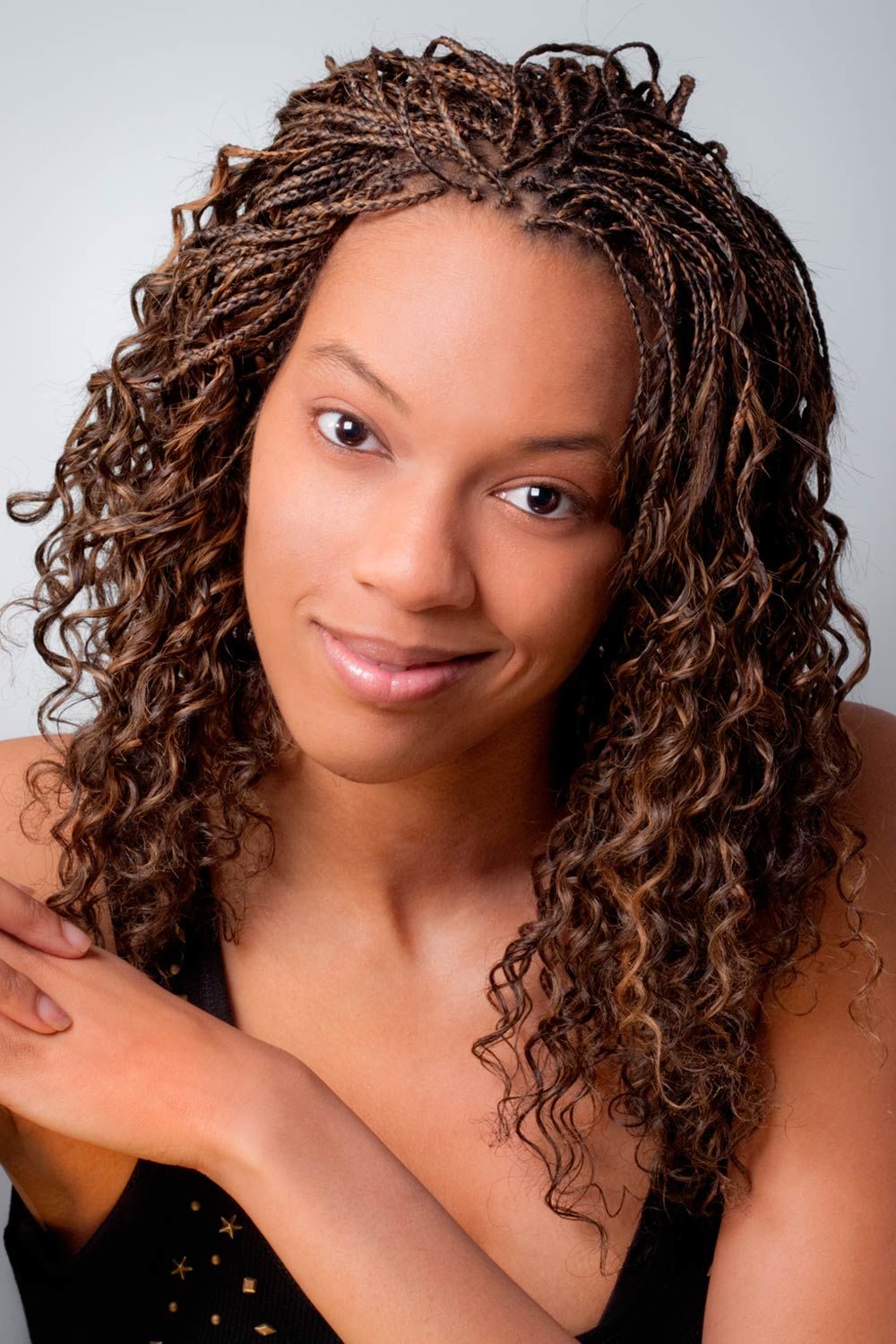 Blue Dreads Styled Into Low Bun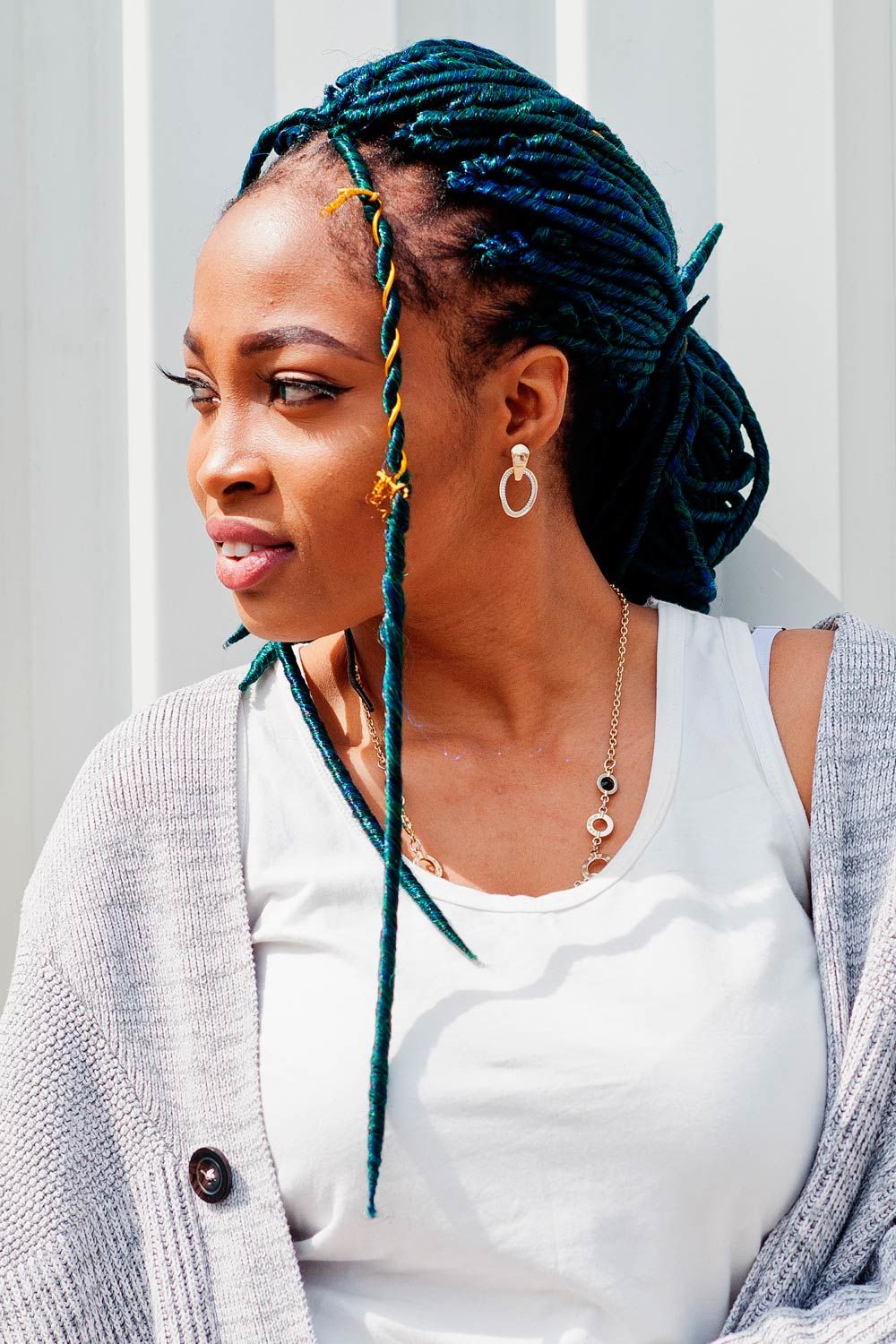 Fulani Braids With Updo Style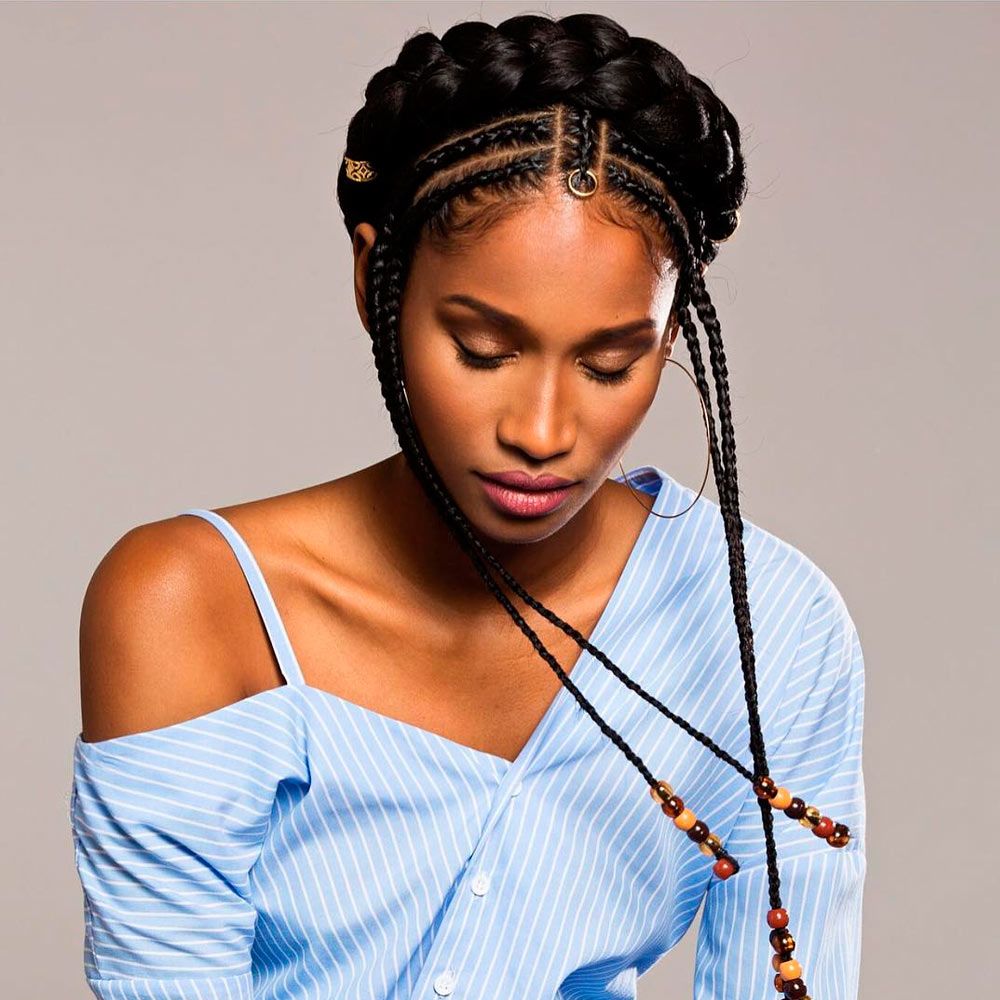 Source: reneebigtime/Instagram
Classic Box Braids With Ombre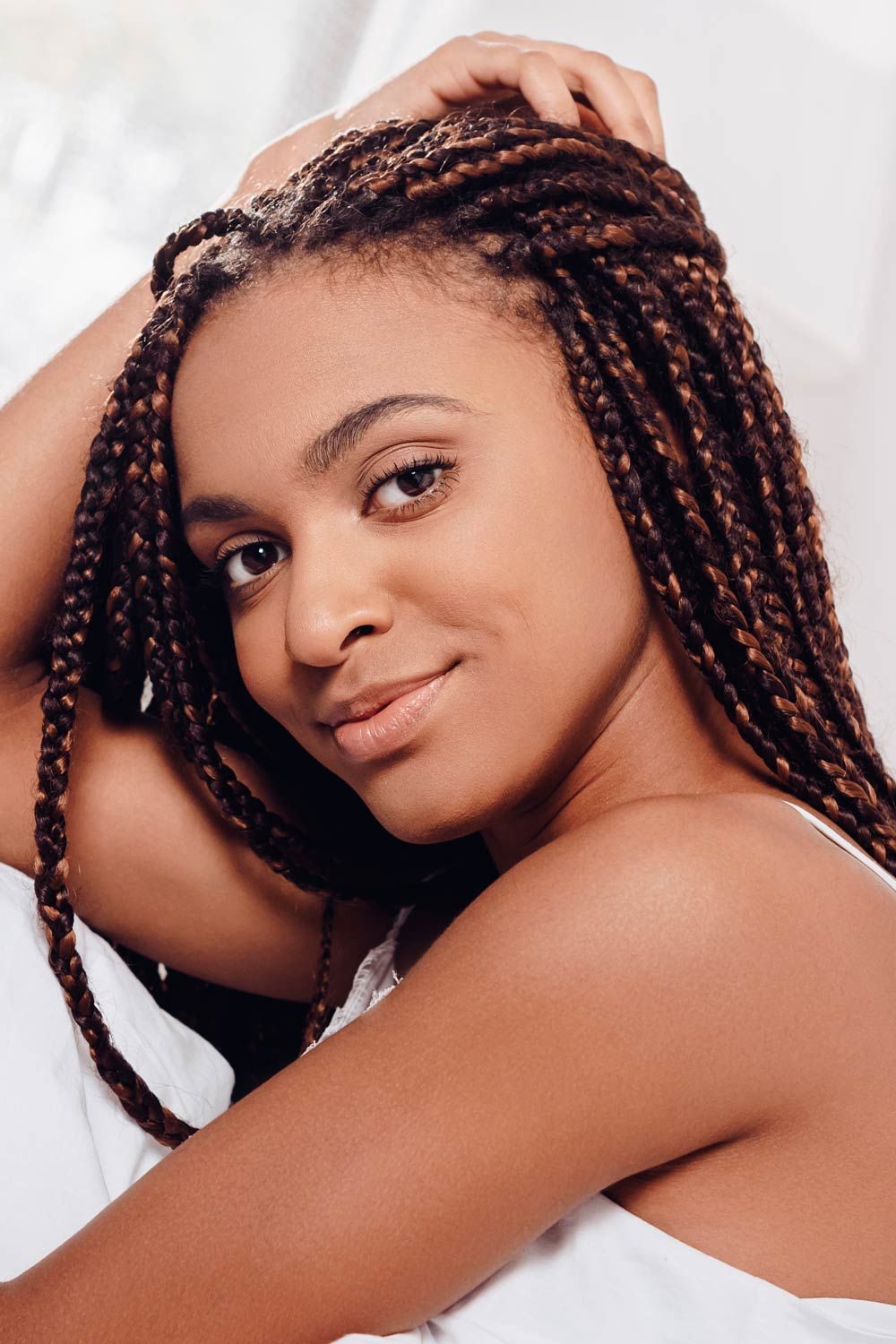 Faux Hawk Wavy Updo With Side Braids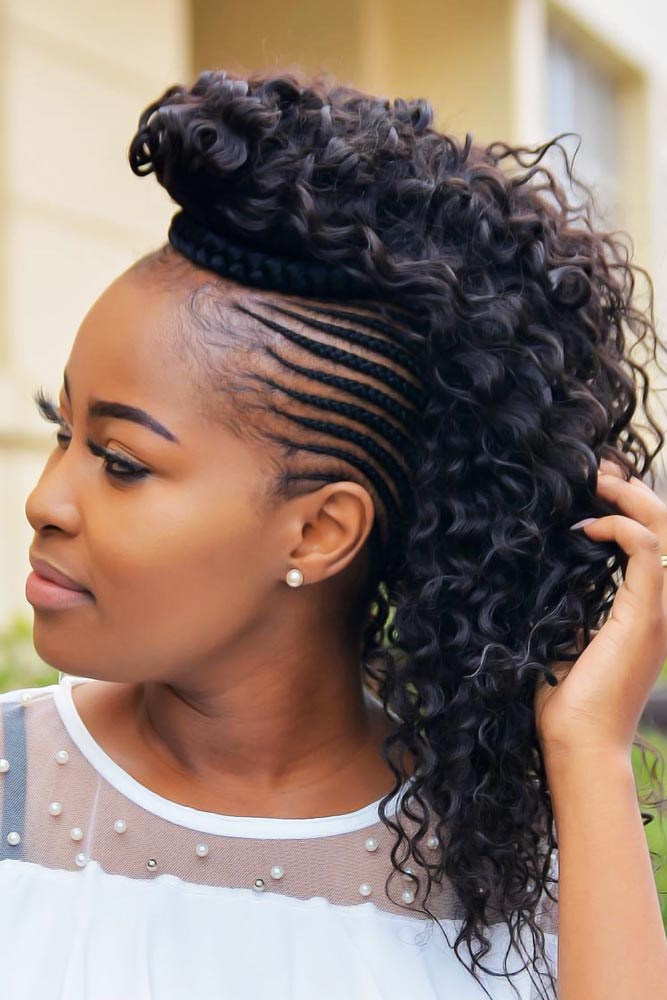 Source: fancy_claws/Instagram
With such a hairstyle, your African American braids will rarely go unnoticed. They are just destined to bring all eyes to you. Indeed, the thick bubble faux hawk finished with sleek sides, and braided elements are nothing but a secret weapon to steal the show.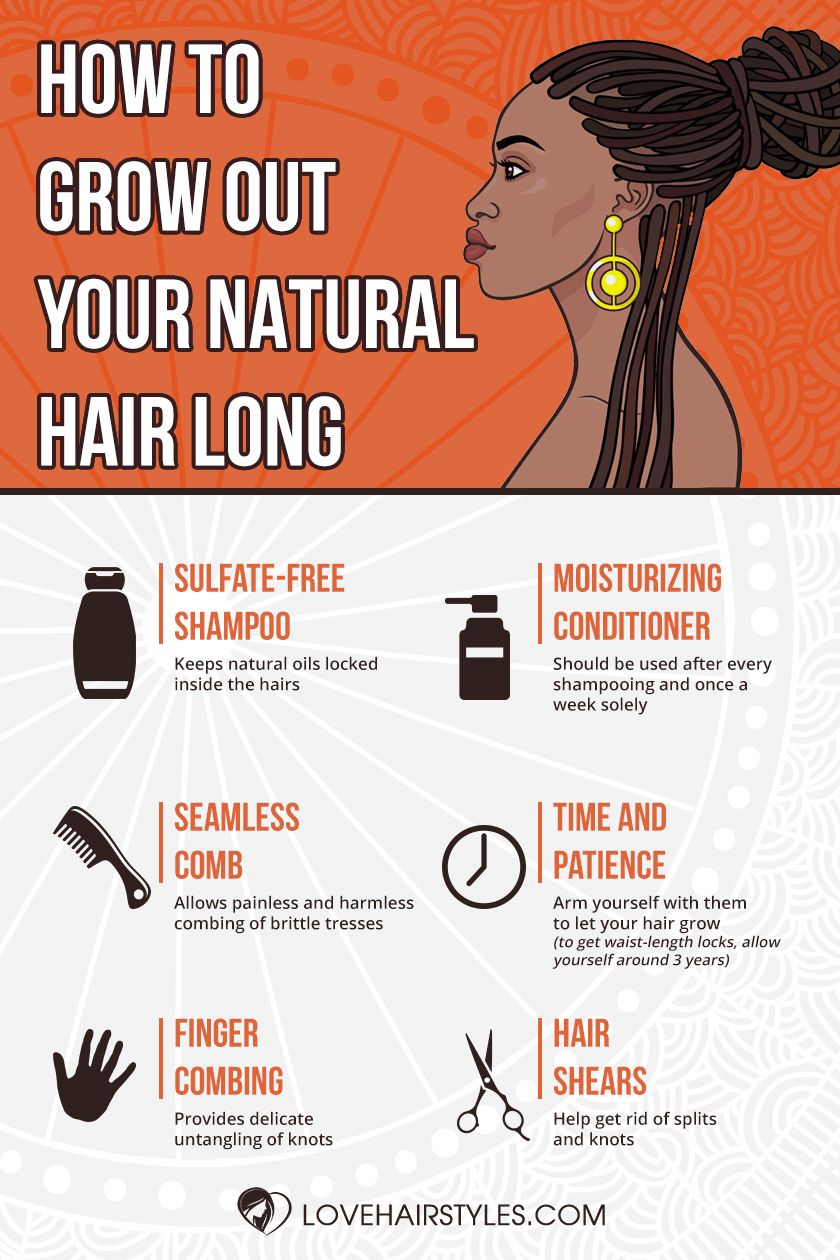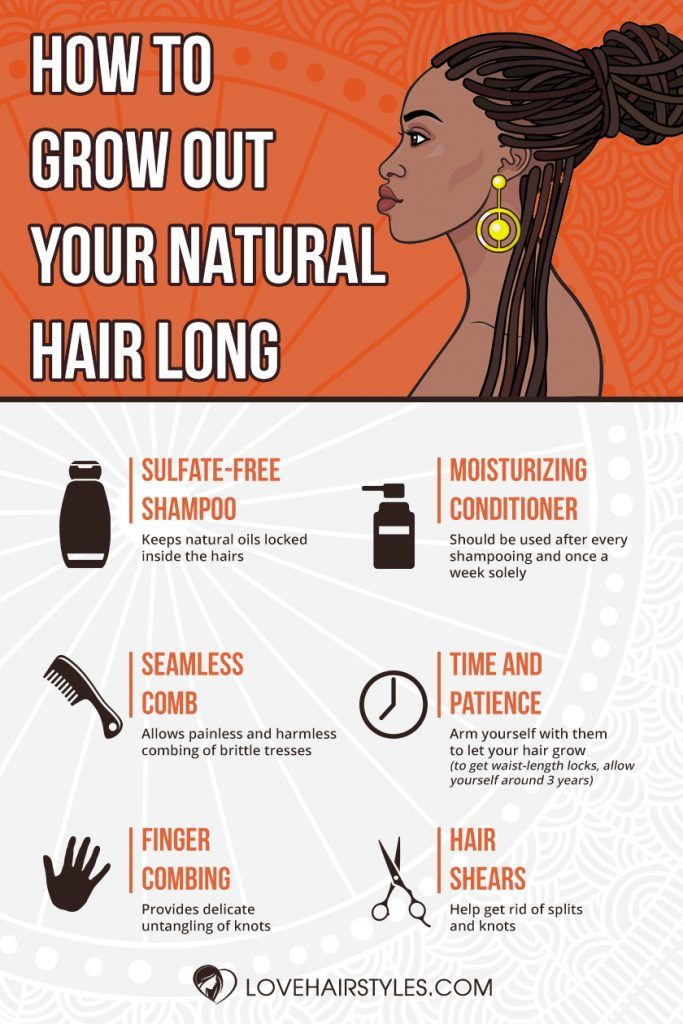 It seems like one can get lost in the variety of black braided hairstyles. Fortunately, you've got to know all the trendy types of braids for natural hair, so you will find the way out of the creative braided maze. Now, try to recreate one of today's looks to stay up to date with trends!
FAQ: Black Braided Hairstyles
Is 50 too old for braids?
Braids have always been associated with youth, but to be honest, correctly made braids can be a fun and free-hair adornment for women of all ages, especially in the summer.
What are the braids that black girls wear called?
Cornrows (or canerows in the Caribbean) and boxer braids are the same thing.
Three-strand braids that are pulled taut against the scalp, with the strands interlaced underneath so they don't fall out.
When should you stop wearing braids?
If your hair and scalp show no signs of exhaustion, it's best to keep your braids in for no more than 7 weeks. If you observe any damage or prolonged soreness, remove your braids to avoid further harm.