Ready for a tall glass of cool water? That's right! Lemonade braids are for you if you want the hair that gets some serious stares. Check out these goddess-like tresses for yourself and tell us you don't want to try the trend. Better yet, just go book your hair appointment!
What Are Lemonade Braids?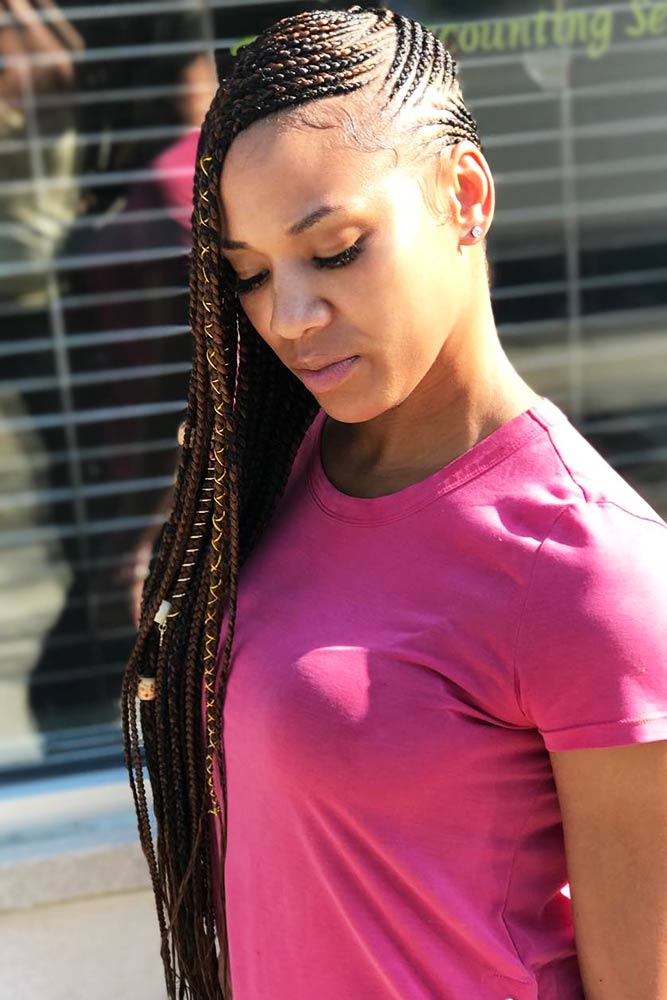 Credit photo: instagram.com/kiaharperbraids
If you're wondering what Lemonade braids are, you certainly aren't alone. The name itself sparks some interest.. The reason why they are called Lemonade braids rather than the cornrow braids they actually are, is because pop-star Beyonce debuted a side-swept version in her 2017 "Formation" music video and throughout her "Lemonade" album music tour. Soon, the basic cornrow went to the superstar status. (Not surprised? Neither are we.)
Take a look at the many different variations of Lemonade braids and get inspired for a variation of Queen Bey's rockin' style.
Classic Lemonade Braids
Simple And Straightforward Lemonade Braids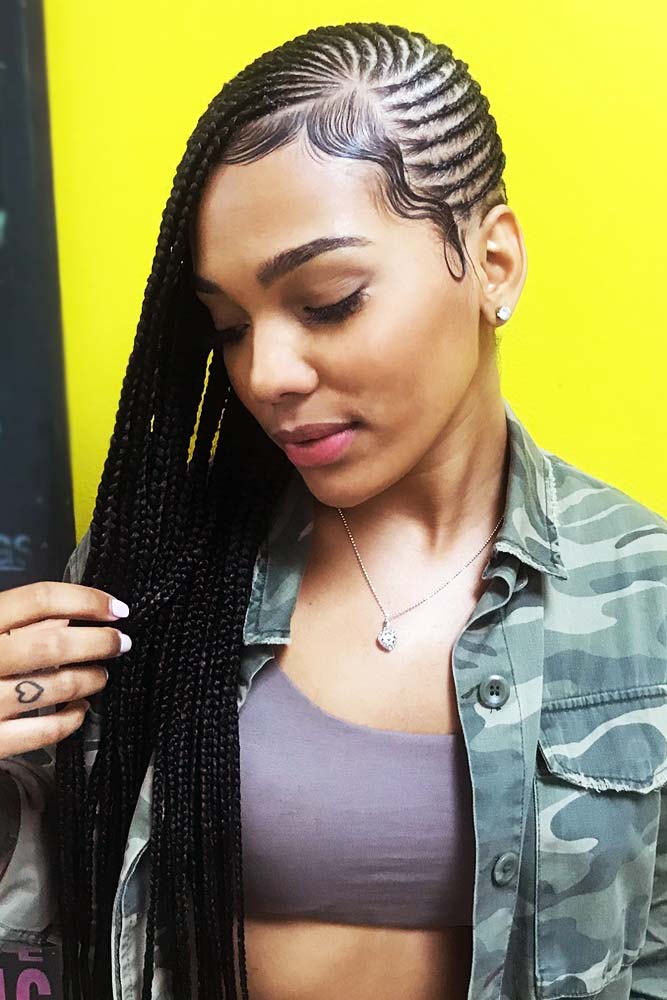 Credit photo: instagram.com/__lokeyy
These classic Lemonade braids to the side couldn't be a better example of what a traditional cornrow braid looks like. Long and tightly braided, they hug your head and protect the hair from damage while you sleep. Want to capture Beyonce's Lemonade vision? Well, this is it. Lemonade braids to the side are a tall glass of cool drink.
These classic style Lemonade braids leave a little something extra on the side when the edges are pulled out. Although not a style everyone can appreciate, you can't deny that that little side bang puts a new spin on cornrows. And options are nice to have anyway. Right?
Pulled Back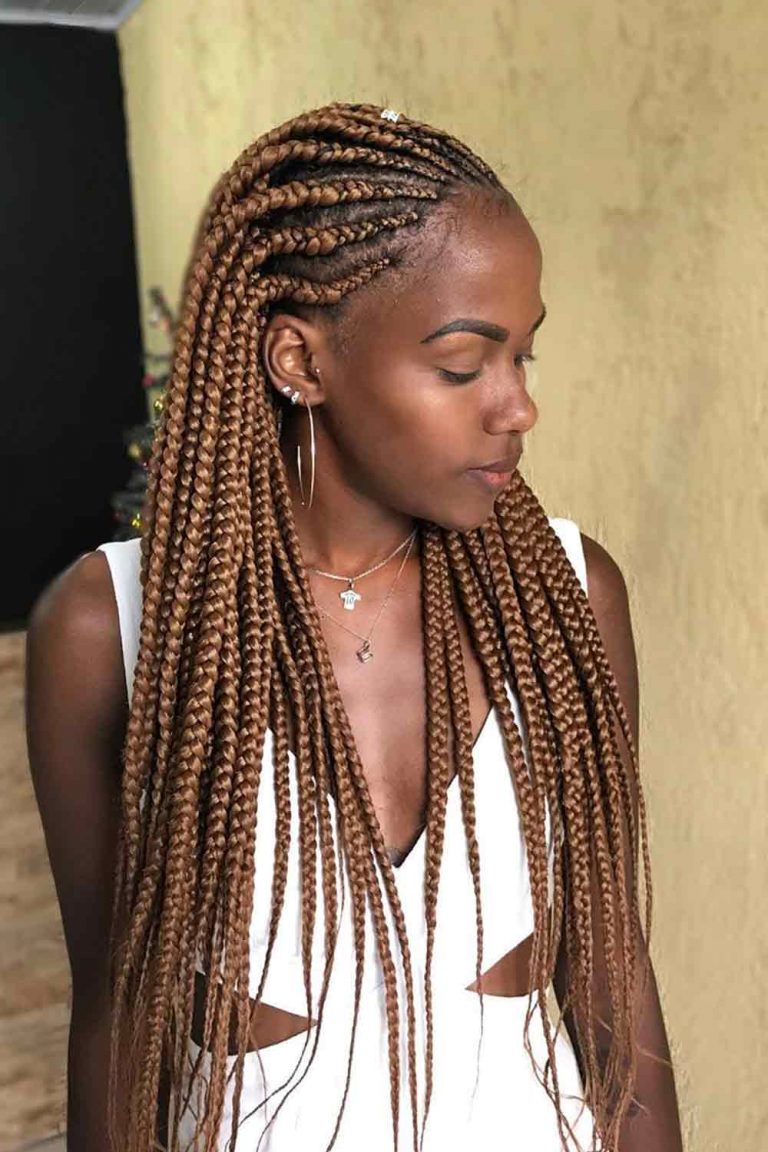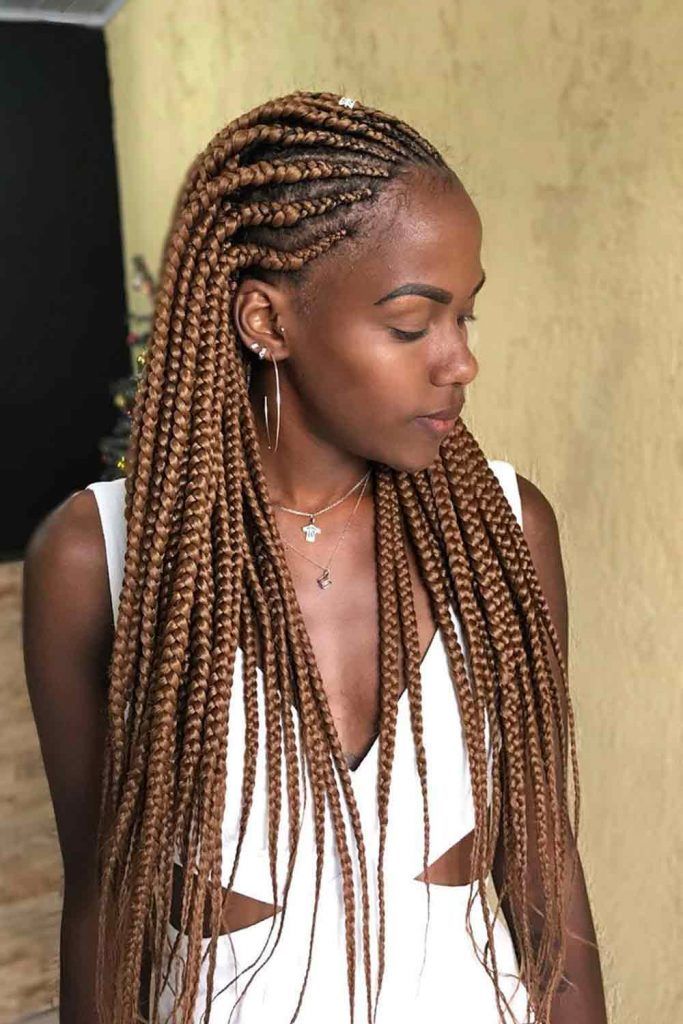 Credit photo: instagram.com/studio_lipepreto
This look is iconic enough to slay on the red carpet, isn't it? But, before you pull it off, you need to sacrifice some hairstyles like high ponytails and other updos. That's because if you want the hair to be braided along your scalp to create that back-swept look, your hair braids will lie tightly on the scalp and get loose only at the nape. Still, you can rock various low ponytails and updos with scarves.
Classic Long Lemonade Braids
Credit photo: instagram.com/braided__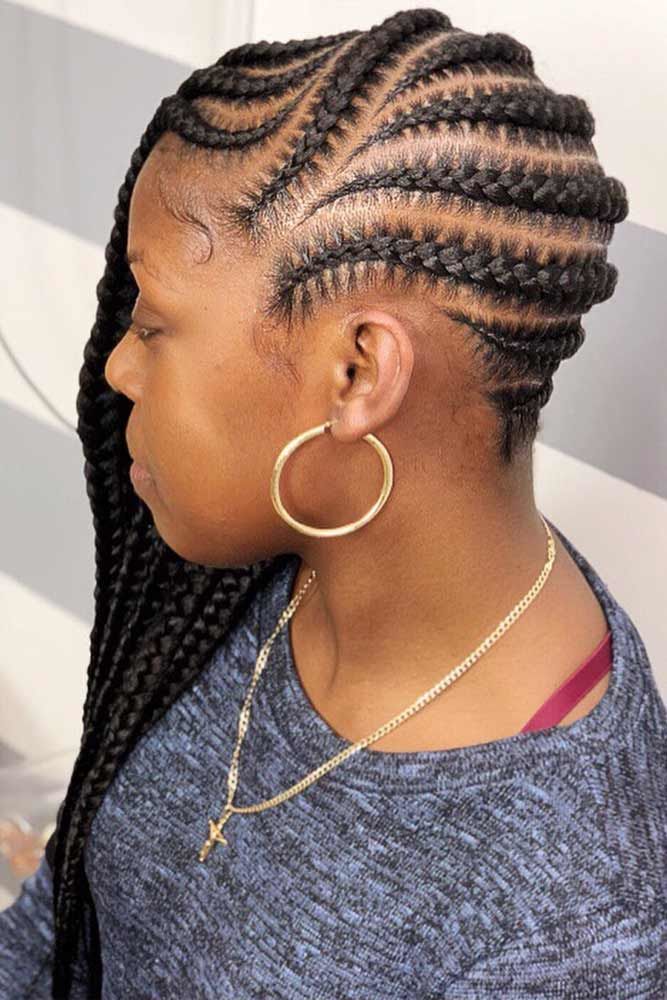 Переглянути цей допис в Instagram
Credit photo: instagram.com/worldofbraiding, instagram.com/braids_by_msnelly, instagram.com/cissehairbraiding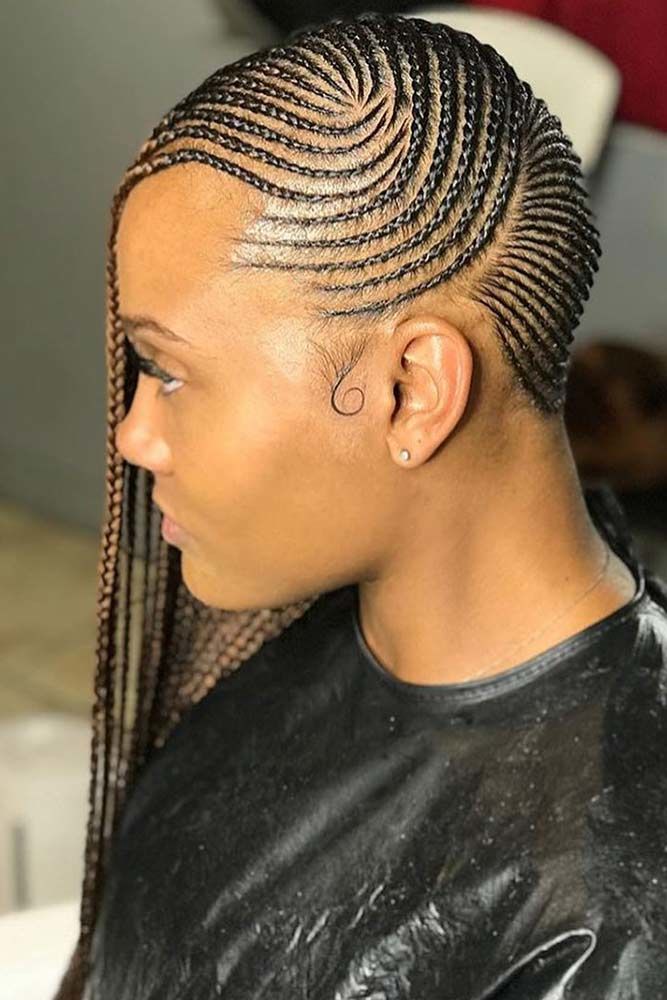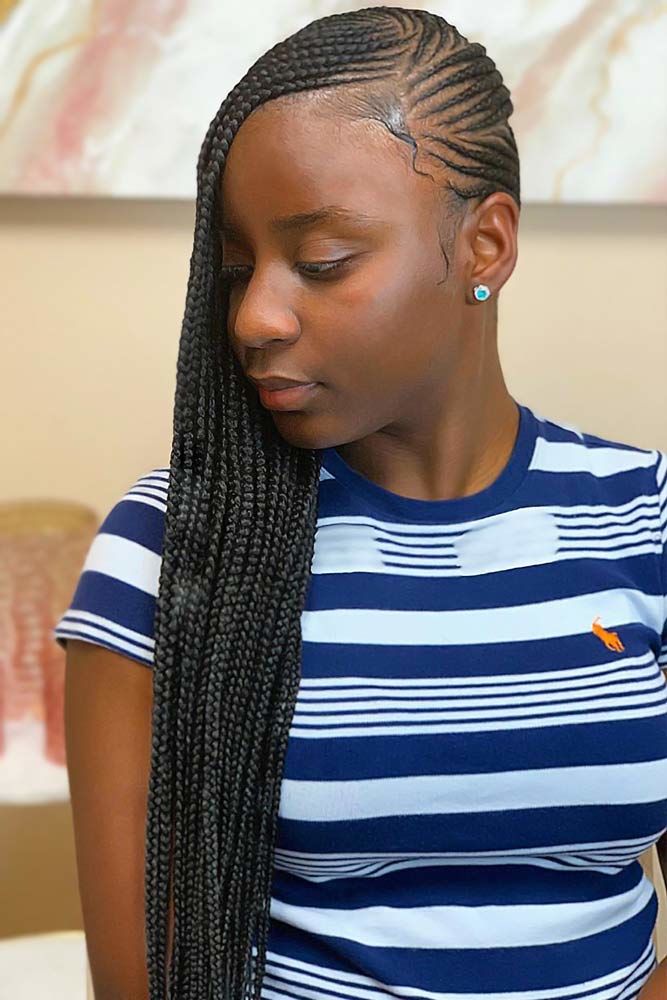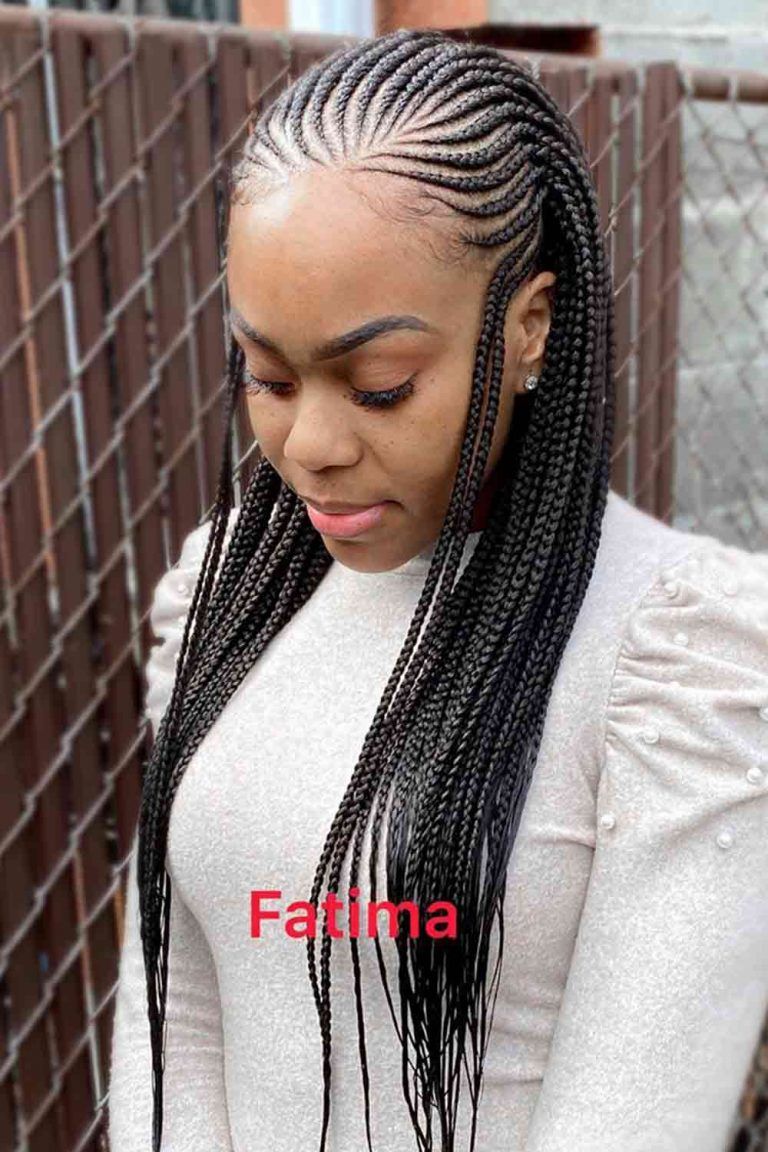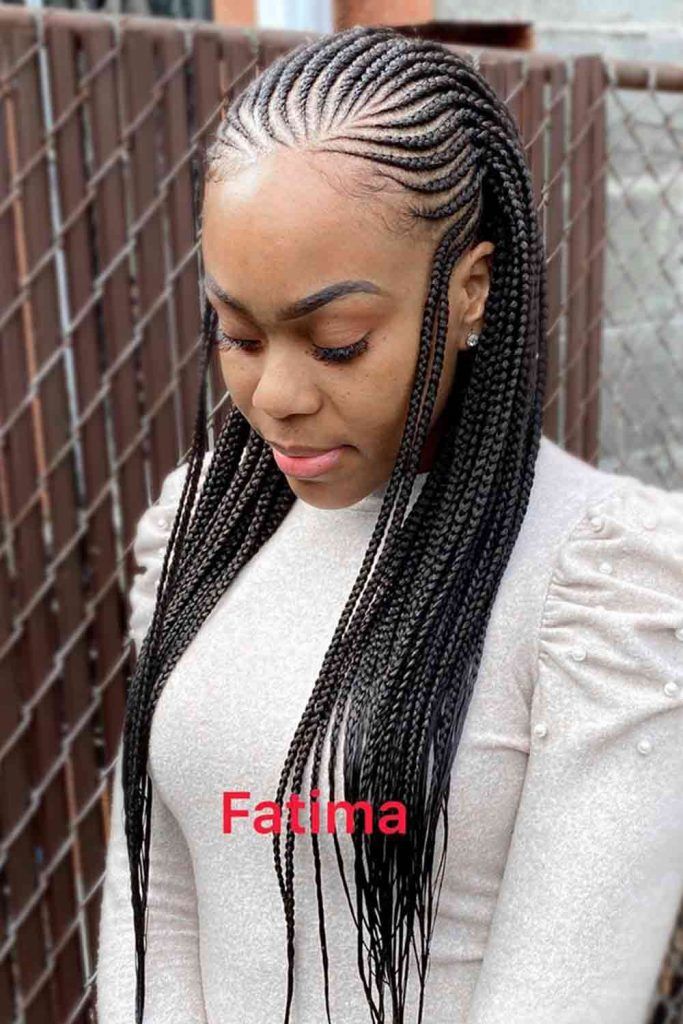 You can have a treasure chest with the world's beautiful golden accessories and precious rhinestones. Still, you won't steal the show unless you have a long braided mane that covers your head with seductive side lemonades. Note that when your hair is super long, you should choose the most suitable density and shape for your braids. All in all, your hair should be a part of you, not outweigh your scalp. Today, women love to experiment with the braiding patterns, choosing zig-zag, wave-like, and some ethnic-inspired ideas.
Remember: your long braids are your natural accessories, so your task to be as creative as you can to flaunt with a unique lemonade look.
Thin Lemonade Braids
Thin Lemonade Braids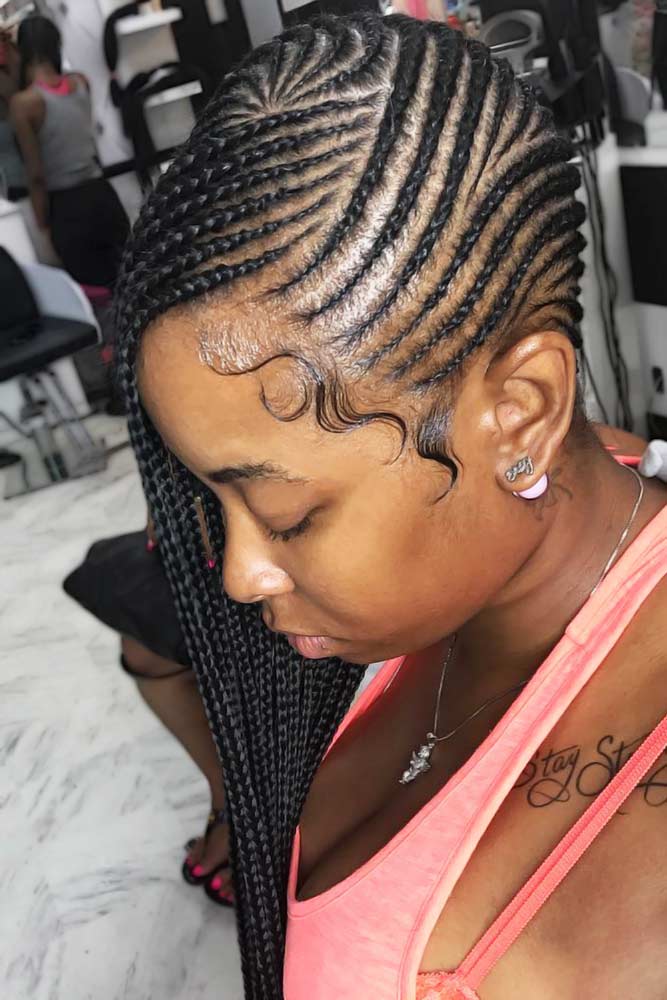 Credit photo: instagram.com/geminitwinshauwny
Now, how about an idea that moves in the opposite direction? Dozens of tiny little braids look so refined as if the hair has been embroidered by gods of fashion. If you want to catch eyes with irresistible hair texture, don't dare to miss this idea.
Micro Lemonade Braids
Credit photo: instagram.com/braidsvolna, instagram.com/hairby_shrimp, instagram.com/braids_by_djeph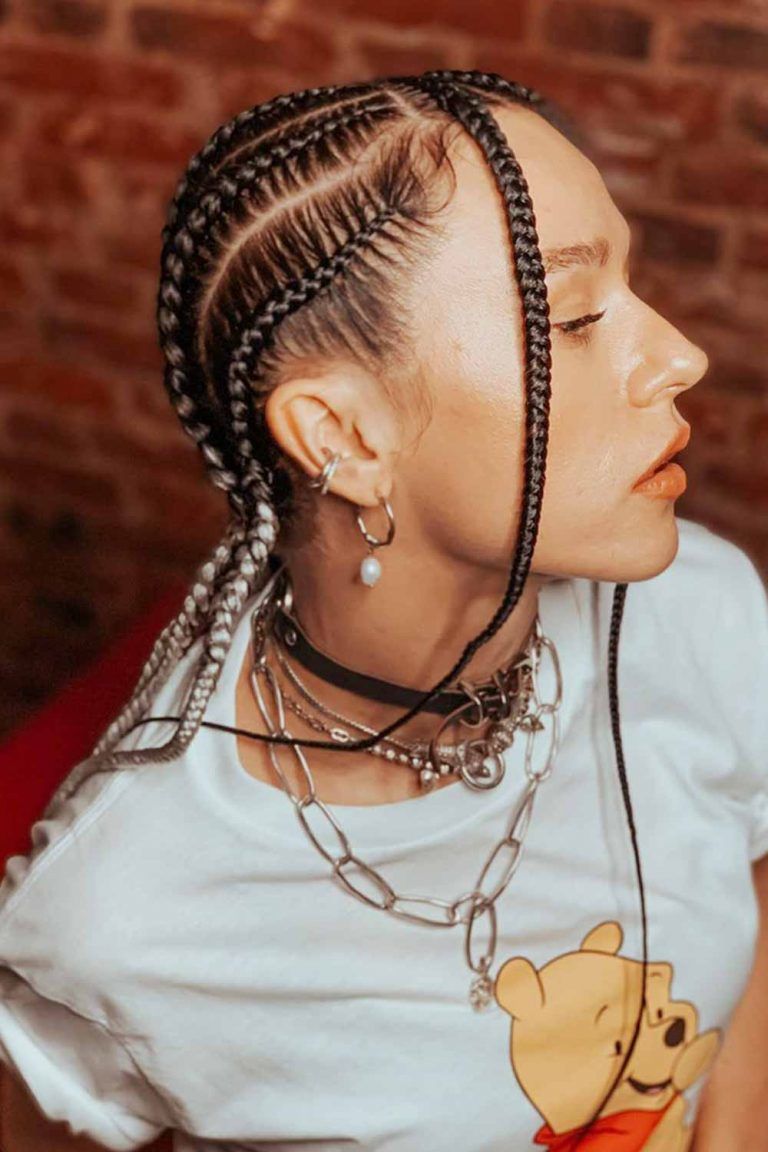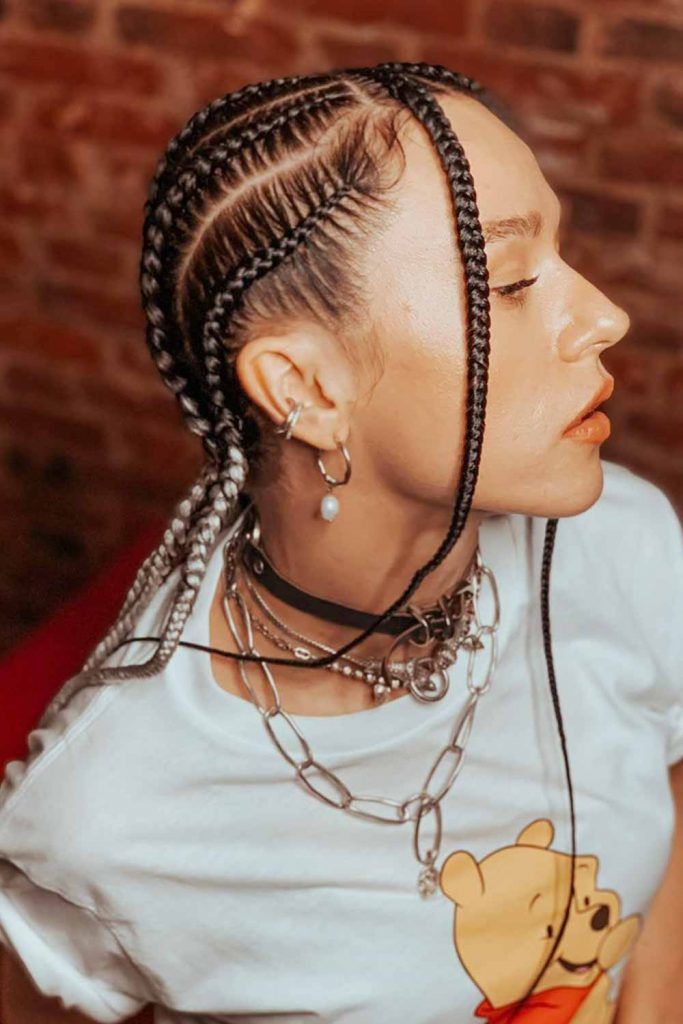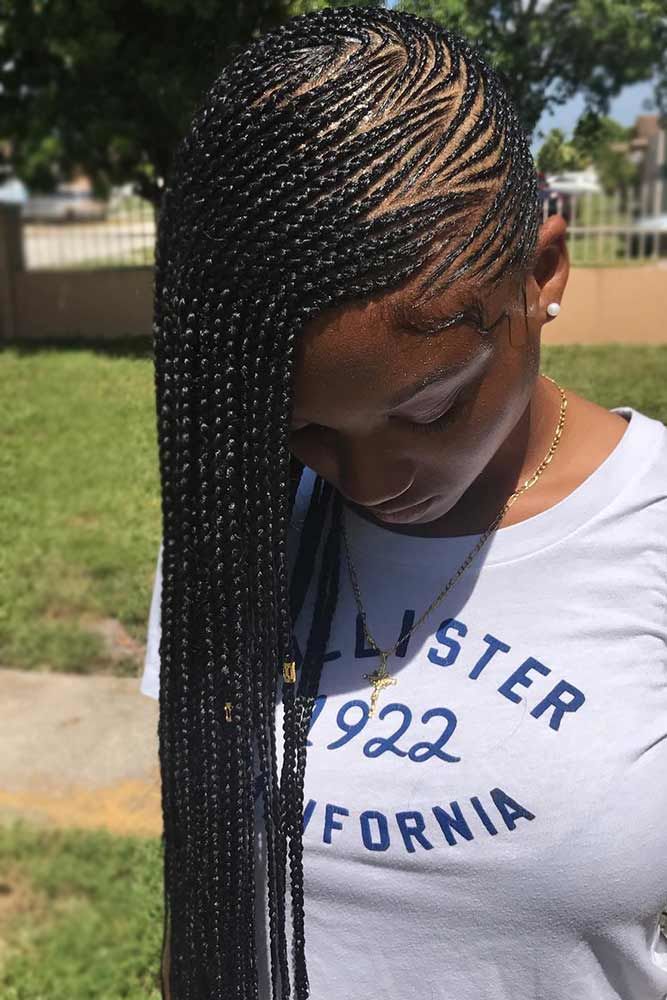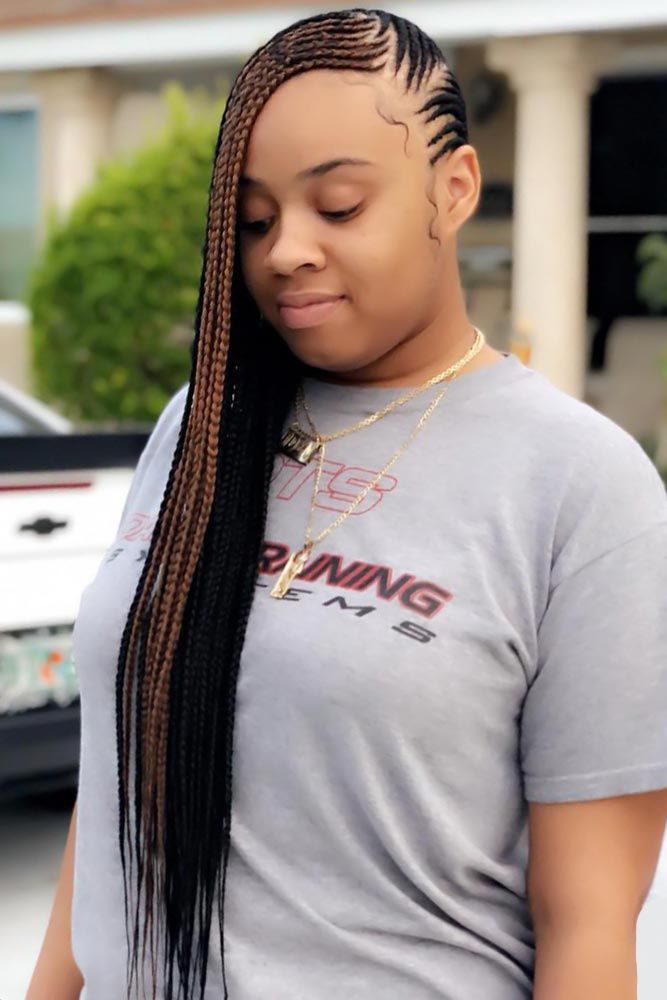 Credit photo: instagram.com/__daikeara, instagram.com/hairby_shrimp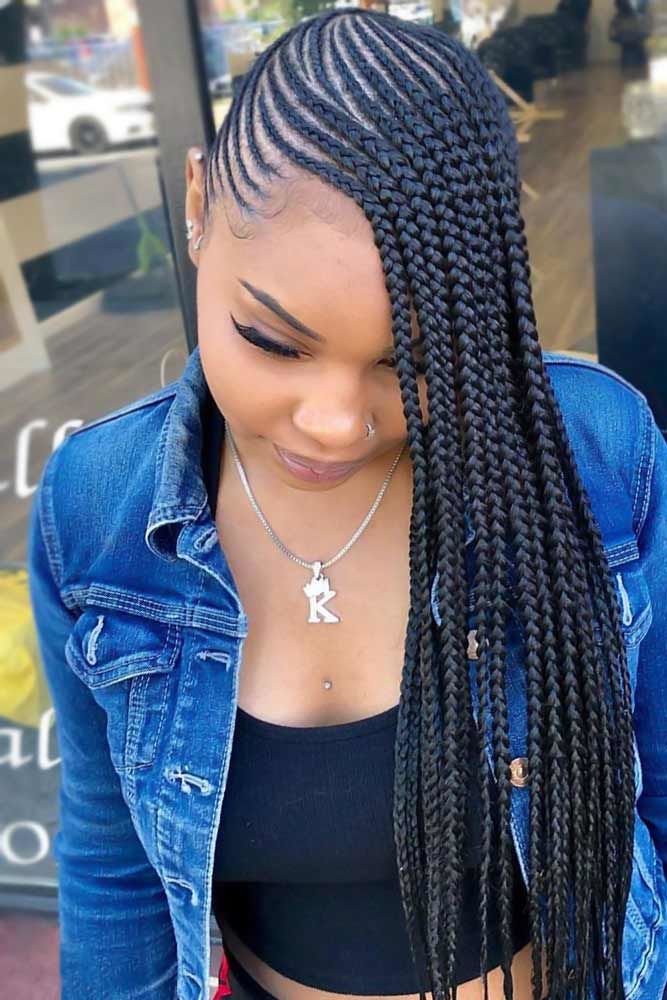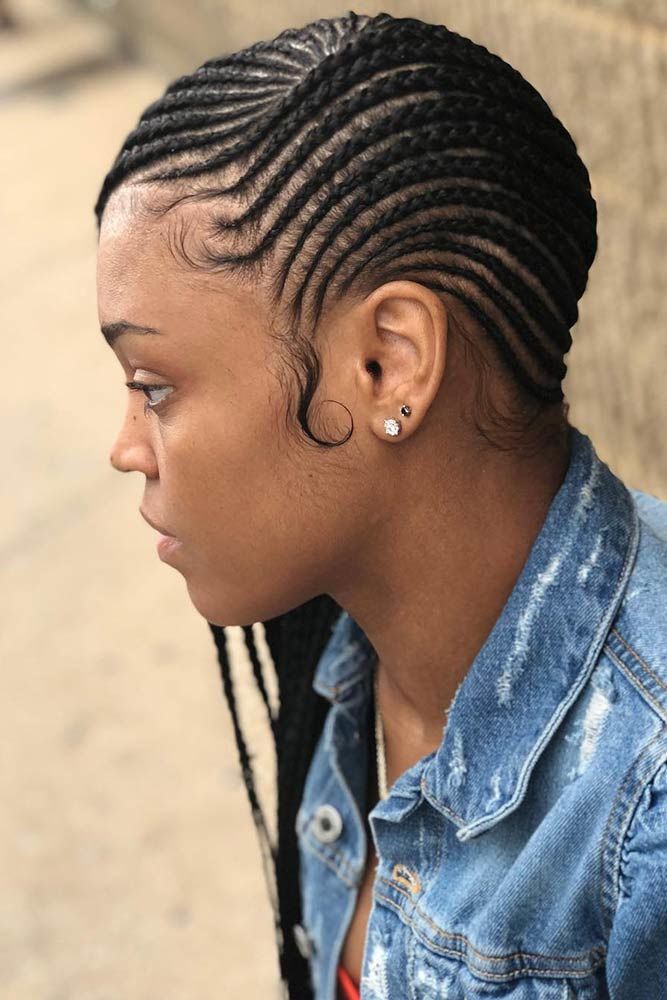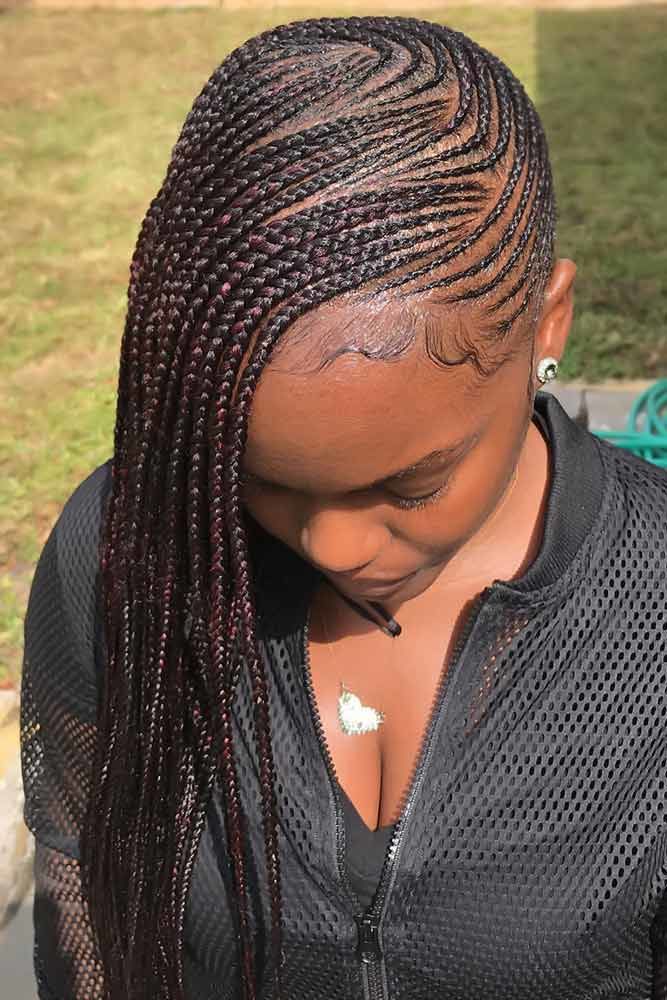 Beauty is in the details, remember? If you love to keep things simple but significant, a detailed look of micro braids will be your go-to. Yes, this type of lemonades takes more time than classic cornrows or box braids. Well, beauty knows no pain! This style doesn't only look very accentuated with its tiny tight braids but it also comes very flexible in terms of styling. While you can wear micro lemonades just as they are, you can turn some of them into braided details like crown braid or floral braid for some special occasions.
Thick And Jumbo Lemonade Braids
Thick And Thin Braids Combo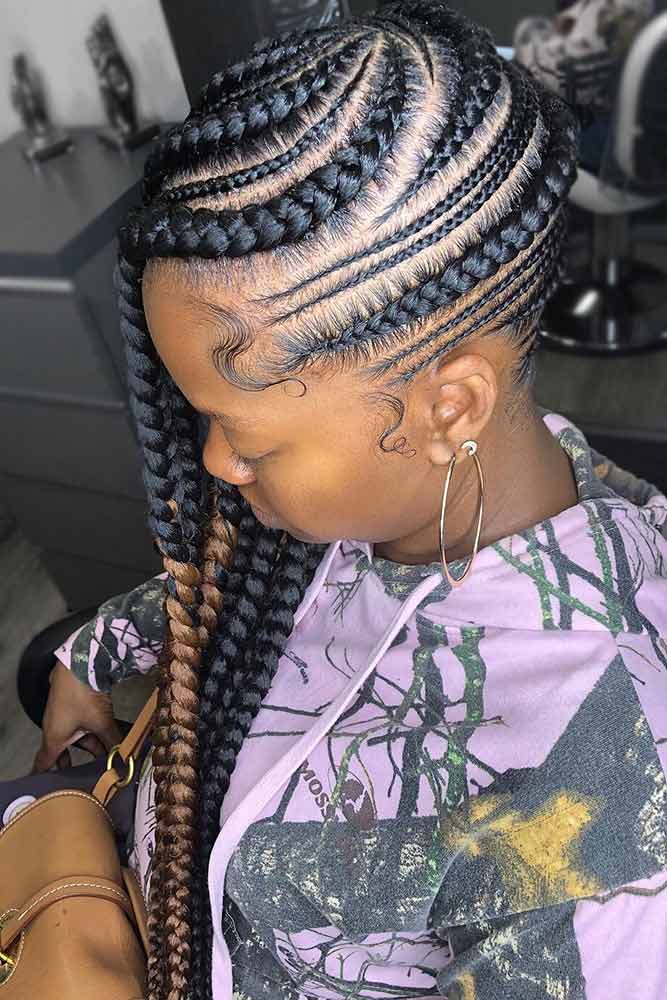 Credit photo: instagram.com/erica_letstalkhair
Not sure if you want to rock big Lemonade braids or narrow? The fix is simple. Try them both. This thick and thin braids combo offers a unique look to the classic style. They go round and round your head in an intricate wheel pattern that'll frame your face while keeping things cool.
Jumbo Lemonade Style Braids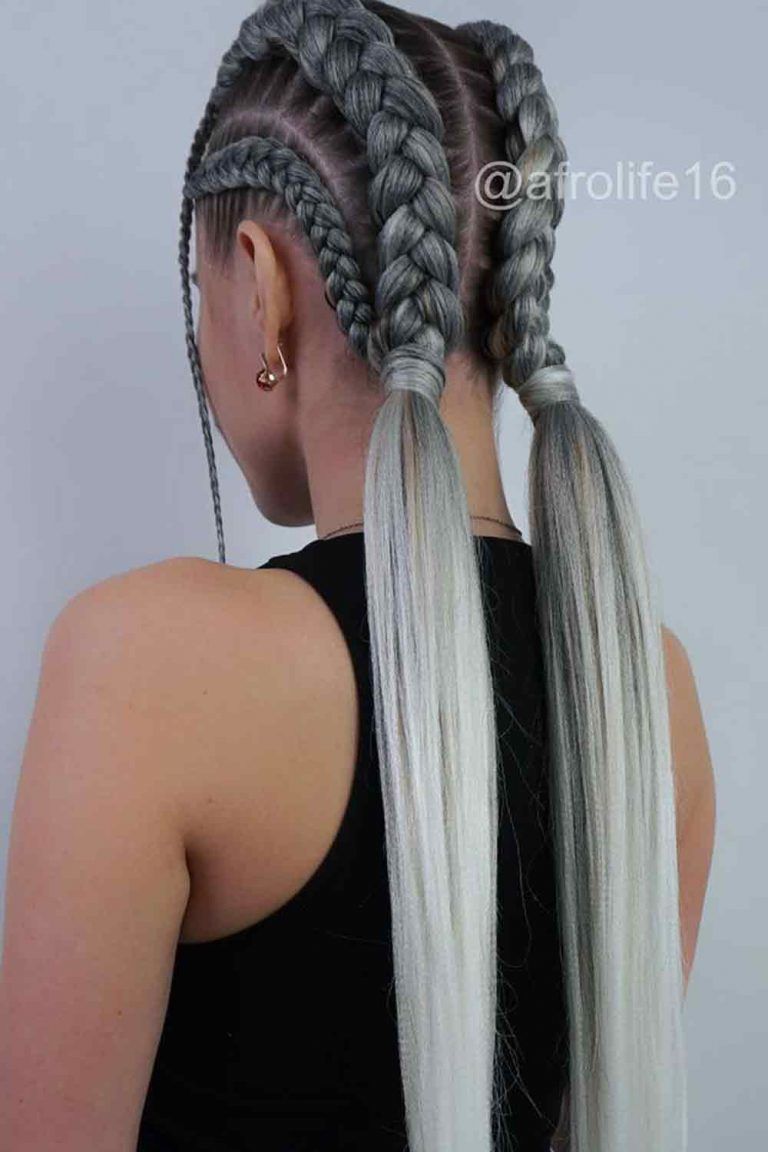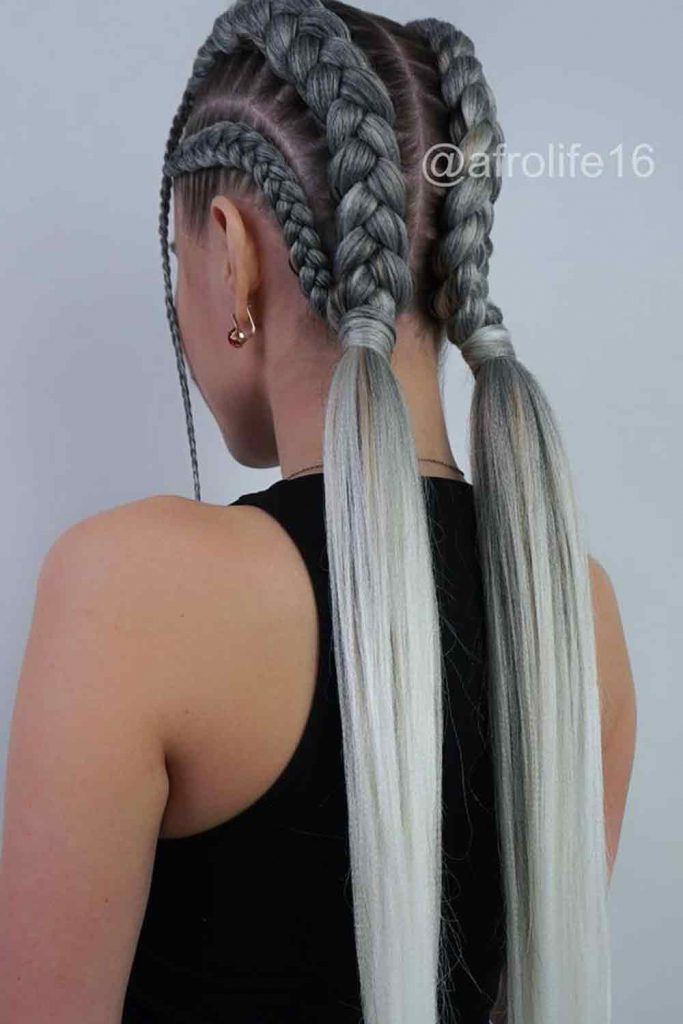 Credit photo: instagram.com/afrolife16
Jumbo braids are the saving grace of women of color for two simple reasons. First, they help the outstanding texture to stand out even more. Second, they protect the hair: Jumbo braid hairstyles are achieved with the help of bright and full extensions. So if the potential damage is the only thing that stops you from rocking a colorful mane, leave it all up to Jumbo!
Big Lemonade Braids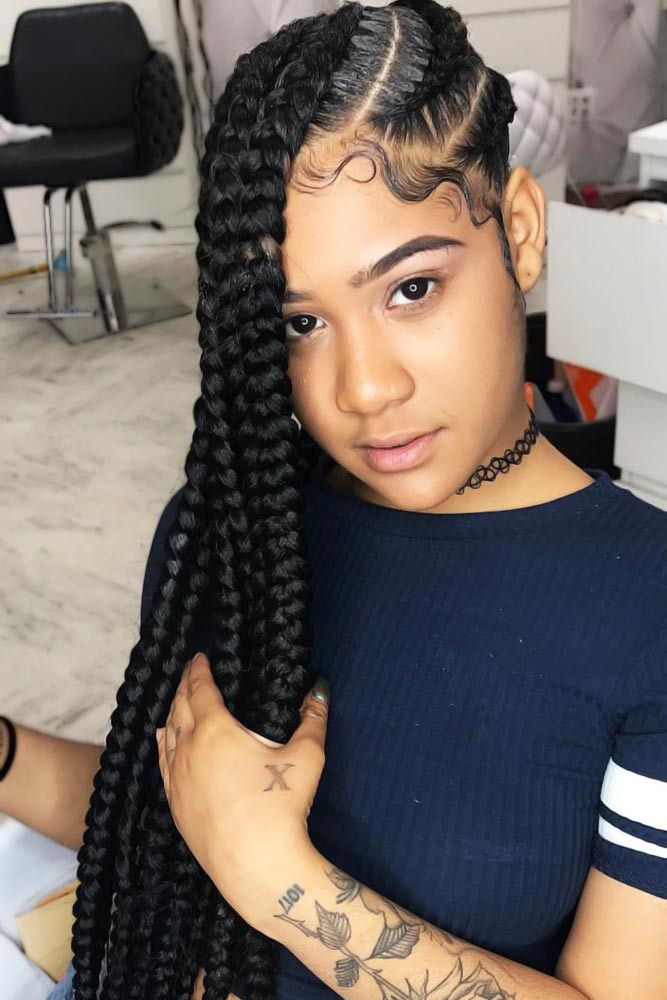 Credit photo: instagram.com/geminitwinshauwny
Not only the size of these amazing braids is big but also the visual impact they give! With such a head-turning hairstyle, there's no need in wearing bright makeup and exposed outfits; these lemonade braids are doomed to have eyes on them.
Jumbo And Micro Wheel-Patterned Braids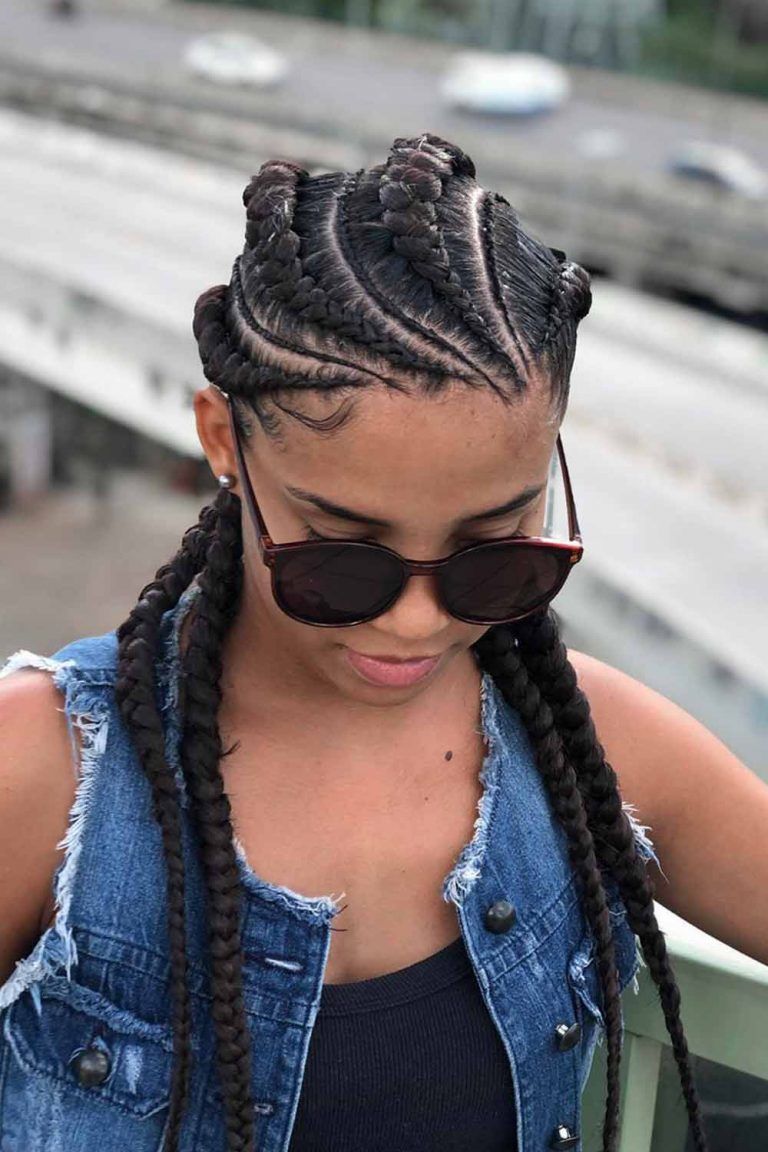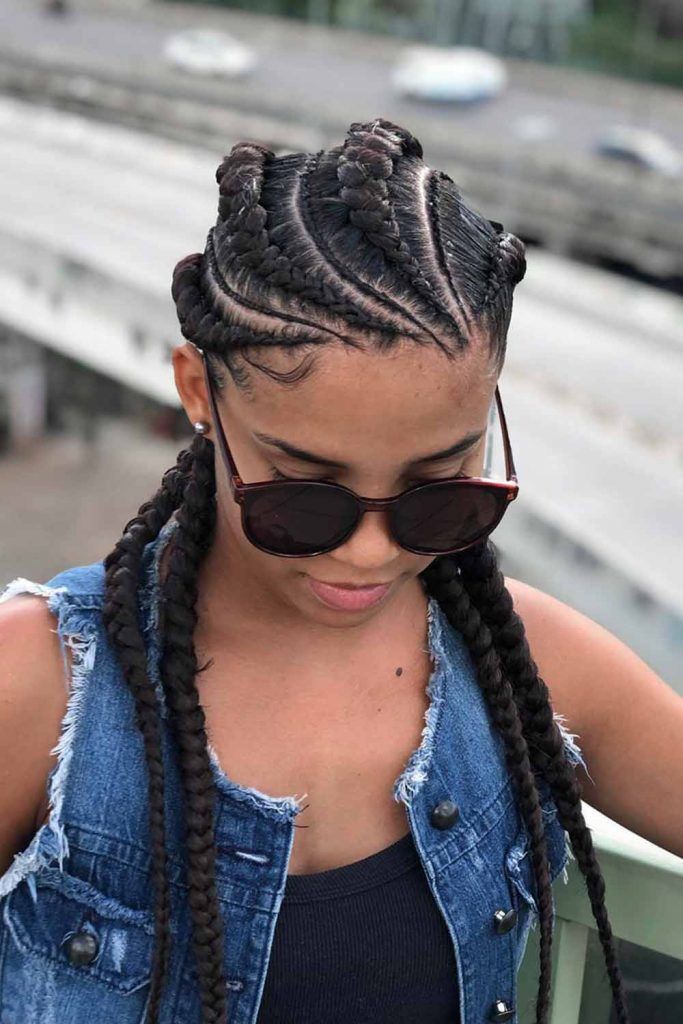 Credit photo: instagram.com/esponjamagic
Well, that's another dramatic and stylish way to tame those kinks and curls into tight and curvy wheel-patterned braids. In case you want modernity speak through your hairstyle, this pattern will be your one-way ticket to the spotlight. Besides, this style will not only have all eyes on it but it will also keep you absolutely comfy with your locks. Just make sure that your braider doesn't make them too tight.
Jumbo Lemonades
Credit photo: instagram.com/kiaharperbraids, instagram.com/braids_by_msnelly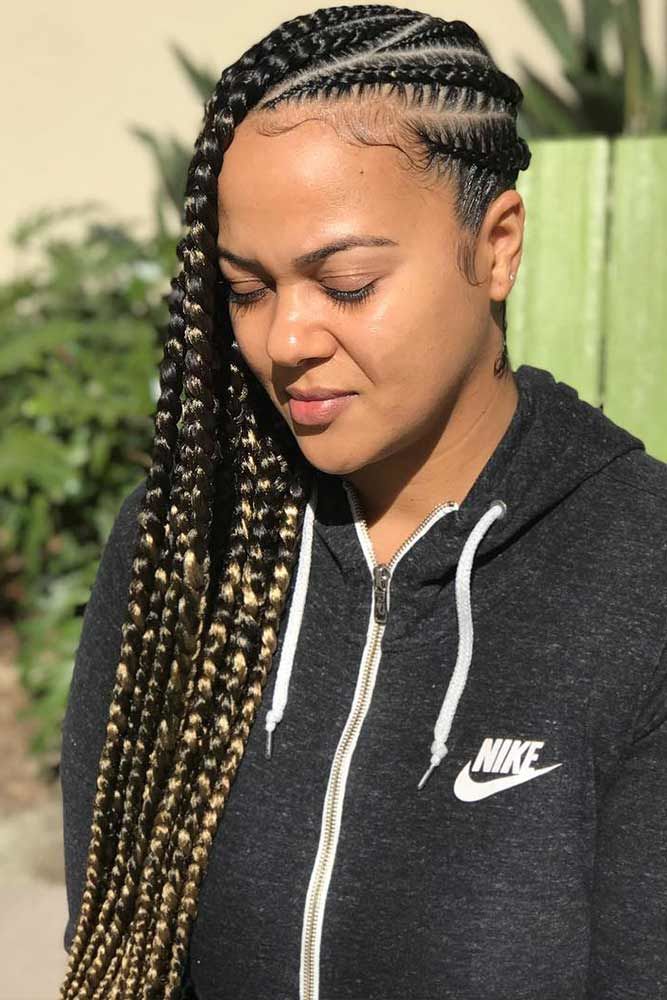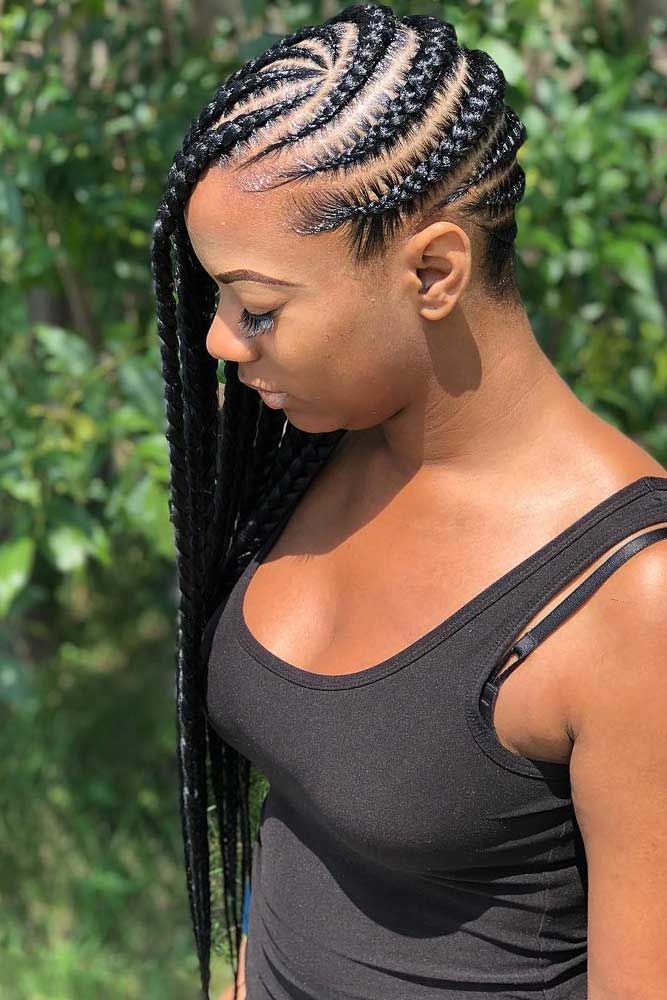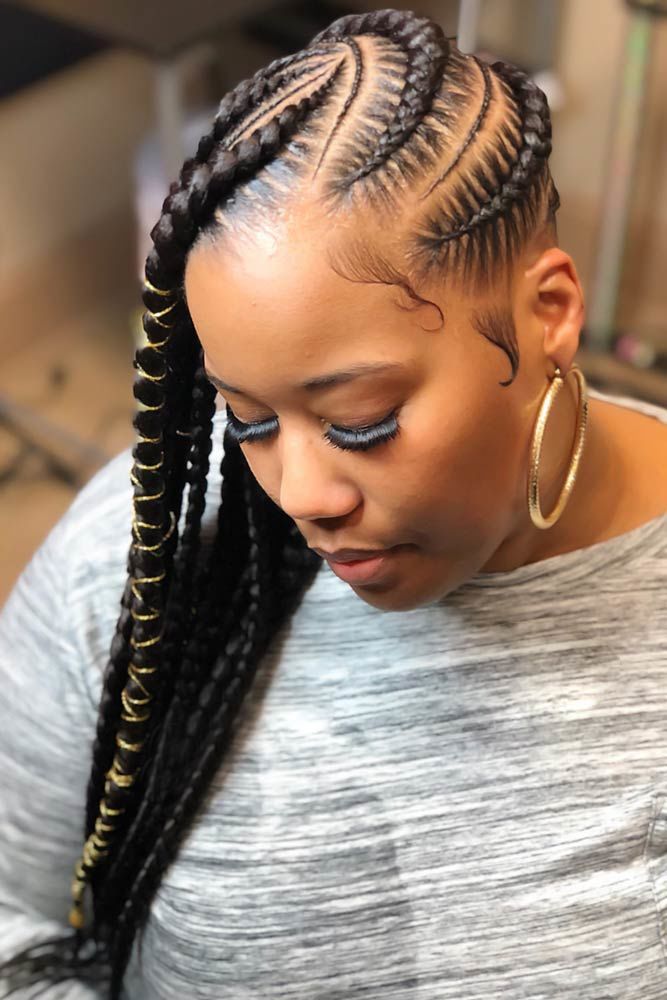 Credit photo: instagram.com/geminitwinshauwny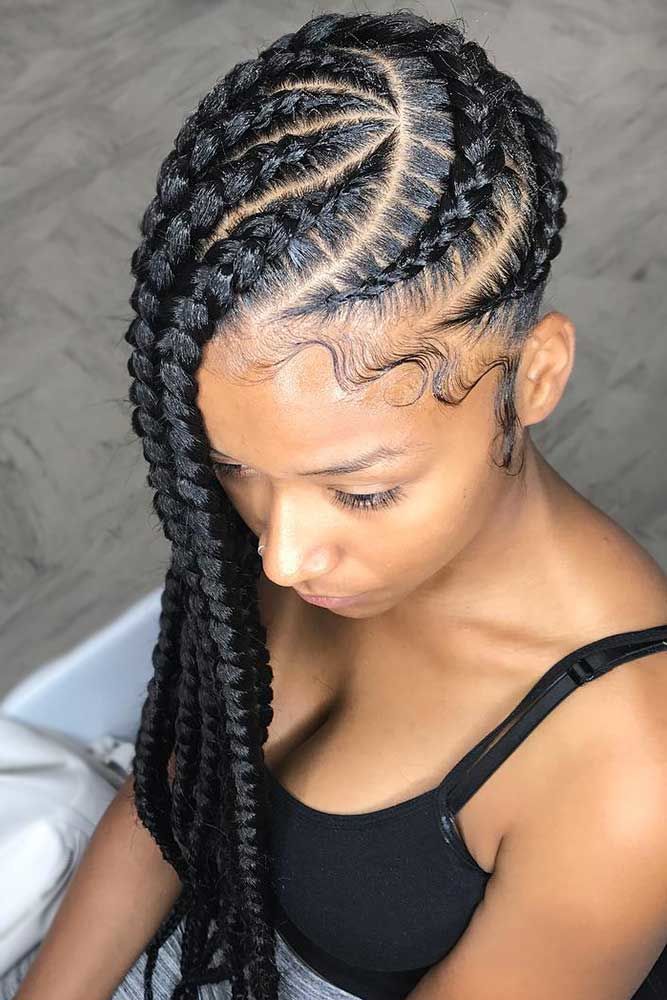 When you want your hair game to be truly big, Jumbo braids come in. While having the same pattern as classic lemonade braids, Jumbos involve thicker and bigger strands. As a result, they give an extremely distinctive appearance and add a lot of character to the natural mane. Trust us, once you pull off such an outlined and dense masterpiece, you will hit people's eyes from miles and miles away.
Just like any other lemonade variation, this style allows for various customizations. Want to show off your creativity? Make up your own braiding pattern. Feel like adding something new to your locks? A bit of color will do the trick. To get the most of this ravishing style, don't forget to wash it with the right shampoo, and moisturize your braids regularly.
Long Lemonade Braids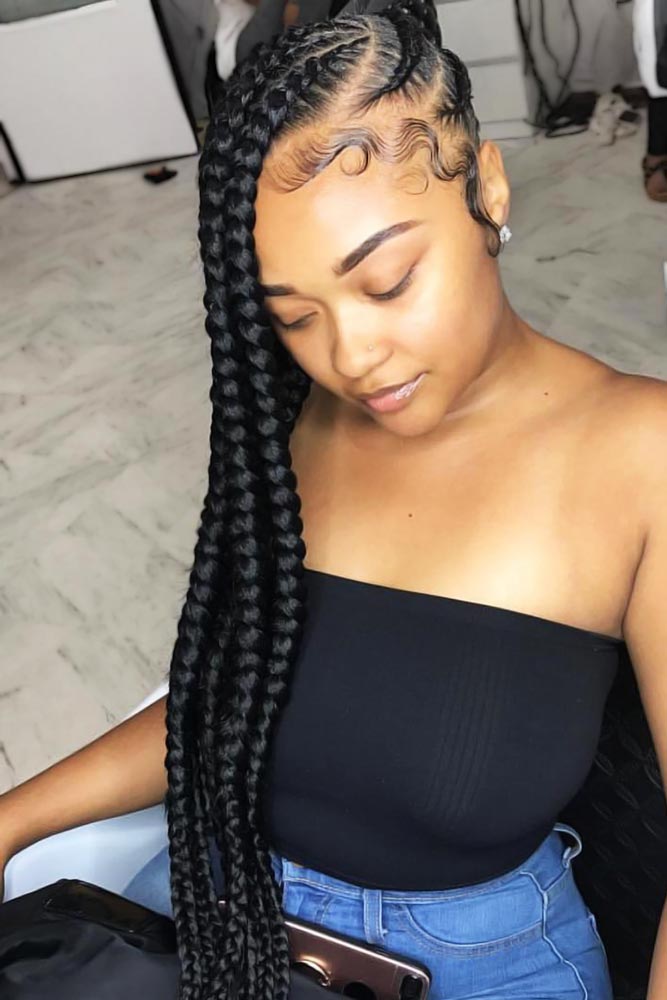 Credit photo: instagram.com/geminitwinshauwny
These braids are long, thick, and super defined. If you want to make your braided hairstyle big, make sure to copy this look. Besides, the thicker the braids are, the more voluminous your look is. That is to say, if you have a round face and would like to build some balance, big and full braids are just what the doctor ordered.
Stitch Lemonade Braids With Hair Ties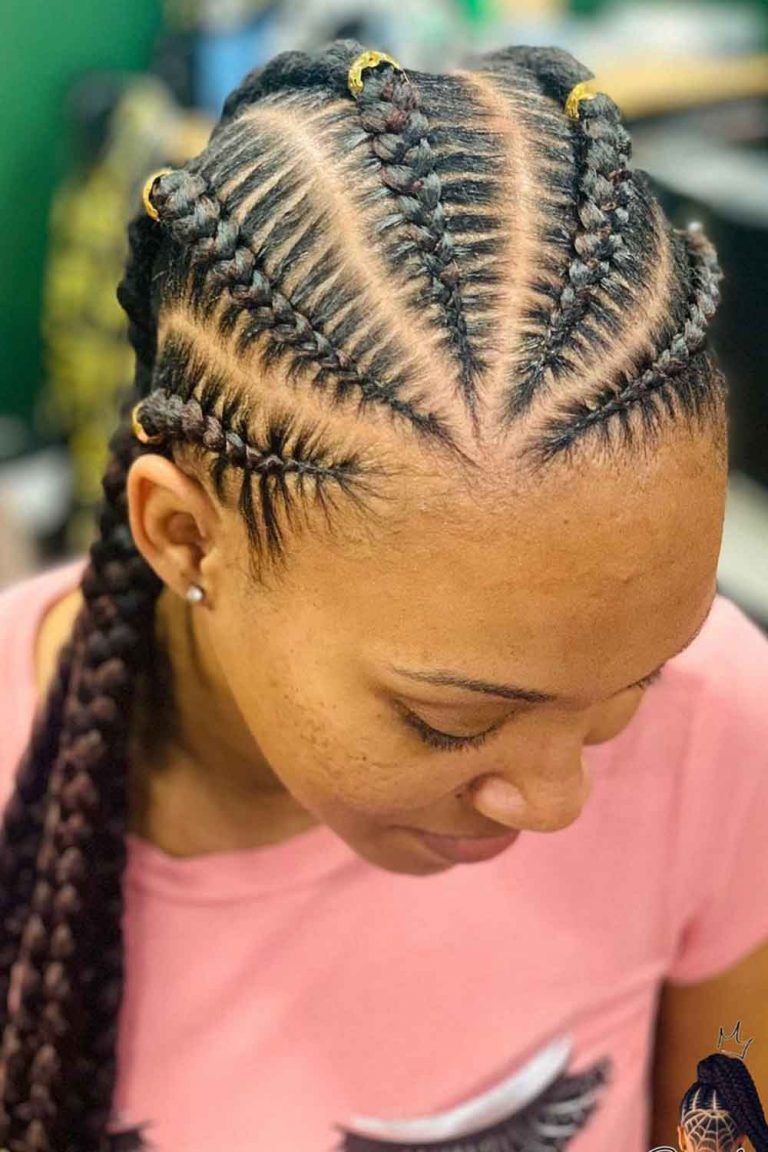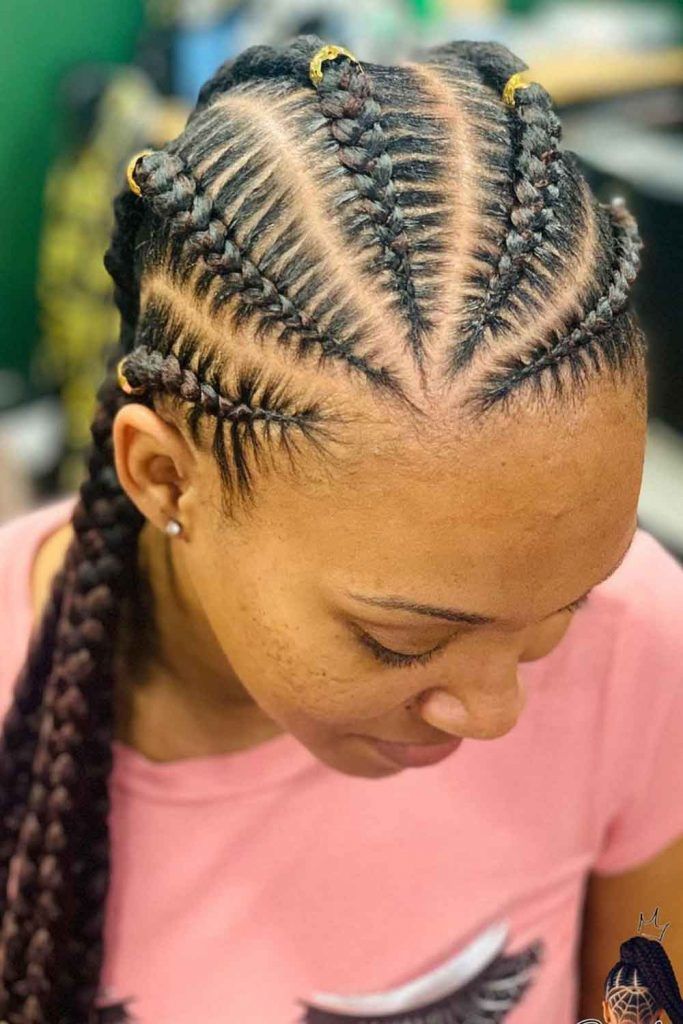 Credit photo: instagram.com/braidedroots
If not colorful hair ties, what else can create a funky mood for your braided masterpiece? Stitch braids are unique for their precision, sharpness, and a super outlined shape, and a little colorful twist can make the clean look even more organic. Plus, it's a nice way to make your 'do match your outfit.
Patterned Lemonade Braids
Wheel-Patterned Jumbo Lemonade Braids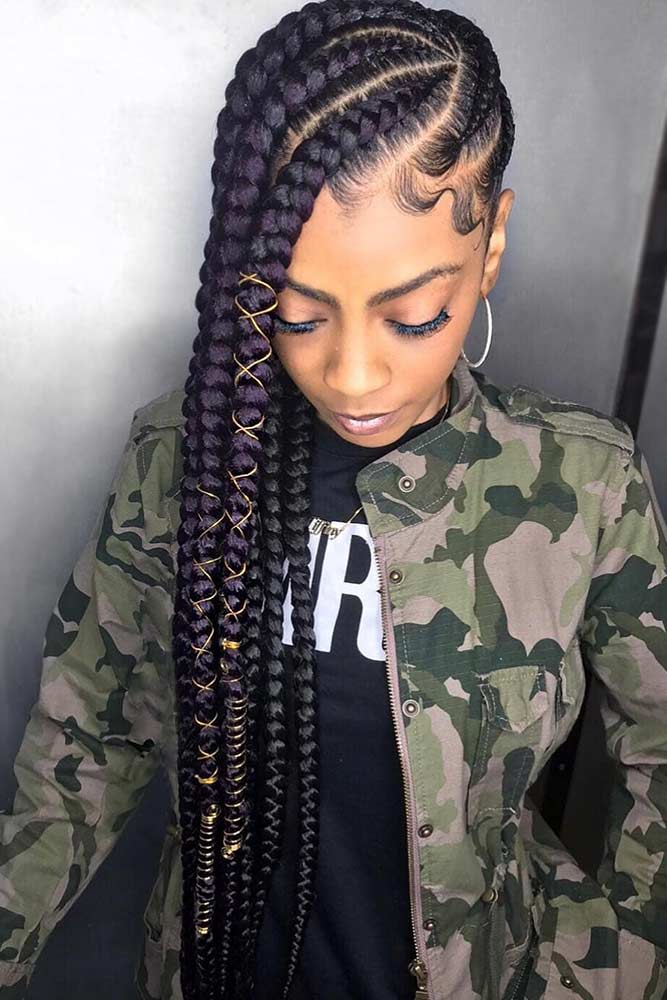 Credit photo: instagram.com/cornrowkillas
Go big or go home! These jumbo Lemonade braids are clearly unstoppable. You'll feel like a goddess rocking these braids, which are certainly not for the timid. You can add adornments or style the edges in a wave shape for a fierce take on the cornrows. Just have your stylist wrap and wrap and wrap them around in a wheel pattern for a look that's dizzyingly beautiful!
(We had to say it.)
Reverse Four Braids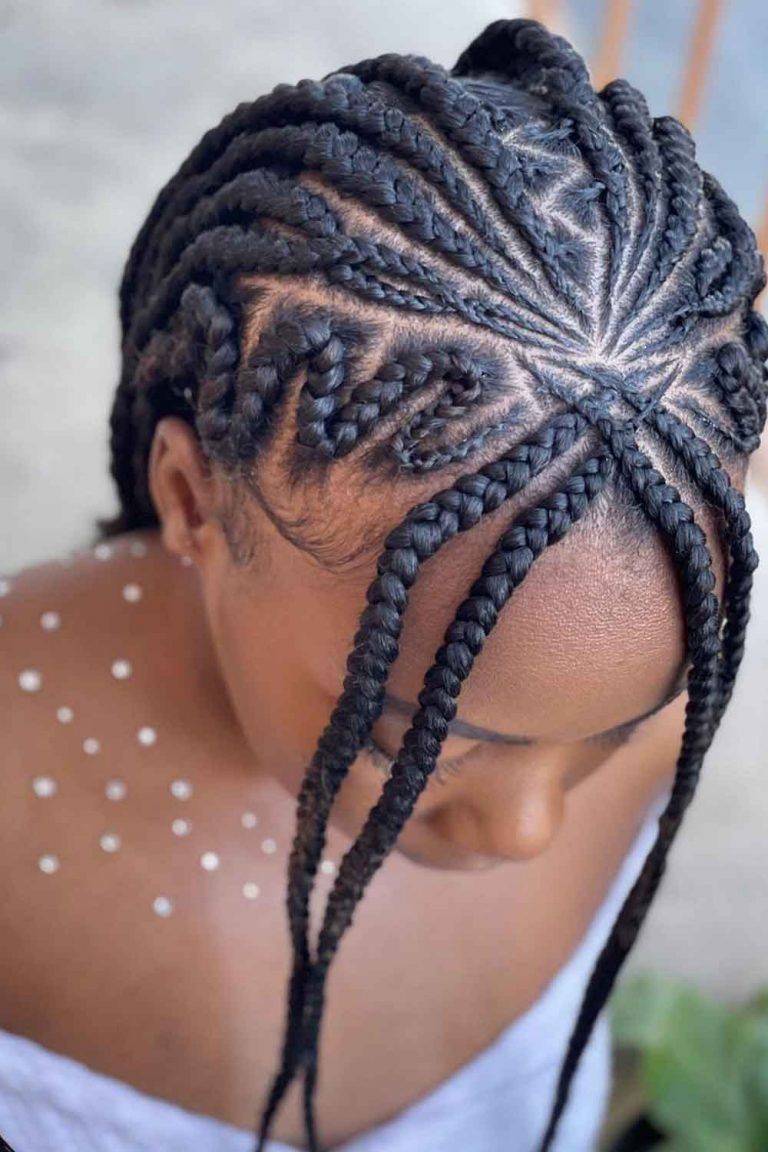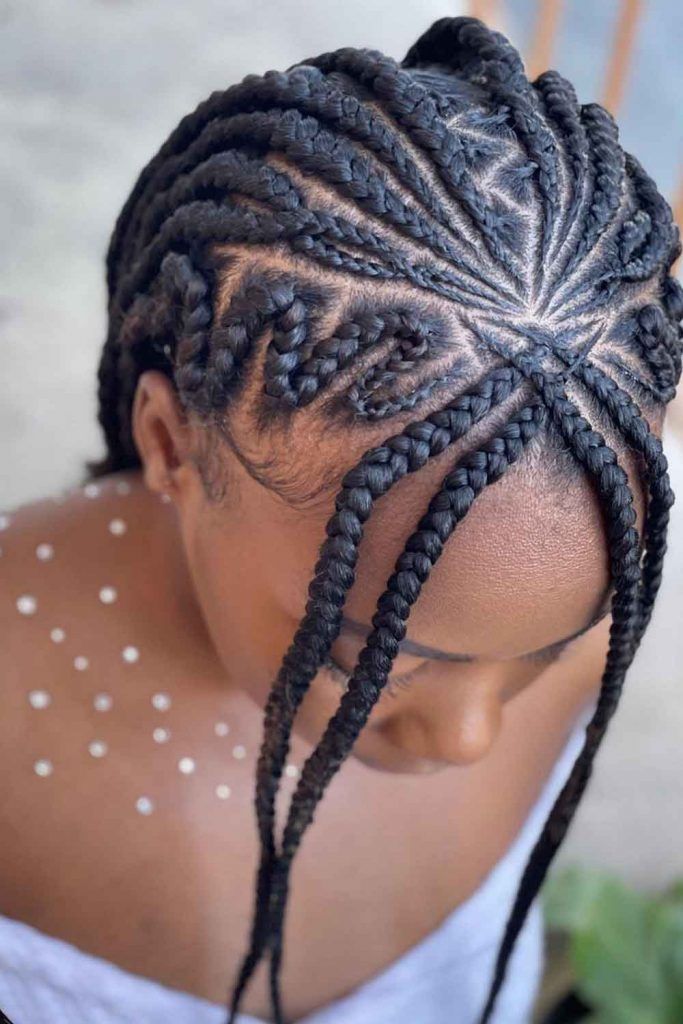 Credit photo: instagram.com/braidedroots
You never know how far you can go when you let your imagination run wild! Luckily for all those natural-haired queens, lemonade braids never go against experiments. On the contrary, they're an eternal canvas to your imagination. Here, for example, you can see how the classic pattern gets different with side braids that decided to stand out in the crowd.
Zig-Zag Lemonade Braids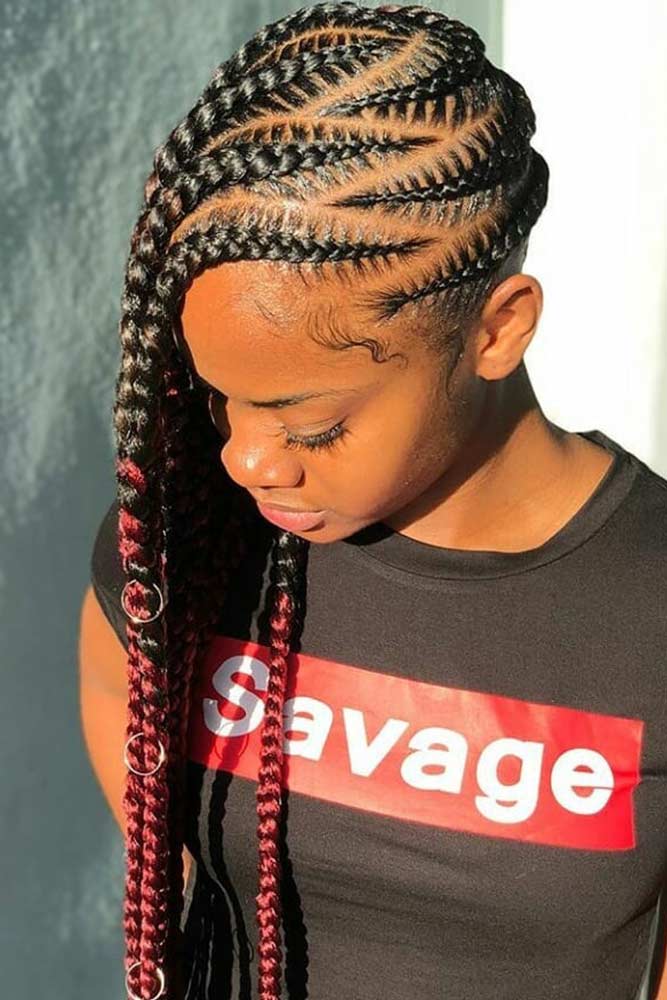 Credit photo: instagram.com/ghanaianhairstyles
These artful braids are worth a second glance. A unique zig-zag pattern is totally doable. Right? Why not have some fun with a large Lemonade braids style that is equally as fun to look at as it is to touch? This braided style is both sporty and chic.
Side-Parted Loose Cornrows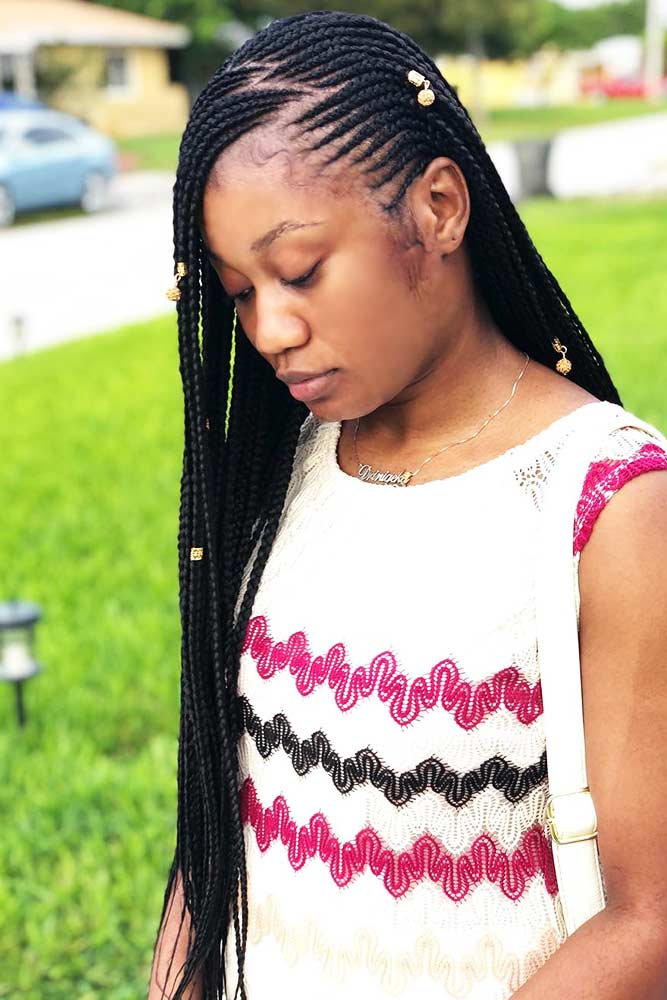 Credit photo: instagram.com/braids_by_djeph
Beyonce's Lemonade braids have become extremely popular and there are many ways to make them unique. This side-parted loose style is effortless and looks sweet when paired with a decorative hair accessory.
Fulani-Inspired Style
Credit photo: instagram.com/worldofbraiding, instagram.com/__daikeara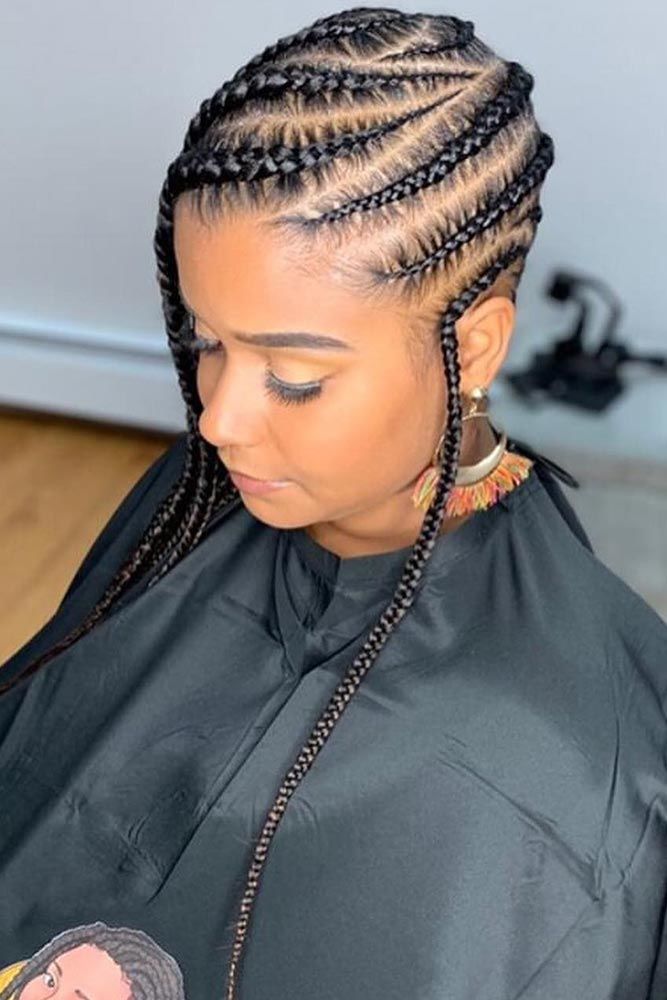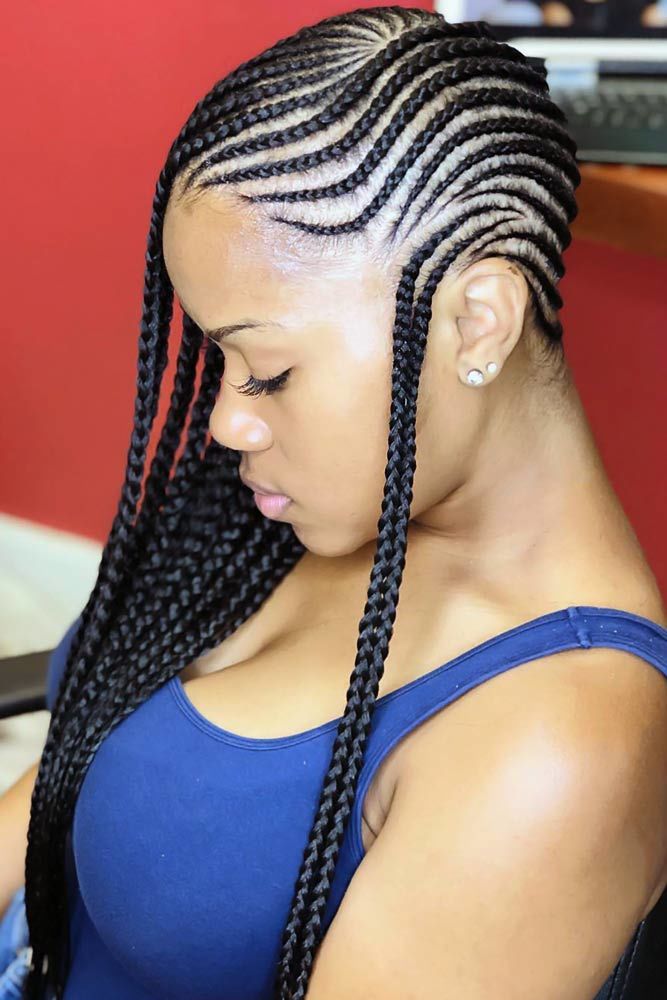 Переглянути цей допис в Instagram
Another thing that will make you fall in love with lemonades is their versatility and flexibility. Every woman may have her own picture and version of the braids, combining any braiding patterns and natural styles she wants. For example, you can breathe an ethnic individuality into your look by adding a touch of Fulani braids. Although they feature a central cornrow running along the head, they also have one distinctive feature - cascading cornrows on the sides. Ask your braider to create a couple of braids braided in the opposite direction to the rest of the braids, and your style will show up in a new light.
Color Variations For Lemonade Braids
Burgundy Lemonade Braids Styles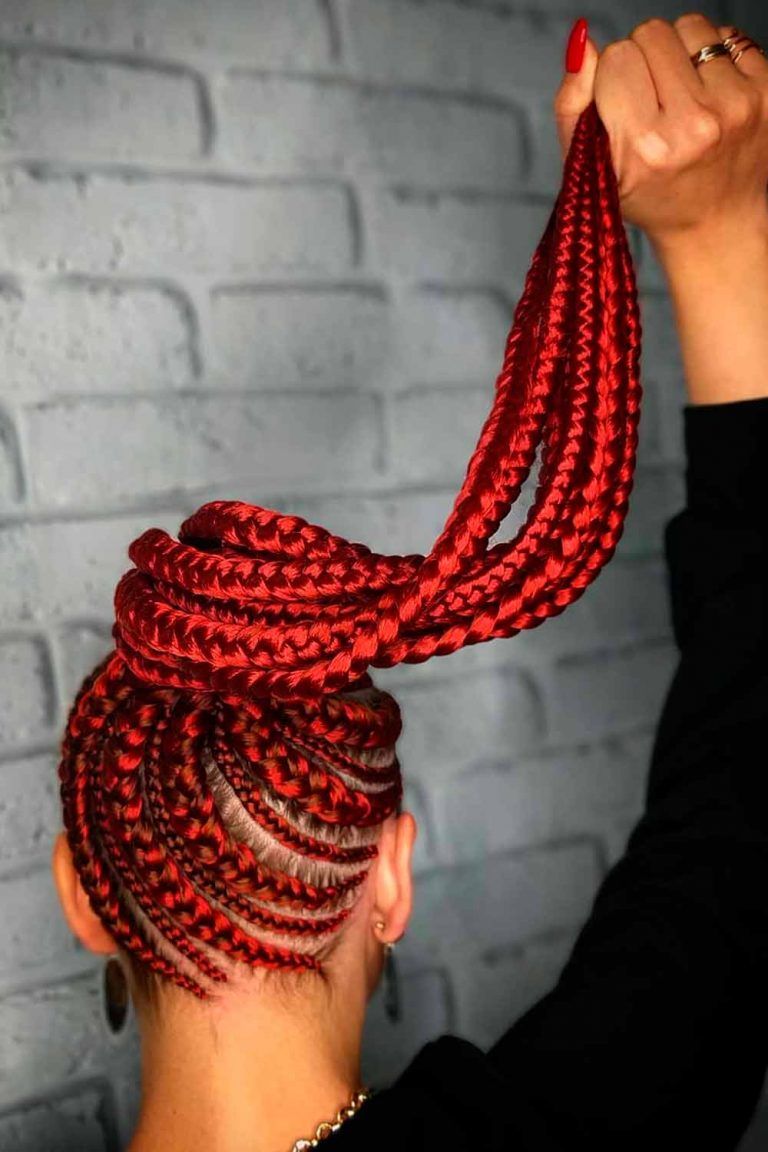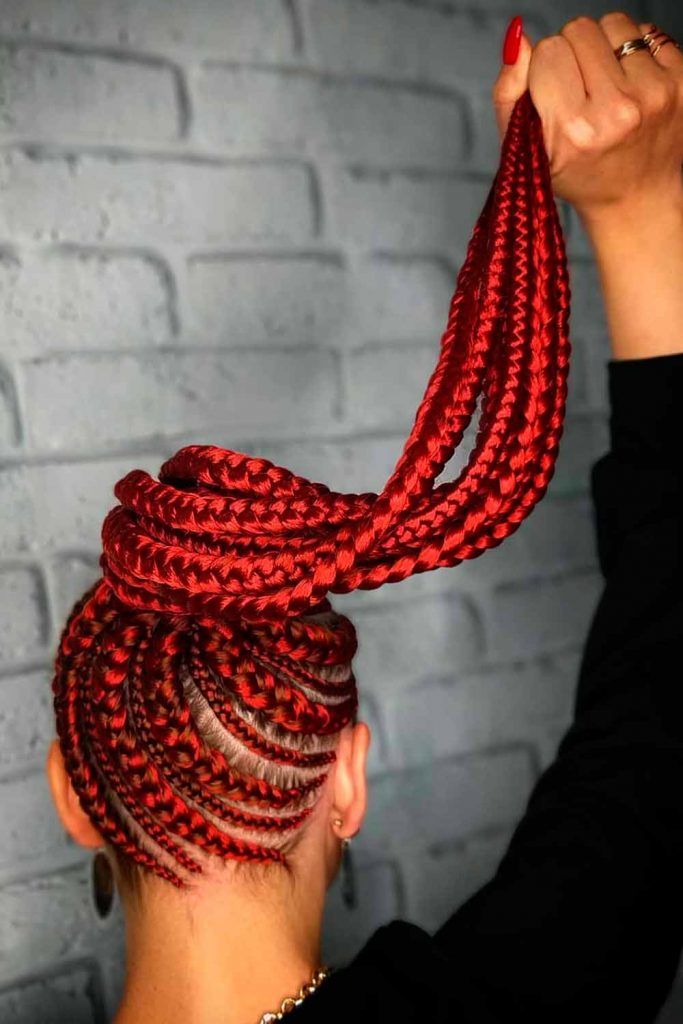 Credit photo: instagram.com/afrotinka.po
Lemonade braids are just the opposite to limitations; with this hairstyle, you are free to experiment to your heart's content. It can be the shape, density, pattern, or color of your braids. Oh yes, girl, color is what we'd like to focus here now! Remember the sultry reddish burgundy shade Rihanna showed up with once? Such hues just look fabulous against darker complexions. Now, say these three words to reach perfection: burgundy lemonade braids.
Tiny Cobalt Braids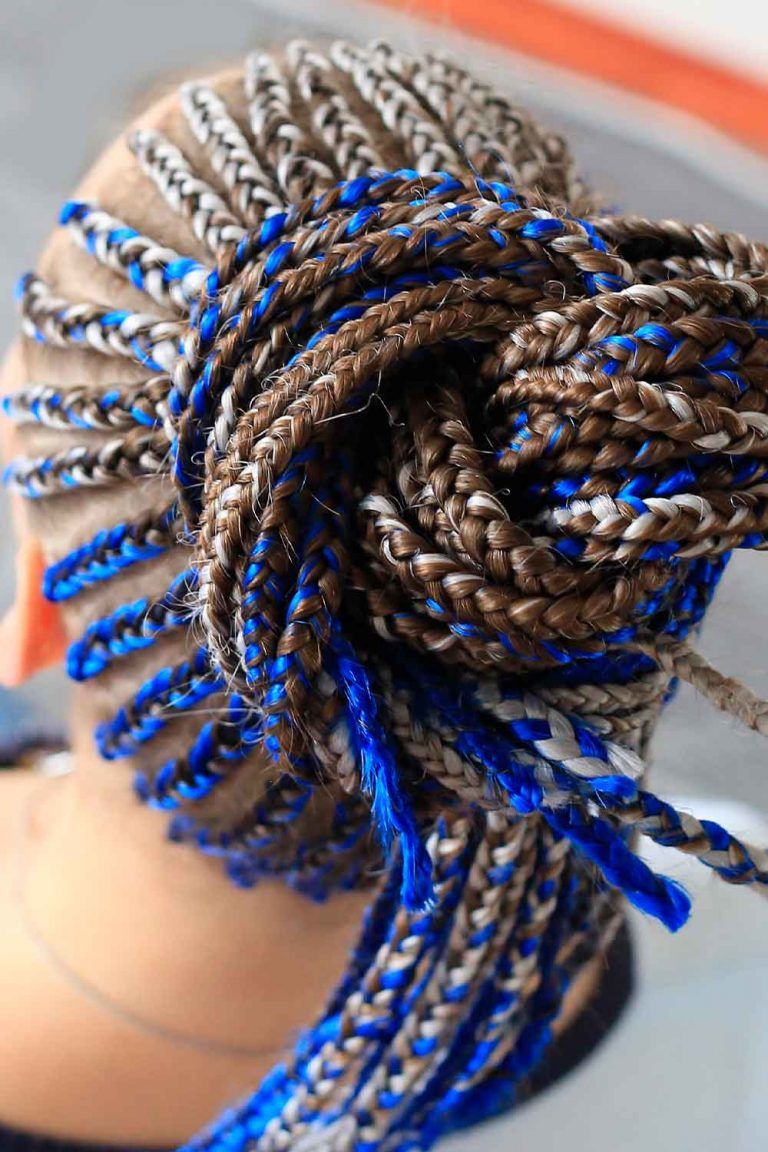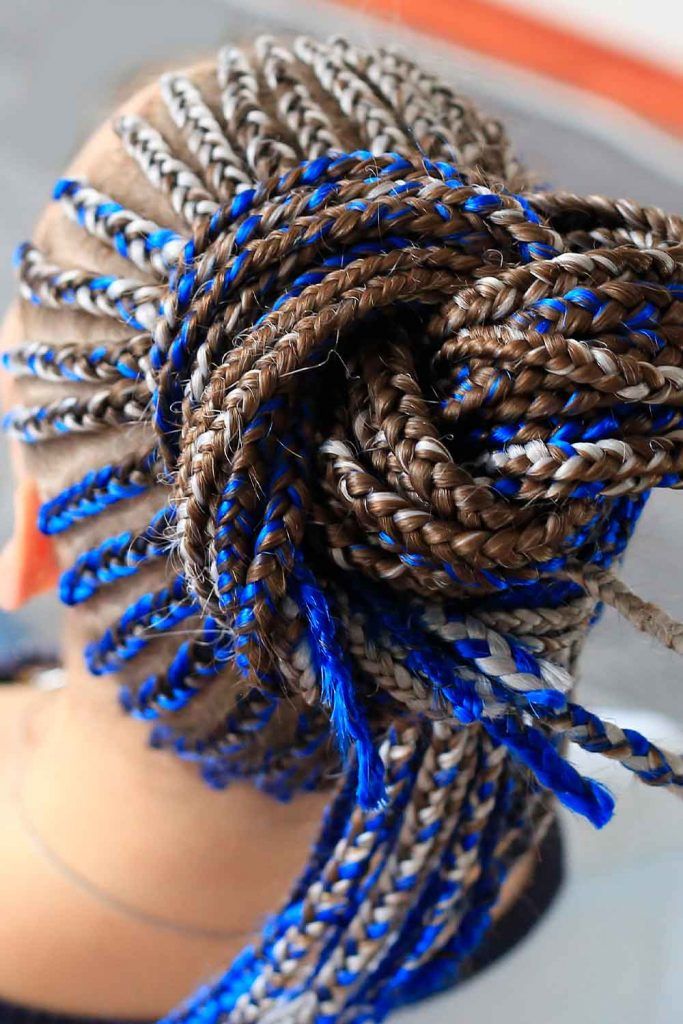 Don't be blue! Color is a welcome addition to Lemonade braids hairstyles, so don't be shy! If you're on a mission to take the cornrow braid trend to the next level, here they are! These cobalt blue braids are downright cosmically cool. The pop of color makes a dramatic statement for the girl that loves to be out of this world...
Bright Side Braids With Blonde Hair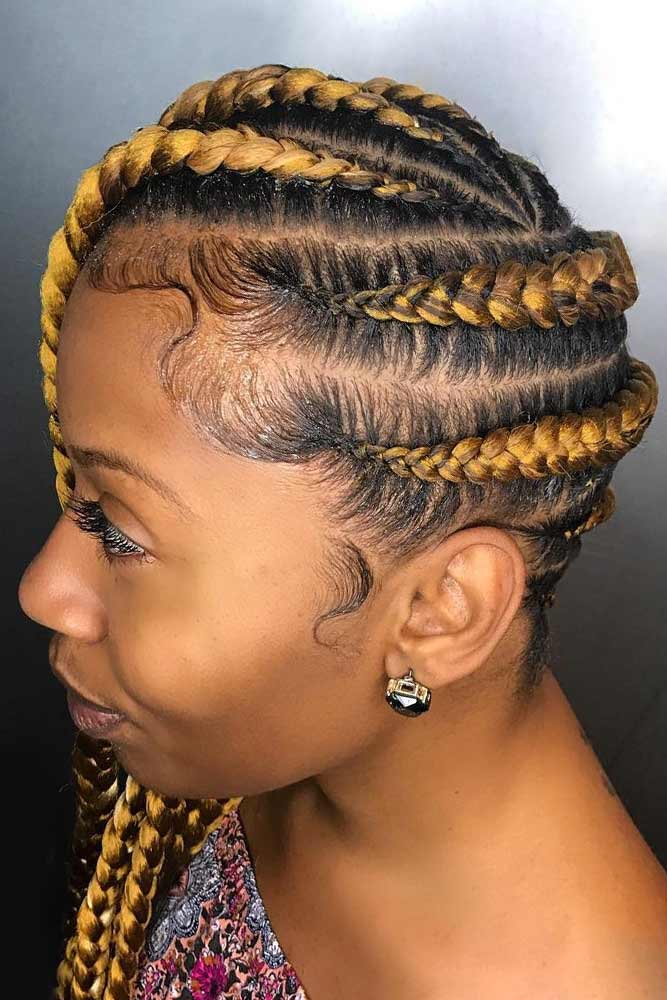 Credit photo: instagram.com/erica_letstalkhair
Show off your side braids with blonde hair. If you leave a little root outgrowth, your cool braids will have dimension and even more interest. The larger the braid the bolder the blonde!
Cherry-Red Ombre On Small Lemonade Braids
Credit photo: instagram.com/kiaharperbraids
These cherry-red Lemonade braids are anything but boring. In fact, they're perfect for the girl who wants to add a little more drama to her scalp braids. Vibrant hues really show off the braid pattern, and this deep red couldn't get any sweeter. Whether you opt for small Lemonade braids or go with a thicker braided style, it's all in the color for this look.
Lemonade Ombre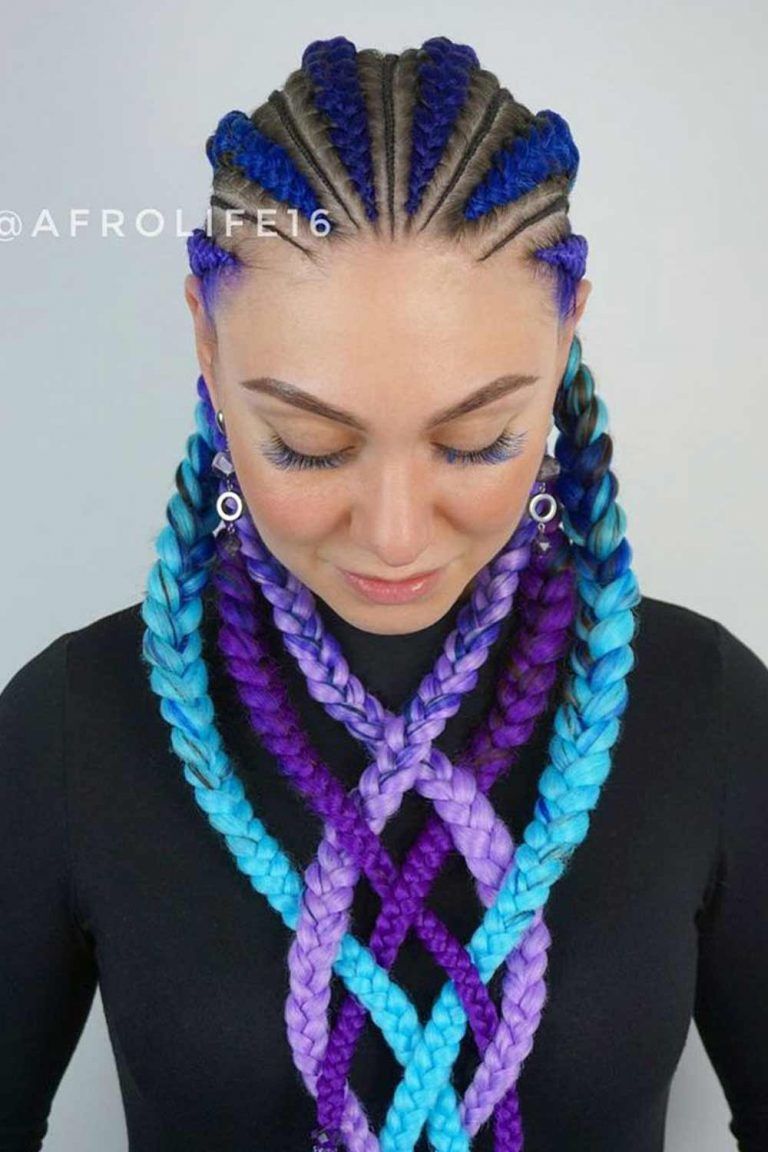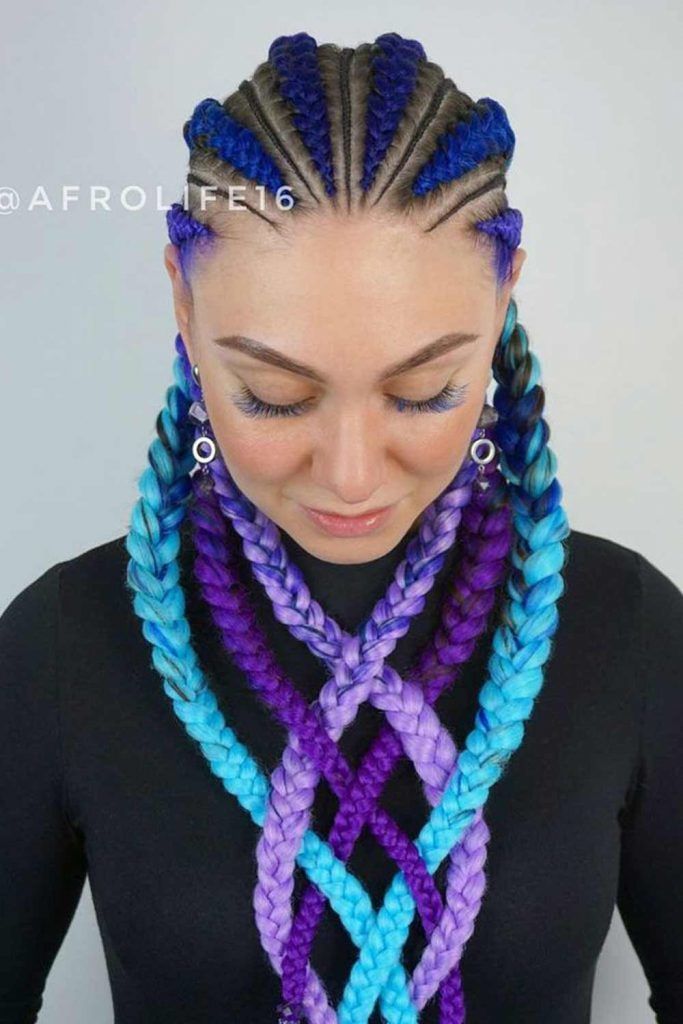 Credit photo: instagram.com/afrolife16
Those who are really into perfectly neat, immaculate looks will find stitch braids to be their go-tos, no doubts. An extremely clean approach is not the only thing that makes the style so special; the color combination is key. As you can see, light color extensions are added right from the root. Such an idea gives a very pleasant play of color, thus enhancing the precision of those braids.
Lemonade Braids With Color Accents
Credit photo: instagram.com/kiaharperbraids, instagram.com/hairby_shrimp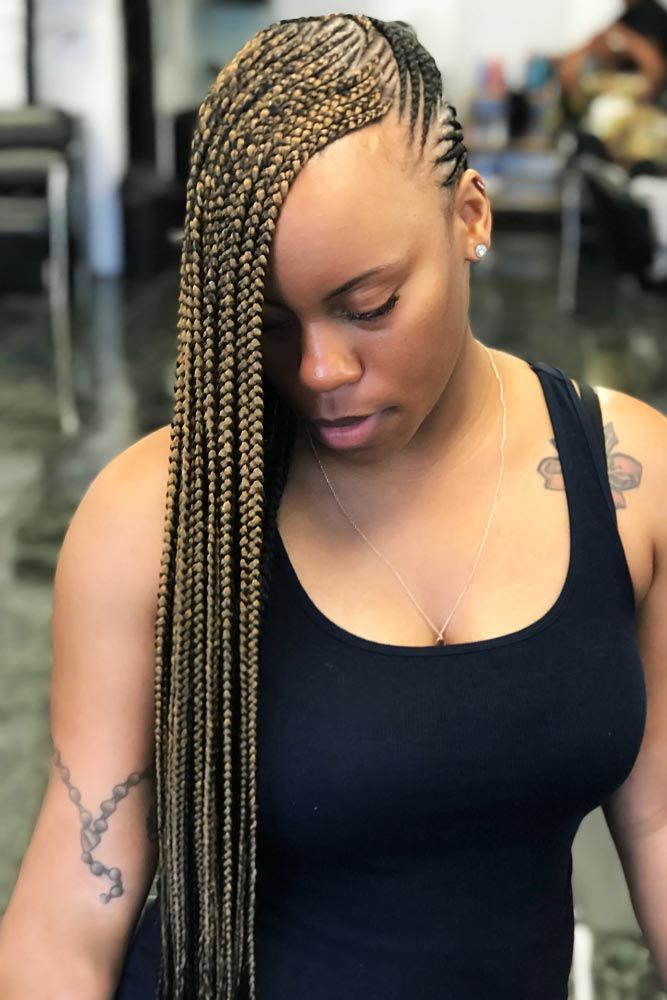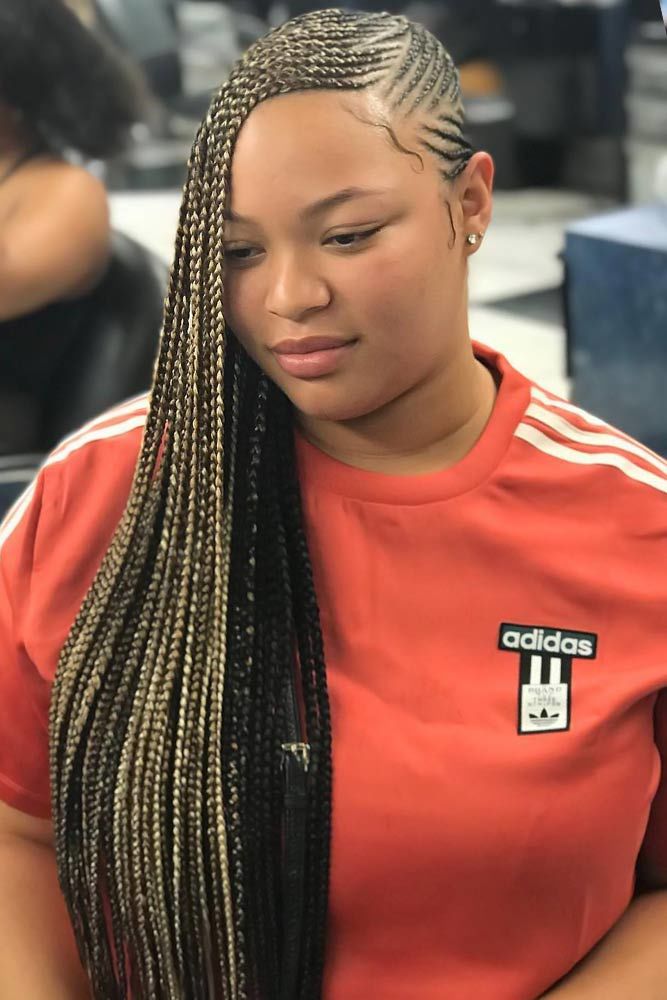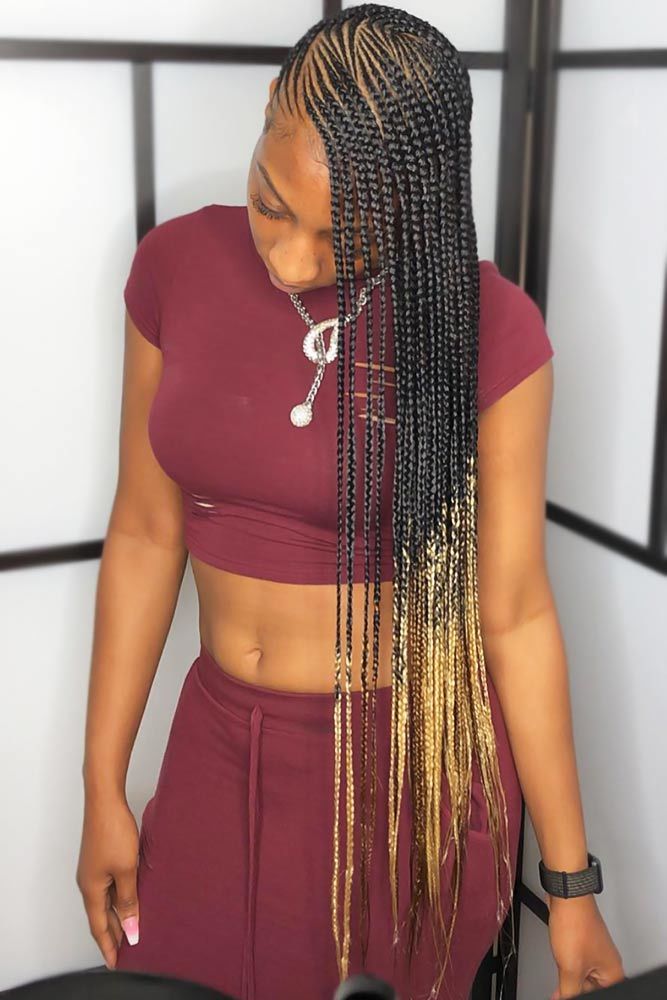 Credit photo: instagram.com/worldofbraiding, instagram.com/hairby_shrimp, instagram.com/thekitchenbraider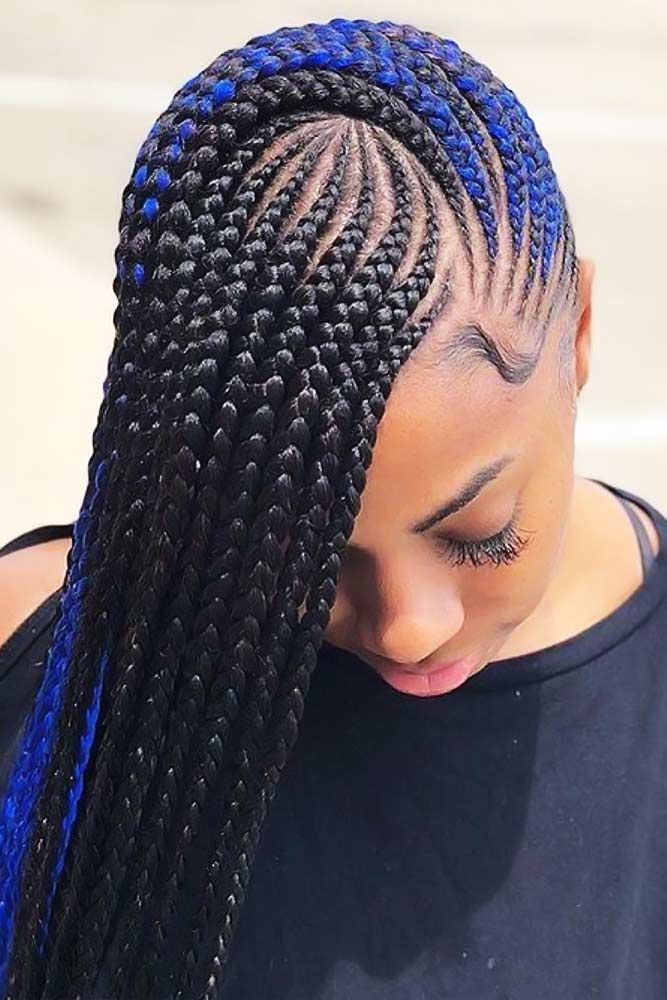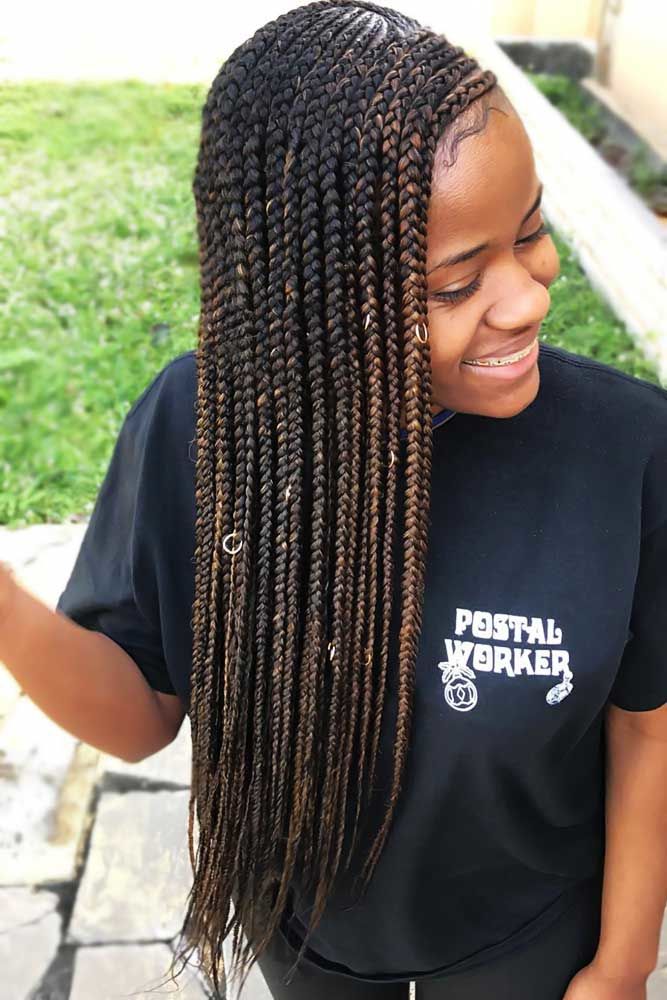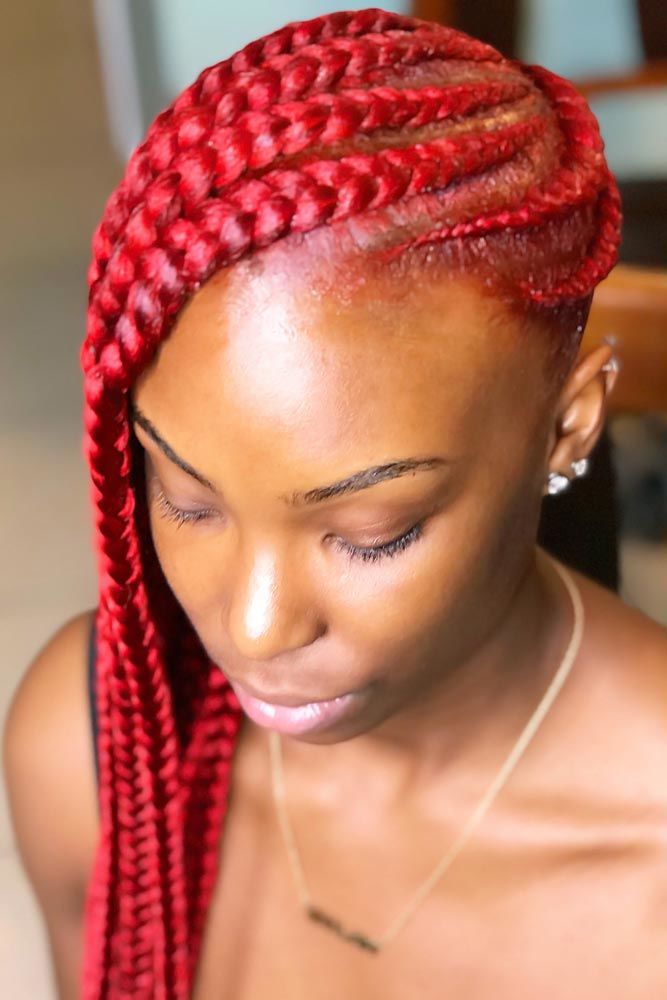 It's no secret that Lemonade braids are a statement in the world of natural hairstyles. Apart from striking people with their distinctive and sharp appearance, lemonades can let your creativity run wild on your way to creating a truly unique look. Since your braids can feature extensions, you can always incorporate colorful strands into your braided ensemble. You can go for highlights, ombre, balayage or even an all-over color depending on how big you want the visual impact to be. The best thing is, you are free to choose the area you want the color to hit: it can be your crown, tips, or just a couple of braids. It's all about how different you can be, girl!
Trendy Ideas For Lemonade Braids Hairstyles
Lemonade Braids With Cuffs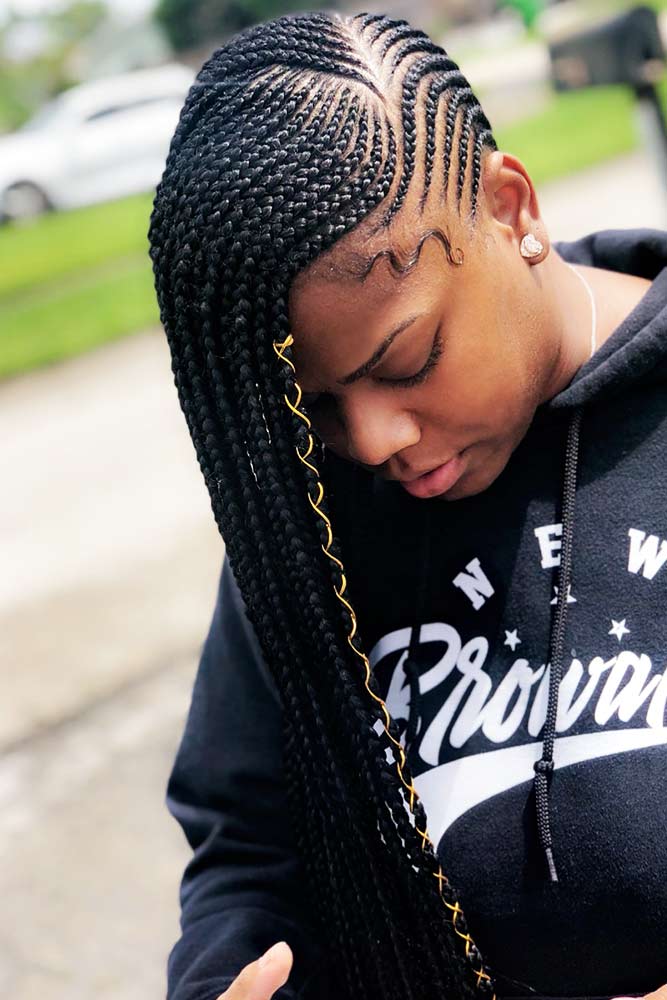 Credit photo: instagram.com/braids_by_djeph
Want to add a little adornment to your black hairstyle braids? How about incorporating some cuffs? They'll give that extra dose of special to your Beyonce braids because they're like jewelry for your hair! (Careful! A girl can never have too much of that.)
Lemonade Braids With Beads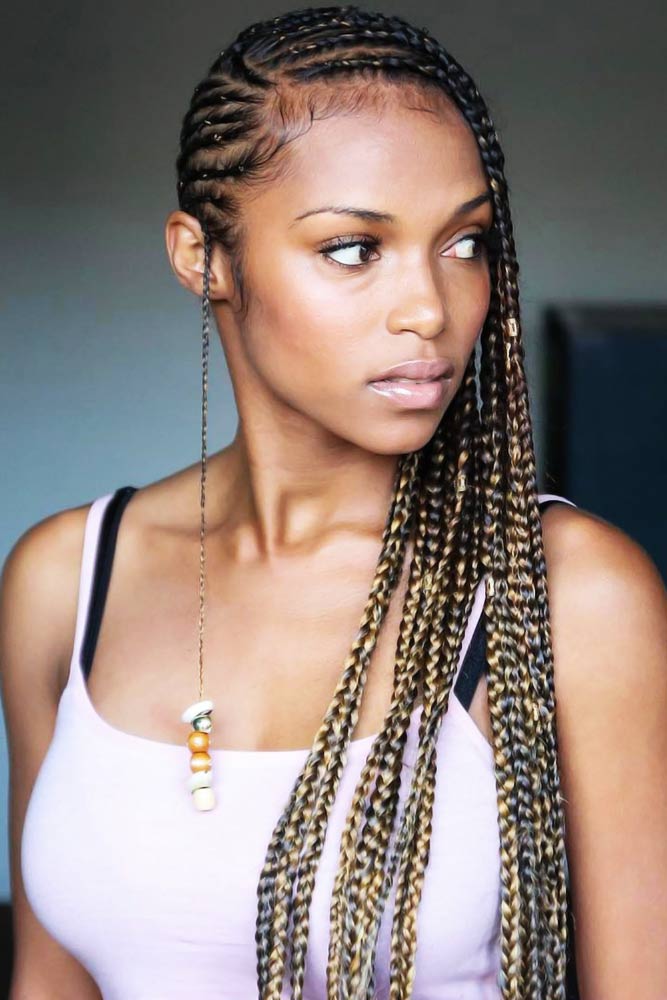 Credit photo: instagram.com/kersti.pitre
Although Queen Bey was the one to introduce the good old cornrows in a totally new, refreshing (if you know what we mean) light, the initial shape of cornrows takes its roots in cultures of African ethnic groups. So how about you to mix the ethnic spirit with diva vibes to rock a super eye-catching look? Spicing up your braids with beads will be enough!
Lemonade Braids With Accessories
Credit photo: instagram.com/hairby_shrimp, instagram.com/thekitchenbraider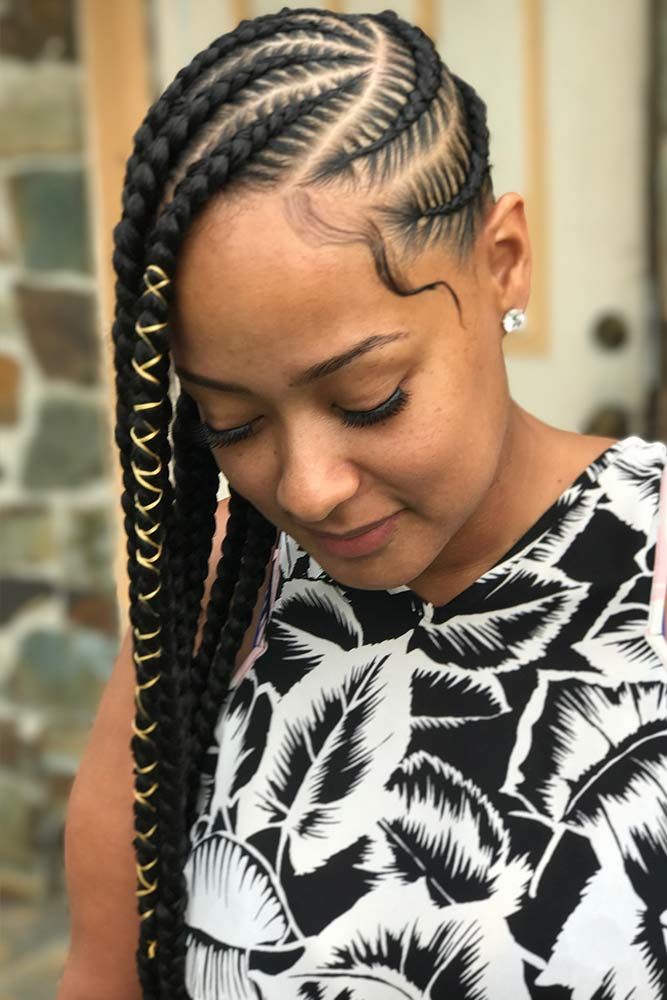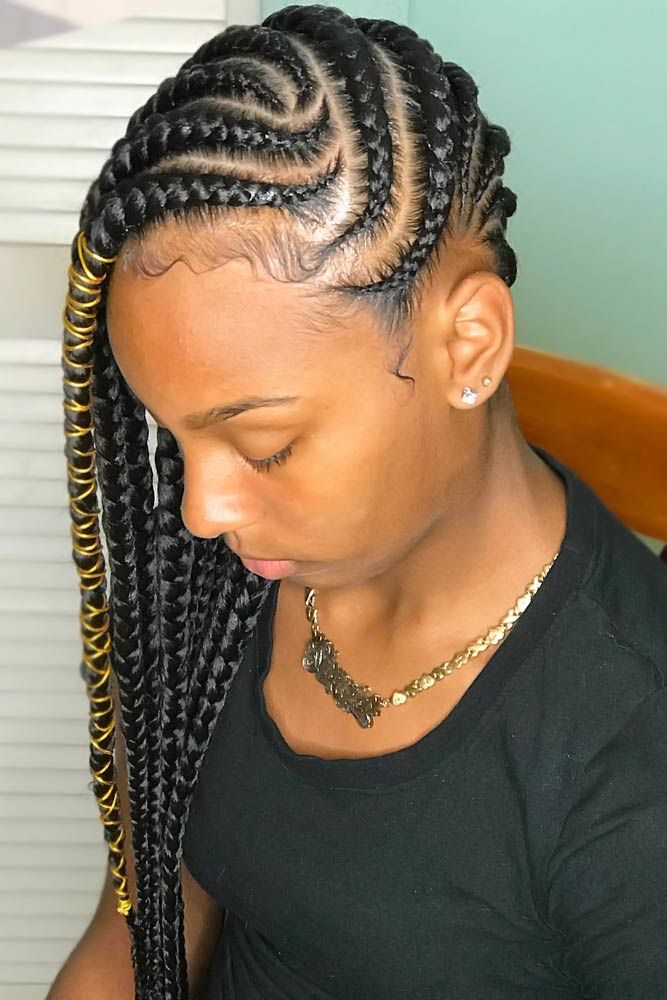 We can't have too much of a good thing, right? For that reason, you will never go wrong by beautifying your natural accessories growing from your scalp with actual embellishments. And no, we're not telling you to spend a fortune on runway-show headpieces. When it comes to lemonades, less is more. Simple hair ties, beads, or clips are enough to give a cute playful vibe to your look. By the way, if you'd like to play with beads, make sure that they're not too heavy, and check if your hair isn't braided too tightly. On tight braids, beads may outweigh the hair, thus causing too much tension to the scalp. It may also make the scalp itchy, especially if you wear synthetic locks.
Ponytail Lemonade Braids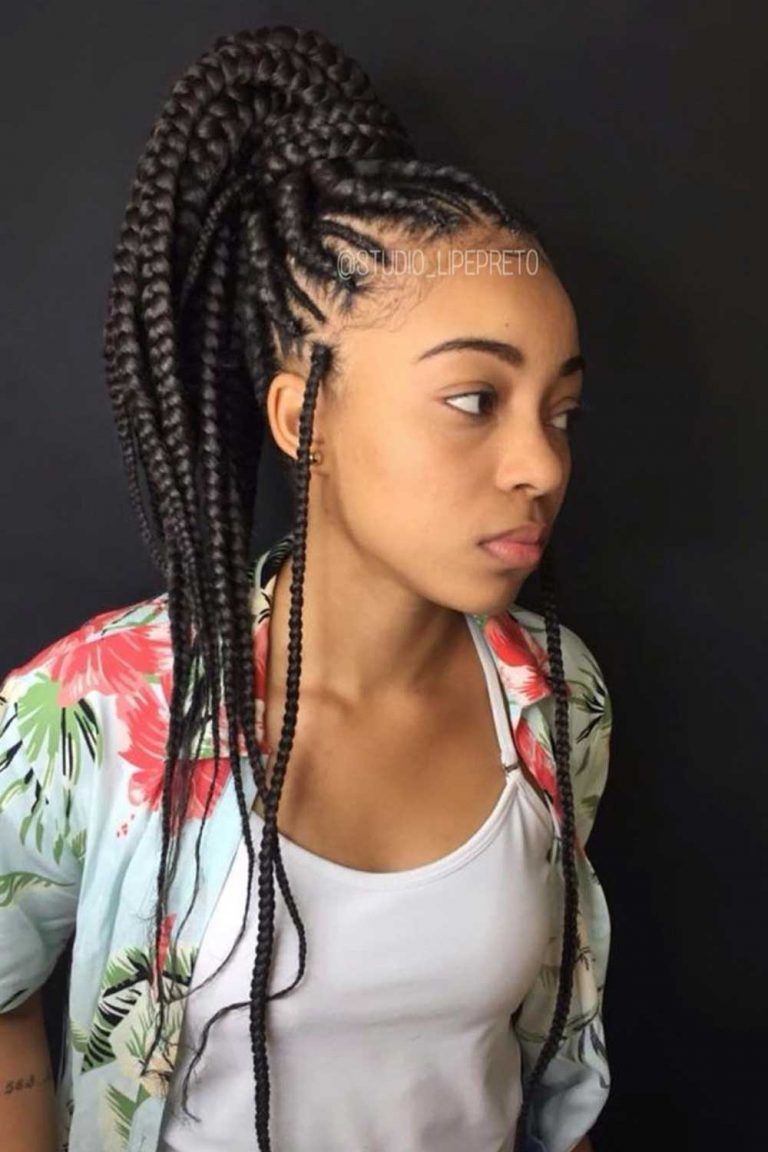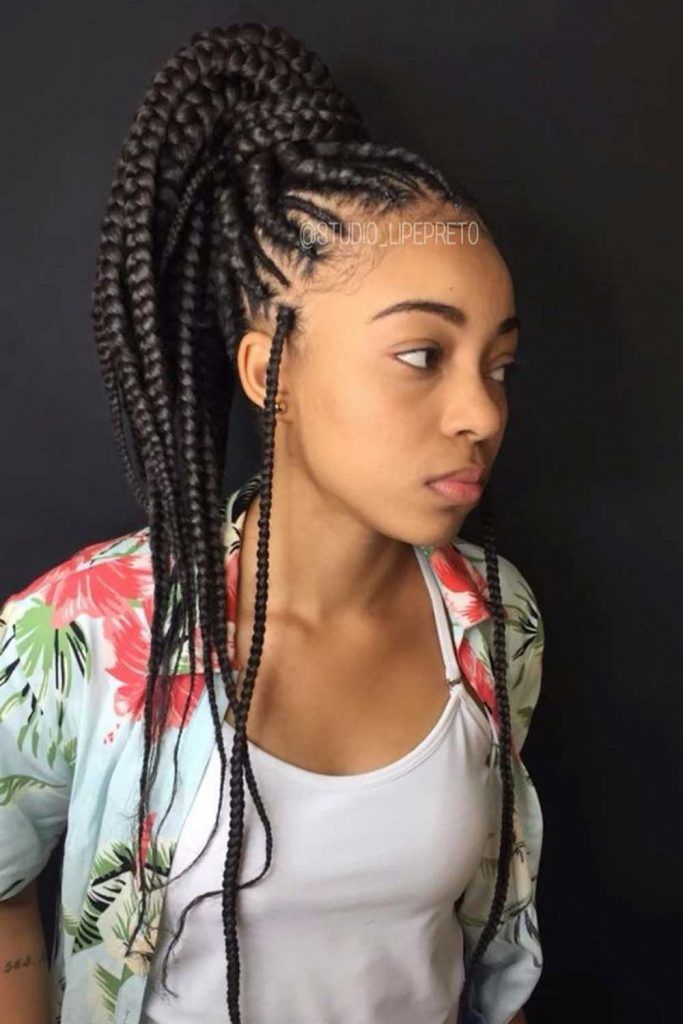 Credit photo: instagram.com/studio_lipepreto
This structured and textured ponytail with its Fulani side braids just makes our hearts skip a beat! While preserving some cultural elements, this hairstyle adds a lot of character to the look, not to mention its protective power. What makes this the ponytail so distinctive is the thick and dense shape of braids which creates a voluminous flip when styled high. And that hidden elastic trick has never been so big!
Jumbo Lemonade Braids Into Ponytail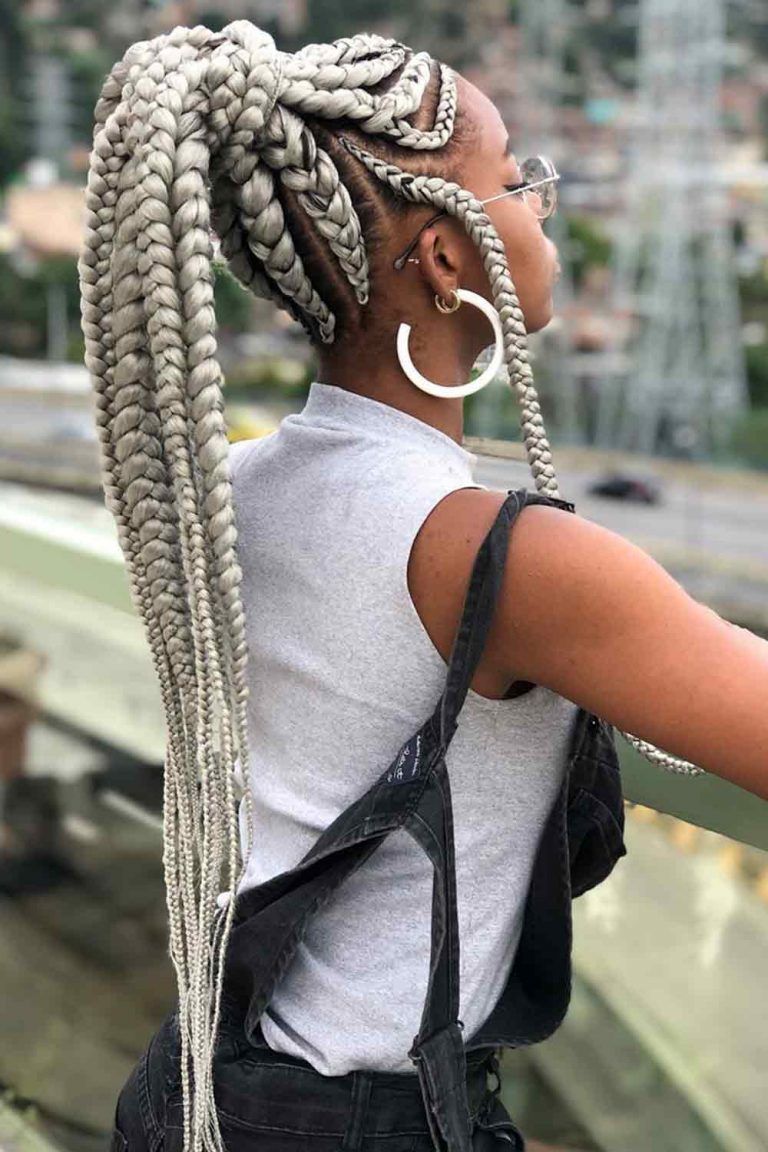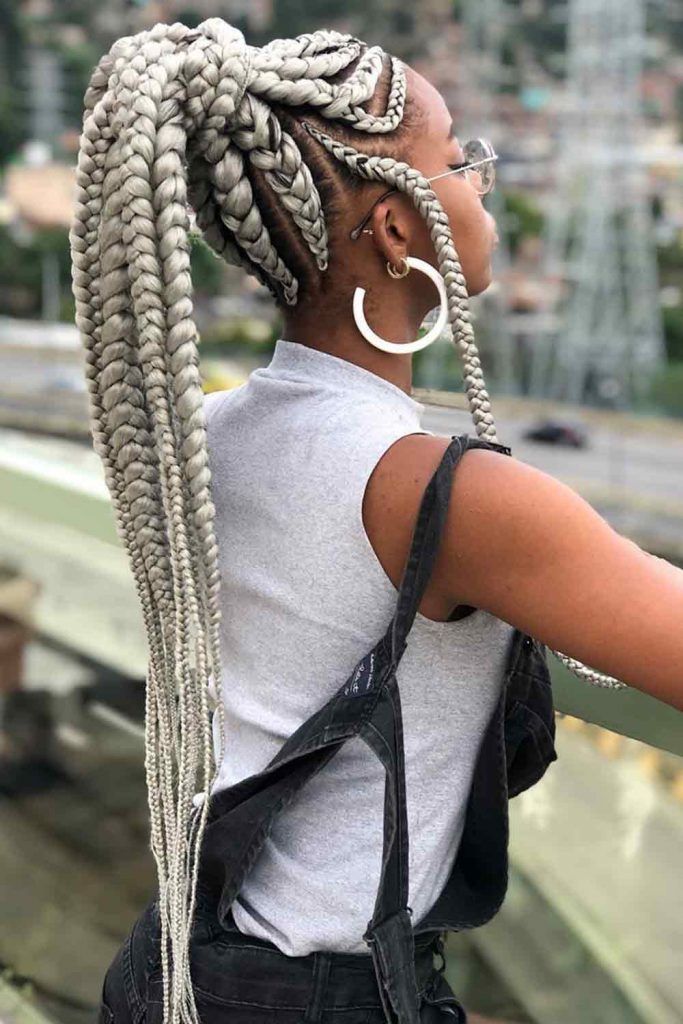 Credit photo: instagram.com/esponjamagic
There's nothing like a fusion of styles when you're about to create something unique, whether it's makeup or hairstyles. This bold girl embraces her roots and texture with the help of trends that results in something one-of-a-kind. By incorporating blonde extensions, she pushed her Jumbo braids to a whole new level, finishing it with an ethnic touch of Fulani side braids. And they're quite thick, too, by the way!
Lemonade Braid Updo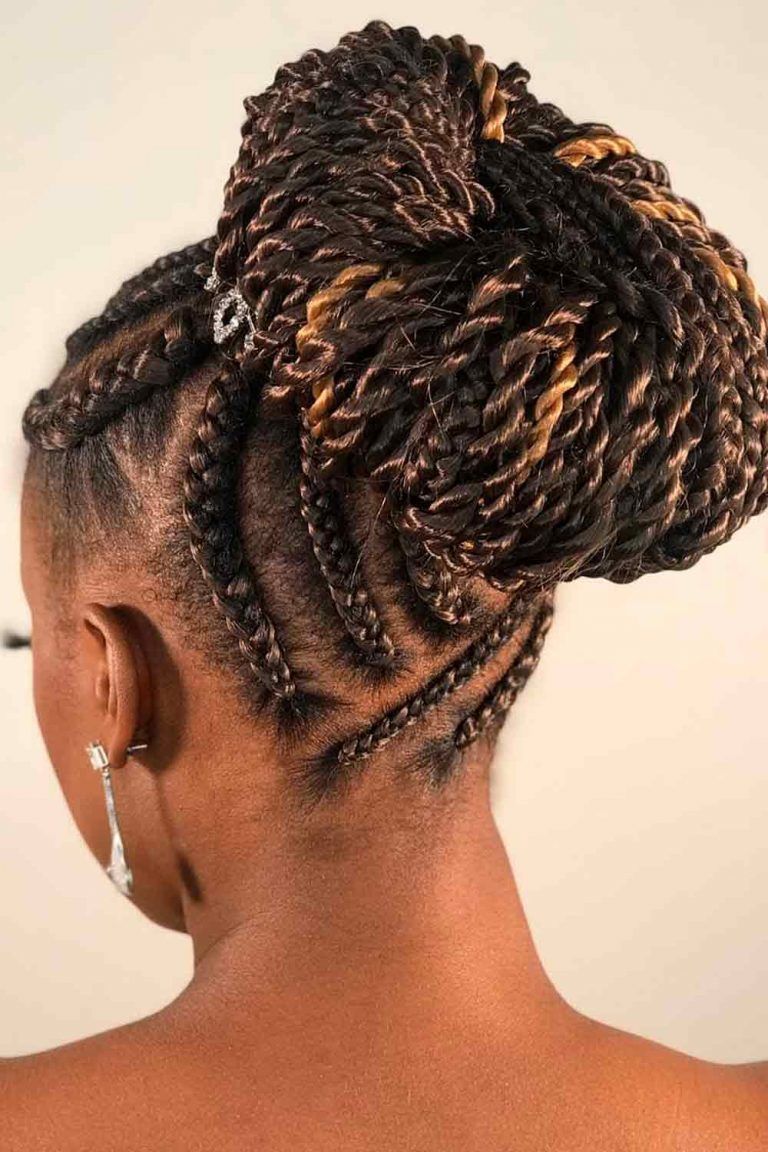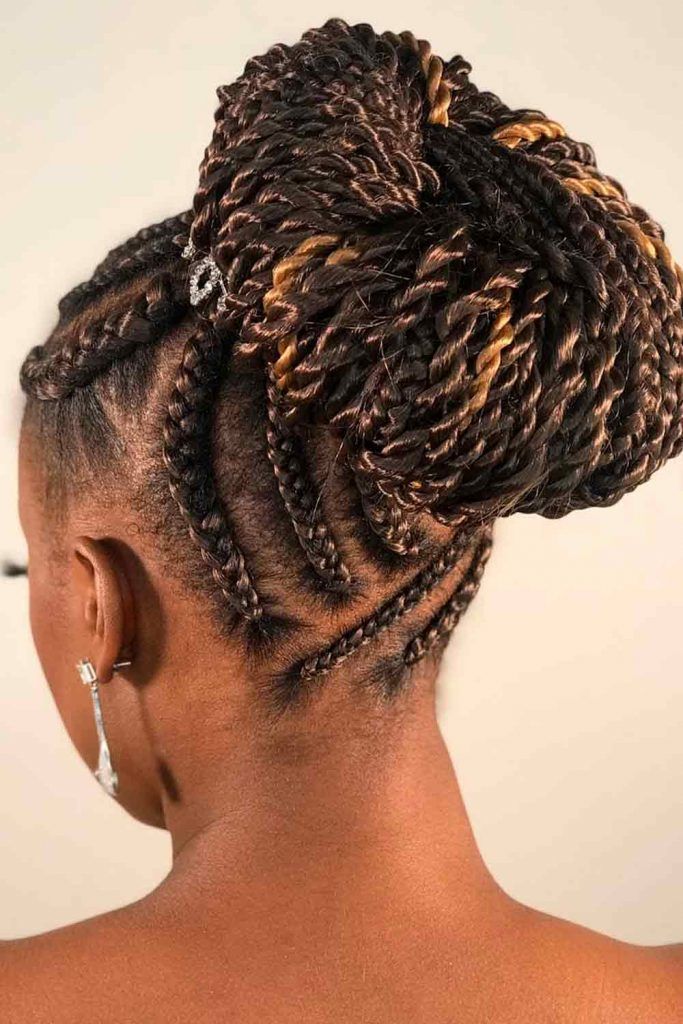 Credit photo: instagram.com/gil__trancas
And that's what happens if you let your braider go creative when planning your braiding pattern. Thick braids with large gaps between them draw even more attention to the whole style, while different directions of braids nicely transit to a wrapped bun. In fact, you don't need to have a long mane to wear such a huge Lemonade bun. A bun donut and a set of extensions that match your hair perfectly are all you need for the look.
Frequently Asked Questions
What does braided hair symbolize?
Initially, braided hair would symbolize rank, age, marital status, and wealth. Today, it's the reflection of your bright personality, so make sure to personalize your braids with creativity in mind.
Why are my braids so itchy?
If your hair is pulled too tight and you have moderate dandruff, the tension may trigger inflammation, and lead to itchy scalp. Also, there's another reason why your braids are so itchy: braiding usually involves synthetic hair and the chemical used to coat it is what can cause itchiness.
How long does it take to do small lemonade braids?
The time your micro lemonade braids take depend on the state of your hair and your braider. In general, the process may take from 6-12 hours.
Can I wash my braids?
Washing your braids regularly is the key step to the proper care and maintenance routine. As a good rule of thumb, you should wash your braids once or twice a week with a cleansing shampoo designed for natural hair. For the best results, mix your shampoo with water in a separate bottle, and apply the product to your roots. When rinsing, the needed amount of shampoo will wash your braids.
When life gives you lemons, turn them into Lemonade braids!
Long or short, Lemonade braids are for anyone who wants a carefree hairstyle that's entirely unique yet classy at the same time.
No matter whether you care to braid or color them, there is one Lemonade Braid rule that should never be broken - Always wear them to the side, and you'll forever be "irreplaceable".
REFERENCES:
These braids, also known as side braids, regained popularity due to their prominent appearance in the music video for Beyonce's "Formation." Source