Try The Lemonade Braids Trend
Ready for a tall glass of cool water? That's right! Lemonade braids are for you if you want the hair that gets some serious stares. Check out these goddess-like tresses for yourself and tell us you don't want to try the trend. Better yet, just go book your hair appointment!
What Are Lemonade Braids?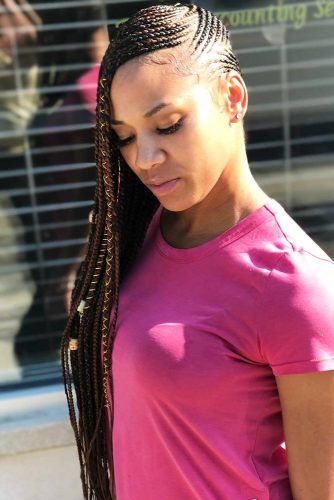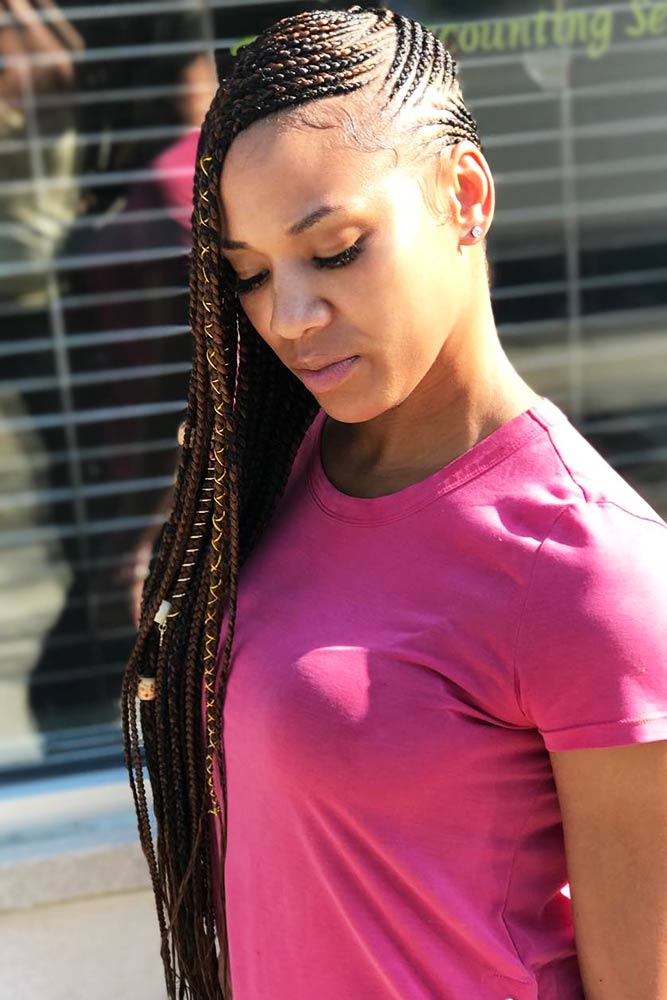 Source: kiaharperbraids via Instagram
If you're wondering what Lemonade braids are, you certainly aren't alone. The name itself sparks some interest.. The reason why they are called Lemonade braids rather than the cornrow braids they actually are, is because pop-star Beyonce debuted a side-swept version in her 2017 "Formation" music video and throughout her "Lemonade" album music tour. Soon, the basic cornrow went to the superstar status. (Not surprised? Neither are we.)
Take a look at the many different variations of Lemonade braids and get inspired for a variation of Queen Bey's rockin' style.

Simple And Straightforward Lemonade Braids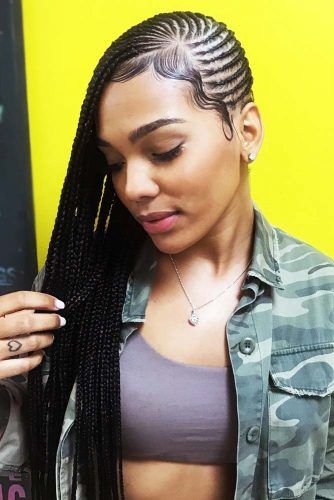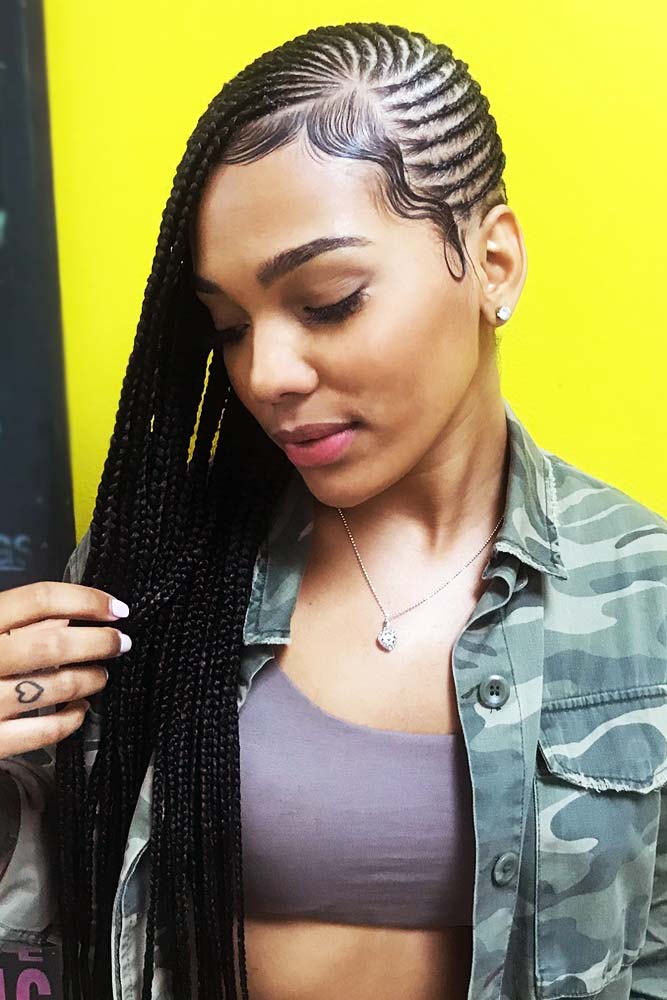 Source: __lokeyy via Instagram
These classic Lemonade braids to the side couldn't be a better example of what a traditional cornrow braid looks like. Long and tightly braided, they hug your head and protect the hair from damage while you sleep. Want to capture Beyonce's Lemonade vision? Well, this is it. Lemonade braids to the side are a tall glass of cool drink.
These classic style Lemonade braids leave a little something extra on the side when the edges are pulled out. Although not a style everyone can appreciate, you can't deny that that little side bang puts a new spin on cornrows. And options are nice to have anyway. Right?

Wheel-Patterned Jumbo Lemonade Braids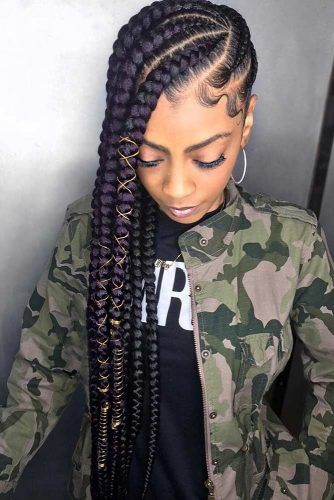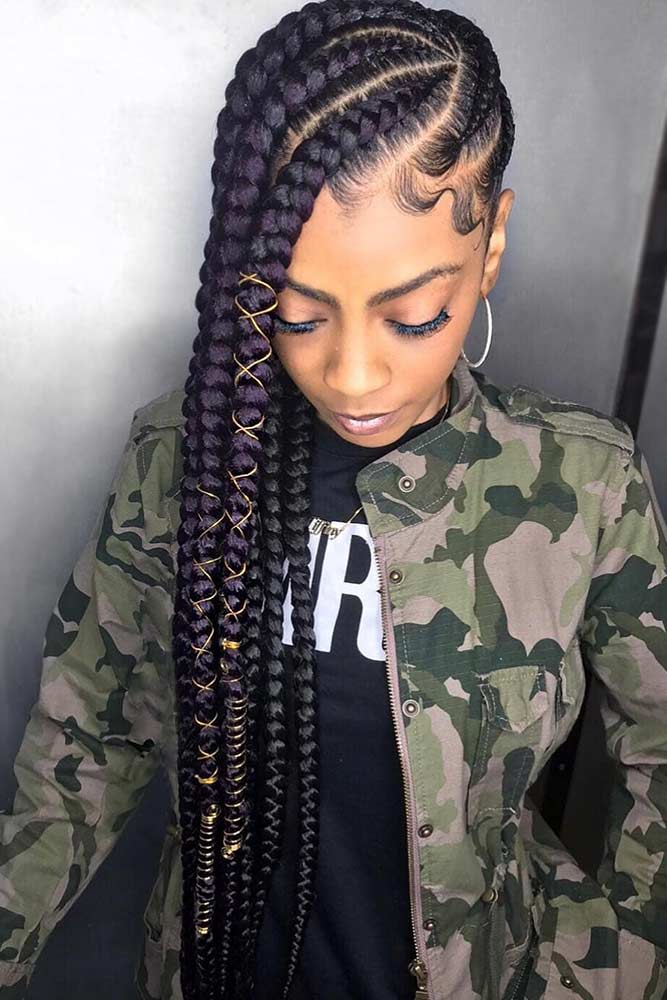 Source: cornrowkillas via Instagram
Go big or go home! These jumbo Lemonade braids are clearly unstoppable. You'll feel like a goddess rocking these braids, which are certainly not for the timid. You can add adornments or style the edges in a wave shape for a fierce take on the cornrows. Just have your stylist wrap and wrap and wrap them around in a wheel pattern for a look that's dizzyingly beautiful!
(We had to say it.)

Thick And Thin Braids Combo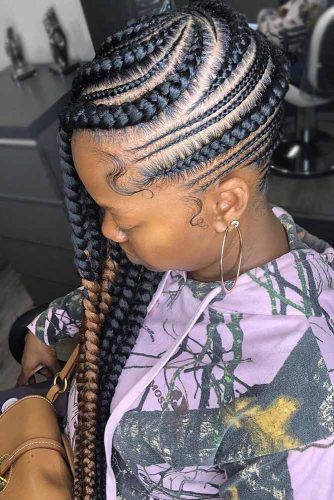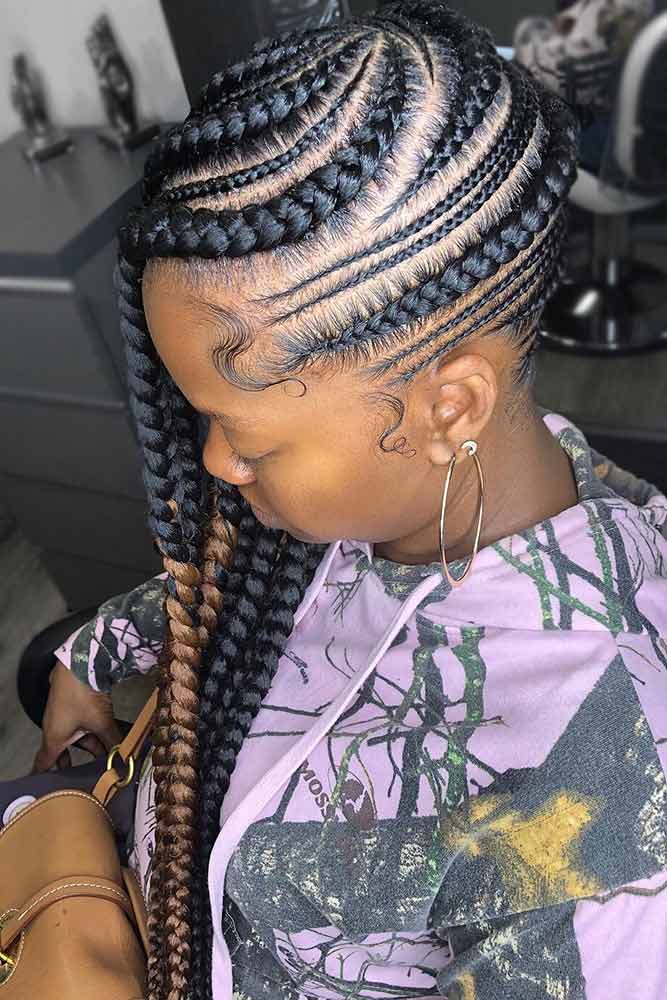 Source: erica_letstalkhair via Instagram
Not sure if you want to rock big Lemonade braids or narrow? The fix is simple. Try them both. This thick and thin braids combo offers a unique look to the classic style. They go round and round your head in an intricate wheel pattern that'll frame your face while keeping things cool.

Side-Parted Loose Cornrows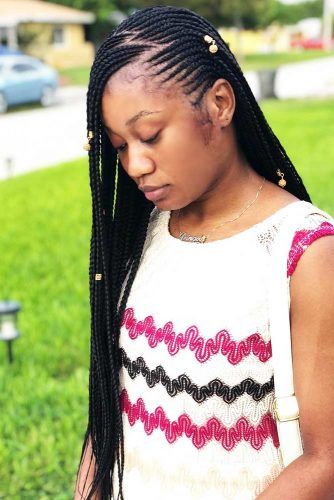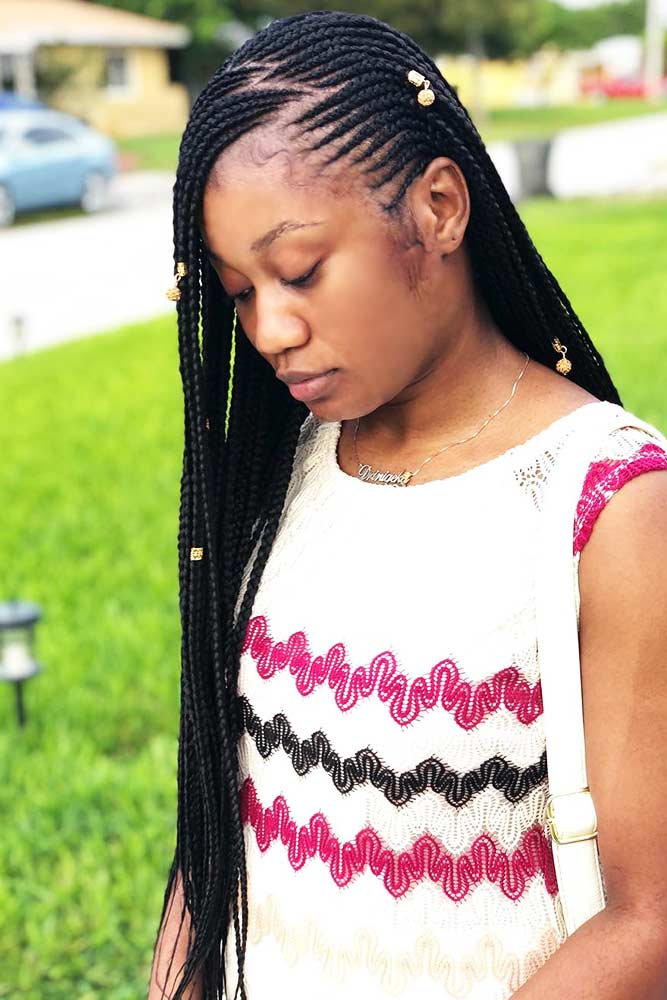 Source: braids_by_djeph via Instagram
Beyonce's Lemonade braids have become extremely popular and there are many ways to make them unique. This side-parted loose style is effortless and looks sweet when paired with a decorative hair accessory.

Zig-Zag Lemonade Braids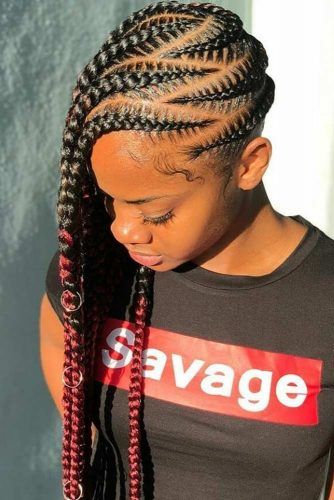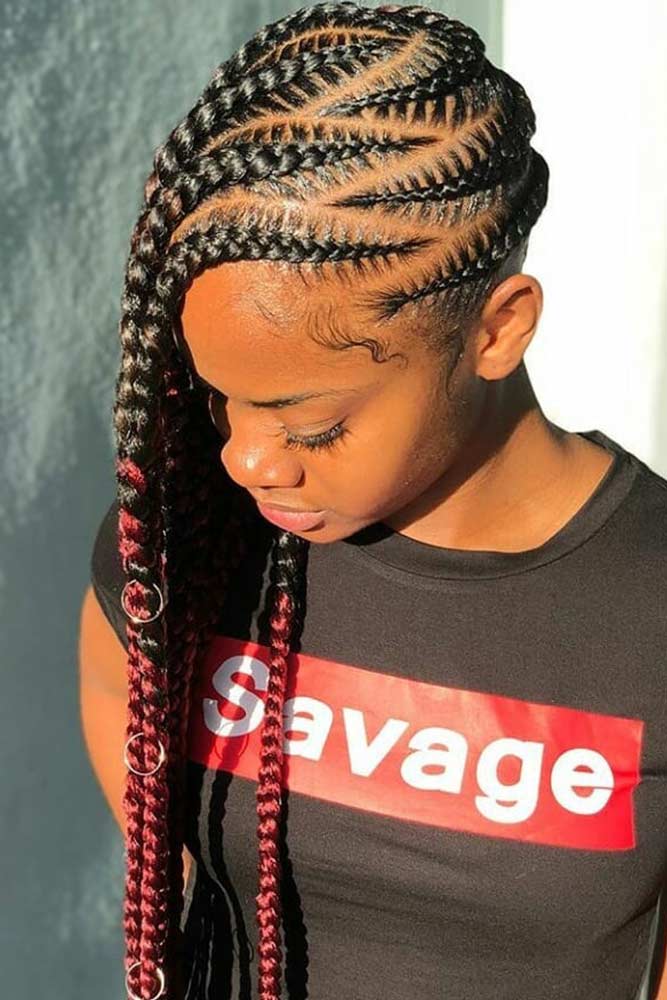 Source: ghanaianhairstyles via Instagram
These artful braids are worth a second glance. A unique zig-zag pattern is totally doable. Right? Why not have some fun with a large Lemonade braids style that is equally as fun to look at as it is to touch? This braided style is both sporty and chic.

Lemon-Yellow Lemonade Braids Styles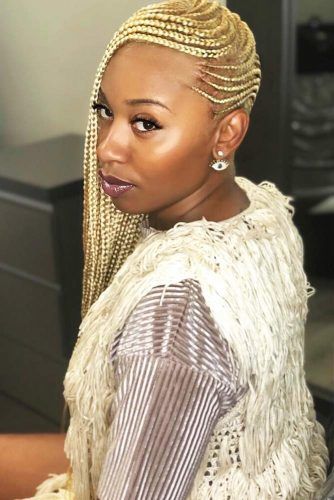 Source: erica_letstalkhair via Instagram
When life gives you Lemonade braids, why not make them lemonade yellow? The best part about braids is that they can be any color you wish, but we can't help but fall in love with the cheeriest Lemonade braid style of them all.

Bright Side Braids With Blonde Hair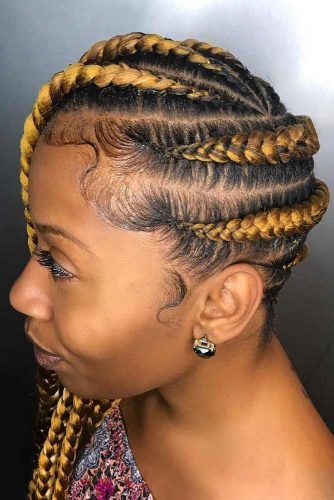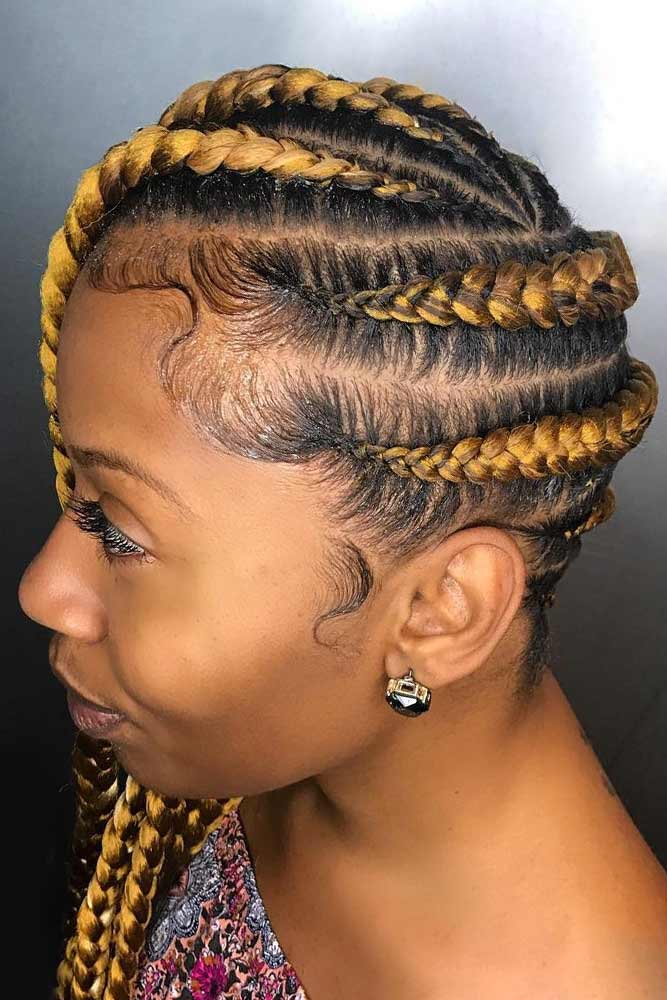 Source: erica_letstalkhair via Instagram
Show off your side braids with blonde hair. If you leave a little root outgrowth, your cool braids will have dimension and even more interest. The larger the braid the bolder the blonde!

Cherry-Red Ombre On Small Lemonade Braids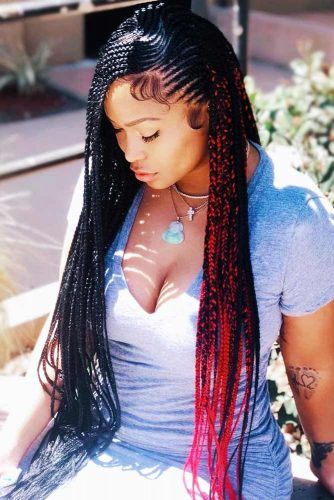 Source: kiaharperbraids via Instagram
These cherry-red Lemonade braids are anything but boring. In fact, they're perfect for the girl who wants to add a little more drama to her scalp braids. Vibrant hues really show off the braid pattern, and this deep red couldn't get any sweeter. Whether you opt for small Lemonade braids or go with a thicker braided style, it's all in the color for this look.

Tiny Cobalt Braids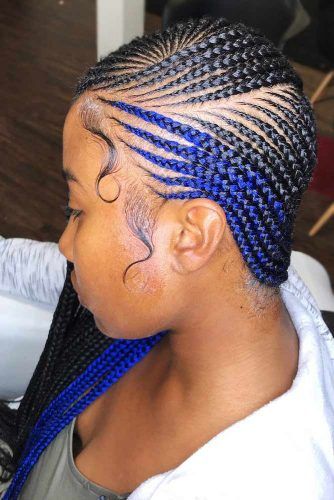 Source: theenewwave via Instagram
Don't be blue! Color is a welcome addition to Lemonade braids hairstyles, so don't be shy! If you're on a mission to take the cornrow braid trend to the next level, here they are! These cobalt blue braids are downright cosmically cool. The pop of color makes a dramatic statement for the girl that loves to be out of this world…

Lemonade Braids With Cuffs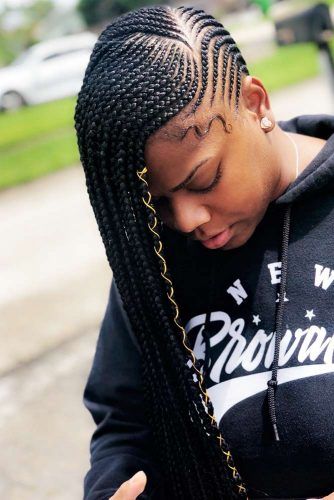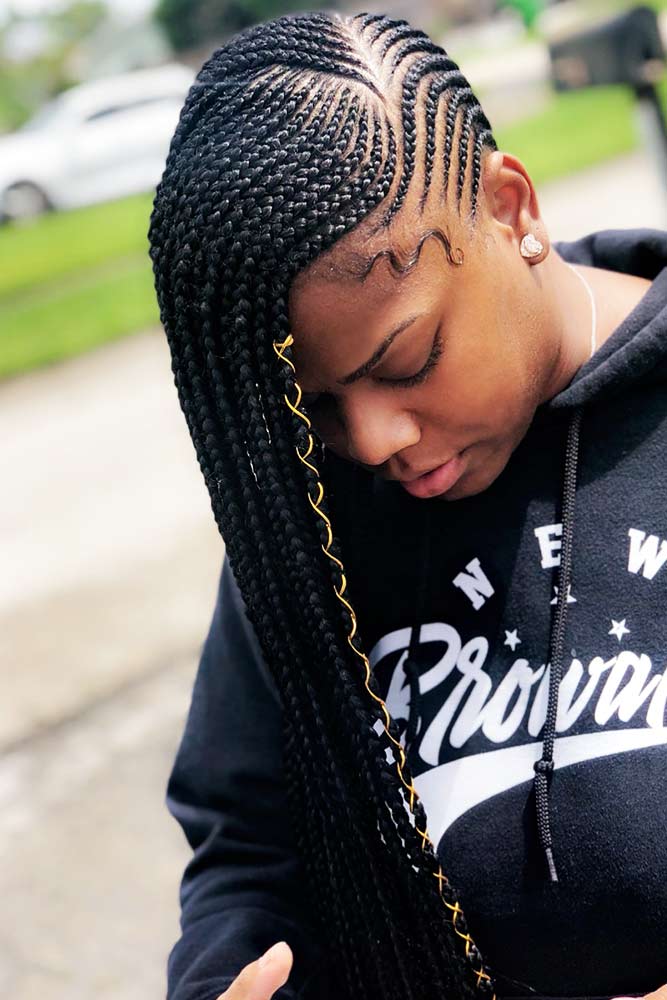 Source: braids_by_djeph via Instagram
Want to add a little adornment to your black hairstyle braids? How about incorporating some cuffs? They'll give that extra dose of special to your Beyonce braids because they're like jewelry for your hair! (Careful! A girl can never have too much of that.)

Side Lemonade Braids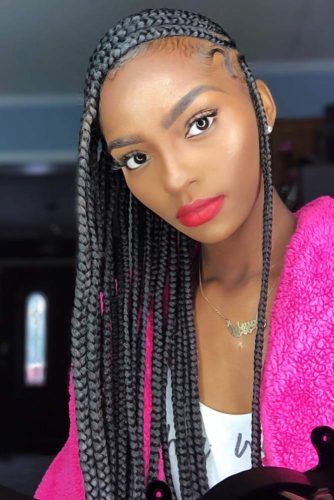 Source: daysiaaa_ via Instagram
When most ladies think about side-parted hairstyles, they have similar pictures in their minds. And when the same idea pops up in the mind of a natural-haired girl, the side-part changes its direction. It's hard not to notice how dramatic these lemonade cuties are. In fact, they're indeed side-parted. But the parting line is made so low that it makes the braids fall like a real crown. Who runs the world, huh?

Lemonade Braids With Beads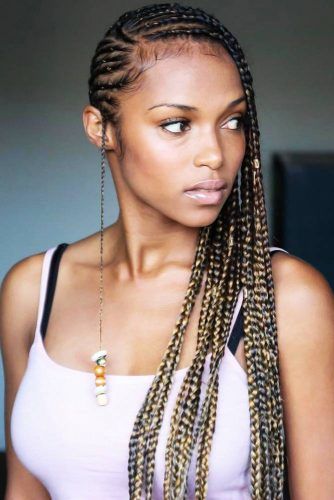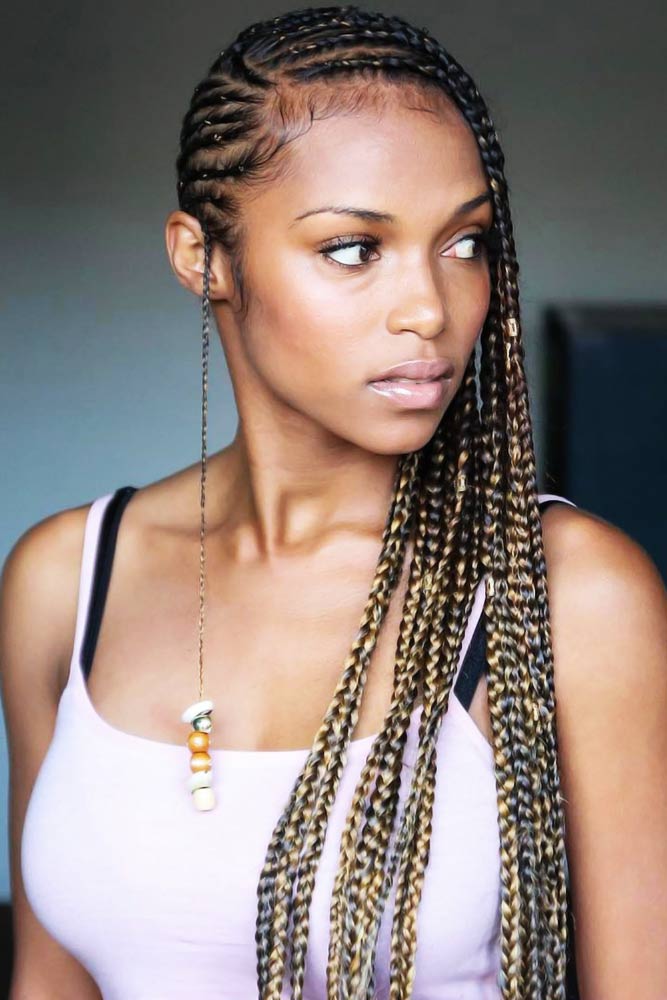 Source: kersti.pitre via Instagram
Although Queen Bey was the one to introduce the good old cornrows in a totally new, refreshing (if you know what we mean) light, the initial shape of cornrows takes its roots in cultures of African ethnic groups. So how about you to mix the ethnic spirit with diva vibes to rock a super eye-catching look? Spicing up your braids with beads will be enough!

Lemonade Ombre
Source: braid.barbie via Instagram
Those who are really into perfectly neat, immaculate looks will find stitch braids to be their go-tos, no doubts. An extremely clean approach is not the only thing that makes the style so special; the color combination is key. As you can see, light color extensions are added right from the root. Such an idea gives a very pleasant play of color, thus enhancing the precision of those braids.

Reverse Four Braids
Source: braid.barbie via Instagram
You never know how far you can go when you let your imagination run wild! Luckily for all those natural-haired queens, lemonade braids never go against experiments. On the contrary, they're an eternal canvas to your imagination. Here, for example, you can see how the classic pattern gets different with side braids that decided to stand out in the crowd.

Long Lemonade Braids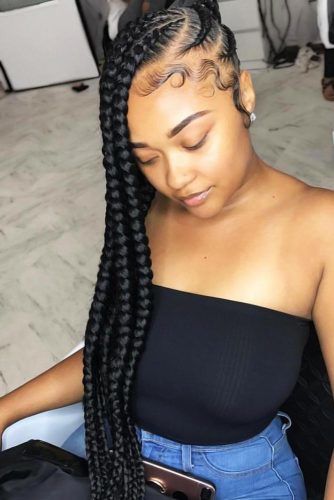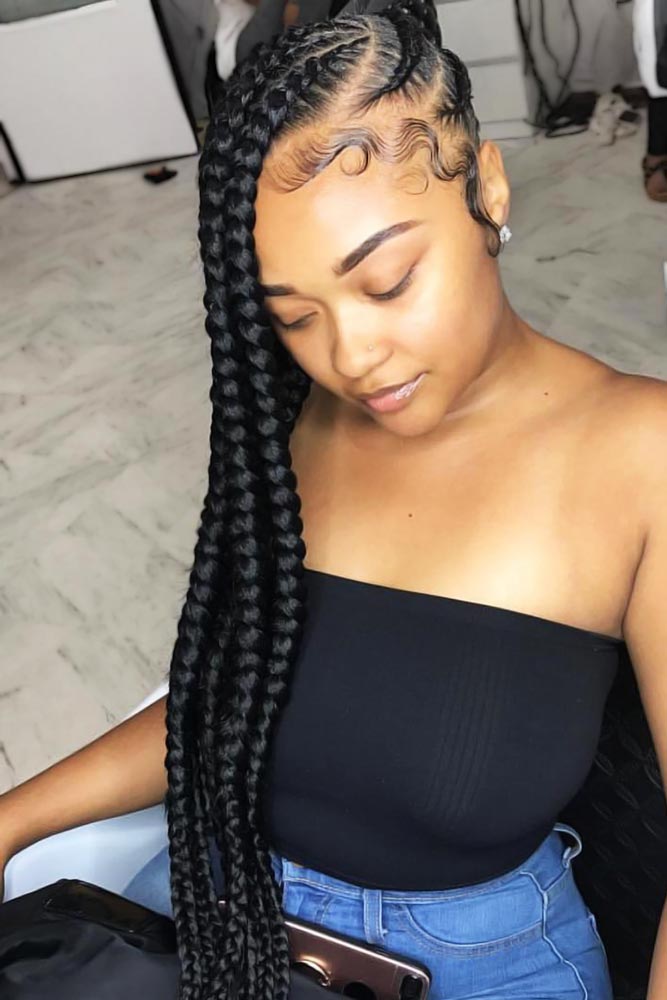 Source: geminitwinshauwny via Instagram
These braids are long, thick, and super defined. If you want to make your braided hairstyle big, make sure to copy this look. Besides, the thicker the braids are, the more voluminous your look is. That is to say, if you have a round face and would like to build some balance, big and full braids are just what the doctor ordered.

Stitch Lemonade Braids With Hair Ties
Source: braid.barbie via Instagram
If not colorful hair ties, what else can create a funky mood for your braided masterpiece? Stitch braids are unique for their precision, sharpness, and a super outlined shape, and a little colorful twist can make the clean look even more organic. Plus, it's a nice way to make your 'do match your outfit.

Jumbo Lemonade Style Braids
Source: braid.barbie via Instagram
Jumbo braids are the saving grace of women of color for two simple reasons. First, they help the outstanding texture to stand out even more. Second, they protect the hair: Jumbo braid hairstyles are achieved with the help of bright and full extensions. So if the potential damage is the only thing that stops you from rocking a colorful mane, leave it all up to Jumbo!

Big Lemonade Braids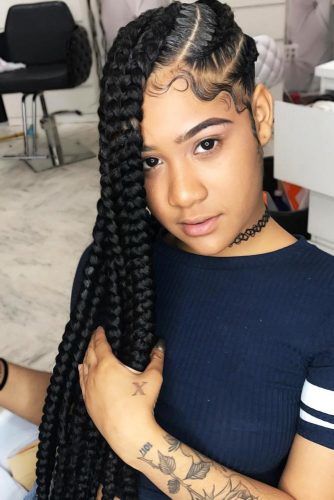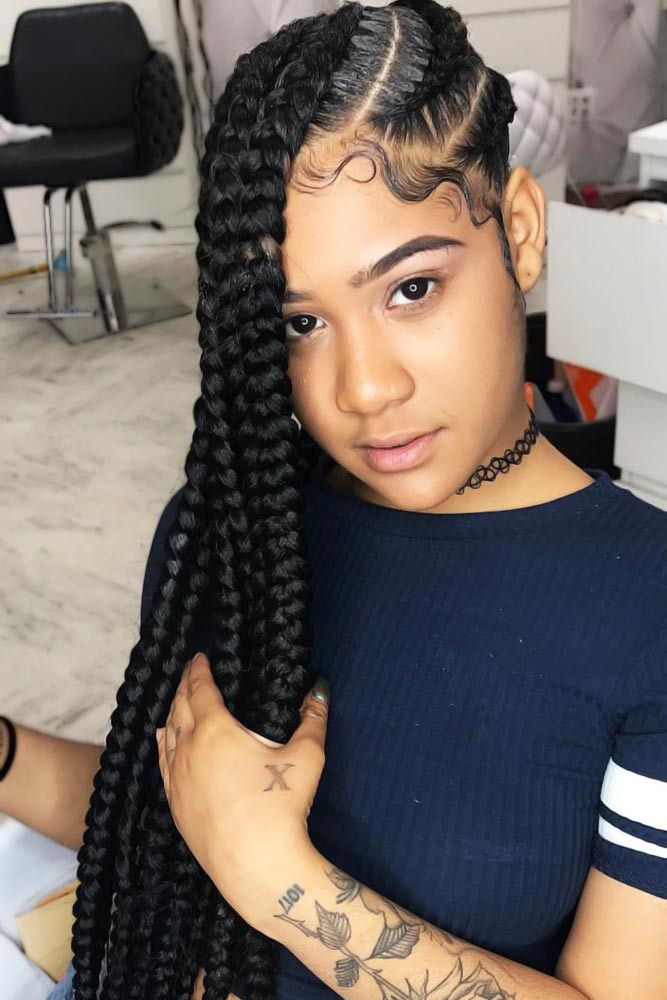 Source: geminitwinshauwny via Instagram
Not only the size of these amazing braids is big but also the visual impact they give! With such a head-turning hairstyle, there's no need in wearing bright makeup and exposed outfits; these lemonade braids are doomed to have eyes on them.

Thin Lemonade Braids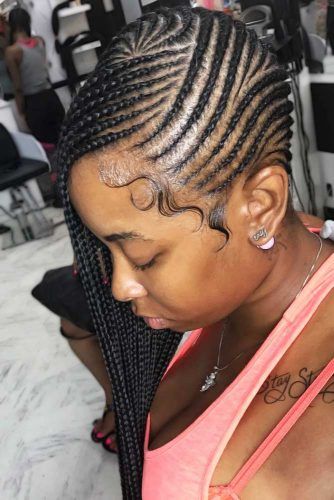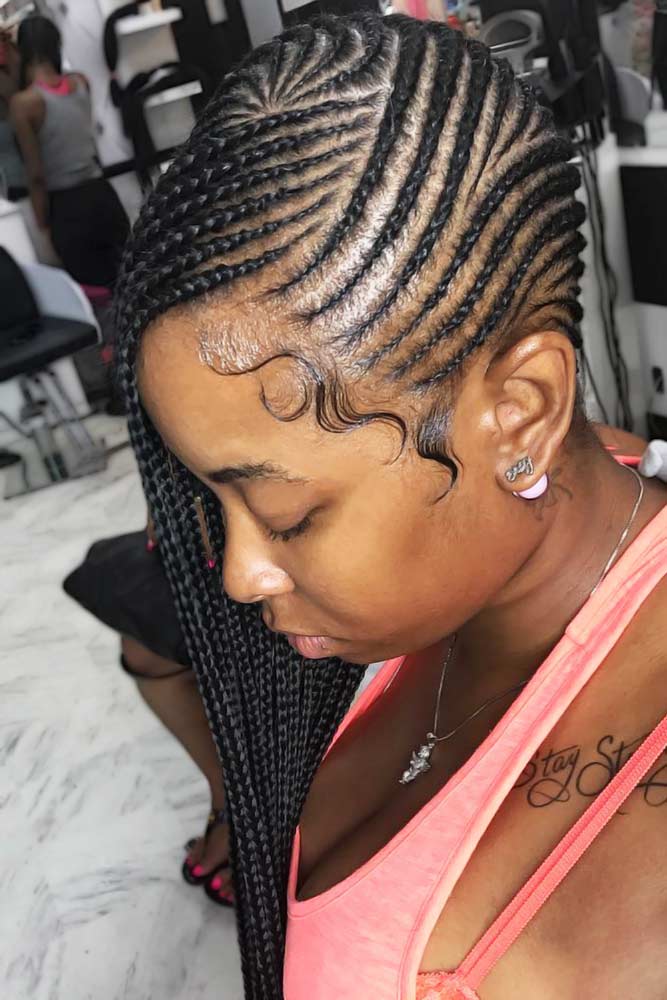 Source: geminitwinshauwny via Instagram
Now, how about an idea that moves in the opposite direction? Dozens of tiny little braids look so refined as if the hair has been embroidered by gods of fashion. If you want to catch eyes with irresistible hair texture, don't dare to miss this idea.

Long or short, Lemonade braids are for anyone who wants a carefree hairstyle that's entirely unique yet classy at the same time.
No matter whether you care to braid or color them, there is one Lemonade Braid rule that should never be broken – Always wear them to the side, and you'll forever be "irreplaceable".
Main photo by Jewejewebee