Faux locs are a huge nowadays' trend that has always been around. But some of us were unable to embrace this daring, tribal-inspired beauty with its rich history. And now, all the cuties with natural hair don't need any reasons to sport them. Except one: they're ravishingly amazing. African American women wear false locs so that their hair looks like real dreads. They come in different types: they can be created with synthetic locs, human hair, Marley hair, and kanekalon hair. All these types can give your hairstyle absolutely different appearances, so your task is to decide what look you're going to create and then choose the right fake locs for it. Today we will show you the difference between all the types of these hair beautifiers: see how you can impress all people around you with your unbelievable hair texture.
Fancy Faux Locs Updo
Source: africancreature via Instagram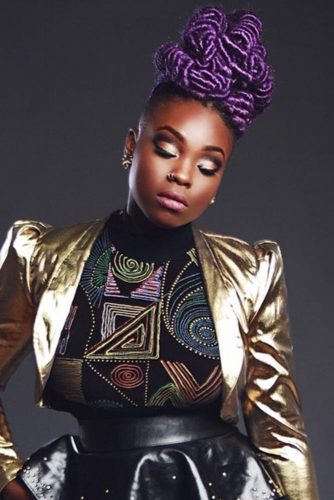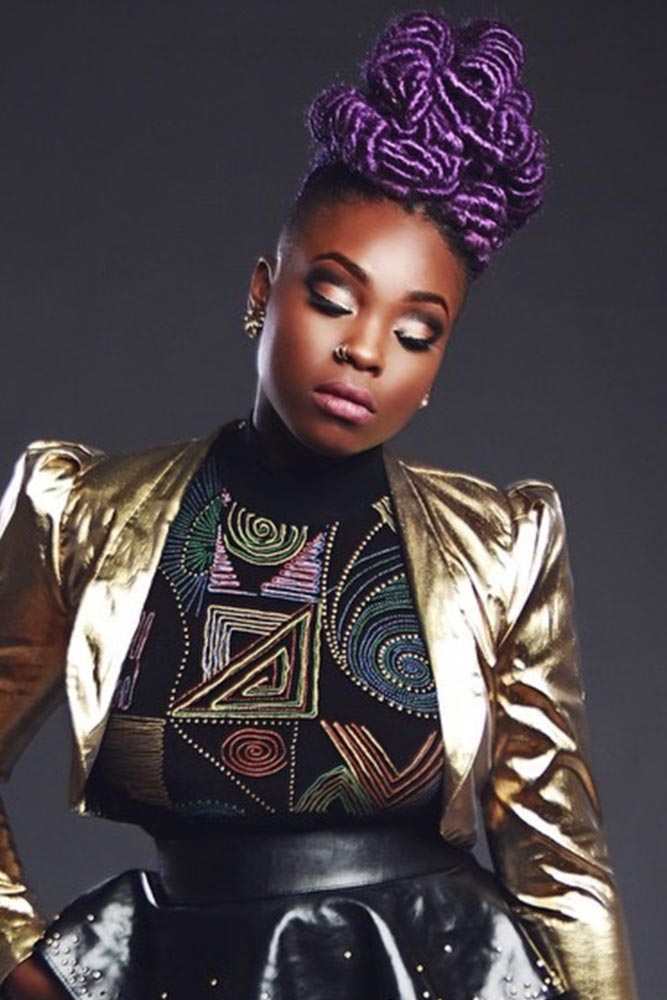 Before moving to this awesome hairstyle, let's get things straight of what are faux locs. They wrap around your twisted or braided clean, moisturized, and fully prepared hair to resemble real hair. Depending on the hair texture you want to achieve, you opt for goddess, kanekalon or Marley locs.
Goddess hair is made of human hair so that you can add some fullness and length to your natural locks very genuinely.
Kanekalon hair has a smoother and shinier texture; they work awesome for colorful looks.
Marley hair is synthetic locs that give some kinky texture for a natural appearance. It's usually chosen by dreadlocks fans.
The pic above shows you how you can create a stunning updo, using colorful synthetic locs. Isn't that a look to steal?
Bright And Colorful Faux Locs
Source: africancreature via Instagram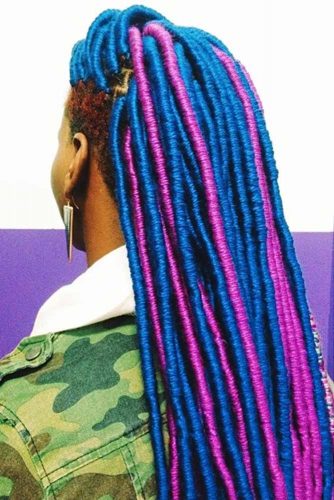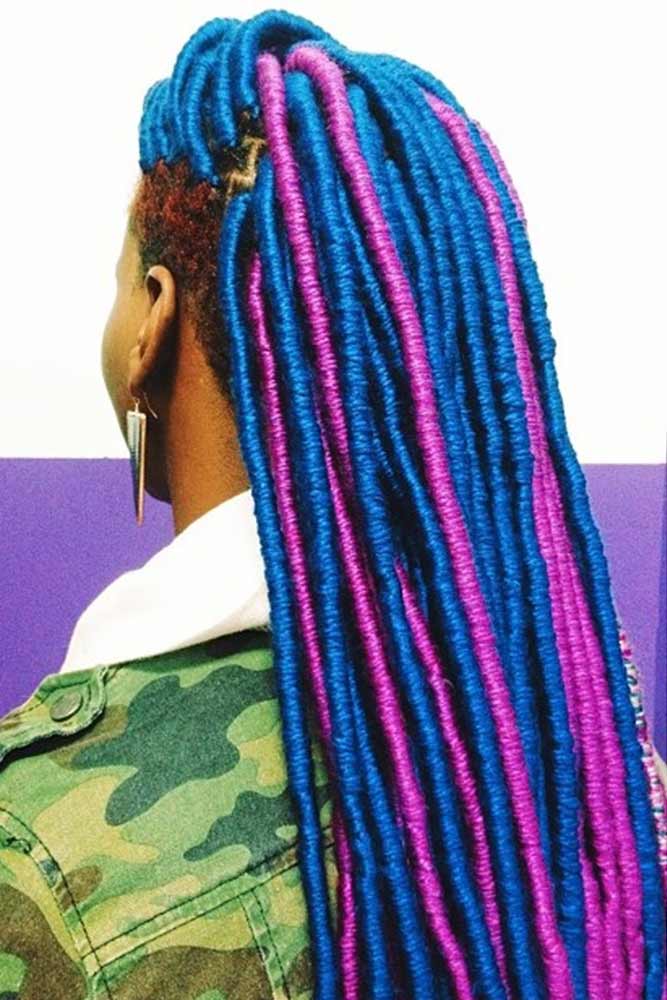 Once you chose the synthetic braiding hair that flatters your looks the most, let your imagination run wild and go for experiments! This stunning bright look was achieved by installing
kanekalon hair
over your braided or twisted hair. Remember that you can create this hairdo with any hair length, just make sure that your base is tight enough to make the locs stay. This idea wants you to turn heads!
Goddess Locs With Funky Hair Ties
Source: imadamejay via Instagram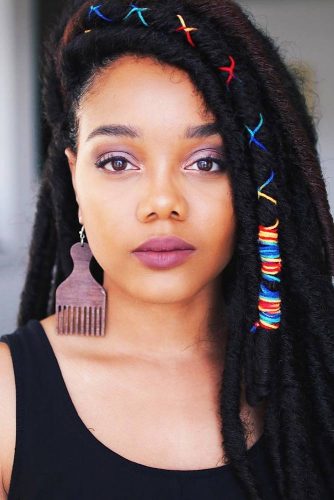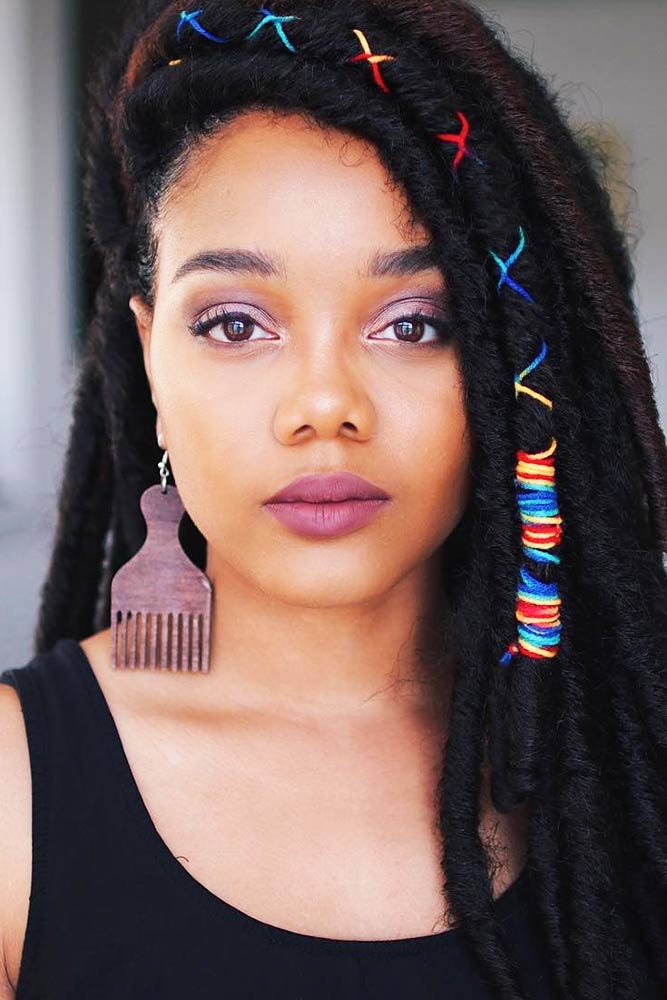 Remember that goddess locs are meant for permanent wearing. Girls usually opt for them to add some length and fullness to their natural locks. As for its maintenance, keep in mind that human hair requires more attention than synthetic. You should always keep your faux locs moisturized enough and don't forget about conditioning. Yes, air-dry will take some time, as your hair is heavier now, but it's worth it. Well, since you go for this hairstyle for a long time, why don't add some fun with funky accessories or hair ties?
Wavy Crochet Locs
Source: nessashani via Instagram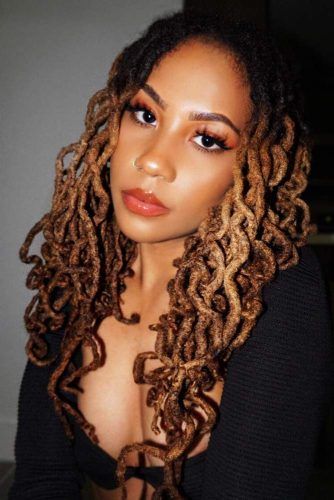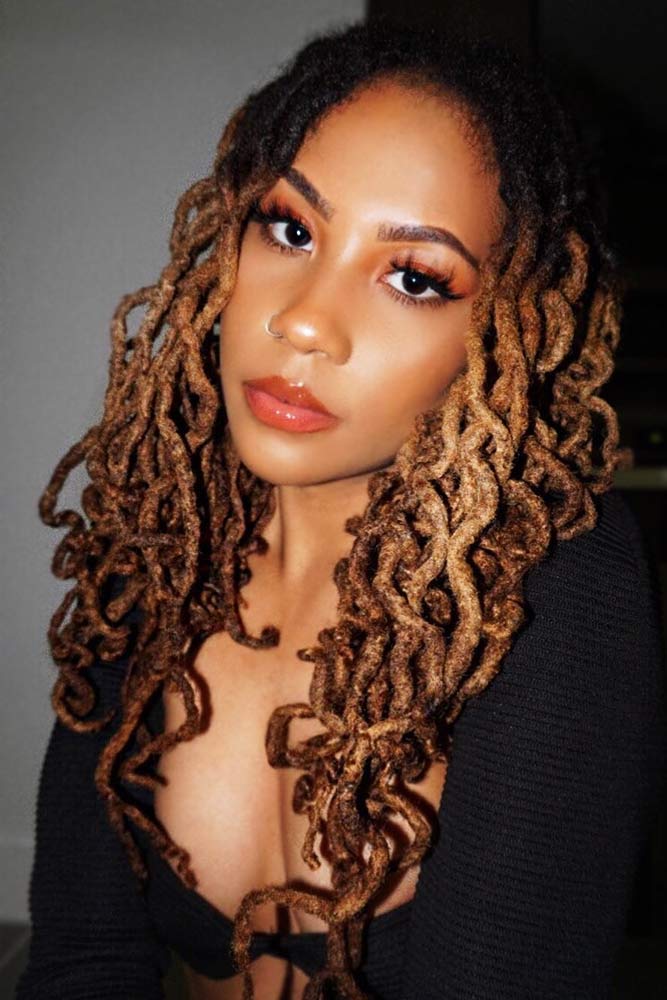 Crochet locs are the time savers! They're installed with a cornrow braiding technique, using a hook that hitches the faux locs up to make them sit tightly on the crown. Since you don't need to wrap your fake locs around every single strand, it takes less time. And look: it looks unbelievably beautiful! This wavy texture is present because locs are thin enough; they don't have a base, that's why they curl a bit. Have always dreamed about sexy hair color? You can get it without damage at all!.
Natural Goddess Wave Locs
Source: idlelocs via Instagram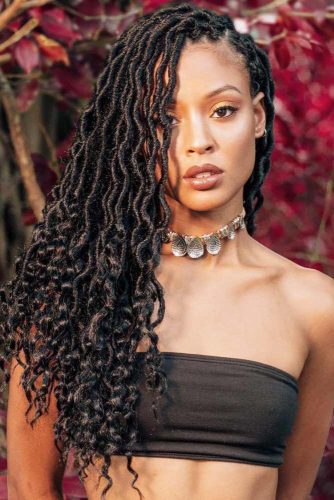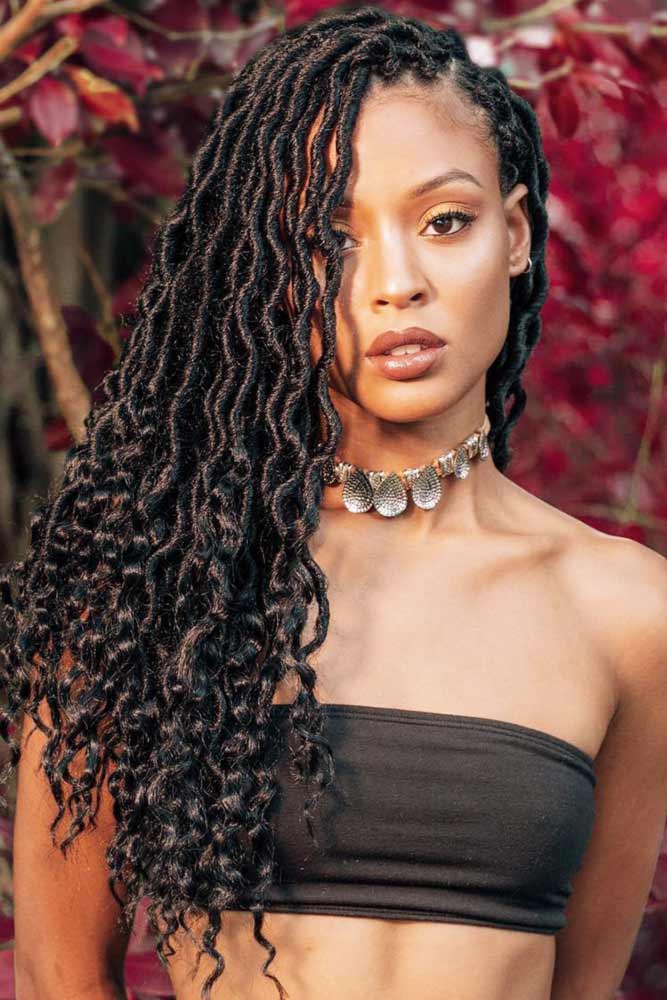 Yes, we know, the variety of faux locs is a little bit crazy. Goddess locs are made out of human hair, right? Well, there are faux goddess locs that look as genuine as real hair. It's quite easy to confuse this characteristic with that of Marley hair, so remember that the latter looks more like dreads. Whew, clarified! It's hard to call these waves faux with the naked eye, so don't hesitate to flaunt with such an enviable hairstyle.
Waist Length Baby Pink Faux Locs
Source: kellzatlstylist via Instagram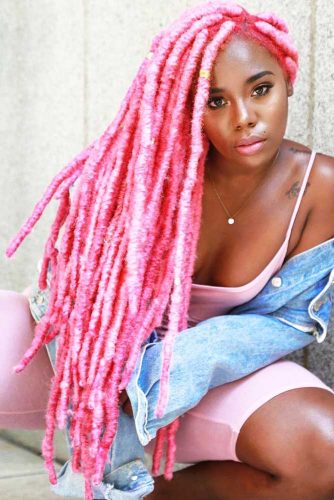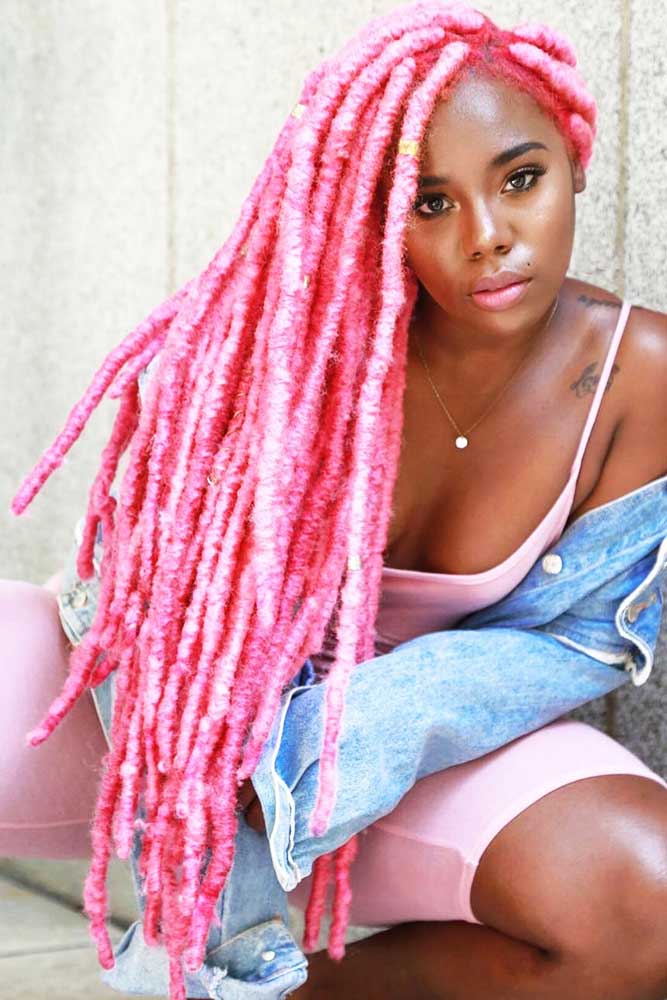 The best thing about faux locs is that they have no disadvantages. As a protective hairstyle, they give your hair the needed rest. But there's something you should take into account: if you want to get a waist length look like this, prepare to feel the heaviness of your hair. According to many girls that sport fake locks, you will adapt to them in less than a week. But longer ones may cause discomfort, so make sure that your back will handle it. Those who are ready to sacrifice for such a baby pink dread-like masterpiece should put their hair up from time to time to loosen the tension of the scalp.
Goddess Locs High Half Bun
Source: anthonycuts via Instagram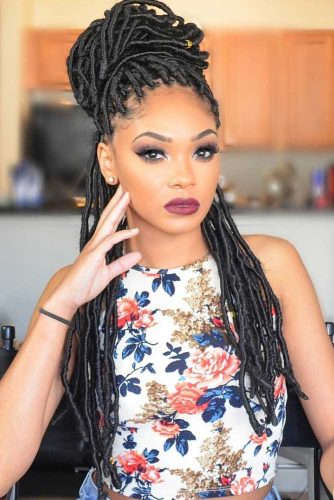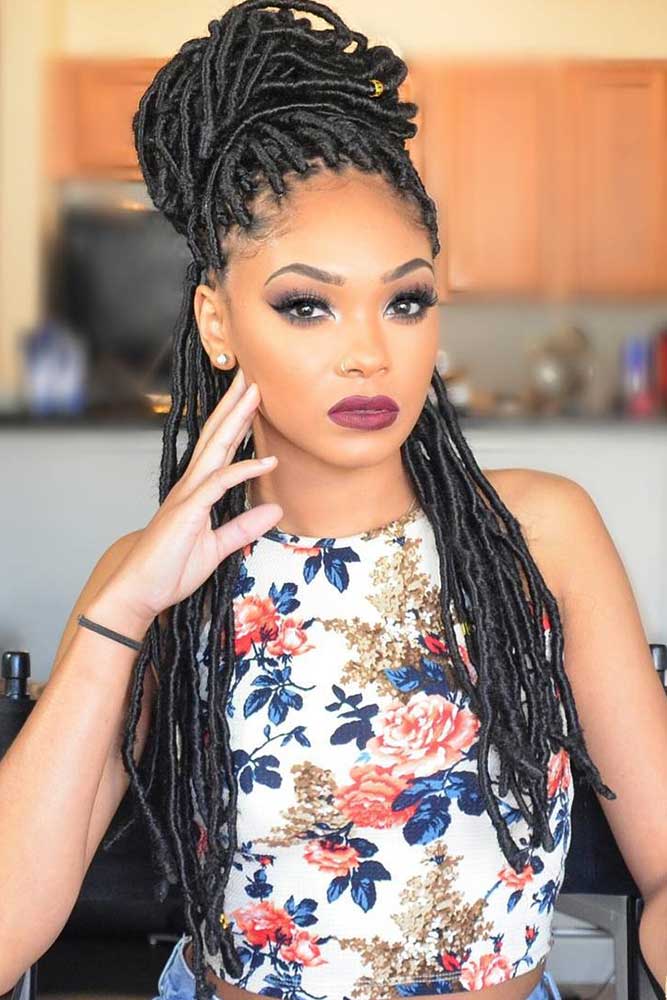 Is this the thing that comes to your mind when you think of half-ups? There's no way one can imagine such a beauty! Once you wrap in your goddess locs, they will take every your hairstyle to the next level. This high half bun wouldn't look so stunning if it was made out of regular hair texture. And that's the point!
Long Faux Locs With Hair Beads
Source: essencetatiana via Instagram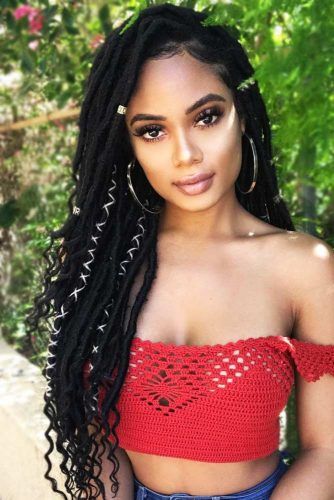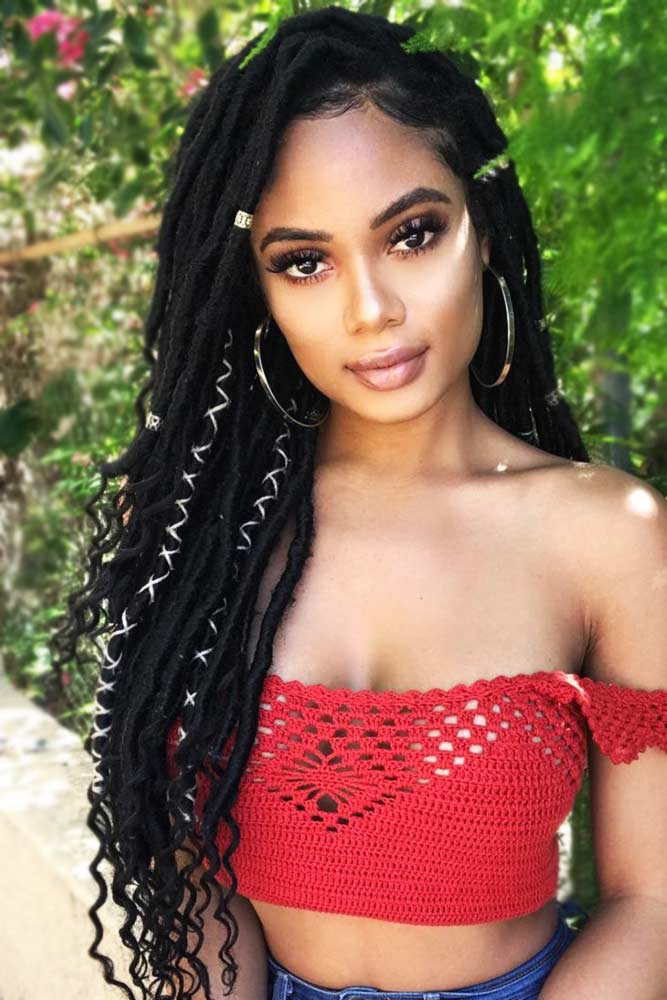 How about adding some uniqueness to your new hairstyle? We know, it stands out anyway, but some individuality won't hurt! Whether your natural hair is short or medium length, long fake locs will sit perfectly, especially if you wrap them around the braids. To spice up your new look, adorn it with some cute hair beads.
Swept Back Curly Faux Locs
Source: imadamejay via Instagram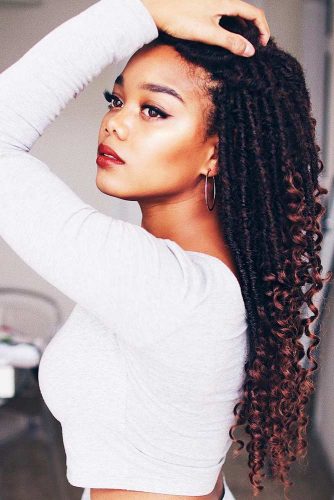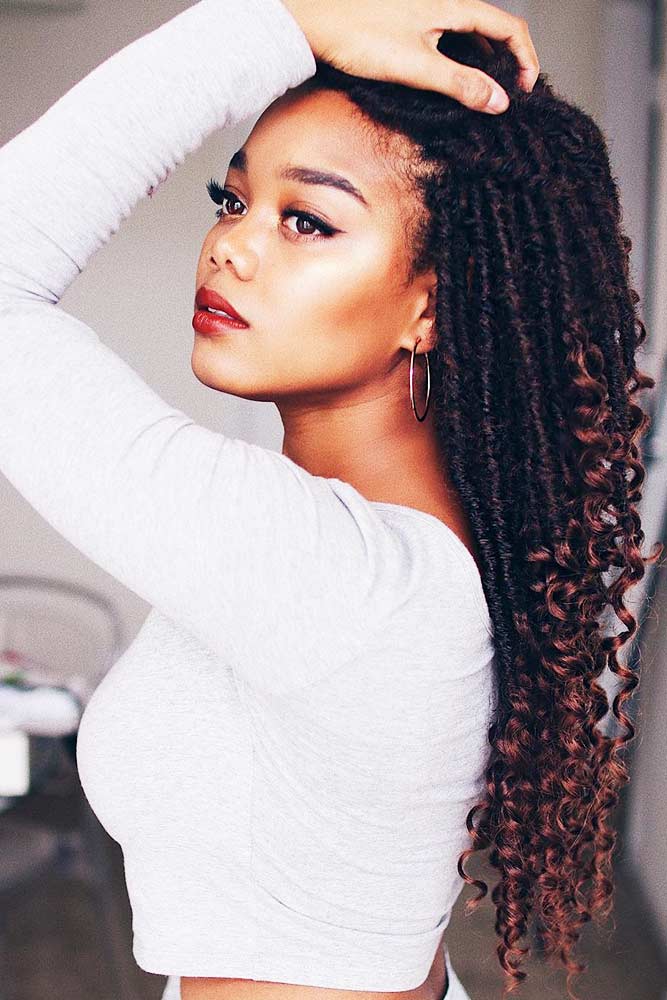 Nobody can't resist the beauty of curly crochet hairstyles! When people see one, they don't even care if it's natural or fake: such styles are so magnificent. Have no idea how to diversify the curly style you sport every day? Swept it back or to the side to take a fresh look at your hair.
Crochet Braids With Headband Braid
Source: pinkvalenciaga_ via Instagram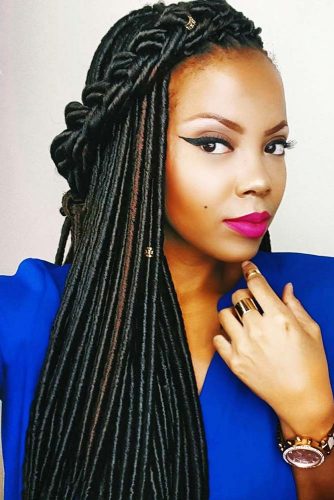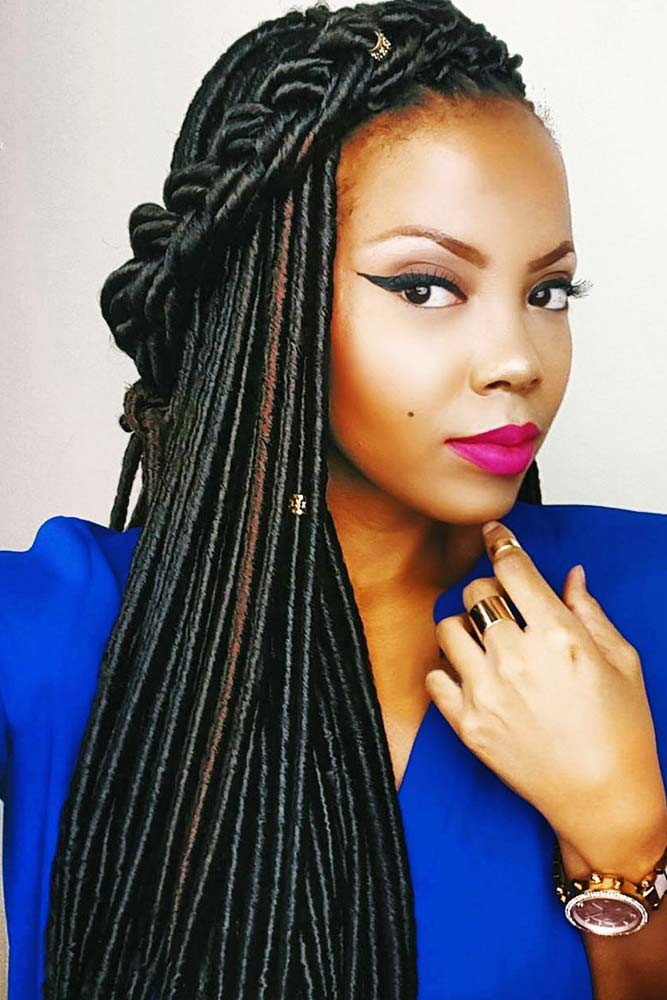 You already know that crochet braids are attracted to the cornrow base. Let's see how to play around with them! Braided half-ups are so elegant and delicate. And you know what? You can mix elegance and sexuality together. Create a headband braid of some of your awesome braids and see how this pretty mixture flatters your style.
Faux Locs For Thick Natural Hair
Source: nessashani via Instagram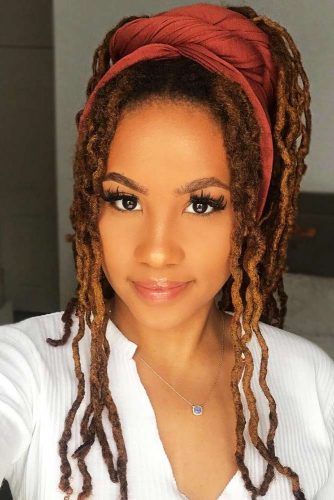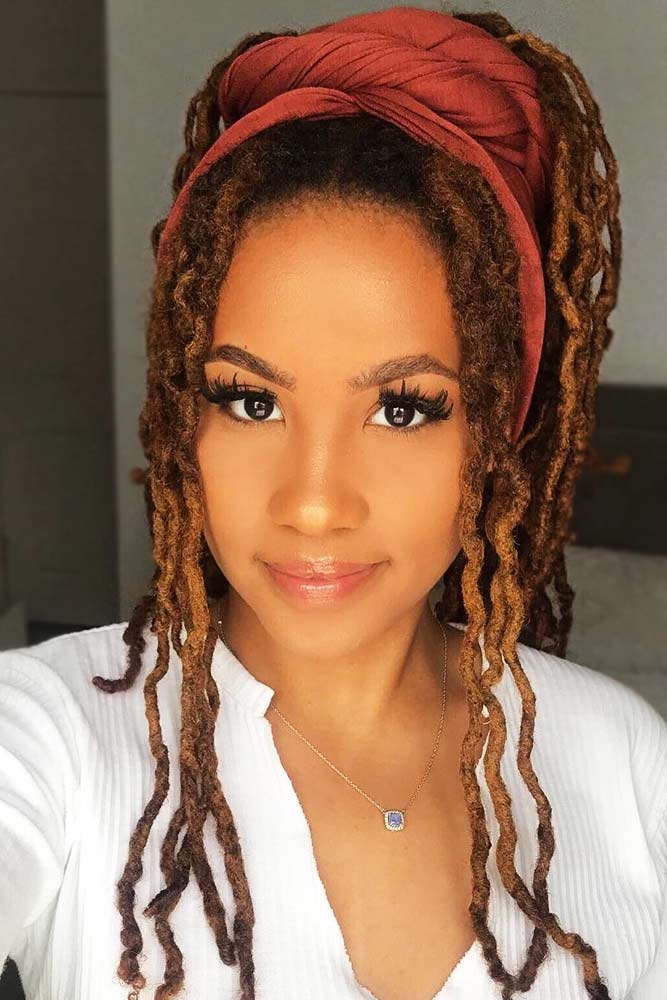 Let's be honest: thick natural hair can be a disaster. It lives its own life and seems like nothing can tame it. But it's a mistake! This hairstyle knows how to do that. In this case, one thing that makes thick hair different is that it may need more packs of hair when installing your faux locs. To prepare your uncontrollable locks for this new look, consider using a lightweight mousse to ease this process. Look at this pic: it proves that your thick hair can be calmed down.
Side Styled Faux Locs Lob
Source: idlelocs via Instagram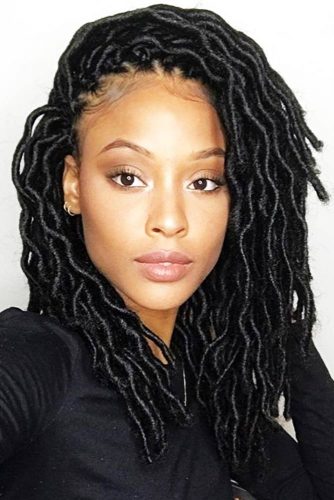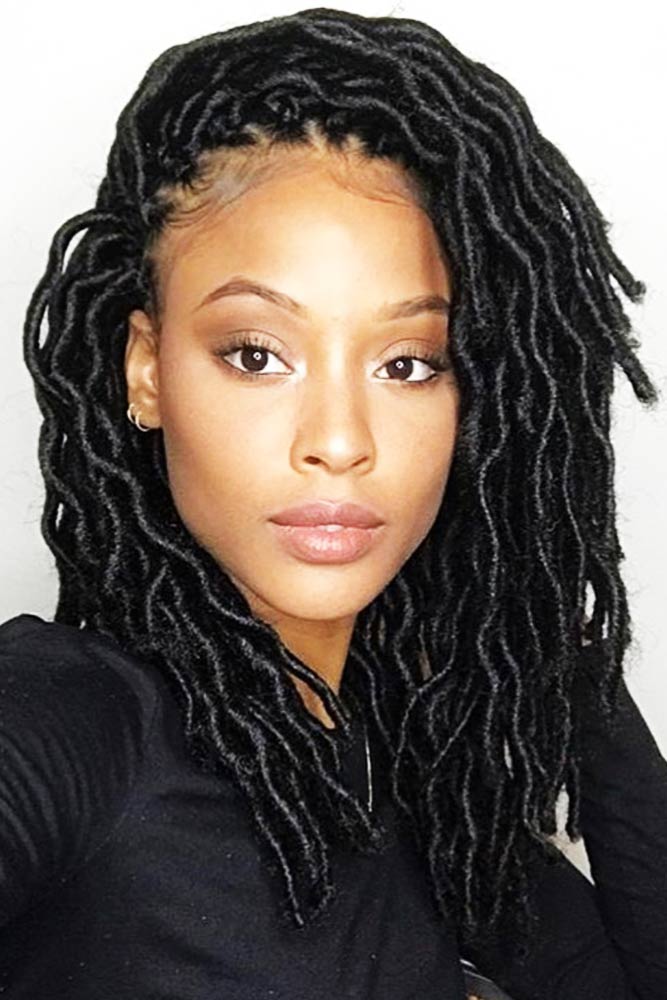 It's time to appreciate the happy medium of all the hair lengths! Shoulder length lob is a versatile haircut that women love so much. What if we tell you that you can fall back in love with this cut? Short fake locs add their own charm and drama, which is great for those who like mid-length hair. As for crochets care, don't wash them with too hot water so as not to cause their split.
Kanekalon Hair Half-Up Style
Source: africancreature via Instagram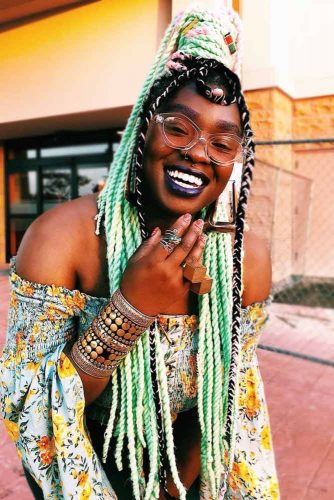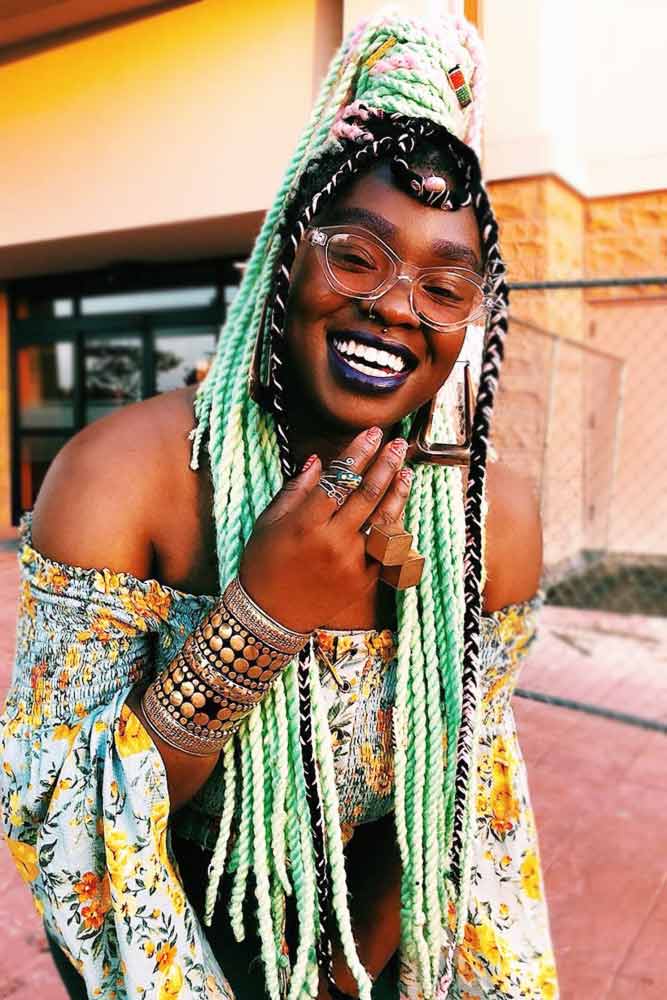 Colorful and textured half-up hairstyle: who could ask for more? The best way to show off your creative and bright personality is to mix lots of eye-catching colors! And kanekalon hair knows how to do that perfectly. You can buy colored faux locs or color them yourself; it doesn't really matter. The only thing that matters is that they're so lovely!
High Ponytail Style
Source: krishtun via Instagram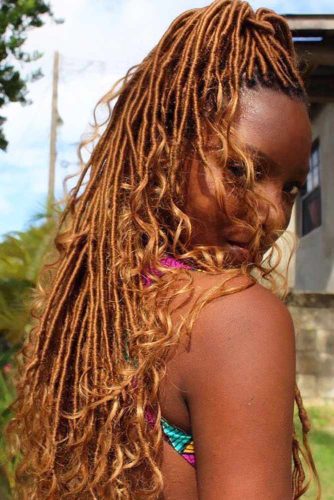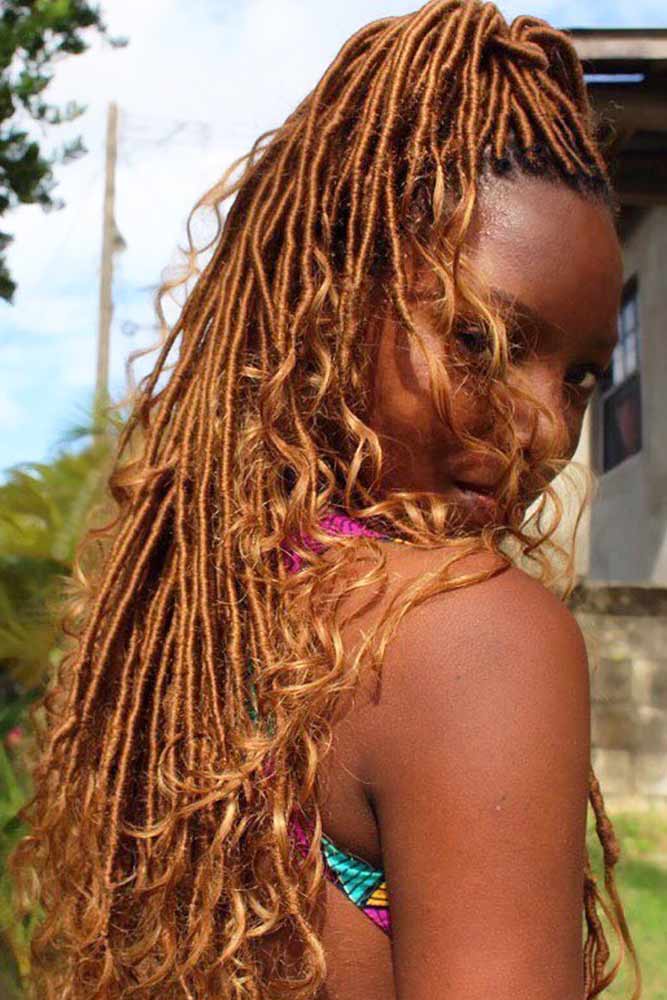 Those who say that simple high ponytails are too boring have never seen this glorious hairdo! Now it's pretty clear why girls love natural-looking faux locs styles crochet gives to them. It's so enhanced, so different, so visible. P.S. contrasting roots and locs are something special!
Short Faux Locs Hairstyle
Source: kersti.pitre via Instagram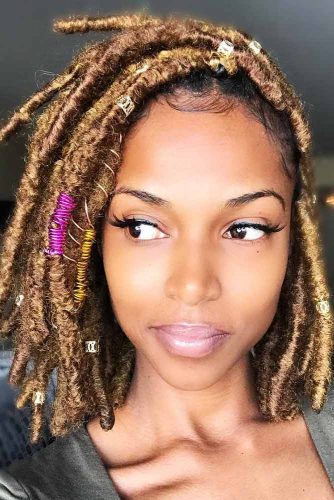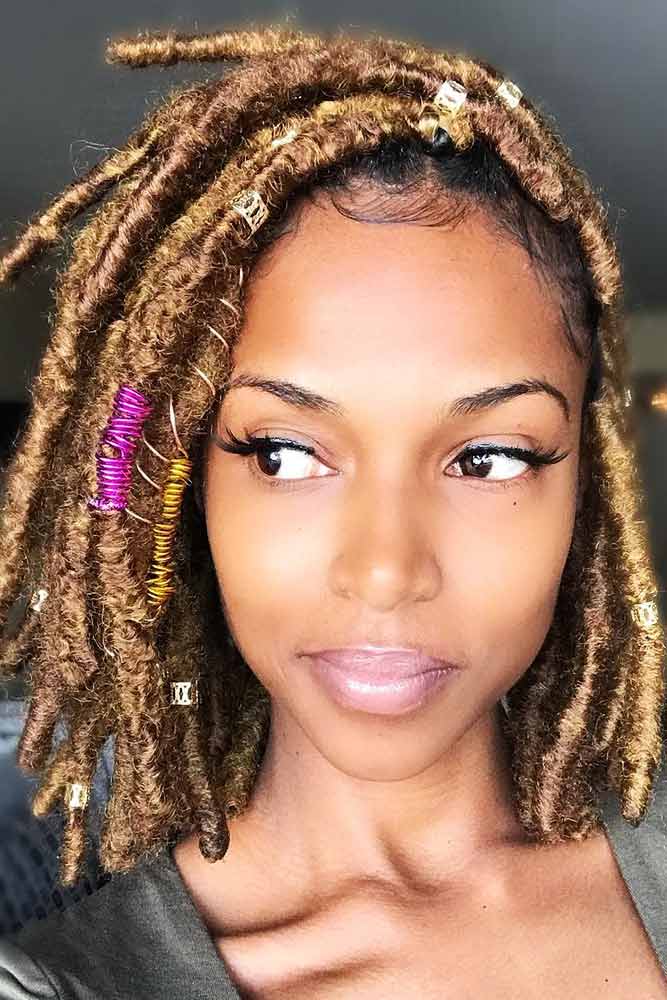 We won't leave you without the short version of the popular fake locs! This Marley hair look can make your short hair appear in a totally new light. Short faux locs styles can be different: from a side-swept cutie like this one to a messy curly hairdo. Which one is up to your mood?
Faux Locs Half-Up Style
Source: exotic_brii via Instagram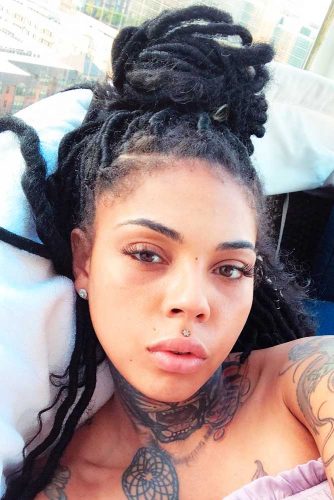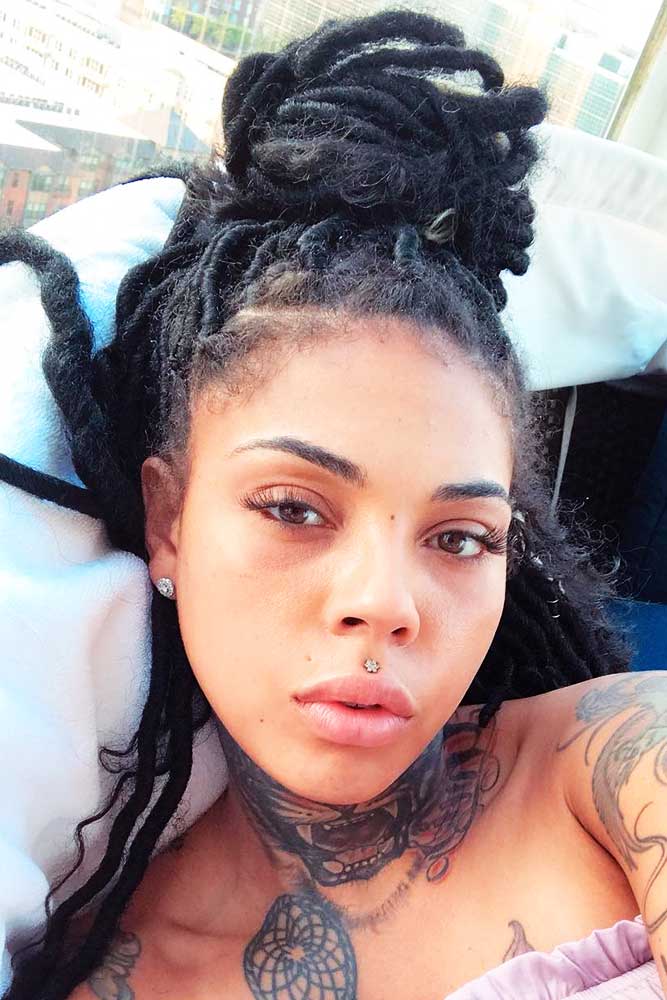 Here's another inspiring idea that changes our image of half-up half-down hairstyles! The truth is, Marley hair just makes everything look more lovely, more exclusive. This faux locs updo style that creates a dramatic silhouette and shows off your long hair is simply to die for.
Long Faux Locs Marley Hair
Source: krishtun via Instagram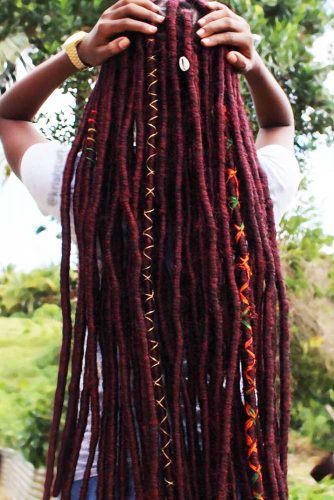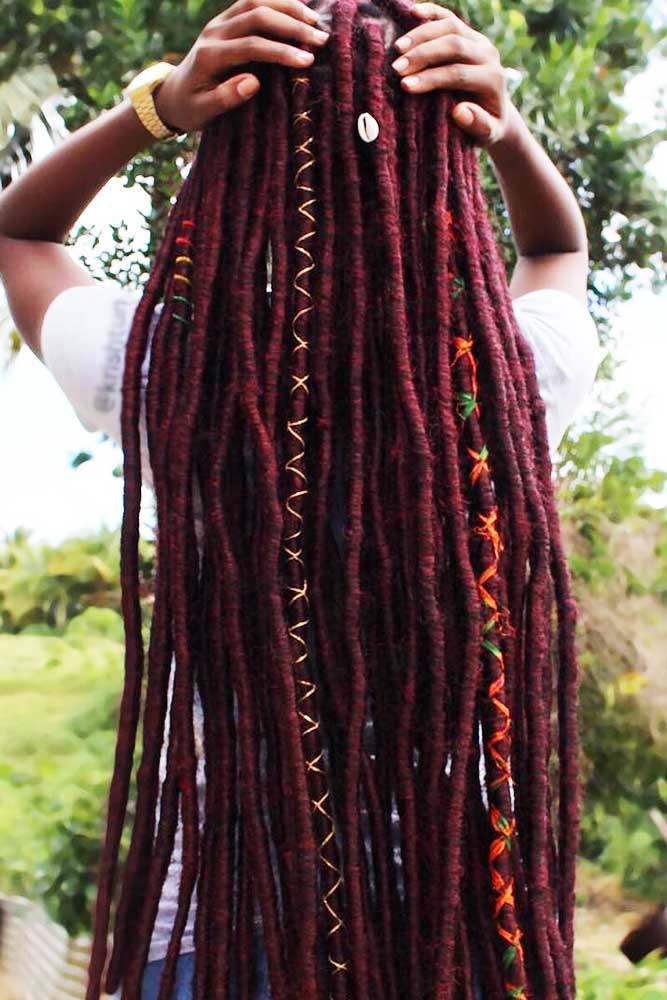 No words in the world can describe the awesomeness of this authentic and effortless-looking Marley hair look! Sporting such a spectacular hairstyle is a daring decision: are you bold enough to make it real? If you answer is 'yes,' it's time for you to find out how to install faux locs with Marley hair right now!
Half-Up Purple Faux Locs Hairstyle
Source: krishtun via Instagram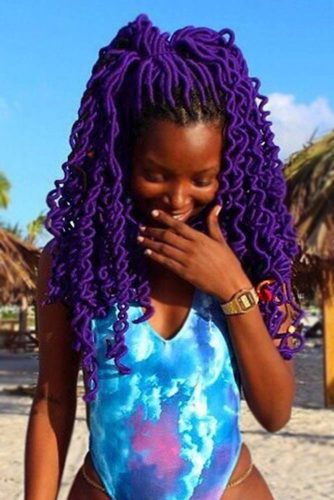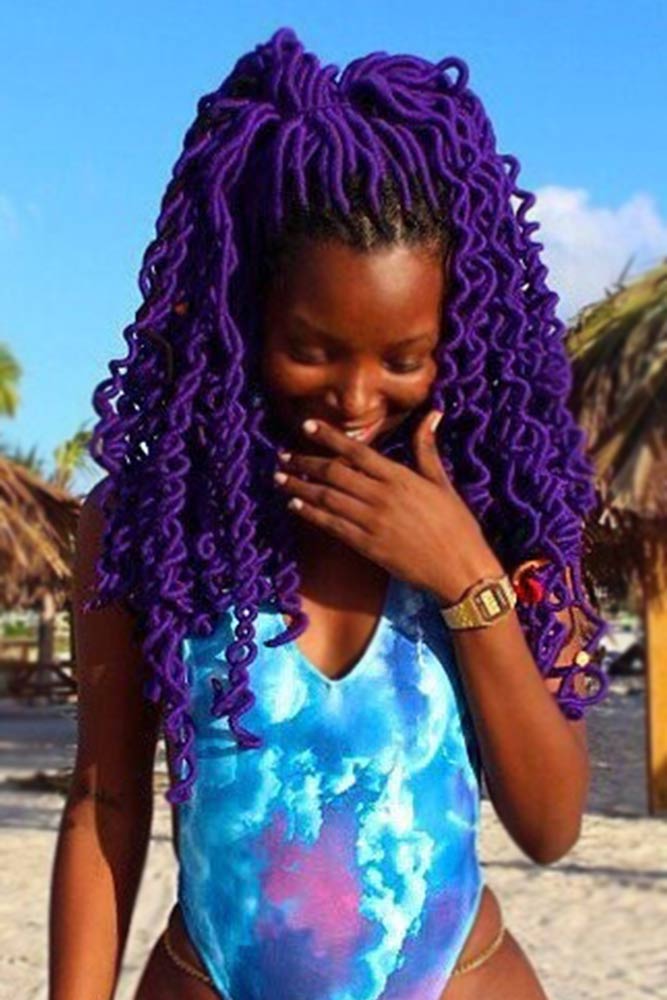 This idea is the best way of how to style faux locs crochet: your hair is put up, creating an even fuller silhouette, while saturated purple hair color catches people's eyes. Ladies who are not afraid of being in the spotlight, it's time for a stylish crime: this look needs to be stolen. You've just got to know one of the hottest trends ever. How does it feel? We're sure that you're pretty amazed, as all these ideas won't fail to impress you. So, today is the day to start experimenting with your natural hair. Don't hesitate to change your style and be different!
Faux Locs Into Superb High Bun
Source: naturalbabe10.11_pro via Instagram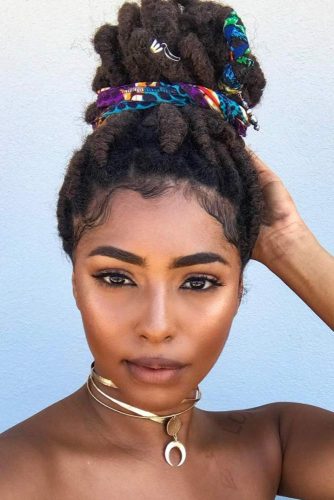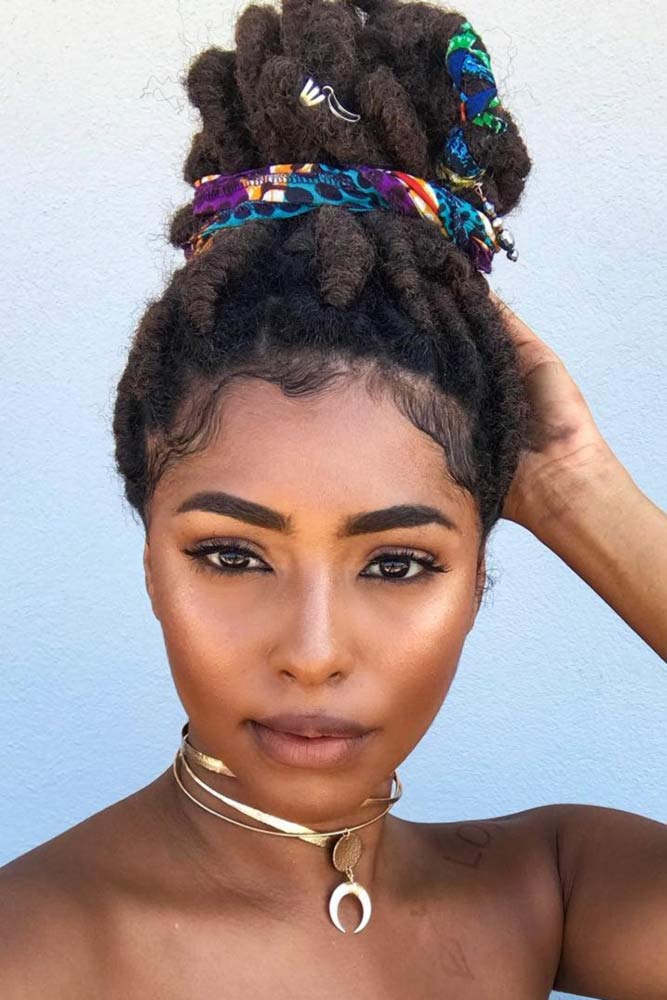 Another benefit that you can get once you install faux locs is that you can create a huge variety of modern hairstyles with their fullness and attractive appearance. Got tired of wearing heavy locs? Put them in a high bun, then! A simple twist, accessorized with a fashionable headband is enough for a comfortable and outstanding look.
Adorable Faux Locs High Knot Half-Up
Source: naturalbabe10.11_pro via Instagram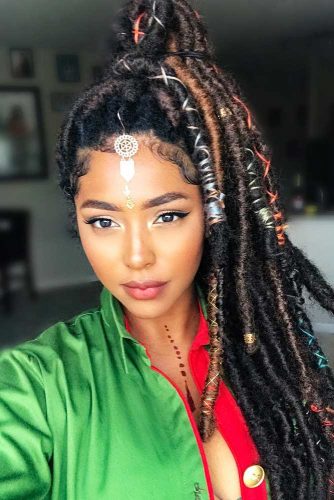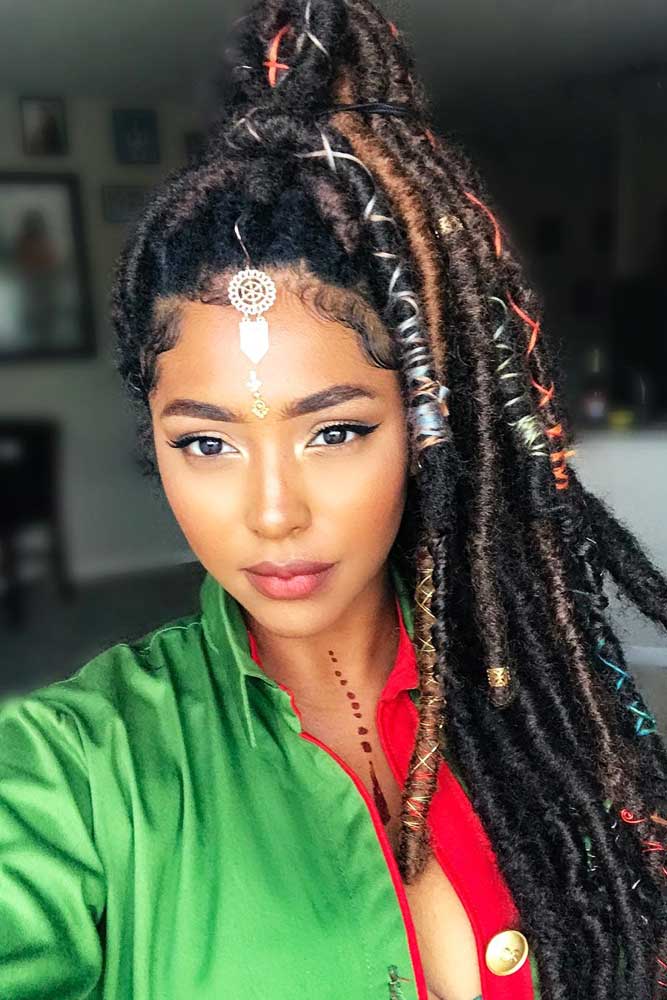 It's not the high knot you're used to seeing on girls with straight hair: it's a gorgeous way to add some lift to your dread-like hairdo and gather your locs up so that you can feel comfy with them. Put all of your hair up and give them a loop, securing them high, and a simple, yet fascinating style will be yours.
Sassy And Chic Undercut Faux Locs
Source: teamhairbenders via Instagram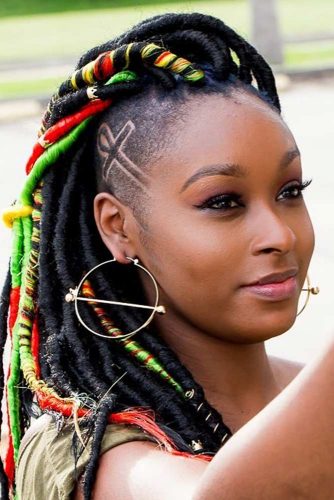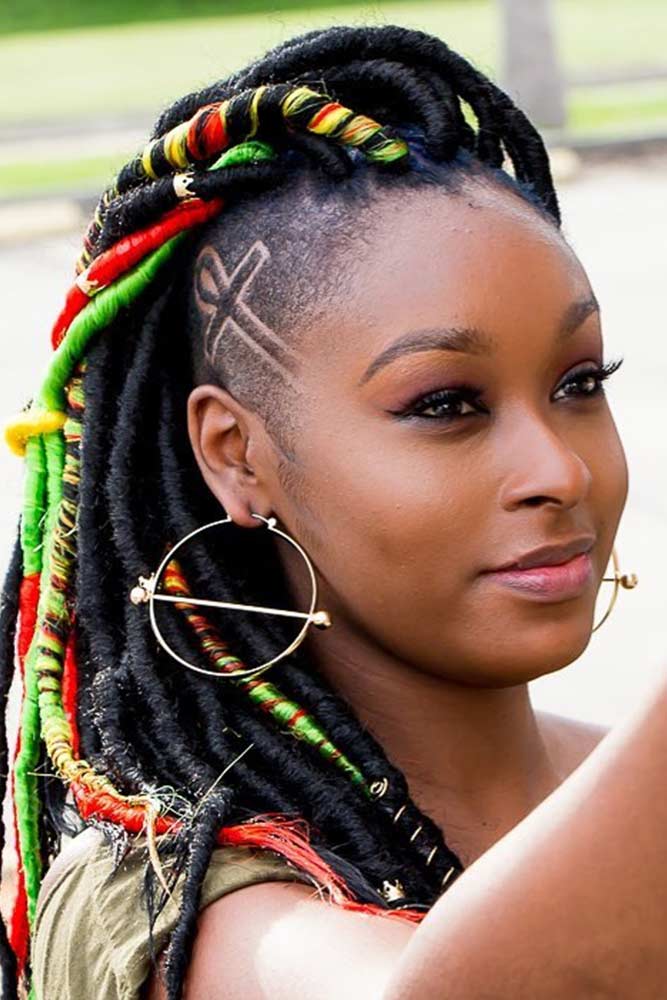 Want your locs to be as highlighted as possible? There's no better way to do that than to add some undercut vibes to your cut! Shave, buzz or even fade the sides to put your twists in the spotlight. And if you want it to be super unique, some hair tattoos will be a nice finishing detail.
Braided Faux Locs Into A Cute Pony
Source: shawnaedwards_ via Instagram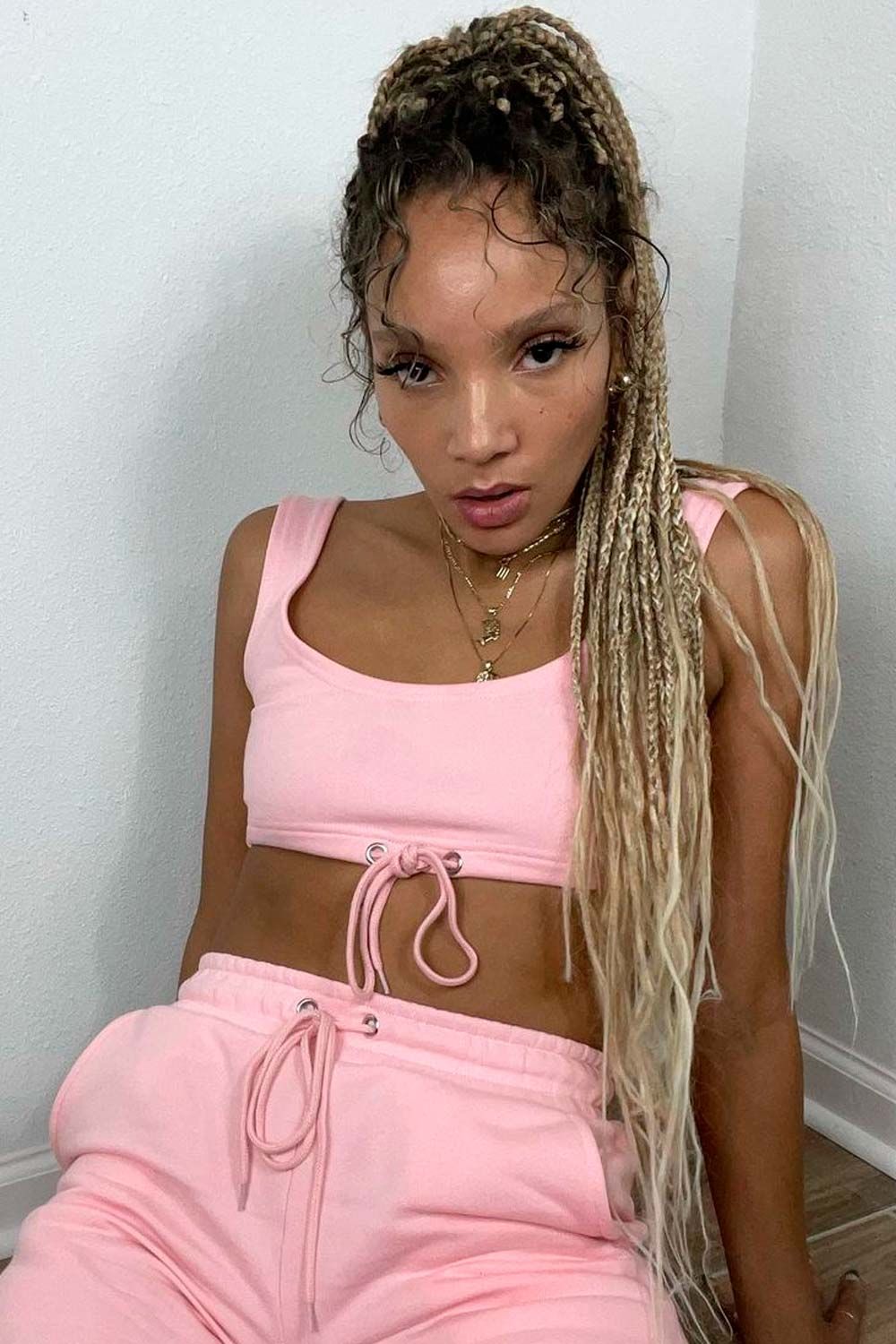 When you sport faux locs, the beauty and attractiveness of your daily hairstyles depend on your creativity. Even a simple ponytail can look distinctive; just get it with braided locs and style it to the side. Yes, it's very straightforward. And awesome at once!
Delicate And Girly Crown Updo
Source: essencetatiana via Instagram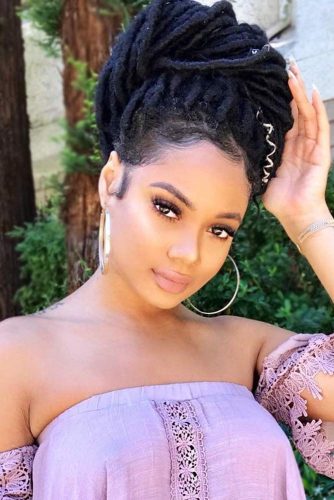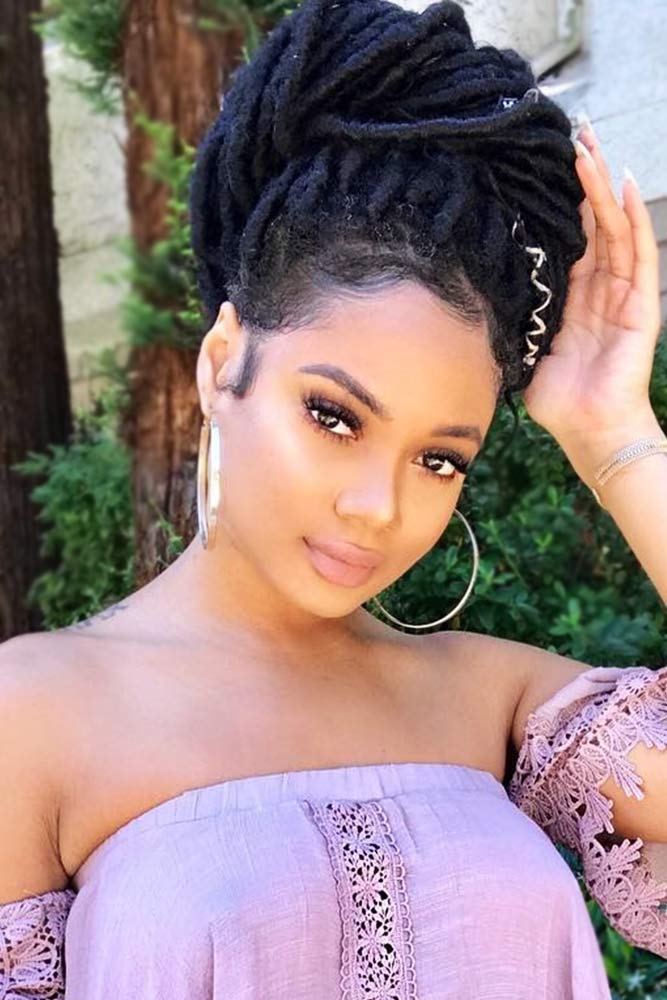 It seems like every girl tried a chignon updo at least once in her life. But not every girl made it out of faux locs, right? You can turn your twisted cuties into a feminine masterpiece, following the twisting pattern for chignon updo. In this way, you can get yourself a special and easy hairstyle for big occasions.
Contemporary Bantu Knots Faux Locs
Source: harmonicurls via Instagram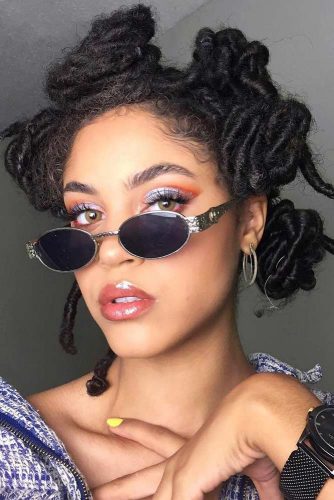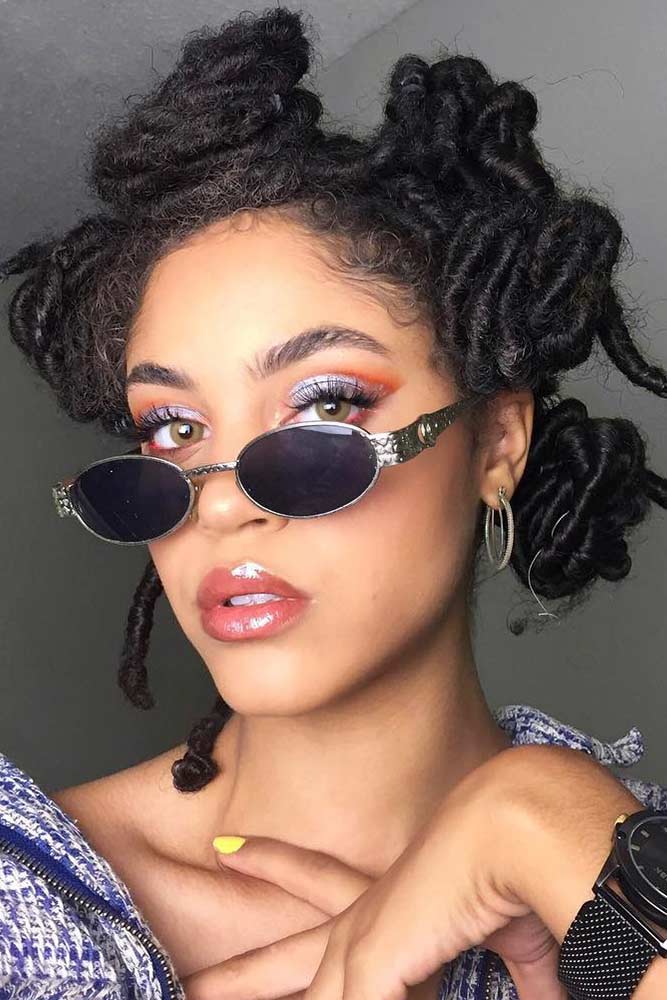 The modern natural hair trendsetters can't do without
Bantu knots:
they don't only look gorgeous but also give a very convenient style. Since these knots are usually very tight, your task is to be different and make them more standout and twisty: and this pic is the best example of beauty experiments.
Crochet Natural Goddess Wave Locks
Source: idlelocs via Instagram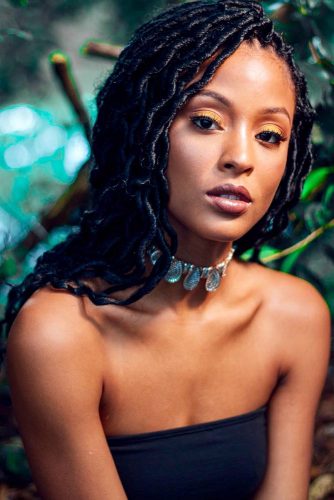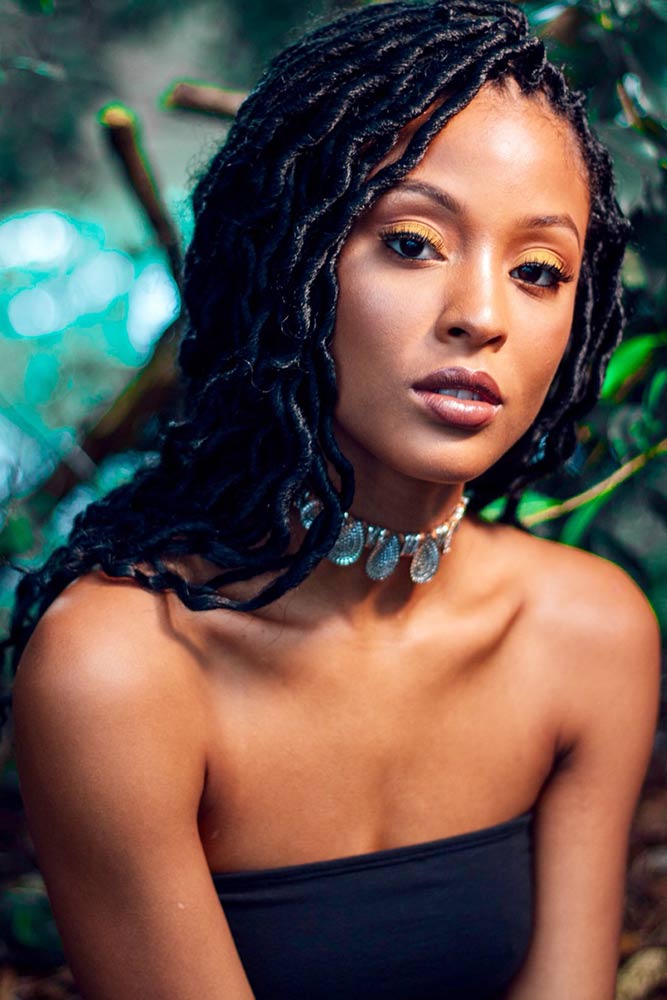 Such a natural hairstyle will make you stand out from the crowd. Are you up for trying something new but wouldn`t like your experiment to be too crazy looking? Then these natural crochet wave locs will be your piece of cake. Glamorous and super stylish it will still remain simple and natural looking.
Half-Up Space Buns
Source: ashleighgisele via Instagram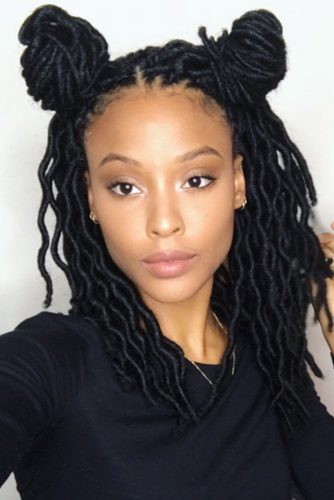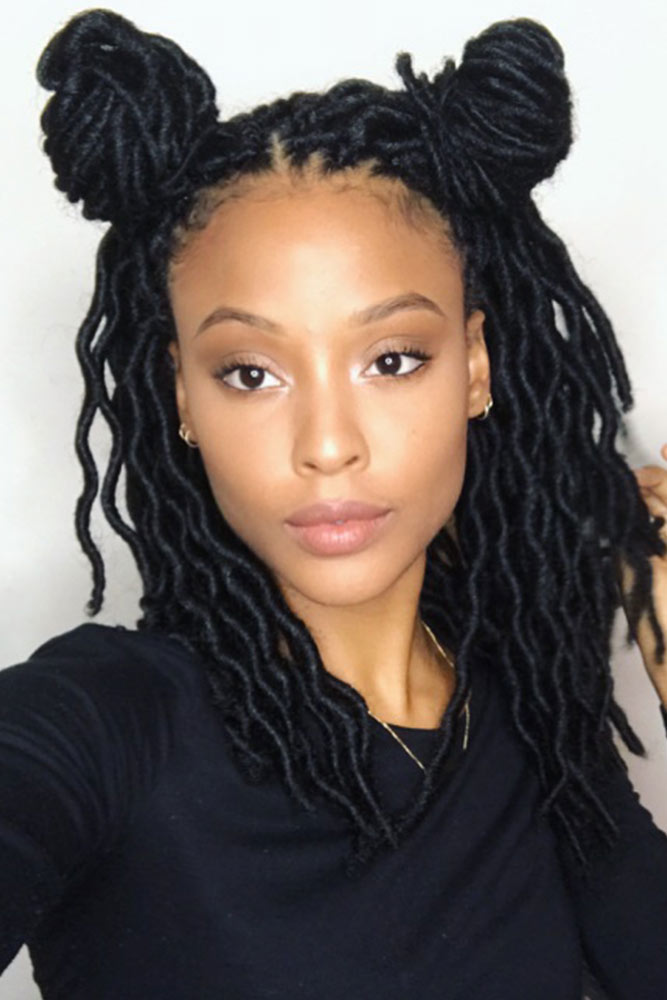 This hairstyle has rocked the beauty world recently with its growing popularity. More and more girls all over the world have tried and loved it. If you have faux locs, it is a brilliant idea as it will take your hair away out of your face while looking absolutely exciting and beautiful. Are you up for rocking a new hairstyle?
Crochet Faux Locs & Cornrows
Source: niani_b via Instagram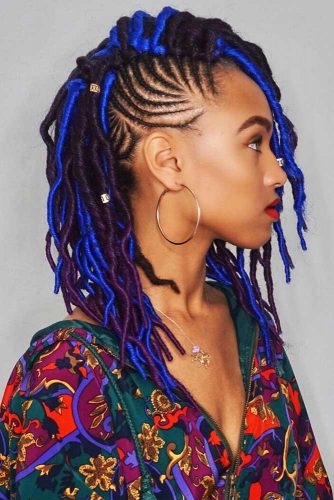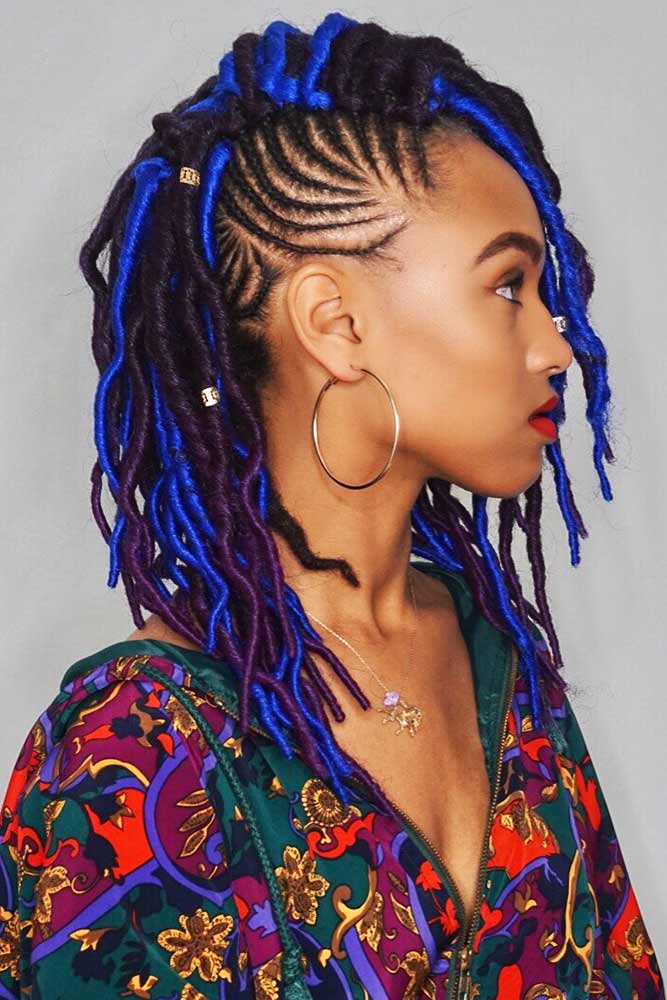 Colorful faux locs look so gorgeous as they leave interesting accents on the appearance of people. If you consider yourself creative, it is definitely the hairstyle that you should try. Leave the half your hair down with such a beautiful technique, while adding cornrows to one side of your head. Look how dramatic in a good way it is. It will for sure add up to your style.
Marley Twists
Source: miccheckk12 via Instagram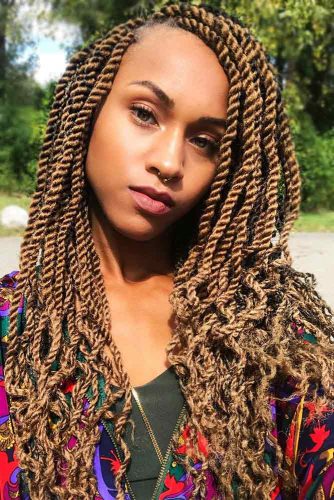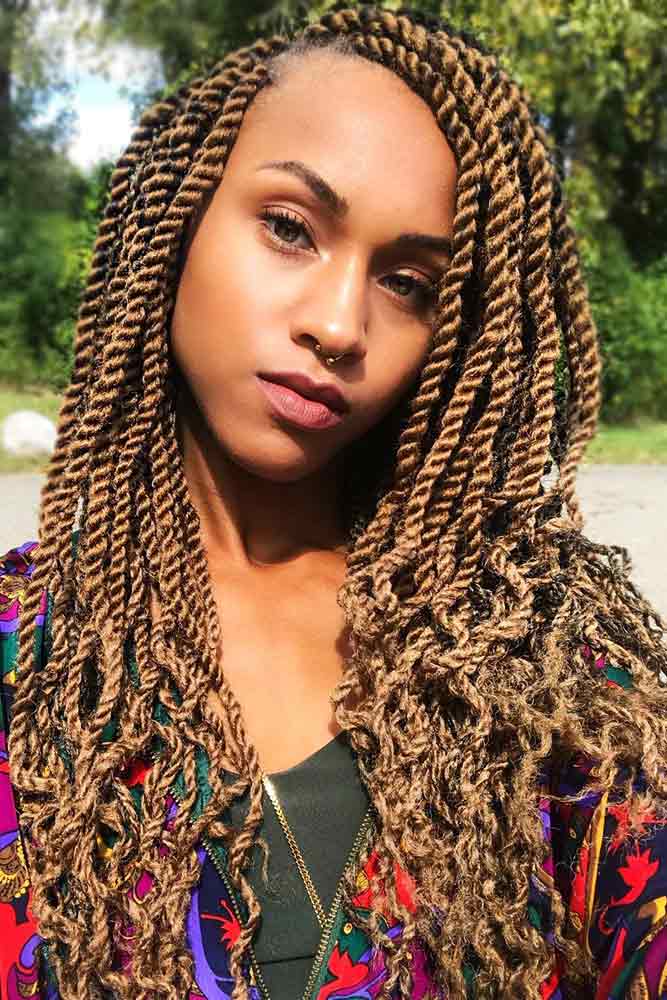 What we love about marley twists is how good looking they are. You can deny the fact that the texture of these faux locs reminds of the natural hair. The biggest benefit of this heartbreakingly beautiful hairstyle is that you can style it in different ways. Buns and ponytails will still be there for you in your daily routine if you doubt about styling.
Space Buns Updo
Source: miccheckk12 via Instagram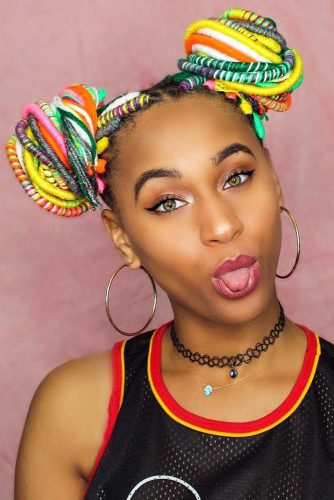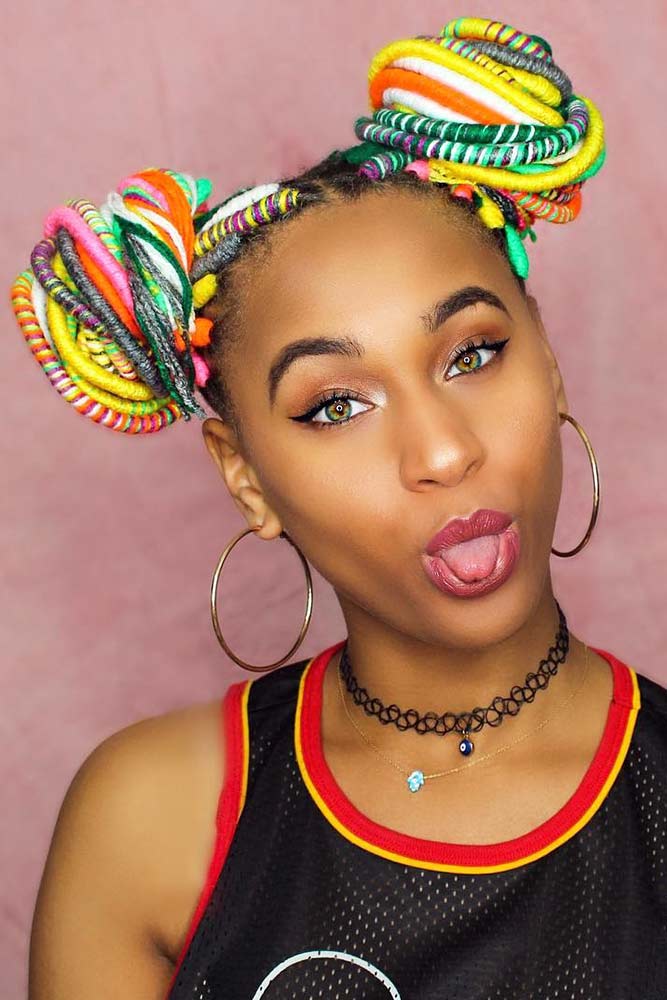 Wow is what we want to say when we see this space buns updo. Did you think it was possible only with natural hair? We are here to prove you wrong. Look at how gorgeous this hairstyle looks with faux locs. Colorful hair strands will make your space buns appear even more creative. A wow effect will for sure be there.
Tiny Knots Style
Source: miccheckk12 via Instagram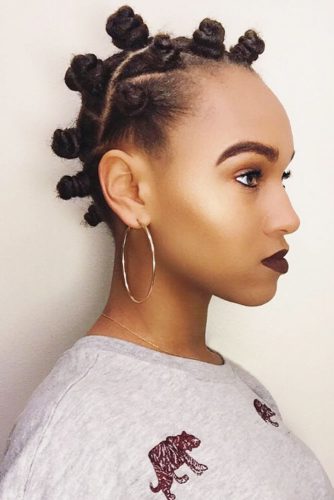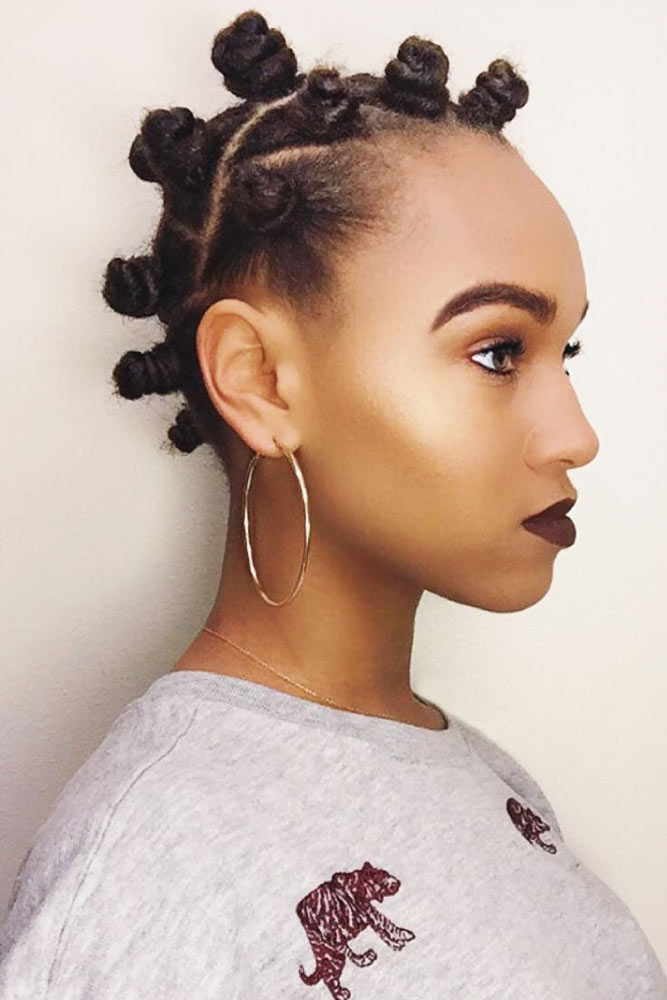 Are you a fan of experimenting with your hair? We love people who are not afraid of trying new hairstyles. What about this one? Such tiny knots all over the hair give a really sleek effect making your whole appearance super creative and exciting. That`s what we love! Bring a special vibe to your style.
FAQ: Faux Locs
How long do faux locs last?
Natural locs are designed to last a lifetime. However, faux locs can last three to six weeks.
Faux locs are a good option for those who don't want to commit to a long-term style.
Do faux locs damage your hair?
If your faux locs are too dense, they can cause strain at the hair roots, resulting in a major breakage. So, ask your hairstylist to help you choose the size and length of extensions that won't cause your natural hair to fall out.
Can you keep Faux locs in forever?
Faux locs, like box braids, are a temporary protective hairstyle, but loc extensions are meant to be a permanent addition to your hair. This is a temporary protective style akin to box braids, however loc extensions are a permanent hair extension.
Was this article helpful?