Short hairstyles for black women, as well as long and medium ones, are meant for African-American trendsetters to diversify their incredible styles. It's a well-known fact that such ladies usually flaunt with long puffy curls, large cornrow braids, and many exceptional styles that make heads turn and other people envy. But let's look at their hair blessing from a new, practical perspective: how about the styling and wearing convenience?
Today it's all about taming your thick hair, making your styling routine more comfortable, and experimenting with a totally sexy hair length. Let us show you some trendy hairstyles that will make you cut your hair short. Ladies with coarse hair, it's time to forget about styling troubles once and for all and open your hearts for fantastic short styles!
Chic And Short Wavy Pixie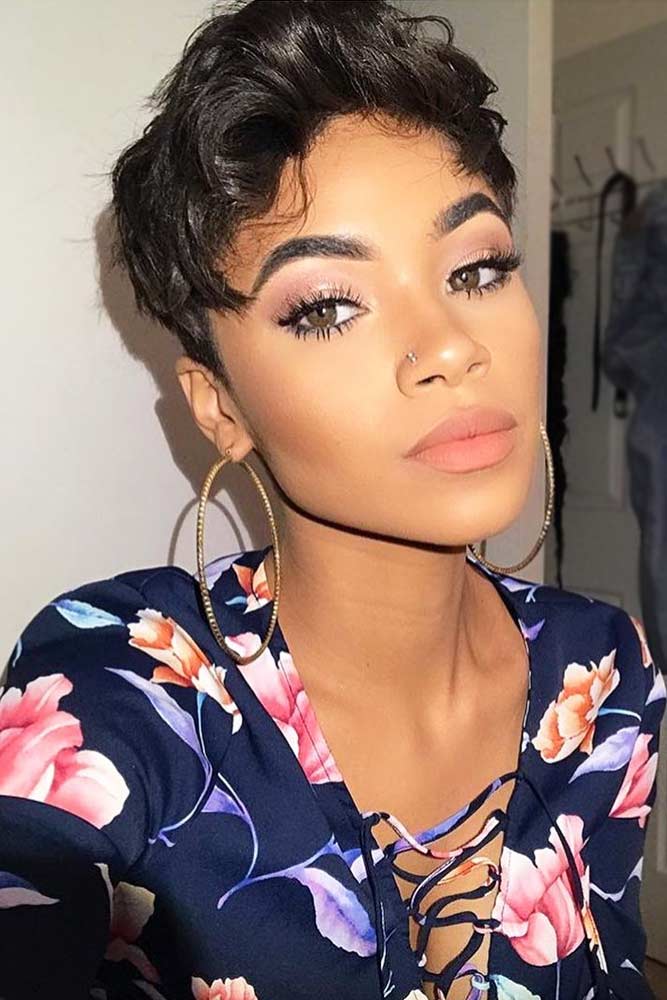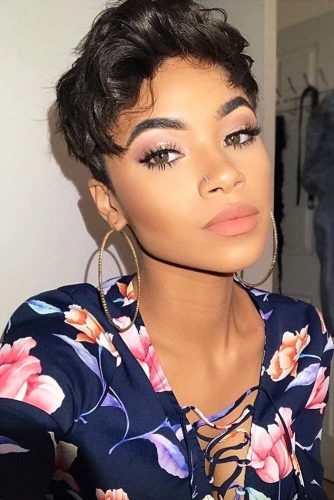 Just imagine that one day you won't need to apply loads of styling products on your hair to straighten it, and curling iron will work for your thick, unruly hair. Yes, the length matters, as the longer your hair is, the heavier it is. We're talking about curly and afro textures, so it's no surprise everything is so complicated. And once you manage to cut your hair short, you'll see the difference: your hair will become more flexible and manageable. Plus, you will love the diversity and versatility of black hairstyles for short hair: let this style be your first amazement. Look how chic and sexy this curly pixie tames your locks, transforming them into a well-groomed hairstyle.
Source: avalenna via Instagram
Long Blue Pixie With Undercut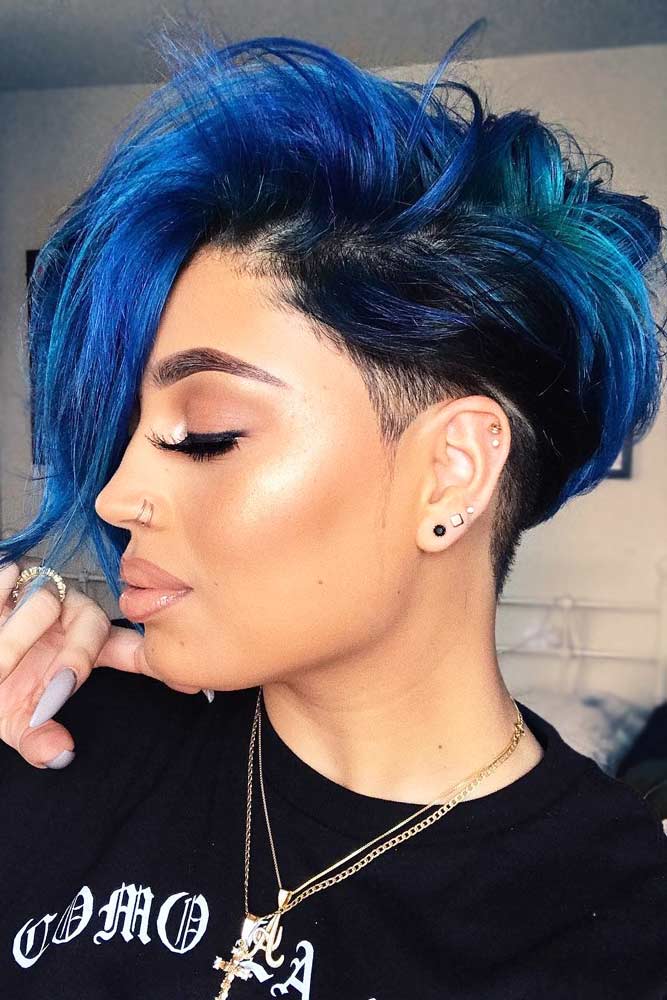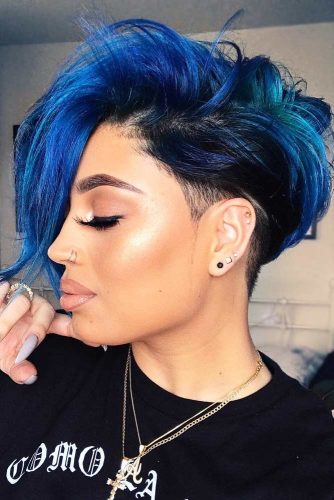 Those who need a proof that short hair doesn't mean limitations, look at this pic! Short hairstyles for black, coarse hair are nothing but flights of our eternal imaginations! Fond of bright colors? Why don't stand out with a stylish undercut on the sides and saturated blue pixie on the top? Some ladies hesitate to go for short cuts as they are afraid to reveal their facial flaws. Our advice is to stop being afraid and let your short silhouette open up the best features and beautify your drawbacks. For example, this pixie is a good choice for square faces, as its asymmetric body adds balance to the prominent jawline.
Source: amandizzllee via Instagram
Polished Straight Pixie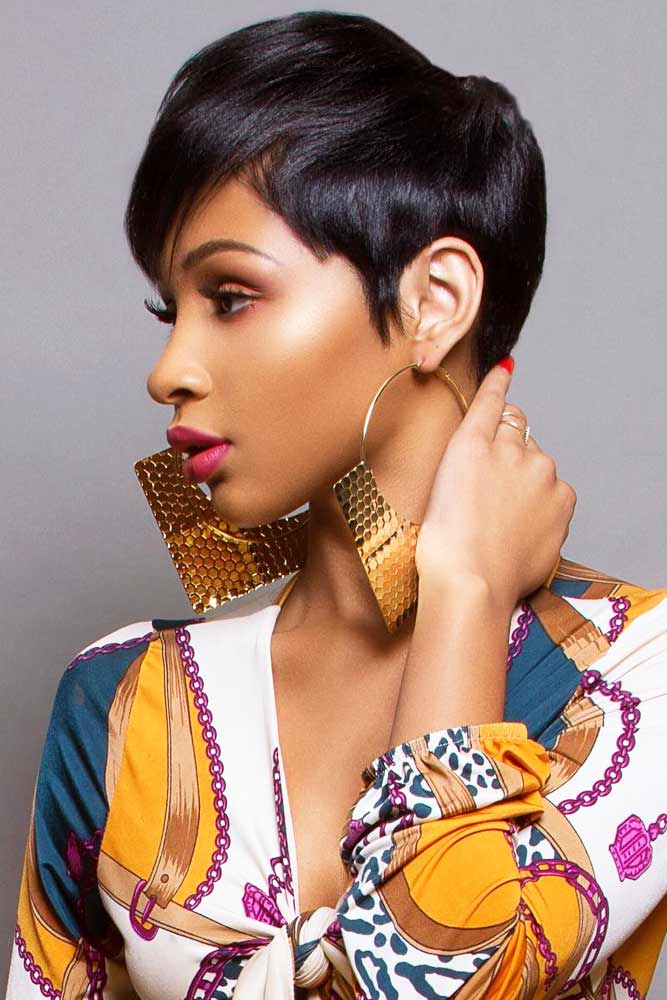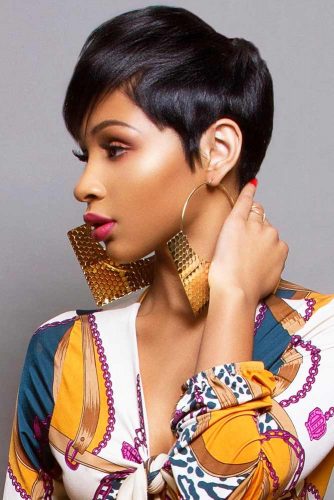 When you experiment with your long hair, you're not limited in choice. Almost! Those who like minimalistic hairstyles can't really play around with neat hairstyles. So that's another reason to give the green light to short haircuts for black women. This straight pixie is a real thing: it's quite simple, yet in a very elegant way. Ladies with oval faces will love how it emphasizes their symmetric silhouette, so take a tip to choose the best short hairstyles for black women.
Source: ___omgihy via Instagram
Funky And Long Curly Pixie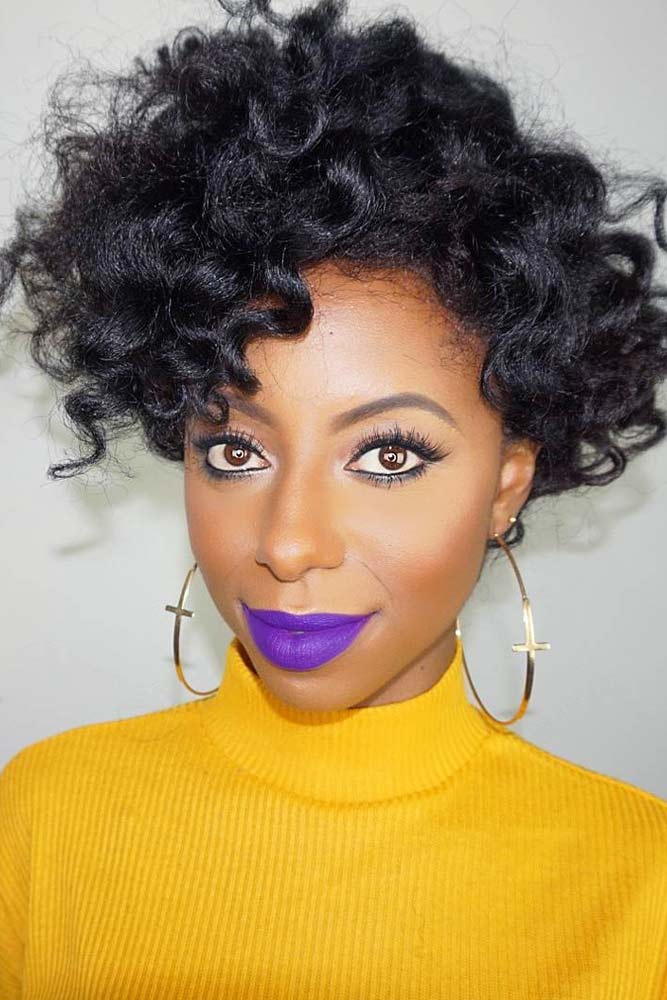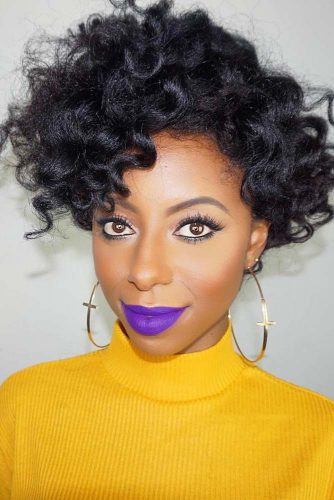 Remember that short hair is all about experiments. You will never know if short styles you like suit you until you give one of them a try. Of course, you can ask your hairstylist which one would be the best for you, and that will make things easier. Black short curly hairstyles like the one above are something that most women can't even dream of, while you can get it any time! When you cut your curly hair short, your curls will become more bouncy and more textured, making you fall in love with your own look.
Source: jessicapettway via Instagram
Classy Short Blonde Pixie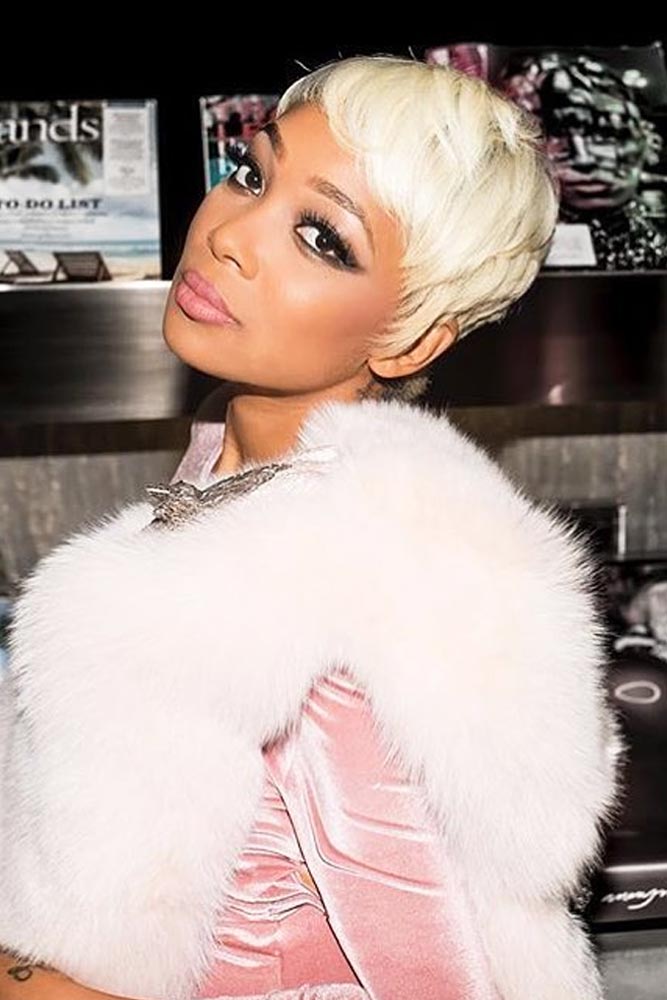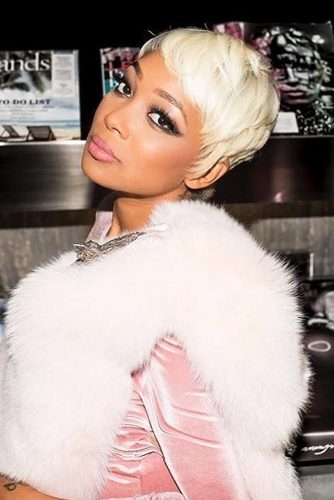 Be careful; short hairstyles for black women can actually make you lose your mind. Before you look up, take a deep breath: some contrasts are about to impress you! New colors are a good idea to take a fresh look at your daily styles, especially when it's a trendy, contrastive blonde that brings the classic pixie to a whole new level. We're so glad to see the color that is meant for light skin tones on dark skin: it shows that there's nothing impossible for daring girls.
Source: monicabrown via Instagram
Finger Waves For Short Hair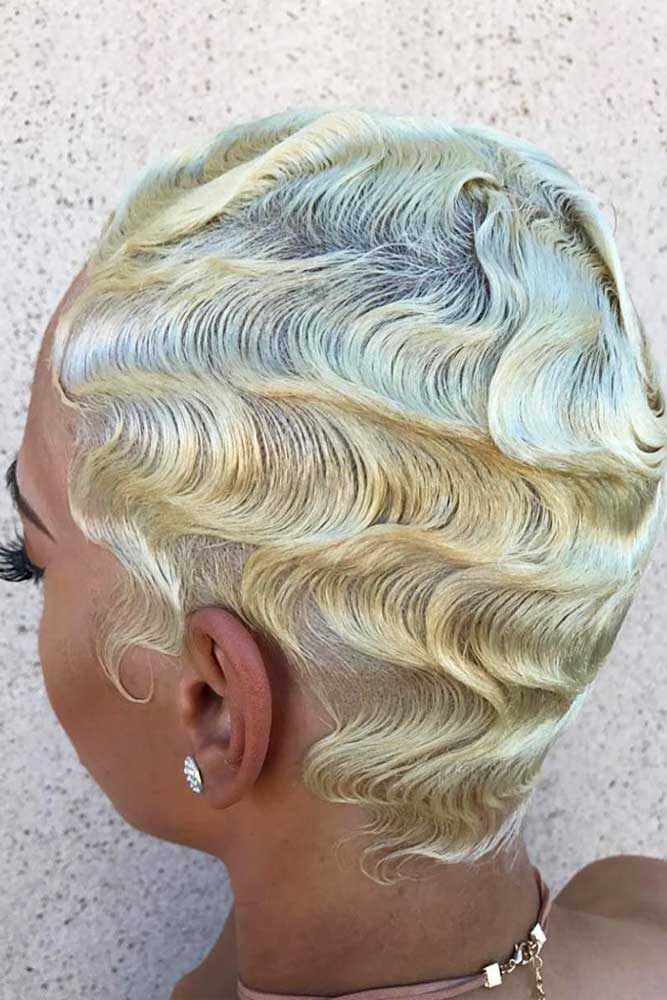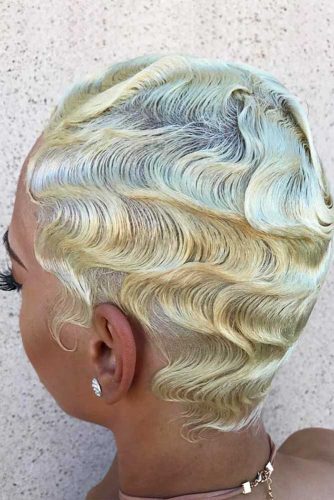 How about you to bring back the fashionable 30's? Nothing would be better than finger wave hairstyles for short hair! This easy, polished, and silky style can be a fantastic finish for your evening look. Apparently, it's not a hairstyle you will sport every day, but when you compliment your look with it, it will make any day special.
Source: chantelthehairartist via Instagram
Cute Wavy Pixie With Undercut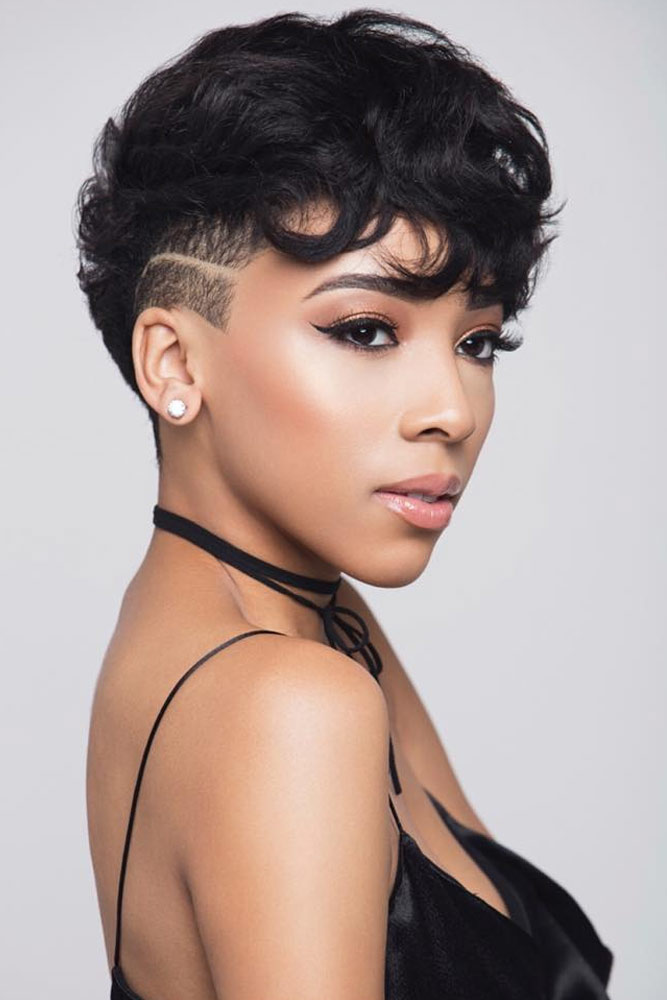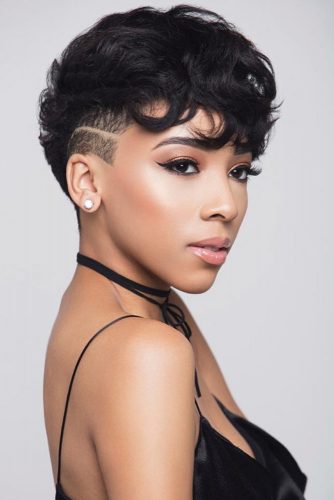 It seems like African American pixie cut styles are the role models for short hairstyles. Everything looks different when it's done on natural hair, and, as you can see from our short hairstyles for black women, pixie cuts and undercuts aren't exceptions. The texture that cleanly shaved sides of an undercut give to your hair is so adorable! As for the top, thick waves nicely finish the look, creating a full silhouette which will flatter ladies with wide foreheads.
Source: makeupbygray via Instagram
Sassy Curly Mohawk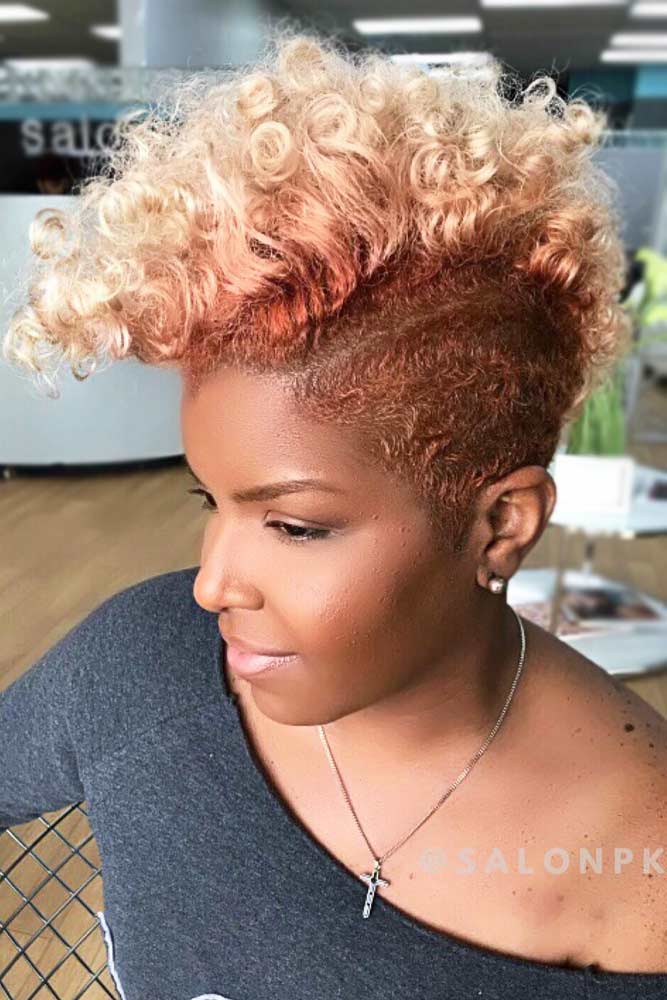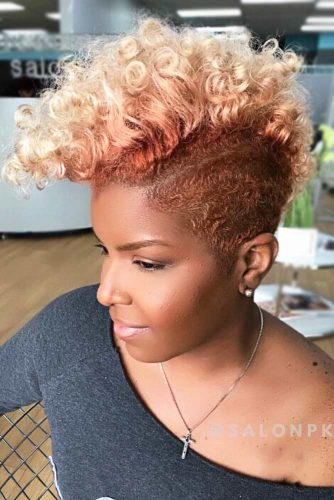 Curly hair has always been the most attractive hair texture! That's why we've collected some short hairstyles for black women that can reveal the beauty of your curls. Do you want your hair to scream about your boldness? Here comes the curly mohawk, where the sides are as neat as possible, and the curly top sticks up, grabbing attention.
Source: salonpk via Instagram
Contrastive Finger Coiled Mohawk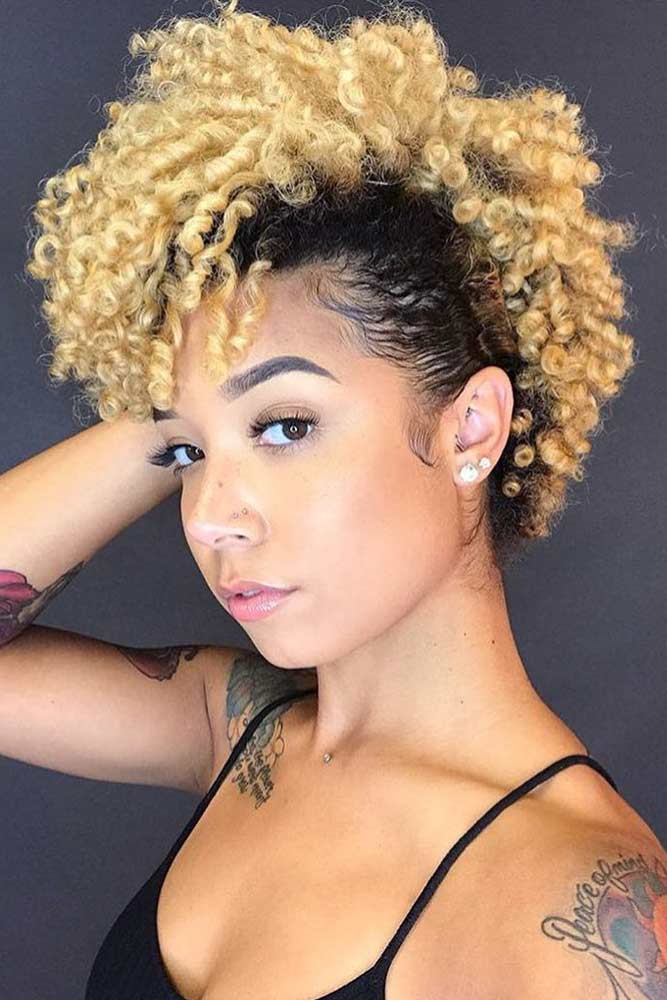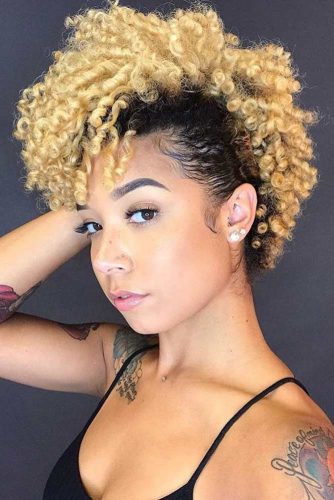 No wonder you'd like to find protective hairstyles for short natural hair: they're a stylish twofer. The truth is, even though finger coiled hairstyles leave your hair exposed, they still give you some rest of styling, thus providing you with low-maintenance style. Look how exceptional this finger coiled mohawk looks when two contrastive hair colors are combined. Isn't that an experiment to steal?
Source: jastanae via Instagram
Long Straight Pixie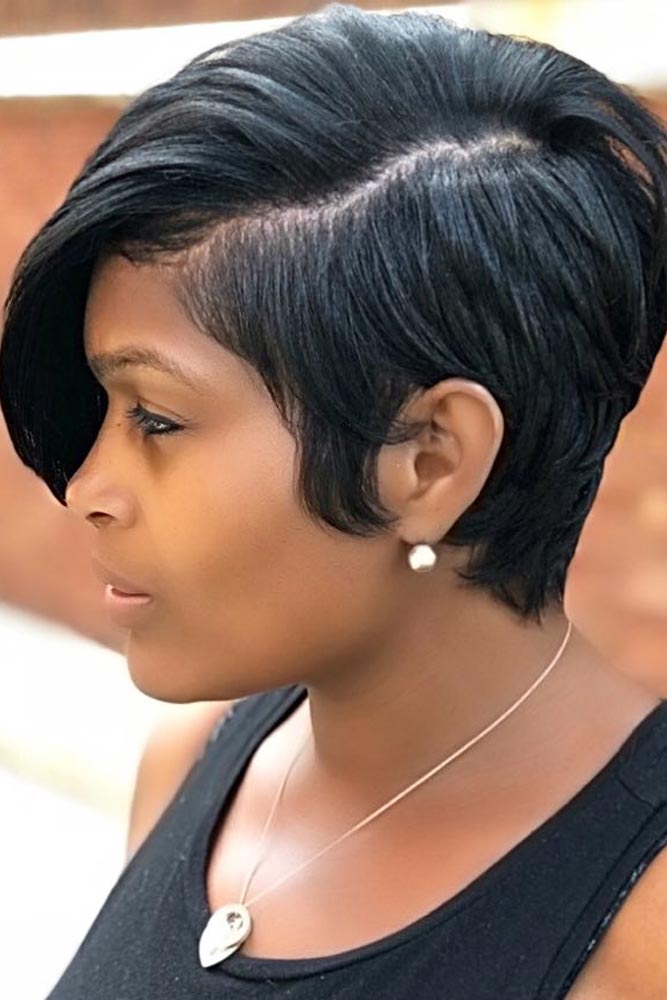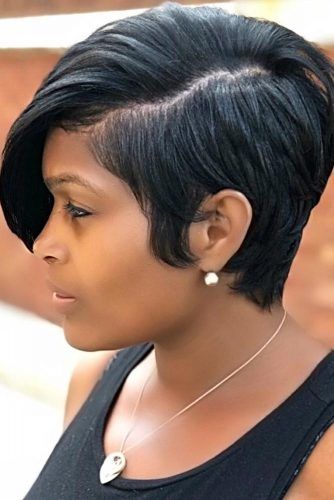 This intricate haircut is meant for the women who aren't afraid to show off their commitment to the style. It features a lot of length on top whereas the sides and back are cut quite short creating a striking contrast. You'll also be pleased to find out that this haircut is extremely versatile, as you can style the top in many different ways, from combing it down to shaping the top layers in a faux hawk.
Source: lori_theexclusivestylist via Instagram
Curly Blonde Pixie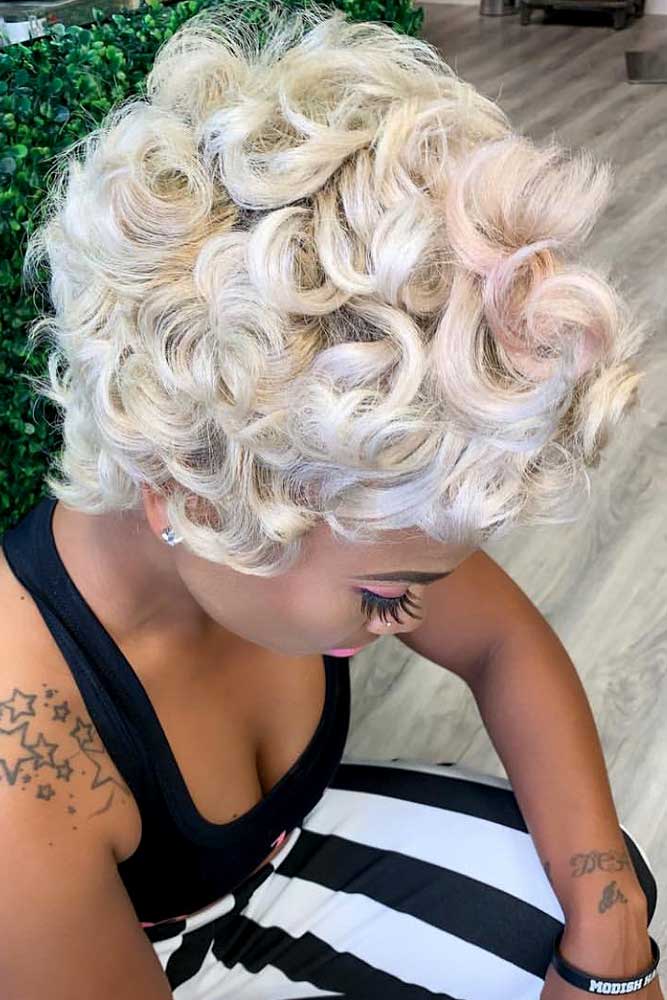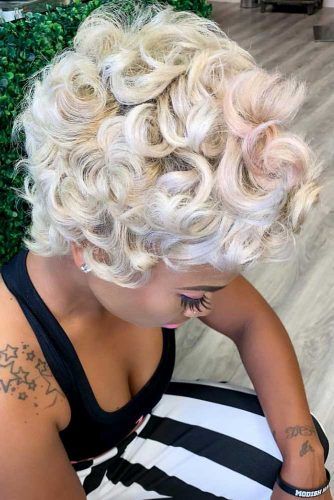 If you admire Marilyn Monroe's soft blonde curls as much as we do, there's no excuse for not trying them out. Of course, you can attempt to bleach your locks at home. Though, we strongly recommend booking an appointment with a skillful colorist, as it's highly important to get the right color without damaging your hair. Also, they can give your hair a modern turn by touching it with
strawberry blonde
in the front.
Source: msklarie via Instagram
Kinky Pixie
Why not embrace the beauty of your naturally wiry tresses and take advantage of them? Chop your hair quite short leaving enough length for it to coil. You'll find this daring hairstyle highly beneficial, as it not only takes the hair away from your face revealing your amazing features but also requires low maintenance and zero styling, except for a small side part perhaps.
Long Side Bangs And Shaved Stripes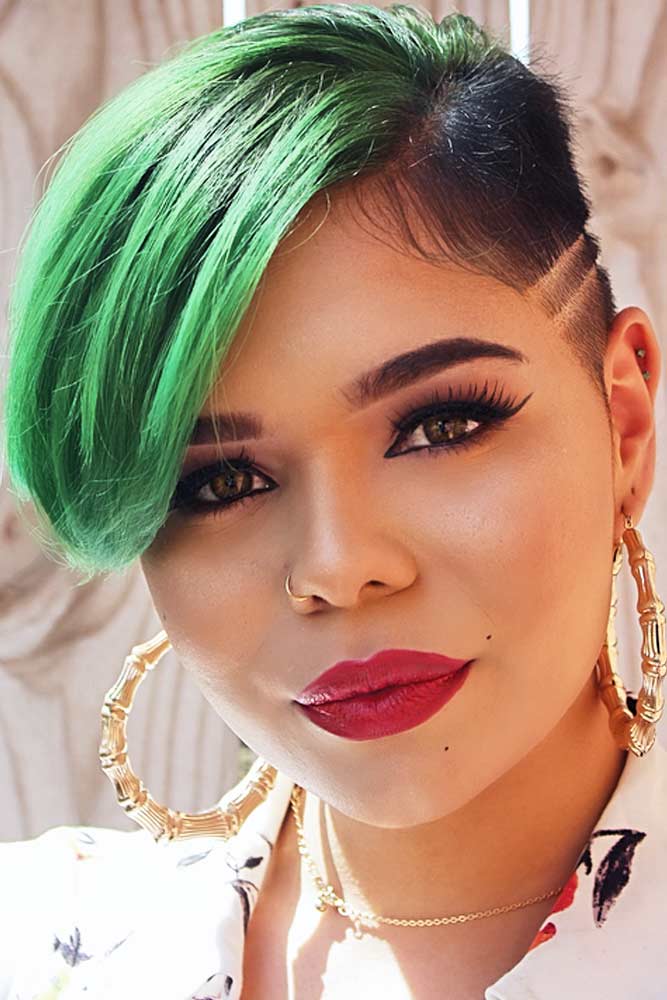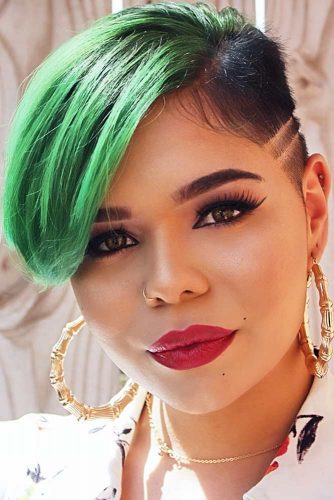 No surprise that lots of women can't imagine their life without side-swept bangs. It doesn't matter what haircut you sport, as it's about the ravishing flattering power of face-framing bangs. How do you like this idea? This is one of the short hairstyles for black women who like to be different: two shaved stripes give a modern touch to the short haircut, while side bangs balance out the whole look.
Source: ashliann.rivera via Instagram
Stacked Pixie-Bob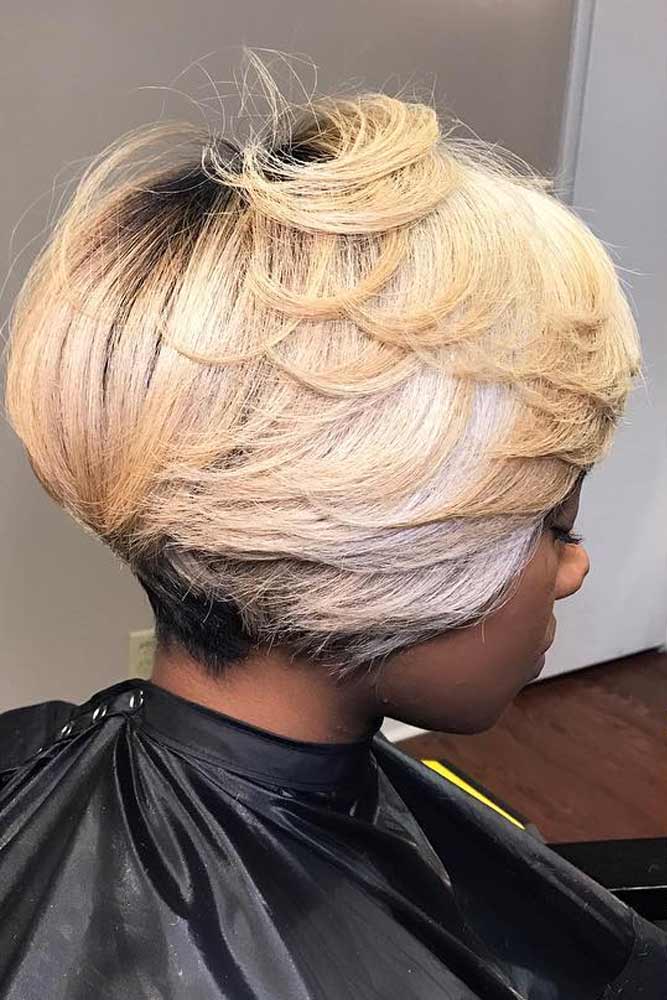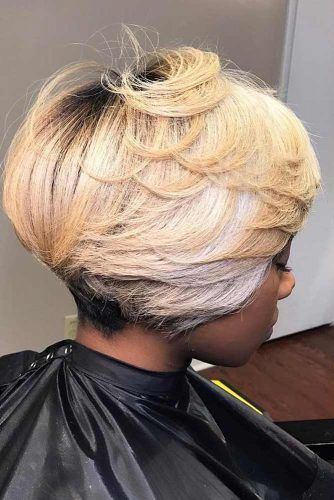 A stacked pixie bob will instantly make you look stylish and edgy. This bold haircut is highly versatile, as it suits any face shape and lifestyle. The length at the front perfectly complements your facial features while the stacked layers at the back create a lot of volume and texture. For added contrast, try out a modern dyeing technique with the darkest sections along your roots and blonde toward the ends.
Source: hairbyjoya via Instagram
Volumizing Curly Pixie-Bob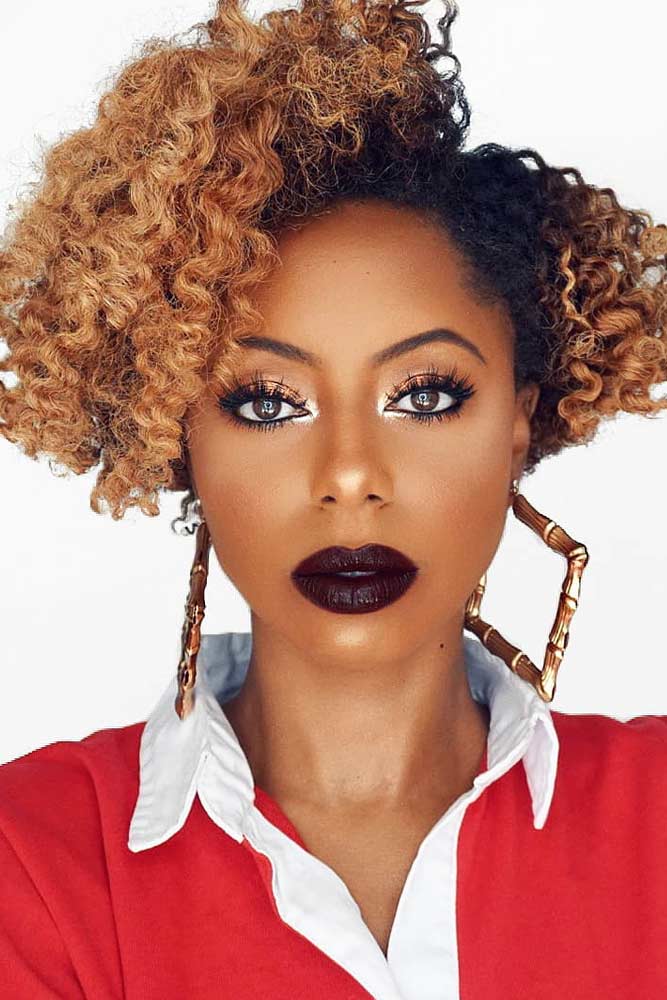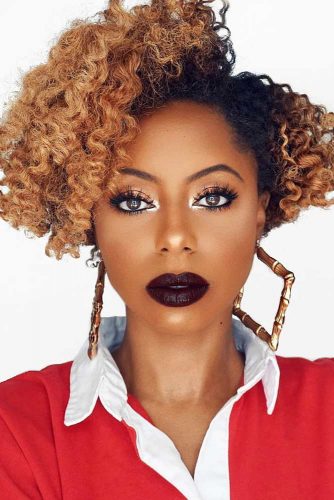 This is how you can get the most out of your natural curls. It's quite hard to recognize the popular pixie bob behind this voluminous curly chevelure. And that's the point: just take something familiar as a basis and make it look unique. If you want to spice it up with new hair color, ask your hairstylist for an ombre like this, and you will see this style in a new light.
Source: jessicapettway via Instagram
Posh Side-Parted Short Bob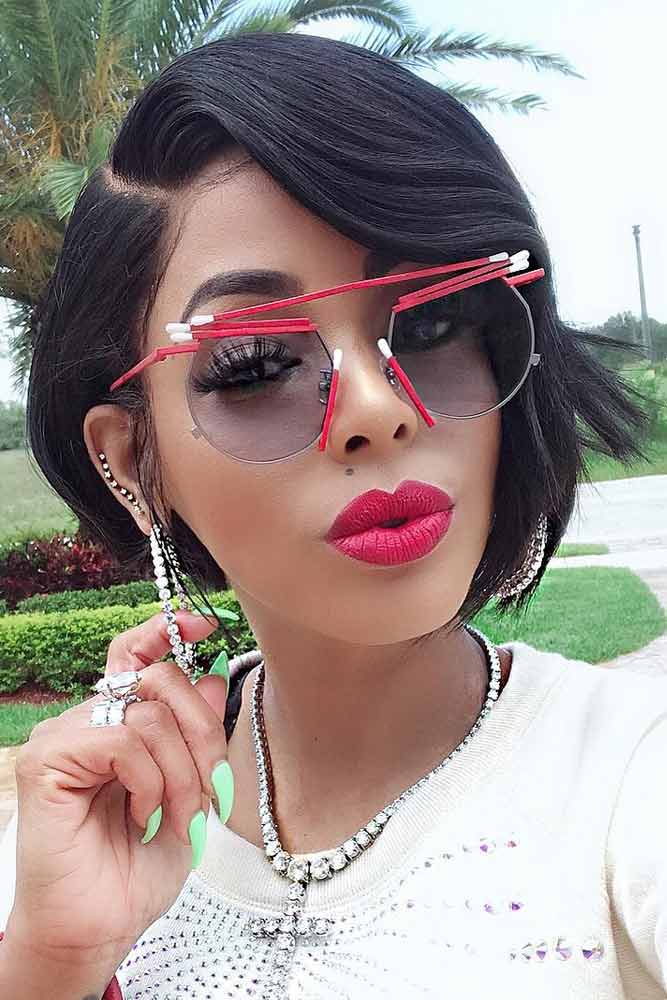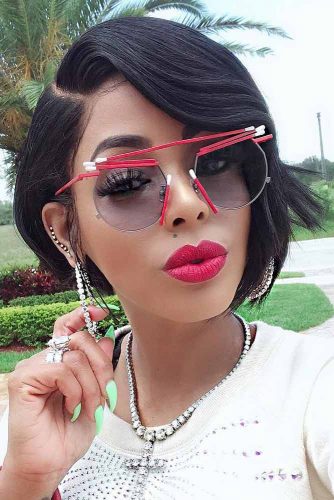 Side-parted looks are our favorites! They create a slight asymmetry which adds more lift to the crown, making your short bob look fascinating. Besides the awesomeness of the visual side, bob haircuts can tame your thick hair, giving it a clean and definite body that you can easily style every morning.
Source: keyshiakaoir via Instagram
Swanky Straight Short Bob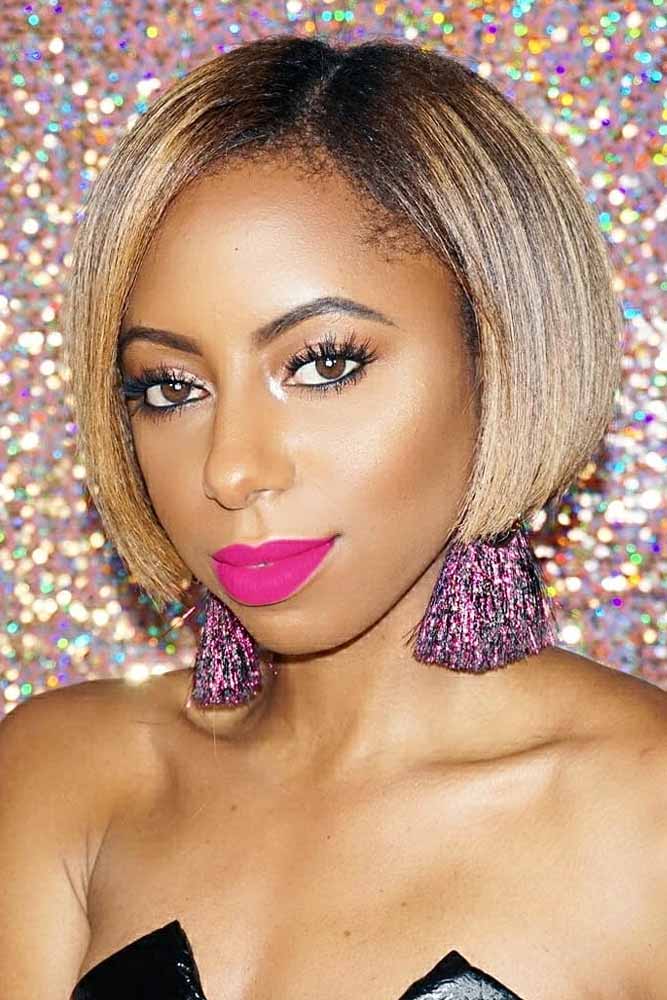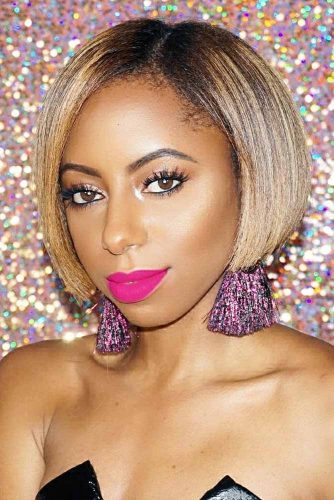 Straightening your hair won't ever take hours! We know that it's a great deal for most women with natural locks, but when your hair is short, the straightening time is even shorter. Girls who are looking for short haircuts for black women with round faces, don't look any further: in this case, cutting your hair short will not only make your styling routine easier but also will put an end to round face insecurities.
Source: jessicapettway via Instagram
Attractive Short Wavy Bob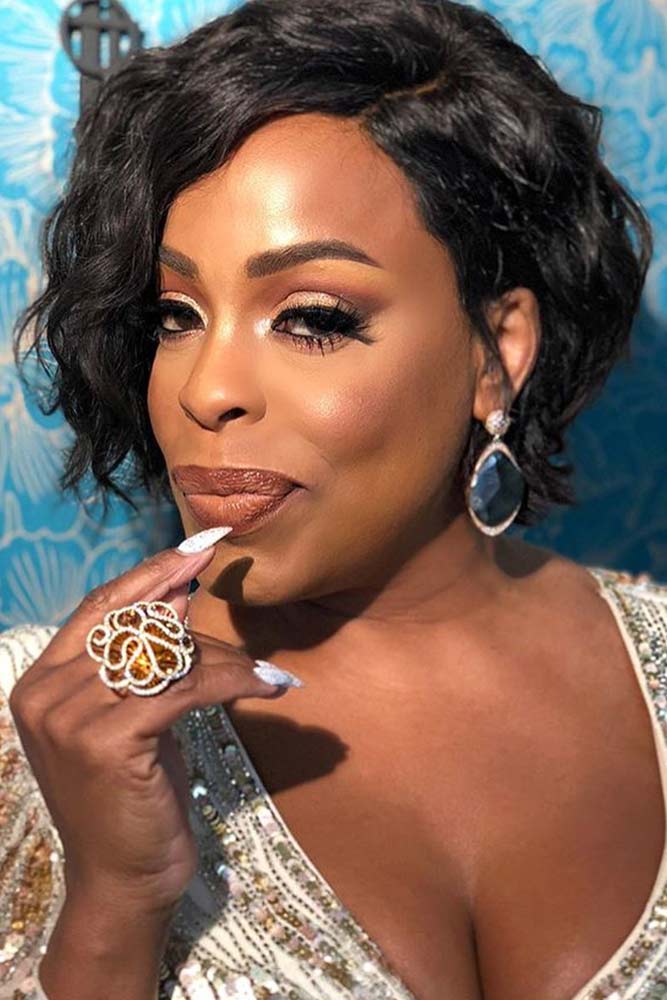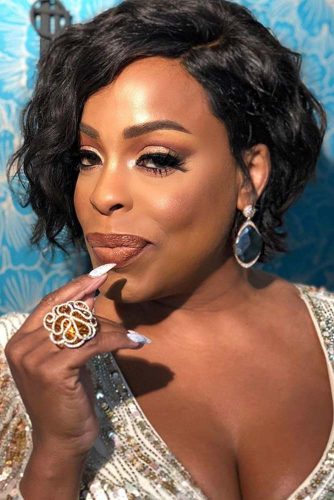 This look is just the opposite of the previous one. But they still have something in common: they're absolutely stunning, each in its own way. Wavy short hairstyles for black women are probably the trendiest ones, as waves will never go out of style. Another reason to go for waves is that they can frame your face, so if you're a cutie with diamond or heart-shaped face, don't pass it by.
Source: niecynash1 via Instagram
Breathtaking Asymmetrical Straight Bob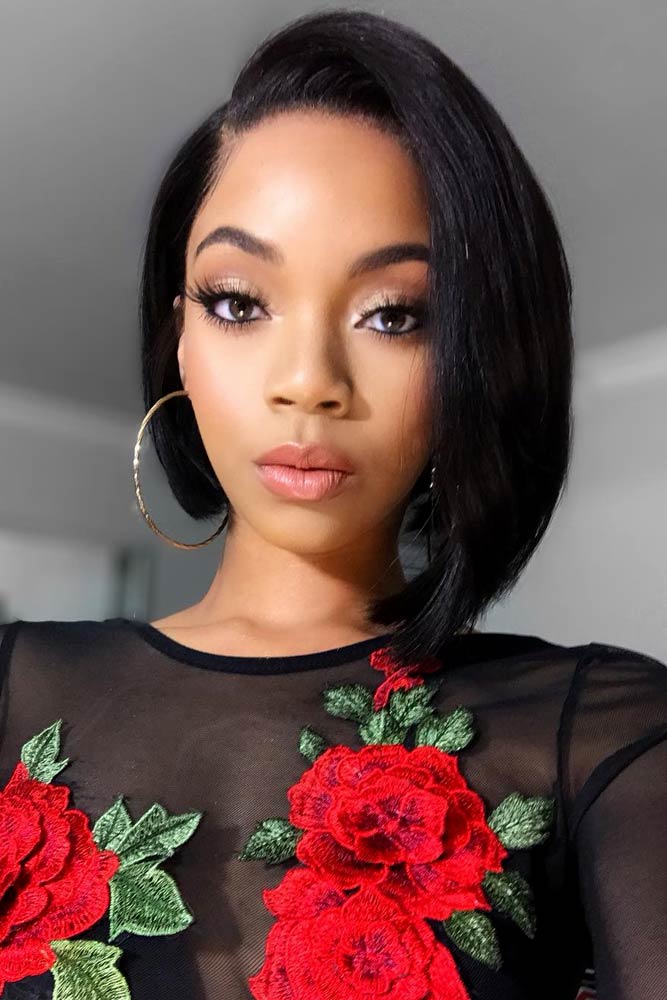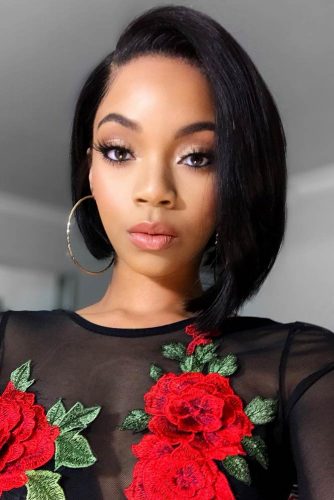 Straight bob can be different! Let's make it more charming and glamorous with a little touch of asymmetry. No bangs, no layers, no feathers; everything is quite simple. The only thing that can change the whole look is a lift, where one side is a bit longer than the other. Some hairstyles for black women are simple, yet totally breathtaking.
Source: anthonycuts via Instagram
Layered Kinky Bob With Bangs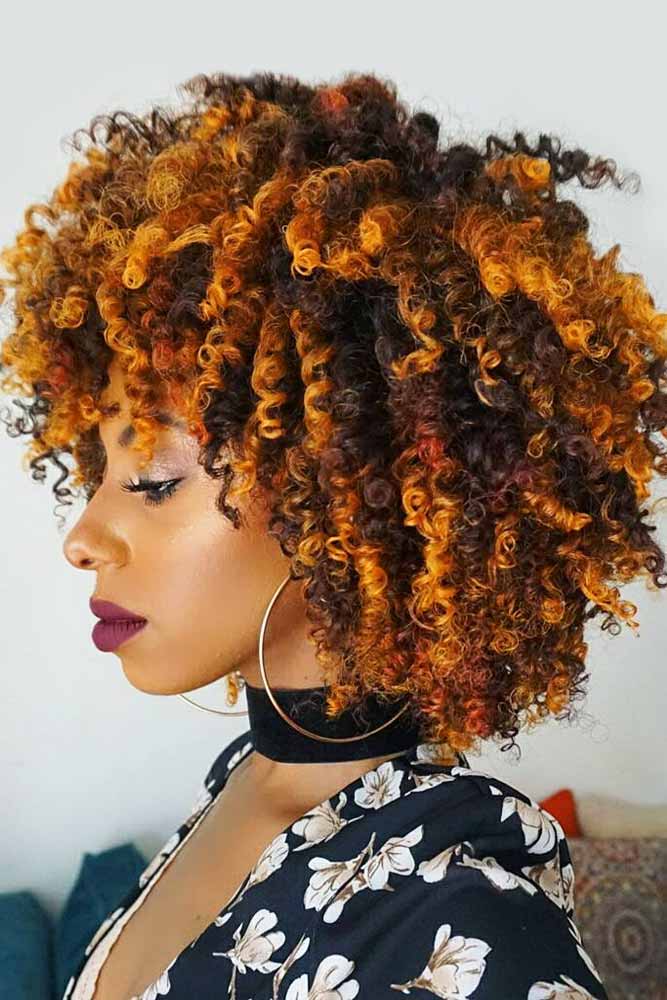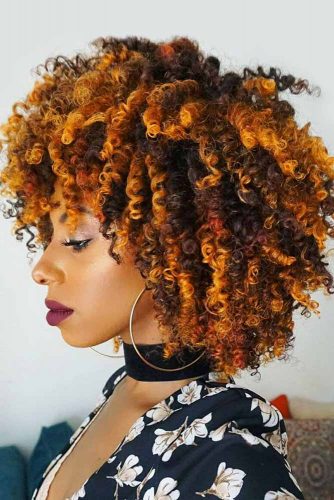 Now, it's time for layers. We all know how the layers work: the long ones create the body of a cut, the shorter ones give more texture and volume. But have you seen how they work for curly hair? This dramatic silhouette shows it best: the curly hairstyle is that funky, textured, and super full because of layers. You can't see them, but you can behold their unbelievable effect. Don't forget that bangs on curly hair are also something to try, especially if you'd like to frame your forehead.
Source: jessicapettway via Instagram
Shiny Straight Bob With Bangs
Переглянути цей допис в Instagram
Bob with bangs is the iconic duo that we, girls, will never stop wearing. This above-brow fringe will keep your brows open, and flatter your face shape at the same time. It's hard to find the right words to describe this straight short bob. Well, a "must-try" would be the best description.
Inverted Straight Bob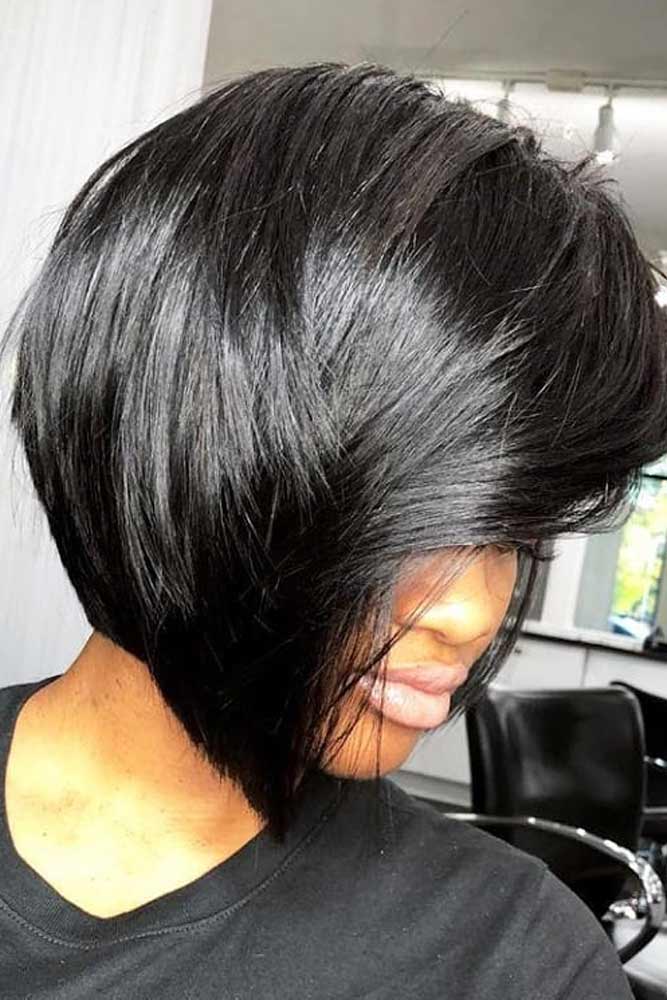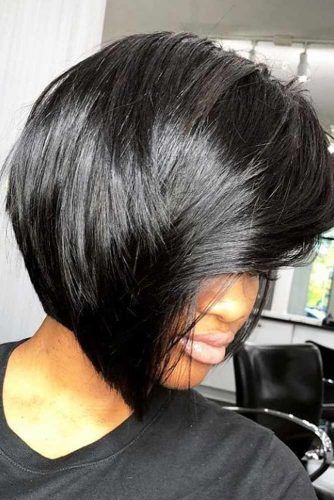 Sleek and shiny short hairstyles for black women are probably the most complimentary. To enhance the beauty and luster of your locks, you'll need to straighten them with a flat iron or even resort to a permanent straightening procedure if they're naturally kinky. However, all your efforts will be fully paid off by the fabulous result. Just ask your hair stylist for a trendy inverted bob haircut and you'll make a bold statement about your sense of style at once.
Source: kenya_styles via Instagram
Curly Layered Short Bob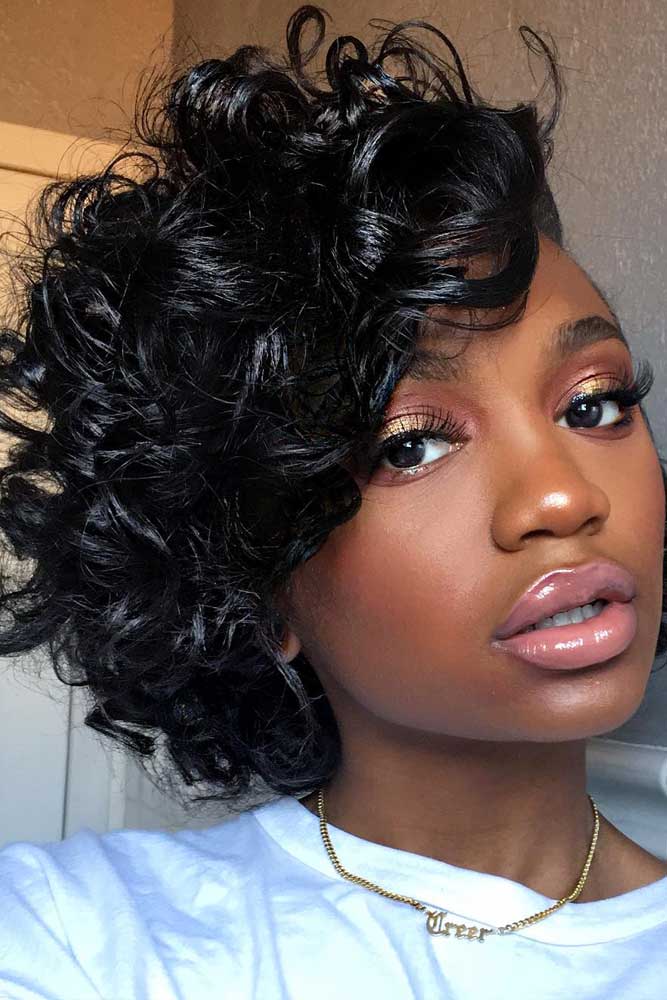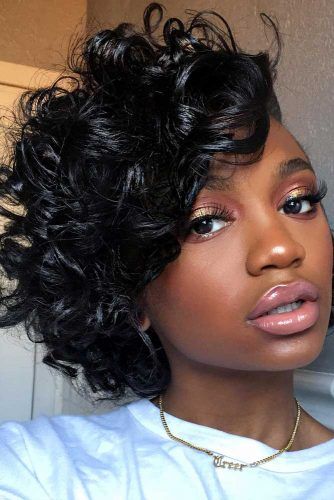 If Mother Nature blessed you with naturally thick and curly hair, lucky you are! Your ringlets are just bound to be cut in a short layered bob. This is one of those wash-scrunch-and-go hairstyles that bring a careless and relaxed vibe to your whole look without additional effort. To style your new haircut, you'll simply need to push your hair to one side and let it fall naturally to create a part.
Source: aerincreer via Instagram
Impressive Bantu Knots For Short Hair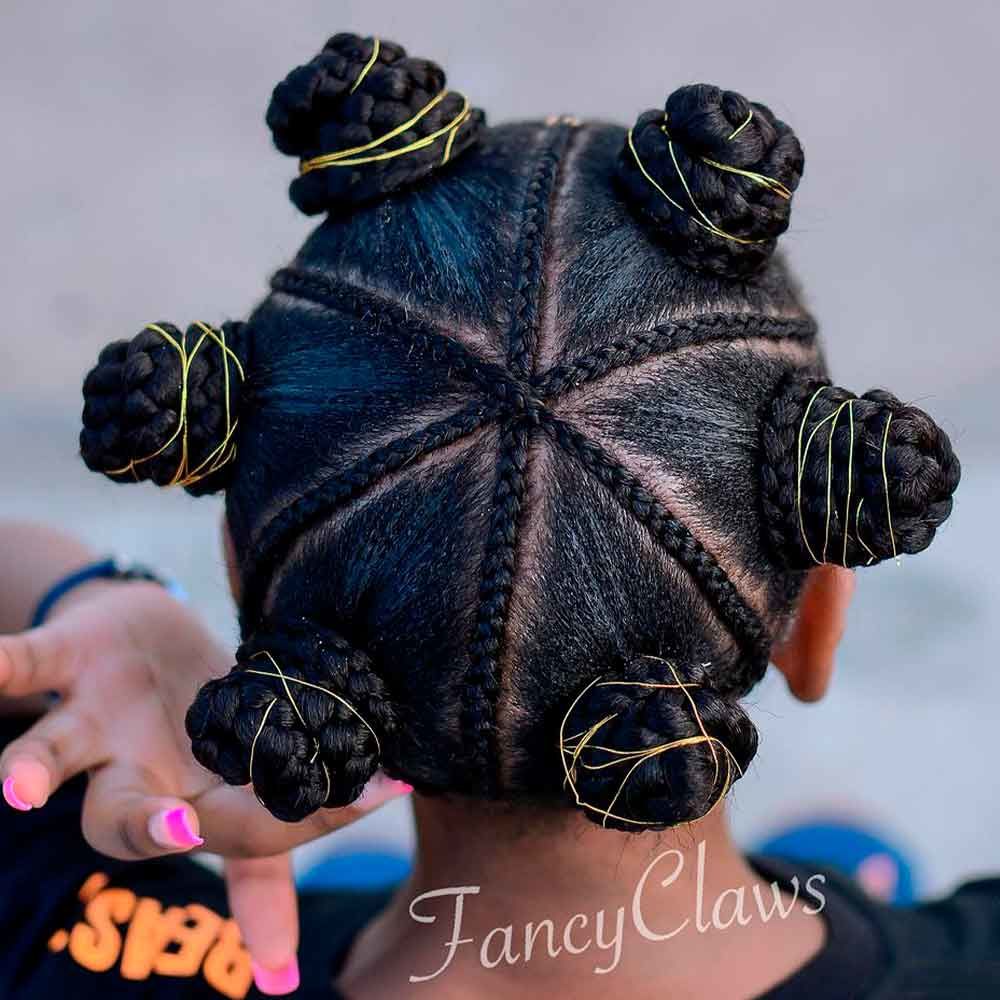 No, girl, we aren't going to leave you without protective short hairstyles for black women! These twisted cuties, called Bantu knots, have no restrictions for women, so there's a short version, too. Some people think that only bold ladies can sport such an extraordinary hairstyle. Are you one of them? After looking at these Bantu knots on very short hair, you'll probably want to become one.
Source: fancy_claws via Instagram
All these incredible ideas are here to make you remember that cutting your hair short is quite a beneficial decision. There are many cuts and many ways of styling and sporting them, so what are you waiting for? Go and play around with your hair!
FAQ: Short Hairstyles For Black Women
Why is black women's hair short?
Depending on your health and genetics, your hair grows at a rate of roughly half an inch every month. So, if you have long hair, it's more about how much hair you keep after breakage. Black hair can be weaker than straight hair because it is curly. Thus, many black women tend to wear their hair short, which doesn't imply it doesn't grow.
What is the best haircut for black hair?
Afro fade, box fade, hard part with fade, twists with fade and line up are some of the perfect haircuts for black people. Afro hair's texture suits very well to fade hairstyles, appearing exceptionally crisp and sharp.