Alluring Fall Looks For Strawberry Blonde Hair
Strawberry blonde hair is the perfect fall shade, if you are searching for a soft, yet, sexy new look for your tresses. Fall will soon be upon us, and that means striking fall colors will be everywhere, including hairstyles.
This captivating blend of soft pink hues, warm red tones, and cool blondes is sure to turn heads. Strawberry blonde is soft and playful, if you are looking for a colorful blend of fall hues that is not over the top. And you won't lack color options. From balayage to ombre to subtle highlights, there are dozens of ways to achieve a gorgeous strawberry blonde hue.
Check out some of the hottest new looks for strawberry blonde just in time for late night hayrides and Fall festivals. We are sure you will find one that suits your style!
Dark Ash Blonde And Dusty Rose Blonde Ombre
Source: kimwasabi via Instagram
Dusty hair colors are so big right now as they are perfect for Fall with their muted tones. If you don't want to go all over blonde, you can start with dark roots such as light chocolate brown or dark ash blonde. Then slowly fade to strawberry blonde that melts into dusty pale pink. This ombre fade looks striking on long layered hair as it is full of depth and dimension. Add some long, flowing waves by using a large curling iron for even more body. Light dusty rose is such a striking contrast to the darker base for a captivating look that appears stunning when worn in an updo such as a braid or chignon.

Strawberry Blonde Hair Balayage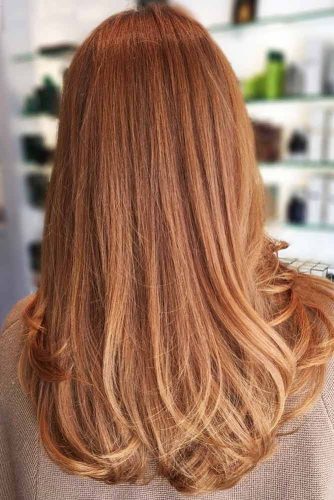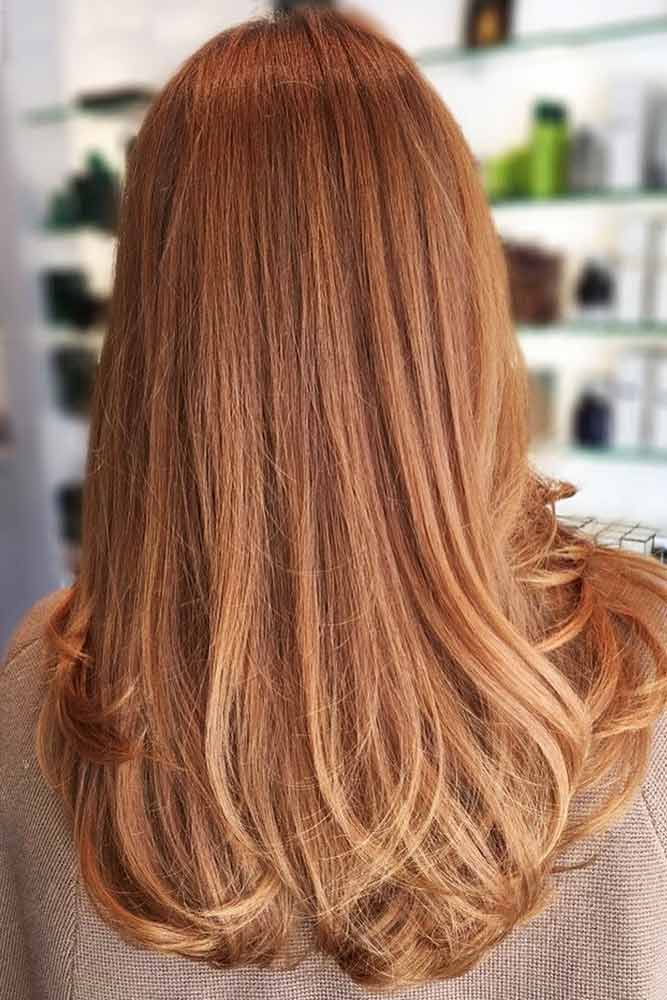 Source: colorbyfabrice via Instagram
If your hair is naturally a lighter shade of ash blonde, this pretty balayage blend is an ideal way to add some depth to your blonde tresses. Either keep your natural blonde as a base or tone it down to a slightly lighter shade. Then mix in very light strawberry blonde and platinum blonde for a multi-dimensional look that is full of texture and movement.
This combo is pretty on any hair type or length, but we think it is especially cool on a shoulder-length cut with long layers that add fullness. This look is perfect for fall as it resembles a morning sunrise over the ocean with its breathtaking blend of light strawberry blonde hues. Style your hair in a slightly messy manner for a sexy bed-head look that shows you can handle whatever life throws your way.

Copper Strawberry Blonde Ombre Fade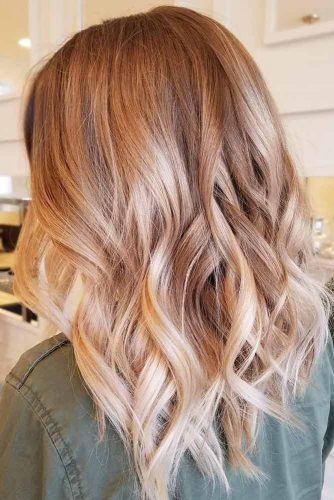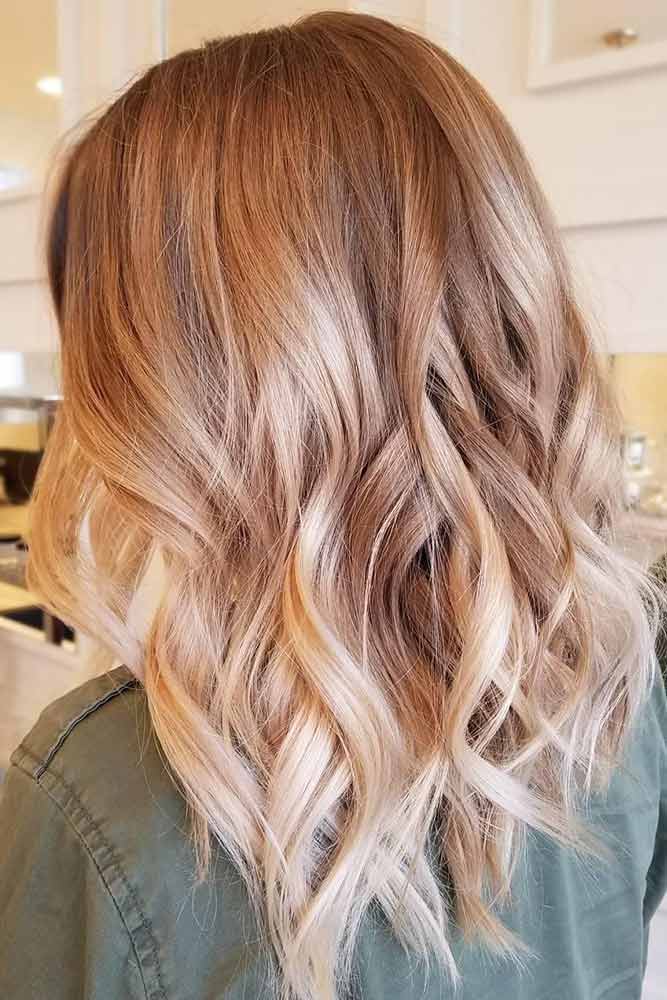 Source: kolorbykelly via Instagram
Ombre hairstyles have been around for some time now, and they are only growing in popularity. Ombre hair doesn't always have to be bold and colorful. Ombre can be soft and subtle, like this coppery blonde ombre fade. Start with burnt copper at the roots and gradually fade into light ash blonde ending with pale pink platinum blonde. These colors are reminiscent of a fall sunset as they slowly melt from warm light auburn to very light blonde with pink hues. That allows for a stunning strawberry blonde ombre.
This gorgeous ombre is captivating on a mid-length wavy haircut as it adds fullness to thinner hair. As well, long layers can help add life to thicker tresses. If you have been blessed with naturally curly locks, simply spritz sea salt or apply curling serum to your hair, run your fingers through it to style it into soft beachy waves and allow it to air dry. Those with straight hair can use a flat iron or medium barrel curling wand to curl one to two-inch sections into beach waves. Spray with medium hold spray to allow movement.

Pumpkin Spice Balayage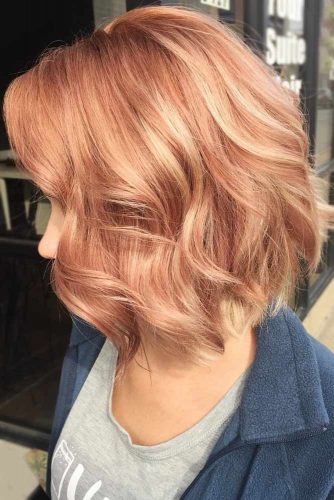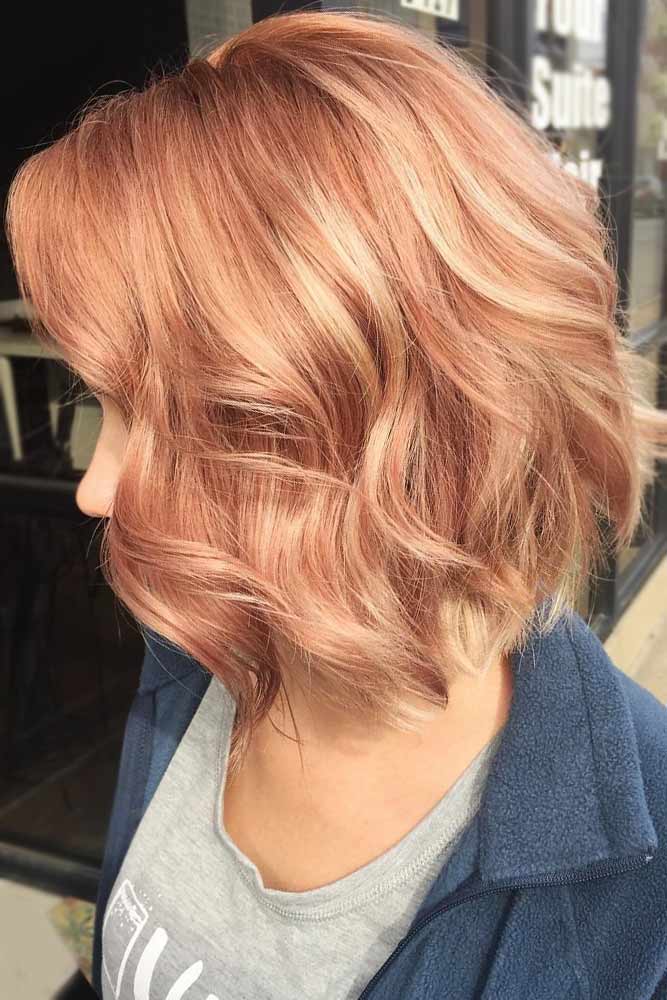 Source: balayage_by_najlv via Instagram
Fall is all about beautiful colors and, like it or not, you can't deny that pumpkins and pumpkin spice go hand-in-hand with fall. This pumpkin spice balayage blend is the essence of all things Fall. Start with very light copper and then blend in a pale ash blonde hue to end up with a warm strawberry blonde hue that will make you think of pumpkin spice latte on a cool Fall day.
This enchanting blend of alluring Fall colors looks especially enticing on a shorter bob. It is ideal for those with thin or fine hair as it adds body and dimension. As well, it is a great look for thicker tresses. No matter what texture your hair is, you will love this spicy strawberry blonde. Apply volumizing mousse to your hair and blow it dry with a round brush. Then create soft and delicate waves with a large curling iron for a fun and flirty look. Show off those layers of color in this adorable Fall hairstyle.

Dusty Ginger Strawberry Blonde
Source: hairbykimtran via Instagram
If you prefer a more muted shade that embraces the glory of Fall splendor, this dusty strawberry blonde is elegant and refined. Start with a light brown base but go heavy on the ginger blonde hues to achieve a look that is sleek and sophisticated. The final effect is a breathtaking dusty ginger shade of strawberry blonde that will catch everyone's eye as you pass by.
We think this multidimensional strawberry blonde hair looks just dazzling on an inverted shoulder-length lob with long bangs. This look is so full of depth and texture. Apply straightening serum and blow dry your hair straight with a round brush. Run your flat iron over your fully dried hair to achieve a smooth and silky finish. Apply shine serum and spritz with light hold spray. This look is great for both work and play, as it is classy yet sassy with its gingery-blonde hues.

Strawberry Blonde Highlights On Blonde Hair
Source: evalam_ via Instagram
Blondes are certainly everywhere. Just take a good look around. And, while they are indeed attractive, why go for the same blonde color they have in their hair? Change things up and add excitement and spice by putting strawberry blonde highlights on blonde hair. You get a dramatic range of spectacular highlights and lowlights, specifically if you add strawberry blonde highlights to dark blonde hair. Just look at those magnificent results. Such a delectable color deserves an equally delectable style. Red hair looks exceptionally awesome when it's long, even more so when a hairstylist gives it a long layered haircut. And those waves are simply the icing on the cake. If such wavy hairstyles don't come natural, simply use a curling iron, hot rollers, or roll wet with large rollers.

Strawberry Blonde Highlights On Dark Brown Hair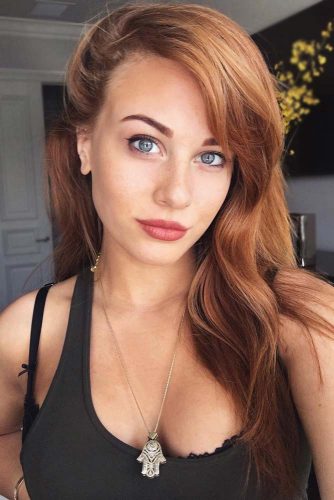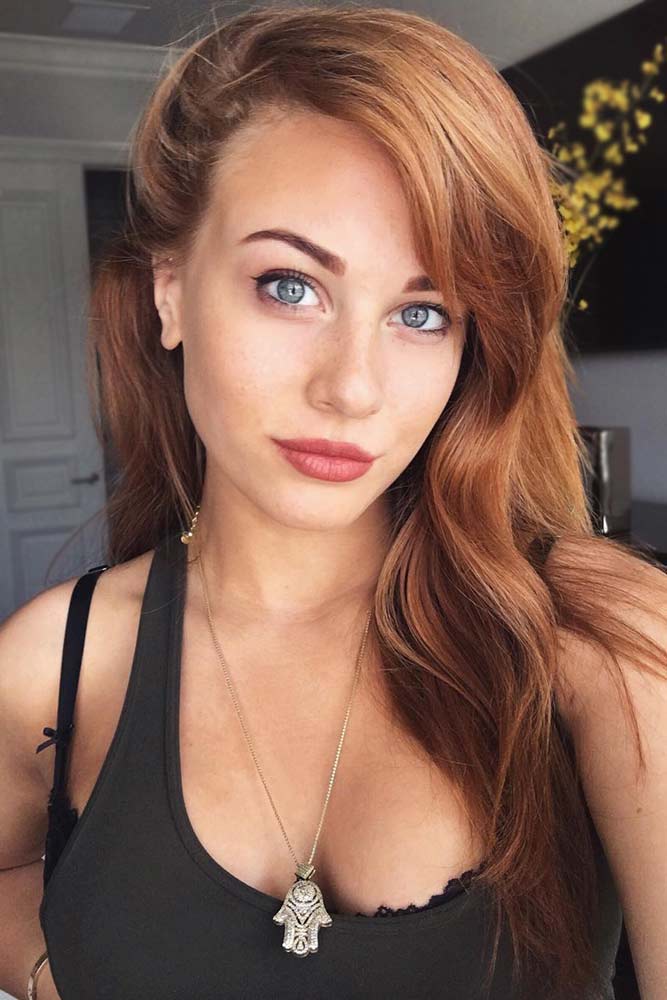 Source: sargibson via Instagram
Okay, strawberry blonde isn't a natural color. But just look at what happens when you put strawberry blonde highlights on dark brown hair. It looks natural, doesn't it? And coupled with this model's already dazzling blue eyes, luscious lips, and porcelain skin, she's a complete head turner. To up the ante even further (as if she even needed to do so), she's used a deep side part to create side swept bangs. Bangs are tremendously trendy these days and rightly so. They come in a variety of styles, look good on almost every type face, every age woman, and are appropriate for the office, for a day out with friends, or for a night out on the town.

Strawberry Blonde Highlights On Brown Hair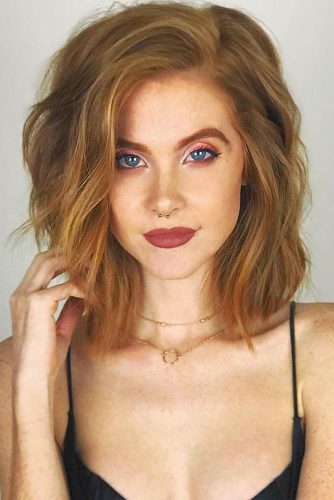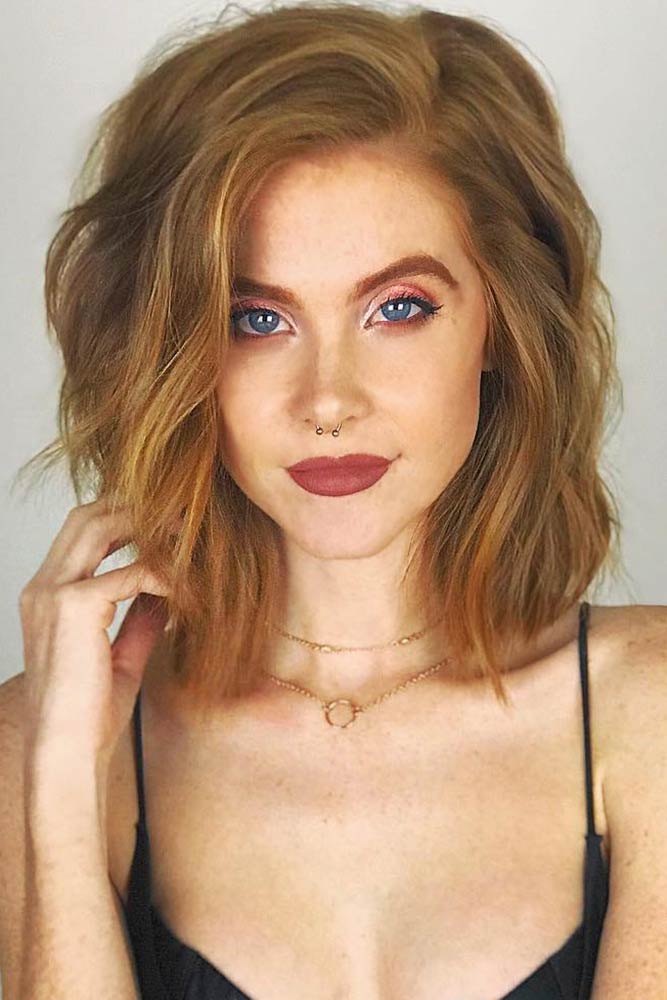 Source: iamfoxlove via Instagram
Strawberry blonde just seems to love those with natural brown hair. It certainly treats them like dear friends. It enhances their finest features and leaves them looking their most beautiful as if it placed them on a pedestal. That's really a dear friend. The strawberry blonde highlights on brown actually make this model's medium length hair strawberry blonde glow and her magnificent blues eyes practically reach out toward you. Her superbly made-up lips and eyebrows only add extra oomph. Her features and a golden auburn hair color all work together, as a well-organized team.

Strawberry Blonde Highlights On Black Hair
Source: mr_colorist_2017 via Instagram
Some claim that gold, copper, and silver hair colors are obsolete hair colors and that rose gold is the new metallic "it" color. Rose gold is subdued blonde with a pink tinge. It essentially burst forth out of nowhere and is now an obsession. Historians claim Carl Fabergé (yes, the jeweler who made the famous eggs) first created the charming pink hue when he combined yellow gold with copper. In addition to the hair color, it's the latest color for everything fashionable, including makeup, jewelry, clothes, and shoes. Considering rose gold hair vs strawberry blonde, strawberry blonde is a warm shade that looks best on those with fair skin, while rose gold hair tends to flatter those with darker complexions. That is why these divine strawberry blonde highlights on black hair flatter this model's skin so exquisitely and make just her one eye "pop."

Strawberry Blonde Highlights On Light Brown Hair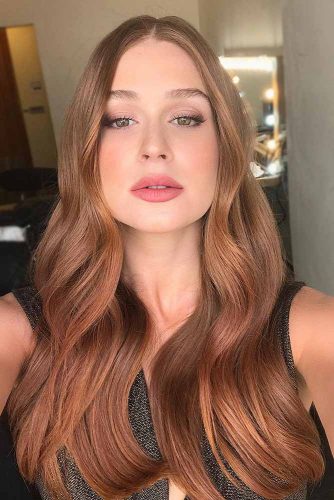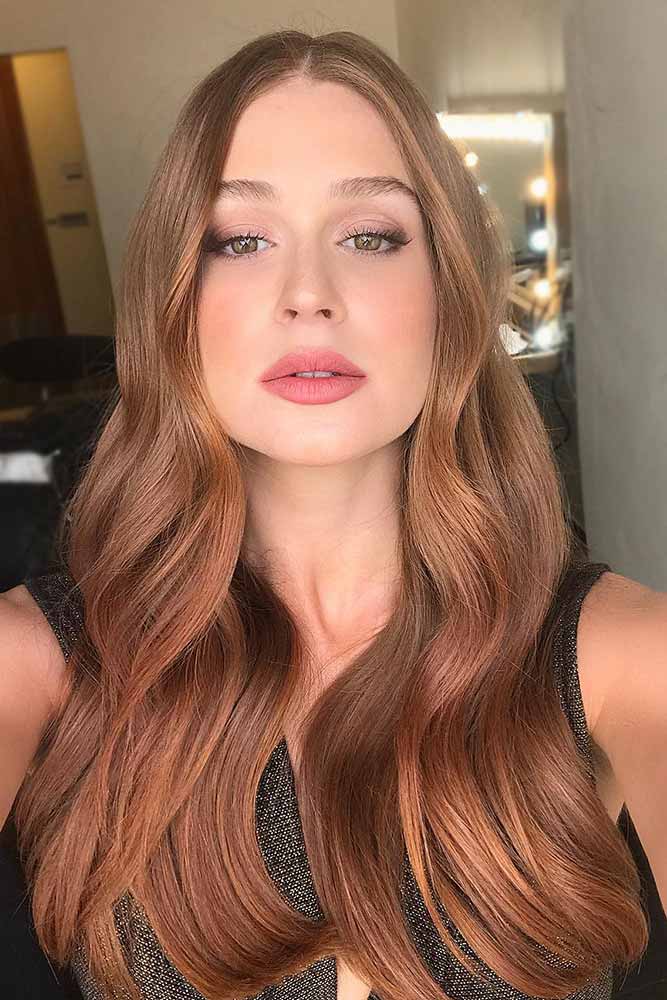 Source: marinaruybarbosa via Instagram
Adding strawberry blonde highlights on light brown hair or dark auburn hair is like giving hair a soft, warm, loving embrace. Just look at how this model's long, sumptuous hair radiates with essences of gold and chestnut. It's as if someone's holding a softly lit candle under it. And notice what her hair does to her beautiful face. Her stunning green eyes sparkle and her light colored skin literally glows. Long wavy hairstyles give movement and dimension to what might simply be boring, heavily weighed down hair. A large barreled curling iron, heat rollers, or plain rollers while hair is naturally drying could easily achieve these lovely waves, which also keep her style looking young.

Dark Strawberry Blonde Balayage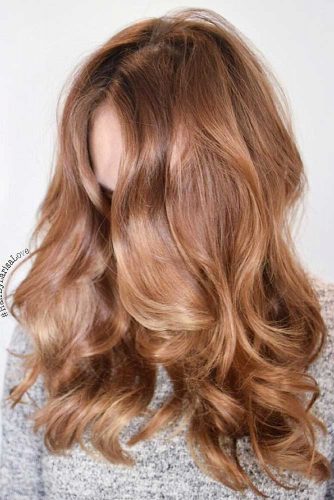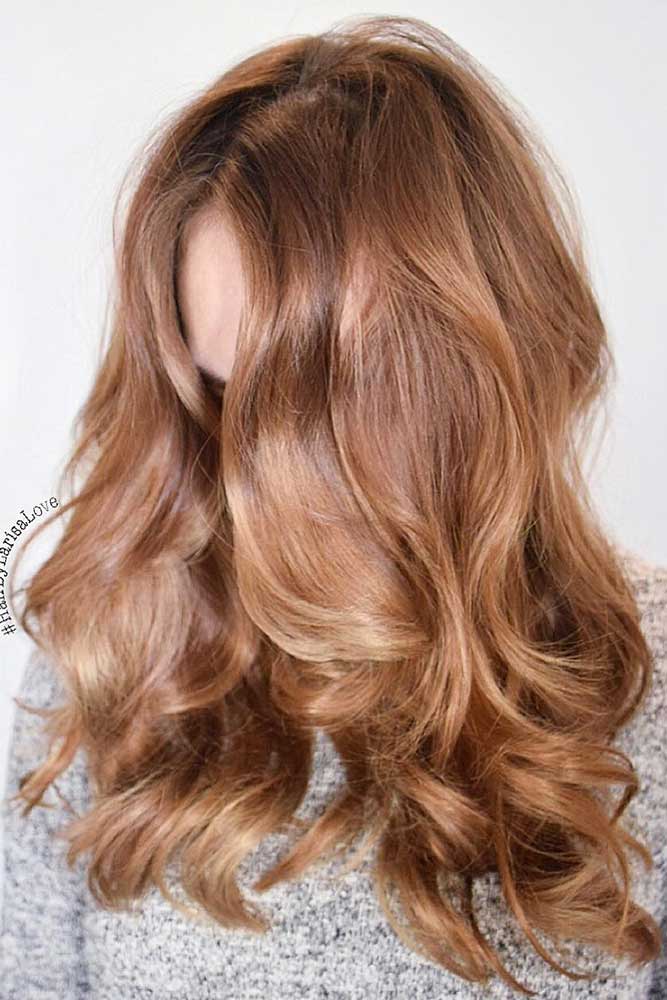 Source: larisadoll via Instagram
Hairstylists apply balayage highlights in a gradual manner so that the hair looks "sun-kissed" with the individual's own natural colors (it can also be done with unnatural colors). It's a terrific way to add excitement and pizzazz without going overboard or putting too many streaks in a person's hair, as some highlights can occasionally do. The look can be minimal or all over. This model's dark strawberry blond balayage exquisitely goes from rich reddish brown to delicious reddish brown caramel. Balayage on certain ranges of blond hair colors often turns into the same stunning reddish brown caramel hair. It's eye catching and spectacular.

Dark Strawberry Blonde Highlights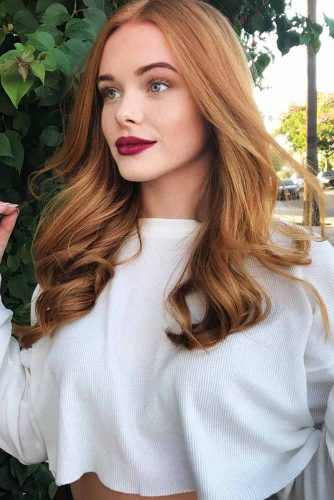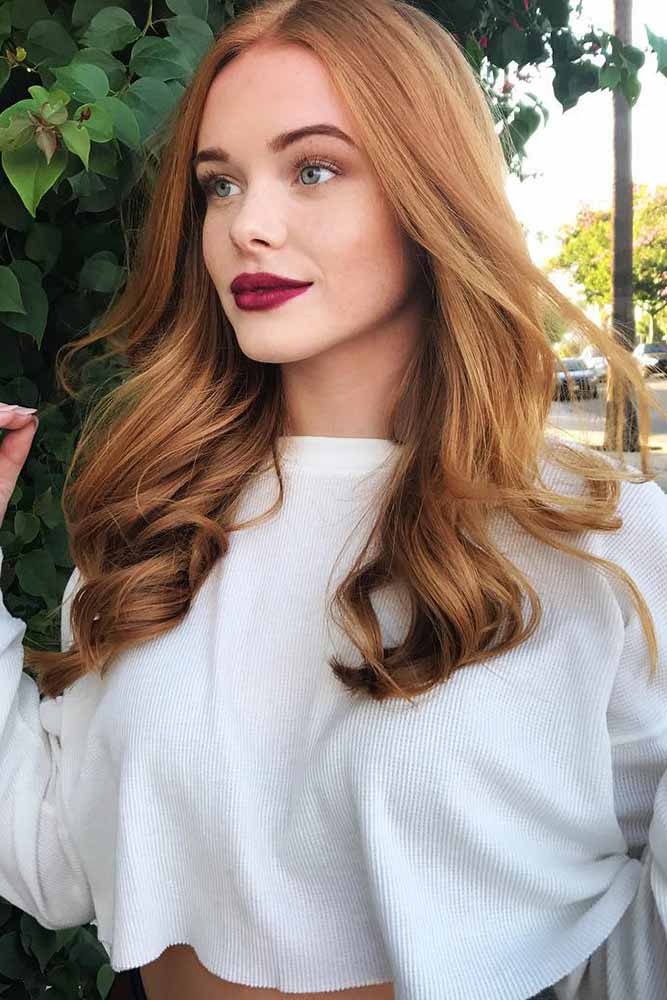 Source: abbeycowen via Instagram
The true strawberry blonde color, the reddish color with specks of blonde, doesn't look good on every person. Strawberry blonde works best for those with cooler complexions. Generally, such people have pinkish skin tones, blue or green eyes, and blonde or light brown hair. People with warm complexions generally have brown or hazel eyes, and dark brown, brunette, or black hair. If a warm complexioned person were to apply strawberry blonde to their hair, they'd most likely look pale and "washed out." Dark strawberry blonde highlights look much better with warm complexions. Add balayage highlights and perhaps waves, as in this model's hairdo, and the look is effortless, yet amazing.

Strawberry Blonde Ombre Hair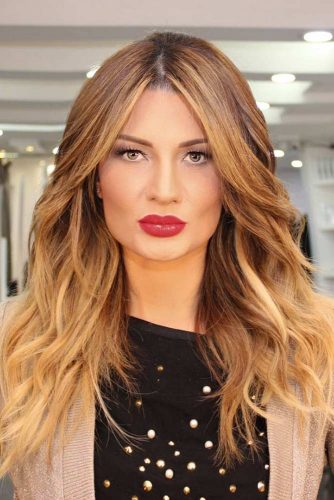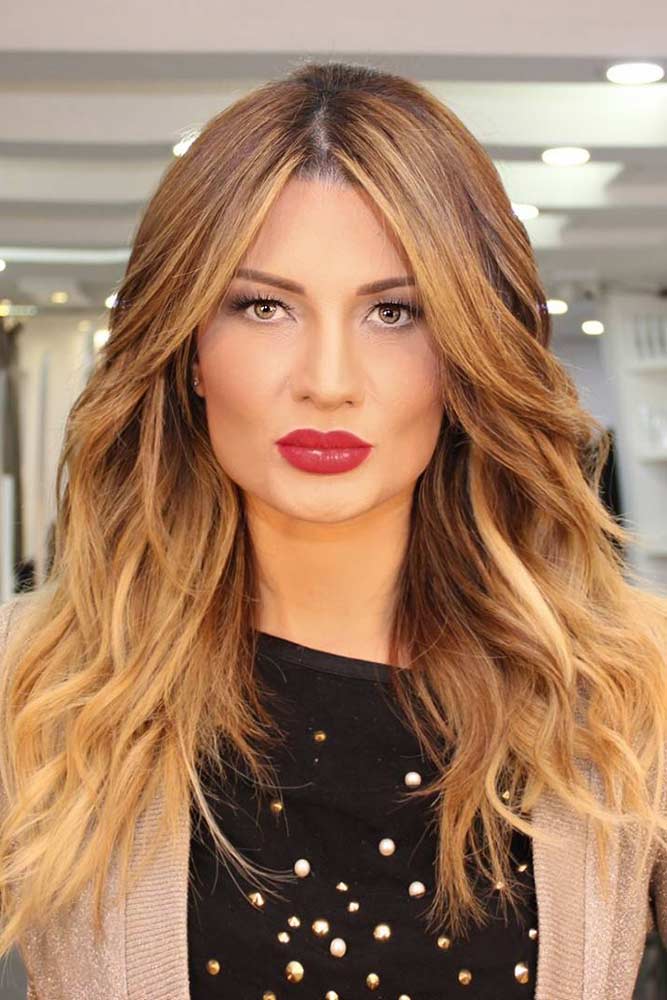 Source: michel_layoun via Instagram
An ombre is a hair color technique where the hairstylist gradually blends one color into another. One color starts at the root and then changes shades and hues as it cascades down to the ends of the hair. Usually, but not always, the color starts out dark and moves toward lighter and brighter versions. Both natural and unnatural colors can be used. The strawberry blonde ombre hair technique typically begins with dark, natural roots, then fades to red, and then to blonde (refer to the blonde hair color chart to get a sense of what colors to expect when the hair stylist applies the dyes). This ombre style adds warmth and depth and intensifies this model's beauty. She looks trendy and modern, yet she can still put on a suit and carry out whatever professional task to which she put her mind.

Strawberry Blonde Ombre On Brown Hair
Source: prettylittleombre via Instagram
People often ask: can dark brown hair go strawberry blonde? As you can see, adding strawberry blonde tones to brown hair only gives it a rich, natural looking tone. A strawberry blonde ombre on brown hair is even more mesmerizing because it delivers a multitude of natural looking reddish tones. For the woman feeling down and drab and/or in need of a change, this is the perfect pick-me-up and a fantastic choice. Even more wonderful, it requires little upkeep. Add an amazing haircut, such as this delicious medium length bob with bangs, which flatters nearly every woman, and you've got a winning combination.

Strawberry Blonde Balayage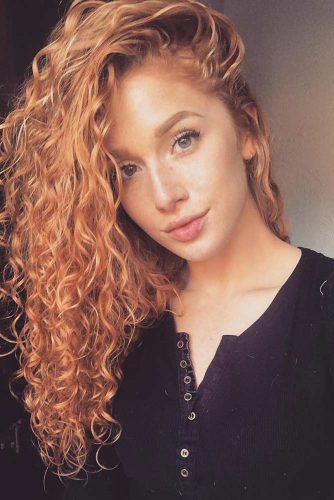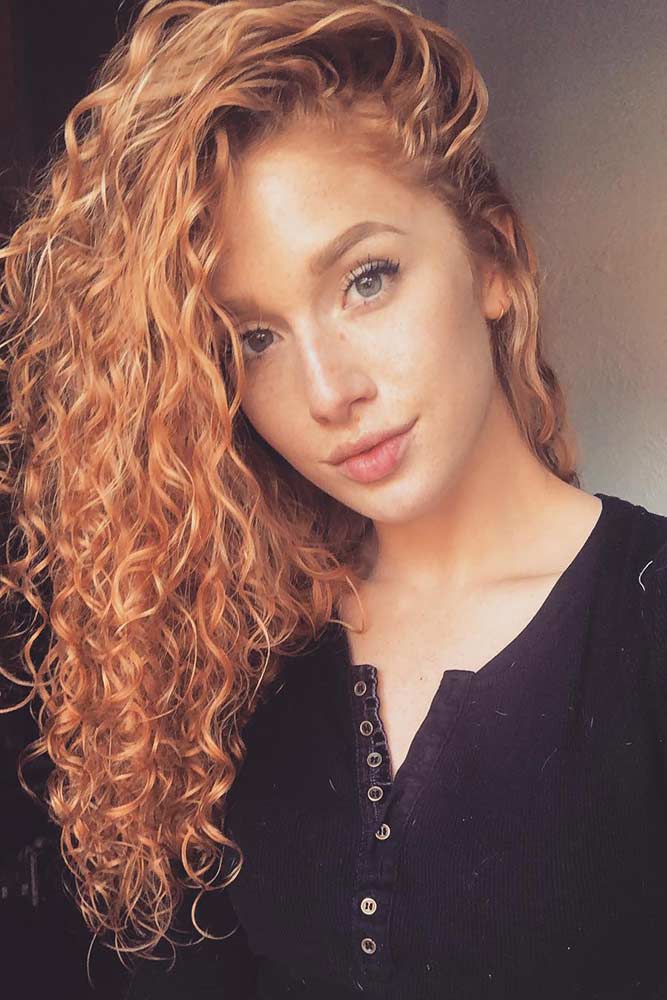 Source: emblu via Instagram
Balayage is sometimes meant to look as though the sun reached down and ran its fingers through the hair. When you look it this model's strawberry blonde balayage, you literally imagine that happening. Though a hairstylist colored her hair, it appears completely natural and accentuates her gorgeous complexion and features. She's hardly wearing any makeup, and you simply can't stop staring at her ravishing beauty. Now, let's get to that long curly hair. Those luscious curls require proper care, which begins with an appropriate cut. Her v-cut gives her locks volume and movement. The care should then continue with the dedicated use of appropriate products (co-wash, sulfate-free shampoo, etc.). As long as the care continues, those curls will go on looking fabulous.

Strawberry Blonde Ombre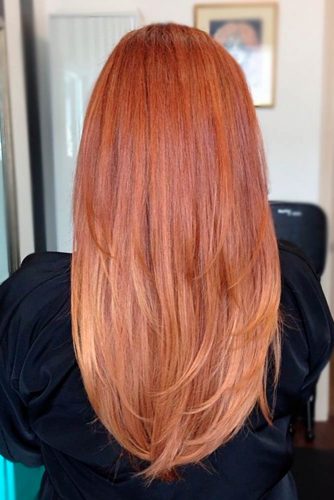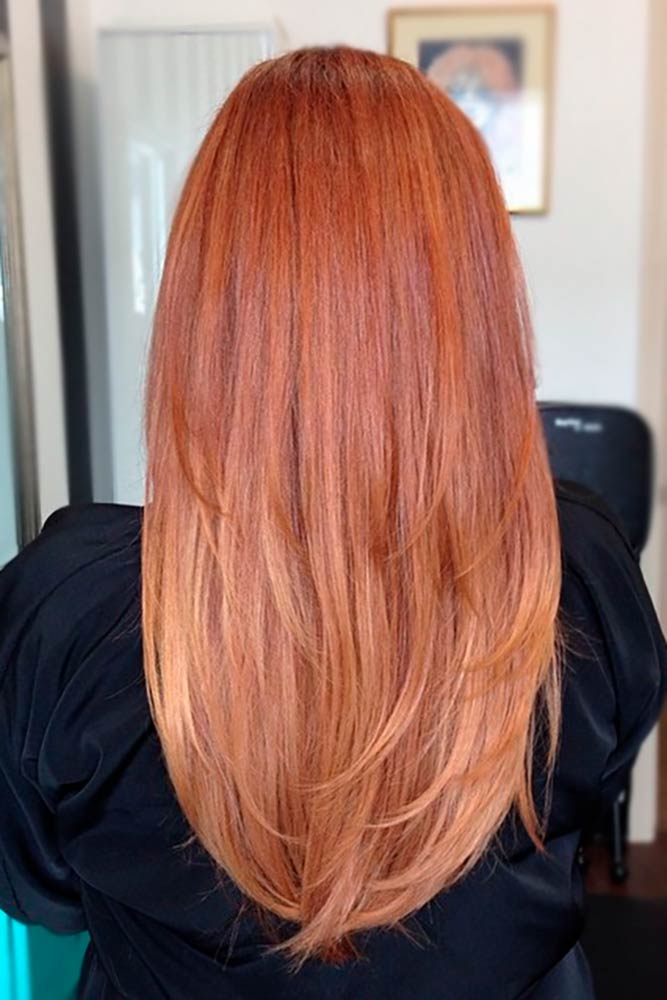 Source: hairbytanya_t via Instagram
If you prefer red hair with blonde high or lowlights, this reddish blonde ombre is perfect for you. The subtle fade from red roots to blonde tips is soft and chic.

Dark Red With Golden Blonde Tips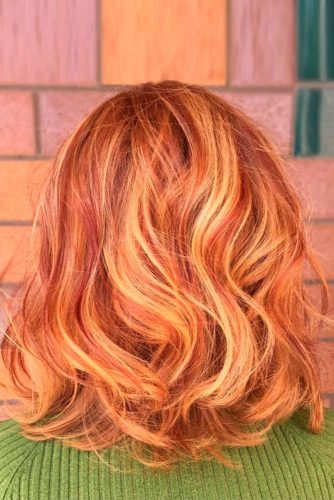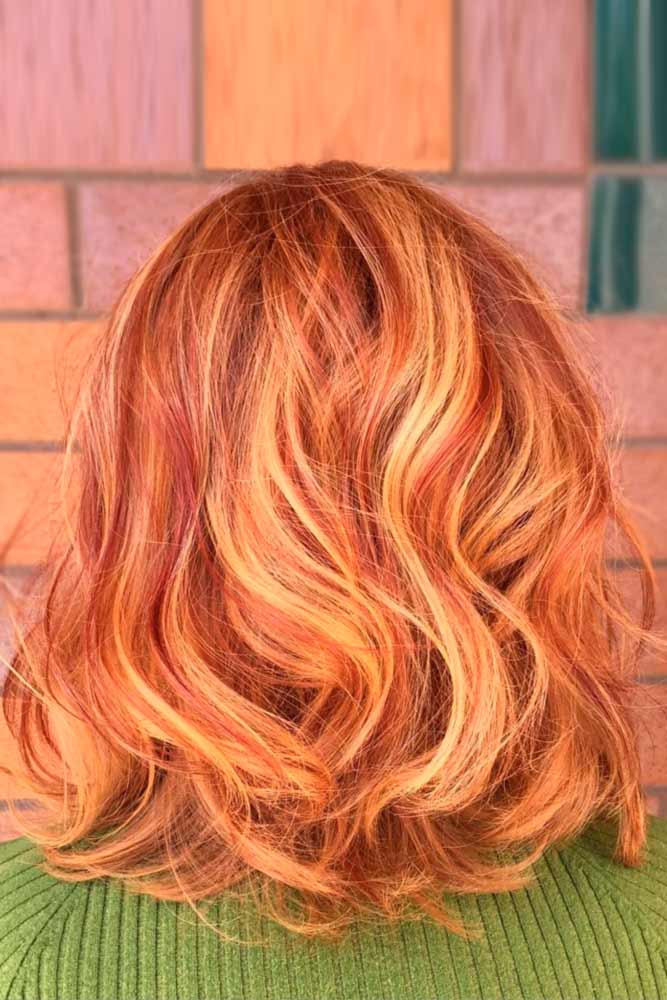 Source: katiezimbalisalon via Instagram
Red hair dye comes in many shades. So, with dozens of shades available, your style will be unique! These golden blonde tips perfectly compliment this daring dark shade of red.

Orange And Red Layers
White Gold And Strawberry Blonde Balayage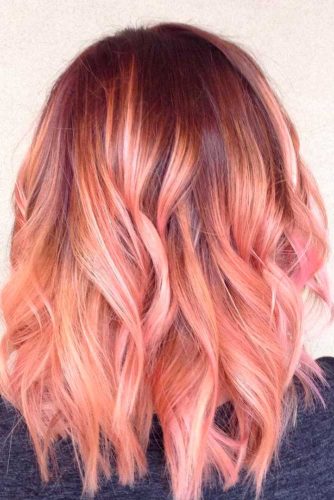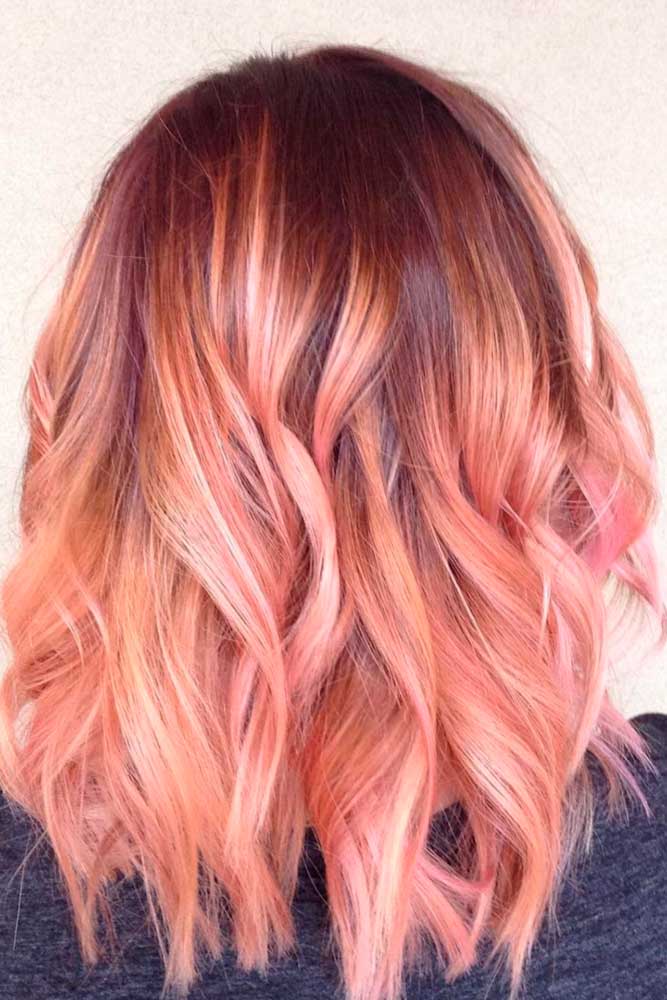 Reddish Brown With Warm Blonde Tones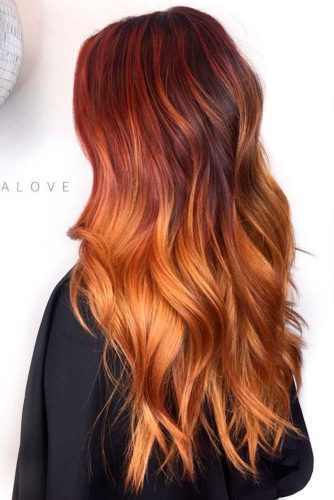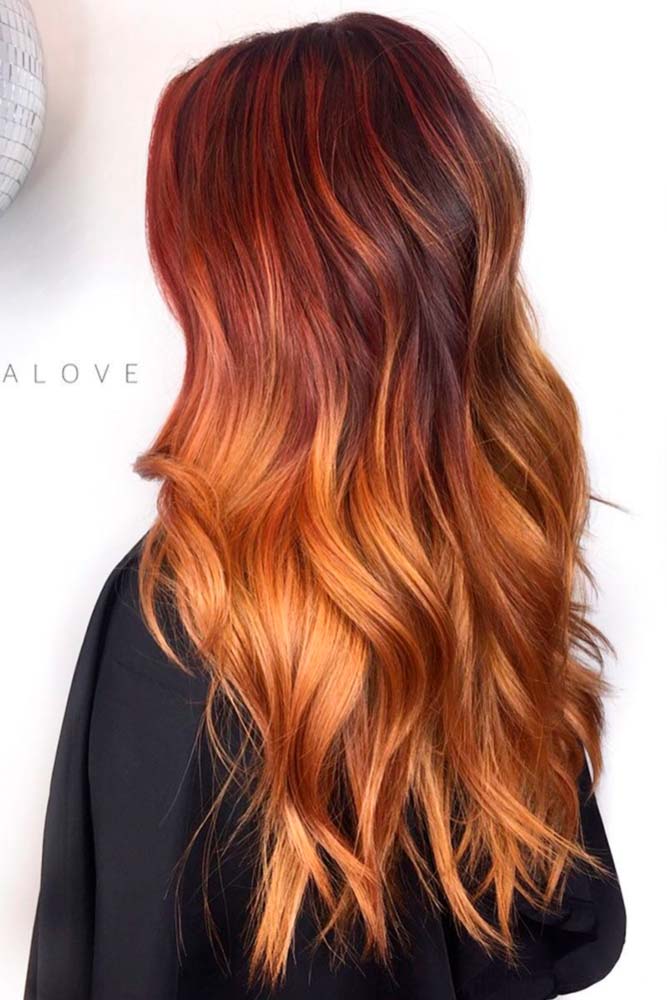 Source: venalove via Instagram
Tousled waves look enchanting with this reddish brown base and warm blonde highlights. The side part and feathered front layers make this look extra chic and sexy.

Blonde And Pink Ombre
Source: hairbykaseyoh via Instagram
This golden strawberry effect starts with soft red roots and then fades to a slight shade of strawberry blonde for a romantic and classic vibe.

Ripened Strawberry
Source: hairbykaseyoh via Instagram
With its dark brown base with intense red and golden streaks, this style has the look of a ripened strawberry. This look is a bit more bold yet still classy and elegant.

Rose Gold Layers
Source: guy_tang via Instagram
This look is quite stunning with its layers of rose gold that will compliment warmer skin tones. Add some pink streaks if you want to take this look up a notch.

Pretty In Pink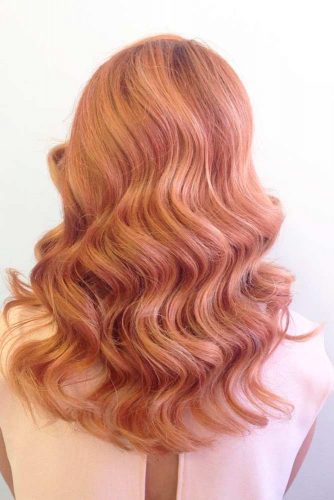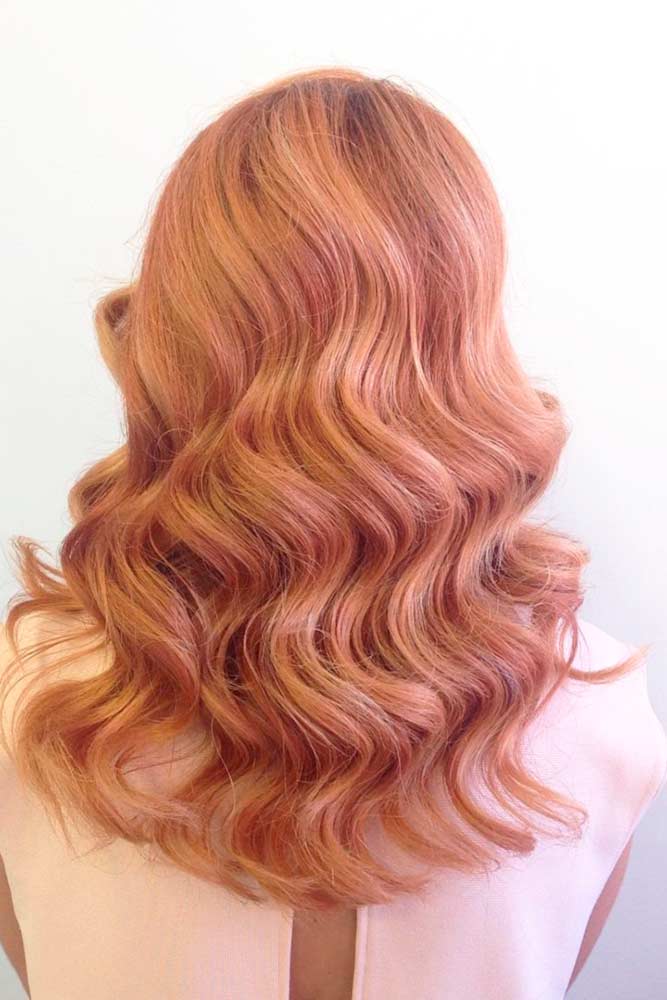 Source: circlesofhair via Instagram
If you are in the process of going from blonde to red hair, try this fun pinkish hue for a carefree look.

Golden Buttery Blonde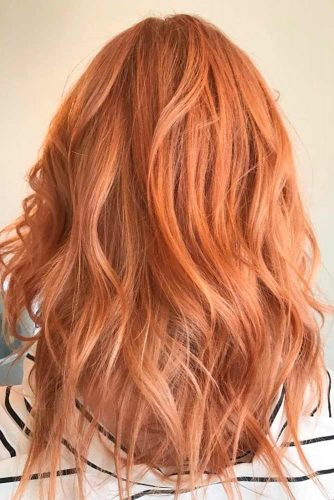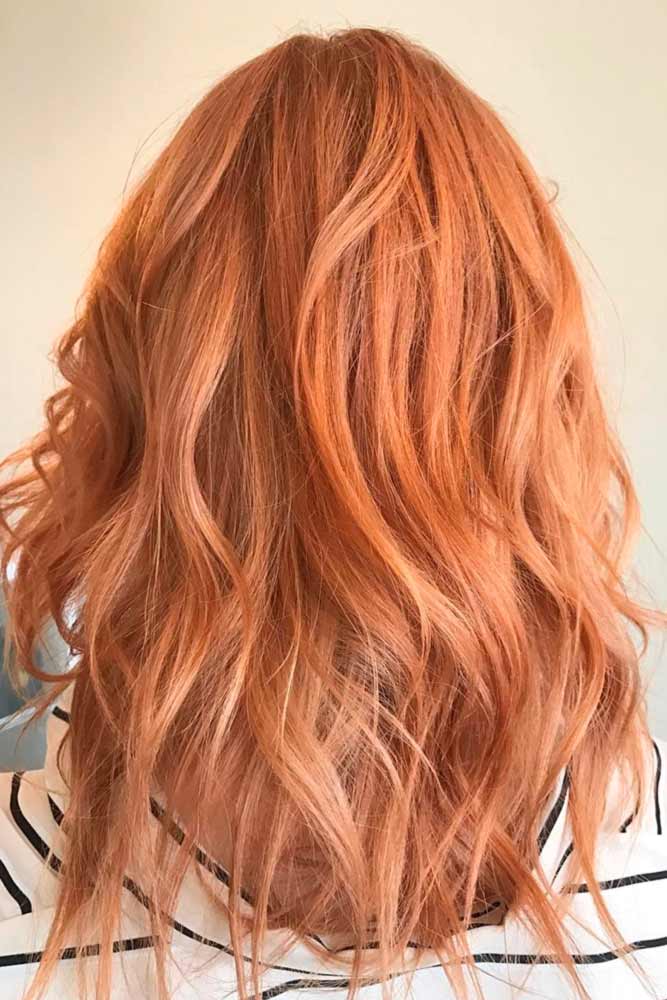 Source: monica_savig via Instagram
This sexy shade of strawberry blonde is perfect for the summer. Soft golden highlights and a sleek silky finish will add texture and shine to your hair.

Retro Orange Curls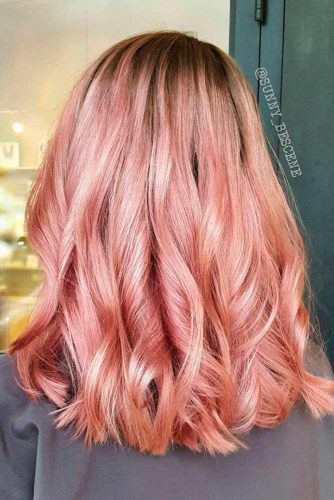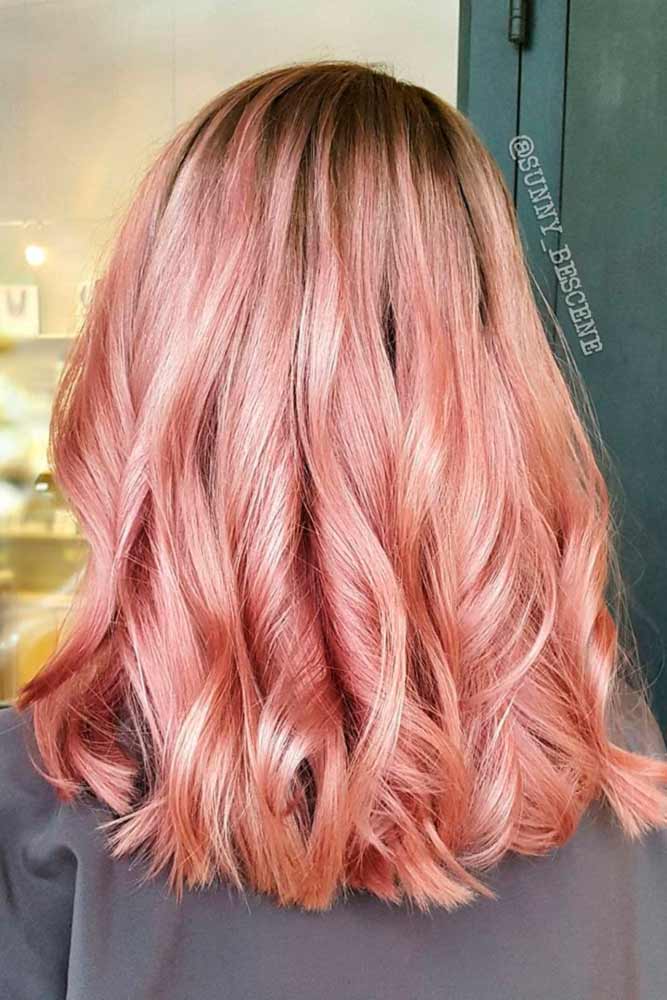 Source: sunny_bescene via Instagram
If you can pull it off, this retro 90s look with a bold orange hue and bouncy curls will be a show-stopper.

Strawberries And Cream
Source: kimwasabi via Instagram
This elegant blend of strawberry blonde with creamy highlights is stylish and sophisticated and looks lovely in an updo or messy braid.

Honey Strawberry Blonde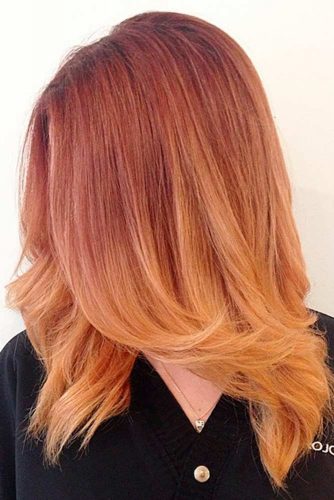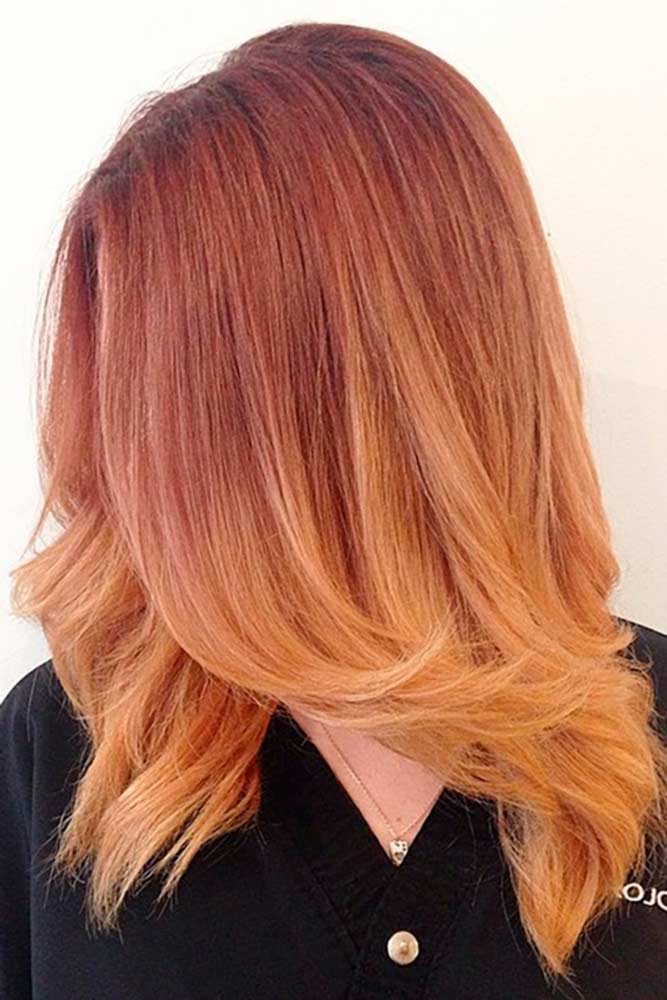 Source: thehaircolorexpert via Instagram
With its lighter ends on a soft strawberry blonde base for added depth and volume, this look is soft and sweet as honey.

Rainbow
Source: kimwasabi via Instagram
This bold and edgy mane of golden blonde roots with strawberry blonde in the middle and then returning to the golden shade at the tips will definitely make a statement.

Light Peach Blonde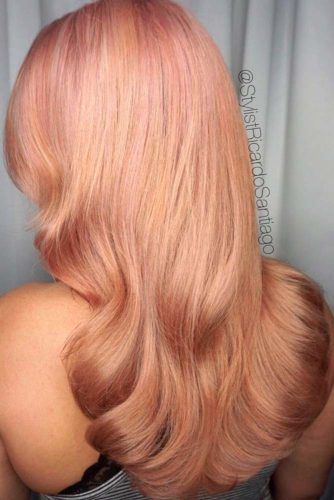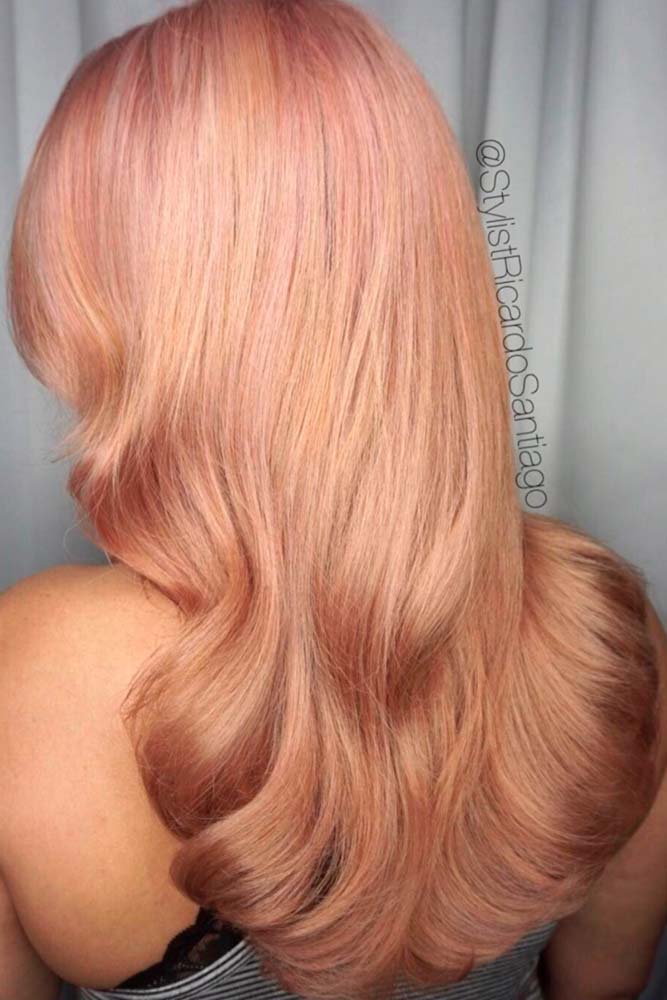 Pink To Bright Strawberry Ombre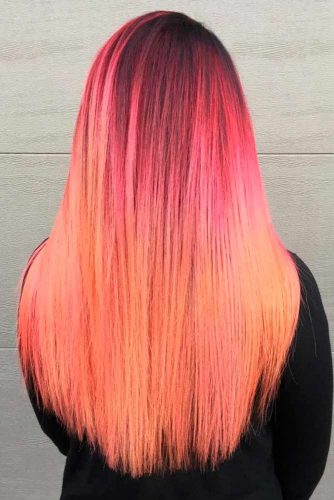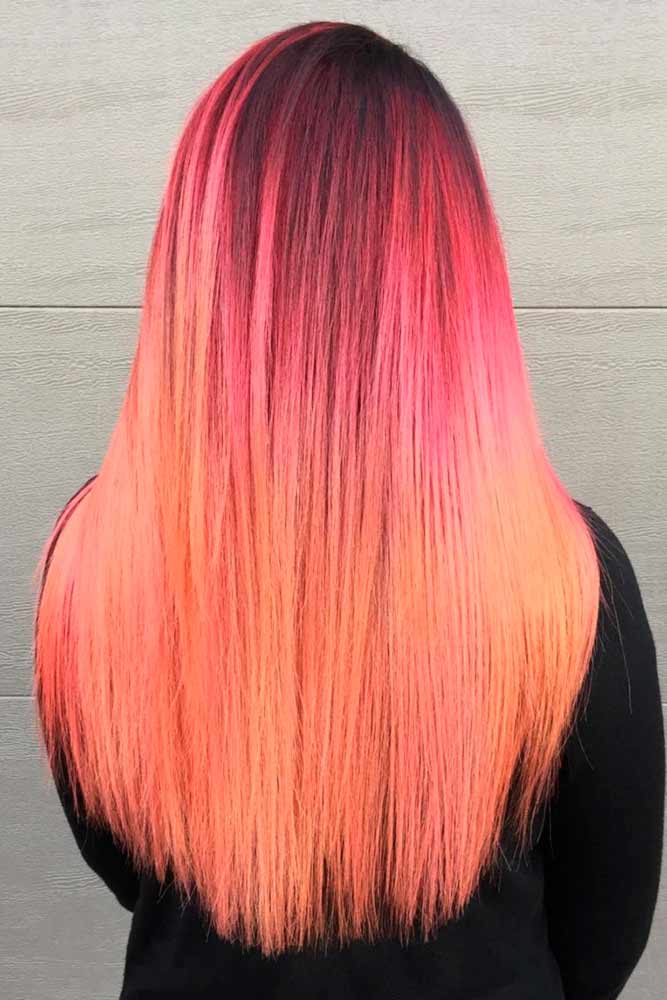 Peach Strawberry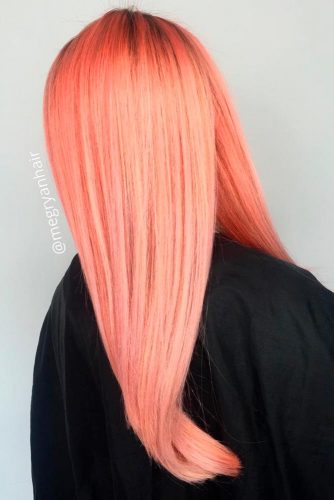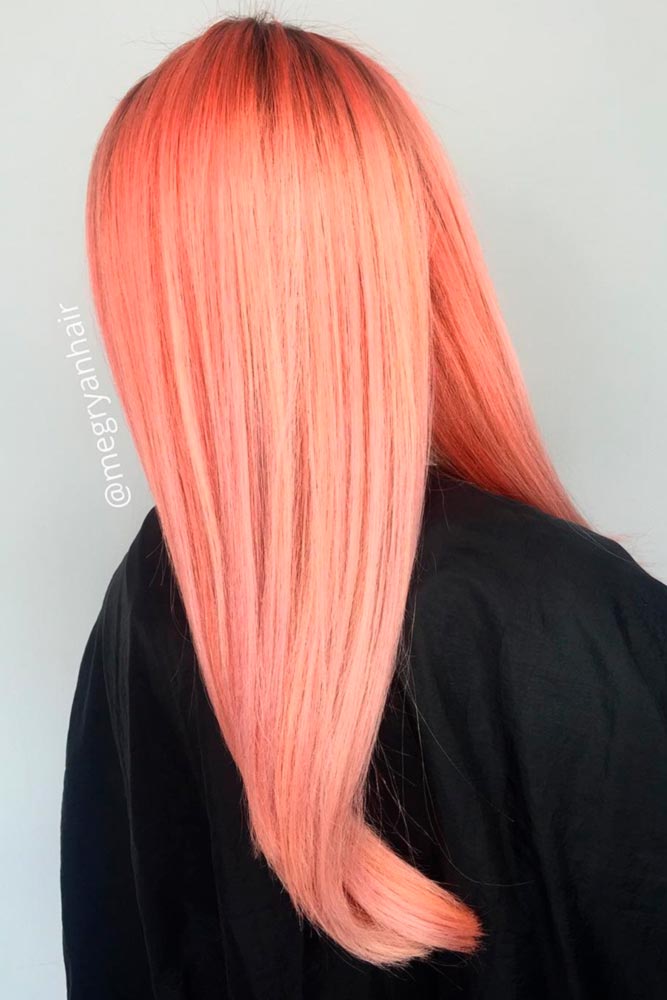 Colorful Balayage
Source: kimwasabi via Instagram
If you opt for such color combination, it's better to get it done by the real professionals.

Bright Peach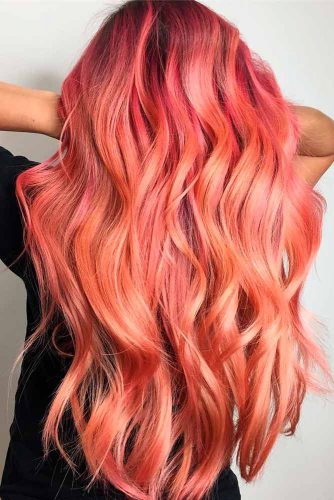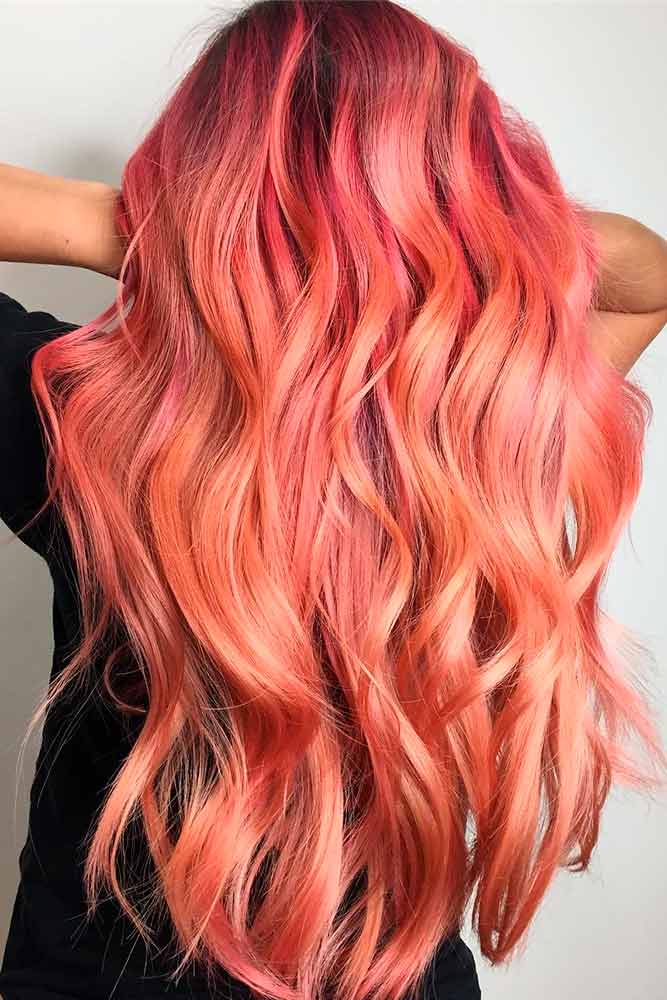 Soft Ombre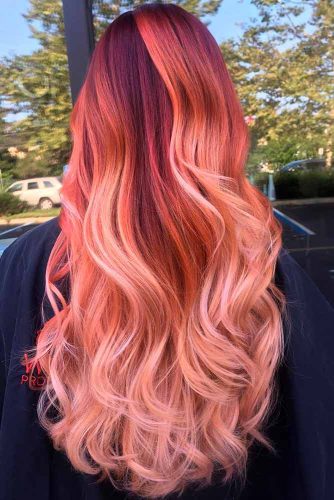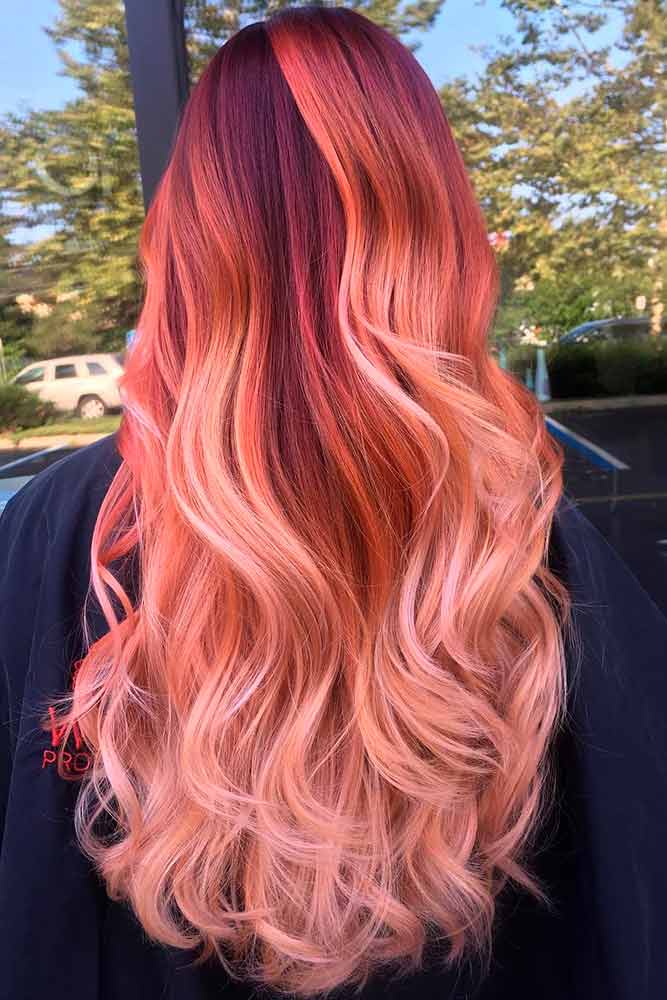 Source: off7thsalon via Instagram
As you can notice, the transition of shades is very soft and barely visible here – that's how a great dye job looks like.

Ginger & Strawberry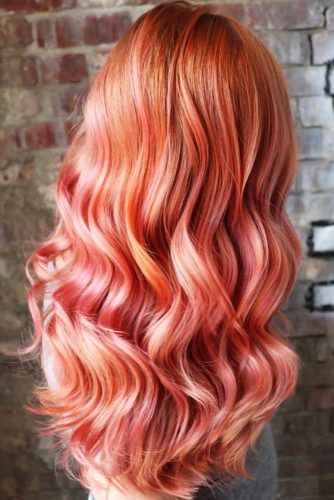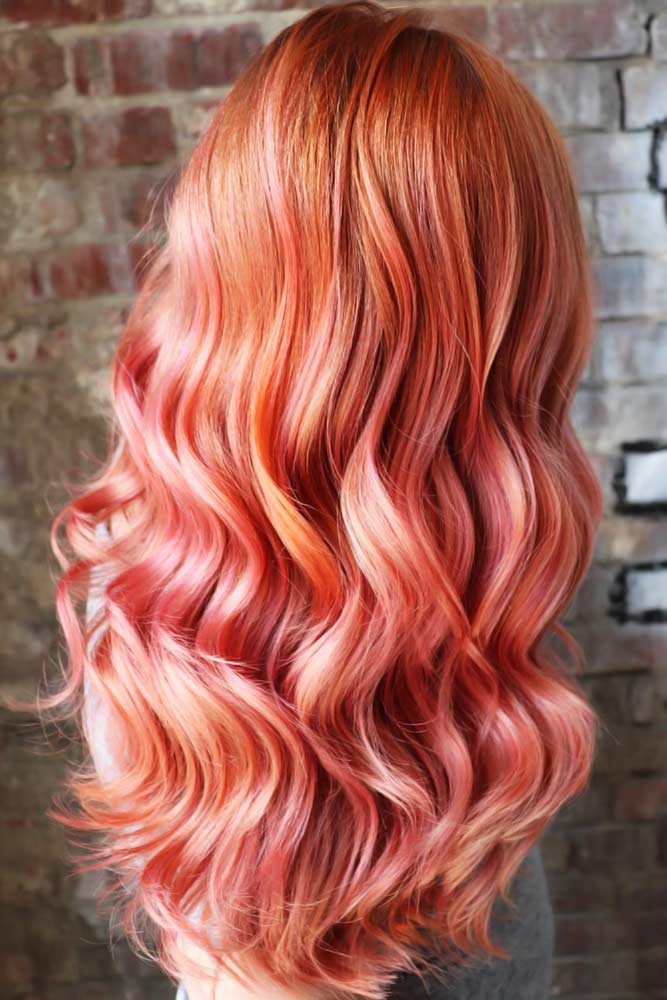 Source: theplatinumgiraffe via Instagram
When a girl is about to leave her colorist with a one of a kind hair look, she should use heavy artillery of trends. Can you imagine how much of a visual impact you will achieve once you mix the most enviable shade of red with the ageless strawberry blonde? If you can't, just let this pic leave you speechless.

Soft Strawberry Blonde Balayage
Source: glamiris via Instagram
Not only color techniques contribute to the result of your color experiment but also the intensiveness of the colors applied. For distinctive looks, it's better to go for saturated, bright shades drastically blending with one another. And if you prefer more harmonic, gentle color jobs, a soft balayage where the variety of colors become a single whole is the best choice.

Black Roots & Pinkish Streaks
Source: glamiris via Instagram
Leaving roots dark means to always have an opportunity to get back to your natural base with less of an effort. Still, it's not the only reason why girls are so crazy about this idea. Black roots, whether they're blended well or with a touch of abrupt contrast, give a sense of dimension to the color. Here, for example, you can see how dynamically black roots dance with pink streaks.

Pumpkin Spice Sorbet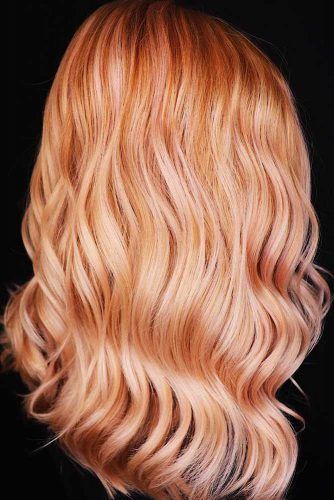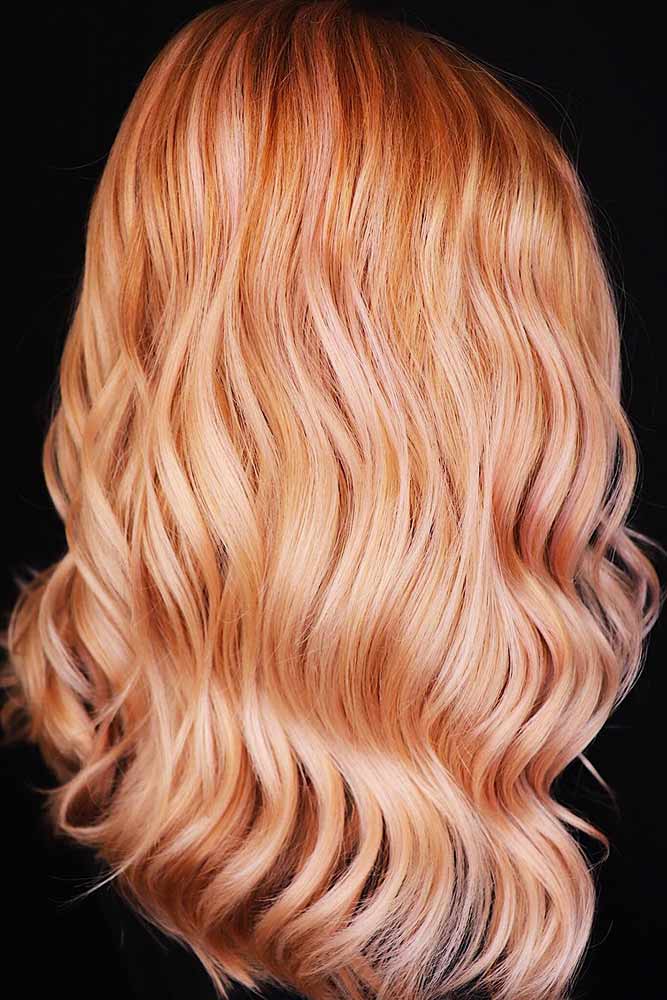 Source: theplatinumgiraffe via Instagram
The reason why most hair colors featuring strawberry blonde have such yummy names is pretty simple: they appear so sweet! This lush and shiny hair color does look like a tasty ice cream melting under the sun on a hot summer day. Besides, do you notice how dimensional the look is? The mix of pumpkin and strawberry blonde work wonders.

Bronze Strawberry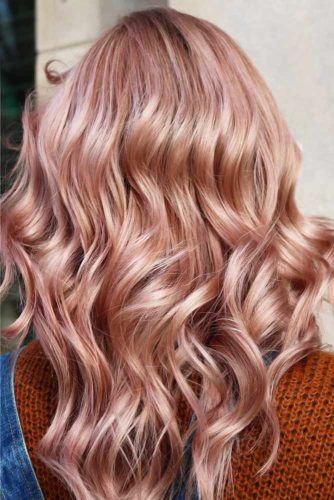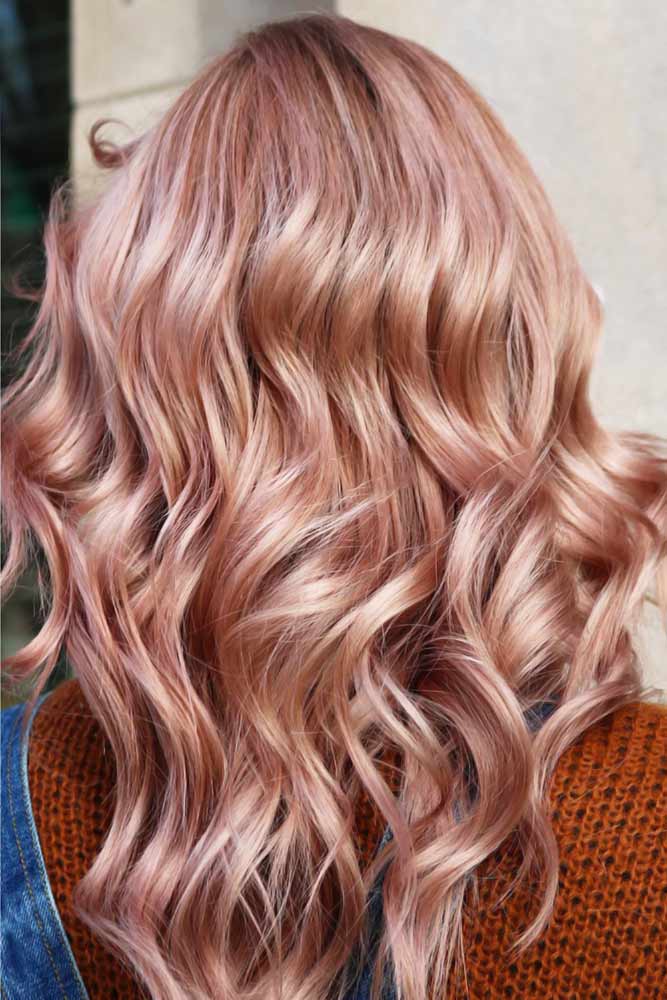 Source: theplatinumgiraffe via Instagram
While most strawberry blondes are rather warm, you can go different with the overwhelming trend. A bronze tint running over a coolish strawberry base will show the amazing hair color from a totally different perspective. The color is faded yet bright, who could ask for more?


Ready to go for a new look? We hope that you love your new strawberry blonde!
Main photo by Lindsaylbaker