When we look at Halle Berry short hair transformations, we realize that if there was an Oscar for Best Hair Look, the gorgeous actress would get lost counting her awards. When this lady showed her trend-mark pixie to the world, she gave life to the new hair epoch. And today you are going to see the ideas that contributed to such a twist in her hair story. First, it was a haircut for a role. Then, it became an ageless trend. The actress has been experimenting with her hair and diversifying the awesome hair look for years, proving that some things will never die. How she manages it is no longer a mystery!
Shaggy Pixie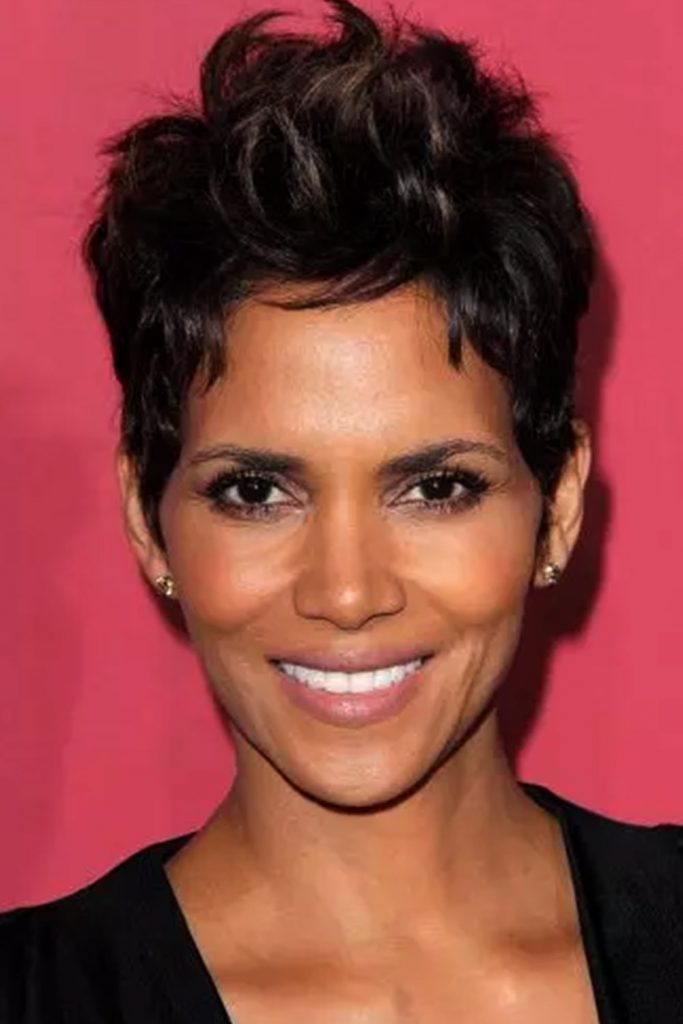 Source: s_bukley/Shutterstock
A sassy shaggy pixie for a premiere look. Why not? Though the actress is a natural-haired queen, she prefers to rock something more convenient and statement-making most of her time. Here she shows up with an incredibly wild and distinctive pixie that keeps her beautiful face open.
To add more character to the style
, she made the shaggy layers fall messily, creating effortless movement. This Halle Berry short hair style is easy to get yet not easy to sport if you're not ready to show your courage.
Short Pixie with Side Layered Bangs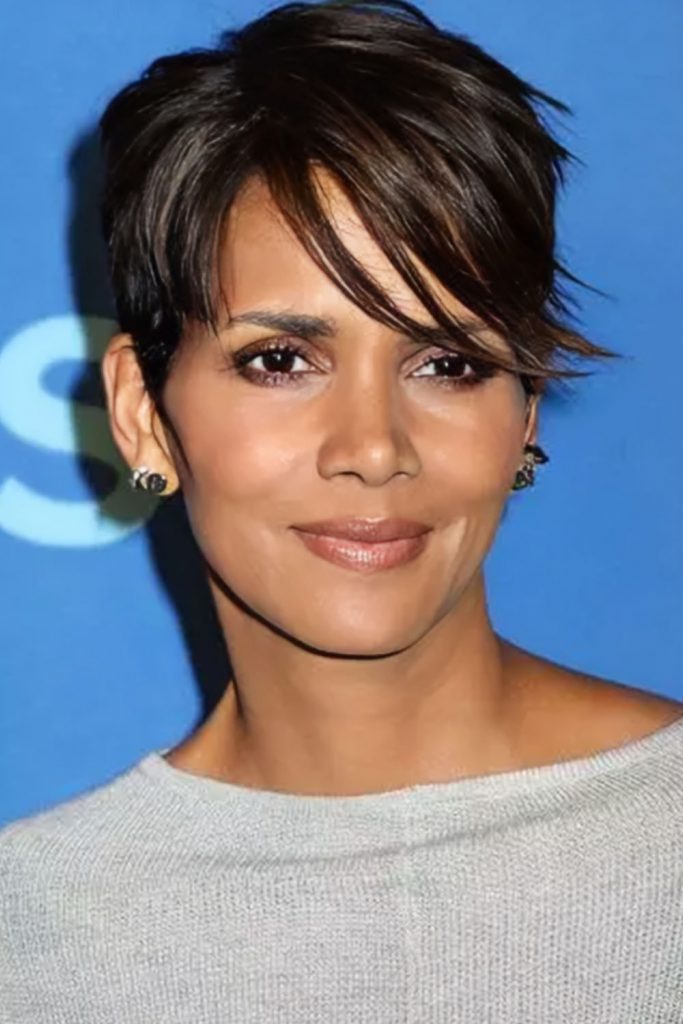 Source: JStone/Shutterstock
Every time people see Halle Berry with short hair, they become witnesses of a growing trend. Remember layers that ladies can't do without today? Well, this girl has been wearing them since 2014. She also doesn't forget about bangs as she knows how advantageous they can be, especially when paired with layered hair. This look is all about
naturalness and airiness
, thanks to the magic of layered side bangs.
Messy Pixie Style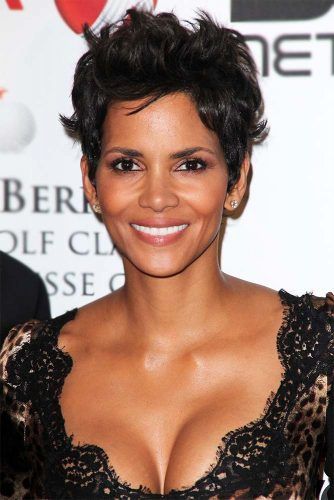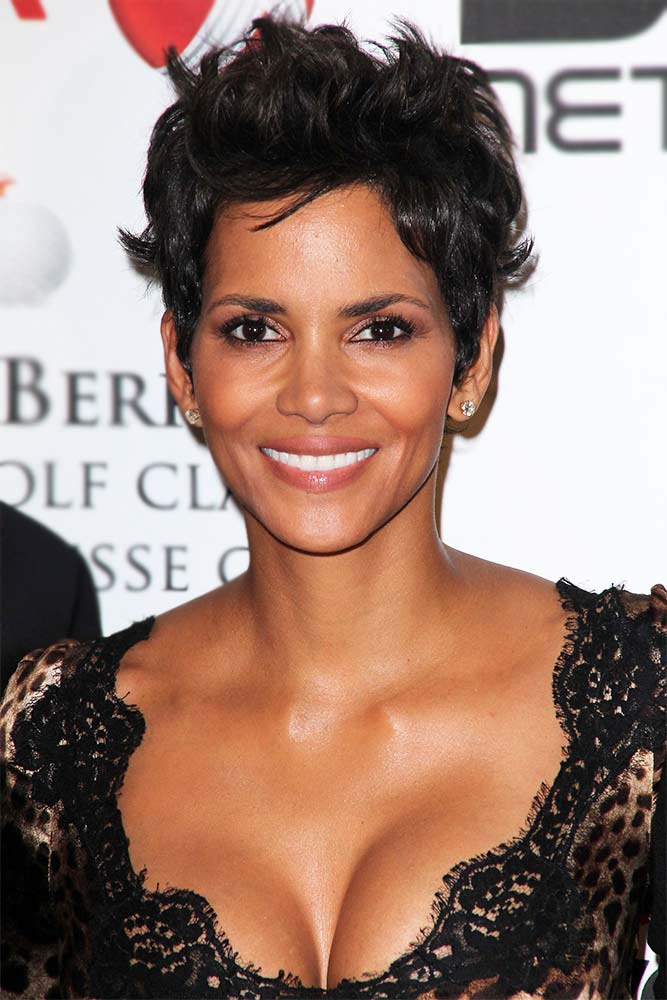 Source: s_bukley/Shutterstock
As told by the actress, styling her pixie messily is the hair thing she loves doing the most. Each strand of her layered hair dances in its own direction, creating a stunning, carefree look that somehow
brings a lot of feminine vibes
. As you can see, here she wears a very sexy and girly dress and finishes it with a tomboy-inspired hairstyle. Together, they form a look that can beat that ravishing Halle Berry Oscar hair.
Faux Hawk Pixie Style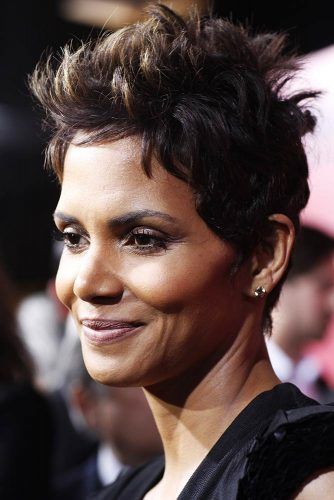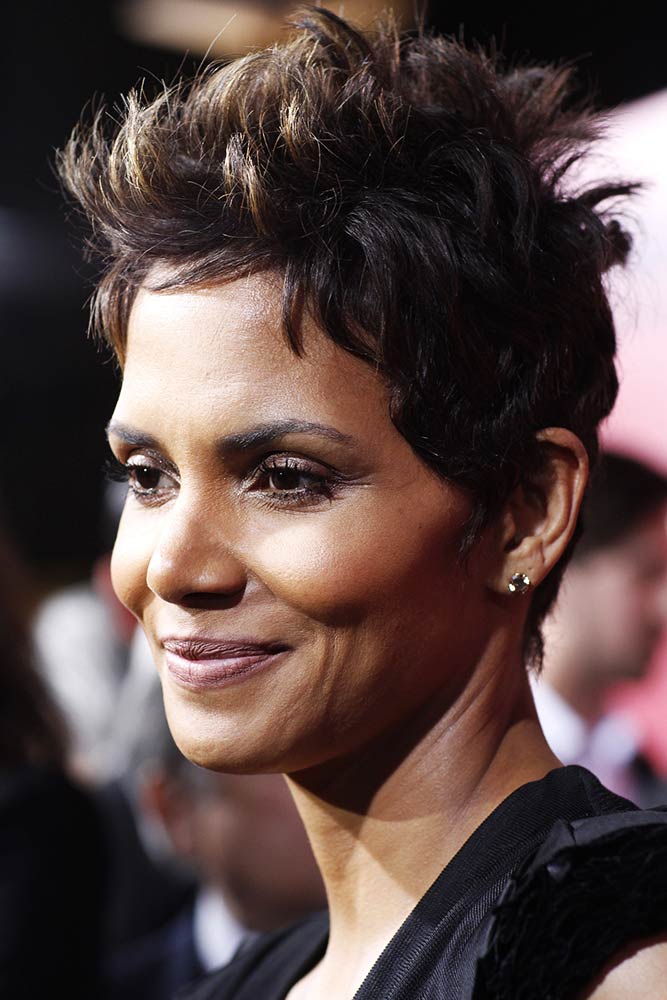 Source: Joe Seer/Shutterstock
Here comes another daring style that washes away all traces of Halle Berry curly hair texture. Her hair type is thick and curly, which the actress expertly hides under her favorite pixie. Of course, she can't have too many spikes on her hair, that's why she slew cameras with this faux hawk hairdo. The sides are tamed and the top is left wild. We love the way this lady plays by her own rules!
High Bun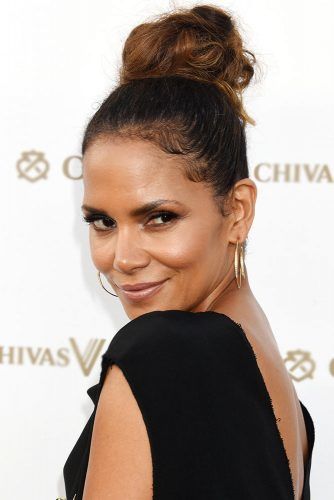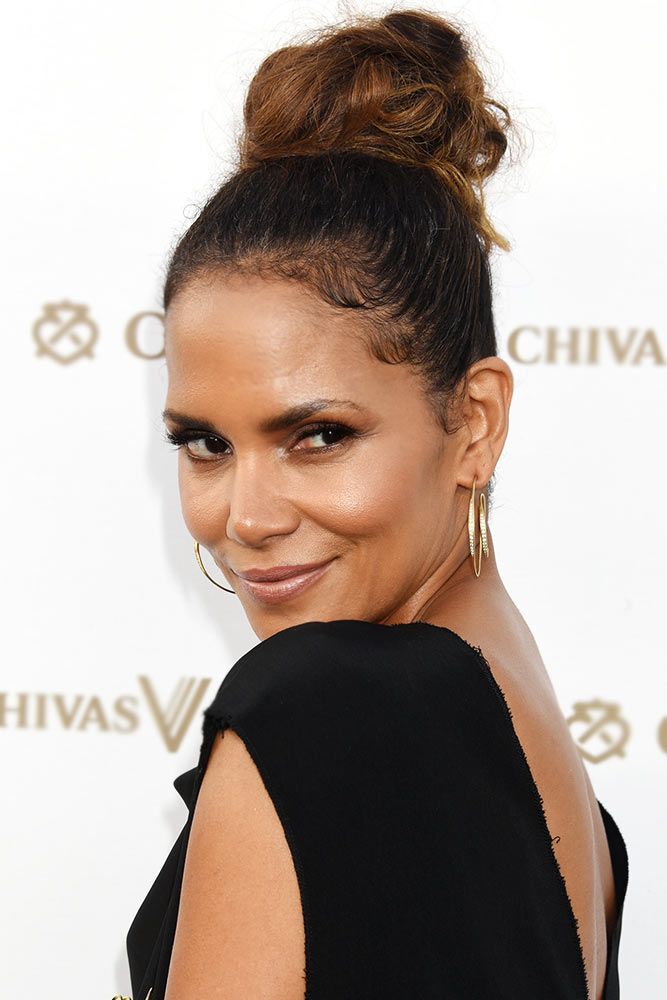 Source: Ga Fullner/Shutterstock
Before moving to that famous Halle Berry short hair cut, she loved playing with
simple and minimalist
updos on her medium locks. When a girl wants to look
sophisticated and feminine
, she puts her hair up and opens up her face. And this hairstyle is key: the immaculately brushed high bun nicely accentuates her evening outfit.
Soft Messy Waves with Layered Bangs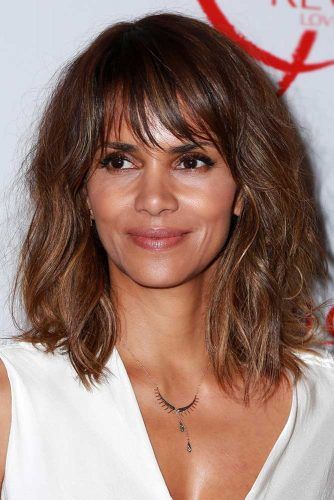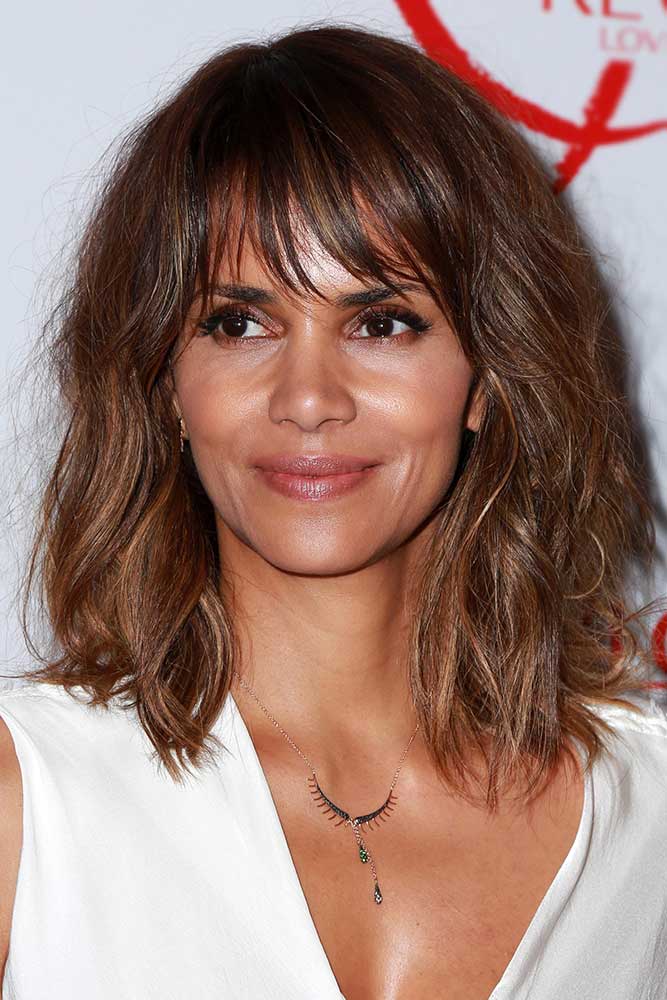 Source: Kathy Hutchins/Shutterstock
Yes, Halle Berry hair has gone through many different roles, and a slightly wavy lob is no exception. This hairstyle appears to be extremely flattering to the actress' face. That's because this
loose and lively
texture looks very authentic while neatly chopped bangs give a cute face-framing finish. As a result, this style looks pretty simple; and this simplicity is worth stealing.
Updo With Thin Curtain Bangs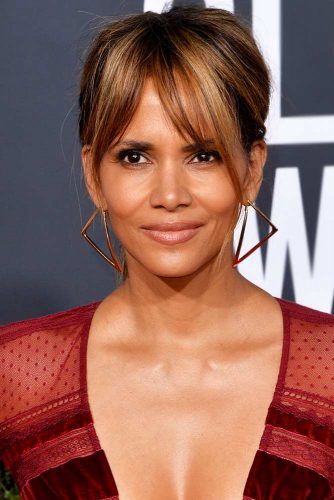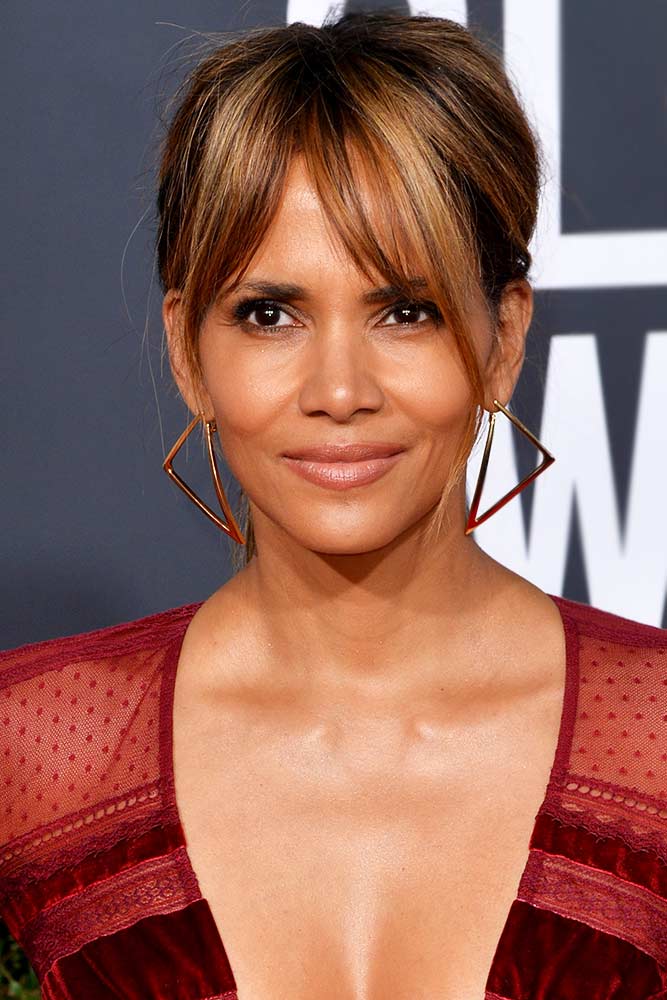 Source: Featureflash Photo Agency/Shutterstock
Here's one of the recent Halle Berry hair styles that have actually
nailed face-framing magic
. It just so happens that there's always a place for bangs,
notably if you want to work on your facial features
. Though the celeb is totally confident with her face shape, she loves to accentuate its edginess by pulling off curtain bangs. Therefore, with the help of a fringe that gently highlights her best angles, she's turned a simple low bun into a red-carpet 'do.
Updo With A Wavy Touch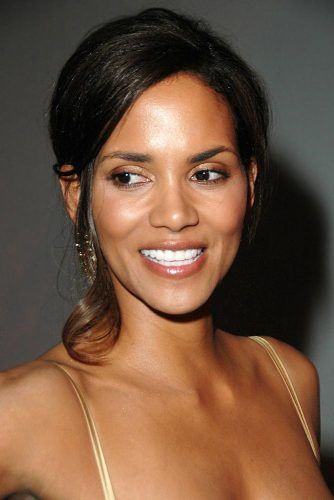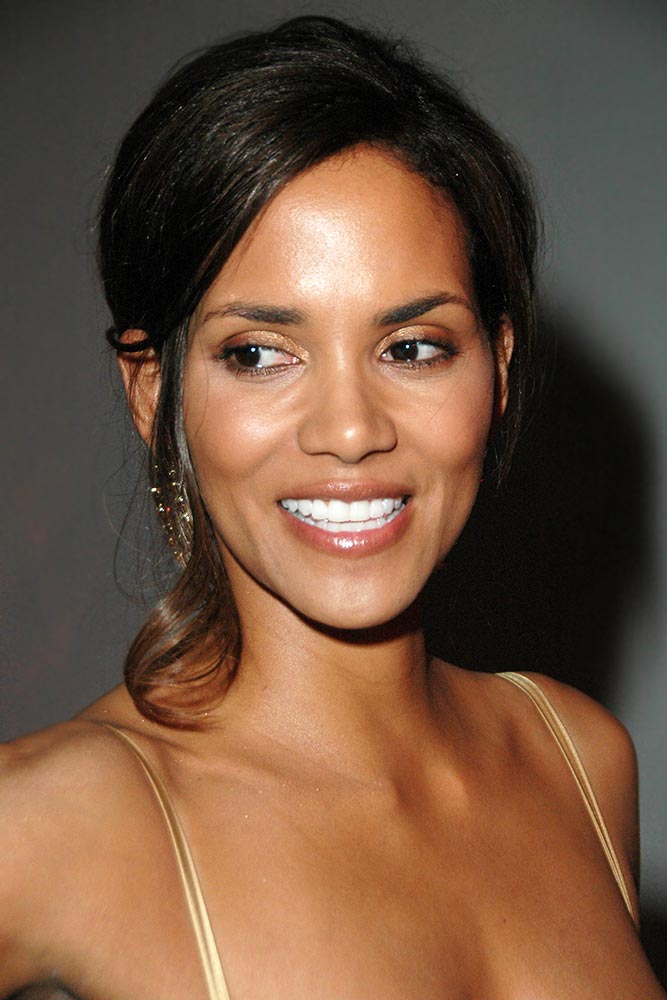 Source: s_bukley/Shutterstock
Everyone remembers that breathtaking Halle Berry short curly hair look she showed up with at the Oscar ceremony. But not all fans paid attention at the
delicate and chic
updo the star wore for her pre-oscar celebration in 2007. The shiny texture of her
thick hair and a little wavy lock
that falls on her face are two features that make us wonder why the style was so underrated!
Straight Style With Dreadlock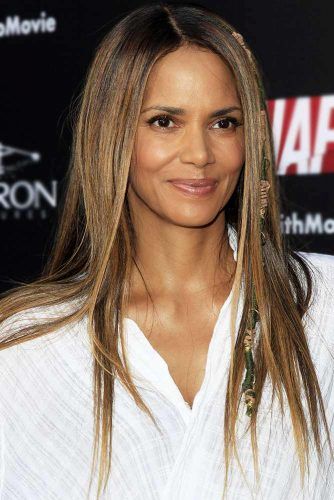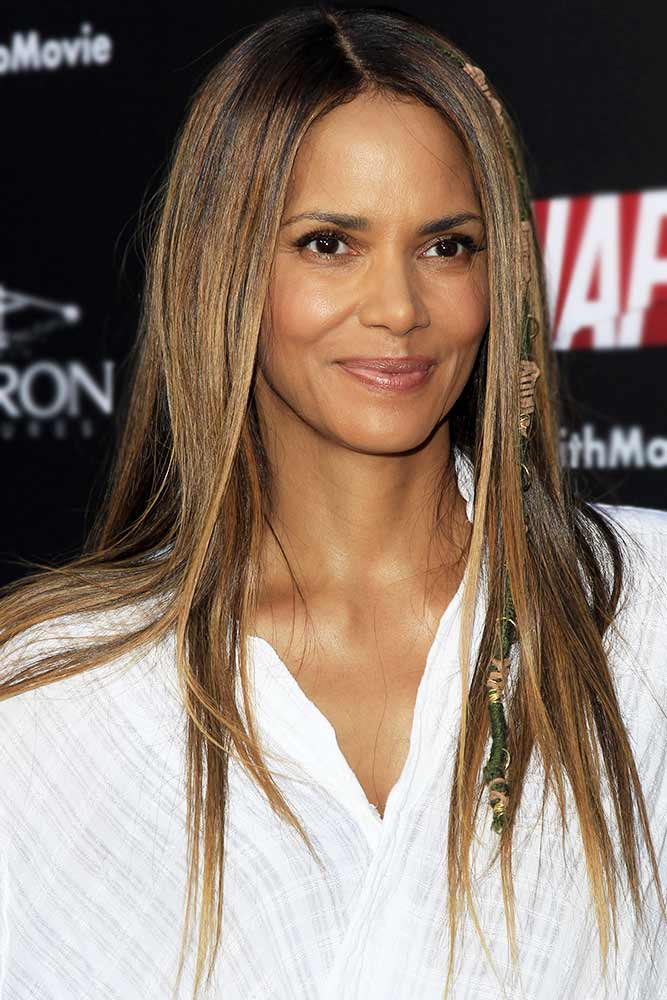 Source: Kathy Hutchins/Shutterstock
It seems like the Halle Berry long hair vs short hair fight is about to begin. And the truth is, this time it's the fight where both fighters are winners because whatever length the actress rocks always looks amazing. This look is pretty unique due to the choice of texture. Don't you notice how straight it is? Of course, her creative soul couldn't leave things too simple, so Halle decided to make the
style complete with a dreadlock
.
Half-Up Bun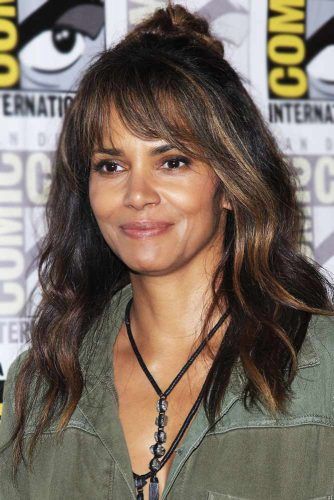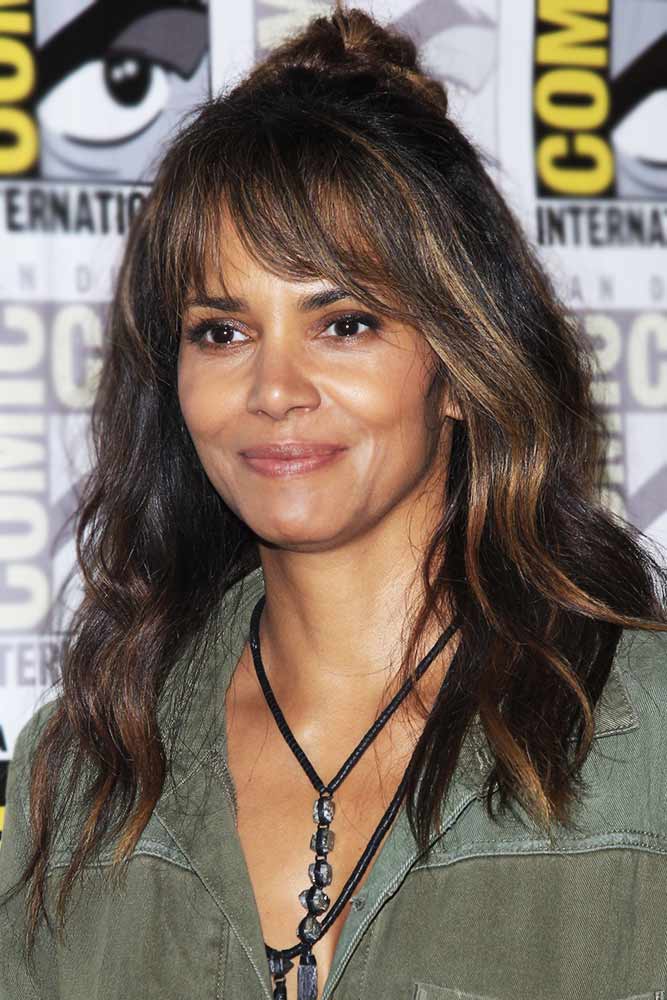 Source: Kathy Hutchins/Shutterstock
Unpretentious and comfy. Well, that's a mood! For a casual event, Halle Berry long hair looked pretty casual as well. And it's actually great, as we all get tired of those unrealistic hairstyles and makeups that separate us mere mortals from superior celebrities. In fact, Halle Berry is one of the few stars who keep
naturalness and simplicity
at her fingertips. And this cute half-up is a nice example. Layers and soft highlights make the style look very decent.
P.S. All Halle Berry hair colors always look natural: she just spices things up with lighter shades from time to time.
Halle Berry is not just a talented actress; she is a woman who knows how to make her hair work for her appearance. And that's where your admiration for the star should get stronger. Having seen the most impressive hair looks that she has ever pulled off, you can get inspired for your next image. Who knows, maybe one day you will get a layered pixie that will change your life.
FAQ: Halle Berry Short Hair
What type of hair does Halle Berry have?
Halle Berry has embraced her curly hair throughout her years as a media darling. The 54-year-old Berry understands how to rock the curly-haired look, whether it's with loose and groomed beach waves or tight curls. When her hair is curlier, Berry is known to experiment with updos.
What face shape does Halle Berry have?
Berry's basic, textured haircut emphasizes her oval face shape, while the height on top accentuates her cheekbones.
Did Halle Berry cut her hair or wear a wig?
Halle Berry clarified the uncertainty among her followers by revealing that she had just been wearing a wig during the 2021 Oscar ceremony. In a stunning sunny selfie posted to her Instagram profile, the 54-year-old Oscar winner Berry flaunted her stunning caramel-colored hairstyle.
Was this article helpful?