Copper hair is the ideal hair color for those who want a glamorous and innovative hair color that is not too far from a basic shade of red. Fall and winter are the times to go for warm hair tones and say goodbye to blonde and pastel hues. If you don't feel bold enough to go magenta or bright pink, then copper could be the color you have been waiting for.
Red hair has come a long way over the years. It used to be considered a curse, but with time, red hair has evolved to embody sex appeal and a strong, independent personality. And there are so many stunning shades to choose from. Plus, each color has its own sub category of colors. Not to mention the advantages of color techniques such as ombre, highlights, lowlights and balayage hues. From copper blonde hair to dark copper tones, you are sure to find a shade of copper that tickles your fanciness!
Copper Hair Color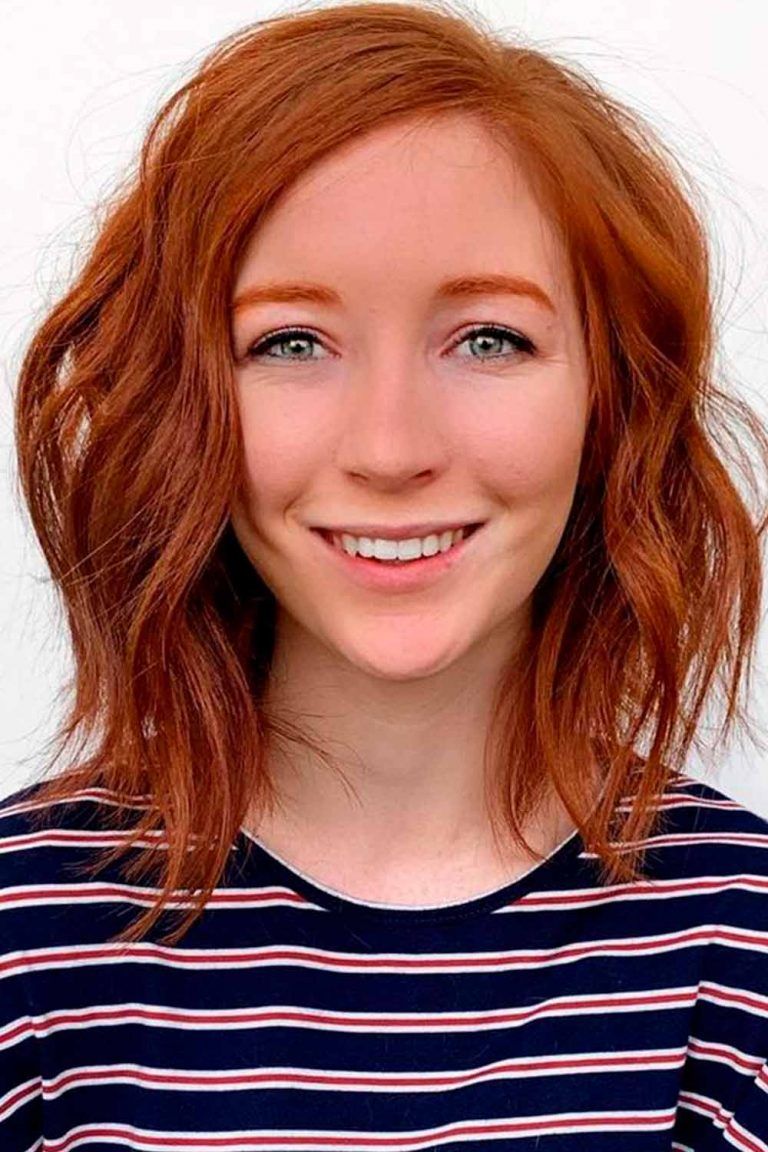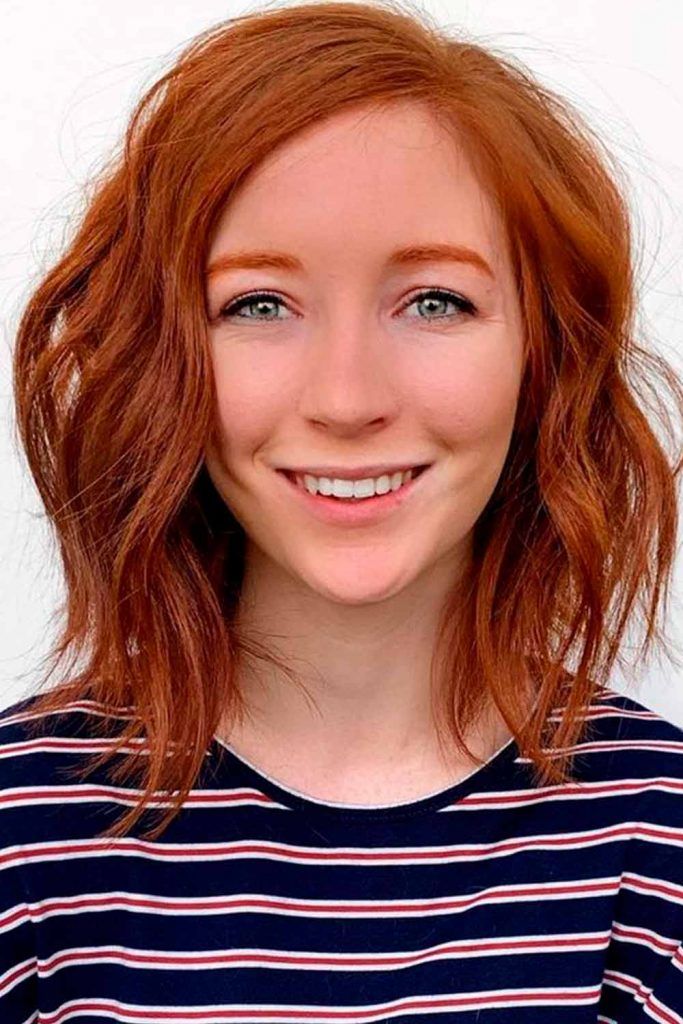 Credit photo: instagram.com/headrushdesigns
What is a copper hair color? It is the mix of red and bronze shades. However, don`t think that it is dull. There is such a shade range when it comes to this color. The color can be light and soft or deep and warm, it depends on you and your personal preferences. We suggest that you look at your skin tone if you doubt what shade to choose. Those women who have a rosy undertone are considered perfect to wear such a hair color, even though other skin tones go well with different shades, too. Girls with fair and warm undertones are advised to stick to warm copper colors, while those with darker and cooler skin should try cooler hues with a hint of violet.
Choosing the best copper hair color for your complexion can be tricky. But here are some tips to help you find the best shade for your skin tone:
If you have a rose or pink undertone, you can rock pretty much any shade of copper hair.
Those with warm or fair complexions should choose warmer shades of copper or opt for warm copper highlights.
Darker complexions look better with cooler copper shades that have a hint of ruby or violet.
Your eye color isn't as much a factor with copper hair. You can go for a dramatic shade for a stunningly beautiful effect.
Henna hair colors are a great way to apply a copper tint to your natural hair color.
Shampoo your hair as infrequently as possible. Use color-safe dry shampoos and leave-in conditioners between washings to help preserve the hair color.
Avoid heat as much as possible. Wash and rinse with cold water and try to refrain from blow drying or heat styling your hair.
Use products that are free of alcohol and sulfates to save your copper color.
Consult your personal hair stylist if you are uncertain as to what shade of copper color is best for your hair type and complexion.
Warm Copper Balayage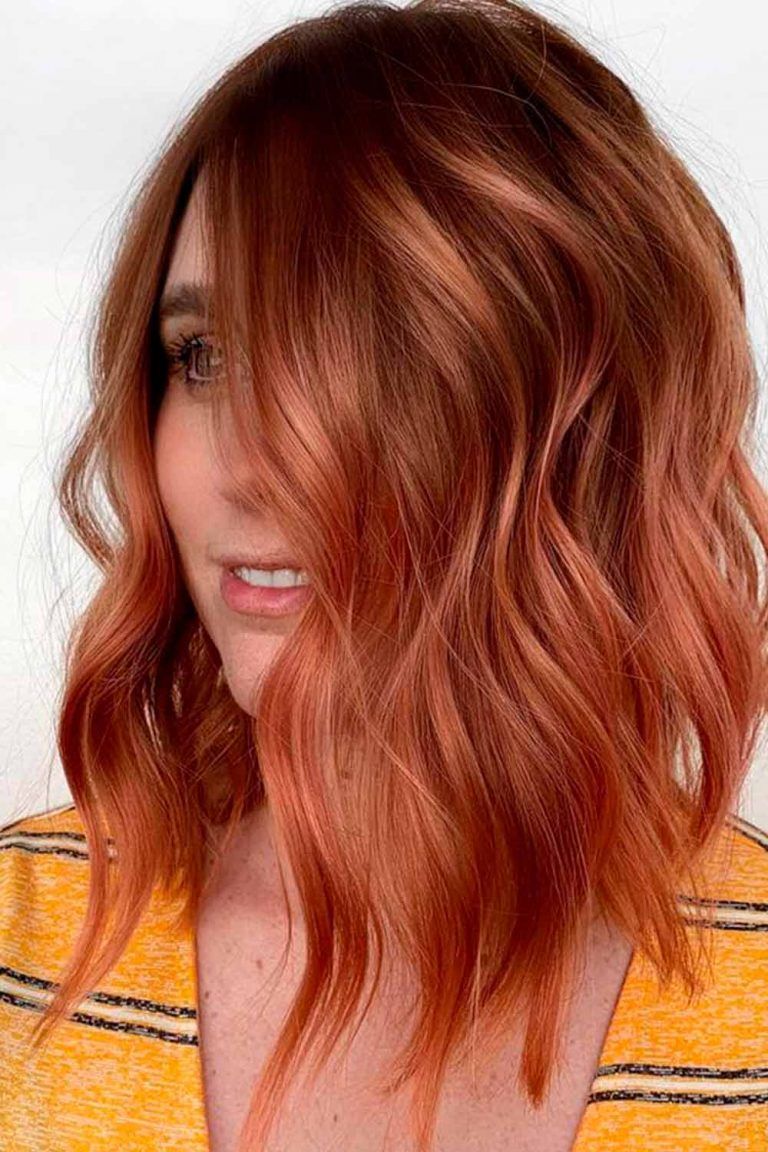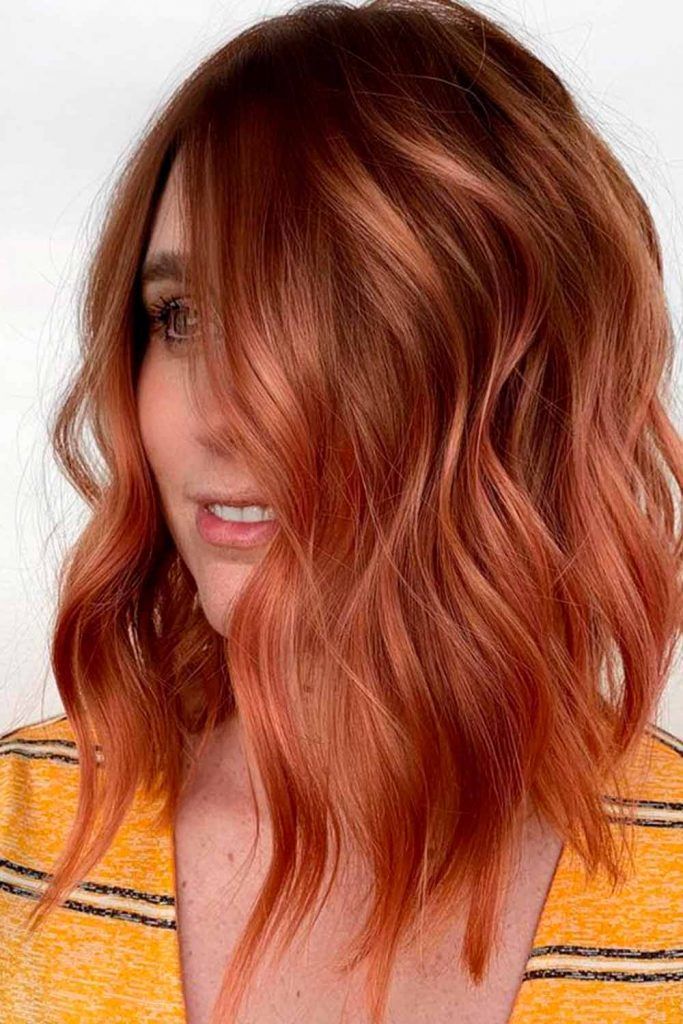 Credit photo: instagram.com/headrushdesigns
Copper colored hair has many facets. This bright copper is a blend of light ginger and dark auburn hues. The difference is so subtle, yet, it creates a ton of depth and dimension. You will notice many nuances of color that lie within this artistic balayage blend of coppery red and orange hues.
Blended Copper Hair With Highlights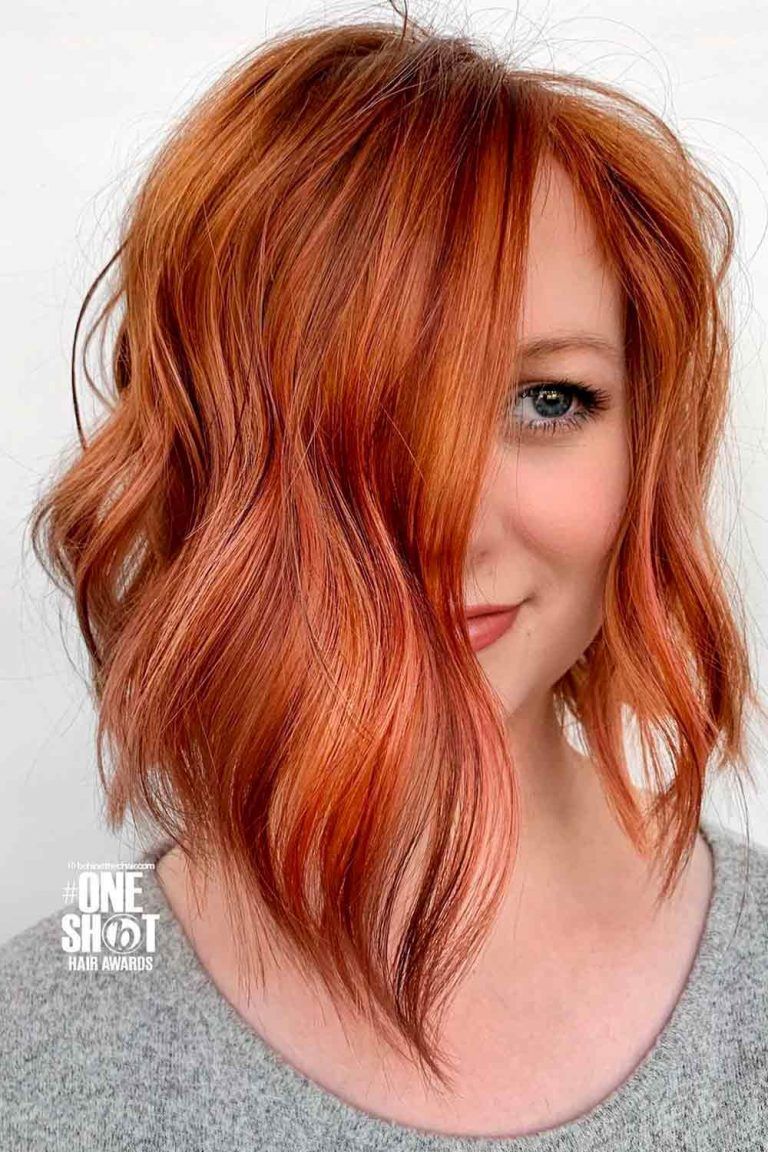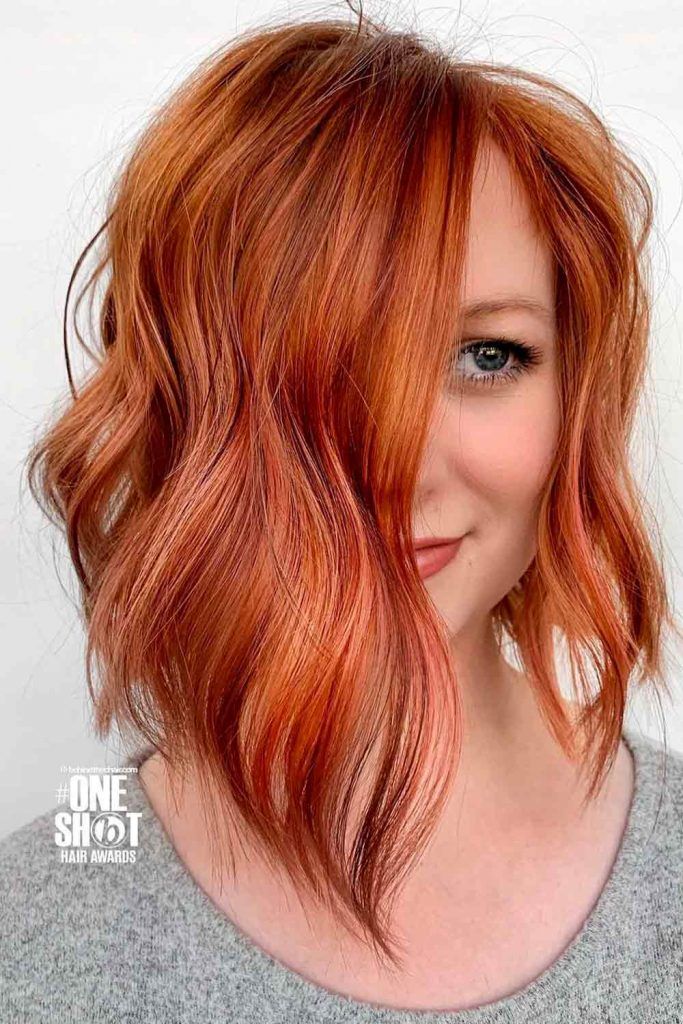 Credit photo: instagram.com/headrushdesigns
This gorgeous copper blend encaptures the stunning beauty and colors of Fall foliage. With a mixture of warm dark auburn and fiery copper, they form an enchanting hue reminiscent of falling fall leaves. Ask your stylist for deep auburn and copper hair with highlights.
Copper Hair With Warm Orange Undertones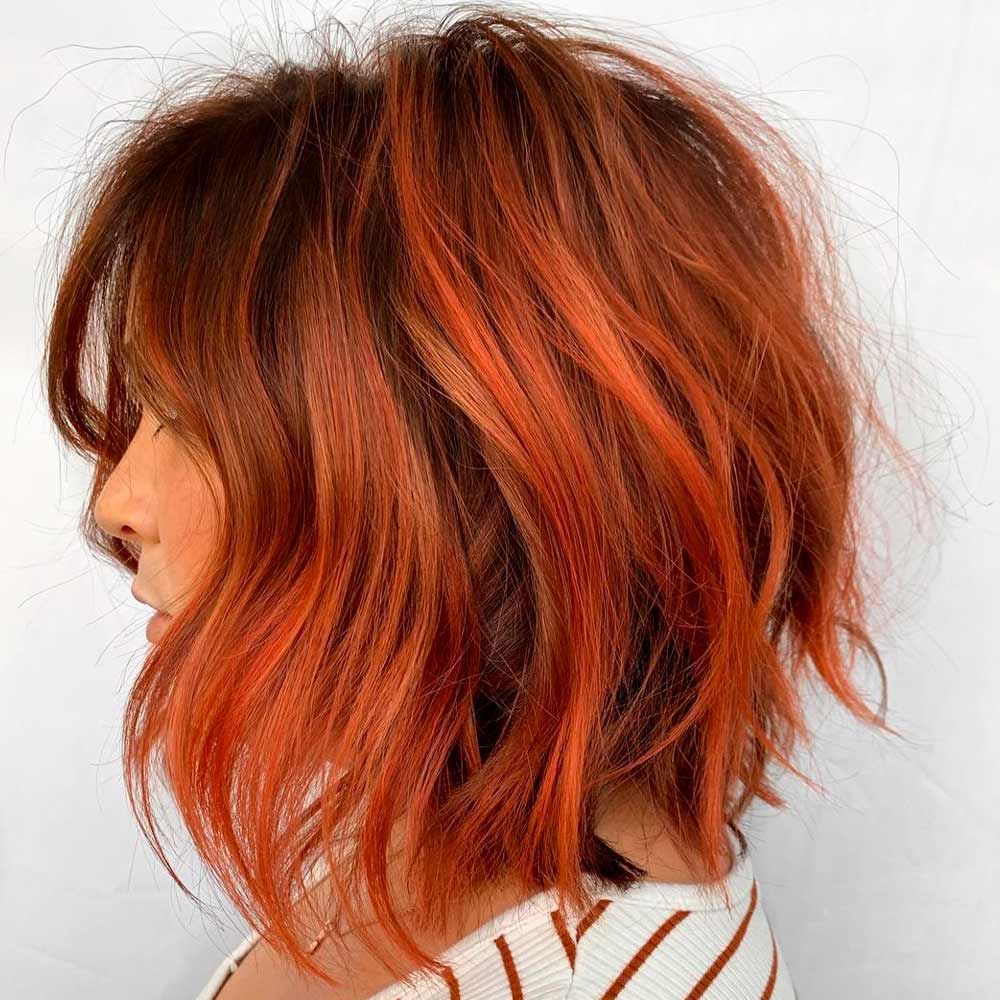 Credit photo: instagram.com/headrushdesigns
Copper orange hair is perfect for fall as it is a bright form of ginger with cool copper undertones. This color is ideal for those with a peachy complexion and bright colored eyes. However, if you are confident, you can pull off this look with any eye color or skin tone. Long, sexy beach waves will only enhance this color and make you look and feel like a mermaid princess.
Classic Bright Copper Red Hair with Dark Roots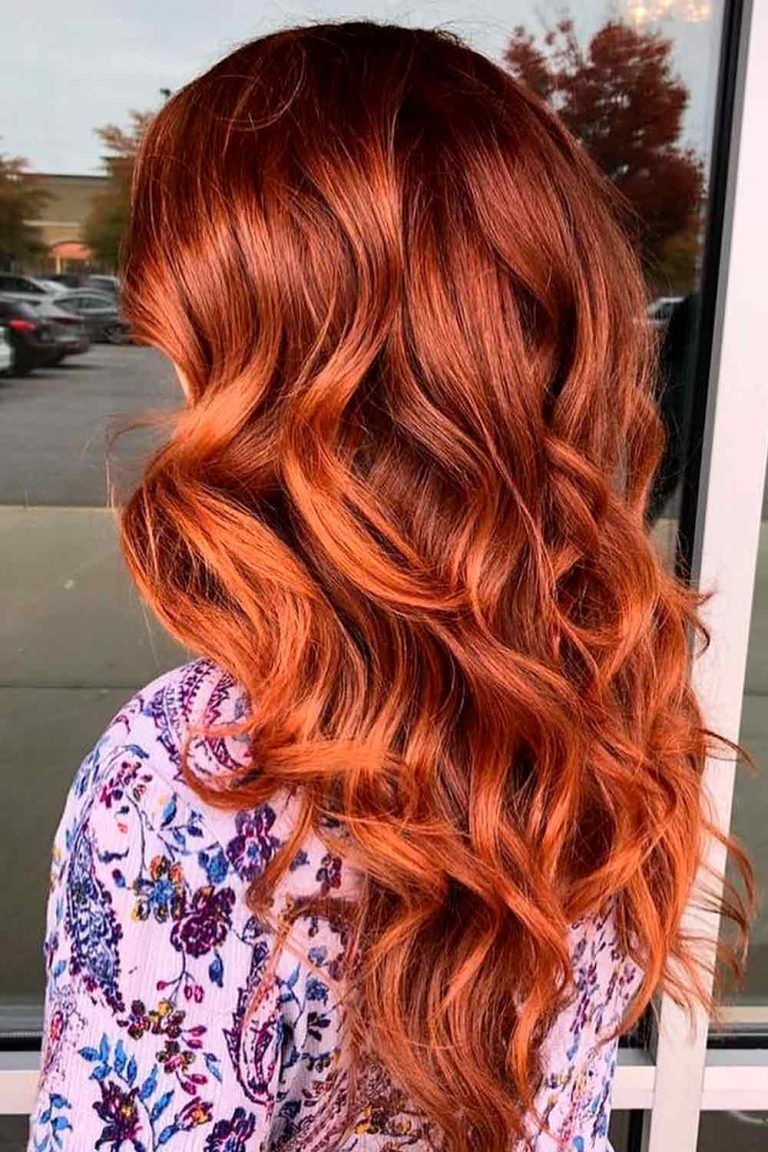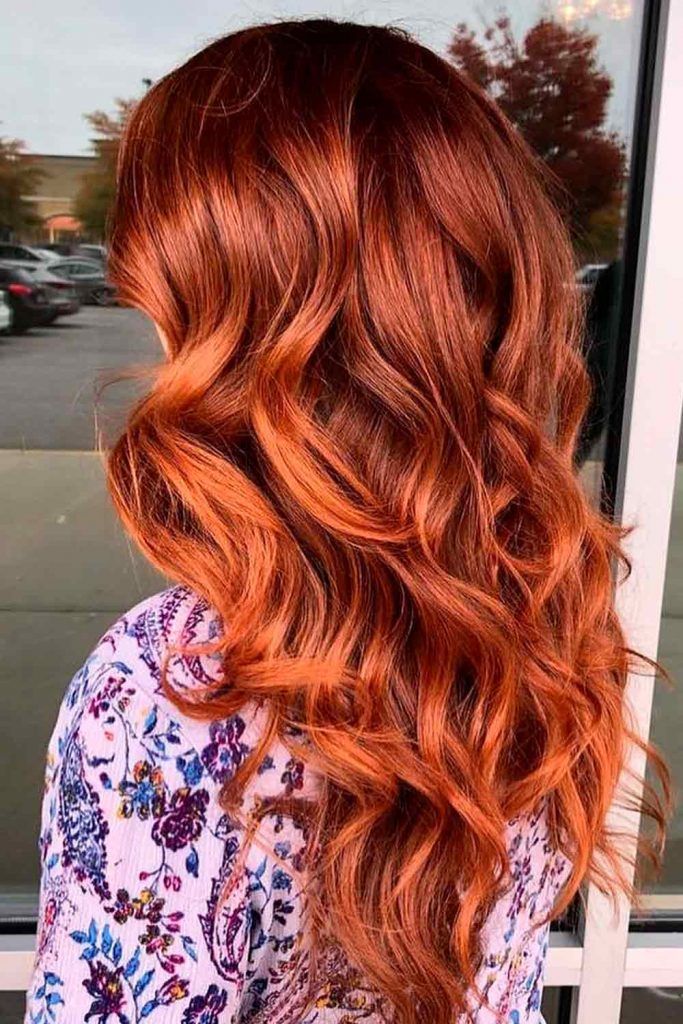 Credit photo: instagram.com/xostylistxo
This light copper red hair color is understated with its shiny light copper tones. This look is ideal for those who don't have a lot of time to get to the salon for frequent touch-ups. Its natural roots will not require a lot of upkeep. Ask for a wavy short bob and use foam rollers or a wide-barreled curling iron to create loose waves for a soft, romantic vibe.
Fiery Red Copper Hair Color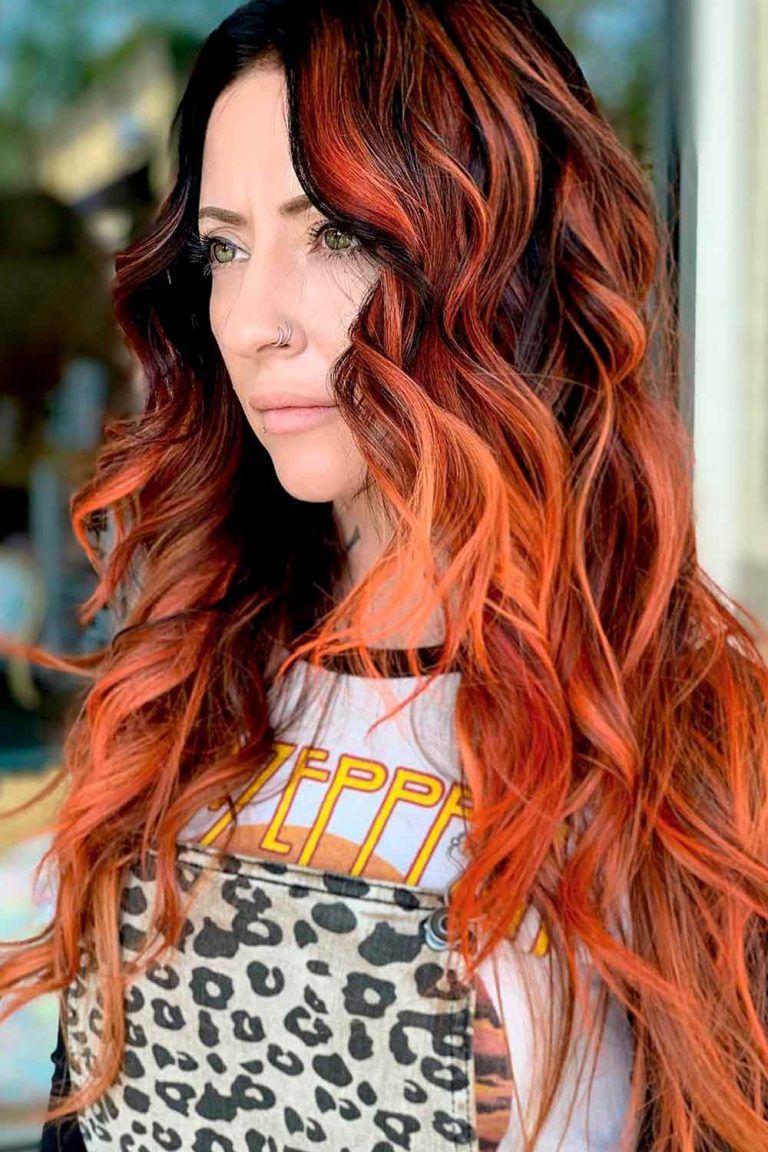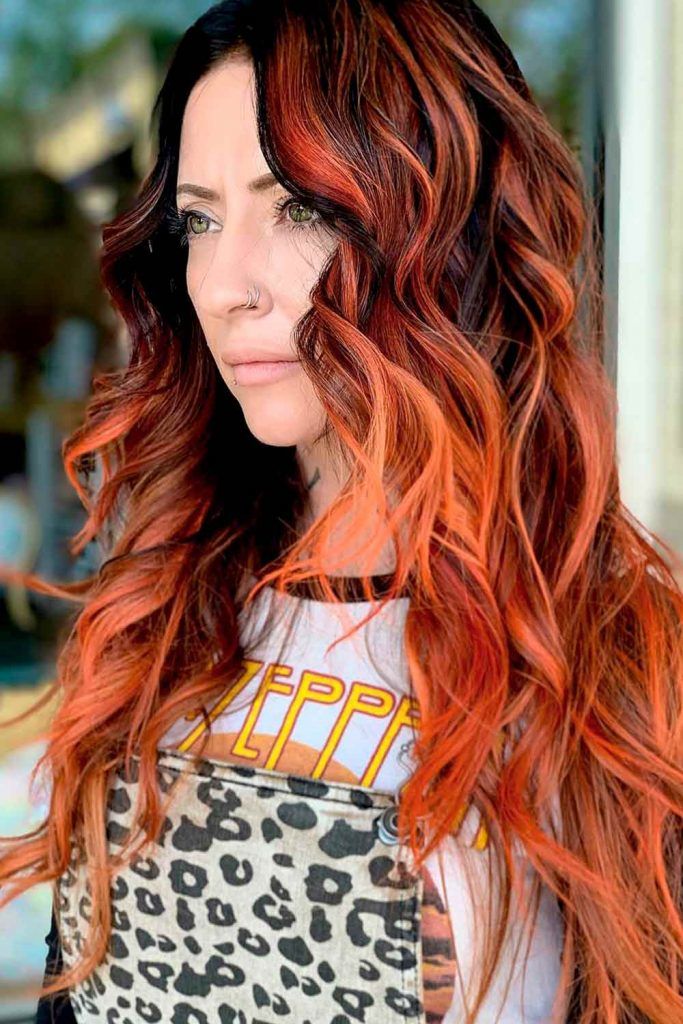 Credit photo: instagram.com/xostylistxo
This copper red hair color is full of shine and texture with its warm and rich blend or orange-ish brown and red hues. It is most flattering on those with a medium, fair, golden or peach complexion and hazel, green or blue eyes.
It is a pretty Fall shade for those with both long or short hair. It is exceptionally pretty on long hair styled in a twisted lower ponytail with just the ends curled. And it is perfect for a casual Fall event or an informal date night. In its turn, short red hair looks exceptionally gorgeous when styled messily or slightly curled.
Golden Copper Hair with Warm Tones
If you are fond of early fall mornings, you will love this golden copper hair color as it is the ultimate blend of red, orange and golden hues. It has so much warmth and dimension and looks breathtaking on long cascading curls. Create loose curls with a large curling wand to add fullness to this sassy shade of copper hair.
Deep and Rustic Ginger Copper
If you prefer a copper brown hair color, this deep ginger is sensational. It is on the cooler side with its rusty ginger and brown hues that are rich in depth and color. Style your hair in long beachy waves to add even more texture and bounce to this deep shade of ginger.
Sunset Bright Copper Hair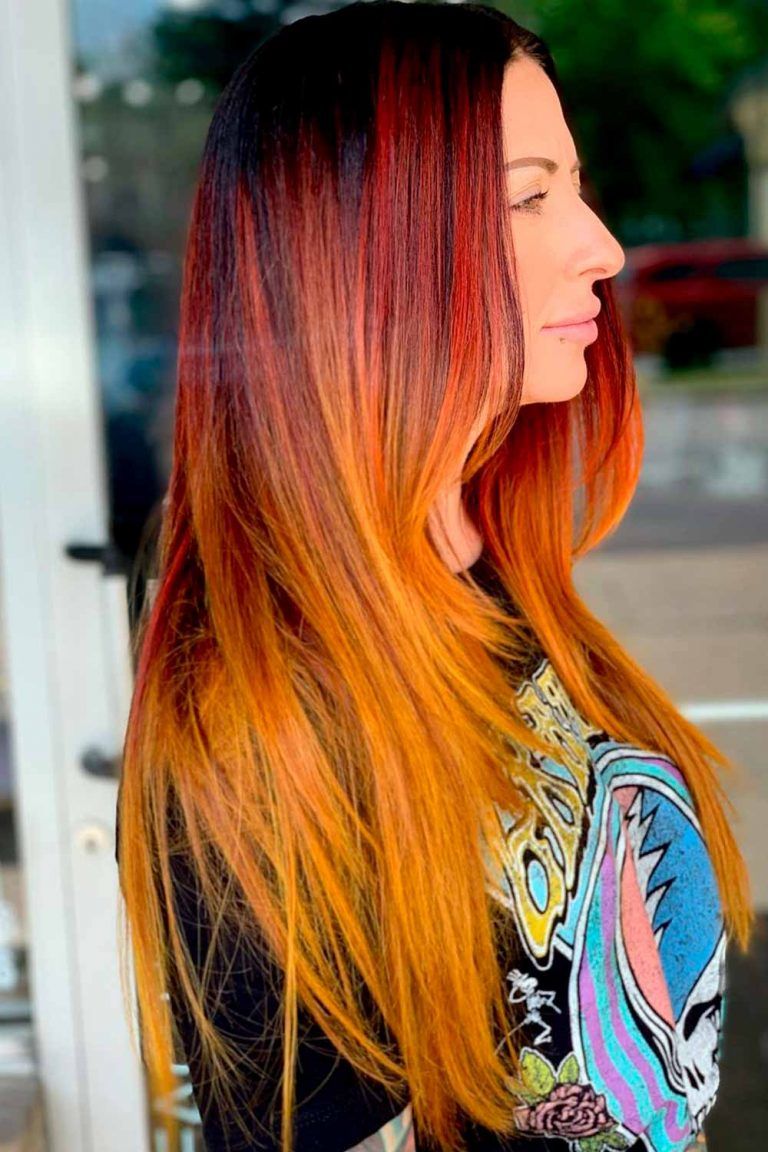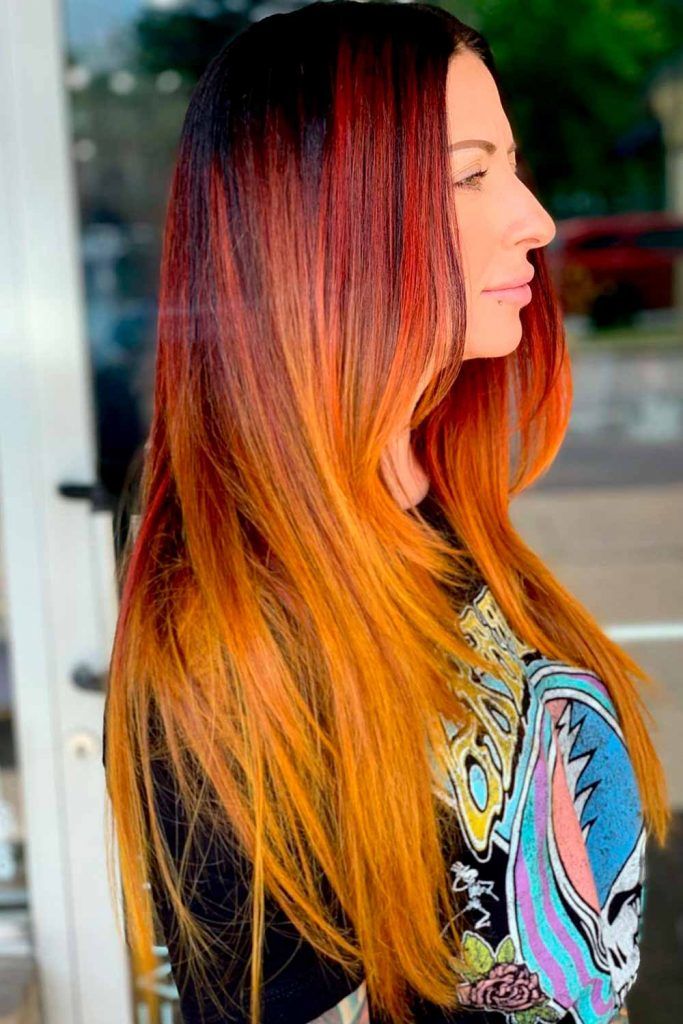 Credit photo: instagram.com/xostylistxo
Another look for bright copper hair is the sunset copper that is reminiscent of a sunset on a cool Fall evening. The rich blend of bright orange copper and deep red tones is simply enchanting. It looks splendid on a shoulder-length shaggy bob. Style your hair with loose waves in a slightly tousled look to create a sexy and carefree style that looks like you've spent your days on a windy beach.
Pumpkin Spice Copper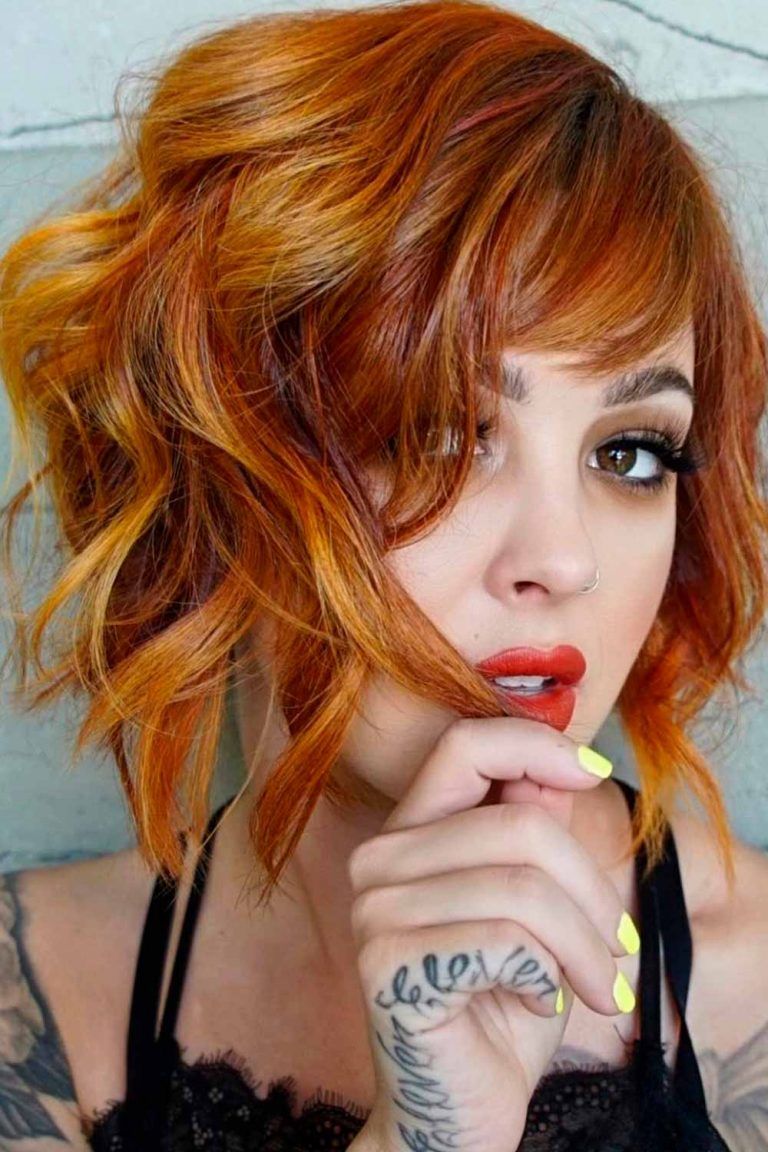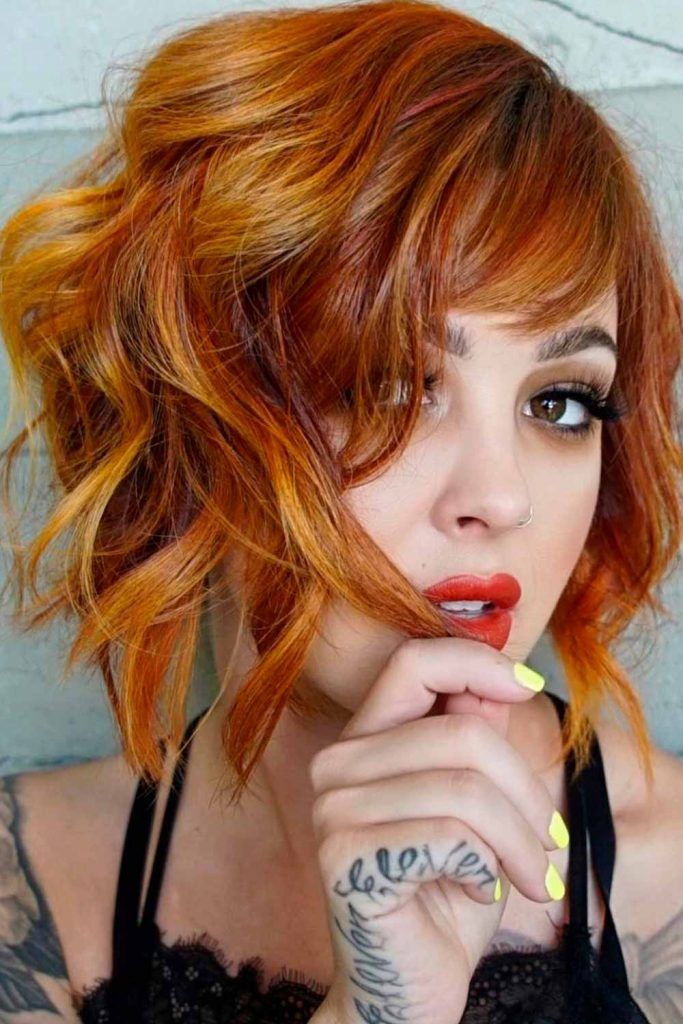 Credit photo: instagram.com/xostylistxo
Who doesn't love pumpkin spice? It is the essence of all things Fall! And this pumpkin spice copper is sassy. If you are looking for a color that will help you gracefully transition from summer blonde to a darker shade for the upcoming fall and winter months, go for it.
Ask for auburn undertones and light copper hair highlights. We think it looks just fab on a long lob with side bangs. This choppy hairstyle is easy to do and looks cute when styled in a messy, bed-head look!
Natural Copper Balayage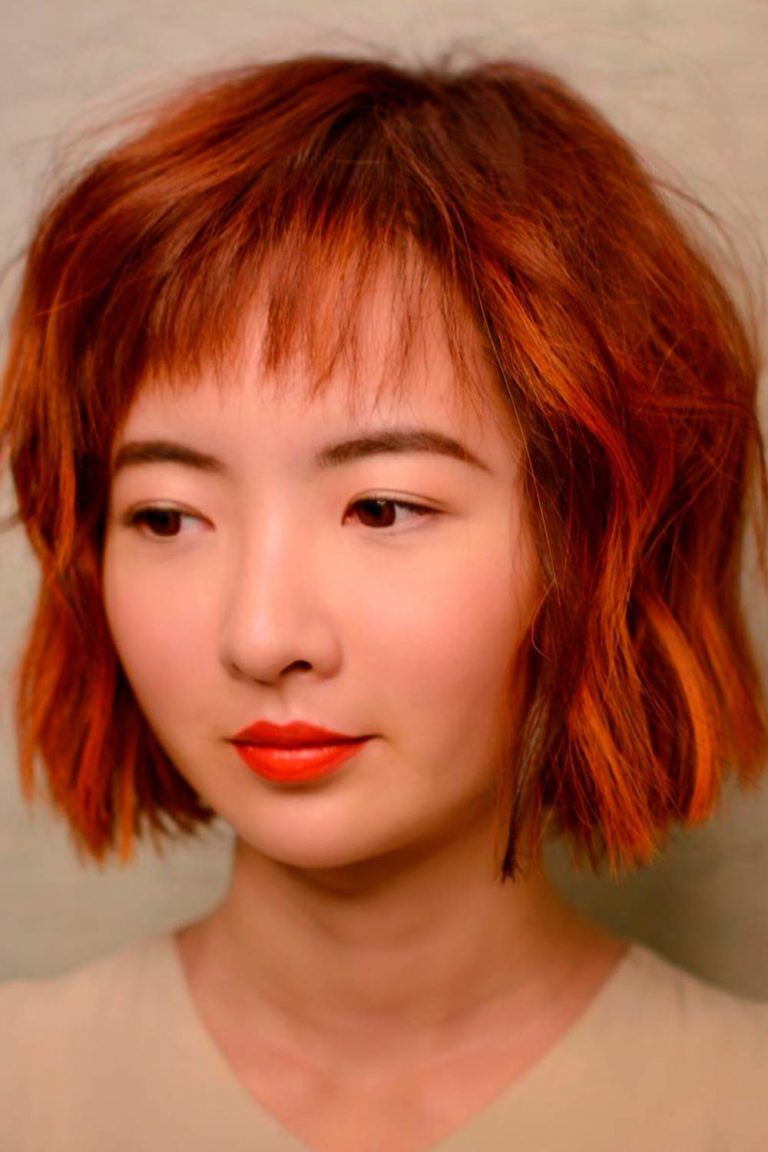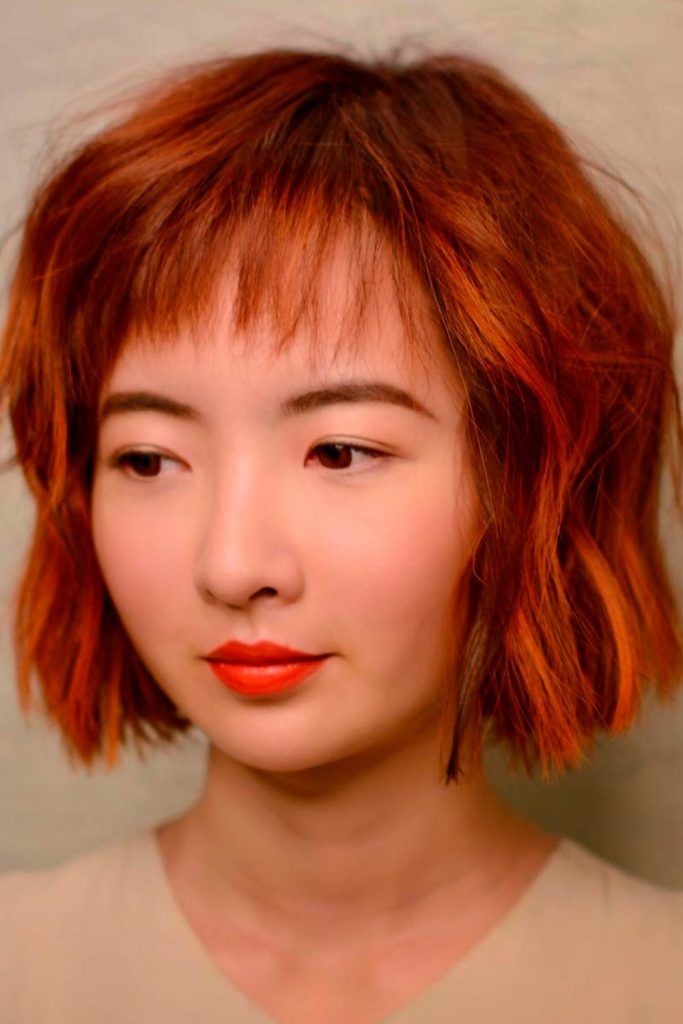 Credit photo: instagram.com/cutyourhair
If you aren't enamored with pumpkin spice but are still looking for a light copper hair color, this shiny shade of copper is natural-looking and classy. Ask for darker undertones combined with vivid orange copper for a shockingly gorgeous shade of fiery copper. It will be sure to turn heads wherever you go.
This color is really pretty on longer, wavy locks. So, take a few minutes to do some waves, starting halfway down your hair. You can use a large curling iron or your flat iron to do flowing waves to add depth to this alluring shiny cooper hairstyle.
Bright Copper Ombre With Dark Roots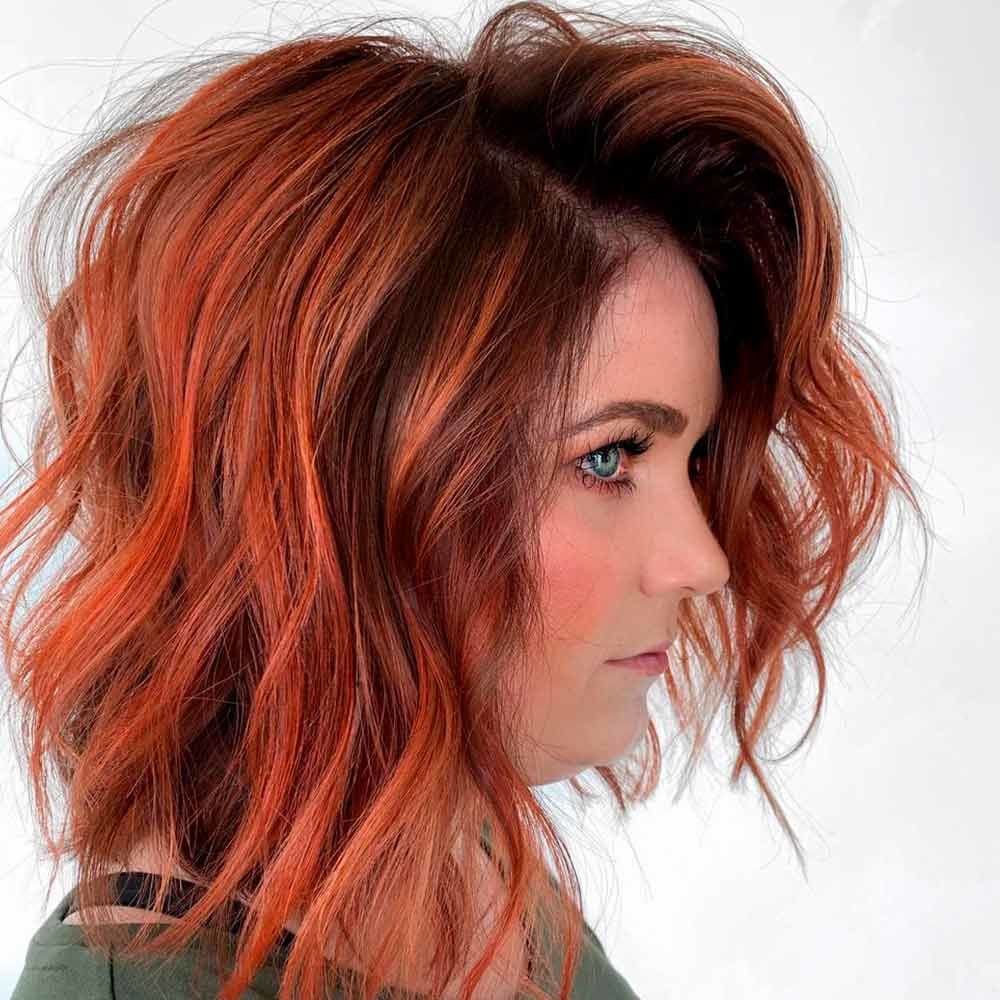 Credit photo: instagram.com/headrushdesigns
Perhaps you prefer a copper brown hair color over the lighter shades. This fiery brown and copper ombre hair is so pretty with its chocolate brown roots that fade into vivid reddish orange. And it looks utterly breathtaking on curly ringlets to add volume and texture to your long tresses.
Rich Copper Hair Color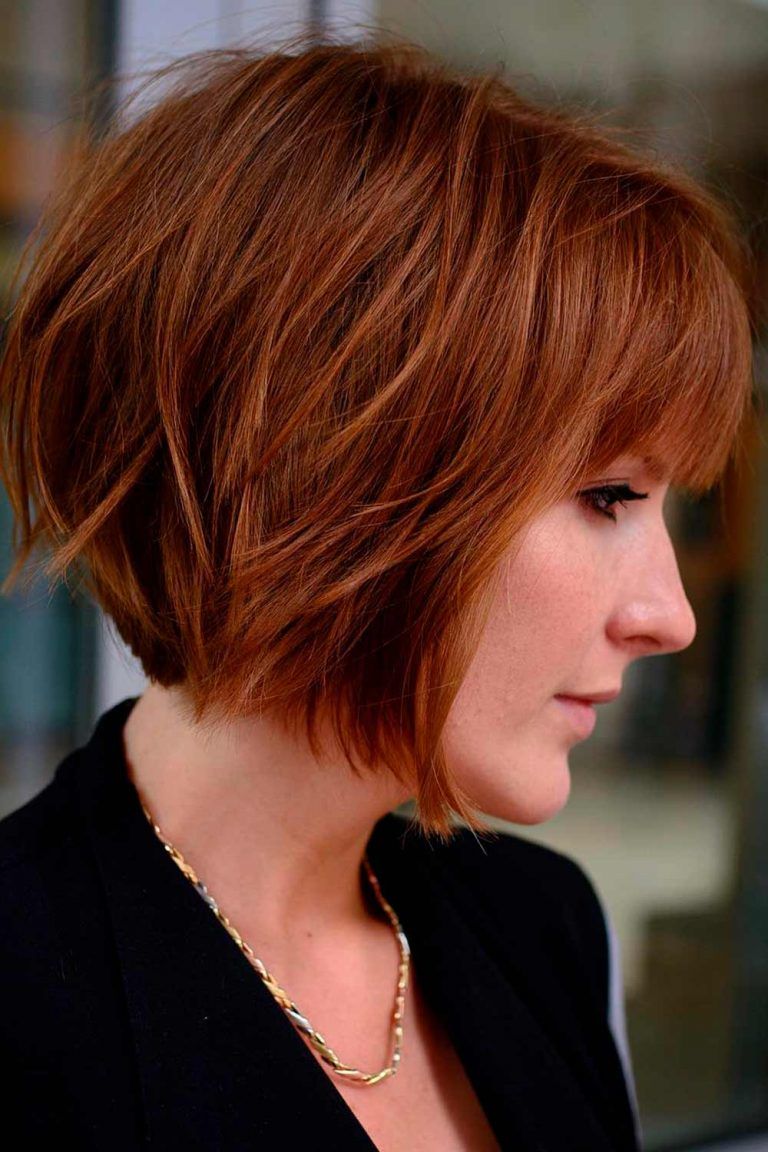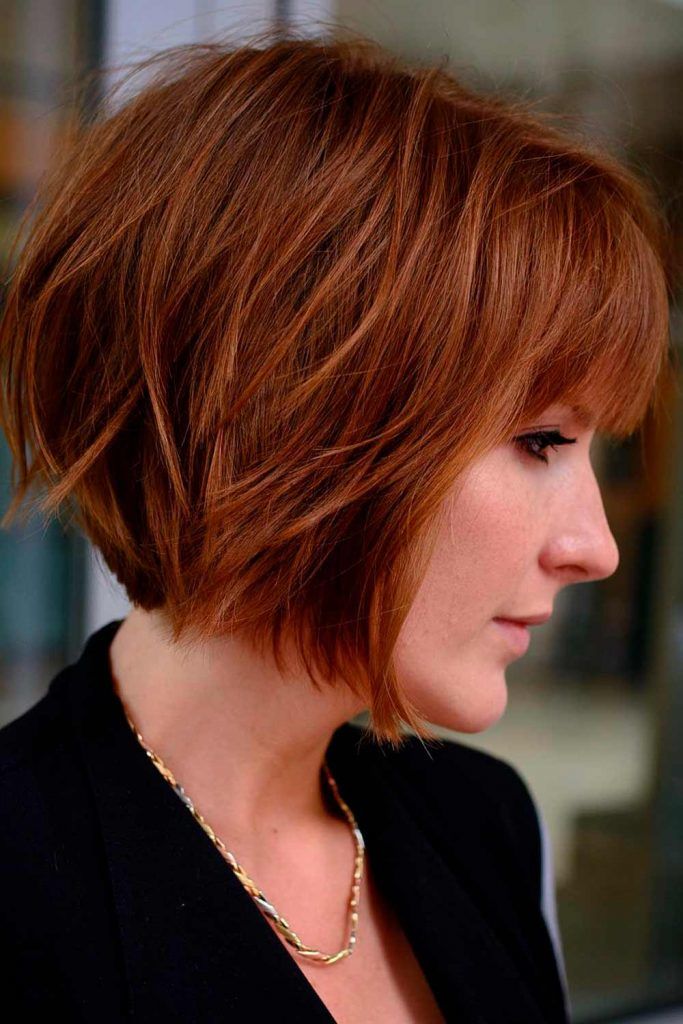 Credit photo: instagram.com/cutyourhair
If you prefer richer copper, this dark copper hair color is beyond gorgeous! Ask for dark red copper for a natural look. And what is a better way to showcase your fiery copper hair than with short and sassy curls? Ask for an inverted bob that is relatively shorter in the back. The curls will add so much volume that you won't even recognize your hair!
Coppery Brown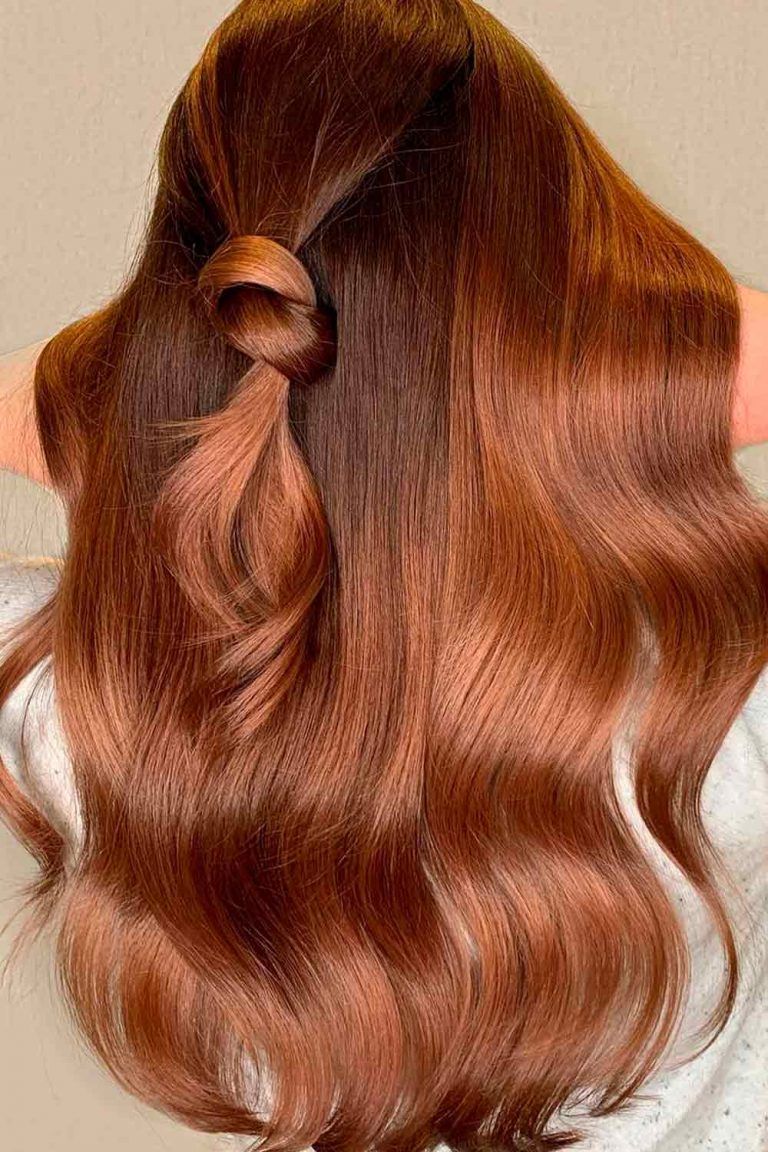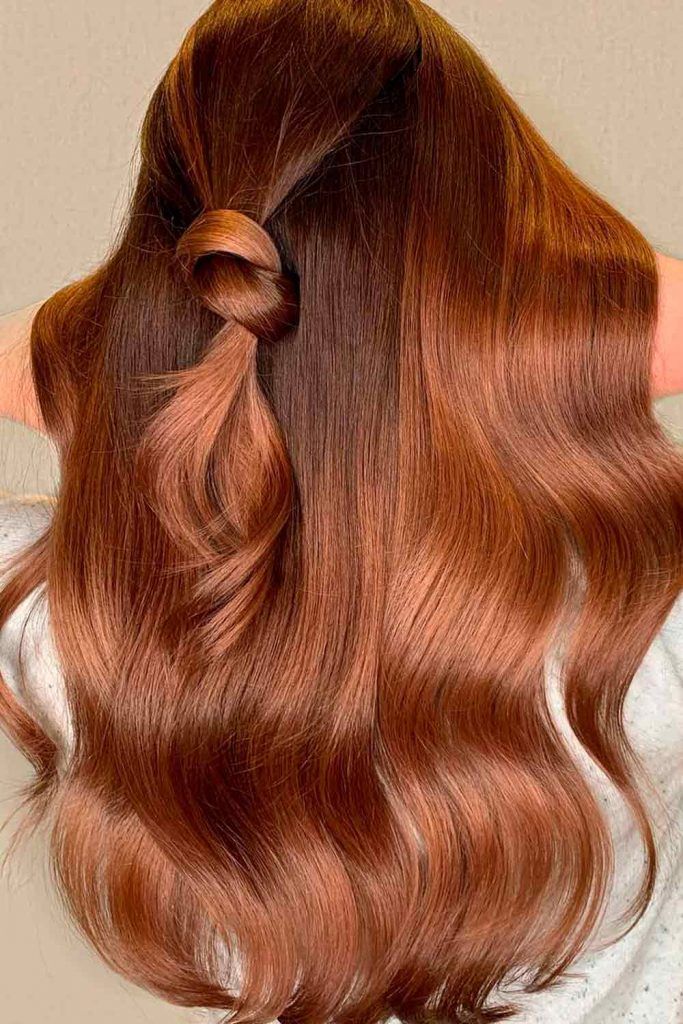 Credit photo:
Another great look for dark copper hair is this deep red copper. Ask for dark copper red hair mixed with deep coppery brown for a rich, sultry look. And style your hair in pin-up style curls for a look that's retro glam and chic!
Fiery Copper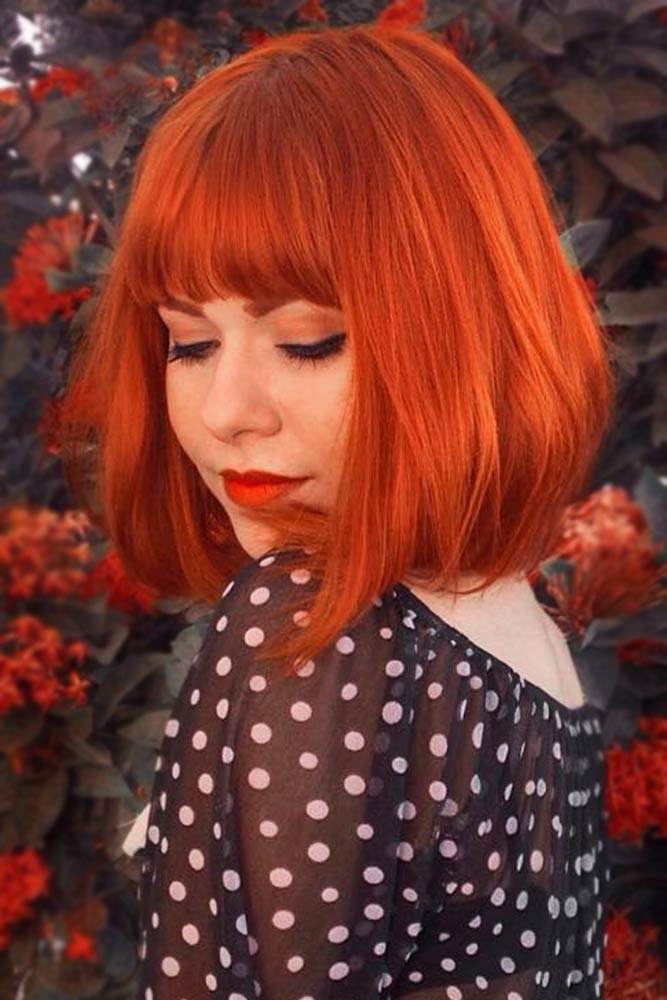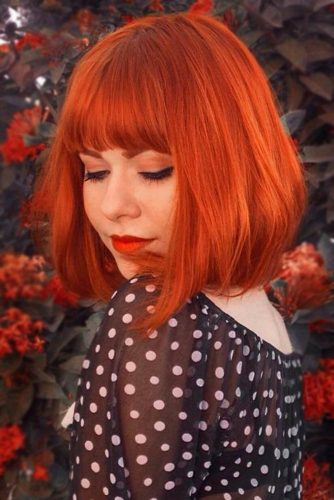 Credit photo: instagram.com/nessielv
Feeling bold? Want a sassy shade of red copper hair to match your fiery personality? This bright orange and red copper look is not for the faint of heart! Pair it with a short bob with blunt bangs for a super cute and girly look!
Warm Copper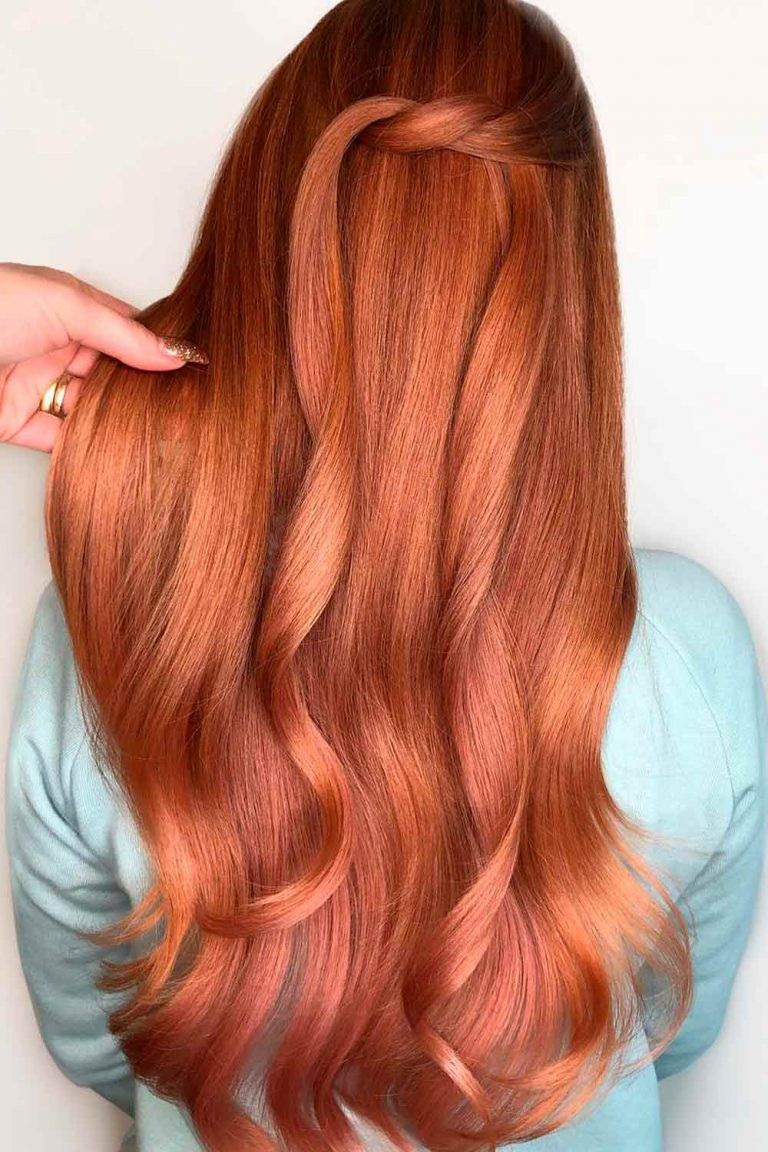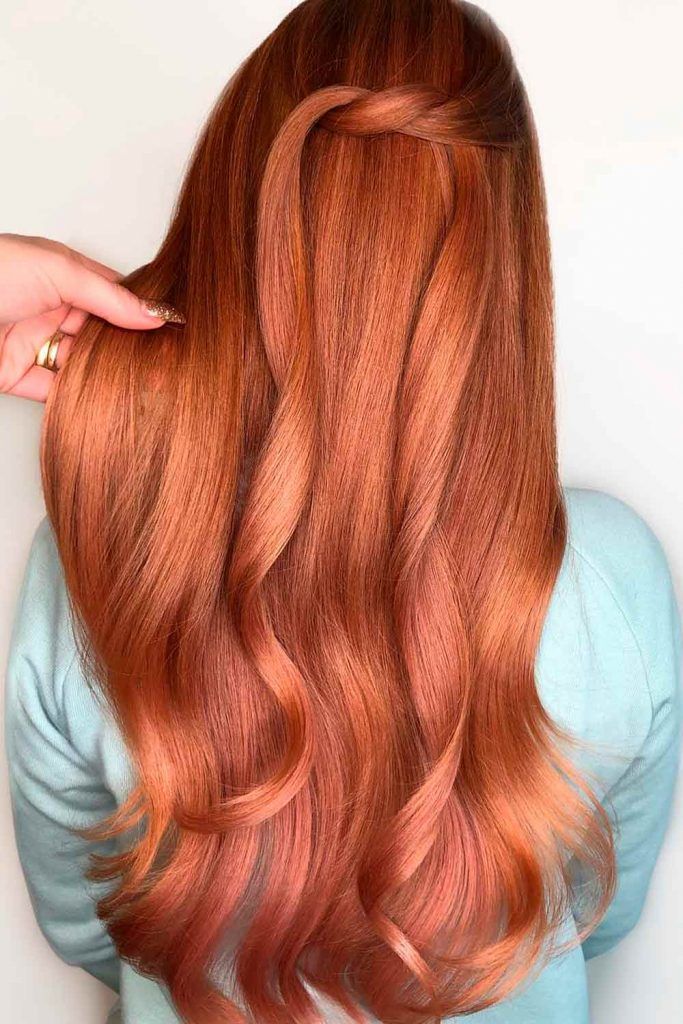 Credit photo: instagram.com/presleypoe
If you prefer a warmer shade, you can opt for brown hair with copper highlights. The warm copper tones will add a ton of texture to your hair. Ask for copper highlights on brown hair and style your tresses in sexy beach waves.
From Brown To Copper Hair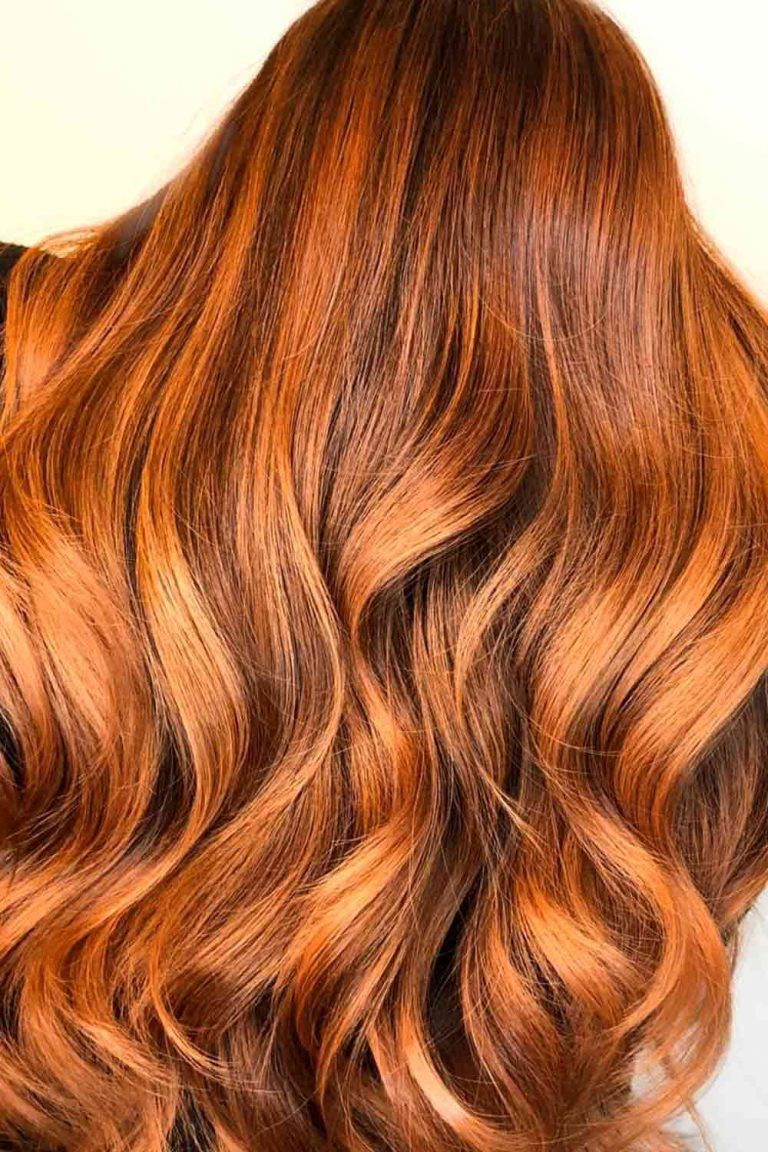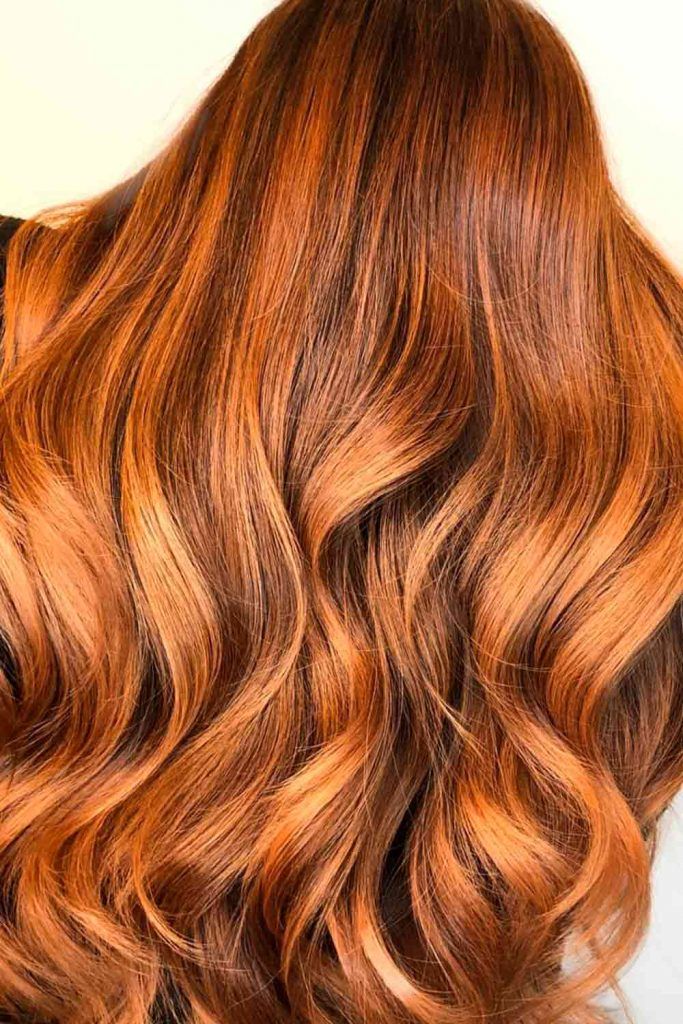 Credit photo: instagram.com/presleypoe
If you want to preserve your natural brown hair but add a fun hint of copper, you can use copper hair dye to create an ombre fade. Start at the top and blend a bright shade of copper in your hair in a cascading ombre effect. It looks even prettier with long flowing curls.?
Subtle Copper Color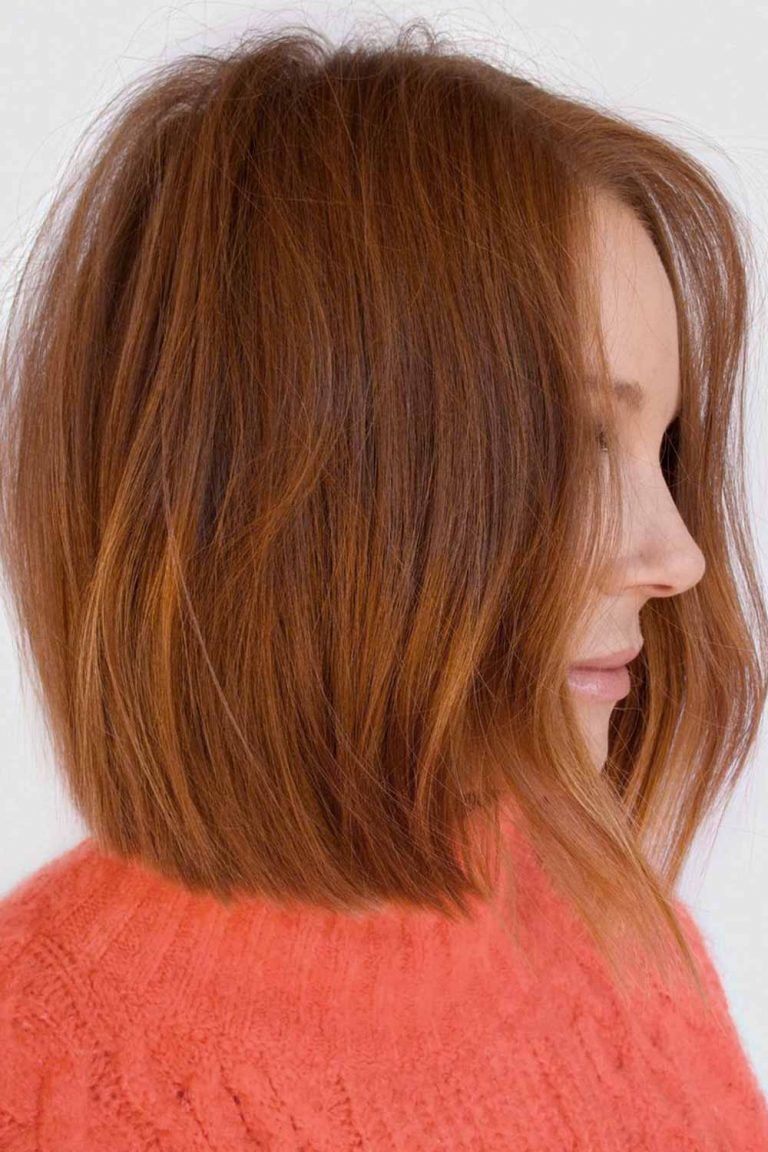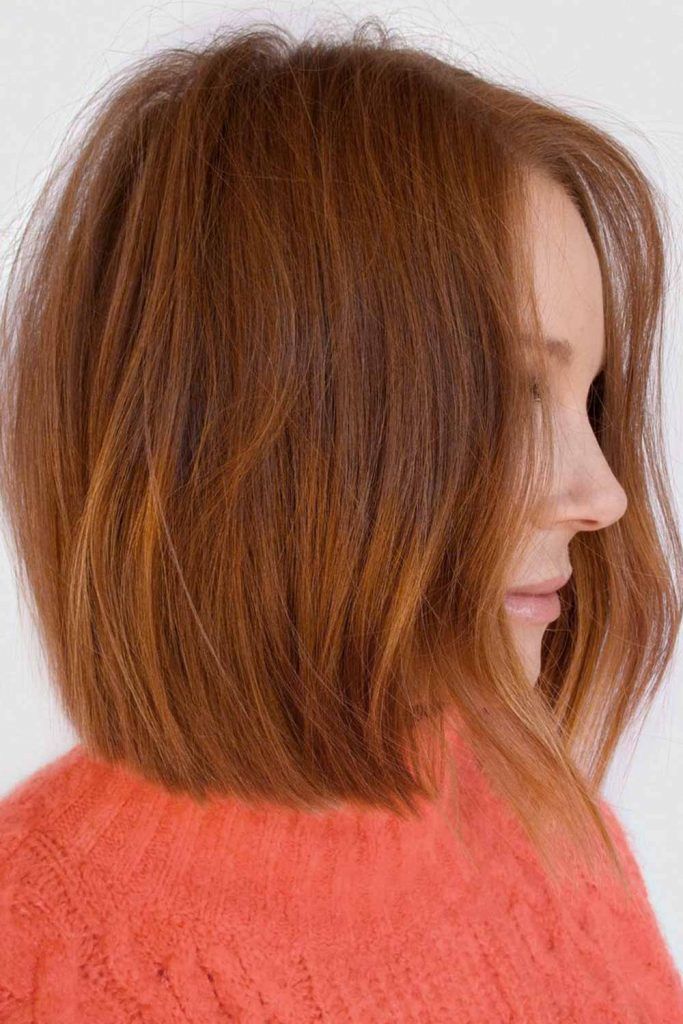 Credit photo: instagram.com/chrisjones_hair
For those who want a natural look, this subtle copper color is very sophisticated. Color your hair with light copper and blow dry it straight for a polished and refined look that is classy and chic.
Dark Brown Copper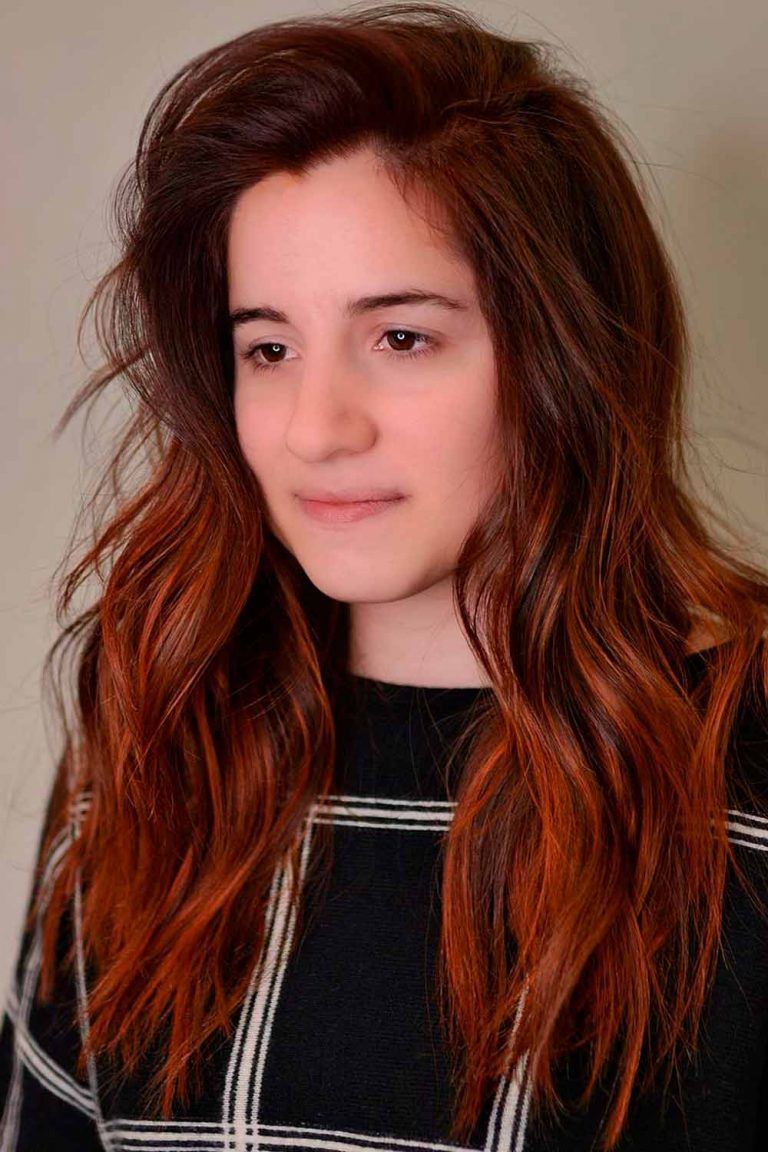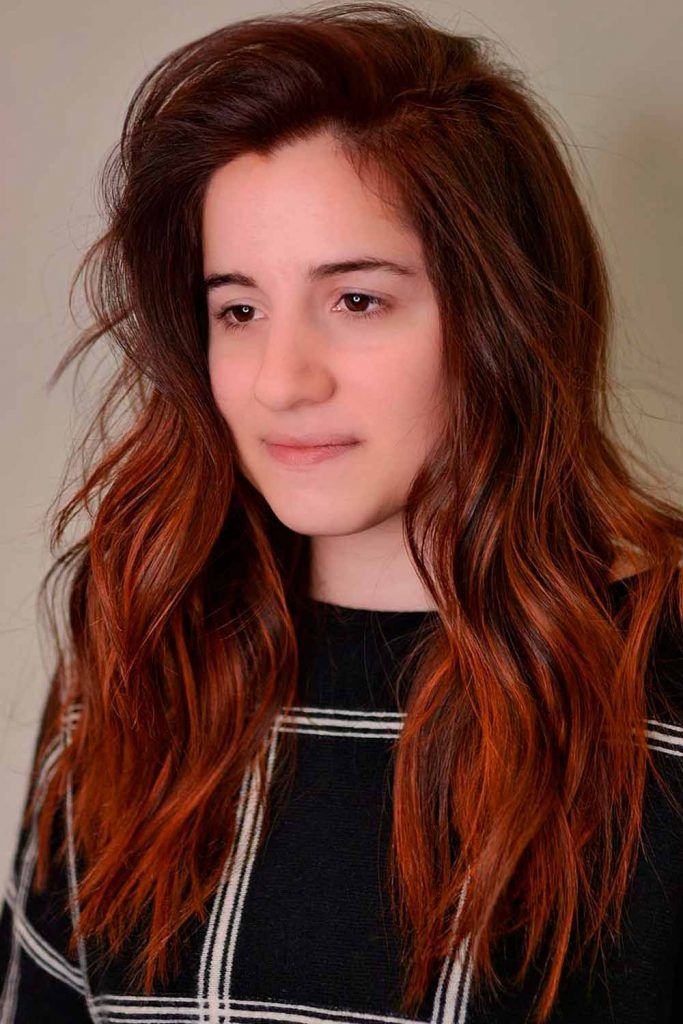 Credit photo: instagram.com/cutyourhair
For the most natural copper results, it's better to mix a couple of matching shades. For instance, some luscious dark brown will go nicely with any copper shade, creating stunning color graduation full of harmony and movement. As for the placement, there's a pattern you can't go wrong with: the brown hits the roots and the lower layer of hair, and the copper covers the top.
Copper With Orange Hues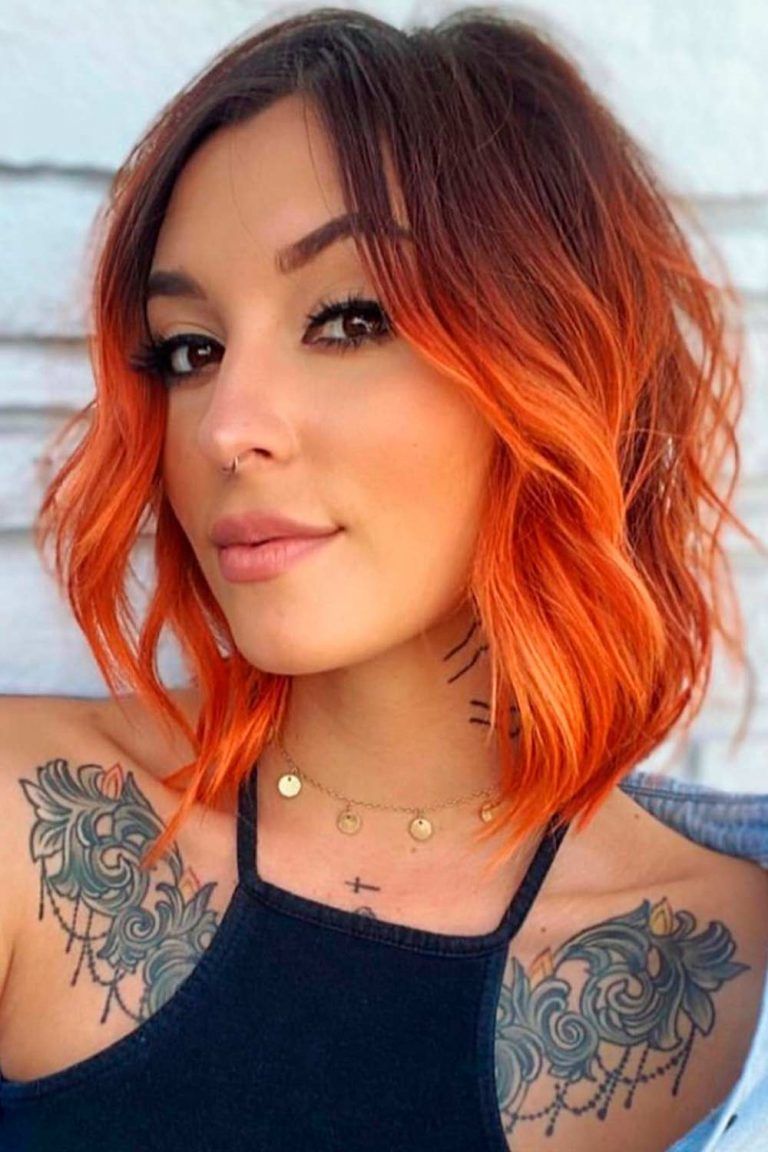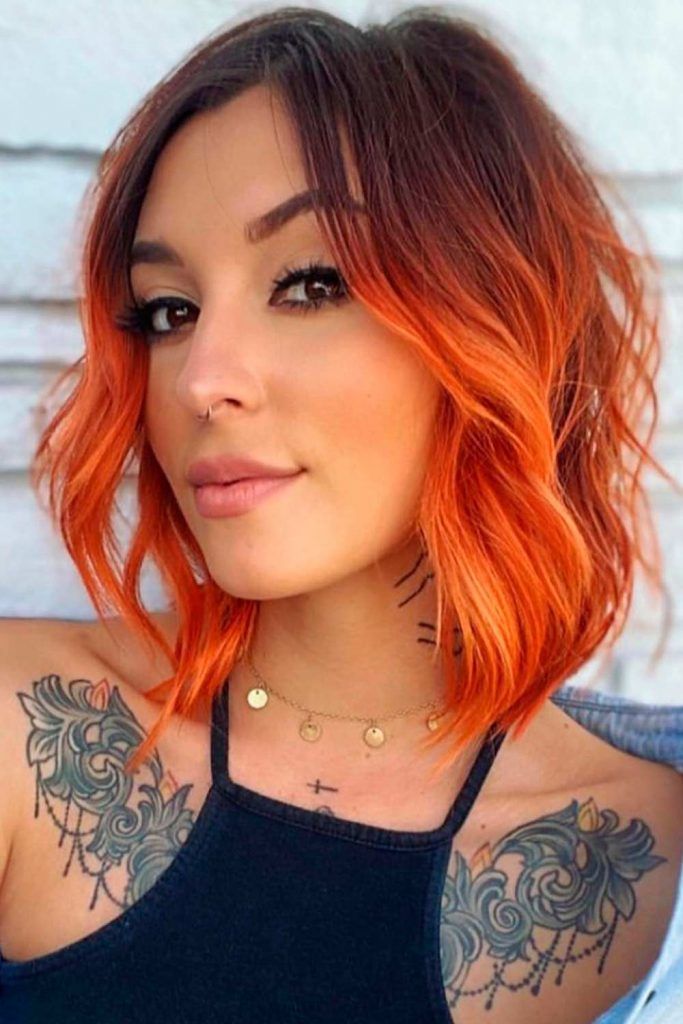 Credit photo: instagram.com/chrisjones_hair
Ginger hair color is probably one of the most desirable and enviable shades of red that people could ever see. It just so happens that this shade is pretty rare, so natural redheads can be only met by chance. Still, with the right combination of the copper hues, you can achieve as saturated and vivid color as the pure ginger. And the secret ingredient is orange undertones! Ask your stylist to finish the color job with a generous amount of orange dye to achieve that genuine effect.
Rosy Copper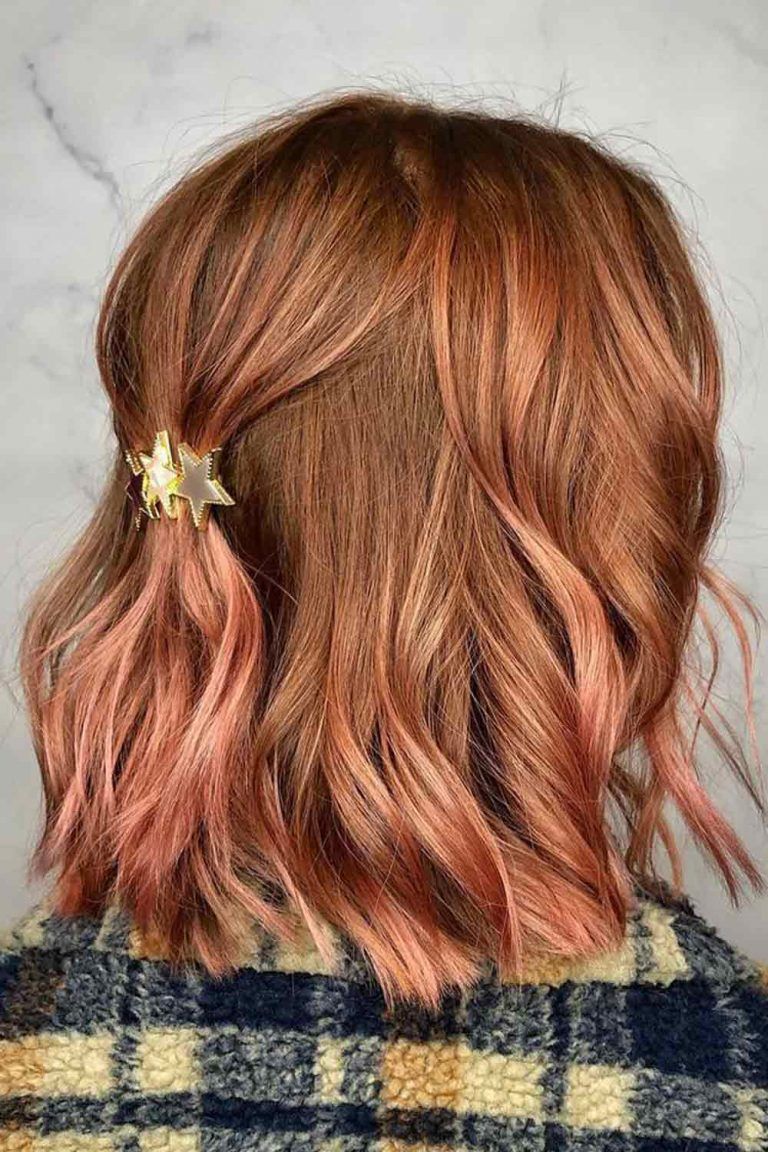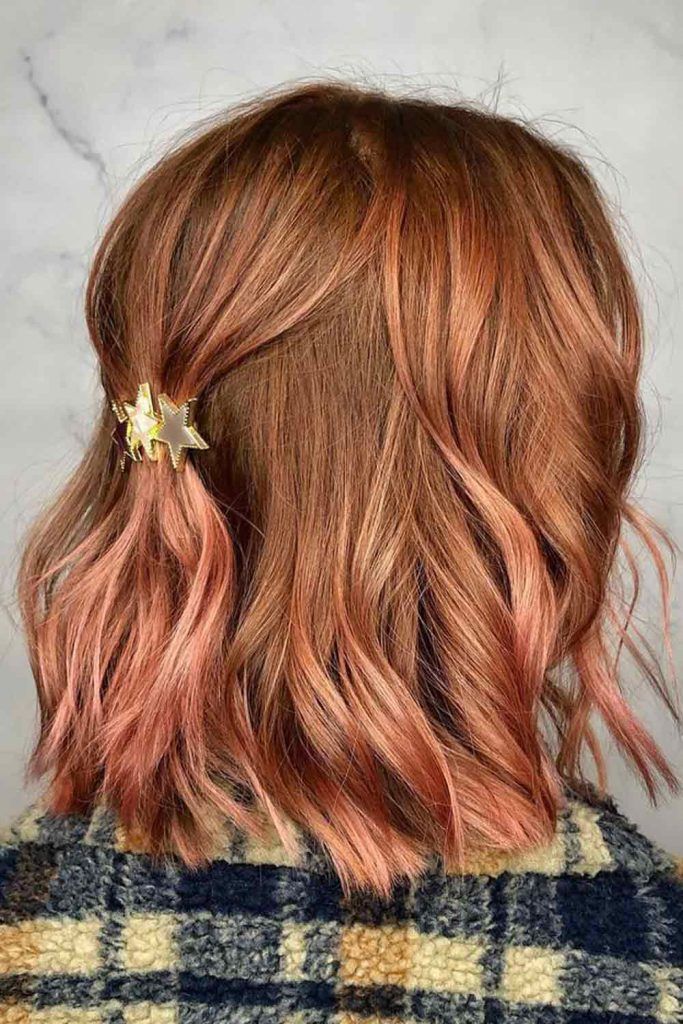 Credit photo: instagram.com/alexandrascissorhands
How about creating your own palette of trendy colors? There's no need to tell you how popular rose gold color has become these days, and the same goes for reddish and coppery shades. Obviously, mixing these two would be a win! Furthermore, unlike copper hair colors, the rose shade gets on well with pale and fine complexions, making the skin appear fresher and more alive.
Shiny Cinnamon Copper
Just like a tasty spice that enhances your favorite sweets, the cinnamon shade can accentuate and enrich your favorite copper color. Even natural red hair colors don't appear one-toned; they come as a combination of at least two similar shades. For that reason, you will only take your color to the next level if you mix a couple of shades. Needless to say, the shine created by the cinnamon hue is to die for.
Copper With Temporary Blue
Since the world is not split into black and white, hair color contrasts are not only about blonde and brown shades. Moreover, there's always a place for creativity, so your contrast can be anything you want it to be. Copper with blue roots. Why not? Some Coachella vibes won't hurt.
Bright Red Copper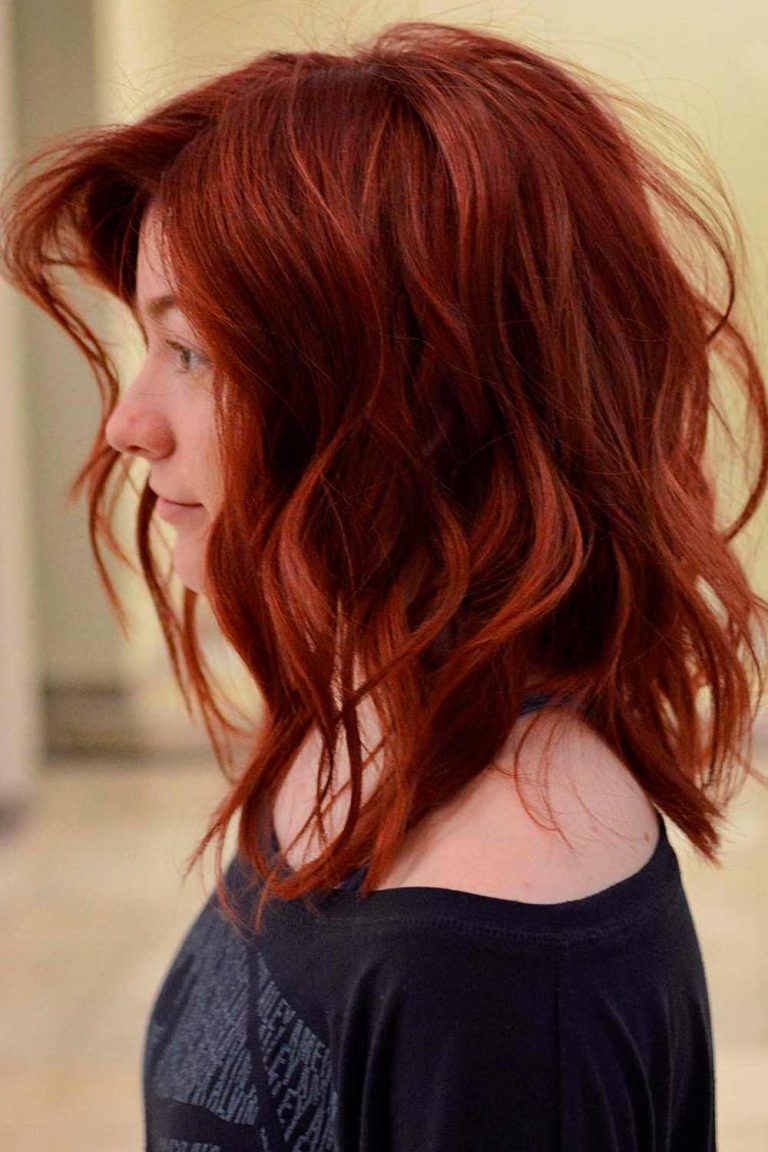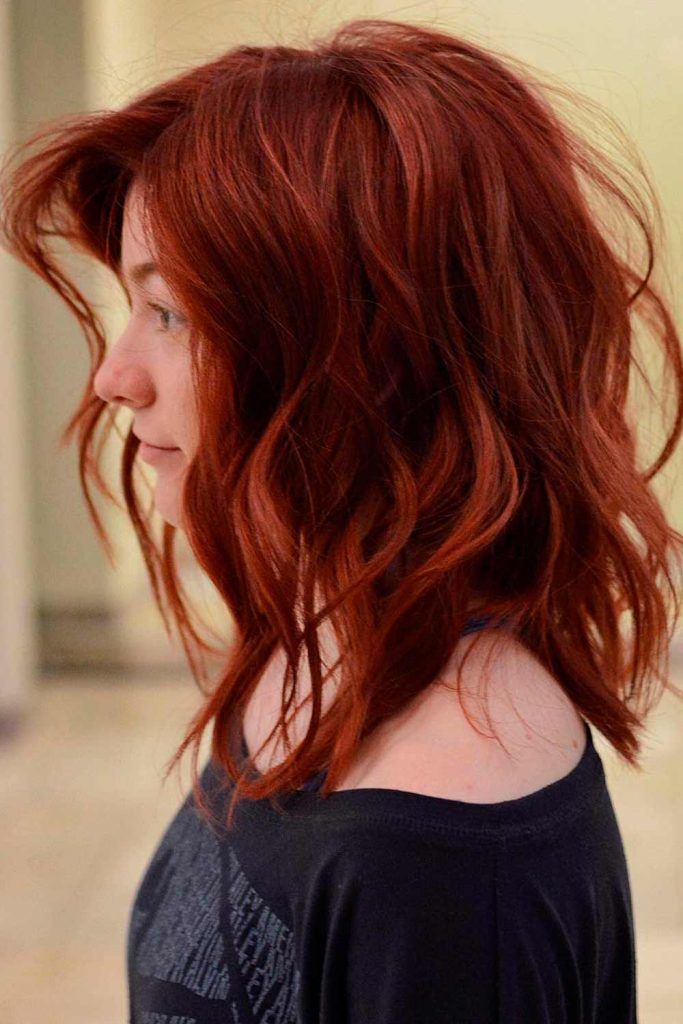 Credit photo: instagram.com/cutyourhair
When your dramatic fiery soul takes you over, you'd better yield to it and add some more bright colors. This saturated copper with a vivid red tint stretching through the length is a nice example of a head-turning yet not too drastic shade of copper hair. Yes, this color knows how to impress.
Fiery Copper Ombre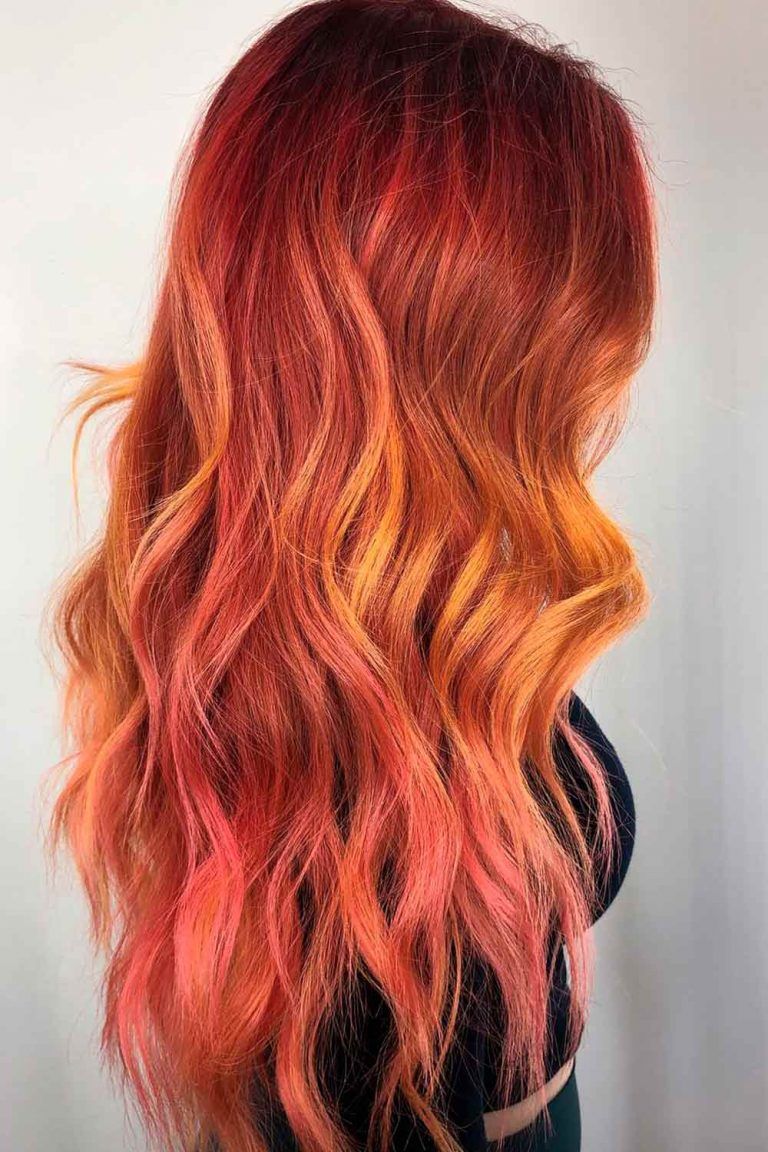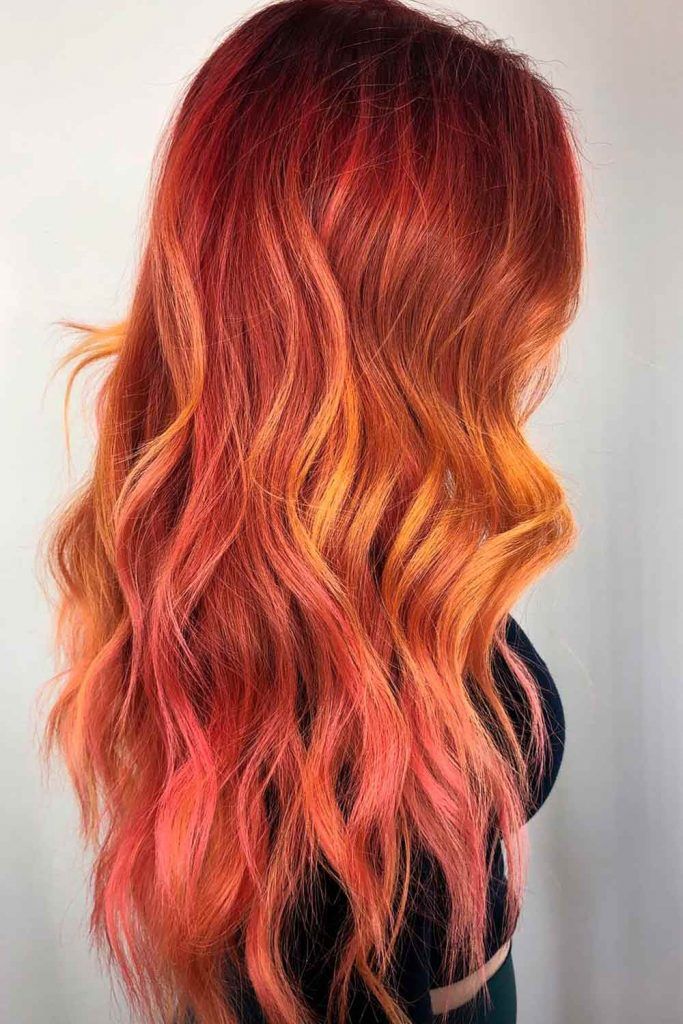 Credit photo: instagram.com/isaac4mayor
Now, it's time for ombre that embraces the most pleasant and shiny shades of the copper palette. Though they belong to the same family, they look totally different. But, they still have one thing in common: they're both gorgeous. As for the way they blend, it seems to be the embodiment of perfection.
Grapefruit + Orange Copper Balayage
Another fantastic fact about copper hair is that it's always different and can adapt to any mood. If you want to emphasize your noble skin tone with a cool-toned reddish shade, it will give you the needed effortless finish. And you're about to stand out in the crowd with a bright masterpiece on your head, copper color can reveal its vivid side.
Gold Tinged Copper Hair
When you want to add a sense of richness to your hair color, a gold-tinged copper shade is the best gift you can give to your locks, especially if you have a naturally brunette base. This luscious shade will amp up the temperature of your brownish locks, making your color warmer, softer, and illuminating at the same time. And if you're wondering who this idea will suit best, it can be a part of your look regardless of your complexion!
Pink To Copper
Can you imagine pink and copper on one palette? As it turns out, the most unexpected color combinations give the biggest visual impact. However, to discover the beauty of unique color pairs, you should work with the right color technique. As you might have guessed, nothing can beat sombre in this case. Here, you can see how pink and copper melt with one another, creating smooth and seamless graduation that gives life to brand new color.
Muted Copper
Copper hair is by nature quite a bright and saturated shade, which, unfortunately, doesn't go well with all skin tones. At the same time, you can always make your color less intense by muting the reddish portion with a prevailing deep brown. In this way, you can reach the perfect compromise between auburn and copper, making the color more balanced according to your liking. This muted copper is a stunning example of how you can make it real!
Copper Melt Three-Tone Ombre
When it comes to getting ombre, your creativity has no limitations, so you can let it fly as high as you want. Apart from mixing as many colors as your soul desires, you can regulate the way they blend, adjusting the intensiveness of each shade. In other words, there are so many details to customize that you can simply come up with your own color! And this pic is one of the countless variations of how you can experiment with your copper ombre. Everything starts with ginger brown roots and gradually turns to a rose-inspired red that transforms into copper at the end of the color play.
Are you ready to embrace one of these sassy and sexy shades of copper hair? Do you think you have the confidence and attitude to pull it off? We hope we have given you the courage and inspiration to do so!
FAQ: Copper Hair
Is copper hair hard to maintain?
Copper hair requires some maintenance because it is slightly more difficult to achieve, especially if you want to move from dark to blonde. When you go from dark to blonde, firstly you need to remove the color molecules from the hair.
What skin tone looks good with copper hair?
If you have a yellow undertone in your skin, you will most likely benefit from a golden copper hair shade. Yellow undertones would complement multiple-toned copper hair, enhancing the shimmer of a warm skin.
What does natural red hair look like?
The color of naturally red tresses is usually reddish-brown. Of course, there are many variations in hair hues depending on how dark or light the hair color is, which implies that you can have naturally dark or light red hair.