Draw His Attention with Your Platinum Blonde Hair
Platinum blonde hair is super sexy and so much fun! If you want to get your man's attention, then don't be afraid to go blonde! Blonde hair will never go out of style!
That is why it is only natural that many women wish to sport that hair color and are ready to the commitment. But, it is our primary task to warn you that there are risks to take and before you fully commit you should be aware of them. That is why today we are going to talk about all the trendiest blondes, ways of getting there and what you should consider in the first place.
Platinum Blonde Guidelines
Many ladies wish to sport blonde hair, but when they actually get there, the result leaves much to be desired. That is why we suggest you consider these key points before bleaching your hair.
Some people do not look marvelous with blonde hair. To find out whether you are not one of those, try a blonde wig on. It is painless and totally worthy since once you see yourself in blonde, you will know whether you should go down that road or you shouldn't.
Think about your skin tone. The fact is that ladies with cool skin tones are always better-looking with platinum locks rather than the ones who have warm skin tones.
What about the tan? Do you tan easily? The thing is that dark tanned skin does not look that great with icy platinum locks.
Those of you with dark hair who wish to go to the blonde side should be aware of the amount of maintenance blonde hair requires. Your roots will constantly be showing; there is no doubt about that – so think twice whether you are ready for such hard work and commitment.
Last but not least, you should consider the condition of your hair. If your hair is thin and fragile, there is no way it will withstand all the chemical processes of bleaching that is why you should better strengthen your hair before trying to go platinum.
How To Prepare Your Hair:
It is highly important that your platinum blonde hair color is even that is why you should forget about any kind of dying for at least six months.
A fortnight before the bleaching procedure you should treat your hair with a conditioning treatment. No matter how innovative the bleaching formulas are, they will dry and damage your hair, so the best you can do is to nourish it properly at least two weeks before the procedure.
Two days before the bleaching procedure you should in no case wash your hair. The thing is that all the natural oils that are produced will secure your scalp from drying and that is highly important.
Last but not least, you should prepare yourself mentally for both the dramatic change of color and some change of length, both are inevitable.
First Step Of Platinum Blonde
As you may have already guessed everything starts with the application of bleach. The bleaching starts from the back of your hair and then goes to the front so that all the hair is bleached evenly. The first stage of bleaching is required to eliminate the natural dark hues from your hair. The process approximately takes about two hours, so you better get patient.
Second Step Of Platinum Blonde
The second stage begins with the application of heat to fasten the transition into platinum blonde hair color. The heat is applied to the front first so that the color is evened out. After the heating, the bleach is rinsed, and your hair is blow dried. This process takes the least an hour. Get ready!
Third And The Last Step
This is the stage when your wishes come true! You will finally evolve into a nice platinum blonde butterfly once it is done! This is the second time the bleach is applied, but this time it will be applied all over your hair so that it will take the shade to even lighter one. After the bleach has done its job, it is washed out, and the hair is usually cut, since rarely the hair isn't damaged. Now it is time for a toner; this is the proper way how to get platinum hair from yellow since it eliminates all the yellowish tints from the hair. The last step is to blow dry tour mane – and a new ice queen is ready!
How To Take Care Of Your New Color
First of all, you will have to forget about all the sulfate-containing shampoos and conditioners – only sulfate-free ones are to be used if you wish to preserve your amazing shade!
Purple shampoo is to be used at least once a week to maintain the color as well.
Since your hair has been undoubtedly damaged that is why you should use protein masks every two weeks.
Last but not least, every four weeks you need to refresh your color since your roots will grow out.
---
Scroll down to browse the gallery!
---
Platinum Blonde Highlights For Brown Hair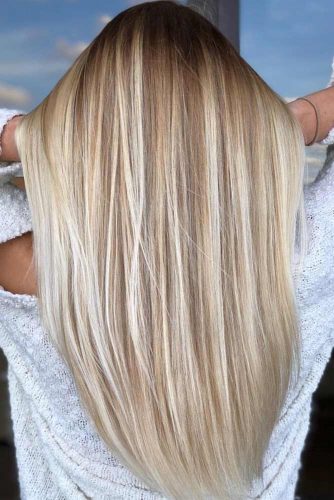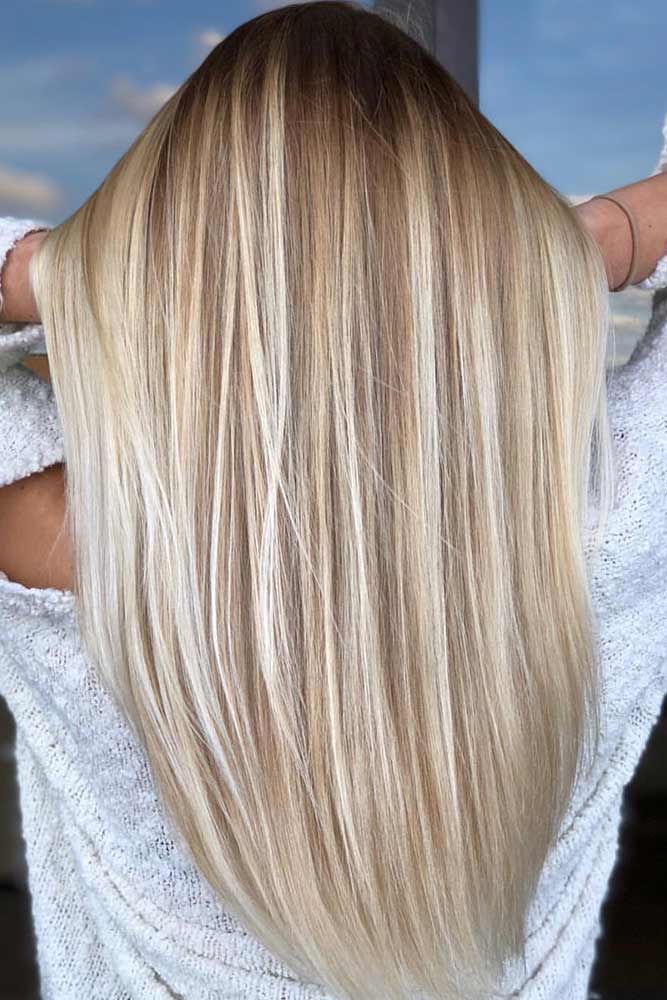 Source: camouflageandbalayage via Instagram
If you have dark blonde hair, you can add some light blonde or platinum highlights to give your hair some added body and dimension. Blonde hair is very alluring and playful! Don't be afraid to make a bold move by going lighter blonde. We can guarantee that you'll make him weak in the knees with your sexy platinum blonde locks!
If you don't want to go full blonde, you can always opt for a blonde ombre hair style! With all of the fun coloring options these days, we are sure you can find the look that's right for you! We have gathered some of the best styles for platinum blonde tresses that will drive your man absolutely wild. So, get out there and make him drool with your sexy new hair color!
Don't be intimidated by the idea of platinum highlights on brown hair. It may sound like a strong idea but it can turn out to look stunning when done right.
The platinum blonde hair color can give your hair the life it was lacking. Pick a hairstylist who is experienced with this technique on brown hair especially and you will not regret it. The contrast of the lightness of the platinum color against your dark hair will look beautiful for sure. You may even add a few ash highlights if you like a three-dimensional effect.

Long Layered Platinum Blonde Cut
Source: catherinelovescolor via Instagram
Combine your beautiful golden hair with a slightly dark color in the layers for adding some understated but noticeable dimension to your layered cut. If you have long hair, then we suggest keeping the difference in the length of the different layers just about noticeable but nothing too stark.
Platinum blonde with lowlights like the one in the picture is easily achievable by using the right combination of hair color to achieve this effect. This is a great hairstyle for women with long and thick hair.

Platinum Ice Color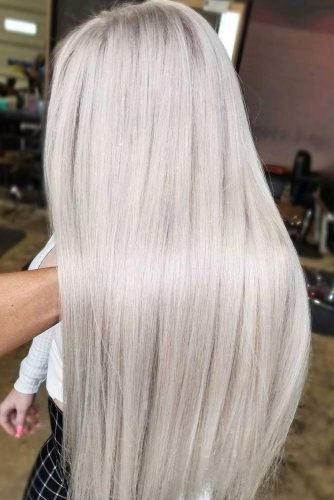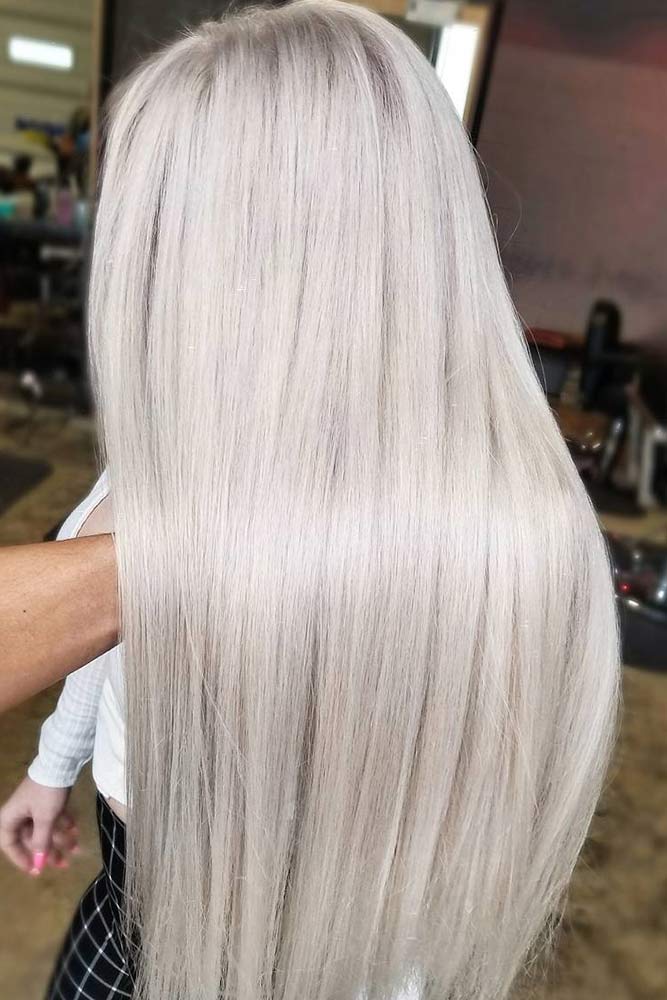 Source: bescene via Instagram
This is a trending hair color in the recent times because of the fact that many international celebrities have been seen sporting it at gala events. Icy blonde hair is definitely a bold choice to opt for, but it can look great of women who have a pale to the light-medium complexion.
Also known as the platinum ice color, this hair color trend is catching up among the common public as well. Stylists are receiving more and more women, especially those with long straight hair, who want to get this platinum hair coloring done.

Wavy Long Bob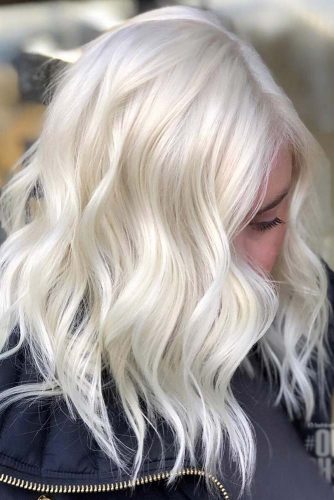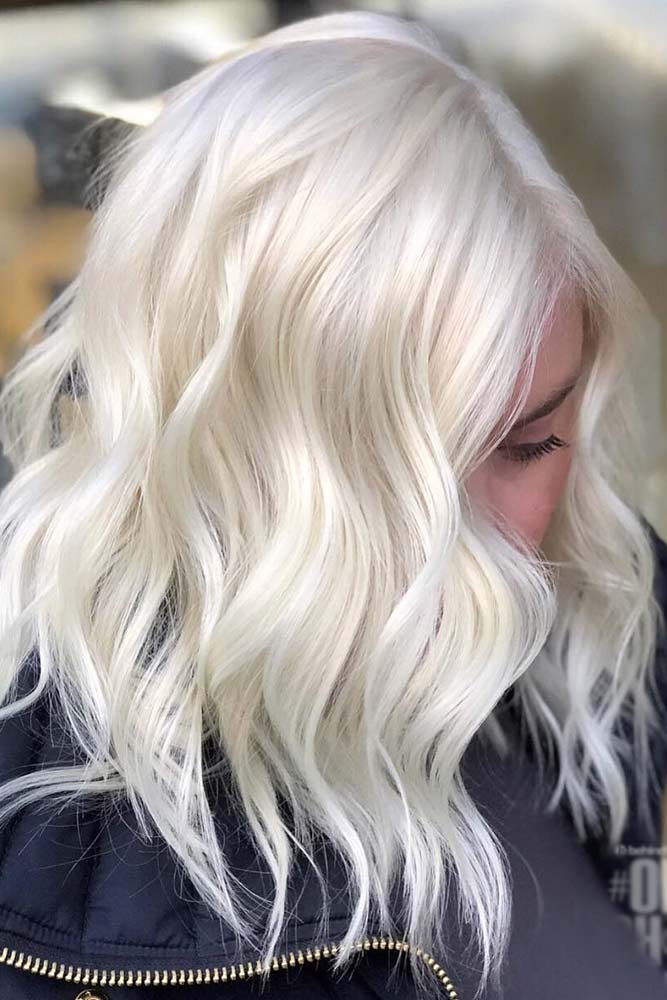 Source: camouflageandbalayage via Instagram
Platinum blonde medium hair can look great in a wavy, long bob haircut. The hair length just kisses the shoulders and the brilliance of the hair color shines through in this hairstyle, for sure. Using some texturizing spray to get the right look and hold for your waves.
If you have straight hair, use a wide curler to achieve the waves. Looking at this picture, you might be wondering – "Is it possible to have natural platinum blonde hair?" We are sorry to break the bubble, but if you are not born with then coloring your hair with this breathtaking color is your only option.

Brunette With Blonde Highlights
Source: catherinelovescolor via Instagram
If you are a brunette and need a change from your dark hair, ask your stylist to add some platinum highlights on your dark brown hair. This will be the hair makeover you have been yearning for. The hair color transitions so smoothly from the dark brown roots to the platinum color at the tips.
It starts off with a platinum highlight on the top of the head and moves onto becoming totally platinum blonde at the end. Your search for dark brown hair with platinum highlights pictures ends here. Save this picture and book an appointment with your stylist today!

Platinum Blonde With Black Roots
Source: mr_colorist_2017 via Instagram
Dark roots can seem to be a problem when you want to get platinum highlights done. It does involve its fair share of stripping away the dark color, but the end result is definitely worth it. Black roots look great with a light blonde balayage, like the model in the picture.
The transition of the hair color from the dark roots to the blonde on the top of the head almost gives the appearance of platinum blonde hair with lowlights. It is just astounding when it is done with precision by an experienced hairstylist who knows when and how to adjust the tonality to achieve such a result.

Sleek Blunt Blonde Bob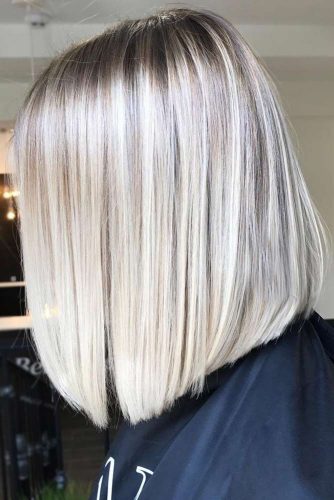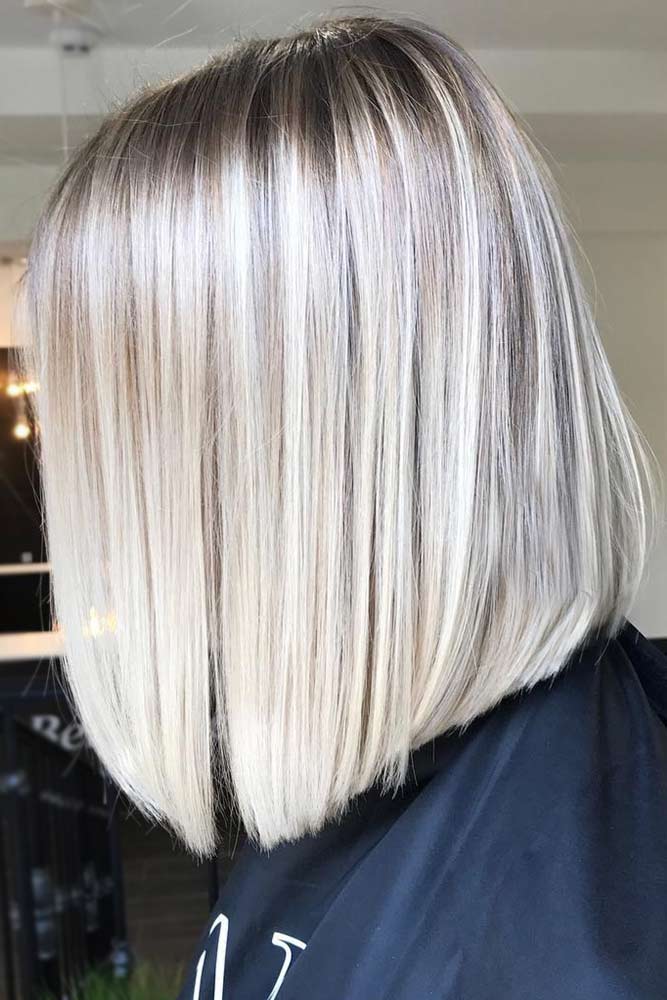 Source: mr_colorist_2017 via Instagram
For a short hairstyle with platinum silver hair color, a sleek blunt cut like this picture is a wonderful option. If you have straight hair with medium thickness, go in for this bob haircut with a blunt cut.
Keep the roots natural and ask your stylist to apply the platinum blonde dye in a way that will flatter your haircut and hair texture at the same time. A balayage blonde for straight hair is one of the best options when it comes to hair coloring techniques for this sleek, blunt bob hairstyle.

Face Framing Blonde Balayage
Source: rafaelbertolucci1 via Instagram
For medium length hair, a blonde balayage on brown hair can help you facial features stand out even more when you style your hair right. This hair coloring technique is subtle and flattering on brown hair and can easily be done using platinum blonde hair color.
The lighter and more prominent hair color can be made to start around the eye level so that the hair strands with this platinum color frame your hair. This balayage dark blonde hairstyle can be styled poker straight or with cute, beachy waves like the model in the picture.

Brown To Platinum Blonde Ombre
Source: romeufelipe via Instagram
For a softer version of platinum blonde highlights, you can opt for a brown to blonde ombre hairstyle. Naturally brown hair can be made to transition to a lighter brown and then proceed onto the platinum blonde hair color.
The gradient effect can be attained successfully with the platinum balayage on dark hair method. It is a combination of traditional and modern hair coloring techniques that can bring out your skin tone.The shift in the hair color in this balayage blonde bob is seamless and suits both straight hair and wavy hair textures.

Sleek Wavy Platinum Blonde Highlights
Source: rodrigocintra via Instagram
Wavy hair is so Disney-like and reminds us of playful princesses. A platinum balayage is a hairstyle that you should definitely try if you are considering this popular hair color for your long, wavy hair.
Brown haired women are at an advantage as the platinum hair color will easily latch onto their natural hair and last long as well. A balayage with blonde highlights on your wavy hair will give your entire look a bohemian touch. A messy, half up-do is all you need to add the final touches to the look!

Dimensional Blonde
Source: emilyfieldhairdesign via Instagram
This icy platinum blonde hair shade is very striking and youthful. The soft shade will work for any complexion and eye color, but you need to be ready to make a commitment.
This gorgeous color will take some upkeep, but we can promise you that it's worth the effort! And the best part about this color is that it looks natural, so everyone will think it's your natural shade!

Icy Blonde with Dark Roots
Source: hairbyallih via Instagram
If you want a look that's low maintenance, this icy blonde color on darker roots is sexy and practical. It doesn't require as much upkeep with the darker roots. This style will flatter those with cooler eyes and fair, neural, or beige complexions.
To maintain this trendy look, you should use a hair mask once a week to help preserve the color and keep your hair shiny and healthy.

Icy Platinum Blonde with Shadow Roots
Source: hairby_chrissy via Instagram
For those who want a multi-tonal blonde look, this style is stunning. Platinum blonde starts at the tips and then fades slowly to honey blonde at the roots. This is another low-key look that doesn't require a lot of upkeep. This color combo looks best on those with pale or ashy skin tones.

Soft Edged Bob for Dark Blonde Hair
Source: hairbykimtran via Instagram
Bob haircuts are always in style and this icy blonde angled bob is no exception! The icy blonde tones will add a ton of depth to your tresses. We think this color will best suit those with fair skin and light eyes. This look is so youthful and vibrant that your man will stop dead in his tracks!

Pearl Blonde Ombre Hair
Source: jenna.giansanti via Instagram
This pearly platinum blonde hair shade will glisten in the sunlight for a sexy, shimmery effect! It works best on those with lighter skin tones. However, even those with darker complexions can pull it off with a little confidence. This sultry look will make his jaw drop when you walk in the room!

Messy Long Bob for Thick Hair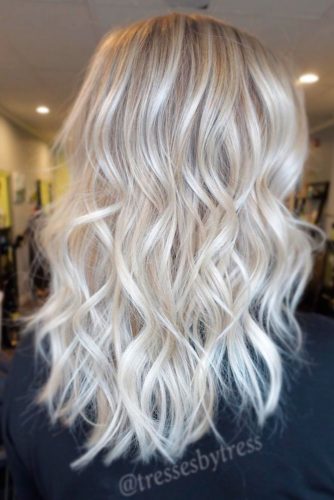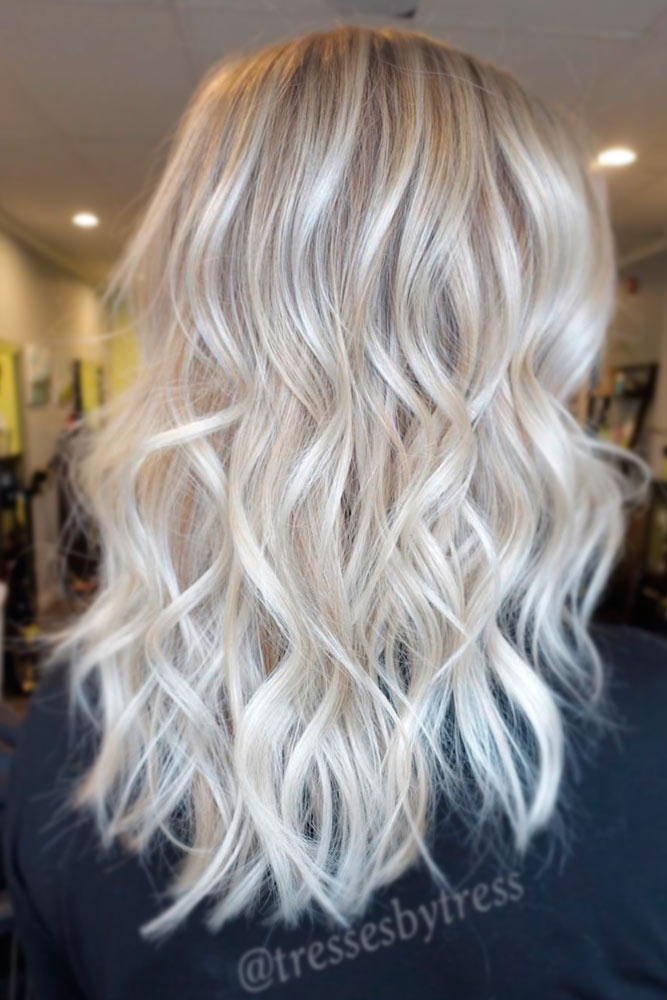 Source: tressesbytress via Instagram
If you want to lighten up your thicker tresses, this sassy Scandinavian blonde color and cut will work wonders! The carefree, tousled waves are super flirty and feminine, and the multi tonal shades of blonde give it added depth and movement. We recommend this shade if you have a warm complexion.

Bombshell for Bob Cut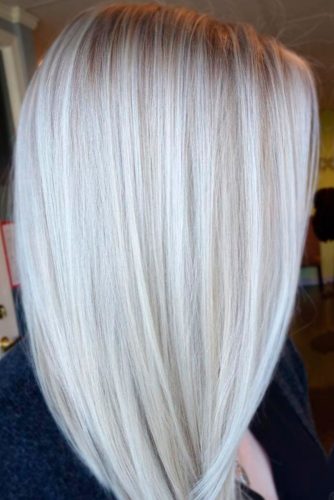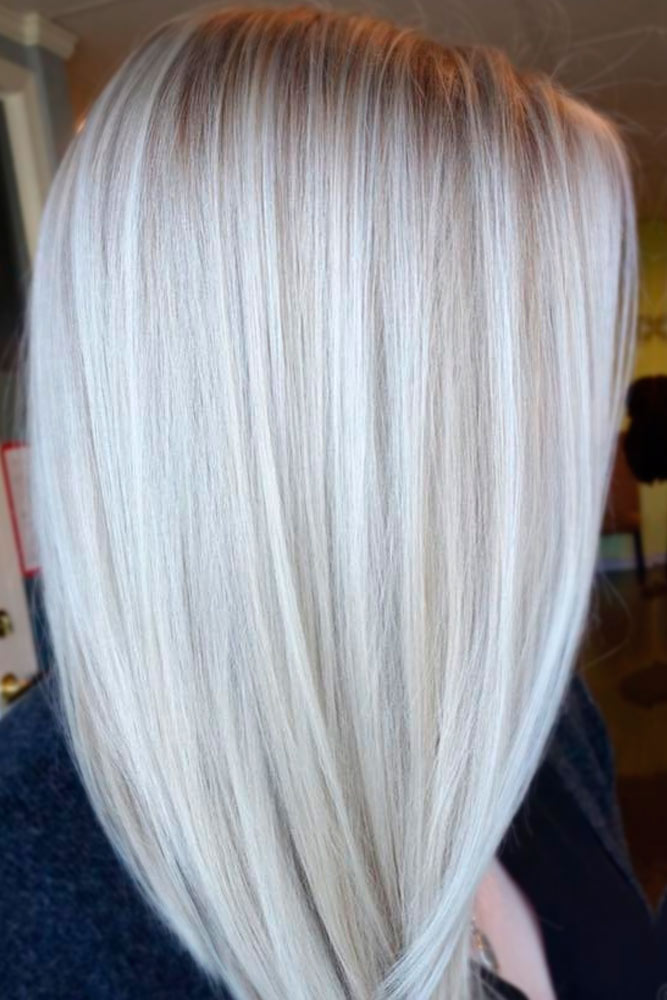 Source: tressesbytress via Instagram
If you want to go all out and embrace your inner blonde bombshell, this look is for you! The buttery blonde tones with the darker base are very chic and sophisticated for a look that's seductive. This color will nicely compliment those with an olive or pinkish complexion.

Babylights for Long Layered Blonde Hair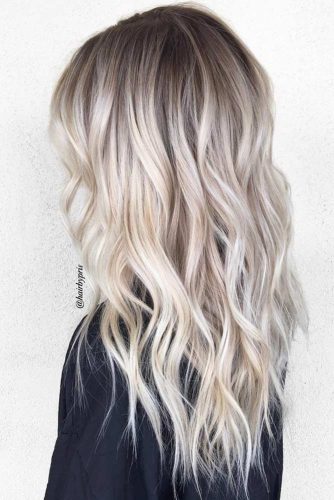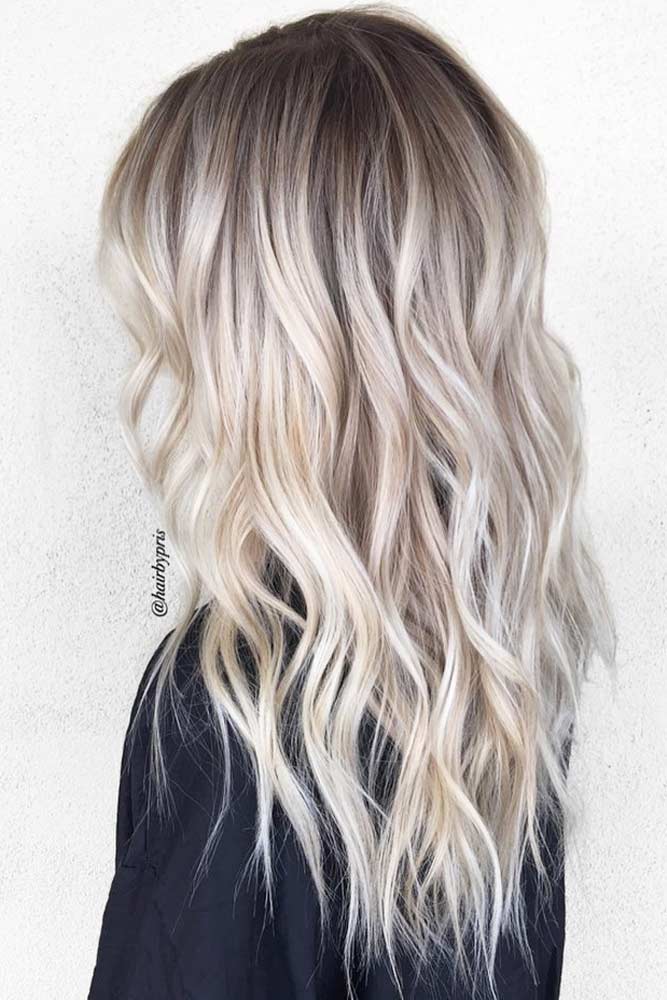 Source: hairbypris via Instagram
If you want to keep your longer locks, this sexy platinum blonde balayage is perfect! The slightly darker shadows at the root with the platinum blonde babylights add depth and dimension to your long tresses. With the darker shade framing the face as well as the roots, this combo will work for any eye color and skin tone.

Blonde Balayage
Source: hairbykimtran via Instagram
If you really want to drive your man wild, this sexy platinum blonde balayage with soft beach waves is truly breathtaking! The color and bouncy waves add movement to your tresses. The best thing about this look is that it will suit any complexion!

Icy Blonde Balayage with Warm Tones
Source: jilmorrishair via Instagram
Icy blonde hair is so in right now and this look is right on par with today's hottest trends! The combination of ash and ice blonde tones is absolutely striking! The carefree, messy waves add a ton of sex appeal to this sultry style! If you are confident, you can pull off this look no matter what your skin tone is!

Balayage With Ombre
Source: rafaelbertolucci1 via Instagram
This combo of shimmery blondes is very sexy and chic! The soft balayage effect that slowly fades to platinum blonde tips is the perfect subtle ombre look for those who want both sass and class!

Blonde Bob For Straight Hair
Source: hairby_chrissy via Instagram
Another classic bob style with a sexy blonde twist is this shoulder-length lob. If you want to remove some length but still have a slightly longer look, this bob cut is just right! The smooth icy blonde tones will shine like diamonds in the sunlight!

Platinum Blonde On Long Hair With Side Bangs
Source: ssssamanthaa via Instagram
Side bangs are super sexy and flirty. This sultry shade of platinum blonde is just stunning with its racy waves that scream passion and lust! Smokey eyes and red lips will really enhance this sensual style!

Cold To Warm Blonde Ombre For Platinum Hair
Source: maggiemh via Instagram
Can't decide between hot and cold? Why not use both? This pretty combo of both warm and cooler blondes will add depth to your locks as well as spring to your step. Show 'em you haven't lost your touch with this fun and playful updo that embodies youth and confidence!

Perfect Platinum Blonde Hair Color
Source: hairby_chrissy via Instagram
We've saved the best for last – stunning shimmery platinum blonde! Only those who are daring can pull off this palest of pale blonde shades!
A platinum blonde hair shade looks super cool. This vibrant and cool hair color that has a silver hue is the lightest among blonde hair shades. Stylists agree that this shade is classic, therefore, it will never go out of fashion. There are also many celebrities who prefer getting their hair dyed in ash blonde, for example, Lady Gaga. Her ash blonde is really flattering for her cool complexion.

Braided Ponytail In Honor Of Game Of Thrones
Source: theconfessionsofahairstylist via Instagram
If you envied Emilia Clarke's braided ponytail in her role Danaerys Targaryen aka Khaleesi, then you should definitely give this blonde hairstyle a try.
Section the hair into four parts and make simple Dutch braids with each section.
Now, take all the braids and fasten them together using a clear elastic.
Take a thin strand of hair from the back of the ponytail and wrap it around the elastic.
Slightly back-comb the hair to make the ponytail appear voluminous.
Spritz some hair spray and there you have it – a GoT inspired braided ponytail for your platinum blonde hair!

Blonde To Strawberry Ombre
While blonde hair are a statement in themselves, if you are looking to add a touch of zing to the look, why not go in for a blonde ombre. Pick an eye-catching color like strawberry for your ombre hair and get the ends colored in a naturally fading style. If you are inspired by the picture in our gallery and decide to go 'matchy-matchy' with your pooch, make sure to use dog-friendly hair-dye for its hair, please!
[/column]
Stylish Long Haircut
Source: hairby_chrissy via Instagram
A platinum silver hair color is a great variation for women who prefer a super light hair color. With dark roots fading into a silver ombre, this blonde hairstyle exudes confidence and style. Save this picture to show it to your hairstylist during your next visit. The darker roots are also sometimes referred to as shadow roots and a smooth transition to the silver blonde is key to this look. Go in for a slight blunt cut and style your hair poker straight for this hairstyle!

Pastel Tresses For Long Wavy Hair
Source: rossmichaelssalon via Instagram
Pastel colored clothes are any girl's favorite so why not get pastel hair too? If you have naturally blonde, wavy hair, add a couple of streaks of pastel blue or pastel green can really complement your hair. If you have medium blonde hair and do not want to wait for months with salon visits to finally get such a light hair color, invest in a good quality platinum blonde weave instead. It will give you the color you want and most weaves are safe to be dyed with the color of your choice, which in this case is a pretty pastel one!

Side Fishtail Into Ponytail Hairstyle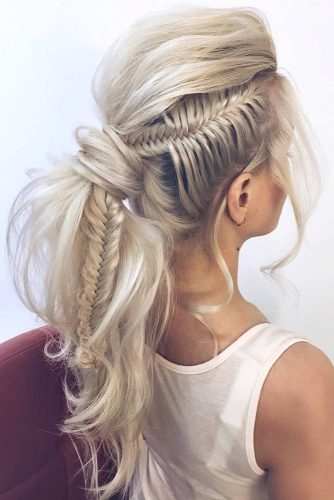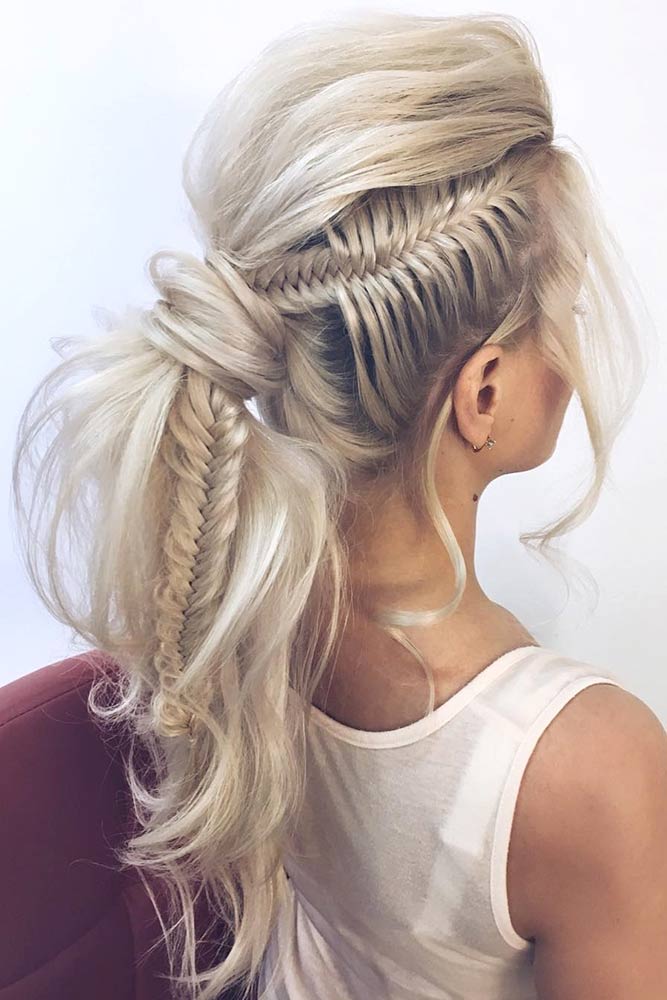 Source: kristina32_hair via Instagram
This is a great fishtail braid hairstyle for all seasons.
Start braiding the right section of your hair into a French braid and once you reach behind the ear, braid it until the end in a classic fishtail style.
Add volume to the center section of the hair using a round brush and some holding spray.
Secure all the hair together into a flirty ponytail.
Make sure to cover the ponytail's elastic with a strand of hair. You do not have to do this very neatly.
Adding some soft waves to the remaining hair will make this one of those super-pretty long hairstyles.

Sexy Pixie Haircut And Fade With Pink Roots
Source: thesaltybarber via Instagram
If you are not one for long hair, then this fade haircut is great for your platinum blonde hair. Ask your hairstylist for one of those pixie haircuts that has a front-side section of hair shaved to the minimum while the rest of the hair is kept longer. Subtle layers of this hairstyle for blonde hair can be highlighted by adding a dash of color. Be different by adding some pink to the roots instead of the tips.

Layered Bob With Bang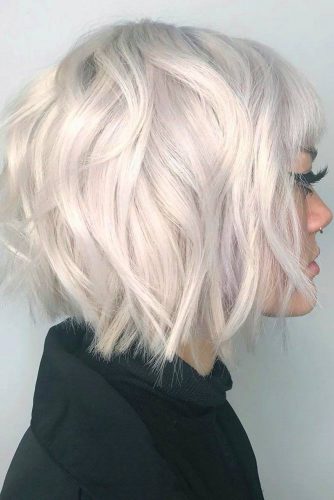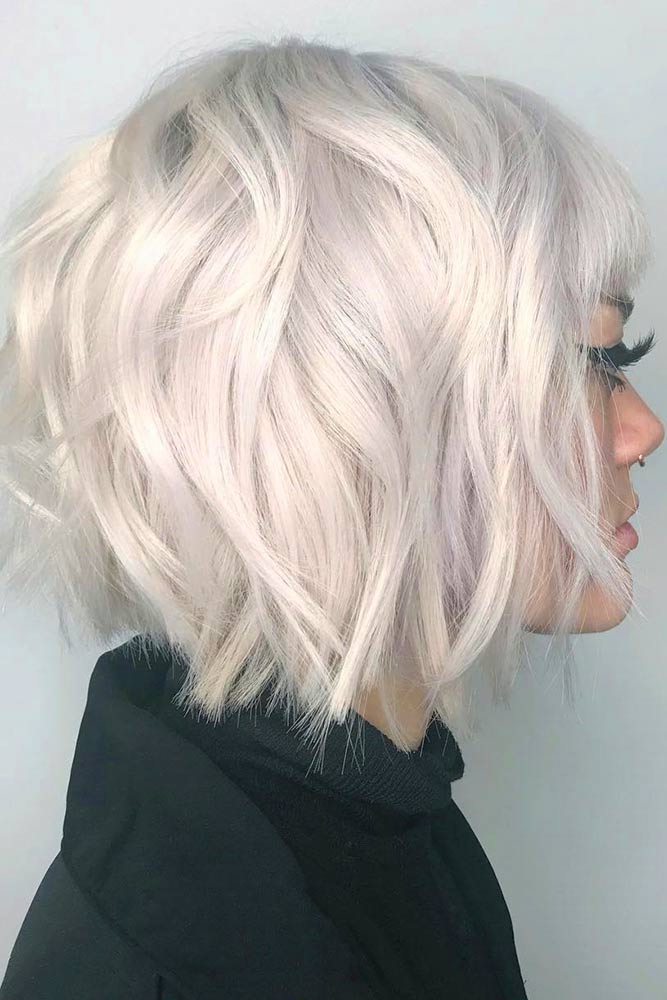 Source: karlavarleyhairartist via Instagram
For people with a wider forehead, a medium layered bob can really help to cover it up and enhance the other features of your face simultaneously. Get the haircut so that you have medium platinum hair with understated but still choppy layers. Let the bangs end just above the eyebrows. Use a flat iron to keep the bangs falling smoothly on your face and use some texturizing spray to get a beach waves look for your platinum blonde medium hair. A fierce winged eyeliner and a bold lip will complement this hairstyle!

Platinum Blonde Highlights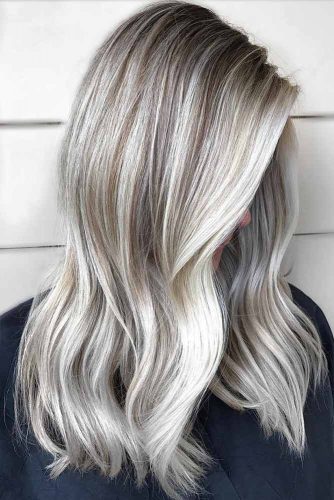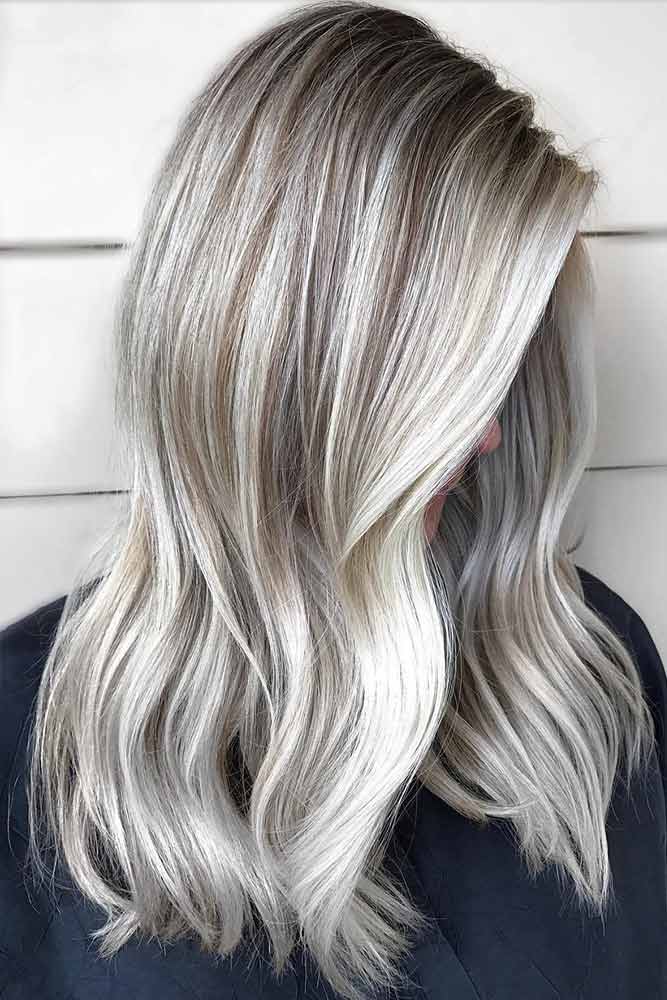 Source: jessicawagnerhair via Instagram
If you are skeptical about going 'all platinum', then you can always opt for getting just platinum blonde highlights for your dirty blonde hair. Take alternate strands of hair and use a platinum silver hair color on them to get the mesmerizing layers of color in your hair. Add some darker brown lowlights to give the hair a 3D appearance. You can enjoy the coolness of the platinum color and the warmth of your natural hair color at the same time with this hair.

Platinum Hair Color For Black Hair
Source: romeufelipe via Instagram
Getting platinum hair color for black hair is not an easy task, but nonetheless, it is an achievable task when you have a good hairstylist and you maintain your hair after all the bleaching sessions. Depending on whether you have dyed your hair in the past, you may need 2-3 sessions of bleaching to get an even distribution of the platinum color. Maintenance with deep conditioning treatments will help to keep your hair soft. For added volume, use a platinum blonde weave and style your hair to appear as luscious locks of molten silver.

Platinum Stacked Bob Haircut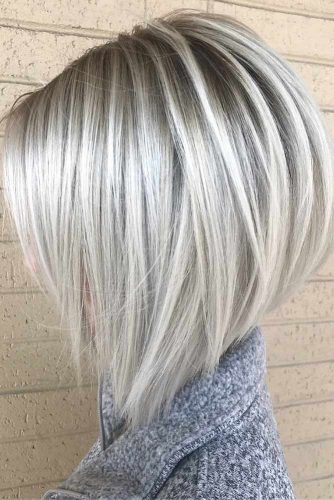 Source: stylelushsalon via Instagram
Have 'Elsa' like beautiful hair without the effort of maintaining the length with this stacked bob. With a slight angle to the front layers and a short, bouncy back, this platinum blonde hair looks effortlessly chic. Opt for darker roots to give the colors in this bob haircut a soft gradient appearance. You can also get your short platinum hair with lowlights if you prefer a more dimensional look. Such hair looks great on fair skin tones with both pink and beige undertones.

Silk And Shiny Blonde Hair Shades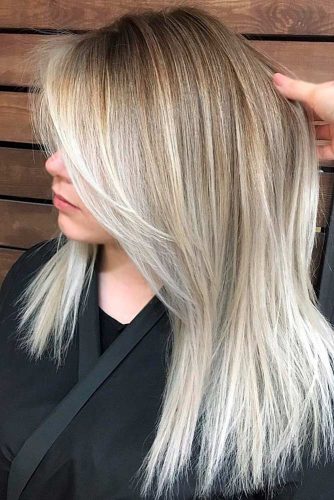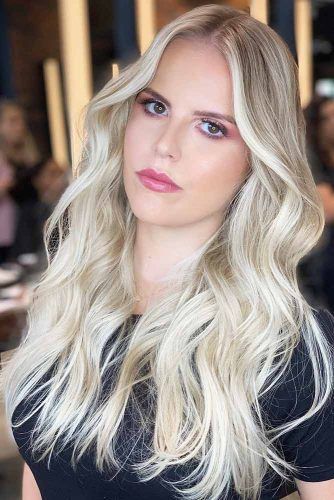 All shades of blonde, including so popular platinum, champagne and even
dark blonde hair
require the application of sharsh chemicals. Therefore, when opting for blonde hair, it is better to go to a salon rather than risk at home. A professional stylist can easily achieve any shade of blonde and, if desired, add some colors for
blonde ombre hair
. But besides getting the flawless shade, it is likely that in a salon, your hair will get the least damage possible. So, you get a chic shade plus healthier hair.
Eye-Catching Shades Of Platinum Blonde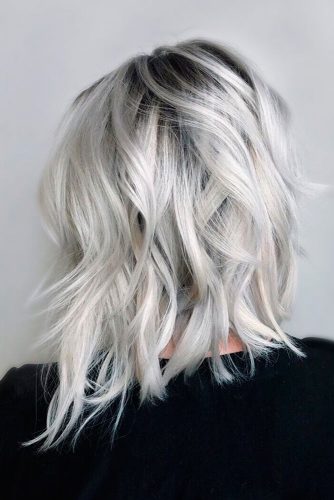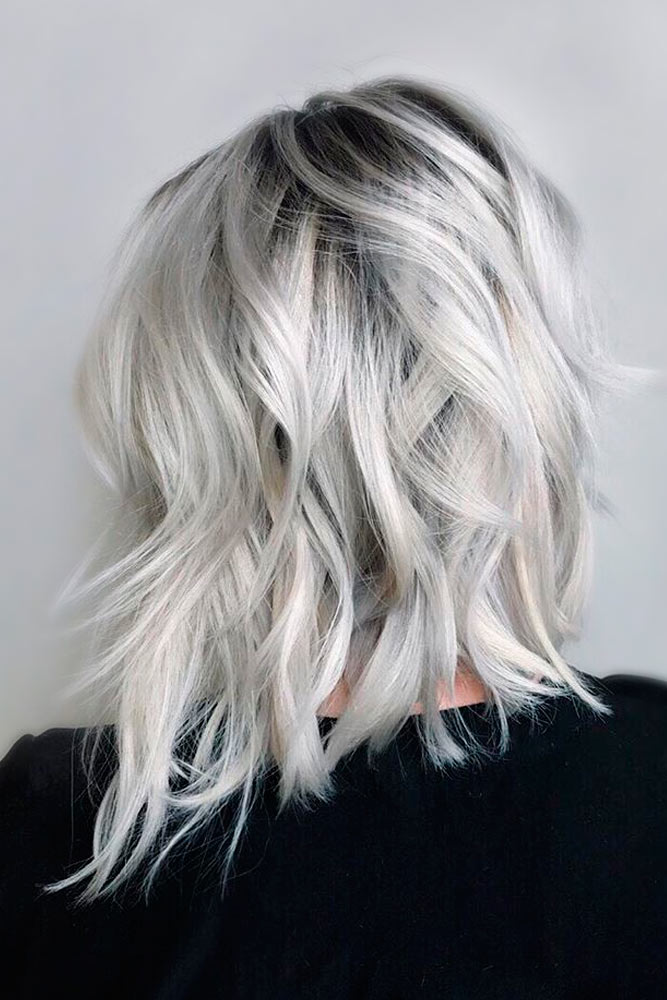 But if you do decide to bleach your hair at home, keep in mind that it acts really fast. So, whether you want it or not, you will need someone to assist you. Just ask one of your friends to help you not to get gold and yellow tones. Also, your platinum hair requires extra care. So, start with getting used to purple shampoo. Use it every other time – that will be enough for not letting any yellow tones appear. You can also mix it with white conditioner to get a toning 15-minute mask. Speaking of conditioning, it is a must in order to save a chic platinum color. And keep in mind that even relatively cheap deep conditioners will be of great use. Now let us discuss the pros of a platinum shade.
Beautiful Blonde Hair To Draw His Attention
Even though few people know about it, but a platinum shade is quite flattering for most skin tones. And instead of washing out, it can really enhance your skin tone. It will compliment your features and make your skin appear tanned and glowing.
Blonde Straight Styles for Medium Hair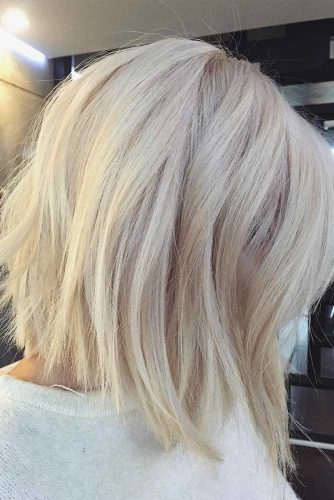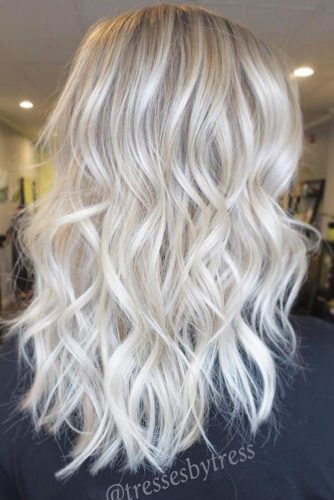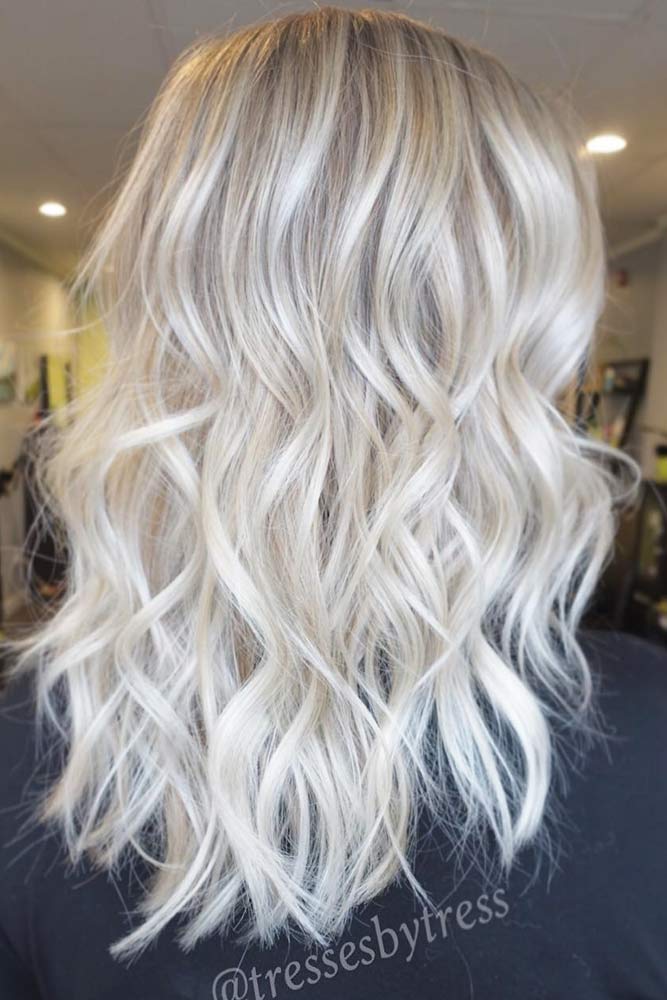 Platinum blonde color is perfect for the summer days. You don't need to do something special with your hair because if you already have a straight hair it can be your style. 5-minute hairstyles with low knots, sexy blowouts and volume haircuts are the best and faster way how to prepare yourself for any occasion. If you are looking for ideas how to style your medium haircut than we recommend to not make any difficult hairstyles. This summer girls choose beach waves, easy styles with side braids and a lot of volume.
Shades for Your Straight Hair
Source: Hairbykaitlinjade via Instagram, Hairbyjaxx via Instagram, Tressesbytress via Instagram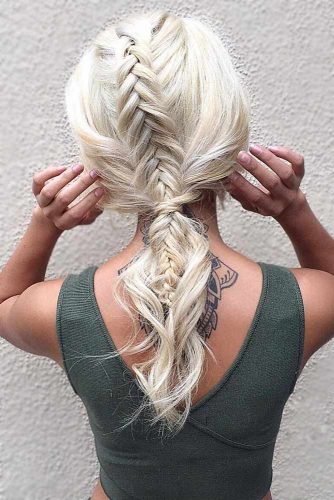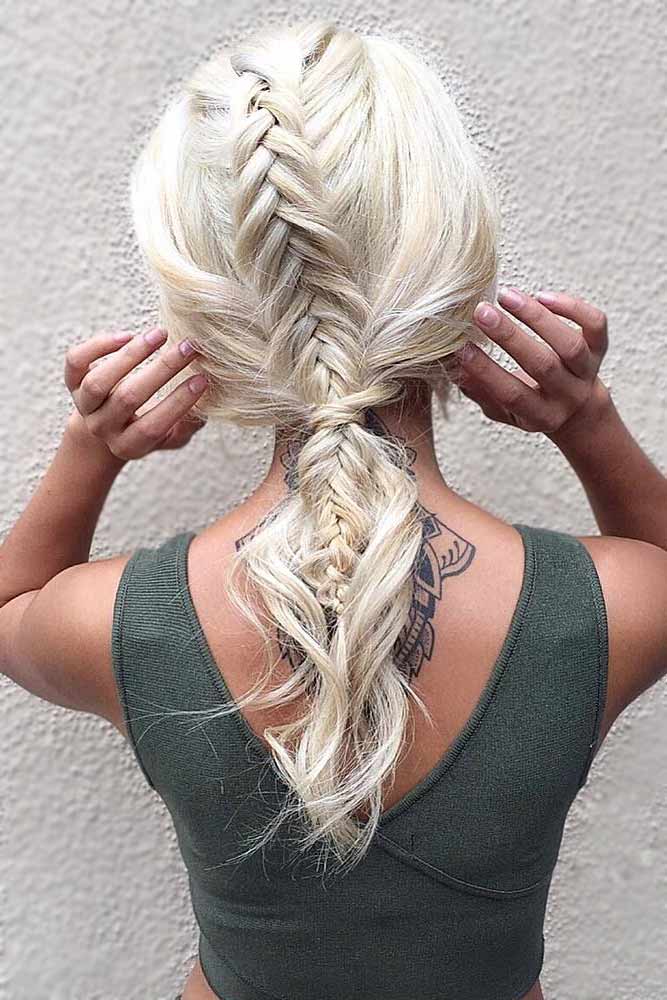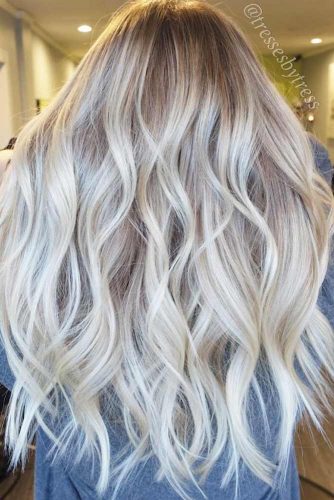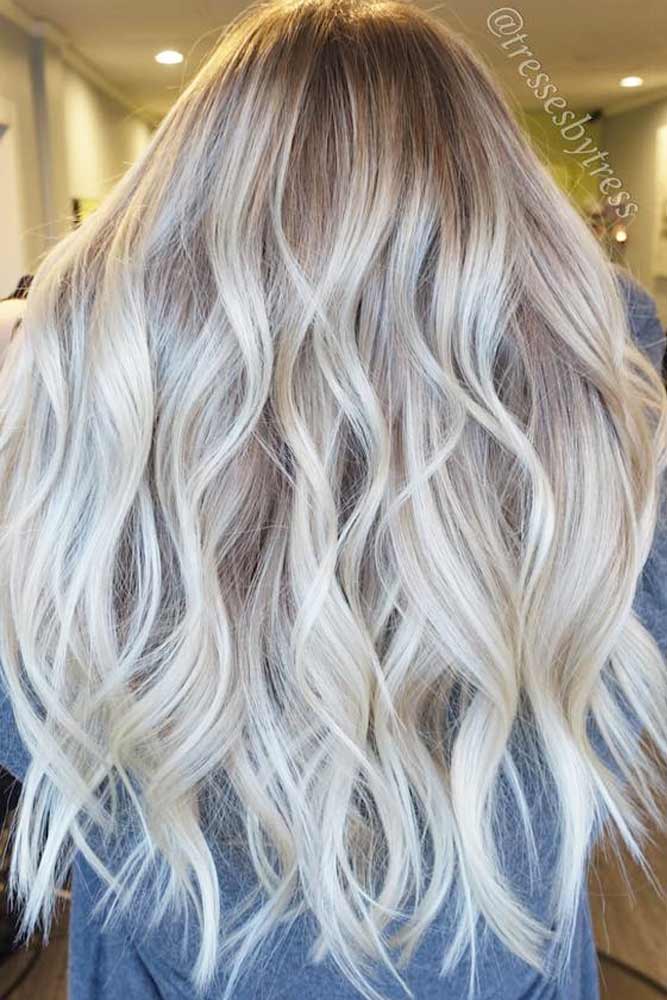 Platinum Blonde For Light Brown Hair
Source: riawna via Instagram, maggiemh via Instagram, maxgourgues via Instagram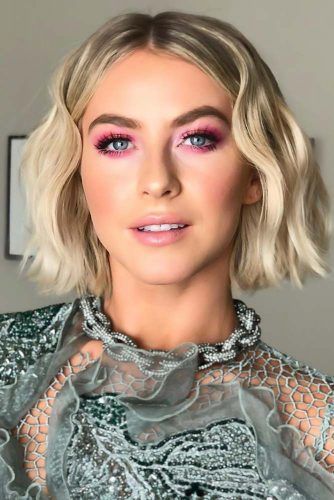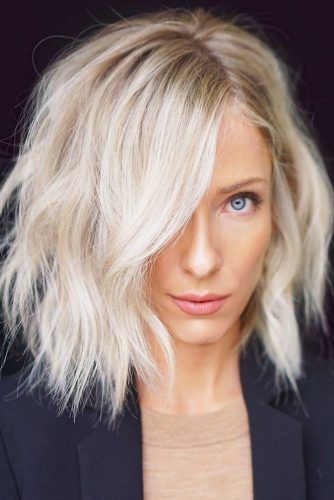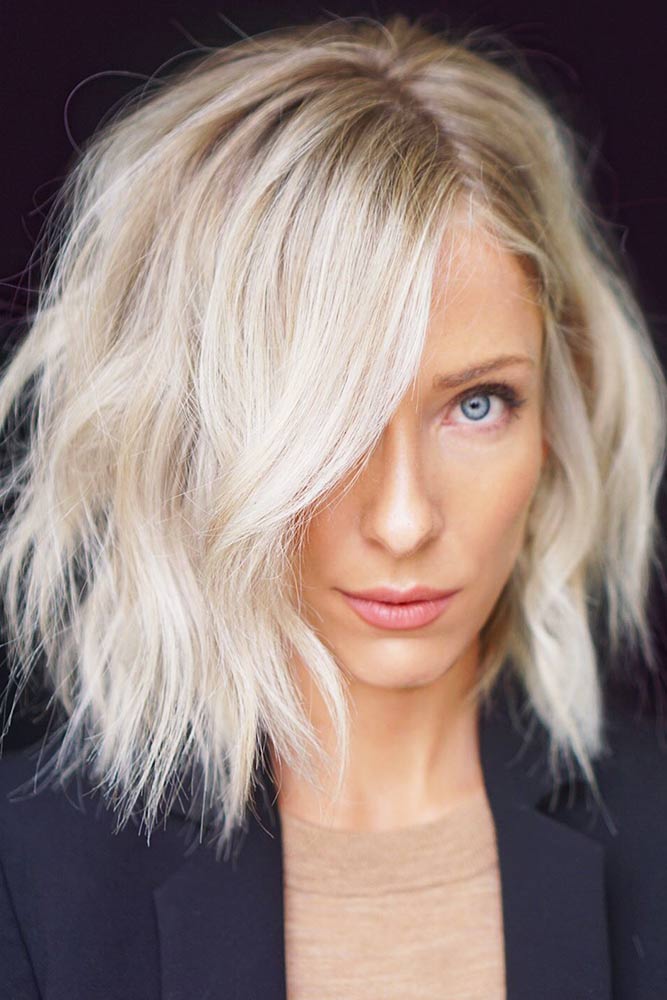 We hope you enjoyed these sassy styles but remember, platinum blonde hair requires a lot of upkeep. Also, you might have to have multiple appointments to achieve the desired effect. However, once your man sees how sexy you are with your hot blonde locks, you'll know it was worth every second!