A Mohawk hairstyle is quite popular nowadays among both women and men. But today we will focus on the trendy looks for women. Originally, the Mohawk is a hairstyle with two shaven sides and a single hair stripe on the center of your head, that is, from the forehead and down to your back.
But do Mahawks flatter everyone? This hairstyle makes your face sides open and thus reveals the jawline and cheekbones. So, if your face shape is square or round, it is advisable to stay away from Mohawks. The same concerns women with an oblong face shape who should avoid any volume on the top. And other babes can pull off this daring and sexy style. Let us pick one for you.
Mohawk With A Shaved In Stripes Side
Source: short_n_sweet823 via Instagram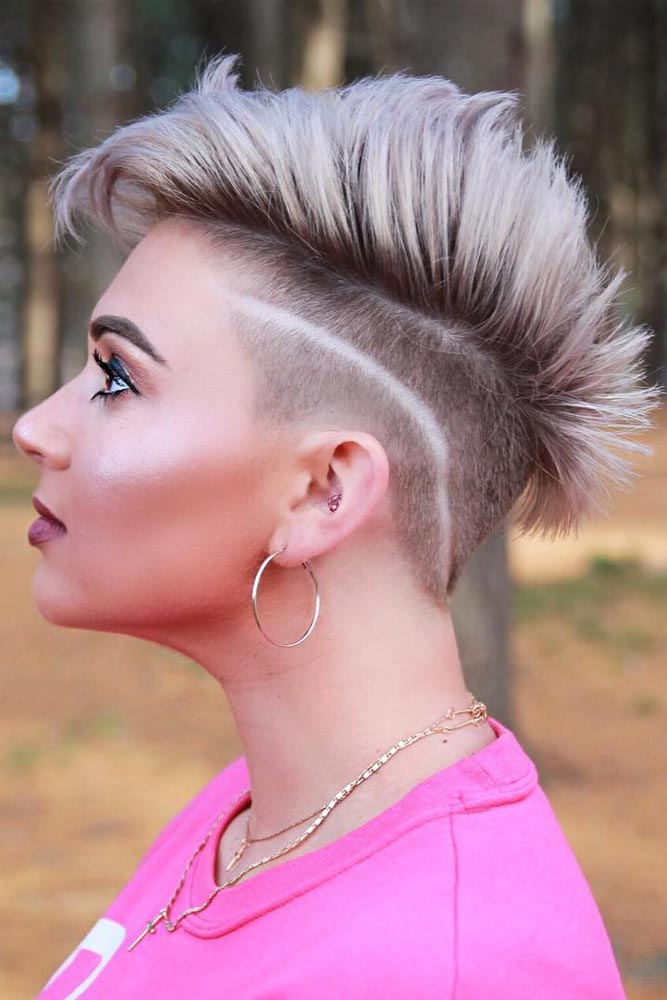 These trendy Mohawk hair cuts for women with rose gold and peachy hair colors are definitely a masterpiece. It is hard not to feast your eyes on them. It you want a really trendy Mohawk, go for a hair color with gradient and darker roots. As for styling your Mohawk, go for tight curls. They look super cute together with this daring cut.
Interesting Ideas For Mohawk Hairstyles
Source: trends.by.taylor via Instagram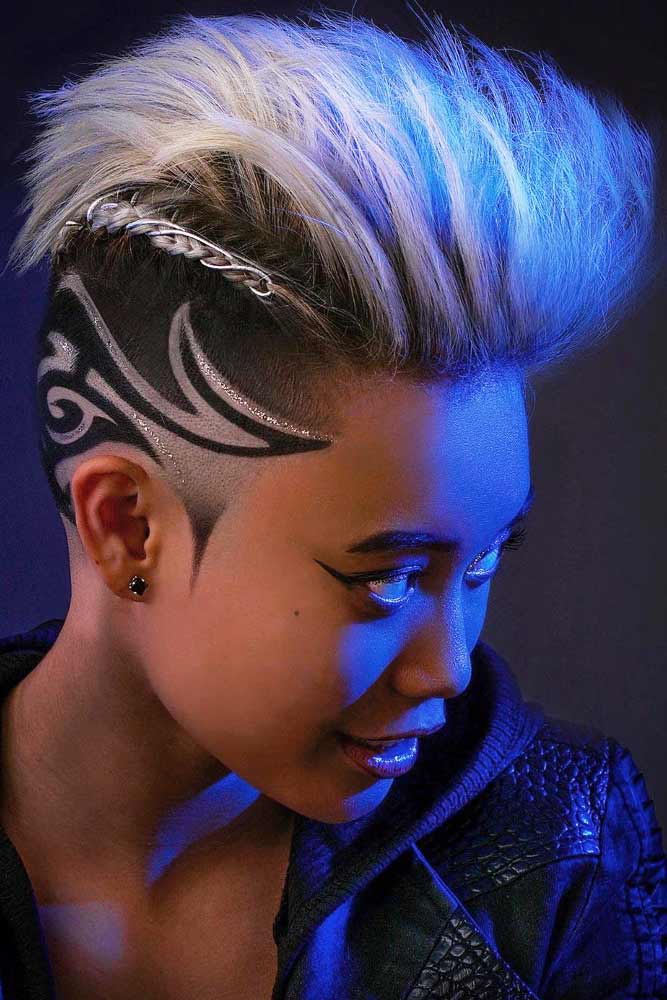 As for interesting and really creative ideas, you should try a shaved picture on one side of your head. These Mohawk hairstyles for women may go as crazy as you want, starting from snow frosts and fish patterns up to real works of art like this butterfly. We guarantee that all eyes will be on you if you opt for one of these hair styles.
Hair Tattoo And Colored Mohawk
Source: nelly_la_barber_ via Instagram, short_n_sweet823 via Instagram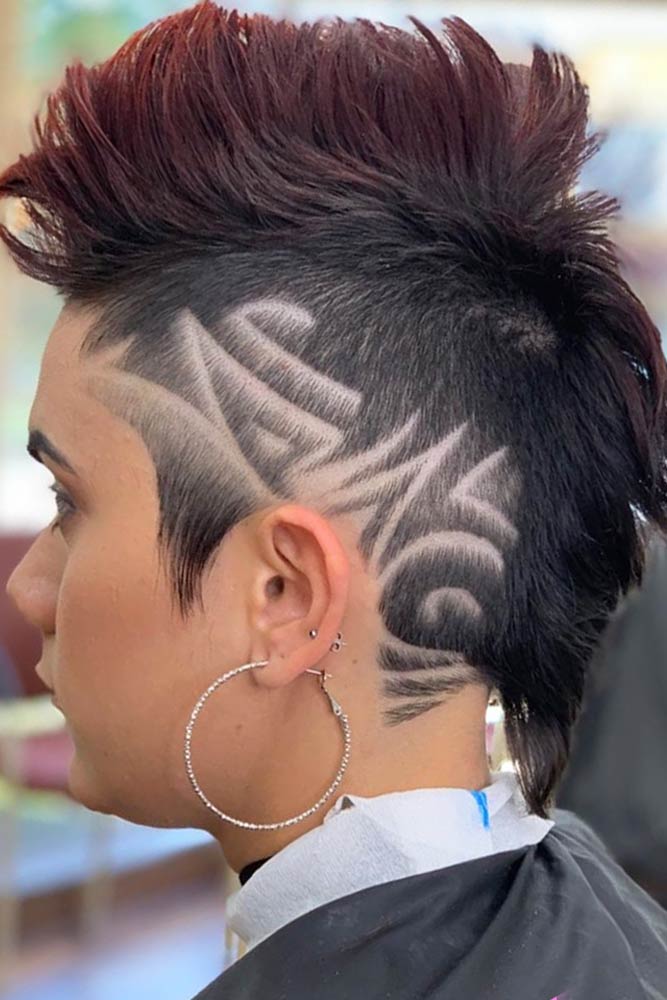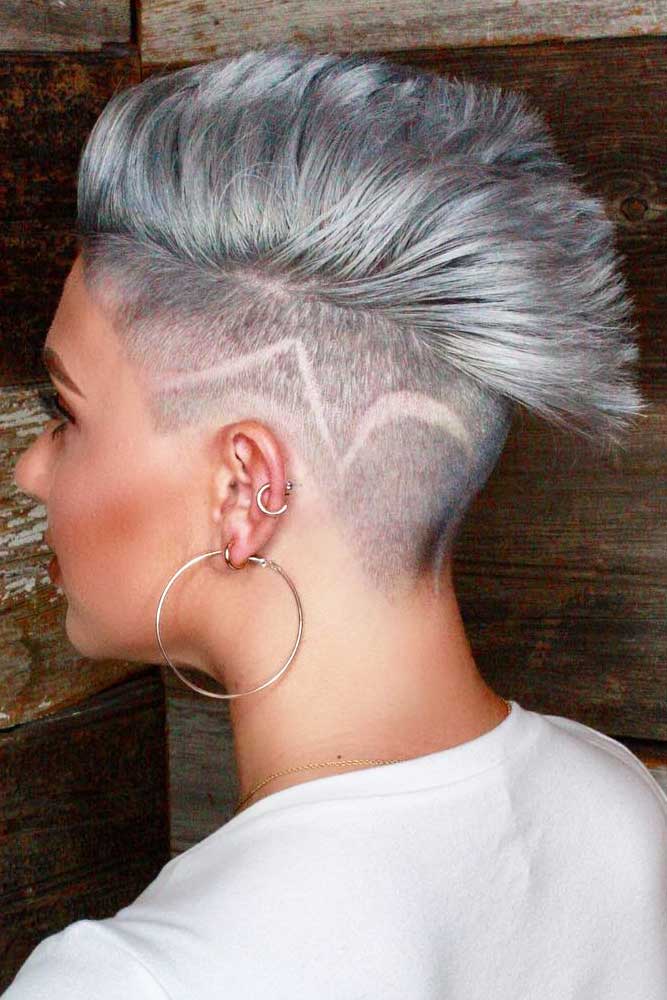 When it comes to standing out from the crowd, there is no better way to do this than with a bright hair color and a hair tattoo. These Mohawk hairstyles are really wild. In a good sense, of course. They feature rainbow hair color gradients and hair tattoos.
This will undoubtedly make you the centre of everyone's attention. Mohawk hairstyles with rhinestones are on another level. If you are not ready for something as wild as these ones, you may focus your bright color on the sides of your head and a little bit on the roots, and leave the ends in a more neutral color.
Beautiful Blonde Girls With Mohawk
Source: nothingbutpixies via Instagram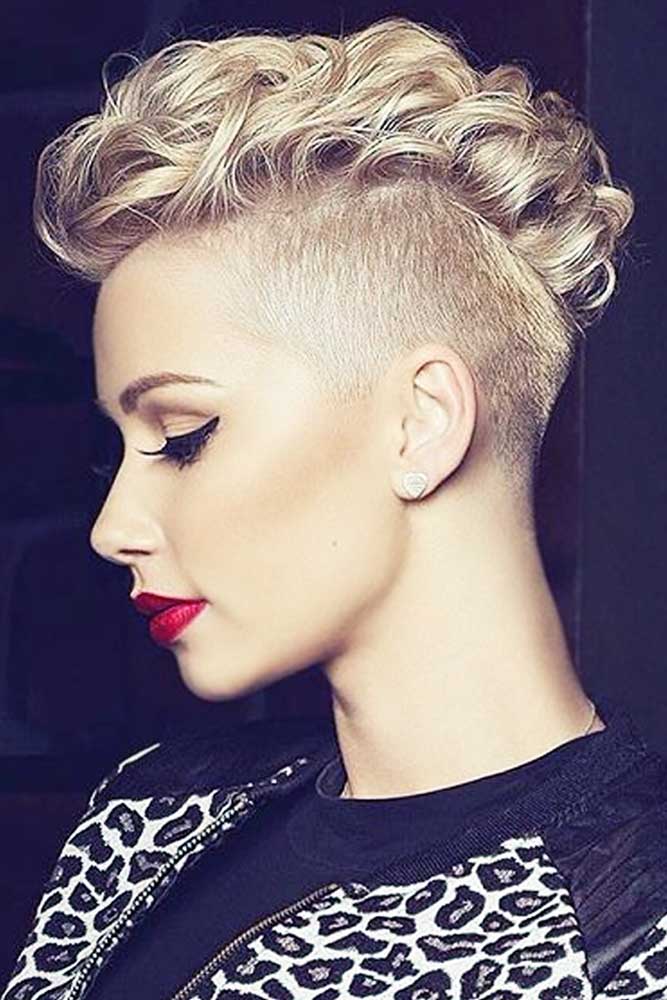 Everyone knows that everything natural is in nowadays. The hair color is not an exception. These cute Mohawk hairstyles for women are more on a natural side. If you don't want to lose your punk edge, opt for such hues of blonde as platinum or silver. They will make your hairstyle feminine and with a drop of badass. Don't they look gorgeous?
Stylish Short Haircuts
Source: bleachedandblown via Instagram, katrinberndt via Instagram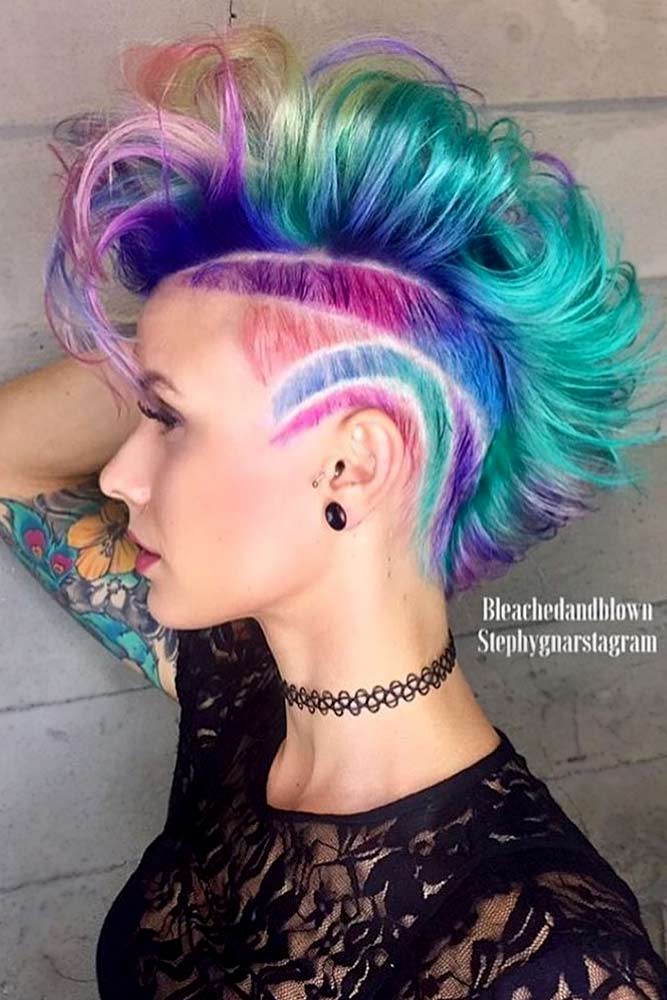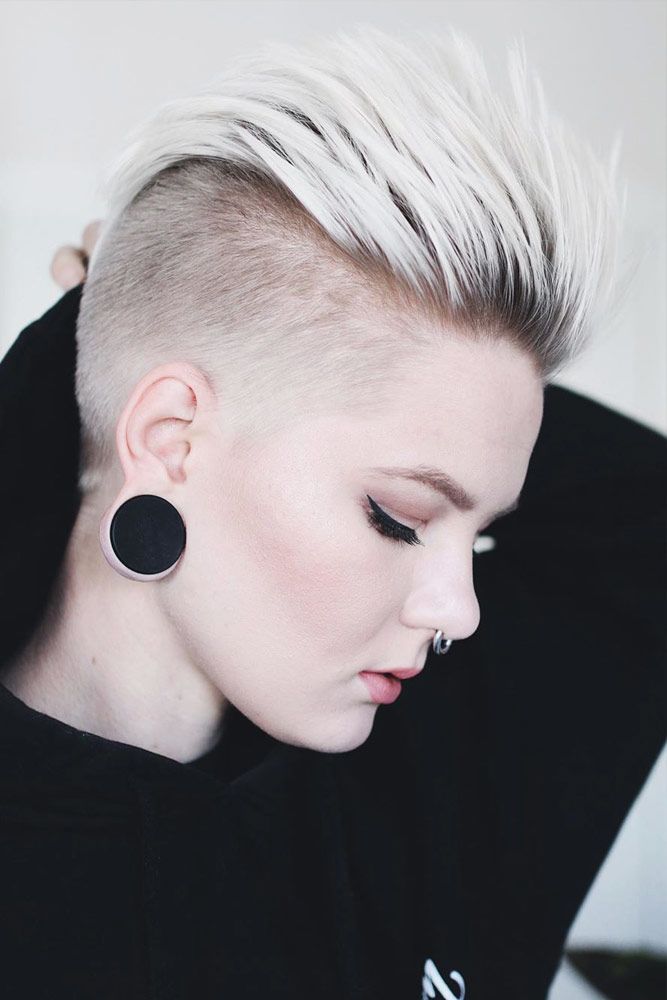 Ready to be bold and beautiful? Ok, let's do a new chic hairstyle! If you need an inspiration for new mohawk hairstyle, see our photos and pick the one that suits you the best.
New Cool Ideas For Mohawk
Source: bleachedandblown via Instagram, anandasuniquehairdesign via Instagram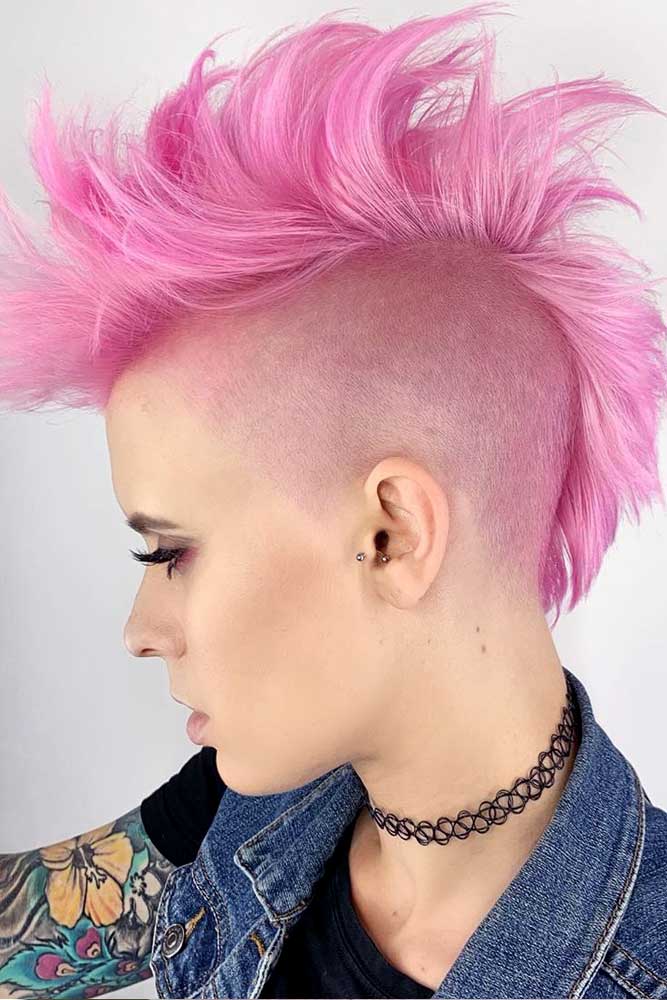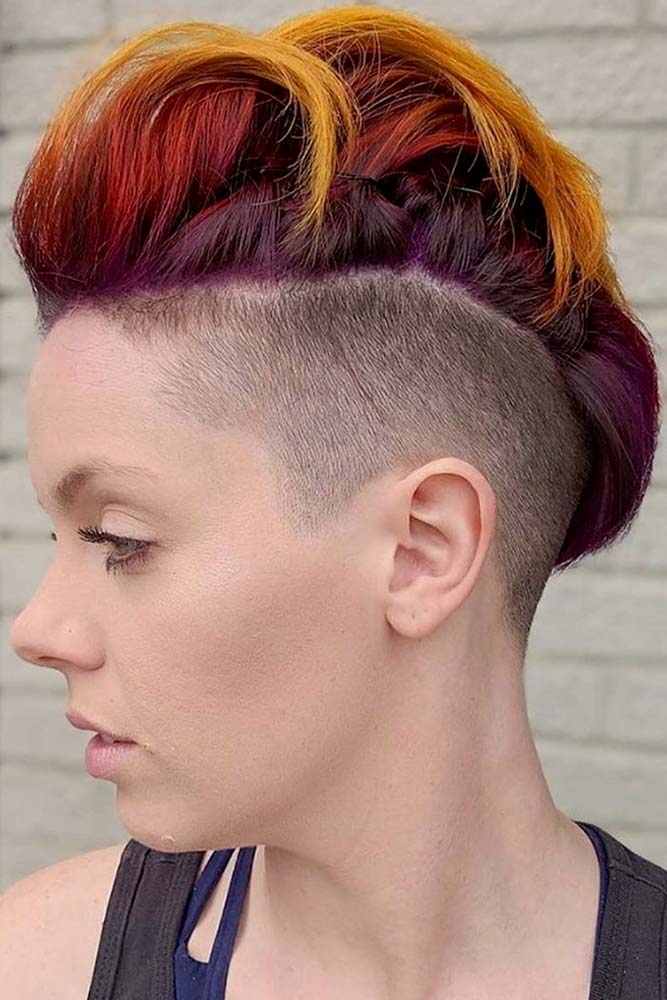 Mohawks are cool hairstyles for really bold and brave women, who want to stand out from the crowd. Try vivid colors and different hair tattoo to variety your Mohawk hairstyles.
We hope this gallery of creative and gorgeous Mohawk ideas have inspired you for some changes and will come in handy. Come back for more inspiration.
FAQ: Mohawk
Where did the Mohawk come from?
While the Mohawk haircut is named after the Mohawk people, a North American indigenous people who lived in the Mohawk Valley in upstate New York, the relationship with the Mohawk originates from Hollywood, notably the iconic 1939 film Drums Along the Mohawk with Henry Fonda.
Is the mohawk out of style?
Shaved sides and classic mohawk hairstyles were formerly popular, however, the new hair trends have pushed it for more adaptable forms. The mohawk fade has been the most popular style in recent years, but you can customize this cut to meet your hair typa and length.
Why do punks wear mohawks?
Beginning in the 1970s, men (and occasionally women) began wearing mohawks. A mohawk was a rather radical hairdo back then, and it was mainly worn by punks. Punk rock and punks were a musical and cultural trend. Punks were dissatisfied with how people dressed and behaved in the "normal" world.