A Mohawk haircut is quite popular nowadays among both women and men. But today we will focus on the trendy looks for women. Originally, the Mohawk is a hairstyle with two shaven sides and a single hair stripe on the center of your head, that is, from the forehead and down to your back.
But do Mahawks flatter everyone? This hairstyle makes your face sides open and thus reveals the jawline and cheekbones. So, if your face shape is square or round, it is advisable to stay away from Mohawks. The same concerns women with an oblong face shape who should avoid any volume on the top. And other babes can pull off this daring and sexy style. Let us pick one for you.
What Is the Mohawk Haircut?
It is utterly easy to describe the mohawk haircut since it is among the boldest styles of all time. Besides, if you have at least a vague idea of what punk culture represents, you will have a visual in front of your eyes without additional aid. Yet, the style itself, with its shaved sides and a strip of hair in the middle of your head, does not date to the punky '80s. It goes thousands of years back.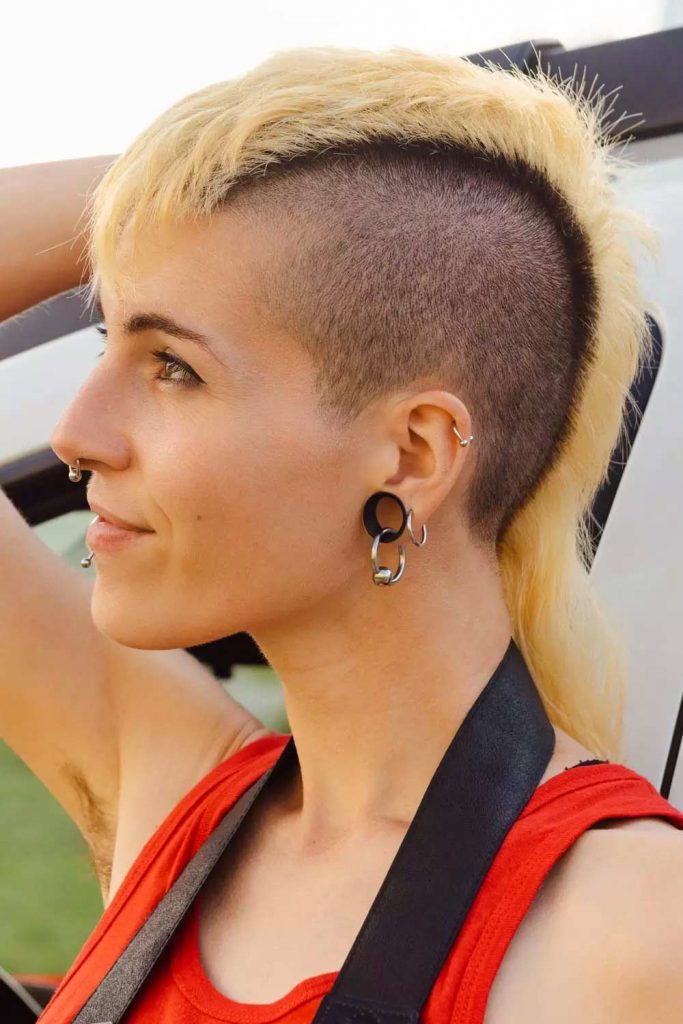 Source: shutterstock.com
According to many types of research, a mohawk style was widely spread among Native American, Asian and European cultures. The primary goal of the style was to convey strength, courage, and determination. Since the Viking era is over, you won't flag your stylish cut as a war banner, but implementing additional edginess into the individual style is a great reason to consider the cut.
Do Mohawks Suit Everyone?
There is rarely a universal hairstyle, and a mohawk haircut fade wouldn't be the exception. People with well-defined cheekbones and jawlines will sport the style with the proper appeal. However, the cut is designed to open up the side of your face, which is why people with broad and round faces may want to reconsider the style. Should you spot unwanted width to your face, you need to think about the style that will elongate your front, and a mohawk isn't the one.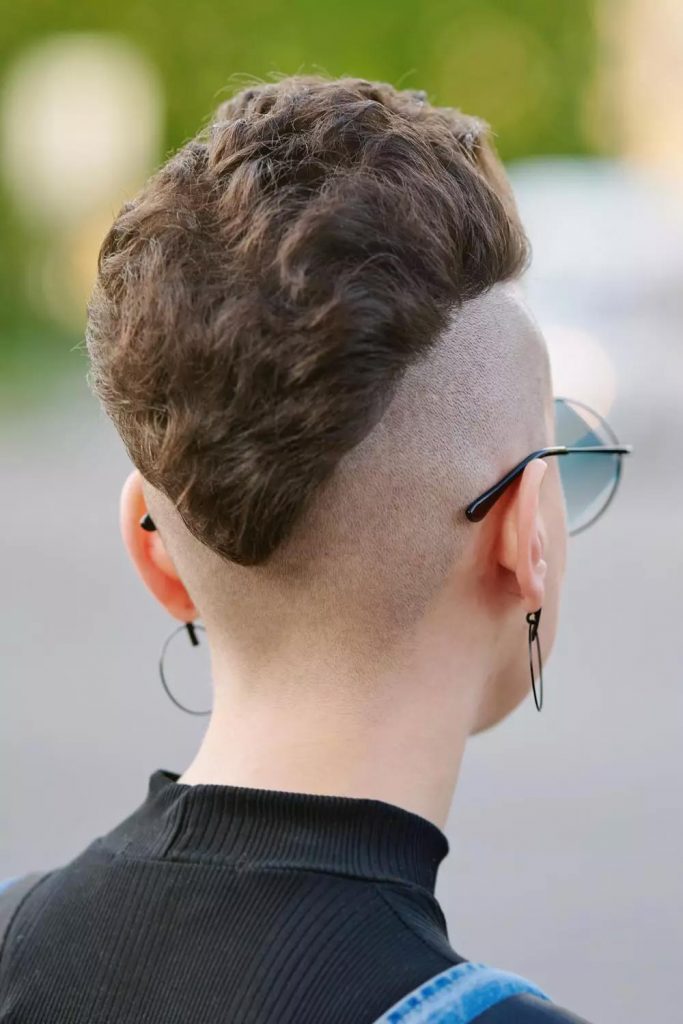 Source: shutterstock.com
At the same time, you are not forced to wear the mohawk styled up. You can comb it to one side and add feminine curls to soften the appeal. Top the range of options with insane coloring possibilities, and you may find that unique and perfect mohawk for your shape and style. As long as you like the reflection looking back at you – no one can disagree with it.
Things to Consider When Choosing a Mohawk Haircut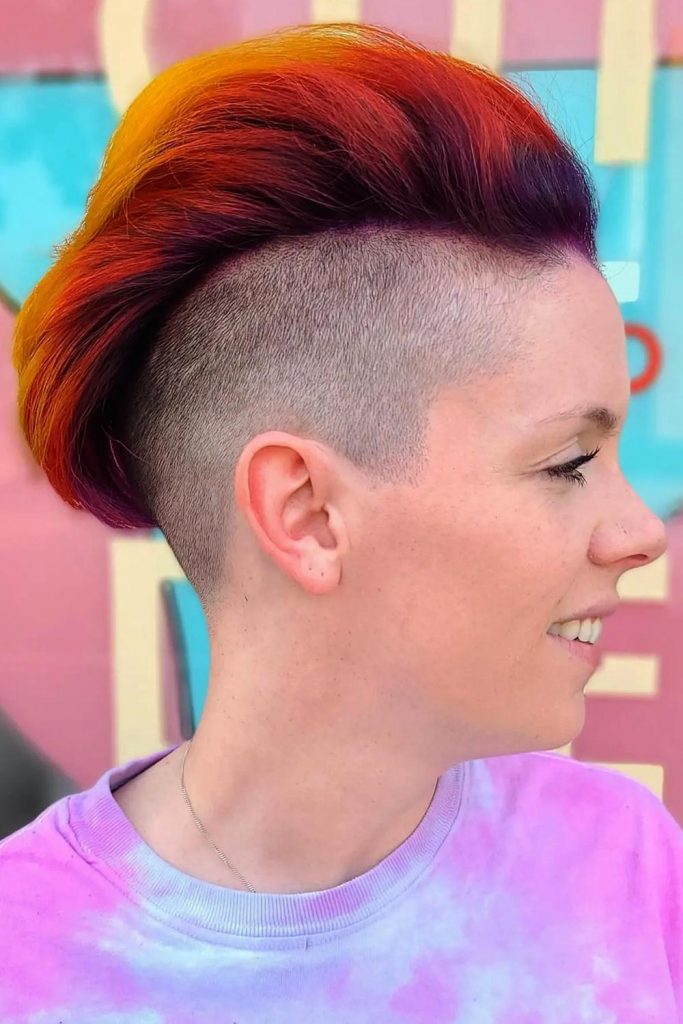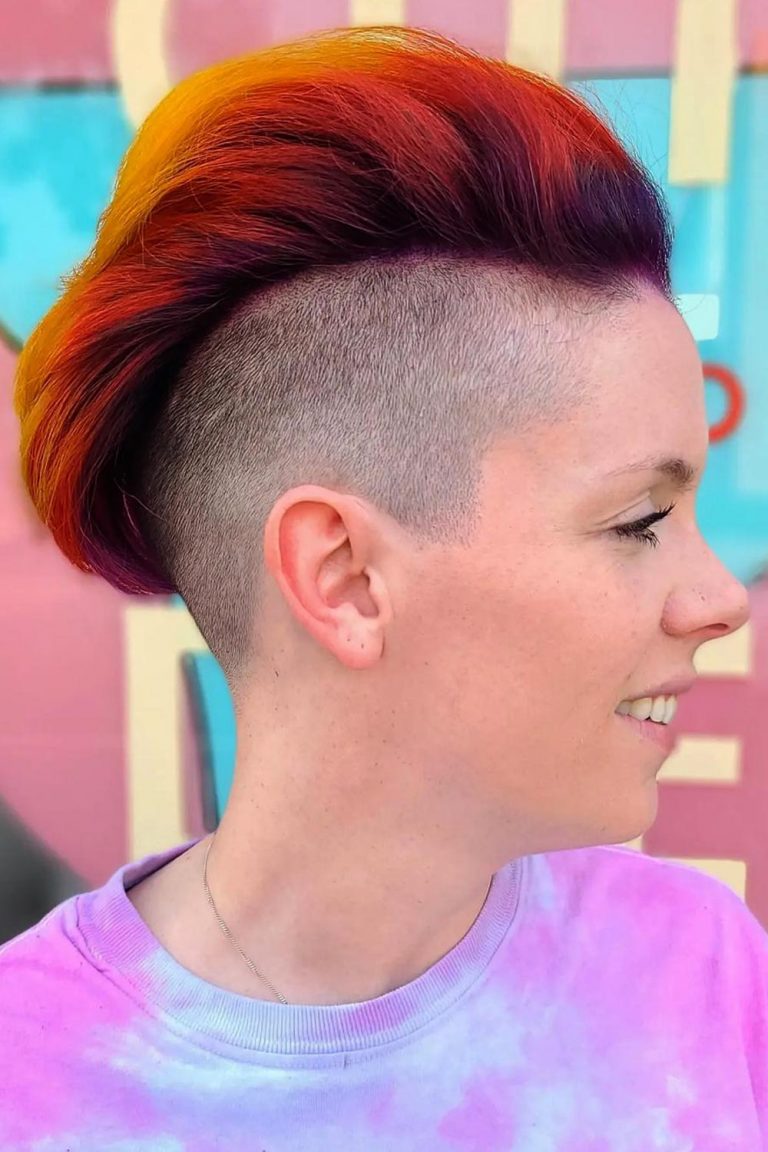 by @instagram_anandasuniquehairdesign
Whether it is a kids Mohawk or a grown-up's one, you should brood upon a list of factors and conditions that may disagree with you getting the style. These are the primary things to think about before you commit to the style:
DIY or salon? Are you sure you can succeed with the ideal style variation on your own, or should you book an appointment at the salon? In either case, there is a fair share of preparation to go through. In the first case, you must gather the necessary supplies and tools to do it right. If you choose to hit the salon, you need to have a visual representation of what you want to end up with.
The dress code. Depending upon the field you are involved with, there may be a dress code to comply with. Should you be involved with any official business representation, it is best to discuss the dramatic changes with your superiors since you can't go back on a full-force mohawk.
Consider the styling routine. There are different ways to rock a mohawk. You can style it up, weak it sleek, casual, or even wavy. However, each option requires a precise routine and products involved. Thus, you should ask yourself if you have enough time at hand to go through every morning.
The length. There is little doubt that the longer the mohawk is, the fancier it looks. However, you should realize that longer tresses are more challenging to style. If you are not ready to put up with a lengthy routine, you should vote in favor of a shorter cut.
The style transition. Sooner or later, you will want to test something new, and you should realize that growing out a mohawk may not be the easiest task to face, all due to the shaved sides.
Mohawk Haircut Ideas
Now, with all the theoretical part fully covered, it is time to look closely at some inspiring mohawk ideas you can opt for.
Short Mohawk Style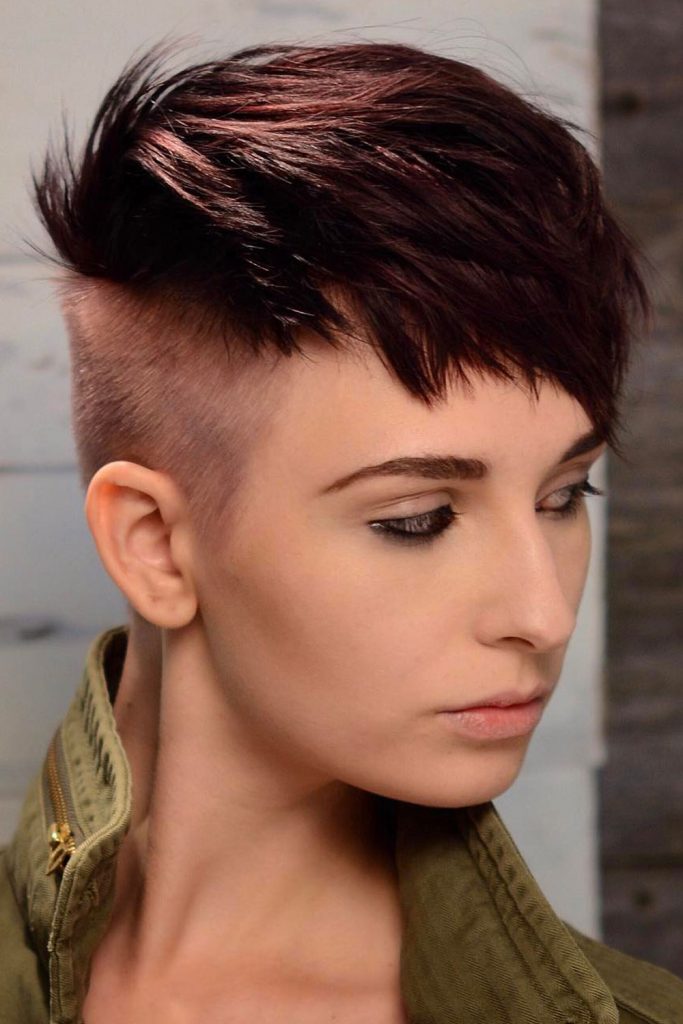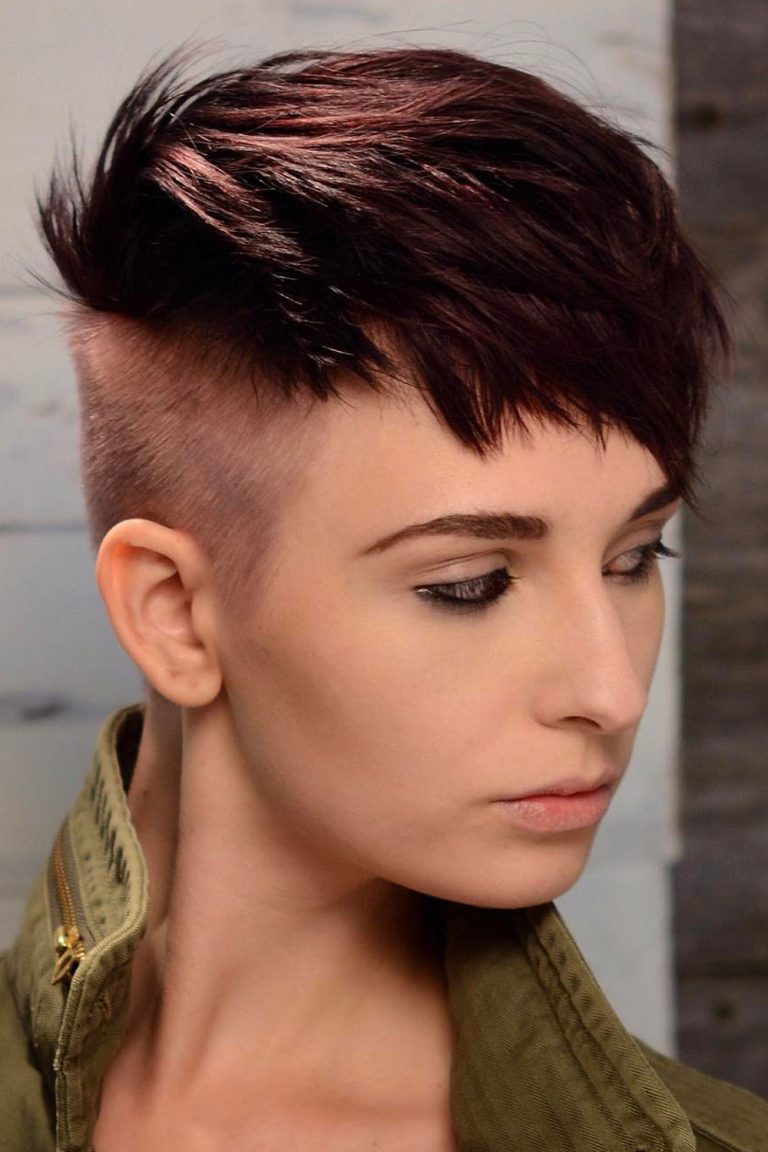 by @instagram_cutyourhair
A short mohawk haircut is surely the classiest of all. You can keep the sides closely trimmed while experimenting with the top the way you like it. Adding side nags or sweeping the hair back are just the iceberg tips.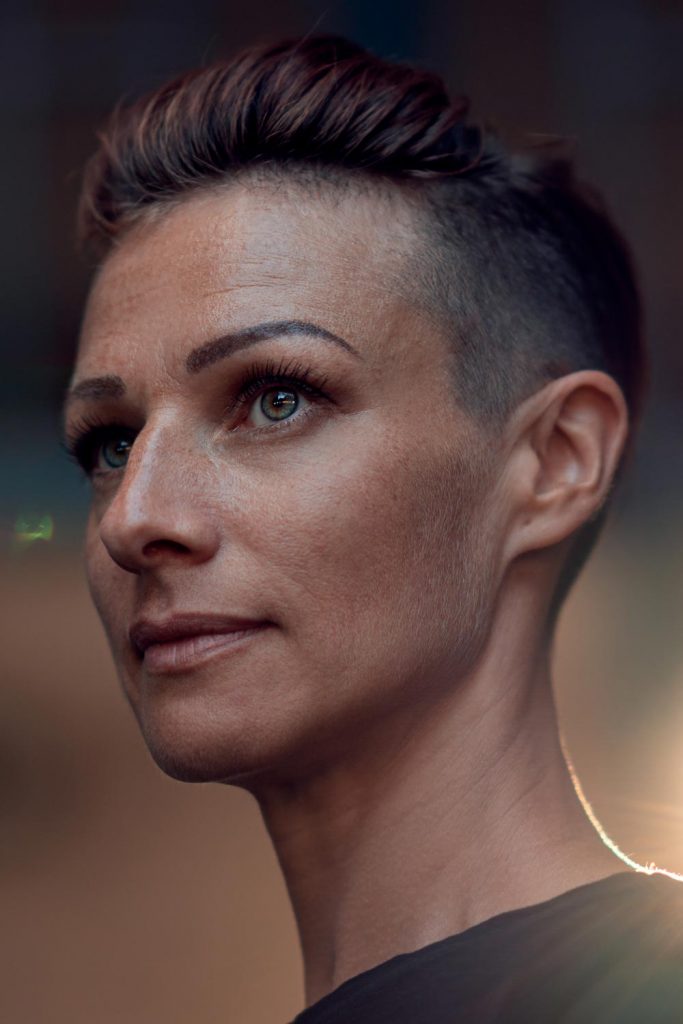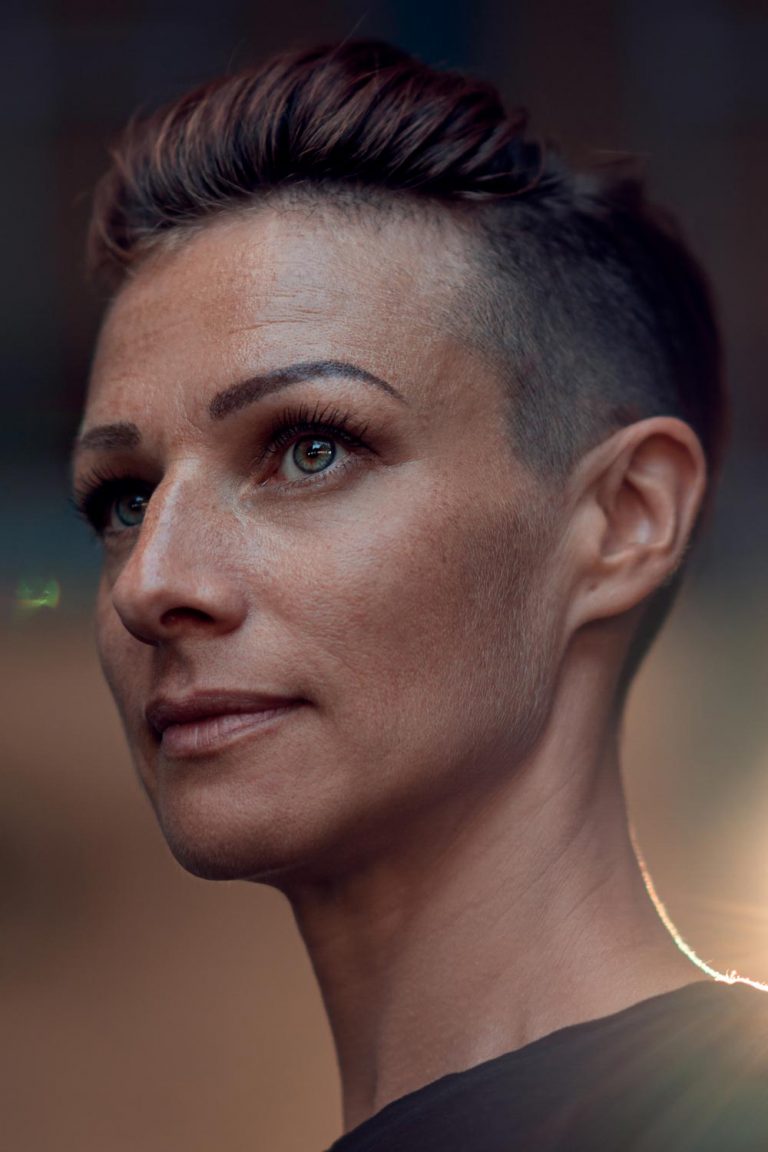 Source: shutterstock.com
Faded Mohawk Hair Cut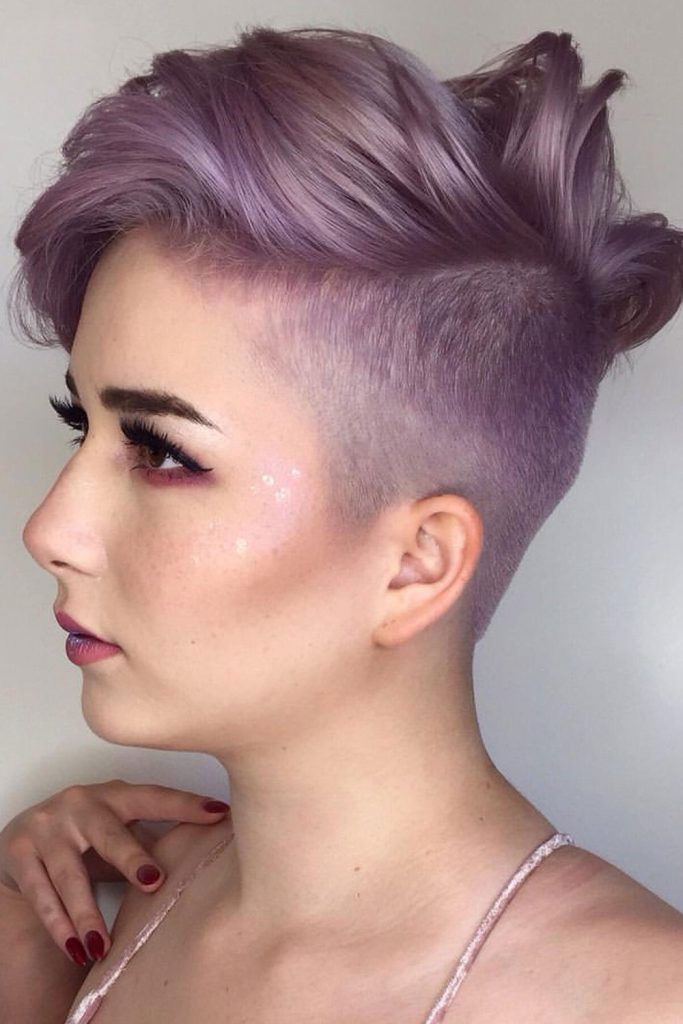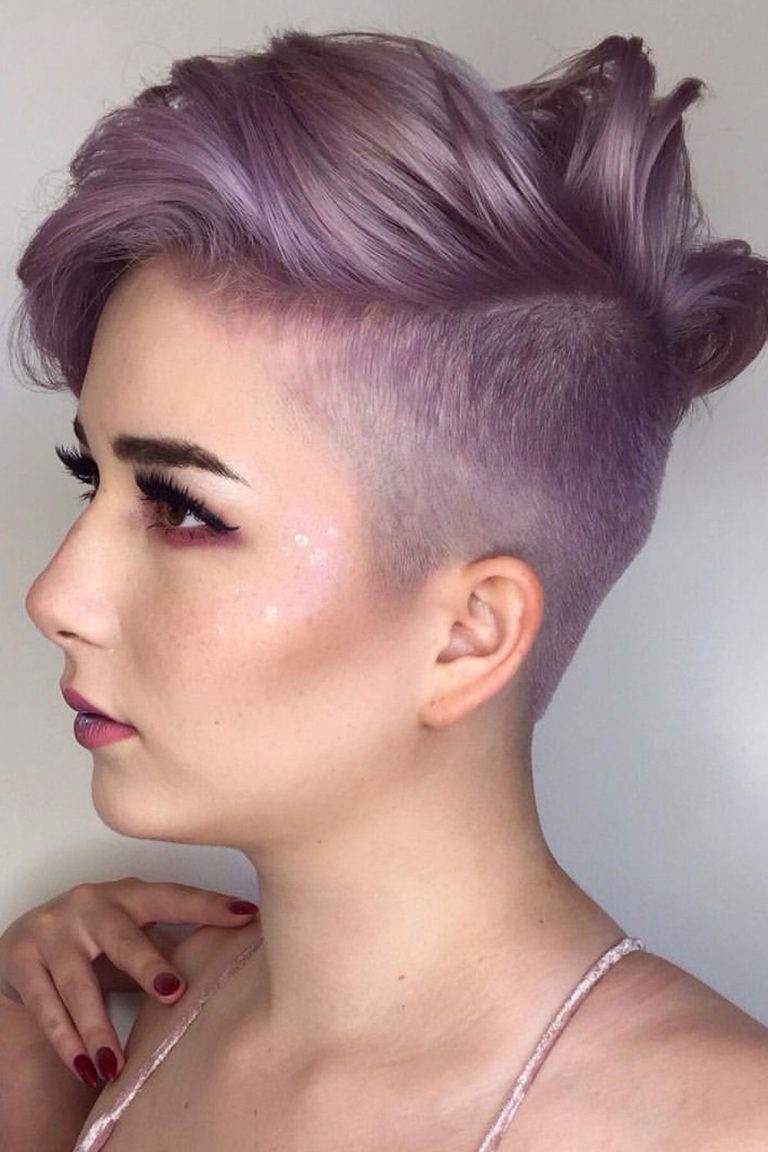 by @instagram_janine_ker_hair
You may have heard that a mohawk fade haircut is unisex, and it is true. While ladies may prefer to leave the top longer, trendy gents would want to leave all the party to the front. Yet, shading your new cut lavender-purple is equally fit for either party.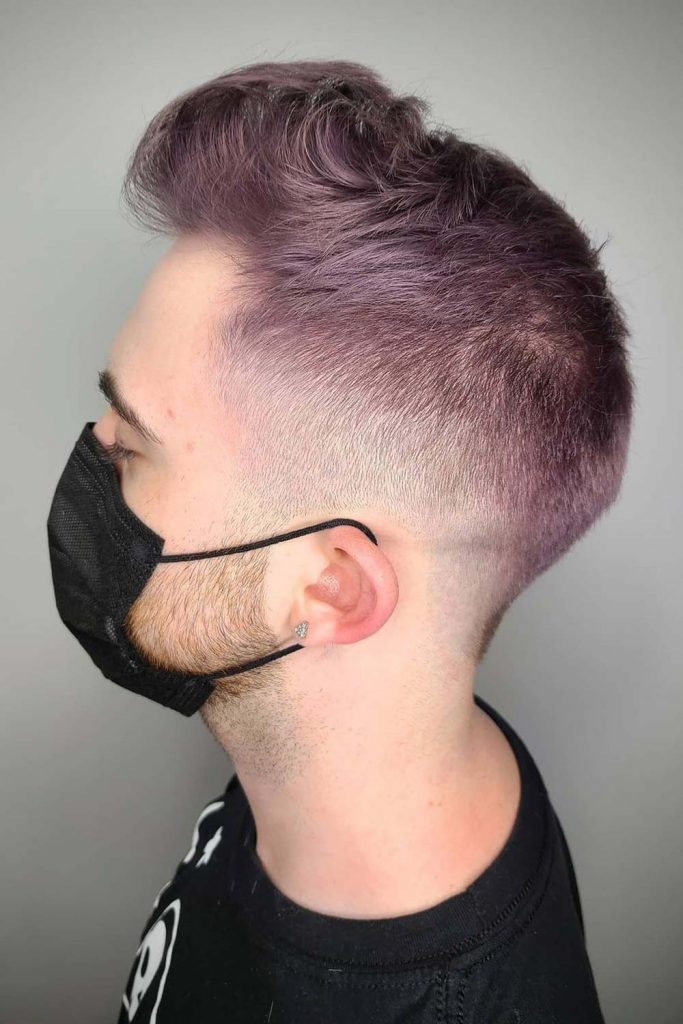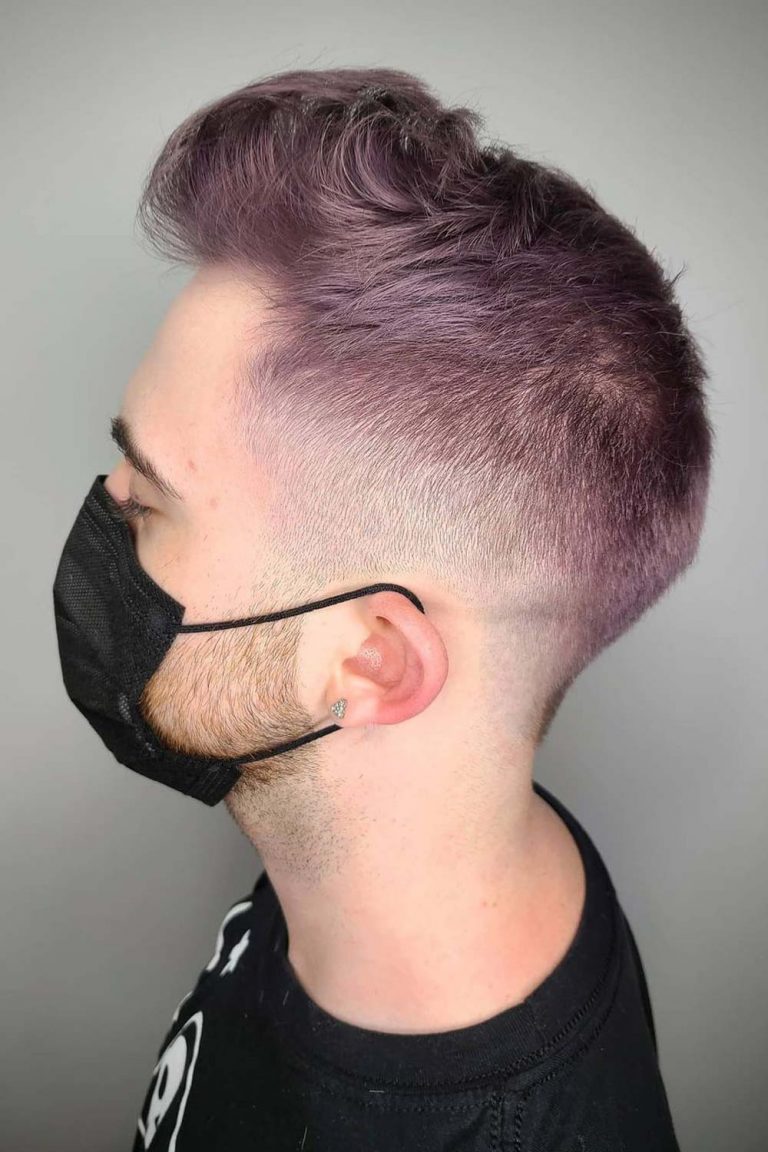 by @instagram_anandasuniquehairdesign
Mohawk with Hair Tattoo Ideas for Men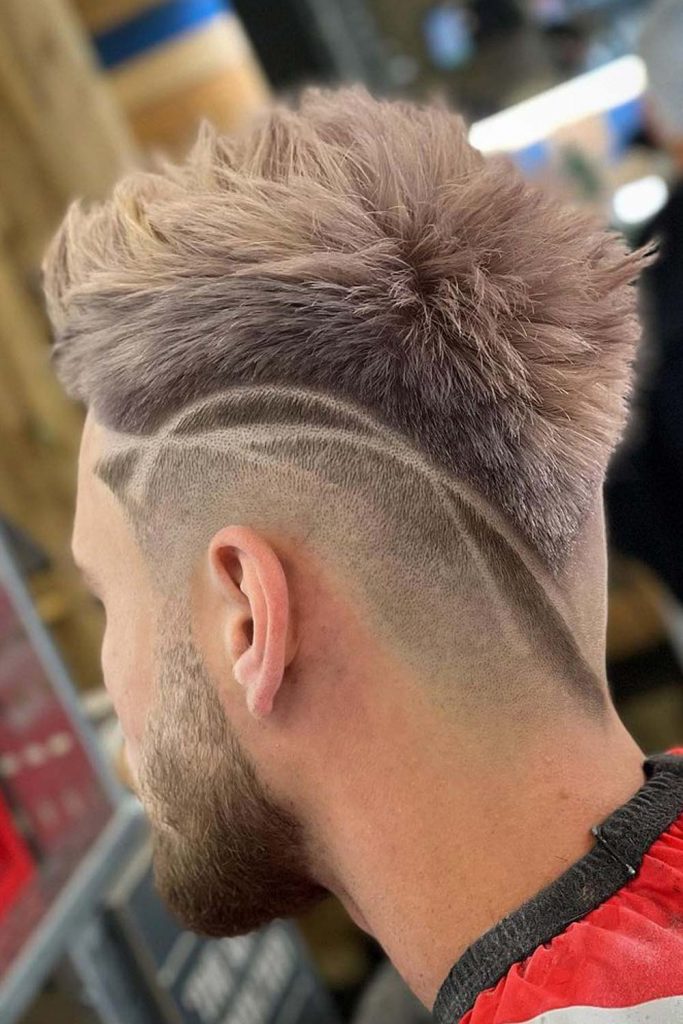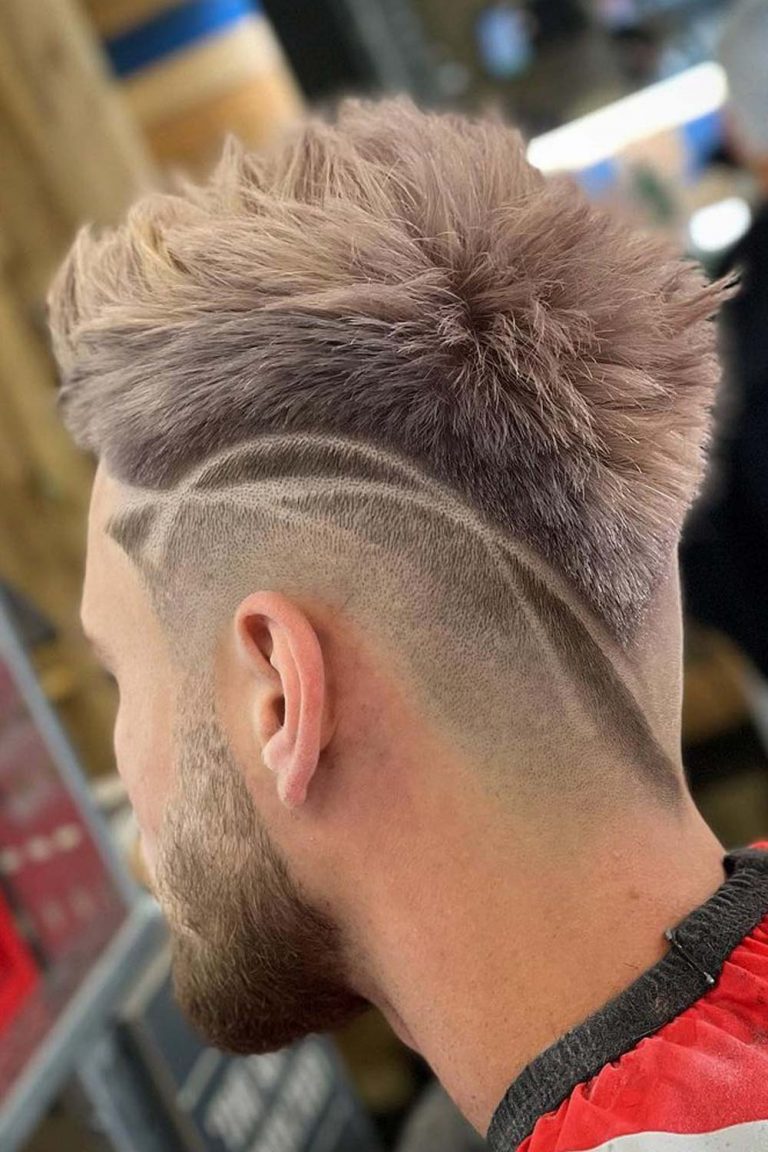 by @instagram_tombaxter_hair
To take your faded mohawk haircut to the next level of uniqueness and coolness, we suggest you experiment with stylish tattoo ideas implemented into the shaved sides. The trick here lies in finding a skilled barber who will impeccably succeed with the chosen patent. Besides, regular touch-ups will be a must to keep the tattoo visible.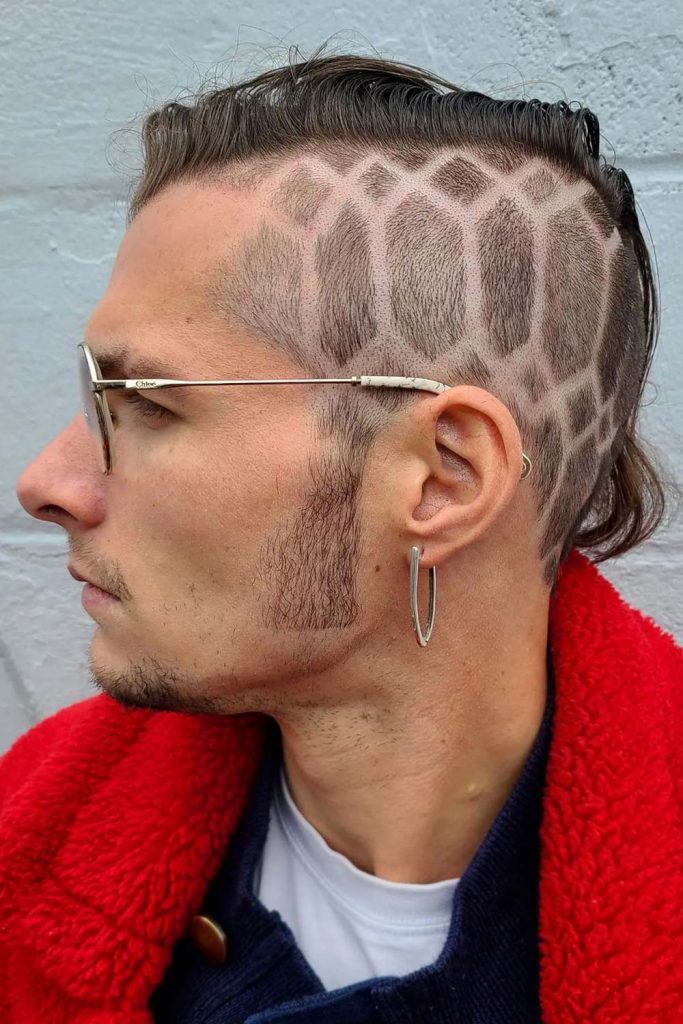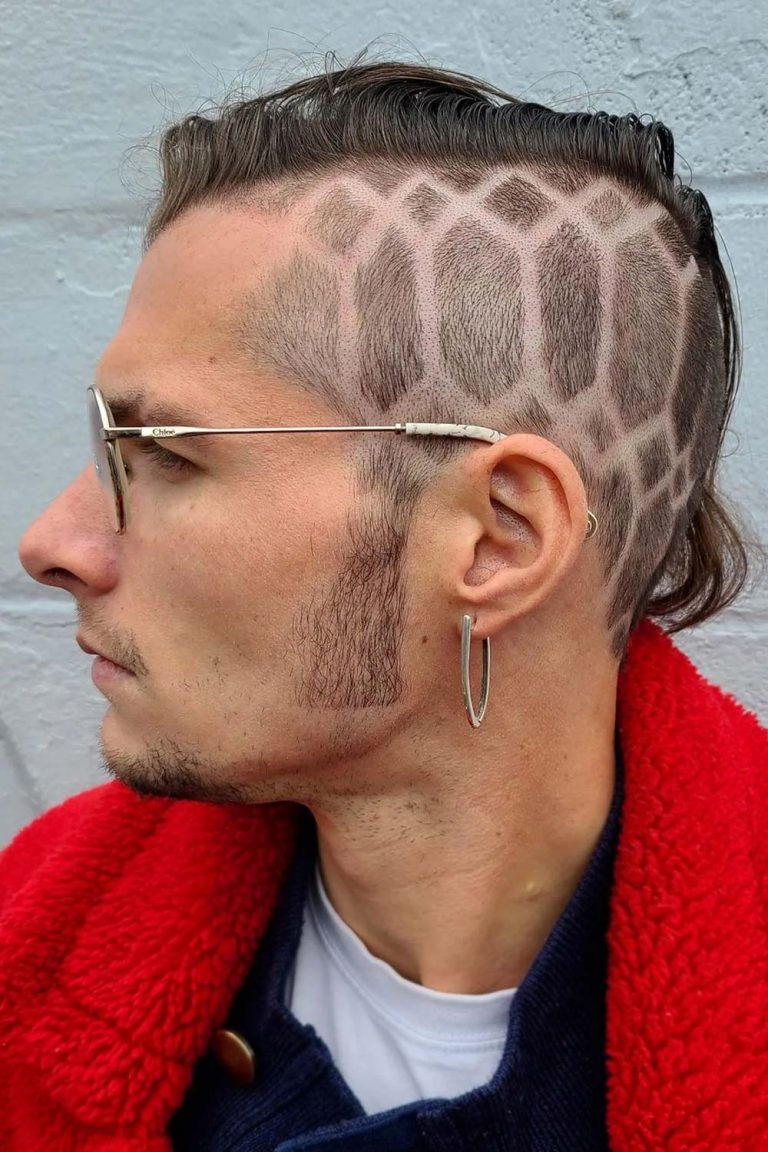 by @instagram_anandasuniquehairdesign
Long Hair Women Mohawk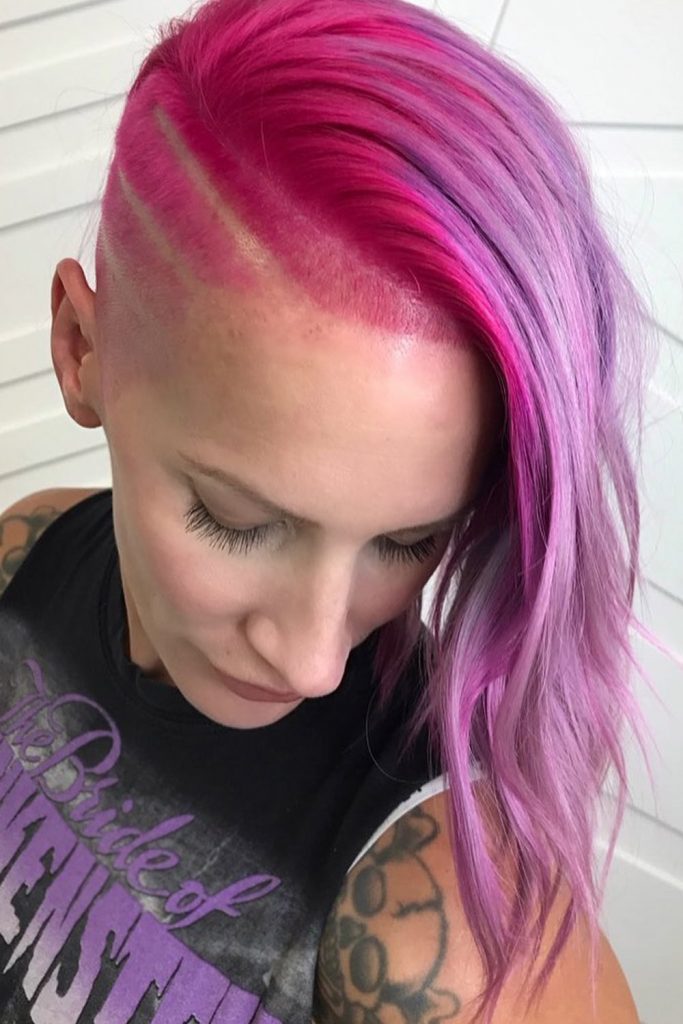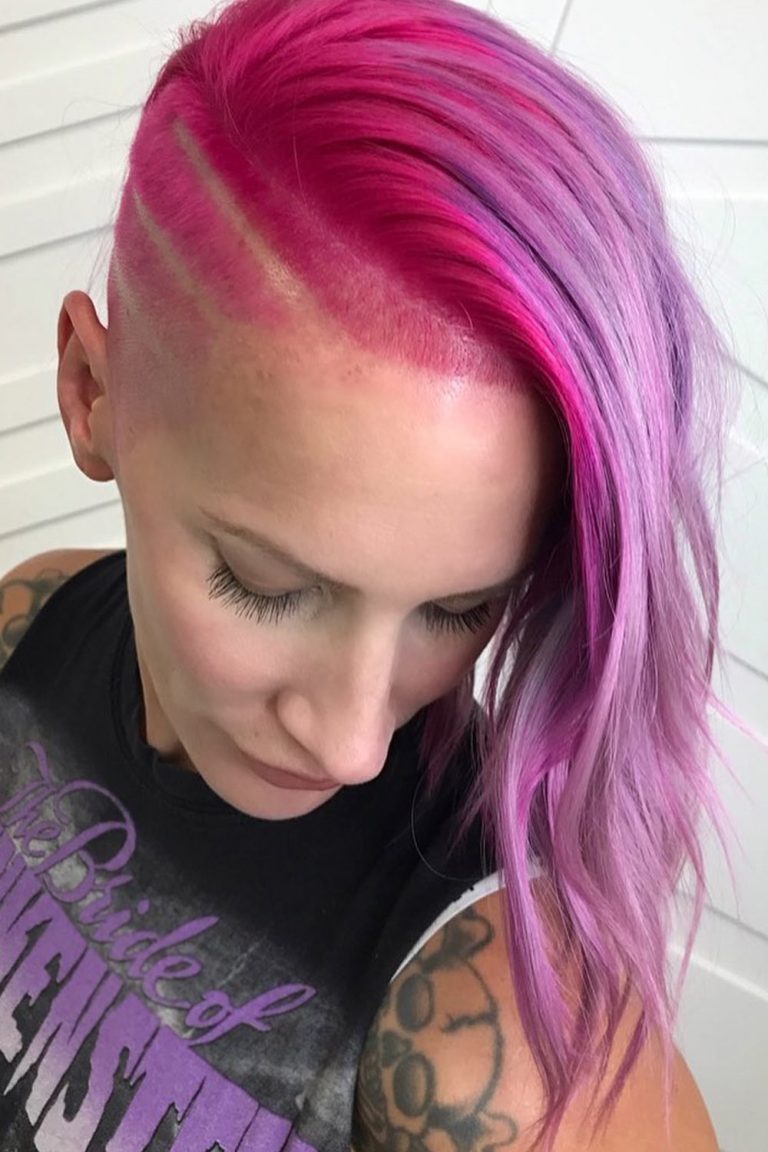 by @instagram_isaac4mayor
Opting for a mohawk mullet haircut may feel a tad too radical for some ladies, and we understand the reluctance. However, there is another way to sport a trendy and daring feel with a long mohawk. Moreover, the length is the perfect canvas to play around with juicy coloring. Embedding a sunset in your locks is one way to go, but there are many more to cover.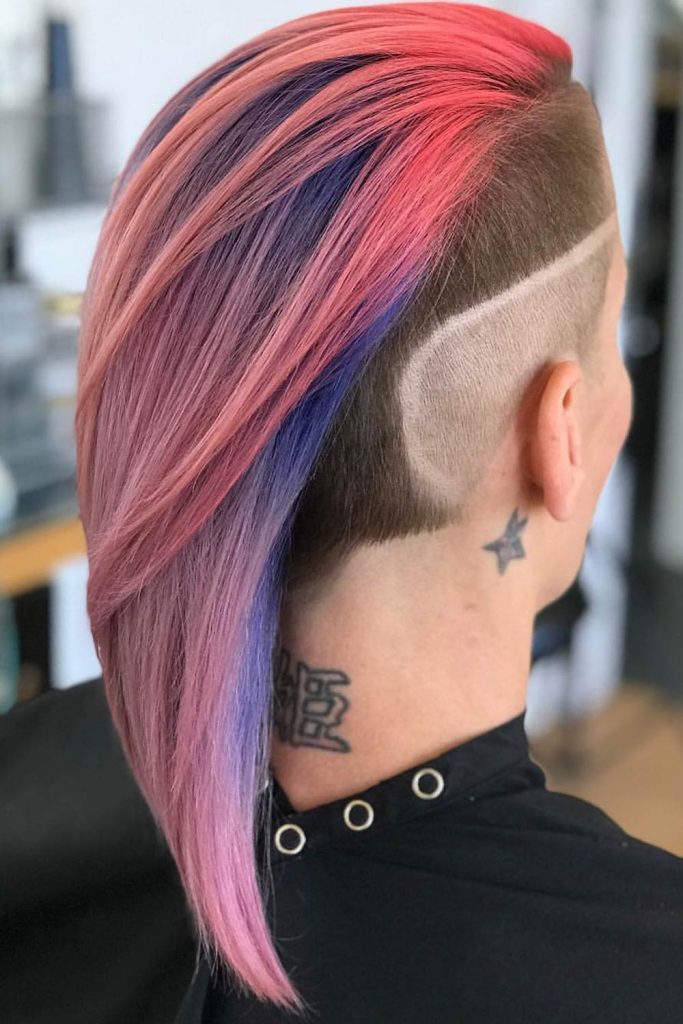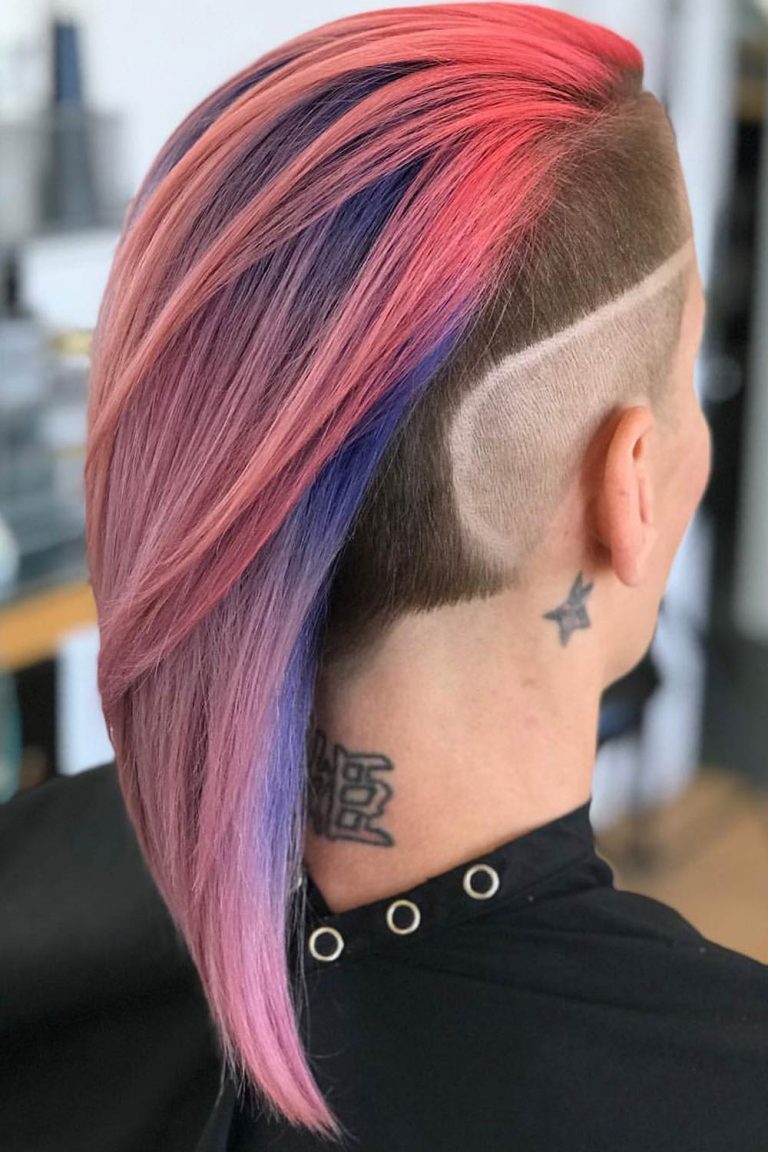 by @instagram_isaac4mayor
Mohawk Haircut With A Shaved In Stripes Side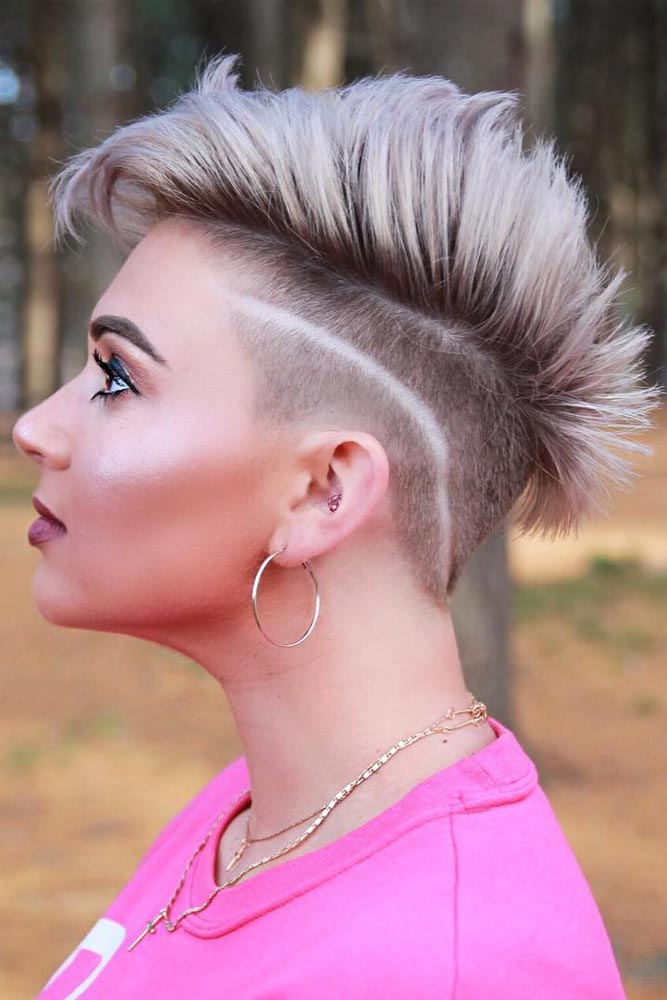 by @instagram_short_n_sweet823
These trendy Mohawk hair cuts for women with rose gold and peachy hair colors are definitely a masterpiece. It is hard not to feast your eyes on them. It you want a really trendy Mohawk, go for a hair color with gradient and darker roots. As for styling your Mohawk, go for tight curls. They look super cute together with this daring cut.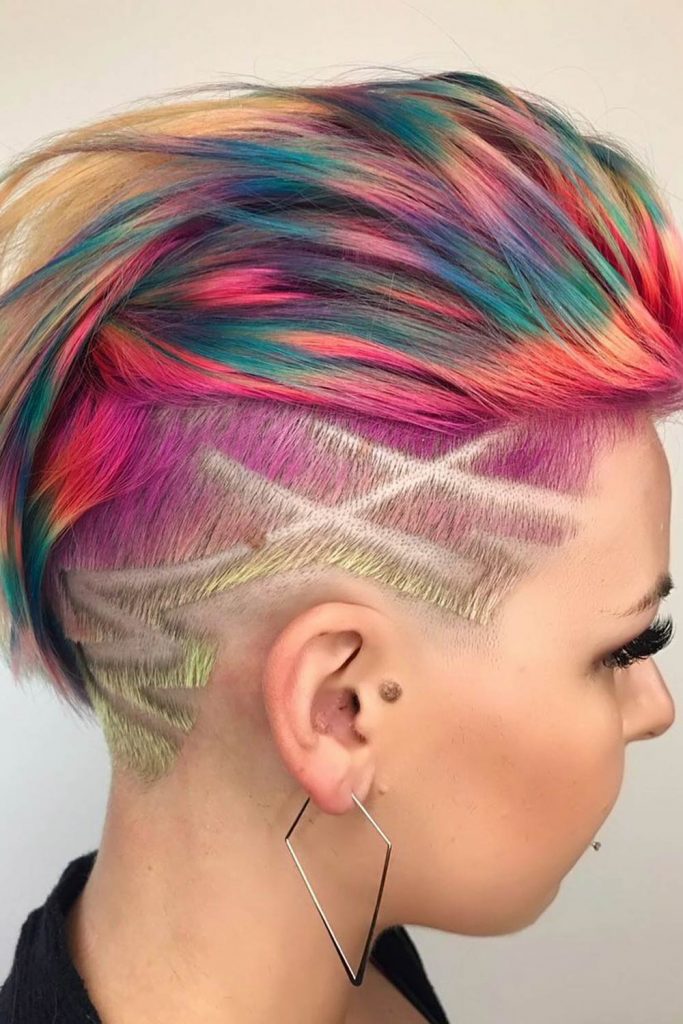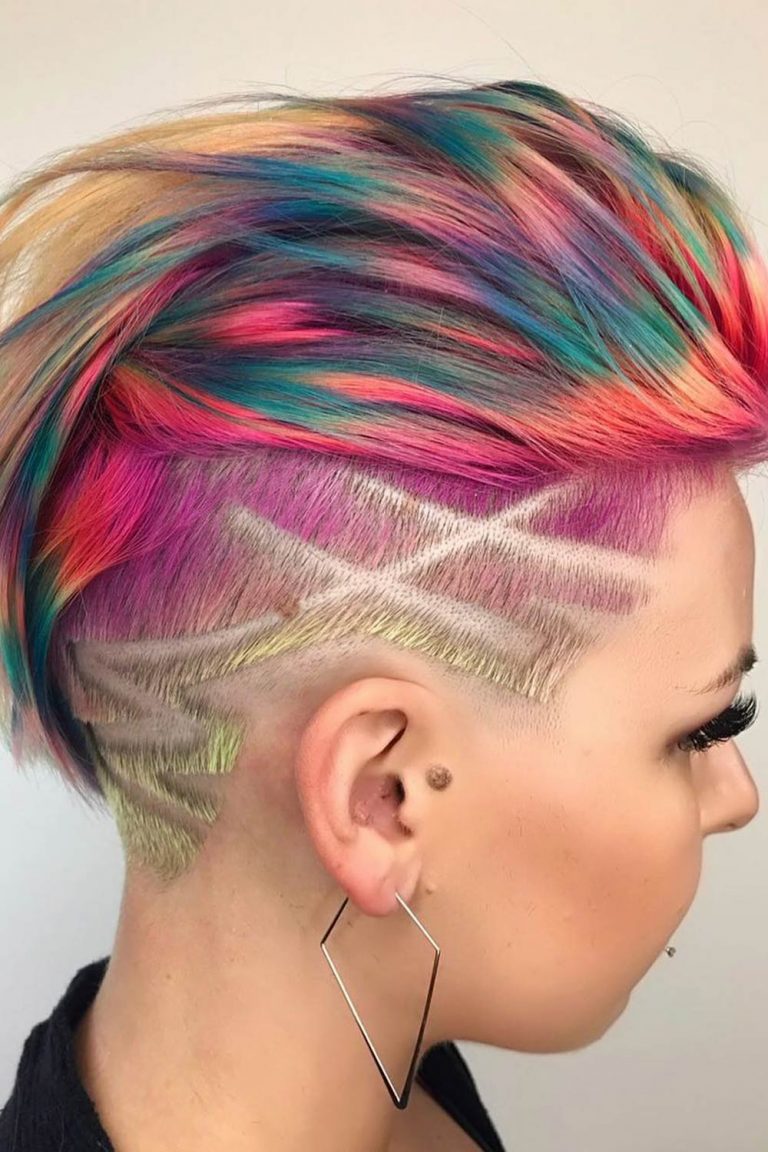 by @instagram_isaac4mayor
Hair Tattoo And Colored Mohawk Haircut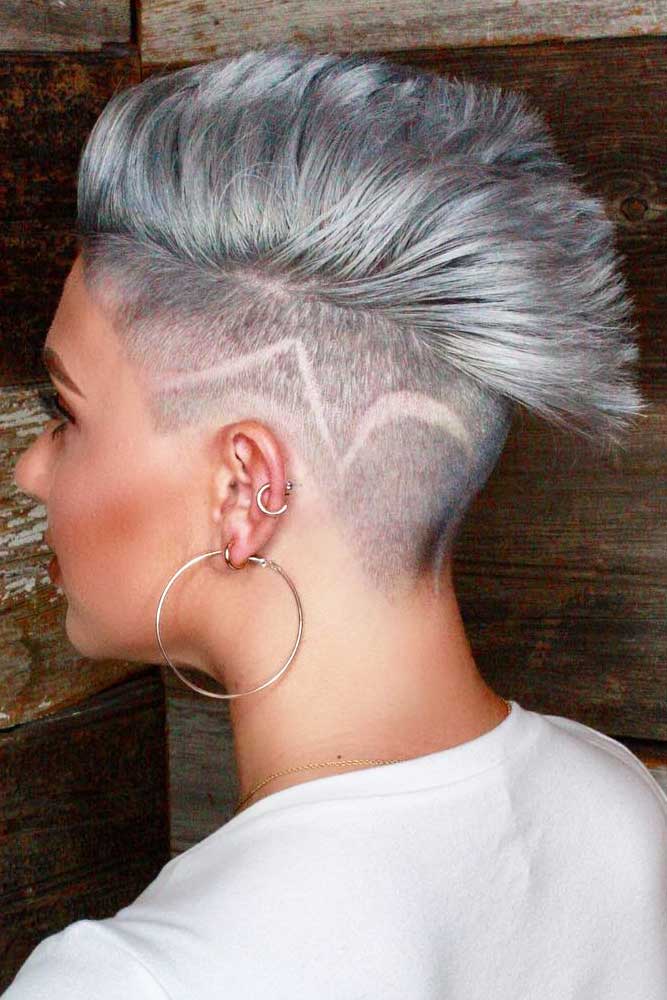 by @instagram_short_n_sweet823
When it comes to standing out from the crowd, there is no better way to do this than with a bright hair color and a hair tattoo. These Mohawk hairstyles are really wild. In a good sense, of course. They feature rainbow hair color gradients and hair tattoos.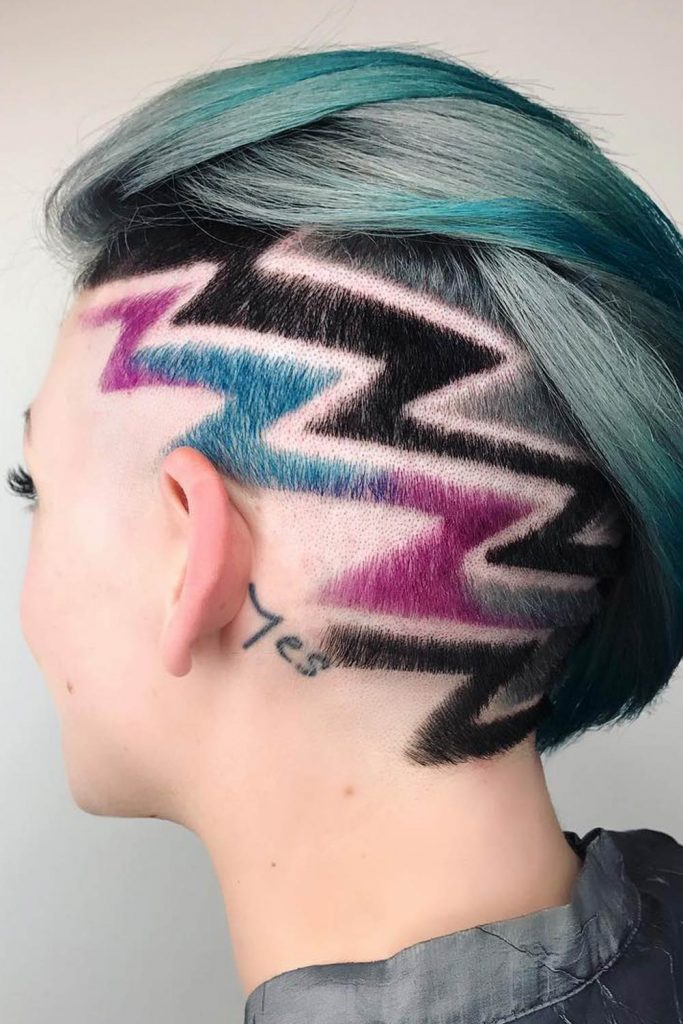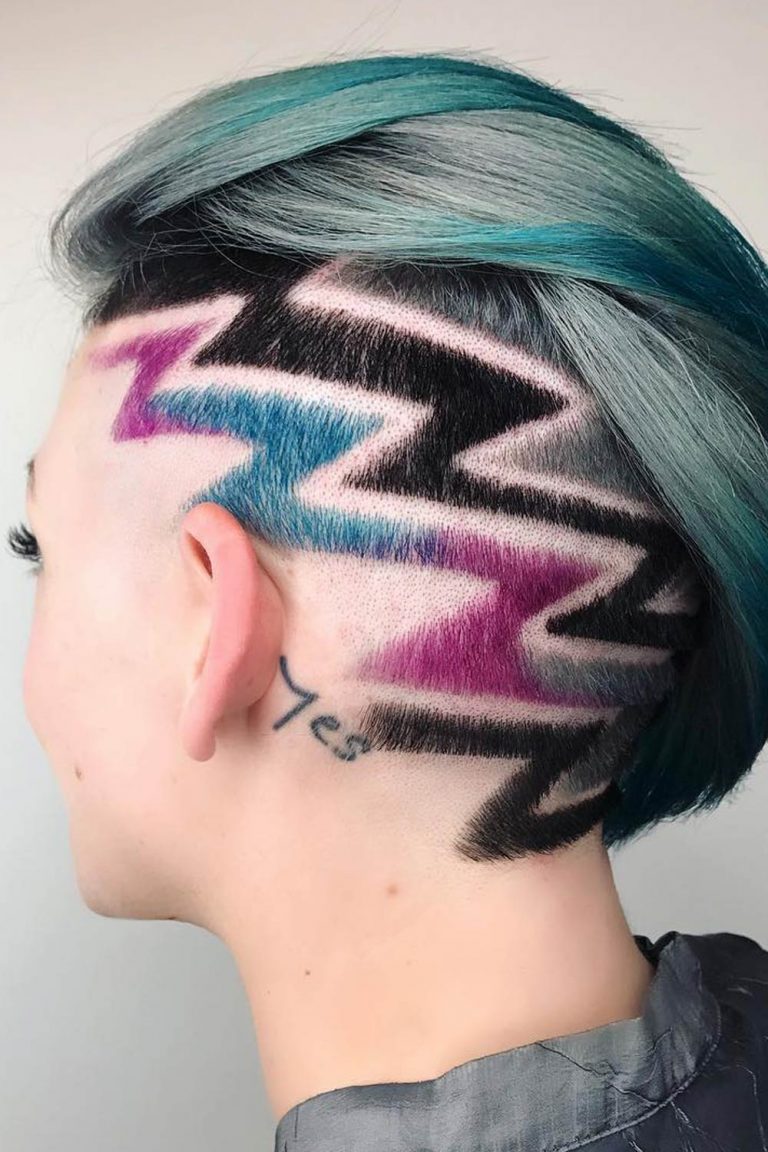 by @instagram_presleypoe
This will undoubtedly make you the centre of everyone's attention. Mohawk haircut with rhinestones is on another level. If you are not ready for something as wild as these ones, you may focus your bright color on the sides of your head and a little bit on the roots, and leave the ends in a more neutral color.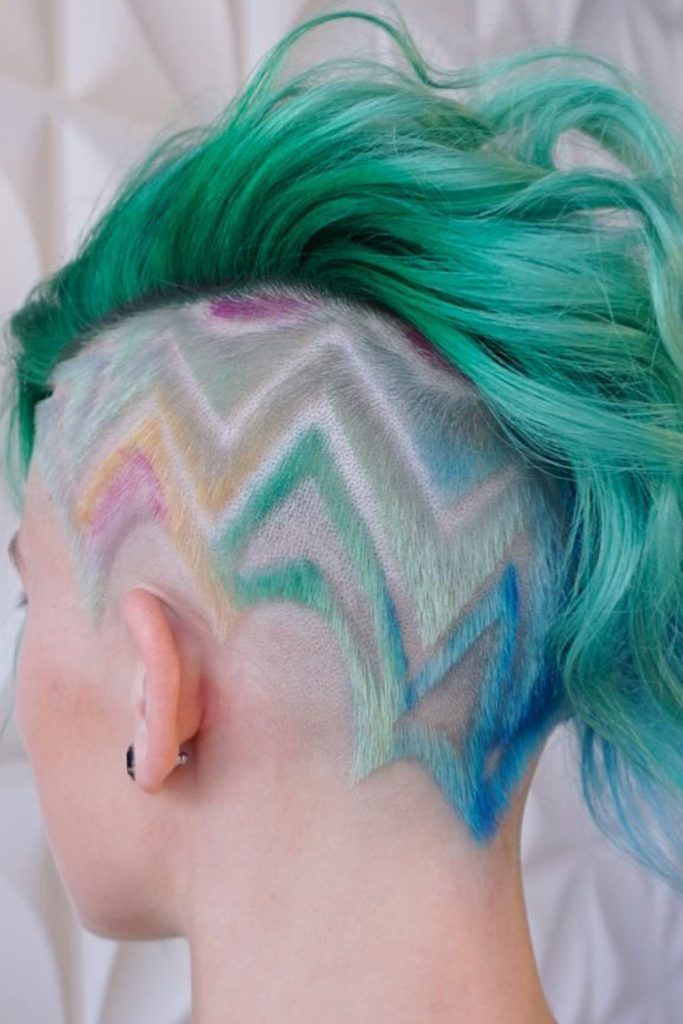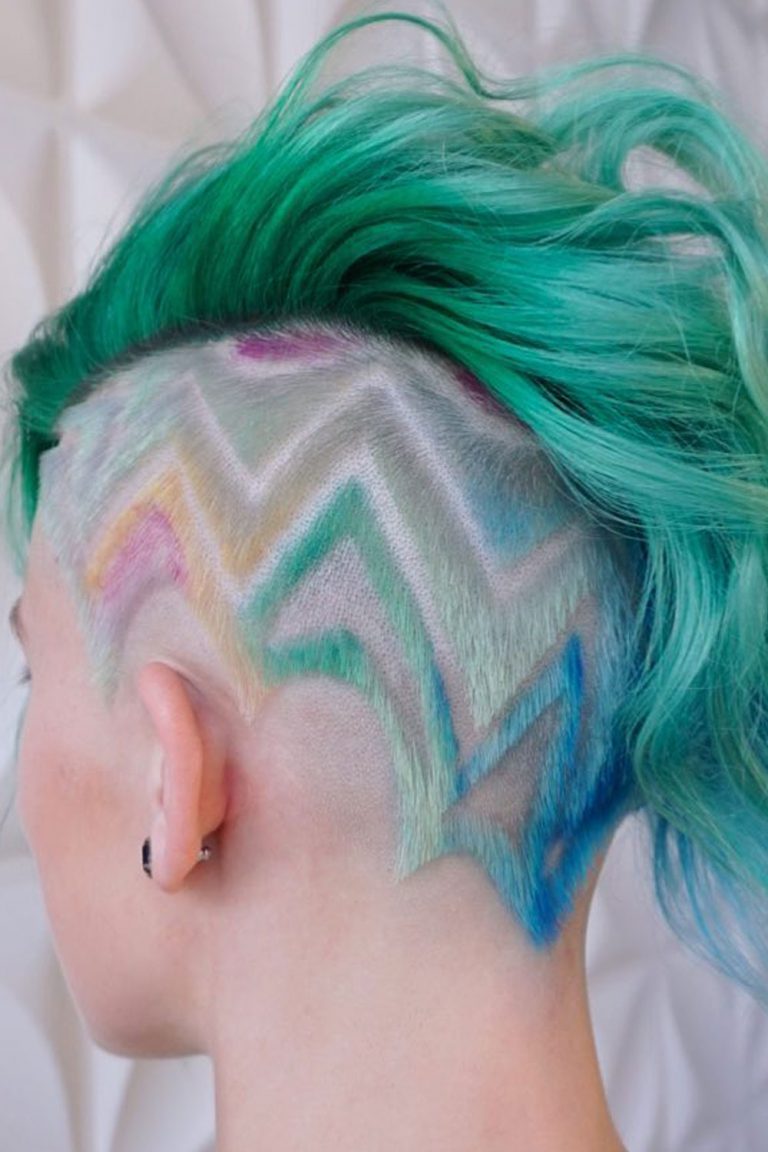 by @instagram_isaac4mayor
Beautiful Blonde Girls With Mohawk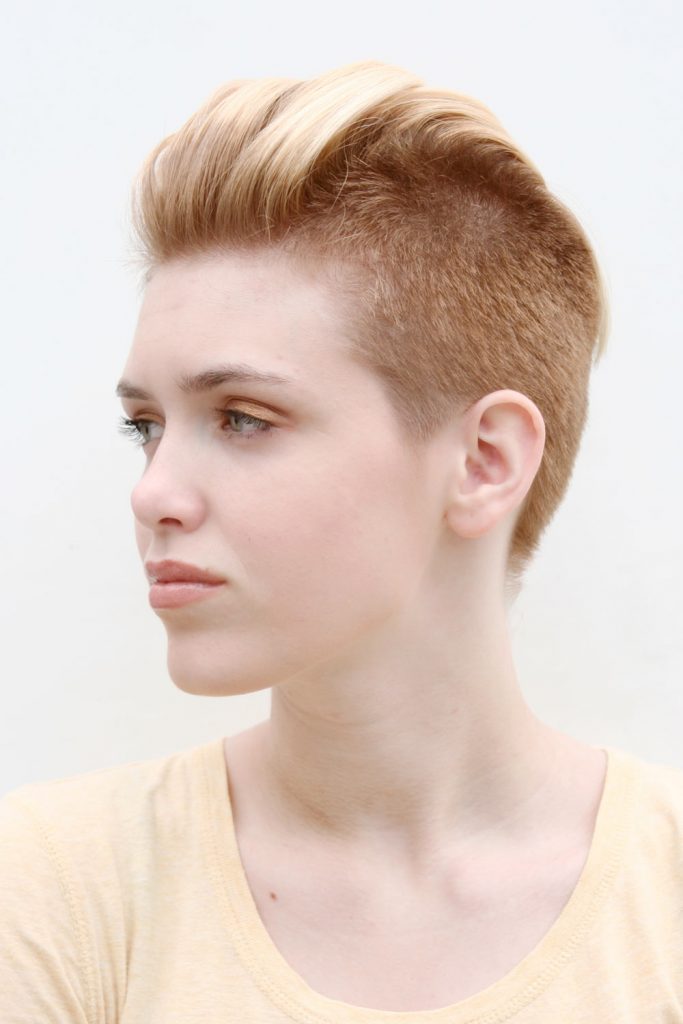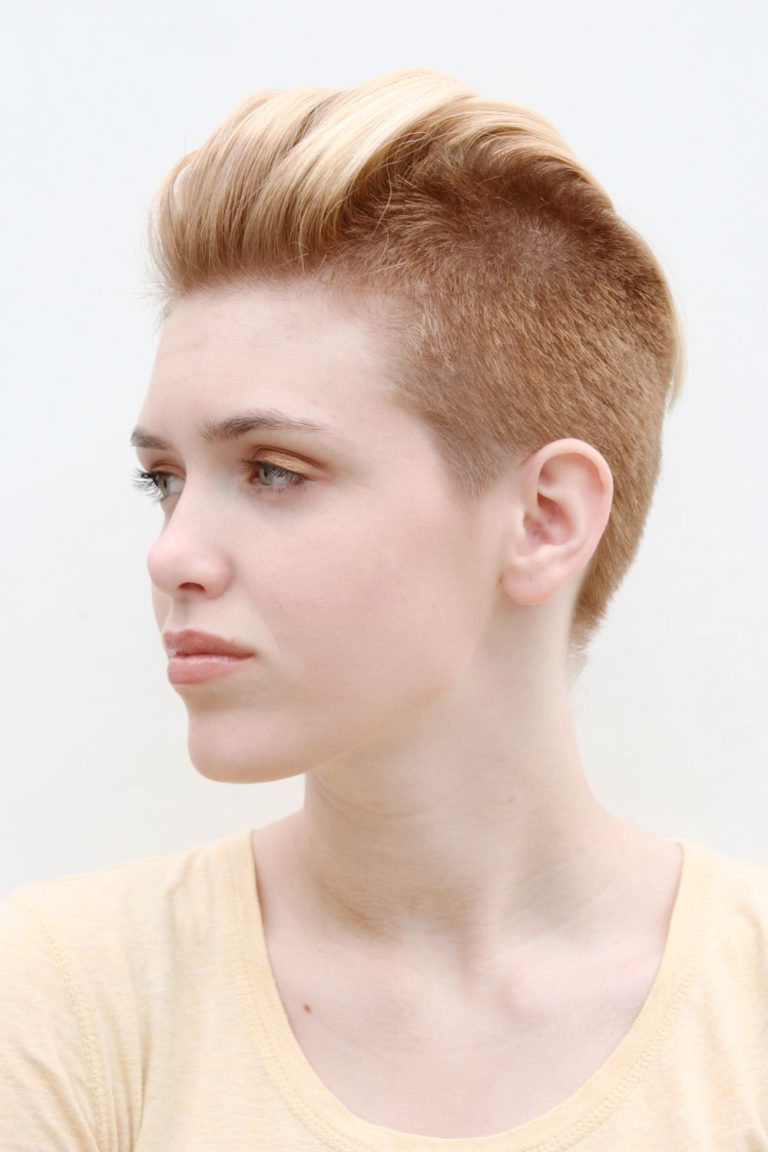 Source: shutterstock.com
Everyone knows that everything natural is in nowadays. The hair color is not an exception. These cute Mohawk hairstyles for women are more on a natural side. If you don't want to lose your punk edge, opt for such hues of blonde as platinum or silver. They will make your hairstyle feminine and with a drop of badass. Don't they look gorgeous?
Mohawks are cool hairstyles for really bold and brave women, who want to stand out from the crowd. Try vivid colors and different hair tattoo to variety your Mohawk hairstyles.
We hope this gallery of creative and gorgeous Mohawk ideas have inspired you for some changes and will come in handy. Come back for more inspiration.
FAQ: Mohawk
Where did the Mohawk come from?
While the Mohawk haircut is named after the Mohawk people, a North American indigenous people who lived in the Mohawk Valley in upstate New York, the relationship with the Mohawk originates from Hollywood, notably the iconic 1939 film Drums Along the Mohawk with Henry Fonda.
Is the mohawk out of style?
Shaved sides and classic mohawk hairstyles were formerly popular, however, the new hair trends have pushed it for more adaptable forms. The mohawk fade has been the most popular style in recent years, but you can customize this cut to meet your hair typa and length.
Why do punks wear mohawks?
Beginning in the 1970s, men (and occasionally women) began wearing mohawks. A mohawk was a rather radical hairdo back then, and it was mainly worn by punks. Punk rock and punks were a musical and cultural trend. Punks were dissatisfied with how people dressed and behaved in the "normal" world.
Was this article helpful?