There are many flattering short curly hairstyles for those who have been blessed with naturally curly or wavy hair. And the shorter your hair, the less weight on your curls. As a result, they will have more life, volume, and movement.
Short haircuts have virtually low maintenance and always classy, plus never go out of fashion, especially in the warmer seasons. We have put together a list of our favorite 2022 short curly hair styles for women of any age.
Short Curly Ringlets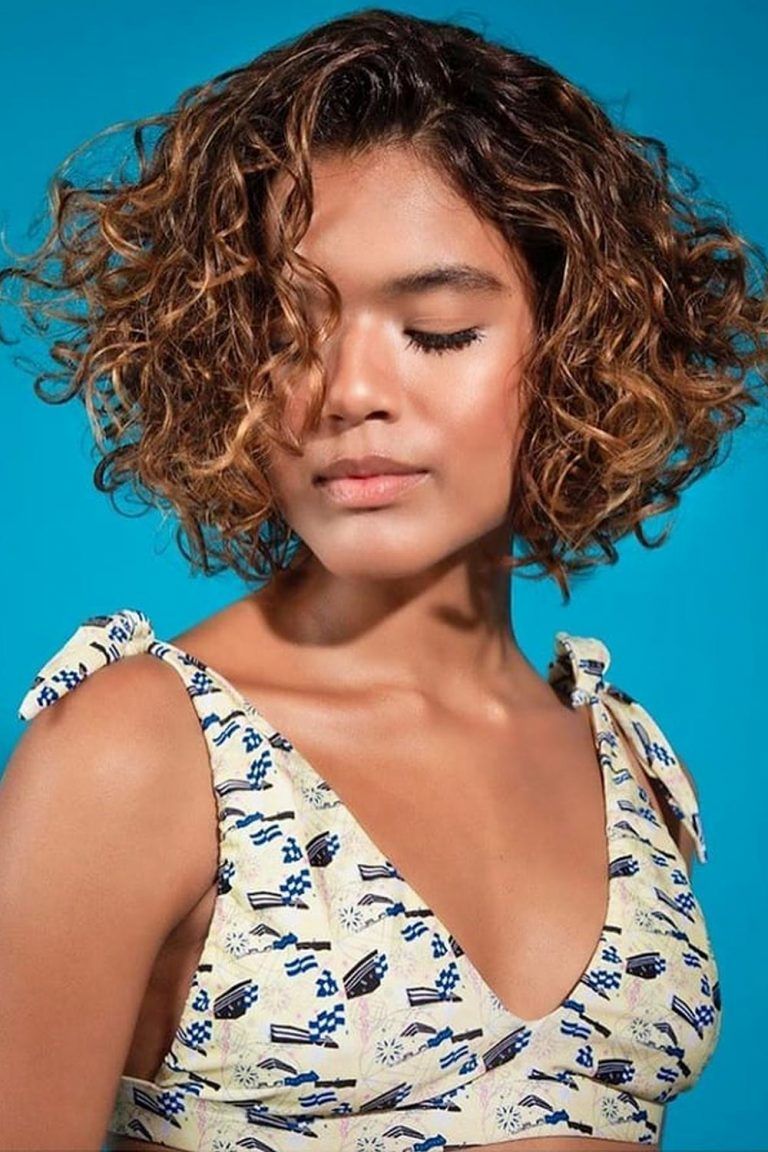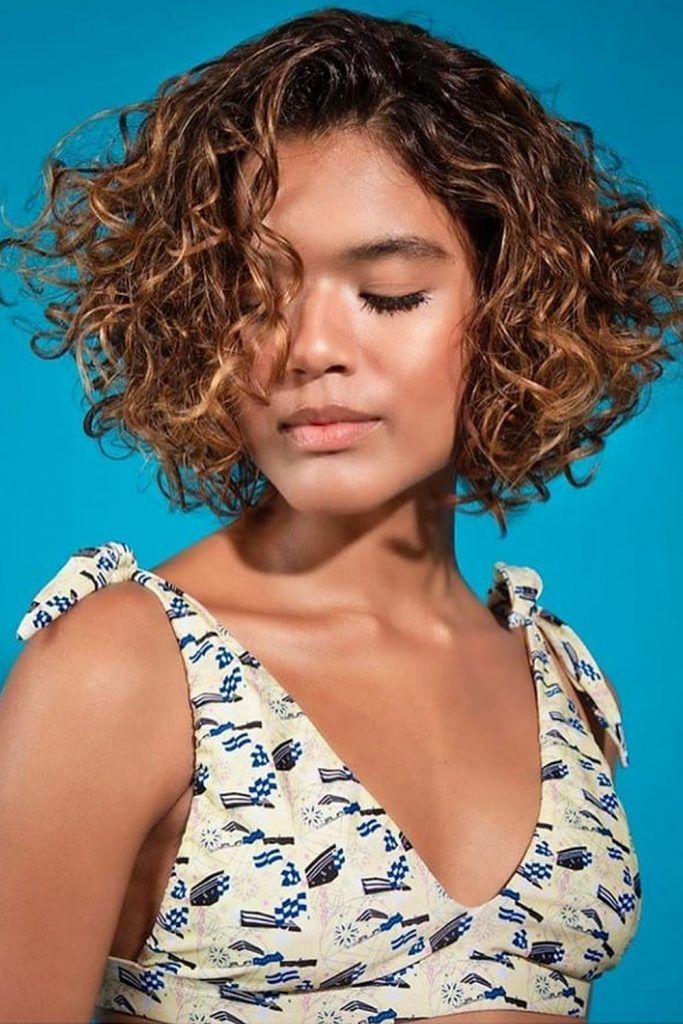 Credit photo: instagram.com/meucabelocurto
Ringlets are among the most versatile short curly hairstyles. They can be classy and sophisticated or flirty and sexy. If you want the option of pulling your hair back with a few curly tendrils framing your face for a seductive effect, leave your curls a little longer.
Curly Pixie Hairstyle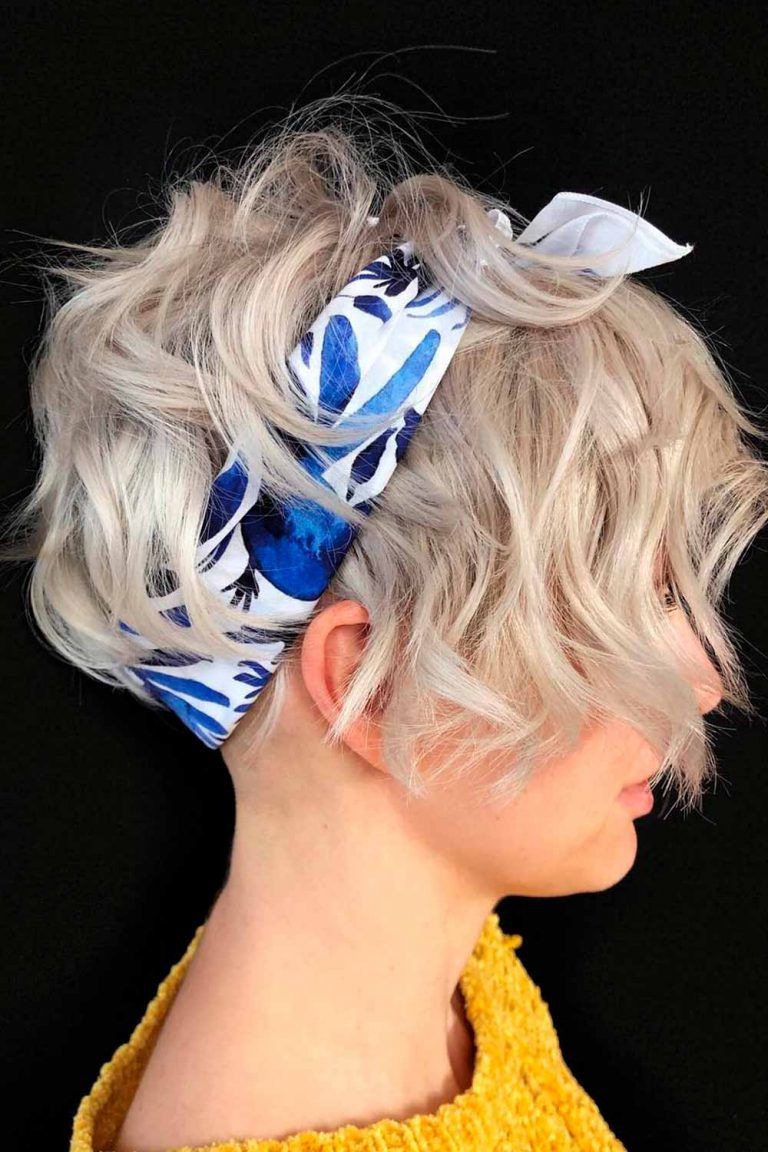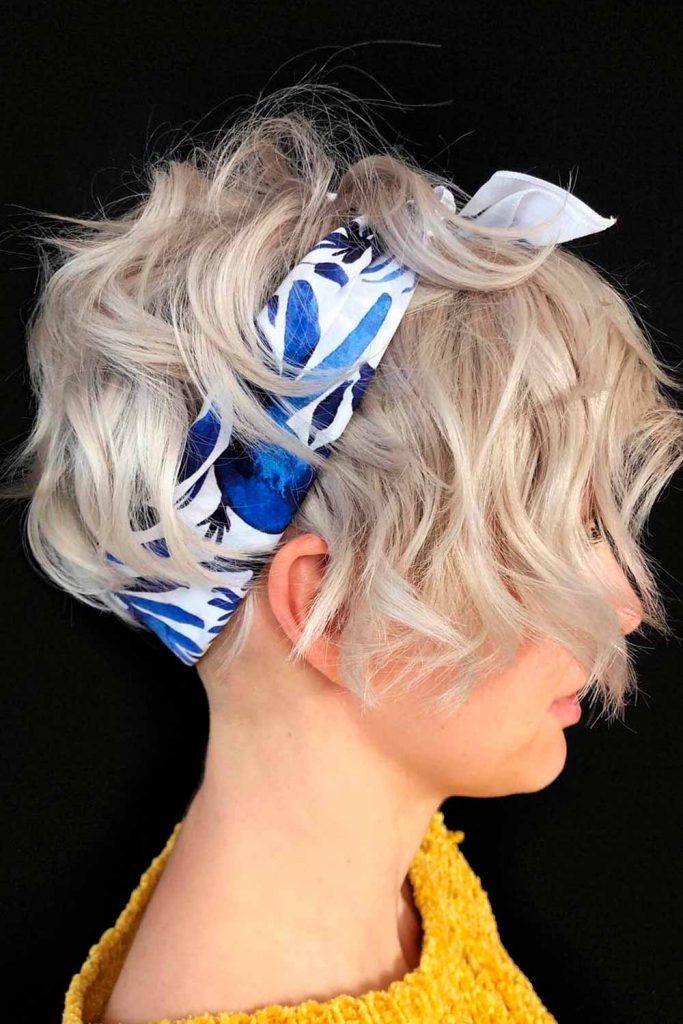 Credit photo: instagram.com/chrisjones_hair
This short curly pixie works great if you are looking to get your hair away from your face to highlight those eyes or cheekbones. It is easy to style and always looks classy. For a bolder look, add some color or highlights to make this style pop.
Choppy Layers With Balayage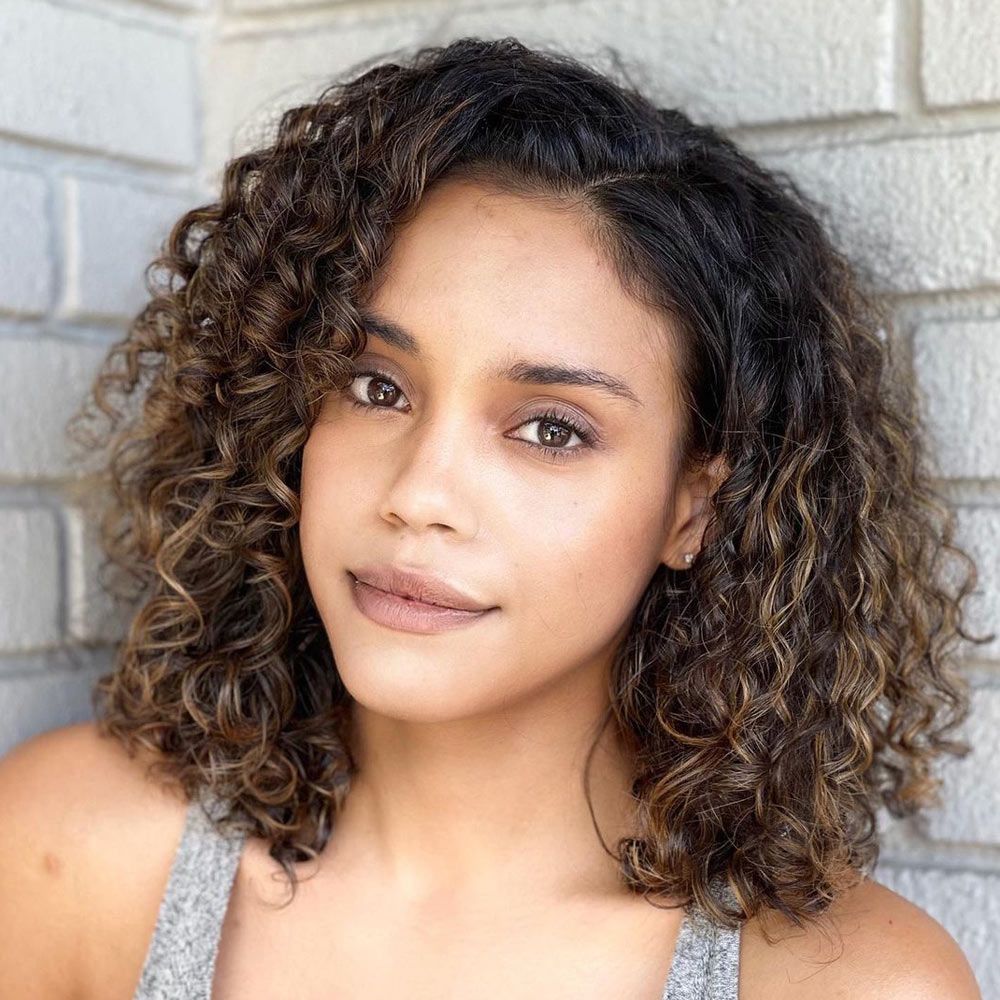 Credit photo: instagram.com/nubiarezo
This cool style in sweet brownie base with light brown balayage blends seems so carefree. The carefree look is achieved by adding choppy layers and thus making it a textured cut. When styling, it is significant to accentuate rather than hide the texture. Use a qualitative texturizing styling product when waving your hair. Needless to say, switching to the Curly Girl method will also play a crucial role in creating such bouncy and lively curls.
Short Curly Thick Hair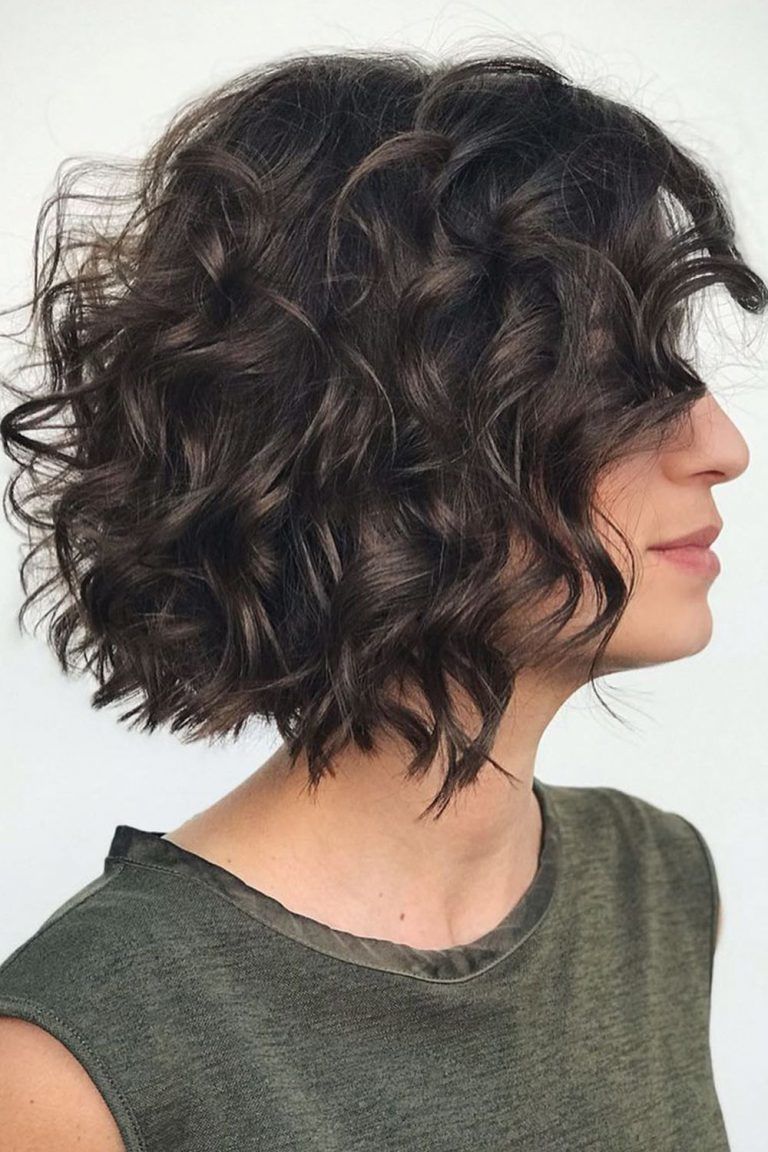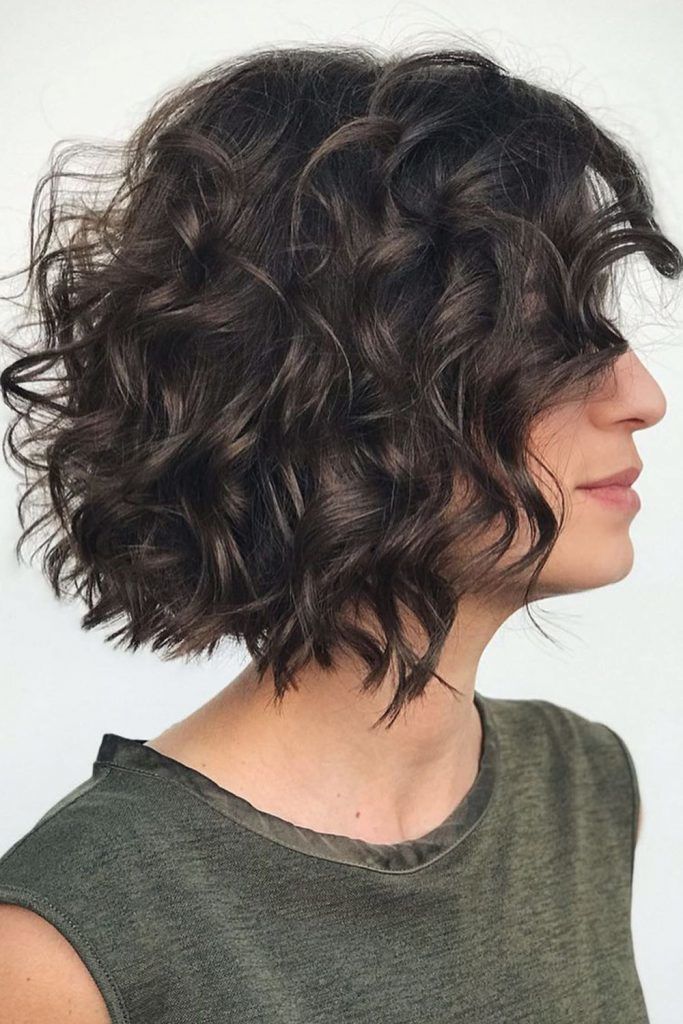 Credit photo: instagram.com/jeanclaudeelmoughayar
For those with especially thick, curly hair, this kind of short curly hairstyles is the perfect 2022 style. It won't weigh down your hair, thus taking away your curls. It may seem a bit too short for some, but the perfect volume and drastic definition of the curls is so dramatic that you won't miss the length at all. Plus, it's so easy to maintain. You can either blow it dry with a round brush to fluff out your tresses or let your gorgeous locks air dry for that sexy look that never goes out of style.
Short Wavy Curls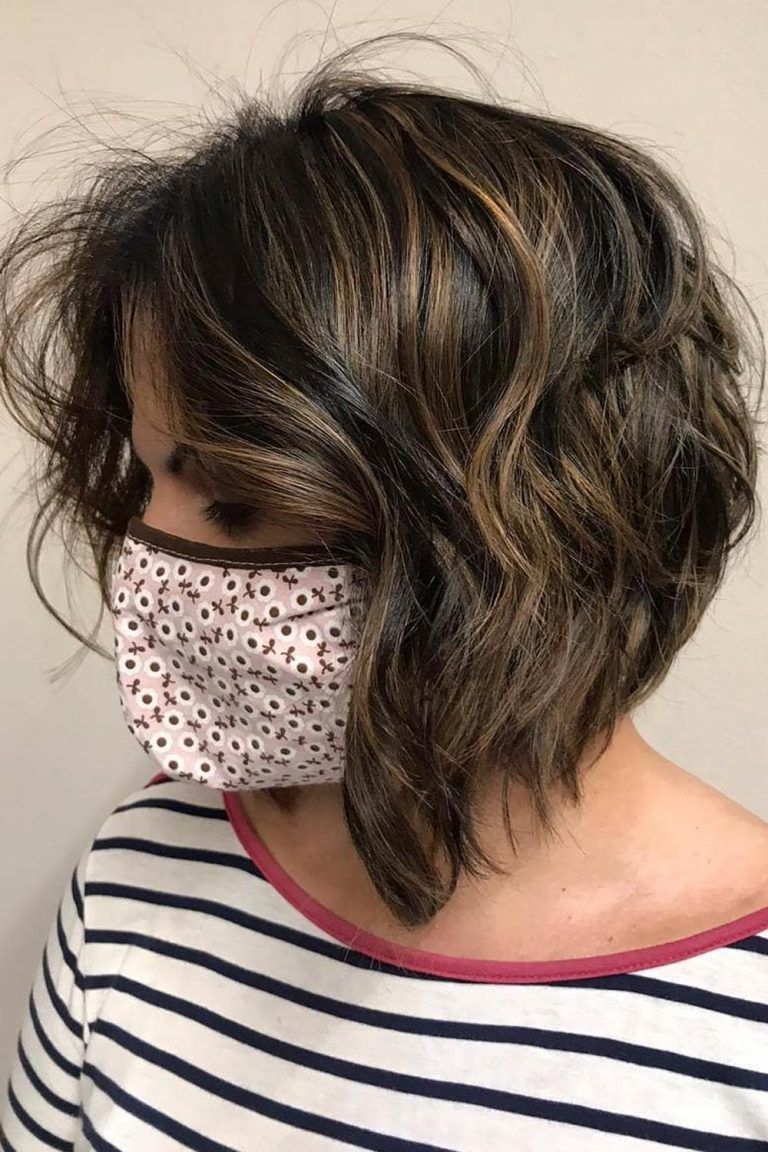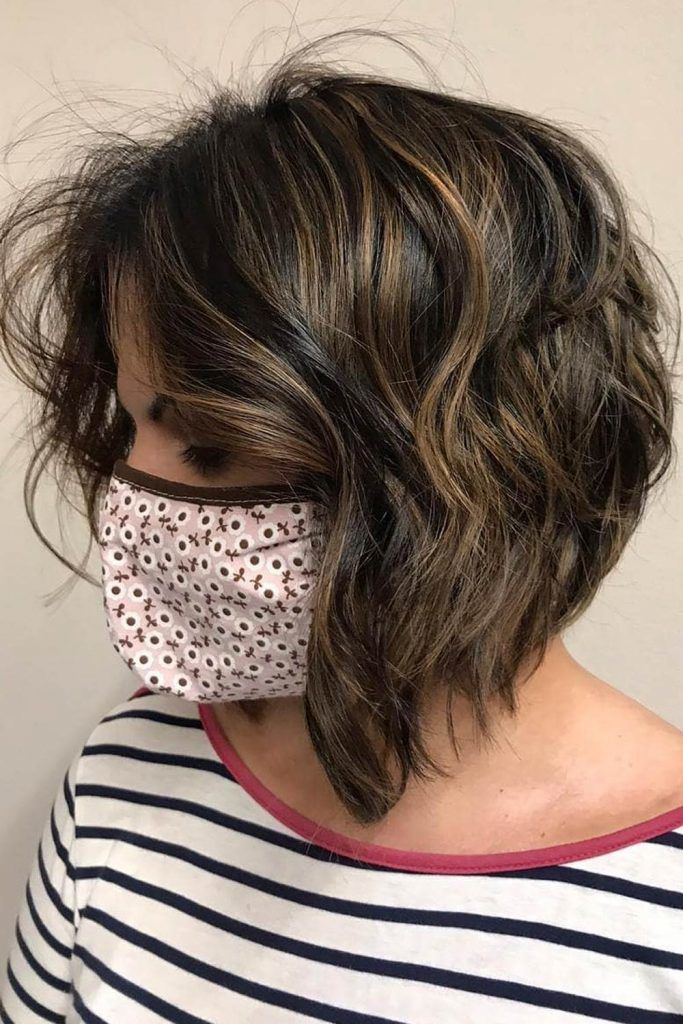 Credit photo: instagram.com/meucabelocurto
Not everyone is blessed with perfect ringlets, but that doesn't matter. Soft waves are just as stylish. If you don't have the time to enhance your natural waves with a curling iron or wand, you can simply apply some product and let your hair air dry and showcase those gorgeous waves!
Classy Wavy Bob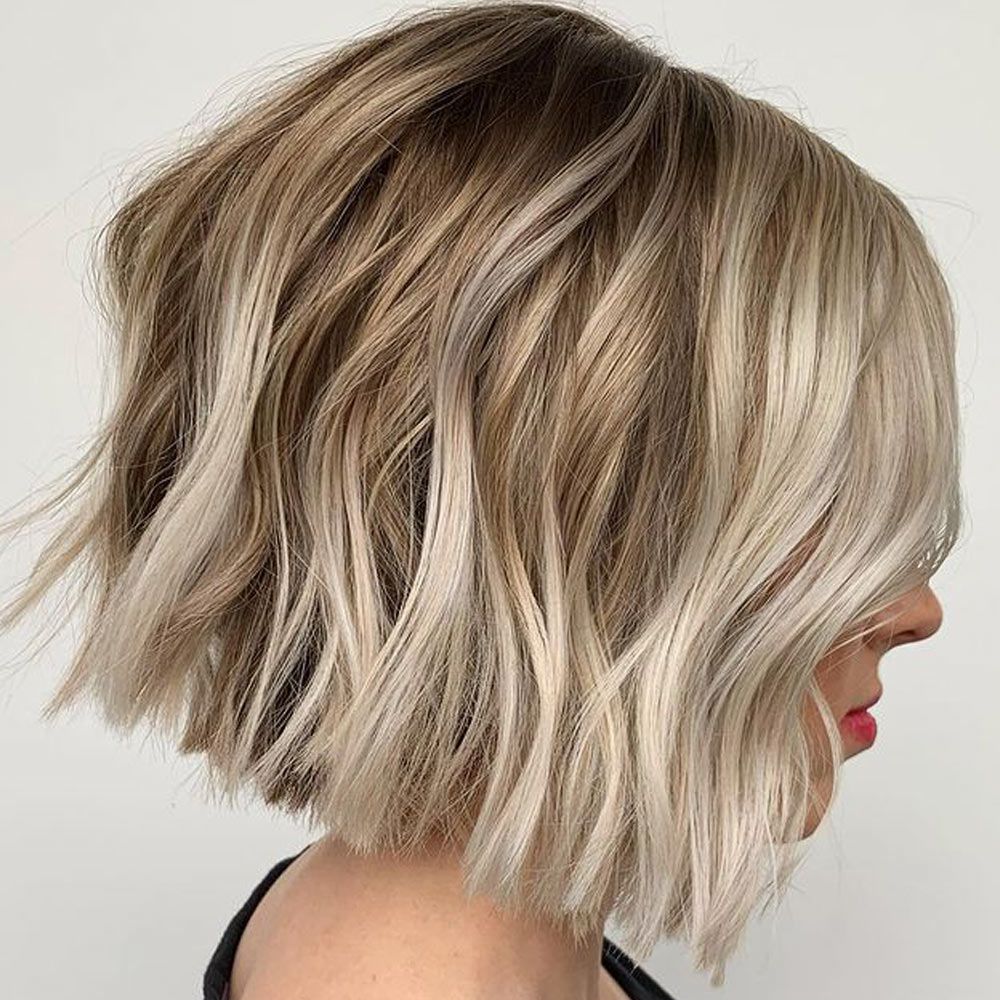 Credit photo: instagram.com/styled_by_carolynn
This shorter bob is perfect for any age. With very slight layers, it adds volume and depth to your hair and allows for natural movement. Simply add a little product, run your fingers through your hair, and go. These pretty little waves are timeless and chic and will never go out of style.
Chin Length Curly Bob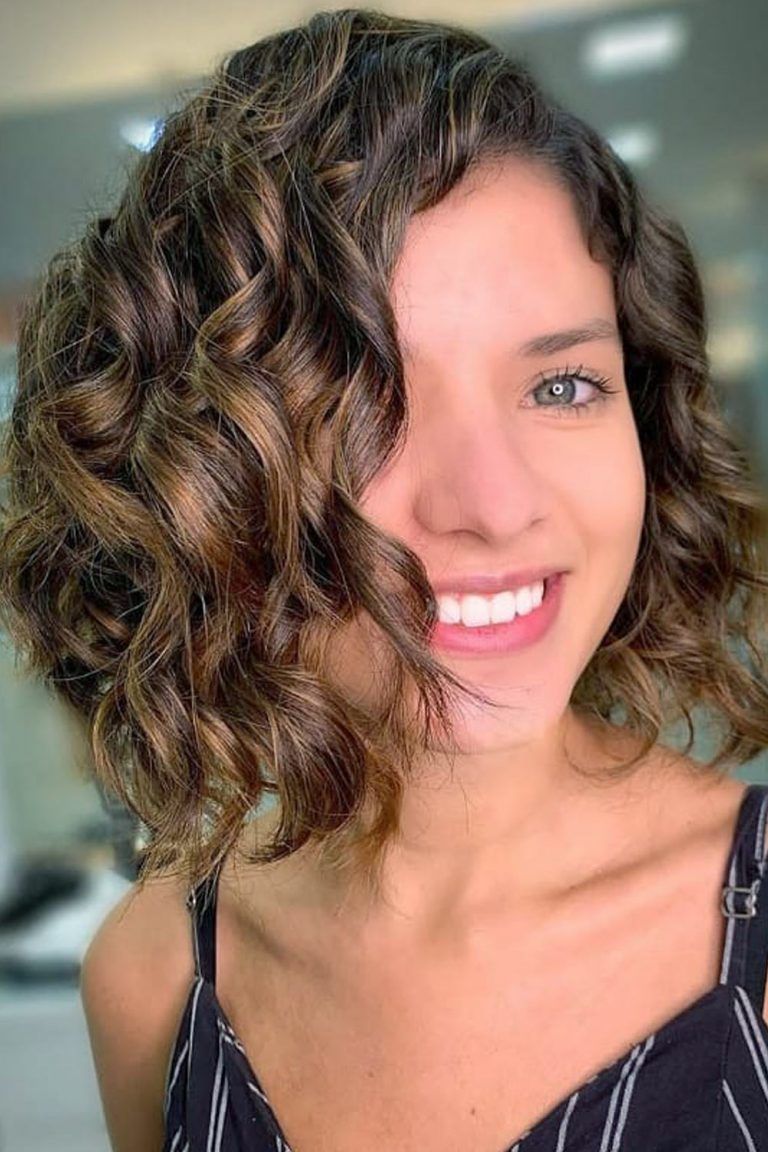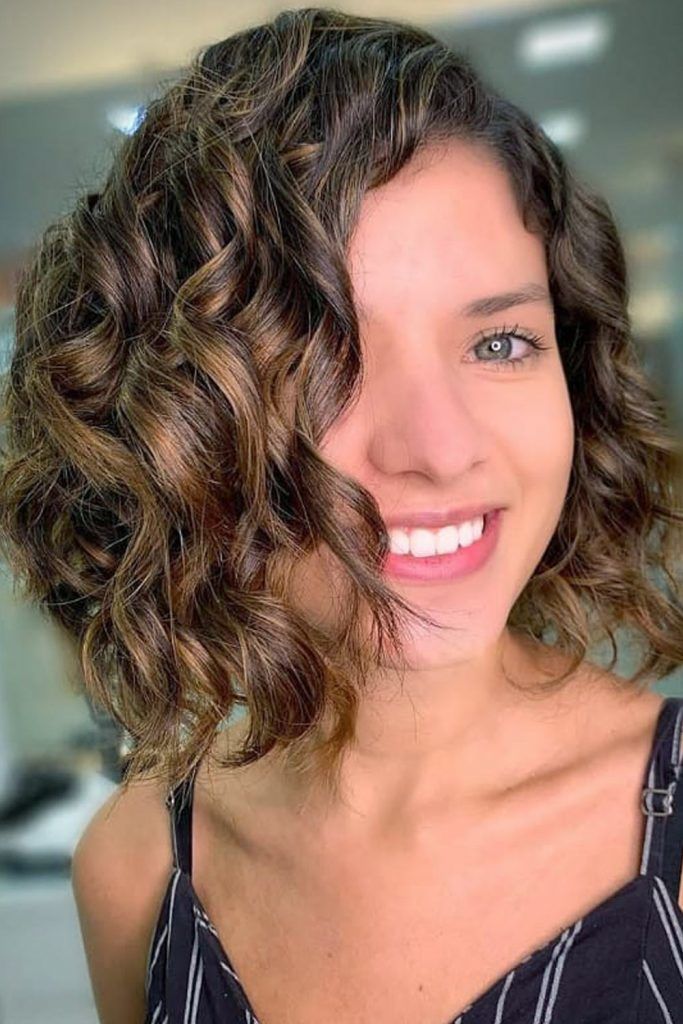 Credit photo: instagram.com/meucabelocurto
This voluminous curly bob has slightly longer layers in the front with a gradual angle from the back. The loose ringlets that are soft and feminine create a fascinating, graduating silhouette as the cut is just under the chin, which gives a chic look and feel.
Short Curly Hair With Bangs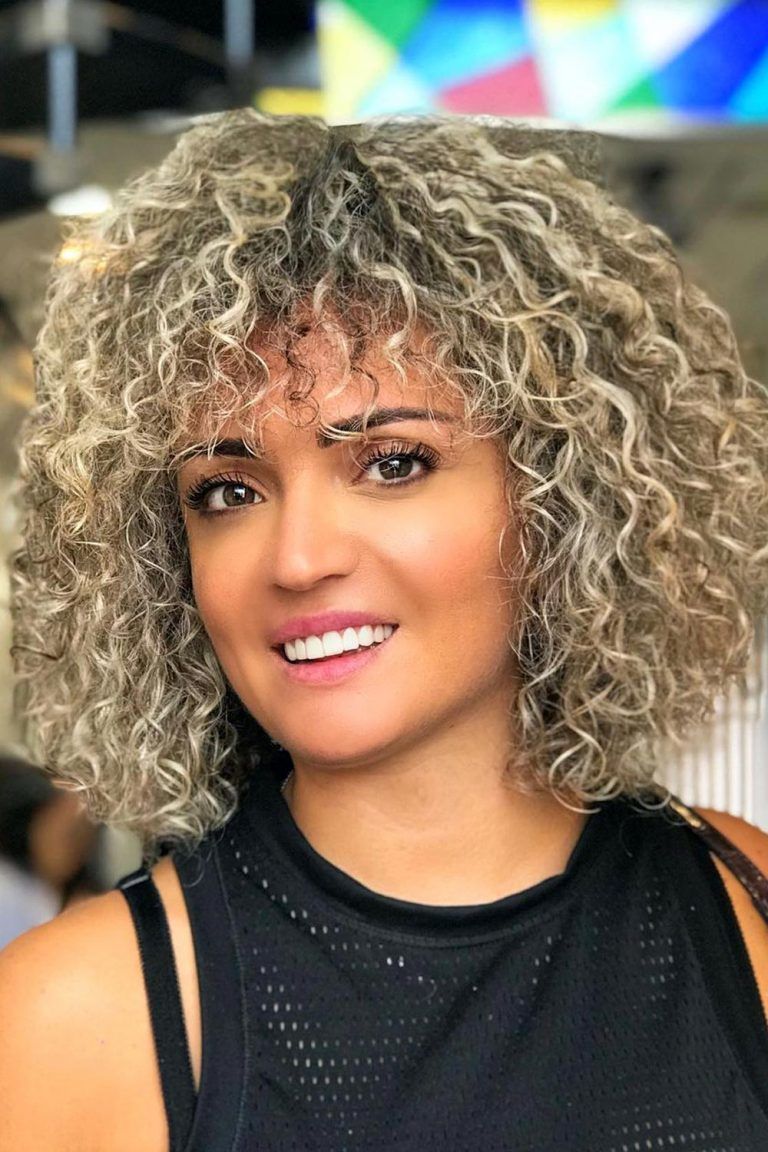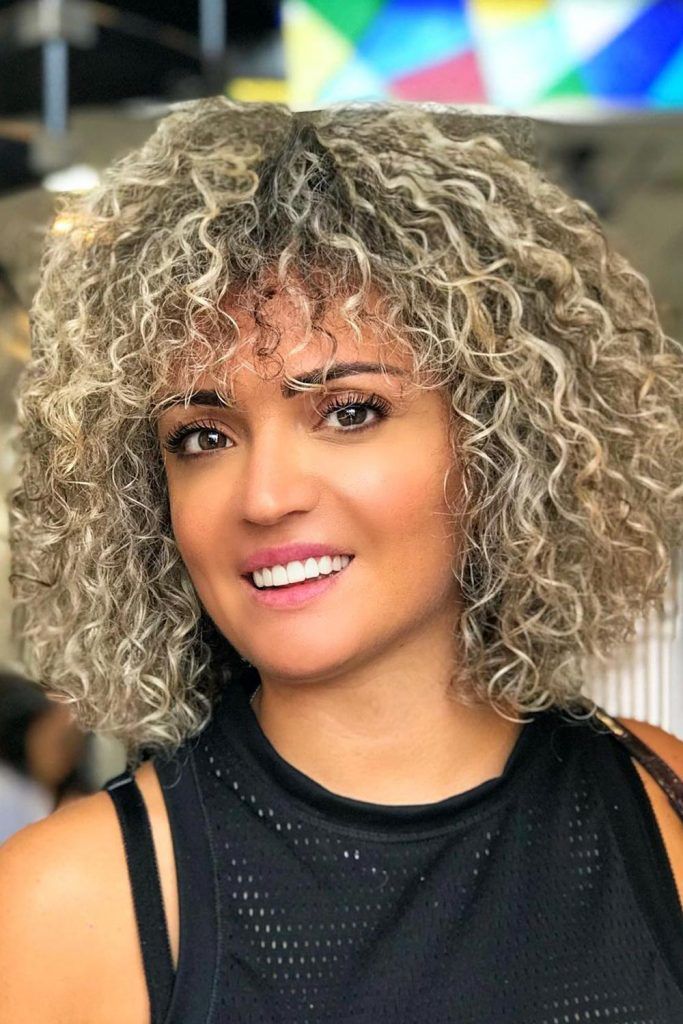 Credit photo: instagram.com/jeanclaudeelmoughayar
Bangs tend to go in and out of style every few years, but they are always flattering for short curly hairstyles. Whether you wear your bangs blunt or off the side, they add a look of mystery to your bouncy curls.
Short Layered Curls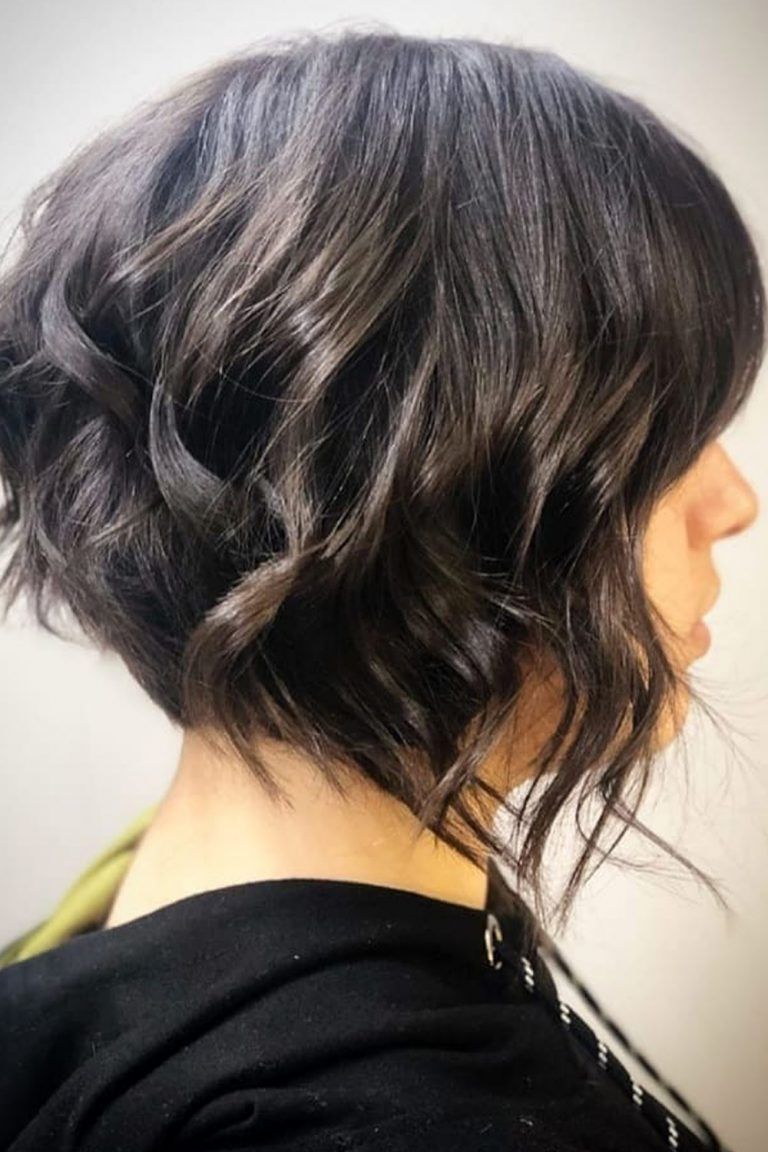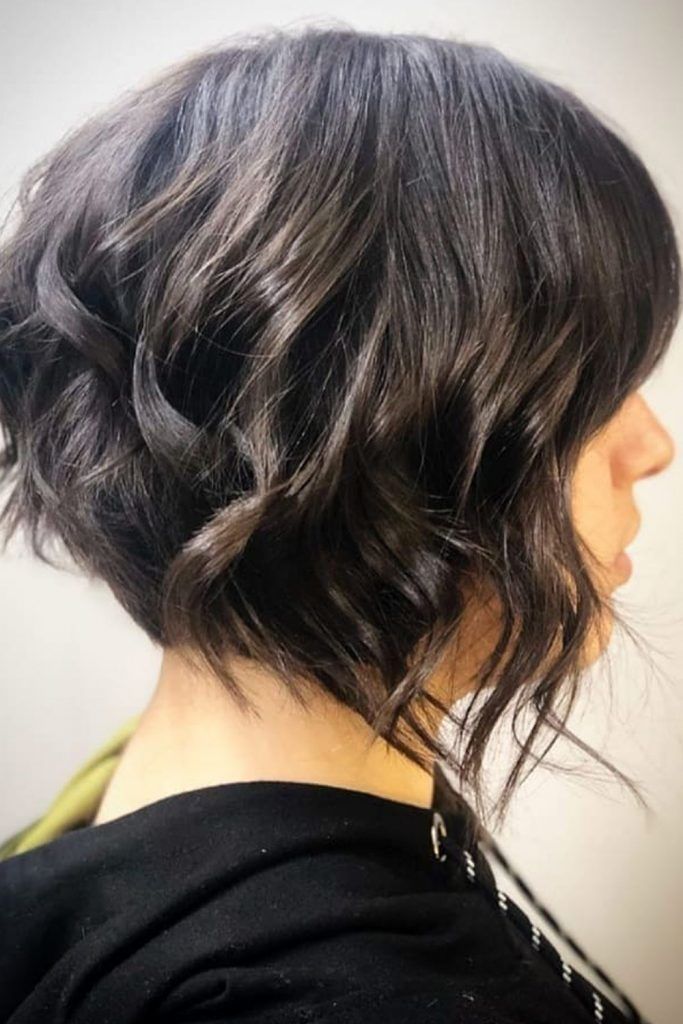 Credit photo: instagram.com/meucabelocurto
Despite what you have heard, you can still add layers to shorter curly hair. This cute short style has layers of varying lengths to add texture and volume for a playful, fun look that is timeless and classic.
Tousled Curls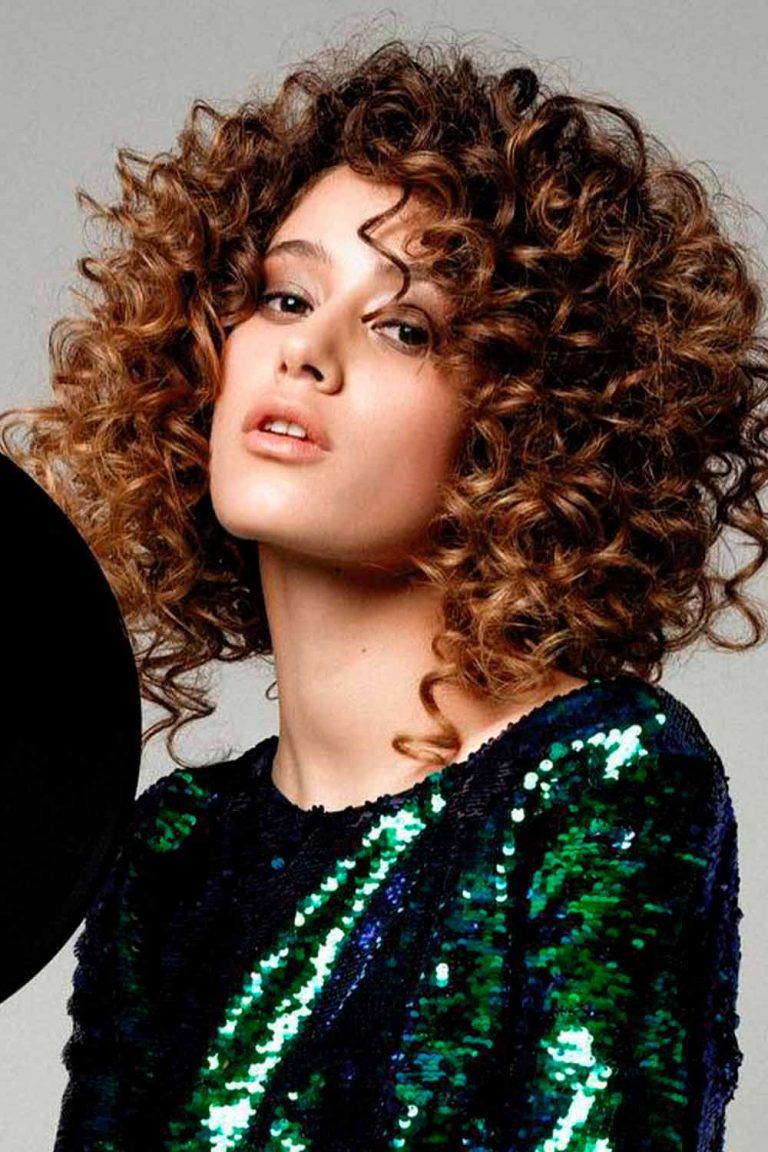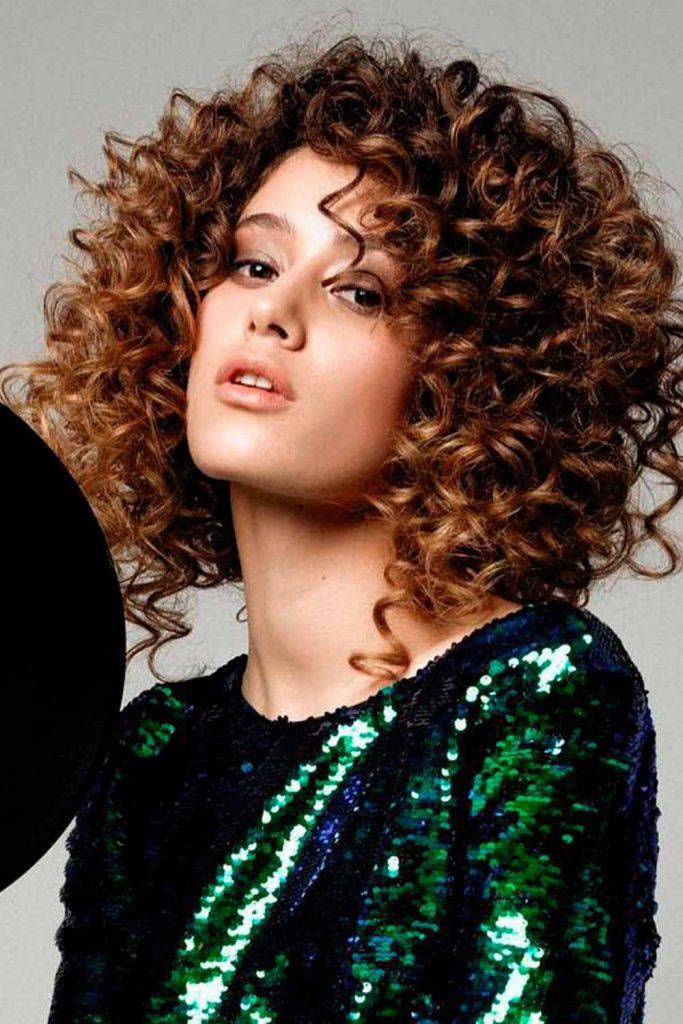 Credit photo: instagram.com/cut_and_color
Short curly hair in 2022 is perfect for that carefree, tousled look. The best part about this look is that it requires little to no effort. Simply wash your hair with a good curling shampoo, conditioner, add a little product such as a curling wax or serum and go. Tousled curls are fun and sexy.
Side Swept Curly Hairstyle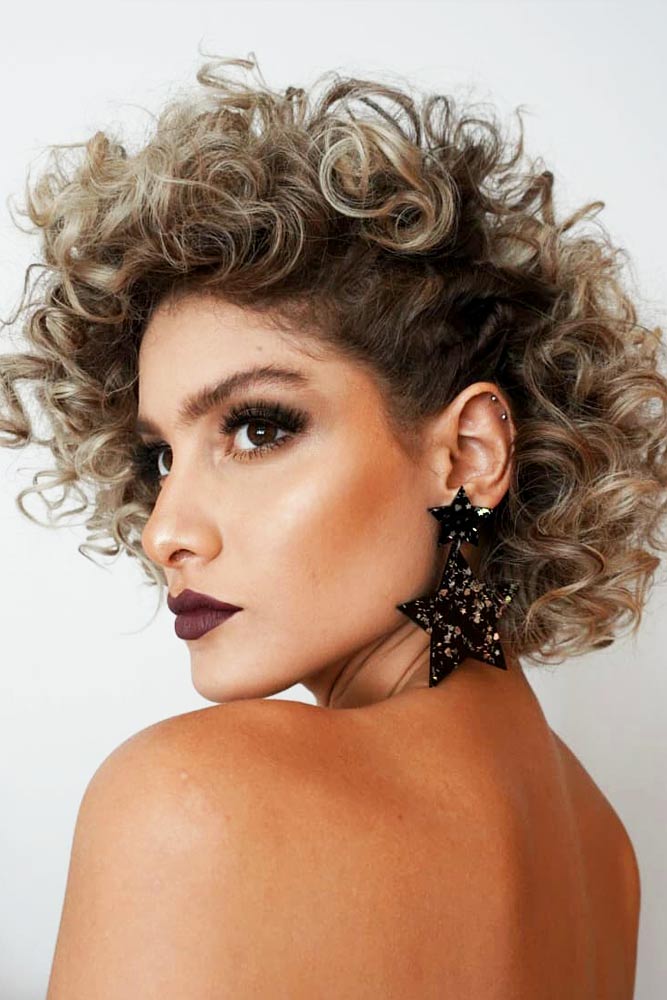 Credit photo: instagram.com/manuelagmartins
This look is timeless and elegant. If you have a square face, you don't need to sweep your hair straight back as it won't flatter your facial structure. Simply sweep your curls to one side for a playful and flirty look. The loosely styled tresses will add volume and bounce to your hair, accentuating your stunning facial angles.
Part A-Line Short Curly Bob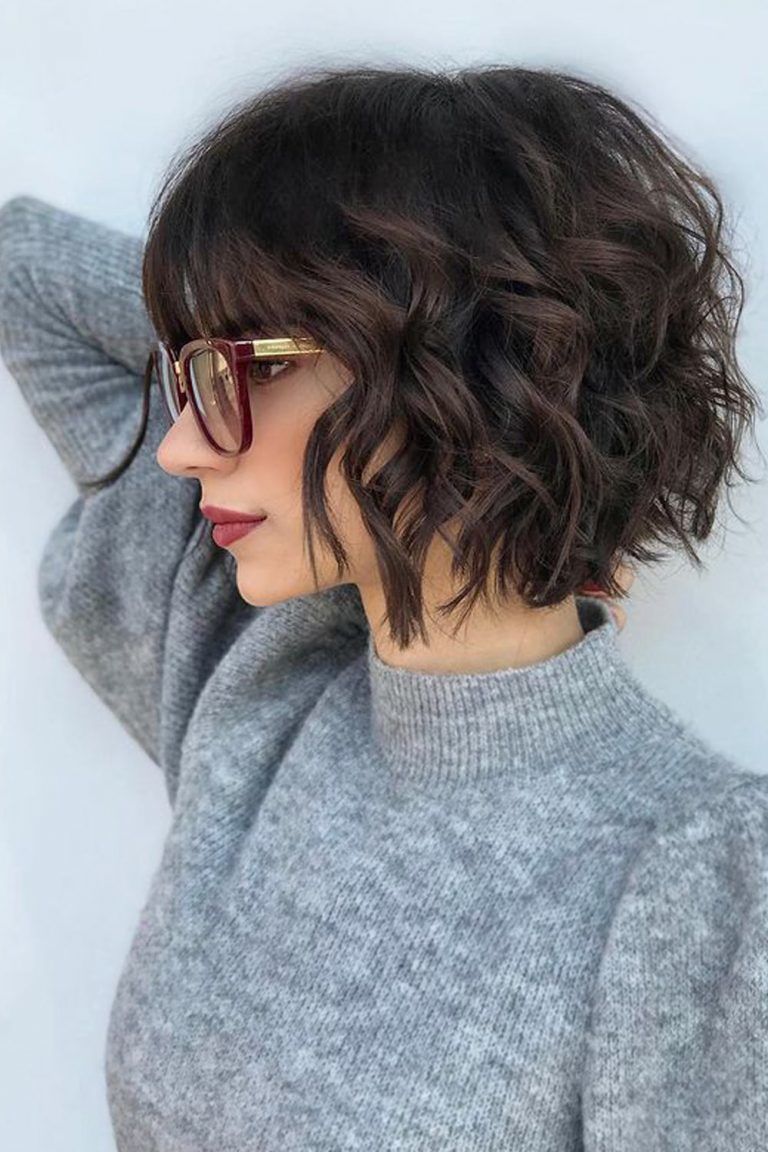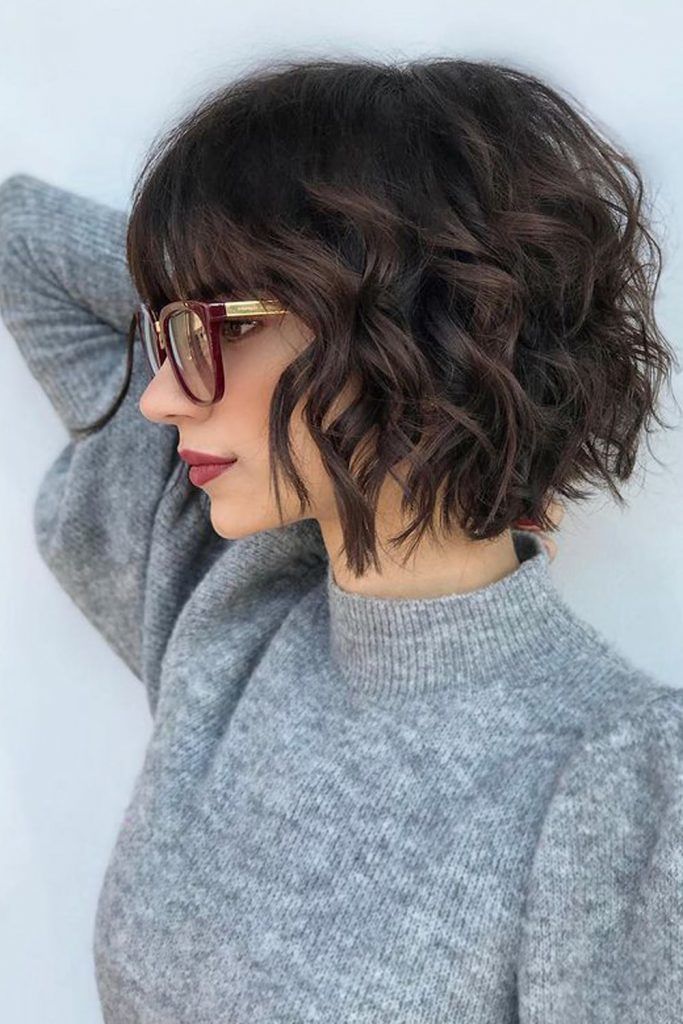 Credit photo: instagram.com/jeanclaudeelmoughayar
This look works great for those with an oval shaped face. The center part and loose ringlets make for a sexy, sophisticated do. The shoulder-length curls still leave room to pull your hair back if needed, but this look works best with the loose ringlets gently framing your face.
High Updo For Short Curly Hair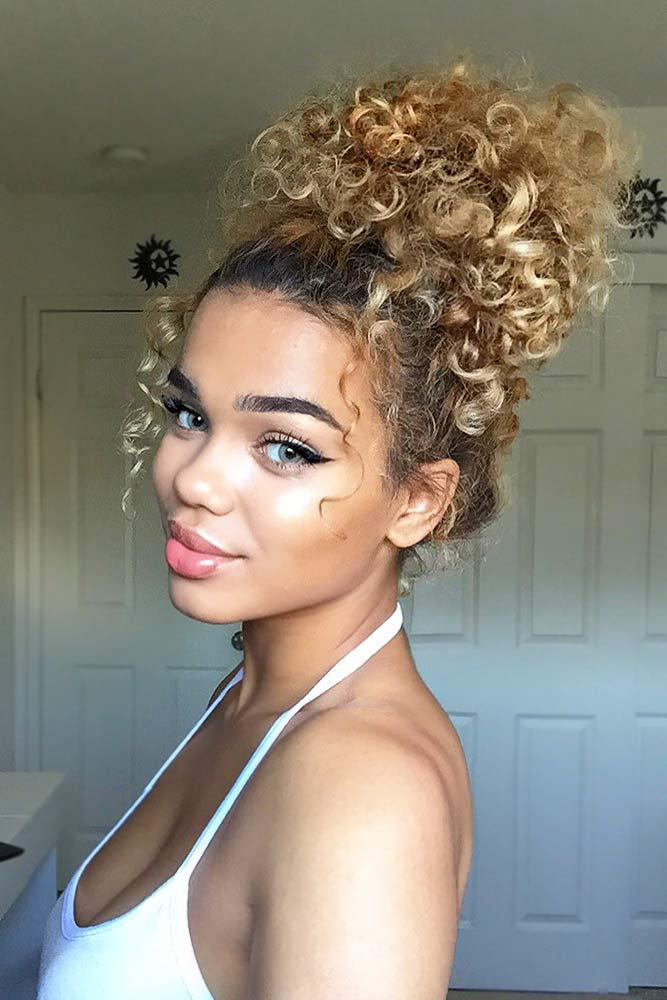 Credit photo: instagram.com/thereallialovee
How about you to open up your beautiful face by putting all of your amazing curls in a sexy high updo? Though you may think that it's hard to play around with short locks, there are actually no limitations for your little bouncy cuties. Since they're pretty short, don't twist them around the base: simply create a high ponytail so that your locks stick randomly. And enjoy!
Curly Pixie With Headscarf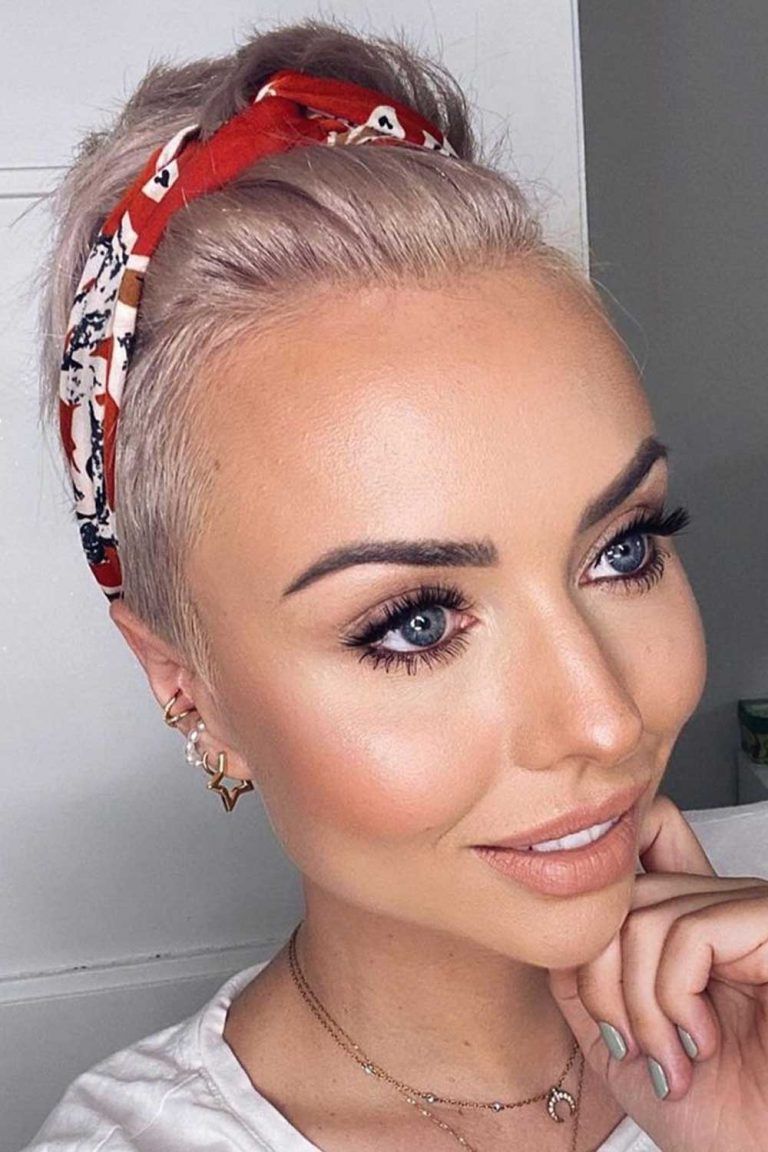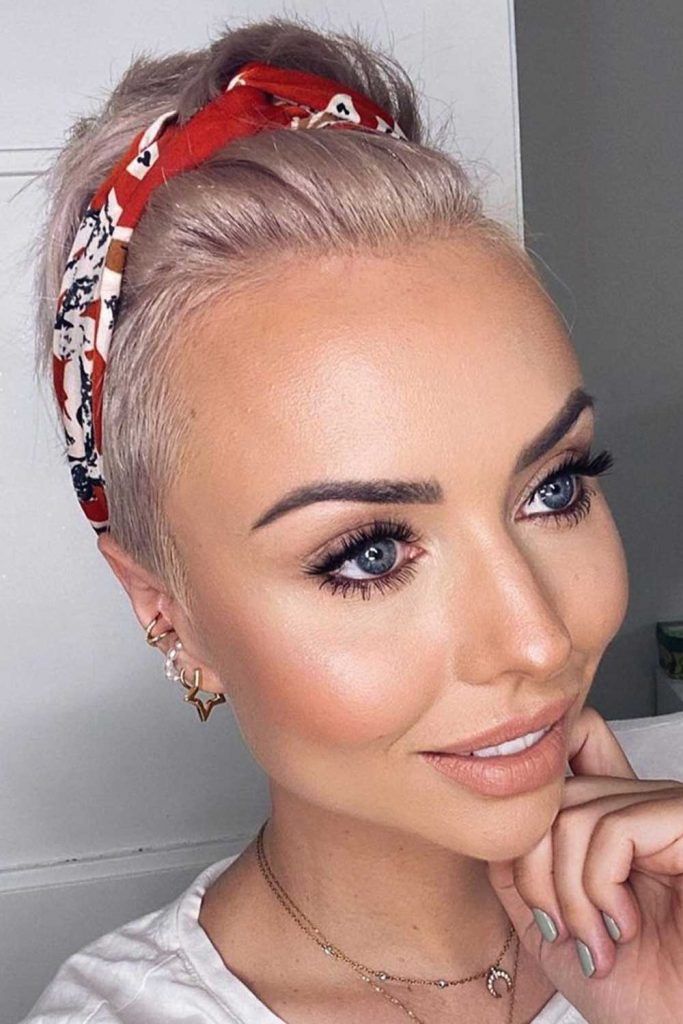 Credit photo: instagram.com/alicia_wunderbar
A stylish touch of fancy accessories can emphasize your good taste. Sometimes we feel so lazy to do something more than a simple bun or ponytail, but we always want to be on point. This idea is a super straightforward way that will take less than a minute to give you an exceptional look. Put your pixie up, secure it with a lovely headband, and be ready flaunt with a creative hairdo.
Short To Medium Curly Bob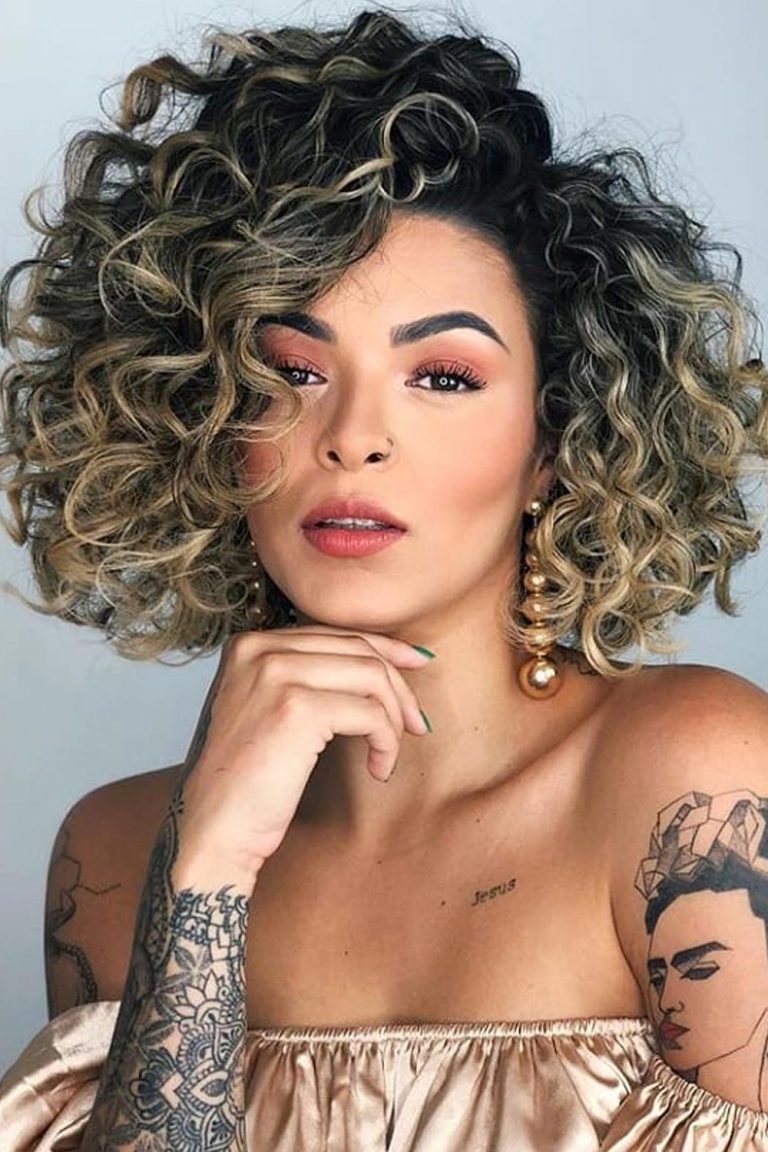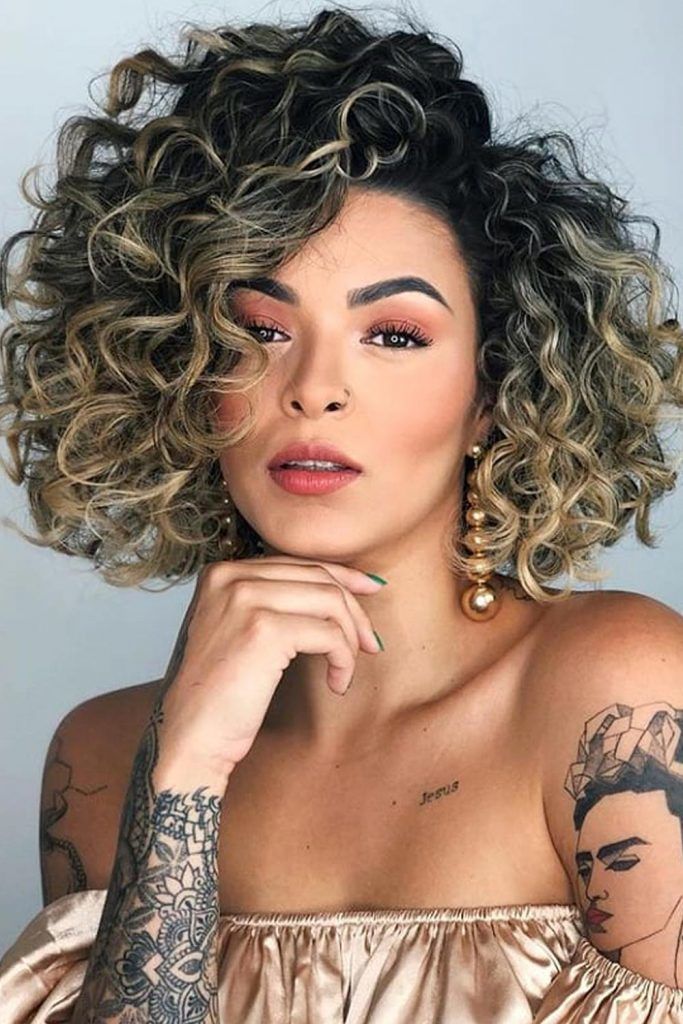 Credit photo: instagram.com/meucabelocurto
Every girl dreamed to have a doll-like hair in her childhood. If you are still dreaming about it, then this is what you should do! Just blend in your perfect dark brown curls a little bit of whitish highlights, and you will like the dolly you will see in the mirror. Prepare yourself for tons of compliments, as highlighting your natural hair color will enhance its beauty, this making all people around notice how stunning your hair is.
Curly Pixie Haircut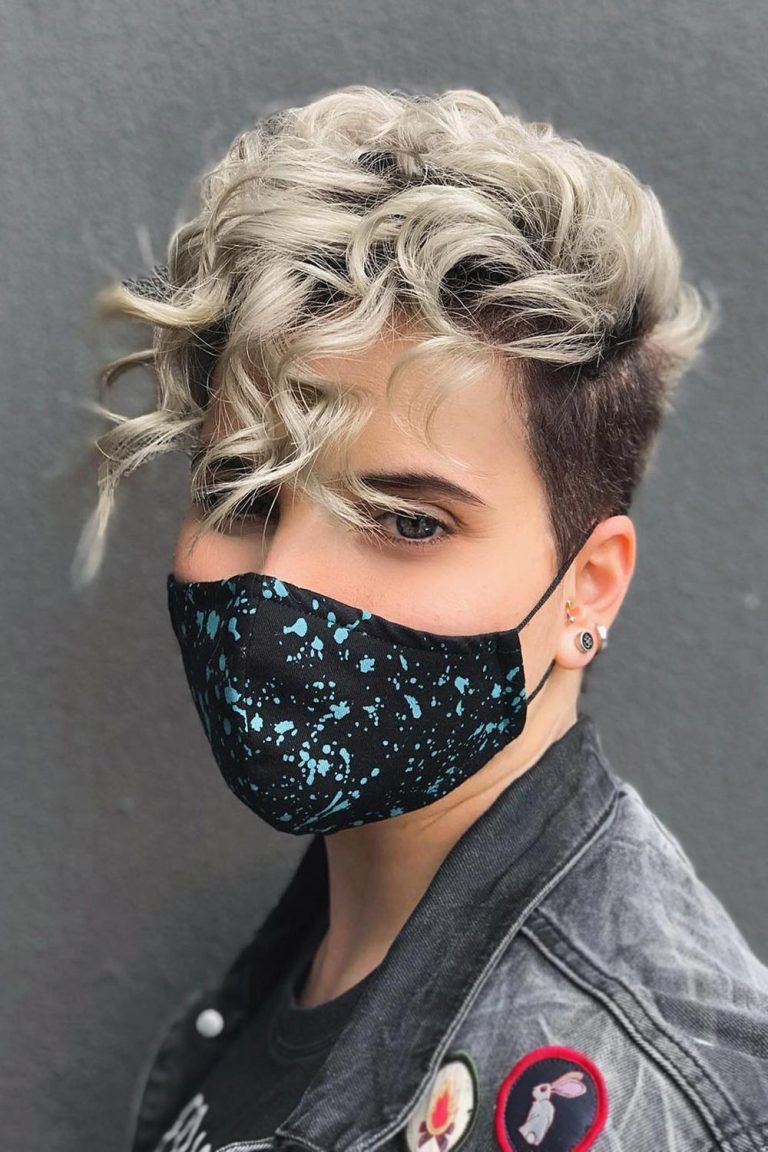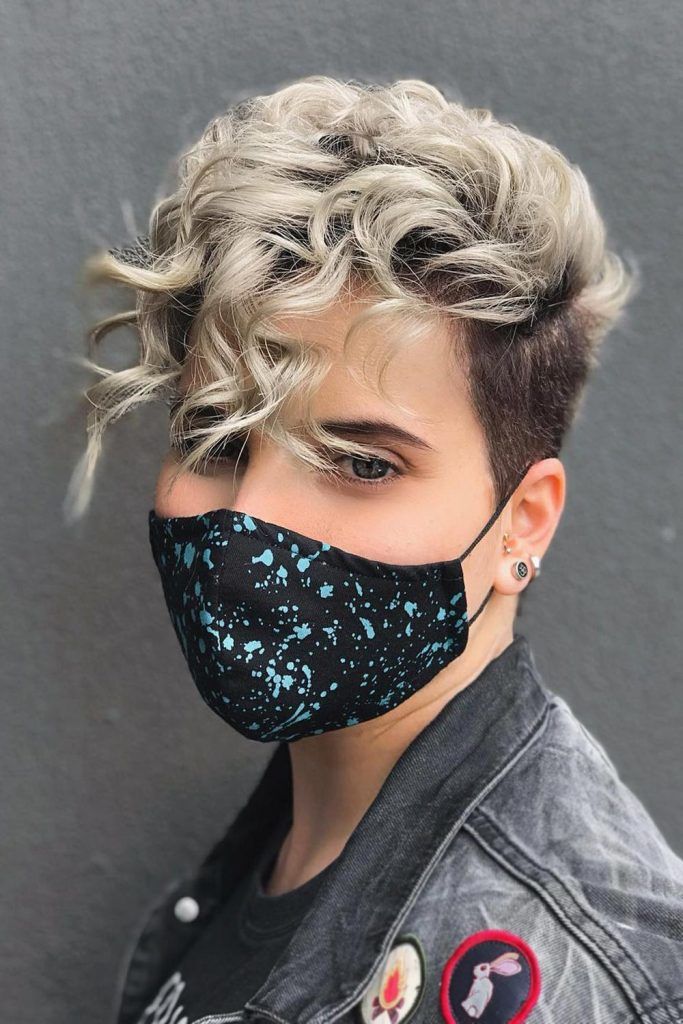 Credit photo: instagram.com/jeanclaudeelmoughayar
Curly pixies are minimalistic, yet eye-catching haircuts that are popular not only because of their beauty: many ladies go for them because such cuts are absolutely practical. Just imagine that your thick puffy locks won't bother you in hot summer days, as everything will be well-groomed and comfortable to wear. Yes, pixies are trendy not for nothing.
Space Buns For Curly Bob
Переглянути цей допис в Instagram
Who says that getting half-ups for short hair is impossible? It seems like our today's short curly hairstyles are here to dispel some styling myths. You can create as many hairstyles as your imagination lets you. How do you like these cute space buns with a shiny accessory and some textured curls left on the back? Isn't that a reason to let your imagination fly?
Curly Layered Bob With Bangs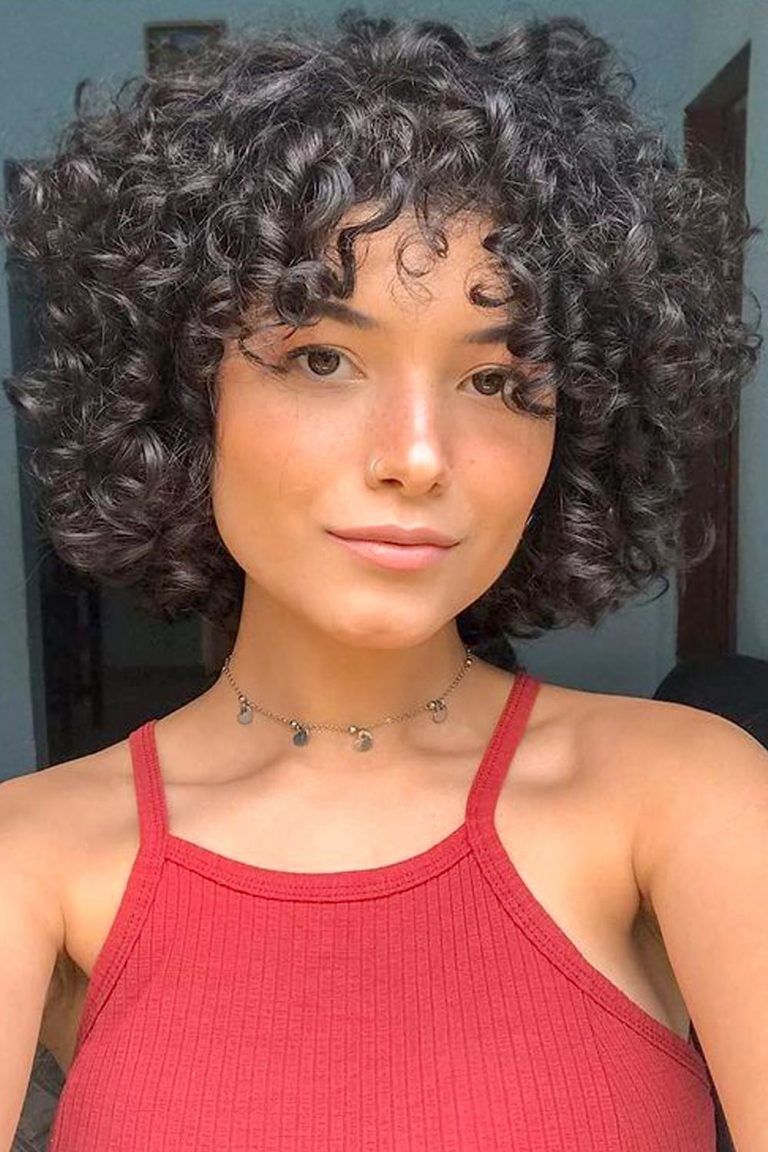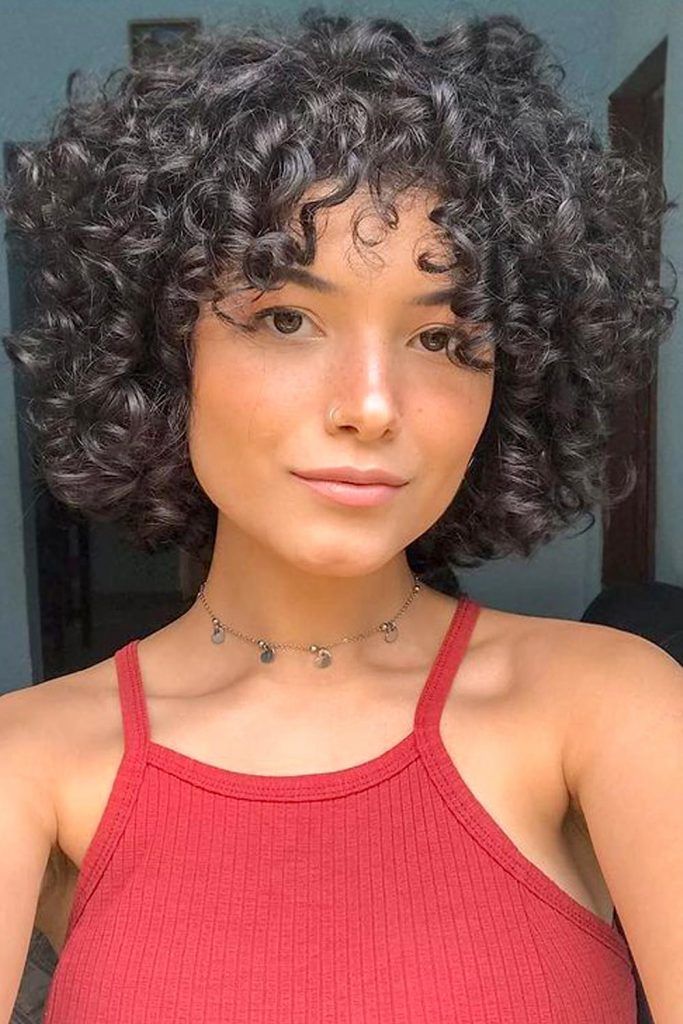 Credit photo: instagram.com/meucabelocurto
Some ladies underestimate the power of layers and bangs. Everyone loves to show up with a super textured and voluminous chevelure, right? And layered curly bob, accompanied with adorable face-flattering bangs are a good idea to create an unbearably full and sumptuous silhouette. Also, with the help of bangs, you wide forehead won't ever look too apparent: so many benefits rolled into one!
Inverted Grey Bob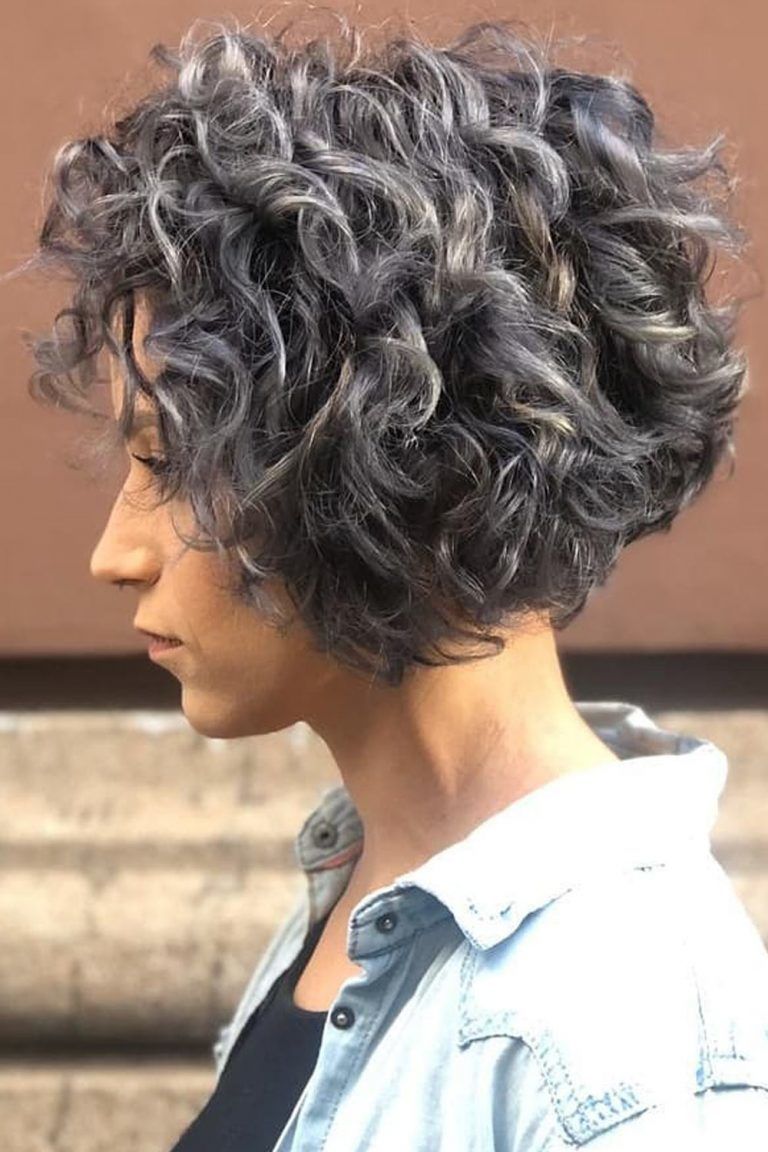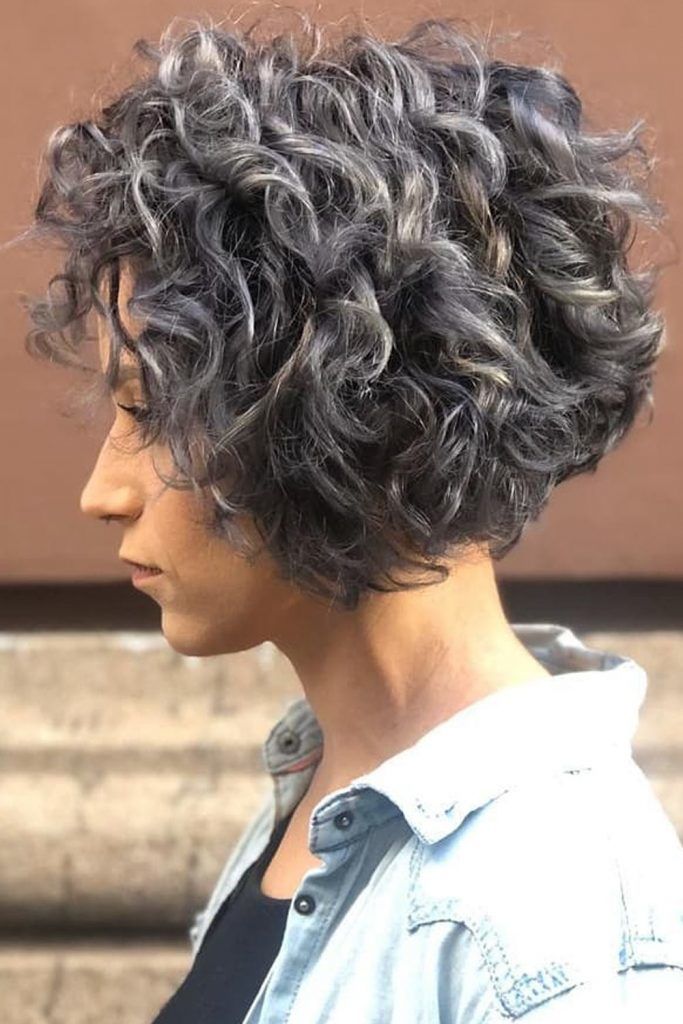 Credit photo: instagram.com/meucabelocurto
There is nothing better that emphasizes your femininity than a stylish haircut. An inverted bob with grey curls added looks simply stunning and charming.
Peach Volume Curls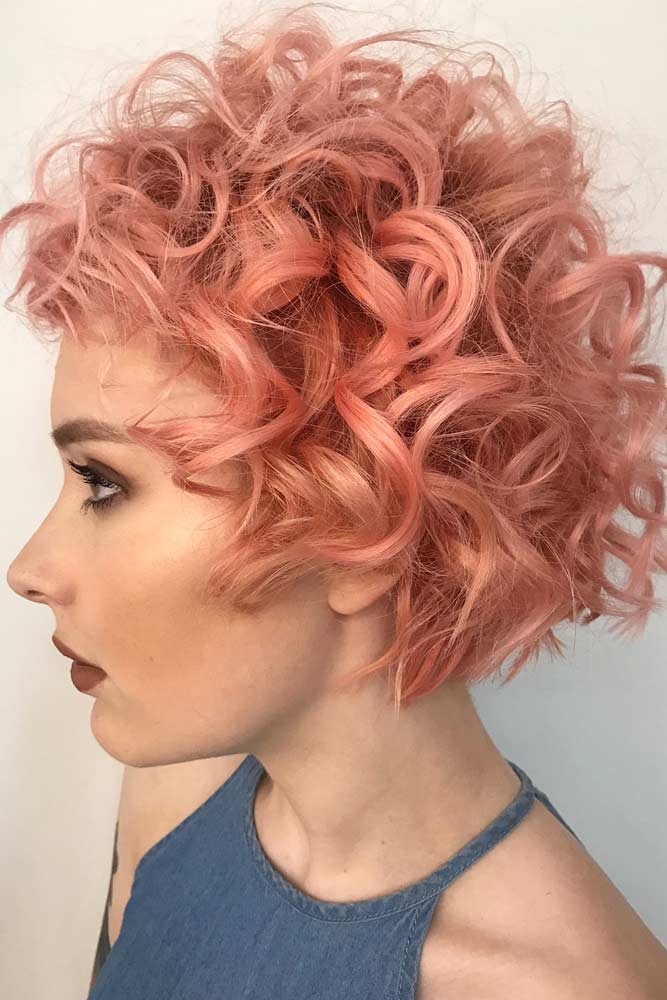 Credit photo: instagram.com/frankiegeehair
There are no limits for those of you who like to look fun and spicy at the same time. Peach curls create that sweet and sexy impression many of you aim at. Are you still waiting?
Face-Shape Blonde Curls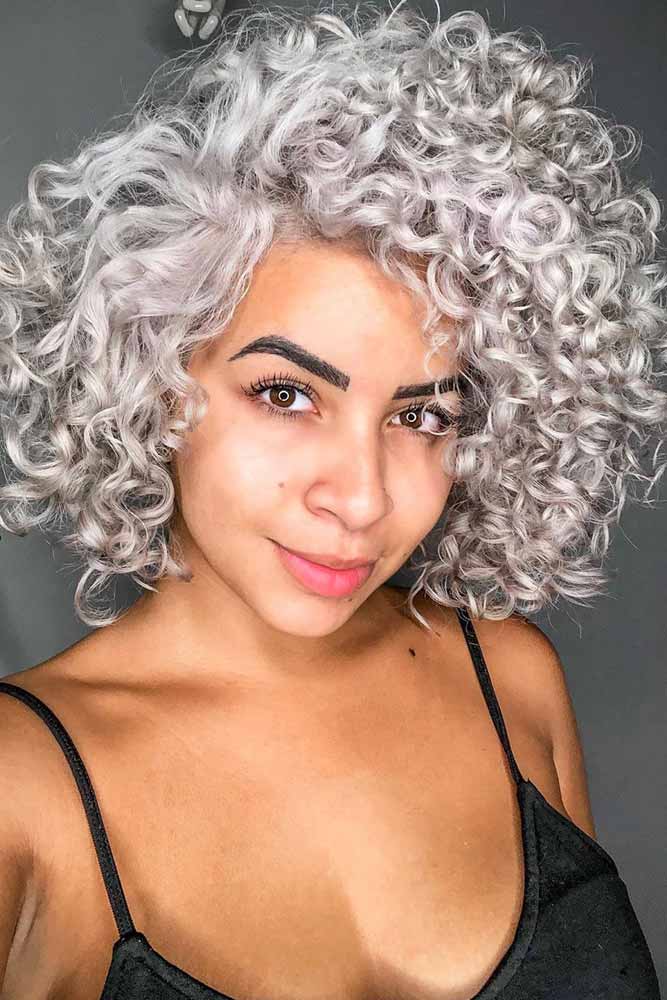 Credit photo: instagram.com/camillasantanas
There is nothing a nicely chosen 'do wouldn't take care of. In case there are any flaws you would like to hide, then there is nothing better than cute blonde face-framing waves.
Short Curly Bob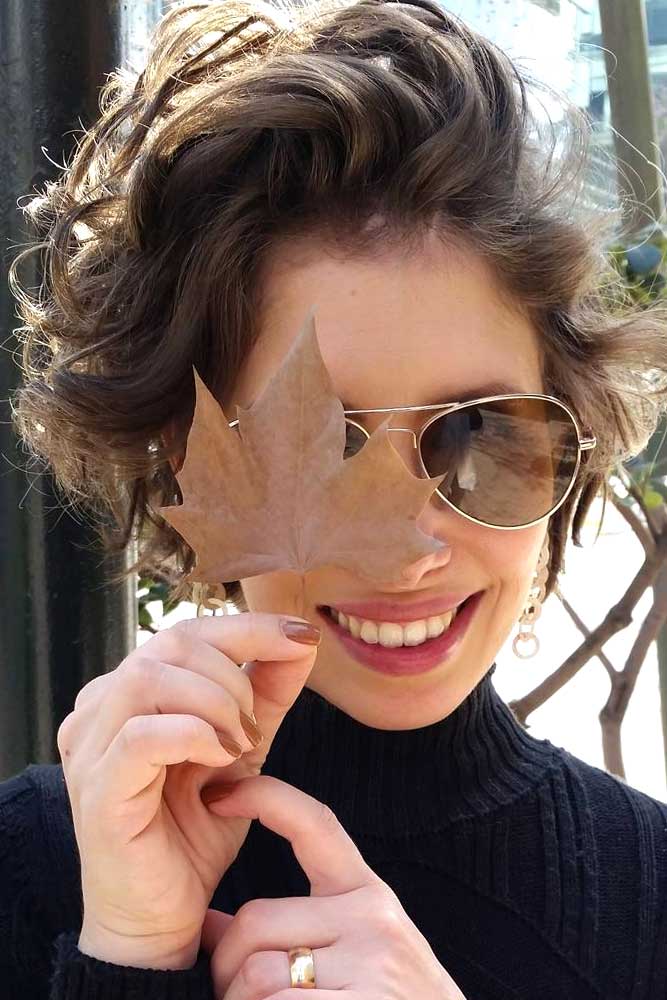 Credit photo: instagram.com/leticiagom
This short curly bob with big bouncy curls is so cute. It is one of the most modern and carefree hairstyles for short curly hair; if you aren't afraid to go super short, and want a cut that still has a ton of volume, this could be the cut you're looking for! Part to one side and tease the top for added volume!
Blonde Curly Bob With Bangs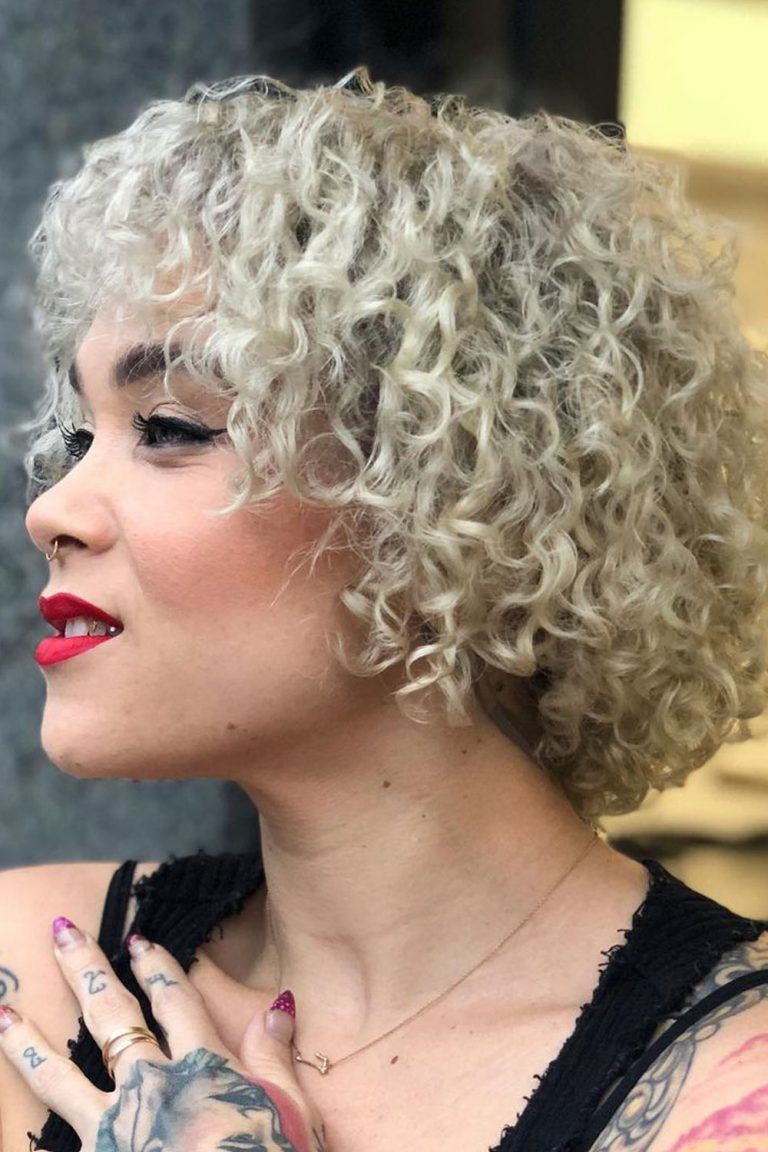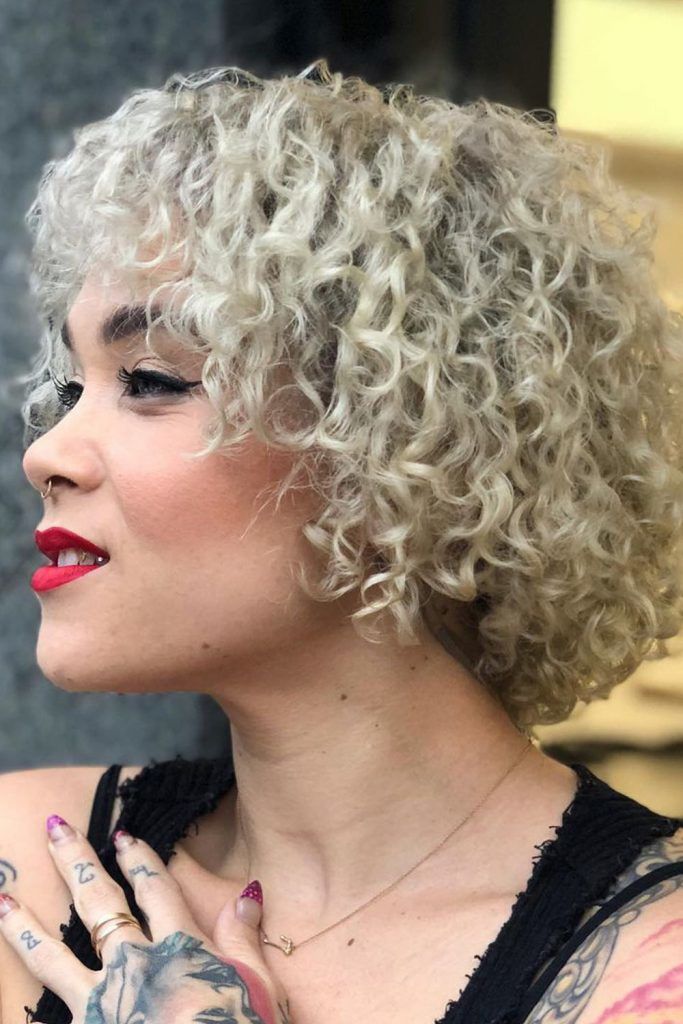 Credit photo: instagram.com/isaac4mayor
Fringe is making a huge comeback, and this curly bob with bangs is no exception. This look is perfect for those who are looking for naturally curly hairstyles. The carefree tousled look is super sexy and chic, and the shorter cut adds bounce to your curly tresses.
Half Up Ponytail For Curly Hair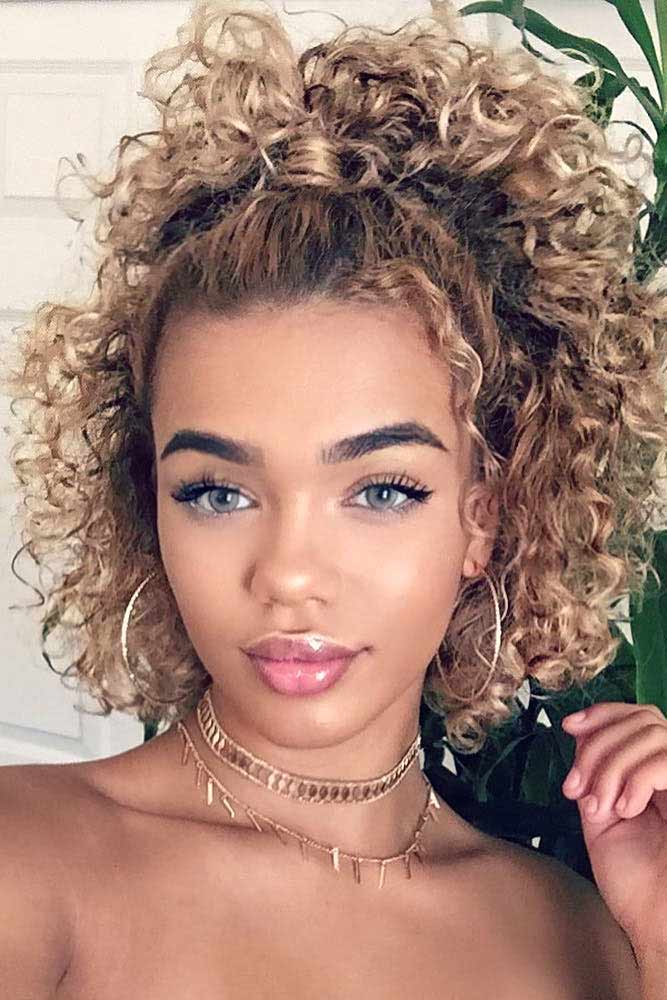 Credit photo: instagram.com/thereallialovee
If you are looking for more inspiration for short hairstyles for naturally curly hair, this short curly bob is striking. And the best thing about it is that there is still enough length to pull your hair back into a lot of half up half down hairstyles. A full half ponytail like the one pictured here is very playful and flirty.
Curly Pixie Haircut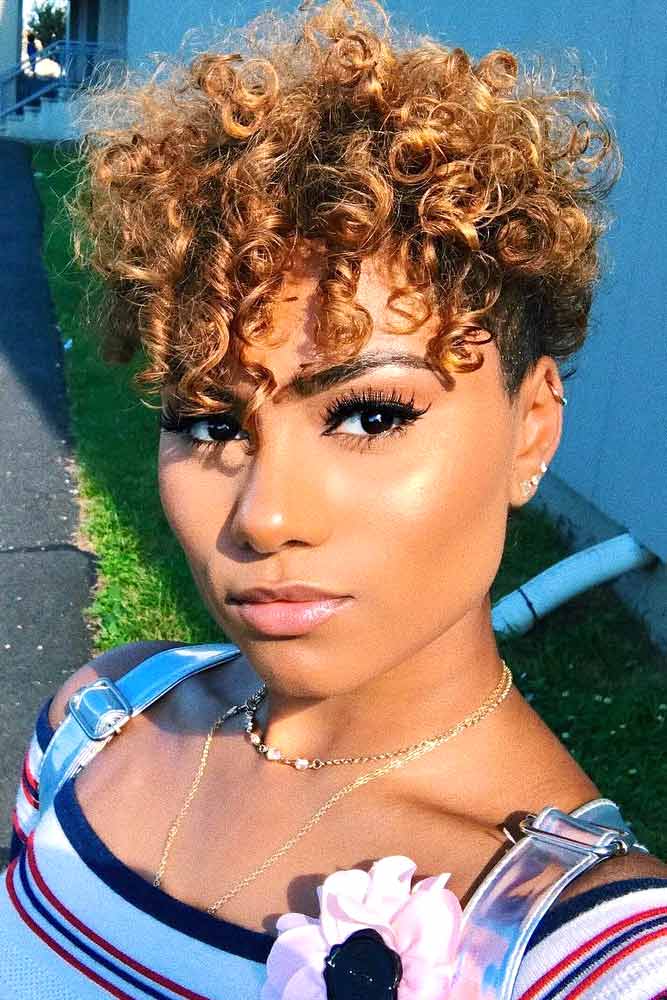 Credit photo: instagram.com/esterlymelo
Short curly pixie haircuts all the rage right now. And there is no surprise as they are one of the best cuts for naturally curly hair. This fiery orange and black pixie is too adorable for words and adds a ton of volume to your naturally curly locks.
Black Curly Pixie Haircut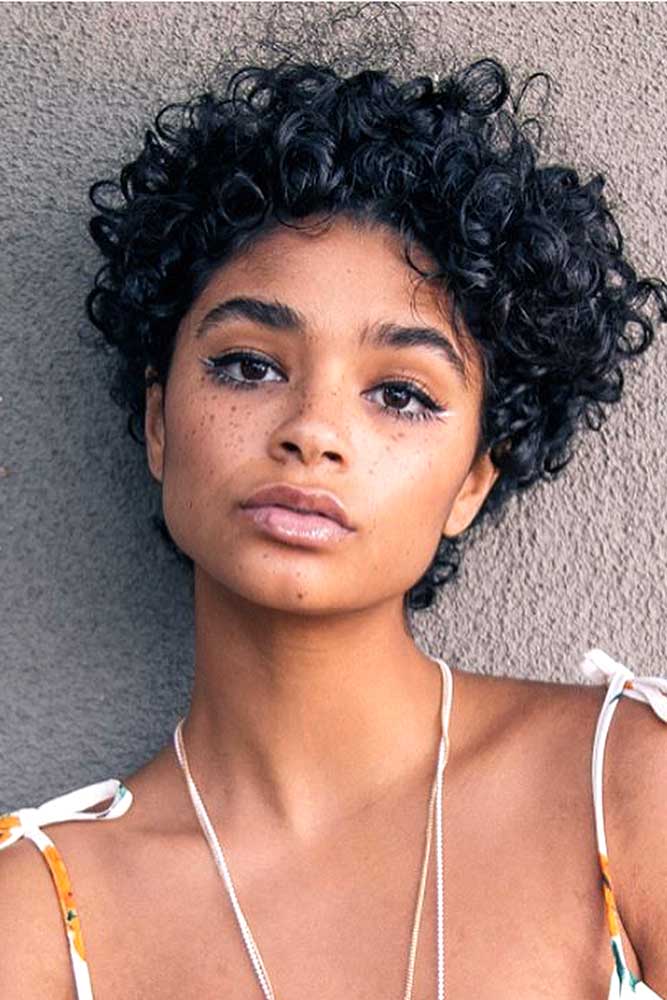 Credit photo: instagram.com/aiyanaalewis
Girls with thick, curly hair will love this curly pixie haircut. Short curly hairstyles for girls are a great way to remove some of the weight from your hair and maximize the volume of your natural curls. And it's so easy to style! Simply apply some volumizing mousse, scrunch and go!
Layered Bob Haircut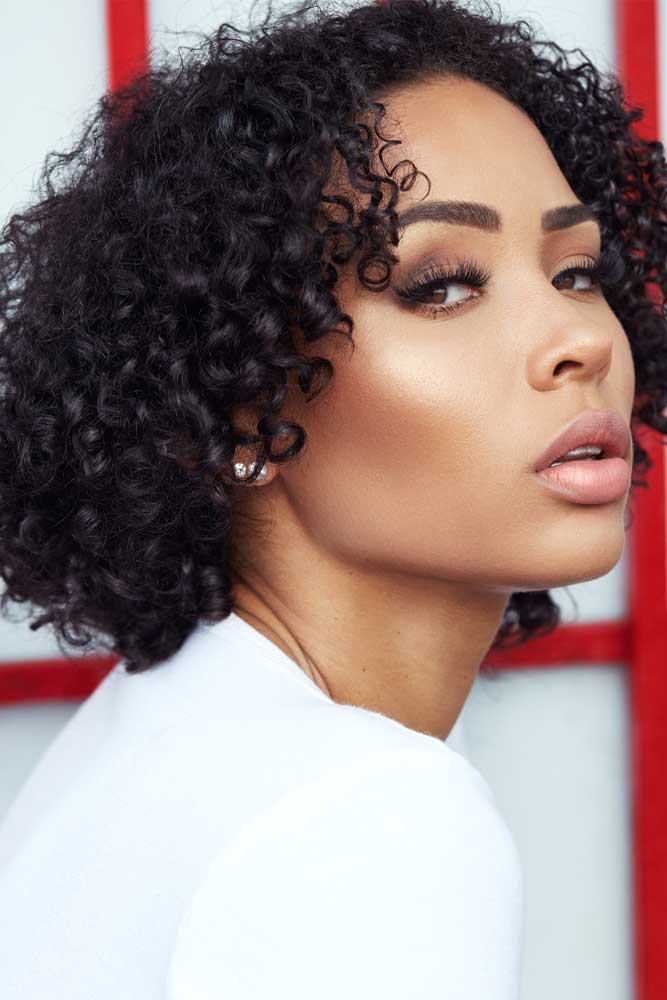 Credit photo: instagram.com/candyglitzshock
If you are thinking of getting a curly bob haircut, but aren't sure, maybe this cute curly layered lob will inspire you! Layered haircuts for curly hair are another way to add volume to your curly or wavy tresses. And what is better than a stylish bob hairstyle to show off your sassy side?
Very Short Curly Hairstyles With Caramel Highlights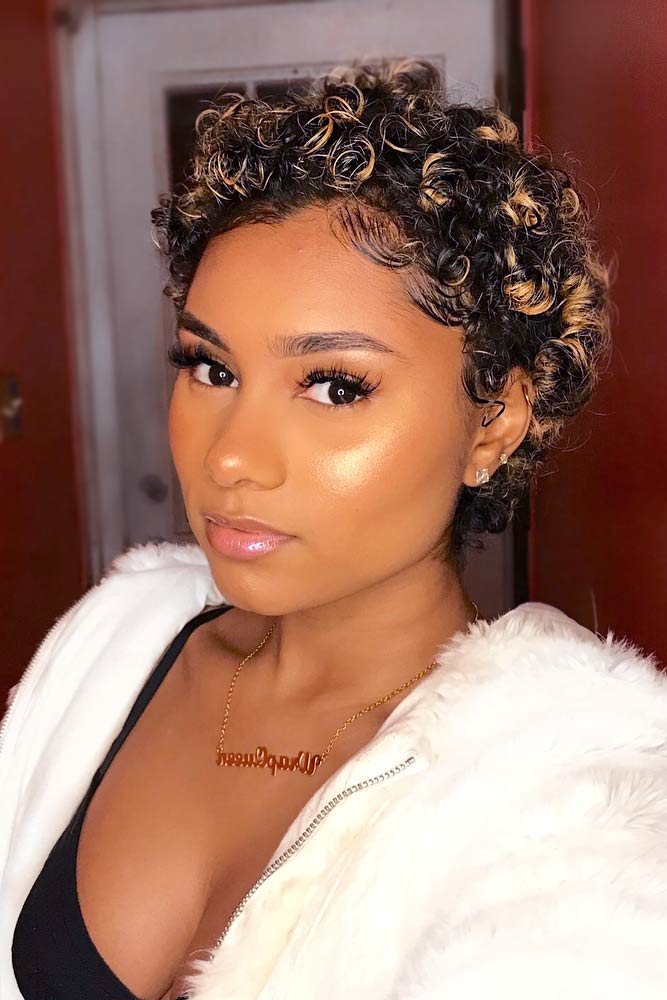 Credit photo: instagram.com/esterlymelo
If you have natural hair and are looking for ideas for short curly cuts, this short curly pixie is a great way to showcase your gorgeous natural curls. These pretty curls have a ton of volume and texture, even with a super short hairstyle. And the caramel highlights strategically placed add even more depth.
Very short curly hairstyles will require a bit more upkeep as they need to be trimmed every four to six weeks, depending on how fast your hair grows. But this really short cut is so stylish and chic that you won't mind the extra effort. Regular trims will help your hair to grow thicker and faster. The best part about a short curly pixie is that it is perfect for those hot summer days when girls with long hair will wish they had your style!
Short Curly Hairstyles For Round Faces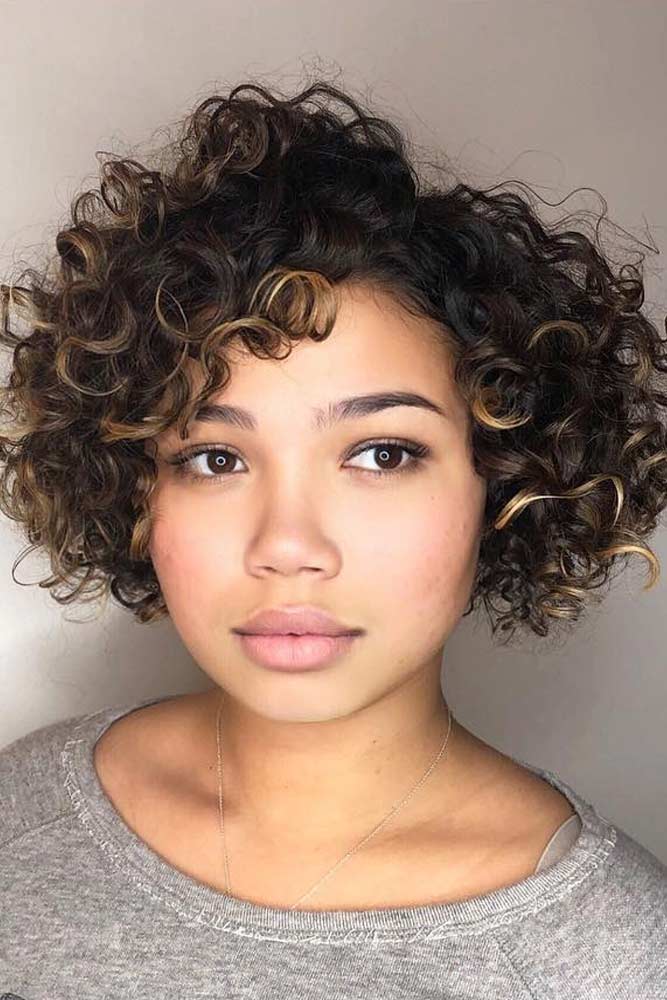 Credit photo: instagram.com/nubiarezo
If you are looking for short haircuts for round faces and thick hair, this short cut with curly locks is just stunning. Short curly hairstyles for round faces are very flattering for your face shape and will nicely accentuate your gorgeous facial features.
This hairstyle for small curly hair will add a ton of volume to your natural hair. Shorter lengths can keep your natural hair healthier. And the dark roots with platinum blonde highlights add a multidimensional look to this super cute short curly hairstyle! Plus, curly hairstyles are so easy, as they do not require a lot of time and effort.
Short Curly Hairstyles With Bangs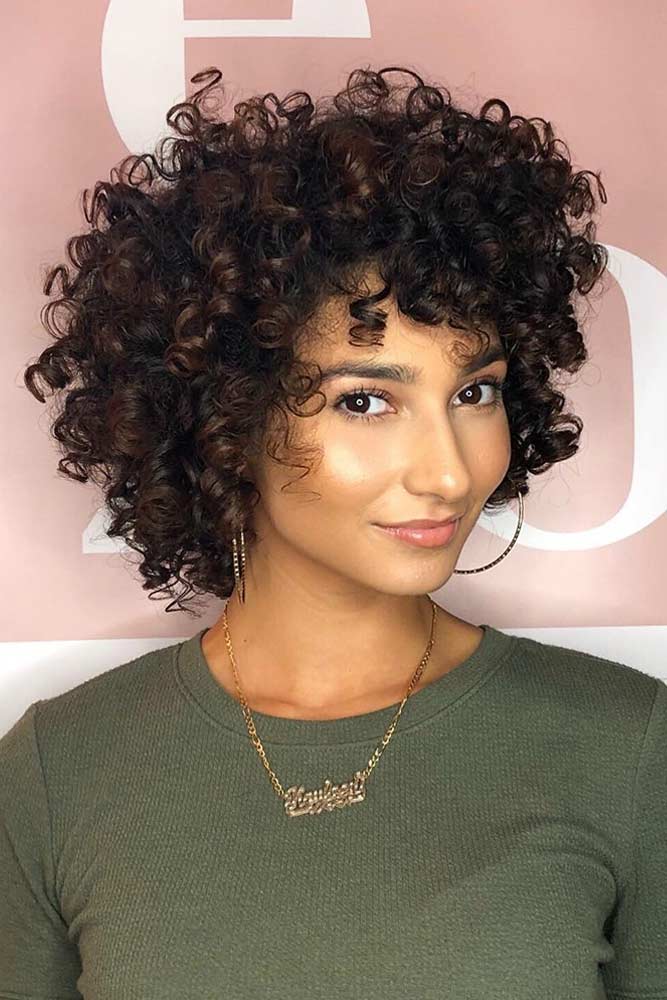 Credit photo: instagram.com/nubiarezo
If you are looking for short hair styles with curls that have a ton of volume, this shaggy cut might be just what you are looking for. Short curly hairstyles with bangs are very popular right now. And these curly ringlets are out of this world! The pretty light auburn color gives it a fun and youthful vibe and is the perfect shade for Fall.
If you have been blessed with gorgeous ringlets like these, a super short cut would be frizzy and lack fullness. The slightly longer length on this cut adds volume and depth to this trendy look. Do a deep part on one side and style it over to the side, while teasing it for even more volume.
Short Curly Hairstyles For Black Women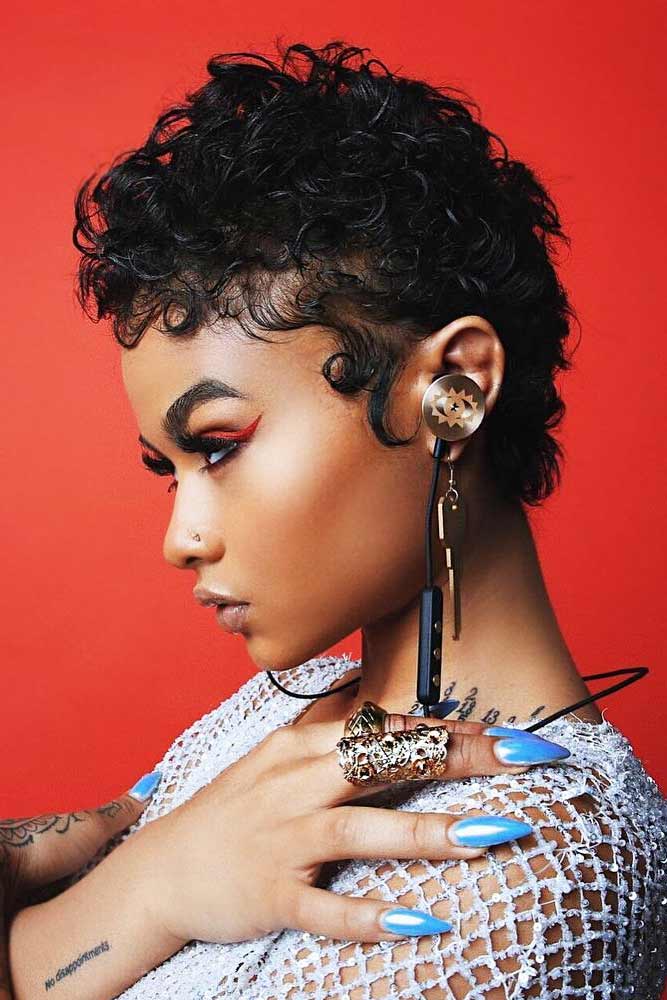 Credit photo: instagram.com/indialove
Modern hairstyles for short curly hair don't have to be boring. This super short curly hairstyle is very hip. This cute pixie is one of the hottest short curly hairstyles for black women. With a bit more length on top for volume, this short haircut is so easy to maintain and doesn't require a lot of products. You could go days without washing your hair with this style, and it works great for any hair texture.
Shaggy Short Natural Curly Hairstyles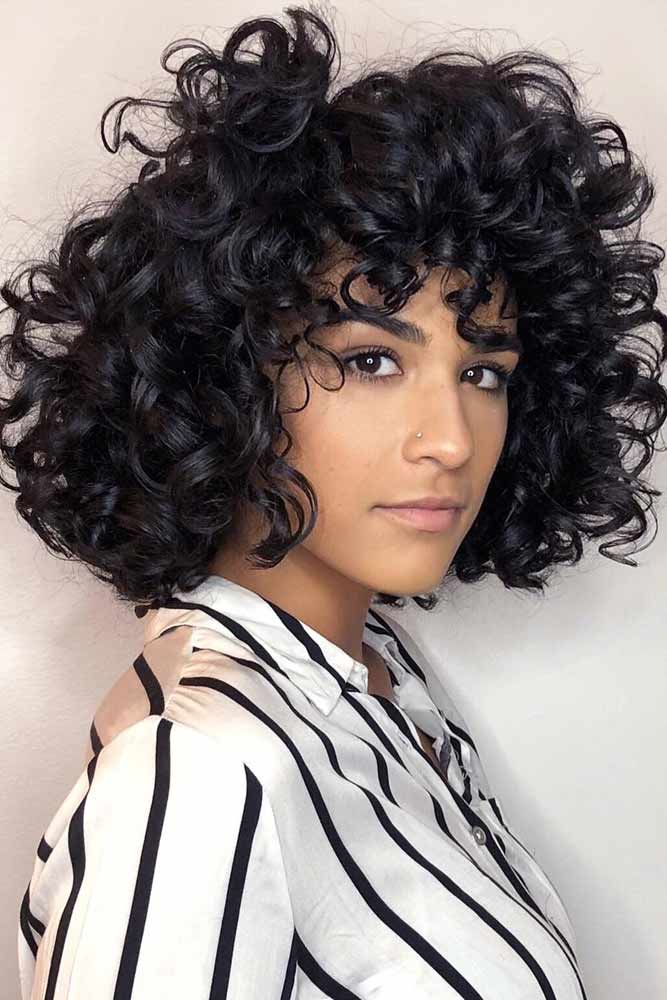 Credit photo: instagram.com/nubiarezo
Black short curly hairstyles are so pretty and very easy to maintain. If you are searching for short natural curly hairstyles, this cut is so pretty with its spiraling ringlets and a fringe. It has a ton of body. Ask for a slightly shorter length on one side to give it a bit of an asymmetrical style for the modern flair.
A fringe adds so much style to curly haircuts as it shapes your hair and frames your face a bit, accentuating your eyes. Don't be afraid to ask for bangs as they add a mysterious and flirty vibe to any hairstyle.
Short Hairstyles For Thick Curly Hair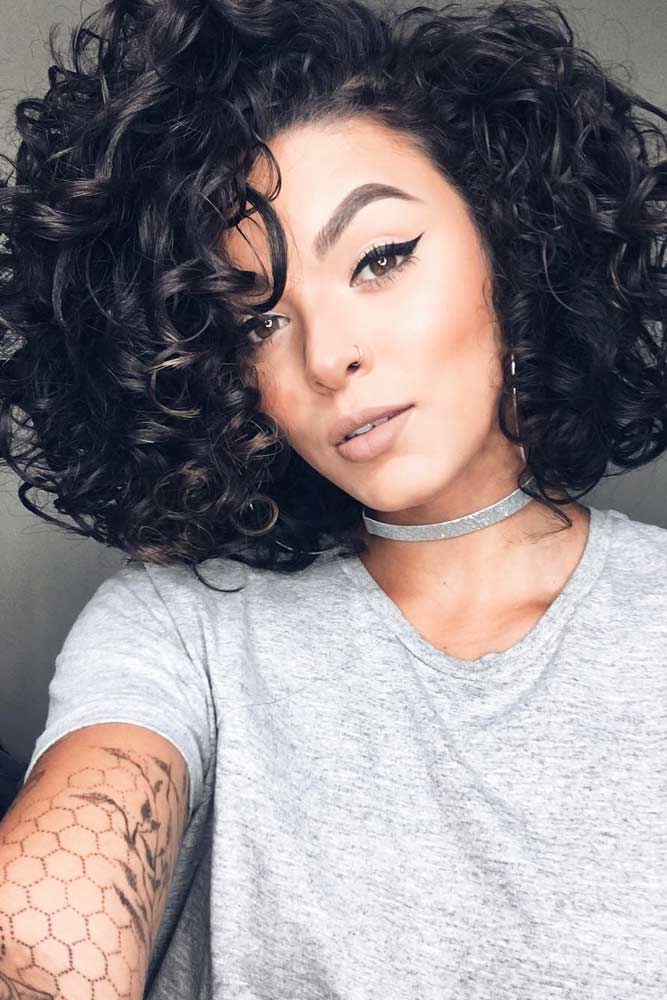 Credit photo: instagram.com/nathaliebarros
African American short curly hairstyles are the envy of any woman with straight hair. Natural hair with naturally wavy or curly hair is indeed a thing of beauty. But you do not have to compromise over all of your length for a cute short hairstyle.
This voluminous curly bob is one of the best short hairstyles for thick curly hair. The long layers add fullness and movement without compromising over the curls. You can take the volume to thicker heights by teasing your hair to add maximum fullness and sheen. Show off those thick curly locks and be the envy of all of your friends.
Latest Short Curly Hairstyles - Highly Voluminous Bob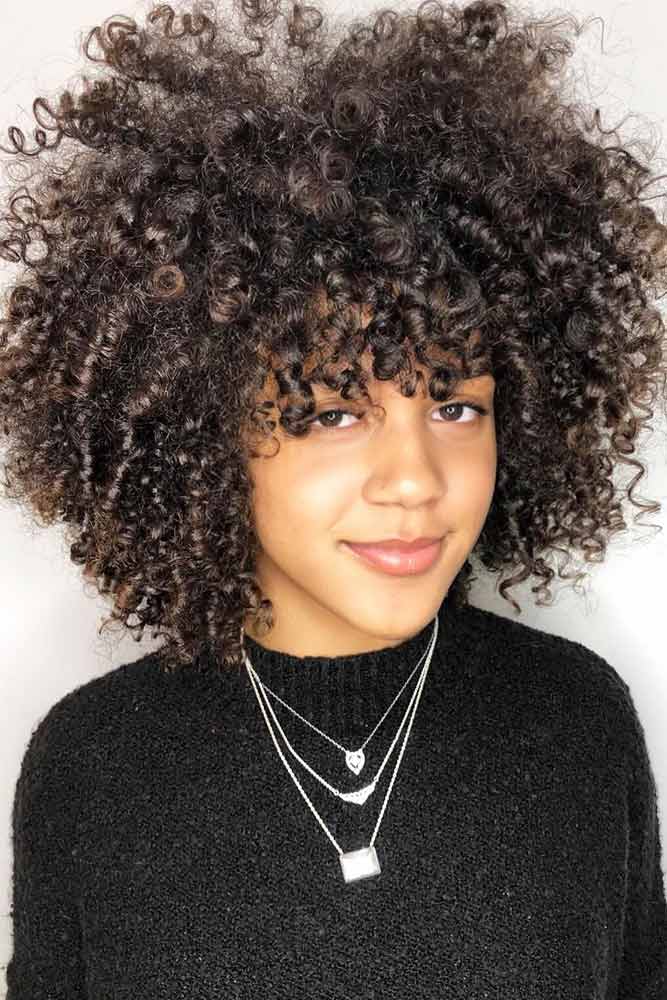 Credit photo: instagram.com/nubiarezo
For those who want to sport the greatest and latest short curly hairstyles. This voluminous bob is so hot! And what makes this fun style even hotter, is the bold shade of red to show off your sassy side.
Curly bob hairstyles are a great solution if you are looking for short curly haircuts. Ask for layers to add fullness and texture to your natural curly tresses. And the best way to style this curly bob is to spray your hair with sea salt spray, tease it and let it dry naturally to add depth and texture.
Short Hairstyles With A Curly Part On Top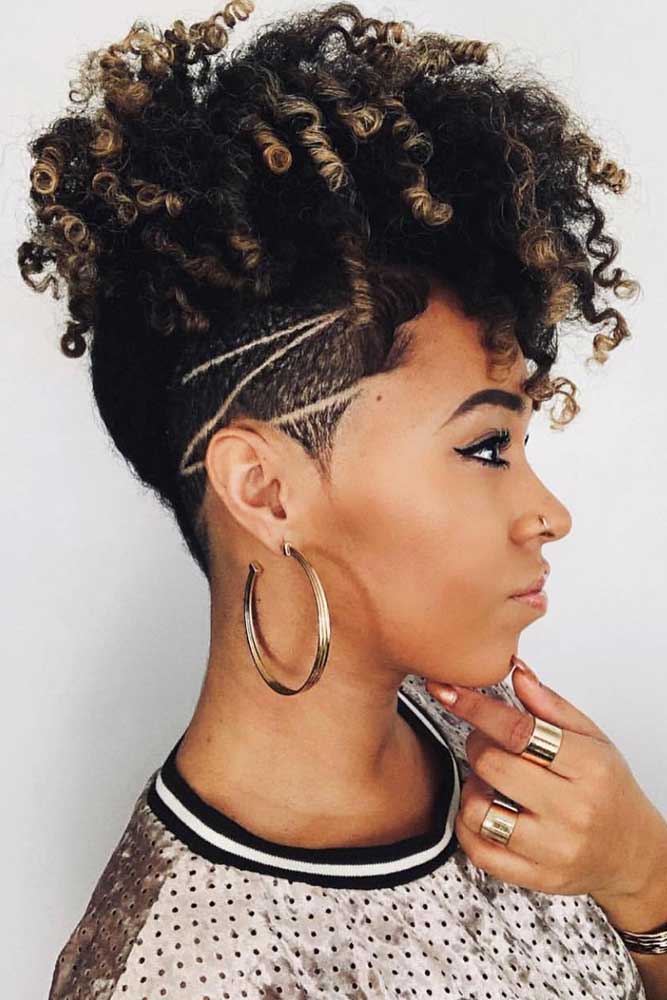 Credit photo: instagram.com/arispella
Pixie cuts are very popular these days, and this short pixie with shaved sides and a faux hawk is no exception. Undercuts are trending right now as well as short hairstyles curly on top. Faux hawks were trendy in the 1980s and are making a huge comeback. Ask for shaved sides and all of your volume on top.
This curly pixie faux hawk is super cute and edgy with its curly blonde hair and red ombre fade that will certainly turn heads. If you want a bold look that shows off your daring side, this cut is for you! This look is great if you want a style that's feminine yet still cutting edge.
Messy Short Brown Curly Hairstyles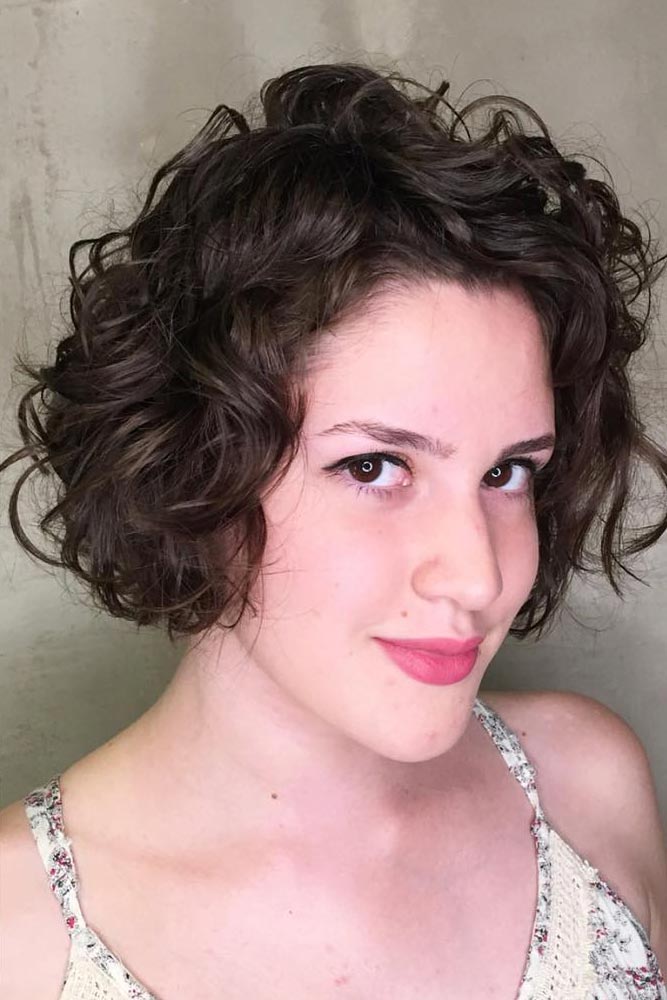 Credit photo: instagram.com/retrohair
Looking for short curly hair ideas? This chin length short curly bob is really cute. And the best part about this length is that you can still pull back the sides, if you want a cute updo. Plus, there is also enough length to braid your hair.
If you have darker hair, short brown curly hairstyles like this one are very flattering and stylish. The length will nicely frame your face and is very soft and feminine. It is so easy to style, as all you need to do is wash and go after spritzing your hair with sea salt spray or adding some curling product. A cute headband or head scarf can really dress up this style, if you want to refine your look.
Hairstyles For Short Wavy Hair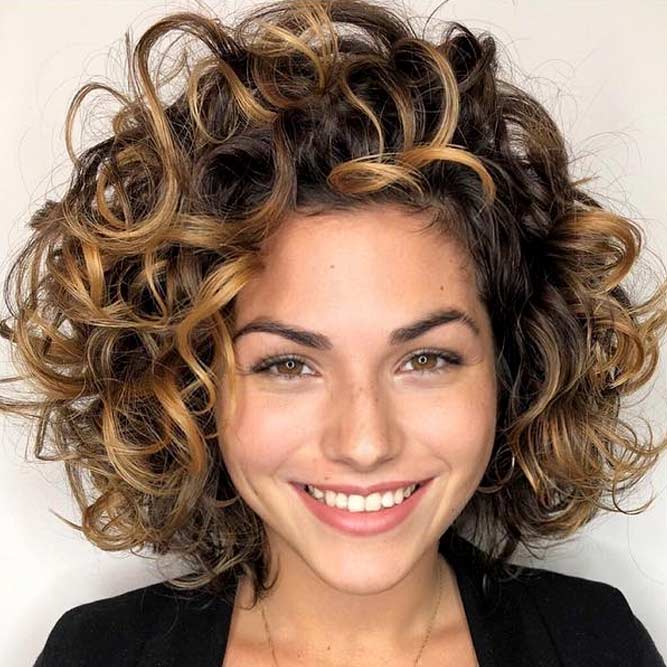 Credit photo: instagram.com/nubiarezo
Need ideas for hairstyles for short wavy hair? This choppy inverted bob is super cute. Inverted bobs are perfect for wavy hairstyles. Ask for long layers to add volume. This pretty inverted bob is great, as it has that carefree bed-head look that drives men crazy. All you need to do is blow dry your hair with a round brush and use your flat iron to make some loose waves. Then run your fingers through your hair and tousle it a bit for a fun and messy look that is young and flirty.
Natural Curly Hair With Bangs And Layers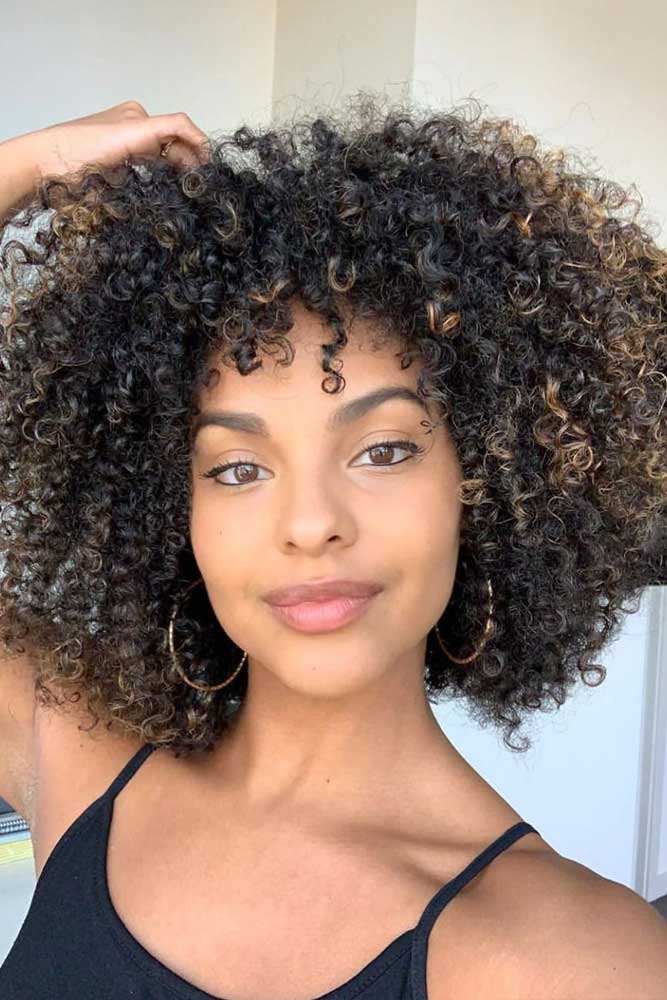 Credit photo: instagram.com/curlybeauties
A fringe is coming back, and it doesn't seem to be going away any time soon. Don't be afraid to rock wavy hairstyles. If you are not sure how to style bangs with curly hair, you can ask your stylist or find a tutorial video online. And if you cut it right, it is super easy to style bangs.
This cut for naturally curly hair with bangs is especially pretty with its long layers that add volume and accentuate the pretty curly ringlets. And all you need to do to style it is brush your fingers through your hair and walk out the door. You'll love this super cute trendy hairdo!
Inverted Bob For Short Wavy Hair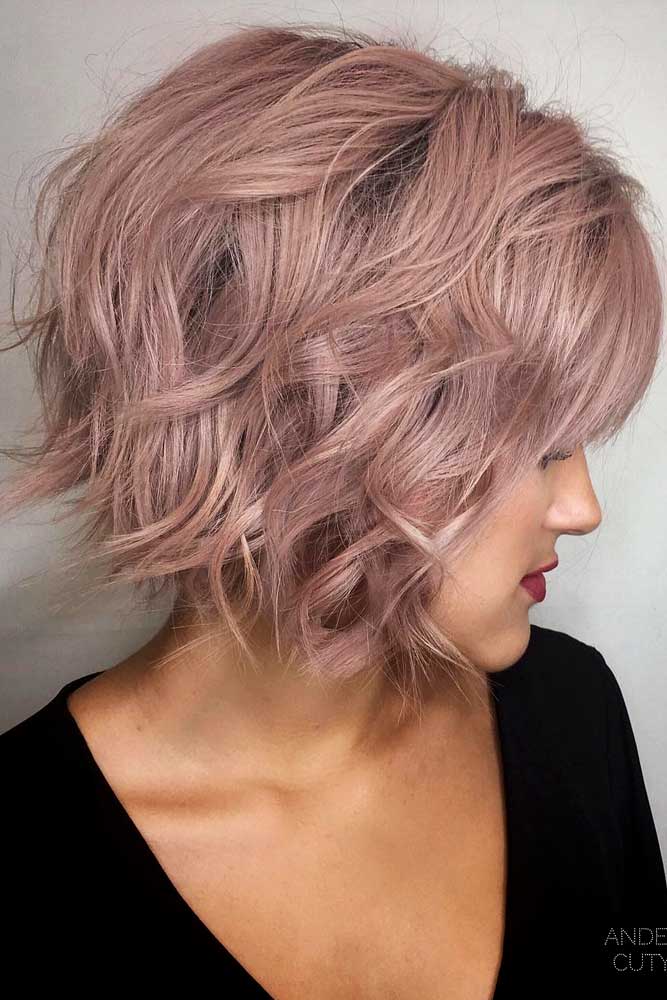 Credit photo: instagram.com/cutyourhair
For those who ponder on trendy hairstyles for fat faces, look no further! This short wavy bob is so chic and stylish. Bobs are a great way to showcase your short wavy hair. Ask for a short inverted bob with choppy ends to add more bounce to your wavy locks.
And what is more feminine and chic than this soft pink color? The pale dusty rose shade is so pretty and girly, if you want a look that's soft and romantic. And it is so easy to fix your hair, as all you need to do is apply good curling cream to your hair, scrunch it and go!
Side Swept Bangs And Curly Hair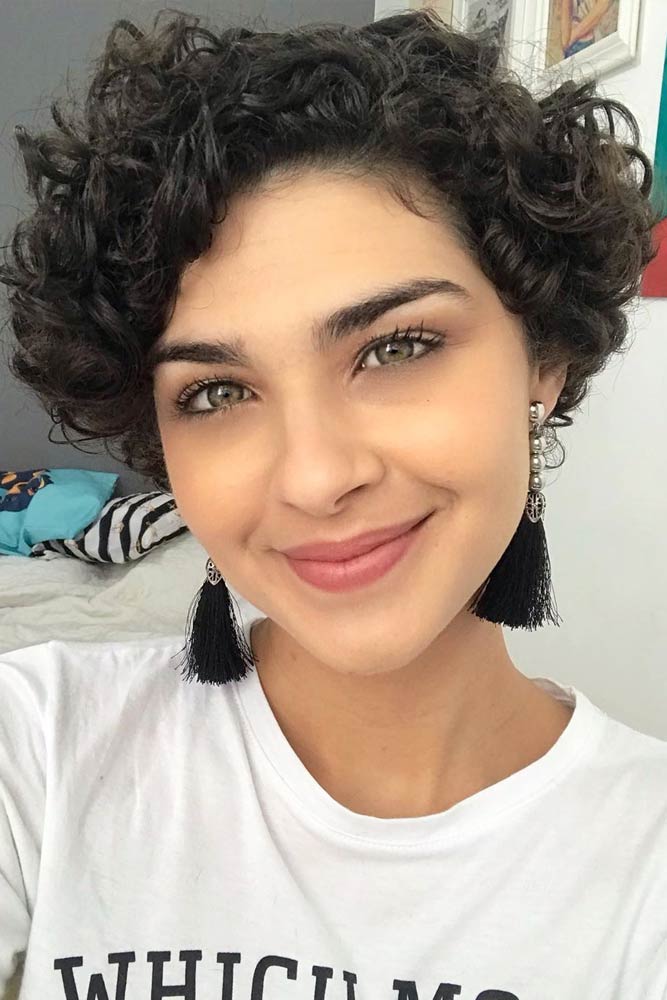 Credit photo: instagram.com/gabivasconcellosv
Pixies are super cute and they become very popular among women of all ages. And this asymmetrical pixie with side swept bangs curly hair is no exception. But if you don't know how to cut bangs for curly hair, you should not attempt to cut them yourself. Find a stylist who is familiar with pixie cuts for curly hair to ensure that you get this trendy look just right.
Cute short hairstyles such as pixies are so much fun. They do require regular trims to help keep their shape, but you will find yourself getting quickly addicted to this short and sassy style. And what makes it even more fun is this sexy shade of red that will draw all eyes to you!
Colorful Curly Pixie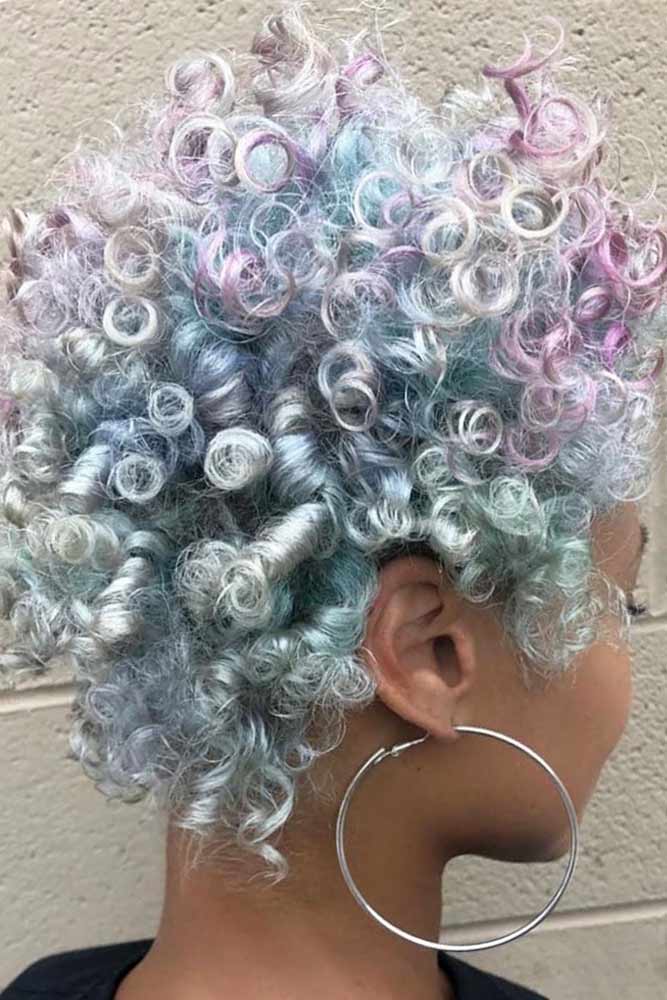 Credit photo: instagram.com/salonchristol
While some women take curly hair as a curse, wise ones turn their unmanageable manes into an eternal blessing full of experiments. Once you find the right haircut for your curls, you will never know what are bad hair days and commitment are. Well, this idea is meant for those who want to let their bright personalities take over their looks. A sharp pixie that stands out with its pastel marine shades is undoubtedly a fantastic start to express your bright side. Although on curly hair the pixie looks a little bit different, it still performs its main aim - it gives the hair a wonderful shape.
Curly Pixie With Blonde Highlights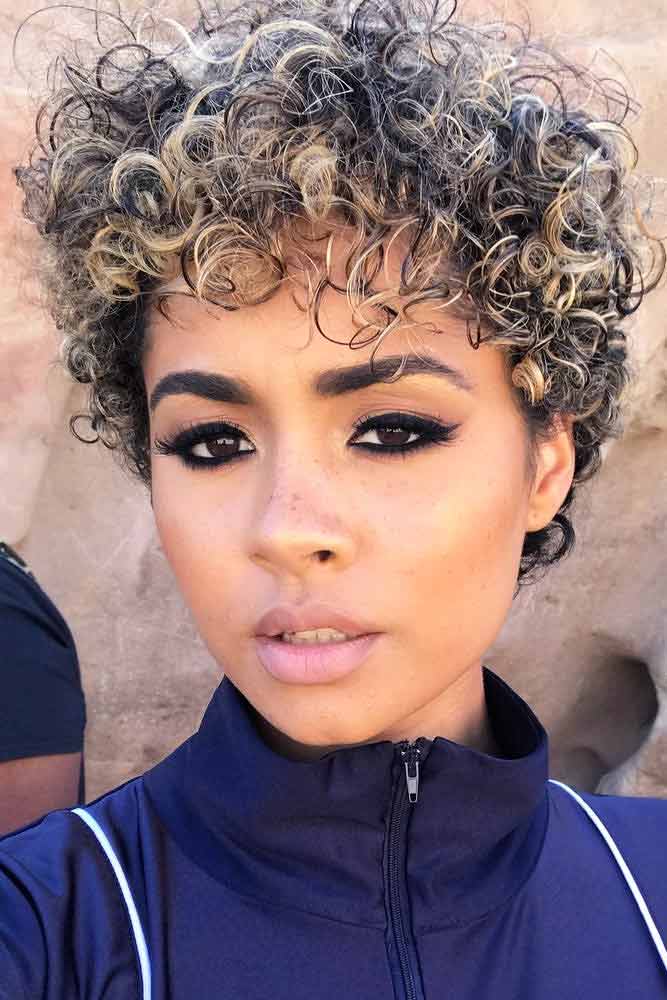 Credit photo: instagram.com/bellepaulinee
There are lots of ways to define your curls, as well as make them dimensional and lovely. You can style your cuties with a texturizing product, get some layers or go for highlights. The last option is the trendiest choice ever, as it not only gives a fresh crispy look to the curly texture but also amps up the whole body of the cut. Try it, and movement in hair will never leave you.
Blonde Pixie-Bob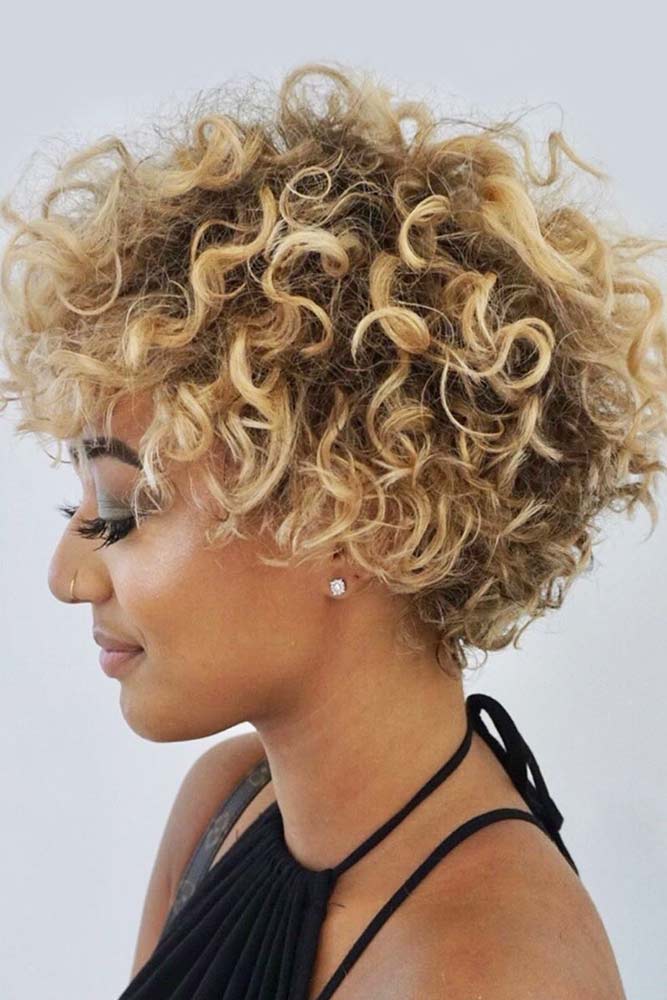 Credit photo: instagram.com/christinechavezhair
Remember the classic look of a pixie bob? Usually, women wear this haircut with perfectly straight hair so that it enhances the volumetric crown and the framing front of the cut. There's one thing women with curly hair should get used to - everything looks different on their hair. According to this blonde pixie-bob, different means unique and extraordinary. In other words, you won't go wrong giving a curly take at the good-old trend.
Short Curly Hair With Bobby Pins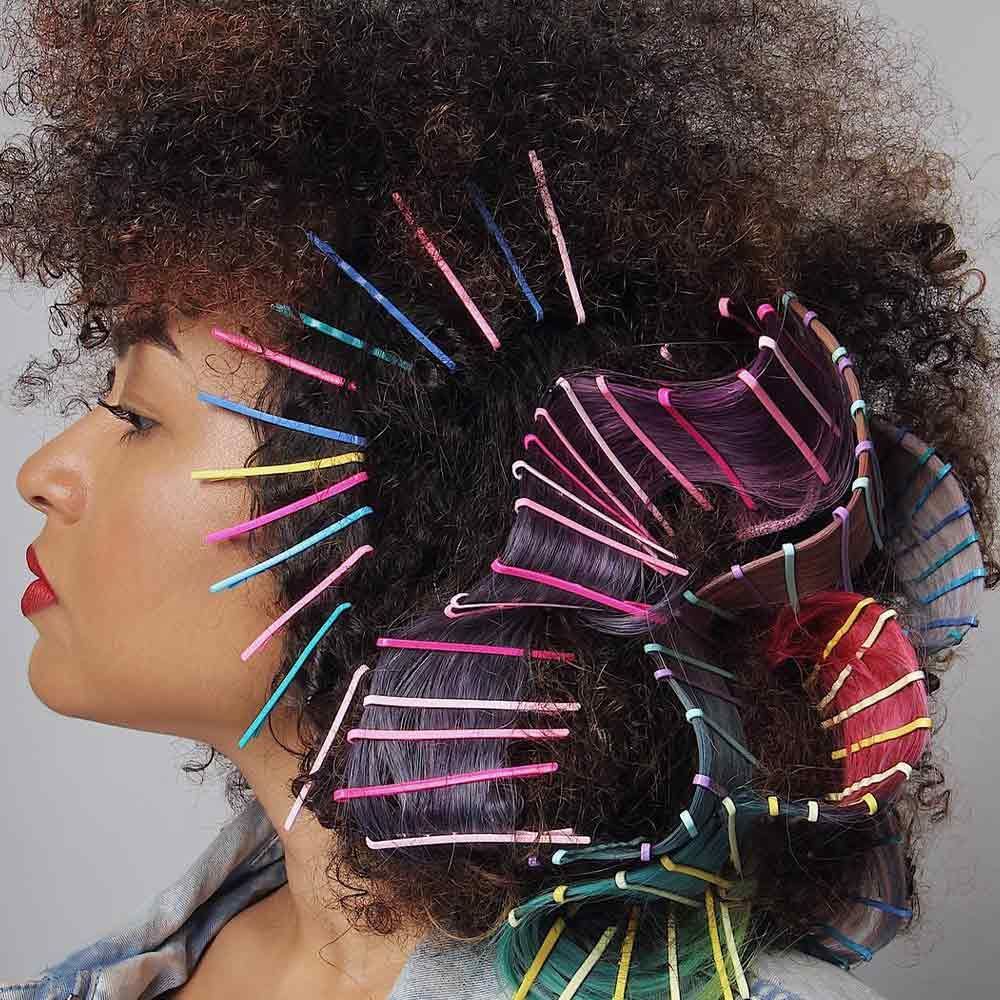 Credit photo: instagram.com/blushandmane
How do you usually style your afro? A nice question, huh? It's no secret that girls who rock afro manes do nothing with them throughout their styling routine. And we don't blame them as this look is ageless. But there's no limit to perfection, right? At this point, you may think we're trying to persuade you to sacrifice your precious morning time to get a new style. As a matter of fact, the style we're talking about takes a couple of minutes and brings hundreds of compliments. Apply some curl foam to make your curls manageable and criss-cross some bobby pins for a new fashionable look!
Blonde Curls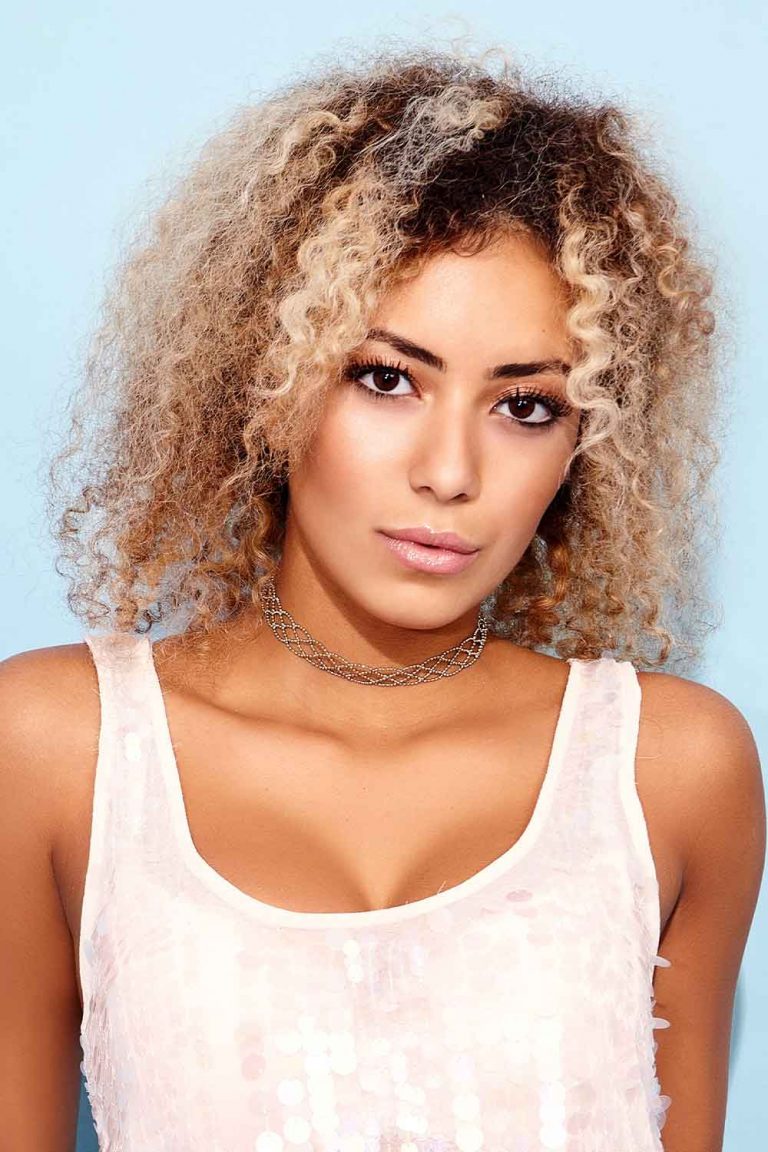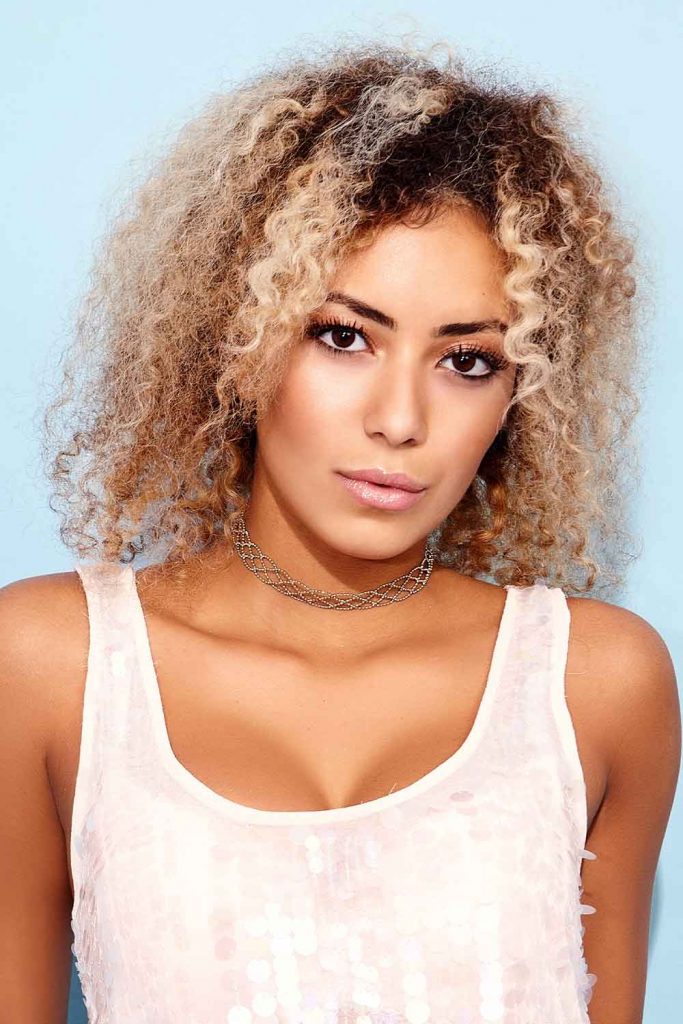 When you want to pull off a shade that will add character and individuality to your look, nothing works better than contrasts. Most naturally curly ladies are African Americans, and we can't find the words to describe how dramatic and subtle they look with blonde hair. Needless to say, you can skip the commitment phase and rock the look with the help of extensions to protect your funky curls. In fact, such a contrasting move will be enough to view your beauty from a new perspective.
Layered Pixie With Bangs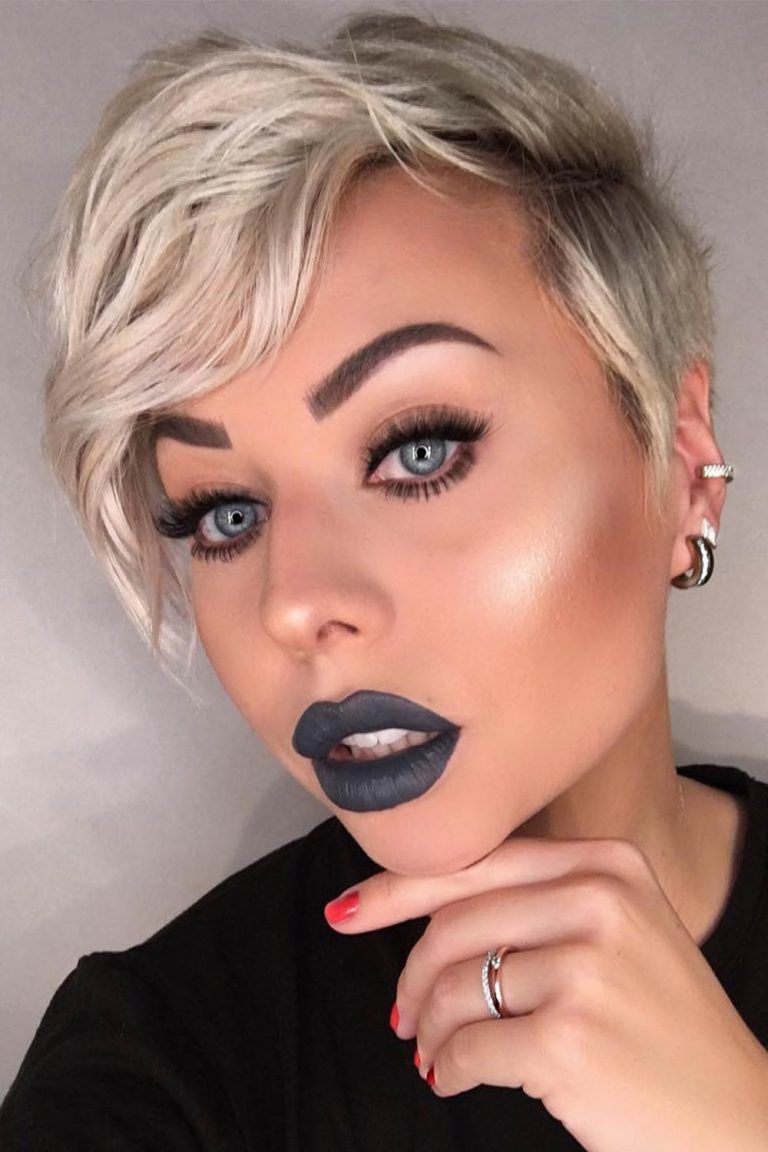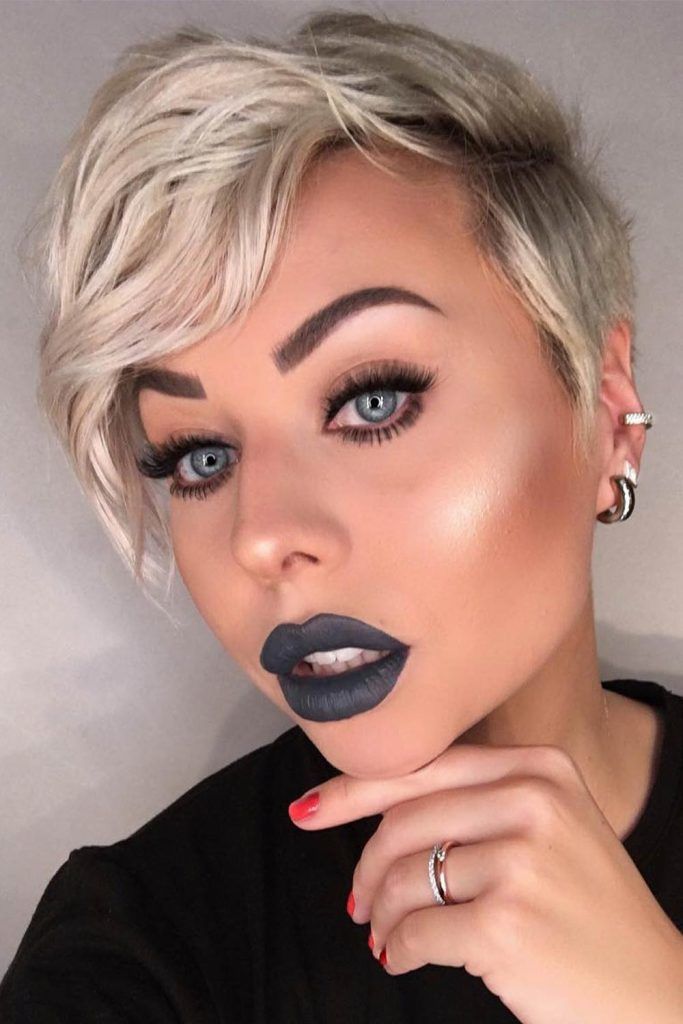 Credit photo: instagram.com/alicia_wunderbar
Although these have nothing to do with traditional bangs, they're still a stunning finish for short curly hairstyles. On curly locks, bangs can help you play around with the shape and pattern of your curls, adding some curly fun to the front. At the same time, you can frame up your forehead, balancing out your beautiful face shape. Here, some curls sit tightly on the sides, and other fall freely on the front. Isn't that an amazing way to add more life your short hair look?
Rounded Voluminous Bob
Переглянути цей допис в Instagram
How about a look that will make all women envy and men lose their minds? Of course, it's all about curls. To be more exact, it's about a splash, a burst of curls standing out to attract attention. Unlike the popular afro look, these curls are bigger, more defined, and shaped into a round bob. Again, many people won't even notice a bob in this curly explosion. And that's another reason to make it a part of your big-day look!
Violet Finger Waves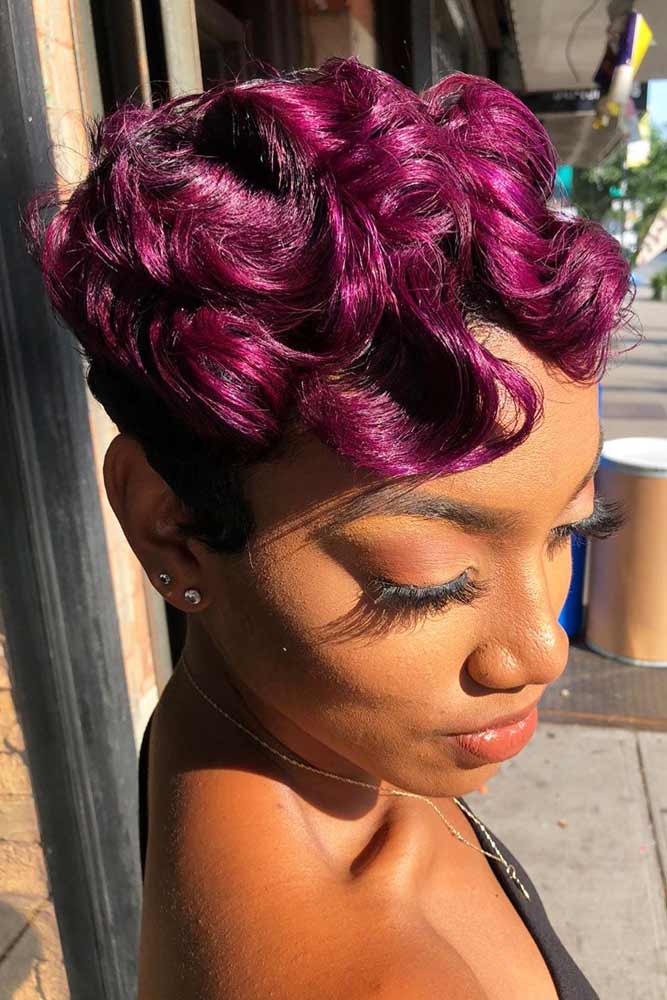 Credit photo: instagram.com/artistry4gg
Sometimes we get tired of the modern cuts and styles and want to travel in time to try all those spectacular feminine hairstyles. The good news is, you don't need a time machine to get back to the stylish 60s'. All you need is a good sculpting hair product and some time for creating waves. When recreating styles from the past, don't forget to put your signature by placing some unique accessory or finishing the look with a bright shade. As you can see, these violet finger waves have perfected the vintage style.
Short Pixie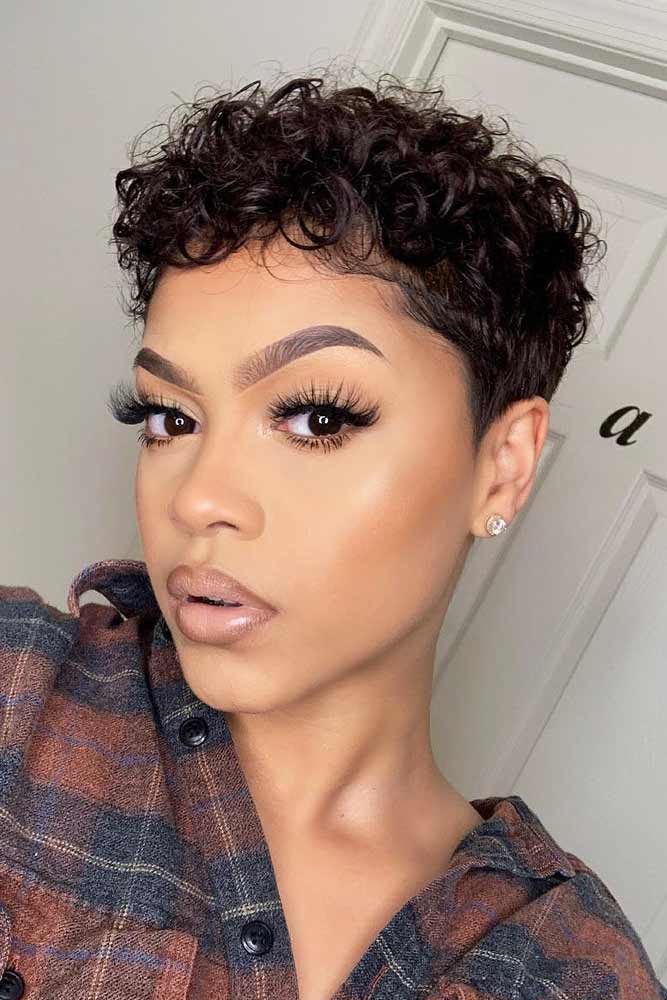 Credit photo: instagram.com/logaannicole
Who would've thought that two simple words would turn out to have so many styling options? You can wear your short curls as they are for a walk with your friends, give them a glossy finish for a date or even slick them back for a big occasion. Whatever outfits you're about to wear will look simply great with such a minimalist, yet versatile haircut. Obviously, only those who're not afraid to keep their beautiful face open will pull it off. And that's the point!
Long Curly Pixie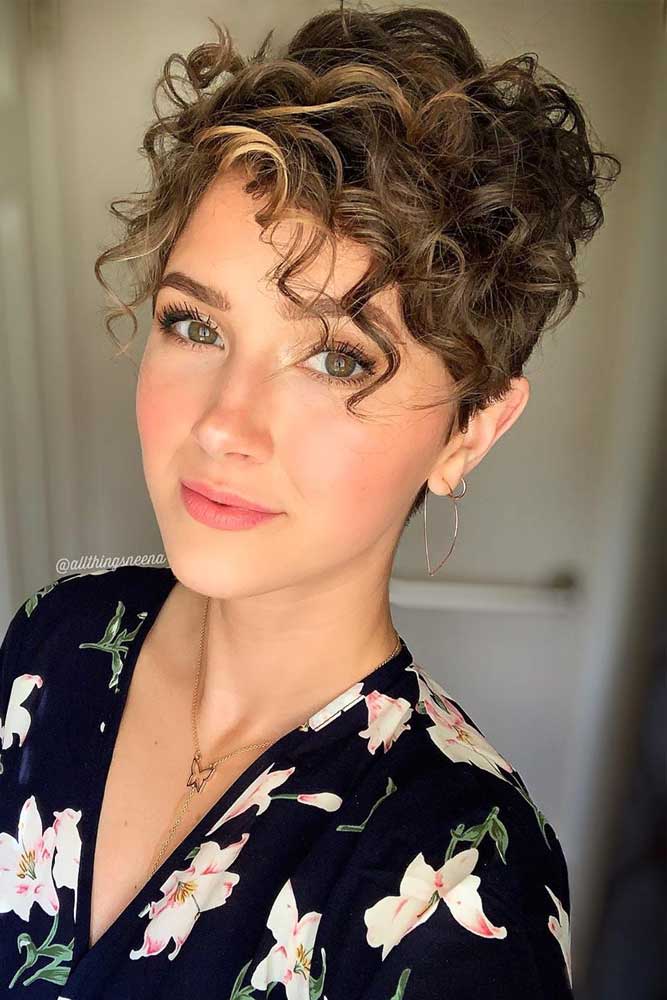 Credit photo: instagram.com/allthingsneena
If you prefer to have more length to play around with, a long pixie is a must. Not only does it provide you with a low-maintenance, stylish look but also serve as a playground for your styling experiments. You can always spice your longer top with a braided texture, sweep the top to one side or even brush all the curls to the back: it's totally up to you. Also, you can complement the style with a fringe to give your face some framing magic.
Auburn Short Bob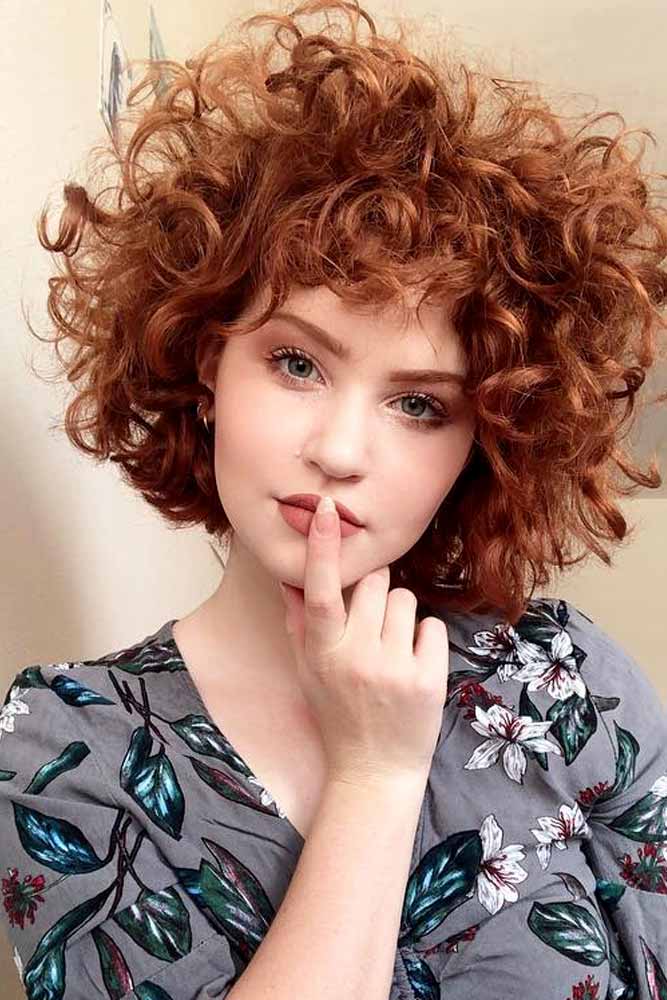 Credit photo: instagram.com/annettaprimadonna
Do you know what can make a fluffy textured bob with a halo of outstanding curls even more attention-grabbing? A shade of red, of course. There's no need to tell you how popular and enviable red hair is, and here it has a lot in common with curly hair. Now, take a deep breathe and imagine what a jaw-dropping duo these two will form. It seems like it's time to call your colorist, isn't it?
Blonde Pearly Curls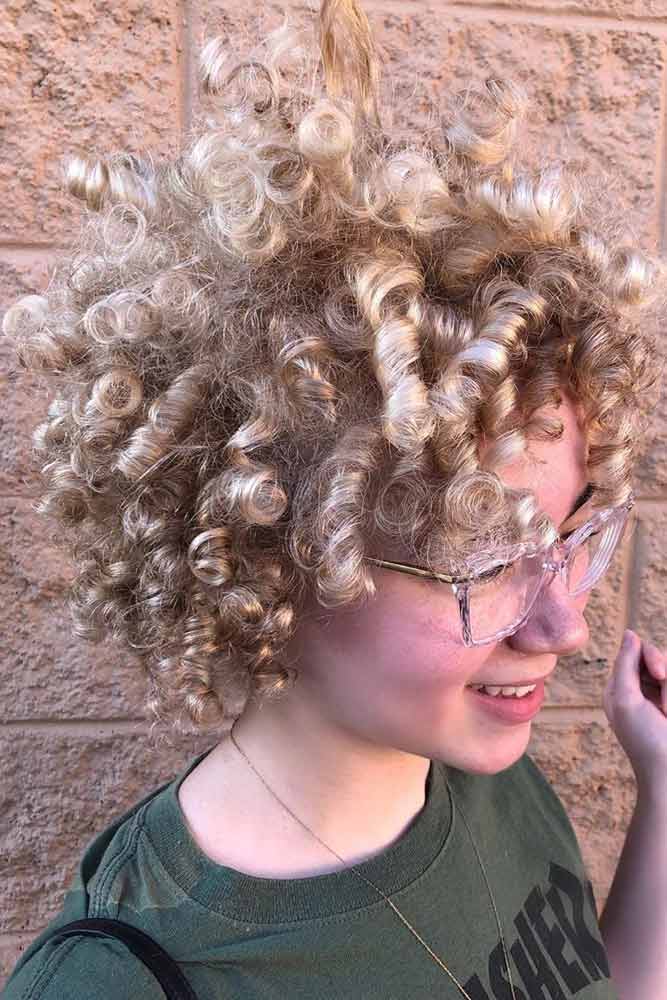 Credit photo: instagram.com/salonchristol
If you're a blonde and you have curly hair, you are the luckiest blonde in the world! Why? Because now you're familiar with the most creative way to enhance your natural hair color, making it deeper and more dynamic. Just color your curls a shade lighter than your roots! Although it sounds pretty easy, the way the lighter hue stands out on deep roots is the best thing we've ever seen!
Long Pixie With Undercut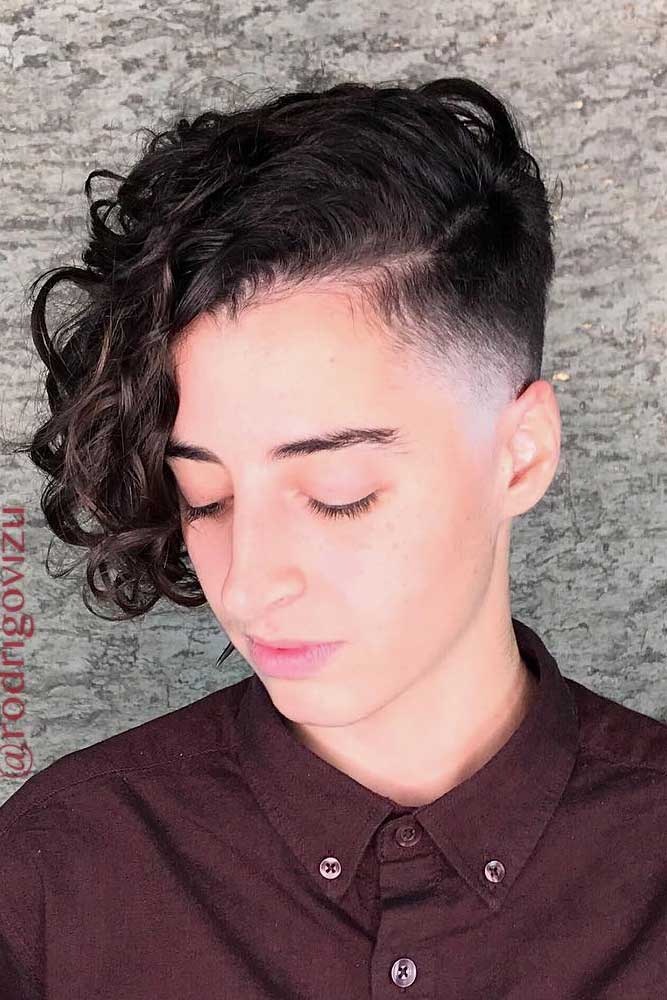 Credit photo: instagram.com/rodrigovizu
Now, let's take a bold approach to short curly hairstyles! More and more girls are asking their stylists for shaved sides, faded napes, and lots of tomboyish haircuts. Unlike other textures, curls can be different; you can rock anything from super feminine to sassy and daring. And here's one of the countless ideas to take your curls to a bolder level. A pixie and a side undercut seem to get along pretty well!
Messy Short Curls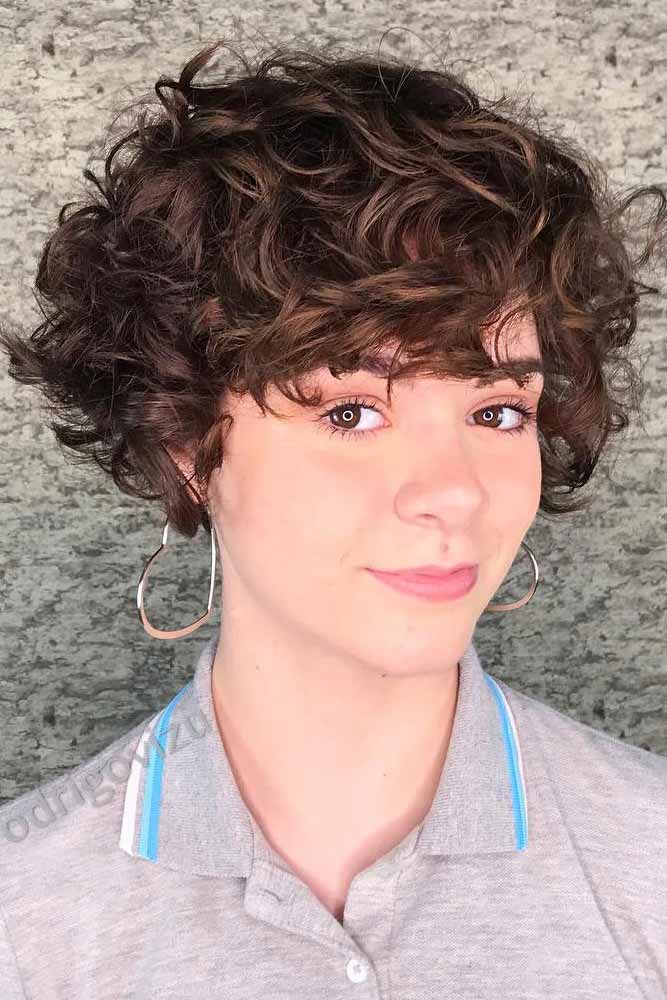 Credit photo: instagram.com/rodrigovizu
Messy hairstyles seem to never leave fashion. They can breathe a new life into lifeless thin strands, giving it a voluminous shape and lighten up thick manes, making it more manageable. What about curls? When those carefree styles meet curly hair, they can give your texture movement and texture you never knew you had. All in all, some sense of freedom to your curls won't ever hurt!
Curly Top With Shaved Sides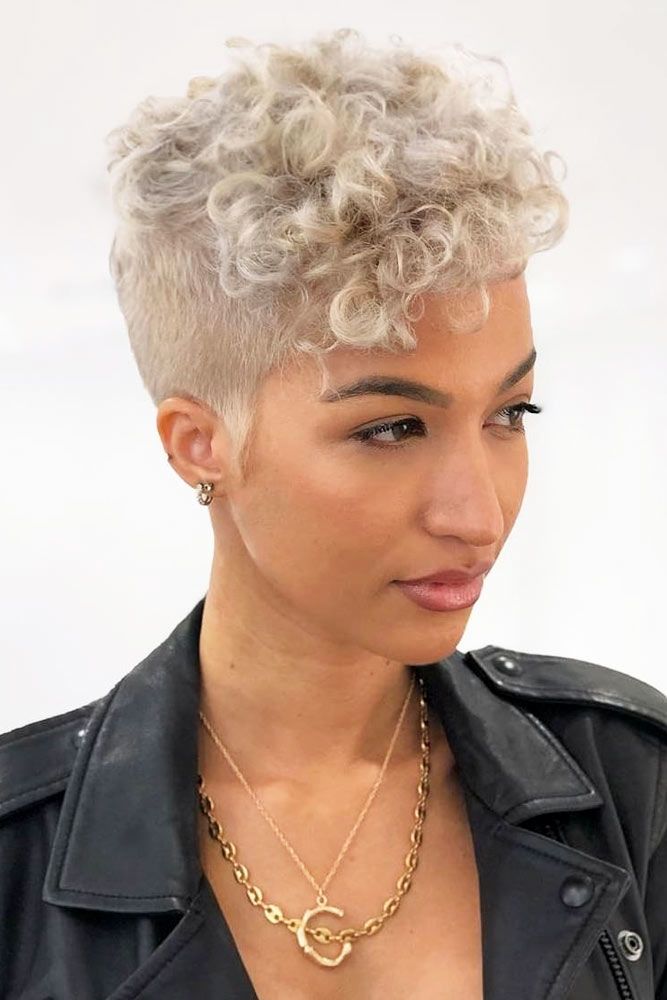 Credit photo: instagram.com/edwardkutana
Cooler than cool and bolder than bold - this curly hairstyle takes the biscuit! As you might have noticed, it's cool for two reasons: for its strong visual impact and the cold shade of blonde embellishing the curly crown. By the way, such a head-turning idea will work perfectly not only for those who want to express themselves; it's a good way to make the silhouette of your head a little bit longer, which is a win for ladies with round faces.
Tips For Short Curly Hairstyles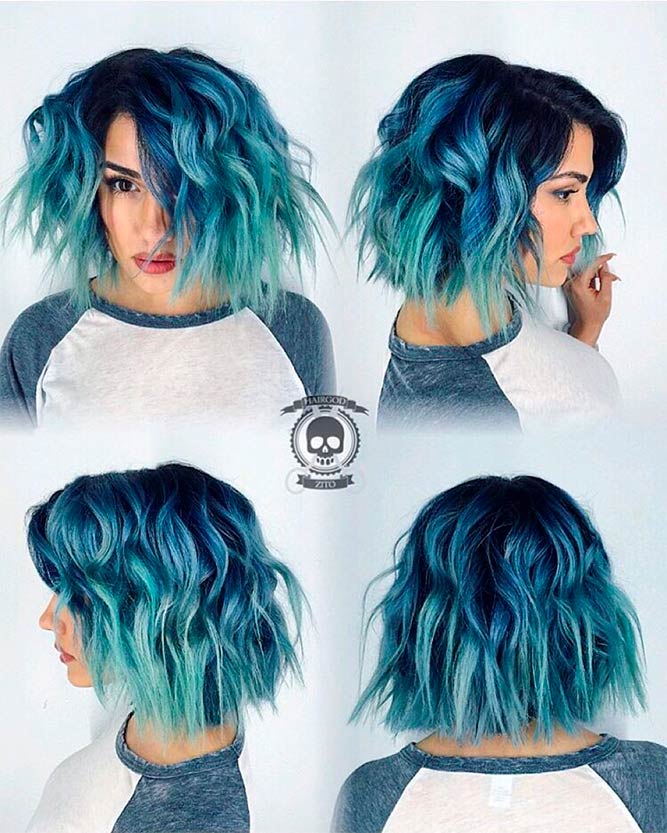 Credit photo: instagram.com/hairgod_zito
Don't Wash Every Day: Washing every day will only damage your tresses. A lot of women only wash their hair once or twice a week. Condition or simply spritz your hair in-between shampoos to keep your curls happy and healthy.
Use a t-shirt instead of a towel to dry: "Hair Plopping" is all the rage...but for a reason. Towels tend to damage your hair. Using a t-shirt to dry your hair instead of a towel will not only prevent breakage, it will keep your hair from frizzing, as well.
Never brush your hair: Brushes, especially those with harsh, heavy bristles will only damage your hair. Simply finger-comb your hair or use a wide-tooth comb.
Use a Diffuser when Blow Drying: If you have to blow dry your hair, use a diffuser to soften and protect your curls. Too much heat will damage your locks.
Switch to Satin Pillowcases: Satin pillowcases will prevent your hair from flattening and frizzing while you sleep.
Keep it Trimmed: Get your hair trimmed every 6-8 weeks to keep your hair healthy. It will make it grow faster and prevent your curls from damage and frizz.
FAQ
Does short curly hair make you look older?
Initially, the curls do not have such power. However, the mixture of your hair texture with a poorly chosen cut can serve the unwanted result. Thus, close-cut curls are said to make some people look older. Besides, a retro haircut may intensify the effect.
Should short curly hair have layers?
It definitely should. However, you should be careful enough not to overdo or underdo it. The absence of layers may intensify that heavy look and feel of your curls. While going too short will only increase the puffiness of your look. Moderation is the key.
Do layers add volume to curly hair?
When talking about straight hair, it's safe to say that layers add volume to the image. However, curly locks are already voluminous enough that additional volume may take things over the edge. So, the carefully cut layers even out the hair and bring the volume to a balanced level.
REFERENCES: