The Curly Girl Method that's on everyone's lips in the curly hair community is nothing but a magic wand that turns frizz into manes full of defined bouncy curls. This brand new hair care routine has brought women to understanding their hair types better, revealing the curl or wave pattern they never knew they had. Now, more and more curly-haired girls are adopting this method, all as one saying that it has changed their hair life completely.
So, what is the CG method for hair? Briefly, it's a set of products and washing and drying rules intended to enhance the natural curl waiting to happen or perfect already curly hair. But, that's something more than just hair care: it's a brand new frame of mind for your hair.
As it turns out, there are many more curly women in the world: they just don't know their hair is curly. And this is where the curly girl hair method comes in. Here's an ultimate guide for everyone who's curly, wavy, in between, or simply frizzy and wants to get the most of their unique pattern. Your curly journey starts here!
What Is the Curly Girl Method?
Credit photo: instagram.com/bravadina
Now, let's dive a little bit deeper into the history of the game-changing curly hair care method. Also known as CGM or CG method, the new take on curly hair was introduced in the bestselling Lorraine Massey's Curly Girl: The Hand Book designed to help women to get to know their curls type and find the right approach to their care.
In her set of unique ways to wash, dry, and style curly hair, the author also shares curly girl method approved products that help to bring out the curly or wavy pattern in the hair naturally. The point is to get rid of drying chemicals to retain moisture and hence give life to effortless curls. If you search on Instagram or Youtube for the Curly Girl Method, you will see lots of girls who've switched to this method. Women who once struggled with their 3a, 3b, and 3c hair have finally reached the natural hair balance and unleashed the perfect shape of curls. At the same time, girls who were always convinced they have straight hair have turned out to have 2b and 2c hair as a result.
So, does curly girl method work for wavy hair? It works for all curl types. As a matter of fact, it can work for all hair types. If it doesn't reveal the curl hiding under frizz in your straight hair, it will at least give your hair the needed detox, as this method is absolutely sulfate-free.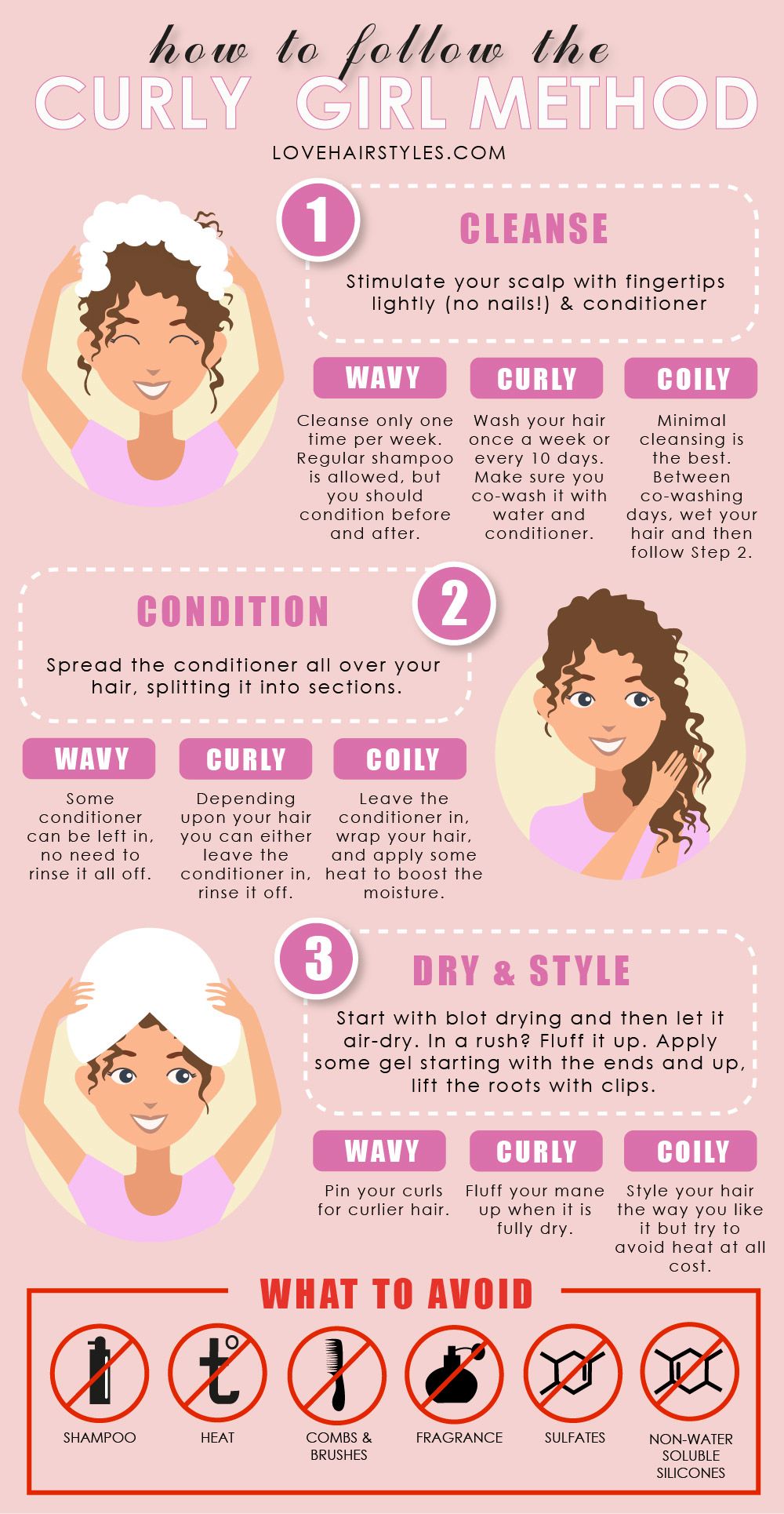 Before You Start the CGM
At this point in your curly hair journey, you're going to find out how to overcome the irritating frizz and let your hair show its full potential. However, you can't switch to a new regimen just with a snap of your fingers. Your hair will take some time to adjust to new products, as you're going to work with the no-poo method. No poo shampoo is a nickname for a sulfate-free shampoo that plays a crucial role in forming a better curl or wave by eliminating chemicals that strip off natural oils and moisture. First off, you should prep your hair for the big changes.
Credit photo: instagram.com/dance_angel
Prepare your hair for a new regimen
Cleanse the hair with clarifying shampoo. In fact, this would be your last sulfate-infused wash. Before switching to the no-poo routine, you should cleanse your hair with regular shampoo to remove any silicones, oil, build-up, and dirt on your scalp. It's OK if you already have a sulfate-free product, but it's better to use a sulfate-containing one for the last wash.
Replace your regular shampoo with a no poo. Remember these detergents: sodium laureth sulfate, sodium lauryl sulfate, ammonium laureth sulfate, etc? They're drying sulfates that are especially damaging for curly hair, as they strip off natural oils. That's why your curly locks are frizzy and uncontrollable. For that reason, your hair needs a gentler sulfate-free shampoo containing mild cleansers like coco betaine.
Discover curly‌ ‌girl‌ ‌method‌ ‌products‌. Apart from the right shampoo, you will also need to stock on a bunch of new products to treat your locks with respect. You will need a couple of conditioners, as well as styling and moisturizing products like mousses, gels, and serums. Whether it's a conditioner for your scalp, leave-in treatment, or moisturizing product, everything you're going to use should be free of silicones and alcohol.
Get your hair trimmed. If there's any split ends, you should have them trimmed before you discover the curly girl method; it should be a fresh start. For the best results, find out if salons in your area have a certified DevaCurl hairdresser to give you a perfect Deva cut for your texture. Just remember that the curly hair cutting method matters.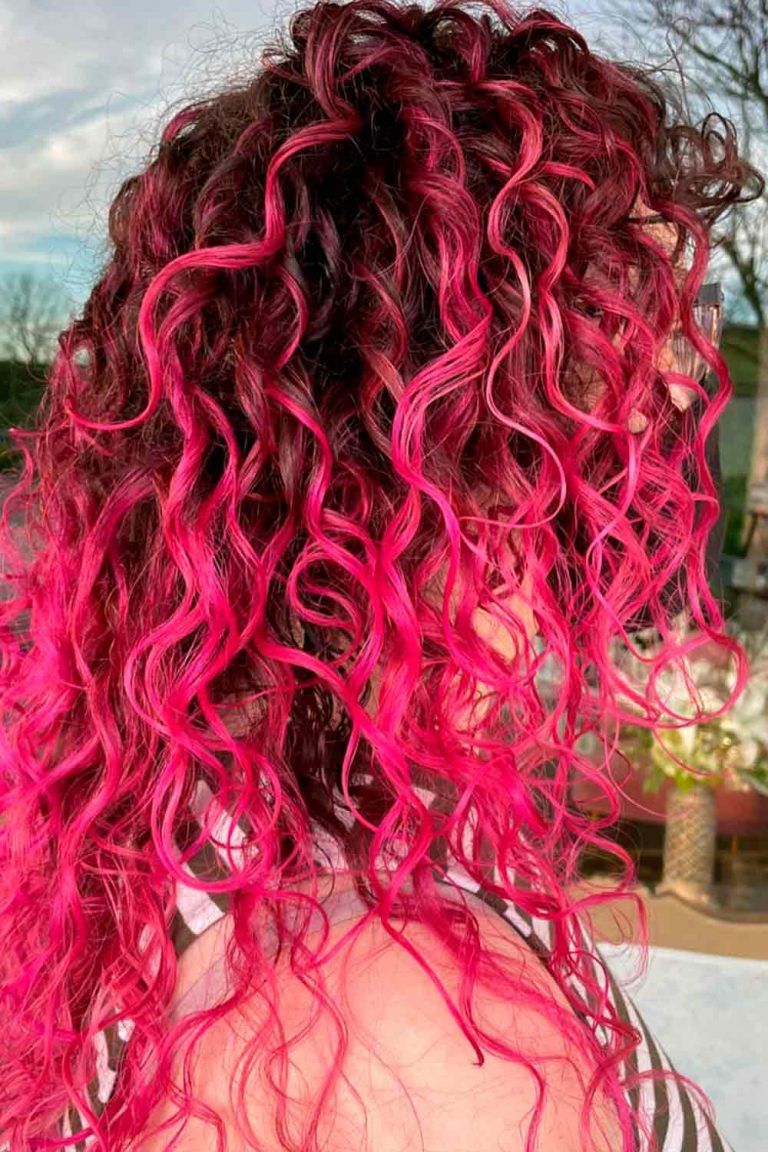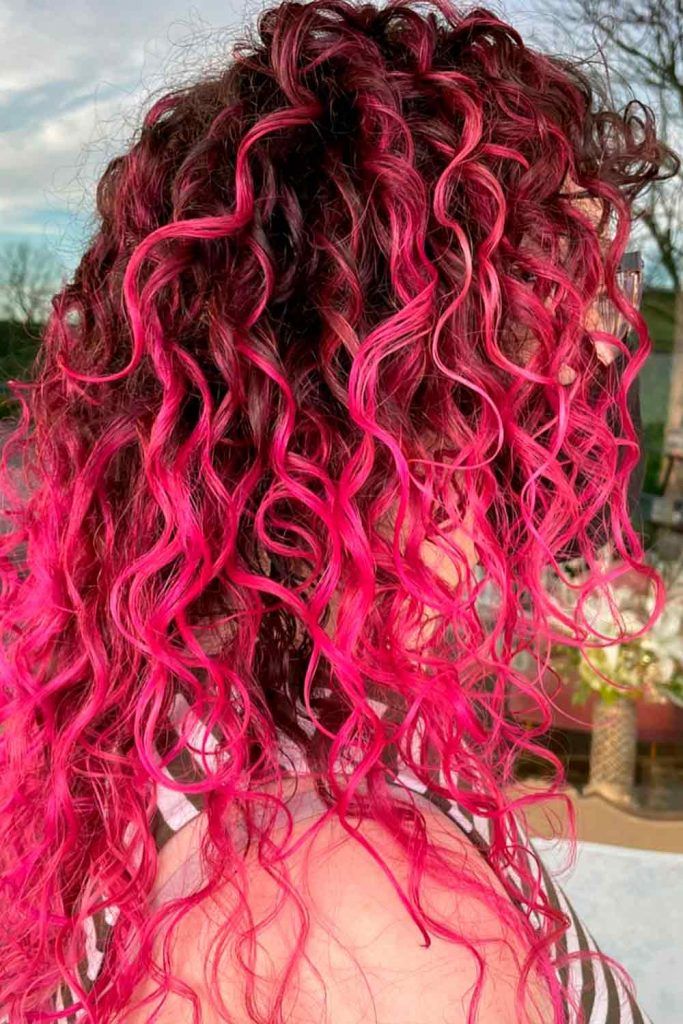 Credit photo: instagram.com/xostylistxo
Curly hair facts: What is a Deva cut? It's a special cutting technique designed by the Devachan Salon to tame and shape curly, kinky, and coiled hair. When giving such a haircut, a pro shapes every single strand to create a unique shape for it, working with dry hair to see how the strands fall on one another.
Following the Curly Girl Method: Basic Steps
Now, we will get you through the basic curly girl method steps so you can learn how to adopt the no-poo routine for your curls.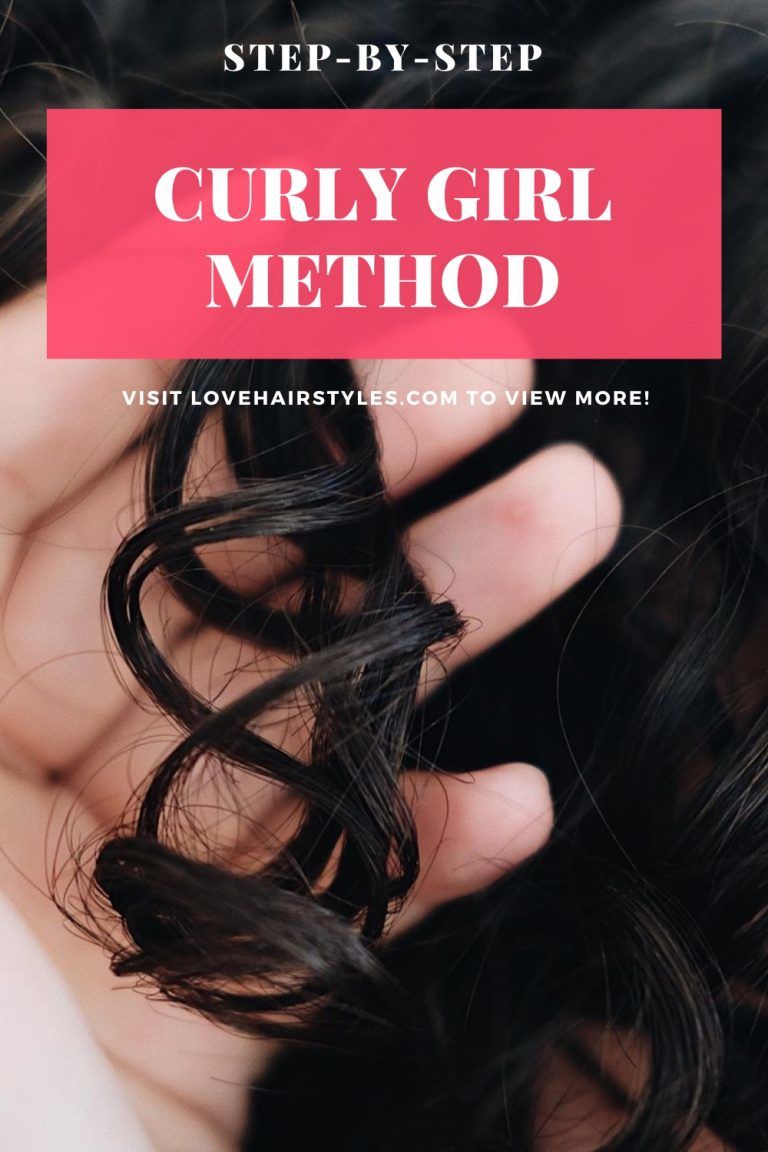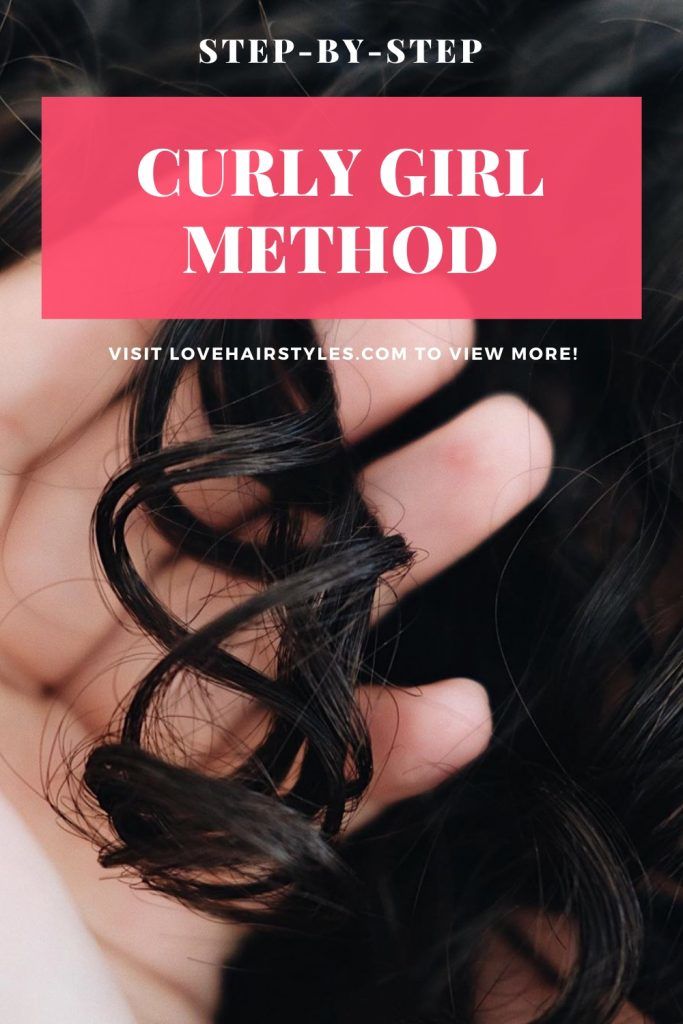 Credit photo: instagram.com/make.me.curly
Step 1 - Cleanse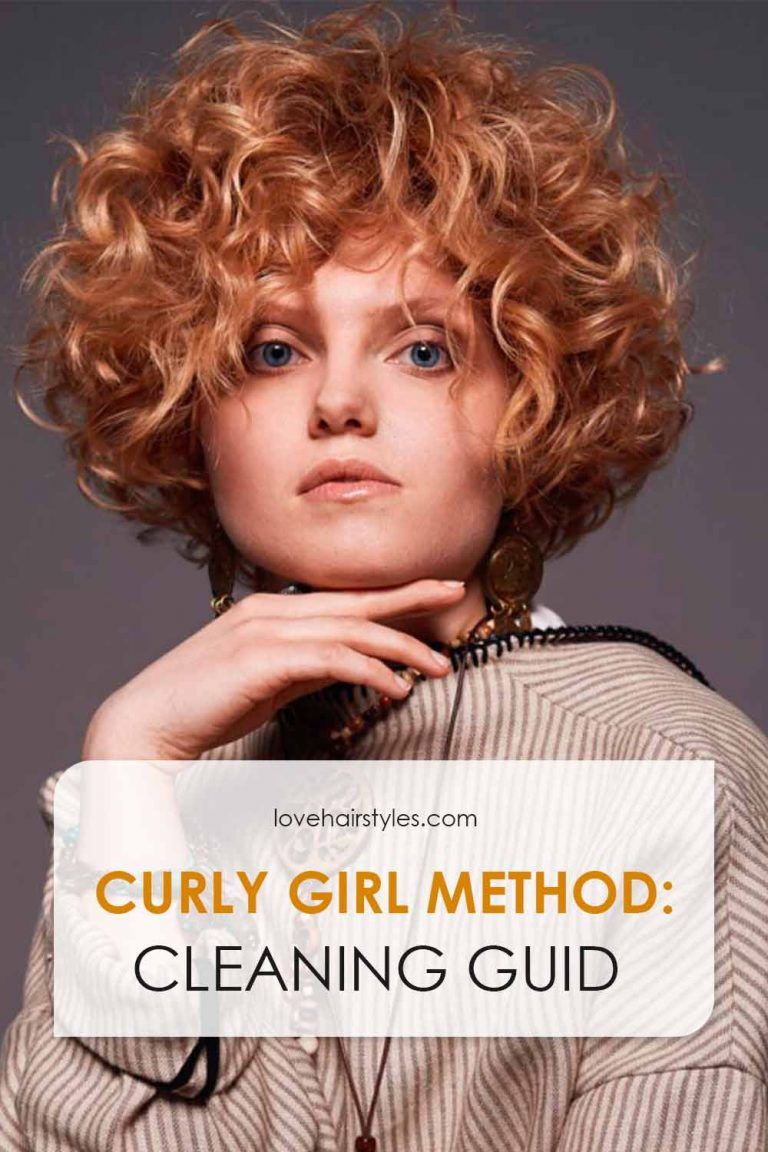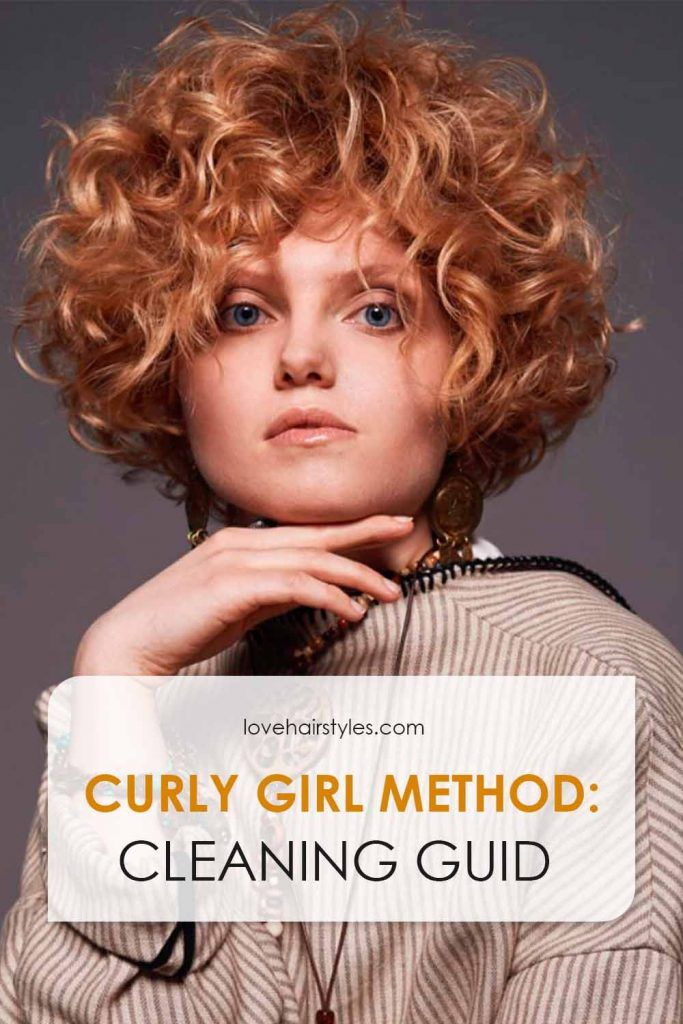 Credit photo: instagram.com/cut_and_color
After you've done the last wash with sulfate-containing shampoos, you should cleanse your hair with anything from clarifying shampoo for curly hair, co-wash, or no-poo, depending on what your curls feel most comfortable with. Note that curly hair doesn't like frequent washes: shampooing once or twice a week would be the best choice.
Step 2 - Condition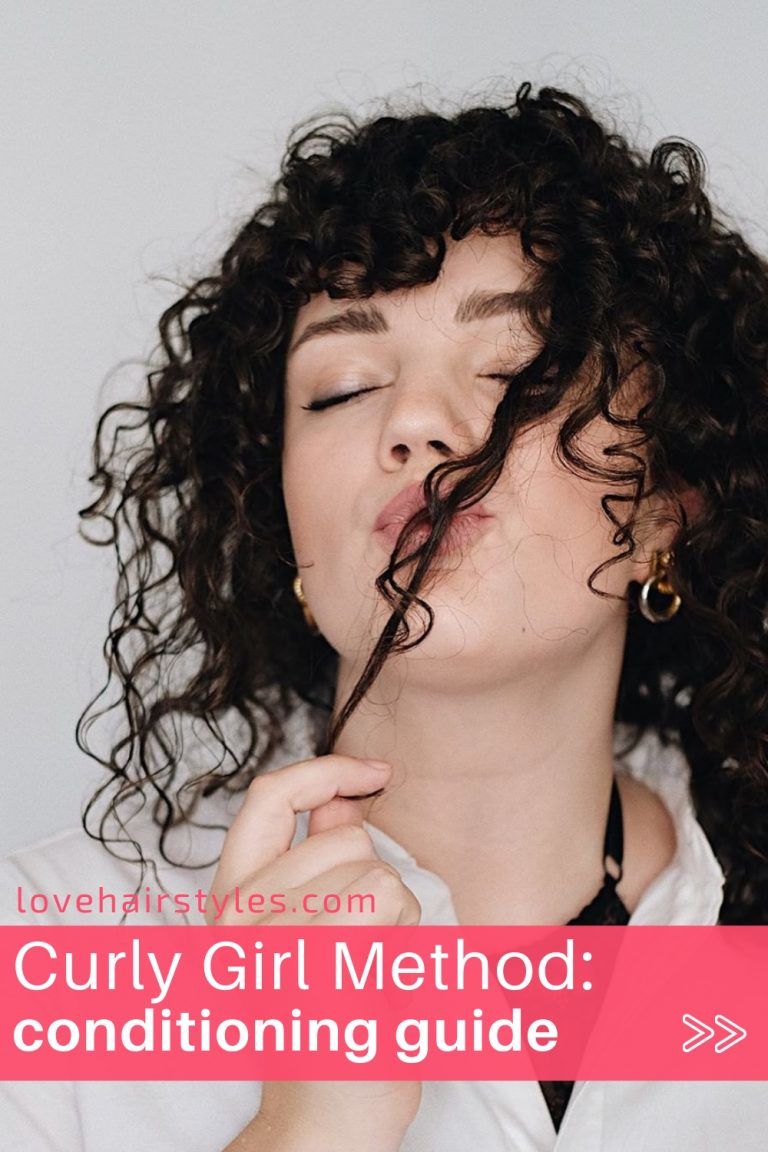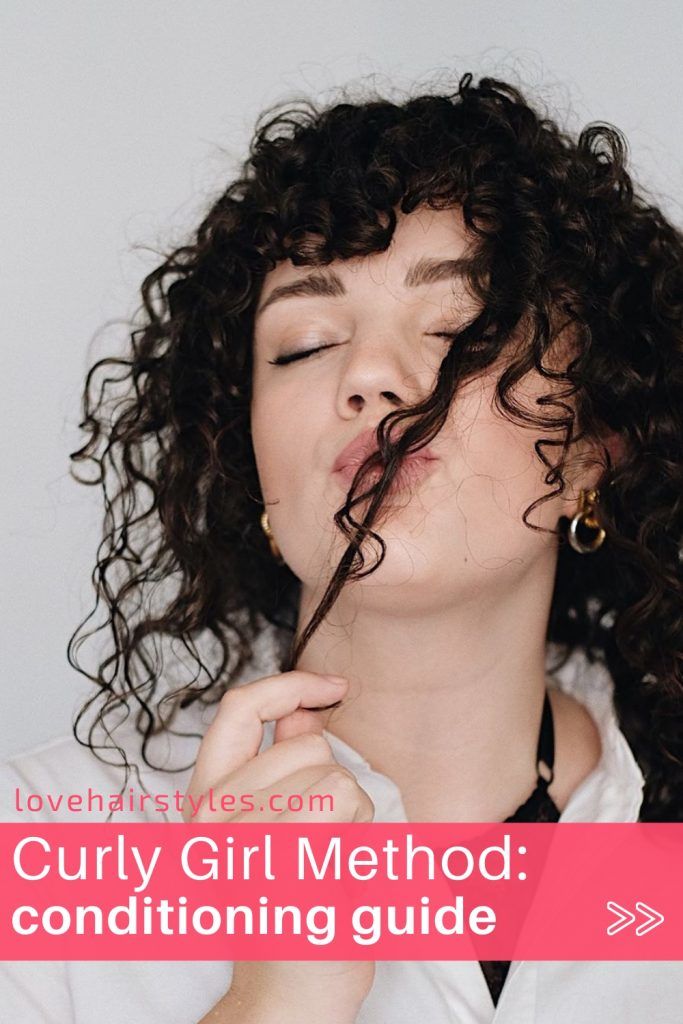 Credit photo: instagram.com/make.me.curly
Conditioning your hair is crucial, if not vital. Again, depending on how much moisture your hair needs, choose a conditioning product. There are lightweight and thick conditioners, as well as leave-ins meant to provide hydration throughout the day. Experiment with several products until you find the ones that suit your needs best. Of course, they all should be silicone-free.
Step 3 - Dry & Style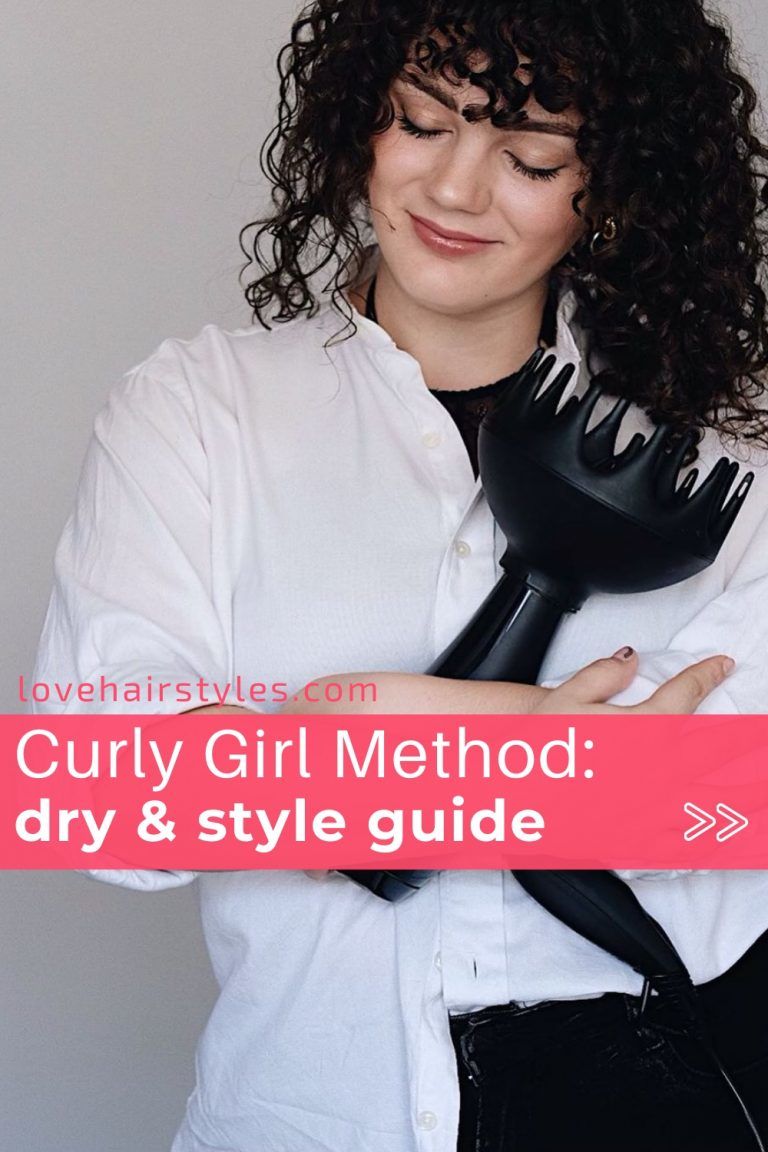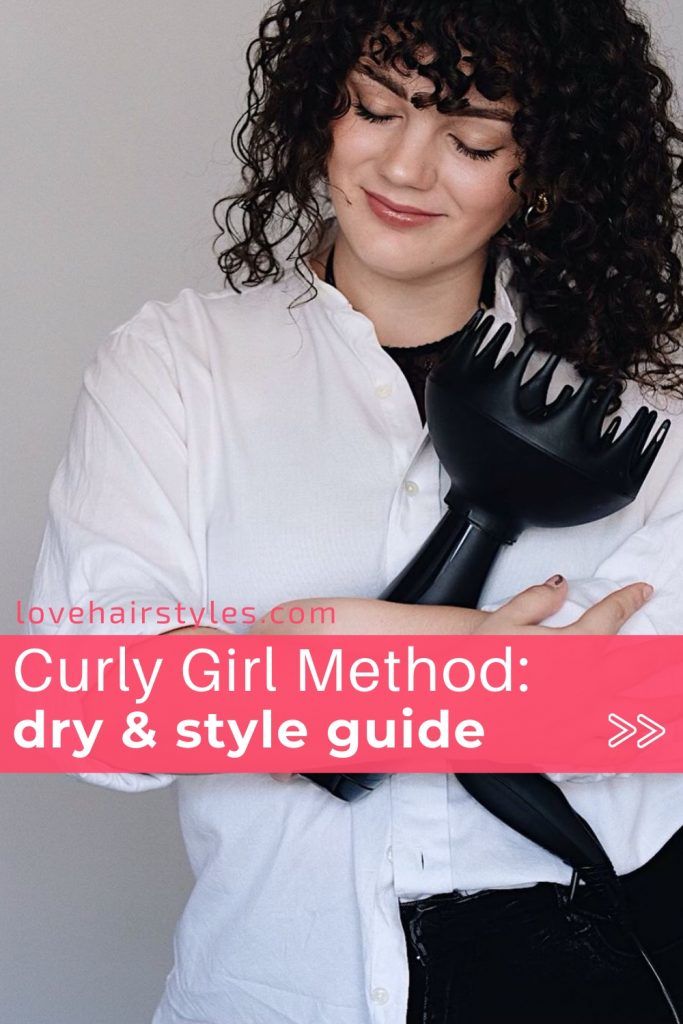 Credit photo: instagram.com/make.me.curly
Apply your favorite styling product (mousse, foam, gel, etc) to your wet hair and scrunch it up to help the curls form. Then, squish the water by hair plopping with a microfiber towel or some old cotton t-shirt. You can either leave it up to the plopping hair method or let your hair air dry, scrunching your hair up from time to time. So as not to have flat roots for your curls, lift the roots, and secure them with clips until the hair is dry.
Tips on How to Use The Curly Girl Method for Wavy Hair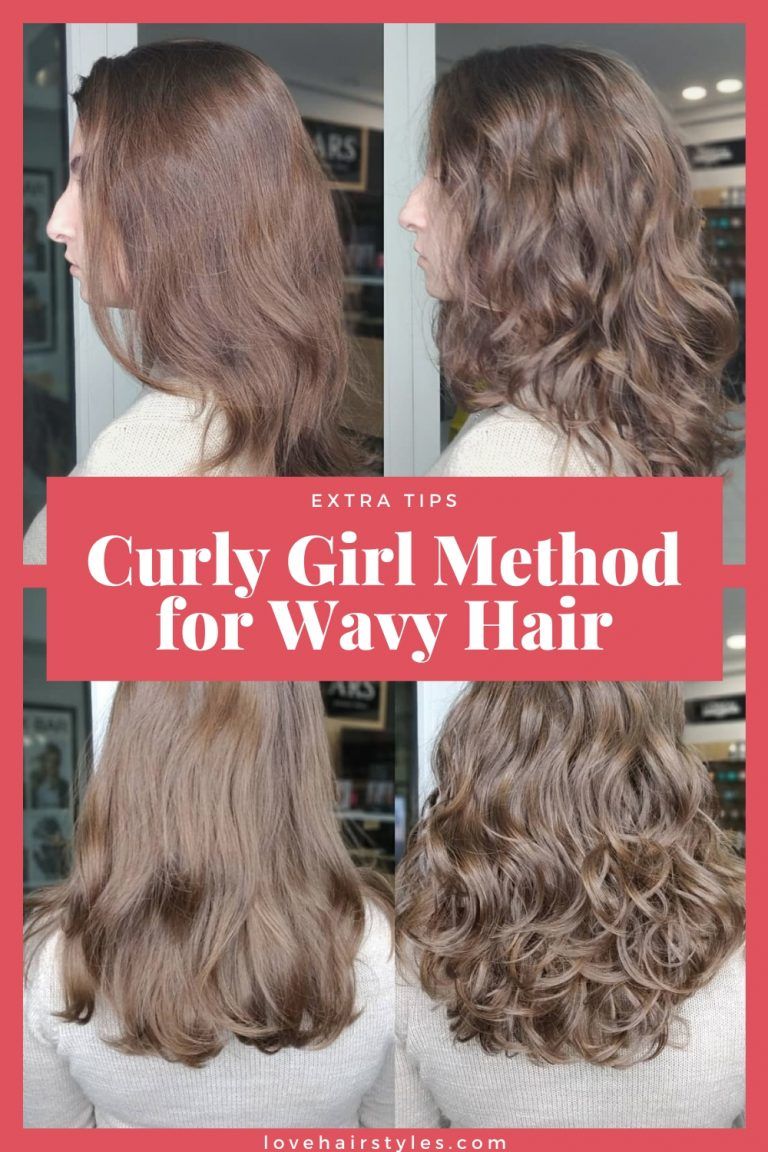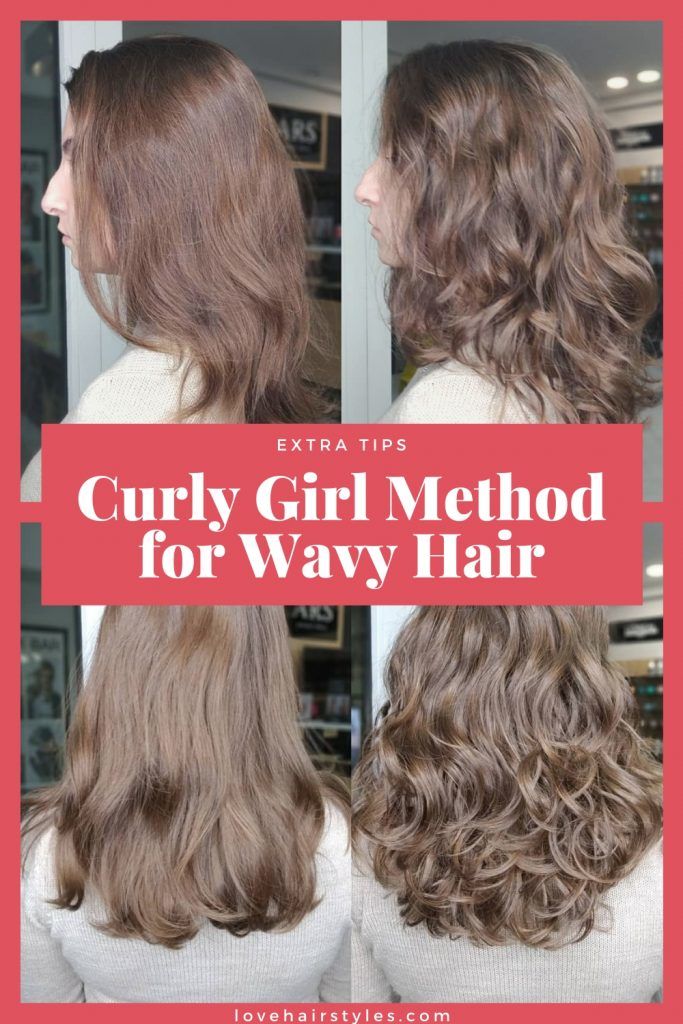 Credit photo: instagram.com/curly_girly_salon
When the question "how can I make my wavy hair more curly?" takes you over, that's the sign your waves need the CGM approach. However, there's a slight difference between treating curly and wavy textures, and here are the nuances you should pay attention to before trying the curly girl method for wavy hair.
Most wavy textures weight down under co-washing, so you won't need that in your hair care routine.
You will need to use your shampoo or cleanser more often.
Deep-conditioning shouldn't be too frequent, too.
To form better clumps, use more water when styling your hair.
Find out what products make your hair curlier, choosing among lightweight mousses, creams, and serums.
Use a diffuser attachment to create a more defined and tighter pattern.
The CG Method: Don'ts & Do's to Remember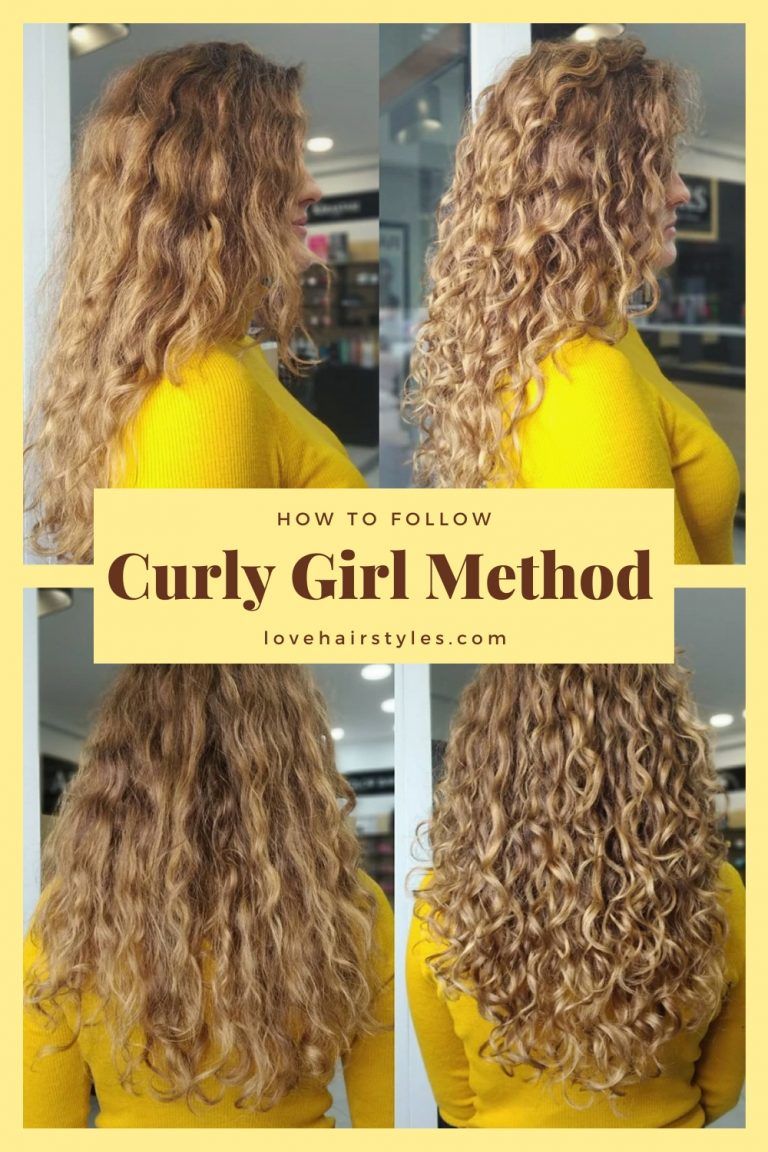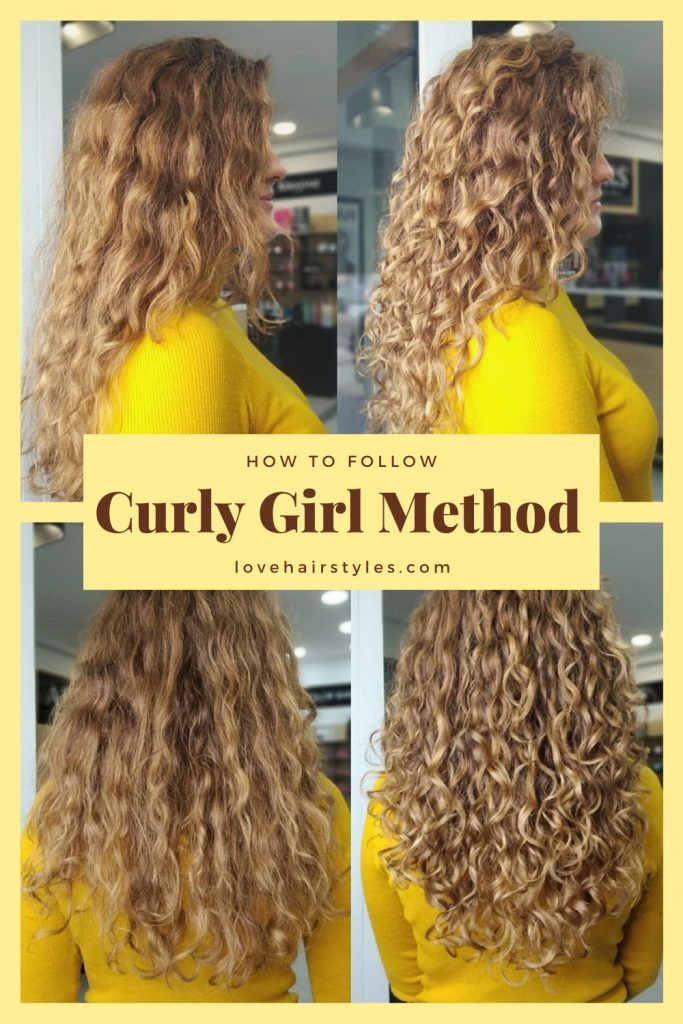 Credit photo: instagram.com/curly_girly_salon
The science of taking care of curly hair lies in countless tries and efforts. And the CG method is the perfect routine created based on lessons and mistakes learned by pros. Below, we've highlighted all the don'ts and do's that will help you understand what you've been doing wrong or stay away from common mistakes.
Don'ts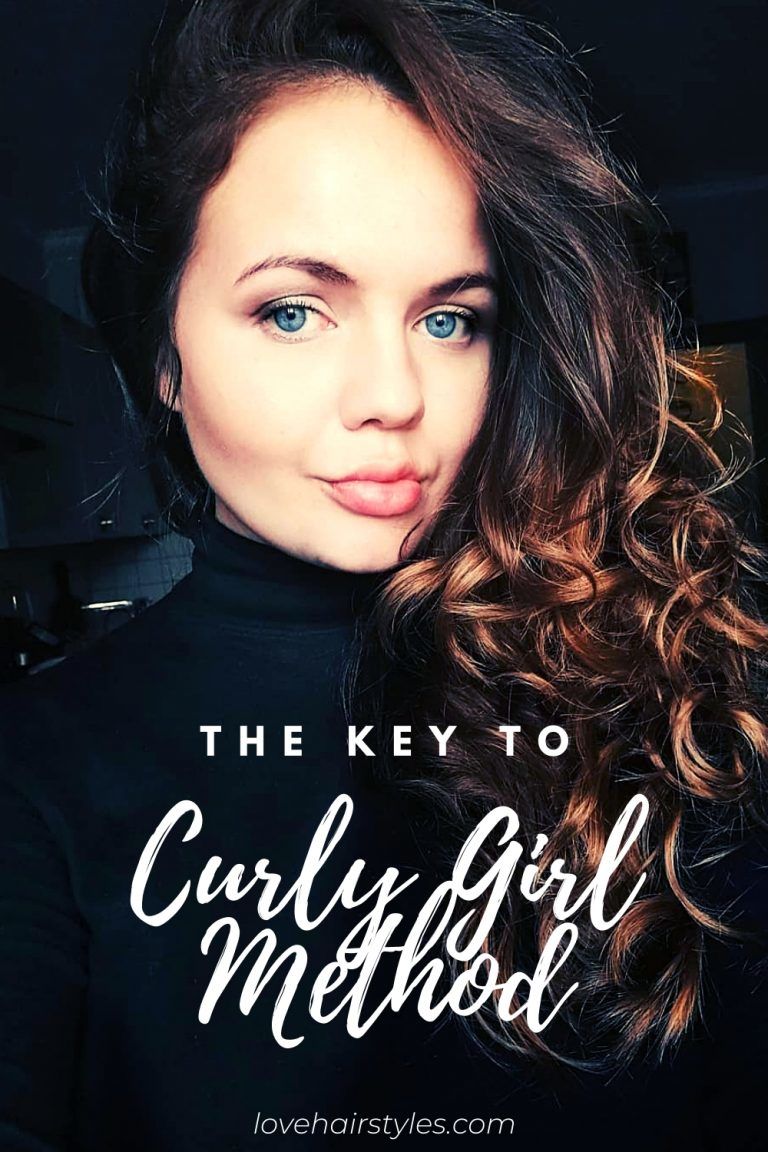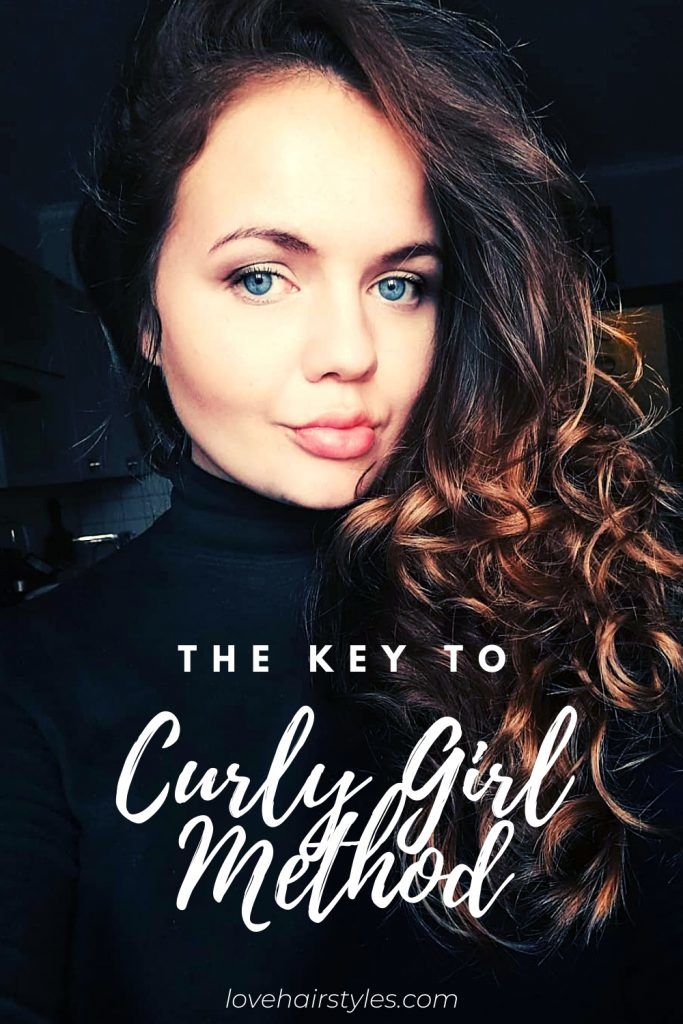 Credit photo: instagram.com/krista_artista
If you don't want to ruin your curls, don't:
Overwash your hair: shampooing two or three times a week would be a perfect regimen.
Use shampoos containing sulfates, as well as non-soluble styling products with silicones.
Use heat a lot, as your curls are very prone to damage.
Brush or comb your hair; use paddle brushes or tangle-tweezers designed for curly hair instead.
Use towels, as they can rough up the hair cuticle.
Color your hair, unless you or your stylist are working with gentle conditioning dyes.
Do's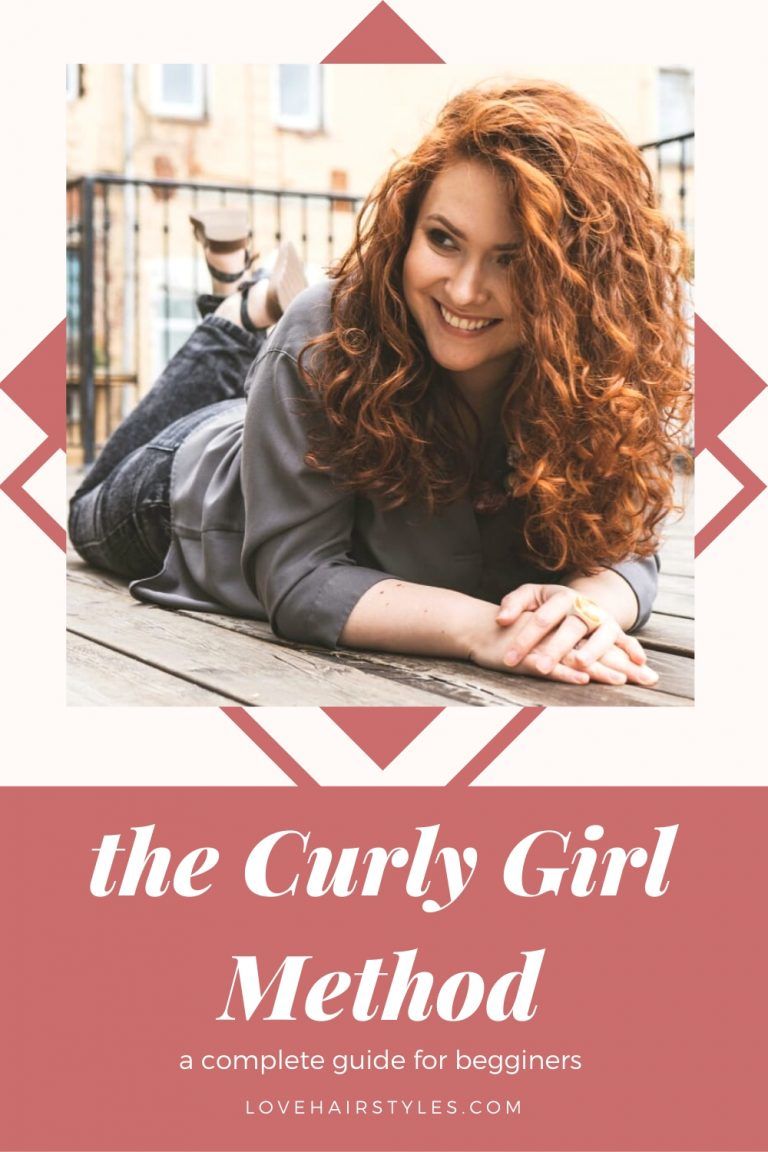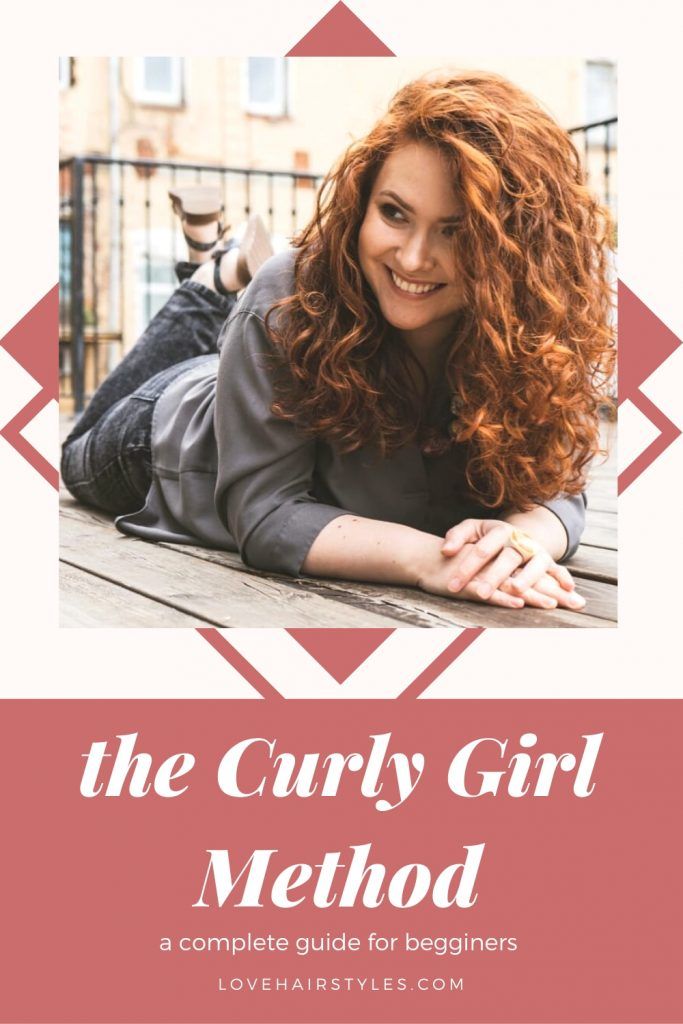 Credit photo: instagram.com/bravadina
If you want to make your hair care routine right, that's what you should do:
Use a co-wash instead of shampoos, especially CG-approved ones.
Work some scalp scrub into your roots with your fingers to remove any build-up.
Use natural oils like shea, coconut, olive, and jojoba to condition and hydrate your hair.
Treat your locks with protein-rich DIY masks with such ingredients as eggs and avocado.
Add honey and glycerin to your hair masks or conditioners to help your hair retain moisture.
Use a microfibre towel or cotton T-shirts instead of regular ones.
Scrunch styling and conditioning products into hair to encourage a tighter curl pattern.
Ingredient List to Avoid In The CG Routine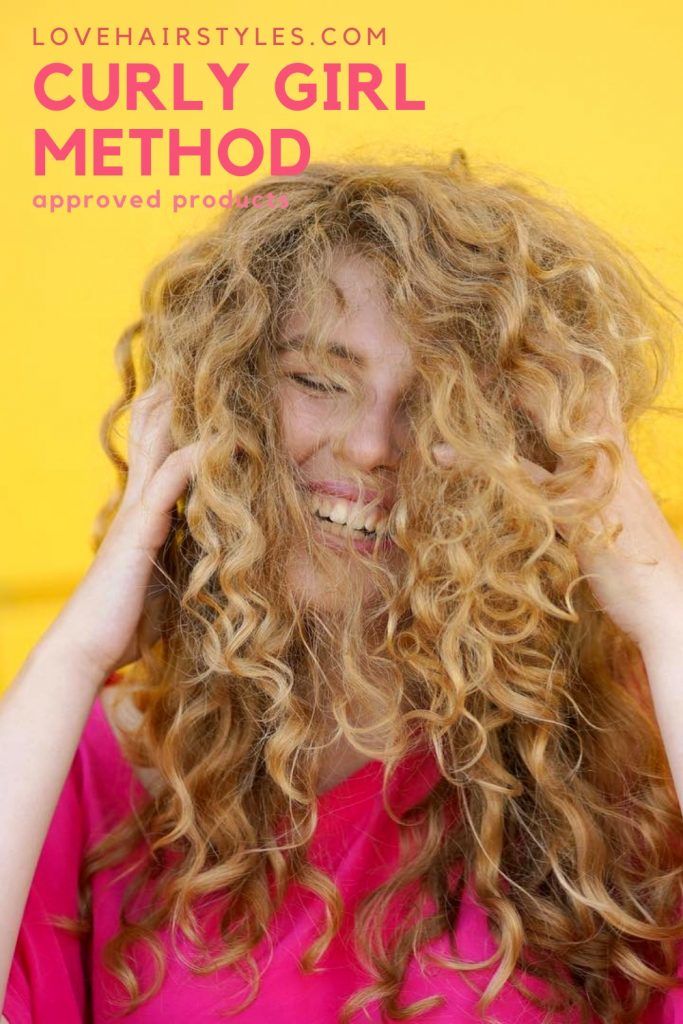 Credit photo: instagram.com/curly_polcha
When thinking of "what products do I need for the Curly Girl Method?", you should first ask yourself "what products should I avoid with curly hair?". In fact, it's all about ingredients that hair products contain. Have a look at the biggest no-nos that you must not let into your hair care routine.
Sulfates
As you know, sulfates strip off natural oils from the hair. And since curly textures dry out fast, such an ingredient may leave your curls dehydrated, leading to breakage.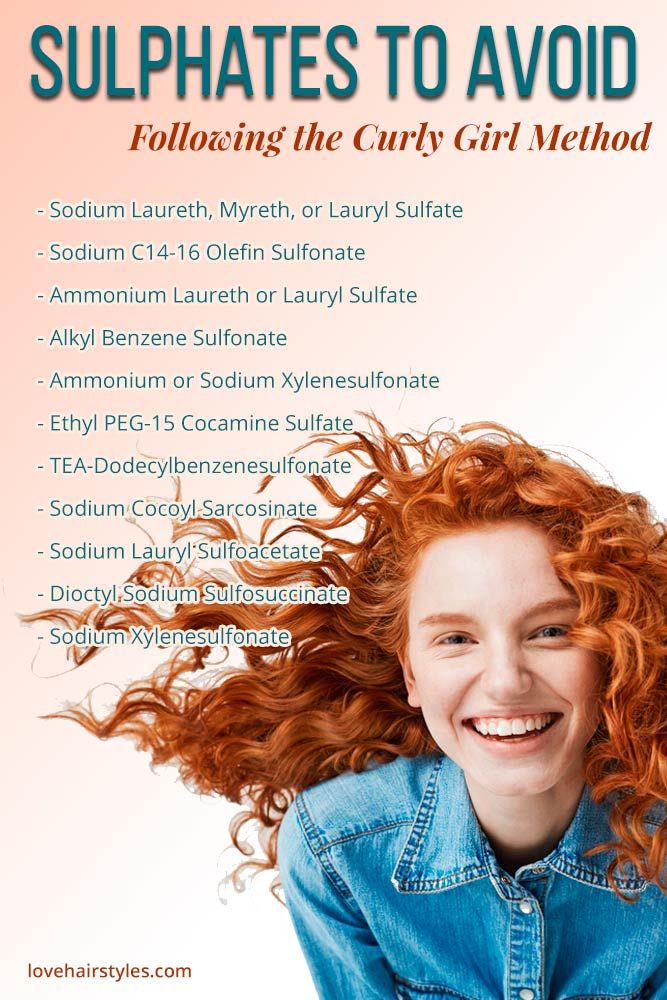 Non-Water Soluble Silicones
Non-soluble silicones may weight down your curls, leaving them undefined and even straighter in some sections.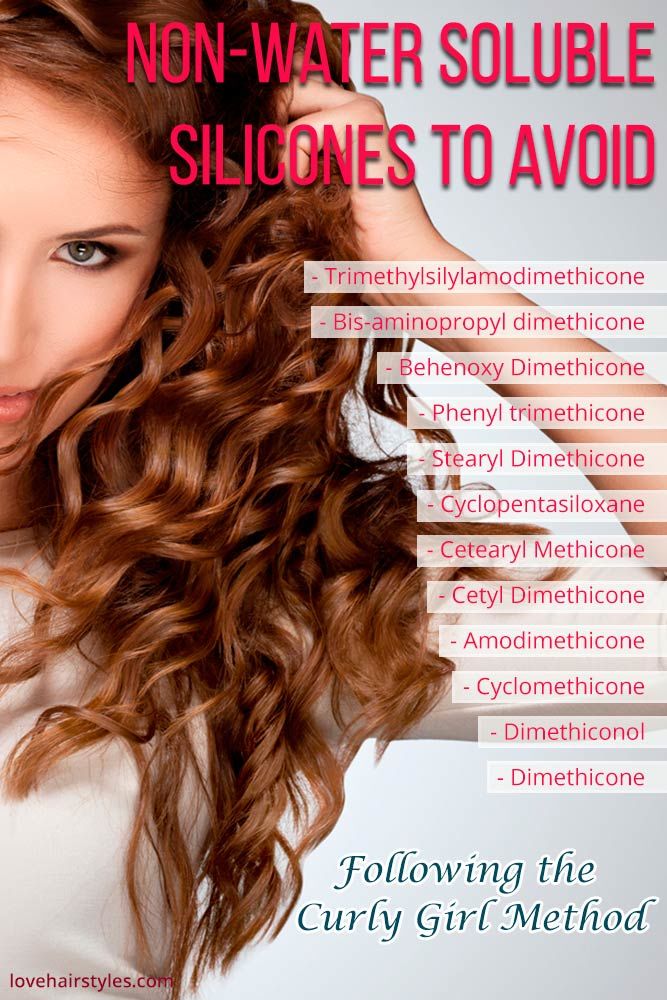 Drying Alcohols
Some alcohols condition, and other dry the hair. Therefore, make sure to avoid drying alcohols like isopropyl alcohol to stay away from dryness and frizz.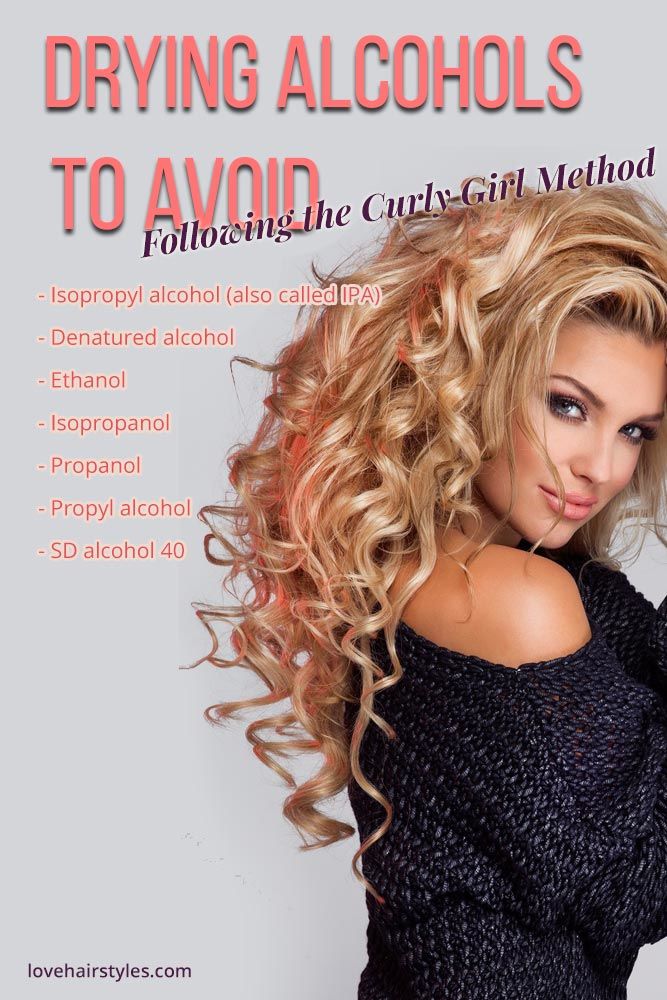 More ingredients to avoid in the CG method:
mineral oil (paraffinum liquidum)
waxes (Candelilla wax, bee wax)
petrolatum
FAQ – For Those Who Still Hesitate
Feel like you still have some questions unanswered? Here, we're rounding up everything you should know to start the CG routine by answering the most popular questions.
What is the CG routine?
The Curly Girl method is a special approach to taking care of curly hair invented by Lorraine Massey. This method aims to provide curls with natural bounce and moisture by eliminating all chemicals contained in styling and care products to give perfectly shaped curls and waves as a result.
How long does it take for the Curly Girl Method to work?
The result varies from person to person, and the same goes for the time your hair will need to give you the brand new curl. Some girls report seeing better texture and more consistent patterns in a few weeks, and some say that their perfect curls took them 5 months. By the way, while the terms are different, none of the girls regret switching to the method!
Can you change your hair type?
Although you can't outsmart genetics, you can actually reveal a new hair type with a natural approach to its care. Lots of women use hair products that don't suit their texture and have no idea that their picks outweigh their hair and change their texture. If your hair is mainly straight but waves or loose curls show up when the weather is humid, you can try the CG method to reveal your actual pattern. Women who have pouffy hair can also give it a try: they're most likely to end up with a curly mane.
What is my curly girl hair type?
To identify your texture of type 3 hair, you should define the size and shape of your curl. Type 3a, for example, is characterized by large loose curls. Then goes type 3b that has springy ringlets. And the last one is type 3c with its tight corkscrews.
What is bad for curly hair?
Drying alcohols, waxes, sulfates, and non-soluble silicones are the worst enemies of curly hair.
Does Curly Girl Method work on wavy hair?
The CG method works equally well for curls and waves. Moreover, sometimes waves turn into curls; that's what happens in the best scenarios. In general, the CG routine enhances waves, making them more defined, distinctive, and hydrated.
Should you brush wavy hair?
Brushing your wavy hair may ruin your pattern, so it's better to gently comb your hair when it's damp, scrunching it to maintain the wavy shape.
What does plopping do to your hair?
Plopping curly hair helps the hair soak up the needed moisture to naturally form defined curls while staying hydrated throughout the day. This method, however, can also be used for wavy hair types.
How do you sleep with curly hair?
You need to protect your hair by covering it with a soft silk scarf. In this way, you will eliminate the friction between your hair and your pillow, having frizz-free curls in the morning. Or, you can go with a satin pillowcase, for example. It's also better to wear your hair up overnight.
Is curly hair attractive? Well, it's like asking someone whether the sky is blue. But, there's no limit to perfection, and the CG method is living proof for that. This curly hair game-changer has already saved thousands of women from frizz, showing them how their curls can reach their highest. Now that you've learned all the basics and tips to try the new hair care routine, it's time for you to make your own Curly Girl method before and after pic!
REFERENCES: