After leaving the girly character from Hannah Montana series, Miley Cyrus short hair phase began to show off the real personality of the star. An eternal fashionable rebel, outrageous and glamorous teen, impressive music trendsetter: these words are short for Miley Cyrus. In other words, this girl knows how to rock not only the scene but also short haircuts which are very popular these days.
We've selected the most attention-grabbing and chic cuts and styles sported by Miley, specially for women who appreciate edginess and stylishness. Dive in and get inspired by the hottest ideas of now!
Edgy Mohawk
Miley Cyrus short blonde hair has come to our world to ruin style stereotypes! Here she pairs pretty feminine outfits with an absolutely punky and sassy hairstyle. To achieve the look, the celeb got her undercut shorter and spiced it up with choppy layers so that spikes stick out.
Source: Tinseltown/Shutterstock
Sleek Side-Parted Long Pixie
Today she's a rebellious tomboy, and tomorrow she's a seductively elegant lady. Even though her hair is still very short, the sleek side-parted silhouette brings a lot of restrained, feminine vibes that make the whole look girly and harmonic.
Source: DFree/Shutterstock
Slicked Back Pixie Hairstyle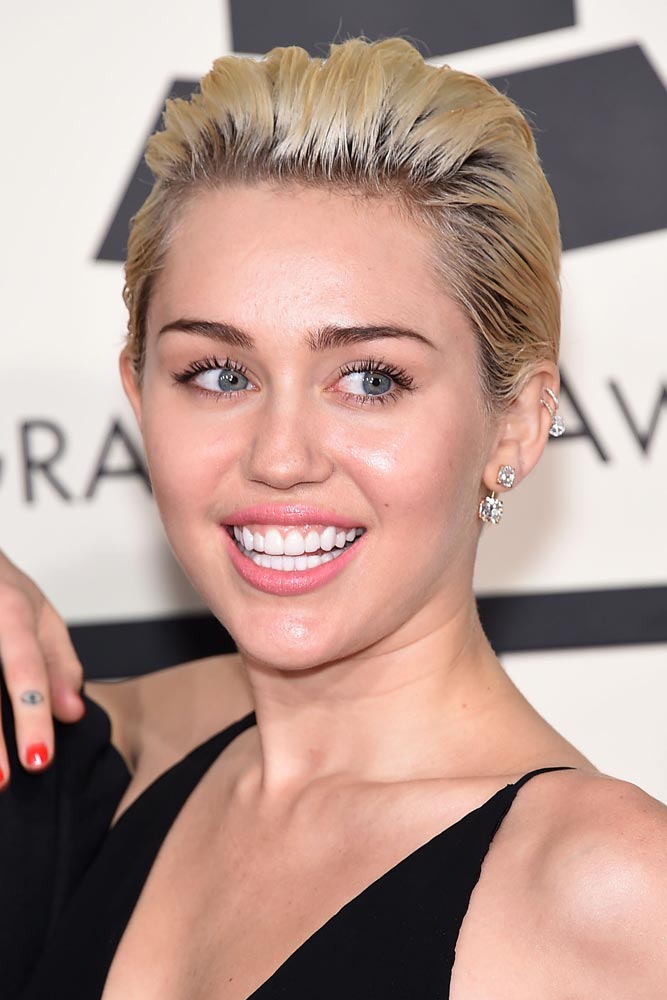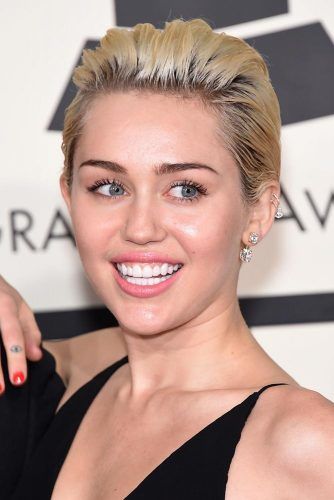 Here comes another inspiring hairstyle that proves the variability of pixie styles. One can style it to the side, to the front, and to the back. Just do as Miley does: experiment with the top, try out some styling products, and don't forget to play around with parting!
Source: DFree/Shutterstock
Side-Swept Layered Pixie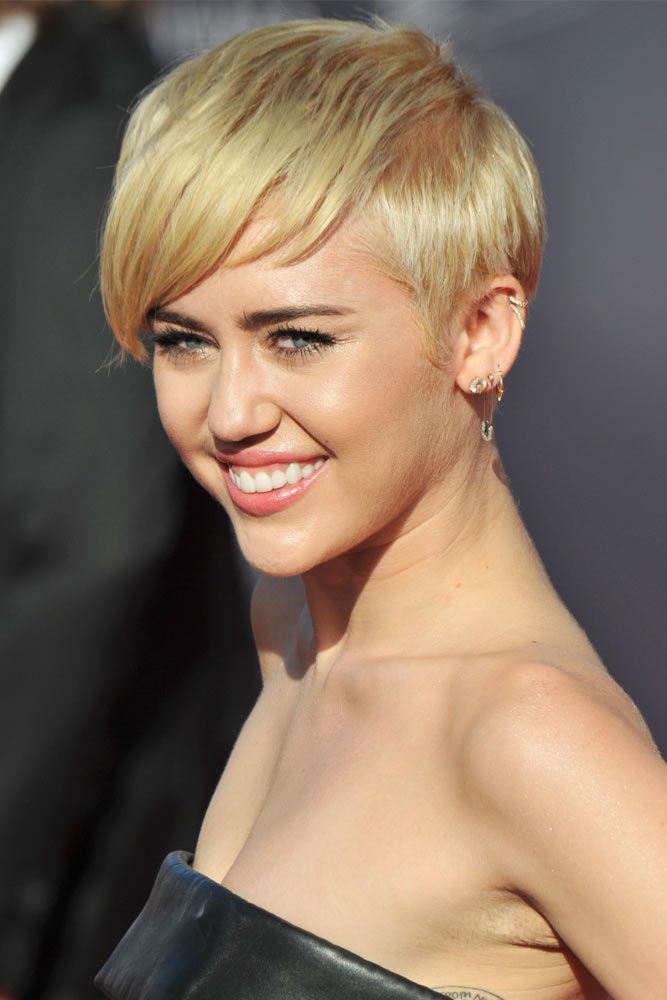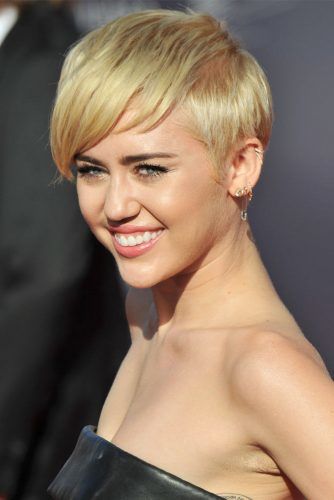 Bold and blonde. As told by her fans, this is the sexiest idea of short hair Miley Cyrus has ever sported. In 2014, she loved to slay cameras with exposing outfits and minimalist hairstyles. There's nothing complicated about this pixie, yet, its softly layered texture creates a perfectly balanced and face-flattering look.
Source: Featureflash Photo Agency/Shutterstock
Punky Pixie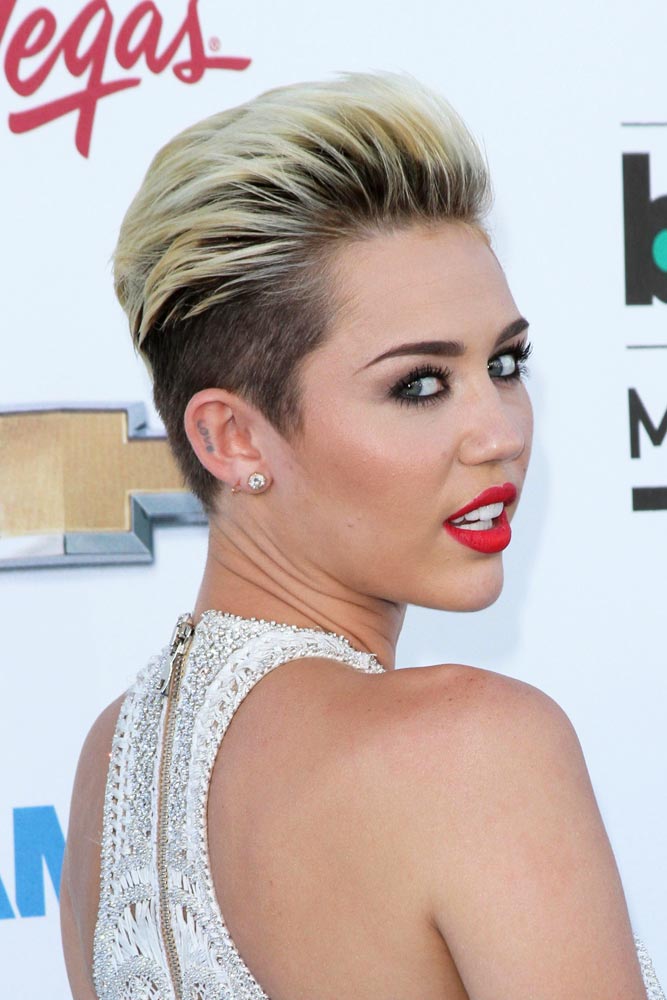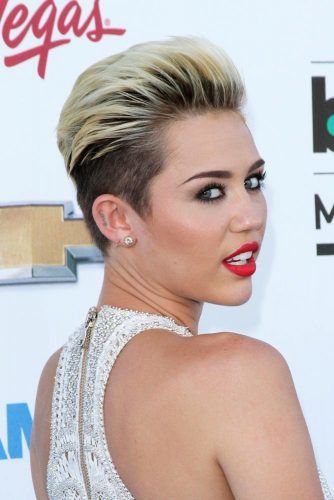 What happens in Vegas stays in Vegas, they say. Fortunately, this phrase has nothing to do with this hairstyle as it deserves being seen by all women. Not only did her super voluminous, punky pixie steal the show at Music Awards in Vegas but also nicely complement her sexy outfit.
Source: s_bukley/Shutterstock
Wavy Lob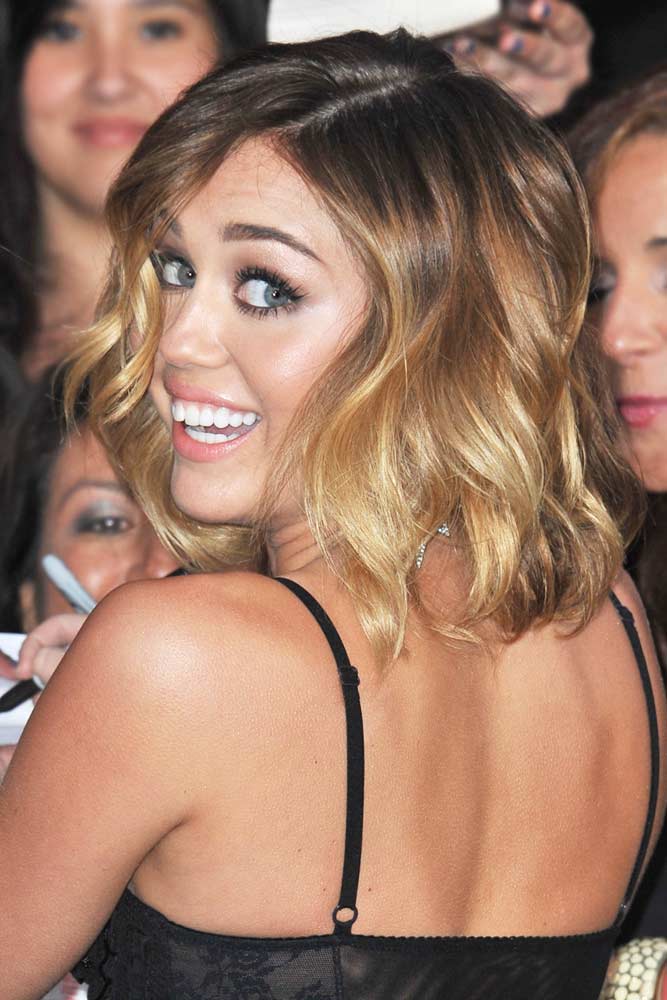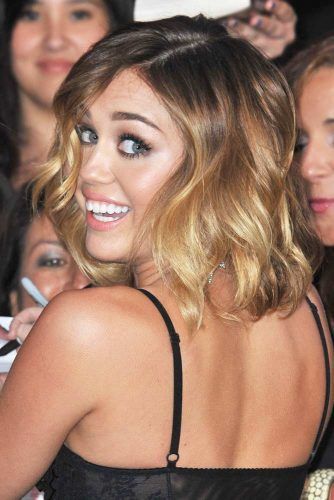 How about Miley Cyrus short hair ombre that makes a little comeback of her natural hair color? This effortless and shiny mix goes awesome with her complexion, while the waxy texture enhances the ombre shade, making it very dimensional.
Source: Featureflash Photo Agency/Shutterstock
Pompadour Hairstyle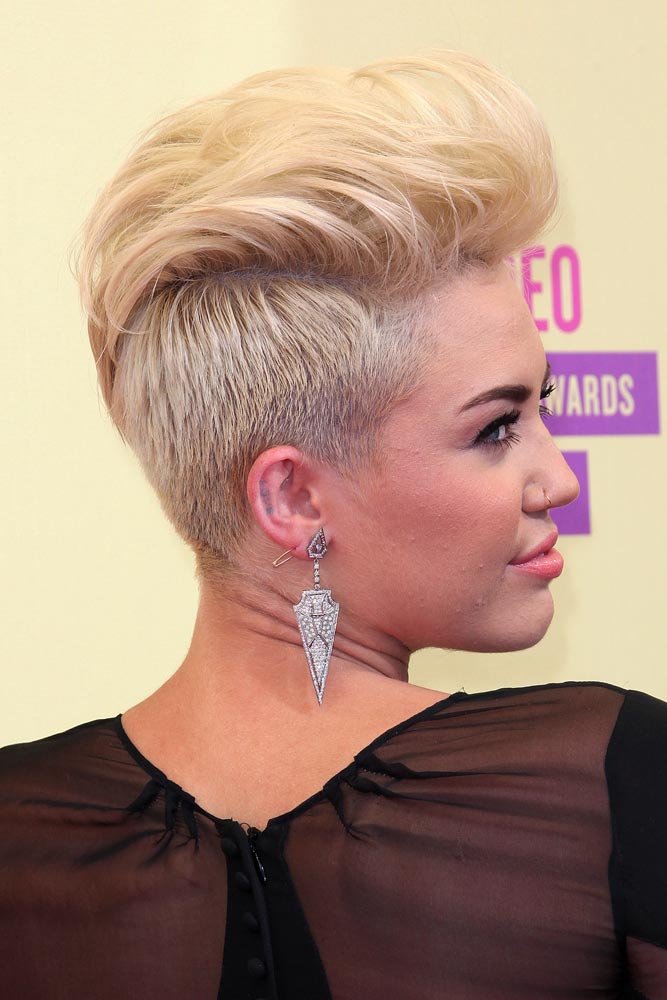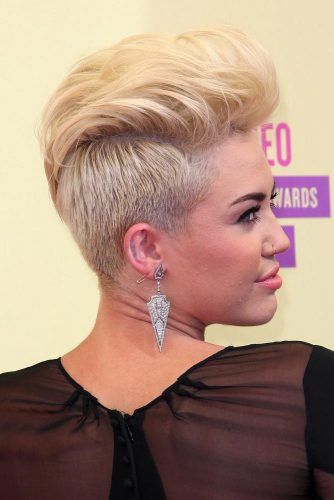 Who says that pompadour hairstyles are for men only? In 2012, Miley had enough courage to show the feminine side of the men's style, thus proving that there are no limitations to creativity. Miley Cyrus with short blonde hair: this made her fans amazed. And when she went for long undercut which she styled as pomp, she won as much applause as never before.
Source: Krista Kennell/Shutterstock
Long Pixie With Undercut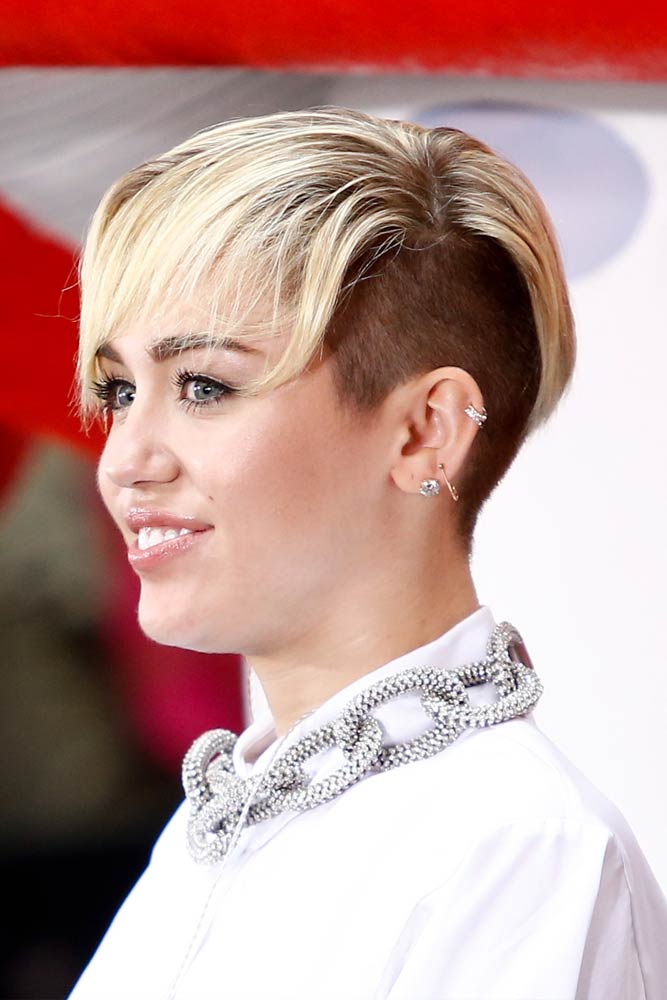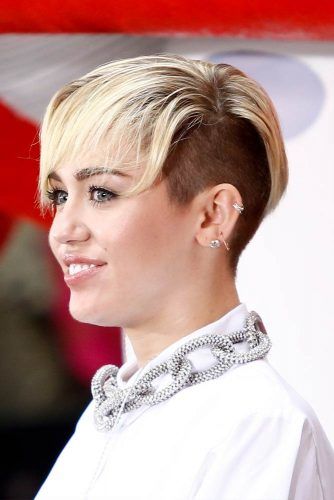 And this is how awesomely she rocked her undercut in 2013. Did you notice something new about Miley Cyrus blonde short hair in this look? Here, she decided to play around with contrasts and revealed her natural base at the shaved portion. As for the top, it awesomely frames her face, hiding up the big forehead. Truly, nobody but Miley knows how to style short hair so that it flatters your appearance best.
Source: Debby Wong/Shutterstock
Side-Parted Wavy Bob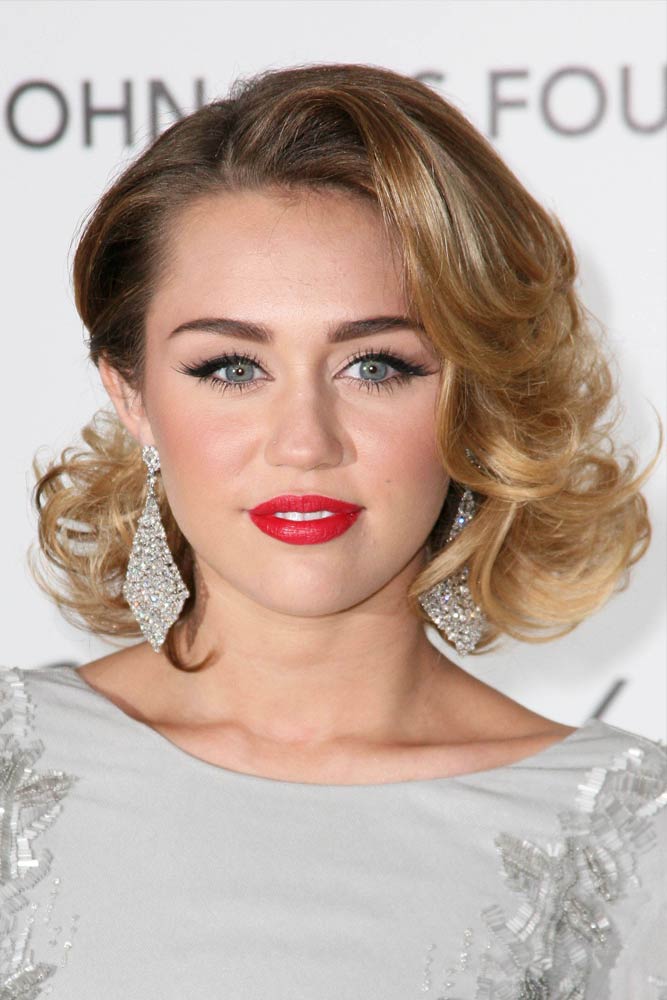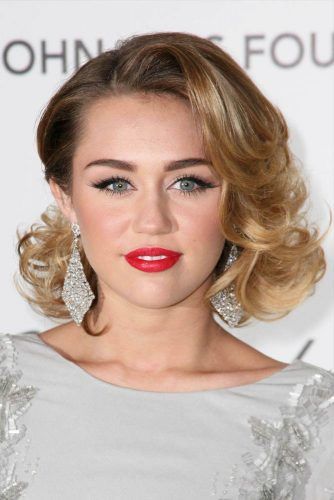 Oh la la! Miley can be different, no doubts. Before going for a distinctive and sassy undercut, she decided to show up with an incredibly feminine look in 2012. There's one thing she will never be able to resist: waves. So no wonder you won't come across Miley Cyrus short curly hair looks. Admit it, she simply mastered wearing waves with this natural, side-parted bob.
Source: Krista Kennell/Shutterstock
Short Edgy Pixie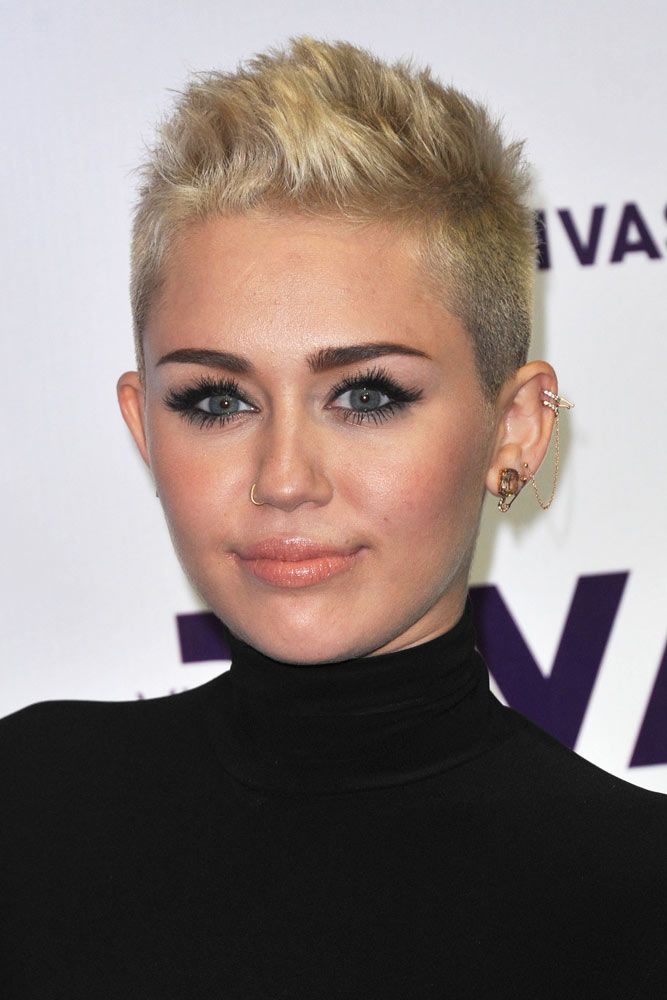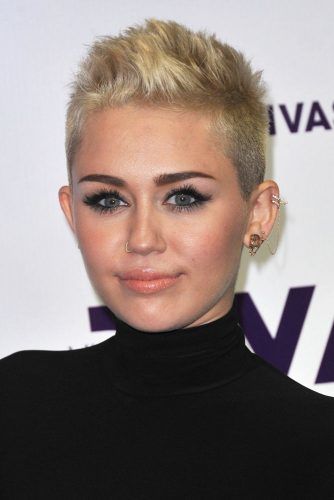 Yes, this idea is totally the opposite of the previous Miley Cyrus short brown hair look. Not only with the color but also with the mood. Well, Miley is a dynamic character, and the truth is that even such a daring tomboy style can't hide her beauty.
Source: DFree/Shutterstock
Miley Cyrus is one of the most remarkable and inspiring actresses and singers of the 21st century. And since her hair is a calling card of her creativity, why don't copy one of her looks? Ladies who want to sport comfy and distinctive styles should look no further than cuts and styles personalized by Miley!
FAQ: Miley Cyrus Short Hair
What is Miley Cyrus's haircut called?
Miley Cyrus revived the mullet style at the end of 2019. Now she's launching a new hybrid hairstyle into the stratosphere: the pixie mullet, or pullet, as it's known.
Is Miley Cyrus wearing a wig?
Miley Cyrus's hair is long and blond, and she is currently sane.Cyrus once revealed to Stern that her hair fetish dates back to her days on "Hannah Montana" when her character, Miley Stewart, would don a blond wig to turn into the pop singer.
Does Miley Cyrus dye her hair?
Miley Cyrus dyed and cut her hair to turn into Hannah Montana – Cue Nostalgia. Miley Cyrus magically combined the two worlds by dyeing her hair Hannah Montana blonde and even cutting her bangs…