When it comes to the question how to style short hair many women just come to the conclusion that it is all only about the cut since there are rarely any other ways of spicing their short manes up. If you are one of those who thinks in such a way – we are here to sort of disappoint you, cuts are very important, but there is still something else. The thing is that short hair does not mean the style limitation. There are lots of fancy hairdos to try out with your short locks, and we are going to prove it to you with the help of tutorial that we prepared. What is more, there is a list of trendy styling ideas to get your interested and inspired. Let's have a closer look, shall we?
Messy Long Pixie Hairstyle
Source: jenschmierer via Instagram
When you sport long pixie, the messier it is, the better! And if your hair is waved messily, it looks more alive and textured. Actually, this hairstyle won't take a lot of time. The only things you need are flat iron and hairspray. The point is to pick very little strands when curling, spraying each lock one by one. Once you finish waving your hair, don't forget to run your fingers through your waves to create a messy effect.
Cool Pixie With Undercut
Source: lilvolpe82 via Instagram
How about you to style your pixie to the side? The most flattering hairstyles are always the easiest, and this idea is the proof. A hair pomade will be enough to get such a cutie! Take a small amount of a product and apply it all over the top, styling it to the side. For straight hair, it's better to use a water-based pomade to add some shine and for better hold.
Icy Blonde Pixie Hairstyle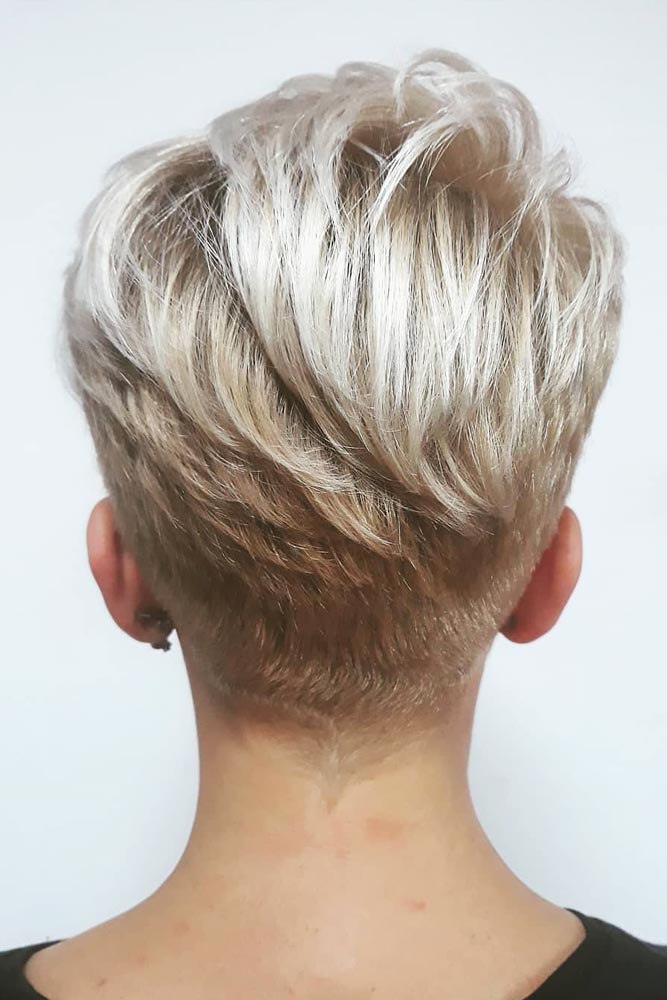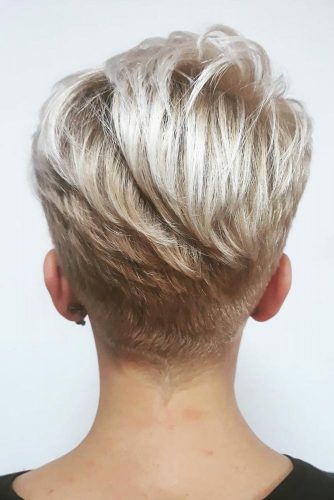 Source: belovajustfan via Instagram
Another good way to style your pixie is to brush the top to the back! Such a styling method will create a very voluminous, yet clean silhouette to your short hair. If you want to tame your fine locks, you should opt for lightweight thickening pomade to get a sleek and neat finish. Apply the product to the top and run your fingers towards the back, paying attention to each layer.
How To: Style A Short Bob

Source: Milabu
Want your short bob to look well-groomed? See how you can give a tone of volume to your hair with a curling iron.
Section off the top layer of your hair and clip it.
Take your iron, wrap it around very gently, going away from your face. Make sure that the iron is facing the front.
Put the clipped section down and separate the mohawk area, and style the second layer in the same way.
To volume up the crown, take some crown sections and curl them slightly.
Finish your hairstyle by clipping the front locks at the very edge and curling them away from your face. P.S. Don't forget about heat protectants and hairspray!
How To: Messy Bob Hairstyle

Source: LustreLux
Start with clean, fresh blow-dried hair. For better effect, use apply some volumizing spray on your roots, sectioning your hair and spreading the product layer by layer.
Section off the top layer to start curling the sides.
Going from the very roots, take a strand and bend it. Then, come down and do it again.
Once you finish the side, clip the opposite one and repeat the previous steps.
Take off the clip, and bend the rest of your hair.
Voila! Give it some coats of hairspray.
Braided Half Up Hairstyle For Short Hair

Source: Milabu
Braided hair styles for short hair are fun and easy not to mention cute. See for yourself!
Split your hair in half.
Grab a section of hair on your side and start a French braid.
Keep French-braiding till you reach the back of your head.
Secure the braid at the back with a transparent elastic band.
Repeat the procedure on the other side.
Interlope the braids at the back so that the solid braided halo crown is created.
Secure all that is necessary with bobby pins, and you are ready!
Faux Bun Hairstyle

Source: Milabu
With your hair down, gather the top section into a small pony on the back of your head.
Secure the pony with an elastic and while wrapping the elastic for the third time, pull only the half of your hair through.
Divide the rest of your hair into two sections and repeat the procedure so that you end up with a triangle in the back.
To hide away the elastics, grab little sections of hair and wrap them around each one of the elastics, secure the sections with mini bobby pins.
Connect all the three sections with the help of mini bobby pins so that they form one, big bun.
Wet To Dry Styling

Source: Chloe Brown
Have you found your perfect way to blow dry your pixie? Whatever your answer is, you will find this tutorial super useful.
Before styling your wet hair, spritz it with a detangler and brush your hair thoroughly.
Blow-dry your locks until they're damp and go on to sectioning.
Clip the top portion of your hair.
Then, take a small round brush and start blow-drying one of the sides, holding a brush in one hand, and a dryer in the other.
Once the side is ready, repeat the same step with the other side.
For extra volume, don't release all the hair from the clipped section at once. Instead, start releasing this section by thin layers, blow-drying them one by one.
Distribute the hair from the clipped portion evenly to the sides and crown to make every single lock voluminous.
When your hair is dry and ready, clip the front and give your sides and crown some definition with just one pass of a flat iron.
Then, repeat the same step with the front sections.
For a super voluminous finish, give some more passes of a flat iron to the hair that is close to the hairline.
Straight Short Hair
Source: rochellegoldenhairstylist via Instagram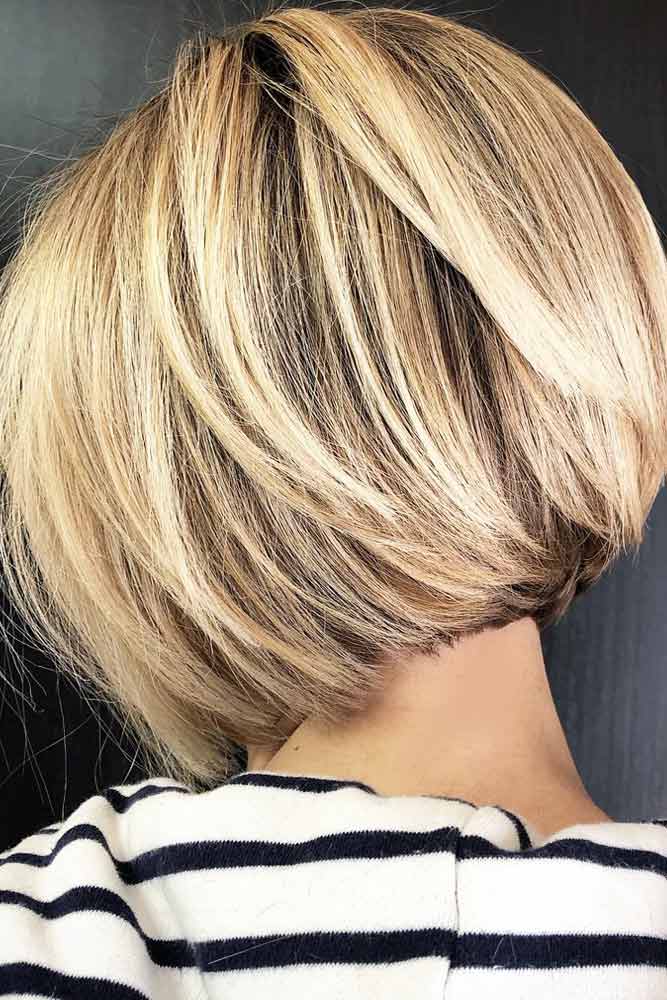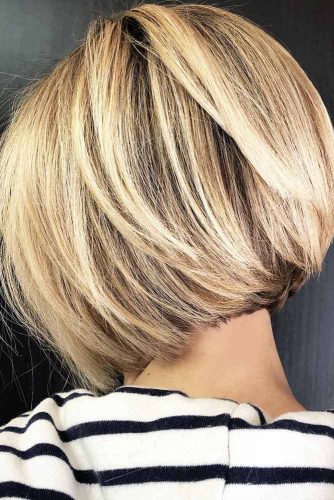 Straight and short hair styles are trendy these days. Aside from the fact that they are easy to maintain you may be surprised by the versatility they come it. What is more, short and straight styles can be styled differently depending on your hair texture. In case you wish to add some more volume and dimension to your mane, the choppy, asymmetrical cut is undoubtedly what you are looking for. But when there is too much volume you can easily get rid of it with the help of a piecy pixie and an undercut. If neither suits you – the sleek A-bob will not go unnoticed by you, there is no way there is anything better to suit a bold but elegant nature of yours!
Wavy Short Hair
Source: adrianna.christina via Instagram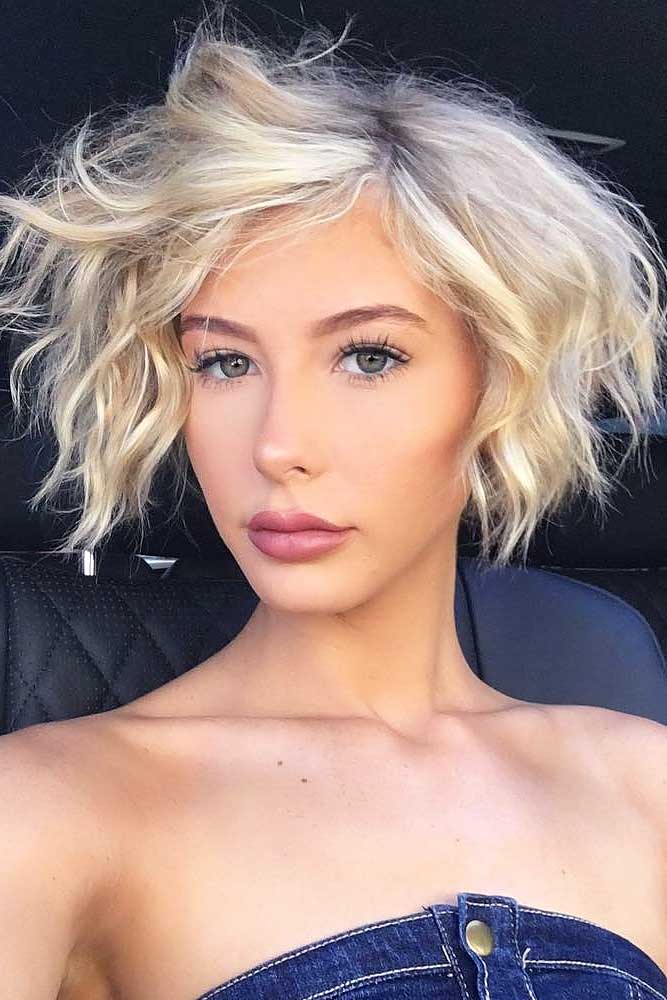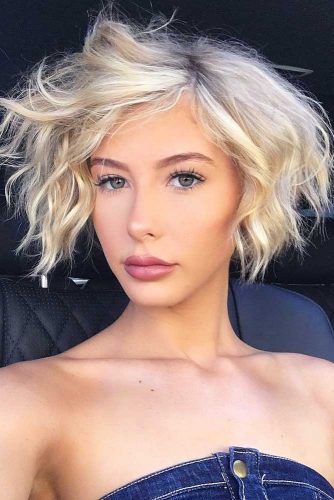 It is often considered that going all in with waves is a suicide mission because there is no way you will be able to tame that short, wavy mane of yours. While the truth is, if you opt for a proper cut then there is nothing to be afraid of. But there is one more thing, short or long the hair to introduce waves into should be well-cared. The better is your hair care; the easier will be the styling. When you think of short haircuts that go well with waves the first one that comes to mind is a bob cut. It is true the combination of waves and bobs seems to have been made in heaven! Light waves, sleek or messy – they all look exceptionally great with short bobs. Even if you naturally have straight locks, you will still be able to pull off this hairstyle by learning how to curl short hair.
Messy Short Hair
Source: ellina.modenova via Instagram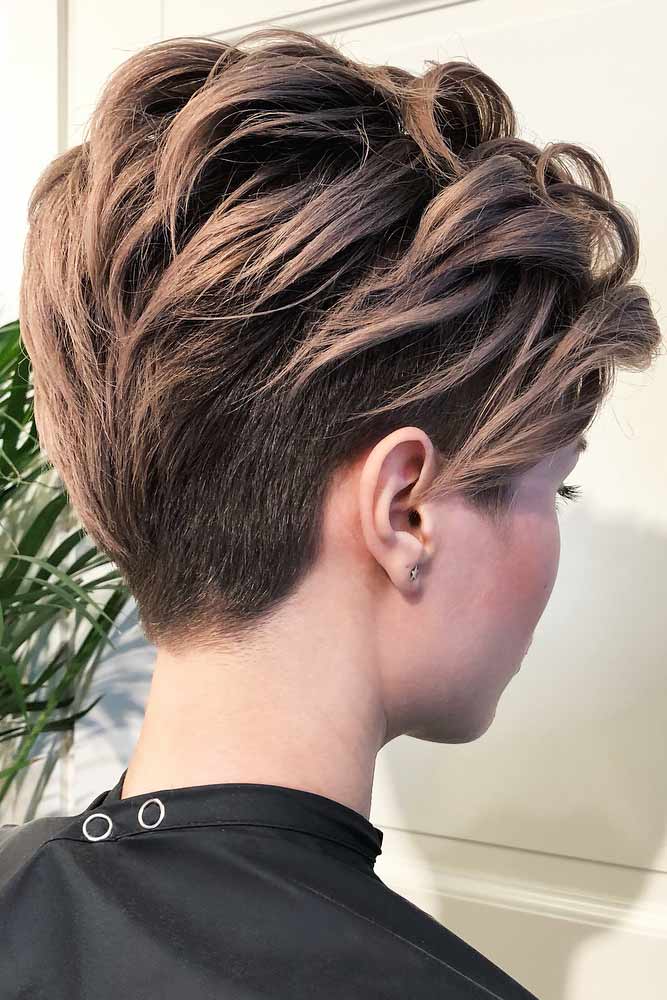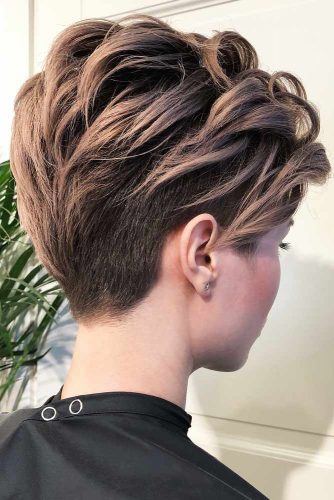 Trendy girls choose messy cuts that is the truth. The thing is that aside from the fact that you can easily roll out of bed and look like you have been styling your hair for hours to achieve that look, there is something else. Due to that relaxed and fun vibe that short messy cuts carry it will be not that easy to dissimilate with the crowd. No matter which is your number one preference: pixie or bob, once there are some messy layers involved you will be the center of attention. To get even further – try experimenting with color, rusty hues are ion the edge!
Curly Short Hair
Source: wednesdaytomorrowbird via Instagram, aiyanaalewis via Instagram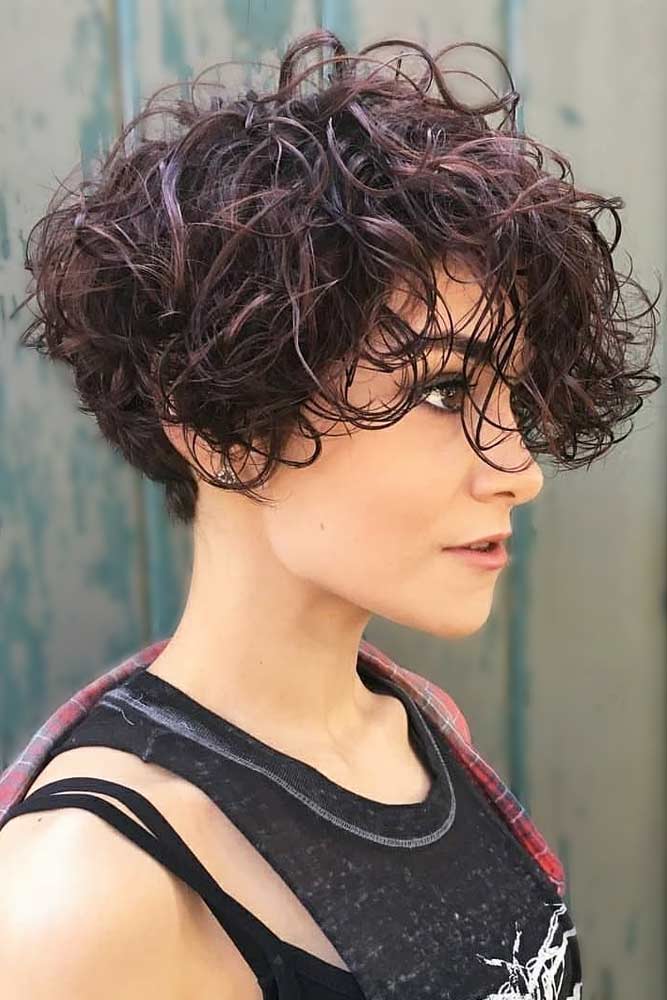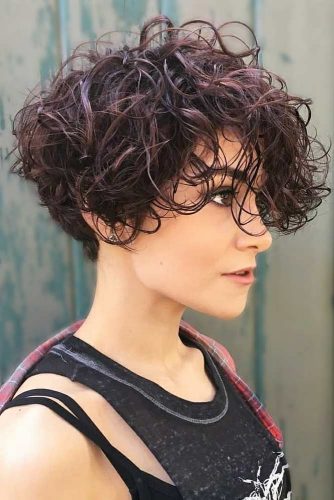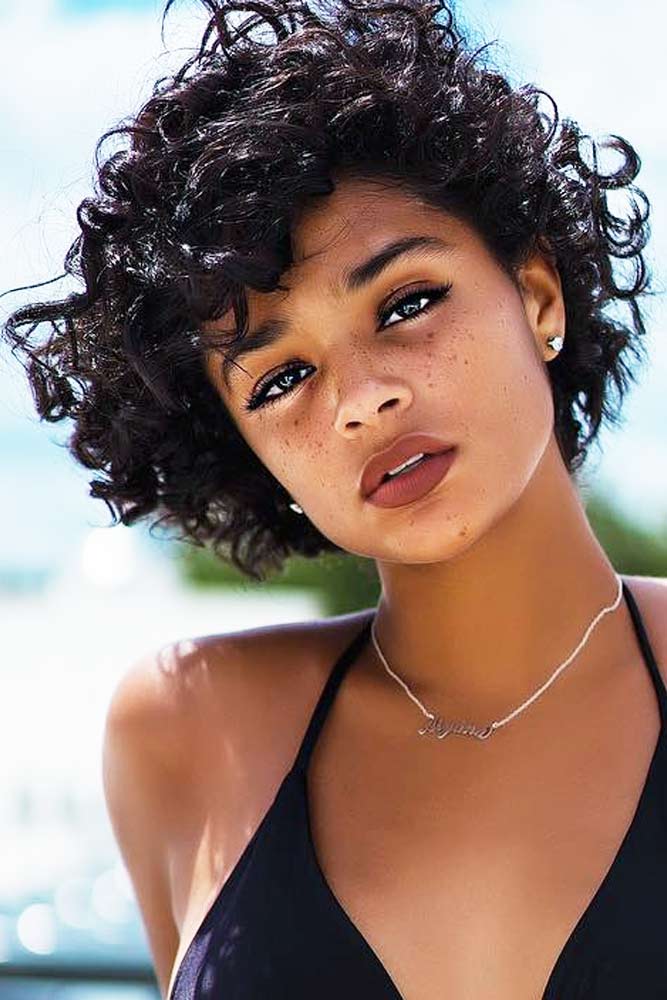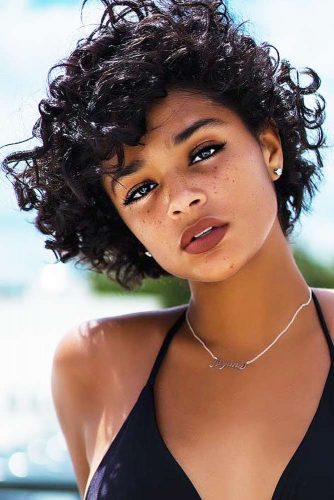 For a long time, it has been considered that a combination of short haircuts and curly hair is non-existing. That influences the choices of many curly-haired beauties, due to the fear of looking bad they have been avoiding short cuts for ages. The time has come! The hair fashion proves that the mix of natural curls and short haircuts is divine, there is so much you can pull off with the help of this union. Curly bobs look extremely sweet and feminine, you can use it to bring a girly side out, but in order to stay a little edgy and no tot spend too much time on fixing your hair – going as short as possible is an excellent and stylish way out. Think about it!
FAQ: How To Style Short Hair
How can I style my short hair in the morning?
Wetting your scalp and/or ends is like pressing the "restart" button in the morning.
Use a pomade or a mousse, or
To keep the combed hair in order, wrap a bandana around your head.
Wear layered haircuts.
How do I make my hair look short?
Make a ponytail or a bun with your hair. Allow the shorter hair layers to hang loose to create a short look, while pulling the longer hair back and out of the way. In this way your hair will look shorter from the front.
How do you make short hair fluffy?
Apply foam or another styling product to the roots immediately after washing. Put your head down and dry your hair with a stream of air directed against the hair. The first step in making your hair fluffy is to wash it properly, so, choose the right shampoos and thickening balsams for your hair type.