It's no secret that Jennifer Aniston hair has taken its own place in the history of the women's fashion world. It seems like there's no a person who didn't catch the "Rachel" thing, as, needless to say, this hairdo simply gave life to new hair styling epoch. Alongside this epic style, the everyone's favorite celebrity has always been pulling off cuts and styles that sooner or later turned to trends. And today you are going to meet the most impressive hair ideas created by professional stylists and rocked by the fantastic actress. Check them out to get inspired for your next salon appointment!
Center-Parted Layered Hairstyle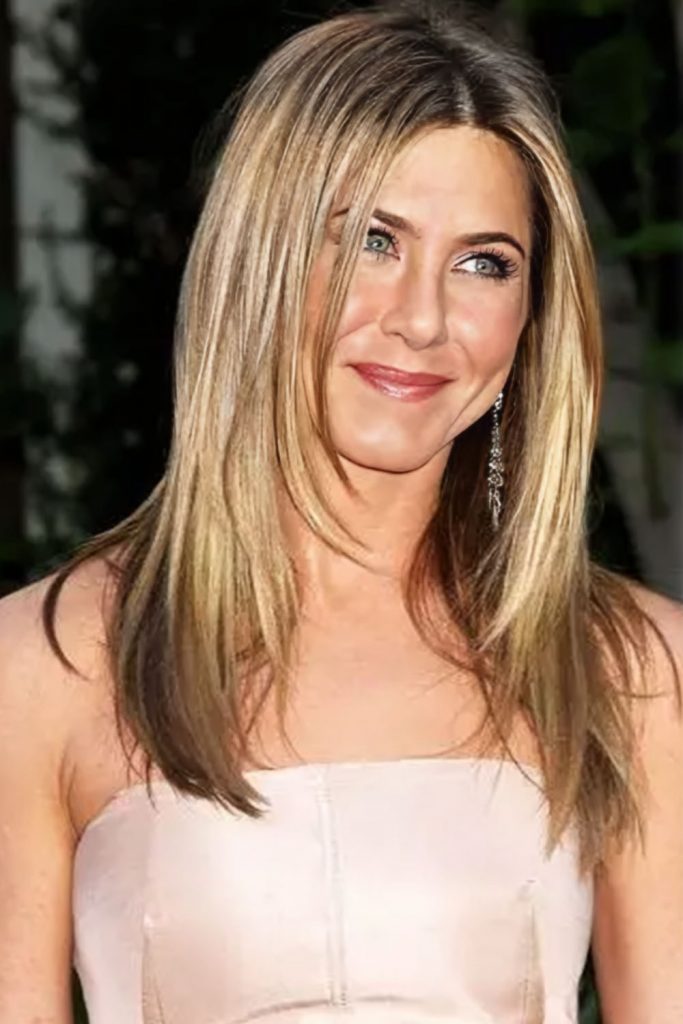 Source: Kathy Hutchins/Shutterstock
While making a huge statement in the beauty industry, the celeb couldn't stand the attention-grabbing Jennifer Aniston friends hair dancing on everyone's lips. In real life, she preferred subtle layers that run through the whole length, framing her pointed face and adding tons of volume.
Messy Waves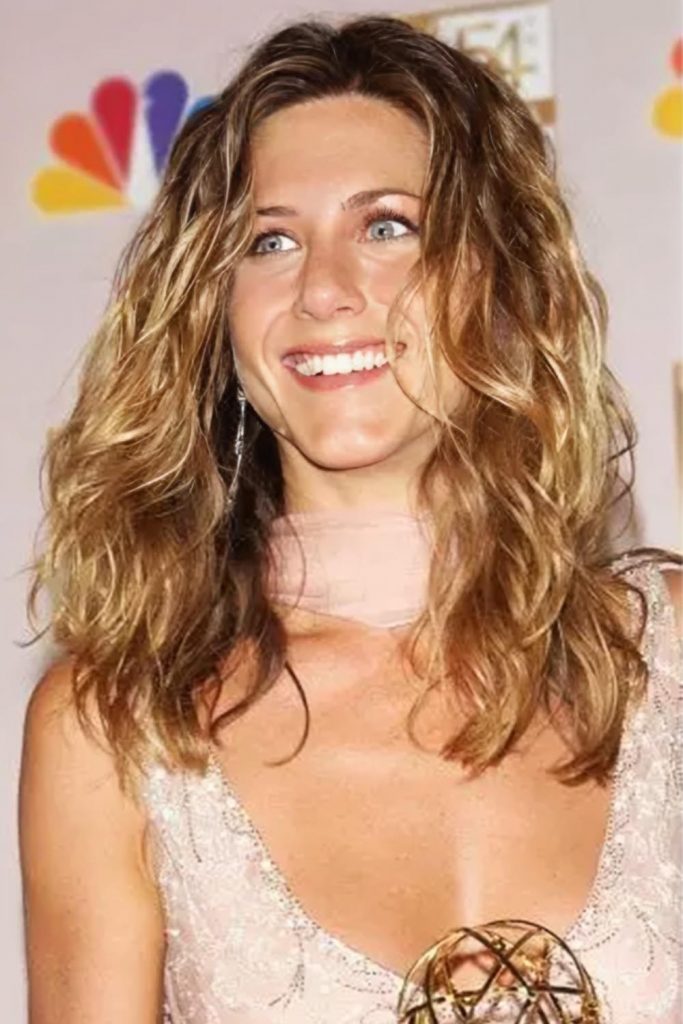 Source: Featureflash Photo Agency/Shutterstock
Another good way to make volume fill the space was getting an effortless, layered hairstyle for Jen's layered locks. In this red-carpet look, she demonstrated how the pure simplicity and a sense of naturalness can steal the show at Emmy Awards.
Sleek Shoulder Length Bob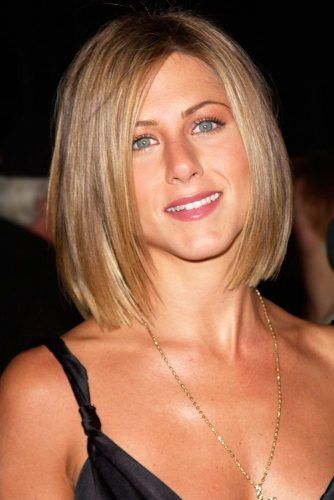 Source: Featureflash Photo Agency/Shutterstock
Remember this blunt-bob breakthrough made when Jennifer Aniston short hair look showed up? Sleek, polished, and short; not only did this hot combination accentuated her outfit but also showcased the best features of her face, giving it a slight frame.
Updo With Long Bang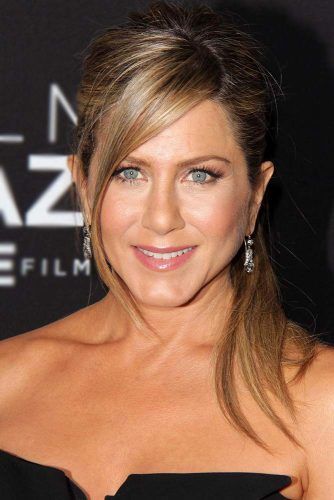 Source: Kathy Hutchins/Shutterstock
As for updos, Jennifer's stylists always stick to chic minimalism. That's because the actress has very eminent facial features that can be overlapped by complicated styles. In this way, she showed up with an absolutely gorgeous low pony updo, finished with long bangs that enhanced her beauty.
Long Layered Bang With Middle Part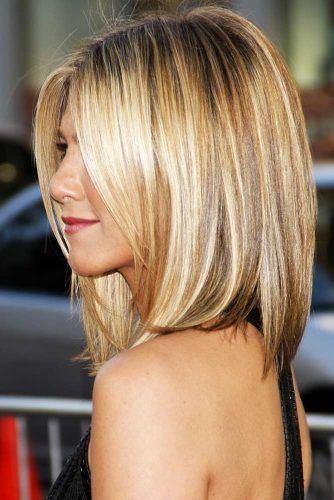 Source: Tinseltown/Shutterstock
She's changed over 40 looks and images throughout her career. Yet, there is one constant thing in her beauty transformation's history: Jennifer Aniston hair color. Here she shows off her beautiful highlighted blonde. To make it big, she spiced up her bangs with layers, creating a perfect blend.
Long Wavy Layers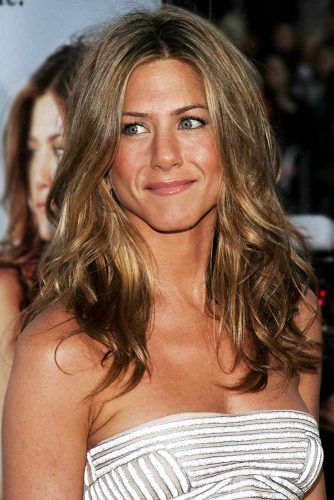 Source: Tinseltown/Shutterstock
Jen was the one who personified layers: the actress never leaves her hairdresser without them. And she's so right! This layered wavy look is living proof for the power of the layering technique as her waves are alive, voluminous, and full of movement. Such a youthful and energetic look is one of the best
medium length haircuts for women over 50
.
Edgy Lob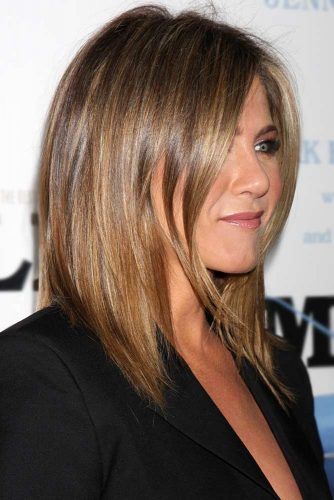 Source: Kathy Hutchins/Shutterstock
Though this
medium length hairstyle
requires regular upkeep, Jennifer finds it to be the most flattering idea for her. After changing lots of styles and lengths, the lob is still the look she loves to come back to. The edgy layers keep her mane shiny and fresh while showing her face from the most winning angle.
Long Beachy Waves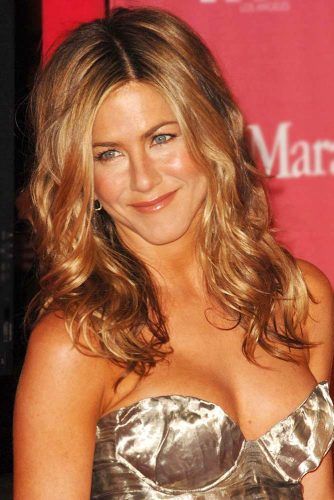 Source: s_bukley/Shutterstock
As for Jennifer Aniston long hair looks, there are plenty of styles to get inspired by. These long beachy waves are probably the most prominent idea that we recommend you to recreate for some special occasions. A
middle part
lets the waves fall evenly on her shoulders while lifted layers give a posh, elegant silhouette.
Deep Side Part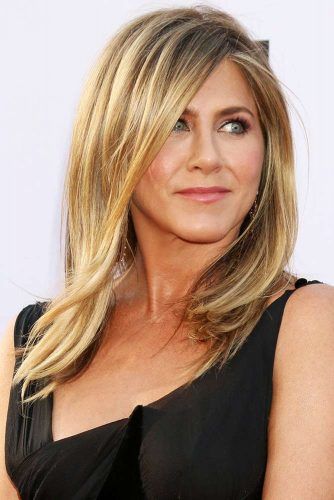 Source: Kathy Hutchins/Shutterstock
Here's a nice way to play around with layered hair and make it fit an official style. Everything is super simple about the look, yet, it nicely complements the restrained, sophisticated look. Jen chose to go for a deep side part which, in its turn, changed the mode of her layered silhouette to exquisite one.
High Bun With Bang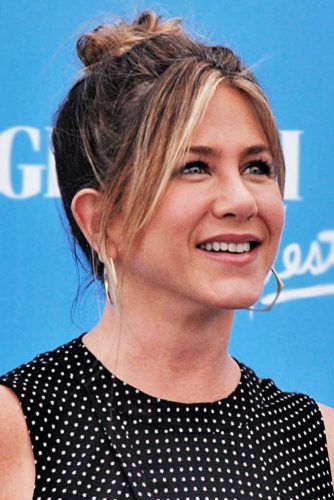 Source: GIO_LE/Shutterstock
Yes, Jennifer Aniston is one of the few celebrities who know how to make an easy hairstyle a style to remember. A bit messy high bun takes less than ten minutes to get it done, but with the right approach, it can work not only for casual looks. And the key to looking that gorgeous are bangs that do the awesome framing. The Rachel hairstyle was a thing that took over the whole world, but it's not the only glorious style worn by the iconic actress. And today you've seen the most remarkable proofs! This lady knows how to be beautiful from all angles, that's for sure. So why don't you steal one of these Jennifer Aniston hair styles to get yourself an outstanding hair look once and for all?
FAQ: Jennifer Aniston Hair
What does Jennifer Aniston do to her hair?
For smooth, healthy strands, Aniston uses an anti-frizz shampoo, a monthly scalp treatment to remove build-up, and weekly deep conditioning products that can be found online.
What is Jennifer Aniston's hair cut called?
Jennifer Aniston's long layered hair with highlights, or her renowned Bob cut from the 'Friends', widely called the 'Rachel' come to mind when we think of her. For a long time, these two classic haircuts have served as a source of inspiration, with the 'Rachel' bob being one of the most imitated haircuts of the 1990s.
What is Jennifer Aniston's face shape?
Square-faced ladies often have large chins and strong jaw lines. When Aniston's hair is entirely lifted off her face, the eye is quickly brought to the most prominent feature of her face – the chin.
Was this article helpful?