Apart from jumping from one role to another, Jennifer Lawrence hair has learned how to play by its own rules in the world of beauty. There's a simple way to understand how fashionable she is when it comes to style changes: her taste is as good as her acting. Even if you haven't seen her play, the way she plays around with her hair is something that can tell everything you need to know: that girl knows how to keep up with trends and look unique. The actress has changed many styles and images; she's tried everything from natural and girly to sassy and outrageous. And today you are going to check out the most astonishing ideas that modern magazines and cameras have ever captured.
Chic & Hot Pixie Cut
This Jennifer Lawrence short hair cut made an unbelievable visual impact when it first showed up in the public. The bold, choppy move turned out to be a success in its own way. People who were used to seeing the actress with bobs and lobs simply forgot how to breathe. This pixie was just so statement-making. Moreover, JLaw decided to pair it with feminine outfits, totally confusing everyone around. "What is she up to?," they thought. In fact, she was up to show how different she could be. To enhance the effect, she got her hair styled messy, crushing all the stereotypes.
Source: Jaguar PS/Shutterstock
Platinum Side-Parted Bob
Jennifer Lawrence natural hair color changed lots of appearances. Of course, it didn't stay away from trendy ideas that were popular all around the globe. So when JLaw decided to get closer to the world of trends, she went for stunning platinum blonde. Who would've thought that such a color change would be enough to show up the beauty of the actress in the new light? She rocked the face-flattering color with a side-parted lob, which looked versatile and distinctive at the same time.
Source: Twocoms/Shutterstock
mp; Side Parted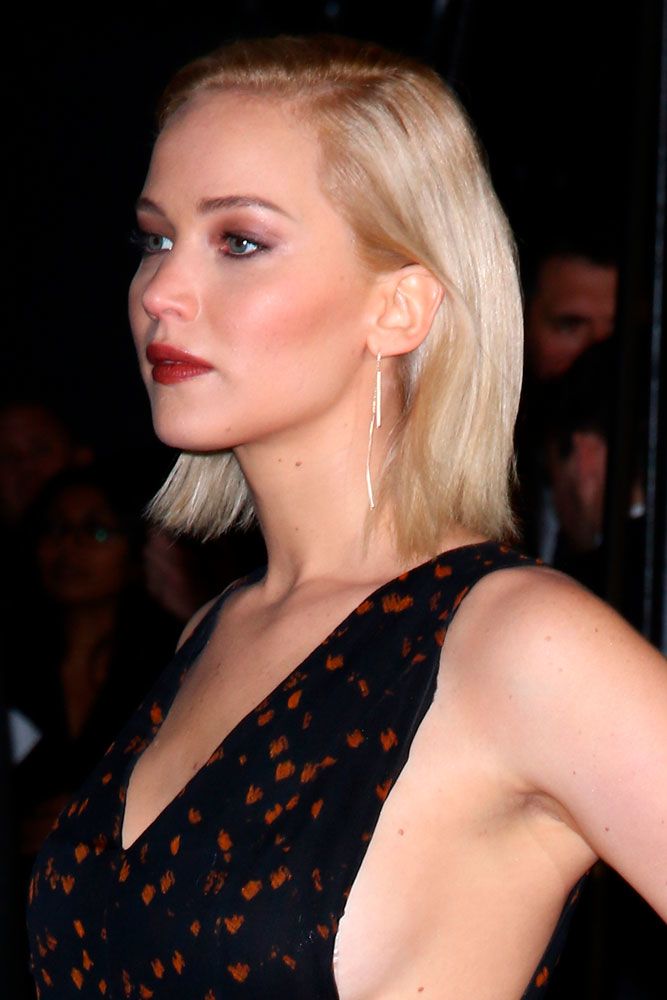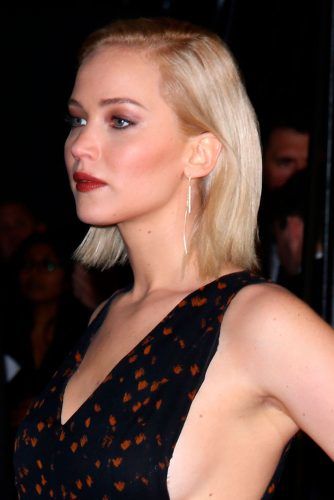 Hairstylists who cut Jennifer Lawrence hair short knew what they were doing, no doubts. Not only did her simple bob perfectly suit her face shape but also give her a lot of styling freedom. And when she was about to go simple but sexy, she styled her hair sleek, sticking to the side part that nicely accentuated her face.
Source: Twocoms/Shutterstock
Long Swept-Back Pixie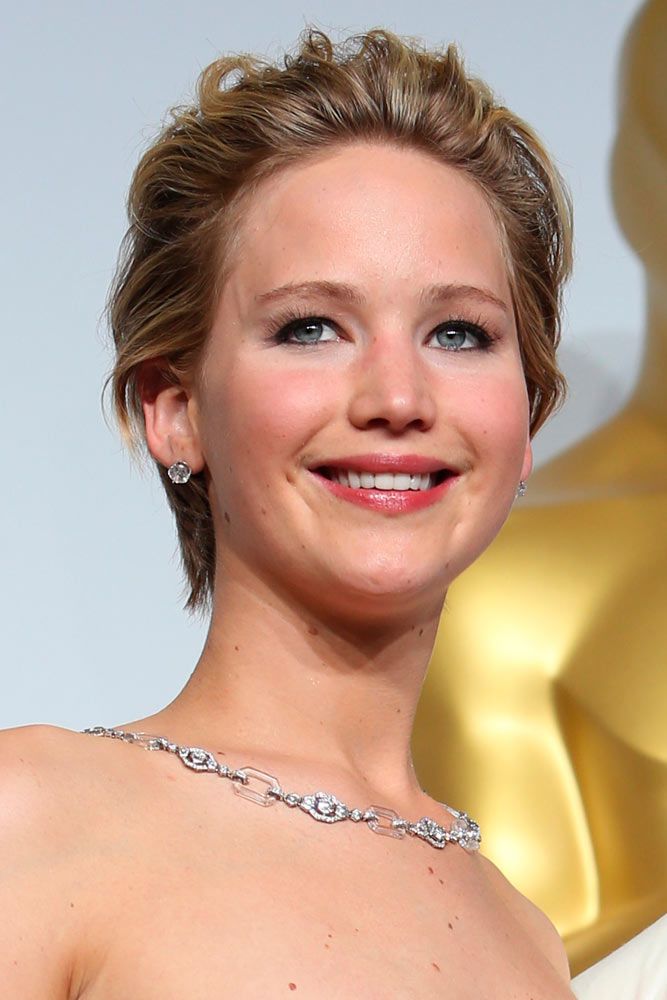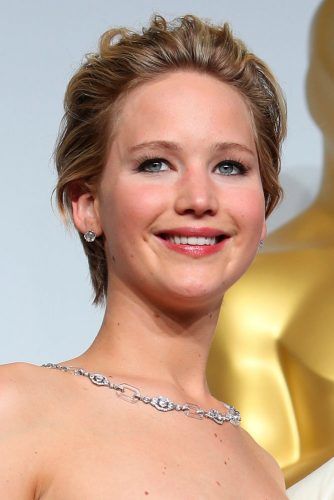 Before sporting those refined Jennifer Lawrence short hair bob ideas, she did well experimenting with her grown-out pixie. Do you know how to build volume in a couple of minutes? Just steal a JLaws look. Don't worry: stylish crimes aren't against the law! Here she reveals the full potential of her pixie by sweeping her hair to the back and securing the style with an effortless, no-shine product.
Source: Kathy Hutchins/Shutterstock
Straight & Center-Parted Lob Style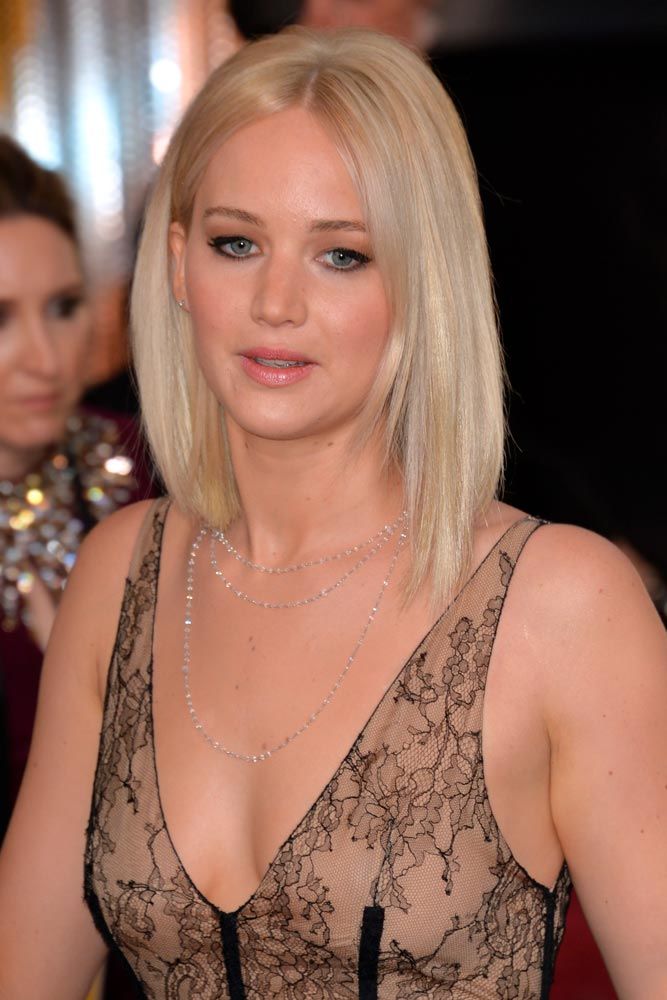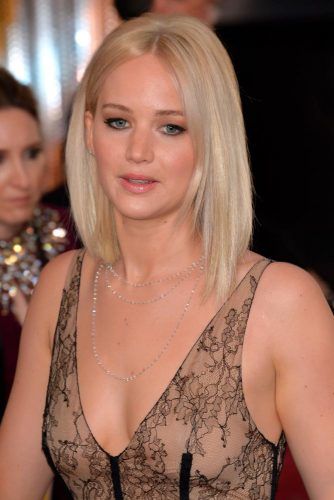 Jennifer Lawrence short
blonde hair
appeared with many different and attention-grabbing hairstyles. And this straight bob is somehow considered the most beautiful idea. The main reason for that lies in the way the simplicity reaches perfection. There's nothing super complicated about the style, yet, the perfectly sleek body finished with a face-framing center part makes the whole look flawless.
Source: Featureflash Photo Agency/Shutterstock
Romantic Updo Hairstyle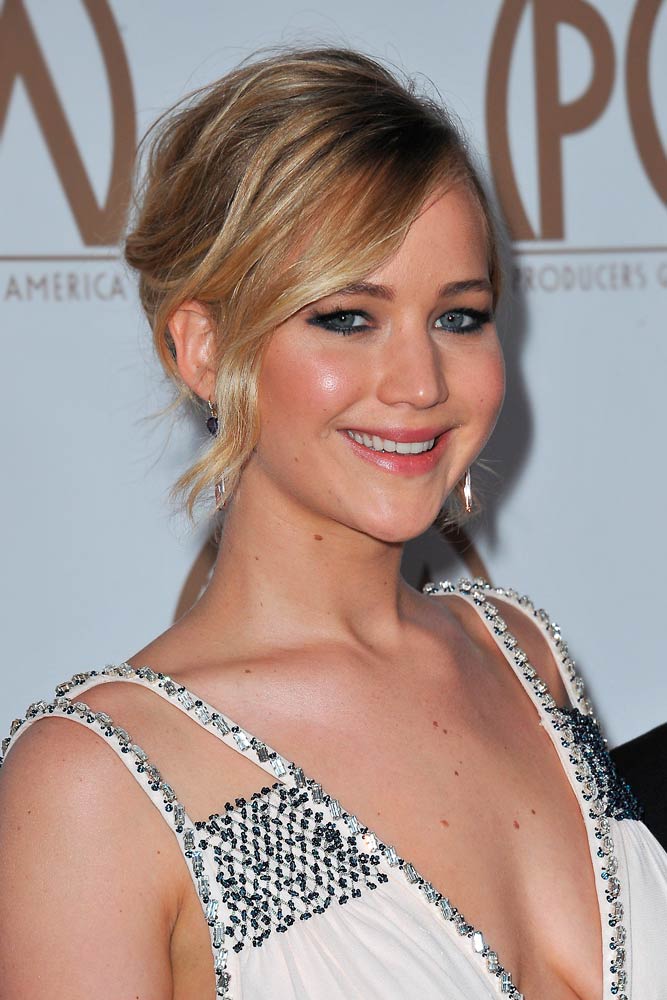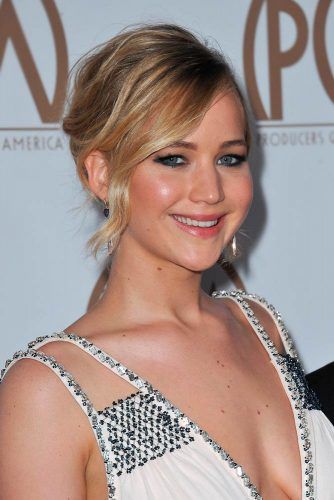 When Jennifer Lawrence long hair was replaced with a medium length bob, the actress started to demonstrate lots of stylish and simple ways to wear elegant updos. Remember Jennifer Lawrence Oscars hair updo? It's still to die for. As for this slightly wavy updo, it's nothing but a five-minute job, yet, the fact that it gets the most out of her appearance is worth everything. The side part gives a nice framing touch to her face while the waves give a naturally full silhouette to her hair.
Source: Featureflash Photo Agency/Shutterstock
Windswept Waves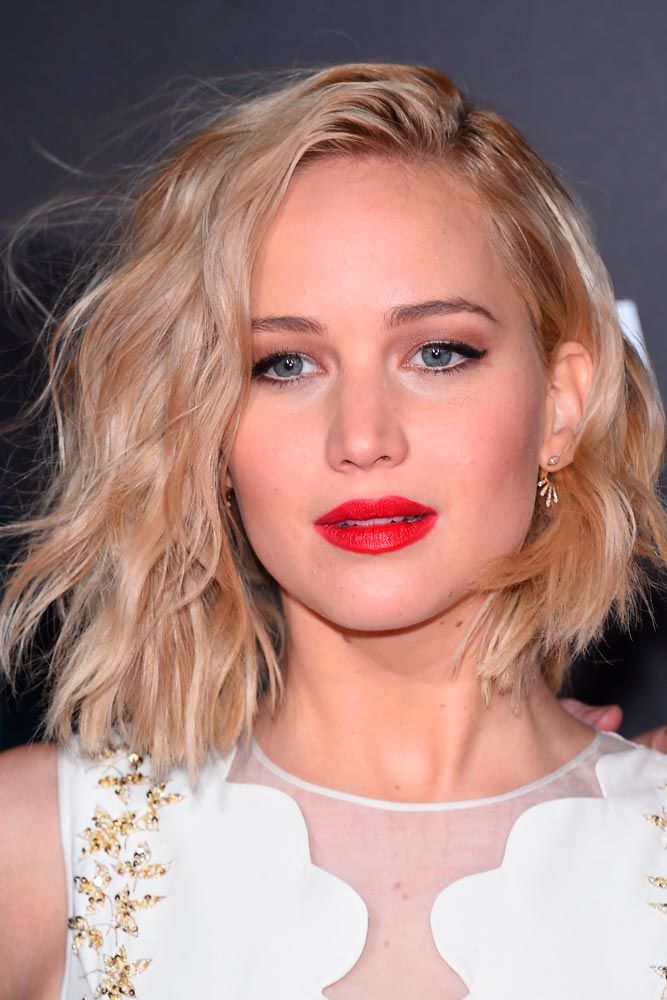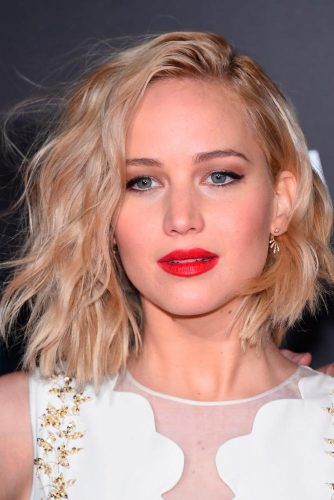 There's no better stylist than wind. And modern hairstylists know that. They kept it in mind when they were working on Jennifer Lawrence hair in Passengers. Organic movement, tons of volume, and effortless texture are three amazing features that make this look ageless. Apparently, the movie wouldn't become that popular without this hair masterpiece. Well, not for nothing: it makes her look even more attractive.
Source: DFree/Shutterstock
Black & Messy Updo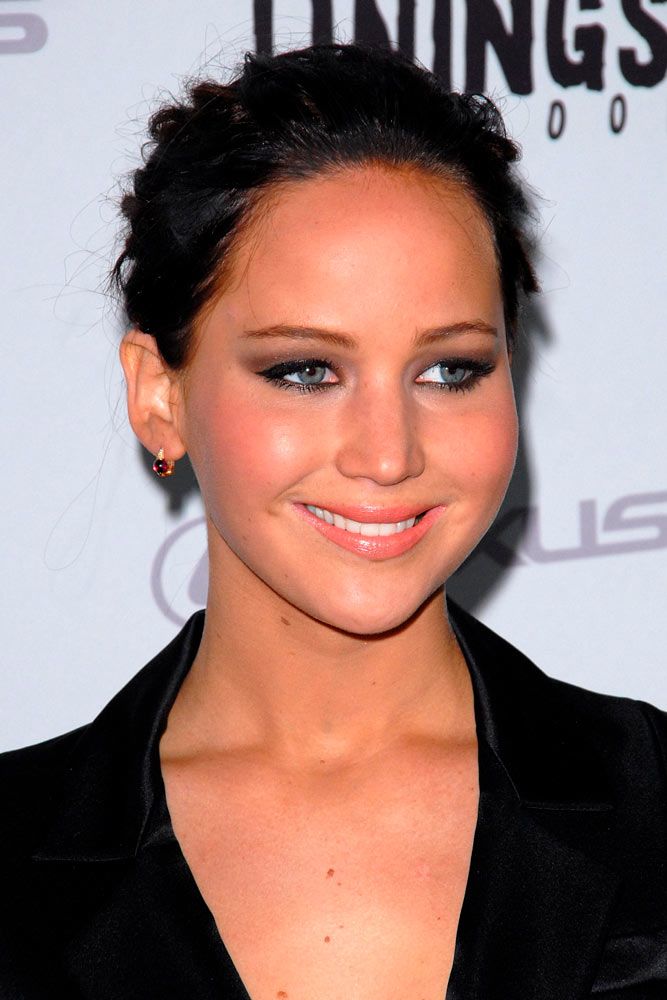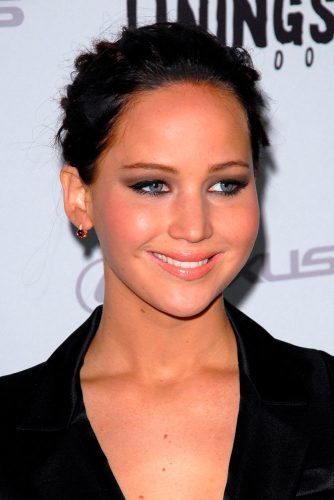 Here comes something that made as much of a breakthrough as Jennifer Lawrence Passengers hair. As we've told you already, the actress's hair color changes with the weather. And while Jennifer Lawrence brown hair was a surprise to her fans, the moment she showed up with black hair shocked everyone. It was shocking not only because of the daring change: it just was hard to realize that there was no unsuitable color for her. This Jennifer Lawrence black hair messy updo is a look to copy for two reasons: it's simple and significant.
Source: Kathy Hutchins/Shutterstock
Layered Hair With Bangs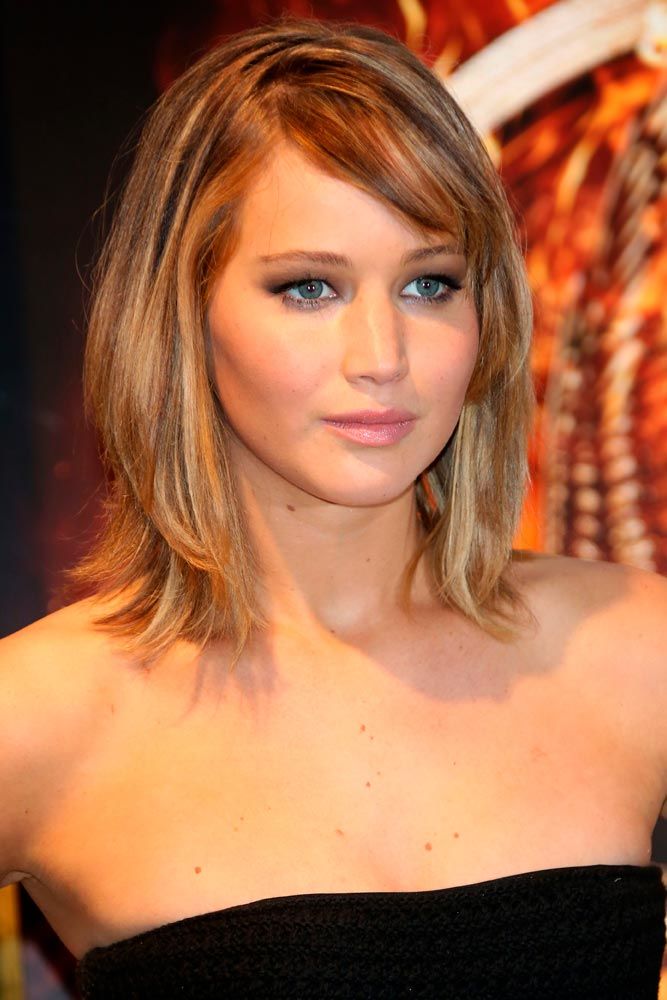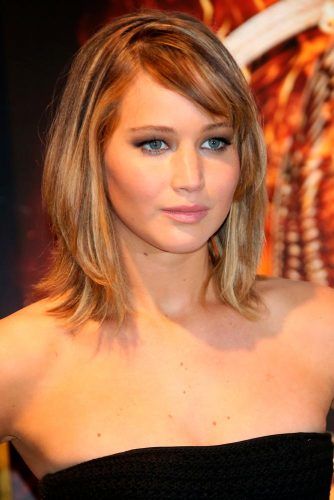 JLaw just loves to finish her
longer hairstyles with bangs
. Even though her face shape is absolutely well-balanced, a little framing touch won't hurt. With the help of a fringe, she spiced up her facial features, making them appear edgier. This layered look is a nice example: the layers build the volume in her hair and the fringe accentuates her face shape.
Source: Featureflash Photo Agency/Shutterstock
Medium Lob With Face-Framing Locks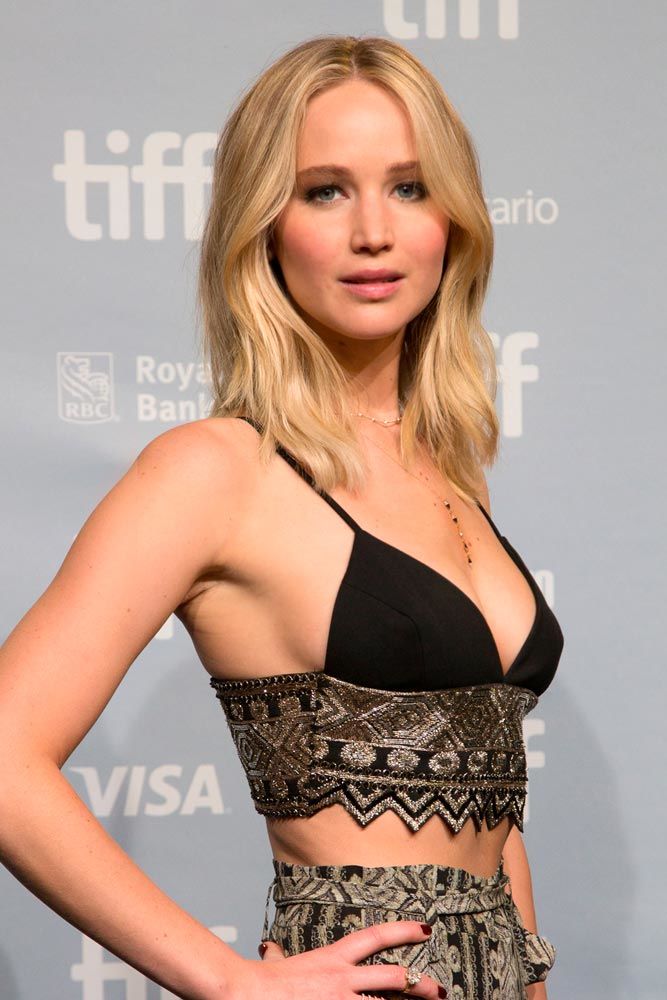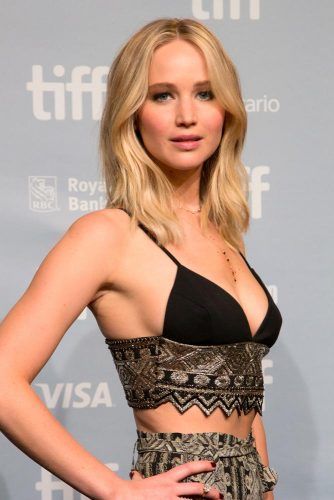 Every time a Jennifer Lawrence new hair look pops up, it leaves a never-ending trace in one's memory. And this center-parted, a bit wavy bob worked in the same way. Her grown-out fringe transformed into a canvas for fascinating face-framing styling. Another thing that made the look so big is the soft transition of shades, where her roots are left dark.
Source: Trina Stewart/Shutterstock
Whatever hair experiment JLaw is about to bring to life is undoubtedly going to be a success. All Jennifer Lawrence hairstyles and haircuts you've seen today show that the key to being on point is expressing confidence. So if you're wondering how to make your haircut better, make sure to follow her style! P.S. today's Jennifer Lawrence hair colors are also a good base for experiments.
FAQ: Jennifer Lawrence Short Hair
What type of hair does Jennifer Lawrence have?
During her career, Jennifer Lawrence has worn a variety of hair colors and styles. However, you might be surprised to learn that her natural hair color is blond.
What face shape is Jennifer Lawrence?
A hair design that will undoubtedly flatter your features if you have an oval face like Jennifer Lawrence is a shoulder-length cut with small layers. You can style your hair however you choose, but smooth waves like Jennifer's tend to round out your oval face rather than elongate it.
Why did Jennifer Lawrence get a pixie cut?
The Reason is actually quite simple…As Jennifer Lawrence mentioned in one of her interviews, her hair had grown to an awkward, disgusting length, and she had to put it back in a bun, thinking "I don't want this anymore…", and she just cut it off.