It's quite hard not to notice that Taylor Swift hair knows how to show what a dynamic character she is. Even despite her eternal love of those bangs, which she's actually personalized, the singer is never afraid of style changes. And, most importantly, whatever changes she goes for always turn out to be an enviable success. We've collected the most prominent hair looks of everyone's favorite celebrity as her hairstyles are nothing but a role model for modern women! Check them out and get inspired for your own style transformation.
Choppy Bob With Bangs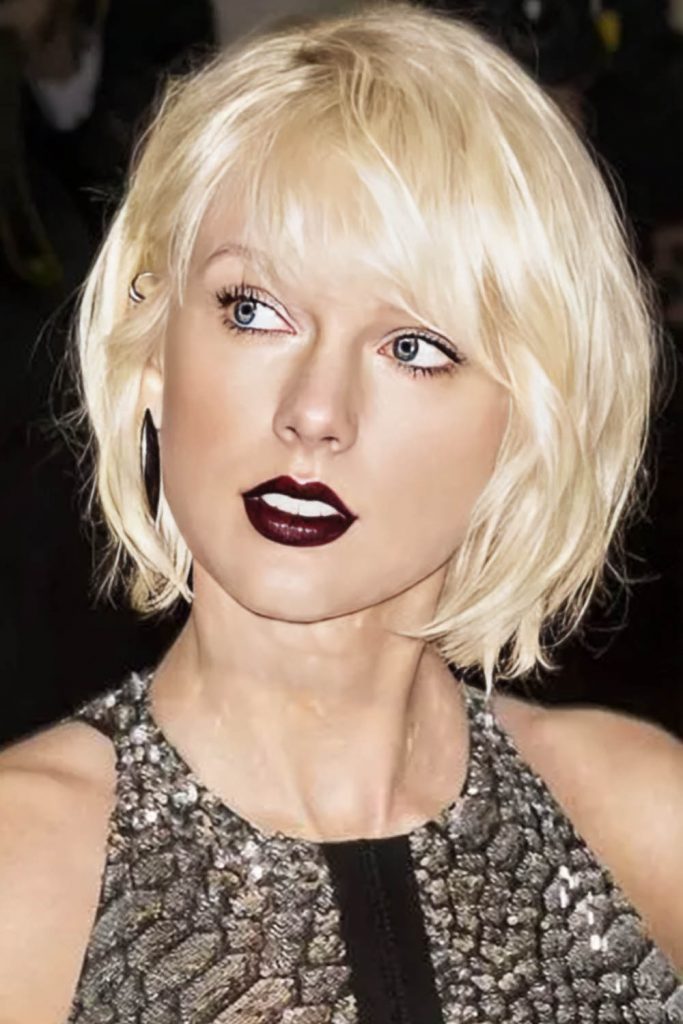 Source: Ovidiu Hrubaru/Shutterstock
The bright and loud Coachella prepared lots of surprises for music lovers, and Taylor Swift bleached hair is one of them. Taylor decided to pair her brand new, sassy color with an airy short bob: its choppy layers gave a lot of movement to her locks, making the new shade chic and authentic.
Low Side Ponytail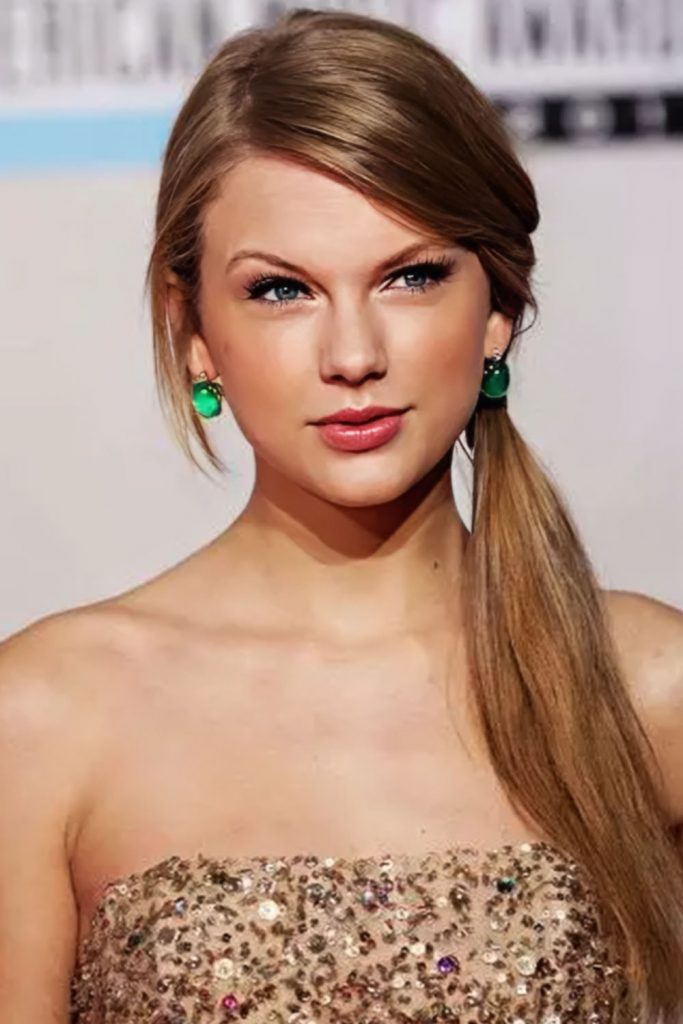 Source: DFree/Shutterstock
Now, let's get back to long-haired Taylor from 2011. Here she chose to go pretty simple, yet, she still knew how to make the most out of a familiar hairstyle. The pony is styled to the side to add more boost to the crown. And even though her long fringe doesn't fall on her face, it nicely frames her forehead.
French Twist Updo With Bangs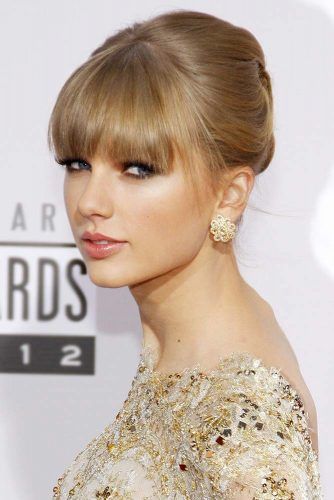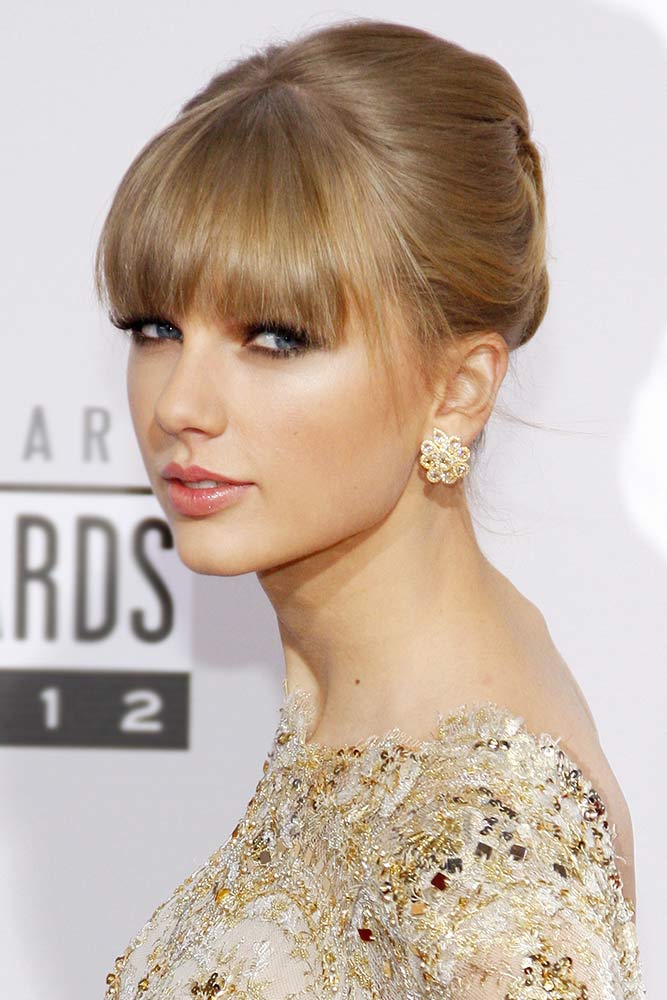 Source: Tinseltown/Shutterstock
Taylor Swift updo hairstyles are all about simplicity and femininity combined together perfectly. To make her gentle French twist unique, she left her favorite bangs to hit her eyebrows. In this way, she diversified the classic while making it flatter her face shape.
Long Style With Full Fringe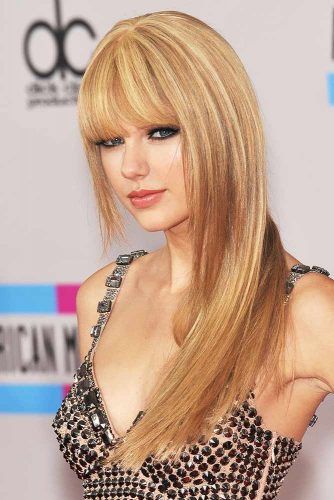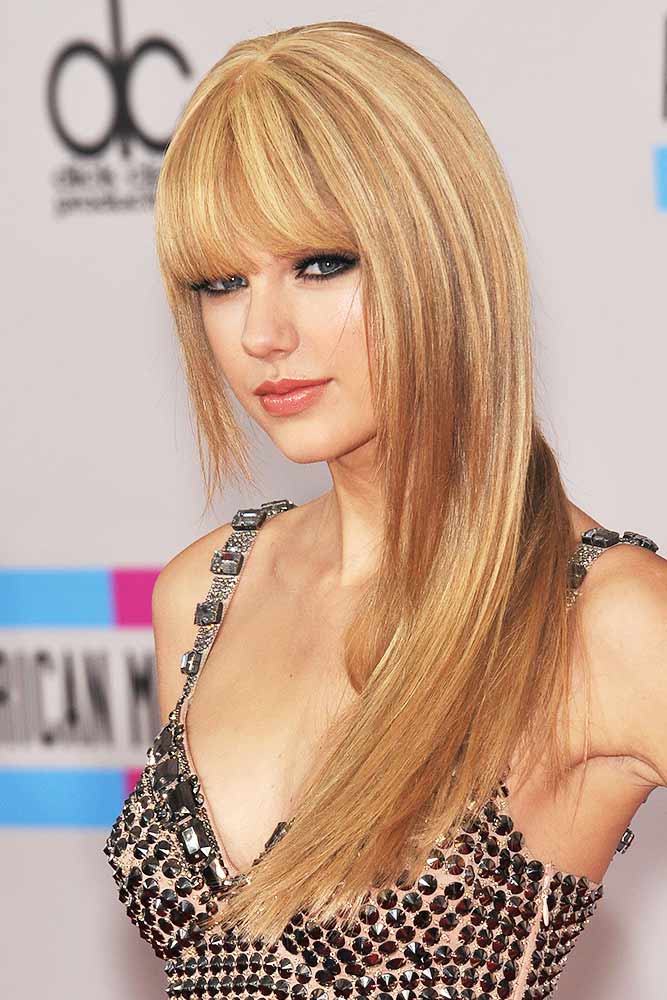 Source: Featureflash Photo Agency/Shutterstock
The effortless and shiny wheat-like Taylor Swift hair color has changed a lot throughout her career. Yet, in most cases, she stayed loyal to her natural tone. This voluminous, perfectly straight hairstyle with a full fringe not only shows off the beauty of her hair but also lets the added accents enliven her look.
Updo With Headband Braids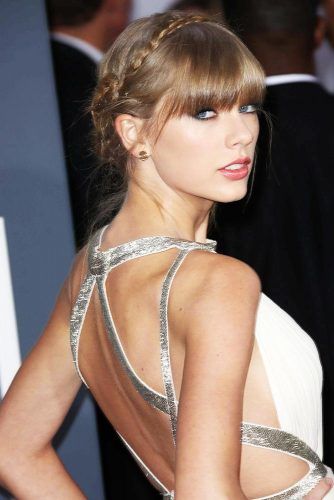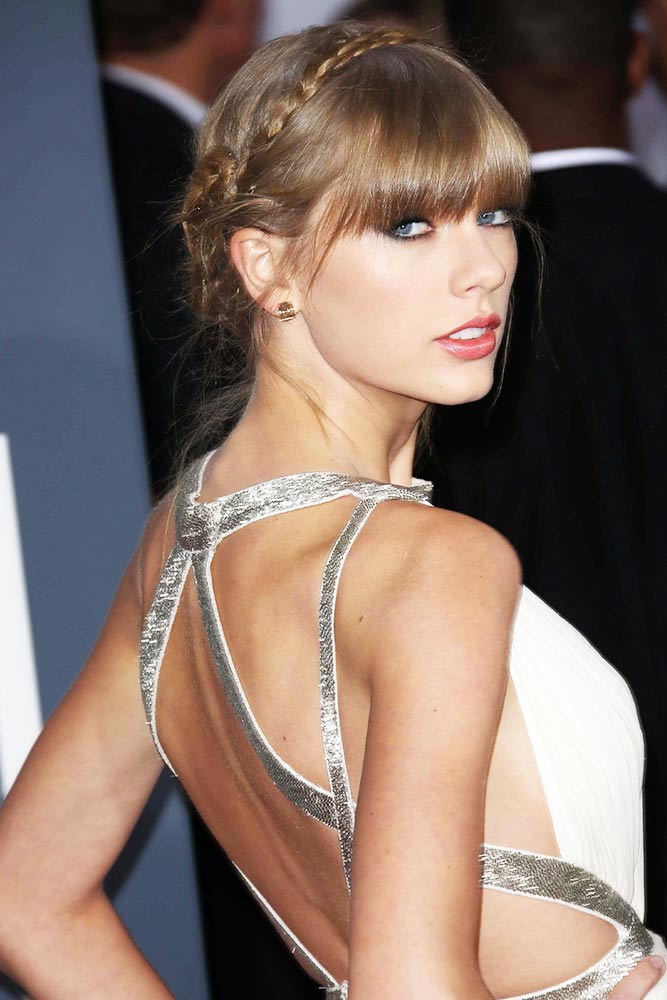 Source: s_bukley/Shutterstock
For Taylor Swift short hair has never been an obstacle to wearing lovely updos! Milkmaid braids, halo braids, and headband braids are her favorite hairstyles when she is about to go delicate and playful while keeping up with her short to medium hair length.
Updo Hollywood Waves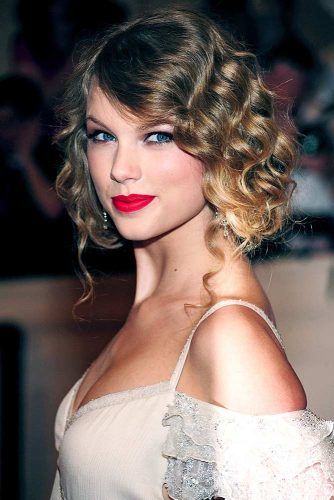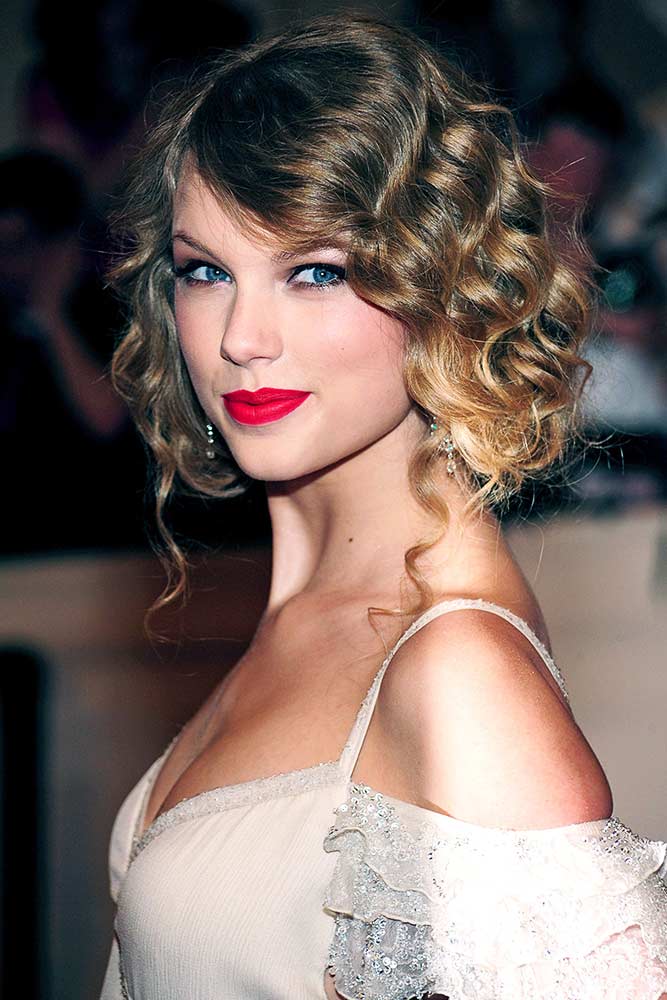 Source: Everett Collection/Shutterstock
This look is probably one of those unforgettable Taylor Swift hairstyles short to medium haired women should try in their life. There's nothing better than classics that can fit anyone, and Taylor's stylists know that. The waves gently move to the back, getting twisted into an updo, and her long fringe awesomely incorporates in the style, framing her face softly.
Wavy Lob With Side Bang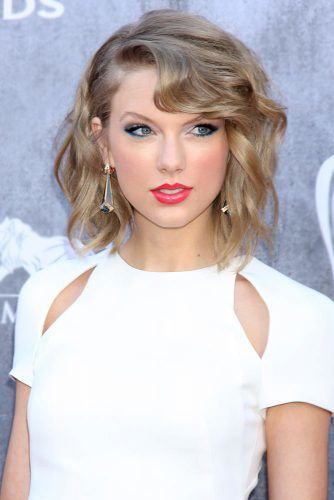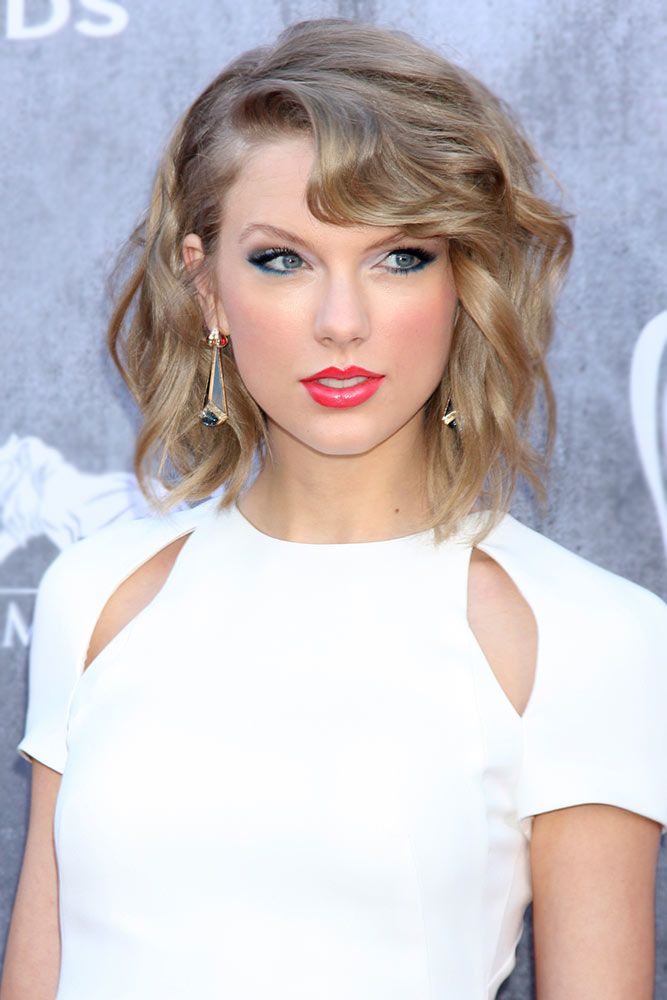 Source: Kathy Hutchins/Shutterstock
With such a dramatic lift of bangs, this wavy lob haircut should be renamed to Taylor Swift hair cut. The way her bangs blend with the rest of her hair is the most outstanding feature of the look. Well, this is how awesomely a woman can look if she decides to customize her haircut.
Sleek Shoulder Length Bob With Side Fringe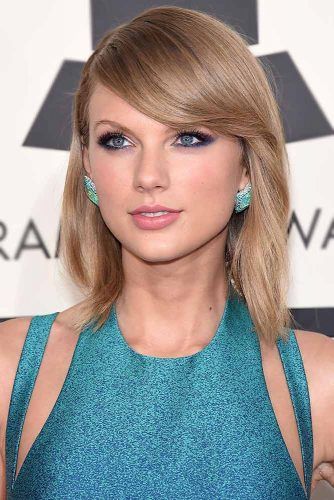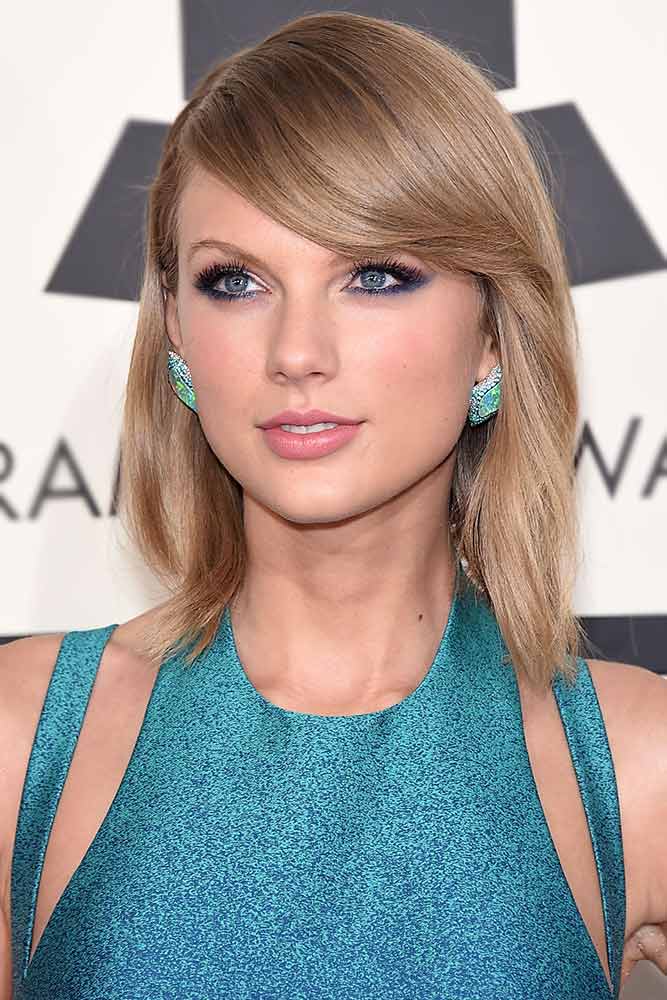 Source: DFree/Shutterstock
The previous Taylor Swift short hairstyles have nothing to do with this shoulder-length bob. The best thing is, the style isn't as simple as it may seem to be: soft layers help her to reach an immaculate sleekness while bangs seamlessly blend with her shiny chevelure.
Chin Length Blunt Bob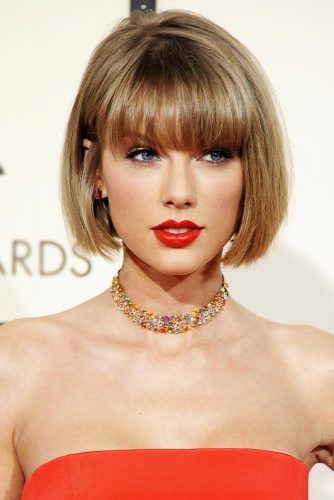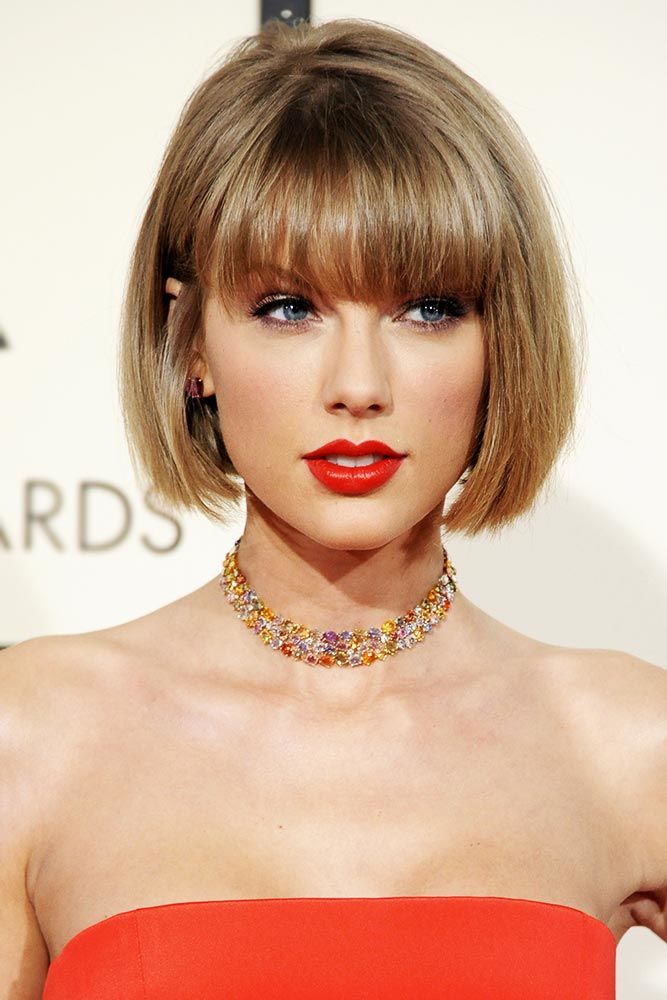 Source: Tinseltown/Shutterstock
A classic chin-length bob, full bangs, and hot red lipstick - this is so Taylor! Despite her love of changes, the singer also loves looking natural and sophisticated. This one-length cut gives a stunning round silhouette that allows her to frame her face while the good-old bangs serve as a calling card. Undoubtedly, that's another
celebrity haircut
that will never fall from favor.
Low Wavy Pony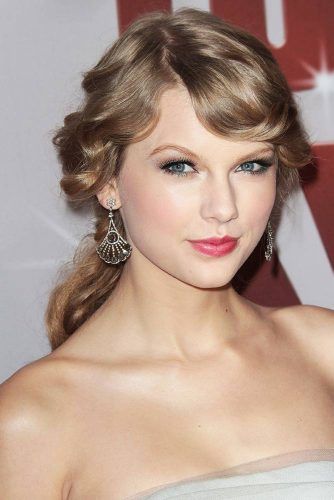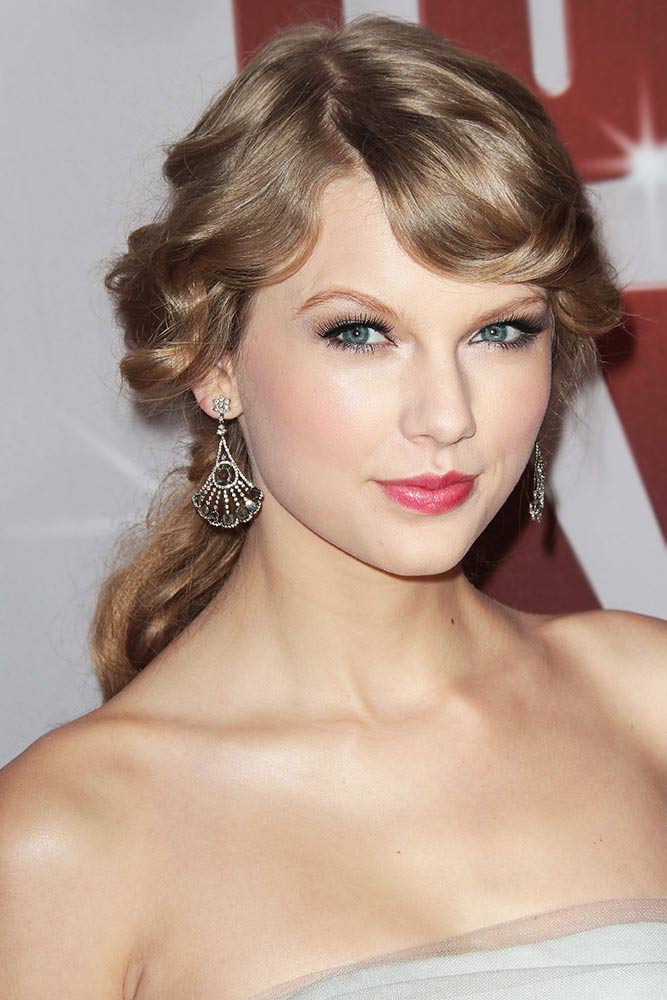 Source: s_bukley/Shutterstock
Taylor Swift long hair wouldn't look so unique and fun without the charm of her bangs. Again, everything is super straightforward about this style. But the way her long fringe turns into full and lively waves makes a red-carpet look out of a ponytail.
Side Layered Bangs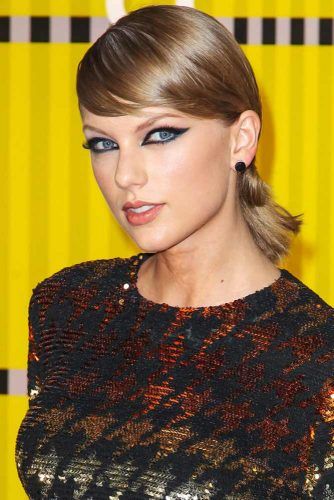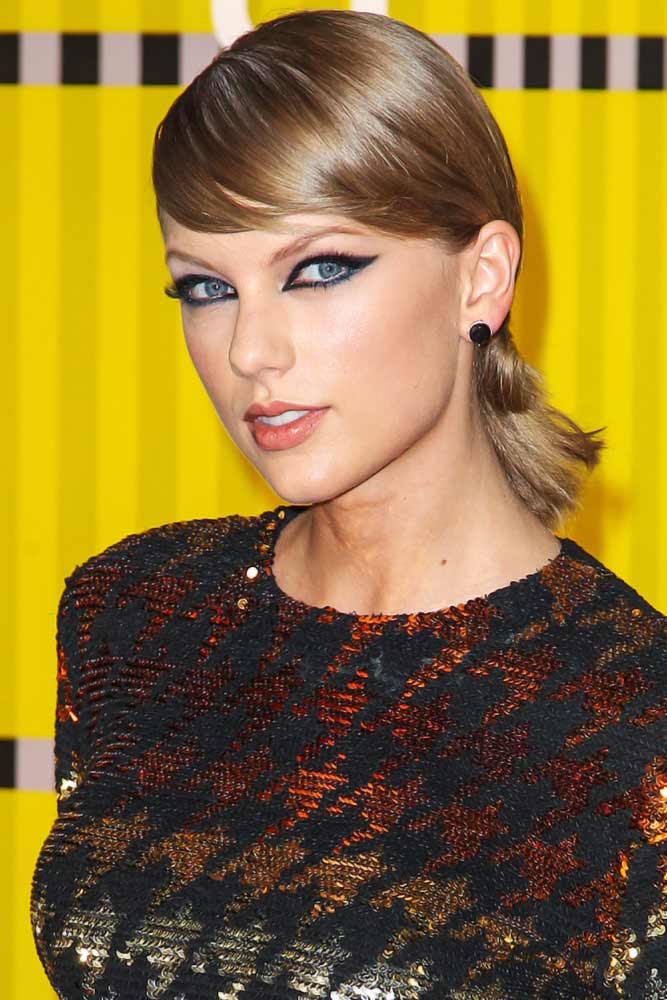 Source: Press Line Photos/Shutterstock
Taylor Swift's bangs can be easily considered her signature hairstyle, as there is probably no way she hasn't flaunted them. This time, she decides to cut her bangs in different layers of length and push them to the side, which together with a nape-level ponytail gives a polished and dapper impression. Such a low-key hairstyle becomes a perfect accompaniment to a bold stage makeup, which Taylor rocks more often than not.
Low Pony With Thick Bangs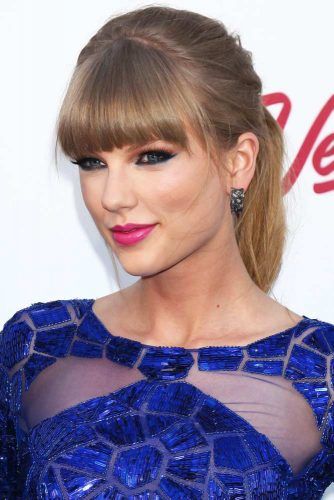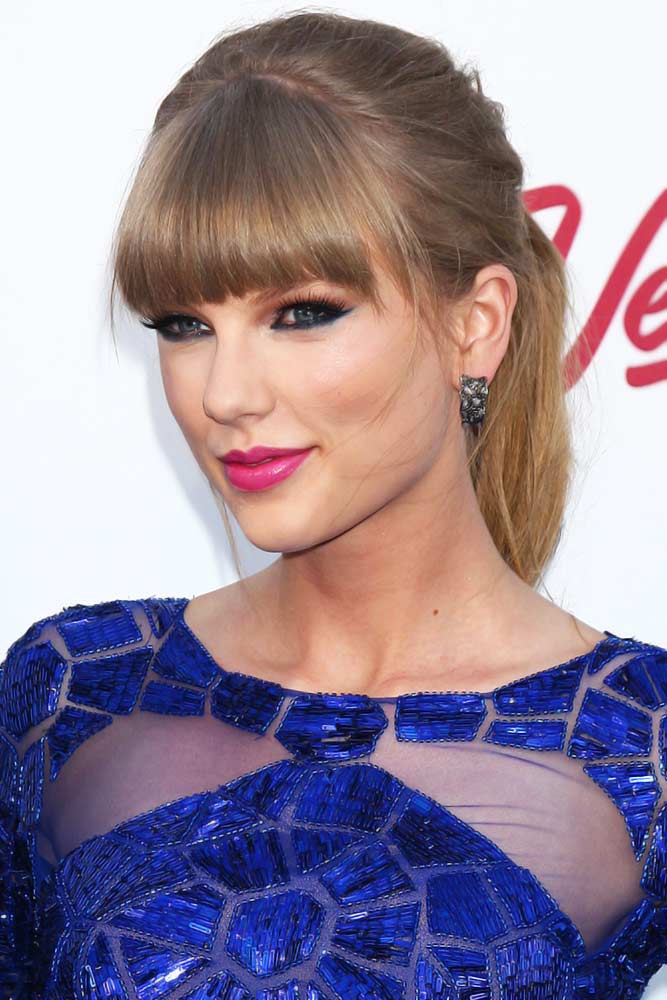 Source: Kathy Hutchins/Shutterstock
Here's another way of how Taylor nails a win-win ponytail and bangs combo. Thanks to the abundance of hair she has, the singer can easily pull off thick bangs, which now she chooses to sport curled in, without sacrificing on the density of her locks. As for the rest of the hair, Taylor simply rakes through it with the fingers to push it all back and ties in a low pony. To give her hairstyle an effortless touch, she leaves a couple of strands loose.
Long Straight Styling With Arched Bang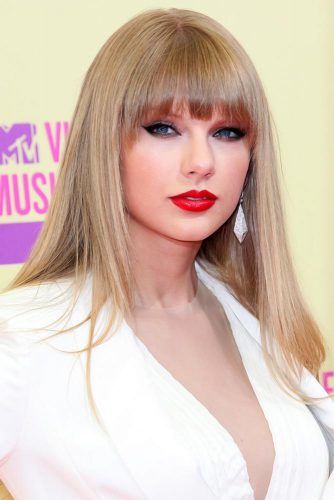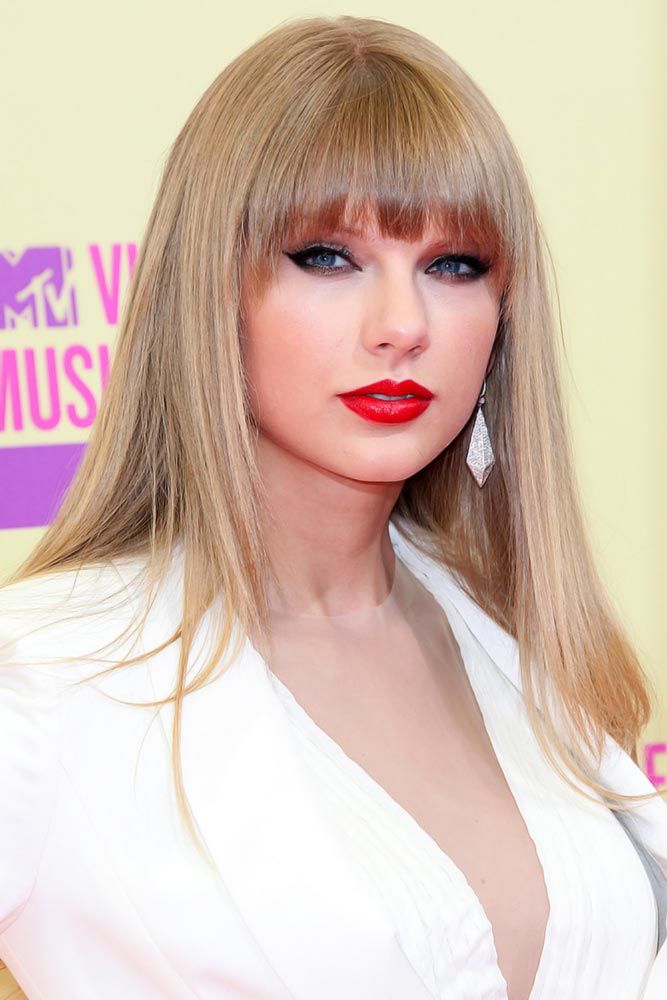 Source: Krista Kennell/Shutterstock
Teaming curves with straight lines makes up a really balanced look. Thus, T-Swizz goes for arched bangs and styles the rest of her hair straight. Although being utterly simple, this hairstyle comes out elegant and luxurious. Of course, the overall fabulous appearance of the pop star, including her dramatic makeup and saucy white outfit, adds to it. However, the flawless hairstyle is what gives the final touch to the superiority of the look.
Hollywood Waves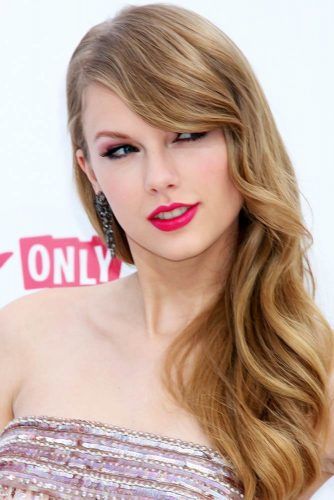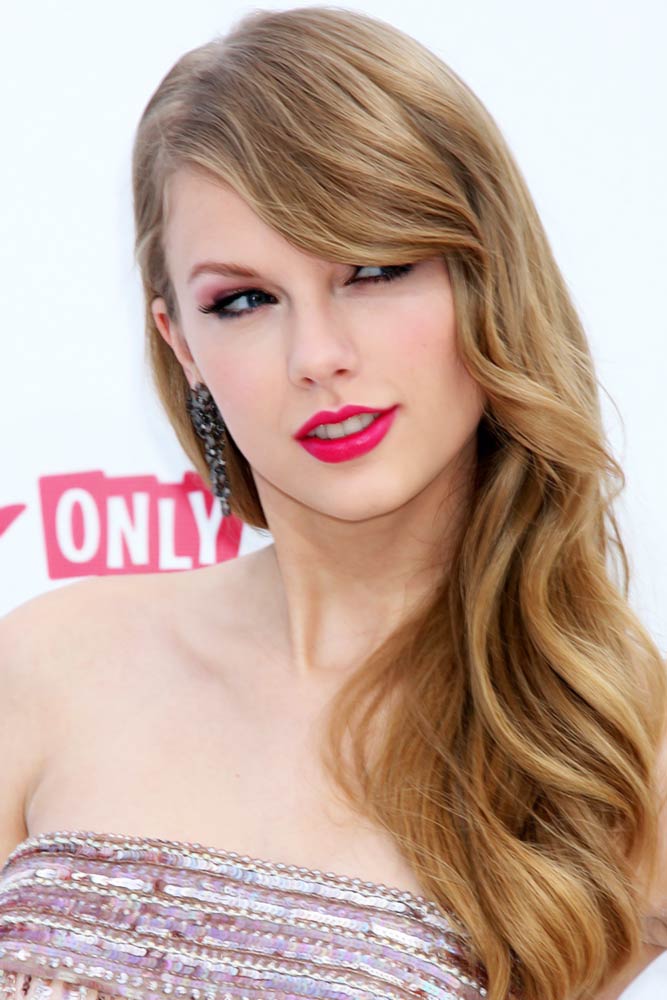 Source: Kathy Hutchins/Shutterstock
It's hard to think of a better option to flaunt on the Red Carpet than classic Hollywood waves. Even though this hairstyle has a bit of retro air, Taylor modernizes it by making the locks not as taut as they should originally be. Besides her bright makeup in neon pink shades showcases a contemporary flair of her look. To complement the hairstyle, Taylor opts for side bangs that flirtily cover her eye and smoothly flow into the rest of the hair.
Low Twisted Updo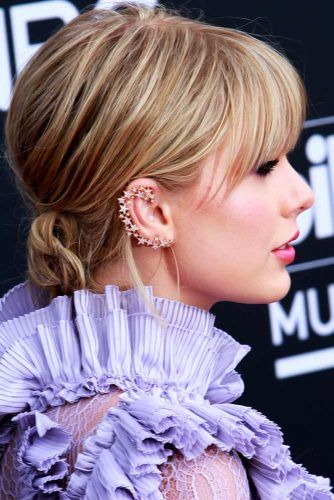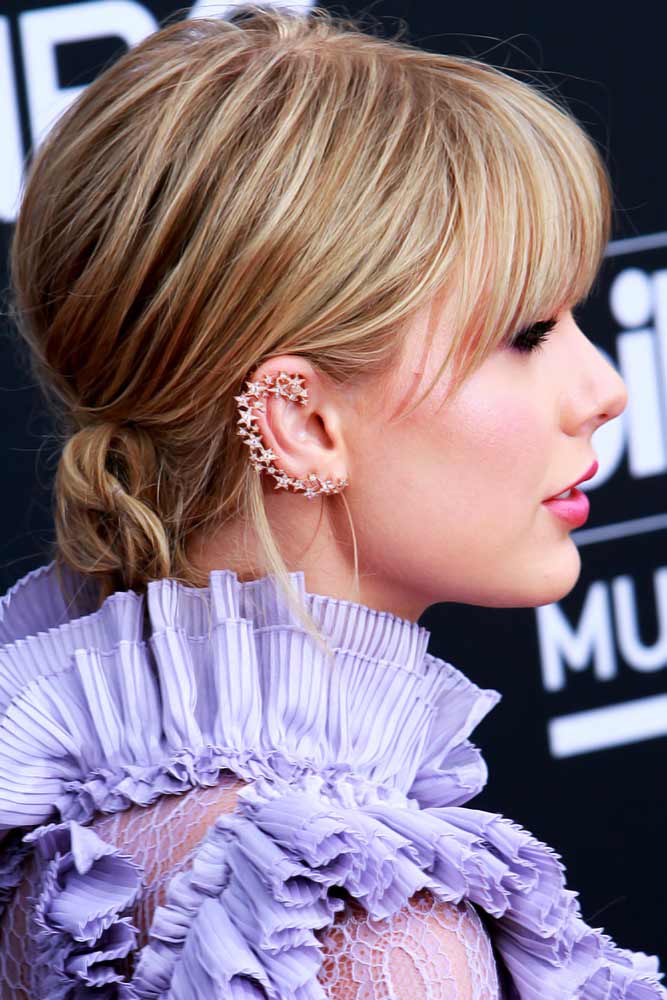 Source: CarlaVanWagoner/Shutterstock
It seems that nobody but Taylor knows how to epitomize a retro look so that it looks stylish, not outdated. To accompany the vintage lilac dress with ruffle and lace, the singer chooses an elegant low twisted updo paired with piecey choppy bangs. For added definition and boldness, TayTay gets highlights painted in her locks. What gives away the modernity of the look though is an ear cuff that adorns her helix. You've just seen the most popular hairstyles of Taylor Swift that women from all over the world love to copy. Now you know that not all the celebrity hairstyles are super complicated, so why don't recreate one of today's ideas and get a new, flawless look?
FAQ: Taylor Swift Hair
Is Taylor Swift's hair dyed?
No, Tylor Swift doesn't usually dye her hair, but she has done so in the past. Taylor prefers not to risk her hair health. She was most daring in 2016 when she debuted a platinum bob.
What does Taylor Swift do to her hair?
In one of her interviews Taylor showed how her hair transformed into a whole different texture and straightened out without her doing anything. As the Bad Blood singer admitted, it is now the straight hair she yearned for every day in her adolescence.
What face shape is Taylor Swift?
Taylor Swift has a beautiful round face.
Was this article helpful?