Are you ready to take your short pixie to an even sassier level? A long pixie cut still keeps your hair flirty but provides a little more options if you're looking for length as well as versatility. From hair accessories to fashion colors, a long pixie is a cute 2023 hairstyle for the girl who's trendy, on the go, and not afraid to make the cut.
---
---
Long Pixie Cut: Pros and Cons
| Pros | Cons |
| --- | --- |
| Easy Maintenance:With less hair, a long pixie cut generally requires less time to wash, dry, and style, making it a great low-maintenance option. | Less Styling Options:While versatile, a long pixie cut does limit the number of hairstyles you can try compared to longer hair. You can't wear it in a bun, a braid, or a ponytail, for instance. |
| Versatility:Despite being short, a long pixie cut offers a fair bit of styling versatility. You can wear it sleek, tousled, with a side part, or with added volume on top. | Regular Trims Required:To keep it looking its best, a long pixie cut generally needs regular trims, often every 4-6 weeks. |
| Cool and Comfortable:The long pixie cut can be much cooler and more comfortable, especially in warmer weather or during physical activity. | Adjustment Period: Purple dye can potentially stain your clothing, pillowcases, and towels, especially when the hair is wet. |
| Highlights Facial Features:This hairstyle can draw attention to and highlight your facial features, including your eyes, cheekbones, or a well-defined jawline. | Growing it Out:If you decide that short hair isn't for you, growing out a pixie cut can be a long process and go through several awkward stages. |
| Style Statement:A long pixie cut can be a bold and modern style statement, showing off confidence and individuality. | Not Suitable for All Hair Types:While a long pixie cut can work with most hair types, it may not be the best option for certain types, like very curly or frizzy hair, as it might require additional styling time to maintain. |
Top Reasons Why You Should Try A Long Pixie Cut
Yes, we know, a pixie may seem like a commitment at first sight. You're no longer able to wear a pony when you want your hair to be out of the way. At the same time, you can't hide up with your hair when you feel unconfident. However, having discovered how a long pixie can change your life for the better, you will dispel the misconception of short-hair commitment once and for all!
With a pixie, you don't need to spend a lot of time styling your hair. In fact, it's a wash-and-go that always looks great.
Despite being pretty short, a long pixie allows for various styling experiments so you can look different every single day: just get some styling products!
Although many women claim that a pixie looks good on certain face shapes, it's far from being true. As a matter of fact, you can customize your pixie with layers, bangs, and lots of textured details to create a haircut that will perfectly suit your facial features.
It has a lot of variations, so you will never get bored wearing short hair.
How To Style Your Long Pixie Cut: Best Ideas From Celebrities
Classic Long Pixie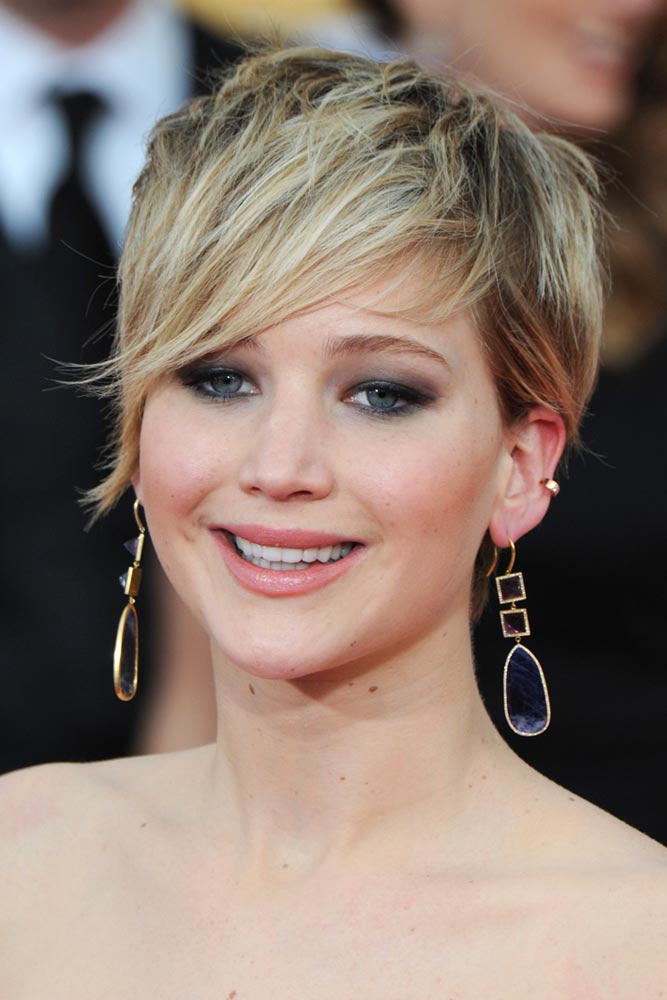 Credit photo: Featureflash Photo Agency/Shutterstock
Even celebrities, who can spend hours getting various hairstyles, can't resist the charm of a long pixie cut. For example, Jennifer Lawrence finds this type of short haircuts to be the most suitable for her image. The reason for that is pretty simple: it follows her face shape perfectly while having a versatile, low-maintenance look.
Long Pixie Pompadour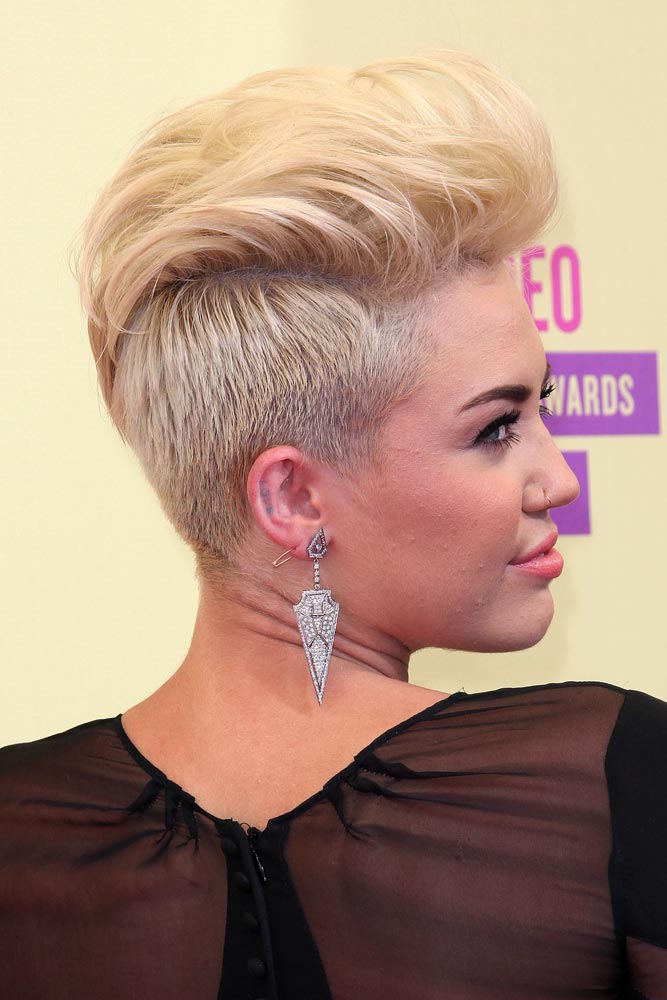 Credit photo: Krista Kennell/Shutterstock
Having changed all the lengths and colors possible, Miley Cyrus made a pixie cut her front-runner. It's not only about bold appearance; it's about styling freedom that girls can't live without. In this way, you can turn the top of your sexy pixie into a hot and sassy pompadour at any time, without visiting a salon.
Long-On-Top Pixie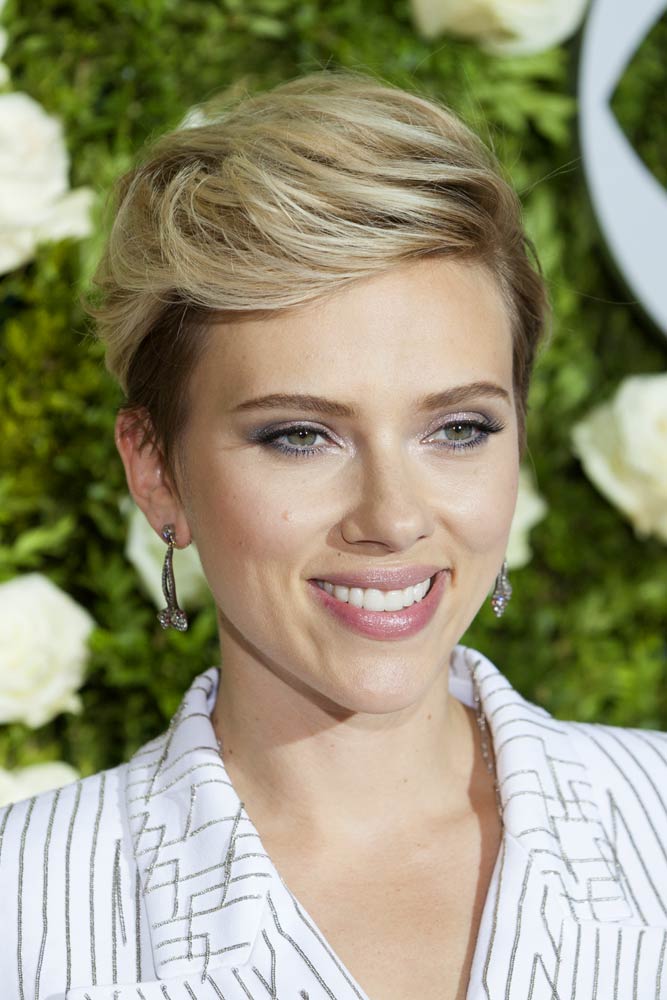 Credit photo: lev radin/Shutterstock
Scarlett Johansson seems to have tried all the pixie variations people could ever see. And this long-on-top idea is probably one of the most elegant and sophisticated cuts she's ever rocked. The longer top allows her to enhance the texture, giving her a pleasant lifted shape, which looks great with the smart outfit.
Keira Knightley's Choppy Ends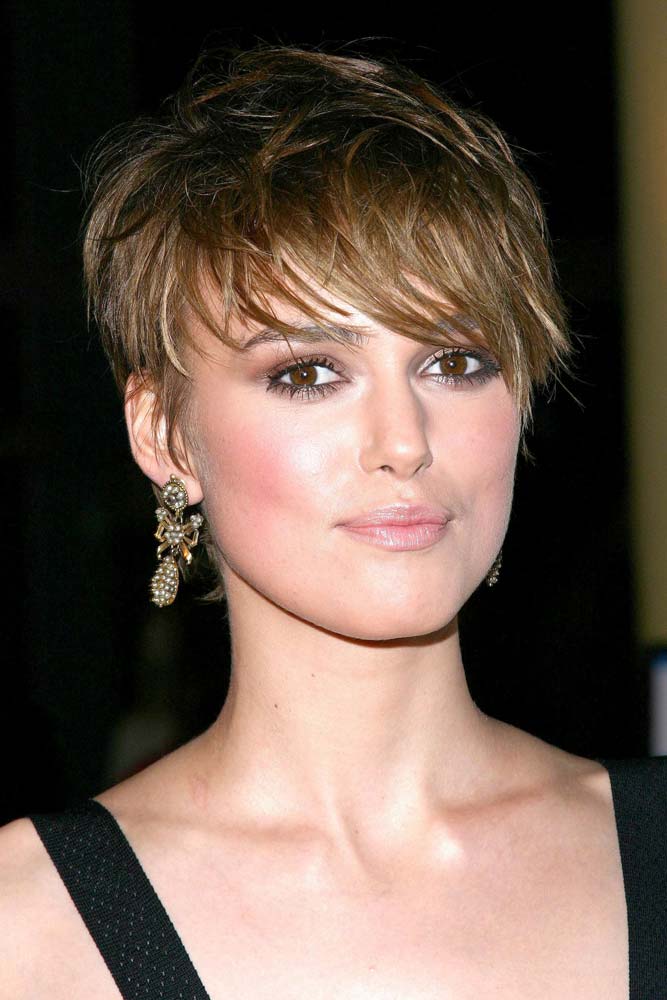 Credit photo: Everett Collection/Shutterstock
If you come to your hairstylist and ask for Keira Knightley's choppy ends, he or she will instantly understand what type of pixie you want. When the iconic celeb first got herself such a piecey pixie, she simply blew up the whole world, making all women want to cut their hair. Well, not for nothing! It's edgy, distinctive, and face-flattering.
Straight Long Pixie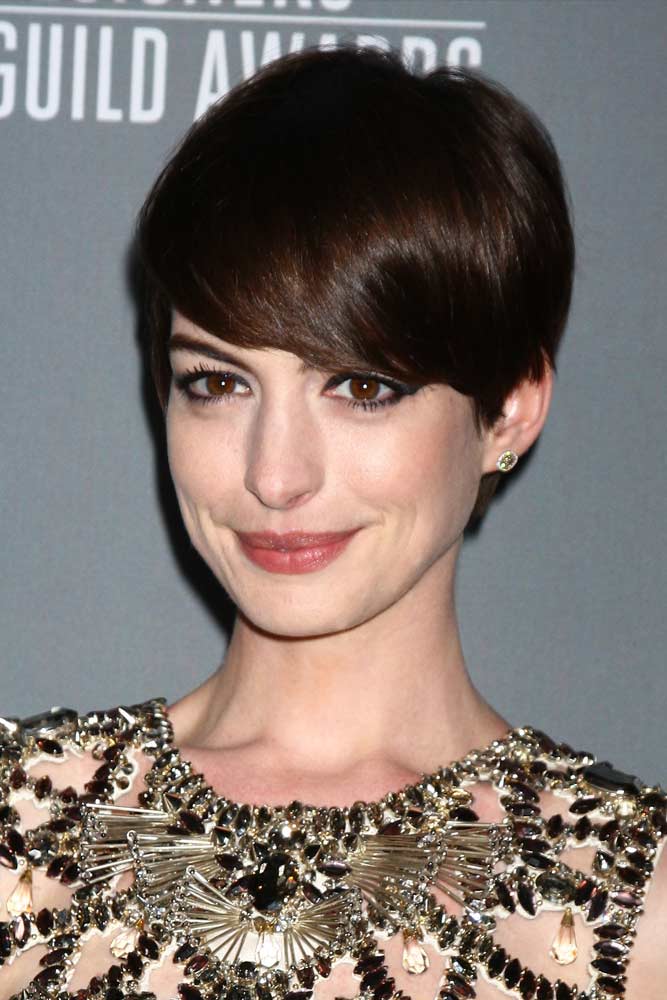 Credit photo: Kathy Hutchins/Shutterstock
Anne Hathaway is another actress who appreciates stylish comfort. We've seen her with a long mane, as well as with shoulder-length hair. And while those two options looked equally awesome on her, when she got a pixie, she showed her appearance in a new light. A long straight pixie has a power to emphasize the beauty of your face, slightly framing it and adding some oomph.
Long Pixie With Undercut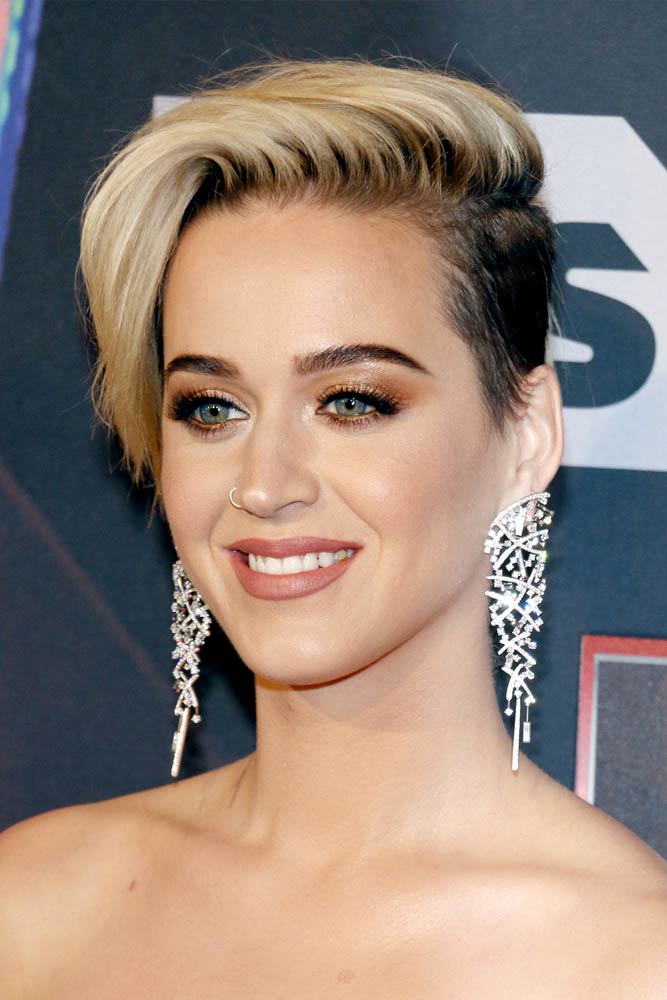 Credit photo: Tinseltown/Shutterstock
Playing with contrasts is a fascinating idea when it comes to long pixie cuts. As showcased by fantastic Katy Perry, longer pixies get more voluminous and full when spiced up with an undercut. Whether you want to volume up your locks, to make a statement, or go both ways, just say 'yes' to an undercut.
Brushed-Back Look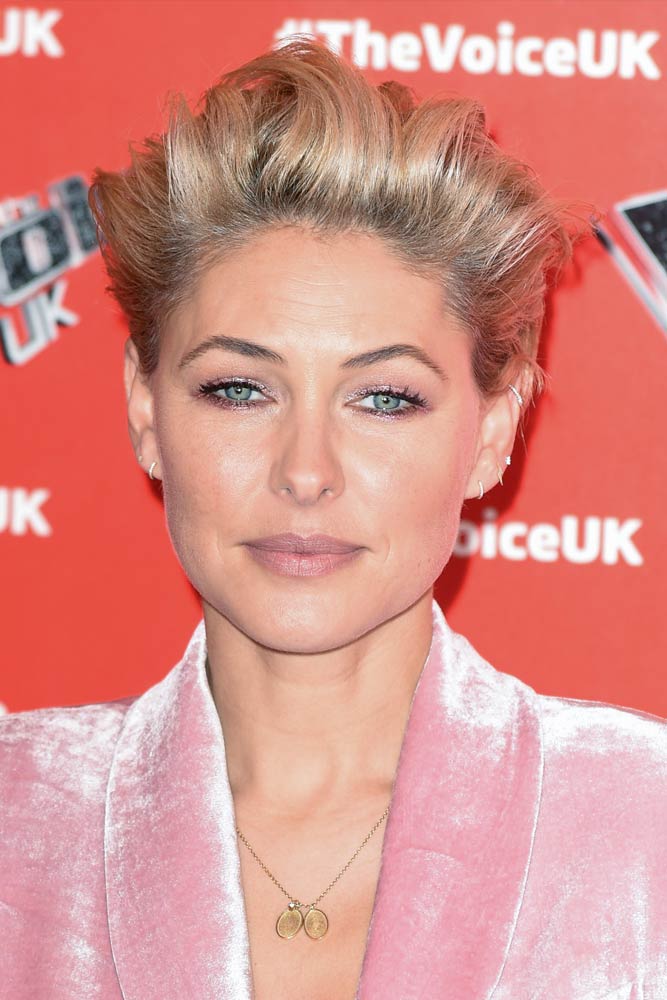 Credit photo: Featureflash Photo Agency/Shutterstock
Unlike most celebrities that jump from one length to another, Emma Willis has always been loyal to short hair, especially to pixies. By brushing the pixie back, she adds a punky character to her look. Besides giving a great visual impact, the look tells something significant about the cut. A pixie always knows how to express your personality.
Side-Parted Style For Longer Pixie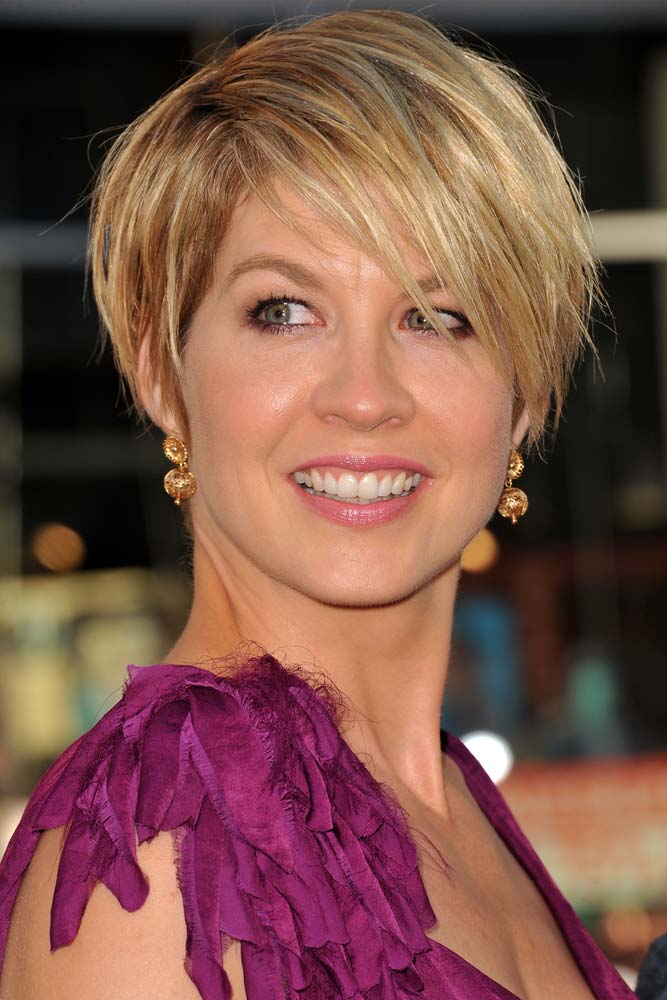 Credit photo: Featureflash Photo Agency/Shutterstock
Jenna Elfman also never misses an opportunity to rock a short cut. The actress's stylists know that nothing can flatter her face better than short layers gently falling on it. Despite being a bit messy, this side-parted pixie has a very effortless appearance, which is so cool these days.
Slicked Down Long Pixie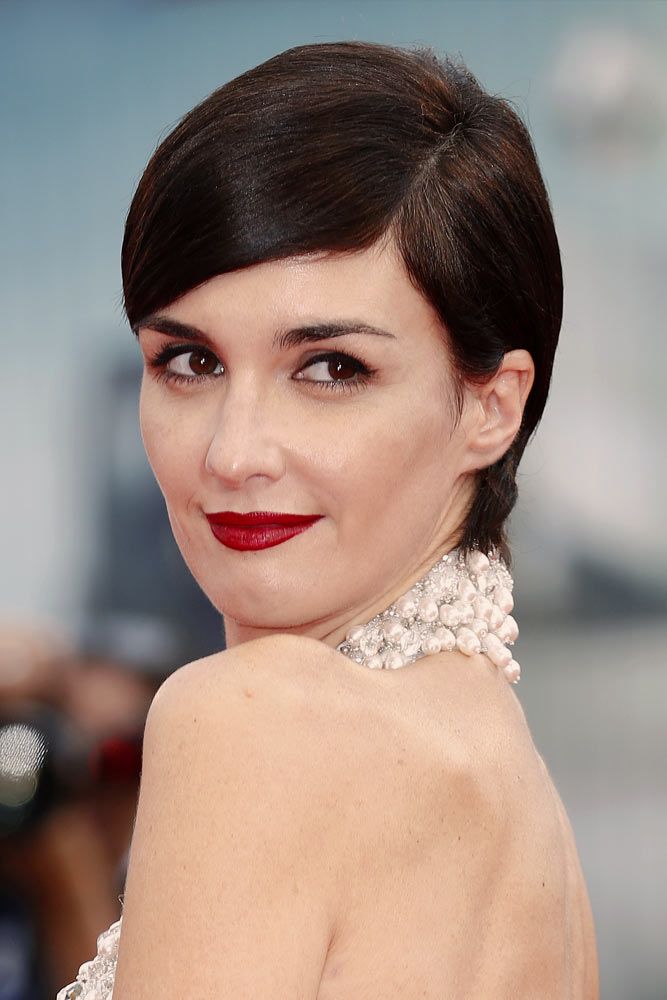 Credit photo: Andrea Raffin/Shutterstock
Paz Vega who flaunts with an enviably thick and lush mane couldn't help herself but cut it short. Yes, we weren't joking when we said that pixies are irresistible. Here the celeb tames her naturally thick texture to get a sleek and exquisite look. Focusing on perfectly straight, shiny silhouette has fantastic results.
Long Pixie With Side Bangs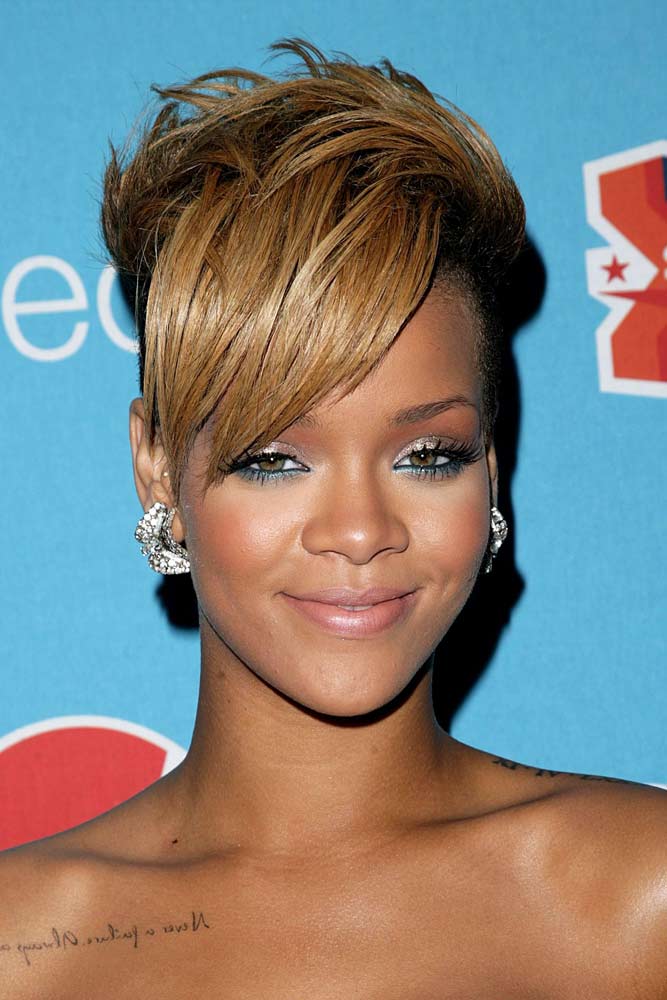 Credit photo: Everett Collection/Shutterstock
Rihanna did a great job contributing to the art of hair styling with her spectacular angular bob. Of course, it's wasn't the highest point of her hair career, so one day she showed up with a long pixie. As you can see, it's absolutely different. Long messy bangs, upswept top, and shaved sides - this is so Rihanna. If you want to go 100% bold, steal this look.
How To Style A Long Pixie Cut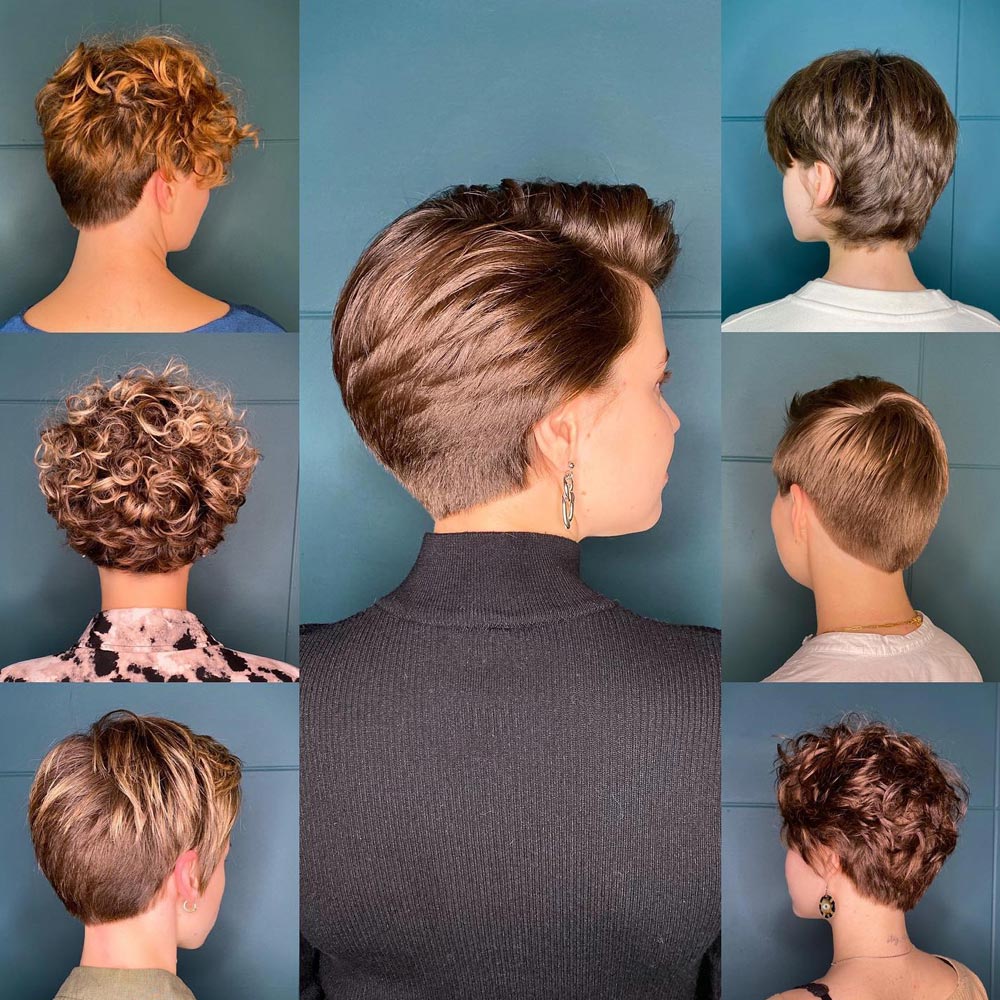 Credit photo: instagram.com/kristinakatsabina
Figuring out how to style a long pixie cut can be a painful learning experience. Especially if you've been used to styling your long hair, you will certainly be in for a shock. You will transform from styling the long clean hair to learning how to style short dirty hair that is moldable.
Clean short hair will do nothing but fall flat. You will also use totally different types of hair products. This model's white blonde hair is styled in a beautiful side swept fashion. The color contrast of her hair with her darker complexion creates an interesting combination.
Pixie Cut In The Front And Back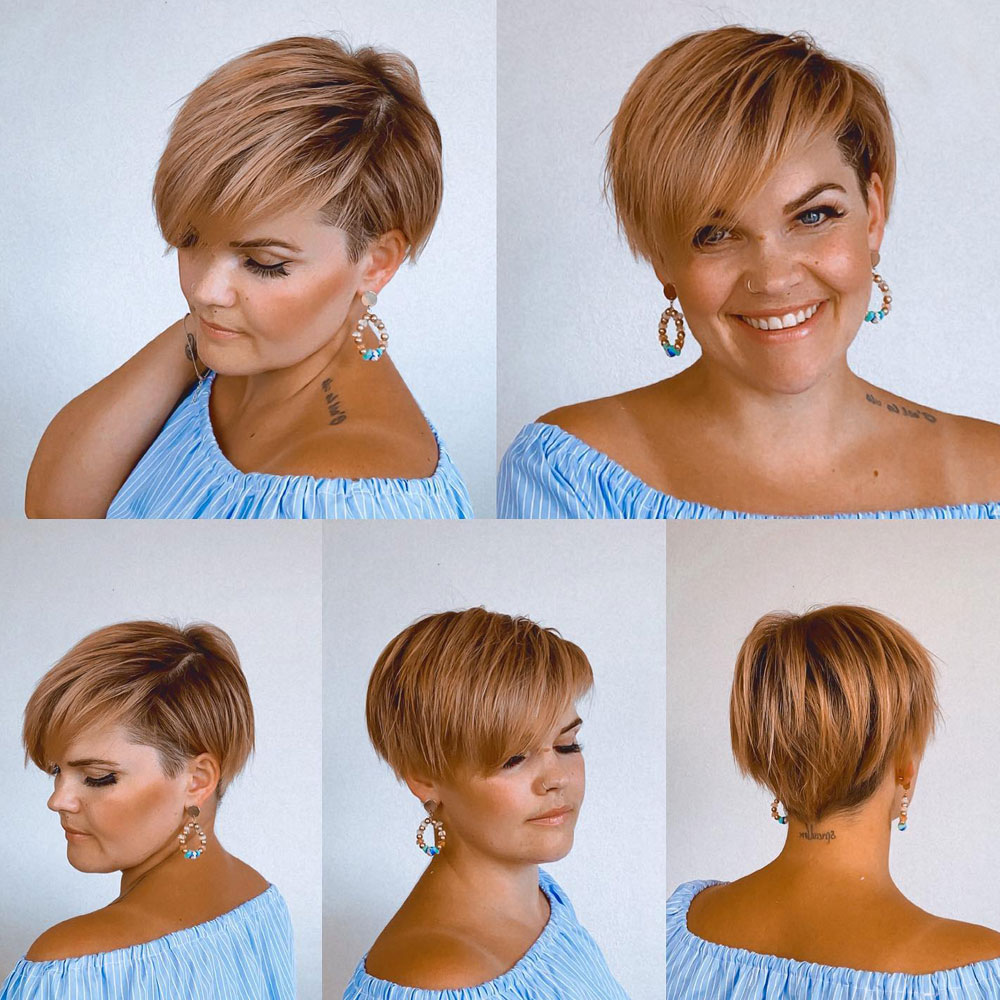 Credit photo: instagram.com/salirasa
Before walking into a salon and telling your stylist, 'I want this!' it is important that you look through pictures of pixie cuts front and back. You may think you like something until you realize your stylist has the clippers in her hand about to trim your hair with a #1 guard.
Women who have dark hair can sometimes pull off a closer cut than lighter-haired women can, but specific cuts work better for certain hair styles, types, and colors. It is vitally important that you discuss in-depth with your stylist concerning the degree of the undercut you want to achieve.
Long Pixie Cut For Fine Hair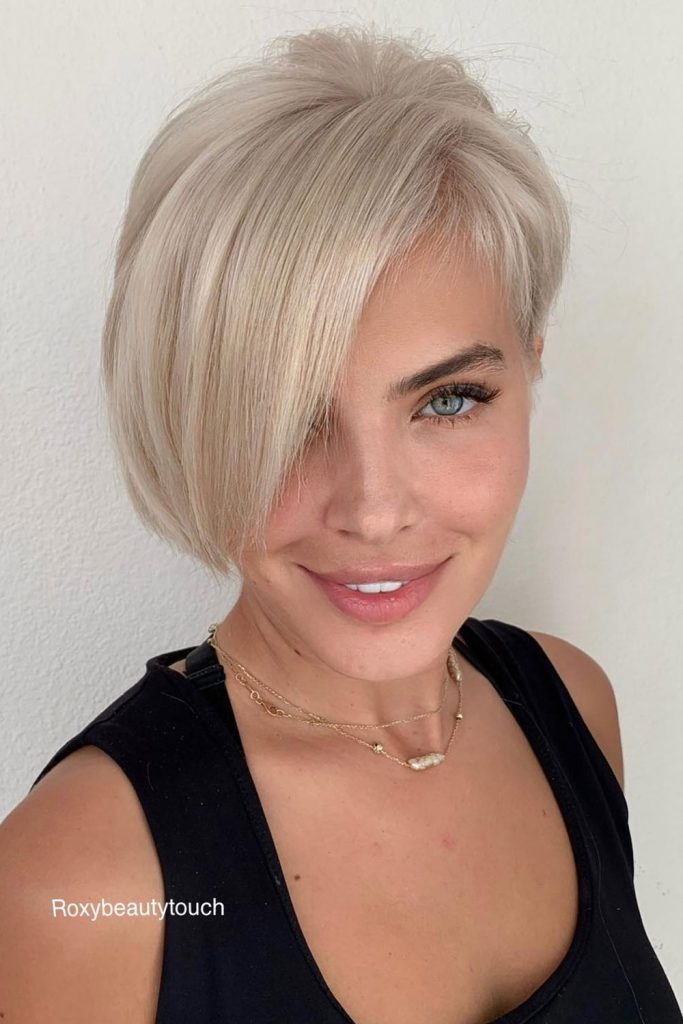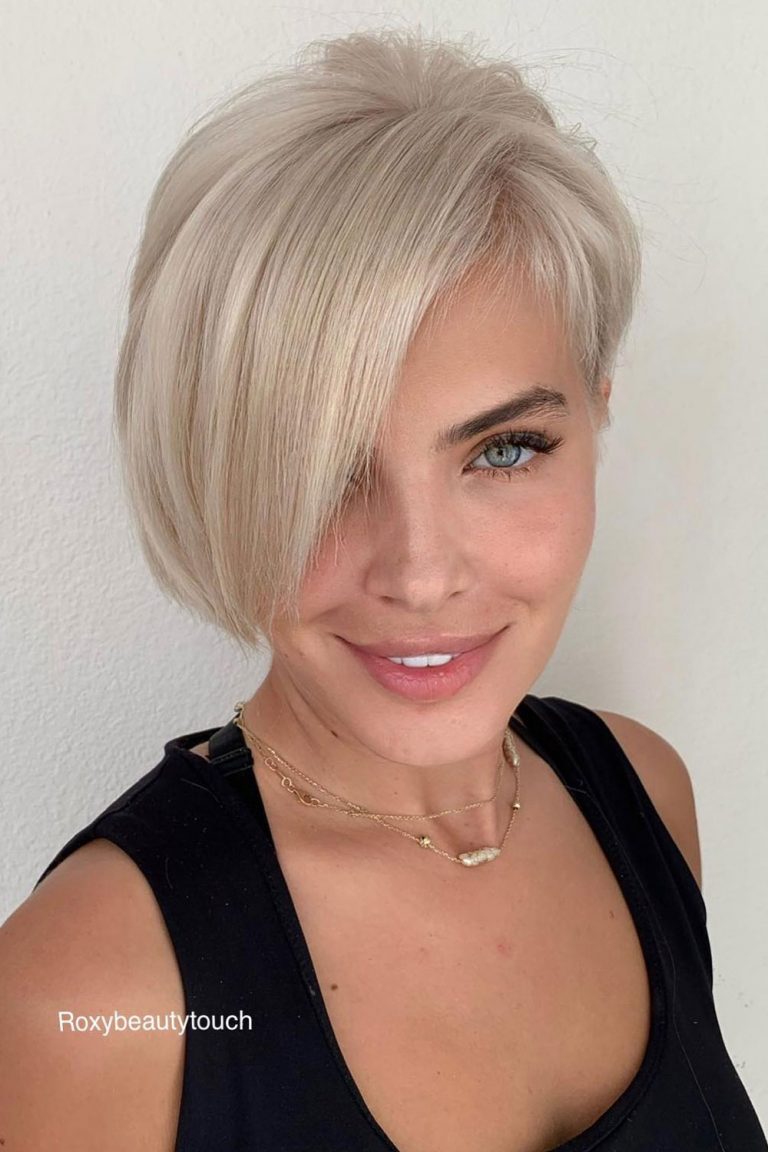 Credit photo: instagram.com/roxybeautytouch
This is an excellent long pixie cut for fine hair. This model's messy waves add volume to her fine hair type. Although this is an exceptionally cute cut, it may not work as well for you, if you don't have the proper face shape. The model's long top length is accentuated by the side part that also plays a role in volumizing fine hair. This side-parted style allows the tousled waves to cascade, giving an illusion of thicker hair.
Long Pixie Cut For Thick Hair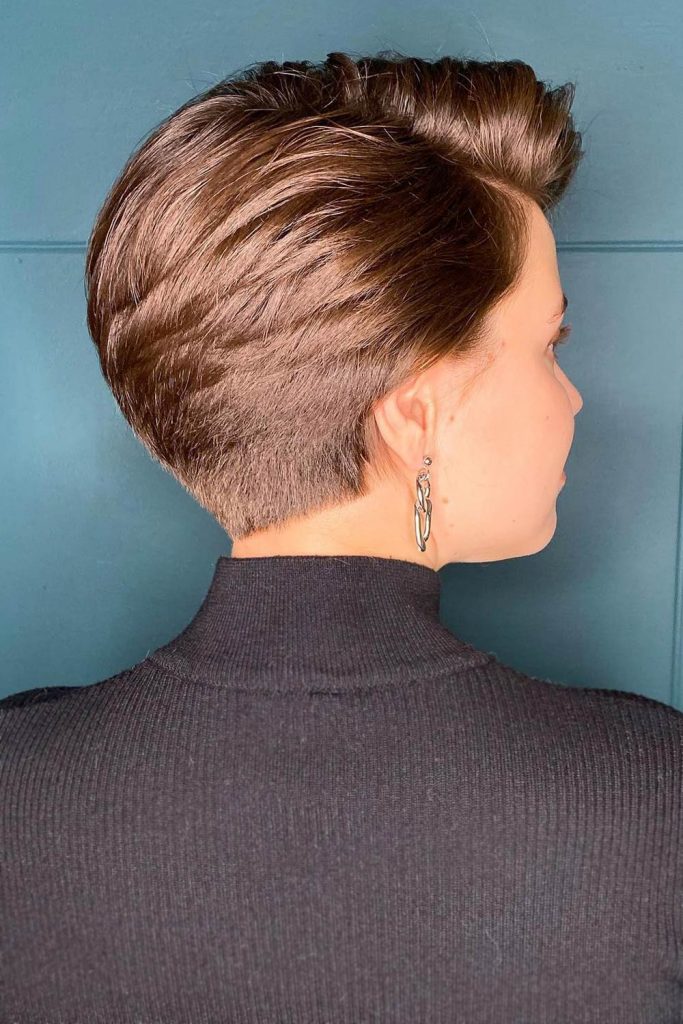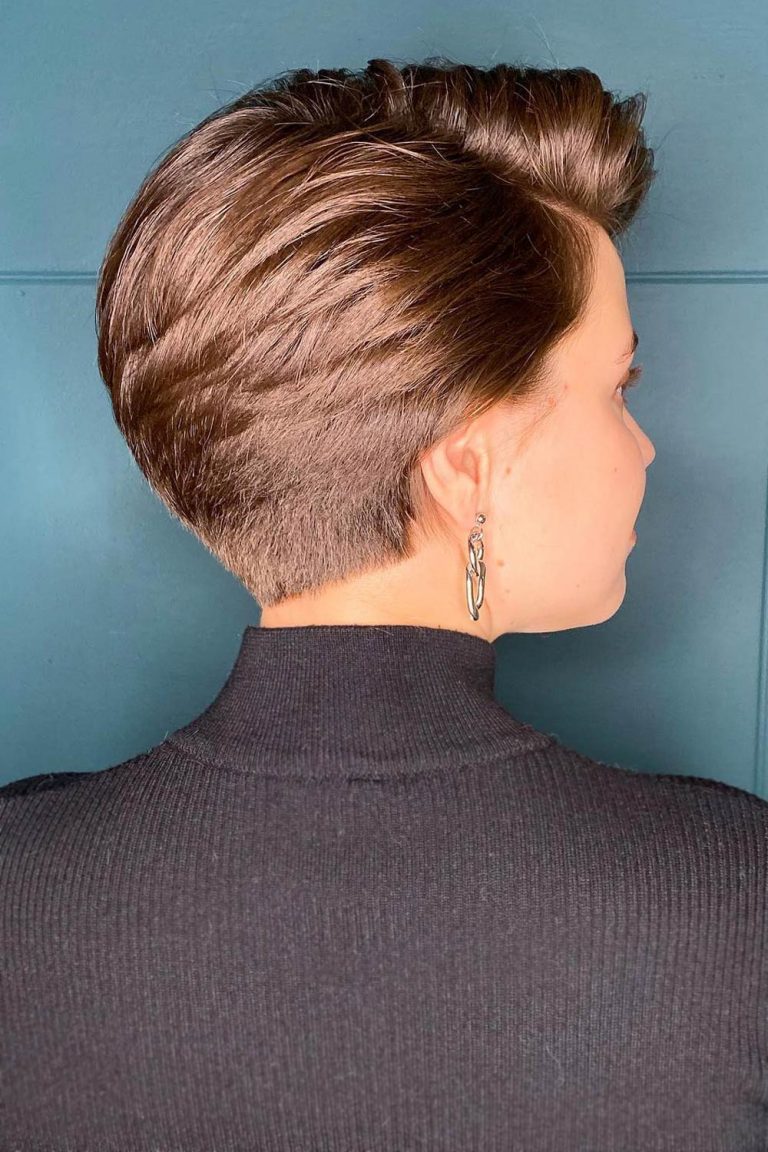 Credit photo: instagram.com/kristinakatsabina
I think this is the ideal long pixie cut for thick hair. While it would work for a thin hair type, it works exceptionally well for thick hair. The short length and stacked effect in the back are beautiful aspects for this cut.
It can also work well for various hair colors but really stands out with lighter shades like silver and platinum blondes. This is due to the lighter colors catching the light. With that being said, even highlights look great with this cut.
Long Pixie Cut For Thin Hair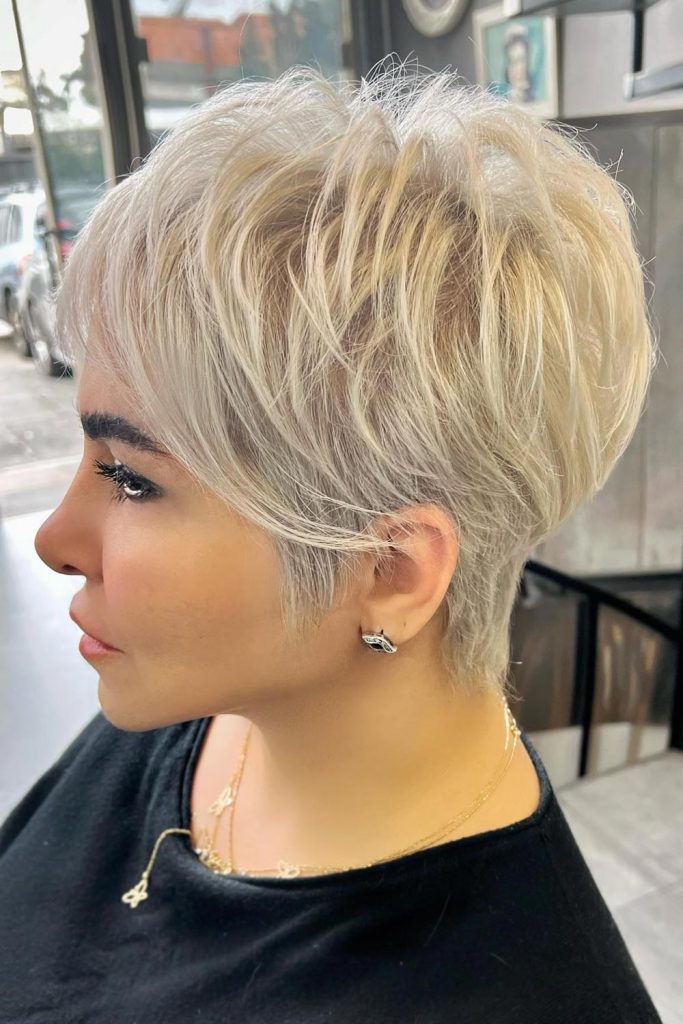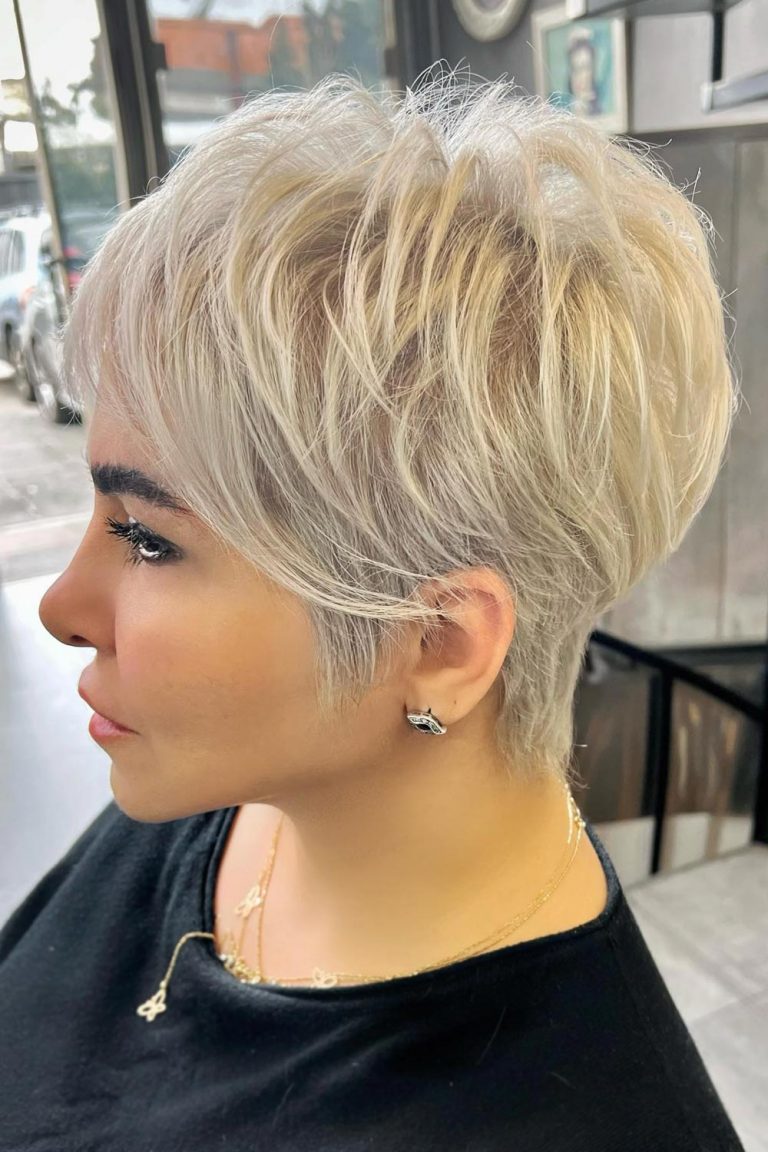 Credit photo: instagram.com/jeanclaudeelmoughayar
When choosing a long pixie cut for thin hair, picking the right cut is essential. If you choose the wrong cut for your face shape, then you will be chasing an unattainable look. With thin hair, a key element to achieving the right style is layers.
With darker hair and brown hair tones, achieving texture is very important for obtaining the right look. A textured haircut is a very popular choice for brunettes. The choppy layers give definition to what can sometimes be a boring hairstyle. Oftentimes women are afraid to leap into the edgy side of hairstyles preferring a safer, softer look. And in reality, the edgy look would be much more flattering for them.
Top Ideas Ways To Wear Long Pixie Cut in 2023
Messy Asymmetrical Long Pixie Haircut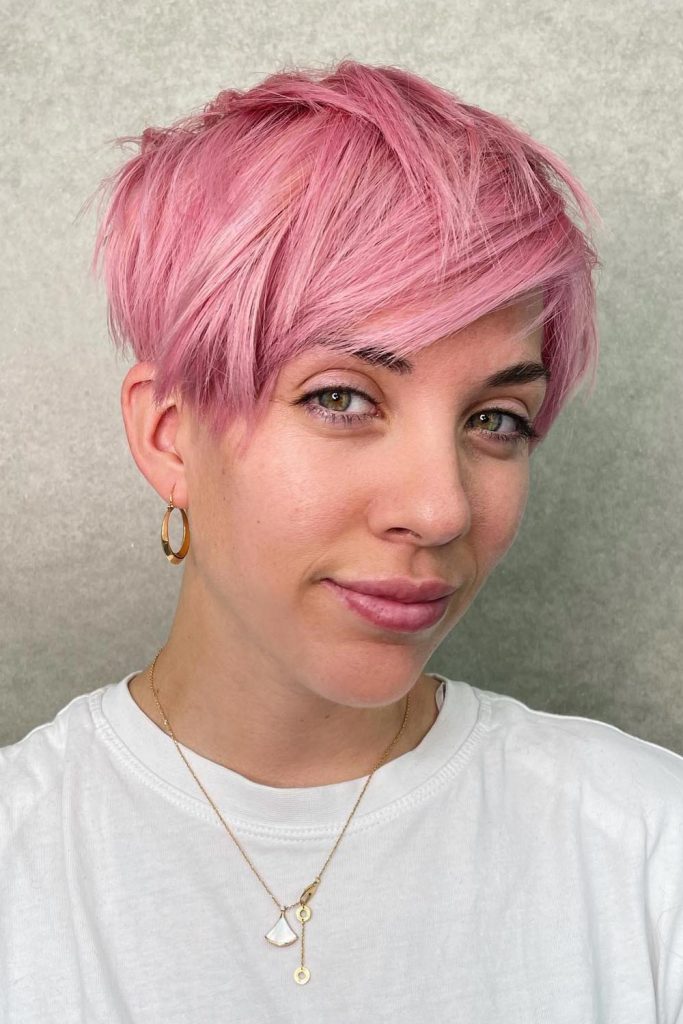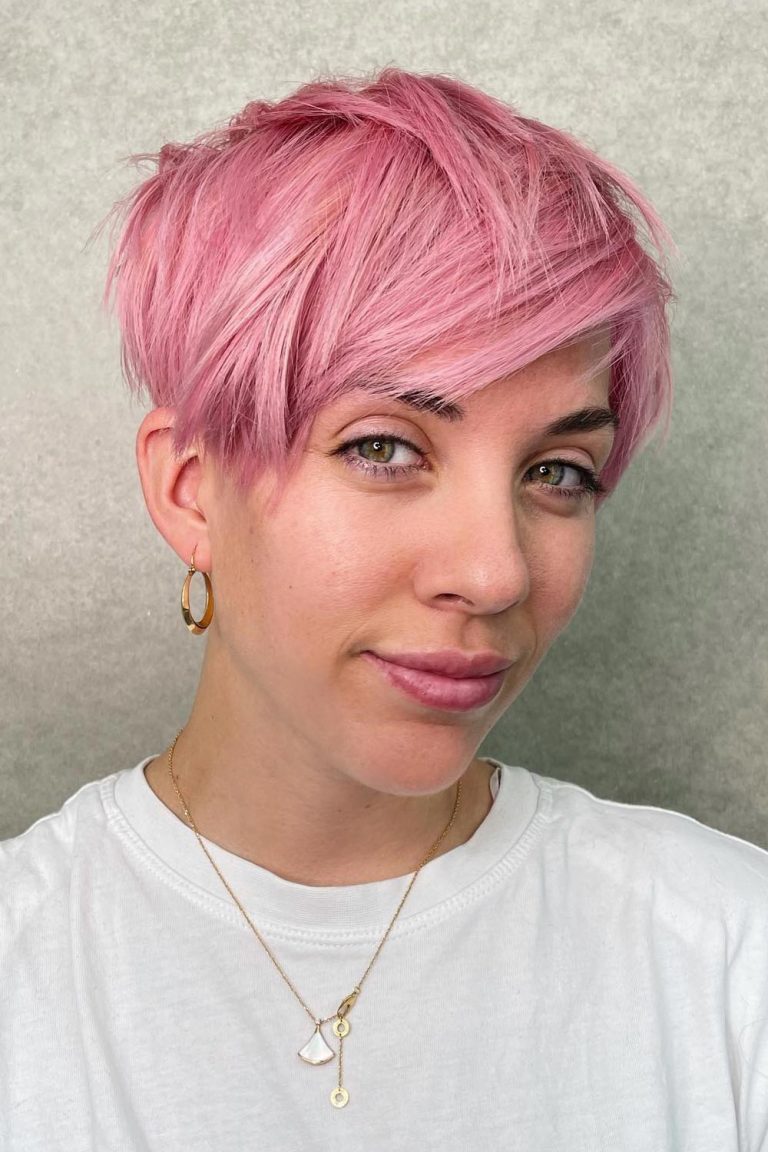 Credit photo: instagram.com/kristinn.oli
This long pixie haircut is anything but boring. Whether you're growing out a short crop or taking your basic bob up a notch, this messy pixie cut is all about the edge. Check out the dramatic front and back variations and kick your asymmetrical cut up a notch with highlights, balayage or pastel color to add some interest when your hair is parted. Whether you're a bohemian girl or trendsetter, this long pixie haircut oozes carefree confidence.
Longer Pixie Styles – Almost Bob Cut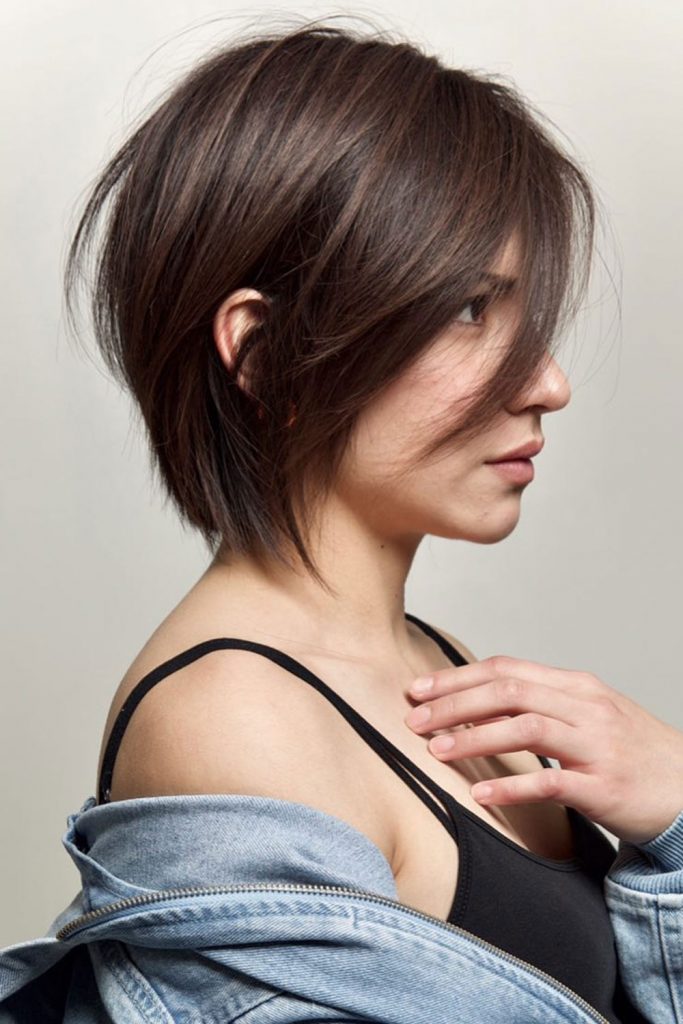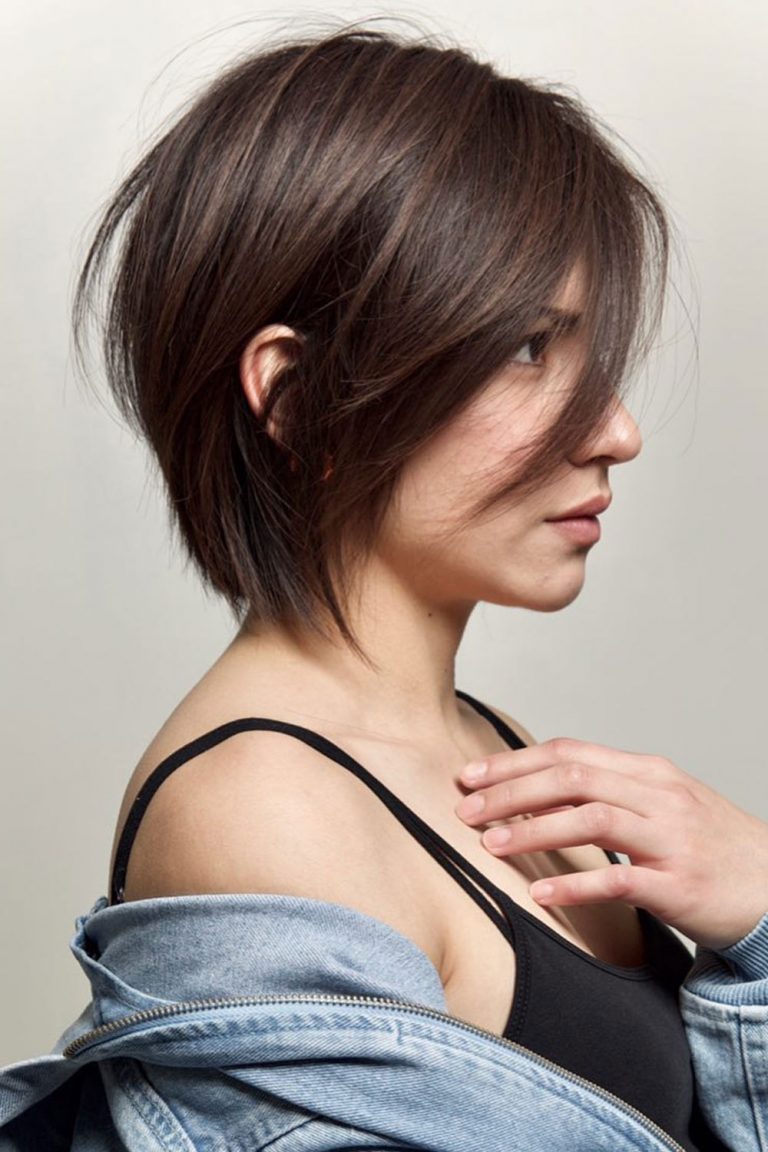 Credit photo: instagram.com/caleb.a.watkins
Do you want options for longer pixie cuts for thick hair? Take a look at these longer pixie styles for inspiration. This 2023 bob variation can be made sleek and smooth with a flat iron and a serum for a sweeping style that gently frames the face.
Feathered And Tapered Pixie Style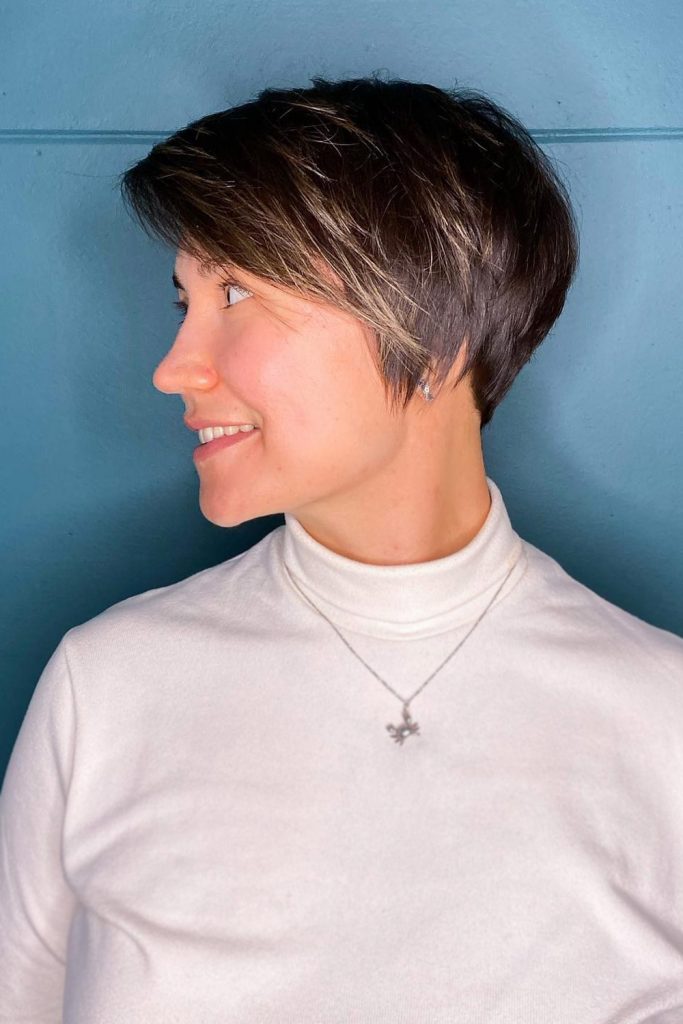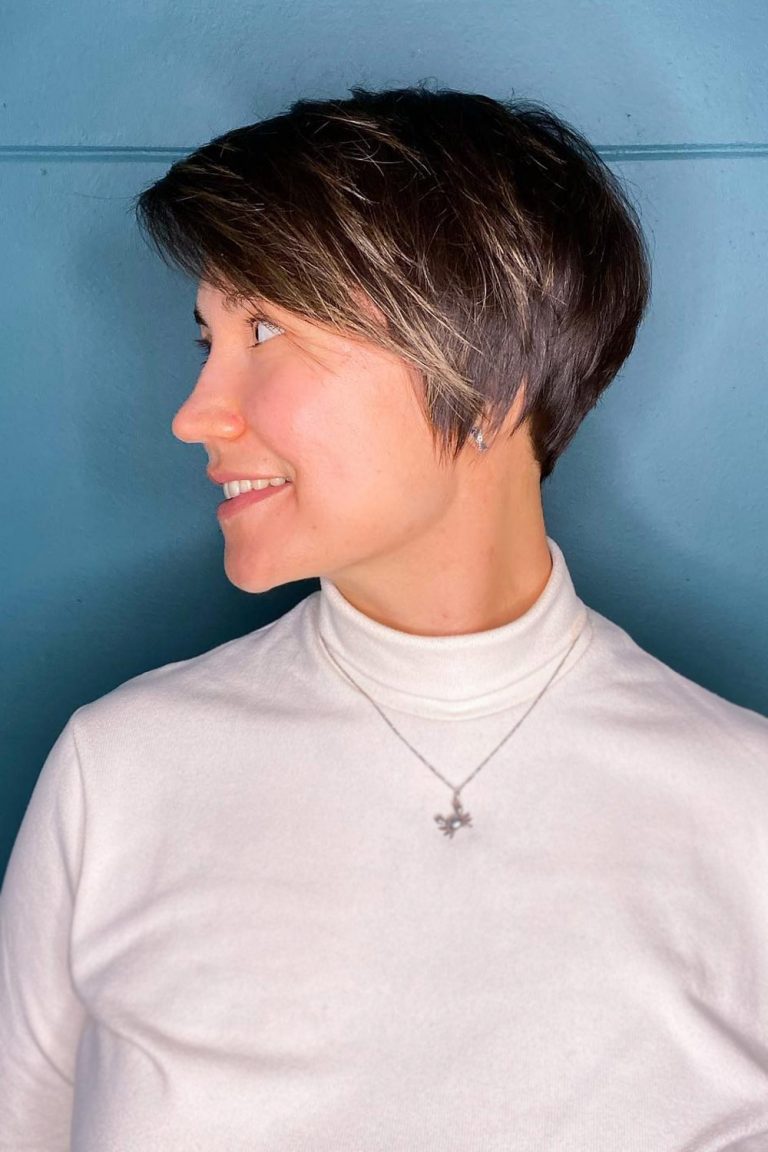 Credit photo: instagram.com/kristinakatsabina
Revamp the basic pixie long cut with a tapered edge and take your feathered pixie style from basic to bombshell. Ask your stylist to razor in some texture, and your cut will gain movement and interest.
Asymmetrical Pixie Cut With Long Bangs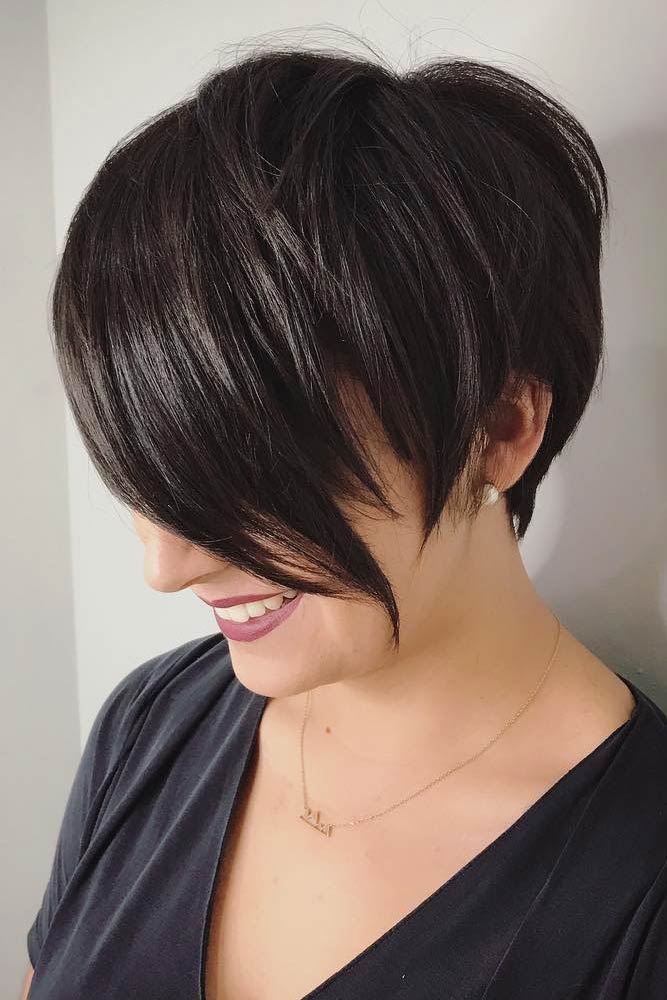 Credit photo: instagram.com/ivanaluxe
How about a pixie cut with long bangs? There's no rule that pixie cut hairstyles have to be short in the front. This banging style is especially flattering for square face shapes or for the girl whose eyebrows are always on-point.
Disconnected Pixie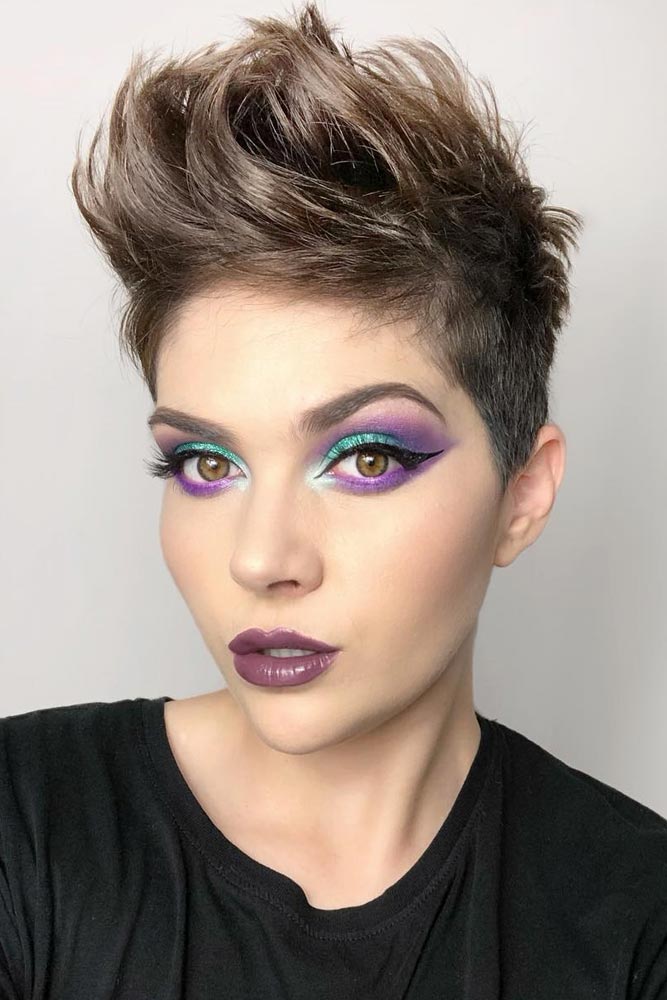 Credit photo: instagram.com/princessstiefel
This disconnected pixie cut is long on top and it is the perfect solution for the girl who needs inspiration for a pixie cut for fine hair. The international pop icon P!NK has rocked a similar version of this cropped cut, and we already know how cool she is. Go ahead and let your inner rockstar out!
Unstructured Long Pixie Cut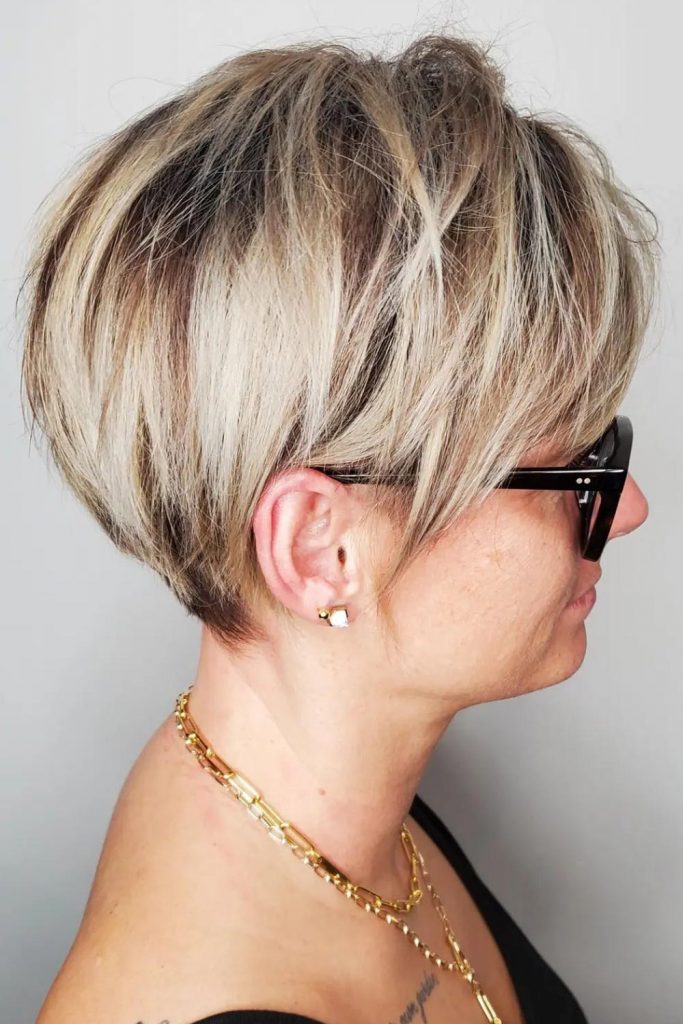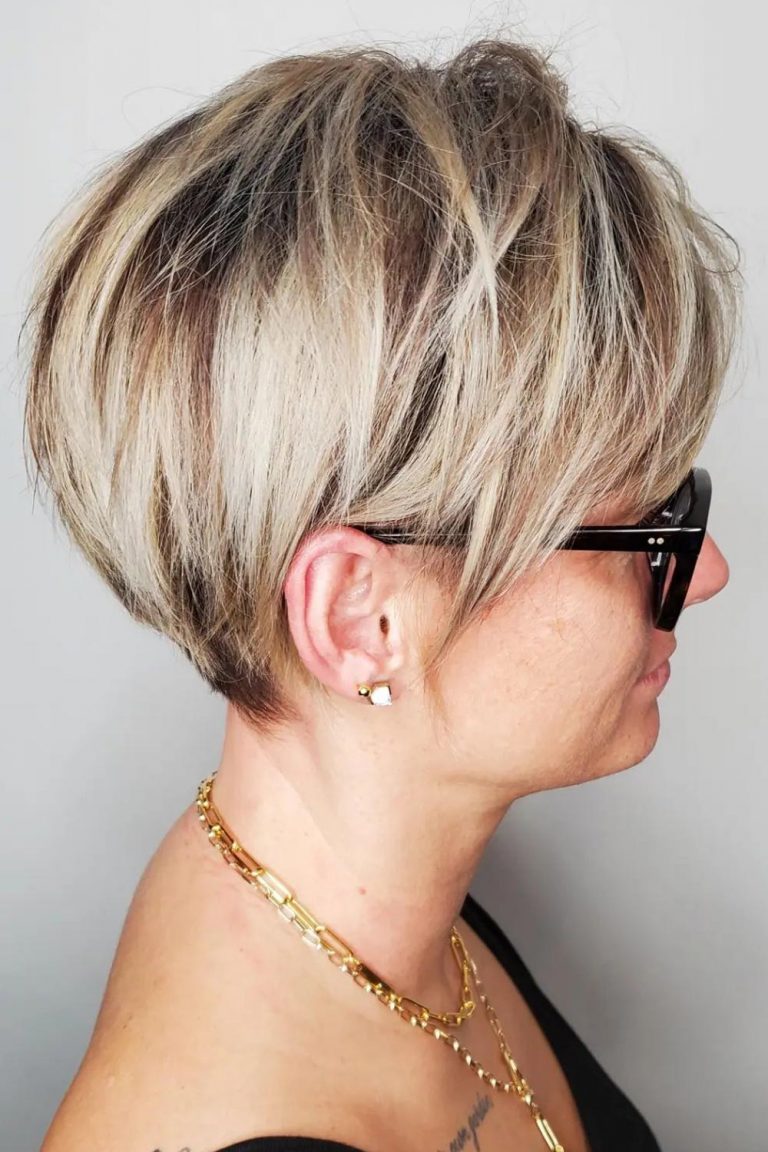 Credit photo: instagram.com/hair_by_marlo
Trendy and asymmetrical, this long pixie cut pairs extended sweeping bangs while removing all the volume from the back of the style. Not only will a pixie cut with long bangs, short sides draw attention to your cheekbones and your eyes, it has the added benefit of slendering the face. Whether your hair is thick or fine, this fabulous pixie cut is nothing short of divine.
Textured Long Pixie With Shaved Side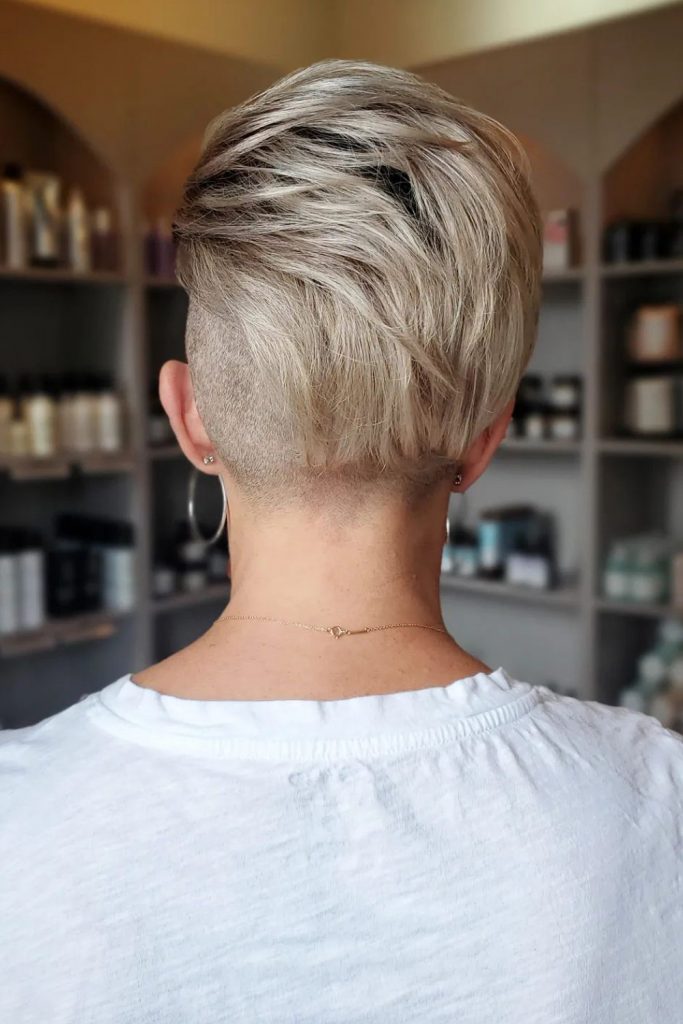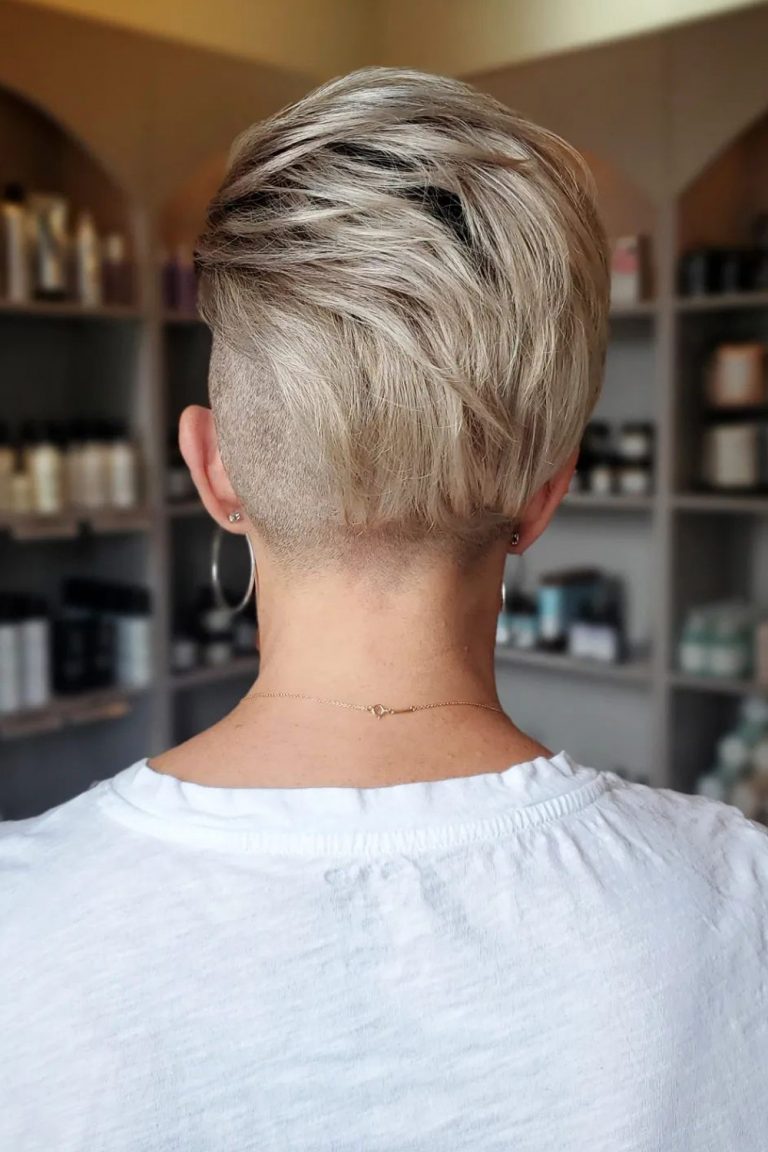 Credit photo: instagram.com/hair_by_marlo
This long pixie is flexible and can be varied to flatter nearly any face shape depending on where the layers begin and end. Paired with texture and shape, you can get as creative as you want with the shaved sides. Why not go bold and employ some peek-a-boo designs to add visual appeal to the long top pixie cut?
Face Flattering Long Curly Pixie Cut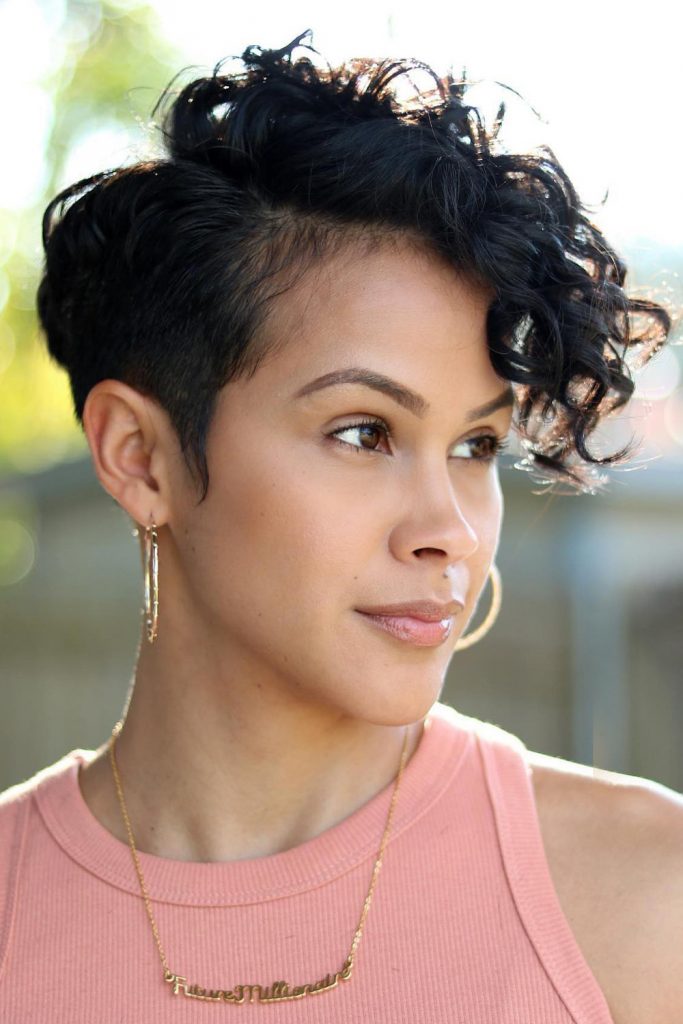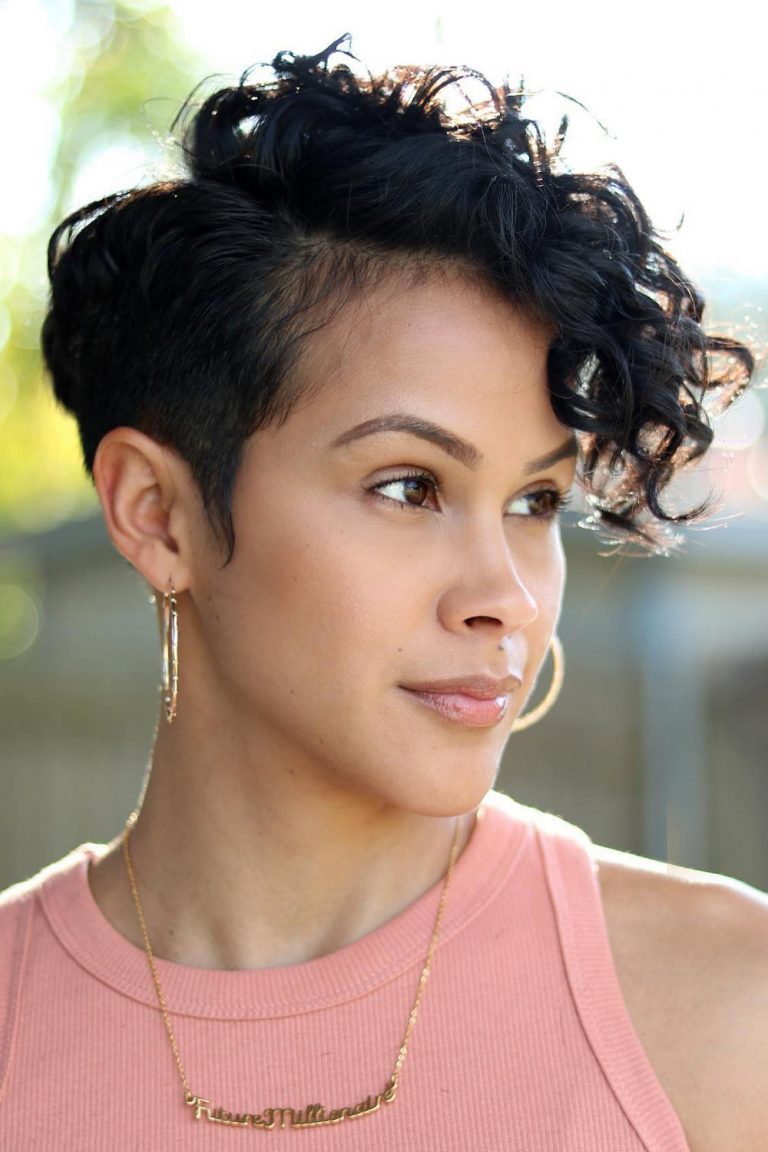 Credit photo: instagram.com/shorthairexclusive
Crave a pixie cut with a little kink? This long curly pixie cut is feminine and charming yet offers a ton of edge. A curly pixie cut is a cute option for the girl who likes a classic hairstyle but's ready to take the cut into a shorter terrain. Be realistic and work with your stylist for a pixie cut that works effortlessly with your natural curl pattern.
Regular trims are a must to maintain the shape of this style. Bear in mind curly hair tends to shorten in length when it's fully dry, so don't go too short. No natural curls? No problem. A small barrel curling iron is your new best friend as well as a few good styling products, such as a styling cream or mousse for added volume.
Extra Long Side Pixie Cut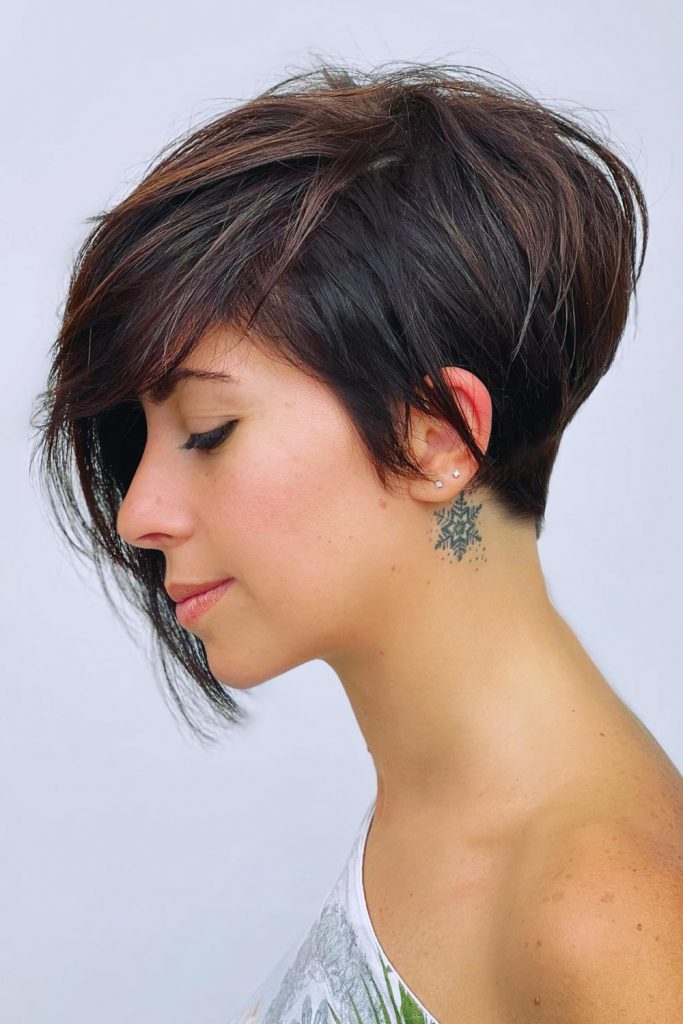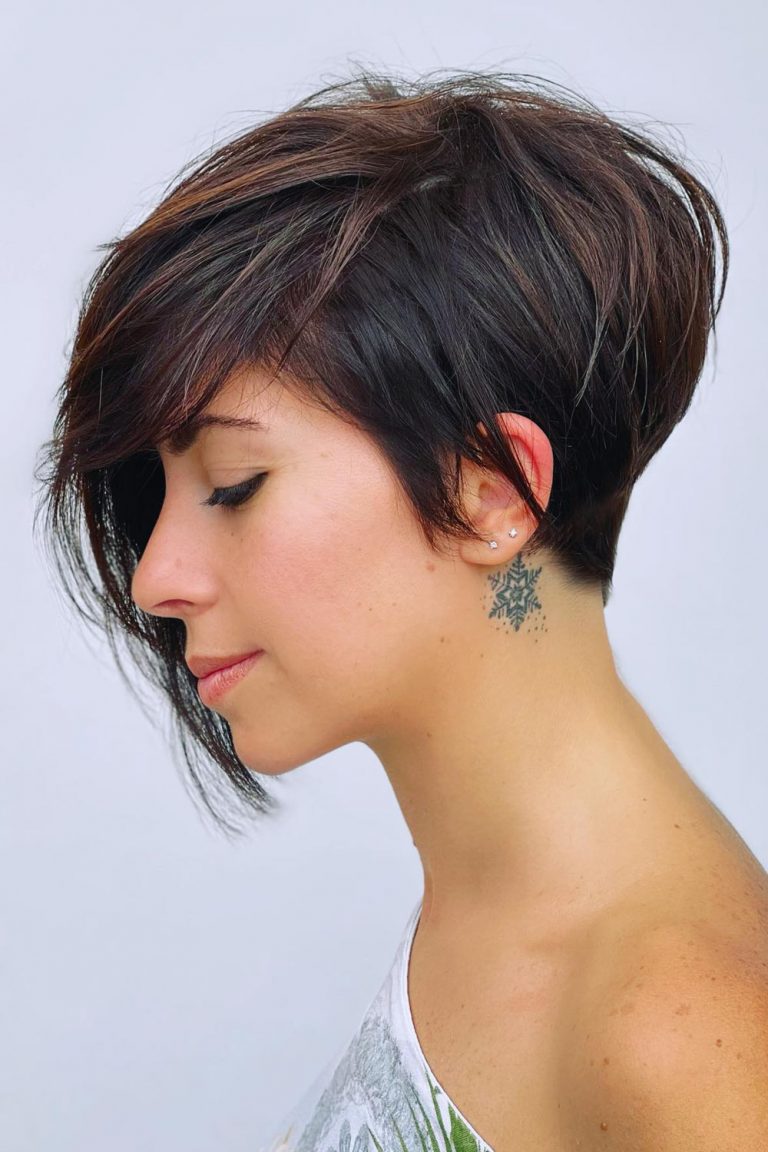 Credit photo: instagram.com/jeanclaudeelmoughayar
Keep your pixie pretty and glam by opting for a pixie cut with long bangs. Whether you rock shaved sides or just sweep the bang to the left or right, long pixie cut hairstyles like this variation are just plain elegant and ooze confidence. Pair it with a unique color or shaved designs and you'll have the perfect combination of classic yet cool.
Silver Pixie Cut With Long Bangs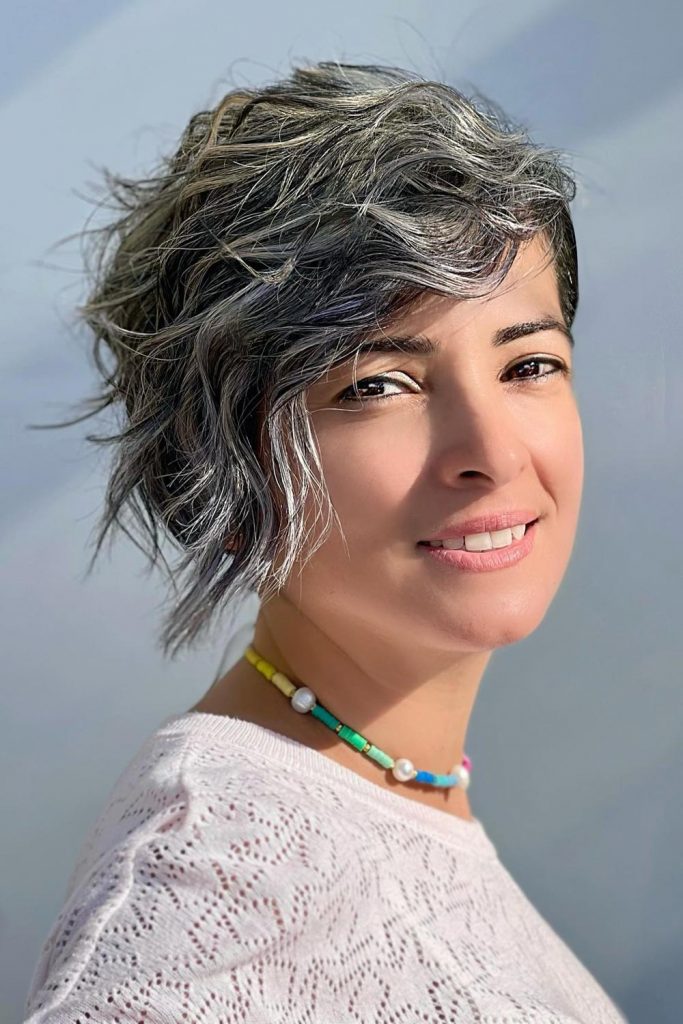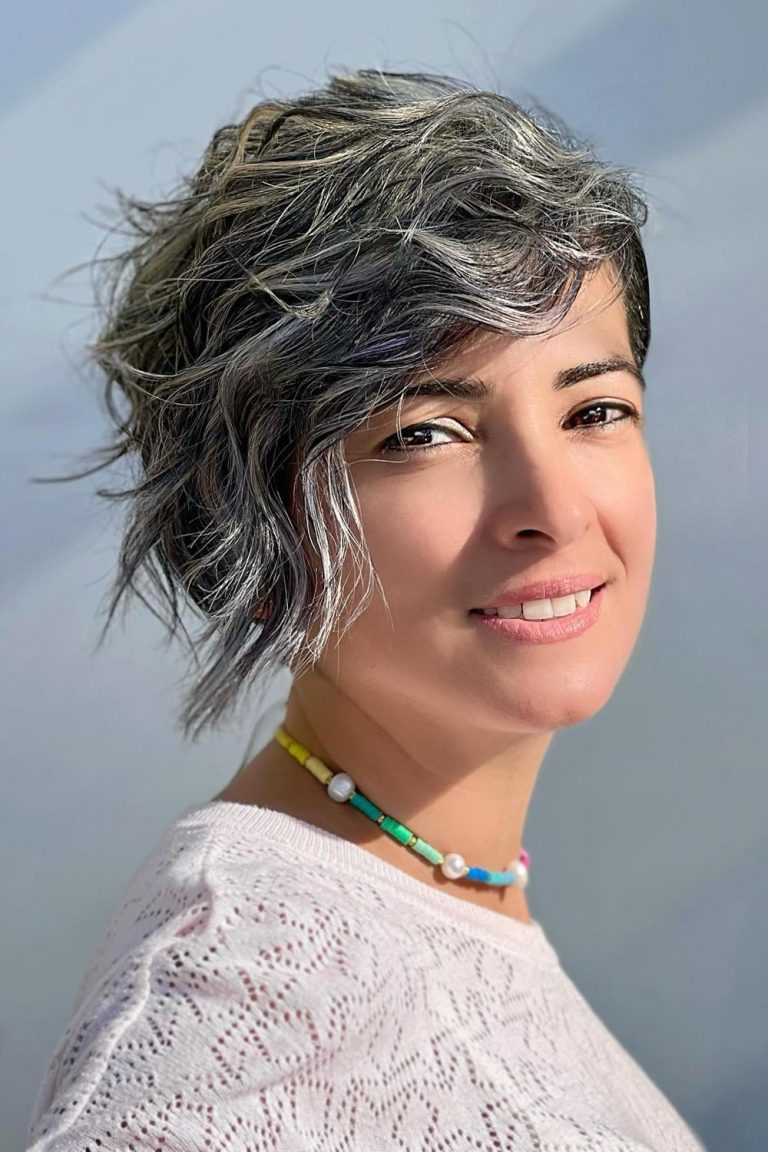 Credit photo: instagram.com/jeanclaudeelmoughayar
This long pixie cut with bangs has layers and edges to frame the face. The bangs draw attention to the eyes. This cut tapers up to a desirable top length, and the various edges of the cut provide volume and depth to this model's hair.
The beautiful silver color on her hair continues the contrast theme adding additional depth to this cut. If you choose to get a silver hair color, it is suggested that you use purple shampoo to extend the life of your color.
Long Pixie Cut – Fresh Look For New Season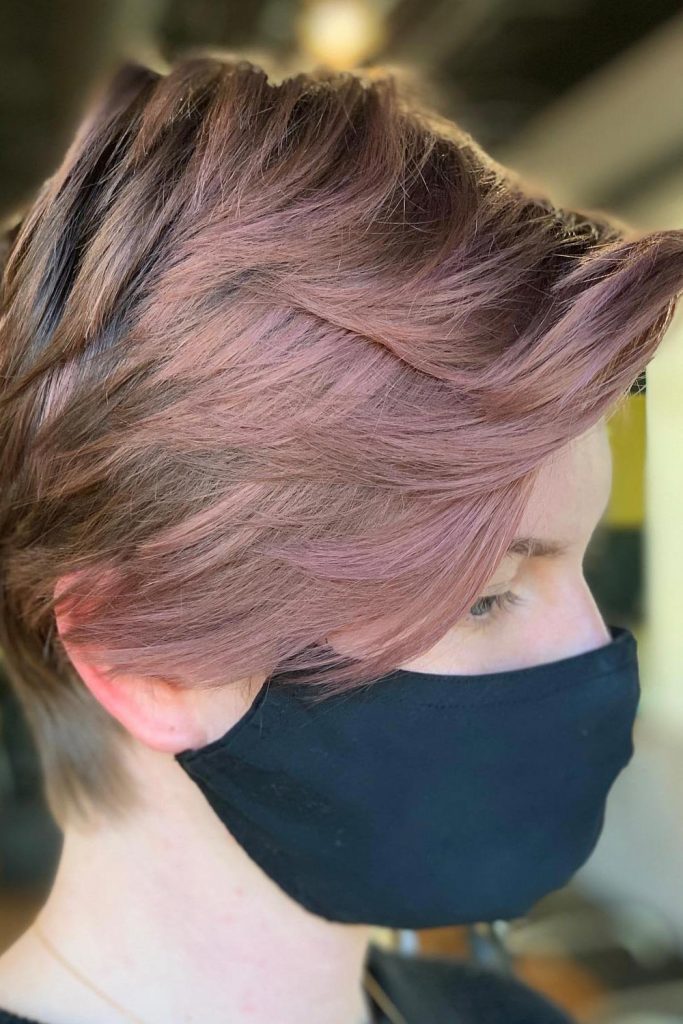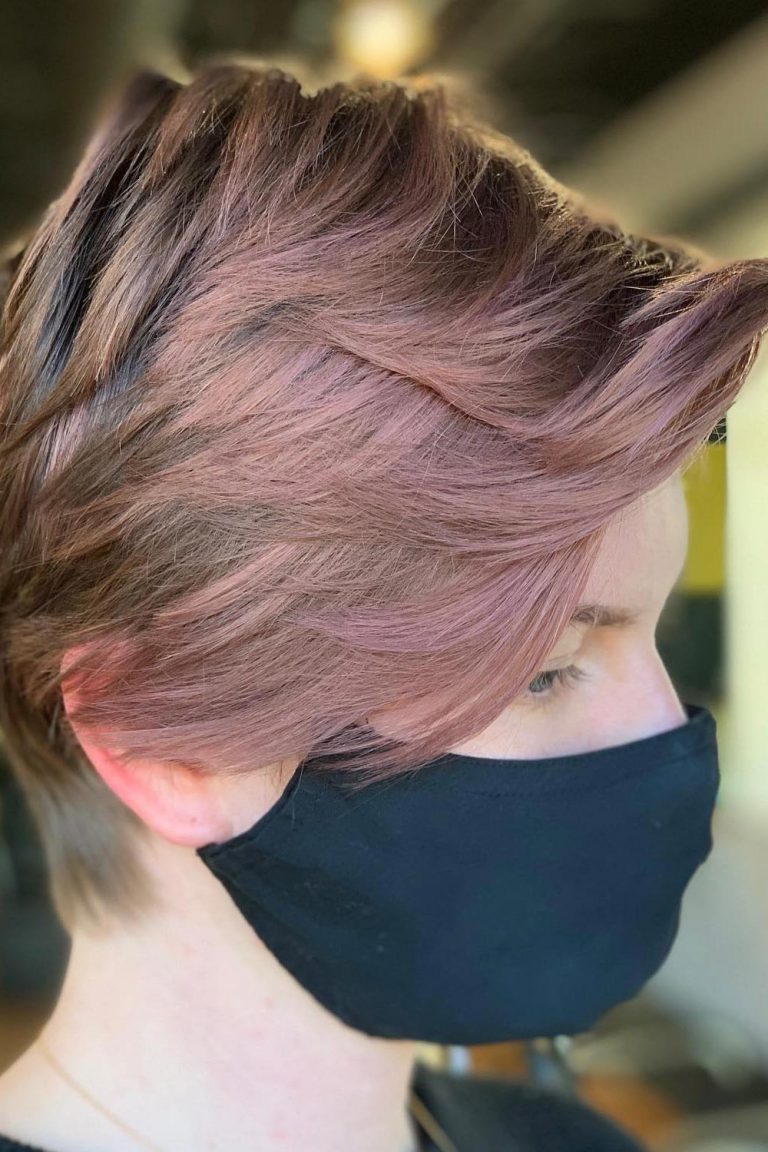 Credit photo: instagram.com/minhwaleehair
If you're looking to spice things up this year, you should try out this long pixie cut 2023 style. This cut and color combination should be nicknamed Northern Lights with its pale rose hair blended with whitish ends.
This colored pixie is a piece of art with perfectly blended colors. The volume and lift provided by the length on top compared to the short sides is astounding. This side and back length can be altered as can the top length, but this hairstyle is heart-stopping.
Long Pixie Cut For Round Face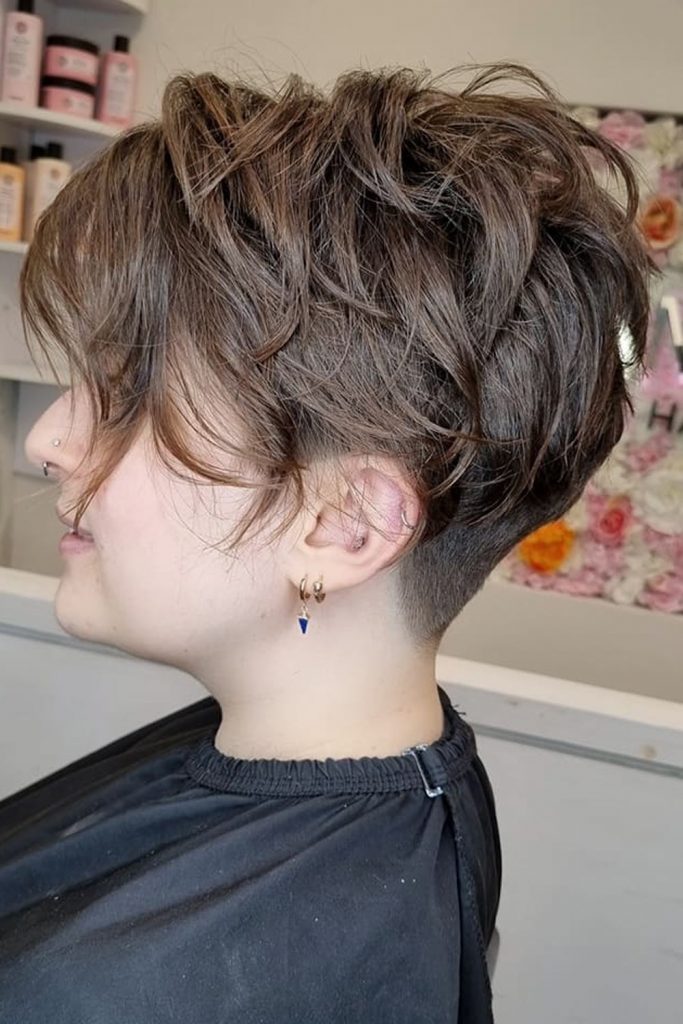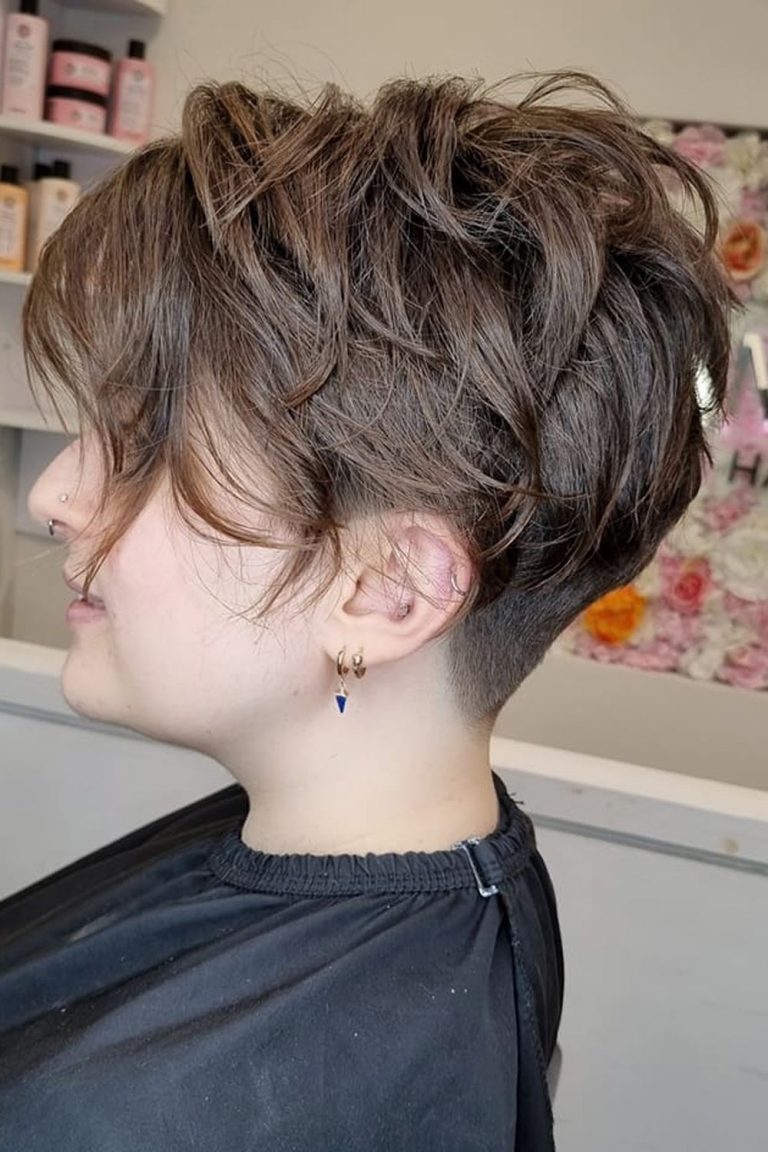 Credit photo: instagram.com/apostoldiana
Next, we will discuss the long pixie cut for round face shapes. Women with a round face shape can often get by with a much shorter pixie cut than women with other face shapes. However, the pixie on the model above is accentuated beautifully with the soft wheat blonde color with slightly darker roots.
Let's not forget to mention the depth of this voluminous hairstyle. This style gives the appearance of very thick hair while allowing the wearer to remain cool and comfortable.
Silver Long Pixie Hairstyle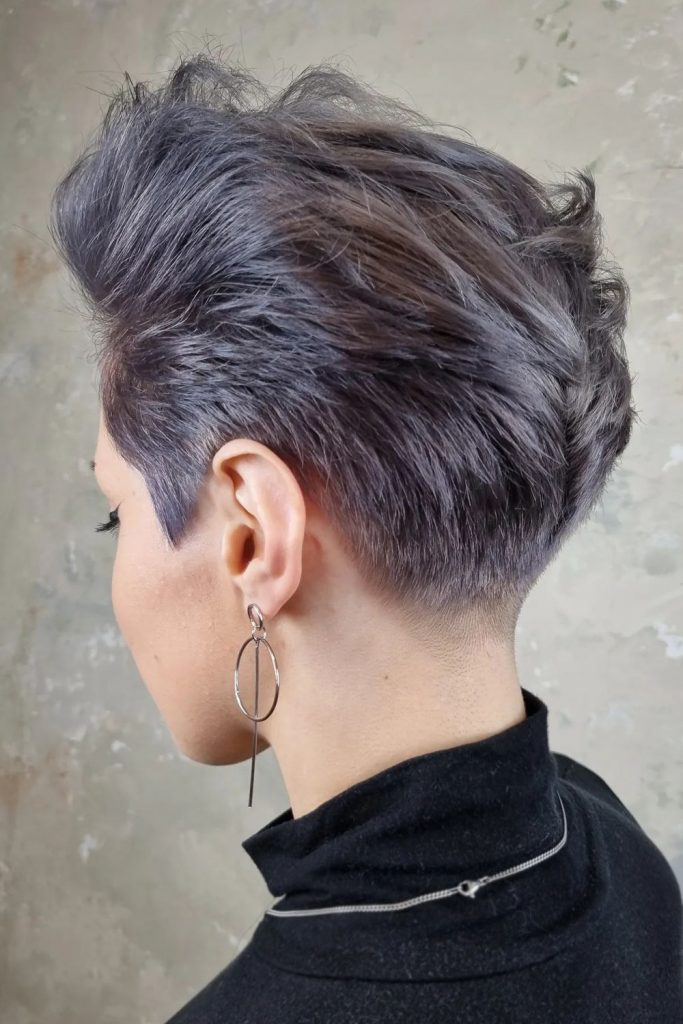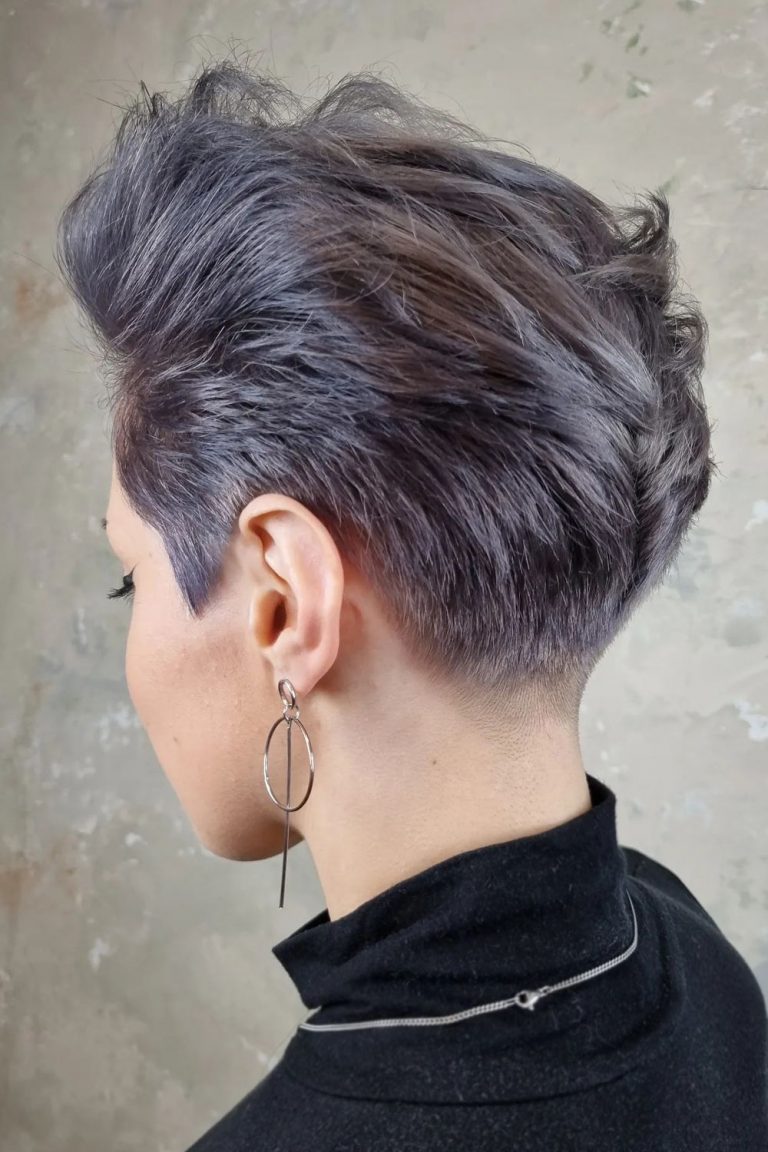 Credit photo: instagram.com/apostoldiana
This is one of my favorite long pixie hairstyles that I have come across recently. It may be a bit drastic for some, but the silver hair color absolutely pops! The top is blow dried out straight, and it lays neatly in place. The side shaved effect compliments the cut so well it is hard to overlook it. The versatility of this hairstyle makes it a highly preferred cut.
Pushed Up Pixie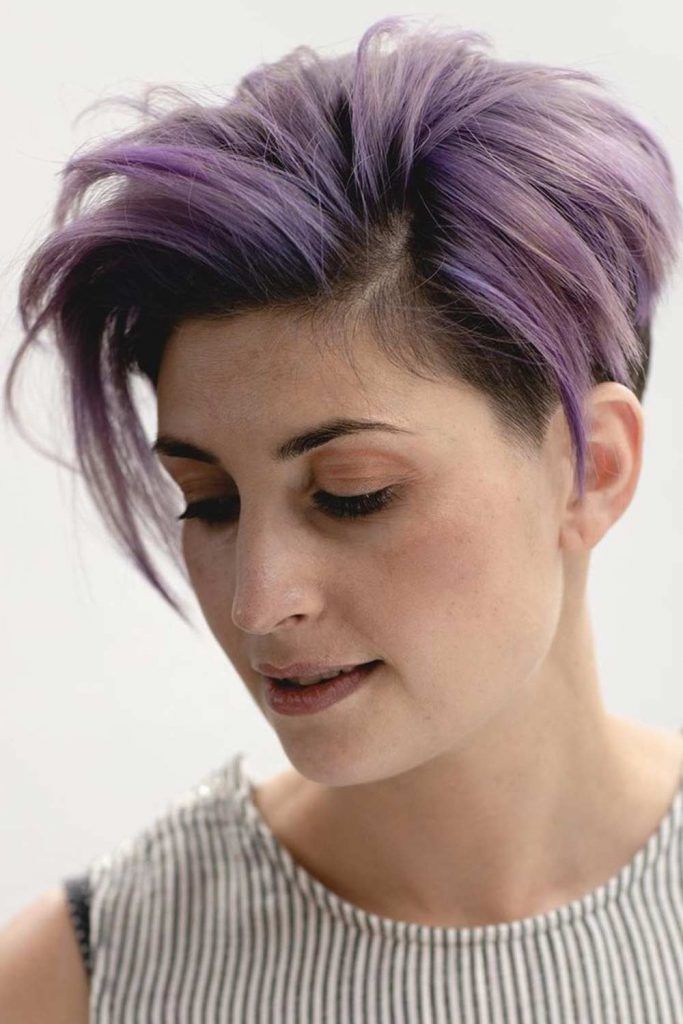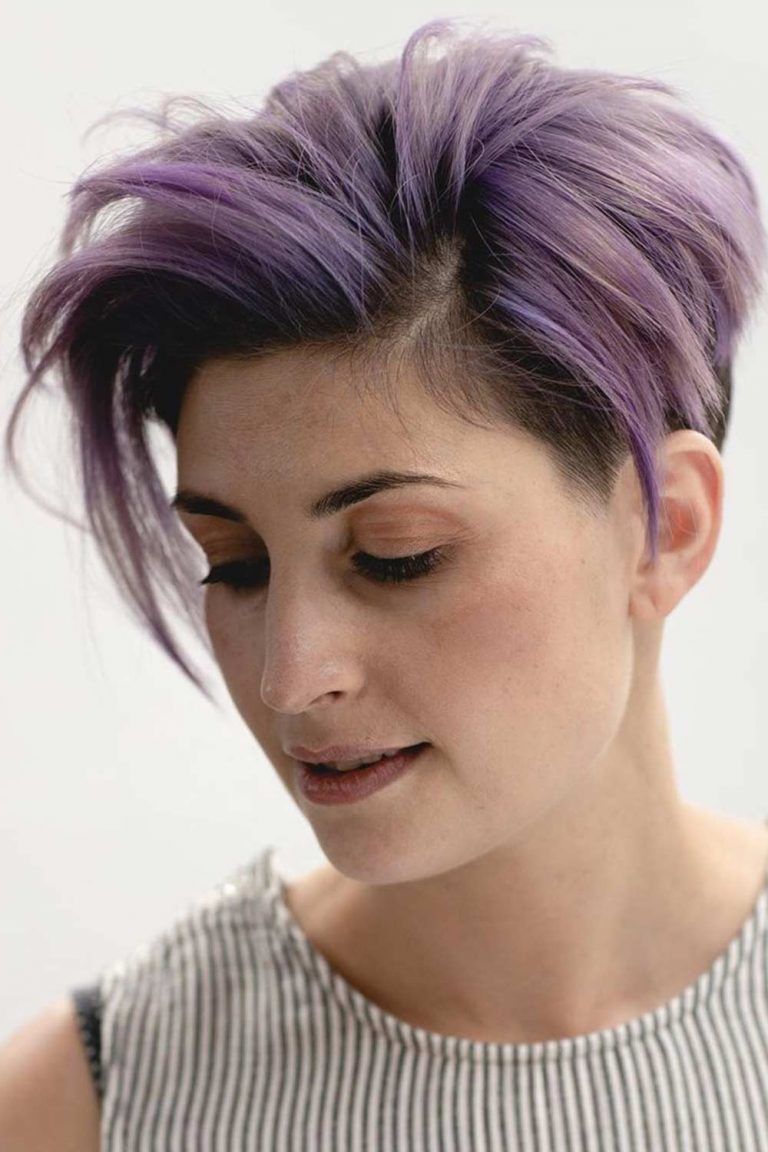 Credit photo: instagram.com/andrewdoeshair
The secrets to beautiful pixie haircuts for women are layers, layers, and more layers. Some women fight the battle of taming their hair while others fight the battle of building up their hair. Having the proper hair care products is a must when styling your pixie cut. This is especially relevant if you are trying to go for a pushed-up hairstyle.
The whole point of a pushed-up hairstyle is to add volume and height to your hair. If you fail to use the proper hair care products, all your work will be in vain, and your style will flop before you've made it halfway through your day. Play with your style and decide which products work best for you and your hair type.
Long Layered Pixie Cut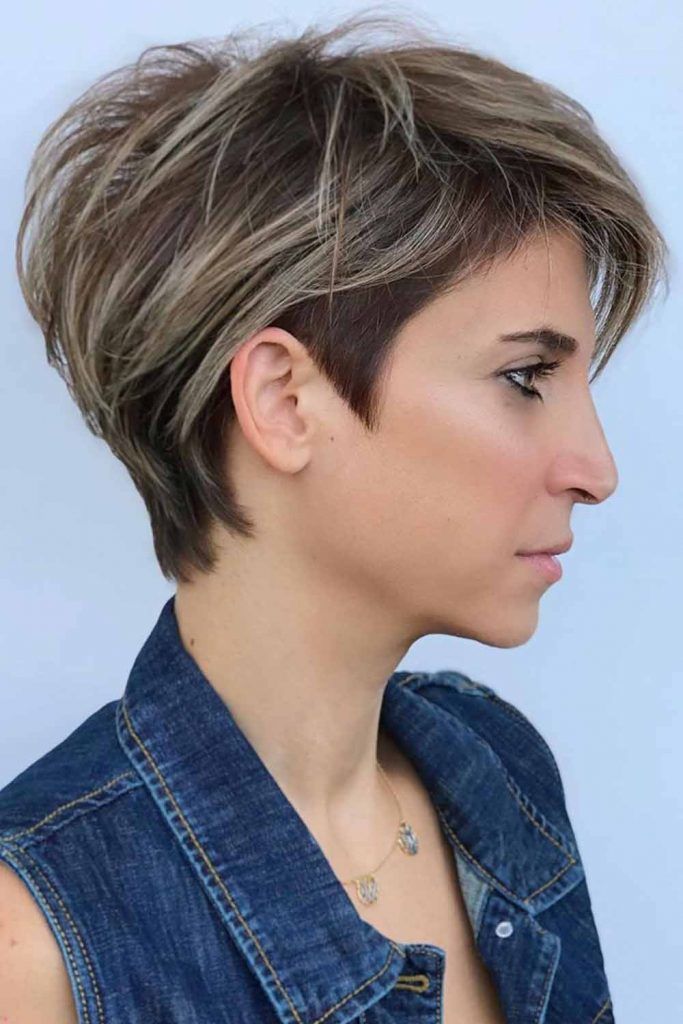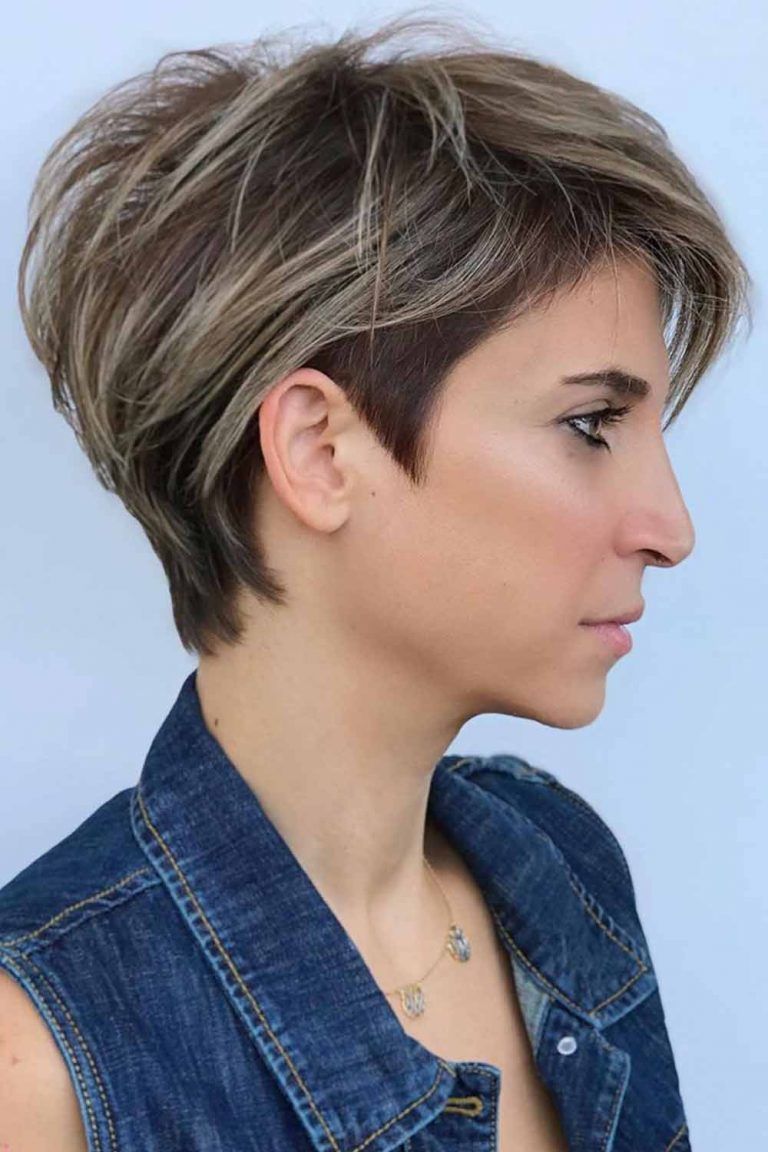 Credit photo: instagram.com/jeanclaudeelmoughayar
This long-layered pixie cut is one that is preferred by women who don't have a lot of time to style their hair. They are looking for something low maintenance that they can simply run their fingers through and go. The layers add just enough volume to keep the hair from falling flat, and the long bang effect leads to a stylish flair without seeming too plain.
This hairstyle also has a choppy look, adding to the edgy style that is so "en vogue" now. With the hairstyle in this photo, you do not need a great deal of time and hardly any hair products whatsoever to achieve this style. It is one of the simpler pixie cuts.
Pixie Cut For Thick Hair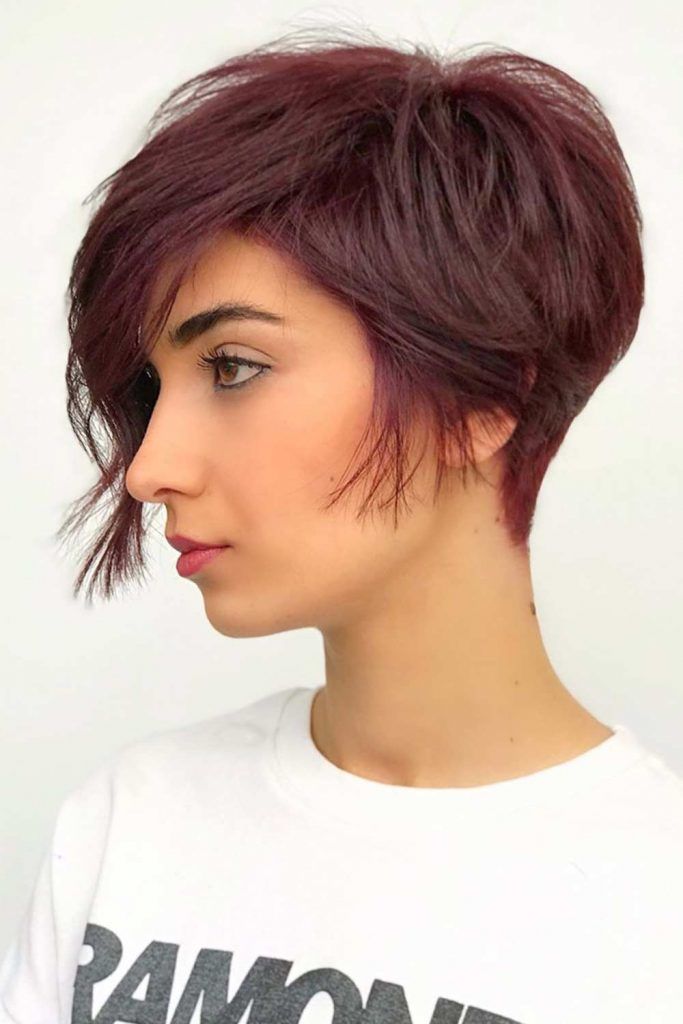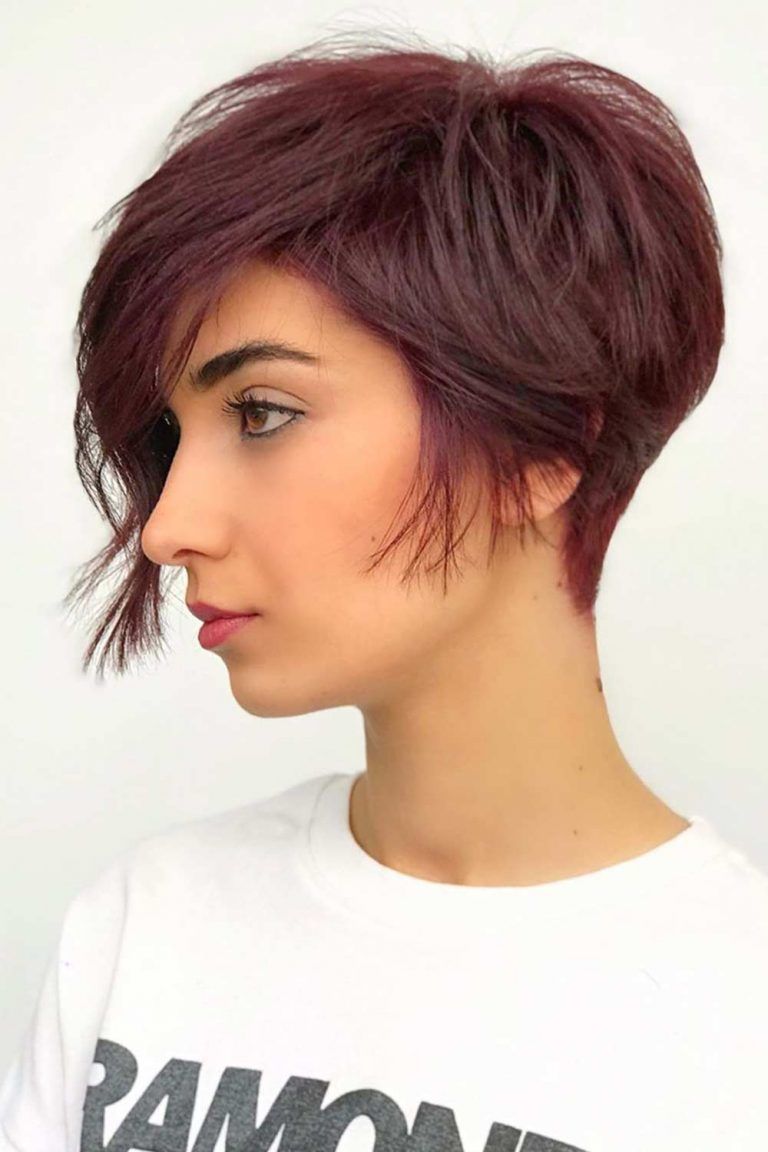 Credit photo: instagram.com/jeanclaudeelmoughayar
There are various styles of pixie cuts for thick hair, from stylish, chic cuts to choppy boy cuts that still have a feminine flair to them. Depending on how much styling you wish to do, you can choose to either blow it out straight or allow the hair natural texture to shine through in a style. The same goes for adding a splash of color as this model did with her purple hair.
Purple hair has become extremely popular recently and is all the rage along with silver and gray tones. This pixie cut actually borders on the edge of being a short bob, but the tight stacking in the back allows it to remain classified as a pixie cut.
Texture + Layers + Side Bangs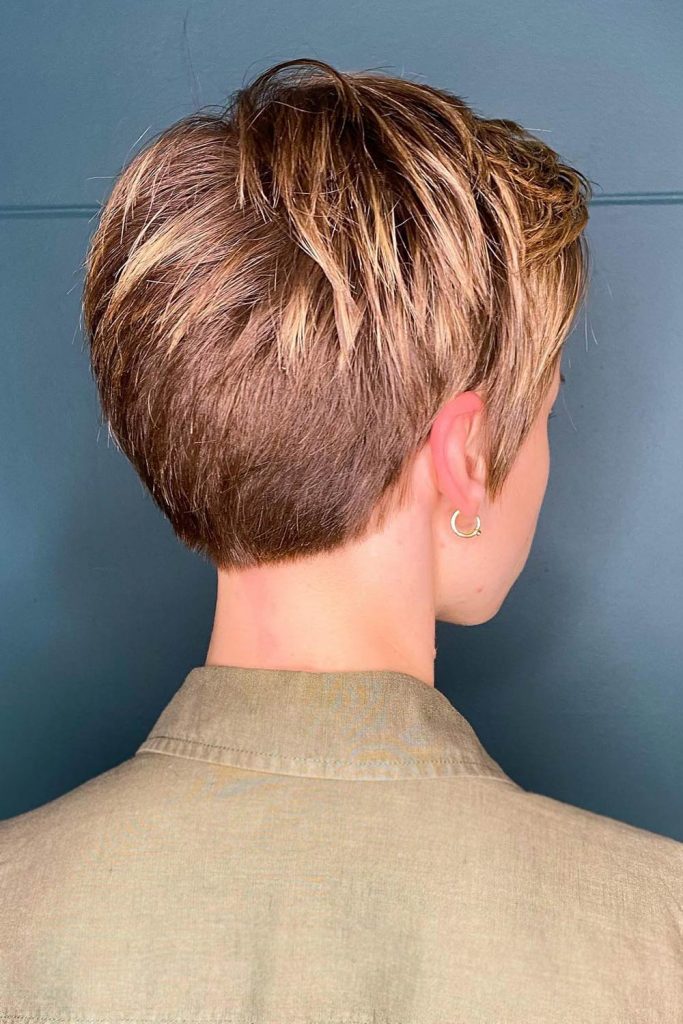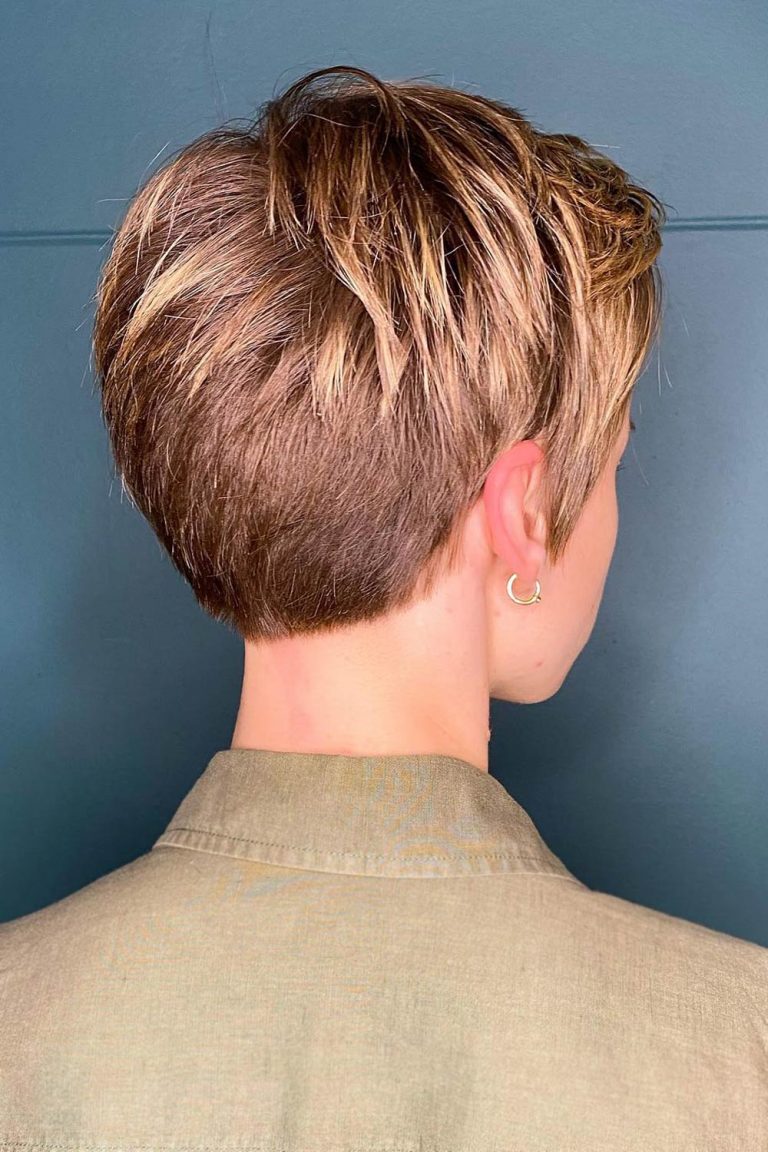 Credit photo: instagram.com/kristinakatsabina
When getting ready for a cut, it is always a good idea to search the Internet for various pixie haircut galleries to know your options. You may think you want something sleek and sassy, but actually, a textured cut may flatter your facial features in a much better manner.
In most pixie cuts, the side bang hairstyle is almost always present and is a feature that draws women to this hairstyle.
Messy Pixie Cut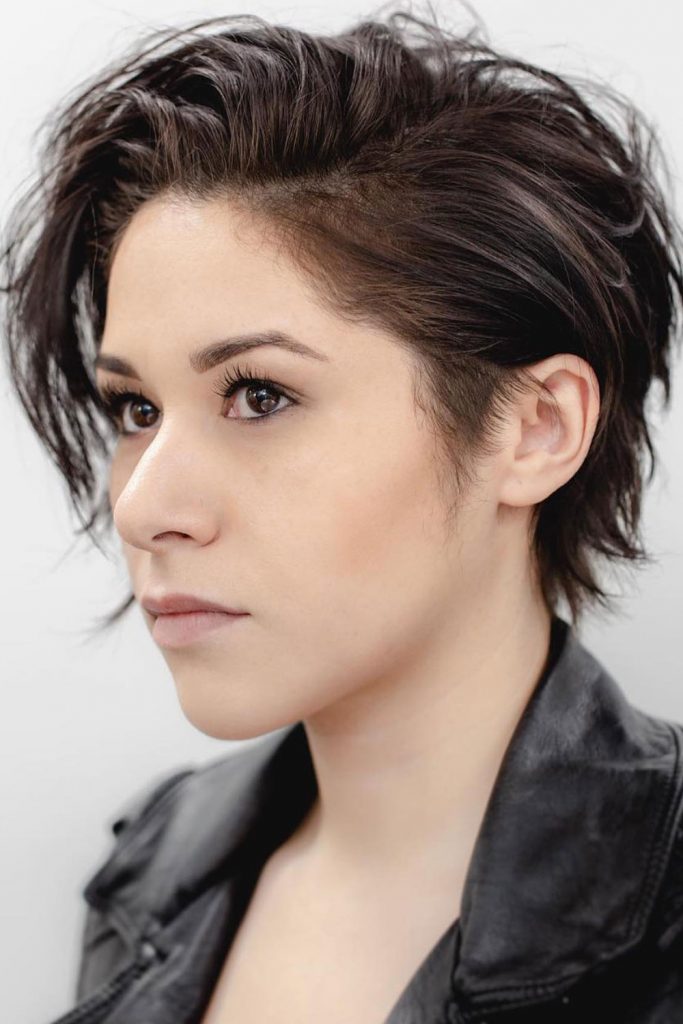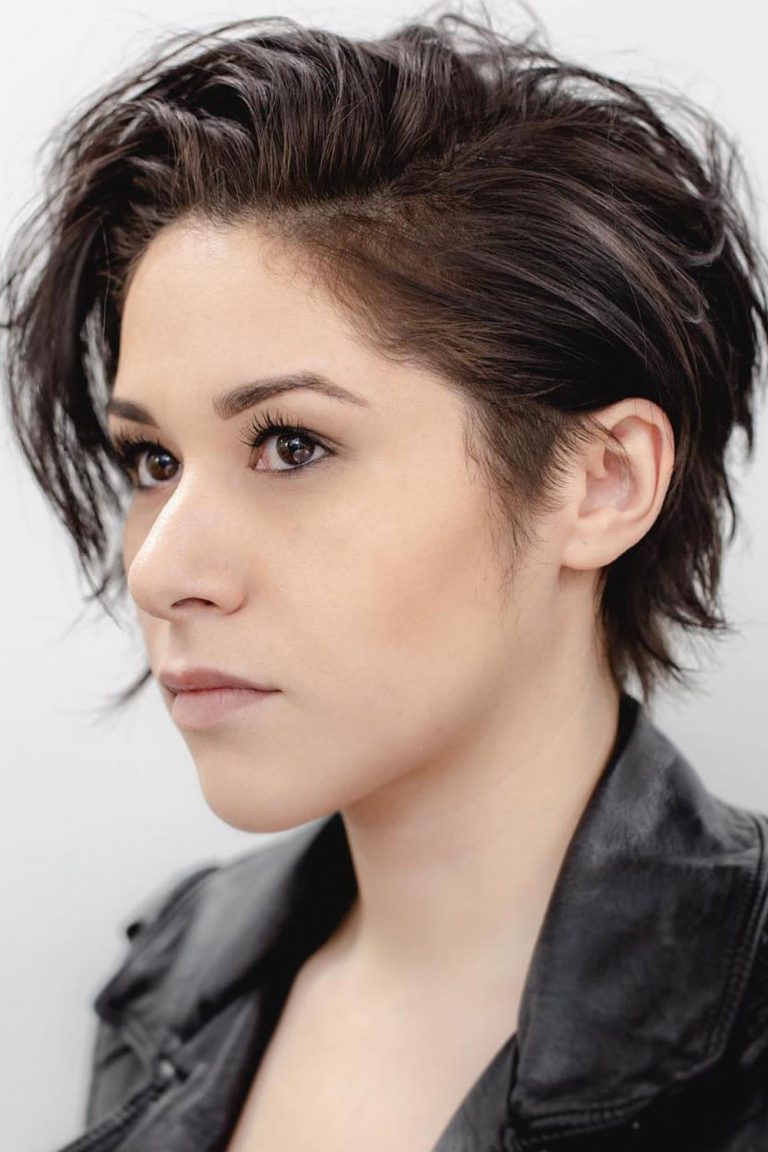 Credit photo: instagram.com/andrewdoeshair
The messy pixie cut like the one pictured above has become excessively popular. Add the on-trend gray hair color, and you are really rockin' your style. Although such cool-toned shades were considered to be a flaw a few years ago, they have become the most enviable color ideas today.
The layers and a long fringe play well with the messy look and give an almost carefree attitude. Stepping out of your comfort zone may be just what you needed to open up a whole new, fun you!
Asymmetrical Messy Wavy Long Pixie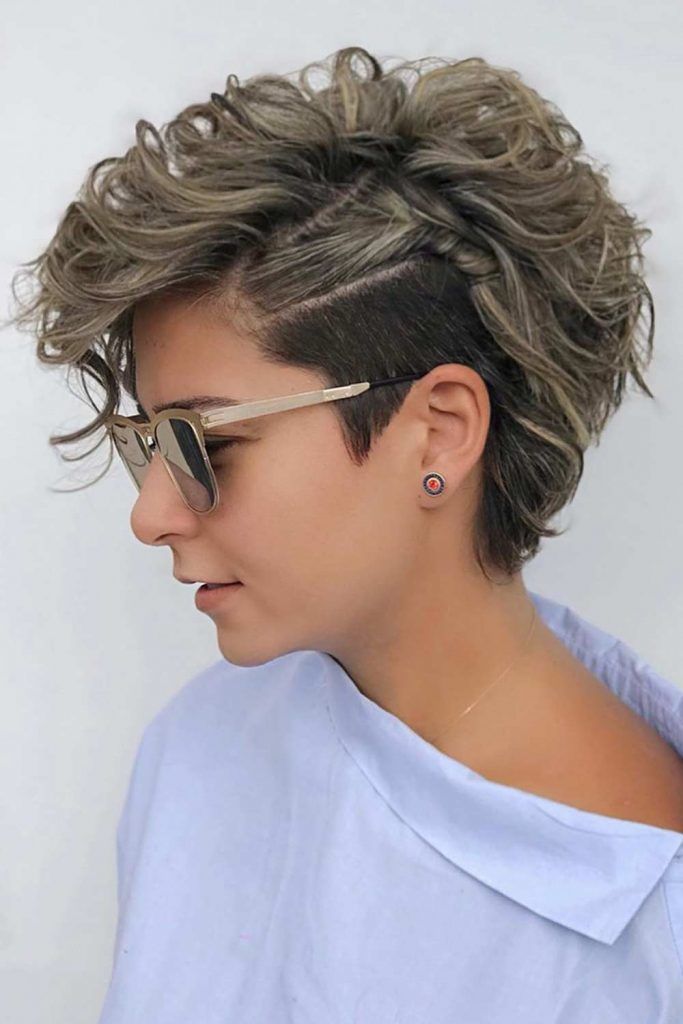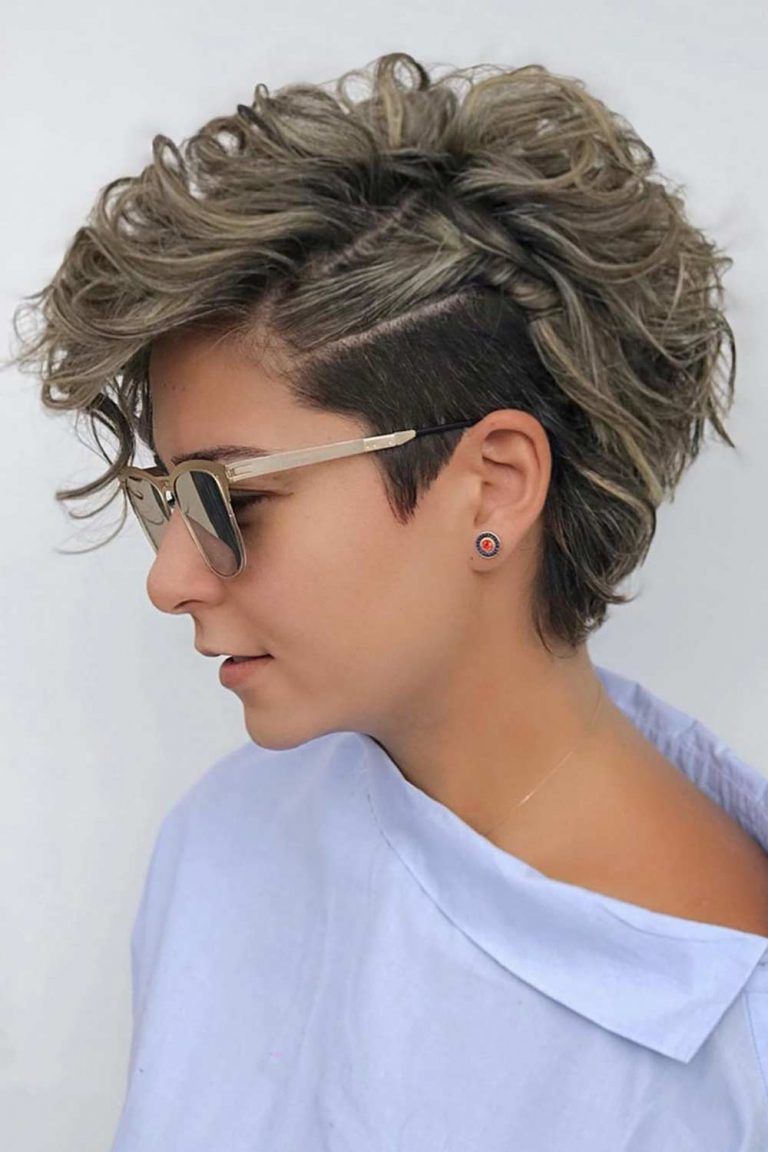 Credit photo: instagram.com/jeanclaudeelmoughayar
Every pixie is a story of your inner fashionista. And, as you know, to make your story more interesting, you should add some spicy twists to it. The good news is, it won't take a lot of time while giving you a unique and head-turning look. By it, we mean a ravishing styling idea for a wavy asymmetrical pixie. Keep your pixie at a longer length to let more waves into your life, wave the top, setting it to one side with a good texturizing product, and be ready for the happy end!
Coral Messy Pixie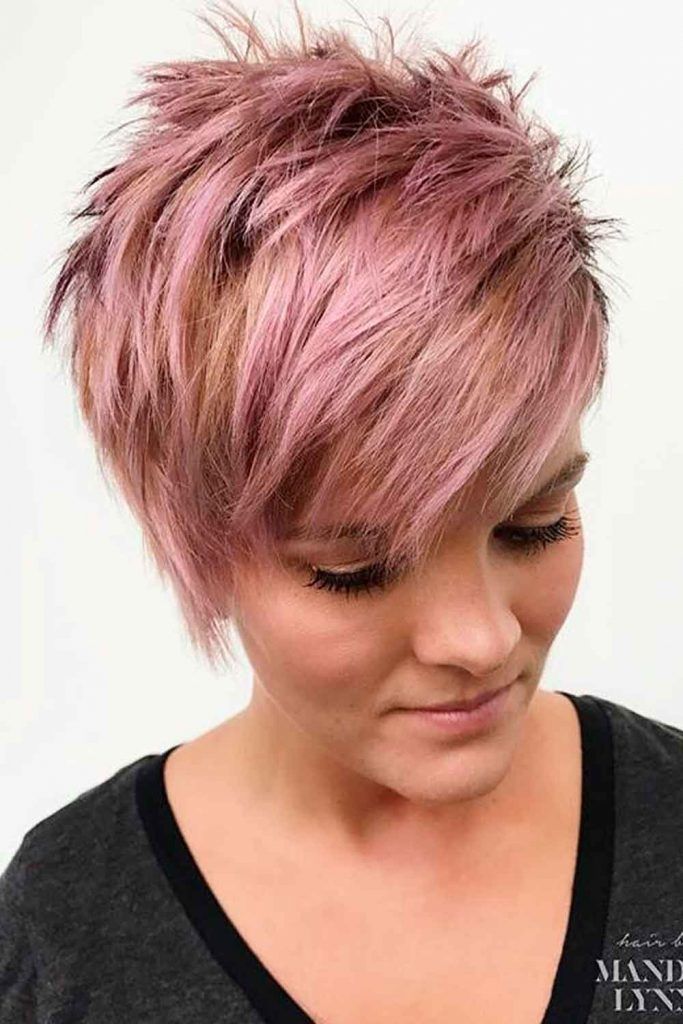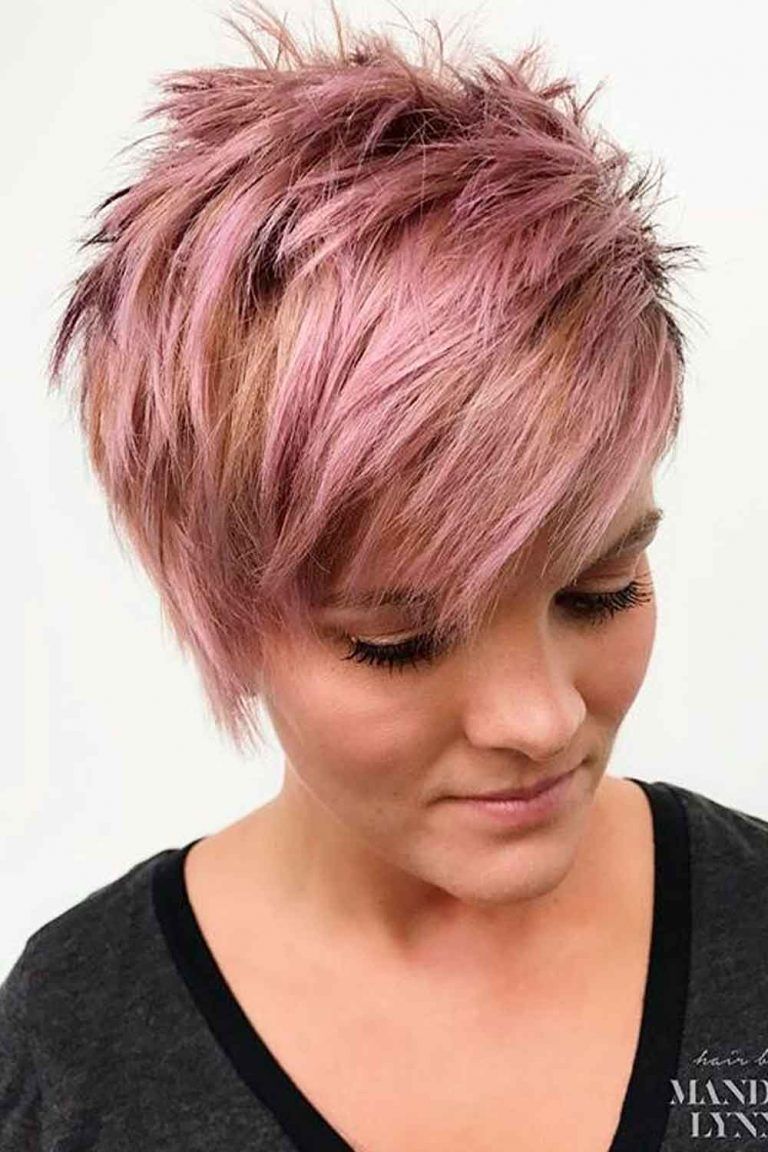 Credit photo: instagram.com/hairbymandielynn
Pixies are nothing but palettes for your experiments. Since they're short, edgy, and hip they have the power to enhance all color plays you have on your hair. As for this coral pixie with a whole lotta messy vibes inside, it simply takes the biscuit. Bottom line? If you want to let some colors and mess into your life, don't make it without a pixie - it's the only way to steal the show.
Black Feathered Pixie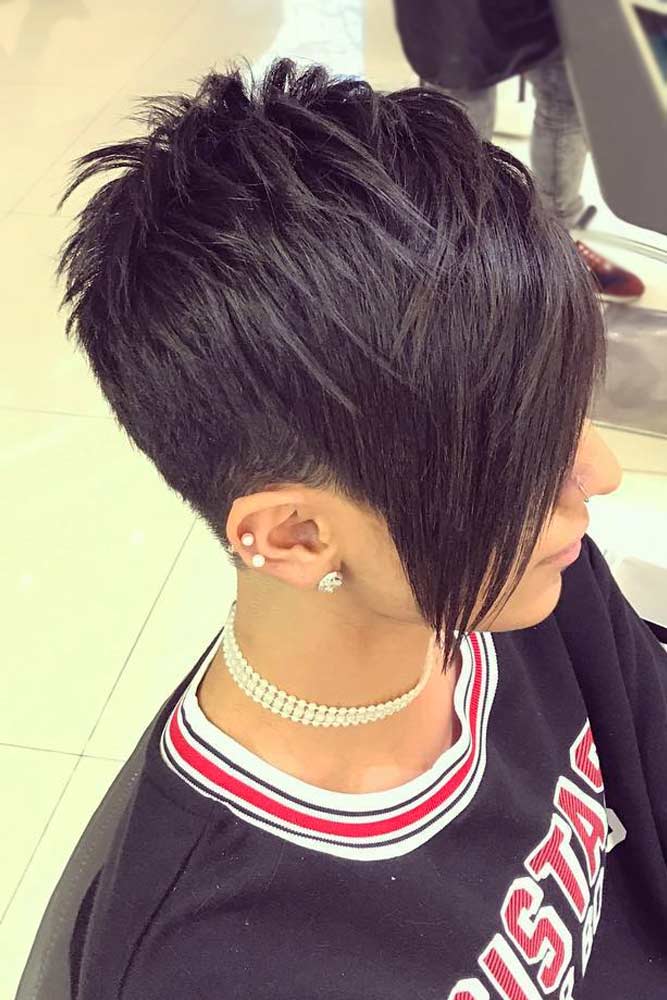 Credit photo: instagram.com/mikeism11
Got tired of all those similar ideas? That means its time to let the experimenter inside you take you over and design your own pixie. As we told you before, pixie cuts, despite the short length, can be customized in any way you want. And here's one of the countless examples of how differently it can be tailored. Here, it features feathers on the back, creating a sharp and textured finish for a dramatic long top and tightly shaped sides. Of course, it's only the beginning.
Trendy Pixie Hairstyles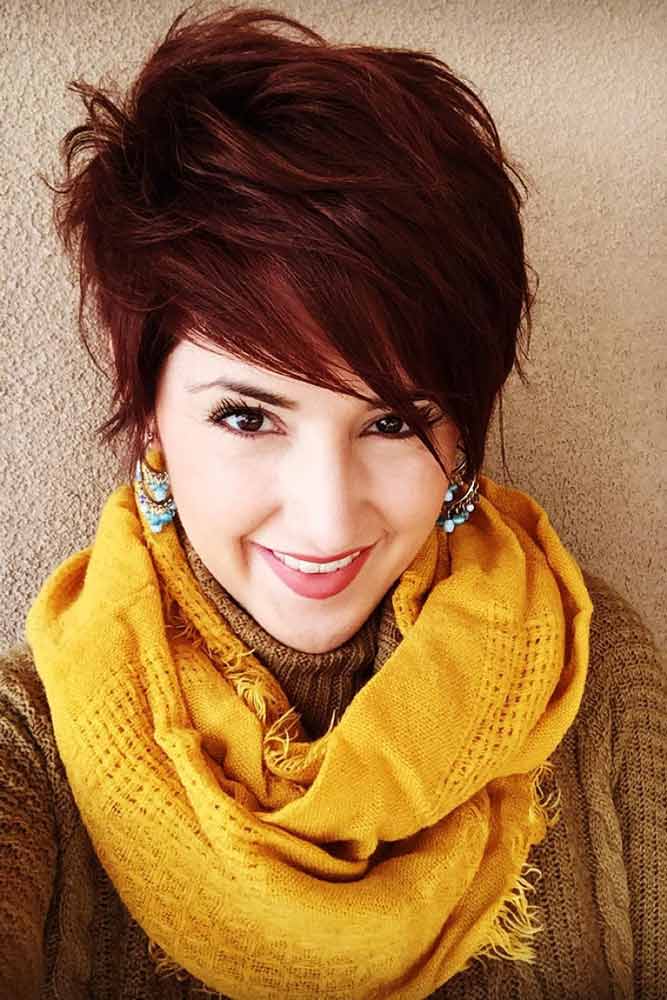 Credit photo: instagram.com/ezmialove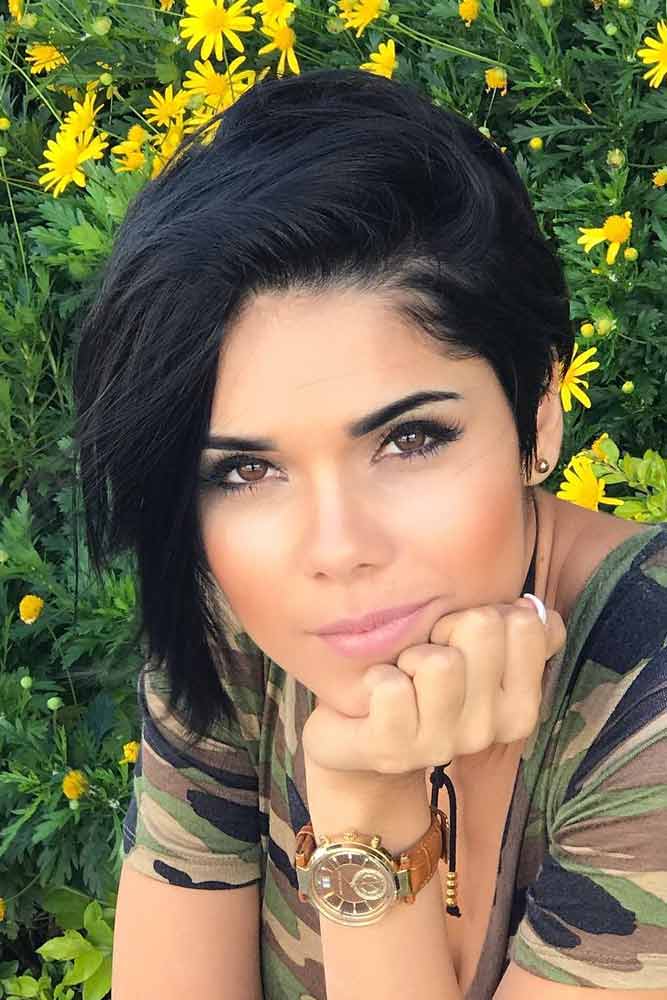 Credit photo: instagram.com/ycniiia
Pixie haircuts will make a real fairy out of you. For example, this choppy silver pixie looks extremely sweet. The longer fringe in the front and the shorter back are the key factors that help build that natural volume on top.
Ice Colored Side Pixie Cut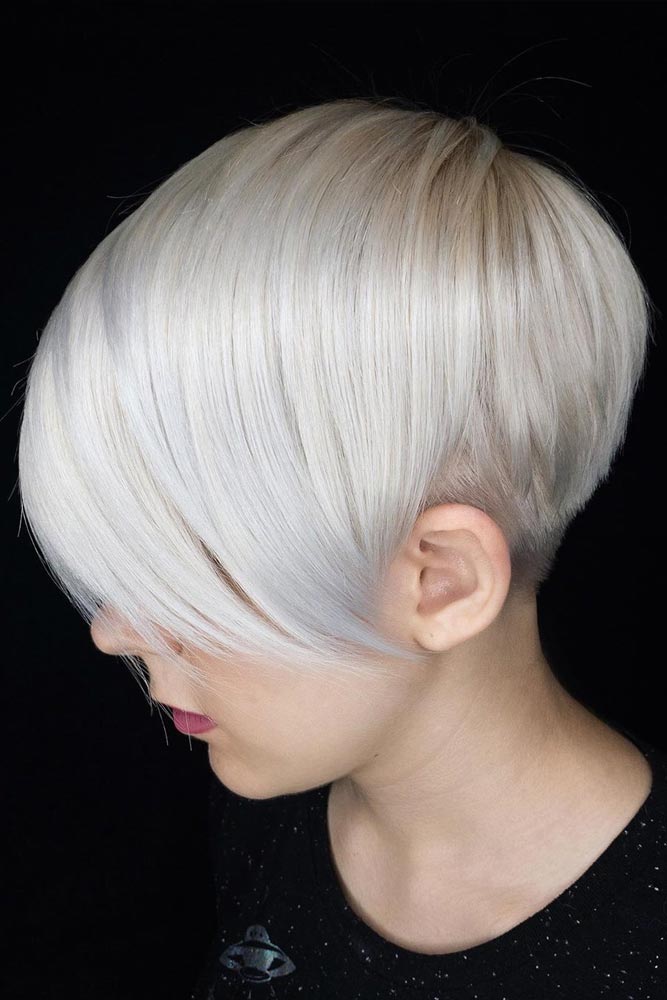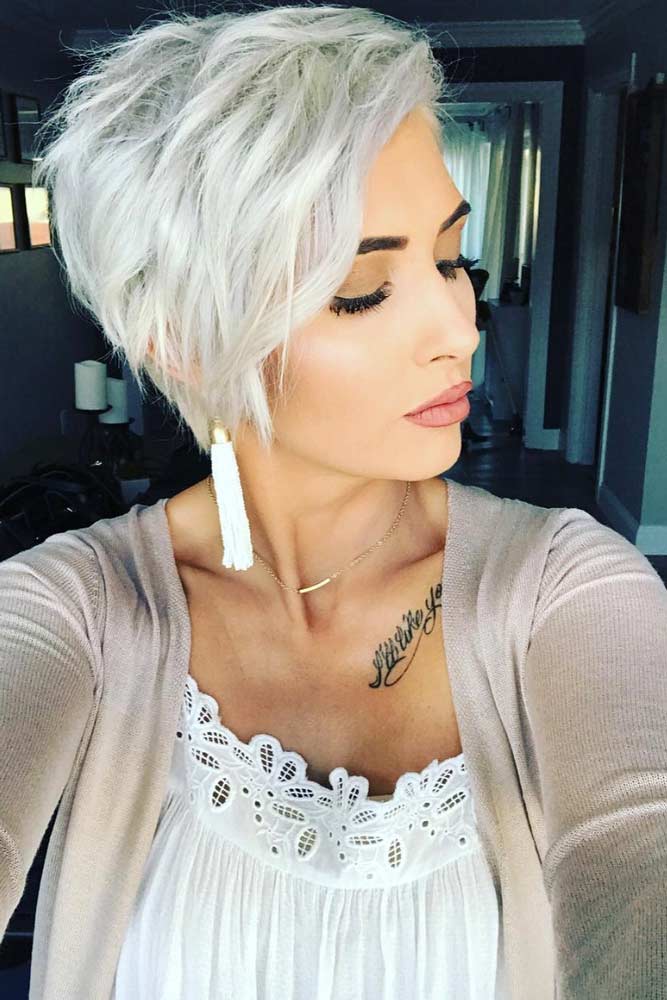 An ice-colored side pixie cut is not only ultra-stylish, it is also perfect for ladies with square faces. Its ability to soften all the unnecessary angles is fascinating. And that color is breath-taking!
Textured Long Pixie Cut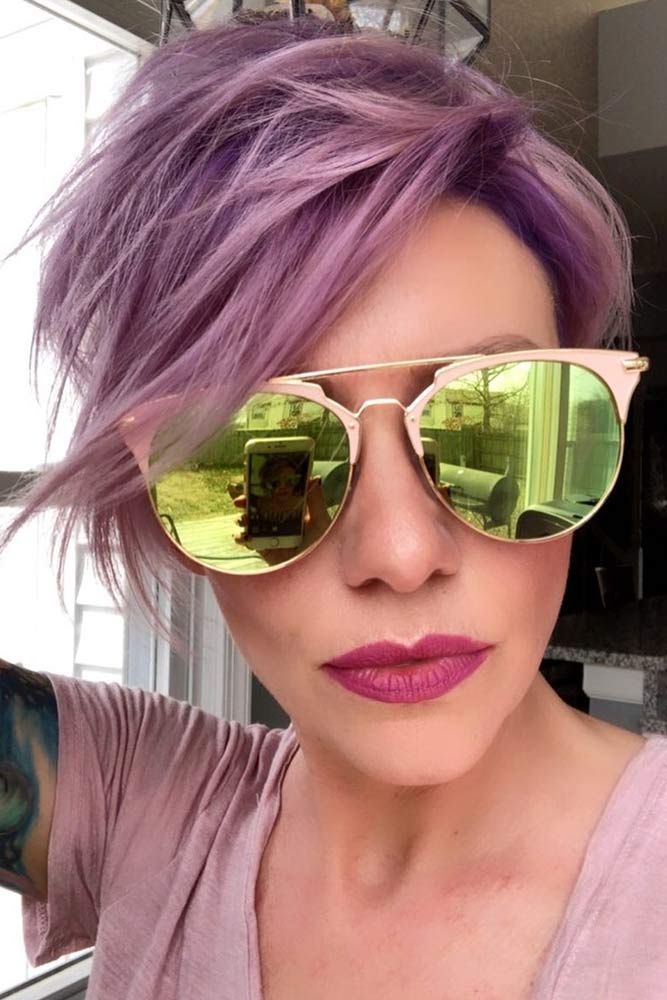 Credit photo: instagram.com/hairmakesupbee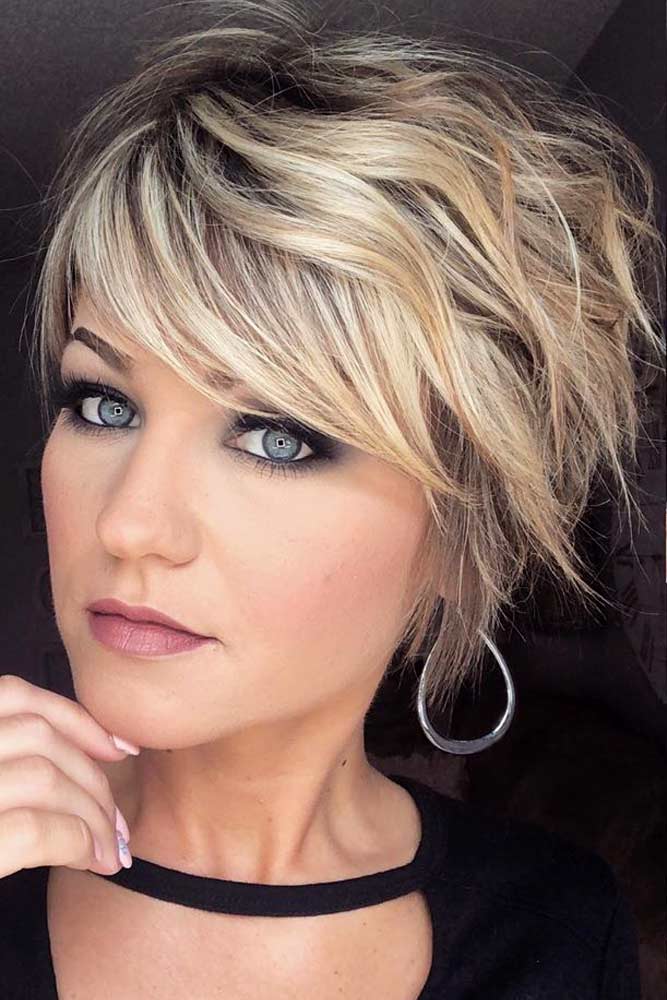 Credit photo: instagram.com/kaci.lashgeeks
Credit photo: instagram.com/cresposte
Long pixies have that particular ability to be worn any way you like it. You can sweep it to the side, braid it or even add some lovely waves for a softer and even more feminine look.
Cute Long Side Pixie Cut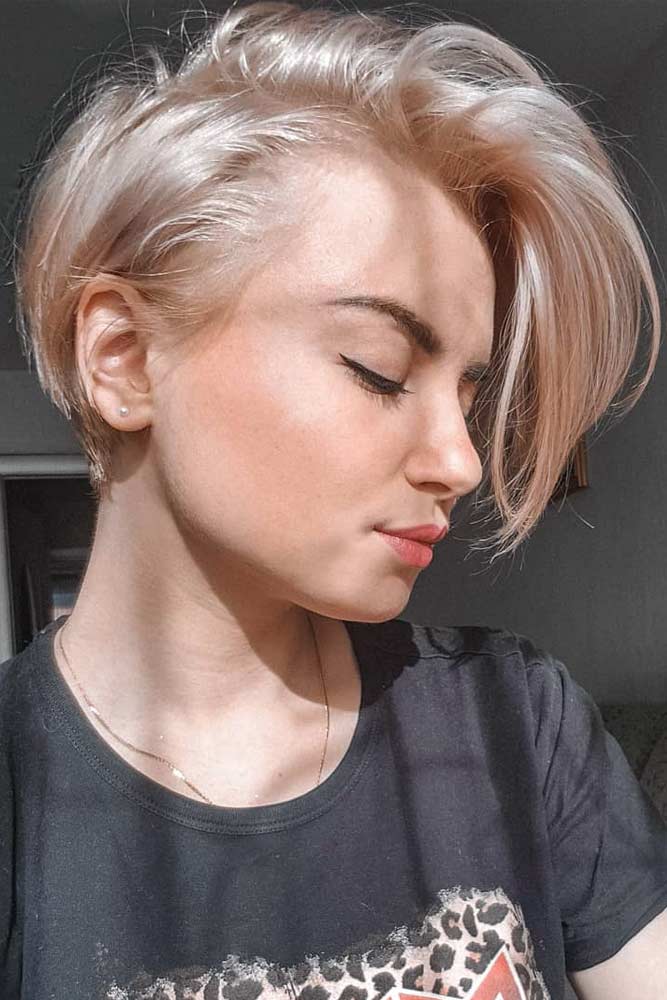 Credit photo: instagram.com/e_yurchishina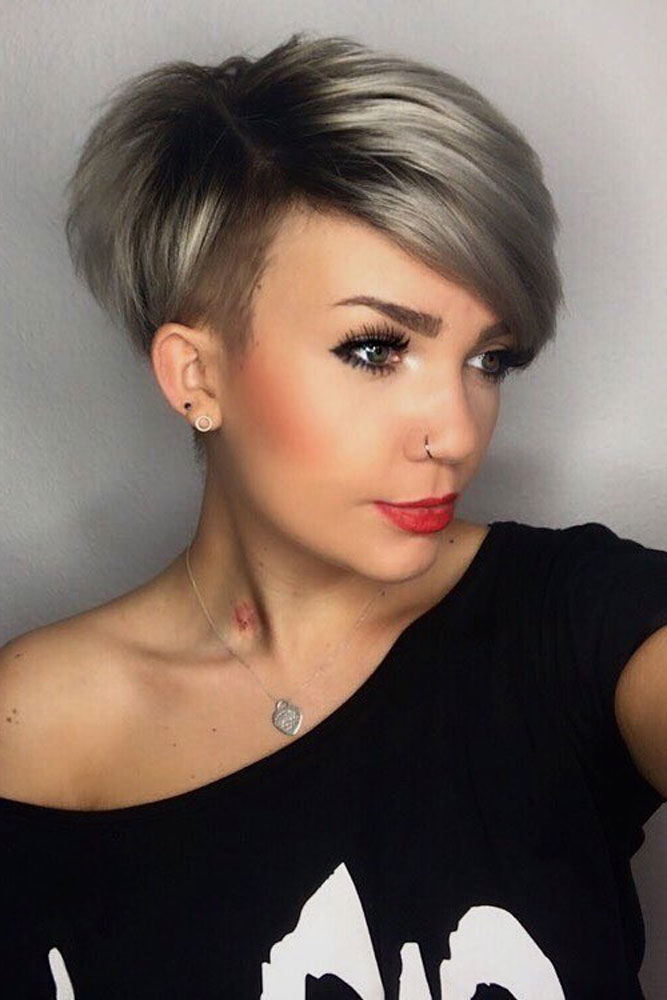 Credit photo: instagram.com/mademoisellehenriette
The longer the better: that is the rule of those who like to look cute. Make your pixie longer on the one side for a cute look and shorter on the other for an edgy look. Finish everything with a stunning blonde, and you are ready to win the staring gazes!
Long Shaved Pixie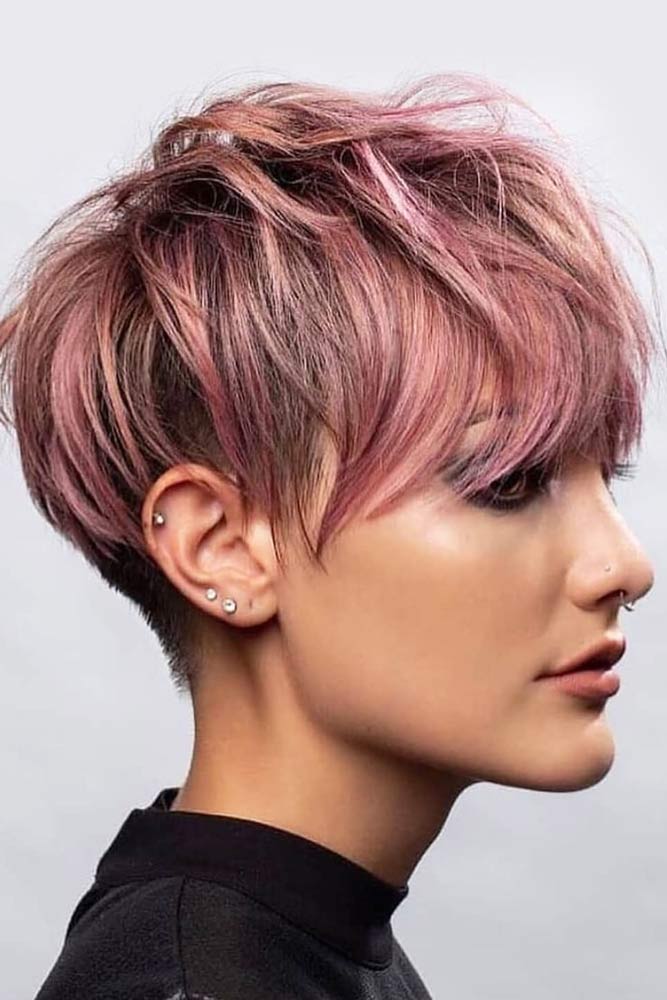 Credit photo: instagram.com/erinjeanpowers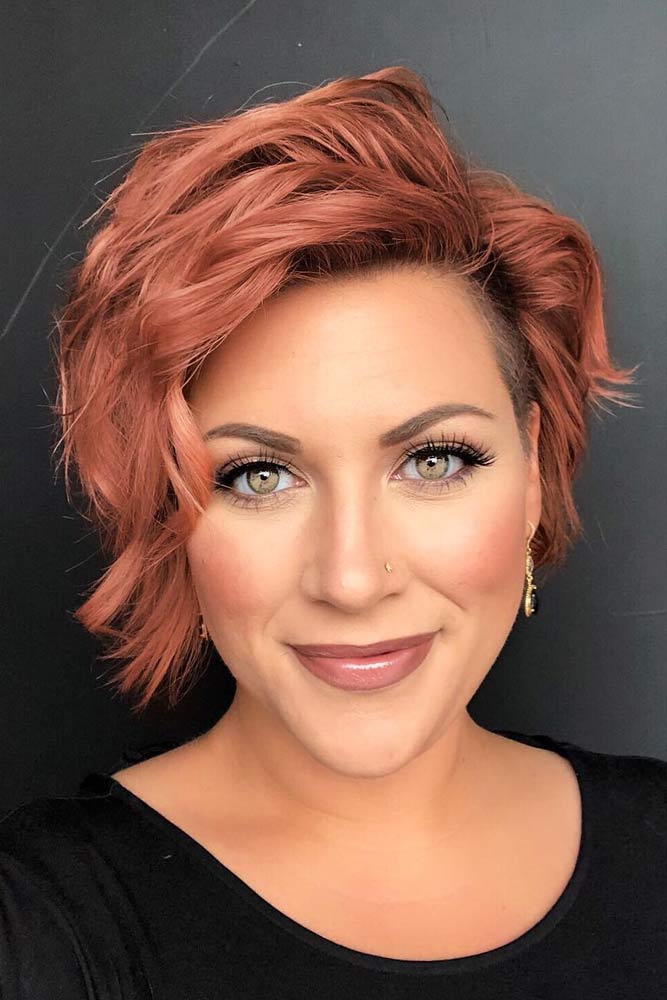 Credit photo: instagram.com/carmenjayelove
In case you wish your new image to have a jaw-dropping effect, why not add a really bold color to your already bold pixie with an undercut?
Pixie With Side Swept Bang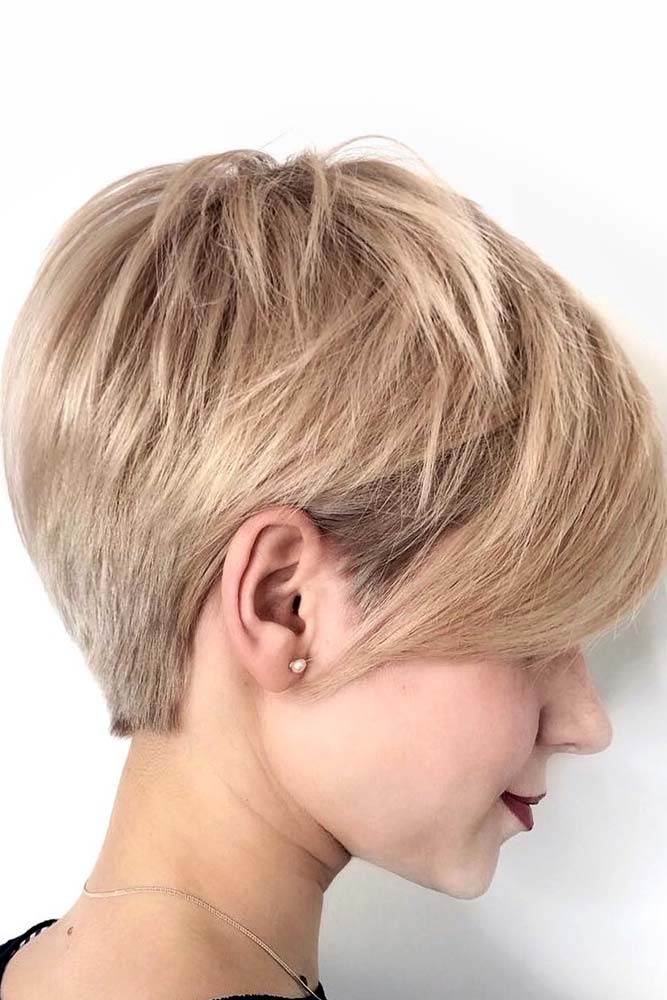 Credit photo: instagram.com/masterskaya.krasoti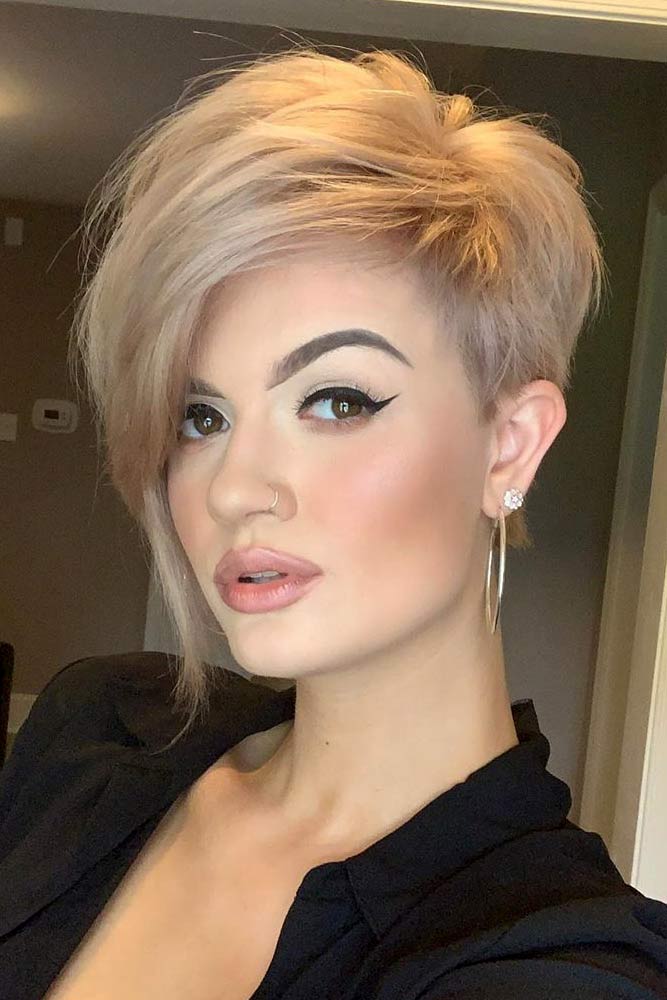 Credit photo: instagram.com/itsmsmonroe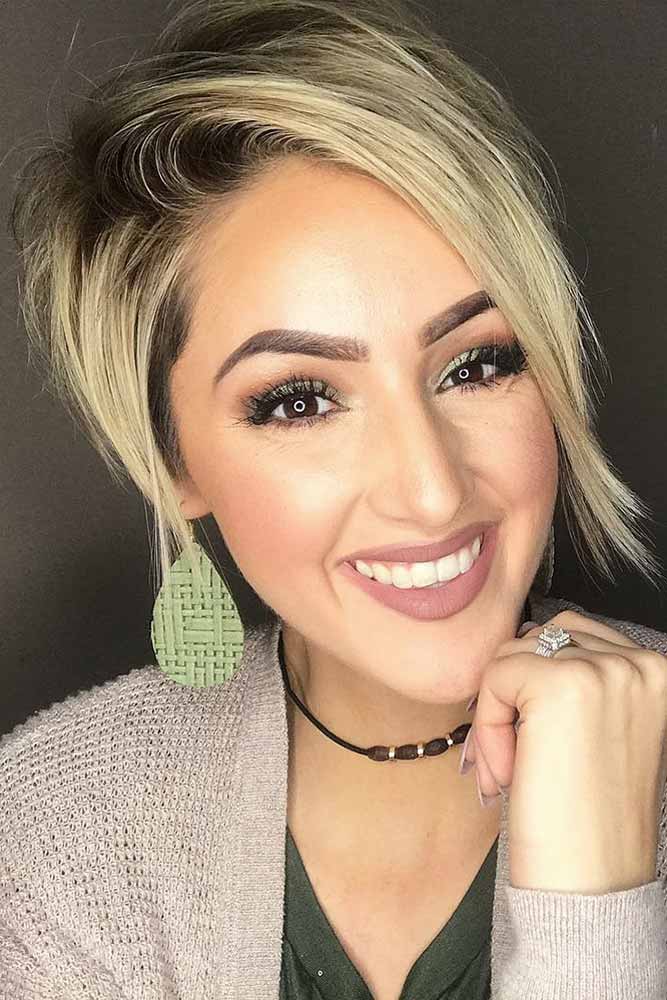 Credit photo: instagram.com/ezmiabascom
Pixie hairstyle can be cooler and more stylish for people with straight hair. These short-cropped and sleek pixie haircuts with a subtle side part and wispy bangs can beautifully frame the jaw-line showing off the jagged cut layers throughout the sides and back which enhances shape to the simple length.
FAQ: Long Pixie
What Are The Different Types Of Pixie Cuts?
There's a pixie cut for every hair type, face shape, and taste. Here's a shortlist of options that women can discover today.
Long pixie with side-swept bangs for round and oval faces.
Layered pixie-bob for thin hair.
Pixie cut with feathers and wispy bangs for fine hair.
Short pixie cut with long bangs for all hair types.
Classic short pixie with a textured finish for thick hair.
Piecey pixie with side bangs for thick hair.
Undercut pixie for daring women.
Would I Look Good With A Pixie Cut?
When choosing a new haircut, you should consider your hair type, face shape, and styling preferences, of course. Technically, a pixie has an approach to every texture and face, as you can always design your own pixie with your stylist. Also, since this cut is low-maintenance, you will look great even when it grows out. And last but not least, if you simply love how pixie cuts look, you will definitely look good with a pixie cut!
Do Pixie Cuts Make You Look Older?
Even though pixies are adorable and stylish, a wrong picked one may make you look older than you are. The fun fact is, super short pixies look ravishing on women of a certain age: they make them look elegant while giving easy styling routine. On the other hand, the shortest version of a pixie cut may draw too much attention to every imperfection on your face, as well as make it look bigger. So, if you haven't reached your certain age yet, you'd better go with a long pixie with a long fringe or a pixie bob.
How Long Does It Take To Style A Pixie Cut?
One of the greatest perks about rocking a pixie is that it takes little time to style it! For a sleek and polished or wavy and textured look, you need to dedicate no more than 10 minutes to style your freshly washed pixie. The best thing is, a pixie is a haircut that allows you to wake up and have a nice look without any styling.
Pixie Cut Considerations
No matter your hair type, there's a pixie cut that's just right for you. These coveted short styles prove they are the perfect option if you want to stand out from the crowd. The right length, texture and color can be customized to highlight your facial shape and your best features while providing endless styling options that make your hairstyle anything but boring.
The most important consideration before opting for a pixie cut is, of course, how long you want to go with it. Layers can add tons of volume for fine hair types, and a few well-placed highlights can really make your eyes pop. Move the focus up to your face and draw attention to some of your best assets with a pixie cut that's versatile, playful, and oh so cool.
Take a few of your favorite pixie cut pictures to your hairdresser and have them create a short style that works with your hair type for best results. And remember, short hair takes maintenance. Book regular cuts with your stylist, and your long pixie cut will always turn heads.
REFERENCES:
Was this article helpful?