Today she cuts a pixie, and tomorrow she starts growing out a pixie. Indeed, you never know what to expect from the women's will to experiment. It's amazing that women express themselves through brand new styling and cutting ideas. All in all, our manes are a canvas for letting our creativity fly. However, it's crucial to attach importance to hair that grows out, as well as to know how to react on certain growing stages.
For that reason, we've created a comprehensive guide on how to grow out a pixie and look fabulous between different growing phases. With these tips, you will learn how to make your hair grow faster, keep it healthy, and try various styles on your way to growing out a pixie cut.
Promoting Hair Growth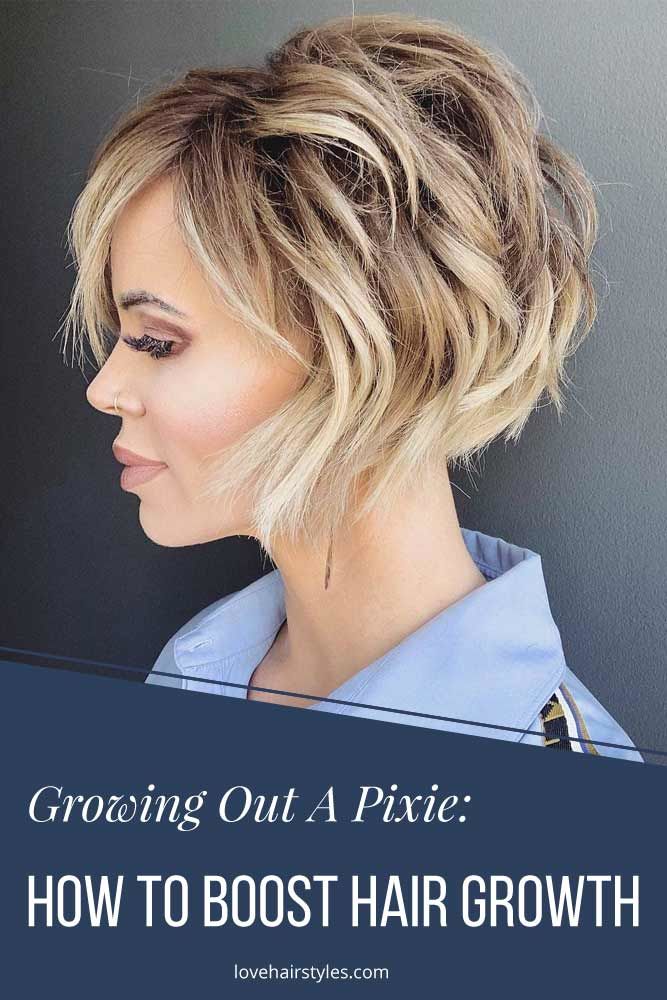 Source: kimidailey via Instagram
The first and foremost thing you should focus on is your hair growth. Although every woman has her own hair growth rate, there are universal ways for all hair types to encourage faster growth. Below, you're going to see the basic rules that you should follow to switch to another stage fast.
Q: How long does it take for your hair to grow back after you cut it?
A: It pretty much depends on how much length you cut off and to what length you're expecting to grow your locks. In general, it takes from 2-3 years to grow hair from short to long. But, you can always speed up this process if you take a serious approach to promote hair growth.
According to experts from the U.S Center for Disease Control, the average growth rate can reach 1.25cm (0.5 inches) per month or 15cm (6 inches) per year.
Condition Your Hair After Each Wash
Conditioners are formulated to coat the hair shaft with protective and strengthening ingredients. Therefore, using them regularly between all growing out a pixie cut stages is crucial. Plus, they make your hair healthier, and the healthier it is, the faster it grows. Don't hesitate to apply a generous amount of the product to your hair after you washed it. Make sure to leave the conditioner in for a couple of minutes, and then rinse it off with cool water.
Conditioning products can also prevent damage and breakage, so your hair will grow longer by default.
Do Oil Treatment 1-2 Times A Week
Incorporating natural oils into your hair care routine will replenish the follicles, thus encouraging faster hair growth. Keep in mind that it's important to stick to a certain regimen to get the most of the treatment. Find an oil you like the most depending on its properties, and apply it to your damp hair once or twice a week. Leave it in your locks for 10 minutes, and then shampoo and condition it as you usually do it.
You can use any oil-based products or create your own DIY treatment. The most effective recipe features 240 mL of unrefined coconut oil as a base and 15 mL of almond, avocado, jojoba, and macadamia oils. Stir everything well before applying to your hair.
Stick To A Healthy Diet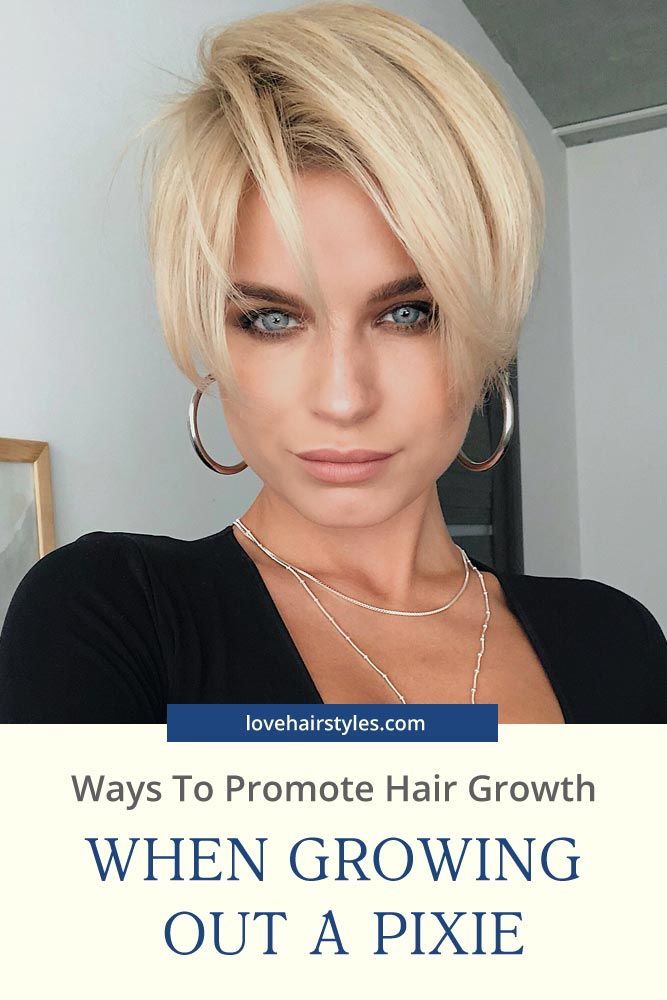 Source: juliana.key via Instagram
Your hair is the reflection of what you put into your body. Obviously, you should get enough protein, zinc, and A, C, D vitamins. Besides a balanced diet, you should include food rich in hair-growth elements to your meals. If you focus on eating healthily, you will see not only your hair grow faster but also your skin look better.
Foods rich in essential vitamins
Salmon contains big amounts of protein and vitamin D
Eating eggs will provide you with the needed amount of biotin and omega-3
Including avocado to your diet is a good way to obtain fatty acids
You can find lots of vitamins A and C in broccoli and spinach
Q: How do you let your hair grow out?
A: To let your hair grow out, you should protect and nourish it from inside and out. Apart from using conditioners, you should maintain a healthy diet, and keep your body hydrated. Remember: healthy hair goes hand in hand with a healthy body.
Take Biotin Vitamins Every Day
Another good way to contribute to better hair growth lies in consuming biotin supplements. Biotin is one of the few vitamins that improve the state of nails, skin, and hair at the same time. So, for the best results, you can enhance your diet with B-vitamin complex and biotin supplements.
Since biotin belongs to the B family, you can purchase a complex that will include biotin. At the same time, you can go for pure biotin to focus mainly on your hair, skin, and nails.
Stay Away From Heat Styling, Coloring, And Hair Relaxing
Growing out a pixie cut timeline requires dedication. For example, you should put away all curling wands, flat irons, and even hairdryers to avoid damage. Besides heat styling, it's better to forget about chemical treatments and coloring appointments, as these are what causes the most harm to the hair.
If you can't imagine your life without heating tools, you still can use them. But, it's very important to protect the hair with deep conditioning and heat protectants. Condition your hair deeply 1-3 times a week to nourish your hair and prevent the heat-damage from occurring.
Styling A Growing Out Pixie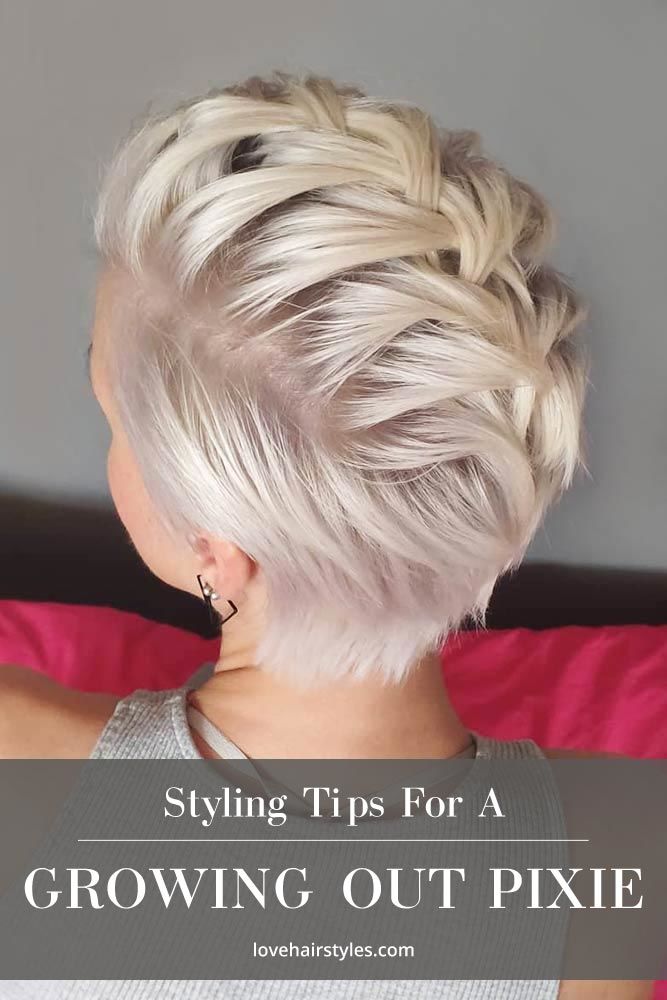 Source: luciahlustsova via Instagram
While your pixie grows out, you want to be on point at any length and phase. You may encounter different transformations when leaving your locks to grow, and your task is to keep a decent look at any stage. See how to style a growing out pixie cut!
Part Your Hair Differently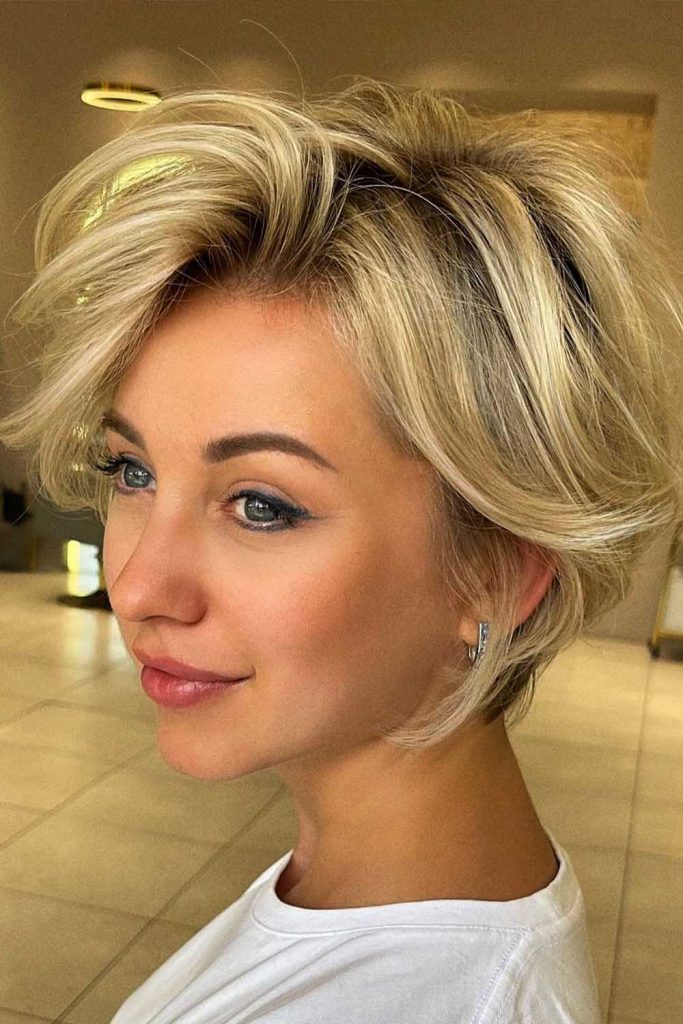 Source: mila_kryshchykhina via Instagram
It's no secret that the way you part your hair can drastically change the way your hair looks. So why don't you try another parting idea instead? In fact, that's enough to adapt to a new length of a pixie without cutting your hair.
If you wear a side part, you can try a middle part that distributes the longer top evenly.
As for those rocking middle-parted pixies, a deep side part will be a good way to freshen things up and cover up the outgrown top.
Use Scrunching Mousse For A Messy Look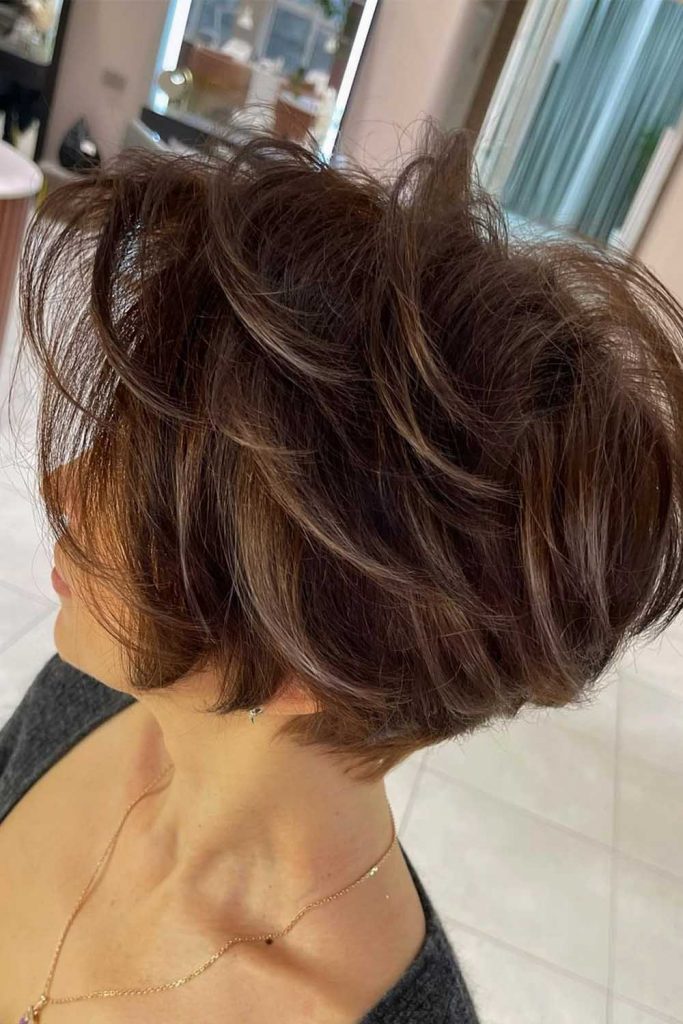 Source: mila_kryshchykhina via Instagram
Styling your hair with a texturizing product is a win-win idea for those growing out a pixie. Not only does it give an effortless, modern look but it also conceals the fact that your cut is grown out. To style, take a quarter-sized amount, and rub it in your hands. Next, work the product into your hair, running your fingers through the hair in different directions. As you apply the product, tousle every section for a more natural effect.
To keep the style all day long, spritz it with hairspray.
For curly hair, some gel will do even better than hairspray, as it will keep the curls defined.
Create Side Or Front Braids To Hide Cowlicks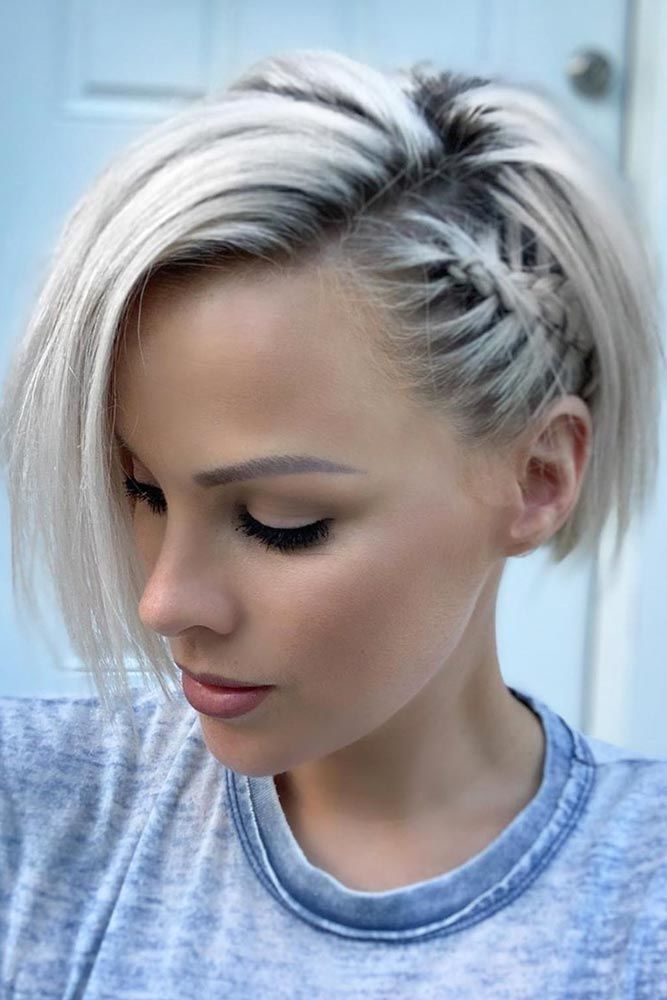 Source: heatheraustrie via Instagram
Instead of applying heat to your stubborn cowlicks, you can manage it beautifully and stylishly. First off, pick a 1-inch section on the side and split it into three. Then, cross the left section over the middle, and then the right section over the middle one. Go on braiding the hair on the side until it reaches the end of the hair. When the braid is ready, secure it with a bobby pin or elastic.
To hide your cowlick, simply incorporate it into your braid.
Just Tie Your Hair Back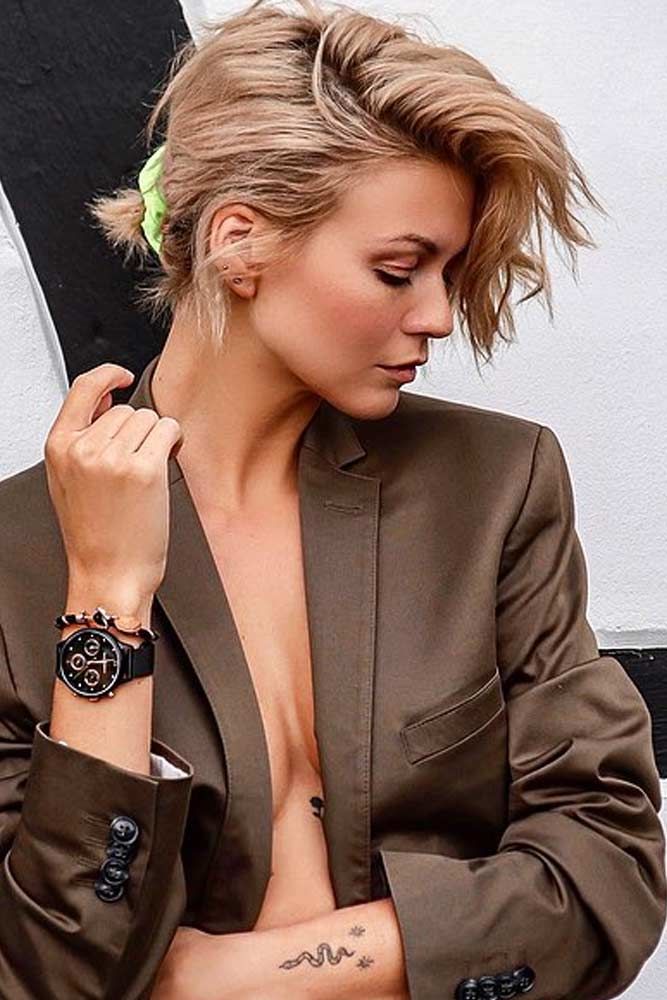 Source: louiblog via Instagram
Once your hair is long enough to create a tiny ponytail, you can easily wear it tied as it grows out. All you need is to run your fingers through your hair, gather it all together, and tie a ponytail where it's comfortable for you. Also, you can create a half-up, which is a way more stylish option. In addition to these simple styles, pigtails and space buns will be a nice way to diversify your styling routine.
Comb Your Cowlicks With Gel
Besides styling, you can use gel to tame your cowlicks. Apply some product to your hair, and distribute it with a medium-toothed comb in the direction you like.
You can also comb your hair back. In this way, you will not only keep your cowlicks in place but also have a good-looking, comfy hairstyle.
Use Dry Shampoo For Extra Volume
As your hair grows out, it gains more weight and may become a little bit flat, especially on the second day. Well, there's no better way to lift your locks up than to use dry shampoo. This product has become very popular for its refreshing and volumizing properties. Basically, all you need is to spray the roots and tousle your hair with your fingers. In fact, you can replace regular shampoo with this option from time to time.
Some dry shampoos can help you create a messy hairstyle.
Style Your Hair Sleek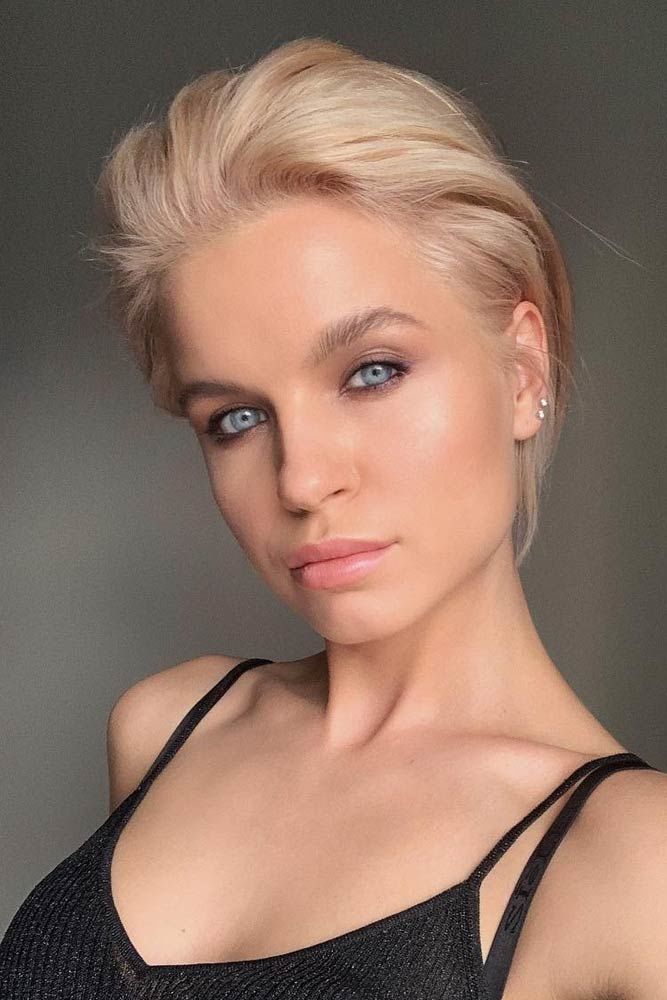 Source: juliana.key via Instagram
Sleek hairstyles are not only sexy and full of dramatic character; they also help to manage growing out pixies.
The best thing is, they're super easy to create while looking like red carpet hairdos. To style your hair sleek, work a good amount of gel into your slightly damp hair, applying it from roots to tips. Then, use a medium-tooth comb to brush your hair from the hairline to the crown. If you are looking for more styling ideas, Kaley Cuoco short hair will become a great source of inspiration for you.
Try Spiky Hairstyles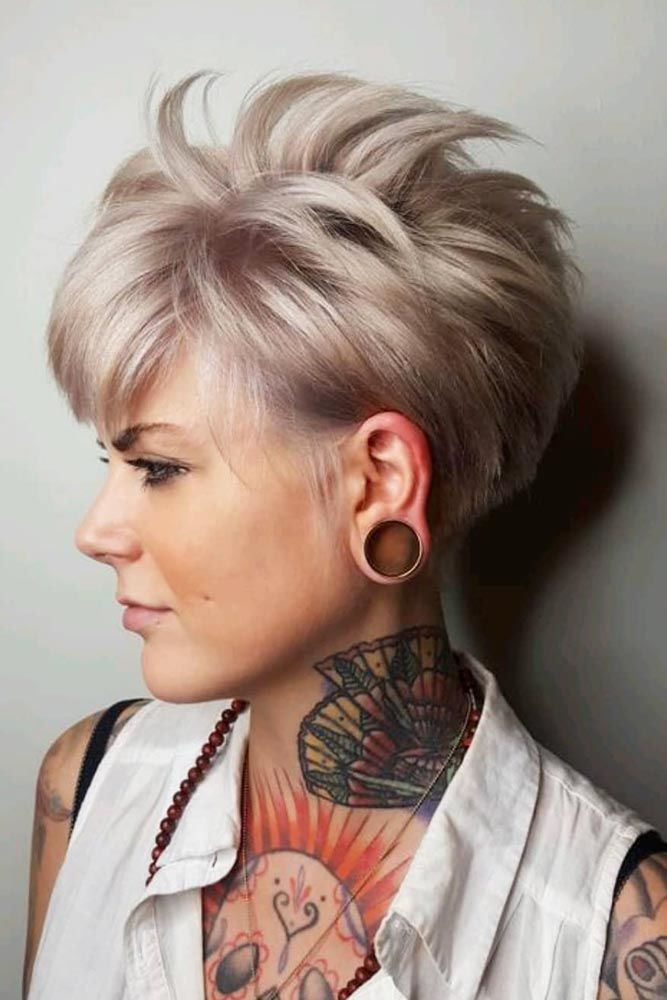 Source: hair_by_marlo via Instagram
Gel is also good for creating spikes, which is good news for bold and punky ladies. Once you spike your hair up, you will literally breathe a shakedown individuality into it. Again, take a quarter-sized dollop of the product, and rub it in your hands. Next, pitch the ends between your index finger and thumb, pulling them gently so that they stick up. Yes, all you need to spice up your pixie with some drama is some gel.
Such a pixie will be a nice idea for a night out or a date - it will show off your bright personality.
Adding Accessories
Source: sky_eyes_ via Instagram
Believe it or not, properly chosen accessories can show your grown-out pixie in a new, gorgeous light! Besides, the right embellishments can hide the traces of those weird growing phases when your hair is too long for a pixie and too short for a bob.
Secure The Back With Stylish Bobby Pins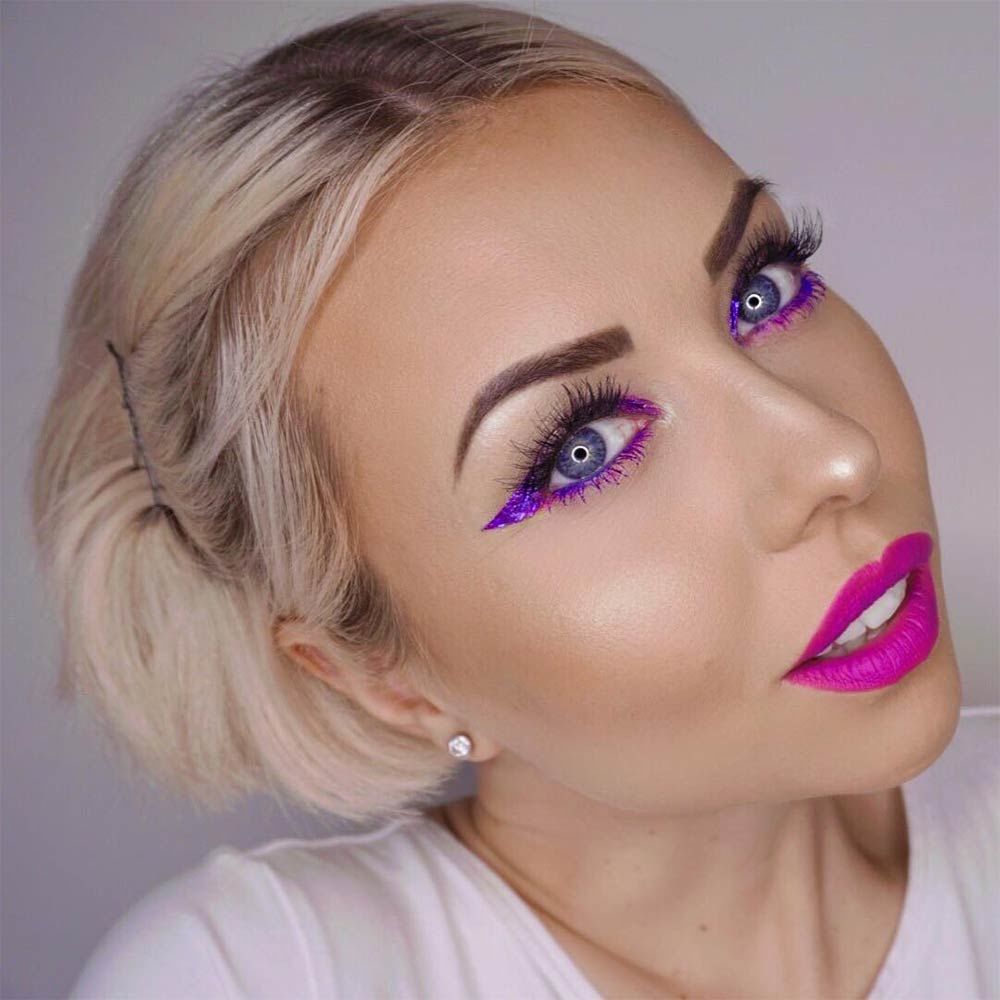 Source: alicia_wunderbar via Instagram
Every woman has a couple of bobby pins and clips in her styling arsenal. And, this time, you will build a whole hairstyle with them. Start by twisting your hair in small sections (it can be either one or both sides), and secure them with bobby pins or clips. Repeat this step until you're satisfied with the result, and you're ready to go!
To make the look more festive, you can use embellished or embroidered clips.
For a more voluminous look, tease your hair, and coat it with hairspray.
Use A Head Scarf, Headband Or A Hat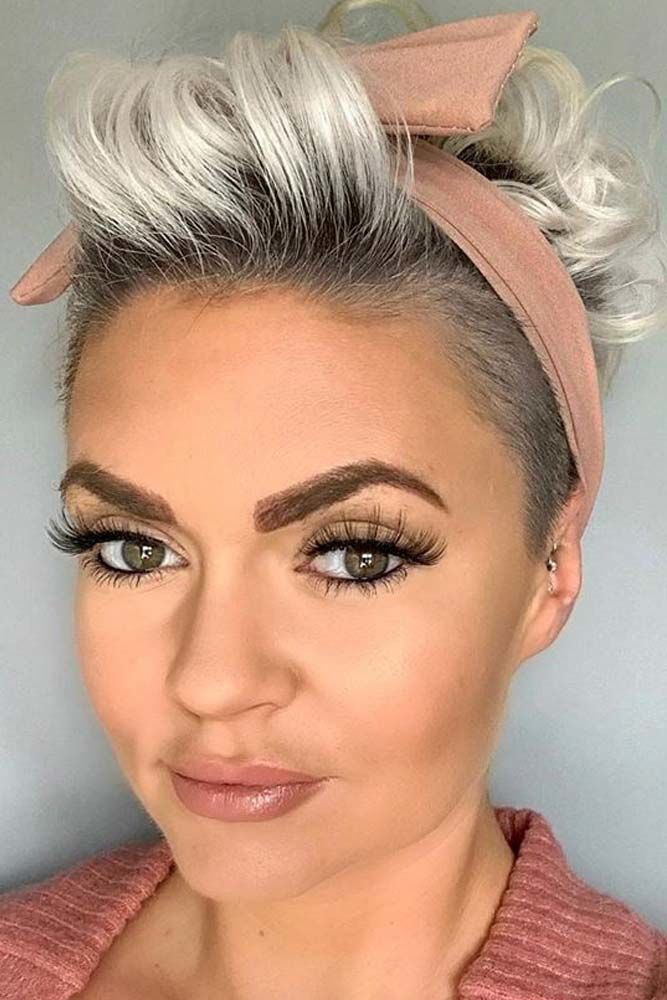 Source: jcx28 via Instagram
When it comes to a truly weird length you'd like to hide, nothing works better than headpieces. In can be anything from a fancy scarf to a beanie. In fact, it depends on the look you want to achieve.
Elastic headbands will be a nice choice to secure your hairstyle. Apart from keeping your hair in place, it will also allow you to create a voluminous top.
If you want to wear a plastic headband, make sure to place it directly on top.
Headbands come in many different patterns, so you can complement your outfit with your updo.
If you don't have a headband, you can fold a scarf, and double-knot its ends to keep the style in place.
Experiment With Extensions And Wigs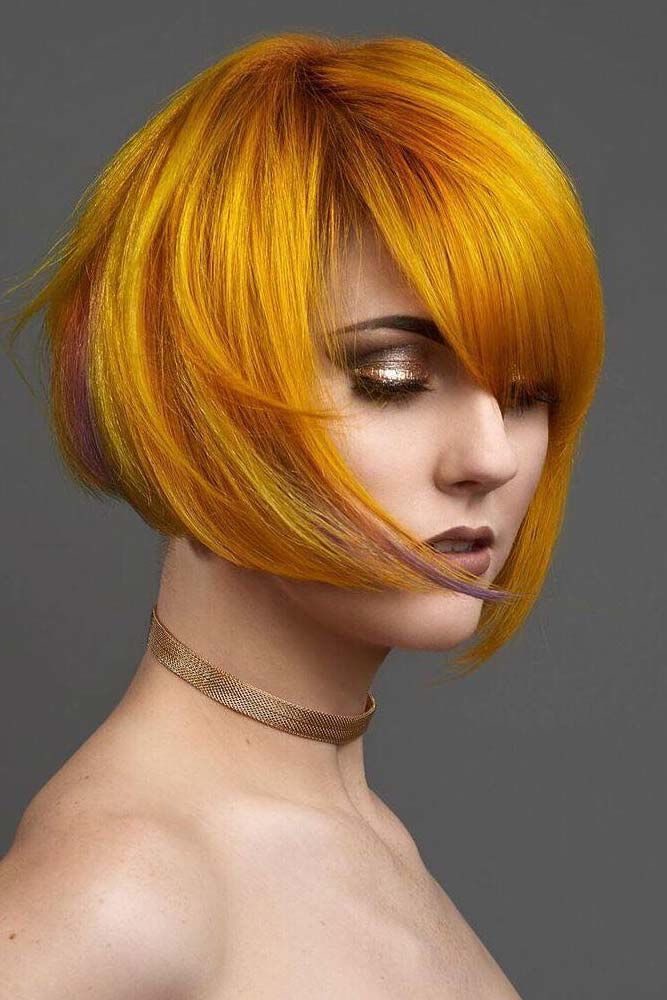 Source: pravana via Instagram
Wigs and extensions are perfect temporary solutions for those growing their locks out. As a matter of fact, these options come in when bushy sides, flat spots, and cowlicks start to bother you at their highest. And don't be shy to wear a wig! It allows you to try out many different cuts, styles, and colors while keeping your hair healthy.
Cutting Your Hair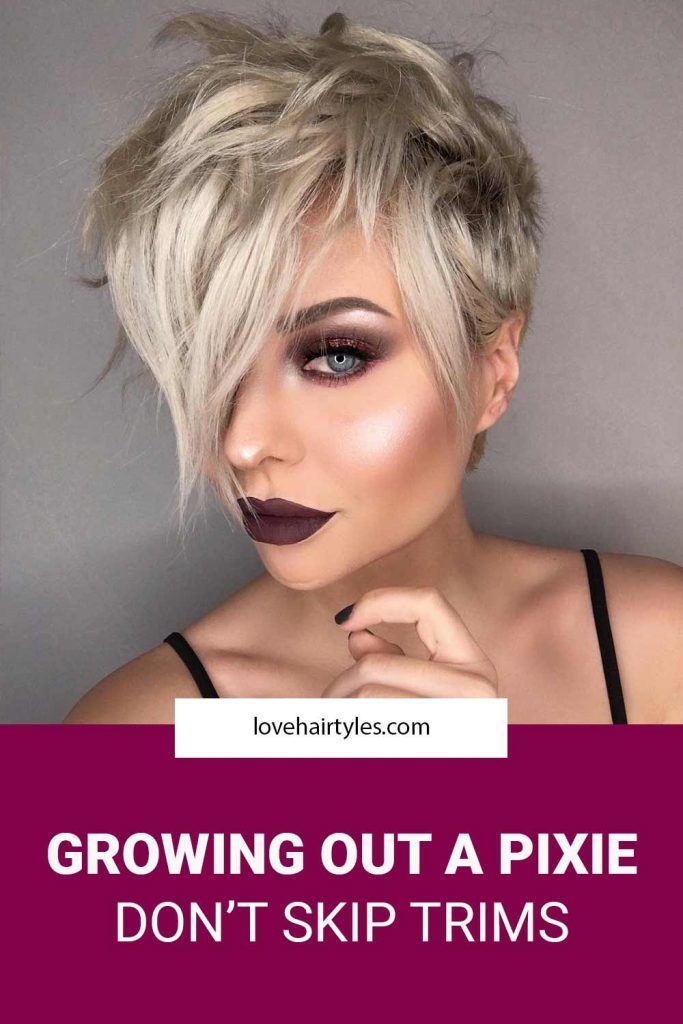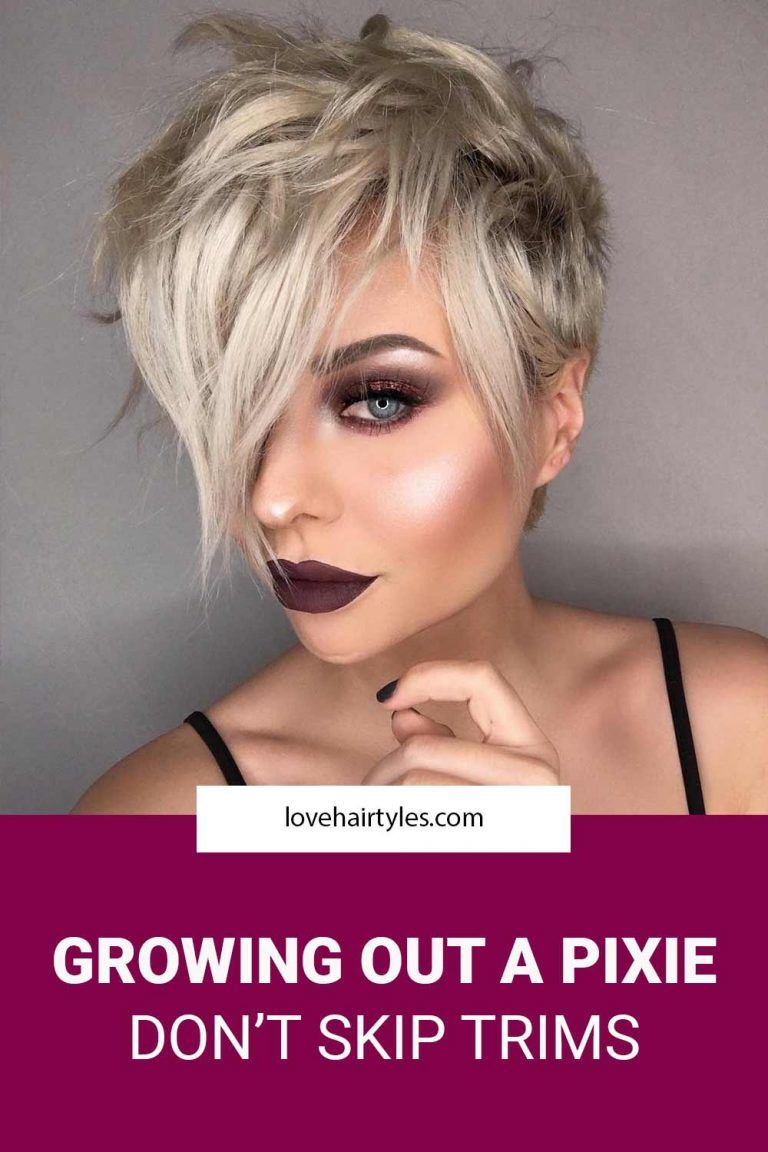 Source: alicia_wunderbar via Instagram
As much as you'd like to keep your precious length, it's impossible to grow out a longer mane without regular trims. Moreover, the right trim can boost hair growth by getting rid of damaged hair. Here are some basics that will help you turn your trims into a new long style.
Find a stylist you can trust. The most important part when growing out a pixie is actually to find your stylist. Ask a professional to shape the ends just to eliminate split ends and curve them so that they look decent when they grow out.
Go for an undercut. Don't be afraid of cutting the sides, as you can turn the longer top into a bob.
Trim your split ends every 6-8 weeks. Trimming is the kind of appointment you can't skip. That is to say, prepare to see your stylist regularly to keep up with a healthy mane.
Try an asymmetrical haircut. Such haircuts feature a longer top which you can transform into a longer bob with the time. Besides, it gives a striking look!
Q: How often should I trim my hair while growing out a pixie?
A: Growing out a pixie cut without trims is simply impossible, as you need to eliminate any split ends to encourage hair growth. As a good rule of thumb, women should trim their hair every 2-3 months. However, it's better to keep an eye on your ends, as they may get split earlier.
Growing Out A Pixie In Stages
Now, we'd like to demonstrate to you the stages you will go through when growing out a pixie. With a good stylist in your contacts and the right styling products in your styling arsenal, you can keep every stage as beautiful as the next.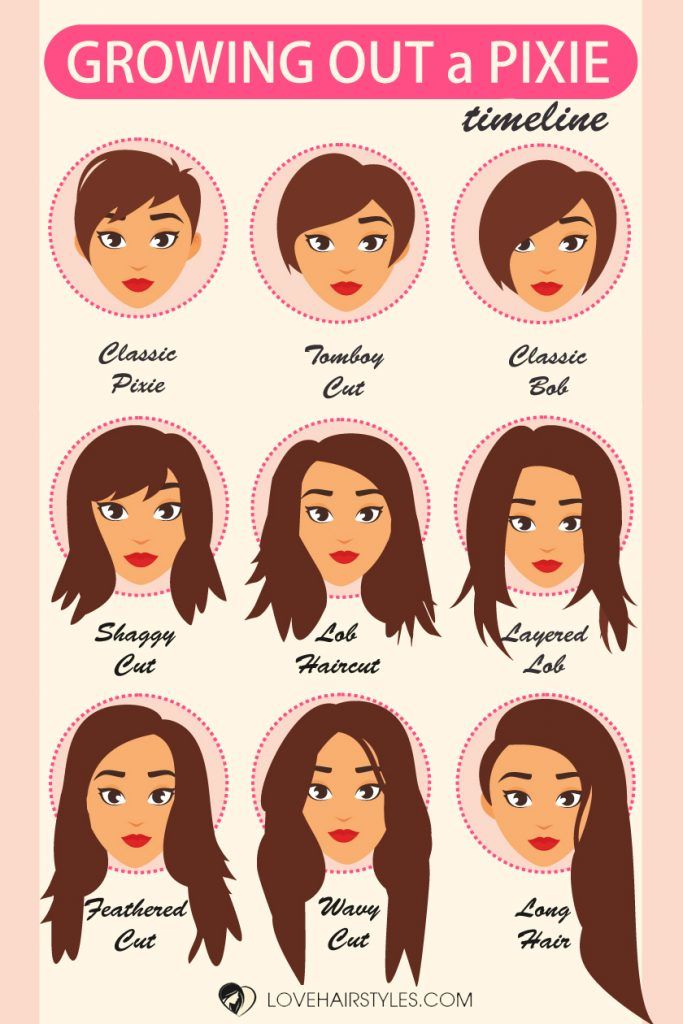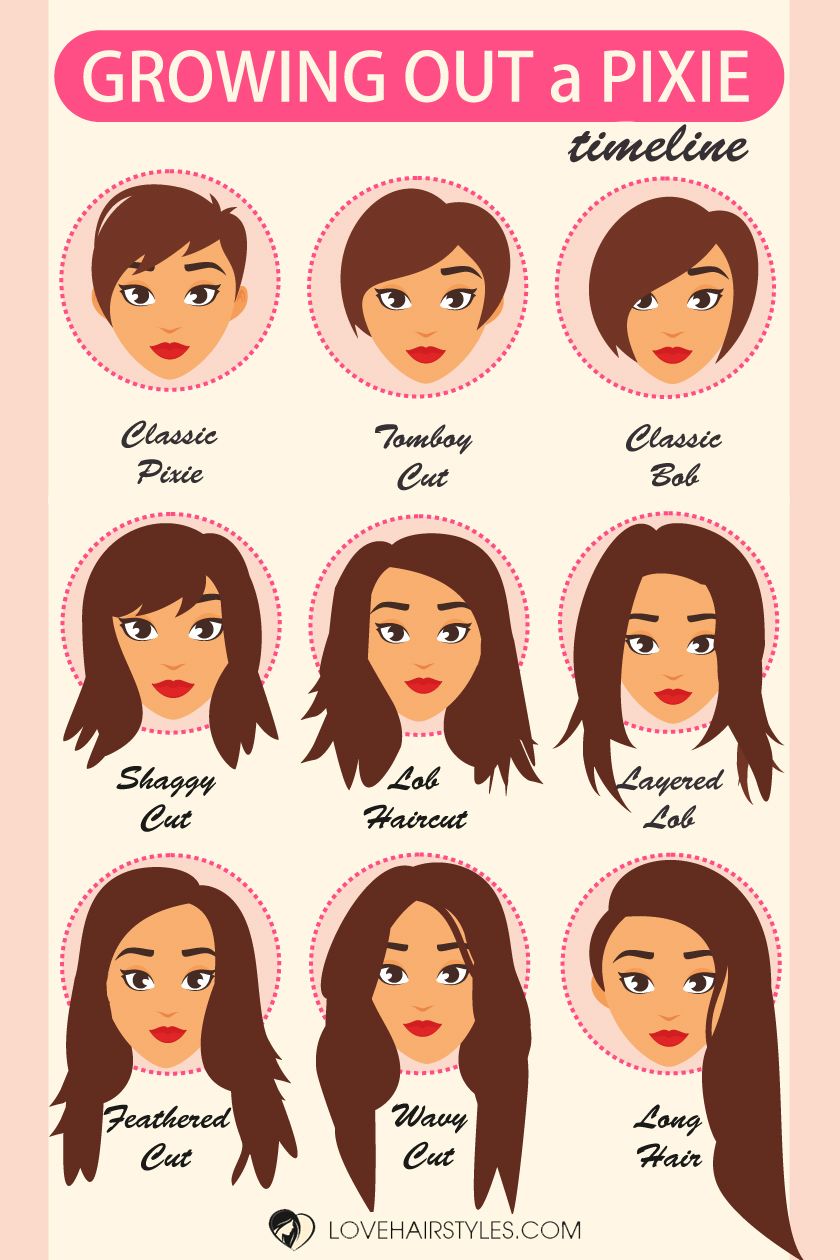 Growing Out Pixie Timeline:
Classic Pixie: First comes a pixie you get when you're in the mood for changes. This bold, yet feminine haircut can nicely adapt to any image. Needless to say, it's super easy to style and maintain.
Tomboy Cut: Then, you decide to let your pixie do its own thing for about two months. During this time, your pixie becomes longer at the top, and the hair on the back is not that smooth. At this point, you will need to see your stylist in order to shape the cut into a tomboy-inspired look with a longer bang. This will be the base for a bob.
Classic Bob: The good-old bob needs no introduction. Once your tomboy pixie grows out, it will have enough hair to create a bob. First of all, your stylist will do a stacked transition to level the lengths on the top and the sides. After that, you will see a pretty much classic version of the bob with a wispy fringe and rounded edges.
Shaggy Cut: When a bob starts to grow long, it may get too heavy, and therefore flat. And that would be the best time to try a shag. This haircut preserves the length while making the texture lighter and more voluminous. On top of that, you will love the lively movement in your hair.
Lob Haircut: After a couple of months, the layers of your shaggy bob will lose their edginess and turn into a regular length. Your stylist will blend them seamlessly to ger rid of the disconnected silhouette. That's how you will get a lob. Also known as a long bob, this cut is actually the most flexible stage, as it allows for various styling options.
Layered Lob: Sooner or later, the versatile and ever-popular lob will lose its natural bounce. As you might have guessed, layers will be the best weapon to make the volume and movement back.
Feathered Cut: To whip the outgrown layers back in shape, your stylist will offer you to try feathers. Feathering involves texturizing the ends so that they stick out with their sharp edges.
Wavy Cut: On longer hair, layers will eventually become softer, looking like a one-length cut. Once you notice your layers smooth out, go to a salon for an update. Now, it's your turn to work on your texture. Subtle layers that your stylist will give you for a longer cut will look their best with a wavy texture. Some wavy cream or foam will do just great, by the way.
Long Hair: Congratulations, you've nailed all those pixie transitions! To keep up with such a length, don't forget about regular trimming and conditioning, and you will rock your days with an enviably healthy mane!
Yes, growing out a pixie is no walk in the park. However, it's not a walk through the seven circles of hell either. In addition to the right maintenance of the hair that grows out, you've learned how to style your hair to look fab at any transition phase. Now, you know everything a woman who loves to experiment with her hair should know. So, growing out a short cut is no commitment when you know how to do it the right way!
FAQ: Growing Out A Pixie
How long does it take to grow out a pixie?
Between 7 and 9 months, depending on your hair type.
Patience is a virtue if you want to grow out your pixie cut. Hair takes 7-9 months to grow out into a classic bob/ You will also need to wait up to 12-15 months to tie it up into a ponytail (i.e. something more tangible than a tiny stub of hair).
Can I pull off a pixie?
Actually, pixie is a haircut that may be worn by anyone, with any facial shape. Just have a little self-assurance! For a round face, the sides and back should be made shorter than the top. For a longer face, the top should be shorter than the sides and rear. Aside from the cuts, a short, pixie-like hairstyle requires a lot of upkeep and care.
Are pixie cuts high maintenance?
Yes, in fact, short hair necessitates a lot of maintenance. Unlike abundant long layers which can go several months without a touchup, pixies, as well as bobs, require touchups every 4 weeks.
REFERENCES:
How to Grow Out a Pixie Cut. Source
So you just got a pixie cut and you`re already missing your long locks. Here, six steps to surviving the grow out phase. Source
Was this article helpful?