Watching Kaley Cuoco short hair changing and growing out without those awkward hair phases, we've come to one reasonable conclusion: her hairstylists are magicians. Seriously, if not magic, what else helps her to skip the transitions between her ever-changing lengths and look absolutely flawless in the meantime?
Okay, jokes asides. We've actually revealed the secret of perfect hair looks spotted on The Big Bang Theory star. Here, we're sharing with you the hottest looks the actress ever rocked and telling you how you can seamlessly switch between your hair experiments.
Short Pixie Cut With Side-Swept Bang
For all those wondering why did Kaley Cuoco cut her hair this short: she never knows what to expect from her creativity. As told by the actress herself, she can't imagine her life without changing something in her look, especially regarding her hair. So here she is, daring, different, and absolutely gorgeous with her sharply layered pixie swept to one side.
Although the look is pretty sassy, it still goes well with the feminine outfit.
Source: Tinseltown/Shutterstock
Relaxed & Textured Pixie Pompadour
The same year, a different haircut. Since the actress loves to experiment, she let her pixie do its own thing and become longer. When it grew out a little, she went for amazing hairstyles like swept-back and Pompadour looks. Her styling tricks are one of her secrets of keeping the perfect balance when she grows her hair.
Here, she accentuates the style with a distinctive texture, styling the top into a relaxed pompadour and keeping the sides sleek. Such a play of textures makes the cut look its best.
Source: Featureflash Photo Agency/Shutterstock
Long Pixie Cut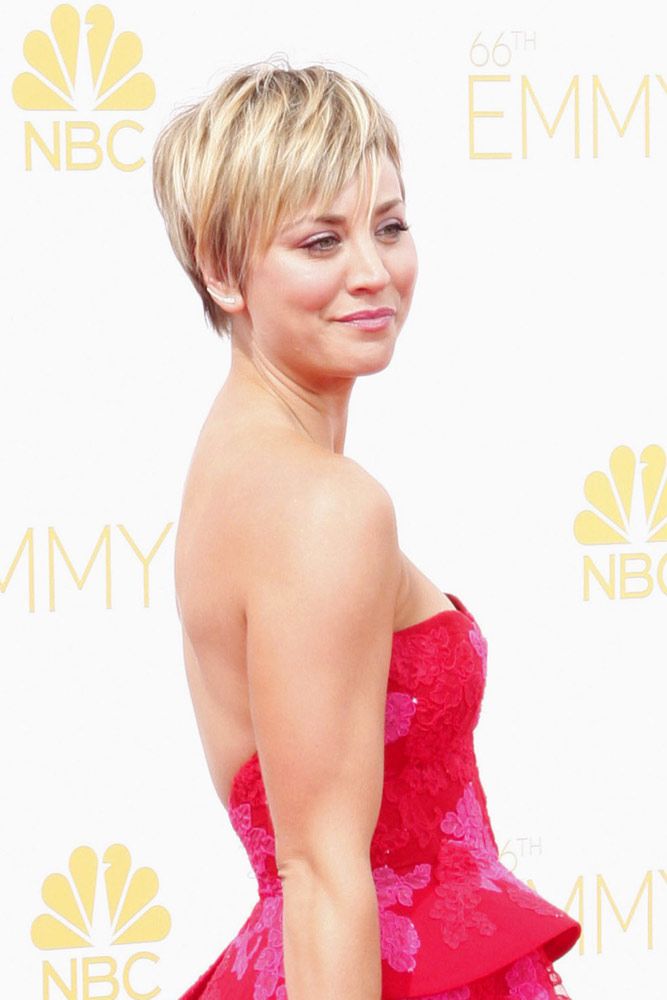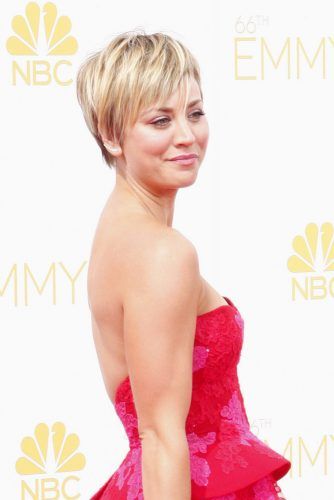 Another hack that makes Kaley Cuoco hair journey smooth is proper texturizing and layering. This pixie is one of the first short haircuts the actress went for, and to make it grow decently, her stylists shaped the ends with edgy layers.
In this way, the density of hair wouldn't become outweighed with the time, so the celeb could skip appointments and style her pixie in various ways.
Source: Tinseltown/Shutterstock
Grown Out Pixie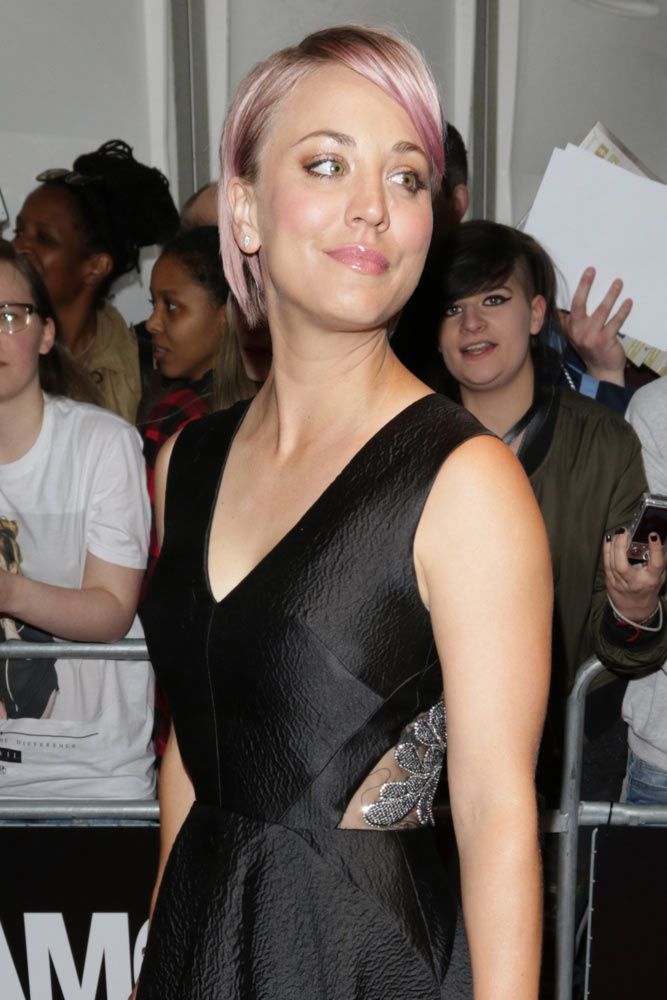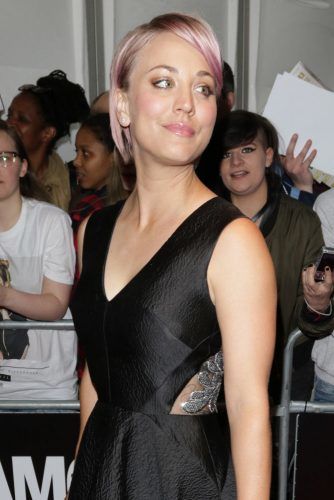 And here's how the actress deals with a super grown-out pixie! Instead of calling her stylist to whip the pixie into a regular shape, she went on growing her long mane.
By the way, Kaley Cuoco natural hair color also doesn't stand still during her hair transformations, and here you can see its pastel pink hair look. To mask her grown out tresses, her stylists gave her a minimalist, sleek style which looked totally harmonic and well-balanced.
Source: Twocoms/Shutterstock
Short Bob With Soft Curls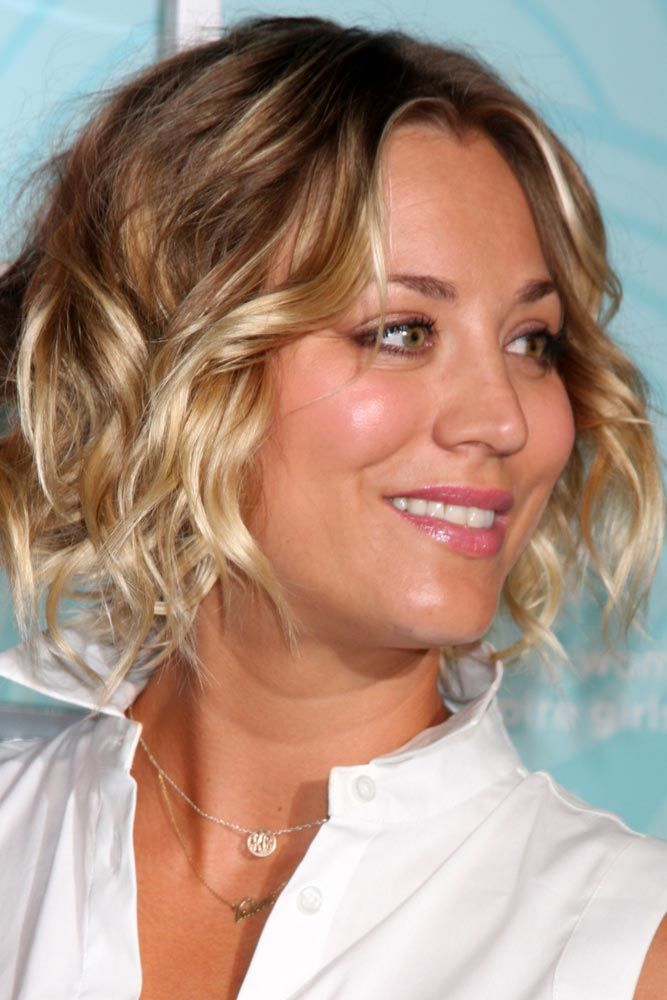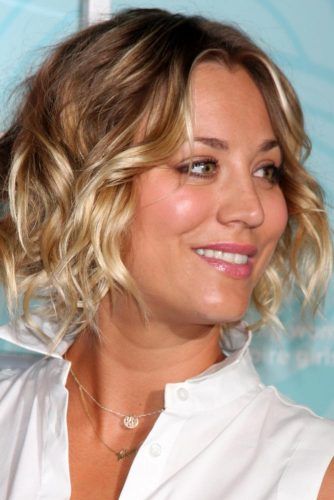 Here comes Kaley Cuoco new hair look that she showed up with a year before she cut a pixie. She probably knew that she would go back to the bob, yet, the need for changes was stronger than the fear of commitment.
Anyway, this short blonde hair looks extremely flattering with its soft curls framing the face. Not only is this hairstyle totally versatile but also very stylish.
Source: Kathy Hutchins/Shutterstock
Side-Parted Shoulder-Length Bob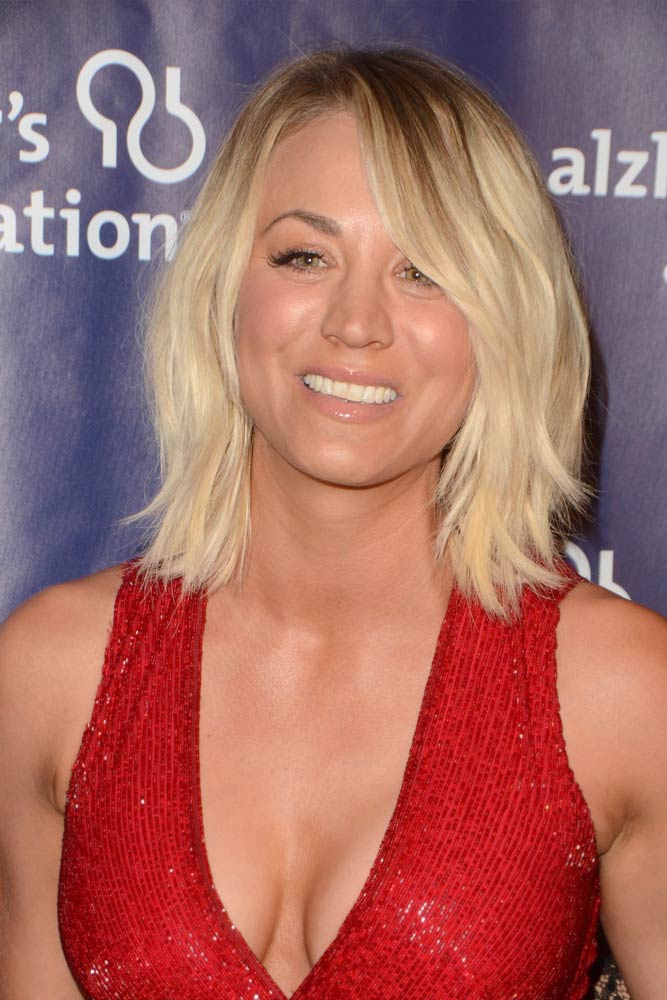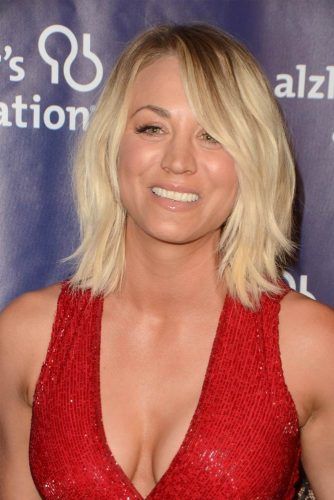 Now, here's what the growing pixie turned into! Her stylists had been shaping the ends and adding more texture to her looks until she finally reached the desired medium-length bob. Kaley told that she loves such haircuts because they offer you middle-ground: you can go for many different styles while having a low-maintenance cut.
This look is simple, yet significant: the slight wavy finish nicely complements her nude makeup.
Source: Kathy Hutchins/Shutterstock
Messy Lob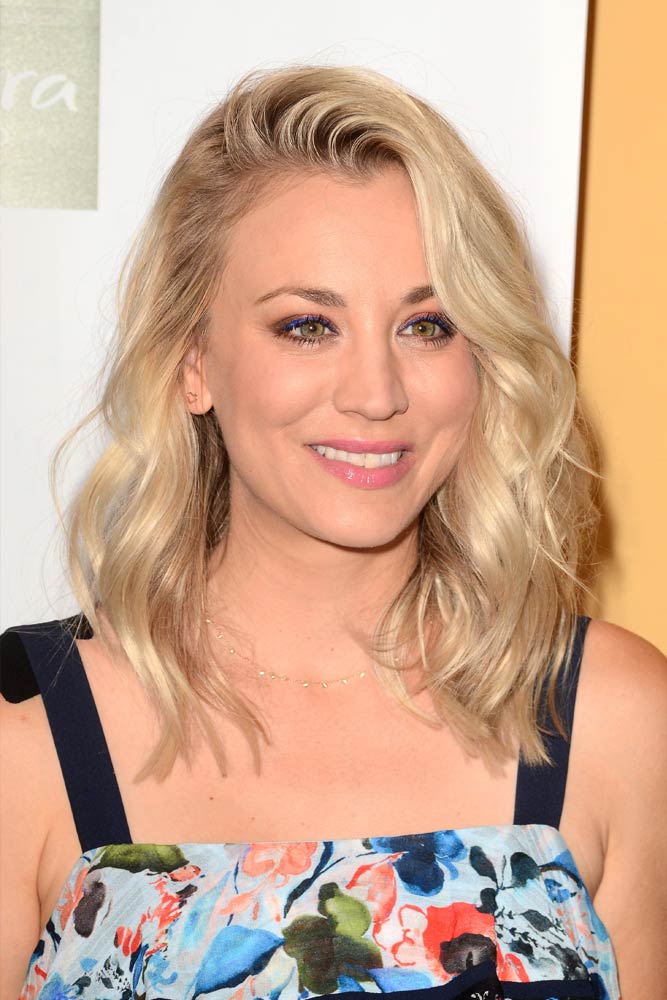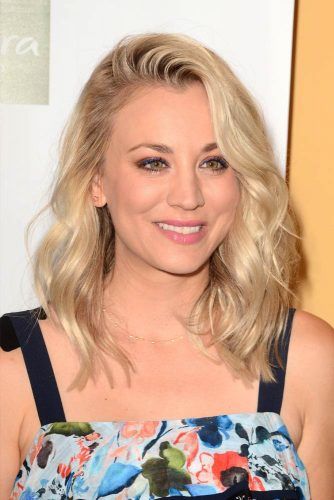 It's hard to believe that this Kaley Cuoco 2017 look is actually the first pixie you've seen today, isn't it? When her hair reached the lob length, she was ready to face another stage of hair 'phoenix', as her foremost aim was to grow her hair as long as possible. By phoenix, we mean those awkward growing phases when your hair loses its bounce because of the weight of longer tresses.
To skip this part of growing routine, she rocked messy hairstyles. No wonder! They not only look fresh and youthful but also add tons of dynamics to the hair, so there was no need to wait for hair to 'reborn'.
Source: Kathy Hutchins/Shutterstock
Medium Wavy Hairstyle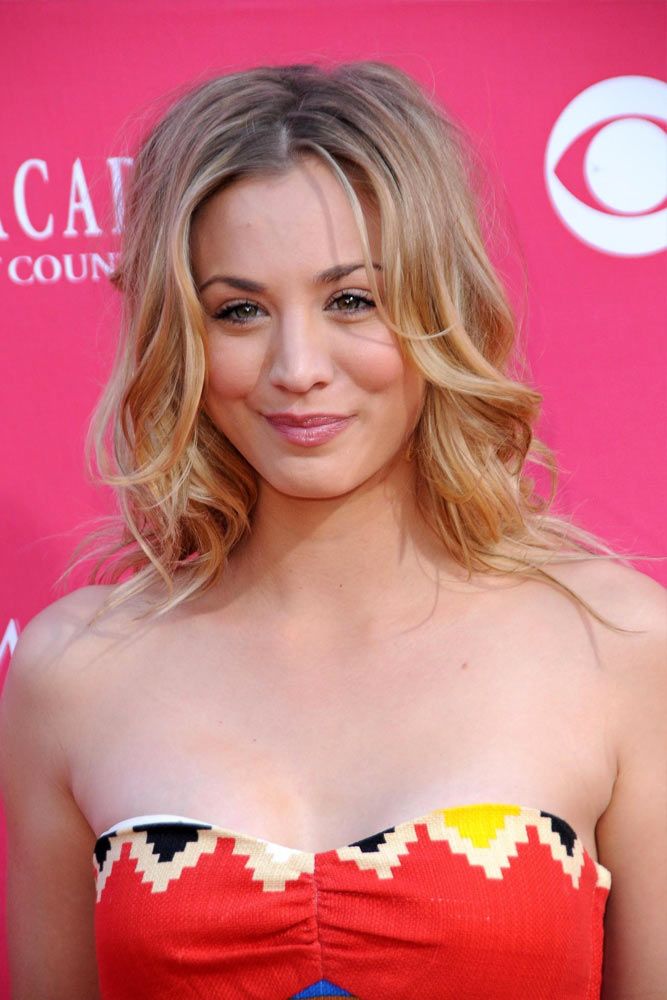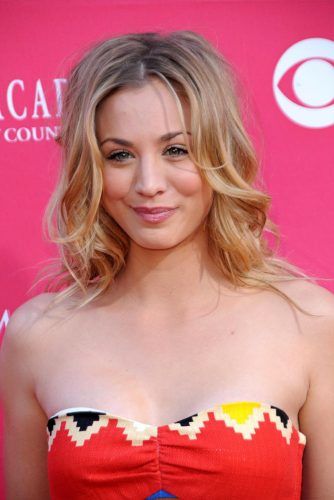 The actress loves when her hair looks defined, that's why most Kaley Cuoco hair styles feature waves. This easy but lovely styling idea has whole lotta advantages: it can frame up your face, add more lift to your fine hair, and create a sense of fullness for your thin hair.
To boost natural volume in her hair when rocking medium length hairstyle, the celeb prefers to go for soft waves.
Source: s_bukley/Shutterstock
Long Loose Waves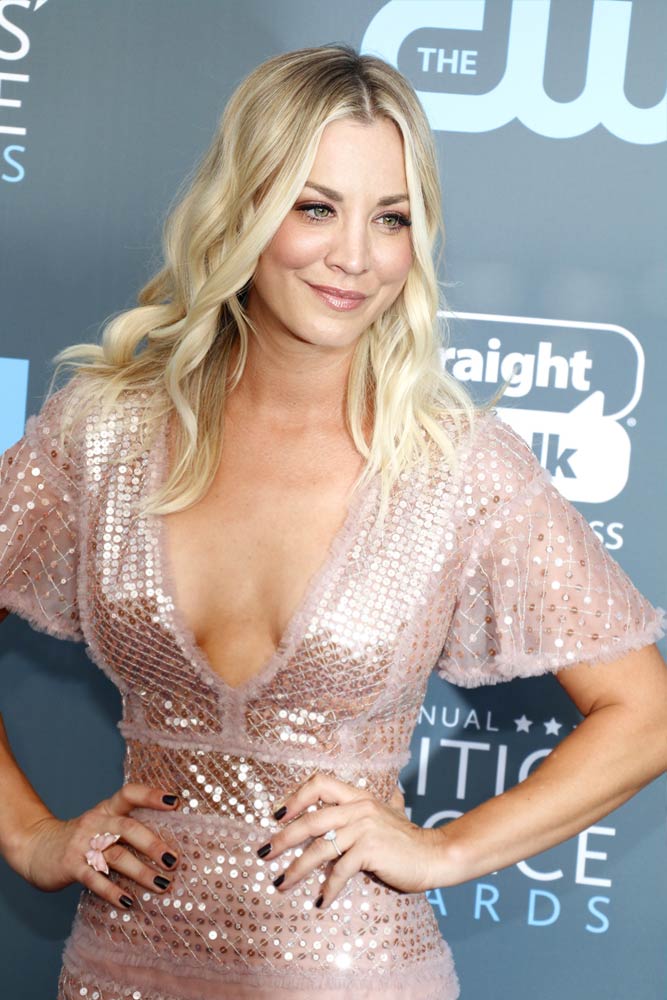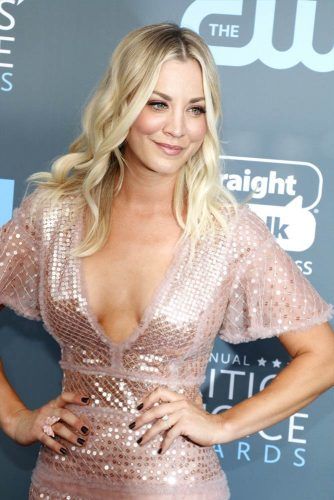 Mission complete! In 2018, we could finally see the so much desirable Kaley Cuoco long hair look at its best. Apart from this gentle hairstyle, she hit cameras with her brand new hair color - the trendy whitish blonde. Loose waves enhance the girly mood created by her look while the new shade adds a lot of natural shine to her long locks.
Source: Tinseltown/Shutterstock
Romantic Half-Updo Style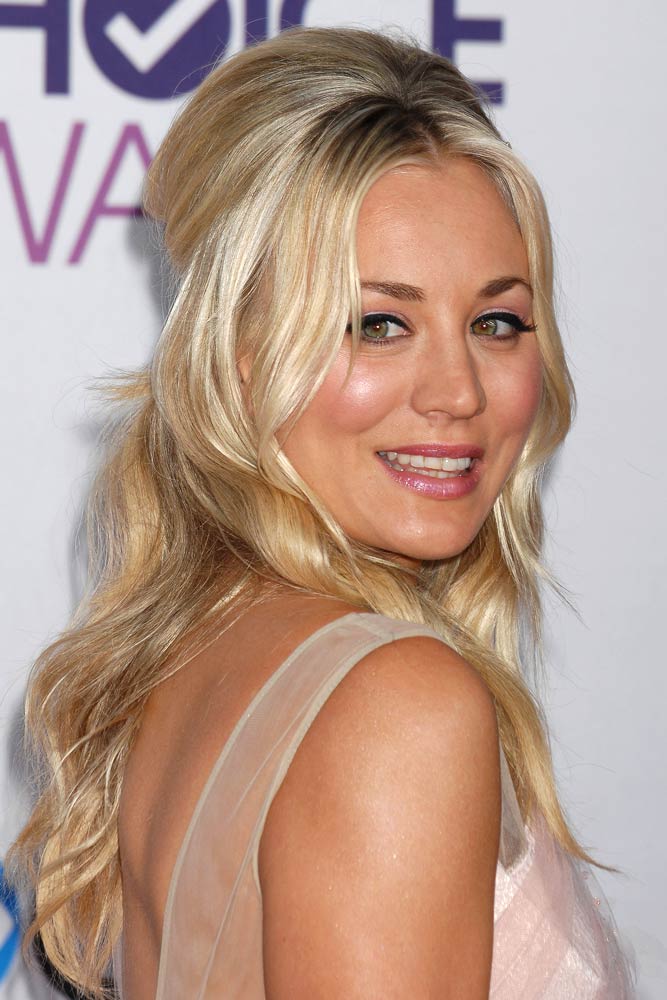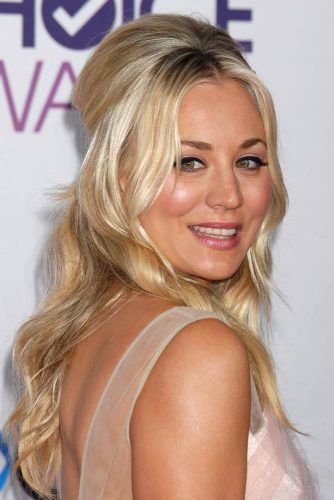 Another hairstyle the actress would wear every day if she had it her way! The voluminous crown gives a sophisticated character to the look and thus creates a regal feel. Of course, the style can't do without waves: Kaley loves how effortlessly her hair falls on her shoulders when it's wavy.
Source: Ga Fullner/Shutterstock
Every time you think that it's impossible for you to grow out a long mane and look your best in the meantime, look at today's Kaley Cuoco short hair images again. This lady is not afraid of jumping from one extreme to another, as she knows how to keep each length on point. Now that you've got to know her hacks, it's time to give the green light to changes!
FAQ: Kaley Cuoco Short Hair
Why did Kaley Cuoco cut her hair short?
As the actresse said, her cut was not influenced by her new marriage or her new role on TBBT.
She cropped her hair which had remained virtually unchanged since her debut in the 1990s,
for the Burning Bodhi movie she was starring in New Mexico this summer.
Does Kaley Cuoco regret cutting her hair?
After chopping her locks, Kaley Cuoco-Sweeting walks out with her hair wet and says she has zero regrets.
When did Kaley Cuoco cut her hair short?
Kaley debuted a brand-new hairstyle in 2015, wearing a sandy pixie cut.