Pastel Pink Hair Is A Trend That Nobody Can Resist!
In our fashionable 21st century, pastel pink hair is a trend that girls from all over the world flaunt with. Ten years ago people would call such ladies outrageous, and now everyone calls them goddesses of a good taste. Of course, this color, like any other, requires a special approach and maintenance. But once you look at one of these gorgeous shades, you won't be able to say "no". Before going for a new color, whether it's rose gold, bubblegum or popular millennial pink, we all need some inspiration, right? Let us be your own source of inspiring coloring ideas: it's time to dip in the world of the colors of now. The most irresistible rose hues are waiting to be a part of your look.
Trendy Rose Gold Pink Shade
Rose gold is a treasure for every lady who keeps up with trends. This color is created by hairstylists from above as a beauty gift for us girls. You can find it everywhere: from jewelry to outfits. So why don't find it on your head? Soft golden hues that melt with pastel pink hair tint create an unbelievable color transition! Such an idea works best for natural blondes with fair skin tones.
Source: rossmichaelssalon via Instagram
ADVERTISEMENT ‧ CONTINUE READING BELOW
Soft Pink Balayage With Wheat Hues
Nothing reveals the variety of pastel pink hair color better than balayage, and this pic is living proof. It's almost impossible to notice the graduation line from warm pink to wheat toned lighter hue, which actually creates a silky and polished silhouette. But coloring your hair, no matter what color it is, always has its pitfall, as dye causes damage. If you go for a full dyed hair, prepare for permanent deep conditioning to keep your locks alive, healthy, and moisturized.
Source: guy_tang via Instagram
ADVERTISEMENT ‧ CONTINUE READING BELOW
Metallic Pastel Pink Hair
The best thing about pastel pink hair colors is the way they play with the light when the sun shines down on them. On the one hand, it's pleasant, a bit faded pink hue with darker roots. But if you look at it from the different angle, you'll see the multidimensional shining metallic tint that can literally make you blind. This idea will obviously suit blondes, but girls with warm skin tones and dark hair color hair pull it off, too: just don't forget about the roots.
Source: evalam_ via Instagram
ADVERTISEMENT ‧ CONTINUE READING BELOW
Sweet And Gentle Amaranth Pink Hair
Whether you're a brunette that has bleached your hair to dye it pink or you're a blonde who has decided to go for the rose side of their natural color, there's something you all have in common: even the sweetest shade of pink can make your hair weak. In this case, conditioning treatment with oils is crucial. It's OK to sacrifice something for such a pastel, flower-like amaranth shade, but make sure you know how to go back to the healthy hair condition.
Source: guy_tang via Instagram
ADVERTISEMENT ‧ CONTINUE READING BELOW
Sexy Pastel Pink For Darker Hair Colors
Even though most of the pastel pink hair shades belong to light cuties, nobody says that women with darker hair colors can't sport it. If you think that soft pink hues will look to drastic, comparing to your warm or medium complexion, here's a ravishing idea for you: the ends are light, while the base and color on the midway are a bit darkened, which will suit your visible roots and medium or dark skin tone.
Source: guy_tang via Instagram
Magical Lavender Shade Of Pink
Want to diversify your subtle rose hair color? How about adding some lavender vibes to your base? This shade of pink comes from a violet color family, but it gets on well with all the pastel rose hues. Look how you can mix these matching colors: this soft transition from saturated to light tint is to die for.
Source: evalam_ via Instagram
Accentuating Pale Light Pink For Blondes
Our natural hair color tends to become boring, sooner or later. But extreme color changes aren't always a good choice, as sometimes a slight pastel hue over your color will be enough. So here comes an extremely stylish idea to freshen up your blonde locks: a gentle touch of pale light pink, going over the blonde base, is the best pastel hair look ever.
Source: guy_tang via Instagram
ADVERTISEMENT ‧ CONTINUE READING BELOW
Contrastive Baby Pink Tint For Brunettes
When a brunette is about to change something in her life, she goes for blonde highlights that will emphasize the beauty of her tasteful brown locks. It's time to be different, girl! Why don't you show off your awesome hair by getting a baby pink tint? This color is called so because it's light, pure, and very attractive. Just look at this updo: it wouldn't look that unbelievable without this color combination.
Source: evalam_ via Instagram
Delicate Pink Peony For White Blonde Hair
Now, be careful; this idea can literally blow people's mind. Have you ever seen that delicate and eye-catching white blonde hair color? It will make heads turn not because it's too bright or saturated; this stunningly shining peony hue does the talking, delicately accentuating the snow-white blonde.
Source: rossmichaelssalon via Instagram
Magnificent Queen Pink Shade
Looking for a pastel pink hair color that will scream that you're a queen? Well, it's time to become friends with the queen of the pink color palette - the queen pink shade. It's a whitish tone of pink with platinum hues that create a noble, stately look. Yes, just like that of a real queen.
Source: guy_tang via Instagram
ADVERTISEMENT ‧ CONTINUE READING BELOW
Chic Silvery Pink Hair Color
The thing all the girls should keep in mind before going pink is that this color won't stay long with them. It won't stay for more than two weeks, to be more exact. All these colors need to be updated at least twice a month, so prepare to see your colorist as often as your friends. For example, if you wash your hair more than three times a week, such pastel shades as this silvery pink hair color will wash out fastly. To make it stay a bit longer, avoid over washing, don't miss the touchups, consider using conditioners for dyed hair, and incorporate dry shampoo in your maintenance routine.
Source: guy_tang via Instagram
Champagne Pink Tint
Cheers to enviable looks! This champagne pink tint is salvation for those who are afraid of extra bleaching. If you have virgin hair and start with a lighter base, bringing this color to your life won't be too harmful: a couple levels lighter can be achieved by permanent color with a higher developer. But remember that if your hair has already experienced hair dye, pre-lightening is inevitable. As for this idea, such a soft, pastel color looks perfect on girls with fair skin tone and light hair color.
Source: evalam_ via Instagram
Glorious Persian Pink Highlights
There are no pink highlights sexier than these bright, colorful Persian and lavender pink shades paired together. Ladies who want to add some volume and movement to their locks should opt for balayage highlights, and those who want to be in the spotlight should go for this marvelous pink rainbow.
Source: guy_tang via Instagram
ADVERTISEMENT ‧ CONTINUE READING BELOW
Lovely Light Pink Hair Color
Pink isn't always too obvious! Sometimes a little touch of pink hue can change your hair color, without having a totally pink look. This light pink hair color is a lovely combination of pale blonde and soft pink base that smoothly becomes lighter at the ends to flatter girls with pale complexions.
Source: guy_tang via Instagram
Classy Mountbatten Pink Ombre
Do you want your hair color to display two trends at once? Mountbatten pink is the mixture of the popular baby pink and famous pale grey tint. Together, they form a bit velvet pink shade with a greyish accent. Look at this pastel pink hair ombre: the Mountbatten top softly transits to pale pink waves. Isn't that a look to steal?
Source: evalam_ via Instagram
Fancy Pink Highlights Underneath Hair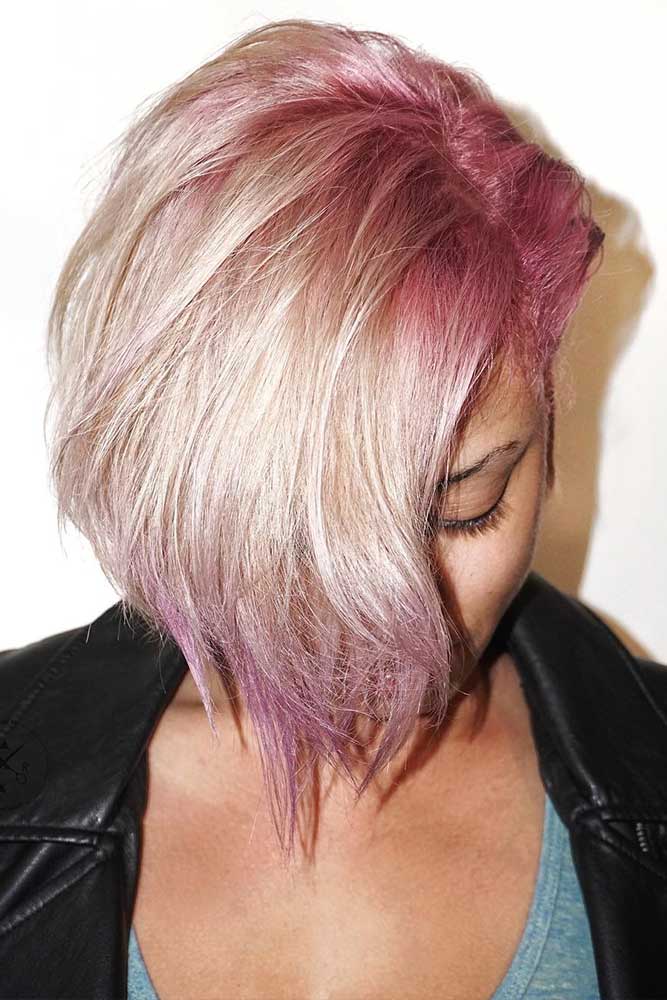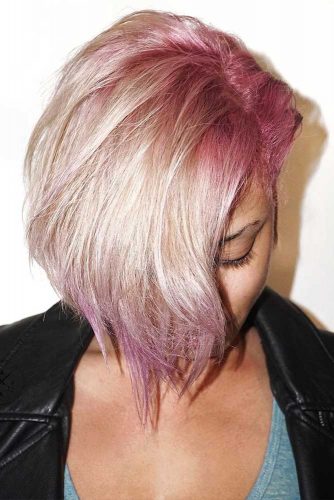 Not all the accents should be on the top! You can ask your colorist for pink highlights pink highlights underneath hair where the brighter strands will be on the lower layers of your hairdo, adding a lively movement to your hair. To reach perfection, try going for a pale peachy pink base with baby pink highlights.
Source: jeffreyrobert_ via Instagram
ADVERTISEMENT ‧ CONTINUE READING BELOW
Noble Platinum-To-Pink Lob
Another trendy duo is here to steal the show! There's no need to tell you how requested platinum blonde is these days. And when it's paired with pink highlights, it's even more elegant, even more beautiful. These unbelievable pink highlights for short hair will make you fall in love with your own hair. Isn't that the effect you are looking for?
Source: rossmichaelssalon via Instagram
Funky Blushed Bahamas Ombre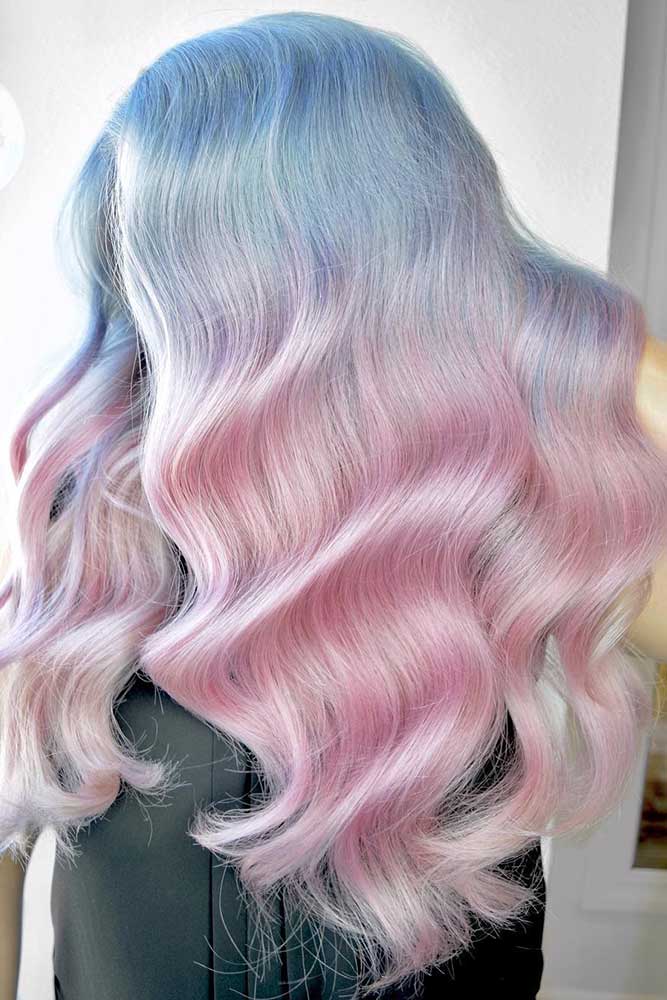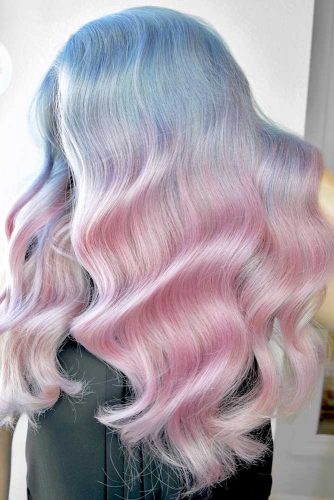 Remember when you dreamed of turning into a mermaid? Those who think that hair color can't make dreams come true, have never seen this magical light pink ombre hair! The bluish top that transits to soft pink ends is your chance to find yourself in a fairytale.
Source: rossmichaelssalon via Instagram
Tender Light Pink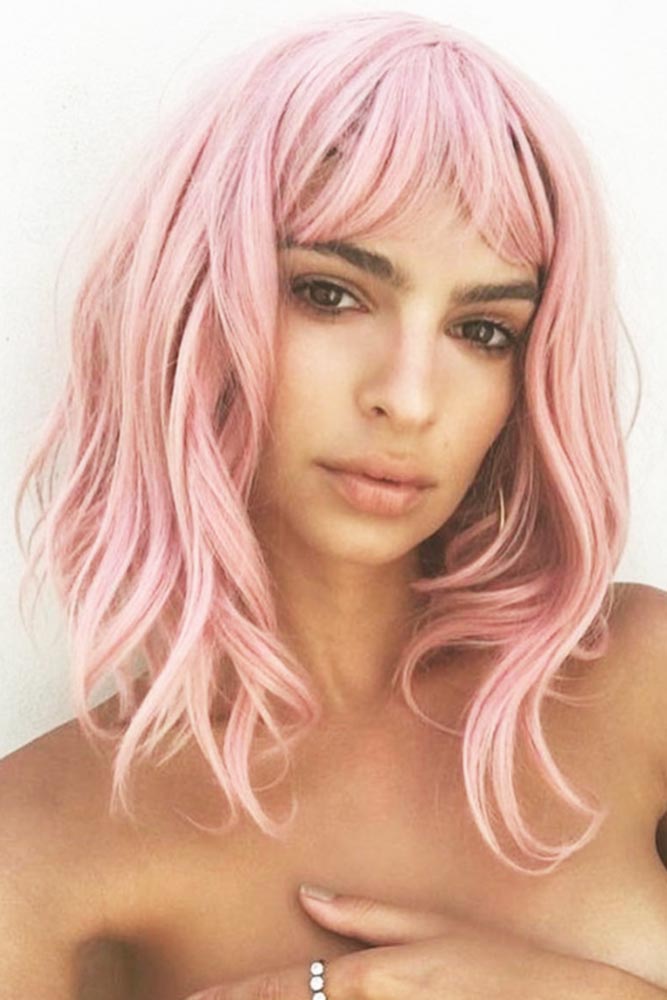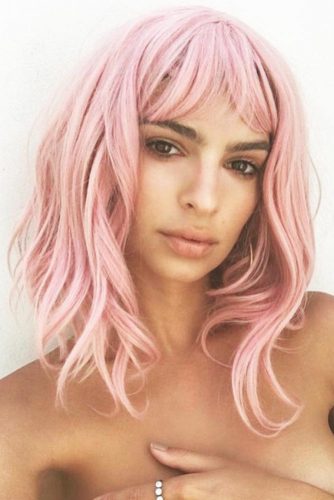 Do you know what an adorable look a tanned skin with washed out pink hair can form together? This tender pink hair color is so sweet not for nothing: it follows all the today's trends and suits any complexion: from pale to dark ones.
Source: shelleygregoryhair via Instagram
ADVERTISEMENT ‧ CONTINUE READING BELOW
Pink Highlights With Dark Roots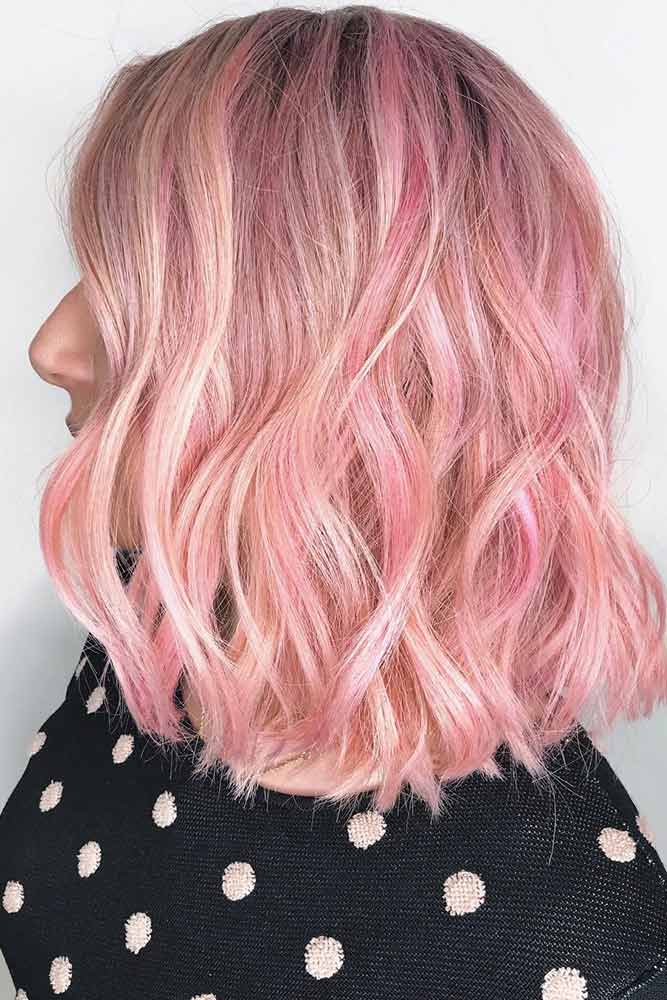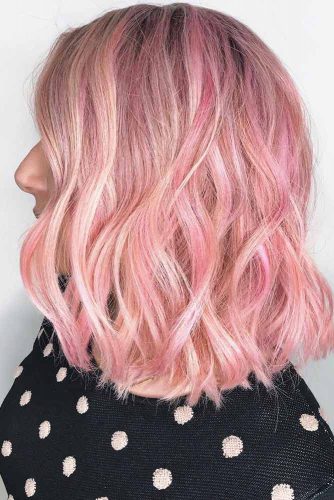 If you're one of those ladies who think that going for an all-over color is quite a boring thing, here's an idea that will captivate you! Three matching shades of pink, enhanced by the outstanding dark roots is a combination that will never make you bored.
Source: shelleygregoryhair via Instagram
Peachy Pink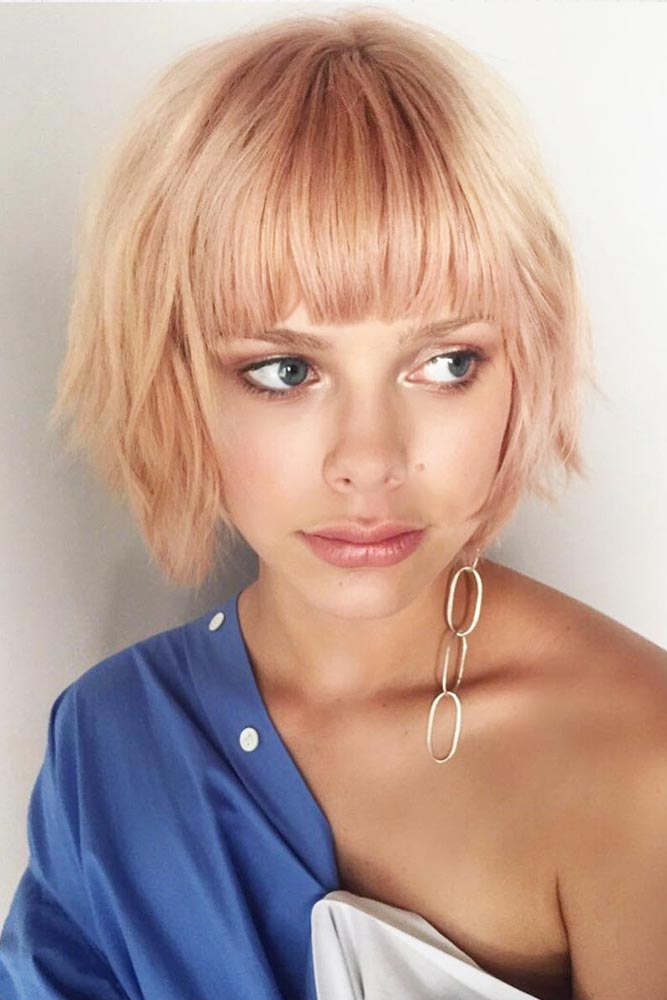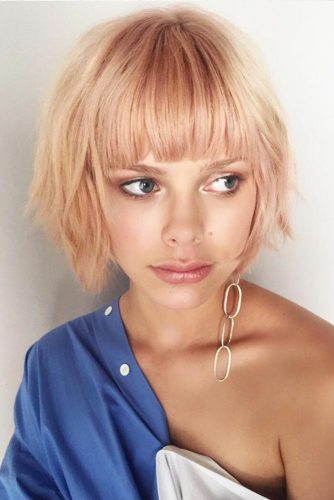 You're already familiar with the hugely popular peachy pink, but this idea is something that can change our image of the trend! This color gets less saturated to the ends, which creates an unbelievable shimmering, whitish silhouette to the pale peachy shade.
Source: castillo_13 via Instagram
Grey Hair With Pink Ends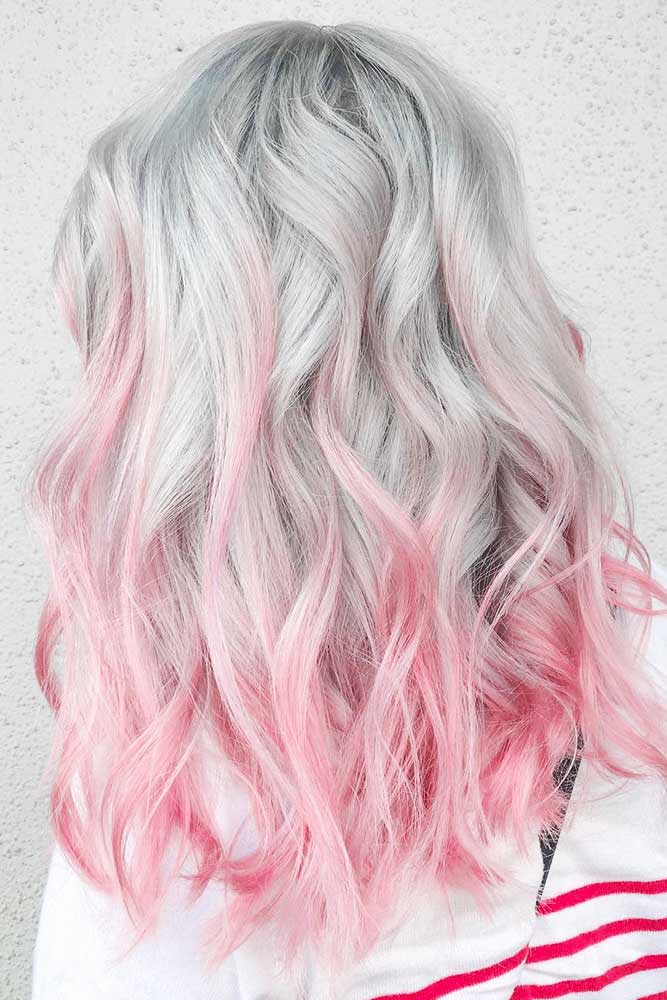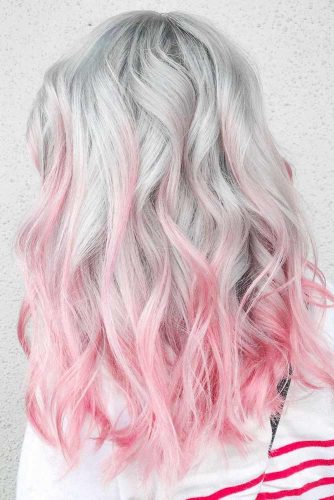 When we think of modern trends, the first things that come to our minds are faded grey and pale pink hair colors. Want to pull off something more powerful than these two? Mix them, then! You can get yourself a grey body and spice it up with pink ends or vice versa; it's up to your inner colorist!
Source: theniksters via Instagram
ADVERTISEMENT ‧ CONTINUE READING BELOW
Peachy Pink With Orange Strands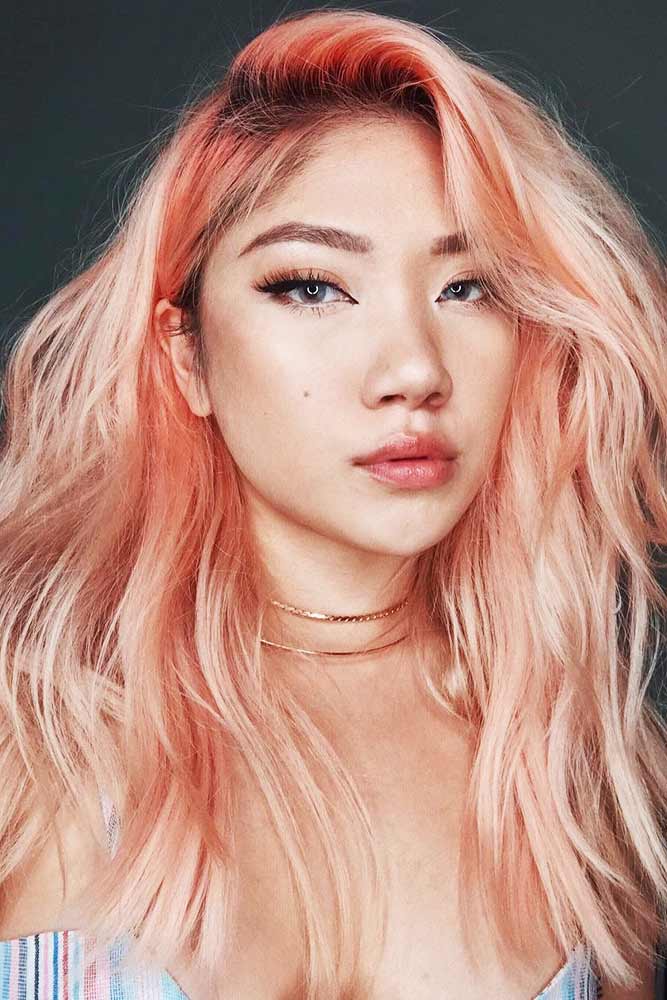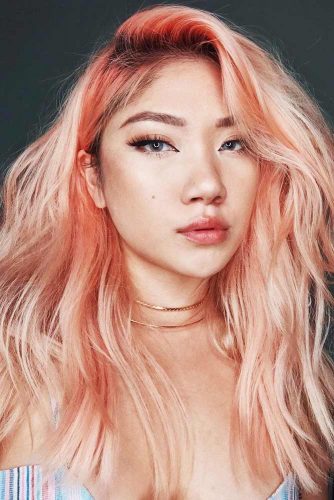 A soft peachy pink base + vibrant orange strands = the juicy burst of grapefruit shades on your hair. Such an unusual color looks awesome on girls with both light and medium skin tones and gets enhanced when it's paired with slightly darker roots.
Source: marycake via Instagram
Light Pink Ombre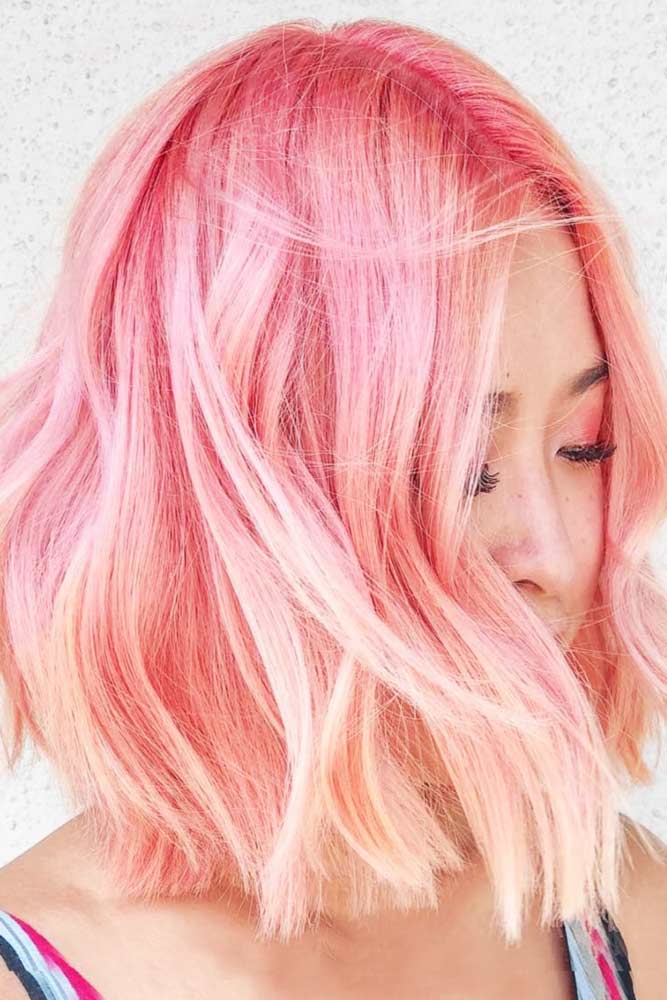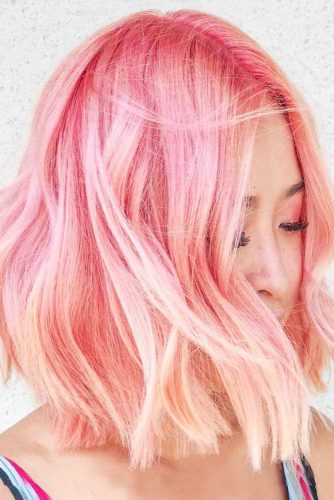 Mixing two favorite shades of pink will always be a stunning choice. Even though going for very saturated colors might be a commitment, the WOW effect is definitely worth a plunge!
Source: theniksters via Instagram
Blossom Purple
Purple and pink go perfectly together not only because they stand close to one another in the color wheel. They're both are trends that have become extremely popular with women of all ages recently. So why don't create your own palette of trends? Dark hues that slowly transit into purple and then turn to pink is a pretty nice start.
Source: bescene via Instagram
ADVERTISEMENT ‧ CONTINUE READING BELOW
Bright Coral & Baby Pink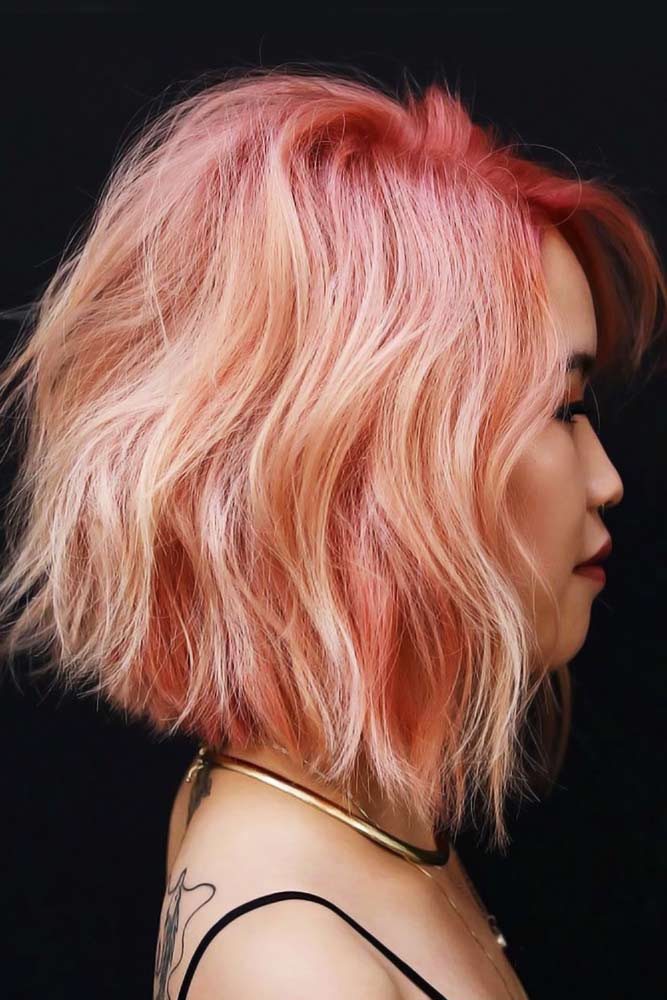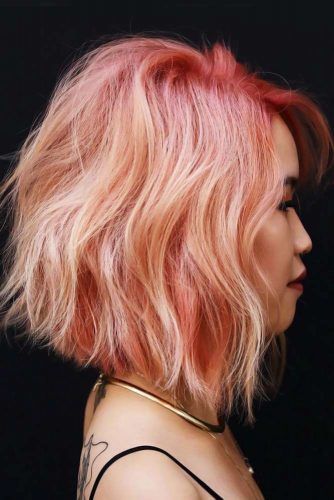 Since coral may live for thousands of years, you won't go wrong if you pick a coral shade for your next experiment. And if you are afraid it would look too drastic and unnatural, you can finish it with pastel pink strands that will add tons of movement to the hair look.
Source: bescene via Instagram
Antique Pastel Pink
Even if every single girl paints her hair pink, you will still be able to stand out in the crowd, as the variety of pastel pink hair palette is endless. How about that funky nostalgic shade of pink known as an icon of Tumblr aesthetics? Whatever your complexion is, this cutie will work ravishingly.
Source: bescene via Instagram
Cold-To-Warm Pastel Pink Balayage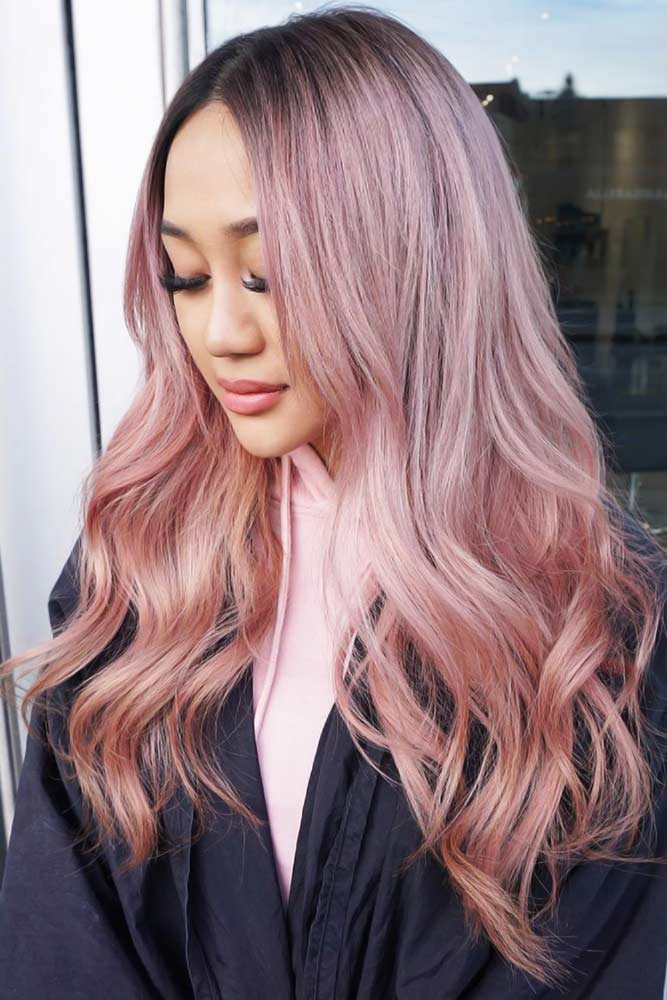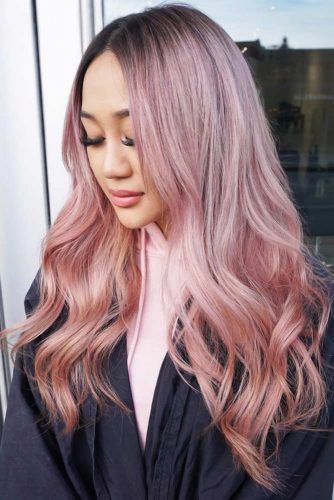 Today she's warm, tomorrow she's cold: that's life. If you're one of those indecisive, yet creative girls who love to jump from one extreme to another, don't dare to miss this idea! Cold muted lilac roots that meet warm pastel pink hair, isn't that an ideal color temperature for style players?
Source: evalam_ via Instagram
ADVERTISEMENT ‧ CONTINUE READING BELOW
Peachy Ombre
We were asked to find a color job that exemplifies the purest, sweetest and the most gentle feelings in the world. According to our inspo-research, nothing can beat the magic feel of this unbelievably soft peachy ombre with yogurt ends. If it's not perfection, what is, then?
Source: bescene via Instagram
Pastel Pink With Lavender Lights
Believe it or not, you will get bored with your pink hair sooner or later. And it will happen not because the color may lose its charm; the need for changes just runs in our genes. Speaking of which, lavender highlights is a little change that can satisfy your inner experimentator. First of all, these two often go hand in hand, especially in the latest color combinations. Second, they work for all skin tones.
Source: evalam_ via Instagram
With these ideas, even the most conservative ladies can't help themselves but to experiment with their hair color! You've just got through the purest form of pink inspiration. Each of these amazing shades of pink deserves a try, so why don't you give life to these inspiring ideas?
ADVERTISEMENT ‧ CONTINUE READING BELOW
ADVERTISEMENT ‧ CONTINUE READING BELOW