Bleached hair is a hairstyle that can greatly boost your self-esteem. If you have naturally blonde hair and want to go lighter, it will be easier to bleach your tresses. However, if you have darker hair, it might take a little for effort to achieve that bleach blonde look. But no matter what, we promise you that it will be worth the time and effort. A bold new look can really give help give you a saucy new attitude!
Blonde highlights are another option for those who want to lighten their locks. And it won't dry out your hair as much as bleaching. However, if you follow proper precautions and take care of the general health and well-being of your hair, you can totally rock those bleached blonde locks!
If you are wondering what bleached hair look works best for you, check out our selection of some of the trendiest looks for bleached tresses!
How To Bleach Hair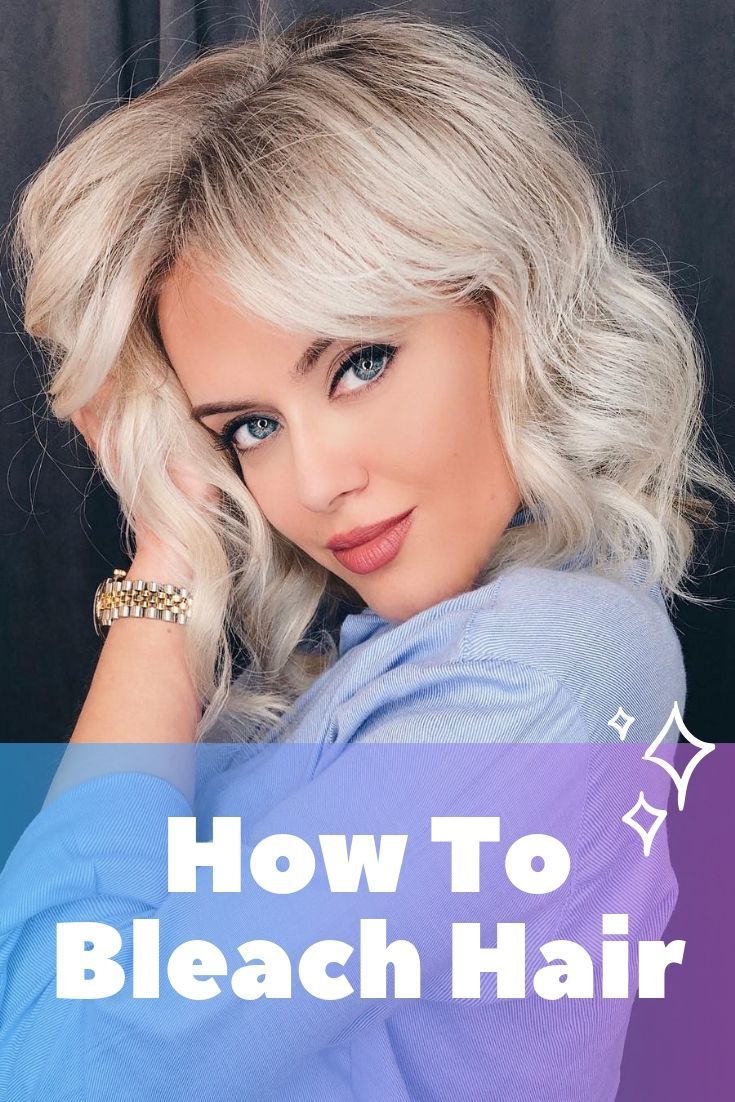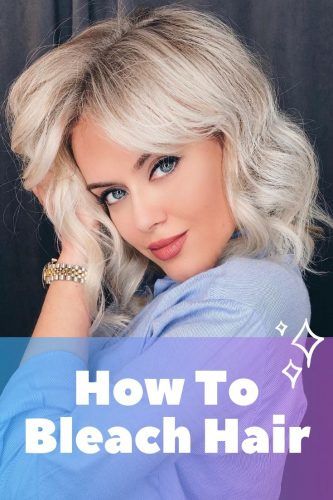 Even though we know that the best results are always achieved by professionals, there are lots of women who are eager to experiment with their hair themselves, be it a self-color session or pre-lightening.
And we are here to support your need for transformations, sharing essential tips on how to bleach hair at home the right way so as not to end up crying at your spoiled locks.
In this part, we are going to teach you the basics of preparation and hair bleaching. Make sure to keep in mind these tips, and you won't regret getting the new look yourself.
Prepare your hair
Start with healthy virgin hair. For bleaching hair at home, being equipped with the right tools and products is not enough. As a matter of fact, bleaching hair is a ton of pure damage for hair, as it breaks through the hair shaft, stripping off the pigments that form your natural color. And that's why it's crucial to work with unprocessed, virgin hair to cause less damage. If your hair is already dry and damaged, do your best to revive it to its healthy condition before bleaching.
Less styling, more hydration. Set your hot styling tools and products containing harsh chemicals aside before bleaching your locks. The process is most likely to make your hair dry, so you will need as much moisture as you can get. Instead, switch to products with all-natural, organic composition.
Eat, sleep, condition. Conditioning must become as vital as eating and sleeping 2 weeks prior to bleaching. Of course, that should be either organic or homemade hair masks and deep conditioners applied at least twice a week. Also, it's very important to oil your hair before washing it with shampoo. Otherwise, there's a chance it will dry your locks out.
Coconut oil - a new best friend. Applying coconut oil before bleaching hair is like putting a healthy spell on your mane before it meets damage. The oil acts as a protective barrier for your hair shafts, keeping it away from losing much moisture. Let your hair soak in coconut oil the night before bleaching to avoid damage as much as you can.
What you will need:
Bleach powder
Developer
Tinting brush
Latex gloves
Mixing bowl
Shower cap
Old clothes and towel
Balancing shampoo and conditioner
Toner
How to bleach your hair:
Start with your third-day hair in a well-ventilated area with good lighting with a place to put all your tools, and a mirror.
Wear old clothes that you won't regret spoiling and put the gloves on.
Section off your hair, pinning the crown away to start from the back strands.
Mix the bleach powder with developer (peroxide). Two parts of developer go for one part of the bleach.
Start applying the bleach. First, apply it to the mid-lengths and tips and leave them for 20 minutes before getting to the roots for even color.
Once all of your hair is covered in the bleach, put on the shower cap.
Sit back and give the result some time to come out, checking the color periodically. But don't wait more than 45 minutes!
When your bleached hair is ready, rinse the mixture thoroughly and then wash it with balancing shampoo and conditioner to balance out the pH level.
Let your hair air dry and enjoy!
Bleaching dark hair
Brunettes who'd like to learn how to bleach black hair at home should consider one important issue: bleaching black hair often results in orange hair colors due to the vibrancy of initial pigments. But don't worry; It's easy to fix with a toner. Just make sure to read the provided instructions on how to use hair toner after bleaching and your new color will show up at its best.
Blonde Highlights
Переглянути цей допис в Instagram
If you want a multi tonal look that is super chic and sexy, this striking bend of pretty blonde shades on with dark undertones is really quite alluring. Chunkier highlights will add depth to your hair. The short bob pictured here is a great way to show off this sassy style!
Pixie Haircut
Source: instagram.com/theniksters via Instagram
Do you want a look that's bold and beautiful? Do you have what it takes to pull off this platinum blonde pixie? This super short cut is so classy and will certainly put you at the head of the class when it comes to style and sophistication!
White Blonde Hair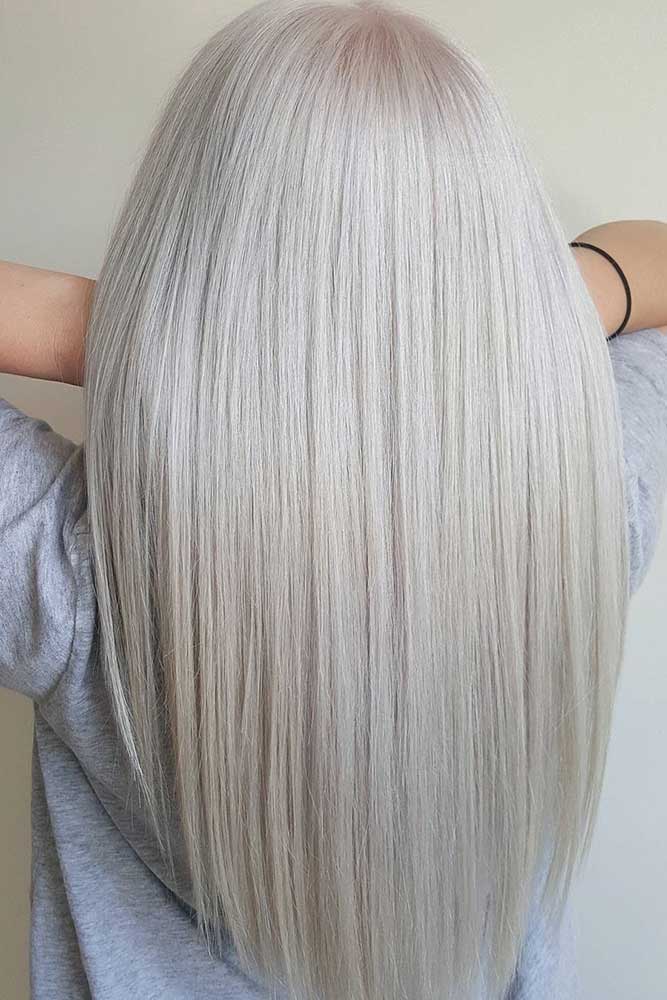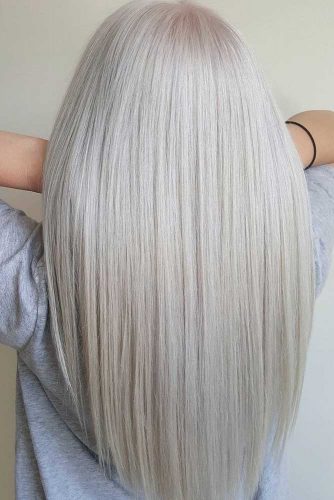 Source: meowwface via Instagram
This palest shade of blonde is striking. Silvery shades of bleached blonde are very in right now. If you want to go for an all over look, this mid-length U-shaped cut is very sleek and stylish! The metallic hugh will look especially stunning in the sunlight!
Wavy Bleached Hair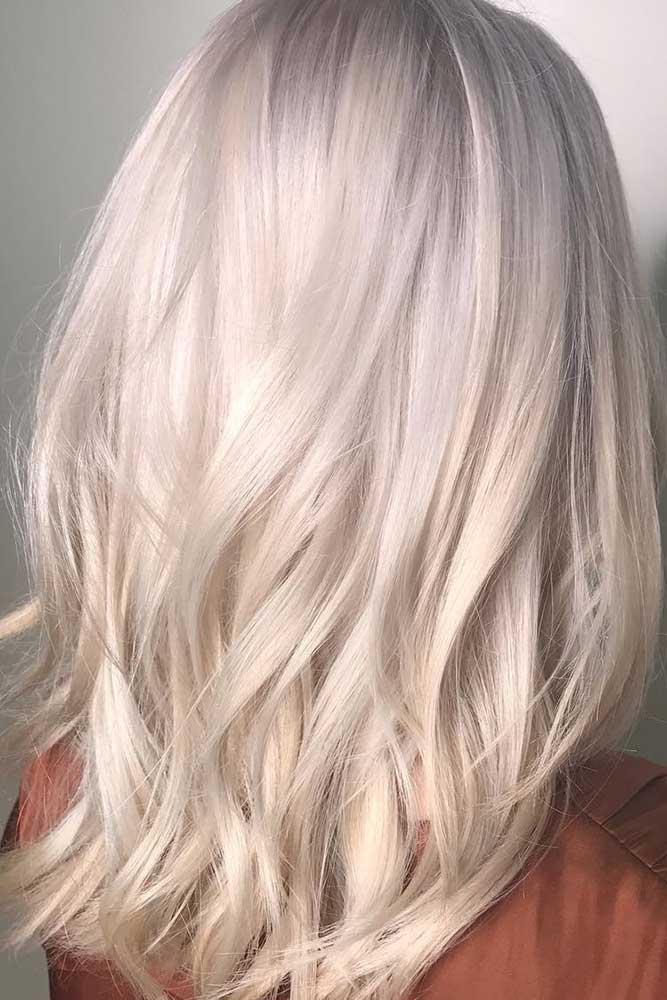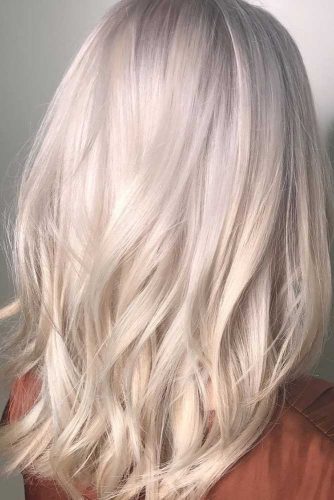 Source: hairwork_gem via Instagram
Waves will instantly bring some carefree vibes to your image disregarding the hair color. But when it comes to blonde and wavy combo, it is simply irresitible.
Bob with Bang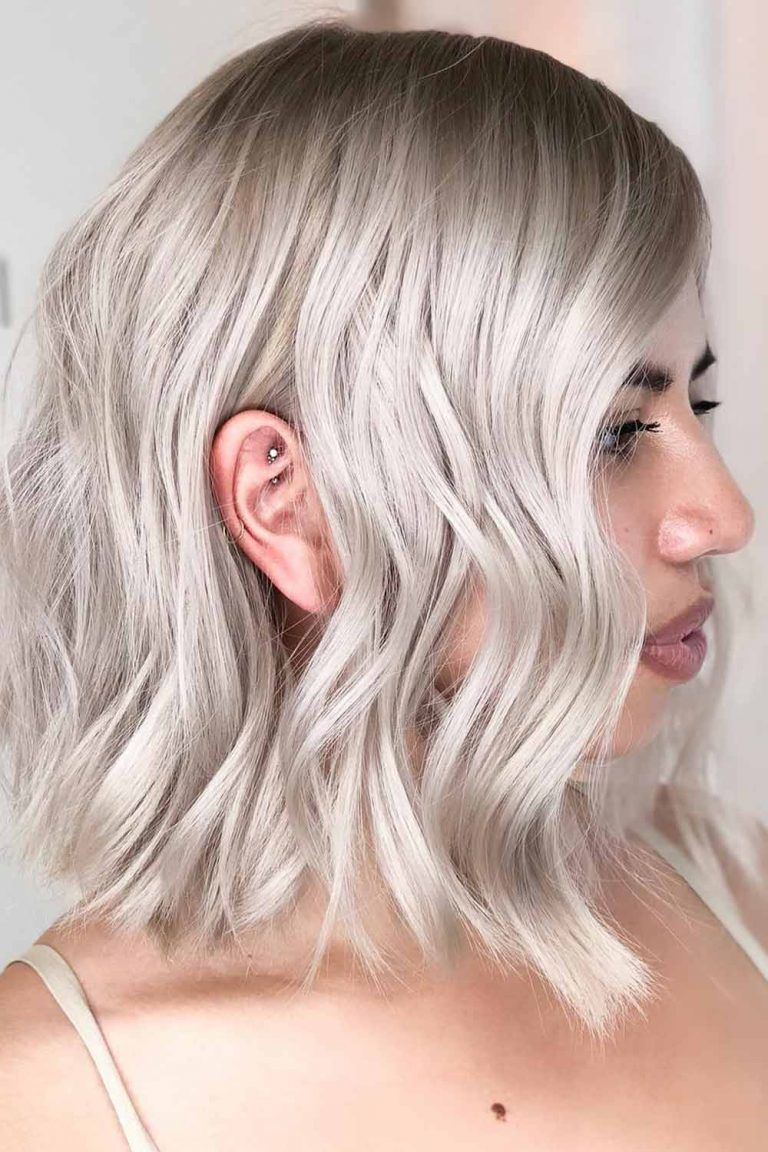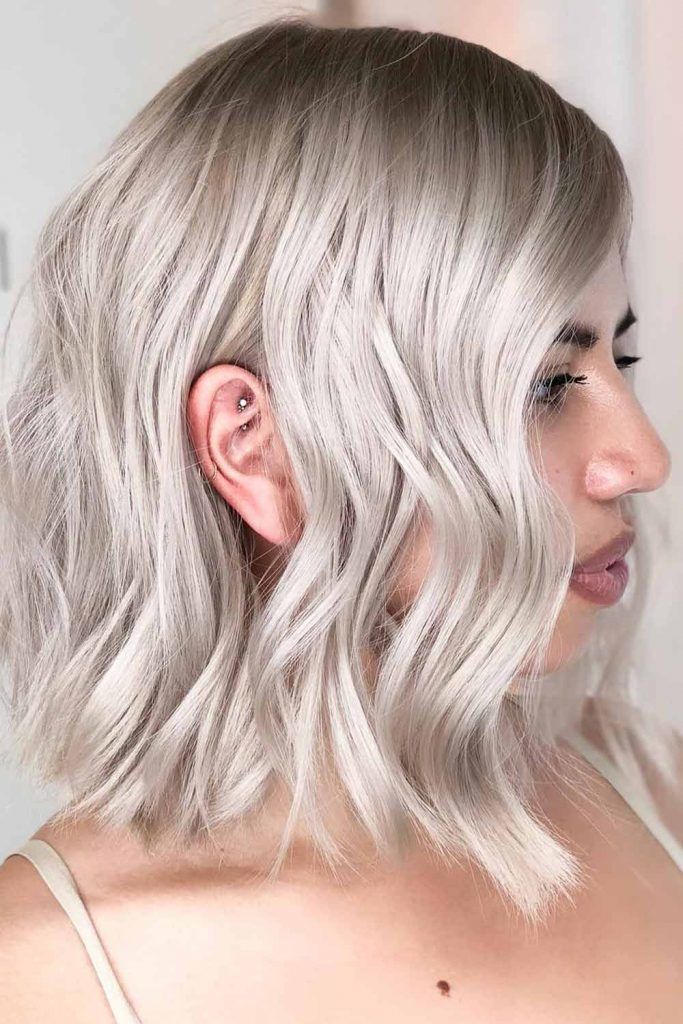 Source: instagram.com/theniksters via Instagram
This medium bob with long side bangs is a great look for those who want a polished look. However, the metallic blonde hue shows that you aren't all business and no play!
Blunt Bob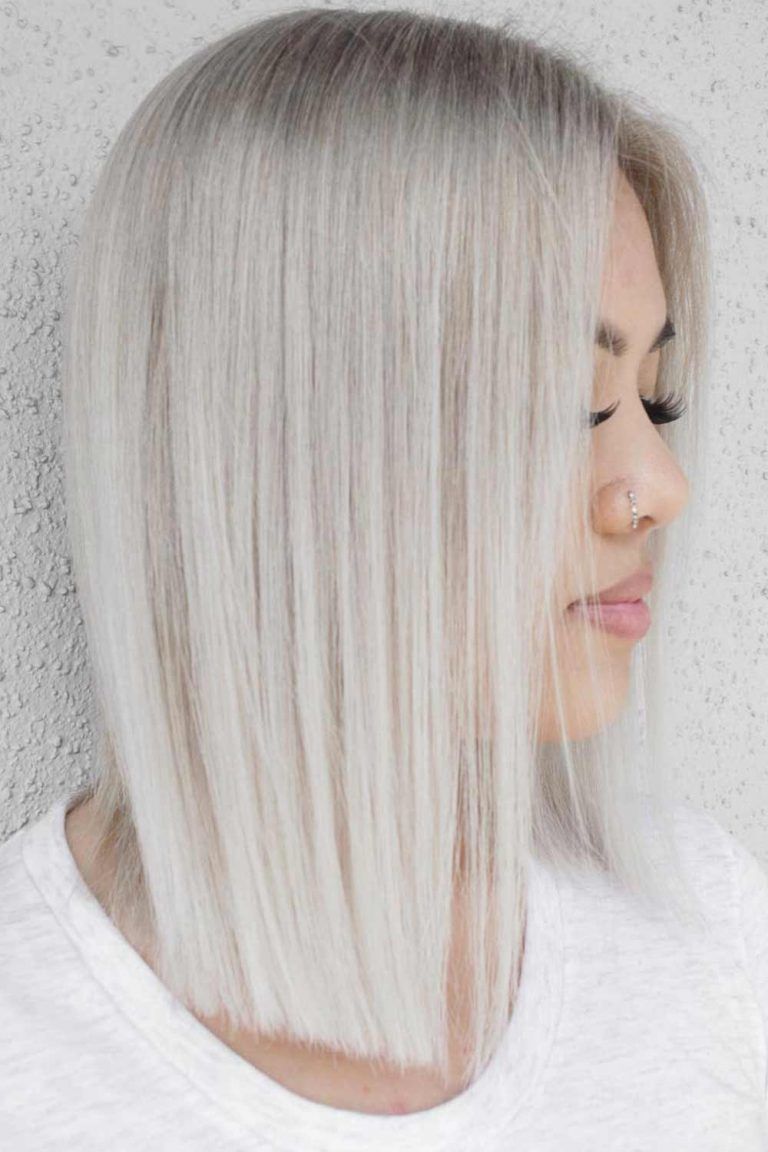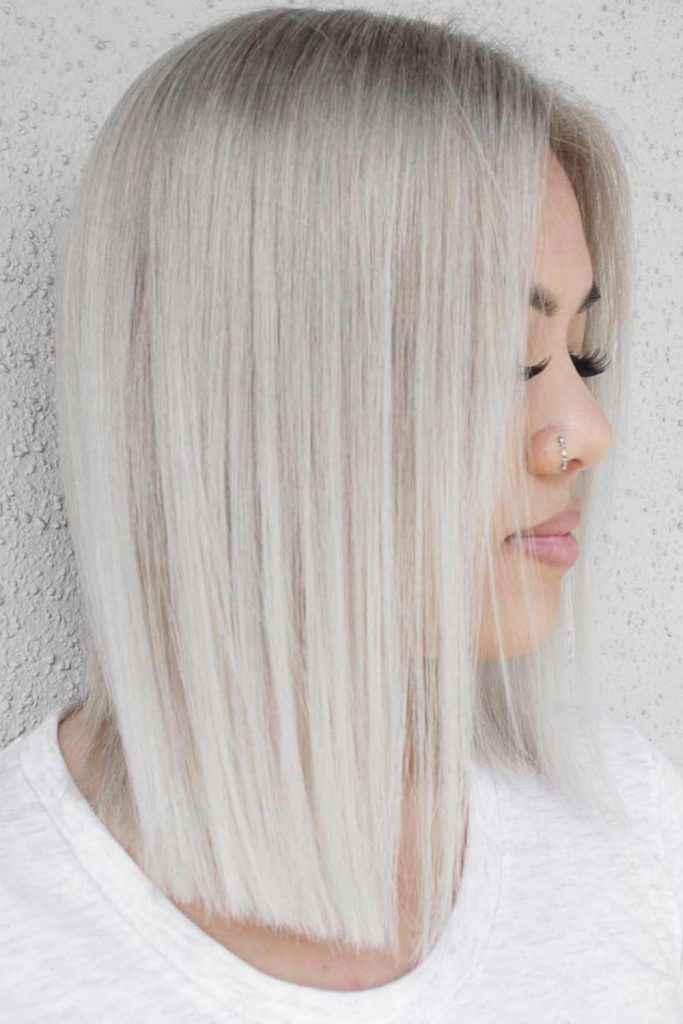 Source: instagram.com/theniksters via Instagram
A blunt lob like the one pictured here is timeless. The bleached blonde shade gives it a youthful vibe that is a bit reckless and full of sass!
A-line Bob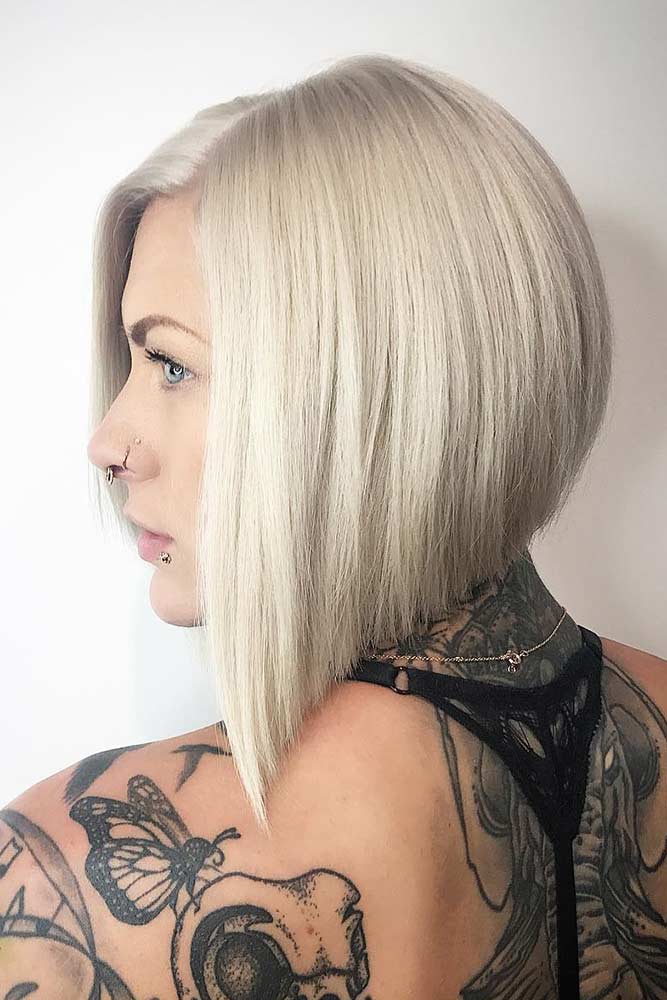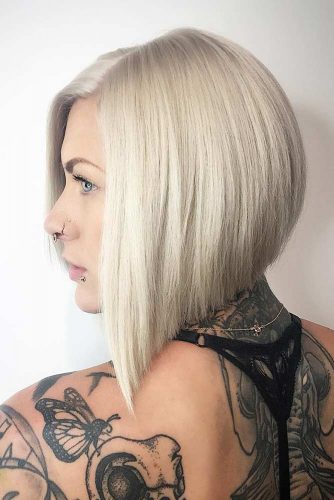 Source: danitygr via Instagram
Another popular bob cut is the A-line. This step A-line cut with shimmery shades of icy blonde is classy and chic if you want a look that is both edgy and sophisticated.
Beautiful Bleached Hair with Accessories
Переглянути цей допис в Instagram
Those with longer locks can really rock this sexy curly platinum blonde look! The sexy waves are so pretty and you can add sparkly hair accessories to help flaunt your tresses.
Sleek Bob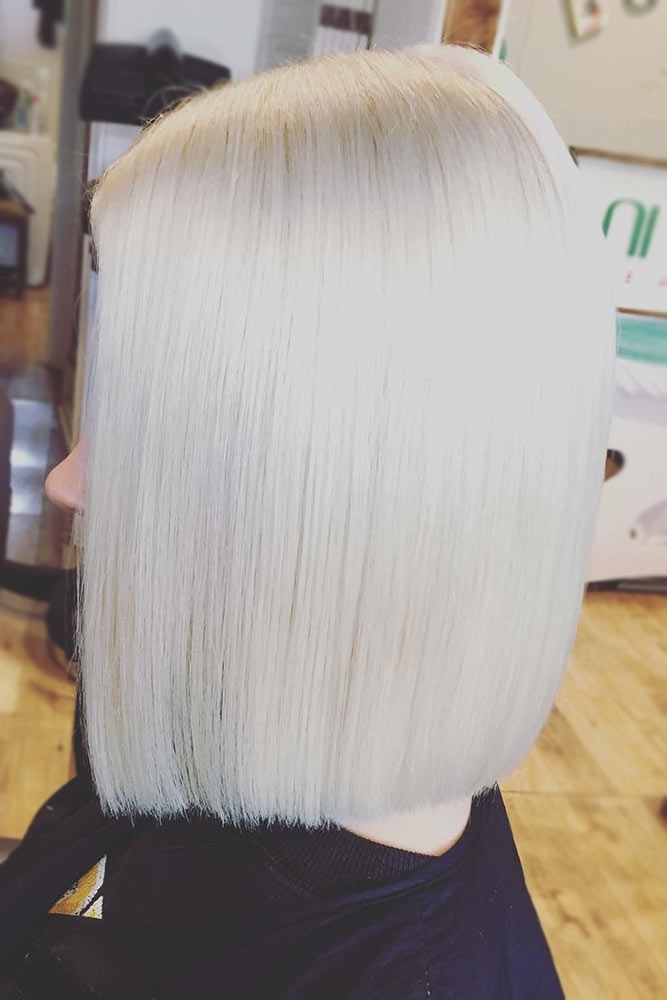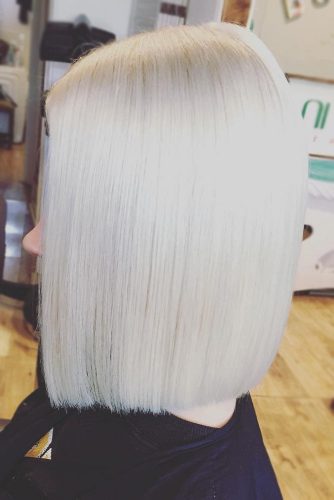 Source: nich_hair_and_makeup via Instagram
There is something about a sleek, straight bob that is so stylish. Perhaps it's due to the fact that has so much sheen. If you want your hair to shine like a diamond, this short sleek bob is calling your name!
Modern Short Bowl Cut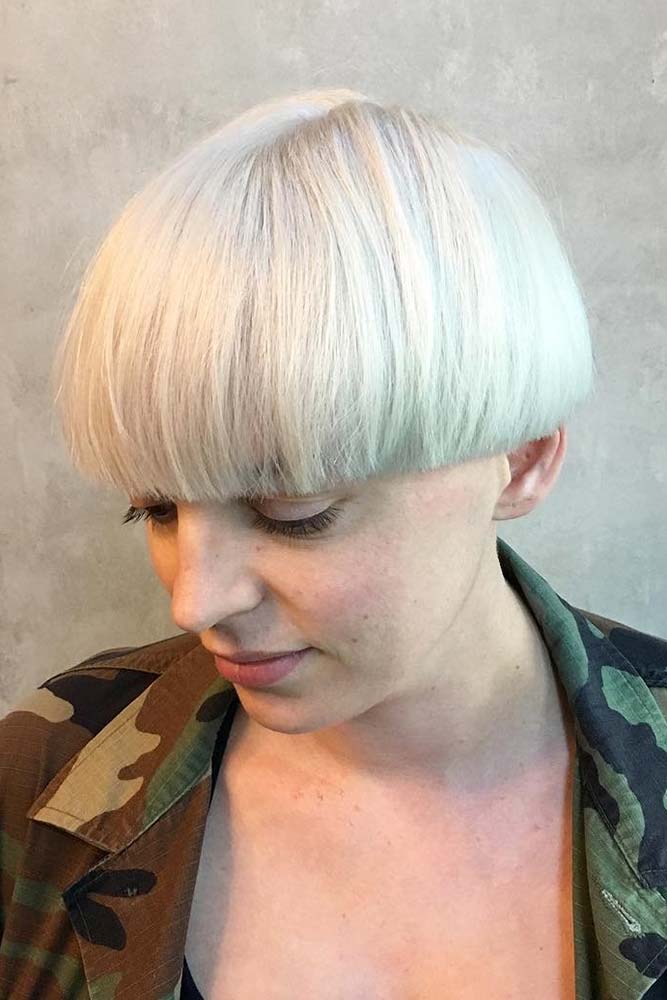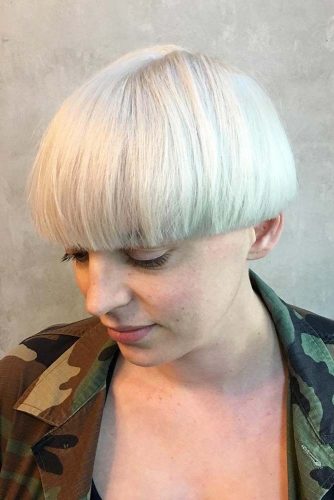 Source: hairbytaradawn via Instagram
If you aren't afraid to be a trendsetter, this bowl cut is out of this world. The futuristic cut is ultra modern and chic and the palest of pale blonde shades give this trendy cut an air of sexiness that can't be beat!
Platinum Blonde Curls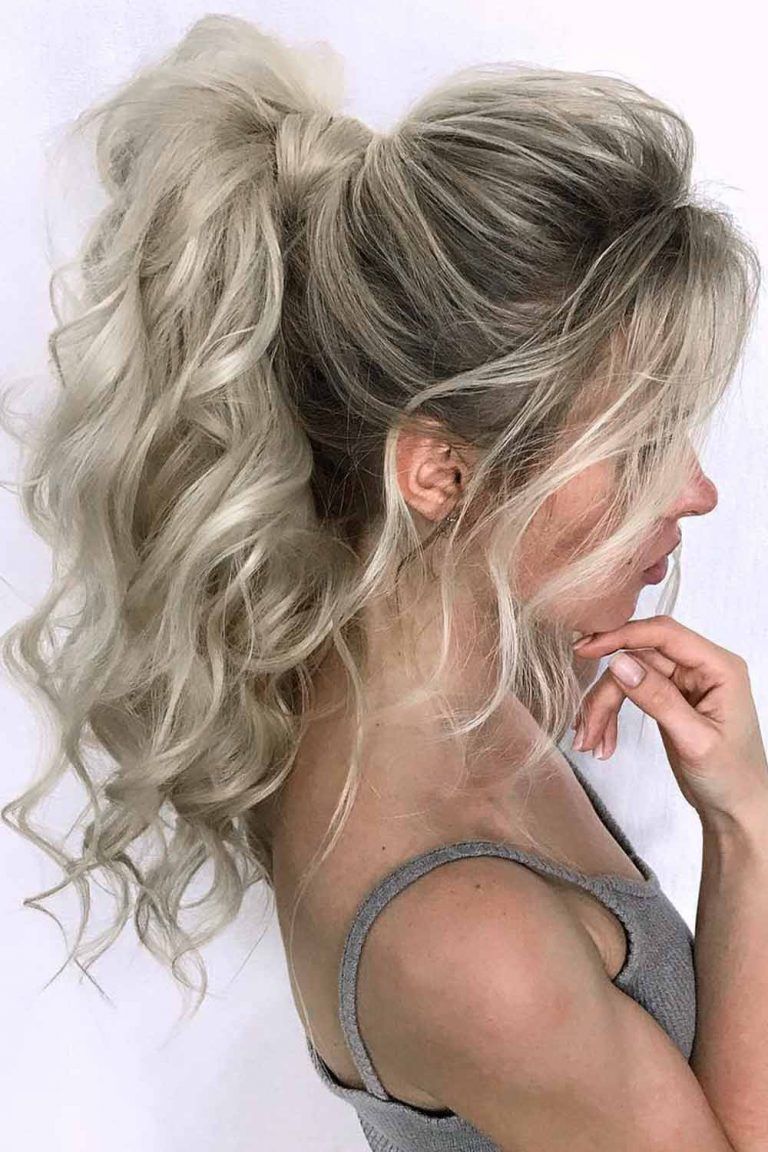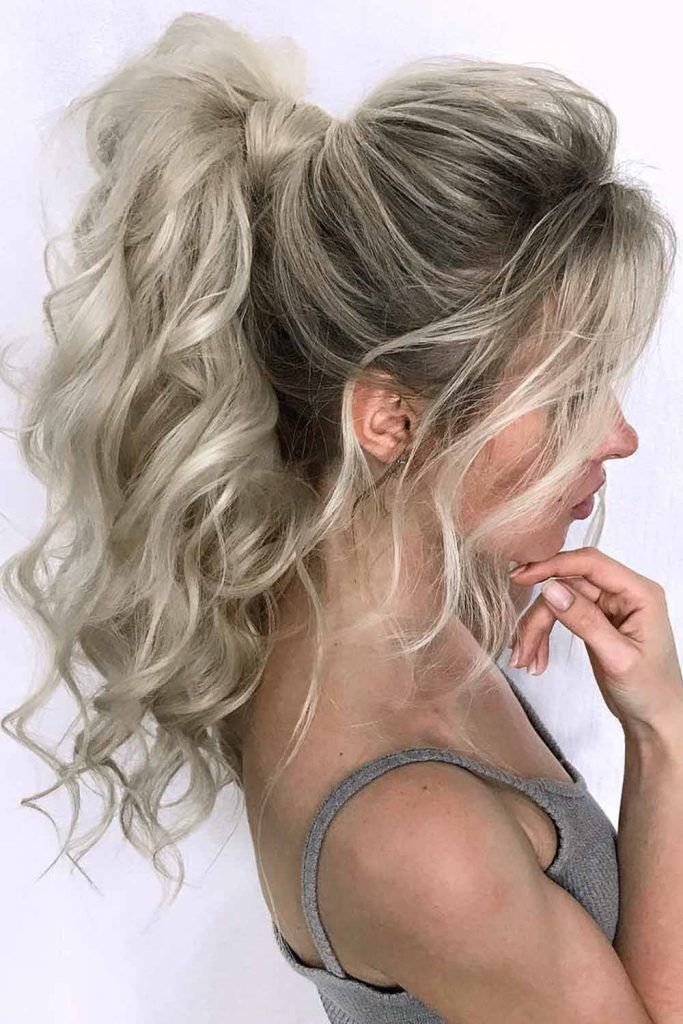 Source: hair_by_zolotaya via Instagram
We can't even imagine how girls with long hair are proud of themselves: they've got the beauty of the whole world! Not it gets even harder to describe the beauty of long platinum blonde hair. Yes, this idea is to die for. Curls will make you look totally chic and stunning: it's time to combine the most googled styling ideas.
Snow Queen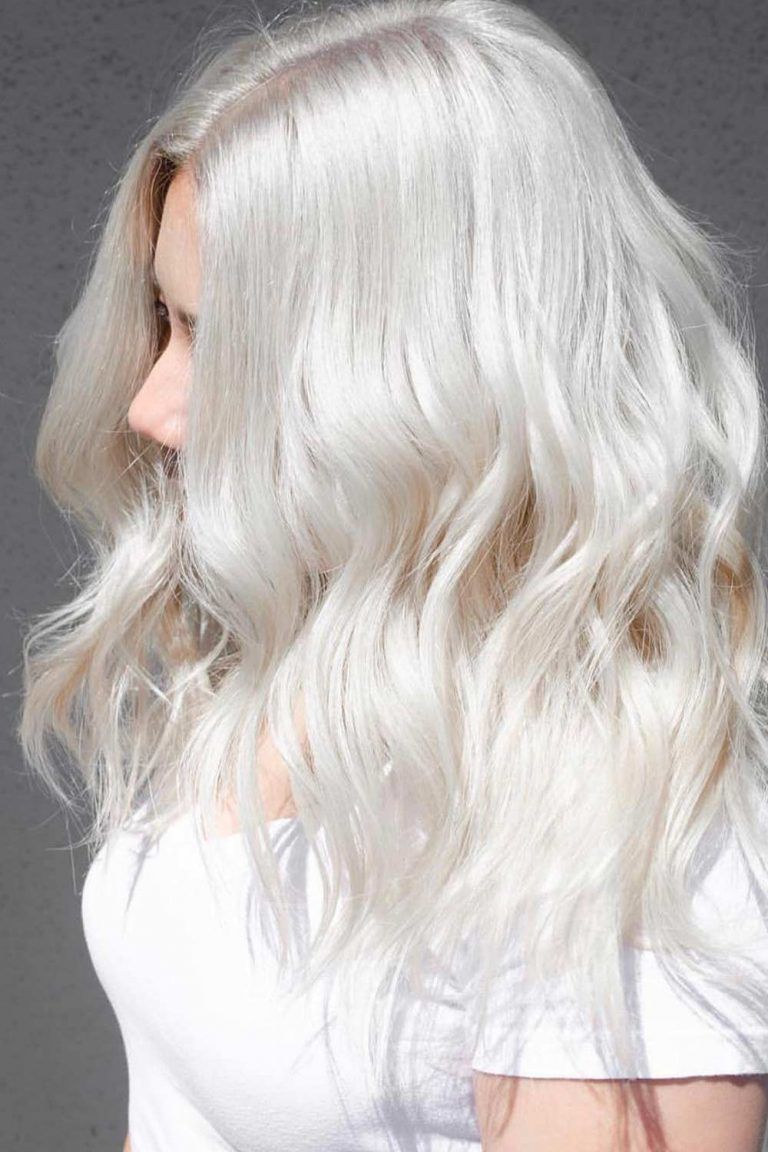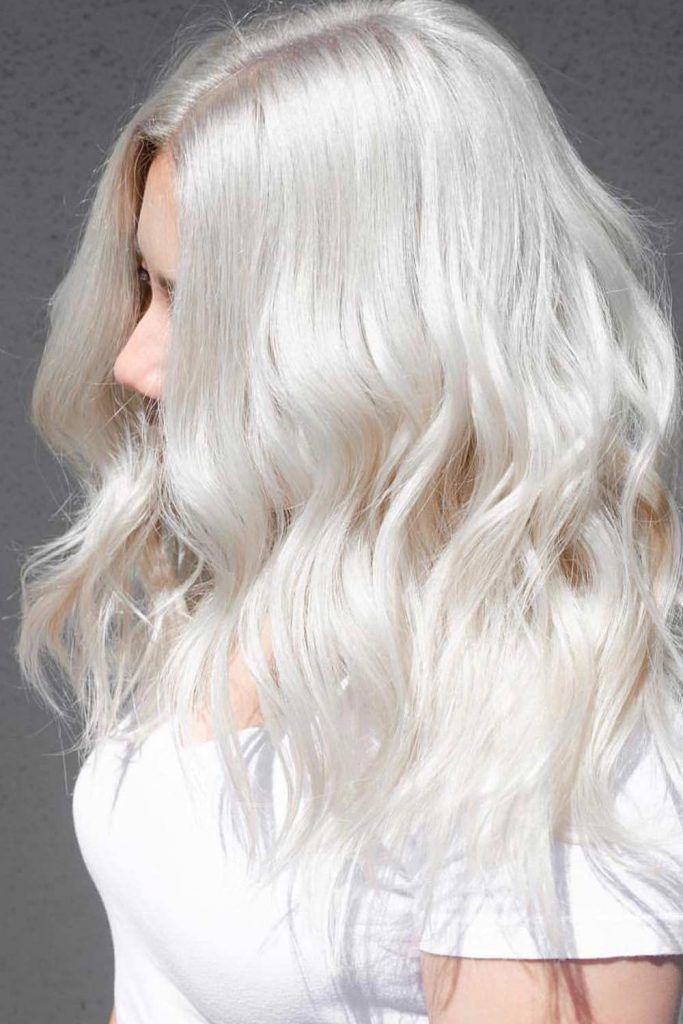 Source: theniksters via Instagram
The famous classic tale says that The Snow Queen is the devil herself. How about you to create a modern tale and show that a Snow Queen look is a perfection itself. Let your hair down, dye it in a snow-like color and be ready to take over the world! No more evil, only the beauty of your hair.
Long Layered Pixie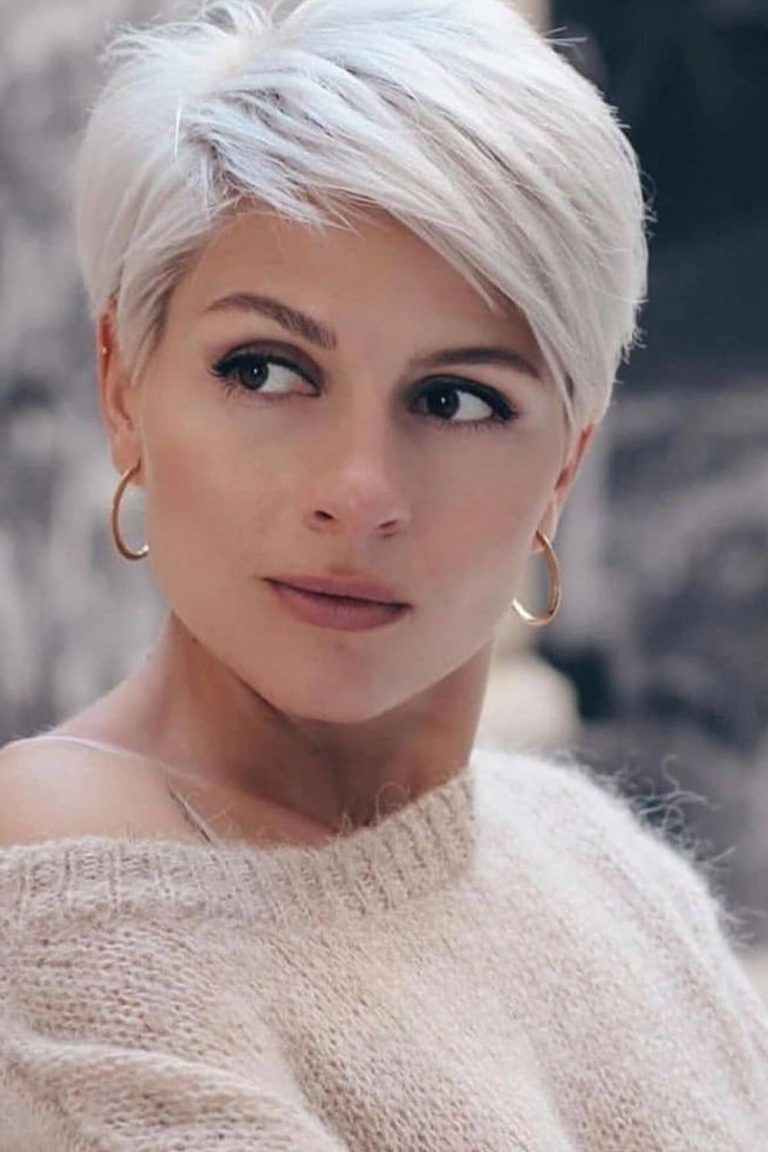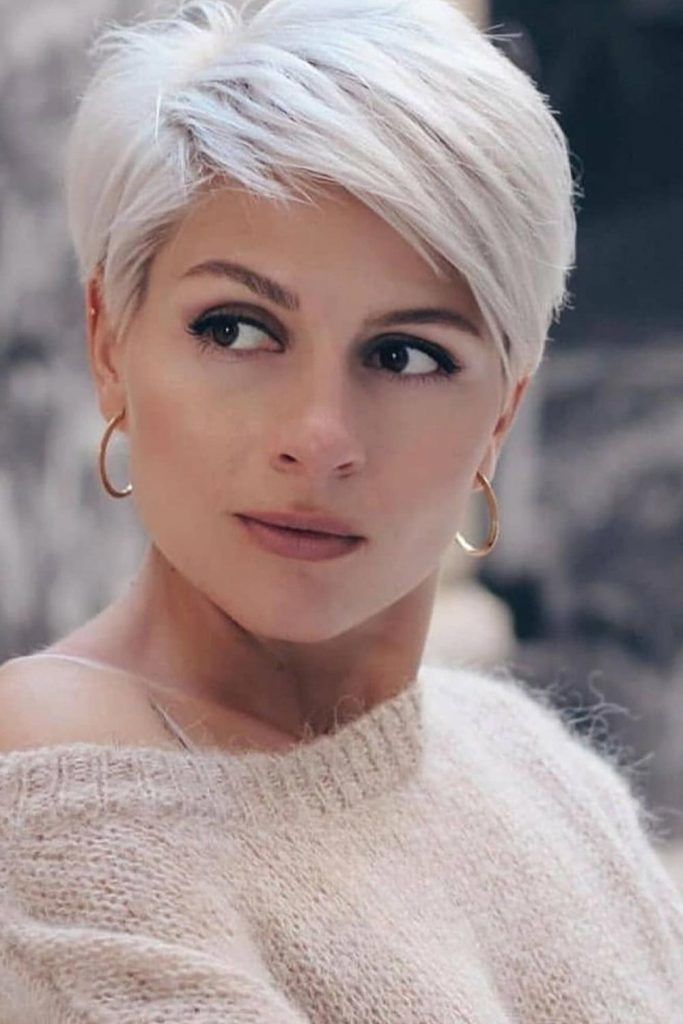 Source: irinagamess via Instagram
When we look at this pic, it seems like short hair has never been so attractive. Yes, pixies are so trendy not for nothing, and this pale white shade is a fresh take on the pixie's charm. If you're brave enough, it's time to give a green light to this duo.
Bleached Hair With Rainbow Ends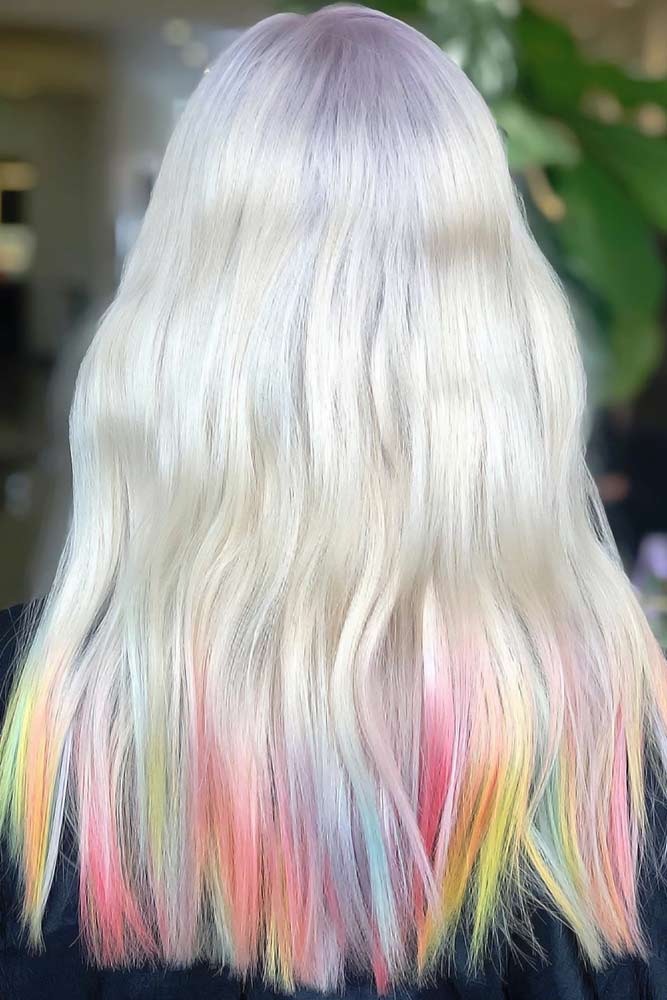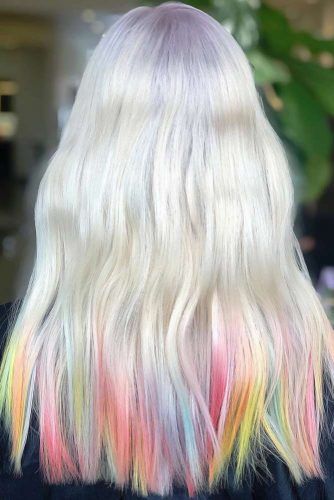 Source: shelleygregoryhair via Instagram
Maintaining bleached hair may seem to be a commitment at first sight. And once you think of how many color options are available after bleaching, you will realize that it's totally worth it. Well, these rainbow ends that illuminate on a cool platinum blonde shade is living proof.
Blunt Center Parted Style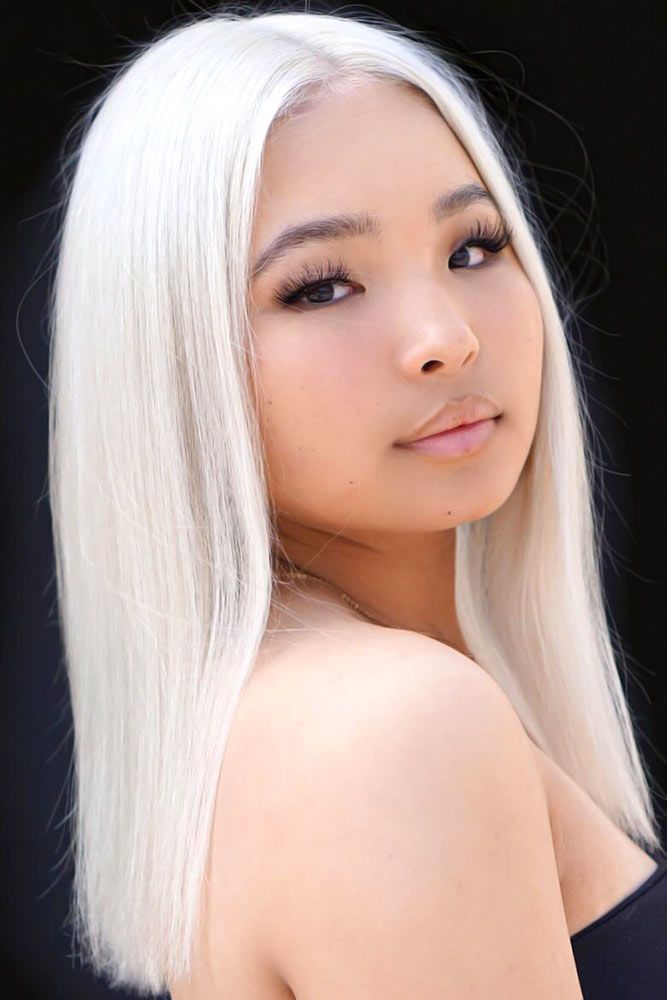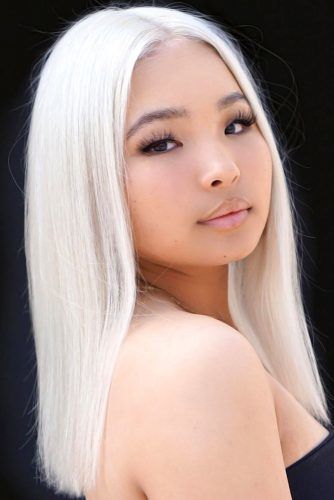 Source: maggiemh via Instagram
Perfectly even, sophisticated colors look their best on perfectly straight and sleek textures. Style your hair evenly by creating a middle part and make sure there are no knots and tangles to reveal the beauty of bleached, snow-like hair to the fullest extent.
Messy Soft Waves Bob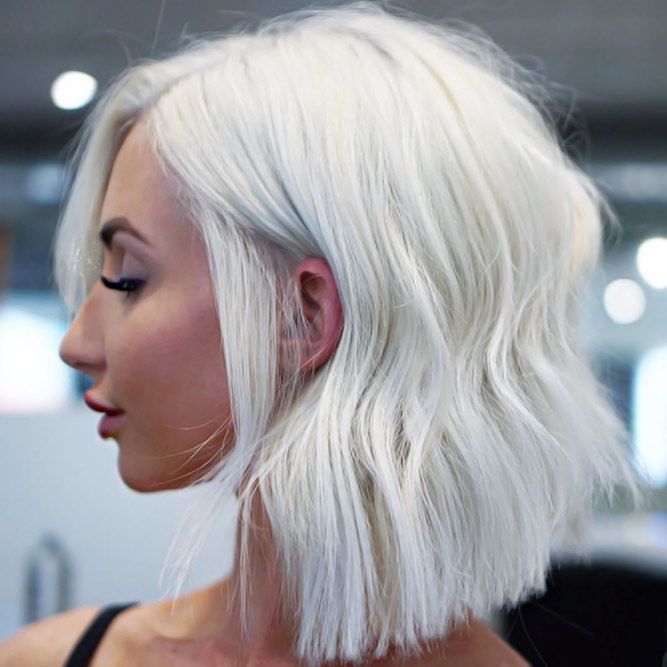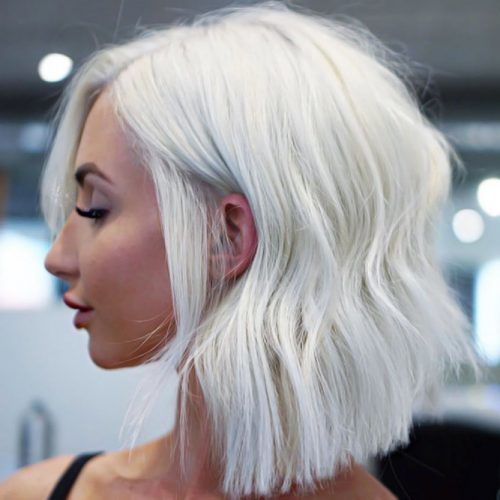 Source: maggiemh via Instagram
Since bleached hair is one-toned by default, it may lack some dynamics and visual movement in its locks. And this is where waves come in. Just a slight hint of wavy texture can drastically change the look of your hair, making it more alive. Of course, it's better to go for heatless waves, as you don't need to get any more damage.
Long Shaggy Layered Waves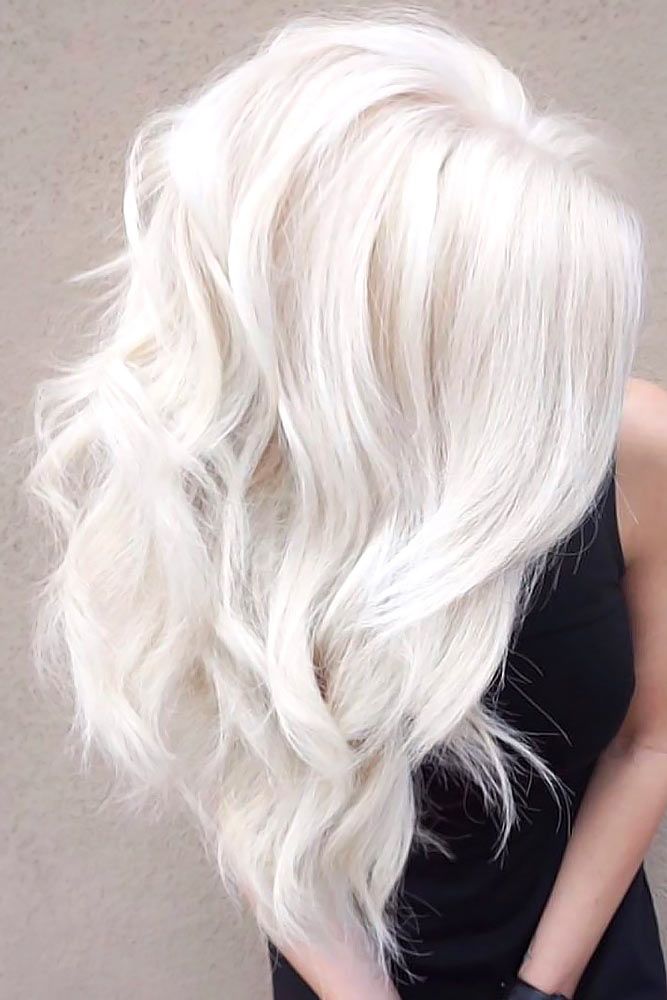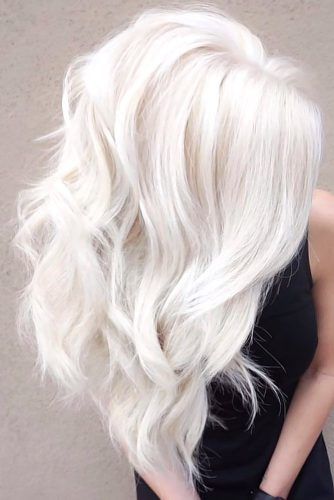 Source: maggiemh via Instagram
Another ravishing way to breathe life into your static one-toned look. Words are not enough to describe how many advantages layers can bring into a woman's life. Tons of volume, fascinating texture, a multidimensional look: that's only the beginning of what you can achieve by getting your long hair layered. Want to make the effect really big? Wave those layers!
Side Cornrow Braid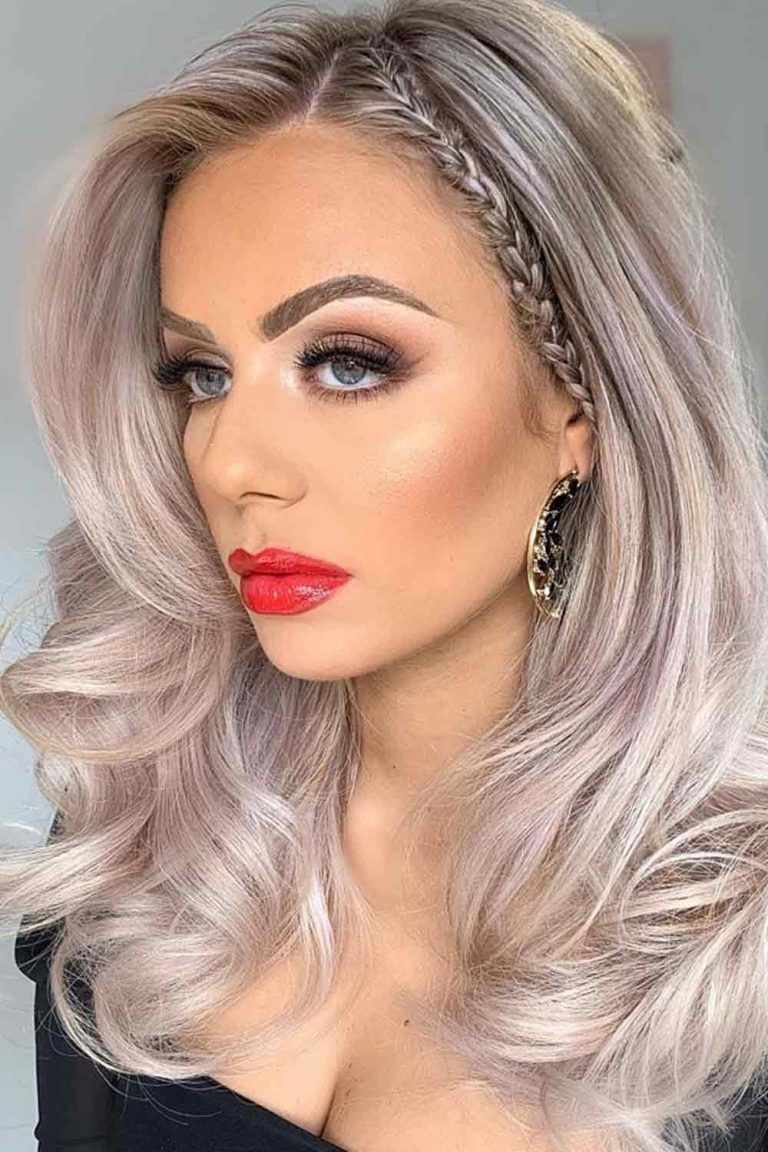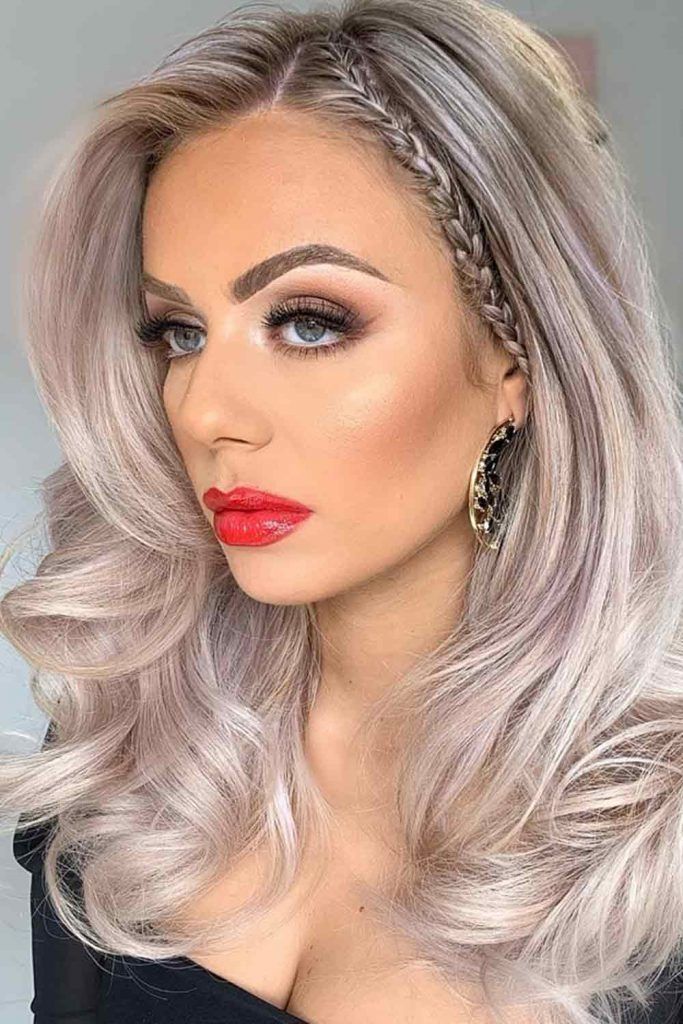 Source: kykhair via Instagram
Noble bleached looks can perfect many popular hairstyles: anything from braids to updos will show up in a new light on platinum and whitish locks. Those who want to look even more different can try copying one of the looks sported by natural-haired ladies. A side cornrow that highlights your voluminous light waves is a look to steal, isn't it?
Messy Twisted Low Bun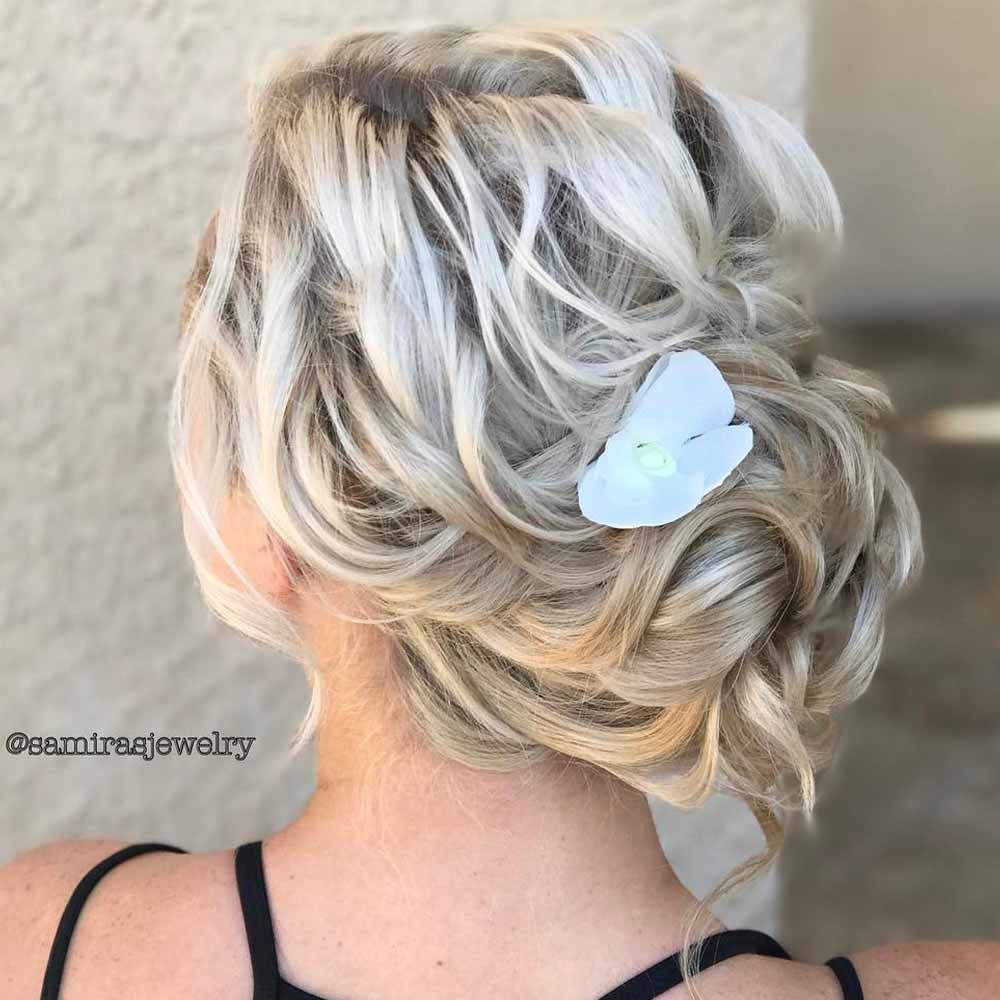 Source: samirasjewelry via Instagram
Pale colors are known to express dainty and elegance. And when the big day is just around the corner, your hair is the detail that can make the whole look complete. If you aim to create a noble updo hairstyle finished with a restrained accessory, don't forget about the color: the charm of bleached hair will be there for you.
Textured Wavy Bob With Side Styling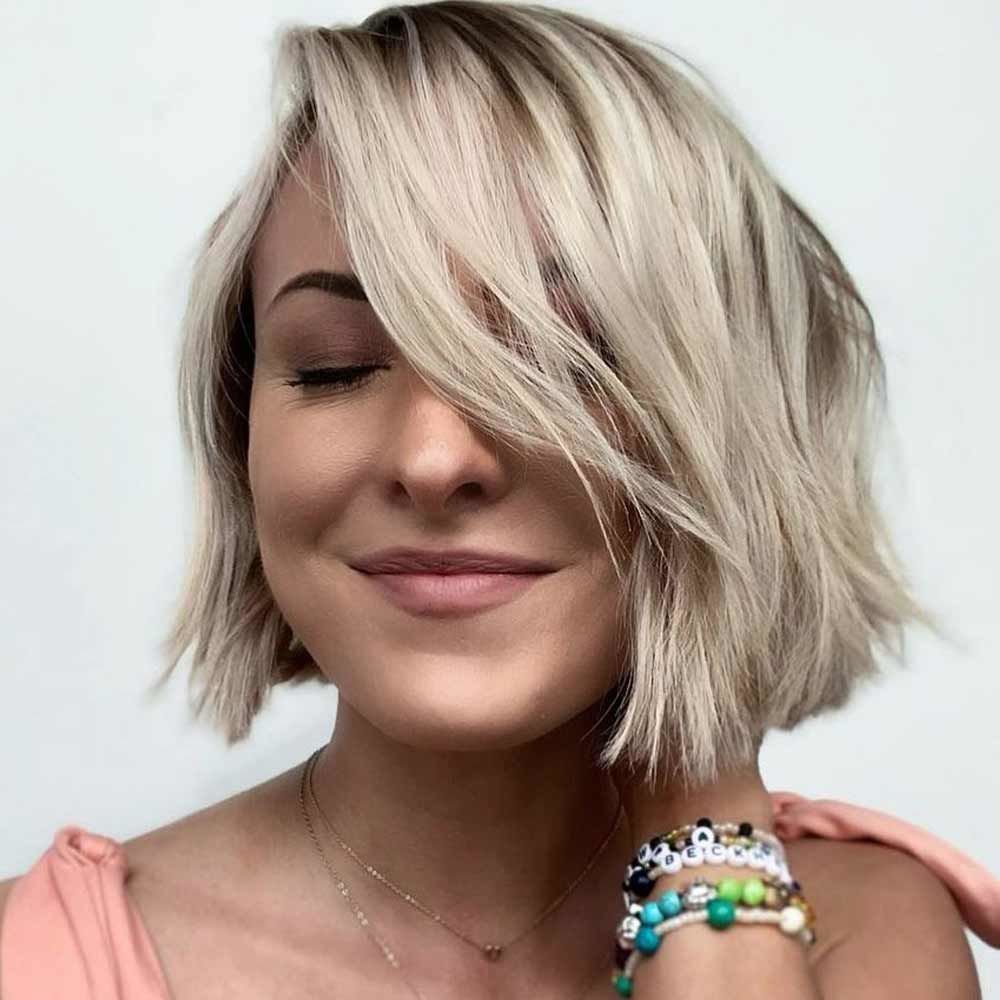 Source: styled_by_carolynn via Instagram
While most ladies do their best to get rid of yellow undertones that come out after bleaching, wise ones benefit from them, getting the most out of brassiness. Let the warmth show through your tresses, thus adding some heat to your coolish look. Then, spice it all up with a defined wavy texture and forget about the myth of unnatural bleached locks.
High Pony With Long Bangs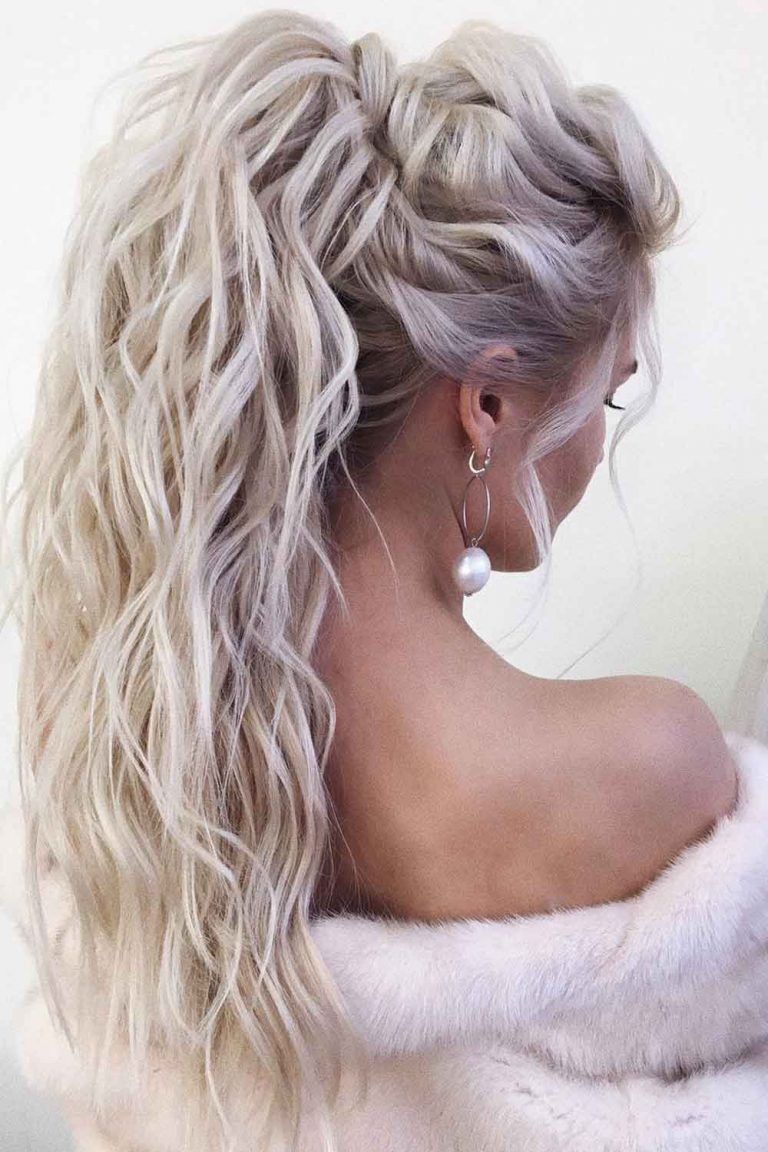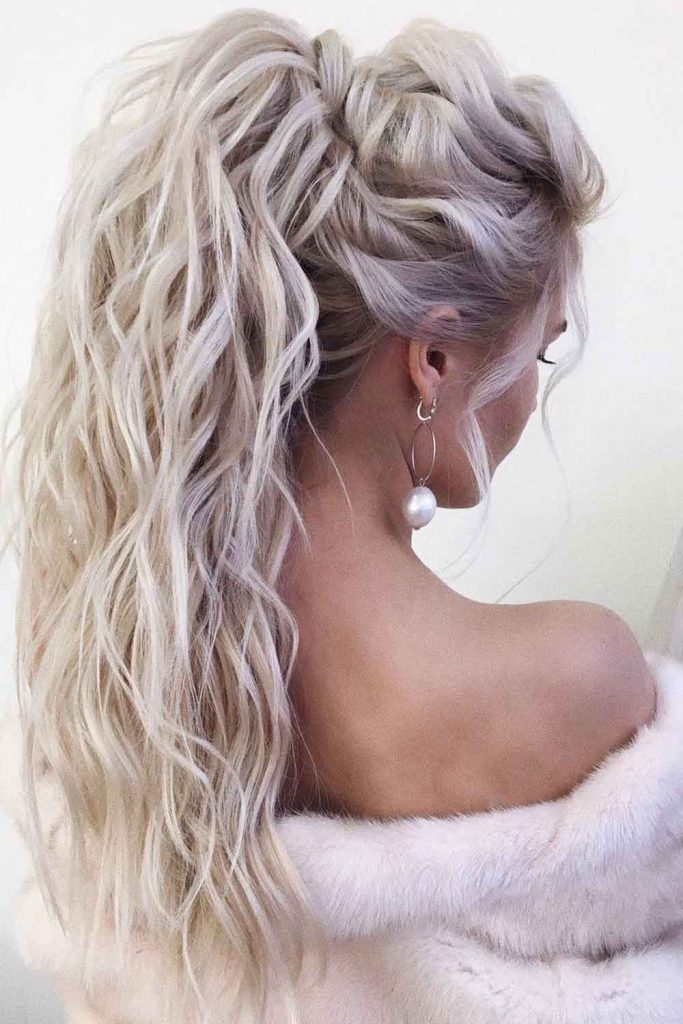 Source: xenia_stylist via Instagram
Long platinum blonde hair is nothing but a hair dream come true. And when it's that voluminous, it simply leaves us speechless. What makes the look so striking is the unbelievably rich, regal shade of pale blonde that accentuates the fine complexion. Volume in hair + perfectly balanced hair and skin tones = a look to remember.
Angled Medium Style With Lilac Tint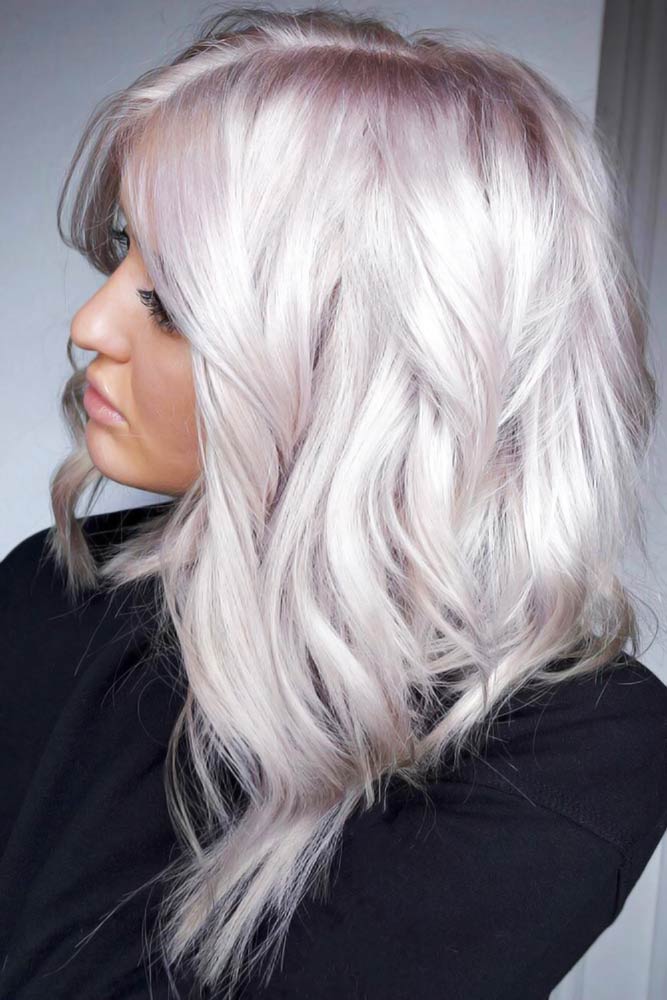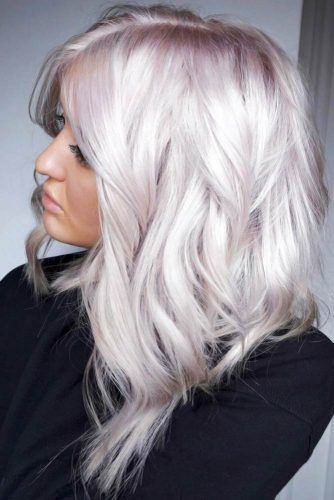 Source: rossmichaelssalon via Instagram
Some girls bleach their hair to switch to another, brighter shade; others do it to flaunt with ethereal, fairy-like blonde tones. Those who want to find the happy medium between the two extremes can finish their bleached look with a slight tint of a bright shade. In this way, you will get yourself a light, refreshing tone with a hint of modernity.
Long Waves With Blue Streaks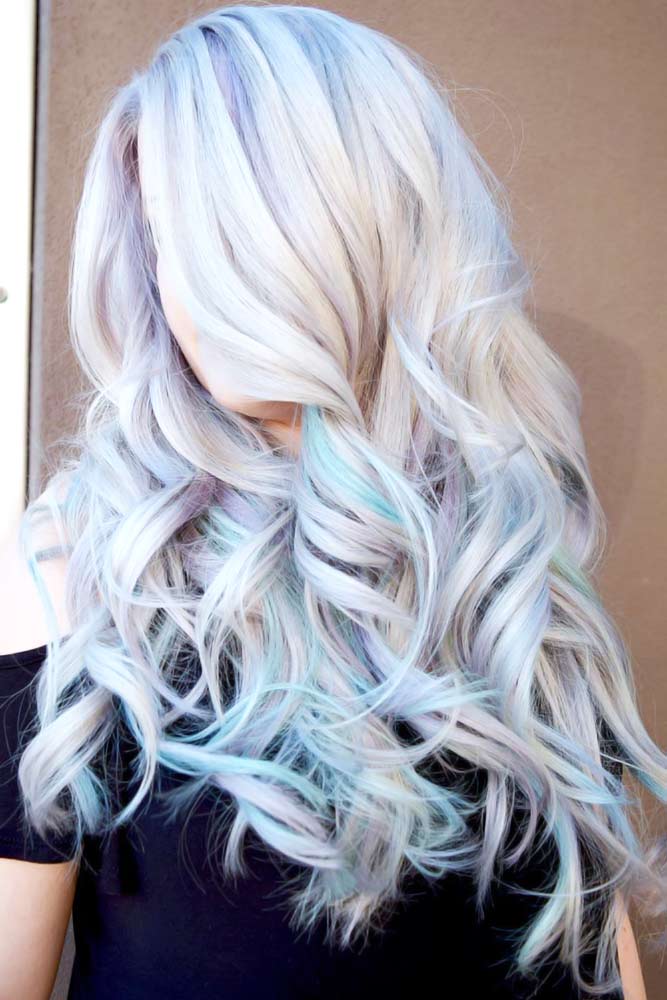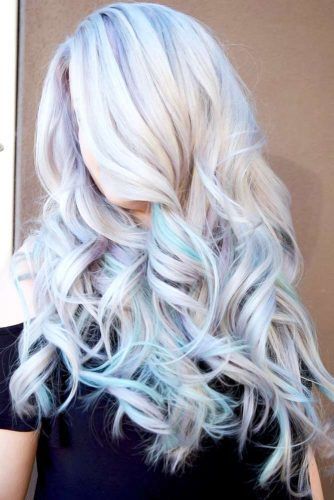 Source: rossmichaelssalon via Instagram
To enhance the pleasant movement of your wavy hairstyle, add some outstanding blue to some of the strands. Instead of using regular hair dyes, opt for temporary products that won't damage your bleached hair while giving a new bright take at it. Needless to say, this look is a masterpiece.
Think you're ready to go bold and bleach your tresses? Here are some tips to help you maintain your platinum blonde locks.
Wash your hair less frequently. This will help the color to last longer and keep your hair from drying out.
Use dry shampoo between shampoos.
Use only products that are designed for color treated hair. As they are free from sulfates they will keep the color from fading.
Deep condition your hair once a week. This will keep your hair hydrated and prevent the color.
Use a hair mask every other week.
Wear a hat when you got outside to protect your hair from harmful UV rays.
Apply conditioner to your hair before swimming. Or wear a bathing cap.
Avoid overheating your hair from excessive blow-drying, crimping, curling and straightening.
Get your hair trimmed every 6 to 8 weeks.
Use a quality hair serum.
Think you are ready to see if blondes really do have more fun? We think so! Talk to your stylist to see what bleached hair style will best suit your complexion and get ready to embrace your sexy new look!