Top Selections Of Options For Blonde Highlights
Blonde highlights are a timeless color technique that seems be here for the long haul. They are great way to lighten up any color of hair. They can dimensional and shine to your locks for a much needed change.
ADVERTISEMENT ‧ CONTINUE READING BELOW
If you are considering platinum blonde hair colors but are quite sure where to start, you have come to the right place! We have put together a selection of classic and trendy shades of platinum blonde for your consideration. Remember that while it is a stunning color choice, platinum hair does require some upkeep. Of course, this all depends on what how you color your hair.
An all over platinum blonde shade will require frequent touch ups, while other options such as highlights, ombre and balayage tones do not require as much maintenance. Check out our top selections of options for platinum blonde color and blonde highlights. Pin your favorites so you can choose the ones you like the most!
Platinum Blonde Hair Color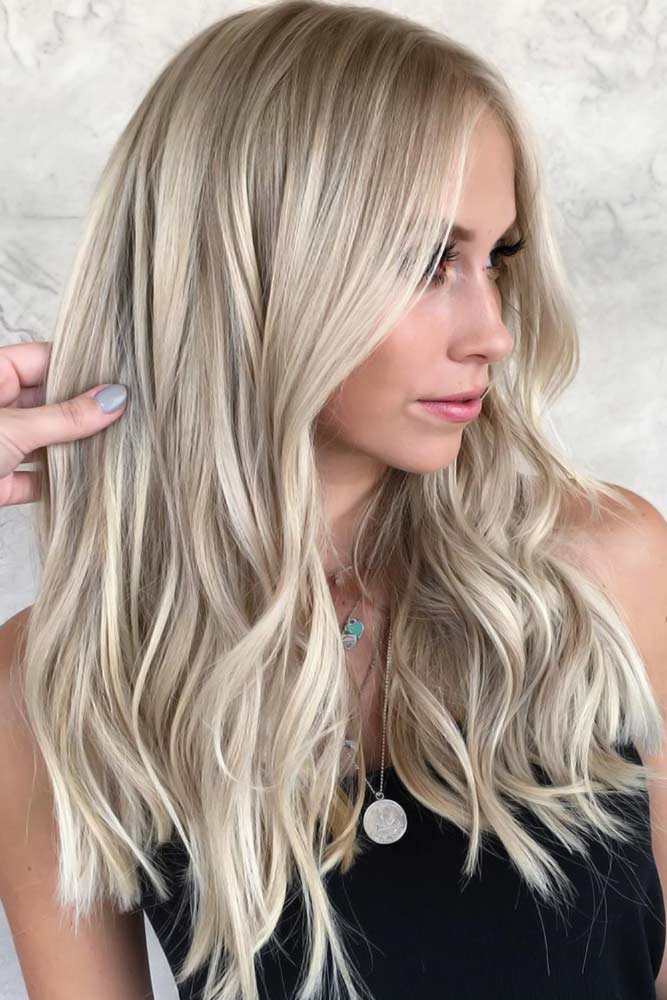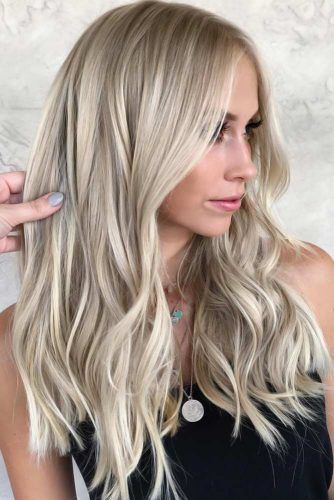 If you have naturally blonde hair and want a subtle look, ask your stylist for platinum blonde highlights on top of your natural blonde color. The finished product will be a startling icy blonde that looks as natural as your real color. Wear it back in a pretty half updo like the one pictured here for a modern flair for this timeless color!
Source: hairby_chrissy via Instagram
ADVERTISEMENT ‧ CONTINUE READING BELOW
Natural Blonde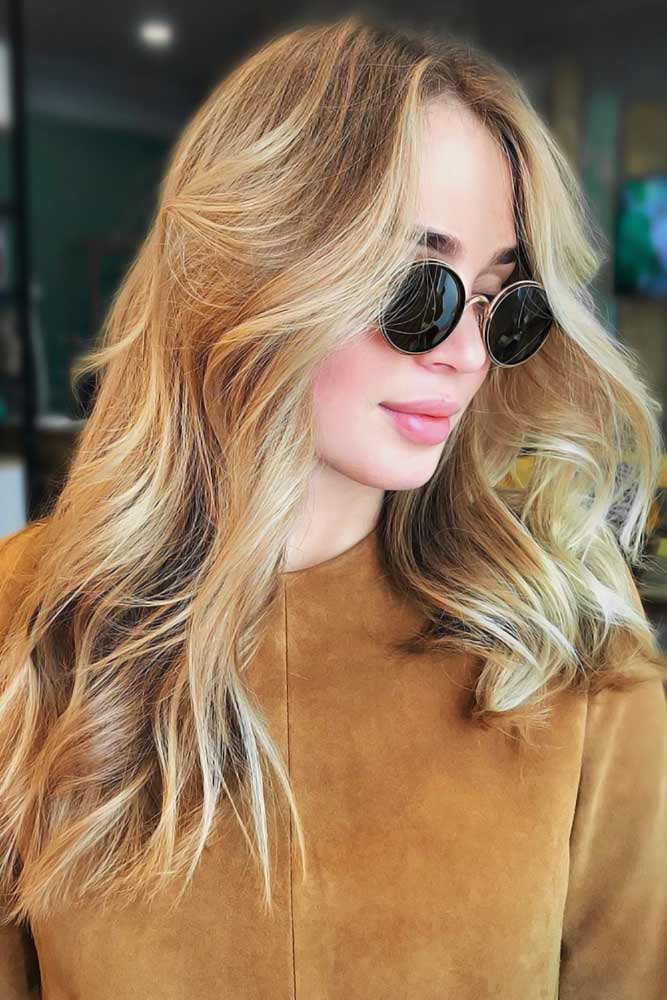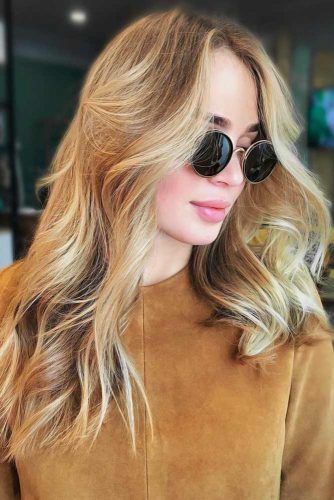 This pretty natural looking blonde shade is the perfect blend of buttery blonde, golden blonde and icy blonde hues for a multi dimensional look. The difference in the colors is so subtle, yet it add so much depth and dimension to your locks. And the pretty beachy waves give this look added volume for a look that's very girly and chic.
Source: sheffpavelstylist via Instagram
ADVERTISEMENT ‧ CONTINUE READING BELOW
Blonde Highlights For Brown Hair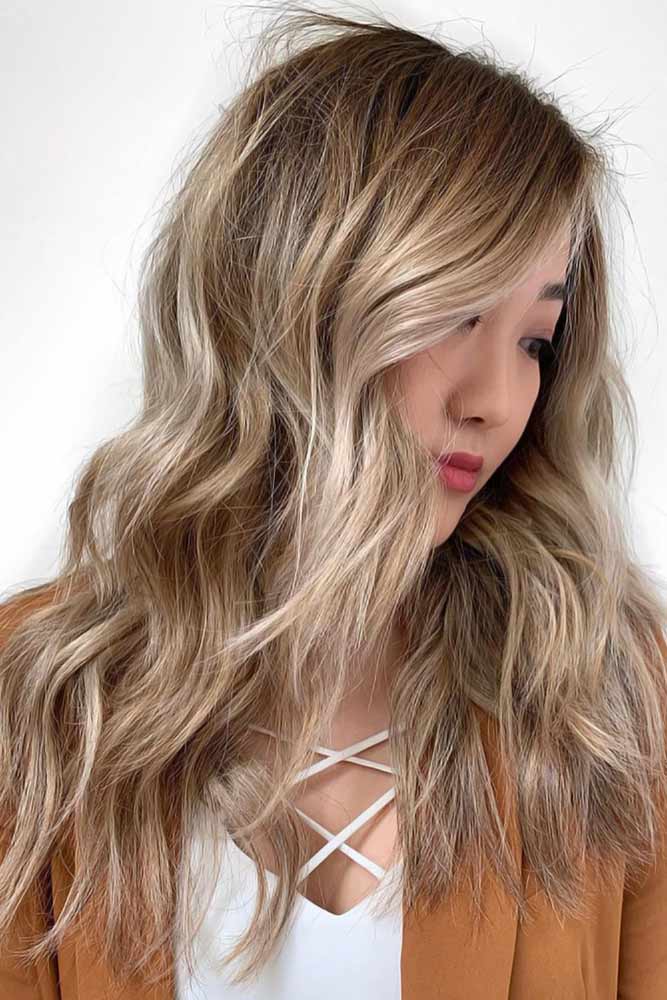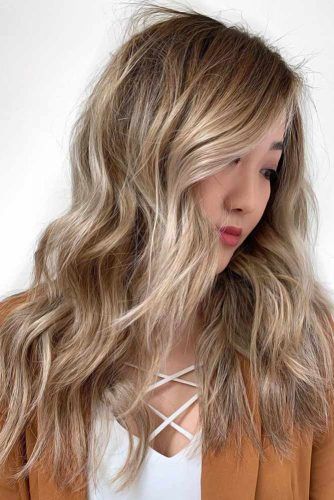 If you want to keep your natural color, but still add some blonde color, this pretty ash brown to honey blonde fade is so soft and demure. The pretty loose curls help give this romantic look more volume and texture. This is best for those who want a more refined look that still shows off your softer side!
Source: prettylittleombre via Instagram
ADVERTISEMENT ‧ CONTINUE READING BELOW
Sleek Blonde Hairstyle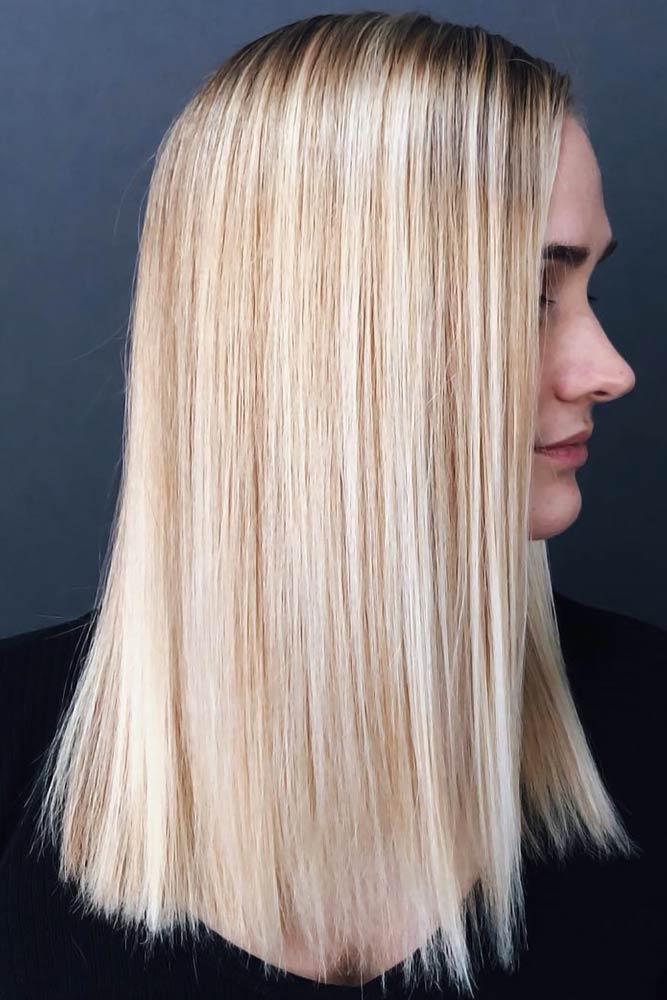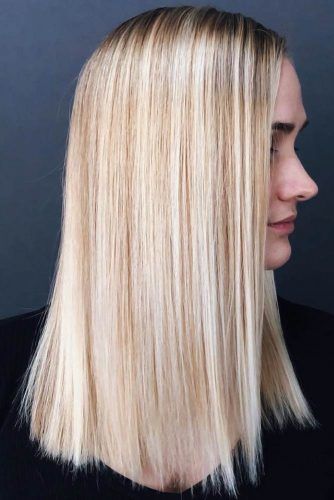 If you have naturally straight hair, it will look especially stunning with some contrasting icy blonde highlights and light ash blonde lowlights for a creamy balayage effect. There is just enough of a difference in the two shades of blonde to give it a shimmery effect that will glisten like spun gold in the sunlight.
Source: kristin_ess via Instagram
ADVERTISEMENT ‧ CONTINUE READING BELOW
Blonde Highlights For Long Hair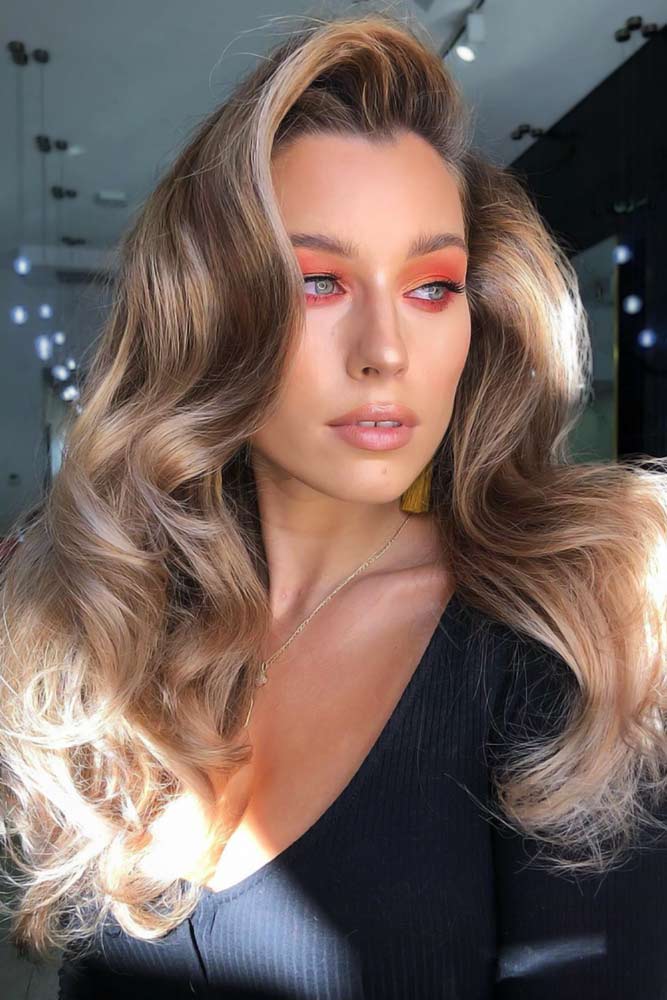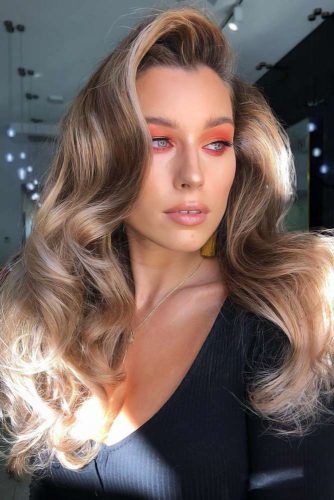 Chunky blonde highlights are the perfect solution for those who don't want to commit to full on platinum blonde. Start with a caramel brown base and then add some honey blonde highlights throughout and finally get thicker icy blonde tones in the front for the perfect trifecta of color.
Source: natalieannehair via Instagram
Golden Blonde Highlights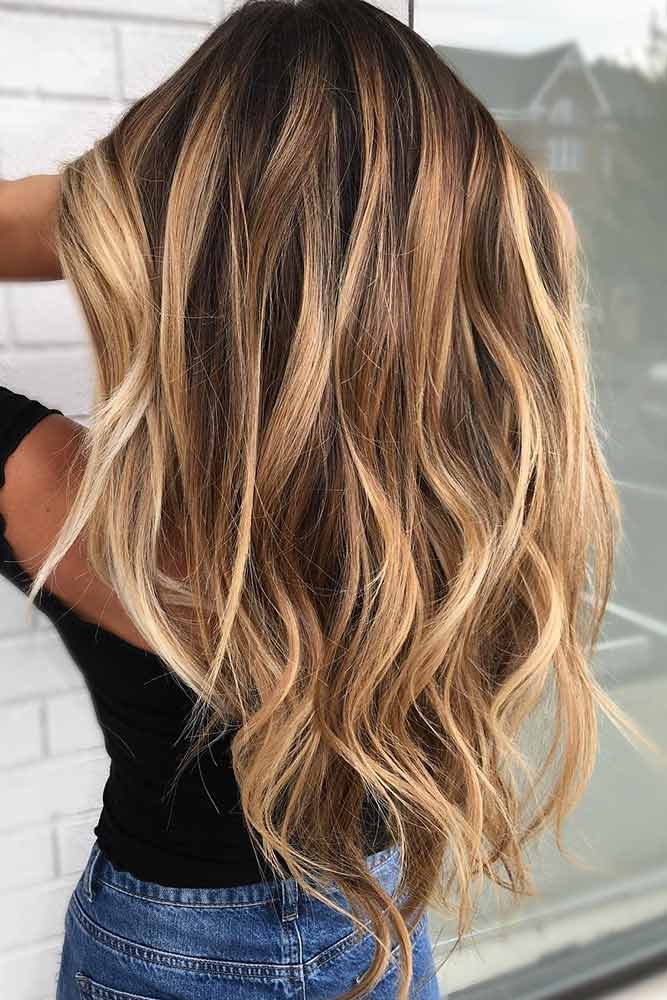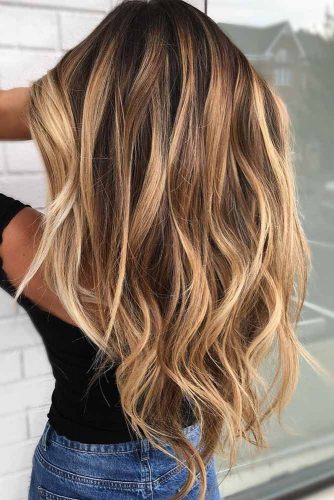 This wavy layered V-cut is a great way to add fullness to thin or fine tresses. as well, the multi tonal blend of blondes is gorgeous! Chunky hues of golden blonde, light ash blonde and honey blonde will add depth and texture to your hair for a look that will drive any man wild with passion!
Source: hairbyraquell via Instagram
Blonde Highlights For Brunette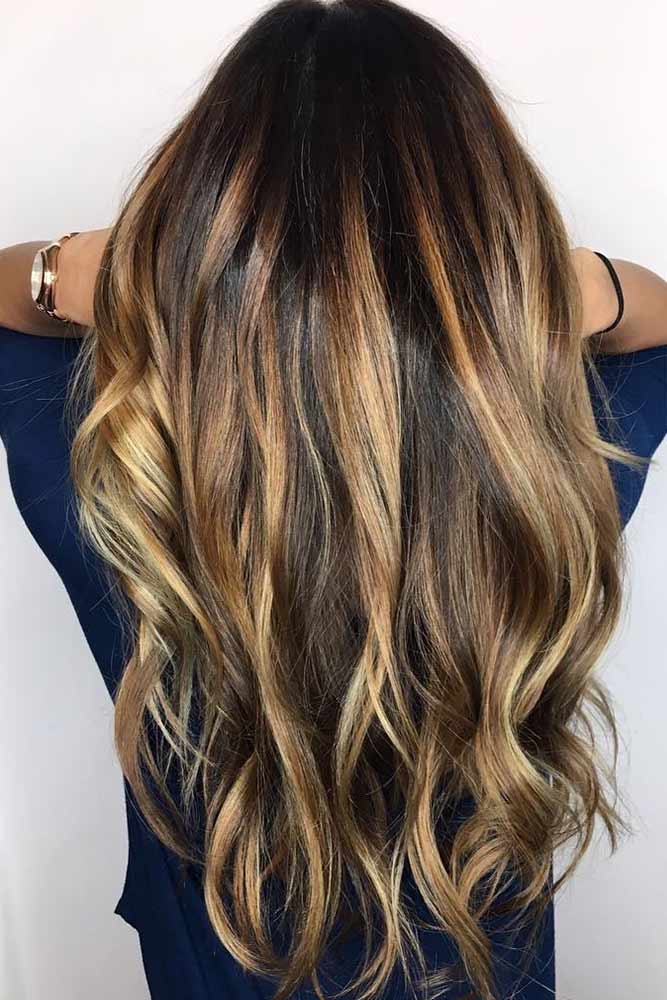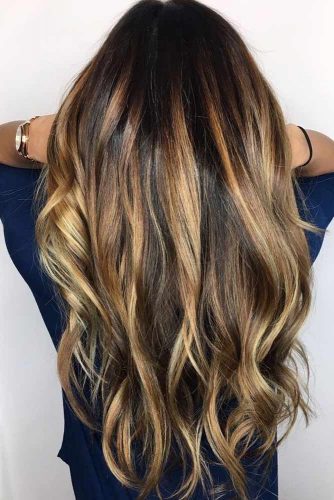 The color contrast is this brunette and blonde balayage is sensational! The chocolate brown base mixed with soft caramel and buttery blonde highlights adds so much depth to your hair! To duplicate this look, as your stylist to hand paint chunky highlights throughout your darker base!
Source: hairbyraquell via Instagram
ADVERTISEMENT ‧ CONTINUE READING BELOW
Short Curly Bob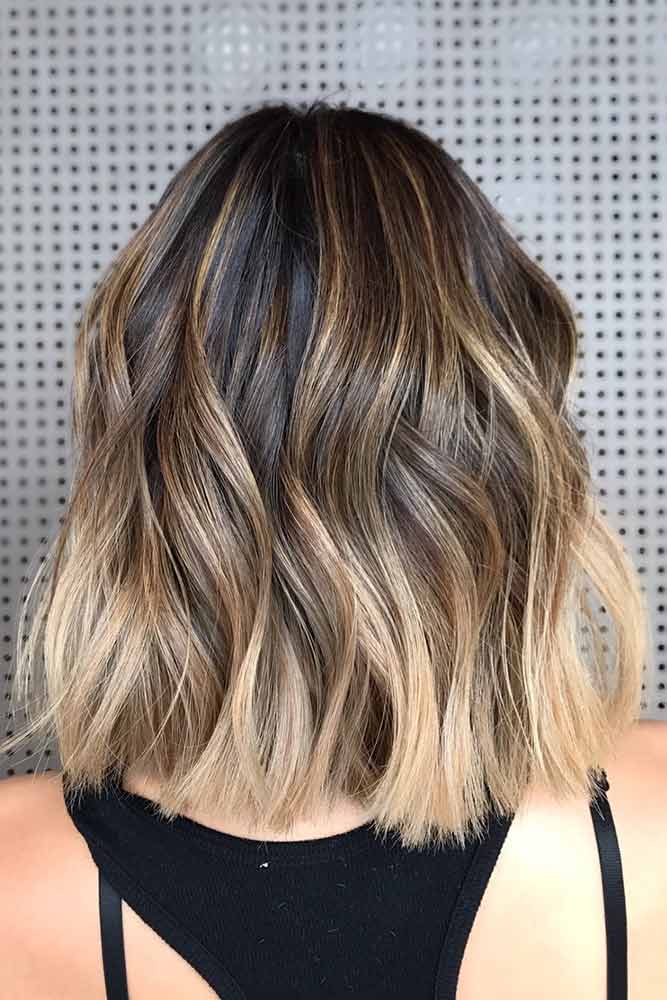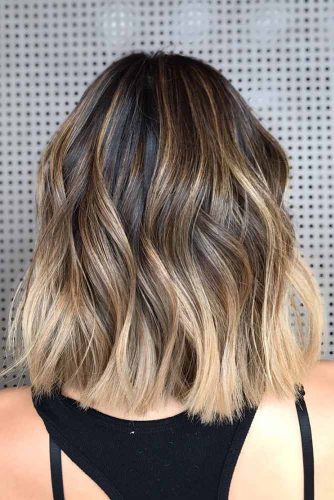 Ombre tones look just as fabulous on shorter hairstyles. This brown to blonde ombre short bob is living proof! The slightly uneven ends paired with chunky light and dark blonde highlights on a darker brown base is so charming! The slight waves add texture and fullness to this short bob.
Source: hairbytammmy via Instagram
Caramel Blonde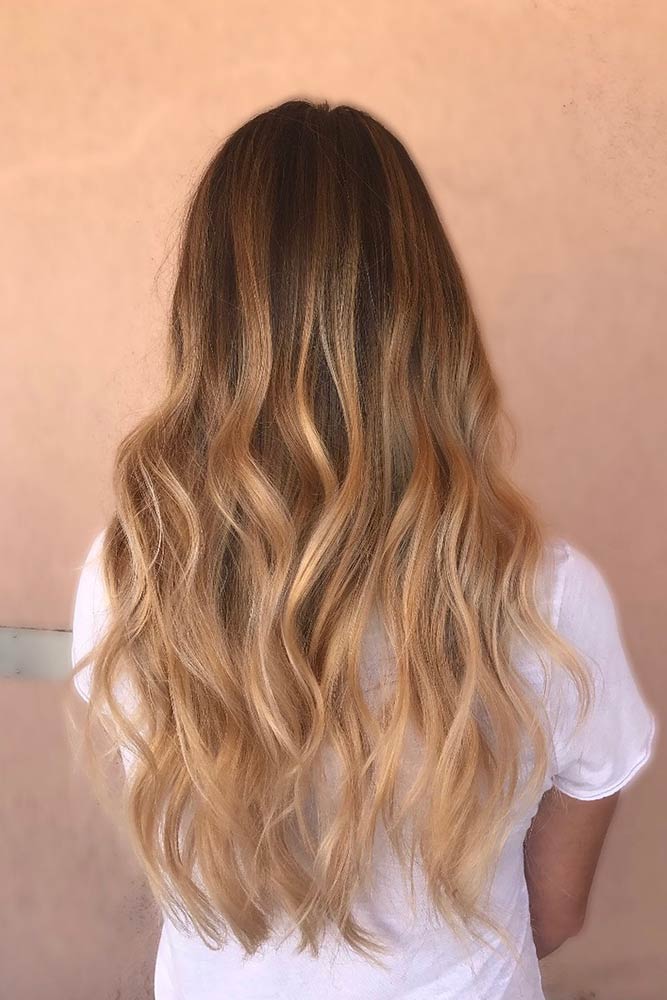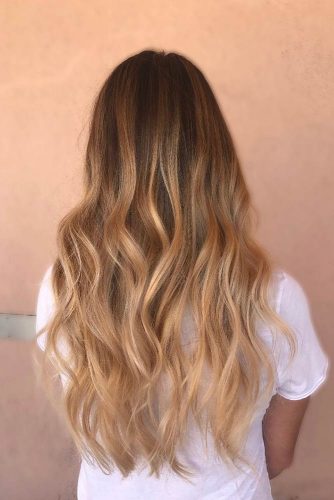 This lovely blend of honey blonde and ash brown tones ends up as a pretty shiny caramel shade that is out of this world. Start with darker tones and fade to a soft golden blonde at the tips. Wear your hair in wild and loose curls to take this sexy look to the max!
Source: katelinbeauty via Instagram
Layered Hairstyle
This icy blonde ombre is positively bewitching. The dark blonde undertones have a peekaboo effect when blended with the pale blonde color on top. If you want a look that has a lot of depth and texture, this pretty balayage is calling your name! Ask for long layers to add some volume to your hair as well.
Have we inspired you to try one of our enticing blonde highlight hairstyles? Are you ready for a sexy new look that will make you look and feel like a film star.
Source: hairbylaurenc via Instagram
ADVERTISEMENT ‧ CONTINUE READING BELOW
Highlights For Brown Hair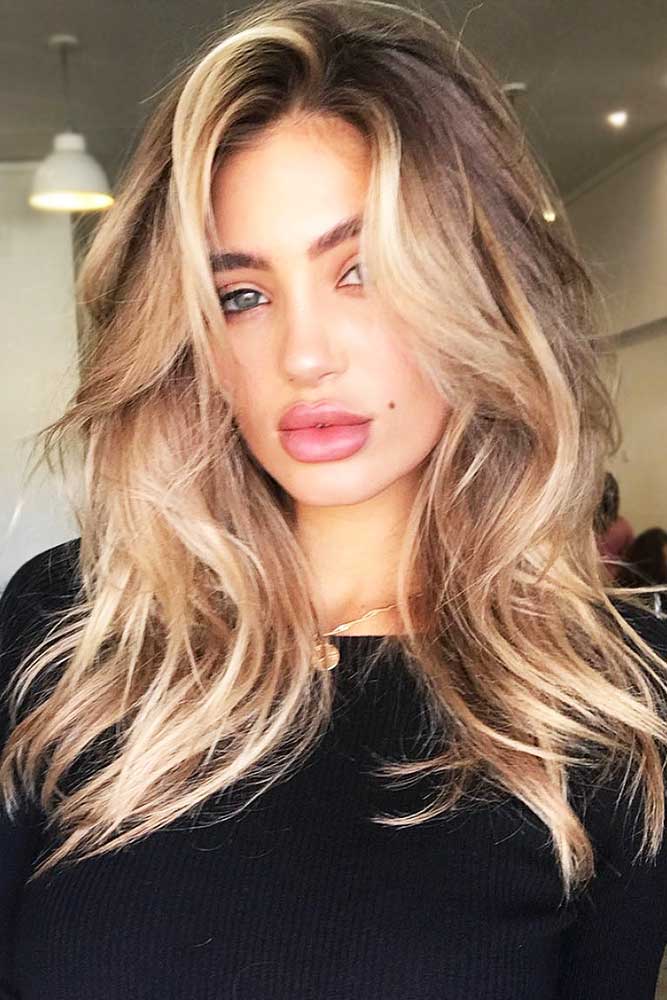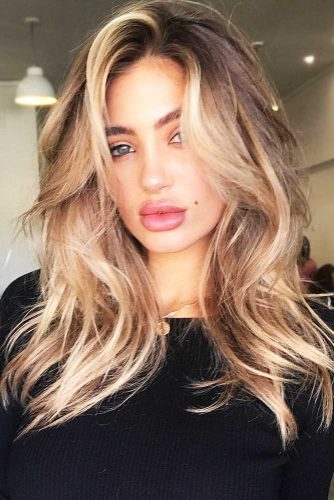 Naturalness has always been a women's number one desire. But we all need to change something in our styles from time to time, right? So why don't spice up your natural hair color with some highlighting strands and create a very effortless look? The slight contrast of the brown base and subtle blonde hues is a tasteful combination that will take a fresh look at your hair.
Source: chelseahaircutters via Instagram
Brunette Hair With Caramel Blonde Highlights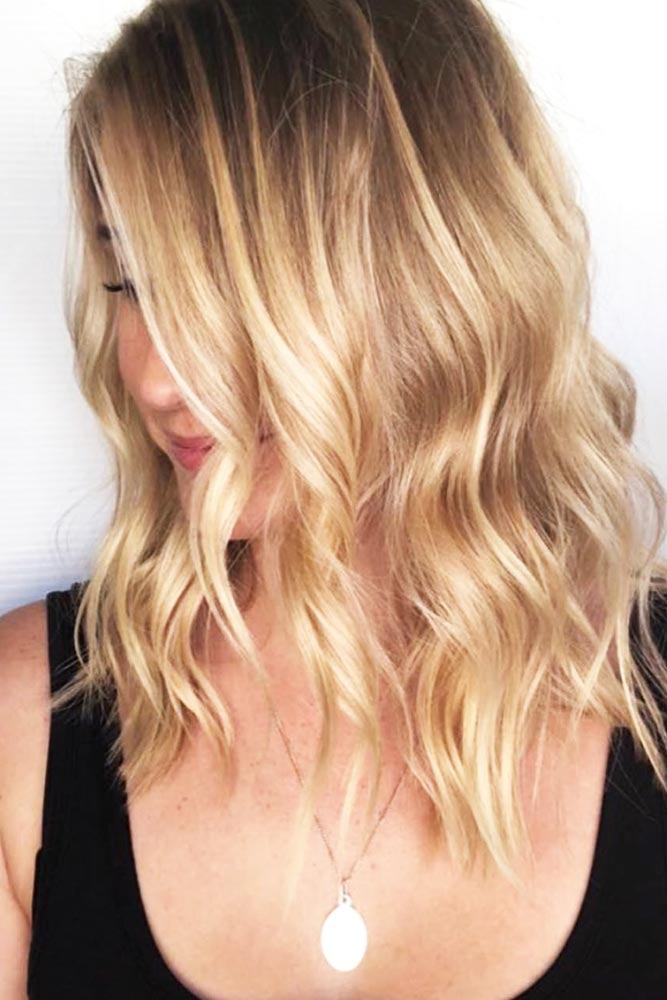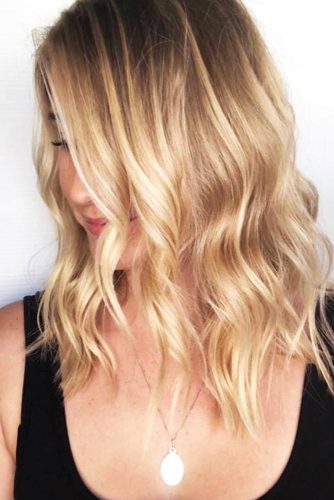 Caramel blonde highlights are another stunning idea to freshen up your brown locks. Highlights don't overlap your natural hair color; they emphasize its beauty by enhancing it with lighter tones. Just look what an adorable color transition from dark brunette roots to yummy caramel hues you can get to embellish your style!
Source: chelseahaircutters via Instagram
Highlighted Low Messy Bun Hairstyle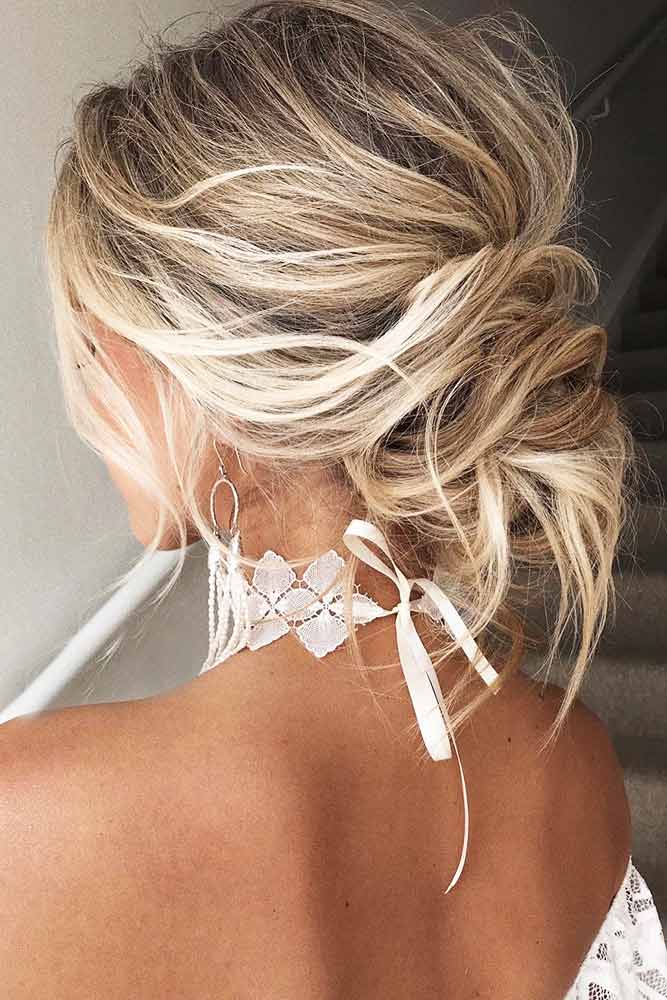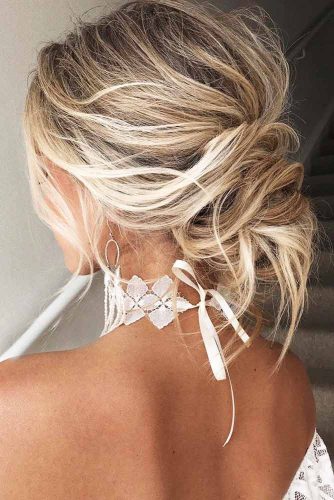 With such a rich variety of colors, any hairstyle you'd like to create will look absolutely unique. This low messy bun wouldn't look so sweet without the highlighted strands that show off the beauty of the base. Want to diversify your casual hairstyles? Nothing is better than blonde highlights.
Source: emmachenartistry via Instagram
ADVERTISEMENT ‧ CONTINUE READING BELOW
Pearl Blonde Tint Highlights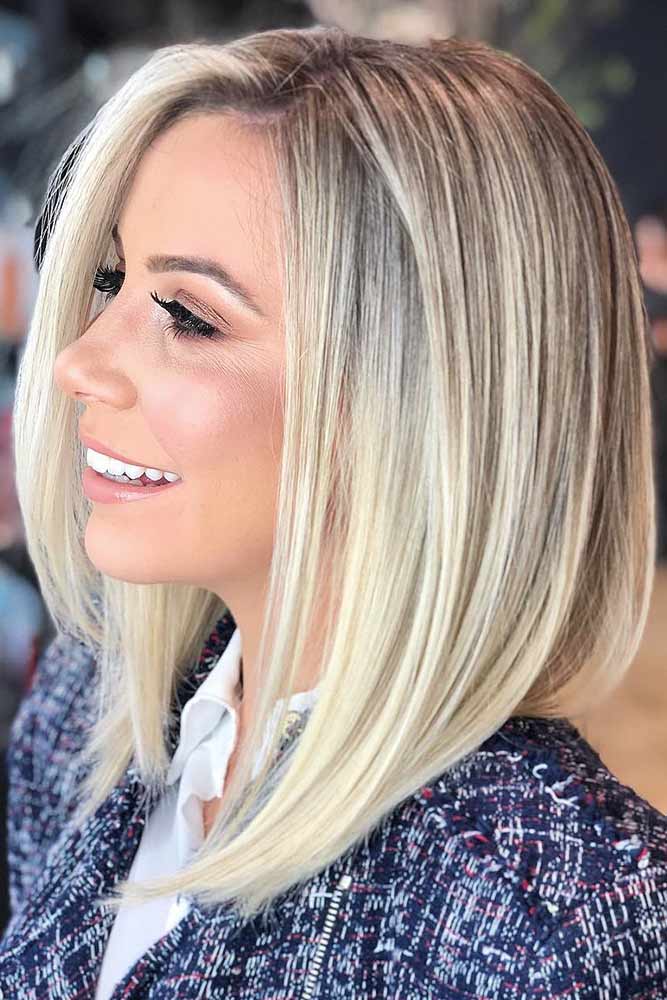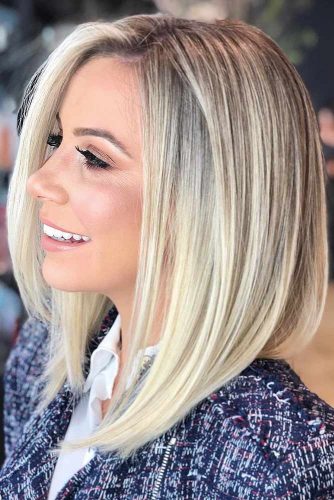 This idea is for those who want to keep their look simple and significant. Pearl blonde highlights may seem less saturated and visible, yet their minimalistic charm makes your blonde appear sharper and sexier. They will suit wheat blonde base, so if you're a pale blonde since birth, don't miss this cutie.
Source: rafaelbertolucci1 via Instagram
Blonde Highlights For Brown Hair Into Ponytail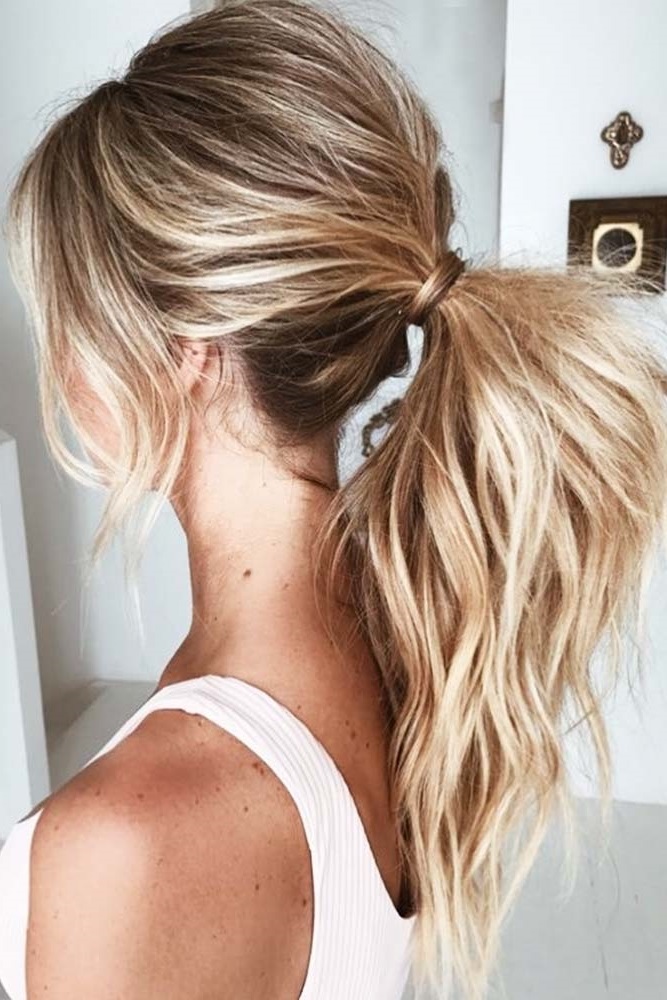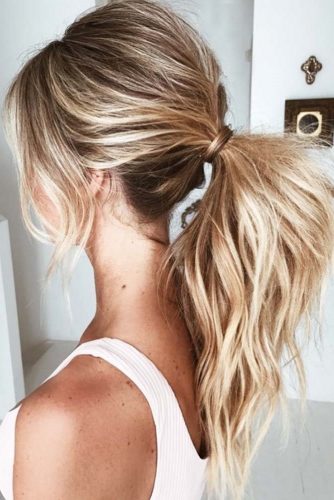 Even a simple daily hairstyle such as a ponytail will look totally different with accentuating highlights. The light hues play perfectly on dark chevelure, creating a contrastive, yet very smooth look to your hair. There's no better way to reveal the beauty of your brunette hair than emphasize it with lighter elements.
Source: emmachenartistry via Instagram
Blonde Highlights On Ash Brown Base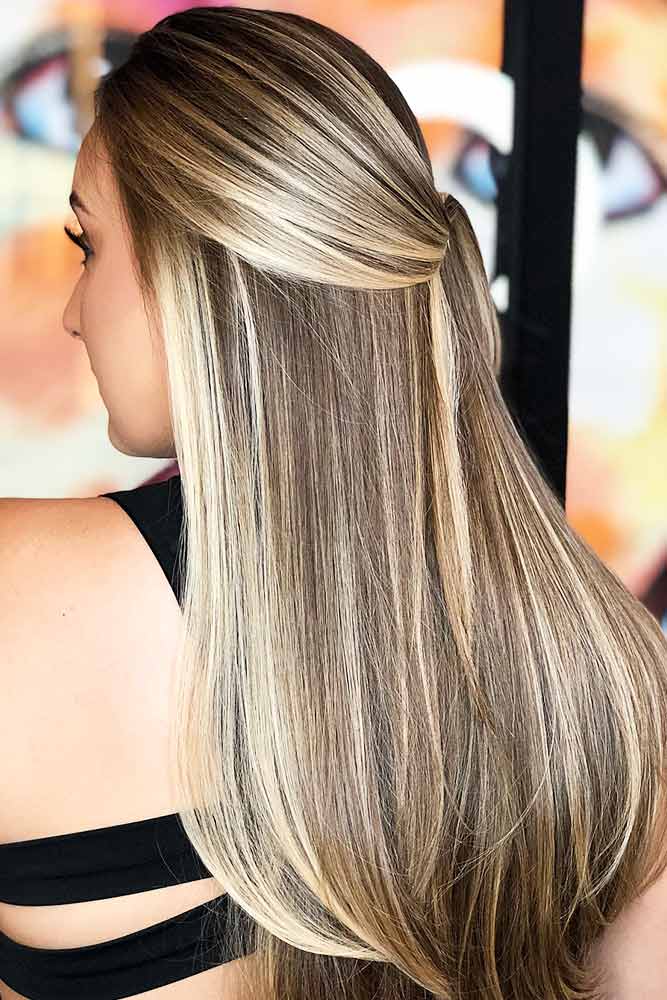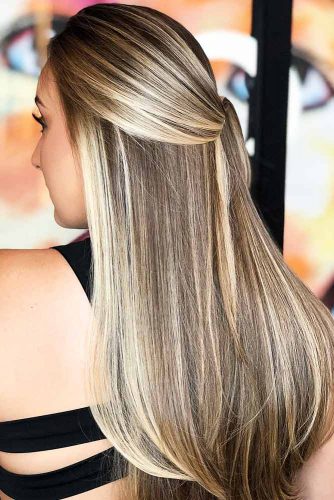 Here comes the never-ending trend that knows how to flatter any girl: a little bit faded and so tempting ash brown base that melts with wheat blonde highlights is definitely a look to steal. Girls who don't want their highlights to look too drastic, don't ever pass this gorgeous idea.
Source: rafaelbertolucci1 via Instagram
ADVERTISEMENT ‧ CONTINUE READING BELOW
Caramel Brown With Blonde Highlights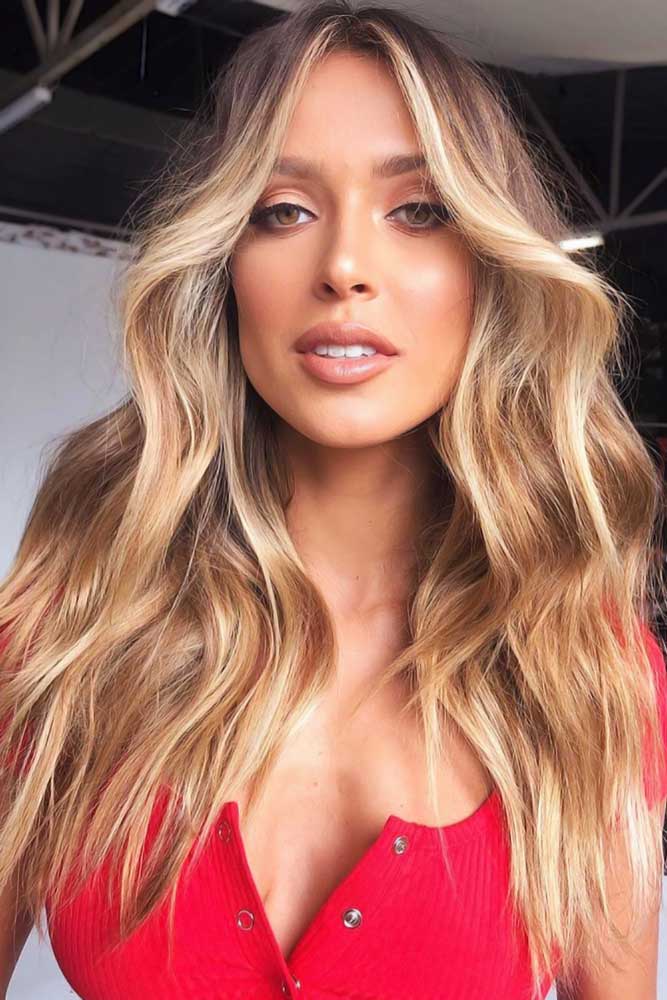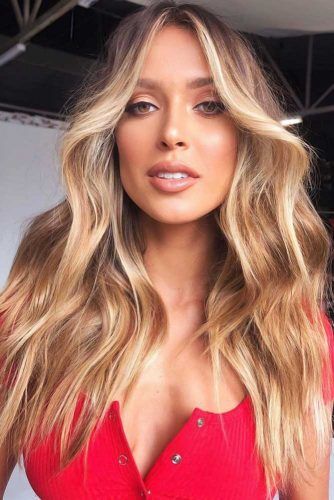 Besides tons of dimension and movement in your hair, blonde highlights have a way more pleasant advantage for your look. Since you can choose where your accents will take place, you can create a face-framing effect tailored according to your facial features. This caramel brown base looks extremely lively and fun with its light front tresses. And in addition to its fantastic appearance, it creates a more balanced silhouette for the face visually, building absolute harmony for the whole look.
Source: natalieannehair via Instagram
Black & Gold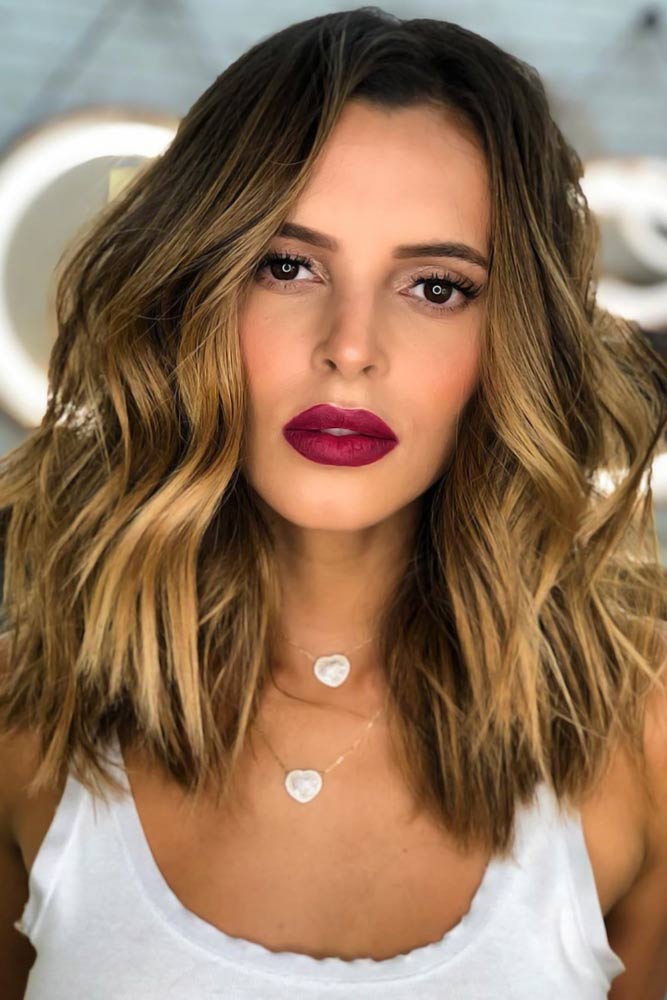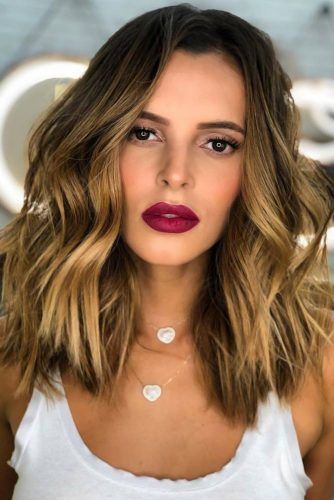 Black and gold is a sophisticated combination that you may see literally everywhere these days: from home decor to clothes. These two have turned out to complement one another with their depth and richness, and that's the reason so many girls are so crazy about them. Now, can you imagine what a great visual impact your look will get once you mix these colors on your hair? This unbelievably luxurious, well-defined color job is here to make the image clearer.
Source: romeufelipe via Instagram
Soufflé Blonde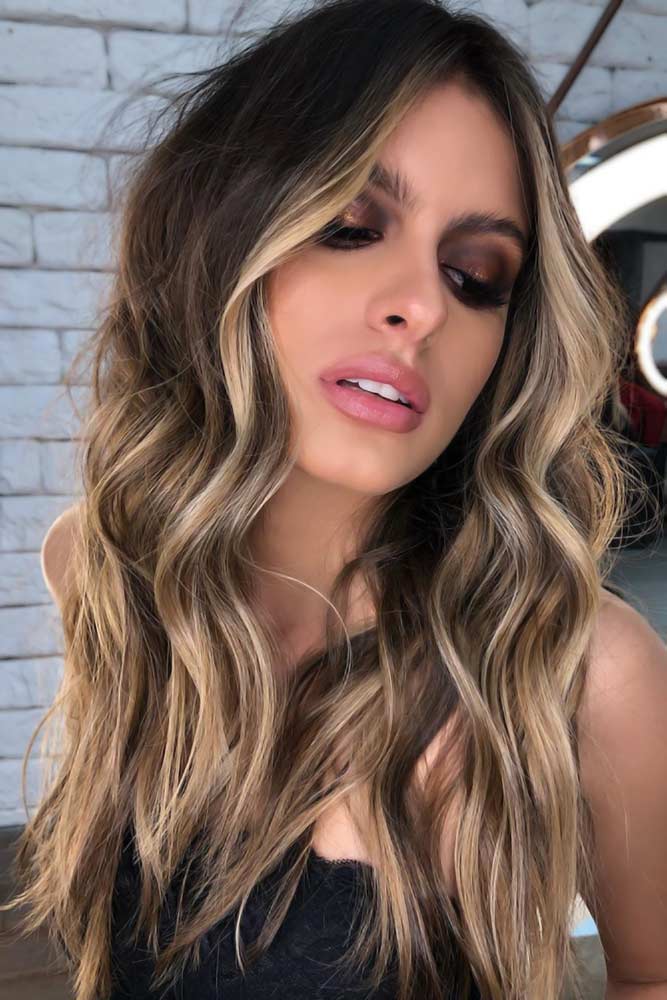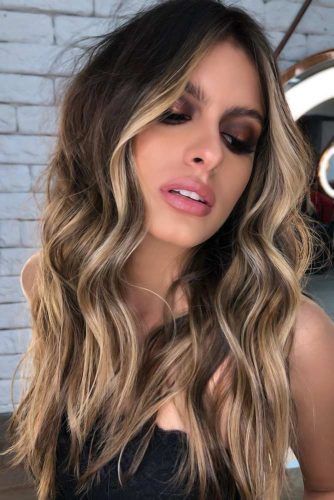 Just like a souffle that is dark and crispy on the outside and light and soft on the inside, this hair color makes mouths water. Although the blonde and brunette are pretty contrastive, the well-balanced blend of highlights makes them match perfectly. The best thing is, it also has a slight face-framing touch. When the color is ready, add some waves to enhance the dimension of shades to set the framing magic into motion.
Source: romeufelipe via Instagram
ADVERTISEMENT ‧ CONTINUE READING BELOW
Face Framing Blonde On Light Brown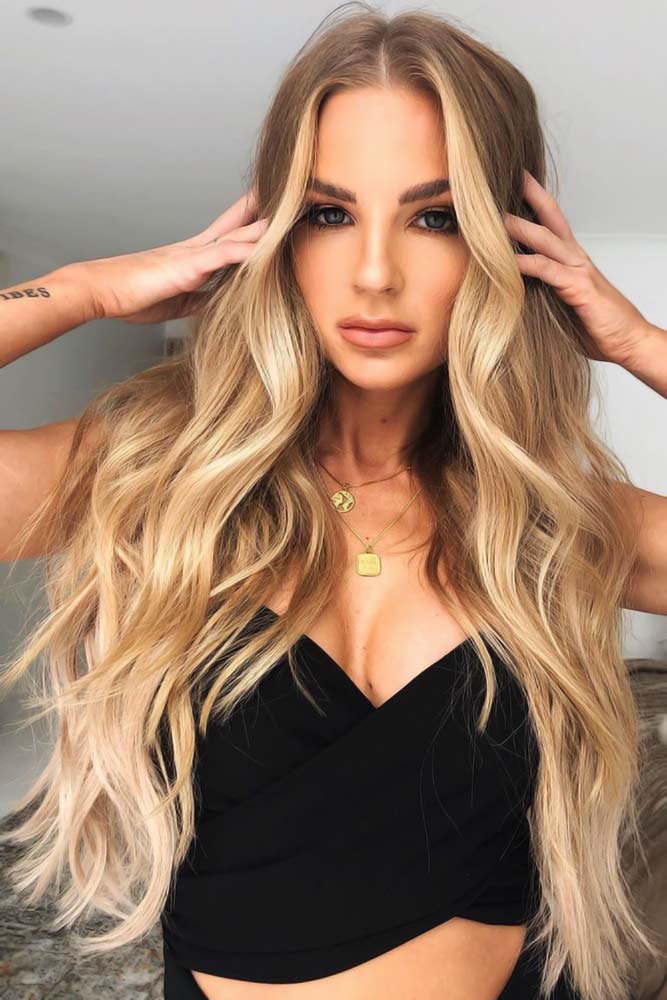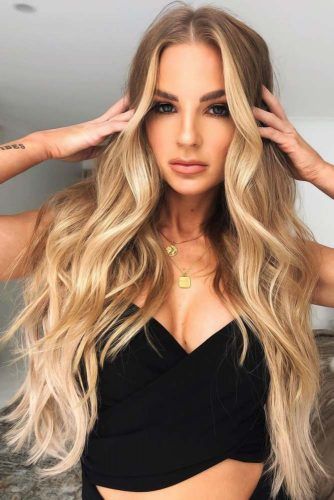 Now, it's really all about framing. Such a strategic application of color is meant to achieve absolutely flawless results based on a woman's individual features. It can be any color mix; the point is to make sure that the lighter shade belongs to the same color family as the base. Here, for example, you can see light blown that is close to beige blonde with natural blonde locks framing the face. Bottom line? The colors are similar and therefore so natural and effortless.
Source: _hairbygabrielle via Instagram
ADVERTISEMENT ‧ CONTINUE READING BELOW