In the world of harsh chemicals and sulfates put into almost everything we use to take care of our body and skin, finding the perfect shampoo and conditioner seems to be impossible. Some women don't even try to think outside the box and pick the nearest items to the checkout. At the same time, other ladies get lost in the countless efforts to find something natural and suitable for their hair types. Whether you are one of the former or belong to the latter, this review is your sigh of relief.
ADVERTISEMENT ‧ CONTINUE READING BELOW
Based on professional and popular reviews, we've created a list of effective, nourishing shampoos and conditioners for all textures: from straight and fine to curly and frizzy.
*We may earn money from affiliate links on this page. Please check out our disclosure policy for more details.
Devacurl No-Poo Original 12oz + One Condition 12oz Combo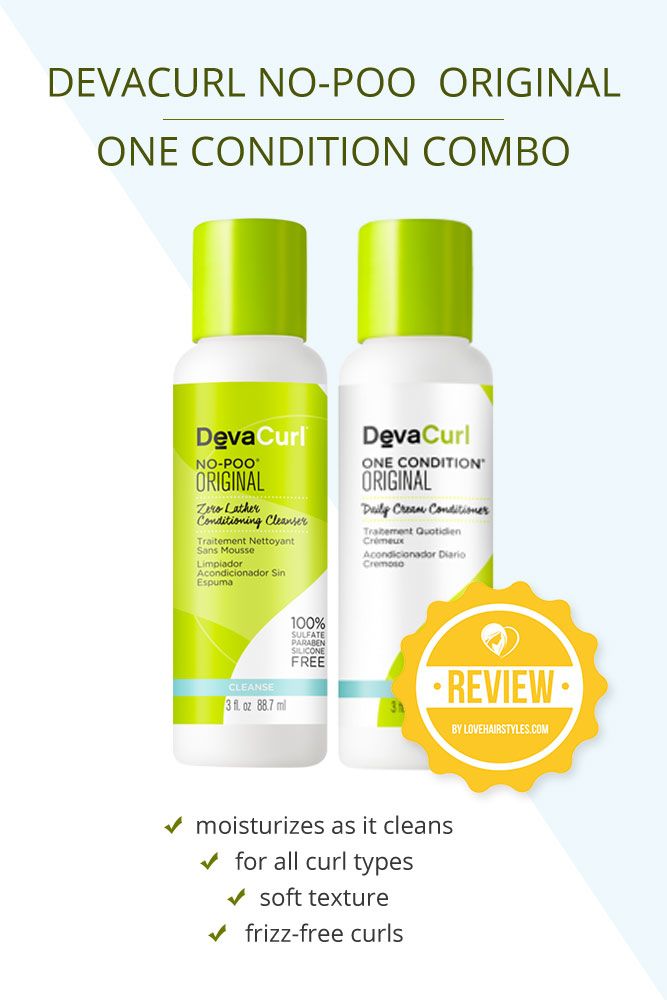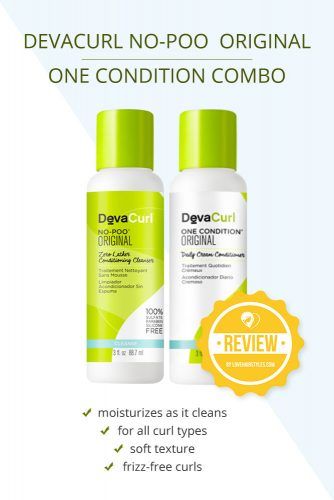 Source: Devacurl
Features:
moisturizes as it cleans
for all curl types
soft texture
frizz-free curls
Best for: all natural hair types
Even if you go through thousands of different reviews, products designed by DevaCurl will still be on the top. The truth is, if you have thick, curly, and natural hair, you don't have to go far, as this brand is a time-tested classic. Even though they will not give you the same result as keratin treatment, these are the best shampoo and conditioner for curly hair for two simple reasons. First, the cleanser provides intense hydration to your thirsty locks. Second, the conditioner leaves curls soft for days and keeps them away from frizzy mornings.
Buy on Amazon: $45.00
ADVERTISEMENT ‧ CONTINUE READING BELOW
Briogeo Be Gentle Be Kind Matcha And Apple Replenishing Superfood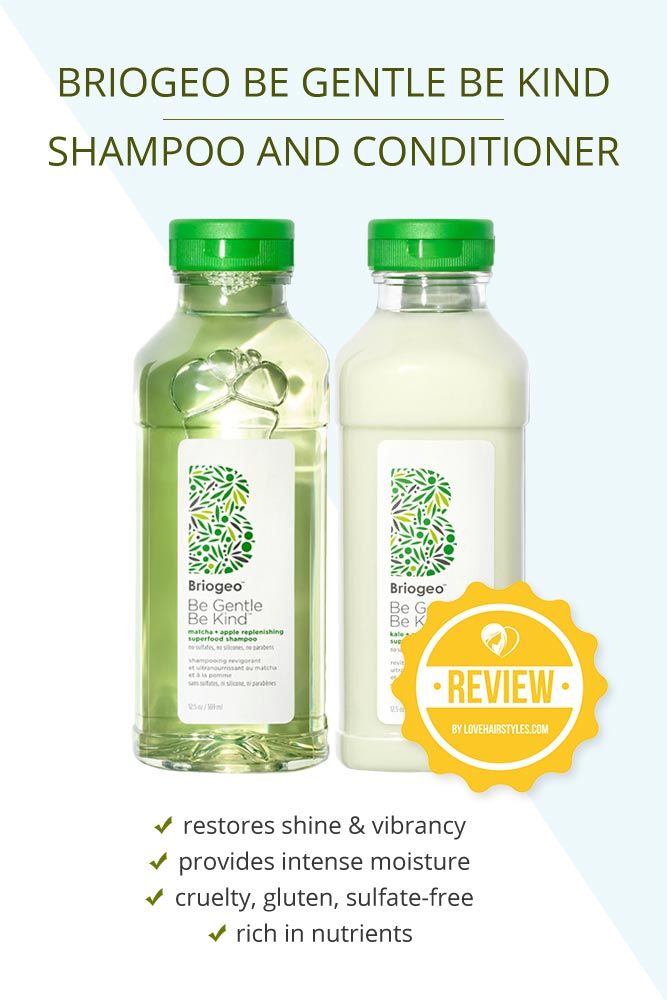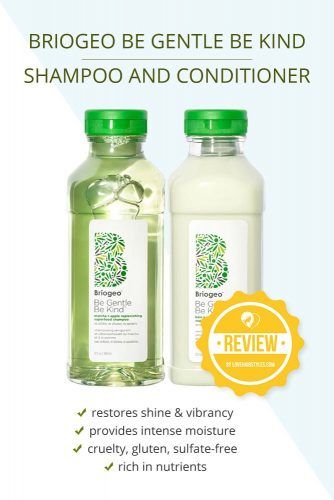 Source: Briogeo
Features:
restores shine & vibrancy
provides intense moisture
cruelty, gluten, sulfate-free
rich in nutrients
Best for: color treated, relaxed dull hair that requires replenishment
This pair is a bestseller, not for nothing! Besides a nutritious, organic composition containing essential fatty acids and vitamins, both products leave a fantastic scent that lasts the whole day. In fact, it's the smoothie that your colored or processed hair has been dreaming of.
Buy on Amazon: $46.83
Buy on Amazon: $46.83
Living Proof Color Care Set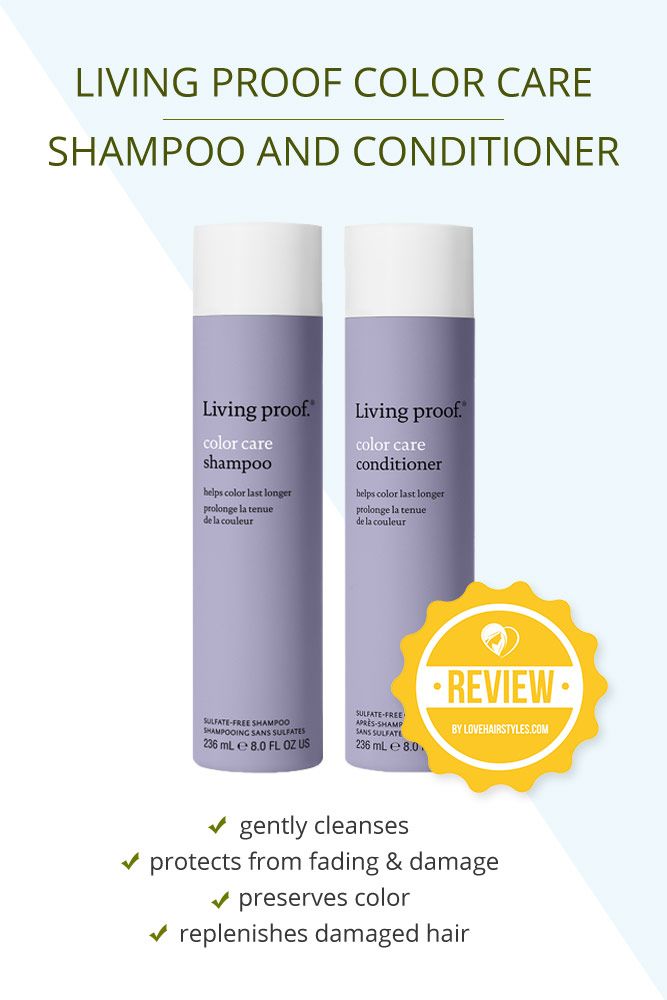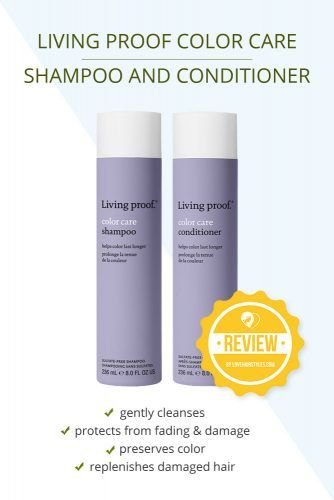 Source: Living Proof
Features:
gently cleanses
protects from fading & damage
preserves color
replenishes damaged hair
Best for: colored, damaged hair
Those in search for the best shampoo and conditioner for color treated hair should look no further than this duo by Living Proof. Not only does it prolong the life of your dye job but also replenishes your locks, thus saving it from damage. The shampoo is very gentle and protective while the conditioner is super soft and lightweight. This brand is also known for its amazing leave in conditioner formula, so if you still don't have one, get a closer look at their selection.
Buy on Amazon: $28.00
Buy on Amazon: $29.00
ADVERTISEMENT ‧ CONTINUE READING BELOW
Argan Oil Of Morocco Shampoo And Conditioner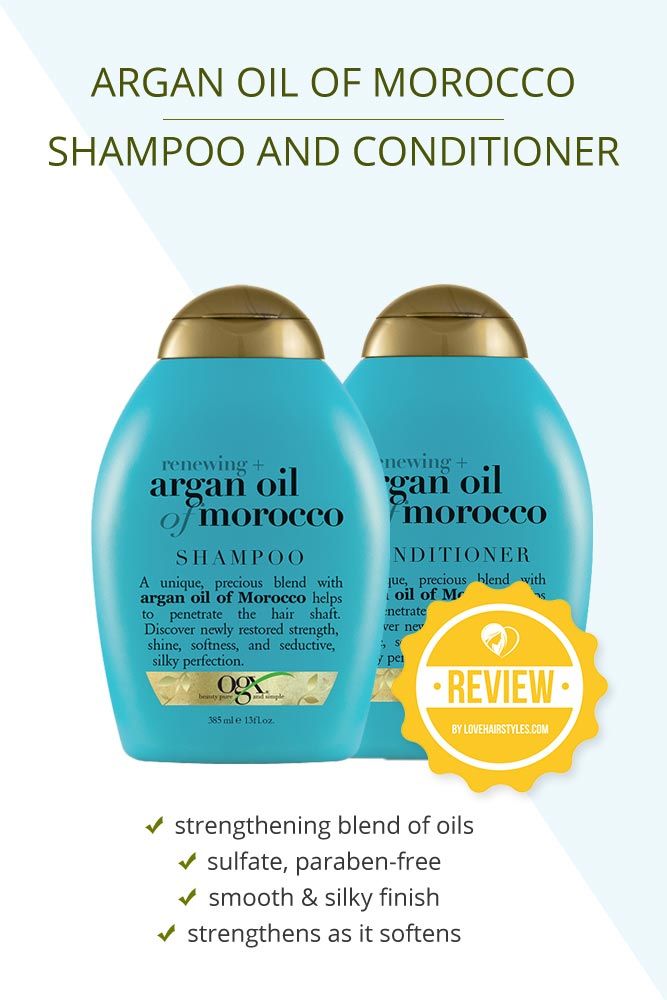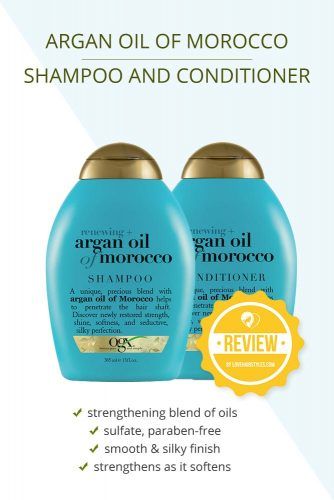 Source: Ogx
Features:
strengthening blend of oils
sulfate, paraben-free
smooth & silky finish
strengthens as it softens
Best for: textured hair
Due to the natural components contained in these Moroccan Oil shampoo and conditioner set, you can't go wrong picking them. Its organic-based formula is designed to protect the hair shaft inside and out, keeping it baby soft and silky. If you have porous, textured hair that needs definition, that's your must.
Buy on Amazon: $20.00
Strength Cure Shampoo + Conditioner Duo By Pureology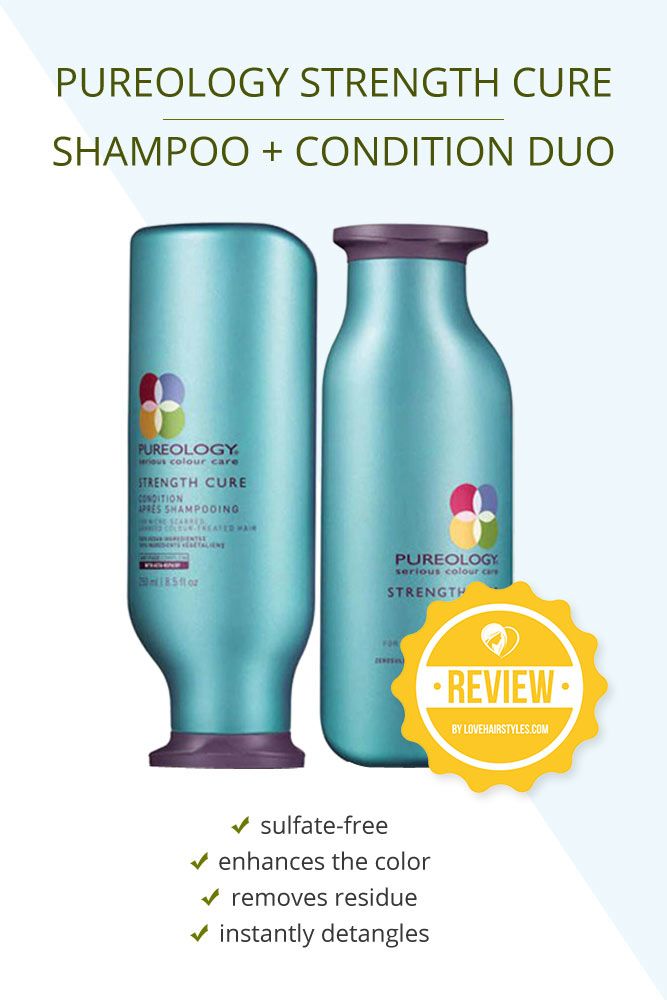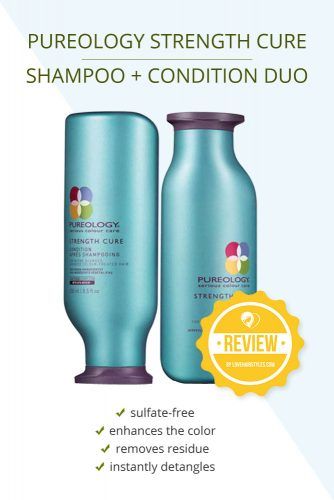 Source: Pureology
Features:
sulfate-free
enhances the color
removes residue
instantly detangles
Best for: damaged hair
The most beautiful things in the world always come in pairs, remember? Following this golden rule, Pureology created a saving grace of two game-changing products. Be it damaged or colored hair, the sulfate-free shampoo will coat it with a protective residue-fighting layer while the conditioner will get rid of tangles. The silky, lustrous, and long-lasting clean finish is what makes this duo the best shampoo and conditioner for damaged hair.
Buy on Amazon: $29.50
Buy on Amazon: $29.50
ADVERTISEMENT ‧ CONTINUE READING BELOW
Zion Health Original Combo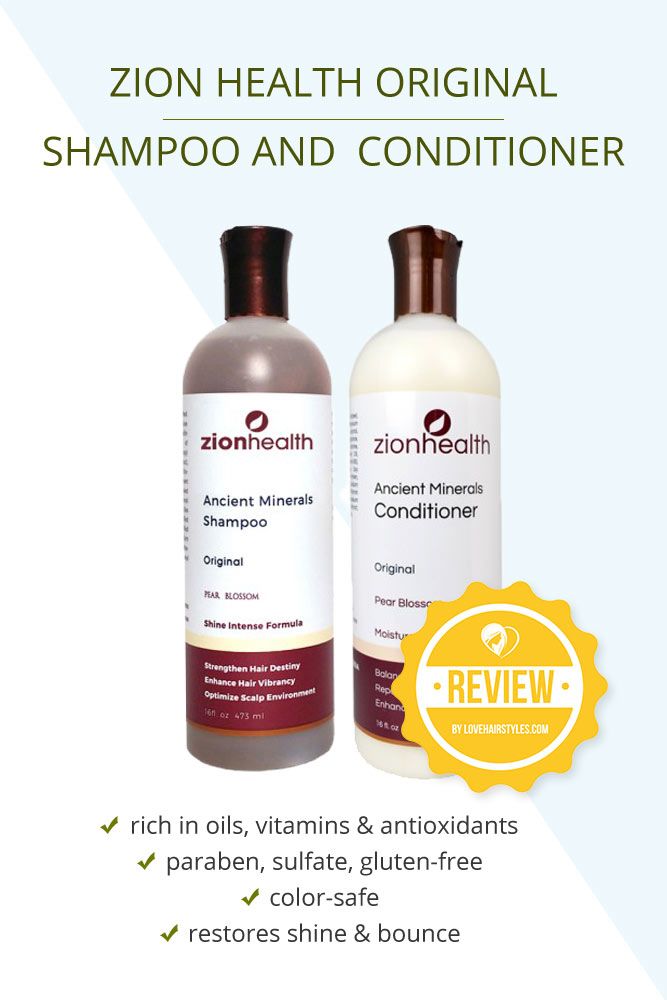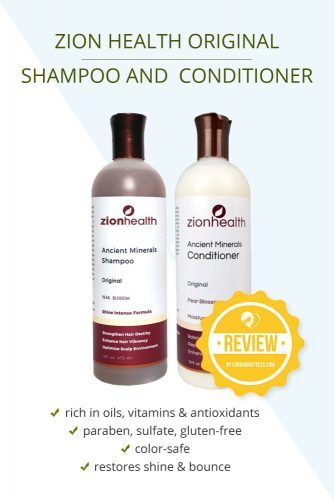 Source: Zion Health
Features:
rich in oils, vitamins & antioxidants
paraben, sulfate, gluten-free
color-safe
restores shine & bounce
Best for: fine hair
In the hands of wrong hair care products, fine hair may be a dull curse that can only be tamed by tons of styling products. And this is where these organic shampoo and conditioner should come in. As the main ingredients, jojoba oil and ionic minerals provide the hair with proper hydration and growth stimulation, making it thicker and shinier.
Buy on Amazon: $21.00
Buy on Amazon: $19.36
Moroccanoil Moisture Repair Shampoo And Conditioner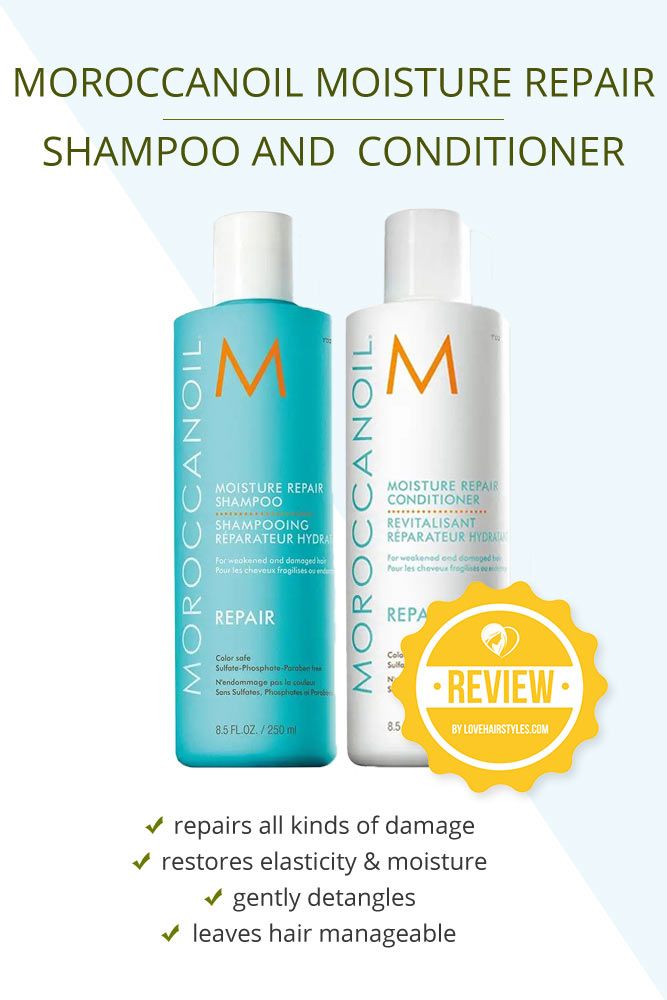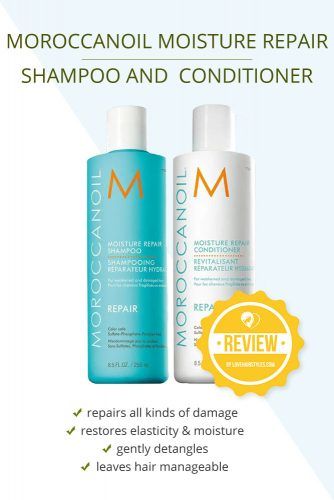 Source: Moroccanoil
Features:
repairs all kinds of damage
restores elasticity & moisture
gently detangles
leaves hair manageable
Best for: dull, dry hair
What should the best shampoo and conditioner for dry hair do? Everything this duo does. Our hair can encounter many types of damage such as those caused by heat, styling, and coloring. Keeping in mind these factors, Moroccanoil launched a unique product with a reparative formula full of antioxidants, keratin and fatty acids that will promote the needed healthy hair life.
Buy on Amazon: $22.80
Buy on Amazon: $25.00
L'Oreal Paris Elvive Total Repair 5 Repairing Shampoo And Conditioner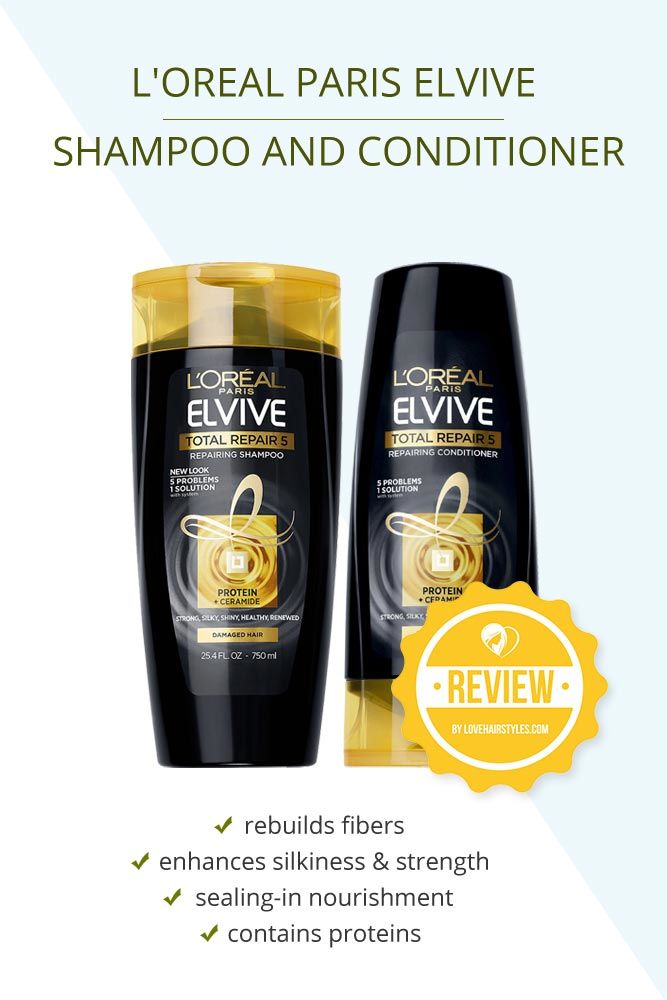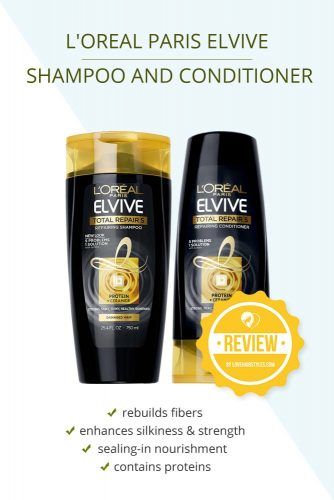 Source: Loreal
Features:
rebuilds fibers
enhances silkiness & strength
sealing-in nourishment
contains proteins
Best for: curly hair
Curly hair is known for its inevitable journey through the five circles of damage, which include breakage, split ends, weak texture, dehydrated strands, and dull looks. As told by many curly goddesses, this duo does its job more than just well. When used together, these two can fortify your hair fiber with proteins and ceramide, nourishing it and keeping super moisturized at the same time.
Buy on Amazon: $6.55
Buy on Amazon: $6.62
ADVERTISEMENT ‧ CONTINUE READING BELOW
Alberto Balsam Tea Tree Tingle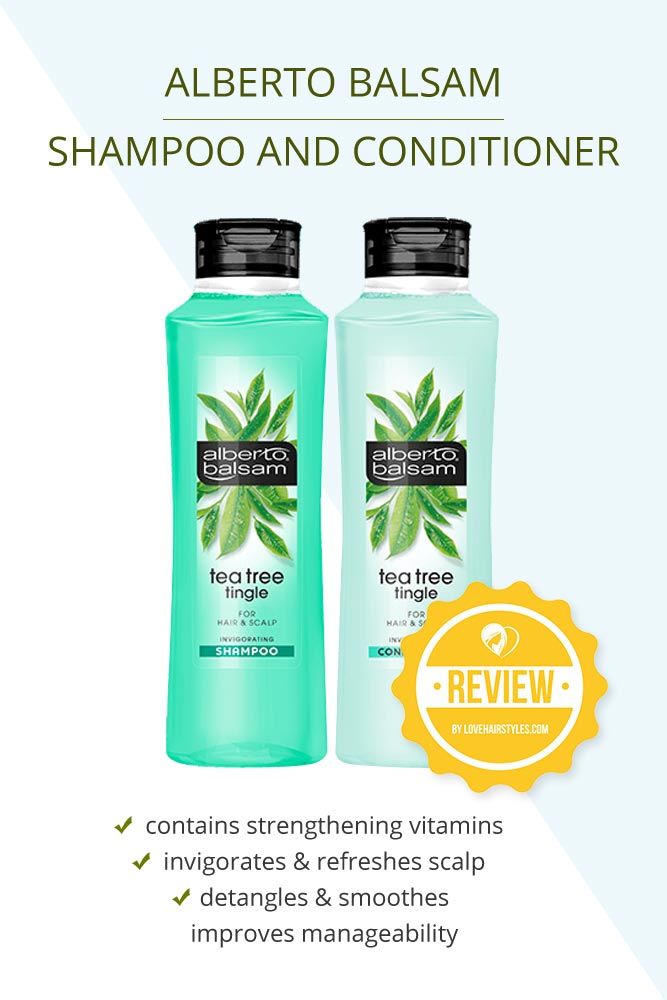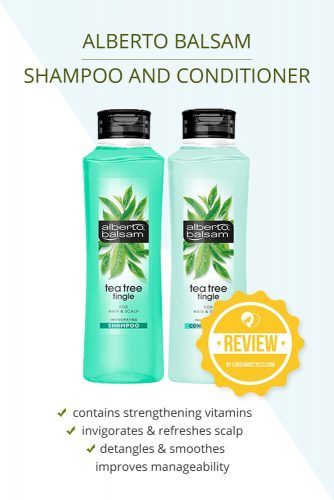 Source: Alberto Balsam
Features:
contains strengthening vitamins
invigorates & refreshes scalp
detangles & smoothes
improves manageability
Best for: healthy hair
Once your senses feel the fresh fragrance of these products, you will want to buy dozens of them. Well, though that's not the reason for buying, investing in this duo will actually be a good decision. Since they both contain strengthening pro-vitamin B5, they will contribute to healthy-looking hair and fresh scalp, which is a total win.
Buy on Amazon: $9.47
Buy on Amazon: $12.01
Kérastase Nutritive Set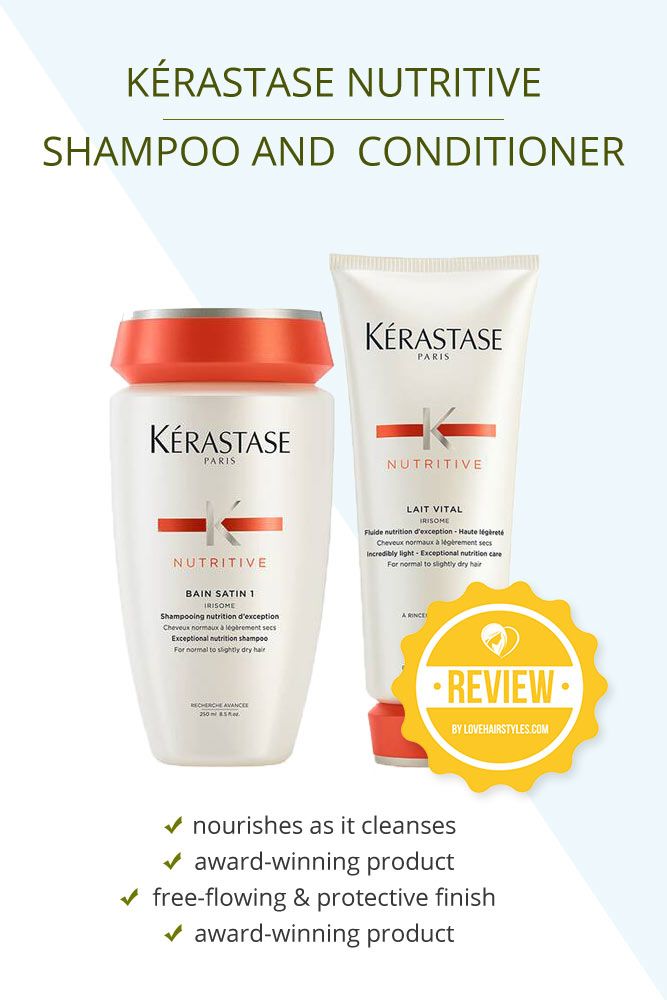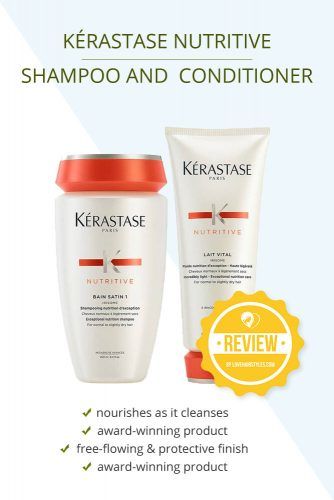 Source: Kérastase
Features:
nourishes as it cleanses
award-winning product
free-flowing & protective finish
award-winning product
Best for: normal and slightly dry hair
We all have our ups and downs, and the same goes for our hair. When you notice that your normal hair starts to dry out, it's time to make this pairing a part of your hair care routine. The shampoo is special for its quick and intense hydration and nutrition. As for the conditioner, it can prevent dryness, giving you a super manageable, lustrous mane.
Buy on Amazon: $26.29
Buy on Amazon: $34.00
L'Oreal EverPure Frizz-Defy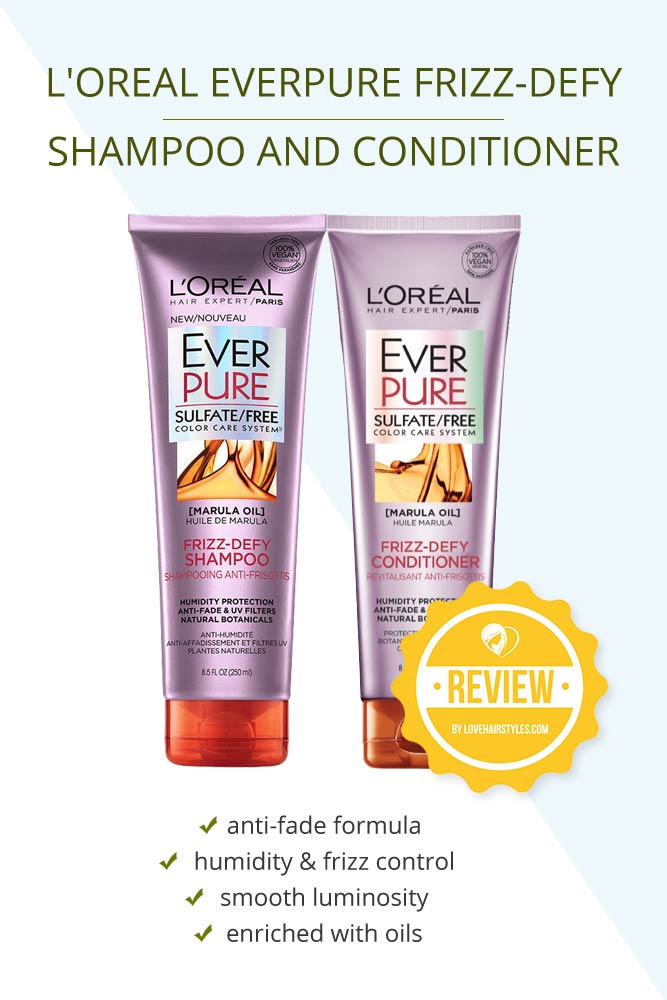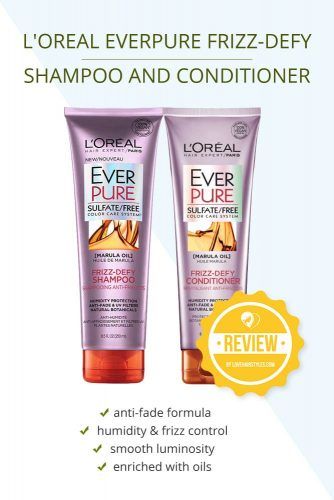 Source: Loreal
Features:
anti-fade formula
humidity & frizz control
smooth luminosity
enriched with oils
Best for: color-treated hair
Having sulfate free shampoo and conditioner in your hair care arsenal is always the right choice. But when it comes to colored hair, it's just crucial. With these products, you can forget about dullness, frizz, and fading caused by bleaching. The best thing is, the composition has no harsh additives, so you can be sure that your hair is in good hands.
Buy on Amazon: $6.38
Buy on Amazon: $12.27
ADVERTISEMENT ‧ CONTINUE READING BELOW
Pantene Pro-V Smooth & Sleek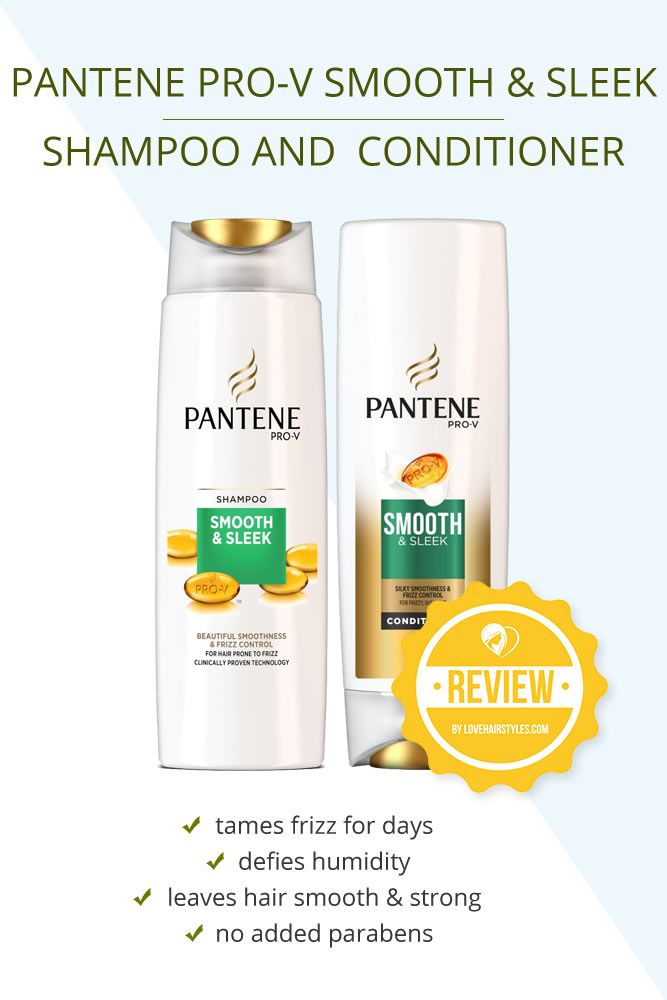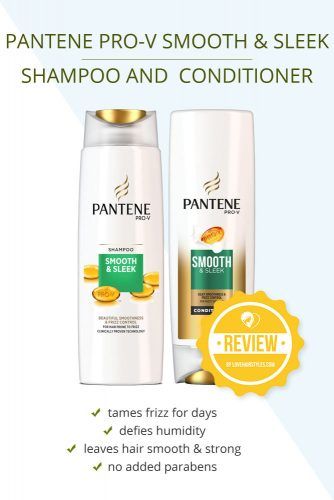 Source: Pantene
Features:
tames frizz for days
defies humidity
leaves hair smooth & strong
no added parabens
Best for: frizzy hair
It's no secret that we all dream about long and shine-reflecting manes from Pantene commercials. Well, as it turns out, the best way to achieve it is to use Pantene shampoo and conditioner. Together, they will help you control the irritating frizz for up to 72 hours, regardless of the humidity rate. Also, it contains no chemical additives!
Buy on Amazon: $17.78
Paul Mitchell Lemon Sage Thickening Shampoo And Conditioner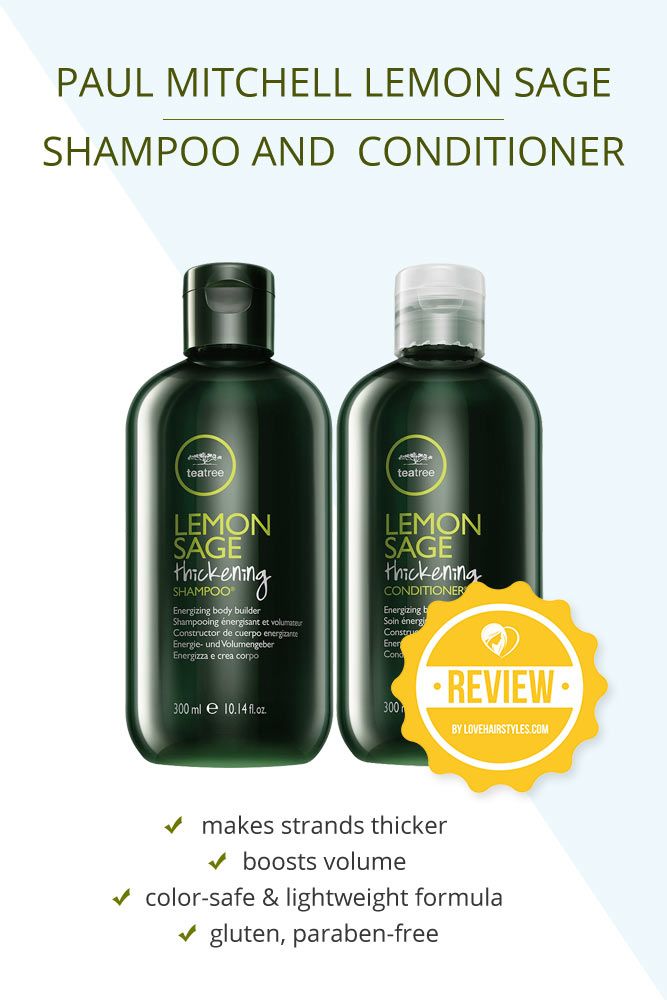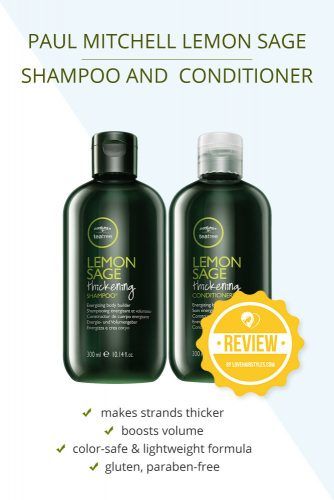 Source: Paul Mitchell
Features:
makes strands thicker
boosts volume
color-safe & lightweight formula
gluten, paraben-free
Best for: thin hair
While many women with thin hair think that nothing can make their lifeless strands thicker, wise ones make it real with these Lemon Sage products. Besides the volumetric, thickening formula, this duo also protects against split ends and reduces static, giving a decent look to your weak locks.
Buy on Amazon: $46.00
John Frieda Beach Blonde Shampoo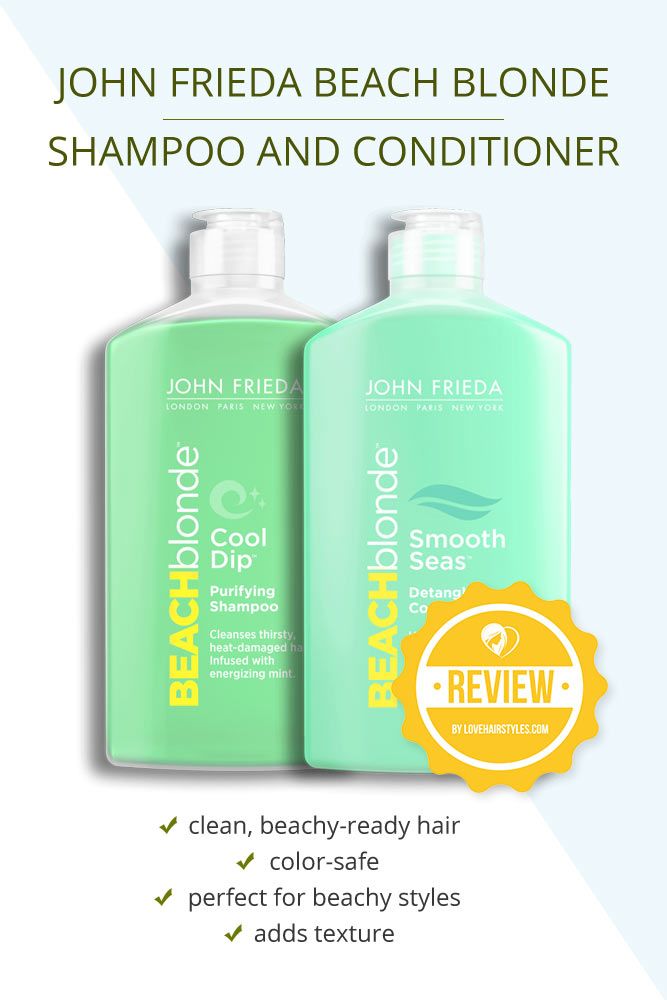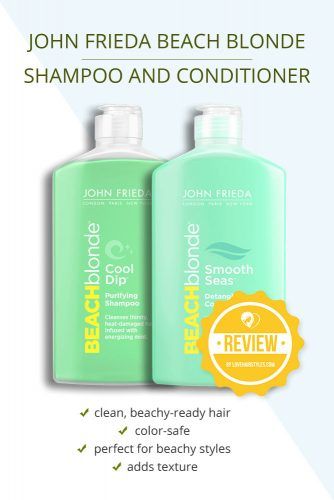 Source: John Frieda
Features:
clean, beachy-ready hair
color-safe
perfect for beachy styles
adds texture
Best for: sensitive hair
Your hair deserves a vacation on the beach, don't you agree? These shampoo and conditioner by John Frieda are quite styling aces in the holes! While giving your hair a smooth and healthy refreshment, these products will turn your texture into everyone's favorite messy beachy look.
Buy on Amazon: $10.32
Buy on Amazon: $9.75
ADVERTISEMENT ‧ CONTINUE READING BELOW
Alfaparf Milano Alfaparf Semi Di Lino Volume Magnifying Shampoo And Conditioner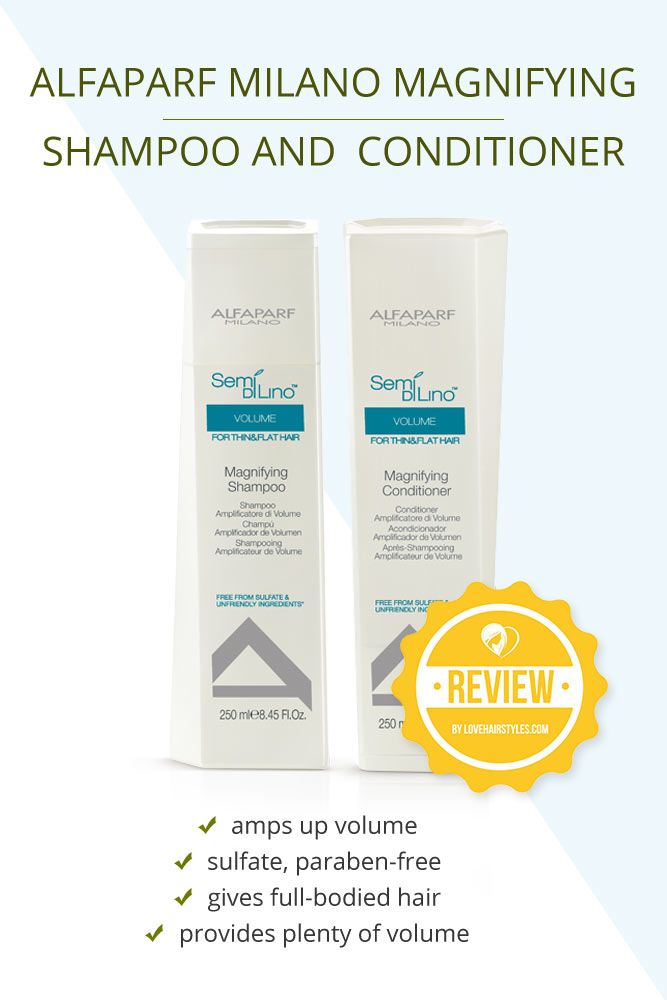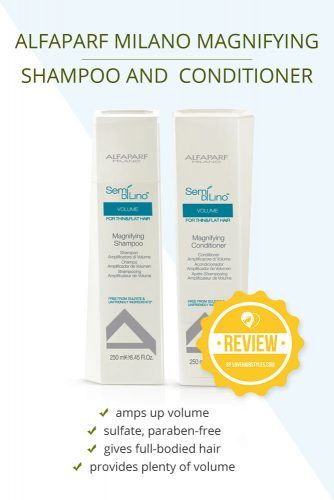 Source: Alfaparf Milano
Features:
amps up volume
sulfate, paraben-free
gives full-bodied hair
provides plenty of volume
Best for: fine hair
Another amazing solution for those trying to add some lift to their fine manes. The formula of these products is designed to enhance the natural volume in weak hair types, giving them a full, dense-looking body. Don't forget about the conditioner, and weighed down looks won't ever bother you.
Buy on Amazon: $26.99
Buy on Amazon: $26.99
Dry Remedy Moisturizing Formula By Aveda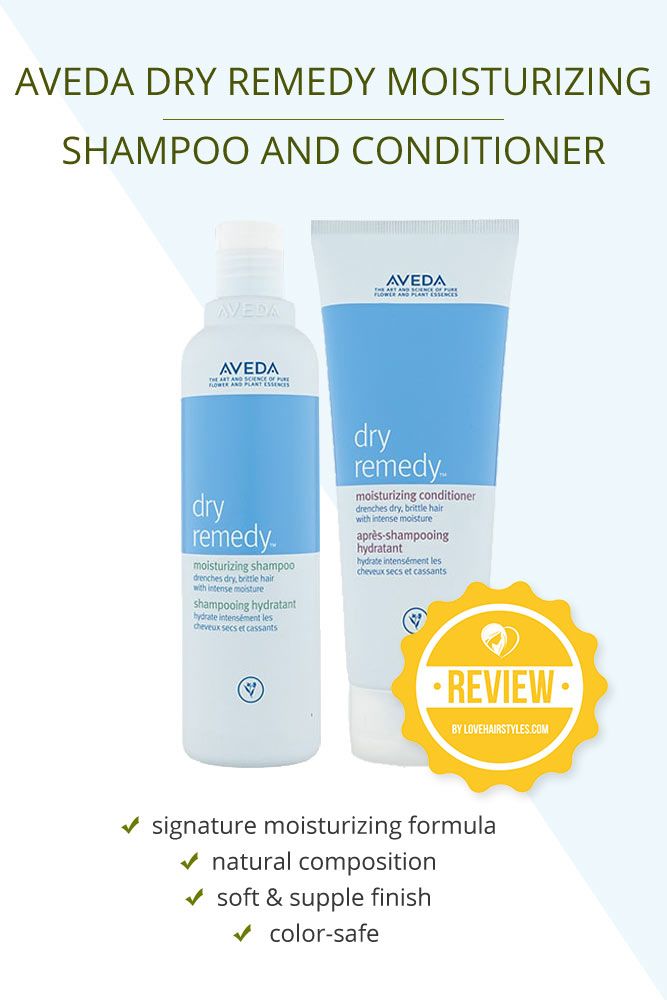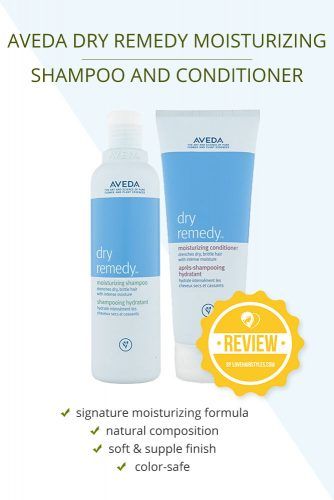 Source: Aveda
Features:
signature moisturizing formula
natural composition
soft & supple finish
color-safe
Best for: dry, brittle hair
Women with dry hair call these products best natural shampoo and conditioner. First of all, it contains organic deep-moisture complex that softens and moisturizes hair and scalp naturally. Apart from that, it smells so good and fresh that you will feel like at a day spa.
Buy on Amazon: $85.00
Dove Nutritive Solutions Shampoo And Conditioner, Daily Moisture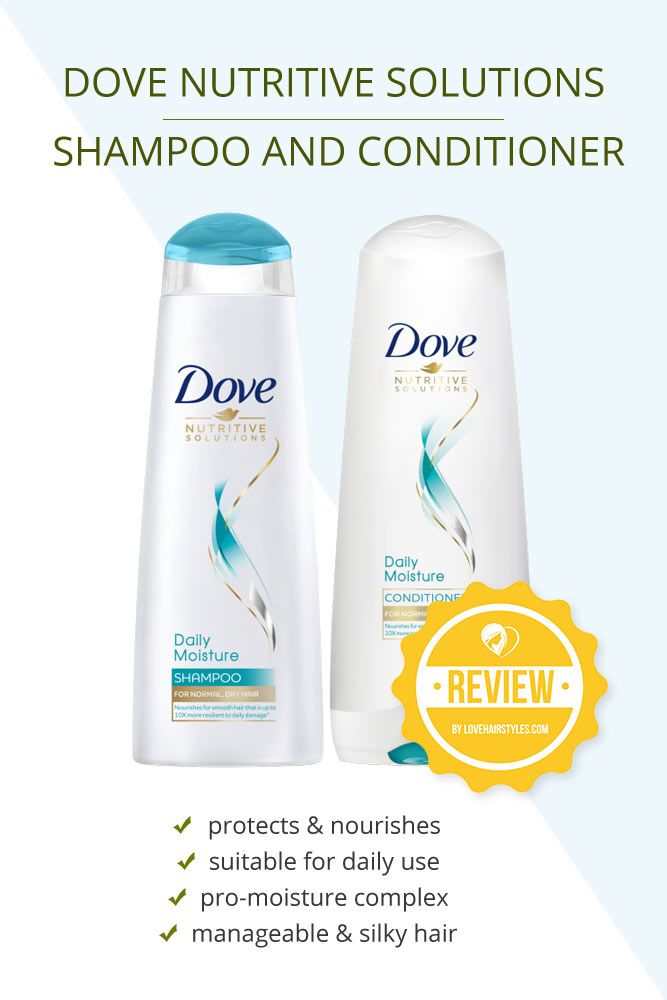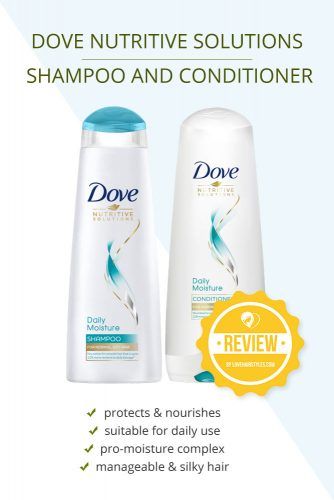 Source: Dove
Features:
protects & nourishes
suitable for daily use
pro-moisture complex
manageable & silky hair
Best for: normal and dry hair
Believe it or not, these Dove products that have been around for years are considered the best drugstore shampoo and conditioner of all time. Why? They promote healthy hair growth, protecting the surface of the strands from damage and breakage. The conditioning formula is designed with a nourishing pro-moisture complex that will always keep your hair soft, manageable, and hydrated.
Buy on Amazon: $4.64
Buy on Amazon: $19.65
ADVERTISEMENT ‧ CONTINUE READING BELOW
Aesop Shampoo & Conditioner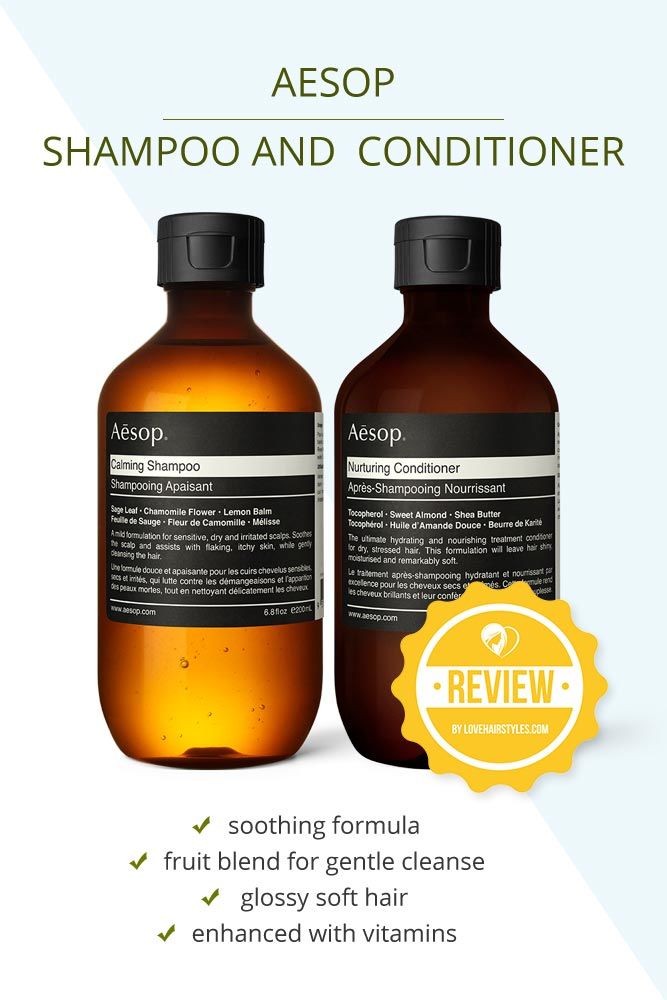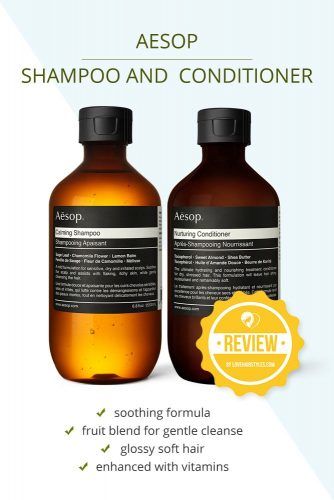 Source: Aesop
Features:
soothing formula
fruit blend for gentle cleanse
glossy soft hair
enhanced with vitamins
Best for: sensitive hair with a dry, itchy scalp
When your shampoo can't handle your dry hair, your scalp starts to ask for help too. Unlike many shampoos, this one has a very lightweight, gently-cleansing texture that won't irritate your scalp. And to hydrate your dry hair, this conditioner contains Vitamin E and shea butter that will give you a super soft and healthy look.
Buy on Amazon: $36.98
Buy on Amazon: $51.75
Finding the best shampoo and conditioner isn't the easiest step to the perfect hair care regimen. In fact, you can encounter lots of troubles like hair loss, dandruff, and itchy scalp when picking unsuitable products for your hair type. To keep you away from that, we've searched the web for the most reliable reviews on popular products and compiled our own review-post. Make sure to reread it when purchasing a new shampoo and your hair will thank you.
ADVERTISEMENT ‧ CONTINUE READING BELOW