If you are looking for a perfect homemade hair mask for damaged hair, welcome to the club. We have all been there – ending up with brittle and dry strands that look dull and get tangled easily after our hair experiments. But the good news is it is not irreversible. In most cases, you can still recover your hair with the help of a proper DIY hair mask. No worries, it will not cost you an arm and a leg. Below, we have put together the best homemade hair mask recipes to fit any budget. Now your task is to choose the one(s) that work for you.
Hair Mask: FAQ to Use It Right
Before you compose an all-natural homemade product for your hair type, you should know how to work with it. Anything from how you apply the mask to how long you keep it in your hair determines how fast you will get the desired result. We've selected the most popular questions that women come up with when they start using masks for hair so that you can get the most of your DIY mixture.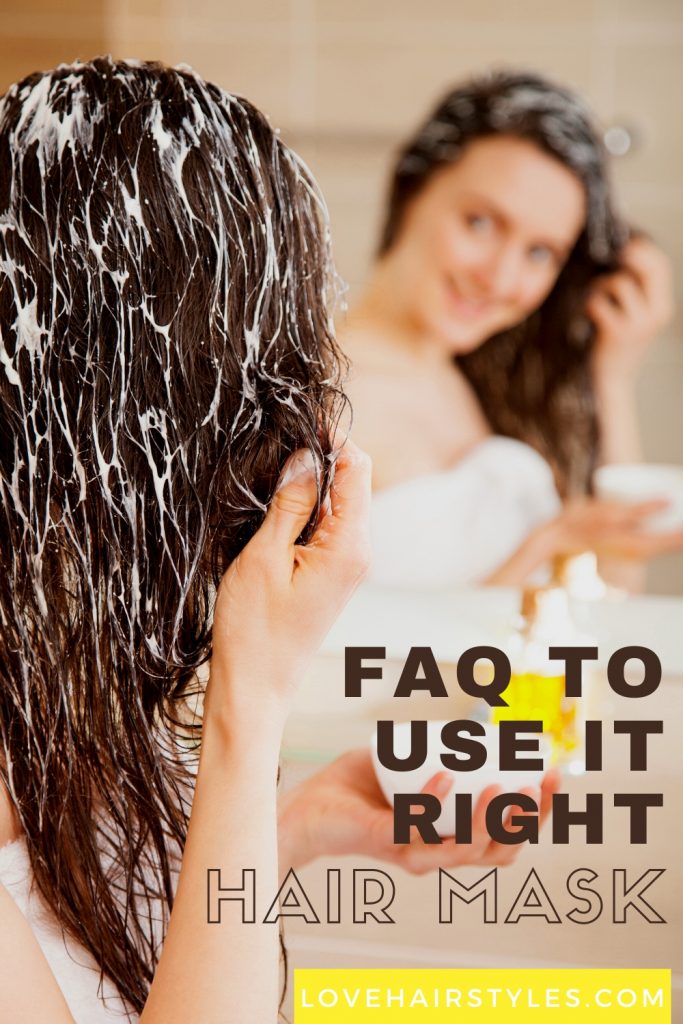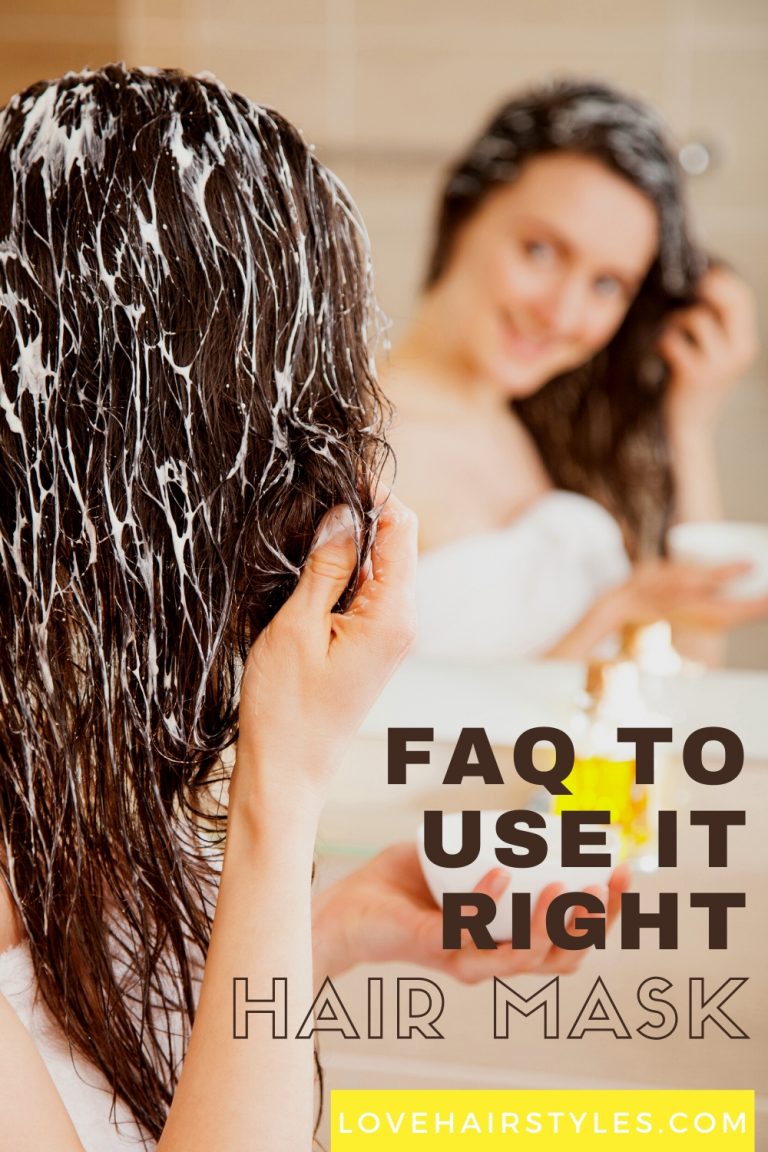 How does a hair mask work?
Since this treatment is meant to restore damage or recover strength and elasticity in the hair, it usually comes as a rich composition of essential oils, vitamins, and proteins. Conditioners may also include similar ingredients, but they work on the surface of the hair shaft, whereas masks penetrate into the cuticle, nourishing it from the inside.
Do you use a hair mask before or after the conditioner?
It's always better to start with a mask and end with a conditioner to ensure that the mask is fully rinsed. Or, you can first use a shampoo, a mask, and finish with a conditioner. The scenarios may vary, but the ending is always the same – conditioning is the last step. That's why you need to create a sort of mask schedule that coincides with your washing regimen.
Can you use a conditioner as a hair mask?
These two have totally different modes of action. Conditioning is what helps to maintain the shine and smoothness of the surface daily, while a mask serves as a deep-conditioning treatment that acts from the inside of the hair shaft.
Can you leave a hair mask on too long?
Masks are not created equal; every product has its perfect timing. But, there's always room to go too much, especially for fine hair. If you leave it overnight despite the suggested time, you may feel heaviness and excess moisture in your hair until the next wash. It cannot damage your hair, but it also won't do you much of a favor. At the same time, there are masks designed for kinky and curly hair that must be left overnight. In this case, you will need a shower cap and some old clothes.
Is it better to put a hair mask on dry hair?
It depends on the composition of the mask you're using. Most masks are meant to be used on damp, towel-dried hair, but those containing a lot of oils will work best with dry hair. That's because oils are absorbed better when the hair is dry.
Do you rinse out a hair mask?
You should always rinse off any hair mask you use, even if it's an overnight hair mask. Before rinsing, you can massage the product deep into your hair, applying it with a brush or running your fingers through it.
How often should I use a hair mask?
A mask is a hydrating weekly must for dry, damaged, and frizzy hair. As for oily hair types, using it once in a couple of weeks will do just fine.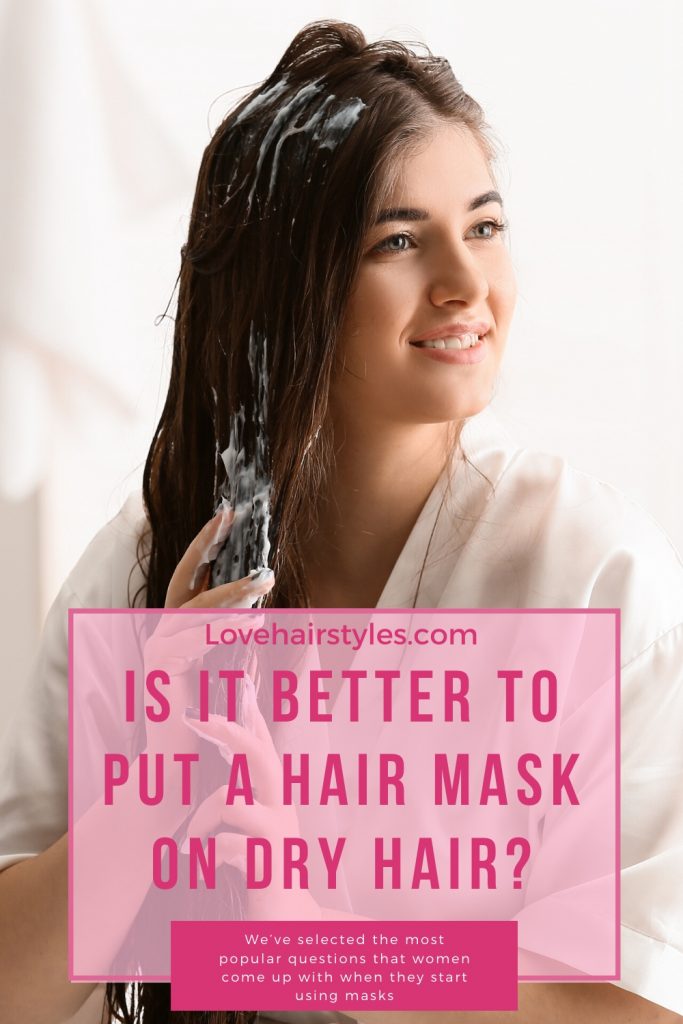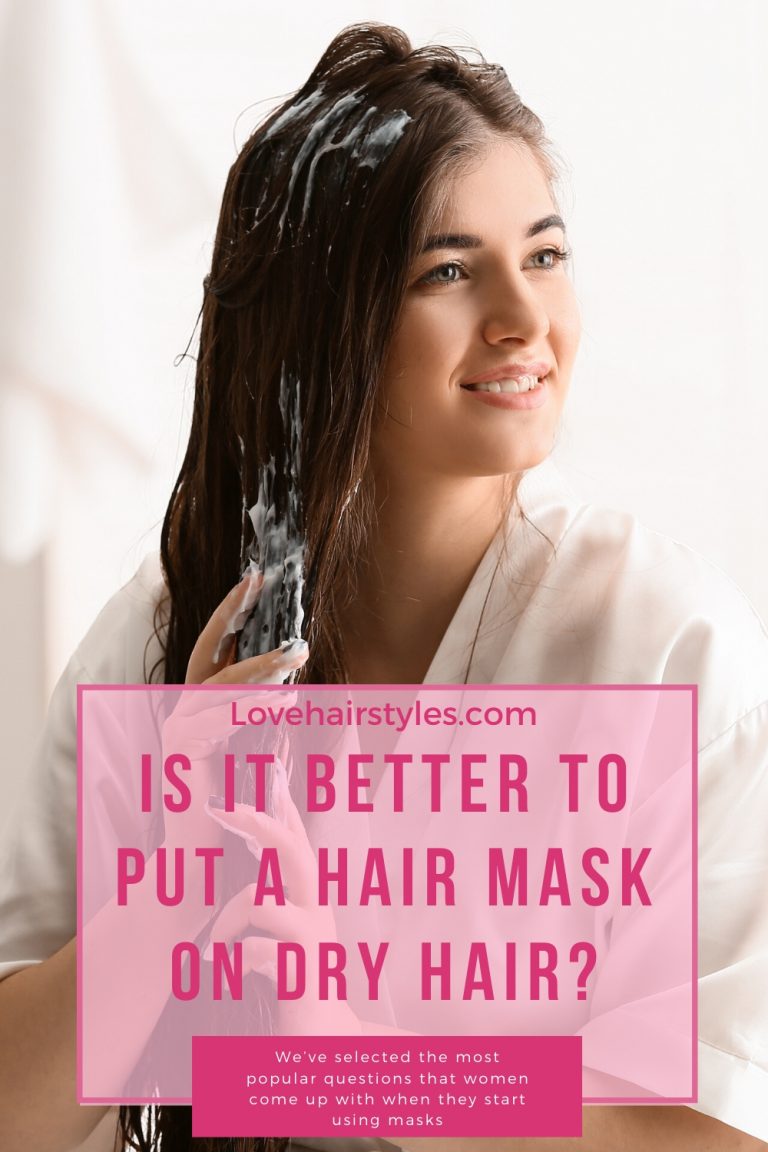 Homemade Hair Mask – Best DIY Recipes
Now that you've had enough of the basics, tips, and theory, let's move to the DIY part. While mixing your own hair product is pretty simple, you should do your best to make it effective, which lies in the ingredient research for your hair. When wondering "what can I put in a hair mask?", you should focus on your hair type. Once you define what ingredients work well in a hair mask for your specific texture, you will be able to create the best hair mask you ever tried. We've prepared amazing natural hair mask DIY recipes for every hair type so you can learn what ingredients your hair loves the most and breathe new life into your locks!
Moisturizing Hair Mask with Honey, Egg & Apple Cider Vinegar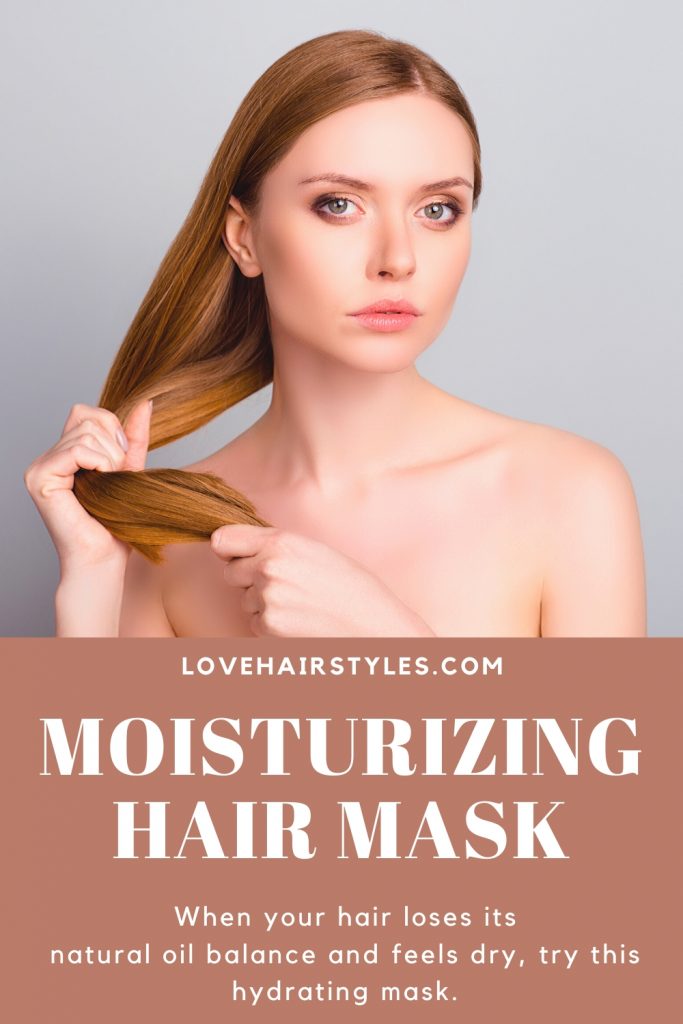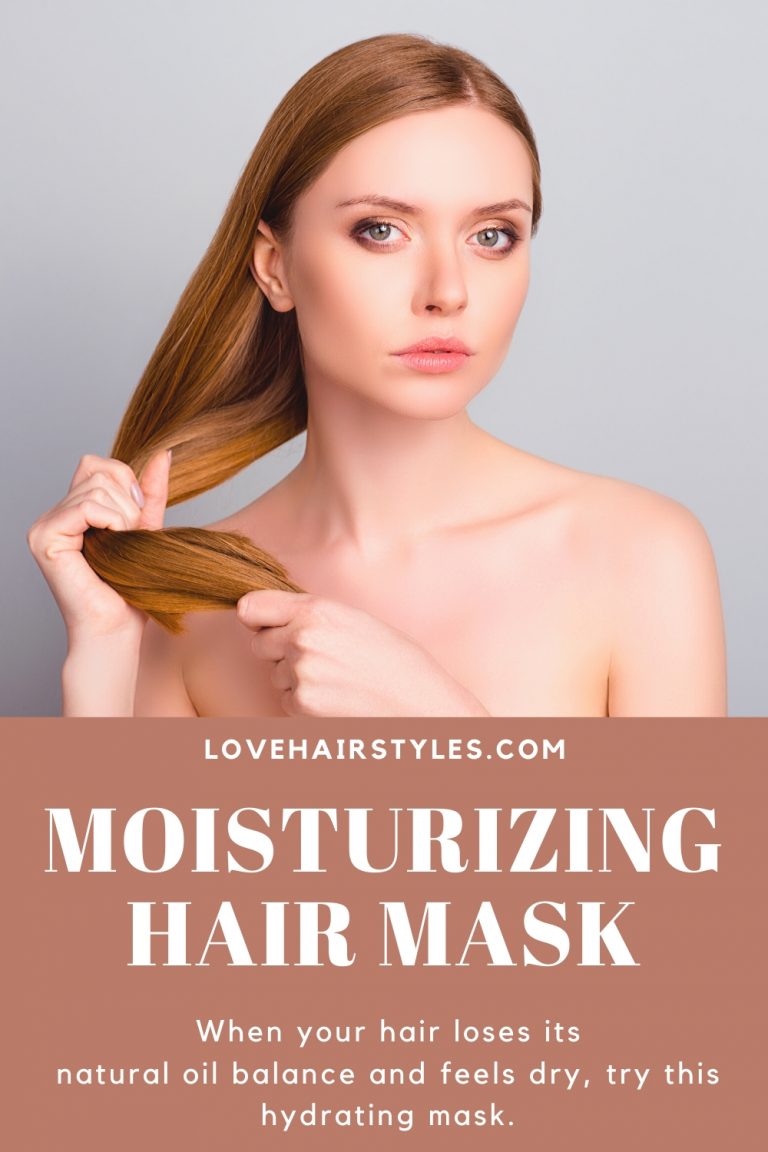 Hair concern: Dry hair.
When your hair loses its natural oil balance and feels dry, you can create a hydrating mask using natural components like egg, apple cider vinegar, and honey. A honey hair mask is a perfect option for dry and damaged locks, as honey has both moisturizing and shine-enhancing properties.
Ingredients: 1 tsp of honey, 1 tbsp of ACV, 1 egg.
How to fix it: Mix all ingredients and apply to your hair. Note that you may need to double the recipe if your hair is very long. Leave the mix in for 30 minutes and rinse.
Exfoliating Mask with Coconut Oil, Sugar & Essential Oils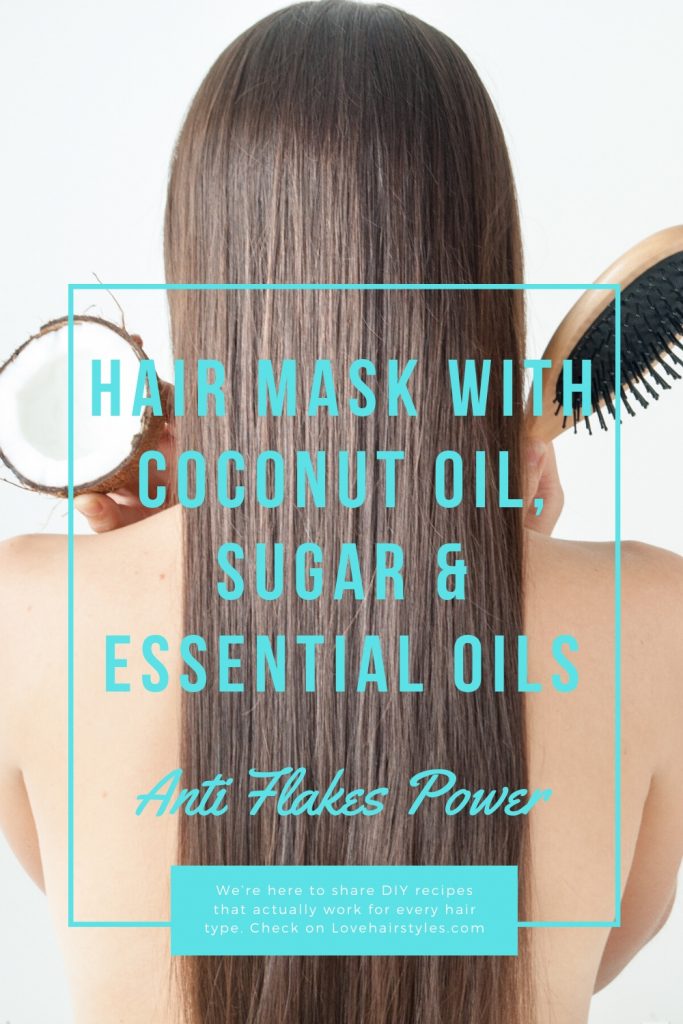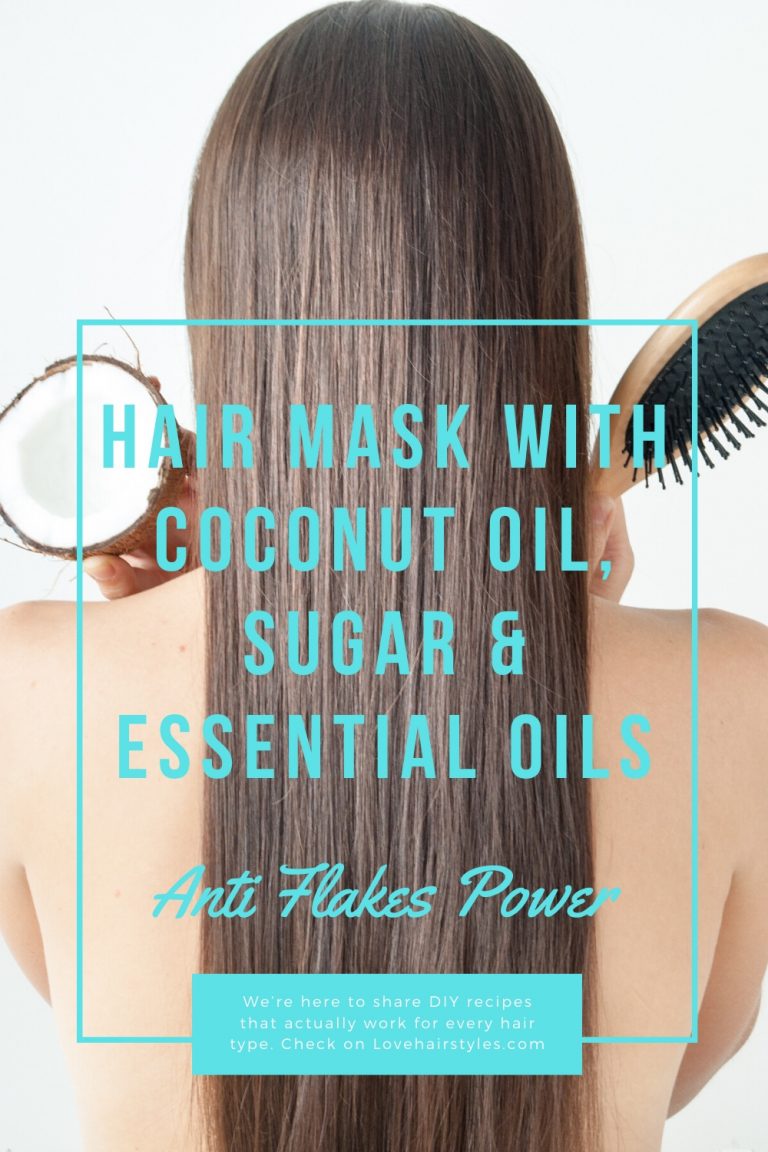 Hair concern: Flakes.
It shouldn't necessarily be dandruff; flakes may come into your life with drops of temperature or product build-up. Still, you need to solve this issue to maintain a healthy hair routine, and this coconut oil hair mask aka scrub will help you out. The sugar will dissolve the dead skin cells while coconut oil will provide you with its anti-inflammatory effect. As for essential oils, they have antibacterial and antifungal properties that are perfect for the scalp. By the way, you can use the mix as a facial scrub, too!
Ingredients: 2 tbsp of raw coconut oil, 4 tsp of raw sugar, 2 drops of tea tree oil, 5 drops of peppermint oil.
How to fix it: Mix all ingredients in a bowl and apply the mixture to two-inch sections of damp hair after shampooing it. Once you've applied the mask evenly, massage it into the scalp for a couple of minutes. Lastly, clip your hair up and let the mix sit for as long as you take a shower.
Revitalizing Mask with Avocado, Olive Oil & Egg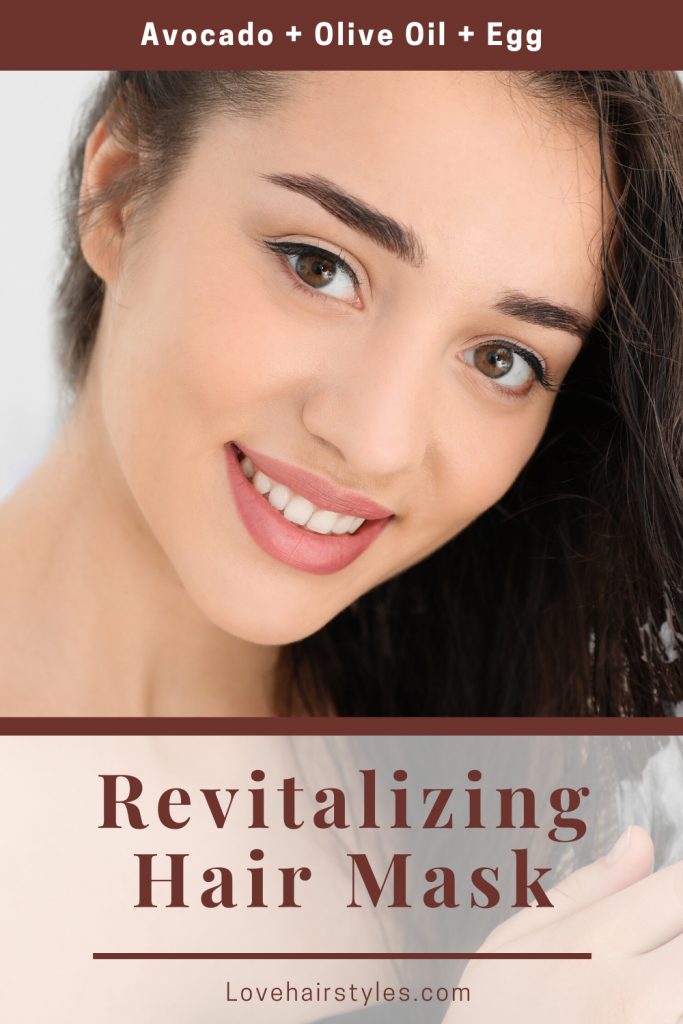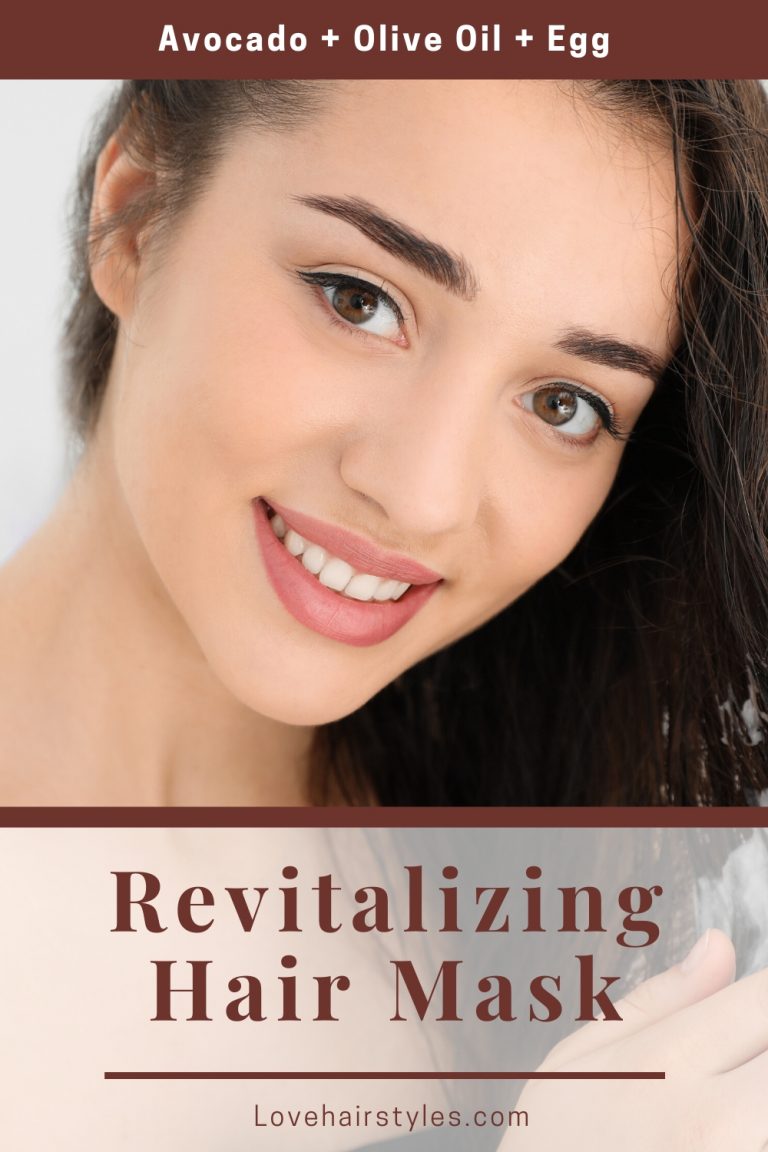 Hair concern: Damage.
From pollution which you can't control toconstant use of heat styling tools and color sessions, there are lots of ways for damage to spoil your look. This is where this avocado hair mask full of strengthening fatty acids and antioxidants should come in. The olive oil the hair mask contains will fight free radicals, thus preventing the damage from spreading.
Ingredients: 1 tbsp of honey, 1 tbsp of olive oil, 1 egg, half an avocado.
How to fix it: Mash the avocado with other ingredients and mix thoroughly. Then, begin the application, starting at the bottom and working your way up to the roots. Once you've distributed the mix evenly, create a bun and wear a shower cap. As weird as it sounds, the anti-damage mask should be activated with heat: blow-dry your cap-covered hair for 10 minutes. Let the mix sit in for 20 minutes and rinse with cool water.
Refreshing Hair Mask with Aloe Vera & Yogurt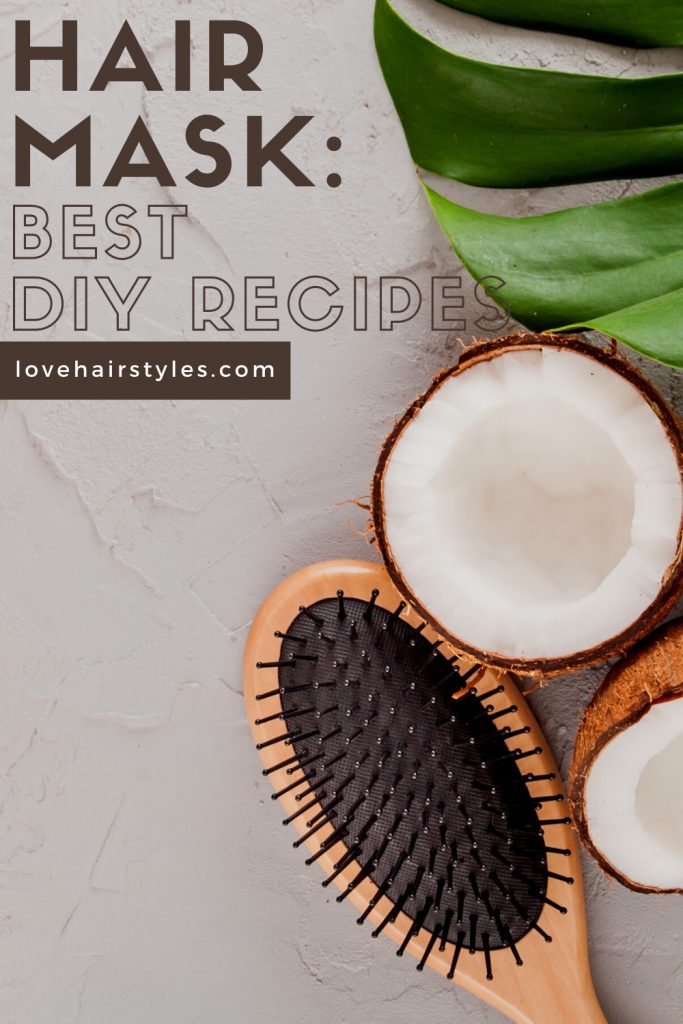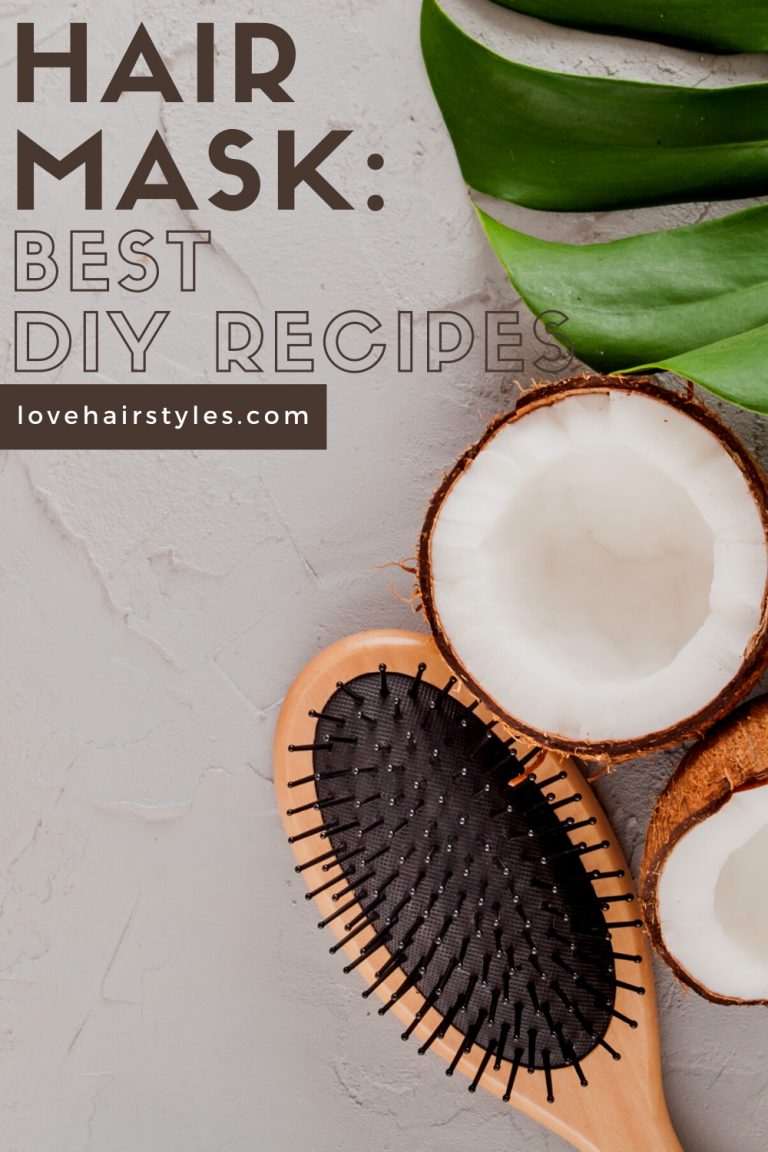 Hair concern: Dullness.
Natural shine moves in mysterious ways. You never know when it will come back, unless you make an aloe vera hair mask! Paired with olive oil, honey, and the soft texture of yogurt, aloe will not only restore shine in your hair but also reduce dandruff on the scalp.
Ingredients: 3 tsp of fresh aloe vera gel, 2 tsp of yogurt, 1 tsp of honey, 1 tsp of yogurt
How to fix it: Mix all ingredients well and apply from roots to tips. Massage the mixture gently for 10 minutes, let it rest for 30 minutes, and rinse off.
Hair Growth Mask with Argan & Rosemary Oils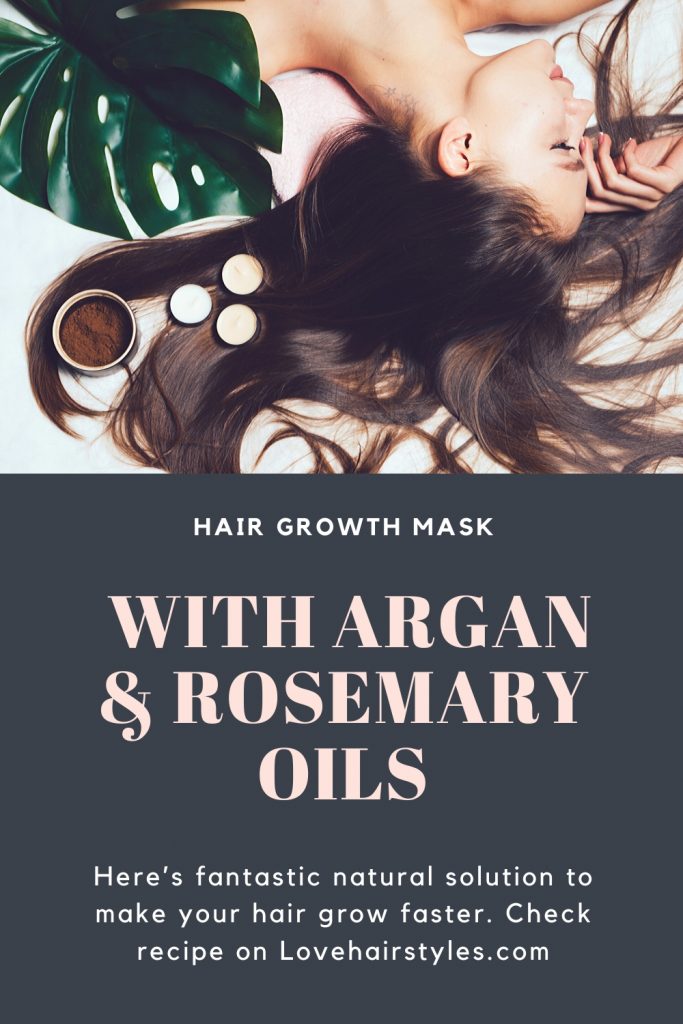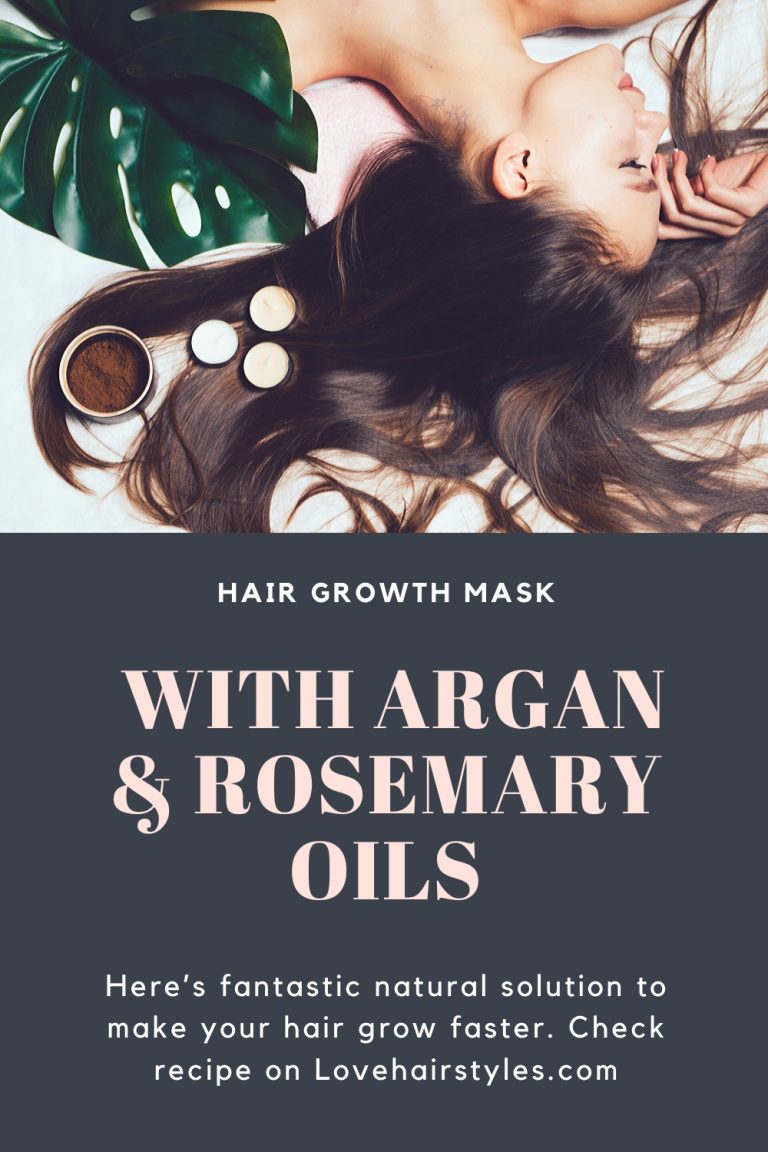 Hair concern: Slow hair growth.
On your way to growing out a long mane, your hair growth rate may let you down. In fact, all you need is to awaken the follicles with rosemary and argan oil hair mask that has the power to improve cellular generation.
Ingredients: 3 tbsp of argan oil, 3-8 drops of rosemary oil
How to fix it: Mix all ingredients and apply the mask to your scalp. After 5 minutes, cover your head with a hot towel for faster absorption. Give it another 20 minutes and rinse off with shampoo and conditioner.
Super Hydrating Hair Mask with Honey, Yogurt & Banana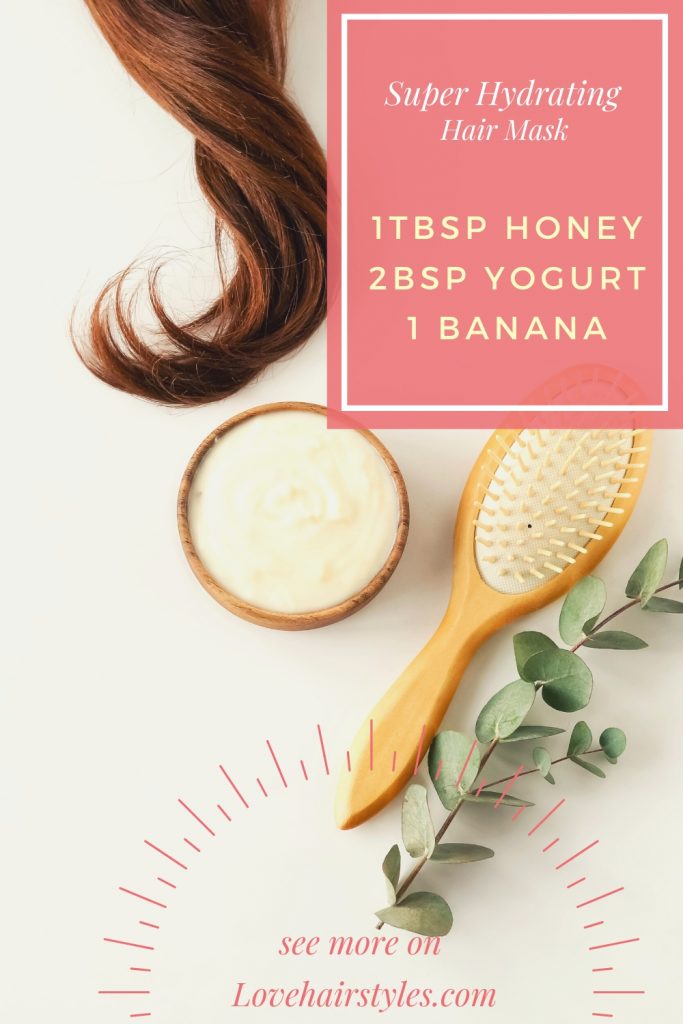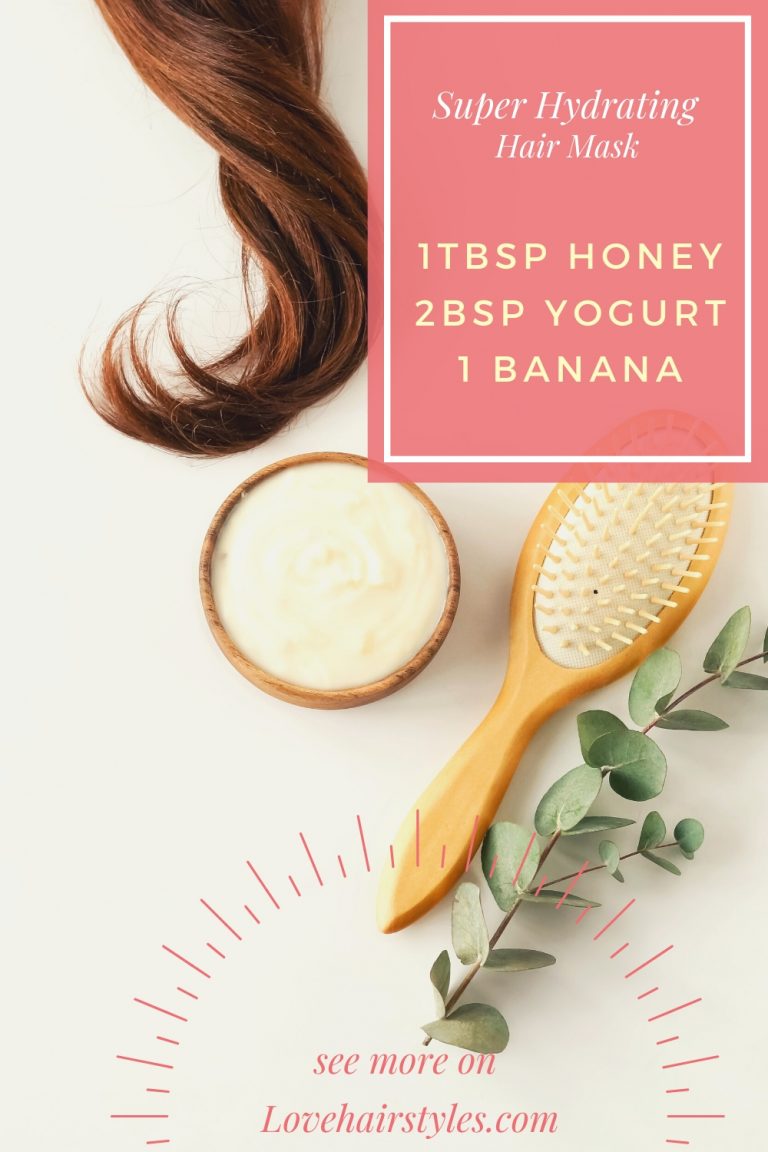 Hair concern: Frizz.
Instead of telling you how cruel the frizz can be, let us share with you a mind-blowing banana hair mask that will show it who's boss. Bananas are rich in oils, carbohydrates, and vitamins that nicely hydrate the hair and eliminate frizz.
Ingredients: 1 banana, 1tbsp of honey, 2bsp of yogurt
How to fix it: Blend all ingredients and apply the mix from roots to tips. Create a bun and place a shower cap, leaving the mask for 45 minutes. Rinse off with shampoo and conditioner.
Nourishing Mask with Castor Oil, Honey & Egg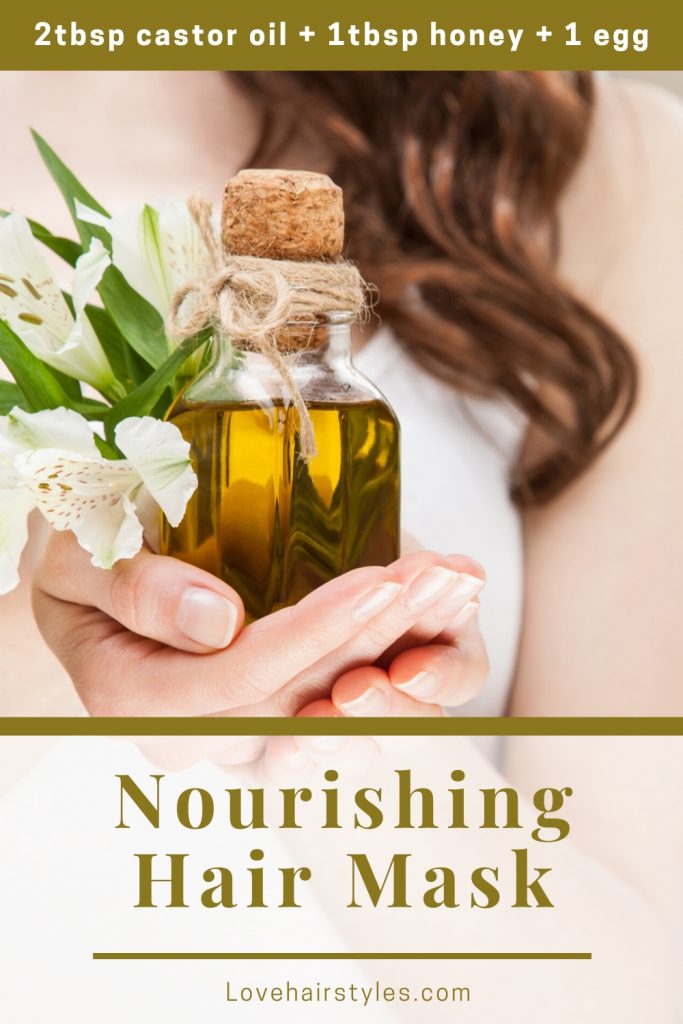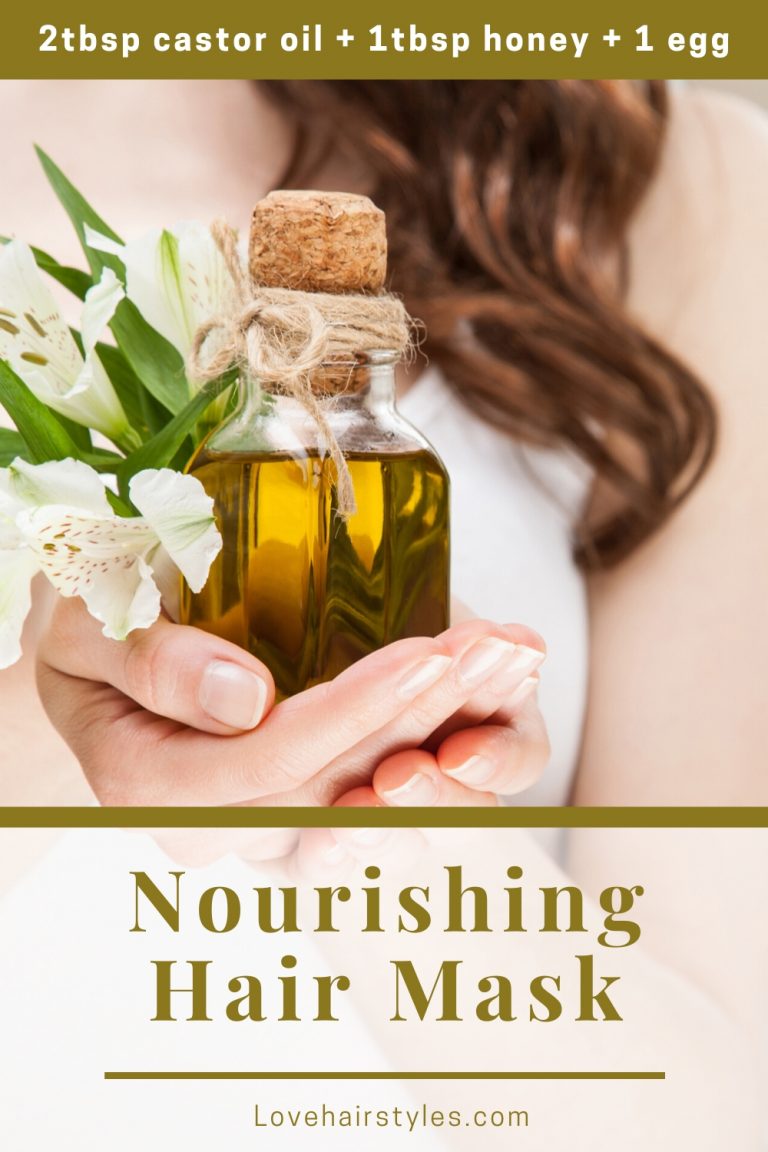 Hair concern: Split ends.
If the annoying split ends come out too soon, it means that your hair has become weaker for some reason. Regular use of a castor oil hair mask will strengthen the cuticle and provide deep nourishment throughout your hair, thus eliminating split ends. It's fairly cheap and effective, so we bet it's the best hair mask for damaged hair.
Ingredients: 2tbsp of castor oil, 1tbsp of honey, 1 egg
How to fix it: Mix all ingredients in a bowl and start applying the mix in sections, ensuring that every single lock is fully saturated with the mask. Of course, you should pay more attention to the damaged hair! Cover the hair with a shower cap and let the mix work wonders for an hour. Rinse with cool or lukewarm water.
Strengthening Hair Mask with Cinnamon & Coconut Oil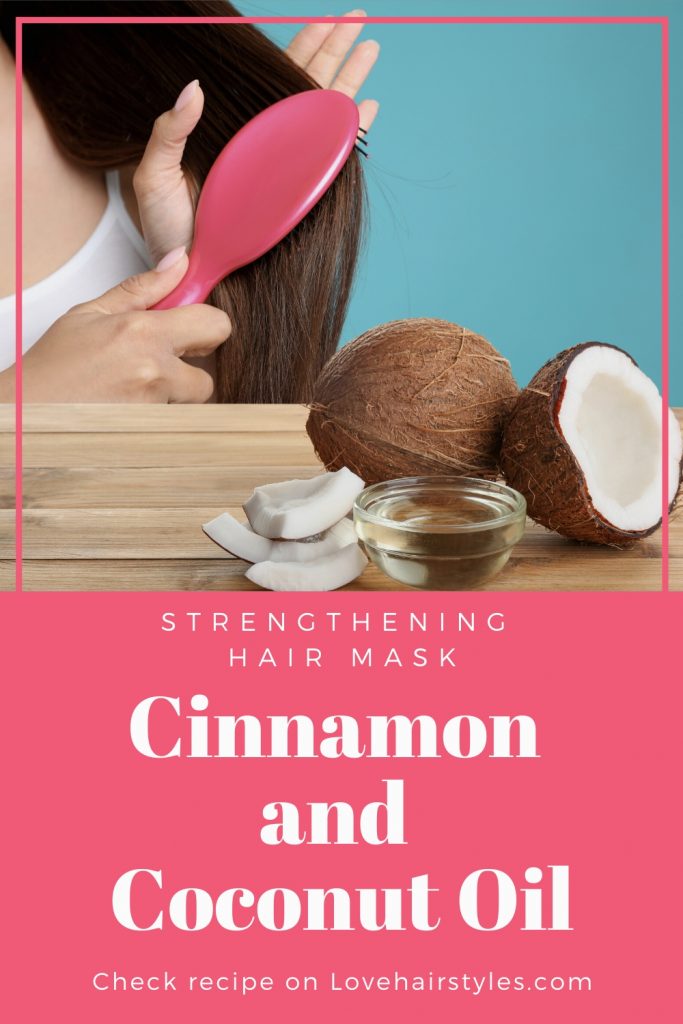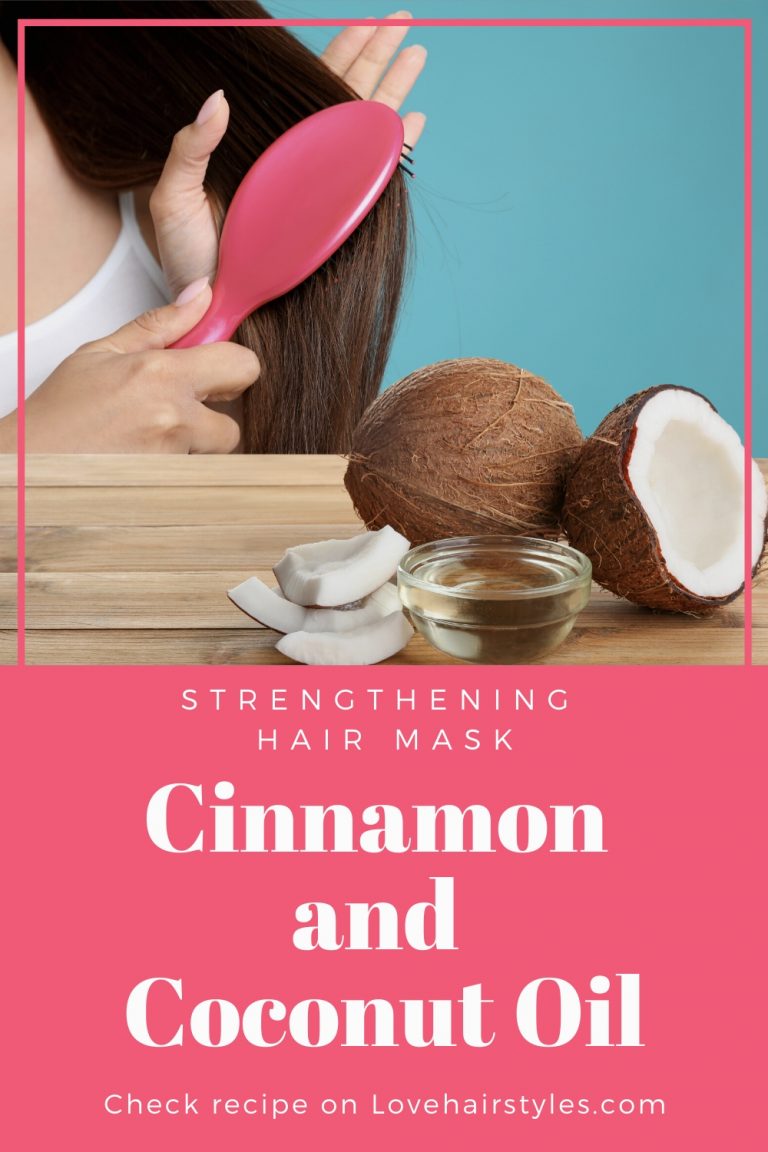 Hair concern: Slow hair growth.
Here's another fantastic natural solution to stimulate blood circulation and make your hair stronger.
Ingredients: 1 part of cinnamon, 1 part of coconut oil
How to fix it: Blend ingredients and massage into your scalp. Then, let your DIY hair mask sit for 45 minutes and rinse.
Soothing Hair Mask with Green Tea & Apple Cider Vinegar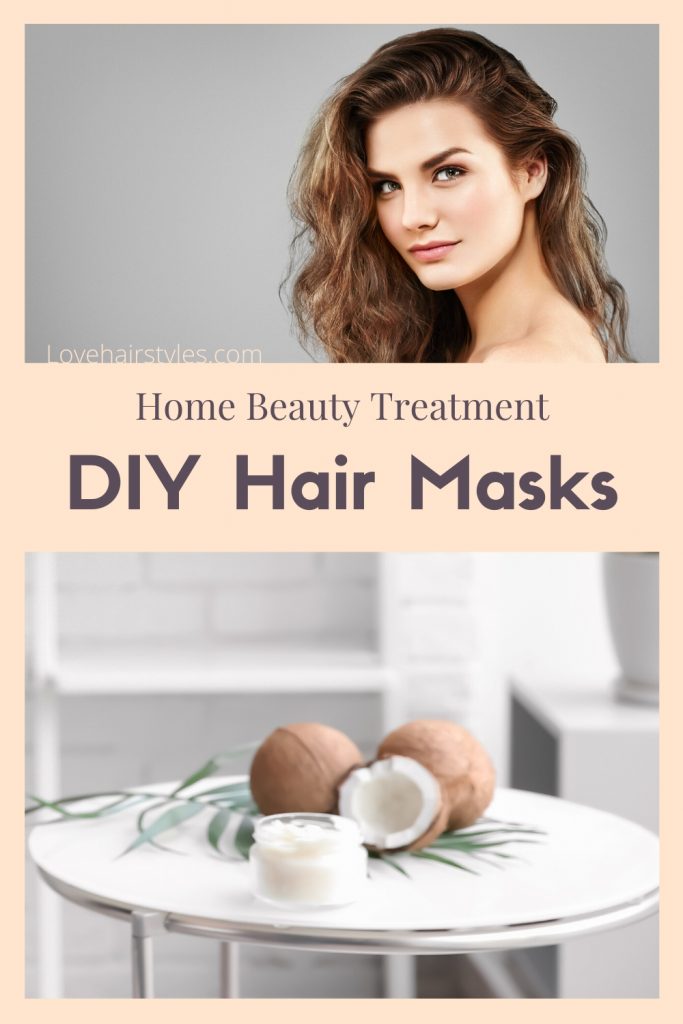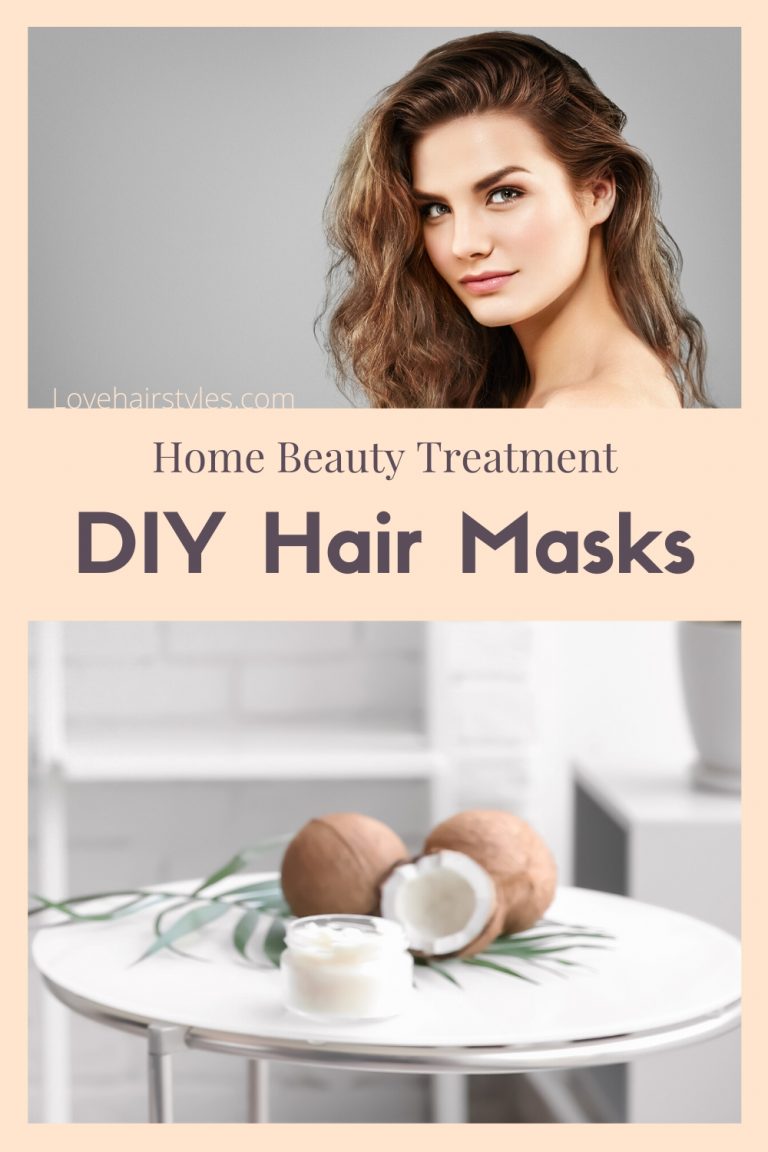 Hair concern: Irritated scalp.
Green tea turns out to have lots of hair benefits. While the tea will rebalance irritated skin with its antioxidants and nutrients, anti-inflammatory properties of peppermint oil will soothe dry and itchy scalps.
Ingredients: 1tbsp of ACV, 1 cup of green tea, 2 drops of peppermint oil
How to fix it: Mix everything well, massage into your scalp, and rinse in five minutes.
Oily Hair Mask With Egg White & Lemon Juice
Hair concern: Grease.
If your hair tends to get oily too fast, the oil-absorbing proteins of this egg hair mask will make your hair routine more pleasant. Make sure to use the whites, as this is where the proteins you are!
Ingredients: 1 egg white, half a lemon
How to fix it: Mix egg white with lemon juice and apply from roots to tips. Give the mix from 30 to 60 minutes and rinse with lukewarm water.

No matter what type of hair you have, there is a hair mask for you. With little time and money spent, your hair will look gorgeous. So, choose the mask for you and let your hair shine.
REFERENCES:
The best DIY hair masks made with everyday ingredients to fix dry, damaged, weak, or dull hair. Source
Was this article helpful?