If you're tired of the same old boring hair color, why not spice it up with rose gold hair? It's even more fun than the standard standout blonde. This color will make you stand out and it will create a girlish and vivid image.
Will Rose Gold Hair Look Good on Me?
If you're debating on whether to take the leap to use rose gold hair color formula at home then you might want to look at your skin tone to help make the decision.
Women with neutral skin tones can feel free to experiment with any of the rose gold hair shades available. If you're working with a warm skin tone opt for cooler shades of rose gold hair and women with cooler skin tones will want to choose warmer rose gold hair colors to complement their complexion. The best part of this vivid hair color is it can look great on anyone who is willing to step out of their comfort zone!
How To Get Rose Gold Hair
Credit photo: instagram.com/hairbybiancarose
Every natural hair color is going to require different steps and precautions to use rose gold hair color properly, but we've got you covered with some amazing tips to achieve the best rose gold pink hair at home and without bleaching.
Rose Gold at Home Dye Process
Credit photo: instagram.com/janine_ker_hair
No one wants to go into the DIY hair color process without first making sure they have all of their bases covered, which is why it's essential you make sure you have all your tools to achieve the perfect rose gold locks:
Color
Bleach
Gloves
Application Brushes
A Few Old Towels
A Timer
A Window of Downtime
Now that we have all of your bases covered and you've found time to dedicate to creating the perfect look we can get started on the step-by-step process to make your rose gold dreams a reality.
Step 1: Prep your hair with your go-to protein treatment and deep conditioner. Remember: Bleaching can damage your hair so be proactive and make it as healthy and strong as possible before the dyeing process.
Step 2: Do your research and choose a bleach that will nourish your hair as much as a bleaching option can.
Step 3: After the bleaching process, apply the rose gold hair color to your locks and then let the waiting game begin for the specified time. If you're looking to make your hair really stand out there are a lot of amazing YouTube tutorials out there for balayage and ombre effects.
Step 4: After the color has been washed out make sure to use a color-protecting conditioner to keep the texture as soft as the amazing color.
Coloring Rose Gold Hair without Bleach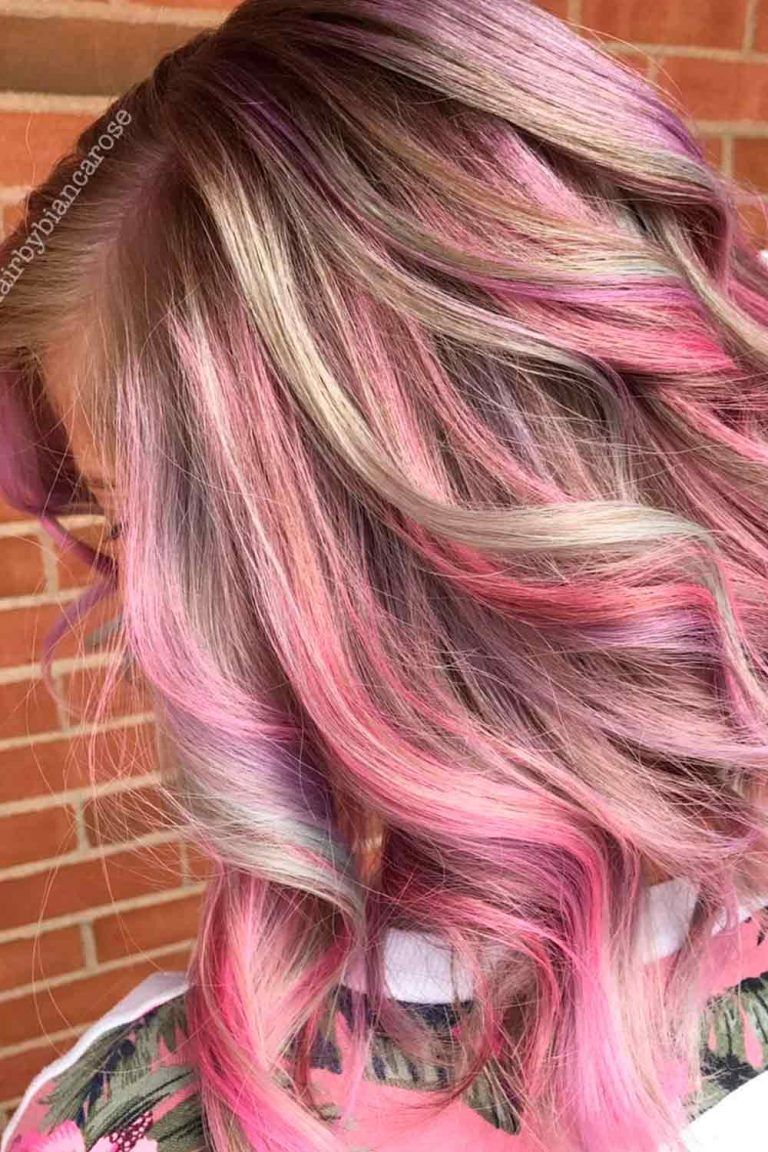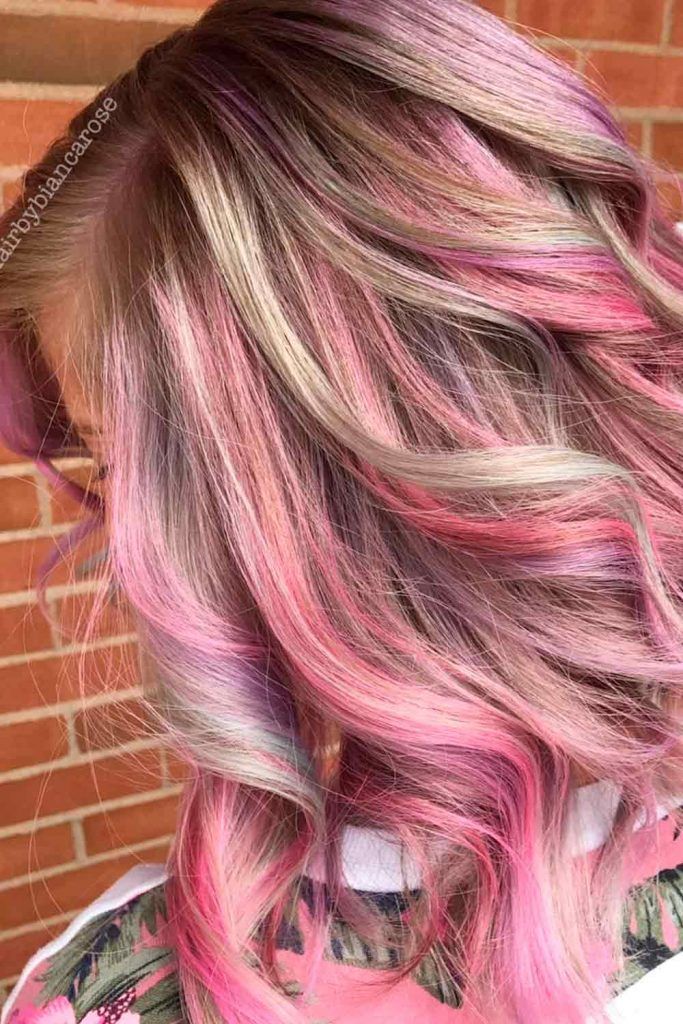 Credit photo: instagram.com/hairbybiancarose
If you're afraid of ruining your luscious dark locks with bleach, just remember that rose gold for brown hair is still a very achievable look. It can feel a little intimidating when you see that women sporting the fabulous rose gold hair color often have lighter shades, but it's entirely possible to get the dark rose hair color that may just be your new favorite look.
When it comes to hair color experimentation, brunettes are the least likely to try them out. In the past, darker hair color meant sitting at the salon for hours while the bleach would sit so you could achieve a fun and vibrant pastel and lighter shades. However, all of that is now a thing of the past thanks to some amazing vegan and cruelty-free hair care products made specifically for brunettes. We've found Overtone has really changed the game for hair color experimentation. They've found a way to help brunettes sidestep the bleaching process altogether with overtone rose gold for brown hair and all of their other brown hair specific color products.
Some Useful Tips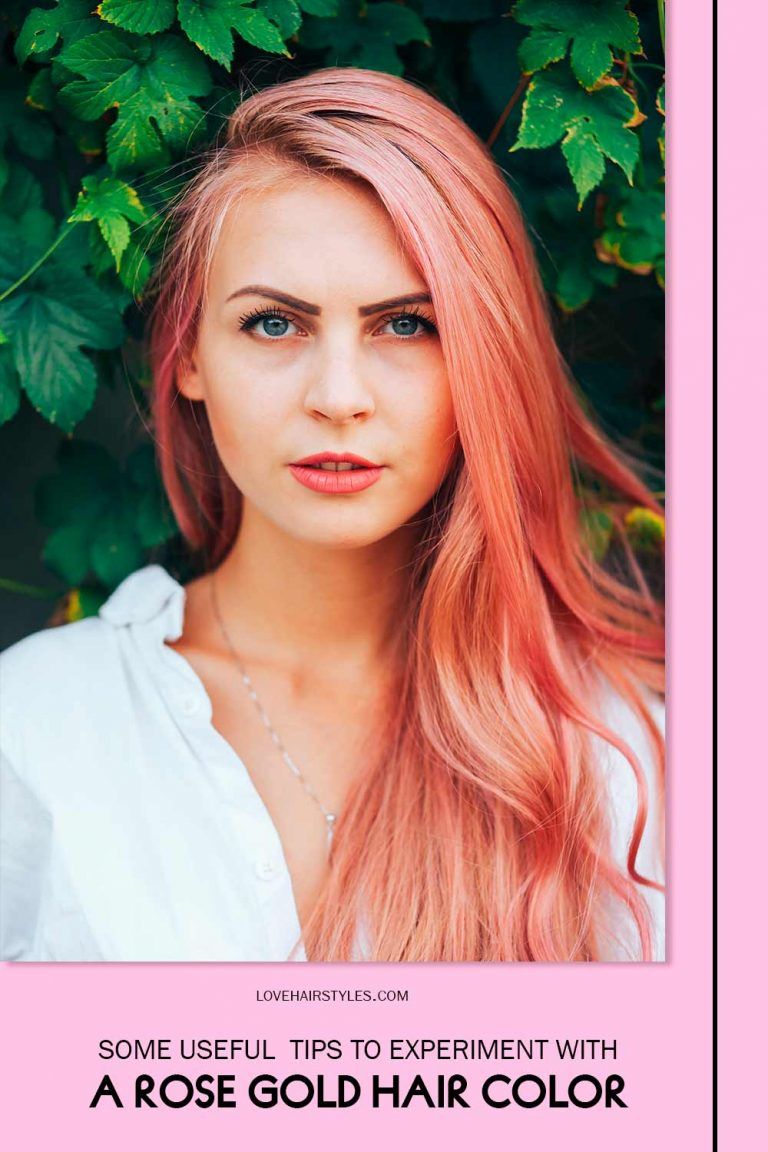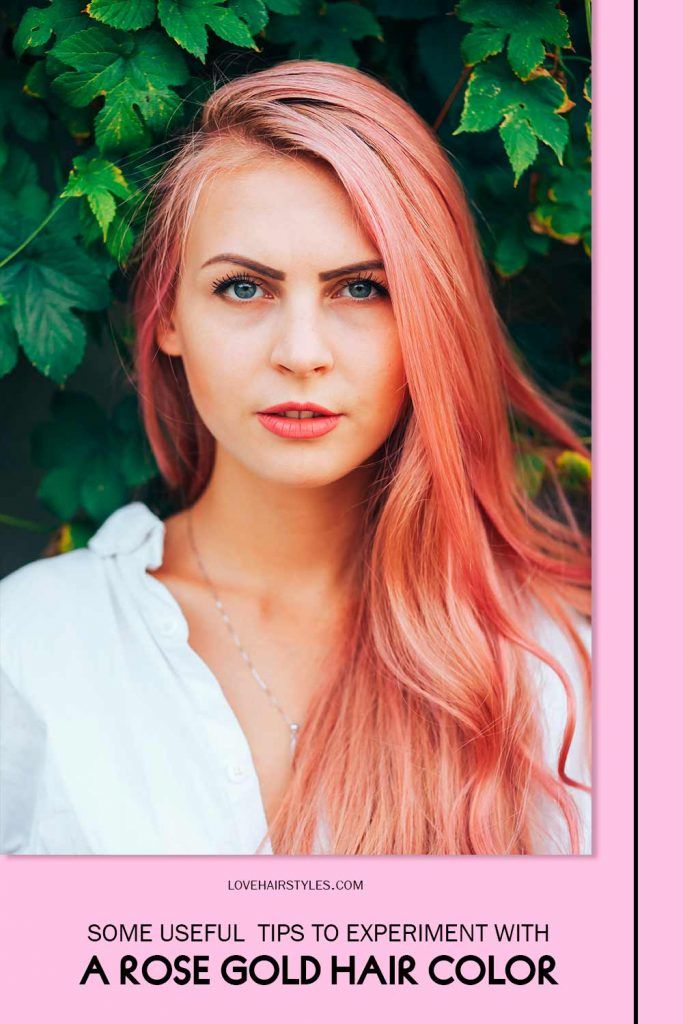 Maintaining rose gold.
These tips will help you keep rose gold pretty and vivid for a long time.
Pick a sulfate-free shampoo that is color-safe. Thus, you will protect the color from washing out for a longer time.
Don't shampoo too often. Apply dry shampoo between washes.
Apply nourishing masks and coconut oil regularly for your tresses to stay shiny and healthy.
Don't go for heat styling every time. But if that's unavoidable, apply a heat protectant and blow-dry in cool-down mode.
If your tresses underwent any bleaching, wear a special swimming cap when attending chlorinated pools.
Rose gold tresses and your image<
In case you have been dreaming about wearing much lace, flowery prints, or flowy skirts, congrats! Now when your hair is rose gold, you can totally do that.
Clothes in warm shades are your safe bet. Your best choices are peaches, magentas, oranges, and pinks. Just stay away from loud red and the same shades as your tresses.
From now on, neutrals are your best friends.
Bright blues and sea greens can work for rose gold tresses as long as you stick to the patterns that are not very busy.
Rose Gold Hair Color Gallery for More Inspiration
Rose Gold Hair for Brunettes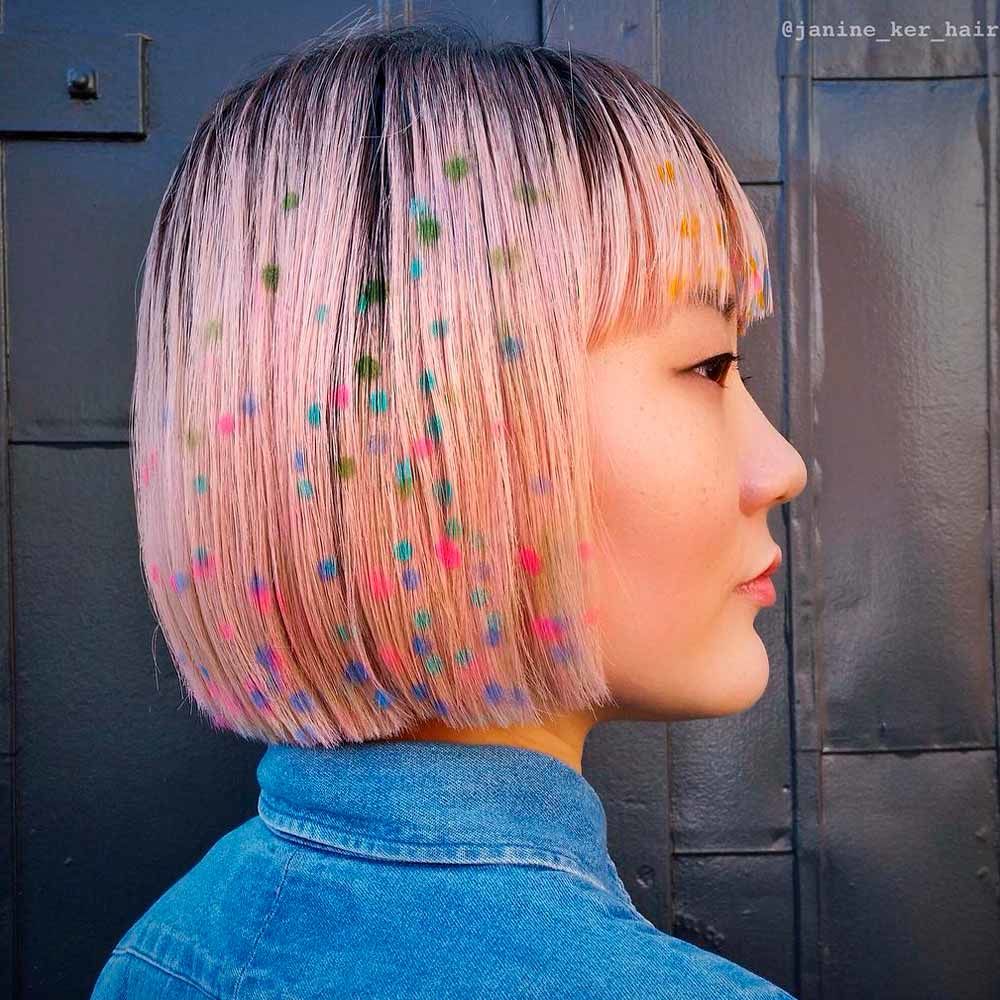 Credit photo: instagram.com/janine_ker_hair
Peaches and Warm Golds: Such hues will be ideal for ladies with warm undertones in their complexion. But they also won't be that bad against the complexion with cool undertones.
Rose Gold Hair Ombre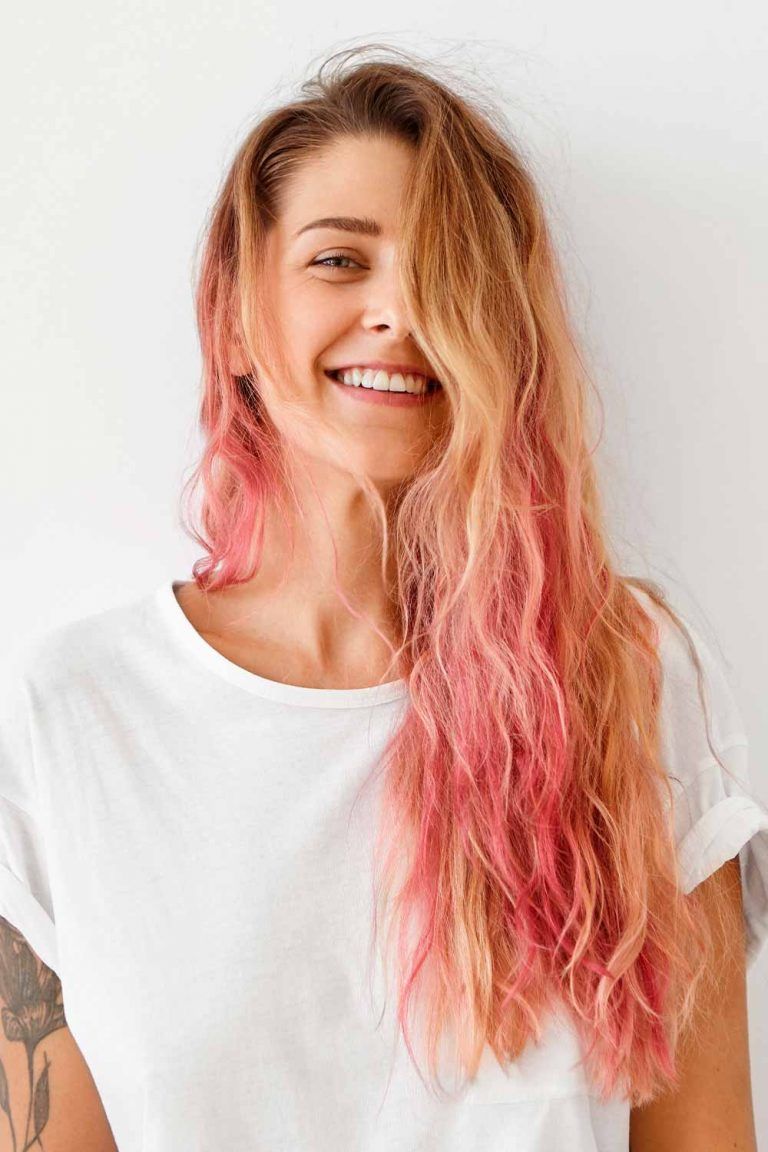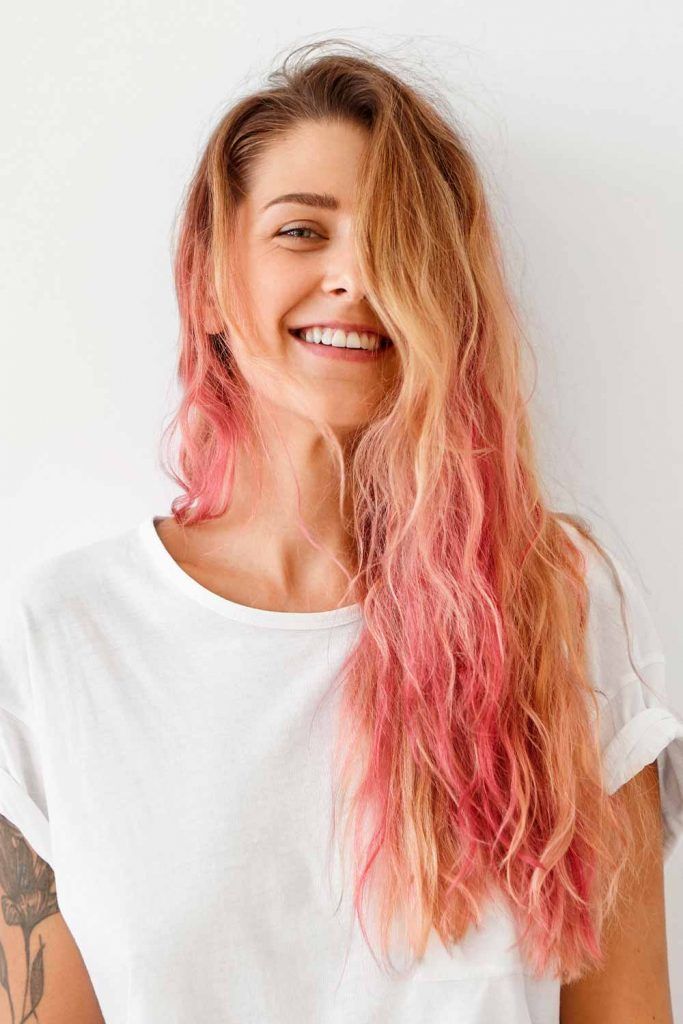 Ombre: Going for rose gold ombre is ideal for babes who have darker locks and don't want to go through bleaching on a regular basis.
Rose Gold Hair Balayage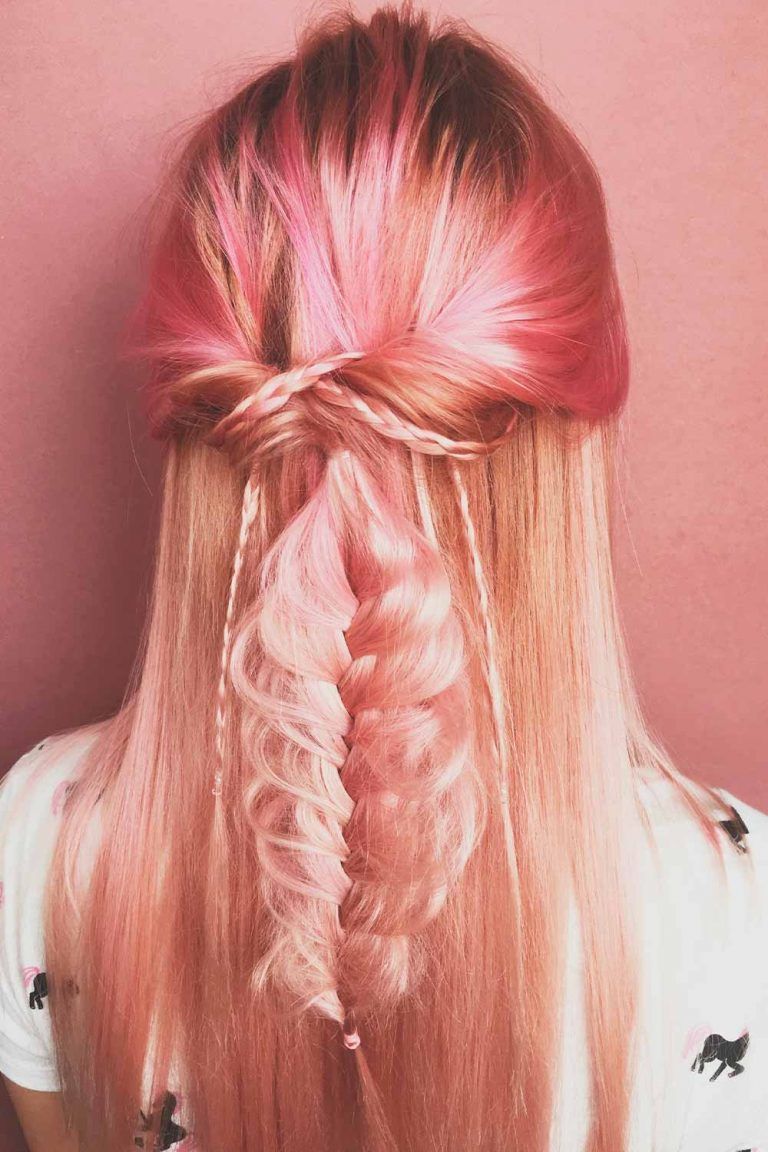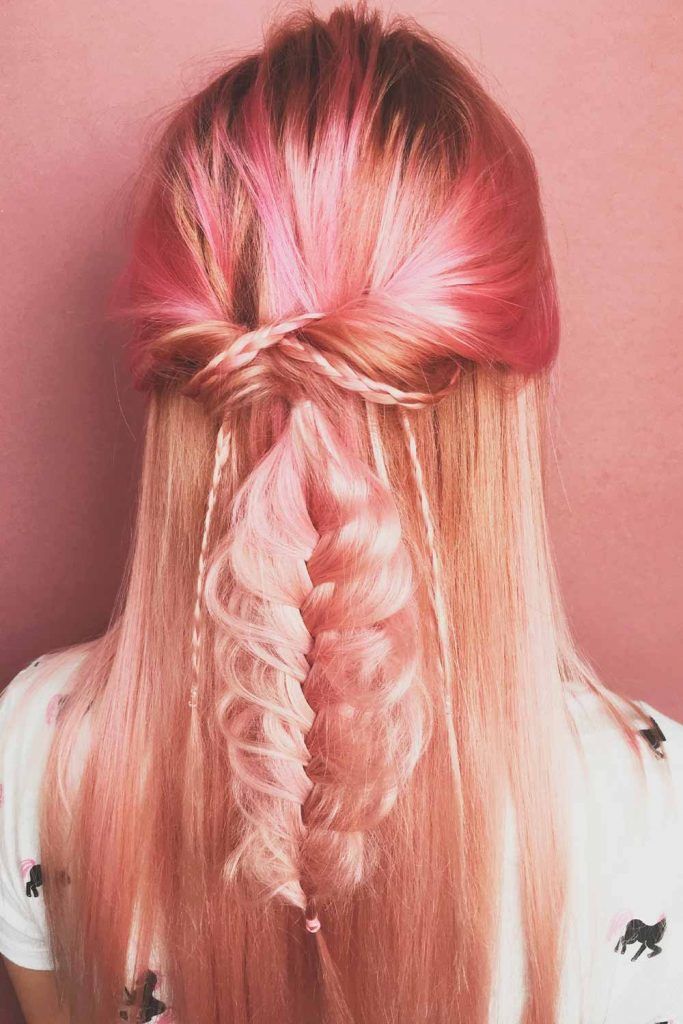 Lavender and Ash Blonde: This take is cooler, so you can go for it if you have some cool undertones either in your complexion or in your natural hair color. Purple-pink will appear especially winning if your natural hair color is ashy.
Rose Gold Highlights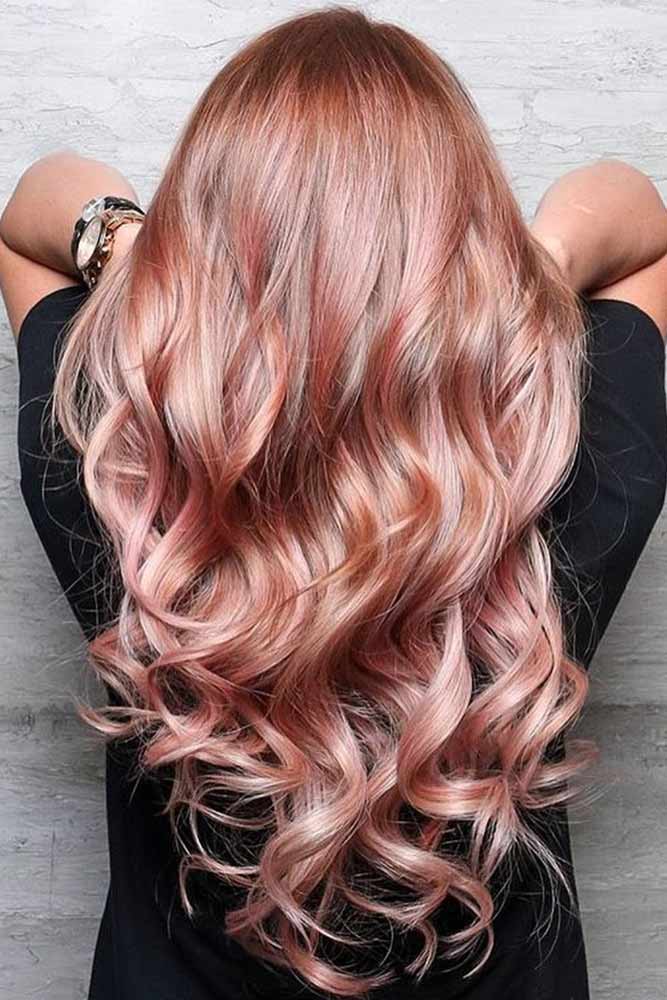 Credit photo: instagram.com/sableloveshair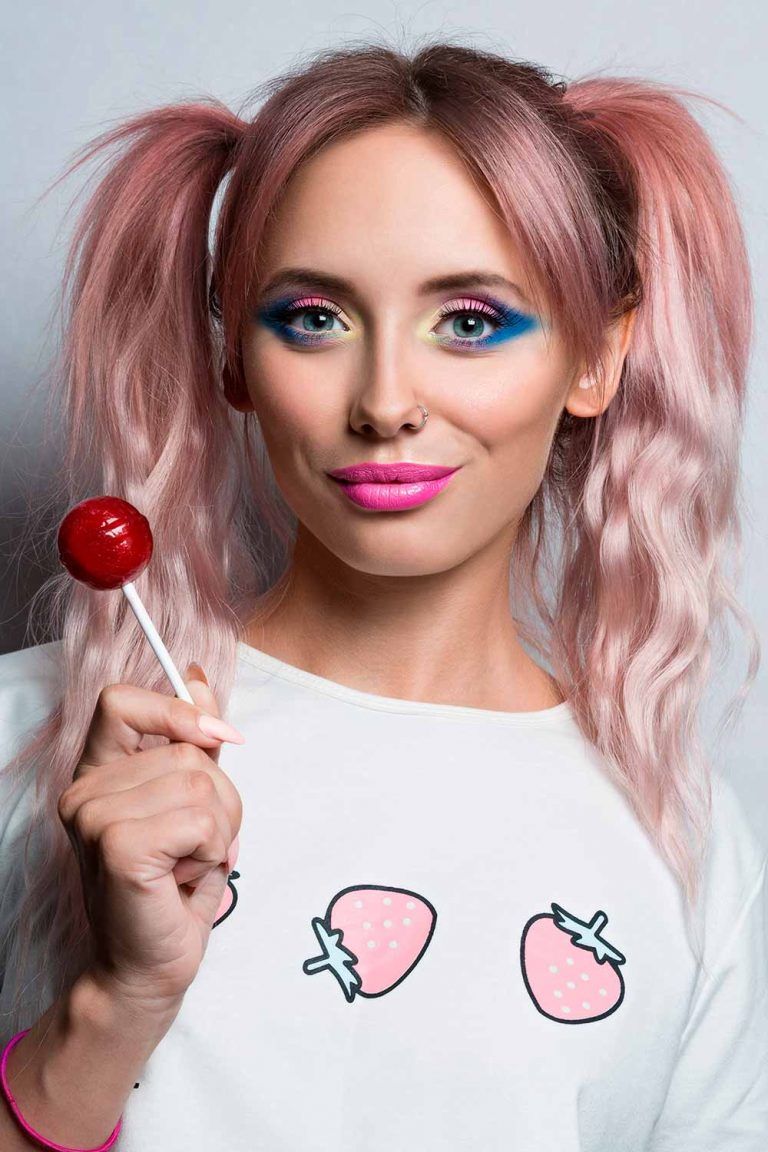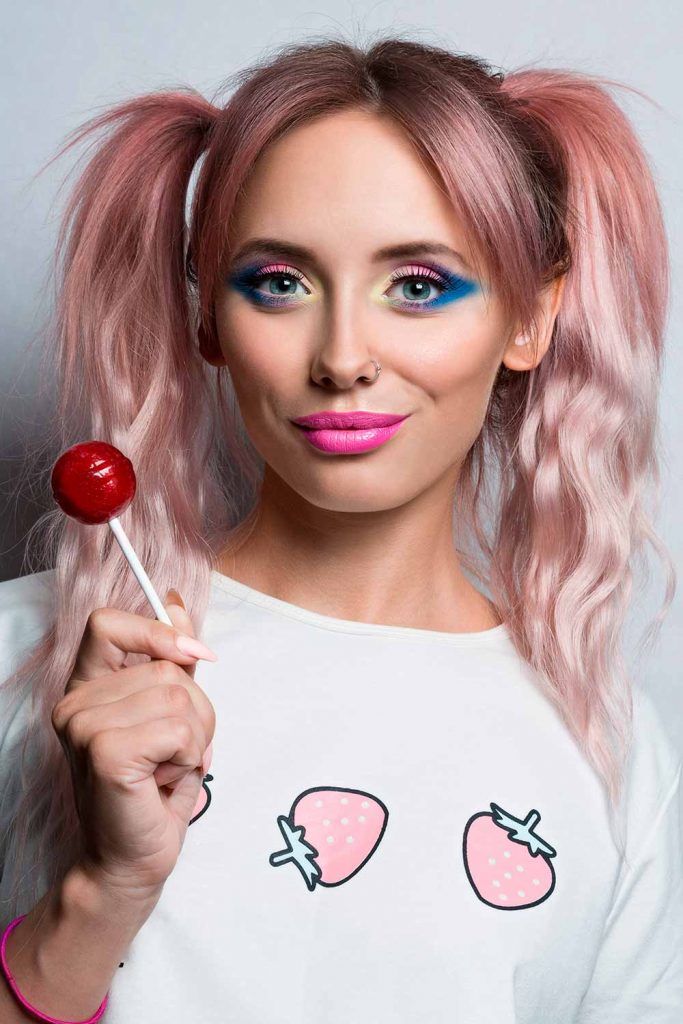 Another trendy but more laborious option is blonde hair with rose gold highlights.
Peach Rose Gold Hair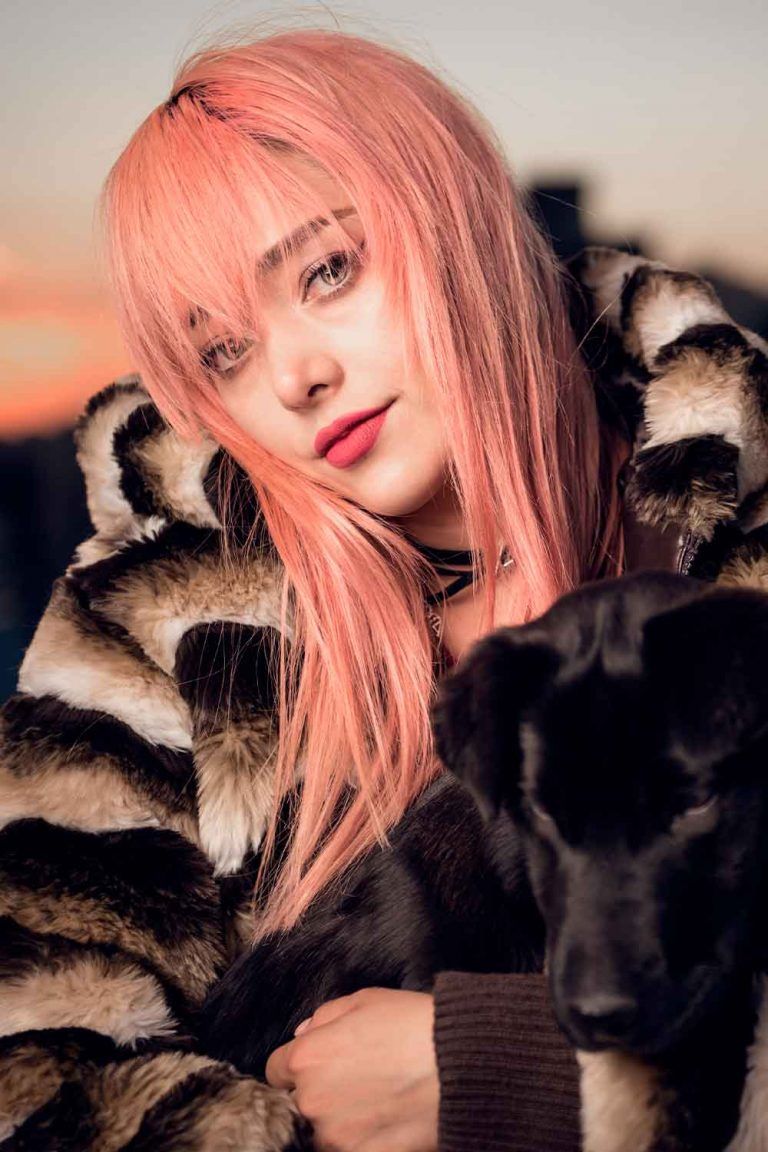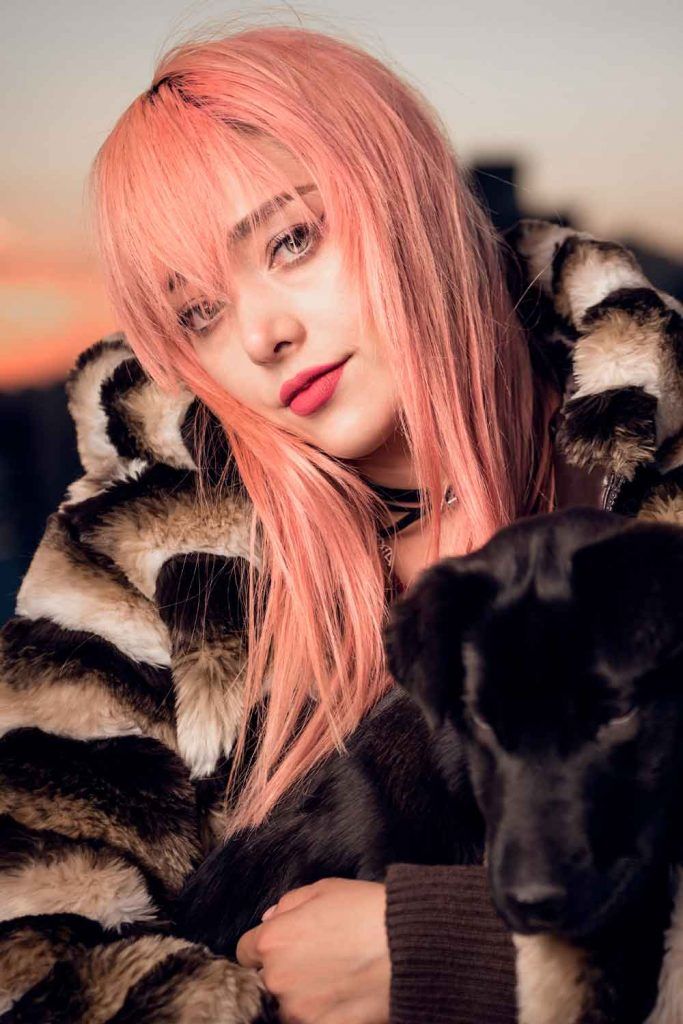 The peach color is the most delicate shade of rose gold. Are you a sensual girl? And do you want to diversify your look? Then you certainly will find something to your liking among our ideas.
Rose Gold Color for Long Hair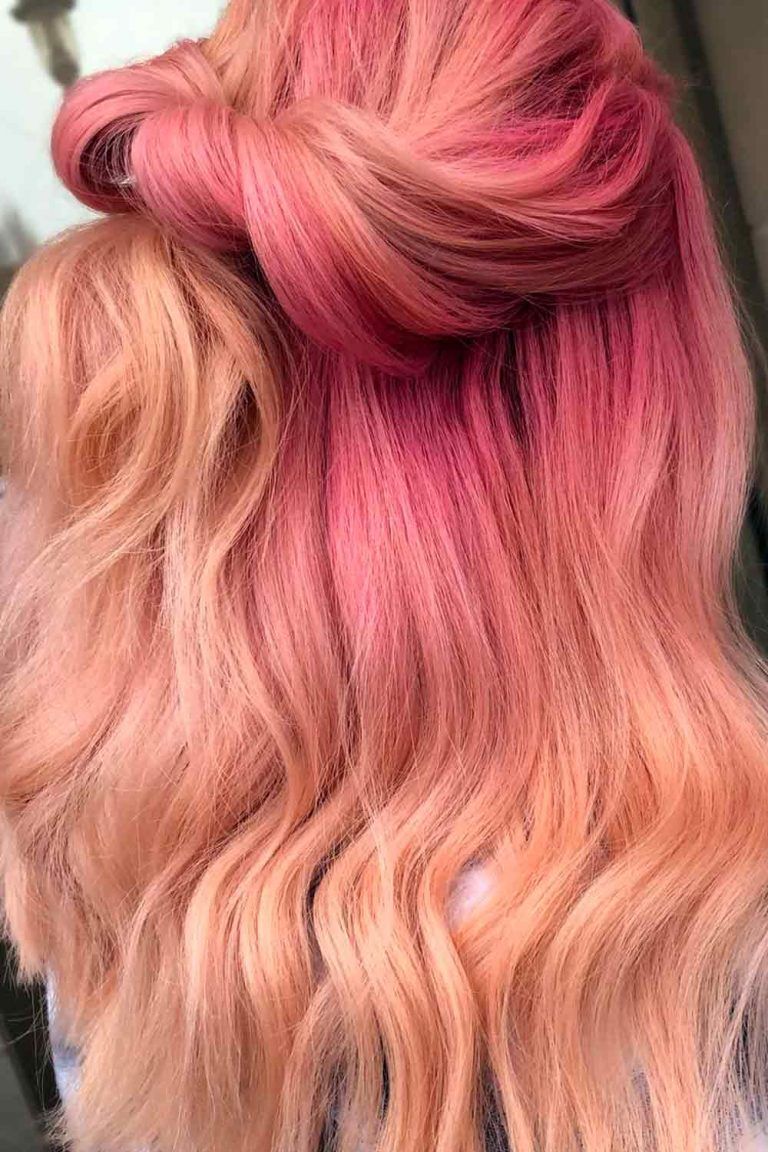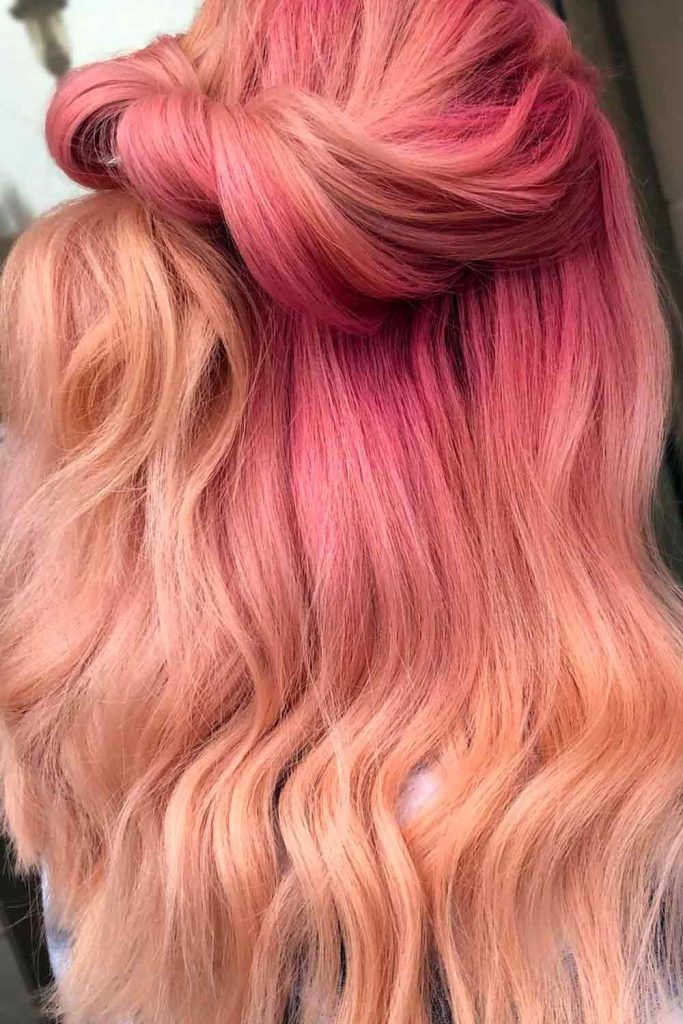 Credit photo: instagram.com/hairbybiancarose
For long hair, you can choose any shade of rose gold. If you like experiments, you can also choose any technique of stainings, such as balayage, ombre or highlights. Moreover, we will help you to make the decision with our cool ideas for you to look stunning.
Peachy Tones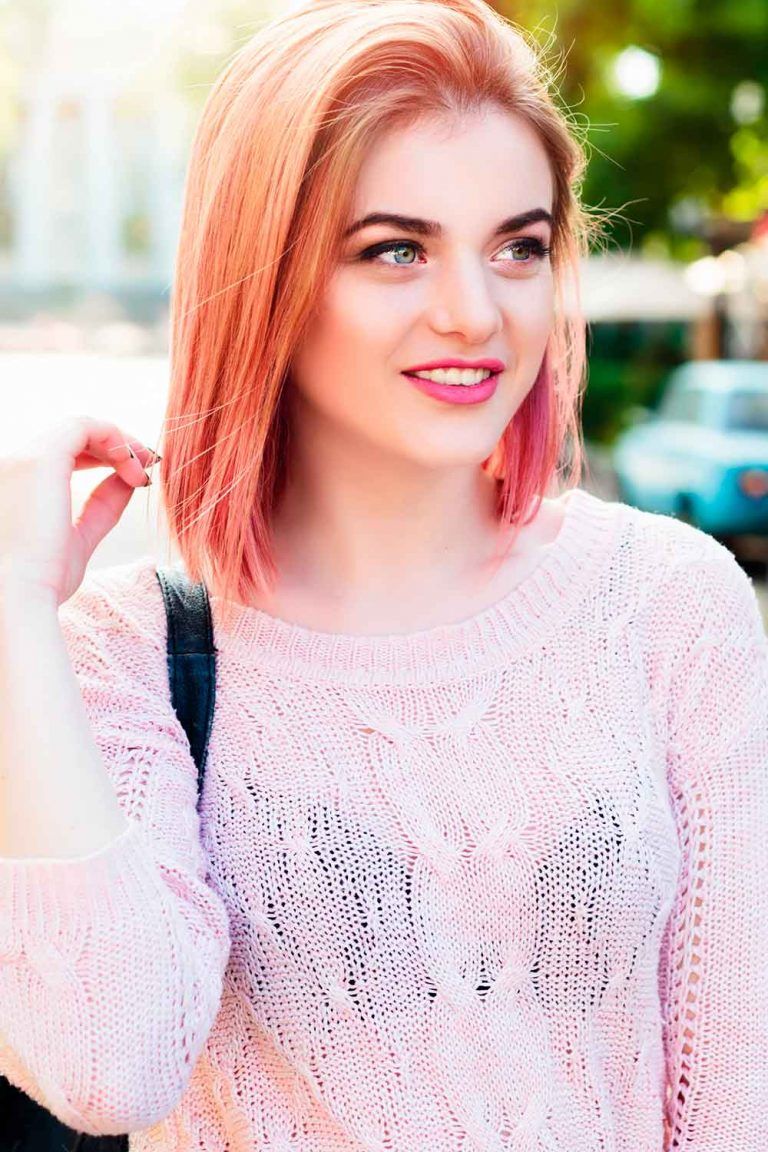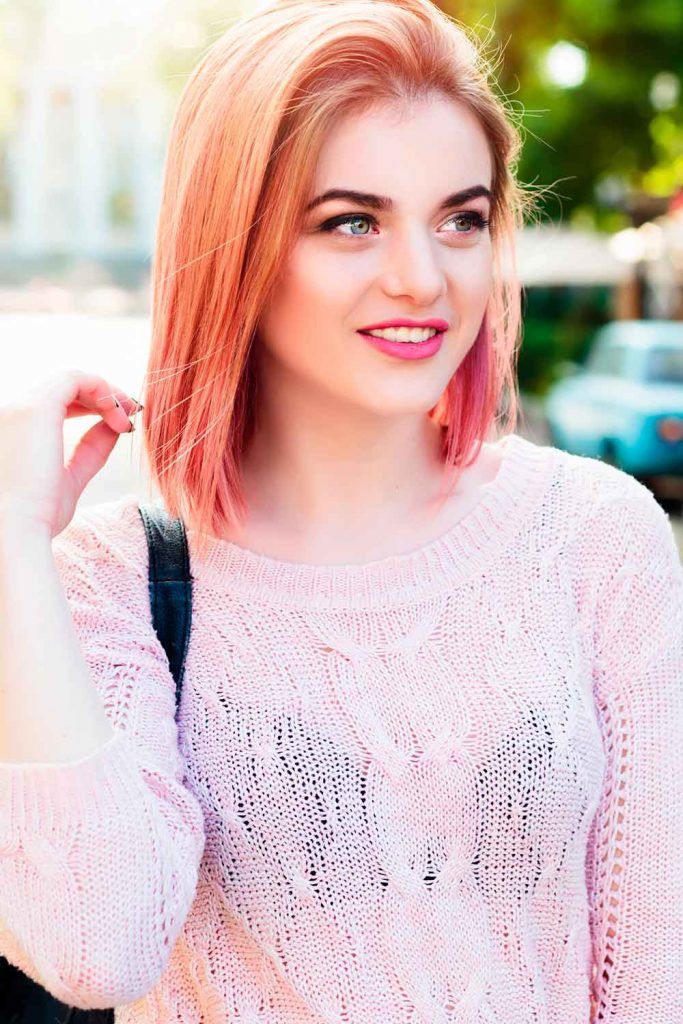 Wondering how far you can go with your pale blonde base? If a pop, bright color finish is what you seek, you can turn your light mane into anything from a sultry bubble gum masterpiece to soft cotton candy hair.
Light Purple & Rose Gold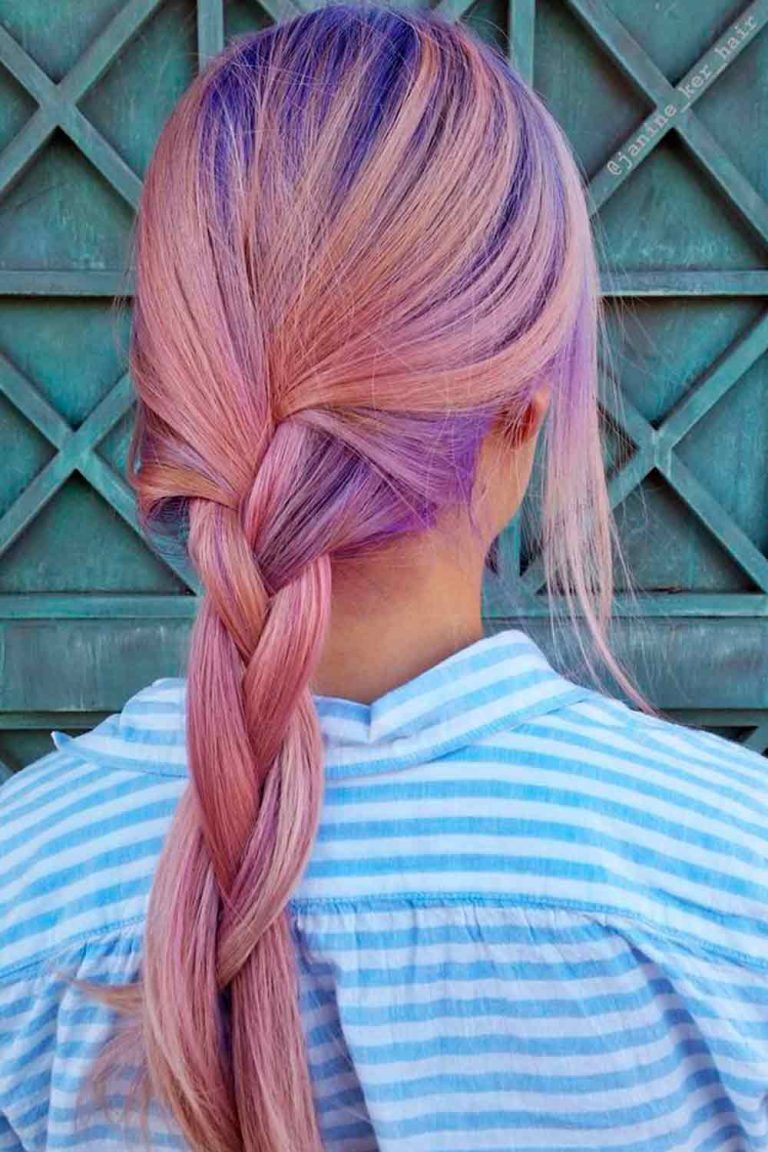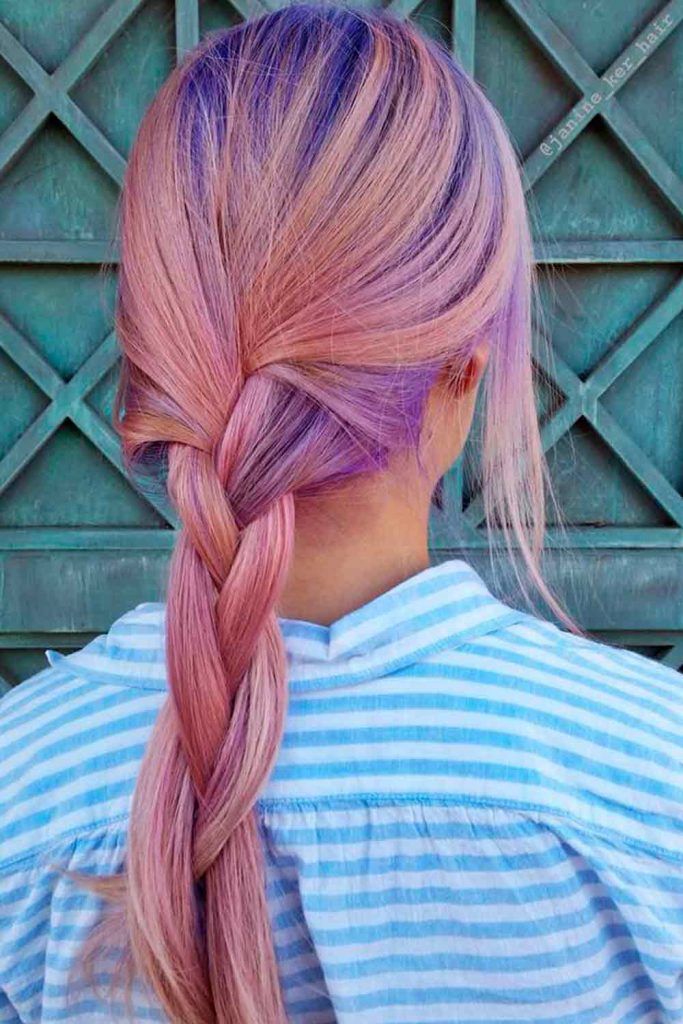 Credit photo: instagram.com/janine_ker_hair
Everything that rose gold touches turns to trends, so no wonder that purple hair color has become an ageless trend in the last few years: it stands close to pink in the color wheel. As you might have guessed, adding just a hint of purple will take your rose gold idea to the next level.
Pale Rose Gold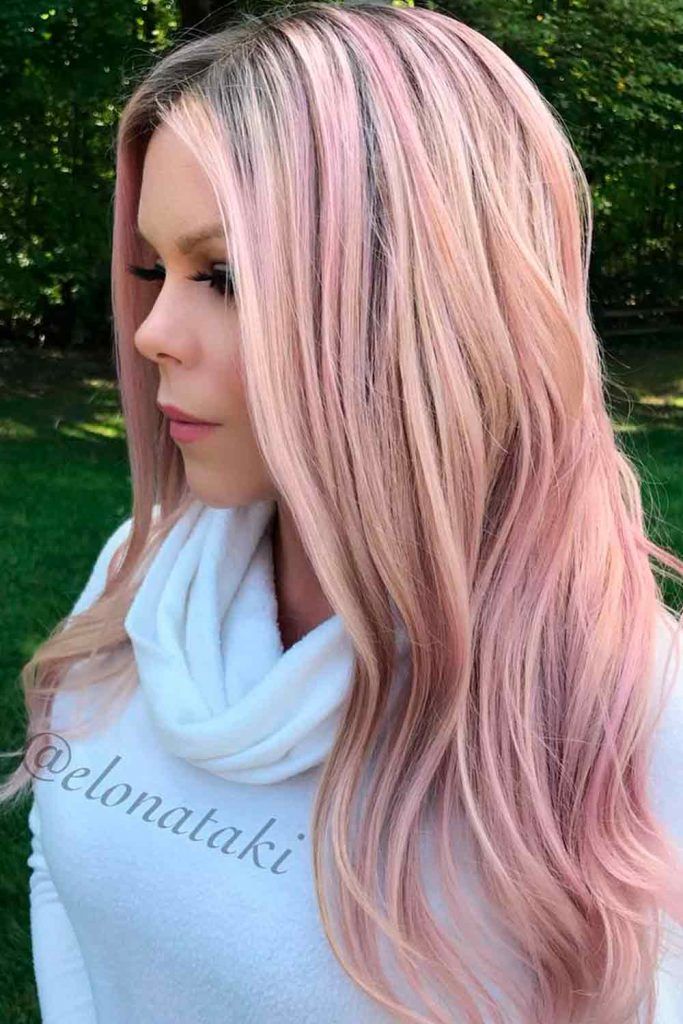 Credit photo: instagram.com/elonataki
Here comes a perfect variation of the trend for those flaunting with dark brown hair. Muted streaks of rose gold keep up with the main brunette tone, thus forming a well-balanced and stunning look that reflects the shine.
Darker Rose Gold For Brunettes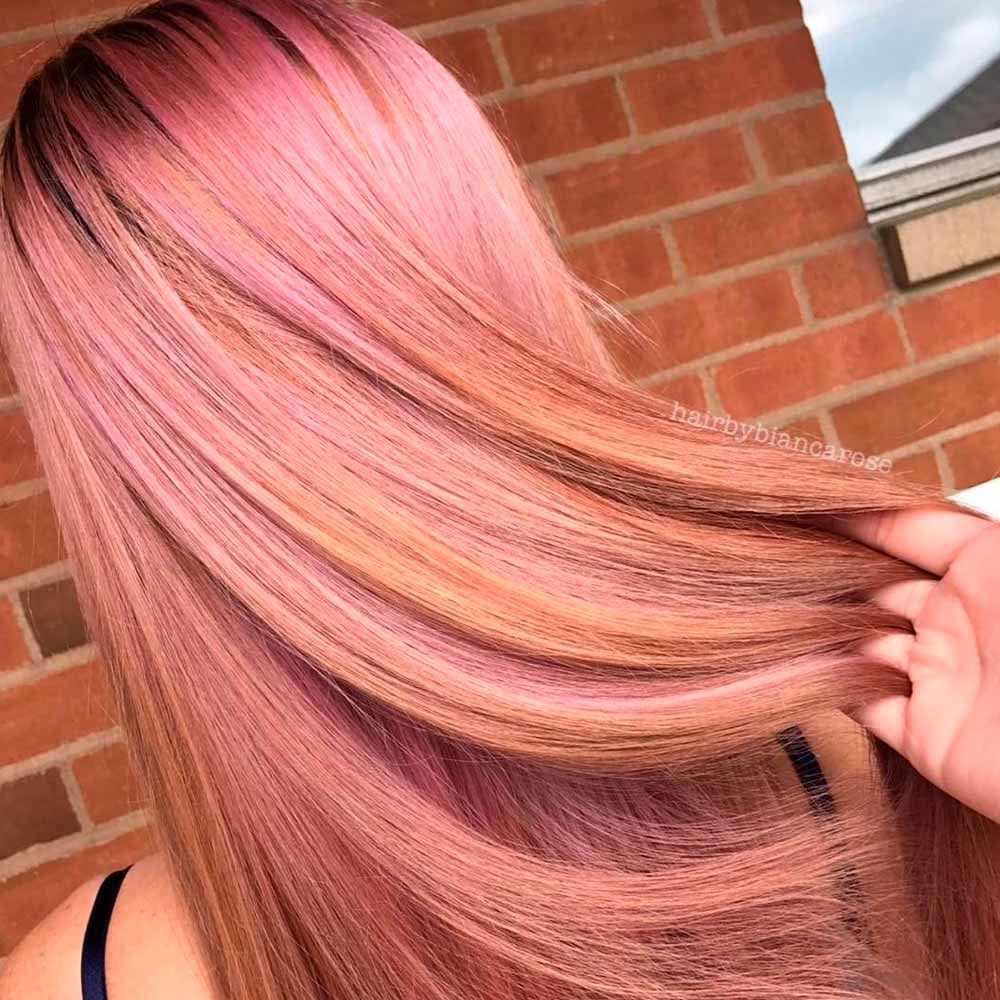 Credit photo: instagram.com/hairbybiancarose
Ask your colorist to make the blend between your dark roots and brand new pink as smooth as possible. In this way, you won't need to change the intensiveness of the added color; the perfectly smooth transition is enough to make colors match.
FAQ: Rose Gold Hair
Does Rose gold hair fade quickly?
The rose gold blond color fades soon, certainly. Experts say that if you wash your hair every three days, your rose gold color should last around 3-4 weeks. It's crucial to take care of your color while you have it.
What skin tone does Rose gold hair look good on?
Rose gold looks best on those who have dark eyes and a yellow-based skin tone. Having said that, the rules are always subject to exceptions. A professional colorist will alter the hair color to complement your skin tone and eyes, making this a look that can be worn by almost anyone.
Is rose gold hair high maintenance?
Rose gold color will last about 6-8 shampoos. If you just wash your hair once a week, it will last a few months. Allowing this color to fade naturally is simple and cooler than ever.