Hair accessories will never go out of style as they add a touch of flair to any everyday hairstyle. However, not everyone can afford the glamorous hair pieces and accessories that are modeled during Fashion Week. Nonetheless, there are ways to duplicate these trendy styles either by making them yourself or purchasing less expensive versions.
Whether you are looking for trendy hair accessories for girls or a fancy way to spruce up your hair, you can add a fun or glamorous accessory to make your hairstyle stand out.
In this article, we are going to highlight some variations of the most popular holiday hair styles of 2021. You can easily replicate these looks or alter them to your own liking. Have fun experimenting with different looks and accessories!
Hairpins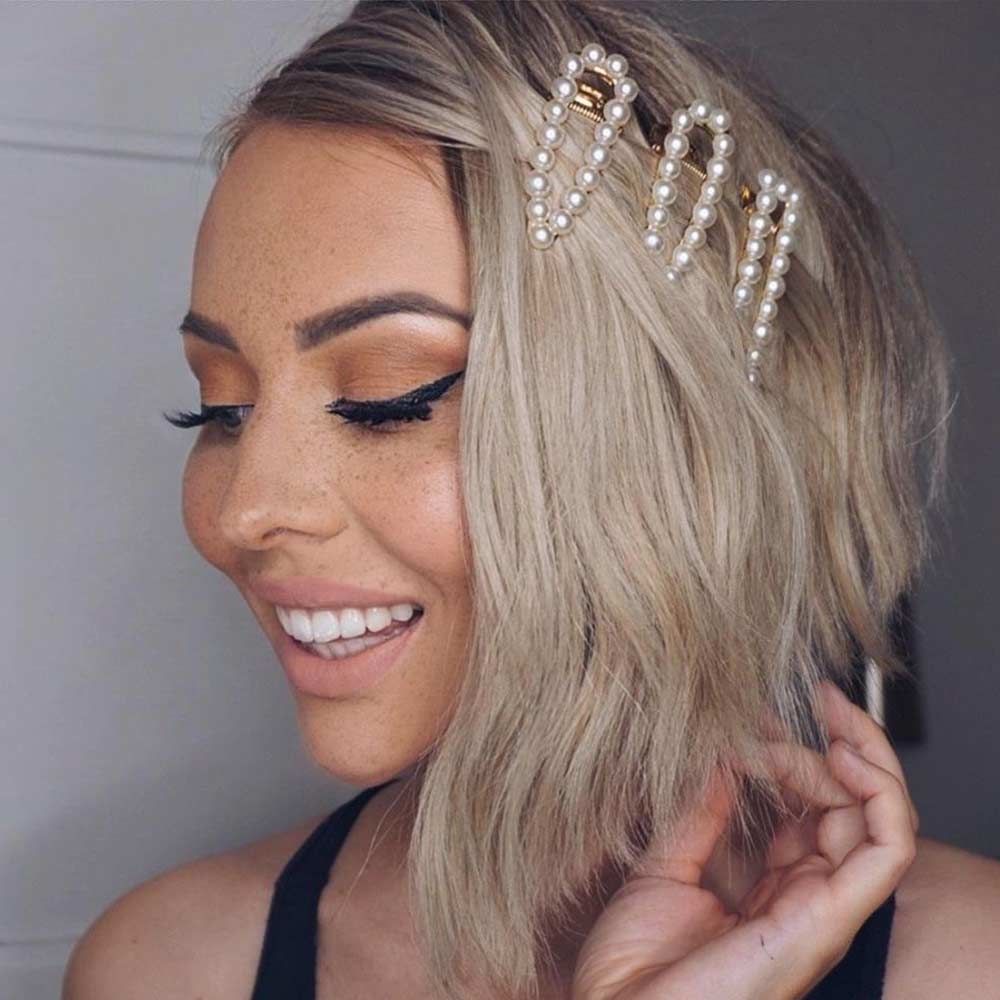 Credit photo: instagram.com/alicia_wunderbar
Despite their small size, hairpins can add a great deal of style to a simple hairdo. If you choose the right pattern, you can strategically place hairpins in such a way that they add a look of chic sophistication to even the most basic hairstyle.
A sparkly hairpin can add flair to a classic updo. And a funky pattern of colorful hairpins can spice up an everyday hairstyle. You can use basic colorful bobby pins or look for some bedazzled hairpins and dress up your do in simple steps!
Big Bows
Credit photo: instagram.com/slinky_aya_official
While some might think that hair bows are a bit childish, they can actually be quite sexy and sophisticated, especially when strategically placed. A low, lacey bow at the nape of the neck is slick and stylish, while a bow tied atop the head can be elegant and sophisticated. Hair bows can add a sense of playfulness and feminine chic to a classy look. When placed properly, they can be quite glamorous and dramatic.
Hair Ribbons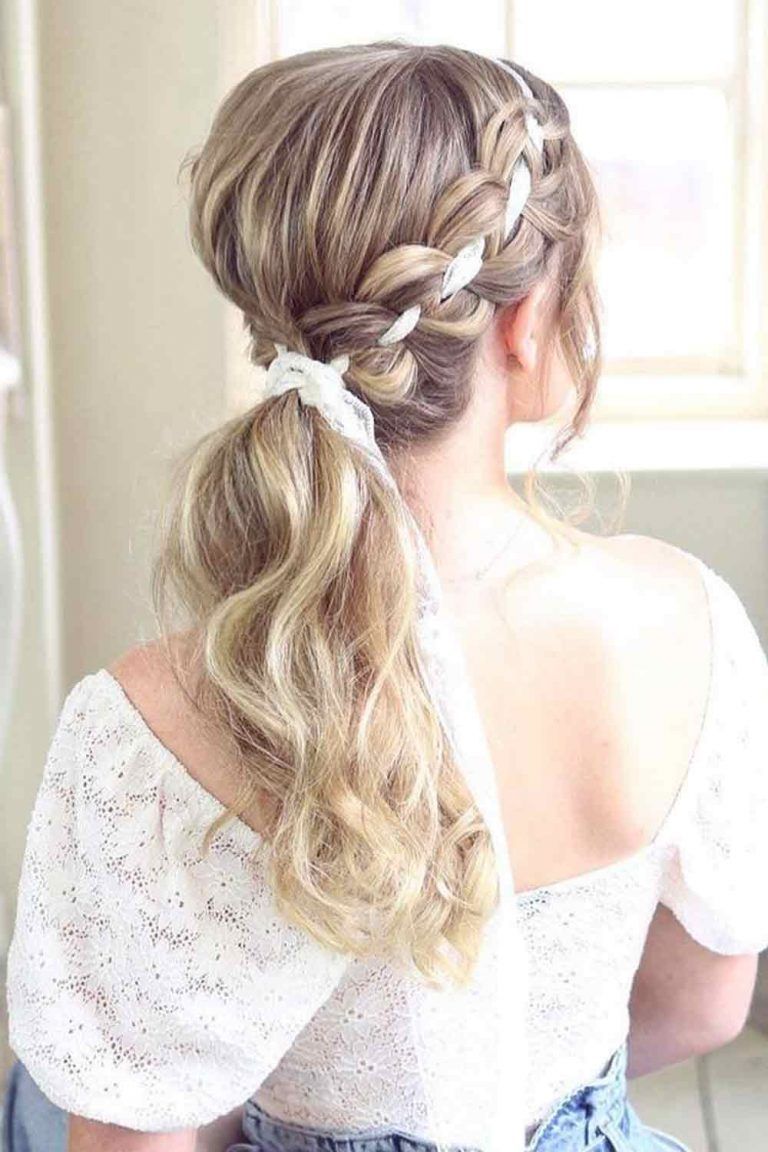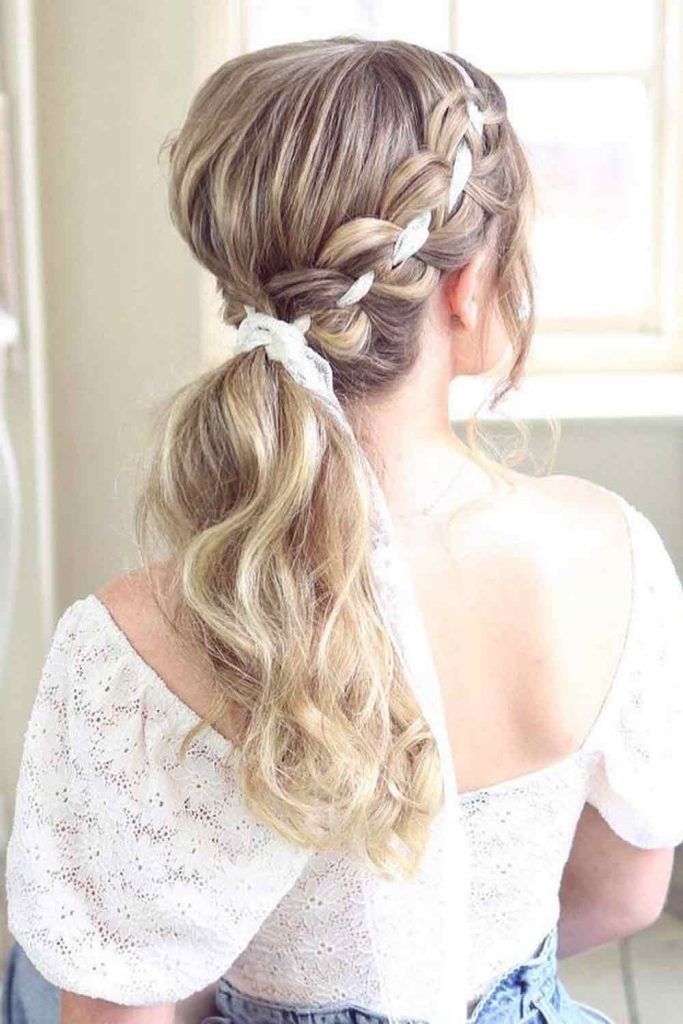 Credit photo: instagram.com/sweethearts_hair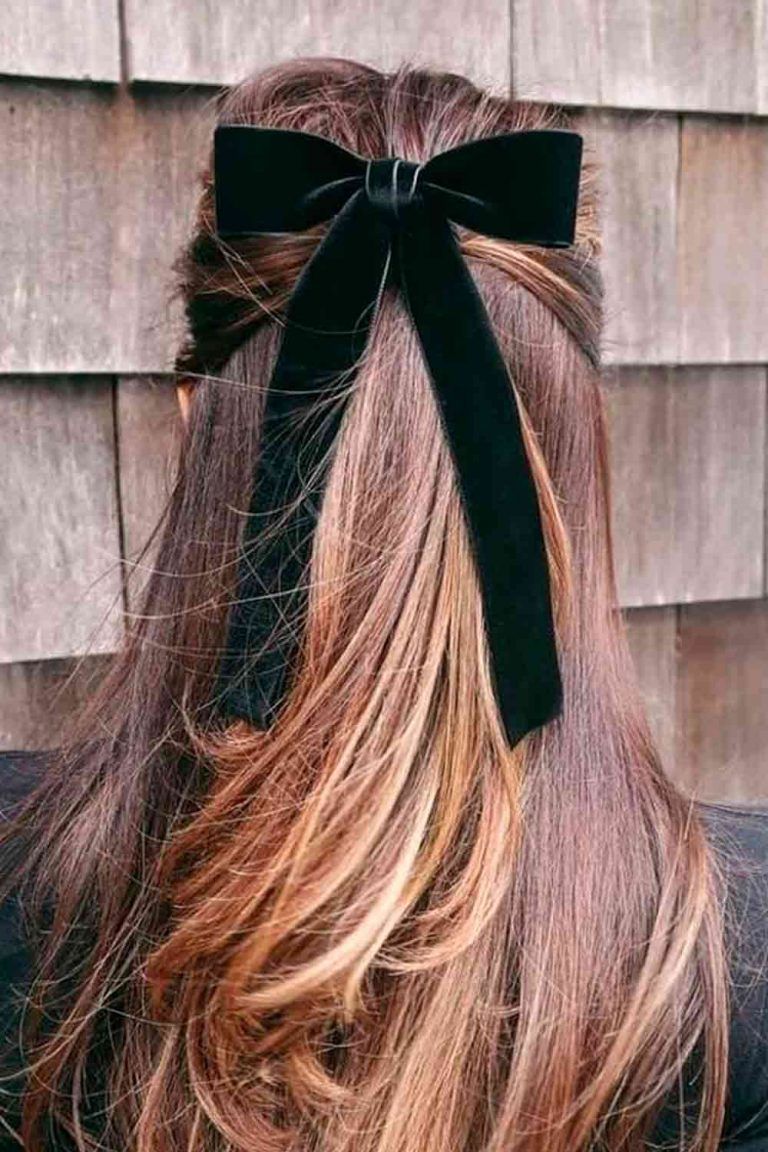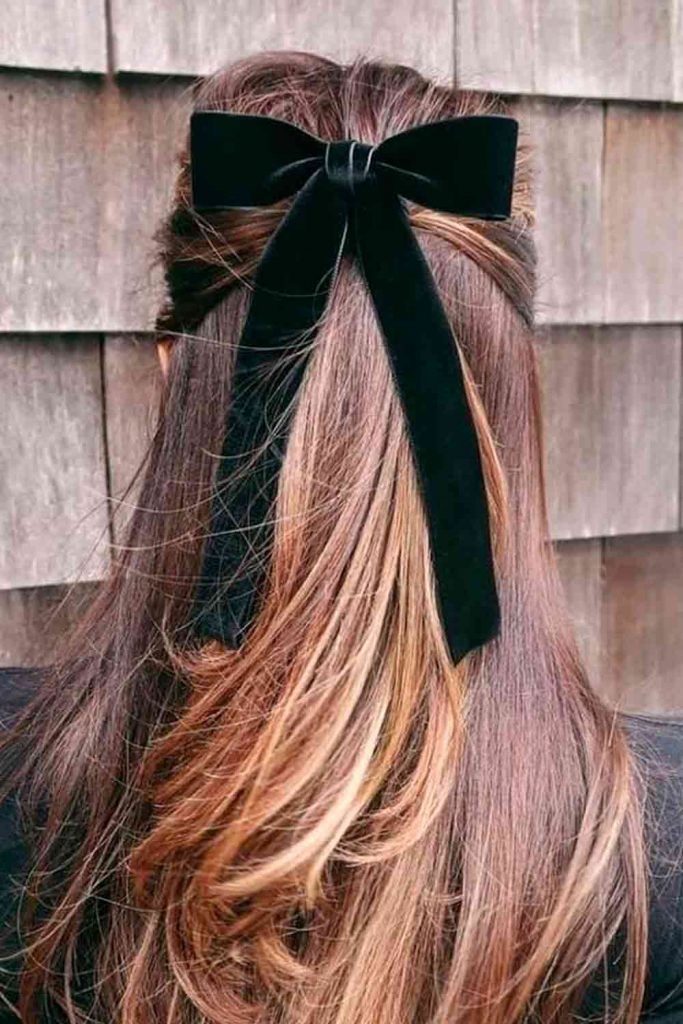 Credit photo: instagram.com/brightly_accessories
In the same way as hair bows, some might consider hair ribbons to be childish, but again, they can be elegant and stylish. Also, they can be multi-functional. You can choose to wrap them around your head like a headband or use them to tie back a braid or ponytail.
If you have the skill and patience, you can even weave thin ribbons into simple or more sophisticated braids. From silk, felt or satin to sparkly and patterned styles, ribbons can help dress up any look, whether it's a day at the office or a night out on the town.
Bandanas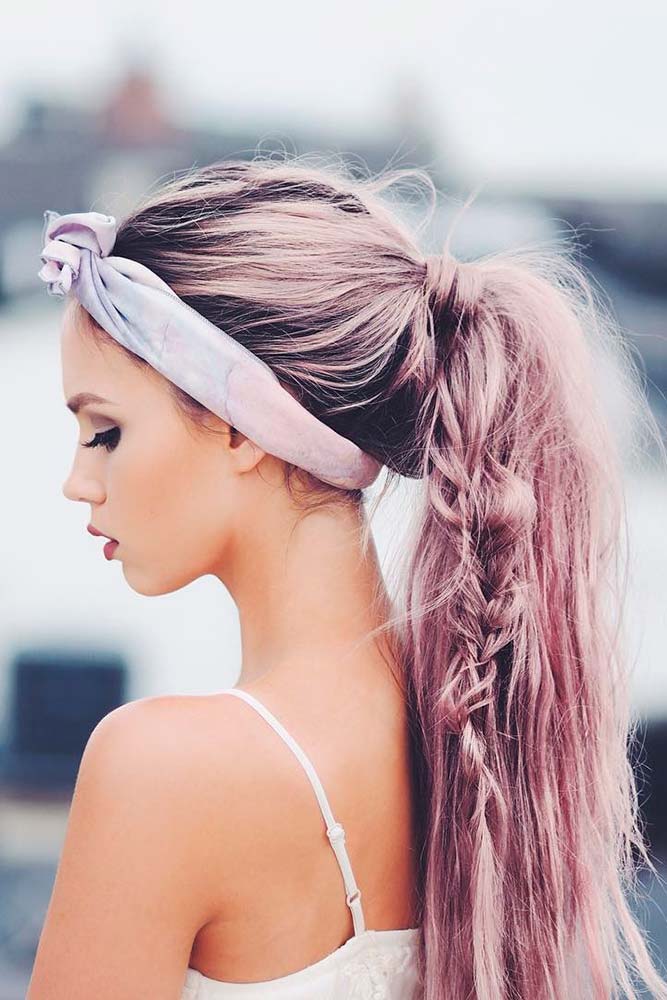 Credit photo: instagram.com/kirstenzellers
Bandanas have become quite the trend over the recent years. They go perfectly at a casual event such as a festival, or a summer event like a picnic on the beach or an outdoor concert. Recently, models have been spotted sporting bandanas tightly wrapped around their forehead in a throwback similar to a hippie era style. With the variety of colors and patterns, you can certainly express your individuality and play around with different ways to sport a bandana.
Scrunchies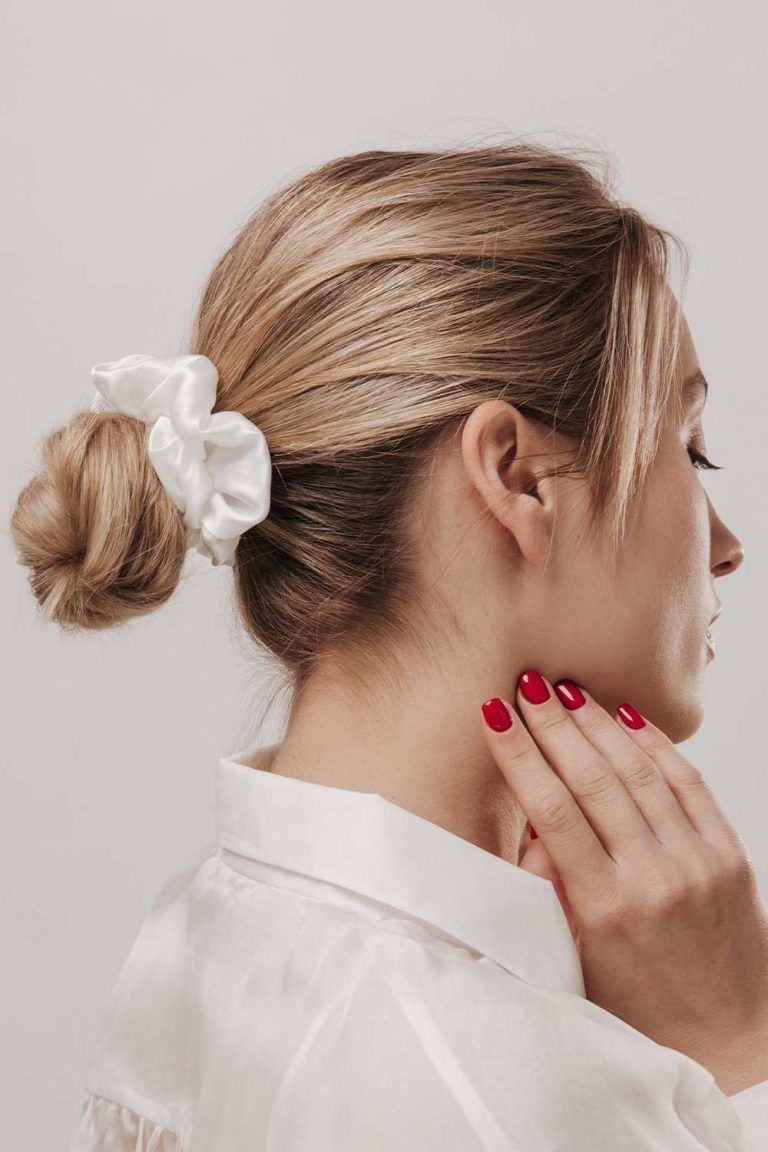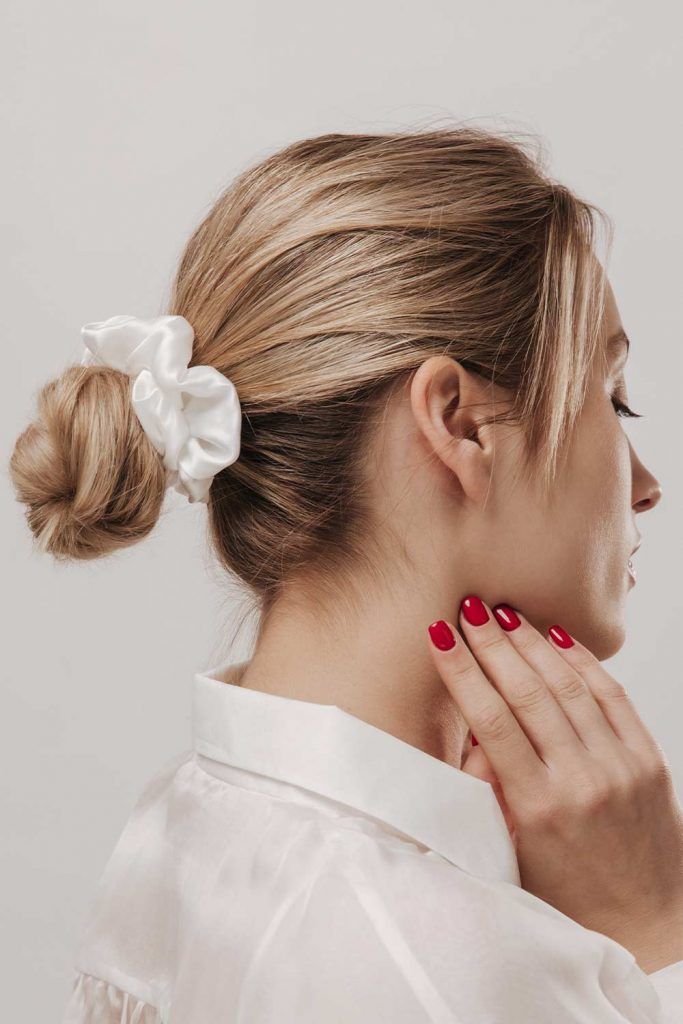 You are probably rolling your eyes at the idea of a scrunchie being fashionable as you probably thought they are a thing of the past, a throwback to the 90's. However, they are making a huge comeback. Designers such as Chanel are bringing back fashionable scrunchies with jewels, other adornments and even funky patterns that sport the Chanel logo. A stylish scrunchie can add a playful look to any outfit and extra points if you are seen sporting a branded scrunchie!
Headbands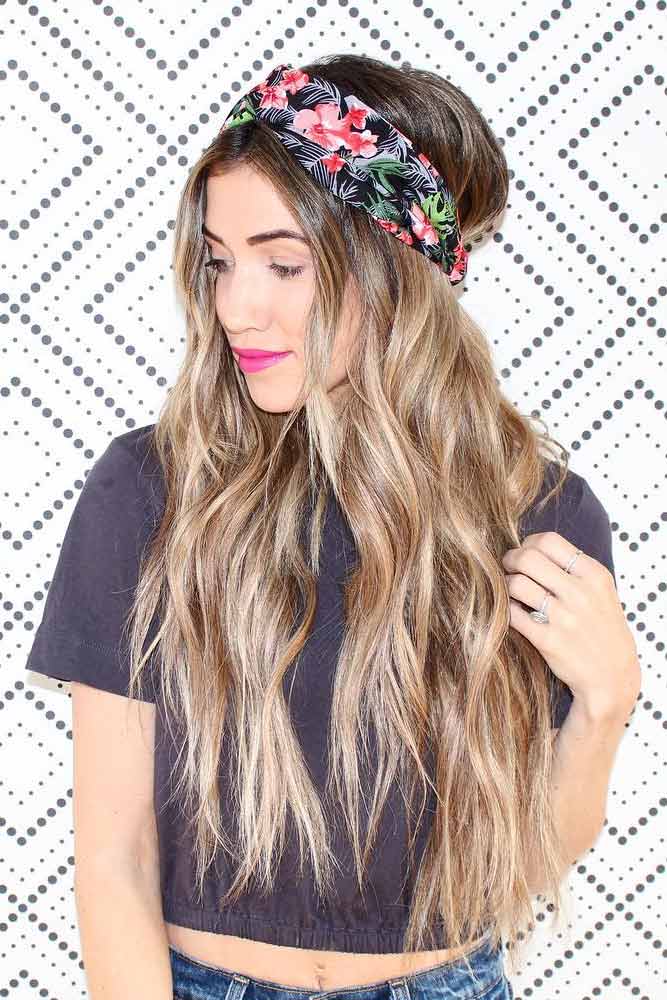 Credit photo: instagram.com/blohaute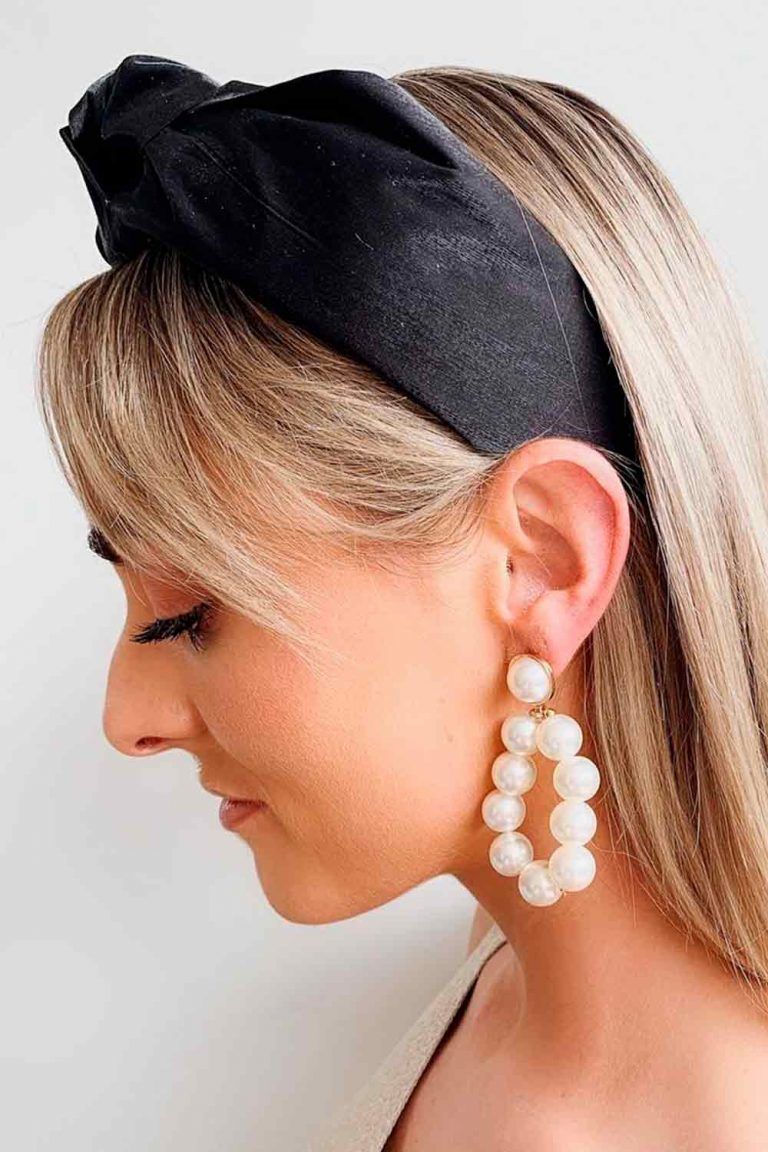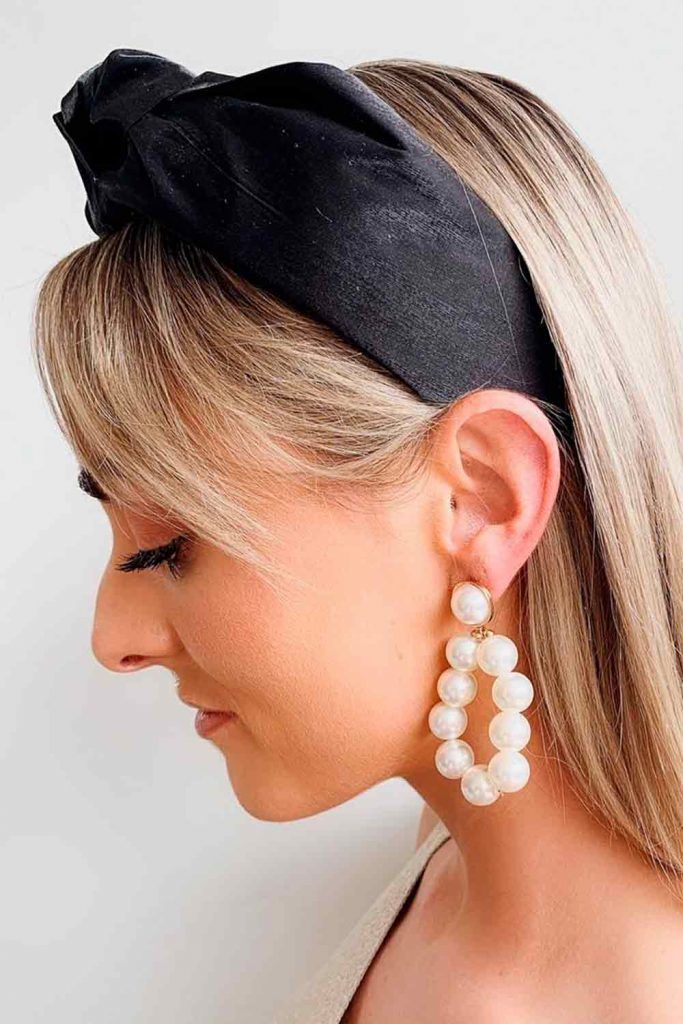 Credit photo: instagram.com/bonvoyage_collections
If you ever watched Gossip Girl, you'll remember how Blair Waldorf constantly sported a stylish headband, and these accessories soon caught on as a fashionable trend for girls of all ages. In 2021, the bejeweled headband is a must have.
It can dress up any look, even for a fancy event. Even sparked headbands and glitzy tiara are being spotted at the biggest fashion events. One of the keys to sport a headband is the placement. Fashion experts suggest wearing it at least an inch from your hairline and sweeping your bangs to the side for a soft and playful effect.
Hair Clips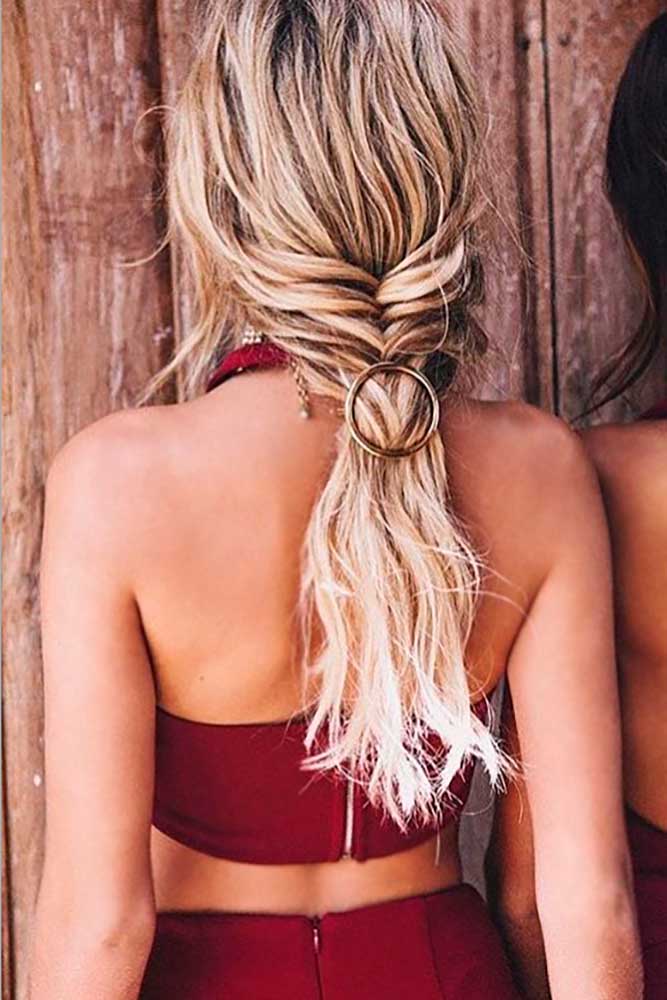 Credit photo: instagram.com/luxyhair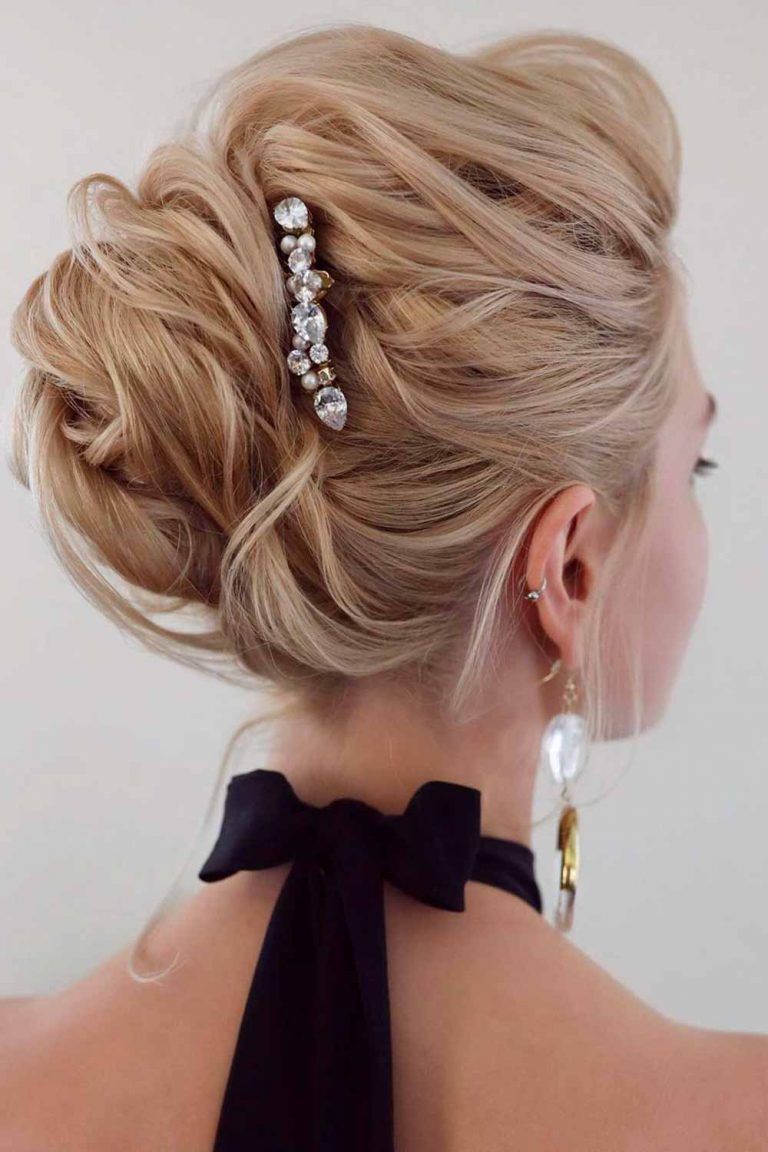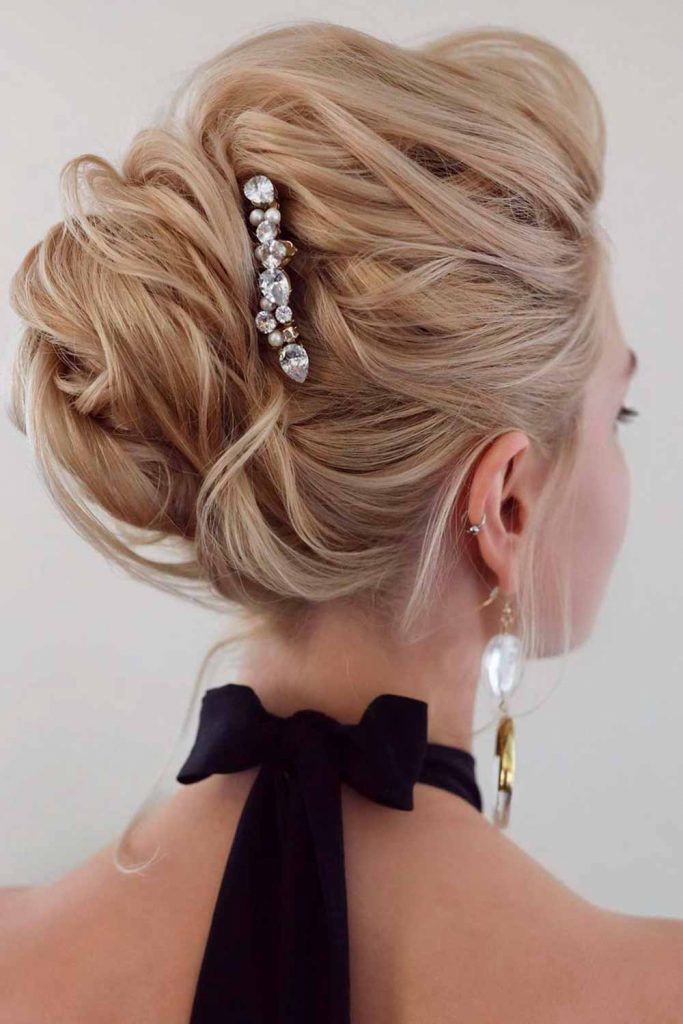 Credit photo: instagram.com/tonyastylist
Bejeweled and shiny hair clips have been spotted on the runways as designers are classing up the hair clip by adding jewels and other sparkly adornments. Hair clips are a simple, yet elegant way to spice up a fun hairstyle. Whether you are simply clipping a section of your hair away from your eyes or adding some glitzy clips to a fancy updo, bejeweled hair clips can glam up any style.
Floral Hair Accessories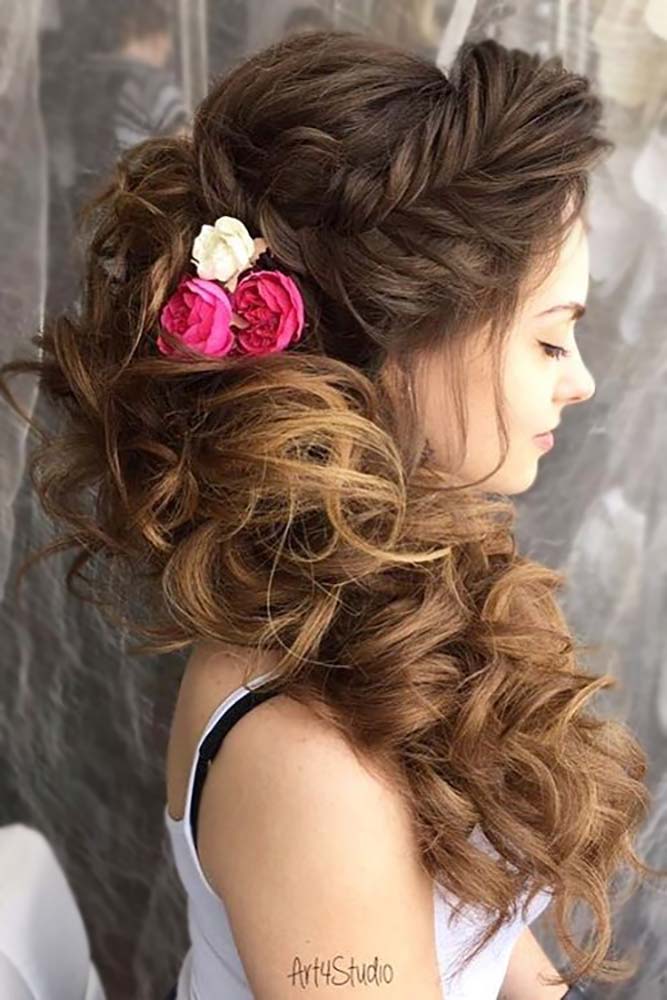 Credit photo: instagram.com/art4studio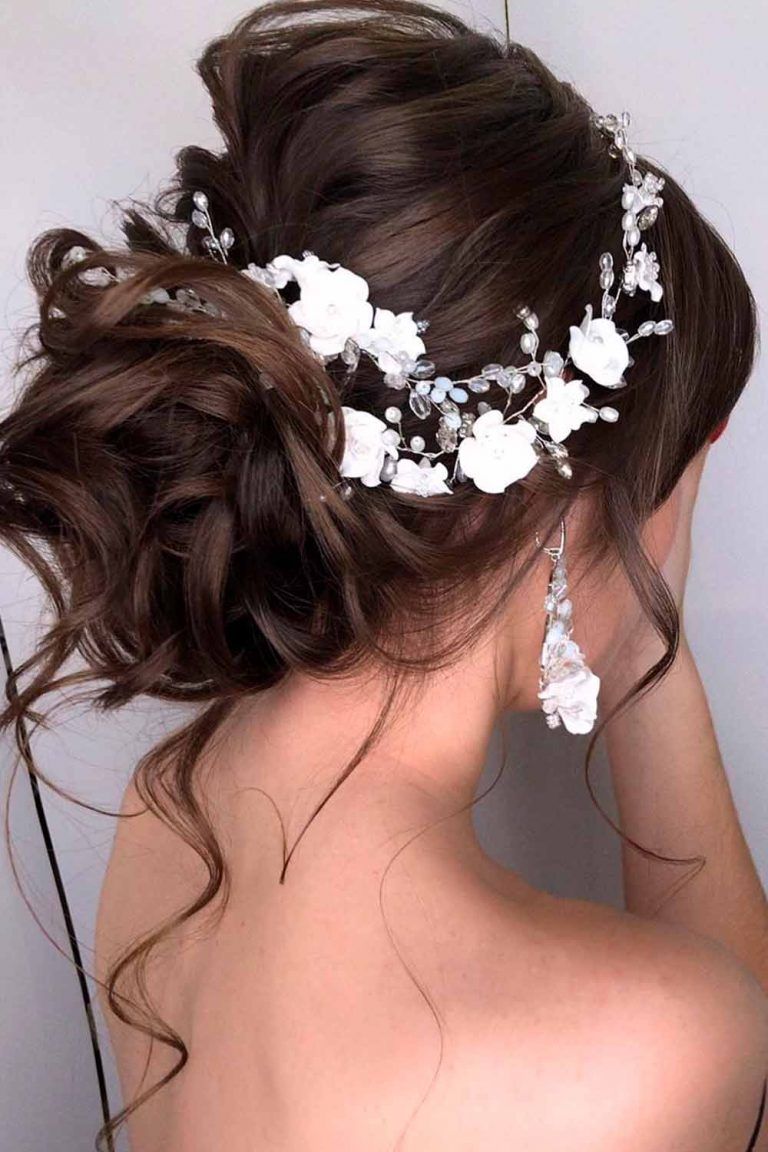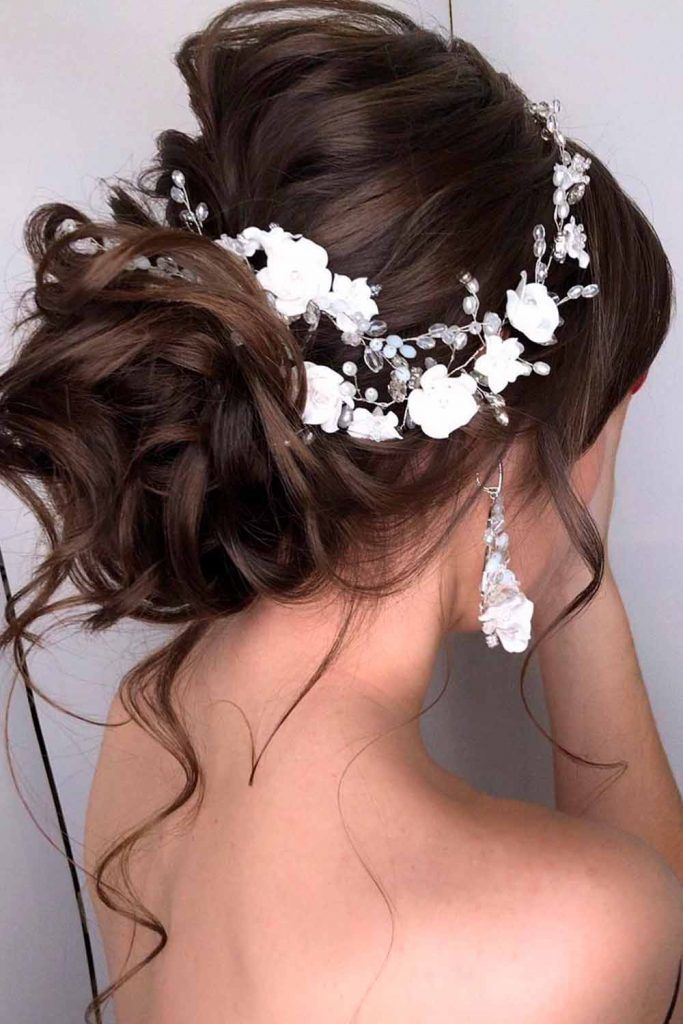 Credit photo: instagram.com/oksana_pyslar
Spring means flowers and sunny skies. Fashion designers are embracing the floral effect for a variety of hair accessories. Big, bold flowers on a side clip or dried flowers sprinkled throughout a loosely tied ponytail or an elegant updo are popular trends this year.
You can opt for fresh flowers or choose dried pressed flowers or even floral designed accessories. From roses to lilies to sunflowers, floral accessories are a great way to appear feminine and chic this summer and spring.
Colorful Floral Hoop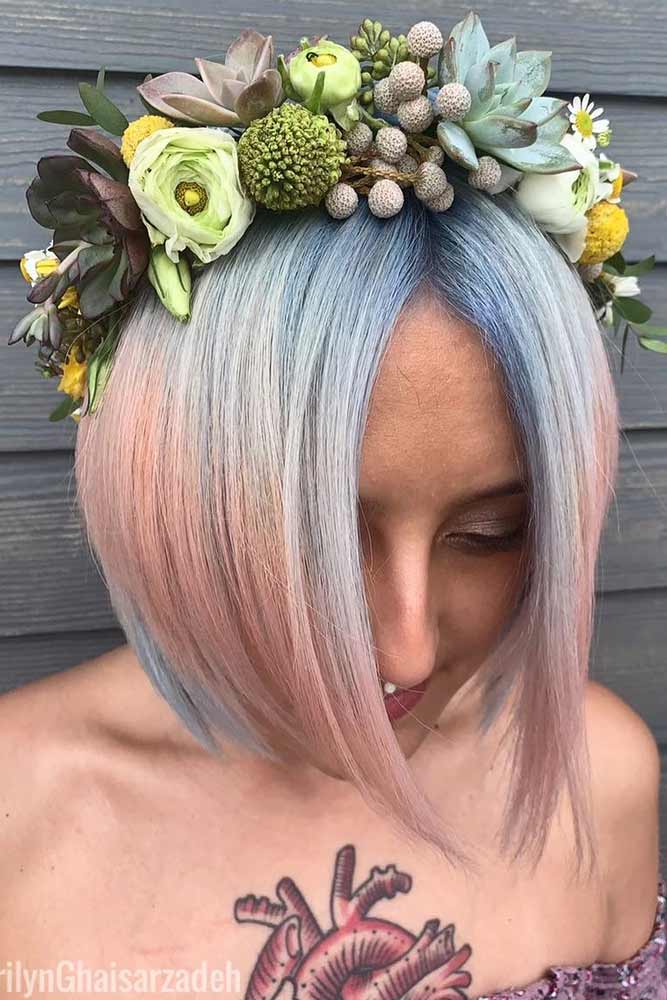 Credit photo: instagram.com/gerilynghaisarzadeh
In 2021, we are seeing some unusual and creative hair accessories. From belts to scarves to thick chunks of bold and funky fabric, models have been seen sporting some unique accessories to set off even the simplest hairdo. So what is stopping you from standing out from the crowd?
Of course, it shouldn't necessarily be some outrageous scenic ensemble covering your head. In fact, you can embrace your inner artist and let your creative juices flow by wearing a colorful floral hoop, for example. Just make sure it's the highlight of your look!
Mermaid Halo Crown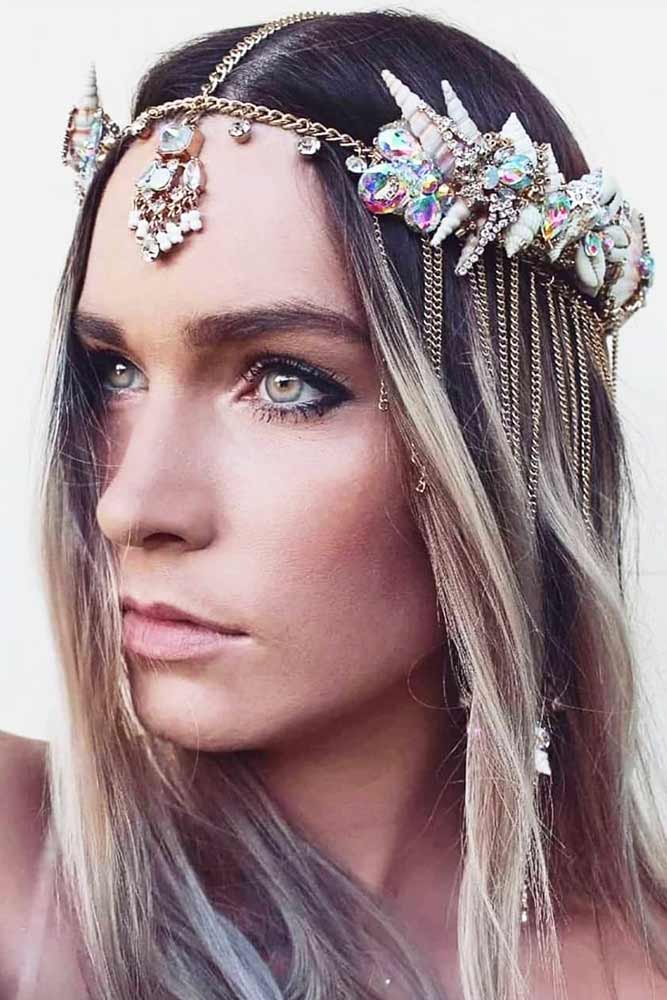 Credit photo: instagram.com/chelseasflowercrowns
In the hair jewelry universe, there's an accentuating hair finish for every image, mood, and occasion. And even in this huge world of embellishments, it's no secret how popular mermaid themes are, especially when costume parties are knocking at the door.
Since there's a strong chance you will meet a couple of mermaids on the event, don't forget to show them who's the queen. A noble headdress made with hanging chains and authentic jewels finished with lovely shells will help you to do it right.
Hipster Hat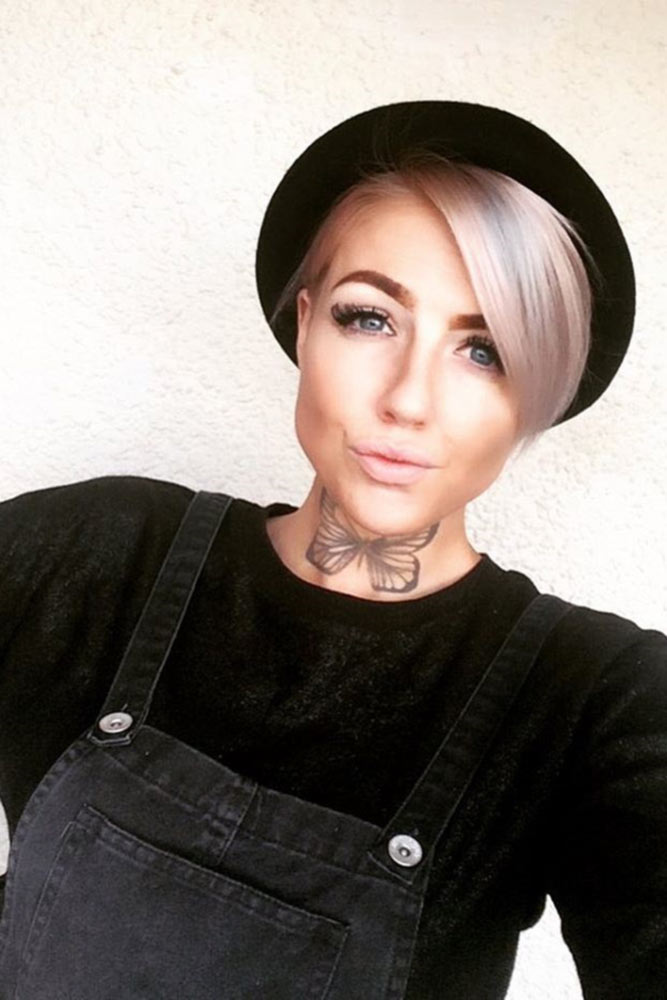 Credit photo: instagram.com/d_w_i_l_l_o_w
Decades ago, classic black hats were a feature of a gentleman's image. Today, it's a nice way for stylish ladies to put an exclamation mark to their casual looks.
Also known as hipster hats, such accessories not only make the whole look significant but also complement fringe hairstyles. Therefore, those rocking pixies or short bobs can take their haircuts to the next level.
Simple Hair Clips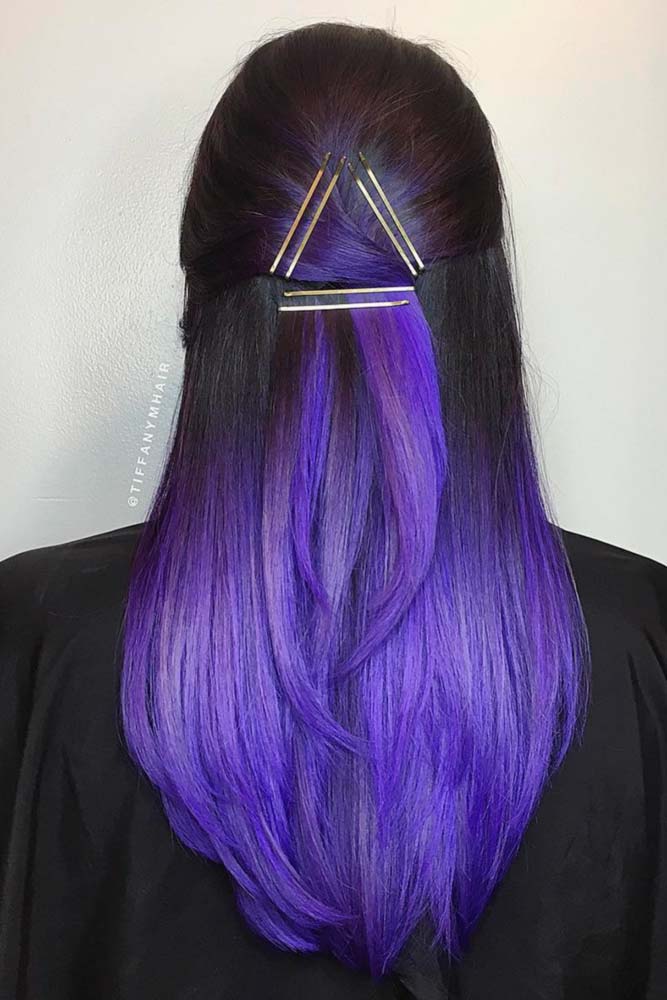 Credit photo: instagram.com/tiffanymhair
At first sight, they're just simple hair clips meant to secure unruly strands of a hairdo. But, if you let your creativity take a closer look at those barrettes, you will reveal a lot of room for fashionable experiments. Here, for instance, you can see how a simple half up can turn into a geometrical masterpiece with just a couple of clips.
Roman-Inspired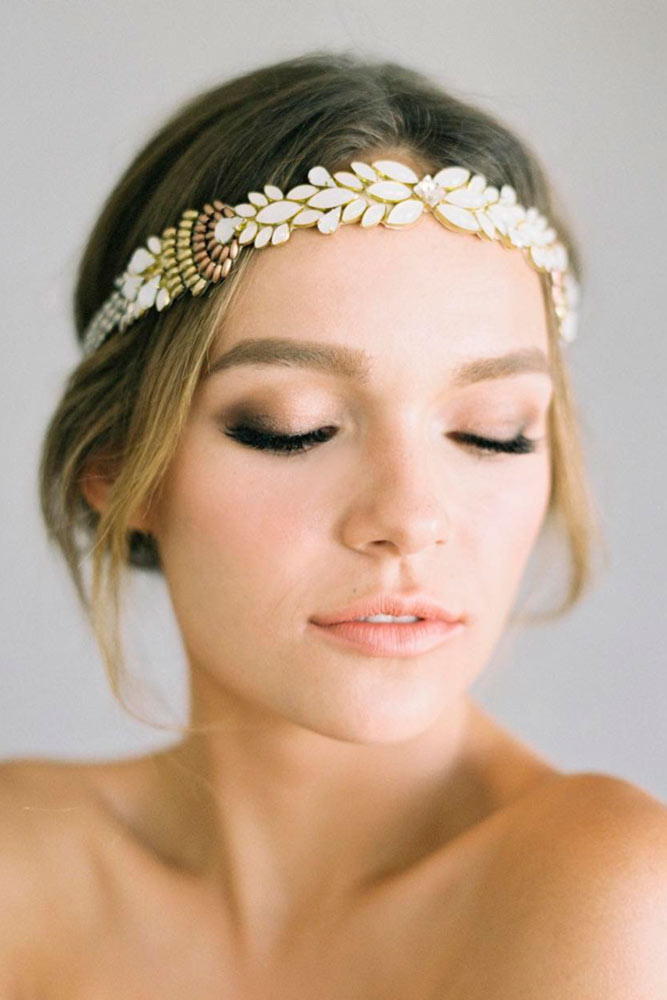 Credit photo: instagram.com/hushedcommotion
Roman style is famous for its pure minimalist lines and gently patterned finish that can emphasize femininity. Needless to say, if you want to give your look to be all-natural, you won't go wrong putting such accessories as a finish. Furthermore, it can be a stunning choice when choosing bridal hair accessories, as its simplicity is designed to give an effortless girly look.
Sea Goddess' Crown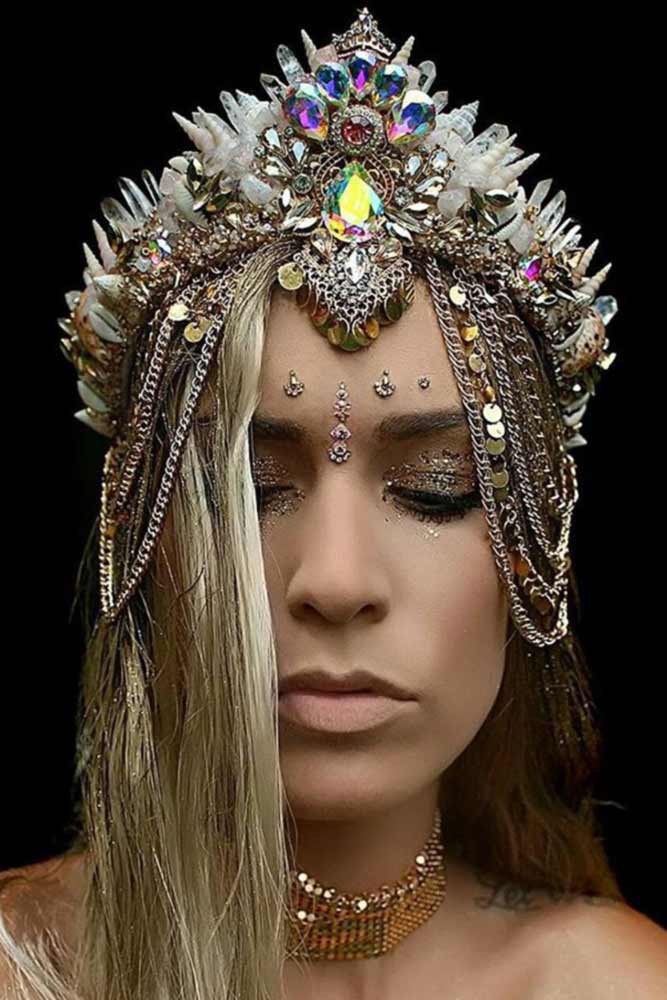 Credit photo: instagram.com/chelseasflowercrowns
While most ladies buy hair embellishments to fit an occasion, there are options that go beyond all events possible. And once you see one of them, you will do your best to organize a party so that you could finally wear this masterpiece. Well, this goddess crown seems to be the accessory we're talking about. With such a finish, you won't need to wait for an occasion to come; this beauty is already an occasion to remember.
Hair Rings With Chains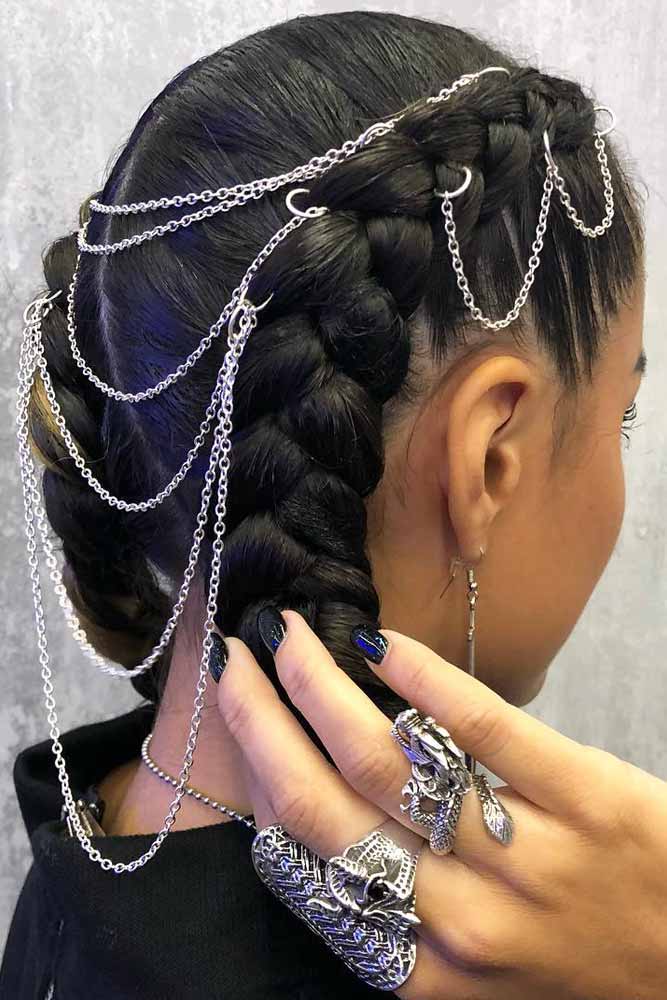 Credit photo: instagram.com/keashldn
More and more celebrities are rocking hair rings in their stage hairdos. Well, not for nothing: such a tiny finish is enough to individualize any hairstyle. The best thing about rings with chains is that they're super easy to attach while giving a totally unique look. You can put it anywhere, but it's way more comfortable to work with braids.
Rhinestone Letter Hairpins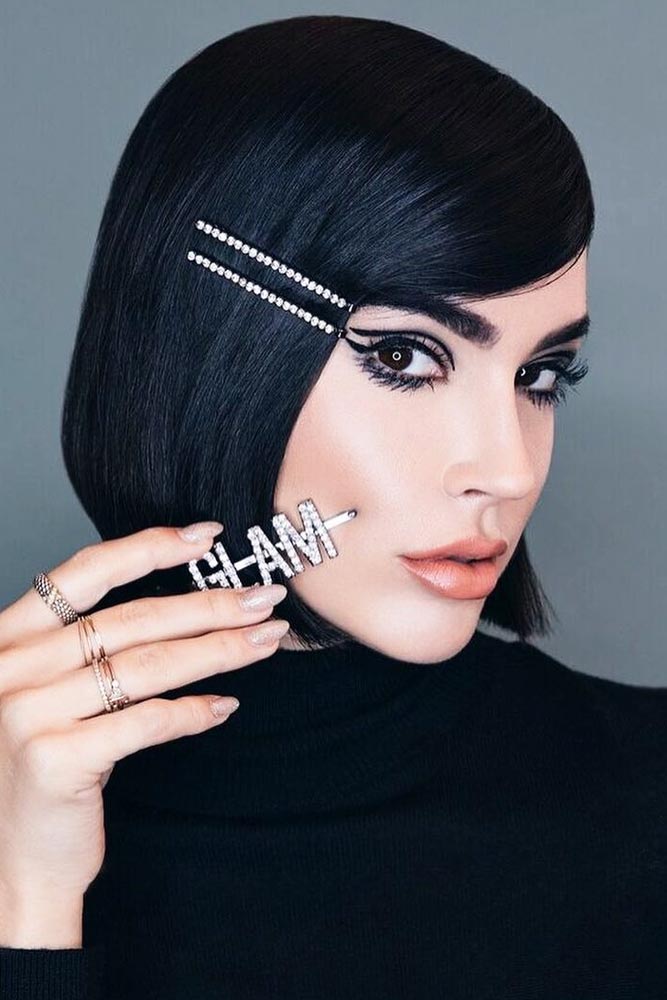 Credit photo: instagram.com/brittanyxavier
Wondering how to make a statement with your hair while wearing it minimalistic? Rhinestone letter hairpins are the keys to tell people what kind of character you are. As a matter of fact, there's no better way to individualize your hairdo than to go for such an idea. All in all, you can always get a customized pin with one of a kind sign.
Vintage Bun Pin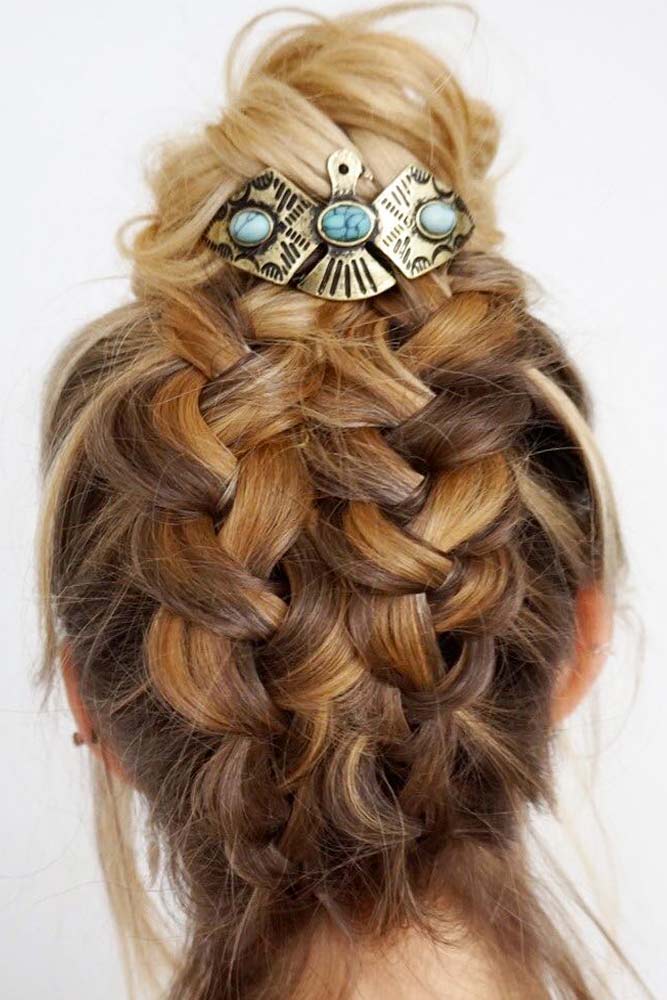 Credit photo: instagram.com/ilikeprettyhair
Vintage hair accessories were massive and bold in order to match creative outfits rocked at that time. Well, they still come as a ravishing complement to high braided buns. Ensure that the pin is secure and sits right on the top. In this way, you can reach a total harmony for your unique 'do.
Basic Hair Ties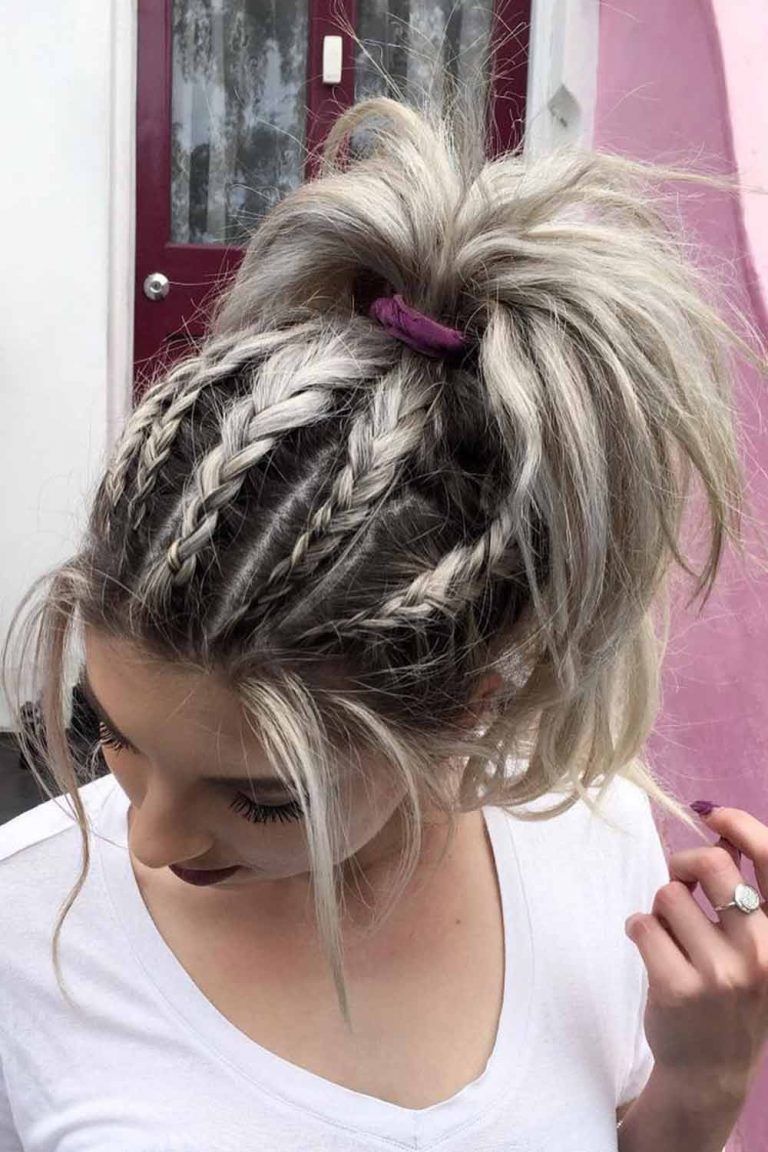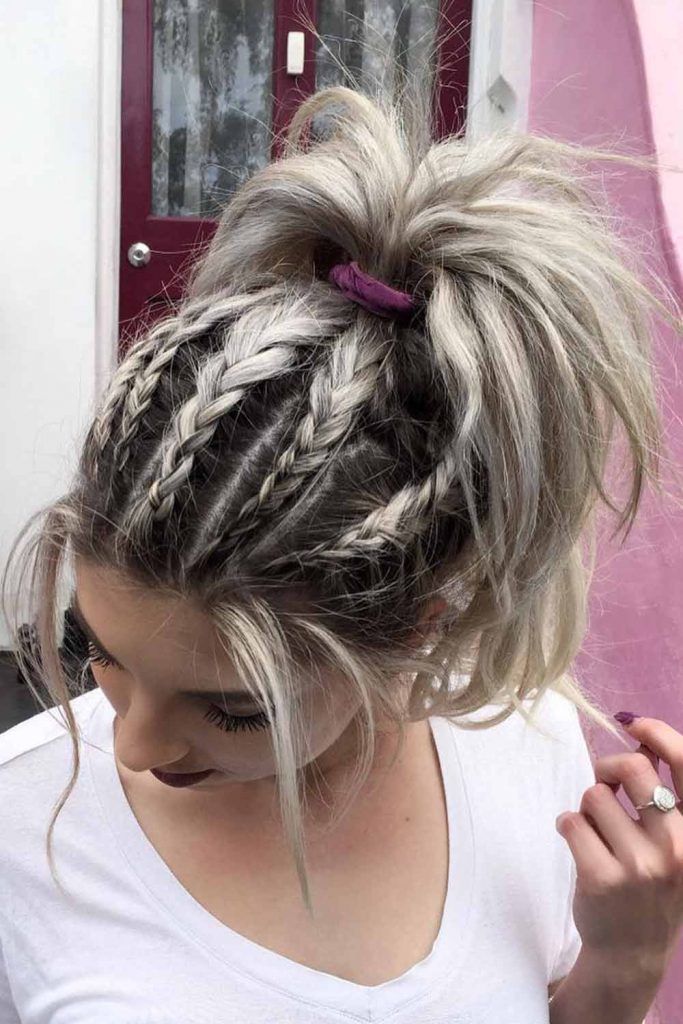 Credit photo: instagram.com/hairbyjaxx
This time, the word 'basic' doesn't mean plain; it means fundamental. Don't even try to deny, those little essentials are not only meant to secure your one-minute home hairdo. Having enough hair ties can lead you to such amazing hairstyles as voluminous ponytails, various braids, double space buns. And that's only the beginning! Just don't underestimate the power of simple ties.
Head Wraps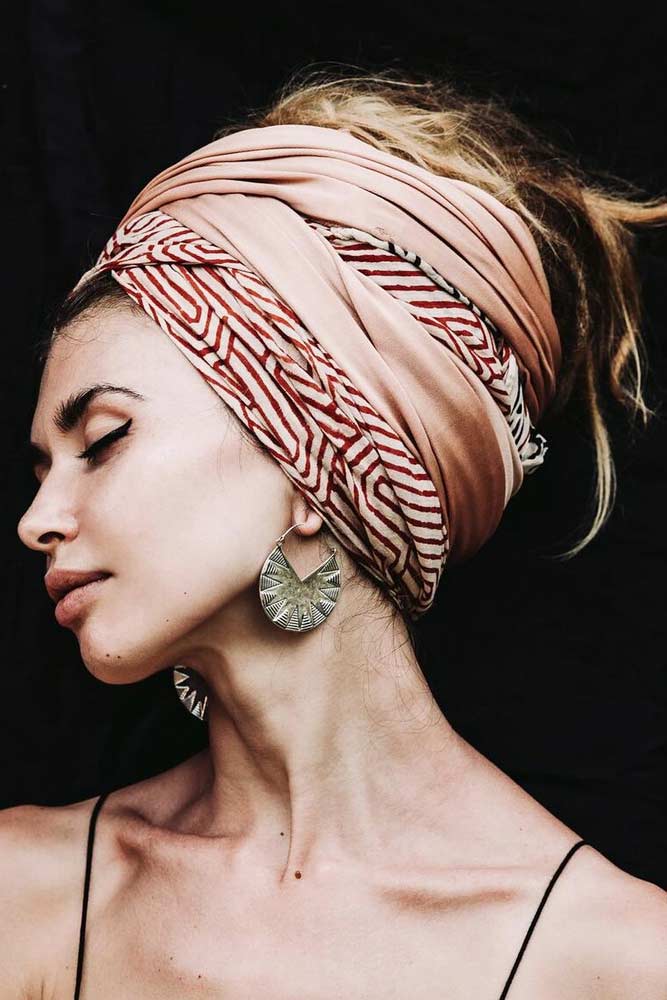 Credit photo: instagram.com/alisa.belochkina
Head wraps aren't just about matching your outfit. They're about matching your lifestyle. Those who are in love with ethnic-inspired looks and light, loose clothings, a head wrap is the missing detail.
Hair Barrettes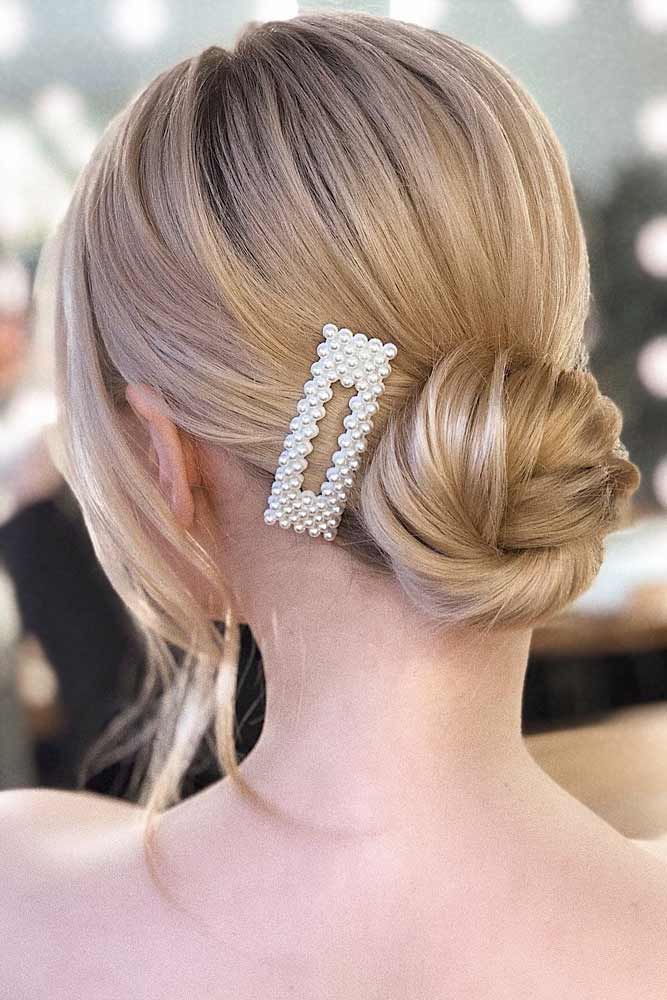 Credit photo: instagram.com/xenia_stylist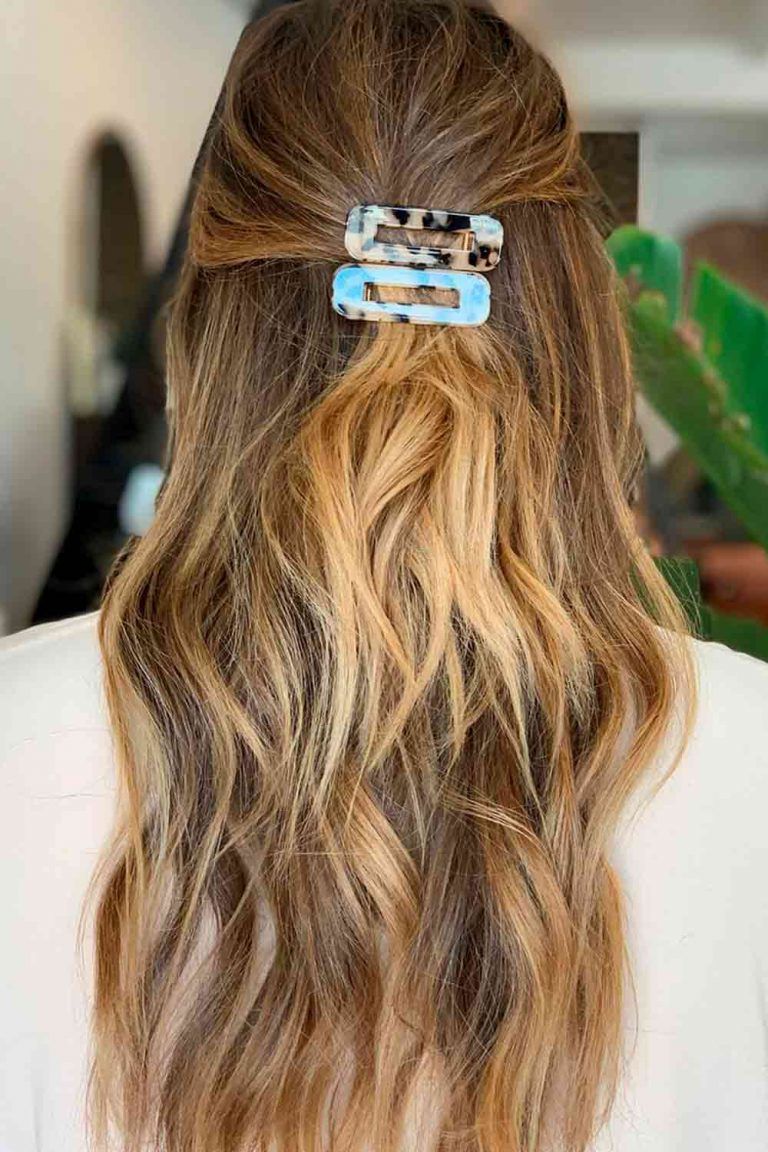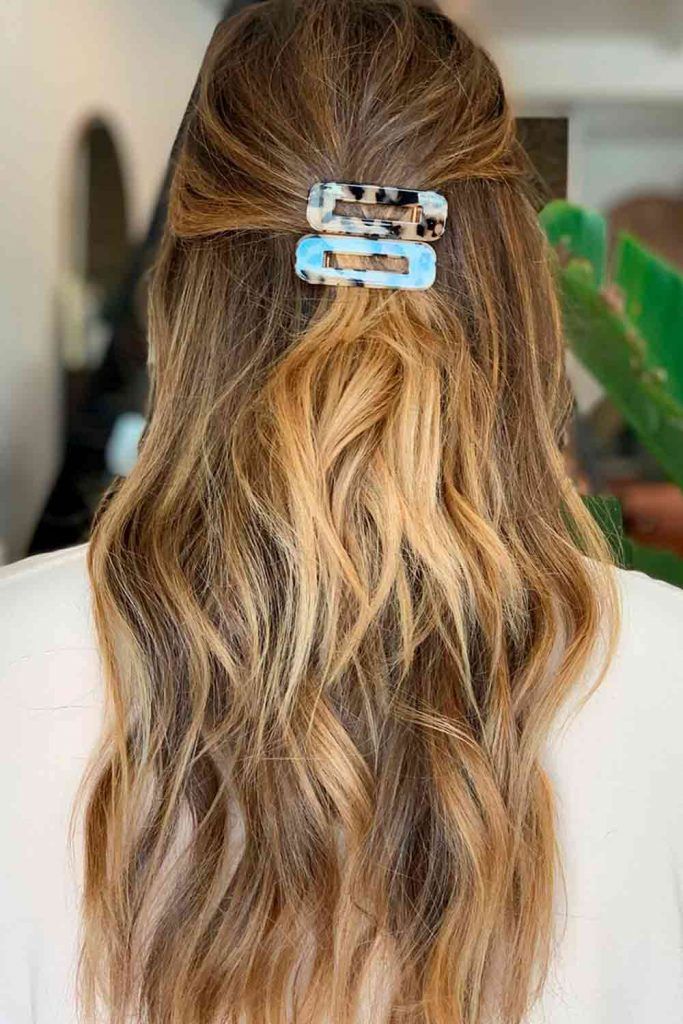 Credit photo: instagram.com/joeyvillegas_hair
Even though there are countless ways to wear hair barrettes, they reveal their full potential only when paired with simple classic updos. Not only do they bring a ton of character to the look but can also make the style perfectly match the outfit.
Silk Head Scarf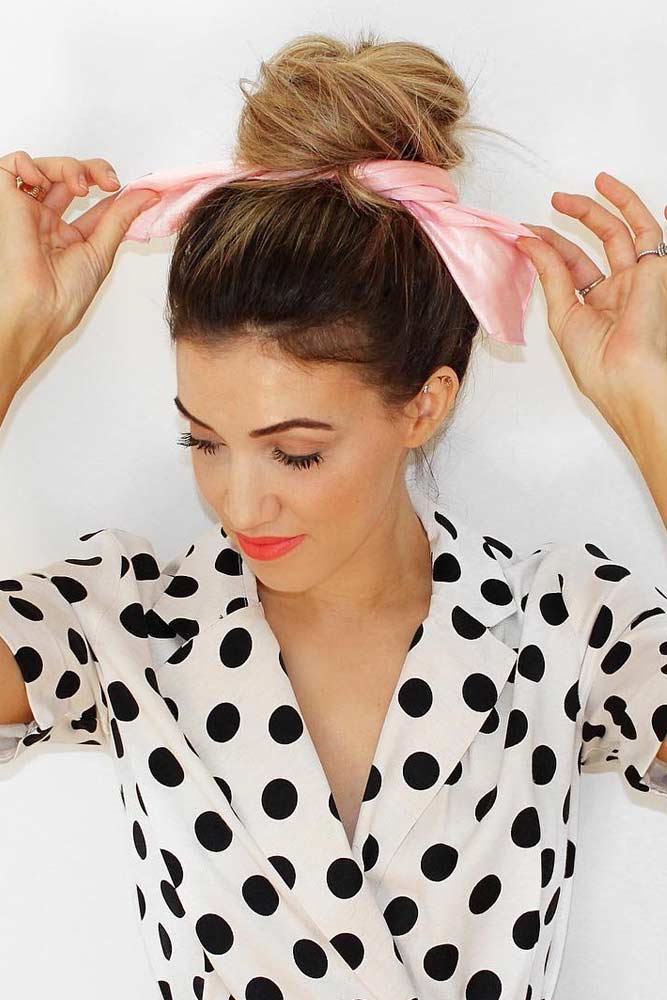 Credit photo: instagram.com/blohaute
How about keeping up with trends and keep your head away from harsh summer sunlight at the same time? Yes, hairstyles finished with a silk head scarf are all the range in 2021.
Besides, you can not just wrap it all around your head; such a scarf can replace a regular hair tie. Isn't that stylish twofer you're looking for: it won't tighten up the scalp while giving a modern touch to your hairdo.
Alligator Hair Clips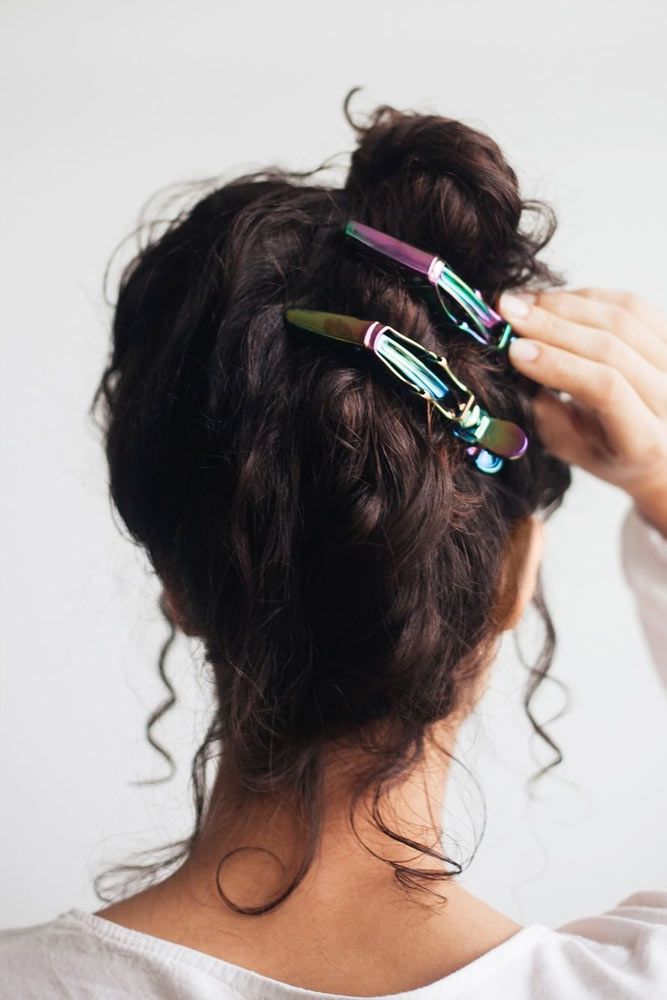 Credit photo: instagram.com/mykitsch
Unlike previous ideas, alligator hair clips are designed to secure but not to style the hair. Still, nothing stops you from being different! Nowadays, the variety of such clips is pretty vast so that you can secure your messy hairdo with a fashionable flair of those funky clips. Let's call it stylishness and practicality rolled into one!
Hair Rings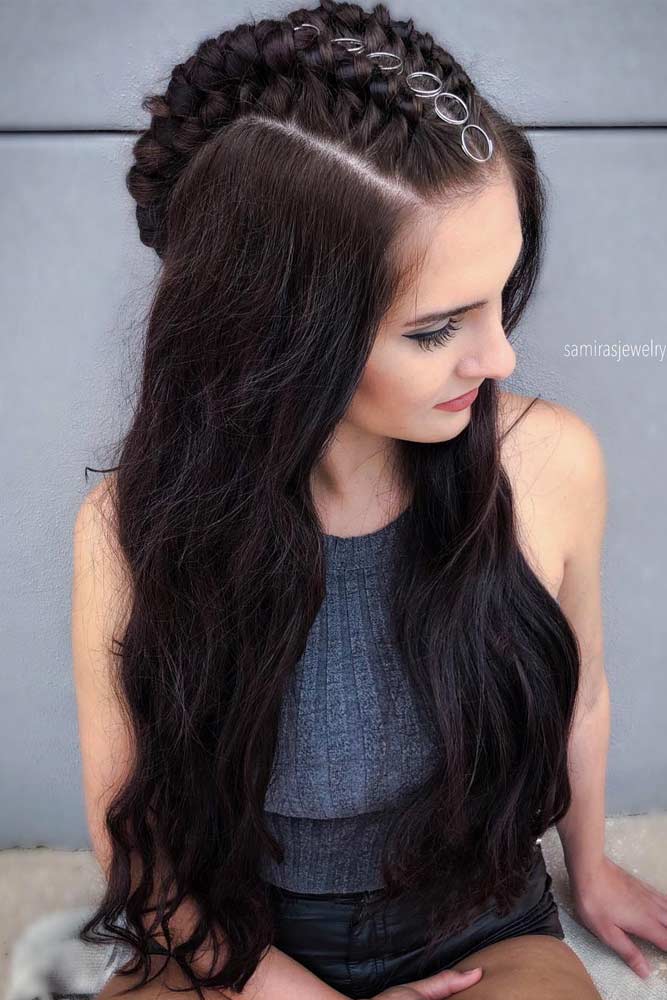 Credit photo: instagram.com/samirasjewelry
Just like finger rings that point out on your marital status, hair rings can tell the world what a good taste you have. As for the placement, there are no rules so you can leave it up to your imagination. But there's one idea you won't ever go wrong with: try to attach some rings to the braided portion of your 'do and see the difference.
Jaw Clip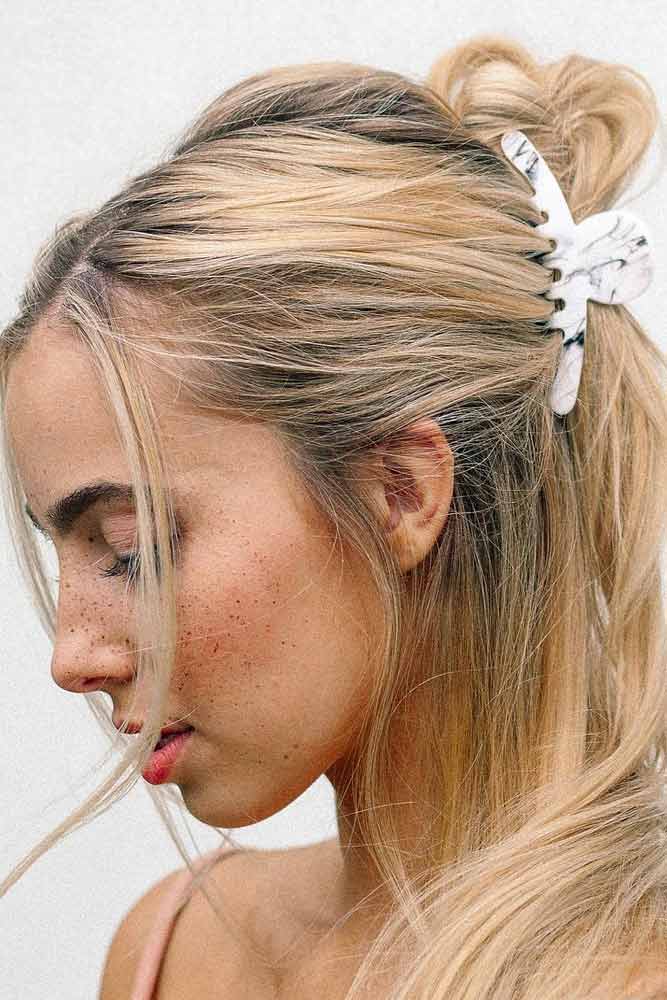 Credit photo: instagram.com/mykitsch
Now, it's time to give a fresh take at the good old jaw clip. You may remember it as a must-have item to put your locks away from your face when working out or doing chores. What about its glamorous side? With the right pattern, a clip can become an accessory that will nicely accentuate anything from casual o eventing hairstyle.
Hair Combs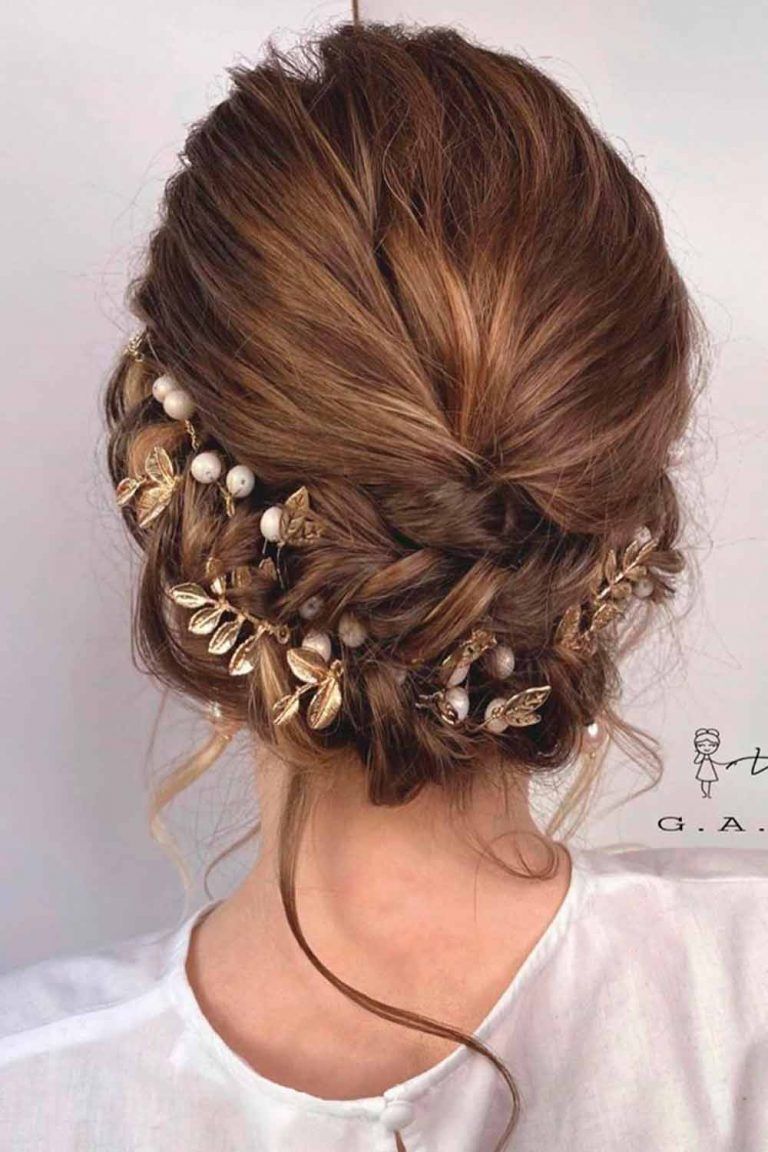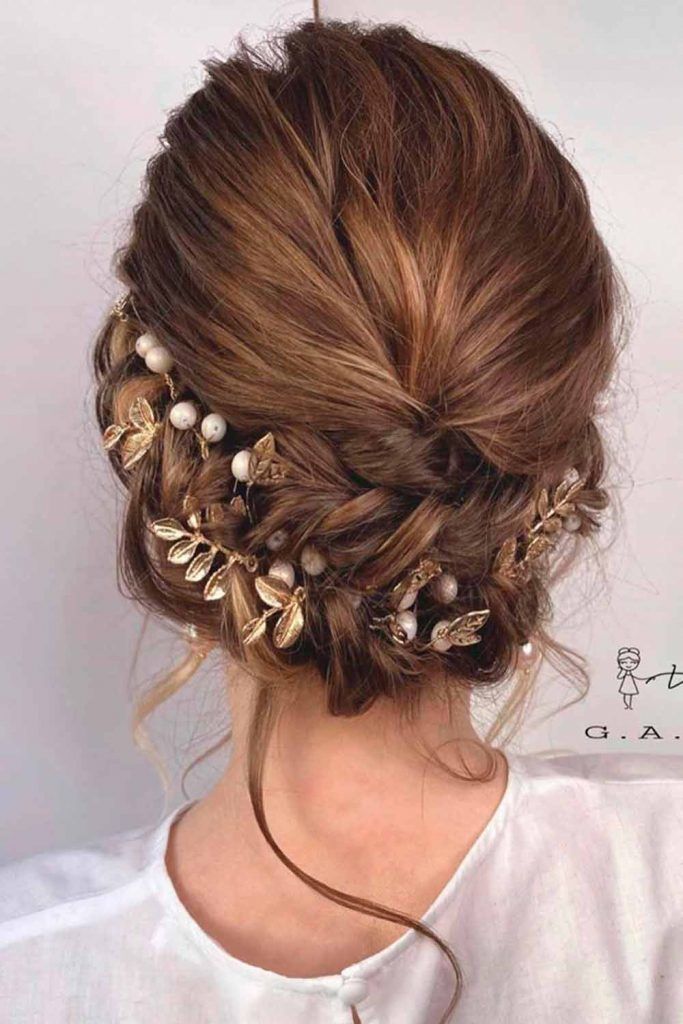 Credit photo: instagram.com/oksana_pyslar
Nope, they're not the combs you use to create swept-back, well-sculpted hairstyles. Hair combs are the real saving grace for all women who their hair to look exceptional and festive. In general, they come as a piece of embellishment set on a little comb that is intended to hold under your hair.
The combs have extremely popular in recent times, giving birth to endless options of bridal hair combs with flowers. Want to wear a bun for your wedding? This idea will come in handy.
Banana Clip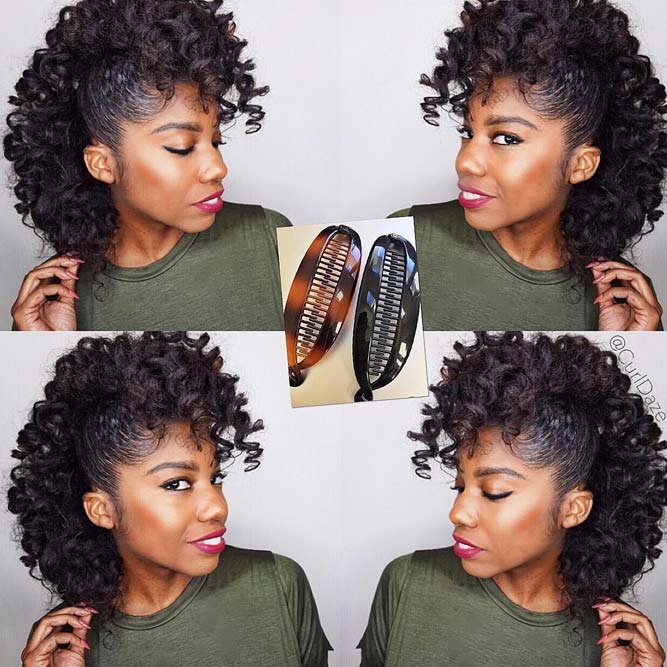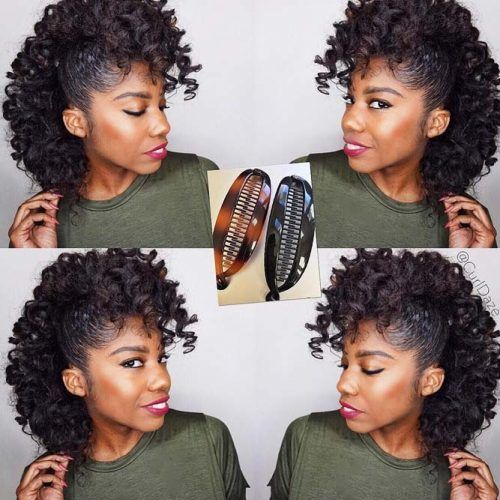 Credit photo: instagram.com/curldaze
If you have long natural hair and still don't use a banana clip, you're missing out. Natural-haired women can't imagine their lives without this embellishment for two simple reasons.
First, it can deal even with the thickest mane. Second, you can keep your hair out of the way and rock an attention-grabbing hairdo at once. Remember the overwhelming Mohawk? A couple of such clips are keys!
Hair Accessories With Pearls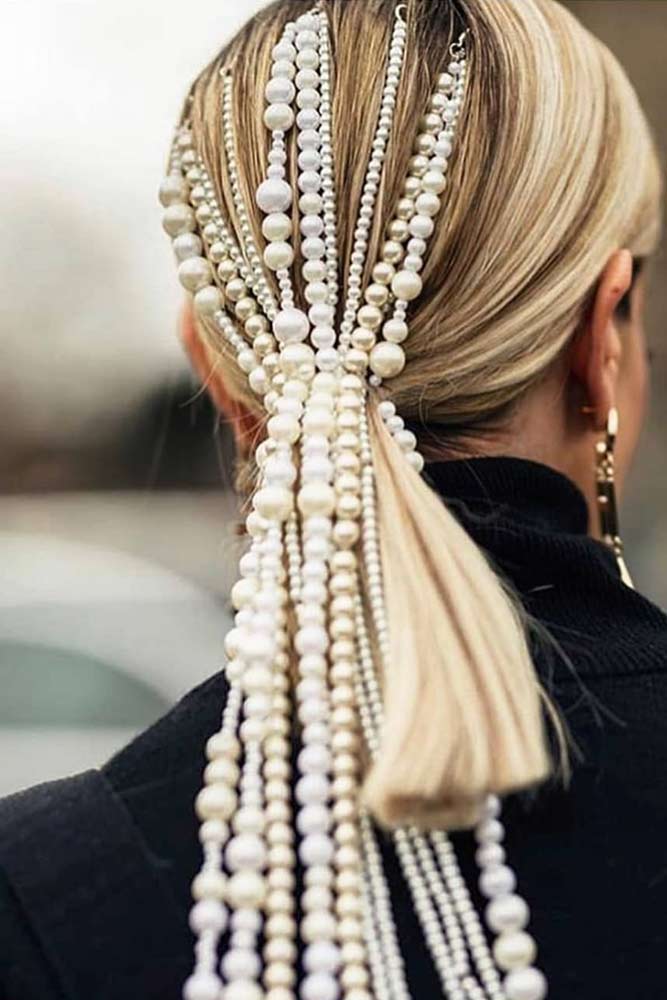 Credit photo: instagram.com/ayil9881
Is there any better way to make a classic ponytail appear elegant than to put some pearls in it? Whether you're going to create a totally feminine, gentle look or you'd like to spice up your casual 'do, pearl accessories are a versatile finish.
Wedding Tiara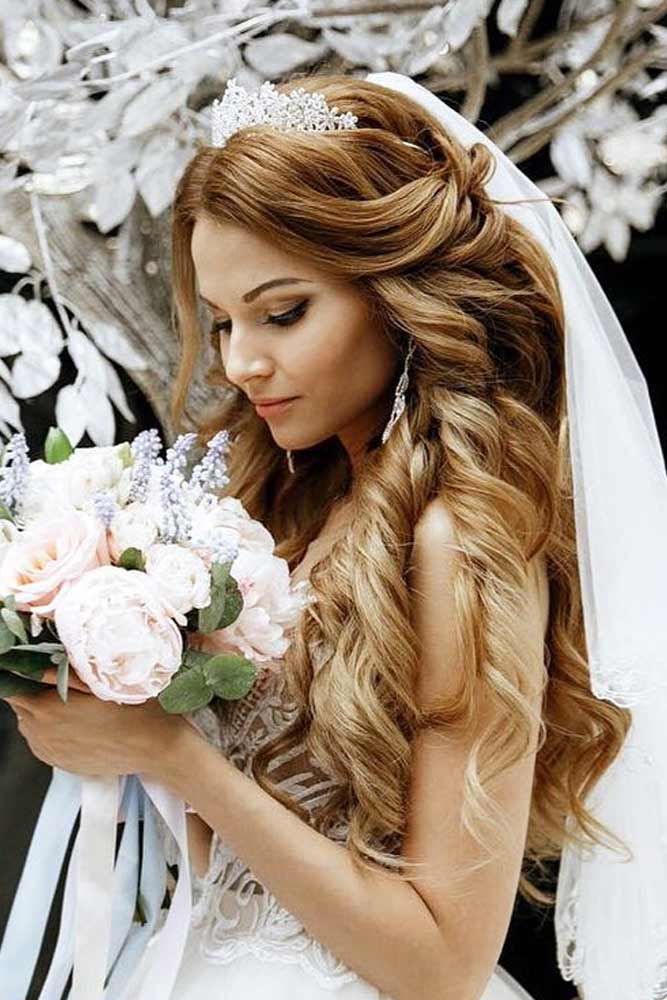 Credit photo: instagram.com/elstile
Traditional ceremonies with posh exquisite gowns and long gradual veils can't do without a chic wedding tiara beautifying a bride's hairstyle. Whatever hairstyle you choose, be it voluminous waves or a high updo, this detail will never hurt. All in all, beauty lies in the details, remember?
Hair Sticks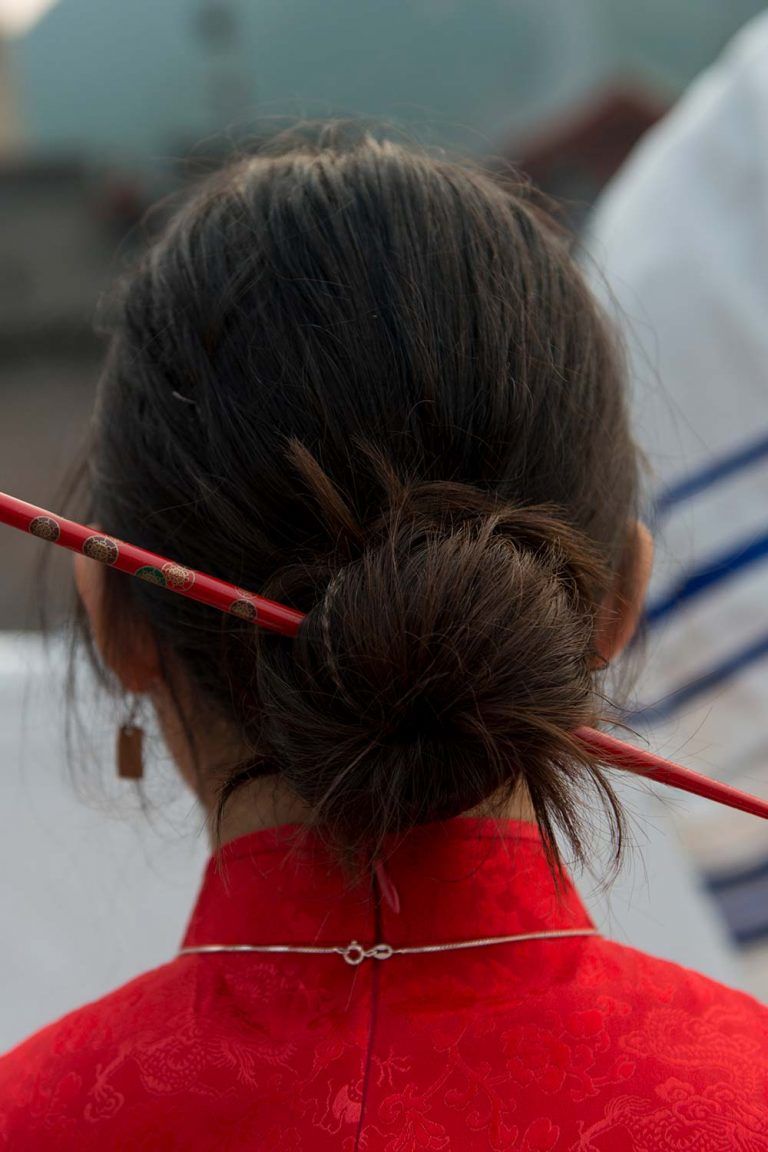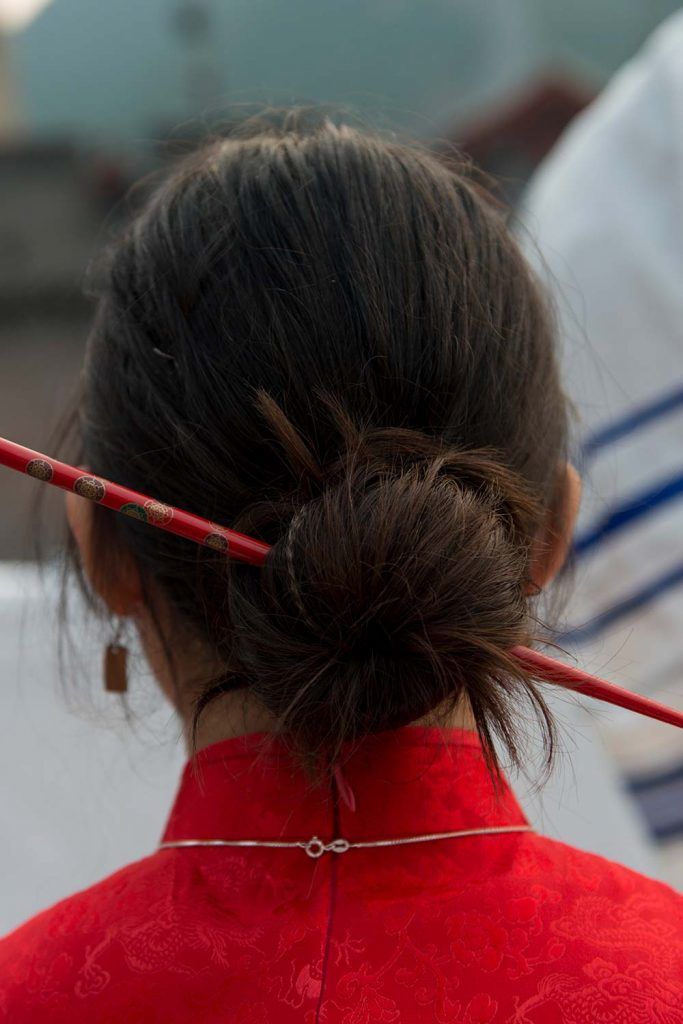 Having been in use for thousands of years by Ancient Greeks, Egyptians, and Romans, hair sticks haven't lost their popularity. Moreover, it seems to grow today. Who would've thought that just a pair of wooden or jeweled sticks would become so irreplaceable for modern ladies? Simple buns, half-ups, and twists hairstyles literally show up in a new light when accompanied by hair sticks.
FAQ: Hair Accessories
Are Snap Clips bad for hair?
Clip-in extensions can make your natural hair heavier and cause harm to your scalp over time. They may also pull your hair out, producing visible bald spots. If you like these extensions, don't wear them day after day, especially if your hair is thin.
Are butterfly clips coming back?
Butterfly clips have returned. They're now better than ever. The old fad is now being revived by everyone from teens on Tik Tok to the greatest celebrities and beauty bloggers. There's no "one-size-fits-all" approach to wearing the clips, just like in the earlier version.
Do claw clips break hair?
Claw clips, unlike other hair accessories and elastics, will not harm your hair. Even though they are a throwback, modern claw hair clips are well -structured. They are a pleasant shift from the prevalent high ponytails and buns.