When it comes to a holiday party, every lady knows that her holiday hair is something that will do the talking that evening. Whether the upcoming Christmas is knocking at the door, you've been invited to your friend's house-warming, or the long-awaited vacation has finally come into your workaholic life, your big-day look is the key to making this day unforgettable.
The table is all set, and the decorations are ready. What can ease the tension of such a thorough preparation better than a stunning, on-point look? Since your hairstyle is the finishing detail of every look, we've prepared lots of festive styles that will make you look special.
Restrained updos, feminine half-ups, voluminous and posh loose hairstyles: let our spectacular ideas be your holiday inspiration.
Low Sleek Bun With Headband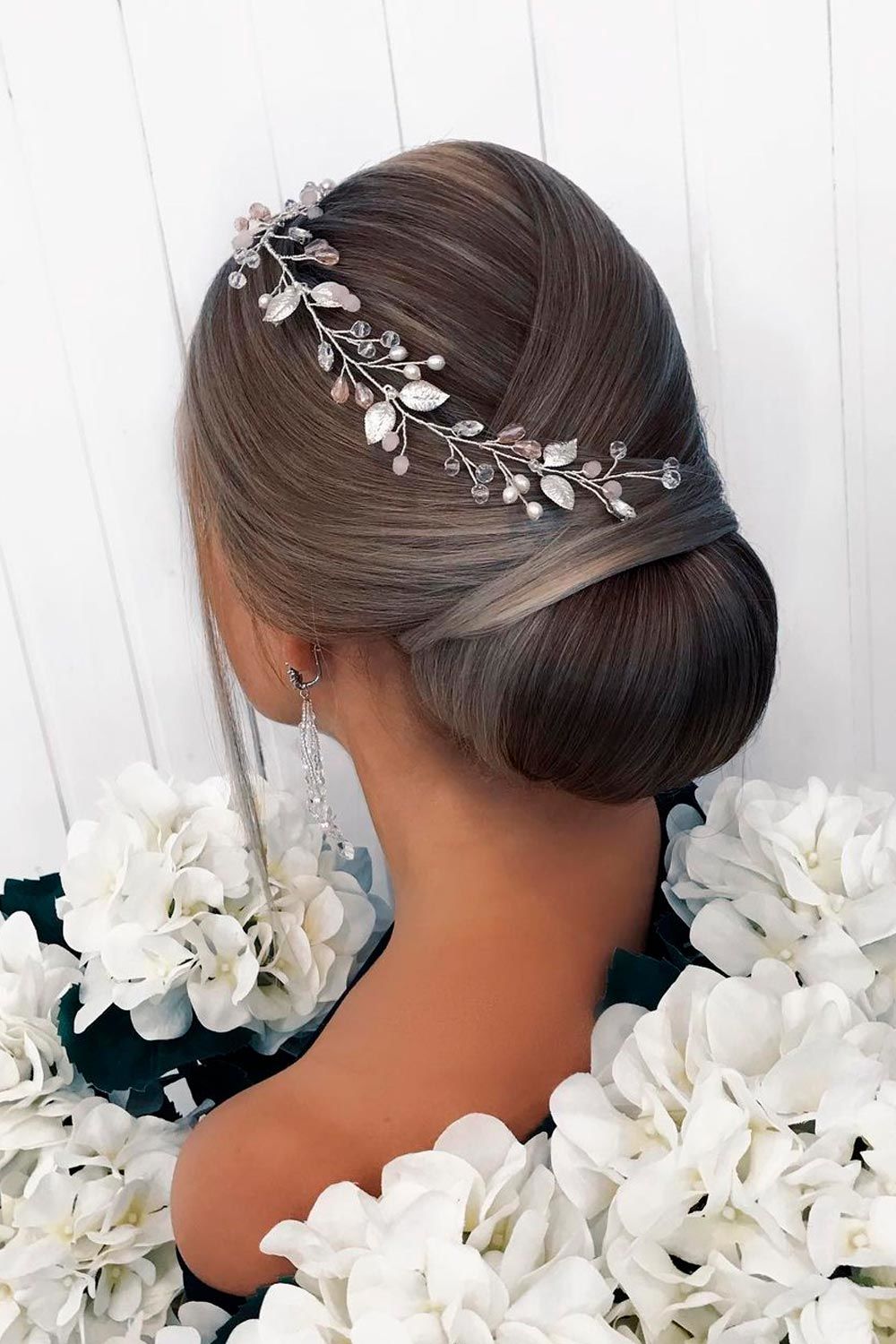 Credit photo: instagram.com/oks.popova_vrn
Even though you want every single detail of your festive look to be as perfect as never before, don't underestimate the power of easy holiday hair ideas. If you have a closer look at this amazingly elegant, luxurious updo, you will notice that this style is nothing but a happy blend of a simple, sleek bun and posh accessories. Simplicity never fails!
Messy Braided Updo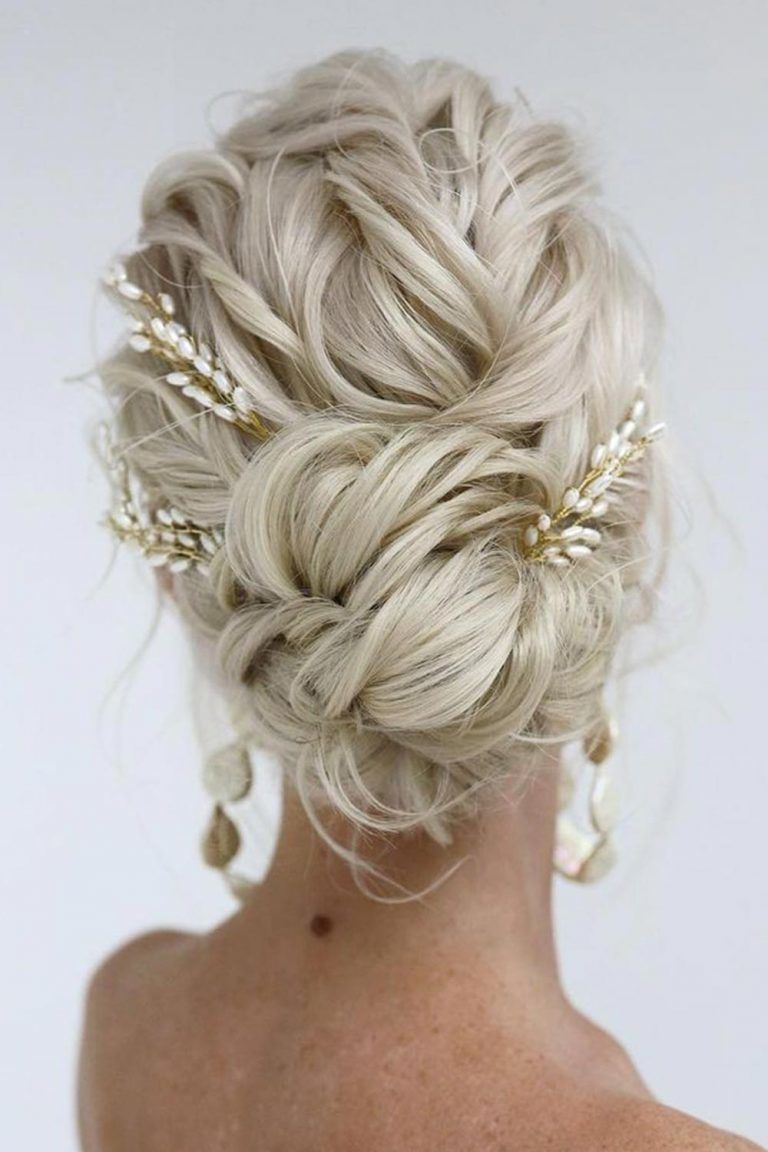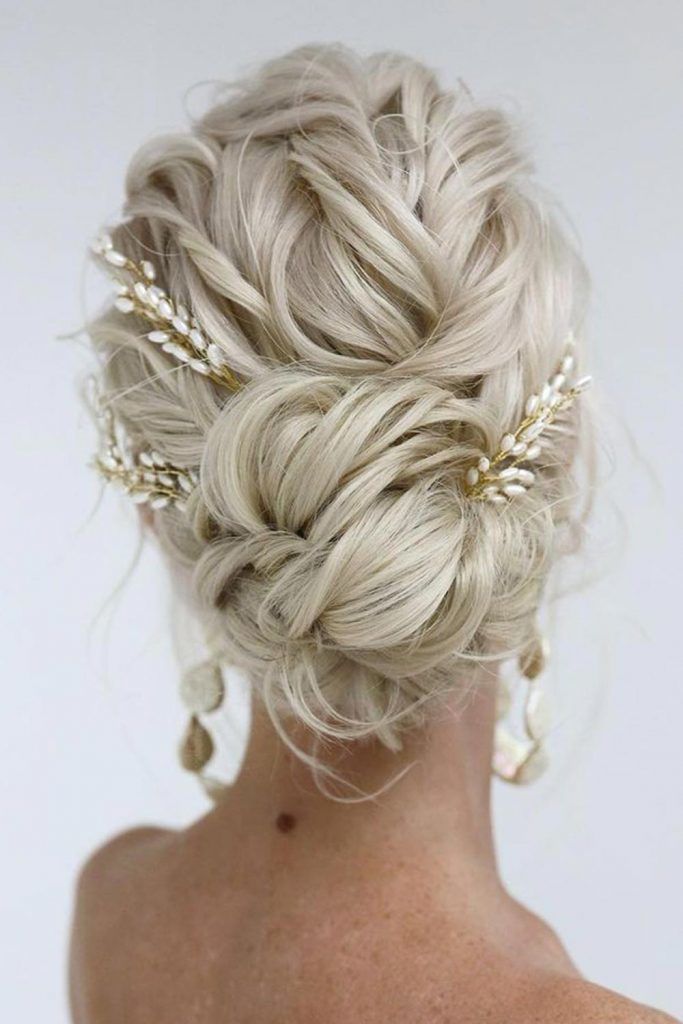 Credit photo: instagram.com/tonyastylist
Sometimes reaching the needed balance of your look requires adding a bit of messiness. The truth is, nothing is perfect, especially when everything in your style is super accurate and neat. To make your look more alive, contemporary, and organic, don't forget about the popular messy updos with braids.
Twisted Updo In Japanese Style
Credit photo: instagram.com/hairbyadir
Japanese ladies know how to keep the ideal harmony between their sleek silhouettes and dramatic, yet refined outfits. If you're into restrained and classic holiday hair ideas, you can copy one of the Japanese-inspired updos. Neatness, volume, and a presentable look: isn't that wonderful?
Dutch Braid Into Low Bun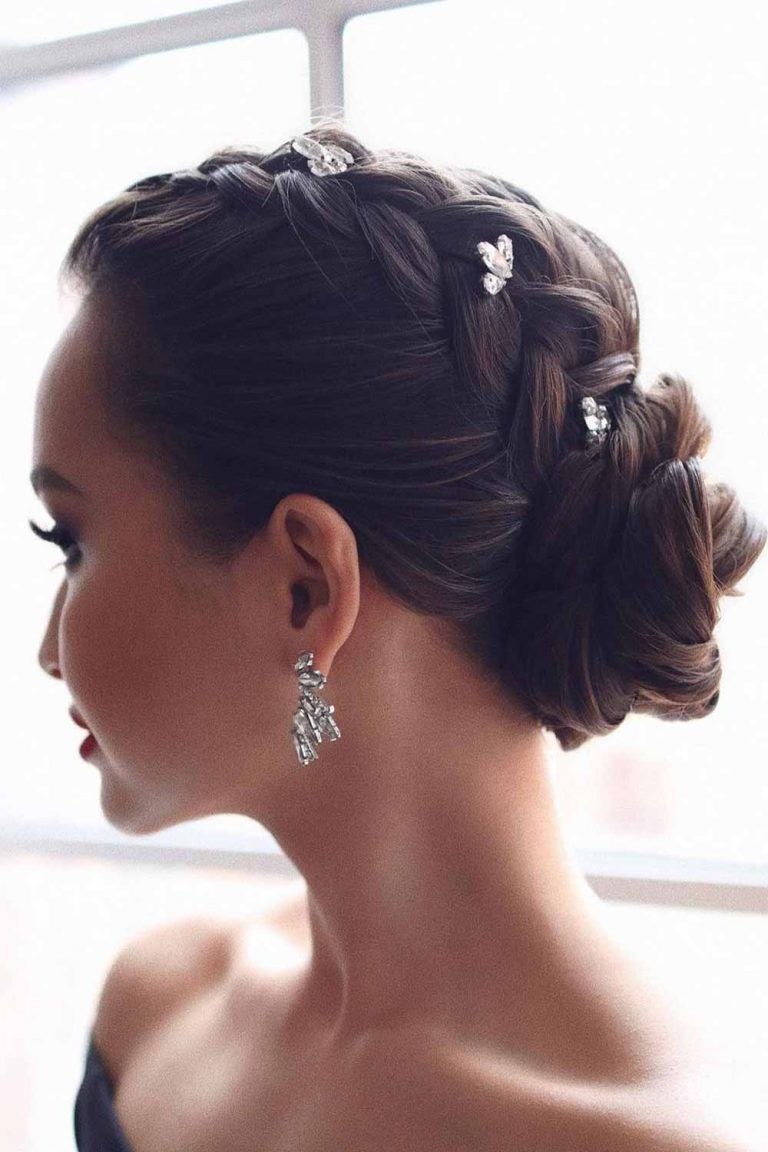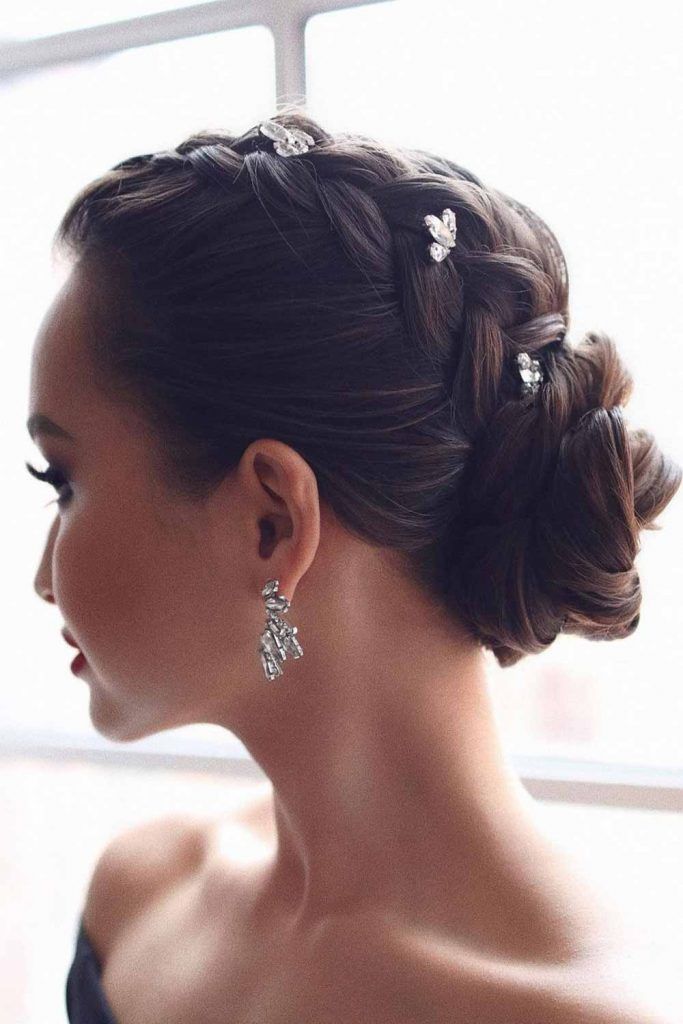 Credit photo: instagram.com/tonyastylist
Braids have always been and will always be an essential part of most holiday hair up ideas. First of all, they offer ladies great styling flexibility and give a lot of natural movement to their texture as well. Secondly, they look totally feminine, which is a win-win for a holiday updo. You can create a Dutch braid headband that stretches along the sides and twists into a simple low but, thus getting a simple, yet awesome style.
Dramatic Wavy Ponytail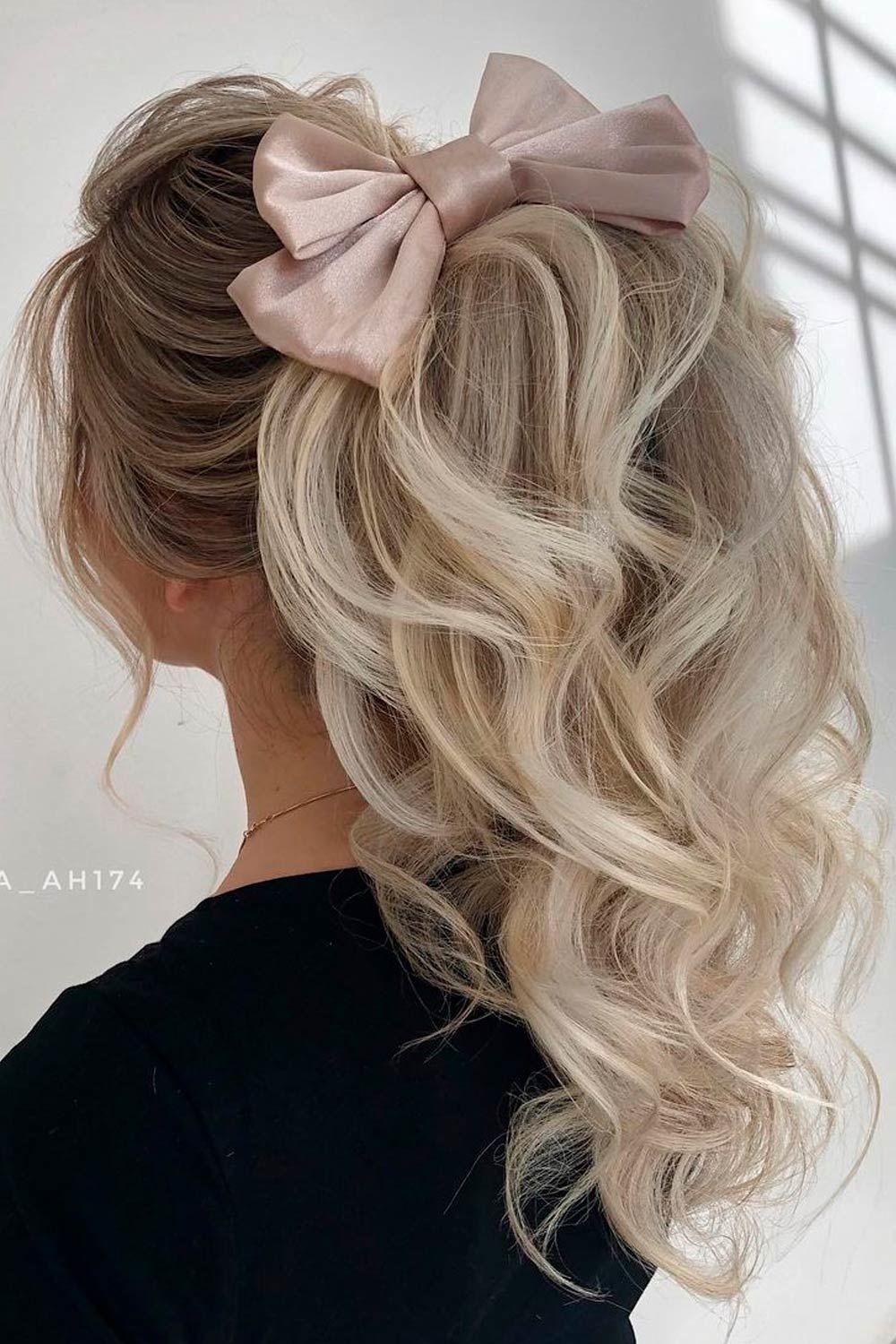 Credit photo: instagram.com/ekaterina_ah174
Remember what we told you about the power of simplicity? Well, this unbearably voluminous ponytail that falls on her shoulders with its cute waves shows you how impressive and different the familiar styles can be. Tousle the crown so that it stands out, tie your ponytail a couple of times to volume it up, and finish the look with a couple of framing locks.
Simple Wavy Hair Half-Up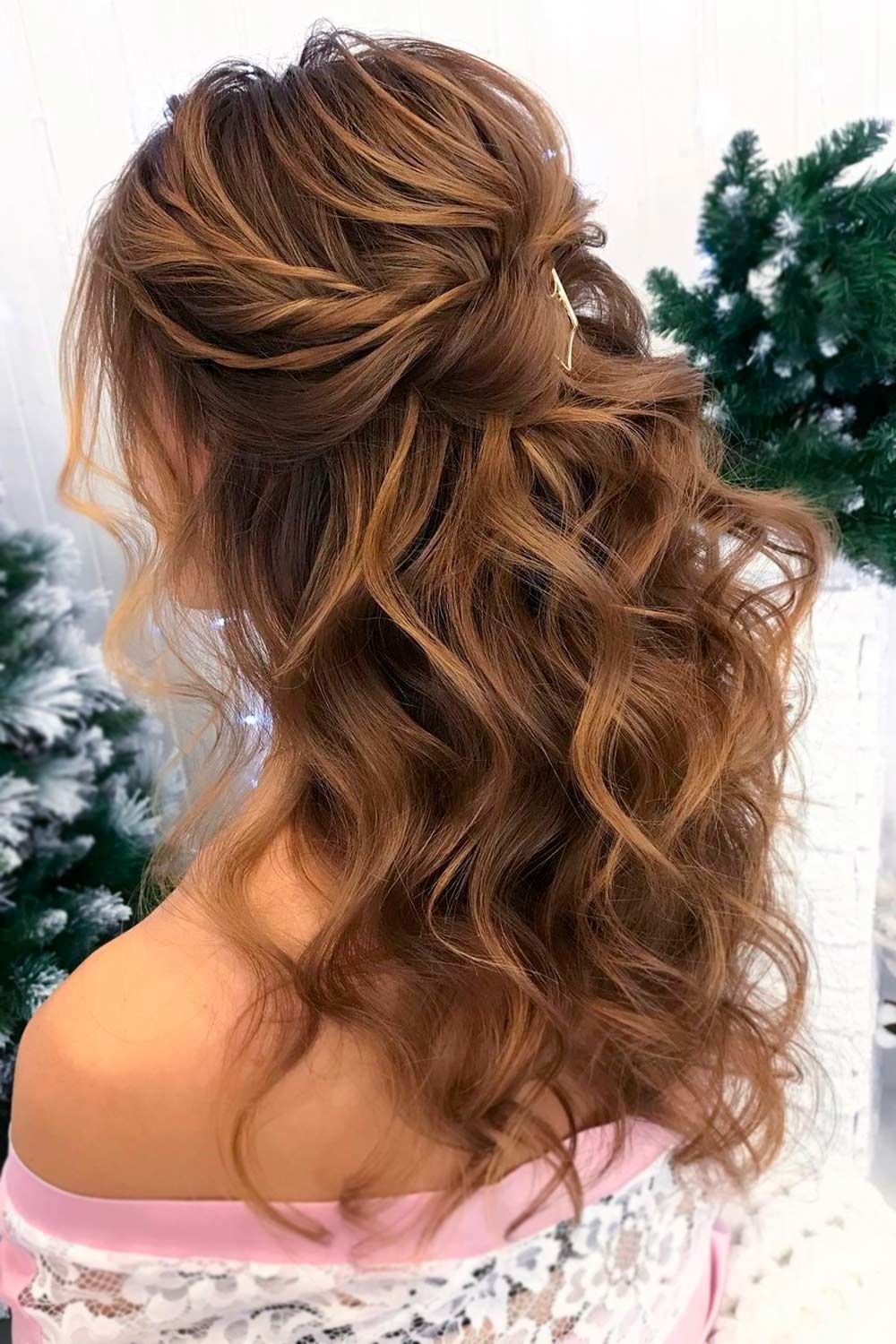 Credit photo: instagram.com/oks.popova_vrn
Who would've thought that a simple updo where the top layer of hair is swept to the back can look that rich and deluxe? Yes, technically, the only things you need to get this style are to wave your hair and brush the top section to the back. But the result is ravishing: the beauty of your hair is emphasized with the play of waves, the half-up portion builds the volume, and a chic accessory nicely accentuates everything.
Half-Up With Fishtail Braid
Credit photo: instagram.com/lenabogucharskaya
When you're all about creating a one-of-a-kind style, don't forget to let your creativity fill the space around and reveal your inner aesthete. Just look what a glorious masterpiece you can flaunt with once you let braids spice up your style. All the locks have turned into distinctive waves that are secured with a full fishtail braid. Isn't that a perfect, textured holiday hair look?
Double Half-Up Ponytails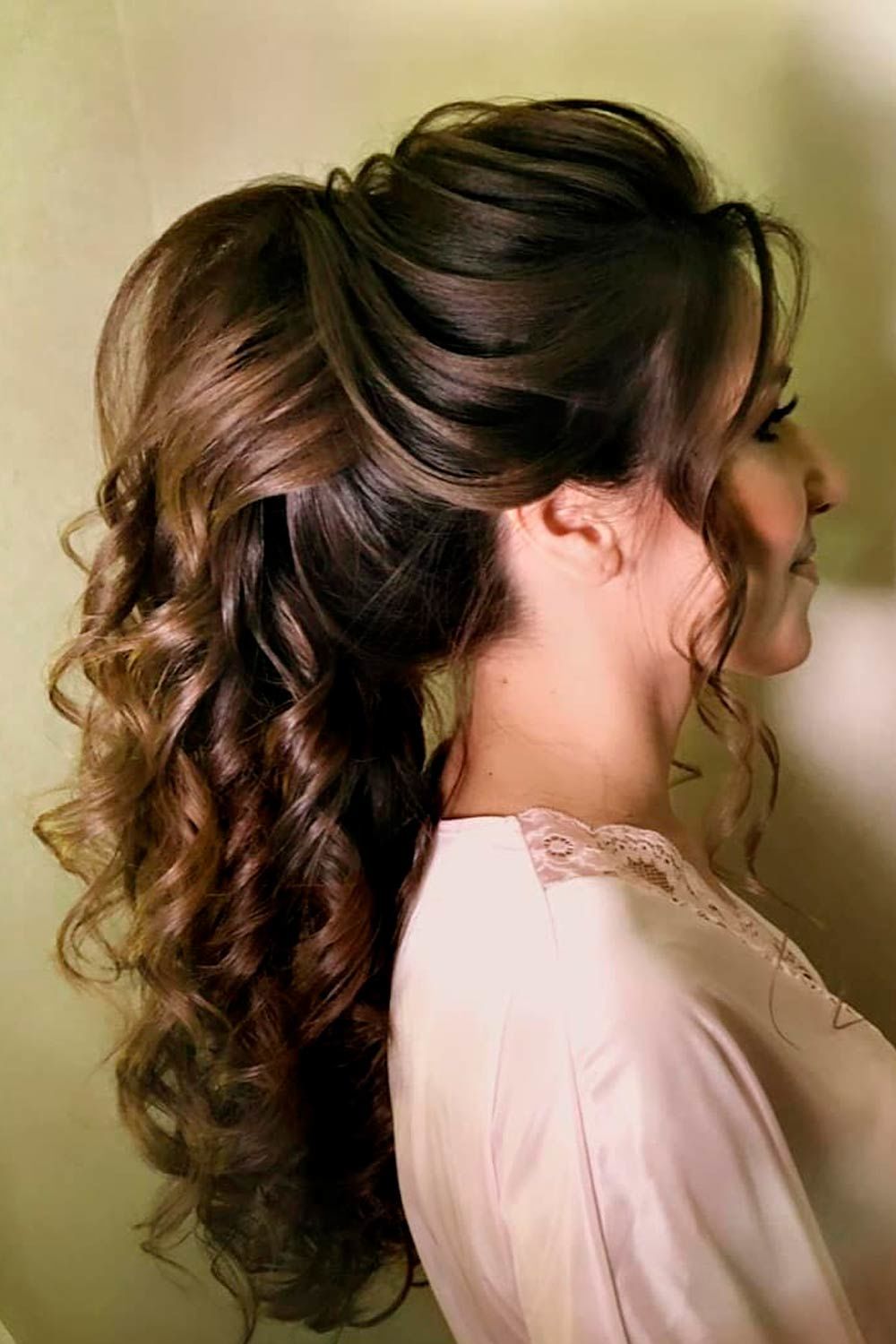 Credit photo: instagram.com/ekaterina_ah174
Wondering if there are cool short holiday hair ideas? Actually, you don't need to have a very long chevelure to show up with a breathtaking updo at the holiday party. For example, if you decide to wear a truly eye-catching outfit, a minimalistic 'do like this will be the right finish. So as not to outweigh the look, combine simple and posh elements: this ponytail half-up with shiny ties is the needed touch.
Double Dutch Braids With Knots Half-Up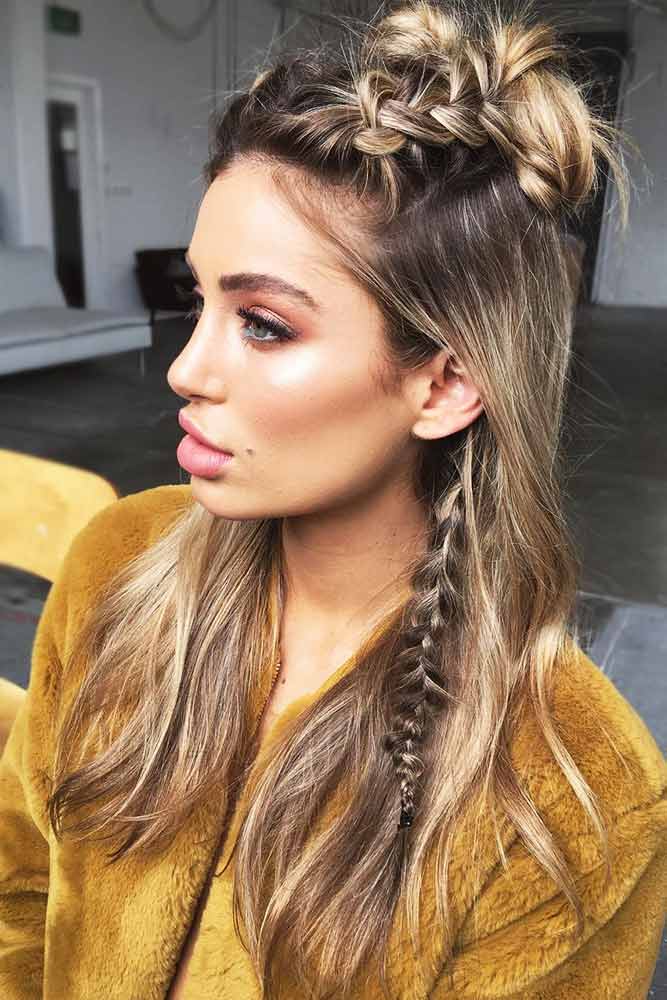 Credit photo: instagram.com/_hairbygabrielle
For a casual party or a day-out that you and your friends want to spend in a club, dancing at your best and singing out loud, nothing will work better than this holiday hair idea. Not only the double braided 'do with knots will keep you comfy while having fun but also will give you a super modern and hot look.
Double Three Strands Braids Half-Up
Credit photo: instagram.com/hair_by_zolotaya
If you want your look to show everyone how delicate and feminine you are, waves and braids are the duo that will make it complete. Believe it or not, a couple of thin regular braids can turn your amazing wavy chevelure into a graceful, girly hairstyle. Waves will add dimension, while the crown, secured with braids, will add more volume to the crown.
Double Side Dutch Braids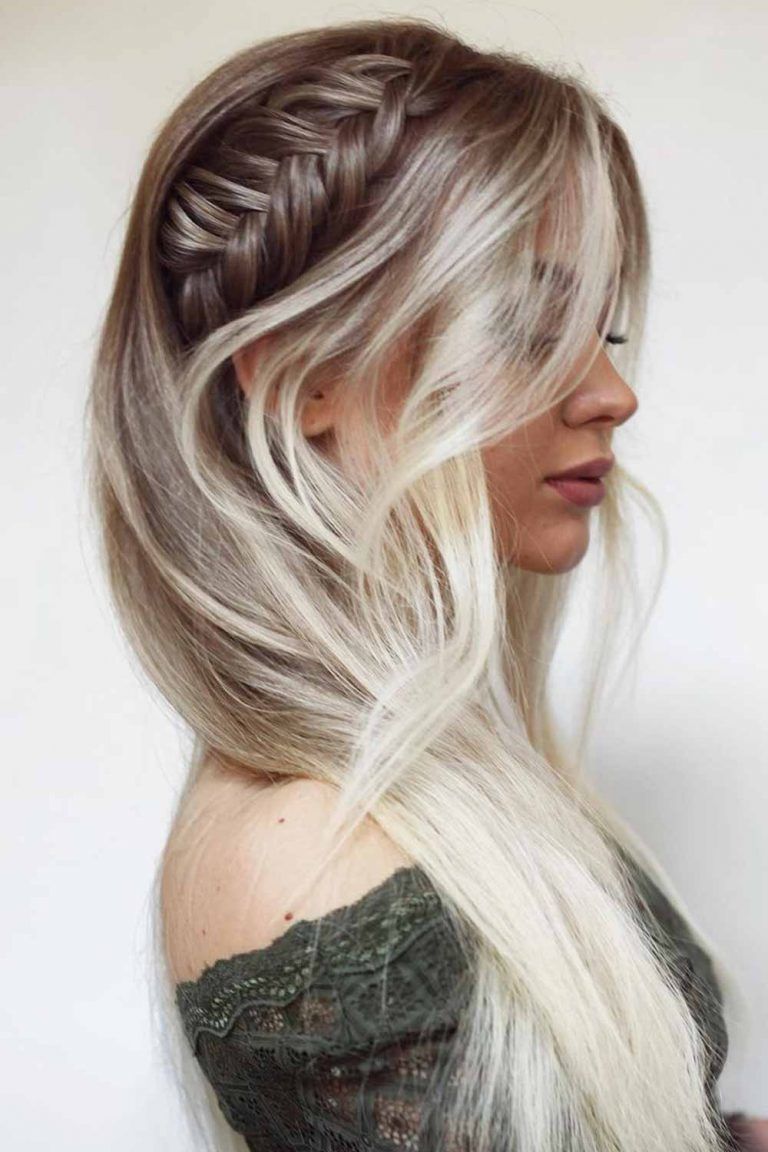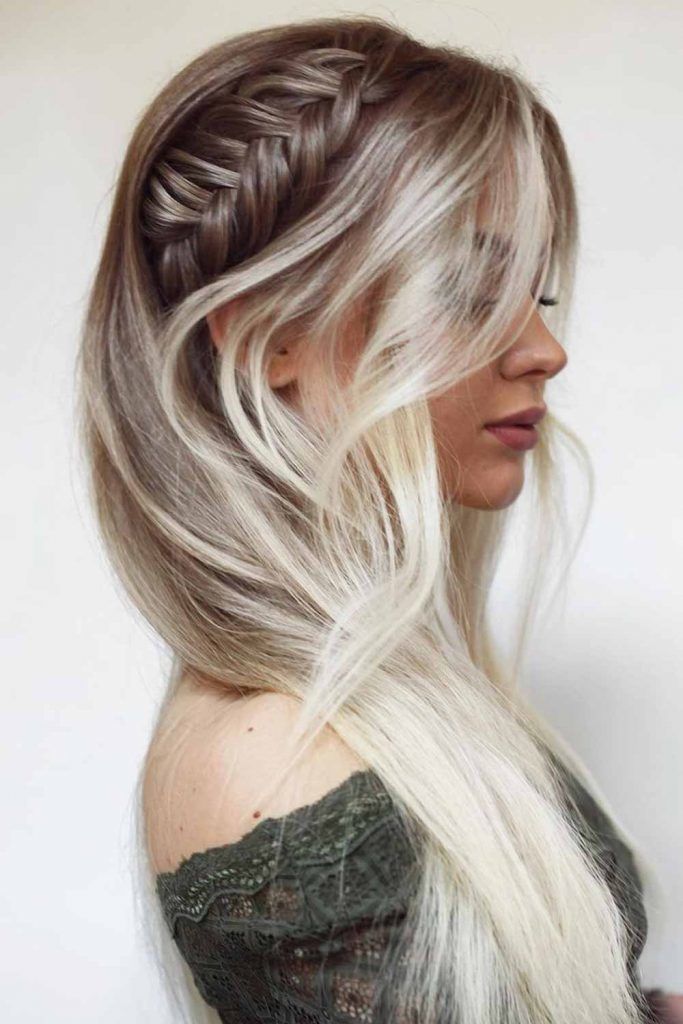 Credit photo: instagram.com/lenabogucharskaya
Want something sassy and dainty at once? Braids have many faces, and not all of them are meant to emphasize your femininity. You can go for two tight Dutch braids on one side of your hair, sweeping the top portion of hair to the side and thus lifting it up. To make your bold holiday hair even more outstanding, consider waving the rest of your locks.
Topsy Tail Braid Hairstyle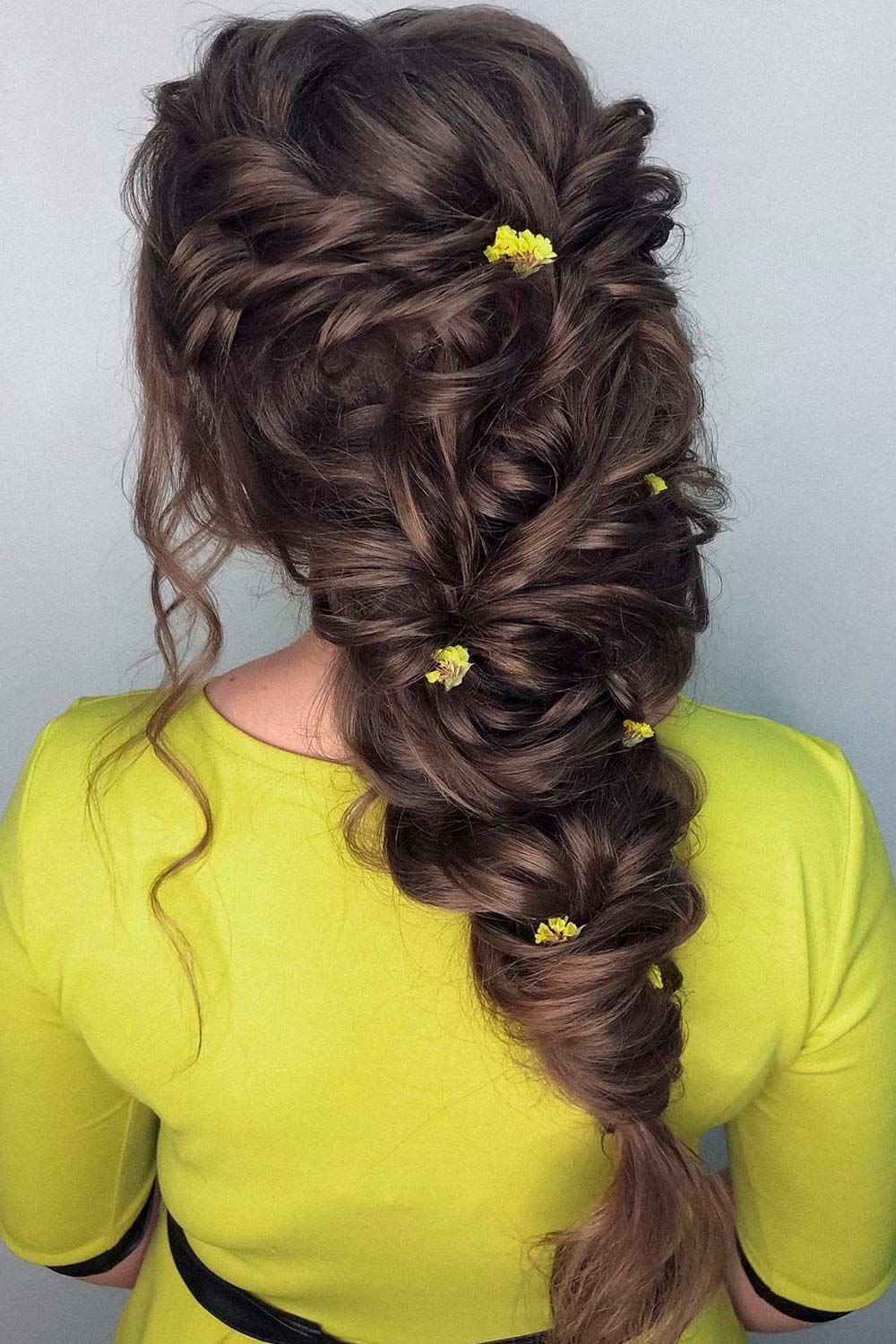 Credit photo: instagram.com/anet.shabatina
Who doesn't know how to get a topsy tail? First, you tie it, then you create a loop, and flip your hair through it. But do you know that this common style that your mom used to do for your school days can look like a red-carpet style? Tousle up the crown, curl the ends, and the popular topsy tail will work for your special day.
Braid Pony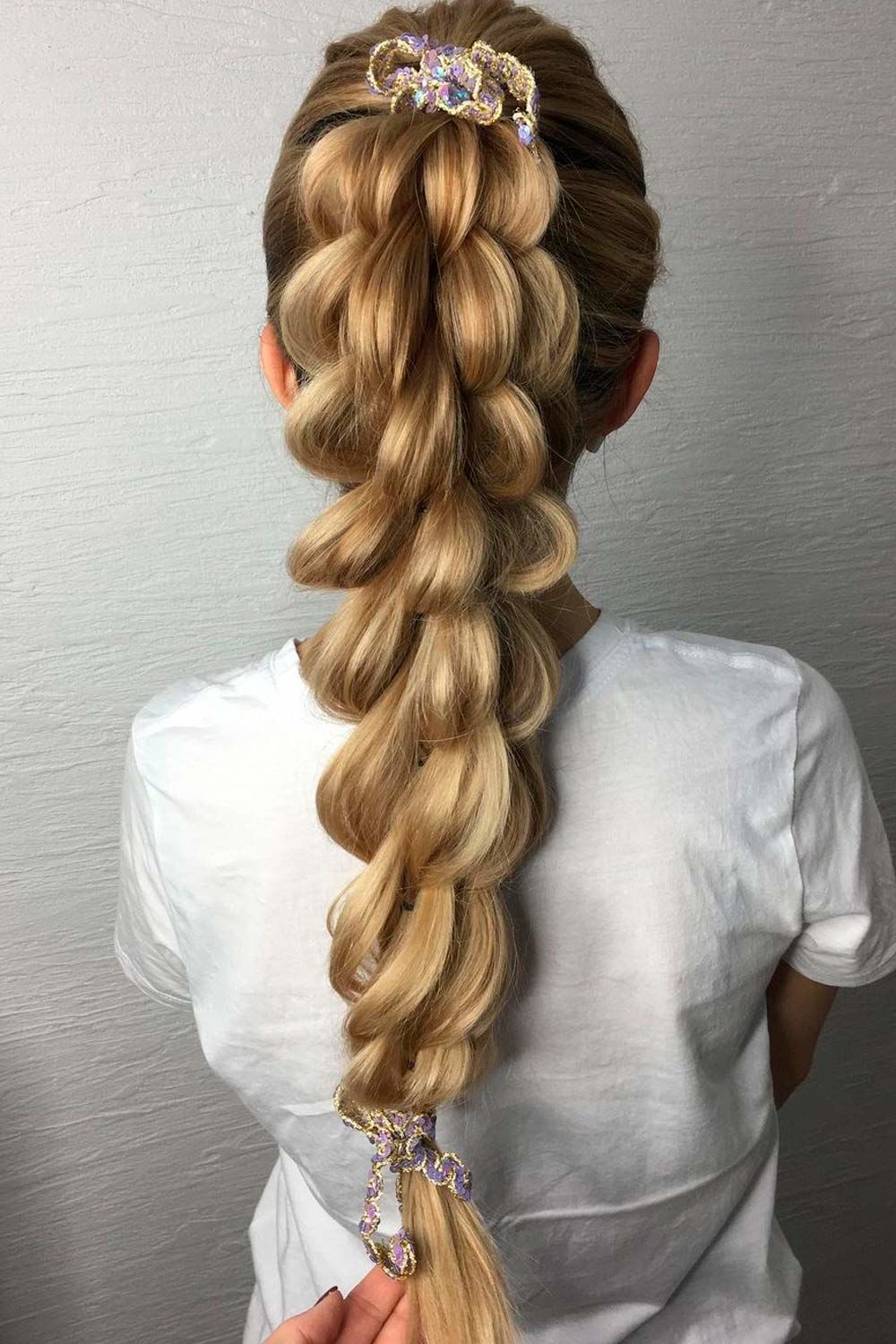 Credit photo: instagram.com/kirakaluger
Ladies who've received an invitation to a cocktail party in honor of everyone's favorite Friday should keep their look simple and sexy at the same time. A deep V, round earrings, and a tight braid or pony are the best ingredients for your cocktail style. Such a sleek and exposed silhouette will make people drunk before they get to the bar, that's for sure.
Rope Braid Hairstyle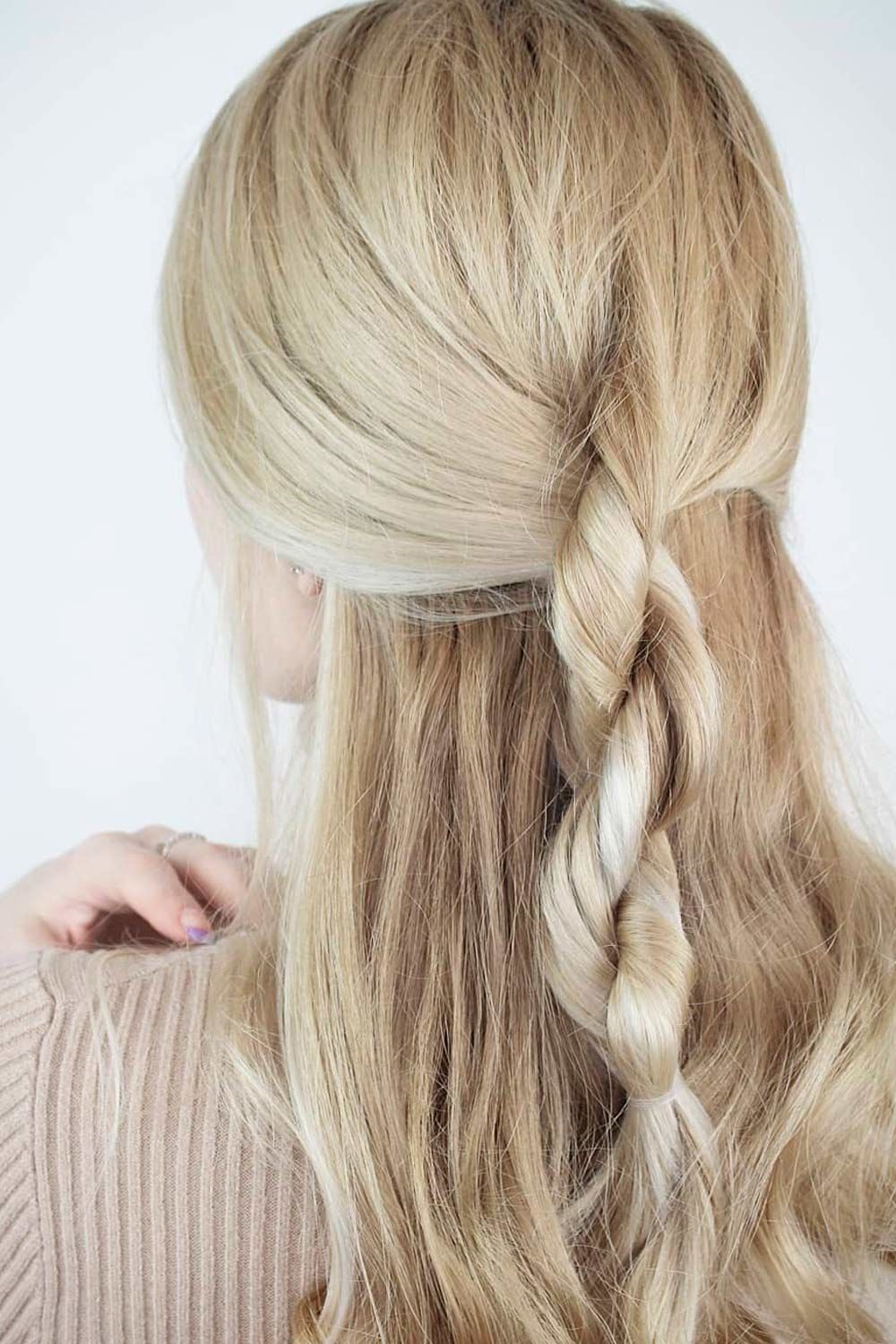 Credit photo: instagram.com/nia_hairstyles_
Have no idea what holiday hair ideas medium length can bring to life? Girl, if you flaunt with anything from medium to long length, there are plenty of hairdos that you can copy. And this rope braid is one of them. Women who appreciate minimalist looks and braids will love the charm of these two twists with softly framing front hairs.
Textured Three Strand Braid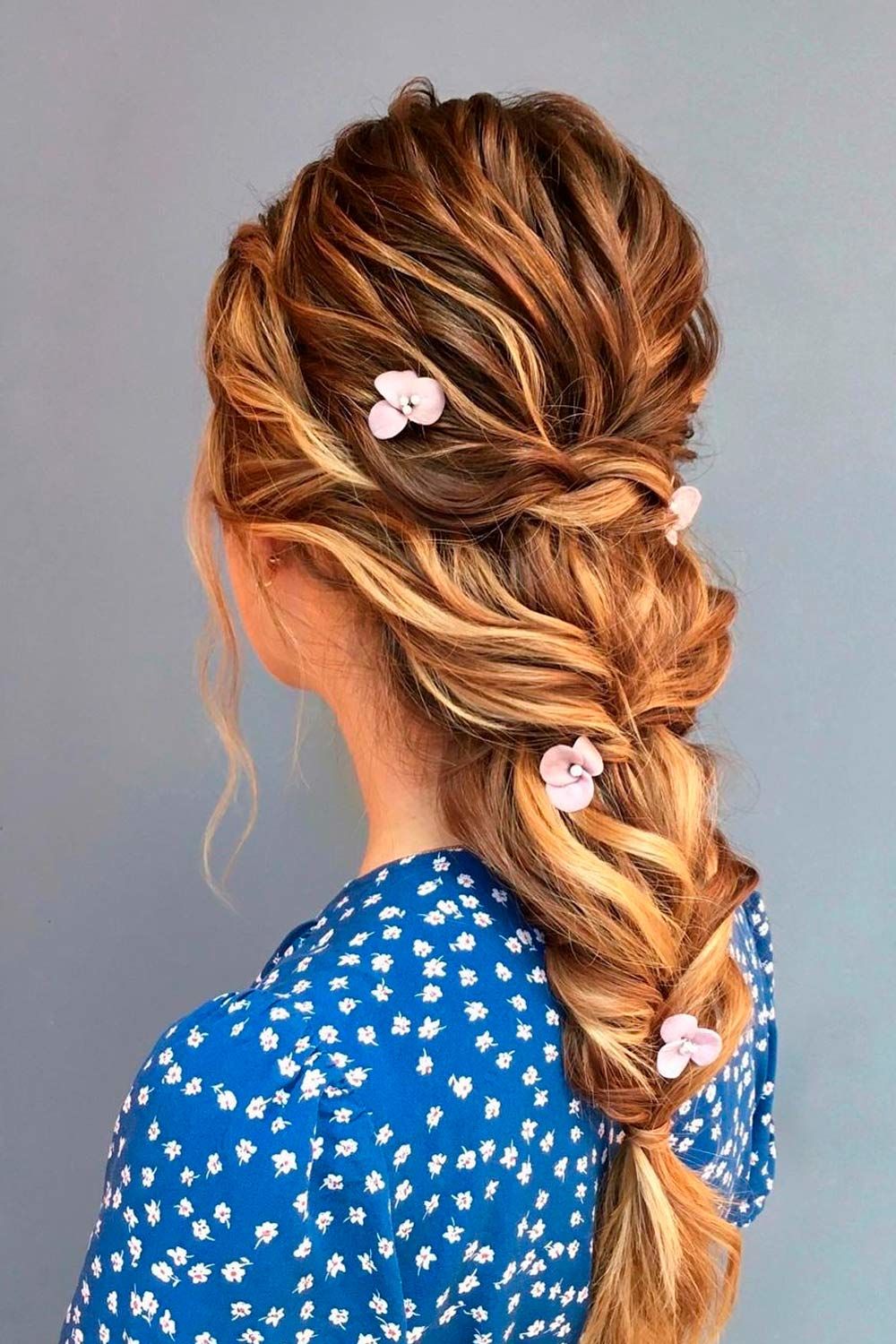 Credit photo: instagram.com/ira__muza
Who says that the good-old three-strand braid can't come as an evening hairstyle? Remember that braids are the most versatile hairstyles ever, so they can be anything you want! Create a loose regular braid, add some volume and a hint of messiness to the top, pull its edges, and be ready to see this cutie in a new, holiday light.
Side Wavy Styling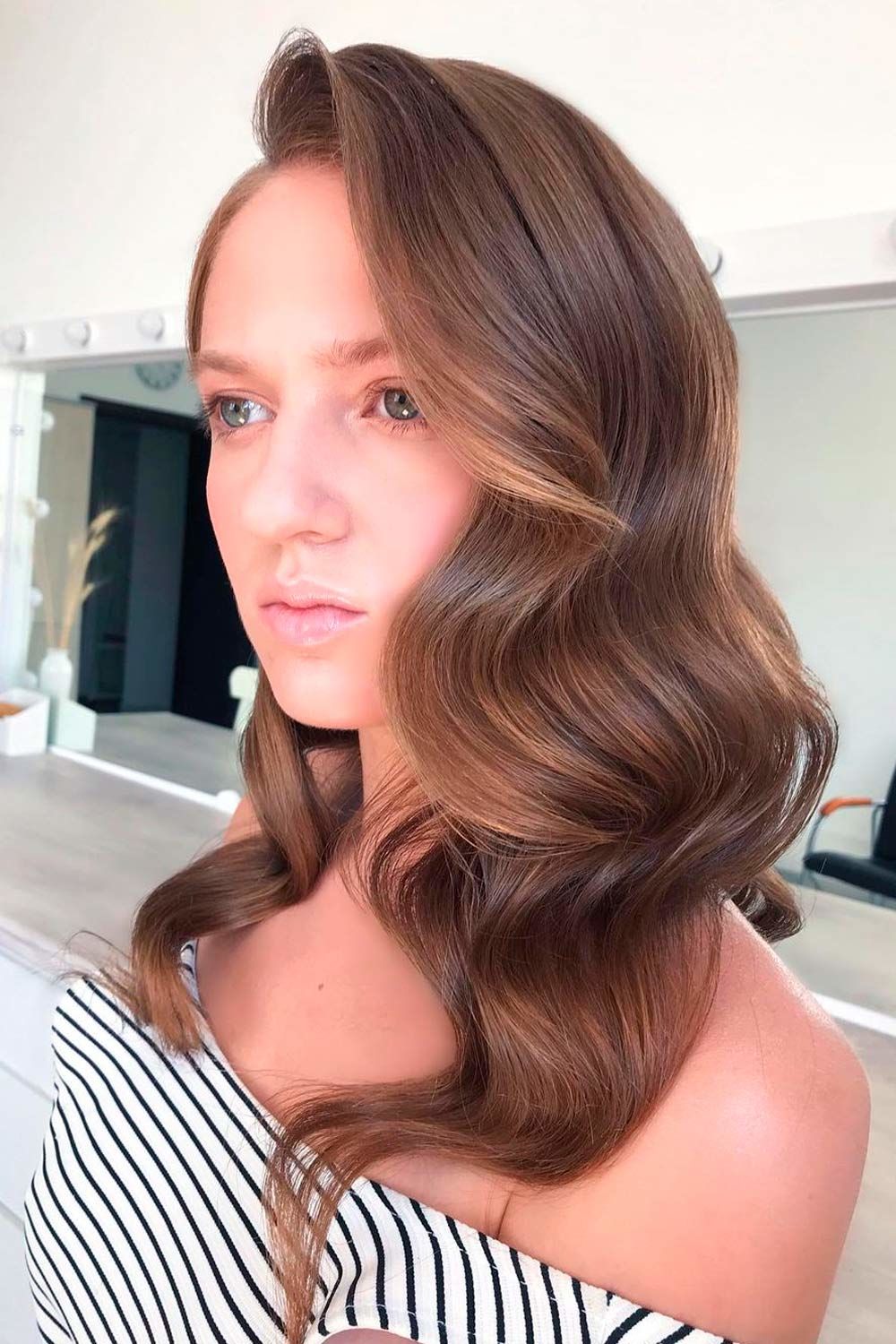 Credit photo: instagram.com/oks.popova_vrn
How about some retro-inspired holiday hair decisions? The top portion of your hair gently curves on the back of your head, leaving a dramatic, volumetric twist on the crown. Do some big waves with the rest of your locks and secure the curve with some slides to look like a magazine cover from the stylish 70's.
Hollywood Waves With Accessories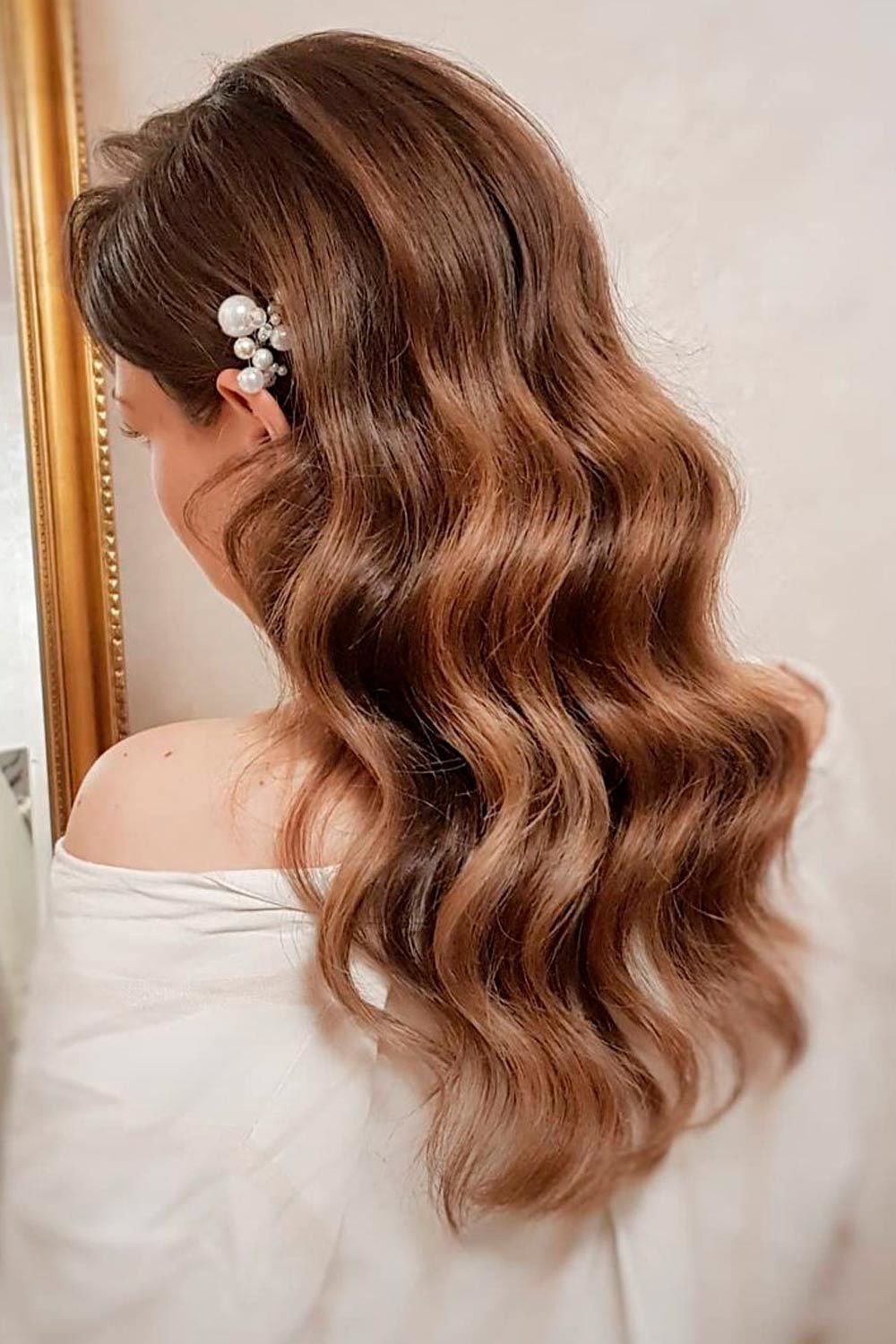 Credit photo: instagram.com/kristina.levda
Along with vintage Great Gatsby hairstyles, Hollywood waves have made a huge visual impact in women's hairstyle history and are still considered as the embodiment of pure elegance. Although the crown is left flat, the unbelievable shine of waves is enough to make you the girl to remember.
Glam Waves With Crown Accessories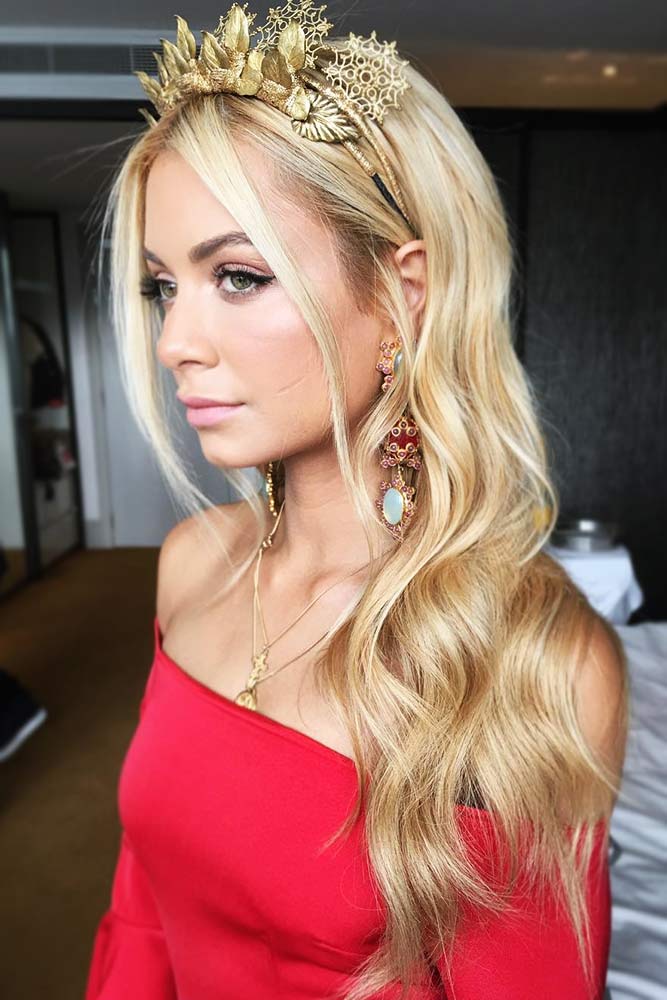 Credit photo: instagram.com/_hairbygabrielle
Don't want to spend a lot of time doing magic with your hair? There are lots of holiday party hair ideas that can give you a decent look without stealing your time. To add individuality to your style choose a unique and glaring accessory that will finish your soft waves.
Side Cornrow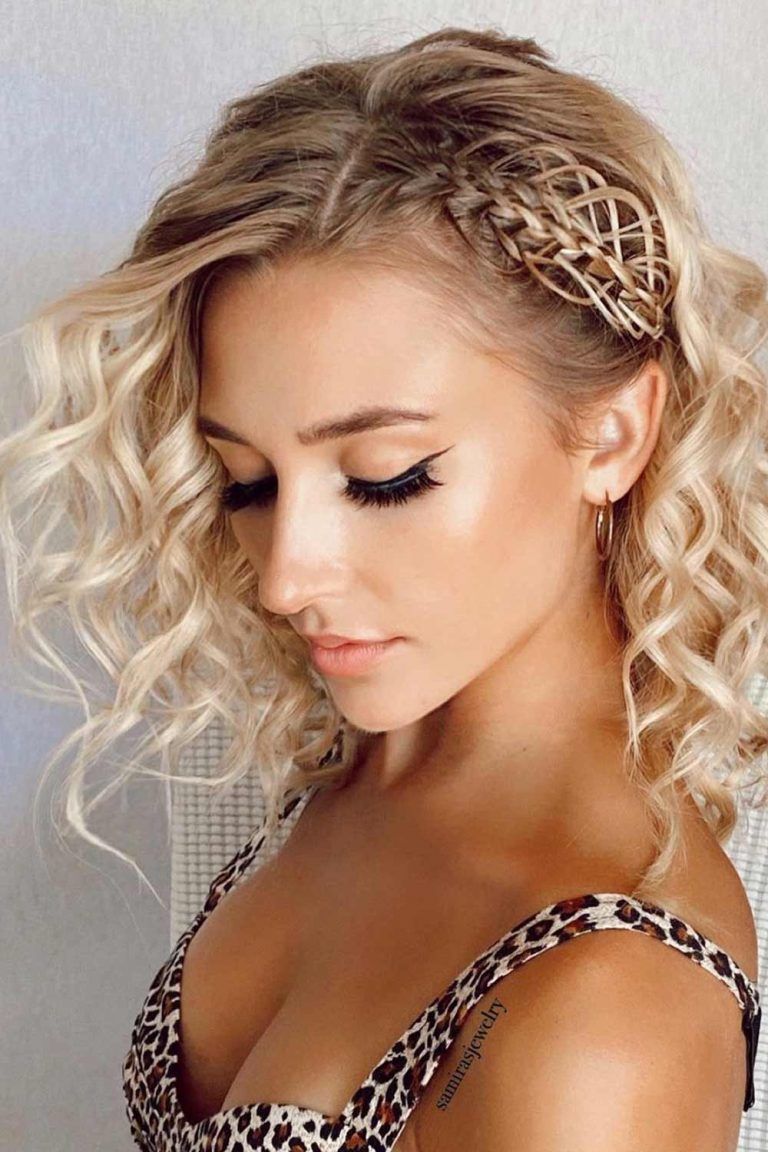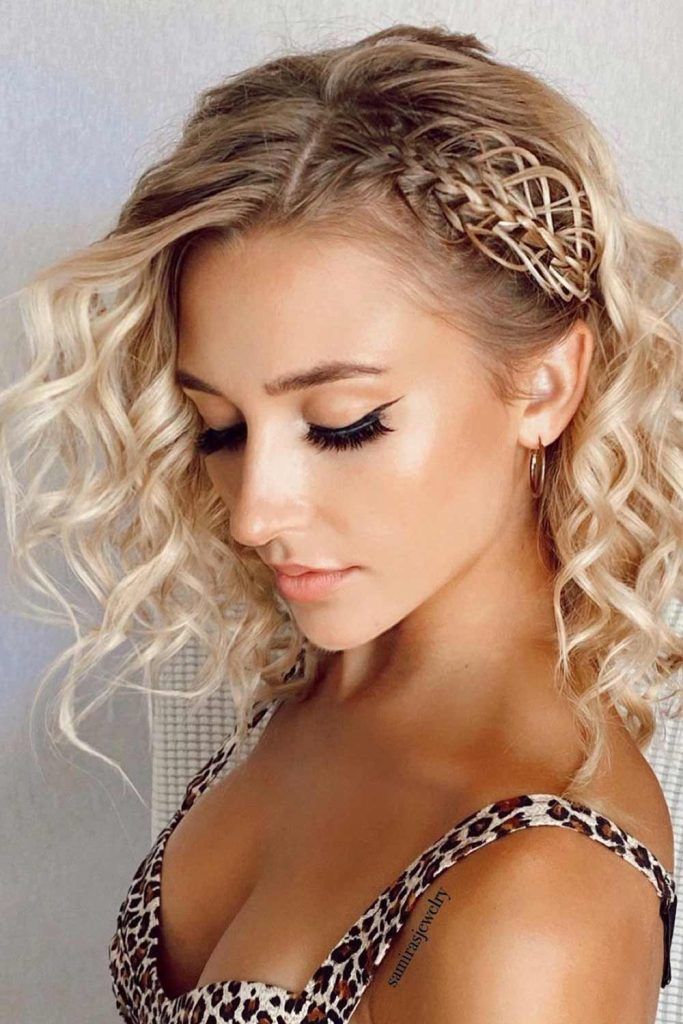 Credit photo: instagram.com/samirasjewelry
First, it was a classic blunt bob that women from all over the world rocked like one. Then, a game-changing cornrow became a part of this haircut, drastically changing its appearance for a more flirty look. In fact, a cute braided element for a simple hairstyle is like a little party in the middle of a working week. Besides, this hairstyle is proof for endless versatility of bob haircuts: all you need to make it festive is to finish it with wavy texture and lovely braid at one of the sides. To add some drama to your short holiday hair, create a side part with a voluminous flip.
Updo Halo Braid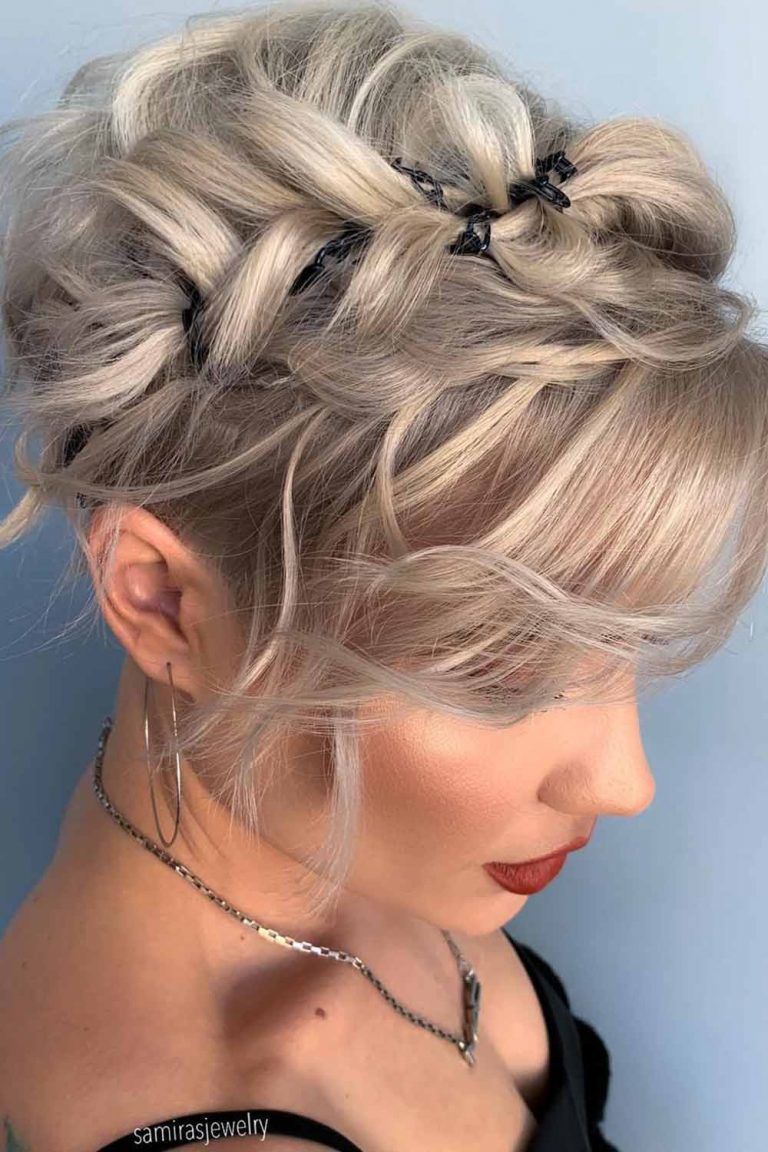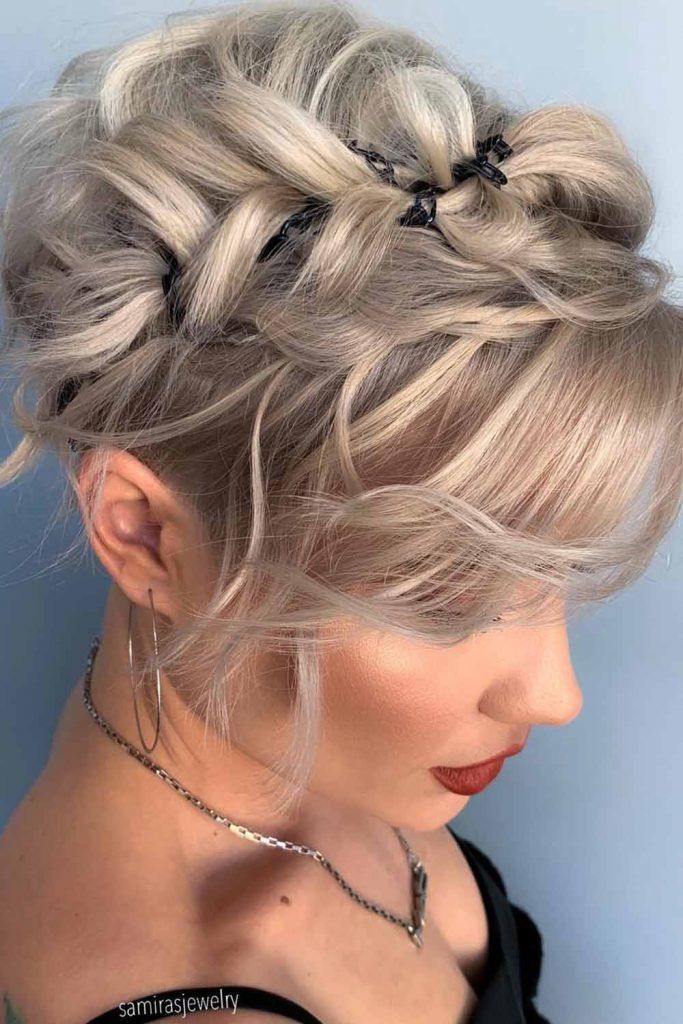 Credit photo: instagram.com/samirasjewelry
If updos already work as accessories, can you imagine how feminine your 'do will look once you embellish it with an accessory? There's nothing like an elegant halo braid with a couple of wavy locks cascading to frame the face! What makes this hairstyle to special and sophisticated is the way this exquisite accessory adds character to the whole look.
Side Braid With Silk Scarf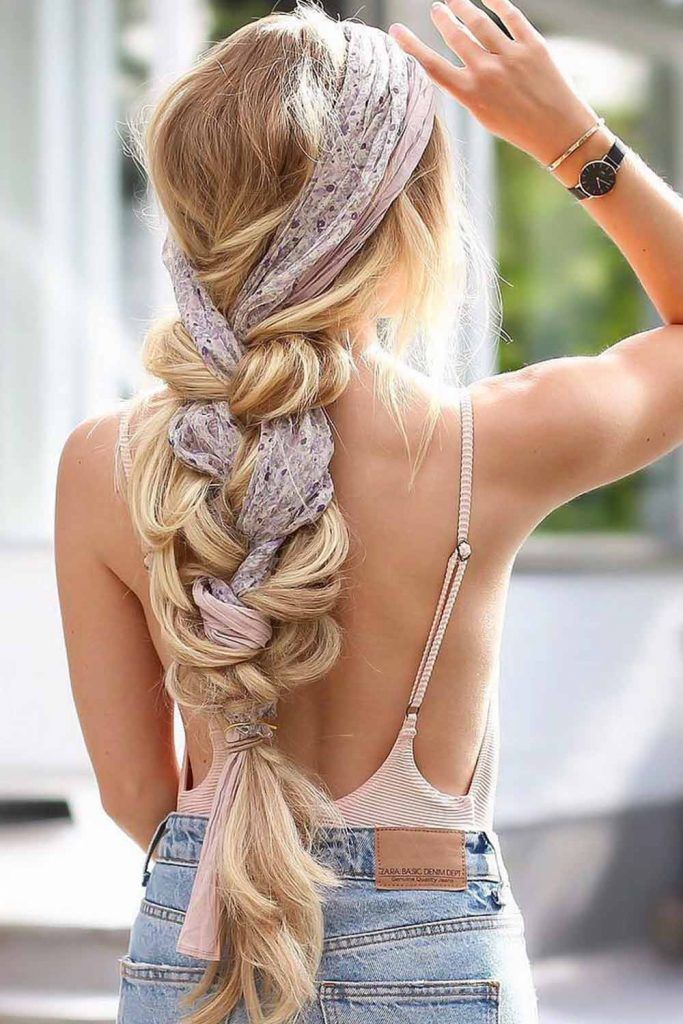 Credit photo: instagram.com/inspobyelvirall
Another hairstyle that reaches a totally new level with the help of just one little detail. Needless to say, there's nothing complicated about side braids; they take less than 5 minutes to get them done. However, once you incorporate a fancy scarf that matches your party outfits into your braid, you will see this simple look amp up. The best thing is, such a hairstyle will work for anything from Christmas and Thanksgiving with your family to Coachella and cocktail party with your besties!
French Braid With Twisted Bun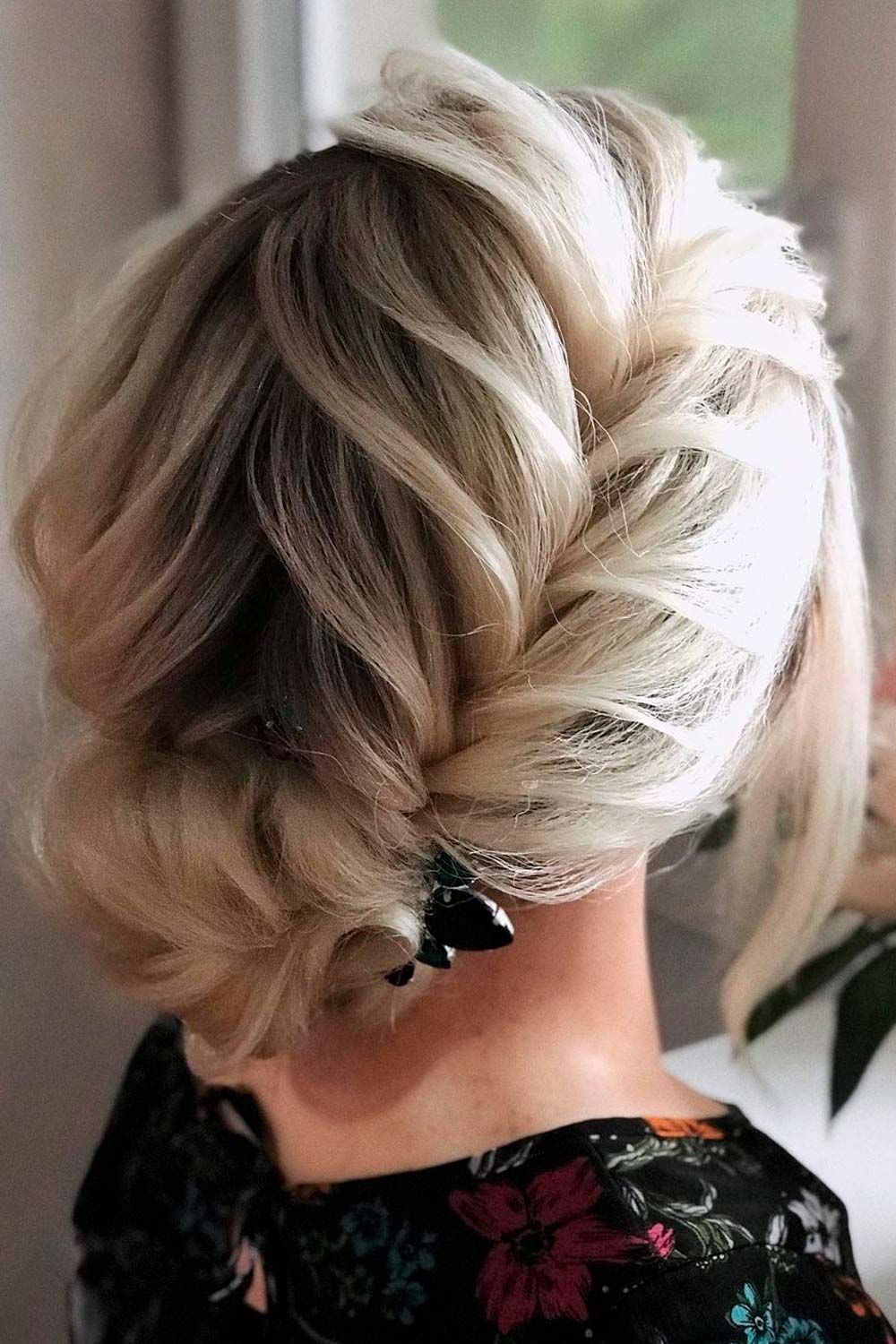 Credit photo: instagram.com/evgeniiali_stylist
Are you going for a fusion party with variously mixed decoration styles and creative cuisine? Well, you can't do without a mixture of styling techniques, then! Okay, as a matter of fact, this hairstyle will be your icing on the cake wherever you are, as it features a classic French braid that turns into a floral twisted bun. To put a signature to this magnificent do' don't forget about an accessory that matches your dress and event.
Sleek Design Braid Updo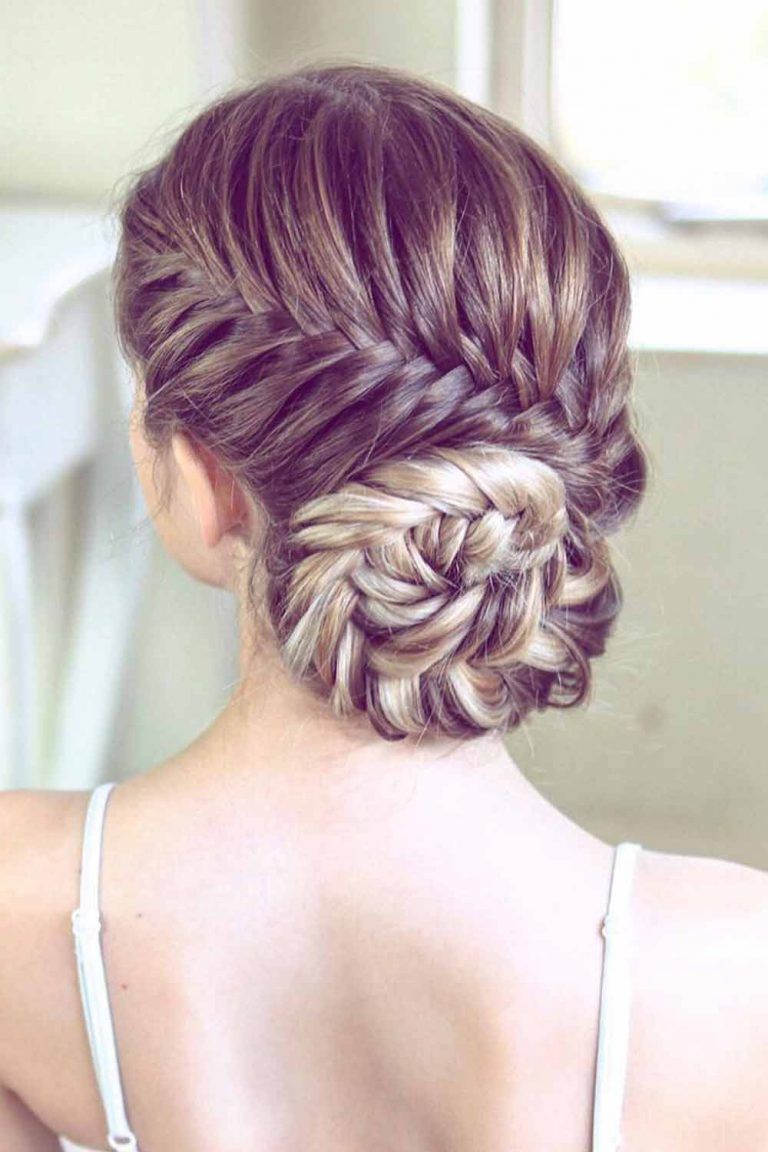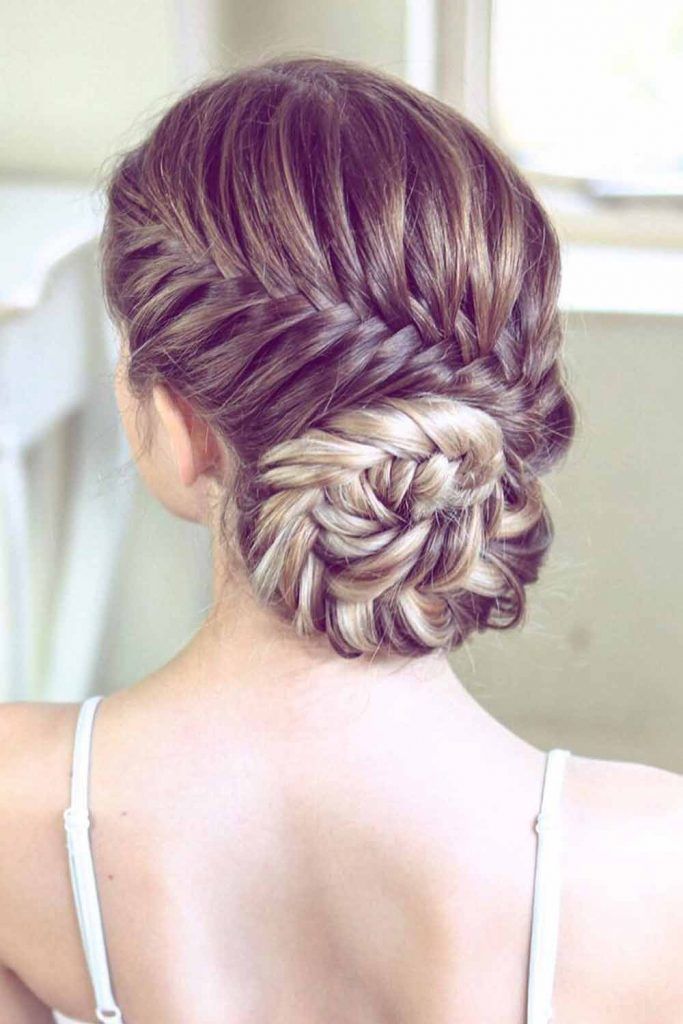 Credit photo: instagram.com/sweethearts_hair
We bet it's pretty clear that this is not just a hairstyle. It's a red-carpet updo that fascinates with its perfectly defined braided texture and steals the show with its shine-reflecting finish. To tell you the truth, there's no better way to show everyone who's the queen at the party than to show up with a crown-like braid. Apply some shine spray before styling your hair, use a flexible metal line to hold the shape, and prepare to see people bow to your knees.
Dutch Crown Braids Into Messy Bun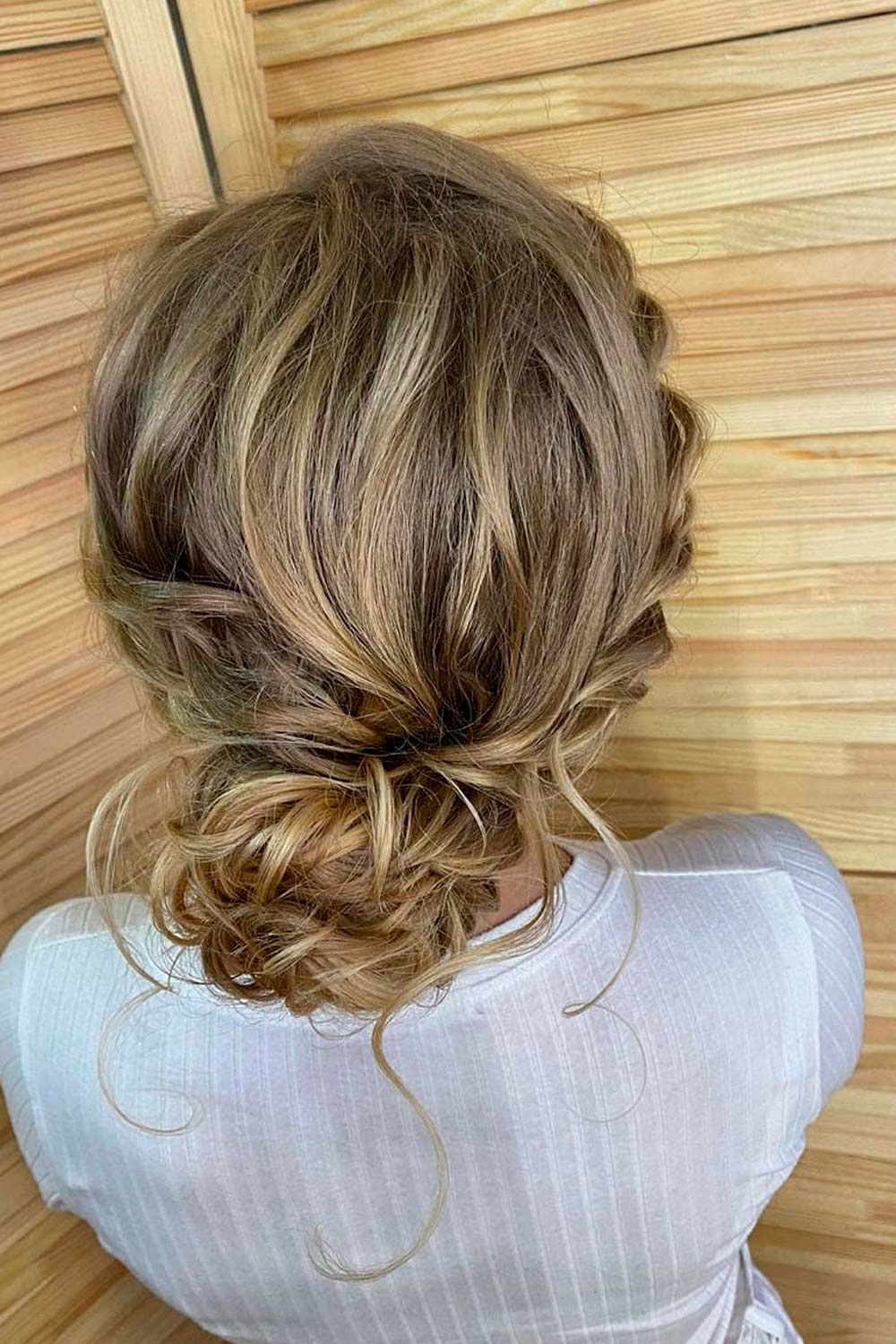 Credit photo: instagram.com/marinka_hair_stylist
When an occasion requires you to set all your delicacy and femininity into motion, a Dutch braid with a messy accent comes in. Yes, this hairstyle is pretty simple. But, its simplicity is what makes it look so refined and noble. By the way, it's a fantastic option if you're going to be a bridesmaid: you will look fantastic without outshining your beautiful bride. For this hairstyle, apply less hairspray and involve more tousling: you will love how a touch of messiness makes the look complete.
Voluminous Messy High Pony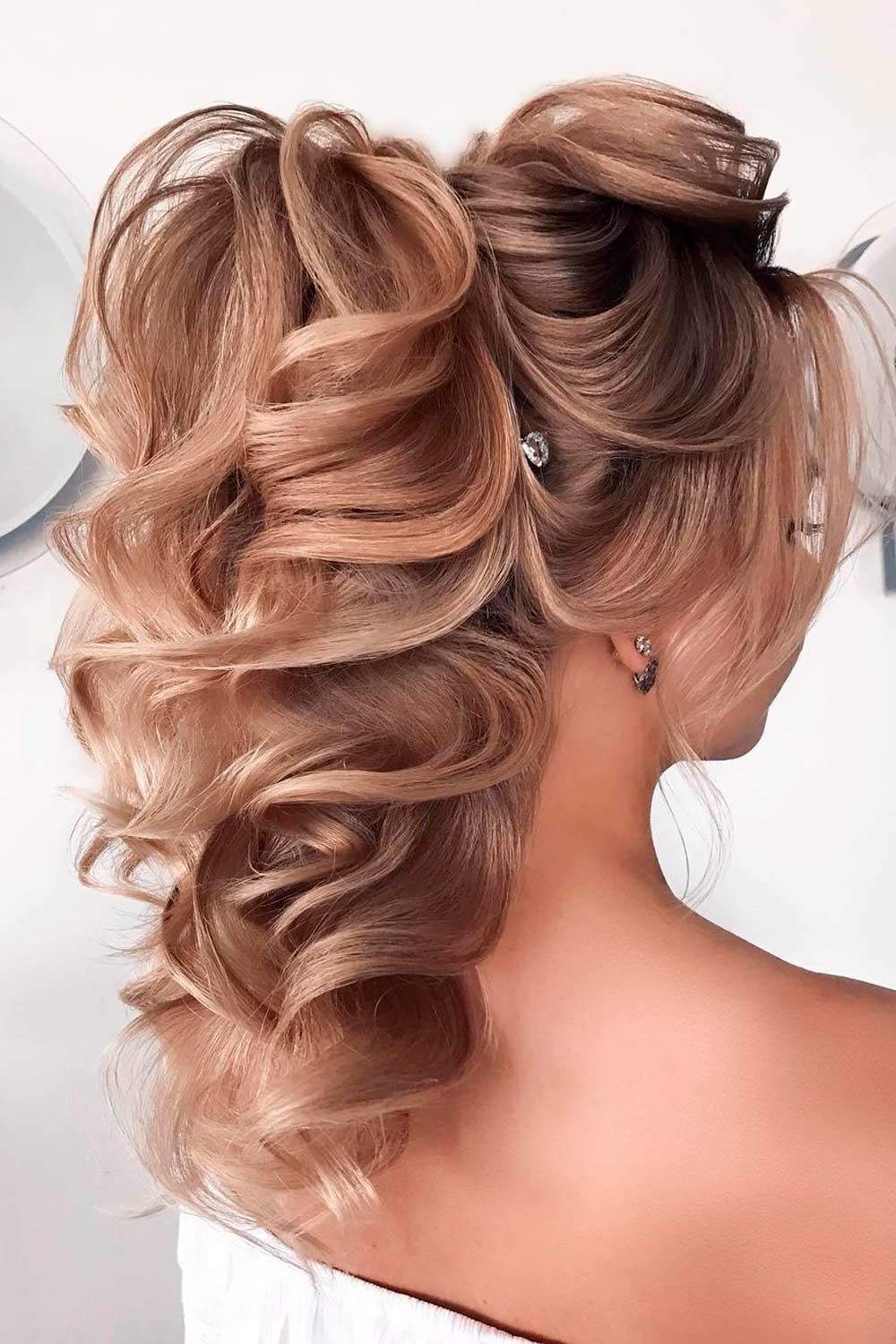 Credit photo: instagram.com/oks.popova_vrn
First, we wanted to say that ponytails are making a major comeback. But, in reality, this hairstyle has always been among the top classics. So the right way to describe how popular this hairstyle is today is that ponytail has made a total breakthrough. With the right approach to details, as well as good products, a pony is all you need to create a voluminous and full hairdo that will accompany you for any holiday evening. And you know what? Your hair type doesn't matter: just get as many waves as you can to strike people with volume in your hair.
Braided Low Bun With Long Bangs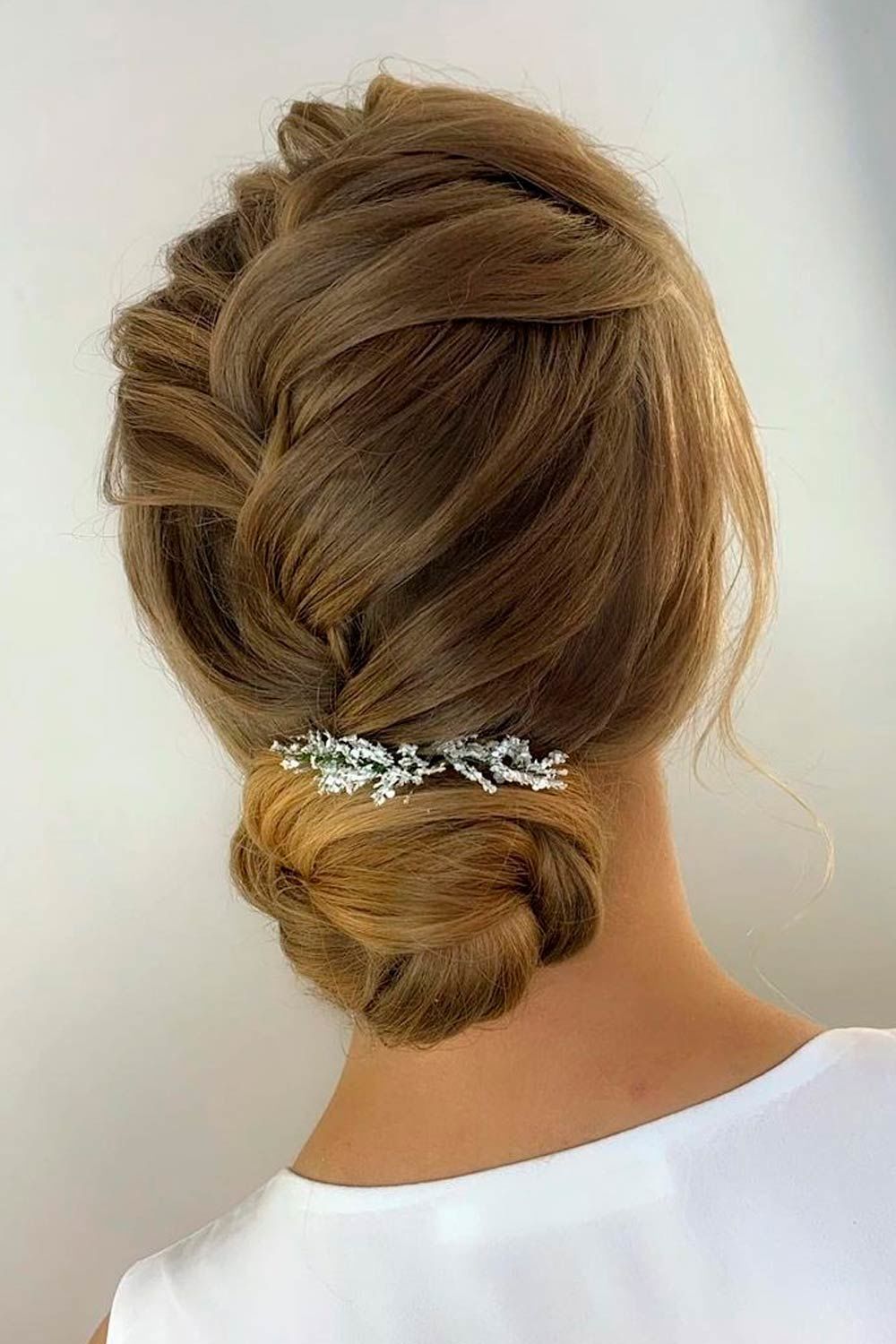 Credit photo: instagram.com/anto_nina_74
What a ravishing way to incorporate bangs into an updo! Sometimes bangs look too drastic when all the hair is upstyled. But here, everything's different. This time, the bangs play their own part in this stylish ensemble. Sorry if we're rushing into things, but this hairstyle is the reason to get married: it keeps the clavicles open, has tons of volume on the crown, and gives face-framing magic that enhances the beauty. Who would've thought that a side braid could become this breathtaking?
Upside Down Triple Braids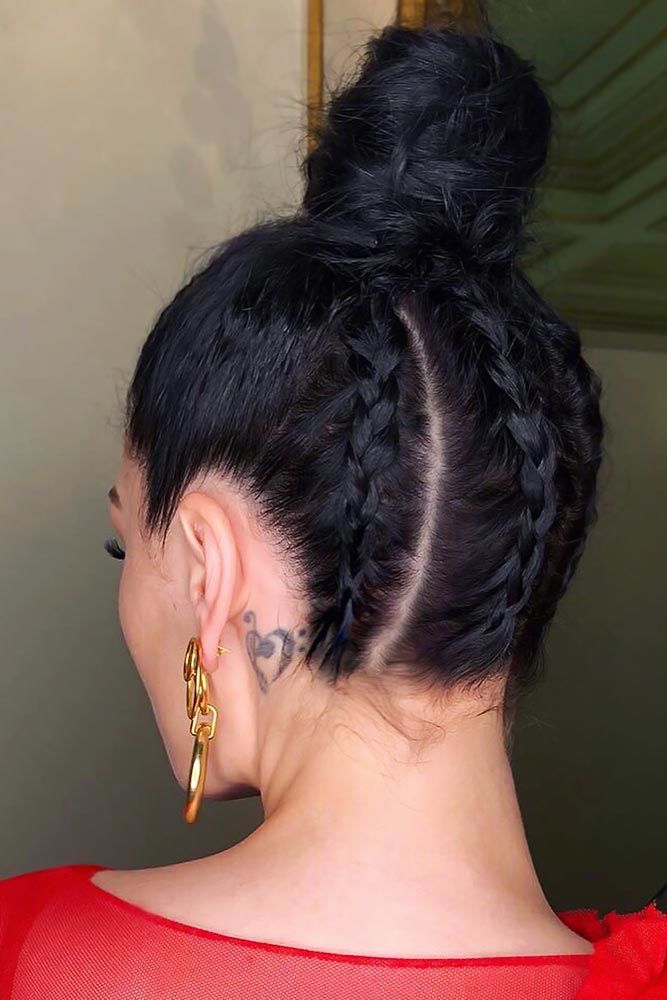 Credit photo: instagram.com/eduardoponcehair
There's a misconception about hairstyles that make women look sexy. Now, we'd like to dispell the myth: you don't need to have a knee-long mane with posh and voluminous waves that steal the show from a mile away. Actually, a hairstyle that keeps your face open and emphasizes your bright character is enough to add a seductive vibe to your look. Just look at this high braided bun with perfectly outlined sections: that's the statement that will make jaws drop, especially if you pair it with massive earrings.
Pull Through Braid With Scattered Rhinestones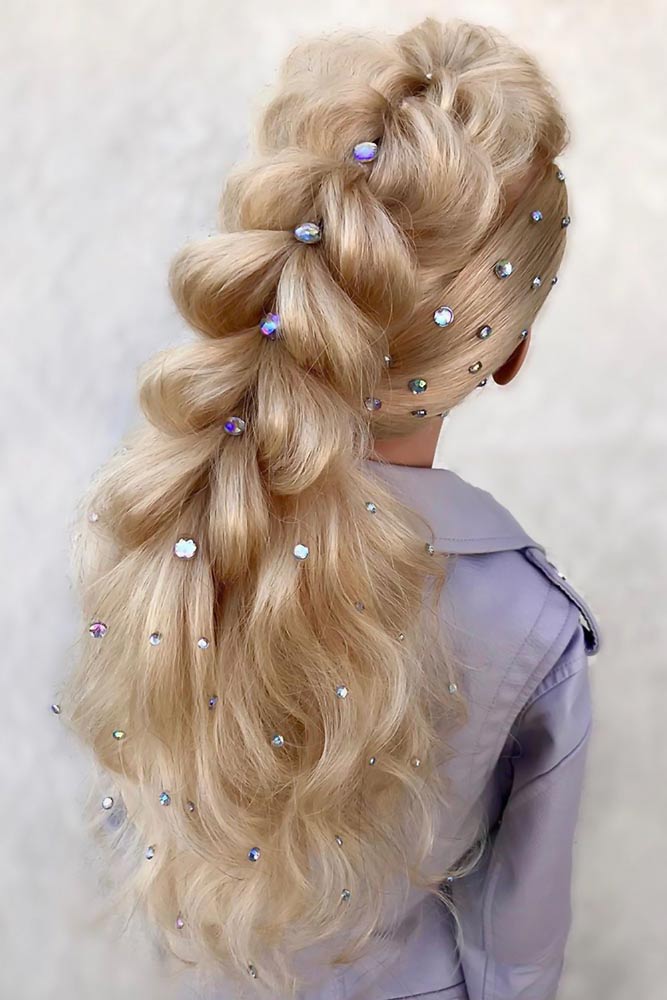 Credit photo: instagram.com/beautybymissruby
Some hairstyles are so great and majestic that we wait for a big day to come to finally give them a try. Well, this gorgeously accessorized pull-through braid with sleek sides and voluminous waves is the style to wait for. If you have always wanted to walk down the aisle with a unique hairstyle that is as big as your celebration, this is your chance to make every single detail of your long-awaited wedding significant.
Tight Twisted Pony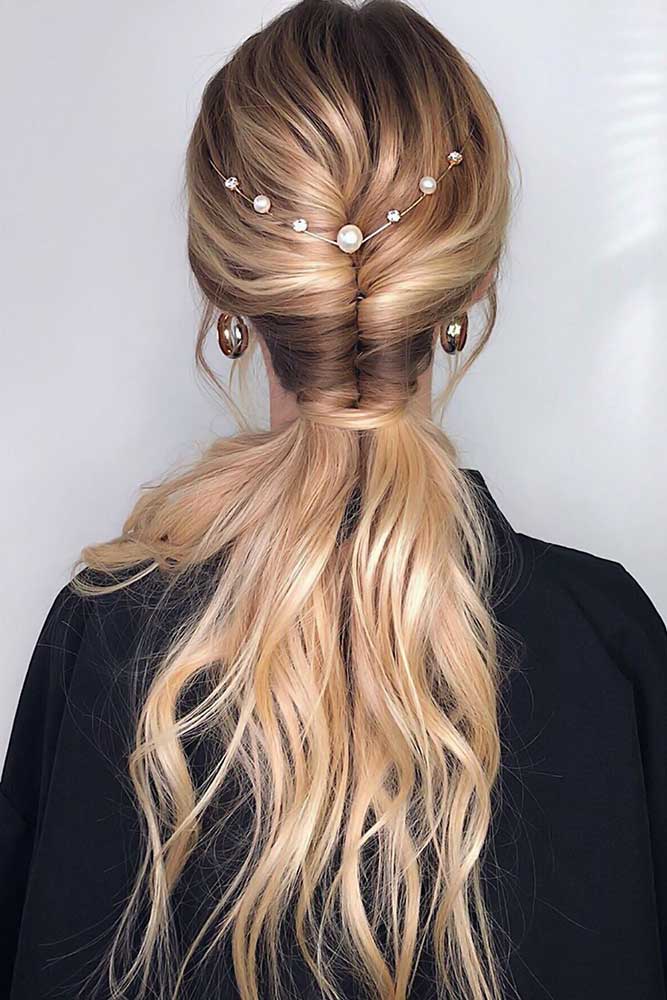 Credit photo: instagram.com/viola_pyak
Sometimes keeping it simple is the only way to show off your multifaceted taste. Despite being pretty straightforward, this hairstyle takes a radiant approach to details: instead of a simple ponytail, there's a tight twist that looks fab on balayage. As for accessories, they work just like the highlight that demonstrates the true beauty of simplicity. Add some texture and movement to the rest of the hair, and you'll be ready to catch eyes on your holiday go-outs.
Simple Half-Up With Bow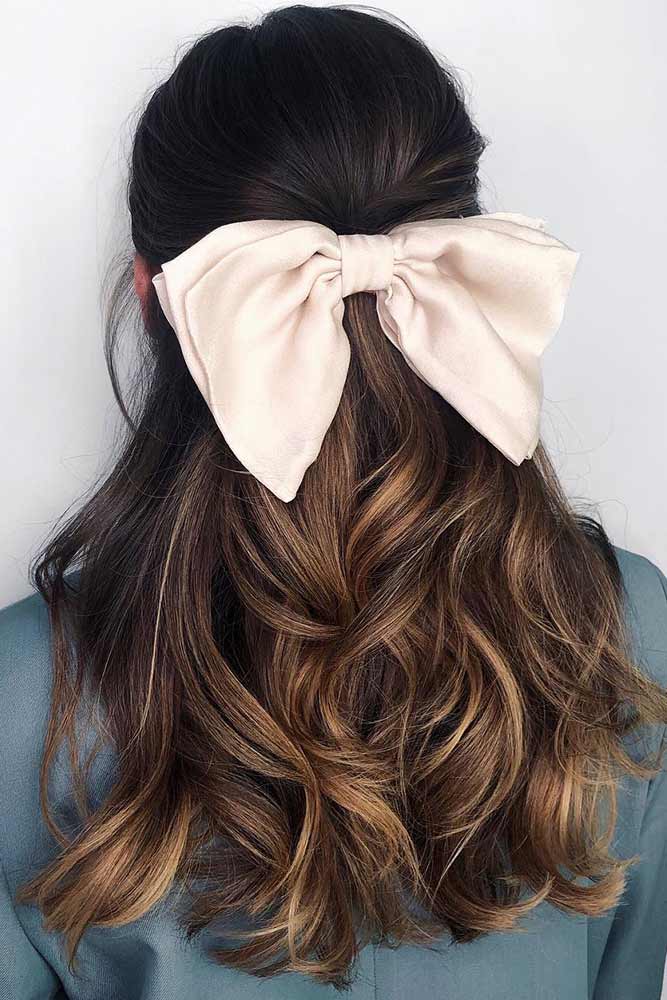 Credit photo: instagram.com/viola_pyak
Let us take you back to the world of classics that will never become outdated. You may have seen this cutie depicted in your favorite tales; it just so happens that big wavy locks embellished with a large minimalist bow create a fairy-like womanish character. Isn't that the best way to look at some family dinner or tea party? While being super easy to style, this hairstyle looks just magical.
Low Pony With Headband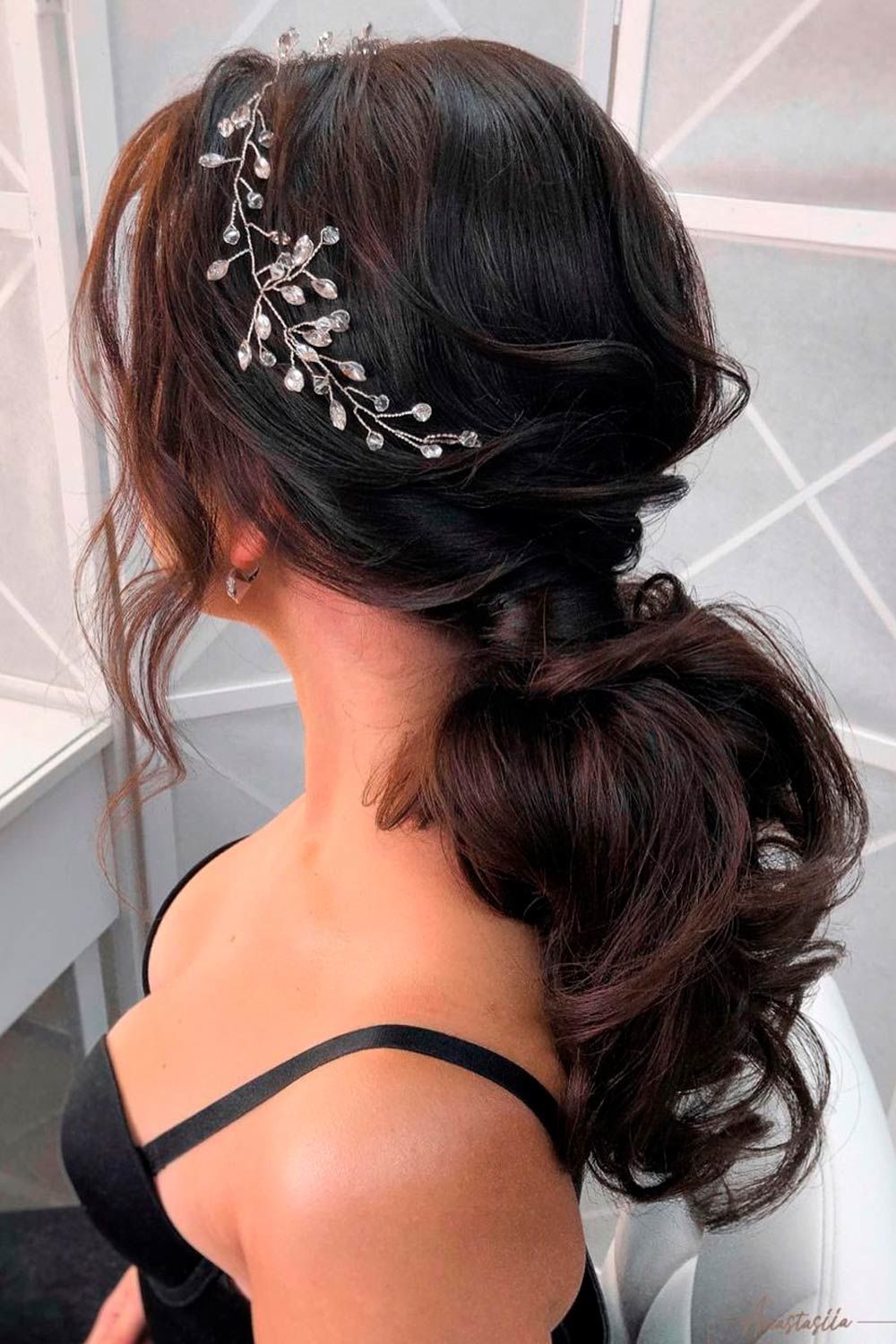 Credit photo: instagram.com/anastasiia_melehova
It's all about the right accessories again! When we are about to go out with friends or prepare for a date, we love to think of every single detail in our outfits. What we want you to do is to think the same way when styling your hair. No, it shouldn't be complicated; it should be just tasty! This hairstyle is a perfect example of keeping all the details in mind while doing very few things with hair. Create some waves to add more volume visually, secure it with a scarf that matches your outfits, and put an exclamation point by wearing a matching headband. That's it, a shortcut to spotlight!
Tousled Top Knot
Credit photo: instagram.com/sunkissedandmadeup
When you think of a top knot, what comes to your imagination first? Let us guess: it's something that looks like a mess that you do just to keep your hair out of the way. As it turns out, the homey hairstyle can become your jaw-dropping weapon for creating a holiday look. The fun fact is, this hairstyle still needs a messy kiss. Put all your hair up into a pony, divide it into some sections and pin them so that they look like a messy flower. Coat the 'do with hairspray, and you're ready to go.
Messy Greek Style Braid With Accessories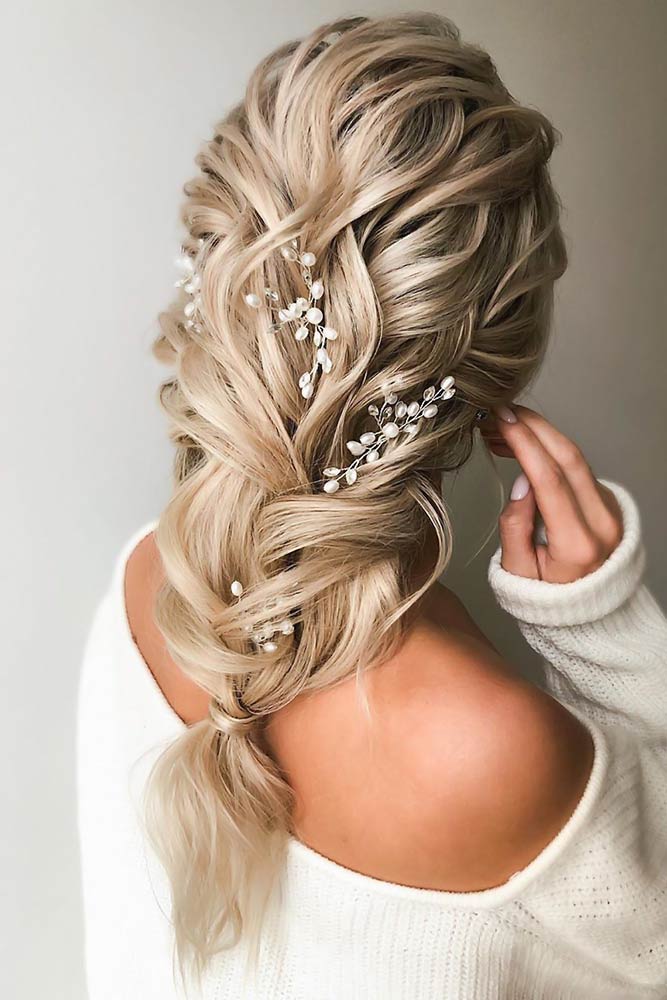 Credit photo: instagram.com/a.shtyrts
When you think that the party you've been invited to needs a Greek goddess, no one but you can take up this role. This hairstyle is as casual as its festive, which means that it can be a part of a grand ball look, as well as accompany you for an Easter dinner. What keeps the balance between these two extremes? Accessories are the answer. Create lots of firmly sprayed wavy sections and style them into a loose twisted braid. Then, depending on the significance of the event, complement your holiday hair with an authentic embellishment.
Sleek Updo Twist
Credit photo: instagram.com/ojoaquim
How about you to look like a million bucks? If that's not what you aim for, skip this hairstyle. Seriously, with such a precise, sleek, and balanced updo you're doomed to look like royalty. Paired with medium floral earrings and evening nude makeup, this style will reach its highest for your unforgettable holiday look.
Voluminous Braided High Bun
Credit photo: instagram.com/ojoaquim
Hands down, updos are keys to adding a romantic flair to our looks. Nothing can compare to a voluminous and textured twist that embellishes your head on the top. If he says that this date is going to be special, don't look any further than this hairstyle: it will fit any dress and complement any makeup choice to impress your man.
Now you know how many different and chic holiday hair styles you can try out to stand out in the crowd! It doesn't matter what holiday is just around the corner; the point is to be rough and ready to look special. How about you to copy one of our ideas and create a test holiday do'?
FAQ: Holiday Hair
Does holiday hair do extensions?
Volumizing extensions will make your hair look thicker and hold your style for longer than natural hair. Choose the amount of volume you wish to get with both half and full extension treatments.
What are some of the most popular Christmas hair styles?
Fabric Braid.
Rudolph Bun.
Red Ribbon.
Twisted Bun.
Braid Headband.
Thrones Braids.
Star Hair Pins.
Mermaid Braids.
Faux Bobs.