Braided hairstyles are all the rage. Do you know why?
Even simple three-strand braids turn into amazing styles when combined with other types of braids. It is time to show your creativity and improve your braiding skills! Join the club of ladies who can create the real masterpiece on their head.
Check out our collection of hairstyles with braids and try to style your hair in a similar way.
*We may earn money from affiliate links on this page. Please check out our disclosure policy for more details.
Micro Braids
Credit photo: shutterstock
i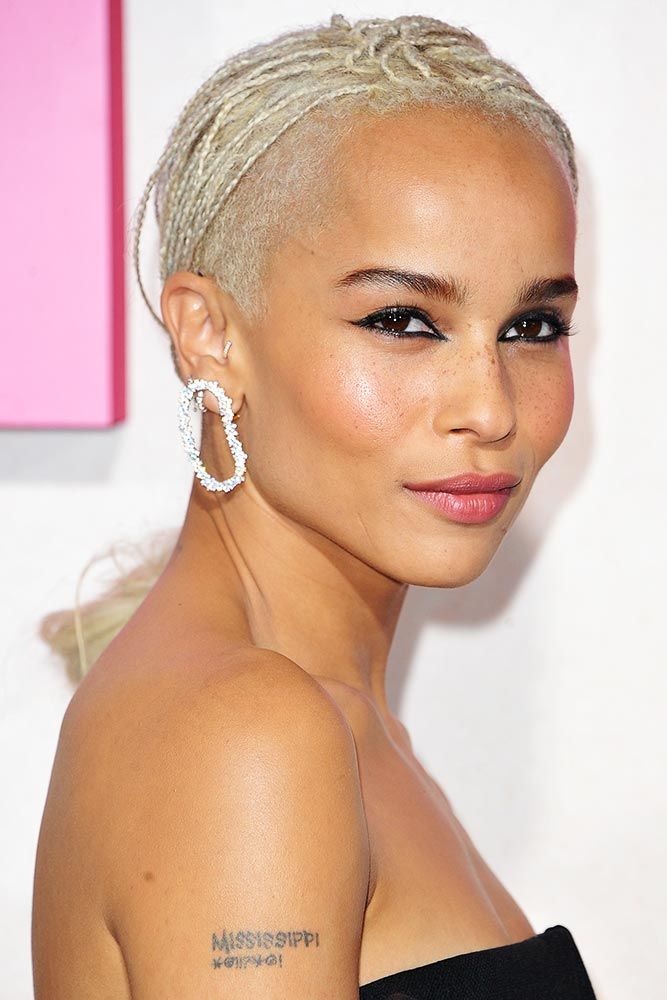 Credit photo: instagram.com/braidsbytasha
i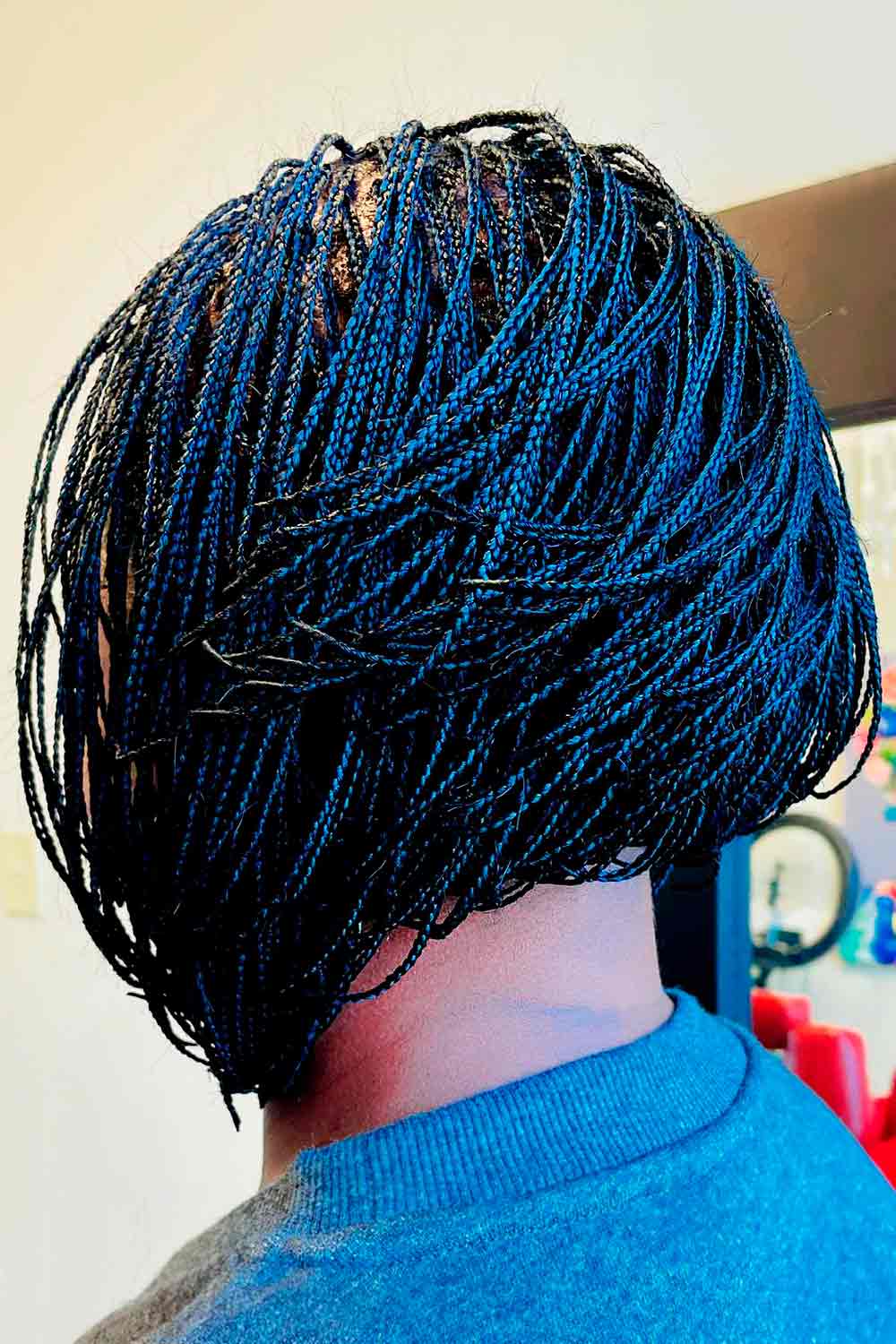 Credit photo: instagram.com/braidsbytasha
i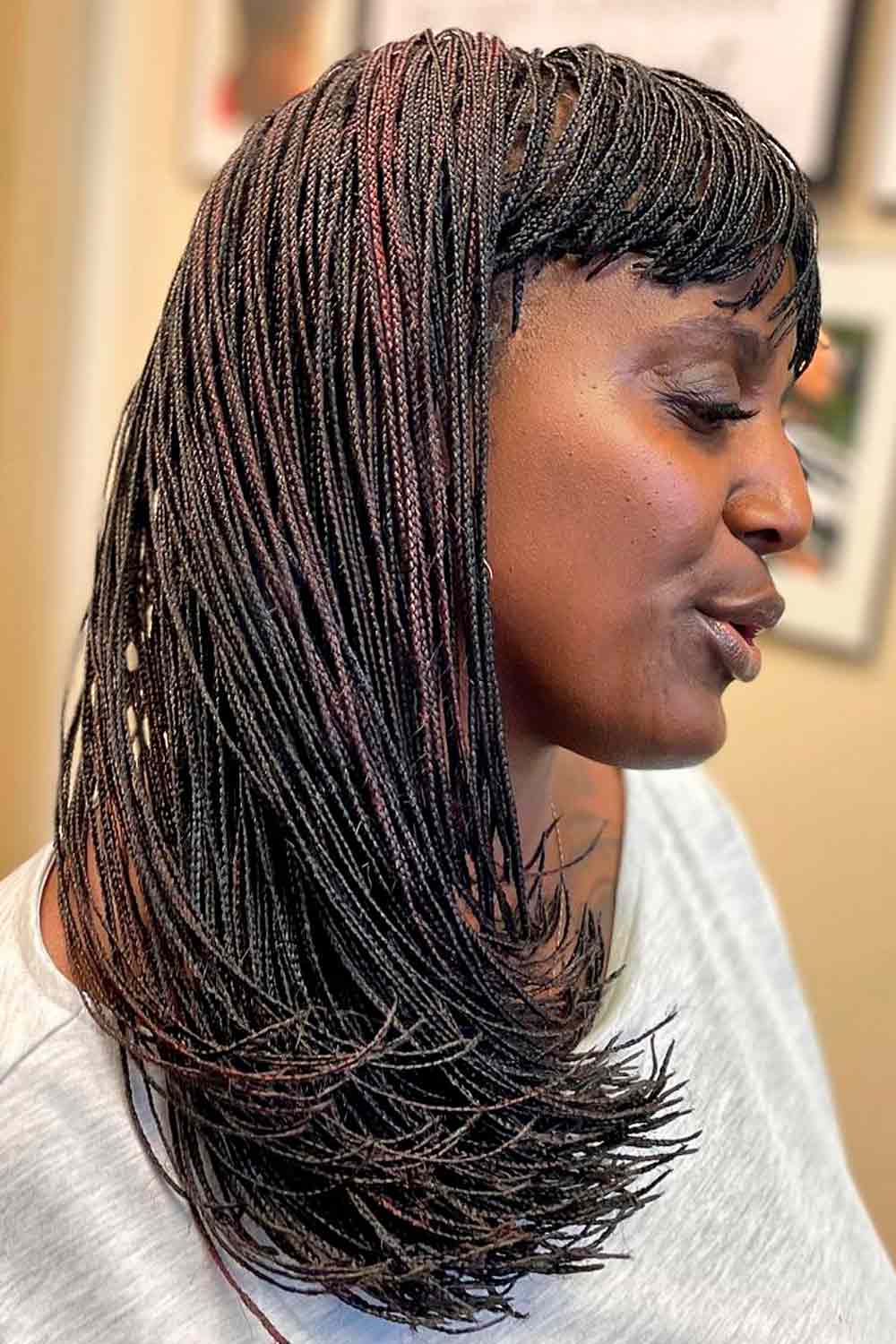 /
It just so happens that looks are more tempting when we see a celeb sporting them. So meet the convenient micro braids perfectly individualized by iconic Zoe Kravitz. Though the light sandy blonde color doesn't look natural, it gives a great visual impact, which is so Zoe!
Cornrows Neat Hairstyles
Source: braidedroots/Instagram
i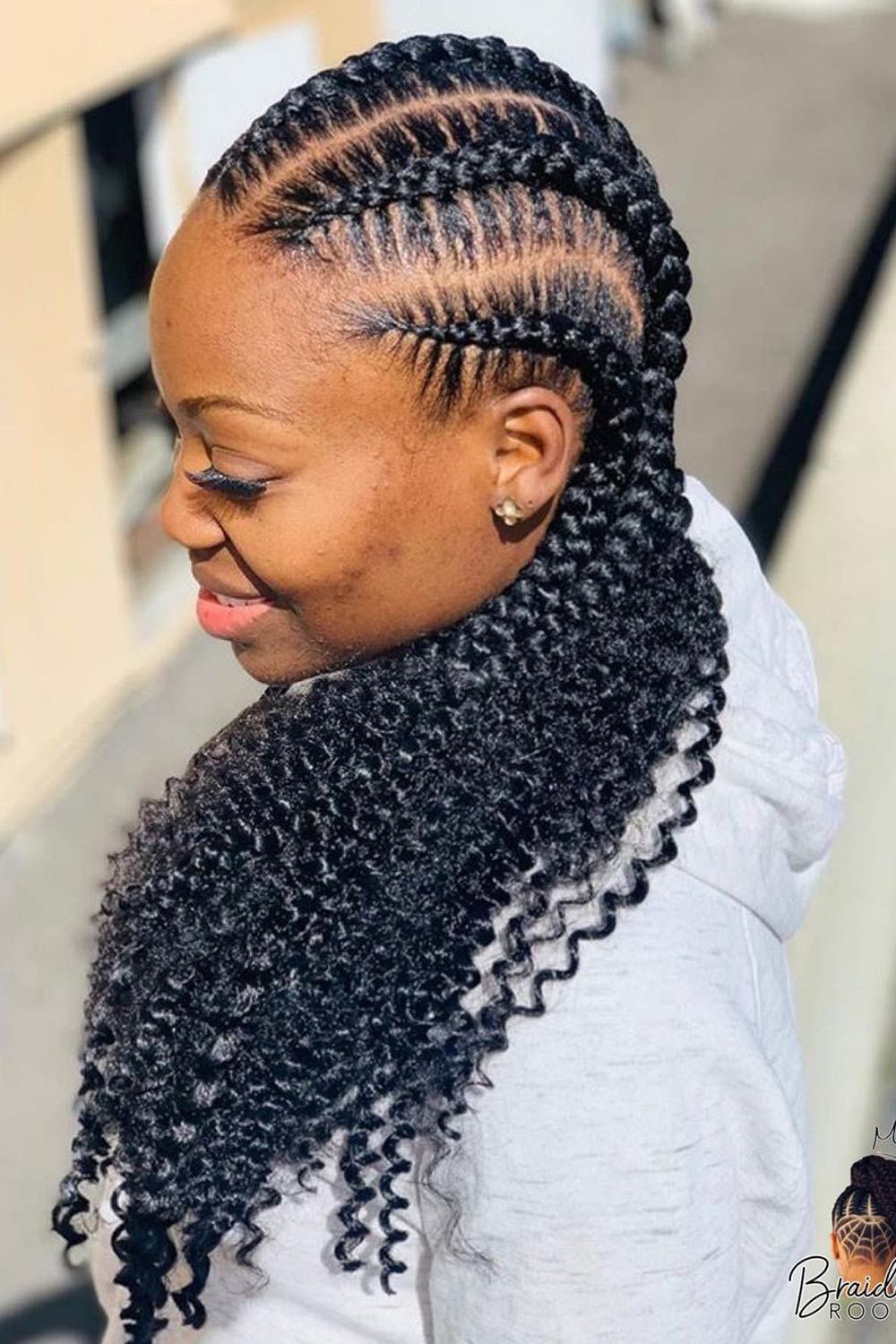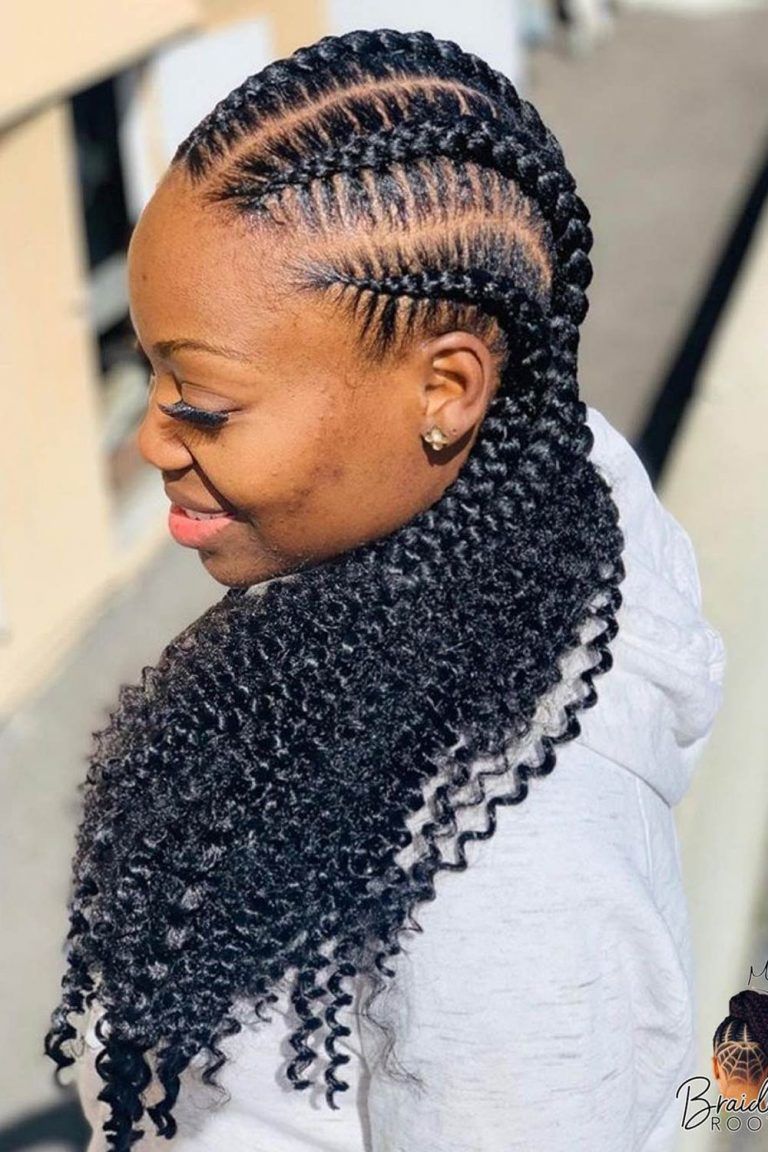 Credit photo: instagram.com/xcellentxtensions
i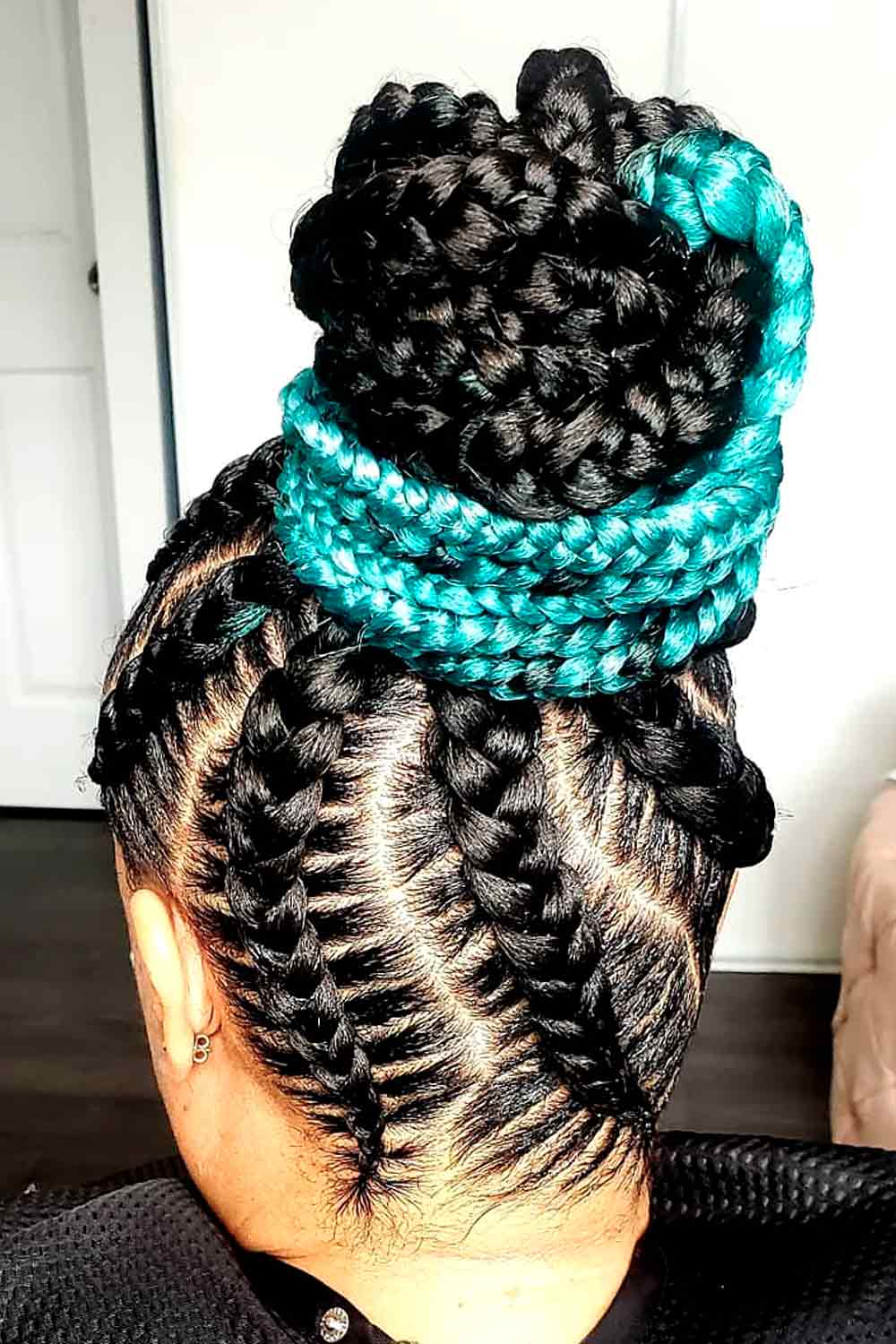 Source: fancy_claws/Instagram
i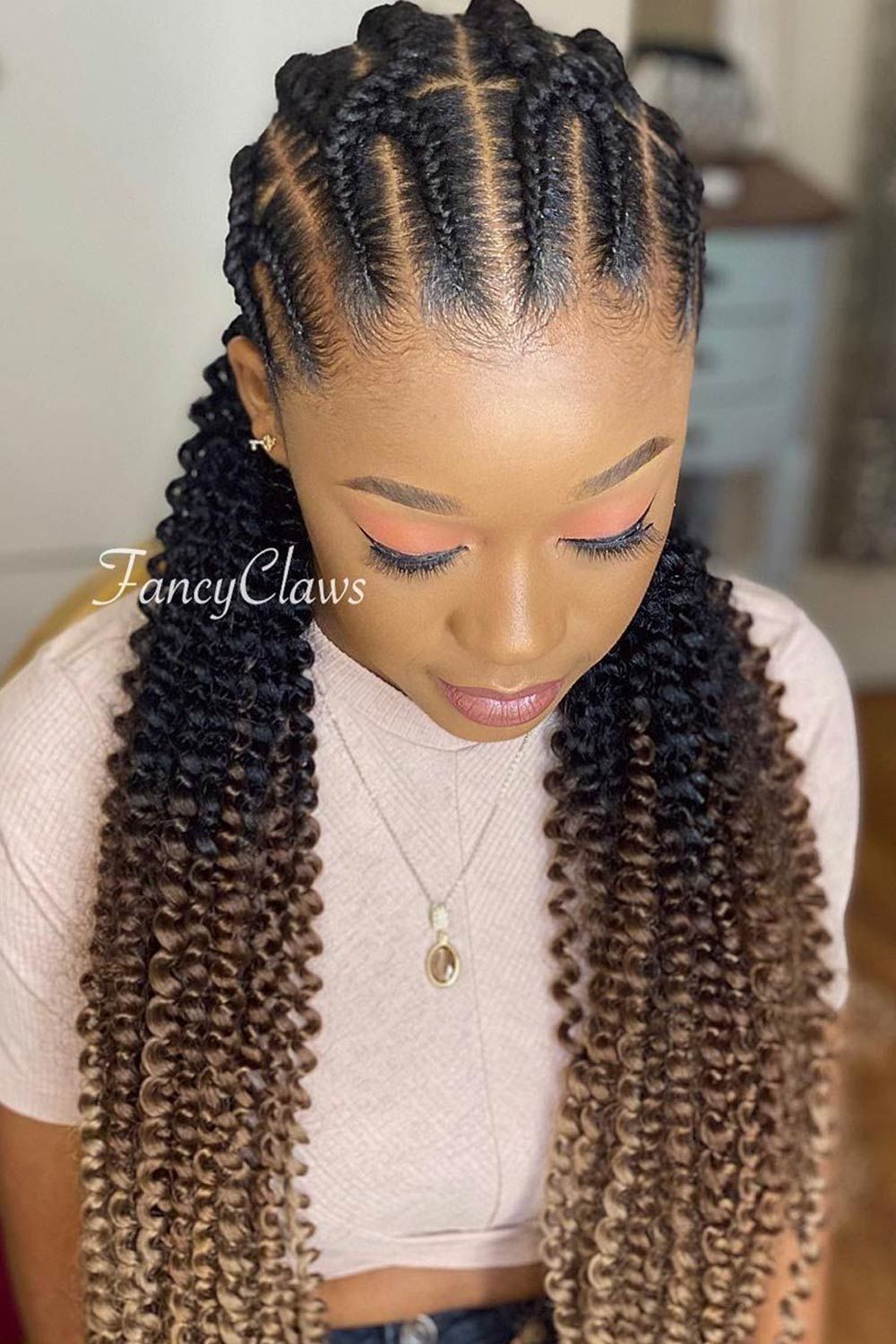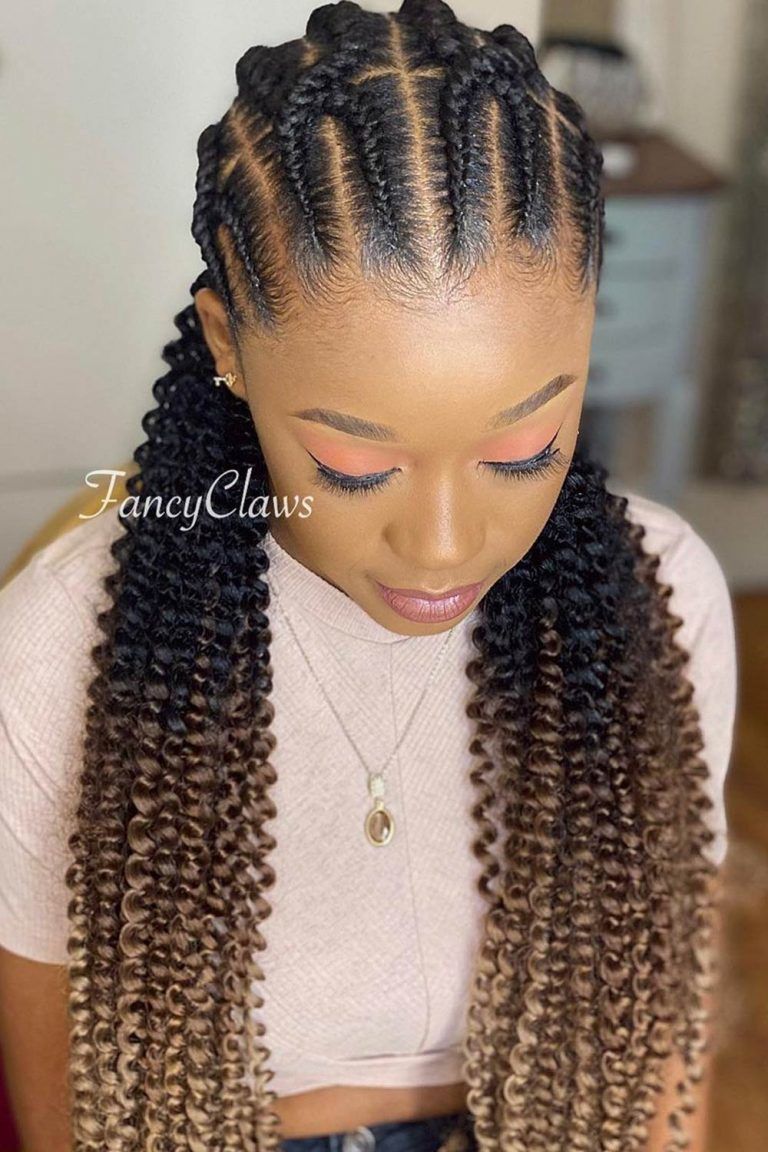 /
Cornrows on their own are a great way to tame your unruly locks, but did you know that you can make your hairstyle look even neater? Instead of letting them hang loose, tie your cornrows into a high bun or an elegant low ponytail.
Knotless Box and Triangle Braids
Source: xcellentxtensions/Instagram
i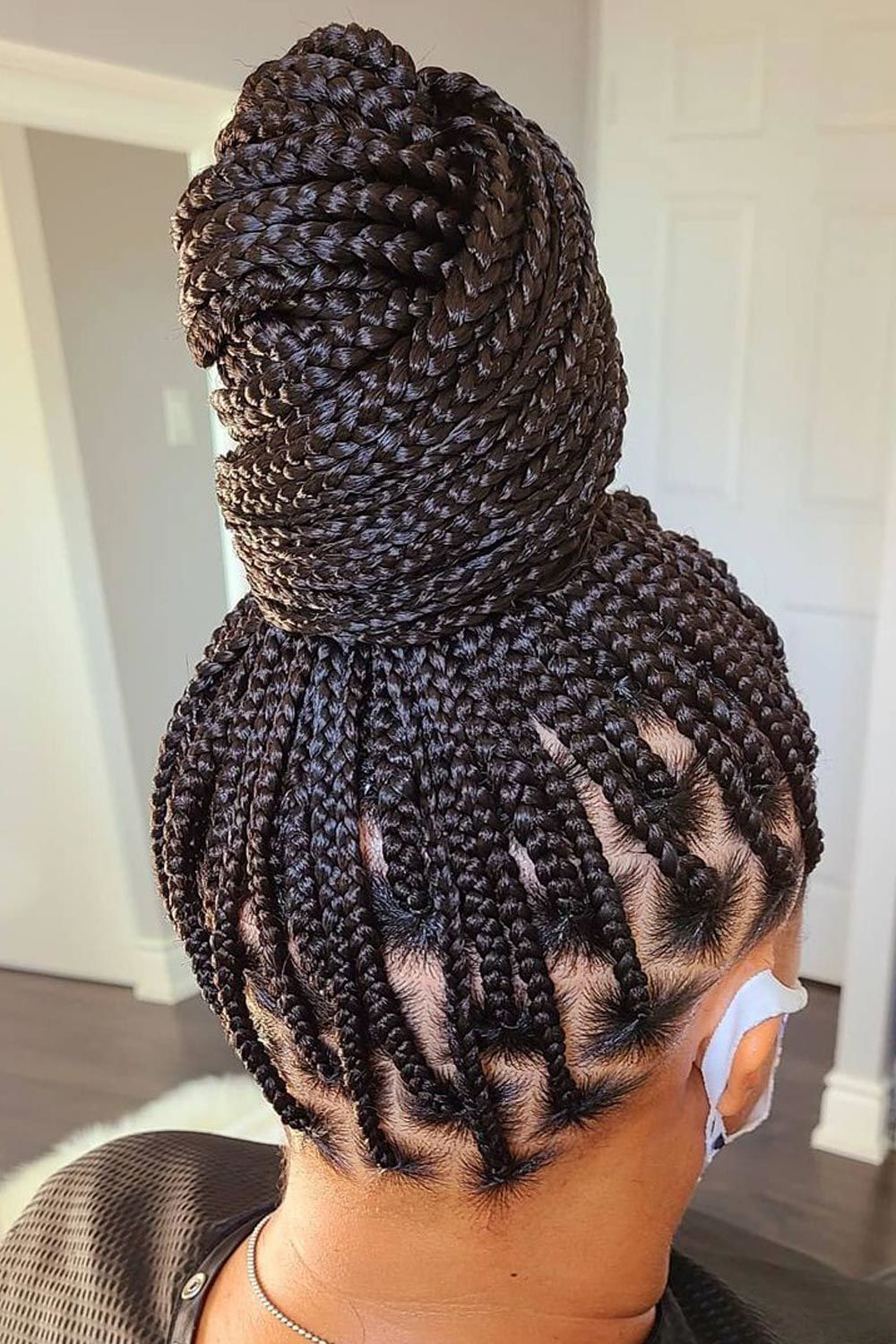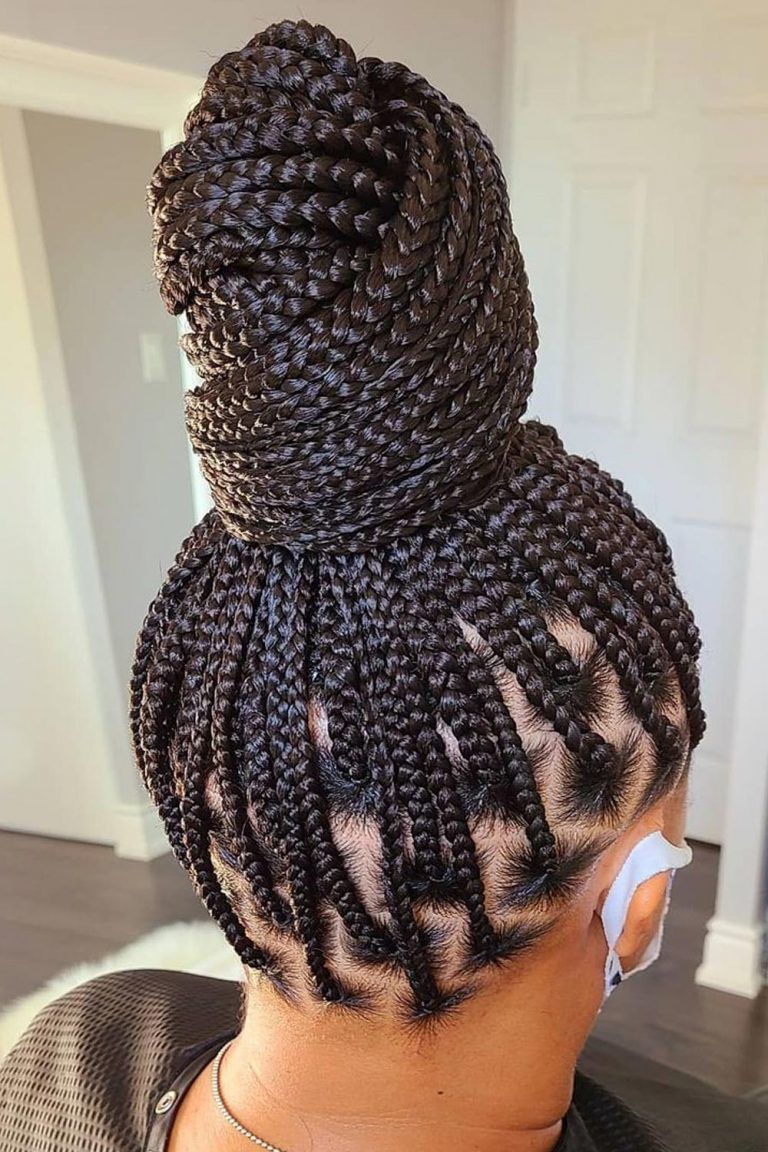 Source: xcellentxtensions/Instagram
i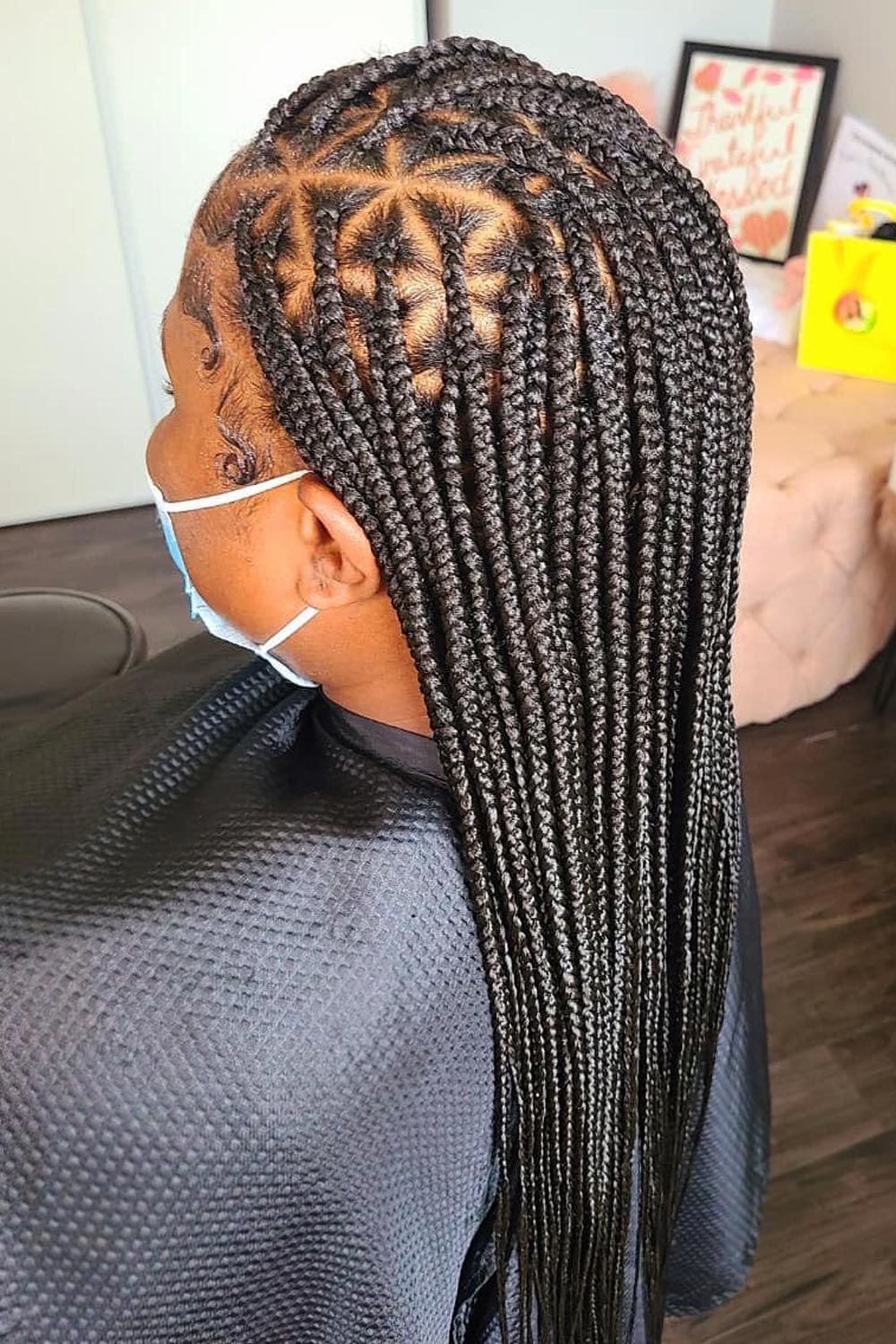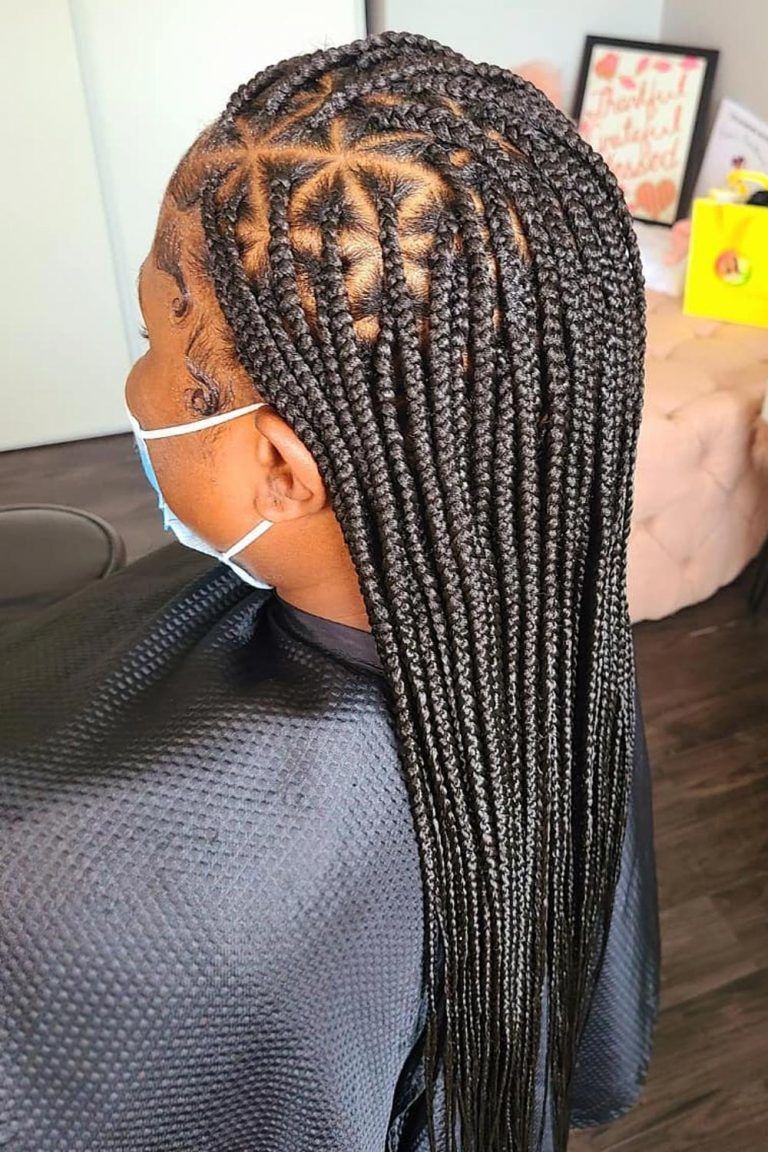 /
Triangle and box braided hairstyles are a perfect option for those ladies who choose to stand out in the crowd. Thanks to the intricate and eye catching pattern they create, you can rest assured that your hairstyle will never go unnoticed. To take it up a notch, consider going for knotless braids, which also put less strain on your hair.
Fulani Braids
Source: fancy_claws/Instagram
i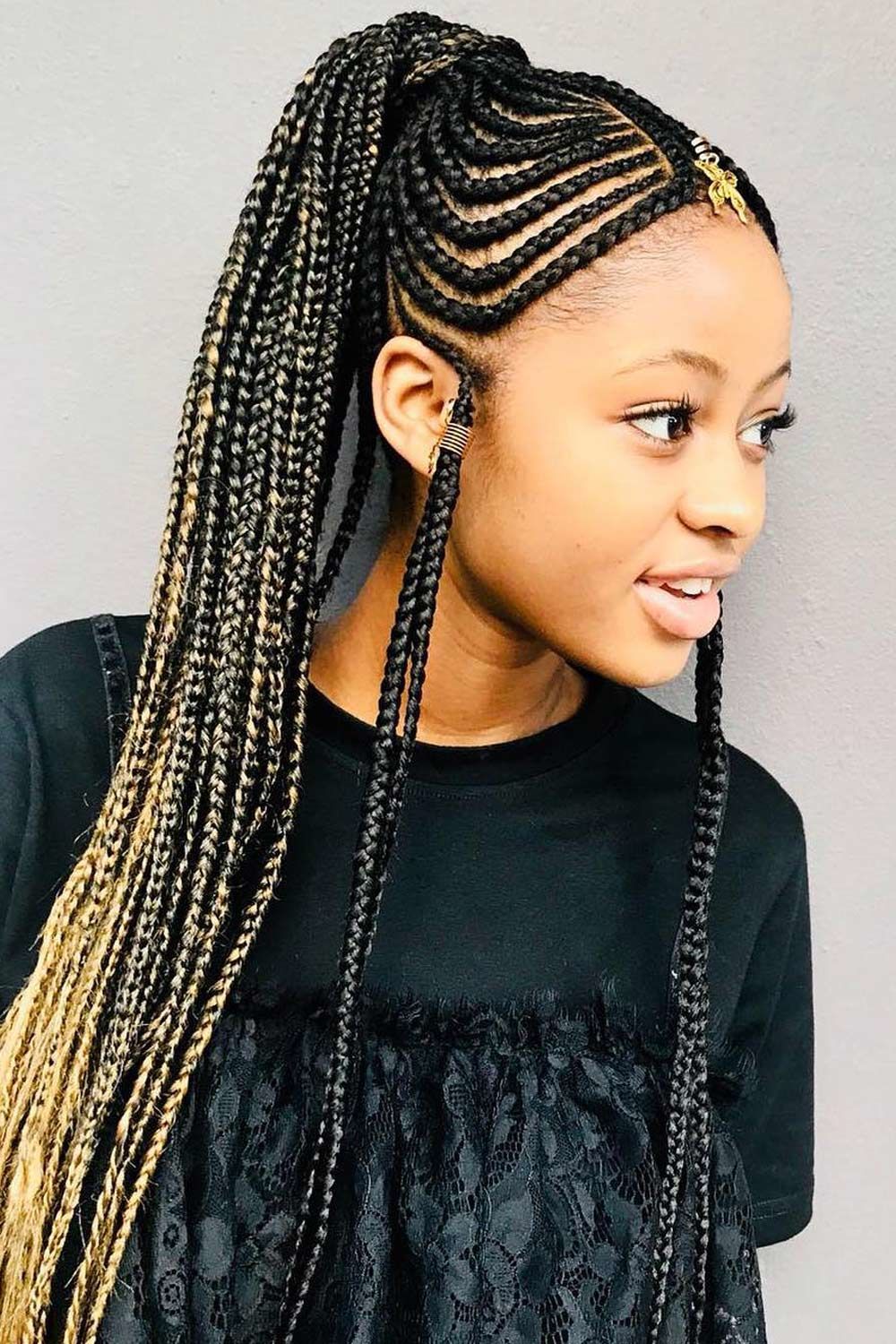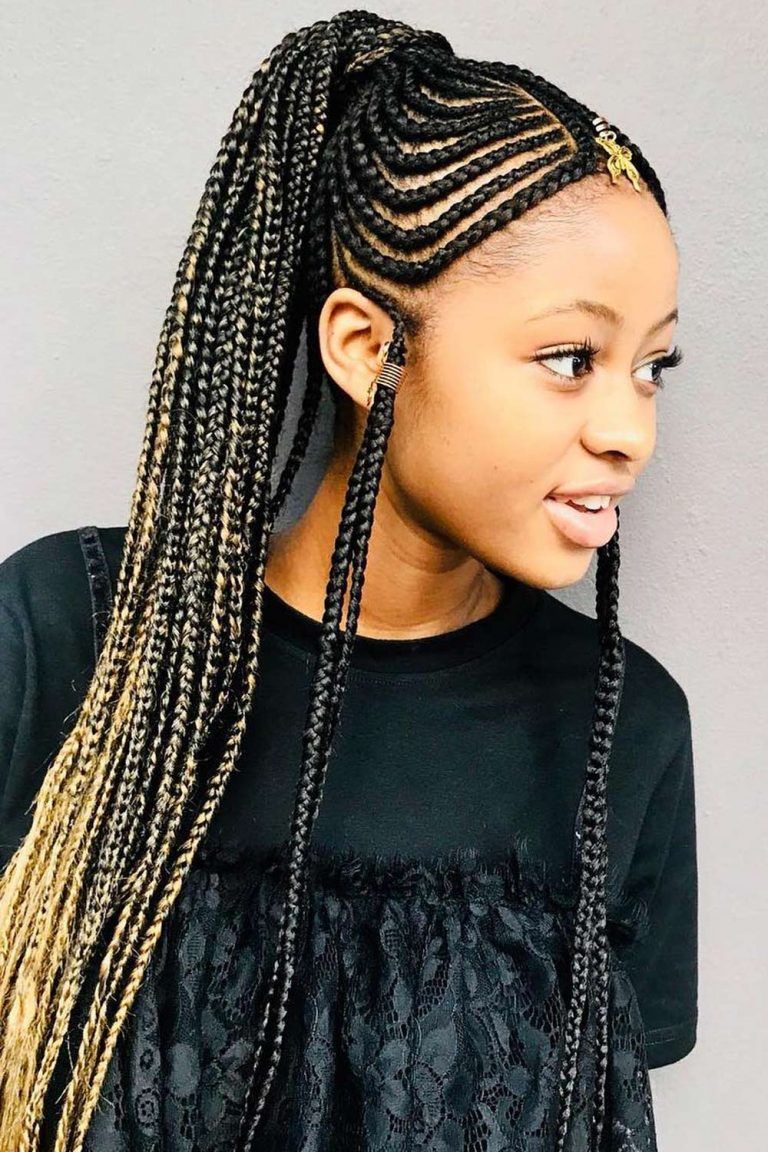 Source: braidedroots/Instagram
i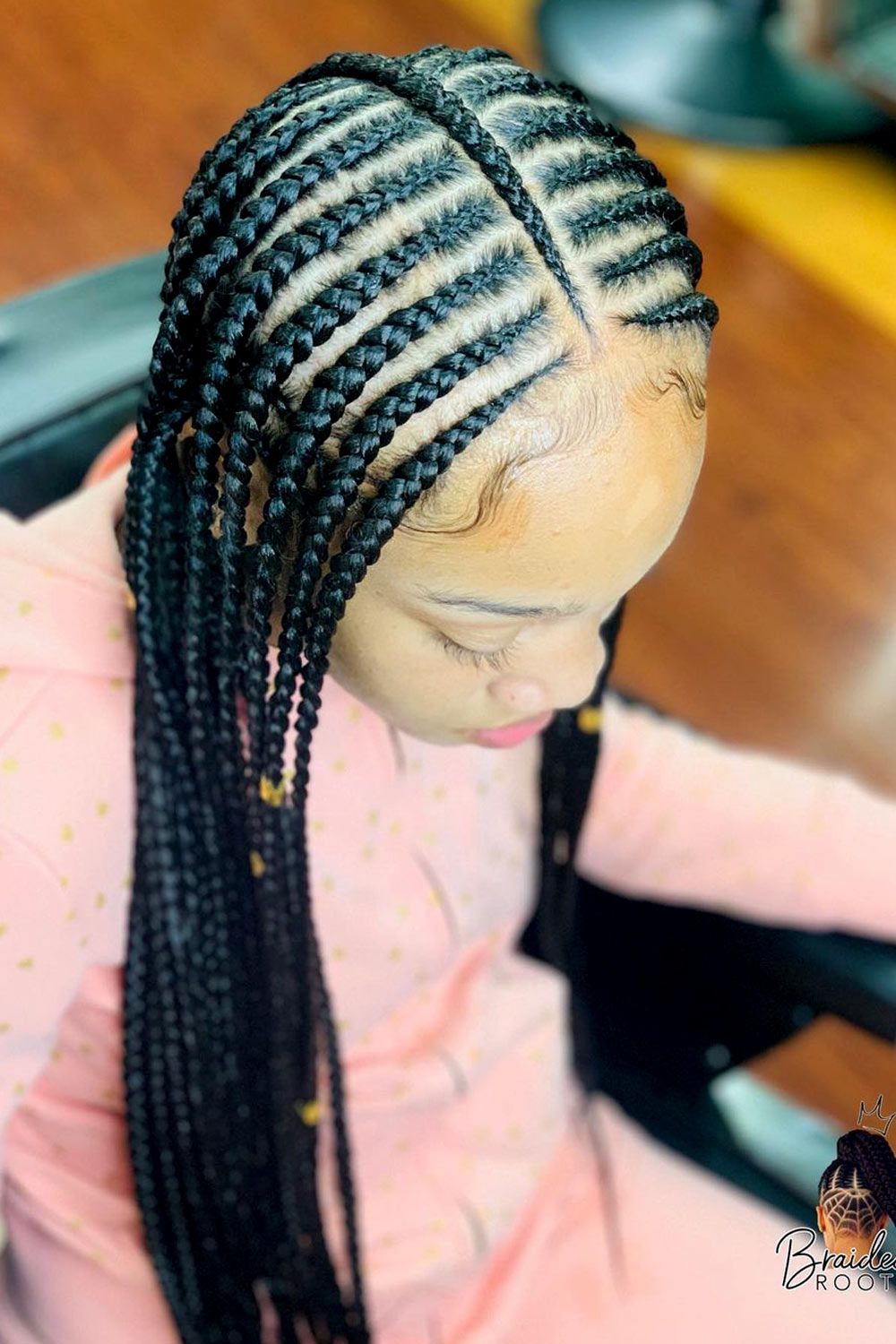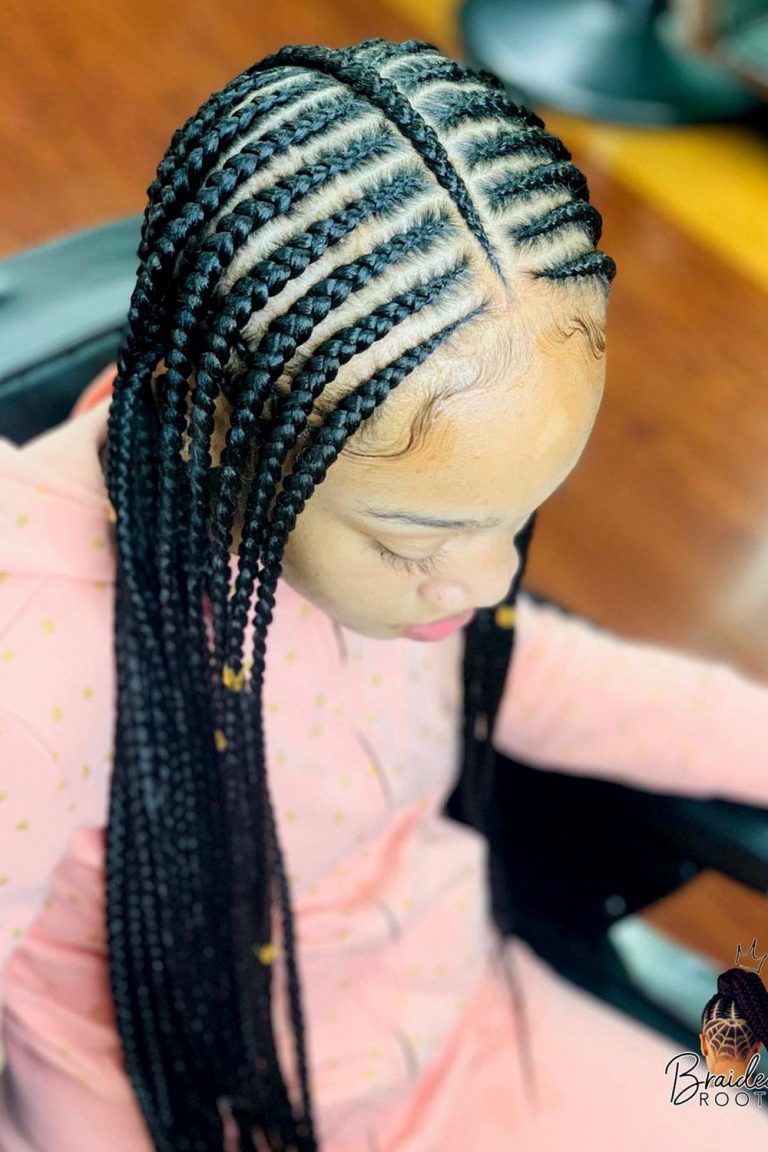 /
If you want your hairstyle to make a strong fashion statement, then Fulani braids are your way to go. As this hairstyle requires pretty much effort and skill to create, it is better to entrust this task to a professional hair braider. However, it fully pays off with tons of compliments you are going to collect left, right and center.
Conrows & Traingle Braids Combo
Source: xcellentxtensions/Instagram
i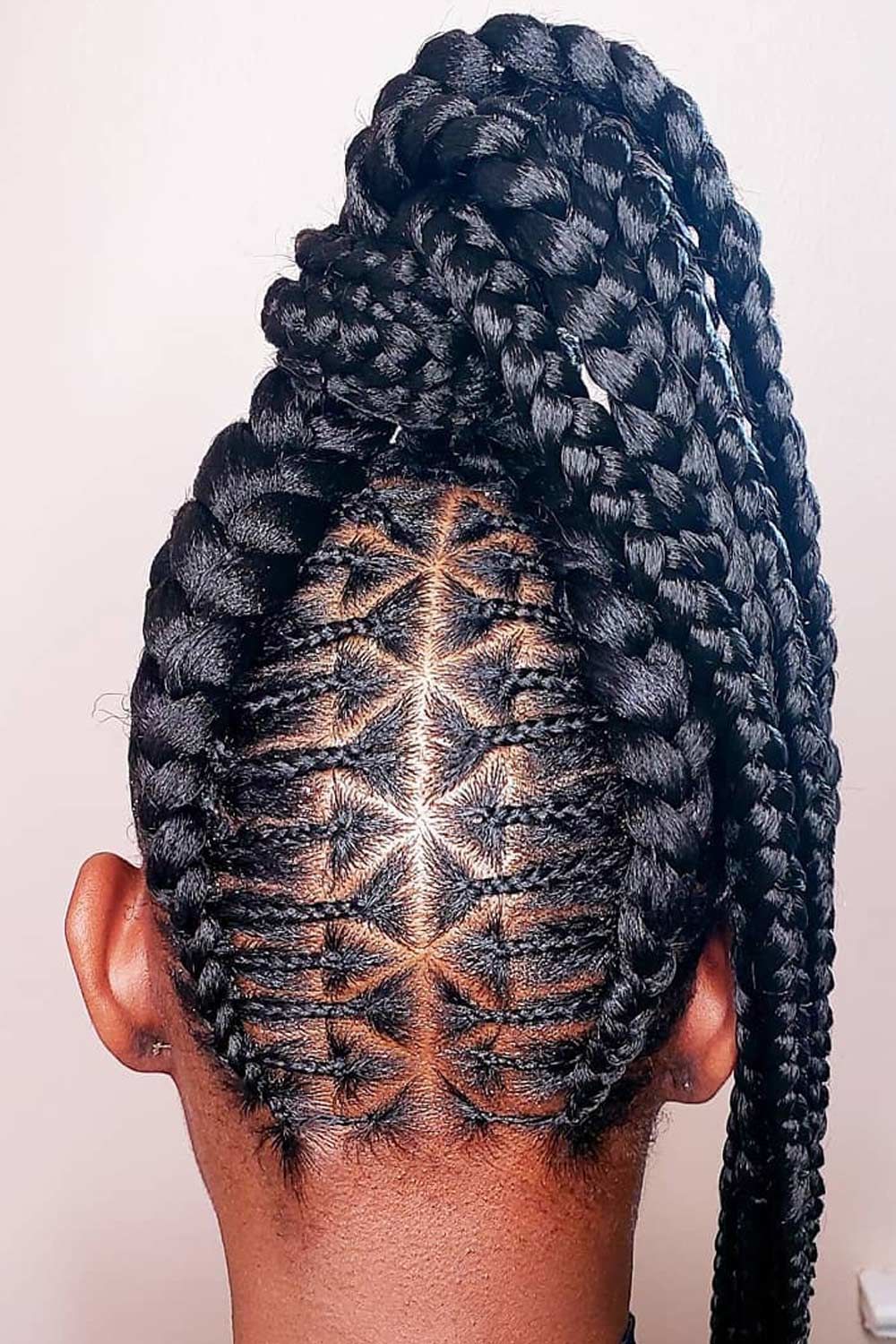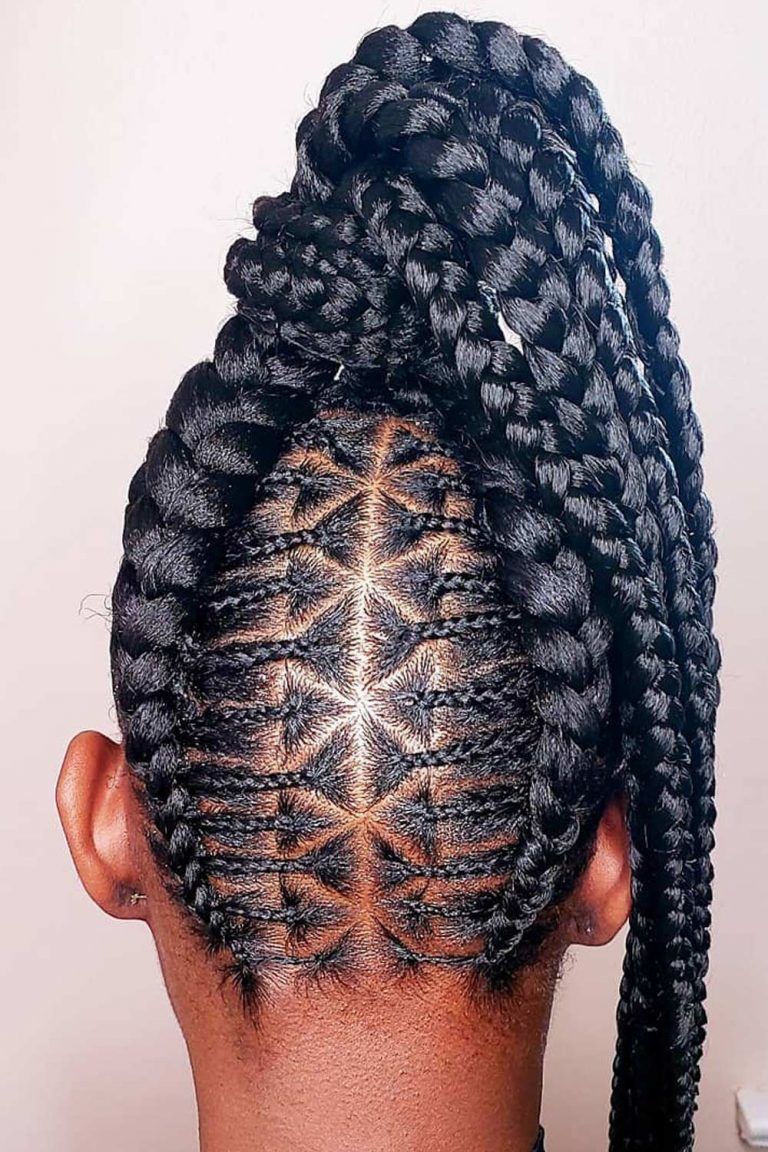 Credit photo: instagram.com/xcellentxtensions
i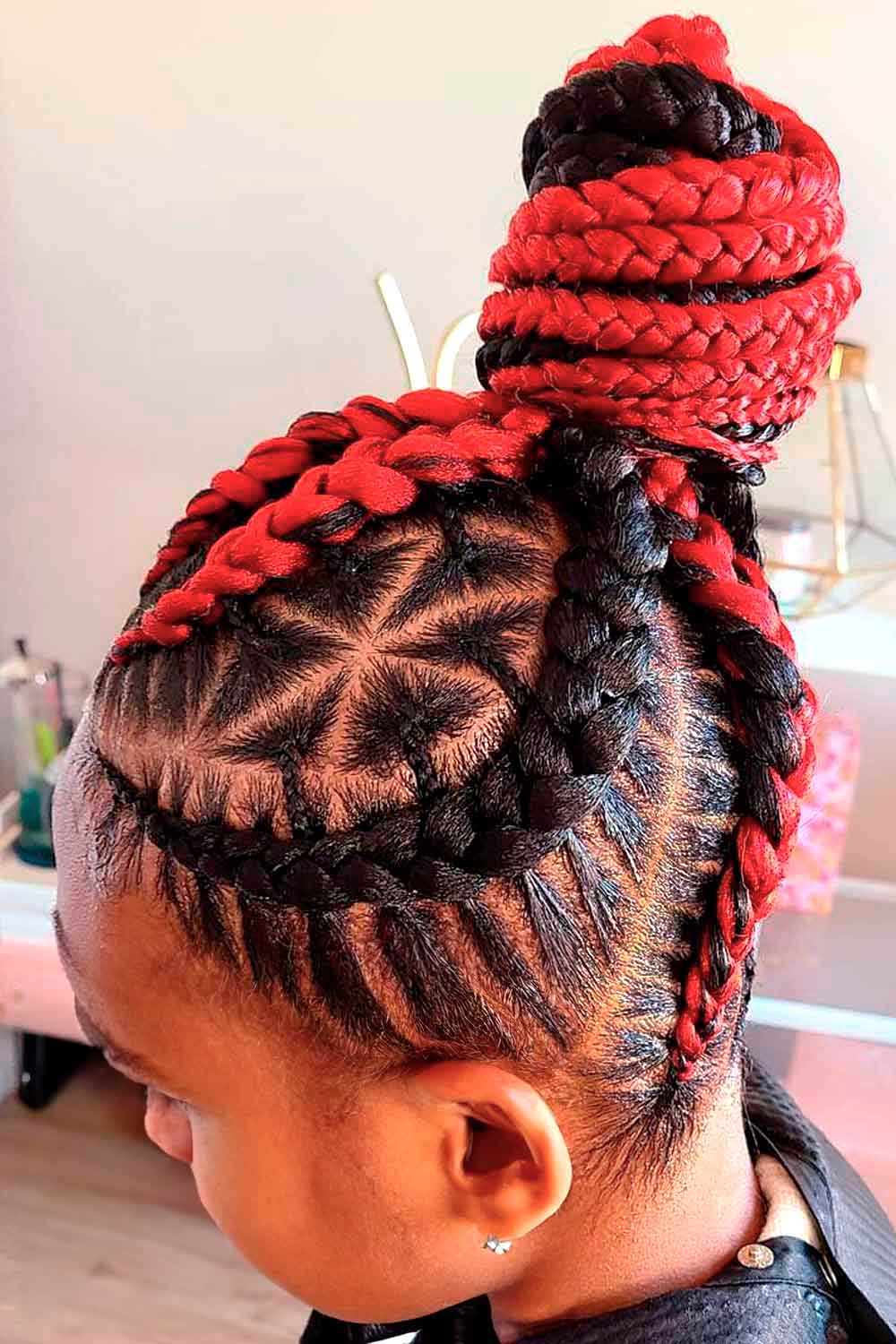 /
One of the coolest things about braided hairstyles is that there are plenty of ways to pull them off. So, every hair look comes out absolutely unique. Thus, you can combine different types of braids in one style. Cornrows and triangle braids go together like peanut butter and chocolate. They create a dreamy combo that will make everyone gasp in awe.
Designed Lemonade Braids
Credit photo: instagram.com/fancy_claws
i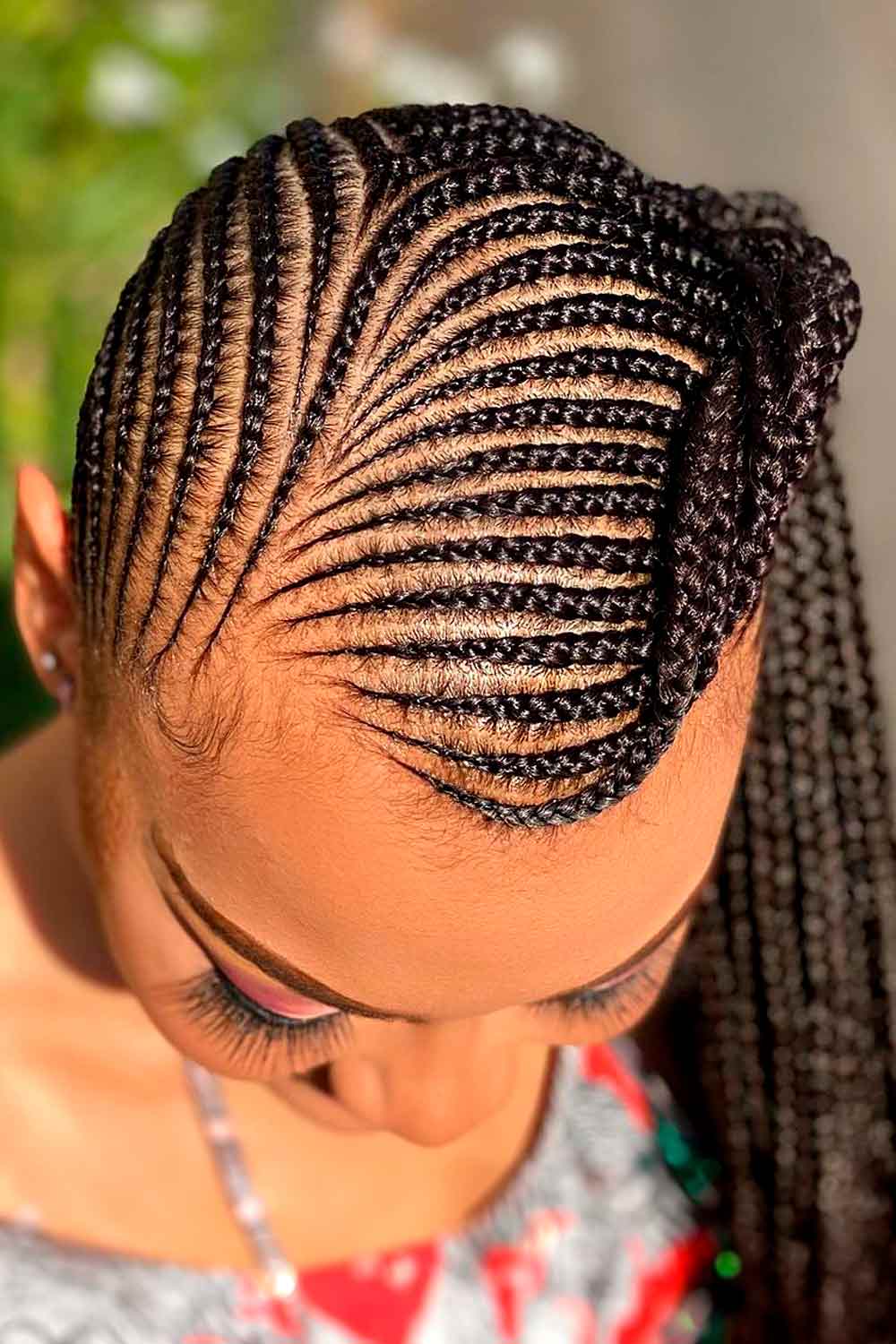 Source: fancy_claws/Instagram
i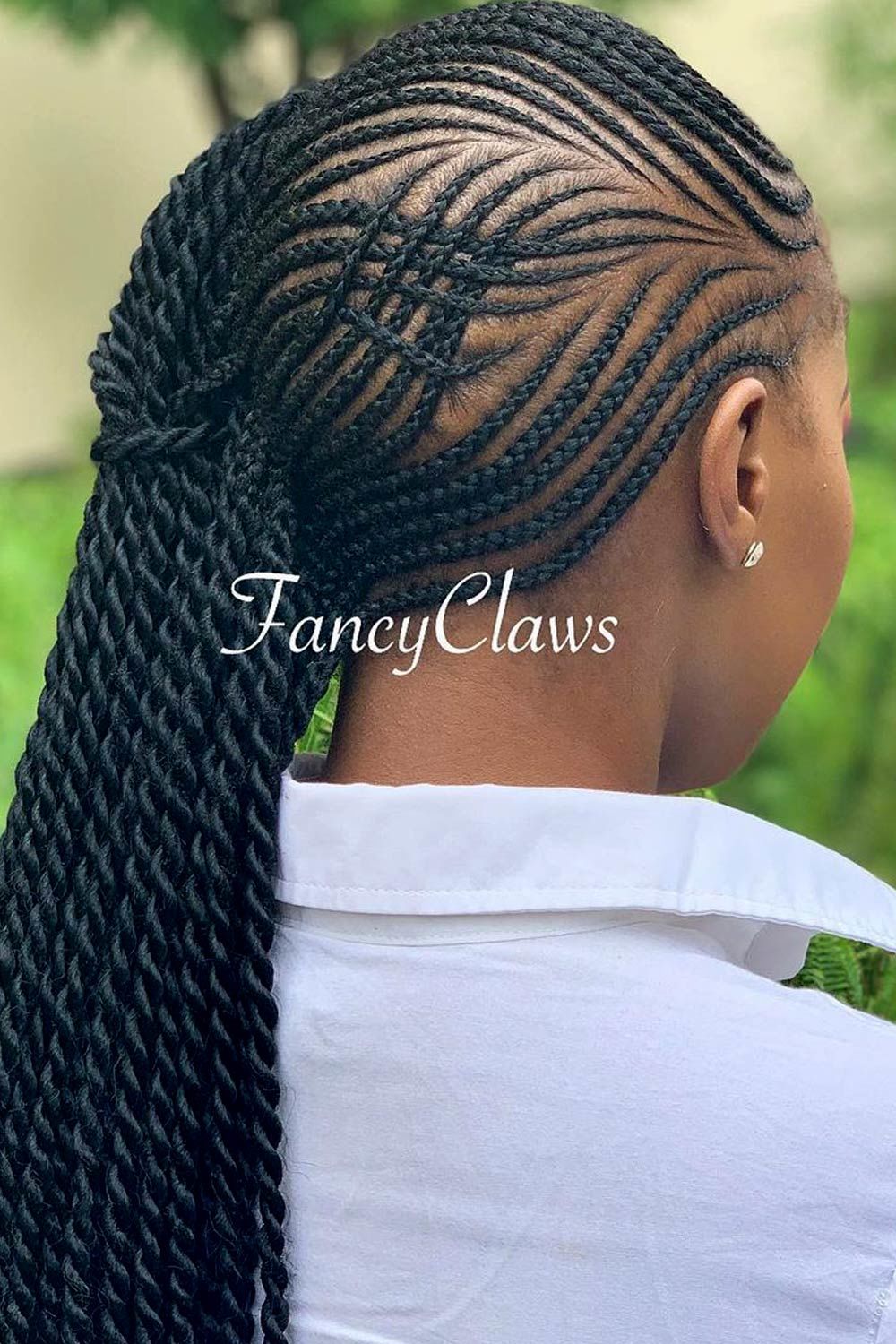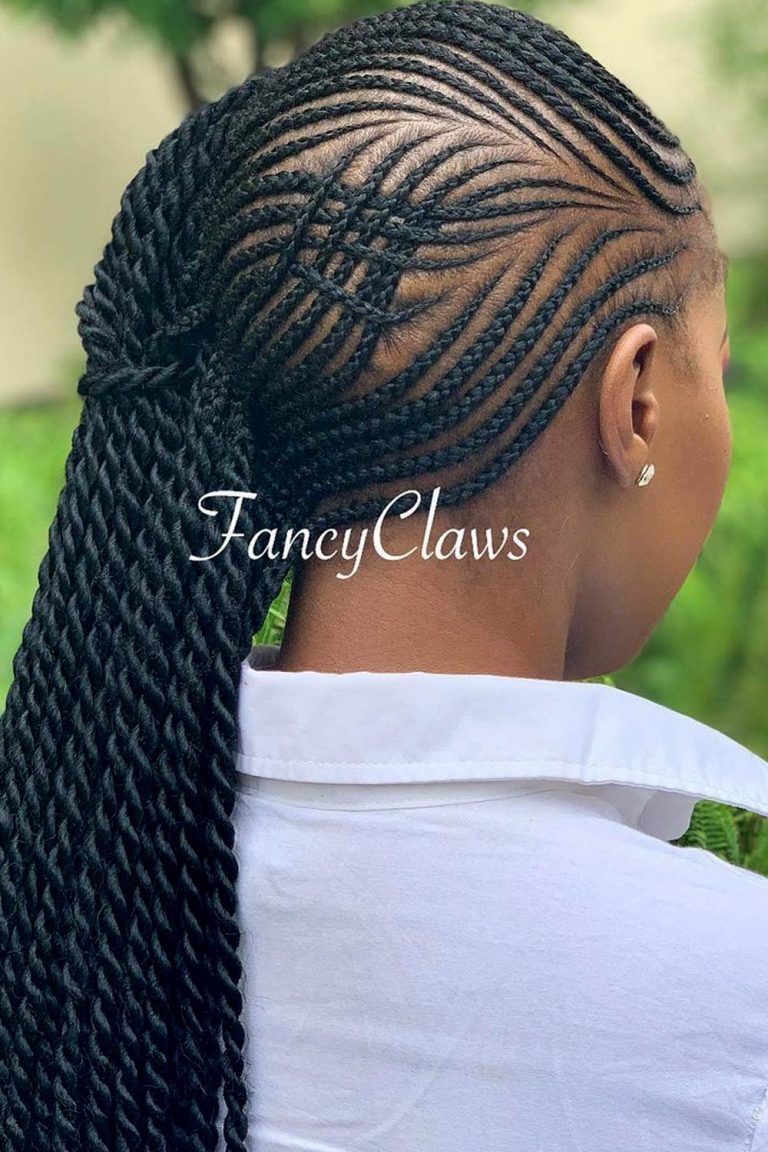 /
Although lemonade braids are not a new fashion trend, they do not seem to lose relevance anytime soon, and no wonder. This iconic hairstyle, popularized by Queen Bey, looks absolutely breathtaking. What is more, it has been taken to a new level with a myriad of elaborate designs that exist nowadays.
Mesmerizing Combo Lace and French Braids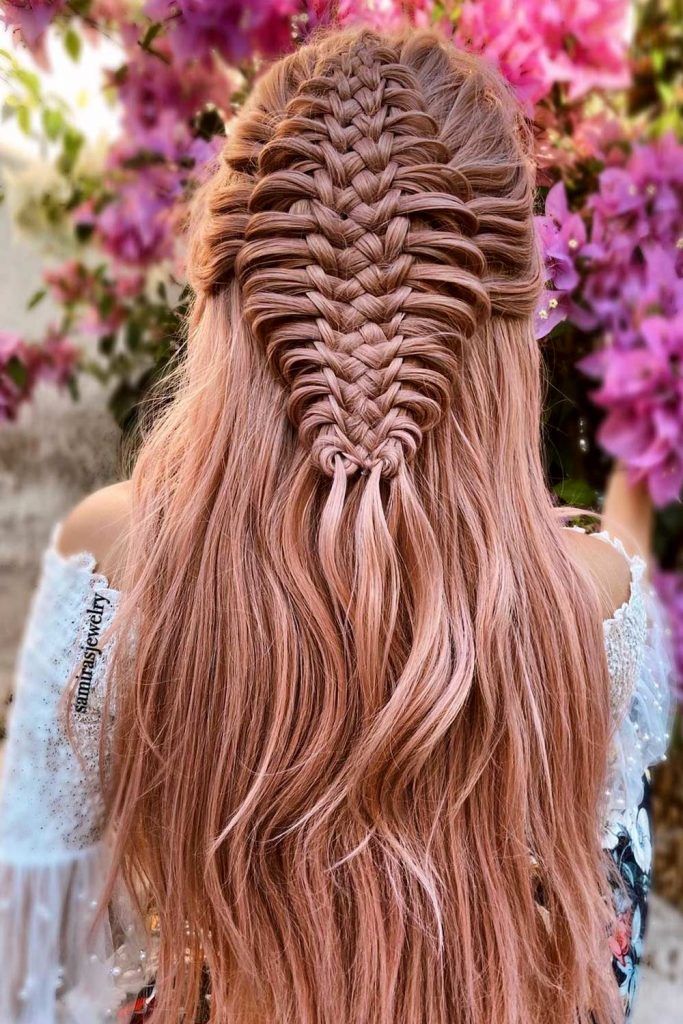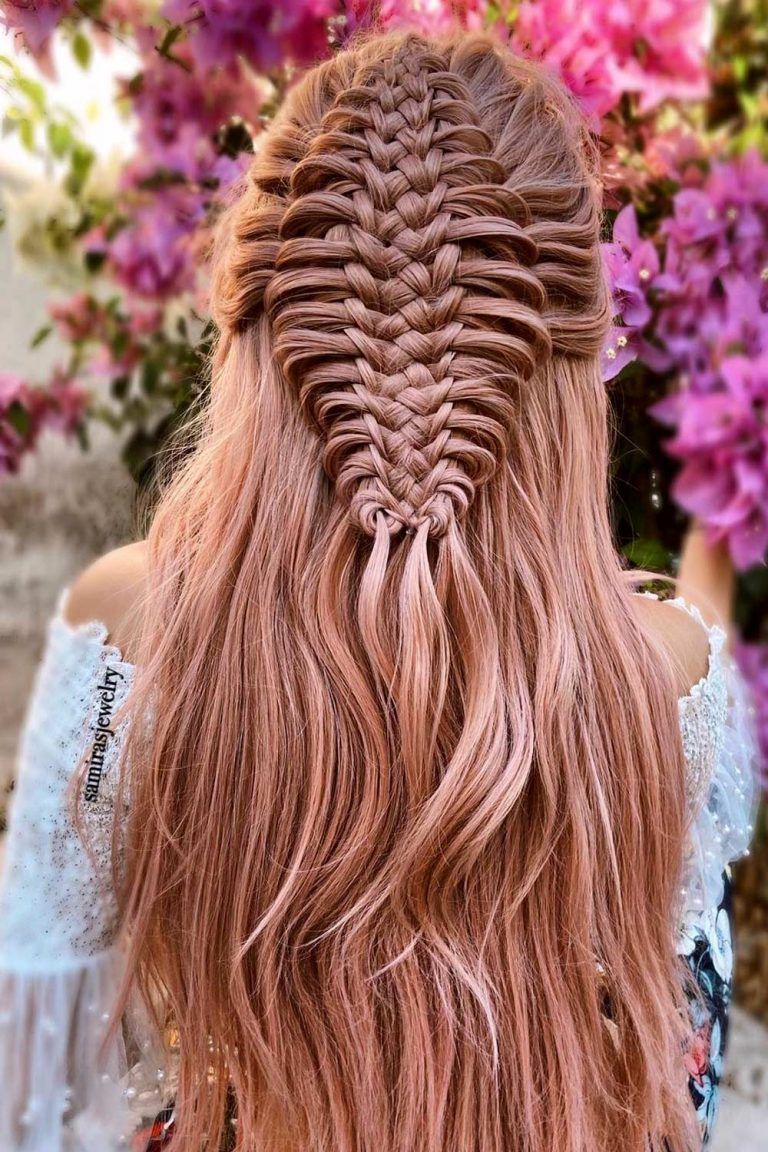 Source: samirasjewelry/Instagram
When you want to look your best for a special occasion, it is hard to think of a better option than a sophisticated braided hairdo. If you team French and lace braids in one look, you will get a bohemian hairstyle that is aimed to win over everyone's admiration.
Micro Braids Updo + Fiery Undercut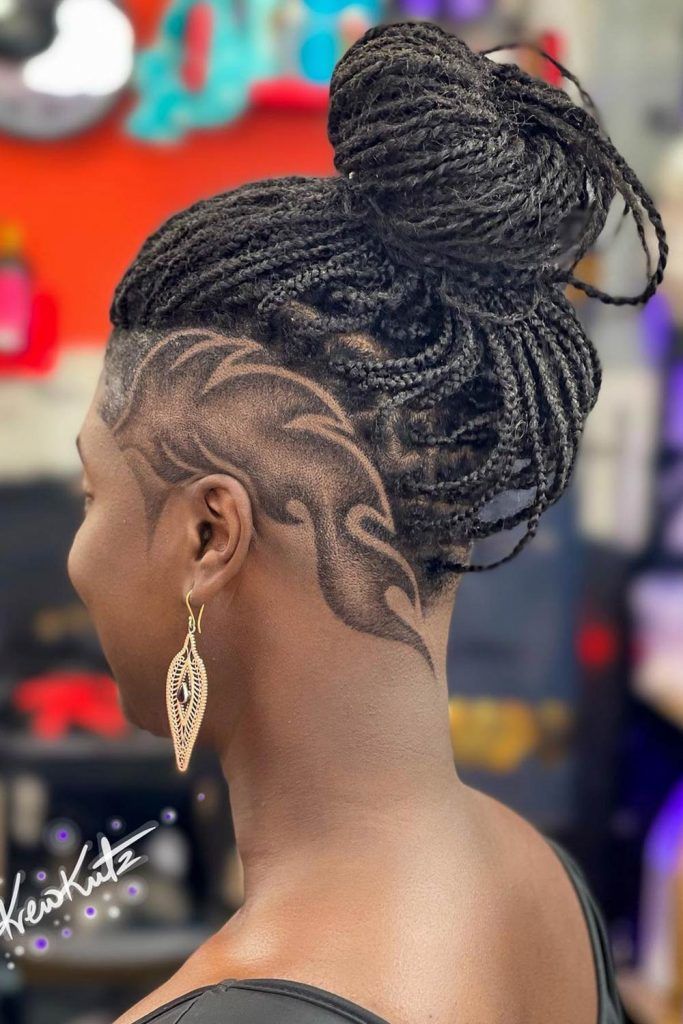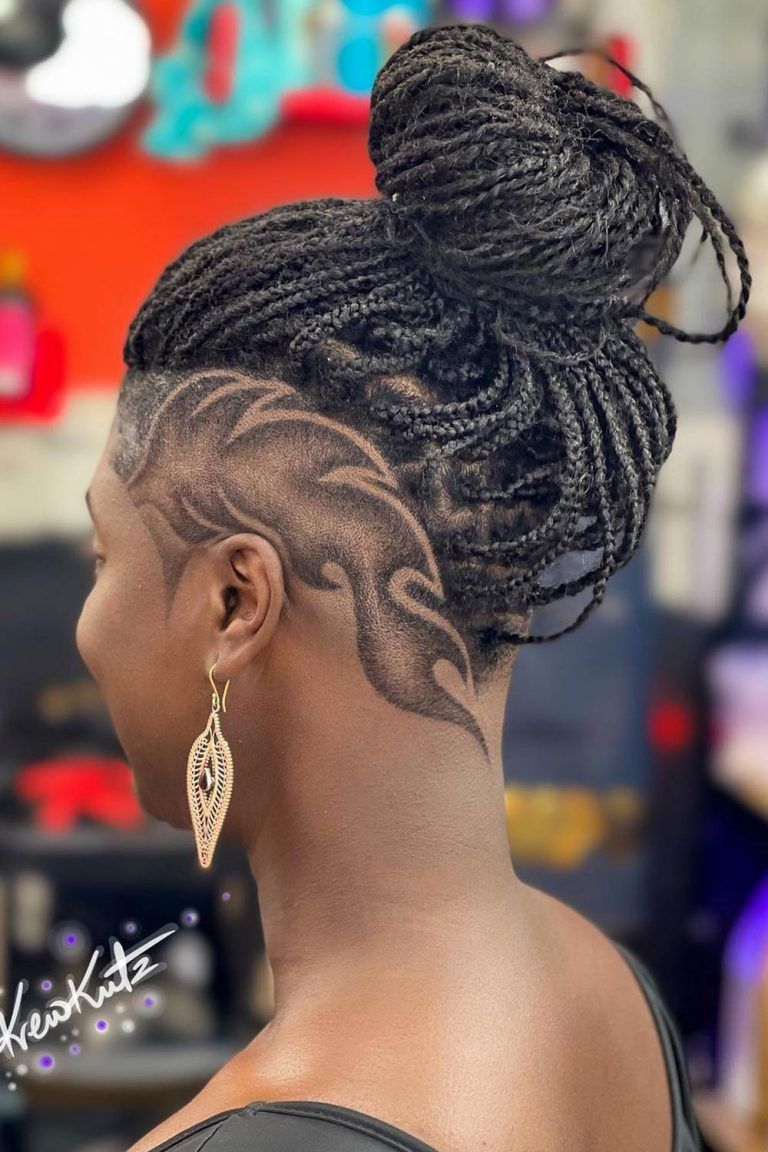 Source: krewkutz/Instagram
Although micro braids already look bold and edgy, you can still give them more prominence by complementing them with an undercut haircut on the sides. Particularly fashion forward women can go even further and adorn it with a fiery design while styling the braids on top in an updo so that they do not obstruct the view.
5 Strand Braid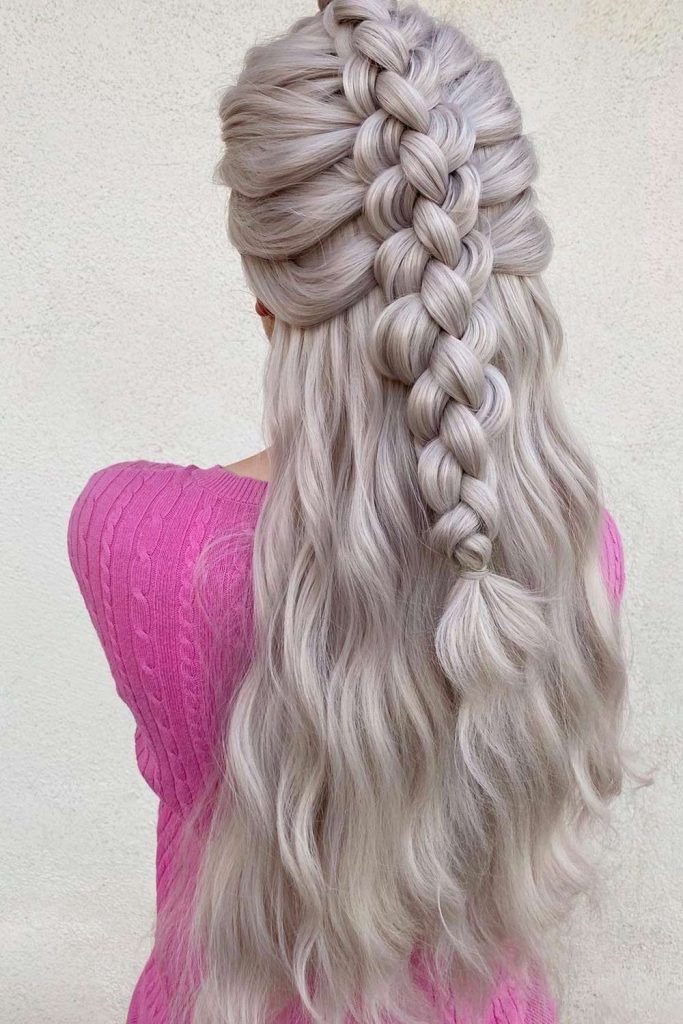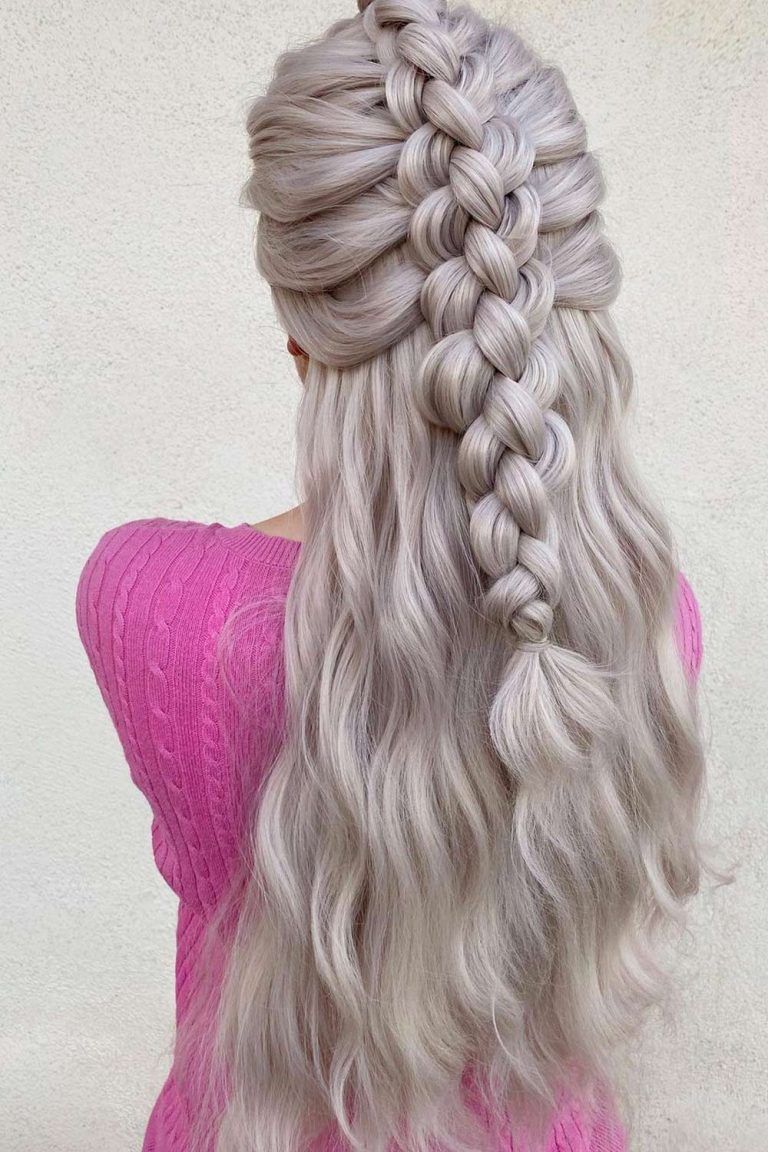 Source: stephhstyles/Instagram
In case you find a classic three-strand braid plain and boring, then why not go for its upgraded five-strand version? Of course, you will need a little practice to ensure it comes out flawlessly. Yet, the final result is so fantastic that it is worth the effort.
Braids on Braids Style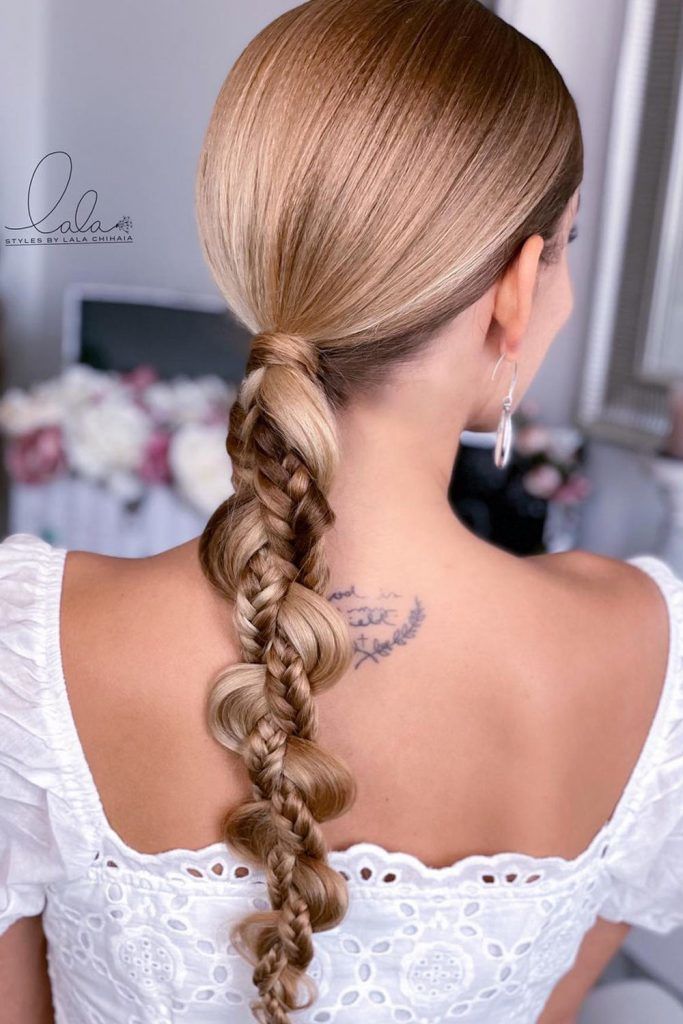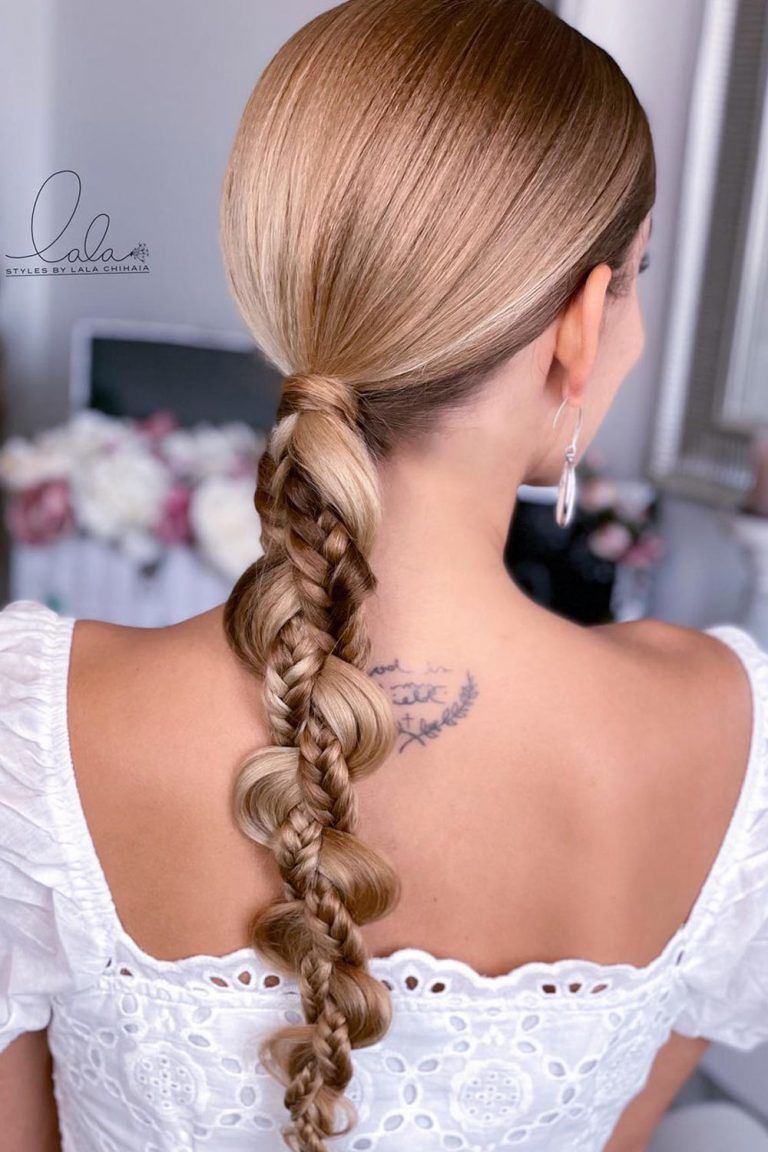 Source: lalasupdos/Instagram
When it comes to braided hair, your imagination is the only limit. That is to say, you can play around not only with the type and number of braids but also with the way they are entwined. So, you can switch one strand of hair in your regular braid for a thin braid and end up with a beautiful braid in braid hairstyle.
Tight French Braids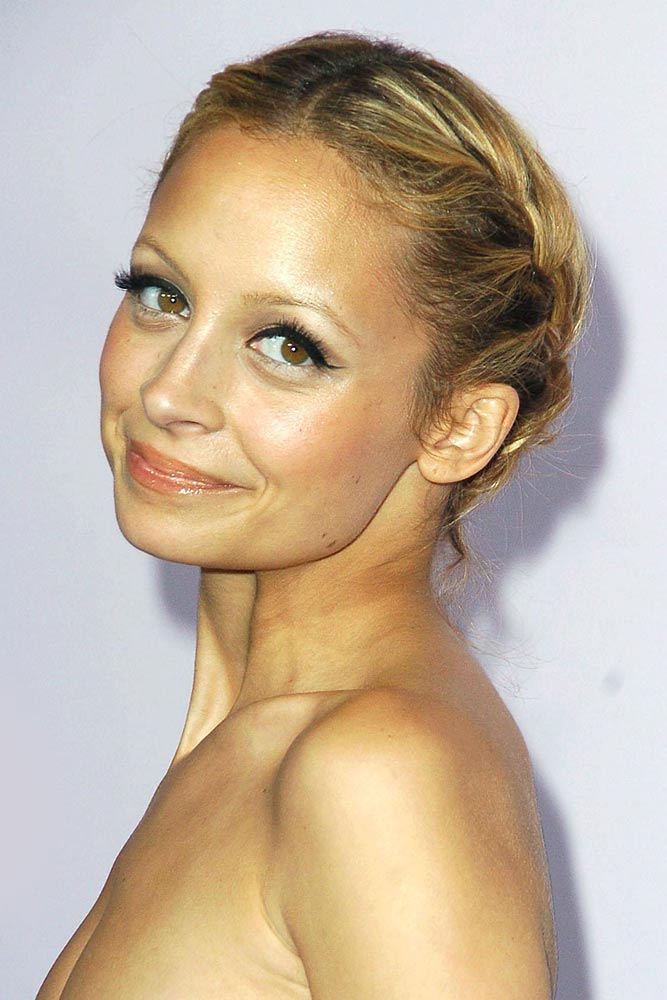 Source: Everett Collection/Shutterstock
As a many-sided and super occupied lady, Nicole Richie prefers her hair to be simple but beneficial. And the same goes for her braided hairstyles! Everything about these French braids is straightforward, tight, and neat but the style still brings a lot of feminine vibes.
Double Dutch Braids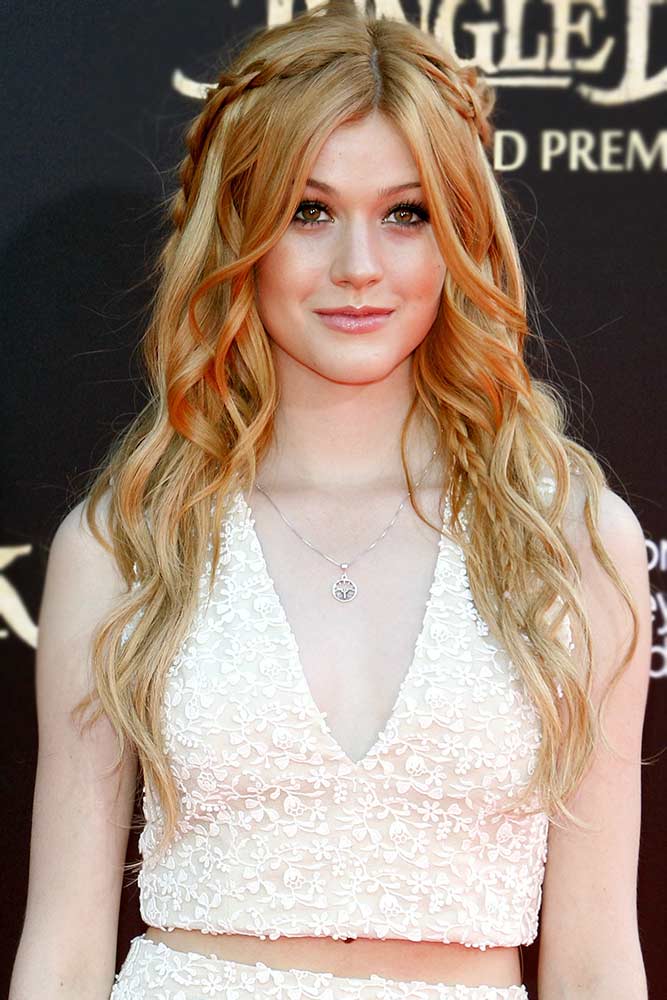 Source: Tinseltown/Shutterstock
Katherine McNamara knows how to show off the beauty of her sunny locks. Not only do her double Dutch braids create a well-balanced body but also add a ton of volume from both sides, getting the most out of her hair type.
Faux Hawk Braids Into Pony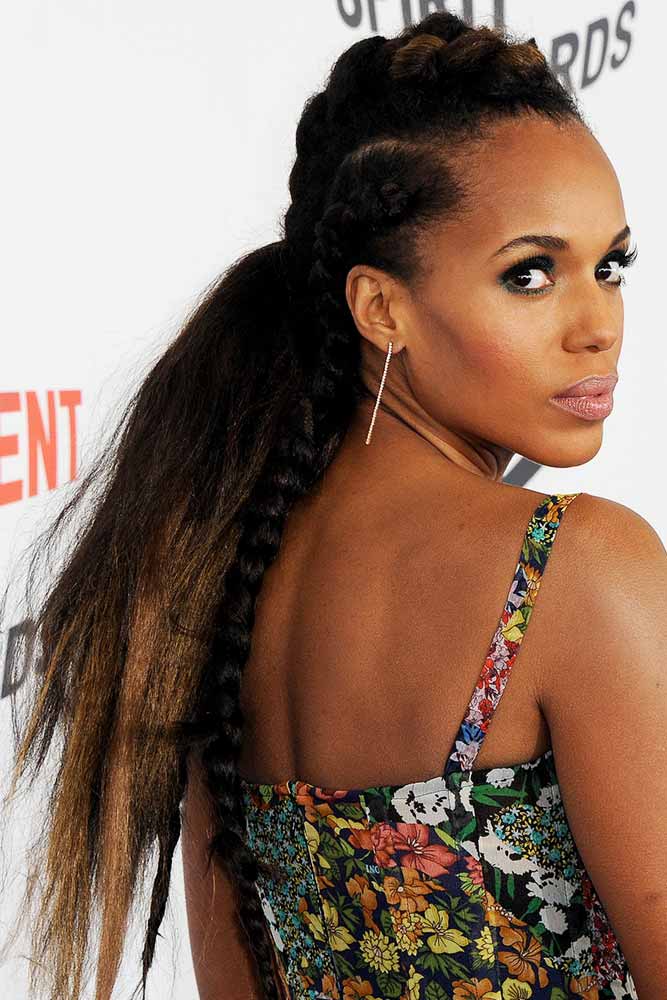 Source: Tinseltown/Shutterstock
Kerry Washington is familiar with all the pitfalls of being a natural-hair lady. Yet, despite the tough styling routine, she always impresses cameras with effortless and charming looks. This time she decided to combine practicality and girliness. These tight faux hawk braids that turn into a pony are a perfect combo, aren't they?
Twisted Braid Pony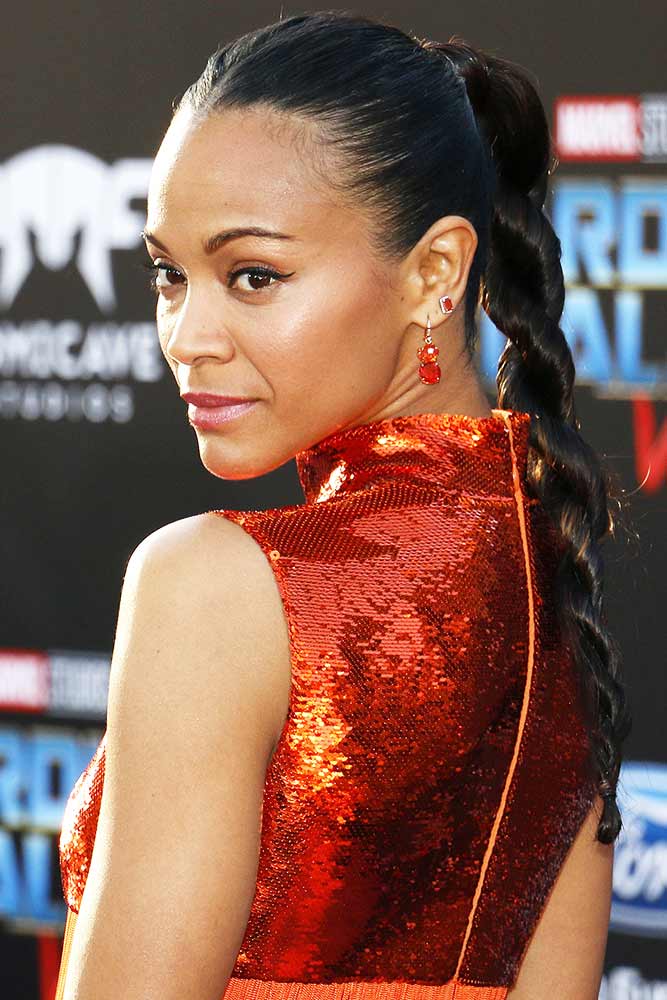 Source: Tinseltown/Shutterstock
Simple and significant. This characteristic refers to all looks of Zoe Saldana, and her twisted braid pony isn't an exemption. Since she has an oval face, she is free to keep her face as open as possible. And even though the style is simple, it looks ravishing with her no-makeup look.
Source: Tinseltown/Shutterstock
Messy Side Fishtail Braid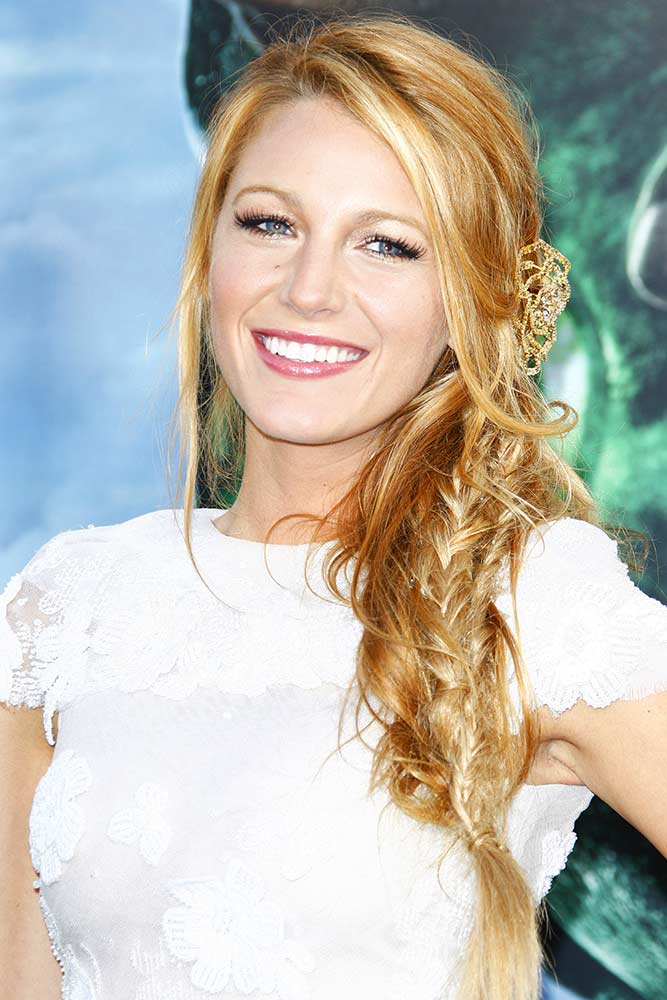 Source: Joe Seer/Shutterstock
Is there someone as bright and lively as Blake Lively? All her colorful dresses and messy looks are just proofs of her unbelievably vivid personality. This messy side braid is nothing but a simple hairstyle, but when a sincere wide grin accompanies it, it becomes a red-carpet look.
Knotted Faux Hawk Braid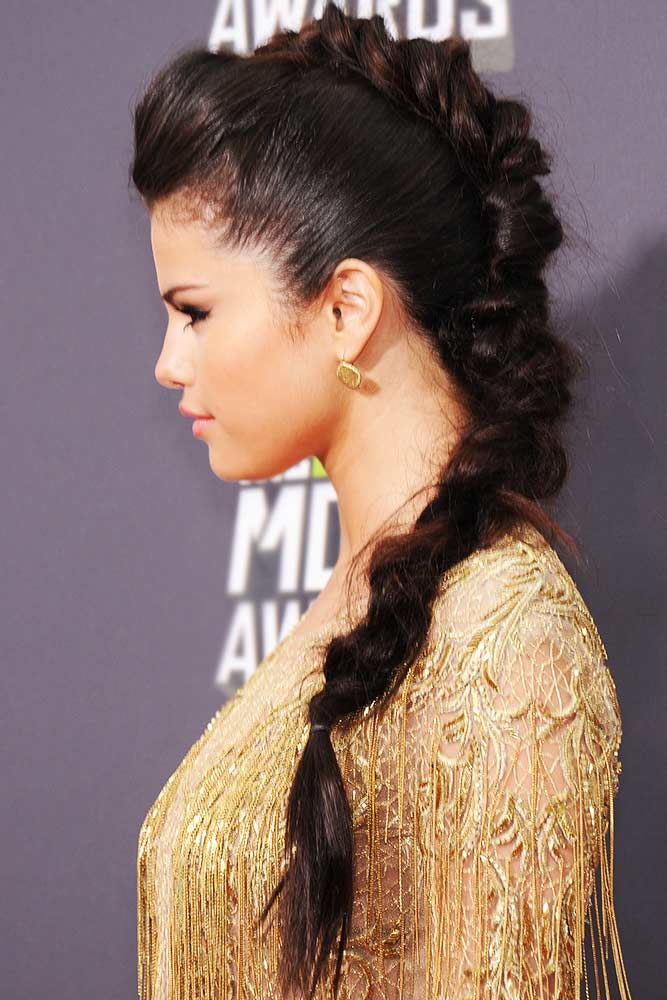 Source: DFree/Shutterstock
It's hard to imagine how many hair masterpieces can be achieved with such a lush hair type as Selena Gomez's. Well, this girl always knows how to catch people's eyes, and her creative braid exemplifies it clearly: a voluminous, knotted braid that stretches like a faux hawk is a look worth stealing.
Milkmaid Braids Updo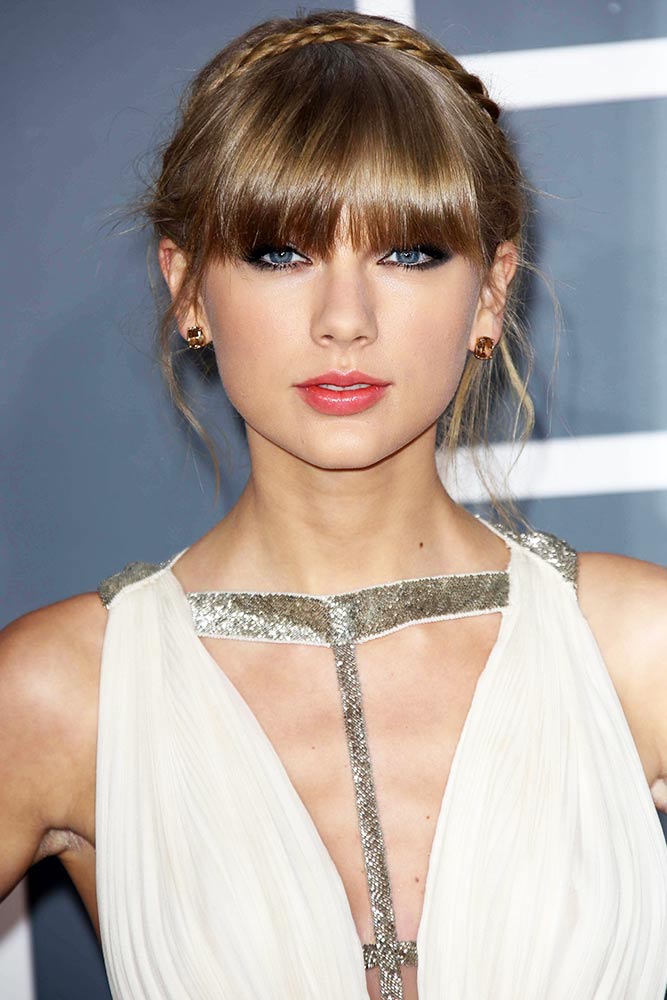 Source: s_bukley/Shutterstock
Sometimes it seems like Taylor Swift has popularized blunt bangs. Whatever hairstyles she shows up with go awesome with her fringe, and this updo is another living proof. The classic idea of milkmaid braided hairstyles usually bring quite a feminine mood, but this time it's even more delicate and restrained.
Headband French Braid Updo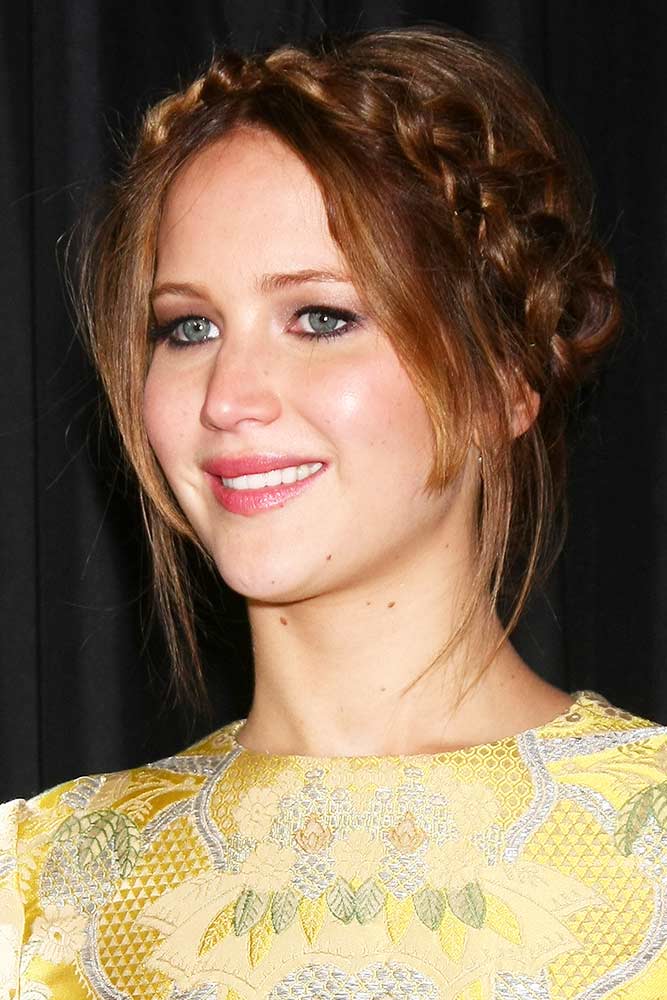 Source: Kathy Hutchins/Shutterstock
Jennifer Lawrence's hairstylist knows that there are no better embellishments than a woman's own hair, so this look is filled with pure elegance and naturalness. A slightly pulled headband gently accentuates her subtle image, letting framing front locks finish the effortless look.
Side Rope Braid Styling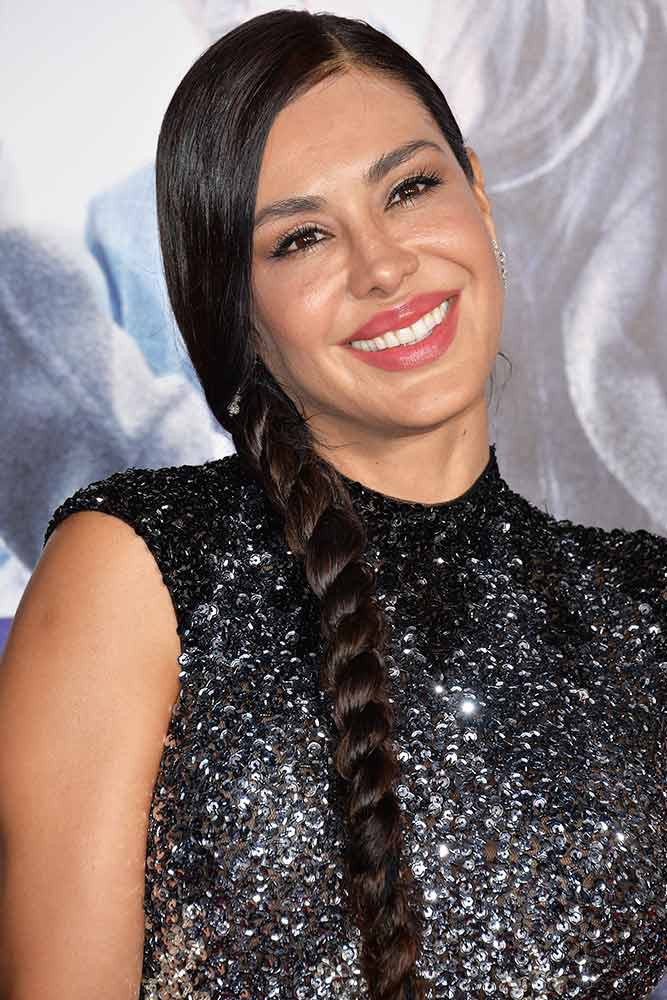 Source: Jaguar PS/Shutterstock
Some braids are designed to add more volume, and some are meant to enhance the beauty of one's hair. That's why Carla Ortiz chose a five-minute hairstyle: it creates a very tidy silhouette, showing off her stunning hair texture.
Rose Braid
Source: Stephhstyles/Instagram
i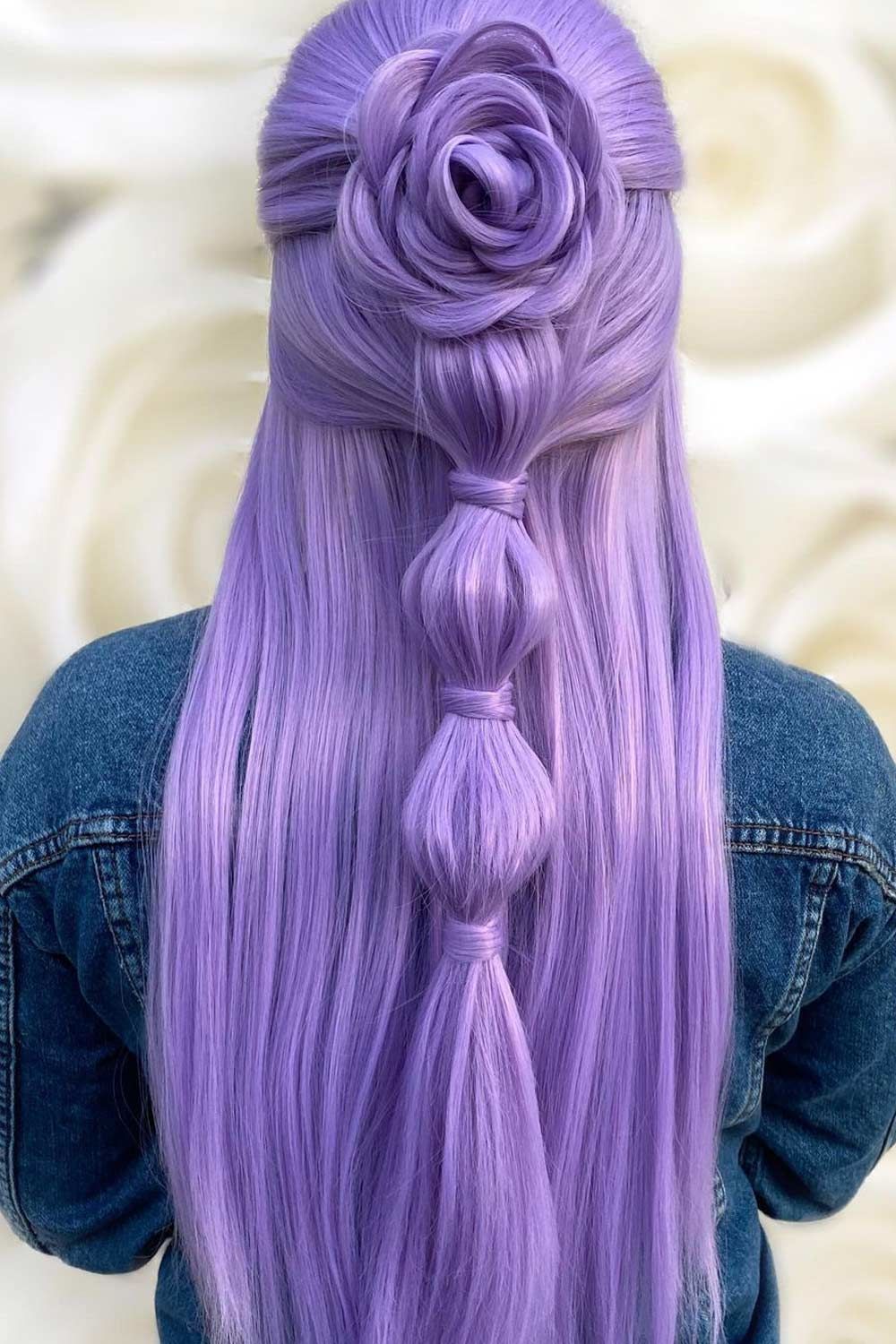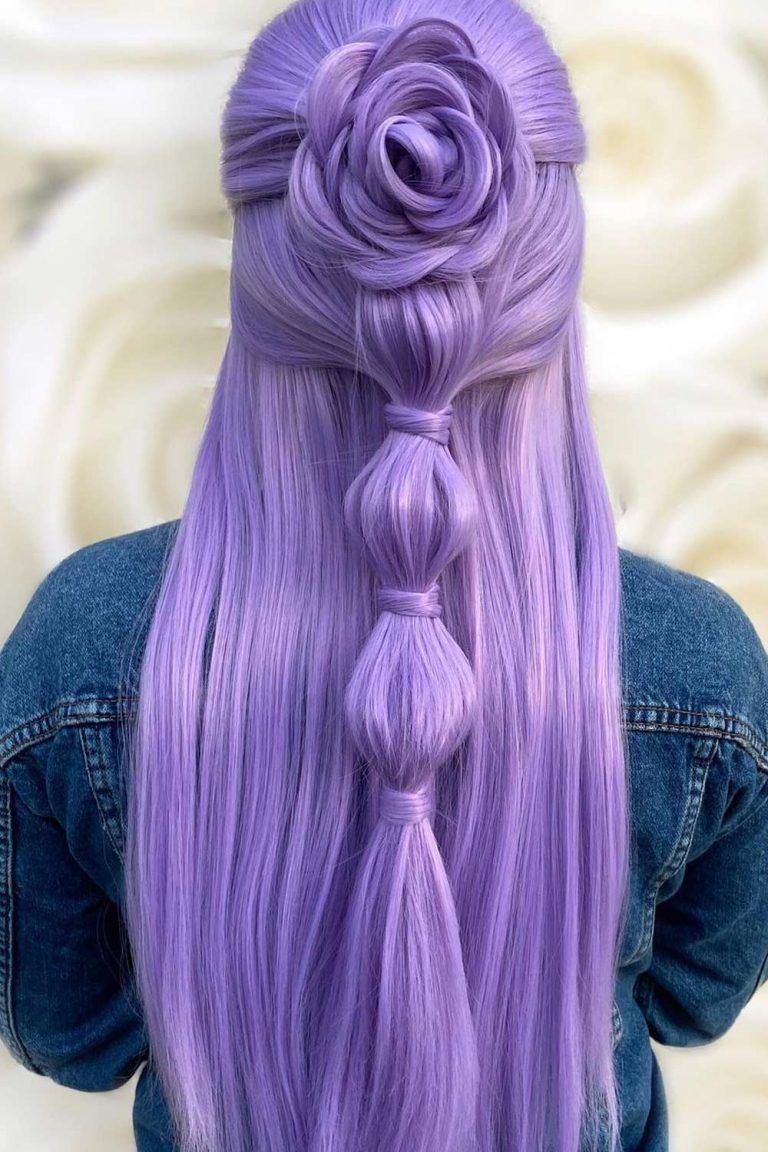 Source: Stephhstyles/Instagram
i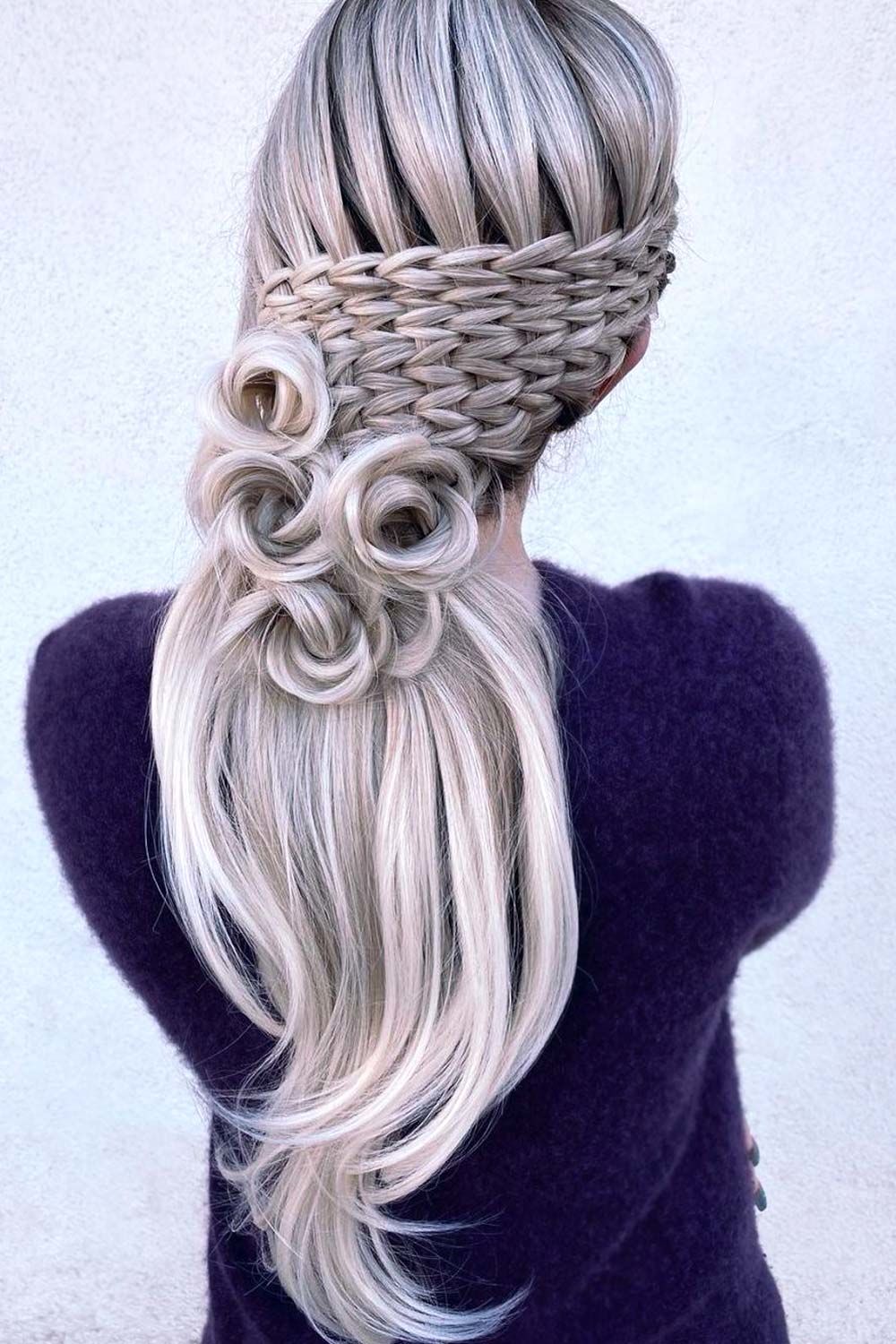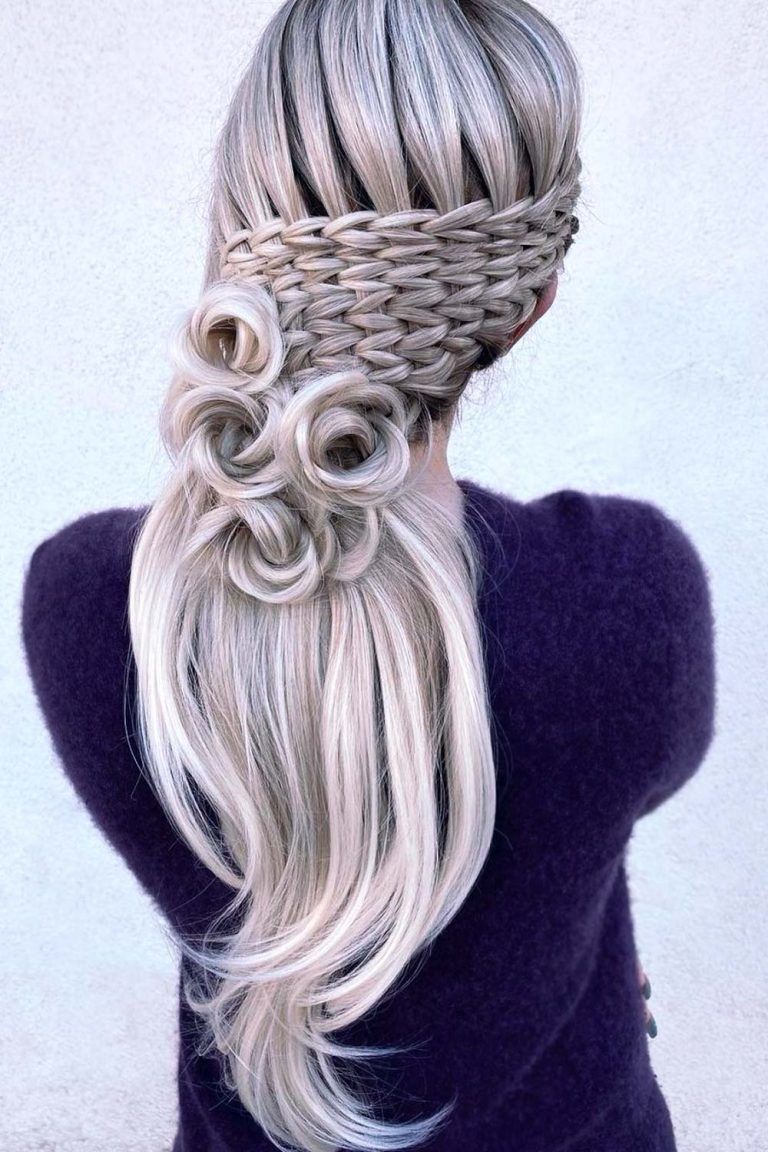 /
There are many different types of braids suitable for almost any occasion you can think of. There are even various types of specific flower braids that can be achieved if you know how and have the time. The way to achieve the various flower types is essentially the same in the beginning.
You simply complete the braid and pull the strands into the desired position for the flower petals you desire to imitate.
What Is A Halo Braid?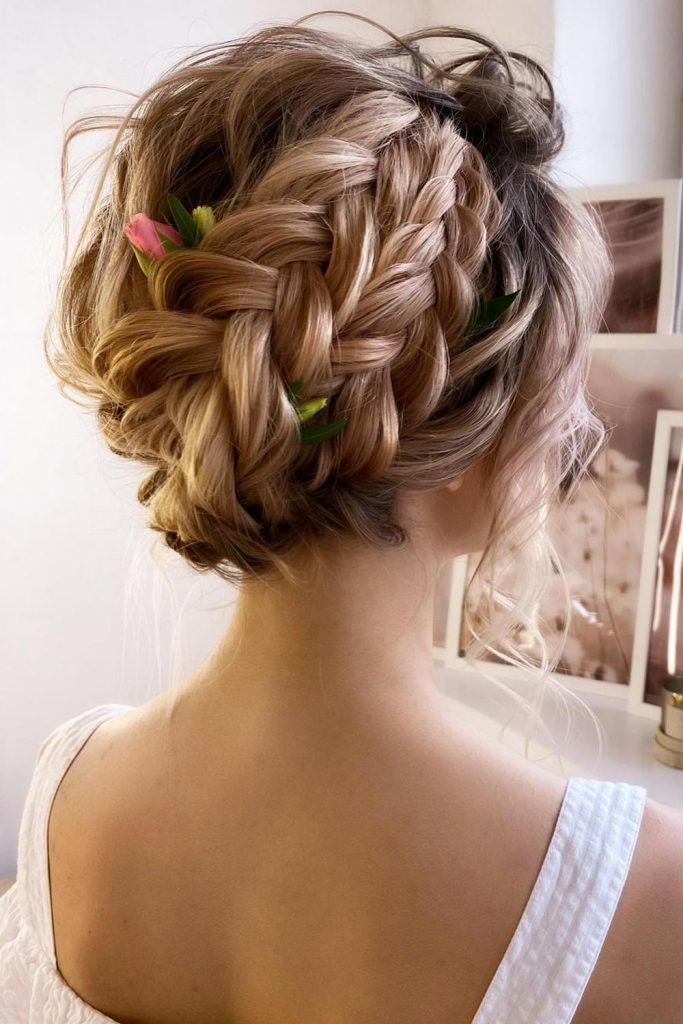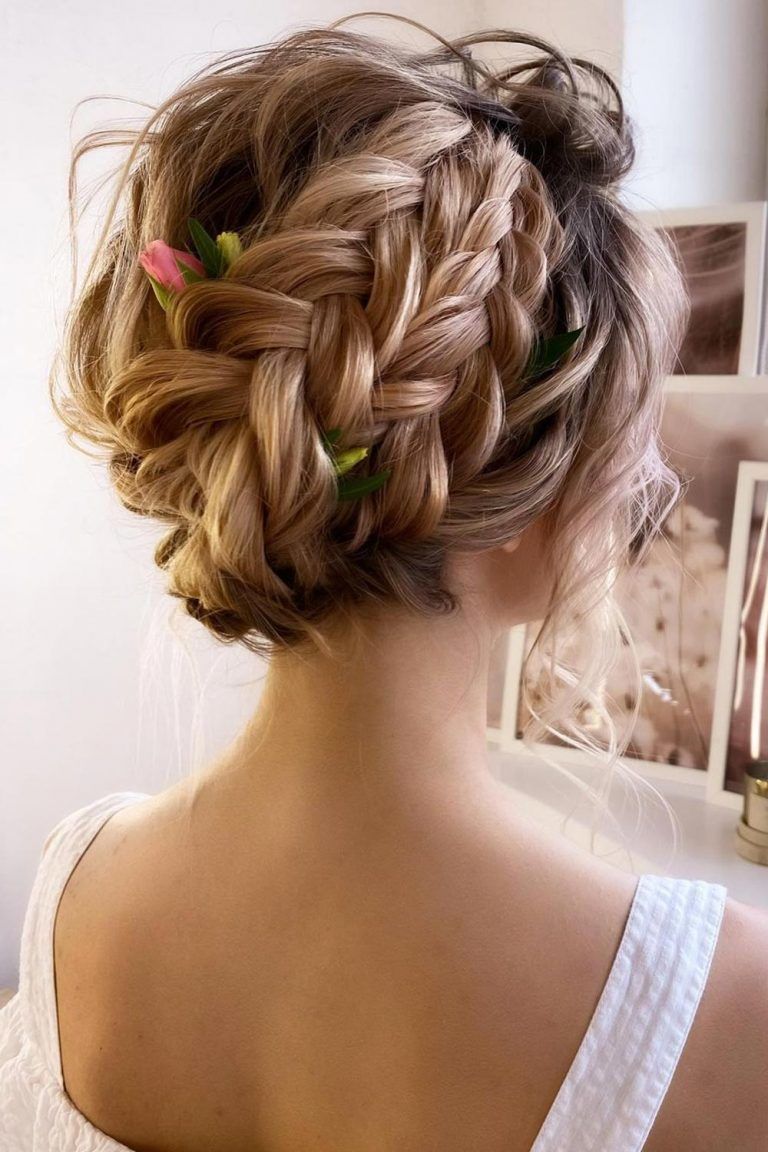 Source: Lenabogucharskaya/Instagram
The ever-popular halo braid is a go to hairstyle that women are continually turning to. This braid is like the crown braid but uses only one Dutch braid instead of two. Some believe that a braided hairstyle is impossible to achieve unless you have long hair. That is not the case.
While there are some braid hairstyles for long hair that are somewhat easier to obtain, you can still achieve these styles with short hair as well, if you have the proper hair products and some patience.
Two French Braids To DIY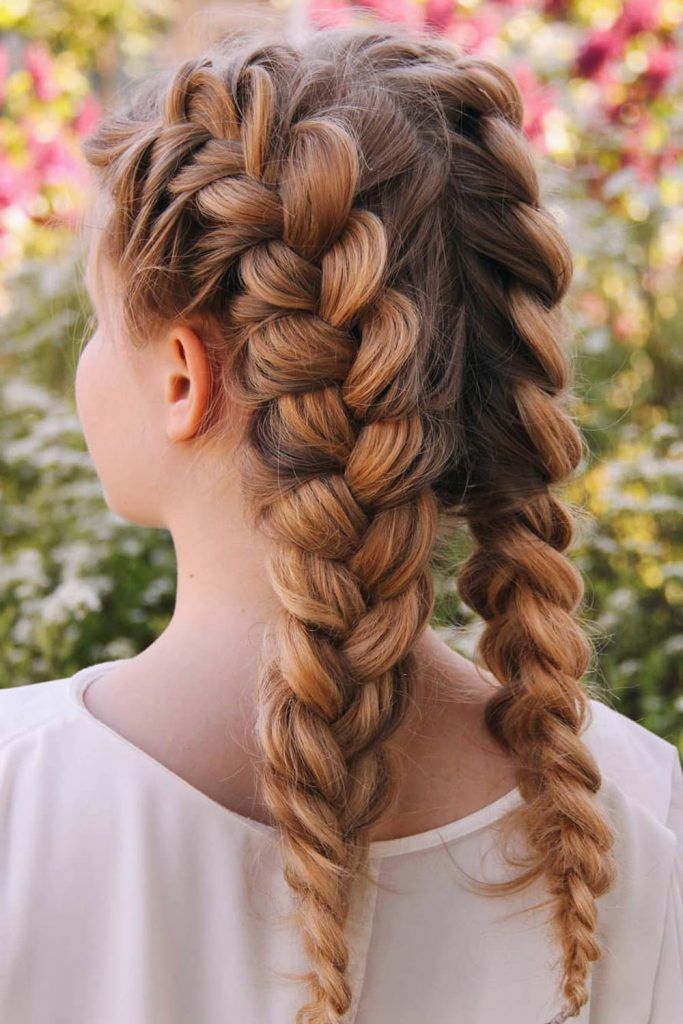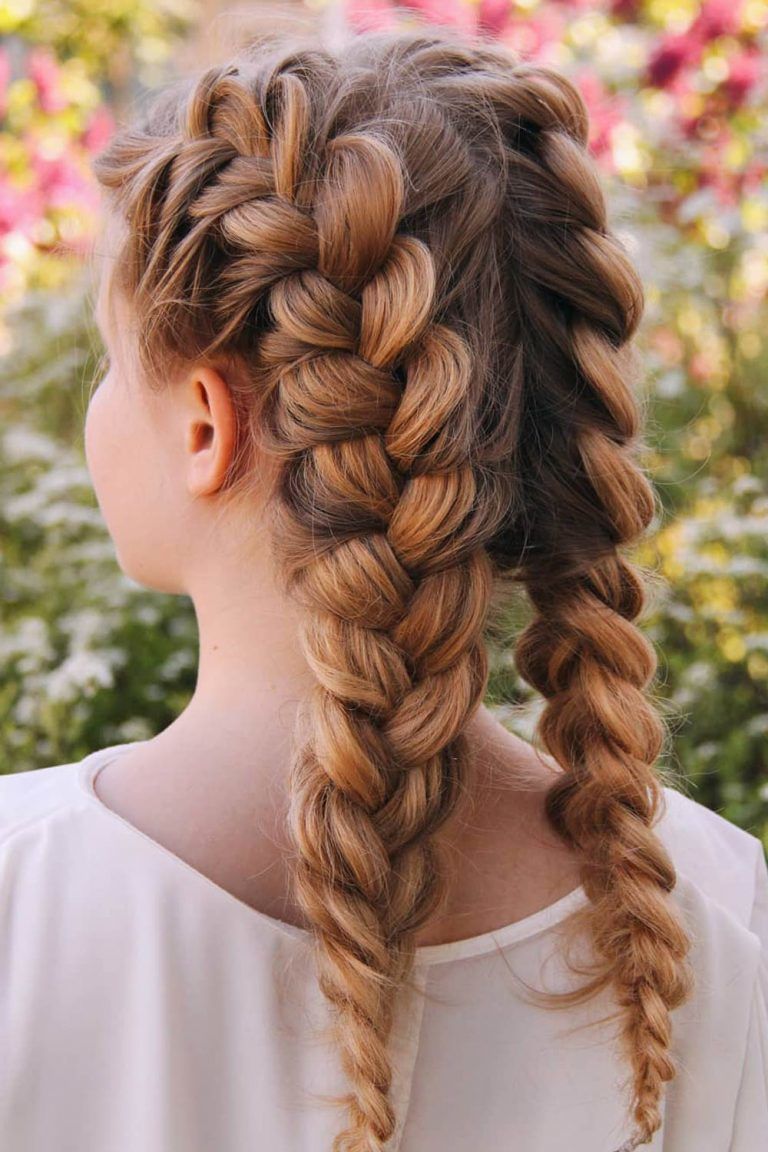 Source: Moonlightbraids/Instagram
Begin with doing a foundation braid by taking a 2-inch segment of hair and do a standard braid as you proceed to keep the braid close to the scalp. And pick up segments of hair from each side to add to your strands as you proceed to the nape of the neck and continue braiding to the end of the hair.
There are also multiple videos on YouTube on how to do French braids if you are more of a visual learner. In order to create the two-sided French braids, you follow the same process but combine the braids at the end.
Side Dutch Braid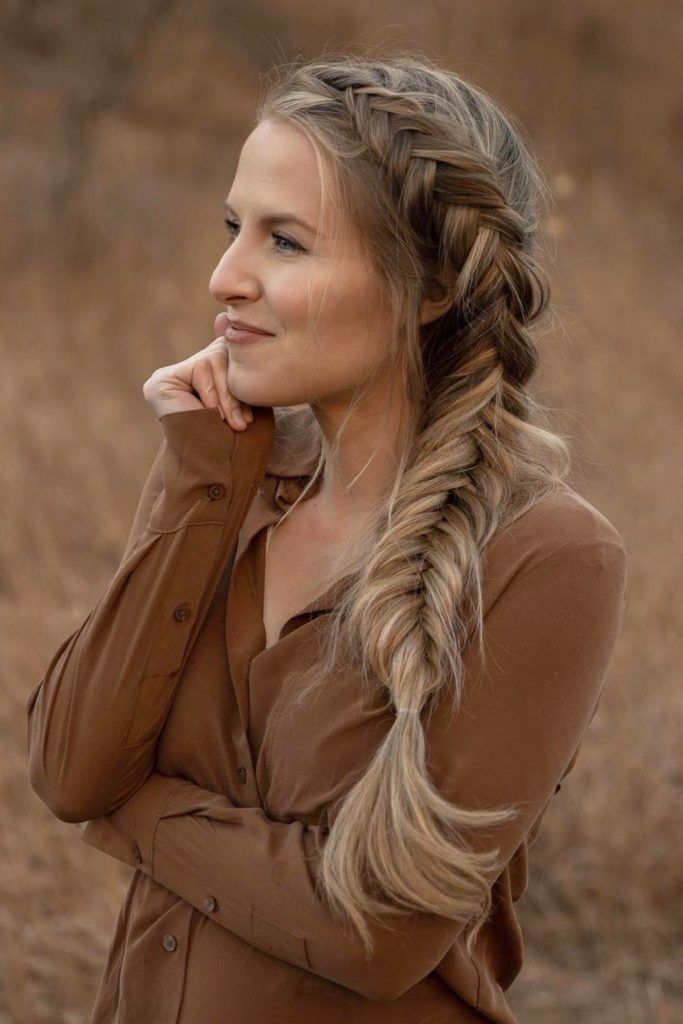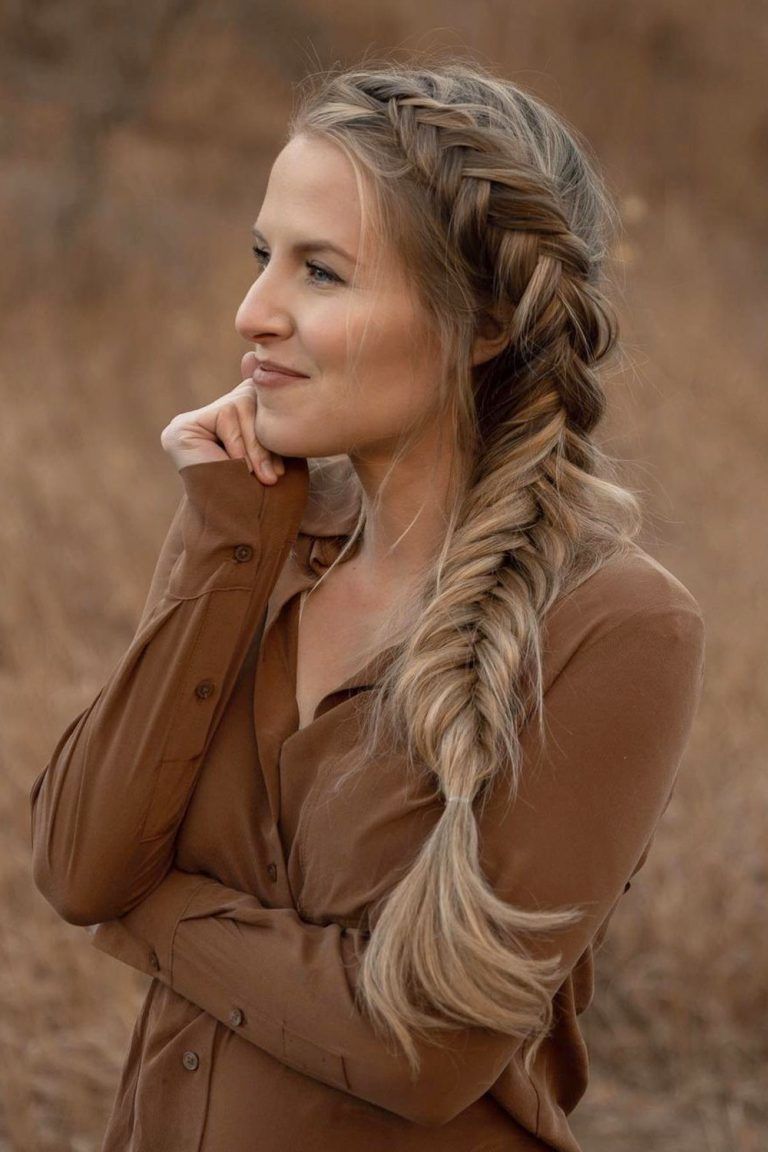 Source: Annalyncook/Instagram
I can't count the times I've heard people ask the question how do you make a Dutch braid. The answer is so simple it is almost annoying. The only difference in a French braid and a Dutch braid is whether you go over or under the middle strand. While this braid can be worn in the middle of the head, it is also very attractive worn as a side Dutch braid.
Upside Down Braid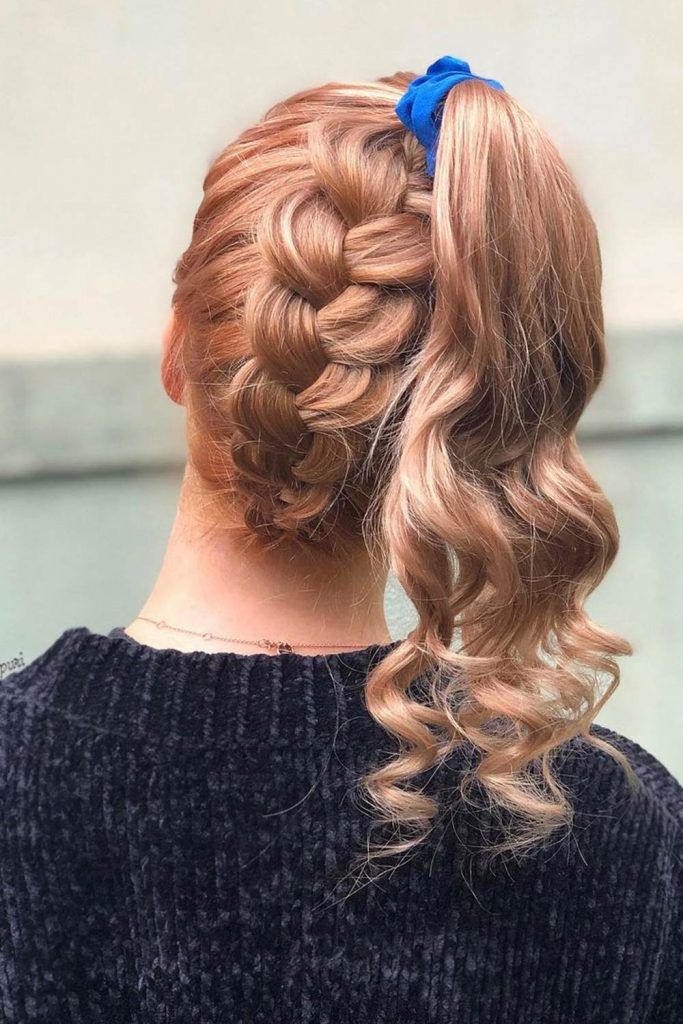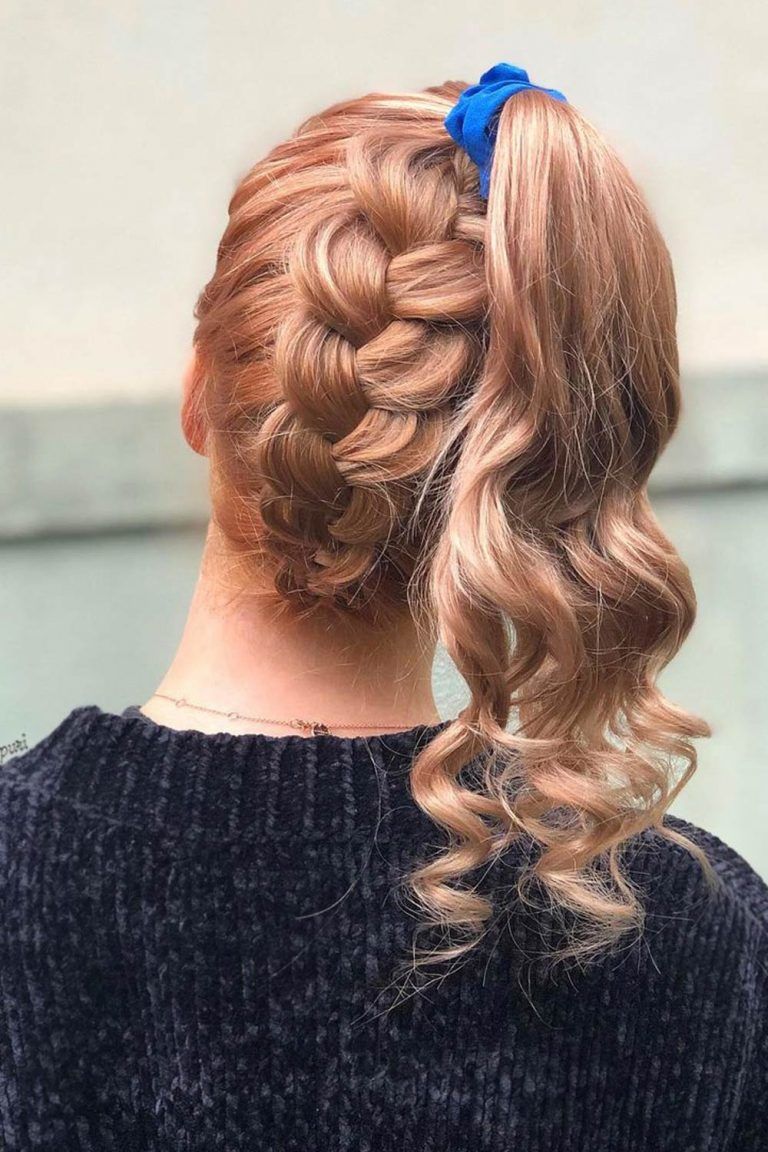 Source: Lettileipuri/Instagram
How do you do an upside-down braid? Well, you literally should turn your head upside down and patiently begin a braid at the nape of the neck. You begin with sectioning out your hair and adding from the sides as you go under the center strand. Continue this process, adding hair as you go until you reach the crown of the head.
Boxer Braids
Source: Sass.and.braids/Instagram
i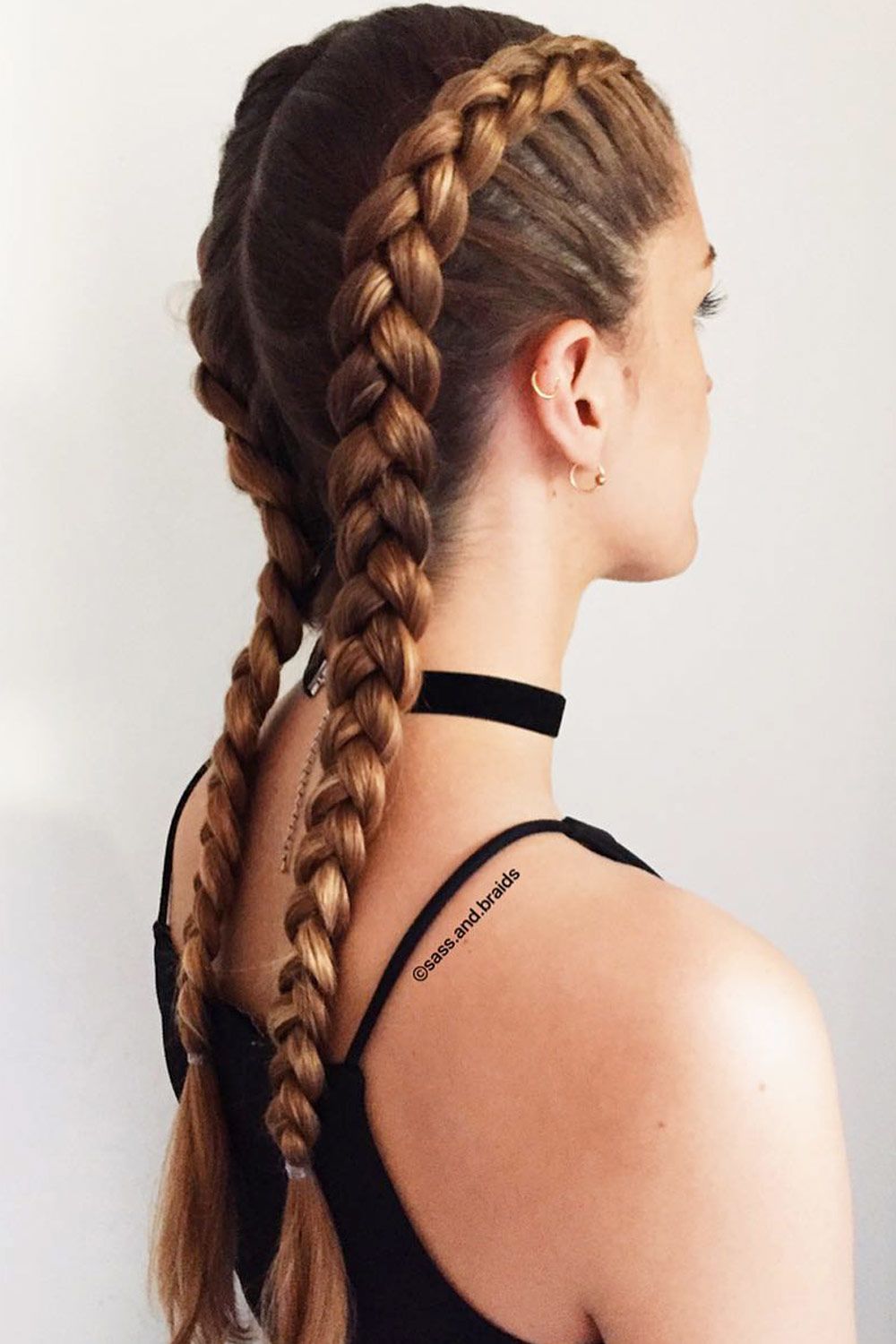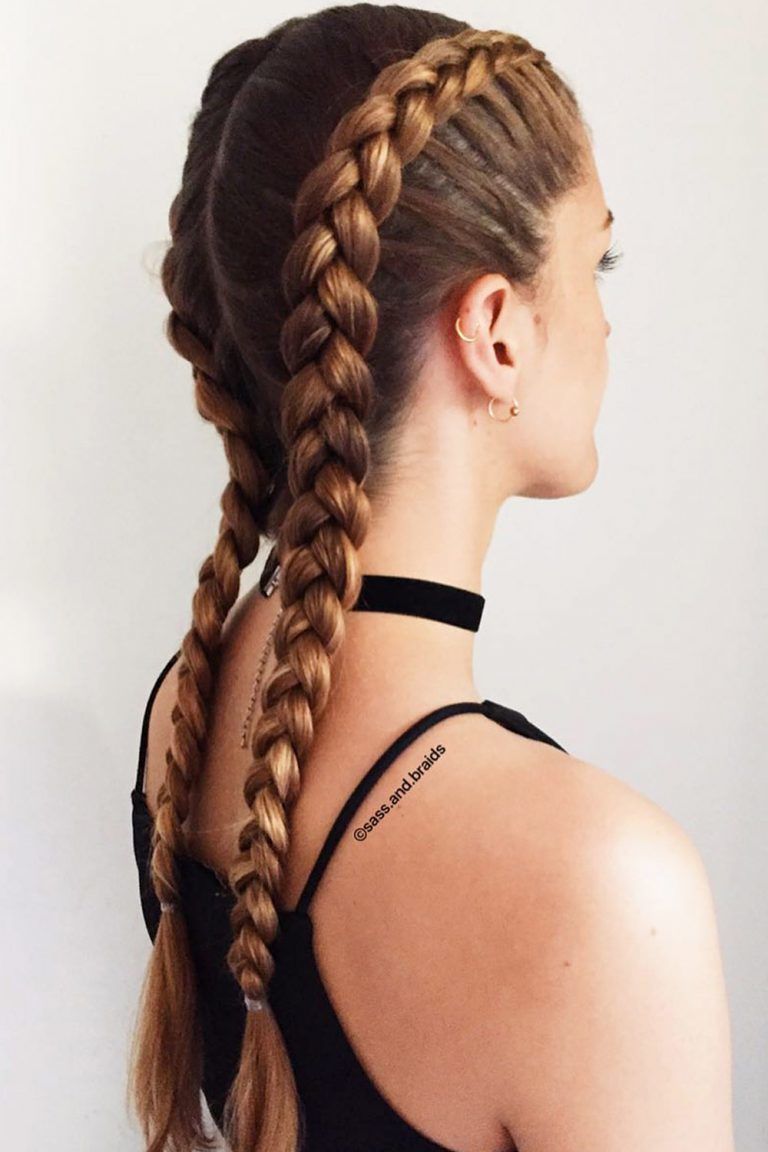 Source: Dynasty_barbers/Instagram
i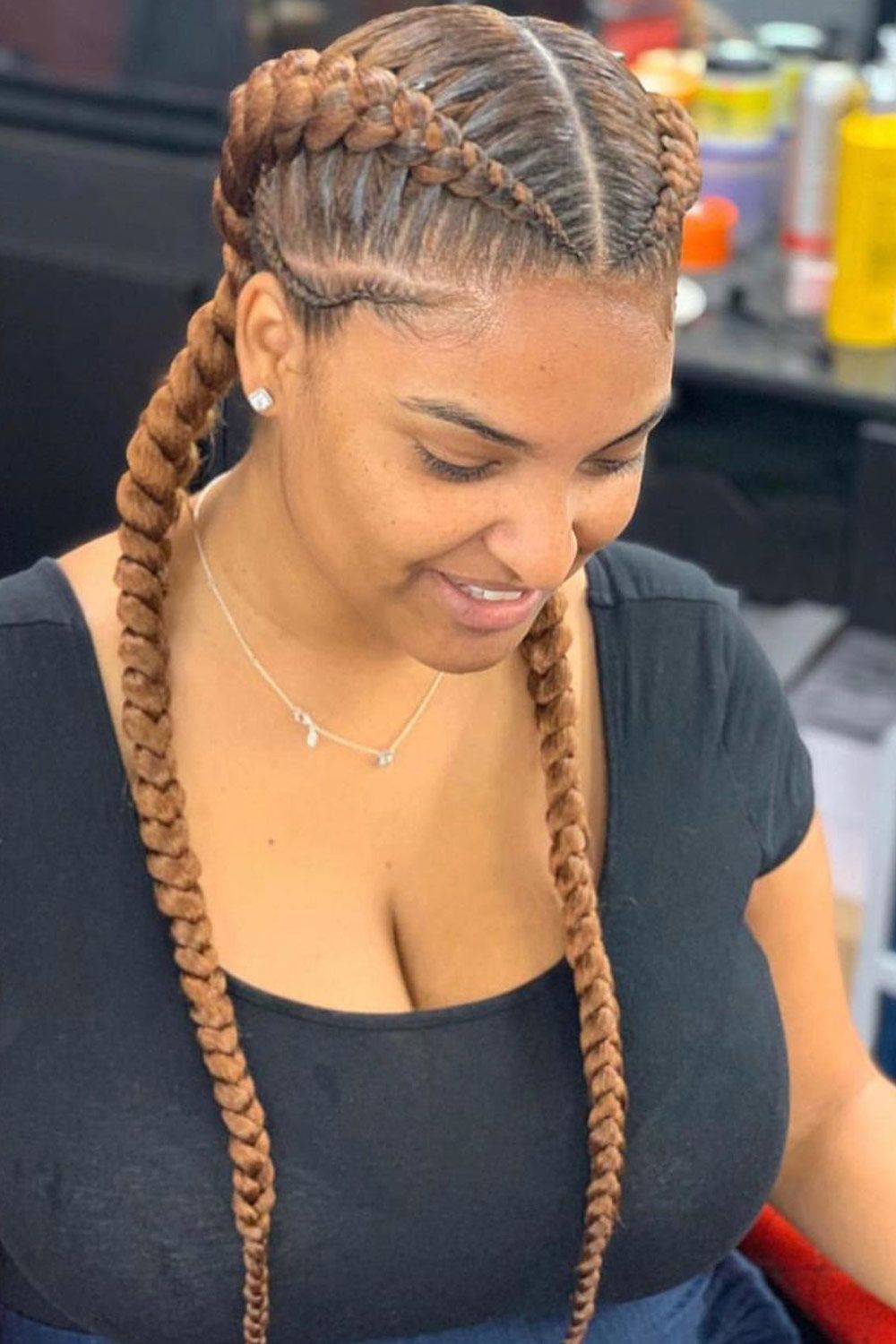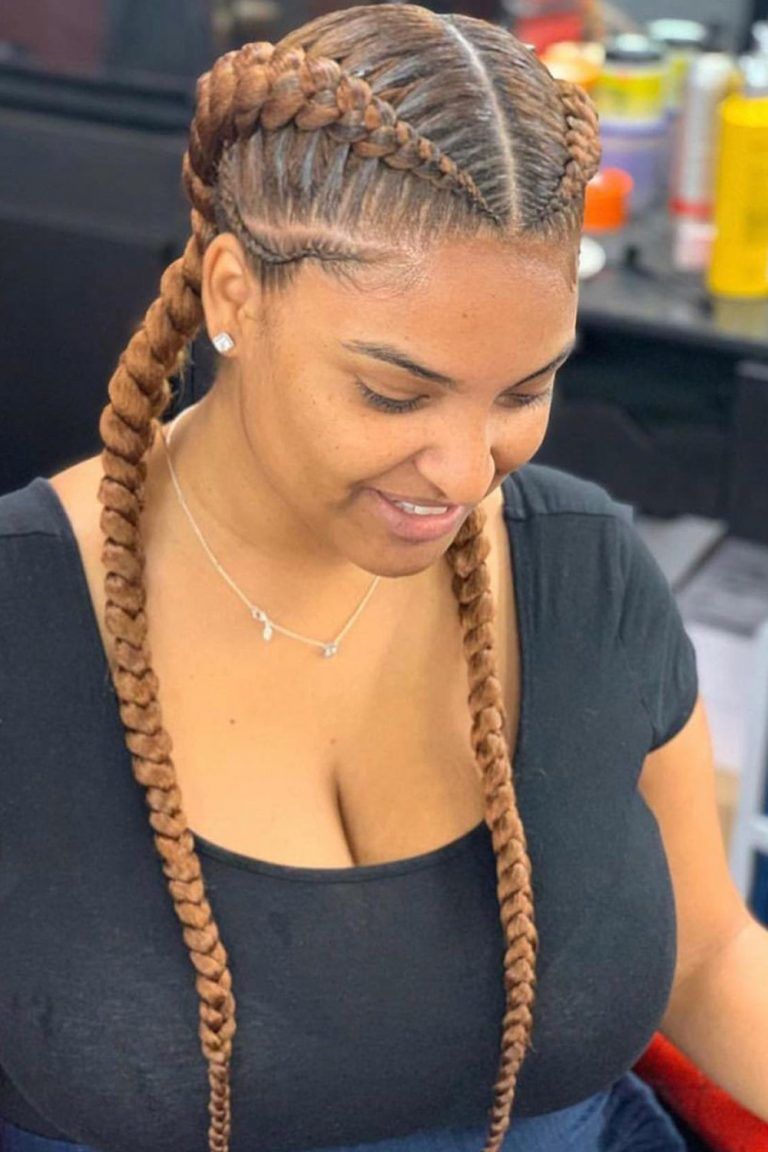 /
Let's go through a tutorial on how do you make a boxer braid. This braid is very attractive. And even though it is a fairly new hairstyle, it has become extremely popular at a record pace. The boxer braid is most definitely a cool girl statement, but it isn't the easiest braid to master. Often while doing this hairstyle, you will catch yourself French braiding and will have to go back and redo your work.
Once you do master the technique of Dutch braiding, which is the foundation of the boxer braid, it can become one of your go-to easy braids for long hair to do yourself.
Zipper Braid
Source: Lettileipuri/Instagram
i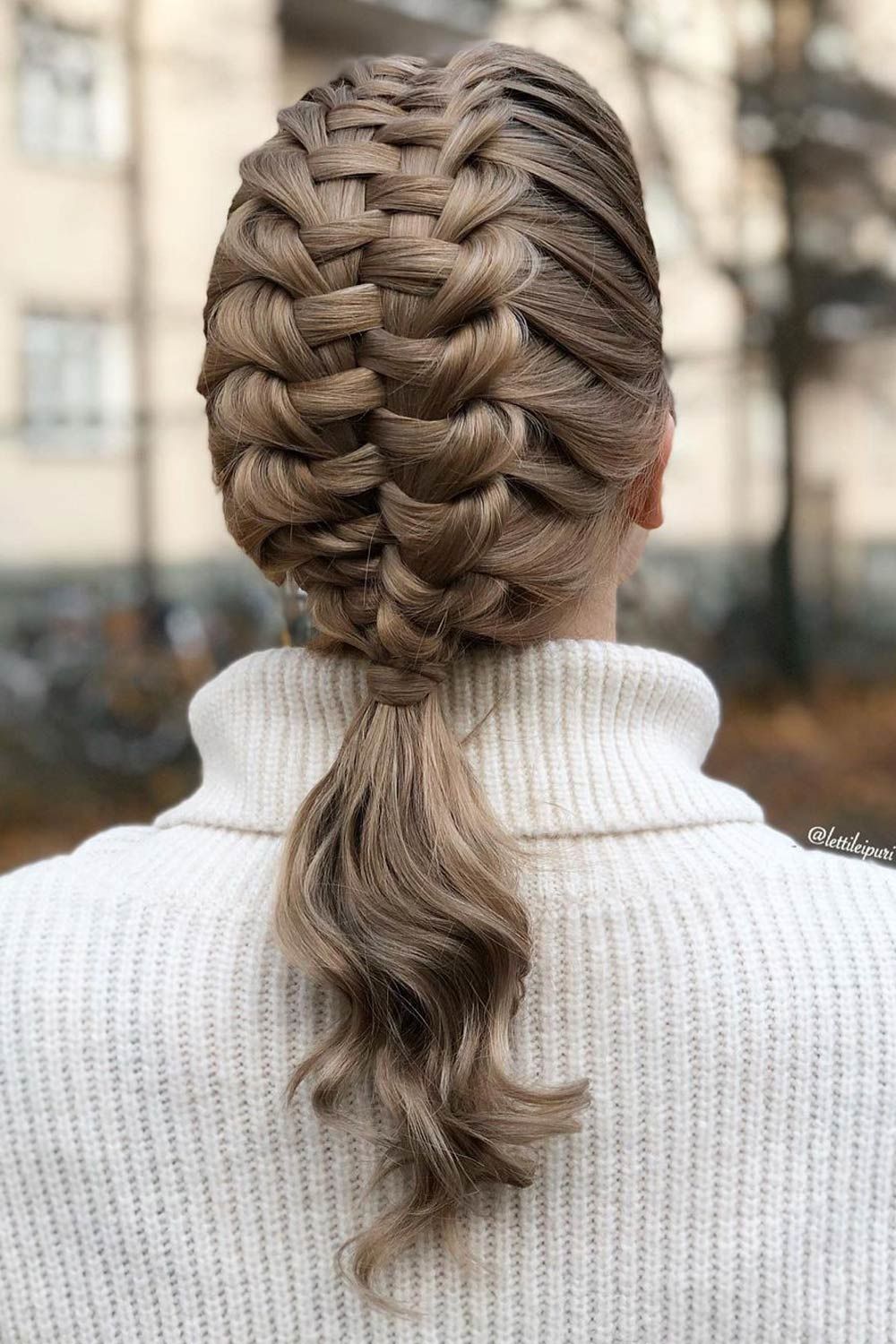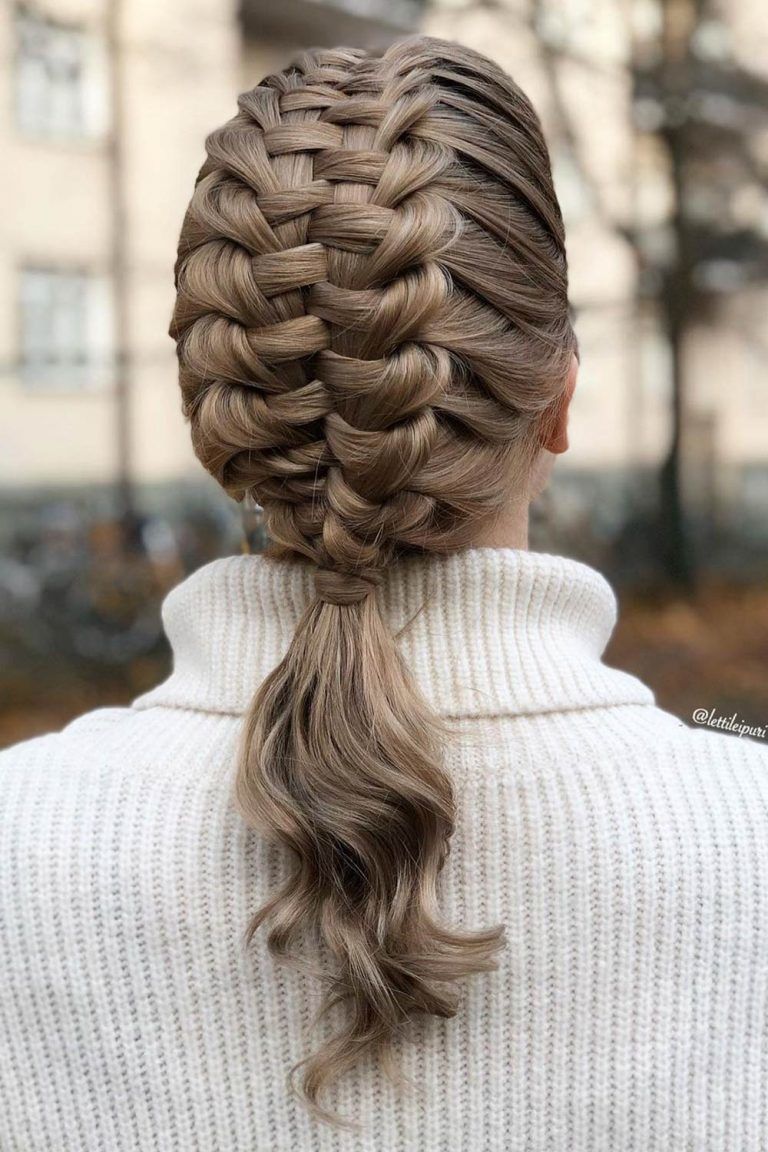 Source: Lettileipuri/Instagram
i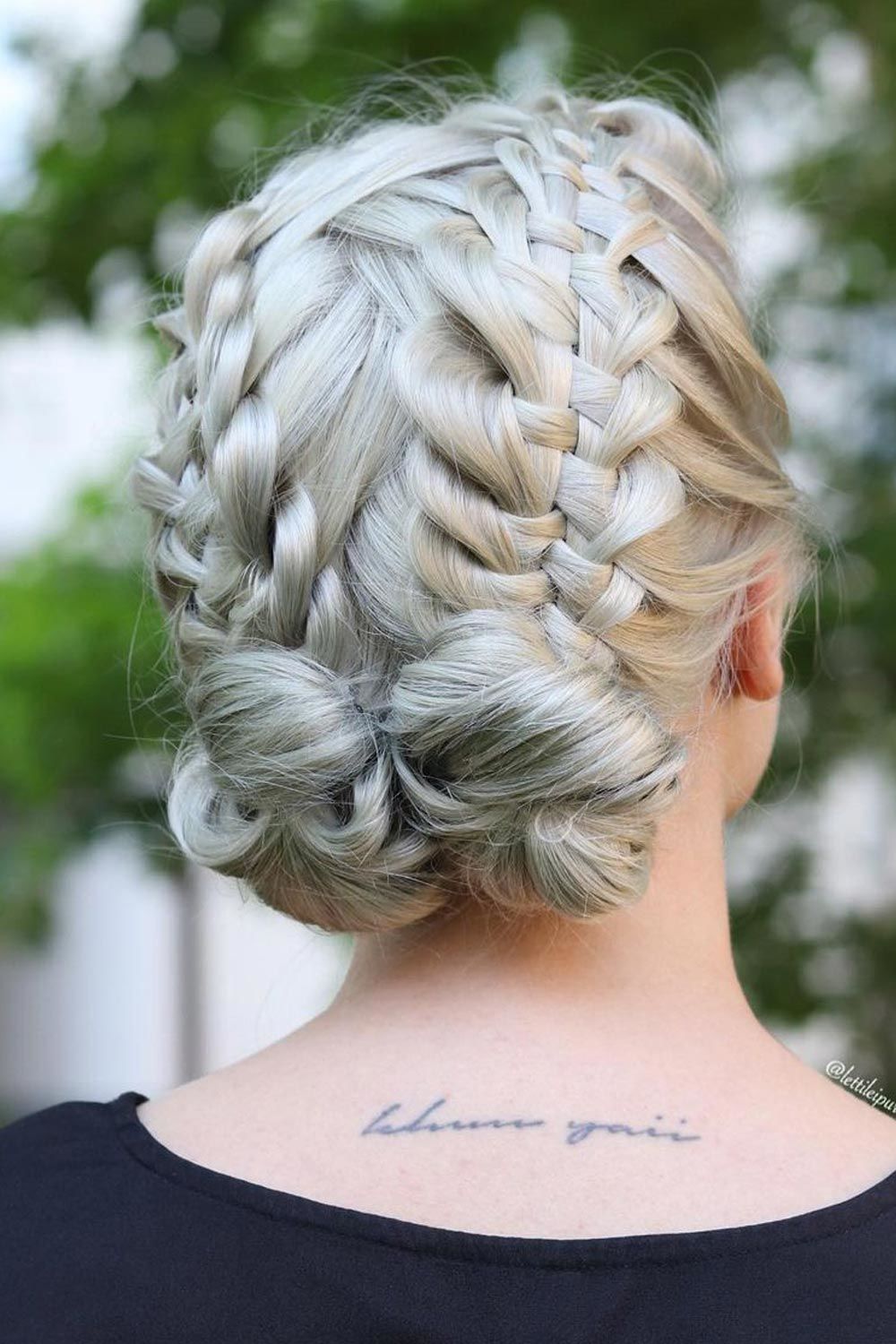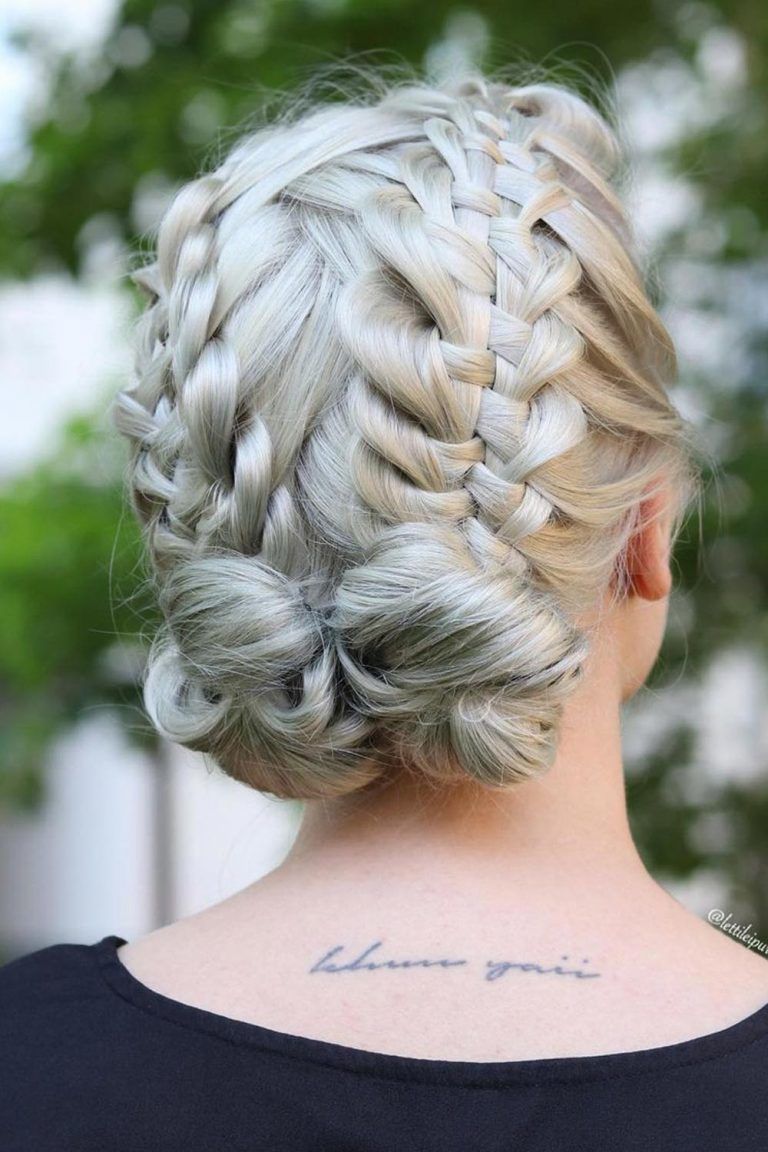 /
When you first see a braid like this, I'm sure you like everyone else would ask what kind of braids are these? This braid is very intricate. Now the next question you'd ask is how to do a zipper braid.
For beginners, you should start with the wet, or at least very damp hair. It is probably best to watch a video on how to complete this braid with its high level of difficulty. Once you master the technique, this braid can be completed in about 10 minutes but don't count on that being true for the first attempt.
You should have the willing to complete this braid. Two hands simply don't seem to be enough for all of the strands this piece of art requires.
Dutch Infinity Braid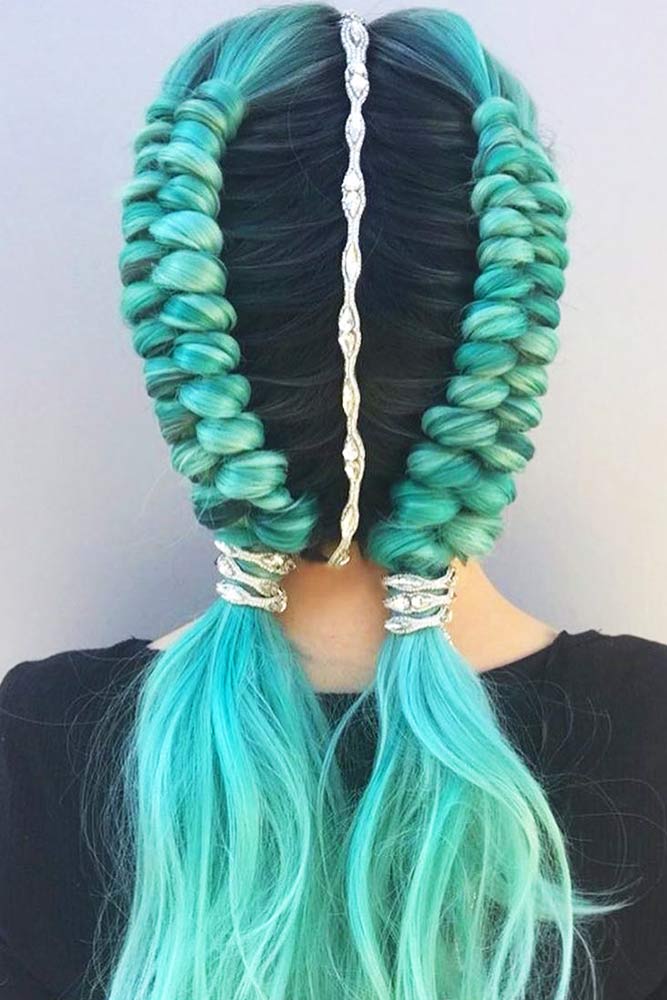 Source: Alexandralee1016/Instagram
We wish we could count the times we have been asked the question are Dutch braids the same as cornrows. If we had a dollar for each time we'd, certainly have a nice nest egg in place.
The difference between a cornrow and a Dutch braid is basically the size of the braid. Cornrows are smaller and intricate and require the use of the fingertips rather than the fingers.
In the picture above, you see the Dutch infinity braid, which is exceptionally colored, as well. The color contrast working with this braid is breath-taking and gives the impression that this could potentially be a wig rather than real hair.
Twisted (Rope) Braid
Source: Sass.and.braids/Instagram
i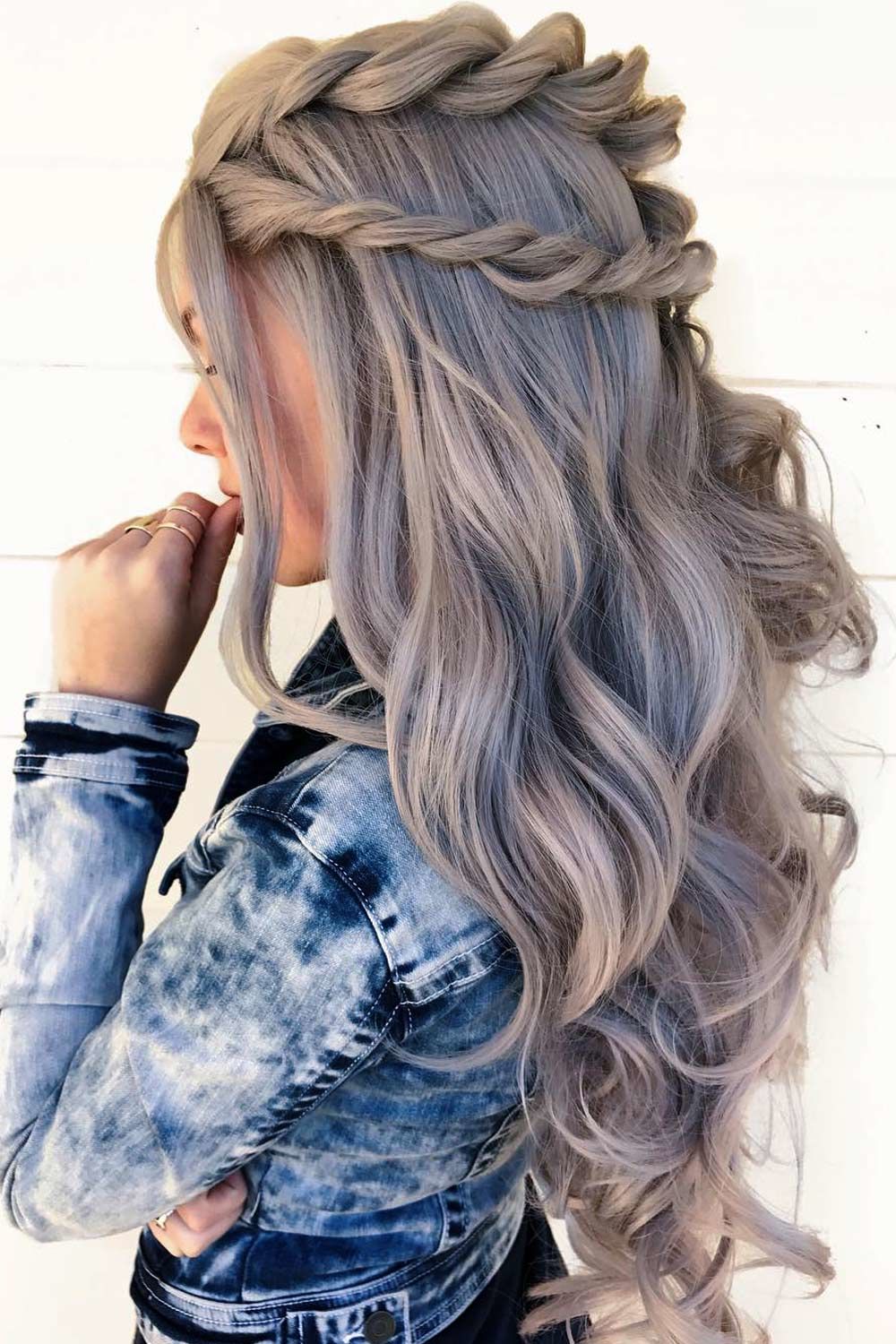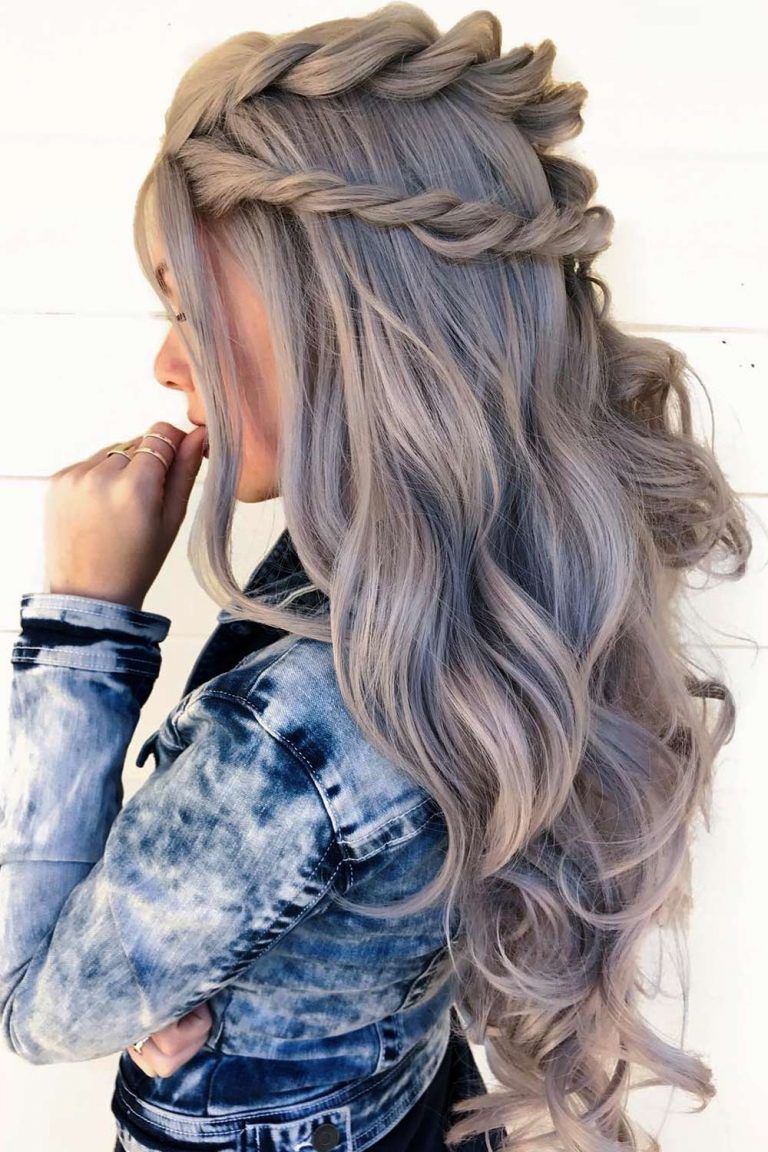 Source: Jaykaybraids/Instagram
i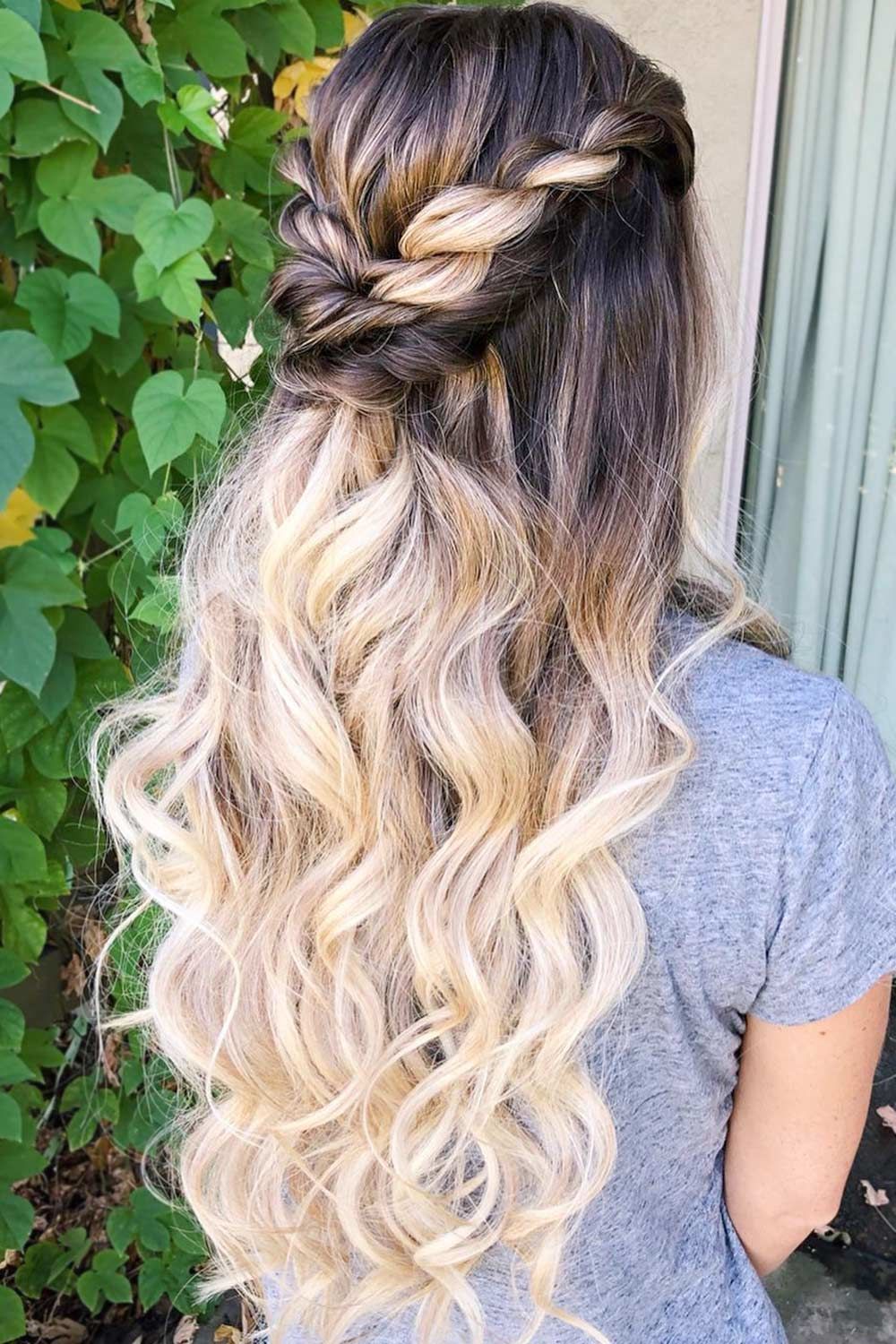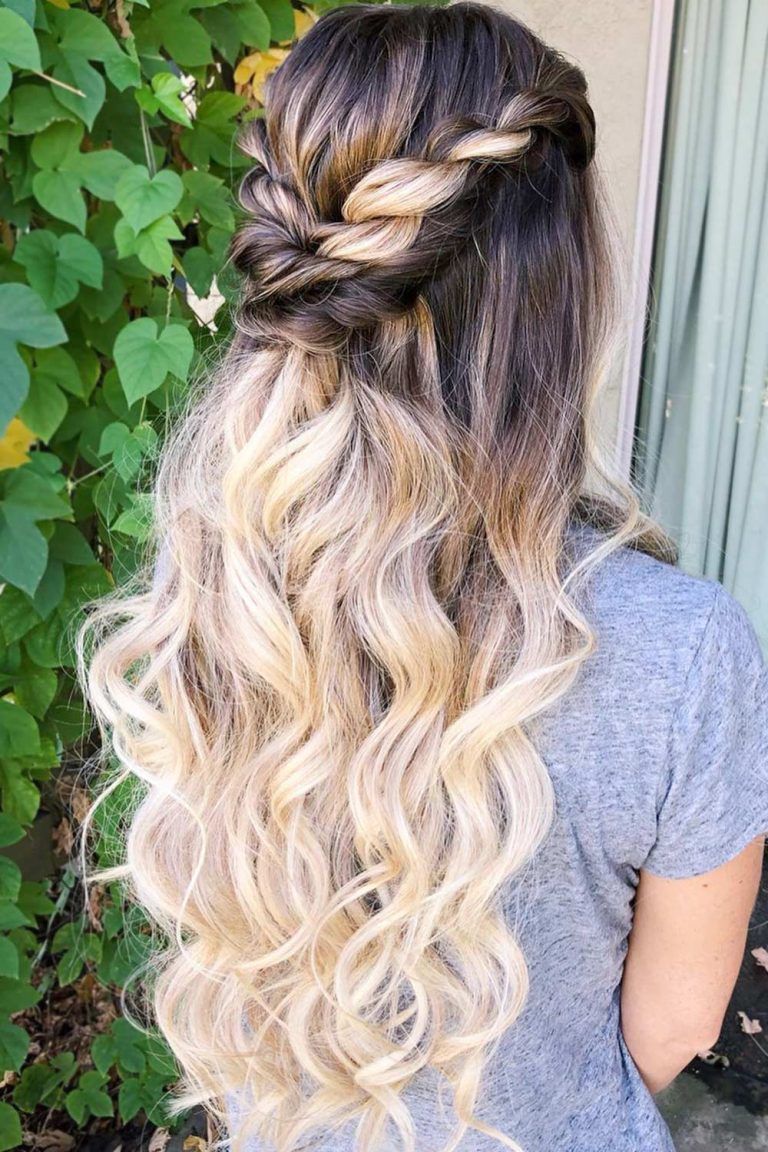 /
You may be asking yourself how to do a twisted braid. You begin with using dry shampoo spraying your hair well, so you get a good hold on the style. Brush to assure that you have removed all the tangles from your hair. And then begin with a side part opposite the side you wish for your braid to fall on. Begin a small rectangular section of hair and split it into two sections.
With the two sections in your hands, you cross the front section of the back section and as you continue to add hair to the front section, each time, you begin a new link.
Make sure to keep your hair smooth and free of tangles as you progress through the length of the hair. At the nape of the neck, begin getting sections of hair from the back to make sure all of the hair is gathered up.
And then begin twisting the two sections of hair counter-clockwise very tightly and then twist them over each other clock-wise. Secure with a hair band and, viola, you have completed a sexy chic style in a matter of minutes.
Half-Up Fishtail Braid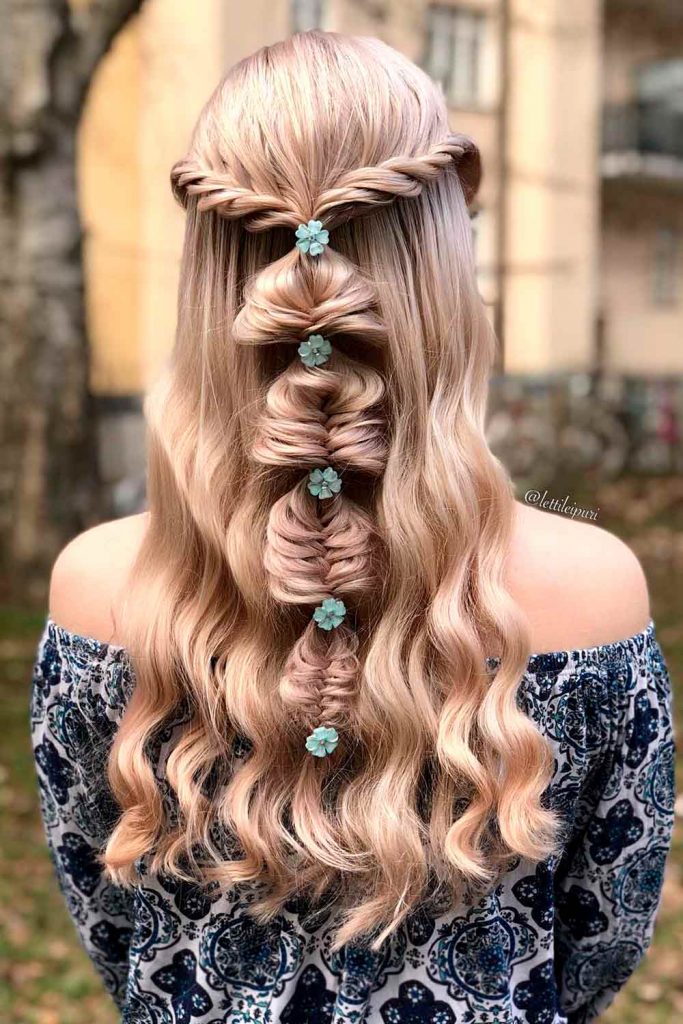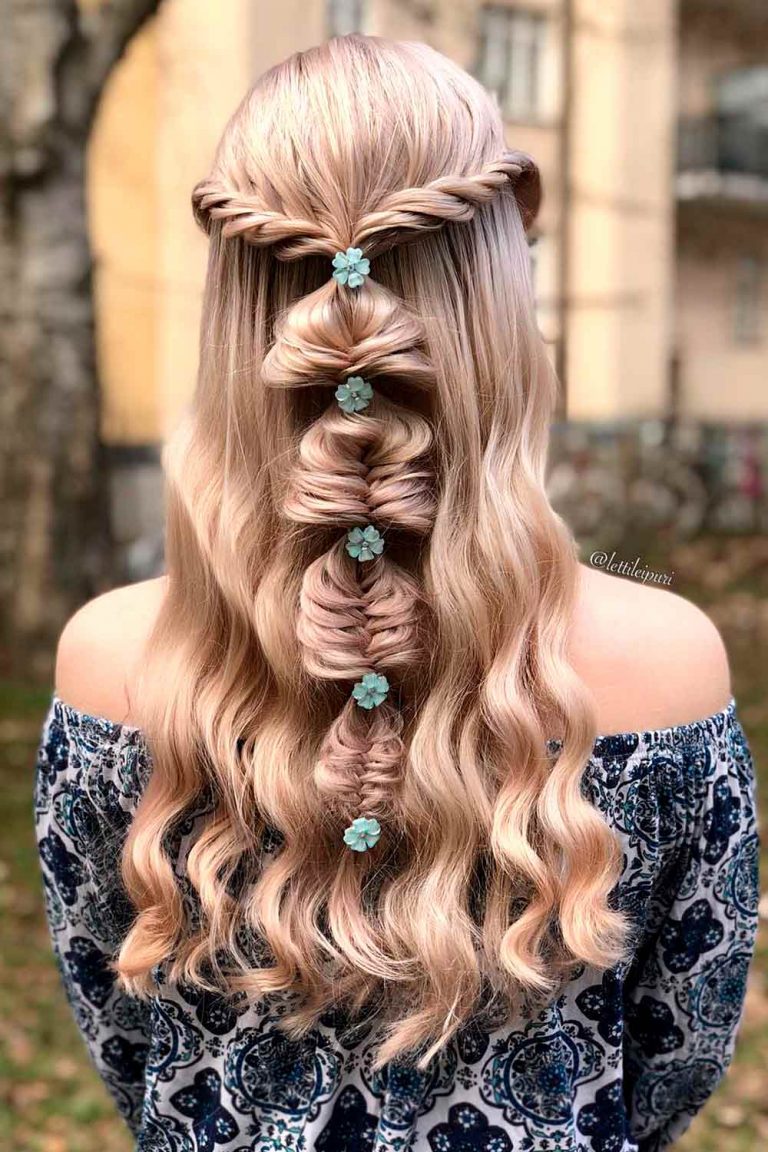 Credit photo: instagram.com/lettileipuri
In this section, we will tell you how do you do a fishtail braid on yourself. Begin with pulling the hair back into a neat ponytail and securing it with a hairband. Split the ponytail into two smaller ponytails equal in size. From the left ponytail, set a part of a section about half an inch in size. Without twisting the hair, bring this smaller piece across the top of the left ponytail over to the right one.
Repeat the same process with the right ponytail bringing a small section of it across the right to join the left. Repeat this process until you have braided to the desired length.
Don't be worried about loose ends and a messy look as that is a part of the intrigue of this particular hairstyle.
Waterfall Braid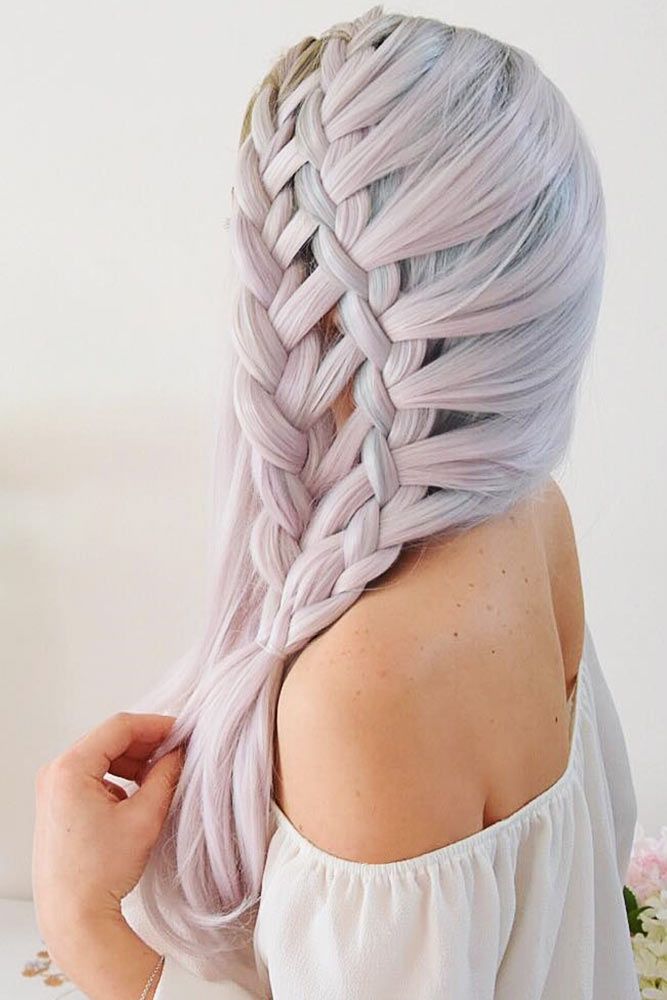 Source: Braids_for_my_hair/Instagram
There are some tips and tricks that will help you successfully learn how do you do such waterfall braid styled with ladder element. First of all, you should start with day old hair rather than clean hair. Day old hair will hold the braid better than clean, slick hair.
When you do this braid, the trick is to drop a strand of hair and pick up a new strand each time rather than combine the two strands.
Fishtail Braid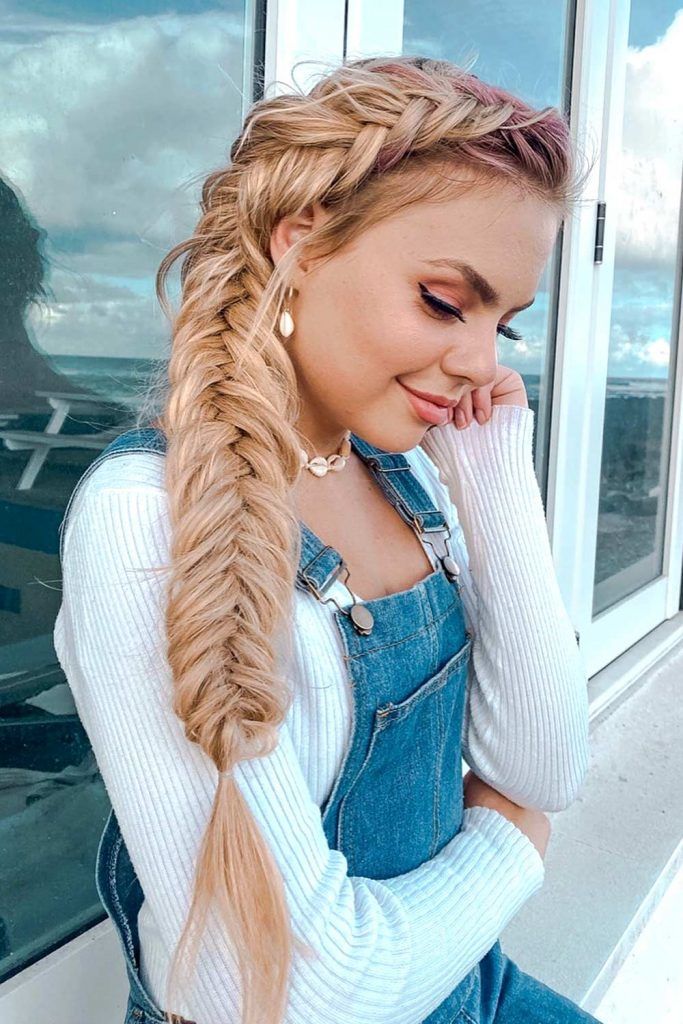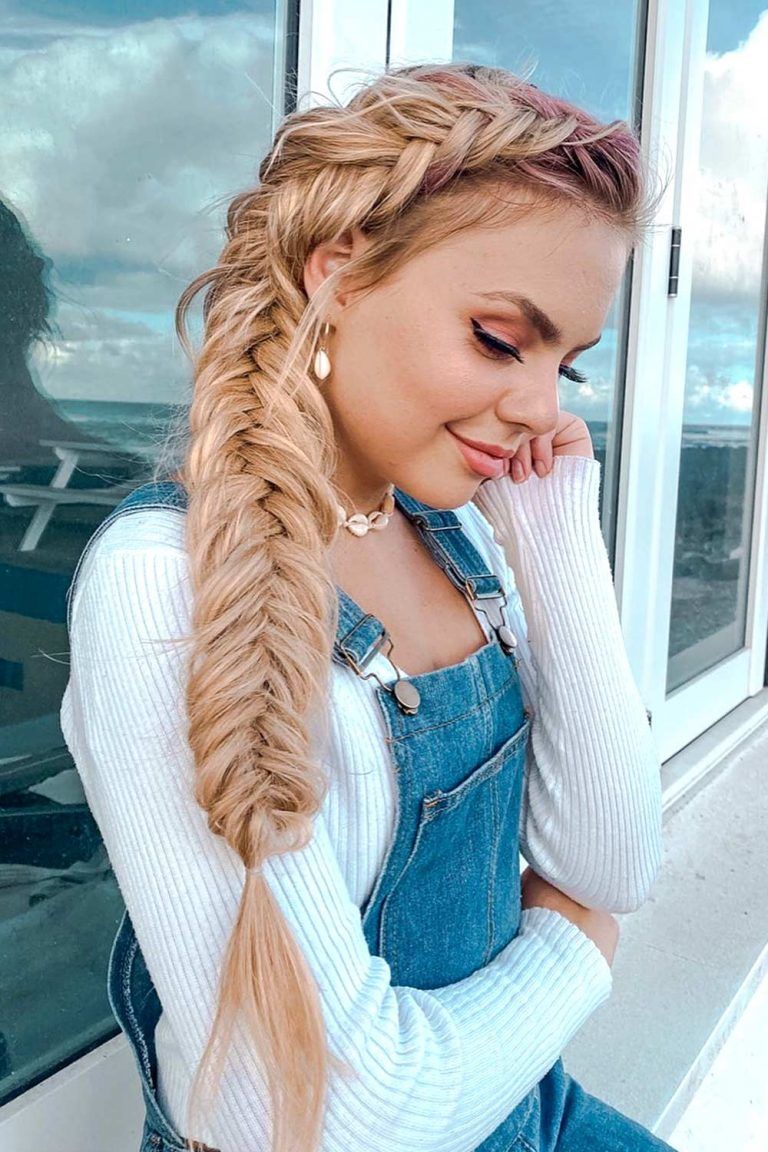 Source: Sass.and.braids/Instagram
There are a few steps one should remember when learning how do you make a fishtail braid. First, take your time. Another thing to remember is that perfection is not necessarily a goal. The imperfections present in a fishtail braid is what gives it character.
The photo above is a beautiful representation of a Dutch into a fishtail braid, and the contrast between the two types of braids works lovely together. This style could be an everyday hairstyle and just as easily be the perfect fit for a formal event, as well.
Dutch Lace Braid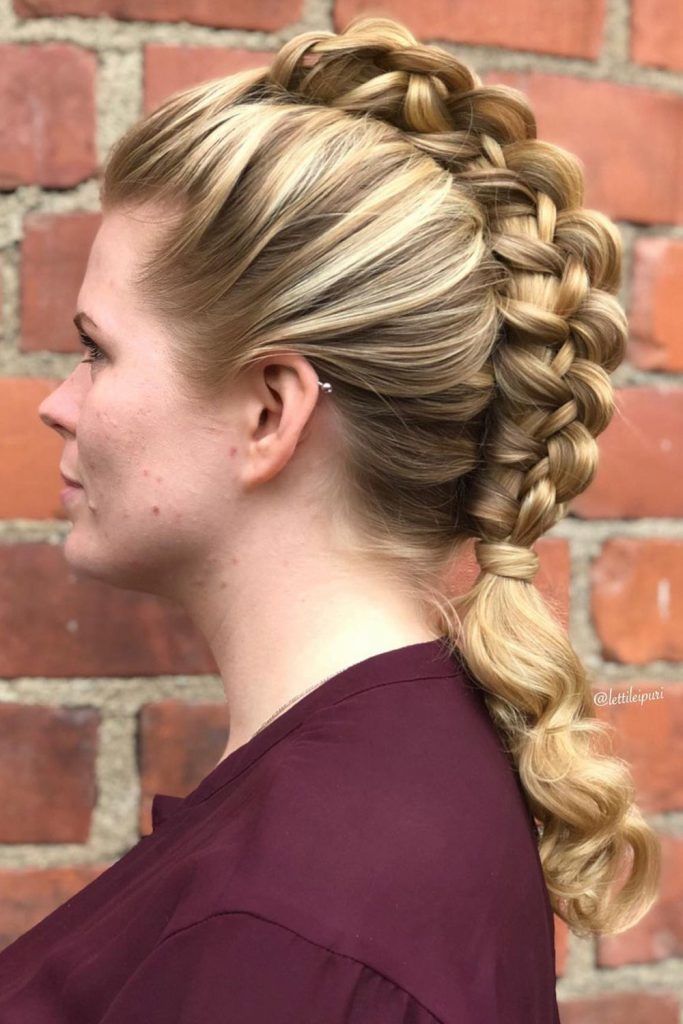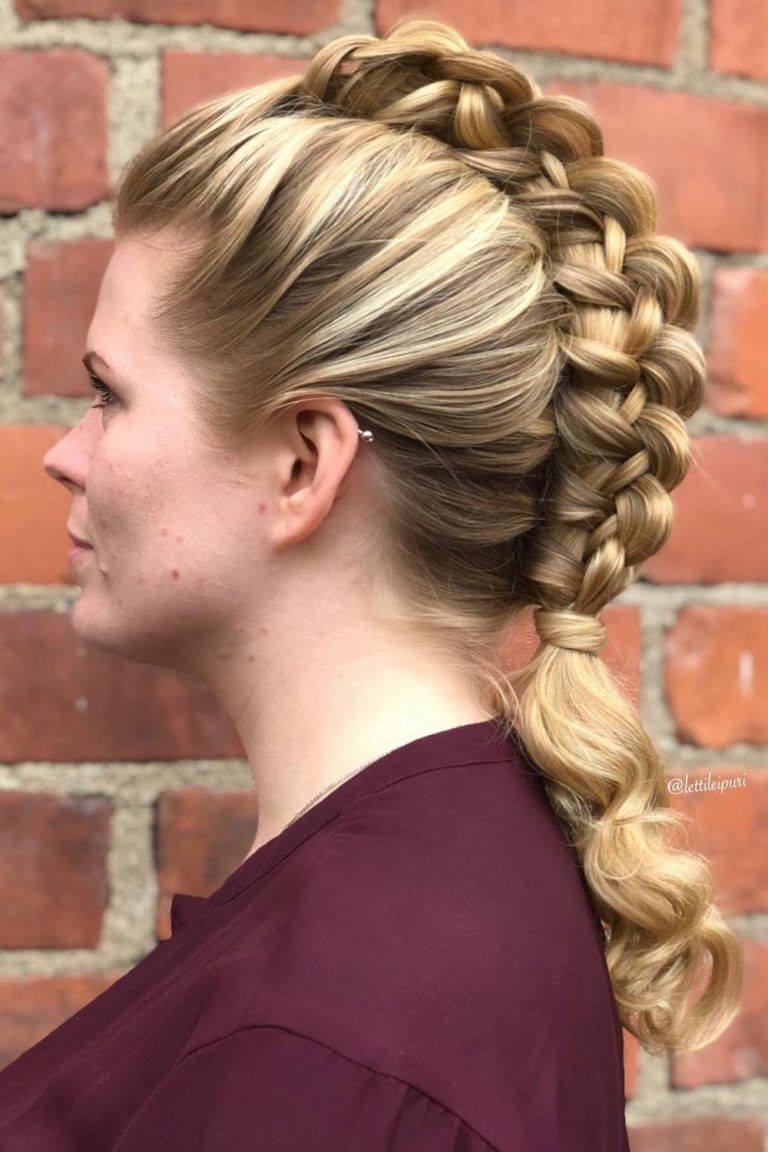 Source: Lettileipuri/Instagram
How do you do a Dutch lace braid? This question has become common place since the Dutch braid has become so popular. The Dutch lace braid is completed by braiding the sides of your hair. This can be added to a ponytail or various other options to create a different trendy look.
The Dutch lace braid ponytail is a very beautiful addition to your hairstyle arsenal. This is a fun but also a very chic style which is versatile enough for nearly any situation or occasion.
4 Strand Braid
Source: Lettileipuri/Instagram
i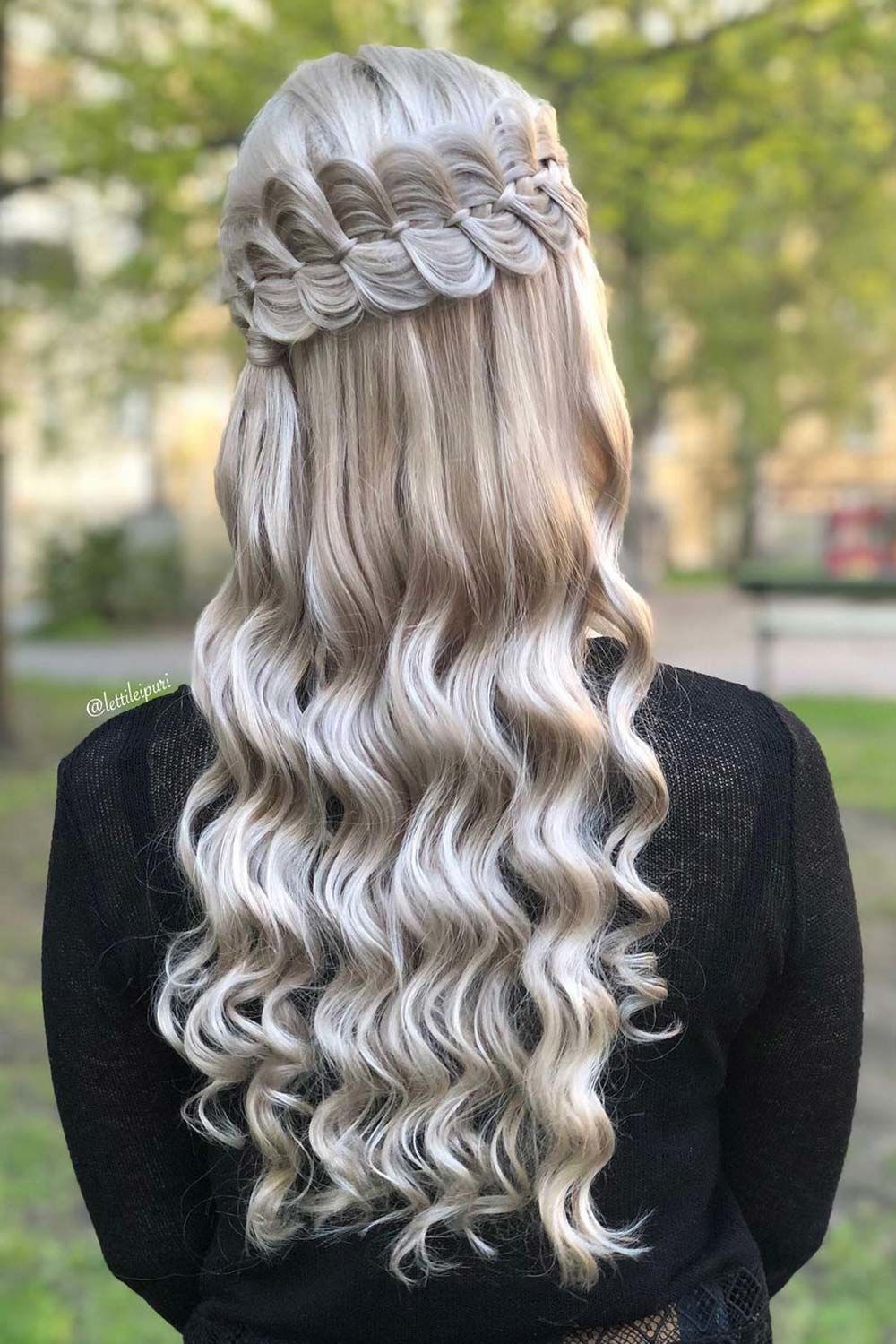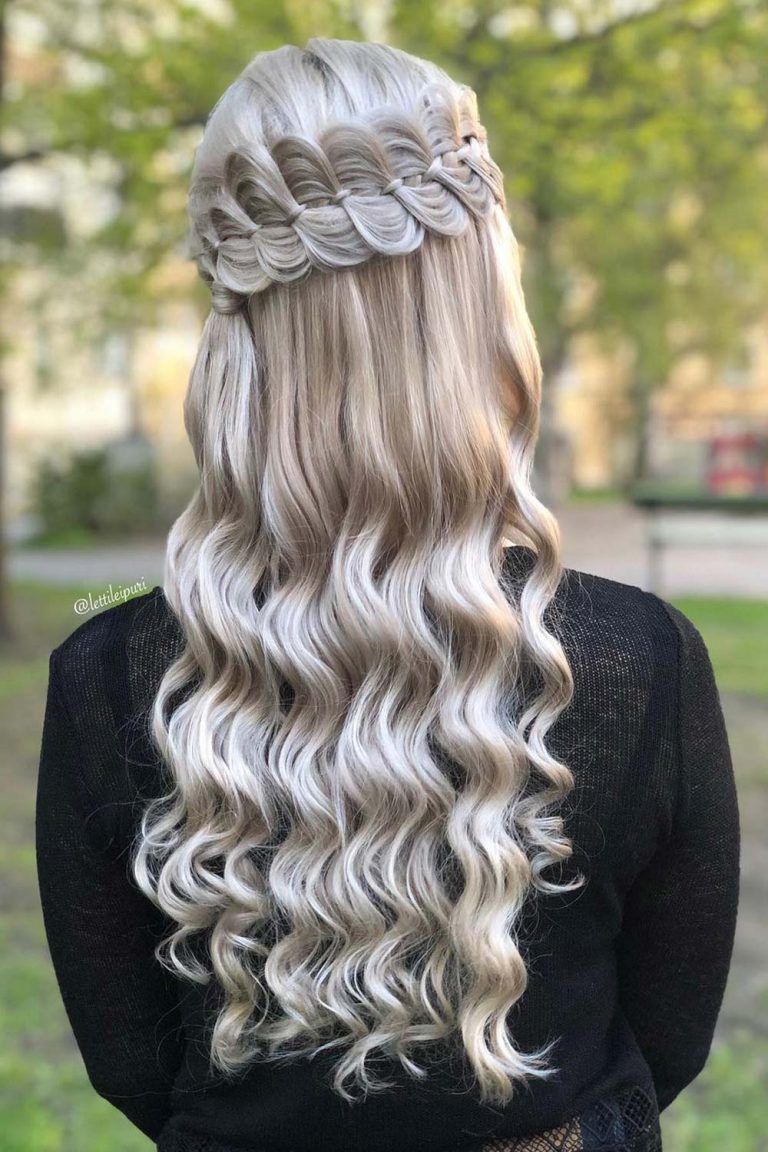 Source: Lettileipuri/Instagram
i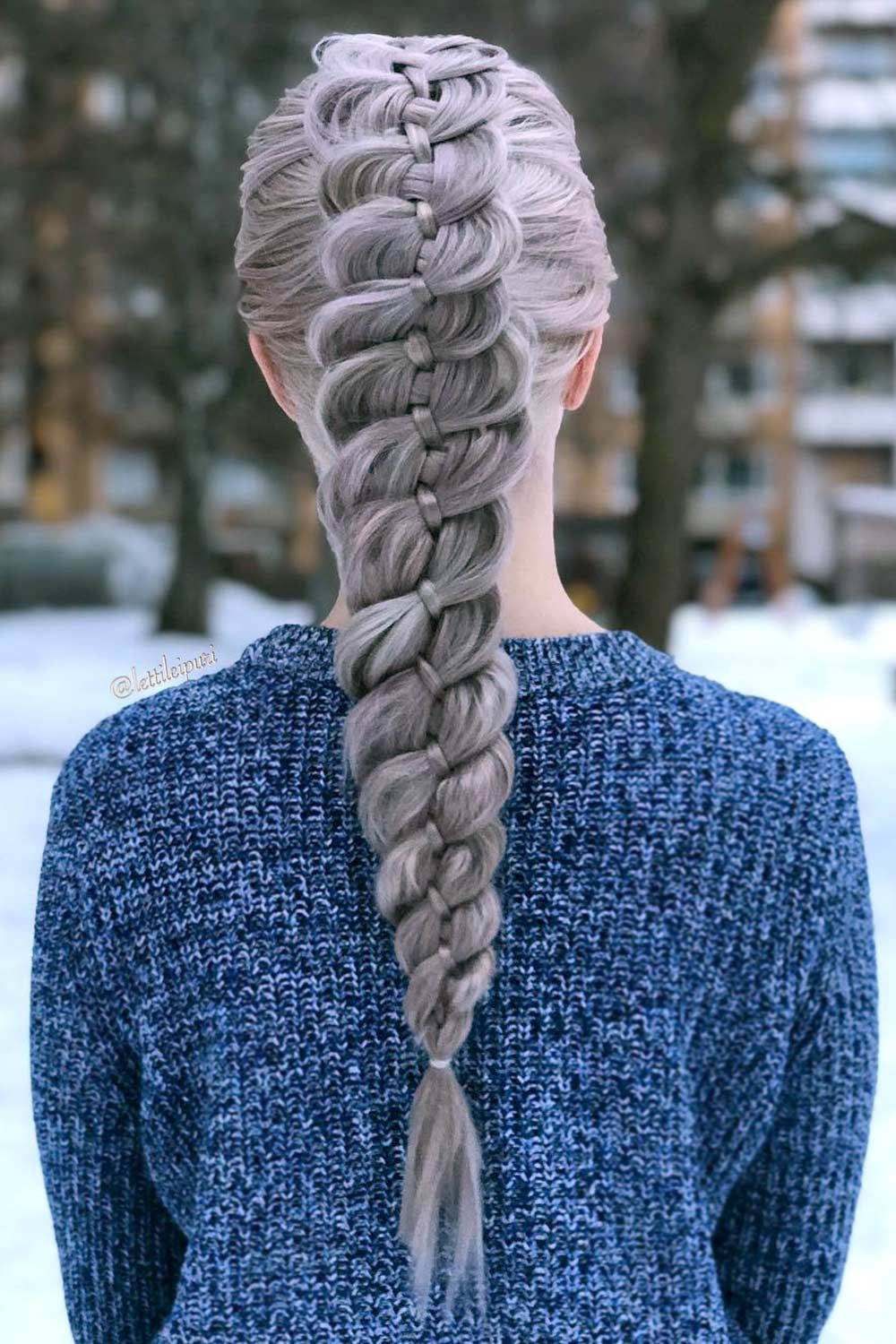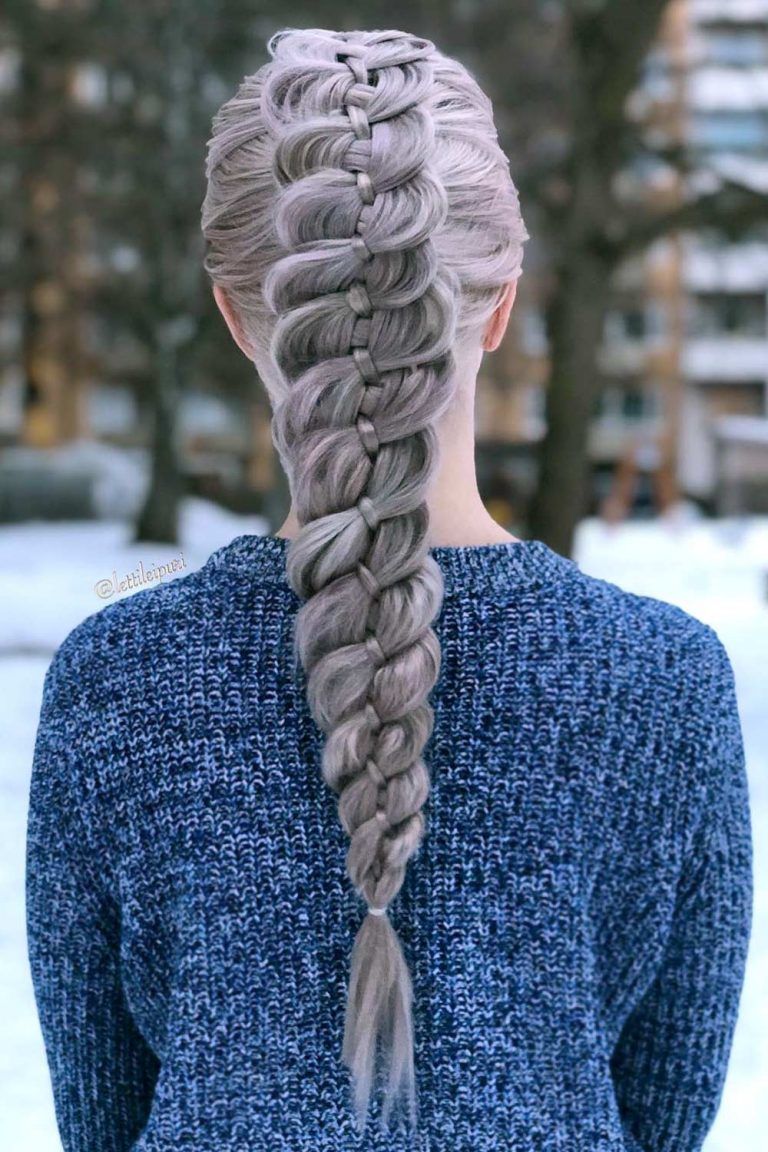 /
Four strand braid hairstyles are hard to resist. Some ladies think that they're also hard to do, yet, there's nothing complicated about bringing one more section to the regular braid. Of course, there are lots of patterns. And whether you're a pro braider or a bare beginner, you can't go wrong with a classic 4 strand braid. Versatility is what will make this braid your go-to. You can incorporate it into a ponytail, style it to the side or turn it into a half-up. It's all up to your imagination! This picture is here to showcase the diversity of ways on how to braid 4 strands: they can be both tight and loose, forming a unique texture.
And the pattern is pretty simple. First, you split your hair into four sections. Strand 1 goes under strand 2 and then over strand 3. Then strand 4 comes in to go over strand 3 and get under strand 2. It needs practice, no doubts. But the result is worth mastering it, as such a braid is a nice embellishment to any occasion.
Half-Up Pull Through Braid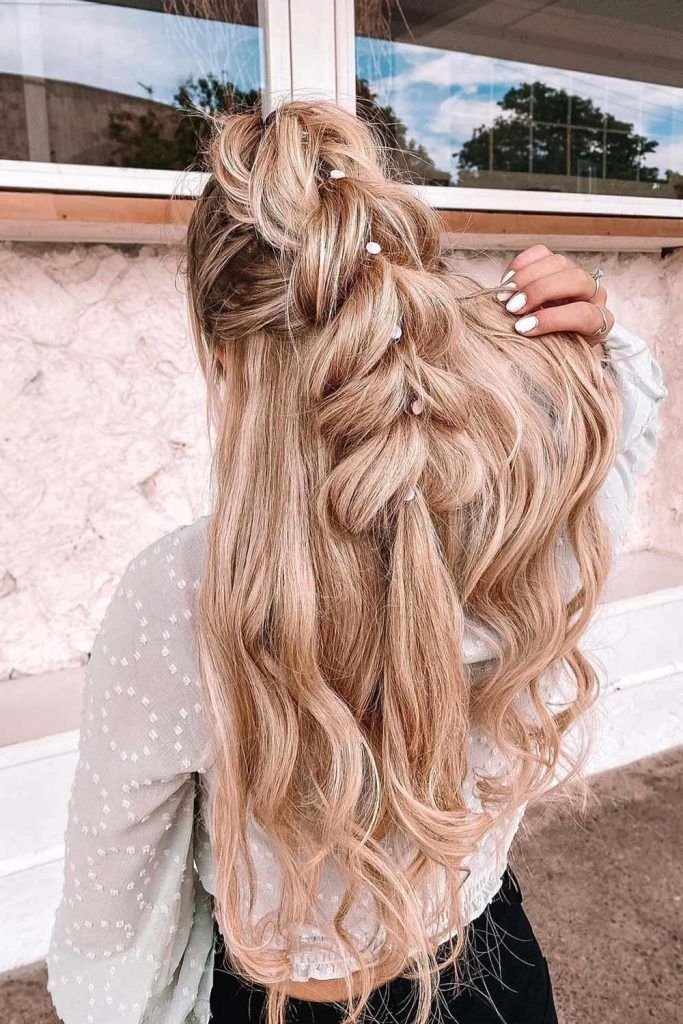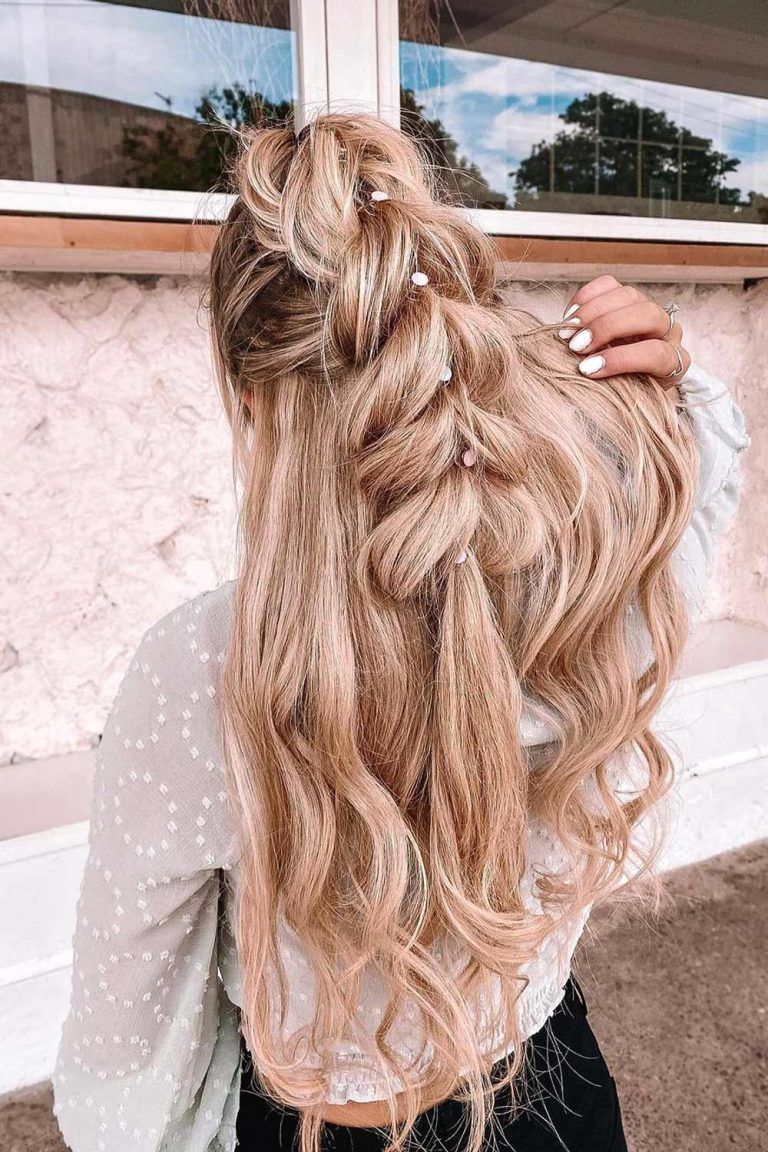 Source: Sass.and.braids/Instagram
Although creating a pull-through braid takes some time, especially if you're a newbie, the result is always worth all the time and effort. In fact, this type of braid can make the hair appear fuller, giving a voluminous look that will stay with you throughout the day. Just like any other braid, it can be a part of your half-up, as well as embellish your look all-alone. Believe it or not, pull-through braids are made of ponytails flipped underneath top sections of hair and pulled by the edges to create a braid-like pattern. While the technique is pretty easy, the hairstyle offers a great variety of stunning options. And here's one of them: this half-up looks like a red-carpet 'do due to the tons of volume.
Double Dutch Pull Through Braid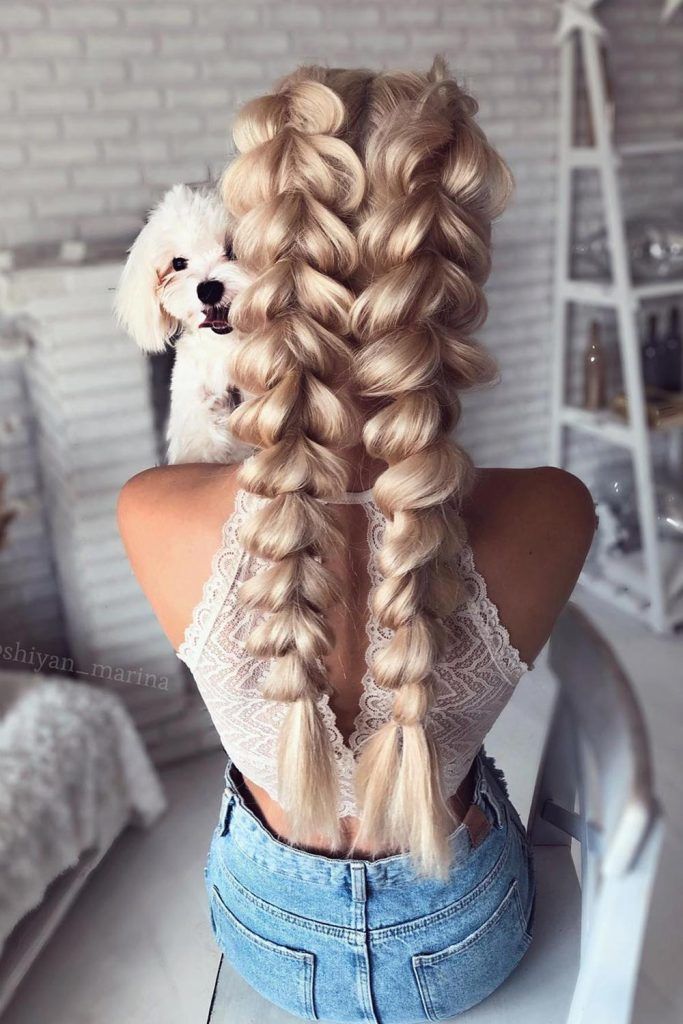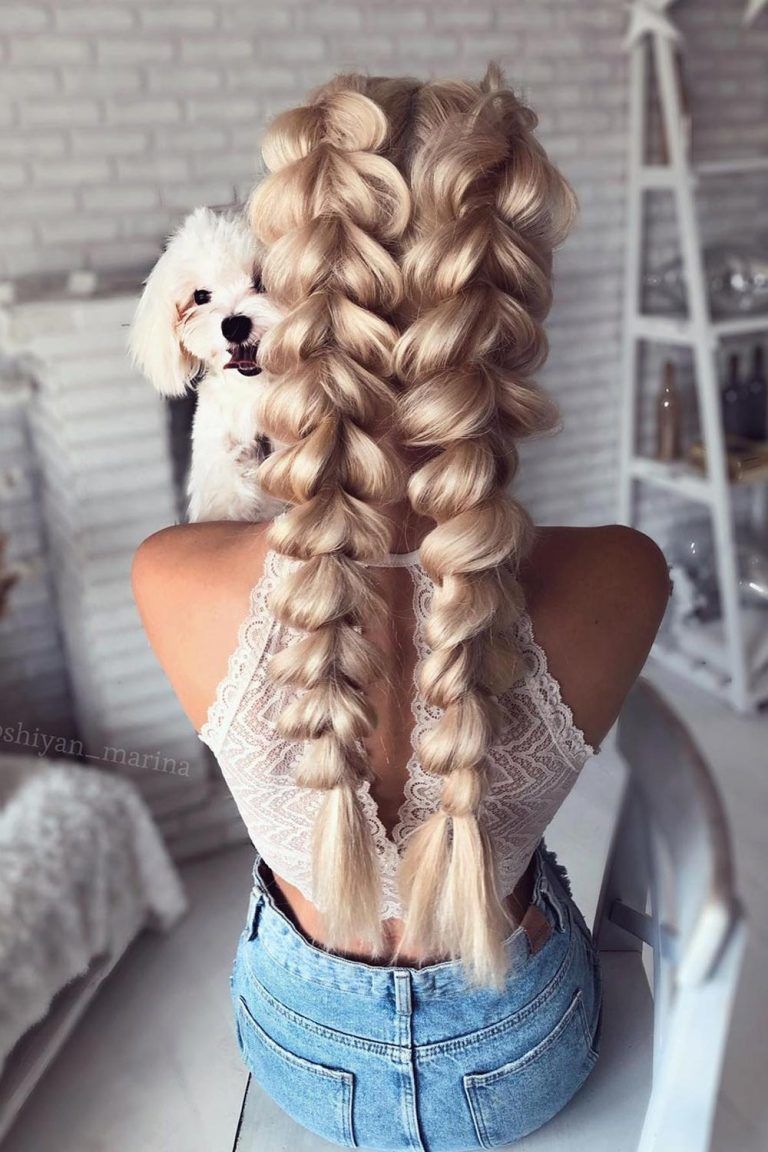 Source: Shiyan_marina/Instagram
A bubbled ponytail, Dutch braid, pull-through pattern - this idea simply takes the biscuit. If you love to experiment with your hair and try new styling techniques every now and then, you are bound to recreate this fantastic combo! It's very important to begin the hairstyle at the very crown: start by dutch braiding the top first. Then, create a pull-through braid and turn it into a bubbled ponytail to make the style dimensional. When you'd like to create this style for some special occasion, you can also wave the ends to add some charm to the look. Besides, a pull-through braid goes well with other braided techniques, so you can create a unique style of your own.
Double Front Dutch Braids
Source: Shiyan_marina/Instagram
i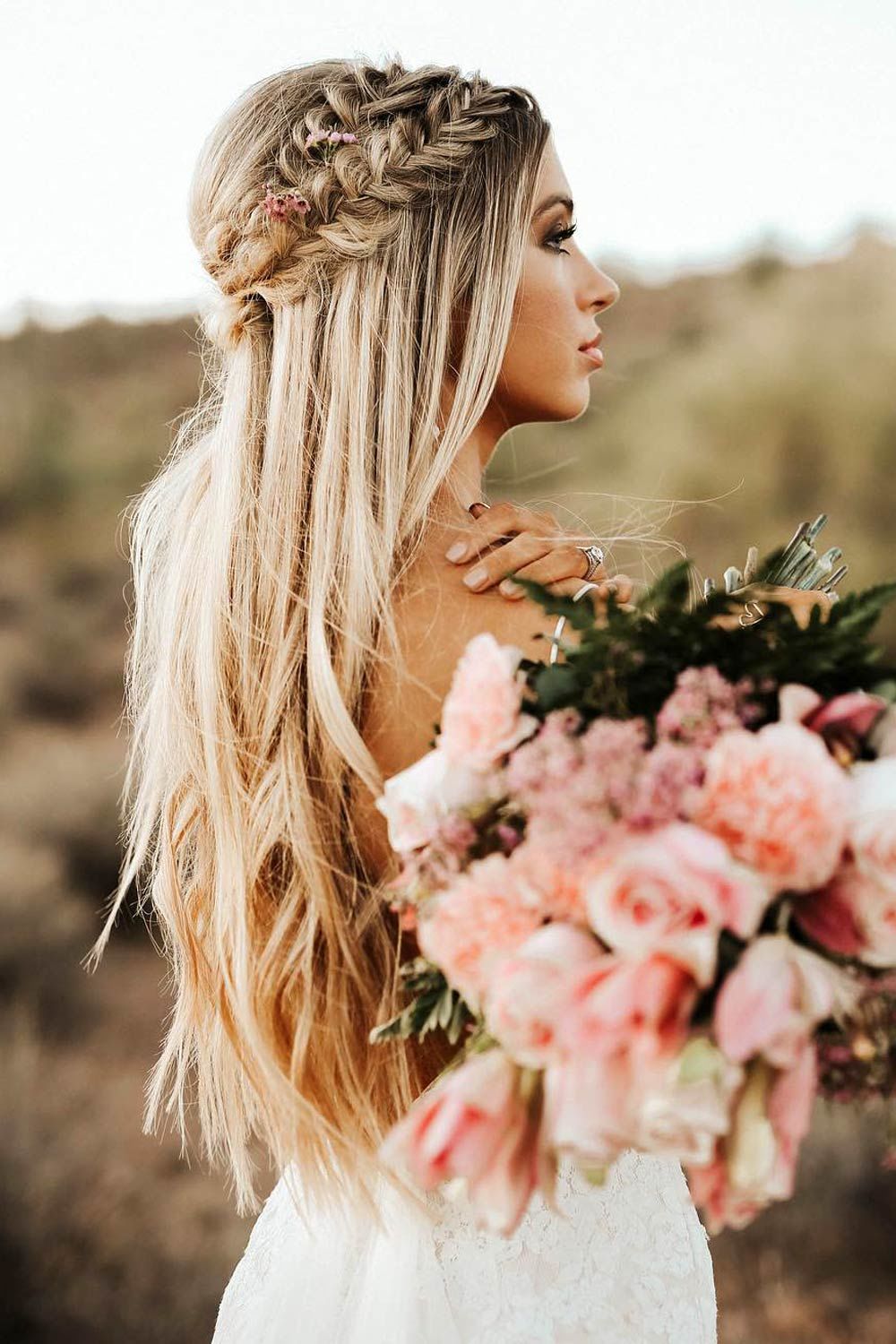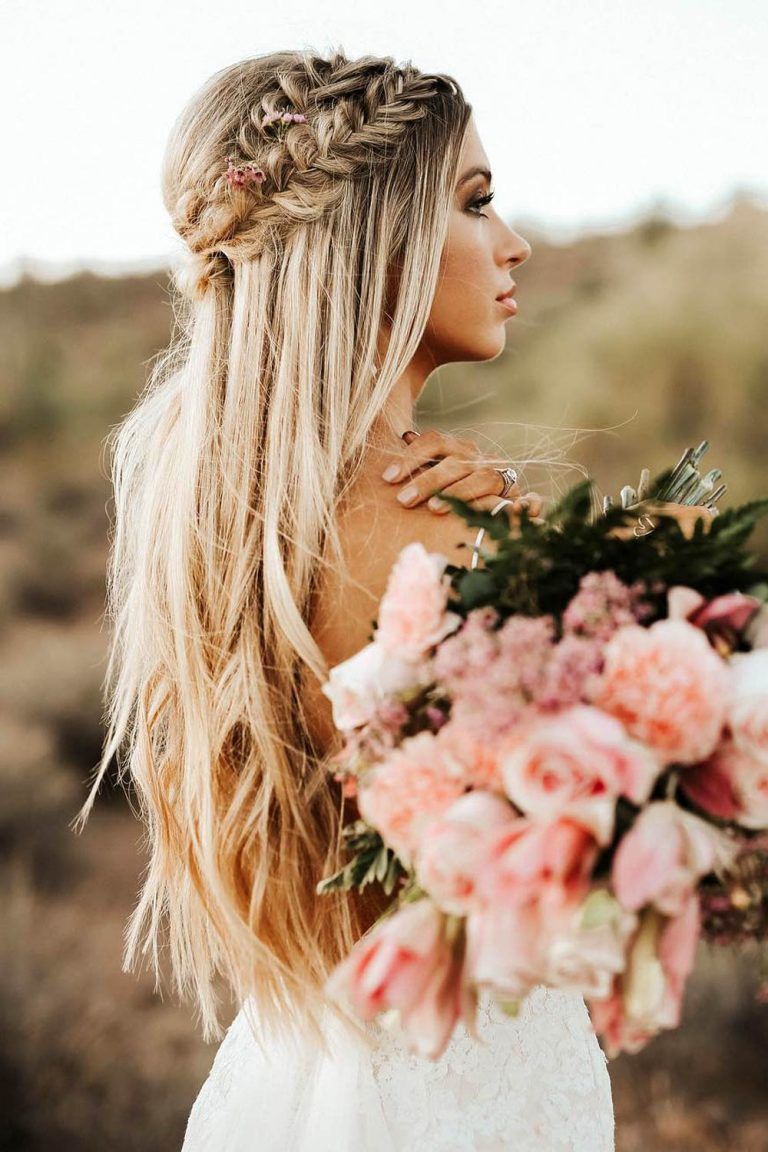 Source: Sass.and.braids/Instagram
i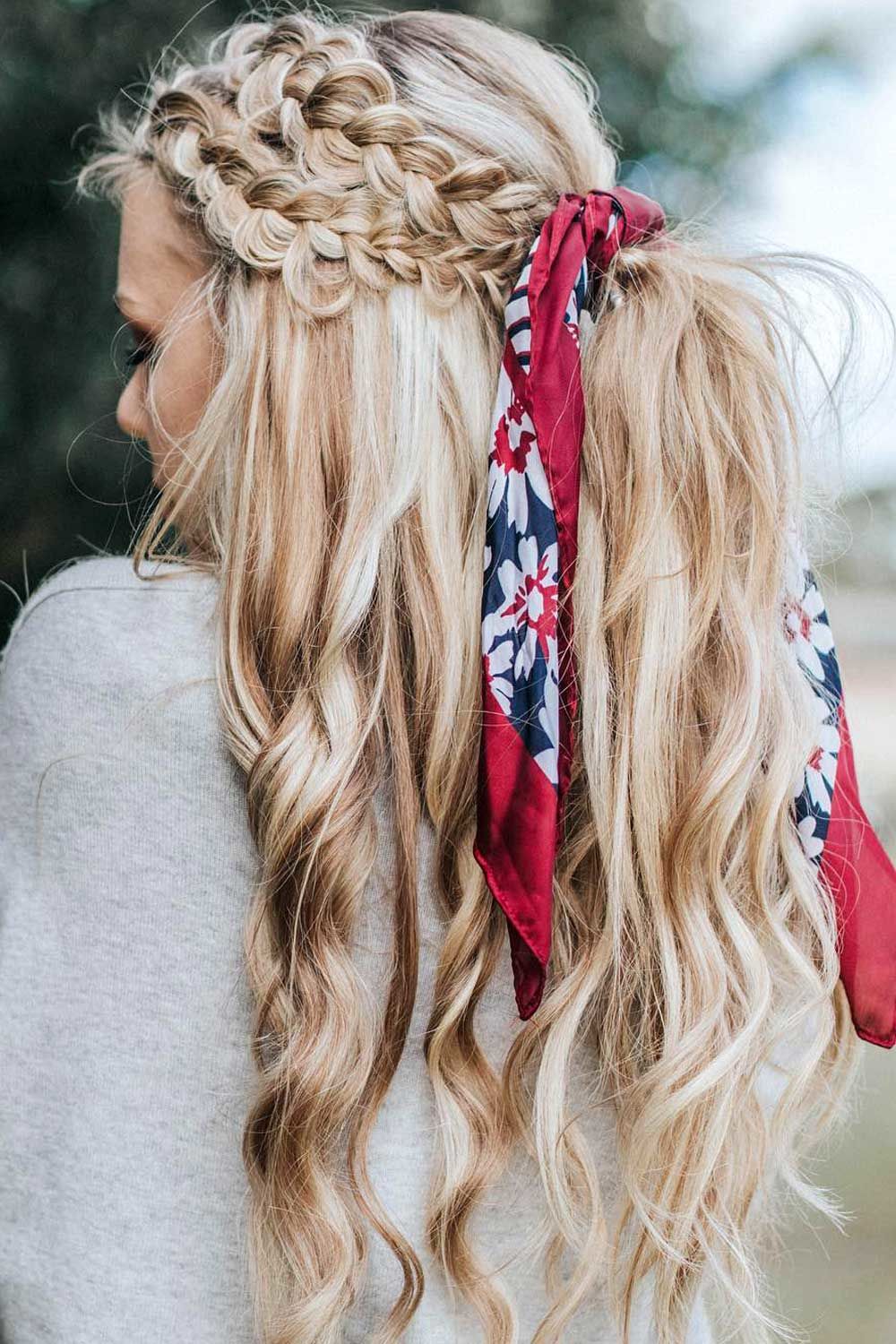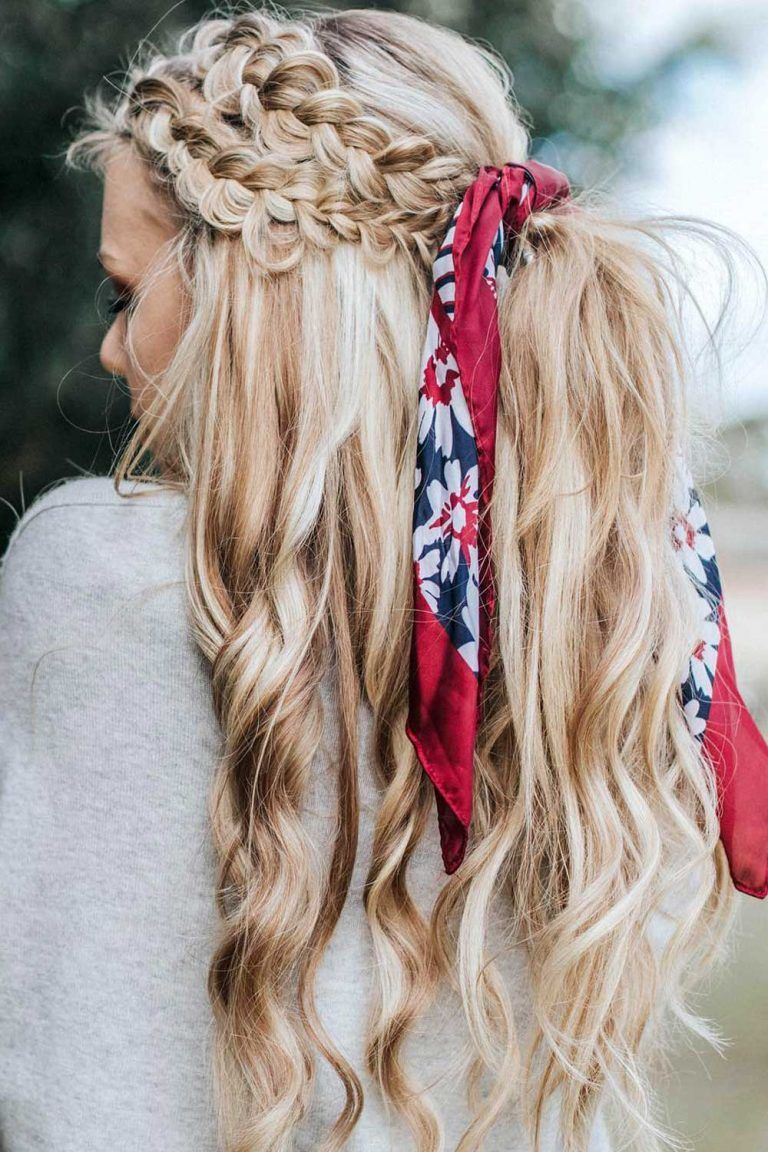 /
Everyone knows that here's nothing easier than creating side braids and connect them on the crown. But who would've thought that such a hairstyle would turn out to look this ravishing and feminine? Yes, simplicity is the best women's friend when it comes to something really special. For this look, create a perfect center part and a braid with the hair from each side. Before connecting the braids, wave your locks and run your fingers through the waves. Finish by pulling the crown so that it's voluminous and full. As a matter of fact, such braided hairstyles for long hair will take less than 20 minutes. Still, you are doomed to have all eyes on you!
Messy Braided Hairstyles
Source: Moonlightbraids/Instagram
i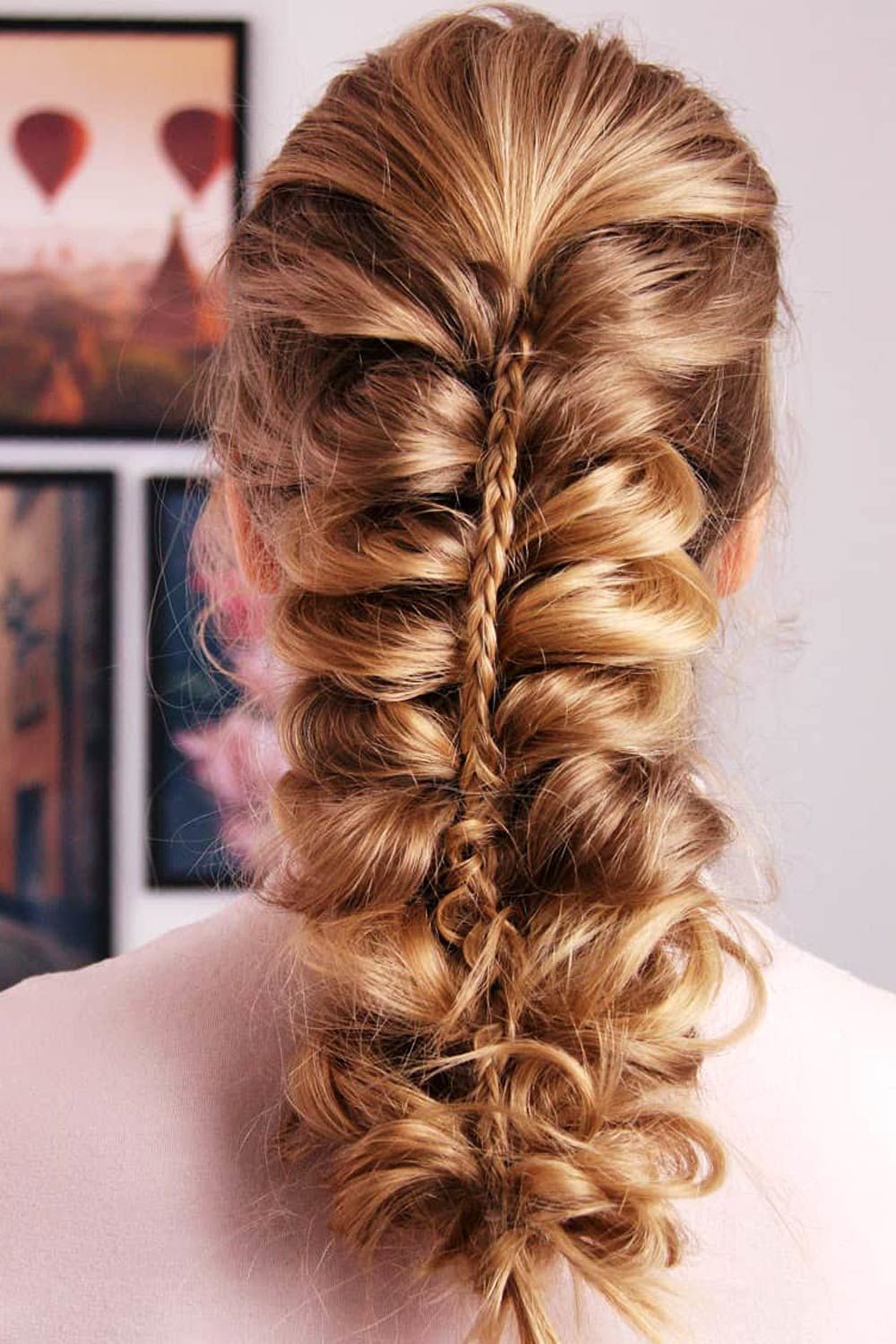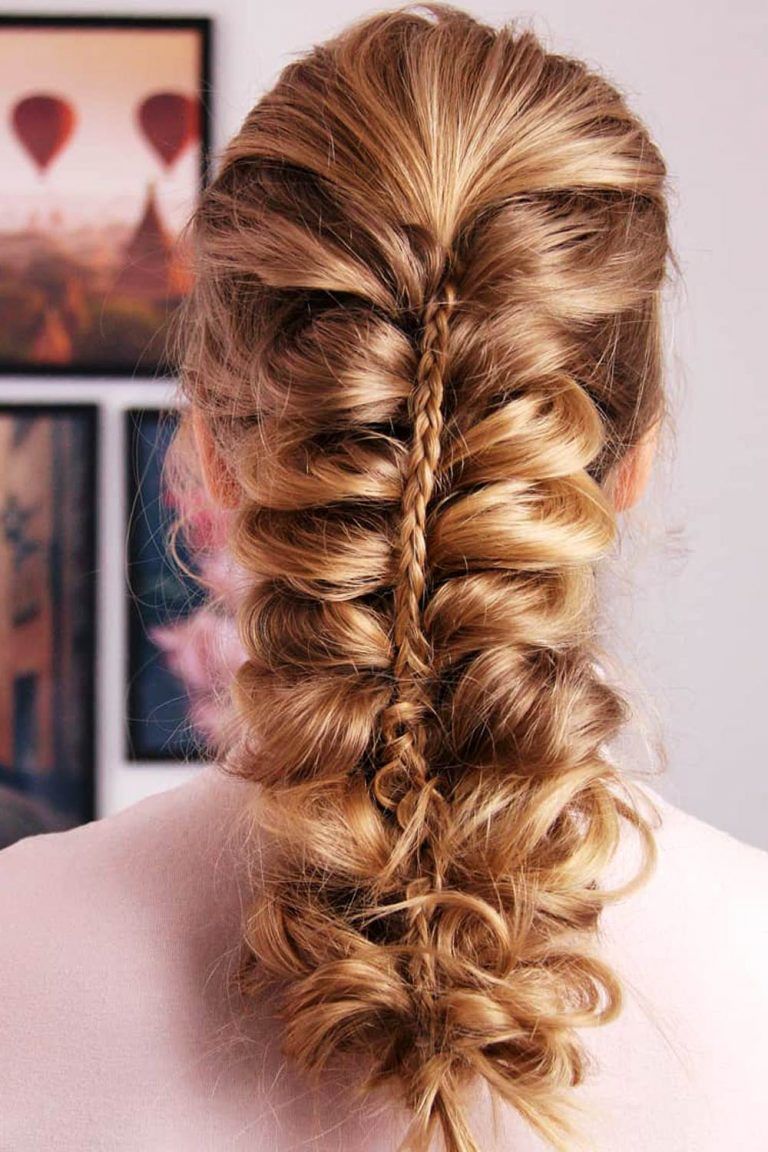 Source: Jaykaybraids/Instagram
i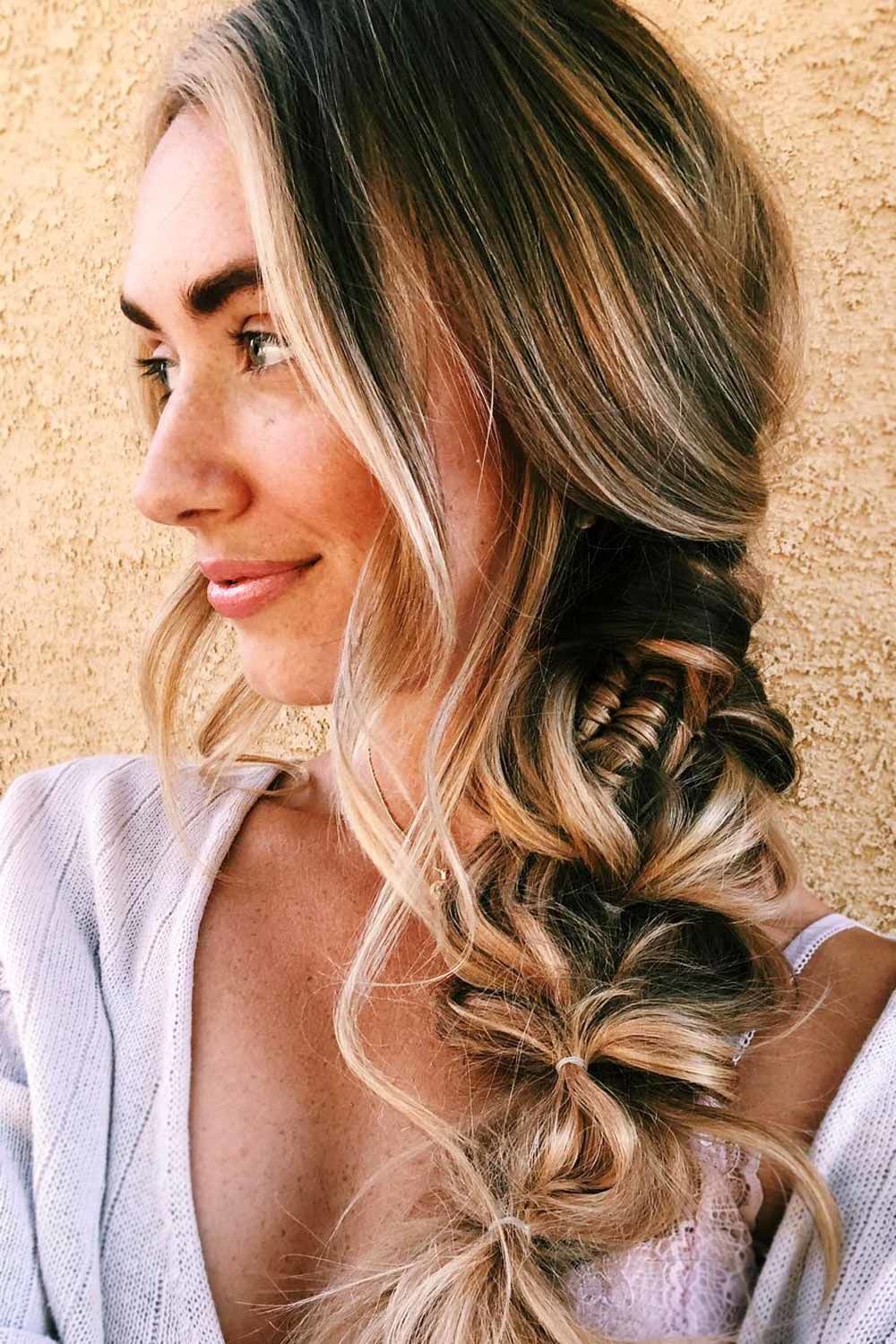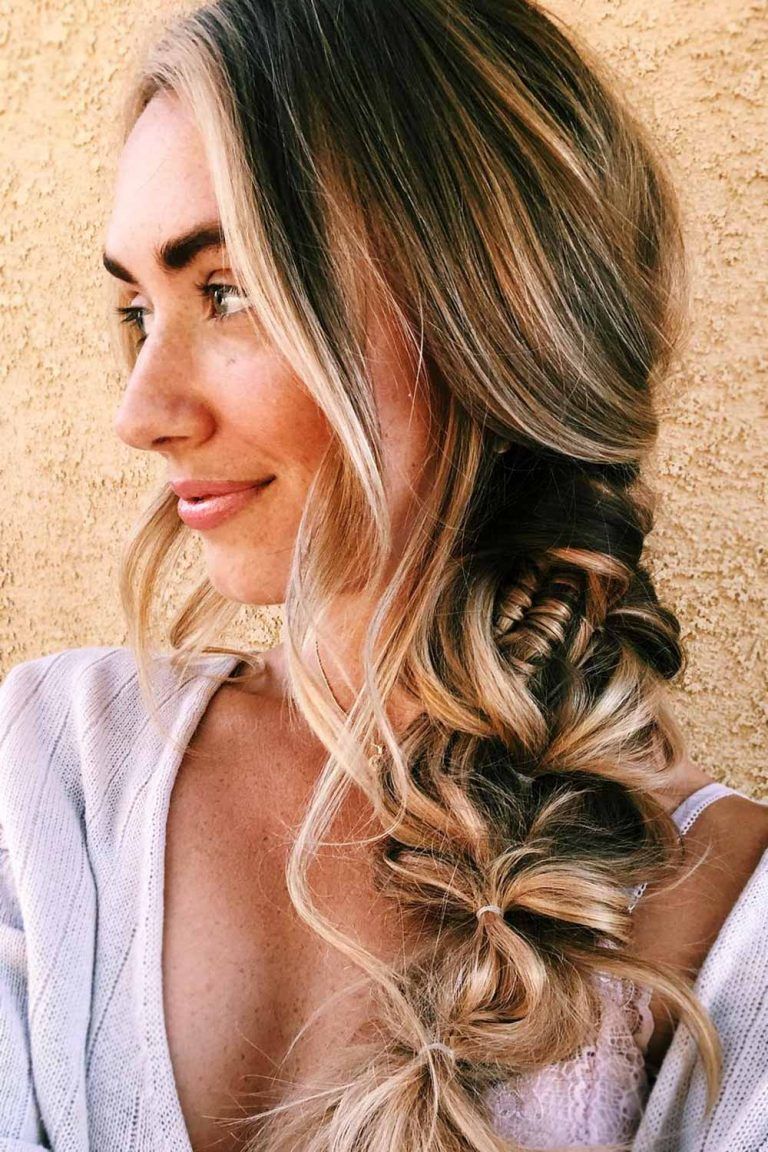 /
Messy looks are especially trendy right now.
Some women steer clear of braided styles due to their appearance of difficulty. However, while there are some more intricate braids out there, there are several easy braided hairstyles you can try, as well. With some simple braiding techniques and hair pins, it is amazing what you can achieve when styling hair.
Do you know how to make your hairstyle look a little messy and chic at the same time? A volumizing spray can actually do wonders. Spritz your hair with it to look especially elegant.
Stylish Braided Ponytails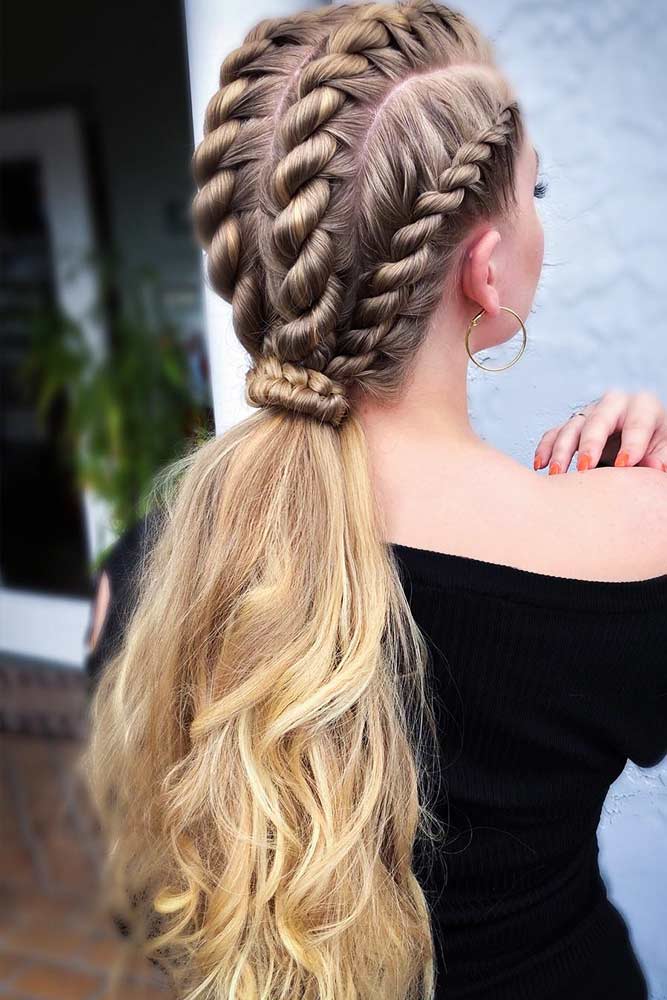 Source: Samirasjewelry/Instagram
Braided ponytails are so versatile that you can wear them with practically anything. Such hairstyle will be a great embellishment when worn with a cocktail dress. But you can also wear it with a simple t-shirt.
Braided Updo Hairstyles
Source: Lenabogucharskaya/Instagram
i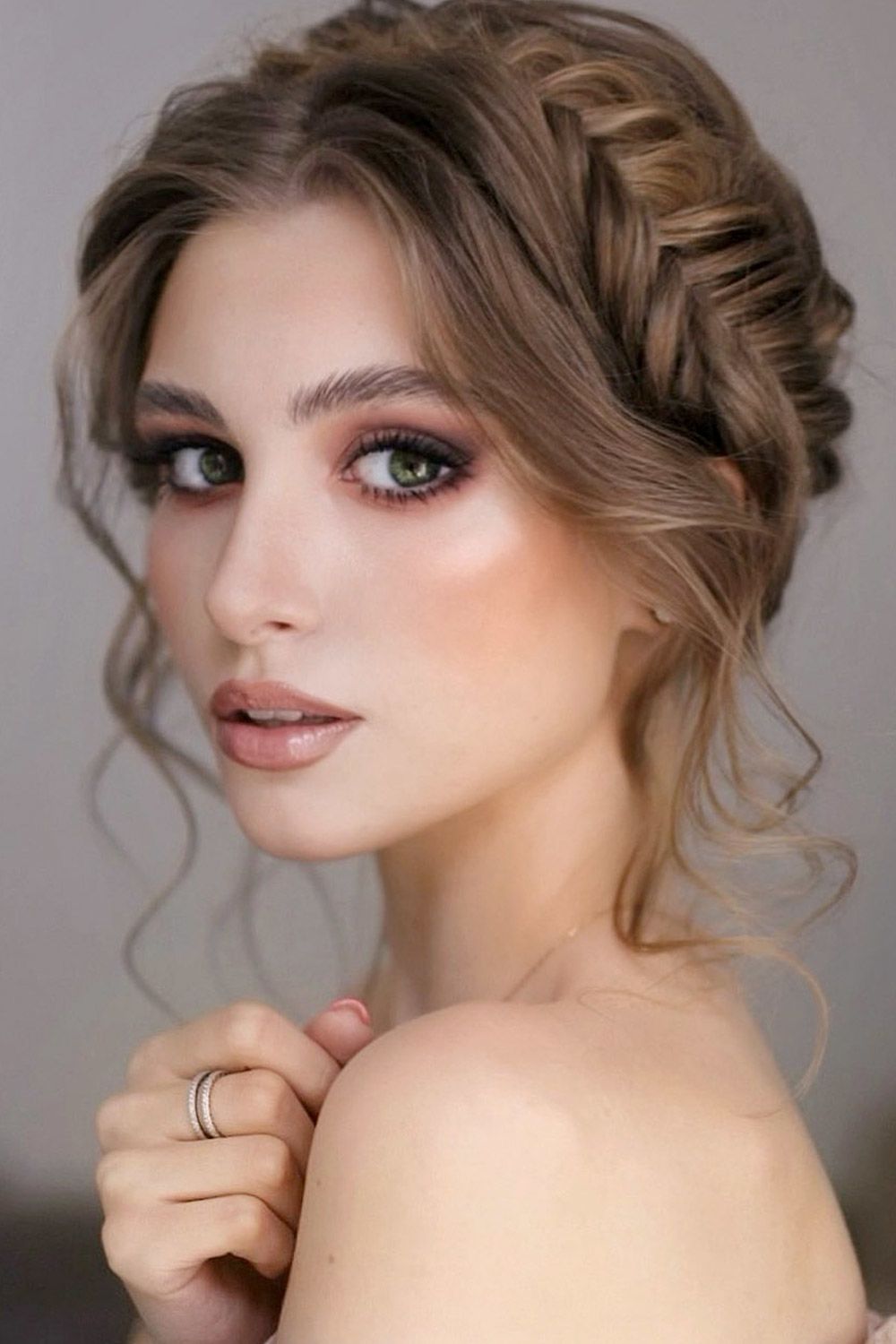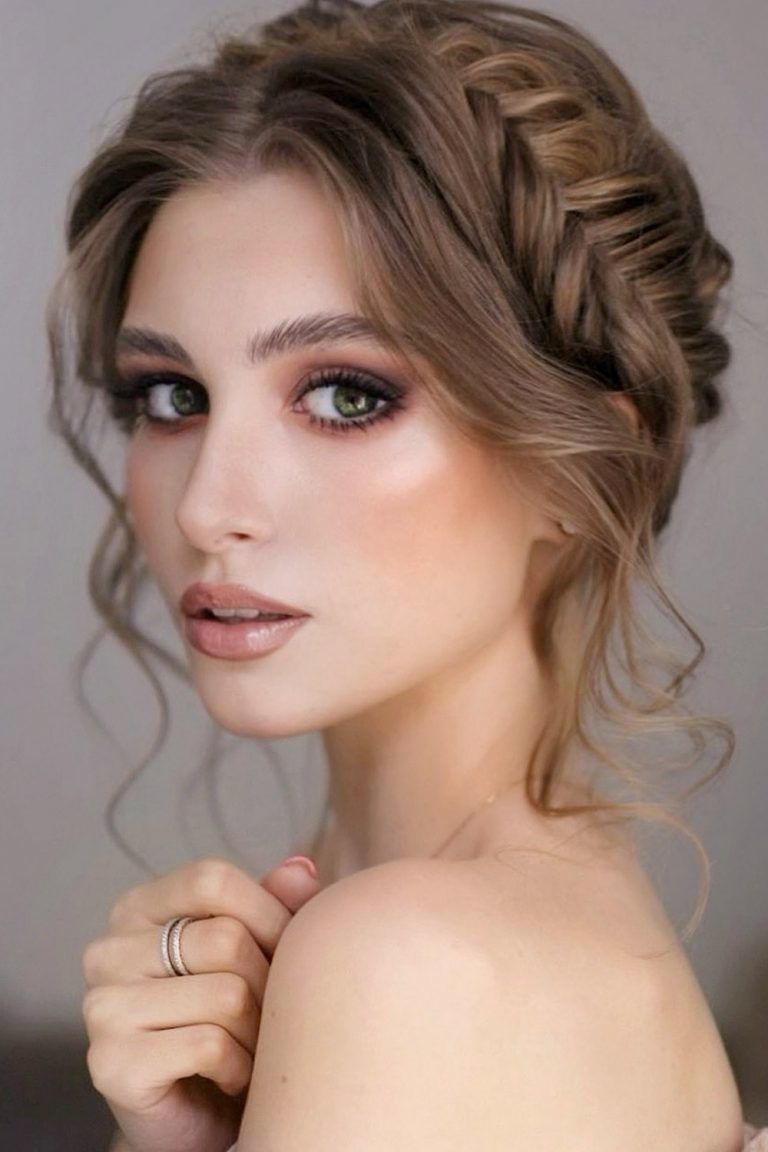 Source: Jaykaybraids/Instagram
i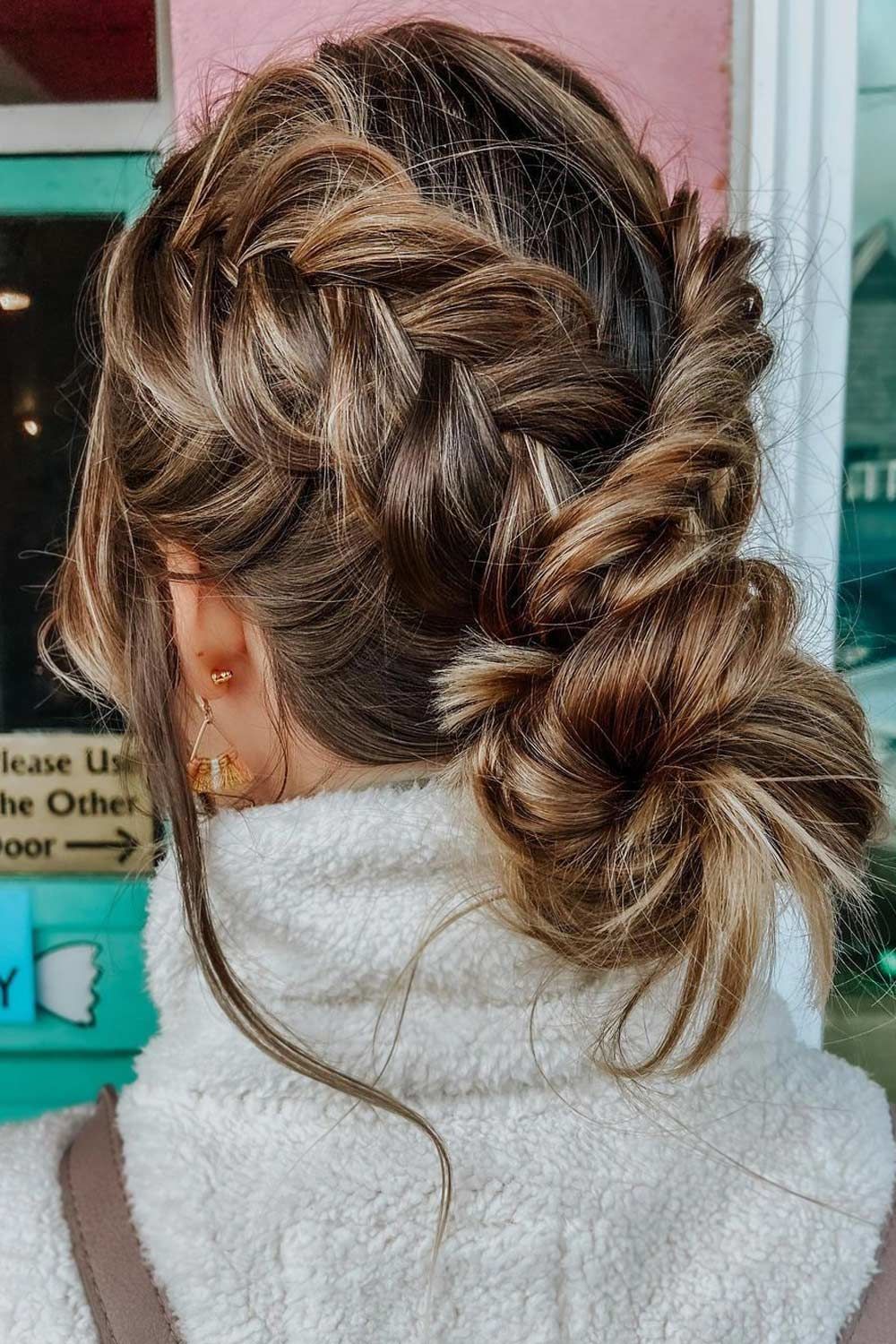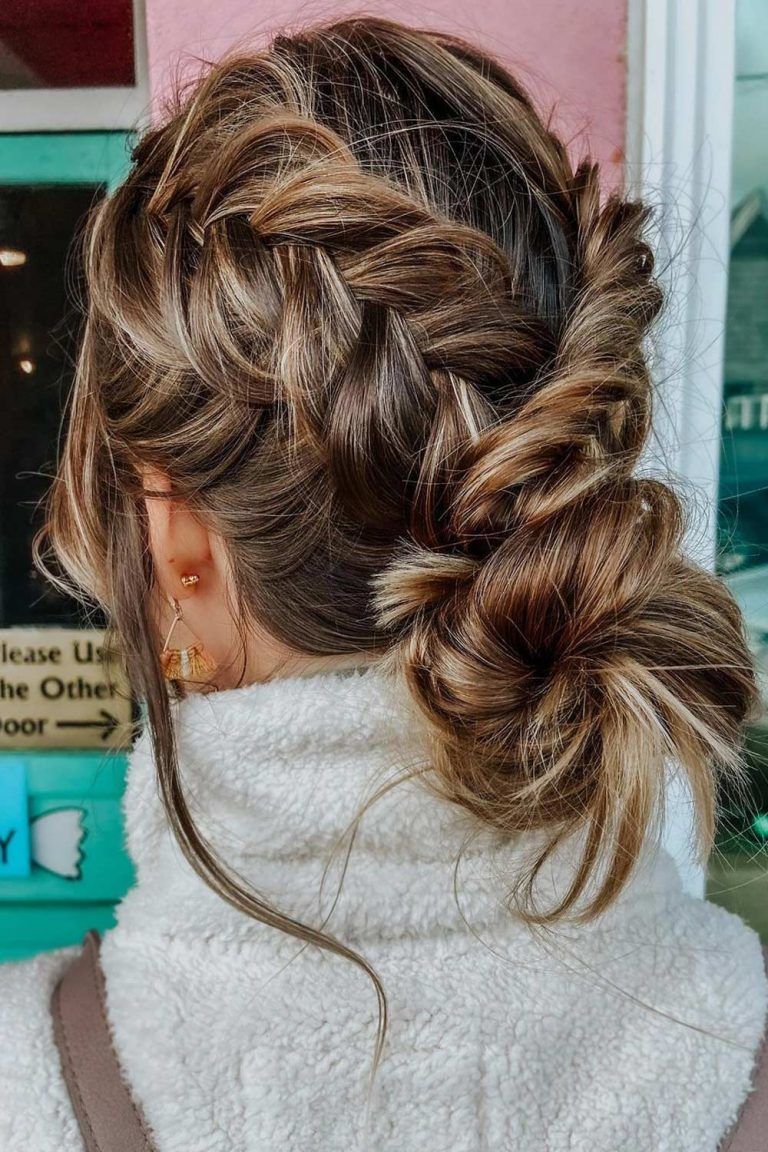 /
And those women who prefer a boho style will be amazed at how exquisite braided updos look. This hairstyle will look so glamorous if you have straight hair. But what if I don't?? In case your hair is naturally wavy, you can always straighten it.
You can also transform this hairstyle from a sassy day style to a sleek evening style. Simply cross the braids over each other, wrap around the outside of the braid and pin up.
Charming Braided Crowns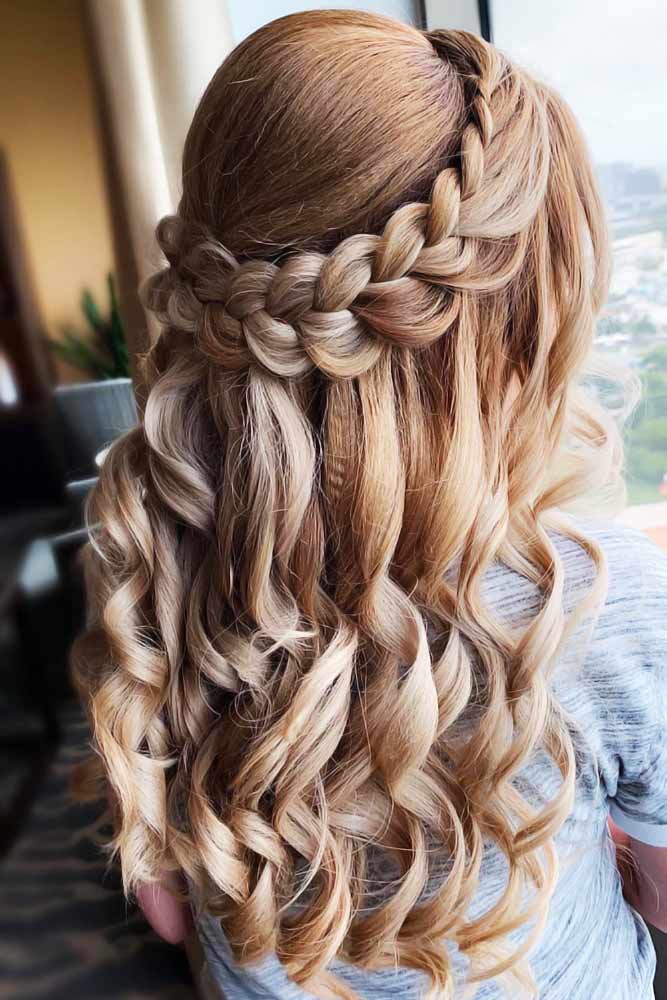 Source: Samirasjewelry/Instagram
Braided crowns are really in right now, as well. Such hairstyle gives your overall image a somewhat carefree and truly romantic vibe. There are several ways this braids can be worn, and each variation adds a fresh new look to the style. This style can be worn for formal occasions as well as casual events and is sure to turn heads with this boho braids.
Trendy Pull Through Braided Hairstyles
Source: Braids_for_my_hair/Instagram
i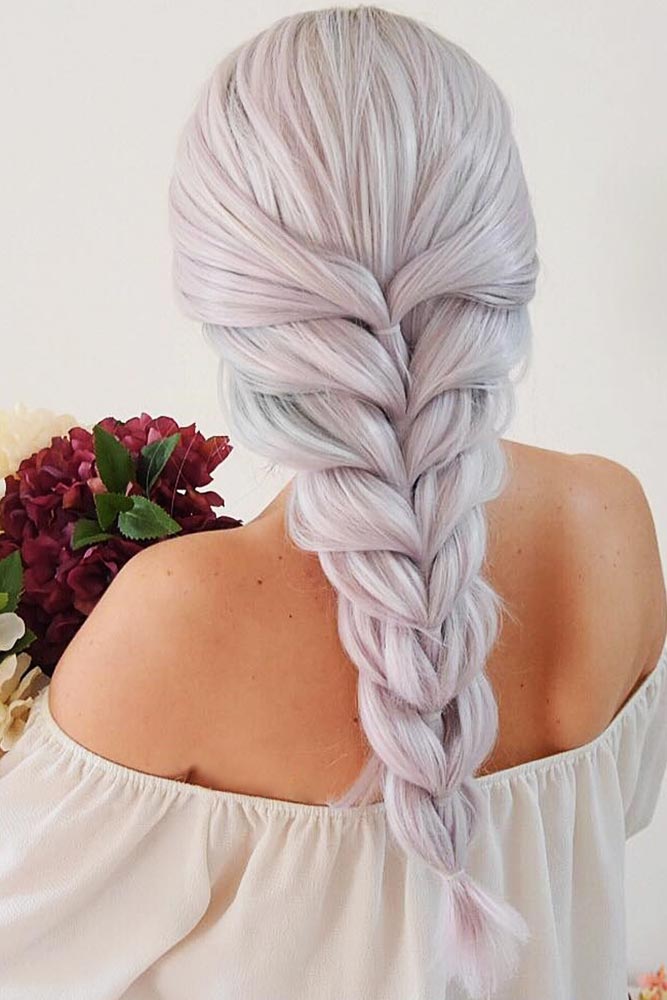 Source: Braids_for_my_hair/Instagram
i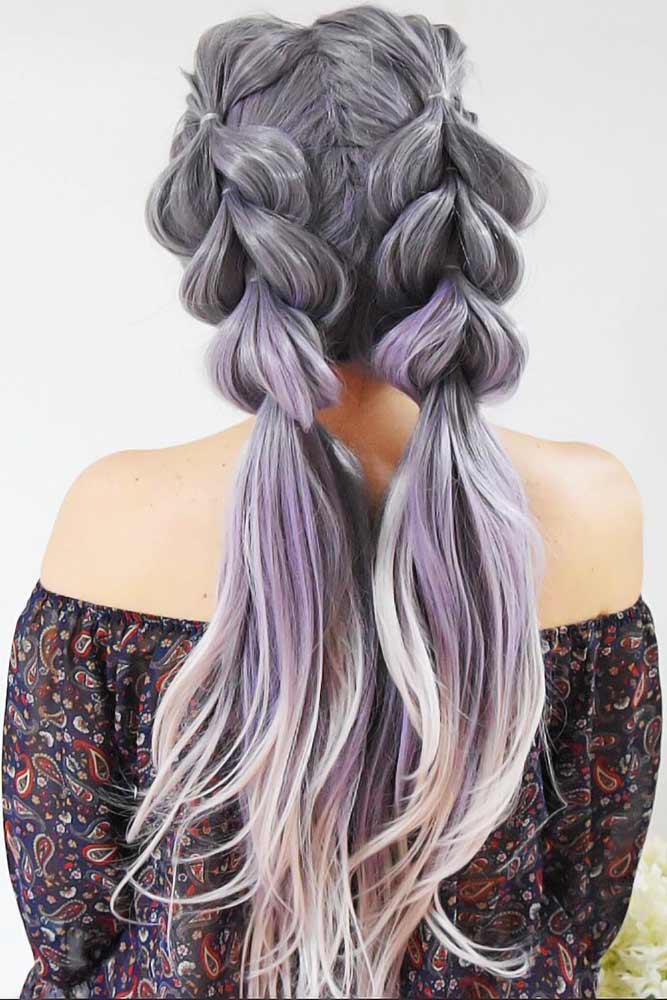 /
Pull through braids will suit these occasions, as well. The key to creating an amazing pull through braid is to get as much volume as you can. Such braids will work for ladies with long, thick hair.
Braided Hairstyles With Flowers
Source: Samirasjewelry/Instagram
i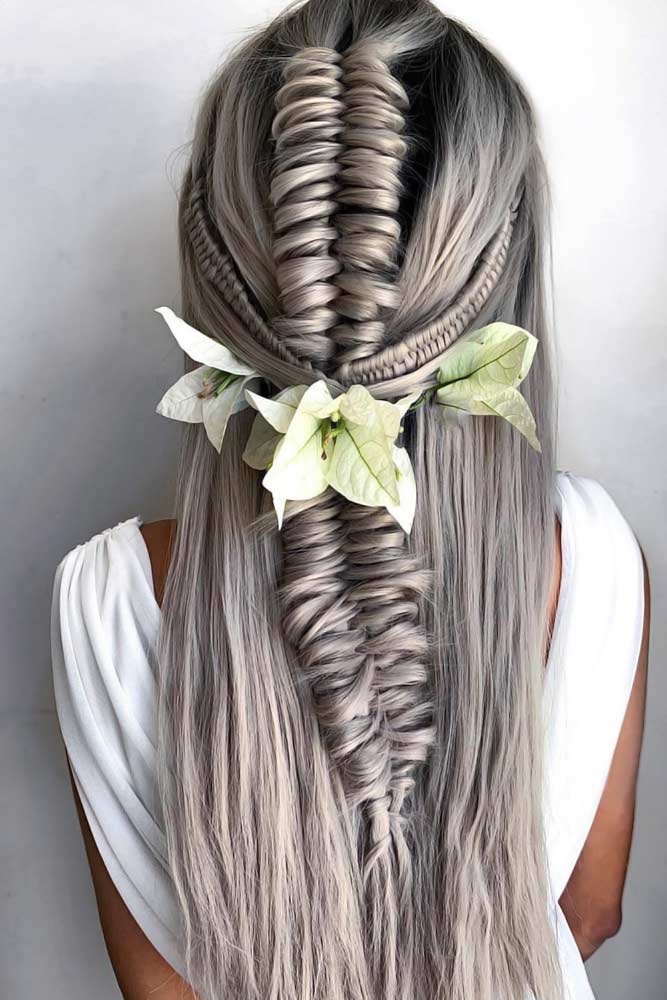 Source: Samirasjewelry/Instagram
i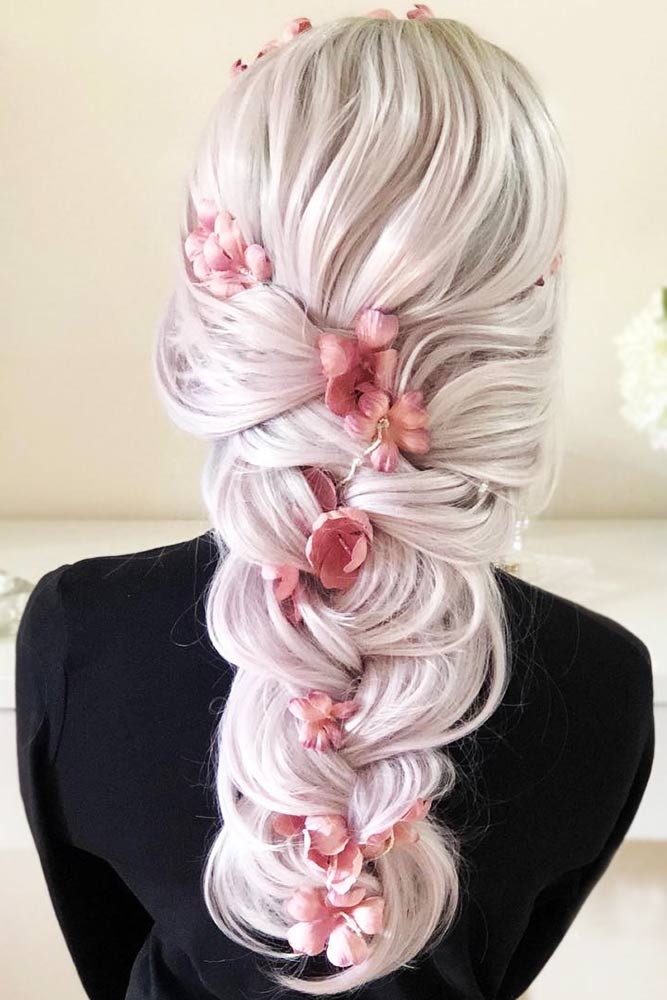 Source: Sweethearts_hair/Instagram
i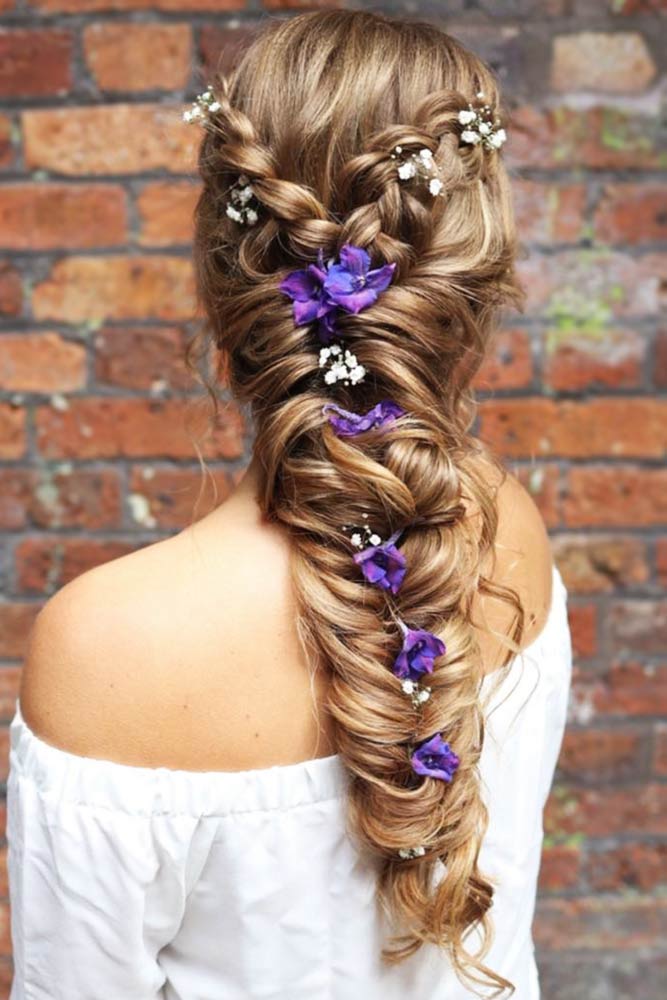 /
These super-voluminous braids look truly gorgeous. Such hairstyles can be pulled off by ladies who have gorgeous long and thick locks. A tip: when you try a mermaid braid adorn your hairstyle with cute little flowers, and your image will become even more feminine.
Cool Half Braided Hairstyles
Source: Jaykaybraids/Instagram
i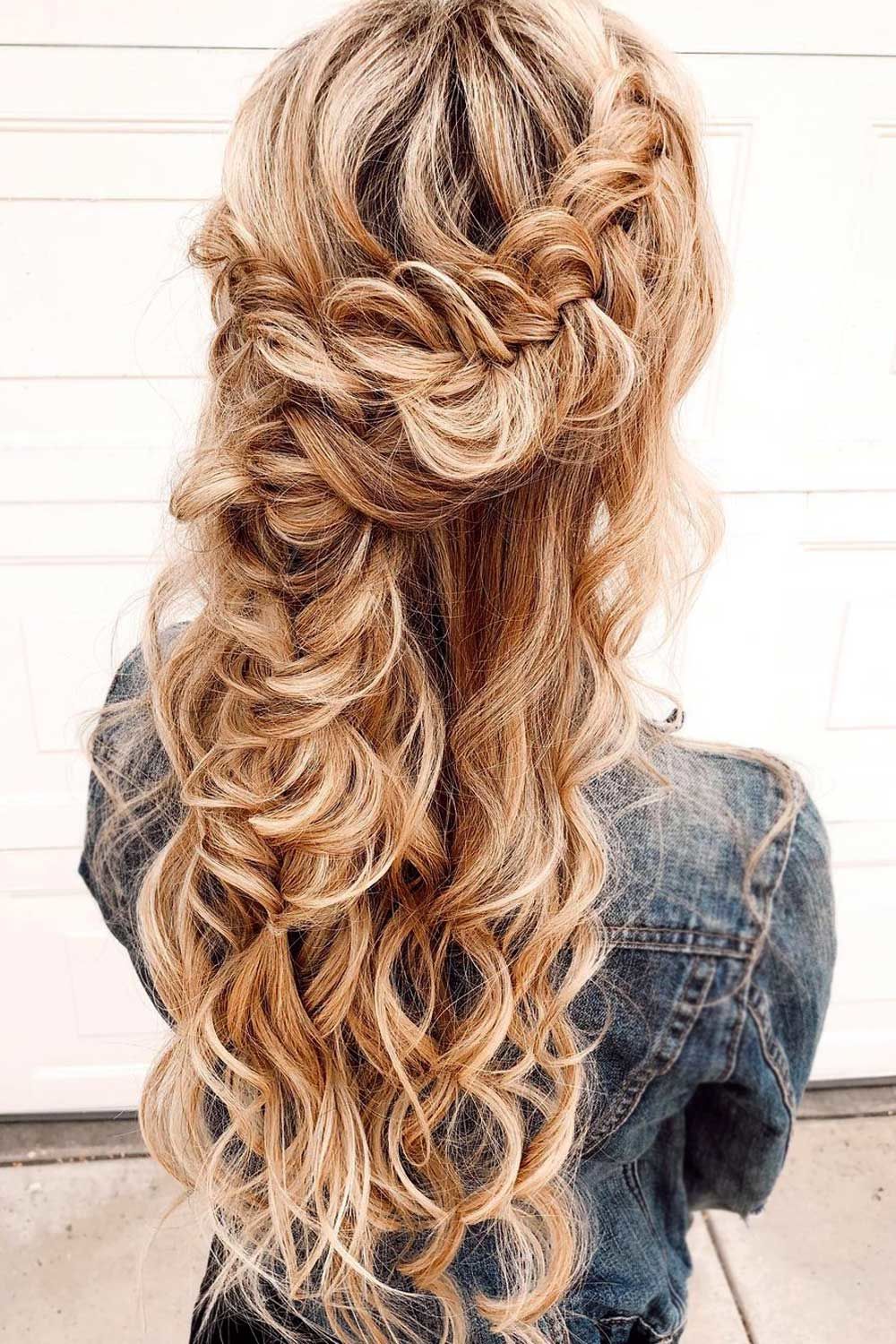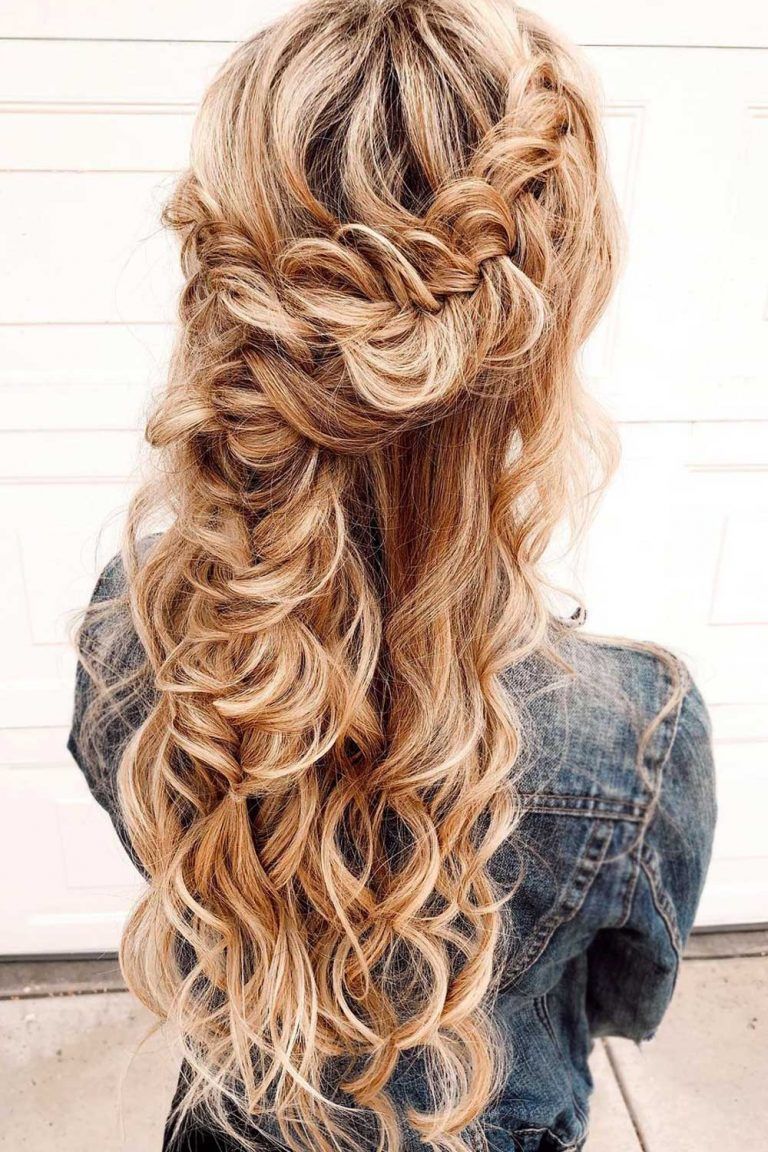 Source: Lenabogucharskaya/Instagram
i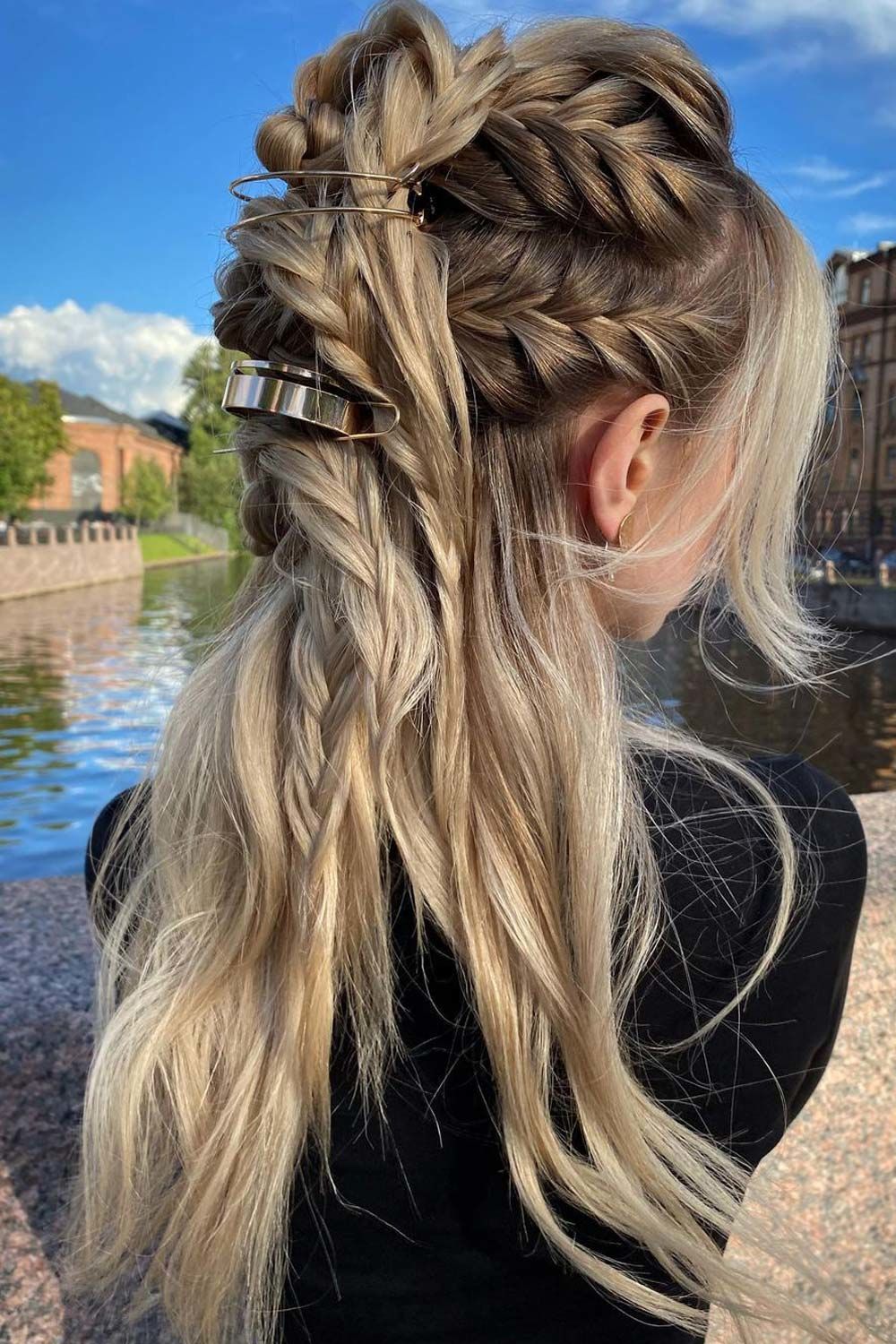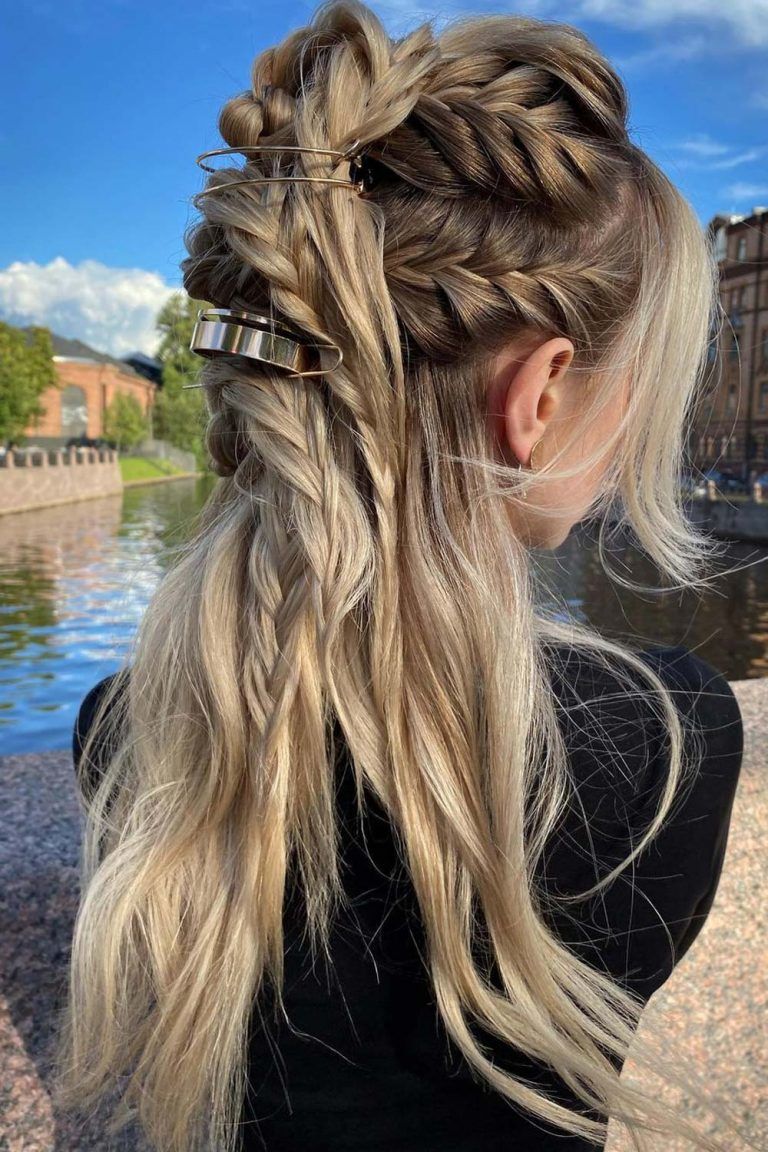 Source: Jaykaybraids/Instagram
i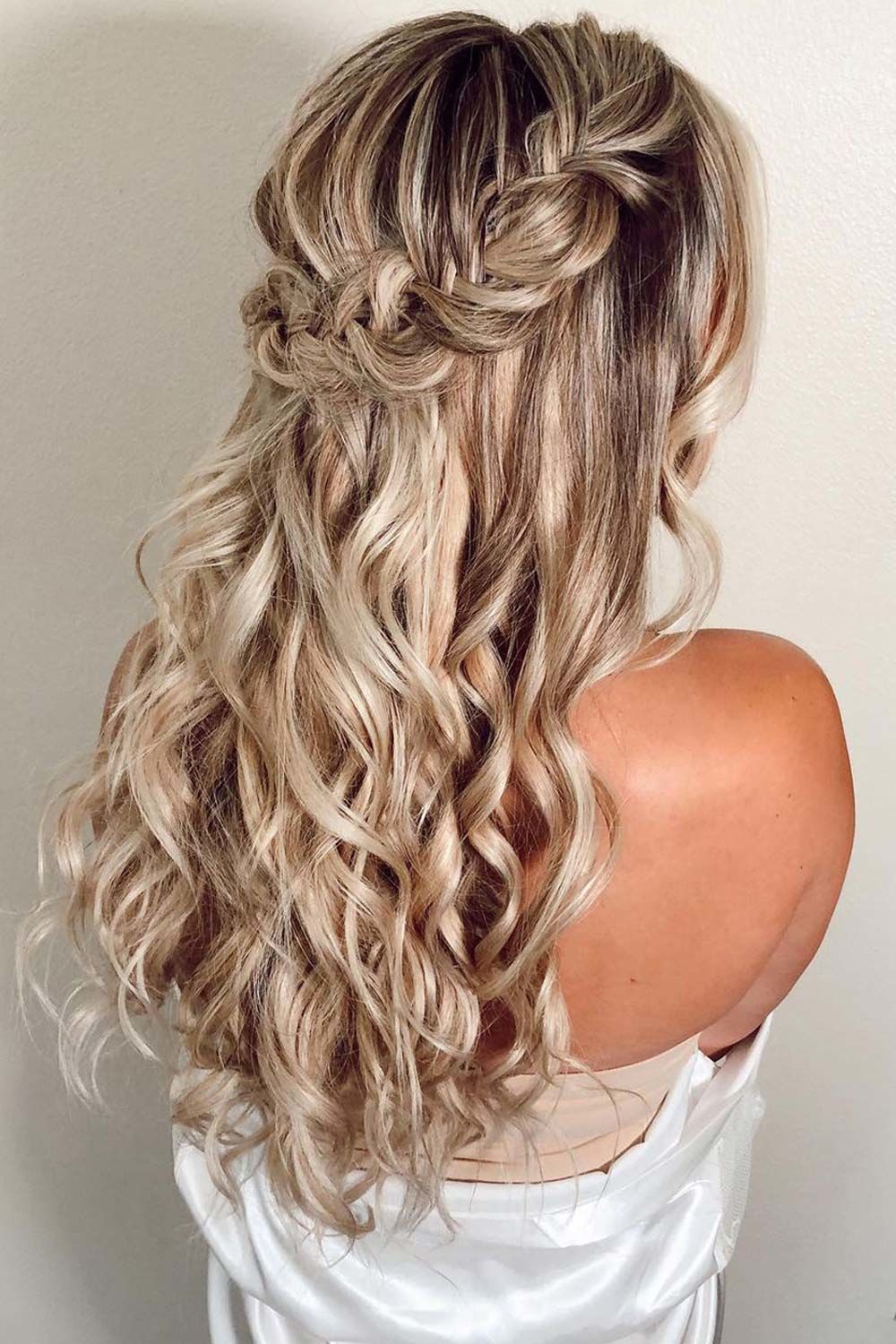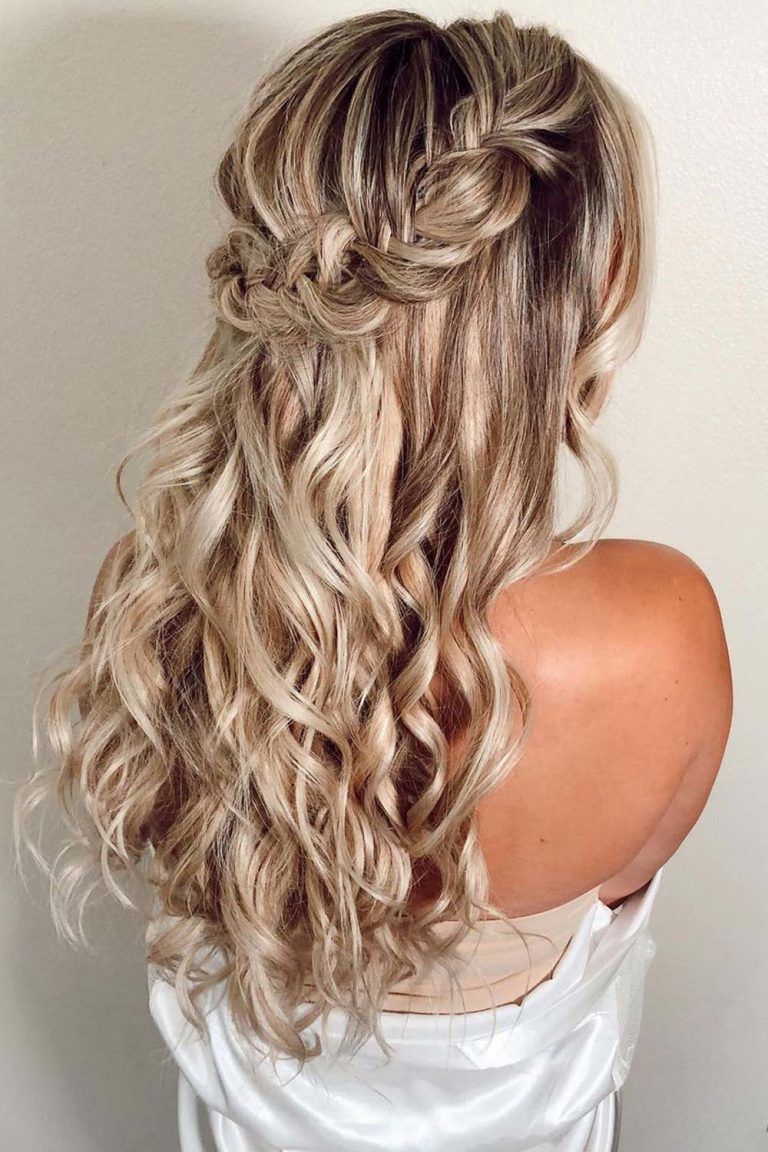 /
A half up half down hairstyle is for the real princesses. This is one of very beautiful braided hairstyles for long hair that can also be embellished. To obtain this style, you should start with a comb out any and all tangles.
Perfect Double Braids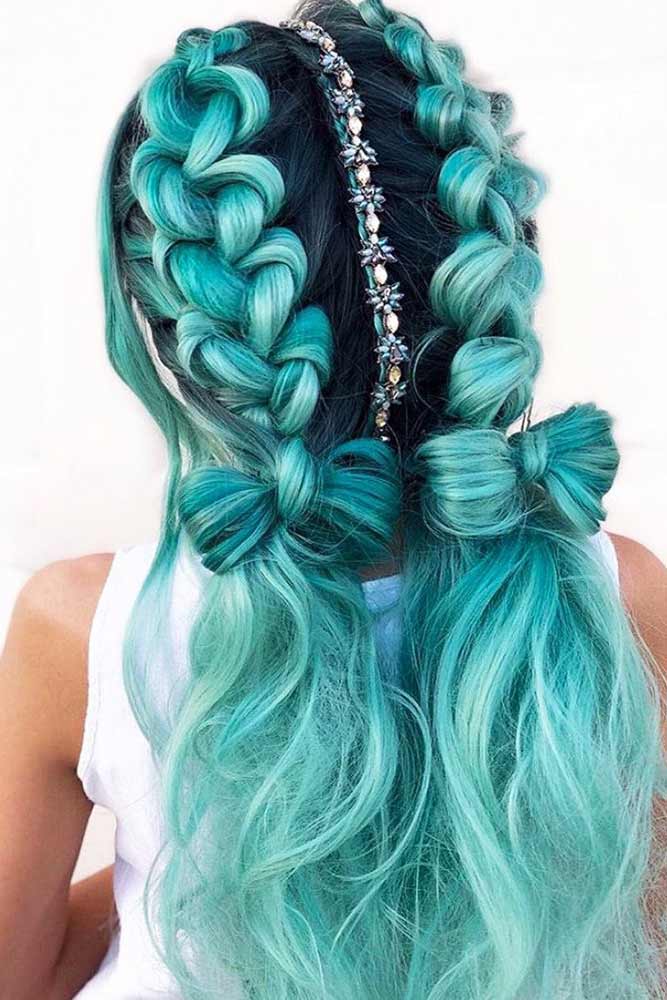 Source: samirasjewelry via Instagram
One braid is cool, but double braids are super-cool. Especially when you put them into the cutest pigtails style!
I have always wondered how do you do two French/dutch braids on yourself? We will attempt to give a step by step tutorial on how to do so. Begin with parting the hair straight down the center all the way from back to front. You can add additional flair to your style by doing a zig-zag part or a bohemian style part.
Fulani Goddes Braids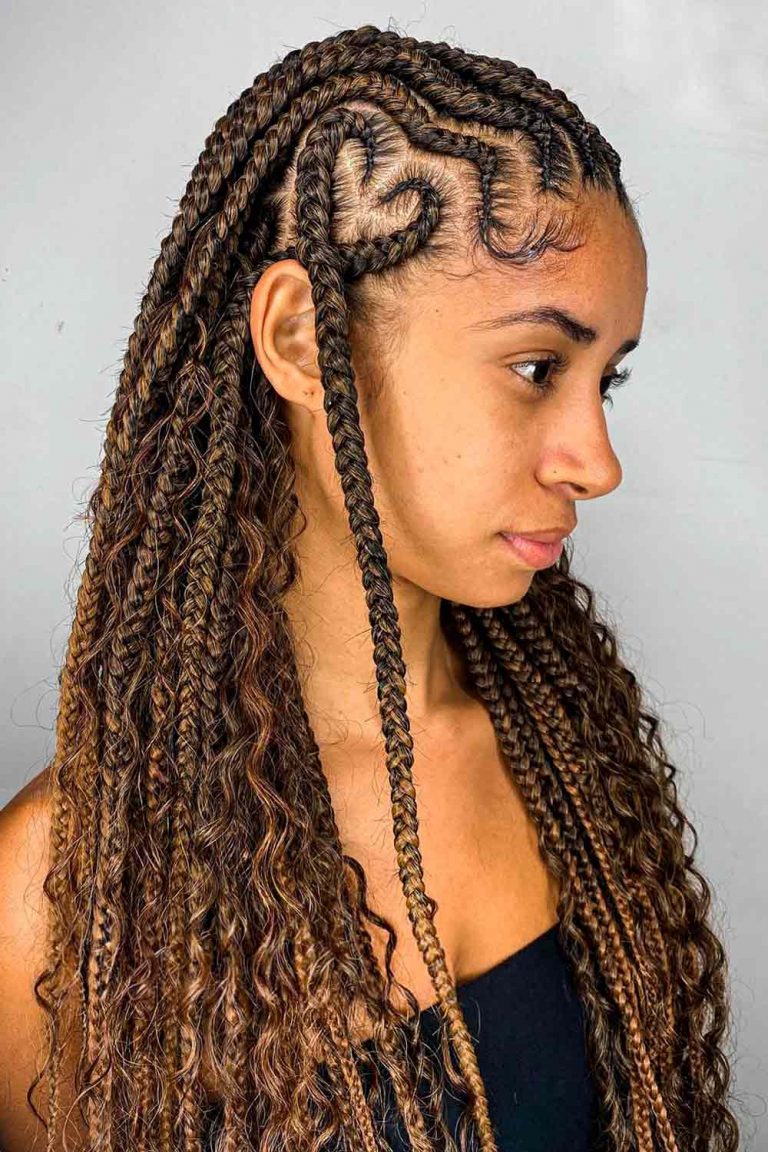 Credit photo: instagram.com/lucasbraids
One of the best things about braids is that you can combine different types in one look to end up with a unique hairstyle. As such, consider mixing Fulani and goddess braids if you prefer dreamy feminine hairdos. While it is quite easy to do, the result will exceed all your expectations.
Rainbow DNA Braids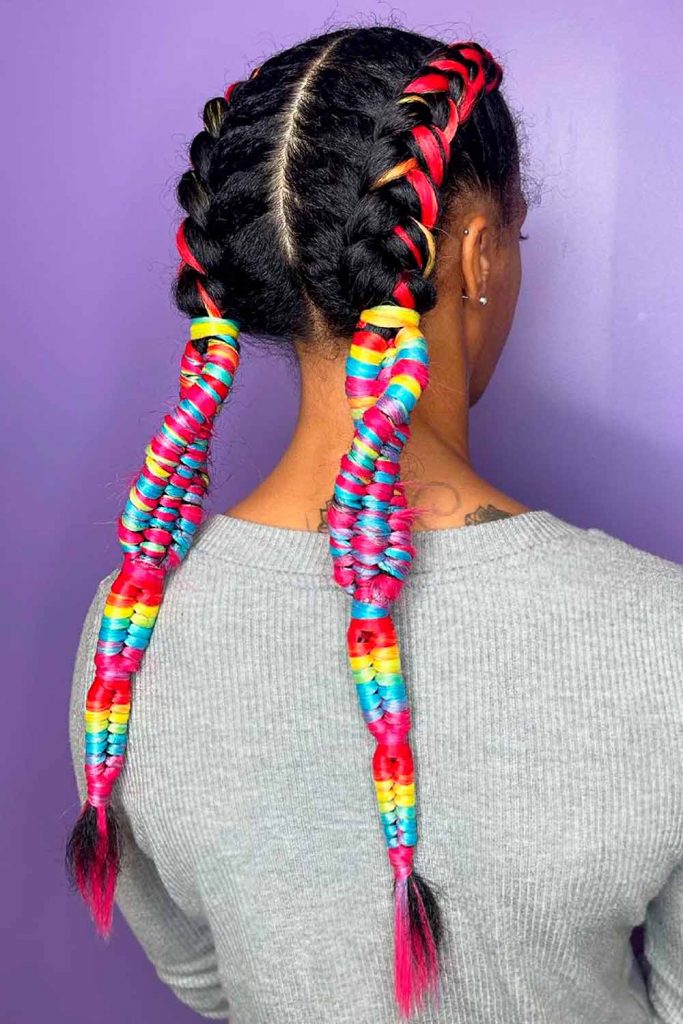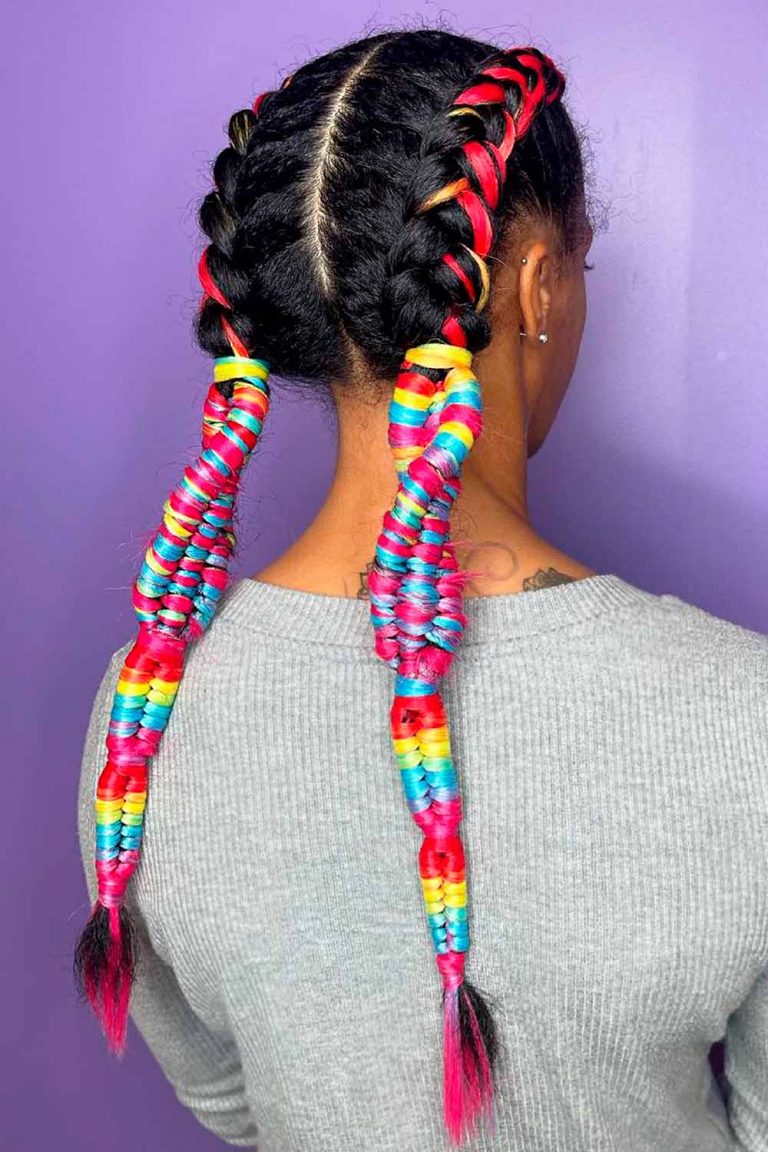 Credit photo: instagram.com/game_of_braids
Are you a science geek or simply keen on unusual hairstyles? Then these rainbow DNA braids are your way to go. They only look that complex. To get the style, you may use any type of braids you like, from twists to bubble braids. Optionally, incorporate Dutch braids into the look for more interest.
Updo French Braids Hairstyles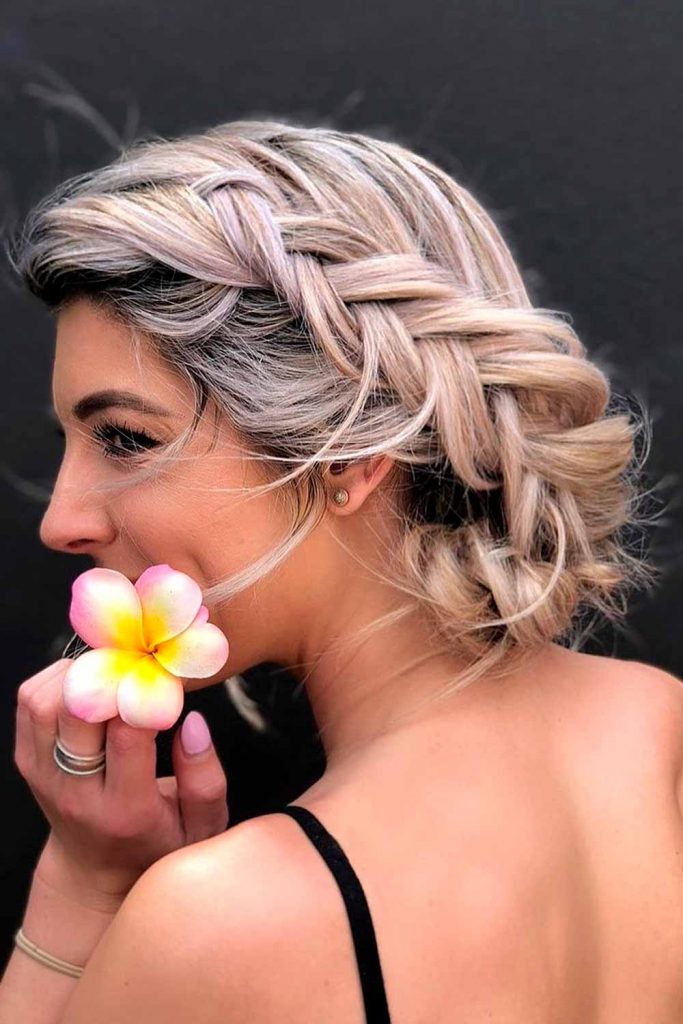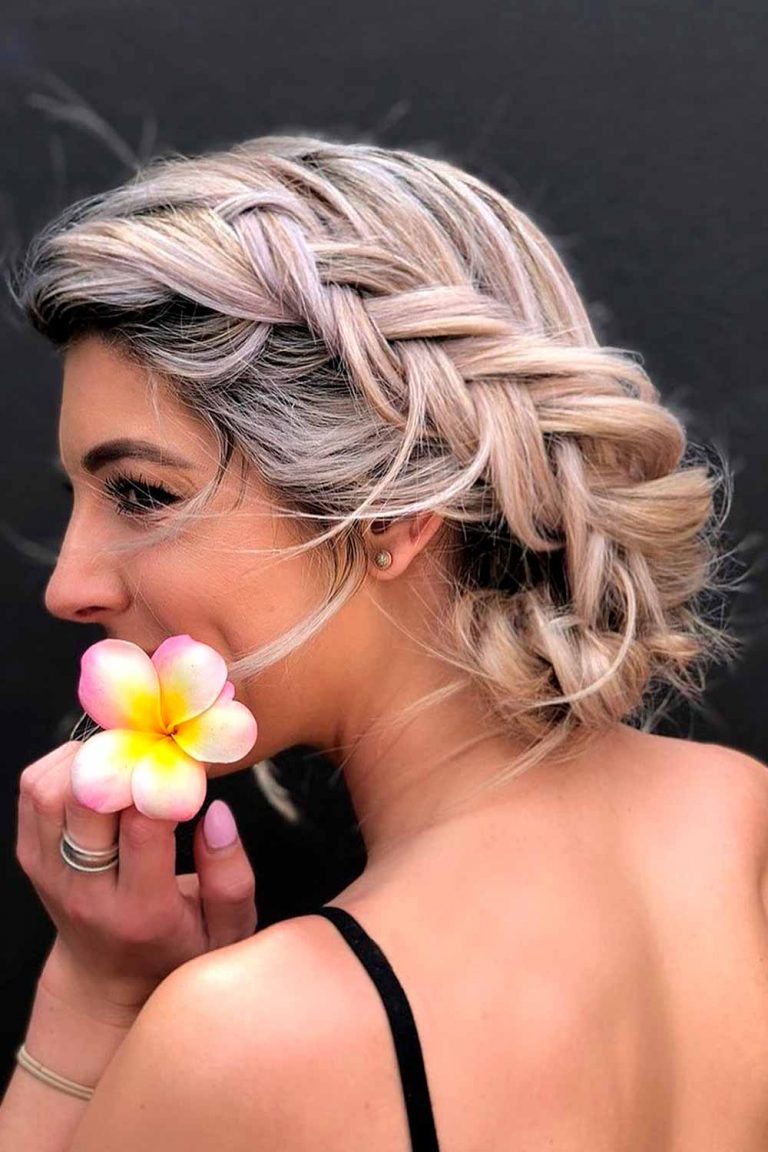 Credit photo: instagram.com/hairbyjaxx
Looking for quick braided hairstyles that you would be able to sport to an important event? Why not style your locks in a French braid updo then? It is much easier than it seems. You just need to French braid your hair around the head and put the rest of the locks into an updo.
Mermaid Braid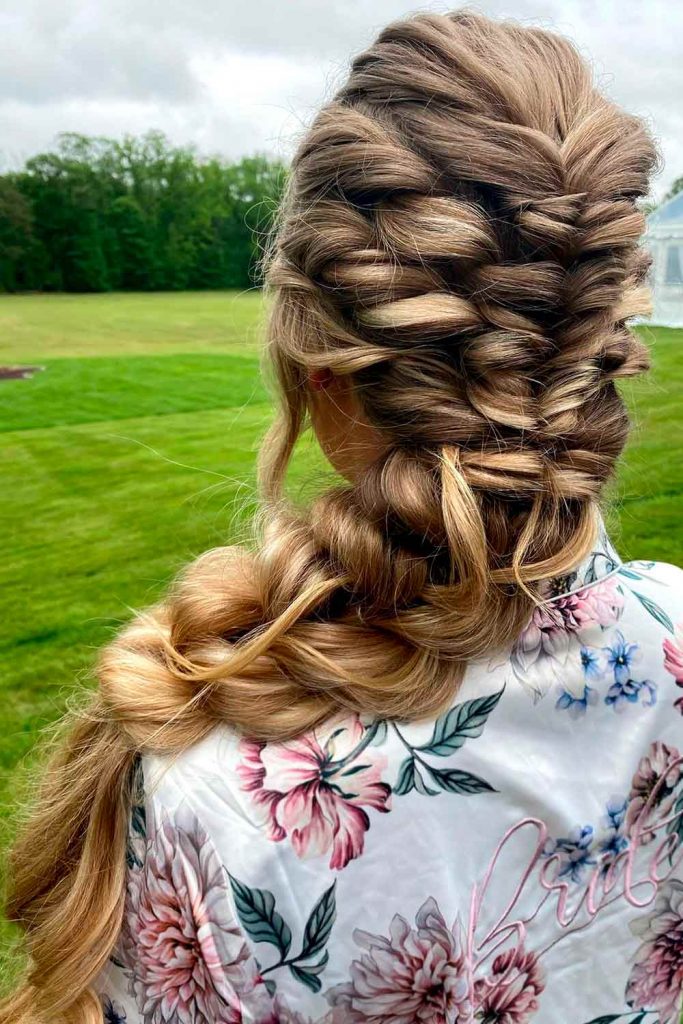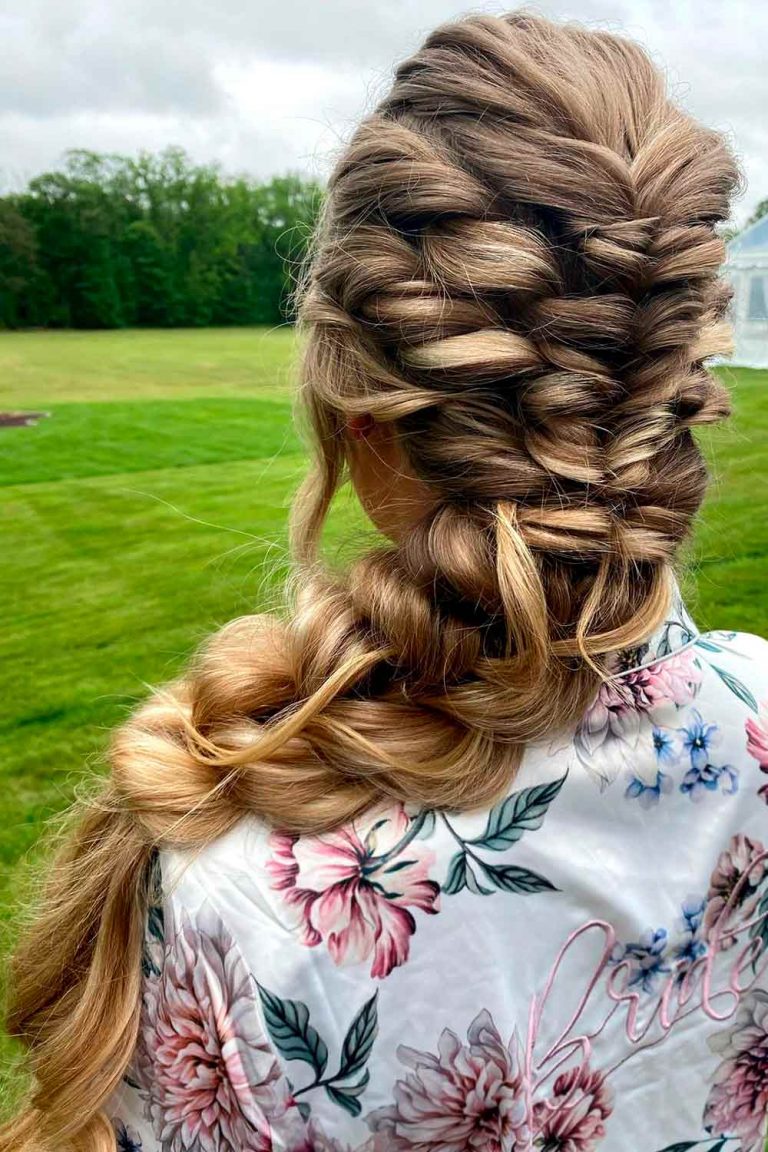 Credit photo: instagram.com/shelbyweatherholtzhair
A mermaid braid is one of the trendiest long braided hairstyles and no wonder. On the one hand, it allows you to tame your long tresses and keep them in order. On the other hand, it gives you a dreamy look infused with boho chic. How can you not fall in love with it?
Bubble Bushel Braid with Twist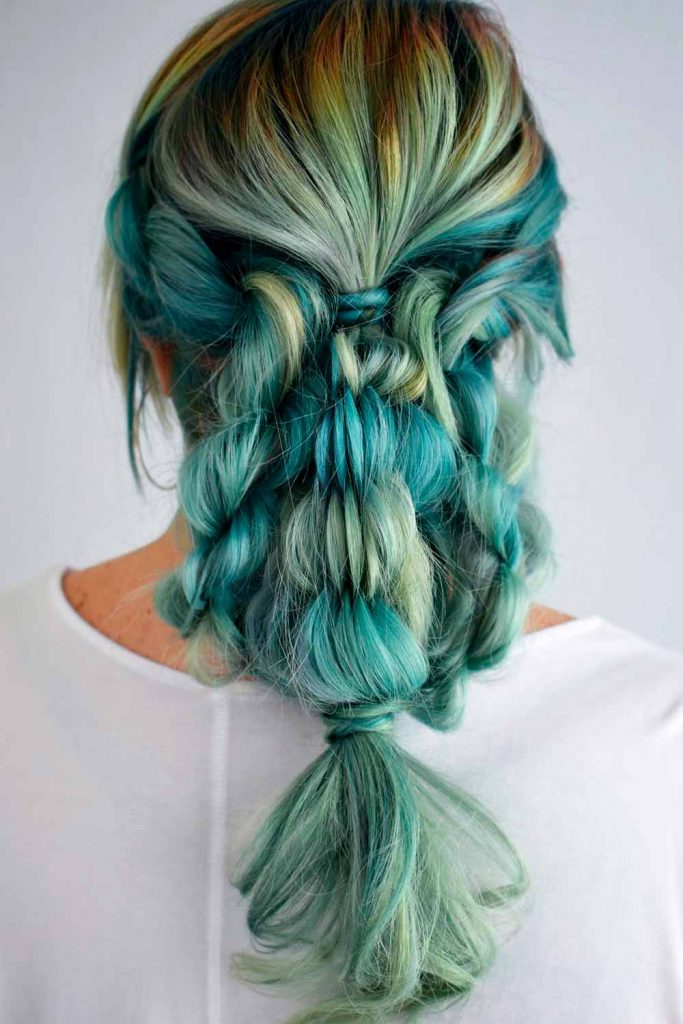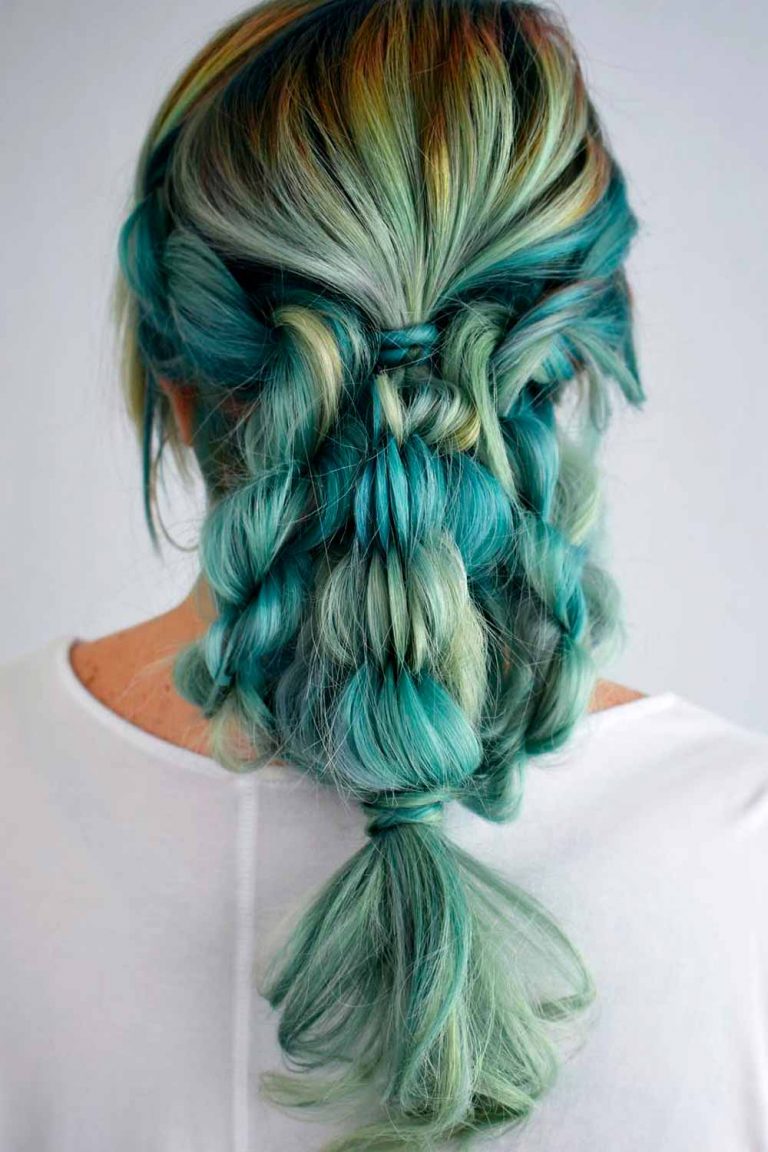 Credit photo: instagram.com/lzhouseofhair
Bubble bushel braids are anything but boring. They turn out very pronounced and recognizable. If you decide to get the look, you need to stock up on hair ties and a volumizing hair styling product. In case your locks naturally lack volume, consider teasing them a bit beforehand. Twists weaved into the bubble braids are a great accompaniment to the look.
Twist Faux Hawk Ponytail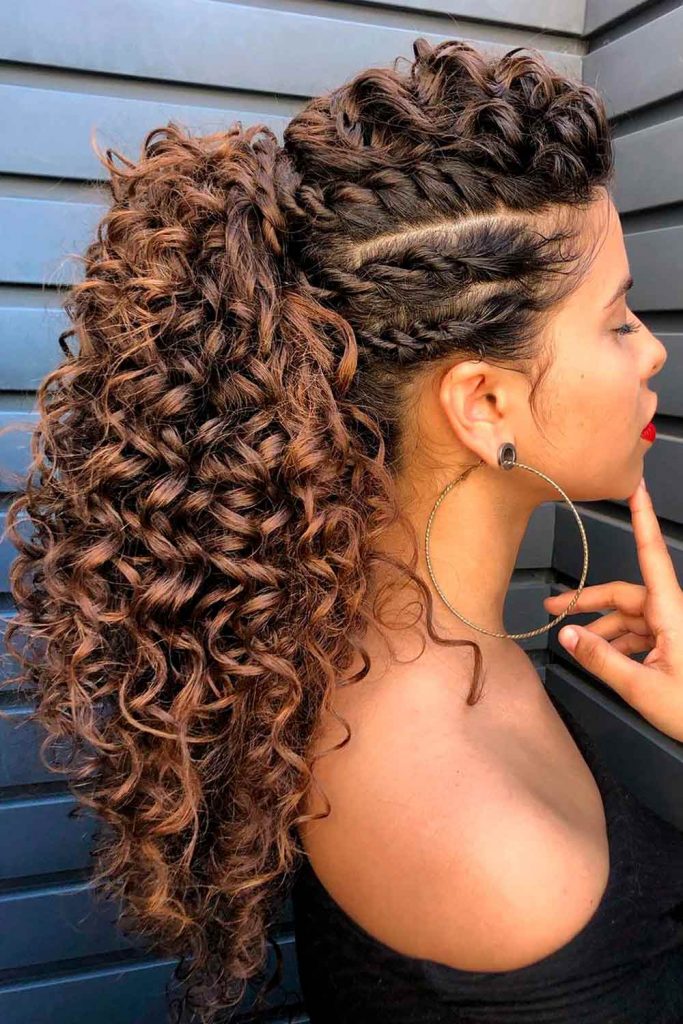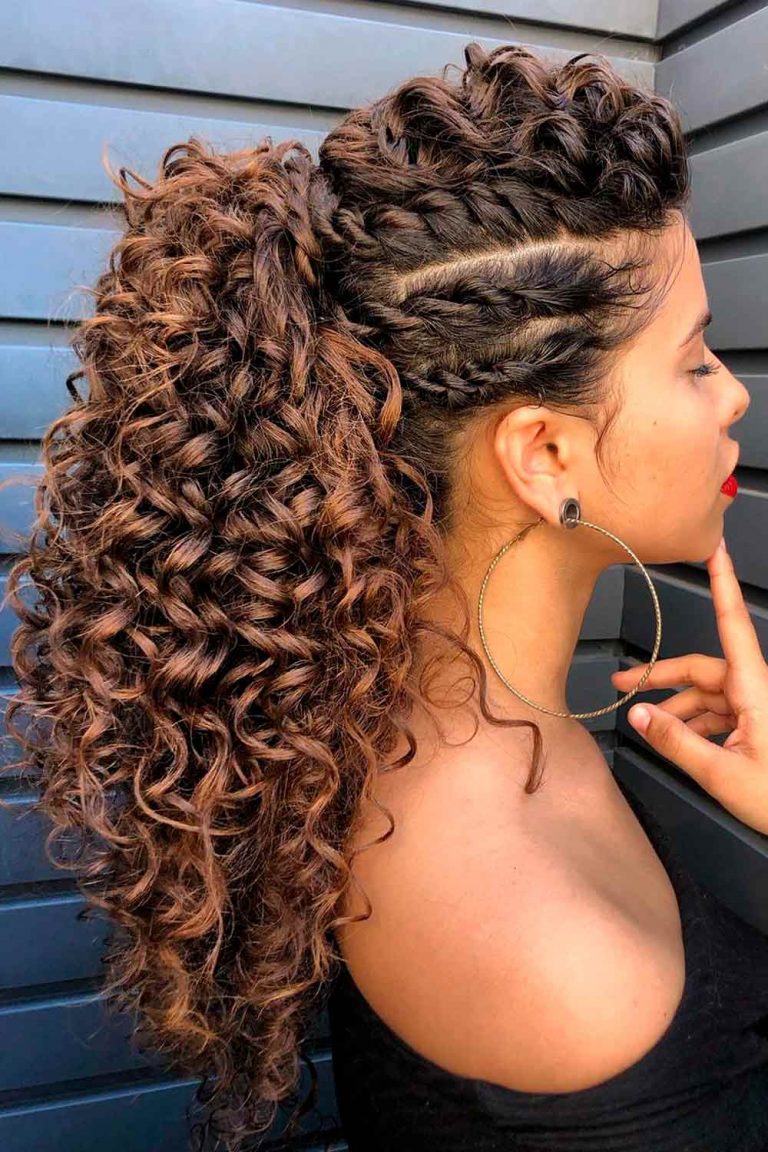 Credit photo: instagram.com/fragoso_rosy
If you want to show off your inner punk but mohawk braided hairstyles are a bit too much for you, a faux hawk twisted pony is your surefire way out. Get it by twisting your hair on top so that it could then be pulled into a crest. Next, tie all of your hair into a high ponytail and you are all set.
Dragon Braid Ponytails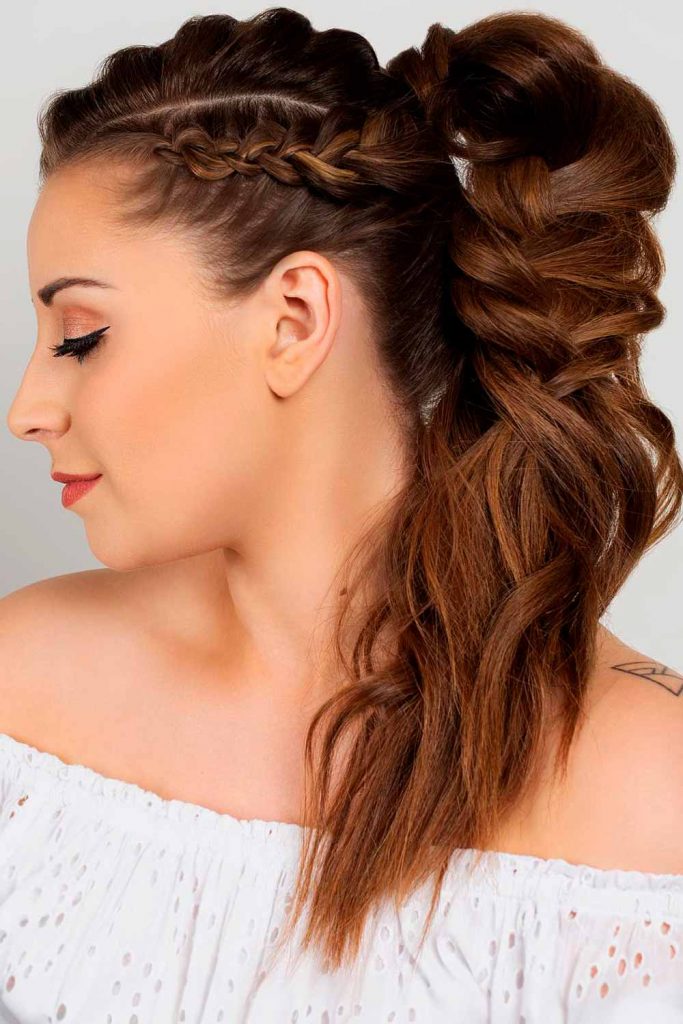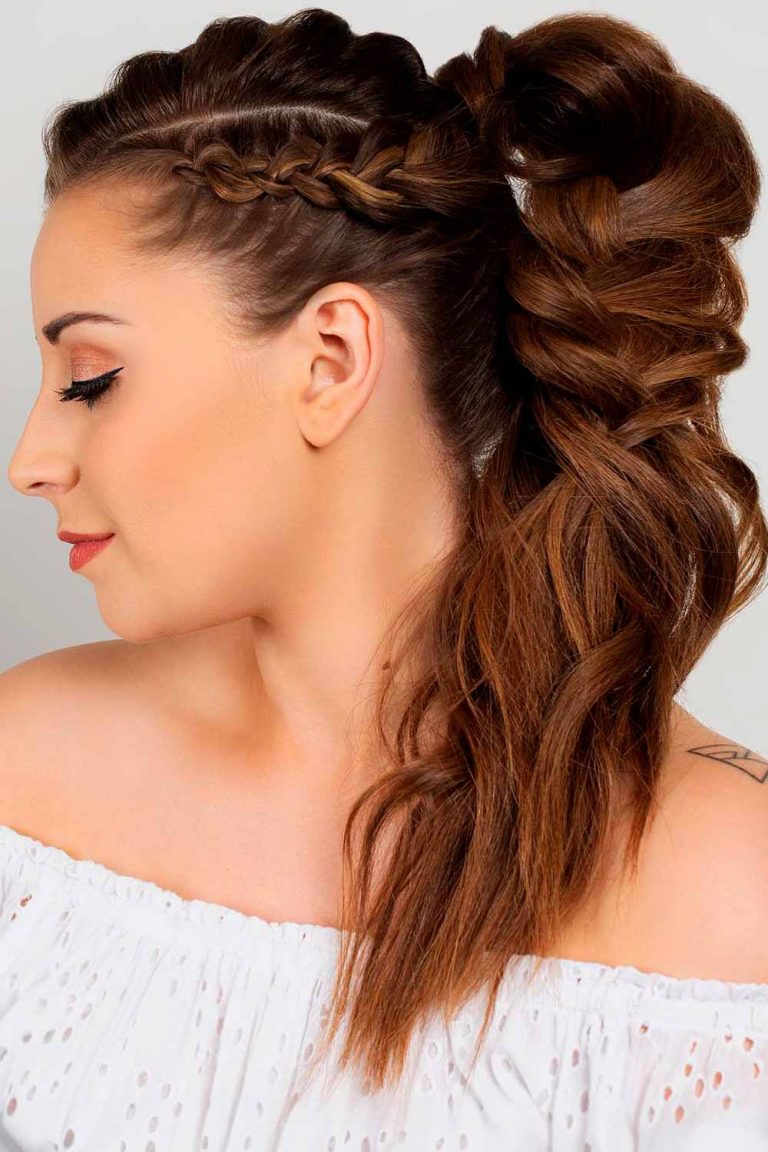 Credit photo: instagram.com/lzhouseofhair
paragraph: Dragon Braid Ponytails Text: Another amazing idea for braided ponytail hairstyles is a dragon braid. The technique that you are going to use to create dragon braids is up to you. Apart from your personal preferences, you should also take into account such factors as the braid type that you or your braider can pull off.
Rubber Band Hairstyles for Bubble Braids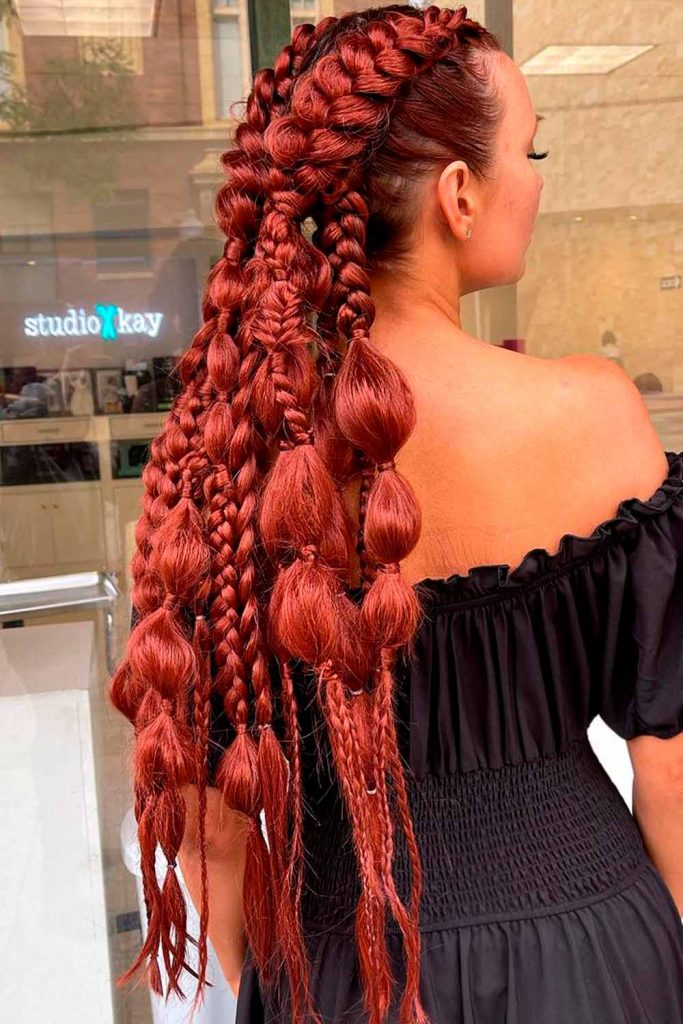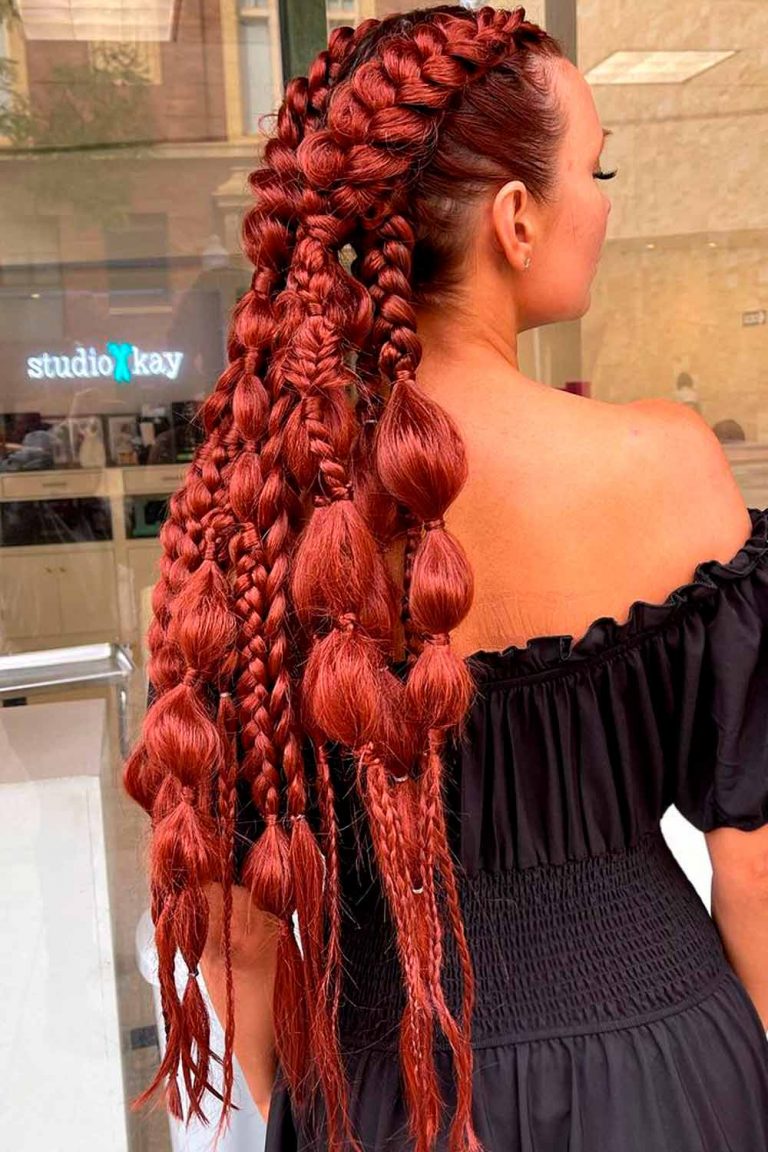 Credit photo: instagram.com/larackay
You can hardly imagine a bubble braid hairstyle without rubber bands. While they help you to create the look, they can also be quite a nice accessory. Just instead of clear bands, use different colors that would either match or instead look striking against your hair color.
Half-Up Into French Braid Style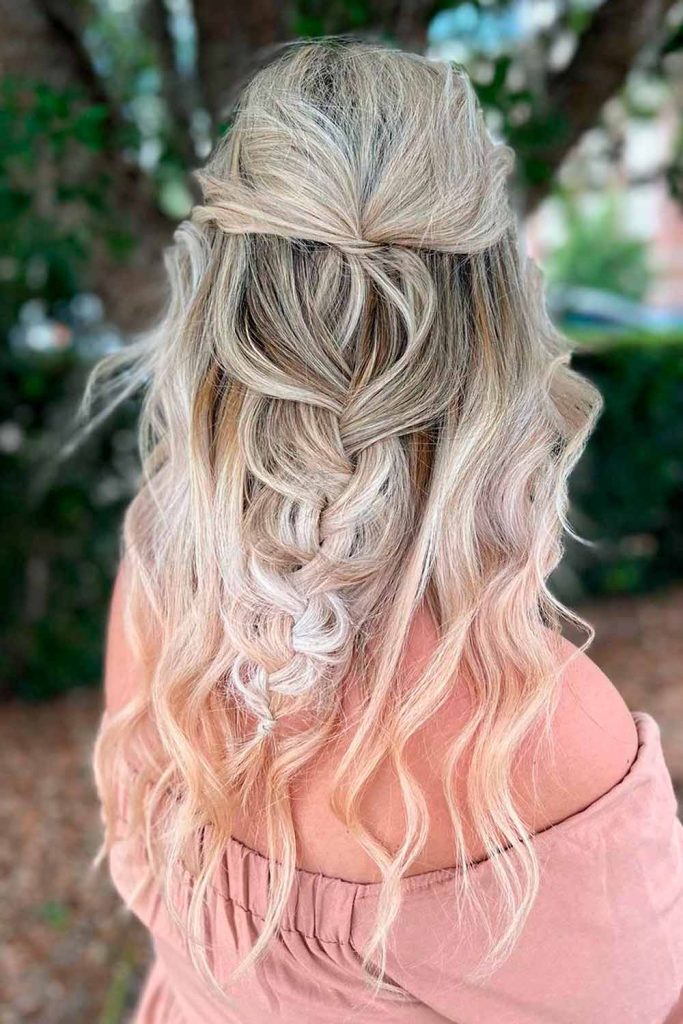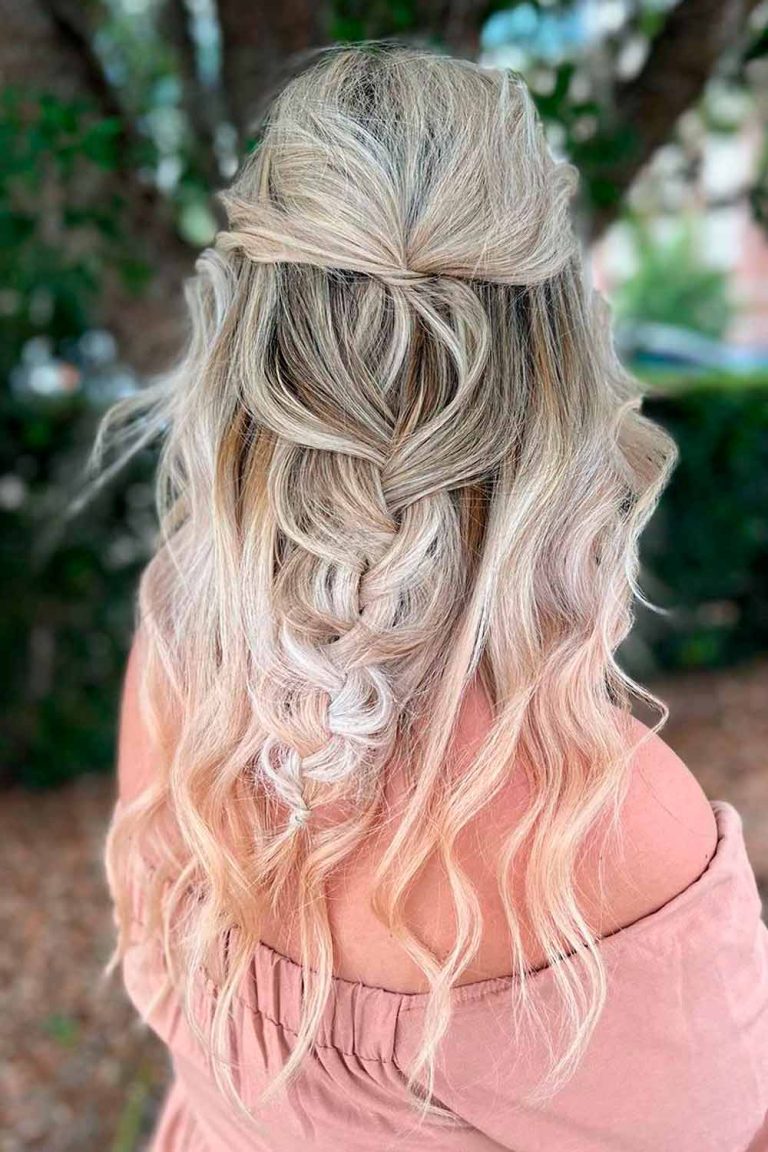 Credit photo: instagram.com/goldplaited
When you cannot decide whether you want your hair up or down, get both. A half up hairstyle offers you a middle ground in cases like this. Plus, it takes the hair away from your face while still keeping your locks on display. A French braid is what will help you to pull the look together.
Stitch Braids with Heart Design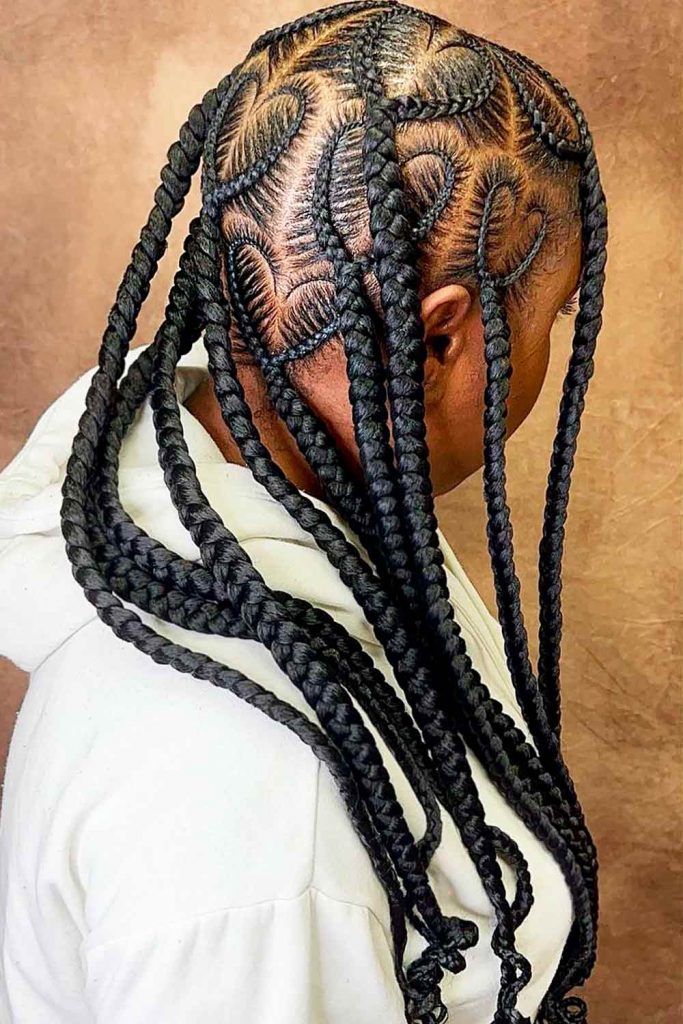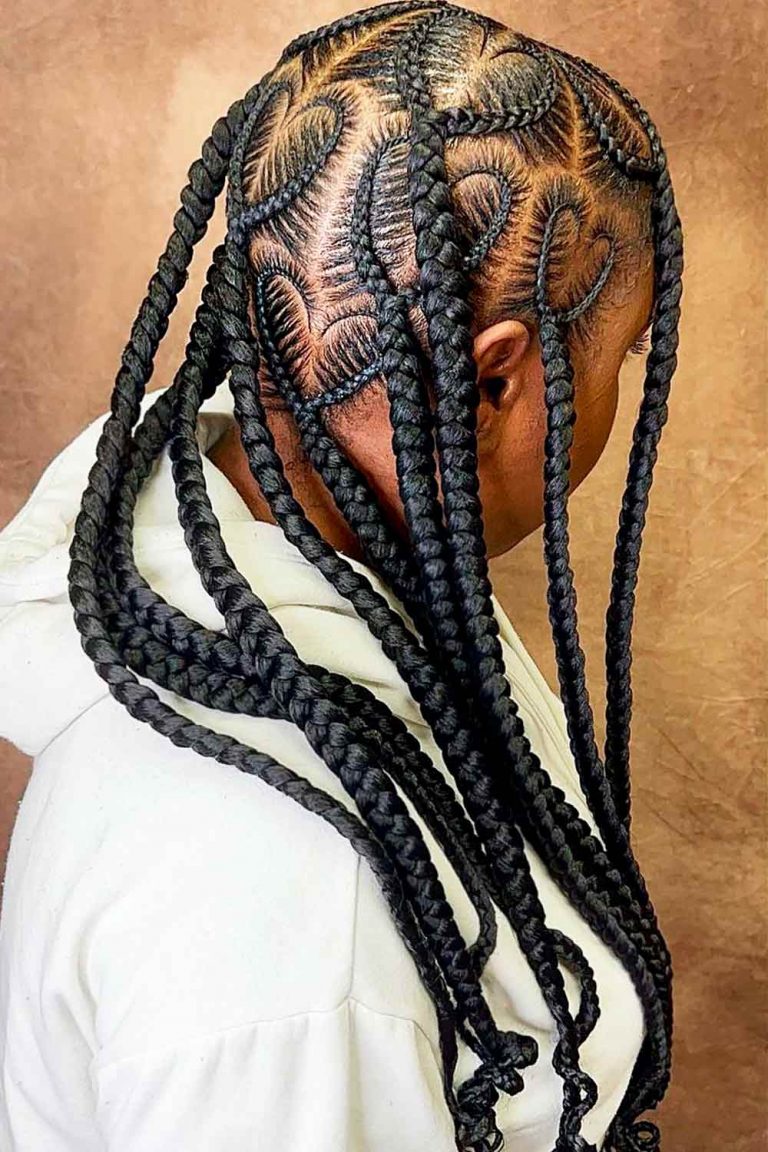 Credit photo: instagram.com/braids_by_msnelly
Even though braided heart hairstyles are highly requested during the Valentines Day season, you can wear them on a daily basis. The only condition is that you should be able to recreate this pattern on your hair. If you are not very confident in your braiding skills, then it is better to entrust the task to a professional.
Braided Hairstyles with Colorful Rubber Bands
Credit photo: instagram.com/goldplaited_
i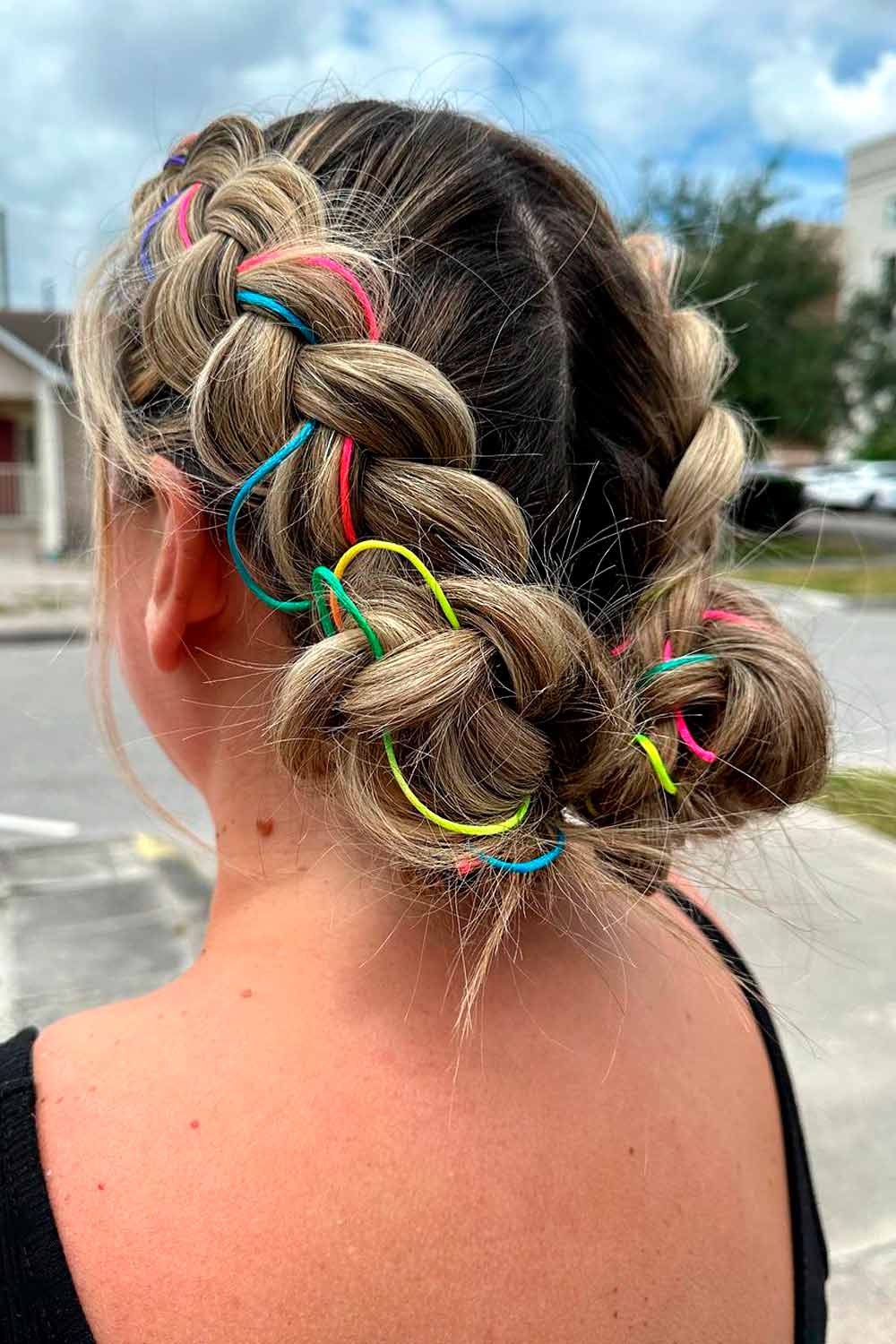 Credit photo: instagram.com/samirasjewelry
i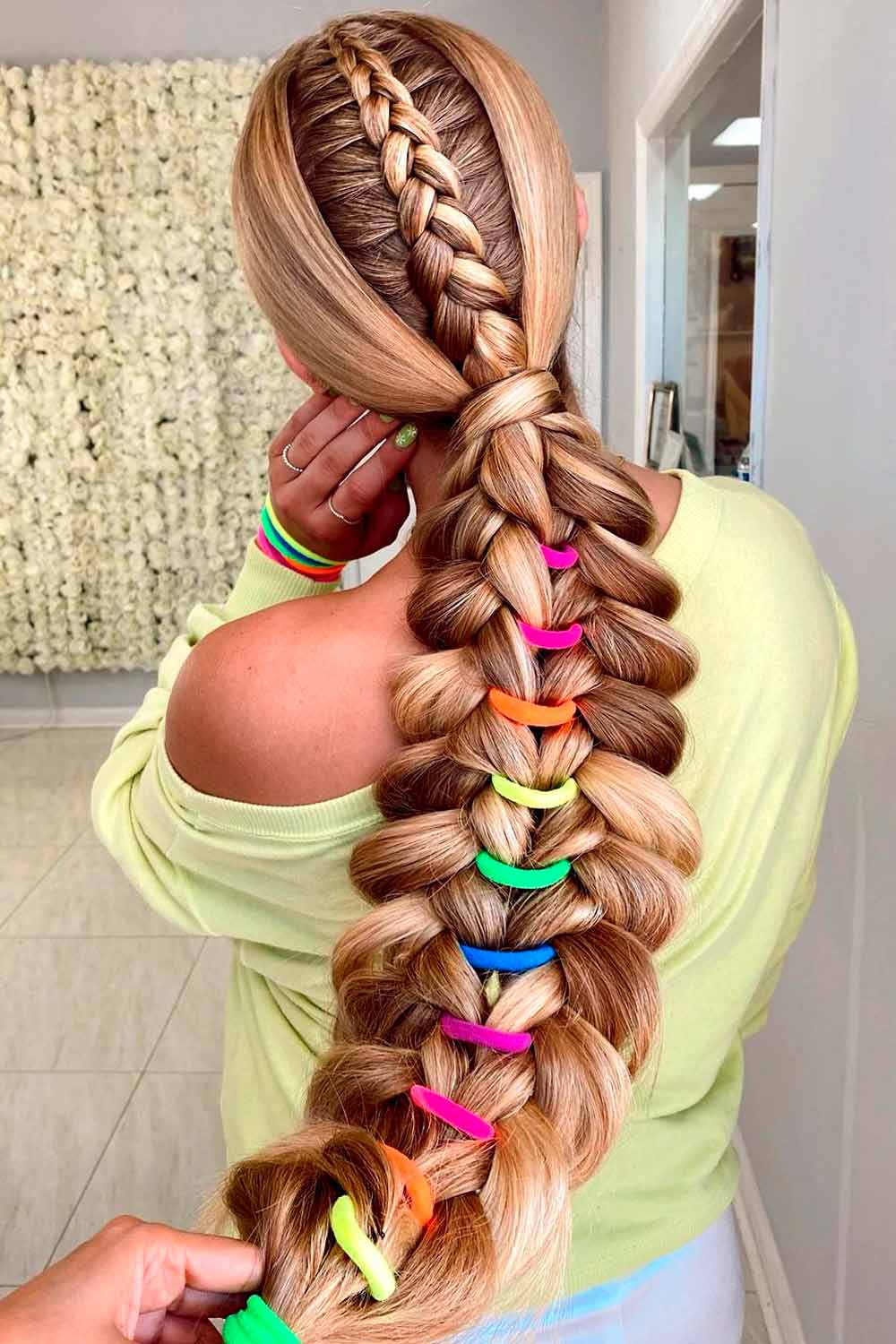 /
There are plenty of ways to accentuate your cute braided hairstyles. In case you want to add a pop of color to your hair look, you can enlist the help of rubber bands. They can be included in any way you like – to hold your strands or as a part of a hairstyle.
Braided Lace Hairstyles
Credit photo: instagram.com/lettileipuri
i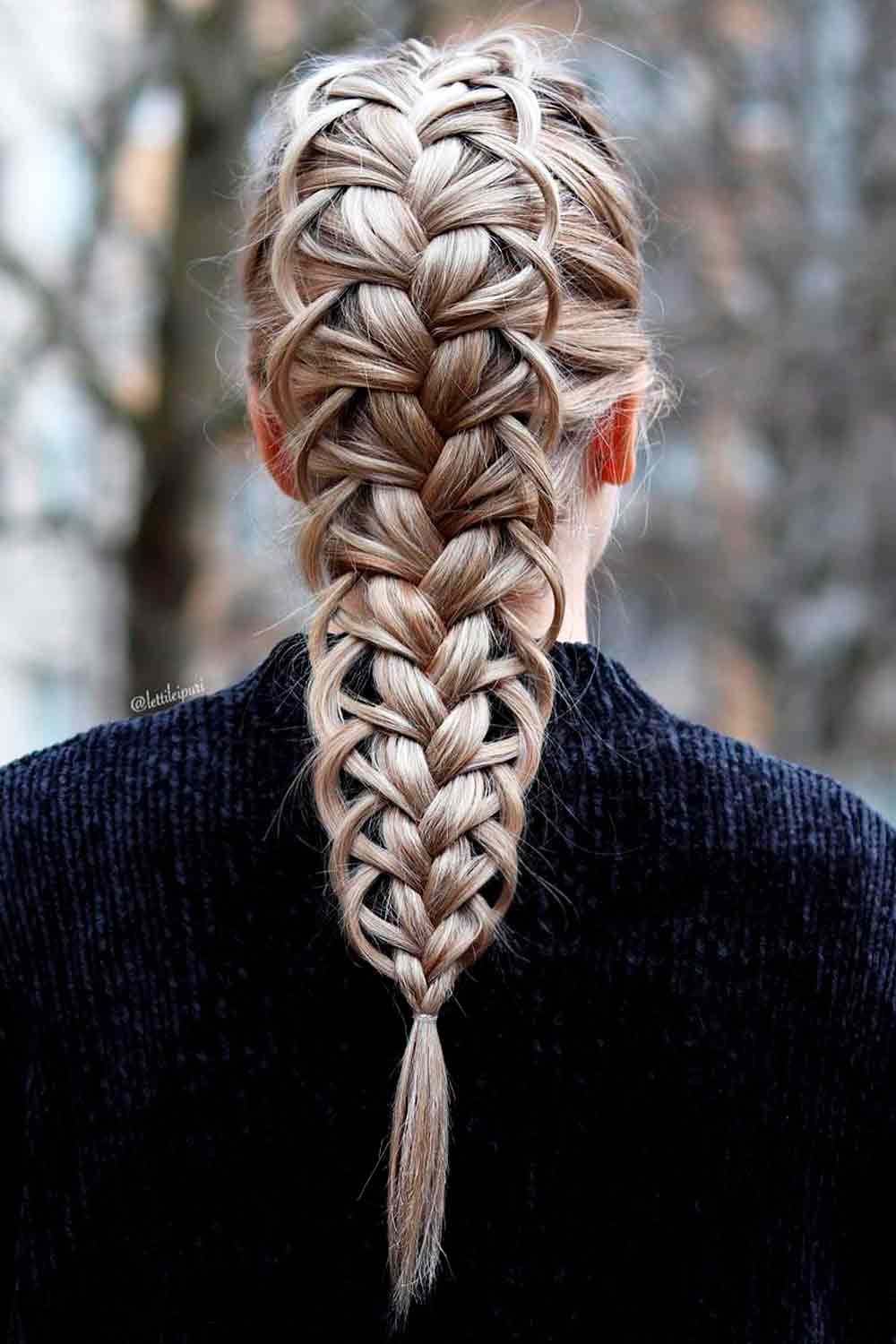 Credit photo: instagram.com/samirasjewelry
i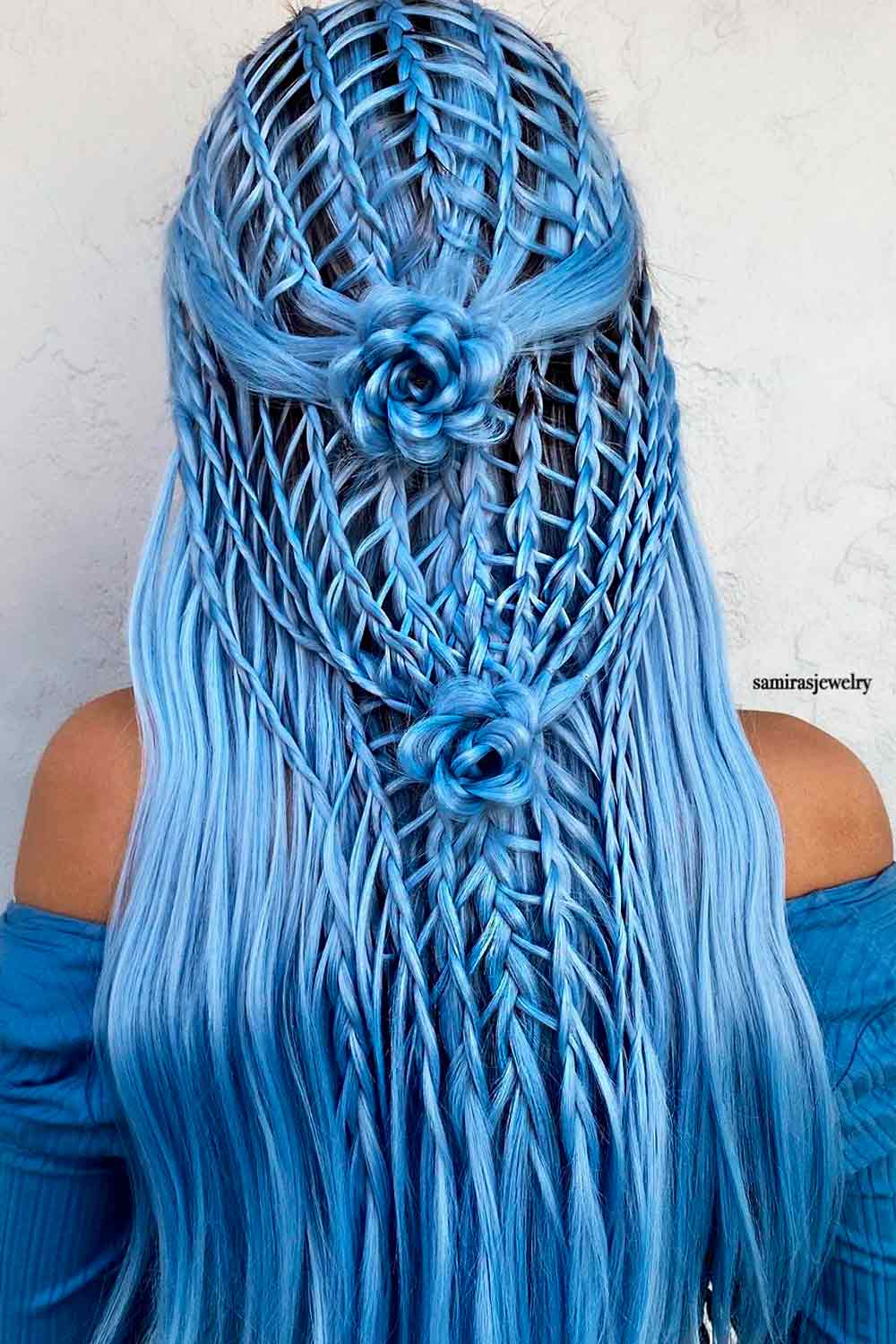 /
Now these can hardly be called easy braided hairstyles. Yet, braided lace hairstyles are totally worth your effort. They are very attention grabbing and work like glue for the eyes. They make you want to examine every inch of the style. So, it will sure to pay you off with tons of compliments you are going to get.
Top Braided Hairstyles for 2023
Credit photo: instagram.com/shelbyweatherholtzhair
i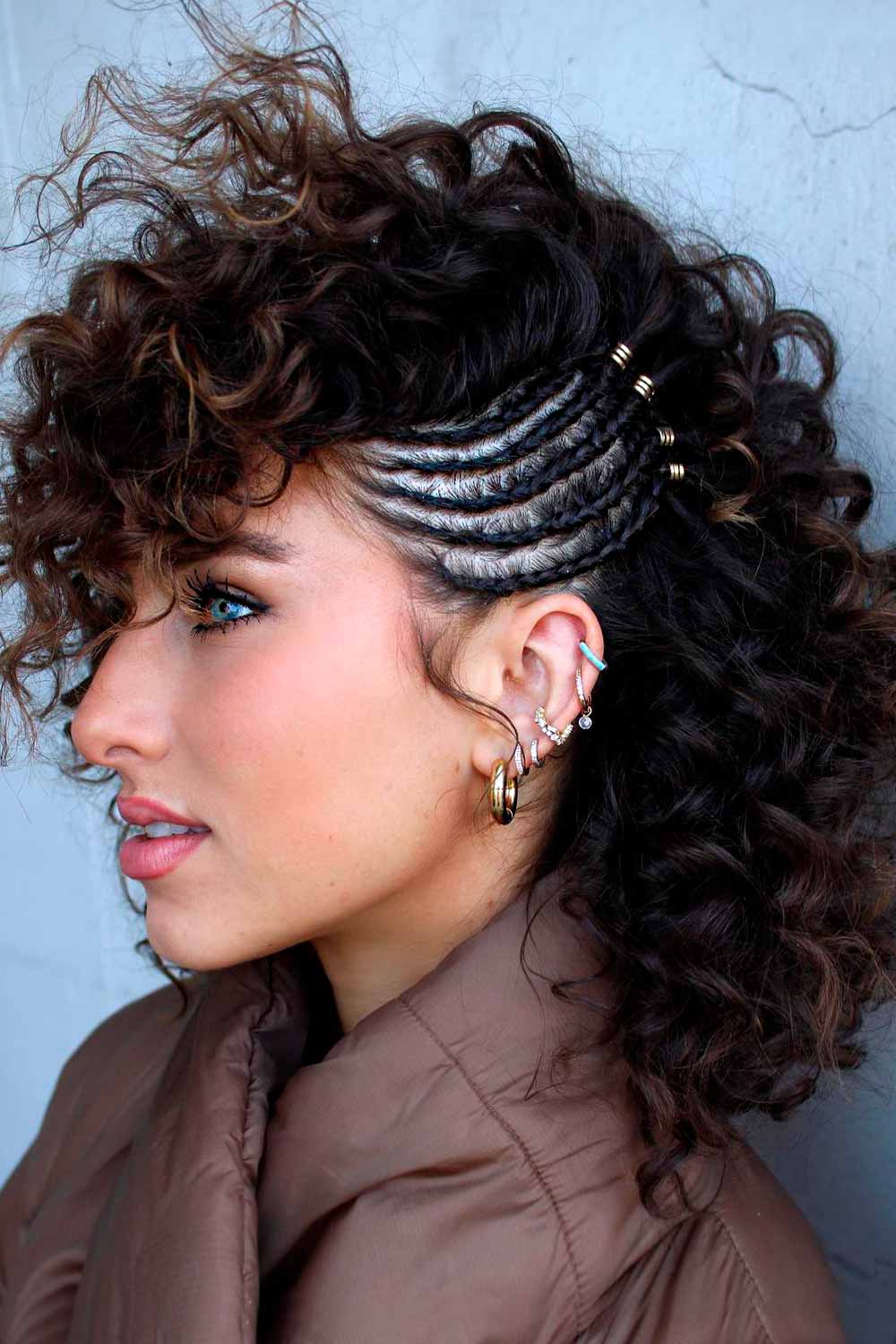 Credit photo: instagram.com/braidsvolna
i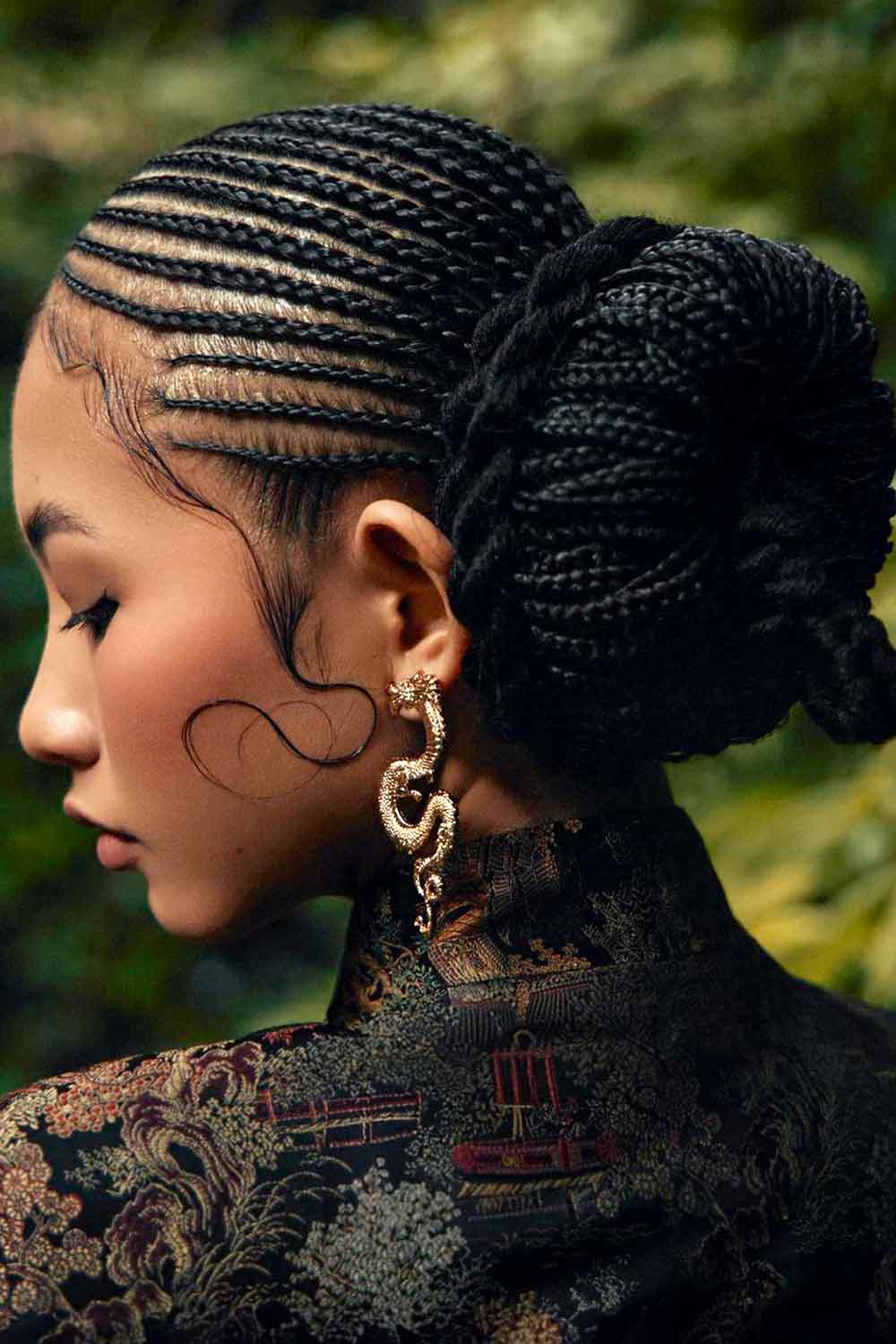 Credit photo: instagram.com/afrolife16
i
Credit photo: instagram.com/shelbyweatherholtzhair
i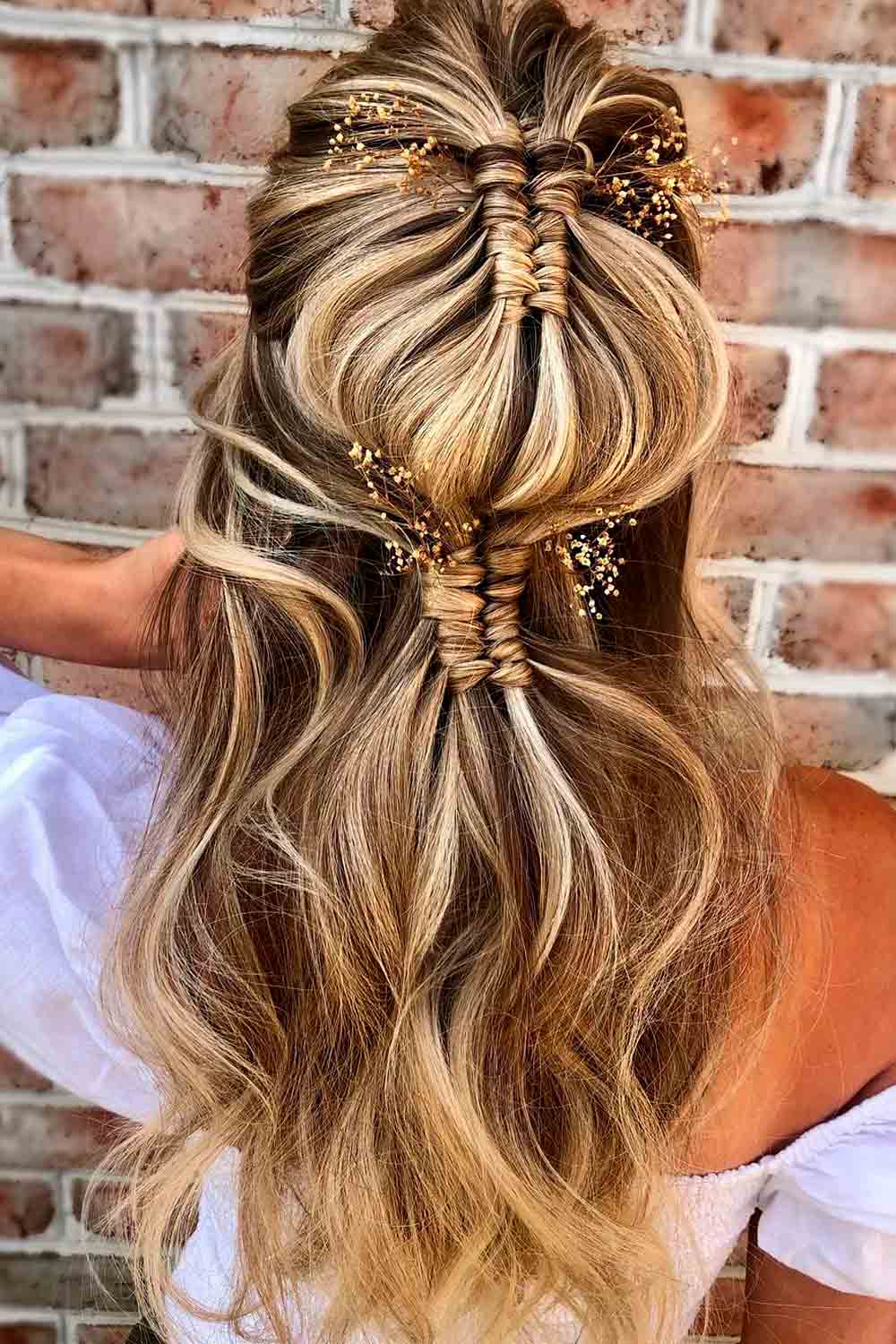 Credit photo: instagram.com/luxxloxx
i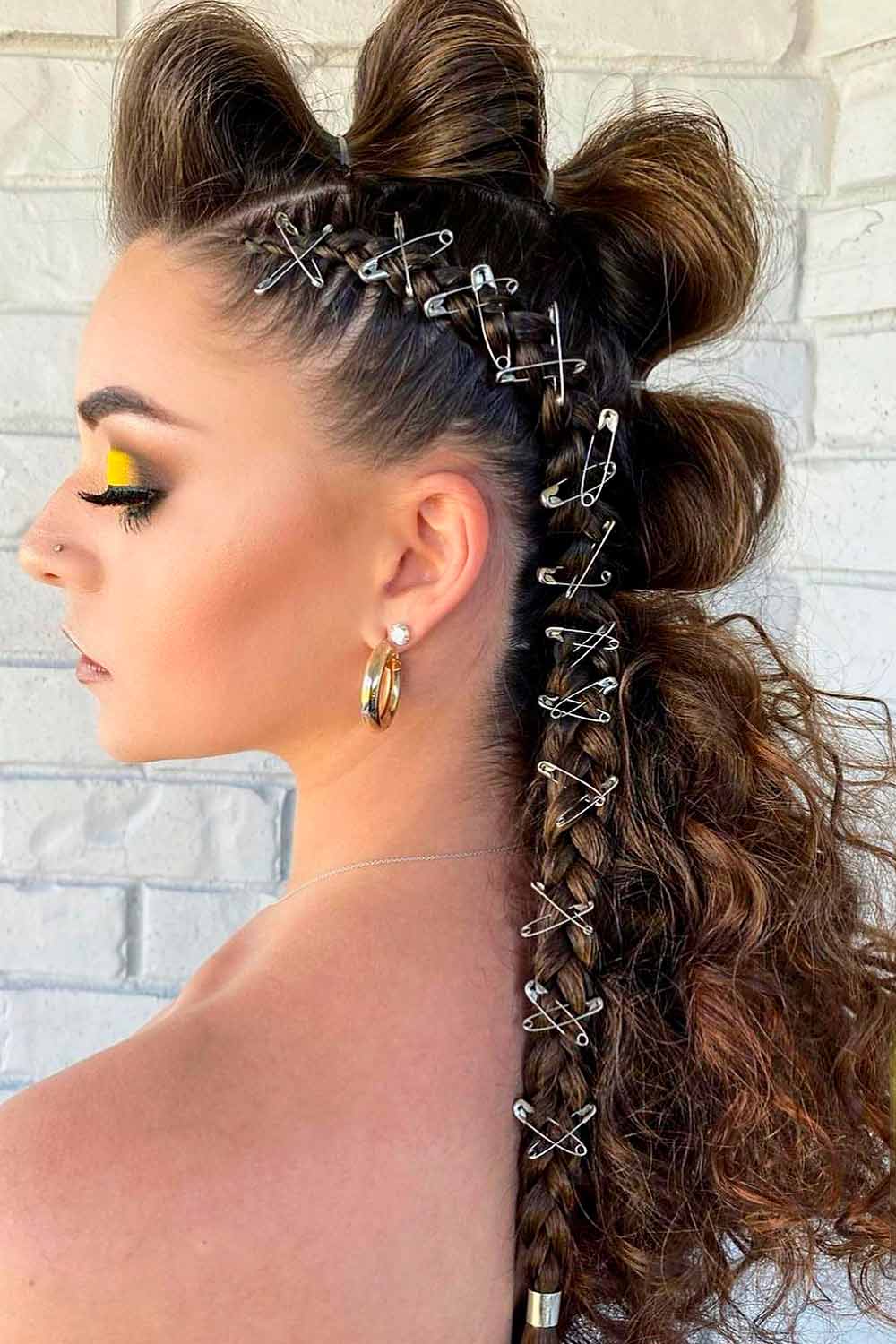 Credit photo: instagram.com/wigsbygaga
i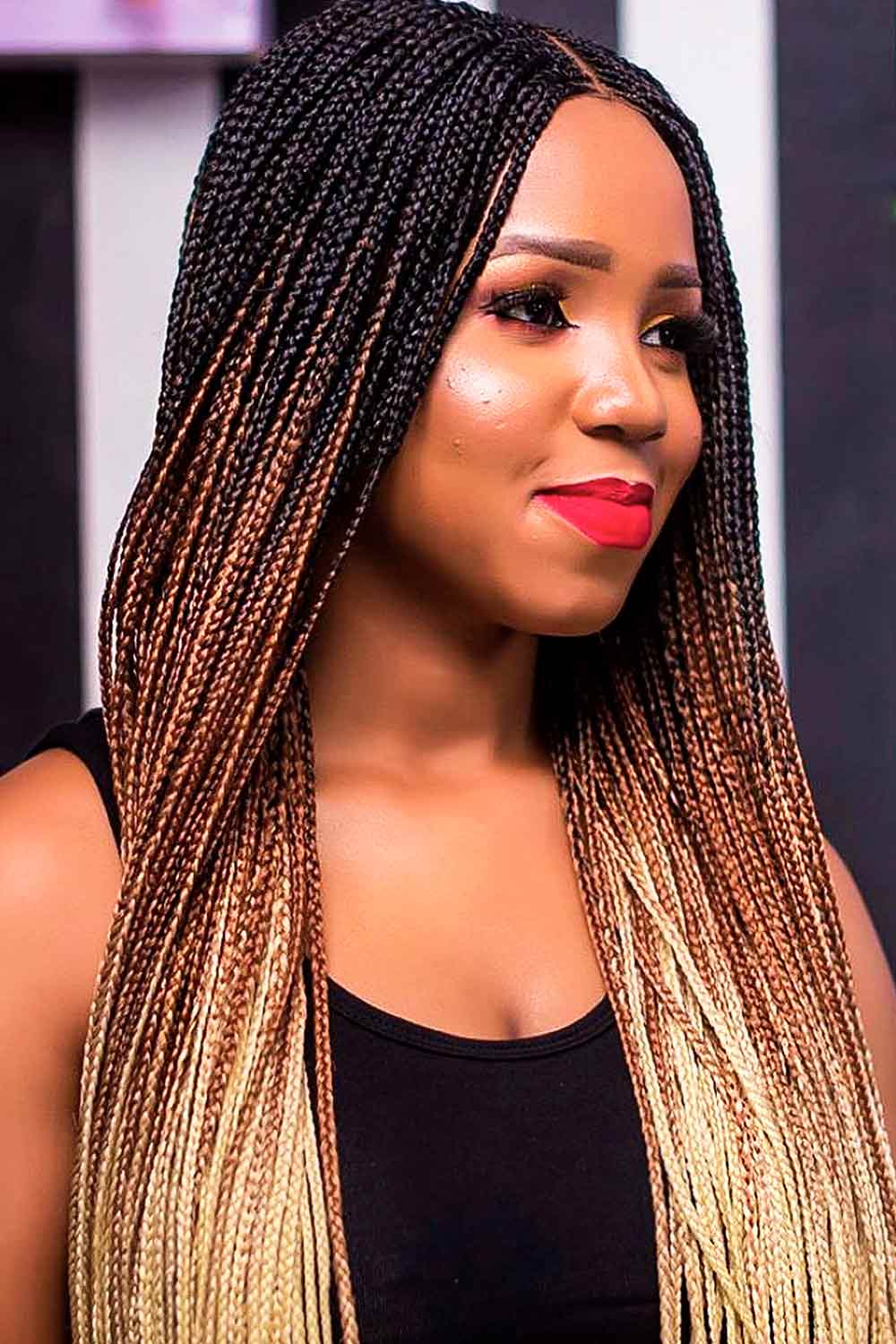 Credit photo: instagram.com/wigsbygaga
i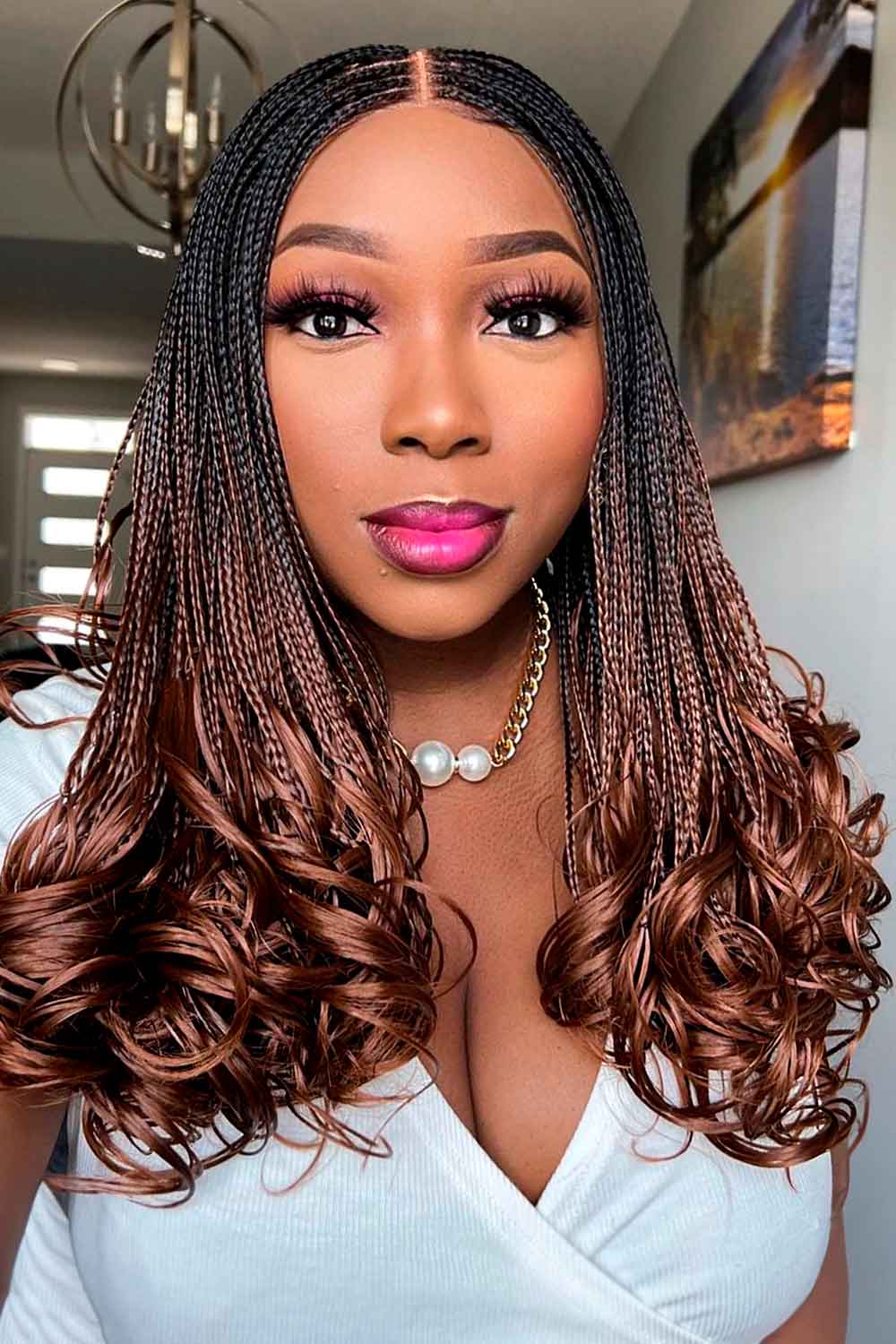 /
Braids are back and we are unbelievably happy about it. Not that they were ever out of fashion, but this year, they are at the peak of their popularity. And this comes as no surprise, as there are numerous types of braids to choose from. To provide you with a dose of inspiration, we have put together the most popular and worth to try braid types below.

And here are several tips for your braid to appear cool and polished, as if done by a professional hair stylist:
The easiest way to make your braid look fuller is to pull on it.
To get a carefree, texturized look, start braiding, then secure the braid with elastic halfway and pull it so that it becomes extremely loose. Then continue braiding the lower half and remove the elastic. And it's better to use a special teasing comb while braiding.
Another way to make your braided 'do more texturized is to apply hair spray before you start braiding.
To get an amazingly tousled braid, here is a simple trick: start braiding when your hair is curly or wavy rather than straight. Just blow-dry your hair with a diffuser beforehand. And this trick will instantly give your braid a boho vibe. When the 'do is already secured with a clear elastic, wrap the hair around it.
If your hair is not long enough for the 'do you wish to pull off, simply apply hair extensions! As simple as that!
FAQ: Braided Hairstyles
What are the different types of braids for black hair?
Havana Twists.
Faux Locs.
Yarn Braids.
Dreadlocks.
Cornrow Braids.
Nubian Twists.
Crochet Braids.
French Braids.
Braided Bun.
Criss-Cross Braids.
Inclusive Braided Ponytail.
Do braids make you look younger?
Braids aren't for little girls only. They are suitable for adult women who wish to add a sassy or playful element to their locks, so don't be afraid to braid your hair or do a crown braid even if you are at the age of 50. You may also try a side-swept braid with a bit untidy ends to give your outfit a more youthful air.
How long should you let your hair breathe after braids?
Before getting your extensions reinstalled, experts usually recommend letting your hair breathe for five days after-sew-in or braids. Taking a three-day break for natural hairstyles, on the other hand, is also a smart idea.
REFERENCES:
Spring Braded Hairstyles. Source
Was this article helpful?