Braided updos are always in style. However, a lot of women do not have the knack for braiding. And many of the braided styles today are so intricate that we often lose sight of simple traditional braids.
If you are looking for easy hairstyles for long hair, we have a short braided updo tutorial to help you step up your braiding game. This style is quite simple, though it looks exceptional.
Simple Braided Updos Tutorials
Four Braids Style
However, once you have mastered this simple look, you can move on to more complicated braid styles such as fishbone braids, box braids, or French braids.
Follow this simple guide for an easy braid. Good luck and have fun learning new and funky braided updos once you have mastered this simple tutorial.

Part 1
Apply a small amount of texturizing mousse to your hair when blow-drying to add texture. You don't need smooth and silky hair for this braided updo. If you wish to add a little wave to your hair before braiding, you can also curl your hair with a 1-inch curling iron.
Then, start a braid with a section of hair from in front of one ear. Stop the braid when you are about ⅔ of the way to the end of your hair and secure with a hair tie. Repeat on the other side of your head.
Section the remaining hair in two and clip up on the side for now.
Braid one of the back sections as above. If you want to use a fancier braid such as fishtail or box braid, feel free to take it up a notch.
After that, braid the remaining section in the same way, using the braiding style of your choice.
Spray your braids with a medium hold hairspray and gently pull at your braids using a massage-type motion for a slightly messy look.
Part 2
Repeat this on all of the remaining braids.
Take one of the two back braids and drape it to the other side of your head, securing in place with hairpins. And do the same with the other back braid.
Next, take one of your front braids and drape it toward the back and across, securing with pins. Repeat with the 2nd front braid.
Again, piece out a few strands for a soft, slightly unkempt look. Secure with bobby pins.
Lastly, apply a strong finishing spray. If you wish, you can braid in some ribbons or beads or add a fun accessory to really make this style pop.
There you have it, a simple braided updo that will surely turn heads everywhere you go!
Messy Braided Low Bun
You probably think that a braided updo is next to impossible for owners of a short hair cut unless you get hair extensions. But today we gonna show you how to master a messy updo on your short or medium hair without any additional stuff in about ten minutes. The trick lies in making multiple braids.

Part 1
If you are a complete beginner in hairstyling, opt for regular braids. On the other hand, box braids or French braids will also do. The first thing you will need to do before it is to make waves so that your 'do won't look flat. If you have a thick hair type, you may skip this preparatory step.
One of the most important things in creating updos for medium length hair is adding texture to the hair. It will look polished and easier to deal with in this way. Make sure you spread the product evenly on all the length of your hair and roots.
Now we will need to separate hair into sections. Make a part you usually wear. Now divide the front part of your hair from the back right above your ear on both sides. Clip away the back part.
Part 2
Start making braids with your front parts, one on each side. You should braid not all the hair, but only two-thirds of the length and secure it with a hair elastic so that you have the end unbraided. As for the back part, separate it into two sections and make two braids.
The next step is pulling the braids in order to give them some volume and they won't look tight. Also, pull out some hair strands for a messy touch.
Now take one of the back braids and tuck it underneath the other. Secure it with one or two bobby pins. Do the same with the second braid. After this, you should take your front braids and tuck your unbraided ends into the back side. Don't forget about bobby pins.
For a final touch, you may pull the braids even more depending on the messiness of the look you are going for. Spritz some hairspray to make it last longer.
We hope you were inspired by this hair tutorial. Try to recreate it next time you are going out.
Different Variations Of Braided Updos
Accessorised Updos
Credit photo: instagram.com/Ulyana.aster
And there are so many ways how to accessorize such hairstyles. For example, weave a beautiful rope in the braid. It can be bright neon or floral or whichever you like. Anyway, it won't leave you unnoticed at any party.
Crown Braided Updos
Credit photo: instagram.com/Missy Sue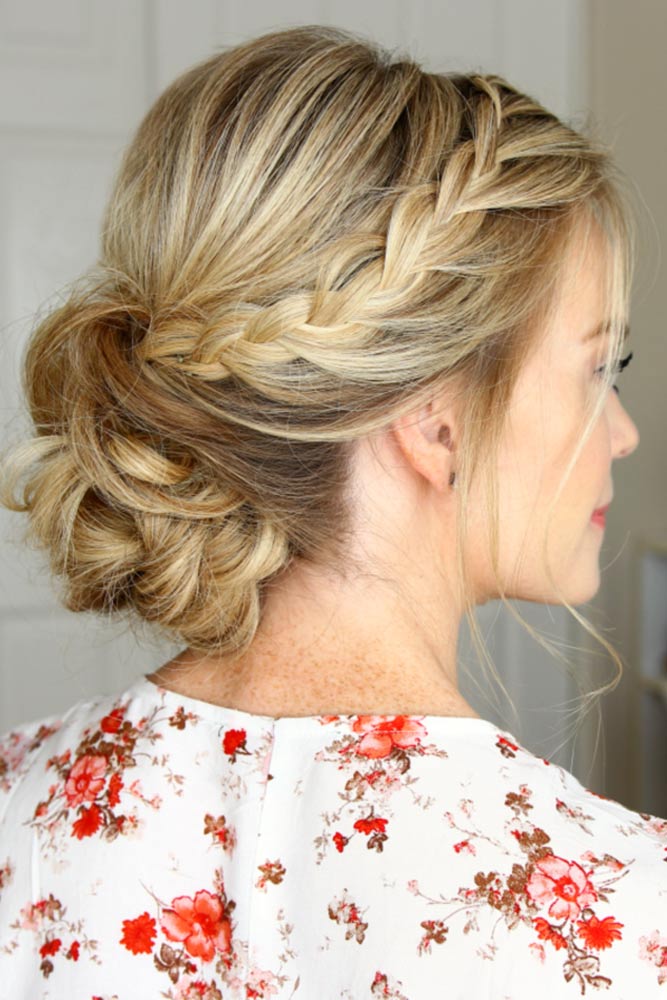 Credit photo: instagram.com/Tonyastylist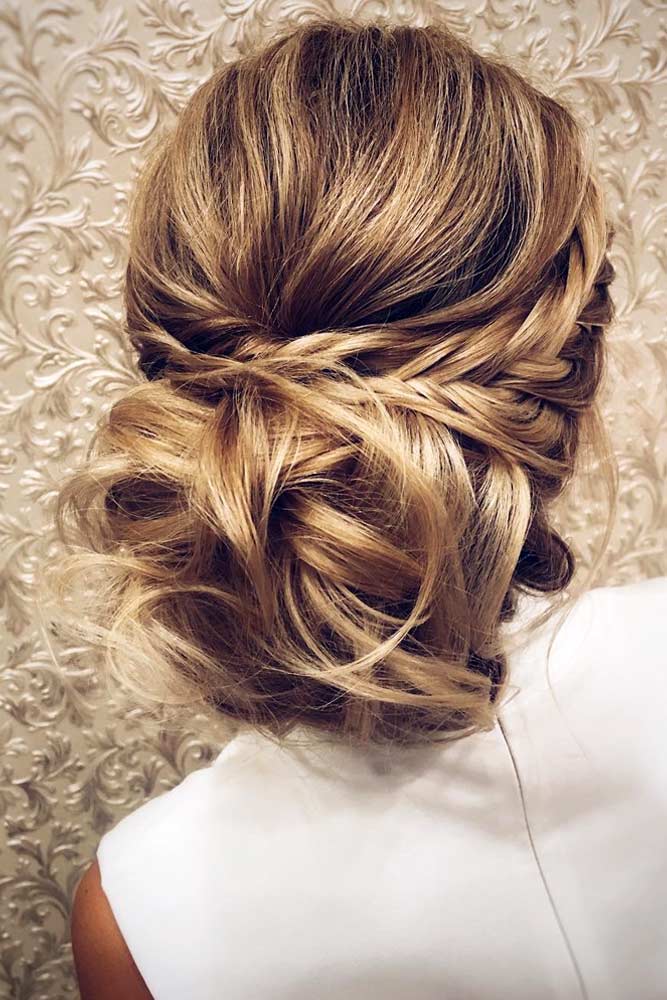 Credit photo: instagram.com/Elstilespb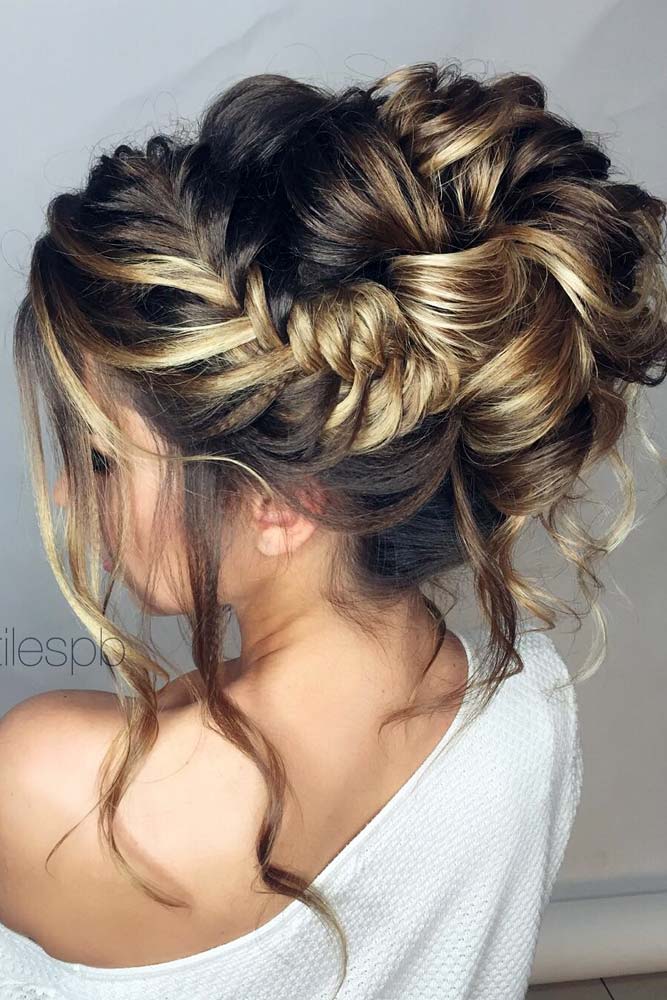 When you're short of time for creating multiple braids and turn them into a bun, you can go minimal. In fact, even a hint of a braided element is enough to take your updo to the next level. In this way, you can create an updo and simply finish it with a little side braid, saving some time and still looking getting a fabulous hairdo.
Cornrows Into Bun
Credit photo: instagram.com/lova_studio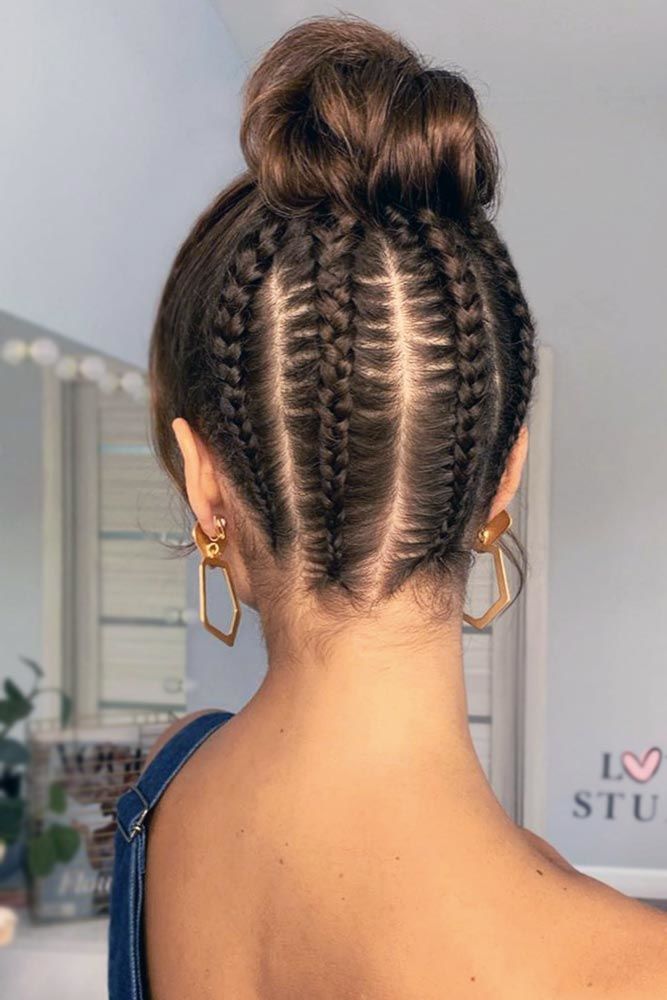 Though we usually see cornrows on natural-haired divas, it doesn't mean girls with regular textures can't pull it off! Moreover, the iconic natural braids have turned out to be a stunning complement to modern updos! These tightly braided, well-defined braids nicely accentuate the good old high bun, thus adding a lot of character to it! Besides, you can experiment with the placement, braiding the top, the sides or even the back.
FAQ: Braided Updos
Is a braid an updo?
A braided up ponytail is a perfect example of a beautiful updo that you can do with your natural hair to highlight your curls.
How long does a braided updo last?
With proper salon maintenance, knotless box braids can last 2,5 to 3 months.
A follow-up visit is recommended for those who wear knotless box braids more than 2 months.
How do you know when it's time to take your braids out?
It's time to take it out when your roots begin to separate from the braid as they grow. The newly grown hair twists and tangles since it clings to the braid.
REFERENCES: