There are plenty of classy and stylish updos for medium length hair, ranging from a casual, carefree updo for a girls night out or weekend away or a more sophisticated updo for a more formal event.
Medium length hair seems to be the preferred style this year. Not too short, not too long and you still have a great deal of versatility when it comes to hairstyle choices. Whether you want to wear your hair down or in a fancy updo, there are a lot of options.
If you are looking for some elegant hairstyles for medium length hair, check out our list of updos for medium length hair, along with a brief tutorial for each!
High Updos For Medium Length Hair
Although there's nothing easier than putting your hair up, there's nothing like a high updo for those who want to stand out. Such hairstyles can nicely accentuate your daily look, as well as be the highlight of your big day. For that reason, you should see how awesomely you can turn your mid-length locks into a fantastic updo today!
High Buns For Medium Hair
Credit photo: instagram.com/shalena_style_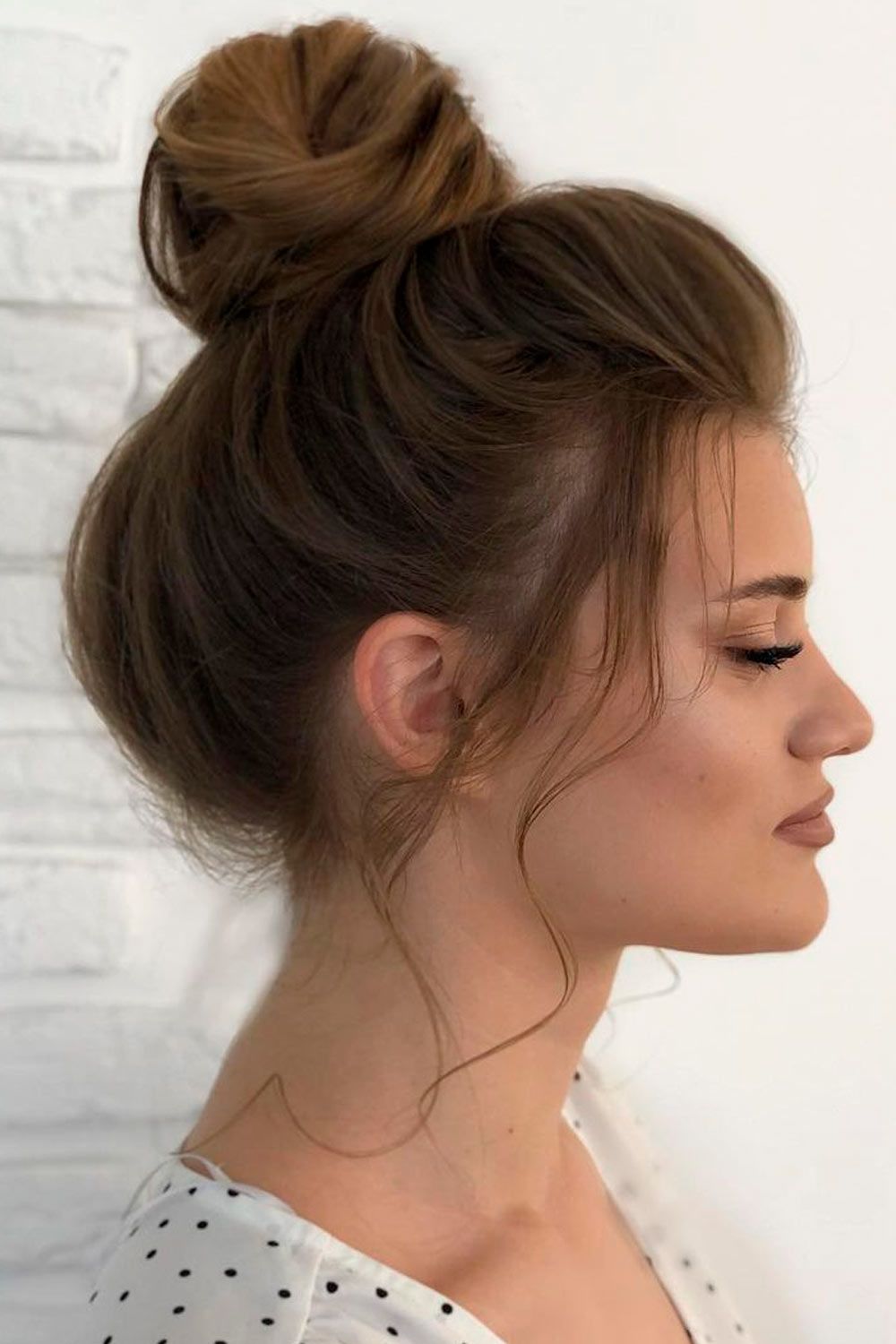 Credit photo: instagram.com/shalena_style_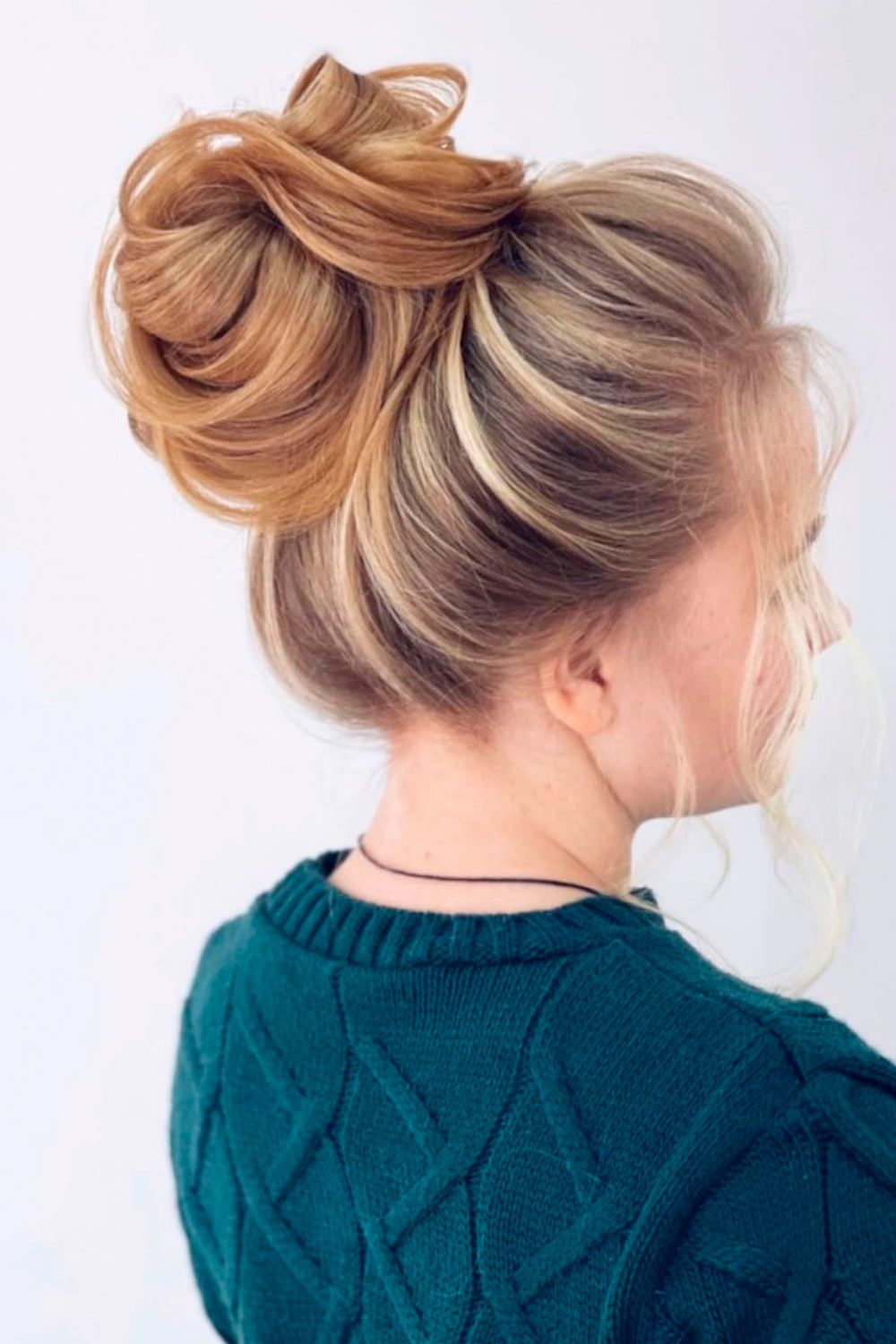 Updos are ideal hairstyles for special occasions. An updo allows you to show off your gorgeous hair as well as open your shoulders for a sexy effect. Thus, if you are seeking ideas for party hairstyles, look no further.
Credit photo: instagram.com/ira__muza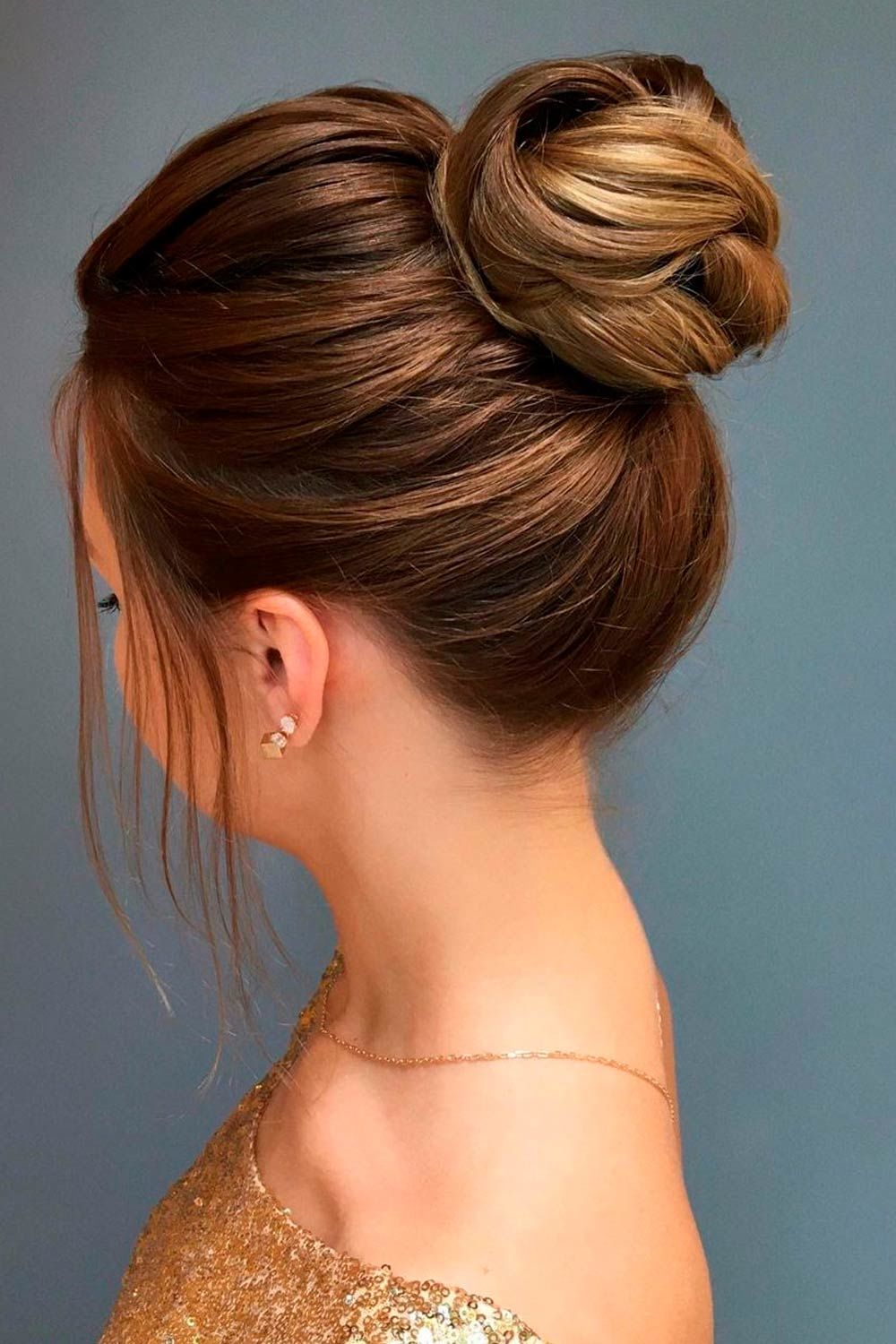 Girls love buns because they associate with femininity. And with ease, of course! So we recommend you not to pass by these hairdos for medium hair. They are quite minimalistic, yet very delicate at the same time, isn't that a nice way to embellish your casual look? There are so many cute things to do with your medium hair: it can be a bun with side-swept bangs and framing locks or a tight high bun accessorized with a stylish band. Also, you can combine your bun with pretty earrings to create a summer-inspired look.
High Twisted Bun With French Braid
Credit photo: instagram.com/rita_volzhanina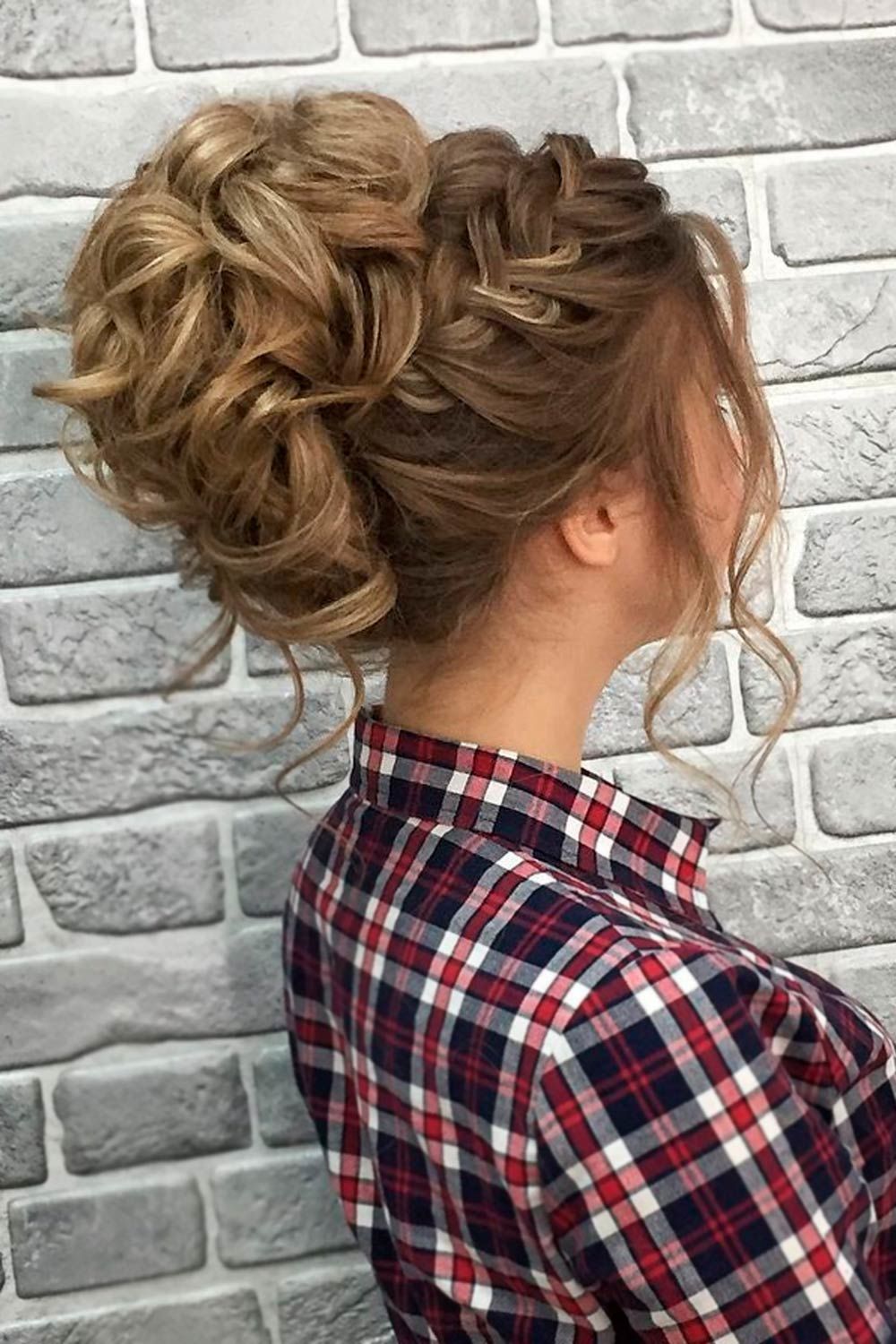 Just remember it once and for all: easy updos for medium length hair do exist! Of course, most updos are meant for long hair, but it doesn't mean that your shoulder length can't provide you with them. In fact, there are lots of updos for medium hair that you would like to try. How about a bit messy high bun? It doesn't look basic and that's what every woman needs for her daily look. Just twist your hair around your crown and secure it with some bobby pins. Girls with curly hair can have very lovely updos too: the messier the better, that's the rule. Your gorgeous curls will do the talking, so don't forget to leave some locks to frame your face. Some easy hair updos can be in handy for formal occasions: a twisted bun with braided elements on the top can create a flawless, neat evening look.
Ponytails For Medium Length Hair
Credit photo: instagram.com/presleypoe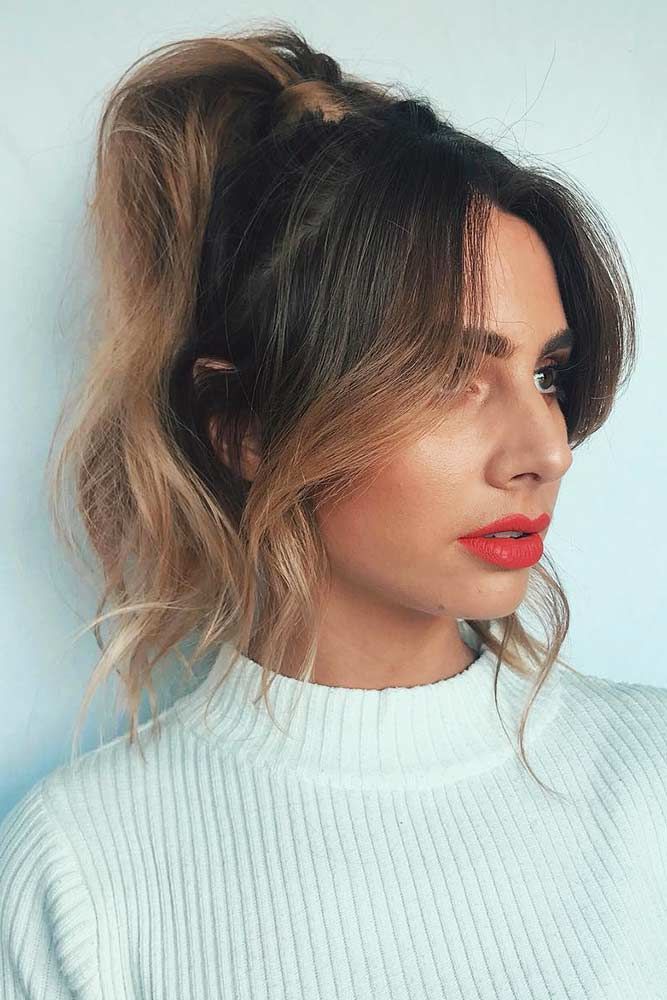 If you come across a hairstyle easier than ponytails, let us know! A ponytail is one of the best decisions among all the easy hairdos for medium hair. Simplicity is genius, and these pictures are proof: the ponytail with hidden band looks just gorgeous, especially with pastel rose hair color. The only thing you need is an elastic band. Gather your hair, tight it off with a band and take a small section of your hair to twist it around. Indeed, ponytails know how to reach success in time management. When you'd like to add something new to your ponytail, you can twist it a bit around the base and tight it like a bun right on the top. And, finally, here comes a ponytail for those who want to challenge themselves: high braided ponytails will take more time. But they will make your morning bright in turn.
Cascading Curls
Credit photo: instagram.com/alicia_wunderbar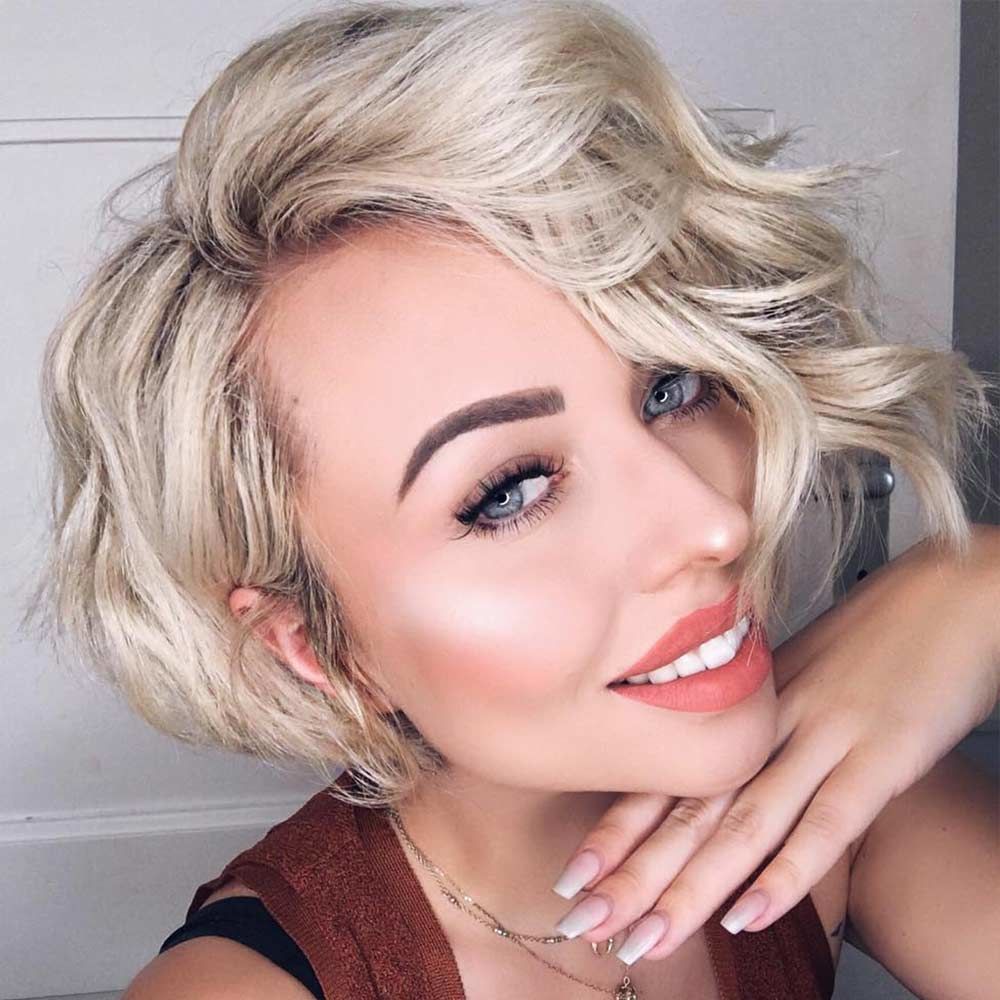 When looking for classy updos for medium length hair to pair with your luscious locks, try cascading curls. This style works great for formal occasions. The straight and sleek style is a great contrast for the gorgeous curls cascading on the top. It also works best for those with naturally curly hair. To achieve this look, blow dry your curls with a diffuser after applying a curling and styling products. Then, section out the topmost portion of your curls, and pin them off. Next, brush your hair up and over to one side, above the ear. Twist into a tight bun and secure with pins and ties. Use pins to create any style you wish with the curls in the bun, allowing a few strands to fall out if desired. Finally, remove the secured section and let those curls fall on top of your head, creating a flirty sexy look.
Low Updos For Medium Length Hair
Unlike high updos, low hairstyles appear more restrained and minimalistic. In fact, they're fantastic options for women who like to keep things simple but significant. At the same time, you can always add some textured detail with the help of braids, curls, and twists.
Soft, Low Curly Updo
Credit photo: instagram.com/Hairbymelb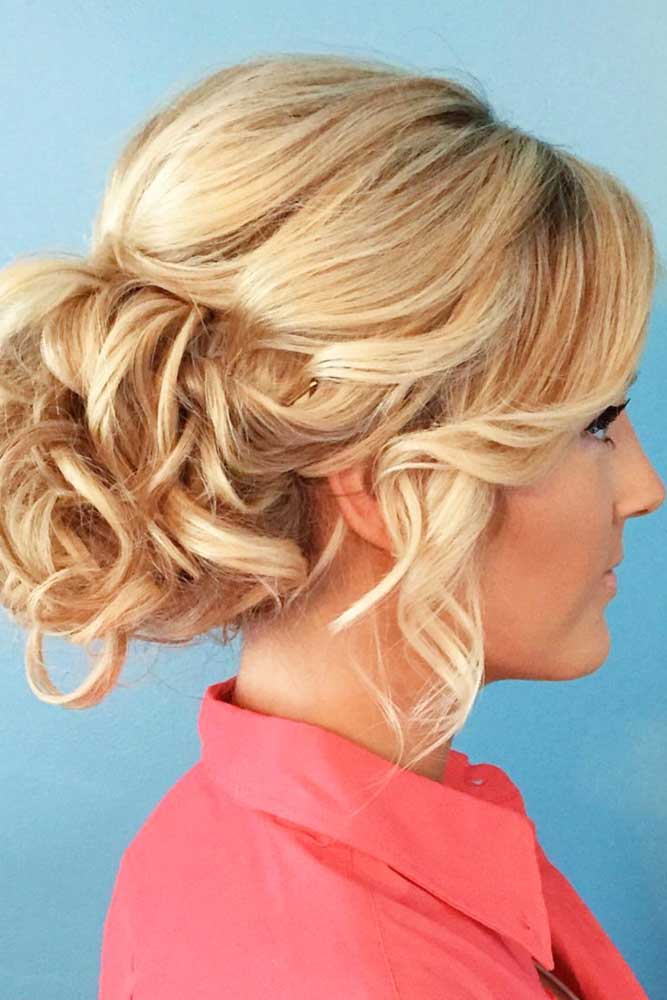 Credit photo: instagram.com/galvezhairdesign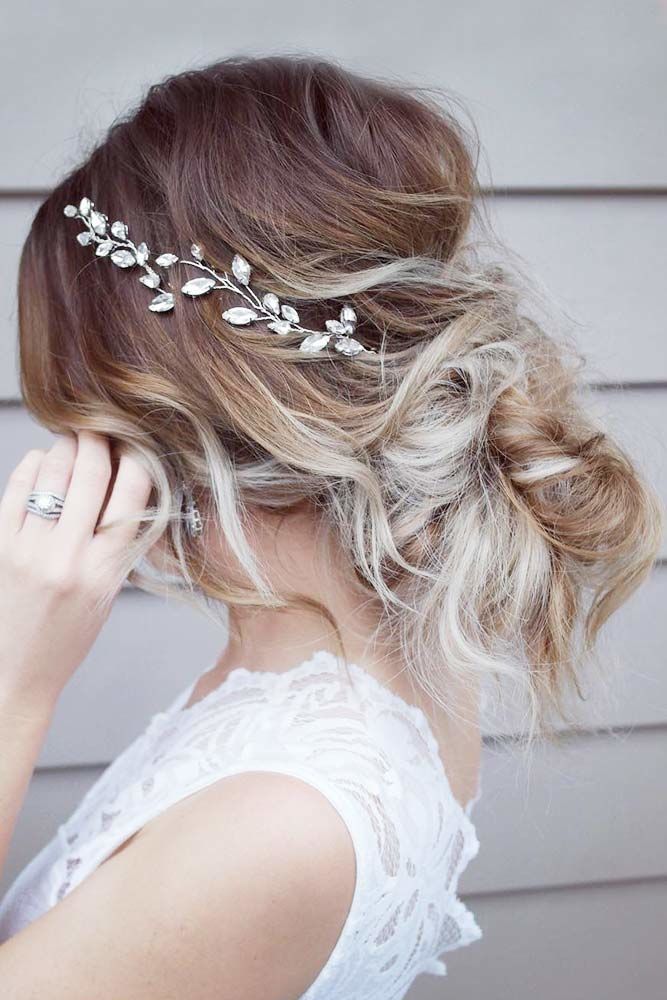 With soft, loose tendrils framing your face, this stylish updo is both unique and requires little time and effort. Start with a good curl defining product and scrunch your hair to create as many curls as you can. Then, using a diffuser, dry your curls into luscious, thick curls. Leave enough curls to gently frame your face and twist the remaining hair delicately into the back. Finally, secure it with bobby pins or a clip and see the gorgeous updo in the mirror!
Elegant Low Twist
Credit photo:instagram.com/lis_hairstyles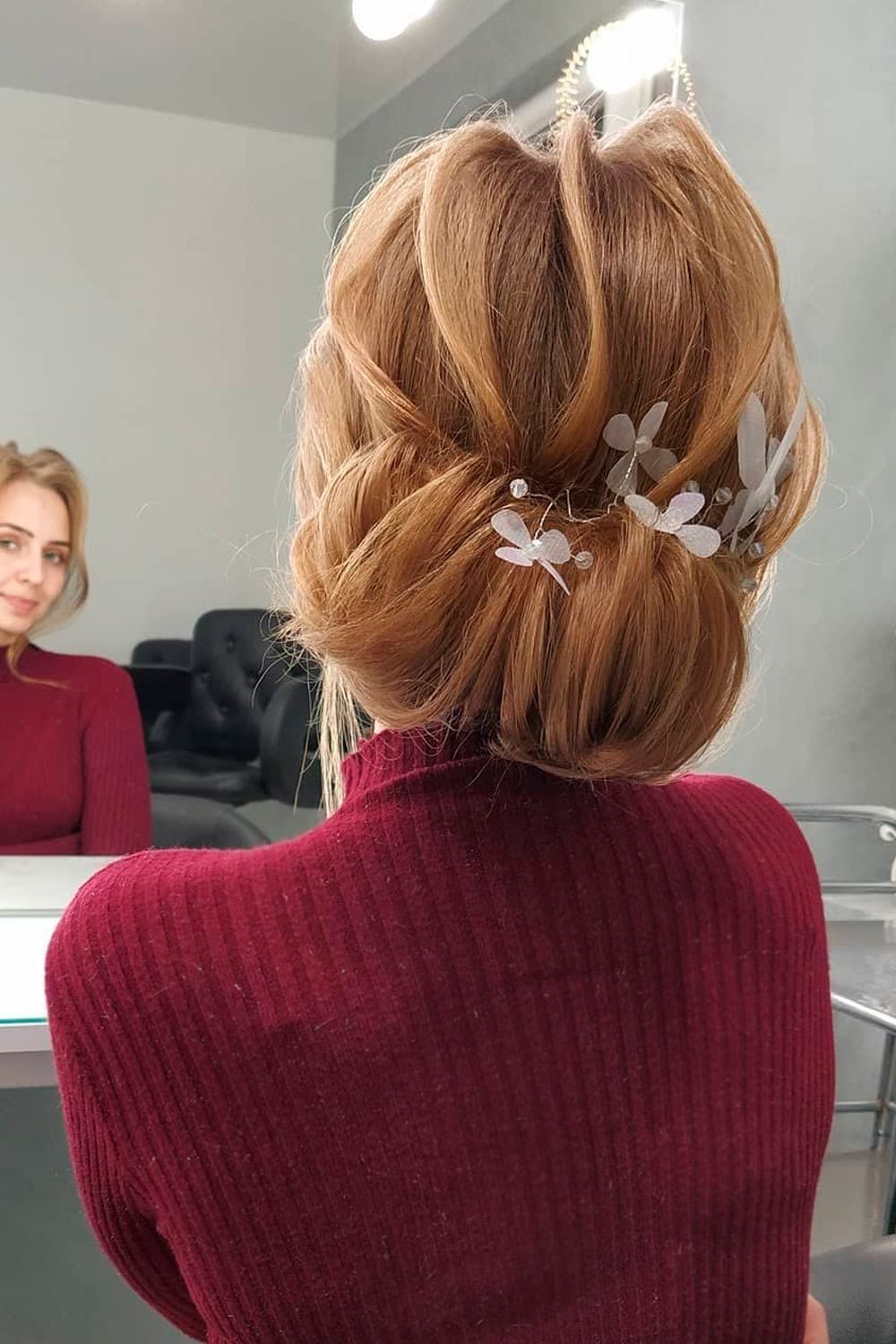 This sleek bun works great for an evening out or special event as it is extremely stylish and sophisticated. First, apply a texture product to your hair, and make a side part. From both sides, take a section of hair from near the temple and secure with a hair clip. Then, where it is parted, twist a section of hair. Then pick up another section from the same spot, near your hairline and twist it once with the first. Do the same with the remaining hair working toward the back, leaving the hair on the temple out. Once all of your hair is twisted back, secure it tightly with elastic. Repeat with the other side until the two sections meet. Then remove the twist from the first, secure both twists together and then tie with the hair tie, rolling the twists into a bun and securing with bobby pins.
Low Twisted Buns
Credit photo: instagram.com/presleypoe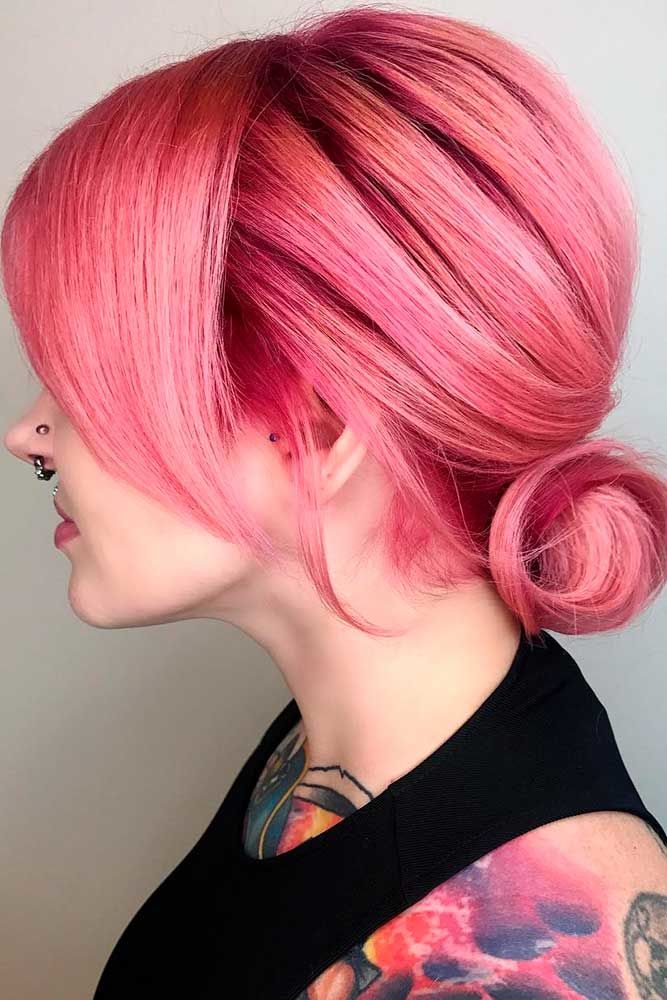 Next, gather your hair into a high ponytail and make it a bit loose. After that, take its length and encircle the base with it. An elastic will help you to secure this pretty bun, and you'll be ready to go. If you want to wear a more voluminous hairstyle, try a volumized wavy twisted bun with a fringe. Besides being really cute, this hairstyle seems so easy-going. It would be ideal for a romantic date.
Side Trendy Updos
Credit photo: instagram.com/shalena_style_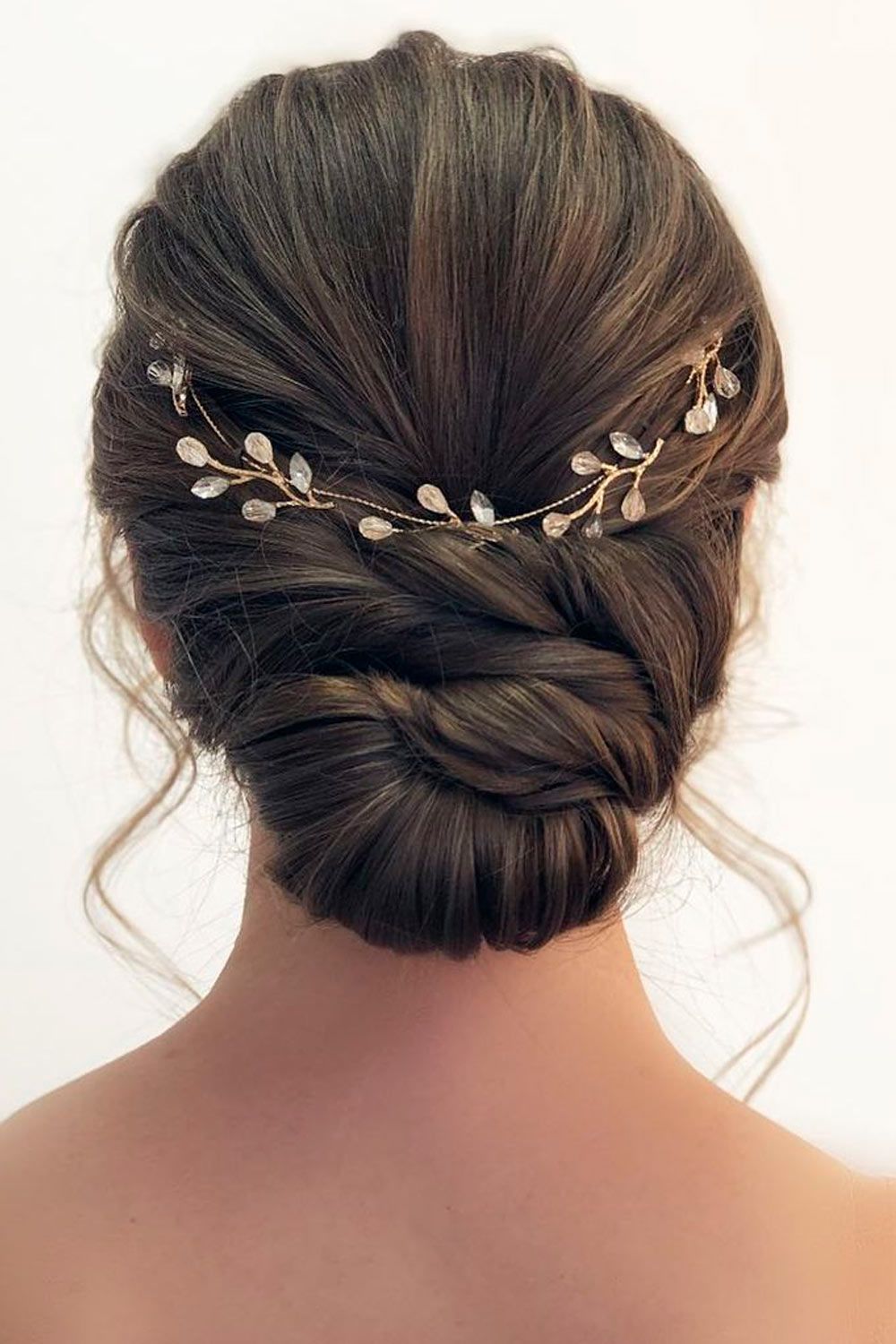 French twists are extremely versatile. But the key point is that they look perfect no matter sleek or messy. What is more, a slightly messy twist with the decoration looks super sleek!
Low Updos With Accessories
Credit photo: instagram.com/clynecohair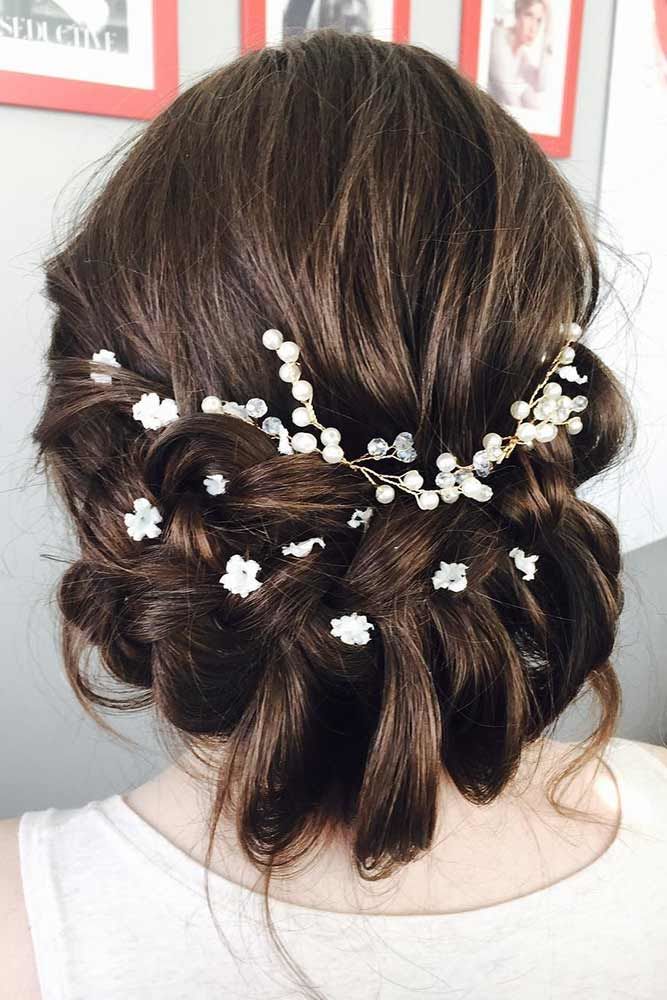 Embellish your low updo with some elegant accessories for an image that is romantic and sophisticated. Some tiny little pearls, for example, will work wonders finishing your hairstyle with a touch of pure femininity.
Hawk Into Low Bun For Medium Length Hair
Special occasions are a good opportunity to be noticed. So let's talk about formal hairdos for medium hair. When you want to emphasize all your charming beauty, it's better to open your face: be ready to face the compliments from people. Though these hawk hairstyles don't seem to be easy, they are anything but complicated. Everyone will wonder how such a busy woman finds the time to look that perfect. And there's no need to tell them the secrets of quick and wonderful hairstyles! All you need to do for messy faux hawk updos is to take a small section of your hair on each side and secure it with a band. Then just split your hair above the band, create a ponytail and pull it through. These steps are base for you to start, you can finish this hairstyle in any way you want: delight your imagination.
Half Updos For Medium Length Hair
When you want to wear a flirty, romantic hairdo while still showing off the beauty of your loose hair, half-ups come in. Besides, such hairstyles are even simpler than updos. And last but not least, they are extremely trendy this year!
Half Up/Half Down
Credit photo: instagram.com/ira__muza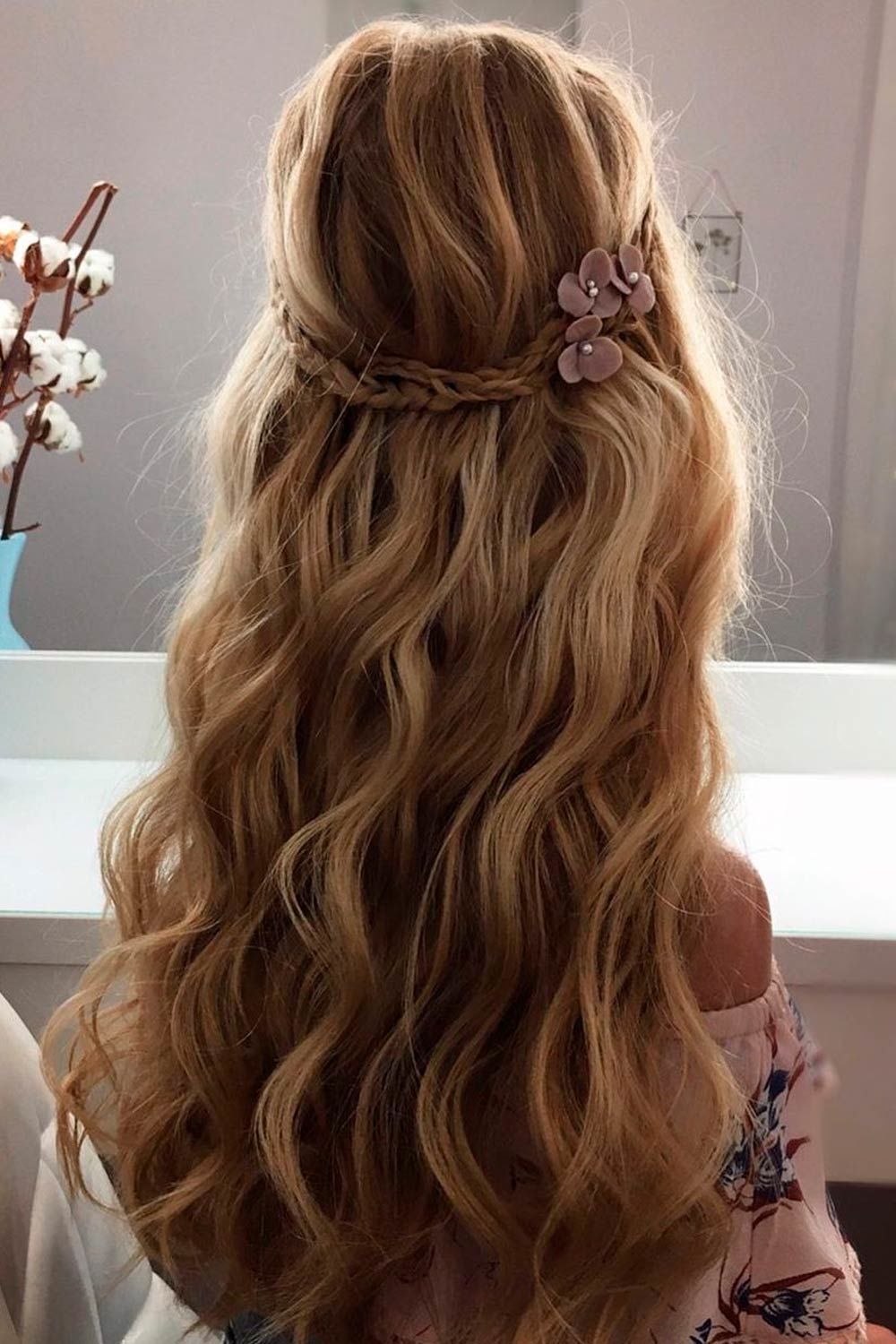 This sexy updo works great and can be worn for a number of occasions, such as a formal business meeting or a special date night. To style, start with curled hair (this, of course, is a plus for those with natural curls or waves) and take a horizontal section from one side and twist it to the back of your head. Then take another horizontal section from below the first and do the same, knotting both sections together with a hair pin. Repeat until the entire side is pulled back and set with a strong hold finishing spray.
Retro Rocker Chick
Credit photo: instagram.com/maria_dorenskaya_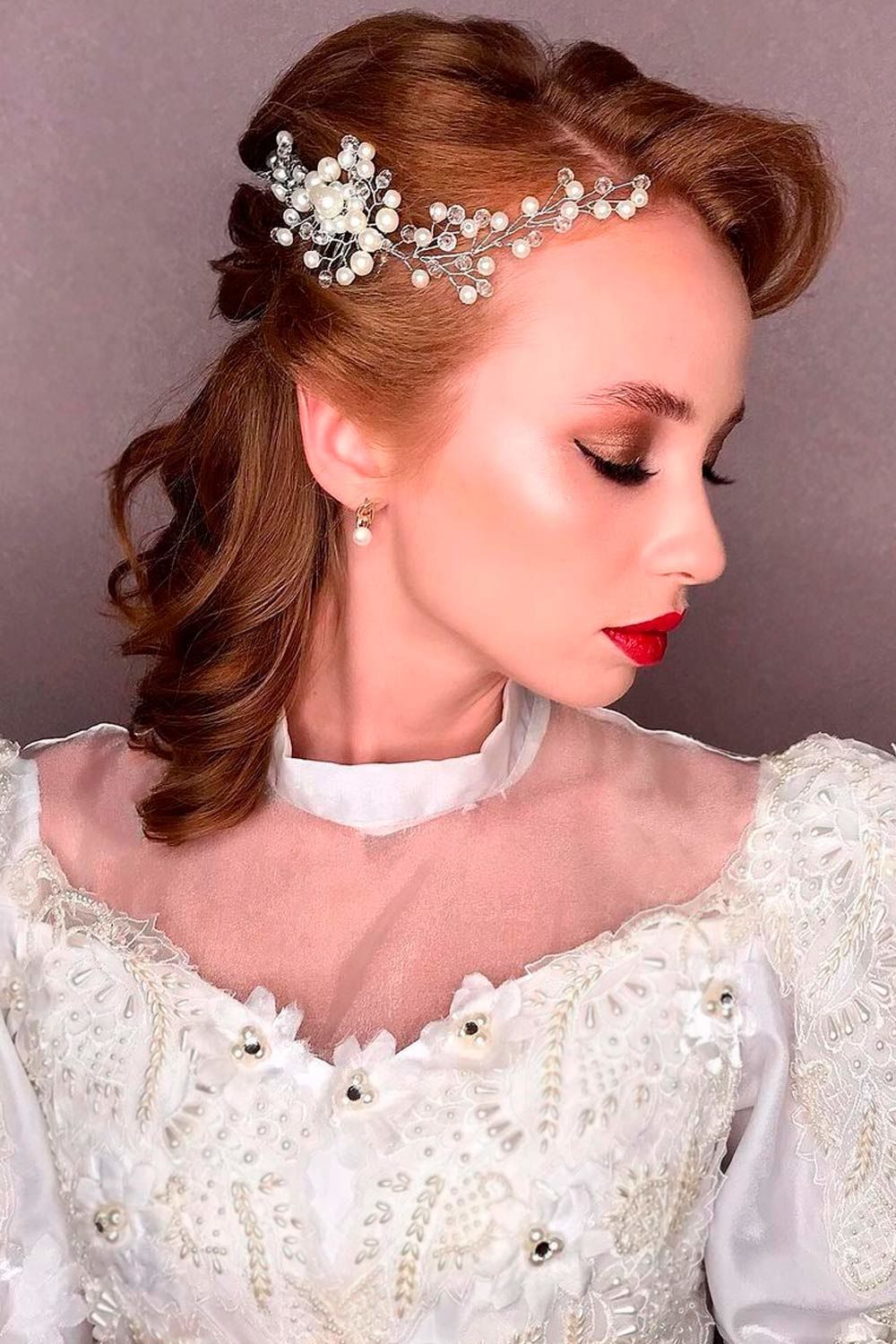 The dramatic hair roll with coiled bangs and curly, slicked back ponytail is retro chic, as well as classy and elegant for an air of old-fashioned sophistication that works great for a formal event. Using a comb, section out a large triangular section for the roll and secure briefly with a hair clip. Next, tightly pull the rest of your hair into a medium height super slick ponytail and tie with a hair band. Remove the section you first secured with a clip and tease it from the base, then lift it, rolling it into a downward spiral. Secure the roll with a bobby pin and much hairspray. Then make loose curly waves in the ponytail.
Half-Up Half-Down For Medium Length Hair
Credit photo: instagram.com/presleypoe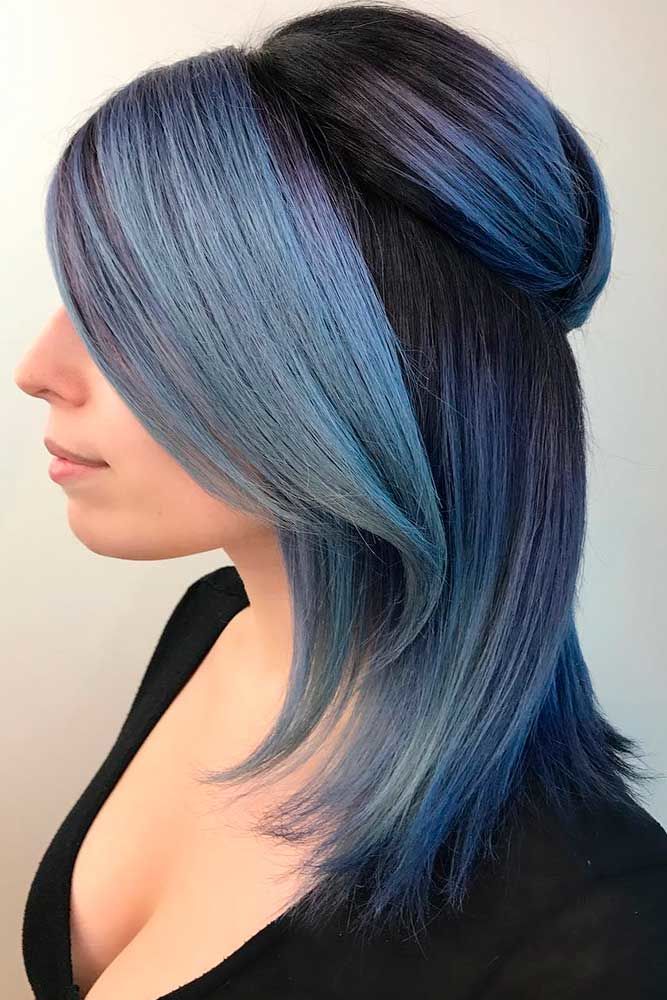 Credit photo: instagram.com/kimberlynicolehair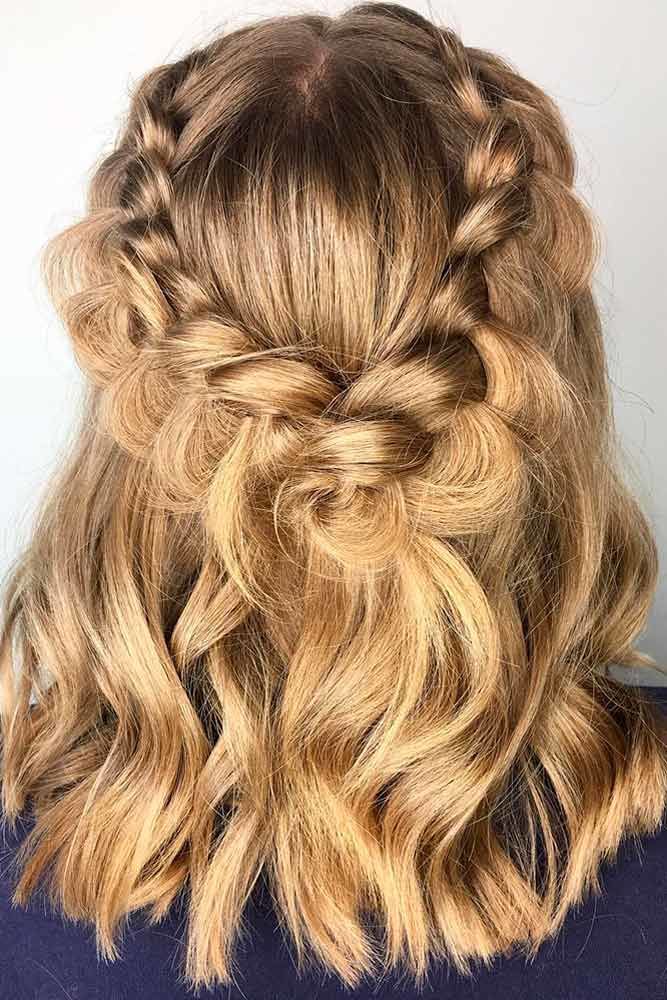 Half-up half-downs were made for those who want to both show off their beautiful hair and create a neat look. And if you are looking for some easy hairdos for medium hair can provide, half-up half-downs is the right choice. To understand what we are talking about, follow this scheme: wake up, brush your hair, braid the top section of the hair and..enjoy! The hairstyles you see above literally take seconds to get them done. And if your hair is as colorful as the hair of these girls, you're the luckiest person in the world: you don't need to get yourself a complicated hairstyle, as your beautiful hair color knows how to attract attention without any help. These ideas just leave you no choice but to look amazing every single morning.
Top Knots For Medium Hair Length
Top knots are something that every woman tried in her life, but let's be honest, we usually do them when we are too lazy to do something with hair and have to leave home immediately. Let's take the best out of this girly habit instead! A top knot can be actually a very stylish addition to your look, you just have to do that neatly so as not to look as if you've just woken up. This hairdo gets on well with any hair color, look at these photos: such amazing pastel colors make the top knots look as stunning as never before. How about good-looking soft blue or purple hair? There's no need to teach you how to do a top knot, it's just in every girl's genes. But here is a little tip for you: bangs and top knots form the best duo ever.
Braided Hairstyles
Credit photo: instagram.com/kimberlynicolehair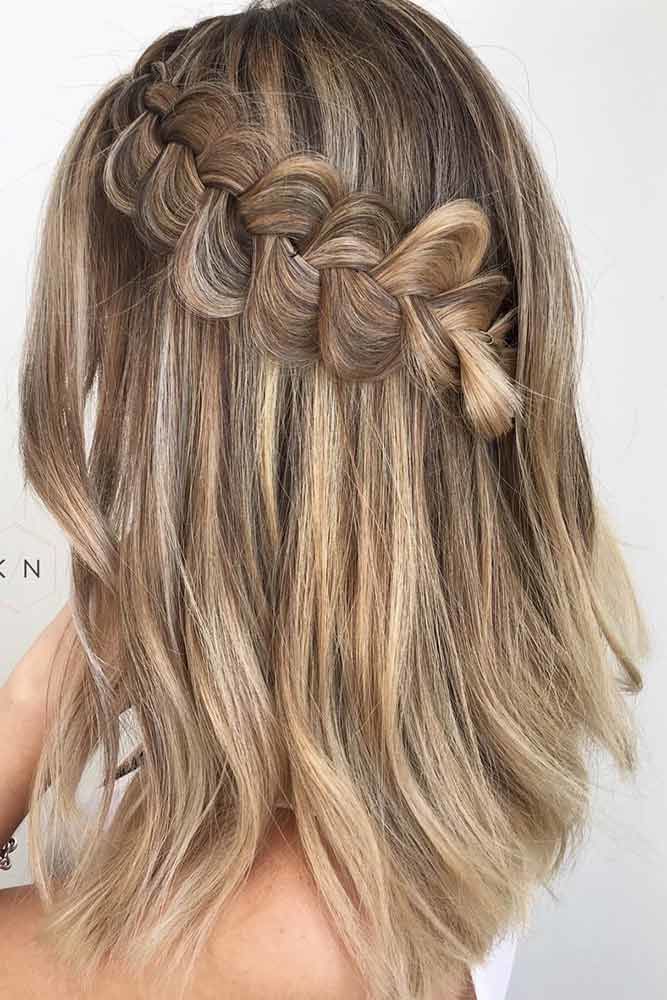 Girls have loved doing braids since the very childhood till now. And there's nothing surprising about that, as braids will never go out of style. And even though your hair isn't too long, you still can adorn your hair with many variations of cute braided hairdos for medium hair. How about you to see in the mirror a beautiful side-swept fishtail braid? Believe it or not, but a new haircut can add some freshness to your busy morning: it's so important to feel beautiful. If you want to keep your face open, look at these pics: the combination of buns and braids around your hair is something breathtaking. It may appear to be not as easy as a simple braid, but this hairstyle is really worth spending some more time. Give these hairstyles a try and you will be amazed: you will master them in a couple of days.
Braided Updos For Medium Length Hair
Once you add a braid to your hairstyle, you won't ever need any embellishments. Even though some braids take time to master, there's no better way to beautify your hairdo! Below, you're going to see the most creative and feminine ideas to pair braids with updo hairstyles.
Double Braided Updo
Credit photo: instagram.com/pricheskivpushkino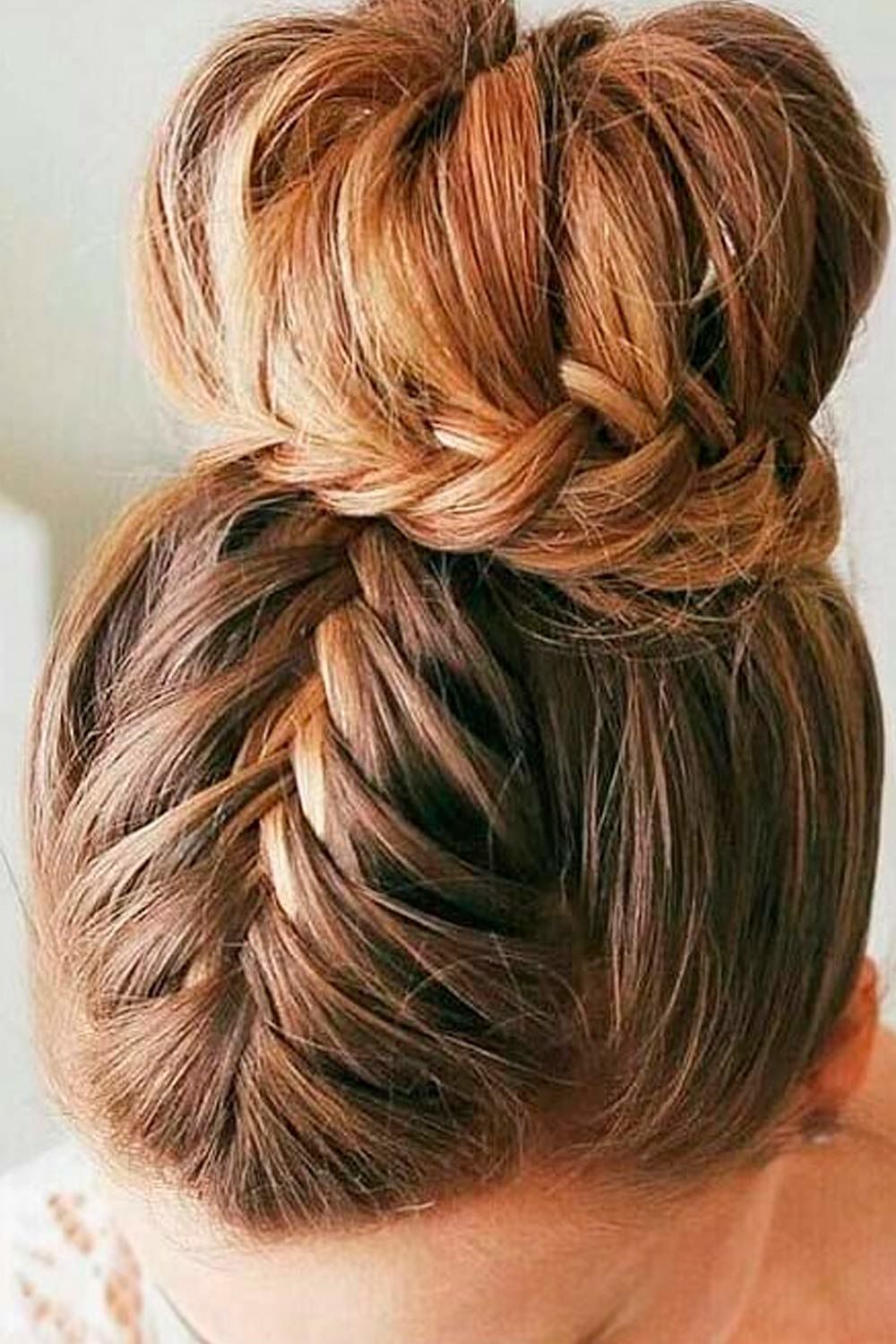 Featuring two elegant braids, the French braid, and the Dutch Braid, the style is great for a formal event such as wedding or prom. To start, section out the bangs and a few pieces of finer hair in the front, then apply a good texture product through your entire head. Next, take a horizontal section above the occipital bone from temple to temple. Then start on one side and make a French braid that goes to the other side. But only use hair from that same side for the braid. Do the same in the opposite direction but make a Dutch braid instead. Then hide the ends of both braids by tucking and securing them with a hairpin. Curl any remaining tresses with a curling iron into sexy loose curls.
Braided Updos For Medium Length Hair
Credit photo: instagram.com/samirasjewelry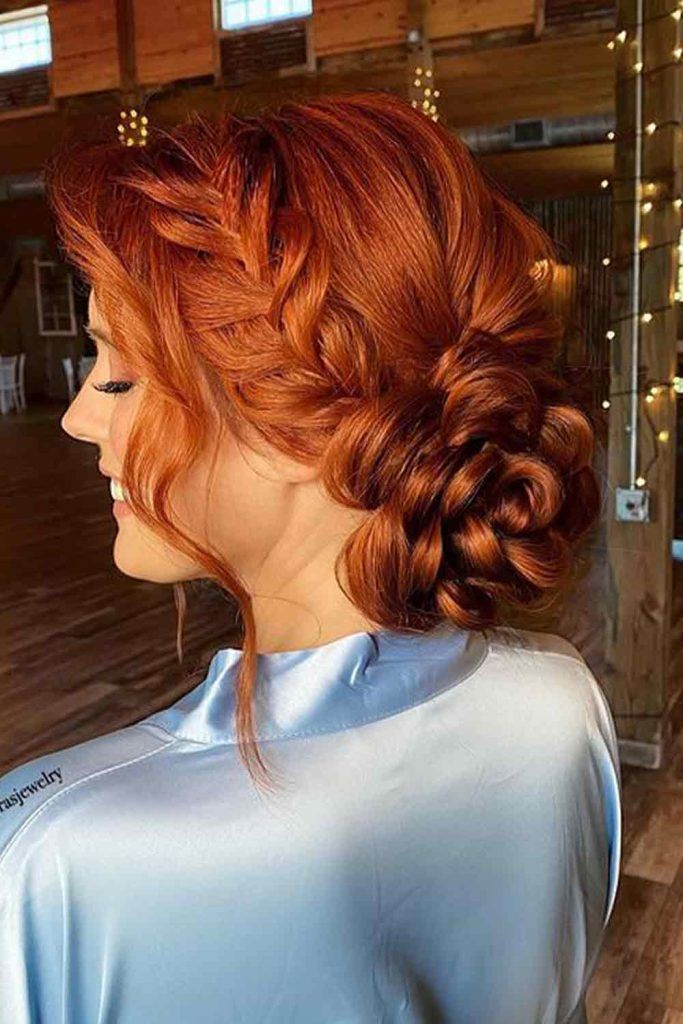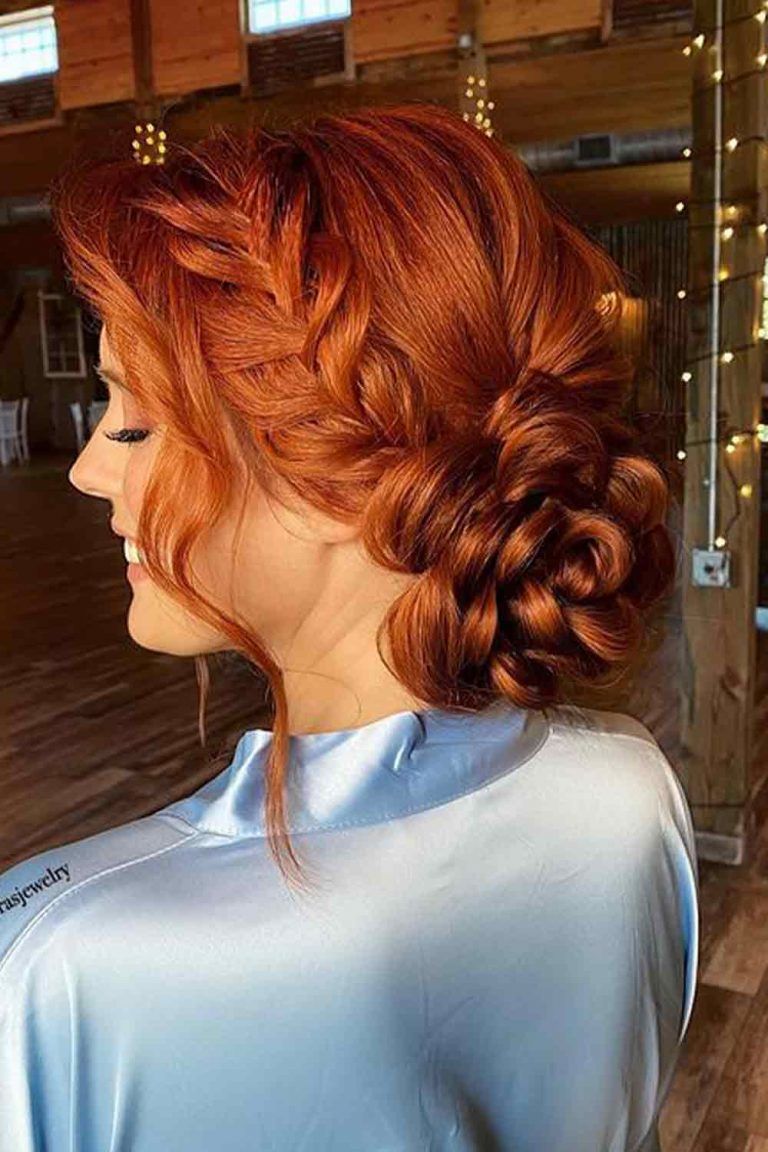 Braided updos for medium length hair look super cool and feminine. For example, a braided crown that involves French braids is quite trendy this season. However, if you do not like French braids, you can pull it off with any braids you wish, even with regular ones. Divide your hair into 2 pigtails, and let them be low. Braid both tresses and then secure them with hair elastics. Pull the braids up in different directions over the head and secure them with bobby pins – that is what they call a boho chic.
Crown Braided Updos For Medium Hair
Credit photo: instagram.com/ellen_orlovskay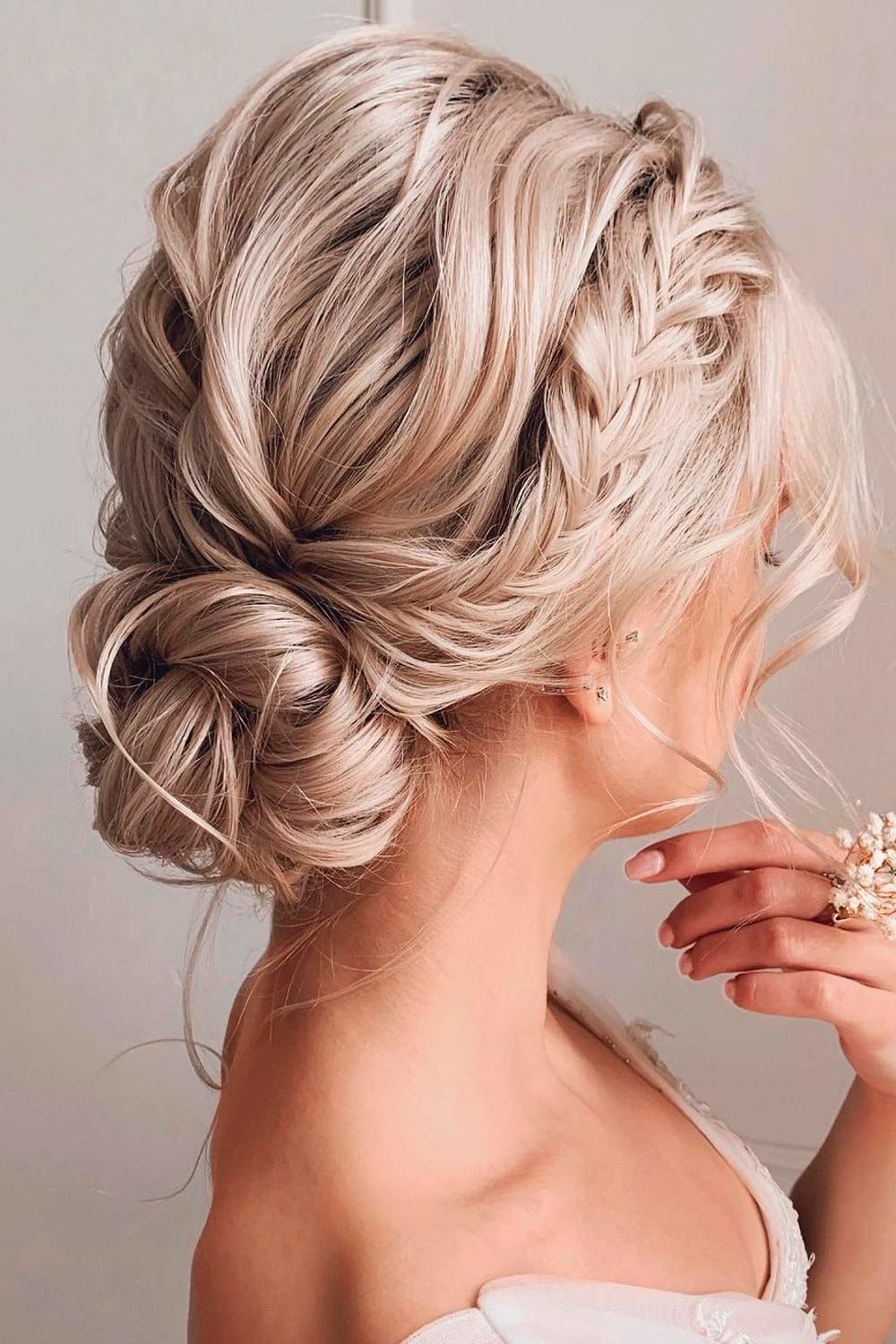 There are easier hair updos that can be done in less than ten minutes, and more intricate styles that require more time, skills, and accessories. The former are great for every day.
Try French Braids For That Special Day
Credit photo: instagram.com/Blondiechicblog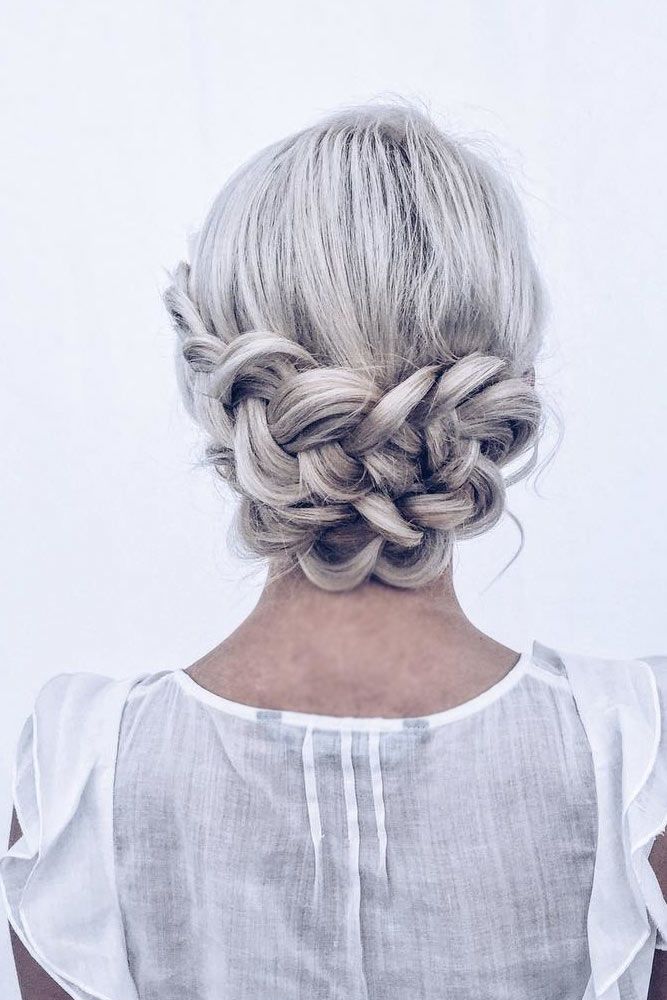 To create one, part your hair to the side of your preference. Let the part be a beginning point and continue on with creating a French braid. Braid until two to three inches are left to reach the upper part of your ear.
Beautiful Messy Updos With Side Braids
Credit photo: instagram.com/emilylynnandcompany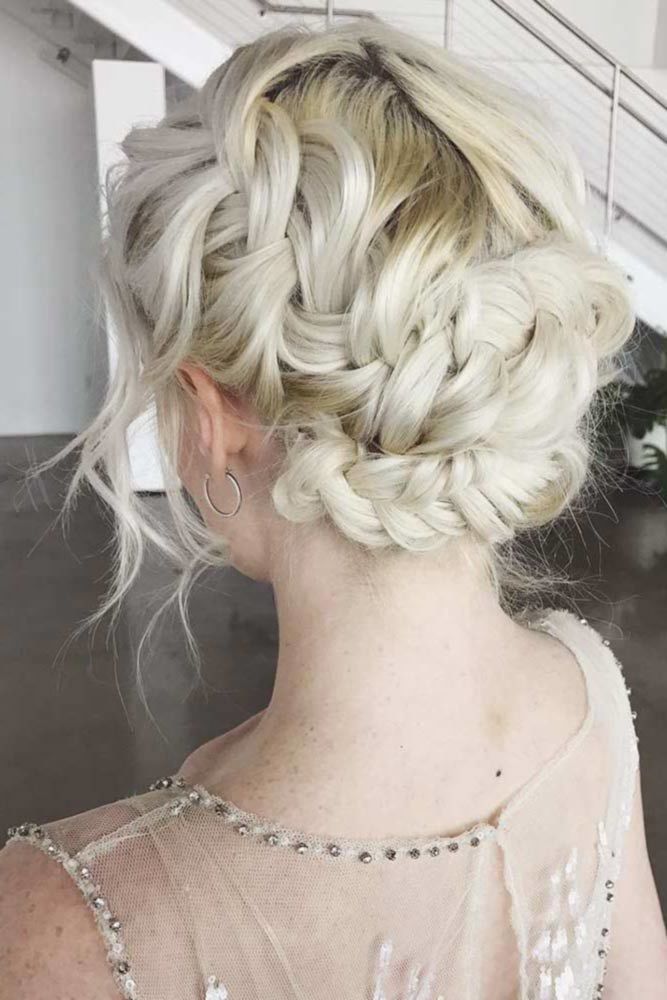 When you mix messy side braids with a messy low bun, something extraordinary will come out. But add up an icy blonde hair color, and it will look ethereal and fabulous!
FAQ: Updos For Medium Length Hair
What is a updos hairstyle?
Cute updos are a fantastic hairstyle option that may be worn with short, medium or long hair.
For special occasions, such as wedding hair updos or prom updos, fancy side buns, curly and braided hairstyles with the lifted up part are perfect choices. Updos look stunning on women of all hair types and lengths.
What is the best hair length for updos?
Make sure your hair is shoulder length or longer. If it isn't, using temporary extensions will be your best option. They are simple to pin into the updo and are available in a wide range of hues that will complement your hair nicely.
How do you style medium length wavy hair without heat?
Make a sloppy bun with dry or damp hair.
As needed, fix it with a hair tie and hair pins.
Allow your hair to air dry before removing the bun and the waves.
Finish your hairstyle with a spritz of hairspray.
REFERENCES:
Medium length hair can be styled in so many different ways. Click here to see our easiest styles to try out for yourself. Source
Create these versatile hairstyles and updos with your medium or mid length haircut. Source
Was this article helpful?