A Fishtail Braid Is Your Simple Chance To Look Unique
A fishtail braid is something that comes in handy when you decide to broaden the list of your everyday looks. Yet, you should be aware of the fact that this is not a simple type of braid, even though it is easy to master, it is incredibly versatile. Once you master the art of a fishtail creation, there will be nothing else you are incapable of recreating.
Well, in a nutshell, a fishtail is already different from all the regular braids since it only needs two strands to be created, not three or more like the others. You just need to take a piece of your hair from one strand and pass it to the other, repeat until it is done. As simple as that, and to give you some more ideas, we invite you to our gallery!
Hairstyles With Fishtail Braid Crown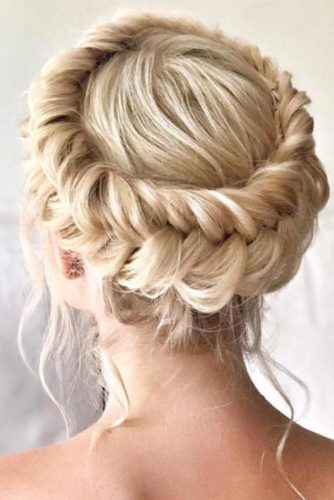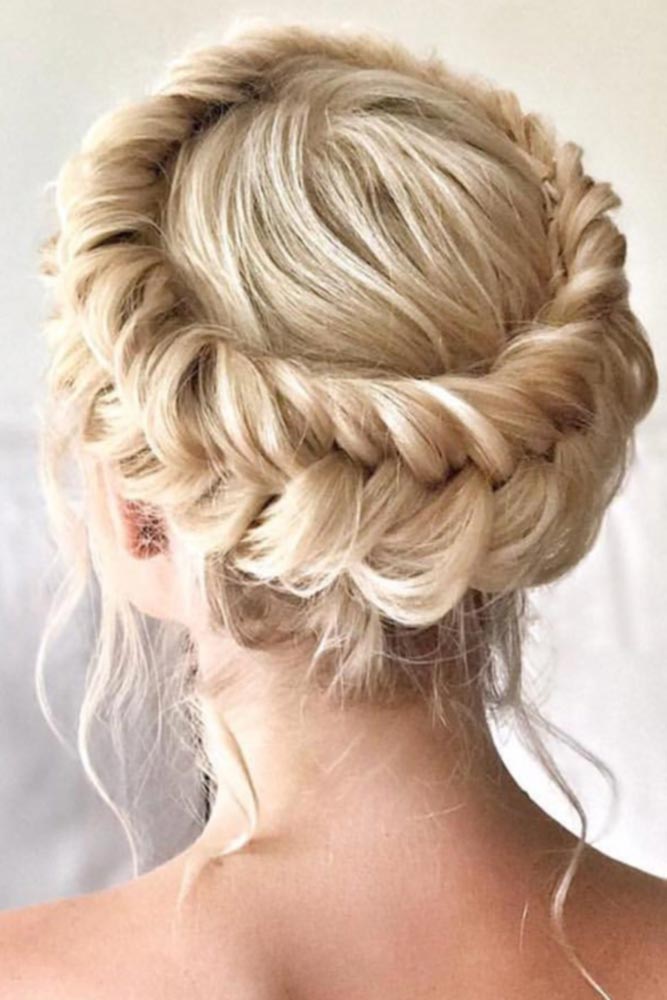 Source: thebraidsfactory via Instagram
Among all braided hairstyles, fishtail braids look extraordinarily sweet when they form a braided crown over your head. The thing is that it is up to you to decide whether it is sleek or messy. But one thing remains – your new hair color won't go unnoticed!
Ponytail Braided Hairstyles
Source: missysueblog via Instagram
There is nothing wrong with being unable to make up your mind – a braid or a ponytail. Incorporate a nice fishtail-looking Mohawk into a low pony and bring the end to your suffering as well as bring admiration into the eyes of those who dare looking at you!
Half Up Fishtail Braid Hairstyles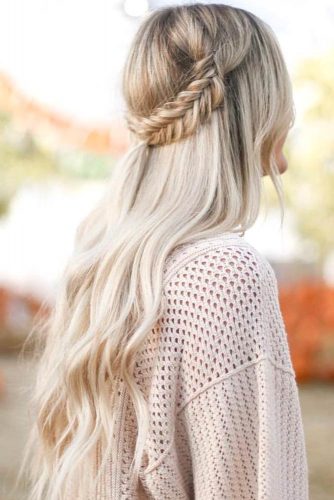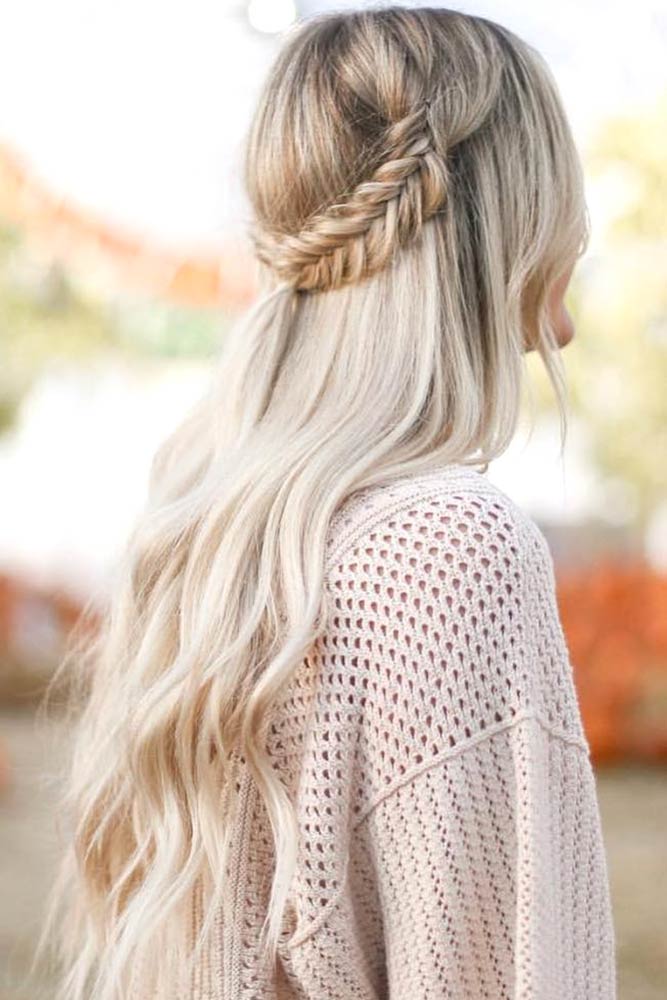 Source: andiebbryce via Instagram
Half up braids hairstyles always look sweet and feminine. If you are heading for a romantic dinner, that is all you need. Add up a nice decorative element to your charming fishtail, and there is no way he will be able to resist that feminine power and radiant beauty of yours!
Double Fishtail Braids Hairstyles
Source: braidsbyjordan via Instagram
Double your fish tail braid, and the outcome will be mind-blowing! Especially if there is enough of time at your disposal and you can let these two voluminous beauties of braids be as elegant at the same time!
Updo Fishtail Braids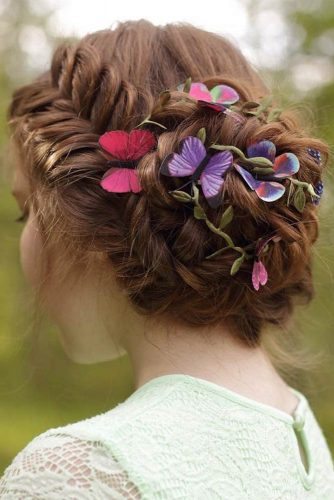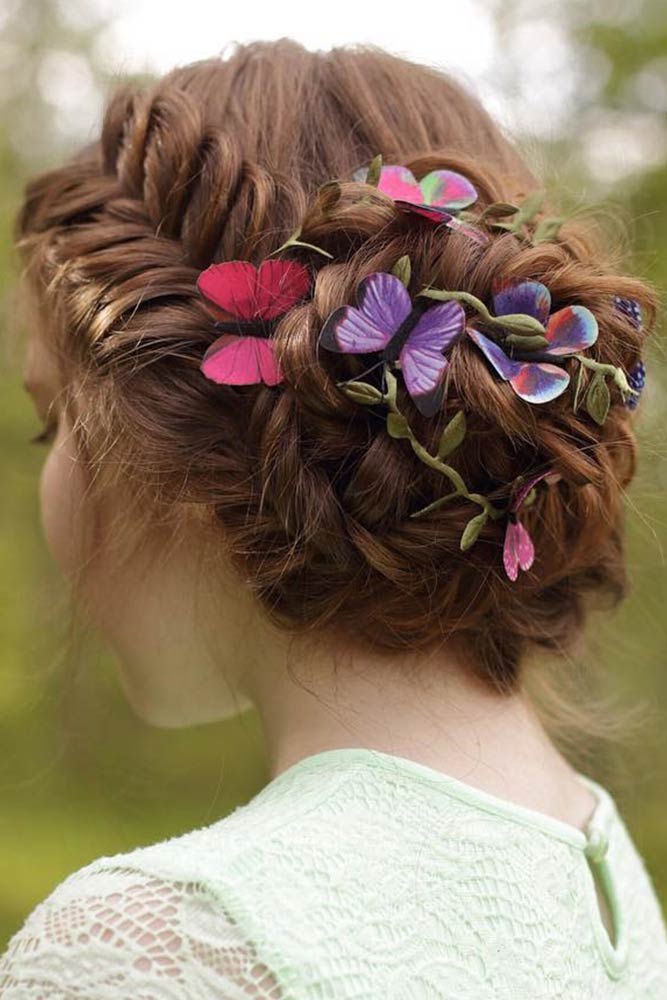 Source: aurorabraids via Instagram
There are times when an elegant updo is all that you need. In that case, there will be nothing more suitable than the introduction of a fishtail braided twisted low bun. To make everyone drool just from one look at your 'do, add a nice decorative element to it!
Ponytail With The Voluminous Braid
Source: n.starck via Instagram
This hairstyle is ideal for an evening out with your girlfriends. And, depending on your mood, you can easily switch from a low bun to a ponytail, coming from the voluminous braid.
Stretched And Gathered
Source: emilyrosehannon via Instagram
To accomplish this stylish look, simply make a fishbone braid out of two smaller side-sections of your hair. Pull at the braid at various lengths to vary the tightness for a fancier look and feel of an otherwise common braided style. This style is especially stunning on those with ombre hair tones.
Side Braid
Source: missy Sue
If you have longer hair, a side braid is both a fashionable and convenient option. However, it has gotten the reputation as being childish. On the contrary, a side braid can be extremely stylish. This style is appropriate for any occasion with its intricate design and glamorous appeal.
Twisted And Crowned Braids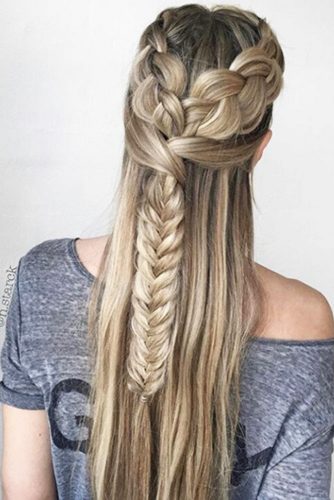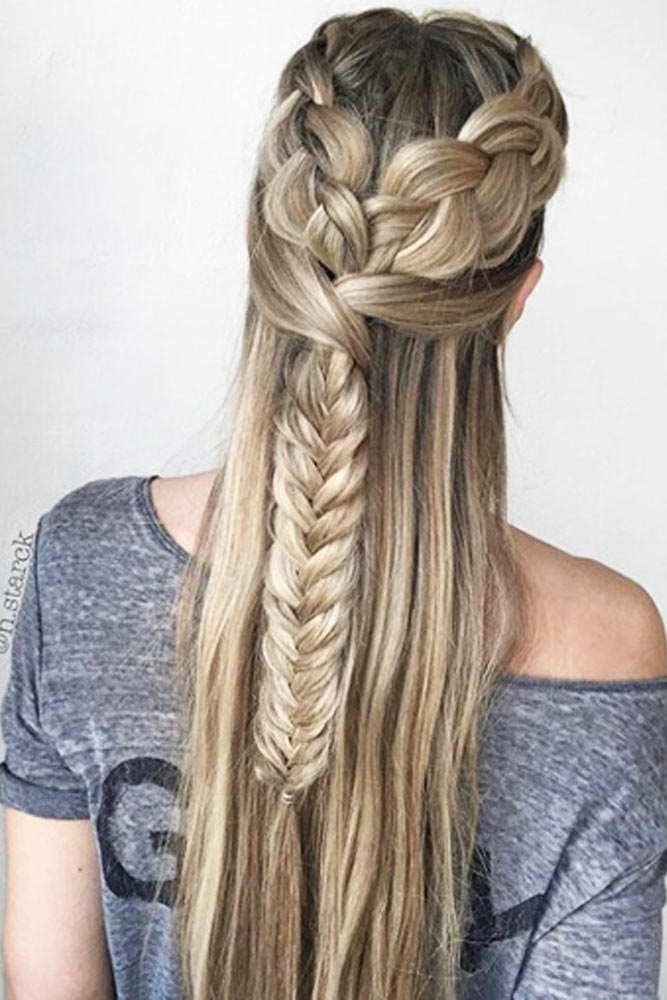 Source: amberfillerup via Instagram
Simple braids can be quite sophisticated and they can easily transition from a day at work to an evening out. And the best advantage of this pulled-back style is that it doesn't require any bobby pins to keep it in place.
Mile Long Braid
Source: emilyrosehannon via Instagram
If you have exceptionally long hair you can totally rock a fishbone braid. This glamorous French/Fishbone fusion is casual enough to wear every day but also elegant enough for formal occasions.
Fishbone Pigtails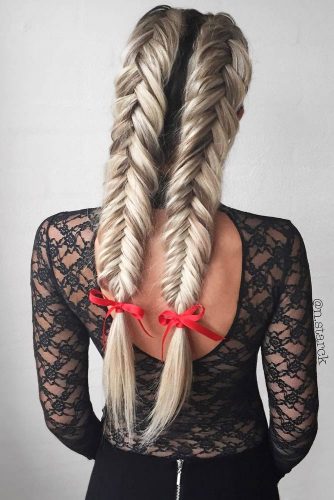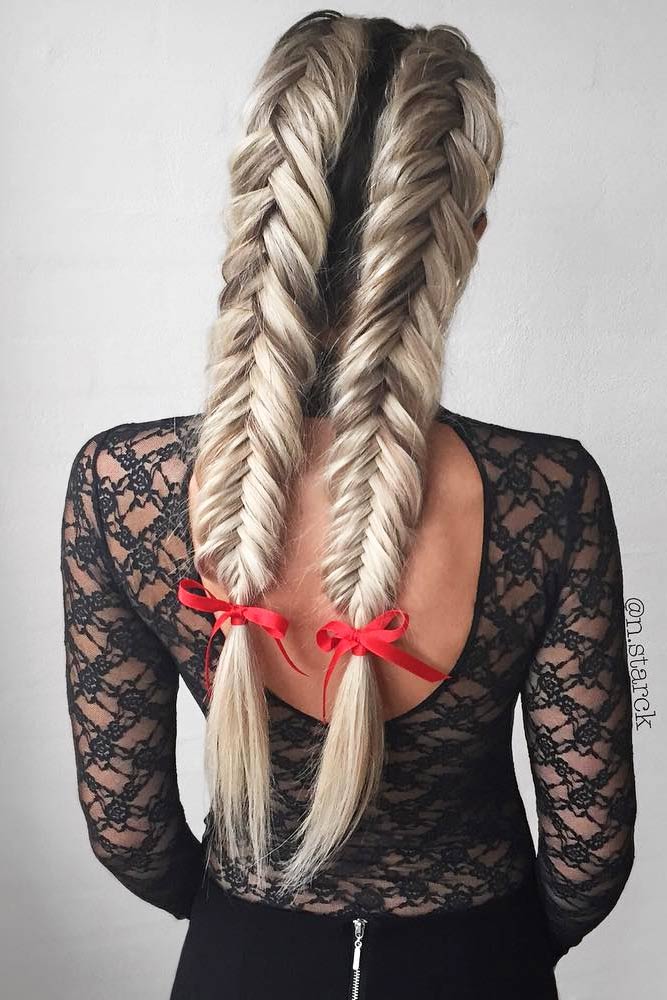 Source: hannnahjensen via Instagram
Fishbone braids are gorgeous with really long hair as there are many variations of ways to style these intricate braids. This style matures standard pigtails to a more grown-up look and feel. Add some style to your look with a tribal-print headband. This style is a throwback to the traditional roots with a modern flair that looks elegant and sophisticated.
Charming Dutch Fishtail Bun Hairstyle
Source: braidsbyjordan via Instagram
Are you looking for a creative hairstyle that will be suitable for both day and night? Then we have found one that you cannot ignore. Let`s learn how to fishtail braid together. Look how dreamy and flirty it looks! Make a Dutch fishtail from the front section of your hair and twist it around to create a beautiful bun. Tug out your hair a bit to make the bun appear loose. Doesn`t it look gorgeous with easy curls? We love how this idea freshens up the look of the person.
Dreamy Double Dutch Fishtail Braids
Source: missysueblog via Instagram
Girly hairstyles have made their comeback this season, and we understand why. Just look how natural and voluminous they make your hair look. Especially these two Dutch fishtail braids that are there to remind you of your childhood when your hair was in pig ponytails like this all the time. However, add a unique twist to them by making double Dutch fishtails. Learn how to fishtail braid with us. Secure them with elastics and let the rest of your hair down.
Double Fishtail French Braid Updo
Fishtail Braid With Accent Slide-Up 4-Strands
Stacked Fishtail Into Pony
Fishtails Into 4 Strand Ropes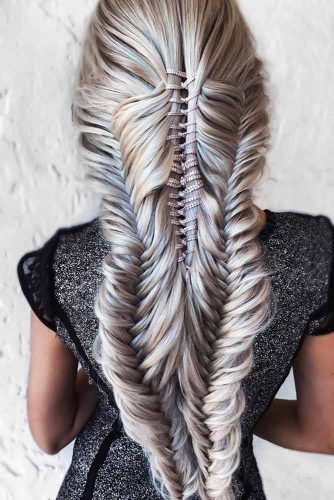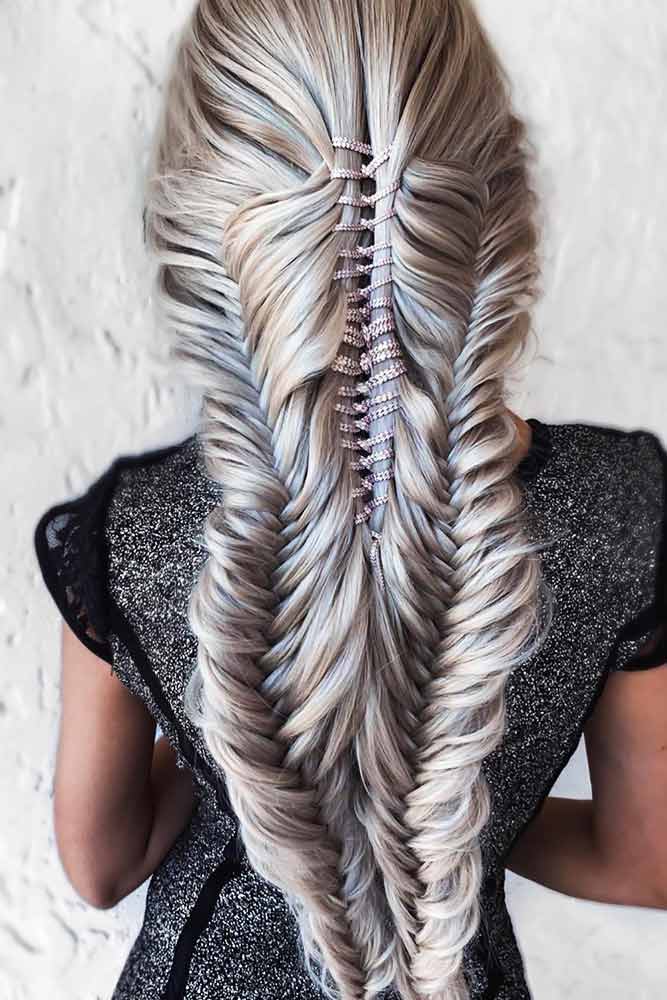 Dutch & French Fishtail Braids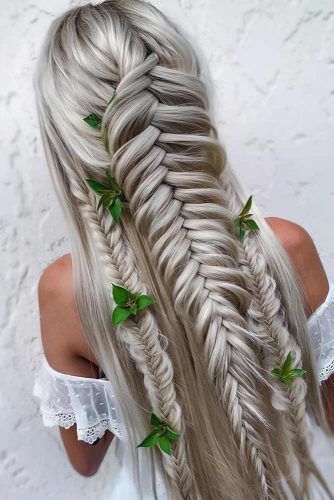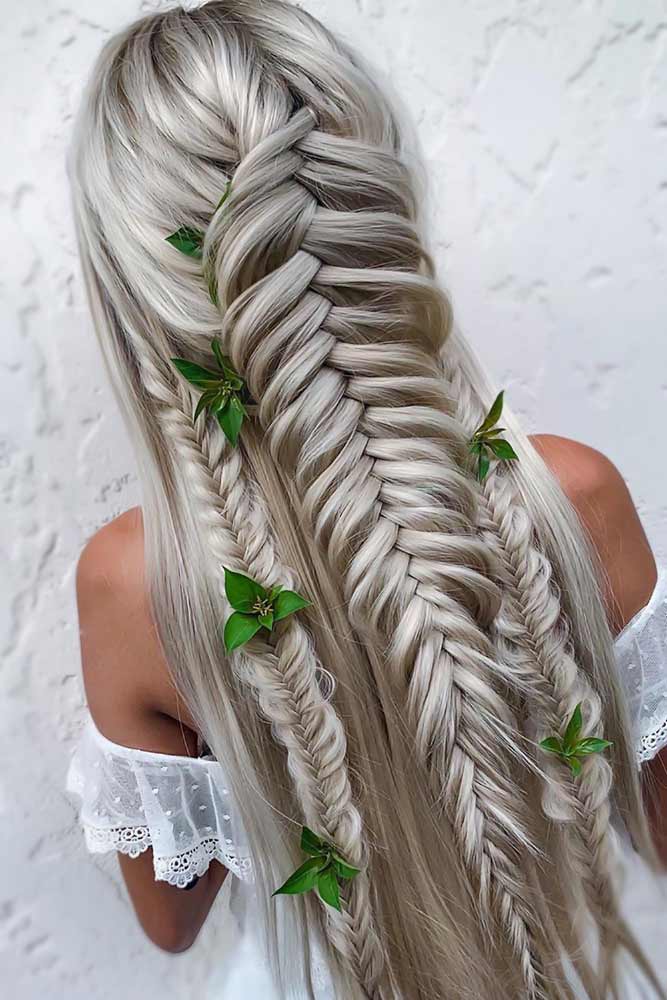 Wavy Fishtail Braid Design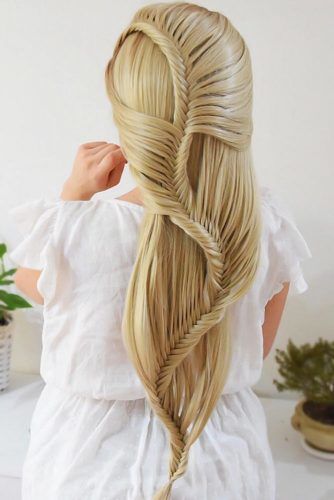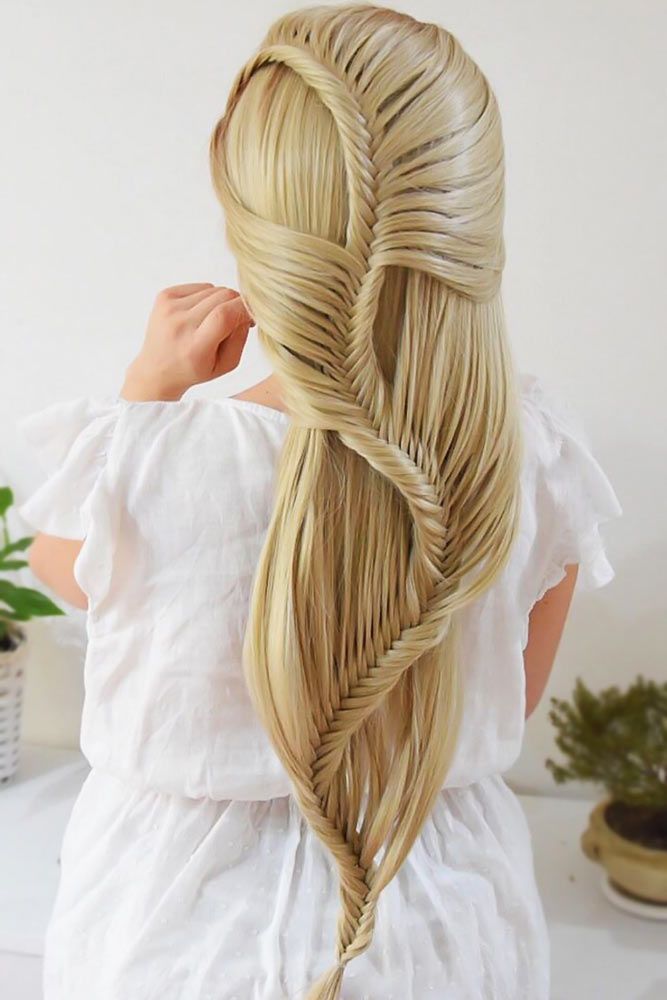 Triple Fishtail Braid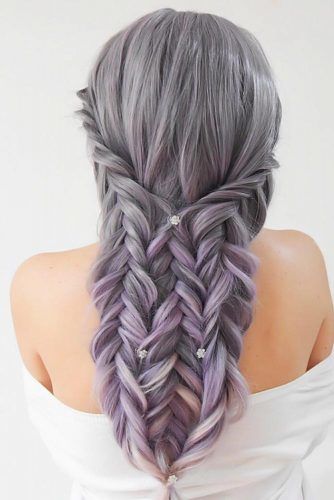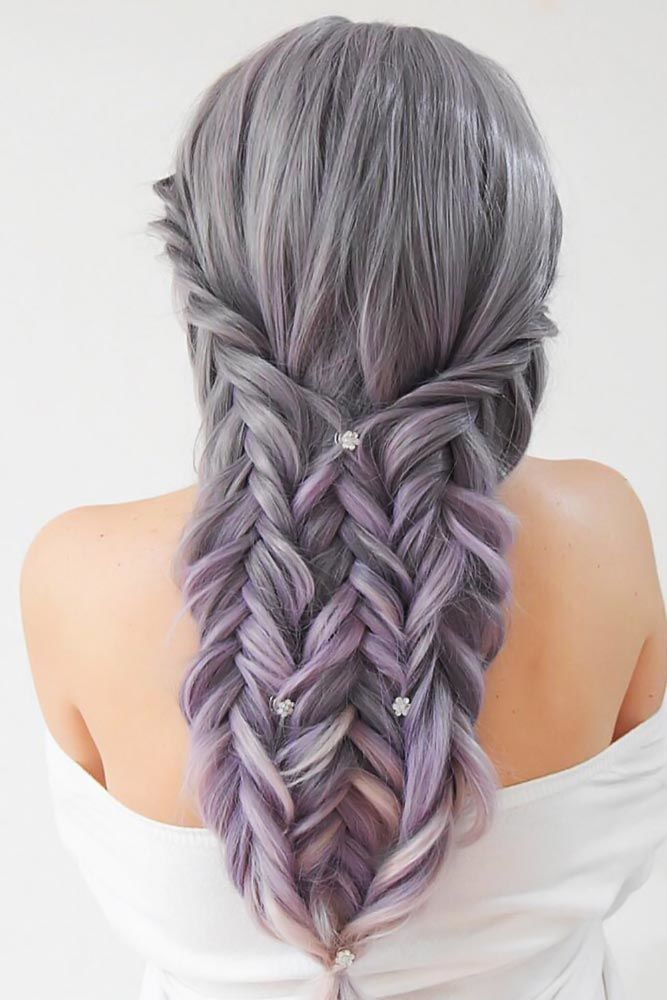 Woven Fishtail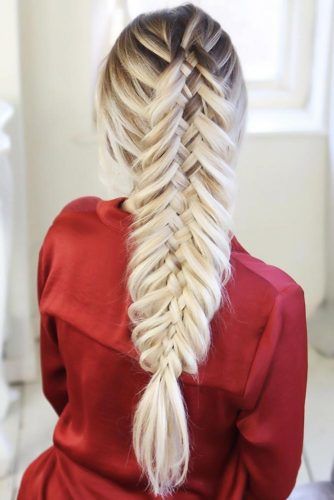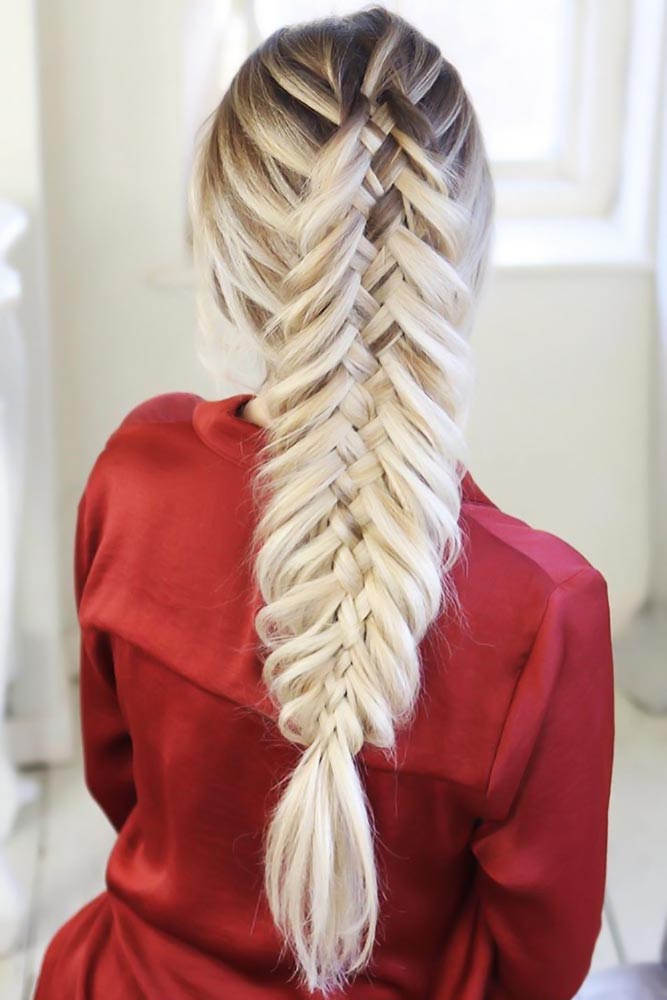 Fishtail With Rosettes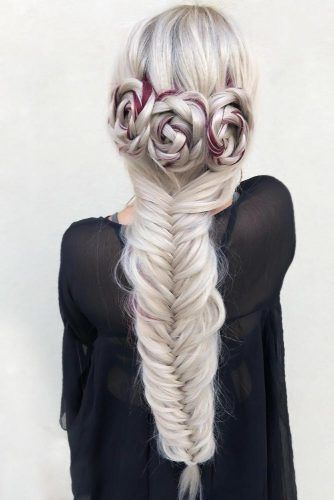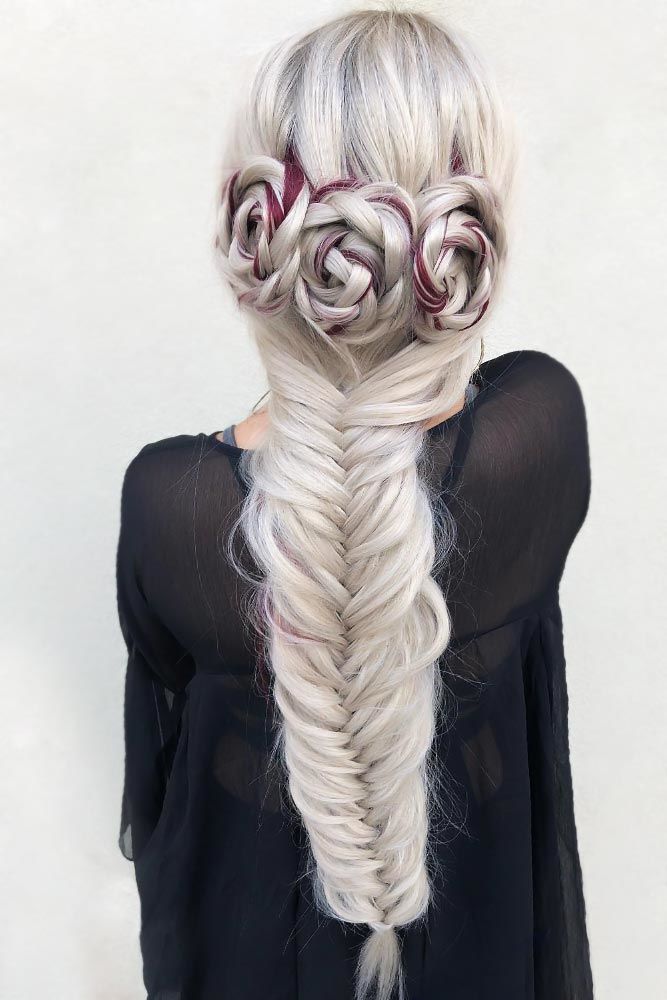 Twists And Messy Fishtail Braid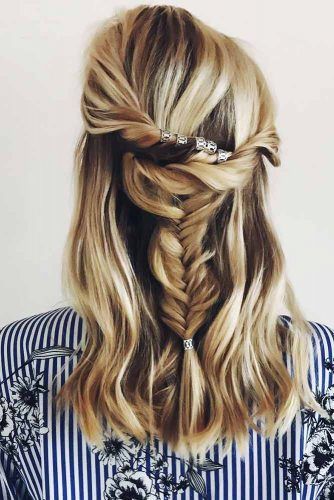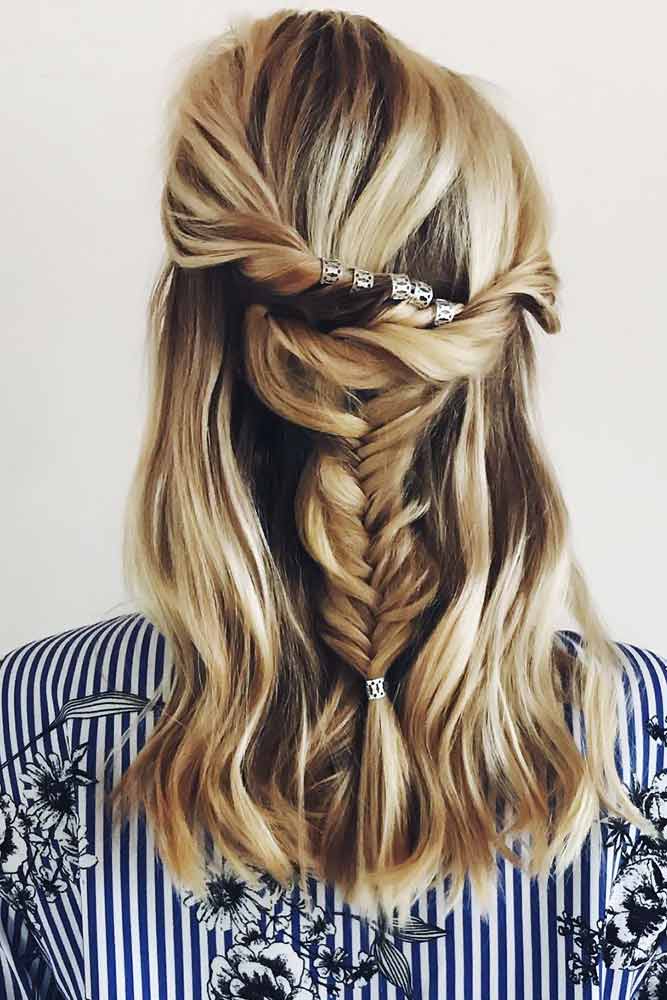 Messy Halo Updo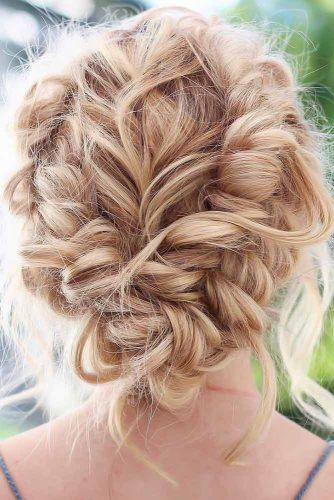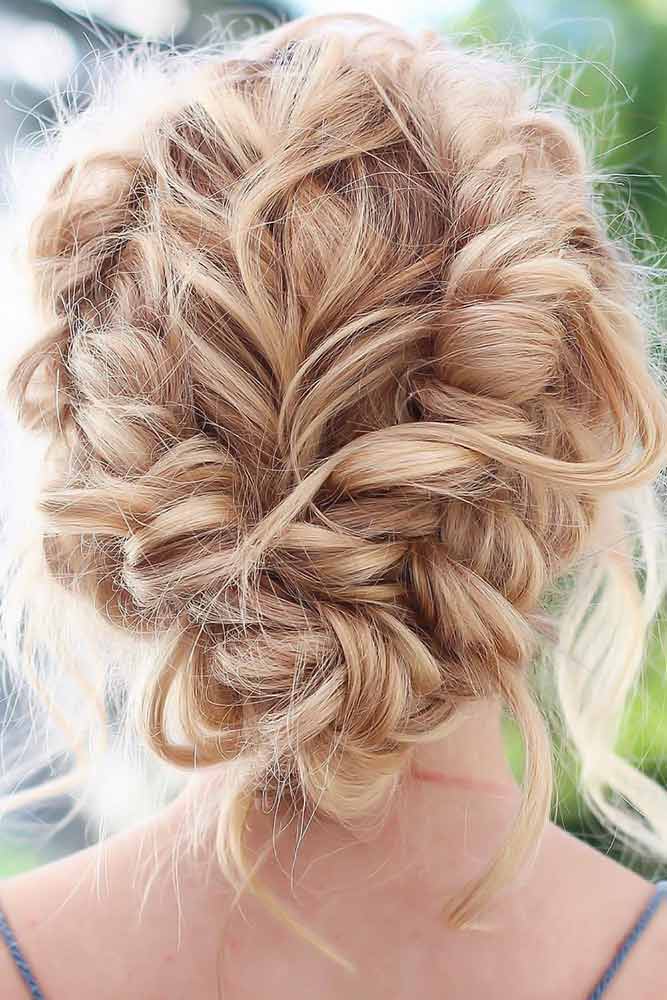 Messy Fishtail Faux Hawk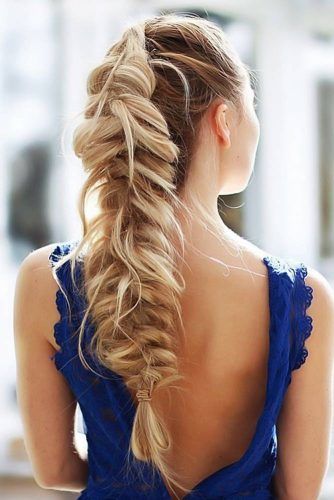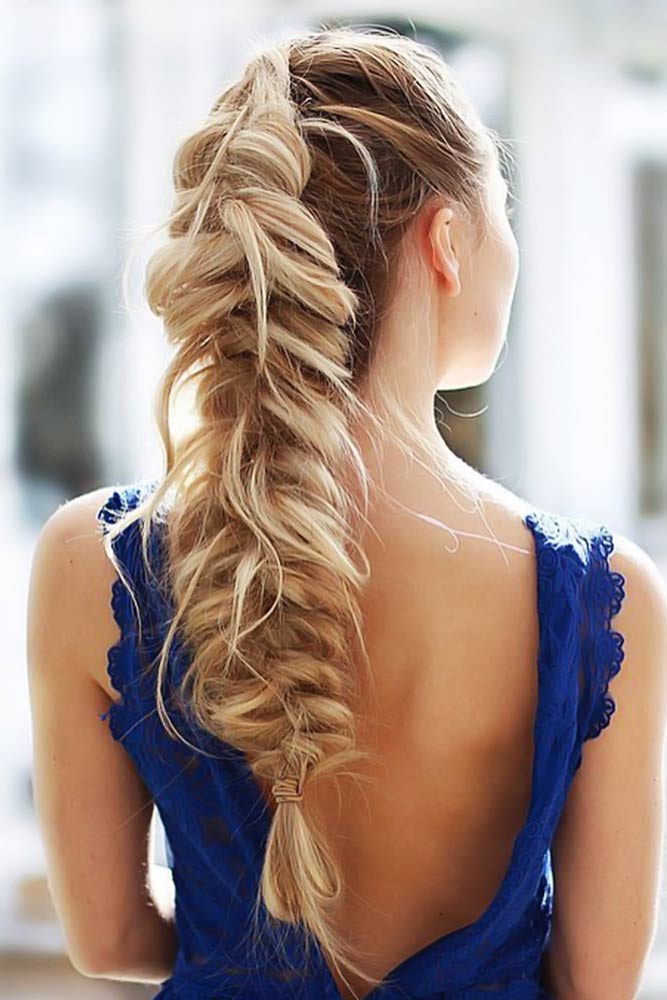 Fishtail Braided Updo

Source: Missy Sue
Make your parting on the right side and take a front section of hair on the heavy part. Divide it into two sections.
Pick a small piece from the back section, cross it over the top and add it into another section which is at the front. Take a strand of hair from the front section and cross it over the top adding it to the back section. Take another piece of hair crossing it over and then pick up a new section of hair crossing it over the top putting it into the strand too.
Repeat the same process for the front section until your fishtail reaches the top of the ear.
Continue braiding into a regular fishtail braid.
Pull out the strands of hair a bit for more volume and tie your hairstyle up with an elastic.
Create a regular fishtail braid with the rest of the hair and pull out strands for more volume.
Twist the regular fishtail you have created to make a bun and pin it up to secure the hairdo on your head.
Twist the hair on the sides to add relaxed details to the hairstyle and pin these details up.
Pick up the front fishtail braid and wrap it carefully around the bun fixing it with bobby pins. If desired, you can loosen the fishtail braid a bit more.
Dutch Fishtail Side Braid

Source: Missy Sue via Youtube
Here comes the first tutorial that will teach you how to fishtail braid your own hair. Dutch fishtail braids are essentials for girls who want to create an elegant girly look. Can't wait for it? Let's see how you can do that:
Part your hair on the right side.
Then, pick up a section of your hair that is on the heavy side.
Divide this section into three new sections.
Start your dutch braid just like you do with a regular braid: cross the side strands under the middle strand to make a stitch.
Make two sections of your hair by combining the middle and back strand together.
Start doing a fishtail braid: cross a small section from the right side just under the opposite one.
Then carry in a new section of your hair, cross it to the left side.
Cross a small section from the left side under to the right side again and carry in a new section.
Repeat all the steps until your braid reaches your left temple.
Once it reaches the temple, continue to braid the rest of the sections going down to your ends.
When your braid is finished, pull on its edges to make it look fuller.
Criss-cross two pins over the bottom of your braid and wrap it around the back of your head. Pin it in place!
The remaining hair over your left shoulder must be included in your braid. Just braid it in.
Use some hairspray to smooth down any loose hair and enjoy your lovely hairstyle!
Half Up Mini Dutch Fishtail Braid

Source: Missy Sue via Youtube
This fishtail braid tutorial is all about femininity and delicacy. This summer we all want to flaunt with our beautiful hair, and braided half updos know how to make it look even more glorious. Follow these steps:
Divide off a section of your hair at the top of your head. Tie it with an elastic band.
Use a small section of your hair to hide the band: wrap it around the band and secure it with a bobby pin.
Divide the section you wrapped into two halves.
Braid these halves into a dutch fishtail: cross small sections from the outer edges of your hair to the opposite side.
Once your braid reaches the top of your ears, start braiding some more sections of a regular fishtail braid: cross the side strands under the opposite side, and don't carry in any new sections.
Pull on the edges all over the braid to make it look fuller.
Tie off your braid with a band.
Then hide it just like you did with the previous one.
Soft waves can be a good complement to your look, but it's optional.
Fishtail Braid Ponytail

Source: Missy Sue via Youtube
We all love ponytails, and we all love braids. Do you want to find a happy medium between these cuties? Well, we have found for you another easy tutorial that will show you how to do a fishtail braid on yourself. But this fishtail braid is special, it is the compromise you are looking for. And that's how you can do it:
Brush all your hair up, do a high ponytail and secure it with a band.
Hide the band with a small section of your hair by wrapping it around the band.
For a fishtail braid, divide your ponytail into two halves.
Then take a small section of hair from the outer edge on the left side.
Add it to the right half by crossing this small section over the top.
Now, vice versa: a small section from the outer edge of the right half crosses over the top to the left side.
Go on crossing small sections of hair right to the opposite side. Make sure you are braiding down to the bottom.
Pull on the edges to make your hairstyle look bigger and fuller.
Tie it with the band and…that's it.
Dutch Fishtail Braid


Source: Lilith Moon
Create a deep side parting and start making a reversed fishtail braid by separating your section into thin strands of hair.
Take the front piece from the divided part and bring it to another strand putting it underneath.
Repeat the same routine incorporating hair into the braid.
Continue braiding a regular fishtail braid tightly and then tug out the braid to make it appear lose and full.
Secure it with an elastic and fix it with a bobby pin on another side of your head hiding it under the top layers of hair.
Main photo by Hairbykatelynd