Sometimes it feels like there are no easy ways of how to fishtail braid. When you watch videos where professional hairstylists just show their audience how they do that without understandable explanation for beginners, you just give up this idea. We want you to know that braids never wanted to let you down. So having read this post you will never say that braids are complicated.
Those who always wanted to fishtail braid but every time they tried something went wrong, forget about these braids troubles! We prepared for you three the best and easy tutorials that will help you to reach perfection in doing braids step by step. Yes, some hairstyles are indeed complicated enough, but tutorials are made to make them easier! Let's see how you can make your braids come true.
Dutch Fishtail Side Braid
Credit photo: YouTube.com/Missy Sue

Here comes the first tutorial that will teach you how to fishtail braid your own hair. Dutch fishtail braids are essentials for girls who want to create an elegant girly look. Can't wait for it? Let's see how you can do that:
Part your hair on the right side.
Then, pick up a section of your hair that is on the heavy side.
Divide this section into three new sections.
Start your dutch braid just like you do with a regular braid: cross the side strands under the middle strand to make a stitch.
Make two sections of your hair by combining the middle and back strand together.
Start doing a fishtail braid: cross a small section from the right side just under the opposite one.
Then carry in a new section of your hair, cross it to the left side.
Cross a small section from the left side under to the right side again and carry in a new section.
Repeat all the steps until your braid reaches your left temple.
Once it reaches the temple, continue to braid the rest of the sections going down to your ends.
When your braid is finished, pull on its edges to make it look fuller.
Criss-cross two pins over the bottom of your braid and wrap it around the back of your head. Pin it in place!
The remaining hair over your left shoulder must be included in your braid. Just braid it in.
Use some hairspray to smooth down any loose hair and enjoy your lovely hairstyle!
Half Up Mini Dutch Fishtail Braid
Credit photo: YouTube.com/Missy Sue

This fishtail braid tutorial is all about femininity and delicacy. This summer we all want to flaunt with our beautiful hair, and braided half updos know how to make it look even more glorious. Follow these steps:
Divide off a section of your hair at the top of your head. Tie it with an elastic band.
Use a small section of your hair to hide the band: wrap it around the band and secure it with a bobby pin.
Divide the section you wrapped into two halves.
Braid these halves into a dutch fishtail: cross small sections from the outer edges of your hair to the opposite side.
Once your braid reaches the top of your ears, start braiding some more sections of a regular fishtail braid: cross the side strands under the opposite side, and don't carry in any new sections.
Pull on the edges all over the braid to make it look fuller.
Tie off your braid with a band.
Then hide it just like you did with the previous one.
Soft waves can be a good complement to your look, but it's optional.
Fishtail Braid Ponytail
Credit photo: YouTube.com/Missy Sue

We all love ponytails, and we all love braids. Do you want to find a happy medium between these cuties? Well, we have found for you another easy tutorial that will show you how to do a fishtail braid on yourself. But this fishtail braid is special, it is the compromise you are looking for. And that's how you can do it:
Brush all your hair up, do a high ponytail and secure it with a band.
Hide the band with a small section of your hair by wrapping it around the band.
For a fishtail braid, divide your ponytail into two halves.
Then take a small section of hair from the outer edge on the left side.
Add it to the right half by crossing this small section over the top.
Now, vice versa: a small section from the outer edge of the right half crosses over the top to the left side.
Go on crossing small sections of hair right to the opposite side. Make sure you are braiding down to the bottom.
Pull on the edges to make your hairstyle look bigger and fuller.
Tie it with the band and...that's it.
Fishtail Braided Updo
Credit photo: YouTube.com/Missy Sue

Make your parting on the right side and take a front section of hair on the heavy part. Divide it into two sections.
Pick a small piece from the back section, cross it over the top and add it into another section which is at the front. Take a strand of hair from the front section and cross it over the top adding it to the back section. Take another piece of hair crossing it over and then pick up a new section of hair crossing it over the top putting it into the strand too.
Repeat the same process for the front section until your fishtail reaches the top of the ear.
Continue braiding into a regular fishtail braid.
Pull out the strands of hair a bit for more volume and tie your hairstyle up with an elastic.
Create a regular fishtail braid with the rest of the hair and pull out strands for more volume.
Twist the regular fishtail you have created to make a bun and pin it up to secure the hairdo on your head.
Twist the hair on the sides to add relaxed details to the hairstyle and pin these details up.
Pick up the front fishtail braid and wrap it carefully around the bun fixing it with bobby pins. If desired, you can loosen the fishtail braid a bit more.
Dutch Fishtail Braid
Credit photo: YouTube.com/Lilith Moon

Create a deep side parting and start making a reversed fishtail braid by separating your section into thin strands of hair.
Take the front piece from the divided part and bring it to another strand putting it underneath.
Repeat the same routine incorporating hair into the braid.
Continue braiding a regular fishtail braid tightly and then tug out the braid to make it appear lose and full.
Secure it with an elastic and fix it with a bobby pin on another side of your head hiding it under the top layers of hair.
Simple Side Fishtail Braid
Credit photo: YouTube.com/Kayleymelissa

Hair tutorials are so essential for more intricate kinds of braids, such as box braids, waterfall braids, French braids, and fishtail braids, too. So, let us start.
First you need to decide whether you opt for a messier or a smoother look. You can achieve a smoother look by brushing the hair before starting. And a messier look can be achieved if you use your fingers rather than a brush to part your hair.
Almost all braided hairstyles require you to use hair elastics to fix them. So, the next step is to take a small clear elastic and do a ponytail.
After it is done, divide your ponytail into two equal sections.
Now take a strand from the left section and move it to the right section.
Next, take a strand from the right section and move it to the left section.
Repeat this process till the braid is finished.
Finally, take scissors and remove that small clear elastic.
Now go try to create a fishtail braid. We are sure that you will succeed.
Different Types Of Fishtail Braid
Credit photo: Taylor_lamb_hair
Credit photo: instagram.com/Taylor_lamb_hair
A half-up half-down fishtail braid looks really sophisticated. And the great news is that this hairstyle is not difficult to do at all. Stylists notice that it will work great for messy as well as sleek hair.
Gorgeous Crisscrossed Braids Into A Fishtail Idea
Credit photo: instagram.com/aurorabraids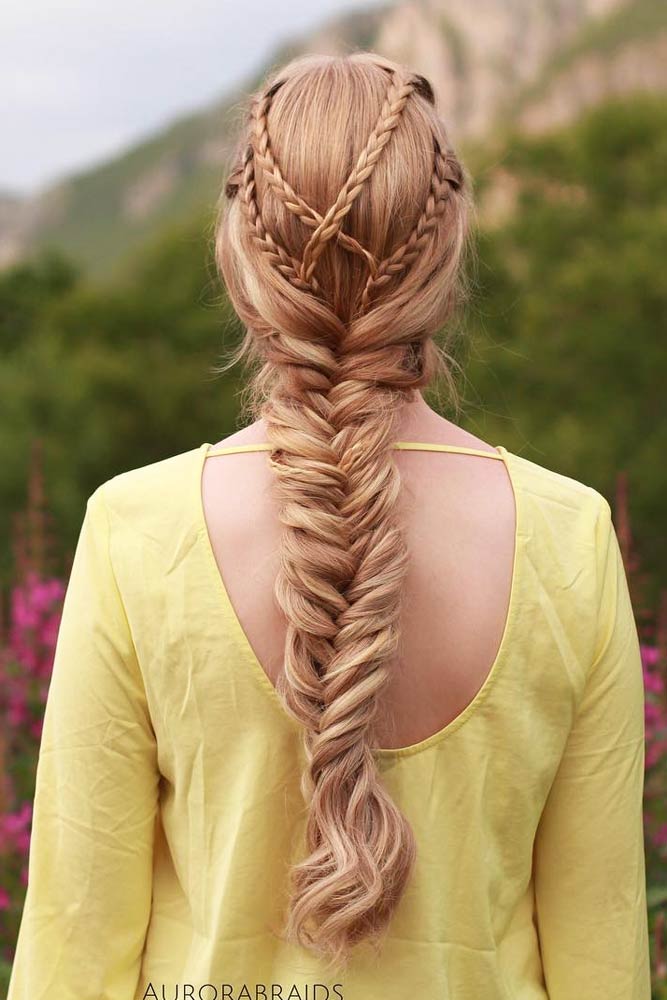 A crisscrossed braids idea will become your favorite one as the creativity it brings into the look of the person cannot be unnoticed. Create four thin regular braids at the front section of your hair and cross them between each other braiding them together into two regular ones. This already looks bomb, but we would like to spice it up, even more, creating a fishtail braid with the left-out hair. Make it loose and voluminous, and you will love the final look you will achieve!
Charming Dutch Fishtail Bun Hairstyle
Credit photo: instagram.com/aurorabraids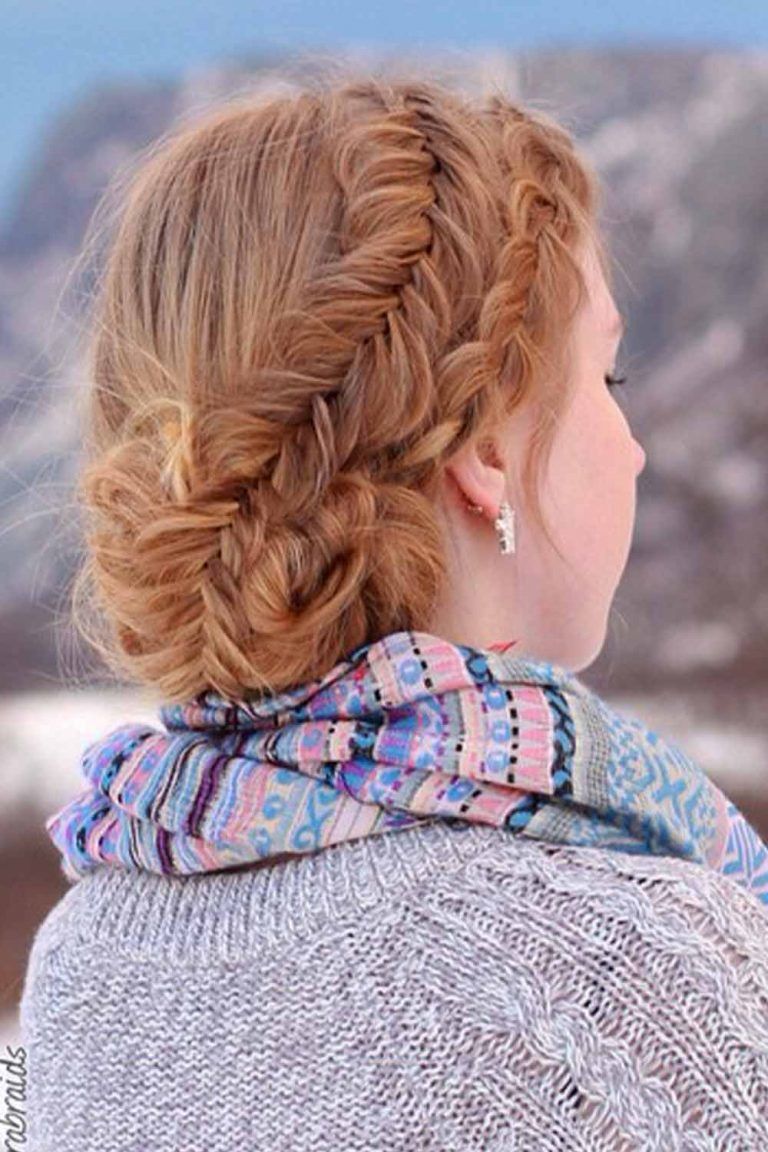 Are you looking for a creative hairstyle that will be suitable for both day and night? Then we have found one that you cannot ignore. Let`s learn how to fishtail braid together. Look how dreamy and flirty it looks! Make a Dutch fishtail from the front section of your hair and twist it around to create a beautiful bun. Tug out your hair a bit to make the bun appear loose. Doesn`t it look gorgeous with easy curls? We love how this idea freshens up the look of the person.
Dreamy Double Dutch Fishtail Braids
Credit photo: instagram.com/samirasjewelry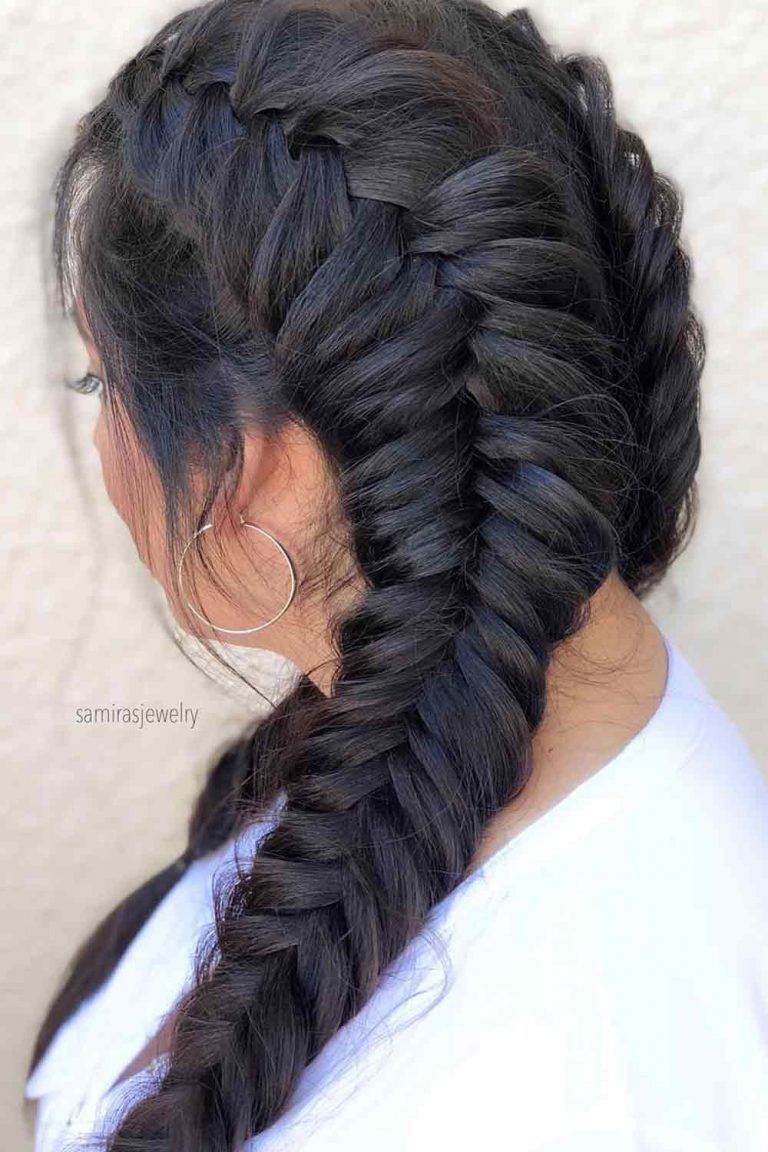 Girly hairstyles have made their comeback this season, and we understand why. Just look how natural and voluminous they make your hair look. Especially these two Dutch fishtail braids that are there to remind you of your childhood when your hair was in pig ponytails like this all the time. However, add a unique twist to them by making double Dutch fishtails. Learn how to fishtail braid with us. Secure them with elastics and let the rest of your hair down.
Hairstyles With Fishtail Braid
Credit photo: instagram.comjulia_alesionok/span>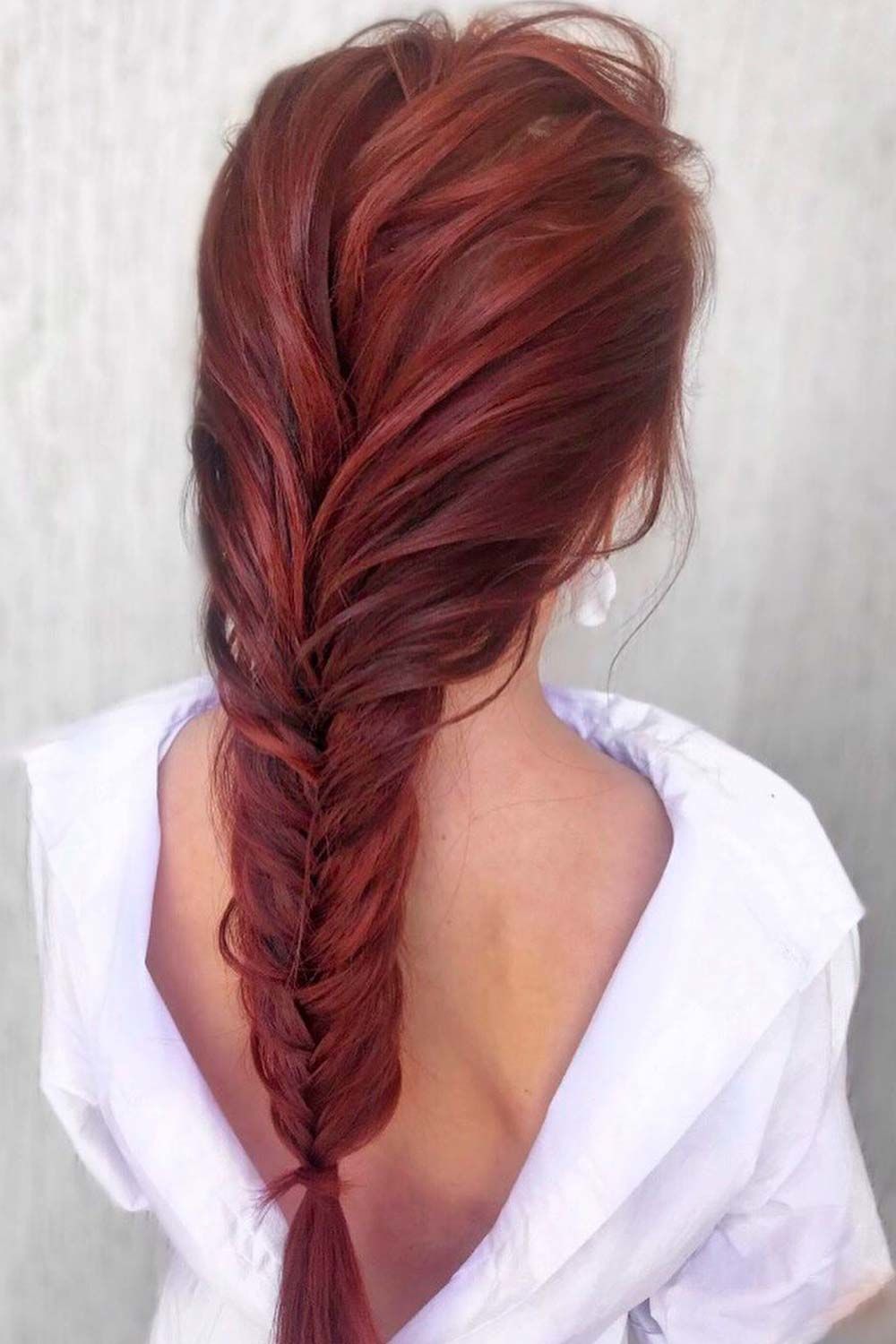 There are quite a lot of types of fishtail braids and a lot more styling options for such braids. Each of them has its peculiarities and styling secrets. However, such hairstyles have one thing in common: they are ultimately romantic.
Massive Fishtail Braided Hairstyles
Credit photo: Taylor_lamb_hair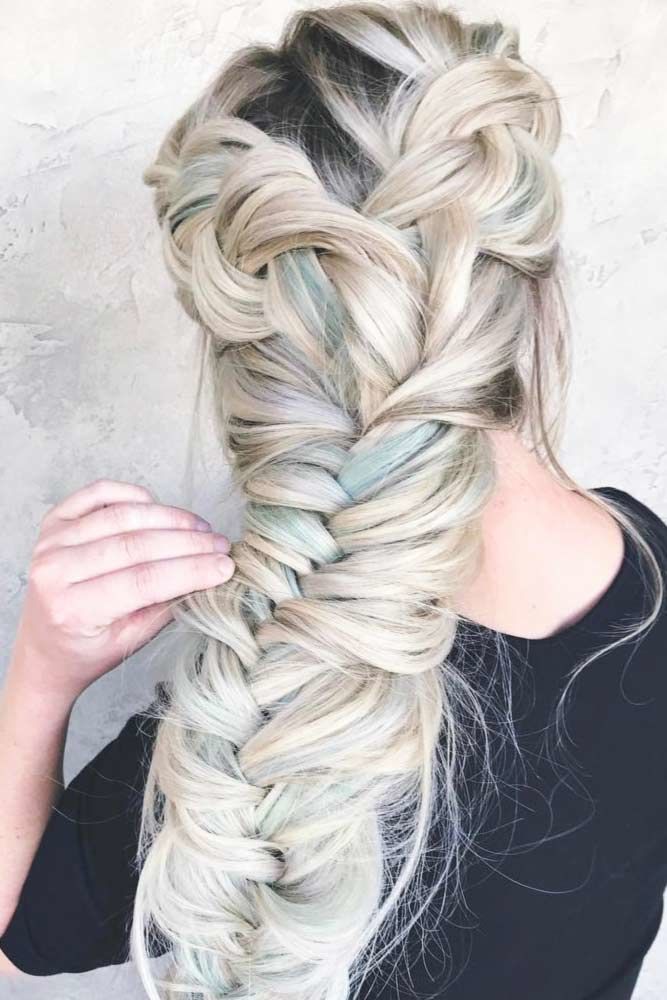 Credit photo: instagram.com/Instibraid
If you have long hair, why not try a messy fishtail braid? Messiness can add some glamour to your hairstyle. Let several tresses hang loosely and frame your face for a super sweet and cute appearance.
Now you see that braids are not as complicated as you used to think. Your hair deserves the best hairstyles, and you deserve the best compliments. Bring these ideas to life and all eyes will be on you, we promise!
FAQ: How To Fishtail Braid
Is fishtail braid good for hair?
Fishtail is quite appropriate for a casual day or a formal event. These braids also look better when they are a little disheveled, so you can wear them all day. You'll have no trouble learning to fishtail and create stunning hairstyles!
Can you fishtail braid short hair?
The fishtail braid has a reputation for being associated with exceptionally long locks, with a plait that tumbles down a back or passes shoulders. While the style is obviously most suited to longer hair, it can be easily adapted to fit with short locks.
What are Feed braids?
Cornrows with extensions that are fitted in a seamless manner are known as feed-in cornrows. Hair extensions are woven into your natural hair using the feed-in technique which creates natural-looking braids, as well as a smooth hairline.
REFERENCES:
The fishtail braid looks elaborate and will become a favorite for rushed mornings, especially if you have long hair. Source
Master the fishtail braided hairstyle on your own hair with these tutorials for a basic fishtail, reverse fishtail, ponytail fishtail, and double fishtail braided updo. Source