Ponytail Hairstyles Are Not As Simple As They Seem To Be!
Ponytail hairstyles are the most common styles ever. But do you know how different they can be? Some ladies can't even imagine a pony as a wedding hairstyle. What a shame! The thing we want all women to remember is that simplicity is genius. And the ponytails we've prepared are living proofs.
ADVERTISEMENT ‧ CONTINUE READING BELOW
There's a ponytail for every hair length, occasion, mood, and taste. All you need is to get to know its diversity. Discover all the sides of the familiar style!
High Ponytails
Wavy Ponytail Hairstyles
Source: hildeee via Instagram, evalam_ via Instagram, hair.by.hatem by Instagram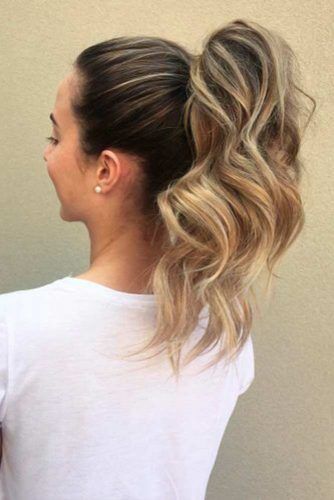 Source: eksnagustenko via Instagram, peachesmakeup via Instagram, eksnagustenko via Instagram
Does volume mean the world to you when it comes to styling your hair? Well, even a simple pony can impress your with its lushness if it's done right. Make sure that your crown isn't tight, and don't forget to wave or curl your hair after it's secured with a band, and a truly voluminous hairdo will be yours.
Straigth Ponytails
Source: evalam_ via Instagram, natalieannehair via Instagram, Eksnagustenko via Instagram
You don`t always have time to create a super hairstyle, but don`t get upset! Your perfectly straight hair will look even cooler in a pony hairstyle.
Ponytail Hairstyles With Caps
Source: Soph.mae via Instagram, hildeee via Instagram, Styledbykelsey by Instagram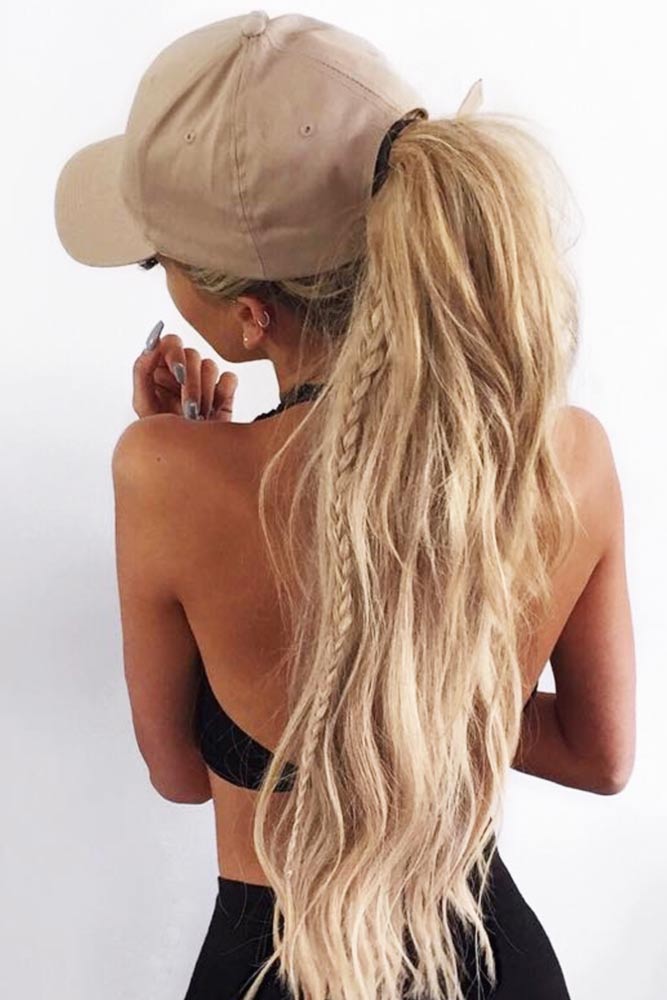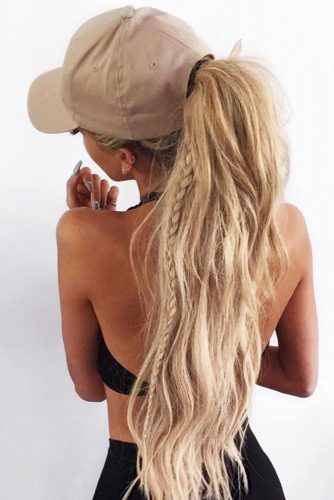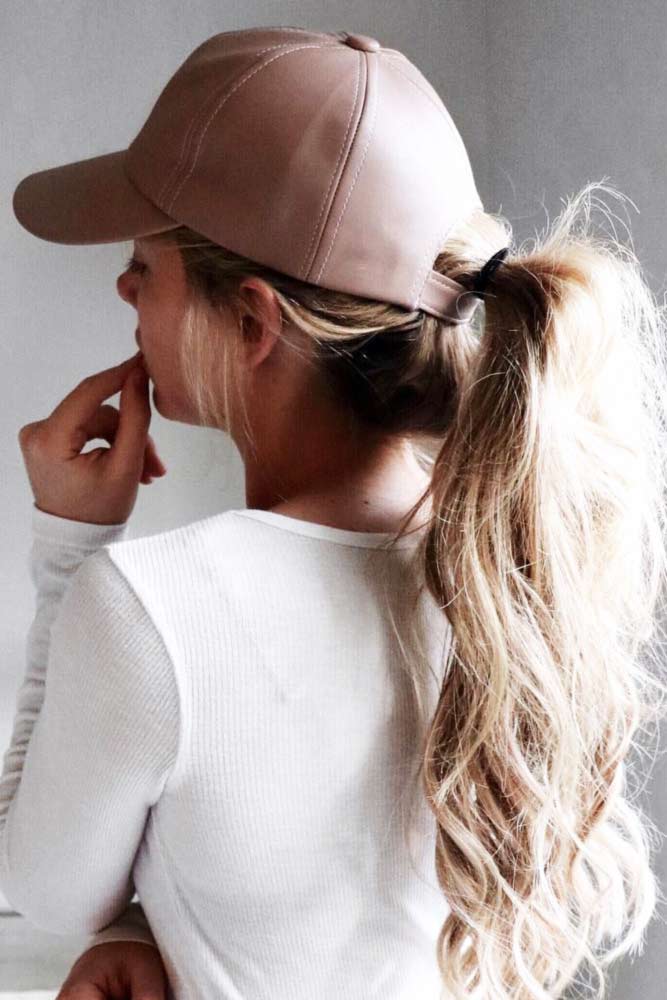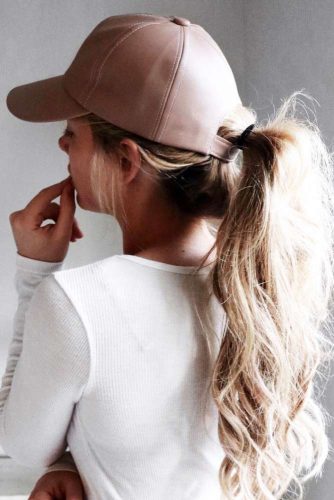 Nowadays, every self-respecting girl knows how to get beachy waves! Messy silhouettes are women's best friends: they make thin locks appear fuller, adding more life to them. This idea is one of the cutest ponytail styles for long hair ever! It's girly, textured, and seductively messy. Once you spray your hair with sea salt spray and let it air dry, run your fingers through it and create a ponytail. It's not about neatness, so don't worry if some locks stick out. Embellish your hairdo with a cute cap.
ADVERTISEMENT ‧ CONTINUE READING BELOW
Low Ponytails
Wavy Ponytails
Source: stephanie_danielle via Instagram, kimblome via Instagram, Natalieannehair by Instagram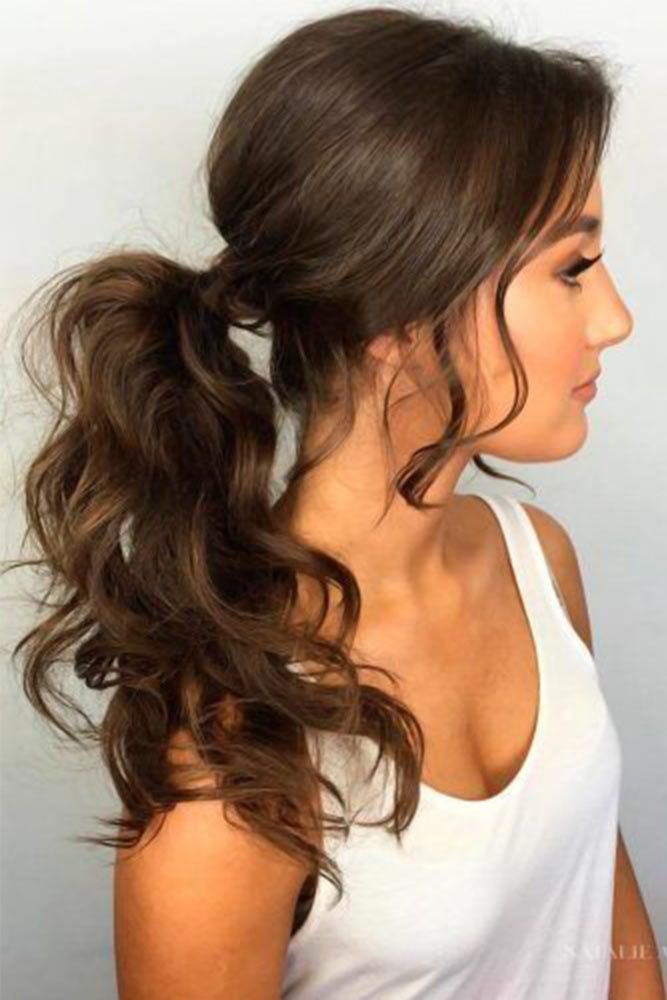 Source: Kykhair via Instagram, ulyana.aster via Instagram, kykhair via Instagram
This hairstyle will teach you how to get the most out of your hair! A lot of movement, texture, and volume are three things that girls can watch forever. What if we tell you that a simple ponytail can give it all to you? Here's a little trick to get such a dramatic volume: when you do a pony, loosen it a bit and pull the crown for a fuller effect. To add more fullness to the pony, part it into two sections and loop one of them with the elastic so that the top one is lifted. Wave your hair, give it some coats of hairspray, and enjoy!
Low Twisted Pony
Source: liliyakay via Instagram, missysueblog via Instagram, Riawnacapri by Instagram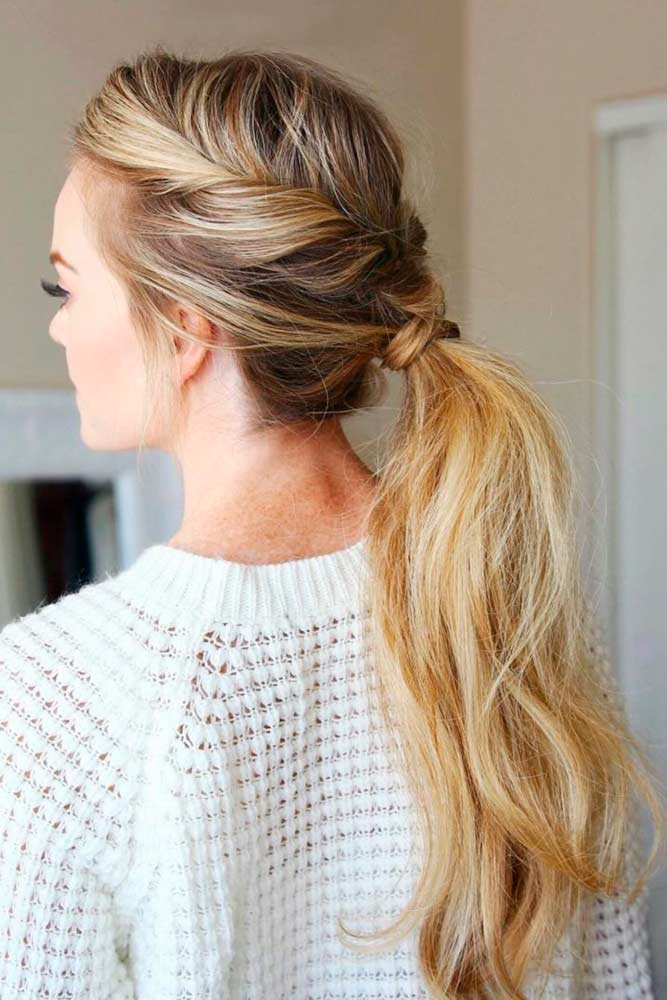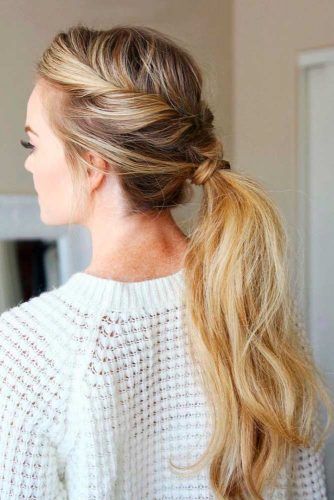 Source: hair_is_simone via Instagram, amastylist__ via Instagram, Wedlocks_mairead via Instagram
Here comes another stunning and elegant hairdo that will never make you feel bored with your hair. Creative girls will appreciate this twisted pony! And, lazy bones will love it too. It looks so cute and girly that it's hard to believe it took less than five minutes. The only thing you need is to take a side section of your hair, twist it away from your face and add it to your low ponytail. It can be a single twist or two side twists; it's all up to you.
ADVERTISEMENT ‧ CONTINUE READING BELOW
Braided Ponytail Hairstyles
French Braid Into Pony
Source: oliviarink via Instagram, kristin_ess via Instagram, natalieannehair via Instagram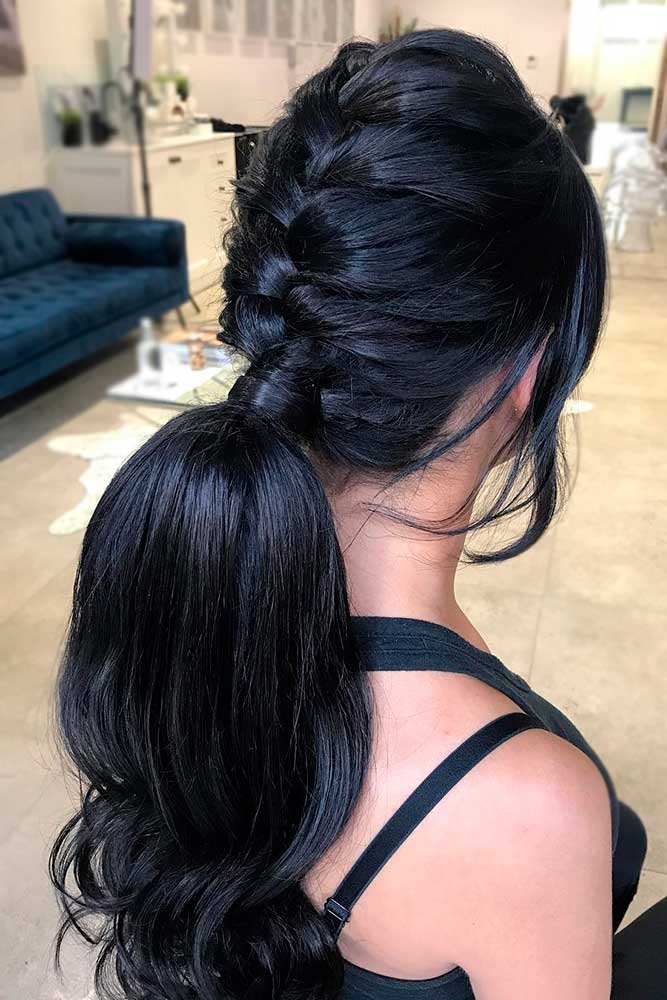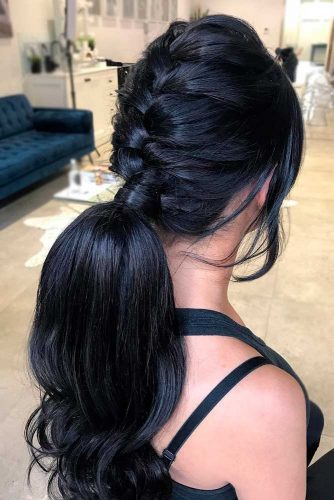 No wonder that many simple ponytail hairstyles for everyday wearing feature braids: though they take minutes, they know how to embellish everything around. How do you like this idea? French braids that incorporate in a low, messy ponytail give a lot of the desired movement and texture at the same time, proving that simplicity is genius.
Side French Braid
Source: Natalieannehair via Instagram, hairdreams_ via Instagram, natalieannehair via Instagram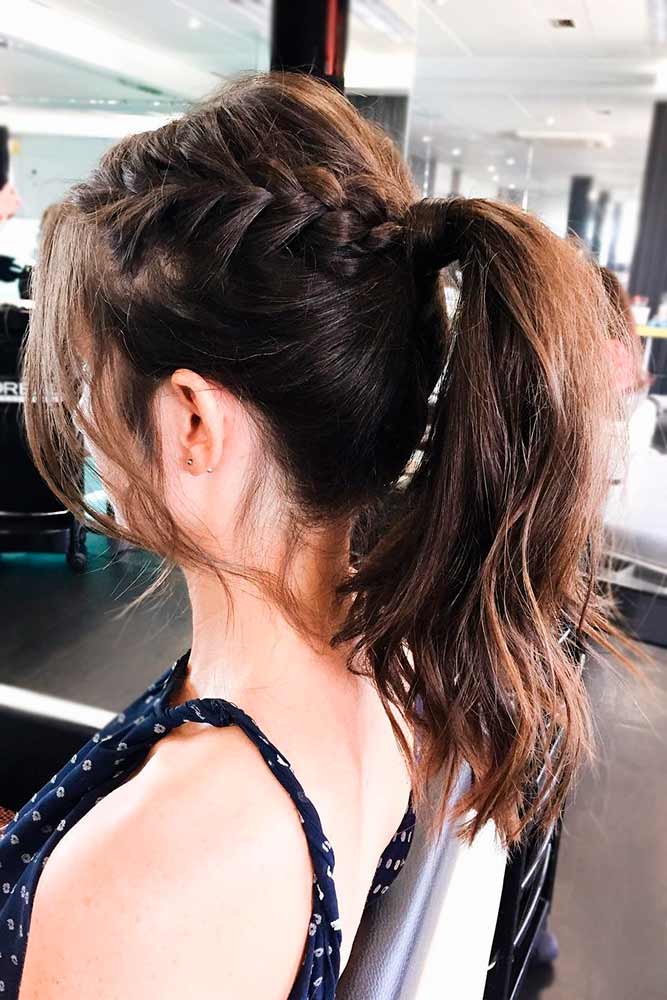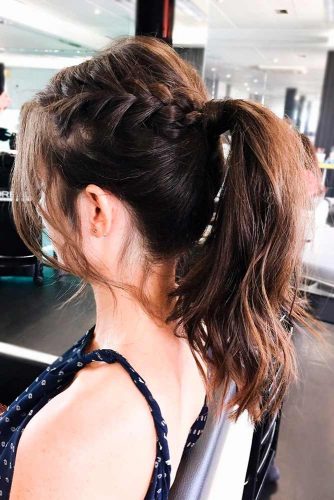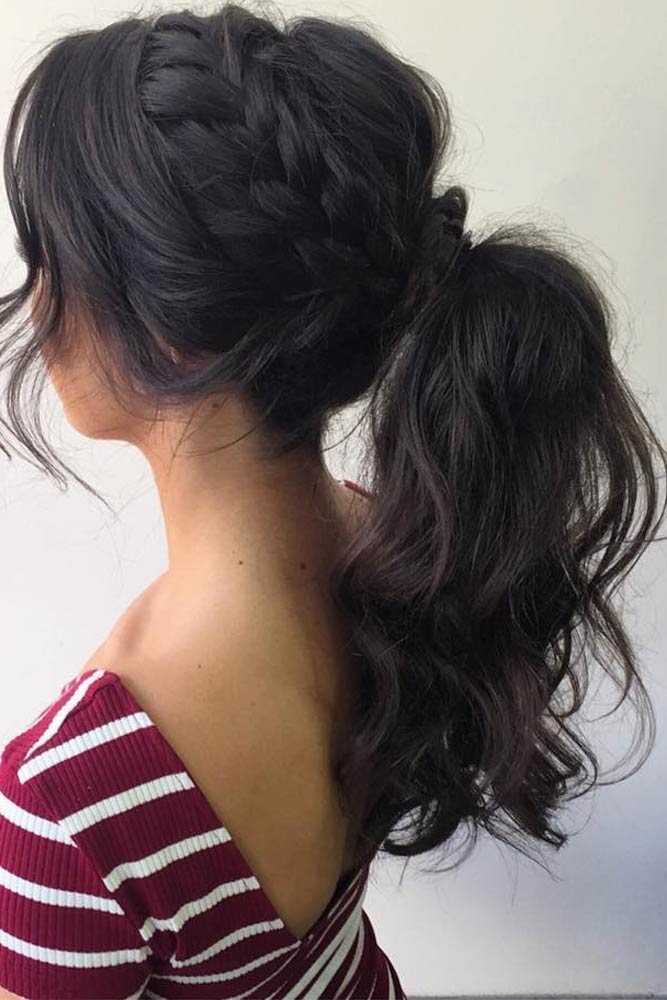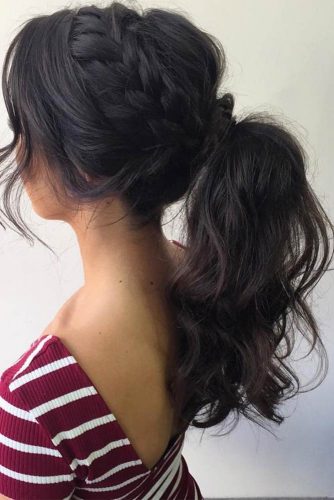 Long hairstylesinclude ponytails with a side French braid, voluminous and curly ponytails, ponytails with multiple corn braids, and a ponytail with a twist. Try them out next time. A low, messy pony looks gorgeous on its own. But add up a voluminous side braid falling into it, and there will be no rivals. Besides, it looks so feminine and charming!
Side Dutch Braid
Source: Nickelandsuede by Instagram, hairby.tess via Instagram, solegabastou_mkp via Instagram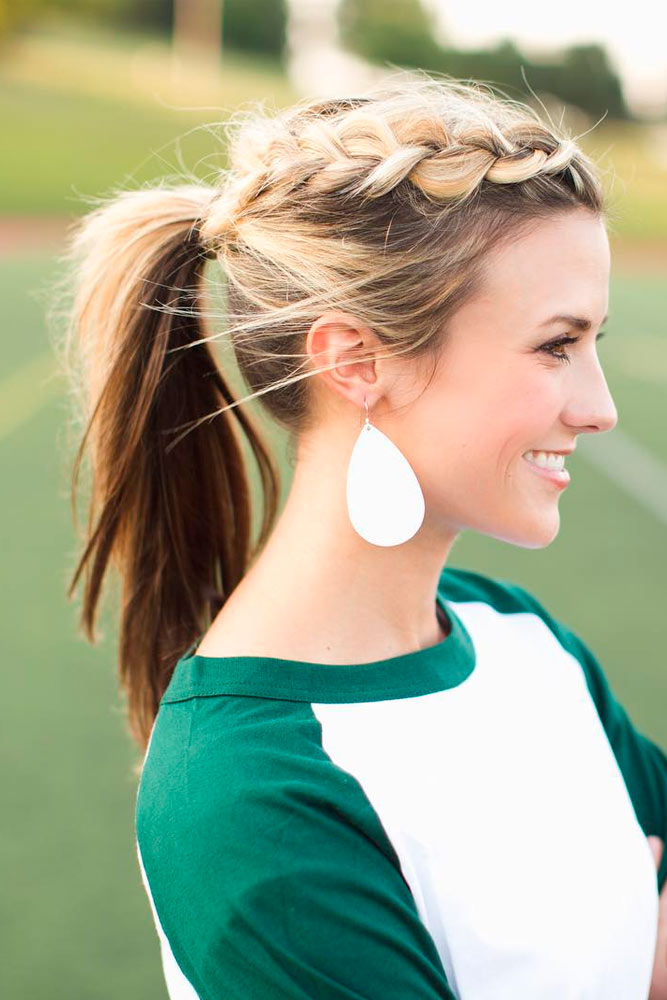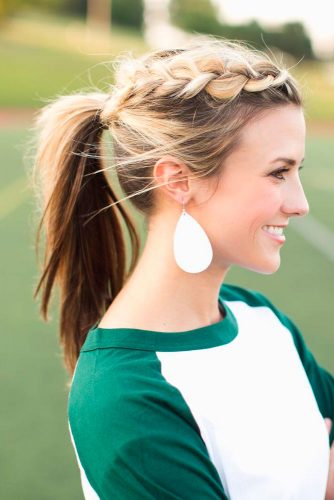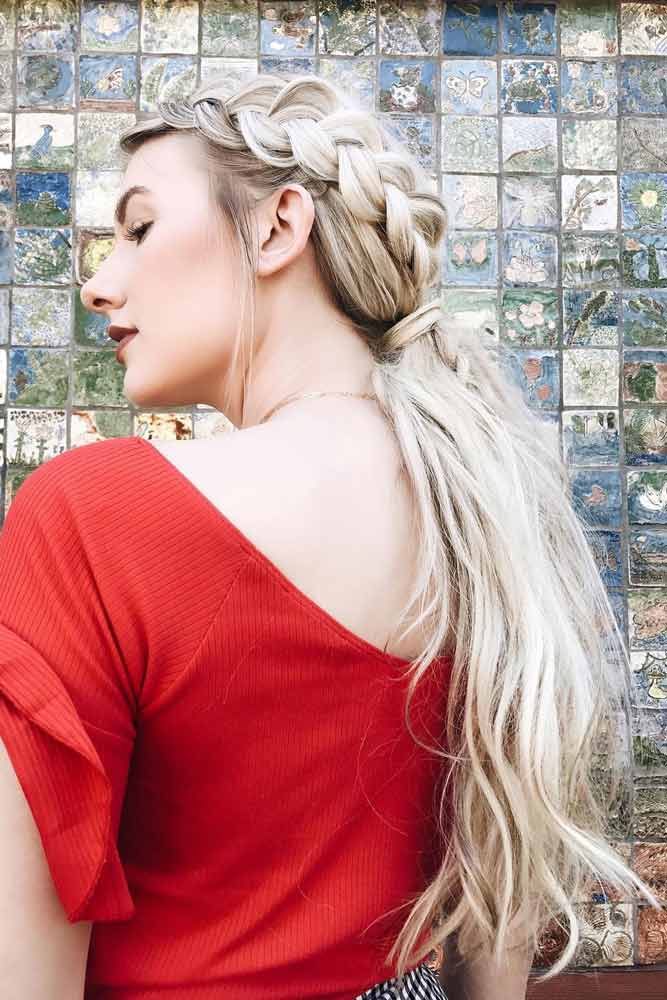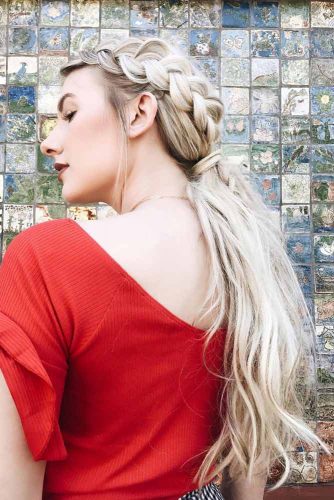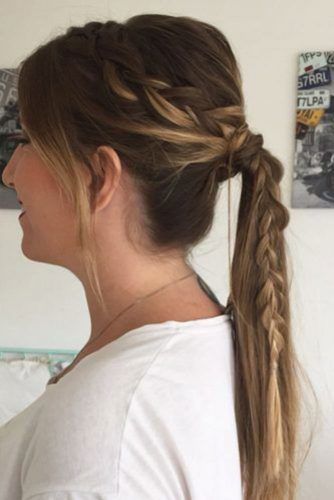 Source: missysueblog via Instagram, aurorabraids via Instagram, Bamhair via Instagram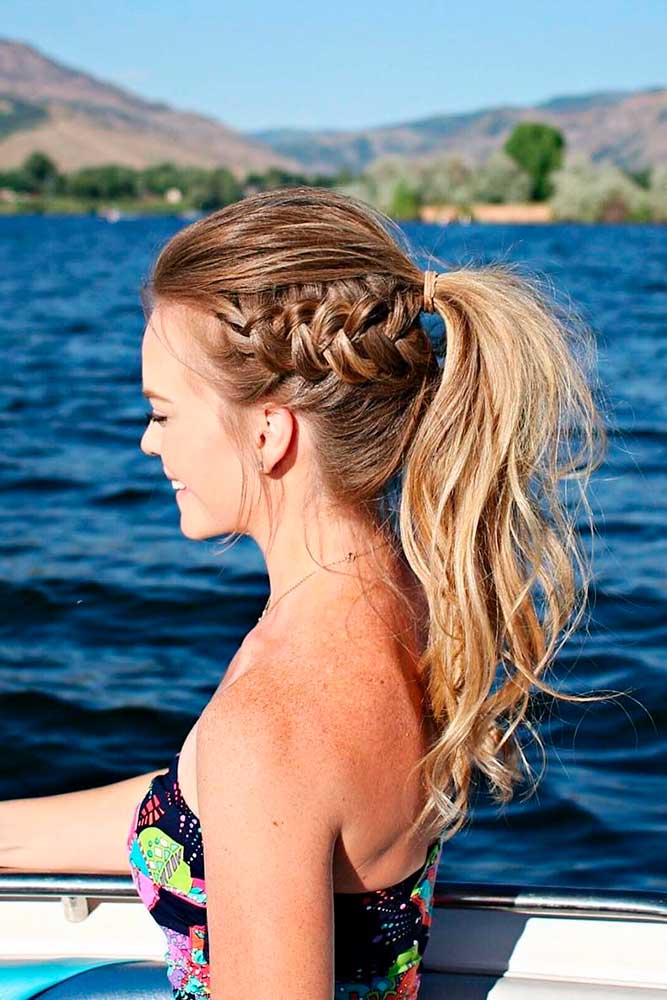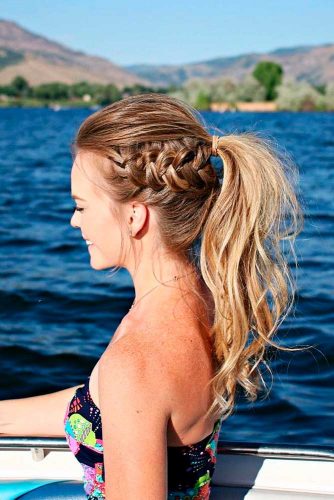 This look is meant for those who want to be different! All the previous ideas with braided elements usually have them loose on the halfway, seamlessly incorporated into a ponytail. How about you to add a long, full braid that will add a contrastive texture to the whole look? This pulled side braid looks so ravishing when combined with a pony, especially with such a diverse braided pattern.
Bubble Ponytail
Source: Mimiikonn via Instagram, Shannicat by Instagram, aubrey_miller via Instagram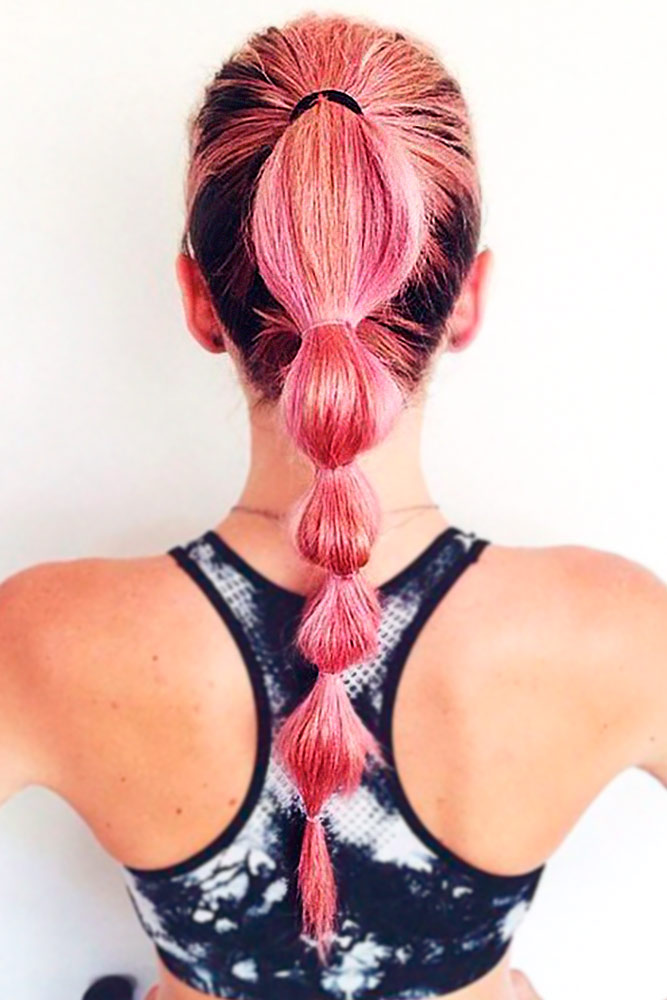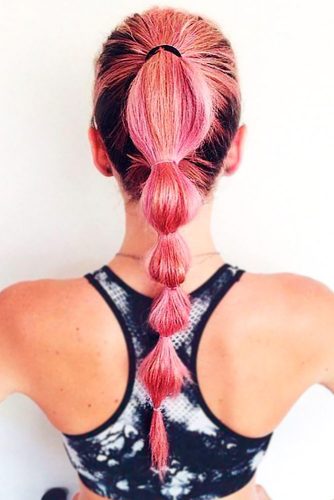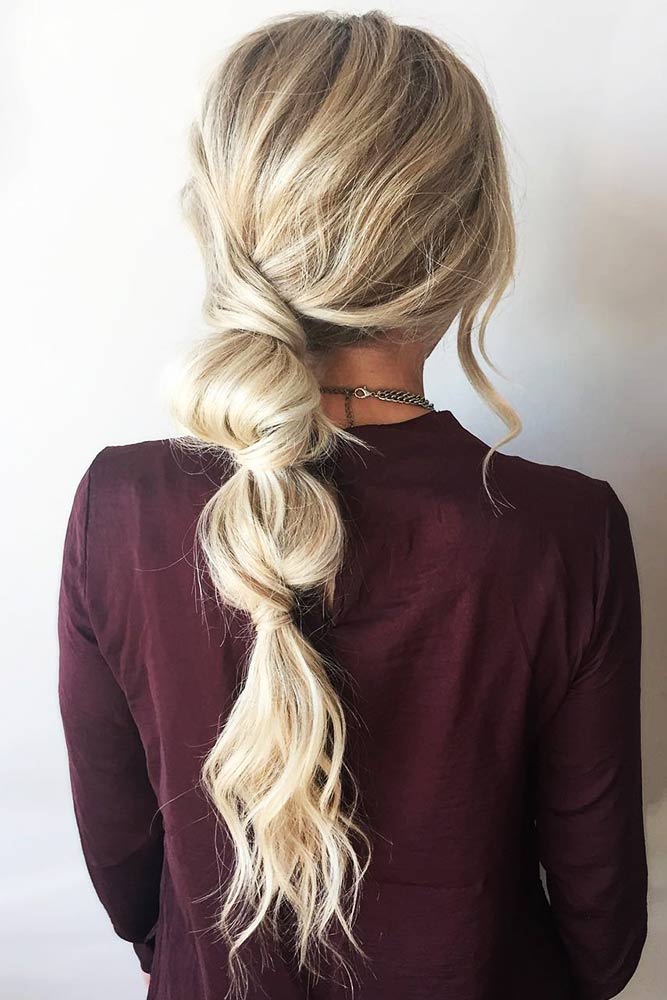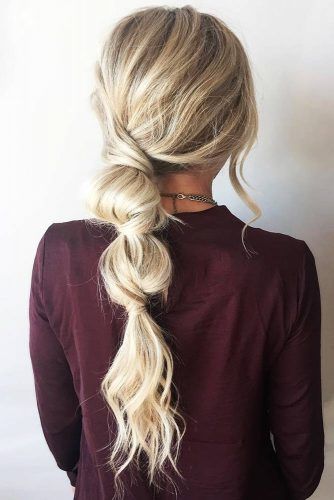 For example, apply dry shampoo before creating a pony. Choose the formula that will create something like a shell around every single strand and also neutralize the smell and absorb oil.
Rope Braid Ponytail
Source: maggiemh via Instagram, Emmachenartistry via Instagram, emmachenartistry via Instagram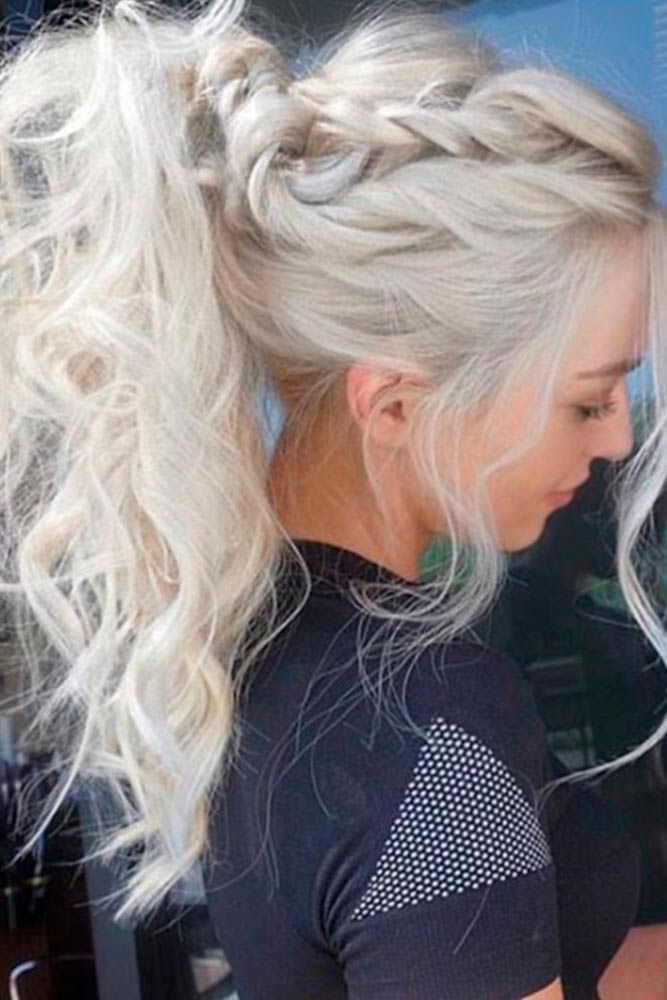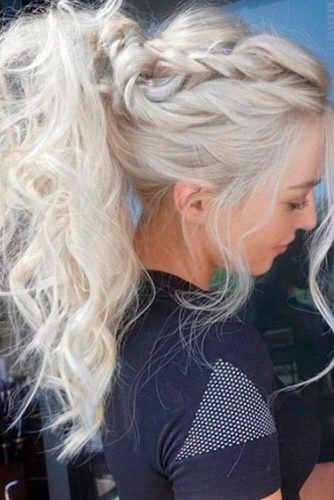 What is the best way to spice up a regular high pony? Especially when freshness of your hair leaves much to be desired? Go for a sleek pony and upgrade it with a rope braid. When a girl is about to impress everyone with a sassy style, showing how daring she is, she opts for a high side ponytail. And when a girl wants to express her softness and femininity, she wears a low twisted ponytail, styled to the side. If you're going to create a delicate and subtle look, this idea will come in handy: a lovely side twist with a voluminous pony that gives a slight asymmetry is a look to steal.
Dutch Mohawk Braided Ponytail
Source: Hairby_chrissy via Instagram, Hairby_chrissy via Instagram, Taylor_lamb_hair via Instagram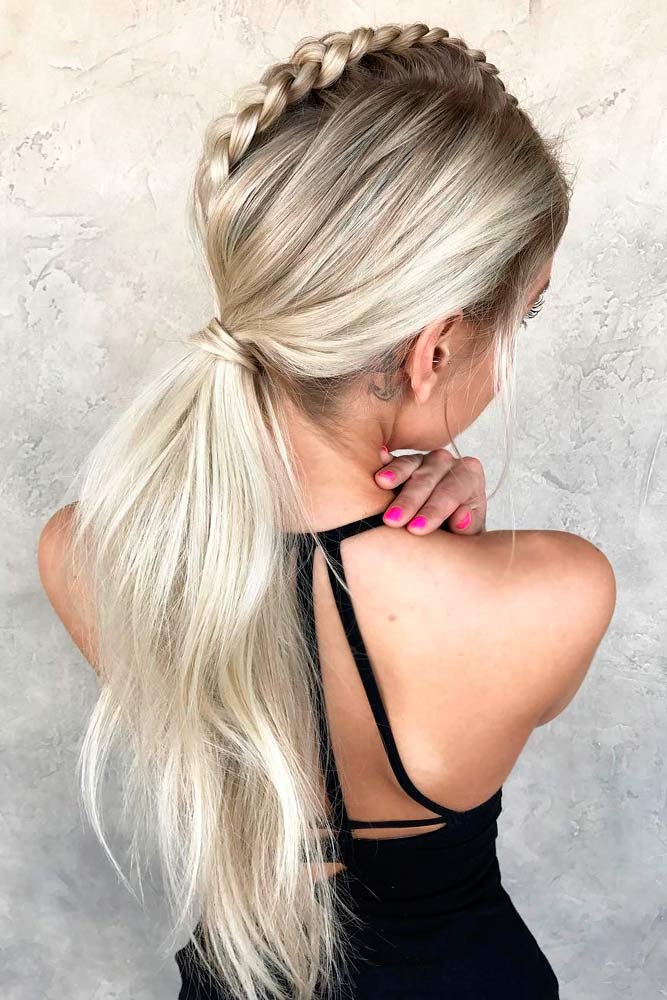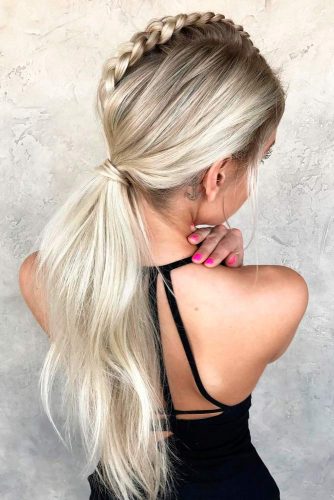 Source: Missysueblog by Instagram, Theconfessionsofahairstylist via Instagram, Laetitianoterdaeme via Instagram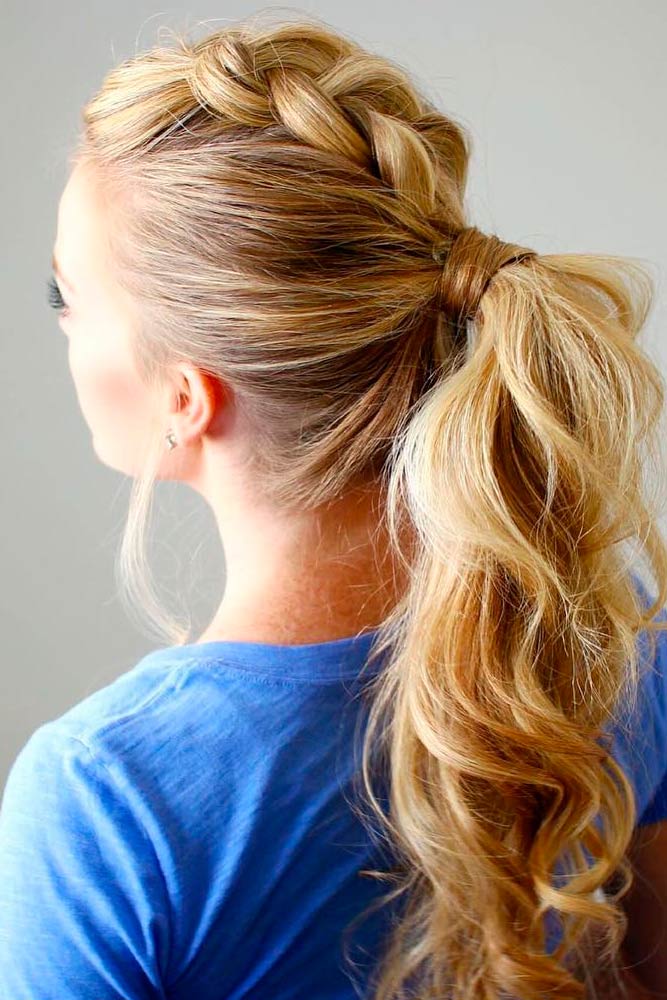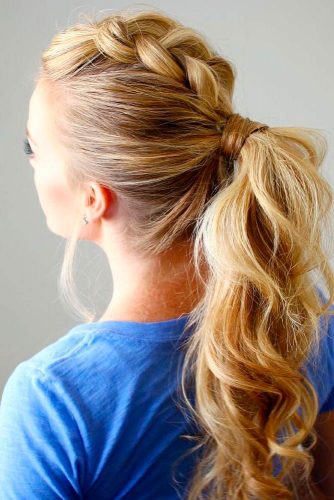 As a result, the roots will become fresher, and your cute pony will get that necessary volume and texture. You won't be afraid of sweating much while working out with such styling product.
Cornrows Into Ponytails
Source: anniesforgetmeknots by Instagram, habitsalon via Instagram, natalieannehair via Instagram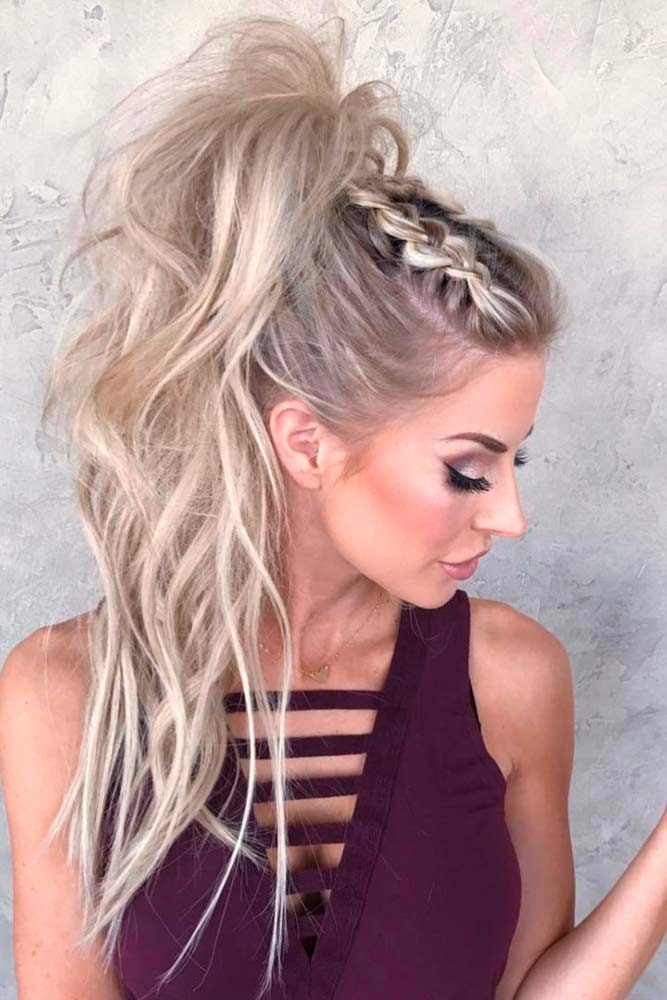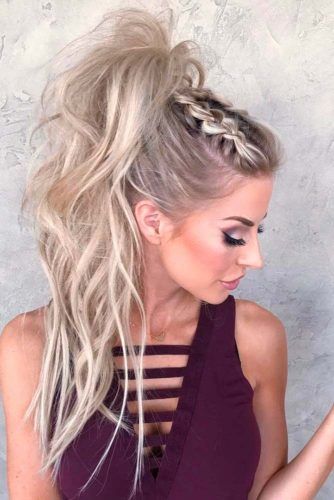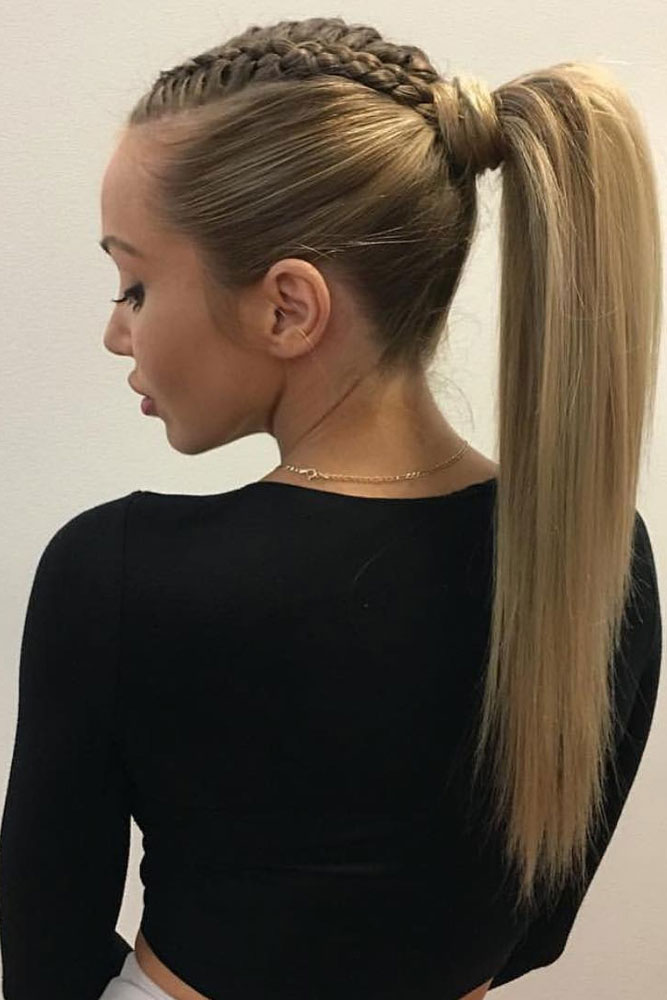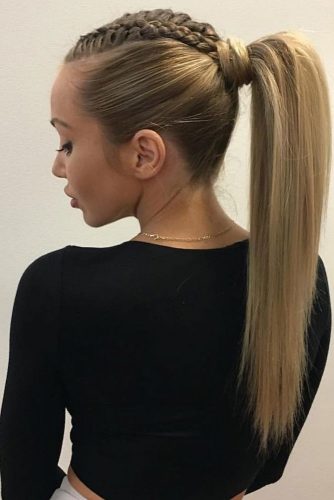 If you are looking for something that would make a killer combo together, then we may have an idea. How do you feel about braided front and a sleek long pony?
Ponytails Into Fishtail Braids
Source: lustrelux via Instagram, missysueblog via Instagram, habitsalon via Instagram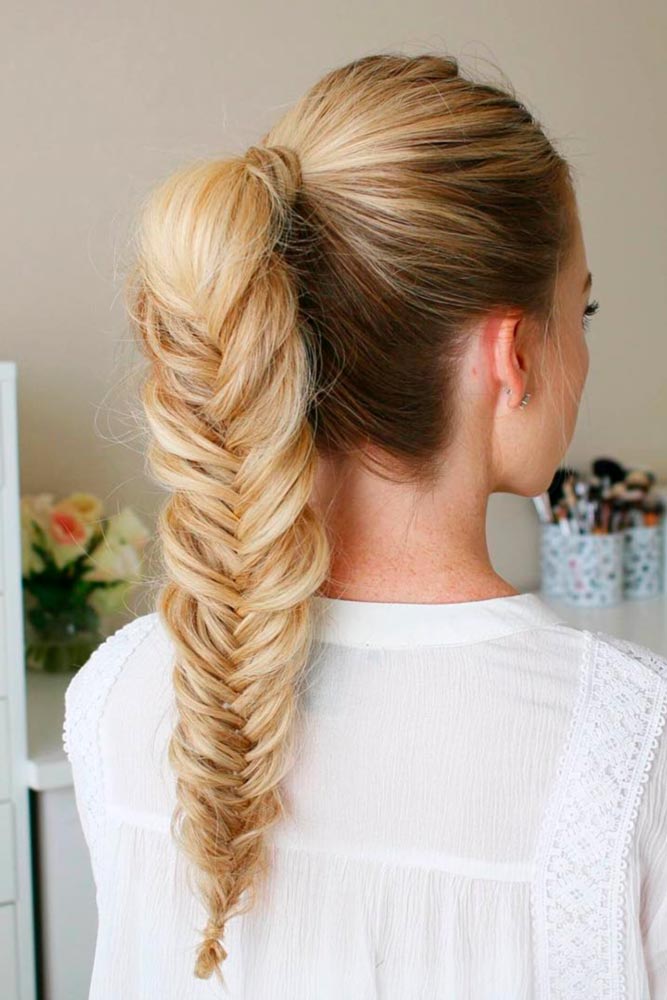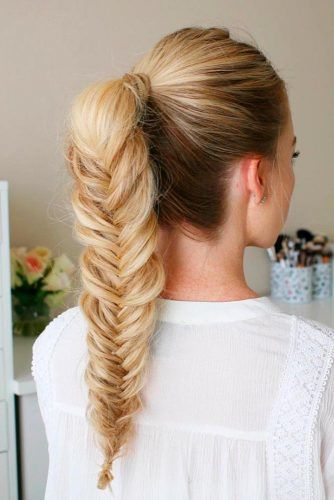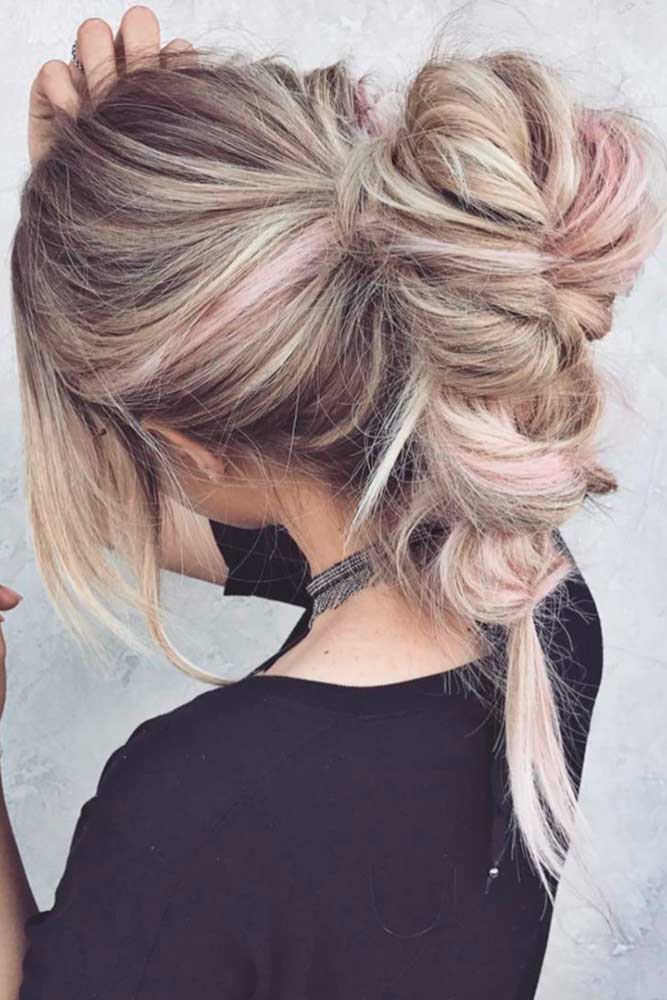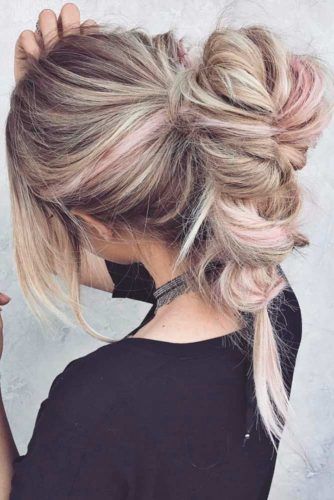 Plus, you can even revamp your pony during the day and easily turn it into a top knot or a braided ponytail. This option is great for ladies who love the constant changing of their image.
Topsy Tail Pony
Source: segura_styles via Instagram, Bangstyle, Twistmepretty via Instagram
Besides being simple to create, this hairstyle is ideal both for a day at work or school and a special occasion. Start with sectioning out the hair in the front. Take a pin to style the remaining hair.
ADVERTISEMENT ‧ CONTINUE READING BELOW
Ponytails For Natural Hair
Whether you have natural hair or extension, a ponytail is a great way to show off your facial features. With your hair pulled back in an elegant pony, you can really show off your gorgeous face and accentuate your features with fun and flirty makeup. You can also rock some gorgeous dangly or funky earrings. The possibilities to express yourself with these ponytail hairstyles are endless!
Sleek Side Ponytails
Source: Roccastillo via Instagram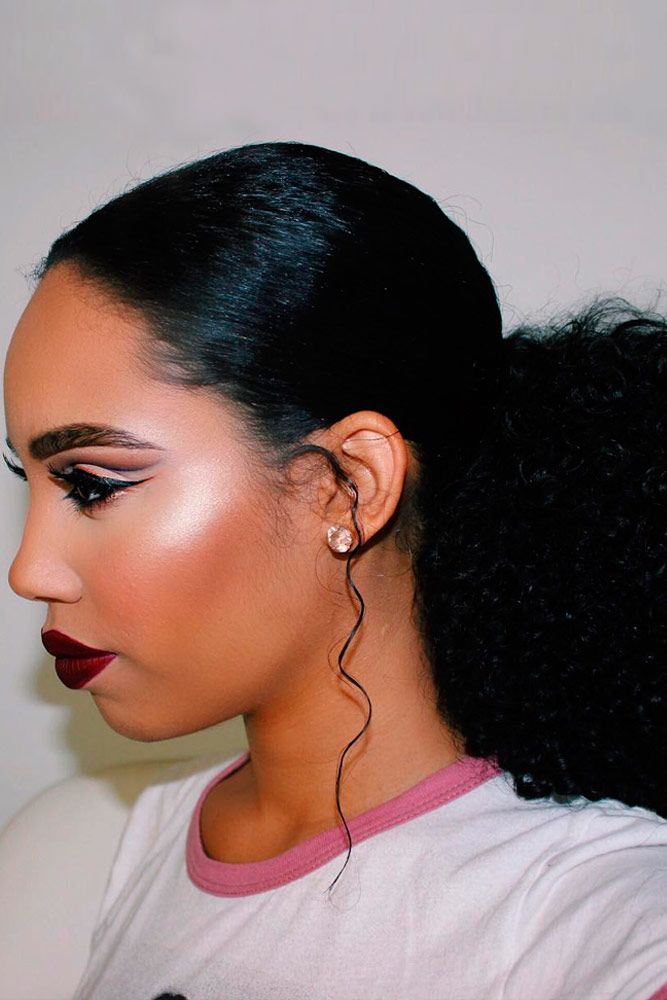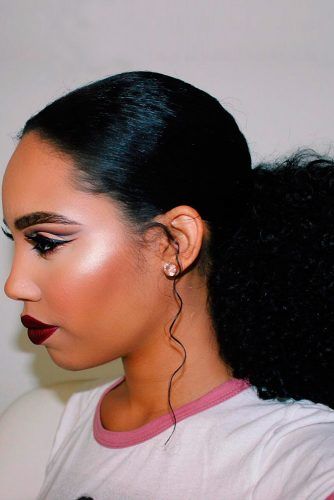 For those with a more asymmetrical hairstyle you can rock a side ponytail for a sophisticated look. This works especially great on two-toned hair color. The look is sleek from top to bottom and you can easily pull this look off in just a few minutes and end up with a highly glamorous style.
High Ponytails For Relaxed Hair
Source: Jaydepierce via Instagram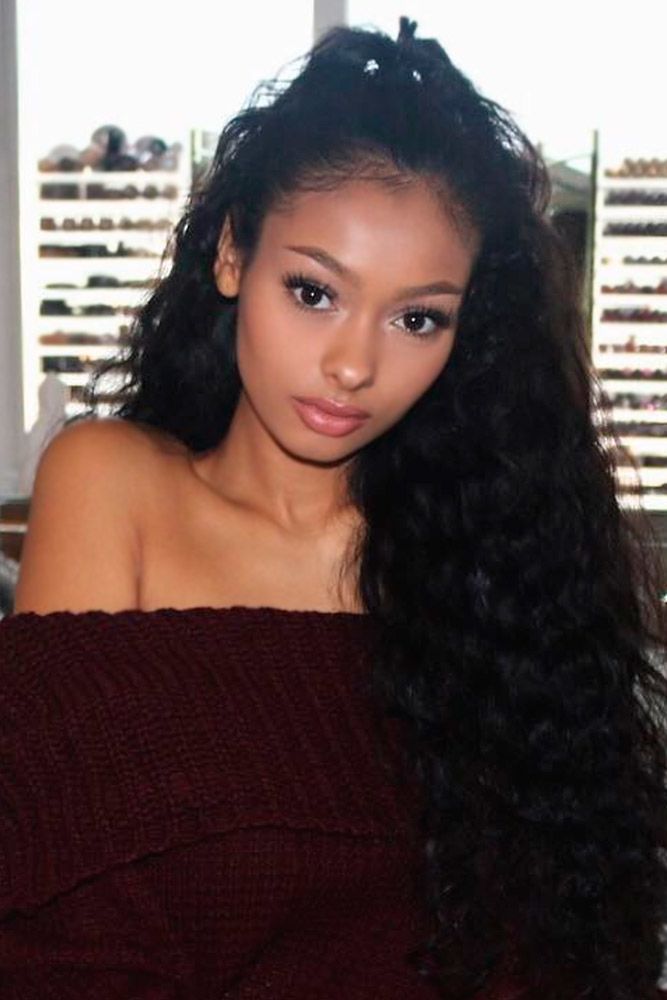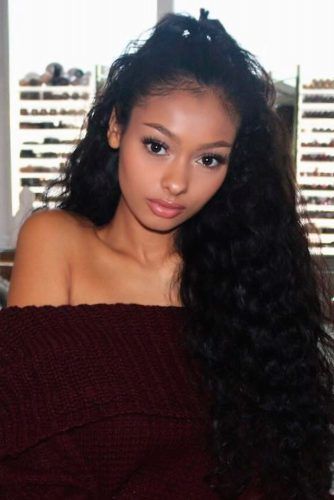 If you want a sleek ponytail for a night out on the town or a special event, you need to pull it back very tightly and neatly. You should place it high enough so your hair cascades gracefully around your face.
Neat Ponytail Style With Voluminous Curls
Source: Iamaaleeyahpetty via Instagram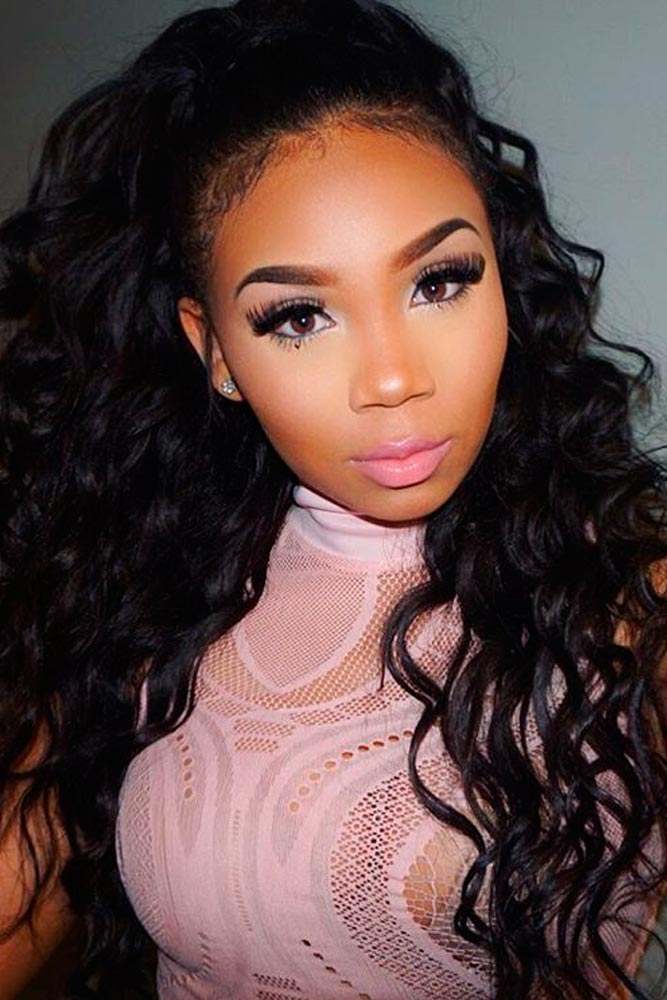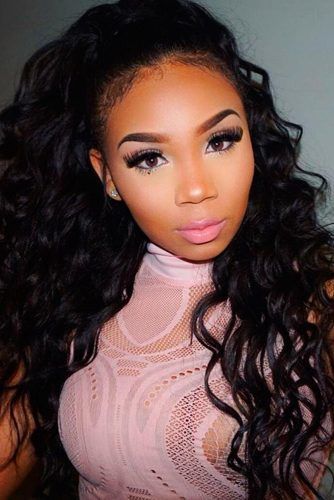 Full, voluminous curls look outstanding in chic ponytails just as well as they do in side down styles. This gorgeous hairstyle with flowing satiny curls gathered into a loose ponytail are glamorous enough for a night out on the town or a black tie event.
Natural Curls Pulled Back Into A Ponytail
Source: Mua_myesha via Instagram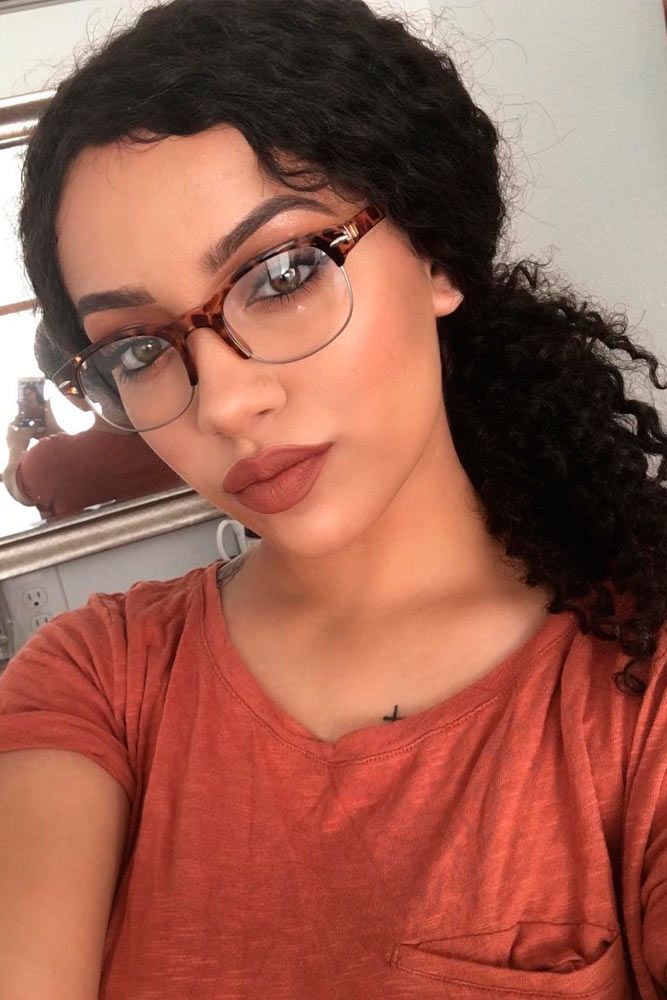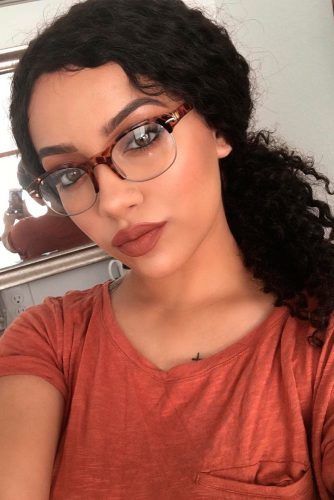 Jordin Sparks can rock a simple ponytail with her gorgeous natural curls. For a very natural effect, her pony is set at mid-height and is loosely tied, so her gorgeous curls can fall gracefully and somewhat seductively. If you are blessed with natural curls, you can sport curly pony every day and look totally adorable and alluring.
Long, Braided Ponytail
Source: Mseziemela via Instagram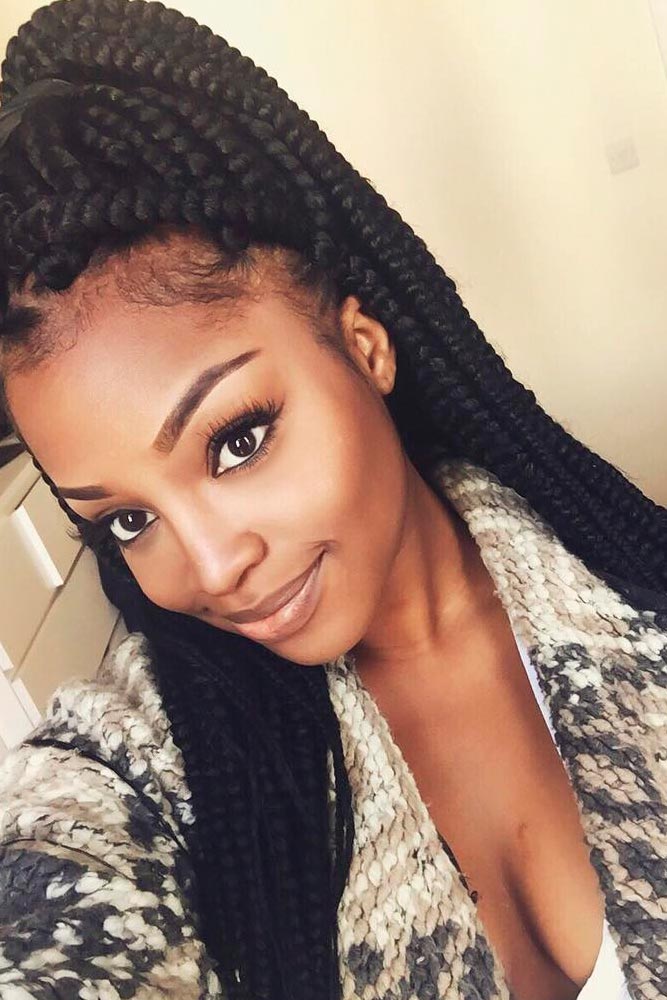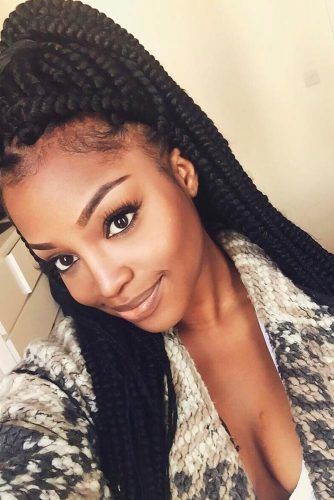 This ponytail style is unique with its really long braids making this style a definite head-turner. The ponytail is formed from several pieces of varying lengths that have been braided individually. The top is divided into three braided sections. The thing that makes this look stand out is that the base is braided with intricate details and then is wrapped around the ponytail.
Low, Sleek Pony With Waves
Source: Hairbynel via Instagram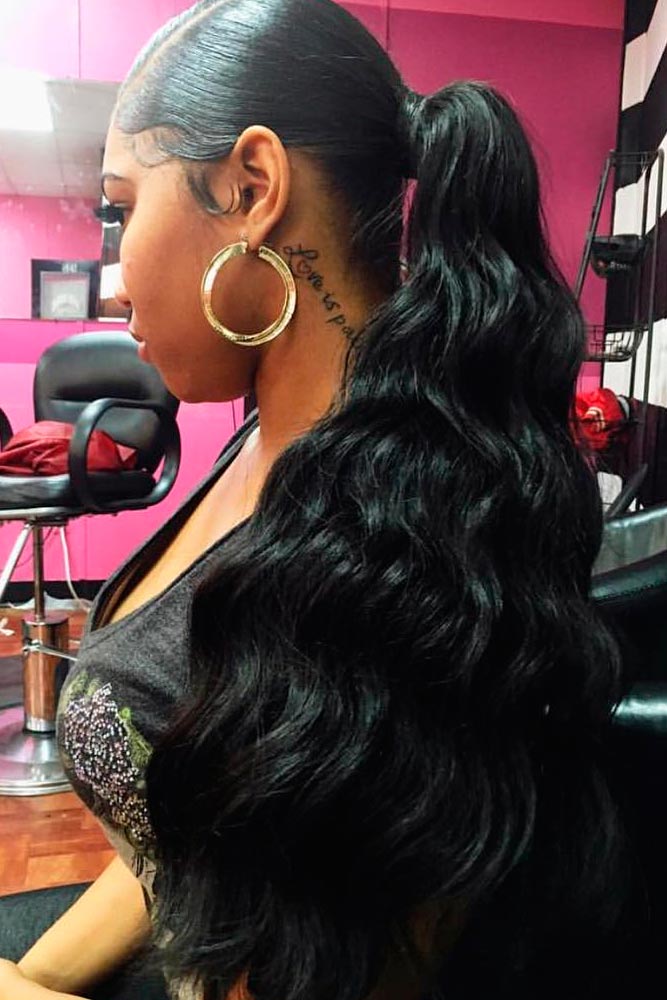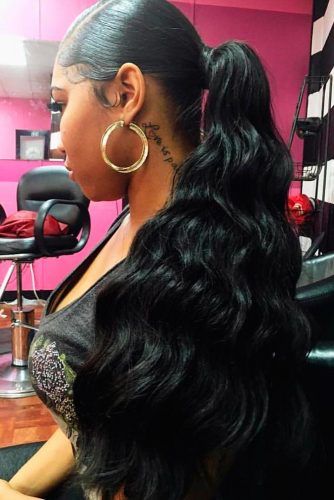 This look works best on relaxed hair. Or, if you want you can also use hair extensions in case you do not have enough natural hair to recreate this gorgeous ponytail. With its sexy and shiny loose waves, you will be sure to turn heads as you enter a room. All you need to do is make a low ponytail with a side part, then wrap your hair around the ponytail base and make loose flirty waves with a curling iron.
Curly High Ponytail
Source: Aaliyahjay via Instagram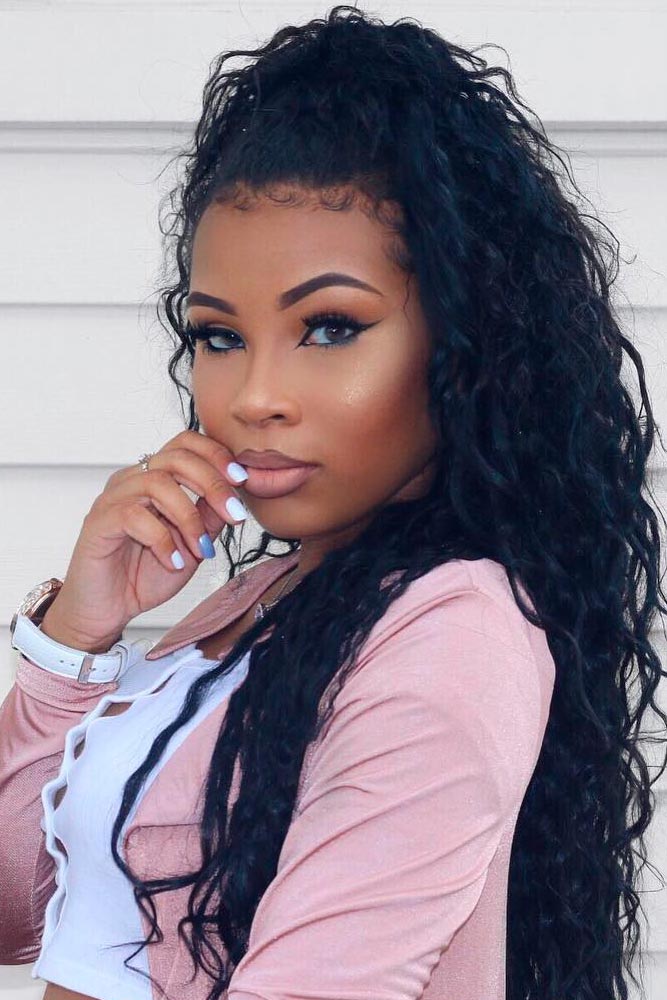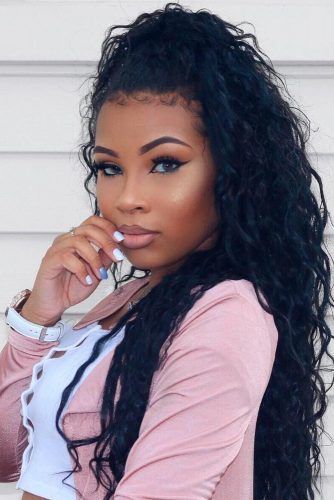 Textured ponytail hairstyles are a great way to create a dramatic effect. This high ponytail consists of tons of smaller curls to create a look of sheer volume. The highlight of this style, however, is the intricate cornrows that have been braided into the hair before it was gathered into the ponytail.
Accessorized High Pony
Source: Shantania_beckford via Instagram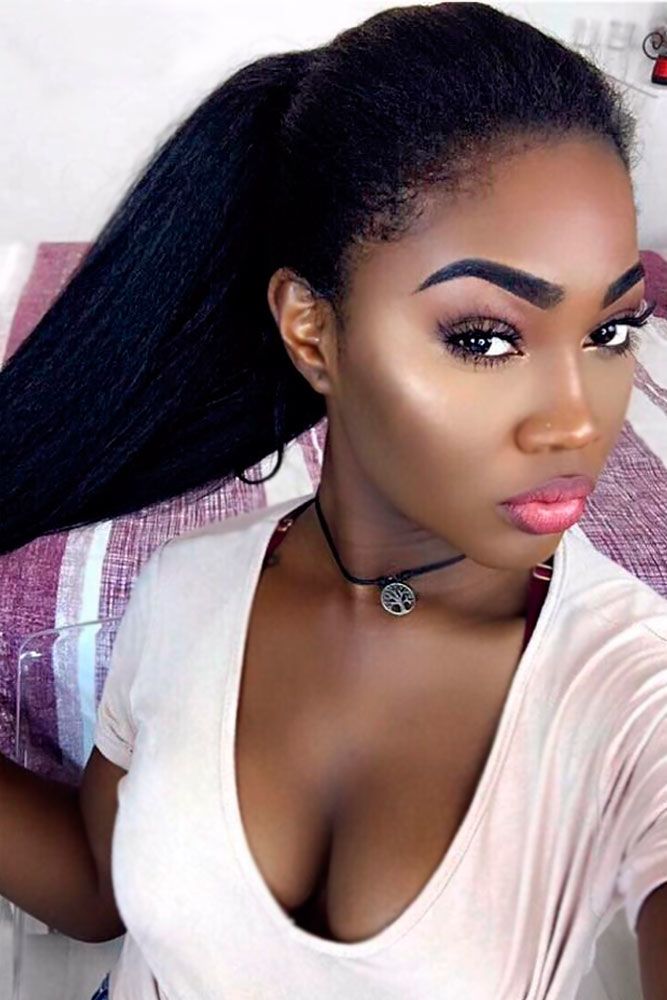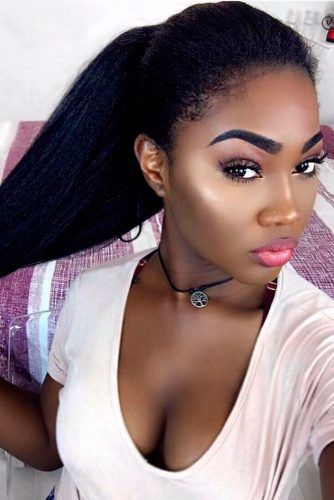 If you really want to rock a high pony, you can keep the pony itself simple and classic and adorn it with a fun accessory. You can sport a gorgeous colorful scarf, a delicate hair flower, a detailed barrette or whatever hair accessory you choose. This look works great if you need to quickly switch from casual to a bit more formal and allows you to express your personality in a fun, carefree way.
Braided Ponytail
Source: Curlupanddyejanet via Instagram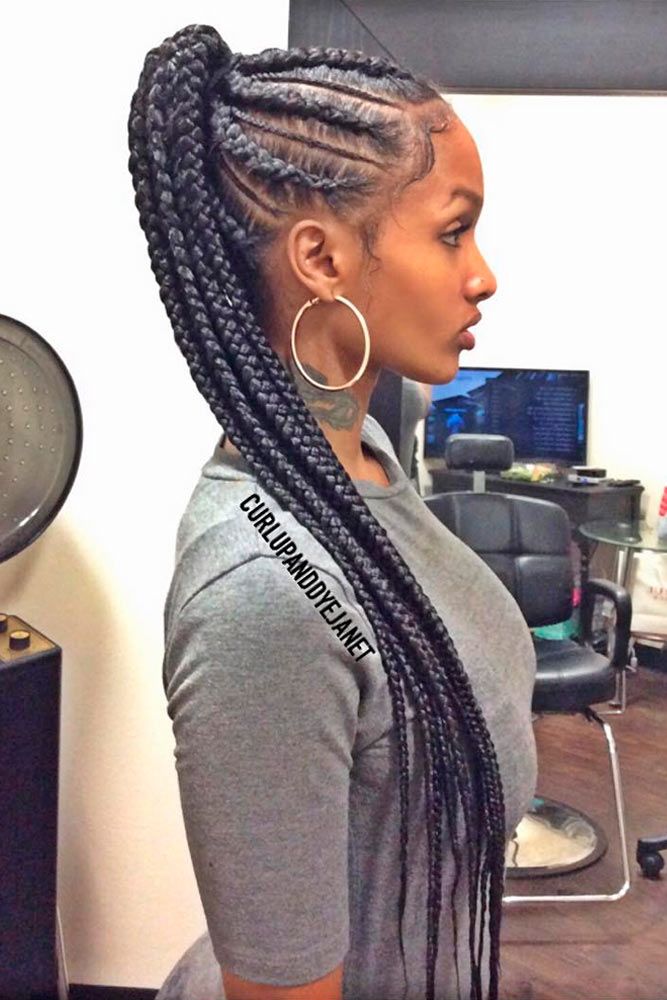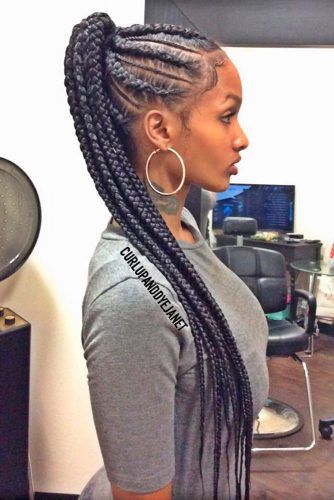 You can easily gather dreads, twists, and box braids into a variety of cute braided ponytail hairstyles that are both comfortable and chic. Braids and ponies are extremely versatile hairstyles. If you want to rock your curls or straighten your tresses, a ponytail is a superb quick fix if you are in a hurry.
Low Ponytail With Bangs
Source: Hairstylistof_la via Instagram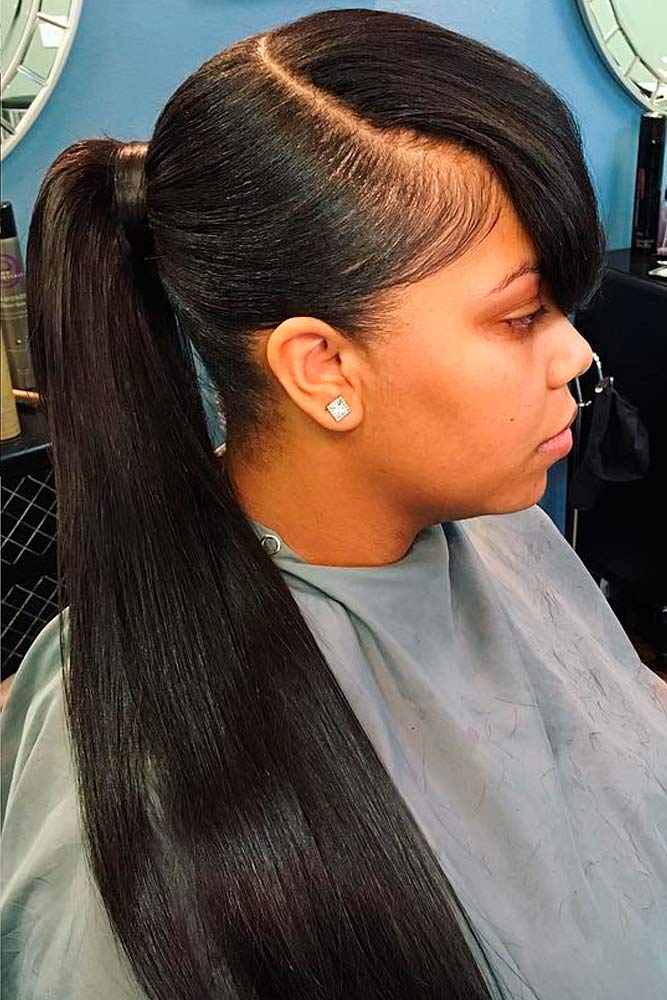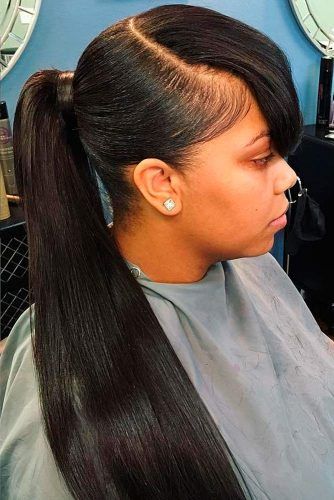 If you have bangs and want to pull the rest of your hair away from your face for a more dramatic look, a low ponytail works best. This effortless look can be put together in just a matter of moments. You can add a cute little accessory and sweep your bangs to the side for a more glamorous effect.
Pony With Bangs And A Bouffant
Source: Blacchyna via Instagram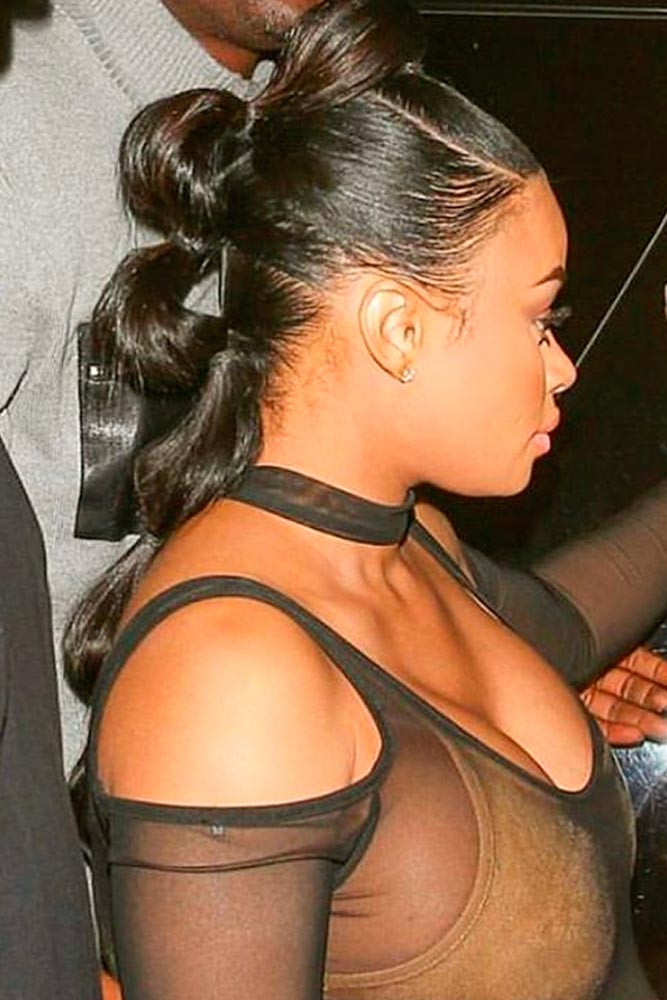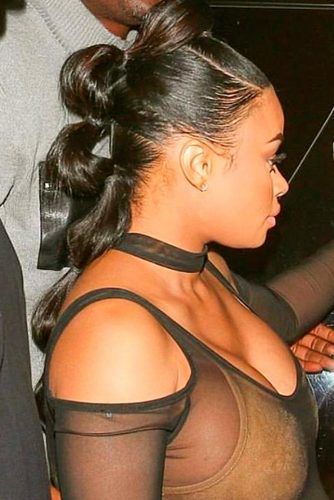 If you are looking for a more playful and unique ponytail style, you can try this adorable ponytail with a bouffant, side bangs, and delicate waves.
Micro Braid Ponytail
Source: Curlupanddyejanet via Instagram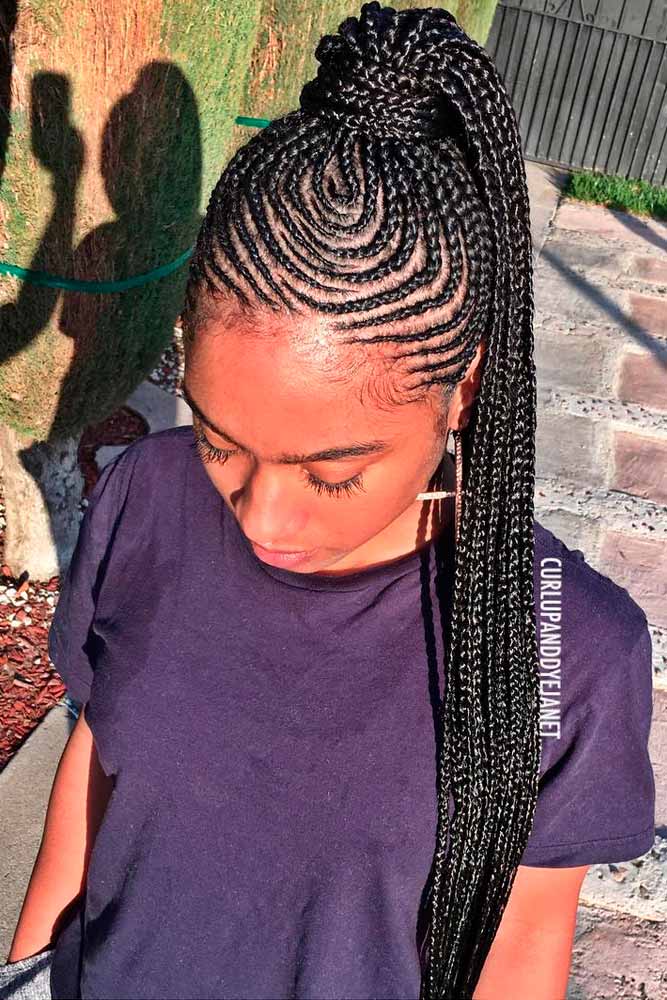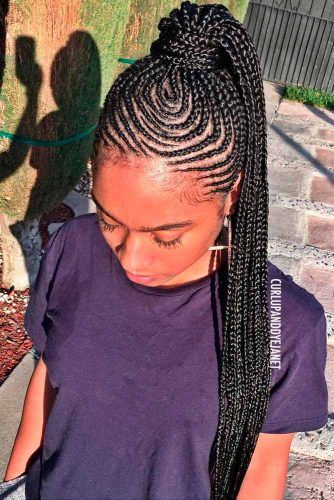 This fun style will show off rows of small cornrows that have been braided very close to the scalp and then carefully swept into an adorable ponytail. The ponytail itself is left to hang freely. This style will work great for fun activities such as vacations and weekend getaways.
High Pony With Braided Base
Source: Curlupanddyejanet via Instagram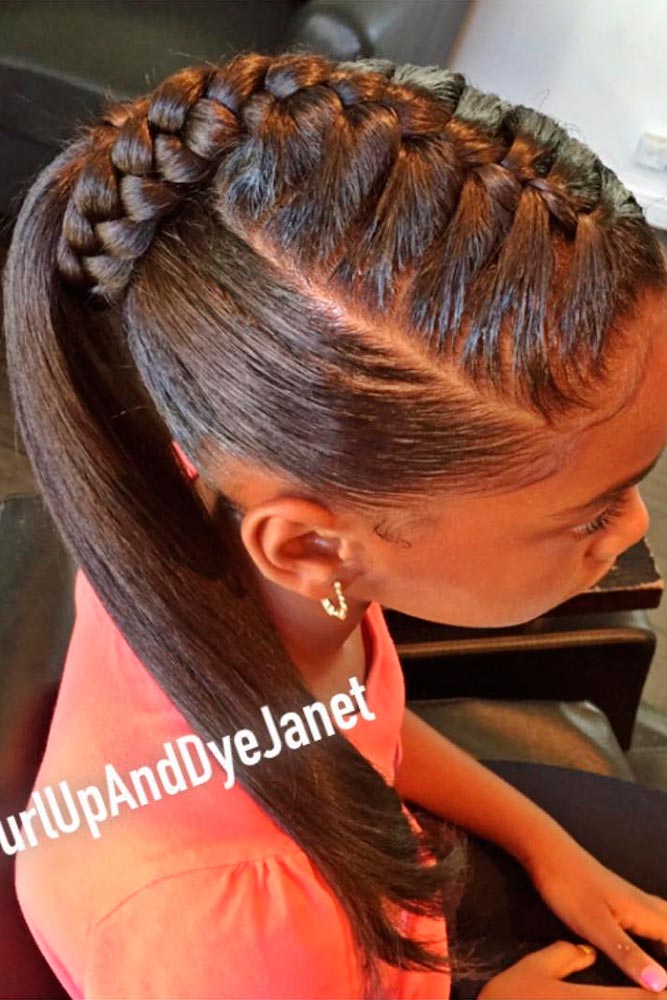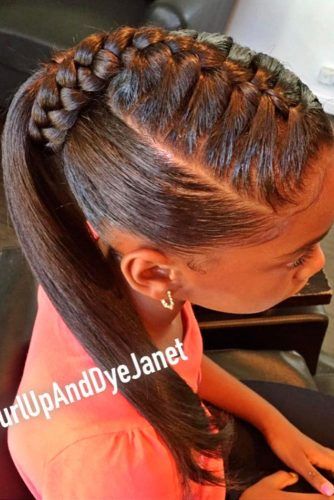 While this particular style doesn't feature a great deal of frills or intricacies, it is fairly easy for most women to pull together in a short time. The braided base consists of medium braids that are then wrapped around the base of the ponytail itself, which should be fairly high for a more dramatic look.
Twisted Side Ponytail
Source: Curlupanddyejanet via Instagram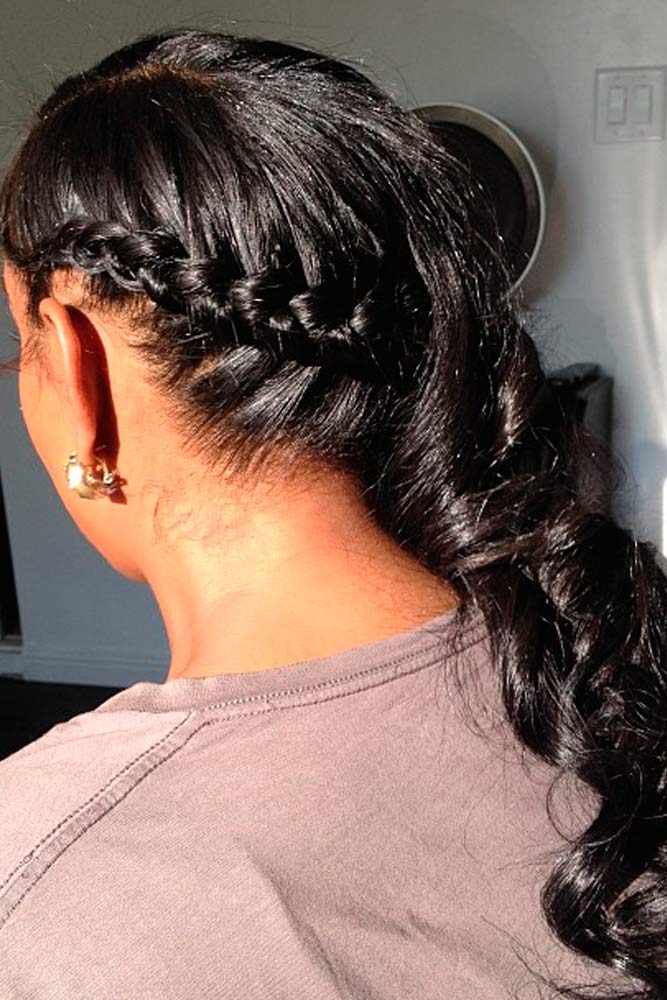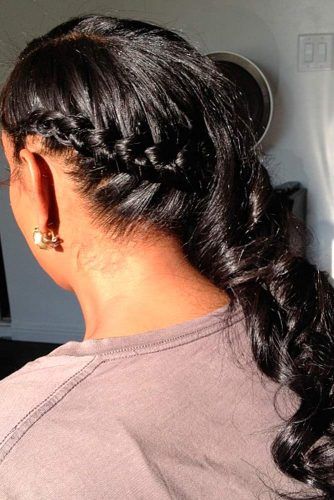 While high and low ponytails are classic, chic and sophisticated, a side ponytail can be just as elegant. In this ponytail style, the ponytail is left to hang loose and free, which allows for the intricately detailed front section to be the main focus. The hair is deeply parted to one side and then twisted elegantly into a half crown-like design.
Shiny And Sleek Pony
Source: Keevahair via Instagram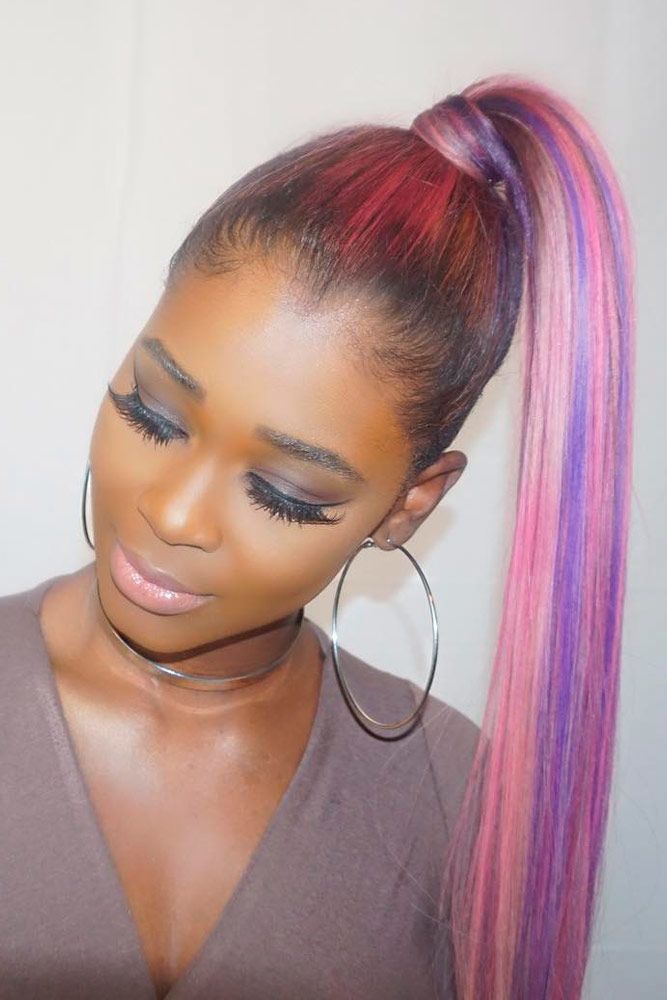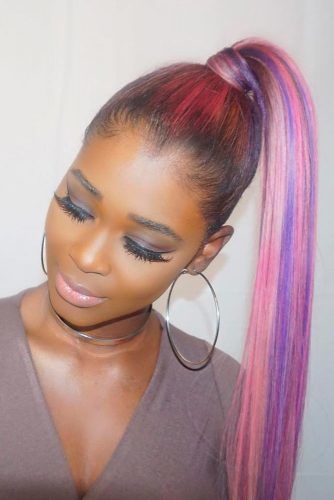 Google Rihanna's many gorgeous hairstyles. She can totally pull off a sleek ponytail. Check out the low ponytail with the perfect blend of sleek and shine. This elegant style is easy to recreate at home. Simply add serum for shine and make sure your hair is pulled back very tight.


ADVERTISEMENT ‧ CONTINUE READING BELOW