Curly pixie cut may not be the first thing in mind when you want a makeover. But a short wavy or curly pixie is great if you are looking for a way to cut your hair in style. If you have naturally curly hair, a pixie cut can add life to your tresses.
A traditional pixie cut is timeless and classy. But there are many trendy new looks for pixies to express your personality. Pixies are a great way to make a bold change to your look.
Take a look through our photo gallery and choose the curly pixie cut that speaks to you!
Cute Short Curly Pixie Cut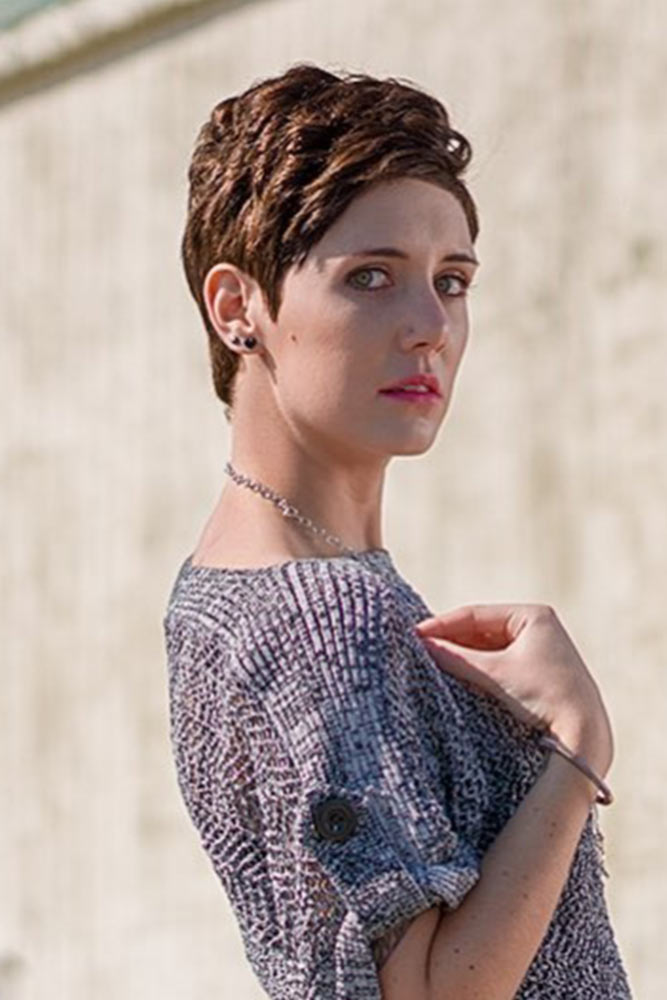 Source: joleedvorak via Instagram
This cute curly pixie cut with short wispy layers is very chic. It would be a great look if you want to give off a professional aura for work. It's fun and feminine too! The light auburn shade and short layers also add texture to this sophisticated cut.
You only need great hair products to achieve this look, and, of course, a good hairstylist to give you instructions on how to style a curly pixie cut. Curls don't require too much time in maintaining them. Just give a very little effort and you're good!
Long Pixie Cut For Curly Hair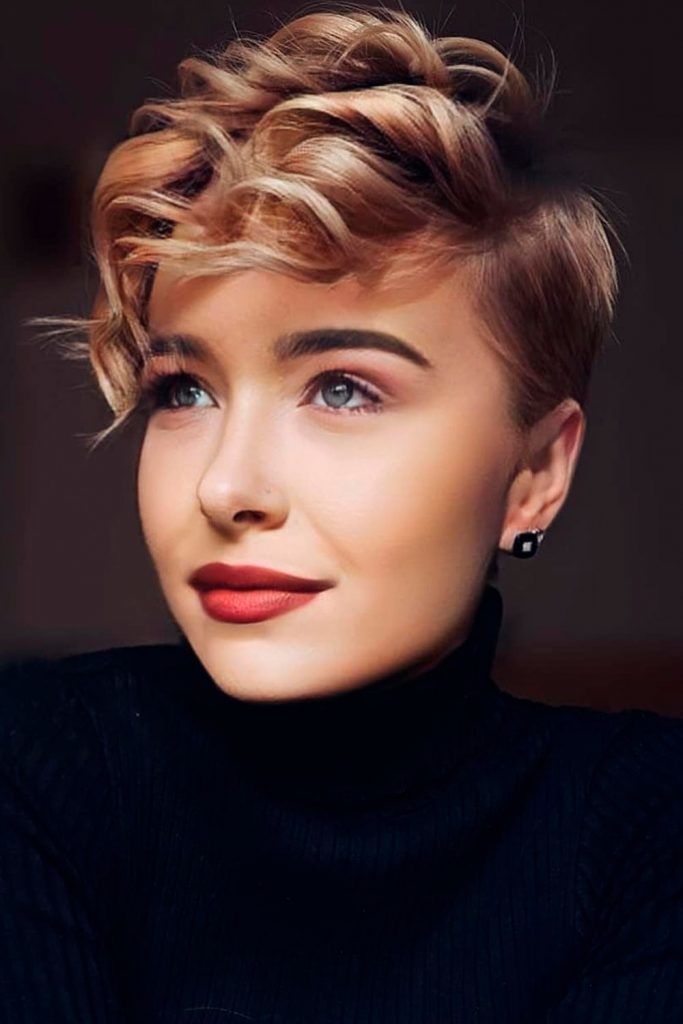 Source: magfam25171 via Instagram
The longer and bouncy bangs in this gorgeous curly pixie cut give it a very feminine edge. The shaved sides offer a slightly edgy vibe that speaks nothing but fashion! Finger-combing for this style is suggested to keep the strands in place while giving you the chic look.
Looking like a curly pixie cut with bangs with a twist, this is ideal for the adventurous and good-natured women who love to experiment with pixies. So, if you want to show off your class and fun side, this is a perfect look for you. It would be fun to try this!
Curly Pixie Cut For Beautiful Natural Hair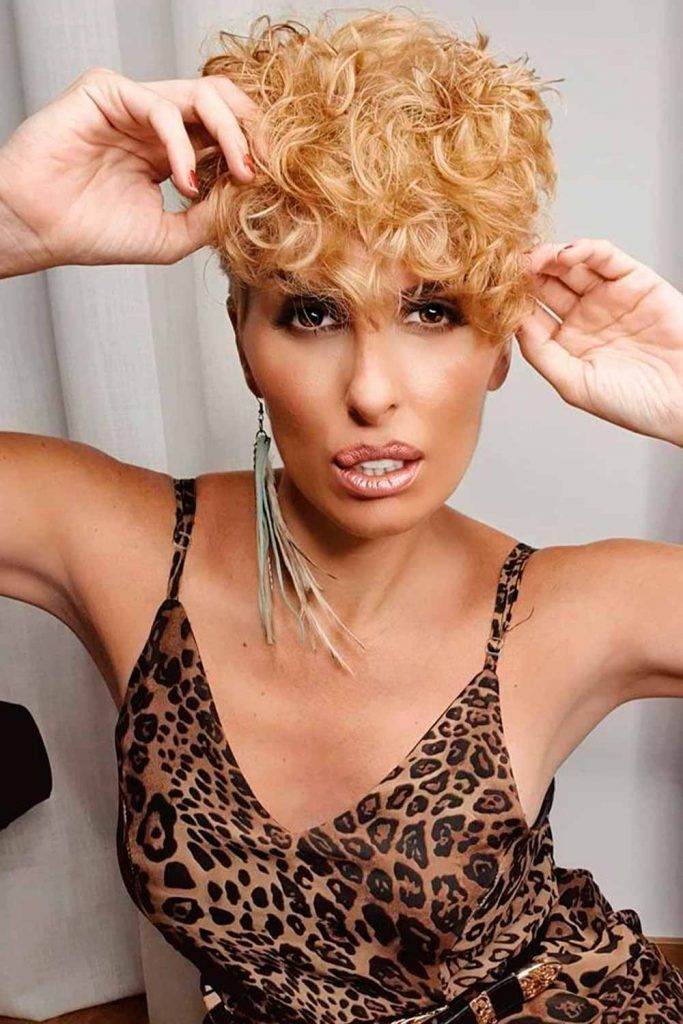 Source: silviagullon via Instagram
Don't be afraid to go short if you are blessed with tight curly hair just like this naturally curly pixie cut. It's a great way to showcase those gorgeous natural curls. Just ask your hairstylist for more length in the front to add volume and texture to it. Style your bangs wispy so that they fall over your eyes in loose tendrils for a fun and flirty vibe.
This short curly pixie cut is very sophisticated that it can bring you to a red carpet event without trouble. Yes, you can compete with supermodels and A-lister celebrities with this look!
How to Style a Curly Pixie Cut Like a Star
With so many hairstyles these days, a curly pixie cut is definitely worth a try, especially when you are a woman of style and fashion. But how would you style it? Simple - you'll need some safe hair styling products and your magical hands to do it. Pixies require very little effort to maintain them. You only need a willingness to do so. It's exciting, right?
Tight Girly Curls on Short Pixie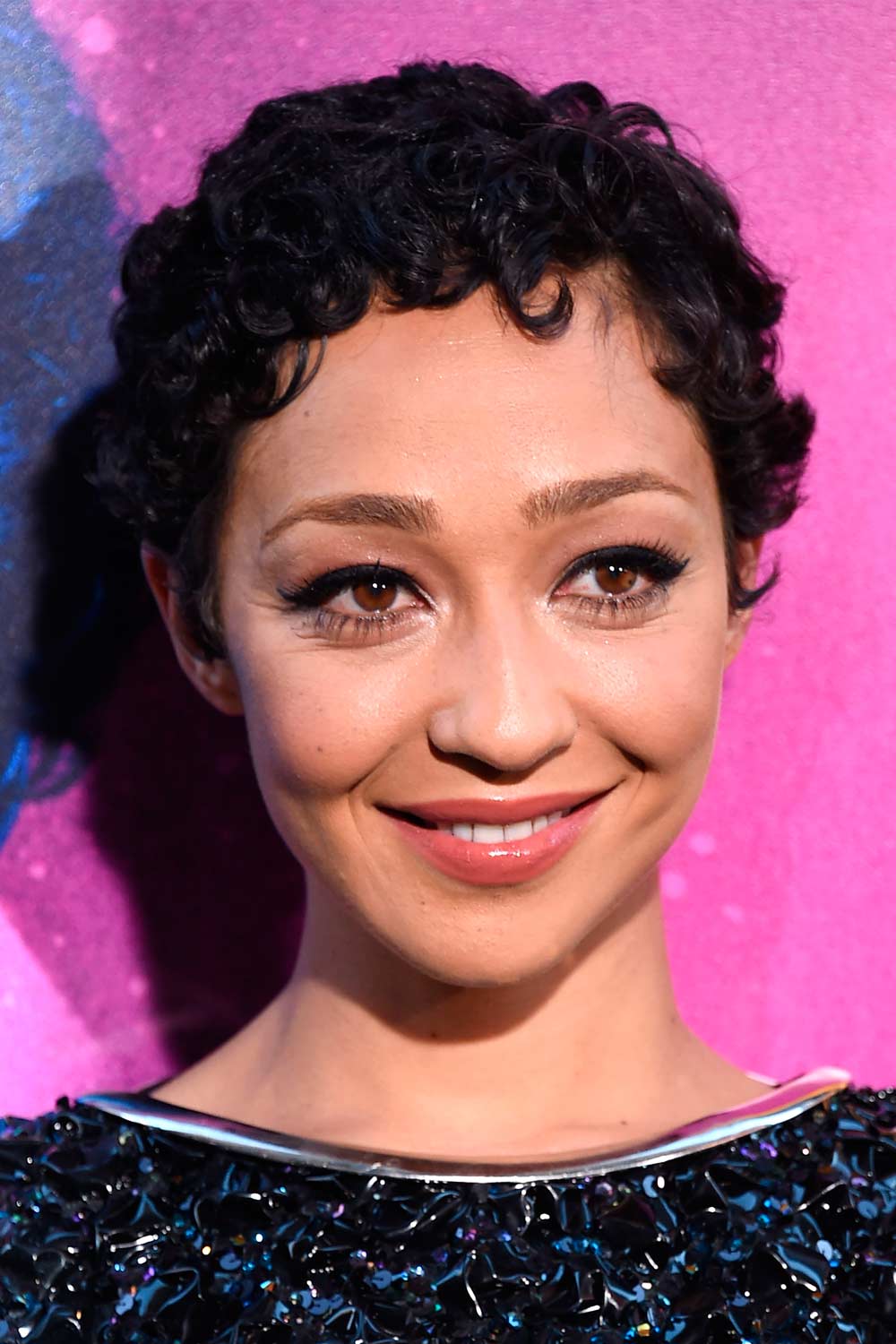 Credit photo: shutterstock/DFree
Sometimes, you get tired of having long hair too and that you would want a curly pixie cut. The real beauty of a hairstyle doesn't define the length of your locs but on how you carry it with confidence and style. This would be perfect, especially when you have naturally curly hair.
So, if you seek something simple yet fashionably recommended by experts, opt for this short curly pixie cut if you have tight curls. It's stunning!
Full on Top Curly Pixie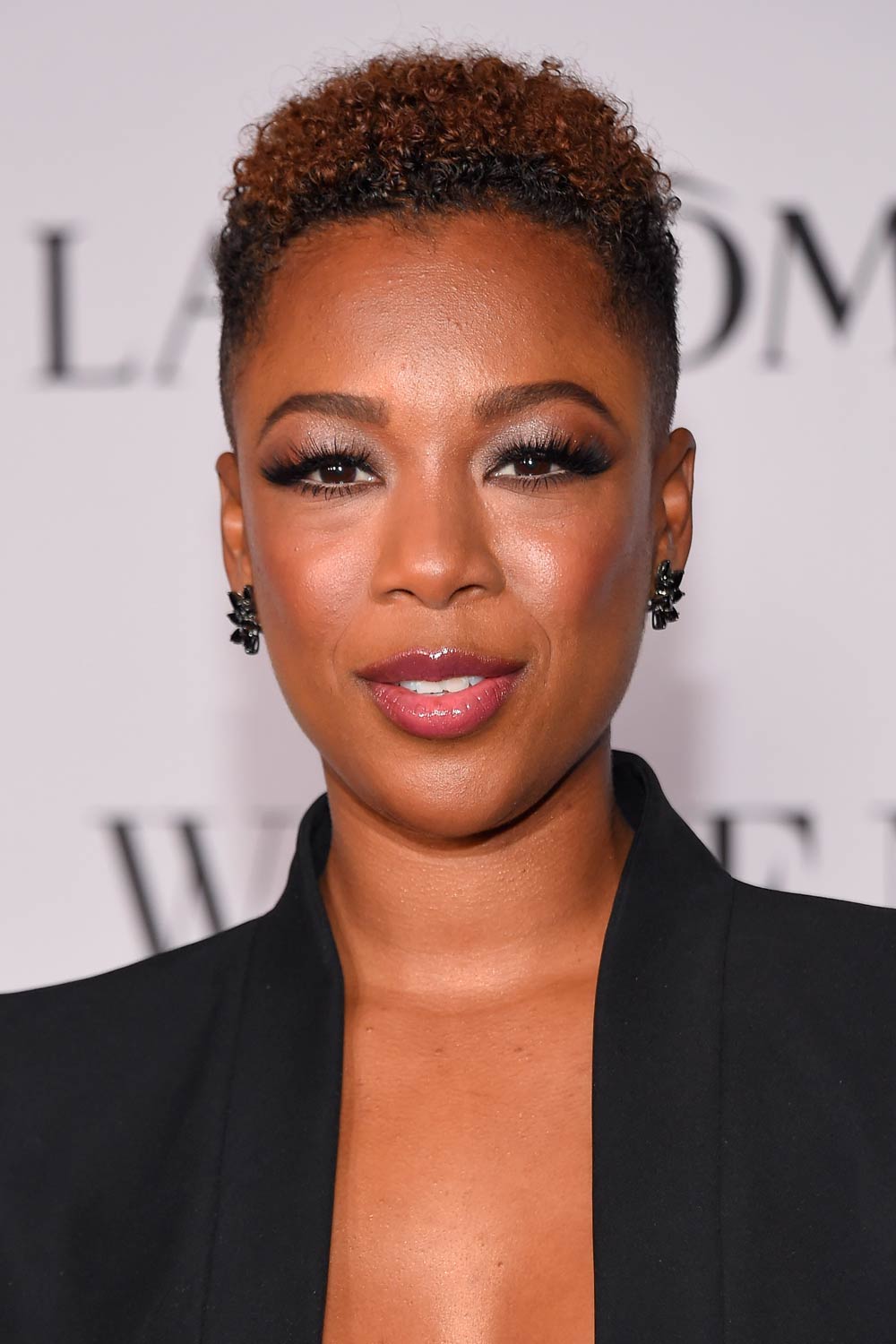 Credit photo: shutterstock/DFree
Black women are blessed with gorgeous curls that even having a curly pixie cut is something that everyone would ask for. And no, you don't have to be a black woman to sport this gorgeous haircut. Regardless of your race, for as long as you have curls, or even when you want your hair permed to achieve this look, you are in!
This pixie cut for curly hair looks professional yet fun and chic at the same time!
Neat and Wavy Pixie Style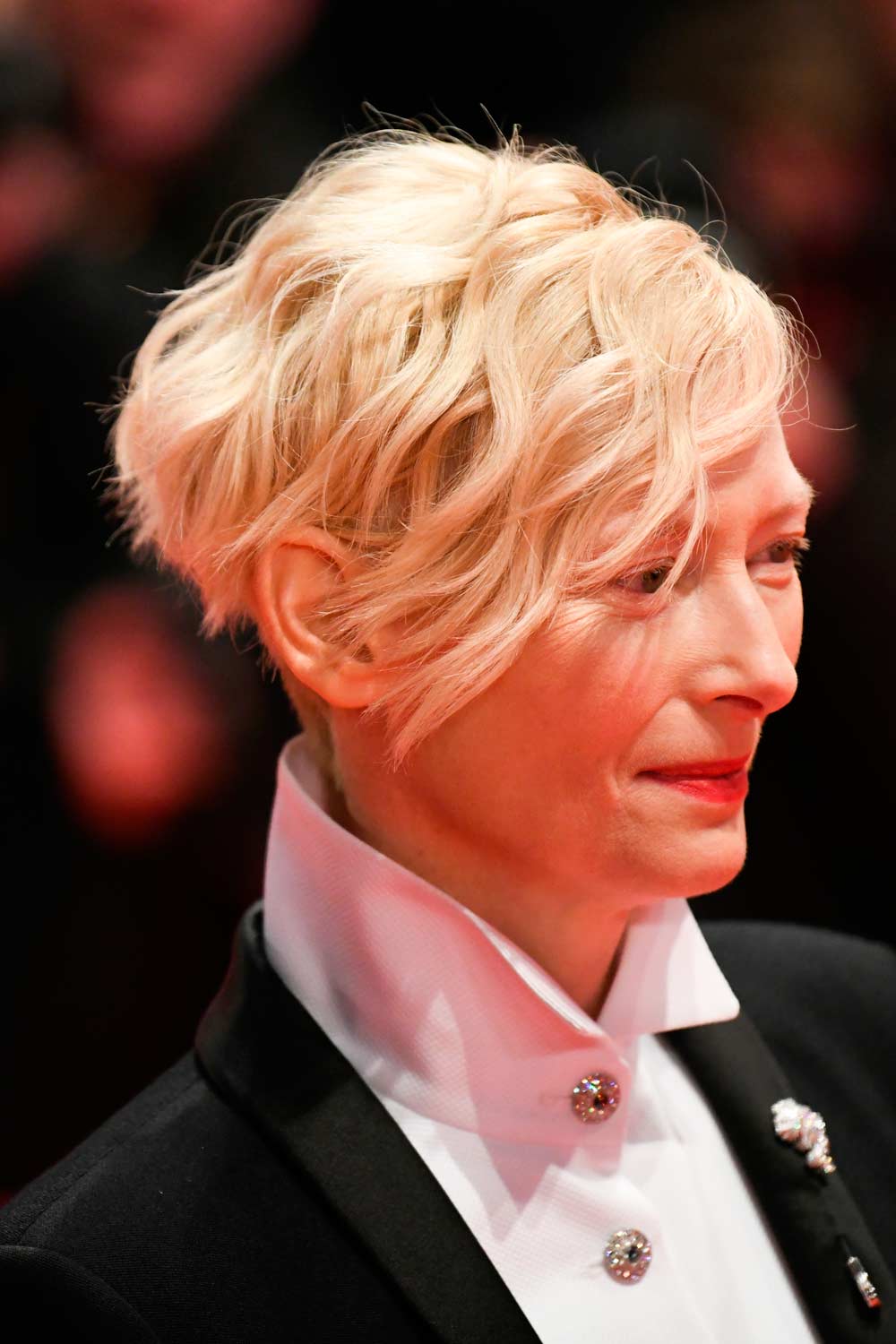 Credit photo: shutterstock/Cineberg
If you are looking for a curly pixie cut that gives you both a professional and stylish look, this neat and wavy pixie style is great for you. Your hair color doesn't matter, but if you are an adventurous woman, go for bold colors like blonde to make it look chicer and eye-catcher!
To achieve this look, give a subtle one-sided style that would look like a curly pixie cut with bangs and neatly finger-comb your locs as desired.
Pixie Haircut with Free Ringlets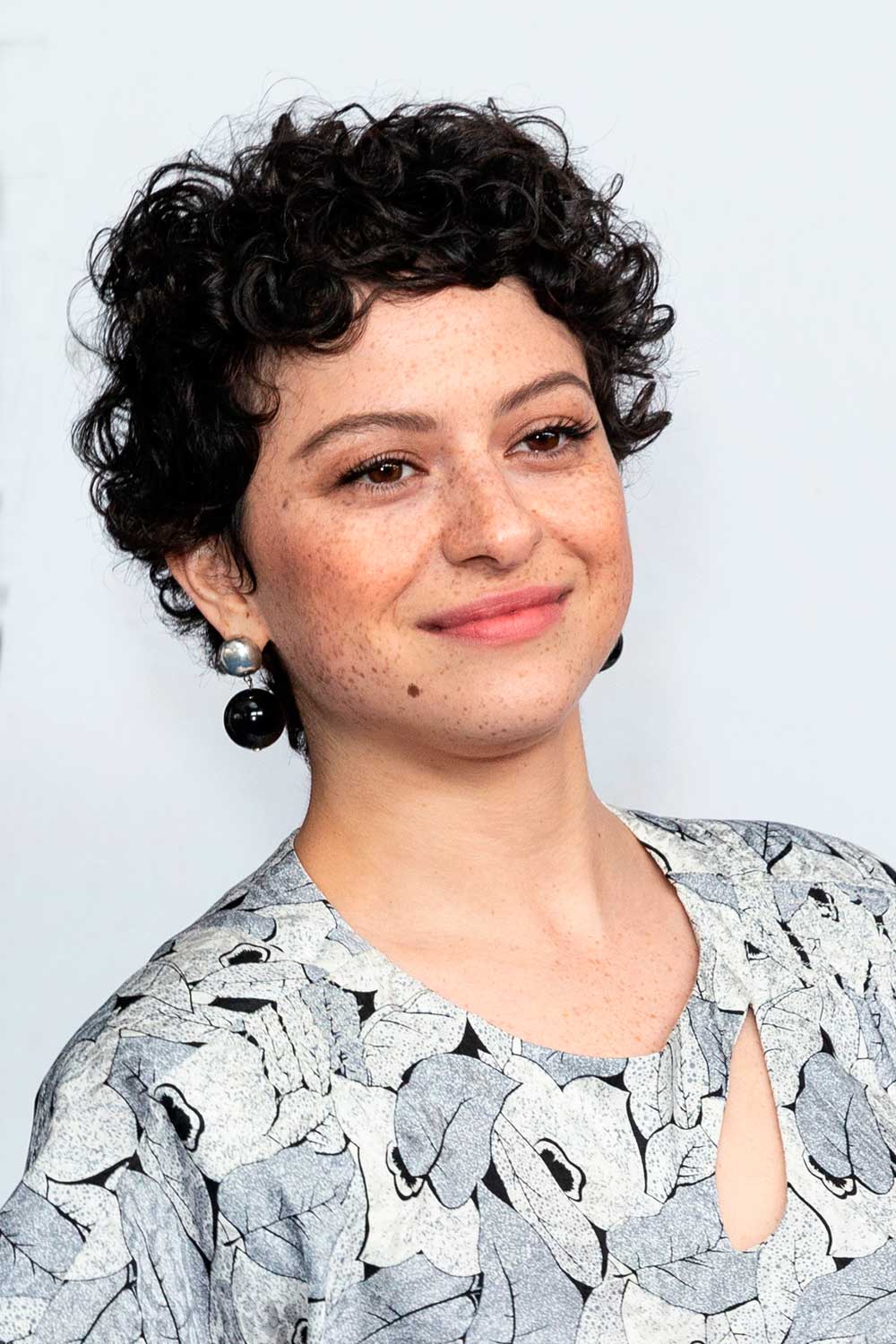 Credit photo: shutterstock/Lev Radin
A curly pixie cut is already gorgeous and tempting to those who seek for short hairstyles this season. One of the perks that curls offer is the free ringlets that help you look more stylish and stunning. If you like a pixie cut that would show off your pretty ringlets, get this style that looks effortless and easy to maintain. Just don't forget to apply some hair lotion for a softer look! It's worth the try!
Soft Curls And Pixie Cut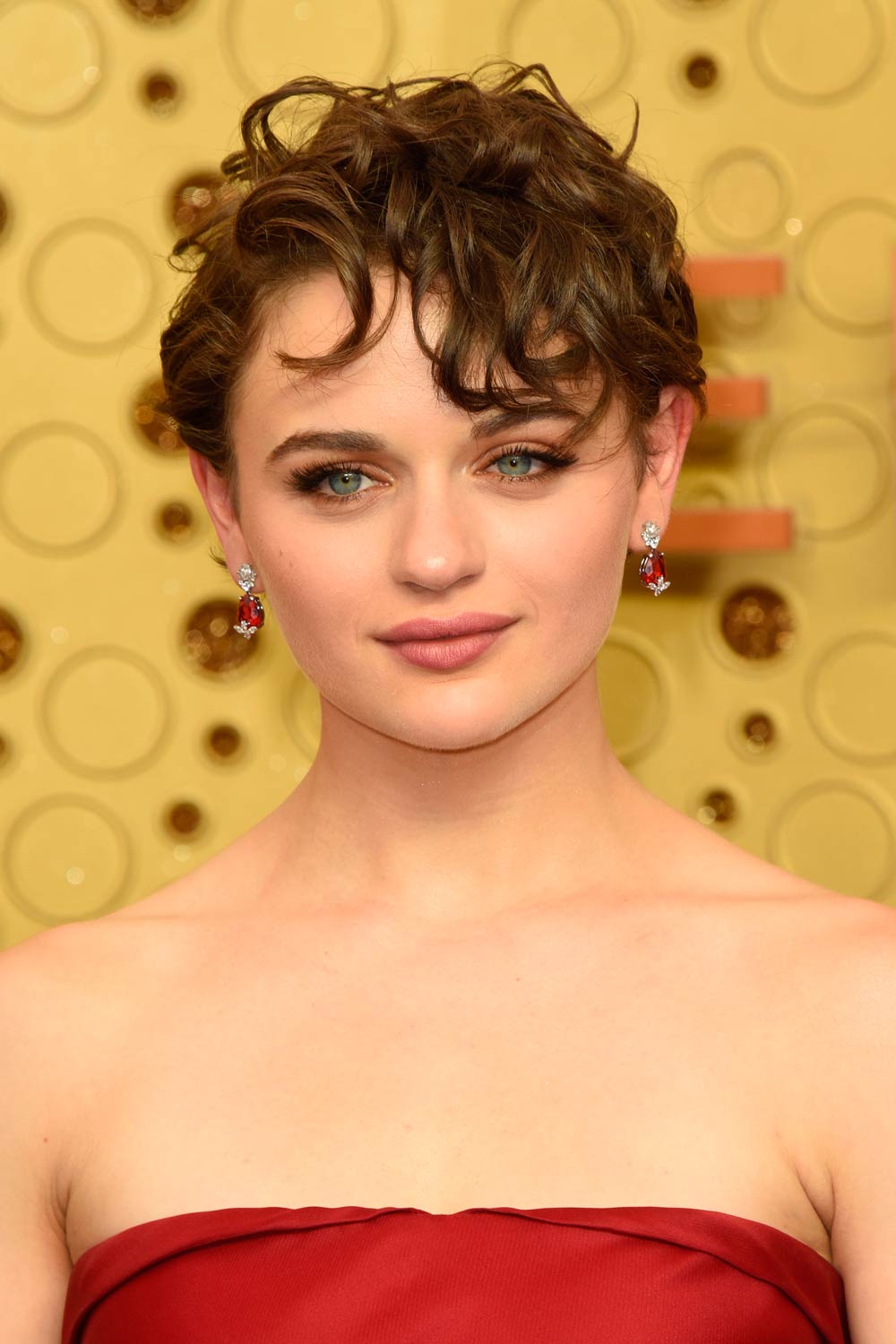 Credit photo: shutterstock/Kathy Hutchins
One of the great things of a curly pixie cut is that it also defines your fun and cool personality. While tight curls are really gorgeous, soft curls give you more ways to style your hair. It's not just great for formal events but also on regular days!
If you love this pixie cut for curly hair, ask for longer locks in the front. Style it using healthy hair products like wax, gel, spray, and more.
Swept Back Curly Pixie Cut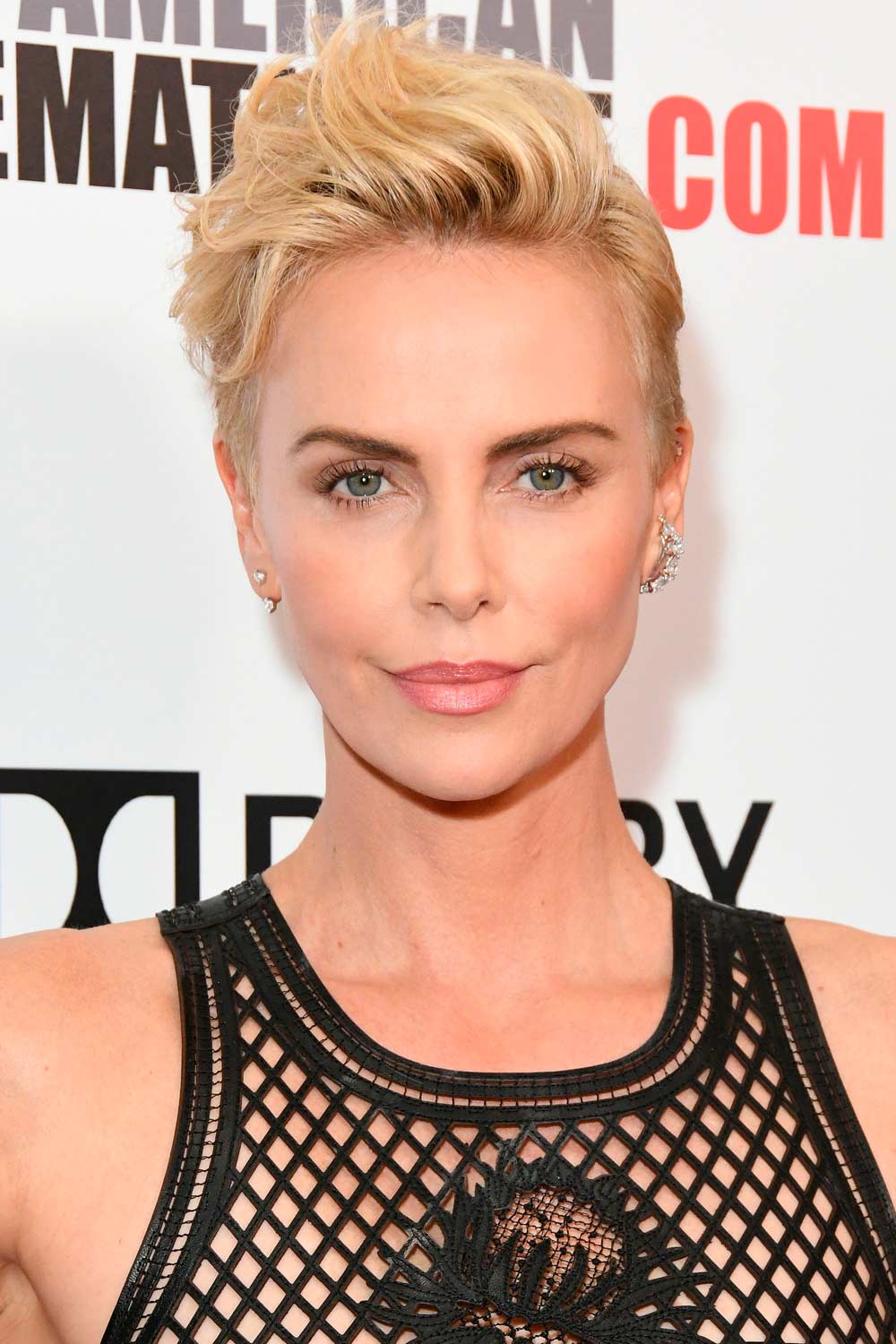 Credit photo: shutterstock/Quinn Jeffrey
Striking and chic, a curly pixie cut is everything you ask for if you are a fan of short hairstyles. There are many ways and styles for this haircut, including a swept-back pixie that frames your face and gives you the look of a fashionista. You only need to have a longer length in the front to achieve this look and comb it backward. Apply hair products to keep it in place. It's absolutely stylish and dramatic!
Curl Pixie Style With Bright Colors
Pixie With Colorful Highlights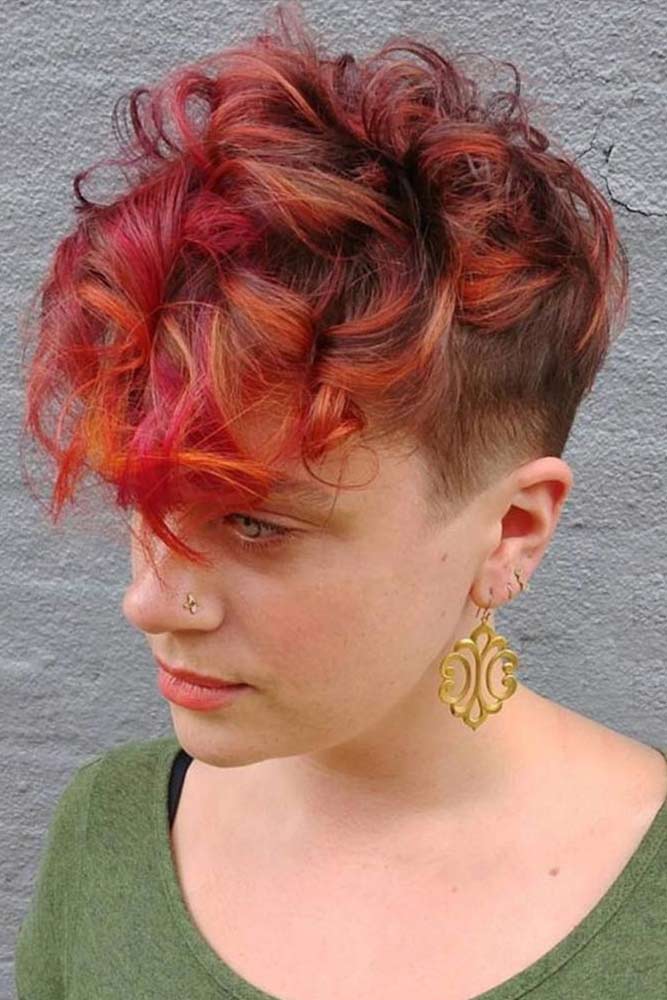 Source: craftedhairstudio
This curly pixie with shaved sides is already a unique look, but if you add in some sunset tones such as the red, yellow and orange hues shown here, you take this edgy look up a notch! Let your style shine with this super trendy punk rock pixie!
Dark Brown Pixie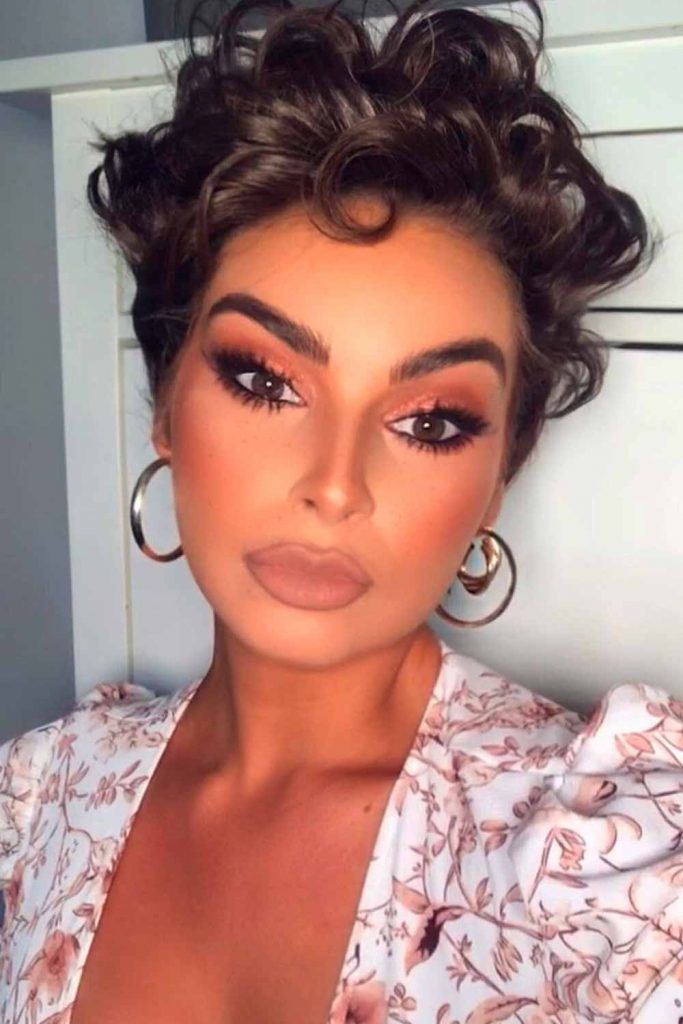 Source: sarahbroadgatemua via Instagram
This short curly pixie has a ton of volume and texture. A quality texturising product will help give lots of lift to this sassy do!
Brunette Pixie With Accessories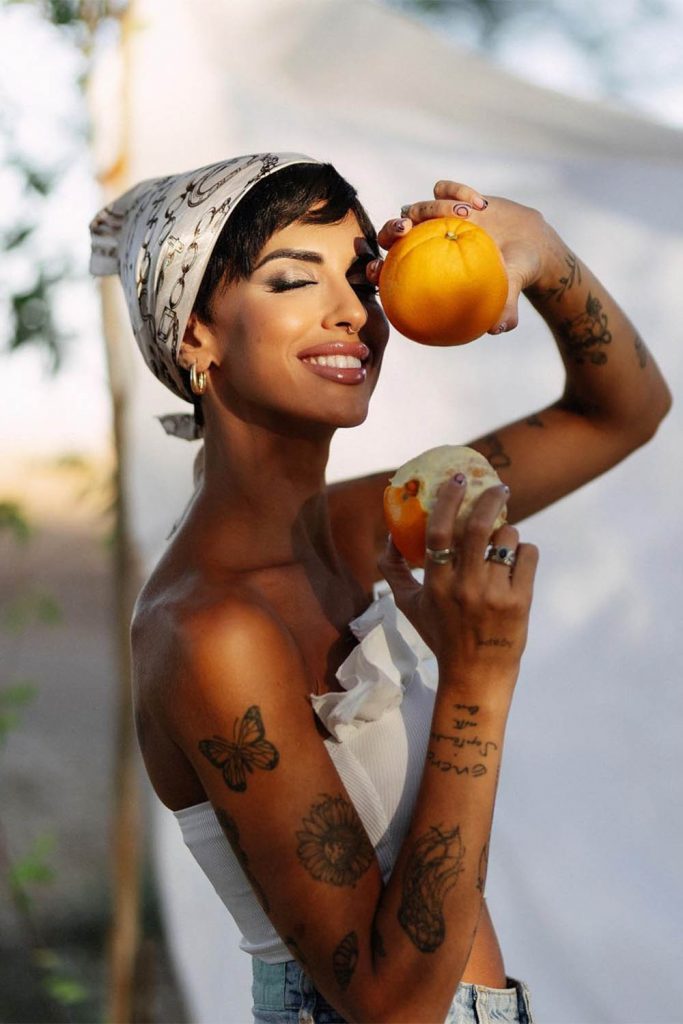 Source: inmadelope via Instagram
Dark curly tresses look especially stunning with right pixie cut. And if you want to embellish your glam look, add an eye-catching accessory like the rosette pictured below. Who says you can't dress up a shorter hairstyle?
Pixie With Headband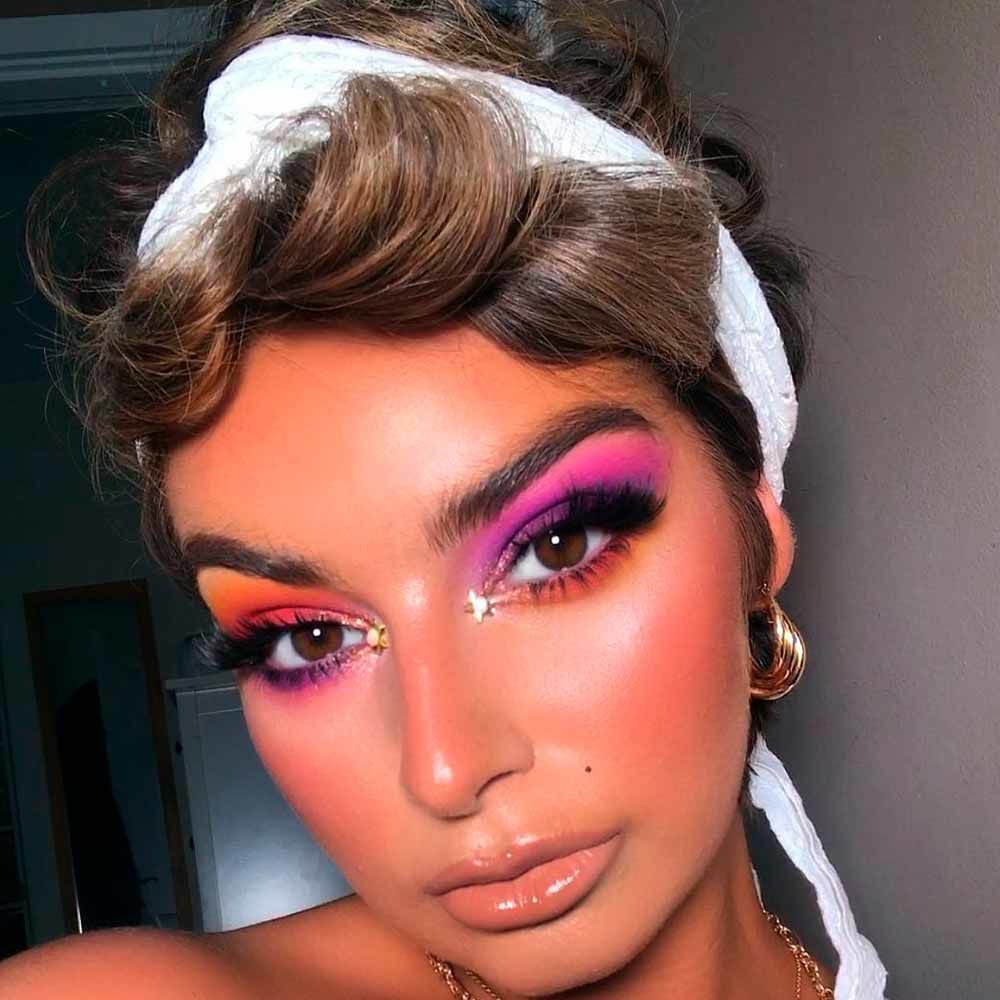 Source: sarahbroadgatemua via Instagram
This curly pixie with side swept bangs is so feminine and chic. The darker hue gives it a glam chic vibe and the pretty headband makes it girly and sweet. Dramatic makeup will really help set this look apart.
Turquoise Pixie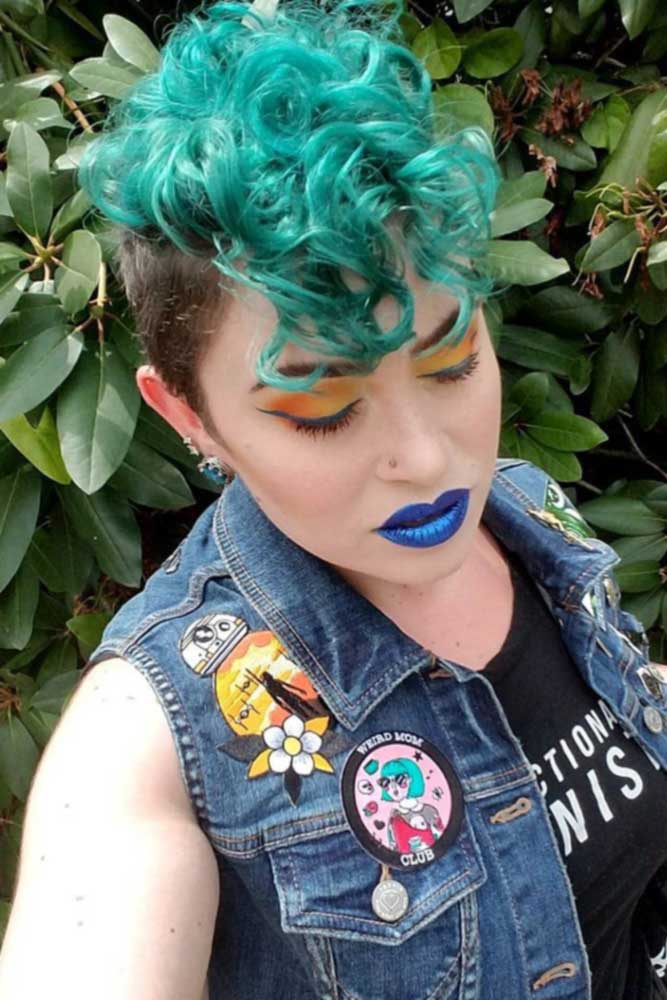 Source: magaliciousfantasticus via Instagram
For those who aren't afraid to embrace their inner punk rock chic, this right turquoise pixie with shaved sides is definitely a crowd pleaser. The loose curls add a ton of volume. Leave your sides dark to add some contrast to the pretty shiny turquoise tresses!
Undercut Violet Pixie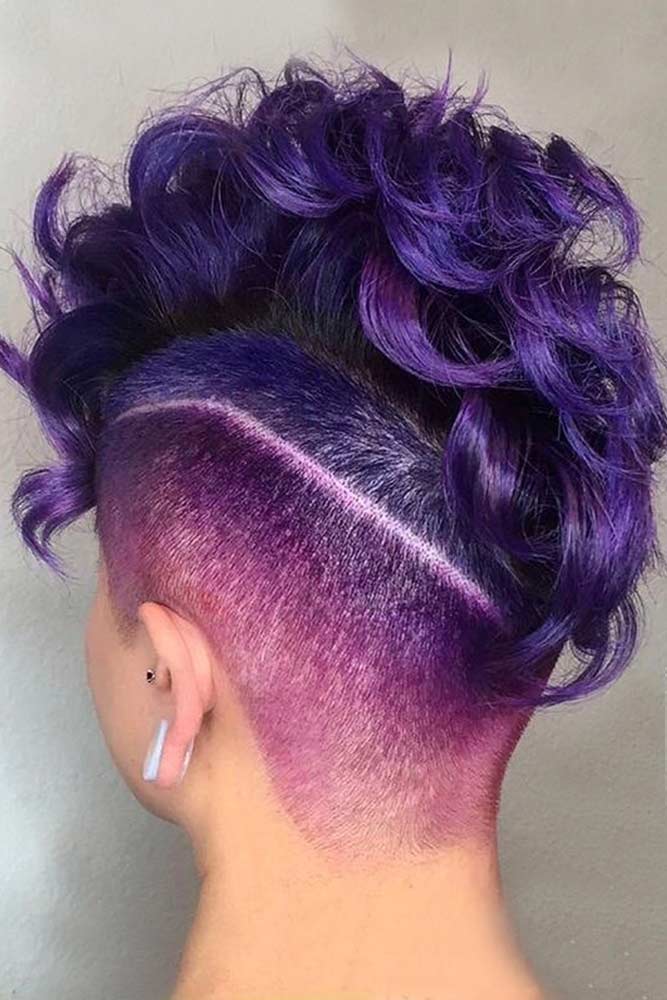 Source: color.me.bold via Instagram
If you really want to pump up the volume, this shaved undercut curly pixie is a great way to give your curls a boost! The darker roots with the pretty velvety purple hue is dramatic. This look is not for the faint of heart so if you need to be sure you are ready to take a chance on this eye-catching pixie cut!
Bright Red Pixie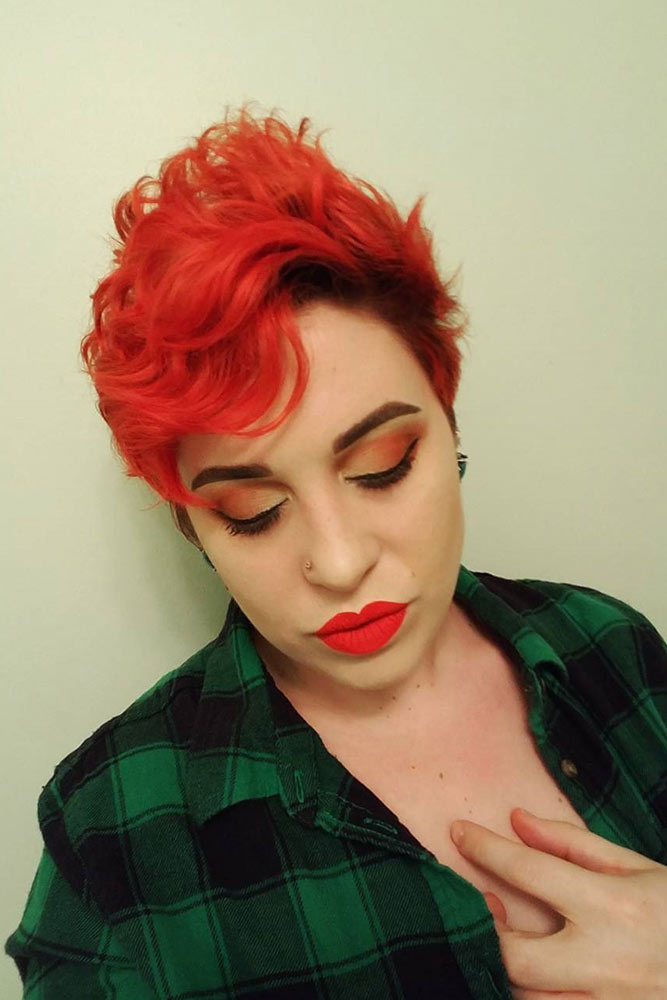 Source: magaliciousfantasticus via Instagram
This fire engine red curly pixie is certainly captivating. The curly fringe gives it a playful vibe but the sassy shade of red says you mean business. Tease the top of your hair to add height and fullness to this funky style!
Cute Brunette Pixie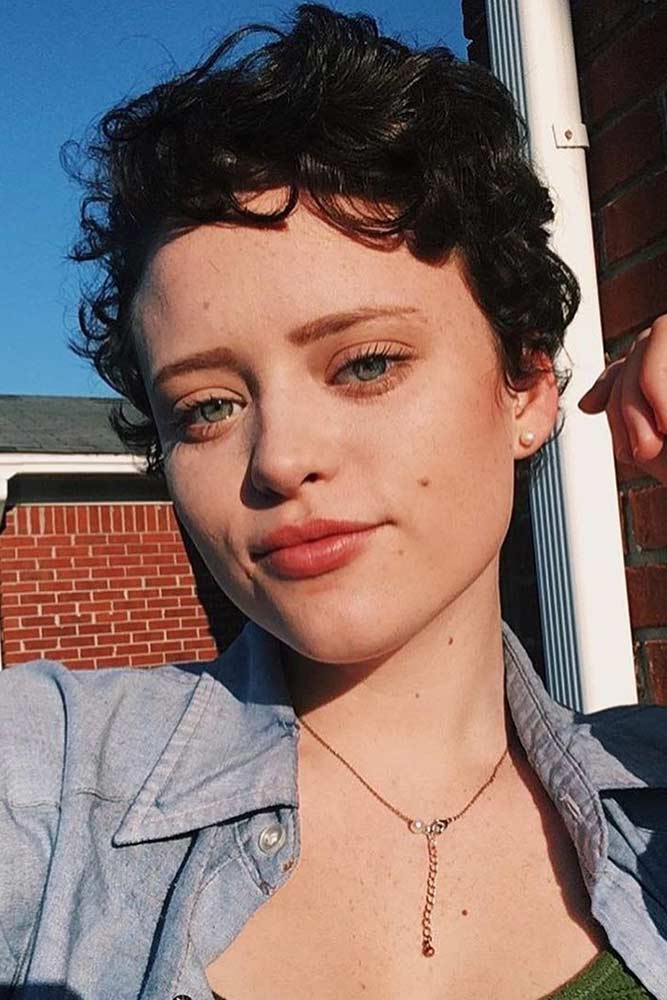 Source: kendalllevans via Instagram
This super short brunette pixie is too cute for words! The tousled curls have a windblown look that add texture to this pretty pixie!
Classic Short Curly Pixie Cut For Natural Hair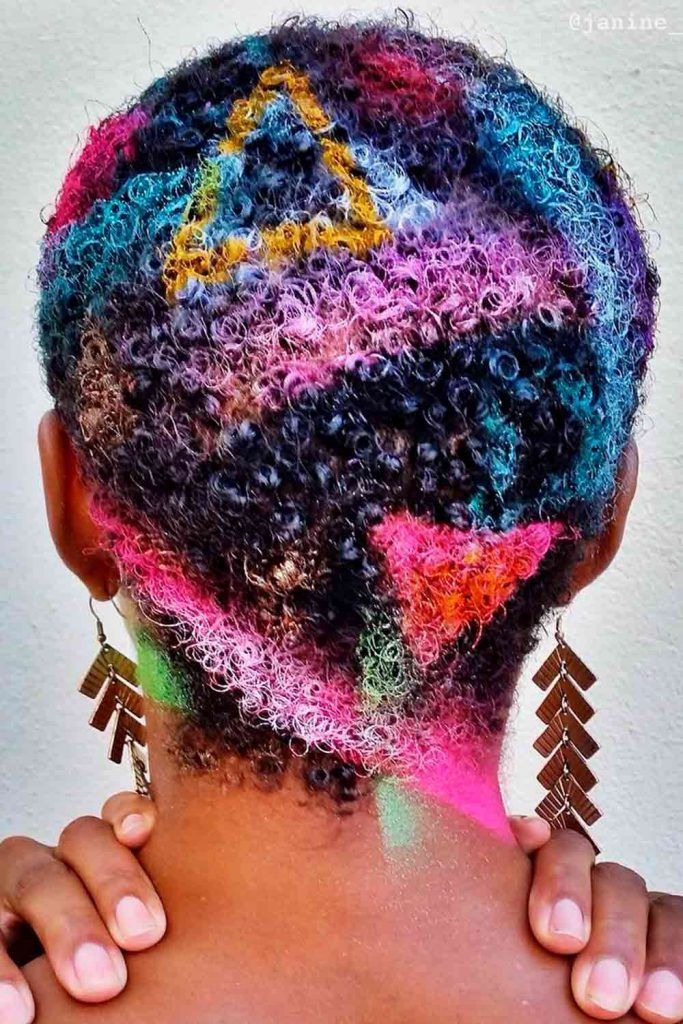 Source: janine_ker_hair via Instagram
For those who prefer the traditional pixie, this short curly pixie cut is very chic and hip. Pixie cut curly hair is super feminine and cute. If you have natural hair with curls, this curly pixie cut African American is a great way to keep your curls healthy and happy, while still sporting a fashionable pixie hair style. Add a burst of color by putting a hint of golden blonde highlights on the tips of random curls throughout to give your super stylish curly pixie cut a multi-tonal vibe.
Super Short Curly Platinum Blonde Pixie Cut With A Side Part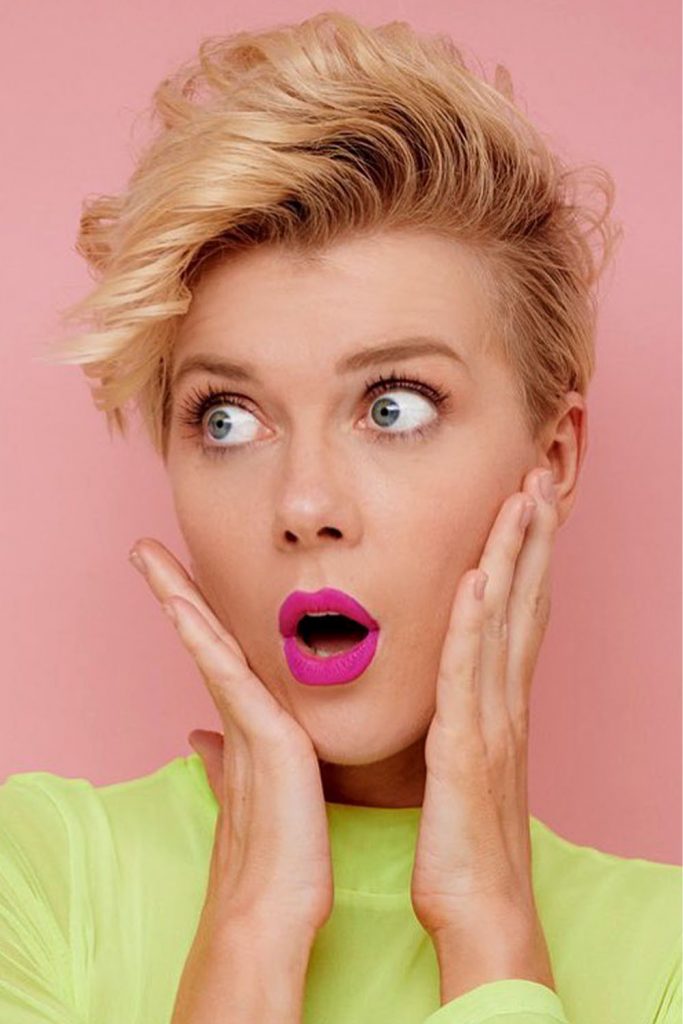 Source: prozhanna via Instagram
If you aren't afraid to go super short, there are plenty of short curly pixie cut hairstyles out there to choose from. This platinum blonde short pixie with a sassy side part is tres chic and sexy. Do a dramatic side part and sweep your hair to one side to give it a sultry vibe. Pair it with some dangling earrings and some dark makeup for a striking look that will turn heads as you walk by. Don't be afraid to go silver white blonde and show everyone that blondes really do have more fun!
Sassy Curly Pixie Cut With Sweeping Bangs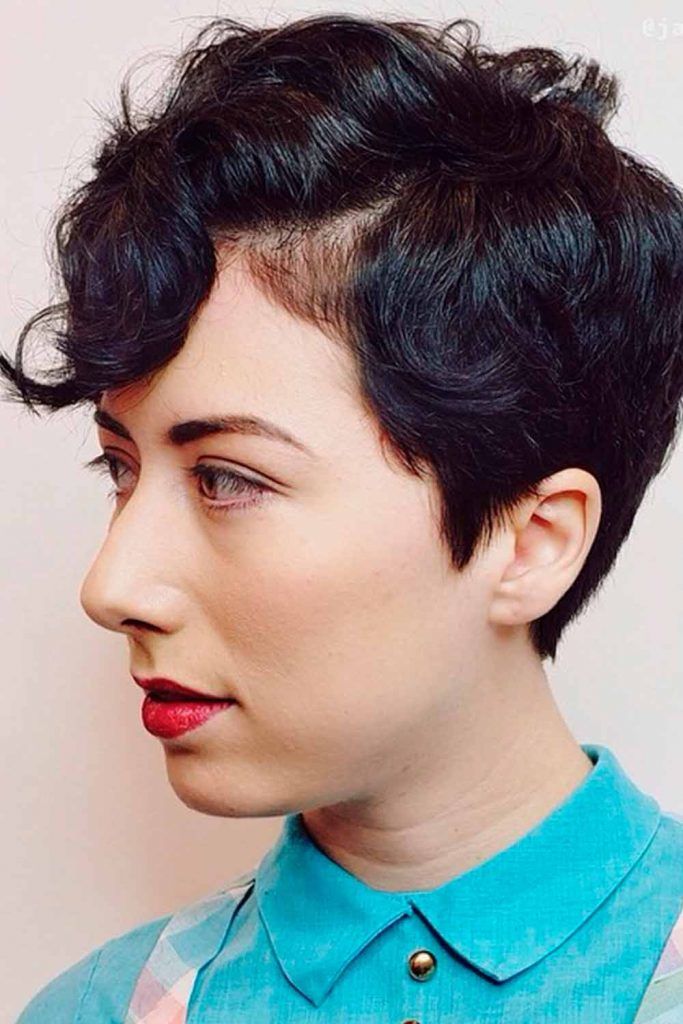 Source: janine_ker_hair via Instagram
Still prefer short bangs? You are not alone! Bangs are making a huge comeback, whether long, short or side swept! This pixie cut with curly bangs is so adorable. Ask for a short curly pixie cut with bangs and style the bangs to one side, making sure they fall just a bit over one eye for a playful vibe. The loose curls in this sassy pixie give it soft and romantic flair.
Pixie Curly Cut With Carefree, Tousled Waves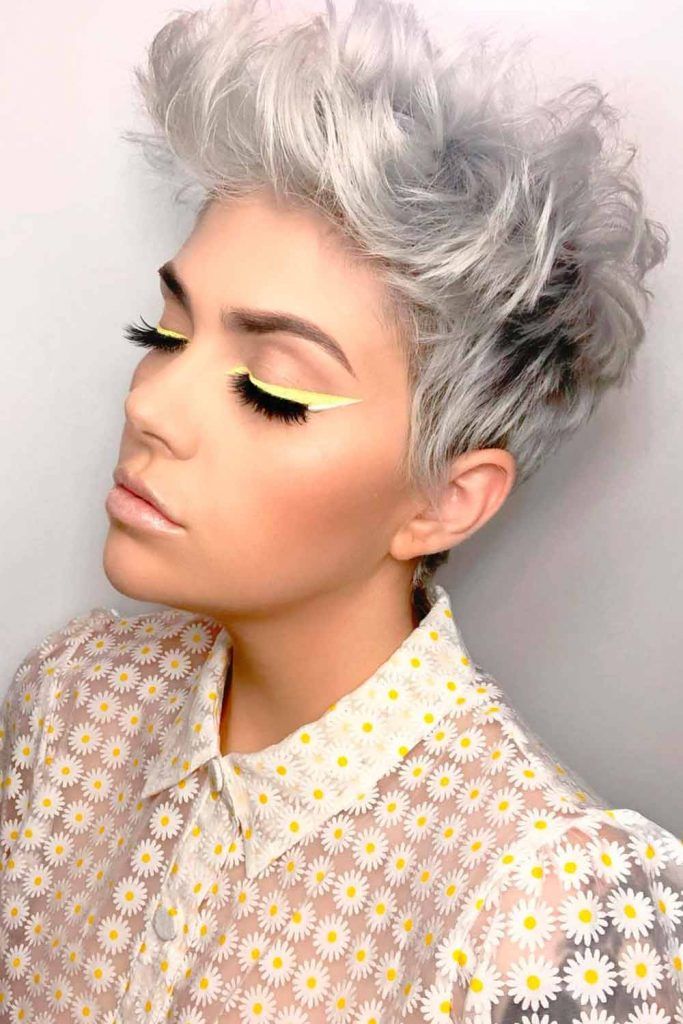 Credit photo: saraontheinternet via Instagram
If you have wild curls that are not easy to tame, why not flaunt them with this adorable pixie curly cut? Simply add curling mousse to your damp hair, scrunch it a bit and allow it to dry naturally. For a more edgy look that is super sexy, do a deep part to one side and allow some of your bangs to fall playfully on your face. The loose curls will add a ton of volume. If you want even more depth, get some light ash blonde highlights and dark blonde roots.
Voluminous Curly Hair With An Undercut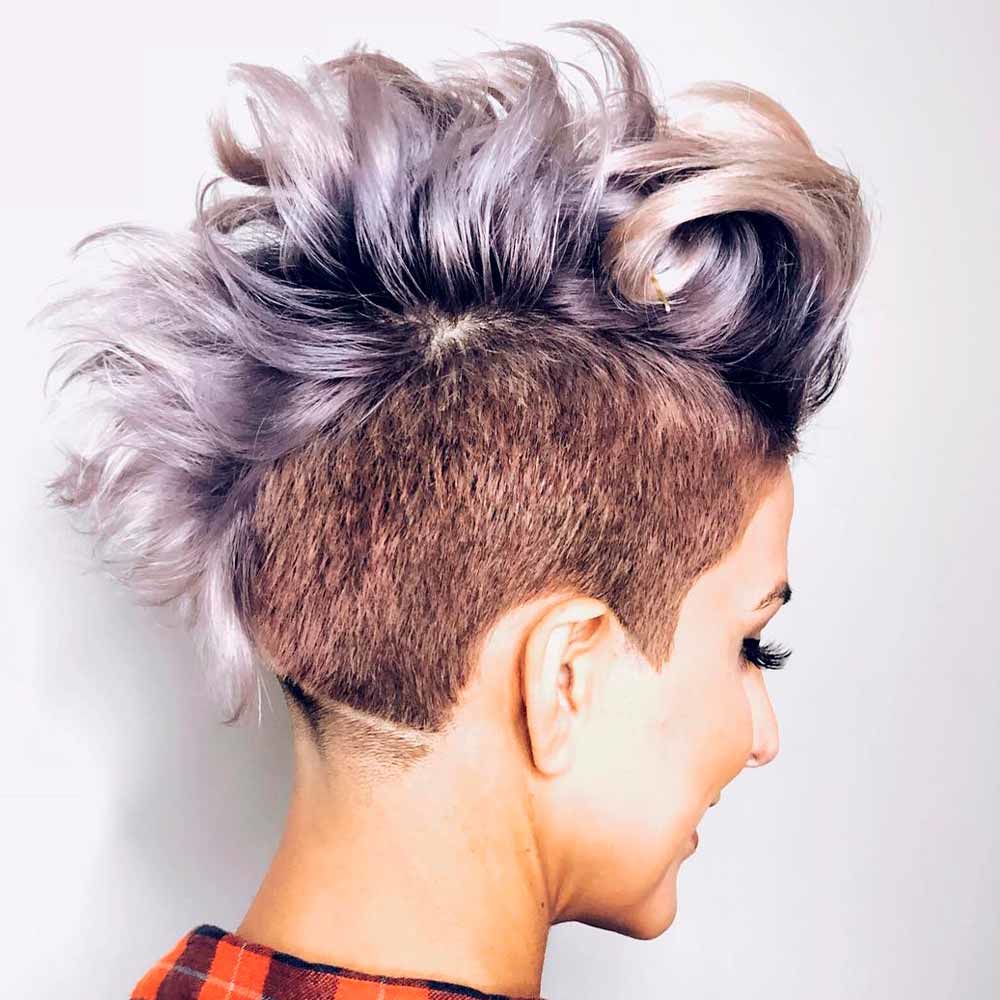 Source: alineh_a via Instagram
Undercuts are pretty much all the rage right now, whether you opt for long hair or a short curly pixie cut. It's also a great way to show off your naturally curly hair. Ask for an undercut or a shaved side and leave plenty of length on the top and back. Brush your curls forward to add even more body and texture. Leave the other side a bit longer for an asymmetrical look that is all the rage right now and looks even sexier on those who have been gifted with naturally curly tresses.
If you wonder how to style a curly pixie cut, you can always look online for tutorials. However, one of the best things about curly pixie cuts is that they are super easy to style. You basically just need some sea salt spray or some good curling product and volumizing mousse. And you can put away the blow-dryer and allow your curly locks to air dry!
Shaggy Curly Pixie Cut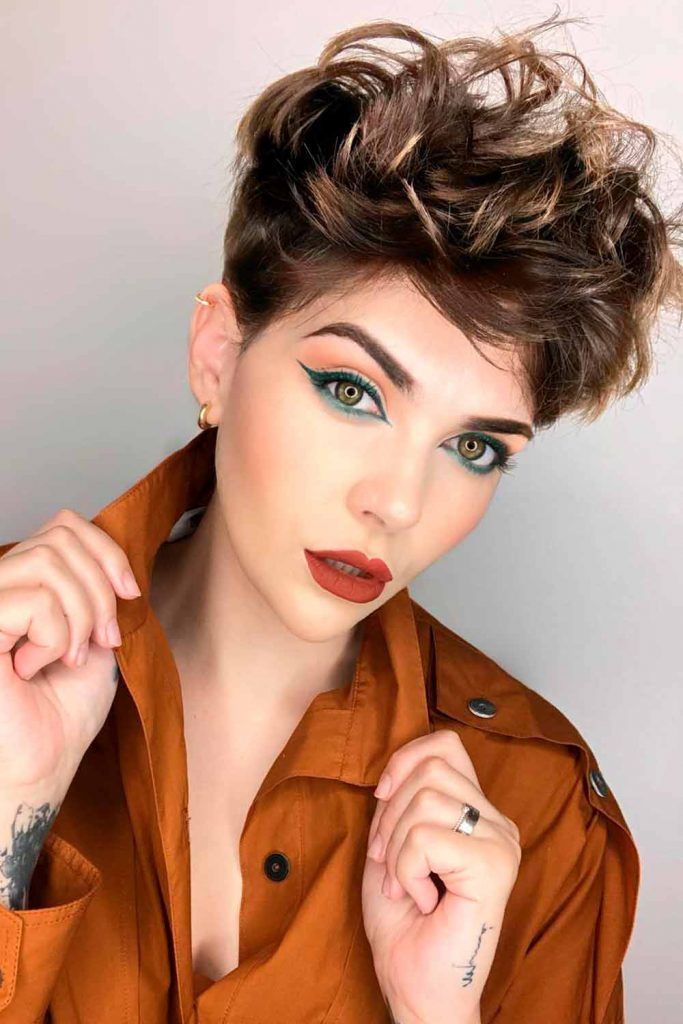 Source: princessstiefel via Instagram
Pixie cuts are flattering for every face shape. So, if you are looking for a pixie cut curly hair round face, you will have plenty of options. This shaggy curly pixie cut is very cute and also a bit avant-garde if you want a curly pixie cut round face that is edgy and fun. Ask for a shaggy cut to add a ton of volume and texture to your curly tresses. The best part about shaggy pixies is that you don't have to spend a lot of time on styling your hair. It has a sexy bed-head look that is very relaxed, chic and sexy. So, it has an artsy vibe that is cool and contemporary.
Side Swept Voluminous Long Curly Pixie Cut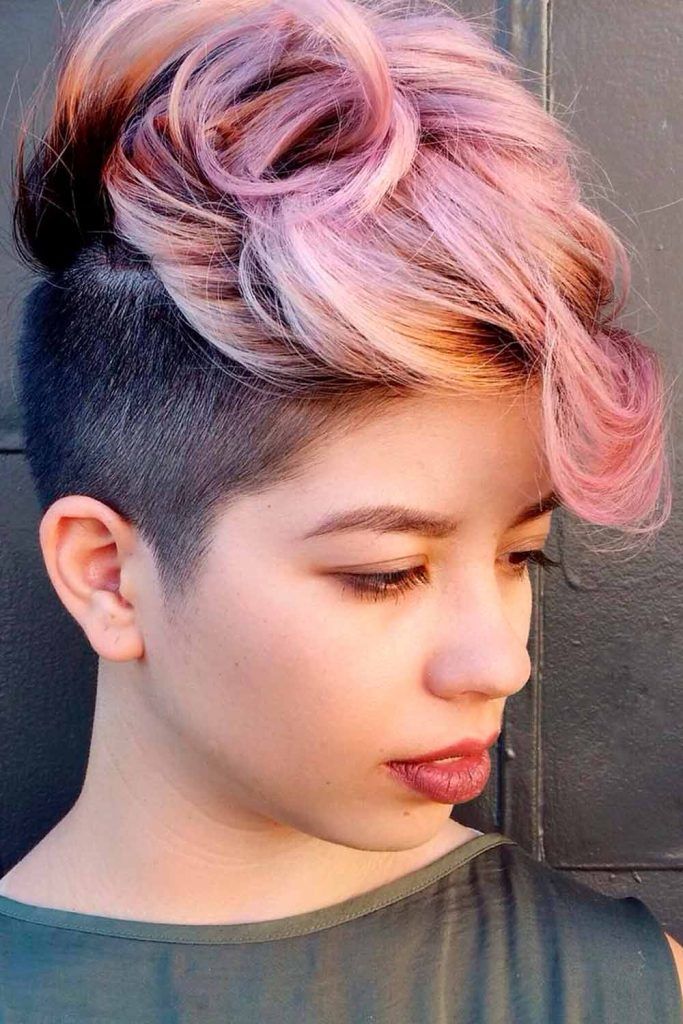 Source: janine_ker_hair via Instagram
If you don't want to go too short, this long curly pixie cut is the perfect compromise. It is also a great way to keep your thick hair healthy and weightless. Ask for a long pixie cut curly hair and make sure to ask for a lot of length in the front, which is a great way to wear a thick curly pixie cut. Style it to one side and allow it to fall seductively over one eye. Add a good volumizing product to add as much fullness as possible to your thick curly locks.
Curly Pixie Pin Up Style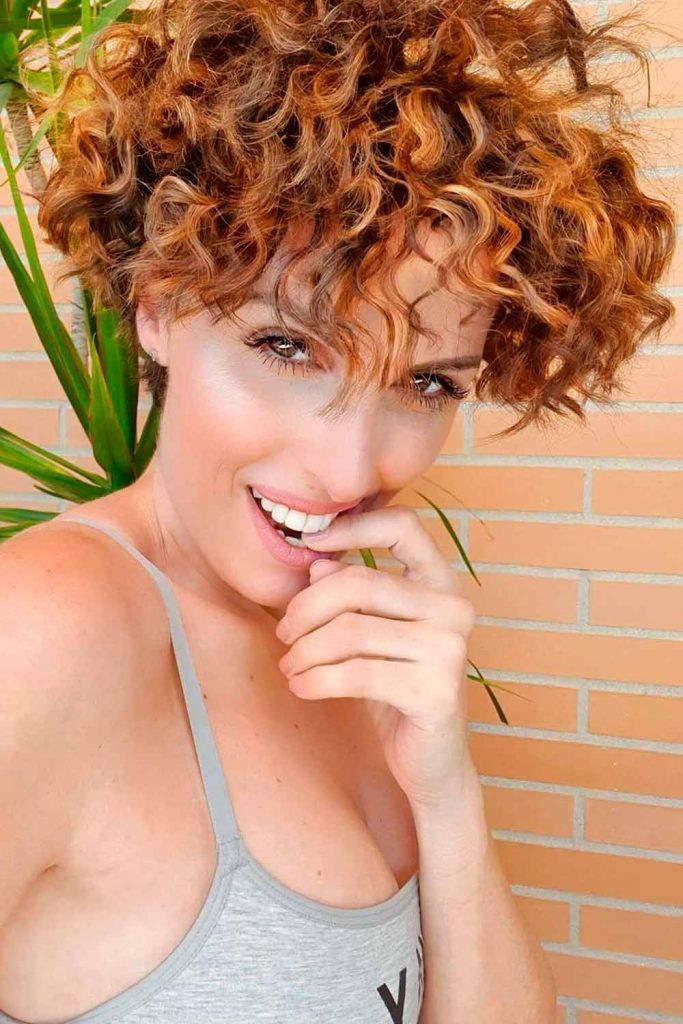 Source: silviagullon via Instagram
Another great pixie cut for thick curly hair is this short pixie with pin-up style curls. Pin up hairdos are very much popular these days, if you want a look that is retro and chic. The short sides and full top will give it a bit of an edgy look. The sexy, pin up locks are what makes this sassy pixie stand out. This could be the pixie cut you have been searching for!
Pixie Cut With Curly Hair And A Shaved Side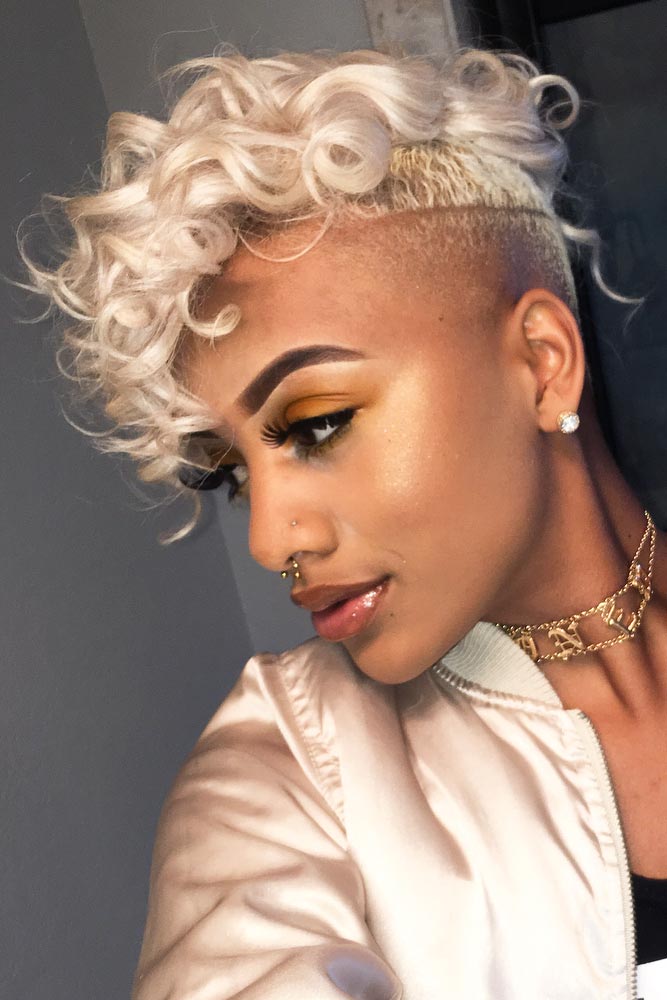 Source: tedrachonte via Instagram
Another fun pixie cut with curly hair is this pale golden blonde pixie cut with one shaved side. Ask for long layers on the other side and style your hair over to that side to add volume and texture. Leave a few loose, long pieces in the back and allow your bangs to fall to one side. Tease them a bit on the top to really play up the volume. And what is prettier than a golden shade of platinum blonde to make you feel sexy and vibrant all at once?
Think you are ready to embrace the trend and go for a short curly pixie cut? We think so!
Curly Pixie With Blonde Highlights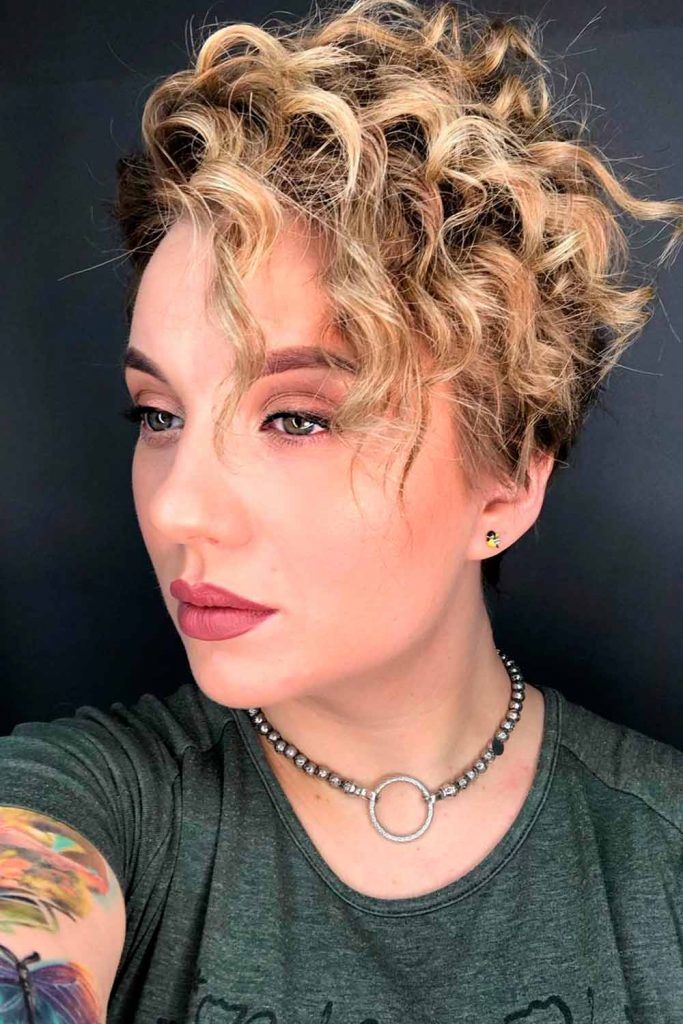 Source: mary_matushkina_ via Instagram
When you want to freshen up your pixie, a new cutting technique isn't always the best choice. As a matter of fact, you can take your cut to the next level with the right color combination. Feel the need for volume, movement, and dynamics in your hair? This is where light highlights should come in. Besides, such an accentuating color technique can make every single curl or wave more defined, giving you a distinctive look.
Messy Long Layered Pixie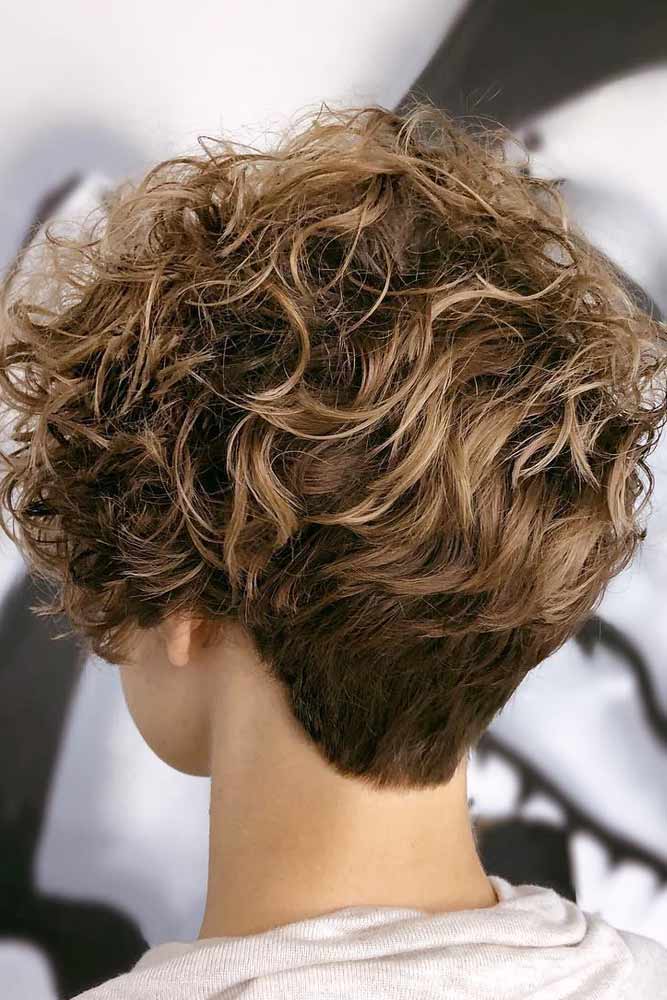 Source: kristinakatsabina via Instagram
Layers and messy hairstyles go hand in hand when it comes to slaying looks. Since layered hair has a very lightweight, yet very distinctive texture, it nicely works with tousling. It doesn't matter what kind of pixie and what type of layers you have: just get yourself some messy vibes and see your look amp up.
Violet Pixie With Undercut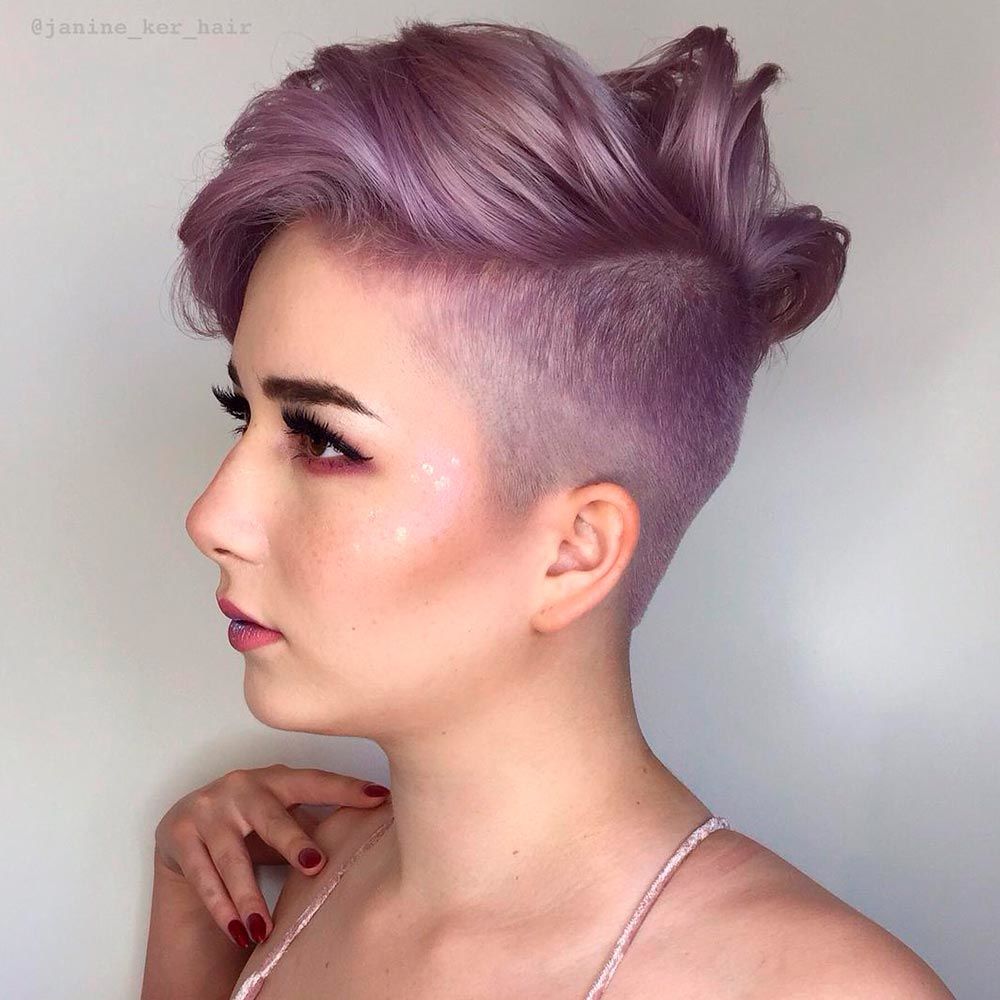 Source: janine_ker_hair via Instagram
Can't imagine your life without bright changes? Then this burst of brightness is meant for you! Purple hair color has already taken the world with its vivid, yet soft palette of shade. Still, not every woman has the courage to pull it off, as it instantly puts you in the spotlight. As for those who were born to have all eyes on them, a violet curly pixie with an undercut on the sides is exactly what you need to beat all the trendsetters.
FAQ: Curly Pixie Cut
Is a pixie cut good for wavy hair?
If you have naturally curly or wavy hair, this could be the ideal new haircut you could try! While we adore long locks, a sassy short 'do can sometimes look even better. Pixie cuts can be readily styled into waves or curls even if your hair isn't naturally curly.
Is there a special way to cut curly hair?
Cutting damp hair rather than dry curls has the advantage of allowing your hairdresser to better understand your natural curl type and, as a result, make a better cut. Most types of curls, according to our experts, should be trimmed on an angle. Uneven layering is great for tight curls.
Does a pixie cut age you?
Pixie cuts may look really cute. However, they can make you appear much older than you are if they are cut too short. So, better ask your hairstylist for the right pixie cut for you.
Was this article helpful?