Hidden rainbow hair is the new trend. If your creative soul needs to be bright but you don't want to shock people too much, this option will be the best for you. From 9 to 5, you can always cover the colored locks. But when the night is coming, your wild side is free to rock this party. And now, it's time for you to see the variety of ways to stand out in the crowd with a hidden rainbow in your hair!
Credit photo: instagram.com/hugosalon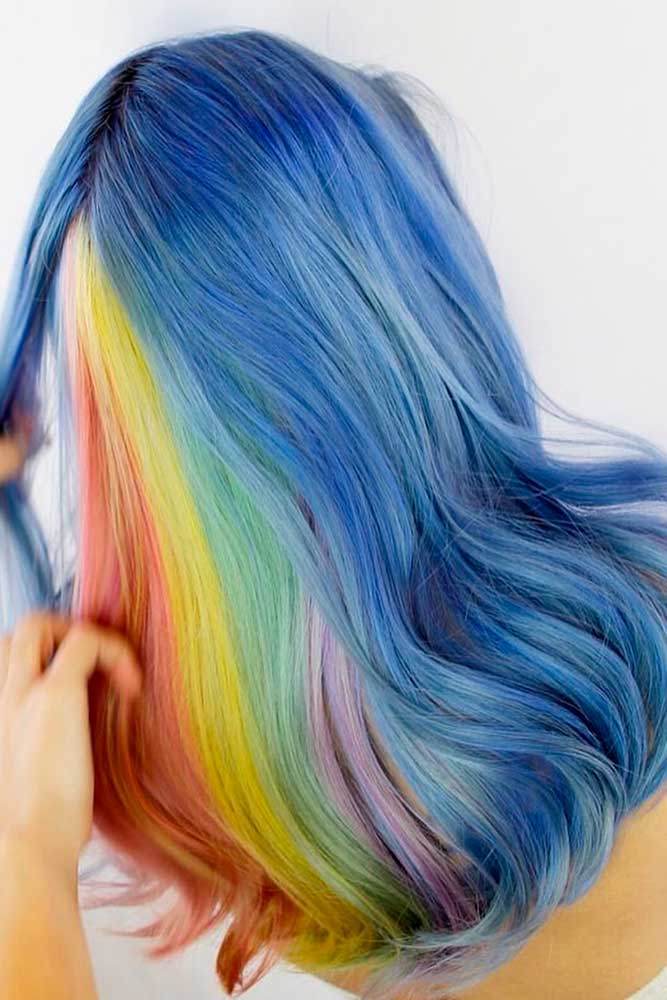 Credit photo: instagram.com/Abbyantony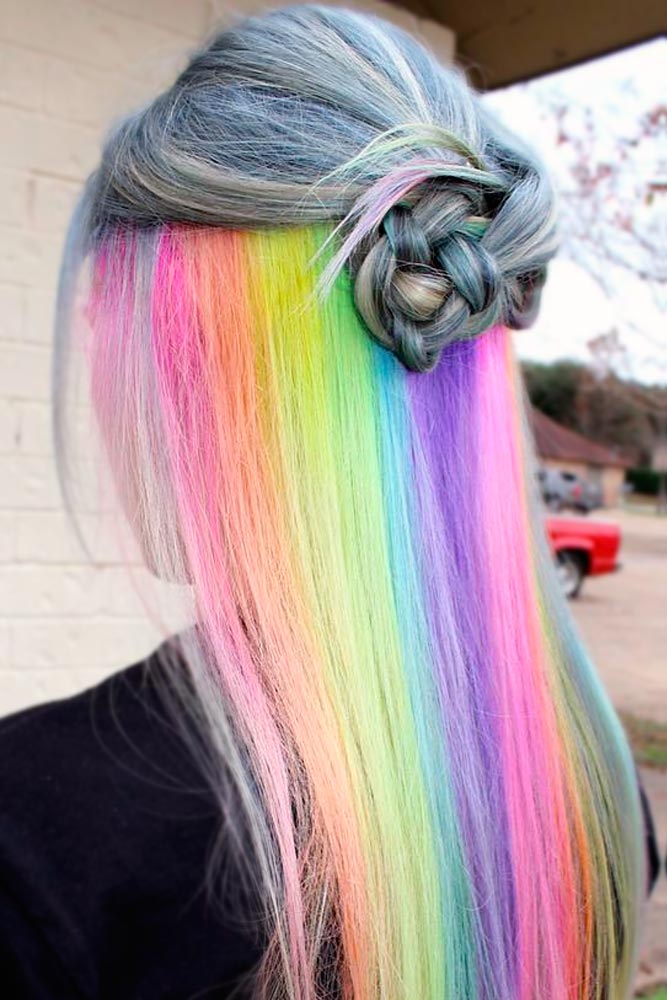 Credit photo: instagram.com/xostylistxo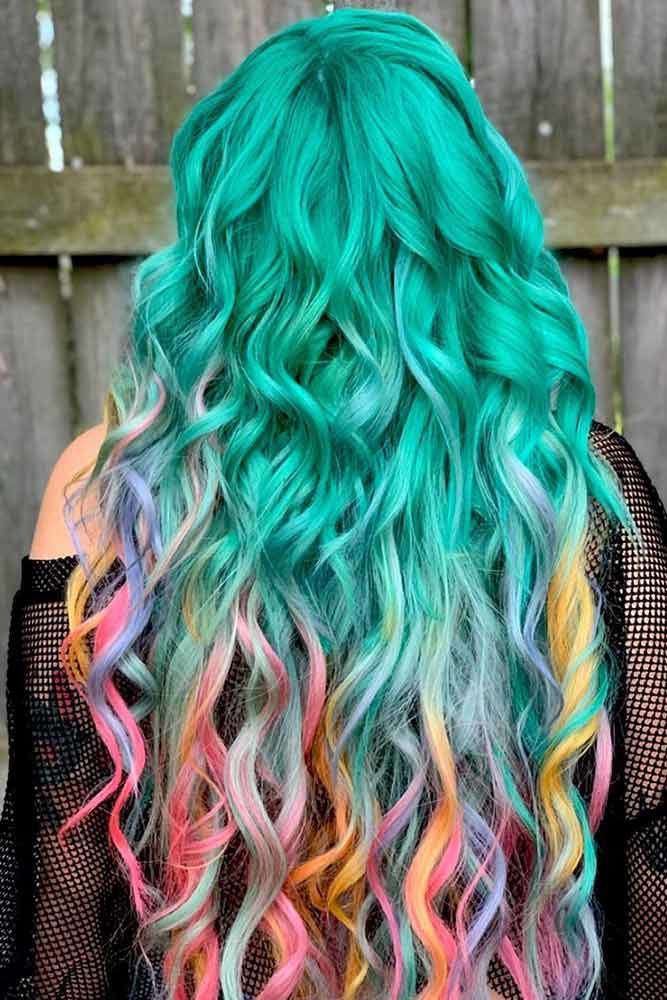 The beauty of rainbow hair is that, similar to half and half hair, it always looks different on everyone. But no matter how long your hair is, you still can pull it off. So, let go of your guards and go crazy about this new trend! Needless to say, waves look fabulous on such colors. And even though these bright ideas look harmonic with rainbow shades, you can go for a hidden rainbow in blonde or brunette hair for a more contrastive look.
Credit photo: instagram.com/chitabeseau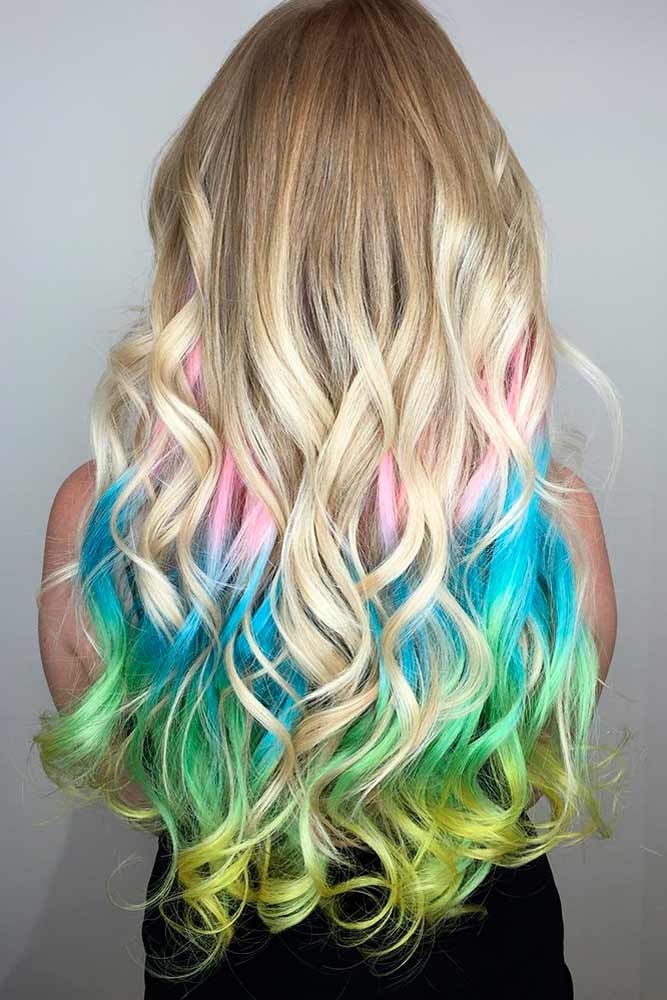 Credit photo: instagram.com/elissawolfe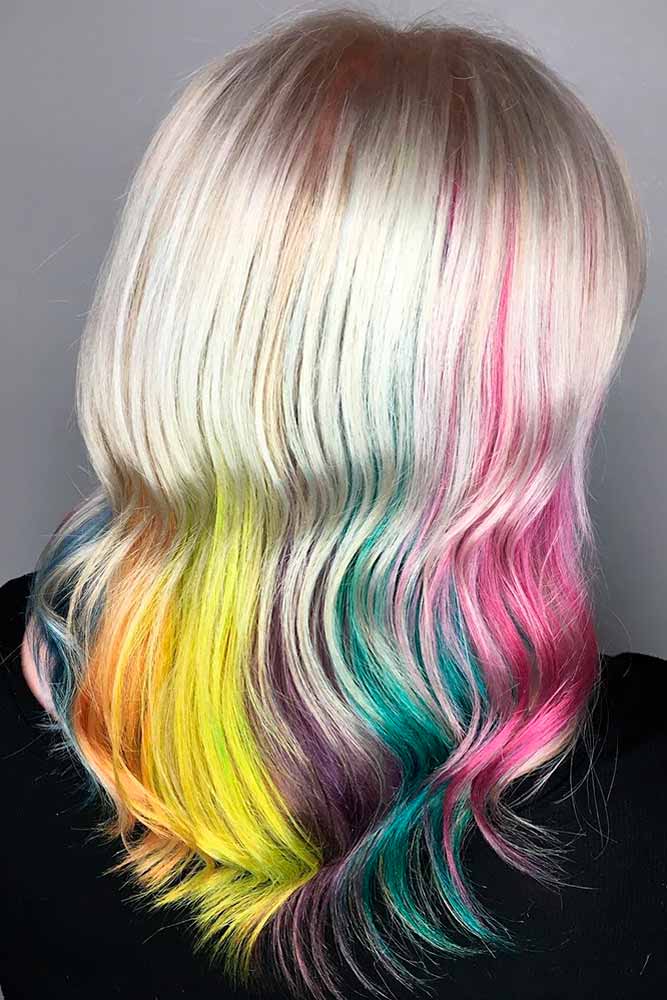 As for the hairstyles, today there are so many ways to be bold, starting with cool ombre hairstyles, and ending with mermaid hair. And we believe that these new hidden rainbow style will stay in vogue for a while due to the creative play of shades. Not only do these ideas fascinate with a vivid rainbow but they also feature a platinum white base, which is the most sought-after shade these days! Well, a light base for vivacious shades is always the best choice.
Blonde Shades With Rainbow Hair
Credit photo: instagram.com/themakoshark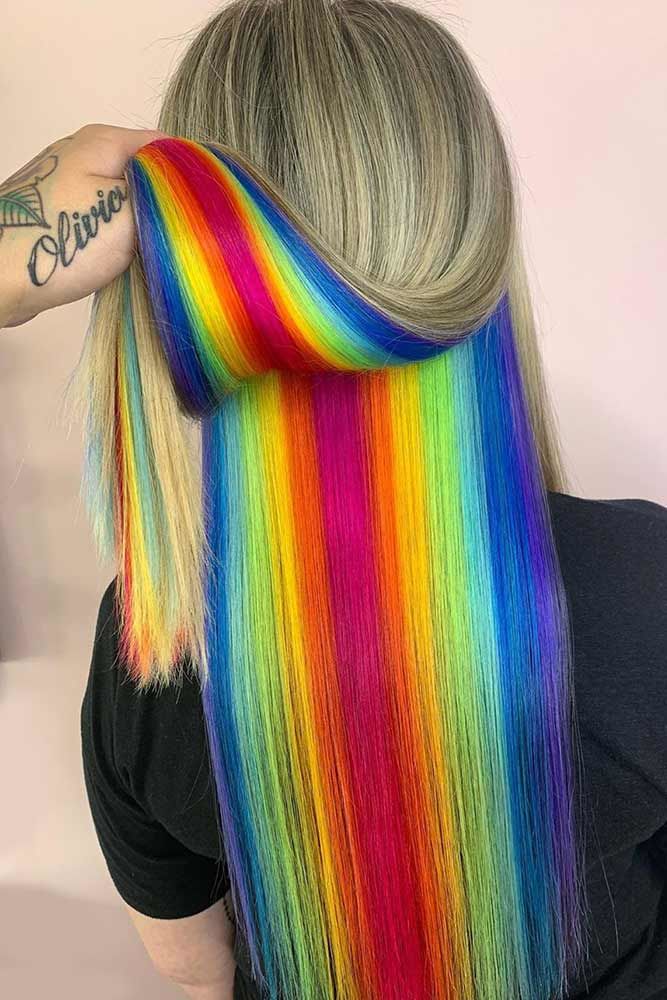 Credit photo: instagram.com/hairbyclairperez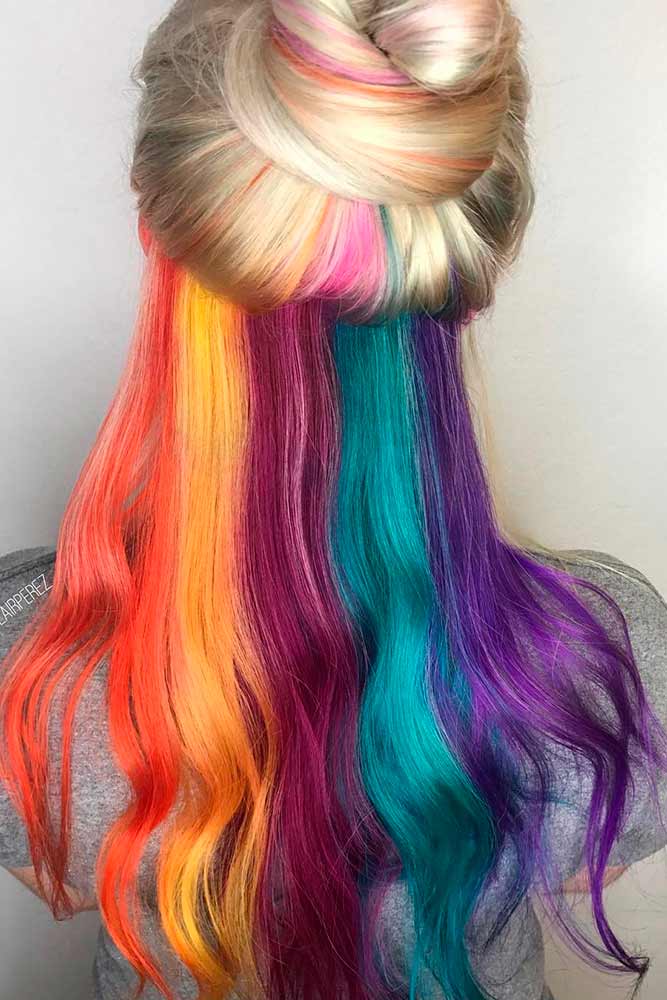 Credit photo: instagram.com/chitabeseau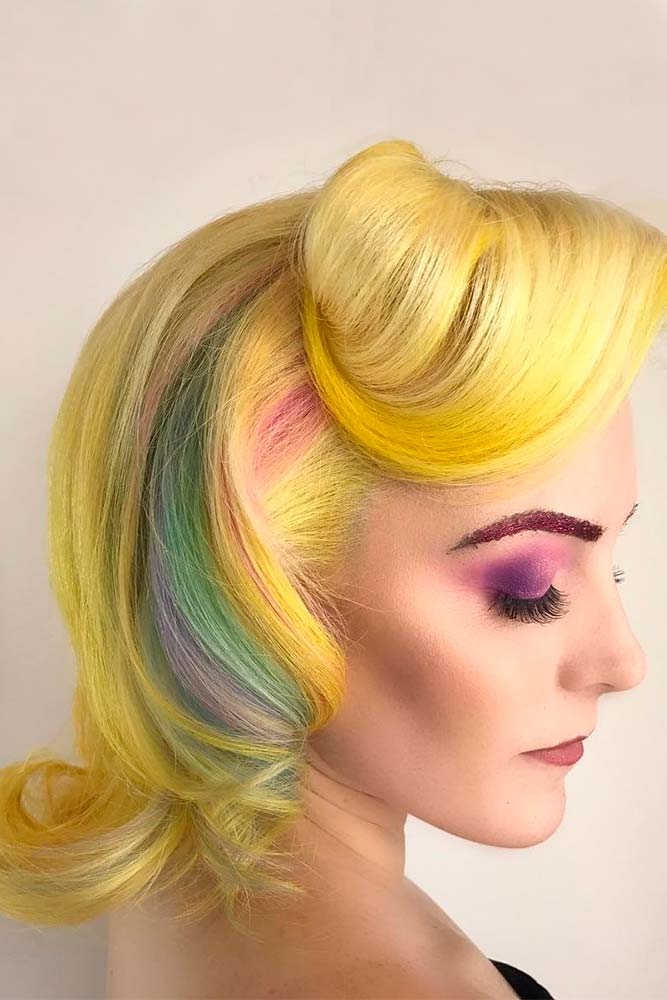 They say that rainbow hair is something so magical that you can barely take your eyes off it. Well, and that is so true! Just look at this combination of a braided crown and rainbow highlights. Breath-taking! Unlike our previous ideas, some of these looks do have that dramatic feel of rainbow hiding underneath a natural shade. In fact, it's hard to compare them. They're all so different yet equally striking at the same time!
Credit photo: instagram.com/hairbymisskellyo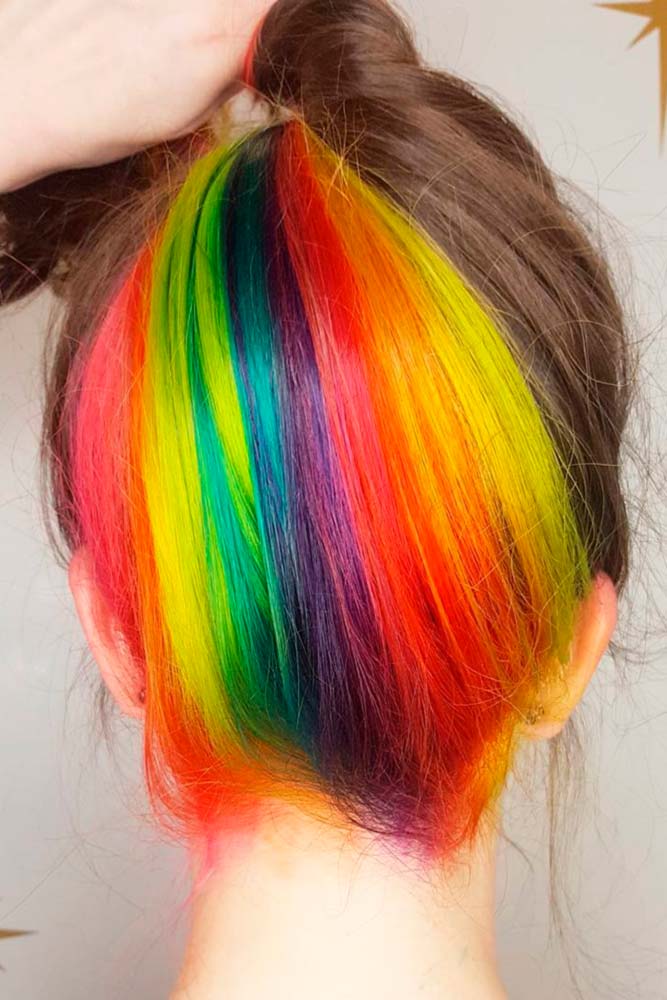 Credit photo: instagram.com/Hannahnoelhair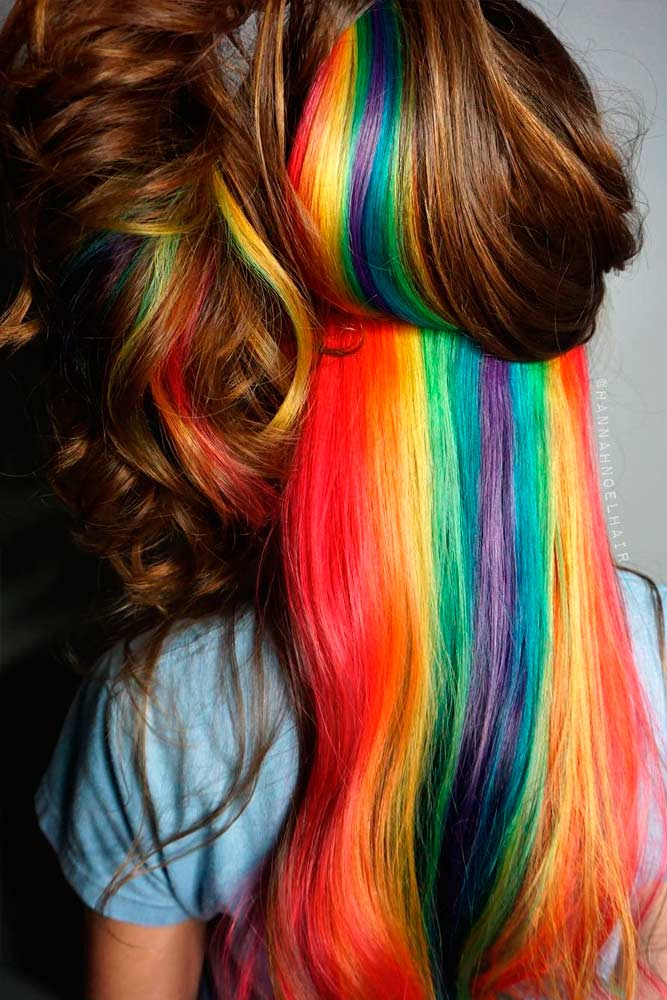 Credit photo: instagram.com/hairbymisskellyo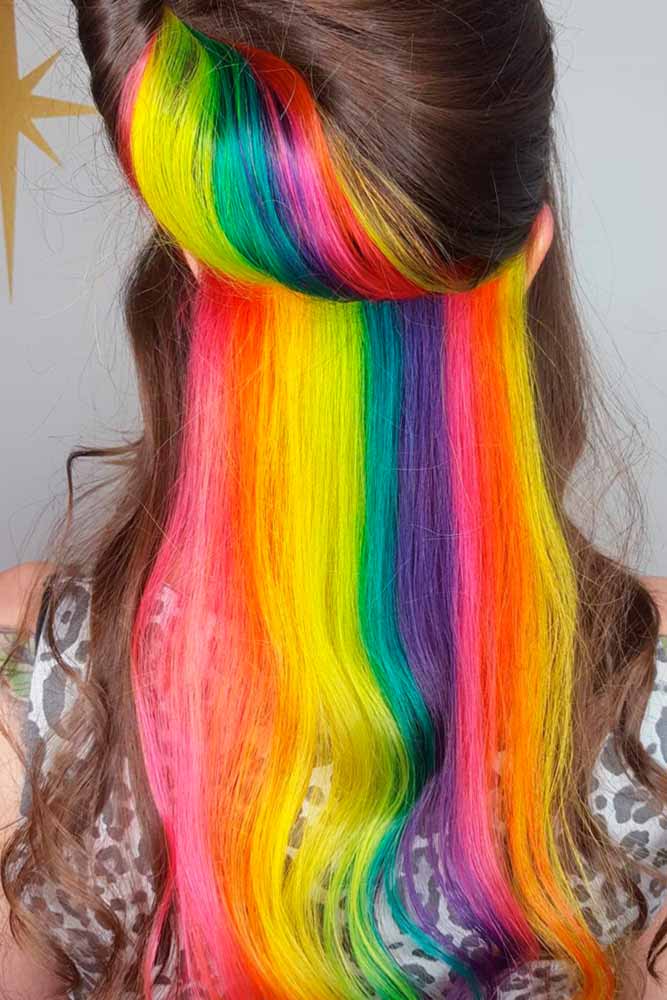 Credit photo: instagram.com/svlhair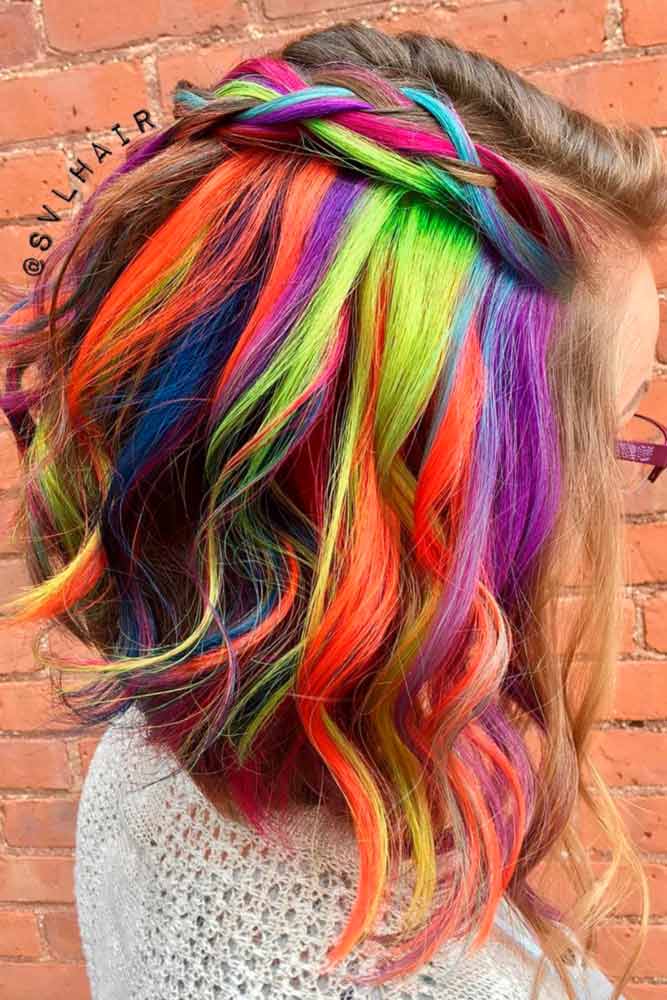 Credit photo: instagram.com/gitty_und_goeff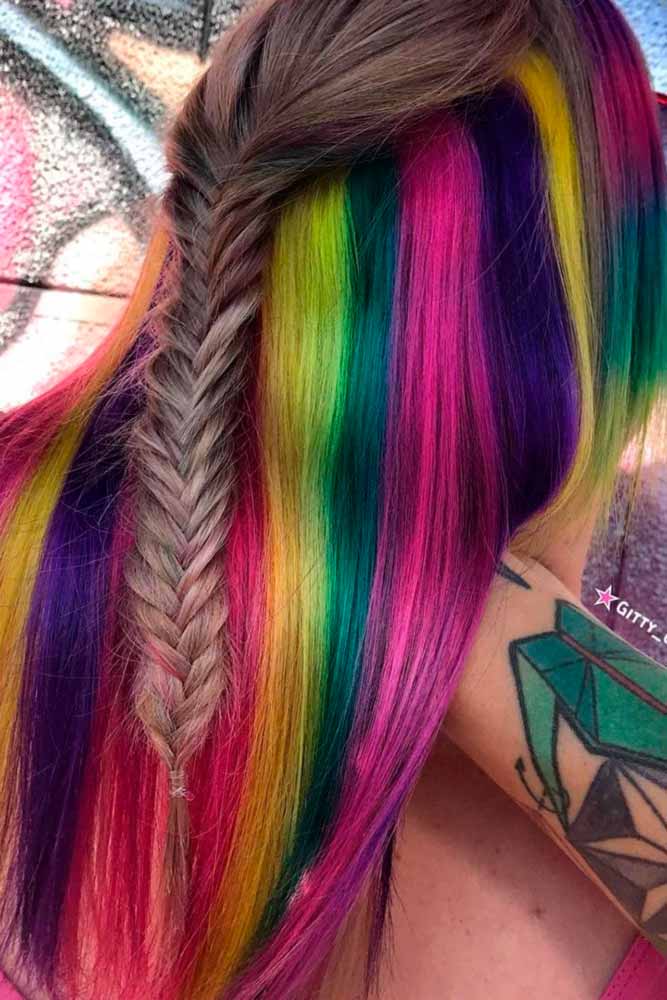 Credit photo: instagram.com/svlhair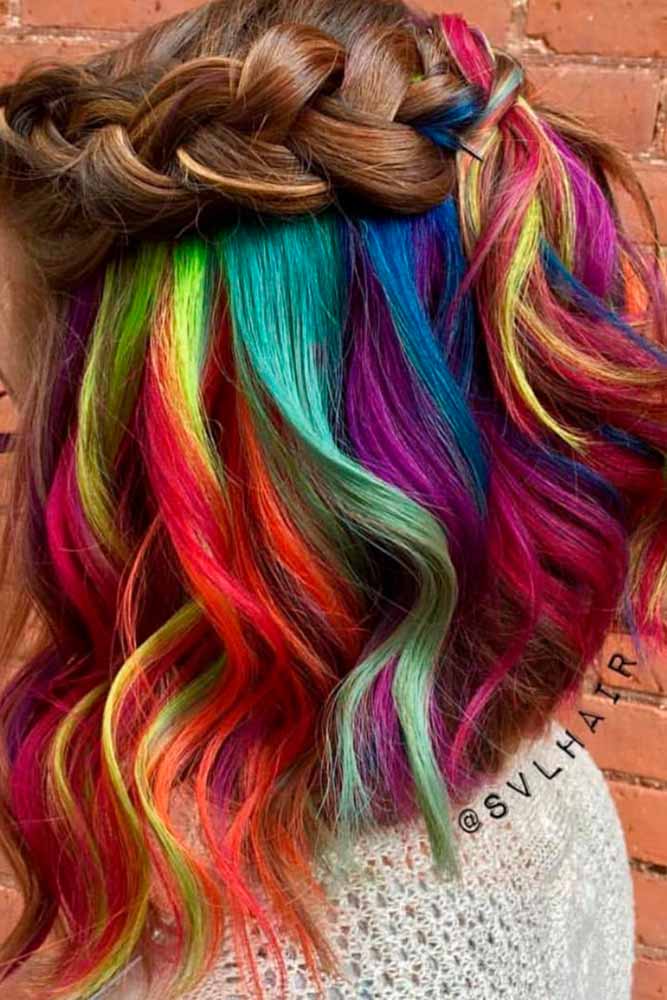 Credit photo: instagram.com/sydneyannlopezhair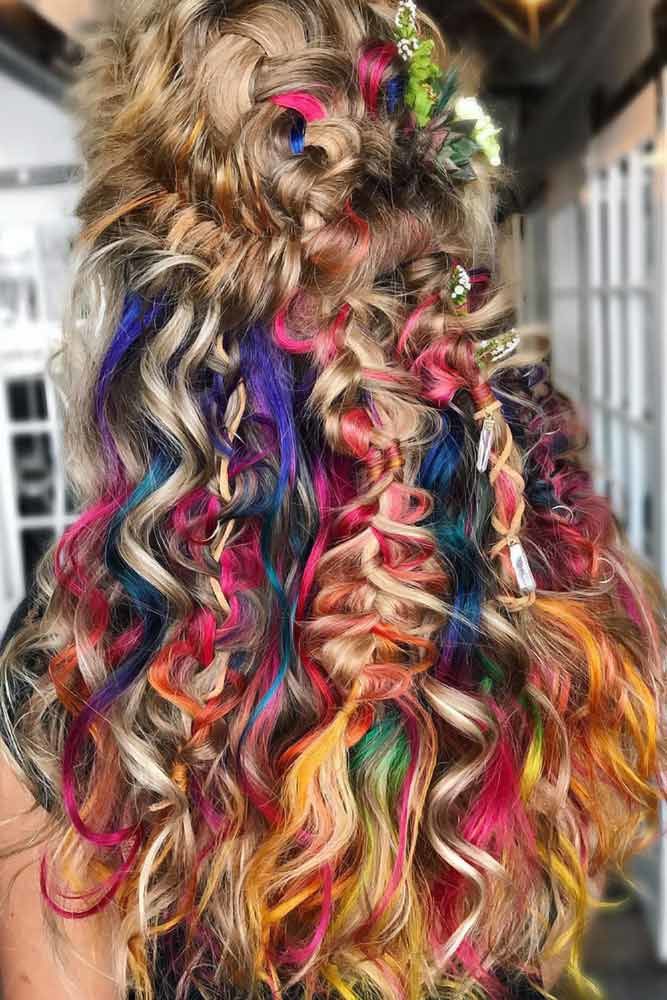 Indeed, such bright hair colors look miraculous. However, not every woman is daring enough to show them off. For that reason, your stylist will let the rainbow tresses stay hidden underneath your regular hair tone. And if you think that brown locks don't go well with brighter shades, look at these pics. As it turns out, rainbow colors have approach to any base. What is more, they look exceptional on brunettes!
Credit photo: instagram.com/hairbyclairperez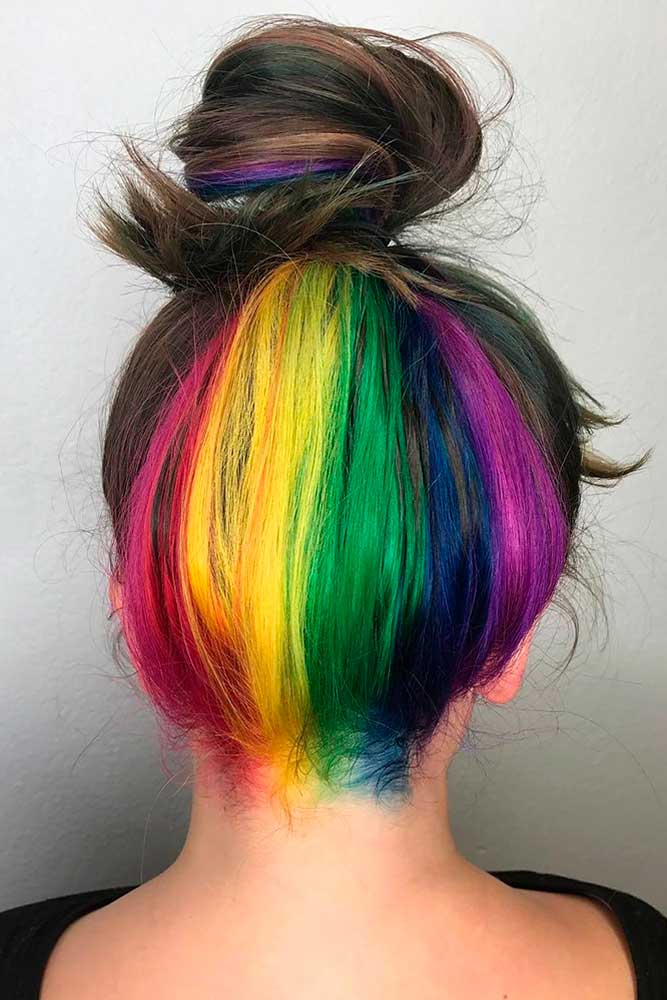 Another brown-to-bright dose of inspiration is here to leave you speechless. Here, the base is darker, and the colors are even more vivid! When picking shades for your rainbow, make sure to make them as saturated as possible. In this way, you will make the brighter tones go harmonic with your deep base. By the way, have you tried hair chalks? It's a safe way to try something new. If you're afraid of damage, you can try some temporary options first.
Credit photo: instagram.com/sydneyannlopezhair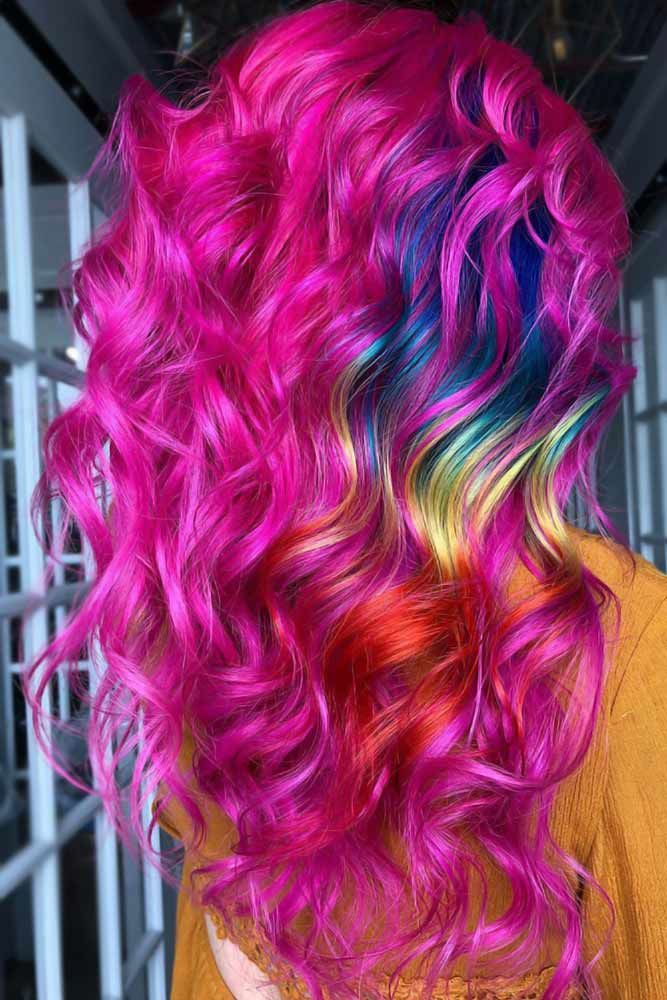 Basically, the whole idea of a hidden rainbow was created so that people could wear it even to the strictest office. But not all of us work in such places. Some have more freedom and can go as crazy with their hair as this bright ladies. The best thing is, every rainbow hair color is unique as a snowflake. All in all, every woman may have her own picture of the rainbow! In case you'd like to reach the spotlight, neon accents will do the trick!
Today, you've taken a trip around the mesmerizing beauty of rainbow hair colors. Though such ideas take guts, their striking looks are totally worth it! Now that you've seen our inspiring gallery, it's time for a color appointment. Besides, you know that nothing can reveal your creative and bright personalities better than this trend. Therefore, don't hesitate your imagination fly and create your own rainbow on the hair!
Can you hide colored hair?
If you are a teen (between 14 and 19 years old), you'll need to hide your hair once you've colored it. Thus you will be able to avoid or at least delay being caught by your parents. To hide your newly colored hair, put on some of your favorite bandannas, caps or hooded sweatshirts.
How can I make my rainbow hair last longer?
Electric colors may stay longer, while softer, more subdued metallic colors can fade even after only one wash! Reduce the frequency of your shampooing and use a color-safe cleanser to keep those vibrant colors from fading.
What is holographic hair?
Holographic hair color is defined by a combination of glossy multidimensional pastel highlights that appear to play with colors in front of your eyes. You may wear holographic hair with any basic color, but for the most holographic effect, choose a platinum blonde tint.
REFERENCES:
From Kate Moss pale pink hue to Lady Gaga s vibrant turquoise these are the rainbow hair ideas you need to embrace your inner unicorn. Source
Was this article helpful?