Easy Halloween hairstyles are that only thing that is still missing when you choose your costume. Or, sometimes it can even substitute one. So if you haven't got a costume yet or not planning on getting one but still want to be extraordinary when the Halloween comes, help yourself to these unique and easy suggestions!
Devil Hair Horns Tutorial

Source: Sherry Maldonado
Of course, rocking an eye-catching makeup is crucial, but your hair is something that can add a finishing touch to the look. How about you to reveal your dark side? Follow these steps!
First, do two side ponytails on the back of the head with the upper layer of your hair.
When your ponytails are ready, create a base for your future devil horns by wrapping the thin wire around the headband, giving it a double horn-like shape.
Take a ponytail and split it into two equal sections.
Wrap the section around the horn, altering them and crossing over one another to add some volume.
Repeat the same steps with the second ponytail, secure your terrific hairdo with hairspray, and enjoy!
Princess Jasmine Halloween Tutorial


Source: Carli Bybel
Don't feel like rocking this Halloween with a scary look? One of the most feminine looks inspired by Princess Jasmine will come in handy, then! Let's fascinate everyone with a powerful charm of femininity.
Start by teasing the front pieces of your hair to achieve the needed volume.
Then, place a headband and put your hair into a low ponytail.
If your front tresses fall on your face, pin them away with bobby pins.
Take a hair elastic and place it about 2-inches below the first one.
Do the same all over the length, pulling the edges of the bubbles to create a puffy effect.
Quick Hairstyle For Halloween Deer


Source: Leighannsays
While some ladies prefer scary vampire or witch looks, some girls would like to put their cute styles in the spotlight. With this tutorial, you'll make even the worst Halloween witch smile! P.S. This is officially the easiest tutorial ever!
Part your hair in the way you want and take a top front section of hair.
Create a little ponytail with the section, but don't go all the way through the band; you should create a loop.
Do the same with another front section. That's it! It will look awesome if you add some texture, so waving your hair is a nice idea for this look.
Viking Lady Halloween Hairdo

Source: Missy Sue
After all those series like Game of Thrones and Vikings, it's impossible to stay away from Scandinavian hairstyles any longer. And here's a super detailed, creative hair idea to turn yourself into a warrior with one of the most impressive Halloween hairstyles for long hair.
Divide off a section of hair at the top of the head and clip the bottom.
Divide off another section at the top from the other side and clip the bottom as well.
Then, take the top and divide it into three smaller pieces and start braiding the hair.
For the braid, cross the left strand over the middle and then the right strand over the middle.
Then combine the middle and the right strands together to begin a fishtail braid.
Once the main braid is ready, move to the clipped bottom of one side and split the hair into two sections.
On the other side, create a loose side braid and pin in under the main one.
Accessorize the hairdo with authentic details and finish the look with a coat of hairspray.
Princess Leia Hair Buns Hairstyle

Source: Awesome Hairstyles
Princess Leia didn't have a lot of time for her styling routine as she was a soldier in the first place. Still, she managed to look fabulous, and this tutorial is here to reveal her secret.
Create a middle part.
Tie each side into a ponytail.
Take a donut bun, put your ponytail through it and wrap your hair around the donut, hiding it and pinning the style with several bobby pins.
Repeat this step with the other ponytail.
Finish the look with a coat of hairspray to rock it all night long.
Medusa Halloween Hair Tutorial

Source: Kayley Melissa
In Greek mythology, Medusa is the one to keep your eyes away from if you don't want to turn into a stone. In real life, people should also be careful looking into Medusa's eyes, as her amazingly creative and fascinating look can leave them breathless. Do you want to become one? Follow these easy steps!
On the left side of the head, separate a big section of hair from right behind your ear and create a regular braid.
Repeat the same step on the other side of your head.
Then, separate your hair from the crown up and secure it.
With the bottom portion, create a Dutch braid (or any other braid you like) going toward the right side.
Now, braid the pinned crown section down to the ends.
Pull the edges of the braids to make them look fuller and go on to pin them into an updo.
Start with the first braid and wrap it over the top of your head, pinning it in place.
Then take the Dutch braid and wrap it over the top as well, placing it behind the first braid.
Take the rest of the braids and put them across the back of the head and secure underneath the pinned braids.
To make the look super authentic, embellish the braids with rubber snakes.
Fairy Updos with Braid and Accessories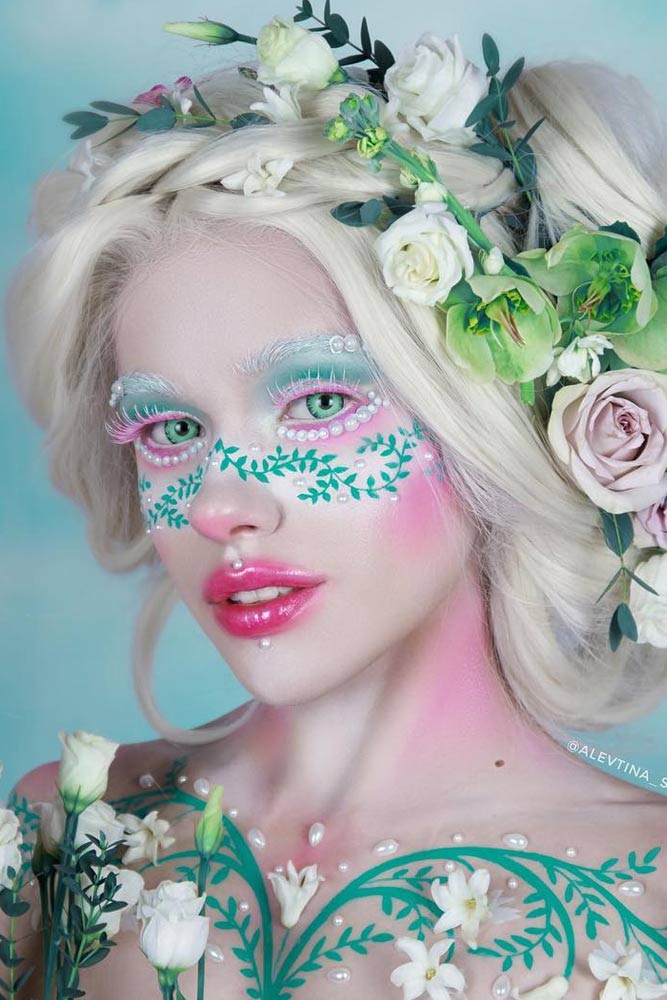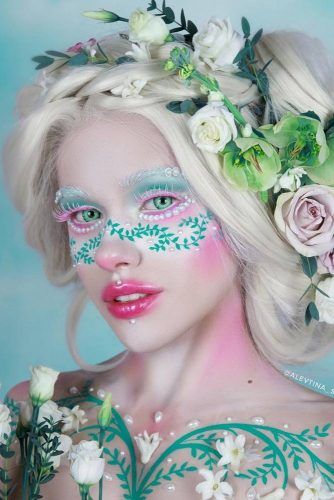 Source: alevtina_soul via Instagram
Some girls wait for Halloween to come to unfold their dark selves and let them take over the spooky eve. At the same time, other girls love to play with contrasts, cosplaying the most feminine characters from myths and legends. And what can be more enchanting than a floral fairy impressing everyone with her gentle blooming costume? A voluminous updo with braids will be a stunning base for your legendary hairstyle: just make sure to put as many floral accessories into braids as you can.
Wavy Hairstyles for Sweet Candy Costumes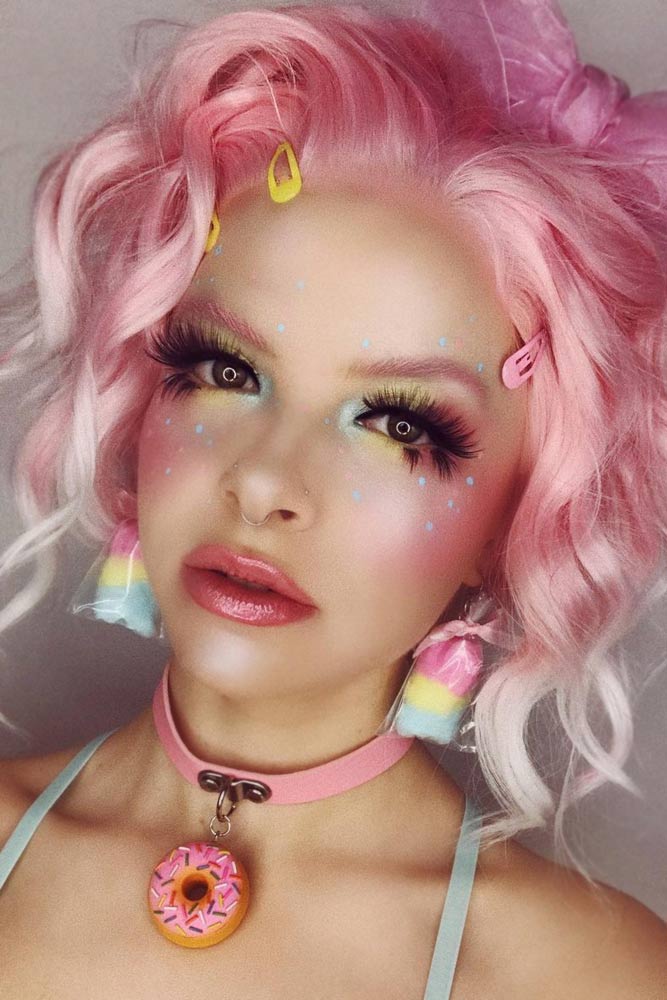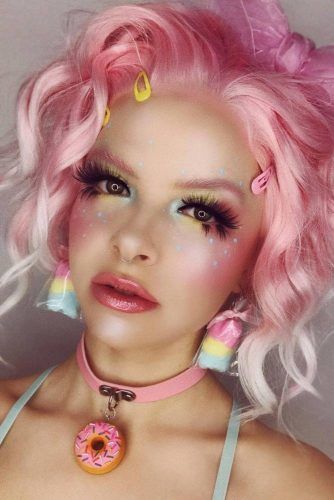 Source: /kimberleymargarita_ via Instagram
On Halloween, you can make people scream, laugh, and even hallucinate. But how about making them hungry with a cotton-candy inspired look? If you love the idea, it's time for waves and temporary pink hair dyes. Wavy updo for long hair or simple loose waves for short locks will be a classy authentic complement for a truly sweet Halloween look.
Warrior Elf Hairstyle Updos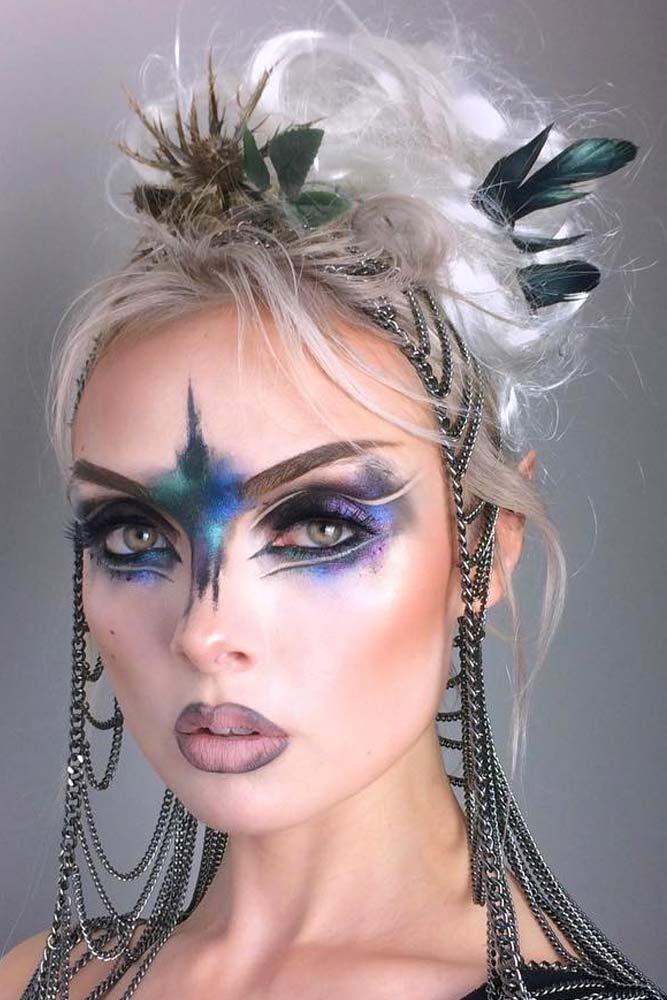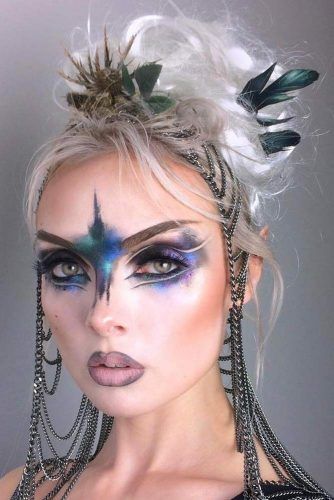 Source: beautsoup via Instagram
Elves can be light and dark. Which side would you join? A subtle and gentle one of a powerful and majestic one? Black outfits, deep glitters, messy hairstyles with Victorian accessories worn by warrior elves seem to leave us no choice but to choose the side of darkness. What about you?
Monster Eye Bubble Pony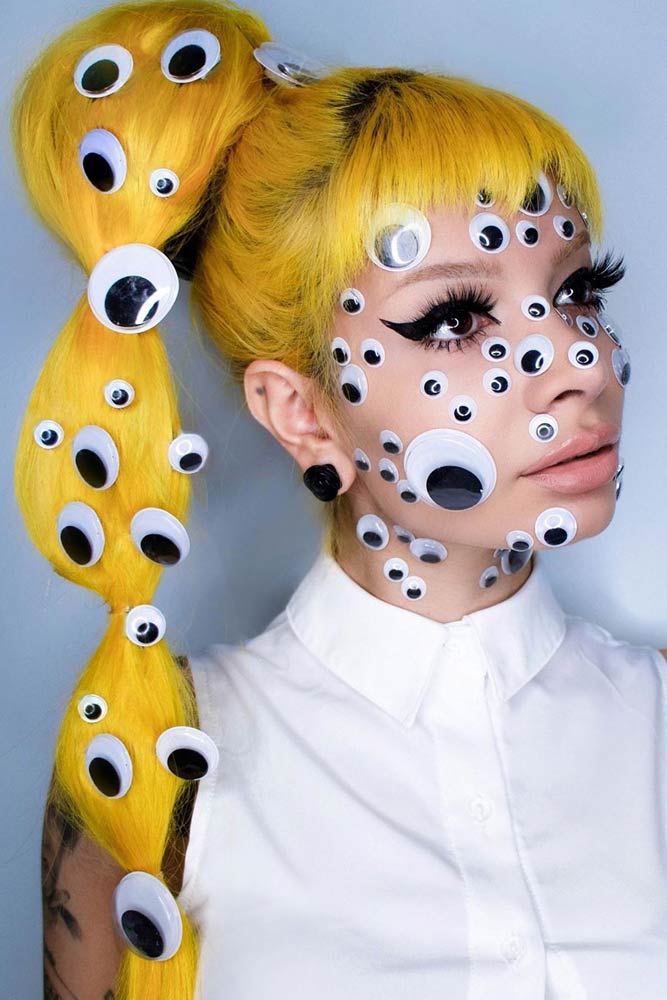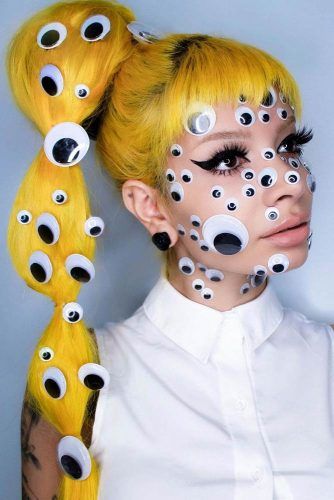 Source: lilmoonchildd via Instagram
Remember those funky little eyes for DIY stuff you would buy when you were a child? As it turns out, they can still be useful for you! Find the spookiest and the biggest googly eyes and put them literally everywhere. The world isn't prepared for a monster to come this Halloween, and you will see its surprise with your own eyes.
Retro Style: Long Curly Hair with Voluminous Back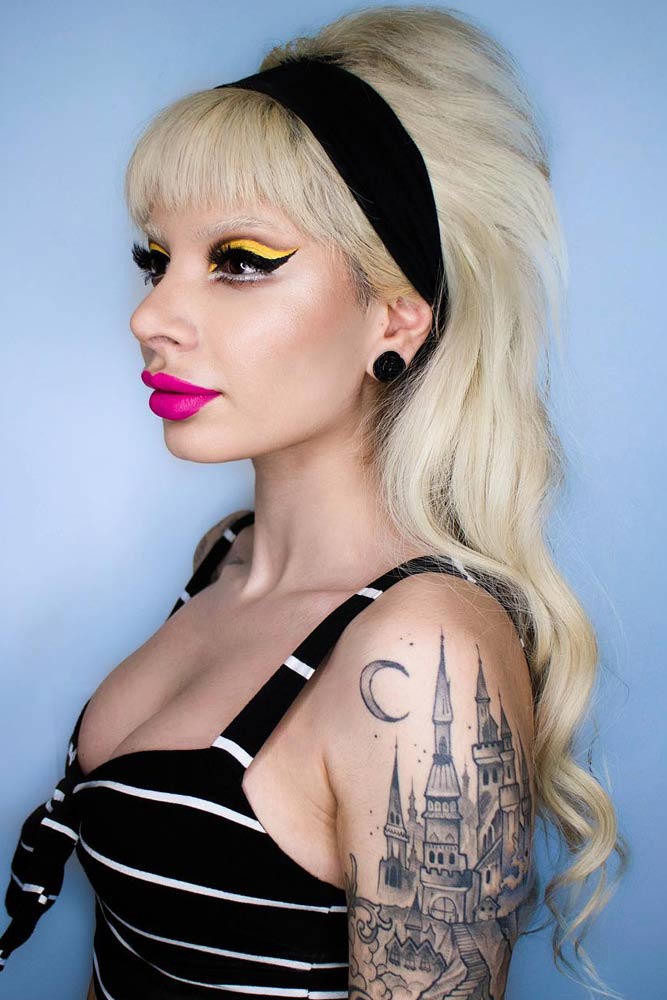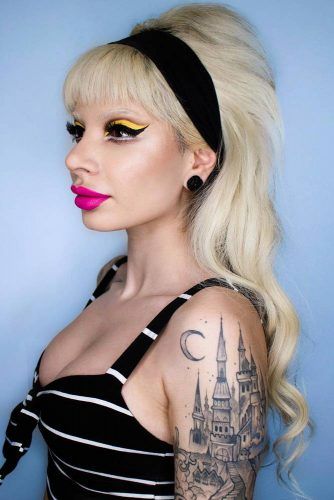 Source: lilmoonchildd via Instagram
There's no need to wait for a retro-themed party to come as Halloween is knocking at the door! Long-winged eyeliner, sexy bodycon jumpsuit, bright lipstick, and voluminous hairstyle that catches peoples' eyes and melts their hearts: who could ask for more?
Simple Wednesday Addams' Braids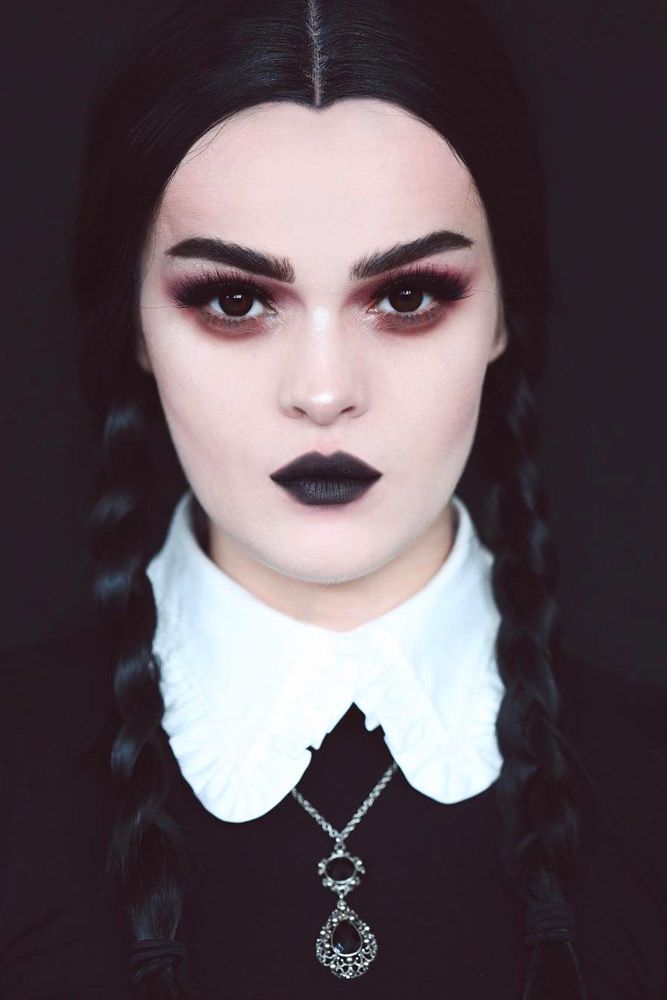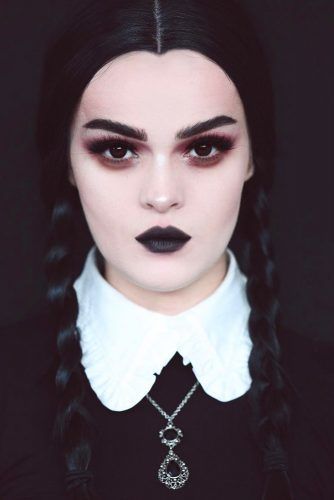 Source: picturresque via Instagram
A Halloween look that will never become outdated. Moreover, nothing can suit the Halloween theme better than Wednesday Addams' cosplay. The best thing is, it's super easy to achieve. All you need is to make your hair sleek and polished, tie it into two braids, and finish the look with a pale foundation and smokey eyes.
Disney Princess Hair Bun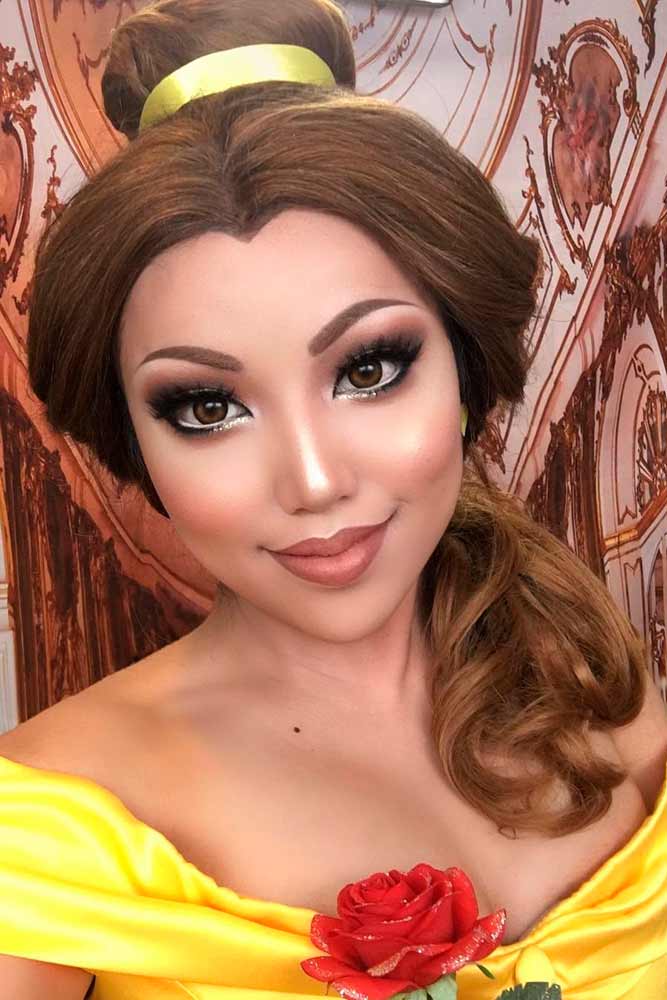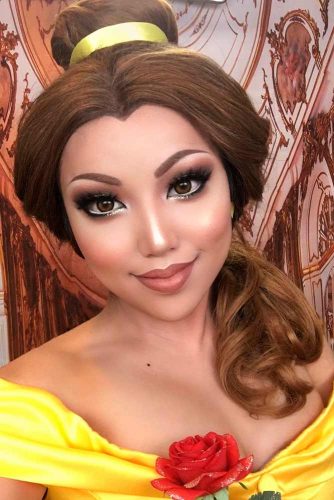 Source: promisetamangvia Instagram
Let's be honest, every girl dreams to look like Belle in her adorable ball outfit! Fortunately, our favorite Disney princesses know how to create a wonderful hairdo in just a few minutes. Just create a middle part, do high bun of the upper layer of your hair, secure it with a beautiful band, and put the rest of your hair into a wavy ponytail!
Space Buns For Rainbow Clown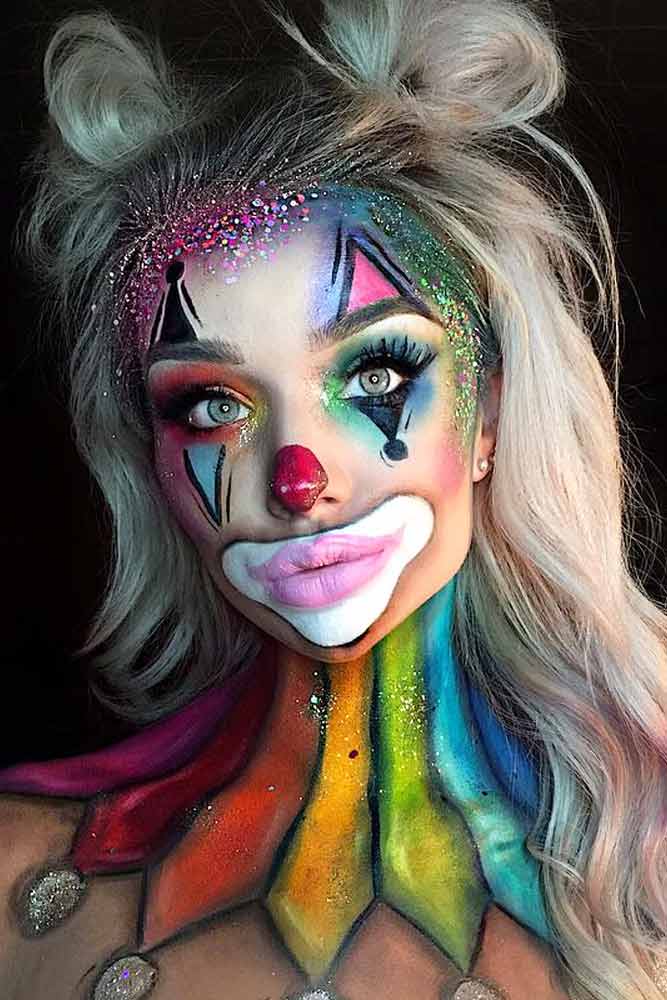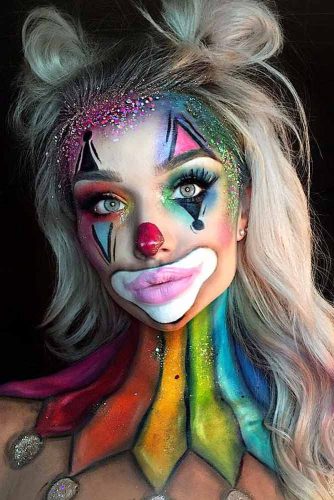 Source: typical_white_girl_sfx via Instagram
Not all the clowns are funny! Some of them can be sexy and attractive. Have you ever seen a lady clown with cute space buns that transform into soft waves? Not stealing this unique idea will be a fashion crime, we mean it!
Geisha Skull With Accessorized Hairstyle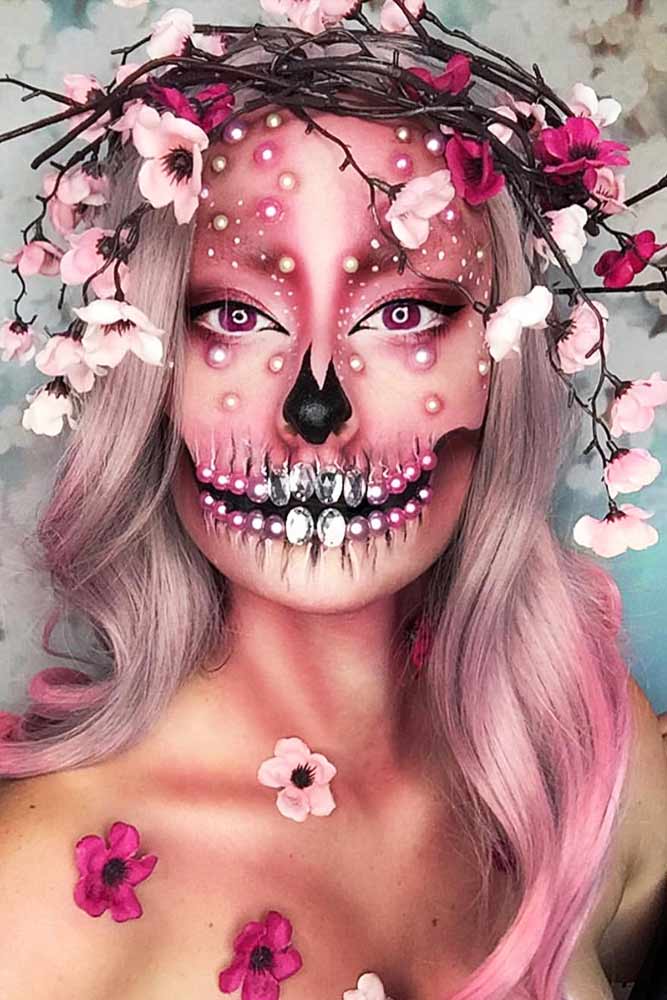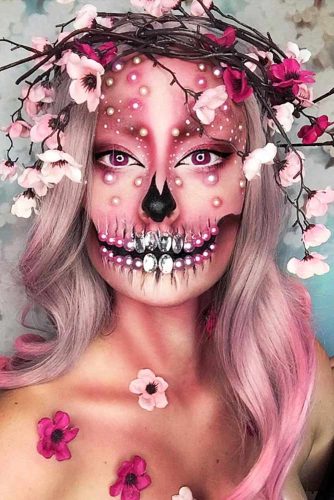 Source: 100daysofmakeup via Instagram
Gorgeous and horrendous at the same time, can you believe it? Creative girls who want their makeup to make people lose their minds should spice up their easy Halloween hairstyles with some authentic accessories; you can't have too much of stylish fear!
Colored Ponytails For Harley Quinn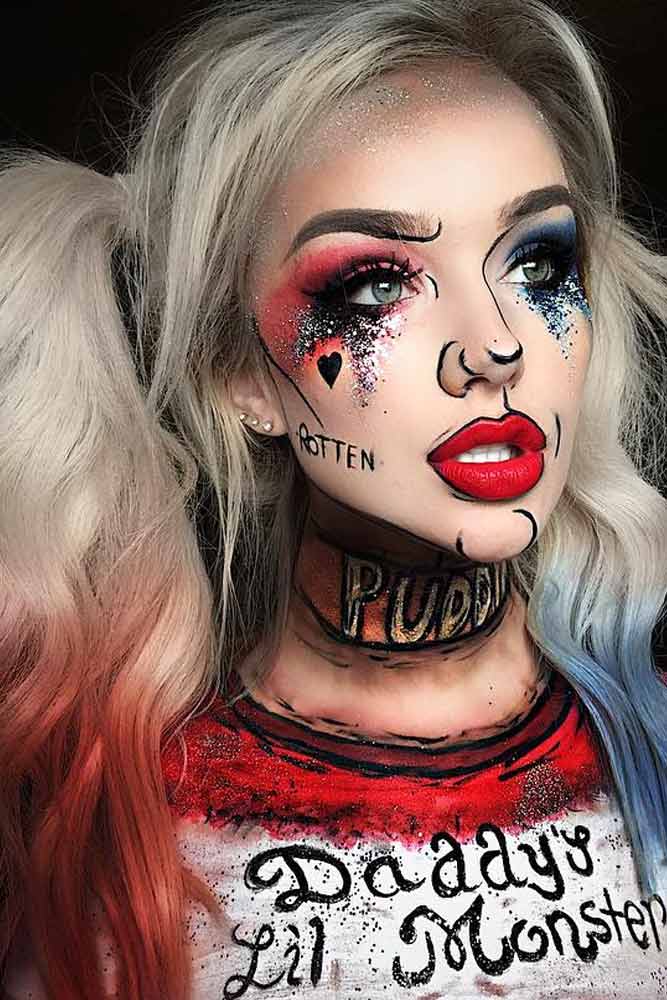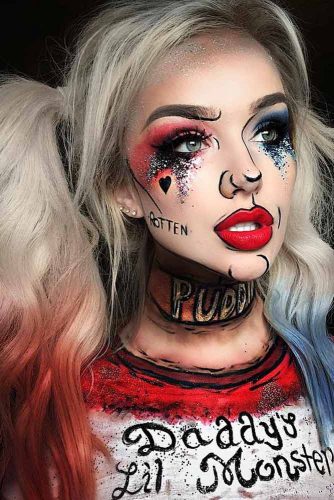 Source: typical_white_girl_sfx via Instagram
There's no better way to find your Joker than to color your ponytails in Harley Quinn's colors. The sexy and passionate makeup of the DC icon will look ravishing if every single detail is on point, so don't forget to use some chalks!
Anti Valentine With Fake Dreadlocks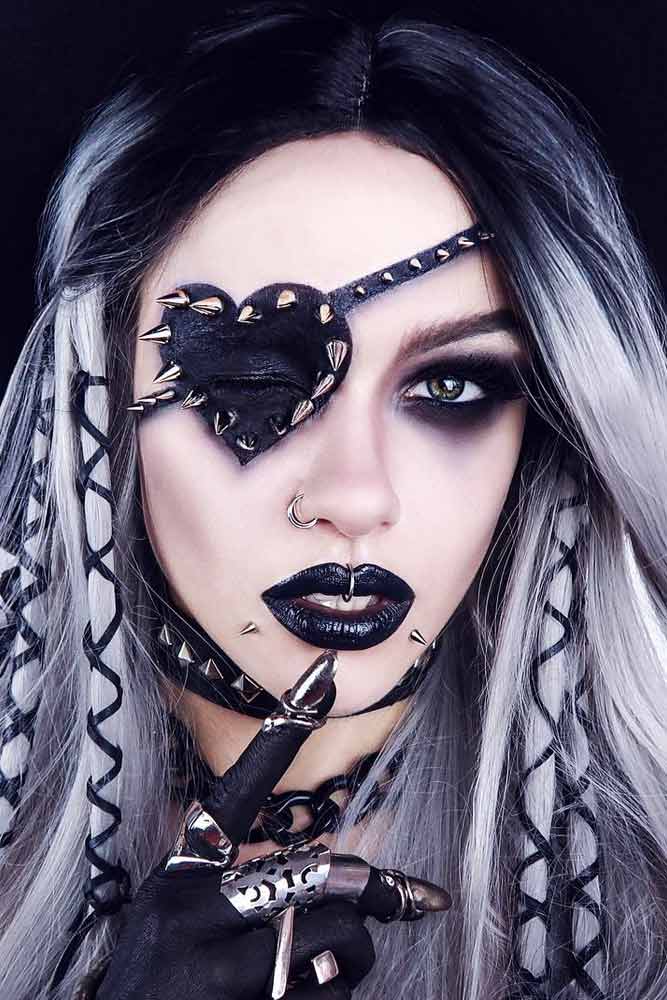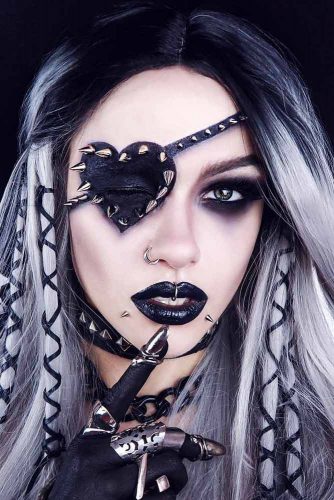 Source: alevtina_soul via Instagram
Who needs love when breaking hearts is so fun? Let your black mood take over the Halloween party: paint your hair with soft lilac temporary spray, leave the roots as dark as your seductive lips, and install some fake dreadlocks to make people understand that you're not joking!
Frida Kahlo Hairstyle With Flowers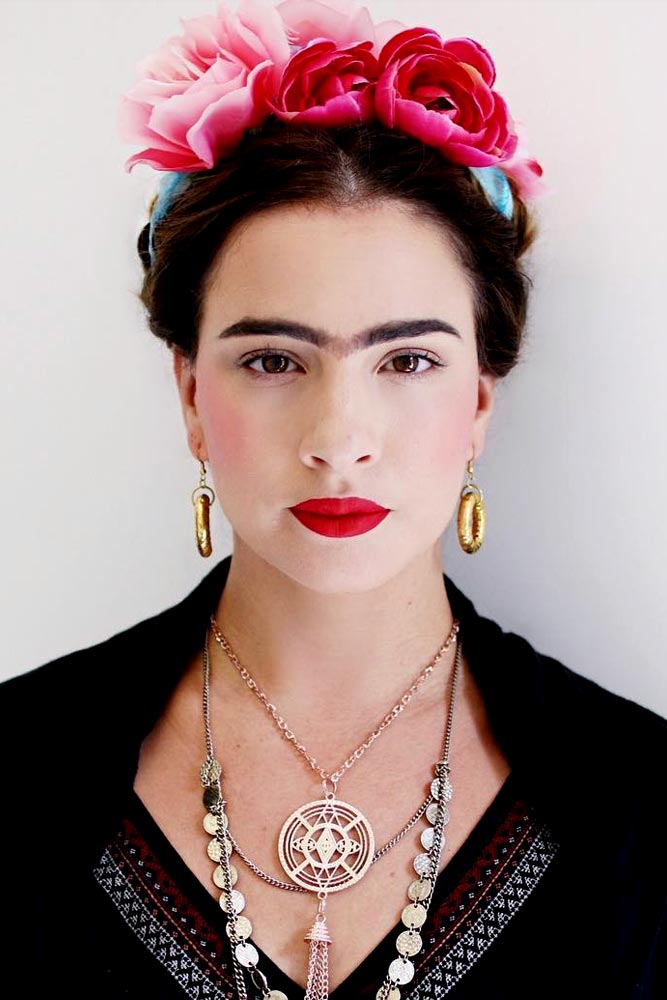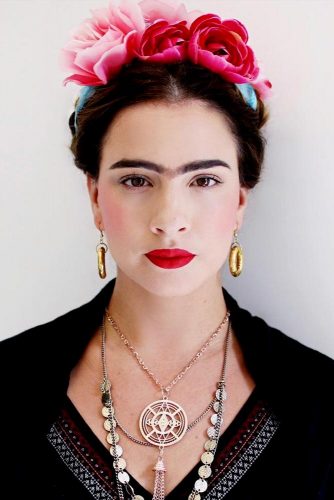 Source: claireashleybeauty via Instagram
Some easy Halloween hairstyles can also show off your appreciation of art influencers! The endless charm of Frida Kahlo's looks is simply irresistible, and if you want to recreate one of them, make sure that you embellish your braided updo with lots of colorful flowers.
Mermaid Hairstyle With Braids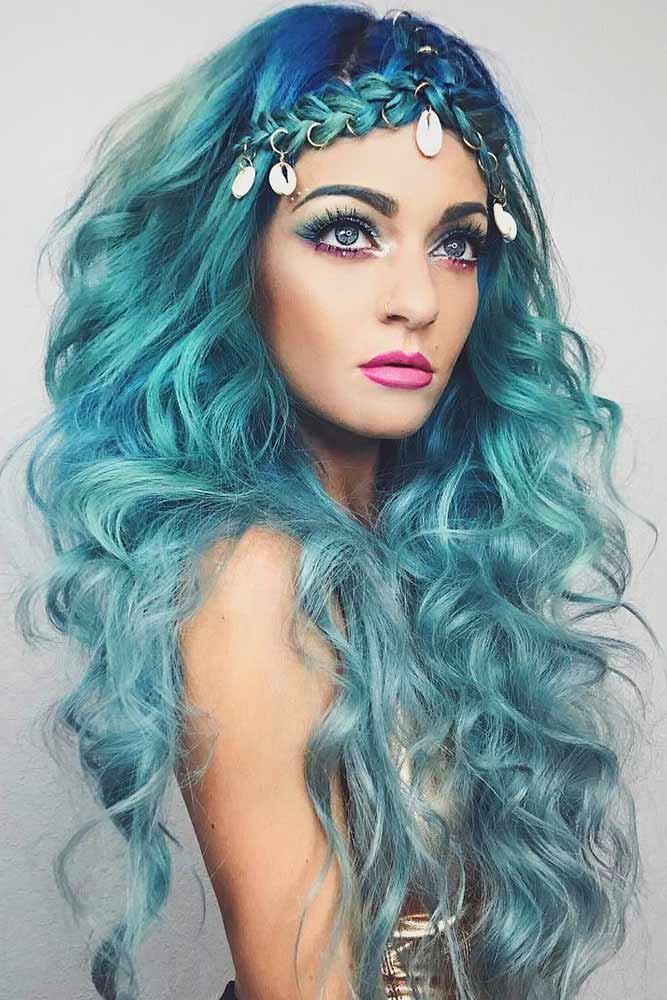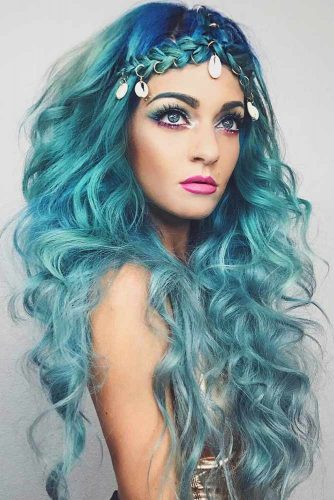 Source: charity.grace via Instagram
Mermaid hairstyles are probably the most popular and iconic hair looks. It just so happens that every girl dreams to turn into a mermaid one day. Well, Halloween is the day! Wave, curl, and do whatever it takes to make your hair look as voluminous as never before, add some braided elements, mix some sea colors, and say hello to captain!
Charming Cat Hairstyle For Halloween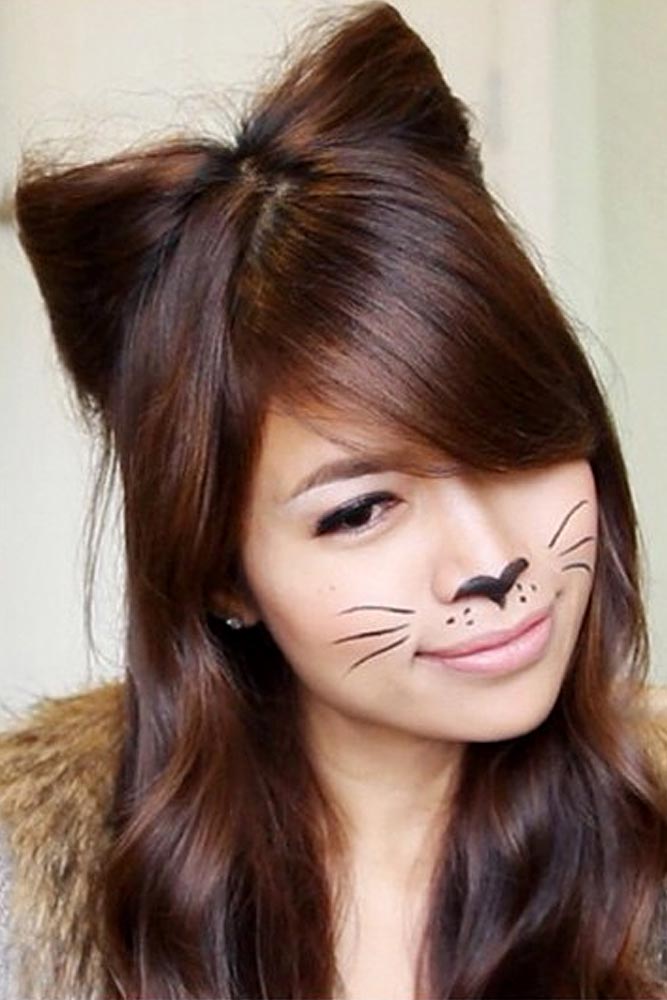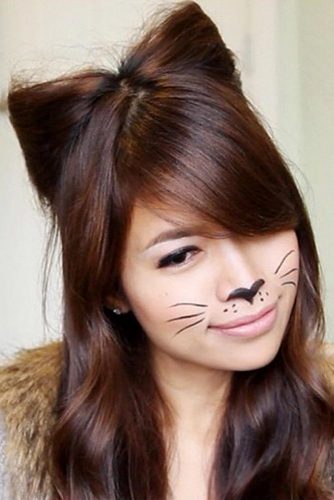 Source: neebebe via Instagram
Though all those kitten looks are the easiest ones, girls will never stop opting for them. Halloween is a good time to reveal your inner cat, no matter if it's cute or daring. Just get yourself a cat ears headband and wrap your hair around it. Meow or treat!
Unicorn Hair Look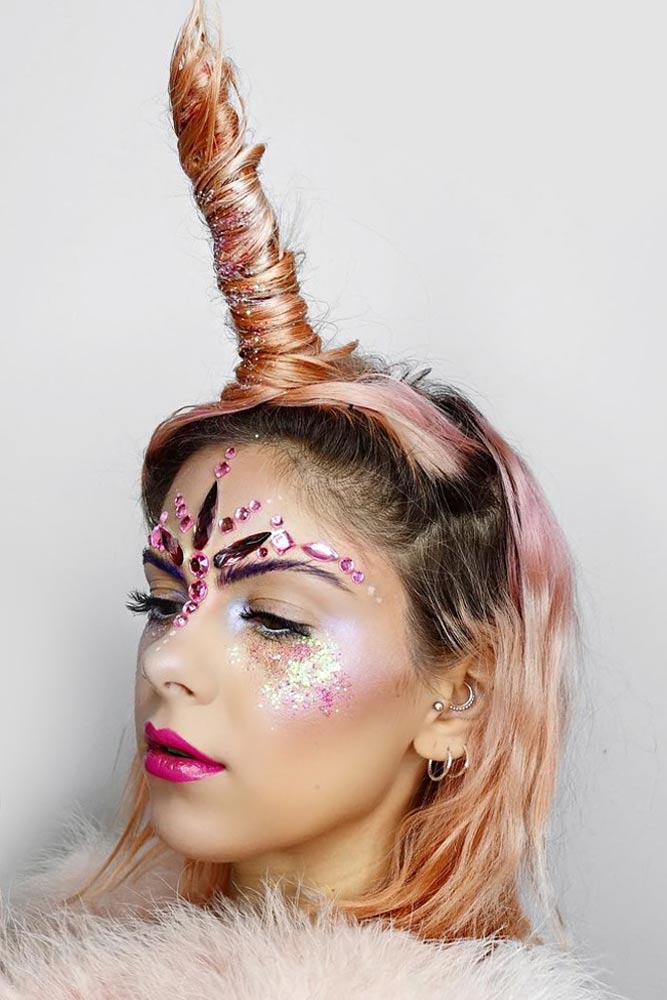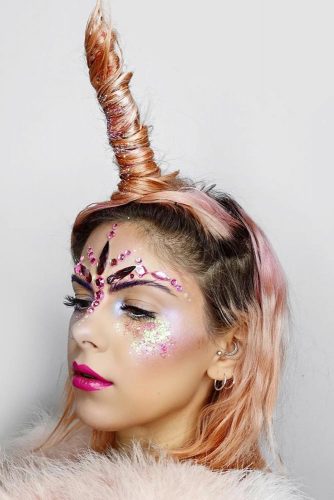 Source: sophiehannah via Instagram
A Halloween party without a sacred shiny unicorn is a party wasted! Who can show up with lots of glitters and a magic horn, if not you? If your hair is colored some fairy-like colors, it's perfect for the look! Just wrap your hair around a fake horn, and that would be enough to let fairytale in people's hearts. See? Halloween hairstyles for short hair can be fun, too!
You've just joined the club of people who have dispelled the myth that truly cool Halloween hairstyles require a lot of time and efforts. Since you know that easy Halloween hairstyles are so fascinating, it's time to go for experiments!
Silver Hairstyle With Braids For Badass Ice Queen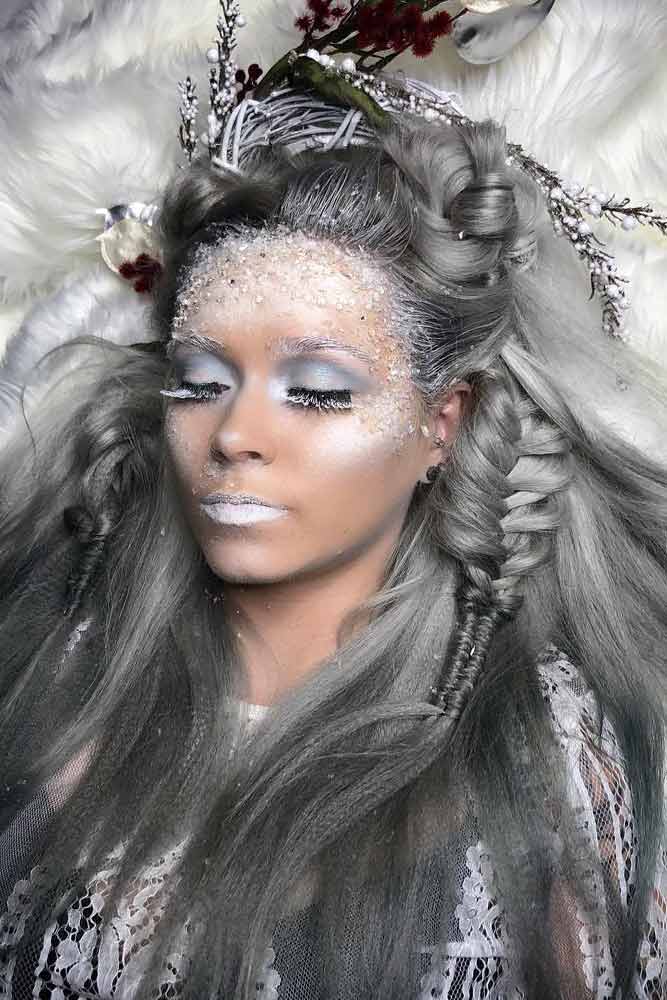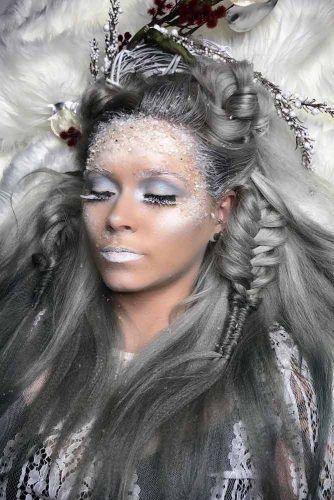 Source: lexishuford via Instagram
No matter how crazily people will be dancing at the Halloween party, once you give a mere look at the scene, everyone will freeze. And before you scroll down thinking that this idea is too complicated to recreate, let us tell you something: no, you don't need to bleach your hair and color it silver. On the contrary, all you need is to get a temporary silver shade or even a wig. To add more character to the look, combine different braiding techniques, and your Queen look will be a look to remember.
Retro Yellow Bob For Mac And Cheese Zombie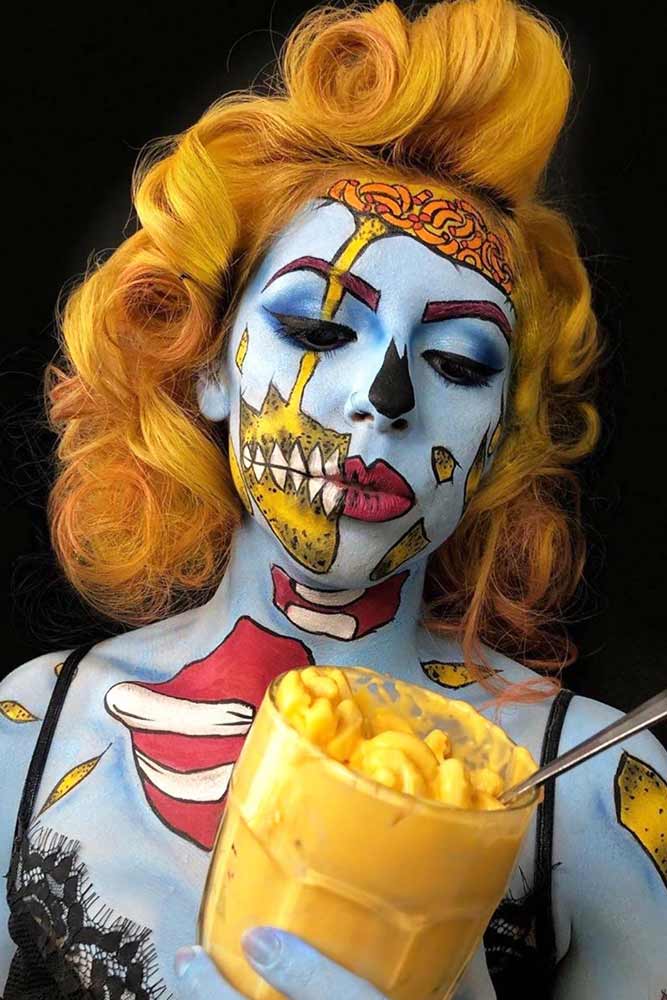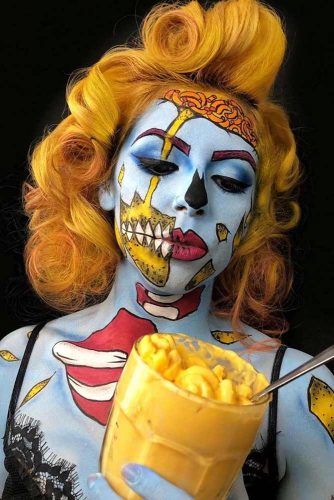 Source: giannadoll13 via Instagram
Did someone just say something about mac and cheese to serve this Halloween? If so, you actually pronounced a serious spell, so you'd better prepare to see a retro zombie at your party. Okay, jokes aside. The truth is, a retro-inspired zombie with a passion for eating mac and cheese is something truly creative. Although the makeup will take some time, the hair will be a breeze: just curl your wig beforehand.
Messy Rainbow Hairstyle For Dark Siren Mermaid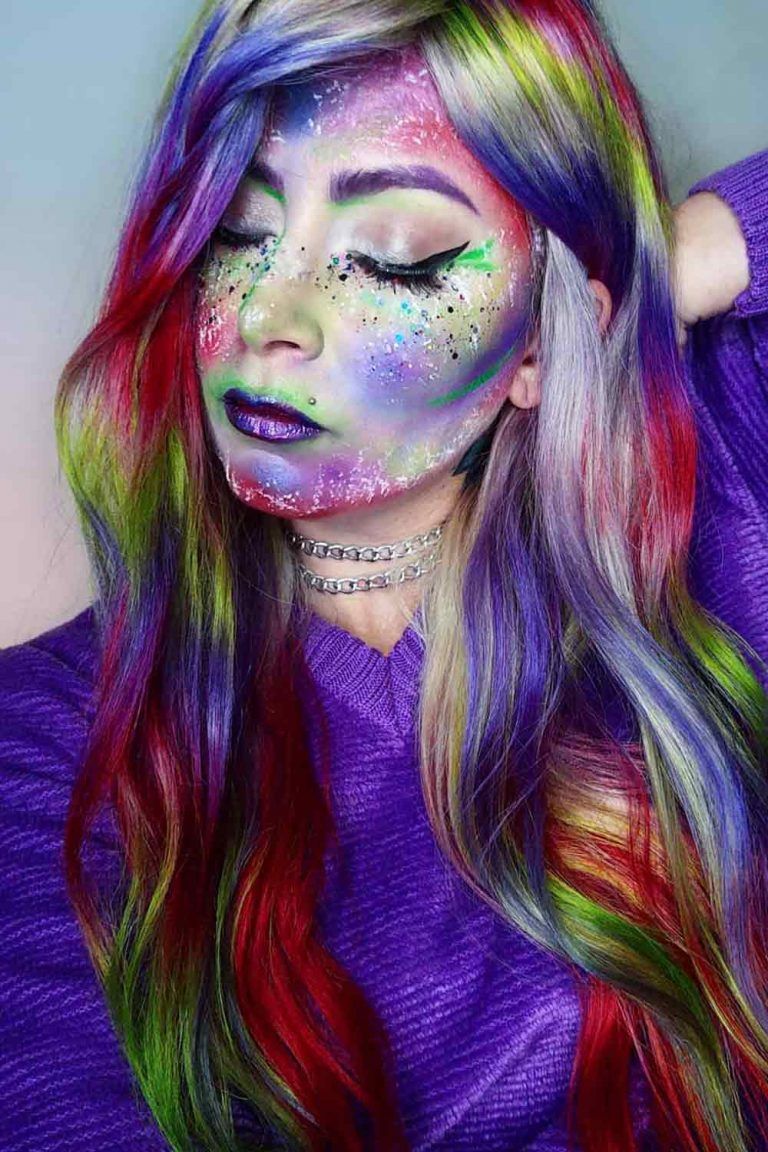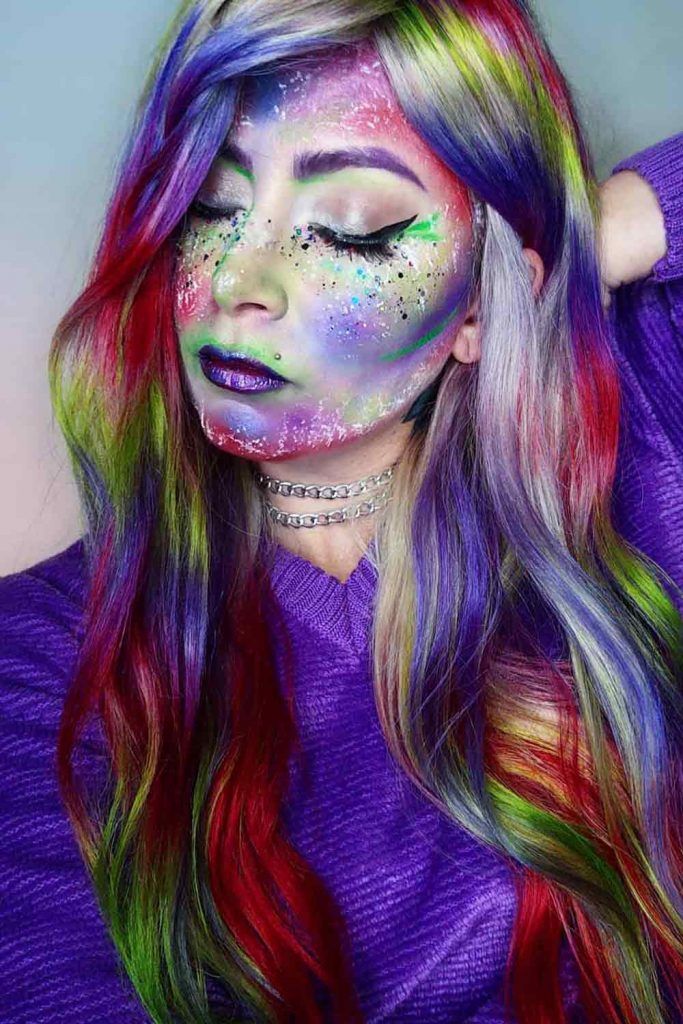 Source: adlydesign via Instagram
Gone are those days when mermaids behave and acted like those cuties from Disney cartoons. These creatures can be different, and you can guide people to the world of dark sirens, showing them another side of the classic tale. Believe it or not, pastel hues like blue, pink, and purple styled with a touch of messiness would be enough to bring the dark mood.
Space Buns For Sexy Pennywise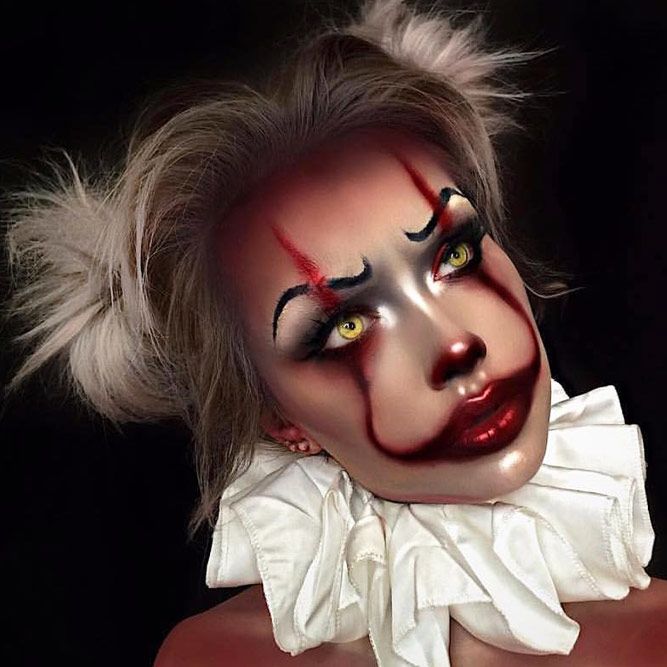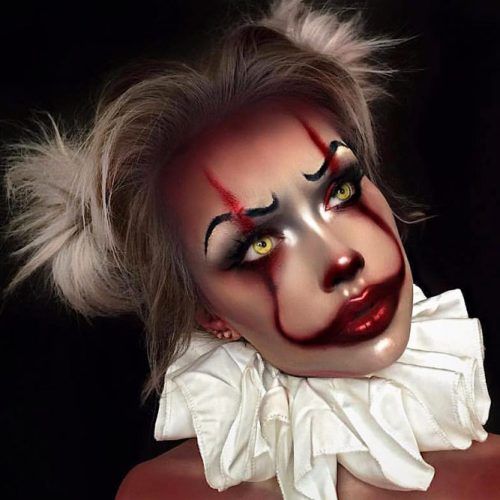 Source: typical_white_girl_sfx via Instagram
Pennywise. Even thinking of his name gives us creeps. How would you describe him, by the way? Let us guess: he's anything but sexy. If your thoughts are moving in this way, your world is going to turn upside down, just like ours did when we saw this idea. Who would've thought that Pennywise only lacked a nice hairstyle to actually look cute? Messy space buns are key.
FAQ: Easy Halloween Hairstyles
Which hairstyle is healthy for hair?
Half bun is the answer. Take two short locks of hair from each side of your head and bring them together. Then, near the crown of your head, gather them together and bind them in a half bun hairstyle. To keep your hair well-nourished and untangled, include a protective hair serum in your everyday hair routine.
How do I make my hair white for Halloween?
Style your hair how you want.
Apply a thin layer of aloe vera gel to your entire head.
Apply baby powder to the fan brush while the gel dries.
Let the gel and baby powder dry.
Fix the powder with hairspray.
Steps 2–5 can be repeated as many times as necessary to get the desired look.