By:

Glaminati Media

| Updated:

06/16/2019
Easy Halloween Hairstyles For An Unforgettable Look
Easy Halloween hairstyles are that only thing that is still missing when you choose your costume. Or, sometimes it can even substitute one. So if you haven't got a costume yet or not planning on getting one but still want to be extraordinary when the Halloween comes, help yourself to these unique and easy suggestions!
Devil Hair Horns Tutorial

Of course, rocking an eye-catching makeup is crucial, but your hair is something that can add a finishing touch to the look. How about you to reveal your dark side? Follow these steps!
First, do two side ponytails on the back of the head with the upper layer of your hair.
When your ponytails are ready, create a base for your future devil horns by wrapping the thin wire around the headband, giving it a double horn-like shape.
Take a ponytail and split it into two equal sections.
Wrap the section around the horn, altering them and crossing over one another to add some volume.
Repeat the same steps with the second ponytail, secure your terrific hairdo with hairspray, and enjoy!
Source: Sherry Maldonado

Princess Jasmine Halloween Tutorial


Don't feel like rocking this Halloween with a scary look? One of the most feminine looks inspired by Princess Jasmine will come in handy, then! Let's fascinate everyone with a powerful charm of femininity.
Start by teasing the front pieces of your hair to achieve the needed volume.
Then, place a headband and put your hair into a low ponytail.
If your front tresses fall on your face, pin them away with bobby pins.
Take a hair elastic and place it about 2-inches below the first one.
Do the same all over the length, pulling the edges of the bubbles to create a puffy effect.
Source: Carli Bybel

Quick Hairstyle For Halloween Deer


While some ladies prefer scary vampire or witch looks, some girls would like to put their cute styles in the spotlight. With this tutorial, you'll make even the worst Halloween witch smile! P.S. This is officially the easiest tutorial ever!
Part your hair in the way you want and take a top front section of hair.
Create a little ponytail with the section, but don't go all the way through the band; you should create a loop.
Do the same with another front section. That's it! It will look awesome if you add some texture, so waving your hair is a nice idea for this look.
Source: Leighannsays

Disney Princess Hair Bun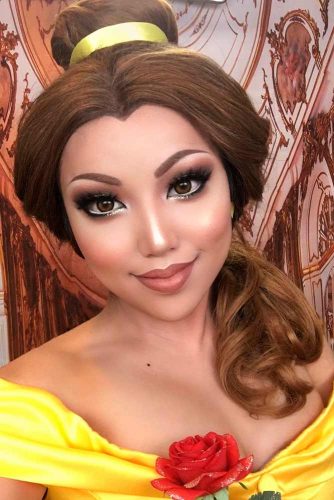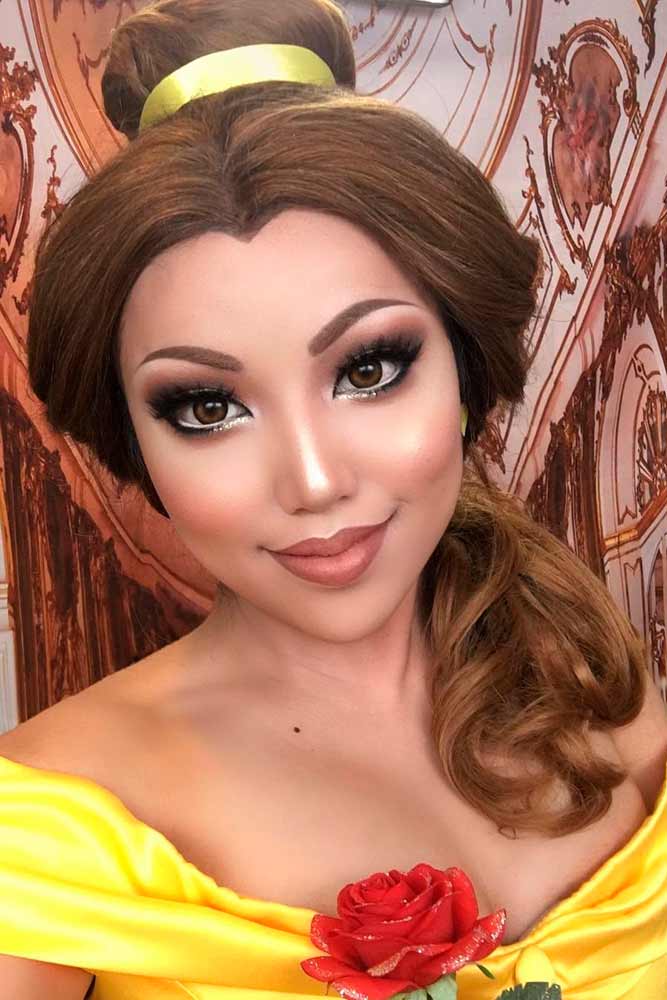 Let's be honest, every girl dreams to look like Belle in her adorable ball outfit! Fortunately, our favorite Disney princesses know how to create a wonderful hairdo in just a few minutes. Just create a middle part, do high bun of the upper layer of your hair, secure it with a beautiful band, and put the rest of your hair into a wavy ponytail!
Source: promisetamangvia Instagram

Space Buns For Rainbow Clown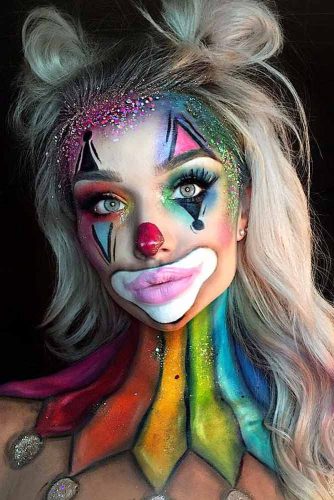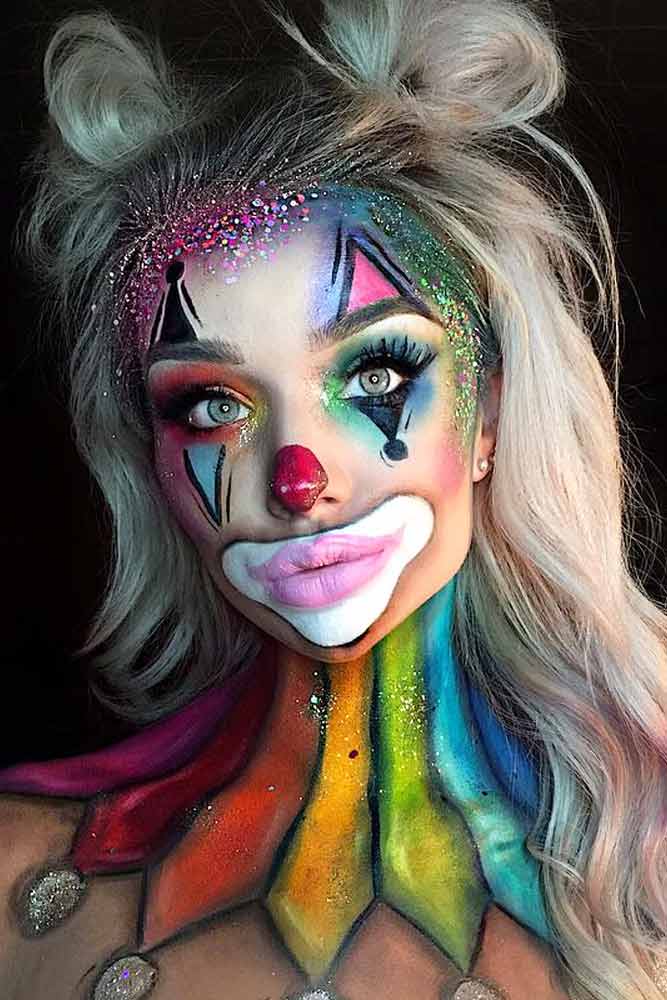 Not all the clowns are funny! Some of them can be sexy and attractive. Have you ever seen a lady clown with cute space buns that transform into soft waves? Not stealing this unique idea will be a fashion crime, we mean it!
Geisha Skull With Accessorized Hairstyle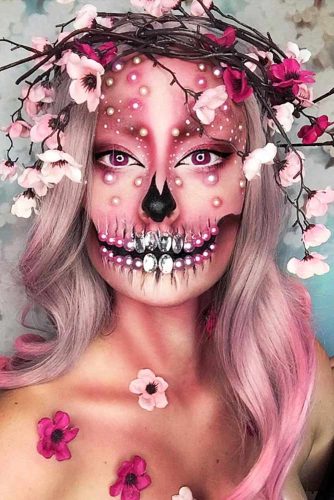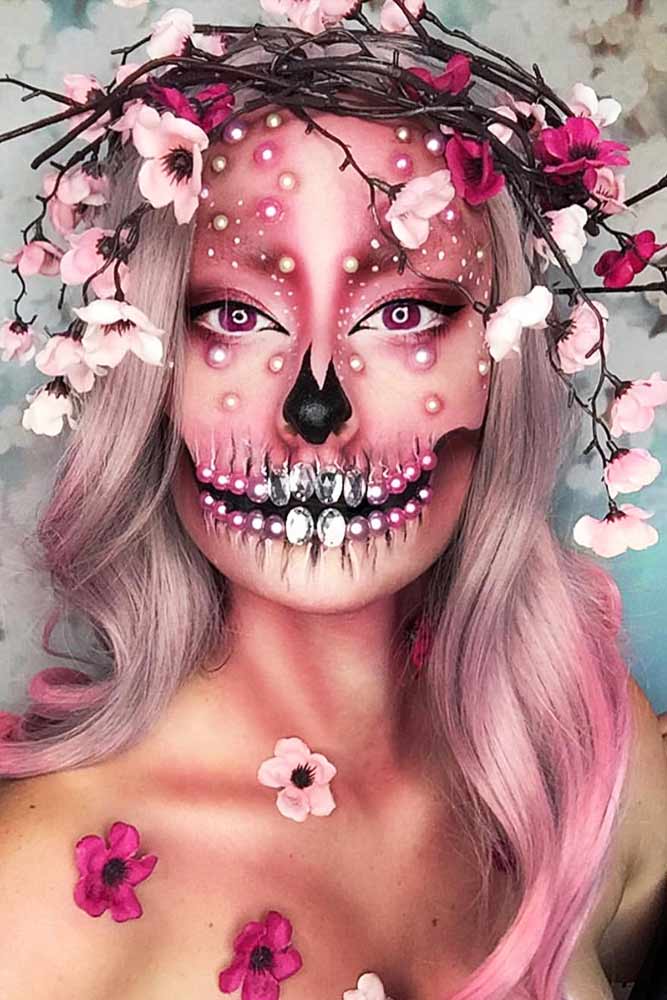 Gorgeous and horrendous at the same time, can you believe it? Creative girls who want their makeup to make people lose their minds should spice up their easy Halloween hairstyles with some authentic accessories; you can't have too much of stylish fear!
Source: 100daysofmakeup via Instagram

Colored Ponytails For Harley Quinn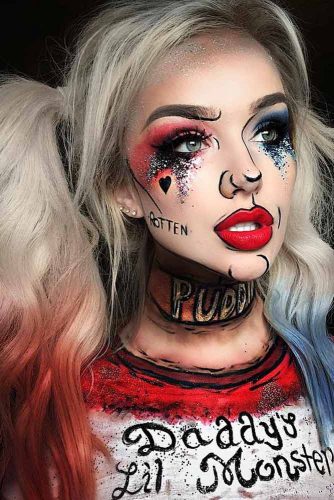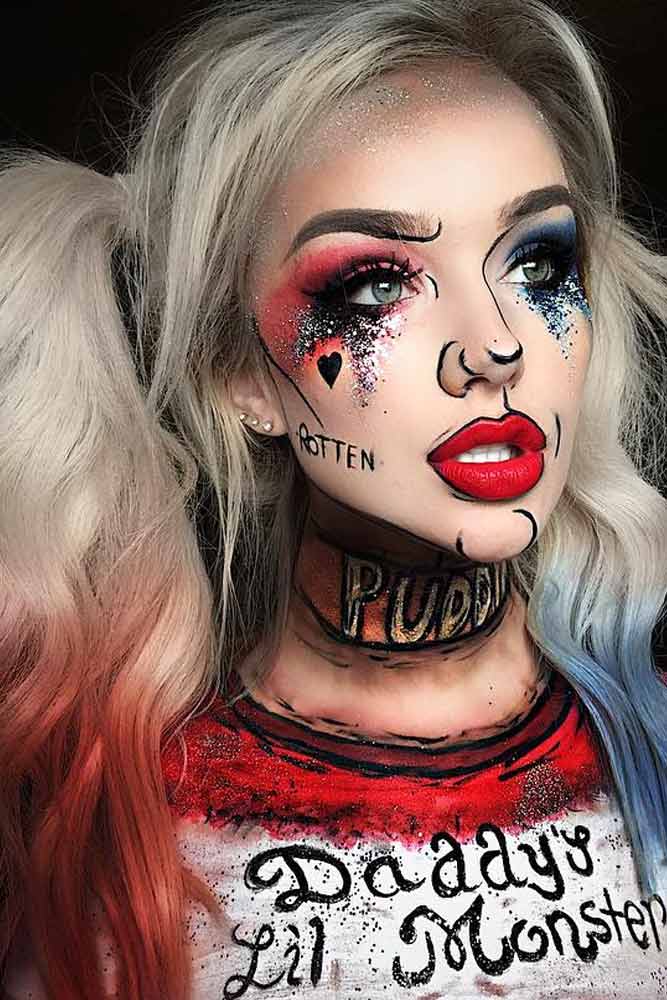 There's no better way to find your Joker than to color your ponytails in Harley Quinn's colors. The sexy and passionate makeup of the DC icon will look ravishing if every single detail is on point, so don't forget to use some chalks!
Anti Valentine With Fake Dreadlocks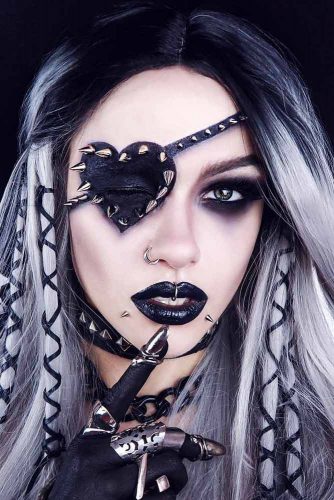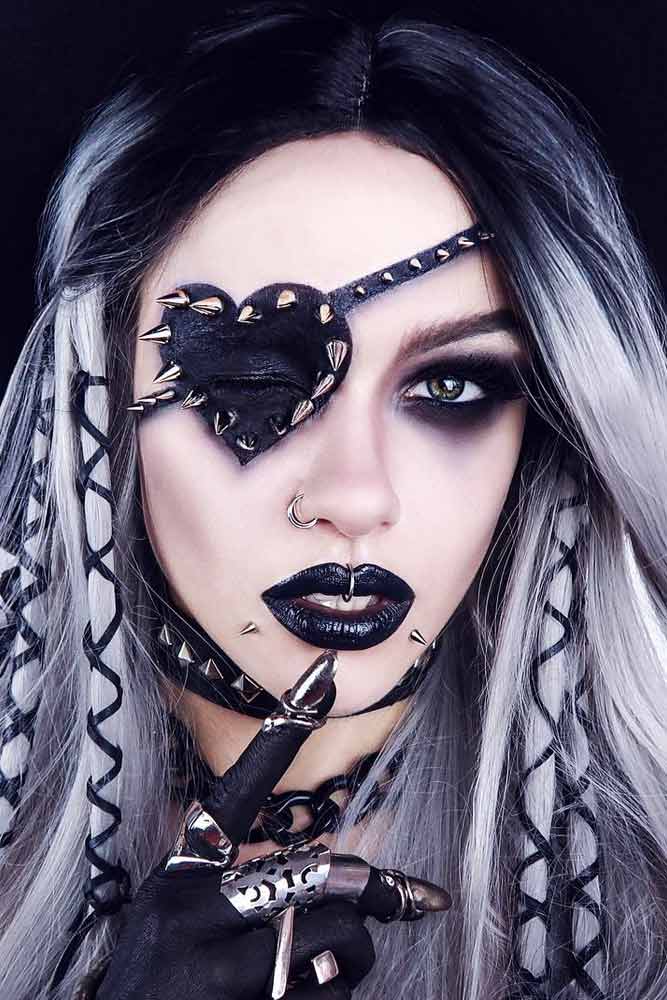 Who needs love when breaking hearts is so fun? Let your black mood take over the Halloween party: paint your hair with soft lilac temporary spray, leave the roots as dark as your seductive lips, and install some fake dreadlocks to make people understand that you're not joking!
Source: alevtina_soul via Instagram

Frida Kahlo Hairstyle With Flowers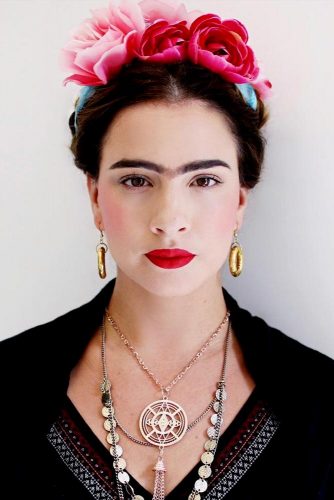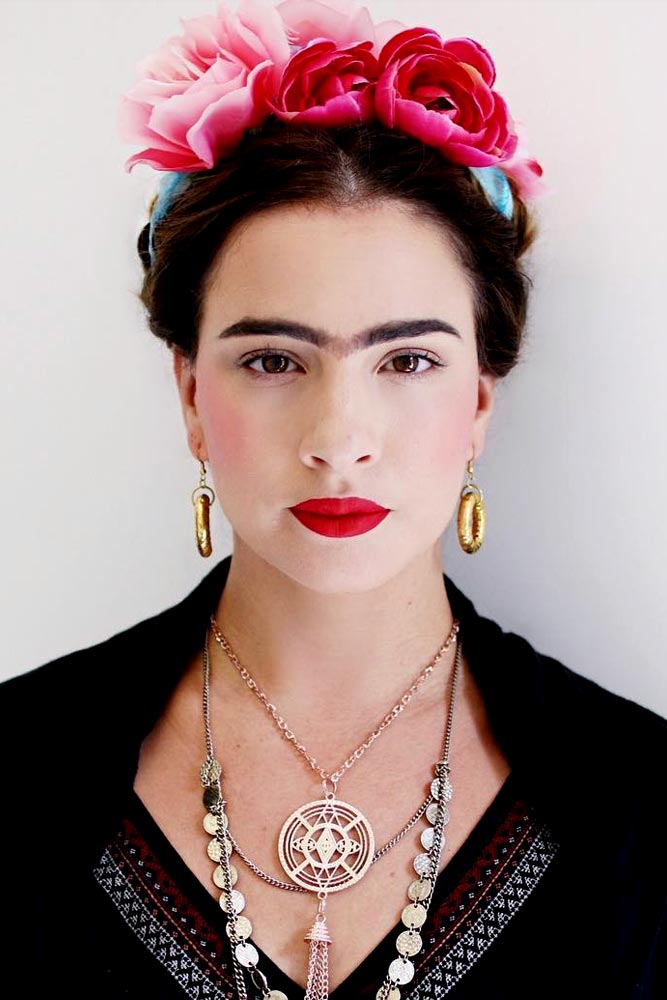 Some easy Halloween hairstyles can also show off your appreciation of art influencers! The endless charm of Frida Kahlo's looks is simply irresistible, and if you want to recreate one of them, make sure that you embellish your braided updo with lots of colorful flowers.
Source: claireashleybeauty via Instagram

Mermaid Hairstyle With Braids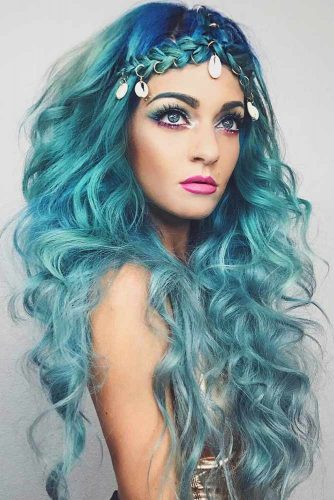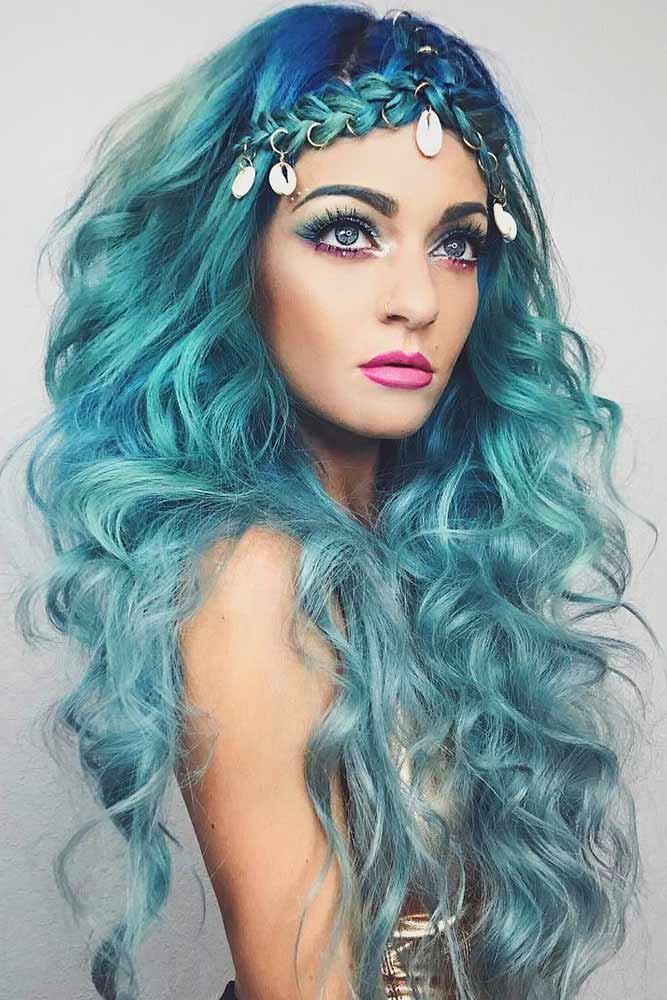 Mermaid hairstyles are probably the most popular and iconic hair looks. It just so happens that every girl dreams to turn into a mermaid one day. Well, Halloween is the day! Wave, curl, and do whatever it takes to make your hair look as voluminous as never before, add some braided elements, mix some sea colors, and say hello to captain!
Source: charity.grace via Instagram

Charming Cat Hairstyle For Halloween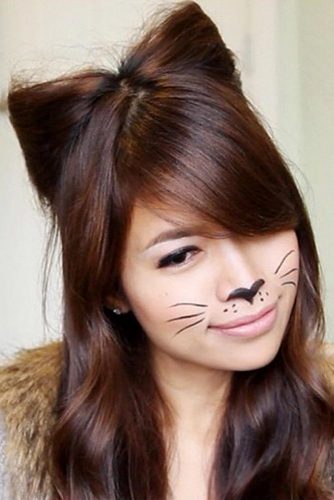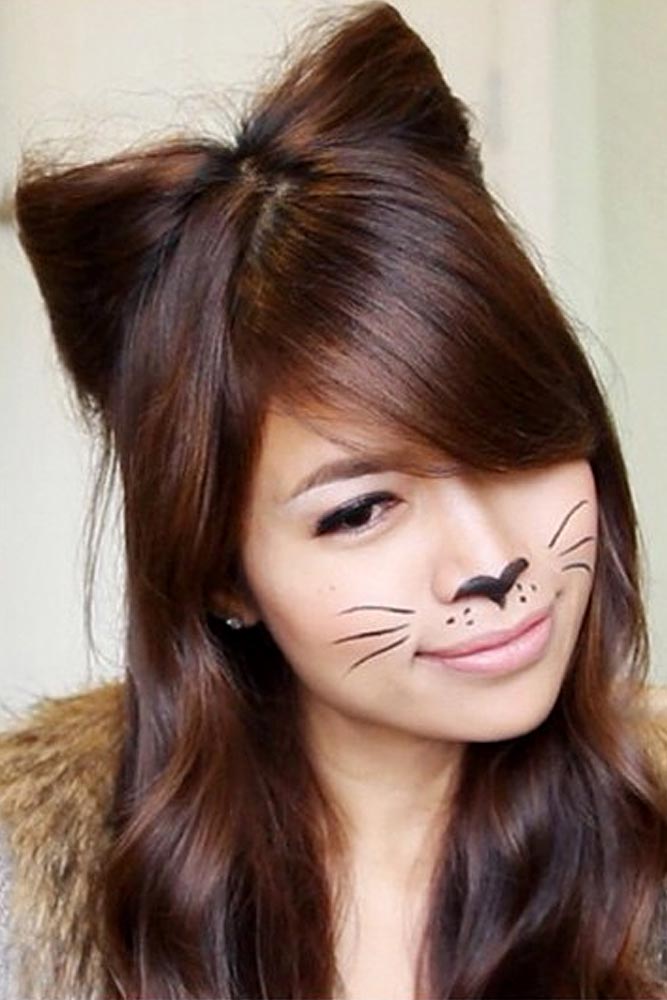 Though all those kitten looks are the easiest ones, girls will never stop opting for them. Halloween is a good time to reveal your inner cat, no matter if it's cute or daring. Just get yourself a cat ears headband and wrap your hair around it. Meow or treat!
Source: neebebe via Instagram

Unicorn Hair Look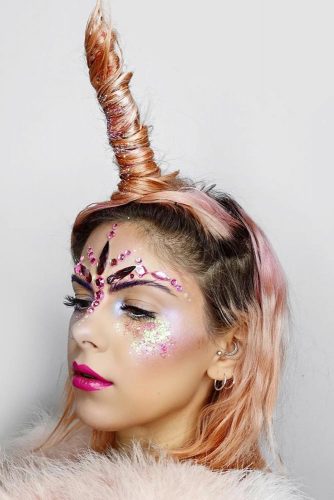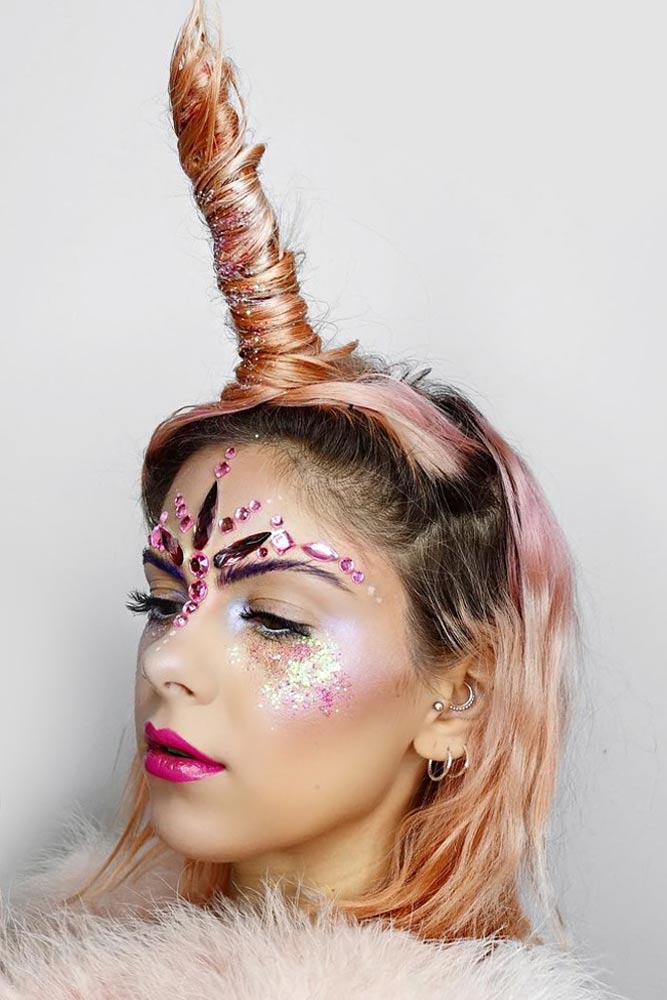 A Halloween party without a sacred shiny unicorn is a party wasted! Who can show up with lots of glitters and a magic horn, if not you? If your hair is colored some fairy-like colors, it's perfect for the look! Just wrap your hair around a fake horn, and that would be enough to let fairytale in people's hearts.
You've just joined the club of people who have dispelled the myth that truly cool Halloween hairstyles require a lot of time and efforts. Since you know that easy Halloween hairstyles are so fascinating, it's time to go for experiments!
Source: sophiehannah via Instagram

Main photo by
Carlibel