Shoulder length curly hair: today you will finally realize that it's more a blessing than a curse. Like most of us, in case you have curly hair since birth, you probably did anything possible and impossible to fight against the natural texture of your locks. You purchased super advanced flat irons, paid for keratin treatments, splurged on straightening serums. And you probably failed.
But that is only for the better and you will see why curly hair rocks!
Curls can save you much time as they don't require much extra styling.
Curls are not difficult to style, comparing to straightening hair.
It is healthy for the hair to remain curly as heat straightening damages your locks.
Curly babes look bomb and draw attention.
Curls will complement any image.
The weather will never spoil a curly hairstyle.
Now when we've clarified that you are actually lucky to have curly hair, let's explore the freshest and flattering shoulder length hairstyles for curly hair.
Shoulder Length Curly Hair
Source: delphimichanu via Instagram, magdelinembaye via Instagram, saraholiveirab612 via Instagram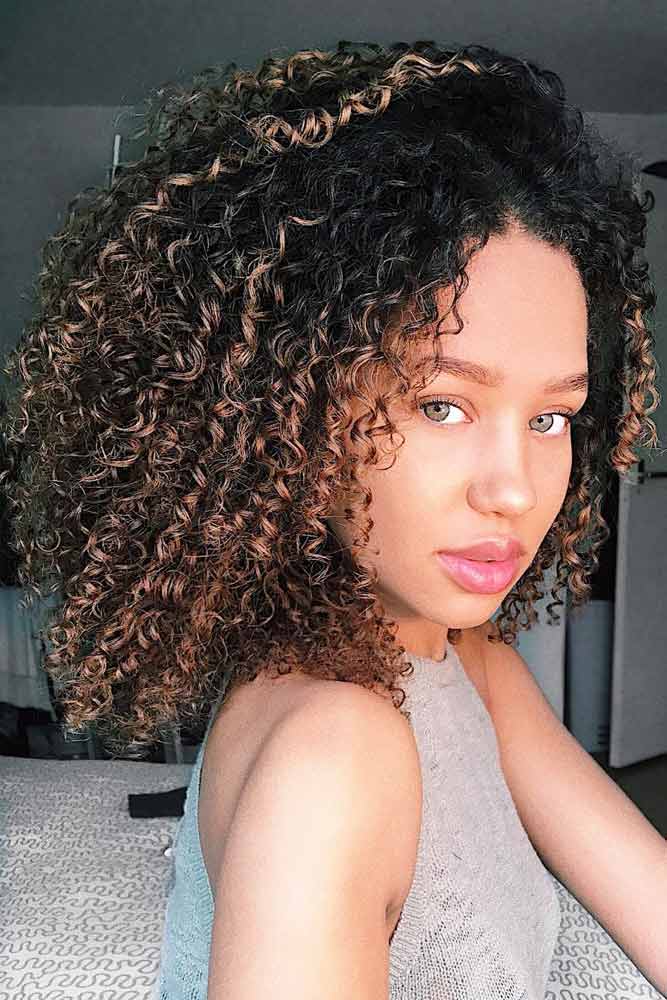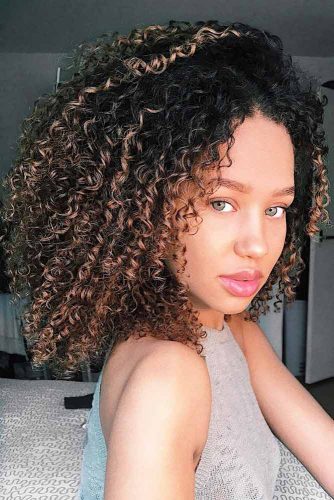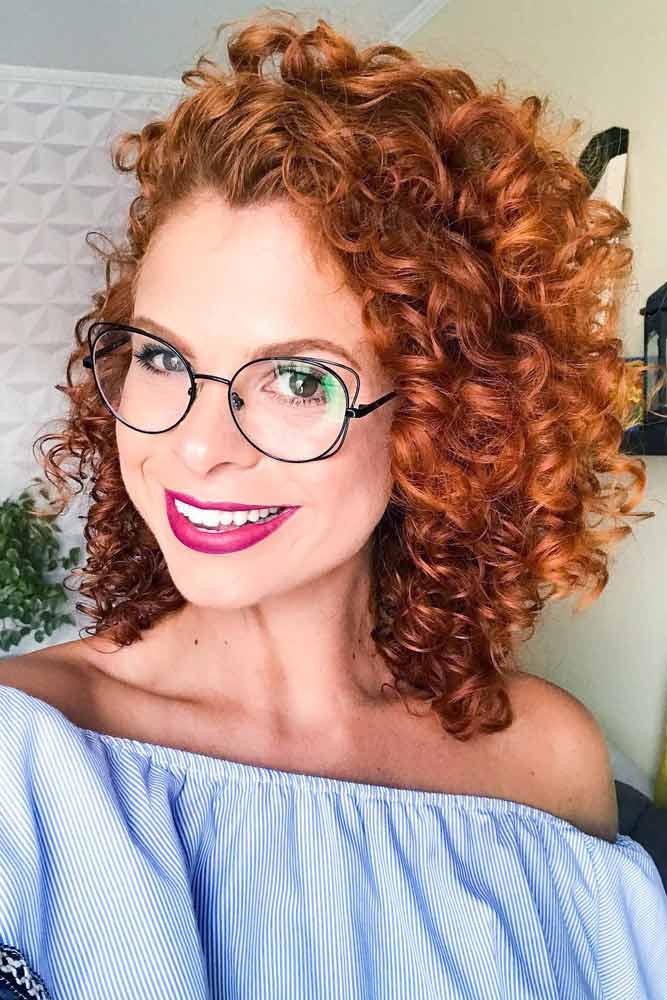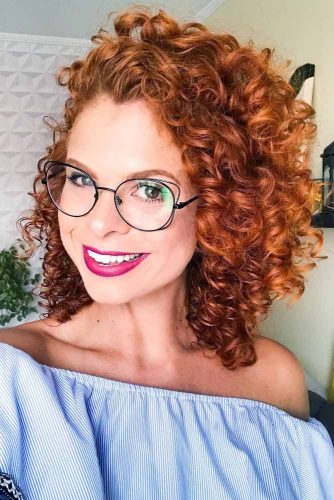 Shoulder length curly hair looks stunning and cute when styled simply with a middle or side part. In order to reach this natural effect, use hair products made specifically for the curly hair texture. Conditioner should be applied with a wide comb. Do not brush your hair once you are done washing. This is the key to avoid frizz. Add some curling balm on your palms and spread it through your hair evenly. Do not separate your locks in any case. Allow it to air dry or take a diffuser.
Shoulder Length Curly Hair With Bangs
Source: kirathelight via Instagram, franbonaa via Instagram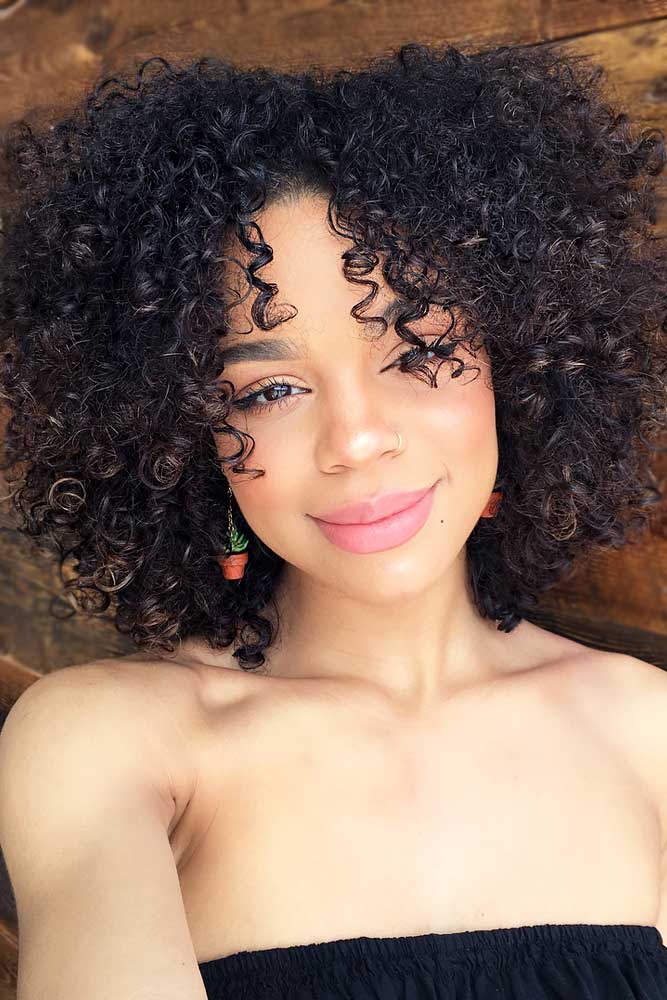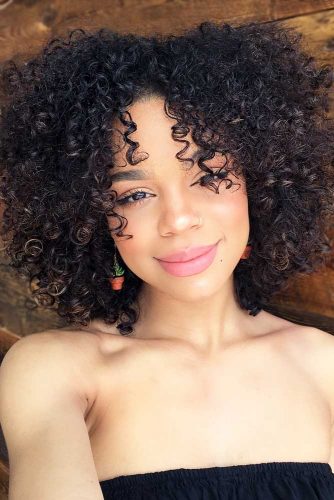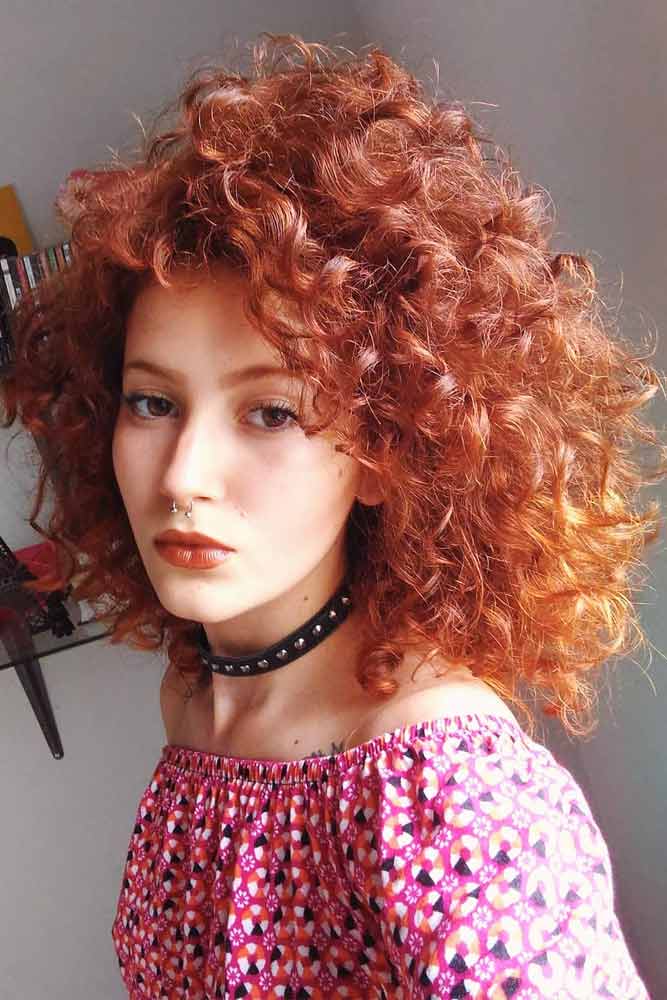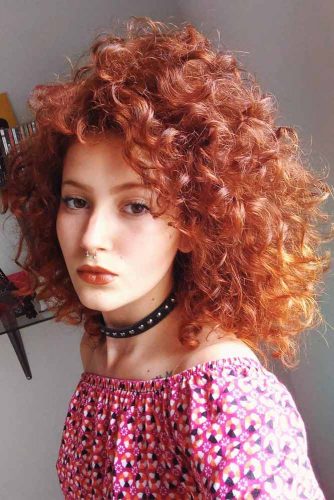 Shoulder length curly hair with bangs will add a touch of sexiness to your look. Bangs allow you to customize your style however you want. Bangs with curly hair may sometimes be too much. So, make sure your bangs are not blocking too much of your face. Just a couple of locks are enough. This will add an accent to your eyes and make your cheekbones appear sharper.
Curly Ponytail
Source: carolmanprim via Instagram, shizenwong via Instagram, jenafrumes via Instagram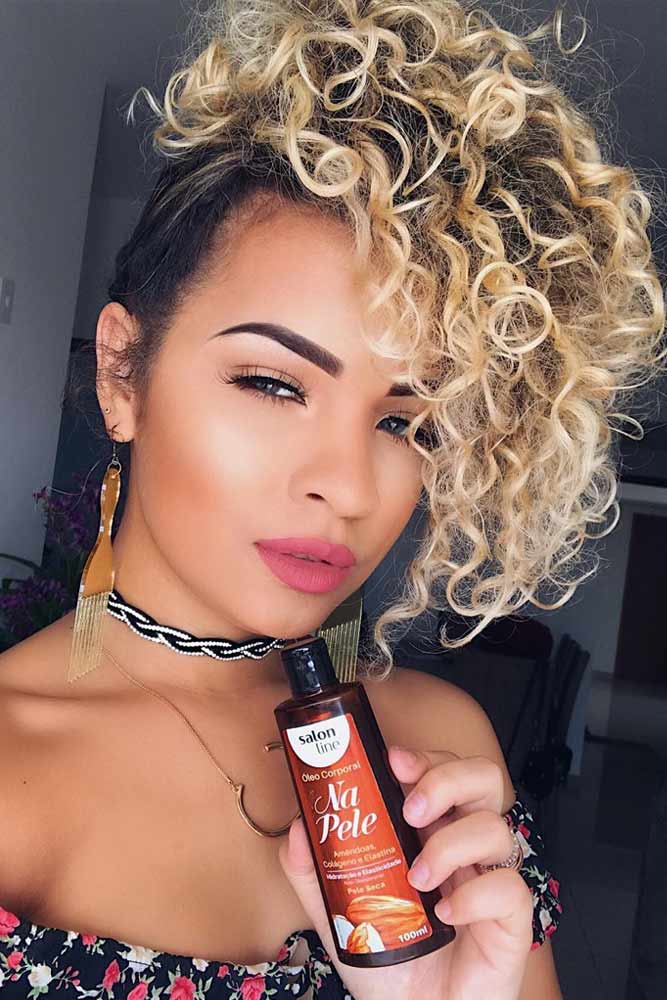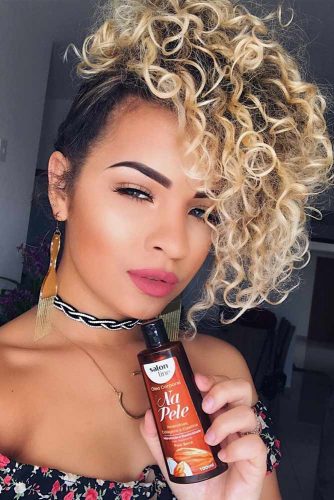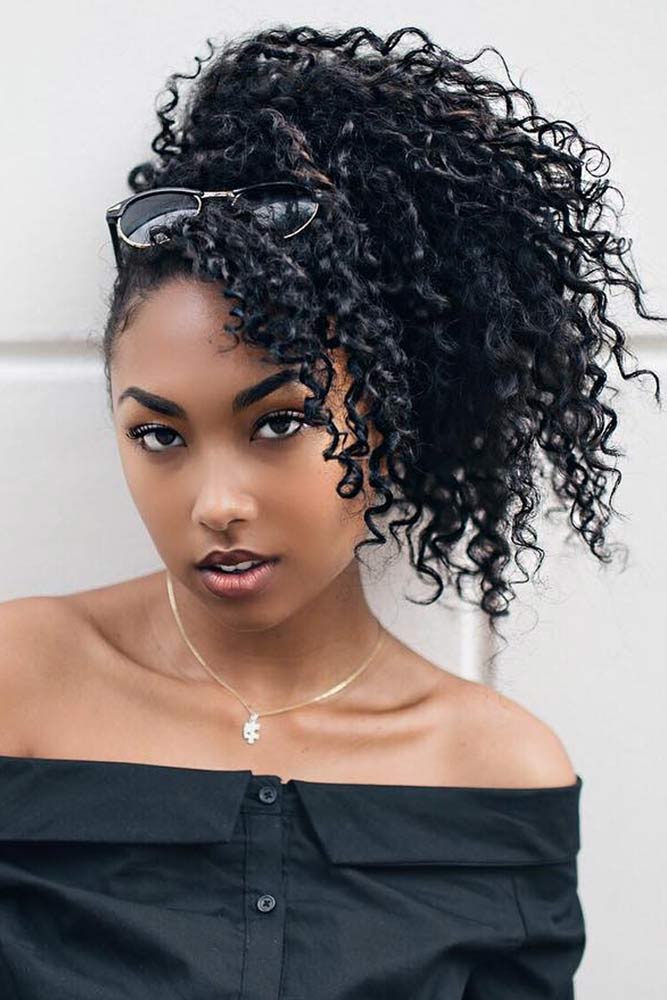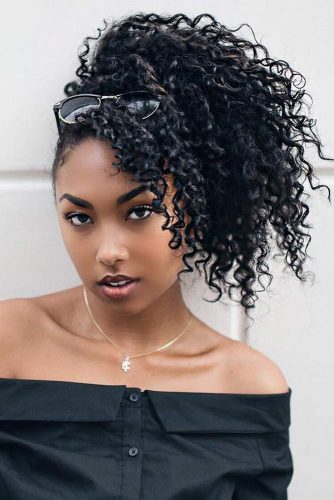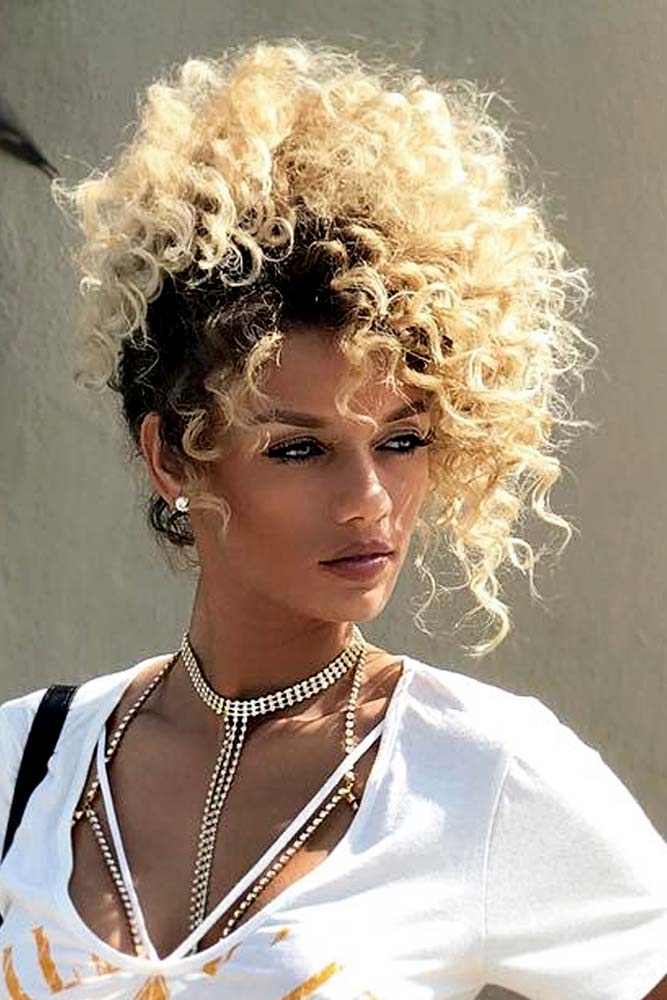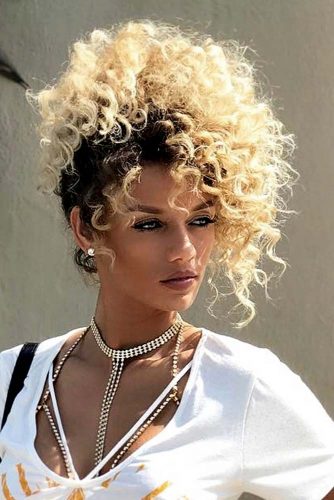 These curly ponytail options are way more creative than the regular ones. But in fact they are as simple as ABC. Tie your hair higher than regularly, flip it to the front and pin it with a booby pin to secure it. This hairstyle will become your go-to when you are in need of a quick and cute solution.
Updos For Curly Hair
Source: magdelinembaye via Instagram, jenafrumes via Instagram, jujubamakeup via Instagram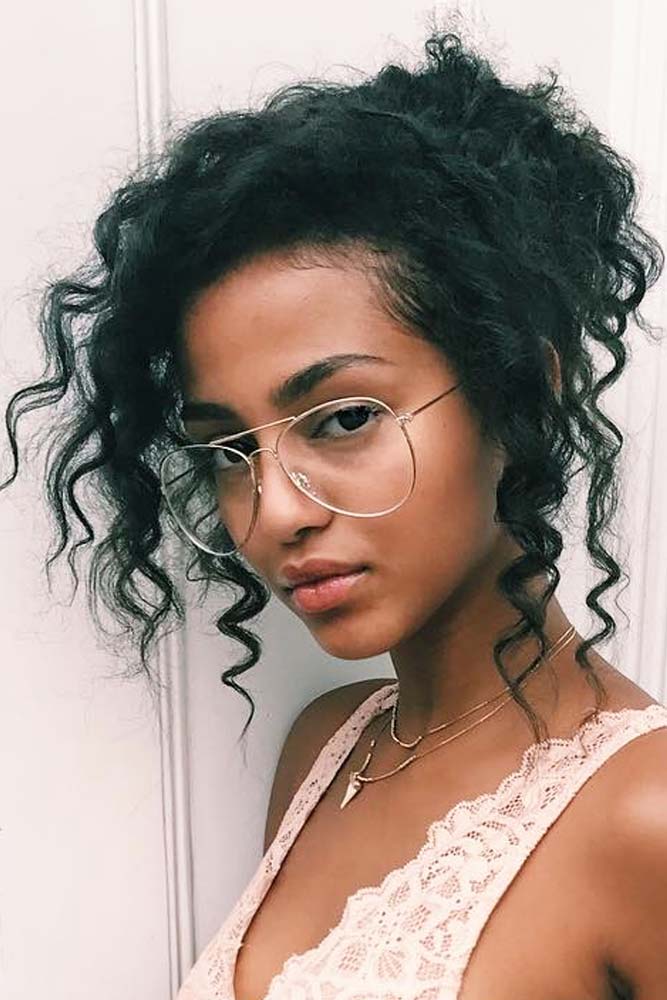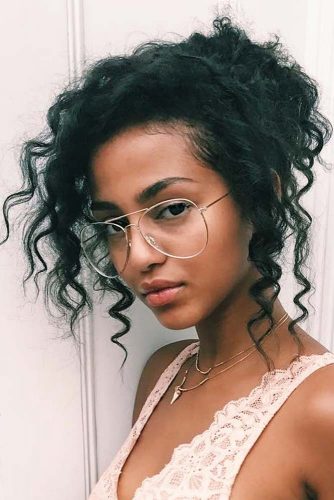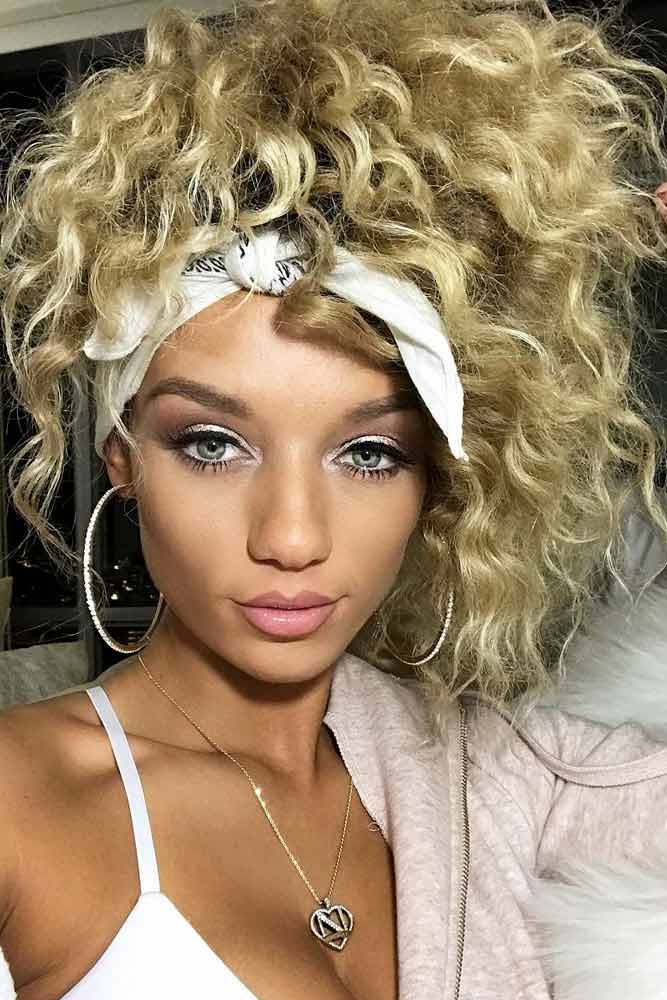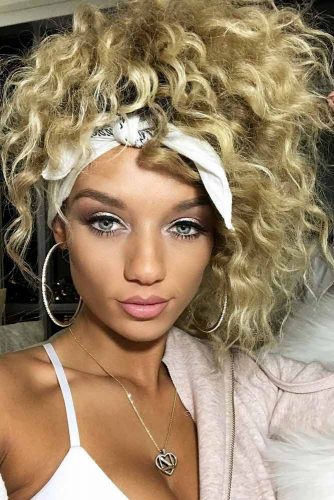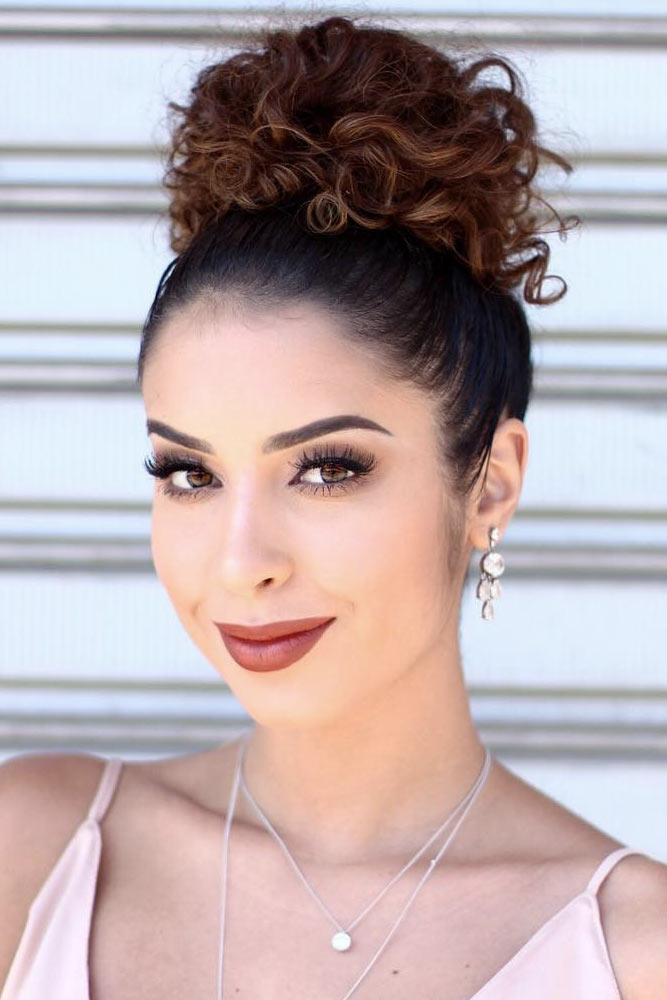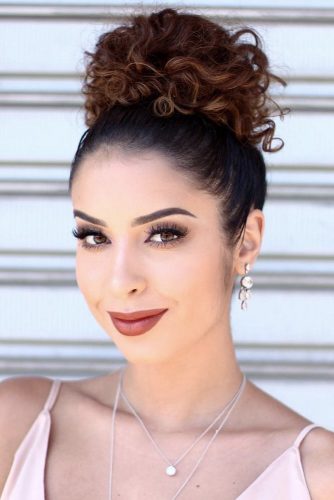 Sometimes simple and quick updos for curly hair are all you need when you are running late. Make a loose bun and let some locks in the front out. To make your hairstyle more creative, add a hair band to it. If you want something more special-event-appropriate, make a sleek front part and a curly bun. This hairstyle will go with any formal dress and make you look like a million bucks.
Top Knot For Curly Hair
Source: magdelinembaye via Instagram, ayeciara via Instagram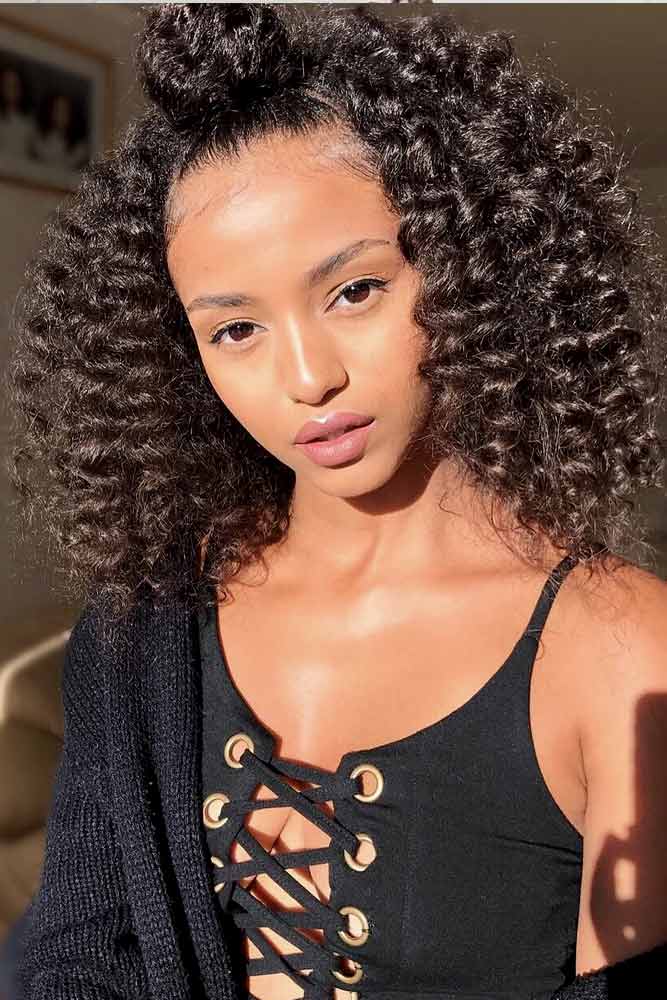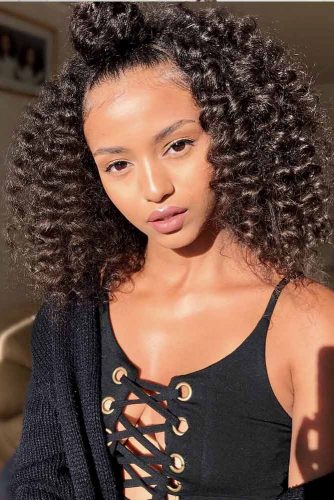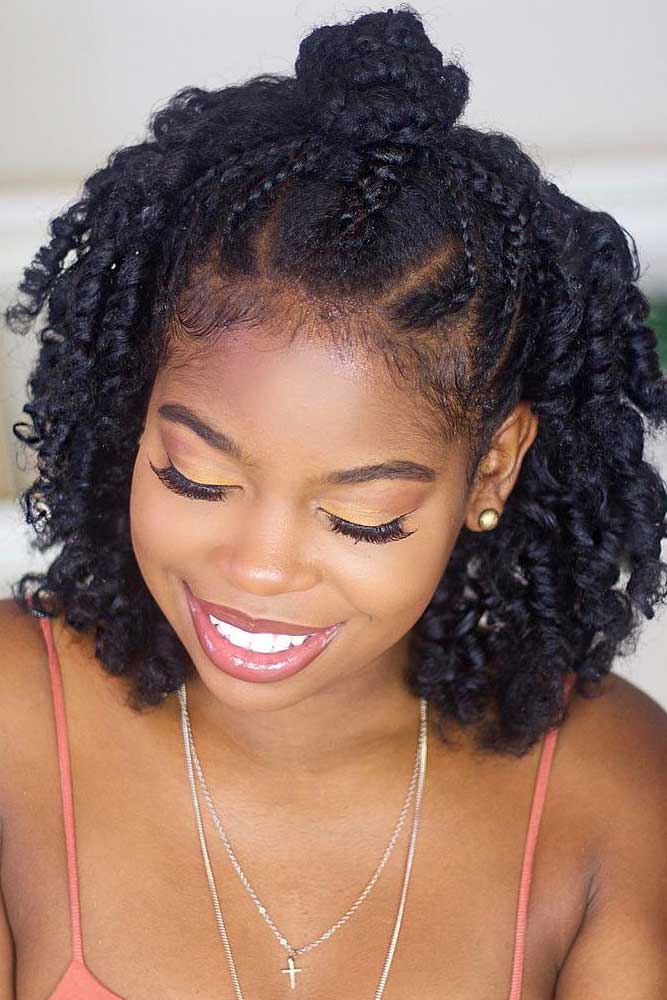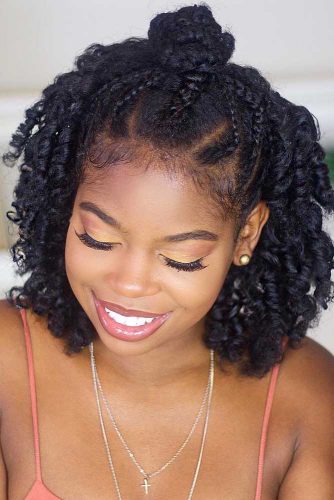 A top knot for curly hair looks beyond adorable. For this look you will need to part a top section of your hair, twist it into a bun, loosen it up, and secure with some booby pins and hair spray. You may also add one or two braids in the front.
Layered Curly Hairstyles
Source: curlpop_n_hair via Instagram, curlpop_n_hair via Instagram
img class="aligncenter size-medium wp-image-20569" src="https://lovehairstyles.com/wp-content/uploads/2017/12/shoulder-length-curly-hair-layered-golden-color-bangs-334x500.jpg" alt="Layered Curly Hairstyles picture1" width="334" height="500" />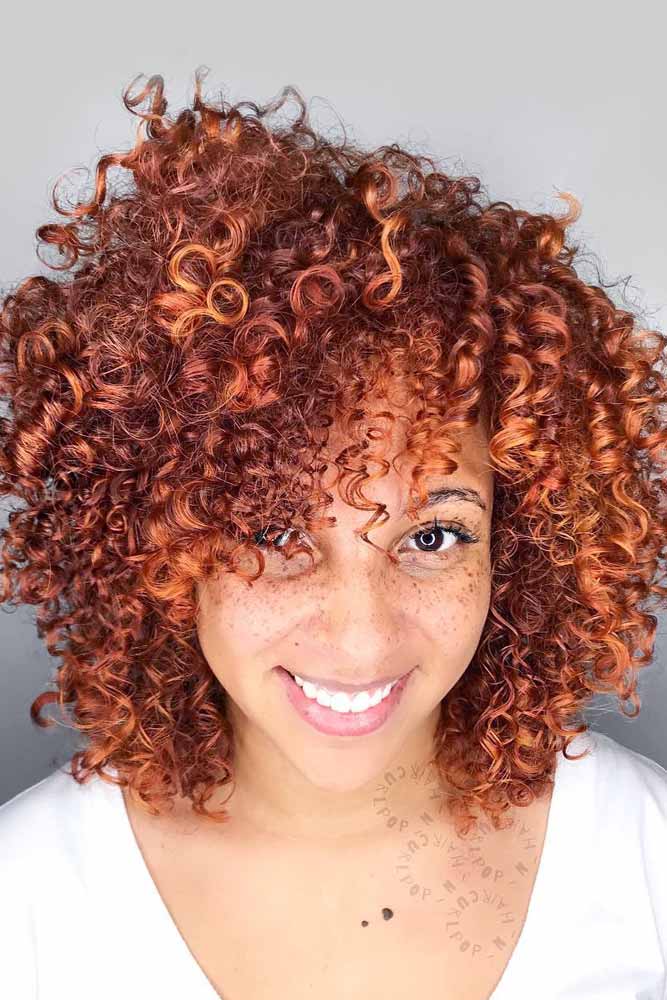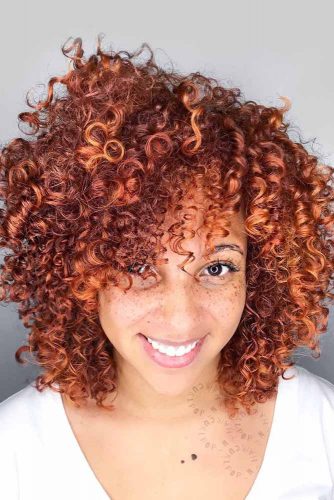 Curly hairstyles can be extremely appealing in this length! Many curly girls shy away from layers, as they fear these will add thickness. Do not be afraid! Try the quality hair products that will keep ringlets under control throughout the day.
Braided Curly Hairstyles
Source: _kharissa via Instagram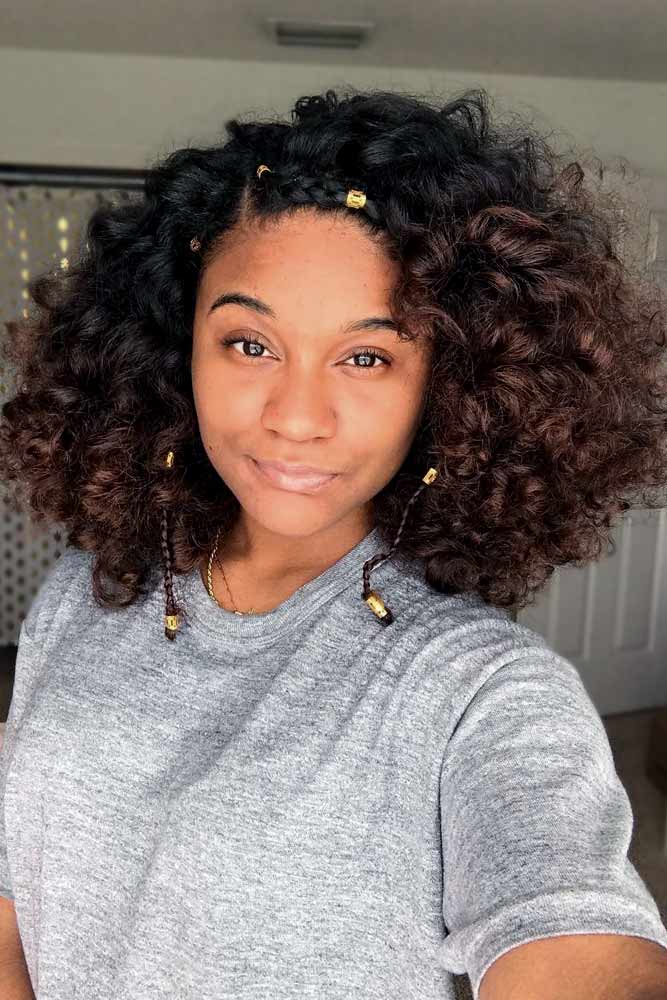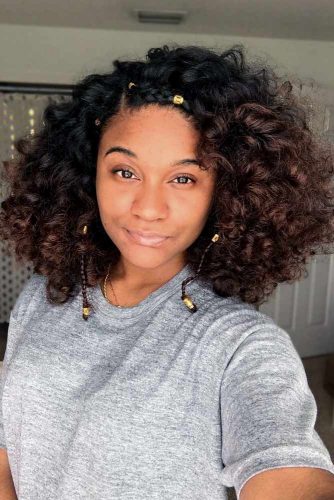 Curly hair is very trendy, so if you were born with it you really gifted. Hairstyles with braids can make you look casual, stylish, and glamorous depending on the day and event you are gracing.
Hope these amazing ideas and guidelines will come in useful for you. Come back to see more creative ideas to tame your hair.
FAQ: Shoulder Length Curly Hair
What length is best for curly hair?
In order to get the most attractive cut, keep 2-3 inches of length all around and always get it cut to imitate your head shape. Avoid razor cuts at all costs, since they can irritate the cuticle and cause frizz.
Is shoulder-length hair good for curly hair?
Shoulder-length haircuts generally go well with large waves, medium springy curls and smaller locks. Tousled hairstyles with curls, as well as beachy waves and natural looks, are now highly recommended by stylists.
Should curly hair have layers?
Layers are necessary for curly hair to move. It's best to cut vertical layers first, then go back in and cut individual curls to break it up and give it movement. This technique allows breaking up the layers, resulting in hair that is free of harsh or rigid lines.