A hair tutorial can really help us out when we have no idea what to do with our hair. Step-by-step instructions are especially useful when we want to try a hairstyle that is a bit complicated. Like Vikings Lagertha hair style. It has several pretty elements, but it is not so easy to avoid mixing things up.
Source: Mirandahedman via Instagram

Keep in mind that this Viking-inspired hairstyle won't come out super perfect the first time. Yet, the result you can get with the practice is definitely worth your all the efforts. Try it out to master it!
Separate off the top layer of your hair and pin it away.
Split your hair on the sides into two horizontal sections and pin the top section away.
Working with the lower section, create a rope braid, adding new pieces of hair to both top and lower sections.
Once your rope braid reaches the area that is about 2 inches from your ear, put the strands together, split them into three, and continue braiding them as a regular braid.
Take the top section and repeat the same steps with it.
When the second three-strand braid is ready, join the outer two strands together over the middle and pull the braids up to create a snake braid.
Once the snake braid is done, continue braiding it as a three-strand braid.
Repeat the same steps with the hair on the others side of your head.
Take the two side braids on the other side and twist them together like a rope braid.
Now, it's time to work with the last, top layer. Start doing a regular braid, moving to the opposite side.
While braiding, make a half French braid, grabbing hair from the front and adding it to the outer strand that is close to the front.
When you get to the side of your head and make sure that there's no hair left close to the front, add some pieces to the outer strand that faces away.
Complete the braid like a regular three-strand.
Now, join the top snake braid and the three-strand braid together. Just tie them with a thick thread.
Side Braids Lagertha Style
Source: Tania_k___ via Instagram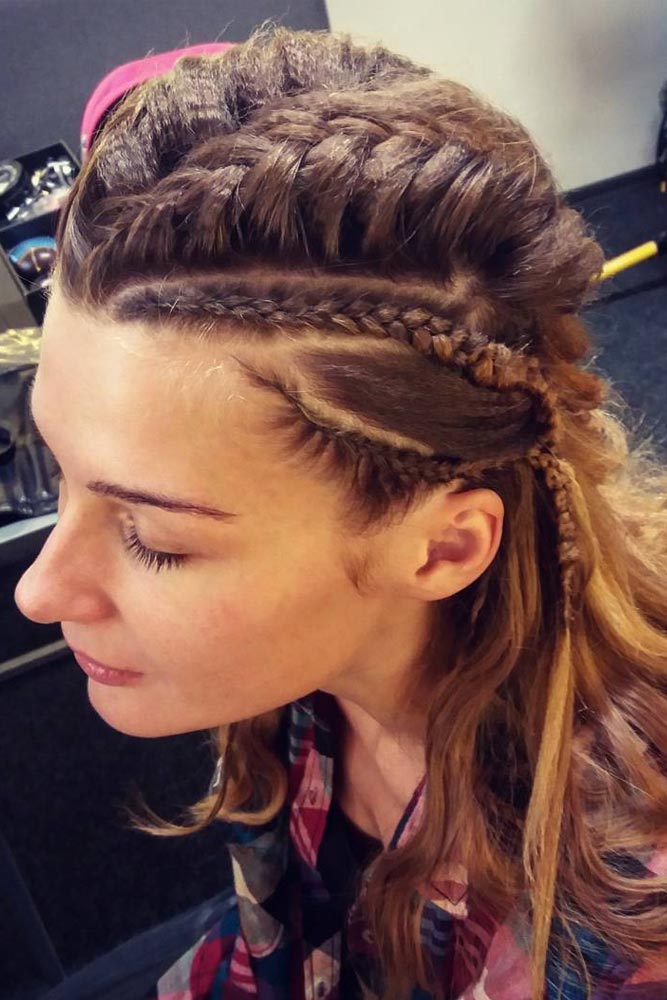 Whatever braid you will take as a basis for your Viking hairstyle will look authentic only if you get it on the sides. Make sure that one of the sides is tightly embellished with a braid that stretches throughout your hair. And don't forget to be creative! It can be a style full of tight braids, one-side braided 'do with wavy top, braided Mohawk, and anything that your imagination lets you bring into life!
Mohawk Braids Lagertha Hairstyles
Source: Vilifaria via Instagram, Shelleylangedijk via Instagram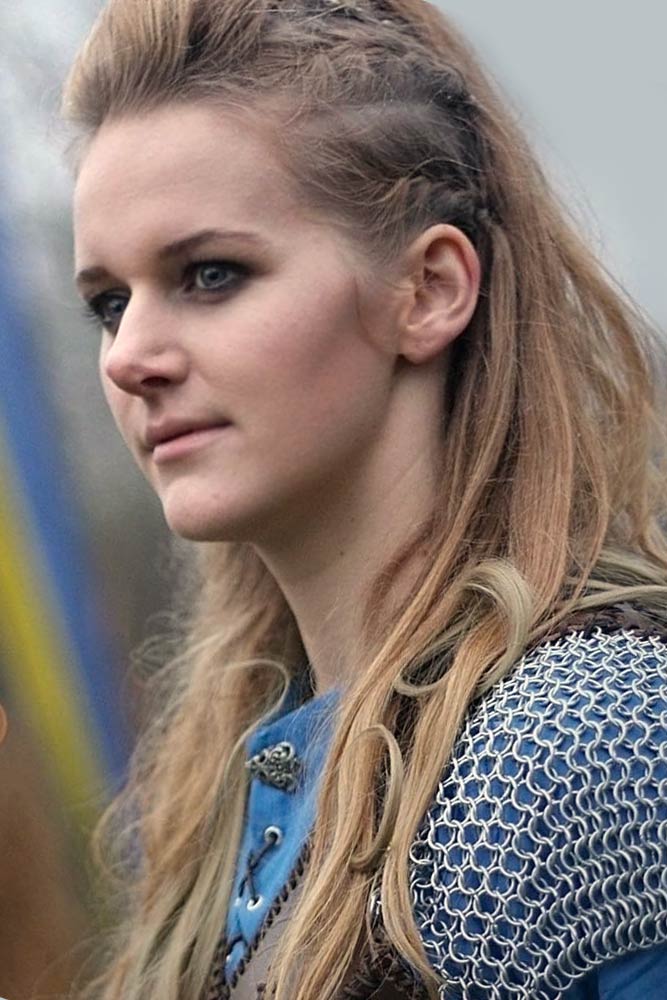 Learn how to do a cool braided Mohawk with our helpful tutorials in case you have no intention to master difficult hairstyles. Besides, such styles are even more versatile than you think! You can wear a Mohawk for any occasion as it can fit in any outfit: from casual to festive.
This Vikings Lagertha hairstyle is much more intricate than the common Mohawk hairstyles. Besides being really cool, this hairstyle is ideal for those ladies who wish to look like Viking royalties.
FAQ: Lagertha Hair
What is the Viking hairstyle called?
A long ponytail with shaved sides, often known as the Bjorn Ironside hairdo from the famous TV show Vikings is one of the most amazing Viking hairstyles you can dare to try. It looks especially cool and elegant when braided.
Why did Lagertha hair turn white?
According to the legend, Bjorn found Lagertha in a severe mental state. Her hair has turned white from its natural blonde. The illness is also known as Marie Antoinette Syndrome, which makes the hair to become white because of extreme stress.
How long does it take to do Lagertha's hair?
Depending on your hair length and the number of braids, making Lagertha's hair takes about 40 minutes.