Do you want to learn how to get straight hair? It seems that women are never happy with their natural hair. If they have poker straight hair, they want curly hair. Those with natural curls and waves always want straighter hair. And they will spend countless hours and a great deal of money on hair products and frequent salon visits to achieve their preferred look. However, it is easy to achieve both looks without a lot of time and money. If you have unruly curls and want to know how to make them straight without damaging your hair, you have come to the right place.
We have some helpful tips on how to do straight hairstyles without using a great deal of chemicals and heating tools such as curling irons, hair dryers or flat irons, all of which can seriously damage your hair when used repeatedly.
There are plenty of healthy ways to achieve gorgeous hairstyles for straight hair without damaging your tresses. Did you know that women have been straightening their hair for centuries? Long before the invention of ceramic plates and damaging chemicals, women were able to achieve straight hairstyles without paying for expensive products or straightening tools.
Credit photo: instagram.com/balayageombre
Heat-Free Hair Straightening Tips
These heat-free straightening methods might not work for every hair type, especially if you have exceptionally tight, curly locks or really thick hair, but these tips should be helpful for those with medium to fine hair without a lot of natural curls.
Follow our advice on how to get straight hair without excessive heat.
Choose Shampoo And Conditioner For Straight Hair
Credit photo: instagram.com/balayageombre
How do you make your hair straight without heat? This seems obvious, but it's actually quite easy to overlook. As it turns out, properly chosen shampoo is enough. We tend to stick to our favorite shampoo and conditioner because we like the way it smells or how it makes our hair feel soft and shiny. However, if your shampoo is meant for curly hair, it is going to make it that much harder to achieve that sleek straight look.
The right straightening conditioner and shampoo can help straighten waves or curls without heat. They will also help control frizz and flyaways. Shampoos and conditioners that are meant to straighten rather than enhance curls will contain higher levels of polymers and silicones to help fight against frizz. There are plenty of decent straightening shampoos and conditioners available. It might take some trial and error to find the one that best works for your hair type but doesn't let this discourage you. For the maximum benefit, only wash and condition your hair once or twice a week.
Q: How can I make my hair straight without heat?
A: It's all about the right approach to drying, as well as choosing the right hair care products. To get straight hair without heat, make sure to wash your hair with straightening shampoo and conditioner. Use an extra-absorbent microfiber towel to reduce the drying time, dry your hair completely with the cool shot button on your dryer.
Use Only Super Absorbent Towels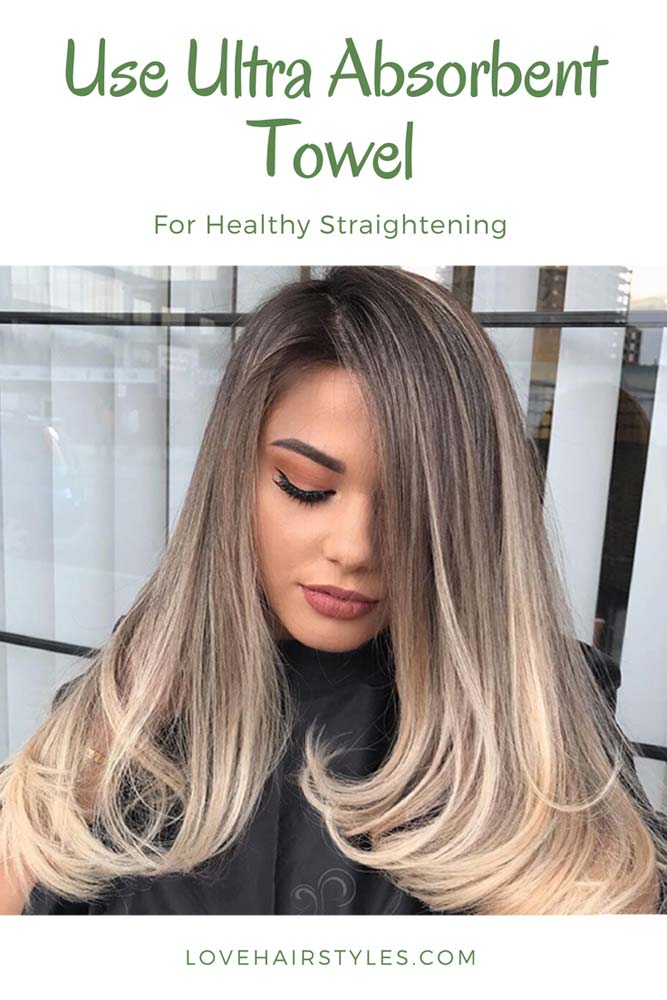 Credit photo: instagram.com/balayageombre
Do you wonder how to get straight hair? Heat-free straightening is much healthier for your hair, by all means, but it means a little sacrificing and it often takes more time for your hair to dry. You can help speed up this process by using an ultra-absorbent towel such as a microfiber towel or salon-style towel. These will help keep your hair from breaking and will eliminate frizz and flyaways.
Use Additional, Healthy Hair Straightening Products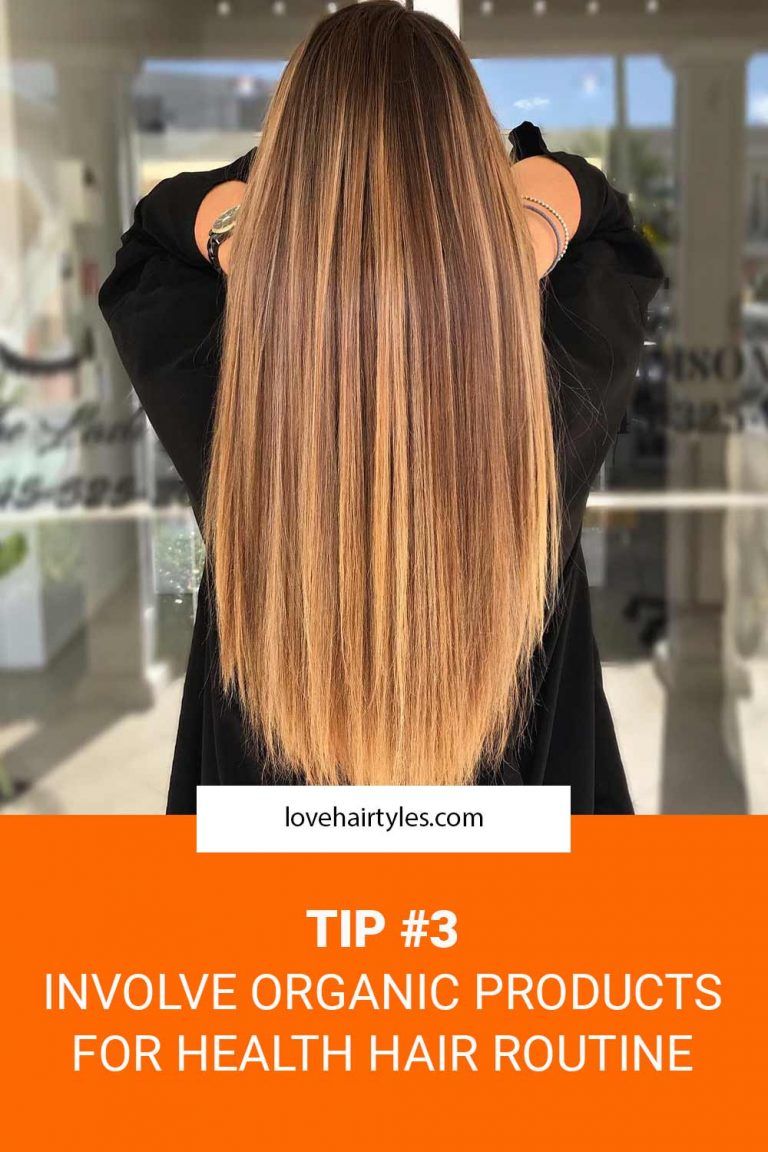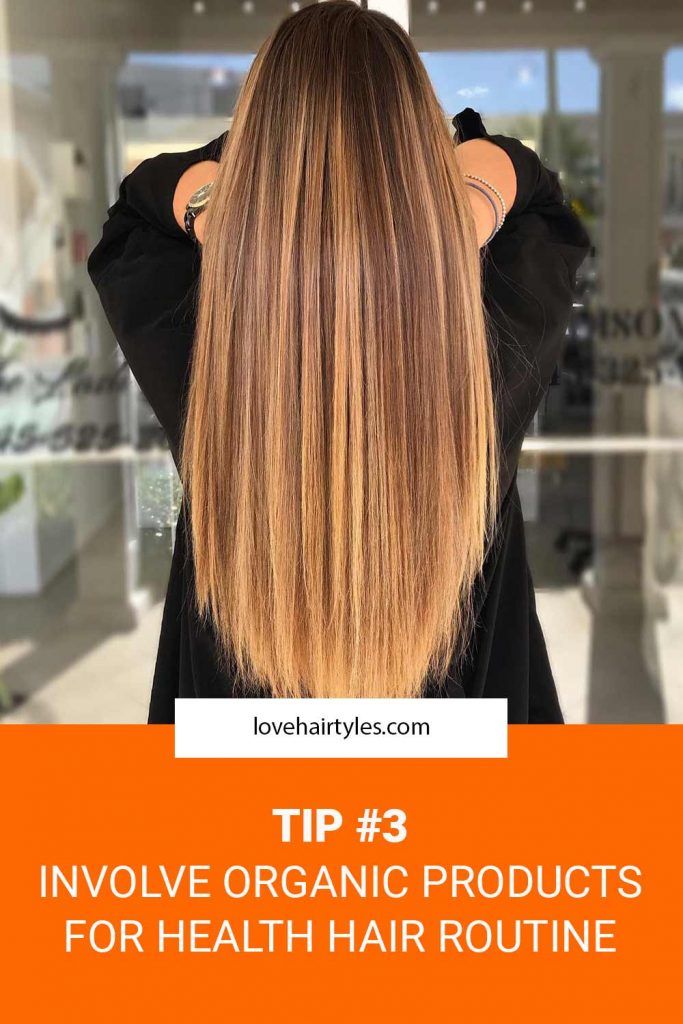 Credit photo: instagram.com/suetyrrellstylist
Expensive straightening products with harsh chemicals will only damage your hair. Straightening serums are great in that they are fairly inexpensive, plus a little goes a long way. They work to ease frizz but may not work for super-kinky curls. You can use a straightening serum once or twice a week to prevent your hair from drying out. Make sure to purchase a quality straightening and smoothing serum. Apply it to your hair after showering and massage it into your hair thoroughly. You will only need a small amount, about the size of a dime. Use a little more, if you have especially thick hair.
Brush Your Hair Until It's Completely Dry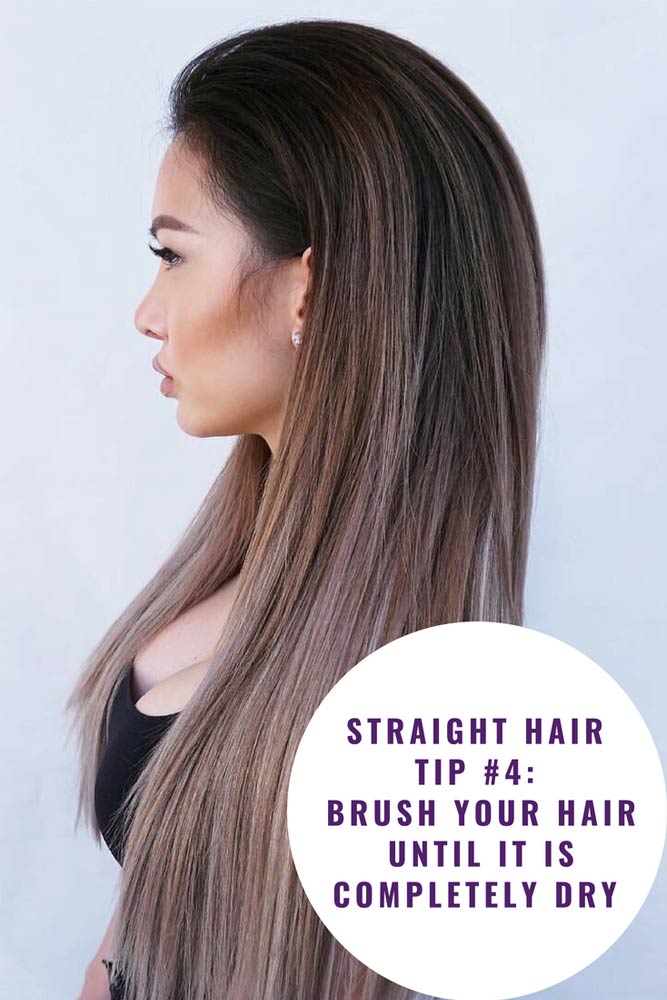 Credit photo: instagram.com/balayageombre
Naturalness is the most desired beauty value nowadays, so no wonder you will come up with the question "How can I straighten my hair naturally?". Basically, straightening your hair naturally can take some time and patience, but it will be worth it in the long run to maintain healthy hair. You should keep brushing your hair as it is drying, using a wide-tooth comb or brush to detangle and straighten your hair and fight against frizz. You can even purchase hair combs that are infused with essential oils for extra shine. You should brush your hair every five minutes until dry. The average time for hair to air dry is about ninety minutes, but this may vary with hair thickness and length.
Use A Straightening Mask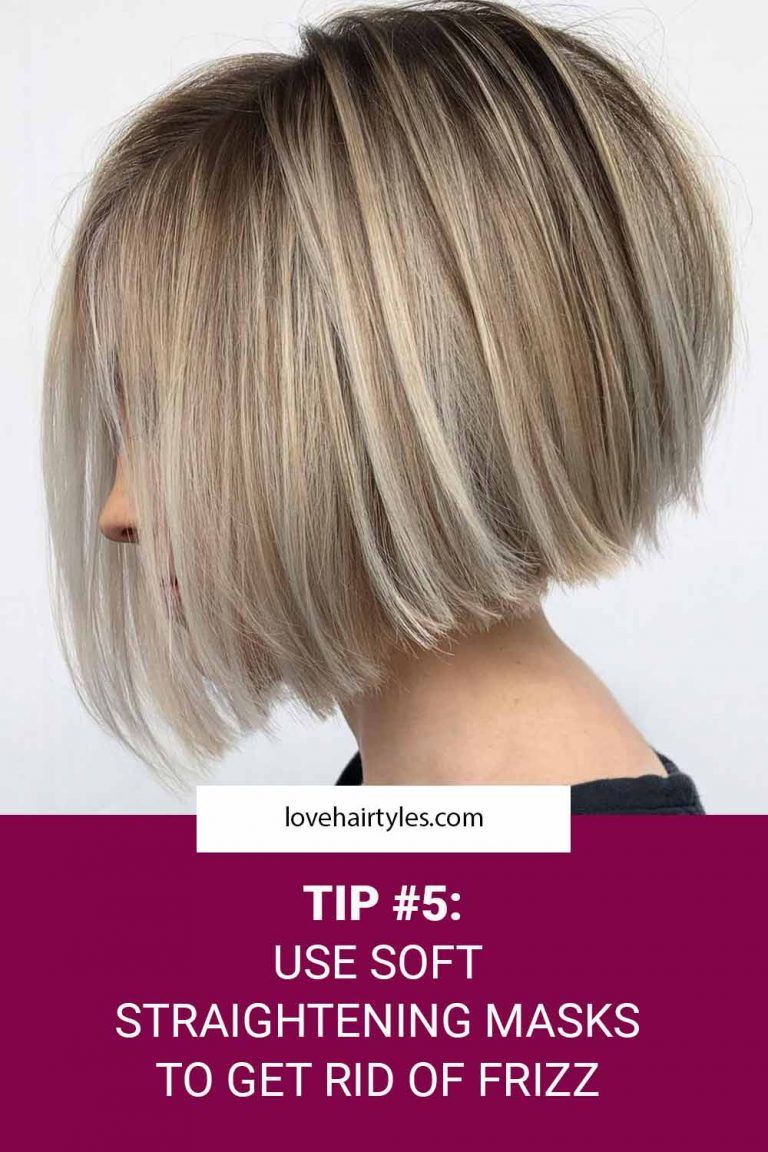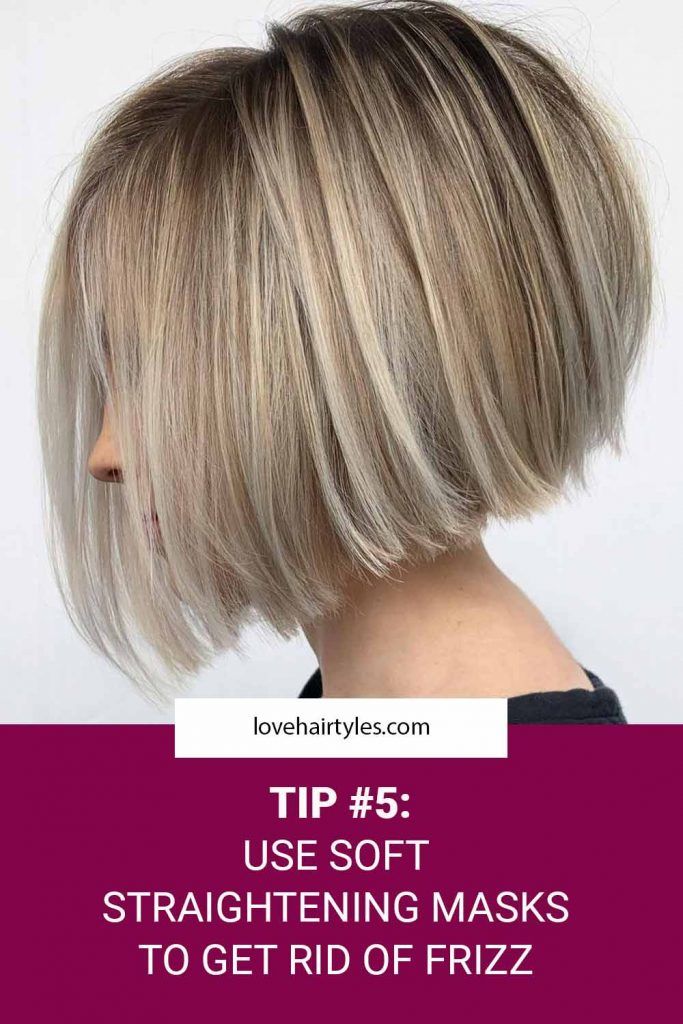 Credit photo: instagram.com/styled_by_carolynn
Sooner or later, the cruel humidity will come too close. At this point, you will start asking yourself "How do I get rid of frizzy hair?". Well, a hair straightening mask works well for those with extremely curly or frizzy hair. However, you will only achieve the maximum results, if you use a straightening mask at least once weekly, twice for extra stubborn curls. You can purchase a straightening mask at most of the beauty stores and you can order them in bulk online. You can even make your own straightening mask at home, such as a lemon juice and coconut oil straightening mask or a healthy milk and honey hair mask. You can experiment with different hair straightening masks until you find the one that works best for you. You should leave the hair mask in for 30 minutes to one hour and make sure to wash it out completely when finished.
If You Have To Blow Dry Your Hair, Use The Coolest Setting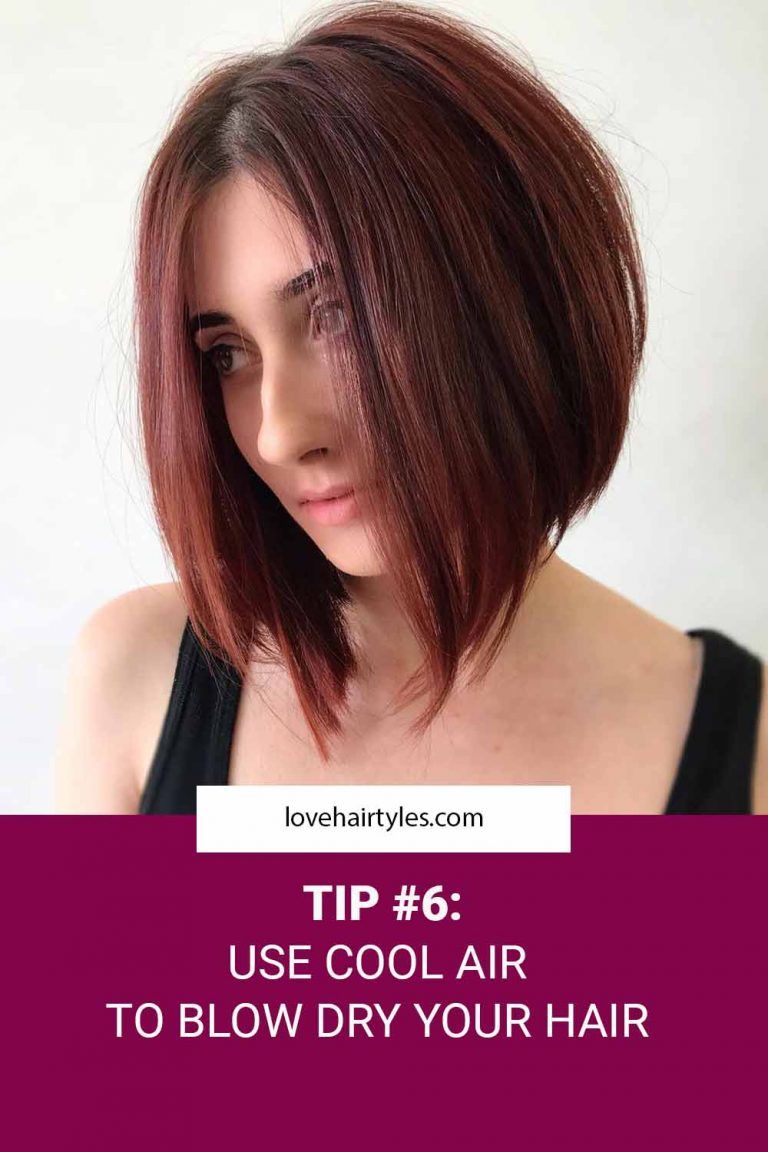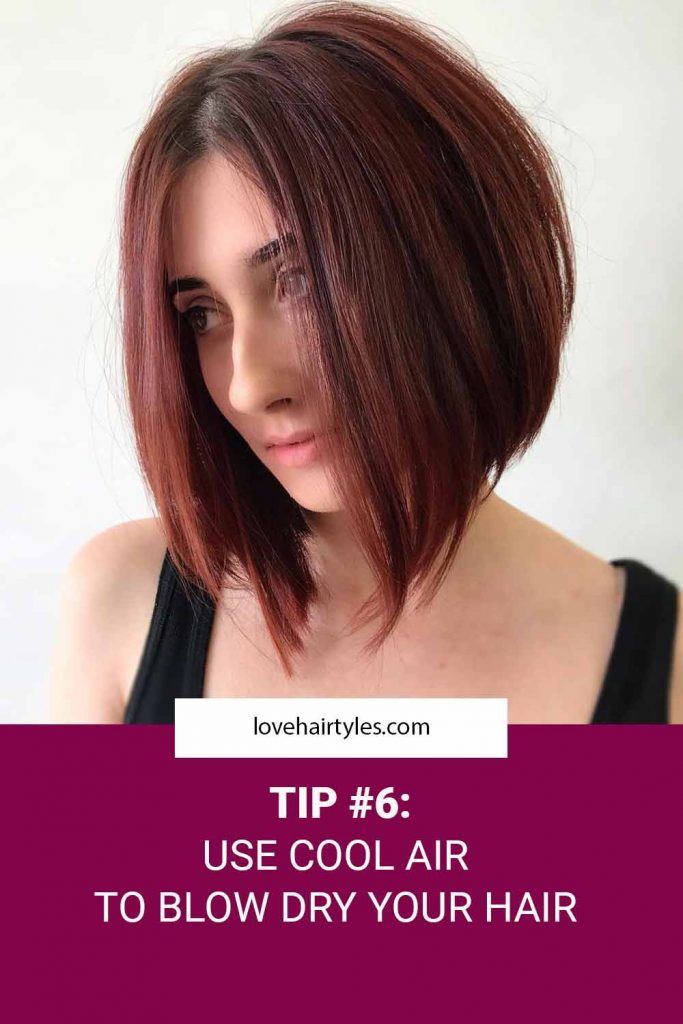 Credit photo: instagram.com/styled_by_carolynn
If you are short on time or do not have the patience to allow your hair to air dry, it is recommended to blow dry your hair with cool air on the lowest setting. This will help to tame curly, frizzy locks. Use a brush as you dry to pull and straighten your hair.
Q: How can I straighten my hair without an iron?
A: After washing your hair, dry it with cool air, brushing your hair and running your fingers through it. When your hair is completely dry, apply some natural oil to protect your locks from frizz.
DIY Recipes: How Can I Permanently Straighten My Hair Naturally At Home?
They do it in salons as a part of the keratin treatment procedure. But they use several chemicals to change the texture of the hair and give it a silky straight finish. If you're looking for natural, organic-based alternatives to achieve straight hair, we've prepared a couple of easy recipes. Apart from smoothing your texture, these ingredients will also help you strengthen and hydrate your hair.
Q: What ingredients straighten hair?
A: Such natural ingredients as avocado oil, coconut milk, eggs, rice flour, and olive oil can promote smoother, healthier, and therefore straighter hair. To use and combine them right, see these invaluable recipes.
DIY Straightening Mask With Olive Oil And Eggs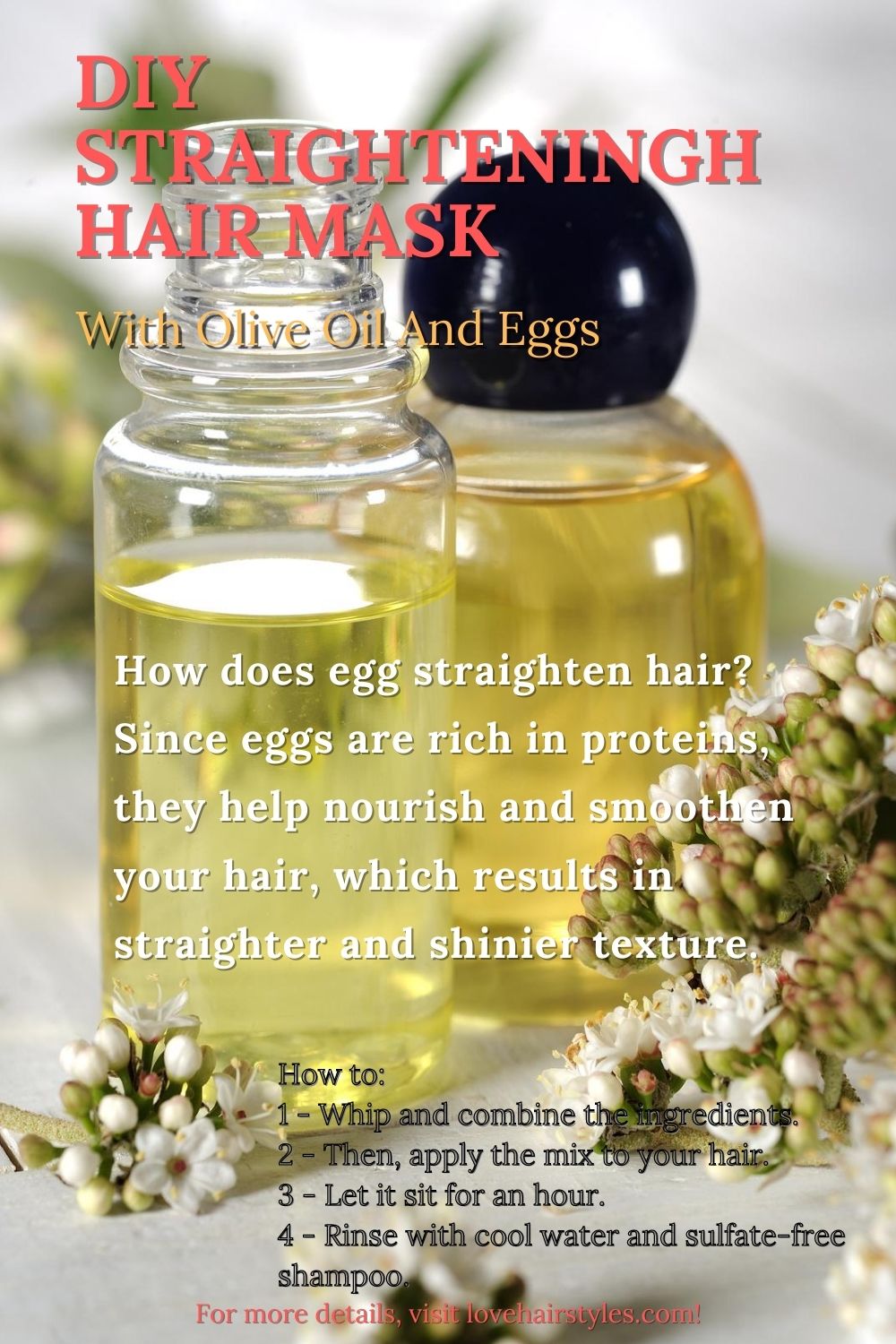 Ingredients:
2 eggs
3 tablespoon of olive oil
How to:
Whip and combine the ingredients.
Then, apply the mix to your hair.
Let it sit for an hour.
Rinse with cool water and sulfate-free shampoo.
Use it: once a week
How does egg straighten hair?
Since eggs are rich in proteins, they help nourish and smoothen your hair, which results in straighter and shinier texture.
DIY Milk Spray For Straightening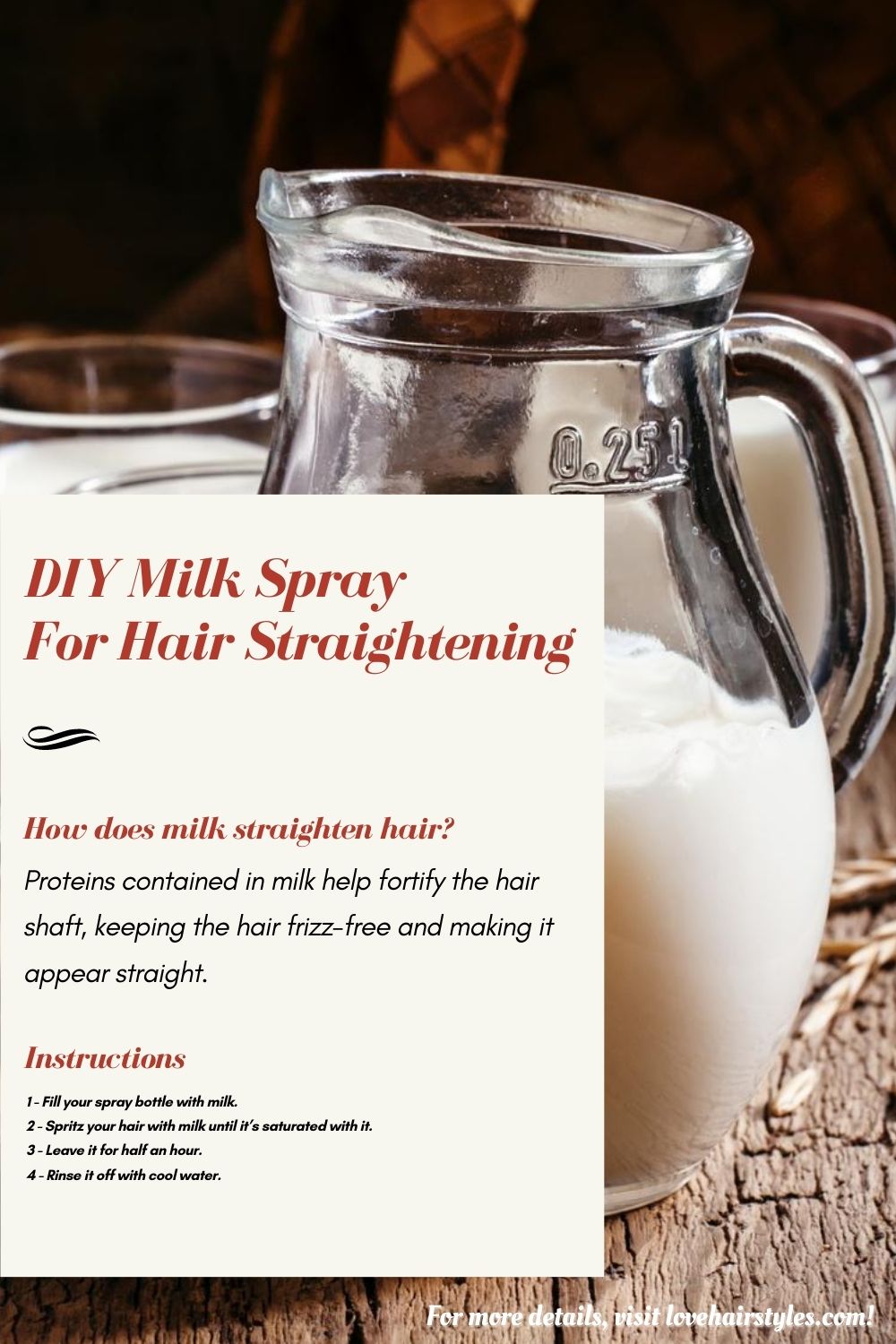 Ingredients:
a spray bottle
¼ cup of milk
How to:
Fill your spray bottle with milk.
Spritz your hair with milk until it's saturated with it.
Leave it for half an hour.
Rinse it off with cool water.
Use it: once or twice a week.
How does milk straighten hair?
Proteins contained in milk help fortify the hair shaft, keeping the hair frizz-free and making it appear straight.
DIY Hot Oil Treatment To Straighten Hair Naturally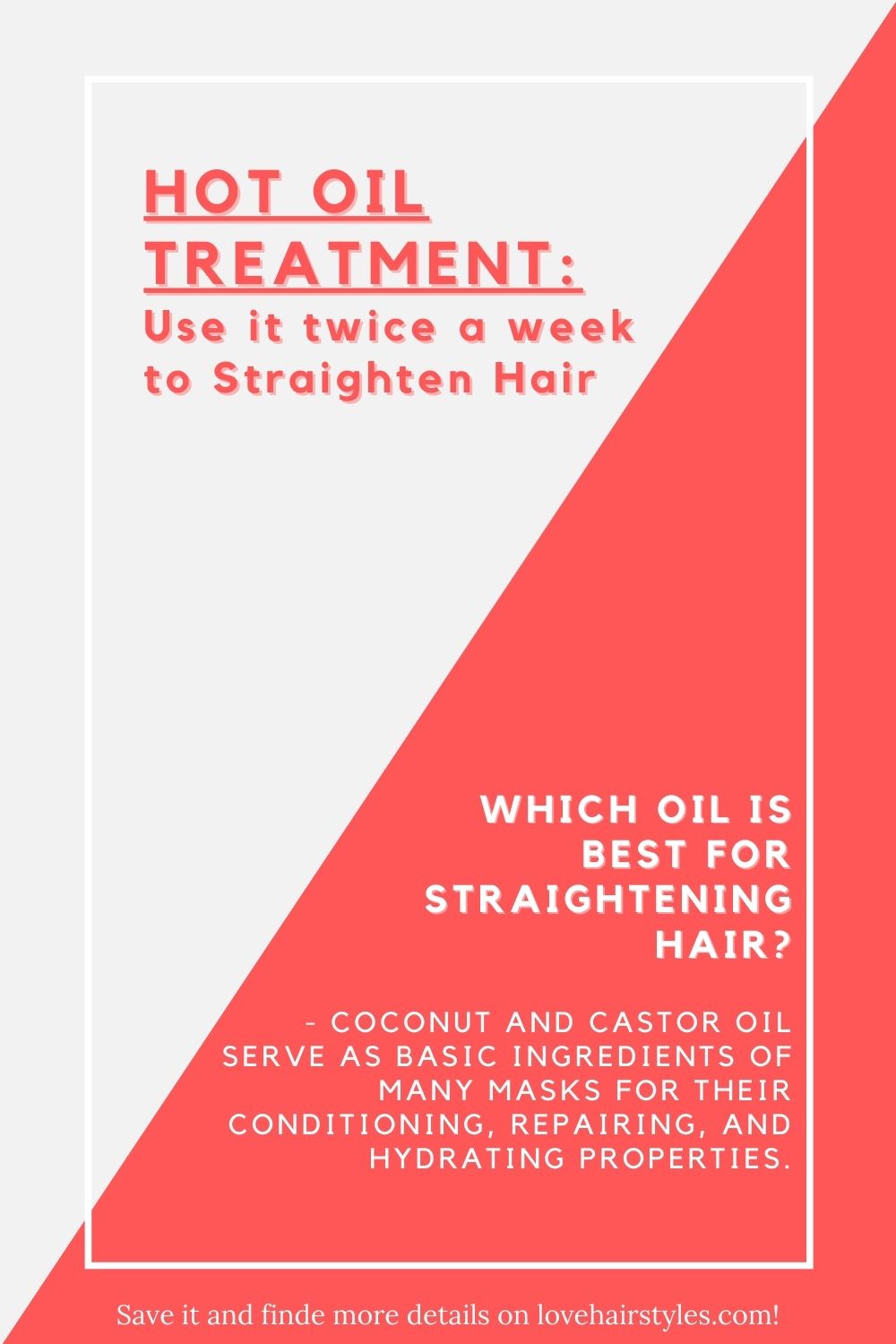 Ingredients:
1 tablespoon of castor oil
1 tablespoon of coconut oil
How to:
Mix the oils and heat them until the mixture is slightly warm.
Apply the mix to your hair and scalp.
Once your locks are saturated with the mix of oils, massage your scalp for 15 minutes.
Leave the mix in for half an hour.
Rinse with cool water and sulfate-free shampoo.
Use it: twice a week
Which oil is best for straightening hair?
Coconut and castor oil serve as basic ingredients of many masks for their conditioning, repairing, and hydrating properties. Remember: oils work best when combined.
DIY: Straightening Mask With Coconut Milk And Lemon Juice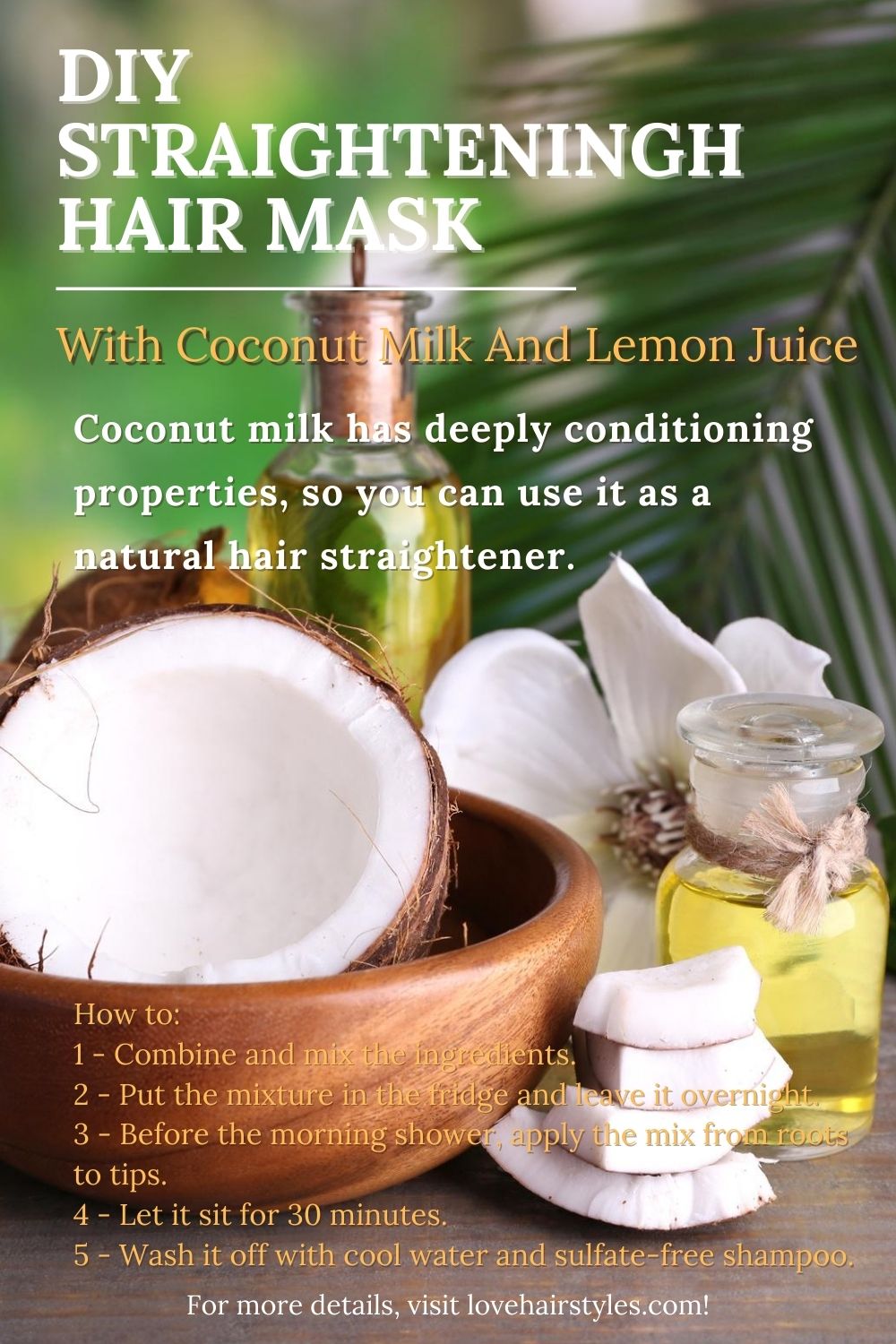 Ingredients:
1 tablespoon of lemon juice
¼ cup of coconut milk
How to:
Combine and mix the ingredients.
Put the mixture in the fridge and leave it overnight.
Before the morning shower, apply the mix from roots to tips.
Let it sit for 30 minutes.
Wash it off with cool water and sulfate-free shampoo.
Use it: once a week.
Does coconut milk really straighten hair?
Coconut milk has deeply conditioning properties, so you can use it as a natural hair straightener.
How can I sleep without messing up my straight hair?
With the right approach, your straight hair can keep its shiny and sleek shape until you wash your hair. However, the night is cruel and unfair when it comes to styled hair; it ruins hairstyles, turning them into a tangled nightmare. Still, there are some ways to flaunt with straight hair as long as you can. Here are some tips you should do to see the same amazing structure in the morning.
Hair Wrapping Method
First off, get yourself a satin or silk head-wrapping scarf: such material reduces friction between your locks and pillow, eliminating frizz.
Work some protecting alcohol-free serum into your hair.
Create a center part and divide the hair into two equal sections.
Brush your hair thoroughly, keeping up with the part.
Next, wrap each section of hair around the back of the head, as if you criss cross them.
Then, secure the ends with bobby pins.
Secure your wrapped hair by wrapping a scarf around your head.
Classic Maintaining Method
Sleep on a silk or satin pillowcase to avoid extra friction.
Before going to sleep, dampen your hair a little and then dry it, styling it with a brush to give the needed shape.
If your hair is coarse and frizzy, apply some straightening products like oily serums or smoothing creams, distributing the product with a comb. Also, you can use a volumizer to wake up with tons of volume in your hair.
Brush your hair straight toward the top and tie it into a loose ponytail and turn it into a loose top bun.
In the morning, brush your hair until it's straight.
Q: How can I make my hair straight overnight?
A: Sleeping on silk pillowcases and wrapping satin scarves around your hair will help you maintain a straight hair look. Also, you should work some straightening protecting serums into your straight hair before going to bed.
How to Straighten Hair? - Top Questions Answered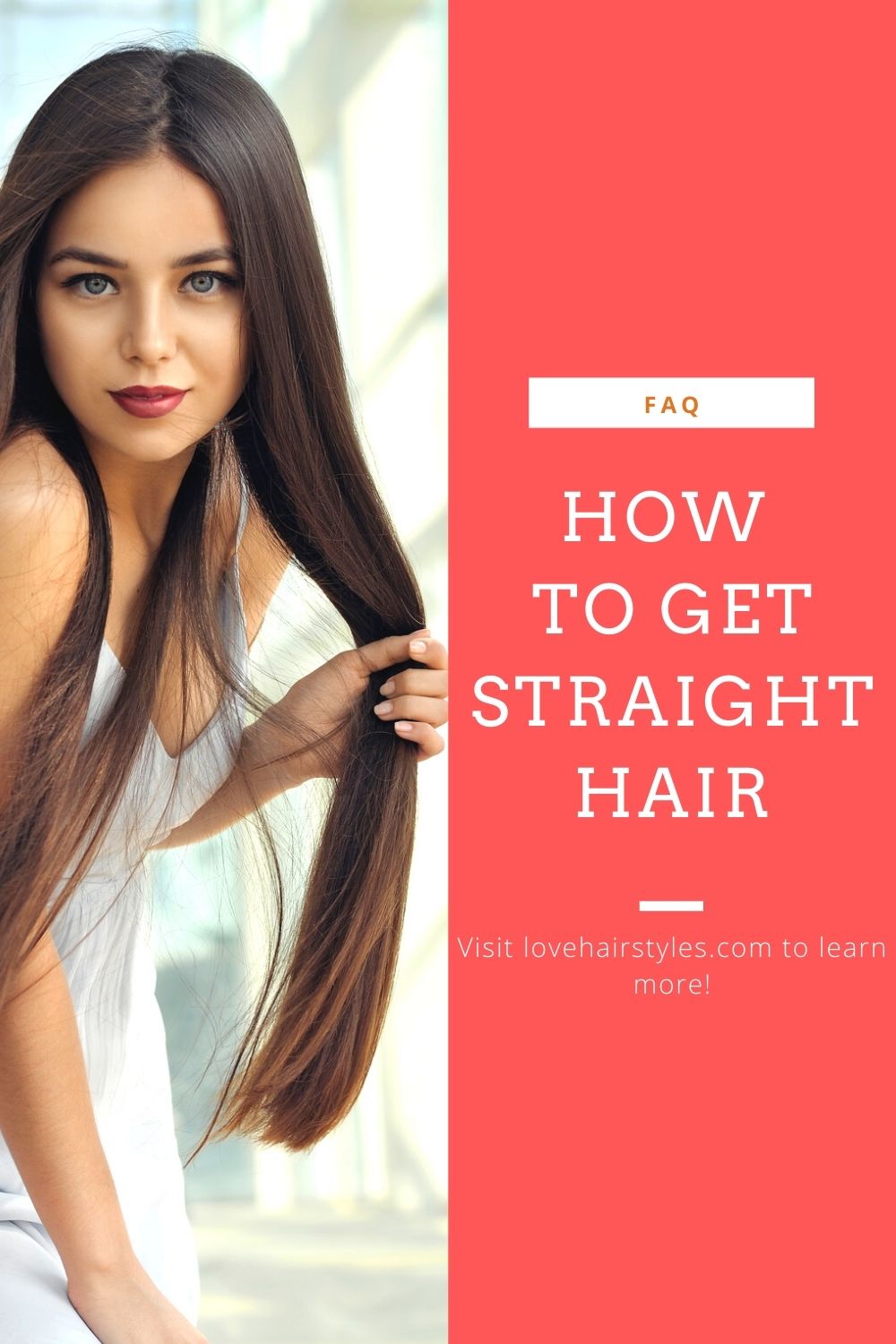 At first sight, it seems like there's nothing complicated about straightening hair with a flat iron. But, we still somehow end up with an unevenly styled and damaged hair. And this is where we try to find out how to get straight hair without heat. While there's nothing bad in stepping out of heat tools, they're not that damaging if you use them the right way. Below, we're sharing some crucial flat iron tips that will help you achieve a straight, and, most importantly, healthy look.
Prep your hair for straightening. Using nourishing products designed to smoothen and protect the hair from heat is the number one rule to follow before taking an iron. To get the most of the product, distribute it with a brush. Also, don't towel dry your hair like crazy: just gently pat it downwards.
Rough dry your hair. Blowdryer is the most damaging part of any styling routine. In professional salons, hairstylists use the rough drying method to keep clients' hair protected. Shake your dryer back and forth, making sure the nozzle points downward. Once your hair is 80% finished, let it air dry.
Don't go with random brushes. The right brush is key. If you have a plastic brush, replace it with a boar bristle option to reduce static and make your brushing way smooth and polished.
Apply heat ONLY to bone dry hair. Even when you're in a hurry, use your flat iron only when your hair is completely dry. Apart from that, be picky with the products you apply before straightening, as well as apply them to damp hair, not dry.
Use heat protectants. This is where your damage-free styling begins. Ensure to apply thermal protectants designed for your hair type, working it through your damp hair.
Adjust the right temperature. Those heat settings on your flat iron aren't made for no reason. Coarse hair should go with the lowest setting, while fine and damaged hair should stick to the point from 300 to 350 degrees.
Work by sections. Some women want to reduce styling time by passing their irons through the whole part. In fact, it's a waste of time, as it gives a totally uneven look that you will be fixing for quite long. Instead, go for sectioning - the golden rule of perfectly straight hair. Work with small pieces of hair and use clips to keep the rest of the locks out of the way.
Keep up with the tension. If you hold the iron taut, one pass may be enough for your hair to become straight. Remember to always mind the tension while straightening your hair.
Finishing products. All in all, those shine-reflecting looks don't occur when you simply straighten your hair. Of course, you need some finishing, oil-based moisturizing products to give your hair a coat of frizz-fighting hydration.
Is it OK to straighten your hair every day?
It's all about the way you take care of your hair. If you straighten your hair every day without prepping it with nourishing products and using heat protectants, you're most likely to end up with damaged tresses. However, it's possible to keep your hair healthy and beautiful with everyday straightening: today's tips are proof.
How long does straightened hair last?
It pretty much depends on your hair type, as well as weather conditions. In general, women with naturally curly and wavy hair can rock the straight hair look for 1-2 days. If your hair pattern has a slight wave, it may last you up to 5 days. Of course, if the weather is humid, your straight hair time may shorten pretty quickly.
How often can you straighten your hair without damaging it?
Professional stylists recommend women to straighten their hair no more than once a week. On top of that, those with natural hair should make sure to prepare their hair with special shampoos and conditioners so as not to dry the hair out. Also, don't straighten your hair when it's dirty. Otherwise, you will simply "cook" the oil and dirt, producing more damage.
Can straightening your hair make it thinner?
With improper use of heat styling tools, you can drastically change the structure of your hair, and make it weaker. The latest trichologist researches say that frequent use of hair irons without the proper protection may cause hair to get used to heat and become prone to damage as a result.
Is it OK to straighten hair when wet?
You can cause severe damage to your hair if you use a flat iron on your damp or wet locks. On the other hand, you can get straight hair with the help of a hairdryer, holding the brush in the other hand. And if you prefer to style it with your flat iron, always dry your hair before straightening.
References