Why do you need to know how to wear a beret? The thing is that a beret is a recent trend you are bound to be aware of. In case that does not sound too convincing, let us explain why. To tell you the truth, berets are not restricted to French only to wear them. This headpiece can be used everywhere and not just to save yourself from the cold but also as a unique element of your look.
There are many ways of wearing this head item, and we decided that it may be an entirely lovely idea to introduce you to the world of berets. Once you get to know how you can wear this beautiful French invention, there will be not a single day of you looking the same. French berets are those unique accessories you can wear on a daily basis without looking too dull or nerdy quite on the contrary; this is the right way to become the center of attention! What is more, the adoring and envious looks will follow you everywhere once you master the art of using berets as your hair accessories!
How To Wear A Beret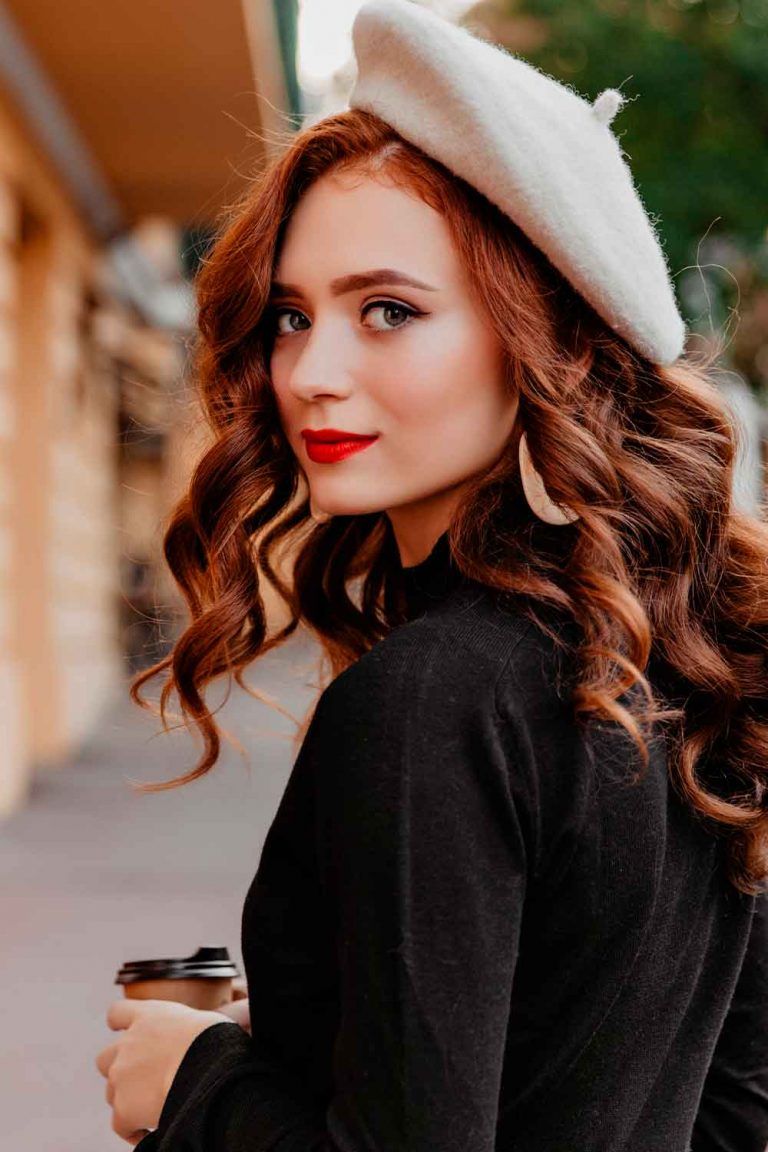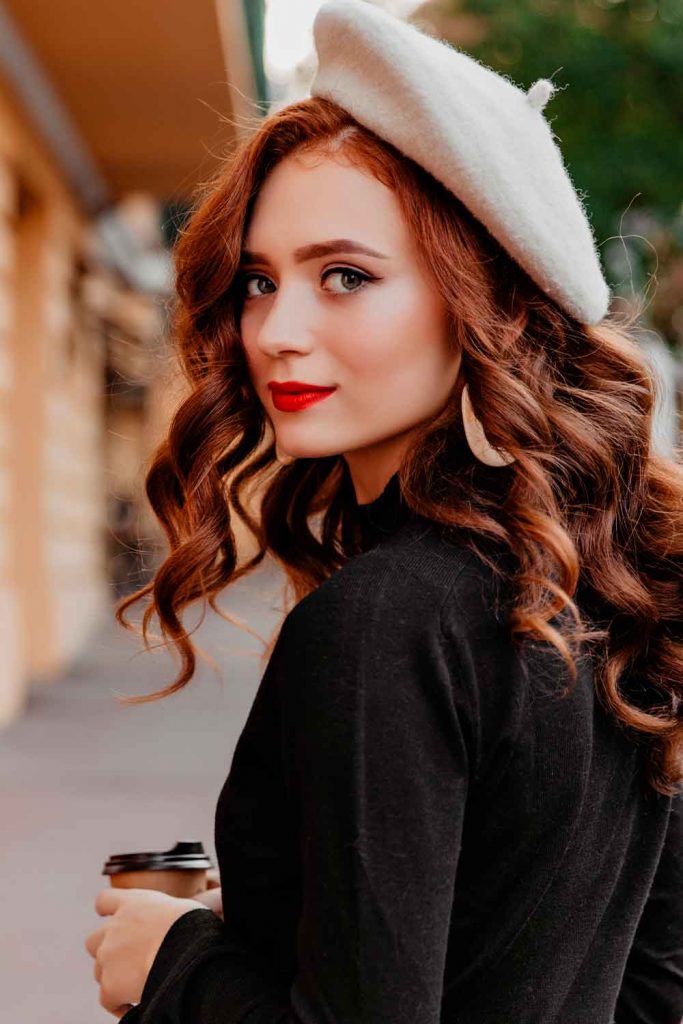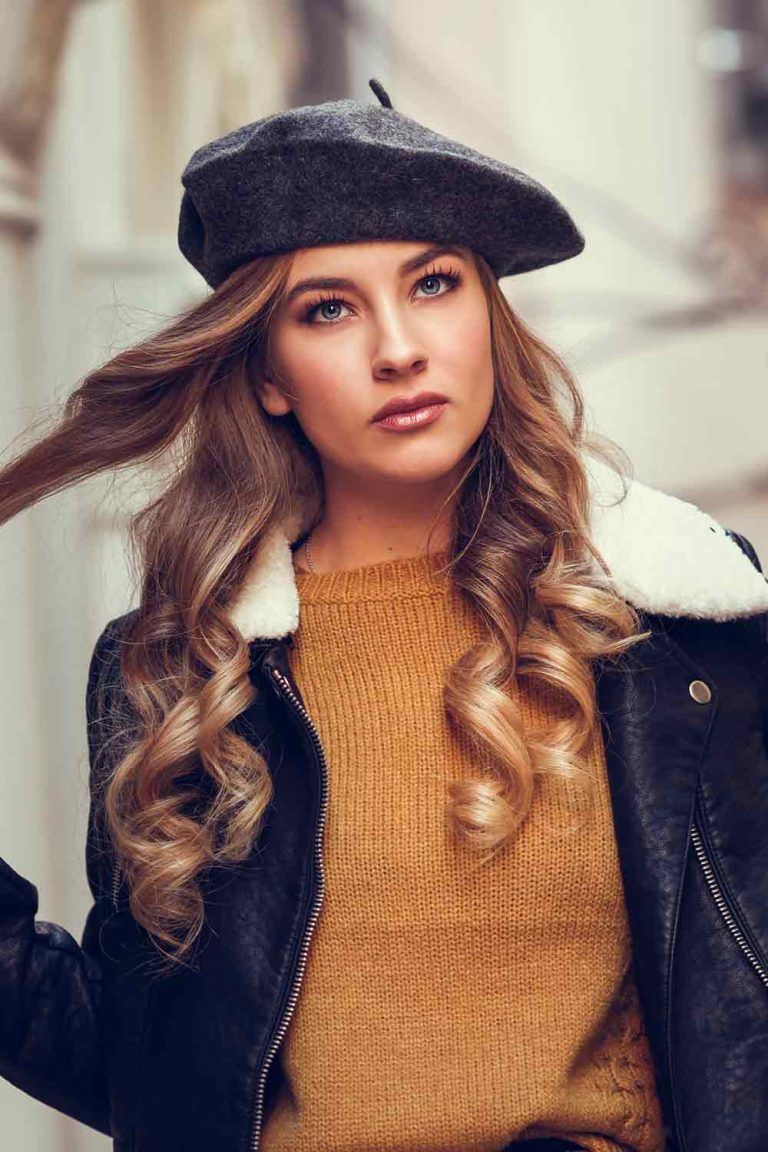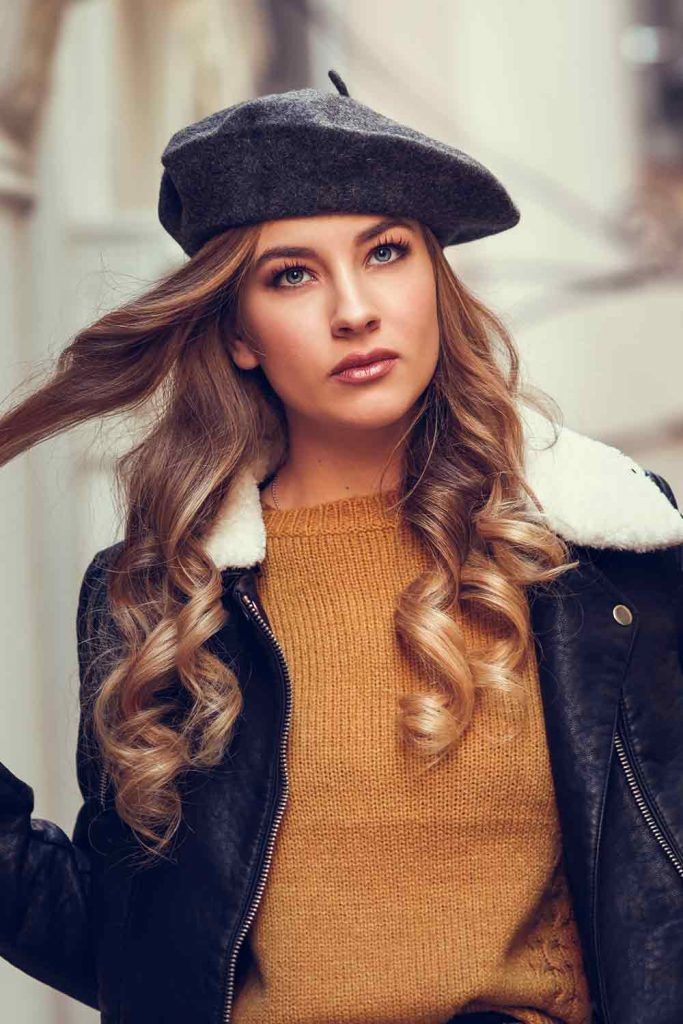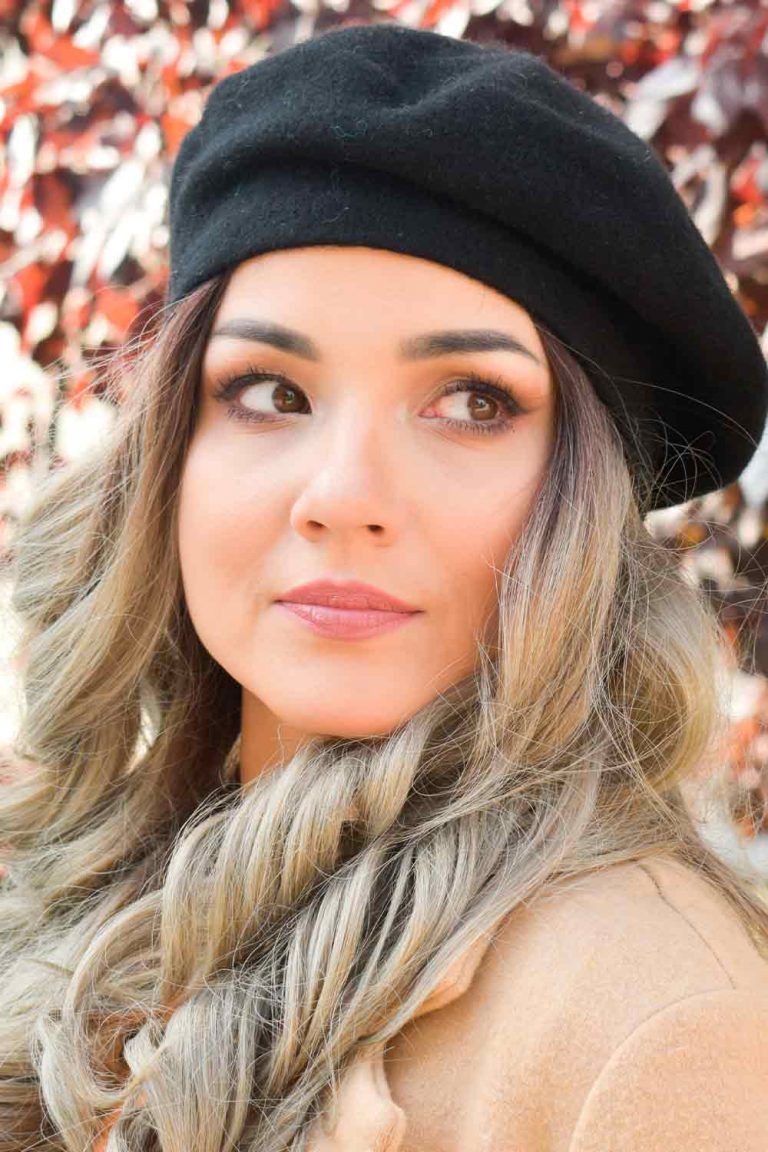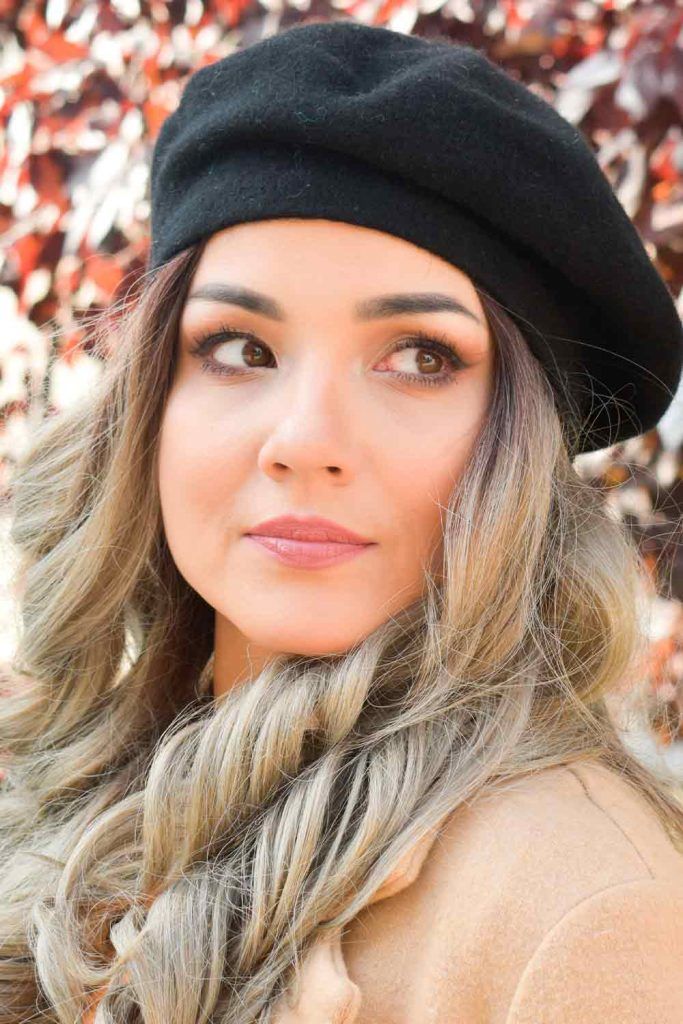 Of course, a great look comes at a price. That is why it is highly significant not only to get a beret hat but also to wear it properly. And that is something we are going to teach you right now:
First of all, you need to tuck in the brim. Tuck it under the excess fabric so that it is hidden, then tilt your accessory to the side and pull the front next to your brow.
Now, add some volume by pulling the top of your head item up so that it does not stick in your head.
Secure the accessory with bobby pins at the back of your head. You can decide how many pins you need depending on how thick your hair is.
Pull your hair out of it if needed and brush it lightly to set it in place.
Last but not least, you should better not combine berets with high hairdos.
Traditional Berets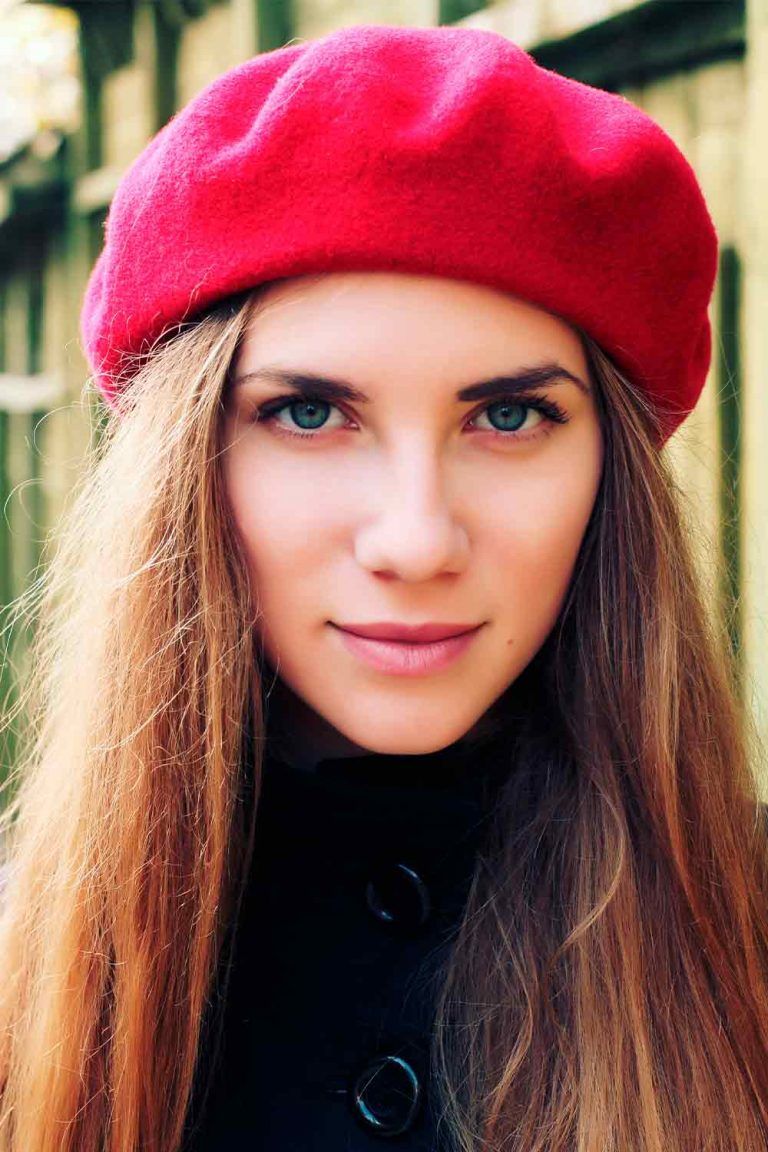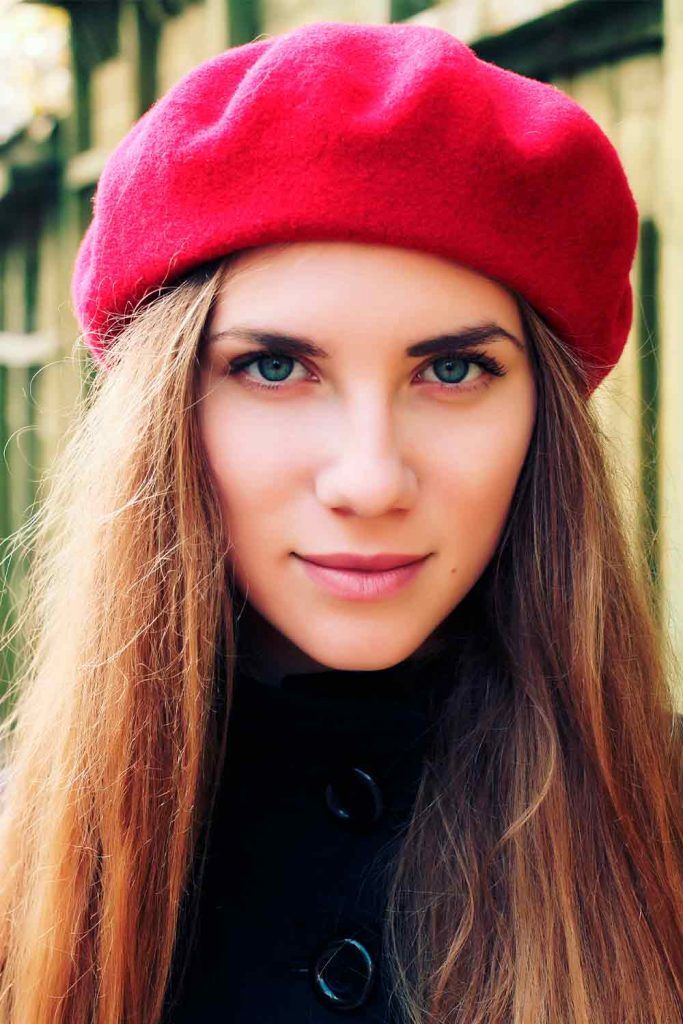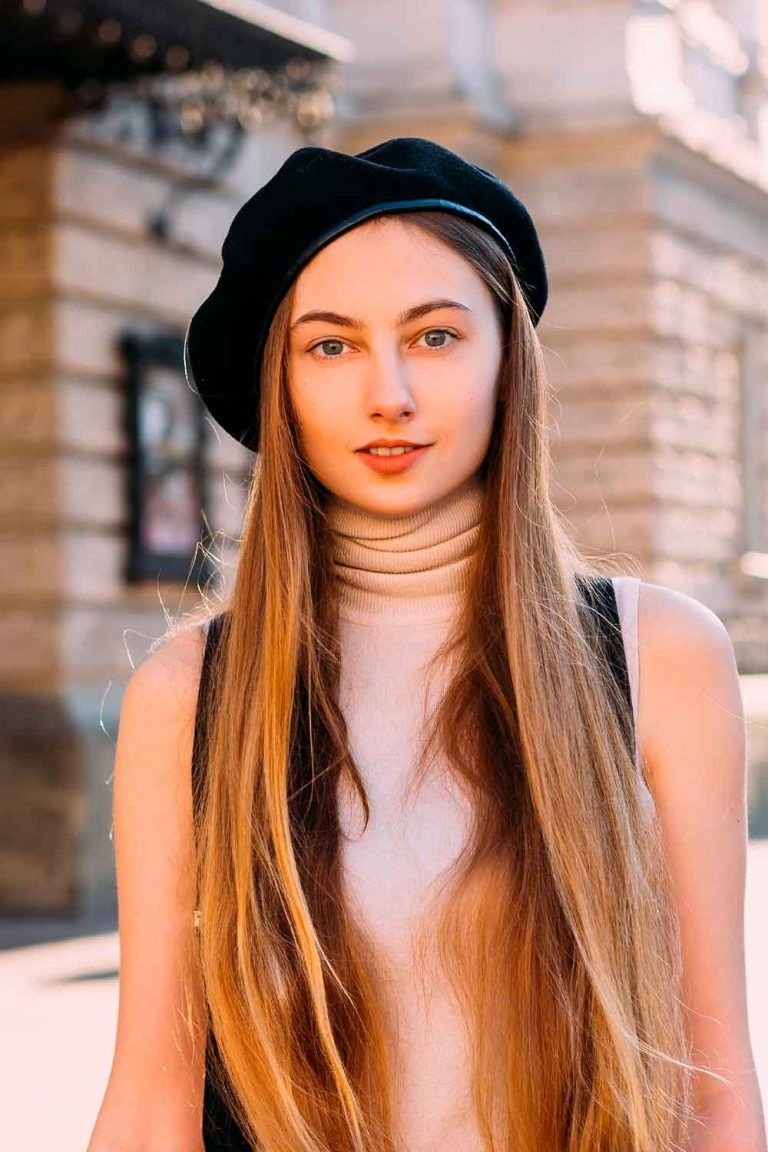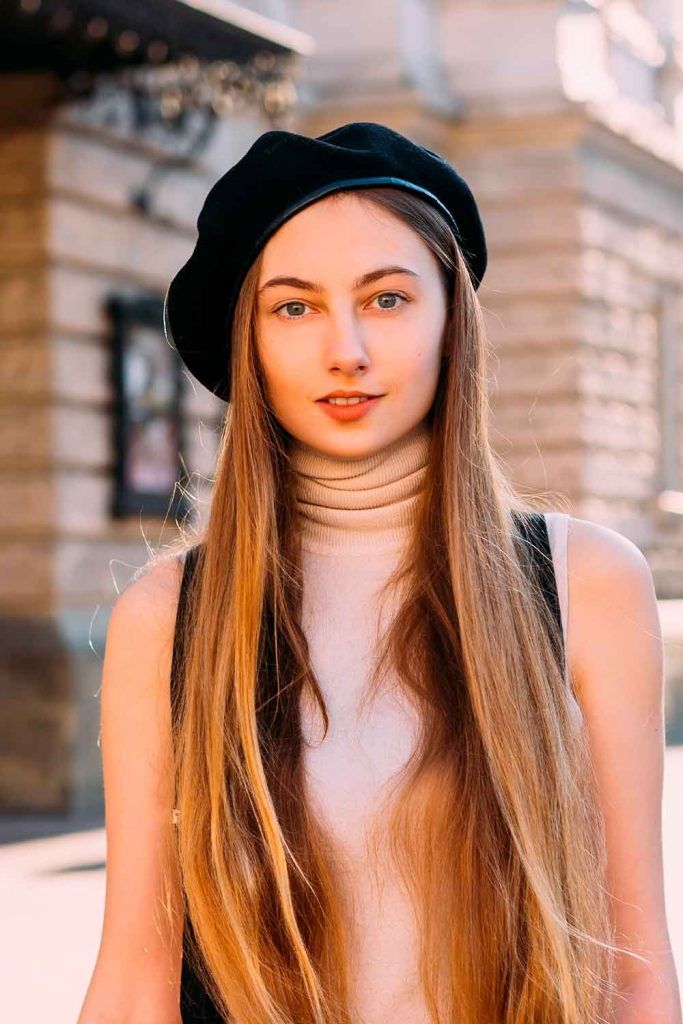 Traditional beret hat is timeless no matter what year it is outside. The peculiarity of this type of berets is that they are mostly made of wool and are available in neutral or classic shades, such as white, grey, black or beige. But that in no case makes it any less appealing, or out of style, on the contrary, it makes it look more feminine than any other style. What is more, in case you wonder how to wear beret, traditional berets can be worn with anything that suits the season, and a cute sweater or a scarf and a pair of gloves in the same color would suit perfectly. Make a calm winter day fell warmer with a traditional French beret!
Edgy Berets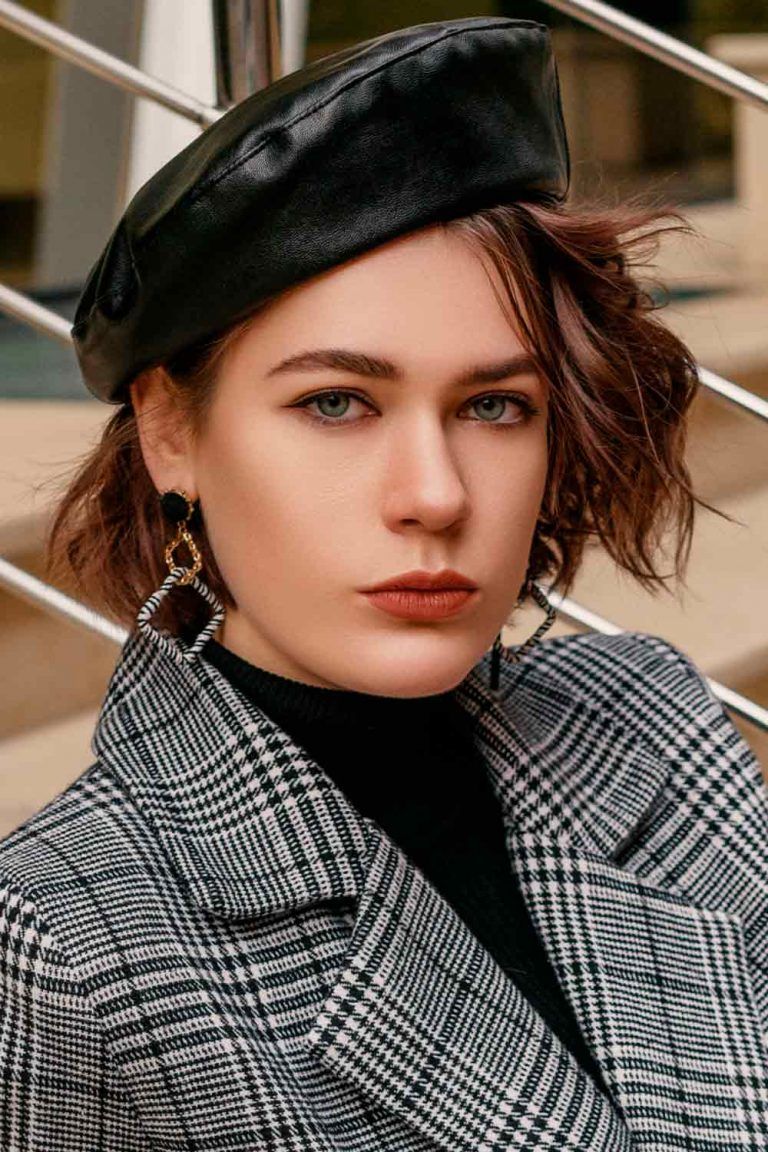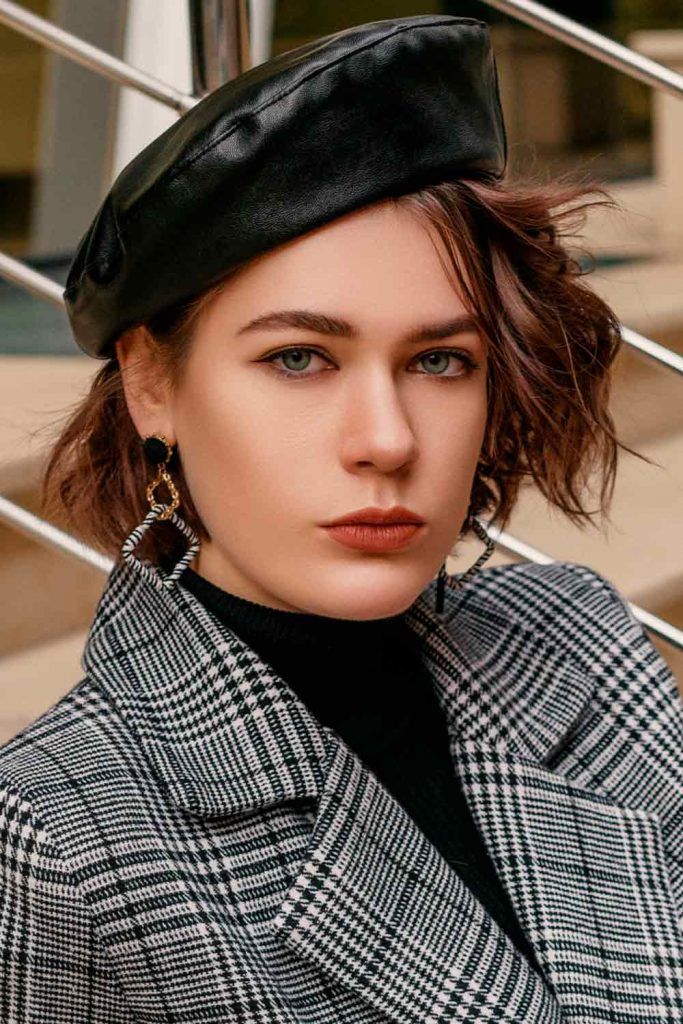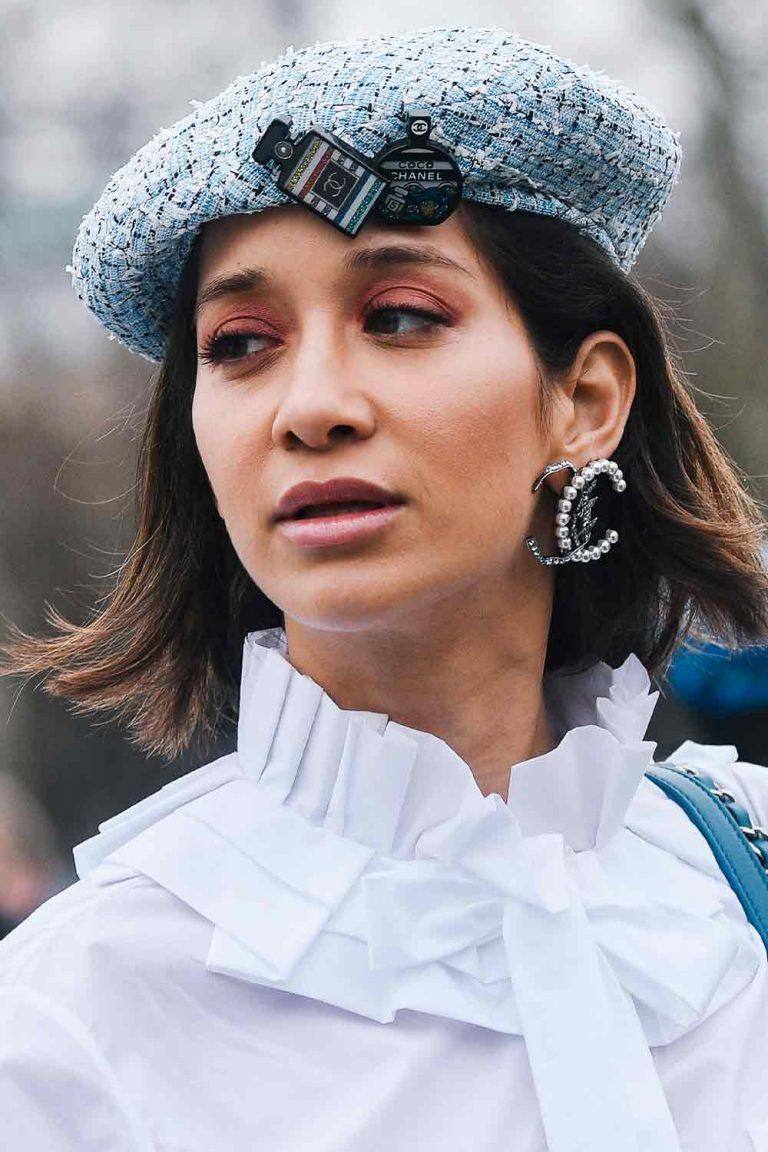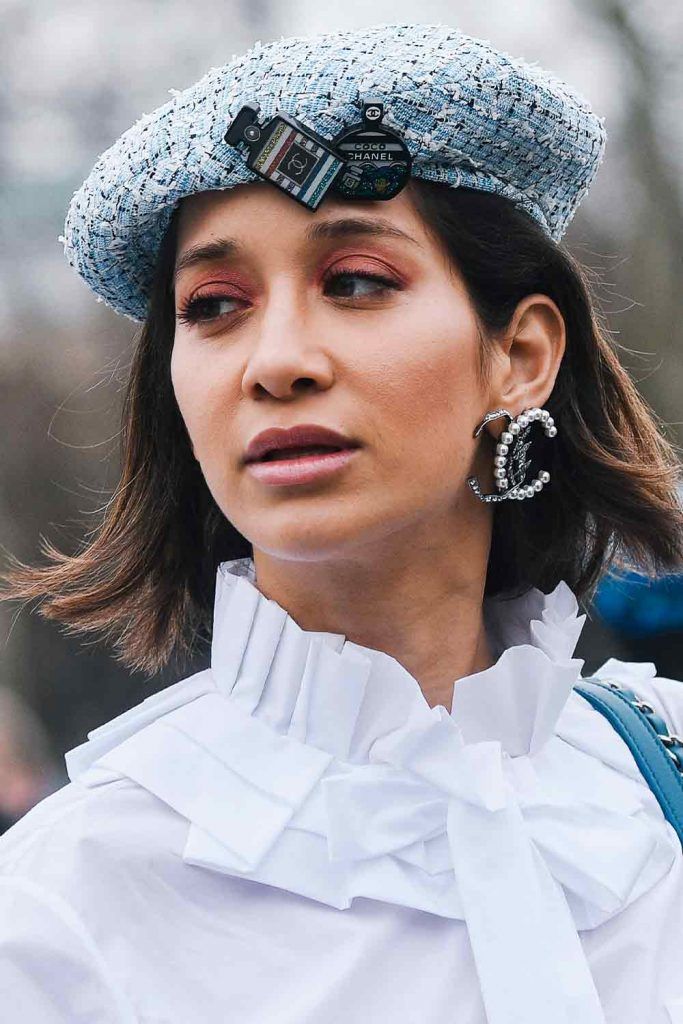 If there is a real rebel living inside of you, then you will definitely appreciate an edgy option of a beret. What makes it so bold and daring can be personally chosen by you, be it a studded pattern or an unusual fabric it is made of – it is all up to you. Show the world your sense of style and boast off with your creativity! We are sure that those rebellious ones among you are not easily scared of with attention!
Colorful Berets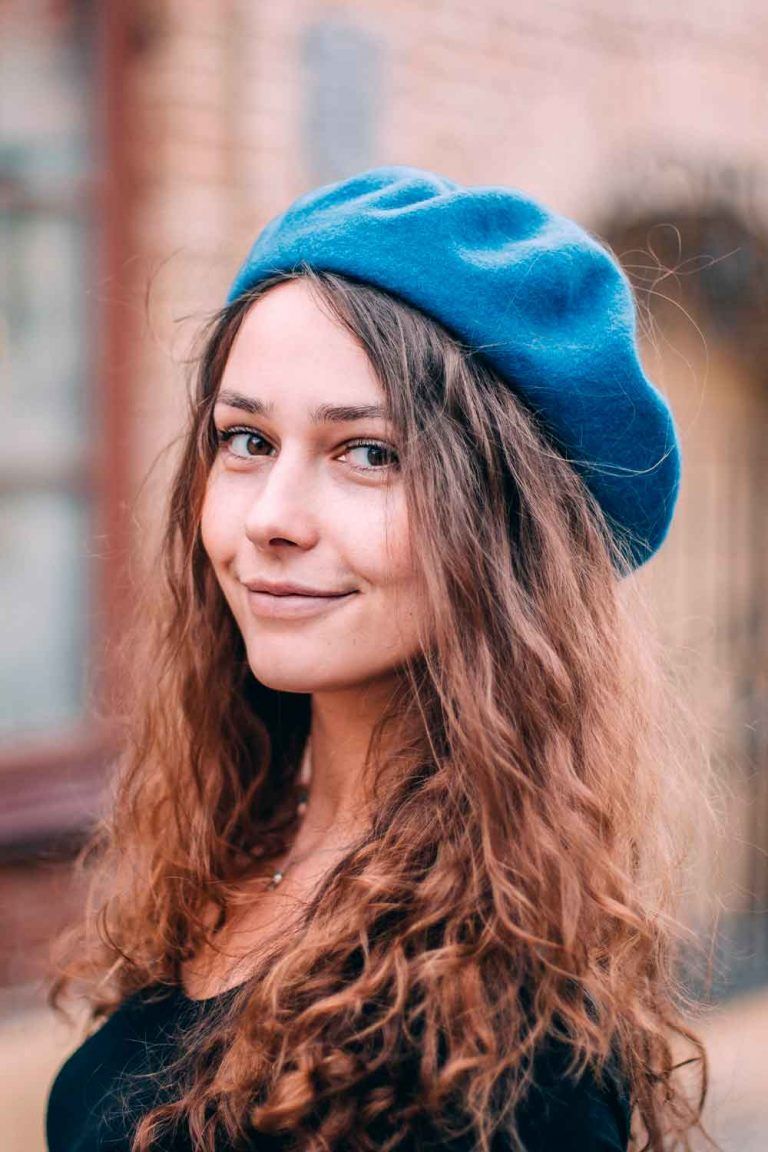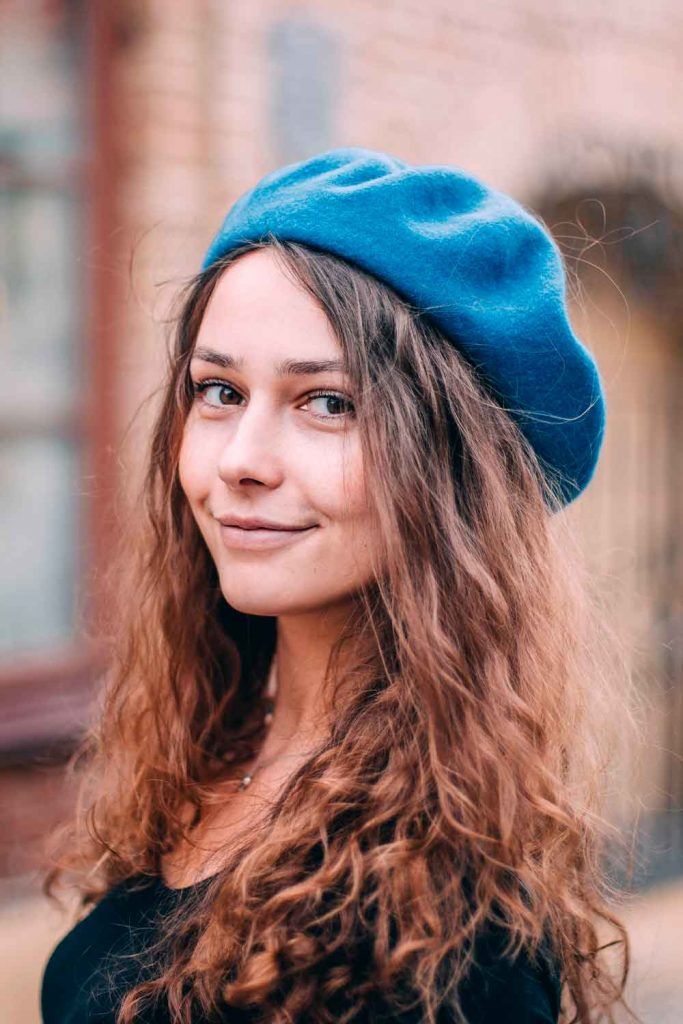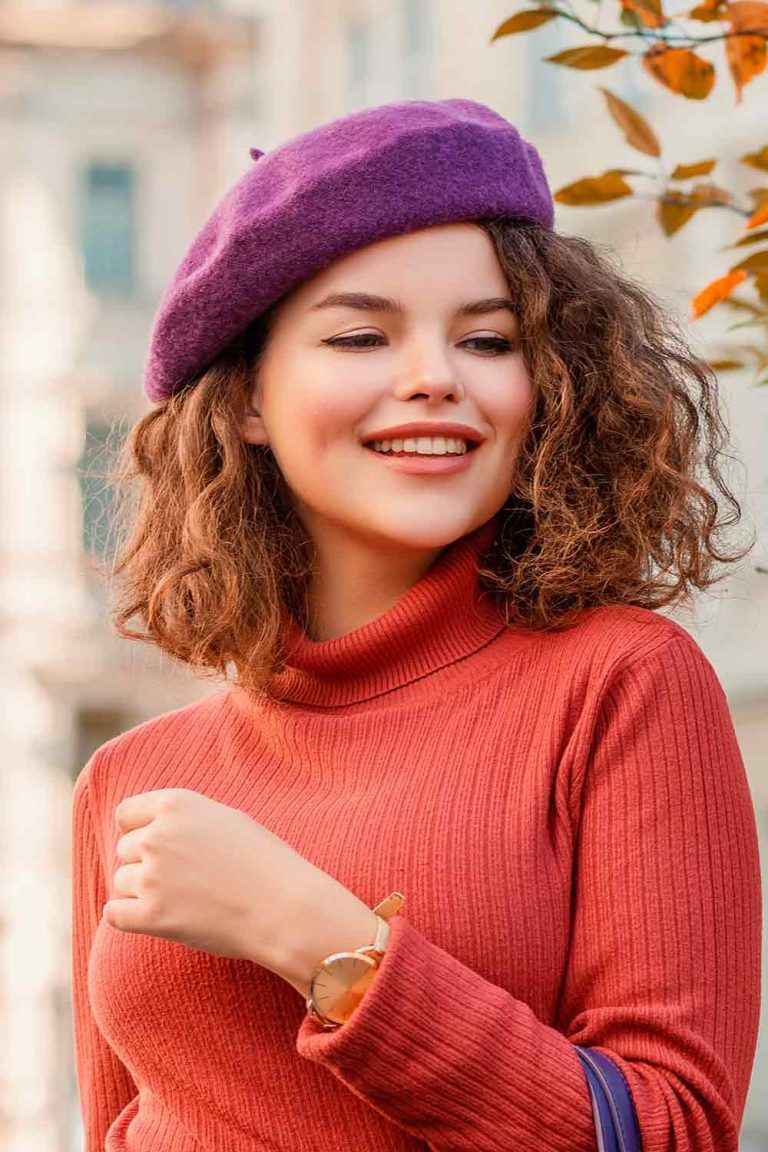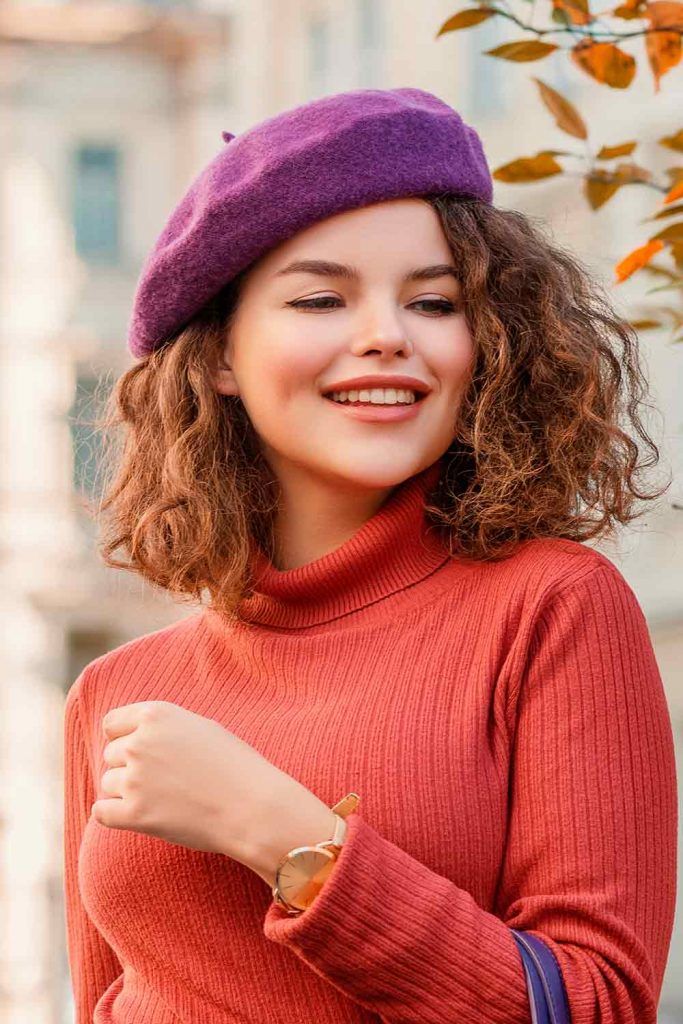 It goes without saying that the world does not stand still and the color palettes that were trendy yesterday are a no-no today. The very same goes when it comes to your hair accessories' colors, these days the brighter they are, the more fashionable they are. But you should be careful because introducing too much color may be out of place sometimes. The conclusion is – do not be afraid to use colorful components to finish off your look but keep in mind that too much is never the great option!
Evening-Ready Berets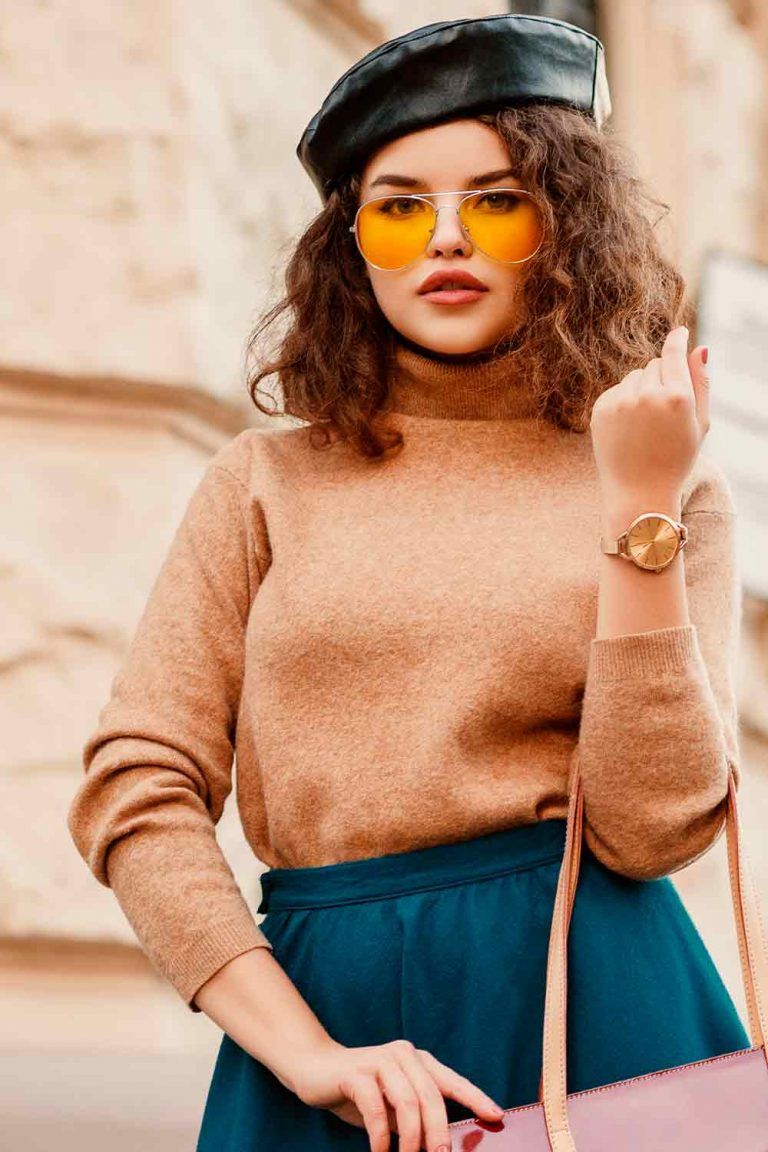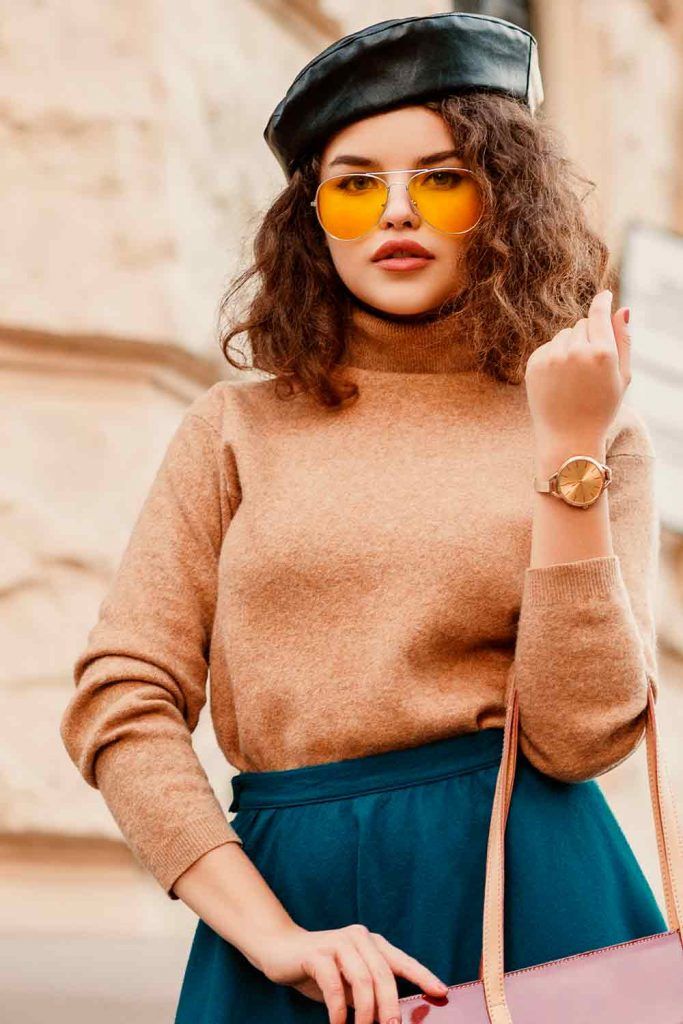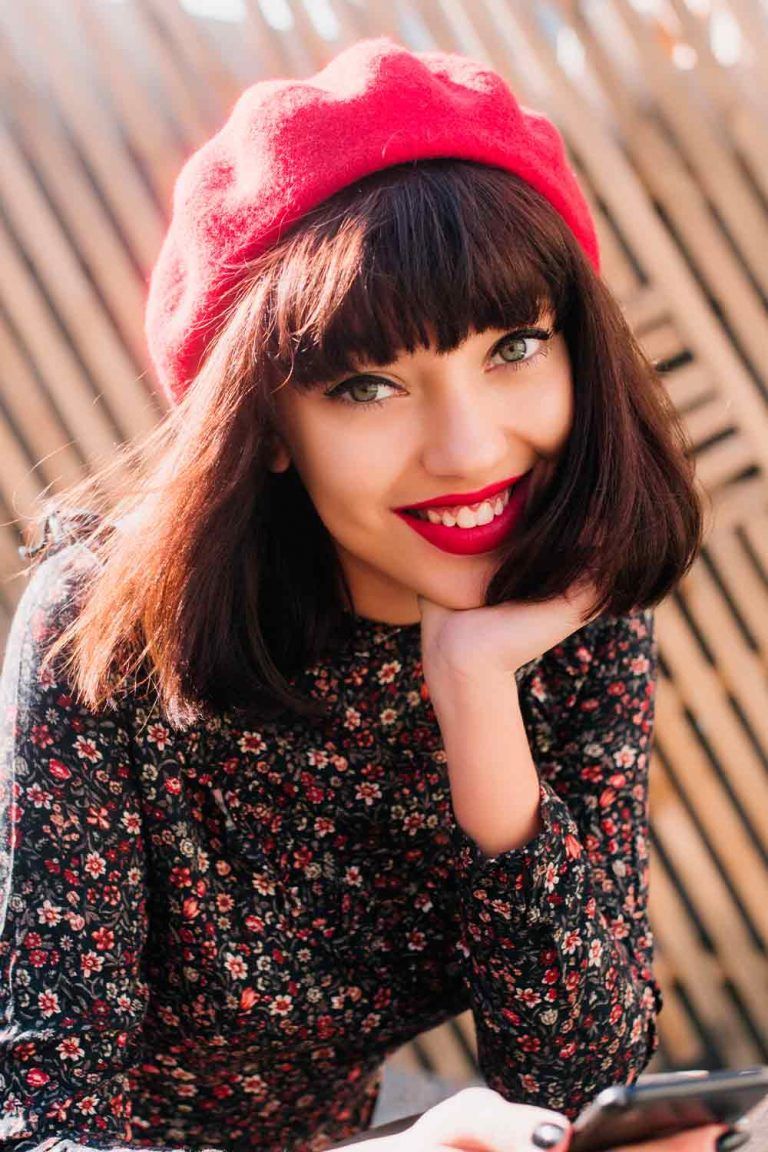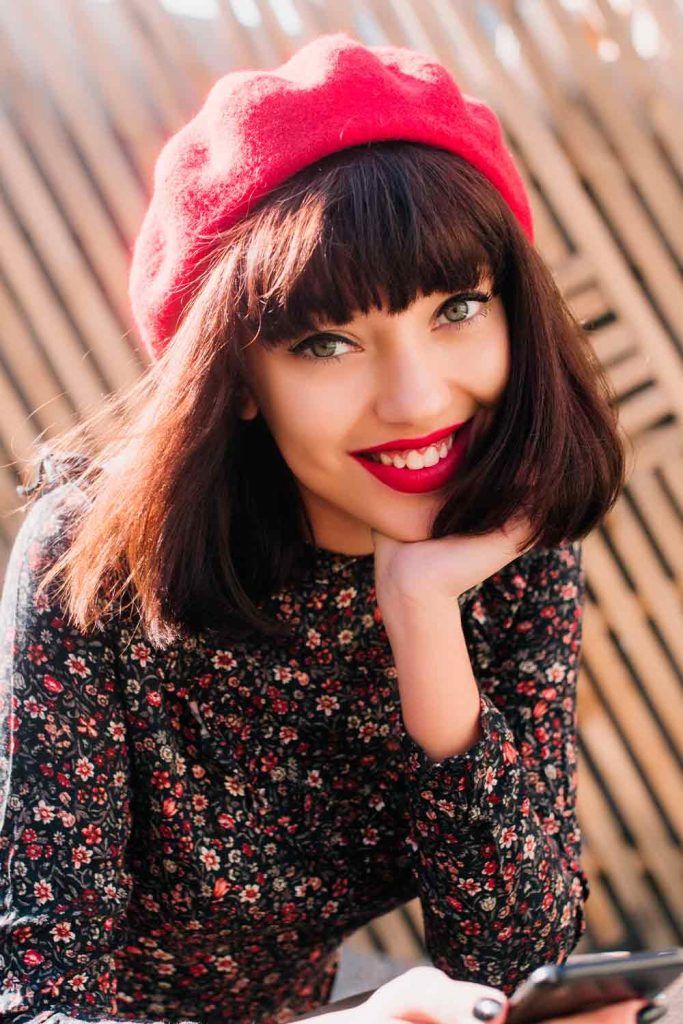 It shouldn't come as a surprise to you that an evening beret and the ways to how to wear beret will differ from the traditional ones. Well, if you think about it for a while, you will come to the understanding that the purpose of these two is different so there should be no questions left. While traditional beret hats are designs to keep you safe during colder seasons evening ones are there to compliment your outlook thus they are smaller, and the range of shades is a lot wider. What is more, evening berets usually are decorated with lace, jewels, and all the other fancy decorative elements.
Now, when you are aware of the difference – it is time to use your knowledge to your advantage and mesmerize everyone with your tasteful, evening look with the introduction of a stylish head accessory.
Berets With A Visor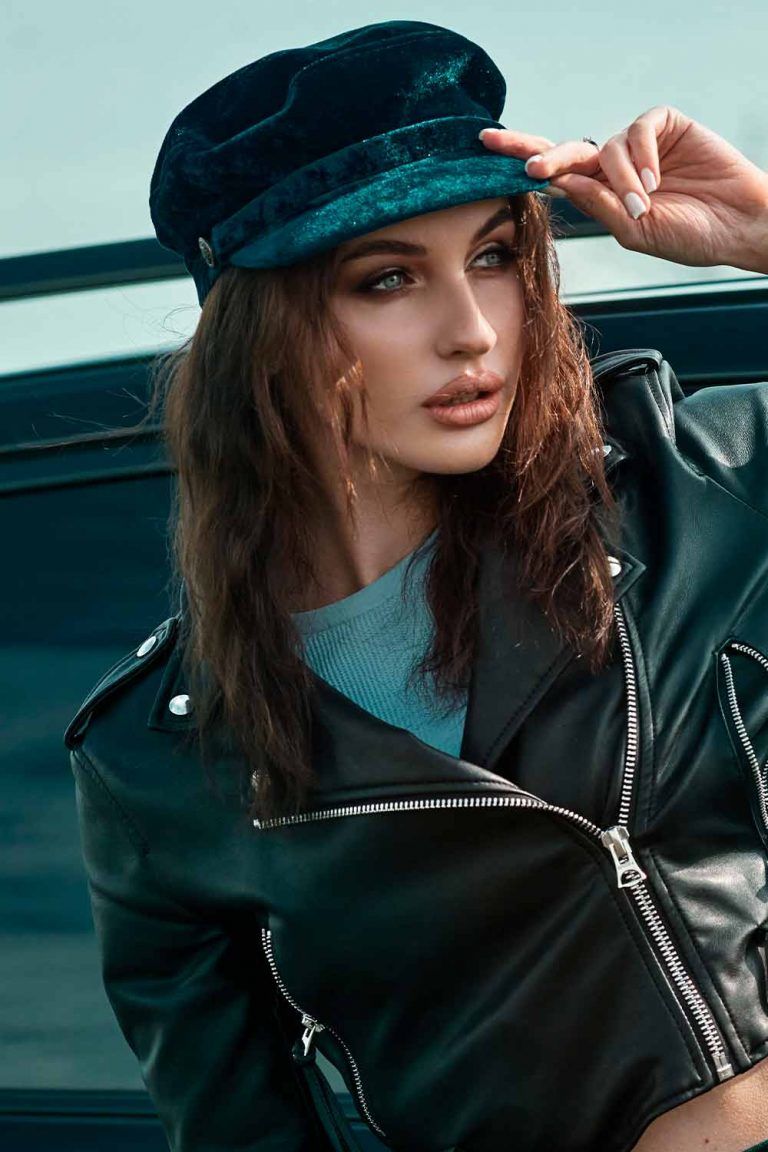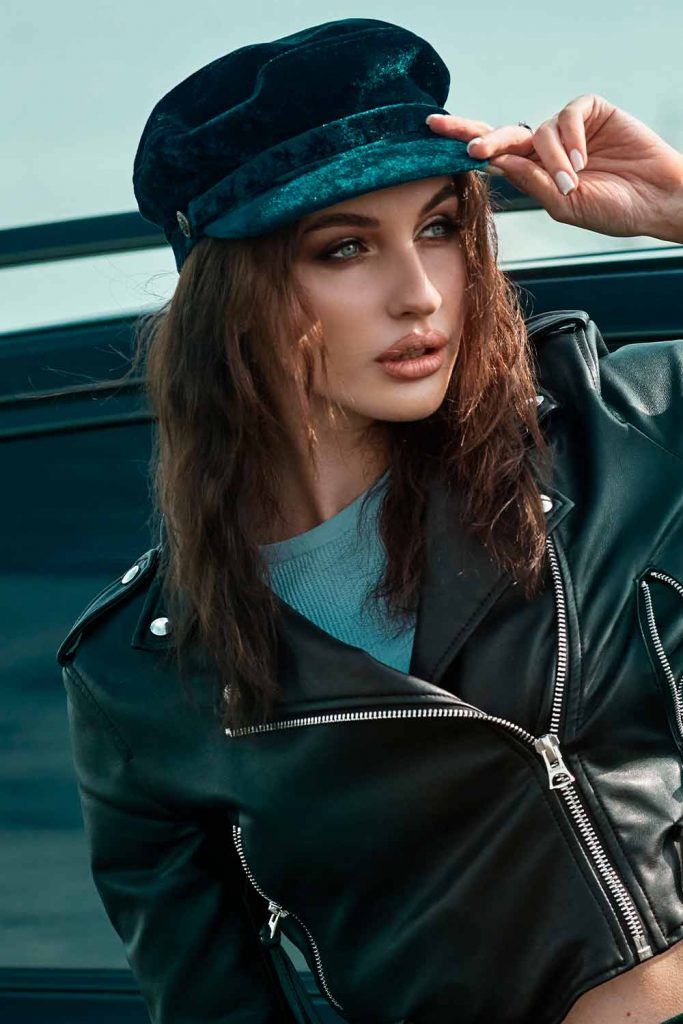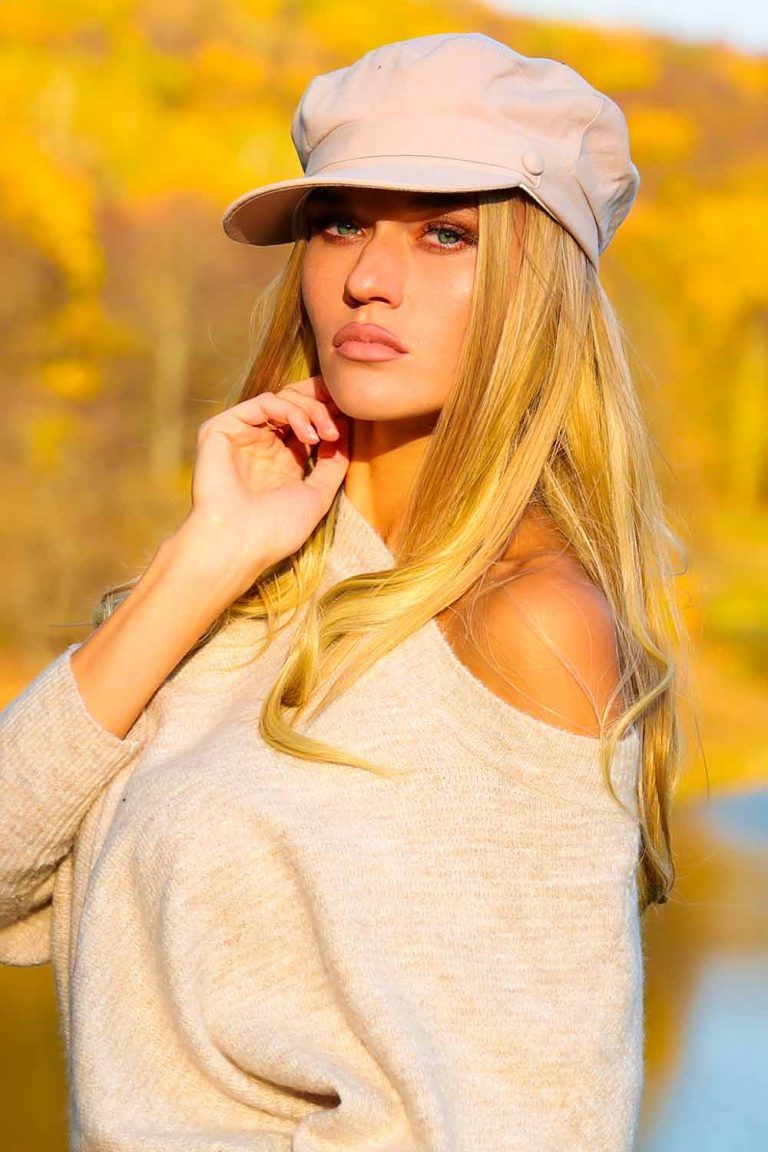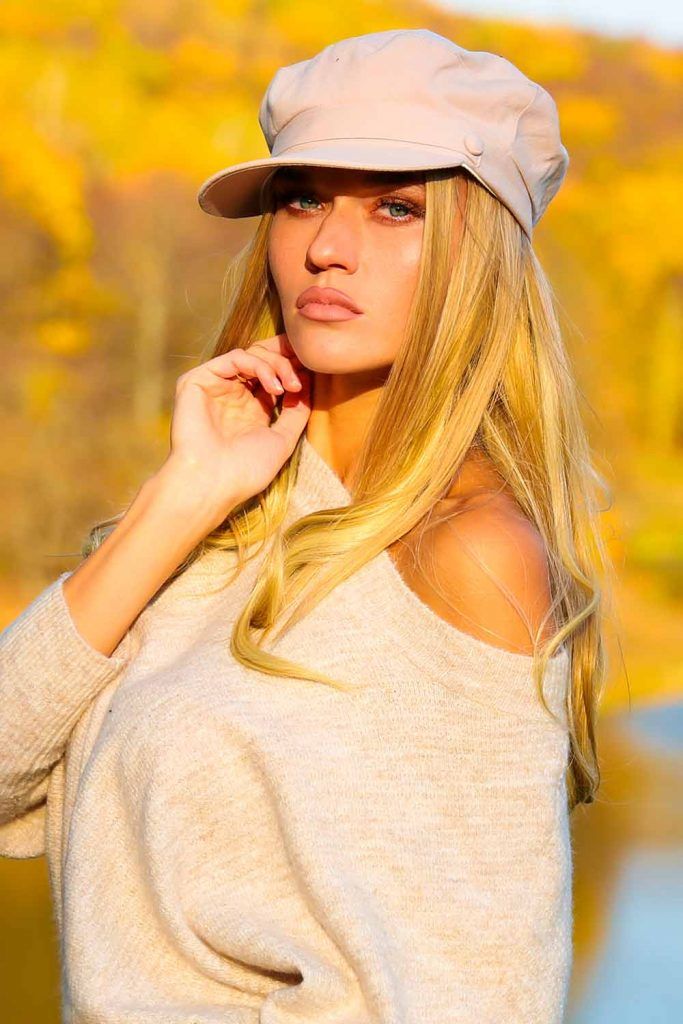 Those of you who decided to try out the power of berets with a visor should be ready to be the center of everyone's attention since something so bold and stylish cannot go unnoticed. It is nice to opt for such a beret when you need to add a contrasting accent to your look. But, be careful with all the other accessories as with such a hear accessory there is nothing much to be added to your look in general. Keep that in mind!
Keep the Seasons in Mind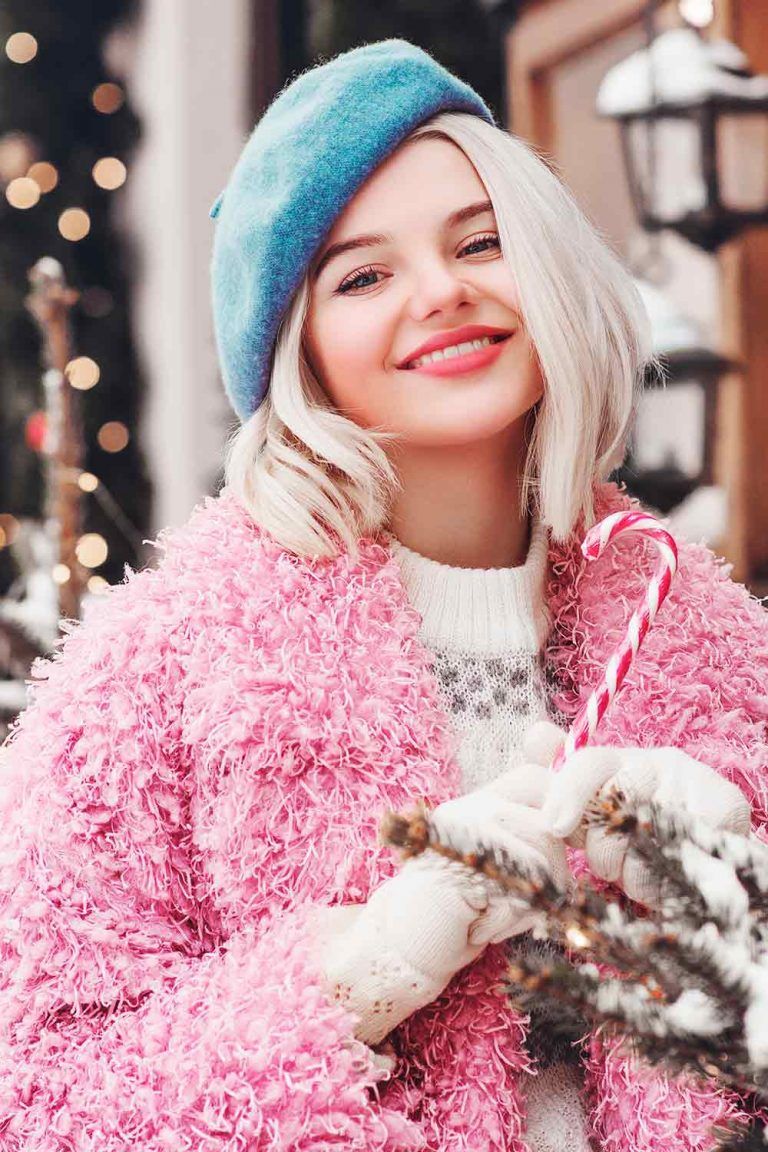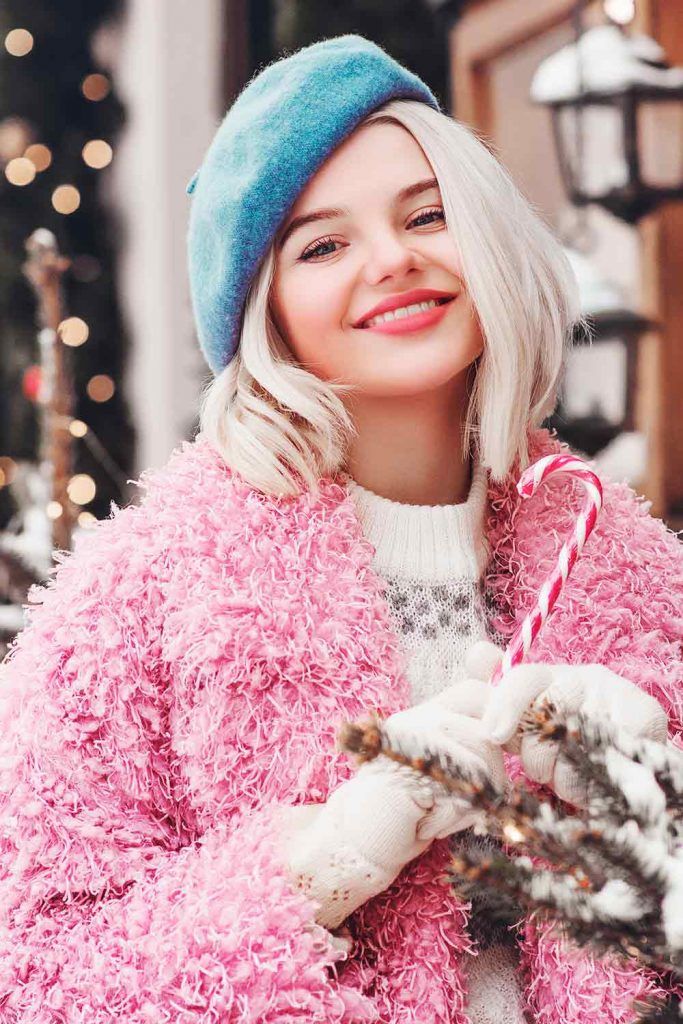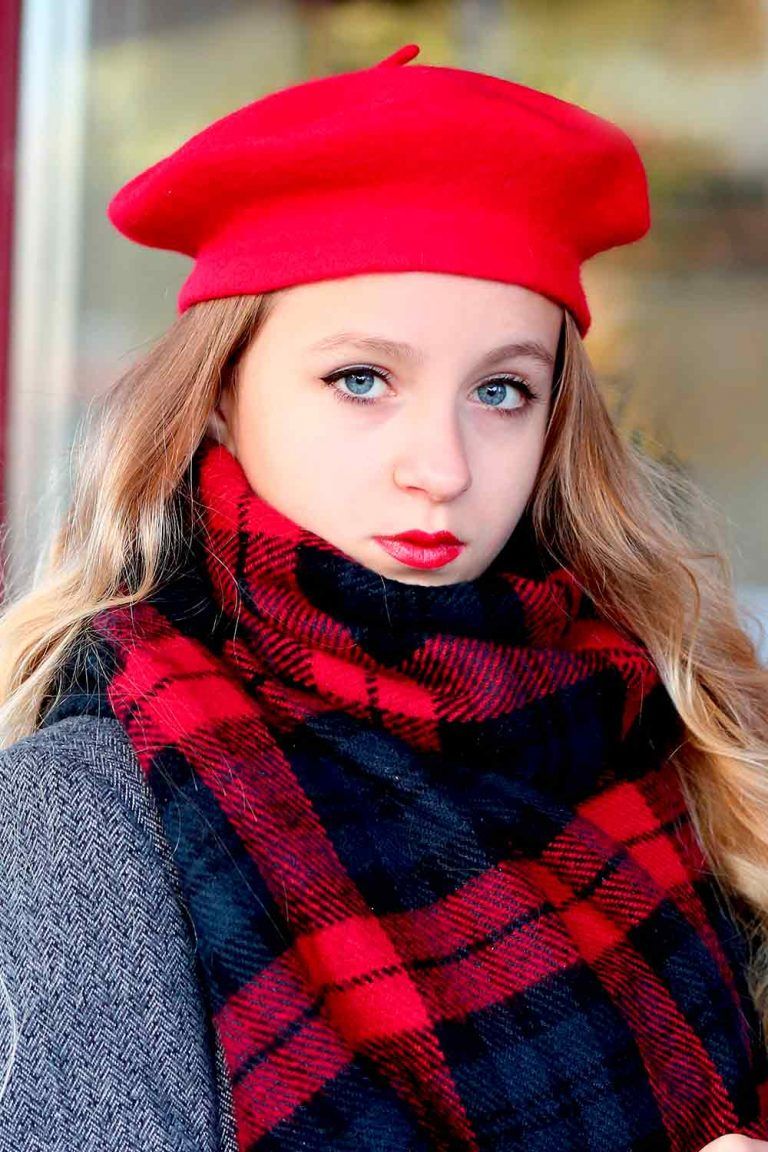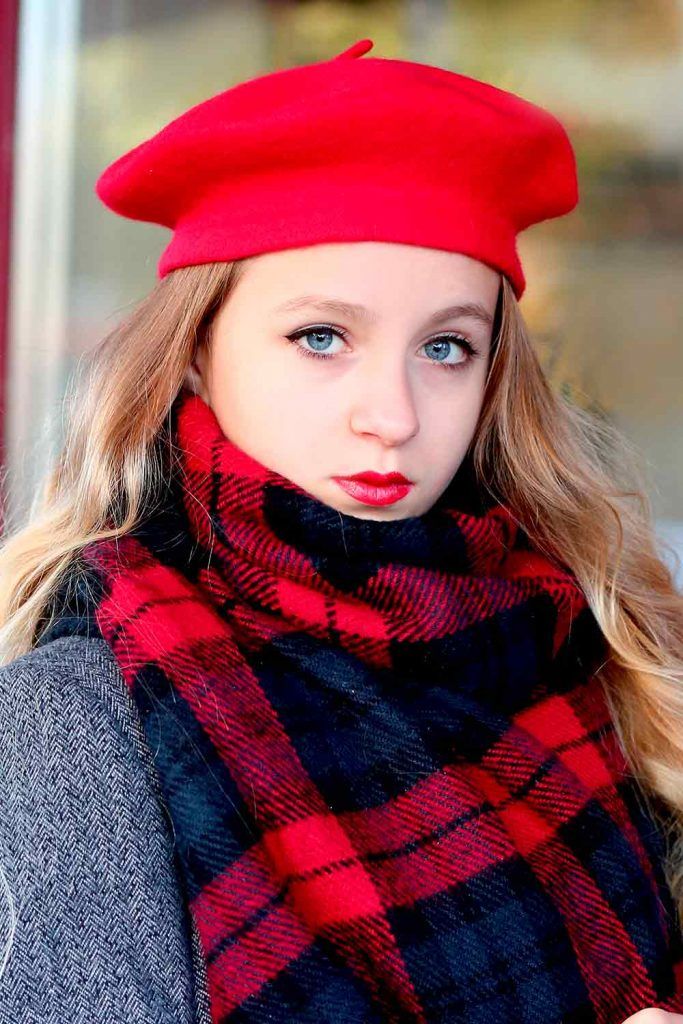 Each season asks for unique accessories, we all know that. But when it comes to something as universal as a beret it is safe to say that you can wear it anytime with the only difference in fabric. That is true that you should opt for such a beret hat that not only suits you well but also corresponds to the season outside. That is why:
Spring – when all the nature wakes up is nice to greet it with a proper look, and a light wool beret will complete your lovely outfit no matter what you go.
Summer – when the sun warms up the air you can add a cute lacy beret to your look without the fear of getting sunstroke and looking stylish and elegant.
Autumn – for this season it is best to pick a cute, trendy leathery beret.
Winter – keep your head warm with wool or fur beret with no loss of the style.
FAQ: How To Wear A Beret
Who wears berets?
Berets were first mass-produced in 19th-century Spain and France. The classic beret is still associated with these countries. Many military and police forces, as well as other organizations, use berets as part of their uniform.
How do you properly wear a beret?
Berets are designed to be worn on one side only. Wear a beret that is either slanted or full. Put the beret on your head 3/4 of the way up your forehead, with the rim approximately a half-inch to an inch off your ears. The back should reach the back of your neck while being comfortable.
Which side should a beret be worn?
The headband of the beret should be straight across the forehead, an inch above the brows. Place the flash over the left eye and drape the extra material over the right ear, reaching at least to the top of the ear, no lower than the middle.
Is it OK to wear a beret indoors?
You can definitely wear a beret indoors. It's very Frenchie!