You should definitely try a top knot hairstyle because it will take you little time but you will love the result. There are several major types of top knots: tidy, messy, and fancy. The choice depends on your mood rather than the occasion because top knots are extremely versatile. As for celebrities, they can be seen wearing all kinds of top knots on the red carpet. So, you can pick this hair updos for the gym as well as the night out.
Top knots, especially the tidy ones, can be worn even with short hairstyles. Such types of top knots are quite polished and structured. They are more suitable for a day at work or for a party. Just twist the knot in a bun tightly and you are ready to go.
Classic Top Knot Hairstyle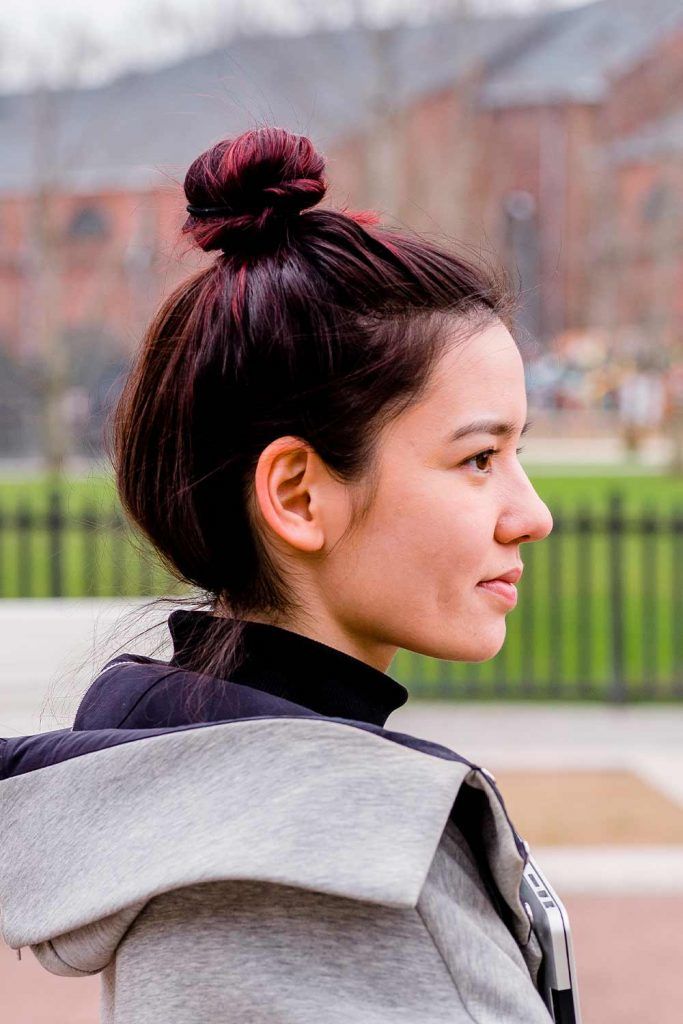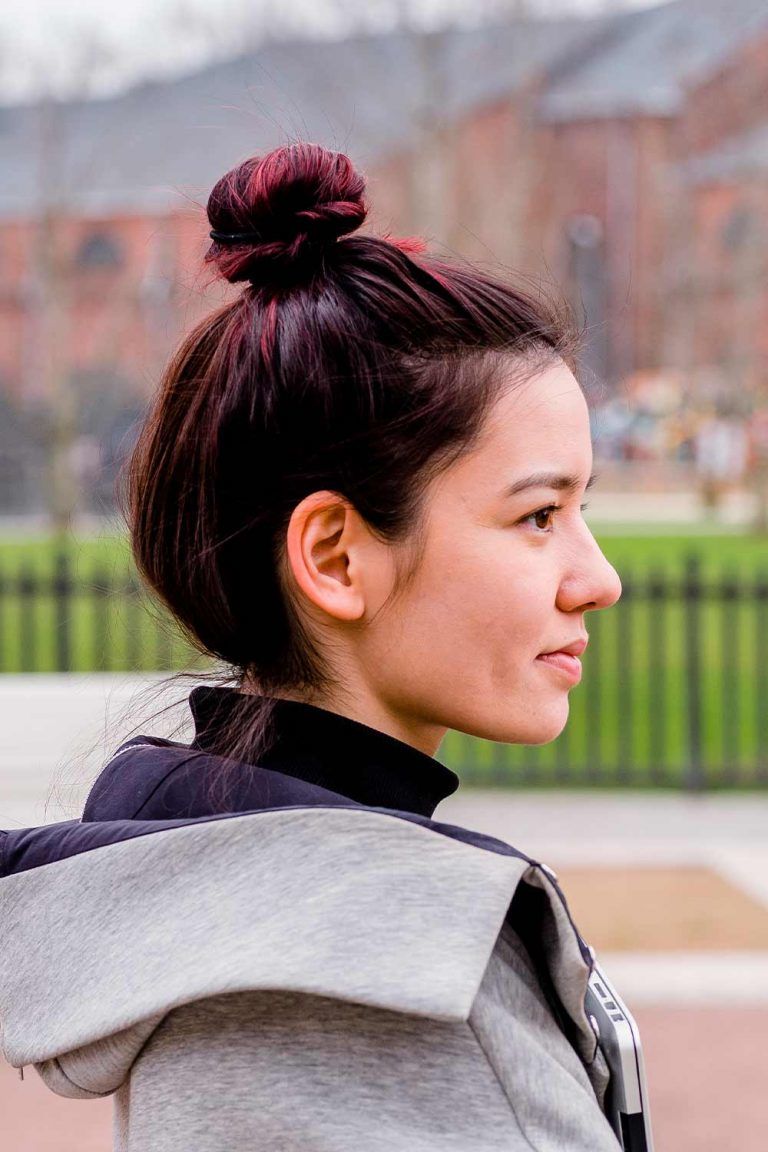 Classic means ageless, and top knot hairstyles fall under this category. When it comes to the initial version of the knot, there's only one rule: the messier and higher, the better. You can brush your hair and create a house of messiness on the top, as well as leave your brush aside and simply secure the style high. Make sure that your style looks effortless and disheveled, yet not unkempt. To do so, leave some of the locks to gently fall on your face. Or, you can simply show off your bangs.
Cute Messy Top Knot Hairstyles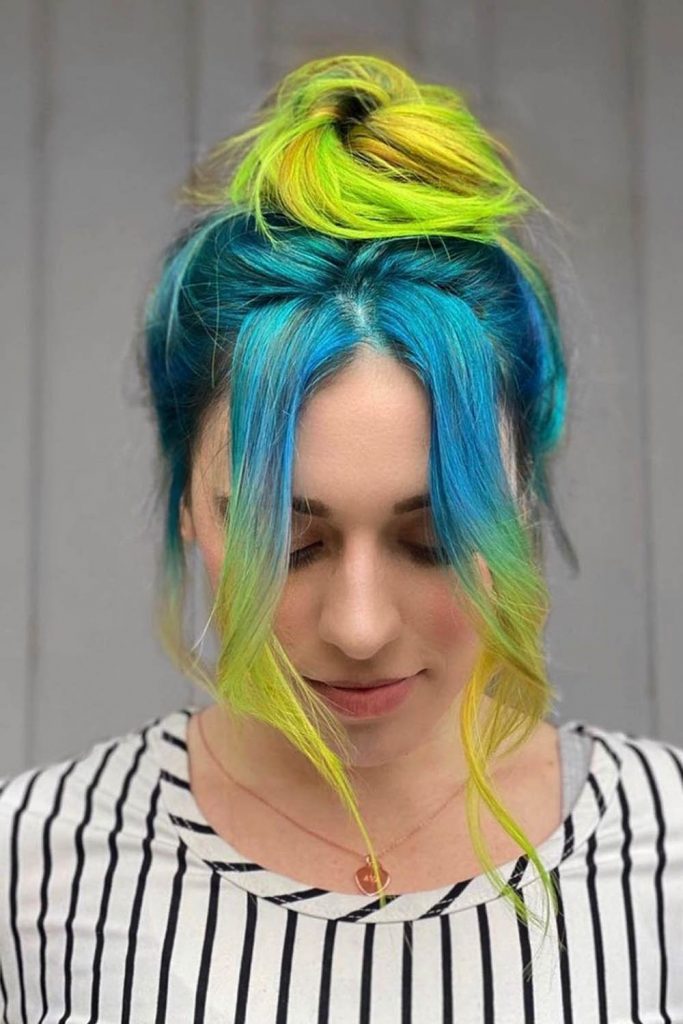 by @tiffanymhair
And as for messy and fancy top knots, they look stunning with hairstyles for long hair. When opting for a messy knot, the extent of messiness has no limits. It is so easy to nail this casual and carefree style. And fancy knots look sleek and glossy.
Half-Up Top Knot For Medium Hairstyle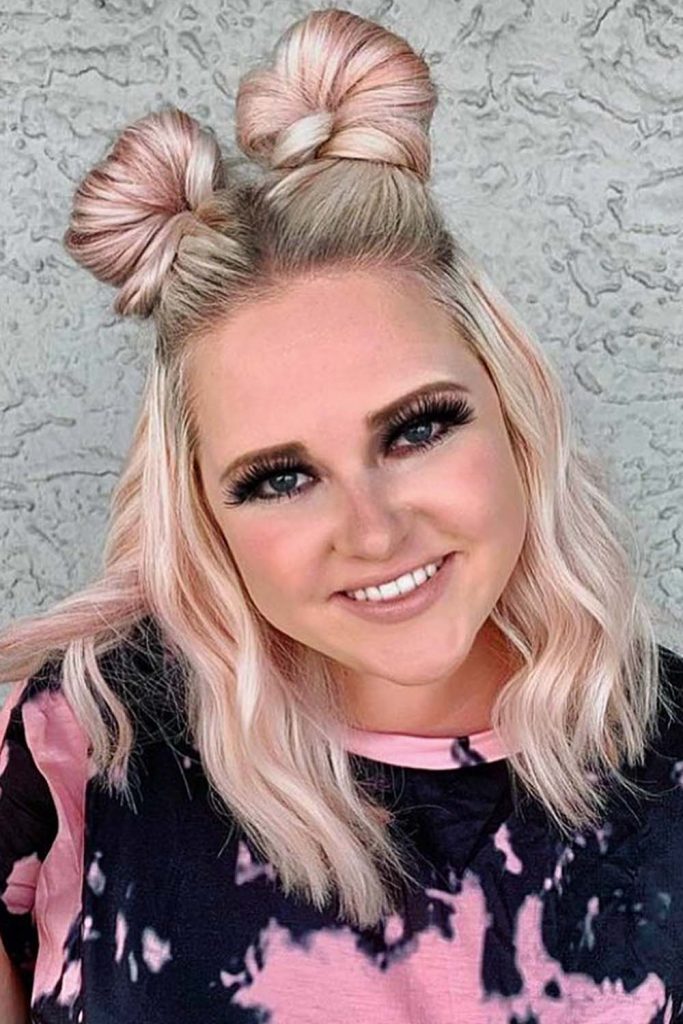 by @tiffanymhair
The main reason why women from all around the globe wear top knots like one is its flexibility. Basically, it can adapt to any length and give a nice flirty vibe to the look while keeping your comfortable with your hair. On short hair, your knot will look best as a half-up styled into a soft, slightly messy bun on the top. Besides, it's a fantastic match for waves, you should definitely combine those two!
Stylish Double Top Knot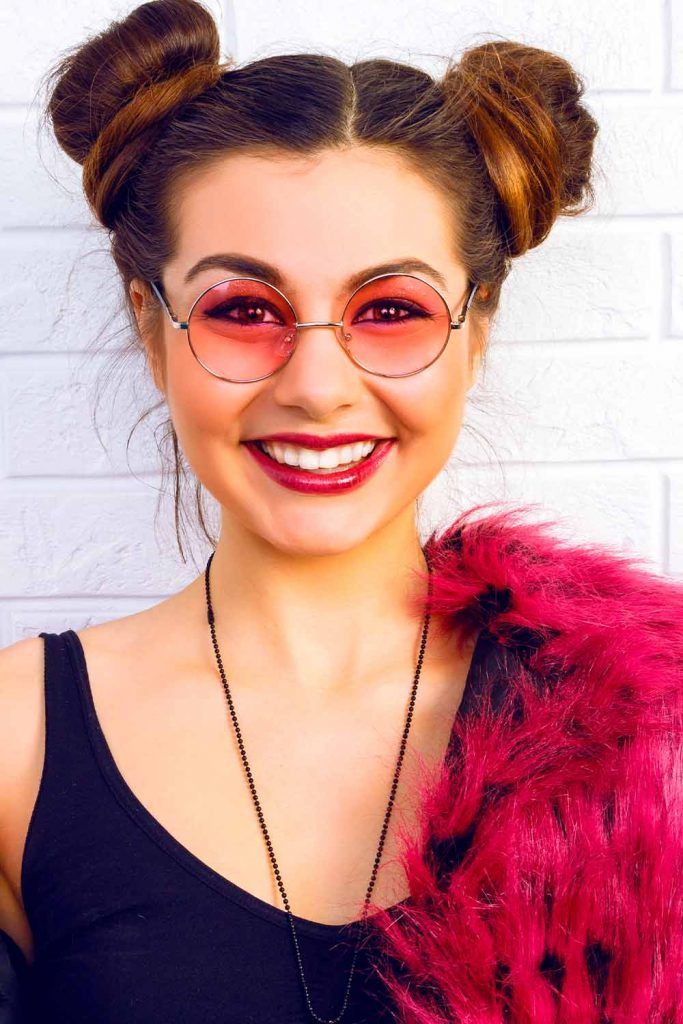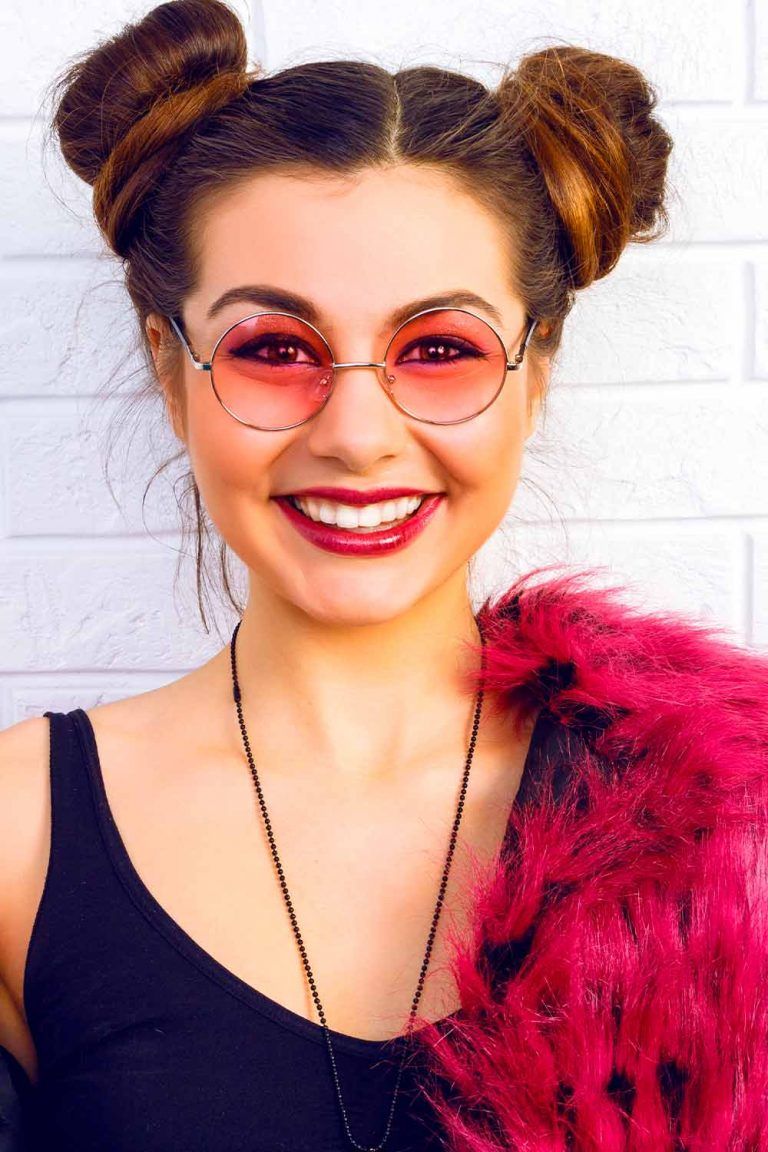 So, how to create a super cool knot on top? After shampooing, blow dry the hair, and do it upside down. This simple trick will make your hair become more prone to staying upwards.
The Easiest Top Knot Hairdos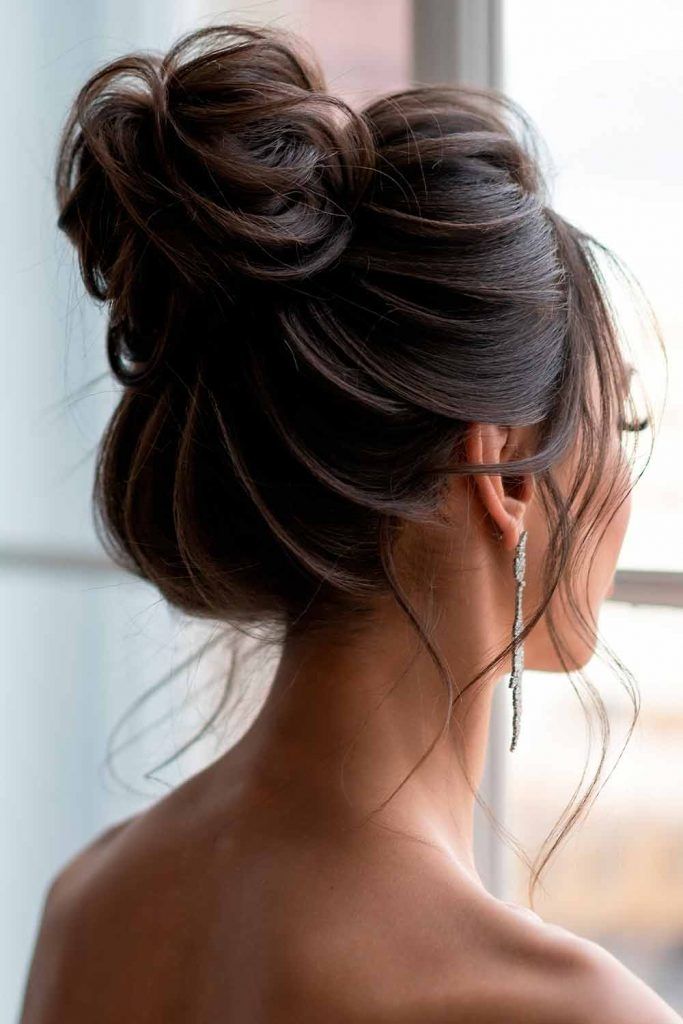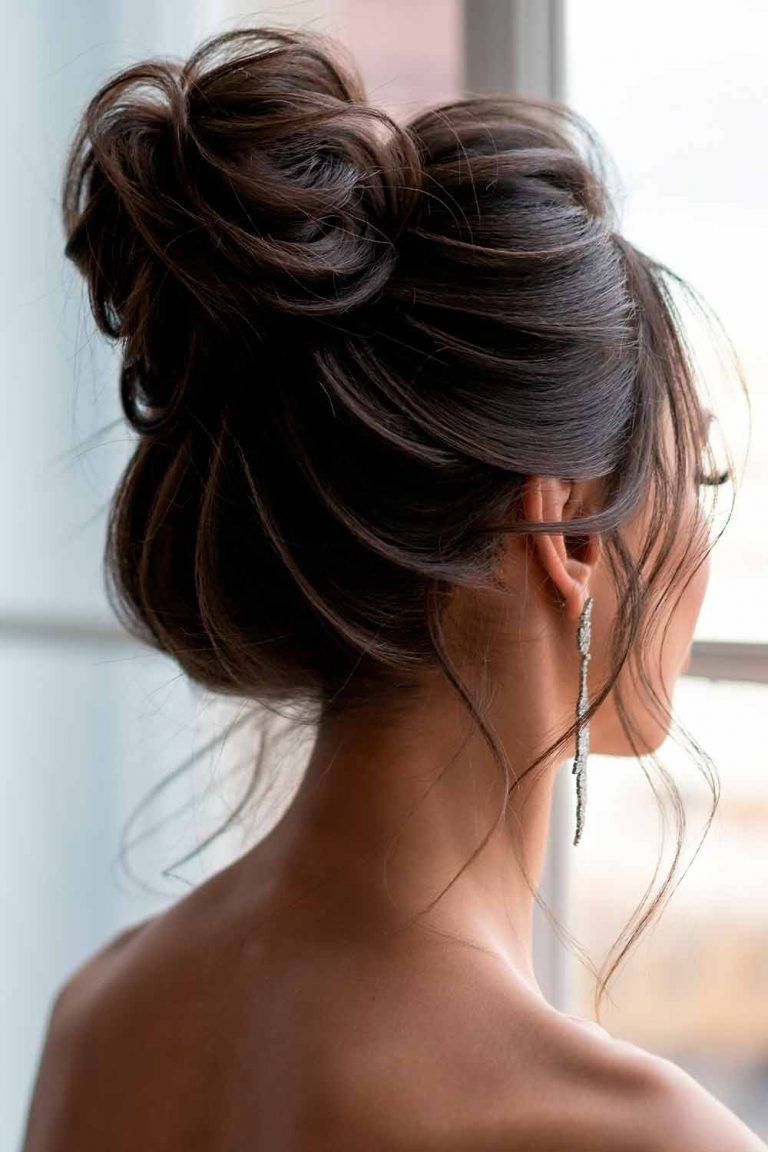 And it is exactly what you need for this hairstyle. Cease blow drying before your hair becomes super dry, that is, let it stay a bit damp. Mist the hair with light holding spray that also enhances the texture.
Nice Top Knots with Braids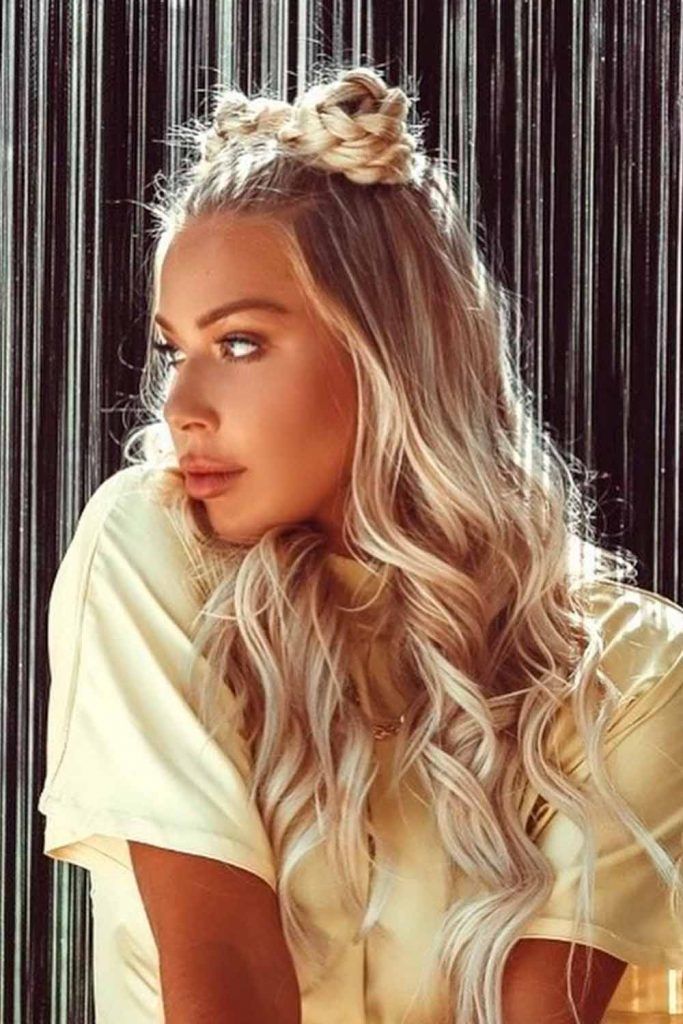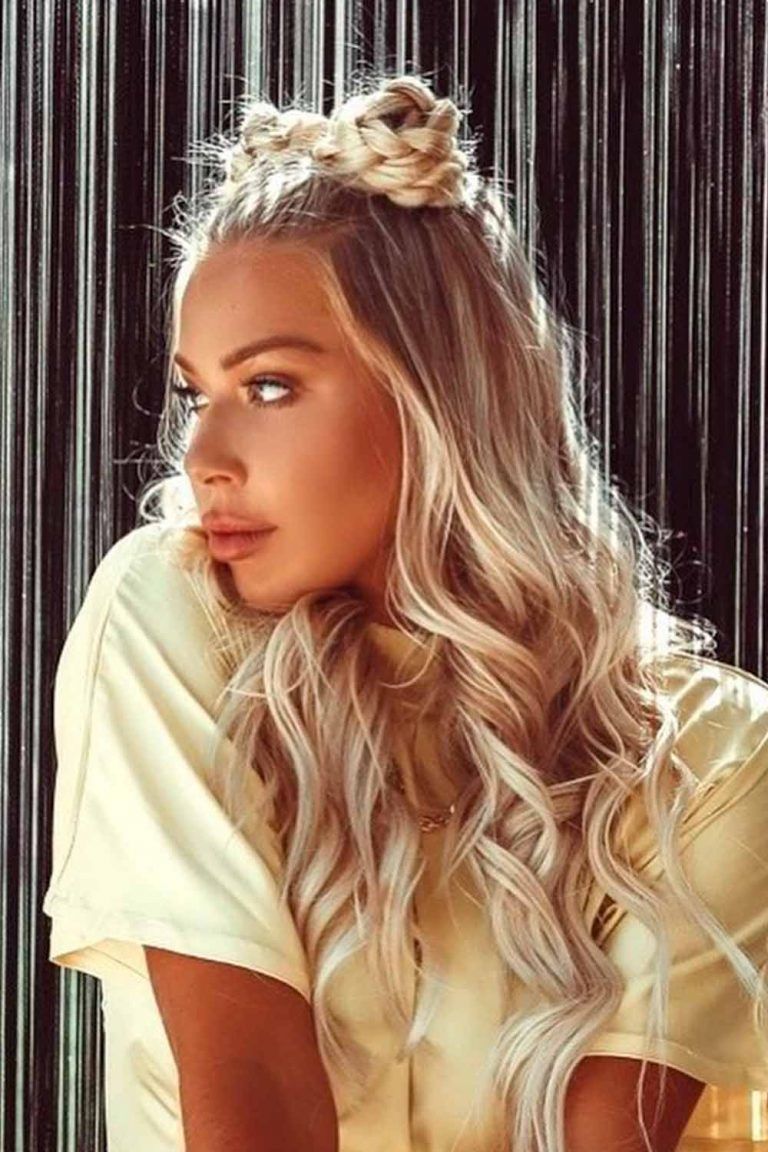 by @amastylist__
Using a bristle brush, brush your hair up and tie it into a pony on top. Every time you brush your hair, spritz the brush with holding spray. It will help to keep your hair together. Hold the hair firmly before you secure it with a cute band.
Lovely Half-Up Top Knots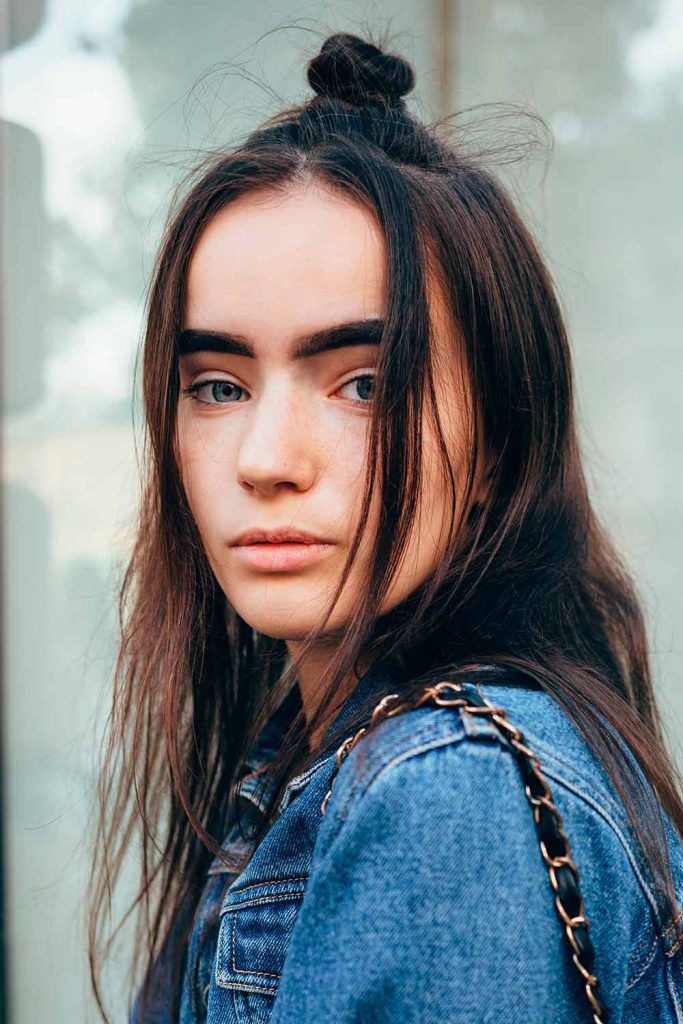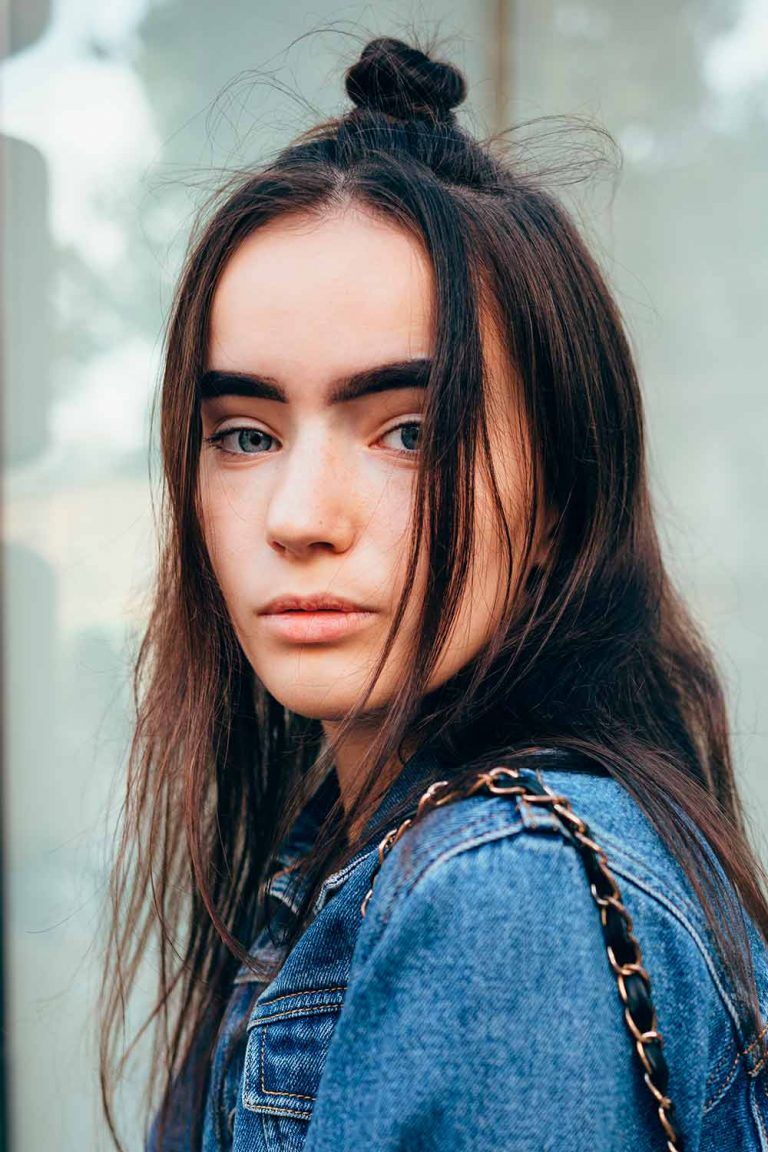 Now, while holding the pony up, directed to the ceiling, twist the pony upon itself. Next, focus on the base of that twisted hair and wrap it around itself. Either grip or pin it to your head for fixing.
Top Knots For Long Hair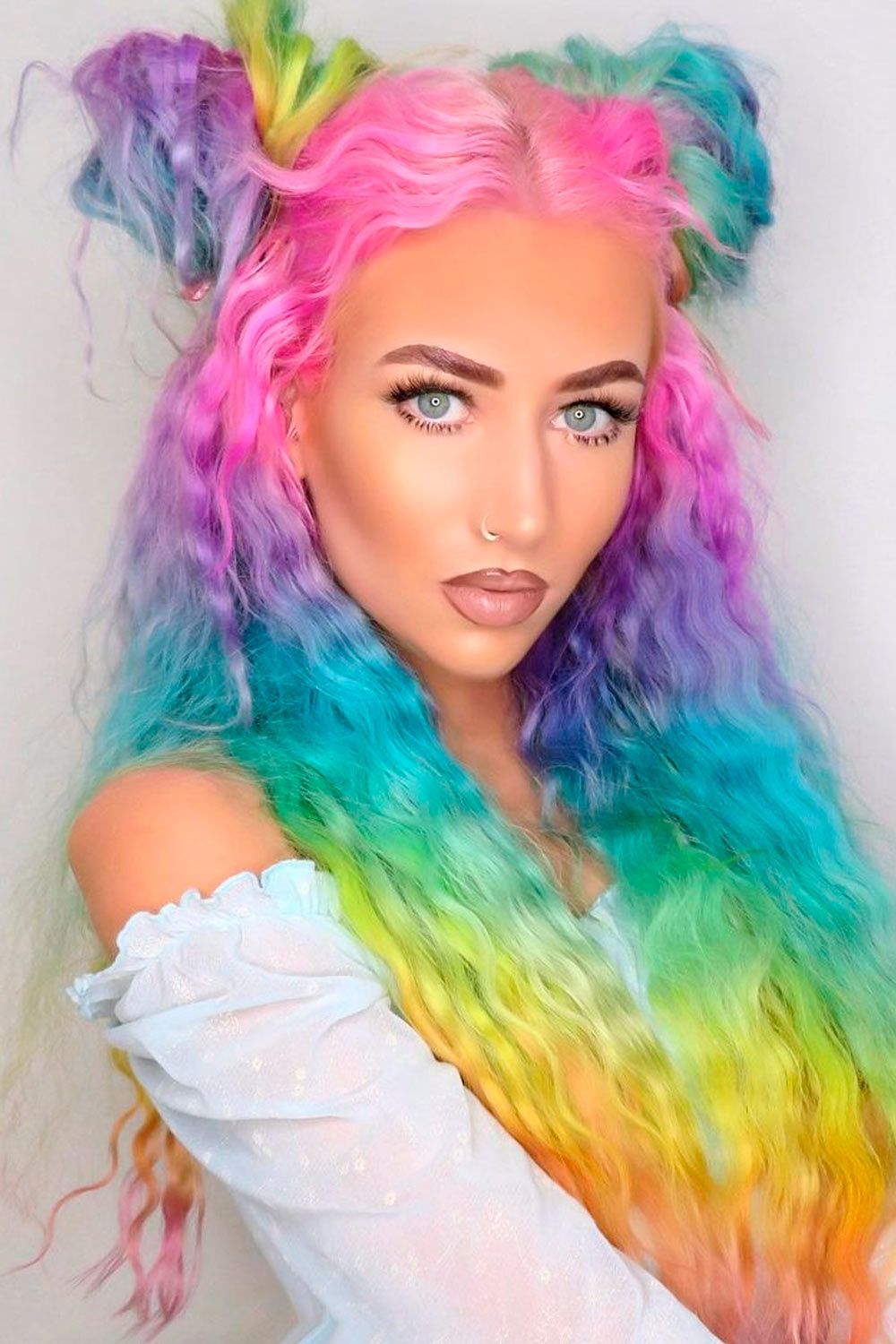 by @amythemermaidx
The thing we love about top knots the most is that we don't need to put all of our hair up to get a stunning updo. And the longer your hair is, the hotter your top knot will look like! You can wave or curl your hair and create a lovely knot on the crown as the main accessory. If you like the idea of double top knots, let's make it even sweeter: beautify your hairdo with floral bobby pins.
Accessorized Half Up Top Knot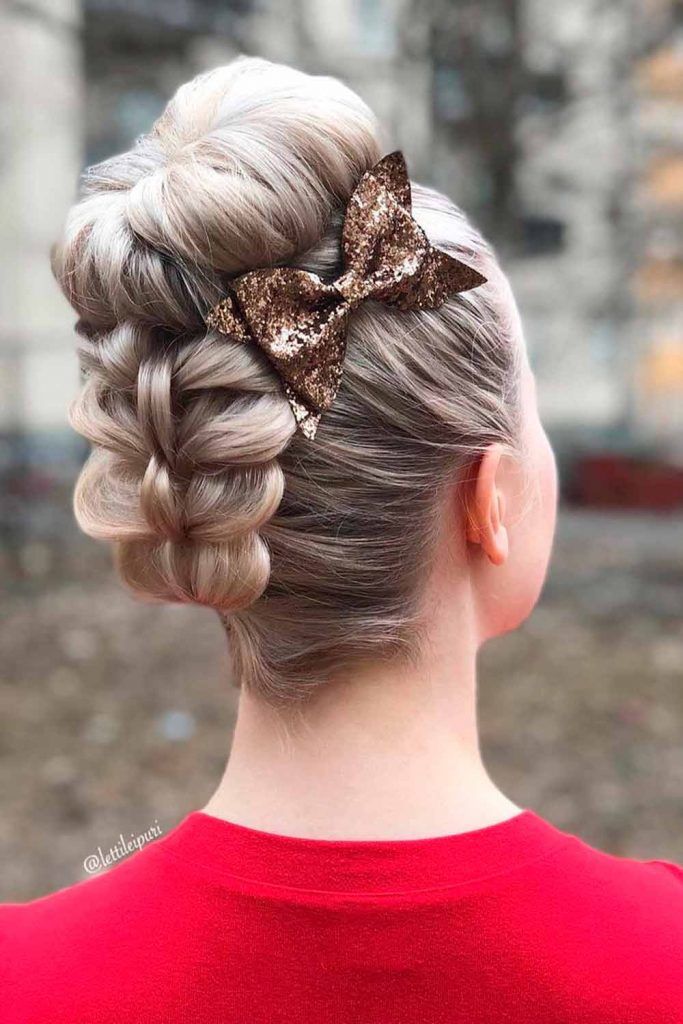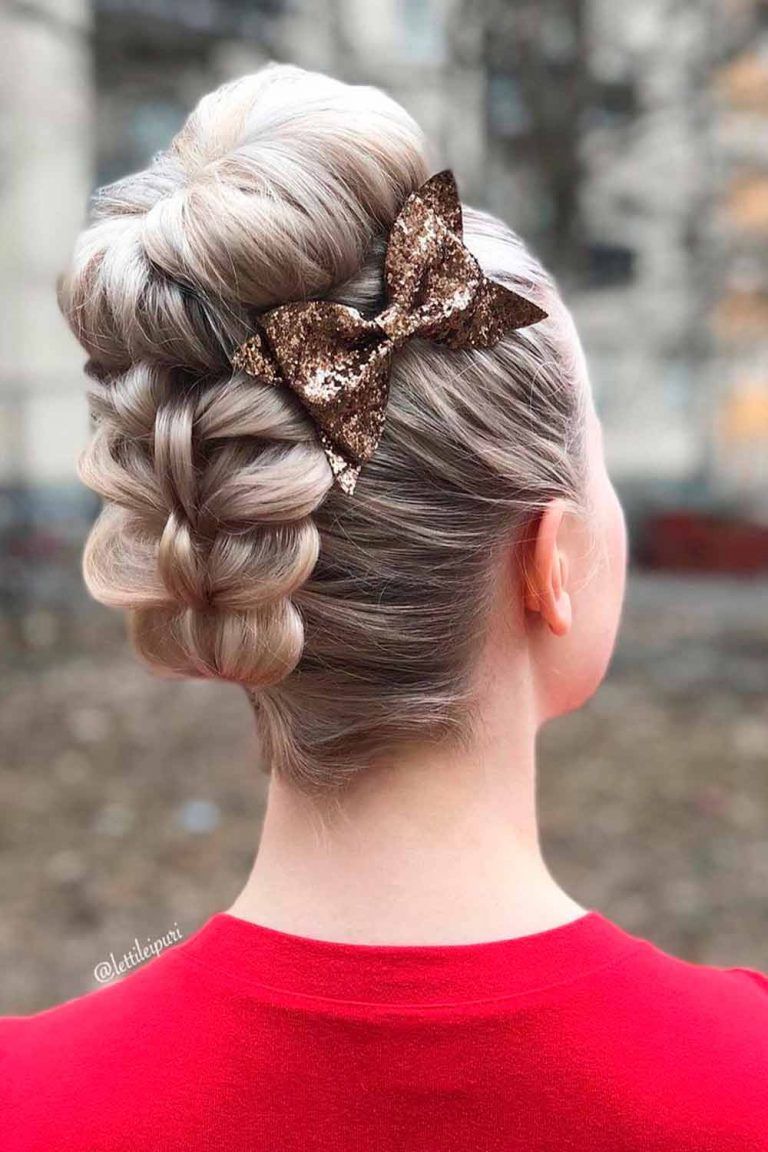 by @lettileipuri
As it turns out, you can turn this simple hairstyle into your signature look with the help of accessories. There's no need to tell you how straightforward top knots are, but, they're by no means boring! Besides, you can always accentuate your knot and breathe a unique character into it by finishing the style with a fancy hair tie or minimalist embellishment.
Colored Half-Up Top Knot Hairstyles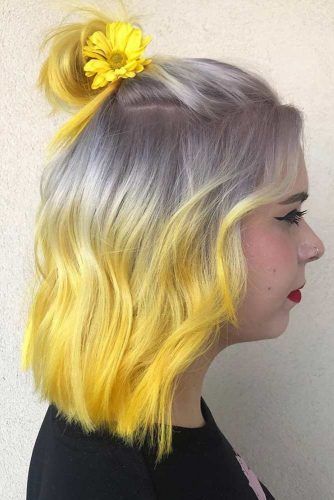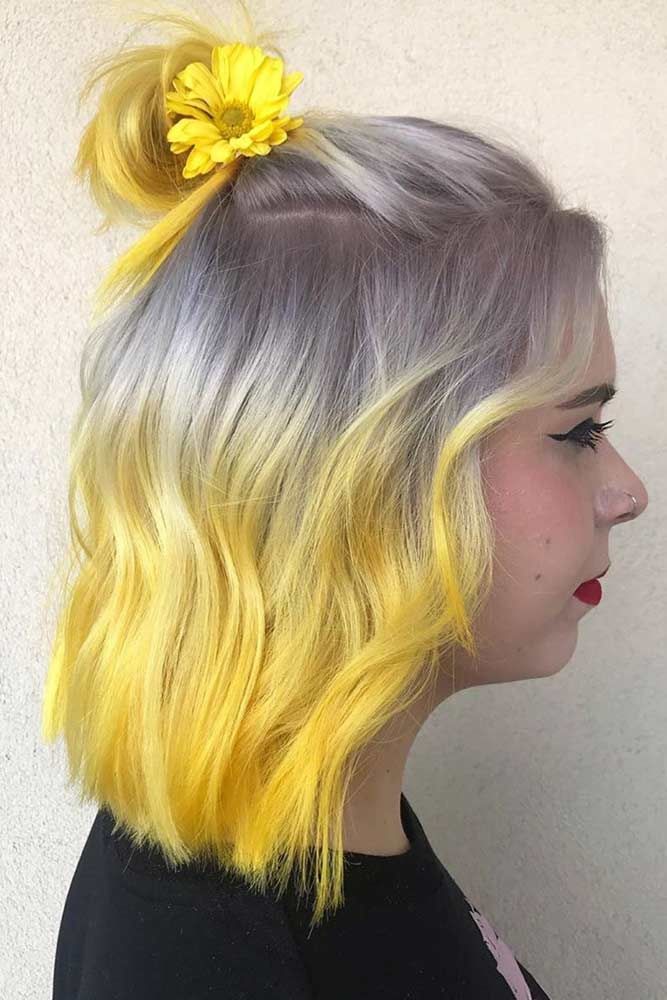 by @xmandyleex
Believe it or not, a top knot is enough for you to stand out in the crowd. For example, if you go for a colorful ombre or creative balayage highlights on the midshafts, and then put your hair into a knot, you will see its new side. On all over color ideas, this style will look ravishing too, but nothing can compare to the visual impact of ombre put into a top knot: these pics are proof.
FAQ: Top Knot
What is the significance of the top knot?
The top-knot was originally there to support a helmet, but it became a status symbol over time. Cutting top-knot off symbolized the end of that era of a warrior's life. He would no longer have a better social rank after that.
Why are top knots bad?
According to experts, wearing a top knot for too long can result in traction alopecia, and even hair loss. In fact, any hairdo that is too tight is bad for your hair. Friction and tugging will cause undue stress to your fragile strands, especially if you frequently tie your hair up.
Is a top knot a ponytail?
The Top Knot allows you to wear your bun at the crown of your head, or, if you want, at the nape of your neck, offering you limitless styling options. This ponytail tamer is a must-have because it blends in seamlessly with your hair and can be easily restyled.
Was this article helpful?