When your inner creative experimentator is fed up being a prisoner, peekaboo hair comes in. Sometimes we just can't let ourselves go wild playing around with bright and funky hair colors as our workplace image or hair health is at stake. But, things are not as bad as they seem! Peekaboo coloring is your chance to freshen up your hair color with just a hint of a new color, yet without any bleaching required. It may come into your life as partial highlights or selectively painted strands. Variety? Endless. See how it works!
How To Do Peekaboo Highlights At Home Like A Pro
How do you do peekaboo at home? Well, we knew you would ask this, as we've got lots of DIY lovers among our readers. We can't leave out the fact that it's always better to leave things up to a professional when it comes to hair experiments. However, we do know that lots of girls prefer to color their hair themselves or simply can't go to a salon. That's why we've made this How-to section with a fail-proof color tutorial. Make sure to follow all the recommendations to keep your locks super bright and, most importantly, safe!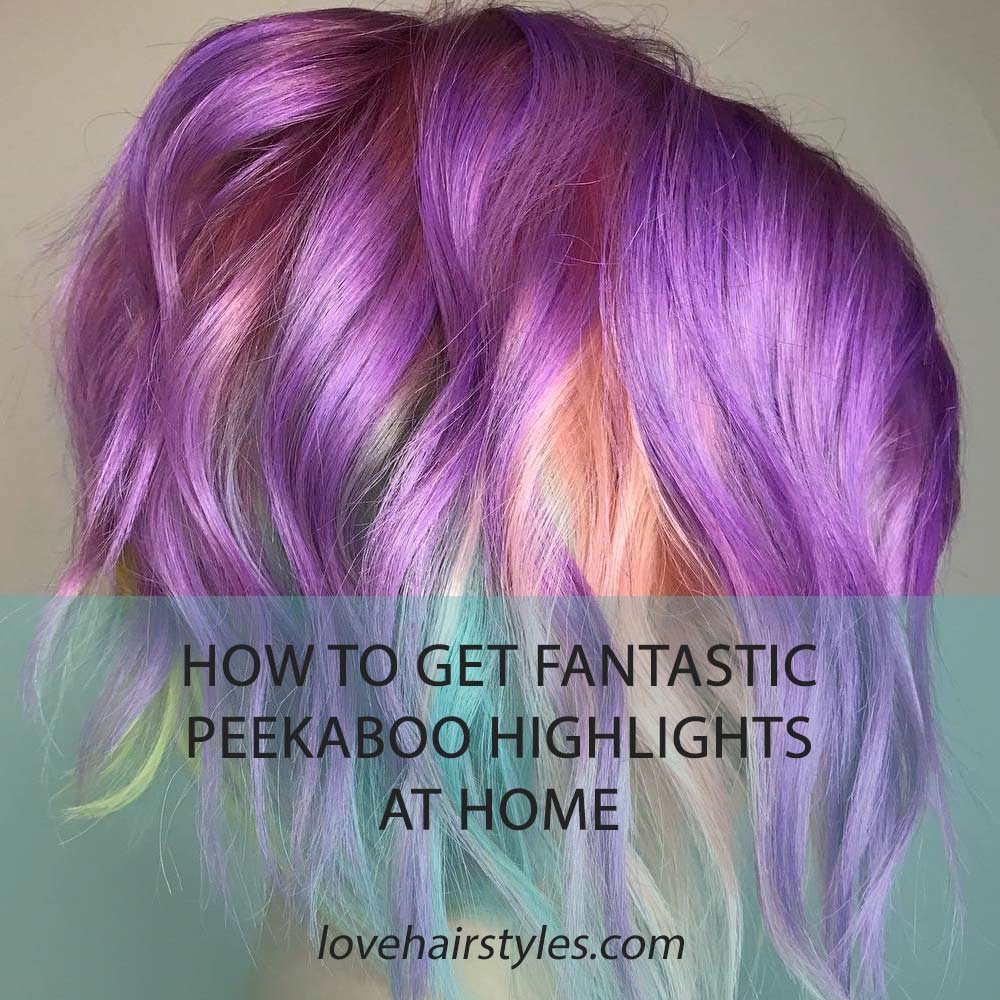 Credit photo: instagram.com/styled_by_carolynn
Before You Start
Choose a shade. Of course, everything starts with the choice of color that will peek through your locks. When choosing a shade, make sure that it will look well against your skin tone. Even if you choose between super bright accents, keeping your complexion in mind is key.

Consider your base. Your natural hair color is what determines whether or not you need to bleach your hair. If your hair is light, you can do without pre-lightening. And brunettes will certainly need to lighten up their manes to make the new color show up.

Think of highlights placement. Once you've decided what color to apply, it's time to think where the application will take place. Pin or section the inner layers and the number of streaks you want to turn bright before getting to bleaching and/or coloring. It's also crucial that your streaks look consistent; there's nothing worse than uneven highlights.
"So how do I dye my hair like peek a boo?" you're probably asking now. Here's the complete process of adding peekaboo highlights to your hair, including bleaching tips for safe experiments.
What you will need:
Color
Bleach
Vaseline
Rattail comb
Brush
Aluminum foil
How To: Step-by-Step Tutorial
Bleach your hair. For the hair that won't be colored, apply some vaseline to protect it from harsh chemicals. Next, follow the directions on the bleach pack, mixing the bleach according to your hair length. Take a brush, and start applying the dye, covering the whole length of each section and moving from top to tips. Remember to always start with at least a one-inch gap from your roots when spreading the bleach! Once the bleach is ready, give it the specified amount of time, folding each section with foil.

Apply the color. Wash your hair to remove the bleach before you start applying the dye. Now, having read the instructions carefully, spread the color to the bleached strands. Wait a couple of minutes until the color develops. When the color shows up, separate off the section you will be painting by keeping it on the foil. Highlight the section and fold it, giving it at least 15 minutes. Check the color: if you're satisfied with the result, you are ready for washing and drying. If no, wait for another 10-15 minutes.
Peekaboo Highlights For Light Tone Hair
Pearl Essence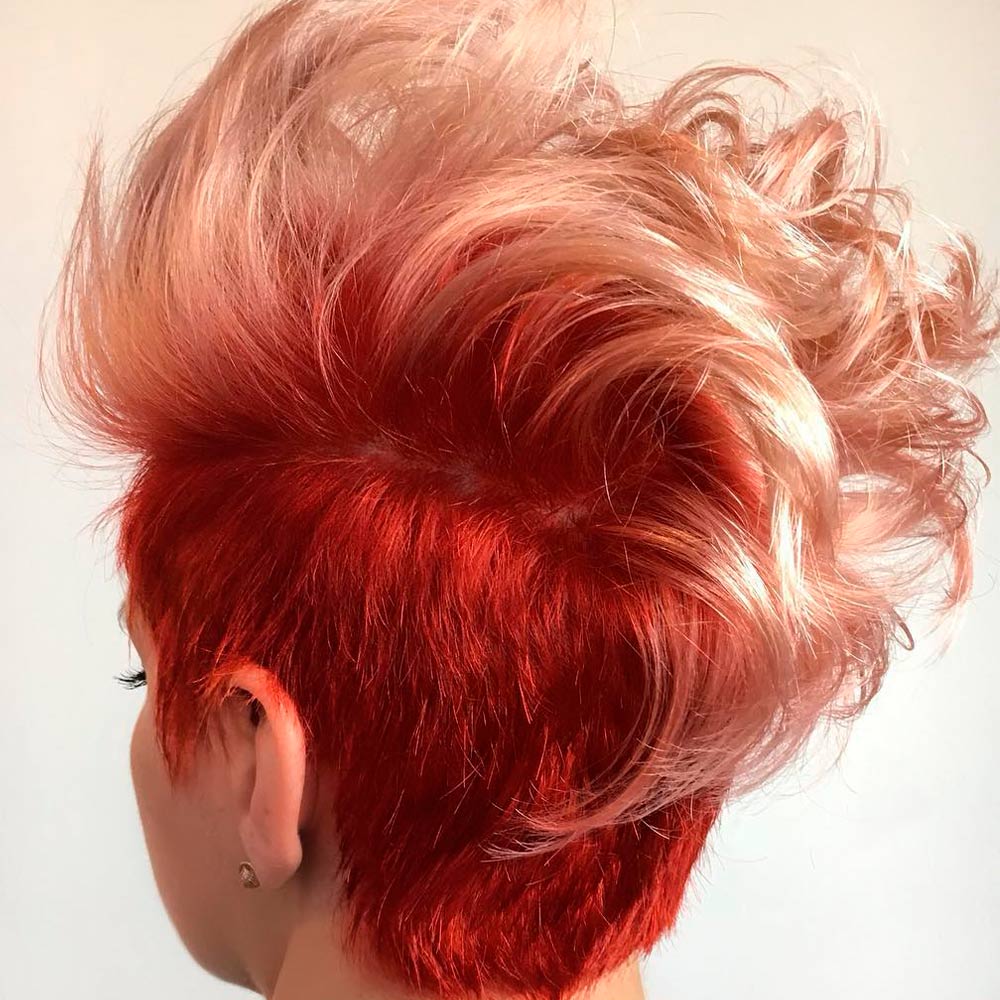 Credit photo: instagram.com/styled_by_carolynn
Trends never come alone. And if you pair your stunning platinum blonde with bold red copper base, you won't go wrong with this blonde peekaboo hair idea.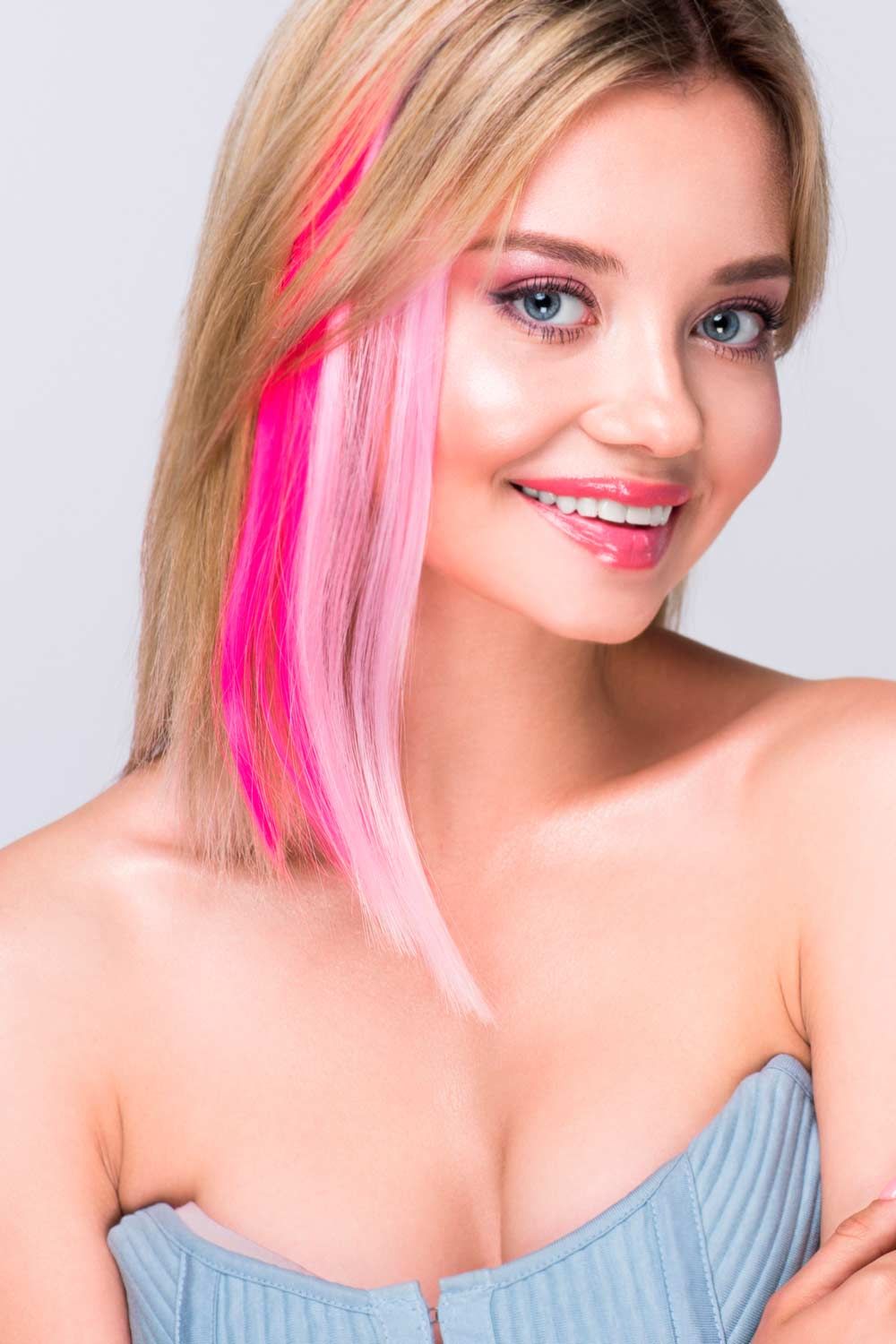 Credit photo: Shutterstock
Is there a better accessory than bright fuchsia hues embracing your blonde waves? On light manes, peekaboo pink hair reveals its charm at its best.
Pastel Prism Look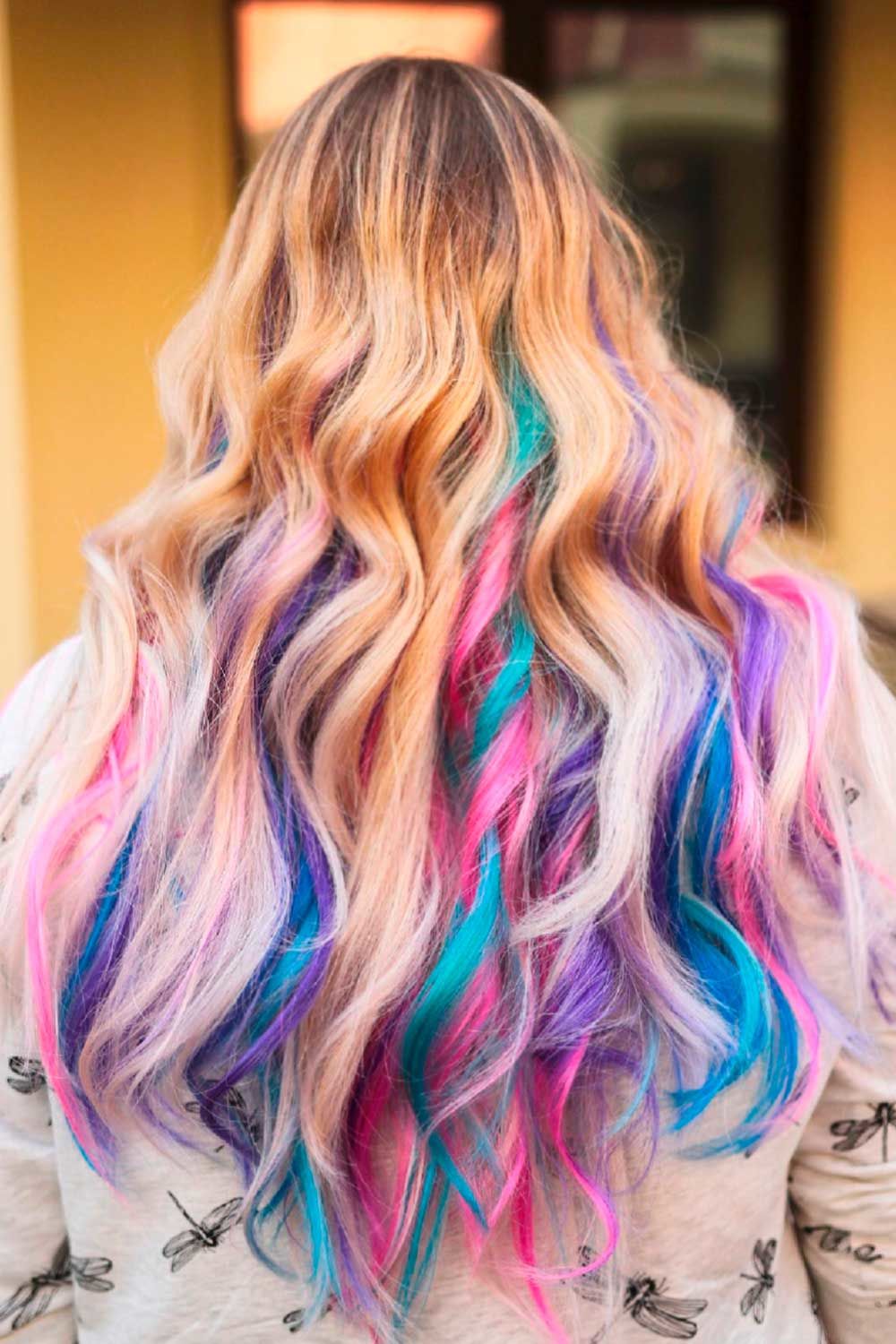 Credit photo: instagram.com/kato_studio_
Colorful and pastel peekaboo hair highlights that look like holography on platinum base, who could ask for more? If you can't decide what color to pair with your white base, use them all!
Pastel Pink Peekaboo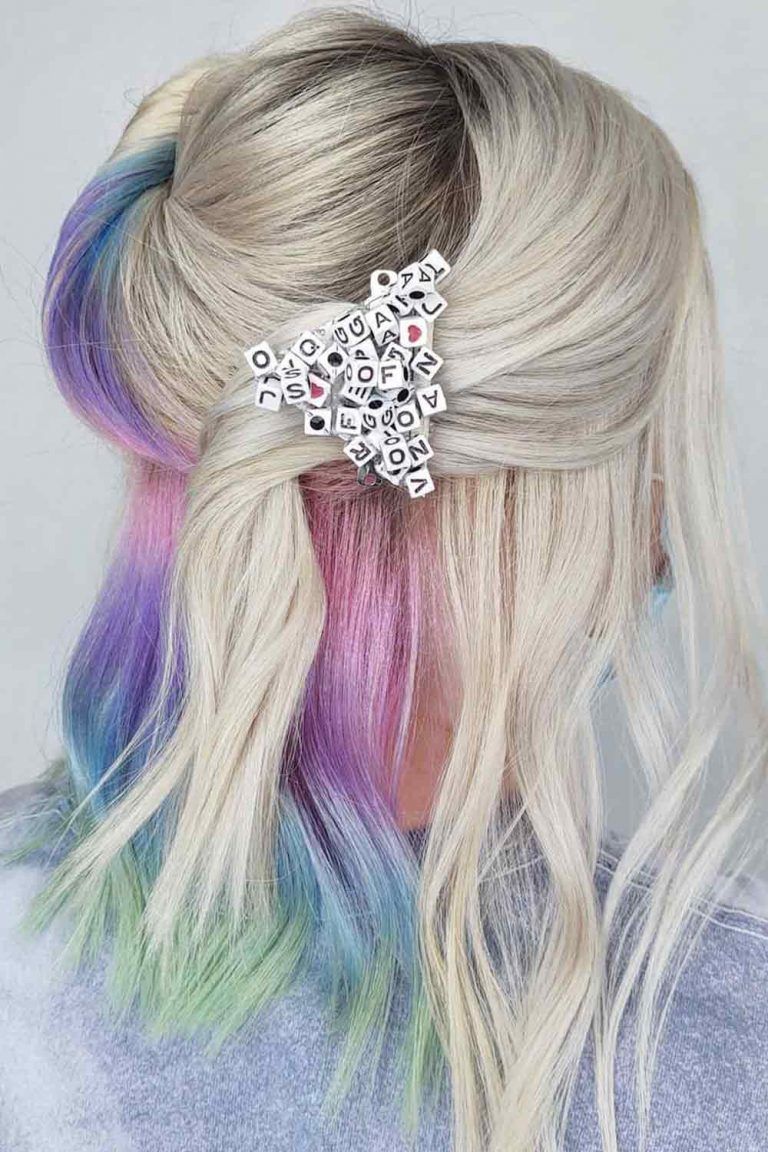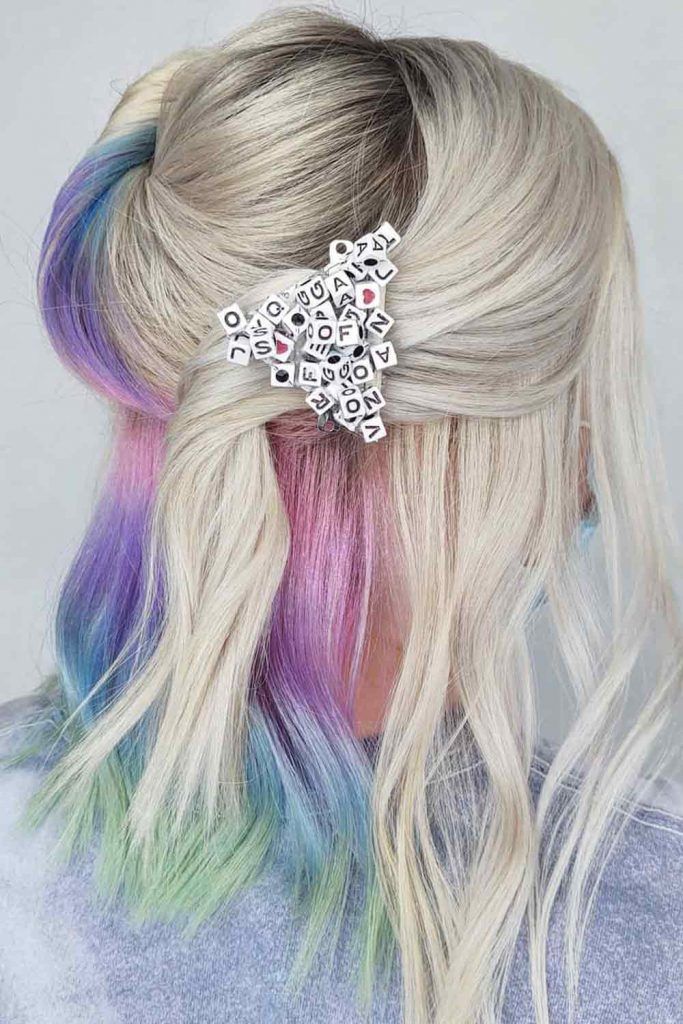 Credit photo: instagram.com/adlydesign
Although pastel peekaboo ideas are less drastic, they still give a fresh take at your base. This pink-to-bluish idea is proof!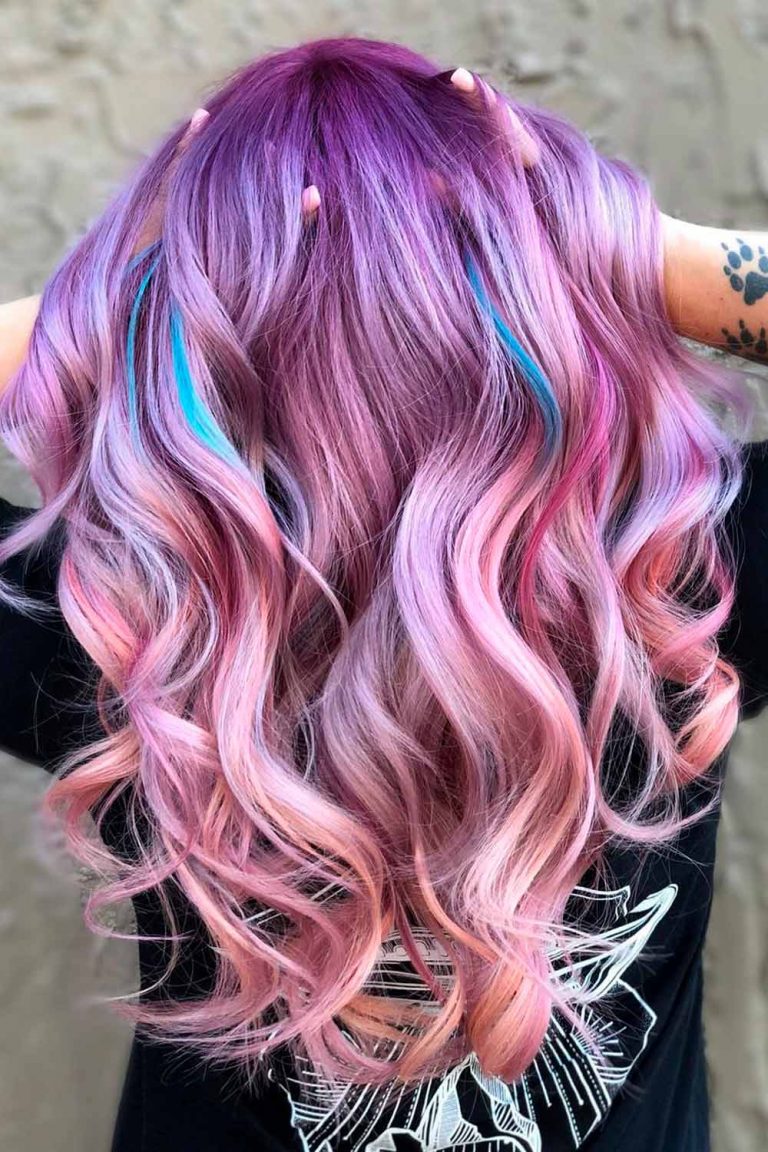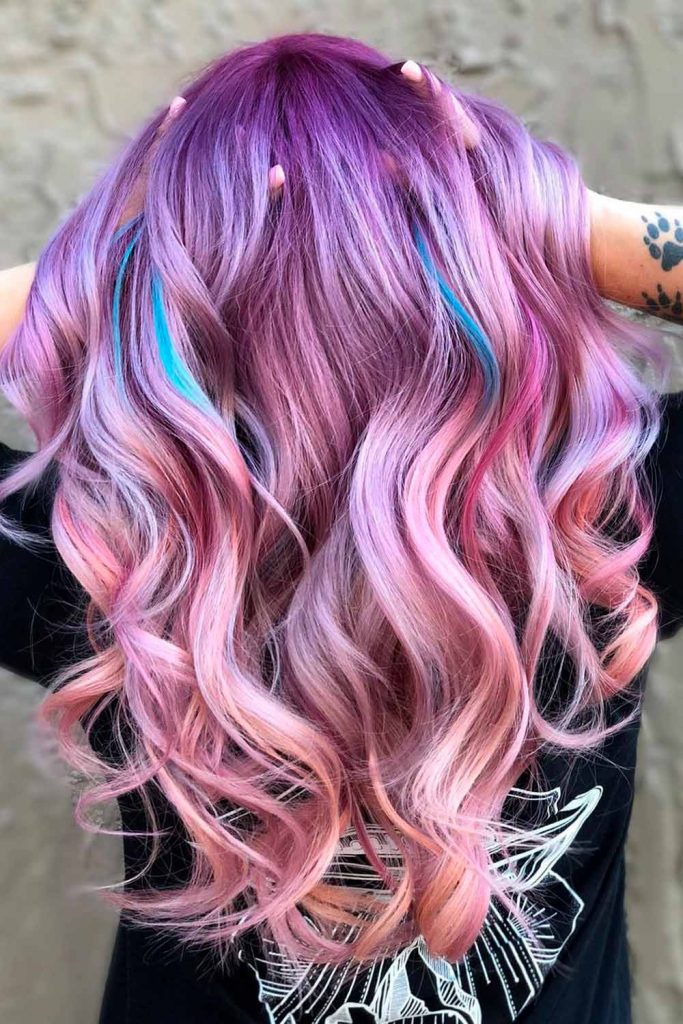 Credit photo: instagram.com/nealmhair
Every look, whether it's super eye-catching or moderate, needs a highlight that will define its character. Once you notice what makes the look dynamic and unique, you will find the highlight. Here, for example, the game of bold violet hair, a bit peachy at the tips, and neon blue strands, is already fancy. But, the extraordinary neon ends prove that there's no limit to perfection, putting an exclamation point to the one of a kind look.
Pastel Pink And Blue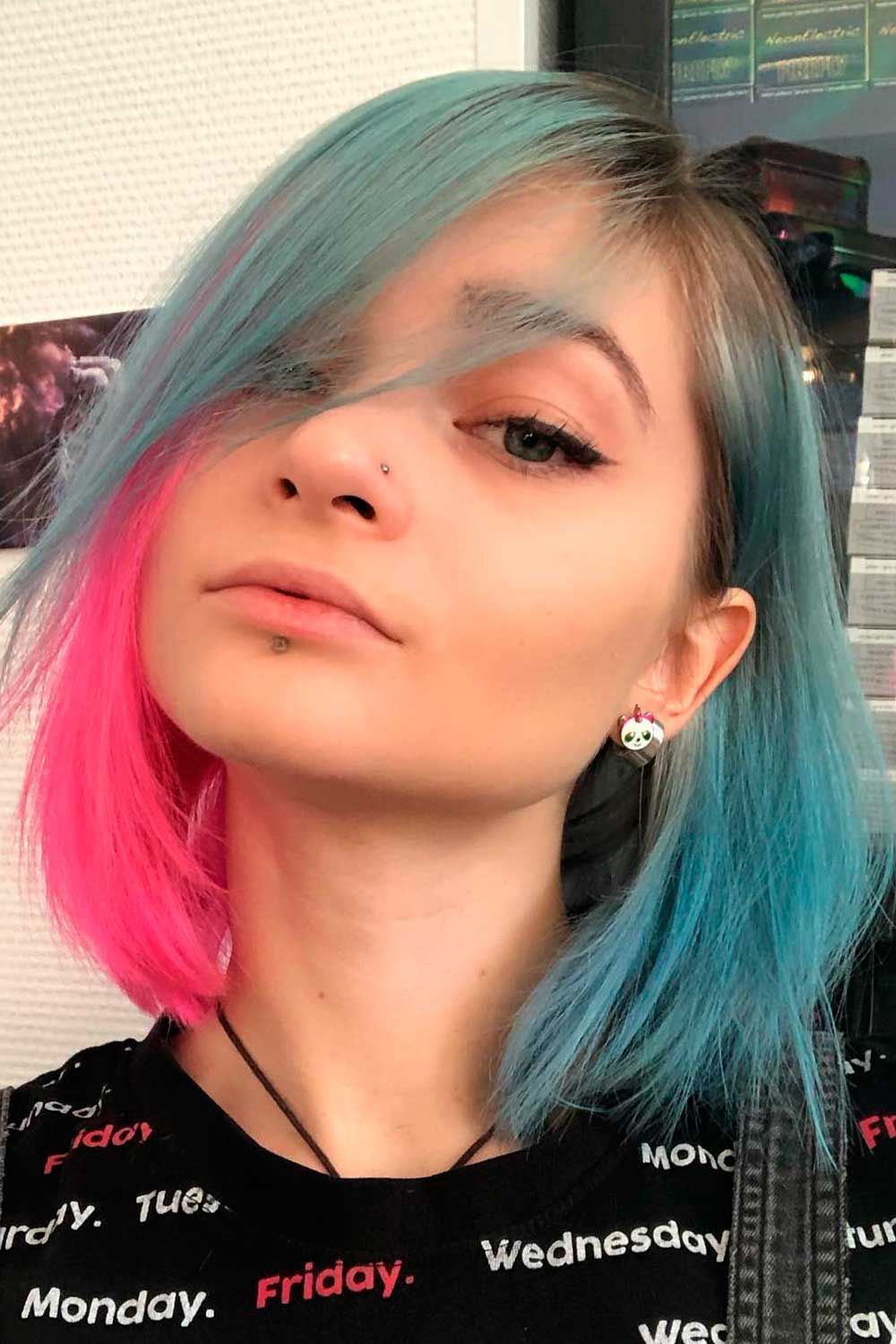 Credit photo: instagram.com/hair.positive
Despite the endless variety of pastel pink color jobs, it seems like it's never been so dimensional. If you have a closer look at the details of this color combo, you will notice that the blue portion hiding under the enchanting pink isn't seamlessly blended with the base. Still, in some areas, where the two meet one another, they form an organic whole. Yes, beauty is in the details.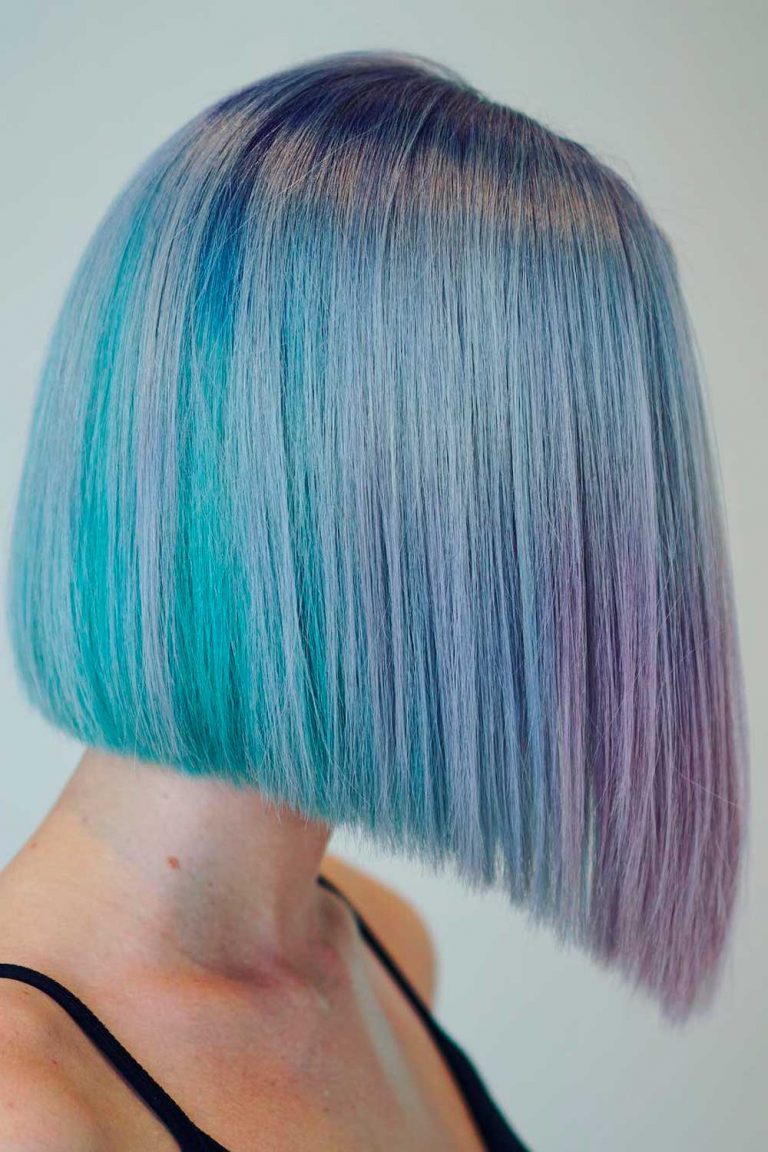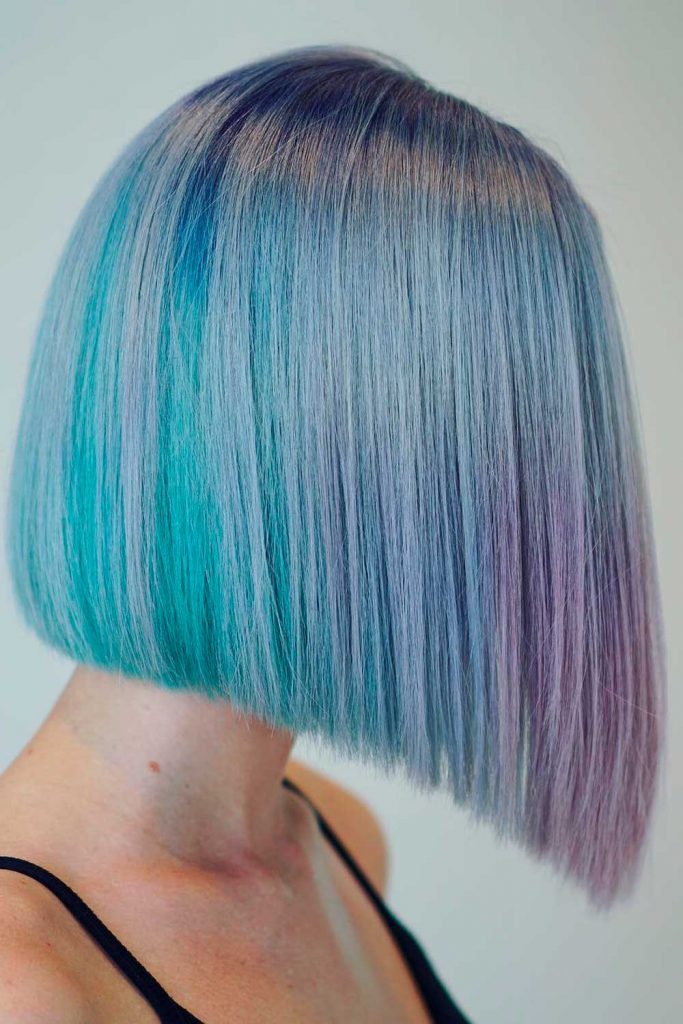 Credit photo: instagram.com/hairgod_zito
Why don't you play the hot and cold game with your hair in the blue mode? Deep and dark shades of blue can hit the ends, getting lighter and more transparent as they move to the back of the head. Some neon streaks under the subtle blue areas will create dimension to the whole look, enhancing the effect of transparency.
Beige Feat Rose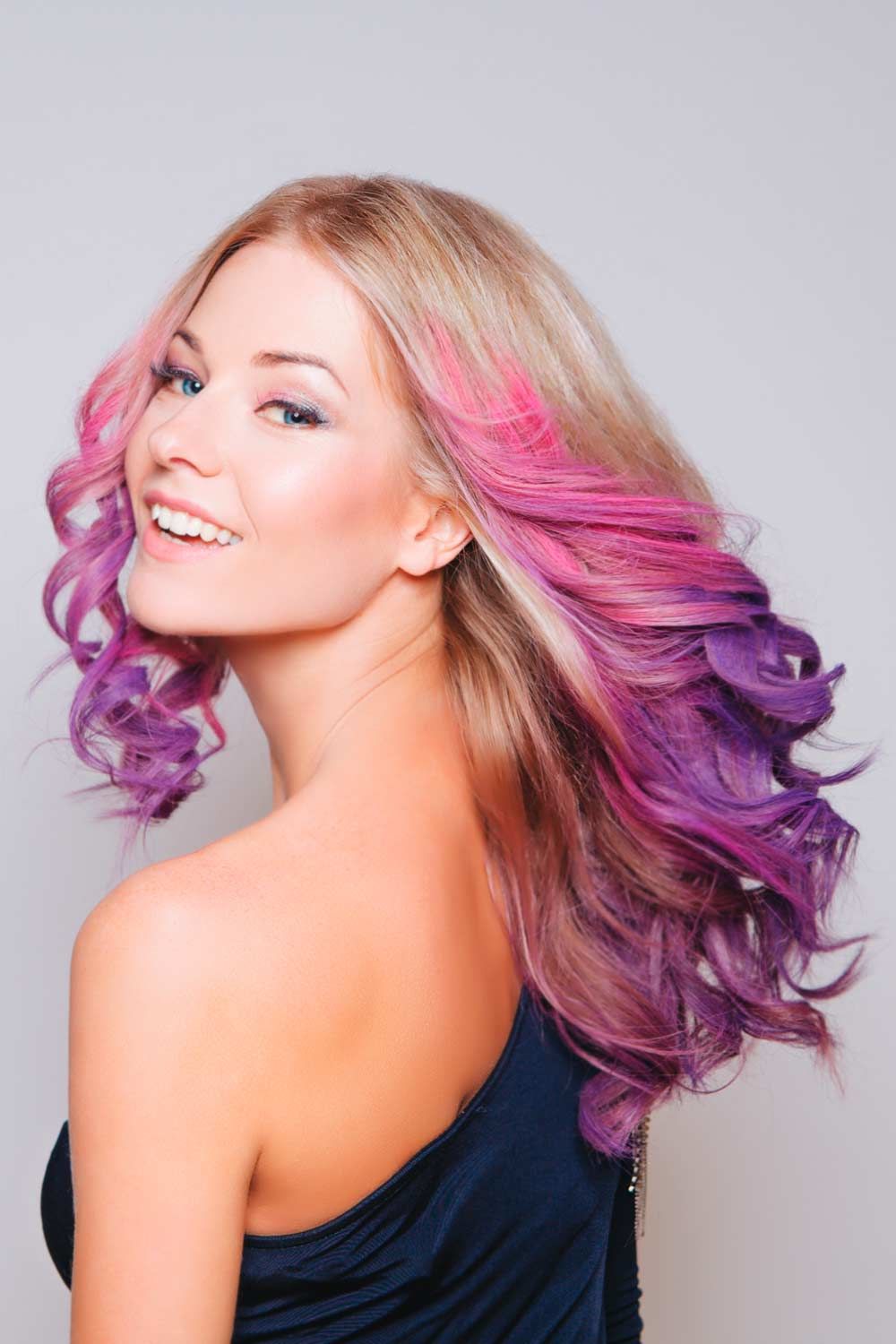 Credit photo: instagram.com/hairgod_zito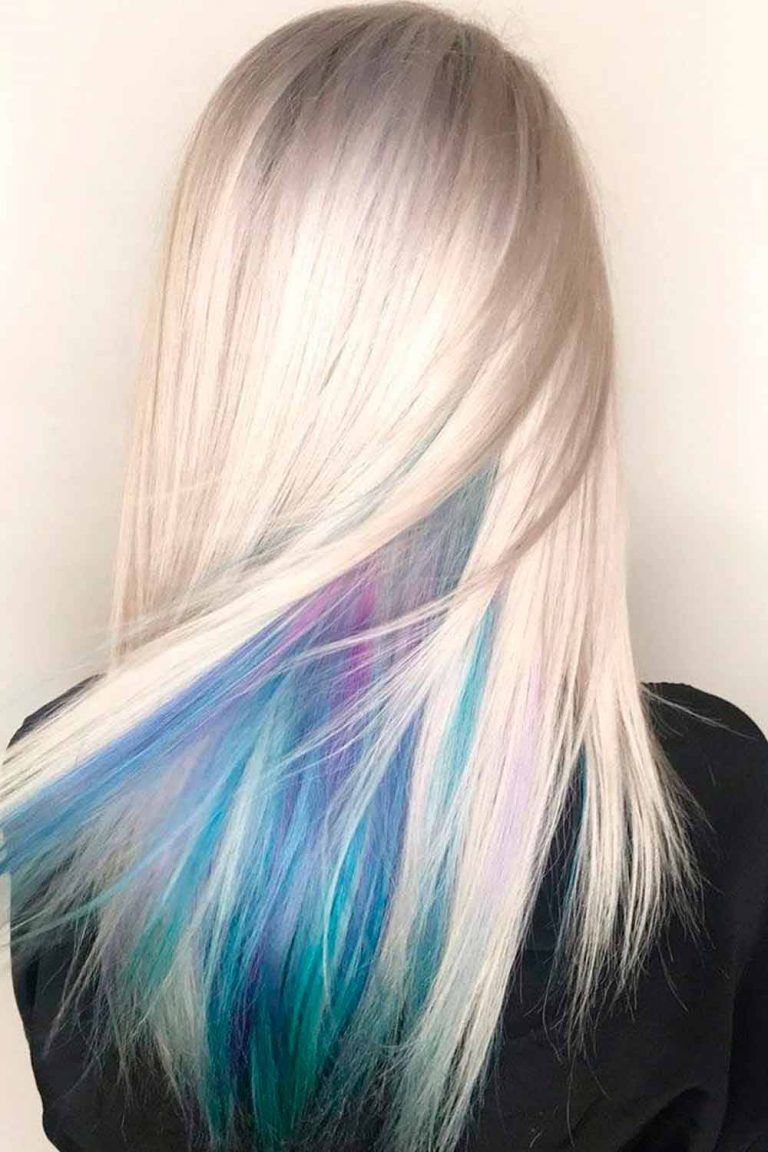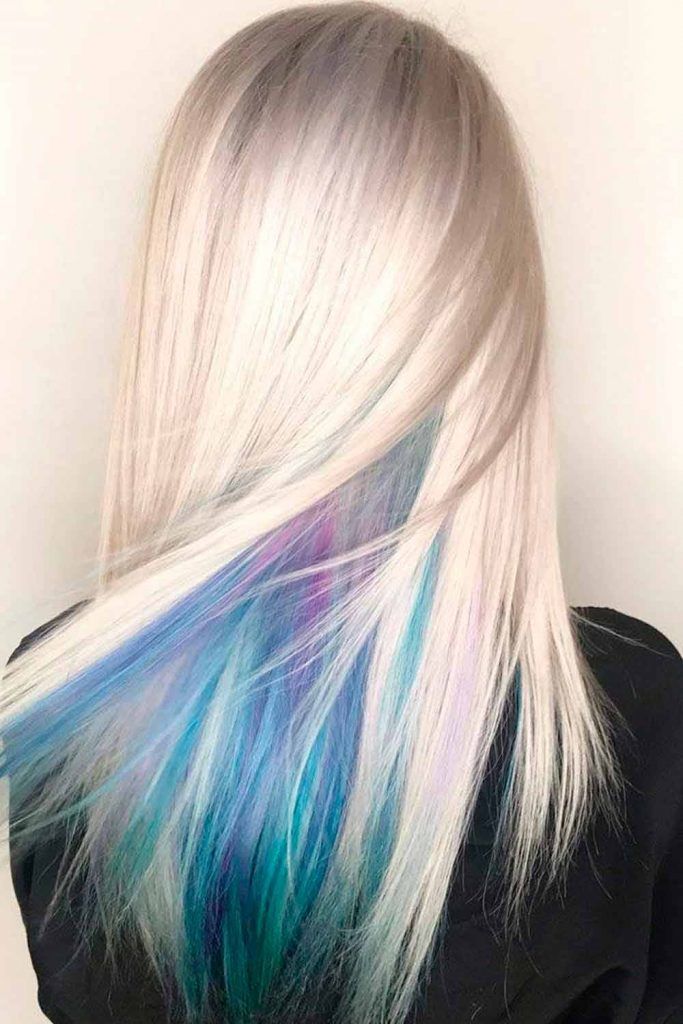 Credit photo: instagram.com/bobsteelesalon
When you want to keep on the glam side but with a touch of that rebellious vibe that defines that colorful 'dos that the fashion is full of – there's a way! Keep your roots toned your favorite blonde and spice the end with a bright mixture of pink and purple. Looks like your hair will remind many of romantic and magical sunrise!
Dark Hair Shades With Cutest Peekaboo Highlights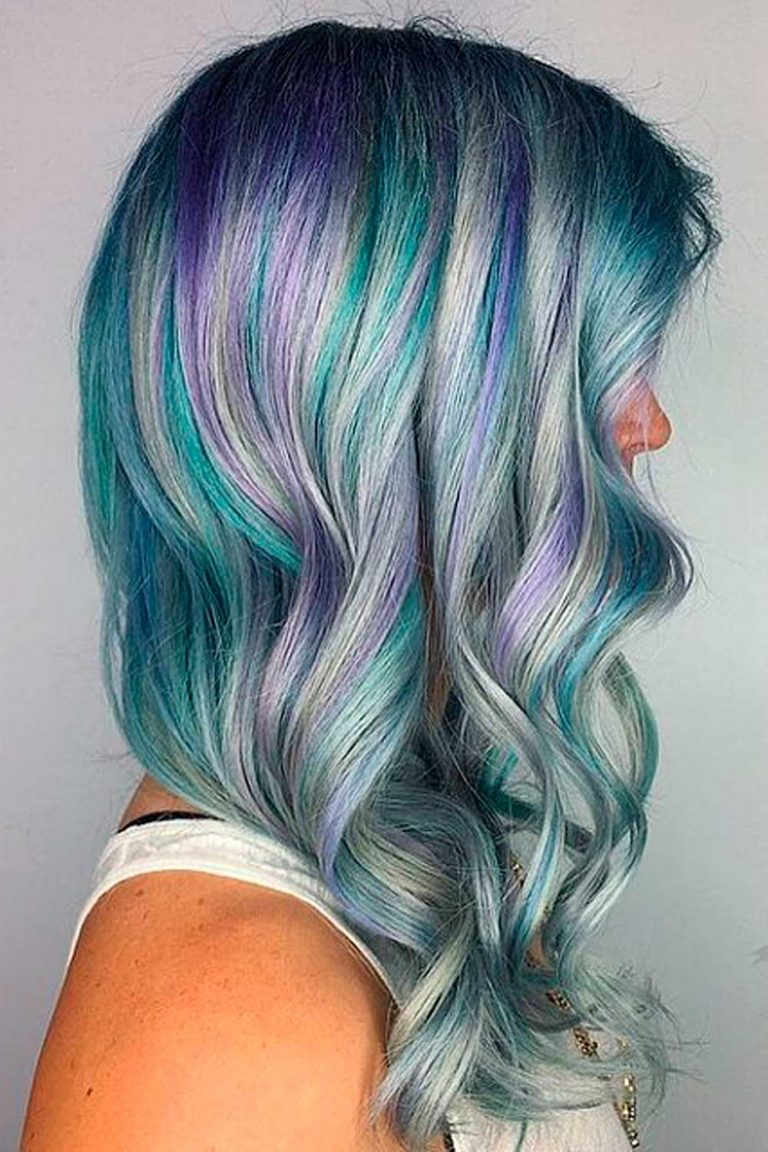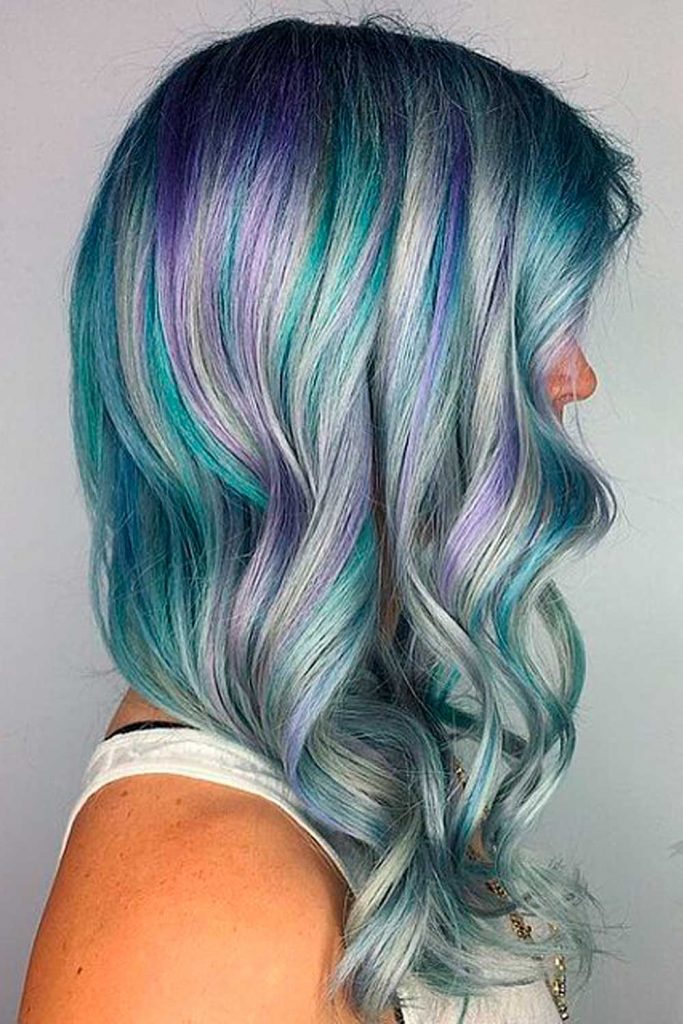 Credit photo: instagram.com/hairgod_zito
Instead of hiding your creative side, you'd better hide some pleasant purple shade under your brownie. Peekaboo blue hair is a thing!
Neon Peekaboo For Dark Brown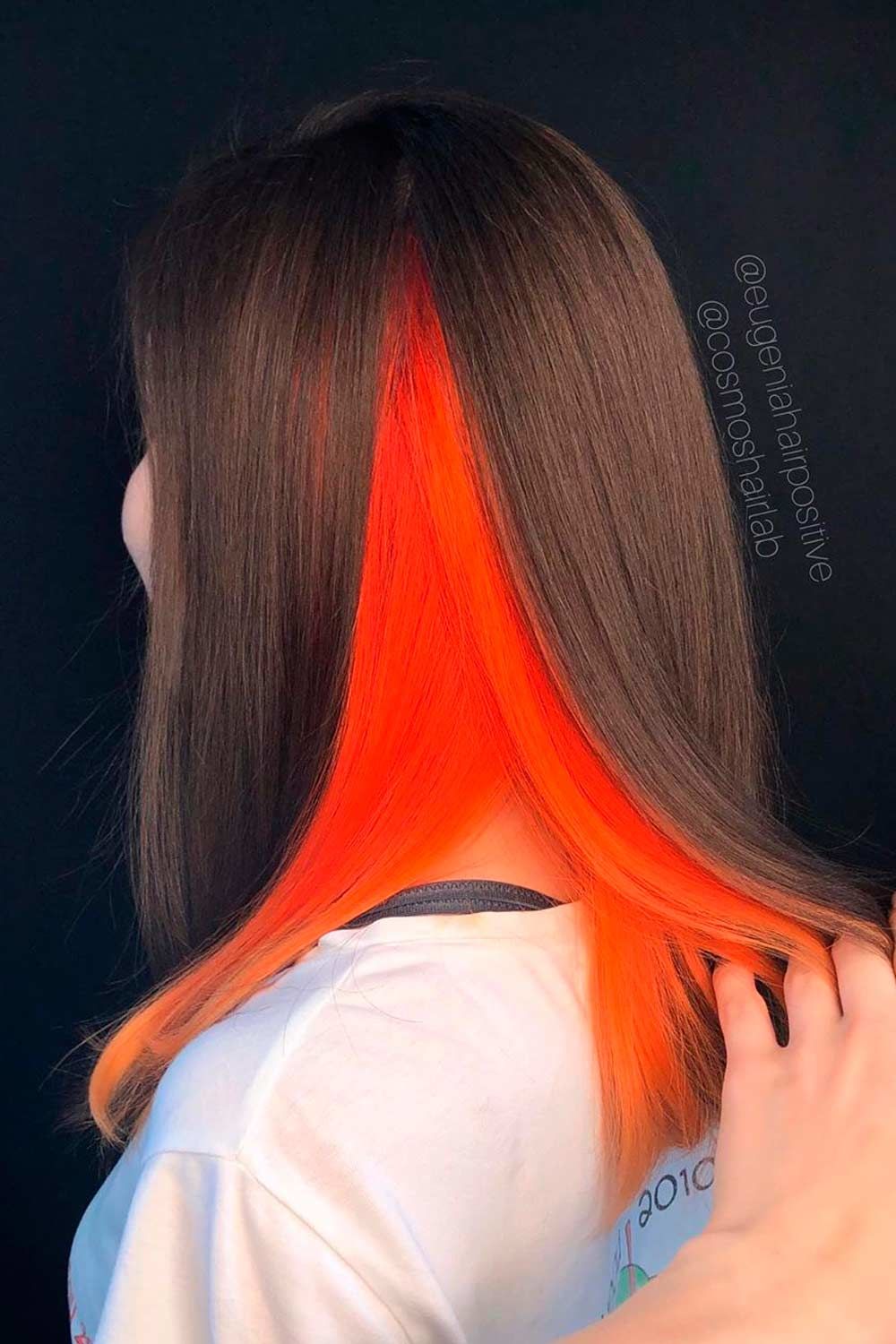 Credit photo: instagram.com/hair.positive
The best thing is, your peekaboo hair color can not only be whatever you want it to be; it can be wherever you want it to be. A hidden orange neon twist under your brown story? Why not!
Highlights, Lowlights, And Purple Peekaboo
Credit photo: instagram.com/headrushdesigns
Keen on accents? Make them big, then. Let some strands be highlighted, and some lowlighted. As for purple peekaboo hair, it can be the exclamation point.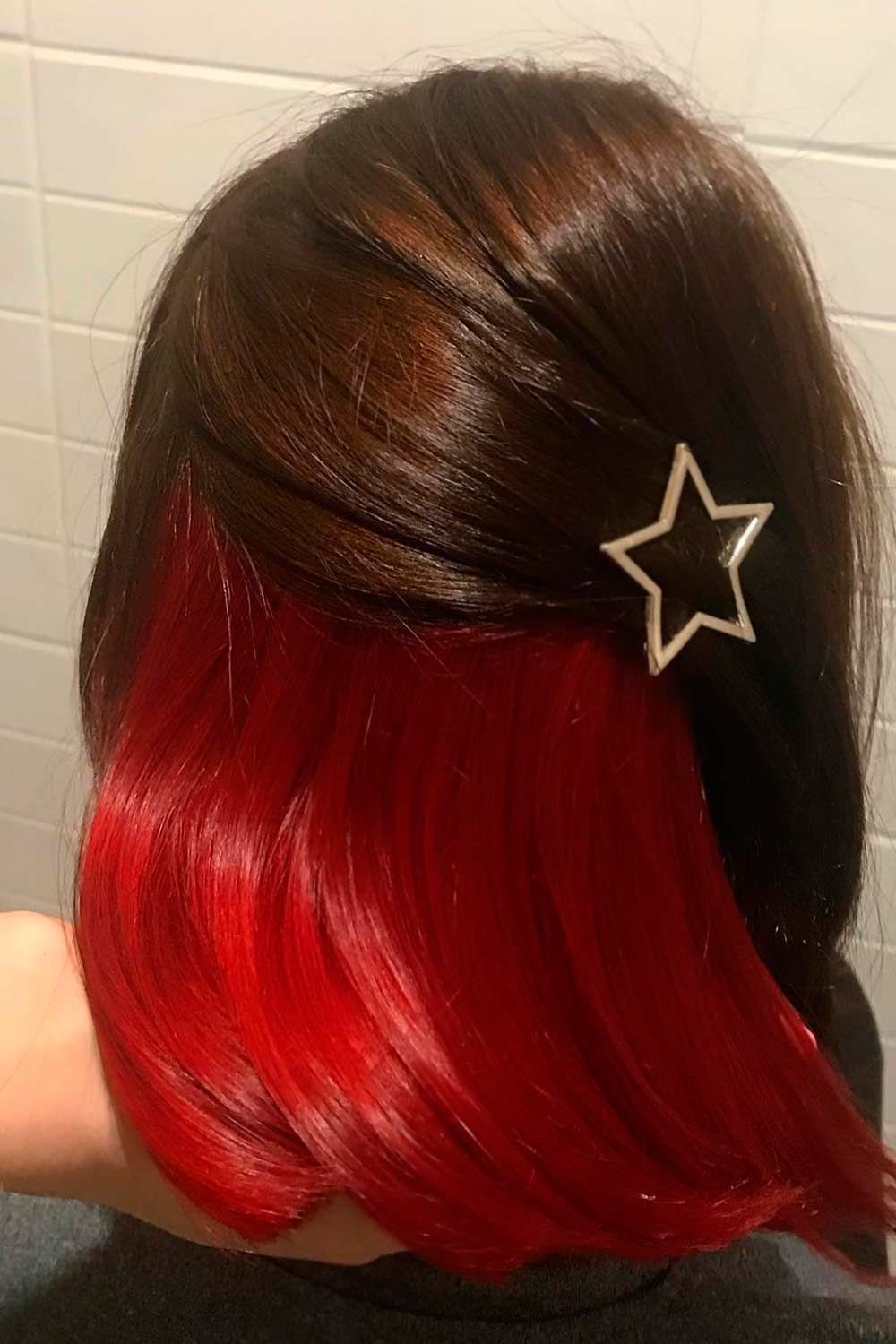 Credit photo: instagram.com/raznoglazaya_hair
Here comes a glamorous idea of peekaboo hair blonde and brunette bases can bring to life. A neon red vibe that dances under the mane will nicely adapt to any natural shade.
Teal & Black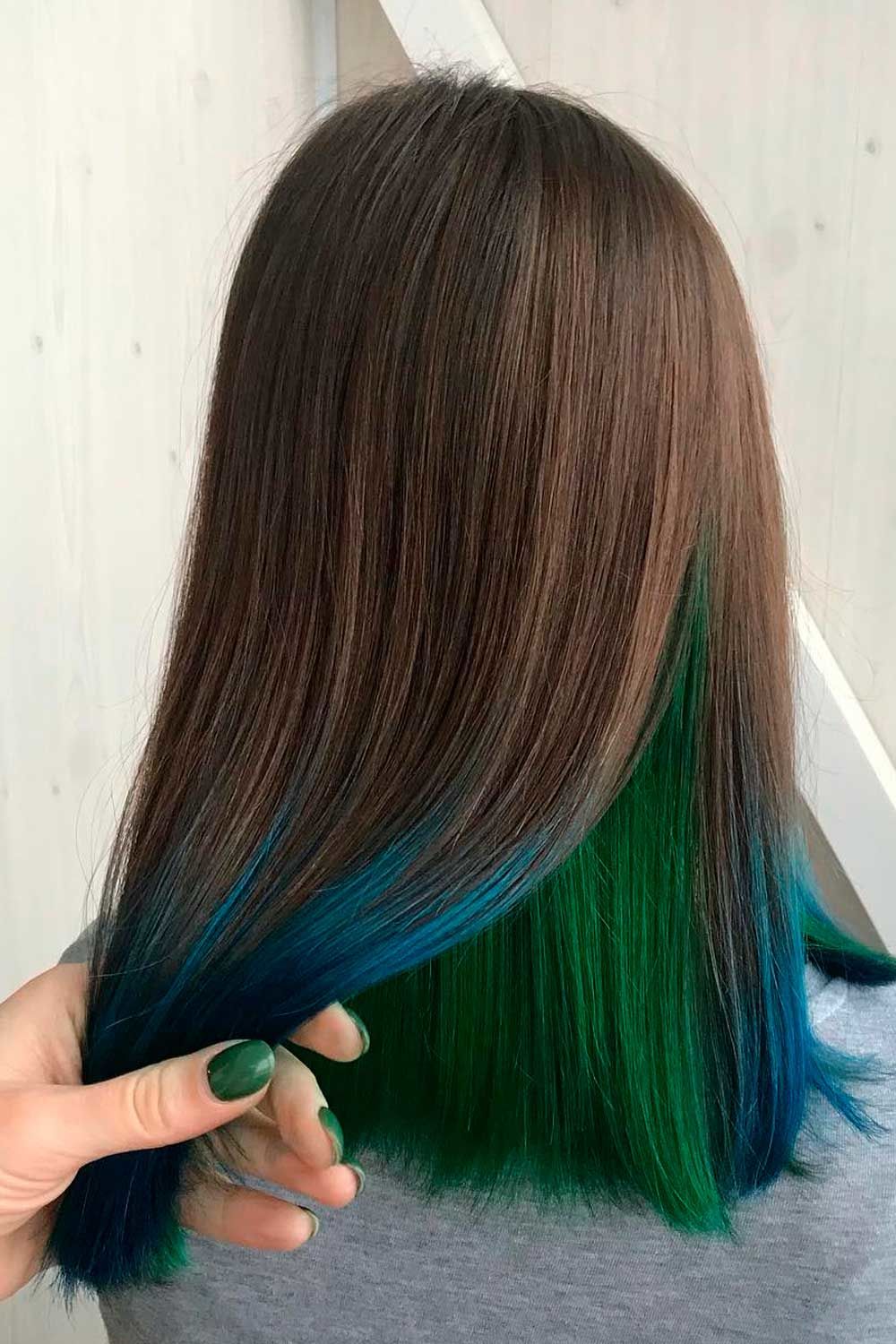 Credit photo: instagram.com/raznoglazaya_hair
There's no way you will ever find a better combo than this black hair with peekaboo highlights. The truth is, black and teal just belong together.
Black Peekaboo For Dark Blue Hair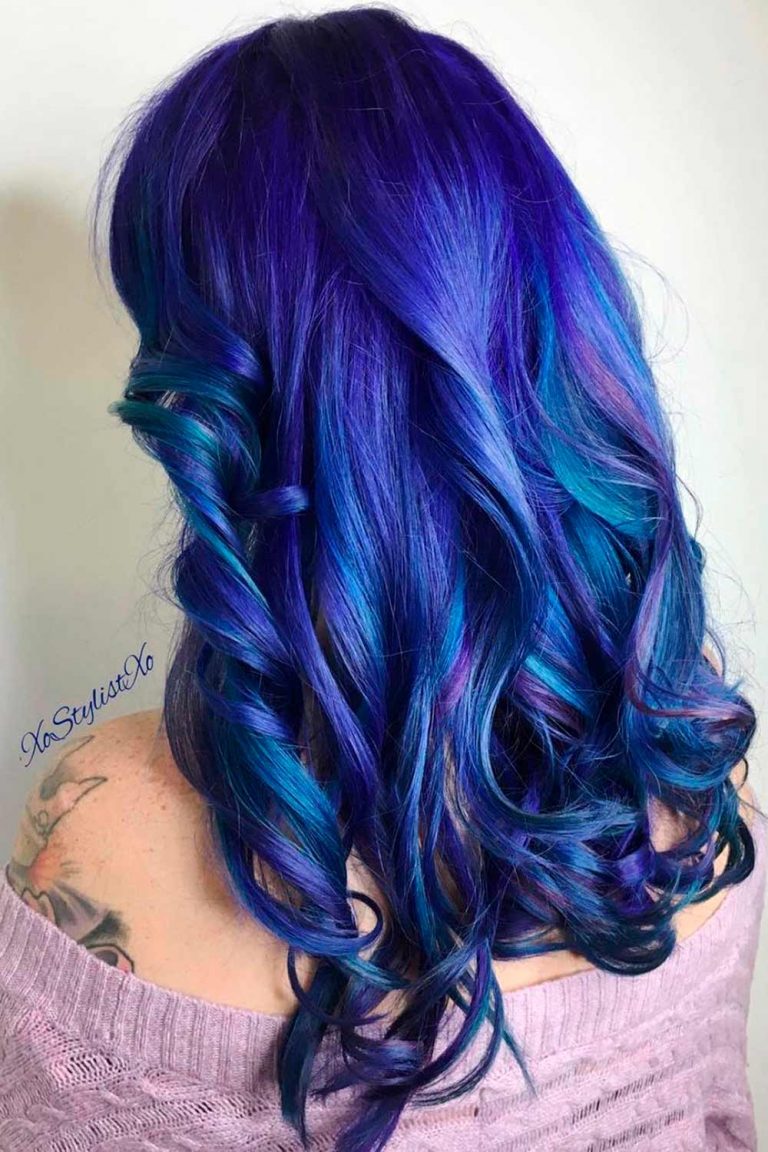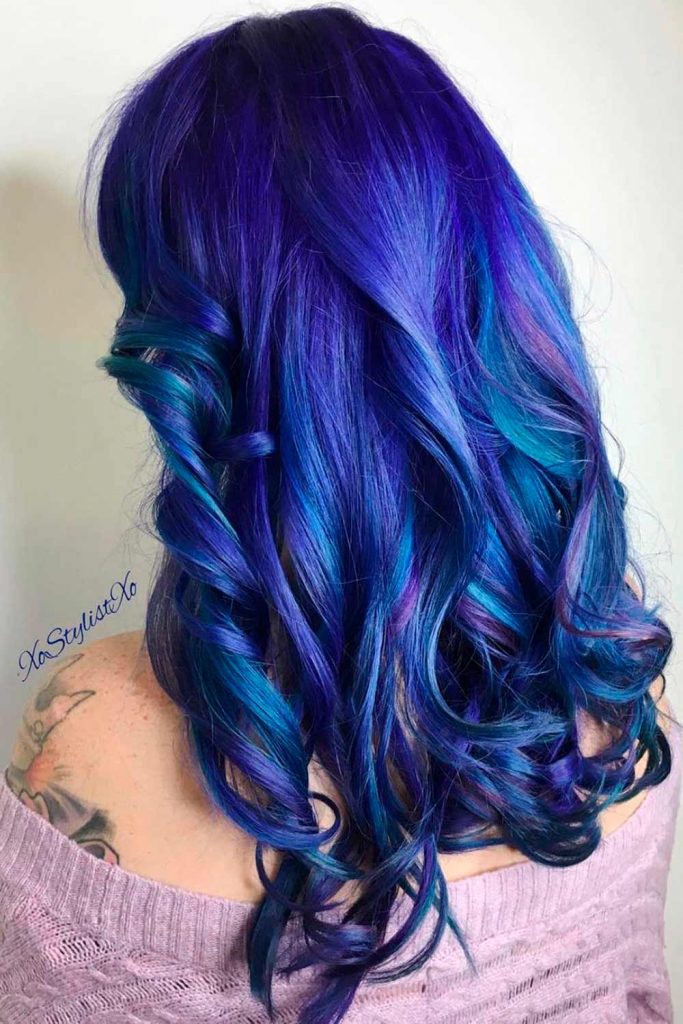 Credit photo: instagram.com/xostylistxo
These black peekaboo strands don't need to hide! Obviously, these mysteriously black and purple streaks were made to make a statement.
Cool Toned Vivid Berry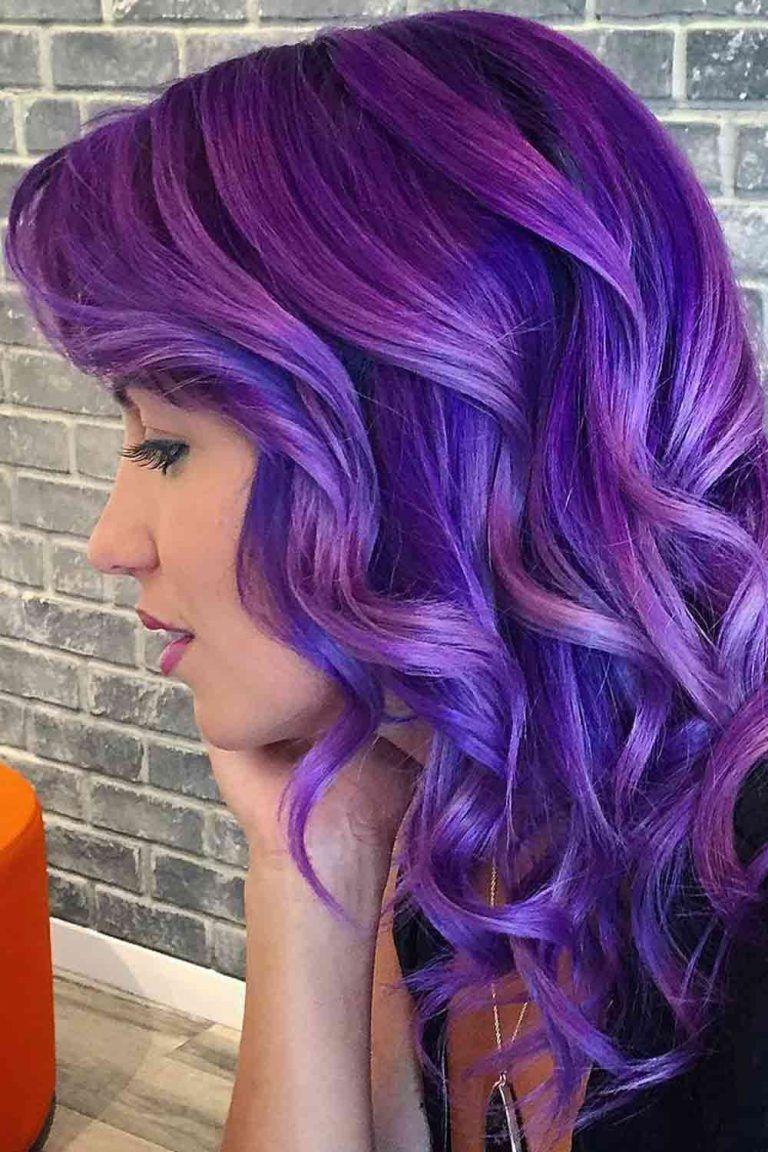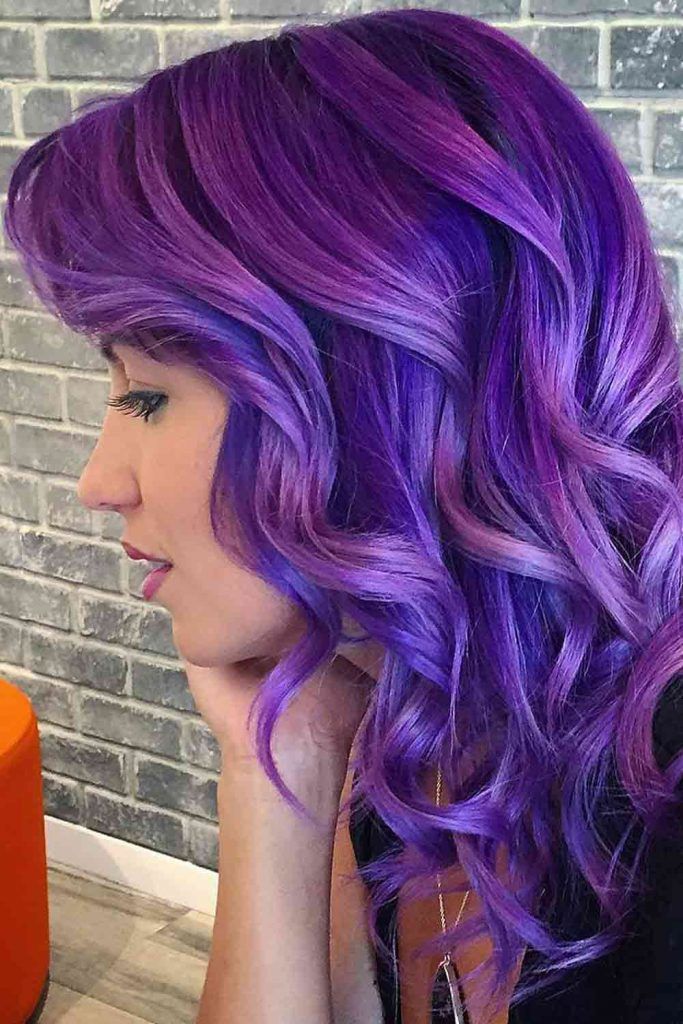 Credit photo: instagram.com/hairgod_zito
If you want to mix two different colors to create your unique dark hair peekaboo highlights, try playing with contrasts. For example, the top can be vivid and saturated, while the lower portion can be deep and vibrant.
Grey With Sky Blue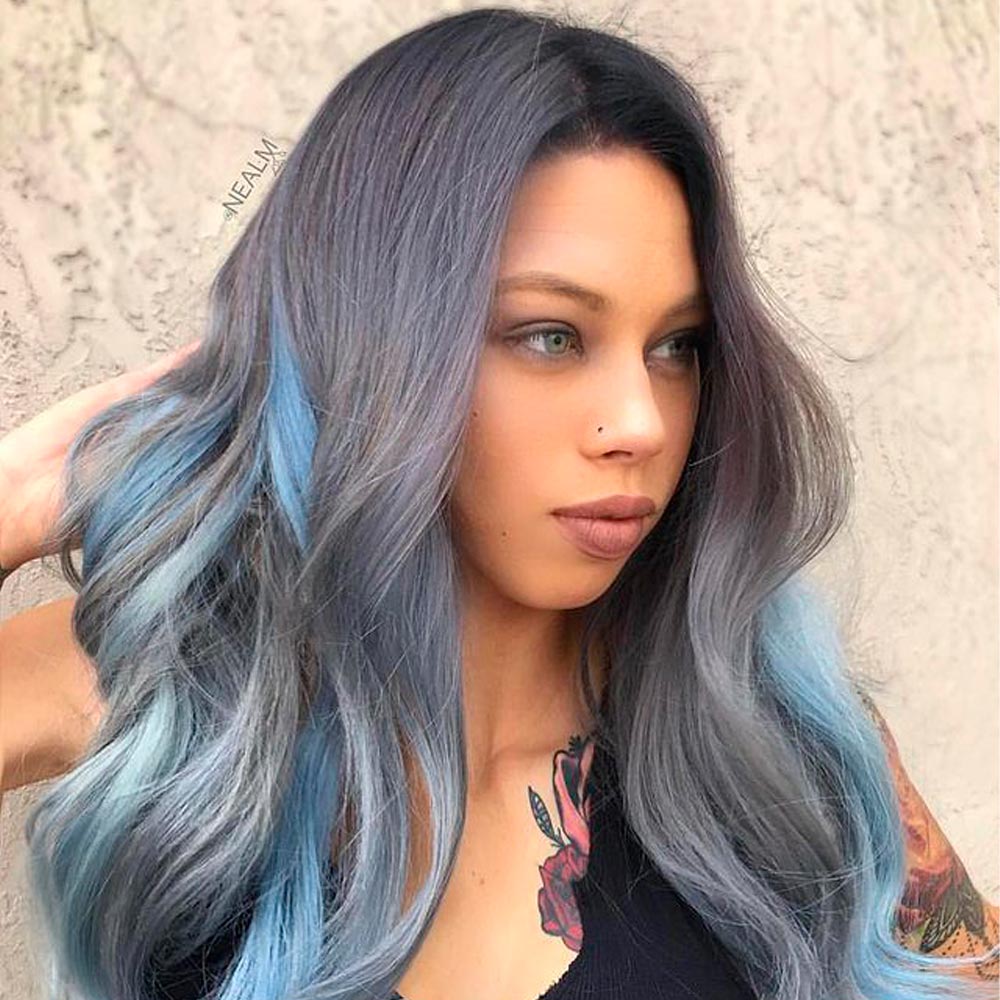 Credit photo: instagram.com/nealmhair
Have you ever seen that perfectly blended ombre with peekaboo accents? Grey and blue have turned out to be a stunning duo!
Blue & Fuchsia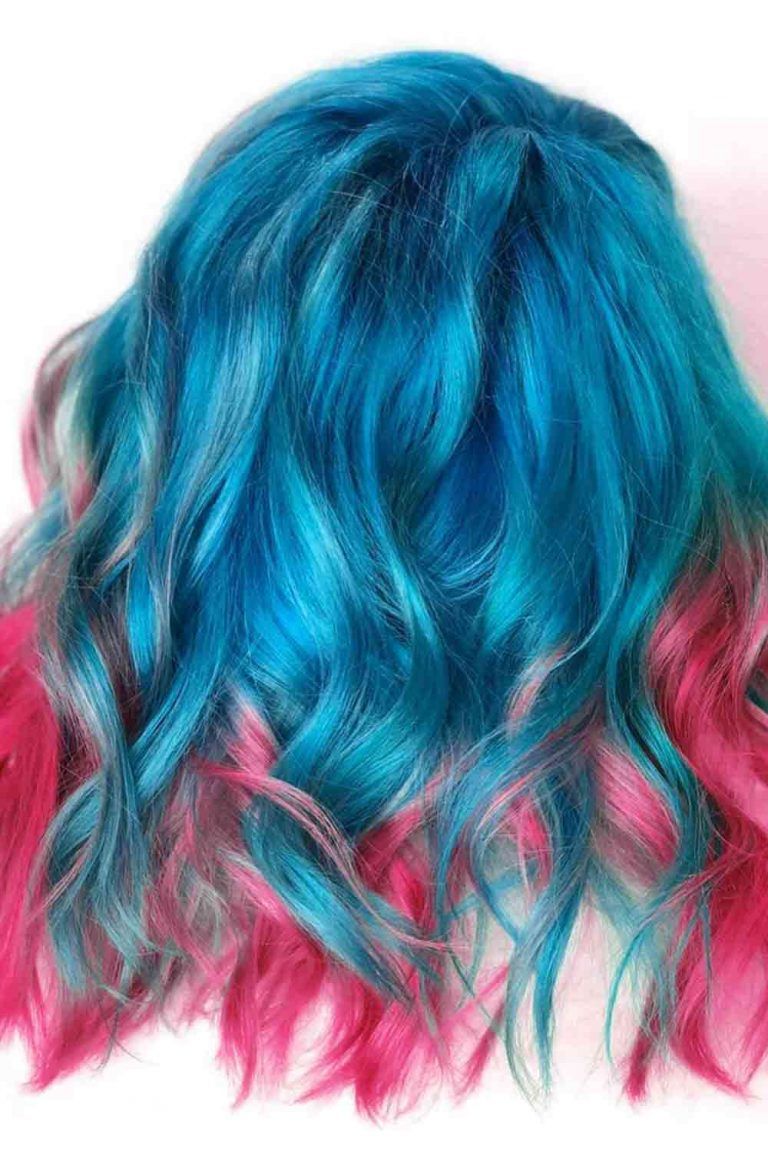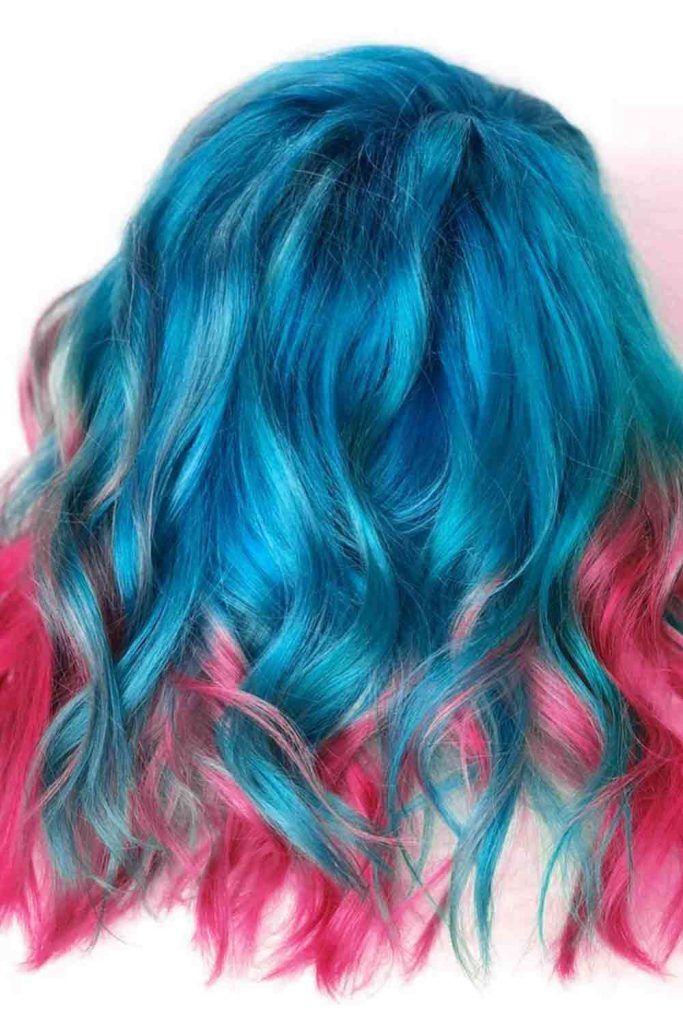 Credit photo: instagram.com/xostylistxo
The best color combinations are born when you mix the colors as if it's the last day on Earth and you've nothing to lose. Don't limit yourself with too bright or too dark colors because of the possible damage. Instead, try to find options that will give you the desired results while bringing no harm. Color extensions, temporary dyes, and hair chalks are what can help you recreate this blue-to-fuchsia look without any regrets.
Yellow Peekaboo With Purple
While hidden peekaboo purple hair for brunettes is a commonly chosen option, this blue-to-yellow masterpiece takes this color to the next level.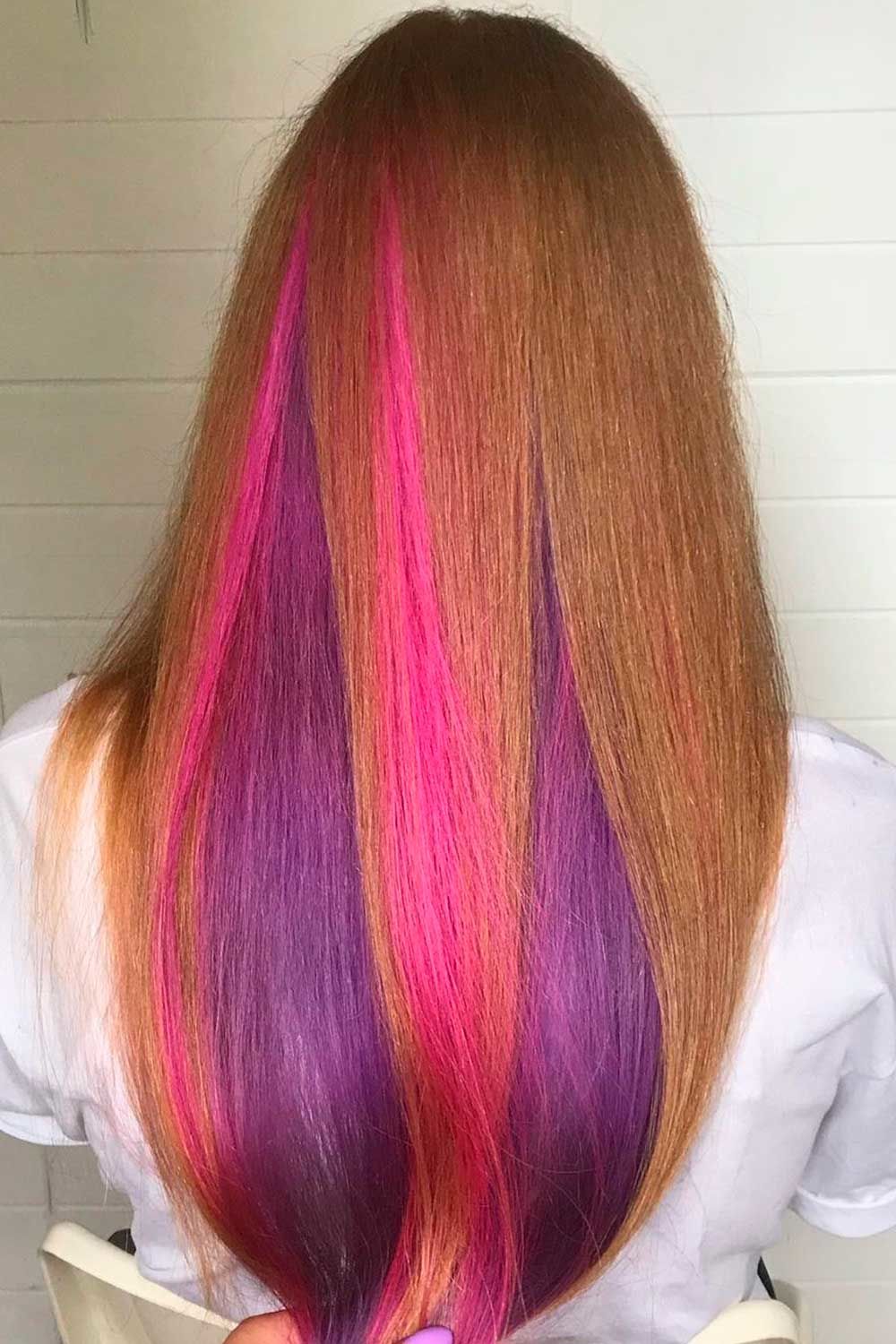 Credit photo: instagram.com/raznoglazaya_hair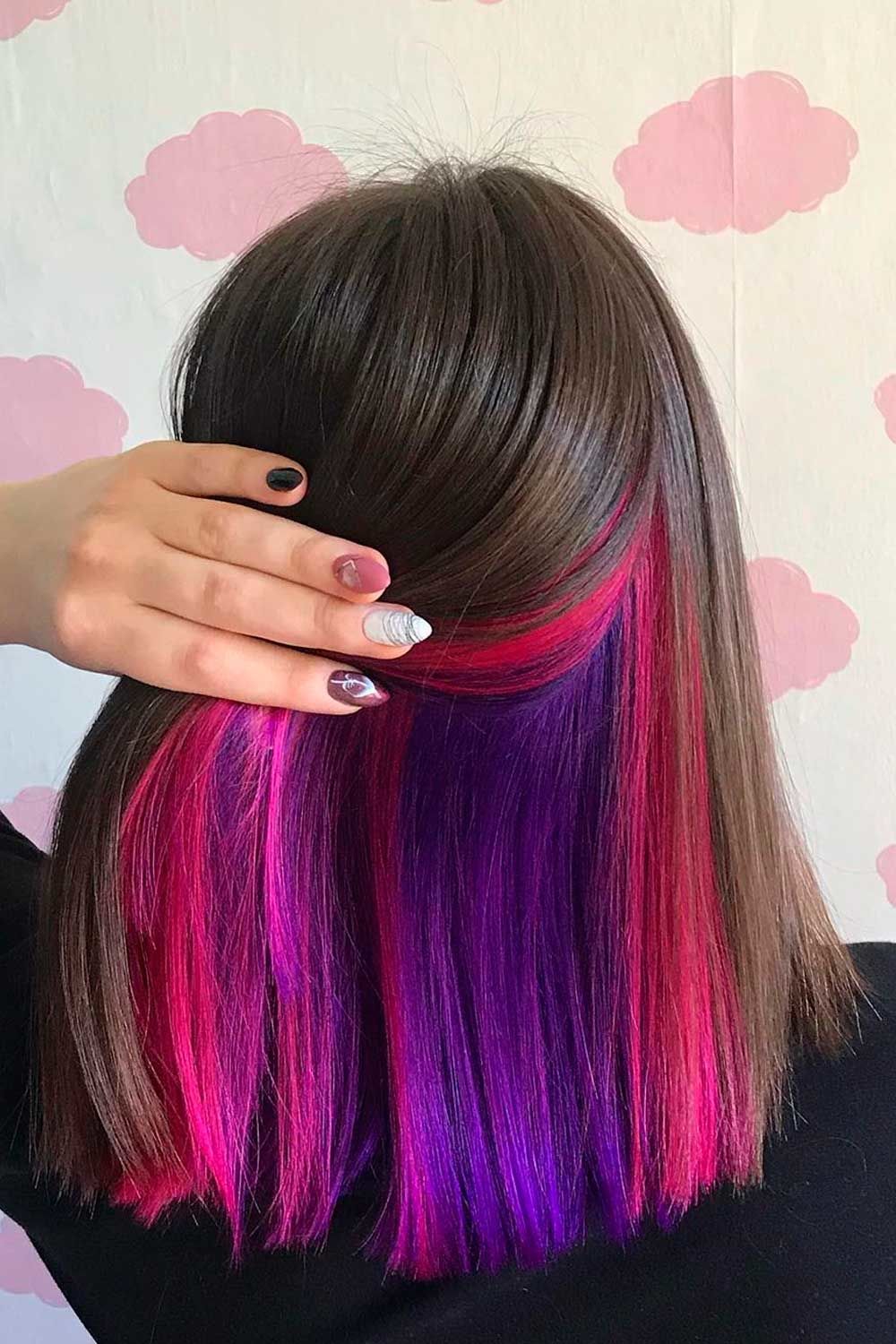 Credit photo: instagram.com/raznoglazaya_hair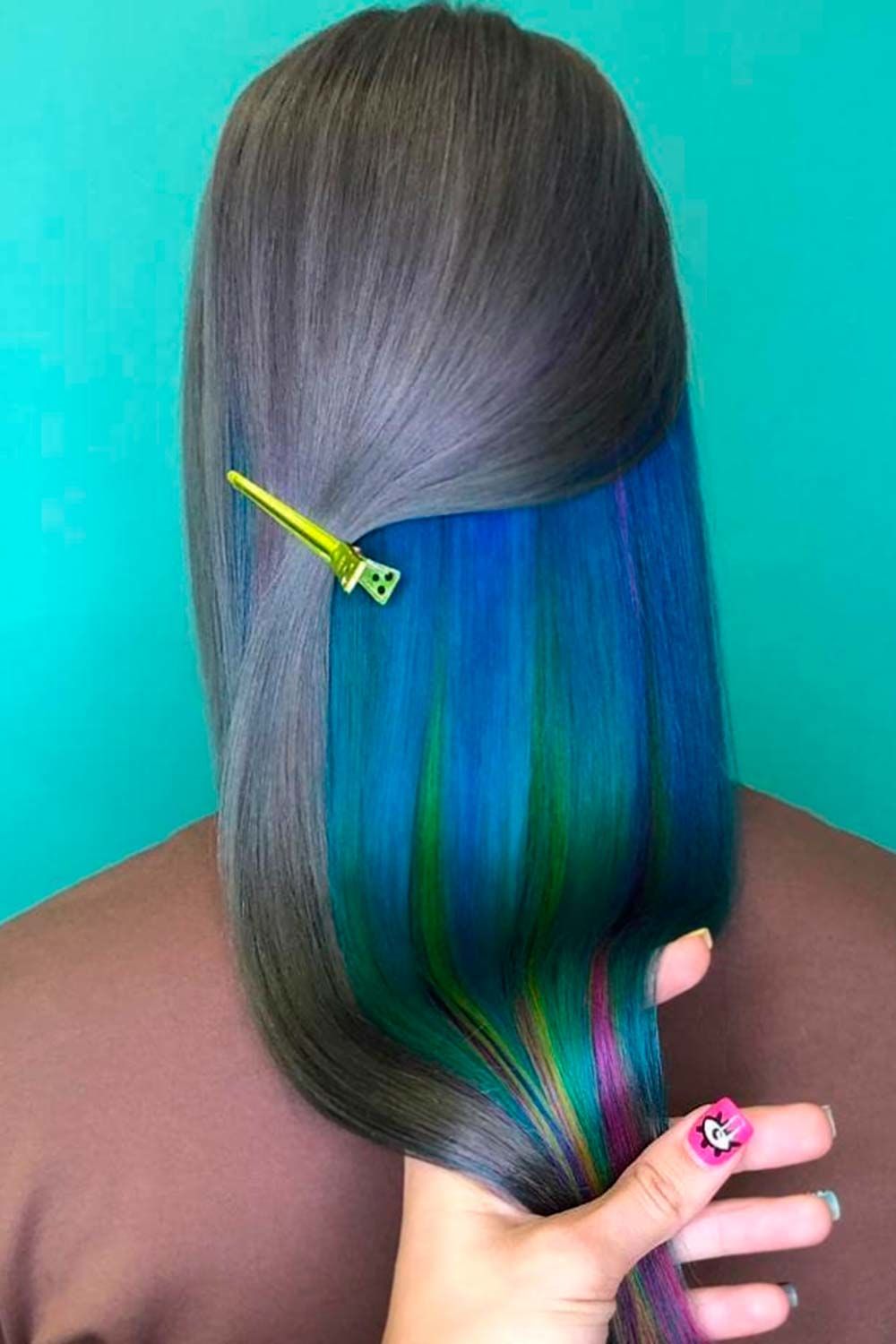 Credit photo: instagram.com/kato_studio_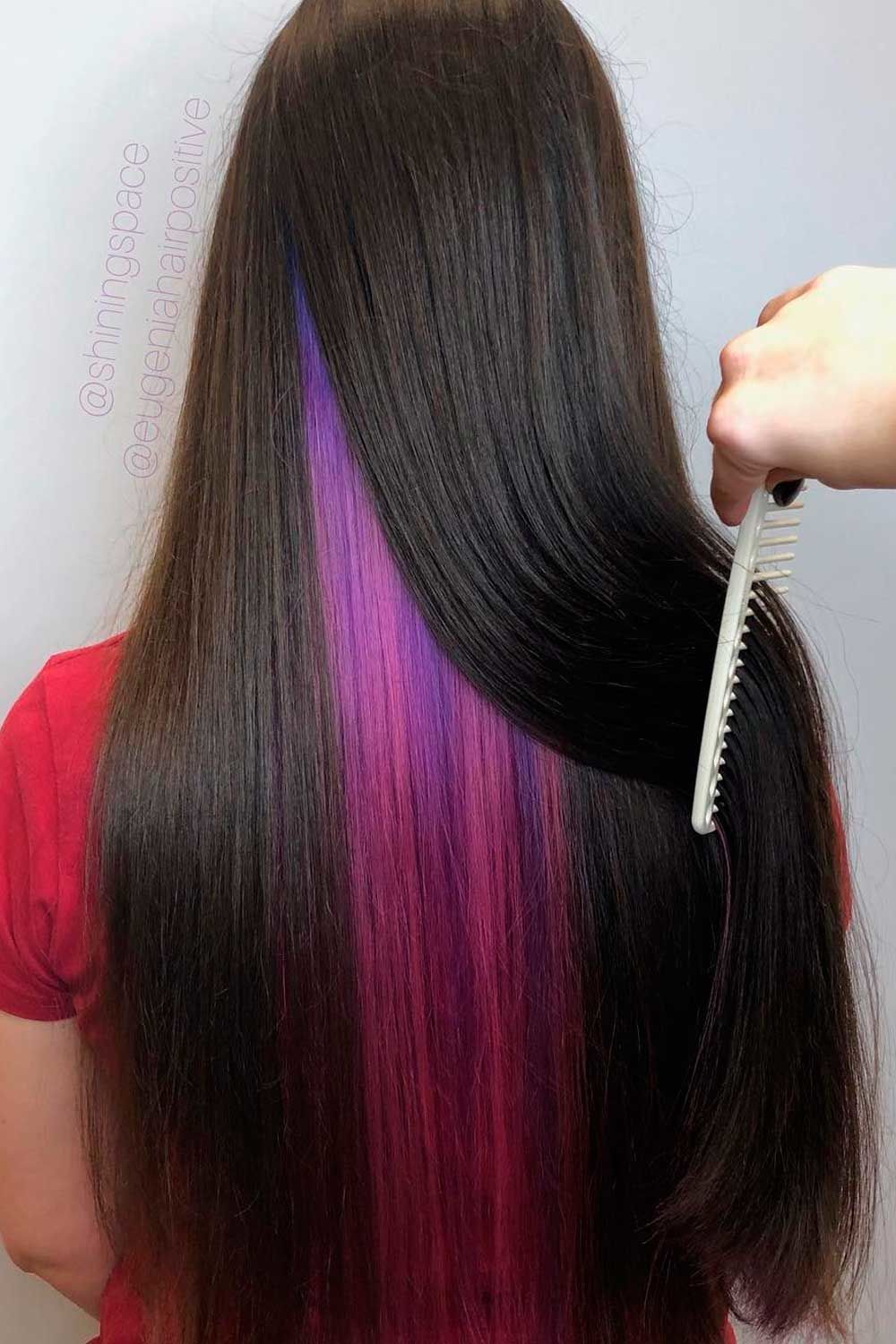 Credit photo: instagram.com/hair.positive
The Most Creative Ideas Of Rainbow Hair Peekaboo
Bright Peekaboo Ideas
As you might have understood from the previous pics, peekaboo hair color ideas aren't always super dramatic and saturated. And if you wonder how bright they can be, welcome to the next portion of inspiration.
Peekaboo Rainbow With Grey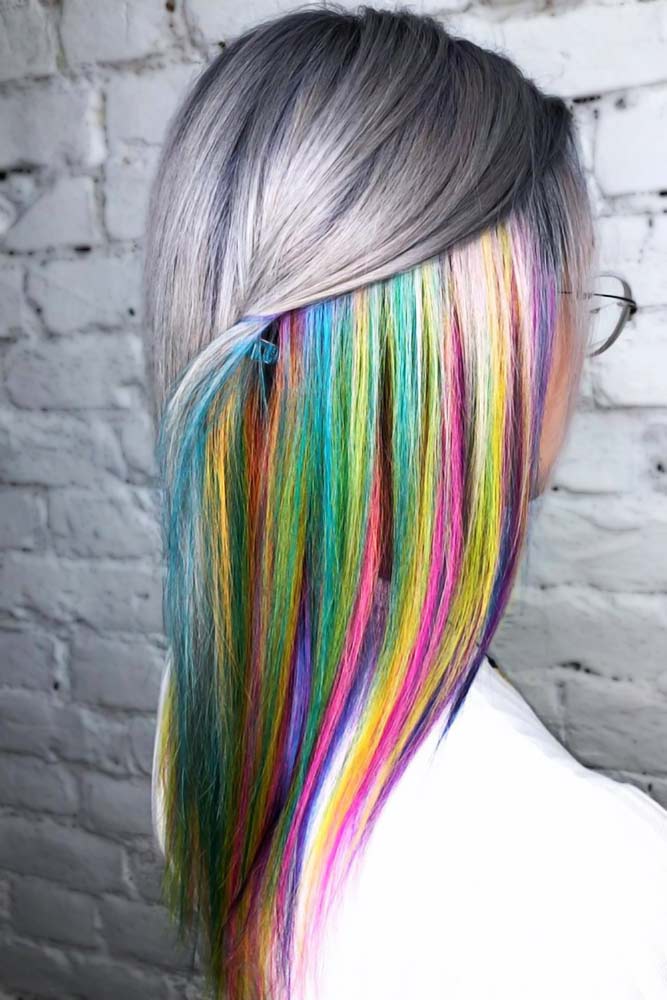 Credit photo: instagram.com/aliyousha
Peekaboo rainbow hair only looks harmonic and refined when a soft, neutral color accompanies it. Well, the grey hair trend has just shown another advantage.
Rainbow Neons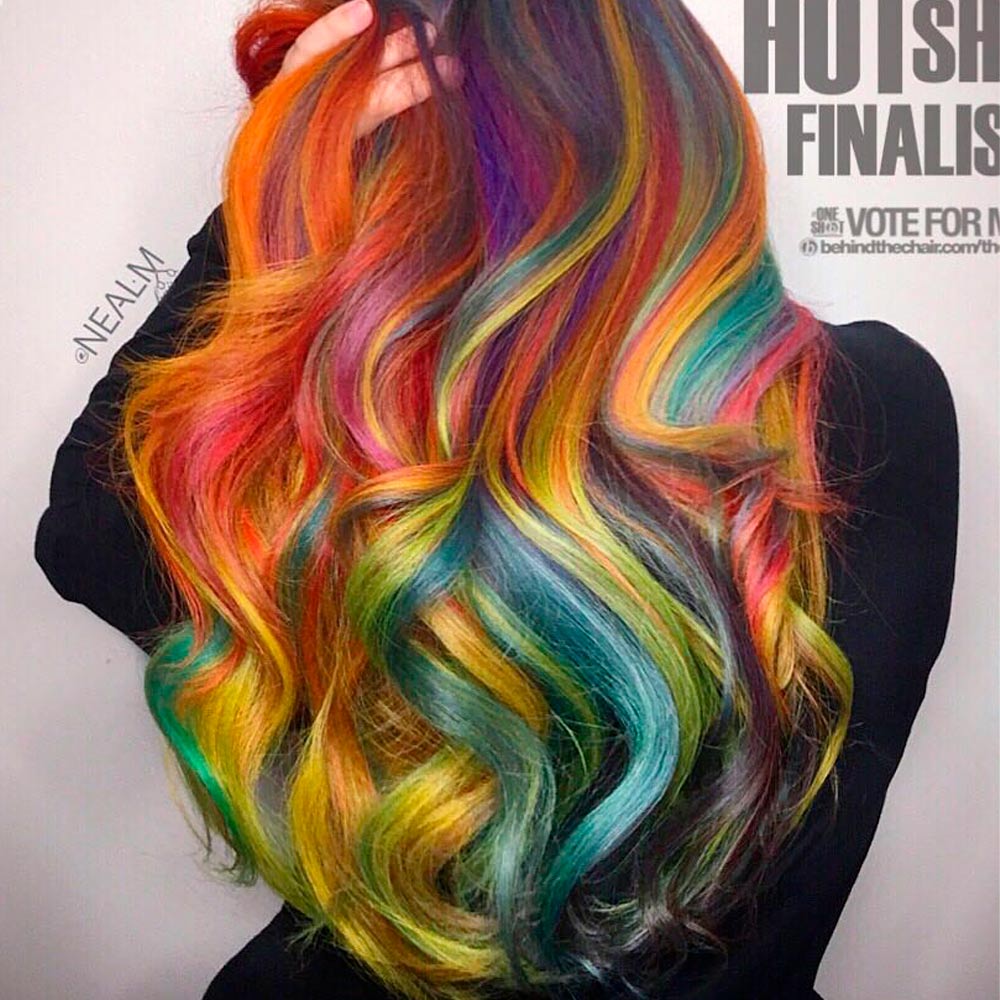 Credit photo: instagram.com/nealmhair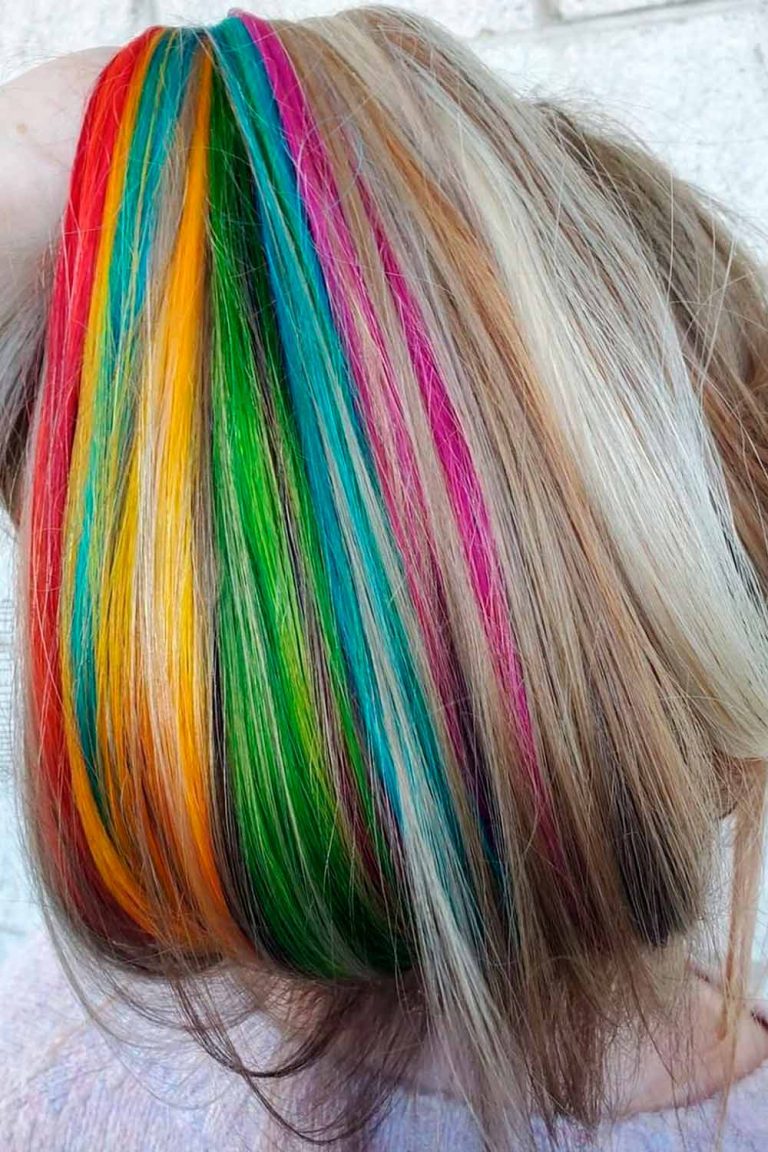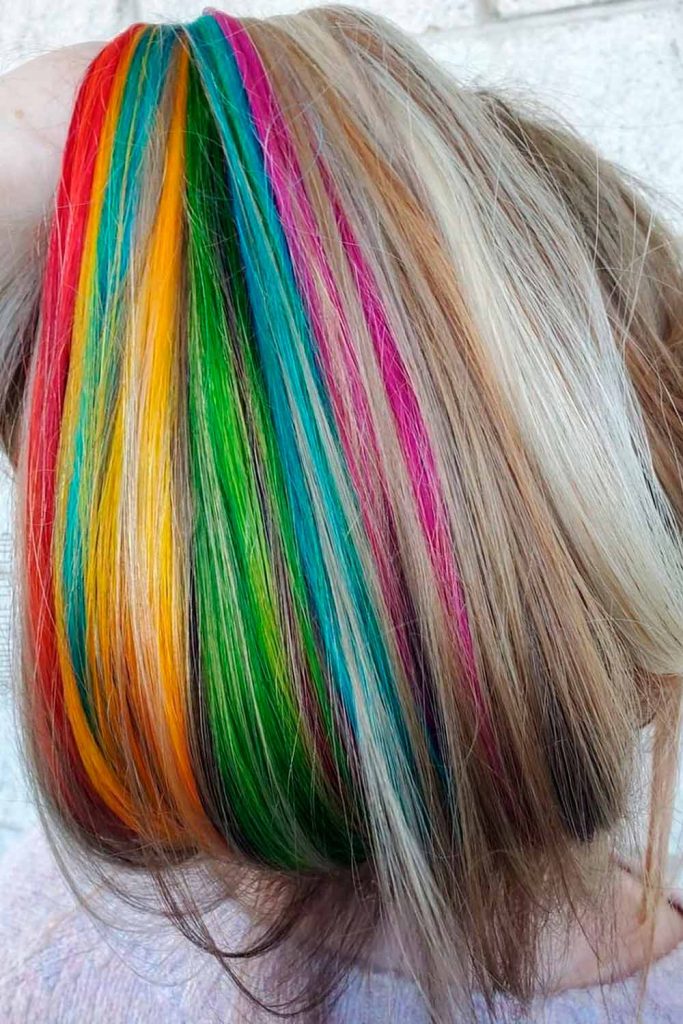 Credit photo: instagram.com/babe_hair
Can you imagine how many packs of peekaboo hair dye this molten rainbow requires? Of course, such an idea is a commitment compared to the ideas above. Yet, it's worth it!
Rooty Rainbow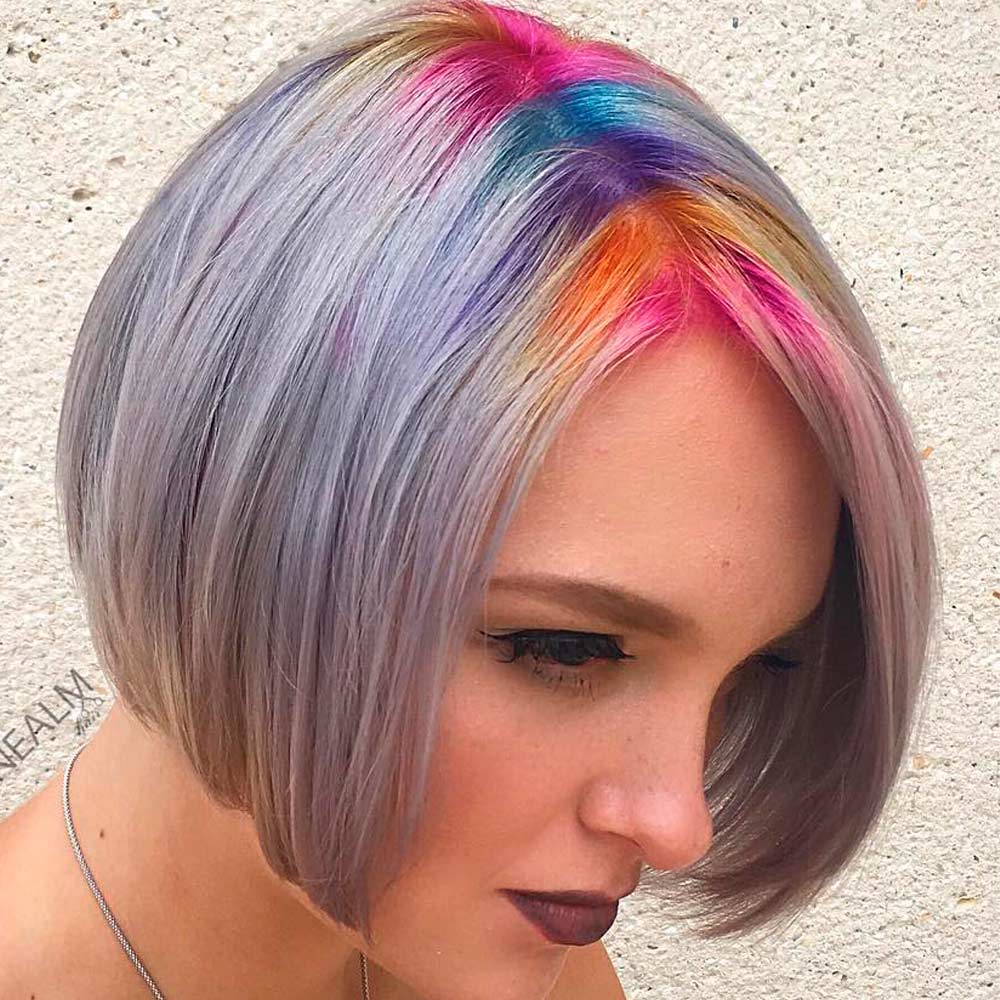 Credit photo: instagram.com/nealmhair
Be careful! If you look at this rainbow hiding under the neon sunset roots for too long, you will spend all day trying to figure out how to do a peekaboo hair color like this. Needless to say, it's a job for professionals.
Red With Yellow And Blue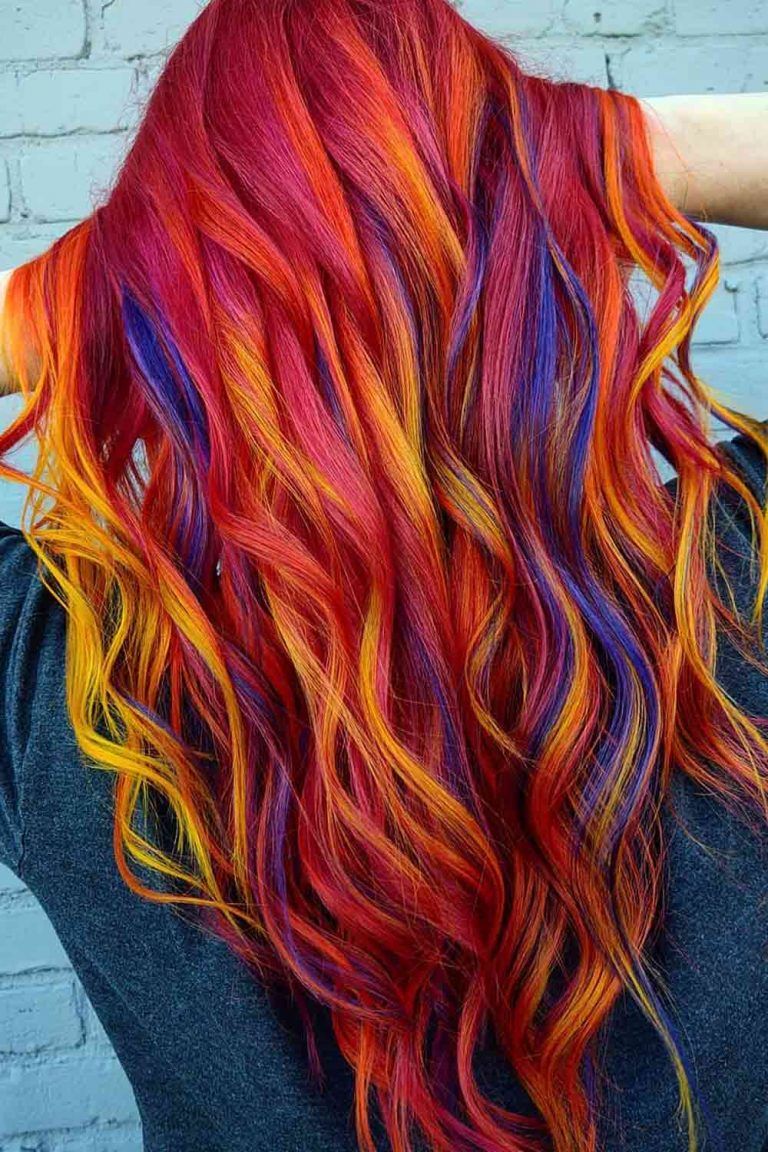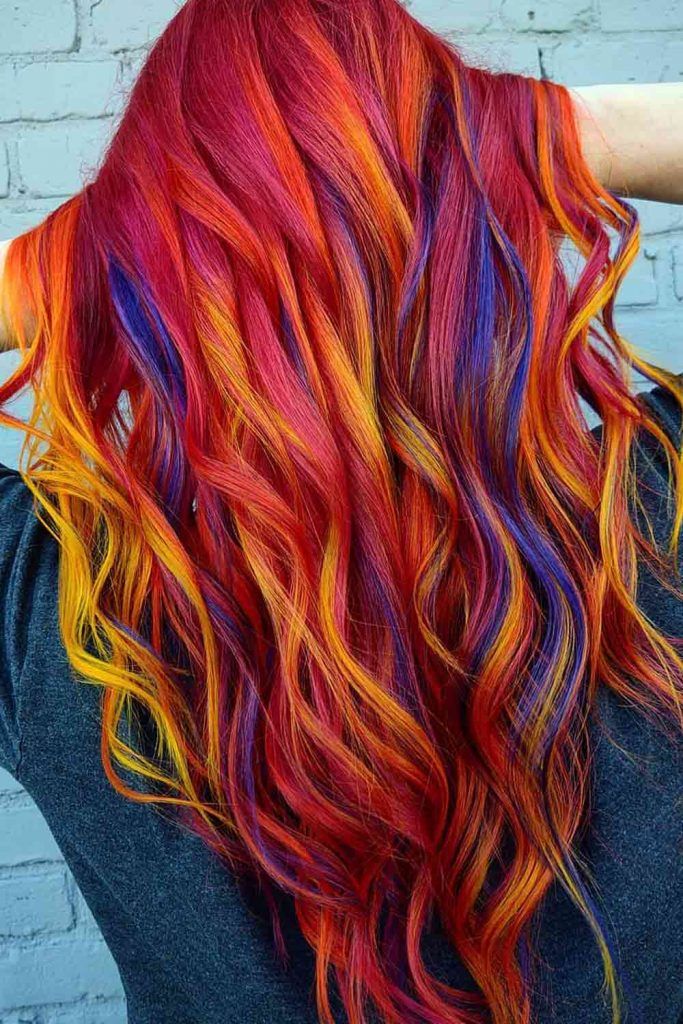 Credit photo: instagram.com/adlydesign
Here comes the rainbow of the most unexpected shades! Some women think that they can't mix all the colors they like because the result won't come out balanced. Well, good colorists have the opposite opinion. With the right color technique, even the colors you wouldn't mix will appear absolutely harmonic on your hair. Detailed balayage + hidden ombre as the icing on the cake will do the trick, though.
Peekaboo Red Lava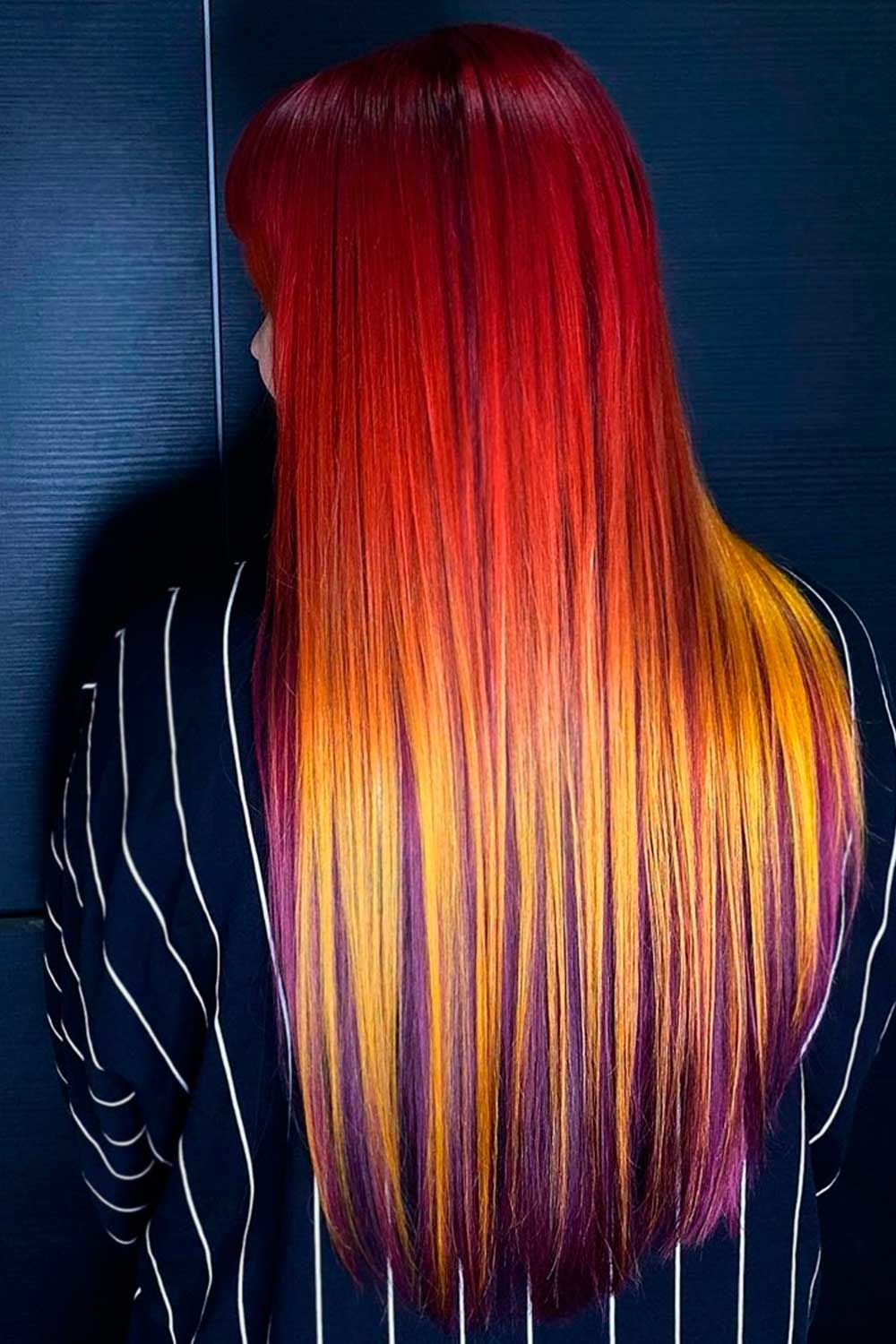 Credit photo: instagram.com/nikitakars
Seems like we've just found the fourth thing people can watch forever. This peekaboo hair look simply beats all records possible, creating a total balance with a mess of different color temperatures. It's freezing, it's boiling, it's vivacious: isn't that the way every bright personality feels inside?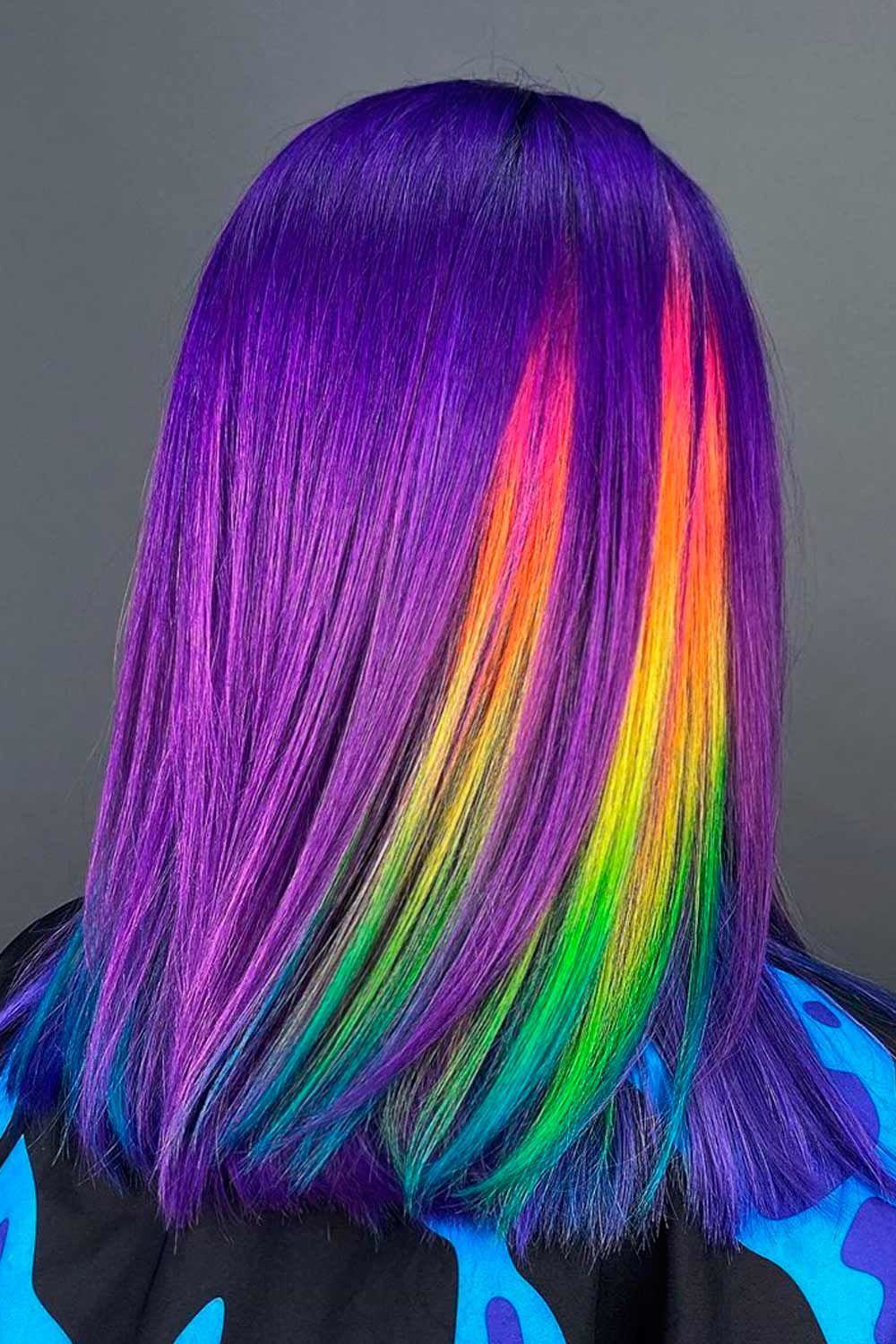 Credit photo: instagram.com/ursula_witch
Multilayered Rainbow Peekaboo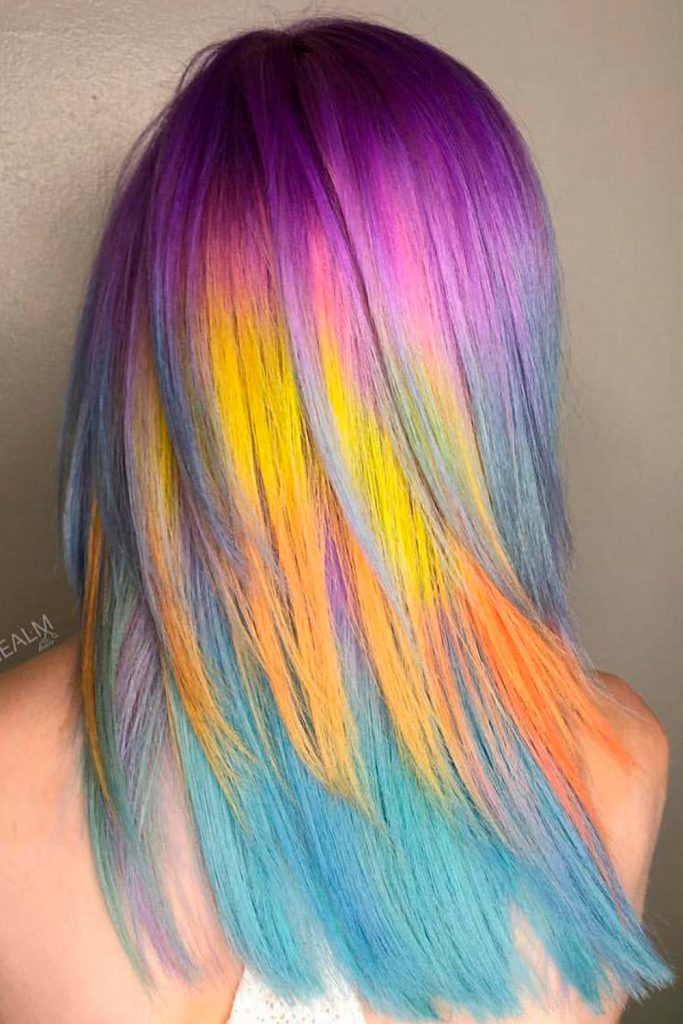 Credit photo: instagram.com/nealmhair
One of the most peculiar perks of peekaboo highlights is the ability to pile up different tones, one after another. The outcome will impress even those 'seen-it-alls' among you. The combo of two opposite palettes is breathtaking!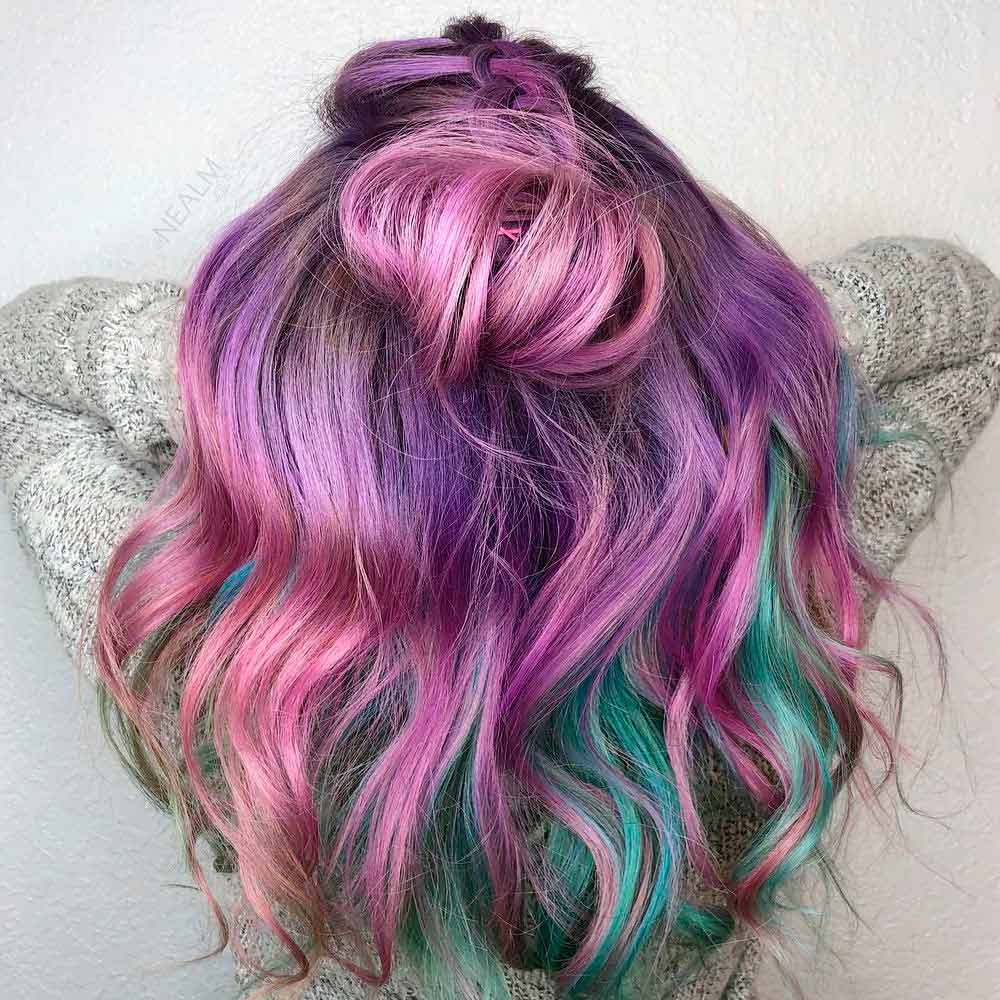 Credit photo: instagram.com/nealmhair
Care to match the unmatchable with elegance and style? We have something special in store for you! Create a blooming lilac branch embedded in your locks by layering violets and pinks with green peeking out!
The Most Delicate Blue and Pink Watercolor Peekaboo Locks For Blonde Hair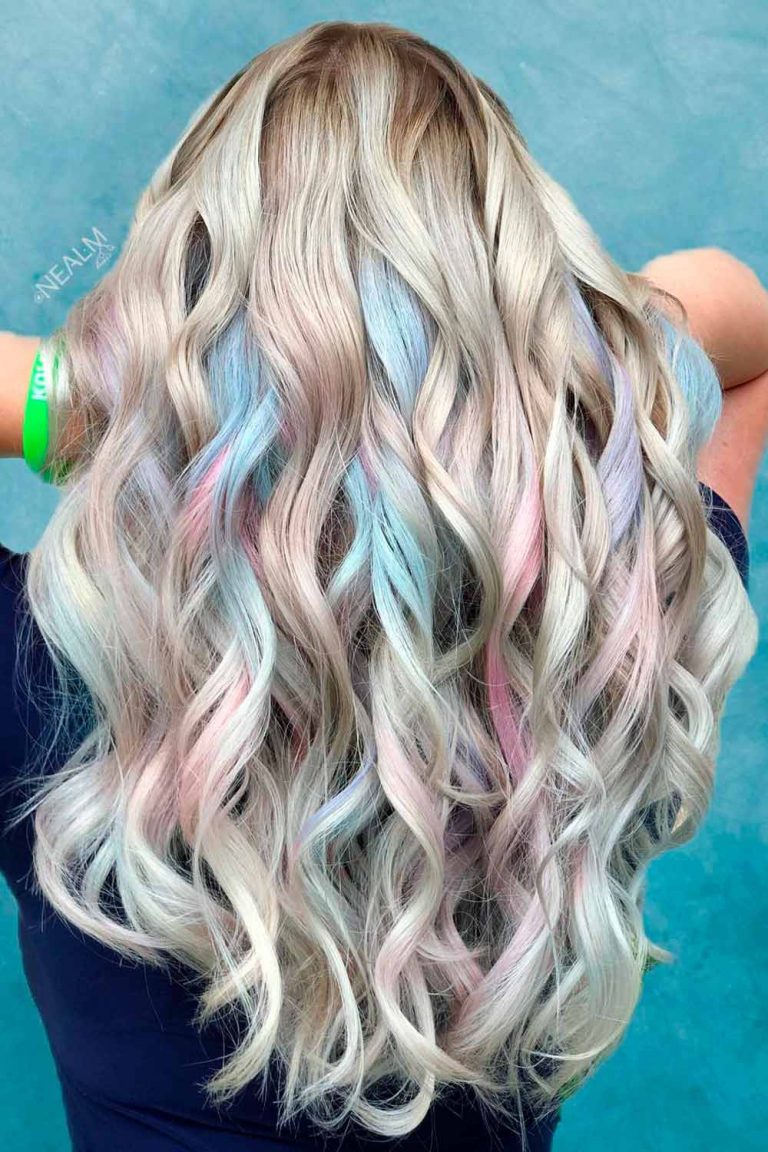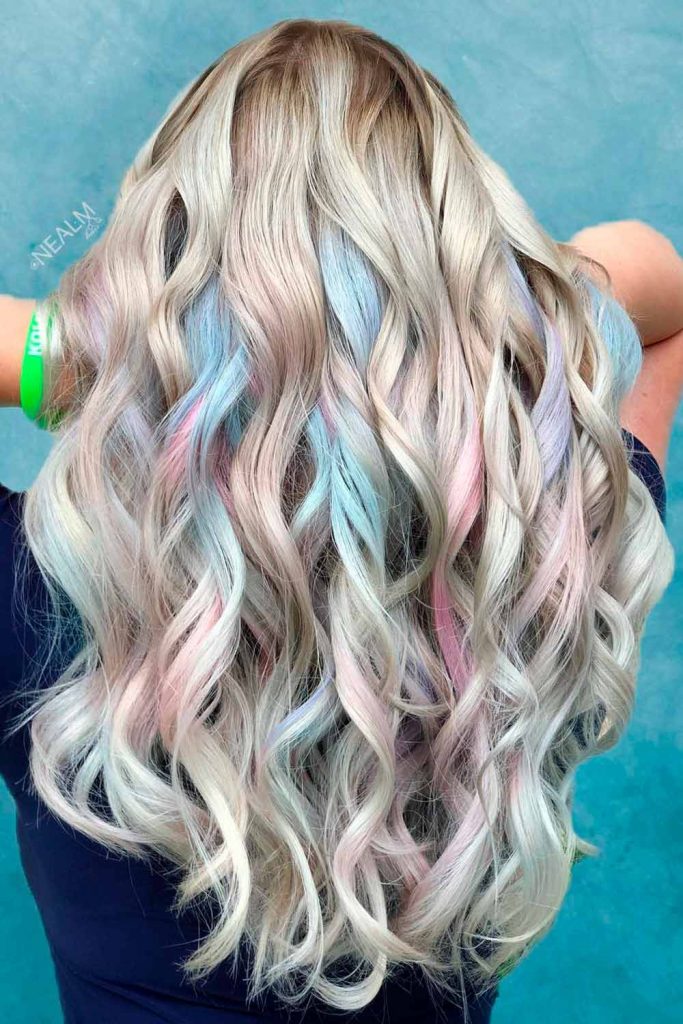 Credit photo: instagram.com/nealmhair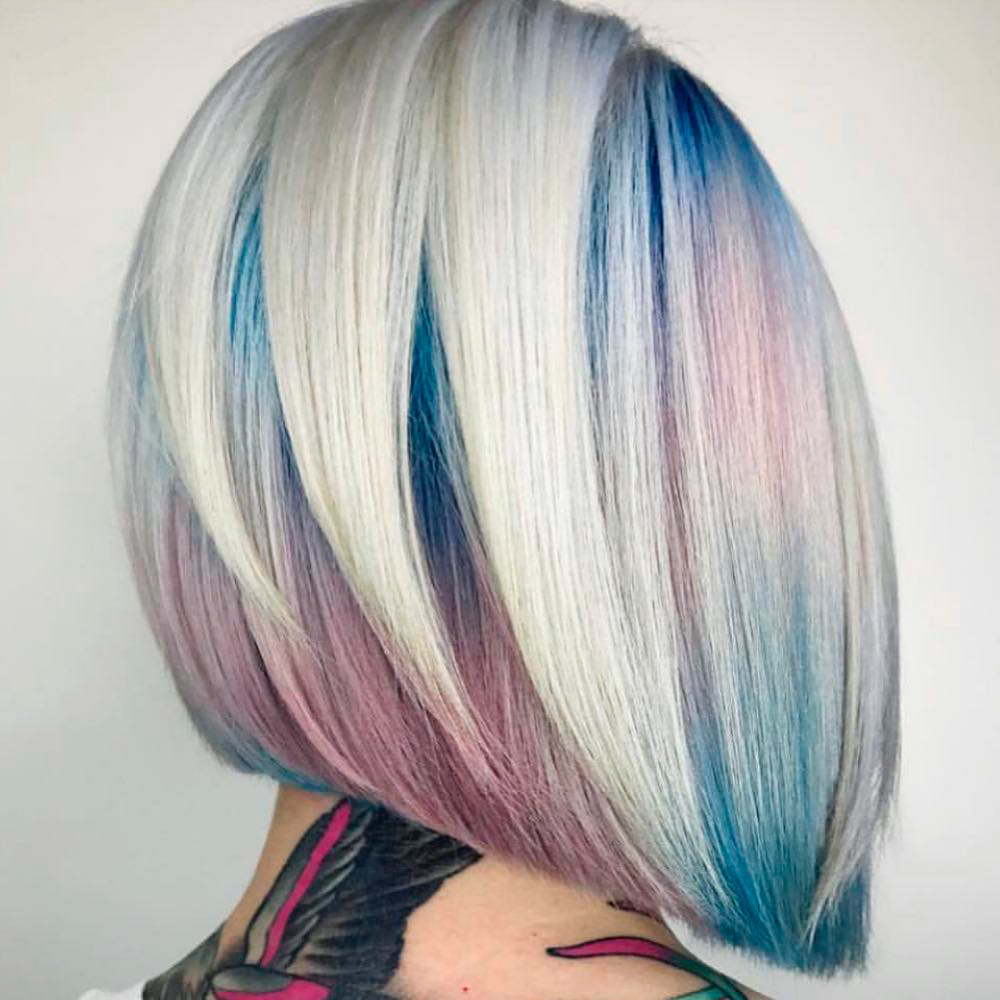 Credit photo: instagram.com/nealmhair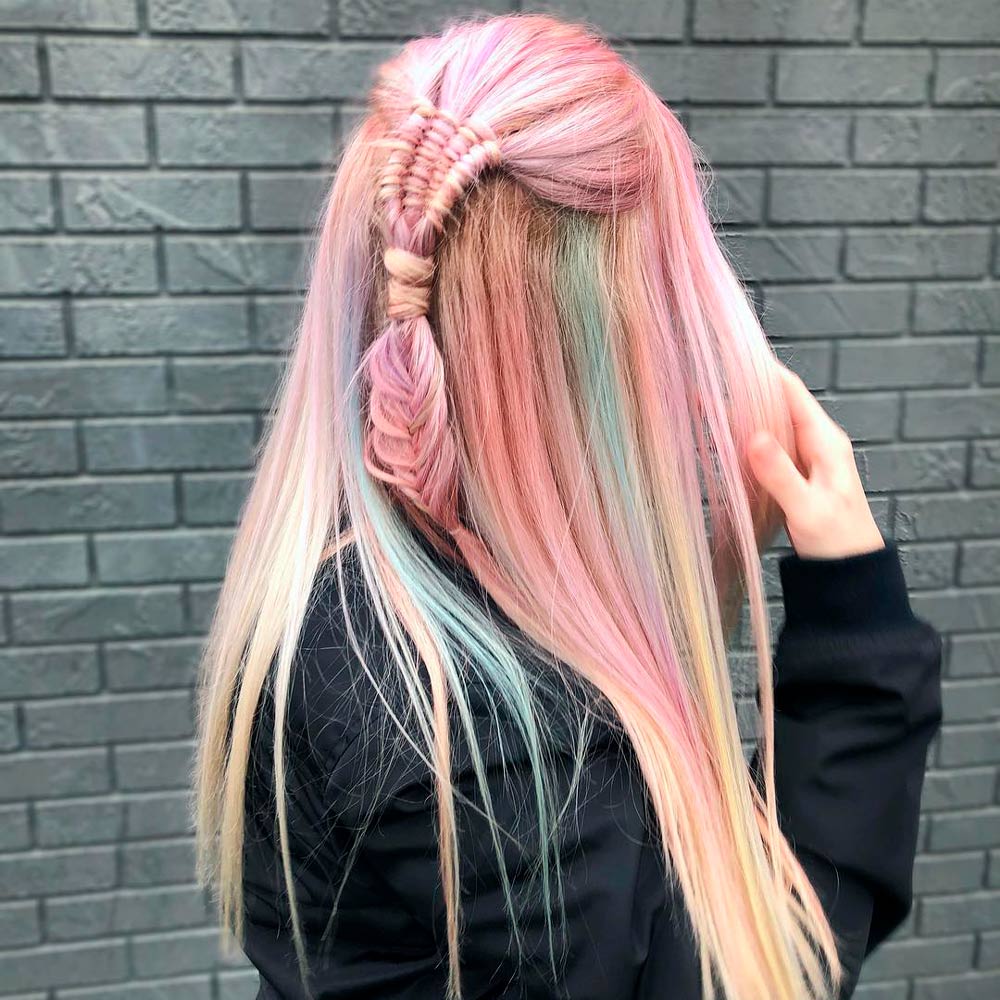 Credit photo: instagram.com/nealmhair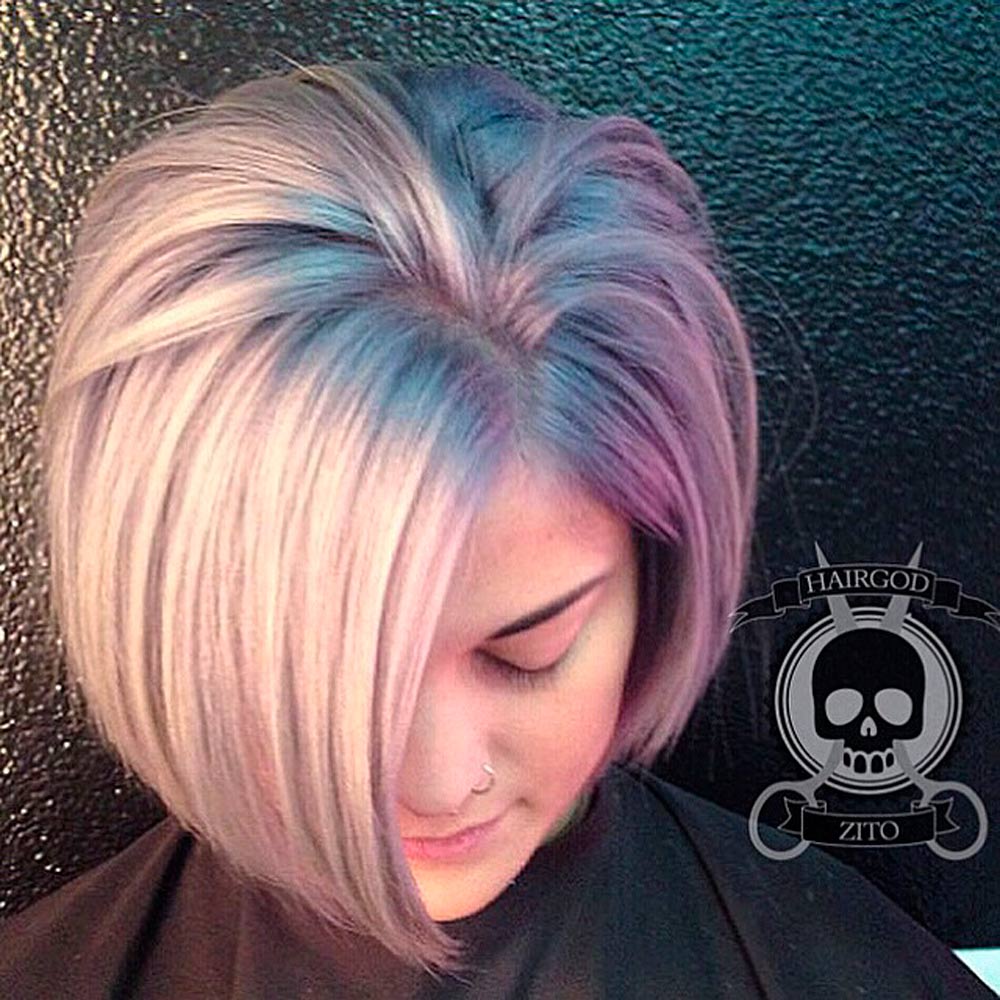 Credit photo: instagram.com/hairgod_zito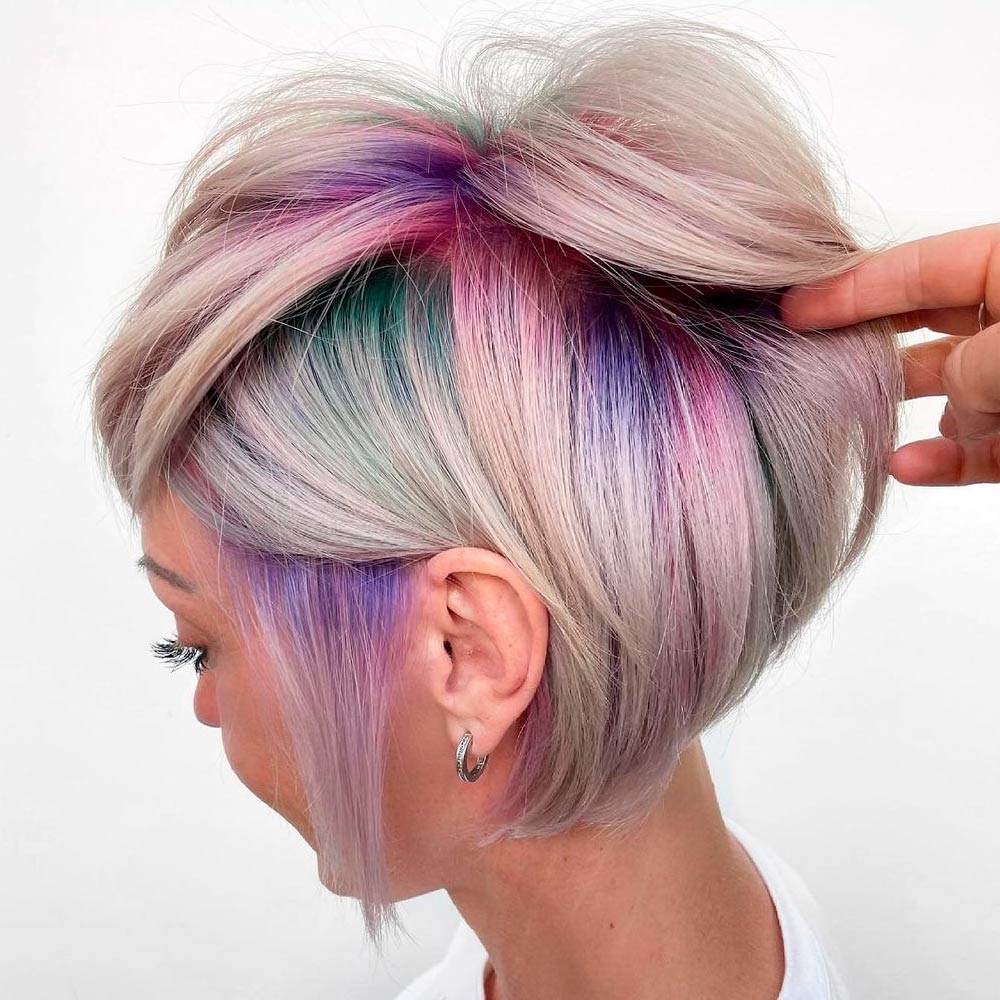 Credit photo: instagram.com/headrushdesigns
If you don't want your highlights to stand out too much on your long and luscious blond strands, there is a way. All it takes is to ask for dusty blue and pink peekaboo stripes, and you will get yourself a million-dollar deal!
Happy Halloween Orange Peekaboo Locks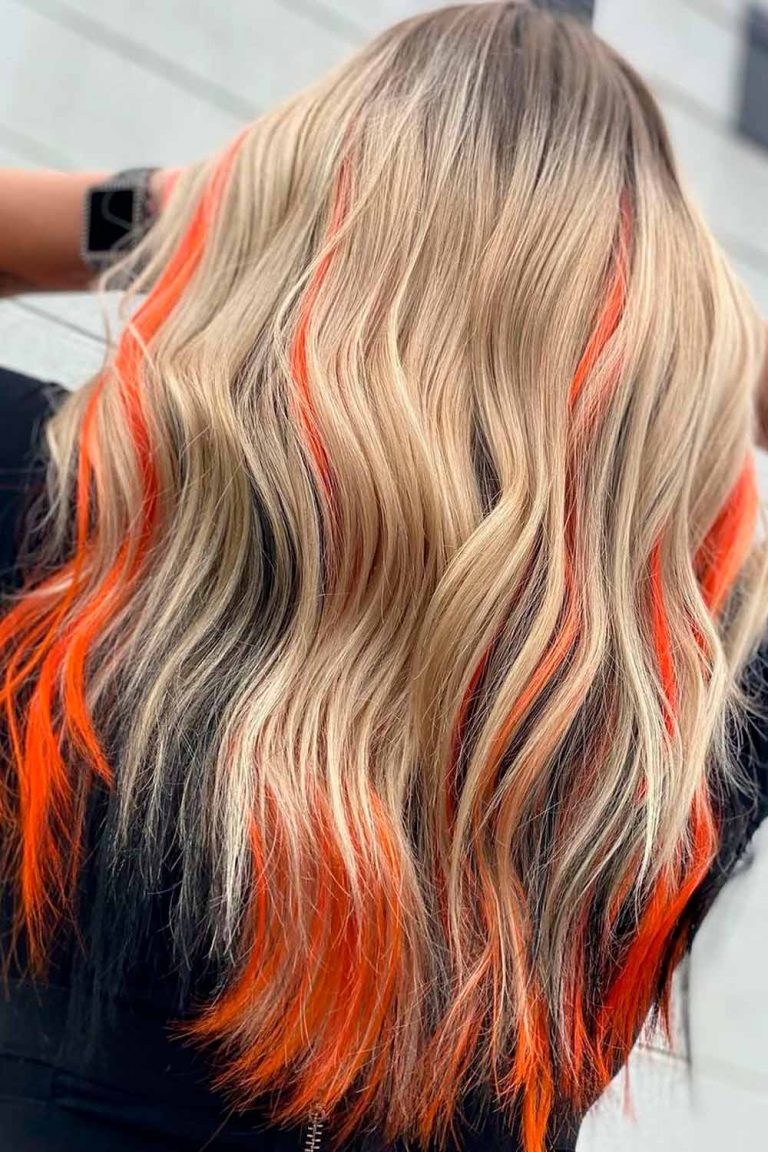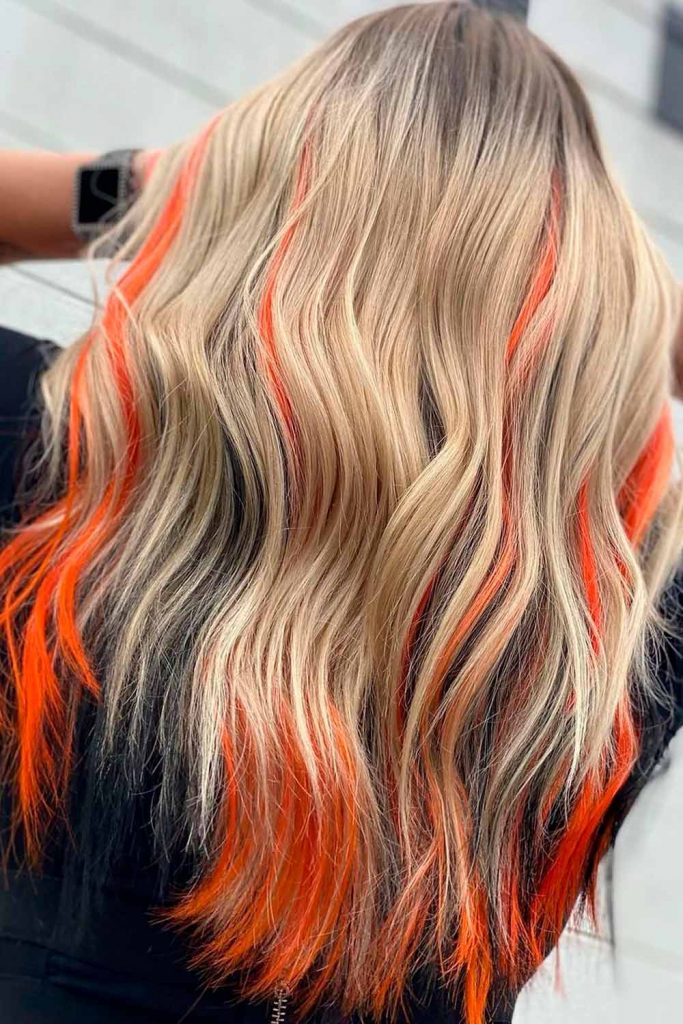 Credit photo: instagram.com/babe_hair
Let's play a frightening Halloween peek-a-boo game! This peekaboo hairstyle conceals dyed bold orange hair highlights under the top hair layer. Isn't it a spooky good Halloween hair idea?
Merry Christmas Eve Peekaboo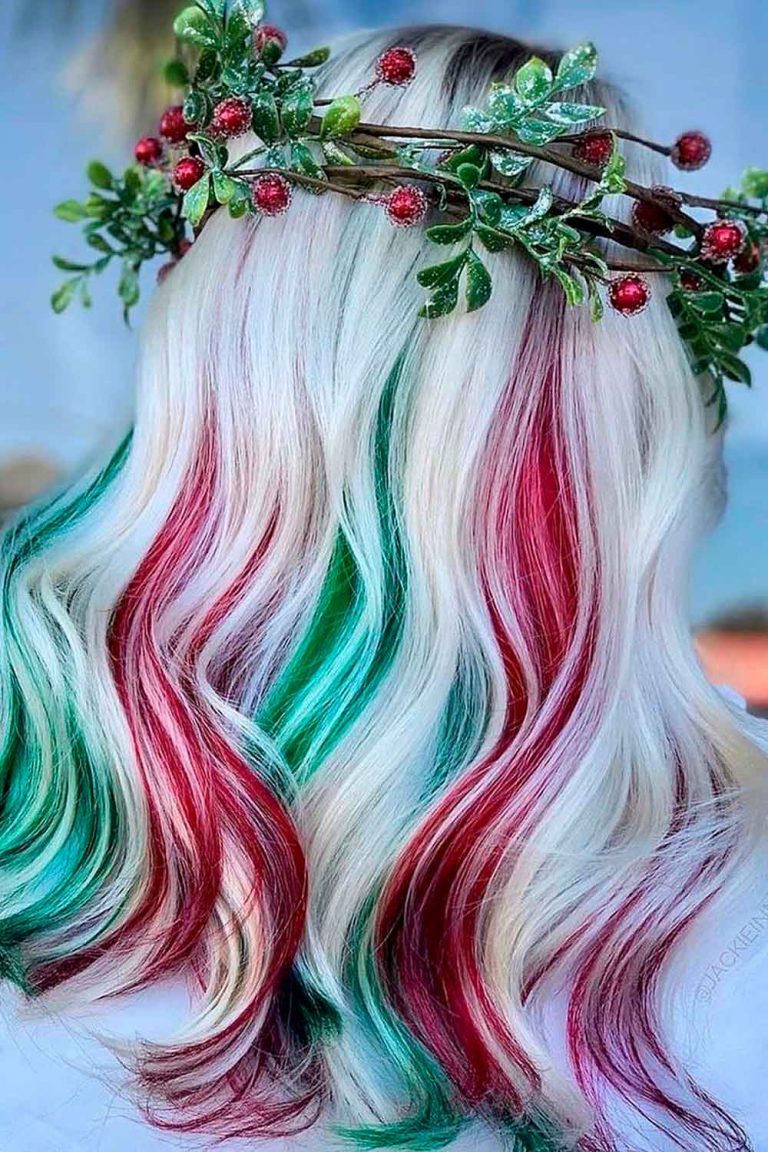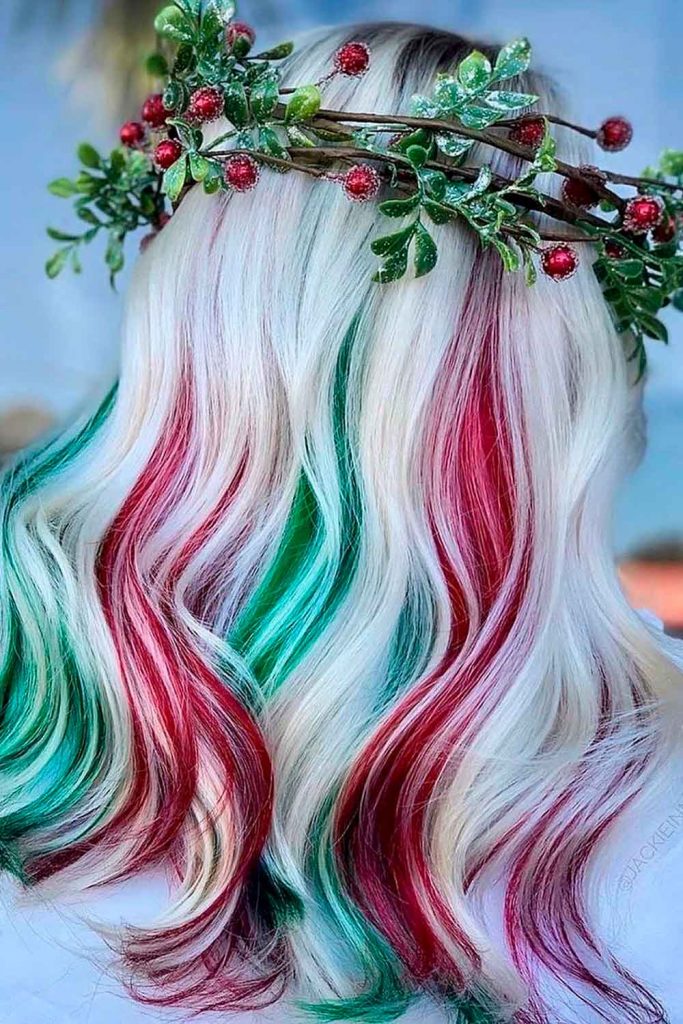 Credit photo: instagram.com/babe_hair
Have you ever thought about tuning your hair for the upcoming holidays? These days the craziest ideas are possible. That is why holy-inspired peekaboo coloring is precisely what you should think about when Christmas is near. The result will be head-turning since the harmony between the involved shades is supreme!
Babe Hair Extensions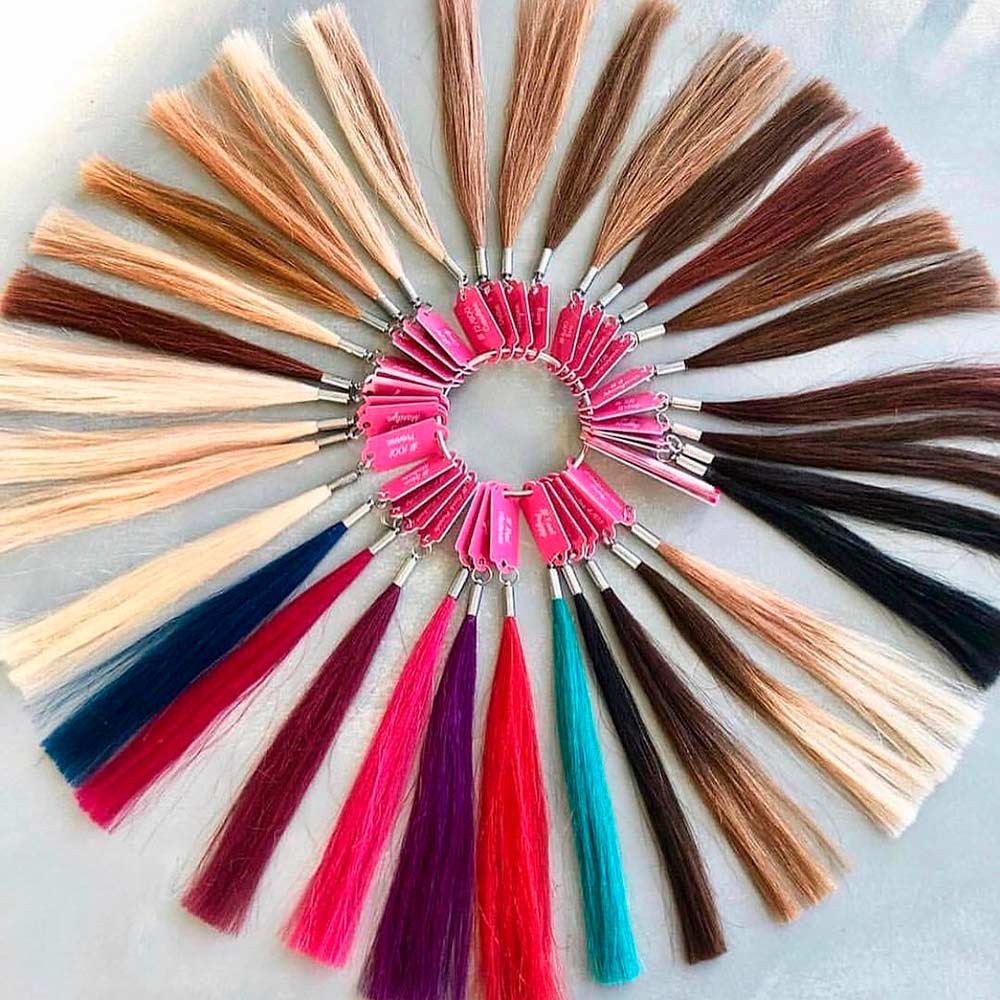 Credit photo: instagram.com/babe_hair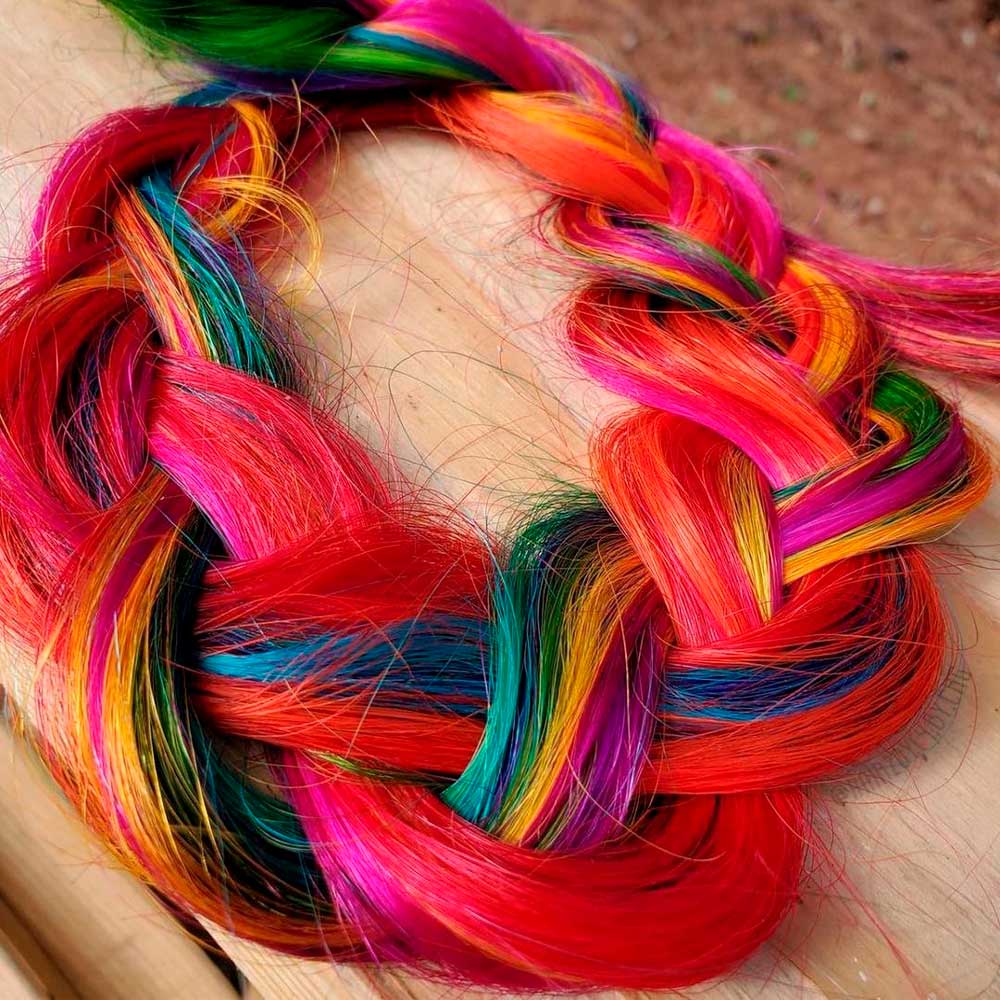 Credit photo: instagram.com/babe_hair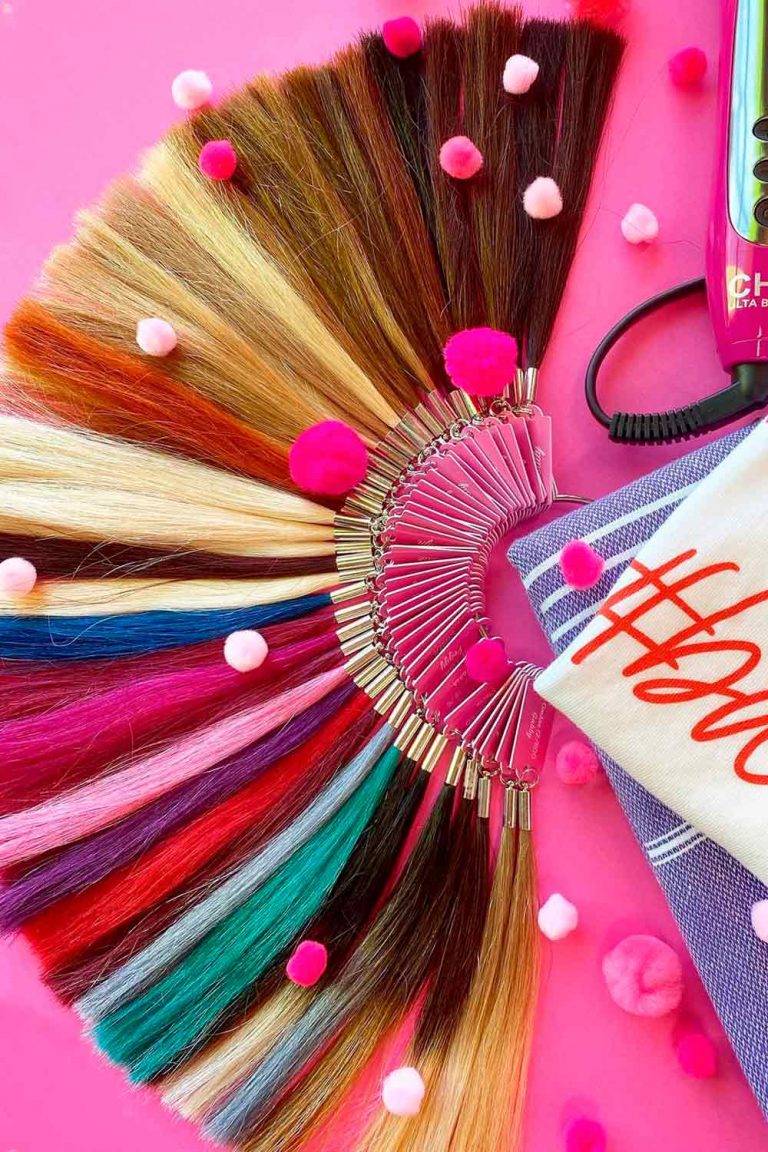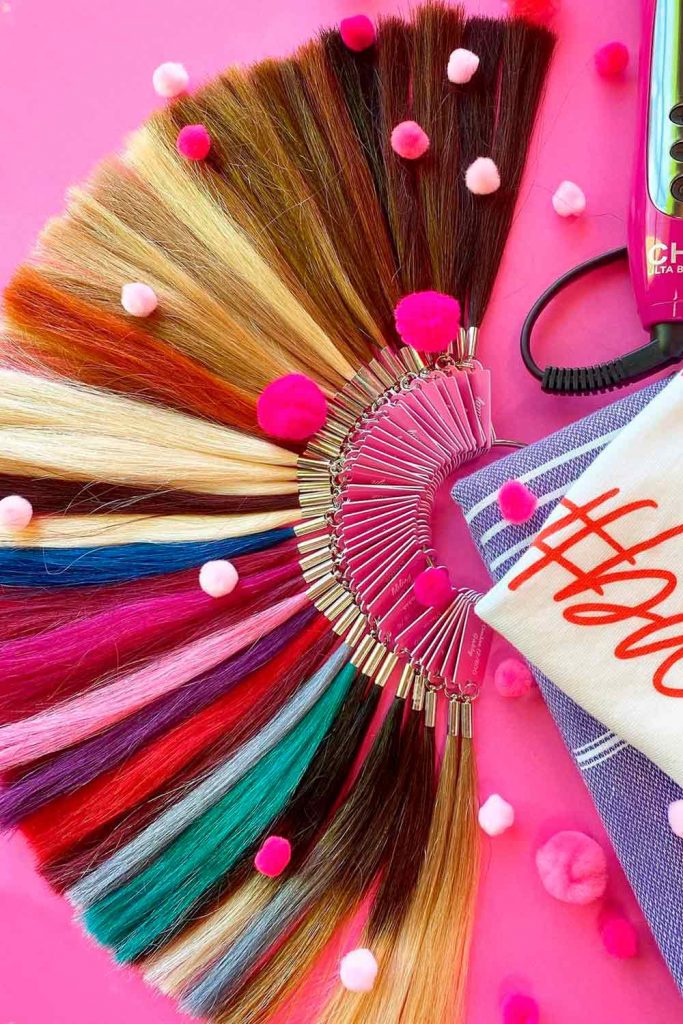 Credit photo: instagram.com/babe_hair
Luckily for indecisive ladies, there's such an option as hair extensions. So if you're not sure that even the most effortless brown hair with blonde peekaboo highlights will suit you, you can get yourself a couple of fake streaks before calling your colorist.
The variety of peekaboo ideas has no bounds, which means that every lady can add some creative twist to her hair. Now you know that you don't need to go for all-over colors to express your individuality. Some little color streaks would be enough!
FAQ: Peekaboo Hair
What is a peek a boo hair color?
Colored strands concealed beneath the top layer of hair are known as peekaboo highlights. These hair highlights are usually not visible if the hair is worn down, especially if there is no movement in it. Peekaboo hair is a highlighting method that is great for professional women who want to look daring.
When was peekaboo hair invented?
When Veronica Lake (1919–1973) starred in the 1941 film titled "I Wanted Wings", she popularized a new hairdo that has become known as the peek-a-boo bang. She wore her blond hair long, parted on the left side and curled slightly at the ends, sliding in front of her face to hide her right eye.
What are wispy bangs?
Tender bangs with a faint feathering at the end are generally known as wispy bangs. Wispy bangs look good on women with long-shaped faces who wish to look younger. If you have fine hair and don't want to wear a thick fringe, wispy bangs can be a perfect option for you.
REFERENCES:
A Peekaboo is a hairstyle flaunted mostly by the females in which hair color highlights are strategically used for a small part of the hair.Source